New Age Islam News Bureau
6 Sept 2019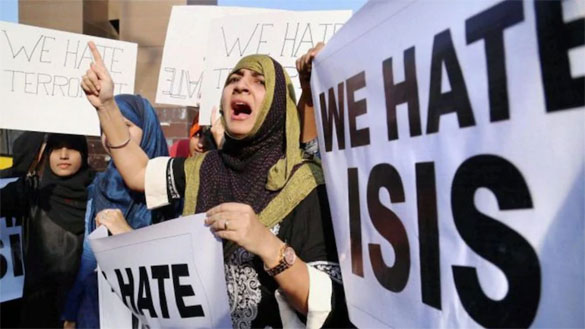 Members of Muslim community protesting against terrorist organisation ISIS in Mumbai. (Photo: PTI file)
• Indian Government's Plan to Deal with Growing Communal Divide, Which Is Being Used To Radicalise Muslim Youths in Some Cases
• Ayodhya Hearing: Accept Akhara's Shebait Rights, But Not Its Tall Claims, Says Waqf Board
• India, Pakistan Forces to Be Part of Military Exercise in Russia
• Pakistan Council of Islamic Ideology Recommends Making Triple Talaq Punishable Crime
• Malaysian Islamic Development Department: Muslims Need Not Join Mass Multi-Faith Prayer Sessions, But Non-Muslims Free To Do So
• U.S. Deal with Taliban Meets Afghan Resistance as Violence Intensifies
• Taliban Militants Behead The Acting Provincial Human Rights Chief Of Ghor
• ISIS, Weakened, Finds New Bombers: Cows Wearing Explosive Vests
• Iran's IRGC Head Claims That Its Military Is 'Invincible'
India
• Indian Government's Plan to Deal with Growing Communal Divide, Which Is Being Used To Radicalise Muslim Youths in Some Cases
• Ayodhya Hearing: Accept Akhara's Shebait Rights, But Not Its Tall Claims, Says Waqf Board
• India, Pakistan Forces to Be Part of Military Exercise in Russia
• 'Hindus have prayed at Babri site since 1885'
• Ayodhya Case: 'Pakistani Terror Groups Helping Muslim Side Pay Rajiv Dhavan', Says Waseem Rizvi
• India's citizenship drive separating Muslim families
• Kerala-based Political Parties Unable to Comprehend Arif Mohammad Khan's Appointment as Governor
• Brits denounce attack on Indian High Commission by Pak-incited elements
• PM Modi meets Malaysia PM, talks J&K move, Zakir Naik extradition
• Mahbooba's daughter gets permission to meet her mother
• Kashmiri youth forced to wear women's clothing, thrashed
--------
Pakistan
• Pakistan Council of Islamic Ideology Recommends Making Triple Talaq Punishable Crime
• Saudi, UAE Support Pakistan In Resolution Of Kashmir Issue, ISPR Says
• FATF to evaluate Pakistan's efforts against terrorism next week: Report
• PoK PM Raja Farooq Haider fails to win over US policymakers
• PML-N to join JUI-F's 'Azadi March' in Oct, claims Fazl
• SC moved against SJC's decision to dismiss reference against ex-CJP Nisar
• President Alvi, PM Imran say Pakistan ready to face internal, external threats
• Pakistan, China, Afghanistan dialogue on Saturday
• PM Imran apprises Omani delegation of Kashmiris' plight
• 1 dead, 10 wounded in 2 bombings at bus station in Pakistan
--------
Southeast Asia
• Malaysian Islamic Development Department: Muslims Need Not Join Mass Multi-Faith Prayer Sessions, But Non-Muslims Free To Do So
• Critics Slam Selangor's 'Hate Speech' As Mosques Prepare To Deliver Anti-Shia Sermon
• Kashmir Issue Dominates Modi-Dr M Talks, Says Foreign Minister
• G25: Dismissal of SIS fatwa application contrary to Federal Constitution
• Family plays huge part in promoting racial unity, says Muslim NGO
• Muslim Clothing Made Of Japanese Kimono Materials
• China hacked Malaysian, other Asian telcos to spy on Uighur travellers, say sources
• Philippines' ex-Muslim rebels' decommissioning on Saturday
--------
South Asia
• U.S. Deal with Taliban Meets Afghan Resistance as Violence Intensifies
• Taliban Militants Behead The Acting Provincial Human Rights Chief Of Ghor
• Airstrikes in Pul-e Khumri city kill 45 militants including Taliban's shadow governor
• The Afghanistan war is over, and Pakistan has won
• Taliban suicide bomber kills at least 10 in Kabul, 42 wounded
• 2 NATO service members killed in Kabul
• Poll: 69% of Afghans prefer peace over presidential elections
• Bangladesh bans two aid agencies from Rohingya refugee camps
--------
Arab World
• ISIS, Weakened, Finds New Bombers: Cows Wearing Explosive Vests
• Lebanon Pays the Price for a Burden Called Hezbollah
• Saudi Arabia rejects recent escalation in Yemen, calls for dialogue
• Saudi Arabia says UAE-backed separatists in Yemen threaten kingdom
• Senior MP: US Pressuring Baghdad Not to Release Report on Attacks against Hashd Al-Shaabi
• People in Idlib Hold Protest Rallies against Abu Mohammad Al-Jolani
• Six suspected extremists killed in Egypt, says ministry
• Saudi science city accelerator produces 20 tech innovations
• Iraqi authorities face new rage over Daesh-linked families
--------
Mideast
• Iran's IRGC Head Claims That Its Military Is 'Invincible'
• Turkey threatens to open gates for Syria refugees to go West
• Arab Coalition: Report by group of experts on Yemen lacks objectivity
• US official says Washington in talks with Yemeni Houthis
• Erdogan: We may unleash refugee influx if EU, US don't provide more support
• Iran to unveil details on cuts to nuclear commitments
• UN expert report on Yemen based on false allegations, says Arab coalition
--------
Europe
• No Trade Mechanism until Iran Passes Terrorism Financing Laws: French Diplomat
• Muslim man to sue Starbucks after barista writes 'ISIS' on drinks
• Kosovo Convictions For Planned Terror Attacks On Orthodox Churches
• Stanwell Tesco knifeman 'aimed to strike fear in Muslim hearts'
• British lawmakers to raise voice for Kashmiris
• Muslim children get Catholic education in flexible Madagascar
• UK and Israeli leaders agree on need to stop Iran getting nuclear weapon
• Over 600 attacks on refugees in Germany this year
--------
North America
• Judge Rules Terrorism Watchlist Violates Constitutional Rights
• New Orleans court tackles 'extravagant' ruling in Houston ISIS case
• US reaches out to Houthis to end war as Saudi struggles
• US blocks UN Security Council statement on criticizing Israel: Sources
• Turkey, US hold joint helicopter flight over Syria
--------
Africa
• Two Feared Dead As Boko Haram Attacks Borno Village
• Tunisia Security Task Forces Kill Three Terror Leaders
• Somalia: Al-Shabaab attack kills 8
• South Africans conjure up hilarious 'Boko Haram challenge'
Compiled by New Age Islam News Bureau
URL: https://www.newageislam.com/islamic-world-news/indian-government-plan-deal-with/d/119674
--------
Indian Government's Plan to Deal with Growing Communal Divide, Which Is Being Used To Radicalise Muslim Youths In Some Cases
Abhishek Bhalla
September 5, 2019
The need to publicise negligible participation of Muslim youths in international terror networks, an unofficial web-based channel with voices from religious leaders, a study on activities of radical elements in jails and combating propaganda on social media are part of the Narendra Modi government's strategy for de-radicalisation and tackling communal disharmony.
India Today has accessed details that are part of a note that lays out the government's plan to deal with growing communal divide, which is being used to radicalise Muslim youths in some cases.
"The negligible participation of Indian Muslims in international terrorist theatres despite a large Muslim population needs to be adequately publicised to help nip radicalisation in the bud. Mainstream forces from the same community should be utilised in countering any instance of radicalisation in any corner of the country," the policy note says.
Sources said there is a need for sustained campaign to tell the world that Indian Muslims are not attracted to ISIS or other global terror groups in a big way.
According to the plan, there is also a need for a detailed study on activities of radical elements in various jails across the country to monitor and counter spread of radicalisation inside prisons.
"Talent spotting should be done within jails apart from religious preachers who visit jails for delivering sermons to lead the de-radicalisation programmes," the note says.
Formation of high security prisons in each state to prevent jails from becoming centres of radicalisation, running extortion rackets, hatching conspiracies and keeping in touch with terrorists and criminals is also a must, source say.
It is also proposed that there should be an Internet-based non official channel of religious leaders to provide right kind of advice and guidance to Muslim youths, who are, at times, misled by propagandist information and provocative videos.
Agencies such as the Intelligence Bureau, state police forces and in some cases, central armed police forces are expected to provide a feedback and be part of the implementation for these measures aimed at combating radicalisation and communal disharmony. The police across states need to bolster unifying forces and isolate divisive ones by enhancing their capabilities at all levels up to constabulary, the proposal adds.
The practice of police station-level coordination meetings with members of community mainly for addressing communal issues, needs to be increased in scope and reach by promoting the good elements and strictly dealing with bad elements.
Police personnel should become members of social media groups run by protestors or agitators for gaining access to valuable information. "Dedicated teams are required to filter out matters of concern from social media and analyse them," the draft plan says.
On the role of social media on spread of disinformation in mob lynching cases, Union Ministry of Home Affairs must take up issues with representatives of international social media platforms, it says adding, introducing artificial intelligence to remove objectionable contents automatically from social media needs to be explored.
https://www.indiatoday.in/india/story/tell-the-world-indian-muslims-are-not-global-terrorists-modi-govt-s-deradicalisation-blueprint-1595967-2019-09-05
--------
Ayodhya hearing: Accept Akhara's shebait rights, but not its tall claims, says Waqf board
September 6, 2019
The Sunni Wakf Board on Thursday told the Supreme Court that while they conceded the Nirmohi Akhara's claim for 'shebait' rights in Ayodhya, it was not willing to accept its "tall claims" about it being there from centuries ago.
A shebait, under Hindu law, is entrusted with the task of maintaining and preserving an idol and its property.
Appearing for the Wakf Board and M Siddiq, who are appellants in the matter, Senior Advocate Rajeev Dhavan told a five-judge Constitution Bench headed by Chief Justice of India Ranjan Gogoi that a distinction has to be made between the "credible and not credible" parts of the statements by the Akhara's witnesses. The Nirmohi Akhara is one of the three parties to the title suit.
The bench, also comprising Justices S A Bobde, D Y Chandrachud, Ashok Bhushan and S A Nazeer, is hearing appeals against the September 30, 2010 verdict of Allahabad High Court ordering a three-way division of the disputed 2.77 acres.
On Thursday, Dhavan tried to bring out alleged contradictions in the statements of the Akhara's witnesses. Intervening, Justice Chandrachud referred to Dhavan's statement that he was not opposed to shebait rights claimed by the Akhara and asked, "On the one hand, you admit their shebait rights. On the other, you say their evidence is mostly based on folklore etc. If that is folklore, shouldn't this also be so?"
Dhavan replied that he will distinguish between the "credible" and "not incredible" parts of the statements.
"Somebody said Nirmohi Akhara came into being 700 years ago, some said 250 years ago… A witness said Lord Ram was there 12 lakh years ago… But I cannot get away from the fact that there are records that Nirmohi Akhara was there in 1855-56 and a suit was filed in 1885," he said.
The senior counsel said that even as he accepted that Nirmohis are 'shebaits' of Ram Chabutara in the outer courtyard, some parts of their statement were not credible. "The tall claims like they were there from time immemorial have to be rejected," he said.
The hearing in the matter will resume on September 11.
In a significant development in the case, the Sunni Wakf Board had on Wednesday accepted before the Supreme Court that there existed idols of Hindu deities in the outer courtyard of the disputed site and that they were being worshipped by Hindus.
https://indianexpress.com/article/india/ayodhya-hearing-accept-akharas-shebait-rights-but-not-its-tall-claims-says-waqf-board-5970556/
--------
India, Pakistan forces to be part of military exercise in Russia
September 6, 2019
Even as the relationship between India and Pakistan continues to remain tense, the armies of the two nations will take part in a multi-national military exercise in Russia next week – China will also take part in the exercise.
This will be the first time that forces from India and Pakistan will participate in a multilateral exercise together since the airstrikes conducted by Indian forces in Balakot earlier this year. The already fraught relationship between the two countries took a turn for the worse after India revoked the special status of Jammu and Kashmir last month.
The two forces had met last year as part of the Shanghai Cooperation Organisation – also held in Russia.
The exercise, to be held for two weeks, from September 9-23, is named TSENTR 2019. It is "part of the annual series of large scale exercises that form part of the Russian Armed Forces' annual training cycle" the Indian Army said on Thursday.
It rotates between the four main Russian operational strategic commands.
The country hosts a "major military exercise every year at one of the military Commands – Vostok in the east, Zapad in the west, TSENTR in the centre and Kavkas in the south.
The exercise this year will be held at the Donguz training ranges in Orenburg. It took on a multi-country facet "with Belarus participating in ZAPAD-2017 and China and Mongolia participating in VOSTOK-2018", Colonel Aman Anand, spokesperson for the Indian Army said.
He added that this year, "invitations for participation have been extended to nine other countries". Military contingents from China, India, Kazakhstan, Kyrgyzstan, Tajikistan, Pakistan and Uzbekistan, along with Russia will participate.
Col Anand said the "exercise aims at evolving drills of the participating armies and practicing them in the fight against the scourge of international terrorism, thereby ensuring military security in the strategic central Asian region".
The exercise this year will "focus on evaluating the level of troop preparedness, the acquisition of the required skills and raising the level of inter-operability and demonstrates the readiness of the participating armies".
https://indianexpress.com/article/india/india-pakistan-forces-to-be-part-of-military-exercise-in-russia-5970406/
--------
Pakistan Council of Islamic Ideology Recommends Making Triple Talaq Punishable Crime
September 06, 2019
ISLAMABAD: The Council of Islamic Ideology (CII) on Thursday recommended that the act of triple talaq (or instant divorce) should be deemed a punishable crime.
Replying to a question by Member of National Assembly (MNA) Bashir Virk, CII Chairman Dr Qibla Ayaz informed the National Assembly's Standing Committee on Law and Justice that the divorce takes when the word for it, talaq, is uttered thrice in one breath – even if it has been done in jest.
Federal Law Minister Farogh Naseem said that there was precedence in Islamic history of such an acting being punished by the state, saying that the second caliph of Islam, Hazrat Umar (RA), had punished those who performed the act of instant divorce. "Therefore, the NA can make laws to make this action a punishable crime," he said.
Endorsing the law minister, Dr Ayaz said triple talaq should be made punishable in Fiqah Hanafi.
When inquired about the punishment, Ayaz said that the CII had not determined that as yet. "If the Ministry of Law agrees to our suggestion to make it a punishable offence, the punishment can also be determined."
The law minister warned that making triple talaq a punishable crime would become another mean through which the police would demand bribes.
"If divorce is not a crime, then such legislation should be avoided," he said. "But if there is precedence of the righteous Caliph, then we are bound to follow it as well," he added.
The committee deferred the discussion on the bill about divorce as well as that on inheritance till the next meeting.
https://www.pakistantoday.com.pk/2019/09/06/cii-chief-recommends-making-triple-talaq-punishable-crime/
--------
Malaysian Islamic Development Department: Muslims Need Not Join Mass Multi-Faith Prayer Sessions, But Non-Muslims Free To Do So
BY KENNETH TEE
September 05, 2019
KUALA LUMPUR, Sept 5 — The Malaysian Islamic Development Department (Jakim) today said that Muslims are not obligated to join mass prayer sessions, whether together silently or in succession, with other religions in any organised events.
The federal Islamic body referred to a decision made during a national fatwa committee meeting in 2006, and a similar Federal Territories-level meeting.
"It is not 'harus' for Muslims to participate in mass prayer sessions with other religions," said the agency's corporate communications unit in a statement.
"Harus" refers to a neutral Shariah ruling that means "allowed", as opposed to "wajib" or obligated and "haram" or forbidden.
However, Jakim said non-Muslims are not restricted from organising or joining such mass prayers.
Jakim said it made the decision following an inquiry by the Department of National Unity and Integration under the Prime Minister's Department on August 6 of instances involving Muslims participating in such prayers.
The statement came after The Malaysian Insight earlier today reported an alleged directive by the Prime Minister's Department barring both Muslims and non-Muslims prying together.
It reported that the directive was from the committee to promote understanding and harmony between religions under the Department of National Unity and Integration.
https://www.malaymail.com/news/malaysia/2019/09/05/jakim-muslims-need-not-join-mass-multi-faith-prayer-sessions-but-non-muslim/1787641
--------
U.S. Deal With Taliban Meets Afghan Resistance as Violence Intensifies
By Mujib Mashal
Sept. 5, 2019
KABUL, Afghanistan — The Afghan government is pushing back against American diplomats on the eve of a troop withdrawal deal with the Taliban, concerned that the proposed agreement lacks assurances that the insurgents will honor their promises once American troops leave.
Zalmay Khalilzad, the American special envoy who has finalized "in principle" a deal with the Taliban after nearly a year of negotiations, has met with President Ashraf Ghani and his senior officials in Kabul at least four times over the past few days to seek their support for the deal that is about to be announced, officials say.
That deal includes a timetable for the withdrawal of the remaining American and coalition troops that Western officials say could be about 16 months long, in return for assurances that the Taliban will break from international terrorist groups and start direct negotiations with Afghan officials over Afghanistan's political future.
But senior officials involved in the discussions with the Americans said that the Afghan government is worried that, as worded, the troop-withdrawal agreement in no way is contingent on progress in the coming Afghan negotiations with the Taliban.
The disagreement between the allies has come during one of the most war's most violent periods, with news of deadly attacks around the country.
"The concerns are very high, not just for the government but also for the people of Afghanistan," Waheed Omer, Mr. Ghani's director of public and strategic affairs, told reporters in Kabul on Thursday. "Because the people of Afghanistan have been bitten by this snake before — they have seen the results of hasty deals, of deals they and their voices weren't part of."
"We are still not assured of what the agreement's consequences could have for Afghanistan's future," he added. "Our position is that we need more debate on this agreement."
The main fear for Mr. Ghani and his government, a senior official said, is that the government and the Taliban would start direct negotiations, expected right after the United States and the Taliban announce their agreement, with completely opposing views on governance and decades of grievances.
Those negotiations will be complicated and time-consuming. And even if the Afghan negotiators overcome their profound differences and agree to a political power-sharing deal, the United States will have completed its withdrawal, with little leverage to ensure the peace deal holds.
Mr. Khalilzad has insisted that the United States was not simply seeking a withdrawal agreement, but "a peace agreement that enables withdrawal."
Still, the Afghan fears are rooted in history: After the Soviets quickly withdrew from Afghanistan, guerrilla factions began fighting one another, creating the anarchy that descended into civil war. Terrorist groups like Al Qaeda exploited that chaos.
Some Western officials, however, have privately expressed concerns that Mr. Ghani is seeking a delay of any troop-withdrawal deal's signing until after he is assured another term in office, in an election now scheduled for Sept. 28. Some of Mr. Ghani's rivals share those concerns.
"We need national consensus on the peace debate, and we need to decouple the peace debate from the elections debate as soon as possible," Rahmatullah Nabil, a former intelligence chief who is one of Mr. Ghani's challengers, said in a televised debate on Monday.
Mr. Nabil, who has also strongly criticized the way the United States has negotiated with the Taliban, said that the complicated mix of two difficult processes — the withdrawal talks and the election — had created deep uncertainty for both.
Mr. Ghani remains adamant that the elections will proceed as planned, despite fears from Western diplomats that, based on precedent from two previous elections, the vote could initiate a prolonged dispute that would weaken the Afghan government's hand in later talks with the Taliban.
Around his meetings in Kabul with Mr. Khalilzad, the American envoy, Mr. Ghani has continued to address his election rallies around the country by video chat.
Officials involved in the discussions with the American envoy say the conversations between the two men, who have known each other for decades, have been tough but civil. In one of their first meetings, the envoy handed Mr. Ghani a copy of the tightly guarded withdrawal agreement, which the Afghan president spent about an hour studying before returning it to Mr. Khalilzad. Mr. Ghani asked for more time so his government could reflect and study the agreement's contents.
In subsequent discussions presided over by Mr. Ghani, Mr. Khalilzad has briefed other Afghan officials on the core elements of the agreement without showing them a copy. He keeps a copy in front of him in a folder for reference if the officials raise specific questions during the discussions, according to officials knowledgeable about the briefings.
The war, meanwhile, has shown no sign of abating. During the morning rush hour on Thursday, a van packed with explosives detonated on a main road leading to an office of the Afghan intelligence agency in Kabul, killing at least 10 civilians, wounding 42 and destroying 12 vehicles.
Also killed in the explosion were two members of the American-led NATO coalition, one from Romania and one from the United States, the mission confirmed in a statement, without giving details. It brings the number of American military deaths in Afghanistan so far this year to 16.
In eastern city of Jalalabad, officials said a night raid by a strike force from the Afghan intelligence agency, which is closely mentored by the C.I.A., left four civilians dead, all brothers from one household. Relatives brought their bodies to the gates of the governor's office demanding accountability by the intelligence agency, long accused of abuses.
On Thursday evening, President Ghani announced by video message the resignation of his intelligence chief, Masoom Stanekzai. While he attributed the resignation to the civilian casualties caused by the strike force, pressure had been mounting on Mr. Stanekzai, a confidant of Mr. Ghani, for months.
Also on Thursday, Afghan officials said the head of the country's human rights commission in western Ghor province had been seized and assassinated by the Taliban.
The victim, Abdul Samad Amiri, who was traveling the dangerous highway from Kabul to Ghor, was kidnapped in Maidan Wardak district, confirmed Shaharzad Akbar, the chairman of Afghanistan's human rights commission. A spokesman for the Taliban said they were still looking into the incident.
"This brutal act is a war crime," said Samira Hamidi, a South Asia campaigner for Amnesty International. "Even as the Taliban claims to be pursuing peace, it continues to kill people in the most gruesome way."
In a recent report, Amnesty expressed concern about how Afghan human rights defenders have increasingly come under attack.
Jawad Sukhanyar contributed reporting from Kabul, and Zabihullah Ghazi from Jalalabad, Afghanistan.
https://www.nytimes.com/2019/09/05/world/asia/afghanistan-taliban-deal-ashraf-ghani.html
--------
Taliban militants behead the acting provincial human rights chief of Ghor
September 05, 2019
The Taliban militants have beheaded the acting chief of the regional human rights commission of Ghor province of Afghanistan.
The local officials confirmed that the Taliban militants beheaded Abdul Samad Amiri, the acting chief of the regional human rights commission of Ghor province earlier today.
Deputy provincial governor of Ghor Habibullah Radmanish confirmed that the dead body of Mr. Amiri was discovered along the Kabul-Ghor highway on Thursday morning.
Radmanish further added that the Taliban militants had abducted Mr. Amiri from Jalrez district of Maidan Wardak province three days earlier.
Meanwhile, officials in Independent Human Rights Commission of Afghanistan have said that Mr. Amiri was not decapitated but the militants shot him to death after abducting him.
The Taliban group has not commented in this regard so far.
https://www.khaama.com/taliban-militants-behead-the-acting-provincial-human-rights-chief-of-ghor-03967/
--------
ISIS, Weakened, Finds New Bombers: Cows Wearing Explosive Vests
By Alissa J. Rubin
Sept. 4, 2019
The Islamic State has been reluctant to use humans to carry bombs because of the group's reduced numbers, so it has tried out a new tactic: Bovine suicide bombers.
Residents of Al Islah, Iraq, on Saturday said they had witnessed "a strange" sight: two cows harnessed to explosive vests roving the northern side of the village, according to Col. Ghalib Al-Atyia, the spokesman for the police commander in Diyala Province.
The animals wandered into the outskirts of the community, and when they seemed close to houses, the bombs were detonated remotely, killing the cows, and damaging nearby houses, but not harming any people, Colonel Al-Atyia said.
In the colonel's assessment, the attack signaled that the Islamic State, whose ranks were sharply reduced by the group's four-year fight against Iraqi security forces backed by American special forces, was resorting to unconventional methods since they lacked manpower.
Still, using cows to deliver bombs is an odd strategy in Iraq, where the animals are prized both for meat and milk. A cow can easily cost $1,200 or more, and no one in the area could remember ever seeing a cow sent to its death in such a way, said several witnesses.
The cows were contributed to the Islamic State by villages in the area thought to be friendly to their cause, said security officials in the Diyala Police Command.
The use of animals as booby traps is not new. During the civil war in Iraq from 2003 to 2009, the insurgents who called themselves Al Qaeda in Iraq placed bombs both inside and under dead livestock, counting on families to try to clear away the corpses.
In Afghanistan, donkeys were occasionally pressed into service to carry bombs targeting NATO forces.
Colonel Al-Atyia described the attack as serving several purposes for the Islamic State, the main one to signal the group's continued presence in the area. Attaching the bombs to the cows and sending them into the village meant the Islamic State operatives got close enough to release the cows near its entrance without being caught and were able to stay close enough to detonate the bombs, he said.
It also shows the groups's interest in intimidating areas they may want to access in the future, he said. This area is close to main roads leading to neighboring provinces.
"The Islamic State will keep trying to breach those areas that they consider strategic for movement," Colonel Al-Atyia said.
Northeastern Diyala has seen almost weekly Islamic State attacks in the last year, including ones using mortars and roadside bombs, as well as small arms attacks and kidnappings.
Some of those have targeted Al Islah, even though it is one of the areas that the Iraqi army claimed recently to have cleared of all Islamic State presence, said security experts.
Falih Hassan contributed reporting.
https://www.nytimes.com/2019/09/04/world/middleeast/isis-iraq-cow-attack.html
--------
Iran's IRGC head claims that its military is 'invincible'
September 05, 2019
The head of Iran's Islamic Revolutionary Guard Corps (IRGC) claimed on Thursday that Iran's military is "invincible."
"Our enemies only know a small part of our defense capability, and despite that, they know that Iran's military and security power is invincible," said IRGC head Brig. Gen. Hossein Salami, the semi-official Mehr news agency reported.
Iran's deterrent power is built to defeat "great enemies," said Salami, adding that these enemies will see Iran's "true power" in the field.
"We have developed and expanded our [military] equipment and power based on the strategy of defeating transregional, arrogant powers," added Salami.
"The enemies have seen both the technological capability of our equipment and the determination of our warriors to defend the values of the Islamic revolution … we are a tested power in the region, and they will see our true power in the field," he said.
Salami has previously made various claims about the strength of Iran's military. In a speech aired on Iranian TV in February, he said, "We are planning to break America, Israel, and their partners and allies. Our ground forces should cleanse the planet from the filth of their existence."
On Tuesday, the commander of the Iranian army Maj. Gen. Abdolrahim Mousavi said that the Iranian army has recently conducted secret missions and will continue to do so.
https://english.alarabiya.net/en/News/middle-east/2019/09/05/Iran-s-IRGC-head-claims-that-its-military-is-invincible-.html
--------
India
'Hindus have prayed at Babri site since 1885'
Sep 6, 2019
NEW DELHI: Muslim parties to the Ayodhya dispute admitted before the Supreme Court on Thursday that Hindus have been offering prayers at Ram Chabutra within the Babri Masjid precincts since 1885, when a civil court had granted the community right to worship while denying them title over the Ram Janmabhoomi-Babri Masjid structure.
Countering the Hindu parties' claim that the community has been offering prayers at Ram Janmasthan since time immemorial, Muslim parties through senior advocate Rajeev Dhavan told a bench of CJI Ranjan Gogoi and Justices SA Bobde, DY Chandrachud, Ashok Bhushan and S A Nazeer, "The tall claims about worshipping there since time immemorial have not been substantiated through evidence.
"I accept that they (Hindus) worshipped there from 1885. I cannot deny the documents which establish this fact. Between 1885 and 1934, when communal riots damaged the mosque, they were praying at Ram Chabutra temple that was in the precincts of Babri Masjid but outside the structure. This is acceptable but not claims about offering prayers there since time immemorial, or for 2,000 years or 700 years."
The Muslim parties had on Wednesday agreed to coexist with Hindus offering prayers at Ram Chabutra in the outer courtyard of the mosque, which was demolished by kar sevaks on December 6, 1992. However, they had insisted on ownership of the 2.77 acre disputed land as a condition for them to extend the courtesy of allowing Hindus to offer prayers at Ram Chabutra.
Dhavan carried out a detailed exercise to point out contradictions in the statements of witnesses who had supported 'sevait' (priestly) rights of Nirmohi Akhara. The Allahabad High Court on September 30, 2010, had divided the disputed land into three equal parts with one each to Ram Lalla, Akhara and Sunni Waqf Board.
Justice Chandrachud asked Dhavan, "If you are questioning the veracity of statements by witnesses in support of 'sevait' (priestly) rights of Nirmohi Akhara, then how can you support the Akhara's sevait rights? Either the statement of the witnesses stand or they go because of the contradictions you are pointing out."
Dhavan replied, "We want to clarify that Akhara had sevait rights only at Ram Chabutra. I am only separating the incredible claims from credible part of the statements of witnesses in the suit filed by the Akhara in 1959." He said some of these witnesses even denied a recorded fact that idols were placed surreptitiously on the night of December 22, 1949. "That much reliability can be placed on their statements," he said.
Arguments will resume on Monday.
https://timesofindia.indiatimes.com/india/hindus-have-prayed-at-babri-site-since-1885/articleshow/71001299.cms
--------
Ayodhya Case: 'Pakistani Terror Groups Helping Muslim Side Pay Rajiv Dhavan', Says Waseem Rizvi
September 6, 2019
New Delhi: Waseem Rizvi, the chief of the Uttar Pradesh Shia Waqf Board has triggered a major row by alleging that the clients of senior advocate Rajiv Dhawan, who is appearing for the Muslim parties in the ongoing day-to-day hearings of the decades-long Ayodhya dispute case, are paying him his fees for the case with the help they get from Pakistani terror organisations.
The development comes just days after the Supreme Court issued notices to two persons, including a Chennai-based ex-government official, for threatening him to withdraw from the case.
In a statement, Rizvi, who is a strong supporter of constructing a Ram Temple on the disputed site, said that the senior advocate's clients were paying him with the help of Pakistani terror groups. He further said that Dhawan would only say in the court, what he has been told to say.
He added that Lord Rama's existence is being questioned only by those whose own ancestors were 'demons.' He said, "The demons that Lord Rama killed, it is their future generations who are questioning if he ever existed."
Rizvi further called the Babri Mosque, which was razed on December 5, 1992, an 'illegal structure' and said that it was a 'sin' committed by the Mughal emperors.
Full report at:
https://www.india.com/news/india/ayodhya-case-pakistani-terror-groups-helping-muslim-side-pay-rajiv-dhavan-says-waseem-rizvi-3766378/
--------
India's citizenship drive separating Muslim families
September 05, 2019
New Delhi: Just seven years old, Afsana is now one of the 1.9 million people to have been rendered stateless in a citizenship drive in India's northeastern state of Assam. Inexplicably, she's the only member of her family who didn't make the list.
"We are shocked," said Afsana's father Nijamul Haque, 29, who was visibly upset as he sat with his wife and daughter outside his small house surrounded by flood waters from the monsoon rains. "Whatever may happen, I will fight for my child."
A kilometre away along a narrow lane in Nalbari, one of the districts where many of the state's Muslims live, Morisful Begum couldn't eat or sleep after she discovered on Saturday she had been declared a foreigner while her husband and three children had been recognised as Indian citizens. She's eight months pregnant, and can't afford the cost of appealing the decision on top of expenses for food and school.
"Committing suicide is on my mind," said Begum, 26, her eyes full of tears. "I can't live in a detention camp away from my children and husband."
A sense of betrayal and anger is growing in Muslim communities, which are most affected by the National Register of Citizens that aims to separate genuine citizens from illegal migrants. Instead, the country's biggest and most complex registry is dividing families and causing ripples across the political spectrum, fuelled by concerns Prime Minister Narendra Modi's party is using the measure to advance a hardline Hindu agenda.
Mistaken identities
Interviews with more than a dozen residents and officials in Assam this week show many believe the exercise to detect undocumented migrants has been plagued by basic clerical errors and mistaken identities. Even prominent citizens such as lawmakers and retired soldiers have been excluded, plunging Assam into chaos and confusion.
Millions who have resided in the state for decades now fear they will be unable to vote in elections, access welfare programs or own property. Instead they could be forced to live in detention camps or be deported to neighbouring Bangladesh, a Muslim-majority country.
"The exercise itself has been done in a way that it has been not only inhuman but also suffers from procedural and legal arbitrariness," said Ashok Swain, professor at the Department of Peace and Conflict Research at Uppsala University in Sweden. "The real challenge is what is India going to do with the people those who don't make it" on the registry, he said, adding that feelings of helplessness and resentment may fuel violent secessionist movements.
Even Modi's ruling Bharatiya Janata Party has said it is not happy with the implementation. High-profile state minister Himanta Biswa Sarma said in a tweet he was disappointed at the exclusion of many genuine residents and the inclusion of others through fraud. He also told a local television channel that "genuine Indians" left out should not worry and "foreigners" included in should not celebrate, as "nothing is final." Calls to the offices of the prime minister and Home Minister Amit Shah seeking comment were unanswered.
'Non-discriminatory'
As criticisms have built up, the home ministry has defended the process involving some 52,000 state government officials as meticulous, objective and transparent. "It is a non-discriminatory process, which leaves no room for bias and injustice," said Raveesh Kumar, spokesman for India's foreign ministry.
The Supreme Court-monitored exercise is aimed at determining who was born in the state of Assam and who might be a migrant from Bangladesh or other neighbouring regions. It counts as Indian citizens those who can prove they were residents of Assam up to midnight on March 24, 1971"-a day before Bangladesh declared its independence from Pakistan, leading to a war that killed hundreds of thousands.
Illegal migration has been a source of ethnic conflict and political unrest for decades in the tea-producing state where more than one in three people is Muslim. Modi's party wants to replicate the citizenship register nationwide, featuring it as a key plank in its election manifesto. His government separately tried to push controversial legislation to grant Indian nationality to non-Muslim illegal migrants from nearby countries.
On Tuesday in Assam, half a dozen people lined up at a faded building in Guwahati, the state's largest city that sits beside the Brahmaputra River, to access one of 100 so-called Foreigners Tribunals — quasi-judiciary bodies that are empowered to pass judgement on whether a person is a foreigner. But they were turned away, as the process to appeal decisions isn't up and running yet.
Biggest losers
Government officials in the building who wouldn't give their names said they expected a huge rush once the appeals begin. Those excluded can file an appeal within 120 days of receiving a notification, and the government has said it will provide free legal assistance to those who can't afford it. Another 200 tribunals are in the process of being established.
It is not just Muslims who have been caught up in the chaos, Hindus have also been affected. Tea garden labourer Sonu Ramdey said because he is illiterate, he was unable to file the proper documents that would have allowed him to be included in the citizenship list, while Bisu Rajak, 55, a shopkeeper in Kamrup district, said his wife has been left out in the list, while other family members were recognised as citizens. "Ultimately the mistake will be corrected," Rajak said. "But before that we have to go through an ordeal."
Rural women — many of whom can't read or write — are some of the biggest losers in the process. With no proof of education or birth certificates to show, many find it tough to prove their identity, said Amzad Hussain, a social activist from Assam who is providing assistance to villagers. They also don't have money to bear legal costs to defend themselves if they are left off the list.
Tales of family separation are mounting. Twelve of Makbul Hussain's 16 family members did not make it onto the list, while one of his brothers found a place with his family. Makbul Hussain, a schoolteacher, said he used the legacy data of his father, who has been voting in Indian elections since 1966. His brother submitted their grandfather's credentials.
Makbul Hussain, who earlier supported the citizenship screening move because he believed it would help root out illegal Bangladeshi migrants, has now changed his mind.
Full report at:
https://gulfnews.com/world/asia/india/indias-citizenship-drive-separating-muslim-families-1.66226594
--------
Kerala-based Political Parties Unable to Comprehend Arif Mohammad Khan's Appointment as Governor
Ashraf Kadakkal
September 5, 2019
There have been some responses about the appointment of Arif Mohammad Khan as the governor of Kerala saying that it is on expected lines. However, political parties in the state were expecting someone from the Narendra Modi-Amit Shah coterie, a 'parivar karyavahak' cast in the mould of the Rashtriya Swayamsevak Sangh (RSS), considering the party supremo's frequent reminder to followers to tirelessly work for capturing power in West Bengal and Kerala.
Hence, Khan's appointment as the governor of the last Left-ruled state seemed an unexpected choice. There is confusion in the camps of both the Left Democratic Front (LDF) and Congress-led United Democratic Front (UDF) about how to analyse the new move in the elaborate game plan of the coterie that has made calculated moves so far.
We should not turn a blind eye to the fact that whenever the BJP has to power, it has sent to Kerala sagacious personalities as governors. We have the examples of P Sadasivam and Sikandar Bakhth. However, most political functionaries were anticipating a prominent Sangh Parivar figure for the post. Hence, the appointment is something about which one can heave a sigh of relief.
Muslim League legislature party leader MK Muneer made a significant remark that the appointment is a sign of gratitude of the Modi government for Khan's support to the triple talaq bill and abrogation of Article 370 that granted special status to Jammu and Kashmir.
Soon after his appointment to the gubernatorial post, Khan said he would seek a healthy conversation with the Muslim community in Kerala on many issues, including Sharia. From this, we can understand that Muslim personal law is an important item in his agenda and that does not bode well as it is a sensitive issue for the community in the state.
It is more sensitive than even the Babri Masjid issue for Muslim organisations in Kerala. It is only on the issue of preserving the Muslim personal law that organisations such as Sunni, Salafi, and Jamat-e-Islami that differ on a spectrum of ideological issues come together on a single platform. It is regarding the Sharia controversy following the Shah Bano case in 1984 that this unity became clearly visible in the state.
This cause, in fact, united the Indian Union Muslim League and All India Muslim League that otherwise were at loggerheads. Ideological differences and organisational narrow-mindedness are factors that keep Muslim bodies in the state into separate blocs. Only joint protests on the issue of civil code are exception to the rule.
One of the favourite topics of Khan is that there should be a reform in such legislations and approaches. As his book 'Text and Context: Quran and Contemporary Challenges' and innumerable articles and speeches reiterate this point, he cannot keep these issues at arm's length. We will have to wait and see how his acts and positions are received by the political and religious organisations in the state.
Khan became a cynosure of the media in 1986 when he resigned from the Rajiv Gandhi Cabinet in protest against the Muslim Women (Protection of Rights on Divorce) Bill introduced by the then Prime Minister.
He has earned the image of an anti-Sharia personality ever since. Left parties, especially the CPM, which strongly supported him at that time, do not have the same stand on the issue anymore. The Left parties stood at the forefront of those who opposed criminalisation of triple talaq. They have the same stand on the issue of the Uniform Civil Code.
It is a painful experience for Khan that the Sharia controversy and the opposition of the All India Muslim Law Board jeopardised his political career, though he had the knowledge, sagacity and experience to be at the forefront of Indian politics. He might be personally nursing the happiness about having been able to avenge the grudge on the triple talaq issue. He is unlikely to get the support of mainstream political parties on this issue, except the BJP.
The Uniform Civil Code does have equal importance in the manifesto of the BJP-led National Democratic Alliance (NDA) like Article 370. Naturally, Kerala would be the hotbed of strong agitations against the government on this issue. The argument of prominent social critic Shahjahan Madampat that we have to analyse the mission of Khan in the context of the political climate is relevant.
His predecessor, Justice Sadasivam, was a governor who was too cautious to step into controversies. His main focus was on the responsibilities as his role as the chancellor of universities. One of the remarkable steps in that direction was the setting up of a fund of Rs 5 crore for an annual award for the best university in the state.
Full report at:
https://www.news18.com/news/opinion/kerala-based-political-parties-unable-to-comprehend-arif-mohammad-khans-appointment-as-governor-2298479.html
--------
Brits denounce attack on Indian High Commission by Pak-incited elements
September 6, 2019
Many people in the UK have denounced the recent violent protests and vandalisation of the Indian High Commission in London during the 'Kashmir Freedom March' organised by a plethora of British Kashmiri groups.
Thousands of protesters had gathered outside the High Commission on Tuesday over the Kashmir issue. They threw eggs and vegetables on the embassy building. The demonstrators also smashed a windowpane of the High Commission.
The protesters were carrying flags of Pakistan-occupied Kashmir (PoK) and shouted "freedom" slogans.
David Vance of AltNewsMedia tweeted, "In London, UK Pakistanis attack the Indian High Commission. Why are these feral thugs allowed on our streets?"
He alleged that British Pakistanis are enjoying the support of the Scottish National Party.
"Many (UK) Pakistanis in Scotland are strong supporters of the separatist SNP (Scottish National Party). In return, the SNP is campaigning to reinstate Article 370 in Kashmir, so that non-Muslims there can continue to receive severely discriminatory treatment," Vance said in another tweet.
India in the UK
✔
@HCI_London
Another violent protest outside the Indian High Commission in London today, 3 September 2019. Damage caused to the premises. @foreignoffice @UKinIndia @MEAIndia @DominicRaab @DrSJaishankar @PMOIndia @tariqahmadbt
View image on Twitter
8,050
9:48 PM - Sep 3, 2019
Twitter Ads info and privacy
7,531 people are talking about this
Many people in the UK on Wednesday also visited the Indian High Commission and accused London Mayor Sadiq Khan of allowing thousands of protesters to gather for an anti-India protest.
Katie Hopkins, a media personality and columnist, posted a video on her Twitter handle showing a filthy mess of eggs and vegetables thrown by the agitators.
She said, "The Embassy in London - one of our greatest allies - is a filthy mess of eggs and vandalised windows at the hands of Pakistani protesters in the UK. Is the Muslim Mayor of London enabling this behaviour? Why has this not been cleaned up? Deeply shaming for Britain."
Full report at:
https://www.indiatoday.in/world/story/brits-denounce-attack-on-indian-high-commission-by-pak-incited-elements-1596077-2019-09-06
--------
PM Modi meets Malaysia PM, talks J&K move, Zakir Naik extradition
by Shubhajit Roy
September 6, 2019
Prime Minister Narendra Modi on Thursday briefed his Malaysian counterpart Mahathir Mohamad about the rationale behind his government's decision to revoke the special status of Jammu and Kashmir. He also sought the extradition of radical televangelist Zakir Naik, wanted in India for alleged money laundering and for inciting extremism.
The two leaders met on the sidelines of the fifth meeting of the Eastern Economic Forum held at Vladivostok in the Russian Far East Region. "Had a great meeting with Tun Dr. Mahathir Mohamad, Prime Minister of Malaysia. We talked about bilateral ties between our nations and ways to further diversify cooperation," Modi tweeted.
Foreign Secretary Vijay Gokhale said Modi discussed with Mahathir the "reorganisation" and developments related to Jammu and Kashmir. They also discussed the growing threat of terrorism, he said.
"Prime Minister Modi explained to Mahathir the rationale behind the reorganisation of the state of Jammu and Kashmir, in terms of both giving effective governance and delivering socio-economic justice. And in that context the two leaders discussed the focus was on terrorism, on how to combat the growing threat of terrorism. Prime Minister Mahathir acknowledged that terrorism was a global problem and Malaysia is against any form terrorism," he said.
After India's decision on Kashmir, Pakistan Prime Minister Imran Khan had called up Mahathir and sought his support on the issue. The Malaysian Prime Minister had then expressed hope that India and Pakistan would exercise "utmost restraint" to prevent further escalation.
Modi also raised the issue of Zakir Naik's extradition during his meeting with Mahathir, Gokhale said. "Both the parties have decided that our officials will stay in contact regarding the matter and it is an important issue for us," the Foreign Secretary said.
Naik, a 53-year-old radical preacher, left India in 2016 and subsequently moved to Malaysia, where he was granted permanent residency. He has been banned from from any public activities in Malaysia after his remarks against Hindus and Chinese there on August 8.
This is the second meeting between the two leaders — the first was in May last year when Modi called on Mahathir in Putrajaya after the 94-year-old leader won the general election.
Gokhale said the meeting between the two Prime Ministers was "very warm". "Modi also described Mahathir's election as a historic one and said India was looking forward to working with Malaysia," he added.
Full report at:
https://indianexpress.com/article/india/pm-modi-meets-malaysia-pm-talks-jk-move-zakir-naik-extradition-5970331/
--------
Mahbooba's daughter gets permission to meet her mother
by Qayam
September 06, 2019
New Delhi: Supreme Court of India granted permission to Ms. Ilteja, daughter of former Chief Minister of Jammu and Kashmir, Ms. Mahbooba Mufti: The bench of the Supreme Court headed by Chief Justice of India, Justice Ranjan Gogoi permitted her to meet Ms. Mahbooba Mufti.
It may be mentioned that in the history of democratic India for the first time, three former Chief Ministers have been kept under house arrest for more than a month and Ms. Mehbooba Mufti is one of them.
In her petition, Mahbooba's daughter, Ms. Ilteja informed the Supreme Court that she has no problem to go to her house but she can't move freely in the city.
The bench of the Supreme Court consisted of Justice S.A. Bobde and Justice S.A. Nazeer.
At present, Ms. Ilteja is staying in Chennai. She requested the Supreme Court to permit her to travel from Chennai to Sri Nagar. She also sought permission to meet her mother in loneliness. This request was accepted by the Supreme Court.
In her petition, she mentioned that she is very much concerned about the health of her mother.
Ilteja's advocate Nitya Ramakrishnan made a statement that Ms. Ilteja has not met her mother for the past one month and hence she is filing this petition.
Full report at:
https://www.siasat.com/mahboobas-daughter-gets-permission-meet-her-mother-1608388/
--------
Kashmiri youth forced to wear women's clothing, thrashed
September 06, 2019
Alwar: A Kashmiri youth, student of third year Aeronautical Engineering was forced to wear women's clothing. This incident took place in Alwar District, Rajasthan.
Miscreants forced Faiz to wear women's clothing
According to the report published in The Quint, the victim is identified as Mir Faiz (25). His brother, Faisal informed that Faiz was going to Neemrana Market to get some articles, however, on his way, three youths forced him to get onto a bike. They took Faiz to isolated place and forced him to wear women's clothing, Faisal said.
Aishwarya S Iyer
@iyersaishwarya
This is Faiz Mir, a Kashmiri, who was beaten up in Rajasthan's Alwar district on 4 Sept.
In his complaint Faiz has said he was threatened by 3 men who took him to an isolated spot, forcibly made him change into a woman's clothes & told him to walk in the Neemrana mkt.@TheQuint
Embedded video
945
16:45 - 5 Sep 2019
Twitter Ads information and privacy
1,279 people are talking about this
Later, they tied Faiz to a pillar and slapped him continuously, Faisal added.
When police failed to understand the reason behind his women's clothing, the case was shifted to intelligence agencies.
Faiz was detained for a few hours
After detaining for a few hours, Faiz was allowed to go along with his brother who resides in Gurgaon.
Full report at:
https://www.siasat.com/kashmiri-youth-forced-wear-womens-clothing-thrashed-1608144/
--------
Pakistan
Saudi, UAE support Pakistan in resolution of Kashmir issue, ISPR says
September 06, 2019
RAWALPINDI: As Kashmir reels under a month-long curfew imposed by India following the revocation of its special status, the foreign ministers of Saudi Arabia and the United Arab Emirates have assured to stand by Pakistan to resolve the situation that was created in the region after the "unilateral" measures taken by India.
The development was shared by the Inter-Services Public Services (ISPR) in a statement after a meeting of Chief of Army Staff General Qamar Javed Bajwa with Saudi Foreign Affairs Minister Adel Ahmed Al-Jubeir and UAE's Sheikh Abdullah Bin Zayed Al Nahyan. Both dignitaries have assured complete support "to resolve the situation created by India's unilateral steps in occupied Kashmir", said the ISPR.
The assurance came after Pakistan urged the international community to push India into halting and reversing its illegal and aggressive policies and postures in occupied Kashmir.
According to the military's media wing, matters of mutual interest, including growing bilateral ties and the security situation, in the region came under discussion during the meeting.
The foreign ministers appreciated Pakistan's role for peace and stability in the region.
In turn, General Bajwa said Pakistan was proud of its "special strategic and brotherly relationship" with Saudi Arabia and the UAE.
A day earlier, the top diplomats of their respective countries had called upon Foreign Minister Shah Mahmood Qureshi and Prime Minister Imran Khan.
During the meeting, the prime minister highlighted deep concerns over the worsening human rights situation in Indian Occupied Kashmir (IOK) because of the month-long complete lockdown and communications blackout in the occupied territory.
He further underscored that India's actions are a clear violation of United Nations Security Council (UNSC) resolutions and international law.
https://www.pakistantoday.com.pk/2019/09/05/uae-saudi-arabia-lend-full-support-for-resolving-kashmir-dispute/
--------
FATF to evaluate Pakistan's efforts against terrorism next week: Report
Sep 5, 2019
ISLAMABAD: The Asia Pacific Group of the FATF, a global watchdog for terror financing and money laundering, will evaluate Pakistan's anti-terror efforts next week, according to a media report.
A Pakistani delegation will leave for Bangkok on September 7 to meet the Financial Action Task Force officials from September 8 to 10, Samaa TV reported.
During the three-day meeting, Pakistan will brief the FATF on the steps it has taken to check activities of banned outfits and the seizing of related assets.
Pakistan submitted a compliance report on its 27-point action plan to check terror to the Financial Action Task Force during the intergovernmental organisation's annual meeting (Asia-Pacific ) in Australian capital Canberra from August 18 to 23.
The reports covered safeguards against money laundering and terror financing by banned outfits and non-government entities through banking and non-banking jurisdictions, capital markets, jewellers and similar related services.
This report's evaluation will determine whether the FATF downgrades Pakistan from its grey list to its black list.
Apart from the report, Pakistan will provide answers to about 100 additional questions asked by the FATF.
The FATF last year placed Pakistan on the grey list of countries whose domestic laws are considered weak to tackle the challenges of money laundering and terrorism financing.
In June, the Paris-based anti-money laundering watchdog said Pakistan failed to complete its action plan on terror financing.
Full report at:
https://timesofindia.indiatimes.com/world/pakistan/fatf-to-evaluate-pakistans-efforts-against-terrorism-next-week-report/articleshow/70998291.cms
--------
PoK PM Raja Farooq Haider fails to win over US policymakers
SEP 06, 2019
NEW DELHI: The leader in Pakistan-occupied Kashmir (PoK), Raja Farooq Haider, visited the US at the behest of the Imran Khan government following abrogation of Article 370, but failed "miserably" to impress policymakers there with his allegation of "human rights violation" in Jammu & Kashmir.
Haider met several US opinion makers including experts in top American think tanks during his stay. During a talk at the Widrow Wilson Center in Washington DC on August 26, when senior South Asia expert Michael Kugelman sought Haider's opinion on both parts of Jammu & Kashmir — J&K & PoK — he surprised the audience by saying that the UN fact finding mission on human rights should be allowed in PoK and not just J&K, ET has reliably learnt. Then, to a question from Tara Kartha of the United States Institute of Peace (USIP), the PoK "prime minister" blamed the late ZA Bhutto for imposing constitution on the region which he said curtailed its autonomy. He said the PoK administration wanted restoration of the rights originally enjoyed by the region.
"This was a clear case of doublespeak by Raja Farooq Haider," said an expert familiar with Pakistan's politics. "He was trying to appease international audience by creating a villain out of Islamabad while on the other hand he depends on Pakistan's federal government."
Haider runs a family fiefdom in PoK as his mother and sister are also members of the local assembly and he admitted this during his visit to the US, people in the know of his meetings said. Five seats are reserved for women in the PoK assembly and two of those are occupied by members of his family.
During his visit, Haider also made a case for supporting "armed freedom struggle" in Jammu & Kashmir, which is akin to openly supporting cross-border terror, according to one of the people.
The Imran Khan government is employing all possible resources to build its narrative after failing to get international support on the Kashmir issue.
Full report at:
https://economictimes.indiatimes.com/news/politics-and-nation/pok-pm-raja-farooq-haider-fails-to-win-over-us-policymakers/articleshow/71002842.cms
--------
PML-N to join JUI-F's 'Azadi March' in Oct, claims Fazl
September 06, 2019
Jamiat Ulema-e-Islam-Fazl (JUI-F) chief Maulana Fazlur Rehman on Thursday claimed that Pakistan Muslim League-Nawaz (PML-N) supreme leader Nawaz Sharif has endorsed his 'Azadi March' in a message relayed to him by his son-in-law Muhammad Safdar.
On Aug 26, Fazl announced that his party has planned a decisive long march on Islamabad aimed at ousting the present "fake government" in October.
Speaking to reporters in Islamabad, Fazl said after the putative endorsement of the PML-N supremo he hoped that the opposition would join hands with his party. However, the date for the march would be formally announced on Sept 18 in a meeting of the JUI-F central committee meeting.
He claimed that he was getting positive feedback from the people about the march as everyone wanted to get "rid of the incompetent government".
The JUI-F chief said that he was not afraid of arrest and would devise strategy according to the situation.
Fazl also refused to rule out resigning from assemblies.
Full report at:
https://www.pakistantoday.com.pk/2019/09/06/pml-n-to-join-jui-fs-azadi-march-in-oct-claims-fazl/
--------
SC moved against SJC's decision to dismiss reference against ex-CJP Nisar
September 06, 2019
Representatives of civil society have moved the Supreme Court after their reference, filed in Oct 2018, against former chief justice Saqib Nisar was dismissed by the Supreme Judicial Council (SJC).
The reference, filed under Article 209 for breach of the judges' code of conduct, was taken up by the council after Nisar's retirement and disposed of in March 2018.
According to a local media outlet, the petitioners claimed they were never informed of the SJC decision and that they had only learned of its disposal after writing a letter to the SC registrar.
They also questioned the SJC's decision to take up the reference two months after former CJP's retirement.
Full report at:
https://www.pakistantoday.com.pk/2019/09/05/sc-moved-against-sjcs-decision-to-dismiss-reference-against-ex-cjp-nisar/
--------
President Alvi, PM Imran say Pakistan ready to face internal, external threats
September 06, 2019
ISLAMABAD: President Dr Arif Alvi and Prime Minister Imran Khan on Thursday, in their messages for Defence Day, said that Pakistan is fully capable of defeating all internal and external threats.
President Alvi stated that in addition to being fully modernized, Pakistan's Armed Forces were imbued with the spirit of patriotism and sacrifice and were capable of defeating any internal and external adventurism.
"The world has already witnessed their capabilities in February this year, when they effectively and swiftly responded to Indian intrusion and made it clear to the world that their hearts are still charged with September [1965] Spirit and they will go to any extent to safeguard the freedom, integrity and sovereignty of the motherland," he said.
The president also reiterated the country's solidarity with Kashmiri brethren and renewed resolve that they would continue to support their right to self-determination. "We will continue raising their just struggle for freedom at all levels and platforms," he added.
The president said that Indian brutalities and cruelties could not suppress their spirit of freedom. "Undoubtedly, Occupied Jammu & Kashmir is an internationally-recognised disputed territory," he added.
The president said there were many United Nations Security Council (UNSC) resolutions on Kashmir dispute and it should be resolved according to those resolutions. "Therefore, Indian unilateral actions in this regard have no significance and we do not accept these fascist actions," he added.
PM Imran said that the Pakistani nation was fully alive to any kind of misadventure by the enemy and was prepared to give the enemy the fullest possible response.
"I have informed the world that Pakistan does not want war, but at the same time, Pakistan cannot remain oblivious to the challenges posed to its security and integrity. We are prepared to give the enemy the fullest possible response," the prime minister said.
He said that the armed forces, the Pakistani nation, the political leadership, both the houses of Parliament, the mainstream and social media all were in one voice against India's illegal, unilateral, reckless and coercive attempt to alter the disputed status of Indian occupied Kashmir.
He said that September 6, the Defence Day of Pakistan, stood out in the history of Pakistan as a symbol of enduring display of unity, indomitable courage and unmatched sacrifices by our gallant soldiers. He said the Pakistani soldiers, on this day, years ago, had proved to the world that the country's defence was unassailable and the valiant armed forces were ever ready to defend every inch of the motherland. In the 1965 war, the valour of our armed forces and the spirit of the people presented a true picture of oneness and coordination, discipline and perseverance. "Both the people and the men in uniform proved that it's not the size that matters but what matters the most is the courage and devotion to duty," the prime minister remarked while paying tribute to the brave forces who have ensured the safety and security of the motherland in all testing times and offered exemplary sacrifices in the pursuance of peace.
"Our shuhada and ghazsi are our heroes and the nation owes them gratitude and respect. I salute the gallant sons of soil who laid down their lives while defending Pakistan, and pay respect to their families for unparalleled sacrifices they rendered for our tomorrow," the prime minister said.
He said that even today, Pakistan was facing a similar situation with the enemy once again showing aggressive postures on the Line of Control (LoC) and had unleashed reign of terror on innocent and unarmed people of the occupied valley after changing the status of Kashmir by abolishing Articles 370 and 35-A in violation of the United Nations (UN) charter. He said that for Pakistan, Kashmir stood as its jugular vein and altering its status posed challenges to Pakistan's security and integrity. "The fascist government is hell bent upon suppressing the Kashmiri people's just struggle against India's illegitimate occupation, denying them their right to self-determination permissible under the UN Resolutions," the prime minister said.
Besides, he said the Muslims across India faced detention camps and cancellation of citizenship because of the Hindutva ideology. He told the nation that he had called upon the world community to take note of the doctrine of hate and genocide and push India to stop it forthwith. He also urged upon the international community to seriously consider the safety and security of India's nuclear arsenal that was in the control of a racist and Hindu supremacist government because this was an issue that impacted not just the South Asian region but the whole world.
The premier said that Pakistan had launched a proactive diplomatic activity in the world capitals as well as in the UN to expose the true face of today's radicalised India. "Failing, the world community will be responsible for the catastrophic aftermath. We will never leave our Kashmiri brethren alone, come what may; we will continue our moral, political and diplomatic support for their inalienable right to self-determination within the framework of UN resolutions," the prime minister said.
He said he had full confidence in his valiant armed forces which were capable enough of giving befitting response to any kind of aggression by the enemy. He added that Pakistan had already displayed a very high standard of professionalism in the recent past and it continued to do so when challenged.
"While remembering today the 1965 war heroes, we pay homage to our shuhada and ghazis and draw inspiration from their iconic acts of valour and sacrifices," he added.
Full report at:
https://www.pakistantoday.com.pk/2019/09/05/president-alvi-pm-imran-say-pakistan-ready-to-face-internal-external-threats/
--------
Pakistan, China, Afghanistan dialogue on Saturday
September 06, 2019
ISLAMABAD: Islamabad will host a trilateral dialogue between Pakistan, Afghanistan and China on Saturday amid reports that a deal between the United States and Taliban was just round the corner.
This would be the third trilateral dialogue, actually initiated by Beijing in 2017 amid rising tensions between Islamabad and Kabul with an objective to help normalise relations and start joint development projects in Afghanistan.
"Another objective of the start of this dialogue was to convince Pakistan to help in the Afghan peace process. This mechanism greatly helped in removing misunderstandings and normalise relations between the two neighbouring states," the sources added.
Chinese Foreign Minister Wang Yi would be leading a high-level delegation while Afghanistan would likely be represented by its Foreign Minister Salahuddin Rabbani or National Security Advisor Hamdullah Mohib.
However, it is not yet confirmed whether the foreign minister or the NSA will lead the delegation because of their engagements in the peace talks and the United Nations General Assembly, respectively. A final decision in this regard will be taken on Friday.
The sources said that Foreign Minister Shah Mahmood Qureshi would lead Pakistani delegation at the dialogue.
Foreign Minister Wang Yi is expected to hold meetings with Prime Minister Imran Khan and Army Chief General Qamar Javed Bajwa.
Trilateral Dialogue
Pakistan, China and Pakistan commenced the dialogue in 2017, with its first meeting hosted in Beijing.
Next year, Afghanistan hosted the dialogue where the three countries signed a Memorandum of Understanding (MoU) of joint cooperation to counter terrorism in Kabul in 2018.
The document was signed by Foreign Minister Shah Mehmood Qureshi, Chinese Foreign Minister Wang Yi and Afghan counterpart Salahuddin Rabbani.
Better border management between Pakistan and Afghanistan and intelligence sharing are also part of the dialogue besides cooperation for the Afghan reconciliation process.
Development projects in Afghanistan following peace dialogue is another common subject Pakistan and China would be discussing.
China also wants to further strengthen relations with Afghanistan and desires to make Afghanistan a part of China, Pakistan Economic Corridor (CPEC).
The sources said that keeping in view the fast developments taking place in the regional perspective, Wang Yi's visit is of crucial nature.
"This would be the first visit to Islamabad by China's foreign minister who fully supported Pakistan's request to immediately convene a special session of the United Nations Security Council (UNSC) and take up an application at by Pakistan against Indian annexation of Jammu and Kashmir by India," the sources said.
FM Wang Yi had also cancelled his visit to India which was scheduled to happen soon after his visit to Pakistan.
His visit to New Delhi was important to help normalize tensions between the three nuclear neighbours – China, Pakistan and India – over the Indian annexation of Jammu and Kashmir.
Full report at:
https://www.pakistantoday.com.pk/2019/09/05/pakistan-china-afghanistan-dialogue-on-saturday/
--------
PM Imran apprises Omani delegation of Kashmiris' plight
September 06, 2019
ISLAMABAD: Prime Minister Imran Khan on Thursday briefed a parliamentary delegation of Oman about the human rights violations being committed by Indian security forces in occupied Kashmir.
The Omani delegation was headed by Chairman Majles Al'Shura Sheikh Khalid Bin Hilal Al Maawalia and comprised Mohammed Ali Amer Baqi, Mohameed Khamis Abdullah Al Badi, Mohameed Ramadhan Qasim Al Balushi, Yoonis Yaqoob Issa Al Siyabi, Murad Ali Yousaf, Salim Hamad Saed Al Mufarraji and Ambassador Al Sheikh Omar Al Marhoon.
Speaker National Assembly Asad Qaiser was also present during the meeting.
Full report at:
https://www.pakistantoday.com.pk/2019/09/05/pm-imran-apprises-omans-parliamentary-delegation-of-kashmiris-plight/
--------
1 dead, 10 wounded in 2 bombings at bus station in Pakistan
5 September 2019
Pakistani police say two bombs exploded minutes apart near a police vehicle at a bus terminal in the southwestern city of Quetta, killing one person and wounding 10 others.
City police chief Abdur Razzaq Cheema said a passer-by was killed and two others were wounded on Thursday in the first bombing.
He said the second bomb wounded eight people, including policemen and a local TV journalist, when they reached the bus terminal responding to the first explosion. Cheema said some of the wounded persons were listed in critical condition at a government hospital.
Full report at:
https://english.alarabiya.net/en/News/world/2019/09/05/1-dead-10-wounded-in-2-bombings-at-bus-station-in-Pakistan.html
--------
Southeast Asia
Critics slam Selangor's 'hate speech' as mosques prepare to deliver anti-Shia sermon
Abdar Rahman Koya
September 5, 2019
SHAH ALAM: Mosques in Selangor have been instructed to deliver a sermon which attacks Shia Muslims for tomorrow's Friday congregations, in what critics have slammed as a fresh round of hate speech by authorities targeting religious minorities.
The sermon, prepared by the Selangor Islamic Religious Department (Jais) ahead of an important Shia occasion next week, describes Shia Muslim beliefs and practices as "deviant", "heinous", "nonsense" and "nauseating".
A prominent critic of Islamic authorities said the sermon was tantamount to hate speech against religious minorities.
"Not only is the sermon full of hatred, it is also replete with lies and inaccuracies.
"Perhaps Jais should first learn about Shiism from the primary source and understand that the Sunni-Shia divide today isn't so much about theological differences, but more of politics," said Dr Ahmad Farouk Musa, who heads Muslim reforms group Islamic Renaissance Front.
A copy of the sermon sighted by FMT among others urges Muslims to be the "eyes and ears" of the authorities, adding that they should report anyone who follows Shia Islam practices.
"The fatwa pertaining to Shia was issued and gazetted in Selangor in 1989 and 2013. Hence, the Muslim ummah no longer have an excuse to be influenced by the Shia ideology that ensnares its victims through various ways including private and public institutions for higher education, umrah agencies, tuition centres, Quran classes, children's books, novels, comics, and others," according to the text of the sermon distributed to mosques in the state.
The sermon comes ahead of Muharram 10 next week, a day marking the death of Hussain, the central figure in Shia Islam who was also the grandson of Prophet Muhammad.
Shia, with a substantial following in Iraq, Iran, Kuwait, Bahrain, Lebanon and several parts of Saudi Arabia, Yemen and Pakistan, is the second largest branch of Islam.
But its teachings are labelled as deviant by Malaysia's Islamic authorities, who have in the past raided the private religious events of its adherents.
Fatwas have been issued in most states declaring Shia Muslims as "deviant", while mosques in Selangor have for years included a prayer condemning the school of thought during Friday sermons.
Farouk said those who prepared the sermon are ignorant of the power politics in the Muslim world, and how the Shia-Sunni conflict narrative was sparked by Saudi Arabia in the wake of the 1979 Iranian revolution which he said had "sent shivers down the spine of the Saudi monarch".
"This revolution was basically a rude shock to the leadership of Saudi as it argued that Islam and hereditary kingship were incompatible. So why should we in this country be propagating hatred towards Shia?" asked Farouk.
Outspoken novelist Faisal Tehrani agreed, saying Jais officials are still "playing the Saudi tune".
"Are we colonised by the Wahhabists? I thought we just celebrated Merdeka. We need to check this. I am afraid that we are not that free as claimed," Faisal, whose works have been banned over claims that they promote Shia Islam, told FMT.
Faisal said the sermon also makes a mockery of Putrajaya's slogans of moderation promoted by Mujahid Yusof Rawa, the minister in charge of Islamic affairs.
He said scholars feted by Putrajaya themselves have no problems regarding Shia as fellow Muslims.
They include Mauritanian scholar Abdullah Bayyah, who was this year's recipient of the Maal Hijrah Award.
"His stand is very clear. He stated, let me quote, 'We should try to work with Shias who are living in this type of society with us, on the same basis, on working on the things that we agree with and avoiding the things that we don't agree with'," Faisal said.
Faisal warned that tomorrow's sermon would encourage criminal acts against Shia adherents, citing the case of Perlis activist Amri Che Mat who went missing in what is believed to be an abduction.
"If this sermon leads to serious stigmatisation and further, another abduction, can we hold the sermon's writer responsible?" Faisal asked.
https://www.freemalaysiatoday.com/category/nation/2019/09/05/critics-slam-selangors-hate-speech-as-mosques-prepare-to-deliver-anti-shia-sermon/
--------
Kashmir issue dominates Modi-Dr M talks, says foreign minister
September 06, 2019
VLADIVOSTOK, Sept 6 — The issue of Jammu and Kashmir was the main topic in the bilateral meeting between Prime Minister Tun Dr Mahathir Mohamad and his Indian counterpart, Narendra Modi yesterday.
Foreign Minister Datuk Saifuddin Abdullah said both leaders generally discussed bilateral relations in the meeting requested by Modi outside the Eastern Economic Forum here.
"Prime Minister Modi took time to clarify the position of Jammu and Kashmir while Tun Dr Mahathir explained Malaysia's stand that all parties should meet and adhere to United Nations resolutions," he said at a media conference here last night.
Saifuddin said Dr Mahathir did not pledge support for or against any parties but hope the conflict would be settled and it would not escalate in a war.
Apart from complying with UN resolutions, the Prime Minister said the best way to resolve the issue in Kashmir is through negotiations as well as bringing a third party if necessary or to bring the case to international court.
On the significance of the issue on Malaysia, Saifuddin considered Malaysia as an Islamic country with its own position among Islamic countries who can explain the actual situation if the matter is brought up at any international platform.
Media reports stated that the tension between Pakistan and India flared up last month following India's move to cancel the special status of both Jammu and Kashmir which enabled the people to formulate their own laws and prevent foreigners from residing in the territories.
Jammu and Kashmir in the Himalayas, has Muslim majority population were divided into two regions controlled by India and Pakistan. Both countries are claiming full control of the two territories.
Since 1947, both countries have gone to war three times in 1948, 1965 and 1971 over control for Kashmir.
On the issue of Dr Zakir Naik, Saifuddin said:" Zakir Naik was mentioned by Prime Minister Modi in passing and he(Modi) mentioned the matter was being discussed by officers of both countries.
"That was how he (Modi) presented it. Then, Tun Dr Mahathir did not respond as most of the time was used to discuss on Kashmir."
However, Saifuddin said there was no discussion between his ministry and the Foreign Ministry of India now and it was only a diplomatic note which was sent by India to seek the extradition of Dr Zakir who is a citizen of India with permanent resident status in Malaysia
On the whole. Saifuddin said the issue of Zakir would not affect relations between Malaysia and India.
On the Prime Minister's meeting with the Russian President Vladmir Putin, he said discussions covered cooperation in aerospace engineering research, sales of palm oil to Russia and offer of military assets to Malaysia.
"Russia offers their latest fighter jets and was willing to take back our old jets but it was not discussed in detailed as the government has not made a decision whether to buy or not," he said.
Full report at:
https://www.malaymail.com/news/malaysia/2019/09/06/kashmir-issue-dominates-modi-dr-m-talks-says-foreign-minister/1787890
--------
G25: Dismissal of SIS fatwa application contrary to Federal Constitution
September 05, 2019
PETALING JAYA: The G25 has called the High Court's recent decision to dismiss an application by Sisters In Islam (SIS) challenging a decision of the Selangor Fatwa Committee as retrogressive, against high judicial precedent and contrary to the Federal Constitution.
The group of eminent Malays said the decision implied that the High Court had granted wide arbitrary powers to the state fatwa authority to issue fatwas, adding that the judgment set a dangerous precedent.
"G25 also believes that there has been a serious misconception of the fundamental values that Islam uphold, namely rationality, compassion, tolerance and inclusivity.
"The dismissal of SIS' application is a gross violation of sound Islamic governance, " it said in a statement on Thursday (Sep 5).
The High Court on Aug 27 dismissed the application by SIS to challengethe Selangor Fatwa Committee's decision to declare it a deviant organisation which had diverged from the true teachings of Islam.
The court ruled that a fatwa (edict) was the exclusive jurisdiction of the Syariah Court.
In rendering his judgement, judge Datuk Nordin Hassan said that the civil court had no jurisdiction to hear the application brought by SIS, its founder Zainah Mahfoozah Anwar and former minister in the Prime Minister's Department Datuk Mohd Zaid Ibrahim, pursuant to Article 121A of the Federal Constitution.
G25 said there were serious negative implications from such a decision.
"Not only is it a major blow for Muslim women, but it is also a regressive step away from racial and religious harmony, " it said, adding that the rejection of SIS' application was akin to rejecting the fundamental dream of the country's "Bapa Malaysia", Tunku Abdul Rahman.
G25 also said that the decision of the High Court had serious legal and socio-political consequences.
"By way of a judicial review application, SIS challenged the validity of the fatwa on the grounds (among others) of it being unconstitutional as it violates SIS's right to freedom of speech.
"Moreover, SIS, being a company, and not a natural person professing the Islamic faith, is outside the jurisdiction of the Selangor religious authority, " it said.
Full report at:
https://www.thestar.com.my/news/nation/2019/09/05/g25-dismissal-of-sis-fatwa-application-contrary-to-federal-constitution
--------
Family plays huge part in promoting racial unity, says Muslim NGO
Nicole Ng
September 5, 2019
PETALING JAYA: A Muslim NGO has denied an allegation that vernacular schools are a source of racial disunity among Malaysians, claiming that the family also plays an important role in shaping a one's personality.
"Historically, we have already accepted a split schooling system, including vernacular schools and religious schools.
"Parents are the ones who must let their children socialise with other ethnic groups," Angkatan Belia Islam Malaysia (Abim) secretary-general Muhammad Faisal Abdul Aziz said.
"They can also be the ones who are not progressive in terms of broadening their children's social circle."
He believed that the family plays a more important role in establishing prejudiced perspectives in children.
Individuals themselves may also learn to be more critical of other races, he said on the sidelines of a forum titled "Aspirasi Malaysia: Realiti & Jalan Ke Depan" ("Malaysia's aspirations: The realities and road ahead").
"Parents can sometimes be responsible for a child's narrow-minded mindset.
"It doesn't matter which school we graduate from, be it a Chinese school or religious school.
"What is more important is that we need to have the initiative to explore and be more open to socialising with people who are different from us."
Faisal said parents play a role in incorporating perspectives that are respectful and open towards the other races.
Previously, PAS Muslimat vice-chief Salamiah Md Nor had demanded the abolition of vernacular schools, claiming they don't contribute to racial unity.
At the same forum, Universiti Kebangsaan Malaysia (UKM) anthropology lecturer Ong Puay Liu said although children spend about eight hours in school, they go back to their family at the end of the day.
"So the family should prepare the groundwork to respect each other," she said.
Ong agreed that local educational institutions are also at fault.
She said people's mindsets are shaped by the conditions they grow up in.
Full report at:
https://www.freemalaysiatoday.com/category/nation/2019/09/05/family-plays-huge-part-in-promoting-racial-unity-said-muslim-ngo/
--------
Muslim clothing made of Japanese kimono materials
September 06, 2019
MATSUYAMA — Clothing for Muslim women, made with used kimono materials in Japanese-inspired patterns, such as cherry blossoms and Mt. Fuji, is gaining in popularity.
Fukusa Corp., a textile product manufacturer based in Matsuyama, has been eyeing the global Muslim market with its population of an estimated 1.6 billion.
Fukusa, which downsized its business along with the decline of the Japanese clothing industry, is looking at the adverse situation from a different angle and taking it as an opportunity to make Ehime Prefecture traditional clothing techniques known to the world.
Fukusa was founded in 1995 by President Shinji Ito, 59. Its made-to-order clothing with used kimono materials became popular and the company at one point had 12 outlets in department stores and other locations across the country. In part due to the sluggish business in Japanese clothing, however, the number fell to three.
The turning point arrived in 2014, when Fukusa's garments caught the eye of Shinichi Orita, representative director of the Japan Muslim Fashion Association, a general incorporated foundation, at an exhibition in Tokyo.
Orita proposed making clothing for Muslim women and Ito accepted, saying that he would love to make the charm of Japanese materials known to the world.
In 2015, Ito began a market research in Indonesia, where more than 200 million Muslims live. He traveled there eight times in a year, hearing opinions from about 300 people, affluent to poor.
Ito found that people in Indonesia enjoy various fashions while strictly adhering to Islamic law. When Ito showed local Indonesian women kimono products, he was told that animal patterns, such as cranes and dragons, are taboo, but large patterns with motifs of nature, such as cherry blossoms and Mt. Fuji, are very popular. He also found that they like red, yellow and other flashy colors.
Then Ito made some model garments, displaying them in 2016 at one of the largest fashion events in Indonesia. Many people crowded the spot where his clothes were displayed. With their original colors and complicated patterns, the products were a hit.
In a year, Fukusa sells about 1,000 hijabs — headscarves worn by Muslim women — at ¥3,000 each excluding tax. The Japanese kimono style has been introduced in various parts of Muslim clothing with reused Japanese kimono materials, such as long sleeves and a design that overlaps one side on top of the other in front and fixes them around the waist, instead of front buttons seen in usual Muslim clothing.
In 2016, in response to local requests, Fukusa launched a prayer mat made with towels produced in Imabari, Ehime Prefecture, the largest towel production site in Japan. The towels are washable and portable. The company sold about 250 such mats as of late June.
Fukusa's products are available at its directly managed stores as well as shops at tourist sites in and outside Ehime. They are also sold online.
Full report at:
https://the-japan-news.com/news/article/0005984502
--------
China hacked Malaysian, other Asian telcos to spy on Uighur travellers, say sources
September 06, 2019
LONDON, Sept 6 — Hackers working for the Chinese government have broken into telecoms networks to track Uighur travellers in Central and Southeast Asia, two intelligence officials and two security consultants who investigated the attacks told Reuters.
The hacks are part of a wider cyber-espionage campaign targeting "high-value individuals" such as diplomats and foreign military personnel, the sources said. But China has also prioritised tracking the movements of ethnic Uighurs, a minority mostly Muslim group considered a security threat by Beijing.
China is facing growing international criticism over its treatment of Uighurs in Xinjiang. Members of the group have been subject to mass detentions in what China calls "vocational training" centres and widespread state surveillance.
Beijing's alleged cyberspace attacks against Uighurs show how it is able to pursue those policies beyond its physical borders.
As part of the campaign, different groups of Chinese hackers have compromised telecoms operators in countries including Turkey, Kazakhstan, India, Thailand and Malaysia, the four sources said.
Those countries are frequently used as transit routes by Uighurs to travel between Xinjiang and Turkey in what human rights activists say is an attempt to escape state persecution.
Beijing has said that such travellers may be going to fight for militant groups in Iraq and Syria, with Chinese officials saying that the measures in Xinjiang are needed to stem the threat of Islamist extremism.
China has repeatedly denied involvement in cyber attacks or any mistreatment of the Uighur people, whose religious and cultural rights Beijing says are fully protected, and the Chinese Foreign Ministry said any hacking allegations need to be supported by evidence.
"We would again like to stress that China is a resolute safeguarder of internet security. We consistently and resolutely oppose and crack down on any forms of internet attacks," a ministry statement said.
Reuters was not able to identify which specific telecoms operators were compromised. Government officials in India and Thailand declined to comment. Authorities in Malaysia, Kazakhstan and Turkey did not immediately respond to requests for comment.
US cybersecurity company Volexity this week published a report detailing what it said were Chinese efforts to hack the phones and email accounts of Uighurs around the world.
Researchers at Google also said they had discovered a campaign by unknown parties to infect thousands of Apple iPhones, which sources told Forbes and TechCrunch was targeted at the Uighur community.
'Window into someone's life'
Telecoms operators have long been targeted by intelligence agencies around the world for the wealth of sensitive user data they hold, such as information on location and contacts.
Western officials say Chinese cyber attacks have in part been driven by concerns that some of the up to 5,000 Uighurs believed to be fighting alongside militant groups in Iraq and Syria may return to carry out attacks in China.
The ability to access telecoms user data has also become an increasingly valuable spying resource as the widespread use of encrypted messaging platforms has made it harder to intercept and monitor communications, said John Hultquist, director of intelligence analysis at US cybersecurity company FireEye.
"A single (telecoms operator) intrusion gives attackers access to a lot more information than they would get going after individuals," he said.
FireEye said that one of the Chinese hacking groups it monitors had deployed a piece of malware against telecoms operators in Southeast Asia to mine SMS data for messages containing keywords associated with terror attacks, military ranks and names of Chinese politicians.
The Chinese hackers also widely targeted call detail record (CDR) data held by their victims, said Amit Serper, an investigator at US-Israeli cybersecurity company Cybereason, which published a report on the activity this year.
CDR data shows who is sending and receiving calls, as well as the user's location, giving an attacker what Serper described as "a window into someone's life".
Full report at:
https://www.malaymail.com/news/malaysia/2019/09/06/china-hacked-malaysian-other-asian-telcos-to-spy-on-uighur-travellers-say-s/1787811
--------
Philippines' ex-Muslim rebels' decommissioning on Saturday
September 06, 2019
MANILA: "All is set" for the decommissioning of former Moro Islamic Liberation Front (MILF) fighters and their weapons on Saturday, Murad Ibrahim, interim chief minister of the Bangsamoro Autonomous Region in Muslim Mindanao (BARMM), told Arab News.
"There's no problem. Everything will be smooth," added Ibrahim, who also chaired the MILF.
"I met with members of the Independent Decommissioning Body, and they informed me that everything is prepared for Sept. 7."
Philippine President Rodrigo Duterte is expected to witness the landmark event, which will see around 1,060 former MILF fighters and more than 2,000 weapons decommissioned.
Under the normalization track of the 2014 peace agreement between the government and the MILF, a total of 40,000 fighters will be decommissioned. This year will see 12,000 of them go through the process.
Another 35 percent of MILF forces will undergo the procedure next year, and the rest will do so until 2022.
"We're talking here of a huge number of MILF combatants (for decommissioning this year)," said Ibrahim.
The decommissioning process highlights that MILF forces want to return to normal civilian life, and that the group is "really committed" to its agreement with the government, he added.
Ibrahim called for public support so the combatants can succeed in their quest to change their lives. "Give them a chance," he said.
But he acknowledged that even with the passage of the Bangsamoro Organic Law, which led to the organization of the BARMM and martial law on Mindanao island, security in the region remains fragile.
The number of violent incidents may have gone down, but the threat posed by religious extremists remains, Ibrahim said.
Full report at:
https://www.arabnews.com/node/1550401/world
--------
South Asia
Airstrikes in Pul-e Khumri city kill 45 militants including Taliban's shadow governor
September 05, 2019
The security forces carried out a series of airstrikes in Pul-e Khumri city of Baghlan province which killed at least 45 Taliban militants.
The 209th Shaheen Corps said in a statement that the security forces conducted the airstrikes late on Wednesday night.
The statement further added that the airstrikes killed 45 militants including Mawlavi Obaidullah, the shadow governor of Taliban for Baghlan.
The Taliban group has not commented regarding the airstrikes so far.
https://www.khaama.com/airstrikes-in-pul-e-khumri-city-kill-45-militants-including-talibans-shadow-governor-03968/
--------
The Afghanistan war is over, and Pakistan has won
Michael Rubin
September 4, 2019
The US war in Afghanistan is winding down, and Pakistan has won. The basic outline of the agreement negotiated by US Special Envoy Zalmay Khalilzad is nothing new: The United States withdraws its forces in exchange for a Taliban pledge not to associate with terrorism or allow Afghanistan to be used as a safe-haven for terror groups.
There problems with the agreement are many. Proponents of diplomacy with the Taliban often say that wars can only end through diplomacy. "You don't make peace with your friends. You have to be willing to engage with your enemies if you expect to create a situation that ends an insurgency," Secretary of State Hillary Clinton explained. But the agreement outlined by Khalilzad is little different from that which Clinton administration officials struck with the Taliban in the years prior to 9/11: At the time, the Taliban promised to foreswear terrorism and quarantine Al Qaeda leader Osama Bin Laden. The subsequent terrorist attacks in New York and Washington underscored their insincerity. Perhaps the Taliban have changed, but not necessarily for the better, as the uptick in attacks throughout Khalilzad's negotiations show. In many ways, President Donald Trump and Khalilzad seem to have embraced the John Kerry school of diplomacy, in which desperation for a deal substitutes for bringing leverage to bear and credibly convincing adversaries that failure to bargain will mean for them a far worse fate.
A more fundamental problem is Pakistan. The Taliban would not exist without Pakistani support. While Khalilzad and diplomats shroud negotiations in the idea of bringing peace between Afghan factions, the Taliban negotiators were based in Qatar and answered to leadership in Quetta which in turn took direction from Pakistan's Inter-Services Intelligence in Islamabad. Once upon a time, Secretary of State Colin Powell spoke about the possibility of negotiating with "moderate Taliban." He was pilloried at the time but, even if bringing the Taliban into a big tent is now preferable, these were not the Taliban with whom Khalilzad negotiated, but rather their more extreme Pakistan-controlled cousins. Simply put, the Taliban are to Pakistan what Hezbollah is to Iran.
There is also the fundamental problem of legitimacy: The Taliban justify their insurgency and terrorism in the fact that they, and not President Ashraf Ghani's administration, are the legitimate rulers of Afghanistan. By cutting Ghani's elected government out of negotiations, Khalilzad played to that Taliban conceit. But the logical problem remains: If the Taliban believe they are legitimate in the eyes of the Afghan public, why not simply put their weapons down and run in the elections? The answer is simple: Most Afghans see the Taliban as foreign puppets and would never cast their ballots for them. Certainly, most Afghan women would not, nor would most Afghan ethnic groups. Americans might think of the Taliban simply as Afghan, but Afghanistan is an ethnic checkerboard, and most Afghans recognize the Taliban as Pashtun supremacists and racists willing to rape and murder minorities.
Trump wants to end a war that costs $30 billion annually. That is admirable. Put aside the fact that there are other strategies that could be brought to bear in order to compel Pakistan to cease terror support. But the basic error in his calculation may be that he has a choice between $30 billion and zero. The open secret—even among those towing Trump's line—is that the Taliban deal will bring an American exit but not peace. Indeed, the net result could be far greater expense down the road. The Taliban continues to embrace and incorporate Al Qaeda's philosophy and personnel. The Taliban safe-haven remains and will now expand. Refugee flows brought by renewed civil war can destabilize neighbors. Nor is there an international consensus about what terrorism is, giving the Taliban a semantic loophole through which they could drive a truck bomb. There is a strong possibility that today's savings could cost the American people exponentially more should a Pakistani regime and their Taliban proxies high on victory decide to expand their fight, Khalilzad's piece of paper be damned.
Full report at:
https://www.aei.org/publication/the-afghanistan-war-is-over-and-pakistan-has-won/
--------
Taliban suicide bomber kills at least 10 in Kabul, 42 wounded
September 5, 2019
ATaliban suicide blast in the centre of Kabul killed at least 10 people and wounded more than 40 on Thursday, destroying cars and shops in an area near the headquarters of Afghanistan's NATO force and the U.S. embassy, officials said.
The Taliban claimed responsibility for the attack even as the insurgents and U.S. officials have been negotiating a deal on a U.S. troop withdrawal in exchange for Taliban security guarantees.
"At least 10 civilians have been killed and 42 injured were taken to hospitals," said Nasrat Rahimi, a spokesman for the interior ministry in Kabul.
Video footage and photographs posted on social media showed several cars and small shops torn apart by the blast at a checkpoint on a road near the NATO office and U.S. embassy. Police cordoned off the area.
Witnesses said the suicide bomber blew himself up as hundreds of people were standing or crossing the road.
Besmellah Ahmadi said he suffered minor wounds in the blast and sought shelter in a shop.
"My car windows were shattered. People rushed to get me out of the car," he told Reuters.
On Monday, a Taliban suicide truck bomber attacked a compound used by international organisations in Kabul, killing at least 16 people and wounding more than 100.
The U.S. top negotiator for peace in Afghanistan, Zalmay Khalilzad said this week the two sides had drawn up a draft framework agreement under which U.S. troops would leave five military bases in Afghanistan within 135 days of the signing of the pact.
There are some 14,000 U.S. troops in Afghanistan, deployed at various bases across the country.
Khalilzad is expected to meet Afghan and NATO officials to explain the draft agreement, which must still be approved by U.S. President Donald Trump before it can be signed.
Khalilzad, a veteran Afghan-American diplomat, has shared details of the draft with Afghan President Ashraf Ghani, and sought his opinion before firming up an agreement that could bring an end to America's longest military intervention overseas.
Full report at:
https://www.indiatoday.in/world/story/taliban-suicide-bomber-kabul-updates-death-toll-1595869-2019-09-05
--------
2 NATO service members killed in Kabul
September 05, 2019
The NATO-led Resolute Support Mission has confirmed that two service members of the alliance have lost their lives in Kabul today.
The Resolute Support Mission said in a statement "One service member was from Romania. The second service member was from the United States."
The statement further added "In accordance with U.S. Department of Defense policy, the name of the service member killed in action is being withheld until 24 hours after family notification is complete."
This comes as a suicide bomber detonated a vehicle packed with explosives close to the 40th Directorate of the National Directorate of Security in Kabul city earlier today.
Full report at:
https://www.khaama.com/2-nato-service-members-killed-in-kabul-03966/
--------
Poll: 69% of Afghans prefer peace over presidential elections
September 05, 2019
A new poll result shows 69 per cent people of Afghanistan prefer peace over presidential elections.
According to a Khaama Press poll, only 31 per cent of the poll participants have said they support presidential elections.
Around 5 thousand people participated in the poll from across Afghanistan with 3,450 people voting for peace and 1,550 others voting support of presidential elections.
This comes as the U.S. envoy for Afghan peace Ambassador Zalmay Khalilzad launched peace talks with Taliban nearly nine months ago and concluded the 9th round of peace talks few days ago.
He arrived in Kabul after concluding talks with Taliban to share the draft U.S.-Taliban peace agreement with the Afghan leaders.
Meanwhile, the sources have said Washington prefers to conclude a peace deal ahead of elections considering the national interests of the country.
On the other hand, President Ghani is attempting to persuade Washington to resume peace process after presidential elections which is scheduled for later this month. Therefore, the government has not prepared the list of the delegation which should participate in intra-Afghan dialogue which is likely to be organized in Oslo of Norway. This has reportedly caused anxieties among the American officials.
But Ambassador Khalilzad wants President Ghani to prepare a list which should contain individuals on whom the president should not influence but Ghani emphasizes that the delegation should be led by the government.
Another informed source told Khaama Press that Ambassador Khalilzad and President Ghani have met for at least six times over the past two days but the details of the meetings are not clear so far.
Anwar-ul-Haq Ahadi, the former minister of trade and commerce and the running mate of Abdullah as Chief Executive told Khaama Press that peace will be prioritized and elections will be postponed if a peace deal is signed.
He said it is yet not clear if the deal between U.S. and the Taliban will be signed before elections or not as the deal has both supporters and opponents in the U.S. as well.
Ahadi further added that peace process will be prioritized if President Trump manages to sign the deal with Taliban.
He also pointed that President Ghani will lose power once the peace deal is signed and acting government or interim government will be established in agreement between the Taliban and other political groups.
In the meantime, certain presidential runners including Abdullah Abdullah have also expressed flexibility to prioritize peace process.
Full report at:
https://www.khaama.com/poll-69-of-afghans-prefer-peace-over-presidential-elections-03962/
--------
Bangladesh bans two aid agencies from Rohingya refugee camps
September 05, 2019
COX'S BAZAR, Bangladesh: Bangladesh on Thursday said it has banned two aid agencies from Rohingya camps in the country's southeast, alleging they were telling refugees to reject repatriation to their homeland in Myanmar.
The move came amid growing impatience from Dhaka about the presence of the refugees in the country, two years after some 740,000 were driven over the border by a military crackdown on the Muslim minority.
The latest repatriation attempt by Bangladesh and Myanmar two weeks ago, the second in less than a year, failed with not a single refugee volunteering to cross the border back home.
US-based Adventist Development and Relief Agency (ADRA) and local organization Al-Markazul Islami were accused by the government's NGO Affairs Bureau of "instigating" the stateless minority against the recent repatriation attempt.
Kamal Hossain, the government administrator of Cox's Bazar district where the refugee camps are located, said Dhaka had issued a notice for the NGOs to immediately stop their activities across the country.
"The administration is taking action accordingly to the issued order," he said, adding that the NGO Affairs Bureau also ordered bank transactions by the two agencies to be halted.
More than 130 aid agencies work in the three dozen squalid camps in Cox's Bazar, where the 740,000 Rohingya fled to, joining some 200,000 others already living here.
Foreign Minister A.K. Abdul Momen last week said Dhaka would crack down on aid agencies if they "do something going beyond their terms and references."
The Rohingya have refused to go home until Myanmar gives them guarantees of safety and citizenship status.
Tensions have ratcheted up in the camps in recent weeks as refugees marked the two-year anniversary of the 2017 exodus.
Four refugees have also been killed in the fallout over the murder of local ruling party official Omar Faruk, which police blame on Rohingya hitmen.
Full report at:
https://www.arabnews.com/node/1550026/world
--------
Arab World
Lebanon Pays the Price for a Burden Called Hezbollah
Sep 05, 2019
Shortly before the Israeli attacks on Hezbollah, the U.S. Treasury Department announced it was levying economic sanctions against Lebanon's Jammal Trust Bank.
In this case, the term "sanctions" does not elucidate the extent of absolute damage this will cause the bank. The American administration demanded of Lebanon that it close the bank, freeze its deposits and prevent it from paying any debts. The governor of Lebanon's central bank, Riad Salameh, quickly moved to carry out the order. He announced a freeze on the bank's operations and handed over accounts management to the central bank until a solution could be found.
Salameh made an assurance that "all legitimate deposits compliant with Lebanese laws and the Central Bank's circulars are insured upon maturity." In other words, his representatives would have to confirm with the U.S. Treasury Department which account owners are legitimate and which aren't, thus allowing the American administration unprecedented access to the Lebanese financial institution.
Besides a general statement that Jammal supports Hezbollah's "illicit financial and banking activities," the United States did not detail the suspicions, listed no amounts or dates or who was behind such "illicit" activities.
Anwar al-Jammal, owner of the bank that employs 400 people in over two dozen branches across Lebanon and dozens of other representatives worldwide, apparently didn't understand why exactly the American administration decided to target his bank. Jammal drew praise last year for close cooperation between the bank and USAID and for its "Save and Win" campaign to encourage Lebanese citizens to increase savings. Lebanese economists say that Jammal is not a political man and not the type to conduct relations with Hezbollah. They say it was probably the bank officers who helped Hezbollah without knowledge of senior management, and that there was no justification for punishing all employees and certainly not the deposit owners who are now unsure of the fate of their money because they can't verify whether they are on a blacklist.
Jammal Bank Trust isn't Lebanon's biggest bank, and the immediate repercussions of it closing won't influence the extent of the current economic crisis. Lebanon's national debt is around 150 percent of its gross national product and its foreign currency reserves are $31 billion, but designated to serve as a guarantee for repaying debts. Lebanon has a window of opportunity is gas drilling in the Mediterranean, but before it can do that, it needs an agreement to mark its economic borders with Israel. However, the bank's closure – despite promise by U.S. Treasury Department last year that it did not intend to hurt banks in Lebanon – makes clear the economic burden Hezbollah is placing on the Lebanese government.
The Lebanese government has waited over a year to implement the decisions of the Cedar conference for international donors, which pledged to provide it with loans and grants worth $11 billion. The problem is that donor nations are withholding the funds as long as Hezbollah members serve in government ministries. It is an enormous sum designated to support development projects and to create additional revenue for the government. Lebanese President Michel Aoun has twice convened cabinet members and economic experts to try and build an economic plan that could convince donors that there is a way out of this crisis, but no practical decisions have been made.
Meanwhile, the banks are working together with the central bank to calm the local market and to create a sense of safety among account holders. For example, banks are offering 15 percent interest on deposits in Lebanese pounds. The banks then deposit the funds with the central bank, which pays them 21 percent. Small-account owners, who are pleased with this arrangement, are not aware that the central bank's ability to pay the banks the high interest rate is liable to dissipate in the not-too-distant future. There is concern that the bank will be forced at a certain point to end this policy, to declare a cut in payments to banks, to place limits on foreign currency purchases and thereby to cause a massive flow of currency out of the country or the bankruptcy of hundreds of thousands of account holders.
Hezbollah is not part of this game because its funds are not managed by Lebanese banks. A widespread banking crisis may lead to a situation in which the group targeted by the international sanctions will actually be the one to emerge with the greatest economic means, allowing it to acquire additional assets at basement prices on top of the billions of dollars in assets it already holds.
Hezbollah may support the idea of the Lebanese government receiving international aid, part of which would end up in the ministries it controls, but it doesn't need these funds for its operations. As long as it doesn't rely on supervises banking pipelines, Hezbollah is inure to an economic crisis in Lebanon.
https://www.haaretz.com/middle-east-news/.premium-lebanon-pays-the-price-for-a-burden-called-hezbollah-1.7801907
--------
Saudi Arabia rejects recent escalation in Yemen, calls for dialogue
September 06, 2019
Saudi Arabia rejected on Thursday the recent escalation in Yemen and repeated its call for dialogue.
In a statement published by the Saudi Press Agency (SPA), the Kingdom called for the conflicting parties in Yemen to take part in the ongoing dialogue in Jeddah immediately.
The Saudi city of Jeddah is currently hosting indirect talks between Yemen's government officials and the Southern Transitional Council (STC) to end fighting in Aden and other southern provinces.
A joint committee formed by Saudi Arabia and the UAE on August 26 has been working to stabilize the ceasefire in the Yemeni provinces of Shabwa and Abyan.
Thursday's statement also stressed that "any attempt to destabilize Yemen is a threat to [the Kingdom's] security and stability and the region," adding that the Kingdom would not hesitate to deal with escalation firmly.
"The Kingdom also declares its readiness to extend a helping hand to those affected by this disorder … based on its historical role towards the brotherly Yemeni people," the SPA statement added.
Full report at:
https://english.alarabiya.net/en/News/gulf/2019/09/06/Saudi-Arabia-rejects-recent-escalation-in-Yemen-calls-for-dialogue.html
--------
Saudi Arabia says UAE-backed separatists in Yemen threaten kingdom
Sep 6, 2019
Saudi Arabia has issued a strongly-worded warning to separatists in southern Yemen, saying that any "destabilizing" move by the UAE-backed militants in Aden amounts to a threat to the kingdom's security.
The official Saudi Press Agency (SPA) reported on Thursday that Riyadh had issued the stern warning to its allied militants in south of Yemen as a rift in the Saudi-led coalition waging a war on the impoverished Arab country continues to deepen.
"The kingdom stresses that any attempt to destabilize Yemen is a threat to its security and stability... and will be dealt with decisively," the statement said.
It further urged the southern separatists to return all captured facilities to forces loyal to Saudi-allied ex-Yemeni president Abd Rabbuh Mansur Hadi.
"The Kingdom stresses the necessity of handing over military bases as well as government and civilian buildings to the legitimate government," it said.
Riyadh has called for a summit meeting in the Red Sea port city of Jeddah, Saudi Arabia, to heal the rift.
Hadi's side has said it would not participate in a summit unless the separatist Southern Transitional Council hands back Aden.
"We will not sit with the so-called STC at the table," the self-proclaimed interior minister of the former government, Ahmed al-Mayssari, said on Wednesday.
"If there must be dialogue it should be with the UAE ... it is the main party behind this conflict between us and the STC is only a political tool in their hands," he said.
Last week, Emirati warplanes pounded the positions of pro-Hadi forces in support of southern separatists, killing and injuring more than 300 troops in Aden and nearby Abyan province.
Both the UAE-sponsored separatists and the Saudi-backed pro-Hadi militants serve the Riyadh-led coalition and have been engaged, since 2015, in a bloody war on Yemen aimed at reinstating Hadi and crushing the popular Ansarullah movement.
The former president resigned in 2014 and later fled to the Saudi capital.
Ties between the two sides have soured over a number of issues, including what the Yemenis view as Abu Dhabi's intention to occupy Yemen's strategic Socotra Island and gain dominance over the major waterways in the region.
The coalition has been struggling to defeat the popular Houthi movement since 2015 but has so far failed to do so.
According to reports, the United States has reached out to the Houthis to work out a way to the ongoing conflict in the Arab country, where the popular movement has managed to push back against the deadly aggression for over four years.
David Schenker, the Assistant US Secretary of State for Near Eastern Affairs, confirmed to reporters on Thursday that Washington had contacted the Houthis for the first time since the beginning of the war.
Full report at:
https://www.presstv.com/Detail/2019/09/06/605460/UAE-Saudi-Arabia-Yemen-STC-south-separatists-Aden
--------
Senior MP: US Pressuring Baghdad Not to Release Report on Attacks against Hashd Al-Shaabi
Sep 05, 2019
Karim al-Aliwi, a member of the parliament's Security and Defense Commission, told the Arabic-language al-Ma'aloumeh news website that investigations have shown that the Israeli drones have attacked Hashd al-Shaabi positions in several Iraqi provinces but the US is exerting pressure on the government not to release the results.
He said that the Iraqi government is now very much likely to annul the country's security pact with Washington to replace it with Russian assistance to protect its airspace.
Late in August, Iraq's Hashd al-Shaabi forces in a statement announced that Israeli drones backed by the US aircraft pounded their positions near the border with Syria.
The Hashd al-Shaabi in a statement reported that two Israeli drones struck its military positions in Akashat-Alqaem Road in al-Anbar province 15 kilometers from the border with Syria.
The statement noted that the attack had taken place with the aerial support of the US and monitoring of a huge surveillance balloon near the site of the attack, and said that the attack took place with the start of the Phase 4 of Eradeh al-Nasr (the Will of Victory) military operation jointly conducted by the Iraqi Army, Police Force and Hashd al-Shaabi against the ISIL remnants in the Western part of the country.
It noted that a Hashd al-Sha'abi member was killed and another was wounded in the Israeli drone attacks.
Full report at:
https://en.farsnews.com/newstext.aspx?nn=13980614000565
--------
People in Idlib Hold Protest Rallies against Abu Mohammad Al-Jolani
Sep 05, 2019
The Arabic-language al-Watan newspaper quoted local sources in Northern Syria as saying on Wednesday that residents of Ma'arat al-Noeman, Saraqib, Kafar Takharim and Ariha in Idlib and the towns of al-Artab in Western Aleppo demanded the militants to leave the region.
They underlined public fury over the continued presence of terrorists in Idlib after four days of truce in the province, saying that a number of terrorists have fled towards the Turkish borders after the popular protests.
Meantime, reports said that terrorists fired bullet at the protestors in the town of al-Artab in Western Aleppo, wounding a number of people.
Al-Watan had reported on Wednesday that the Syrian army was fully preparing itself for resuming large-scale military operation in the demilitarized zone as terrorist groups continue to violate the ceasefire.
It quoted local sources in the city of Ma'aret al-Noeman in Southern Idlib as saying that Tahrir al-Sham al-Hay'at has reinforced its military positions in the city, specially its Southern and Southeastern sections and in al-Tamane'ah with the aim of preventing the Syrian Army advance.
The newspaper noted that the terrorist groups have not retreated from Aleppo-Damascus and Aleppo-Lattakia highways, and said that the Syrian Army is at its highest level of preparedness to resume military operations after the ceasefire comes to an end in the demilitarized zone.
Meantime, the Syrian Army's battlefield sources pointed to the dispatch of massive military convoys comprising tanks and military equipment to Tal-e al-Zawiqat in Northeastern Lattakia near the strategic Kabaneh region to carry out military operations against the Turkistani Party and Uigurs.
Full report at:
https://en.farsnews.com/newstext.aspx?nn=13980614000543
--------
Six suspected extremists killed in Egypt, says ministry
September 06, 2019
Six suspected extremists were killed on Thursday in a shootout with police near the Bahariya oasis southwest of the Egyptian capital, the interior ministry said.
Police carried out a dawn raid against "terrorist elements" in a desert area near Bahariya, roughly 300 kilometers (190 miles) southwest of Cairo, the ministry said in a statement.
A shootout led to the death of six suspects, the ministry said, adding that a number of hunting rifles and four assault rifles were found at the site.
Extremists have launched several attacks in the vast desert area west of the Nile.
In November 2018, an ISIS attack killed six Copts and an Anglican after they left the Saint Samuel monastery west of the Nile in Minya province.
ISIS carried out another attack nearby in May 2017, killing 29 Coptic pilgrims, many of them children.
Tourists have also been killed in attacks, but the violence has mostly targeted police and soldiers.
Full report at:
https://english.alarabiya.net/en/News/middle-east/2019/09/06/Six-suspected-extremists-killed-in-Egypt-says-ministry.html
--------
Saudi science city accelerator produces 20 tech innovations
September 06, 2019
RIYADH: King Abdulaziz City for Science and Technology (KACST), represented by the Badir Program for Technology Incubators and Accelerators, has organized a graduation ceremony in Riyadh to celebrate 20 technological innovations produced by the second inventions transfer accelerator for 2019. The accelerator aims to activate patents across a variety of services aimed at speed up the implementation, development and marketing of inventions to within a maximum of six months.
The graduation ceremony was attended by Dr. Fawzan Al-Fawzan, deputy general supervisor for innovation and manufacturing at KACST, Esam Al-Thukair, vice governor of entrepreneurship advancement at the General Authority for Small and Medium Enterprises (Monshaat) and Mohammed Al-Huzaimi, director of shared services at Badir.
The ceremony featured a documentary about the second accelerator and its intensive six month training and orientation program, in addition to presentations for the graduating startups.
An exhibition accompanied the ceremony for the entrepreneurs to present their innovations, projects and plans to investors and attendees.
During the ceremony, several financing, investment and business development agreements were signed between graduating projects, the Badir Program and Monshaat.
The number of applicants to the second accelerator, supervised by KACST's Intellectual Property Development and Investment Bureau, reached 46, 26 of which were qualified to enter the training bootcamp.
Twenty inventions from various industrial fields, including biotechnology, water technology and electronic technologies, were qualified to enter the accelerator.
In his speech during the ceremony, Al-Huzaimi said the program was proud of the promising inventions submitted by participants in the second inventions transfer accelerator, and of the winning projects.
Al-Huzaimi pointed out that the second accelerator was launched in early December 2018, continued for 180 days, and comprised three phases, the first of which was the prototyping and testing phase, while the second included building the final products. The third was the marketing and investment phase.
He highlighted that the accelerator had an outstanding achievement rate through signing investment and marketing contracts for five inventions, introducing them to the local market, and having them reach the promotion and market study stage.
Al-Huzaimi said: "Since we believe in the importance of inventions and innovations and their role in placing the Kingdom at the forefront in line with Vision 2030, KACST, represented by Badir, will continue to promote innovation and support youth entrepreneurship by continuing to launch such accelerators in the future or embracing and accelerating new projects graduating from this accelerator."
Full report at:
https://www.arabnews.com/node/1550396/saudi-arabia
--------
Iraqi authorities face new rage over Daesh-linked families
September 06, 2019
BAGHDAD: The decision by Iraqi authorities to close internal displacement camps by 2020 has infuriated families of terrorist victims and threatened thousands of Daesh militants' family members, local officials and international human rights organizations said on Wednesday.
Some 6 million Iraqis were displaced in northern and western Iraq after Daesh swept the areas and seized most of the cities and towns in 2014 until they were liberated after military operations led by the Iraqi government concluded in October 2017.
Most of those living in displacement camps set up on the outskirts of cities have returned to their homes since the military success, leaving only Daesh-affiliated families, whose communities have refused to allow them to return. According to statistics published by the Iraqi Ministry of Displacement and Migration, the number of people still living in the camps were no more than 93,000 in June. Most of them are staying in Nineveh and Dohuk.
Government sources told Arab News that a decision by the Iraqi National Security Council was made in June to take down all displacement camps across the country and return all people to their homes.
Since then, the Ministry of Displacement and Migration has stepped up efforts to speed up the process of returning families. Dozens were sent back to Anbar province, but protests have escalated over the past three days after Iraqi authorities forced hundreds of Daesh-affiliated families to move from the camps of Hamam Al-Alil and Al-Salamiya in Nineveh to camps in Salahudin and Kirkuk governorates.
On Saturday, around 200 Daesh-linked families mostly from Shirqat town were temporarily transferred from Nineveh's camps to Al-Basateen camp in northern Salhudin. Before the morning, unknown assailants attacked the camp with three hand grenades. No casualties were reported but the local authorities moved the transferred families to another camp in Tikrit.
The convoy was forced to stop as a number of Daesh victims' families and local officials set up a human barrier in front of the buses and prevented them from entering the city. The local authorities had to change the destination of the convoy to a nearby camp
outside Tikrit.
"Many of the families of the victims are angry and do not accept the presence of members of the murderers' families in the same neighborhood or street where their sons or fathers were killed," Ahmed Al-Kraim, the head of Salahudin provincial council, told Arab News.
"We are trying to find a solution for this situation. There will be a meeting for all the heads of tribes in Salhudin on Monday to tell them that every head of tribe has to take his tribe's people.
"Who is wanted, will be arrested and the rest will go back to their homes. These are government orders. This issue must be ended."
Daesh militants committed brutal crimes against the local population in areas they controlled in Iraq and Syria. The failure of the Iraqi government to achieve community reconciliation in a way that ensures justice for the families of the victims and Daesh-linked families has kept the desire for revenge raging between the two parties, especially in
tribal societies such as Salahudin and Anbar.
"Isolating these families in camps outside cities and rejecting them means generating new hatreds and new problems," Hussein Arab, a member of the displacement and immigration parliamentary committee who works on reconciliation, told Arab News.
"We know that 90 percent of these families are not involved in crimes, but our society is tribal — especially in the liberated areas — and tends to take revenge.
"We have been working to solve the problem radically, and we have tactical plans to return these families to their areas of origin, reintegrate them into society and remove extremist ideas from their brains. The Ministry of Displacement and Migration provides logistical and technical support to the camps, but their resources still limited and we need more government support."
There are no official statistics showing the number of people who were killed for their links with Daesh. Acts of revenge in tribal societies usually affect men. Most of the men in these families were subjected to strict security measures in case they tried to leave the camps, which kept them away from reprisals, but getting them out of camps means putting them at the mercy of the families of angry victims, observers said.
Several international organizations, including Human Rights Watch (HRW), Amnesty International and the Norwegian Refugee Council have expressed concern over the consequences of forcibly returning these families to their areas of origin.
Full report at:
https://www.arabnews.com/node/1550351/middle-east
--------
Mideast
Turkey threatens to open gates for Syria refugees to go West
September 06, 2019
ANKARA, Turkey (AP) — Turkey's president on Thursday threatened to "open the gates" and allow a flood of Syrian refugees to leave Turkey for Western countries unless a so-called "safe zone" is established inside Syria soon in negotiations with the Americans.
Recep Tayyip Erdogan, in a speech to his ruling party officials, lamented what he described as Turkey being left to shoulder the burden of Syrian refugees alone.
Turkey is determined to create the safe zone inside Syria, along its border with the war-torn country, and was ready to do it alone before the end of the month if there is no agreement with the United States.
"We will be forced to open the gates. We cannot be forced to handle the burden alone," Erdogan said, reiterating Turkey's annoyance that past proposals for the creation of the safe zone — envisioned as a place where refugees could be re-settled — has been ignored by Western nations.
"We did not receive the support needed from the world and especially from the European Union, concerning the burden-sharing," he said.
Turkey opened its borders to Syrians in April 2011 and is currently home to 3.6 million who fled the civil war, now in its ninth year. But as Turkey suffers an economic downturn and rising unemployment, calls among Turks for Syrians to go home are growing.
Hundreds of Syrian refugees have been detained and reportedly forcibly deported to Syria recently , according to accounts by refugees. The Turkish government categorically denies reports of forced deportations.
Turkey reached a deal with the European Union in March 2016 under which Turkey would stem the flow of migrants into Europe in return for funds to help support the refugees and visa-free travel for Turkish citizens. But Erdogan accuses European nations of not keeping to its side of the bargain and has frequently threatened to back away from the deal.
In Brussels, European Commission spokeswoman Natasha Bertaud told reporters that both Turkey and the EU were committed to the deal.
"We trust that we can continue this work in good faith with our Turkish partners," she said.
She said the EU is "providing substantial support to improve the living conditions and protection standards of Syrian refugees in Turkey. To date, the EU has allocated 5.6 billion euros out of the 6 billion that was agreed, with the remaining balance due to be allocated shortly."
Turkey and the United States have been engaged in talks to establish a safe zone inside Syria east of the Euphrates River and even set up a joint operations center in Turkey's border province of Sanliurfa to coordinate their efforts. They have also carried out joint helicopter patrols, including one on Thursday, according to Turkey's military.
But Erdogan said differences remain with Washington on what the safe zone would look like. He did not elaborate.
"We are determined to start the creation of a safe zone east of the Euphrates in the way we want it by the last week of September," he said, adding that "the most ideal way would be for us to do this with our American friends, but if there is no such ground ... we will start doing it with our own means."
Erdogan said Turkey aims to resettle about 1 million out of the 3.6 million Syrian refugees in the safe zone.
Ankara wants U.S.-backed Syrian Kurdish fighters, Washington's key allies in the fight against the Islamic State group, to pull back from the border area and out of the safe zone. Erdogan said last week that Turkish officials had "temporarily" agreed to a safe zone proposed by the U.S. that is narrower than 20 miles (32 kilometers).
Turkey considers the U.S.-allied Syrian Kurdish fighters terrorists, linked to a Kurdish insurgency within Turkey.
https://apnews.com/66a0b9af4a494b28b99dfbd430d244ac
--------
Arab Coalition: Report by group of experts on Yemen lacks objectivity
September 05, 2019
The Arab Coalition has refuted the report issued on September 3, 2019, by the group of eminent international and regional experts on Yemen, saying that it "lacks objectivity and impartiality."
In a statement issued on Thursday evening, Colonel Turki al-Maliki, the spokesman of the coalition, said that the fallacies and accusations against the coalition in this report "are only a continuation of the fallacies and accusations contained in the previous report in 2018," according to that Saudi Press Agency (SPA).
Col. Al-Maliki highlighted the issues pertaining to methodology of the report and the experts team's reliance on "misleading information provided by unidentified third parties," adding that the report was based on allegations mentioned in the reports of some non-governmental organizations (NGOs) that have not been documented or verified, as well as what has been published in the media.
"Thus, this report lacks objectivity and impartiality. The report was based on baseless and untrue assumptions of facts and allegations of violations of international humanitarian law and international human rights law attributed to the coalition countries." he said.
Al-Maliki pointed out that the preliminary review of the report revealed that it is based on a number of incorrect assumptions by the team of experts, affirming that the Coalition to Restore Legitimacy in Yemen is fully committed that its military operations are in accordance with the rules of international humanitarian law and international human rights law.
He asserted that the coalition is also committed to conduct an investigation of any incidents arising from allegations of violations during military operations and trial of those found guilty in committing any violations.
Col. Al-Maliki added that the coalition, "in line of its commitment with the international humanitarian law, provides voluntary assistance for those affected by collateral damage of the military operations that have been unintentionally mistaken according to investigation of its alleged military operations. This measure confirmed that the coalition is continuously committed to the humanitarian law, pointing out that the coalition will later provide a detailed legal response to this report."
Full report at:
https://english.alarabiya.net/en/News/gulf/2019/09/05/Arab-Coalition-Report-by-group-of-experts-on-Yemen-lacks-objectivity.html
--------
US official says Washington in talks with Yemeni Houthis
September 05, 2019
A top US official said Thursday that Washington was in talks with the Iran-backed Houthi militia in a bid to end Yemen's war.
"We are narrowly focused on trying to end the war in Yemen," Assistant Secretary of Near Eastern Affairs David Schenker told reporters during a visit to Saudi Arabia.
"We are also having talks to the extent possible with the Houthis to try and find a mutually accepted negotiated solution to the conflict," he added.
This marks the first contact between the administration of President Donald Trump and the Houthis in over four years.
Under the administration of former President Barack Obama, US officials held brief talks with Houthi leaders in June 2015 to convince them to attend UN-sponsored peace talks in Geneva to resolve the crisis.
The Geneva conference and further rounds of negotiations failed to bring the core conflict to an end, which has pushed impoverished Yemen to the brink of famine.
Tens of thousands of people have been killed since the Houthi militia captured the capital Sanaa and much of the country in 2014.
Full report at:
https://english.alarabiya.net/en/News/gulf/2019/09/05/US-official-says-Washington-in-talks-with-Yemeni-Houthis-.html
--------
Erdogan: We may unleash refugee influx if EU, US don't provide more support
September 05, 2019
Turkey's president says his country may be forced to stop preventing refugee flow into Europe if the European Union and the United States do not act to provide Ankara with more support towards retaining them.
"We may be forced to do this (open the gates) to get this (support)," Recep Tayyip Erdogan said in a televised address from the capital Ankara on Thursday.
Turkey has come to host a reported 3.6 million Syrian refugees since the Arab country found itself in the grips of foreign-backed militancy. Ankara itself, major European powers, and Washington are accused of helping the eruption of the crisis by either arming militants and Takfiri terrorists in Syria or providing safe passage for them into and out of the Arab country.
Turkey also invaded Syria twice in 2016 and 2018 to drive back Kurdish militants, whom it associates with anti-Ankara terrorists. It has been maintaining an unlawful presence in the Syrian territory ever since and is planning on setting up a "safe zone" there in cooperation with the US, where it can force back the refugees it hosts.
If the safe zone does not happen, "We will be forced to open the doors. You either give support, or if you won't, sorry, but we can only put up with so much," Erdogan said. "Are we going to shoulder this burden alone?" he asked.
The Turkish head of state alleged that his country had spent $40 billion (36 billion Euros) towards accommodating the refugees, while receiving only three billion euros from the EU, which has promised it six billion in assistance.
EU Commission spokeswoman Natasha Bertaud denied the claim later on Thursday, telling reporters in Brussels that the EU had provided 5.6 billion Euros to Turkey, with "the remaining balance due to be allocated shortly."
In a bid to pressure the United States, Erdogan also said Turkey was "determined to set it (the so-called safe zone) up by the last week of September." "Our goal is to settle at least one million of our Syrian brothers and sisters in a safe zone along the border [which is] 450 kilometres long," he alleged.
Erdogan's comments came as the Syrian military and its ally Russia have joined forces to clean up the northwestern Syrian Idlib province that borders Turkey of the presence of Takfiri terrorists.
Full report at:
https://www.presstv.com/Detail/2019/09/05/605409/Turkey-European-Union-United-States-refugees-Syria-safe-zone-Erdogan
--------
Iran to unveil details on cuts to nuclear commitments
September 05, 2019
TEHRAN: Iran is set to detail its latest cut to commitments under a 2015 nuclear deal on Saturday, in response to US sanctions and perceived inaction by other parties to save the accord.
Iran's atomic energy organization spokesman Behrouz Kamalvandi will hold a news conference to detail Tehran's third round of cuts in its nuclear commitments since May, the semi-official ISNA news agency reported on Thursday.
Iran and three European countries — Britain, France and Germany — have been engaged in talks to reduce tensions and rescue the multi-party deal, which has been unraveling since the US withdrew in May last year.
But with no apparent agreement in sight, Iran's President Hassan Rouhani on Wednesday made good on a promise to take another step away from the deal between Iran and the five permanent members of the United Nations Security Council powers, plus Germany (P5+1).
"The atomic energy organization (of Iran) is ordered to immediately start whatever is needed in the field of research and development, and abandon all the commitments that were in place regarding research and development," said Rouhani, without elaborating.
Iran's arch-enemy Israel responded by calling for more international pressure on Iran.
"This is not the time to hold talks with Iran; this is the time to increase the pressure on Iran," said Israeli Prime Minister Benjamin Netanyahu.
The EU on Thursday urged Iran to backtrack on moves to drop its commitments under the deal, known as the JCPOA.
"These activities we consider are inconsistent with the JCPOA," said European Commission spokesman Carlos Martin Ruiz de Gordejuela.
"We urge Iran to reverse these steps and refrain from further measures that undermine the nuclear deal."
French foreign ministry spokeswoman Agnes von der Muehll echoed this saying: "Iran must abstain from any concrete action that does not conform with its commitments (and which) could impede de-escalation moves."
A senior US official on Wednesday ruled out any sanctions exemptions that would permit a French-proposed credit line, which Tehran says could bring it back to full compliance with the deal.
"We can't make it any more clear that we are committed to this campaign of maximum pressure and we are not looking to grant any exceptions or waivers," Brian Hook, the State Department coordinator on Iran, told reporters.
Iran's Foreign Minister Mohammad Javad Zarif responded by tweeting that the US Treasury was "nothing more than a JAIL WARDEN."
"Ask for reprieve (waiver), get thrown in solitary for the audacity. Ask again and you might end up in the gallows," he tweeted.
Iran has expressed mounting frustration at Europe's failure to offset the effects of renewed US sanctions in return for its continued compliance with the agreement.
It had already hit back twice with countermeasures in response to the US withdrawal from the deal.
On July 1, Iran said it had increased its stockpile of enriched uranium to beyond the 300-kilogramme limit set by the agreement.
A week later, it announced it had exceeded the deal's uranium enrichment limit of 3.67 percent.
The UN's nuclear watchdog, the International Atomic Energy Agency, said on August 30 that Iran's uranium stockpile stood at about 360 kilogrammes, of which just over 10 percent was enriched to 4.5 percent.
Rouhani has stressed that the countermeasures Iran has adopted are all readily reversible if the remaining parties to the deal honor their undertakings to provide sanctions relief.
The Iranian president on Wednesday gave Europe a 60-day ultimatum before Iran drops another commitment.
Francois Nicoullaud, a French former ambassador to Iran, said the moves to be detailed Saturday would likely focus on bringing on line new centrifuges for enriching uranium — and would be "only partially reversible."
"Even if research is stopped, the intellectual gains are forever," he said.
But analyst Henry Rome argued that the appeared to be "provocative but reversible."
"Tehran is building leverage, not a bomb," said Rome, a specialist on Iran for the Washington-based Eurasia Group consultancy.
Full report at:
https://www.arabnews.com/node/1550101/middle-east
--------
UN expert report on Yemen based on false allegations, says Arab coalition
September 05, 2019
RIYADH: False accusations and allegations made against the Arab coalition in a report written by UN experts on Yemen are a continuation of accusations made in a UN report from 2018, Col. Turki Al-Maliki said on Thursday.
The 2018 report was biased and lacking impartiality, Saudi Press Agency reported Al-Maliki as saying.
The coalition has previously drawn attention to issues relating to the methodology of the UN report and its over-dependence on information provided by unidentified third parties which lacked veracity, as well as allegations made in unverified reports by some non-governmental organizations.
Al-Maliki added that the report is based on allegations of international humanitarian law violations made against the coalition, and that these allegations are "completely baseless."
He added that the coalition is "fully committed" to carrying out military operations in accordance with international laws. It is also committed to carrying out investigations into allegations of violations during military operations and prosecuting those found guilty of said violations.
In line with its obligations under international humanitarian law, the coalition also provides voluntary assistance to those affected by collateral damage, Al-Maliki added.
Full report at:
https://www.arabnews.com/node/1550256/middle-east
--------
Europe
No trade mechanism until Iran passes terrorism financing laws: French diplomat
John Irish, Marine Pennetier
September 05, 2019
PARIS (Reuters) - A European trade mechanism to barter humanitarian and food goods with Iran will not work until Tehran sets up a mirror company and meets international standards against money-laundering and terrorism financing, a French diplomatic source said.
Britain, France and Germany, parties to a 2015 nuclear deal with Iran along with the United States, China and Russia, are determined to show they can compensate for last year's U.S. withdrawal, salvage trade promised to Iran under the accord and still prevent Tehran from developing nuclear bomb capability.
French President Emmanuel Macron has led those efforts and is trying to clinch a $15 billion credit line that would offset tough U.S. sanctions that have strangled Iran's oil exports, but that requires getting some backing from Washington.
In addition to that the Europeans have attempted for more than a year to set up the Instex trade mechanism, but it is still not operational. It would initially only deal with food and medical trade not Iran's principal export - crude oil.
"The Iranian mirror structure is not operational. The day they have signed the necessary FATF (Financial Action Task Force) conditions we'll talk about it and the day that we are sure that the first transactions through Instex aren't put under American sanctions, (then) we'll talk about it again," the diplomatic source said.
France's foreign minister said on Tuesday the mirror company had not been set up.
But the clock is ticking. Iran's president on Wednesday gave Europe another two months to save the deal and warned Tehran was preparing for further significant breaches of the accord's caps on nuclear activity if diplomatic efforts ultimately failed.
ANTI-TERRORISM RULES
European officials until now have said that conforming to Paris-based FATF rules was not a prerequisite for Instex, although it would facilitate its establishment.
Iran's parliament has approved some new measures against funding terrorism under pressure to adopt international standards. But the Guardian Council, which vets laws and elections for compliance with Iran's Islamic constitution, blocked a draft law in 2018 on the grounds it would prevent the Islamic Republic from providing financial support to Hezbollah in Lebanon, which is under U.S. sanctions.
The FATF said in June that it could only consider fully enacted legislation and gave Iran until October to meet its norms or face greater scrutiny of international financial transactions with Tehran.
The diplomat's comments also reflect how difficult it will be for the Europeans to convince U.S. President Donald Trump to ease his administration's "maximum pressure" policy on Iran.
The United States would have the economic clout to block any credit line for Iran or sanction companies trading with it.
Gordon Sondland, U.S. envoy to the European Union, on Wednesday said the U.S. government was studying Macron's proposal and would not comment further at this time.
Speaking during a teleconference with reporters, he emphasized that Washington's policy remained to exert "maximum pressure on Iran" and added: "But the definition of maximum pressure is determined by the president, and the president can dial that up and dial that down at his discretion."
The credit line proposal would appear to contradict Washington's stated policy of working to force Tehran to rein in its nuclear and missile programs as well as what the White House views as its destabilizing regional behavior. U.S. officials have repeatedly said they do not believe Instex will get off the ground, but Sondland's comments left open the possibility that Trump could accept Macron's proposal.
The Central Bank of Iran said in March it had registered a mirror company to operate in coordination with Instex. In July, Ali Asghar Nouri, head of Iran's Special Trade and Finance Instrument for trade with Europe, denied that Tehran was responsible for delays in getting Instex up and running.
Iranian officials have repeatedly said Instex must include oil sales or provide substantial credit facilities for it to be beneficial.
"We have operations that are ready as part of Instex, but it is not made for oil exports. Symbolically, Iranians prefer to show that Instex isn't working because it allows them to think they can keep the pressure on us."
https://www.reuters.com/article/us-iran-nuclear-europe-trade/no-trade-mechanism-until-iran-passes-terrorism-financing-laws-french-diplomat-idUSKCN1VP1MS
--------
Muslim man to sue Starbucks after barista writes 'ISIS' on drinks
September 04, 2019
AMuslim man is planning to take legal action against Starbucks after a barista wrote an acronym for the Daesh terrorist group to label his drinks.
40-year-old Philadelphia man Niquel Aziz Johnson, who was dressed in Islamic attire, told the barista that his name was Aziz, but saw that the drinks came with ISIS written on them, an acronym used to identify the terrorist group.
In a statement to the Washington Post, Starbucks denied that the barista was being discriminatory when he/she wrote the name.
"After investigating, we don't believe this was a case of discrimination or profiling. The customer approached and provided the name Aziz. The barista mistakenly spelled it incorrectly. We have connected with Mr. Johnson and apologized for this regrettable mistake," Starbucks Spokesman Reggie Borges said.
This was not the first time a Starbucks outlet is accused of racial profiling.
Full report at:
https://www.dailysabah.com/islamophobia/2019/09/04/muslim-man-to-sue-starbucks-after-barista-writes-isis-on-drinks
--------
Kosovo Convictions For Planned Terror Attacks On Orthodox Churches
September 05, 2019
A court in Kosovo's capital, Pristina, convicted four people on September 4 for planning terrorist attacks on international peacekeepers, Orthodox churches, and night clubs as well as abroad in France and Belgium.
They were handed prison terms ranging from one to 10 years.
Two others were ordered to serve shorter terms for failing to inform authorities of the conspiracy.
In October, the four were charged with planning attacks on NATO troops and bombings of discos and churches in enclaves with high concentrations of ethnic Serbs.
A majority of Kosovo's population of 1.8 million people are ethnic Albanian Muslims, with around 120,000 Serbs living mostly in the north.
Full report at:
https://www.rferl.org/a/kosovo-terror-attacks-orthodox-churches/30147487.html
--------
Stanwell Tesco knifeman 'aimed to strike fear in Muslim hearts'
September 05, 2019
A far-right extremist watched a video of the Christchurch terror attack before slashing a 19-year-old Bulgarian with a knife, a court has heard.
Vincent Fuller, of Stanwell, Surrey, has previously admitted attempted murder at Kingston Crown Court.
The 50-year-old denies a terrorist motive and Judge Peter Lodder QC must rule on the issue before sentencing.
The court heard Fuller, who went on "a rampage" in Stanwell, intended to strike fear into the hearts of Muslims.
Fuller, of Viola Avenue, carried out his 16 March attack the day after the murder of 51 Muslim worshippers in New Zealand by a white supremacist, who livestreamed the shootings online.
A video excerpt of the massacre on Fuller's phone was played to the court.
The court was told Fuller, before the attack, wrote on Facebook to get "non-English ... out of England" and showing support for the events in New Zealand.
Video, taken from a doorbell and played to the court, showed Fuller carrying a baseball bat and seeking entry into a house, shouting racist abuse.
Prosecutor Jonathan Polnay described how a neighbour heard him say: "All Muslims should die. White supremacists rule. I'm going to murder a Muslim."
Fuller walked along a road swinging a bat at cars before returning home to arm himself with a 12-inch kitchen knife, the court heard.
At a local Tesco car park, he attacked two occupants of one car - Dimitar Mihaylov and his black friend - after he walked past two white people in another vehicle, Mr Polnay said.
The court heard Mr Mihaylov was parked with his window down when a man approached, carrying a knife, and told him "you're going to die".
Mr Mihaylov's hand was badly injured when he held it up to protect himself and the knife clipped his neck, the court heard.
Fuller then racially abused the armed officers who arrested him, calling them "race traitors", Mr Polnay said.
Eventually during interviews, Fuller told detectives he had been drinking cider and super-strength beer and could not remember events.
A victim impact statement from self-employed Mr Mihaylov described how he will never regain full sensation in his hand, was unable to work for three months and can no longer work as a specialist roofer, leading to reduced income, and has increased anxiety.
Fuller admits his attack was racially and religiously motivated, but denies a terrorist motive.
Full report at:
https://www.bbc.com/news/uk-england-surrey-49593106
--------
British lawmakers to raise voice for Kashmiris
September 06, 2019
LONDON: British parliamentarians have agreed to work for ensuring the alleviation of oppressed people of Indian occupied Jammu and Kashmir.
According to a statement issued by Pakistan High Commissioner in London, Mohammad Nafees Zakaria, the assurance was given during a closed meeting between Zakaria and a large number of British MPs facilitated by the All-Party Parliamentary Group on Kashmir.
Lawmakers acknowledged that the Kashmir issue is an internationally recognised dispute that awaits the implementation of the relevant United Nations Security Council (UNSC) resolutions for the past 70 years.
On the occasion, High Commissioner Zakaria reiterated that Pakistan would continue to extend its moral, political and diplomatic support to Kashmiris who have been suffering at the hands of Indian troops in their struggle for self-determination.
Full report at:
https://www.pakistantoday.com.pk/2019/09/05/in-meeting-with-pak-hc-british-lawmakers-agree-to-raise-voice-for-held-kashmir/
--------
Muslim children get Catholic education in flexible Madagascar
September 6, 2019
The bell of St. John's Catholic high school, next to the cathedral in Antsiranana in northern Madagascar, sounds for the noon break, and hundreds of students pour into the street.
Among them is Michael Beafara. With his schoolbag on his back, he hails a tuk-tuk taxi, for there is no time to lose -- it is Friday, and he needs to get to the mosque for midday prayers.
En route, he will stop off at home to swap his khaki school shirt, which has the cross emblazoned on the breast, for an ochre djellaba.
"I try to go to the mosque on Fridays and at the weekend," says the 16-year-old Muslim, who has been enrolled in Catholic schools since primary education.
The arrangement may raise eyebrows in other countries, especially where religious friction is high.
Not so in Madagascar, an island nation whose traditions of religious tolerance will this week be on display for Pope Francis, who arrives on Friday for the second leg of a three-nation African tour.
At Beafara's school, run by the Daughters of Mary, nearly one in eight of pupils are Muslim.
At Saint Joseph high school, also in Antsiranana, Muslims account for more than one in five of the enrolment, whereas they account for less than 10 percent of Madagascar's overall population.
High standards
As in other poor countries, Catholic education is prized by many families, who cite discipline, quality teaching and access to a social network as among its prime advantages.
In 2017, students at Catholic schools in Madagascar notched up a 63-percent success rate for the baccalaureat -- the all-important school-leaving exam, which is modelled on the famous French "bac".
In contrast, only 38 percent of students succeeded in the baccalaureat at state schools. Eleven percent of school students overall are enrolled in Catholic schools.
Parents of Muslim children told AFP that they were unbothered by the religious component of education in Catholic schools, which includes a commitment by pupils to learn the Christian catechism and follow classes in Christian morality entitled "Education about life and love".
"There are so many common areas between Islam and Catholicism," said Michael.
"Whether you are a Catholic or Muslim, we all pray to the same God," said his father, Leonce Beafara, a former civil servant who grew up in a Christian household but married a Muslim.
Mixed backgrounds such as this are common northern Madagascar, which has the largest concentrations of Muslims in the country.
The success comes with a price -- school fees range up to 60,000 ariary ($17, 15 euros) per month per child, which can be a heavy burden in a country where two-thirds of people survive on less than $2 per day. State education is free.
Crucifixes and Ramadan
By 1.30 pm, classes are St. John's resume -- time for religious lessons.
Michael greets his friends with a hearty Islamic salutation, "As-salaam-alaikum" (Peace be unto you).
He has had enough time to get back into his school blouse with the cross on it -- only Catholic symbols are permitted in the school. At the entrance, there is a statue of the Virgin Mary, and there are crucifixes in every classroom.
Many students questioned by AFP said they were surprised that religious cohabitation should even be considered an issue.
"It's completely normal," said Izad Assouman, 18. "We are equal, we respect each other," said Michael, who has permission to take time out of school during Ramadan to prayer at the mosque.
The students said they approved a recent decision by President Andry Rajoelina to name Aid el-Fitr -- the end of Ramadan -- as a public holiday, alongside Christian holidays.
"Muslim pals invite me sometimes to come over for the end of Ramadan," said Frederic Robinson, a Catholic student.
Tradition of tolerance
Sister Marie Theodosie, who is the bookkeeper at St. John's, said peaceful coexistence is rooted in the region's traditions and similar lifestyles. Many families eschew pork and women of both religions favour long, conservative gowns.
The school's youthful computer science teacher, Soafa Jaoriky, is a Muslim but says with a little laugh that she knows the Catholic prayers.
"When I was I child I forced my (Muslim) mother to learn them so that she could teach them to me."
Facilitating enrolment by Muslims, Catholic schools in Antsiranana do not request a certificate of baptism from new students -- unlike many schools in the capital Antananarivo, where Muslim students are less numerous.
Full report at:
https://www.thejakartapost.com/news/2019/09/06/muslim-children-get-catholic-education-in-flexible-madagascar.html
--------
UK and Israeli leaders agree on need to stop Iran getting nuclear weapon
September 05, 2019
British Prime Minister Boris Johnson and Israeli Prime Minister Benjamin Netanyahu agreed during a meeting in London on the need to prevent Iran acquiring a nuclear weapon, Downing Street said on Thursday.
"Both Prime Ministers agreed on the need to prevent Iran getting a nuclear weapon and stop wider destabilizing Iranian behavior. The Prime Minister stressed the need for dialogue and a diplomatic solution," a Downing Street spokeswoman said.
Full report at:
https://english.alarabiya.net/en/News/middle-east/2019/09/05/UK-and-Israeli-leaders-agree-on-need-to-stop-Iran-getting-nuclear-weapon.html
--------
Over 600 attacks on refugees in Germany this year
Ayhan Simsek
September 05, 2019
BERLIN
German police recorded 609 attacks on refugees and shelters in the first half of 2019, the country's Interior Ministry said.
These attacks included verbal abuse, physical violence and arson attacks, the ministry said in response to a parliamentary question.
Some 60 attacks targeted refugee centers and 42 others relief organizations across the country.
At least 102 individuals were injured in these attacks.
Germany has accepted nearly 1.4 million refugees since 2015, mostly from Syria and Iraq.
Full report at:
https://www.aa.com.tr/en/europe/over-600-attacks-on-refugees-in-germany-this-year/1573949
--------
North America
Judge Rules Terrorism Watchlist Violates Constitutional Rights
By Charlie Savage
September 04, 2019
WASHINGTON — A federal judge ruled on Wednesday that a federal government database that compiles people deemed to be "known or suspected terrorists" violates the rights of American citizens who are on the watchlist, calling into question the constitutionality of a major tool the F.B.I. and the Department of Homeland Security use for screening potential terrorism suspects.
Being on the watchlist can restrict people from traveling or entering the country, subject them to greater scrutiny at airports and by the police, and deny them government benefits and contracts. In a 32-page opinion, Judge Anthony J. Trenga of United States District Court for the Eastern District of Virginia said the standard for inclusion in the database was too vague.
"The court concludes that the risk of erroneous deprivation of plaintiffs' travel-related and reputational liberty interests is high, and the currently existing procedural safeguards are not sufficient to address that risk," Judge Trenga wrote.
As of 2017, about 1.2 million people were on the watchlist, which is maintained by the F.B.I.'s Terrorist Screening Center. Although a vast majority of them were foreigners abroad, about 4,600 were American citizens who are protected by the Constitution.
Among them, a group of 19 Americans, represented by the Council on American-Islamic Relations, filed a lawsuit charging that their inclusion violated their due process rights. Recounting tales of being detained and harassed when trying to enter the country, they argued that they did not receive notice of why they were being put on the list or an opportunity to contest derogatory claims.
The judge agreed that the current procedures were inadequate to protect their rights, granting the plaintiffs summary judgment. But he stopped short of saying what should happen next, asking the Justice Department and the lawyers for the plaintiffs to submit briefings on the difficult question of "what kind of remedy can be fashioned to adequately protect a citizen's constitutional rights while not unduly compromising public safety or national security."
The Council on American-Islamic Relations hailed the ruling as a "complete victory." In a statement, Nihad Awad, its executive director, said the group's "legal team has finally brought an end to the secretive watchlist, which is effectively a Muslim registry created in the wake of the widespread Islamophobia of the early 2000s."
Joshua Stueve, a spokesman for the United States attorney for the Eastern District of Virginia, declined to comment. But in court, government lawyers had argued that the case should instead be dismissed. Among other things, Justice Department lawyers asserted that the plaintiffs lacked standing to bring the case, and they urged Judge Trenga to defer to the executive branch's decisions because combating terrorism was a national security matter.
The government's use of terrorism watchlists has grown enormously since the Sept. 11, 2001, attacks, and over time, the practice — and the opaque standards and rationales by which people's names are added to such databases — has come under harsh scrutiny by civil libertarians.
The present case involves a broad watchlist, called the Terrorist Screening Database. It is maintained by the F.B.I., but other agencies can nominate people for inclusion on the list based on intelligence that may never be shared with them.
A subset of the people on the watchlist are also put on the more restrictive No Fly List, which bars them from boarding planes in the United States or flying through American airspace. In 2014, a federal judge in Oregon ruled that the government's use of the No Fly List to bar Americans from boarding planes was unconstitutional, requiring the Department of Homeland Security to overhaul its Traveler Redress Inquiry Program procedures.
Later that same year, Judge Trenga struck down a use of the No Fly List to keep a particular American, Gulet Mohamed, from boarding a flight home, effectively exiling him. The judge's ruling about the broader watchlist on Wednesday built on his earlier opinion, which he quoted from extensively.
Judge Trenga noted that most of the plaintiffs in the current case did not claim to be on the more restrictive No Fly List, but said their inclusion on the broader Terrorist Screening Database — which he referred to by the initials TSDB — raised similar issues because of the burden of going through the delays and humiliations of enhanced screenings that led some plaintiffs to avoid traveling.
"While inclusion in the TSDB does not constitute a total ban on international travel in the same way that inclusion on the No Fly List does," he wrote, "the wide-ranging consequences of an individual's watchlist status render it more closely analogous to the No Fly List than to the types of regulations that courts have found to be reasonable regulations that still facilitated access and use of means of travel."
He also noted that the terrorism watchlist was used for screening government contractors and was shared with state and local law enforcement agencies, which increases their risk of "being surrounded by police, handcuffed in front of their families and detained for many hours."
Files released by the F.B.I. in 2011 under the Freedom of Information Act showed that the F.B.I. was permitted to include people on the watchlist even if they had been acquitted of terrorism-related offenses or the charges are dropped.
Judge Trenga was appointed in 2008 by President George W. Bush.
https://www.nytimes.com/2019/09/04/us/politics/terrorism-watchlist-constitution.html
--------
New Orleans court tackles 'extravagant' ruling in Houston ISIS case
Gabrielle Banks
September 04, 2019
NEW ORLEANS - The matter before three federal judges Wednesday in a stately Louisiana courtroom came down to a simple question — did an iconoclastic federal trial judge in Houston properly sentence a 24-year-old Spring man when he gave him exponentially less prison time than more than 100 other U.S. defendants convicted of supporting ISIS overseas?
The unusual appeal by the Justice Department highlights the frustration the government has with jurists across the country who tend to disregard the sentencing recommendations of prosecutors in the wake of a 2005 ruling that freed them to exercise more discretion.
A prosecutor from the national security division in Washington told the cavernous and mostly empty 5th U.S. Circuit Court of Appeals panel that Judge Lynn N. Hughes committed a grave injustice when he sentenced Asher Abid Khan last year to 18 months in prison after the young man admitted he and a friend plotted to join the jihadist struggle in Syria in the early days of the caliphate.
Hughes rejected the idea of tacking on a massive terrorism enhancement that would have put the sentence in sync with the average range of nine to 15 years, according to data collected by the Program on Extremism at George Washington University.
While federal judges have broad latitude, prosecutor Danielle Tarin called Hughes' sentence "an extravagant variance" from sentencing norms, noting that although Khan got cold feet and turned back before arriving in Syria he recruited his high school friend, Sixto Ramiro Garcia, to the insurgency.
"Garcia is dead because of Khan's actions," she told the court. "And if Khan had not encouraged him to join ISIS he would still be here today."
Prosecutors believe he died after this family received a Facebook message from his account several years ago from someone who indicated Garcia was killed in battle.
Defense lawyer David Adler countered that Hughes properly considered Khan's remorse about his actions and his efforts to help others avoid terrorist recruiters. The judge exercised discretion to rule as he saw fit, Adler said.
"What the government is asking the court to do is squarely contradicted by Supreme Court precedent as well as the precedent of every circuit court of appeals," said Adler. "Its asking this court to substitute its own judgment."
At his 2018 sentencing, Khan expressed remorse for his actions and asked forgiveness of the sobbing mother and relatives of his late friend, Garcia. Khan was not present in the New Orleans hearing. He has resumed his engineering studies at University of Houston, according to a spokesman for the school. The Bureau of Prisons confirmed that he is completing his final months of custody at a Texas halfway house with an anticipated release date of Nov. 26.
As is customary in such matters, the 77-year-old judge at the center of the dispute was not present to state his case, nor did he respond to a reporter's request for comment. Hughes did not hear when a fellow Texan and Reagan era appointee presiding at the center of the elevated bench took a slight jab at him.
"Are you requesting this be remanded to a different district judge?" asked U.S. Circuit Court Judge Jerry E. Smith, who has joined in opinions in other cases critical of Hughes' legal reasoning and flippant courtroom banter.
No, the prosecutor said. She simply wanted the judge to take another shot at getting Khan's sentence right.
Adler, the defense lawyer, told the court Hughes was likely to issue the same prison term if he had a second chance. Circuit Judge Priscilla R. Owen cautioned that it was not the court's job to presume such things.
Typically, government lawyers have asked for the maximum sentence possible for defendants convicted of supporting ISIS. In Khan's case, the prosecutor asked for 15 years, which was the maximum.
Jonathan Lewis, a research fellow at the GWU program that studies extremism said Hughes' ruling last year stands apart from the pack.
"It's certainly an aberration for an individual who traveled overseas with the intention to join the Islamic State to receive such a light sentence," Lewis said. "Hughes' sentence is an extreme outlier."
Alan Ellis, a criminal attorney with a national practice who specializes in federal sentencing law, said prosecutors are reacting to changes in the law since the Supreme Court's 2005 ruling in U.S. v. Booker, which relieves federal judges of the obligation to impose a sentence within the sentencing guidelines.
"The Supreme Court took the handcuffs off and said you're free to decide the case as to what sentence is sufficient but not greater than necessary to achieve the purpose of sentencing," Ellis explained. "Ideally, the purpose is to remove people who are a threat to us and for those who are not, to rehabilitate them and bring them back into the community as contributing, law-abiding citizens."
In his plea agreement, Khan said he had become disillusioned by videos showing Syrian children trapped in bombed-out buildings. Khan connected with an online recruiter in hopes the armed uprising could overthrow the regime.
In court Wednesday, Tarin, the Justice Department prosecutor, said backing the Islamic State rebels in Syria and Iraq amounted to terrorism against a sovereign nation.
Adler argued that since President Barack Obama and Secretary of State Hillary Clinton declared the Syrian opposition coalition the legitimate representatives of Syria, the increased terrorism enhancement for rebelling against a sovereign government did not apply.
Full report at:
https://www.houstonchronicle.com/news/houston-texas/houston/article/ISIS-hearing-NOLA-14414754.php
--------
US reaches out to Houthis to end war as Saudi struggles
Sep 5, 2019
The United States says it has reached out to the Houthi Ansarullah movement to work out a way to the ongoing conflict in Yemen, where the Houthis have managed to push back against a deadly military aggression by Saudi Arabia and its regional allies for over four years.
David Schenker, the Assistant US Secretary of State for Near Eastern Affairs, confirmed to reporters on Thursday that Washington had contacted the Houthis for the first time since the beginning of the Saudi-led war in March 2015.
"We are narrowly focused on trying to end the war in Yemen," Schenker said during a visit to the Prince Sultan Air Base near the Saudi city of al-Kharj, near Riyadh, the kingdom's capital.
"We are also having talks to the extent possible with the Houthis to try and find a mutually acceptable negotiated solution to the conflict," he added.
The negotiations provides a direct channel between the Houthis and the administration of US President Donald Trump, who has remained a steadfast supporter of the Riyadh regime throughout its aggression against the impoverished southern neighbor.
Washington's attempt to end the conflict comes as the Houthis, who Saudi commanders confidently said would be defeated in a matter of weeks, have not only defended their country but orchestrated a series of missile and drone attacks against various targets deep inside Saudi territories.
Schenker stopped short of providing more details on the nature of the talks to end the war, which has has claimed more than 91,000 lives, according to data by the US-based Armed Conflict Location and Event Data Project (ACLED).
'Victory for Houthis'
Senior Houthi official Hamid Assem told AFP that while he could not confirm or deny Shencker's remarks, the fact that Washington was asking the Houthis for help was a major victory for the Ansarullah movement.
"That the United States says they are talking to us is a great victory for us and proves that we are right," he said.
The announcement by Shecker comes weeks after the Wall Street Journal reported that Washington was preparing for direct talks with the Houthis through a team that would be led by Christopher Henzel, who became the Trump administration's first ambassador to Yemen in April.
A State Department official said Thursday that "the US ambassador to Yemen and other US diplomats talk to all Yemenis to further US objectives in the country".
The last time US officials engaged with the Houthis, former President Barack Obama was still in office. During the talks in June 2015, Washington tried to convince Houthis to attend UN-sponsored peace talks in Geneva. Those talks and the following rounds of peace negotiations have failed to end the war.
'Saudis in on US-Houthi talks'
Fatima Abo Alasrar, a scholar at the Washington-based Middle East Institute, said that talks with the Houthis were not taking place "in a vacuum" and were decided "most likely after consultations with the Saudis," who have been looking for a way out of the war.
She noted that the Houthis have exposed the limits of Saudi Arabia's military might by constantly targeting Saudi bases and strategic facilities.
"The Houthis have been sending a barrage of drones and ballistic missiles towards vital Saudi installations after a recent spike in US-Iran tensions," Alasrar said.
"So the US appears to be intervening politically at this stage to assess all possible threats that can come from the region, and perhaps even issue its own threats if the Houthis will not comply," she added.
Shencker said in al-Kharj that it was a "priority" for the US to intercept drones and missiles that both Washington and Riyadh claim are reaching the Houthis despite aerial and maritime blockade on the country.
Beside struggling to defeat the Houthis, Saudi Arabia also faces pressure within the ranks of its own campaign, where an alliance of mercenaries and various Yemeni separatist factions that was supposed to hit the Houthis is now on the verge of collapse due to intense infighting to take control over the key port city of Aden.
The conflict has seen forces of Yemen's pro-Saudi former President Abd Rabbuh Mansur Hadi leave Aden, its interim capital.
In addition to the simmering tensions, the Saudi-led atrocities in Yemen have enraged the international community, prompting widespread calls on teh US, the UKL, France and other nations to stop providing the kingdom with weapons and intelligence.
Death toll from Saudi attack on Yemeni prison increases
In one of their latest crimes, Saudi-led aircraft targeted a prison in Dhamar, southwestern Yemen on Sunday.
Full report at:
https://www.presstv.com/Detail/2019/09/05/605446/US-Yemen-Houthis-Shencker-peace-talks-Saudi-war
--------
US blocks UN Security Council statement on criticizing Israel: Sources
Sep 5, 2019
The United States has reportedly blocked a UN Security Council statement on criticizing Israel for attacking Lebanon.
AFP reported on Thursday quoting diplomatic sources that the draft text, put forward by France, denounced all violations of the Blue Line "and strongly calls upon all parties to respect the cessation of hostilities."
It also expressed deep concern at the recent face-off between Israel and Hezbollah across the Blue Line.
Diplomats said Washington blocked the first version twice and wanted Hezbollah to be specifically slammed in the text.
Late last month, Israel launched a drone strike on Hezbollah's Beirut stronghold.
Lebanese President Michel Aoun denounced the attack as "a declaration of war" against the Arab country, and vowed that Lebanon will defend its sovereignty against the Israeli aggression.
"What happened was similar to a declaration of war, which allows us to resort to our right to defending our sovereignty," Aoun's office quoted him as saying during a meeting with the United Nations Special Coordinator for Lebanon Yan Kubish on August 26.
The Lebanese president's remarks came a day after two drones crashed in Beirut's southern suburbs.
According to the Lebanese Resistance Movement, Hezbollah, the first drone had fallen on a building housing Hezbollah's media office in Dahieh suburb. The second drone, which appeared to have been sent by Israel to search for the first one, had crashed in an empty plot nearby after being detonated in the air, it added.
Full report at:
https://www.presstv.com/Detail/2019/09/05/605444/US-blocks-antistatement-at-UN-Security-Council
--------
Turkey, US hold joint helicopter flight over Syria
Ali Murat Alhas
05.09.2019
Turkish National Defense Ministry on Thursday announced that two Turkish and two U.S. helicopters conducted a joint flight over the eastern Euphrates in Syria.
In a statement on social media, the ministry said the joint helicopter flight was part of the first phase implementations for the establishment of a safe zone in the region.
The first joint reconnaissance flight was carried out with a U.S. helicopter on Aug. 24, said Turkey's National Defense Minister Hulusi Akar earlier.
Turkish and U.S. military officials reached an agreement on Aug. 7 that the safe zone in northern Syria will serve as a "peace corridor" for displaced Syrians longing to return home and a Joint Operations Center in Turkey will be set up to coordinate its establishment.
Turkey sees the establishment of the safe zone in northern Syria crucial and wants to be in control. Ankara seeks to eradicate YPG terror elements, which is the Syrian offshoot of the PKK terror group.
In its more than 30-year terror campaign against Turkey, the PKK -- listed as a terrorist organization by Turkey, the U.S. and the EU -- has been responsible for the deaths of some 40,000 people, including women, children, and infants.

Notably, Turkey is currently home to over 3.6 million displaced Syrians who fled the conflict-prone environment of Syria.
In a Thursday statement, Turkish President Recep Tayyip Erdogan said Turkey aimed to settle at least a million of these Syrians to the planned safe zone along Turkey's border with Syria.
Full report at:
https://www.aa.com.tr/en/americas/turkey-us-hold-joint-helicopter-flight-over-syria/1574027
--------
Africa
Two Feared Dead As Boko Haram Attacks Borno Village
September 05, 2019
At least two civilians have been killed while some houses were torched after Boko Haram terrorists invaded Nganzai area of Borno State on Wednesday.
The attackers entered Gajiram, headquarters of Nganzai local council area, about 5:00pm, burning part of the Divisional Police Headquarters and a telecommunications mast in the process.
According to a local vigilante source, hundreds of civilians are currently hiding inside the forest while food items were looted by the hoodlums.
He added that apart from the two persons killed, three military and a police vehicles were also said to have been taken away by the insurgents.
It would be recalled that in less than two months, Gajiram had been attacked on three occasions.
http://saharareporters.com/2019/09/04/breaking-two-feared-dead-boko-haram-attacks-borno-village
--------
Tunisia Security Task Forces Kill Three Terror Leaders
September 05, 2019
Tunisia's interior ministry released the identities of three terrorists that security forces had killed in a raid on Sept. 2 in the country's central west province of Kasserine.
According to DNA profiling, two of the terrorists were Algerian nationals that were wanted for criminal activity both in Tunisia and Algeria, whilst the third was a Tunisian national.
The Tunisian national was identified as Salah al Qasimi, a wanted fugitive since 2013.
Qasimi is believed to have been the head of the Wargha terror cell, which has pledged allegiance to al-Qaeda in the Islamic Maghreb.
He is also is wanted for supervising field training for members of the Aqbat Bin Nafi terrorist offshoot. The boot camps included looting activity whereby members seized food, blankets and money at night from people living in remote rural areas.
Qasimi's good knowledge of mountain trails helped him in planning and mounted such night raids.
It is worth noting that the Sept.2 successful security ambush took down the three terrorist leaders in a shootout which also killed a local public security officer.
During this pre-emptive security operation, Kalashnikov-branded machine guns were seized and several explosive belts were dismantled.
Tunisian security expert Ali Zarmadini, in a press statement, said that such qualitative ambushes have managed to confine the movements of terrorists and tightened the noose around their hideouts.
Commenting on the event, Zarmadini noted that security and military units have entered a progressive stage whereby it is hunting down main terror leaders who are tied to elements outside the state of Tunisia.
Full report at:
https://aawsat.com/english/home/article/1886706/tunisia-security-task-forces-kill-three-terror-leaders
--------
Somalia: Al-Shabaab attack kills 8
Mohammed Dhaysane
September 06, 2019
MOGADISHU, Somalia
At least five people were killed on Thursday when al-Shabaab fighters attacked a military convoy in Somalia, police and local media said.
The attack took place on the outskirts of the agriculture town of Afgoye in the Lower Shabelle region, said Radio Shabelle.
The fatalities include security officials and al-Shabaab fighters.
Hussien Abdi, a police officer in the town of Afgoye, also confirmed the attack to Anadolu Agency over the phone without giving any other details.
The attack comes as the Somali National Army (SNA) backed by African Union peacekeeping forces (AMISOM) in Somalia are gaining significant ground against al-Shabaab in the region.
Later, in a separate attack, at least three people -- mostly civilians -- were killed and more than five wounded in a landmine blast in the town of Awdhegle, officials and local media said.
Mohamud Adan, national army officer in the region, told Anadolu Agency over the phone that the attack came through a landmine targeting civilians working on sanitation near a military post, also in the Lower Shabelle region.
Full report at:
https://www.aa.com.tr/en/africa/somalia-al-shabaab-attack-kills-8/1573843
--------
South Africans conjure up hilarious 'Boko Haram challenge'
September 06, 2019
The threat of Boko Haram possibly attacking South Africa, as a response to the xenophobic attacks we recently saw this past week, has been turned into a trending meme challenge.
Yes, folks, South Africans have — in a hilarious way — flipped the bird on one of Africa's most notorious terrorist groups, and we are here for this energy.
Xenophobic attacks: What's the latest?
Tensions remain palpable between locals and foreign nationals in South Africa. However, it appears that the violence has ended and that law enforcement agencies in Gauteng have restored law and order in the province.
Across our borders, however, the situation is a bit different. On Wednesday, videos showing South African businesses being attacked by Zambian and Nigerian locals, in their respective countries, went viral.
Authorities in both countries have remained on high alert for any spurts of violence that may break out, and according to our understanding, there have been no reports of injured or murdered South Africans.
Is Boko Haram really going to attack South Africa?
The suggestions that Boko Haram, an infamous terrorist group, was planning on unleashing revenge in South Africa was admittedly laughable.
The last people on this continent that would want to rely on the help of Boko Haram are from Nigerians.
However, videos showing foreign nationals alleging that the terrorist group was aware of what's going on to 'their people' in South Africa and that they were planning on "unleashing revenge" did the job.
The threats were never verified, neither were they confirmed by authorities. However, as serious as they were, they did not stop South Africans from poking a little fun at them.
The best of the #BokoHaramChallenge
Full report at:
https://www.thesouthafrican.com/offbeat-news/south-africans-hilarious-boko-haram-challenge-video/
--------
URL: https://www.newageislam.com/islamic-world-news/indian-government-plan-deal-with/d/119674
New Age Islam, Islam Online, Islamic Website, African Muslim News, Arab World News, South Asia News, Indian Muslim News, World Muslim News, Women in Islam, Islamic Feminism, Arab Women, Women In Arab, Islamophobia in America, Muslim Women in West, Islam Women and Feminism