New Age Islam News Bureau
21 October 2021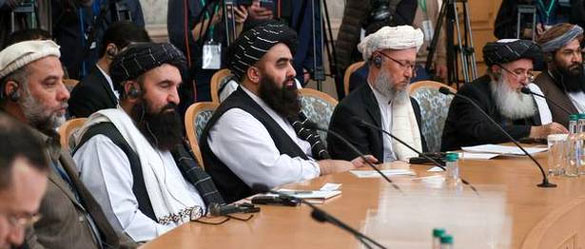 (Photo courtesy/ Business Line) - Taliban spokesman says Indian side expressed readiness to provide extensive humanitarian assistance
------
• Bangladesh Police Identify Man behind Quran Incident Durga Puja Pandals Which Triggered Violence; 450 Suspected Temple Attackers Have Been Arrested
• African Intellectuals Remember Late Muammar Gaddafi as Pan-African
• Nearly Half of All Afghan Refugees in US Are Children: Report
• UAE, Israel Sign Landmark Agreement on Space Cooperation, Planetary Research
India
• Hindu-Muslim Lakshmi Puja in Bengal Village of Burdwan District - An Example Of Communal Harmony
• India, Dubai sign pact to build infrastructure; former Pak high commissioner hails it as major success
• Soldier, 2 LeT men killed in Shopian
• Four over Ground Workers (OGWs) Arrested In Kashmir in Terror Conspiracy Case: NIA
--------
South Asia
• We Will Respectfully Interact With Taliban as New Afghan Authorities: Moscow Format
• Taliban pledge strengthening diplomatic, economic ties with India, Iran
• Taliban face hurdles while implementing law, order in Afghanistan
• War is over in Afghanistan but this is not final chapter: Zalmay Khalilzad
--------
Africa
• International Islamic Unity Conference: Muslim Elite Proposes Establishment of Organizations for Brotherhood
• Turkish centre in Abuja will 'open doors of Anatolian wisdom to Nigeria'
• Ethiopia carries out multiple airstrikes on Tigray rebel forces
--------
North America
• Us Senators Seek Answers from Firm on Reported Forced Uyghur Labour
• Shooting outside Turkish mosque in US leaves 1 wounded
• Non-Sunni Muslims Face Persecution in Africa, U.S. Report Says
• Drone attack at US outpost in Syria, no American injuries: US officials
--------
Arab World
• Six loyalist fighters killed in Syria arms depot blast: Monitor
• US mediator and Lebanese officials discuss future of border talks with Israel
--------
Europe
• 'Turkey Leads Fight against Islamophobia and All Other Forms of Discrimination via International Organizations'
• Turkish-German Scientist Ugur Sahin Named Muslim World's 'Man of the Year'
• Egypt detains artist robot Ai-Da ahead of historic pyramid show over 'security risk'
• Berlin stresses Iran nuclear diplomacy amid Israeli military threats
--------
Pakistan
• Ahead Of Its Meeting, the FATF Has Sufficient Proof to Blacklist Pakistan
• Pak PM Khan Accused of Selling Gifts Received From Other Countries' Heads
• Five security personnel martyred in two KP attacks
--------
Southeast Asia
• Foreign Minister: Malaysia Rejects Statement That It May Join Abraham Accords And Normalise Relations With Israel
• 'Liquor Policy' Needed To Protect Muslim Sensitivities, Says Amanah Vice-President
• Activist lauds PAS leader's 'sensible' take in buzz over whisky
• Why Timah, why not 'Captain Speedy', asks mufti
--------
Mideast
• Western Perpetrators of War Have No Right to Call Islam into Question: International Islamic Unity Conference
• Israel approves West Bank residency for 4,000 undocumented, long-term Palestinians
• Islamic Jihad: 'Palestine and Jerusalem Will Not Be Liberated Without Unity'
• FM: Iran Ready to Execute Signed Deals with Oman
• UN Security Council condemns Houthi violations in Yemen, Saudi Arabia
Compiled by New Age Islam News Bureau
URL: https://www.newageislam.com/islamic-world-news/indian-delegation-taliban-afghanistan/d/125619
--------
Indian Delegation Meets Taliban; The Two Sides Emphasised the Need to Take into Account Each Other's Concerns
Geeta Mohan
October 21, 2021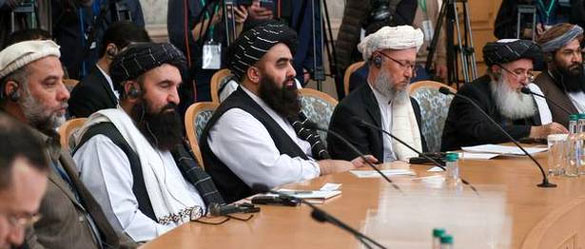 (Photo courtesy/ Business Line) - Taliban spokesman says Indian side expressed readiness to provide extensive humanitarian assistance
------
On the side-lines of the third meeting of the Moscow Format of consultations on Afghanistan, representatives of the Taliban met an Indian delegation, led by Joint Secretary at Ministry of External Affairs JP Singh, on Wednesday.
It was the second such bilateral meeting between India and the Taliban after Indian envoy to Qatar Deepak Mittal's meeting with Sher Mohammad Abbas Stanikzai, the Taliban's deputy foreign minister, in Doha a month ago.
The Indian delegation led by JP Singh, the joint secretary of the Pakistan-Afghanistan-Iran division of the Ministry of External Affairs, was in Moscow to attend the Moscow Format meeting at the invitation of Russia.
Speaking about the India-Taliban meeting, Zabihullah Mujahid, an official spokesperson of the Taliban-ruled Islamic Emirate of Afghanistan said, "The delegation of the Islamic Emirate met with the special representative of India for Iran, Pakistan and Afghanistan."
The Indian side expressed readiness to provide extensive humanitarian assistance to Afghanistan, Zabihullah Mujahid was quoted as saying by Afghanistan's Tolo news. The two sides also emphasised the need to take into account each other's concerns and improve diplomatic and economic relations, the Taliban spokesperson said.
Meanwhile, during his opening remarks at the Moscow talks on Wednesday, Russian foreign minister Sergey Lavrov said that "forming a really inclusive government fully reflecting the interests of not only all ethnic groups but all political forces of the country" was necessary to achieve a stable peace in Afghanistan.
10 countries, including India, China, Pakistan and some other central Asian countries, participated in the meeting. Other than the Taliban, the meeting also had representatives of other factions, a round of diplomacy that underlines Moscow's clout.
Lavrov in his opening speech at the conference commended the Taliban for their efforts to stabilise the situation in the country and ensure the operation of state structures.
Last week, Russian President Vladimir Putin noted that there must be no rush in officially recognising the Taliban as the new rulers of Afghanistan, but emphasised the need to engage in talks with them.
Unlike many other countries, Russia hasn't evacuated its embassy in Kabul and its ambassador has maintained regular contacts with the Taliban after they took over the Afghan capital in August.
Source: India Today
Please click the following URL to read the text of the original story:
https://www.indiatoday.in/india/story/taliban-delegation-meets-indian-official-on-sidelines-of-moscow-format-afghanistan-talks-in-russia-1867249-2021-10-21
--------
Bangladesh Police Identify Man behind Quran Incident Durga Puja Pandals Which Triggered Violence; 450 Suspected Temple Attackers Have Been Arrested
Oct 21, 2021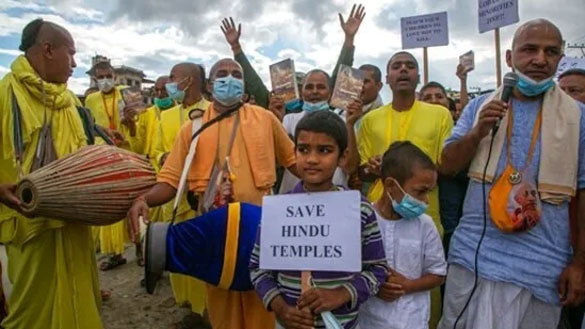 Members of Iskcon participate in a peaceful protest against the recent violence against Hindus in Bangladesh.(AP Photo)
-----
The Bangladesh Police have identified the man responsible for inciting the violence, which led to attacks on Durga puja pandals in Comilla and other places. Comilla's Superintendent of Police Farooq Ahmed told Dhaka Tribune that the man's name is Iqbal Hossain from Sujanagar area of the city.
Ahmed said the 35-year-old placed the Holy Quran at one of the Durga Puja pandals on October 13, which triggered the violence in which three people were killed.
Dhaka Tribune said in its report that the police identified Hossain after analysing video footages of the CCTV cameras installed at the Durga Puja venues. He has not yet been arrested.
In the footage, Hossain is seen taking the Quran from a local mosque and walking into a Durga Puja venue. He was later seen walking away with the club of Lord Hanuman.
Ahmed said that the police will hold a briefing on Thursday where more details about Hossain will be shared.
Attacks on Hindu temples have intensified in Bangladesh since last Wednesday after a post surfaced on social media showing the Quran kept at a Durga Puja pandal. Late on Sunday, a mob damaged 66 houses and set on fire at least 20 homes of Hindus.
The police said over 450 suspected temple attackers have been arrested so far in different parts of the country. Forty one of them have been arrested for the Comilla incident and four of them are Hossain's associates.
On Tuesday, Bangladesh Prime Minister Sheikh Hasina instructed her home minister to initiate immediate action against those who incited violence using religion as she asked the people not to trust anything on social media without fact-checking.
Hindus make up some 10 per cent of the Muslim-majority Bangladesh's 169 million population.
Source: Hindustan Times
Please click the following URL to read the text of the original story:
https://www.hindustantimes.com/world-news/bangladesh-police-identify-man-behind-quran-incident-which-triggered-violence-101634784740482.html
--------
African Intellectuals Remember Late Muammar Gaddafi As Pan-African
Hassan Isilow
20.10.2021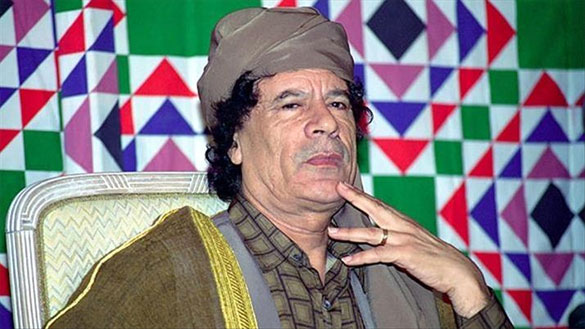 Libyan leader Muammar Gaddafi
-----
African intellectuals Wednesday remembered late Libyan leader Muammar Gaddafi, who was killed on Oct. 20, 2011, as a pan-African who had the best interests of the continent at heart.
"Gaddafi had a vision and strong belief of uniting Africans," Sultan Kakuba, a political scientist at Kyambogo University in Uganda, told Anadolu Agency in a phone interview.
"He believed a united Africa would speak with one voice at international fora such as the United Nations and manage to bargain and be seen as an equal partner."
Kakuba claimed Gaddafi was seen as an enemy of Western countries because of his longing for a "United States of Africa" which he pushed for many years, hoping one day to have a unified African government.
"Gaddafi believed this was the only way that Africa could develop without Western interference," he said.
Mustafa Mheta, a Johannesburg-based researcher, said he equally believes Gaddafi was killed because of his objection to Western interference in African affairs.
"I think Gaddafi was murdered for standing up to the West and for trying to promote very progressive ideas for Africa, which the West don't like. They want a forever dependent on them Africa," Mheta told Anadolu Agency in an interview.
In speeches, Gaddafi often outlined his plan to create a new united Africa with its own currency, an army to defend the continent, and a single passport.
He wanted to introduce a gold dinar to back African currencies, thus freeing them from the dollar standard.
Gaddafi also longed to protect Africa's natural resources from what he referred to as Western "looters."
Despite being a darling of most African countries, a record of human rights abuses and corruption in his own country turned many Libyans against Gaddafi. And when the winds of the 2011 Arab spring reached Libya, people held mass protests against him, giving Western armies an opportunity to move in.
Iqbal Jassat, an executive member of the Johannesburg-based think tank Media Review Network, told Anadolu Agency that Gaddafi's support for anti-colonial struggles – especially the military and financial support provided to South Africa's liberation movements – endeared him to all who opposed to white minority rule.
"Being at odds with the dominant Western worldview saw him targeted for what they perceived as 'supporting terrorism'," said Jassat.
Despite being seen as a pan-African who sought African unity, Gaddafi was also accused of backing notorious rebel groups in Liberia and Sierra Leone, among others.
"As much as he was despised by the West, particularly France, Italy, Britain and America, he was also viewed as a threat to some African regimes," Jassat said.
He said this explains why organs of the continent such as the African Union looked on without a whimper of protest in 2011, when Western armies were pummeling Libya with bombs.
Was intervention justifiable?
Most academics who spoke to Anadolu Agency argued that the March 19, 2021 NATO-led military intervention in Libya was unjustifiable because it plunged the country into total chaos.
"The Western invasion which culminated in the assassination of Col. Muammar Gaddafi is responsible for what is currently prevailing in Libya," said Mheta.
Kakuba agreed that Western countries should have left the African Union to resolve the situation in Libya, giving the continental body an opportunity to solve an African problem.
"The invasion of Libya created a scenario that Africans cannot solve their own problems. The West should have left the African Union to resolve the crisis in Libya," he said.
Jassat faulted some African countries, saying they let down Libya by voting with the UN Security Council in their resolution to bomb Libya.
He said South Africa also marred its reputation for failing to intervene and prevent the destruction of an ally.
Jassat said that South Africa and the rest of the continent bear responsibility for allowing former colonizers to triumphantly dismember a leading and successful Libya.
On March 17, 2011, South Africa, a non-permanent member of the United Nations Security Council, voted for Resolution 1973, which authorized military intervention in Libya allowing a NATO-led coalition to conduct fierce airstrikes against Gaddafi's forces.
However, the country later condemned the bombing, saying NATO forces had distorted the mandate of the resolution by trying to topple Gaddafi instead of remaining neutral and protecting civilians. The African Union also expressed reservations over the NATO bombings.
Gaddafi's death led to nearly a decade of civil war.
Libya has seen positive developments since this February, when rival parties agreed on a unified new executive authority to govern the country in the runup to national elections this December.
Source: Anadolu Agency
Please click the following URL to read the text of the original story:
https://www.aa.com.tr/en/africa/african-intellectuals-remember-late-muammar-gaddafi-as-pan-african/2397444
--------
Nearly Half Of All Afghan Refugees In US Are Children: Report
Michael Hernandez
WASHINGTON, 20.10.2021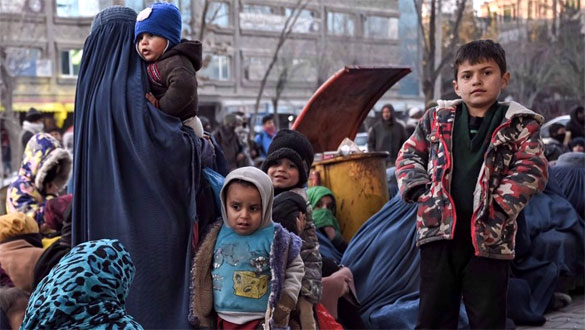 Roughly 56% of all Afghans housed at US military facilities are adults, according to letter obtained by Wall Street Journal
------
Almost half of the 53,000 Afghan refugees that have arrived in the US and are living at military facilities are children, according to a report published Thursday.
The disclosure was made in a letter from Defense Secretary Lloyd Austin to lawmakers that was obtained by the Wall Street Journal newspaper. The letter was sent in response to queries from Senator James Inhofe, the ranking Republican on the Armed Services Committee.
Roughly 22% of those who have arrived are adult females compared to 34% who are male adults, said the letter. The figures provided by Austin are approximations.
Turning to the roughly 124,000 people who were evacuated from Afghanistan in the final days of the US occupation, Austin said the vast majority -- 85%, or 105,000 -- were Afghans.
The asylees who remain at US military facilities are expected to stay there for months due to a measles outbreak, housing shortage and a bureaucratic delay in processing paperwork, according to the Journal.
Three-quarters of the questions asked by Inhofe required classified answers, Austin reportedly wrote.
"I'm glad we finally have some of the answers my colleagues on the Senate Armed Services Committee and I have been asking, about who we evacuated and how the Department of Defense is supporting these evacuees," Inhofe told the newspaper. "It's clear the Department faces challenges ahead in this regard, and I intend to watch this process closely"
Source: Anadolu Agency
Please click the following URL to read the text of the original story:
https://www.aa.com.tr/en/americas/nearly-half-of-all-afghan-refugees-in-us-are-children-report/2398042
--------
UAE, Israel Sign Landmark Agreement On Space Cooperation, Planetary Research
21 October 2021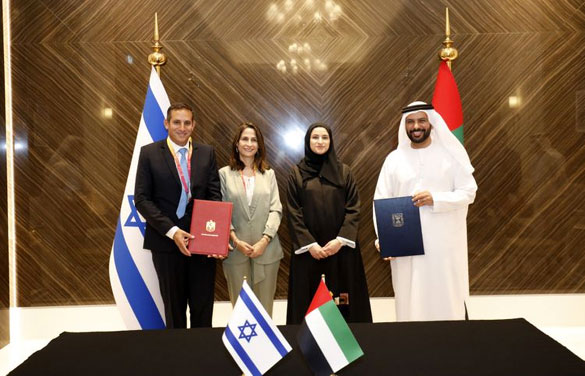 Sarah Al Amiri, Minister of State for Advanced Technologies and Chairwoman of the UAE Space Agency, and Orit Farkash Hacohen, Minister of Innovation, Science and Technology of Israel at the signing ceremony during Expo 2020 Dubai's Space Week.
------
The UAE Space Agency has joined forces with the Israel Space Agency to boost cooperation in scientific research, space exploration and knowledge transfer, state news agency WAM reported on Wednesday.
It is the latest in a string of bilateral business agreements achieved between the two Middle East nations following the signing of the Abraham Accords peace agreement a year ago.
Sarah bint Yousif al-Amiri, Minister of State for Advanced Technology and chairwoman of the UAE Space Agency, said: "Sharing knowledge and expertise is a key part of the UAE's vision to create an attractive and competitive national space industry."
"If you look at the most successful global space programs in history, the common denominator is collaboration. Israel has a globally recognized space industry and developing bilateral and multilateral partnerships has never been so important as we embrace a new era of space exploration."
She signed the agreement with Orit Farkash-Hacohen, Minister of Innovation, Science and Technology of Israel, during Expo 2020 Dubai's Space Week, held in association with the UAE Space Agency.
Farkash-Hacohen said: "Governments sign agreements but people and collaborations are the ones that truly make peace."
"Israel is an international leader in the worlds of research, space, science and hi-tech. Today on behalf of the Government of Israel, I am pleased to sign a series of agreements for cooperation with the UAE Space Agency in important and groundbreaking fields. I thank the Minister of Advanced Technology Sarah Al Amiri for the significant, collaborative work done in the last year between the two agencies. Thanks to this work, we are already launching advanced initiatives for the benefit of our children's education and joint research. I share Minister Al Amiri's vision of harnessing science and space not only as an economic stimulus but also for bringing hearts together and educating our next generation."
Both parties will enhance collaboration and cooperation in a wide range of strategic fields, including exploration, research, data analysis, education and more.
The UAE will exchange research and develop scientific instruments for Israel's Beresheet-2 mission to land a spacecraft on the Moon by 2024 as part of the landmark agreement.
Universities in Israel and the UAE will also launch collaborative research projects.
They include exploring red tide phenomenon, analyzing red palm weevil infestation which threatens date palm cultivation, and mapping aerosols – solid and liquid particles suspended in the atmosphere.
Vegetation and environmental data gathered by a microsatellite used by the Israel Space Agency and the French Space Agency will also be shared with the UAE.
Israel has witnessed near-unprecedented developments in space research, advanced technologies and the expansion of its private sector in recent decades. Including becoming the eighth country in the world to successfully launch and position satellites in space.
The Emirates' space program started in 2006 with a knowledge transfer program that saw Emirati engineers working with partners around the world to develop the UAE's spacecraft design, engineering and manufacturing capabilities, launching a series of earth observation satellites designed and built by Emirati engineers.
Source: Al Arabiya
Please click the following URL to read the text of the original story:
https://english.alarabiya.net/News/middle-east/2021/10/21/UAE-Israel-sign-landmark-agreement-on-space-cooperation-planetary-research-
--------
India
Hindu-Muslim Lakshmi Puja in Bengal Village of Burdwan District - An Example Of Communal Harmony
21st October 2021
KOLKATA: At a time when communal violence has overtaken Bangladesh, leading to the death of at least 11 people, a village in Bengal's Burdwan district has set an example of communal harmony during Lakshmi Puja.
Residents of Dharmadanga village have joined hands to celebrate the festival of the goddess of prosperity irrespective of religious beliefs. Like previous years, the festival is keeping Hindus and Muslims of the village busy cleaning the Puja venue and distributing prasad. When the state witnessed sharp polarisation in recent elections, Hindu residents of the village continued visiting their Muslim neighbours on Bakri Eid and Eid-ul-Fitr.
"We organise cultural events and sit together for lunch and dinner during these four days of the Lakshmi festival. This is a tradition of our village where bonding between us is the priority, not an individual's religious belief," said Asmat Ali of Dharmadanga.
Asmat's neighbour Bidyut Das said a major chunk of the subscription for the Lakshmi Puja comes from the Muslim participants. "This Puja has always been the main festival of our village inhabited mainly by farmers. We join hands to celebrate the festival and spend time together during these four days. We respect each other's religious beliefs,'' said Das.
Source: New Indian Express
Please click the following URL to read the full text of the original story:
https://www.newindianexpress.com/nation/2021/oct/21/hindu-muslim-lakshmi-puja-in-bengal-village-2373867.html
--------
India, Dubai sign pact to build infrastructure; former Pak high commissioner hails it as major success
Rahul Shrivastava
October 21, 2021
An agreement was signed between the Union Territory of Jammu and Kashmir and the government of Dubai at the Raj Bhawan in Srinagar on Monday to build infrastructure. The Memorandum of Understanding (MoU) was hailed "as a major success for India" by a former Pakistan high commissioner, while the pact triggered outrage in Pakistan.
The MoU signed during a small yet high-profile ceremony indicates a rare formalised partnership with a foreign government at a time when terror operators are trying to demolish the perception that India has strengthened its hold over the region after the special status to Jammu and Kashmir was scrapped.
'A SUCCESS FOR INDIA'
Former Pakistan ambassador to India Dr Abdul Basit, in his YouTube vlog called Kaleidoscope, said, "This [signing of MoU] is a major success for India in the context of both Pakistan and Jammu and Kashmir as OIC [Organisation of Islamic Cooperation] members have always kept Pakistan's sensibilities on Kashmir at the forefront."
In a video posted on the social platform, Basit said, "India's Kashmir strategy always had one important component that how to persuade some Muslim nations to open their missions or consulates in Kashmir and invest in the region. The critical basic idea is also to weaken the OIC from inside so that it is rendered incapable of taking a principled stand on Kashmir issue."
Abdul Basit went on to say, "There is news that the Dubai government has signed an agreement with the Indian government under which Dubai will invest in infrastructure development in Jammu and Kashmir. Details are yet to arrive about the MoU and how it will bring investment. Whether there will be an investment in the Kashmir region or Jammu is not very clear."
"In the past, they [OIC member nations] have never done something to make Pakistan feel that Muslim nations and the OIC are not standing behind us on the Kashmir issue. They may not have been very vocal, but have ensured not to work against our sentiment on Kashmir. That's why, we saw many times that representatives of the OIC nations used to refrain from visiting Kashmir. Many times, even if they were invited, the OIC nations kept in mind the feelings of Pakistan."
Basit's vlog clearly indicates the significance of the MoU as the partnership with a major global financial centre such as Dubai is a message to the world that Pakistan has no locus standi on Kashmir.
What has made Pakistan more unhappy over the MoU is that the UAE has a powerful presence in the OIC, an alliance of currently 56 countries in which Islam plays a significant role, with Islam as the state religion, or countries where Muslims form the majority of the population.
Pakistan's claims on Kashmir and attempts to internationalise the Kashmir issue depended heavily on OIC support.
Targetting the Imran Khan government in Pakistan, Basit said now that the MoU has been signed, it's clear that the matter is slipping out of Pakistan's hands. "We are shaking our hands and legs in the dark. We seem to have no Kashmir policy left. It's sad. The current government's casual approach will haunt it," he said.
"Past governments have also contributed to the weakening Pakistan's policy on Kashmir," he said.
At a time when India is battling Pakistan's proxy attempts to destabilise the valley, Basit said, "I don't say there can be no out of the box solution on Kashmir."
"There should be efforts to find a solution. But, is it acceptable that everything is one-sided and the ground is ceded to India? Now, the condition is that Muslim nations are signing MoUs with India," Basit said.
As India's business and diplomatic ties with nations like the UAE grow, Basit said, "At this rate, it's a possibility that soon the UAE and Iran may open their consulates in Kashmir. If this is the state of our diplomatic effort on Kashmir, this can happen."
Pakistan has attempted to keep Srinagar isolated in various ways in the past. More than a decade ago, it had lobbied strongly against the UAE opening a visa office there. Then, for example, it derailed the move to turn Srinagar airport into an international destination.
The airport was designated as an international airport in March 2005. An expanded terminal to serve both domestic and international flights was inaugurated on February 14, 2009, by Congress president Sonia Gandhi.
On the same day, Air India Express started weekly flights to Dubai. Soon, Pakistan denied permission to fly over its airspace. The detour meant longer flights and this made them economically unviable.
Speaking about a recent attempt to globally upgrade its claims against India with the release of a dossier, Basit claimed that it contained details of the alleged human rights violations by the Indian authorities in Kashmir on September 12.
He said, "We presented a dossier on J&K. But, it didn't work further. Presenting the dossier isn't enough. Pakistan is weak on follow up on a sustained basis. There is no reason that why we don't achieve the results [when it comes to Kashmir]. Maybe, we failed to strengthen our civilian platforms to meet challenges for the 21st century."
WHY PAKISTAN FEELS MoU IS A WIN FOR INDIA
The MoU is yet another attempt by the Narendra Modi-led central government to signal that the mainstreaming of Jammu and Kashmir, through development and investment initiatives, is on course after the abrogation of Article 370 in August 2019.
The MoU with Dubai covers real estate development, industrial parks, IT towers, multipurpose towers, logistics, medical college, super speciality hospital and more.
Speaking about the significance of the MoU, Union Minister for Commerce and Industry Piyush Goyal said on Monday that with the signing of the MoU with Dubai, the world has started to recognise the pace with which Jammu and Kashmir is traversing on the development bandwagon.
Source: India Today
Please click the following URL to read the full text of the original story:
https://www.indiatoday.in/india/story/india-dubai-sign-pact-build-infrastructure-former-pak-high-commissioner-hails-major-success-1867284-2021-10-21
--------
Soldier, 2 LeT men killed in Shopian
M Saleem Pandit & Sanjay Khajuria
Oct 21, 2021
SRINAGAR/JAMMU: A soldier and two Lashkar-e-Taiba terrorists were killed in a gunfight with the Army in south Kashmir's Shopian district on Wednesday. Two Army personnel were injured in the same encounter at Cheerbagh.
One slain terrorist was identified as Adil Ahmad Wani who, according to the police, was the LeT (TRF) Shopian "district commander".
Earlier, IGP (Kashmir) Vijay Kumar said that Wani was involved in the killing of a carpenter, Sageer Ahmad of UP, in Litter Pulwama last weekend. "The terrorist identified as Adil Ahmad Wani was active since July 2020," the IGP said. So far, he said, 15 terrorists have been killed in two weeks.
The Kishtwar police, meanwhile, claimed they had foiled a terror plot with the arrest of one LeT member with a hand grenade during checking at a security point in Drabshalla Thathri, Kishtwar district.
ADGP (Jammu zone) Mukesh Singh said the checking was carried out "based on inputs about inimical elements planning to carry out a grenade blast in Kishtwar district".
Source: Times of India
Please click the following URL to read the full text of the original story:
https://timesofindia.indiatimes.com/india/soldier-2-let-men-killed-in-shopian/articleshow/87169421.cms
--------
Four Over Ground Workers (OGWs) Arrested In Kashmir In Terror Conspiracy Case: NIA
M Saleem Pandit
Oct 20, 2021
SRINAGAR: The National Investigation Agency (NIA) on Wednesday carried out searches at 11 locations in four districts of J&K and arrested four alleged over ground workers (OGWs) in the terror conspiracy case. The agency had earlier arrested five accused in the case.
Issuing a statement here, NIA said searches were conducted in Srinagar, Pulwama, Kulgam and Baramulla districts. The agency identified the four arrested accused as Suhail Ahmad Thokar, Kamran Ashraf Reshi, Rayid Bashir and Hanan Gulzar Dar. While Thokar is a resident of Kulgam, Reshi is a native of Hazratbal in Srinagar and Bashir and Dar belonged to other parts of Srinagar, the statement said.
Preliminary investigation has revealed that the four accused arrested on Wednesday are associates of terrorists/OGWs of various terror organisations and that they had been providing logistical and material support to terrorists, the statement said.
The case, it said, relates to a conspiracy for undertaking violent terror acts in J&K and other major cities by cadres of Laskhar-e-Taiba, Jaish-e-Mohammed, Hizb-ul-Mujahideen, Al Badr and similar other outfits.
Source: Times of India
Please click the following URL to read the full text of the original story:
https://timesofindia.indiatimes.com/india/4-ogws-arrested-in-kashmir-in-terror-conspiracy-case-nia/articleshow/87169318.cms
--------
South Asia
We will respectfully interact with Taliban as new Afghan authorities: Moscow Format
21 Oct 2021
Third Moscow Format on Afghanistan released a joint statement after concluding the meeting saying that the Taliban are now new authorities in Afghanistan and acknowledged that the member states will interact with them respectfully.
The member states in their joint statement promised to respect the sovereignty, independence, and territorial integrity of Afghanistan.
The Moscow Format hosted by Russia was attended by Pakistan, Iran, India, China, Uzbekistan, Turkmenistan, Kazakhstan, Kyrgyzstan, and Afghanistan concluded on Wednesday, October 20.
The statement reads that in order for the Taliban to gain recognition, the must for a truly inclusive government the one which also a prerequisite for national reconciliation.
The joint statement though praises the Taliban's pledges over Afghanistan's soil not to be used against any country, asked the de-facto authorities in Kabul to pursue a moderate and wise internal and foreign policy, be friendly to Afghanistan's neighbor states.
"It is important that the Taliban seek friendly relations with neighbor states to achieve the shared goals of durable peace, security, safety, and long-term prosperity and respect the rights of ethnic groups, women, and children." Reads the joint statement.
Source: Khaama Press
Please click the following URL to read the full text of the original story:
https://www.khaama.com/we-will-respectfully-interact-with-taliban-as-new-afghan-authorities-moscow-format-745747/
--------
Taliban pledge strengthening diplomatic, economic ties with India, Iran
21 Oct 2021
Afghanistan's delegation led by Deputy PM Abul Salaam Hanafi met with special representatives of Iran and India to Afghanistan in the sideline of Moscow Format.
Deputy Minister of information and culture and spokesperson of the Taliban Zabiullah Mujahid on his Twitter posts said that the Afghan delegation made different pledges with the countries' delegations.
Afghan and Iranian delegations discussed bilateral relations and promised to utilize regional economic opportunities.
"Both sides promised to gather a bilateral gathering on electricity, Water, and bilateral trades ties in near future." Said Mujahid in a twitter post.
In the meantime, the Afghan delegation has also met with India's special representative to Afghanistan, Pakistan, and Iran JP Singh.
Zabiullah Mujahid said that the Indian and Afghan sides promised to take into account each other's concerns and will build diplomatic and economic relations.
Source: Khaama Press
Please click the following URL to read the full text of the original story:
https://www.khaama.com/taliban-pledge-strengthening-diplomatic-economic-ties-with-india-iran-634636/
--------
Taliban face hurdles while implementing law, order in Afghanistan
Oct 21, 2021
KABUL: The Taliban have taken over Afghanistan but the affiliates of Islamic State-Khorasan, Syria and Iraq-based terrorist groups have emerged as a big problem to the public safety of the Taliban controlled country.
The Taliban has failed to contain the terrorists, who have incited a number of attacks in the country since the collapse of the Ghani government in Afghanistan, The Washington Post reported.
These attacks also included two bombings of Shiite mosques that recently took place within a week in Kandahar and Kunduz that killed scores of worshipers.
The situation has raised questions upon the Taliban's capability to take down ISIS-K cells in Kabul and other urban areas, The Washington Post reported.
Not just the terrorists from other groups but internal members of the Taliban are also undisciplined and have been committing brutal crimes after the group's takeover.
As a recent example of this, the members of the Taliban have executed suspected kidnappers and hung their bodies in public view. Videos of Taliban fighters whipping alleged criminals have also emerged on social media, The Washington Post reported.
The Taliban are also showing signs of their previous regime in which they used to undertake brutal methods in implementing 'order' in the country.
Source: Times of India
Please click the following URL to read the full text of the original story:
https://timesofindia.indiatimes.com/world/south-asia/taliban-face-hurdles-while-implementing-law-order-in-afghanistan/articleshow/87173932.cms
--------
War is over in Afghanistan but this is not final chapter: Zalmay Khalilzad
20 Oct 2021
US's outgoing special representative for Afghan peace Zalmay Khalilzad said that war in Afghanistan ended but warned that this is not the final chapter as the people of Afghanistan will confront economic and security challenges.
Zalmay Khalilzad in a series of Twitter posts officially confirmed his resignation from the post of special representative of the United States to Afghanistan's reconciliation and welcomed his deputy Thomas West to the post.
US secretary of State Antonio Blinken had praised him and expressed gratitude for all his efforts as their special envoy to his native country.
Zalmay Khalilzad said that it was an honor for him to serve the people of America and added to remain committed to peace and stability in Afghanistan.
"I thank all my colleagues at the State Department, Pentagon, and intelligence community who joined me on this mission." Reads a tweet.
Source: Khaama Press
Please click the following URL to read the full text of the original story:
https://www.khaama.com/war-in-over-in-afghanistan-but-this-is-not-final-chapter-zalmay-khalilzad-3456346/
--------
Africa
International Islamic Unity Conference: Muslim Elite Proposes Establishment of Organizations for Brotherhood
October 21, 2021
Prominent Muslim scholar and political analyst attending the first webinar on the opening day of the 35th International Islamic Unity Conference proposed building organizations for brotherhood in the world of Islam.
Emad al Hamrouni, Paris-based Tunisian expert, a faculty member and political analyst from France, related on Takfiri ideology, Islamic brotherhood and the fight against terrorism in his speech addressing the first webinar for the 35th Islamic Unity Conference opening on Tuesday.
He referred to the history of Islam and how Prophet Mohammad (PBUH) formed the first group of Muslims.
French thinker expressed regret on how over time over time the spirit of brotherhood gave way to a power struggle when Muslims were divided into different ethnic groups, Arabs, Persians, Turks, Imazighen, Berbers and so on.
He called on the Muslims to return to Islamic unity stressing," There is no other way to return to Islamic unity than the path of brotherhood which means we must create a mechanism and system that brings about brotherhood among Muslims."
Emad al Hamrouni expressed regret over failure of the Muslim scholars, scientists and politicians in the path to create brotherhood and noted," Unfortunately, colonialism has succeeded in exploiting our dispersal and differences.
We abandoned the brotherhood and nothing but war happened.
He vowed capability of Muslims to build the union of the Muslim nations saying, "As intellectuals, scientists, researchers, politicians and clerics, we must not only consider the tradition of brotherhood in our speeches and emphasize that in our lectures on television, at school and university, on brotherhood as an objective issue but also think about how we can build "organizations for brotherhood" and sever ties with Takfiri ideology.
Source: ABNA24
Please click the following URL to read the full text of the original story:
https://en.abna24.com/news//senior-tunisian-scholar-muslim-elite-proposes-establishment-of-organizations-for-brotherhood_1190547.html
--------
Turkish centre in Abuja will 'open doors of Anatolian wisdom to Nigeria'
Mehmet Tosun and Adam Abu-bashal
21.10.2021
ABUJA, Nigeria
With the opening of Turkey's Yunus Emre Cultural Center in the Nigerian capital, the doors to Anatolian wisdom will open to Nigerians, Turkey's first lady said on Wednesday.
Emine Erdogan attended the center's inauguration ceremony in Abuja, where she also presented her book, My Travels to Africa.
In her speech, the first lady said she was happy to be back in Nigeria after five years. "With this center, we will be opening the doors of Anatolian wisdom to our Nigerian brothers. You will have the opportunity to get to know Turkish culture more closely, and you will also be able to learn the Turkish language if you wish," she said.
Noting that a total of 62 Yunus Emre Cultural Centers have been established in 52 countries, she said literature, culture, and art are "the most beautiful tools" that strengthen ties between countries.
"We consider Africa as the rising star of the 21st century. We stand in solidarity with the entire African continent so that it reaches the place it deserves," she said, pointing out that the increase in the number of Turkish embassies in Africa is a signal of the deepening of relations.
Underlining that Turkey's ties with Africa are not only based on donations or grants, but she also said the continent's development is important. "We will continue to contribute to peace, stability, prosperity, and development of the continent, as we have done so far. I wish success and happiness of the African geography forever," she said.
The book, which is dedicated to her mother, covers the first lady's visits from 2014-2020 to 23 African countries, including Algeria, Ethiopia, Somalia, Tanzania, Mozambique, and Senegal.
Source: Anadolu Agency
Please click the following URL to read the full text of the original story:
https://www.aa.com.tr/en/africa/turkish-center-in-abuja-will-open-doors-of-anatolian-wisdom-to-nigeria/2398254
--------
Ethiopia carries out multiple airstrikes on Tigray rebel forces
Seleshi Tessema and Addis Getachew
20.10.2021
Ethiopian jets hit Tigray rebels in the country's north with airstrikes on Wednesday for the second time this week, the government announced.
The strikes against forces loyal to the Tigray People's Liberation Front (TPLF) in Mekele, the capital of Ethiopia's northernmost region of Tigray, were "aimed at facilities that the TPLF have turned into armament construction and repair sites," the government's communications service told Anadolu Agency.
Authorities also said that air force jets had conducted surgical airstrikes on a rebel military training center situated 80 kilometers (approximately 50 miles) outside Mekele.
"The air force attacked the military training center called Agbe that lies between the Hagere Selam and Abi Adi areas," said the Communications Authority.
It added: "The training camp is one that serves as a training and organizing the TPLF fighting forces and arms depo."
Source: Anadolu Agency
Please click the following URL to read the full text of the original story:
https://www.aa.com.tr/en/africa/-ethiopia-carries-out-multiple-airstrikes-on-tigray-rebel-forces/2397471
--------
North America
Us Senators Seek Answers from Firm on Reported Forced Uyghur Labour
Michael Hernandez
20.10.2021
WASHINGTON
A bipartisan trio of US senators sought answers Wednesday from American electronics firm Universal Electronics Inc. in the wake of a damning report that implicated it in China's "genocide of Uyghurs and other ethnic groups in Xinjiang."
Democratic Senate Foreign Relations Chairman Bob Menendez was joined by committee members Jeff Merkley, a Democrat, and Marco Rubio, a Republican, in the letter, which seeks answers from Chief Executive Officer Paul Arling following a Reuters report that alleged the company struck a deal with Beijing to transport Uyghur laborers from Xinjiang to Qinzhou.
"This arrangement bears clear signs of forced labor, raising concerns that your firm may be directly implicated in the Chinese government's genocide in Xinjiang," the senators wrote, further citing a number of documented abuses against Uyghurs by China's ruling party.
"Given these ongoing, well-documented abuses, American companies must scrupulously avoid forced Uyghur labor in their Chinese operations, including by carefully vetting arrangements with third-party labor agents. The new reports indicate Universal Electronics may be failing in this duty," they added.
The report alleged that Uyghurs who were transported to the facility in Qinzhou in southern China live in segregated dormitories, are subject to constant police surveillance and are subject to the Chinese government's "education activities."
"We believe these conditions bear obvious signs of forced labor. We are especially troubled that Universal Electronics appears to have done little to investigate or remedy the situation," the senators wrote.
According to UN data, at least 1 million Uyghurs are held against their will in places Beijing calls "vocational training centers," which the international community defines as "re-education camps."
Source: Anadolu Agency
Please click the following URL to read the full text of the original story:
https://www.aa.com.tr/en/americas/us-senators-seek-answers-from-firm-on-reported-forced-uyghur-labor/2398077
--------
Shooting outside Turkish mosque in US leaves 1 wounded
Servet Günerigök
21.10.2021
WASHINGTON
A shooting Wednesday outside a mosque in the US state of Maryland left one person wounded.
The Diyanet Center of America said in a statement on Twitter that the incident took place shortly after a funeral at the mosque, which is located in Lanham.
"We are deeply shocked by the shooting incident that occurred at our center today shortly after a funeral. The incident left one individual injured who was immediately taken to the hospital," said the center.
Source: Anadolu Agency
Please click the following URL to read the full text of the original story:
https://www.aa.com.tr/en/americas/shooting-outside-turkish-mosque-in-us-leaves-1-wounded/2398170
--------
Non-Sunni Muslims face persecution in Africa, U.S. report says
By Mark A. Kellner
October 20, 2021
While many Muslims in Africa live and practice their faith in peace, governments from Egypt to Guinea persecute minority Muslim communities, the U.S. Commission on International Religious Freedom reported Wednesday.
According to "Muslims in Africa," a factsheet released by the independent panel, official discrimination against such minority groups tends to target the Shi'a and Ahmadiyya Muslim groups.
Also under various governments' eyes are Muslims who support the Qur'anist, Tijaniyya and Qadiriyya schools of Islamic thought, the document states.
Egypt, for example, "refuses to recognize Shi'a Islam as an acceptable" practice, the report states. This means Shi'as cannot establish public or private places of worship, and several Shi'as have been accused of blasphemy or were prosecuted for having texts on Shi'a beliefs.
In Nigeria, followers of the Tijaniyya and Qandiriyya schools have been sentenced to death for alleged blasphemy.
Governmental persecution of Shi'as also exists in some of Nigeria's northern states, where protesters suffered a violent crackdown in February 2019, the commission document reported. In the Comoros islands, 11 Shi'a were arrested for performing a ritual in public.
Ahmadiyya Muslims — a controversial subset of Sunni Islam that preaches a "separation of mosque and state" — are under governmental attack in Algeria and Egypt.
In 2020, Algerian authorities "reignited a campaign" against the Ahmadis, the report said. The group was charged with blasphemy and gathering without a permit, which the government has refused to grant.
In Egypt, Ahmadis were prosecuted for practicing their faith and their literature was banned, the commission document stated. As with the Shi'as, Ahmadis in Egypt are denied permission to establish public places of worship.
A bright spot for the Ahmadis is the Republic of the Gambia, the smallest nation in mainland Africa. There, a cabinet minister addressed an Ahmadi peace conference shortly after the nation's Supreme Islamic Council, an independent body, had said the sect's members were not Muslim.
Source: The Washington Times
Please click the following URL to read the full text of the original story:
https://www.washingtontimes.com/news/2021/oct/20/non-sunni-muslims-face-persecution-africa-us-repor/
--------
Drone attack at US outpost in Syria, no American injuries: US officials
21 October ,2021
A US outpost in southern Syria was attacked on Wednesday, but there were no reports of any American casualties from the blast, US officials told Reuters.
The officials, speaking on the condition of anonymity, said it was too early to say who was responsible for the attack.
One of the officials said it was believed to have been a drone attack.
The garrison, known as Tanf, is located in a strategic area near Syria's Tanf border crossing with Iraq and Jordan.
The garrison was first set up when ISIS fighters controlled eastern Syria bordering Iraq but since the militants were driven out, it is seen as part of the larger US strategy to contain Iran's military reach in the region.
Source: Al Arabiya
Please click the following URL to read the full text of the original story:
https://english.alarabiya.net/News/middle-east/2021/10/21/Drone-attack-at-US-outpost-in-Syria-no-American-injuries-US-officials
--------
Arab World
Six loyalist fighters killed in Syria arms depot blast: Monitor
20 October ,2021
Six members of a pro-government militia were killed Wednesday in an arms depot blast in the central Syrian province of Hama, a war monitor reported.
Seven other members of the National Defense Forces militia were wounded in the blast, the cause of which remains largely unclear, the Britain-based Syrian Observatory for Human Rights said.
In the northwestern region of Idlib, Shelling by the Syrian army killed eight people, five of them civilians on Wednesday.
Rockets struck a busy area of the town of Ariha, the Syrian Observatory for Human Rights said, adding that at least two children were among those killed.
Wednesday's bombardment was one of the deadliest to rattle an Idlib truce deal that was reached in March 2020 and brokered by Turkey and Russia, the two main foreign brokers in the conflict.
Source: Al Arabiya
Please click the following URL to read the full text of the original story:
https://english.alarabiya.net/News/middle-east/2021/10/20/Six-loyalist-fighters-killed-in-Syria-arms-depot-blast-Monitor
--------
US mediator and Lebanese officials discuss future of border talks with Israel
October 20, 2021
BEIRUT: Amos Hochstein, the US envoy appointed by the Biden administration this month to mediate Lebanon's maritime border dispute with Israel, held talks on Wednesday with Lebanese President Michel Aoun, Parliament Speaker Nabih Berri and Prime Minister Najib Mikati on the future of the negotiations.
Aoun expressed "Lebanon's readiness to continue to cooperate positively" with the process. However, the points of contention remain.
"The administration of President Joe Biden is ready to help Lebanon and Israel find a mutually acceptable solution to their common maritime borders," the State Department said.
Hochstein, who is also the State Department's senior adviser for energy security, also met Foreign Minister Abdullah Bou Habib, Energy Minister Walid Fayyad and army commander Gen. Joseph Aoun.
The speaker's office said Berri's discussion with Hochstein focused on "multiple files, particularly the demarcation of the maritime and land border between Lebanon and occupied Palestine. The framework agreement announced in October last year was confirmed."
The US administration's framework agreement for talks, which was implemented a year ago by Assistant Secretary of State for Near East Affairs David Schenker, includes two demarcation zones, for land and maritime borders. In accordance with the agreement, the US acts as mediator at the request of both sides.
Lebanon has been seen as struggling with the demarcation of its maritime borders. After submitting a border proposal to the UN in 2011, Lebanese officials decided that it was based on mistaken estimates and demanded an additional 1,430 square kilometers, an area that includes part of Israel's Karish gas field. The Israelis oppose this.
Berri told Hochstein: "We have a new opportunity to resume negotiations in the southern Lebanese town of Naqoura, thanks to the new US efforts in this context."
He also highlighted "the importance of excluding Lebanon from the sanctions of Caesar's law in the topics of piping Egyptian gas and electricity from Jordan through Syria to Lebanon." Lebanon has been experiencing widespread power outages as a result of fuel shortages amid a crippling economic crisis. The Caesar Act is US legislation sanctioning the Syrian government for war crimes against the Syrian people.
"The US envoy conveyed to Berri an optimistic view about positive progress being achieved in what relates to these matters," the speaker's office said.
Oil industry governance expert Diana Al-Qaisi told Arab News: "The US mediator has reached out to the Egyptian minister of electricity regarding redirecting the Egyptian gas into Lebanon."
She added that Hochstein's talks in Lebanon focused on diplomacy and how best to facilitate negotiations between Lebanon and Israel on their maritime border to agree a mutually acceptable solution, though Lebanon continues to stand firm in its demands.
Lebanese officials have yet to agree a strategy for the next phase of negotiations and their starting point for talks on the border.
Source: Arab News
Please click the following URL to read the full text of the original story:
https://www.arabnews.com/node/1951981/middle-east
--------
Europe
'Turkey Leads Fight against Islamophobia and All Other Forms of Discrimination via International Organizations'
Fuat Kabakcı
21.10.2021
Turkey is leading the fight against Islamophobia and all other forms of discrimination through international organizations, the country's deputy foreign minister said Wednesday.
"We are leading the fight against Islamophobia and all other forms of discrimination within the Council of Europe, the Organization for Security and Cooperation in Europe, the Organization of Islamic Cooperation and the UN," Yavuz Selim Kiran said in a session on "Racism, Culture Wars, and the Polarization of Global Politics" at the TRT World Forum 2021.
Kiran said Muslims in Europe are blamed by the far right for economic problems, irregular migration and terrorism, but Muslims themselves are the victims of these problems.
Discrimination in employment, education and social life triggers a tendency to withdraw in immigrant communities, he said, adding this leads to a "more fragmented and polarized society."
He said racist and anti-Islamic attacks in Europe and the US have increased in the last five years, and the number of people killed in these attacks has risen sevenfold.
Racism, populism and anti-Islamism have become the main obstacles to the integration of Muslims into Europe, he added.
He stressed that the threats that fuel polarization and discrimination can no longer be ignored and that these threats require urgent action at both national and international levels.
Source: Anadolu Agency
Please click the following URL to read the full text of the original story:
https://www.aa.com.tr/en/europe/turkey-leads-fight-against-islamophobia-via-international-organizations/2398168
--------
Turkish-German scientist Ugur Sahin named Muslim world's 'Man of the Year'
October 20, 2021
Turkish-German scientist Ugur Sahin has been declared "Man of the Year" in the Muslim world in an annual publication by the Jordan-based Royal Islamic Strategic Studies Center (RISSC).
Sahin was awarded the title in the 2022 edition of The Muslim 500 for his pioneering role in developing a vaccine against COVID-19.
The vaccine made by Sahin and his wife Ozlem Tureci, who are founders of pharma company BioNTech, "reported 95% efficacy against the coronavirus and became the first mRNA drug approved for human use," the publication said.
The vaccine utilized the cutting-edge mRNA technology that Sahin and Tureci have championed.
BioNTech then partnered with US firm Pfizer and their COVID-19 vaccine has been among the ones most widely used throughout the world.
The publication named Tanzania's President Samia Suluhu Hassan as its "Woman of the Year."
Hassan became the first woman president of the East African nation this March after the death of her predecessor John Magufuli.
The RISSC said Hassan was taking steps to undo "some of the late President Magufuli's authoritarian policies" and "is seen as restoring Tanzania's democracy."
- 'Qatar a regional peace broker'
Qatar's ruler Sheikh Tamim bin Hamad Al Thani heads the list of top Muslim leaders, followed by Saudi Arabia's King Salman, Iran's Ayatollah Ali Khamenei, Turkey's President Recep Tayyip Erdogan, and Jordan's King Abdullah.
Source: Yenisafak
Please click the following URL to read the full text of the original story:
https://www.yenisafak.com/en/world/turkish-german-scientist-ugur-sahin-named-muslim-worlds-man-of-the-year-3582649
--------
Egypt detains artist robot Ai-Da ahead of historic pyramid show over 'security risk'
21 October ,2021
Egyptian security forces detained Ai-Da – the world's first ultra-realistic robot artist – hours before she was due to present her contemporary artwork at a landmark show at the Great Pyramid of Giza.
Ai-Da - built by British artist Aidan Meller - was due to present her work on Thursday, the first time contemporary art would have been allowed next to the pyramid in thousands of years.
But because of "security issues" that may include concerns that she is part of a wider espionage plot, both Ai-Da and her sculpture were held in Egyptian customs for 10 days before being released on Wednesday, the Guardian reported.
However, Meller argues his robotic creation is just an art project signifying the possibilities of AI technology.
The British Embassy reportedly got involved in the case after being contacted by Meller.
"The British ambassador has been working through the night to get Ai-Da released, but we're right up to the wire now," said Meller, shortly before her release. "It's really stressful."
According to Meller, border guards detained Ai-Da at first because she had a modem, and then because she had cameras in her eyes (which she uses to draw and paint).
"I can ditch the modems, but I can't really gouge her eyes out," he said.
She was finally cleared through customs on Wednesday evening, hours before the exhibition was due to start, with the British embassy in Cairo saying they were "glad" the case had been resolved.
Both Ai-Da and her sculpture had been sent in specialized flight cases by air cargo to Cairo before the Forever Is Now exhibition, which runs until November 7 and is presented by the consultancy firm Art D'Égypte in partnership with the Egyptian Ministry of Antiquities and Tourism and the Egyptian Ministry of Foreign Affairs.
The exhibition will showcase works by leading Egyptian and international artists including Stephen Cox, Lorenzo Quinn, Moataz Nasr and Alexander Ponomarev.
Ai-Da's 2 x 2.5-meter sculpture is a play on the riddle of the sphinx – "What goes on four feet in the morning, two feet at noon, and three feet in the evening?" – the answer to which is a human.
Source: Al Arabiya
Please click the following URL to read the full text of the original story:
https://english.alarabiya.net/News/world/2021/10/21/Egypt-detains-artist-robot-Ai-Da-ahead-of-historic-pyramid-show-over-security-risk-
--------
Berlin stresses Iran nuclear diplomacy amid Israeli military threats
Oliver Towfigh Nia
20.10.2021
BERLIN
Germany on Wednesday reaffirmed the need for a diplomatic solution to the Iran nuclear row amid the latest Israeli military threats.
Asked about Berlin's reaction to comments by Israel's Chief of General Staff Aviv Kohavi who said his country accelerated plans for a potential strike on Iran, Deputy Foreign Ministry spokesman Christofer Burger told media representatives in Berlin, "We have taken note of these statements. They (statements) stand for themselves. We are working on a diplomatic solution."
Israel also approved a $1.5 billion budget to be used to prepare its military for a potential strike against Iran's nuclear program, according to Israel's Channel 12 on Monday.
Burger stressed it was "very important" that Tehran swiftly return to the nuclear talks in Vienna.
The EU stepped up diplomatic efforts to get Iran and the US back to the negotiation table.
The last round of negotiations on resuming talks took place in Vienna in June.
The nuclear deal was signed in 2015 by Iran, the US, China, Russia, France, the UK, Germany, and the EU.
Source: Anadolu Agency
Please click the following URL to read the full text of the original story:
https://www.aa.com.tr/en/europe/berlin-stresses-iran-nuclear-diplomacy-amid-israeli-military-threats/2397930
--------
Pakistan
Ahead of its meeting, the FATF has sufficient proof to blacklist Pakistan
Oct 19, 2021
NEW DELHI: The failed Pakistan and IMF talks on Sunday, before the Financial Action Task Force (FATF) Plenary session which is scheduled to be held from October 19, is not good news for the Pakistani Prime Minister Imran Khan who has been at loggerheads with the powerful military establishment over the issue of appointment of the ISI chief.
As per the 2019 IMF deal, the Imran Khan government had agreed to the formal mention of money laundering in the document, thus linking IMF tranches directly to the Financial Action Task Force (FATF). Pakistan, which is on the grey list of the FATF since 2018, was given three months time in June this year to fulfil the remaining conditions by October. The FATF plenary will be held in Paris from October 19-21.
The latest US Congressional report on terrorism "Terrorist and Other Militant Groups in Pakistan", says that at least 12 groups designated as "foreign terrorist organizations" by the US are based in Pakistan, including five that are India-centric. As per the US administration, Islamabad continues to remain a base of operations for numerous non-state militant groups, many with global reach.
Quoting the report, the US State Department had pointed out that Pakistan remained a safe haven for terrorism despite claims to the contrary. Despite promises made to the international community about taking action against terrorist groups, Pakistan has not taken any action against terrorist groups and their sanctuaries. Last week, the Biden administration downgraded the bilateral relationship with Pakistan for playing a double game in the fight against terrorism. On the one hand Pakistan was supposed an ally of the US in the "war on terror". But simultaneously, it was helping the Taliban takeover Afghanistan. Since the Taliban came into power in mid-August, Pakistan has been publicly talking about the future recognition of the Taliban government, which has close ties to Pakistan's powerful military intelligence services, the ISI.
As the report suggests Pakistan has become a classic hybrid state with the military and militants influencing the state and its actions.
The former US National Security Advisor H R McMaster told a US congressional hearing that the US should hold Pakistani Prime Minister Imran Khan accountable for some of his comments after the fall of Kabul in August and that Pakistan should be confronted broadly with international isolation because of its "support for jihadist terrorists".
Source: Times of India
Please click the following URL to read the full text of the original story:
https://timesofindia.indiatimes.com/world/pakistan/ahead-of-its-meeting-the-fatf-has-sufficient-proof-to-blacklist-pakistan/articleshow/87134580.cms
--------
Pak PM Khan accused of selling gifts received from other countries' heads
Oct 20, 2021
LAHORE: Pakistan's Opposition parties on Wednesday accused Prime Minister Imran Khan of selling gifts he received from other countries' heads, including an expensive watch worth $1 million.
Gifts are routinely exchanged between heads of states or officers holding constitutional positions during a state visit. According to the gift depository (Toshakhana) rules, these gifts remain the property of the state unless sold at an open auction. Rules allow officials to retain gifts with a market value of less than Rs 10,000 without paying anything, The Express Tribune newspaper reported.
"Imran Khan has sold the gifts he received from other countries," PML-N vice president Maryam Nawaz tweeted in Urdu.
"Caliph Hazrat Omar (companion of Prophet Muhammad) was accountable for his shirt and robe and you (Imran Khan), on the other hand, looted foreign gifts from Toshakhana and you are talking of setting up a state of Madina? How can a person (Khan) be this insensitive, deaf, dumb and blind?" asked the daughter of deposed prime minister Nawaz Sharif.
Opposition alliance -- Pakistan Democratic Movement (PDM) -- president Maulana Fazlur Rehman said there are reports that prime minister Khan has sold a precious watch he received from a prince. "This is shameful," he said.
Social media is rife with reports that Khan was gifted a watch worth $1 million by a prince of a Gulf country. The watch was allegedly sold in Dubai by Khan's close aide and $1 million was given to the prime minister. The prince reportedly knows the selling of the watch he gifted to Khan.
Pakistan Muslim League-Nawaz (PML-N) Punjab president Rana Sanaullah told a press conference on Wednesday that Pakistan was defamed because of the alleged selling of the gifts received by the premier from the heads of the states of other countries.
Special Assistant to the Prime Minister on Political Communication, Dr Shahbaz Gill, had earlier said the government was "maintaining secrecy" over details of gifts received by Prime Minister Khan from other heads of states as releasing their lists and "comparing them with those of other countries is considered inappropriate, especially by Islamic countries with whom Pakistan enjoys brotherly relations".
Source: Times of India
Please click the following URL to read the full text of the original story:
https://timesofindia.indiatimes.com/world/pakistan/pak-pm-khan-accused-of-selling-gifts-received-from-other-countries-heads/articleshow/87159862.cms
--------
Five security personnel martyred in two KP attacks
Anwarullah Khan | Abdul Sami Paracha
October 21, 2021
BAJAUR/ KOHAT: Five security personnel were martyred in two incidents in parts of Khyber Pakh­tunkhwa on Wednesday.
Bajaur DPO Abdul Samad Khan told Dawn that a roadside bomb went off in the hilly area of Mamund tehsil near Pak-Afghan border.
He said the blast occurred in Teer Banda locality when a joint team of security forces and police were conducting a search operation in the area following an earlier explosion that had targeted a vehicle of a contractor, wounding two persons.
He said four personnel — FC's Jamshed and Mudassir and police constables Noor Rahman and Samad Khan were martyred in the second blast.
He said it was an IED device that had been planted along the way before the first explosion. Soon after the incident, a team of FC and police reached the site and shifted the martyred security men to the district headquarters hospital in Khar for formalities.
After the incident, security forces and police cordoned off the blast site and launched a search operation to trace those involved in the blast.
However, no arrest was reported till late into night.
No group immediately claimed responsibility for the bombing. The tribal elders and political figures condemned the incident and asked the authorities to take serious action against the attackers.
Source: Dawn
Please click the following URL to read the full text of the original story:
https://www.dawn.com/news/1653090/five-security-personnel-martyred-in-two-kp-attacks
--------
Southeast Asia
Foreign minister: Malaysia rejects statement that it may join Abraham Accords and normalise relations with Israel
20 Oct 2021
PUTRAJAYA, Oct 20 — Malaysia categorically rejects a statement reportedly made by an Israeli minister during a recent interview with Emirati website Erem News that claimed it may join the Abraham Accords and normalise relations with Israel.
Foreign Minister Datuk Saifuddin Abdulllah in a statement Wednesday said Malaysia stands by its unwavering commitment in supporting the Palestinian cause and struggle against the continued Israeli illegal occupation and systematic oppression on Palestinian land.
He pointed out that Malaysia will continue to pursue actively the Palestinian agenda bilaterally, as well as in various regional and international fora towards realising the Palestinian peoples' aspiration for freedom and for their independent State of Palestine.
"Malaysia's continuous support for the Palestinian struggle is also in recognition of the aspirations of the new generation of Palestinian fighters and activists," he added.
Saifuddin said Malaysia will also continue to provide political and moral support, as well as humanitarian assistance for the Palestinian people bilaterally and through international organisations such as the United Nations Relief and Works Agency for Palestine Refugees in the Near East (UNRWA), as well as facilitating the works of Malaysian civil society organisations for Palestinians.
Source: Malay Mail
Please click the following URL to read the full text of the original story:
https://www.malaymail.com/news/malaysia/2021/10/20/foreign-minister-malaysia-rejects-statement-that-it-may-join-abraham-accord/2014771
--------
'Liquor Policy' Needed To Protect Muslim Sensitivities, Says Amanah Vice-President
October 20, 2021
PETALING JAYA: An Amanah leader says the sensitivities of Muslims need to be looked after in all alcohol-related activities, even when it comes to choosing brand names and symbols.
Following the controversy over Malaysian-made Timah whisky, Amanah vice-president Mujahid Yusof Rawa said a "liquor policy" was needed to ensure that issues related to alcohol would not be politicised over and over again.
"The lesson from the issue of the Timah whisky is that there needs to be assertiveness by the government to preserve the good name of Islam and its position in the country," he said in a Facebook post yesterday.
He added that the prime minister and his Cabinet needed to state their stand on the matter to ensure the name of Islam in Malaysia was not tarnished, without denying the rights of non-Muslims.
He said the liquor policy should cover five matters:
Banning Muslims from being involved in the processing, sale, transport and serving of alcohol, and other related activities;
Banning any promotion of alcohol in order to respect Islam as the country's official religion;
Protecting the sensitivities of Muslims in all alcohol-related activities that involve non-Muslims, including the holding of events and the choice of brand names and symbols;
The rights of non-Muslims when it comes to alcohol and related matters need to be kept clear of political exploitation; and
Law enforcement at the local government to federal levels needs to be tightened and improved to manage any "negative effects" of alcohol.
If these five guidelines were followed, the Parit Buntar MP said there would have been no issue with Timah, as it would have been rejected from the start.
He added that the promotion of Timah as a Malaysian product was bad for Islam's image as the official religion of the country.
Mujahid was the Islamic affairs minister under the former Pakatan Harapan government.
Previously, the company producing Timah explained that the name referred to tin, which was extensively mined in colonial Malaya and the man shown on the label was Captain Speedy, a British colonial officer known for his role in ending the Larut Wars in Perak.
Certain parties had claimed that the name Timah could be construed as referring to Fatimah, the daughter of Prophet Muhammad, and be regarded by Muslims as being offensive. Some also claimed that the headgear donned by Speedy looked like a Muslim "kopiah".
Source: Free Malaysia Today
Please click the following URL to read the full text of the original story:
https://www.freemalaysiatoday.com/category/nation/2021/10/20/liquor-policy-needed-to-protect-muslim-sensitivities-says-mujahid/?__cf_chl_jschl_tk__=pmd_7_qBEliwoH1a1scomrhzwpXHGeLct4amden_SVGCFAc-1634803099-0-gqNtZGzNAqWjcnBszQvl
--------
Activist lauds PAS leader's 'sensible' take in buzz over whisky
Hakimie Amrie Hisamudin
October 21, 2021
PETALING JAYA: Social activist Chandra Muzaffar has welcomed a PAS attempt to quell the controversy over the brand name of an award-winning Malaysian-made whisky.
Commenting on PAS deputy president Tuan Ibrahim Tuan Man's defence of the manufacturer's right to use the name "Timah", Chandra said it was a "sensible, balanced and appropriate" statement.
Speaking to FMT, he criticised those who had "exaggerated" the issue and said the PAS leader had done a good job of telling Muslims to shun alcohol without depriving the right of non-Muslims to drink it.
In the statement he issued on Tuesday, Tuan Ibrahim said "timah" was a metal and not a Muslim name "or even a person's name".
Whatever the brand name, he added, alcohol was still forbidden in Islam but the rights of non-Muslims to drink it had to be respected.
The distillers have issued an explanation, saying the name referred to tin and was not a shortened version of the Arabic name Fatimah. Fatimah was also the name of Prophet Muhammad's daughter.
However, this hasn't stopped some quarters from taking offence.
Penang mufti Wan Salim Mohd Noor has suggested that the whisky be named "Captain Speedy" instead, in reference to the picture of a man on the label and the slogan "1871 – The Legend of Captain Speedy".
Religious affairs minister Idris Ahmad has lodged a complaint with both the domestic trade and consumer affairs ministry, and the home ministry.
The Consumers' Association of Penang had also chimed in, saying the use of the name was offensive to Muslims. It called for a ban on the whisky's production.
Source: Free Malaysia Today
Please click the following URL to read the full text of the original story:
https://www.freemalaysiatoday.com/category/nation/2021/10/21/activist-lauds-pas-leaders-sensible-take-in-buzz-over-whisky/
--------
Why Timah, why not 'Captain Speedy', asks mufti
Predeep Nambiar
October 18, 2021
GEORGE TOWN: The Penang mufti today urged the makers of Malaysia's award-winning Timah whisky to consider changing its name to "Captain Speedy", as critics argue that the name might confuse and offend Muslims.
Mufti Wan Salim Wan Mohd Noor said that while the distillers have described Timah to be the Malay word for tin, "Timah" could be construed as referring to Fatimah, daughter of Prophet Muhammad, and be regarded by Muslims as being offensive.
Speaking to FMT, he said while there are discerning Muslims who know that alcoholic beverages are prohibited in Islam, there are some who remain ignorant.
"Not all Muslims are religious and not all are committed to the teachings of the religion. Also, don't take for granted that Muslims would know what the drink is.
"Most Muslims also do not know the origins of the Timah brand and the man portrayed on the label."
"For them, Timah is a short form of the Prophet's daughter. I suggest that the brand be changed to Captain Speedy, which I believe is more appropriate," he said.
The mufti's comments come in the wake of complaints about the name that were raised after reports last week about the whiskey being launched globally, a few months after it won international awards in London and San Francisco.
The label bears the slogan "1871 – The Legend of Captain Speedy", a reference to Captain Tristam Speedy, who was the first superintendent of police in Penang, and who later helped to end the Larut Wars in Perak at the request of Ngah Ibrahim, the local chieftain.
An image of a bearded Captain Speedy wearing headgear appears on the label. Critics have also described the image as being similar to the Muslim kopiah.
Consumers' Association of Penang president Mohideen Abdul Kader said that while Captain Speedy was a recognisable figure during the colonial period, he is not well-known today.
"While the branding might have been conceived unconsciously, the authorities should have stopped it for disrespect to religion. The makers of the drink must understand the current situation, where many people don't know who Speedy is.
"Regardless of the name, we at CAP say alcohol is bad for health and should be avoided at all costs," he said.
Source: Free Malaysia Today
Please click the following URL to read the full text of the original story:
https://www.freemalaysiatoday.com/category/nation/2021/10/18/why-timah-why-not-captain-speedy-asks-mufti/
--------
Mideast
Western Perpetrators of War Have No Right to Call Islam into Question: International Islamic Unity Conference
October 21, 2021
Sunni university professor, Noureddine Abu Lahia, said in his speech on the first day of the 35th International Islamic Unity Conference held on Tuesday that all western wars were aggressive type and western perpetrators have no right to call Islam into question.
Algerian thinker delivered his speech on the motives of war between Islam and non-divine systems and related on the two types under which all wars should be classified, reported.
He said," One type of war is when fighters rise up against a brutal occupier who has invaded their land and plundered their property. This is the defensive war" and added," The defensive war is certainly rooted in human nature."
"When we refer to holy Quran, which is the source and reference of all succeeding texts and jurisprudence, we can see that the defensive war (jihad) is the only war which it approves of" said he and added," If we reflect upon all the Koranic verses where war has been mentioned, we will see that the reason behind those wars was defense jihad or defending national security."
Algerian thinker added," Another type of war is the offensive war where a person or country which enjoys stability attacks another country and attempts to annex the latter or plunder its resources and wealth." All western wars including the wars of the ancient Rome and the new colonialism such as the British colonialism and other great oppressions of history are of the offensive type."
The Sunni thinker reiterated," Those great powers have been shedding blood and perpetrating massacres and yet they claim to be civilized."
Noureddine Abu Lahia referred to the wars waged by the west and said," A look at the history of America and the killing of the original inhabitants of that continent shows that this is the greatest colonization and the greatest crime against humanity in history. Therefore, those perpetrators have no right to call Islam into question."
Source: ABNA24
Please click the following URL to read the full text of the original story:
https://en.abna24.com/news//algerian-sunni-professor-no-right-for-us-to-call-islam-into-question_1190555.html
--------
Israel approves West Bank residency for 4,000 undocumented, long-term Palestinians
20 October ,2021
Israel announced on Tuesday that it approved registration as West Bank residents for some 4,000 Palestinians who have been living for years in the Israeli-occupied territory without official status.
The decision affects 2,800 former inhabitants of the Gaza Strip who left the enclave after Hamas fighters seized it in internal Palestinian fighting in 2007, Israel's COGAT liaison office to the Palestinians said.
Some 1,200 other Palestinians, among them undocumented spouses and children of West Bank residents, will also receive official standing.
Inclusion in the Palestinian Population Registry, which Israel controls, will enable the group to receive identification cards. The documentation will enable passage through Israeli military checkpoints in the West Bank, an area captured in a 1967 war.
Israel describes the roadblocks, condemned by Palestinians and rights groups as restricting freedom of movement, as a security necessity.
On Twitter, Israeli Defense Minister Benny Gantz said he approved the 4,000 residency registrations as a humanitarian gesture and "as part of my policy to strengthen the economy and improve the lives of Palestinians" in the West Bank.
Hussein Al Sheikh, a senior official of the Palestinian Authority (PA) that exercises limited self-rule in the West Bank, said on Twitter that the 4,000 "obtained their right to citizenship" and would receive identification cards.
Under interim peace deals in the 1990s that established the PA, the Palestinian side was given the right, with prior approval by Israel, to grant permanent residency in the West Bank and Gaza to spouses and children of Palestinian residents.
The accords did not specify any family reunification figures.
Rights groups that examine Israeli activities in the occupied territories said a quota system was put into effect, with the number of reunification requests to be considered annually by Israel rising to 4,000 in the year 2000.
Israel froze the process at the start of a Palestinian uprising in September 2000. It granted some 32,000 reunification requests in 2008 and 2009, but has largely suspended approvals, save for a smattering of humanitarian cases, since then.
Gantz gave the new approvals some seven weeks after holding talks with Palestinian President Mahmoud Abbas in the West Bank city of Ramallah. It was the highest-level meeting between Abbas and an Israeli minister to be made public since Israel's new government was formed in June.
Source: Al Arabiya
Please click the following URL to read the full text of the original story:
https://english.alarabiya.net/News/middle-east/2021/10/20/Israel-approves-West-Bank-residency-for-4-000-undocumented-long-term-Palestinians
--------
Islamic Jihad: 'Palestine and Jerusalem will not be liberated without unity'
October 20, 2021
The Secretary-General of Islamic Jihad in Palestine said on Tuesday that Palestine and Jerusalem will not be liberated without the unity of the Islamic and Arab world, Anadolu has reported. Ziyad Al-Nakhala made his comment during a speech at the 35th International Conference for Muslim Unity, held in Tehran.
"There will be no unity without Jerusalem and Palestine, and there is no Jerusalem and Palestine without unity of the Ummah," said Al-Nakhala. "The hostile Western campaign targeting all components of our Ummah… is the major threat to our unity and our heritage." He claimed that the US is "controlling" the Arab nations.
"Final victory over the Zionist occupation entity needs the development and progress of the Arab and Muslim nations, as well as a real Islamic unity which will be able to defeat the Zionist project which is targeting our history, land and the region," added the Islamic Jihad official.
Source: Middle East Monitor
Please click the following URL to read the full text of the original story:
https://www.middleeastmonitor.com/20211020-islamic-jihad-palestine-and-jerusalem-will-not-be-liberated-without-unity/
--------
FM: Iran Ready to Execute Signed Deals with Oman
2021-October-20
Amir Abdollahian reiterated the significance of relations with neighboring countries in the foreign policy of Iran's new government.
He also stressed the need for continued negotiations with Oman on bilateral relations, as well as the most significant regional and international developments.
The Omani foreign minister, for his part, renewed his invitation to the Iranian counterpart to visit Muscat.
The two foreign ministers underlined the importance of consultations between the two countries on a wide range of issues.
Source: Fars News Agency
Please click the following URL to read the full text of the original story:
https://www.farsnews.ir/en/news/14000728000819/FM-Iran-Ready-Exece-Signed-Deals-wih-Oman
--------
UN Security Council condemns Houthi violations in Yemen, Saudi Arabia
October 20, 2021
LONDON: The UN Security Council on Wednesday condemned the threat posed by the Iran-backed Houthi militia to navigation in the Red Sea and its increasing attacks on commercial ships off the coast of Yemen.
The Security Council called on the Houthis to reduce their military escalation in Marib, lift its blockade on nearby Abedia, and for an immediate nationwide cease-fire.
The Houthi militia has stepped up its offensive to take control of the strategic city of Marib in recent weeks, following a lull in September.
The UN Security Council also condemned the Houthis' recruitment and exploitation of children in the conflict, some of whom are subjected to sexual abuse
The top UN body also expressed its concern about the faltering peace efforts in Yemen and called on all parties to constructively implement the Riyadh Agreement.
It said it welcomes and supports the Saudi initiative to end the war in Yemen and expressed its full support for the efforts of UN envoy to Yemen Hans Grundberg, calling on all parties to cooperate with him without preconditions.
The Security Council also condemned the Houthis' attempts to target Abha International Airport in Saudi Arabia using explosive-laden drones.
Member countries also implicitly warned the Houthi militia against using Hodeidah port for military purposes, and renewed its warning of the risk posed by the lack of maintenance of a floating oil tanker moored in the Red Sea. They reminded the Houthis of their responsibility for the Safer tanker.
The Security Council stressed its full commitment to the unity, sovereignty and independence of Yemen, and emphasized the need to respect the arms embargo on Yemen.
Source: Arab News
Please click the following URL to read the full text of the original story:
https://www.arabnews.com/node/1952071/middle-east
--------
URL: https://www.newageislam.com/islamic-world-news/indian-delegation-taliban-afghanistan/d/125619
New Age Islam, Islam Online, Islamic Website, African Muslim News, Arab World News, South Asia News, Indian Muslim News, World Muslim News, Women in Islam, Islamic Feminism, Arab Women, Women In Arab, Islamophobia in America, Muslim Women in West, Islam Women and Feminism