New Age Islam News Bureau
4 Apr 2019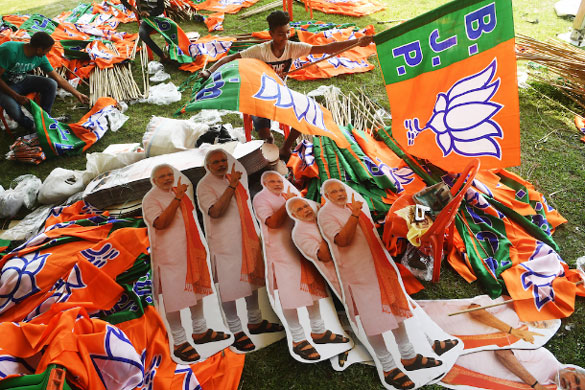 Indian laborers arrange Bharatiya Janata Party (BJP) flags and cut-outs of Prime Minister Narendra Modi in Kolkata on April 2 ahead of an election rally. The BJP's pro-Hindu stance has angered Christians and Muslims. (Photo by Dibyangshu Sarkar/AFP)
--------
•
Indian Christians See Hindu Conspiracy in Election Move
• Gujarat: 30 years, 0 Muslims in Lok Sabha
• First Satellite Images of Saudi Nuclear Plant Show Completion
• Will Utilise 'All Available Resources' To Blacklist Masood Azhar: US
• New Zealand Police: Christchurch Gunman to Face 50 Murder Charges
• Pak's Ex-Intel Chief 'Who Aided Osama' Sworn In As Minister
India
• Indian Christians See Hindu Conspiracy In Election Move
• Gujarat: 30 years, 0 Muslims in Lok Sabha
• Lashkar Militant Arrested For Theft of Weapons In Srinagar
• Art from India and Pak finds a meeting ground at Dubai fair
• Balakot airstrike could have killed 250 to 300 terrorists: Abhinandan's father
--------
Arab World
• First Satellite Images of Saudi Nuclear Plant Show Completion
• Iraqi Military Planes Drop $25-Million Reward Leaflets For Daesh Head
• Saudi Arabia Pledges $1 bln for Iraq As High-Level Delegation Starts Visit
• Saudi Arabia Supports Palestinian Authority's Budget With $40 Mln
• Iraq PM to make first official Iran visit on Saturday
• Four suicide bombers hit Syria's Raqqa: SDF
• ISIL Heavily Suppressed in Syrian Army's Air, Ground Operations in Badiyeh of Homs
• High Tensions Reported between Kurds, Ankara-Backed Militants in Aleppo
--------
North America
• Will Utilise 'All Available Resources' To Blacklist Masood Azhar: US
• Pompeo warns Turkey against striking Syria
• US joining forces with terrorists, Turkey says, voicing determination to buy Russian S-400
--------
Europe
• New Zealand Police: Christchurch Gunman to Face 50 Murder Charges
• Germany Seeks To Deter Future Militants By Voiding Nationality
• Iraqi journalist accused of spying for Iran arrested in Sweden
--------
Pakistan
• Pak's Ex-Intel Chief 'Who Aided Osama' Sworn In As Minister
• US move not conducive to peace in South Asia: China
• Draft LG law suggests resumption of Musharraf-era urban-rural set-up
• PM tells CDA to ensure facilities for disabled citizens
--------
South Asia
• Afghan Forces Target Haqqani Network Militants In Paktika Province
• 28 Militants Killed, Wounded During the Ongoing Clearance Operations in Badakhshan
• 26 militants killed, 3 wounded in coalition airstrikes in Badghis province
• Bangladeshi PM calls for safe repatriation of Rohingya
• NATO remains in Afghanistan to fight terrorism and train Afghan forces: Stoltenberg
--------
Southeast Asia
• Report: For Pakatan, Anwar's Succession and Tackling Political Islam a Top Priority
• Malaysia Police Likely Behind Religion-Linked Abductions: Inquiry
• Home minister says no plan to amend law to ban unilateral child conversions
• Indonesia village scraps Muslim-only regulation after backlash
--------
Mideast
• Iran FM Says Europe Incapable Of Bypassing US Sanctions
• Turkish election board rules in favour of partial Istanbul recount
• Iran: EU trio seeking to appease Trump rather than defy US 'economic terrorism'
• Turkey hits back at Pence, says US must choose between NATO ally and 'terrorists'
• Palestinian shot dead by Israeli settler in West Bank
--------
Africa
• Situation tense in Libya as General Haftar forces move toward govt. positions
• German charity ship rescues 64 migrants off Libya
Compiled by New Age Islam News Bureau
URL: https://www.newageislam.com/islamic-world-news/indian-christians-see-hindu-conspiracy/d/118227
--------
Indian Christians See Hindu Conspiracy in Election Move
April 4, 2019
Tribal people who have converted to Christianity and Islam should not contest India's general election in seats earmarked for tribal candidates, according to a traditional tribal group.
Central Sarna Samiti, an organization of non-Christian tribal people based in Jharkhand state, petitioned state authorities on March 31 as campaigns continue for the April-May polls.
It called on the Election Commission of India to ban Christians and Muslims from contesting seats reserved for tribal people, arguing that those who convert have abandoned tribal culture and ethos.
However, Christian leaders say the demand aims to keep Christian and Muslim tribal people away from the political mainstream to satisfy groups pressing to make India a Hindu-only nation.
"This is yet another conspiracy of pro-Hindu groups to divide the tribal community and it will have a nationwide impact," said Prabhakar Tirkey, president of ecumenical Christian forum Rashtriya Isai Mahasangh.
He noted that the demand is only to keep away tribal people who have converted to Christianity and Islam but not to Hinduism. "That shows who is behind it and the hatred they have for non-Hindu people," he said.
Of the 543 elected seats in parliament, 47 are reserved for candidates from tribal communities and 84 reserved for those from socially poor scheduled castes. The reservations aim to ensure their representation in making laws.
Tirkey said that if the federal body approves the petition for Jharkhand, it will be applicable across all seats reserved for tribal people.
Archbishop Leo Cornelio of Bhopal said the move to discriminate against people on the basis of religion goes against the spirit of secularism.
"They always kick up such controversial issues ahead of the elections to parliament or state assemblies to garner votes," he told ucanews.com
The archbishop said it is "part of the agenda" of nationalist Hindu group Rashtriya Swayamsevak Sangh (RSS), the engine room of Prime Minister Narendra Modi's pro-Hindu Bharatiya Janta Party (BJP) that runs the governments in New Delhi and Jharkhand.
"The Hindu outfit opposes Christians because they influence people with their good work in the fields of education, health care and other social developmental work," he said.
Hindu groups are opposed to Christians because of their work to "educate and strengthen tribal and Dalit people to stand up and assert their rights," Archbishop Cornelio said. Education will also keep people away people from fanatical ideas, he added.
Christians comprise just 2.3 percent of India's population of 1.3 billion and are politically insignificant as they are spread across the country.
Archbishop Cornelio said the plan to keep Christian and Muslim tribal people away from the political fray will not succeed as "many intellectual Hindus and other secular-minded people are now openly exposing their agenda through talks, write-ups and other means."
Jesuit social worker Father Davis Solomon believes the petition is part of a long-term agenda to weaken minorities, especially Christians and Muslims.
The BJP is opposed to giving any benefits to tribal and Dalit people joining Christianity and Islam, primarily to discourage conversion.
"But they are silent about those becoming Hindus. They also want all tribal people, who follow the traditional Sarna religion, to be recognized as Hindus," Father Solomon told ucanews.com.
Auxiliary Bishop Telesphore Bilung of Ranchi told ucanews.com that "the Sarna Samiti is sponsored by the BJP to split the tribal people ahead of the polling."
He said the demand will not have much impact on the election. "There won't be many takers for such divisive demands," he said.
The prelate, himself a tribal, said it was only a "tactic to divide people on religious lines. They have employed such methods before but were not successful."
https://www.ucanews.com/news/indian-christians-see-hindu-conspiracy-in-election-move/84890
--------
Gujarat: 30 years, 0 Muslims in Lok Sabha
Himanshu Kaushik, Kapil Dave
Apr 4, 2019
The last Muslim to make it to the Lok Sabha from Gujarat was Congress's Ahmed Patel in 1984. In 1989, Patel lost the Bharuch seat to BJP's Chandu Deshmukh by 1.15 lakh votes. Ever since, no Muslim has made it to the Lok Sabha from Gujarat. Muslims make up 9.5% of the state's population.
In 1962, when the newly-formed Gujarat voted in its first Lok Sabha elections, only one Muslim candidate won, Johara Chavda, from Banaskantha.
In 1977, the state elected two Muslims, both from the Congress — Ahmed Patel from Bharuch and Ehsan Jafri from Ahmedabad — the greatest representation Muslims have seen from Gujarat ever.
The Bharuch Lok Sabha seat has the highest concentration of Muslim voters in Gujarat. Currently, of the 15.64 lakh voters in Bharuch, 22.2% are Muslims.
Since 1962, eight Muslim candidates have been fielded by a national party in Bharuch, all from the Congress, but only Ahmed Patel was able to win. He won three straight Lok Sabha elections from Bharuch, in 1977, 1982 and 1984.
"Muslims are not only socially but also politically marginalized in Gujarat. This was amplified after the 2002 riots," says Kiran Desai, a social scientist at the Centre for Social Studies (CSS). Desai was part of the team that worked on a report for CSS after the 1992 riots.
Since 1989, just seven Muslim candidates have been fielded in the Lok Sabha elections in Gujarat by a national party, all by the Congress.
In the 2014 Lok Sabha elections, of the total 334 candidates in the fray in Gujarat, 67 (or 19.76%) were Muslims. That year the Congress fielded just one Muslim candidate, Maksud Mirza, from Navsari.
All the other 66 Muslim candidates fought as independents or for parties such as the Samajwadi Party (SP). In the 2014 elections, most Muslims in the fray contested from the Panchamahal, Kheda, Anand, Bharuch, Navsari, Sabarkantha, Jamnagar and Junagadh seats.
In 2009, Kaleem Abdul Latif Sheikh, a Lok Janshakti Party candidate (LJP) in Panchmahal led to the defeat of Congress candidate Shankersinh Vaghela.
Latif polled 23,615 votes while Vaghela lost by a mere 2,081 votes. The winner was the BJP's Prabhatsinh Chauhan. BJP spokesman Bharat Pandya, said, "Our party considers winnability, representation from the local party cadre and the candidates own following in the area before allotting a ticket."
Congress spokesman Manish Doshi said, "Our party has three Muslim MLAs in the state assembly. Earlier too we have given Muslims tickets for Lok Sabha elections in Gujarat, but they did not win."
https://timesofindia.indiatimes.com/city/ahmedabad/30-years-0-muslims-in-lok-sabha/articleshow/68713484.cms
--------
First satellite images of Saudi nuclear plant show completion
Apr 3, 2019
New satellite images show that Saudi Arabia has almost completed the building of its first nuclear reactor, according to a report by Bloomberg written based on the images by Google Earth.
The report, published on Wednesday, noted that the construction of the facility, which is located in the southwest corner of the King Abdulaziz City for Science and Technology in Riyadh, is alarming, because the country has not accepted the international rules and frameworks needed to ensure that civilian atomic programs aren't used to build weapons.
"There's a very high probability these images show the country's first nuclear facility," former International Atomic Energy Agency (IAEA) director Robert Kelley told Bloomberg. "It means that Saudi Arabia has to get its safeguards in order."
Meanwhile, Bloomberg quoted the Saudi energy ministry as saying in a statement that the facility is being built with transparency and is in full compliance with the international agreements.
Saudi Arabia has signed the IAEA's so-called Small Quantities Protocol, but it hasn't adopted the rules and procedures that would allow nuclear inspectors to access potential sites of interest.
This comes as a bipartisan group of American lawmakers have raised concerns about Washington's nuclear dealings with Saudi Arabia.
In a letter drafted to US Energy Secretary Rick Perry on Tuesday, Senators Robert Menendez, the senior Democrat on the Senate Foreign Relations Committee, and Republican committee member Marco Rubio questioned the recent approvals for American companies to share nuclear energy information with Saudi Arabia.
The senators specifically pointed to Riyadh's insistence on forgoing Washington's so-called 123 agreement, a set of nonproliferation standards required by Section 123 of the US Atomic Energy Act of 1954.
The 123 agreement, often referred to as Washington's "gold standard" for foreign civil nuclear cooperation, prevents the foreign entity from enriching uranium or reprocessing plutonium made in reactors - two routes to making nuclear weapons.
Negotiations between the US and Saudi Arabia for nuclear cooperation came to a halt under the administration of former President Barack Obama, after Riyadh refused to accept Washington's proposed standards.
In its never ending quest for more money, the administration of President Donald Trump resumed the talks and is reportedly considering a deal that would allow Riyadh to enrich and reprocess uranium and pave the way for American companies to build nuclear reactors in the kingdom.
In February, a report by a congressional committee revealed that the Trump administration was trying to bypass Congress to transfer sensitive nuclear power technology to Saudi Arabia.
Iran's Foreign Minister Mohammad Javad Zarif at the time decried the US "hypocrisy" over the planned nuclear sale to the Saudi regime.
In March 2018, Saudi Crown Prince Mohammed bin Salman said that the kingdom would be quick to develop nuclear weapons if Iran — which Riyadh views as its arch rival in the region — did so.
Iran does not pursue nuclear weapons, and under a 2015 international deal, it has placed its entire nuclear program under enhanced 24/7 monitoring by the United Nations' atomic watchdog, which has repeatedly confirmed the peaceful nature of Iran's nuclear program.
https://www.presstv.com/Detail/2019/04/03/592522/Saudi-Arabia-nuclear-plant-satellite-images-Bloomberg
--------
Will utilise 'all available resources' to blacklist Masood Azhar: US
Apr 3, 2019
BEIJING: The US on Tuesday said it will "utilise all available resources" to ensure the listing of Jaish-e-Muhammed founder Masood Azhar as a "global terrorist" by the UN.
The US had on March 27 circulated a draft resolution to the powerful 15-nation Council to blacklist Azhar and subject him to a travel ban, an assets freeze and an arms embargo. The move came after China put a hold on a French proposal to list Azhar under the 1267 Al Qaeda Sanctions Committee of the Council.
Reiterating its firm stand on the issue, the US State Department has reportedly said it will ensure that the Pakistan-based terrorist is held accountable by the international community.
Masood Azhar-led JeM had claimed responsibility for the deadly terror attack in Pulwama, which left 40 CRPF personnel martyred.
Responding to the State Department's remarks, China on Wednesday said that Washington's move is complicating the issue and not conducive to peace and stability in South Asia.
Chinese foreign ministry spokesman Geng Shuang told a media briefing that Beijing is adopting constructive and reasonable stand on the issue to resolve it properly.
Earlier, China had criticised the US for directly taking the Masood Azhar issue to the UN Security Council. It claimed that "positive progress" has been made to resolve the vexed issue and accused the US of scuttling its efforts.
China has so far blocked the move to designate Azhar as a 'global terrorist' four times in recent years.
On Wednesday, the Chinese foreign ministry spokesman said vast majority of the UNSC members believe that efforts should be made under the 1267 Sanctions Committee to solve this designation through dialogue and consultation instead of pushing the draft resolution at the UNSC.
India handed over a dossier to Pakistan on February 27 with specific details of Pakistan-based terror group JeM's complicity in the Pulwama attack and the presence of Jaish terror camps and its leadership in Pakistan.
Pakistan has already said that it has not found any link between the JeM and the Pulwama terror attack and demanded more information/evidence from India.
https://timesofindia.indiatimes.com/world/pakistan/will-utilise-all-available-resources-to-blacklist-masood-azhar-us/articleshow/68707469.cms
--------
New Zealand police: Christchurch gunman to face 50 murder charges
4 April 2019
The man accused of carrying out the Christchurch mosque terrorist attacks last month will face 50 murder charges when he appears in court this week, New Zealand police said Thursday.
Australian Brenton Tarrant was previously charged with one murder as a holding measure, but police said all the deaths and injuries in the March 15 terrorist attacks would be reflected in upgraded charges during his next appearance on Friday.
"The man arrested in relation to the Christchurch terror attacks will face 50 murder and 39 attempted murder charges when he appears in the High Court in Christchurch on Friday," they said in a statement.
Police said further charges were being considered against Tarrant – a self-avowed white supremacist – but did not specify what they were. The 28-year-old will appear via video link in the Christchurch court from a maximum-security prison in Auckland.
A note from the court this week said the appearance was likely to be brief and would "ascertain the defendant's position regarding legal representation" and other procedural matters.
Tarrant sacked a court-appointed lawyer after his first court appearance on March 16, raising fears he wanted to represent himself and attempt to use any trial as a propaganda platform.
The court said Tarrant would not be required to enter a plea during Friday's hearing. The court has now barred media from filming or photographing the accused.
https://english.alarabiya.net/en/News/world/2019/04/04/New-Zealand-police-Christchurch-accused-to-face-50-murder-charges.html
--------
Pak's ex-intel chief 'who aided Osama' sworn in as minister
Apr 4, 2019
ISLAMABAD: Pakistan's former intelligence bureau chief Ijaz Shah, who allegedly aided Osama bin Laden in Pakistan, was sworn in as minister for parliamentary affairs on Tuesday by President Arif Alvi.
The move has put the Imran Khan-led government and the opposition, especially the Pakistan People's Party (PPP), at odds as ex-PM Benazir Bhutto had alleged that Shah was among the people who had hatched a conspiracy to kill her, Dawn reported. PPP leader Syed Khursheed Shah told Dawn, "Ijaz Shah is being made the minister to make parliament redundant and to further degrade it."
Shah, a confidant oex-president Musharraf, has also been accused of harbouring al-Qaida founder Osama bin Laden. In its report in 2012, the Sydney Morning Herald had quoted ex-ISI chief General Ziauddin Butt as saying that Shah had ordered to build the three-storied walled compound in Abbottabad where Laden was killed by the US Forces in 2011. "I fully believe that Ijaz Shah had kept this man (Osama) with the full knowledge of Musharraf," Butt had alleged. Shah, who served as Pakistan's IB Director General from 2004 to 2008.has dismissed the claim.
https://timesofindia.indiatimes.com/world/pakistan/paks-ex-intel-chief-who-aided-osama-sworn-in-as-minister/articleshow/68714301.cms
--------
India
Lashkar militant arrested for theft of weapons in Srinagar
Apr 03, 2019
Ashiq Hussain
A Lashkar-e-Taiba militant allegedly involved in stealing weapons from a Congress MLC's house last December, was arrested in Srinagar, police said on Wednesday.
Danish Haneef Wani, a resident of Azad Basti Natipora and an active LeT militant, was arrested based on a specific input about his movements near Kursoo, Rajbagh in Srinagar.
"We were tracking him and he was arrested by a special police team," Senior Superintendent of Police, Srinagar, Haseeb Mughal said.
Gunmen had looted four AK47 rifles from the official residence of Congress legislator, Mohammad Muzuffar Parray at Jawahar Nagar in Srinagar after allegedly overpowering a security guard on December 30, 2018. The senior Congress leader was not present in his house then. He was in the winter capital Jammu along with his family at the time of the robbery.
"Wani is the main accused in the weapons loot case. He had joined LeT soon after looting weapons from the MLC's house," Mughal said.
In January, Wani's pictures posing with a gun had gone viral on social media.
A police spokesperson said that the militant had been questioned regarding the theft of weapons on 30 Dec, 2018.
"Further questioning of the arrested accused is on so as to advance the investigation in the case," he said.
The police had earlier arrested another LeT militant, Showket Ahmed Khan, a resident of Aarth-Narbal Budgam, in March this year. The second militant was also an accused in the same case.
Four police personnel, who were guarding the official residence of the Congress legislator when the weapons were looted, were dismissed from service for dereliction of duty.
There have been a number of weapon snatching cases last year. In October, unidentified gunmen snatched two weapons from policemen guarding a retired police officer's house in Budgam.
Earlier on September 28, 2018, a personal security officer (PSO) had stolen seven rifles and one pistol from legislator Ajaz Ahmad Mir's residence in Srinagar. Mir was also not present at his residence and was in Jammu at that time. His SPO, Adil Bashir, later joined militant ranks. On September 30, militants had stolen an AK 47 rifle after attacking a police station in south Kashmir's Shopian district. A 23-year-old policeman, Saqib Mir, was killed in the attack.
https://www.hindustantimes.com/india-news/lashkar-militant-arrested-for-theft-of-weapons-in-srinagar/story-r6YX23AGCCpf63vxv1vEON.html
--------
Art from India and Pak finds a meeting ground at Dubai fair
Apr 4, 2019
At Dubai's recent international art fair, sculptor from Pakistan Muzzumil Ruheel showed a piece he had named, 'People Call Me Confusion'. The artwork explored the space people often find themselves in, between divergent choices and emotions. "It is an expression of my conversations with that transient space and time, and those questions that remain unanswered in our day-to-day lives," he says.
In many ways, Ruheel's annual rendezvous with his Indian counterparts in Dubai during the city's art week in March is much like these transients. In fact, the first time he met Tarq, the Mumbai-based gallery he currently works with, was in Dubai a few years ago.
"We would come down, have meetings here and fly back to our respective countries the very same day. Dubai is our stayover, a place where we can truly see and express how we as citizens of these two nationalities perceive each other," says Ruheel.
The annual art season in Dubai and Sharjah is home to a vibrant creative bustle – exhibitions, lec-dems, artist talks, collector meets and networking events – by way of two key events, Art Dubai and Sharjah Biennial. But over the years, the season has metamorphosed into something more – a neutral space where dialogues are possible and collaborations are born.
To UAE-based, Indian-origin collector and patron Smita Prabhakar, the art season has been the perfect premise to her newly unveiled non-profit Ishara Art Foundation at Dubai's cultural hub Alserkal Avenue, where old warehouses have been converted into modern-day galleries.
With its eye on Dubai's promising patronage and market for Indian and Pakistani art - in addition to other nations in the South Asian belt - Ishara opened with an exhibition by Indian artists Shilpa Gupta and Zarina Hashmi themed on notions of home, displacement and belonging.
The ongoing Sharjah Biennial too features works by Indian artists Rohini Devasher and Nalini Malani alongside those of Pakistani artist Anwar Jalal Shemza, and London-based multimedia artist of Indian and Pakistani origin Shazad Dawood.
Dawood, in fact, was recently awarded by the Sharjah Art Foundation for his latest VR work titled 'Encroachments', which prompted Mumbai-based gallery Jhaveri Contemporary to pick it up to be showcased at the Art Dubai fair.
"Shezad conceived this project last year, before all the conflict broke out and we committed to doing the fair around the same time. A gallery has to show a broad spectrum, and we focus on talking about the work rather than where the artists come from," says Amrita Jhaveri, one of the gallery's founders. "However, it's true that if an Indian and Pakistani gallery do want to share space, they have to do it in Dubai. It's not easy to ship artwork from Pakistan into India, and likewise. Art is also a great way to hold conversations with your neighbour in a way that you cannot with music or other arts against this political climate," she says.
Art Dubai has also provided a safe space for many international galleries known for their shows by Indian and Pakistani artists, such as Grosvenor from London and Aicon from New York. "Aicon is one of the largest galleries of Pakistani contemporary art outside of Pakistan and it's an irony that two Indians – my brother and I – started it," says Projjal Dutta, partner at Aicon. "The artists we show, such as Adeela Suleman and Abdullah Syed, are well collected in India too," he says.
Full report at:
https://timesofindia.indiatimes.com/india/art-from-india-and-pak-finds-a-meeting-ground-at-dubai-fair/articleshow/68714331.cms
--------
Balakot airstrike could have killed 250 to 300 terrorists: Abhinandan's father
Apr 4, 2019
CHENNAI: Air Marshal (retired) Simhakutty Vardhaman, father of wing commander Abhinandan who was briefly in Pakistan custody, says the laser-guided smart bombs (SPICE - 2000) used to attack the terror camp at Balakot could have killed 250 to 300 terrorists.
Talking to students of defence studies at IIT-Madras on Wednesday about the air strikes on the Jaish-e-Mohammed terror training camp at Balakot in Pakistan, he said, "The Indian Air Force strike happened when the maximum targets were inside the camp. The structural damage might be limited, but the fuse of the bomb is delayed to ensure maximum casualties."
"Pakistan's F-16s and AMRAAM missiles were the real threat to us. We had to first get F-16s off our back by making sure they were headed to some other direction when we were going to Balakot. So we did a lot of deception," he said.
"Basically, we launched seven aircraft towards Bahawalpur, which is the headquarters of JeM. Pakistan thought we were on the way to attack Bahawalpur and sent F-16s to engage with our fighter aircraft. Simultaneously, we launched aircraft to attack Balakot. In a nutshell, the Pakistan Air Force was deceived completely," he explained.
"Pakistan was in a total state of alert, they knew an attack from India was imminent. However, they did not realise that we got into their territory," he added. The decorated air marshal, however, added that this was his reading of the events, which may not be the absolute truth. "The exact details may come out months later," he said.
The Balakot operation was thefirst time IAF aircraft had crossed the border since the 1971 war+ with Pakistan, air marshal Vardhaman said. "When fighter aircraft fly 10km within the border, radars alert us to turn back. If a pilot goes within 8km of the border, he faces a lot of questions and inquiry," he said.
Full report at:
https://timesofindia.indiatimes.com/india/balakot-toll-could-be-300-abhinandans-father/articleshow/68713854.cms
--------
Arab World
Iraqi military planes drop $25-million reward leaflets for Daesh head
Apr 3, 2019
Iraqi military aircraft have dropped leaflets over desert areas in the country's western province of Anbar, offering a reward of millions of dollars for intelligence that would lead to the capture of the leader of the Daesh Takfiri terrorist group, Ibrahim al-Samarrai aka Abu Bakr al-Baghdadi.
The planes dropped the leaflets over Upper Euphrates towns, bedouin encampments, and villages adjacent to the borders with Syria, Jordan and Saudi Arabia on Wednesday morning.
"The leader of Daesh and his fighters stole your land and killed your people, and now he is hiding in safety away from the death and destruction that he planted. With your intelligence reports, you can avenge," the leaflets read.
They carried pictures of Baghdadi and a promise of a reward of 25 million US dollars for anyone, who provides information leading to the arrest of Baghdadi. The leaflets also provided two hot lines on WhatsApp messenger.
On February 28, Iraqi legislator Hassan Salem said in a statement that "Baghdadi is in the Anbar desert, which he is using as a safe haven."
"He is being provided with US support at Anbar's Ayn al-Assad military base and is traveling freely between Iraq and Syria," Salem noted.
The Iraqi lawmaker went on to say that the US is helping the Daesh leader as Iraq's parliament is set to vote on a bill on a complete US troop withdrawal from the country.
The United States supports Baghdadi "out of concerns over possible endorsement of [a] bill on expelling US troops from Iraq," he noted.
Former Iraqi prime minister, Haider al-Abadi, declared the end of military operations against Daesh in the country on December 9, 2017.
On July 10 that year, he had formally declared victory over Daesh in the strategic northern city of Mosul, which served as the terrorists' main urban stronghold in Iraq.
In the run-up to Mosul's liberation, Iraqi army soldiers and voluntary fighters from the pro-government Popular Mobilization Units (PMU) – better known by the Arabic name Hashd al-Sha'abi – had made sweeping gains against Daesh.
https://www.presstv.com/Detail/2019/04/03/592509/Iraq-25million-reward-leaflets-Daesh-head
--------
Saudi Arabia pledges $1 bln for Iraq as high-level delegation starts visit
4 April 2019
Saudi Arabia will provide Iraq $1 billion to build a sports city, state television said on Wednesday at the start of a two-day visit to Iraq by high-level Saudi officials aimed at boosting ties.
A Saudi economic delegation that includes the energy and investment ministers arrived in Iraq on Wednesday for the second Saudi-Iraq coordination council meeting, an initiative launched in 2017 to upgrade diplomatic relations.
Saudi Arabia reopened its embassy in Baghdad in 2015 following a 25-year break.
Saudi investment minister Majid bin Abdullah al-Qasabi said it would open its consulate in Baghdad on Thursday to begin issuing visas for Iraqis and that three other consulates would be opened in Iraq, according to Iraq's state news agency.
Qasabi said that 13 agreements were ready to be signed and that work on the Arar land border crossing linking Iraq and Saudi Arabia would be completed within six months.
At Baghdad International Airport, the seven-minister Saudi delegation was received by a number of Iraqi ministers and senior officials, a Saudi Press Agency report said.
The Saudi delegation included Prince Badr bin Abdullah bin Mohammed bin Farhan, Minister of Culture; Eng. Abdurrahman al-Fadhli, Minister of Environment, Water and Agriculture; Eng. Khalid al-Falih, Minister of Energy, Industry and Mineral Resources; Dr. Hamad al-Sheikh, Minister of Education; Turki al-Shabanah, Minister of Media, and Thamer al-Subhan, Minister of State for Arab Gulf Affairs.
The delegation also included representatives of other ministries and major companies in addition to a number of businesspersons and economic and cultural figures.
During the two-day visit, the 2nd Saudi-Iraqi Coordination Council will be held under co-chairmanship of Dr. Majid bin Abdullah al-Qasabi, Minister of Commerce and Investment, and Iraqi Deputy Prime Minister for Energy Affairs and Minister of Oil Thamer al-Ghadhban.
The agenda of the second meeting aims to focus on aspects of bilateral cooperation and consolidate strategic partnership in all fields. The two sides will sign a number of memoranda of understanding on bilateral cooperation in various fields.
Full report at:
https://english.alarabiya.net/en/News/gulf/2019/04/04/Saudi-Arabia-pledges-1-bln-for-Iraq-as-high-level-delegation-starts-visit.html
--------
Saudi Arabia supports Palestinian Authority's budget with $40 mln
3 April 2019
The Saudi Fund for Development (SFD), has remitted $40 million to support the Palestinian Authority's budget is for the months of February and March 2019.
Osama bin Ahmed Nugali, Saudi Ambassador to Egypt and the Permanent Representative of the Kingdom to the Arab League, said that this contribution comes as part of Saudi Arabia's continuous support for the Palestinian cause, according to the Saudi Press Agency (SPA).
https://english.alarabiya.net/en/News/gulf/2019/04/03/Saudi-Arabia-supports-Palestinian-Authority-s-budget-with-40-mln.html
--------
Iraq PM to make first official Iran visit on Saturday
4 April 2019
Iraqi premier Adel Abdel Mahdi will travel to Iran on Saturday, a member of his office said, in his first official visit to the country rivaling Washington for influence over Baghdad.
The US reimposed tough sanctions on Tehran's energy and finance sectors last year but has granted Baghdad several exemptions to keep temporarily importing Iranian gas and electricity, crucial to Iraq's faltering power sector.
Abdel Mahdi, 77, has repeatedly said Iraq wants good ties with both the US and Iran.
The prime minister would spend two days in the Islamic republic, a member of his office told AFP on condition of anonymity because he was not authorized to speak to the press.
A number of top officials have visited the Iraqi capital in recent months, including Iranian President Hassan Rouhani in March, US Secretary of State Mike Pompeo in January, and a host of Arab leaders.
During his weekly press conference on Tuesday, Abdel Mahdi said he was planning trips to Saudi Arabia, Turkey, and the United States, without specifying dates.
The premier has rarely traveled since coming to power in October, making his first trip abroad in late March to Egypt.
There, he met Egyptian President Abdel Fattah al-Sisi and King Abdullah II of Jordan to discuss economic and security cooperation among the three countries.
Full report at:
https://english.alarabiya.net/en/News/middle-east/2019/04/03/Iran-puts-death-toll-from-flooding-at-62.html
--------
Four suicide bombers hit Syria's Raqqa: SDF
3 April 2019
Four suicide bombers struck in Syria's Raqqa on Wednesday, a spokesman for the US-backed Syrian Democratic Forces (SDF) which controls the city said in a message to journalists.
"Four suicide bombers blew themselves up," said Mustafa Bali, head of the SDF's media office, in an online chat when asked about blasts in Raqqa.
https://english.alarabiya.net/en/News/middle-east/2019/04/03/Four-suicide-bombers-hit-Syria-s-Raqqa-SDF.html
--------
ISIL Heavily Suppressed in Syrian Army's Air, Ground Operations in Badiyeh of Homs
Apr 03, 2019
The Syrian army units engaged in fierce clashes with the ISIL militants in regions near the T2 Station in Eastern Homs, killing a number of them.
Meantime, the artillery units of the Syrian army targeted the positions and movements of terrorists in areas near the clashes region, destroying several of their strongholds and military equipment and inflicting tolls on them.
Also, the Syrian air force bombed the ISIL moves on the road linking Hamimeh region and T2 station and in the Eastern parts of the town of Palmyra and regions near the borders between Homs and Eastern Deir Ezzur, smashing several targets and killing and wounding a number of terrorists.
The Syrian army's air and ground forces had also on Tuesday pounded the positions and movements of ISIL terrorists in Badiyeh region of Palmyra (Tadmur) in Eastern Homs.
The Syrian army troops engaged in heavy clashes with the ISIL terrorists in al-Halbeh region in the Eastern Badiyeh of Palmyra, inflicting tolls on them.
Meantime, the artillery units of the Syrian army targeted the positions and moves of the terrorists near battlefields, destroying several of their hideouts.
Full report at:
http://en.farsnews.com/newstext.aspx?nn=13980114000426
--------
High Tensions Reported between Kurds, Ankara-Backed Militants in Aleppo
Apr 03, 2019
The Kurdish-language Hawar News reported on Wednesday afternoon that heavy clashes had erupted between the so-called 'al-Bab Military Council' militants and terrorists affiliated to the Turkish army in the villages near the town of al-Arimeh in the Eastern part of the town of al-Bab in Northeastern Aleppo.
It added that the Ankara-backed terrorists had targeted the Kurds' positions in the villages of Tal Turin and al-Bawihaj from the village of al-Kuridiyeh.
According to Hawar News, at least 3 Ankara-supported militants were killed during the operations by the so-called 'Afrin Liberation' forces against the Ankara-supported militants in the town of Mar'e in Northern Aleppo.
In a relevant development last Sunday, the Turkish army had also fiercely attacked the Kurdish fighters' positions in Northern Aleppo after a number of its soldiers were killed in Afrin.
Sources affiliated to militants reported that a Turkish soldier was killed and another was wounded in the Kurds' military attack against one of their military bases near the town of Mar'e in Northwestern Aleppo.
Meantime, Hawar News quoted sources in Afrin as saying that 3 Turkish soldiers were killed and 3 others were wounded in an operation against the Turkish army in the village of Marimiyeh in Shara region in Afrin in Northwestern Aleppo.
Also, the London-based Syrian Observatory for Human Rights (SOHR) reported that the Turkish forces have targeted regions occupied by the Syrian Democratic Forces (SDF) in the villages of Zourmaqar in the Eastern parts of Jarabulus in Northeastern Aleppo with heavy attacks.
Full report at:
http://en.farsnews.com/newstext.aspx?nn=13980114000344
--------
North America
Pompeo warns Turkey against striking Syria
4 April 2019
US Secretary of State Mike Pompeo warned on Wednesday of "devastating" results if Turkey strikes Syria as he met in Washington with Foreign Minister Mevlut Cavusoglu.
"Secretary Pompeo expressed support for ongoing negotiations regarding northeast Syria, while warning of the potentially devastating consequences of unilateral Turkish military action in the region," the State Department said in a statement after their talks.
Turkey has repeatedly threatened to hit the Kurdish-dominated Syrian Democratic Forces, who joined Western forces in battling ISIS extremist group but which Ankara links to the separatist PKK movement at home.
Fears for the safety of the fighters has led the United States to delay President Donald Trump's decision to remove US troops from Syria.
Cavusoglu was visiting Washington as part of 70th anniversary celebrations for the NATO alliance.
Speaking at a forum earlier in the day, Cavusoglu said bluntly when asked if he thought the United States had a clear policy in Syria: "No, and this is the problem."
Pompeo pressed Cavusoglu about Turkey's plans to buy the S-400 missile defense system from Russia.
The United States on Monday suspended Turkey's participation in the F-35 fighter-jet program over the deal with Russia.
Pompeo also voiced concerns over Turkey's detention of US consulate employees and US citizen Serkan Golge, a joint national jailed on terror charges amid a sweeping national crackdown.
https://english.alarabiya.net/en/News/world/2019/04/04/Pompeo-warns-Turkey-against-striking-Syria.html
--------
US joining forces with terrorists, Turkey says , voicing determination to buy Russian S-400
Apr 4, 2019
Turkey is ignoring threats by top US officials to buy Russia's S-400 missile system.
The comments came despite threats from US officials including Vice President Mike Pence on Wednesday.
In an address during a meeting of NATO ministers in Washington, Pence repeated US threats against Ankara over the country's defensive cooperation with Russia.
"Turkey must choose. Does it want to remain a critical partner in the most successful military alliance in history or does it want to risk the security of that partnership by making such reckless decisions that undermine our alliance?" Pence said.
Turkish Vice President Fuat Oktay pushed back at the claims on Twitter, accusing the US of support for terrorism.
"The United States must choose. Does it want to remain Turkey's ally or risk our friendship by joining forces with terrorists to undermine its NATO ally's defense against its enemies?"
The United States stopped shipment of equipment for F-35 to Turkey earlier to send a message to Turkey.
The row over the F-35 and the S-400 is the latest in a series of diplomatic disputes between Ankara and Washington.
"We've also made it clear that we will not stand idly by while NATO allies purchase weapons from our adversaries that threaten the cohesion of our alliance," Pence said.
Full report at:
https://www.presstv.com/Detail/2019/04/04/592529/Turkey-ignores-US-threats-on-buying-Russian-S400
--------
Europe
Germany seeks to deter future militants by voiding nationality
3 April 2019
Germans with a second nationality who fight abroad for groups like ISIS will lose their citizenship, the cabinet agreed in a draft law on Wednesday intended to deter future militants.
Like other Western countries, Germany faces a conundrum of how to deal with citizens who travel to the Middle East to join violent extremist causes like ISIS, whose self-proclaimed "caliphate" was eliminated last month.
The measure, which needs parliamentary approval, would exclude minors, cover only future cases, and not apply to single nationality Germans who could otherwise be left stateless.
"This will send a signal to ISIS supporters, to those thinking of traveling to ISIS areas," government spokesman Steffen Seibert told reporters.
More than 1,000 Germans have left their country for Middle East war zones since 2013 and the government has been debating how to deal with them as US-backed forces took ISIS' last patch of territory in Syria and rounded up prisoners.
About a third have returned to Germany, another third are believed to have died, and the rest are thought to be still in Iraq and Syria, including those detained by Iraqi forces and US-backed fighters in Syria, according to German intelligence officials.
In February, US President Donald Trump urged Britain, France, and Germany to take back more than 800 captured ISIS fighters and put them on trial.
Germany said it would take back fighters only if the suspects have consular access, adding that in principle, all of its citizens and those suspected of having fought for ISIS have the right to return.
In one high-profile case, Britain in February revoked the citizenship of a teenager who had left London aged 15 to join ISIS in Syria. The case of Shamima Begum highlighted the security, legal, and ethical dilemmas facing European governments dealing with those who swore allegiance to a group determined to destroy the West.
Germany joined the military campaign against ISIS militants in Syria in a support role by deploying Tornado reconnaissance jets, refueling aircraft, and a frigate to the region, after an appeal from close partner France for Berlin to do more.
https://english.alarabiya.net/en/News/world/2019/04/03/Germany-seeks-to-deter-future-militants-by-voiding-nationality.html
--------
Iraqi journalist accused of spying for Iran arrested in Sweden
3 April 2019
An Iraqi journalist suspected of spying for Iran has been arrested in Sweden, according to British newspaper The Daily Telegraph.
The newspaper said Stockholm-based Iraqi journalist Raghdan al-Khazali was arrested in Sweden for allegedly spying on members of a group of Ahwazis- members of Iran's minority Arab community- for Iran's government.
The Iranian government has been accused of ordering assassinations of European-Iranian opposition group members.
In 2017, one of the leaders of the National Liberation Movement of Ahwaz, an Ahwazi Arab nationalist group, Ahmad Molla Nissi, was killed in the Netherlands in 2017.
In January, the Netherlands accused Iran of involvement in the murder of two dissidents on Dutch soil, including Nissi's, who was murdered in The Hague.
The Dutch secret service "has strong indications that Iran was involved in the assassinations of two Dutch nationals of Iranian origin in Almere 2015 and in The Hague in 2017," Foreign Minister Stef Blok said in a letter to parliament.
"These individuals were opponents of the Iranian regime," Blok said. "The Netherlands considers it probable that Iran had a hand in the preparation or commissioning of assassinations and attacks on EU territory."
Al-Khazali was a Stockholm correspondent for the EuroTimes, a Europe-based newspaper.
Full report at:
https://english.alarabiya.net/en/News/world/2019/04/03/Iraqi-journalist-accused-of-spying-for-Iran-arrested-in-Sweden.html
--------
Pakistan
US move not conducive to peace in South Asia: China
Anwar Iqbal
April 04, 2019
WASHINGTON: The United States vowed on Wednesday to utilise "all available avenues" to ensure Masood Azhar was held accountable but China warned Washington that this attitude could complicate an already tense situation in South Asia.
"We can confirm that we circulated a draft UNSC resolution with UK and French support," said a US State Department spokesperson when asked how the United States planned to deal with this issue.
On March 27, the United States circulated a draft resolution to the 15-nation UN Security Council (UNSC) to blacklist Azhar and subject him to a travel ban, an assets freeze and an arms embargo.
Official says Beijing has taken a 'reasonable stand' on issue of JeM chief
"We hope South Asia could maintain peace and stability and we hope India and Pakistan will engage in dialogue and through dialogue and consultation resolve outstanding issues," said Chinese Foreign Ministry spokesman Geng Shuang while explaining China's policy on the dispute.
Last month, India accused Azhar's Jaish-e-Mohammed (JeM) group of carrying out the Feb 14 suicide bombing at Pulwama in India-held Kashmir (IHK) that killed 40 paramilitary troops and urged Pakistan to hand over Azhar, who was already under house arrest.
Pakistan rejected the Indian claim, pointing out that the attack was carried out inside IHK and there's no Pakistani involvement.
On March 13, China put a technical hold on a French proposal to list Azhar under the UNSC 1267 Al Qaeda Sanctions Committee and asked for more consultations before bringing the matter to the UNSC for a vote.
The State Department spokesman insisted that Washington also wanted to route its move to brand Azhar a UN-designated terrorist through this committee but it was not against using other options.
"While we strongly prefer that UNSC designations take place through the committee process, the United States and its allies and partners, including those on the UN Security Council, will utilise all available avenues to ensure that the founder and leader of the UN-designated terrorist organisation JeM is held accountable by the international community," the spokesman added.
Mr Geng, however, said that the US threat to use "all available avenues" was not helpful particularly when JeM's involvement in the Pulwama attack had not yet been proven.
China, he said, had taken a "constructive and reasonable stand" on the issue while the US stance was not conducive to peace and stability in South Asia.
On Monday, Mr Geng said that the US decision to go directly to the UNSC to designate Azhar aimed to scuttle China's efforts to resolve the issue amicably. China, he said, had already made "positive progress" towards its goal.
Mr Geng said the vast majority of UNSC members believed that terrorist designations should be routed through the sanctions committee and should be resolved through consultation instead of pushing the draft resolution at the UNSC.
"Also China has been working hard with relevant sides and is making positive results. The US knows that very well. Under such circumstances the US still insists on pushing the draft resolution, doesn't make any sense," he said.
Mr Geng said Washington's action was not consistent with the UN rules and customary practice and sets a bad precedent. "It is only complicating the issue and not conducive to peace and stability in South Asia," he said.
"China will continue to adopt constructive and responsible attitude to participate in discussions and deliberations on the designation issue," he said. "We hope this issue will finally be resolved properly," he said.
https://www.dawn.com/news/1473788/us-move-not-conducive-to-peace-in-south-asia-china
--------
Draft LG law suggests resumption of Musharraf-era urban-rural set-up
Intikhab Hanif
April 04, 2019
LAHORE: The Punjab government has drafted a voluminous and restrictive new local government law, providing for proportionate representation-based elections and an elaborate anti-corruption mechanism.
The rough draft of the proposed law suggests re-introduction of the urban-rural divide introduced by former president retired Gen Musharraf in a 2001 law and eliminated by former chief minister Shahbaz Sharif in a new law in 2013.
The 312-article proposed law provides for active participation of citizens in the affairs of local councils, establishment of joint authorities for performing various functions, authorising the Election Commission of Pakistan to hold party-based elections, and giving a four-year term to the local bodies. It makes it clear that the existing local councils will cease to exist immediately after its enactment.
Officials on Tuesday said the draft was pending a review by Punjab Law Minister Raja Basharat to whom it was sent a few days ago.
Inspectorate proposed to monitor local govts to ensure they act in public interest
The draft law is aimed at creating local governments in Punjab for effective discharge of municipal and "designated non-municipal" services. It says that as soon as may be, but not later than one year of its commencement, the government shall constitute succeeding (new) local governments. It also states that every local government shall function within the framework of the province. None of them shall act in a manner that impedes or challenges executive authority of the province.
Within six months after the commencement of this Act, the government shall divide the areas comprising Punjab, excluding areas notified as cantonments, into urban and rural, and name them. All areas comprising the district of Lahore shall be the local area for Lahore Metropolitan Corporation.
An area which displays distinct urban features may be classified as metropolitan, municipal corporation, municipal committee and town area. Every 10 years, all local areas will be reviewed. A special review could also be made under directions from the provincial government.
The government could also divide a local government into two or more local governments or join two or more local governments into one or alter the limits or class of a local government.
The head of the local government shall be the leader of the council. But the administration shall be headed by a chief officer who shall, along with other officers, be appointed by the government. Each council shall consist of such number of general councillors and those representing women, religious minorities and other special interests. Women and minorities could also take part in the general local elections.
The law authorises the government to assign any function to any local council that is out of its ambit. It empowers the government to issue policy directions, regulations, standing instructions and guidelines to local governments.
The draft law says that the head of the local government, the council or any of its committee or sub-committee may direct, guide or supervise but not directly engage in the discharge of a function of the local government.
The council and its committees and sub-committees shall act through resolutions. A councillor shall not direct or attempt to direct an officer or servant of a local government, or direct or attempt to direct in the manner in which the duties of an officer or servant duties shall be performed.
The chief officer shall be the principal officer of the local government and all other officers and servants of that local government shall be subordinate to him. He shall also maintain financial and administrative discipline, enter into and manage all contracts, undertake all procurements, assist relevant authorities in circumstances of emergency and perform such other duties assigned to him by the government, head of the local government, council or a committee of the local government.
The local elections shall be conducted on closed list proportional representation basis through secret ballot. The head of the local government, convener and councillors, except councillors to the seats reserved for religious minorities, shall be elected by all voters of the respective electoral unit.
Councillors to the seats reserved for religious minorities shall be elected by voters belonging to all religious minorities of the respective electoral unit.
Every local government shall, unless it is dissolved earlier, continue for four years.
The law provides for the creation of the inspectorate of local governments for the inspection, monitoring, reviewing and reporting on the performance of the local governments in Punjab. It authorises the government to supervise and hold general control over the local governments to ensure that they always act in the public interest and perform their functions strictly in accordance with the provisions of this Act and all other relevant laws for the time being in force.
Full report at:
https://www.dawn.com/news/1473737/draft-lg-law-suggests-resumption-of-musharraf-era-urban-rural-set-up
--------
PM tells CDA to ensure facilities for disabled citizens
April 04, 2019
ISLAMABAD: Prime Minister Imran Khan on Wednesday directed the Capital Administration Authority (CDA) to ensure that people with special needs are provided necessary facilities.
A written order from the Prime Minister's Office stated: "In order to ensure safe and easy access to persons with disabilities, the prime minister has been pleased to desire that Capital Development Authority (CDA) shall take immediate measures to make all public places/buildings in Islamabad Capital Territory (ICT) as disabled friendly through provision of necessary infrastructure including ramps, lifts, toilets etc."
The order said Mr Khan also wants for all new public areas and buildings in the capital to be designed and constructed in a manner that addresses the special needs of people with disabilities.
Full report at:
https://www.dawn.com/news/1473757/pm-tells-cda-to-ensure-facilities-for-disabled-citizens
--------
South Asia
Afghan forces target Haqqani Network militants in Paktika province
04 Apr 2019
The Afghan forces carried out operations against Haqqani Network militants in southeastern Paktika province leaving at least 13 dead, the Afghan Military said.
According to a statement releasedby 203rd Thunder Corps, the Afghan National Defense and Security Forces conducted airstrikes and ground operations against Haqqani Network militants in Okhi area of Nika district in Paktika.
The statement further added that 13 militants of the network were killed during the operations including one of their leaders who has been identified as Mullah Helmand.
The Afghan forces also confiscated two night vision goggles, four rocket launcher rockets, and eight Ak-47 rifles during the operation.
The anti-government armed militants including Haqqani Network have not commented regarding the operations so far.
Paktika is among the relatively volatile provinces in Southeast of Afghanistan. Both Taliban and Haqqani network militants are active in some of its districts.
https://www.khaama.com/afghan-forces-target-haqqani-network-militants-in-paktika-province-03640/
--------
28 militants killed, wounded during the ongoing clearance operations in Badakhshan
03 Apr 2019
At least 28 Taliban militants were killed or wounded during the ongoing clearance operations in Arghanj Khwa district of Badakhshan province in northeast of Afghanistan.
According to informed military sources, 15 militants have been killed and 13 others have been wounded as clearance operations are underway in the district.
The sources further added that the building of the district, headquarter, Dasht-e Pang School, Naw Abad and Aworan Shahar were cleared from terrorists and the clearing operations completely continues in area.
The sources also added that the latest clearance operations were conducted by 2nd Brigade and Commands of 20th Pamir Division.
The anti-government armed militants including Taliban have not commented regarding the operations so far.
Taliban militants had captured the control of Arghanj Khwa following a 24 hour clash late on Friday night but the Afghan forces managed to retake it on Tuesday.
Full report at:
https://www.khaama.com/28-militants-killed-wounded-during-the-ongoing-clearance-operations-in-badakhshan-03638/
--------
26 militants killed, 3 wounded in coalition airstrikes in Badghis province
03 Apr 2019
At least 26 militants were killed and 3 others were wounded in coalition airstrikes in northwestern Badghis province.
According to informed military sources, the airstrikes were carried out in Bala Murghab and Jawand districts of the province.
The sources further added that the airstrikes were carried out in support of Afghan National Army soldies.
"26 terrorists were killed, 3 were wounded and an 82mm-artillery was destroyed in airstrikes carried by coalition forces in Support of Afghan National Army in Bala Murghab Jawand districts of Badghis province," the sources added.
The anti-government armed militants including Taliban have not commented regarding the airstrikes so far.
Full report at:
https://www.khaama.com/26-militants-killed-3-wounded-in-coalition-airstrikes-in-badghis-province-03635/
--------
Bangladeshi PM calls for safe repatriation of Rohingya
03 Apr 2019
DHAKA AA - Bangladesh called for the safe and quick repatriation of Rohingya refugees who have taken shelter in makeshift camps in southern Cox's Bazar district, local media reported.
"It will be good for all if the Rohingya can be repatriated to their own country as soon as possible, ensuring [their] safety and security," Bangladeshi Prime Minister Sheikh Hasina said Tuesday while receiving newly appointed British High Commissioner to Dhaka Robert Chatterton Dickson at her official residence.
Referring to the suffering of locals due to the huge number of Rohingya refugees, she said her government is doing its best to rehabilitate the persecuted people, Hasina's press secretary quoted her as saying in a press briefing following Dickson's visit. Dickson supported Bangladesh's call for the immediate repatriation of Rohingya in safety and dignity, private news agency United News of Bangladesh reported.
Hasina also urged the Myanmar authorities to implement the recommendations put forward by the commission headed by the late UN Secretary-General Kofi Annan to resolve the Rohingya crisis. Some 40,000 babies have already been born in the squalid refugee camps, she added.
The govt is doing its best to rehabilitate the persecuted people, says PM
The Rohingya, described by the UN as the world's most persecuted people, have faced heightened fears of attack since dozens were killed in communal violence in 2012. According to Amnesty International, more than 750,000 Rohingya refugees, mostly women and children, have fled Myanmar and crossed into Bangladesh after Myanmar forces launched a crackdown on the minority Muslim community in August 2017.
Since Aug. 25, 2017, nearly 24,000 Rohingya Muslims have been killed by Myanmar's state forces, according to a report by the Ontario International Development Agency (OIDA). More than 34,000 Rohingya were also thrown into fires, while over 114,000 others were beaten, said the report, titled "Forced Migration of Rohingya: The Untold Experience".
Full report at:
https://nation.com.pk/04-Apr-2019/bangladeshi-pm-calls-for-safe-repatriation-of-rohingya
--------
NATO remains in Afghanistan to fight terrorism and train Afghan forces: Stoltenberg
04 Apr 2019
The NATO Secretary General Jens Stoltenberg has said that the alliance has no goal to have a permanent presence in Afghanistan.
Stoltenberg made the remarks in his address to U.S. Congress on Wednesday to mark the 70th anniversary of NATO.
He said NATO remains in Afghanistan to fight terrorism and to train Afghan forces, emphasizing that the goal of the alliance is not to stay there forever.
"We should not stay any longer than is necessary," he added.
In regards to the future presence of NATO in Afghanistan, Stoltenberg said NATO will decide in this regard together with the United States.
The Secretary General also added that NATO fully supports the peace process, insisting that theprocess must pave the way for Afghan reconciliation.
"There can only be peace, if Afghanistan stays free from international terrorists," he said, adding that "And for peace to be sustainable it must build on our achievements."
Full report at:
https://www.khaama.com/nato-remains-in-afghanistan-to-fight-terrorism-and-train-afghan-forces-stoltenberg-03641/
--------
Southeast Asia
Report: For Pakatan, Anwar's succession and tackling political Islam a top priority
04 April 2019
By Zurairi AR
KUALA LUMPUR, April 4 — Prime Minister Tun Dr Mahathir Mohamad should appoint Datuk Seri Anwar Ibrahim as his deputy as soon as possible to signal a clear succession plan, a recent report on the Pakatan Harapan (PH) administration has pointed out.
The report by Sydney-based think tank Lowy Institute also urged Putrajaya to deal with the politicisation of Islam and the increasing involvement of Islam in governance, but noted that it would be the administration's most difficult task.
"As quickly as practical, Mahathir should appoint Anwar as deputy prime minister and the official number two in the administration, sending a powerful signal to the world that the succession is on track.
"A clear timetable for the transition should be agreed as soon as possible, including a specific date for the transfer of power," wrote its author Prof James Chin, director of the Asia Institute in the University of Tasmania.
In the report titled "New Malaysia: Four key challenges in the near term", Chin said the two moves would help in eliminating "persistent chatter and political gossip" relating to Anwar's political future, and would contribute to political stability.
"Persistent chatter about Anwar Ibrahim's ability to ascend to the top job is having a destabilising impact on Malaysian politics. In a government in which power is highly centralised in the office of the prime minister, the prime minister's standing is crucial in maintaining continuity and defusing tensions.
"Similarly, the Malaysian economy and financial markets do not like political uncertainty, particularly after such an unprecedented regime change. Malaysia has thrived economically in the past, in part because of the political certainty produced by Umno's long reign," Chin wrote.
In the past few months, Anwar has had to reiterate the narrative of a smooth transition process between him and Dr Mahathir, insisting that he expects to be prime minister in not more than two years' time.
Although Dr Mahathir has repeatedly stated that he will hand over the post to Anwar, no formal time frame has been set, with some within Pakatan Harapan also feeling that Dr Mahathir should be allowed a full term to carry out the coalition's reform pledges.
Amid factional tussle in Anwar's party PKR, Economic Affairs Minister and party deputy president Datuk Seri Mohamed Azmin Ali was forced to deny rumours that he will be made the deputy prime minister during the Ramadan fasting month period.
The deputy prime minister is currently Datuk Seri Dr Wan Azizah Wan Ismail, who is also Anwar's wife and previously PKR president before Anwar returned to the post.
Chin also highlighted the neeed for a complete mindset change on to the position of Islam and the politicisation of Islam, saying that the current attitude where Islamic agencies refuse to participate in inter-faith issues is not sustainable and inflames religious tensions.
"Giving the non-Islamic faiths an official platform, such as a dedicated ministry, would provide a forum for rational discussion of inter-faith issues," said the former senior fellow in Jeffrey Cheah Institute on South-east Asia.
This comes as Chin said the rise of political Islam and the religion's bureaucratisation have produced a brand of intolerant Islam that promoted the narrative of Muslims versus non-Muslims here.
In his report, Chin also listed two other challenges for the PH administration: to address the Malay agenda and Bumiputera policy, and the Malaysia Agreement 1963.
"Failure to address them is not just politically reckless; more importantly, it retards the process of reform on a range of issues that were promised in the 2018 election," he wrote.
https://www.malaymail.com/news/malaysia/2019/04/04/report-for-pakatan-anwars-succession-and-tackling-political-islam-a-top-pri/1739621
--------
Malaysia police likely behind religion-linked abductions: Inquiry
by Kate Mayberry
6 hours ago
Kuala Lumpur, Malaysia - A Malaysian human rights commission inquiry into the abduction of two people more than two years ago has found that the pair was probably disappeared by the intelligence branch of the country's police.
The three-member panel, which began investigating the cases in October 2017, called on the government to open a new and independent investigation and criticised parts of the official investigation into one of the cases as an "affront to common sense and logic".
The families "need some closure and answers can only be provided by the state", Mah Weng Kwai, a retired Court of Appeal judge who headed the panel of inquiry, said on Wednesday.
"It is believed that those who have been put in charge so far are withholding the answers to these questions or are refusing to undertake a diligent exercise to discover them. Hence, a new and separate task force needs to be set up."
Social activist and Christian Pastor Raymond Koh, 62, was kidnapped by masked men as he drove along a suburban Kuala Lumpur street on the morning of February 13, 2017.
The abduction, captured on CCTV cameras, shocked the country. Koh's disappearance led to the revelation that Amri Che Mat, a Shia Muslim who, like Koh, worked with the poor and underprivileged, had been kidnapped in the northern state of Perlis in November 2016.
A week later, Joshua Hilmy, a pastor, and his Indonesian wife Ruth Sitepu also disappeared in unusual circumstances after leaving their house in Kuala Lumpur. The inquiry also planned to investigate their disappearances but was not able to in the time allotted.
At the inquiry, Amri's wife Norhayati Mohd Ariffin, wept as Mah offered the human rights commission's apologies for the "grief, anxiety and sadness" that she and her children suffered.
"We would like to see the perpetrators, the ones responsible and involved in this, to be brought to book," said Koh's wife Susanna Liew, after the commission announced its findings.
"We want to see justice and we want the truth to be revealed. We still don't know what happened to our husbands," she added, showing the frustration on the families' part with the lack of progress made by the police.
Police questioning in the immediate aftermath of Koh's disappearance focussed on allegations that he was trying to convert young Muslims to Christianity, Liew and her children told the inquiry.
Norhayati, meanwhile, found herself being asked whether Amri was attempting to spread Shia teachings.
Islam is Malaysia's official religion but other faiths can be practised in "peace and harmony". About 61 percent of the population is Muslim, and attempting to convert someone out of Islam is a criminal offence. Shia teachings have been labelled "deviant" by the religious authorities.
"Four is not just a number," said Mohammad Faizal Musa, an academic at Malaysia's National University, referring to the four missing people.
"It represents significant religious minorities. There are Christians and there are Shia [Muslims]. It goes back to the Malaysia-Saudi Arabia relationship, to Malaysia's failure to recognise minorities any more and to investment. It is a serious matter." Liew said the families would consider legal action if the government did not act on the commission's findings within six months.
The inquiry took place over 45 days and heard testimony from 40 witnesses, including a lawyer who witnessed Koh's abduction, the police officers in charge of the investigation, Special Branch officers, family members, friends and the now-retired inspector general of police, Khalid Abu Bakar.
Between 1980 and 2016, the UN's Working Group on Enforced or Involuntary Disappearances were informed of only two cases of enforced disappearance from Malaysia.
Koh and Amri's disappearances highlighted an "ugly spectre" in Malaysian life, the lawyers for the families wrote in their final submission to the inquiry.
"The evidence points to circumstances suggesting that the organs of the state either orchestrated the abduction, or supported it; or, at a minimum, had knowledge of the act and stood by to allow the act to occur or continue," the lawyers concluded.
The commissioners were also told how both men were threatened before their disappearances.
After a 2011 fund-raising dinner was broken up by Islamic religious authorities and the police, Koh was sent two bullets in the post. His wife was mailed an envelope, filled with white powder, with the words "We want to kill you" written in Malay.
'Freedom of religion'
The commissioners noted that both men were monitored because of their beliefs and called on the authorities, including the police and Islamic authorities, to respect the "fundamental right to freedom of religion" spelled out in Malaysia's constitution.
The state's mufti visited Amri after he had come to the attention of the religious authorities in Perlis. Norhayati detailed in her police statement that her husband had been monitored by the Special Branch, the intelligence arm of the police, and taken by them without the knowledge of the regular force.
The police did not attend the panel findings, despite being invited, although officers had attended earlier sessions.
During the inquiry, police witnesses often said they could not remember what happened or that they could not reveal details because of the Official Secrets Act.
In their written submissions to the inquiry, which was obtained by Al Jazeera, it said there was no evidence of police involvement, investigations were continuing and any new leads would be followed up.
After the CCTV footage of Koh's abduction was played to the commissioners, showing seven vehicles and 15 men kidnapping the pastor, most of the men wearing black balaclavas, former police chief Khalid dismissed the evidence.
"These are all learned from the movies," he said to the amazement of those present. "They try to emulate that."
'Affront'
Khalid set up a special taskforce to investigate the kidnappings, and the police suggested that a drug-smuggling gang involved in a fatal shoot-out in northern Malaysia had taken Koh, saying they had found photos of the pastor while searching the group's house.
During the inquiry, the families' lawyers pointed out inconsistencies in the police account of the incident and the discovery of the photos.
Mah dismissed the police account as "full of inconsistencies and material contradictions" and an "affront to common sense and logic".
The families' lawyers also revealed that a car seen parked outside Amri's house prior to his disappearance was also present at Koh's kidnapping.
The vehicle was traced to a police officer who had worked for the force for 18 years but when the human rights commission sought to interview him, the police said the officer was no longer serving and could not be located.
Full report at:
https://www.aljazeera.com/news/2019/04/malaysia-police-religion-linked-abductions-enquiry-190403062636367.html
--------
Home minister says no plan to amend law to ban unilateral child conversions
04 April 2019
By Azril Annuar
KUALA LUMPUR, April 4 — The government has no plans to add Clause 88A to the Law Reform (Marriage and Divorce) Act, Home Minister Tan Sri Muhyiddin Yassin said in the Dewan Rakyat today.
Clause 88A was proposed by Barisan Nasional (BN) when it was in power to effectively prohibit any religious conversion of minors by one parent when he or she converts to Islam, but was never implemented due to strong public objections.
"Based on the Federal Court and the High Court's decision in 2018, this ministry is aware of the decision to cancel the unilateral conversion for five individuals under 18 years of age," Muhyiddin said in response to Pengerang MP Datuk Seri Azalina Othman Said who raised the issue in the lower House of Parliament.
The home minister said the decision not to proceed was based on a conclusion reached by the Attorney General's Chambers after reconsidering the proposed Clause 88A, which is that it is the judiciary's role to interpret current laws.
"They came to the conclusion that the courts as a judicial body has the freedom to interpret any legal provisions and the decision of the Federal Court is binding to the lower courts," Muhyiddin said.
The Federal Court has since ruled to nullify the 2016 unilateral conversion of Hindu mother M. Indira Gandhi's three children by her ex-husband who converted to Islam and ran away in 2009 with the youngest child who was only 11 months old at that time.
The Indira Gandhi case was not the first incident of unilateral conversions in the country, but the apex court's judgment in January 2018 was groundbreaking for ruling that unilateral conversion of minors are unlawful.
When the case first went to the courts, then prime minister Datuk Seri Najib Razak said that the government might look into amendments to the law and bring it in line with the ruling.
Clause 88A provides for:
(1) Where a party to a marriage has converted to Islam, the religion of any child of the marriage shall remain as the religion of the parties to the marriage prior to the conversion, except where both parties to the marriage agree to a conversion of the child to Islam, subject always to the wishes of the child where he or she has attained the age of eighteen years.
(2) Where the parties to the marriage professed different religions prior to the conversion of one spouse to Islam, a child of the marriage shall be at liberty to remain in the religion of either one of the prior religions of the parties before the conversion to Islam."
Full report at:
https://www.malaymail.com/news/malaysia/2019/04/04/home-minister-says-no-plan-to-amend-law-to-ban-unilateral-child-conversions/1739793
--------
Indonesia village scraps Muslim-only regulation after backlash
Apr 4, 2019
JAKARTA (THE JAKARTA POST/ASIA NEWS NETWORK) - A regulation by a village in Central Java considered discriminatory against non-Muslims has been revoked following an incident that went viral on social media earlier this week.
The agreement, which was enacted in 2015 by the Karet village activity group (Pokgiat) in Pleret subdistrict, Bantul regency, Yogyakarta, banned non-Muslims from residing or owning land in the village.
"We will revise the agreement document and maintain the good points as well as revising the ones considered to be discriminatory to non-Muslims," Pleret subdistrict head Norman Afandi said at a meeting with Yogyakarta Home Affairs Agency head Edhi Gunawan and Bantul Interfaith Forum chairman Yasmuri on Wednesday (April 3).
They visited Karet following an incident in which local residents reportedly refused to rent a house in the village to a Christian family.
"We came here to get more information and to convey Religious Affairs Minister Lukman Hakim Saaefuddin's sympathy to what Pak Slamet has experienced," Mr Edhi said.
The incident occurred last Saturday when Mr Slamet Jumiarto, 42, wanted to move into his rented house in Karet, he added.
On Sunday, Mr Slamet went to the chairman of the local neighbourhood unit (RT) to report his move and to hand over copies of his family card, ID and marriage certificate.
To his surprise, the RT chairman told him he could not live in the village because he was not a Muslim according to Karet village Regulation No. 3/2015.
Mr Slamet, a Roman Catholic, said he tried to meet the village's head to discuss the matter, to no avail.
Instead, he decided to record a four-minute message on WhatsApp and shared it with friends, as well as the secretary of Yogyakarta's governor and Sultan Hamengkubuwono X.
The message eventually reached the secretary of the Bantul regency administration, who promptly went to the Pleret subdistrict hall on Monday to investigate the incident.
"Unfortunately, I did not get a full picture of the incident and suggested a meeting should be held in Karet involving all related parties including the residents, district and regency administrations and the police," Mr Norman said.
They agreed to the meeting on Monday and all parties agreed to revoke the regulation.
"It's all clear now. It's settled. I am relieved," said Mr Slamet who comes from Semarang, Central Java, but has been living in Yogyakarta for years without incident.
Rights advocacy group the Setara Institute said regulations like this paved the way for communities to discriminate against minority groups.
"Discriminatory regulations at the national level trigger the emergence of similar regulations at regional level," Setara's research director Halili said.
The country, he added, had at least 72 discriminatory by-laws spread across 34 provinces, including over 200 minor discriminatory regulations, such as circulars and instruction letters.
Indonesian Communion of Churches secretary-general Rev Gomar Gultom said such regulations were a threat to Indonesia's multi-religious and multi-ethnic society. "We should fight against segregation."
Indonesian Ulema Council's (MUI) secretary-general Anwar Abbas highlighted the importance of introduction when someone from a different faith was about to enter a homogeneous community, saying doing so was necessary to avoid any misconceptions.
Full report at:
https://www.straitstimes.com/asia/se-asia/indonesia-village-scraps-muslim-only-regulation-after-backlash
--------
Mideast
Iran FM says Europe incapable of bypassing US sanctions
4 April 2019
Iranian Foreign Minister Javad Zarif said on Wednesday European powers were incapable of bypassing sanctions imposed on Tehran by the US after it withdrew from the Iran nuclear deal.
Iran and six world powers agreed on a deal in 2015 that severely restricted Tehran's nuclear activities in return for sanctions relief and economic incentives.
However President Donald Trump withdrew Washington from the deal - technically called the Joint Comprehensive Plan of Action (JCPOA) - last May, re-imposing punishing sanctions on the Islamic republic.
The other parties to the nuclear deal - Britain, China, France, Germany and Russia along with the European Union - however insist they remain committed to making the deal work.
"The Europeans at first viewed the JCPOA (nuclear deal) as an achievement, but maybe they were not prepared to, and certainly they were not capable of standing up against US sanctions," Zarif said in an interview with Khamenei.ir, the official website of Iran's Supreme Leader Ayatollah Ali Khamenei.
"We will continue pressing the Europeans to implement their commitments. Europe must know that they cannot shy away from their responsibilities with a few statements and some unaccomplished plans," he added.
Zarif, who was his country's chief negotiator in the negotiations leading to the deal, said that Iran would continue to pressure the Europeans to act on their obligations within the deal but added that "we never had any hopes" in them.
Instead of the western powers the Islamic republic has turned to its traditional partners such as Russia and China, Zarif said, adding "the future of our foreign policy lies in that way."
https://english.alarabiya.net/en/News/middle-east/2019/04/04/Iran-FM-says-Europe-incapable-of-bypassing-US-sanctions.html
--------
Turkish election board rules in favour of partial Istanbul recount
3 April 2019
Turkey's High Election Board ruled on Wednesday in favor of a recount in eight of Istanbul's 39 districts after President Tayyip Erdogan's AK Party (AKP) appealed results across the city.
Speaking to reporters in Ankara, Guven said that the recount would mostly focus on invalid votes, adding that this was not an unprecedented decision. Appeals to the YSK were still ongoing, he said.
The AKP filed challenges to results throughout the two cities after saying it would use its right to object to the results where there were voting irregularities, adding that errors at the ballots had affected the outcome.
The main opposition, which had earned a narrow victory over the AKP according to initial results, had appealed the recount, prompting the YSK to halt them late on Tuesday.
President Tayyip Erdogan's AK Party submitted objections to election results in all districts of Turkey's commercial hub Istanbul and capital Ankara as initial results showed it was on course to lose control of both cities.
The election setback may complicate Erdogan's efforts to combat the economy's slide into recession.
Full report at:
https://english.alarabiya.net/en/News/world/2019/04/03/Turkey-says-votes-in-eight-Istanbul-districts-to-be-recounted.html
--------
Iran: EU trio seeking to appease Trump rather than defy US 'economic terrorism'
Apr 3, 2019
The Iranian foreign minister has hit out at the three European powers for failing to counter the US "economic terrorism" against Tehran, saying they are instead turning the spotlight on the Islamic Republic's missile program to appease Washington.
In a tweet on Wednesday, Mohammad Javad Zarif pointed to the US withdrawal from the nuclear deal between Iran and world powers, known as the Joint Comprehensive Plan of Action, and lamented the EU trio's failure to show a political will against Washington's pressures.
"A year after US' unlawful abrogation of JCPOA, Europe can't muster political will to defy US' #EconomicTERRORISM. Not even by setting up a single banking channel for humanitarian aid," said the tweet.
US President Donald Trump announced in May last year that he was quitting the JCPOA because of what he claimed was Iran's constant violations. He also announced the reimposition of sanctions that has been lifted against Iran under the JCPOA.
Zarif said the UK, France and Germany would rather seek to appease Trump by pressuring the UN to provide a report on Iran's missile activities than defy Washington's measures.
"E3 are instead busy appeasing @realDonaldTrump by pressuring UN over our defensive capabilities," the tweet added.
Britain, France and Germany are calling for a full UN report on Iran's missile program, claiming the country's missile activities violate UN Security Council Resolution 2231 that supports the Iran nuclear agreement, known as the Joint Comprehensive Plan of Action (JCPOA).
The European trio said in a letter sent to UN Secretary General Antonio Guterres on Tuesday that Iran's launch of a space vehicle and the unveiling of two new missiles in February were "inconsistent" with the resolution. The three countries, which are signatories to the JCPOA along with the US and China, asked Guterres to "report fully and thoroughly on Iranian ballistic missile activity" in his next report, which is expected in June.
Iran says neither its space program nor its missile launches are banned under Resolution 2231.
The resolution, adopted in July 2015, terminated the provisions of previous UNSC resolutions against Iran, some of which had imposed restrictions on Iranian missile activities. Such activities are not prohibited under Resolution 2231, which merely calls on Iran "to refrain from any activity related to ballistic missiles designed to be capable of delivering nuclear weapons."
The US asked for the inclusion of Iran's missile program in any deal over Tehran's nuclear program both during the course of negotiations that culminated in the JCPOA and after its conclusion.
Full report at:
https://www.presstv.com/Detail/2019/04/03/592518/Iran-ballistic-missiles-EU-UN-report-US-economic-terrorism-Zarif
--------
Turkey hits back at Pence, says US must choose between NATO ally and 'terrorists'
Apr 4, 2019
Turkey has hit back at the US over an ultimatum for Ankara to stop buying Russian S-400 missile defense systems or risk its NATO membership, saying it is Washington that "must choose" between remaining an ally of Turkey or siding with "terrorists."
Turkish Vice President Fuat Oktay was responding to comments by his US counterpart, Mike Pence, at an event in Washington marking the 70th anniversary of the NATO military alliance on Wednesday.
During the forum, Pence delivered a strong warning to NATO ally Turkey against the purchase of S-400 air defense systems from Moscow.
Turkey "must choose" between remaining a key NATO member or risk the security of that partnership "by making such reckless decisions," Pence said.
Oktay fired back at Pence in a tweet shortly afterwards and said, "The United States must choose. Does it want to remain Turkey's ally or risk our friendship by joining forces with terrorists to undermine its NATO ally's defense against its enemies?"
The Turkish official was apparently referring to Washington's support for the Kurdish militants operating in Syria near the Turkish border, which Ankara views as "terrorists" affiliated with the homegrown Kurdistan Workers' Party (PKK) fighting for autonomy inside Turkey.
Turkey has, since 2016, launched two military operations inside Syria against the US-backed Kurdish militants and has threatened a third if they fail to leave the east of the Euphrates.
On Monday, the Pentagon halted the delivery of equipment related to the American F-35 stealth fighter jet to Turkey due to the latter's decision to purchase S-400s.
Turkey has signed a $2.5 billion deal with Russia for the purchase of S-400 batteries with the delivery set to begin in July. It has, at the same time, ordered 30 of the F-35 fighters and plans to buy over 100 in total.
Ankara's military deal with Moscow has angered Washington, with Pence saying at the NATO meeting that the US "will not stand idly by while NATO allies purchase weapons from our adversaries."
"Turkey's purchase of a $2.5 billion S-400 anti-aircraft missile system from Russia poses great danger to NATO and to the strength of this alliance," Pence said.
However, speaking at the same event, Turkey's Foreign Minister Mevlut Cavusoglu said Ankara's plan to get Russian S-400s was "a done deal," and "we will not step back from this."
Ankara has long argued that Turkey, as a sovereign state, is entitled to choose its trade partners and arms supplier free from foreign intervention.
Cavusoglu, Pompeo hold talks
On the sidelines of the NATO meeting, Cavusoglu met with US Secretary of State Mike Pompeo in Washington for talks on the main sticking points in Washington-Ankara relations.
In a Twitter post after the meeting, Cavusoglu said he had "constructive" talks with Pompeo "on challenges in our bilateral relations and issues on #Turkey-#US common agenda."
The State Department said in a statement that the top US diplomat had warned of "devastating" results if Turkey strikes Syria.
Full report at:
https://www.presstv.com/Detail/2019/04/04/592535/Turkey-NATO-S400-Fuat-Oktay
--------
Palestinian shot dead by Israeli settler in West Bank
Apr 3, 2019
An Israeli settler has shot and killed a young Palestinian over an alleged stabbing attempt south of the occupied West Bank city of Nablus.
The deadly shooting took place at the Huwara checkpoint on Wednesday. The victim was identified as Mohammed Abdel Moneim Mohammed Abdel-Fattah.
Footage went viral of the victim lying on the ground bleeding after being shot. It shows a number of Israeli settlers and soldiers standing over his body, while two of them search the victim.
According to Israeli media, the Palestinian victim was taken in a military ambulance in serious condition to a hospital, where he was pronounced dead.
The Palestinian Ma'an news agency reported that the Israeli settler had opened fire on the Palestinian under the pretext that he was attempting to carry out a stabbing attack.
Another young Palestinian man, who was standing in the area, was also injured by the gunfire.
The Israeli army said that there were no Israeli casualties in the alleged stabbing attack.
Israeli media reported that an assailant had attempted to open the door of a vehicle driven by an Israeli man to stab his daughter with a knife.
However, witnesses rejected any stabbing attempt, saying that the shooting came after one of the Palestinians – a driver -- got out of his truck because of the closure of the road by the Israeli settler.
The Israeli military regularly opens fatal fire on Palestinians, accusing them of seeking to stab its personnel.
Full report at:
https://www.presstv.com/Detail/2019/04/03/592476/Israel-Palestine-Nablus
--------
Africa
Situation tense in Libya as General Haftar forces move toward govt. positions
Apr 4, 2019
Forces loyal to Libyan strongman Khalifa Haftar have started advancing on the country's western cities and districts, with reports of skirmishes in the south of the capital, Tripoli, which is controlled by Libya's internationally-recognized government of Fayez al-Sarraj.
The media office of Haftar's self-proclaimed Libyan National Army (LNA) announced in a statement on Wednesday that the advance on the country's west was meant to root out what it called "terrorist groups" in the restive region.
"In fulfillment of his (Haftar's) orders, several military units moved to the western region to purge the remaining terrorist groups located in their last hideouts," the LNA said in the statement.
The office also published a video showing a convoy of armored vehicles and pickup trucks with heavy guns mounted on them on a road, which appeared to be on the coastline along the eastern city of Benghazi.
Government issues alert to security forces
The deployment prompted the Tripoli-based Government of National Accord (GNA), administered by Sarraj, to declare a "general alert" to all Libyan army and security forces.
Sarraj said he had ordered pro-government forces to prepare to "face all threats... from terrorist groups, criminals, outlaws, and all who threaten the security of every Libyan city."
The Tripoli government denounced the move as an "escalation" and called on Haftar's forces to "stop using the language of threats."
Additionally, LNA spokesman Ahmed al-Mismari said clashes had erupted between forces loyal to Haftar and those allied to the GNA near Gharyan, a town south of Tripoli.
"Right now, there are clashes south of Tripoli... in Gharyan," Mismari told Saudi television channel Al-Arabiya on Wednesday evening.
In January, the LNA started a military campaign to take control of Libya's south and its oilfields.
Haftar's advance order came less than a month after he met with Sarraj in the United Arab Emirates, where they agreed on ending military operations, peacefully ending transitional phases, and going to elections.
The United Nations is holding a conference this month in the southwestern Libyan city of Ghadames to discuss a political solution to the conflict and stabilize the oil-rich North African country.
Libya has been the scene of increasing violence since 2011, when former dictator Muammar Gaddafi was toppled from power after an uprising and a NATO military intervention. His ouster created a huge power vacuum, leading to chaos and the emergence of numerous militant groups.
Libya is now divided between two rival governments — one in the east and another in the west. Haftar is presumably loyal to the one in the east.
https://www.presstv.com/Detail/2019/04/04/592547/Libya-Khalifa-Haftar-forces-moving-east
--------
German charity ship rescues 64 migrants off Libya
4 April 2019
A German charity rescue ship has picked up 64 migrants, including women and children, stranded off Libya while trying to cross the Mediterranean for Europe.
The Watch the Med association said it received a call for help from the stricken inflatable at around 0830 GMT on Wednesday.
"The authorities were unreachable," Watch the Med said of the Libyan coastguard charged with search and rescue operations in the zone off Zouara.
Charities frequently accuse the Libyan authorities of failing to rescue migrants, while rights groups say migrants face abuses in Libya.
Instead, German charity Sea-Watch's Alan Kurdi rescue vessel went to rescue the migrants.
"They're all safe and sound on board our vessel," Sea-Eye said.
"The Libyan coastguard is not answering or rescuing."
Italy refuses port
Italy's interior minister said that he won't offer safe harbor to the 64 migrants rescued off Libya by the German group Sea-Watch.
Sea-Watch tweeted that the people brought to safety from a rubber dinghy included 10 women, five children and a newborn baby.
The group said it carried out the rescue off the coast of Zuwarah west of the capital Tripoli after Libyan authorities could not be reached. Sea-Watch is asking Italy or Malta to open a port to the rescue ship, the Alan Kurdi.
Full report at:
https://english.alarabiya.net/en/News/north-africa/2019/04/04/German-charity-ship-rescues-64-migrants-off-Libya-.html
--------
URL: https://www.newageislam.com/islamic-world-news/indian-christians-see-hindu-conspiracy/d/118227
New Age Islam, Islam Online, Islamic Website, African Muslim News, Arab World News, South Asia News, Indian Muslim News, World Muslim News, Women in Islam, Islamic Feminism, Arab Women, Women In Arab, Islamophobia in America, Muslim Women in West, Islam Women and Feminism