New Age Islam News Bureau
13 Sept 2019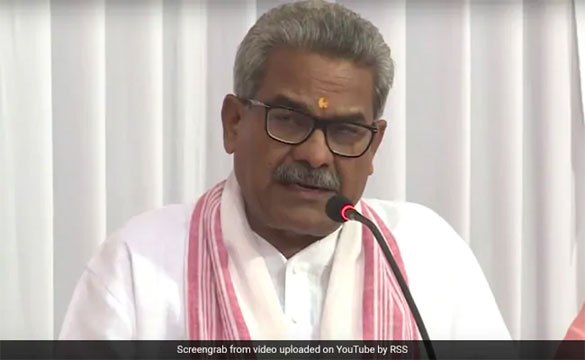 Krishna Gopal said all other minorities which are lesser in number compared to Muslims feel secure (File)
------
• India Never Compromised On the Principles of Vasudhaiva Kutumbakam Hence Over 16 Crore Muslims in India, Have Nothing to Fear: RSS Leader
• Zakir Naik Spews Anti-India Hate, Compares Kashmir To Palestine
• 'Your 9/11 Is Our 24/7,' Say Afghans after 18 Years of War: Those Who Welcomed the Invasion Question US Intentions and Feel Disappointed
• Constitution Does Not Specify Islam as Exclusively Sunni and Shafie, Human Rights Commission of Malaysia Says
• A Forgotten Camp In Syria Could Be The Birthplace Of ISIS' Revenge Generation
• Under PTI, A Better Law for Pakistan's Christians
• Foreign Banks Risk Losing Dollar Access under Expanded U.S. Counter-Terror Powers
• Sales Of Scotland's Islamic Tartan Surge Amid Questions Of Religious, National Identity
• Mali Jihadists Say Attack On Passenger Bus Was Targeting French Troops
India
• India Never Compromised On the Principles of Vasudhaiva Kutumbakam Hence Over 16 Crore Muslims in India, Have Nothing to Fear: RSS Leader
• Zakir Naik Spews Anti-India Hate, Compares Kashmir To Palestine
• Allow NC Leaders To Meet Omar, Farooq Abdullah: High Court To J&K Govt
• Archbishop of Canterbury Prostrates At At Jallianwala Bagh Massacre Site
• Ayodhya hearing: Muslim parties rubbish Nirmohi Akhara's claim on namaz
• Muslim parties support Akhara's priestly rights
• J&K police foil terror plot, 3 Jaish terrorists arrested
• Any peace process in Afghanistan should have 'full consent' of its people: India
• 39 days after lockdown, restrictions lifted from entire Jammu and Kashmir
• Tabrez Ansari case: Statements of witness, case diaries rebut police version
• Any peace process in Afghanistan should have 'full consent' of its people: India
--------
South Asia
• 'Your 9/11 Is Our 24/7,' Say Afghans after 18 Years of War: Those Who Welcomed the Invasion Question US Intentions and Feel Disappointed
• Sheikh Hasina Blames Myanmar for Rohingya Repatriation Failure, Says Country Failed To Win Trust Of Muslim Minority
• Dostum proposes 6-month plan to Govt, U.S. and NATO to defeat Taliban
• 10 Taliban militants killed, wounded in Ghazni airstrikes and ground operations
• Taliban bomb attack kills security forces in Afghan capital after collapse of peace talks
• Taliban car bomb blast kills four Afghan Special Forces in Kabul
• Airstrikes kill 12 Taliban and ISIS-K militants, destroy multiple caches of weapons
• Anisul: Amending Hindu inheritance law demand of time
• Pakistani Ambassador warns of 'surge in violence' if U.S.-Taliban talks did not resume soon
--------
Southeast Asia
• Constitution Does Not Specify Islam as Exclusively Sunni and Shafie, Human Rights Commission of Malaysia Says
• Disagreeing With Shia Islam Not Enough To Justify Raids, Says Rights Group
• Maszlee: Include Topic About Shiah In Islamic Education? We Will Discuss With Penang Mufti
• Indonesia joins Saudi call for OIC to thwart Israeli annexation plan
--------
Arab World
• A Forgotten Camp In Syria Could Be The Birthplace Of ISIS' Revenge Generation
• UN Experts Call for Repatriation of IS-Linked Children and Mothers in Syria
• Syria, US-led coalition may have committed war crimes: UN report
• New sanctions could extend to allies of Hezbollah in Lebanon: US envoy
• Saudi Arabia sentences Shia clergyman to 12 years in prison, imposes travel ban on him
• War in Syria has come to end, long-lasting settlement of crisis needed: Russian FM
• US rejects UN suggestion its Syria air strikes could constitute 'war crimes'
--------
Pakistan
• Under PTI, A Better Law for Pakistan's Christians
• Pakistan expected to be 'Black Listed' by FATF in October
• Pak PM Imran Khan to visit Saudi Arabia again amidst India-Pak tensions
• Army committed to capacity building of Saudi land forces, says COAS
• Unfair to blame Pakistan for US setbacks in Afghanistan: Imran
• IHC fixes disqualification plea against Fawad Chaudhry for hearing
--------
North America
• Foreign Banks Risk Losing Dollar Access under Expanded U.S. Counter-Terror Powers
• Jihadis celebrate 9/11 anniversary, vow to strike America again
• Lawmaker urges US govt to press India over situation in occupied Kashmir
• US: New exhibition depicts 'War on Terror from Muslim eyes'
• Israel accused of placing spy devices near White House: Report
• US force posture in Syria unchanged: Pentagon
• Trump: I do not believe Israelis spied on US
• Saudi official in 9/11 case to be named: report
• US offers $5M for information on al-Qaeda leaders
• Afghan Taliban launch another bombing after Trump warning
• Emirati arrested at gunpoint in US over 'shameful' claim he supported ISIS settles legal case
--------
Europe
• Sales Of Scotland's Islamic Tartan Surge Amid Questions Of Religious, National Identity
• Swiss Revoke Citizenship From Dual-National Islamic State Recruiter
• Local community calls for change to Muslim portrayal in media
• Russia-Israel relations have 'new quality': Putin
• Greece: Students protest state-appointed Muslim cleric
• UK appoints Muslim 'freedom of religion' envoy
--------
Africa
• Mali Jihadists Say Attack On Passenger Bus Was Targeting French Troops
• Sudanese on the streets, call for new judicial appointments
• Islamists Kill Nine Soldiers In Northeast Nigeria
• Libyan Air Force shoots down three Turkish drones in Misrata
• 22,000 missing in decade-long Boko Haram terrorism in Nigeria: Red Cross
• Sudan, South Sudan leaders vow to seek peace in their troubled nations
• Arrests, intimidation and influence in play as Tunisia faces election on Sunday
• Turkey decorating historic mosque in South Africa
• Al-Shabaab militants kill 3 KDF soldiers in latest rocket attack
• Somali military court hands death sentence, jail term to Al-Shabaab militants
--------
Mideast
• What Israel's Jordan Valley Annexation Plan Means For A Palestinian State
• Turkish Families Seek Answers over Relatives' Disappearances
• Netanyahu bot gets Facebook 'hate speech' suspension
• Israeli parties vie for Arab vote in bid to oust Netanyahu
• Erdogan adviser criticizes Saudi Arabia for 'favoring non-Muslims over Turkey'
• AQAP and Islamic State resume fighting in Yemen
• Israel minister: US official said no change on Iran sanctions
• Israeli PM Netanyahu: Rocket attacks make new war in Gaza inevitable
• Explosion on a road in southeast Turkey kills 4, wounds 13
Compiled by New Age Islam News Bureau
URL: https://www.newageislam.com/islamic-world-news/india-compromised-principles-vasudhaiva-kutumbakam/d/119735
--------
India Never Compromised On the Principles of Vasudhaiva Kutumbakam Hence Over 16 Crore Muslims In India, Have Nothing To Fear: RSS Leader
By Akhilesh Sharma
September 11, 2019
NEW DELHI: Rashtriya Swayamsevak Sangh joint general secretary Krishna Gopal on Wednesday questioned the view that Muslims "are afraid" in India while other minorities such as Parsis, Buddhists and Jains, who are fewer in number, feel secure.
The RSS is the ideological mentor of the ruling BJP and Mr Gopal is in-charge of coordination between the two.
Mr Gopal said India never compromised on the principles of Vasudhaiva Kutumbakam (entire world is one family) and sarve bhavantu sukhinah (all should be happy). It even wanted Pakistan to prosper, he said.
Referring to an article written by Islamic scholar Raamish Siddiqui that Muslims should not be afraid as they are more than 16 crore in the country, Mr Gopal said "it is a big question" why such a mindset exists.
"How many Parsis are in India... hardly 50 thousand, Jain 45 lakh and about 80 lakh Buddhists are there...Jews are only five thousand. They are not afraid of anyone," he said.
"Muslims are more than 16 crore then why are they afraid... Why and from whom? This is a big question that the community which ruled the country for 600 years is afraid... it should be discussed," he said.
Mr Gopal said all other minorities which are lesser in number compared to Muslims feel secure in India.
The RSS leader was speaking at a conference on Mughal prince "Dara Shikoh - icon of composite culture".
Describing Dara Shikoh as a champion of inclusiveness, Mr Gopal said he was a true Muslim and translated Upnishads into Persian languages. He underlined that inclusiveness and unity have always been integral and essential part of Indian culture.
Many people from various countries and religions came to India and this country made them their own, he said.
Union Minister Mukhtar Abbas Naqvi, who also addressed the conference, said Aurangzeb was a "symbol of terrorism", while his brother Dara Shikoh was the "identity of nationalism".
"Violence and oppression committed by anarchist and cruel ruler like Aurangzeb was glorified by group of Islamic fanatics, Leftist and so-called secular historians," Mr Naqvi said adding that Aurangzeb's philosophy was to destroy human values and India's "Sanatan Sanskriti".
"This same thinking gave birth to terror organisations like Al Qaeda, ISIS, Jaish-e-Muhammad, Lashkar-e-Taiba," he said.
https://www.ndtv.com/india-news/krishna-gopal-rss-over-16-crore-muslims-in-india-have-nothing-to-fear-2099485
--------
Zakir Naik spews anti-India hate, compares Kashmir to Palestine
Munish Chandra Pandey
September 12, 2019
Islamic preacher Dr Zakir Naik has released an anti-India hate statement targeting Prime Minister Narendra Modi-led government and its decision to scrap Article 370 in Jammu and Kashmir.
Zakir Naik, in the statement, hit out at the Indian government's actions in Kashmir and warned against a Palestine-like situation building up in the state.
Zakir Naik, who is no stranger to controversies and his anti-India stance, said that Kashmir is another Palestine in the making and "Israel is giving tutorials to India on Kashmir".
Zakir Naik said that Kashmir's current situation is an "action of hatred by the right-wing extremist Bharatiya Janata Party [BJP] government". Talking of Article 370, Zakir Naik said that Kashmir was "singled out for being a Muslim-majority state".
In his statement, Zakir Naik detested "pumping in a million armed personnel" and called it an "act of war by the the BJP government against the biggest Muslim community in the country".
Zakir Naik also went on to claim that Kashmiri youth are being arrested and "sent to undisclosed jails in and outside Kashmir". Zakir Naik, elaborating his statement said, "Every detainee is reported to being subject to extreme torture that lasts for hours. There are reports of beating with sticks and rods and electrocution for hours at a stretch."
"There are also reports of Indian soldiers firing at and killing women and children passing by. But as usual, the Indian government continues to deny the deaths and injuries or any wrongdoing by the Indian military," Zakir Naik claimed.
Zakir Naik said that the BJP and Rashtriya Swayamsevak Sangh's (RSS) have admiration for Isreal and how "Israel is giving tutorials to India on Kashmir".
Zakir Naik targeted Modi government's decision to scrap Article 370 in Jammu and Kashmir calling it "Modi government's atrocities on Kashmiris".
Zakir Naik in the past has made similar claims in his anti-India hate statements. Zakir Naik is wanted in India for fuelling terrorism.
Naik reportedly left India in 2016 and subsequently moved to Muslim-majority Malaysia, where he was granted permanent residency.
https://www.indiatoday.in/india/story/zakir-naik-kashmir-palestine-modi-rss-bjp-1598514-2019-09-12
--------
'Your 9/11 Is Our 24/7,' Say Afghans after 18 Years of War: Those Who Welcomed the Invasion Question US Intentions and Feel Disappointed
SAYED SALAHUDDIN
September 13, 2019
KABUL: Exhausted by protracted fighting and lawlessness, some Afghans had hoped the US decision to invade Afghanistan to topple the Taliban in response to the Sept. 11, 2001 attacks would lead to peace and stability. Eighteen years on, some of those who welcomed the invasion question US intentions and feel disappointed. They argue that the country is more divided and bloody than ever, has weak government, a rampant narcotics trade and that extremism has soared, with the nation's fate looking bleak.
"I was one of those people who hailed them (the US) because they had created the perception that they will fight terrorism, bring us democracy, peace and an accountable government," Humaira Ayoubi, a former MP from western Farah, told Arab News.
"They drove the Taliban from power within weeks. How come 18 years on, despite their vast resources, technology and military might, the Taliban are back in control of more ground than the government in my province? Where is the rule of law, justice, peace and good governance?"
She said ordinary people in her constituency who also supported the arrival of US-led troops at the time now say Washington "has a hidden agenda — it can easily win the war, but does not want to, because it wants to remain in Afghanistan."
Even former Afghan President Hamid Karzai, who came to power with US help after Taliban's fall, has claimed that Washington uses "terrorism" in Afghanistan as an excuse to remain in the country.
US leaders say they have no secret agenda in Afghanistan, and do not wish to maintain a long-term military presence there.
Ayoubi said she and others had clearly told US diplomats and generals that they were pursuing the wrong policy in Afghanistan by not hitting the Taliban in neighboring Pakistan.
Nearly 3,000 people lost their lives during the Sept. 11 attacks, carried out by a group of Al-Qaeda operatives who flew planes into the twin towers of the World Trade Center in New York, and the Pentagon in Washington, DC. A fourth plane, also bound for the US capital, crashed en route in Pennsylvania.
Al-Qaeda leaders were protected by the Taliban in Afghanistan, which led to the subsequent invasion following the attacks. Since then, countless Afghan civilians have been killed in Taliban attacks and offensives by US and government forces.
Waheed Paikan, a journalist working for the BBC in Kabul, has tried to point out to the world the scale of the deaths caused by the war in Afghanistan. On the 18th anniversary of the Sept. 11 attacks, he tweeted: "Your 9/11 is our 24/7!"
Wahidullah Ghazikhail, who runs the Center for Studies and Research think tank in Kabul, said US leaders had given Afghans bogus promises for "justifying" the invasion.
"Eighteen years later, the situation is not like Afghans hoped at the beginning. Women's rights, freedom of speech and the freedom of the media were justification for America's invasion. Our forces are weak and without NATO and American troops they cannot defend us," he told Arab News.
He said Afghans needed to know why, despite the continued US presence, the Taliban had become strong again, and other militant groups such as Daesh had emerged in recent years.
Meanwhile, a Taliban suicide bomber detonated a vehicle laden with explosives at an Afghan army outside Kabul on Thursday, killing 4 troops, government officials said.
The attack was the first by the group since US President Donald Trump called off peace talks at Camp David this week.
https://www.arabnews.com/node/1553816/world
--------
Constitution Does Not Specify Islam as Exclusively Sunni and Shafie, Human Rights Commission of Malaysia Says
12 September 2019
BY JERRY CHOONG
KUALA LUMPUR, Sept 12 — The definition of Islam according to the Federal Constitution should be left broad and not confined to any one interpretation for the sake of a peaceful co-existence, the Human Rights Commission of Malaysia (Suhakam) said today.
Its commissioner Datuk Seri Mohd Hishamudin Md Yunus said Article 3 of the Constitution establishes Islam as the religion of the federation, but does not provide any specify anything beyond that, including denomination or school of jurisprudence.
"It does not say whether it should be Sunni Islam, and if so which mazhab (school of jurisprudence).
"So in my personal view it should not be confined to Sunni Islam, especially in relation to the Sunni-Shiah divide," Hishamudin, a former Court of Appeal judge, said during Suhakam's 20th anniversary forum at Istana Hotel.
In Malaysia, only the Sunni denomination of Islam and its Shafie school of jurisprudence are considered official by Putrajaya.
Other minority denominations such as Shiah and Ahmadi, and also the so-called "liberal Islam", are considered deviants.
As the constitutional definition of Islam is broad, he said it would be best interperted in the spirit of the Amman Message, which was issued in 2004.
"At the time we had a large delegation headed by then prime minister Tun Abdullah Ahmad Badawi, and he endorsed it.
"If you look at the message, it tries to reconcile all the various sects in Islam. We should not go to the extent of saying my Islam is better than yours, or that you are a heretic. Instead let us all recognise one another," Hishamudin said.
The Message is a statement pleading for the Muslim world to practice tolerance and unite with each other, issued by King Abdullah II of Jordan. It was subsequently endorsed by over 200 Islamic scholars from over 50 nations worldwide.
However he also acknowledged that as long as the constitutional definition of Islam remains broad, issues such as the recent raids by the Selangor Islamic Religious Department at a Shiah event in Gombak on Saturday will continue into the future.
"This is unless somebody decides to challenge the definition, and manages to bring it up all the way to the Federal Court.
"Although Islamic issues fall under the purview of the state governments, it is possible to bring it to the Federal Court, since the right to exercise one's religion falls under the Constitution," Hishamudin said.
In so exerting this right, the challenge is not brought to the Sharia Court but the Civil or High Court instead, leading up to the Federal Court. The commissioner also noted that up until today, the constitutional definition of Islam has not yet been challenged in court.
"Again, in my personal point of view, the Shiah raids must stop. As long as they practice Islam in peace and follow the law of not spreading their teachings to other Muslims, there should be peaceful co-existence.
"The Message recognised the Shiah Ja'fari and Zaydi mazhabs as valid, so why should not our state authorities also recognise it as such," Hishamudin said.
https://www.malaymail.com/news/malaysia/2019/09/12/constitution-does-not-specify-islam-as-exclusively-sunni-and-shafie-suhakam/1789835
--------
A forgotten camp in Syria could be the birthplace of ISIS' revenge generation
By Arwa Damon, Kareem Khadder and Brice Laine
September 12, 2019
Al-Hol, Syria (CNN)The market at al-Hol camp is a sea of unidentifiable figures clad in black, clutching their children's grubby hands as they drag them past those haggling their wares.
A CNN team approaches a group of Iraqi women. Our request to talk to them sparks debate. "Sisters, don't say anything," one woman warns the rest of the group.
"No, sister, we have a right to speak," another retorts.
They talk over one another, pouring out a litany of grievances. The children are starting to steal. They don't have money. The conditions are wretched. They want to go home.
Al-Hol is a sprawling encampment for those displaced from the former ISIS territory in northeastern Syria. Wind and sand blow mercilessly against tents in the scorching heat of the Syrian summer.
About 15% of the inhabitants here are foreigners, but the international community has for months neglected the camp. And as living conditions worsen, nostalgia for ISIS' rule is beginning to brew.
The camp's population rocketed from 9,000 to 70,000 after ISIS made its last stand in the Syrian town of Baghouz in March. Weeks of battle led to a large outflux of displaced people, mostly the families of ISIS fighters.
Around 50,000 of the camp's inhabitants are children, and most of the rest are women. They are the ones who held out in the rapidly shrinking so-called caliphate until the very end.
And while some of the mothers have tried desperately to find a way out of the camp, many are trying to bring their fundamentalist utopia back to life.
"We started to notice that the new arrivals were very well organized," says Mahmoud Karo, who is in charge of the camps in northeastern Syria's Jazira district. "They organized their own moral police. They are structured."
Draconian laws
Beneath a cloak of secrecy, the radical women inhabitants have continued to enforce the draconian laws of the former so-called caliphate.
They police women's allegiance to ISIS, punishing those suspected of wavering in their support for the extremist group.
Adherence to fundamentalist dress codes is closely supervised with sometimes lethal punishment meted out to those who fall out of line.
"The camp is the best place to develop the new ISIS. There is a restructuring of the ISIS indoctrination," says Karo. "You can't differentiate between who is ISIS and who isn't."
Tracking down the perpetrators is difficult, he says. The women, cloaked in niqab, are nearly impossible to identify. They change tents frequently to avoid capture.
A Pentagon report by the inspector general, released last month, warned that the US and its local allies have been unable to closely monitor movements inside al-Hol. A drawdown of the US military presence in the area has allowed "ISIS ideology to spread 'uncontested' in the camp," the report found.
Growing extremism in al-Hol runs parallel to signs of ISIS' resurgence elsewhere in the region.
ISIS attacks in northwestern Iraq, where the group formerly ruled large swathes of territory, are becoming more frequent, and the group has claimed responsibility for other attacks in the region in recent months.
US Secretary of State Mike Pompeo has acknowledged the trend, stating last month that there are "places where ISIS is more powerful today than they were three or four years ago."
Kurdish camp officials describe al-Hol as an "ISIS academy." The place is a toxic blend of those intent on incubating ISIS' ideology and those who want to leave their past behind.
A glaring lack of international involvement and neglect has allowed extremism to thrive, camp officials say.
Around 10,000 people in the camp are foreign nationals from elsewhere in Asia, Africa, Europe and North America. Very few have been repatriated. Bringing them back to their home countries is not something politically popular in Europe and abroad.
'With the infidels'
Women in the camp marketplace say their ultimate priority is securing the release of their detained husbands and teenage sons who are being held by the Syrian Democratic Forces.
"I tell my children their father is with the infidels," one woman tells CNN.
"If the prisoners are released, then maybe our hearts and the hearts of our children will sympathize with you," she tells us. "But if the prisoners aren't released, the hatred will grow with the women and children."
Another woman says she does not know what has happened to her detained teenage son. The situation has driven her to the edge of madness.
"If the men aren't released, the women will become the biggest cell," she says.
Extremists and escapees
After fleeing Deir Ezzor for al-Hol with his wife and children three years ago, Abdel Qader Mohammed opened a barber shop in a small cement-and-brick room in the camp.
One of the camp's first inhabitants, Mohammed arrived before the influx of those who had stayed on with ISIS as the group made its last stand. He is one of the few men in the place -- and the only person we met who was willing to speak out against ISIS.
"I came here to escape ISIS and now we are in a camp full of ISIS," he says. "We can't talk to the ISIS people here. Even [as] we cut hair, they start telling us that we are infidels."
In one of the tents, a woman says she is desperate to get out of al-Hol's stifling atmosphere. But there is no rehabilitation program for people in the camp, and no effort to separate extremists from those who reject ISIS.
One Telegram chat group has turned the al-Hol "death camp" into a rallying cry for ISIS. In Arabic, English, French and Turkish, it details what they call "atrocities" committed by the "pig enemies of Islam" and calls on the "lions" -- a reference to extremist fighters -- in northeastern Syria to "wake up."
In July, a woman calling herself Umm Bakr al-Ansariya issued a well-circulated fatwa, an Islamic decree, demanding that Muslim aid workers wear the Niqab, and threatened those who defied the order with "punishment by the sword."
In the same month, video posted on social media showed the black ISIS flag being raised in the Syrian section of the camp.
"It's a reaction to the psychological pressure on us," a woman living in the Syrian section of the camp explains. "They should know that more can be done than the raising of a flag."
The foreigners' section
In the foreigners' section of the camp, a little girl with a blond ponytail zips around a playground on a toy scooter. She plays with other children, a mix of Europeans, Asians and Africans.
"Are you scared of us?" a 23-year-old German woman asks.
"Should I be?" I reply.
"I am just asking," she says, wondering aloud why her country won't take her back. She says she no longer wants to live by the rules of the so-called caliphate.
"This isn't a camp. It's a prison," she says.
Residents here say they live in fear of the camp's ISIS vigilantes. Another woman tells us her tent was burnt down. Her friend says she's so afraid of being stabbed she barely sleeps.
One foreign woman strangled her niece for removing her niqab, while another was beaten for cleaning in front of her tent without a niqab, Karo says.
Caliphate captives
Outside the camp, a prison controlled by the predominantly Kurdish, US-backed Syrian Democratic Forces (SDF) offers a starkly different scene.
Detained ISIS fighters are indulged in painting and creating papier mâché models. Around a dozen of them crouch over a long table, crafting a miniature football stadium, houses, cars, animals and flowers.
The walls are lined with other creations: a model town with twinkling lights, a mosque, a church.
"We're making this from nature," detainee Ali Othman says with a chuckle. "Can you help us?"
Othman says that ISIS held his family hostage in Raqqa, the former seat of their power, and coerced him to join their ranks. He was tasked with planting bombs in another town.
One day, he received a plastic bag that exploded, taking his right hand. He covers it with a glove these days. He is serving 20 years, the maximum sentence.
There is no death penalty here and prisoners can get early release for good behavior -- unlike authorities in Damascus and Baghdad, Kurdish forces are banking on leniency.
They are also trying to separate extremist inmates from those who appear to have parted ways with their pasts -- a policy that is not being applied in al-Hol.
Some of the detainees claim they were arbitrarily detained. Others say they are innocent but were turned in by family members who themselves were members of ISIS. Some, like Othman, admit to joining but claim they had little choice.
Rehabilitation, recovery
Nearby, at the al-Houri Rehabilitation Center, scores of teenage boys are either serving ISIS-related sentences or have been identified as having radical tendencies.
"Abdullah," 15, says he joined ISIS when was 12 years old. We're calling him Abdullah to protect his identity. It is not his real name. He trained for months before being dispatched on his first mission: to plant explosives at a US base.
"They brought us sticky bombs to place under the fuel tanks of the vehicles," he remembers. "We got suicide vests and weapons. We put the vests on and took our weapons and then wore women's niqabs to hide everything."
The operation failed and he ended up in prison. Later, he was transferred to the rehab center. "I was able to distance myself. It was a mistake. I learned from it," he said.
Other children show visible signs of trauma. One child, "Hassan," was the son of an ISIS emir who used to behead people and give the heads to Hassan to use as soccer balls. Hassan is not his real name, but one we are using to protect his identity.
In the rehab center, "Hassan" is a recluse; he does not want to be interviewed.
The center's administrator, Musab Mohammed Khalaf, does not know if he will ever truly recover.
The rehab center is trying to provide basic psychological support to help Hassan and others recover. But resources are limited, and the trauma is more than can be imagined. It's anyone's guess as to how much the ISIS indoctrination can be removed from a teenage mind.
"If the situation stays like this and nations don't help, ISIS will come back," Khalaf warns. "We hear about it, the sleeper cells, they take advantage of the children, trying to recruit them."
The al-Hol camp is a desolate, miserable place nations want to wish away. It stands as a legacy of yesterday's war.
And that is what makes it uniquely dangerous, because if it is allowed to fester, this sprawling camp contains the seeds of the next war, of ISIS' revenge generation.
This story has been updated, and the name of the rehab center has been corrected.
https://edition.cnn.com/2019/09/12/middleeast/syria-al-hol-camp-isis-intl/index.html
--------
Under PTI, a better law for Pakistan's Christians
Yaqoob Khan Bangash
September 13, 2019
In the upcoming session of the National Assembly, the Minister for Human Rights Shireen Mazari is supposed to present a proposed Christian Marriage and Divorce Act, 2019 for adoption. If passed, this bill will repeal and replace the Christian Divorce Act, 1869 and the Christian Marriage Act, 1872.
After nearly 150 years, the laws governing Christians in Pakistan might be revised. Christians may make a mere five per cent of the population of Pakistan, but these two laws deeply affected the lives of almost all of the four million strong Christian population in the country, and it is high time that they are updated.
Ameen Masih case
The impetus for a change in the law started when in late 2016, a Christian by the name of Ameen Masih approached the Lahore High Court for relief. His prayer was not related to any discrimination by the majority community, or lack of basic rights, or even a plea for protection against an often-misused law. He approached the court in order to be able to seek a divorce from his wife without accusing her of adultery.
In his petition, Masih contented that while his marriage had broken down, he did not want to allege that his wife had committed adultery to obtain a divorce. He prayed that Section 7 of the Christian Divorce Act, which stipulated that the then Indian courts follow the position of the English Divorce courts, should be made available to him, under which the provisions of the English Matrimonial Causes Act 1973 would apply, permitting him to get divorce from his wife on the grounds of the breakdown of marriage.
Section 7, however, had been omitted from the Act by the Federal Laws Ordinance, 1981 under General Ziaul Haq, and since then the main grounds for divorce for Christian men remained very limited and largely involved an allegation of adultery or conversion.
Thus, the petitioner argued that such a situation was not only against fundamental rights, but also forced the petitioners to lie. Masih's petition brought to the fore critical issues related to the Christian Divorce Act and the Christian Marriage Act, those nearly 150-year-old statutes that had continued almost untouched in Pakistan despite independence.
The British and personal law
These two laws were the result of British legislation during the Raj. When the British came to India, they saw it as a set of different religious communities, ignoring other distinctions of caste, region, ethnicity.
Problematic as this ordering was, it gave rise to the notion of personal law in India. This meant that in 'personal' matters — marriage, divorce, custody, inheritance — the religious law of a particular community would be followed, while in other matters, common law would prevail.
This was, of course, a major limitation for well-formulated codes like the Sharia, but short of picking the law of a certain religious community wholesale and imposing it on the rest of India, the British thought that this was the most suitable manner in which religious sensibilities could be assuaged and also a common code devised for civil and criminal matters that do not come under the purview of personal law.
Thus, in the years following, the British enacted several personal laws which governed different aspects for Parsis, Hindus, Muslims and also Christians. While these were religious pronouncements in a certain sense in that they regulated affairs according to religious principles, they were not religious laws per se.
In other words, these laws did not obliterate the different emphasises and interpretations of various sects within a religion, but created a general parameter within which interpretation of law could occur for members of a particular religious community. Case law was then supposed to further fine tune these provisions, and also allow for different interpretations between sects.
In terms of Christian personal law, the two major statutes introduced in India by the British were the Christian Divorce Act, 1869 and the Christian Marriage Act, 1872. Even though Christians were still a very small number in the British Indian Empire at that time, their growing numbers through mass conversions, and issue of irregularities, led to the enaction of these two laws.
Previously, English law directly applied to Christians in India. These new laws also largely followed the then British law, but created a provision for changes to be made if locally desired. The law on marriage recognised the clergy of the Church of England, Church of Scotland and the Catholic Church, while allowing other ministers and even lay people to apply for a licence to solemnise marriages.
The divorce law, again, reflected contemporary England and only allowed it in the case of adultery, bigamy, rape, sodomy, bestiality or a combination thereof with desertion. A section also allowed for a petition for divorce in case of conversion to another religion by a spouse, recognising the local reality in India.
2017 LHC judgment
Returning to the case of Ameen Masih, Justice Mansoor Ali Shah, the then Chief Justice of the Lahore High Court, in his judgment declared that since the 1981 law was under an undemocratic regime, and since no consultations were ever held with the Christian churches or leaders before its omission, the deletion of Section 7 from the Christian Divorce Act, 1869 was unconstitutional.
Therefore, he allowed the petition and permitted Masih to divorce his wife relying on the British law, which permitted it under the irretrievable breakdown of marriage provision.
More significantly, Justice Shah noted that while he had taken the views of the Christian churches in the matter, this law was a state — ie, civil — law that regulated the affairs of a religious community. Hence, it was in no way changing Biblical law (as some were alleging) or forcing any church to accept divorce under its provisions.
Read next: The spatial politics of Lahore's Hindu temples
In fact, the Catholic Church does not recognise divorce at all, and neither this petition nor even the whole Act of 1869 has ever compelled it to accept the concept of divorce. Hence, purely religious law within denominations was not at all affected by this judgement and only the civil aspect was being changed.
While the judgement of Justice Shah gave relief to the petitioner, and made life easier for numerous others, it raised an important point: how could Pakistan, as an independent country, allow the law of another country to be followed with respect to the personal law of a certain community of its own citizens?
Christians in Pakistan are Pakistani citizens and almost 100% of them are of local origin. The small percentage of Anglo-Indians and Goans is also almost wholly Pakistani born, and so there is no reason for an alien connection for their personal law.
Where there are still connections between churches in Pakistan and the United Kingdom, the fact that Pakistani Christians were to be governed by English law in matters of divorce was not only an affront to their Pakistani identity, but also infringed upon their fundamental rights where they, as citizens, should have their laws enacted by their own parliament.
A new law
In the wake of the Masih case, serious attempts were made by the then government of the Pakistan Muslim League-Nawaz (PML-N) to formulate revisions.
Led by Senator Kamran Michael, who was also a minister in the PML-N government, several rounds of consultations were held with Christians. These meetings started in earnest with a large consultation in Islamabad on August 10, 2016 where 38 people participated in the discussion. This was followed by another large discussion forum in Lahore on April 4, 2017 where 56 people participated.
Thereafter, due to the increasingly unstable government and the looming elections, nothing concrete was achieved until the Pakistan Tehreek-i-Insaf government took office.
When the new minister for human rights, Shireen Mazari, came to the helm of affairs, she seriously took up the mantle of finally bringing the changes to light. She restarted the process of consultations and within a period of just about a year, held several consultations with Christian leaders over the Act.
Thus in total, the Ministry of Human Rights held nine such consultative meetings between 2016 and 2019 with members of the Christian community. In all of these meetings, several issues were raised, many revisions suggested and a number of amendments noted to the two Acts.
Simultaneously, several church leaders and Christian civil society organisations also began to hold their own consultations. The National Commission for Justice and Peace (NCJP) formed in 1985 by the Pakistan Catholic Bishops' Conference, the Church of Pakistan and the Presbyterian Church in Pakistan led the way in creating a group of clerics and others, while organisations like the Centre for Social Justice and others brought together civil society leaders and human rights advocates together with religious leaders.
Thus, by the autumn of 2019, it was clear that a lot of work and thought had been given to the issue and a new draft for the Christian Marriage and Divorce Act, 2019 was prepared by the Ministry of Human Rights, keeping in view the several rounds of consultations and suggestions received from Christian leaders and activists throughout Pakistan.
Delicate process
While the consultative process was indeed commendable and the efforts of the Ministry of Human Rights and Minister Mazari laudable, several issues also came to the fore during the consultation process which exhibited its fraught nature.
First, usually an act of this type is shepherded by some members of parliament who either hail from the particular religious community, or represent it, or have a keen knowledge, either academic or practical, about it.
In this case, the parliamentary leadership fell mainly on the shoulders of the Christian members of parliament who had been appointed to their seats by party leaderships. Since these parliamentarians were never actually elected and got their positions through a party list, from the outset their legitimacy was under question.
While they were Christian by religious profession, this was their sole claim to representation. Almost all of them had no background in either social, educational or charity work that would make them stand out as natural leaders. Nearly all of them had risen in the ranks of a party due to patronage rather than support of the grassroots.
MNA Shunila Ruth herself pointed out this problem at a consultation, and noted that the only way she can advocate for Christian (and minority) rights is when she is fully supported by the community. Such support and therefore representation still needs to be worked on.
Moreover, almost all these Christian parliamentarians were unable to understand the nuances of both the Acts and failed to clarify and emphasise the actual nature of the old Acts and the reasons behind the proposed changes. Of course, this has to do with the fact that there are only a handful of Christian members of either the National Assembly or the Senate, and so it would be unfair to expect them to understand the intricacies of a law which is civil but has religious implications.
In-depth: State of fear
Secondly, a major flaw in the process is that it is seen as primarily a religious issue, and so the consultations have focused heavily on Christian religious leaders. While it is true that the law will mainly deal with people professing the Christian faith, yet, as explained above, and very clearly in the judgment of Justice Shah, these laws are civil laws, not religious ones.
Therefore, while consultations with Christian religious leaders are fine, depending on their acquiescence for the proposed changes is not correct. This is because the proposed changes neither affect the particular law of churches and nor do these leaders need to accept these changes.
For example, the Catholic Church, worldwide and also in Pakistan, does not accept divorce. Hence, it has never accepted the provisions of the Christian Divorce Act, 1869 either and nor will it accept any version of it in the future. This is because Catholics around the world and in Pakistan are governed by the Canon Law of the Catholic Church. The same is true for most mainline churches, like the Church of Pakistan and the Presbyterian Church, both of which have their own canon law that regulates such matters.
Furthermore, as has become apparent, any attempt to get a consensus among various Christian religious leaders over marriage and divorce is simply futile. This is because different denominations have very divergent views on the issues of marriage and divorce.
For example, the Catholic Church, as noted above, does not accept the concept of divorce under any circumstances. Instead, it uses the concept of annulment which, after due process, ends the marriage as if it never happened. On the issue of marriage, the Catholic Church sees it as a sacrament ordained by God, which can only be dissolved by death.
The Church of Pakistan, which largely follows the Church of England, also sees marriage as a sacrament but allows for divorce under certain circumstances. However, the Church of Pakistan does not allow for a divorcee to remarry as long as their earlier spouse is still alive. Some Protestant churches also see marriage as an indissoluble covenant and only allow divorce on the basis of adultery. There are also divergent views on remarriage.
Moreover, while the Ministry of Human Rights wholeheartedly invited a very broad cross section of the Christian community for consultation, the reality was that very few of the religious leaders had any real claim of representation, and even among those who did, their numbers varied widely.
For example, the Catholic Church in Pakistan is the largest Christian church in the country, with over 50pc of the Christian population adhering to it. They are followed by the Church of Pakistan which claims another 25pc, while the Presbyterian Church of Pakistan counts another 10-15pc of the Christian population of the country. The rest of the 15-20pc of the Christian population is spread over numerous, perhaps even thousands, of small denominations and house churches, which are almost impossible to count.
Therefore, bringing all of these religious leaders on the same platform and treating them the same cannot work as they do not represent a commensurate group of people and differ greatly in terms of numbers, organisation and stability.
Thirdly, the involvement of NGOs in the process is certainly welcome and essential, but there are severe limitations as to their ability in helping the process. This is largely because most NGOs which either focus on Christians in Pakistan or are Christian-led, focus on issues of human rights.
Almost all such NGOs are ill-equipped to aid in the process of the revision of laws on marriage and divorce. Very few of them have any lawyers associated with them, and even then very few legal experts have an understanding of the development of Christian marriage and divorce laws both in Pakistan and abroad.
Among the few who have an understanding of such issues are Jennifer Jivan of the Christian Study Centre in Rawalpindi, Joseph Francis of Centre for Legal Aid Assistance and Settlement and Peter Jacob of the Centre for Social Justice. Besides them, and a few others, there are hardly any people in the NGO sector who have any competence to comment on such issues.
Furthermore, each of the three groups — political leaders, church leaders and the NGOs — had an expectation that their views would prevail solely, but the job of the ministry was and is to listen to everyone, propose a law that takes into consideration all the recommendations instead of allowing one section to dominate the other, as well as to ensure that the law corresponds well with Pakistan's other laws and human rights regulations.
Therefore, while consultations were and are essential, the ministry has the final say in the version of the bill that will be presented in parliament. The ministry, of course, has to explain its position, and perhaps a position paper is due in this regard, but needs to also ensure that a law is indeed presented in parliament and enacted.
Provisions and revisions of the proposed Act
The current draft of the Act brings to the fore some needed changes after revisions. Major among them is the raising of the marriage age for both men and women to 18 years. While the determination of marriage age is of some controversy in Islamic legal circles, Christian thought and theology is unanimous about the age of consent.
Furthermore, it proposes that both the husband and wife have the same grounds for divorce. Previously, the husband could only petition the court for divorce when the wife had committed adultery. Now, there is an allowance for both the husband and the wife to petition the court for divorce for a larger number of reasons.
At first, there were several critical issues that remained unaddressed. However, once revisions were suggested to the Minister of Human Rights, she immediately examined them and incorporated the changes in the proposed Act.
Personally speaking, I was amazed at the level of personal interest, keenness and receptivity the minister showed in this regard. The legislation has certainly come this far due to the personal efforts of the minster and she must be commended for it.
Discover: 5 gurdwaras that could be made part of Kartarpur Corridor
Since I was deeply involved in these new revisions, let me explain a few of them, all of which have been accepted by the ministry and incorporated in the proposed Act.
First, a major revision in the proposed Act was the removal of the definition of a Christian. While it might be possible to come up with a definition that most churches accept, the view was that it was not a civil issue and therefore best left to the individual churches and the conscience of the people.
With having seen the experience of the majority community in this country in defining who belongs to a religion, it was important that such fissures are not introduced into a small community, where such issues could end up being equally explosive.
Secondly, the revision allowed for the solemnisation of Christian marriages in places other than a church or chapel. This was added to recognise the present reality where marriages take place not only in churches but marriage halls, houses and even in destination weddings.
Thirdly, the proposed Act has removed all references to the Registrar General of Births, Marriages and Deaths. While this office has historical significance and the office still remains, the law in force in the country stipulates that a marriage be first registered at the local Union Council and then at the National Database and Registration Authority offices.
Harmonising the registration of Christian marriages, something which the Bishop Emeritus of Lahore Alexander John Malik had even taken to the Supreme Court, has to be in accordance with the prevailing law and in consonance with how marriages of other communities are registered by the state.
Fourthly, in the provision for divorce, the revision introduced the notion of violence as understood in the modern sense. This was a major human rights intervention in making the law more equitable and women friendly. There are several instances where violence is not just physical but psychological, economic and otherwise, and the recognition of its grave nature is an essential human right.
Thus, the definition of violence was introduced in this Act as grounds for divorce, to include "any offence committed against the human body of the aggrieved person including abetment of an offence, domestic violence, sexual violence, psychological abuse, economic abuse, stalking or a cybercrime."
Fifthly, in the provision for divorce, the revision added that a lack of understanding of matrimonial rights and obligations could also lead to dissolution of marriage. Reflecting the provision in Catholic Canon Law, which is also present in Anglican Canon Law and in the law of other churches, this provision notes that a lack of understanding of what marriage actually entails, the responsibilities towards the spouse, children and the family, could also lead to an end of the marriage. The proposed Act, therefore, not only reflects similar provisions in the Canon Law but, for the first time, provides it to Christians in the civil law of Pakistan.
Sixthly, the revision improved the language of the proposed Act and brought it in line with current terminologies. It removed words like 'idiot' and 'lunatic' as grounds for an annulment and replaced it with 'mental disorder' to cover a wide range of mental and psychological issues. This is a recognised ground for annulment both in the Catholic and Anglican Churches as well as most other mainline Christian churches throughout the world.
Seventhly, the revision focused on the issue of alimony the woman receives as part of the interim or final settlement. In the earlier draft, it was fixed at one-fifth, which was thought to be too less. Raising it to "at least one-fourth", the revision ensured that, at the very least, one-fourth of the husband's income should go for the upkeep of the former wife and children, and that the court, keeping in view the reality of the situation, might even increase it as it sees fit.
And finally, the revision removed the remnant of Article 7 of the Christian Divorce Act, 1869 that had survived as Article 49 in the proposed Act, stipulating that the provisions of this proposed Act were to be read in conformity with the principles and rules of the Divorce and Matrimonial Causes Court in England. Since Pakistan is now an independent country with its own laws, and also because such a reference infers that the Pakistani Christian community is in some ways foreign, the whole article was deleted.
These and some other changes accepted by the ministry in the proposed Act made it modern, comprehensive and women friendly. This revision was led by an expert team which included, besides me, Bishop Emeritus of Lahore Alexander John Malik and Peter Jacob. Several others also gave their input in the process, including lawyer Jamshed Rahmatullah, Vicar General of Rawalpindi-Islamabad Diocese Asif John, Fahmida Saleem of the Christian Study Centre, NCJP's executive director Cecil Shane Chaudhry and Jennifer Bennette.
The strength of this group was that it was a mixed group of religious leaders, scholars, legal experts and activists who had the expertise and experience to comment on such proposed legislation. The revision proposed by this group was not church- or activist/NGO-led. They were led by a deep understanding of Christian thought, a knowledge of the laws of various churches, decades of pastoral experience and an ability to work with the ministry to make the proposed law more comprehensive.
No more delay
The openness with which the Ministry of Human Rights embraced these revisions certainly shows their eagerness to ensure that a holistic and good law is presented before parliament.
All laws in a country are a work in progress and that is why we have the parliament. All legislation is proposed and passed with good intentions, but time, more knowledge and experience mandates its improvement.
The proposed Act might still have some minor issues, but those small things should not keep it from being presented in parliament and passed into law. If there are critical issues that come up later, amendments can certainly be brought in at a later stage.
This is certainly a historic and much needed legislation and directly affects the lives of over four million citizens of Pakistan. Any more delay in the presentation of the bill will only lead to more suffering.
https://www.dawn.com/news/1504807/under-pti-a-better-law-for-pakistans-christians
--------
Foreign Banks Risk Losing Dollar Access Under Expanded U.S. Counter-Terror Powers
By Mengqi Sun and Ian Talley
Sept. 11, 2019
The U.S. plans to use expanded counterterrorism powers to target foreign financial institutions that facilitate terrorist financing, leaders of terrorist groups and those participating in terrorist training over the internet, a U.S. Treasury Department senior official said.
"Foreign financial institutions should be on notice that the U.S. government will fully utilize this new authority if they are found to be, in any way, facilitating the malign activities of U.S. designated terrorist groups, their members and their supporters," Sigal Mandelker, the Treasury undersecretary for terrorism and financial intelligence, said in prepared remarks for a speech Wednesday at the International Institute for Counterterrorism's annual summit in Israel.
The Trump administration this week unveiled details of an updated counterterrorism executive order that significantly expanded U.S. counterterrorism powers. The Trump administration also imposed sanctions on dozens of individuals and entities allegedly involved with terror groups.
Treasury and the U.S. State Department have blacklisted about 400 people and entities under antiterror authorities over the past two years, representing nearly one-third of all such designations since the Sept. 11, 2001, attacks. Those figures underscore the Trump administration's focus on sanctions as a primary foreign-policy tool across the geopolitical spectrum.
With the newly updated executive order, the U.S. can now impose secondary sanctions for any person, business or financial institution found to have handled transactions with all individuals and entities designated as terrorists by the U.S., Ms. Mandelker said in the speech.
Foreign financial institutions at risk of such secondary sanctions include money services businesses, cryptocurrency exchangers and administrators, in addition to banks, she said. The action could cut off their access to the world's biggest economy and most-used currency critical to most of the world's trade and finance.
The executive order also expanded the U.S. government's ability to swiftly target alleged leaders and officials of terrorist groups and those participating in terror training over the internet and other telecommunications platform, in addition to those participating in terror training camps, she said.
Under the new rules, the two departments responsible for imposing sanctions no longer need to develop detailed dossiers tying top officials or agents involved in terror groups to specific attacks or acts, said Nathan Sales, the State Department's top counterterror official.
"If you're out in the dark corners of the internet getting bomb-making instructions, if you're going to a Hezbollah training camp, that fact alone is now a sufficient basis for you to be designated under our sanctions authorities," he said, referring to the Iran-backed Lebanese group designated by the U.S. as a terror organization.
Eric Lorber, a former top Treasury sanctions official, said the new powers are a significant change from past authorities not only in making it easier to issue terror sanctions, but also because now any financial institution found handling transactions for entities blacklisted as terrorists or their supporters is at risk being cut out of the U.S. financial system.
"This is a real expansion of authority," said Mr. Lorber, now at the Foundation for Defense of Democracies, a Washington think tank. "While most financial institutions would not have done business with designated terrorists even before this new authority, this action makes clear that the U.S. Treasury is willing to take serious steps to punish those financial institutions that do."
https://www.wsj.com/articles/new-u-s-powers-help-target-terrorist-financing-treasury-official-says-11568247532
--------
Sales of Scotland's Islamic tartan surge amid questions of religious, national identity
SARAH GLUBB
September 12, 2019
LONDON: Sales of a specially designed Scottish Islamic tartan are soaring thanks to a surge of interest linked to timely questions of religious and national identity.
The tartan was introduced seven years ago to stand alongside the traditional woolen fabrics that proudly represent Scottish clans and institutions. It was designed in 2012 by Scottish Muslim academic, and Arab News columnist, Dr. Azeem Ibrahim to celebrate the histories of Scotland and Islam, and highlight and promote the dual heritage of the two communities in an attempt "to overcome religious intolerance and cultural discrimination."
The mill that weaves the Islamic tartan fabric said that sales have been steady since it was launched but suddenly increased in the past week after an image and details of the tartan went viral on social media.
"The sale of most tartans is a steady trickle, generally, and we normally expect a few orders a week," said Nick Fiddes, managing director of DC Dalgliesh, which describes itself as the world's only hand-crafted tartan mill. "The volume went up by four to six times, perhaps. It was very noticeable and we had no idea why at first. It was quite mysterious."
The sudden interest came after Canadian academic Laura Morlock, who specializes in religious attire, posted a tweet on Sept. 5 about the tartan.
"Scotland has officially created a tartan to honor its Muslim citizens," she wrote. Despite coming 12 years after the launch of the fabric, the post was retweeted 13,000 times and liked by more than 50,000 people.
Morlock said the response to her post suggested that drawing attention to the tartan must have resonated at a time when Muslim communities in the West, and particularly the US, are feeling more isolated.
"I think people responded differently to learning about this because it hits a nerve at a time when hate crimes (particularly those against religious communities) are on the rise, and the news is full of federally mandated nationalistic cruelty around the globe," she wrote in her blog.
Laura Morlock
@LauraBMorlock
Scotland has officially created a tartan to honour its Muslim citizens.
Blue: Scottish Flag
Green: Islam
5 white lines: the 5 pillars of Islam
6 gold lines: the 6 articles of faith
Black square: the Kaaba
😍🧕🏴󠁧󠁢󠁳󠁣󠁴󠁿
Scottish citizens, Glasgow City Chambers (Attire's Mind)
View image on Twitter
52.6K
12:10 AM - Sep 6, 2019
Twitter Ads info and privacy
13.8K people are talking about this
Fiddes said the tartan is part of a Scottish-Islamic venture that aims to bring the two communities closer together.
"This is one thing I love about tartans," he said. "It is saying that Muslims are a part of Scotland too, due to cultural significance."
Tartan is produced in a variety of colors and patterns of criss-crossed horizontal and vertical lines and stripes, and forms part of Scotland's national dress, most notably in the kilt.
"The Islamic tartan was essentially the Scottish-Muslim identity being weaved together in the same way that the tartan is weaved together through its strands," said Ibrahim, who is director at the Center for Global Policy in Washington.
Muslims have been coming to Scotland since the late 18th century, when sailors from India, Pakistan, Yemen and Malaysia began to arrive in Glasgow on merchant ships. The Muslim population grew substantially after World War II, and a 2001 census indicated that 42,550 Muslims lived in Scotland at that time. Today the figure is estimated to be about 75,000.
In designing a tartan for this community, Ibrahim consulted some of the top tartan designers in the country. The theological explanation behind the final design is that it incorporates several Islamic and Scottish elements. The blue in the pattern represents the Saltire, Scotland's national flag and green represents the color of Islam. There are five white lines to represent the five pillars of Islam, and six gold lines representing the six articles of faith. A black square represents the Kaaba in the Great Mosque of Makkah.
At the time the tartan was launched there was a debate about independence for Scotland, and a national referendum on the question of splitting from the rest of the UK was held two years later.
The Islamic tartan brought "a new focus to what it means to be a Scot," Ibrahim wrote in 2012. "Muslim communities in Scotland are particularly sensitive to the complexities of culture, race and religion that are perceived as an integral part of Scottishness," he added.
"Therefore the idea of a Scottish Islamic Tartan seemed to me to be the perfect symbol of the future generation in particular, for the younger, educated Muslims caught between two cultures: East and West, traditional and modern. Instead of conflict, the tartan represents a tightly woven blend of tradition and heritage."
Ibrahim was initially puzzled as to why interest in the tartan is on the rise now.
"I think it is something that nobody ever understands, when things will go viral," he said. "A couple of people tweeted it and then it became absolutely nuts and it has gone all over the world."
The boost in the profile of the tartan comes at a time when the United Kingdom is preparing for its departure from the European Union. Many believe this increases the likelihood of a renewed push for Scottish independence, given that Scotland voted overwhelmingly in the 2016 UK referendum on Brexit to remain in the EU.
"There's certainly much more interest in people's identities and people's affiliations and about how people feel about their personal (sense of) belonging: what exactly they belong to," said Ibrahim.
The Islamic tartan was not introduced for commercial purposes, he added, but rather as a public-relations exercise "to celebrate Scottish-Islamic identity as these two civilizations have made an immense contribution to humanity."
Humza Yousaf
✔
@HumzaYousaf
Oh man, this was around 7years ago*
Modelling (and I use that word v, v loosely) the Scottish Islamic tartan.
An importantly symbolic initiative that brought together the various strands of our multifaceted identities as Scots, Muslims etc.
*Politics has aged me. https://twitter.com/LauraBMorlock/status/1169681820855734278 …
Laura Morlock
@LauraBMorlock
Scotland has officially created a tartan to honour its Muslim citizens.
Blue: Scottish Flag
Green: Islam
5 white lines: the 5 pillars of Islam
6 gold lines: the 6 articles of faith
Black square: the Kaaba
😍🧕🏴󠁧󠁢󠁳󠁣󠁴󠁿
Scottish citizens, Glasgow City Chambers (Attire's Mind)
View image on Twitter
862
1:50 PM - Sep 6, 2019
Twitter Ads info and privacy
186 people are talking about this
Ibrahim said he has presented a number of scarfs and ties from the Islamic tartan to world leaders and dignitaries, including Pakistani Prime Minister Imran Khan, Malaysian politician Anwar Ibrahim and former Nigerian President Olusegun Obasanjo.
One of the people who appeared in the original promotional images for the launch tartan was Scottish National Party politician Humza Yousaf, who is now Scotland's justice minister.
"It was an importantly symbolic initiative that brought together the various strands of our multifaceted identities as Scots, Muslims, etc.," he said.
https://www.arabnews.com/node/1553566/world
--------
Mali jihadists say attack on passenger bus was targeting French troops
11/09/2019
DAKAR (Reuters) – A Mali-based al Qaeda affiliate said a landmine it planted that killed 14 civilians when it exploded under a passenger bus was intended to target French troops.
Around 60 people were in the vehicle when it hit the landmine on Sept. 3 as it drove through a region in central Mali that has become a haven for Islamist militants despite a five-year-old French military operation to counter them.
Jama'a Nusrat ul-Islam wa al-Muslimin (JNIM) – an umbrella group for al Qaeda-linked militants in West Africa and the Maghreb – said it had not intended to attack the bus and offered its condolences and sympathy to the relatives of those killed.
"With deep sadness and grief, we received news about the killing of a group of our brothers and children," it said via its media arm, according to U.S.-based SITE, which monitors jihadist websites.
"This came as the result of the detonation of a landmine the mujahideen had planted for patrols of the French occupation," it said in the statement.
At least 24 civilians were wounded in the attack in addition to the 14 dead, according to the Malian authorities.
Violence by Islamist militants has proliferated in the sparsely populated Sahel in recent years, with groups linked to al Qaeda and Islamic State using central and northern Mali as a launchpad for attacks across the region.
https://www.euronews.com/2019/09/11/mali-jihadists-say-attack-on-passenger-bus-was-targeting-french-troops
--------
India
Allow NC leaders to meet Omar, Farooq Abdullah: High court to J&K govt
Sep 13, 2019
The Jammu and Kashmir high court on Thursday directed authorities to arrange a meeting of two National Conference Parliament members with their detained party leaders Farooq Abdullah and Omar Abdullah in Srinagar at the earliest.
Justice Sanjeev Kumar asked Srinagar's deputy commissioner, Shahid Iqbal Choudhary, to convey the dates of the meetings to Hasnain Masoodi and Akbar Lone. He barred them from sharing details of their meetings with the press.
"The meeting shall be related to a courtesy call and to know about the well being of the persons under detention. After the meeting, the petitioners shall not go the press to share details and deliberations with the detained leaders", the court said.
Earlier, Justice Kumar allowed a petition of Masoodi and Lone seeking directions for their meetings with their party leaders. It has asked a government lawyer to seek instruction from the state government regarding the detention of NC president Farooq Abdullah and his son and party vice-president, Omar Abdullah.
In their petition, Masoodi and Lone said they have not been allowed to meet their two leaders.
Three former chief ministers, including Farooq Abdullah and Omar Abdullah, were among hundreds of people detained as a lockdown and communication blackout was imposed in Jammu and Kashmir on August 5.
The curbs were imposed to prevent protests after the Centre abrogated constitutional provisions under Article 370 that gave Jammu and Kashmir a measure of autonomy and prevented non-residents from buying property and getting government jobs there. The Centre also bifurcated Jammu and Kashmir into two Union territories on August 5.
Farooq Abdullah is under house arrest while Omar Abdullah has been detained at a government building that has been declared as sub-jail. Omar Abdullah's sister, Safiya, her children and aunt, Suriya, were allowed to meet him last month. Another former chief minister Mehbooba Mufti's sister and mother have also met the detained former chief minister.
Over 50 politicians remain detained at Srinagar's Centaur hotel that has also been declared a sub-jail.
The Supreme Court late last month allowed Communist Party of India (Marxist) general secretary Sitaram Yechury to meet his party's former lawmaker Yusuf Tarigami, who was under house arrest in Srinagar. Tarigami has since been shifted to Delhi for treatment on the top court's instructions.
https://www.hindustantimes.com/india-news/allow-nc-leaders-to-meet-omar-farooq-abdullah-high-court-to-j-k-govt/story-wneQ7p1LoVboIl1pmtw9zH.html
--------
Archbishop Of Canterbury Prostrates At At Jallianwala Bagh Massacre Site
September 12, 2019
By Matters India Reporter
Jallianwala Bagh, September 11, 2019: Archbishop of Canterbury Reverend Justin Welby says he had a deeply humbling experience at Jallianwala Bagh, the site of British colonial era massacre.
The spiritual head of the Church of England visited Jallianwala Bagh in the northern Indian state of Punjab on September 10 and said the time at the site provoked "feelings of profound shame."
The massacre took place at Jallianwala Bagh in Amritsar during the Baisakhi festival on April 13, 1919, when the British Indian Army under the command of Colonel Reginald Dyer opened fire at a crowd staging a pro-independence demonstration.
At least 400 people, including 41 children, were killed and more than 1,000 wounded in the firing.
In the presence of a sizable gathering inside the Jallianwala Bagh, the Canterbury archbishop, who is on 10-day tour of India, read out a prayer seeking God's forgiveness for the heinous act.
The most senior bishop in the Church of England, prostrated himself to pray in front of a memorial to the Jallianwala martyrs.
Asked if he would ask British government to seek apology for the Jallianwala Bagh massacre, the archbishop said, "I think I have been very clear about what I feel and that will be broadcast in England."
Terming the massacre misuse of power, the archbishop said, "I came in seeking the sorrow and repentance suffered at the hands of British soldiers. Again I can't speak to government but I can speak in repentance for the sin committed here".
"I have no status to apologize on behalf of the UK, its government or its history. But I am personally very sorry for this terrible atrocity," the archbishop said.
"I recognize the sins of my British colonial history, the ideology that has too often subjugated and dehumanized other races and cultures," he said.
"Coming here arouses a sense of profound shame at what happened in this place. It is one of a number of deep stains on British history. The pain and grief that has transcended the generations since must never be dismissed or denied," the archbishop added. He continued, saying that Christ called us "to turn away from sin — not just repenting old ways but to live in a new way that sought the kingdom of God."
Later, Welby went to the Golden Temple where he paid obeisance at the sanctum sanctorum. He also went to the Akal Takht, the supreme seat of Sikhs.
In the visitors' book, Welby wrote, "It is deeply humbling and provokes feelings of profound shame to visit this place that witnessed such atrocities hundred years ago."
"My first response is to pray for healing of relatives, of descendants, of our relationships with India and its wonderful people. But, that prayer renews in me a desire to pray and act so that together we may learn from history, root out hatred, promote reconciliation and globally seek the common good," he wrote.
The archbishop arrived at the headquarters of the Church of North India's Amritsar diocese on September 9.
Full report at:
http://mattersindia.com/2019/09/archbishop-of-canterbury-prostrates-at-colonial-era-massacre-site/
--------
Ayodhya hearing: Muslim parties rubbish Nirmohi Akhara's claim on namaz
Sep 12, 2019
NEW DELHI: The Nirmohi Akhara's claim that Muslims cannot have a valid title over the disputed land at Ayodhya as they were not offering regular namaz there from 1934 to 1949 was rubbished by Muslim bodies on Thursday in the Supreme Court saying benefits of illegal acts cannot be reaped.
The Akhara, which was granted one-third of the disputed 2.77-acre Ram Jamanbhoomi-Babri land by the Allahabad High Court, had told the five-judge Constitution bench headed by Chief Justice Ranjan Gogoi that its possession was "exclusive" as after the 1934 riots till 1949, Muslims were allowed to offer Friday prayers only, that too under police protection.
Offering Friday prayers under police protection would not change the legal character of Akhara's possession and it cannot lead to a conclusion that Hindus and Muslims both had the "joint possession", the Hindu body had said.
Senior advocate Rajeev Dhavan, appearing for Sunni Waqf Board and others including original litigant M Siddiq, rebutted the submissions saying that the Muslims did not pray because they were not allowed to.
"You (Akhara) cannot commit an illegality and seek to reap benefits from it. Even if you do not create illegalities, still you cannot reap benefits of such illegal acts of others," he told the bench also comprising justices S A Bobde, D Y Chandrachud, Ashok Bhushan and S A Nazeer.
"This is across board (arguments). Why Muslims did not come to pray? They did not come to pray because you did not let them," he said.
Dhavan then referred to the demolition of the disputed structure on December 6, 1992 and said that the Supreme Court had observed that some "miscreants" did it.
Even then Nirmohi Akahara and others cannot claim benefits, he said.
At the outset, Dhavan said that Akhara cannot overcome the legal hurdle that its 1959 lawsuit to re-claim alleged possession over the site from the government authorities after its attachment was time-barred under the limitation law.
He dealt with the submissions of the Akhara that its lawsuit was not time-barred as the cause of action, such as taking over of the possession by the receiver, was of the nature of "continuous wrong".
Muslim bodies have said that Akhara filed the lawsuit in 1959, almost nine years after the disputed site was attached by a court-appointed receiver on January 5, 1950 following alleged placing of idols under the central dome of the building by some miscreant on December 22-23, 1949.
The lawsuit should have been filed within six years of the alleged cause of action which arose in 1950 and hence, the 1959 lawsuit of 'Akhara' was time-barred, Dhavan said.
He said Akhara cannot claim relief against the magistrate who attached the property and gave it to receiver.
"You had the right is not enough. A party should must have a legal right on the basis of 'continuous wrong'," he said, adding that the terms like 'continuous wrong, belongs, belonging to and possession" have been used by Akhara to overcome the Limitation aspect.
He said Akhara was allowed to pray in outer courtyard of the site in 1885 and they were not in the possession of the inner courtyard till 1949 when trespass happened and idols were placed under the central dome.
He then dealt with the aspect of adverse possession of the site by Akhara from 1934 to 1949 and said that such a plea has to be set up on "legal" basis.
He said there should be specific pleadings in the case by Akhara as to when it became owner of the site under the doctrine of adverse possession.
Under the doctrine of adverse possession, a person, who is not the title holder, can become the owner if his possession is not challenged in courts for a period of 12 years.
Dhavan said so far as the inner courtyard was concerned, trespass took place on December 22-23, 1949 after idols were placed there and Akhara remained in illegal possession only till January 5, 1950 when the property was attached.
"The period is small so far as possession of inner courtyard is concerned," he said adding that this adverse possession doctrine cannot come in for Akhara's help.
Dhavan, however, supported the submission that Akhara was the 'shebait' of 'Ram Lalla' and said that it was competent to initiate the suit on behalf of the deity.
He asked as to what will happen if Akhara wins the case and the question would be as to who will own the property either Akhara or the deity through its the next friend.
He was referring to the another lawsuit filed by the deity through next friend Deoki Nandan Agrawal seeking the ownership of the same property.
The advancing of arguments would commence on Friday.
Full report at:
https://timesofindia.indiatimes.com/india/ayodhya-hearing-muslim-parties-rubbish-nirmohi-akharas-claim-on-namaz/articleshow/71101243.cms
--------
Muslim parties support Akhara's priestly rights
Sep 13, 2019
NEW DELHI: Locked in a 70-year-old litigation with Hindu parties for ownership of the 2.77 acre disputed Ram Janmabhoomi-Babri Masjid land in Ayodhya, Muslim parties on Thursday came out in strong support of Nirmohi Akhara's priestly rights but relegated it to the outer courtyard of the demolished mosque while claiming the inner courtyard.
To bolster its strategy to drive a wedge between the Hindu parties — Nirmohi Akhara, deity Ram Lalla through next friend, and the suit filed in 1950 by a worshipper Gopal Singh Visharad — Muslim parties through senior advocate Rajeev Dhavan told the Supreme Court that there appeared to be a conflict among the Hindu parties as to who would manage the disputed site in case the SC decided the matter in their favour.
"If Nirmohi Akhara succeeds, it gets only 'sevait' right and not ownership right. If the deity gets the right, it cannot manage the place through next friend as sevait rights are with Nirmohi Akhara. Will Ram Janmabhoomi Nyas, which intends to build a temple at the disputed site, manage the place? But under what right?" Dhavan asked a bench of Chief Justice Ranjan Gogoi and Justices S A Bobde, D Y Chandrachud, Ashok Bhushan and S Abdul Nazeer.
Dhavan said the difficult task before the SC was to decide who would get sevait rights, especially when the Allahabad High Court had dismissed the suit filed in 1959 by the Akhara, three decades before the deity approached the HC with a suit through next friend.
When the bench told Dhavan that he had already argued in detail about Muslim parties supporting the Akhara's sevait rights, Dhavan said, "The Akhara needs a little more support from someone." He said the Akhara's sevait rights could not be denied as the deity's next friend had not even listed a single dereliction of duty in performing priestly rituals by the Akhara.
He said in the suit filed in 1885 by a 'mahant' seeking ownership and sevait rights at Ram Chabutra, Sita ki Rasoi and Bhandara in the outer courtyard of the mosque, a court had denied them the title but allowed them the right to worship. "There never was any claim from anyone for title over the inner courtyard of the mosque," he said.
Full report at:
https://timesofindia.indiatimes.com/india/muslim-parties-support-akharas-priestly-rights/articleshow/71104647.cms
--------
J&K police foil terror plot, 3 Jaish terrorists arrested
Sep 13, 2019
JAMMU/AMRITSAR: Jammu & Kashmir police on Thursday foiled a terror plot by arresting three suspected Jaish-e-Muhammed (JeM) terrorists at Lakhanpur on the Jammu-Pathankot highway in Kathua district. The terrorists were caught with a huge cache of arms, which, police said, was being transported to Kashmir in a truck to "disturb peace in the Valley".
On specific intelligence inputs, the truck loaded with cardboard material was intercepted at a checkpoint on the highway at 8am. The arms and ammunition seized from the truck included four AK-56 rifles, two AK-47s, six magazines and 180 live rounds.
Kathua senior superintendent of police Sridhar Patil said the three men have been identified as Ubaid-ul-Islam and Sabeel Ahmed Baba of Rajpora of Pulwama, and Jahangir Ahmed Parrey of Charar-e-Sharief in Budgam. Patil said the truck, with registration no. JK13E-2000, is owned by Suhil Ahmed Latoo of Gulshanabad, Pulwama. It was being driven by one Javaid Ahmed Dar. Police also seized Rs 11,000 in cash from the accused.
Intelligence sources said the truck passed through several checkpoints spread across the border districts of Punjab. The possibility of terrorists using the Bamyal sector of Pathankot, which is close to the international border with Pakistan, with the motive of entering J&K from Amritsar via Lakhanpur border cannot be ruled out. However, the Kathua SSP has denied that the truck had come from Amritsar and had used the Bamyal sector to enter J&K.
Punjab inspector general of police (border range) SPS Parmar said a vehicle can also get into J&K from Himachal Pradesh. "So it is a matter of investigation where the truck originated from," Parmar said.
However, intelligence sources maintained that the area between Bamyal, a village in Pathankot district, and Hiranagar in J&K is considered to be "safe passage" for illegal interstate trade. Besides, terrorists are known to use this route.
The sources said there are fewer checkposts on the road via Bamyal sector compared to the newly constructed Amritsar-Pathankot toll road. It is believed that the Pakistani terrorists who had struck at the Pathankot Air Force base and Dinanagar police station in 2016 crossed over to India from the Bamyal sector.
Full report at:
https://timesofindia.indiatimes.com/india/jk-police-foil-terror-plot-3-jaish-terrorists-arrested/articleshow/71104260.cms
--------
Any peace process in Afghanistan should have 'full consent' of its people: India
Sep 12, 2019
NEW DELHI: Days after US President Donald Trump called off negotiations with the Taliban, India on Thursday said any peace process should have "full consent" of the Afghan government and its people.
External affairs ministry spokesperson Raveesh Kumar said India was very closely following the developments relating to peace initiatives in Afghanistan.
He was asked about Trump cancelling a secret meeting with Taliban leaders at his Camp David retreat last week.
"We are following the developments including talks between the US and the Taliban very closely. We are of the view that all sections of Afghan society including legitimately elected government should be part of the peace process," Kumar said.
Trump on September 8 said that he cancelled the secret meeting with the Taliban after it admitted of being behind a terror attack in Kabul which killed a dozen people including a US soldier.
"We have supported the election process which is about to unfold later this month. Our point of view is that any process should respect the constitutional legacy and it should not lead to any ungoverned spaces where terrorists and their proxies can relocate," the MEA spokesperson said.
He said any process should have full consent of the Afghan government and its people.
"We are reasonably confident that any decision on the peace process taken by the US and the international community will take into account all these concerns," Kumar said.
India has been supporting a national peace and reconciliation process which is Afghan-led, Afghan-owned and Afghan-controlled.
In March, India conveyed to the US that it should not withdraw its troops from Afghanistan without putting in place an elected "political structure" to govern the country.
Major powers such as the US, Russia and Iran have been reaching out to the Taliban as part of efforts to push the stalled Afghan peace process. India has been a key stakeholder in the peace and reconciliation process in Afghanistan.
In a significant move, India had sent two former diplomats in "non-official" capacity to a conference on Afghan peace process in Moscow last November which was attended by a high-level Taliban delegation.
Full report at:
https://timesofindia.indiatimes.com/india/any-peace-process-in-afghanistan-should-have-full-consent-of-its-people-india/articleshow/71103075.cms
--------
39 days after lockdown, restrictions lifted from entire Jammu and Kashmir
Sep 13, 2019
All restrictions on movement have been lifted from entire Jammu and Kashmir and landline phones restored, 39 days after the state was put under a security and communication lockdown on August 5 after constitutional provisions that gave the state special status and its permanent residents special privileges were removed and it was divided into two union territories.
"Restrictions lifted from all areas, traffic movement has increased manifold. Landlines fully functional, mobile phones considerably working in Kupwara and Handwara," said Department of Information and Public Relations, Government of Jammu and Kashmir, reports ANI.
Since August 5, large sections of Srinagar and other cities have been barricaded with barbed wires, streets deserted and shops shuttered. With phone lines dead and internet services suspended, local residents reported difficulties in reaching family members and in procuring essential supplies.
The government has been gradually lifting curbs and has also ordered opening of schools but attendance has been thin. Traffic on the roads is gradually picking up but office attendance is also sparse and shops remain shut, barring the neighbourhood grocery shops. Political leaders, workers and separatists also continue to be in detention.
Full report at:
https://www.hindustantimes.com/india-news/39-days-after-lockdown-restrictions-lifted-from-entire-jammu-and-kashmir/story-OC8ik4VC68z6jcYMbqIj1L.html
--------
Tabrez Ansari case: Statements of witness, case diaries rebut police version
by Abhishek Angad
September 13, 2019
Jharkhand Police said they dropped charges under IPC Section 302 (murder) against the accused in the death of 22-year-old Tabrez Ansari because it was "not a case of pre-meditated murder" and that he died following a cardiac arrest, not just a head injury.
However, an analysis of the chargesheet, key testimonies and case diaries raise questions about this conclusion. Ansari's uncle Mohammad Masroor Alam, who rushed to the spot on hearing about the assault, recorded this statement: He heard a member of the mob shout, "Itna maaro ki mar jaye (Beat him so much that he dies)."
Ansari was among the 24 witnesses whose statements are recorded in the chargesheet filed in the Chief Judicial Magistrate's court on July 23.
The chargesheet also refers to a preliminary report by the board of doctors that conducted the post mortem, which says if the viscera report does not point to "poison", the cause of death was a head injury.
But then, case diaries show that police already invoked IPC Section 304 (culpable homicide not amounting to murder) against the accused when the viscera was sent to the forensics lab. In other words, they did not rely on the viscera report while dropping Section 302 from the chargesheet.
Crucially, the case diaries note: "After viscera report, there is a possibility that there could be change in IPC sections."
On June 18, a mob in Dhatkidih village of Saraikela-Kharawan district accused Ansari of theft, tied him to a pole and assaulted him. Video clips of the attack showed the mob forcing Ansari to chant "Jai Shri Ram" and "Jai Hanuman" during the assault.
Ansari, who was taken in police custody on suspicion of theft, died four days later in a local hospital.
On Tuesday, when asked why Section 302 was dropped from the chargesheet, Saraikela-Kharswan Police SP Karthik S told The Indian Express: "We filed a chargesheet under IPC section 304 because of two reasons. One, he did not die at the spot… the villagers did not have any intent to kill Ansari. Second, the medical report did not substantiate the murder charge. The final post-mortem report said Ansari died due to cardiac arrest and that a haemorrhage in the head was not fatal. The second medical opinion said the cause of death was a combination of cardiac arrest and the head injury."
Consider key details from the case diaries:
* The board of doctors that conducted the post-mortem listed a head injury among the external injuries, and a blood clot in the brain and "heart chambers filled with blood" as internal injuries. They reserved their opinion pending forensic test results and told the police: "Death does not seem to be a possibility due to these injuries, but it may also happen. The injuries are grievous in nature."
When the board was specifically asked what the cause of death would be if poison was not found in the viscera report, it stated: "The head injury will be the cause of death."
* In his statement, Ansari's uncle Alam said his nephew had called his wife on June 18 morning. "He informed her that he was tied to a pole and being beaten up. He pleaded with her to come and save him," Alam's statement said. It said Alam rushed to the village with his younger brother around 6.30 am and saw Ansari tied to a pole with ropes around his waist and getting beaten. "We got scared as many people were shouting and we stood 20-25 feet away from him. One of them was shouting, 'Itna maaro ki mar jaaye' (beat him so much that he dies)'," Alam told police.
In his statement, Alam said Ansari was barely able to move at the police station, and remained "unconscious". He only opened "his eyes after much prodding". Alam stated that when he met Ansari in jail the next day, he was crying. "He told us that he had suffered serious injuries on his head and asked us to get his treatment done," Alam told police.
* The man who shot video clips of the attack, Tinku Mandal, confirmed its contents to police. He told police that he later deleted the clips due to fear. "I heard people shouting in the early hours of June 18. I saw that one person was tied to an electricity pole and people were abusing him. He was being beaten with sticks, but some were also asking others not to beat him. Ansari had a phone and was calling someone on it. Villagers asked him to call his two friends (whom they claimed were involved in an alleged theft bid and had escaped)," Mandal told police. His statement also says that Ansari "was forced to chant 'Jai Hanuman, Jai Shri Ram'.
'Hit through night with sticks'
The chargesheet, meanwhile, states that police found that Ansari was caught while he was attempting to commit a theft. It states: "Akroshit graminon dwara usko bandhkar, raat bhar ewam subah bhi dande se peeta gaya. Usse uski dharmik bhavna ke virudh 'Jai Shri Ram, Jai Hanuman' ka naara lagaya gaya (He was tied up by the angry villagers, and beaten with sticks the whole night and in the morning. They forced him to chant 'Jai Shri Ram, Jai Hanuman' against his religious beliefs)," the chargesheet said.
On Ansari's injuries, it mentions the head injury and haemorrhage and states that the board "kept their opinion reserved on the cause of death and the viscera has been to the FSL". It states: "In this incident, till now IPC 304 and other sections is made out against the accused."
Full report at:
https://indianexpress.com/article/india/tabrez-ansari-case-itna-maaro-ki-mar-jaaye-statements-of-witness-case-diaries-rebut-police-version-5990876/
--------
Any peace process in Afghanistan should have 'full consent' of its people: India
September 12, 2019
Days after US President Donald Trump called off negotiations with the Taliban, India on Thursday said any peace process should have "full consent" of the Afghan government and its people.
External Affairs Ministry Spokesperson Raveesh Kumar said India was very closely following the developments relating to peace initiatives in Afghanistan.
He was asked about Trump cancelling a secret meeting with Taliban leaders at his Camp David retreat last week.
"We are following the developments including talks between the US and the Taliban very closely. We are of the view that all sections of Afghan society including legitimately elected government should be part of the peace process," Kumar said.
Trump on September 8 said that he cancelled the secret meeting with the Taliban after it admitted of being behind a terror attack in Kabul which killed a dozen people including a US soldier.
"We have supported the election process which is about to unfold later this month. Our point of view is that any process should respect the constitutional legacy and it should not lead to any ungoverned spaces where terrorists and their proxies can relocate," the MEA spokesperson said.
He said any process should have full consent of the Afghan government and its people.
"We are reasonably confident that any decision on the peace process taken by the US and the international community will take into account all these concerns," Kumar said.
India has been supporting a national peace and reconciliation process which is Afghan-led, Afghan-owned and Afghan-controlled.
In March, India conveyed to the US that it should not withdraw its troops from Afghanistan without putting in place an elected "political structure" to govern the country.
Major powers such as the US, Russia and Iran have been reaching out to the Taliban as part of efforts to push the stalled Afghan peace process. India has been a key stakeholder in the peace and reconciliation process in Afghanistan.
In a significant move, India had sent two former diplomats in "non-official" capacity to a conference on Afghan peace process in Moscow last November which was attended by a high-level Taliban delegation.
Full report at:
https://indianexpress.com/article/india/any-peace-process-in-afghanistan-should-have-full-consent-of-its-people-india-5990399/
--------
South Asia
Sheikh Hasina blames Myanmar for Rohingya repatriation failure, says country failed to win trust of Muslim minority
Sep 13, 2019
Bangladesh's prime minister has blamed Myanmar for the failure of a recent attempt to repatriate Rohingya refugees, saying its neighbouring country did not do enough to win the community's trust.
The comments from Sheikh Hasina came three weeks after a fresh push to return the Muslim minority to Myanmar's conflict-scarred Rakhine state that fell flat when no-one turned up.
Some 740,000 Rohingya fled their villages in Rakhine following a military crackdown in August 2017, joining nearly 200,000 already living in squalid camps across the border in southeast Bangladesh.
"We've seen Myanmar could not win Rohingya's trust in creating a conducive situation (in Rakhine) for their dignified return," Hasina said in parliament late Wednesday.
"We had full preparation, but still the repatriation did not start... uncertainty looms over Rohingya getting back their homes, land and other properties." Hasina said she had asked other Asian nations including China, India and Japan to help resolve the crisis.
Her comments reflect Dhaka's frustration over the lack of a resolution to the refugee crisis. A previous repatriation offer was rejected by Rohingya leaders in October.
Her government has also started to crack down on activity in the camps amid a recent outbreak of violence and rising tensions with locals.
Dhaka has imposed a virtual internet blackout in the camps in the border towns of Teknaf and Ukhia by cutting access to 3G and 4G mobile internet networks.
Experts have said 2G networks are too slow for internet use.
Rohingya leaders have repeatedly said the refugees will not return to their homeland unless their safety is ensured, their rights and citizenship are granted and they are allowed to resettle in their villages.
The Rohingya are not recognised as an official minority by the Myanmar government, which considers them Bengali interlopers despite many families having lived in the country for generations.
https://www.firstpost.com/world/sheikh-hasina-blames-myanmar-for-rohingya-repatriation-failure-says-country-failed-to-win-trust-of-muslim-minority-7333181.html
--------
Dostum proposes 6-month plan to Govt, U.S. and NATO to defeat Taliban
12 Sep 2019
The First Vice President Gen. Abdul Rashid Dostum says he has proposed a 6-month plan to government, U.S. and NATO for the defeat of Taliban in North of Afghanistan.
Gen. Dostum informed in this regard in a video message which he published ahead of the release of a movie which will depict his role in support of the U.S.-led invasion in Afghanistan in 2001.
In his video message, Gen. Dostum said he has proposed to President Ashraf Ghani, the National Security Council, the U.S., NATO and international allies to consider his plan and implement it.
Furthermore, Gen. Dostum said his plan will not need the deployment of infantry forces of the United States and other facilities to defeat the Taliban group.
Gen. Dosum further added that the United States is facing a stalemate in the ongoing war in Afghanistan.
However, Gen. Dostum said he prefers a U.S. withdrawal from Afghanistan in a decent manner and with achievements, insisting that 'We have the ability to defeat Taliban but the President, the U.S. and NATO should trust us.'
In other parts of his speech, Gen. Dostum said the purpose of his plan is not to decompose the North of Afghanistan from the other parts of the country but he wants to help the U.S. in a similar way he did in 2001 and that he wants the U.S. to withdraw from the country leaving behind a legacy of victory.
This comes as the U.S. President Donald Trump's administration initiated peace talks with Taliban nearly nine months ago to end the ongoing conflict in Afghanistan through political negotiations.
Full report at:
https://www.khaama.com/dostum-proposes-6-month-plan-to-govt-u-s-and-nato-to-defeat-taliban-04028/
--------
10 Taliban militants killed, wounded in Ghazni airstrikes and ground operations
12 Sep 2019
The security forces killed or wounded at least 10 Taliban militants during the operations in South-eastern Ghazni province.
The Ghazni Governor's Office said in a statement that the security forces conducted the operations in Khwaja Omari district earlier today.
The statement further added that the Air Forces also carried out airstrikes during the operations which killed 8 Taliban militants.
Furthermore, the Governor's Office said the security forces also wounded 2 Taliban militants during the operations.
Full report at:
https://www.khaama.com/10-taliban-militants-killed-wounded-in-ghazni-airstrikes-and-ground-operations-04025/
--------
Taliban bomb attack kills security forces in Afghan capital after collapse of peace talks
Sep 12, 2019
At least four members of Afghan security forces have been killed in a Taliban-claimed bomb explosion that rocked a Kabul district after peace talks between the US and the militant group collapsed.
According to a statement by Afghanistan's Defense Ministry, the deadly blast occurred after a bomber detonated an explosives-laden minibus in front of the entrance to a camp of Special Operations Corps in Chahar Asyab district on Thursday.
The explosion also inflicted wounds on at least three others.
The ministry said the national defense and security forces would use all force to continue operations against the Taliban, which are "under unprecedented pressure in the battlefields."
Shortly after the attack, Taliban spokesman Zabihullah Mujahid issued a statement claiming responsibility for the attack.
Last week, a similar Taliban attack claimed the lives of at least 10 civilians and two NATO troops near the US embassy in the capital.
For months, the militant group which does not recognize the government in Kabul had been holding direct talks with representatives of the US government in the Qatari capital, Doha, to reach a peace deal, but all to no avail.
Speaking at a memorial service marking the September 11, 2001 terror attack on Wednesday, US President Donald Trump said the two sides "had peace talks scheduled a few days ago" but upon learning about the killing of "a great American soldier from Puerto Rico and 11 other innocent people", he had "called them off."
Trump said long-running talks with the Taliban in Qatar were also "dead," to which the Taliban responded by threatening to kill more Americans in Afghanistan.
The Taliban's five-year rule over at least three quarters of Afghanistan came to an end following the US invasion in 2001, but 18 years on, Washington is seeking a truce with the militants, who still control large swathes of territory.
The group, which now controls or have influence in about half of Afghanistan's territory, has so far rejected the proposal to lay down arms and instead called on the US to end the use of force in Afghanistan. It also insists that talks cannot move ahead until foreign forces leave the country.
Full report at:
https://www.presstv.com/Detail/2019/09/12/606005/Afghanistan-Taliban-bomb-Kabul-US-Trump-talks
--------
Taliban car bomb blast kills four Afghan special forces in Kabul
September 12, 2019
KABUL: A suicide bomber targeted an Afghan Special Forces base in Kabul on Thursday, killing at least four commandos, officials said, as violence continued to escalate following the collapse of peace talks between the United States and Taliban insurgents. The bomber blew up an explosives-laden minibus at the entrance to the camp in Chahar Asyab district, killing the four special forces members and wounding another three, the Defense Ministry said in a statement.
Taliban spokesman Zabihullah Mujahid issued a statement claiming responsibility for the attack, which he said killed more than 200 commandos. The insurgents routinely issue exaggerated casualty claims.
Mujahid said the bomber had been infiltrated into the base well before the attack.
The latest attack underscored expectations of an escalation in violence following US President Donald Trump's sudden cancelation of the talks with the Taliban aimed at withdrawing US troops and ending 18 years of war in Afghanistan.
In Washington, Trump's nominee to be the secretary of the US Army said walking away from the talks was the correct decision.
"I think that it was the right decision to step back from the table and try to look at how do you get to a framework to bring a political end state to the conflict," Ryan McCarthy told a Senate Armed Services Committee hearing.
McCarthy said that he believed that the United States would continue to need not only a counterterrorism capability, but also the ability to advise and assist Afghan security forces.
Full report at:
https://www.arabnews.com/node/1553656/world
--------
Airstrikes kill 12 Taliban and ISIS-K militants, destroy multiple caches of weapons
12 Sep 2019
The security forces carried out a series of airstrikes against Taliban and ISIS Khurasan militants in five provinces killing at least 12 militants.
The military officials said Thursday that an airstrike killed 5 Taliban militants and destroyed a small cache of weapons in Almar district of Faryab.
The officials further added that the security forces conducted similar airstrikes in Sholgarah and Chimtal districts of Balkh which killed a Taliban militant and destroyed a small cache of weapons.
Furthermore, the security forces killed a Taliban militant by conducting an airstrike in Giro district of Ghazni.
The security forces conducted a similar air raid in Shah Joy district of Zabul which killed 1 Taliban militant.
Full report at:
https://www.khaama.com/airstrikes-kill-12-taliban-and-isis-k-militants-destroy-multiple-caches-of-weapons-04029/
--------
Anisul: Amending Hindu inheritance law demand of time
September 12th, 2019
The government ready to extend necessary support if they come forward in this regard, he added
Law, Justice and Parliamentary Affairs Minister Anisul Huq has said amendment to Hindu Law of Inheritance is demand of time as it is essential to ensure Hindu women's right to property.
"But the government will not impose this on the Hindu community. The government is ready to extend necessary support if they come forward in this regard," he said.
The minister stated these at a discussion on amending laws in light of the spirit of Liberation War, organized by Ekatturer Ghatak Dalal Nirmul Committee (EGDNC) at the Institution of Engineers, Bangladesh on Thursday.
Presided over by Justice Shamsul Huda, it was also addressed by Justice AHM Shamsuddin Chowdhury Manik, Attorney General Mahbubey Alam, Nirmul Committee President Shahriar Kabir and Advocate Rana Dasgupta, among others.
Full report at:
https://www.dhakatribune.com/bangladesh/dhaka/2019/09/12/anisul-amending-hindu-inheritance-law-demand-of-time
--------
Pakistani Ambassador warns of 'surge in violence' if U.S.-Taliban talks did not resume soon
12 Sep 2019
The Pakistani Ambassador to UN Maleeha Lodhi has warned of a 'surge in violence' if U.S.-Taliban talks did not resume soon.
Speaking in UN Security Council debate on the situation in Afghanistan, Lodhi said "We hope the suspension of the peace talks is only a pause and will resume sooner rather than later as the alternative is a surge in violence, which could push Afghanistan into even more turbulent and uncertain phase than has been witnessed so far," according to Associated Press of Pakistan.
Lodhi further added Pakistan had always condemned violence and called for all sides to exercise restraint and to remain committed to the peace process out of its belief that there was no military solution to the Afghan conflict.
President Trump on Sunday announced that he is called off peace negotiations with the Taliban after the group carried out a series deadly attacks in Kabul which killed many people including a U.S. soldier.
Meanwhile, President Trump on Wednesday issued fresh warnings to Taliban after the suspension of the talks, emphasizing that the strikes against the group will 'continue'.
Speaking during a ceremony to mark the 9/11 attacks, President Trump said "We had peace talks scheduled a few days ago. I called them off when I learned that they had killed a great American soldier from Puerto Rico and 11 other innocent people."
President Trump further added "The last four days, we have hit our enemy harder than they have ever been hit before, and that will continue."
Full report at:
https://www.khaama.com/pakistani-ambassador-warns-of-surge-in-violence-if-u-s-taliban-talks-did-not-resume-soon-04020/
--------
Southeast Asia
Disagreeing with Shia Islam not enough to justify raids, says rights group
September 13, 2019
PETALING JAYA: Rights group Lawyers for Liberty (LFL) today criticised the recent crackdown on followers of Shia Islam in Selangor and Johor, calling it a coordinated campaign of harassment by state religious authorities.
LFL director Melissa Sasidaran said the raids, which have seen scores of people arrested, contravene international human rights laws which guarantees the right to freedom of religion and protects individuals from discrimination by the government and any state institution on the grounds of religion or belief.
"By international standards, limitations on the freedom of religion can only be justified if they are necessary for the protection of public safety, order, health or morals or the fundamental rights and freedoms of others.
"Merely disagreeing with the teachings and practices of Shia Islam is not a sufficient ground for these harsh actions," she said in a statement.
Dozens of Shia Muslim followers, including foreigners, were arrested in the raids on private Shia Muslim functions as adherents observed the Ashura, the death anniversary of Hussein, the grandson of Prophet Muhammad and a central figure in Shia Islam.
Shia, which has a substantial following in Iraq, Iran, Kuwait, Bahrain, Lebanon and several parts of Saudi Arabia, Yemen and Pakistan, is the second largest branch of Islam.
But state Islamic authorities have declared its teachings "deviant", with sermons in Selangor frequently condemning its followers as heretics.
Sasidaran said Article 11 of the Federal Constitution states that every person has the right to profess and practise his or her religion.
"Yet our religious authorities commonly fall back on Article 11(4), which limits the propagation of any religious doctrine among Muslims, to justify their actions.
"Any interpretation of this which would allow the authorities unbridled and arbitrary powers to oppress Shia Muslims is erroneous, and amounts to a disproportionate restriction on freedom of religion," she said.
She added that those who were arrested had not committed any genuine crimes or caused anyone harm, but had been practising their faith behind closed doors in private ceremonies.
"Such raids are an unacceptable intrusion into the lives and dignity of Shia Muslims," she said.
"If Malaysia truly is the harmonious, multicultural and multi-religious society that it claims to be, we must accept the practice of every religion, including Shia Islam."
https://www.freemalaysiatoday.com/category/nation/2019/09/13/disagreeing-with-shia-islam-not-enough-to-justify-raids-says-rights-group/
--------
Maszlee: Include topic about Shiah in Islamic education? We will discuss with Penang Mufti
12 September 2019
BY YISWAREE PALANSAMY
KUALA SELANGOR, Sept 12 ― Maszlee Malik said today that he will discuss the proposal by the Penang mufti to include facts about Shiah Muslims in the Islamic education subject in schools, to counter demonisation against the Muslim denomination.
"That, we will discuss with the Penang mufti," Maszlee said, when met after a townhall session with undergraduates from the Mara Technological Institute University (UiTM) here.
Penang Mufti Datuk Wan Salim Wan Mohd Noor was quoted making the suggestion, pointing out that education is key to solving what he termed as "Shiah-phobia", and to be more tolerating towards the community.
In Malaysia, only the Sunni denomination of Islam and its Shafie school of jurisprudence are considered official by Putrajaya.
Shiah is Islam's second-largest denomination and practised by an estimated 15 per cent of the 1.5 billion Muslims worldwide, but is regarded as deviant here.
This comes as a Human Rights Commission of Malaysia (Suhakam) representative said that the definition of Islam according to the Federal Constitution should be left broad and not confined to any one interpretation for the sake of a peaceful co-existence.
Last week, Selangor Islamic Religious Department (Jais) arrested 23 people at a Shiah centre.
Full report at:
https://www.malaymail.com/news/malaysia/2019/09/12/maszlee-include-topic-about-shiah-in-islamic-education-we-will-discuss-with/1789860
--------
Indonesia joins Saudi call for OIC to thwart Israeli annexation plan
September 12, 2019
JAKARTA: Indonesia urged member states of the Organization of Islamic Cooperation (OIC) to respond collectively to the Israeli prime minister's vow to annex large parts of the occupied West Bank if he is re-elected next week.
Indonesia, the world's most populous Muslim-majority country, described Benjamin Netanyahu's vow as "dangerous."
In a statement issued on Wednesday, its Foreign Ministry slammed his plan as "contradicting international law and various UN resolutions, as well as threatening the continuation of the peace process."
Also on Wednesday, the OIC said at Saudi Arabia's request, it will hold an emergency meeting of foreign ministers in Jeddah on Sunday to discuss Netanyahu's controversial vow.
He said in a televised speech on Tuesday that if returned to power in the election on Sept. 17, he would extend Israeli sovereignty over the Jordan Valley and the northern Dead Sea.
The move would reshape the protracted Israeli-Palestinian conflict and reduce Palestinian land to enclaves encircled by Israel.
"Indonesia is urging a resolution to the Palestinian issue based on a two-state solution and internationally agreed parameters," said Foreign Ministry spokesman Teuku Faizasyah.
Dr. Luthfi Assyaukanie, international relations lecturer at Paramadina University in Jakarta, told Arab News that Indonesia is "highly regarded by OIC countries," and its "role in the politics and foreign policy of other Muslim states is becoming increasingly important."
Indonesia is a vocal supporter of Palestinian independence, which has been part of its foreign policy since the early 1960s.
Officials regularly quote a 1962 vow attributed to the country's first president, Sukarno, that "Indonesia will challenge the Israeli occupation until the Palestinian nation becomes independent."
Palestinian statehood is among Indonesia's priorities for its 2019-2020 membership in the UN Security Council.
In May, at a council briefing, Foreign Minister Retno Marsudi reiterated the Indonesian government's stance that "there is no alternative to the two-state solution."
In 2017, Indonesia fiercely opposed US recognition of Jerusalem as Israel's capital, since the Palestinians see the city as their future capital.
Indonesia also condemned the consequent relocation of the US Embassy in Israel to Jerusalem from Tel Aviv.
Full report at:
https://www.arabnews.com/node/1553606/world
--------
Arab World
UN Experts Call for Repatriation of IS-Linked Children and Mothers in Syria
By Lisa Schlein
September 11, 2019
GENEVA - U.N. investigators are calling on countries to repatriate thousands of children and mothers associated with Islamic State fighters interned in Syria's Al-Hol displacement camp. The U.N. Commission of Inquiry on Syria has released its latest report.
About 70,000 people, the vast majority women and children under the age of 12, are languishing at the Al-Hol camp. They fled there after the Islamic State stronghold of Deir al-Zor was captured by the U.S.-led international coalition and the Kurdish-led Syrian Democratic Forces (SDF).
The three-member U.N. Commission of Inquiry on Syria says thousands of children above the age of 12, who are considered to be of fighting age, are being held in incommunicado detention by the SDF.
Commission Chairman Paulo Pinheiro says the children are being kept in a secret location with adults suspected of being fighters for IS, and in conditions that may give rise to torture or ill-treatment.
"We find very bizarre this limit of 12. One-hundred-ninety-one member states have ratified the Convention of the Rights of the Child and the children from 12 to 18, they are children and adolescents ... considered terrorists if they are more than 12 years old. The Commission finds this completely appalling," said Pinheiro.
The Commission says countries are fearful of repatriating mothers who were involved with IS militants. At the same time, it says allowing the children born of these relationships to fester in the camps would render them stateless, which violates international law.
Commission member, Hanny Megally, tells VOA the risks of not repatriating these children will have serious consequences for them and society as a whole.
"At a time when we are saying we want not just to defeat armed terrorists, but also to deal with the root causes as to why people are radicalized to violence, we ought to be looking at not creating more grievances that may in the future create another generation of people who have grievances against us, and against the people living in their own communities and environment," said Megally.
Megally says countries should move away from policies that favor punishment for those linked with IS and move toward rehabilitation. He says peoples' circumstances differ and tarring everyone with the same brush is a big mistake.
He says the best solution needs to be one that allows people to go back and be dealt with in their own countries. He says Western nations have judicial systems that can cope with this.
https://www.voanews.com/middle-east/un-experts-call-repatriation-linked-children-and-mothers-syria
--------
Syria, US-led coalition may have committed war crimes: UN report
12 Sept 2019
Syrian government forces backed by Russian warplanes may have committed war crimes while targeting medical facilities, schools, markets and farmland in an ongoing deadly campaign in northwestern Syria, UN investigators say.
The UN Commission of Inquiry on Syria also said on Wednesday that Hay'et Tahrir al-Sham (HTS), a former al-Qaeda affiliate fighting government forces in the northwestern province of Idlib, fired rockets indiscriminately and killed civilians.
Syrian forces carried out repeated air raids in Saraqib in Idlib on March 9, damaging Al-Hayat women's and children's hospital despite being aware of its coordinates, the report said.
Syria: Children increasingly killed by air attacks in Idlib (1:35)
In Idlib on May 14, "pro-government forces air-dropped between two and four missiles on a fish market and primary school for girls in Jisr al-Shughour", killing at least eight civilians, it said.
"Such attacks may amount to the war crime of deliberately attacking protected objects and intentionally attacking medical personnel," the UN report said.
The Syrian army denies it targets civilians and says its forces only bomb fighters associated with "terrorists".
Idlib, which borders Turkey, is the final rebel stronghold in the country.
In late April, Syrian forces, backed by Russia since 2015, began an offensive in the region in an attempt to capture the strategic area, which lies on a key highway connecting the capital, Damascus, with the northern city of Aleppo.
Last week, UN rights chief Michelle Bachelet said her office tallied more than 1,000 civilian deaths in northern Syria over the last four months - the majority caused by air raids and ground attacks by President Bashar al-Assad's forces and their allies.
The report, released Wednesday, also looked into other violations and documented how civilians continue to bear the brunt of the bloody eight-year war.
UN Syria Commission
✔
@UNCoISyria
The @UNCoISyria launched our 18th mandate report to the @UN_HRC today, which documents how escalated violence and subsequent waves of mass displacement continue to torment #Syria-n civilians after eight year of conflict. #HRC42
link: https://www.ohchr.org/Documents/HRBodies/HRCouncil/CoISyria/A_HRC_42_51.docx …
View image on Twitter
41
3:34 PM - Sep 11, 2019
Twitter Ads info and privacy
50 people are talking about this
"Civilians continue to be unlawfully detained or kidnapped and often tortured for expressing political dissent," the report said.
"In government-controlled areas, civilians, including recent returnees, have been arbitrarily arrested and detained, harassed, mistreated and tortured."
Fight against ISIL
The UN also laid blame on the US-led coalition that has been battling Islamic State of Iraq and the Levant (ISIL or ISIS) in the country.
It said coalition air raids in Syria have killed and wounded many civilians, highlighting that precautions were ignored and war crimes may have been committed.
Backed by US-led coalition air power in a fight to remove ISIL, the Syrian Democratic Forces, which include Kurdish fighters, retook the group's last major stronghold of Hajin in eastern Syria in late December.
The coalition's Al-Jazeera Storm operation resulted in a high number of civilian casualties, including in a series of attacks on January 3 in Sha'fah, south of Hajin, that killed 16 civilians including 12 children, the UN report said.
"Launching indiscriminate attacks that result in death or injury to civilians amounts to a war crime in cases in which such attacks are conducted recklessly," it said.
Coalition officials could not be reached immediately for comment.
Night raids by SDF forces backed by coalition helicopter gunships killed and wounded civilians in Shahil and other parts of Deir Az Zor province, in further apparent violations of international law, the investigators said.
Full report at:
https://www.aljazeera.com/news/2019/09/syria-led-coalition-committed-war-crimes-report-190911120329784.html
--------
New sanctions could extend to allies of Hezbollah in Lebanon: US envoy
12 September 2019
Future US sanctions could target allies of Hezbollah in Lebanon, extending beyond direct affiliates of the Iran-backed Lebanese extremist organization, a US envoy said on Thursday.
"In the future we will designate, because we have to, individuals in Lebanon who are aiding and assisting Hezbollah, regardless of their sect or religion," the new US assistant secretary of state for Near Eastern affairs David Schenker said in an interview with Lebanon's LBCI television.
When asked by the interviewer if this means sanctions will target allies of Hezbollah, Schenker said "absolutely", adding that the US is constantly reviewing its sanctions lists.
The proposed targeting of allies of Hezbollah has been a sensitive subject for Lebanon in the past.
In 2017, a draft copy of proposed, tighter US sanctions on Hezbollah caused disquiet in Lebanon because the wording, seen by Reuters, implied the legislation could target the Shiite Amal movement of parliament speaker Nabih Berri for investigation.
Lebanon's Maronite Christian President Michel Aoun is also a political ally of Hezbollah.
Targeting both Amal and Hezbollah and their associates – the two parties representing Lebanon's Shiite population – risked marginalizing a large section of society, banking and political sources said at the time.
Full report at:
https://english.alarabiya.net/en/News/middle-east/2019/09/12/New-sanctions-could-extend-to-allies-of-Hezbollah-in-Lebanon-US-envoy.html
--------
Saudi Arabia sentences Shia clergyman to 12 years in prison, imposes travel ban on him
Sep 12, 2019
A court in Saudi Arabia has sentenced Shia cleric and human rights activist Sheikh Mohammed al-Habib to 12 years in prison and imposed a travel ban on him, as the Riyadh regime presses ahead with its heavy-handed crackdown on members of the religious community.
The rights group Prisoners of Conscience, which is an independent non-governmental organization advocating human rights in Saudi Arabia, announced in a post on its official Twitter page on Thursday that the Specialized Criminal Court in Riyadh had passed the ruling on the clergyman and prevented him from traveling abroad for five years.
Prisoners of Conscie
@m3takl_en
A sentence of 12 years in prison and 5 years of travel ban that comes after is the total judgement issued against the human rights defender Sheikh Mohammed al-Habib @MuhammedAlHabib
from the (SCC) in #Riyadh.
The verdict was announced for the second case on August 25, 2019.
View image on Twitter
5
1:30 AM - Sep 12, 2019
Twitter Ads info and privacy
See Prisoners of Conscie's other Tweets
Sheikh Habib was recently released after three years of arbitrary detention.
On July 29, the same Saudi court sentenced an anti-regime activist from the kingdom's oil-rich and Shia-populated Eastern Province to death.
London-based and Arabic-language Nabaa television news network reported at the time that the Riyadh-based tribunal found Ali Al Rabie guilty in a "sham hearing" that fell short of international fair trial standards.
Saudi authorities had also executed two of Ali's brothers, Ahmad and Hossein, on April 23 over their political activism.
Regime forces killed Ali's younger brother, Thamer, when they raided al-Awamiyah town, situated in the al-Qatif region of Eastern Province.
Eastern Province has been the scene of peaceful demonstrations since February 2011. Protesters have been demanding reforms, freedom of expression, the release of political prisoners, and an end to economic and religious discrimination against the oil-rich region.
The protests have been met with a heavy-handed crackdown by the regime, with regime forces increasing security measures across the province.
Back in mid-July, informed sources, requesting anonymity, said that a young Saudi man had died more than a week after being injured by regime forces when they raided a district in the province.
Majid Abdullah al-Adam died ten days after regime forces, armed with heavy weapons and artillery launchers, stormed into the al-Jash district of Qatif onboard armored vehicles.
Full report at:
https://www.presstv.com/Detail/2019/09/12/606000/Saudi-Arabia-sentences-Shia-clergyman-to-12-years-in-prison-imposes-travel-ban-on-him
--------
War in Syria has come to end, long-lasting settlement of crisis needed: Russian FM
Sep 13, 2019
Russian Foreign Minister Sergei Lavrov says he believes the foreign-sponsored terrorism in Syria has come to an end, and that the need to promote the long-lasting settlement of crisis both in the war-ravaged Arab country and the entire Middle East region is highly required.
"The war in Syria has really come to an end. The country is gradually returning to a normal, peaceful life. Some hotspots of tensions remain in the territories that are not controlled by the Syrian government, such as Idlib and the eastern bank of the Euphrates," Russia's Sputnik news agency cited Lavrov as saying in an exclusive interview with Russian newspaper the Trud on Thursday.
The top Russian then pointed to the provision of humanitarian aid for affected civilians and "promotion of political process on settling the crisis to achieve stable and long-lasting stabilization of the situation in the country and the whole Middle East region" as the most important issues regarding Syria.
Sputnik
✔
@SputnikInt
#Lavrov says war in #Syria ended, points out need to overcome crisis in country https://sptnkne.ws/9JqQ
Lavrov Says War in Syria Ended, Points Out Need to Overcome Crisis in Country
MOSCOW (Sputnik) – Russian Foreign Minister Sergey Lavrov believes that the war in Syria has come to an end and stressed the need to promote the long-lasting settlement of crisis both in the Arab...
sputniknews.com
21
8:20 AM - Sep 13, 2019
Twitter Ads info and privacy
15 people are talking about this
Lavrov added, "We believe the formation and launch of a committee designed to develop the constitutional reform will be an important step in advancing the political process led and carried out by Syrians themselves with the UN assistance."
"In fact, its convention will enable the Syrian sides – the government and the foreign-sponsored armed opposition – to begin for the first time a direct dialogue on their country's future," he commented.
Lavrov went on to say that Russia has taken some steps to "support the efforts of the Syrian government in its fight against terrorists, who still remain in the Idlib zone, and promote issues concerning humanitarian assistance and facilitation of the political process in the context of formation of the constitutional committee."
The Russian foreign minister later criticized sanctions that the United States and European countries have slapped on the Syrian government, describing the measures as fully counterproductive.
Russia has been helping Syrian forces in ongoing battles across the conflict-plagued Arab country. Syrians continue to recapture key areas from Daesh and other foreign-backed terrorist groups across the country.
Syria has been gripped by foreign-backed militancy since March 2011. The Syrian government says the Israeli regime and its Western and regional allies are aiding Takfiri terrorist groups that had been wreaking havoc in the country.
Militants open fire on civilians at Rukban camp
Separately, US-sponsored militants have opened fire at displaced Syrians stranded in a camp near the Jordanian border after the latter demanded that delivered humanitarian food be distributed among them.
Head of the Russian Center for the Reconciliation of Opposing Sides in the Syrian Arab Republic, Major General Alexey Bakin, said members of the so-called Forces of Martyr Ahmad al-Abdo militant group have seized a significant amount of cargo delivered by the United Nations and the Syrian Arab Red Crescent to the Rukban camp, and moved the consignment to their base north of the camp.
"On September 11, militants opened fire with small arms at a market in Rukban to disperse civilians demanding food," Bakin said.
The United Nations says about 45,000 people, mostly women and children, are trapped inside Rukban, where conditions are desperate. This is while Geneva-based international aid agency Doctors Without Borders has put the number at some 60,000.
On March 6, Lavrov said the United States needed the Rukban refugee camp in order to justify its illegitimate military presence in Syria.
"The fact that people are not allowed to leave [the camp] and are held hostage makes one suggest that the US needs this camp to continue justifying its illegitimate presence there," Lavrov said.
Full report at:
https://www.presstv.com/Detail/2019/09/13/606051/War-in-Syria-has-come-to-end-longlasting-settlement-of-crisis-needed-Russian-FM
--------
US rejects UN suggestion its Syria air strikes could constitute 'war crimes'
September 12, 2019
GENEVA: Washington's top envoy for Syria rejected Thursday an allegation put forward in a UN report that some US-led air strikes in the conflict-torn country could possibly be categorized as indiscriminate attacks, amounting to "war crimes."
James Jeffrey, the US special representative on Syria, dismissed findings published in a UN report on Wednesday suggesting that the US-led coalition had with a number of air strikes in the country "failed to employ the necessary precautions to discriminate adequately between military objectives and civilians."
The UN Commission of Inquiry, which has been investigating human rights violations in Syria's drawn-out war for the past eight years, pointed to a series of air strikes carried out by the coalition in January in the eastern province of Deir Ezzor, including one that killed 16 civilians.
"The Commission finds that there are reasonable grounds to believe that international coalition forces may not have directed their attacks at a specific military objective, or failed to do so with the necessary precaution," the report said.
"Launching indiscriminate attacks that result in death or injury to civilians amounts to a war crime in cases in which such attacks are conducted recklessly," stressed the Commission, which has also suggested in previous reports that US-led strikes in Syria could amount to war crimes.
The Commission has also repeatedly accused the Syrian government and its main backer Russia, as well as other actors in the conflict of a wide range of war crimes.
"We take extreme care in every military operation," Jeffrey told journalists in Geneva when asked about the report.
"We do not accept the findings of that particular body," he said.
Jeffrey was in Geneva Wednesday for consultations with the UN envoy for Syria Geir Pedersen.
Pedersen, a seasoned Norwegian diplomat who took over the job in January, is trying to help create a committee to draft a post-war constitution for Syria.
His predecessor, Staffan de Mistura, stepped down after his four years in the post ended with a year-long abortive push to form the constitutional committee.
But Pedersen, who has been consulting extensively with the various Syrian actors, as well as with countries with influence in the conflict, voiced optimism that the constitutional committee could soon see the light of day.
Following his meeting with representatives from Britain, Egypt, France, Germany, Jordan, Saudi Arabia and the United States Thursday, he told journalists he was "confident that we are moving forward.
"Hopefully I can have positive news on this in the very near future."
Full report at:
https://www.arabnews.com/node/1553586/middle-east
--------
Pakistan
Pakistan expected to be 'Black Listed' by FATF in October
Sep 12, 2019
NEW DELHI: Media reports quoting a Pakistan official indicate that Pakistan's evaluation by the Asia Pacific Joint Group in Bangkok this week did not match up to its expectations. The unidentified official indicated that the group asked complex questions and did not seem to be satisfied.
FATF had placed Pakistan on its Gray List in June 2018, giving it a 15-month action plan to complete implementation of a 27-point action plan, failing which the country could be placed in the Black List.
In August 2019, a subsidiary body of FATF, the Asia Pacific Group placed Pakistan in the Enhanced Follow Up List for failure to meet its standards. On 40 compliance parameters, Pakistan was non-compliant on 30. On 11 effectiveness parameters, Pakistan was adjudged as Low on 10.
Pakistan has been under the FATF radar for its complicity towards terror groups like Lashkar-e-Taiba (LeT), Jaish-e-Mohammed (JeM), Haqqani Network, among others. In addition, proscribed terrorists like Hafiz Saeed and Azhar Masood are either regularly seen seeking donations and volunteers for armed rebellions in India, or making calls for jihad in Kashmir from the inner recesses of GHQ Rawalpindi.
The FATF in June, gave a stern message to Pakistan to expedite its action plan for curbing terror financing by October or face the prospect of getting blacklisted, which could aggravate problems for its low growth, high inflation economy.
In the run-up to the FATF Plenary scheduled to be held in Paris from October 13 to 18 where Pakistan's compliance with the action plan will be assessed, Islamabad has been engaged in hectic lobbying in a last-ditch bid to influence the outcome in its favour.
In addition, Prime Minister Imran Khan will meet leaders from Japan, Malaysia, New Zealand, South Africa, Turkey, France, Germany, Britain, and Canada on the sidelines of 74th session of the United Nations General Assembly in New York from September 17 to 20.
Khan's meetings have also been proposed with the leaders of Indonesia, Australia, Italy, Belgium, Netherlands, Denmark, Norway, the United States, Mexico, and Argentina to muster support on issues related to FATF and grey-listing process.
Pakistan's foreign minister Shah Mehmood Qureshi is also scheduled to seek support from Kuwait, Sweden, South Korea, China, Oman, Qatar, UAE, Russia, Greece Austria, Spain, Luxembourg, Ireland, Brazil, and other countries on the sidelines of the UN General Assembly.
Under the FATF action plan, Pakistan has nothing substantial to show by way of terror-related seizures in the list of over 900 seized properties of various terror organisations. Nor were formal terror-financing cases lodged or investigations completed since February 2018.
Thus, Pakistan has been largely non-compliant on all parameters stipulated by the FATF even though media reports in Pakistan seem to indicate that the country has reason to hope that things will change due to the Prime Minister fronting the information blitz. The reality, it appears is different to what Pakistan is being told by its leaders.
https://timesofindia.indiatimes.com/world/pakistan/pakistan-expected-to-be-black-listed-by-fatf-in-october/articleshow/71102386.cms
--------
Pak PM Imran Khan to visit Saudi Arabia again amidst India-Pak tensions
Sep 12, 2019
ISLAMABAD: Pakistan Prime Minister Imran Khan will visit Saudi Arabia later this month, his third trip to the Kingdom, a media report said on Thursday, amidst the Indo-Pak tensions over Kashmir.
According to Geo News, Khan will travel to Saudi Arabia before his trip to the US to address the UN General Assembly for the first time on September 27. Khan has said that he would highlight the Kashmir issue in his speech after India revoked Jammu and Kashmir's special status last month.
During his visit, the prime minister is expected to meet important Saudi leaders, the report said.
Earlier this month, Saudi Arabian Minister of State for Foreign Affairs Adel al-Jubeir met with Pakistan Ambassador to Saudi Arabia Raja Ali Ejaz in Riyadh to discuss Imran's likely visit, The News reported.
The Saudi minister, along with the UAE's Minister of Foreign Affairs and International Cooperation Sheikh Abdullah bin Zayed bin Sultan al-Nahyan visited Islamabad on September 4 and discussed the Kashmir issue with Prime Minister Khan and other Pakistani leaders.
The visit by the two ministers came after Prime Minister Khan telephoned Saudi Crown Prince Mohammed bin Salman and Crown Prince of the UAE Sheikh Muhammad bin Zayed and discussed the Kashmir issue with them.
Meanwhile, Pakistan Foreign Office Spokesperson Mohammad Faisal on Thursday dismissed media reports that claimed that the United Arab Emirates and Saudi Arabia's foreign ministers, on their recent trip to Pakistan, had told the government that Kashmir was "not a Muslim ummah related issue."
Faisal insisted that both officials had "expressed solidarity with Pakistan and support for the Kashmir cause," the Dawn newspaper quoted him as saying.
Asserting that the abrogation of Article 370 was its "internal matter", India has defended imposition of restrictions in Kashmir on the grounds that they were put to prevent Pakistan from creating more mischief through proxies and terrorists.
During his last visit to Saudi Arabia in June, Khan represented Pakistan at the 14th Summit of Organisation of Islamic Cooperation (OIC) in Makkah.
He also visited Saudi Arabia in September 2018 for the first time after becoming Prime Minister the previous month.
Full report at:
https://timesofindia.indiatimes.com/world/pakistan/pak-pm-imran-khan-to-visit-saudi-arabia-again-amidst-india-pak-tensions/articleshow/71098402.cms
--------
Army committed to capacity building of Saudi land forces, says COAS
September 13, 2019
RAWALPINDI: Chief of Army Staff (COAS) General Qamar Bajwa on Thursday reaffirmed Pakistan's support for capacity building of Royal Saudi Land Forces.
The pledge was made during a meeting between the COAS and Major General Talal Abdullah Al-Otaibi, military adviser to KSA's defence minister at the GHQ, Rawalpindi. Saudi ambassador Nawaz Saeed al Malkiy was also present on the occasion.
According to Inter-Services Public Relations (ISPR), the visiting dignitary lauded Pakistan Army's contributions towards regional peace and stability.
"Matters of mutual interest, regional security and ways to enhance bilateral defence collaboration including training exchange programme were discussed," the communique added.
The two Muslim countries have doubled down on the strategic military partnership.
Full report at:
https://www.pakistantoday.com.pk/2019/09/12/army-commits-to-capacity-building-of-saudi-land-forces/
--------
Unfair to blame Pakistan for US setbacks in Afghanistan: Imran
September 13, 2019
Prime Minister Imran Khan on Thursday said that it is unfair to blame Pakistan for the setbacks suffered by US in Afghanistan.
In an exclusive interview to Russia Today, the premier dwelled on the damage the country suffered when it decided to side with the US post 9/11.
"Had we not participated in the American war after 9/11, we would not have been the world's most dangerous country," said the premier.
Reiterating his stance against the US invasion of Afghanistan, the prime minister reminisced that the Afghan Mujahideen had been trained to fight by Pakistan with funding coming by America's Central Investigation Agency (CIA) in the 1980s when the Soviets invaded Afghanistan.
"A decade later when the Americans come into Afghanistan, the same groups in Pakistan are supposed to say that now because the Americans are there, it is not longer Jihad – it is terrorism," he said while underscoring the contradiction in rhetoric.
"I strongly felt that Pakistan should have been neutral," he continued. "Because by joining in [Afghan war], these groups turned against us."
The prime minister added that the country lost 70,000 lives and suffered a loss of over $100 billion to the economy. "And in the end, we were blamed for the Americans not succeeding in Afghanistan," he noted. "I felt it was very unfair to Pakistan."
Earlier this week, US President Donald Trump announced to pull out of the Pakistan-brokered talks with the Afghan Taliban jeopardizing the prospects of peace in Afghanistan.
The sudden move throws a new challenge for Islamabad at a time when its hands are already full dealing with other foreign policy issues.
In its official reaction to the sudden US move, the Foreign Office called on all sides for restraint and reminded them of the commitment to pursue peace.
Full report at:
https://www.pakistantoday.com.pk/2019/09/12/unfair-to-blame-pakistan-for-us-setbacks-in-afghanistan-imran/
--------
IHC fixes disqualification plea against Fawad Chaudhry for hearing
September 13, 2019
ISLAMABAD: The Islamabad High Court (IHC) on Thursday accepted and fixed a petition for hearing in which the petitioner has sought disqualification of Federal Minister for Science and Technology Fawad Chaudhry from holding public office under Articles 62 and 63 of the Constitution.
Court has asked Fawad to submit his reply within two weeks.
As per the petition, Fawad knowingly concealed details of his assets in nomination papers submitted to the Election Commission of Pakistan (ECP).
"The land he owns in Jhelum was not declared in his nomination papers with the ECP," petitioner added.
Justice Minallah, who heard this case said that he is not in favour of dragging courts in political cases as they should be dealt at political forums.
The petitioner told the court that Fawad was not sadiq and amin. To this, Justice Minallah asked: "Which person is sadiq and amin?"
The petition submitted in the court requested the court to disqualify the minister under Article 62 (1) (f) from holding public office as he had not disclosed documents containing his proprietary information.
Full report at:
https://www.pakistantoday.com.pk/2019/09/12/ihc-fixes-disqualification-plea-against-fawad-ch-for-hearing/
--------
North America
Jihadis celebrate 9/11 anniversary, vow to strike America again
September 13, 2019
Pro-ISIS and pro-Al-Qaeda channels on the Telegram messaging app have been inundated with posts relating to 9/11, including threats and calls for Muslims in the U.S. to carry out new terrorist attacks, according to a report by the Middle East Media Research Institute (MEMRI).
"Allah will give us victory against them and what America awaits in the coming days is greater and worse than what has passed by the will of Allah [...] America indeed we along with you are waiting," reads one such post in an English-language channel, GreenB1rds. "You are a disease which will be wiped out by the permission of the Allah. Monotheists Brothers in the United Snakes of America... Prepare and strike....and kill them wherever you find them..."
One poster featured a sepia-toned photo of the World Trade Center's twin towers on fire with ISIS flags in the background. The poster read: "9/11, We call on every Muslim who believes in Allah and wishes to be rewarded to comply with Allah's order to kill the Americans and plunder their money wherever and whenever they find it."
Another poster shared in the channel featured an image of the Statue of Liberty and the gun of an ISIS fighter with the caption "Islamic State - the Caliphate - Soon in America."
Two posters re-shared in the channel were published by pro-Al-Qaeda channel Awlaki's Generation. "America cannot, and will not, win," their slogan reads.
"The entire world knows the American army, despite its large amount of equipment is very weak on the ground, and that it's [sic] basic tactic in combat is the bombing which destroys everything and kills the residents, to force it's [sic] enemy to give up." read one of the posters. "And then they demand that we not strike them in their countries?"
The other one features President Trump and Russian President Vladimir Putin superimposed, with the caption, "America, its allies, Russia. and all the nations of Kufr [unbelievers] are weak in front of the Mujahideen."
Another poster displayed a smiling Usama bin Laden, with a quote attributed to him: "The war is between us and the Jews. Any country that steps into the same trench as the Jews has only itself to blame." Below was the famous Nike slogan: "Just Do It."
Another pro-ISIS Telegram channel Al-Furat News released a poster of an ISIS fighter looking up at the Statue of Liberty in flames as planes fly towards it. "You will be destroyed," reads the poster.
ISIS's physical "caliphate" was later crushed in Iraq and Syria, though its militants are still active and carrying out attacks.
A recent U.N. report said the "immediate global threat posed by Al Qaeda remains unclear" but warned that some would-be ISIS recruits could turn to the older organization. Al Qaeda militants, meanwhile, have taken a lower profile, using regional conflicts in Afghanistan, Syria and Yemen to entrench themselves. The Yemen branch has been the most active, exploiting the chaos of the civil war to carry out bombings, shootings and assassinations in an effort to expand its footprint.
https://www.foxnews.com/world/jihadis-celebrate-9-11-anniversary-vow-to-strike-america-again-in-telegram-channels
--------
Lawmaker urges US govt to press India over situation in occupied Kashmir
September 13, 2019
WASHINGTON: As resentment against India's annexation of Kashmir grows, a US lawmaker has urged the Trump administration to "weigh in" while another asked India to let Kashmiris decide their future.
"It is very much a matter for the administration and the administration has to take it more seriously," said Senator Tim Kaine, a member of the Senate Foreign Relations Committee. "At the end of the day we do need the administration to weigh in.
"I have been very dismayed with what's happening in Kashmir. I strongly disagree with what Prime Minister (Narendra) Modi has done," said Congressman Don Beyer, a Virginia Democrat who is also a former US ambassador to Switzerland.
Equating Mr Modi with other autocratic leaders in the world, Mr. Beyer said: "You see this happening with autocratic leaders all over the world, dividing people, setting one religion against another, setting one race against another."
The two lawmakers were talking to journalists on Wednesday after an event in the memory of the 9/11 victims. Referring to UN resolutions and pledges by both India and Pakistan to hold a referendum in Kashmir, Mr. Beyer said: "In Kashmir, years ago it was decided that its future will be decided by a vote of the people and that's not happened."
The congressman also rejected India's Aug. 5 decision to annex Kashmir and called it an inappropriate military incursion.
"And this annexation, I strongly disapprove. More Americans will stand up to this inappropriate military incursion," he said.
Senator Kaine, who is also a former governor of Virginia and chair of the Democratic National Committee, indicated that Kashmir was one of the key issues that US lawmakers had taken up with the administration since they returned from the summer recess earlier this week.
"We have just come back from the recess and what I am starting with is meetings with my colleagues and representatives of the governments so we can promote more stability," he said.
Senator Kaine said that as a member of the Senate's panel for foreign relations, he has scheduled meetings with representatives of various governments — including the US administration — to understand the situation.
He said he was doing so "because it's unacceptable what's happening" in Kashmir and "we need to figure out if there're steps that we can take to bring tensions down."
The two statements reflect a growing realization in Washington that India may be the world's largest democracy, but what it has done in Kashmir is not only undemocratic, it's also illegal and violates international norms and treaties.
Washington insiders say that while Indian officials might have dropped hints that they may be taking some administrative measures in Kashmir, they did not tell Americans that they were going to merge the occupied valley with the union.
This has added to Washington's annoyance with the Indian action and reflects in US President Donald Trump's repeated offer to mediate between India and Pakistan.
Full report at:
https://www.dawn.com/news/1504955/lawmaker-urges-us-govt-to-press-india-over-situation-in-occupied-kashmir
--------
US: New exhibition depicts 'War on Terror from Muslim eyes'
By Umar A Farooq
12 September 2019
It has been 18 years since the 9/11 attacks, an event that drastically changed the geopolitics of the Middle East, catapulted the United States into forever wars and sparked the global fight against so-called "radical Islamic terrorism".
As US President Donald Trump and other American politicians marked the anniversary on Wednesday with somber messages, elsewhere in Washington, Muslim-American activists launched an art exhibit illustrating how the US-led "War on Terror" has affected Muslim communities worldwide.
Organised by the Justice for Muslims Collective (JMC), a Washington-based coalition that challenges structural Islamophobia, the temporary exhibition featured a visual timeline depicting how US policies and programmes implemented since the 11 September attacks have harmed Muslims both in the US and abroad.
A work of art for each year between 2001 and 2019 was on display in a room at the True Reformer Building, a community space on U Street, a historic thoroughfare that is often referred to as the heart of African-American culture in the country.
"My goal was to create visuals - with the wonderful help of artists - that would demonstrate how deeply rooted Islamophobia has been throughout the 'War on Terror'," Maha Hilal, the JMC director, said on Wednesday as the exhibition was opened to the public.
The timeline begins in 2001 with the attacks on the World Trade Center buildings in New York, and the subsequent Patriot Act, a piece of legislation signed into force by then-President George W Bush in the aftermath of the 9/11 attacks that was used to surveil US citizens, specifically targeting Muslims.
It then moves on to various key moments in the US's so-called "War on Terror", including the US invasion of Afghanistan, the torture of Iraqi prisoners in Abu Ghraib prison in Iraq at the hands of American soldiers, and the opening of the Guantanamo Bay detention centre.
The exhibition also delves into Washington's use of deadly drone strikes in Pakistan, Somalia and Yemen, various cases of entrapment of Muslim Americans and the creation of the Countering Violent Extremism (CVE) programme during former US President Barack Obama's administration.
CVE was introduced as a means of curbing efforts by extremists to recruit and radicalise individuals. Alongside law enforcement agencies, NGOs, and mental health providers, the programme involves monitoring communities for risks of radicalisation.
However, it has been widely criticised for not providing concrete ways to prevent the spread of extremism, for overwhelmingly targeting Muslim communities and for treating Muslims as inherently suspicious.
"As someone who loves, or loved, Obama, it's really difficult to see him culpable in so much of what's led us to the current day CVE," said Sarah Khan, a Muslim-Canadian curriculum developer in Washington, who attended the opening night event.
"[The programme] was opened under his administration, and so many of the drone attacks were released by his executive orders as well," Khan told MEE.
Bringing 'light' to people who suffered
The images from the timeline were drawn by 18-year-old Zaynub Siddiqui, a student at the University of Maryland, and then digitised by graphic designer Maura Dwyer of The Sanctuaries DC, an interfaith community arts space that oversaw the construction of the timeline.
Walking into the exhibition, visitors are met with a row of posters on easels, set up in front of each wall.
Each poster is a mashup of drawings that depict what happened in a specific year in the timeline so with each step you move closer to the present day.
Siddiqui said it took her longer than she expected to draw the pieces because each time Hilal sent her a description of the issue she wanted her to capture, she was horrified by its brutality.
"It would take me at least 15 to 20 minutes to look at the [descriptions] and then have to draw them," she said, before breaking into tears as she looked around the room at the artwork she created.
"I hope this project is used to educate people and I hope it helps our ummah [community] and it brings light to the people who suffered so immensely," Siddiqui told MEE.
Public memory
While the exhibition in Washington was temporary - the images were only on display for the 9/11 anniversary on Wednesday - Hilal said she hopes it can be shown countrywide to shed light on how the US government has normalised ill-treatment of Muslims, while also demonstrating how Washington's scapegoating of Muslims has been integrated into the country's national security infrastructure.
"One of the reasons we created our timeline was to root a public memory of the 'War on Terror' from Muslim eyes in American consciousness," she told MEE.
Hilal said there are myriad examples of how the state has used violence against Muslims during the "War on Terror".
She pointed to the abuse of predominantly Muslim detainees at Guantanamo Bay, where many were subjected to force feeding, waterboarding, sleep deprivation and stress positions.
In 2017, an independent UN human rights investigator also said torture was still taking place at Guantanamo despite the US banning "enhanced interrogation techniques" more than a decade ago.
James Yee, a former US army captain who was the Muslim chaplain at Guantanamo, wrote in his memoir that "Islam was systematically used as a weapon against the prisoners", the New Yorker reported in April.
In that context, Hilal said the artwork aimed to disrupt "the state's narrative on what does or doesn't constitute violence, who gets to live, and who has to die, and what it means to create an entire apparatus to criminalise, dehumanise, and harm Muslims".
Khan, the curriculum developer, added that the exhibit made clear just how destructive the "War on Terror" has been for Muslims.
Full report at:
https://www.middleeasteye.net/news/us-exhibition-war-terror-muslim-communities
--------
Israel accused of placing spy devices near White House: Report
Sep 12, 2019
The US government has concluded within the past two years that Israel has been placing surveillance devices near the White House and other sensitive locations around Washington, DC, according to a US media outlet.
In contrast to other instances of foreign spying, however, President Donald Trump's administration has not rebuked Israel, and there were no consequences for the regime's behavior, Politico reported on Thursday, citing three former senior US officials with knowledge of the matter.
The phone eavesdropping devices, called IMSI-catcher, or stingrays, are essentially a "fake" mobile towers used for intercepting mobile phone traffic and tracking location data of mobile phone users.
The devices were likely intended to spy on President Donald Trump, one of the former officials said, as well as his top aides and closest associates -- though it's not clear whether the Israeli efforts were successful.
Trump is reputed to be lax in observing White House security protocols. POLITICO reported in May 2018 that the president often used an insufficiently secured cell phone to communicate with friends and confidants.
The New York Times subsequently reported in October 2018 that "Chinese spies are often listening" to Trump's cell-phone calls, prompting the president to slam the story as "so incorrect I do not have time here to correct it."
The report said that in May 2018, officials at the US Department of Homeland Security discovered evidence of the surveillance devices around the US capital, but weren't able to attribute the devices to specific entities.
However, based on a detailed forensic analysis, the FBI and other intelligence agencies working on the case felt confident that Israeli agents had placed the devices, according to the report.
Israeli Prime Minister Benjamin Netanyahu's office issued a statement on the report, calling the accusation "a blatant lie."
A spokesperson for Israel's embassy in Washington, Elad Strohmayer, also denied that Israel placed the devices. "These allegations are absolute nonsense. Israel doesn't conduct espionage operations in the United States, period," he said.
But former US officials with deep experience dealing with intelligence matters scoff at the Israeli claim.
One former senior intelligence official noted that after the FBI and other agencies concluded that the Israelis were most likely responsible for the devices, the Trump administration took no action to punish or even privately scold the Israeli government. "The reaction ... was very different than it would have been in the last administration," this person said, adding, "With the current administration, there are a different set of calculations in regard to addressing this."
The former senior intelligence official criticized how the administration handled the matter, remarking on the striking difference from past administrations, which likely would have at least issued a formal diplomatic reprimand to the foreign government condemning its actions.
"I'm not aware of any accountability at all," said the former official.
It was not the first time Israel has been accused of spying against its close ally. In 1986, Jonathan Pollard, a Jewish American citizen and US Navy analyst, was found guilty of espionage on behalf of Israel.
Pollard was sentenced to life in prison but freed in 2015 by then President Barack Obama. His spying activities continue to be a source of discomfort for US officials, with the US government refusing his request to immigrate to Israel.
The full scope of Pollard's activities have never been fully disclosed.
Pollard has been described by former US Defense Secretary Caspar Weinberger as one of the most damaging spies ever to operate in the United States.
Unconfirmed accounts over the years suggest that Pollard, who worked at the US Naval Intelligence Center for Counter Terrorism in Maryland, handed files to the Israelis, including documents relating to Arab troops, the Palestine Liberation Organization and alleged chemical and biological warfare programs conducted by Iraq, Libya and Syria.
Full report at:
https://www.presstv.com/Detail/2019/09/12/606009/US-government-Israel-surveillance-devices-White-House
--------
US force posture in Syria unchanged: Pentagon
13.09.2019
By Kasim Ileri
WASHINGTON
The U.S. force posture in Syria remains unchanged, Pentagon spokesman Sean Robertson told Anadolu Agency on Thursday.
"While we are working to implement the President's direction to withdraw troops from Syria in a deliberate an coordinated manner, Force levels will be dictated by conditions on the ground," Robertson said.
Details regarding the numbers or timelines would not be discussed "for security reasons," he said.
The New York Times reported earlier Thursday that the Pentagon is poised to send nearly 150 troops to northeastern Syria "to conduct ground patrols with Turkish forces."
Safe zone establishment
Referring to the formation of a safe zone along the Turkish border in Syria, Robertson said: "The United States has taken steps to implement the provisions of the security mechanism rapidly and in some cases ahead of schedule."
"We are committed to working closely with our Turkish Ally precisely to enhance our cooperation, coordination, and consultation," he added.
On Aug. 7, Turkish and U.S. military officials agreed to set up a safe zone in northern Syria and develop a peace corridor to facilitate the movement of displaced Syrians who want to return home. They also agreed to establish a joint operations center.
The agreement also envisaged setting up necessary security measures to address Turkey's security concerns, including clearing the zone of the terrorist YPG/PKK, a group the U.S. has sometimes been allied with, over Turkey's objections.
The U.S., which considers the PKK a terrorist organization, changed the YPG's name to the Syrian Democratic Forces in July 2017 to dissociate it with the PKK.
Full report at:
https://www.aa.com.tr/en/americas/us-force-posture-in-syria-unchanged-pentagon/1582548
--------
Trump: I do not believe Israelis spied on US
September 13, 2019
By Servet Gunerigok
WASHINGTON
U.S. President Donald Trump said Thursday he does not believe Israel planted surveillance devices near the White House in an attempt to capture his cellular telephone activity.
"I don't believe that. No, I don't think the Israelis were spying on us," Trump told reporters at the White House. "I really would find that hard to believe."
Earlier in the day, an investigation by the FBI and other U.S. agencies concluded Israel was responsible, Politico reported, citing three former U.S. officials familiar with the matter.
"It was pretty clear that the Israelis were responsible," one official told the news outlet on condition of anonymity.
A spokesperson from the Israeli embassy in the U.S. immediately denied the allegations and called them ''absolute nonsense."
''Israel doesn't conduct espionage operations in the United States, period," Elad Strohmayer told Politico.
"My relationship with Israel has been great," Trump said.
He later added: "Anything is possible," but repeated he does not believe the accusations.
The StingRay devices were discovered near the White House and other "sensitive locations" in the nation's capital.
They mimic cell towers in a bid to fool cellular telephones into passing location and other identifying information, as well as call and data information.
Iran
Trump also said he believes Iran's leadership wants a meeting with the U.S.
"I can tell you that Iran wants to meet," he said.
On Monday, Trump said he could meet with Iranian President Hassan Rouhani at the upcoming UN General Assembly meetings in New York.
Tensions have been running high between the U.S. and Iran since Washington unilaterally withdrew from a landmark 2015 nuclear deal last year. The deal was the outcome of protracted negotiations between Tehran and the five permanent members of the UN Security Council, plus Germany and the EU.
Full report at:
https://www.aa.com.tr/en/americas/trump-i-do-not-believe-israelis-spied-on-us/1582536
--------
Saudi official in 9/11 case to be named: report
James Reinl
September 13, 2019
New York
The Trump administration has reportedly agreed to reveal the identity of a Saudi Arabian official who played an organizational role ahead of the Sept. 11, 2001, terrorist strikes on the U.S.
The Wall Street Journal newspaper reported Thursday that the Department of Justice agreed to disclose the name of the individual, threatening a diplomatic rift with a key Middle Eastern ally.
Citing the "exceptional nature of the case," the FBI said it would identify the Saudi official but rejected calls to release any additional information, answering a request related to a law case, the newspaper reported.
Lawyers for relatives of the victims of the Sept. 11 attacks previously asked the government to disclose the name of the individual, which appeared in a document from a 2012 FBI probe into the tragedy.
The individual is believed to be a Saudi official who allegedly assisted two of the hijackers in southern California in the run-up to the hijacking of passenger jets, which shocked the world 18 years ago this week.
The Saudi government has repeatedly denied any connection to the strikes. Some 15 of the 19 attackers were Saudis and al-Qaeda leader Osama bin Laden was from a prominent Saudi family.
Full report at:
https://www.aa.com.tr/en/americas/saudi-official-in-9-11-case-to-be-named-report/1582526
--------
US offers $5M for information on al-Qaeda leaders
Michael Hernandez
12.09.2019
WASHINGTON
The U.S. on Thursday announced $5 million rewards for information on three senior leaders of an al-Qaeda affiliate in Syria.
The State Department said in announcing the cash payments under its Rewards for Justice program that it wanted information leading to the identification of three senior Huras al-Din leaders -- Abu Abd al-Karim al-Masri, Faruq al-Suri, and Sami al-Uraydi.
The individuals have been active in al-Qaeda "for years," the department said, and remain loyal to its leader Ayman al-Zawahiri.
Al-Masri is an Egyptian national, and is a former member of Huras al-Din's shura council. Al-Suri, who is also known as Samir Hijazi and Abu Hammam al-Shami, fought in Afghanistan in the 1990s, and later trained al-Qaeda fighters in Iraq, the State Department said.
Full report at:
https://www.aa.com.tr/en/americas/us-offers-5m-for-information-on-al-qaeda-leaders/1580336
--------
Afghan Taliban launch another bombing after Trump warning
Ruchi Kumar
Sep 12, 2019
The Taliban bombed an army base in Kabul on Thursday, stoking fears of an escalation in Afghanistan's war a day after US President Donald Trump vowed to hit the insurgents "harder than they have ever been hit before".
Mr Trump's warning at a 9/11 commemoration ceremony came after the Taliban threatened to step up violence in response to his sudden decision to suspend peace talks after nearly a year of negotiations. Calling off of talks "will harm America more than anyone else", the Taliban said after the president announced his decision on Saturday.
The Taliban have claimed a number of attacks across Afghanistan since then. On Wednesday the group fired several rockets at the US Embassy in Kabul although no casualties were reported. Thursday's attack by a suicide car bomber killed four soldiers at a commando base in Chahr Asiab district.
But Afghan officials said the security forces had registered greater success against the Taliban despite the militants steadily increasing their attacks during the peace talks.
"Based on casualties, we have had the lowest civilian and [security forces] casualties, while we have inflicted a greater number of Taliban casualties including in their high ranks," a senior security official told The National, speaking on condition of anonymity.
He said security forces had made territorial gains as well, including certain northern districts that had been under Taliban control for many years. "In the north, they have been targeting Baghlan, Badakhshan, Takhar and Kunduz, but we have also had a lot of achievement. We have been to the provinces where we have never been in the last 14 years; we retook several districts from Taliban control in Paktia, Badakhshan and other parts of the country," he said.
Experts have predicted more violence, not only because of the collapse of the peace talks but also because of the presidential election scheduled for later this month.
"It is clear that violence will escalate at this stage; both sides have have indicated that. But also because there is still some hope for peace," said Omar Sadr, a security analyst in Kabul.
"Considering recent remarks by [US Secretary of State] Mike Pompeo, it seems they are still interested in a deal with Taliban; so escalation of violence is expected as a way for both parties to increase pressure to gain more out of the bargaining," he said.
The security official said the future situation would depend on the Taliban. "The Taliban can't achieve anything by taking innocent lives for their so-called leverage. If they don't agree to intra-Afghan talks then yes, we will hit them harder," he said, echoing the US president.
Mr Trump's words also resonated among ordinary Afghan troops, who have been at the receiving end of the increasing Taliban violence. "We support Mr Trump's decision and hope he will stand by it. I agree with him: the Taliban must be killed because they don't want peace," said a soldier based in the north-western province of Faryab.
Full report at:
https://www.thenational.ae/world/asia/afghan-taliban-launch-another-bombing-after-trump-warning-1.909717
--------
Emirati arrested at gunpoint in US over 'shameful' claim he supported ISIS settles legal case
Daniel Sanderson
Sep 12, 2019
An Emirati man arrested at gunpoint at US hotel after a false report he supported ISIS has settled a lawsuit that claimed the incident was motivated by racism.
Ahmed Al Menhali was the victim of "the worst aspects of American Islamophobia and racism" when he tried to book a room at the Fairfield Inn and Suites in Avon, Ohio, three years ago.
Hotel reception staff were suspicious because he was wearing a kandura, ghutra and making phone calls in Arabic, his lawsuit said.
The incident in June 2016 saw armed police storm the hotel, the Fairfield Inn and Suites, pin Mr Al Menhali to the floor at gunpoint, search him and detain him. Officers rifled through his wallet and even removed his shoes.
He sued Marriott International, the hotel franchise operator, in 2017. Mr Al Menhali reached a settlement on Wednesday shortly before the court case was due to begin.
"I'm happy with the American people but not the American court," he said following the outcome, according to media in Ohio. He added that what happened to him had destroyed his life.
Terry Gilbert, one of his lawyers, was highly critical of the way hotel staff treated his client.
"We are pleased to obtain a significant settlement on behalf of Mr Al Menhali," he said.
"What happened to him was a shameful example of how ignorance and intolerance still remain in this country, in this case, because of how he dressed and the language he spoke.
"Now that a resolution has been reached, Mr Al Menhali and his family can find closure and move forward with their lives."
The incident drew international attention in 2016, with police releasing bodycam footage of the arrest, as well as of the Avon mayor and police chief later making an apology to Mr Al Menhali.
In the wake of the arrest, the UAE advised its citizens to avoid wearing national dress abroad for their own safety and diplomats expressed concern to US counterparts.
Police, after making the arrest, realised Mr Al Menhali was innocent after they spoke to a hotel staff member, Alexis Silva, who admitted she had been "freaked out" by his appearance, "weird" clothing, and the fact that he had two phones.
According to court documents, Ms Silva had texted her sister, father and mother claiming a man was at the hotel, wearing a headdress who was professing allegiance to ISIS.
The family members called police and a SWAT team was dispatched to the scene.
Mr Al Menhali collapsed as police were trying to explain what had happened and he was taken to hospital.
The settlement he received was "confidential," his legal team said. His wife, Taghrid Milki, had also sought damages for the suffering the incident had caused her.
A case against police officers was dismissed last year.
Speaking to The National in 2016, Mr Al Menhali, who had been in the US for medical treatment, said: "They were brutal with me. They pressed forcefully on my back. I had several injuries and bled from the forceful nature of their arrest.
Full report at:
https://www.thenational.ae/uae/courts/emirati-arrested-at-gunpoint-in-us-over-shameful-claim-he-supported-isis-settles-legal-case-1.909483
--------
Europe
Swiss Revoke Citizenship From Dual-National Islamic State Recruiter
September 11, 2019
ZURICH - Switzerland has revoked the citizenship of a man convicted of helping recruit jihadist fighters, invoking a law allowing dual nationals to be stripped of their Swiss passports for conduct detrimental to national interests or reputation.
Though the Swiss federal immigration office said this was the first time it had made such a move under the 66-year-old law, other Western nations have also stripped citizenship of people linked to extremist violence in the Middle East.
Last year, Australia revoked the nationality of an Islamic State (IS) recruiter, despite some concerns the move would leave him stateless, while Britain in February stripped a 19-year-old teenager of citizenship on security grounds.
The Swiss office did not release the other nationality of the man, who is in prison after receiving a multiple-year sentence for crimes including membership in a terrorist organization, spreading IS propaganda and seeking to convince fighters to participate in jihadist violence in the Middle East.
The man, likely to be expelled from Switzerland after his eventual release from prison, still has the opportunity to appeal, the immigration office said, without identifying him.
After someone's citizenship has been withdrawn, Switzerland can deny entry to them if deemed a security threat.
The Swiss government has had several cases in which it proposed revoking citizenship from those with multiple nationalities, including a 19-year-old Swiss-Italian man it identified in 2016 as having been a suspected IS jihadist.
In that case, Swiss authorities suspended proceedings after concluding the man, Christian Ianniello, had likely died after traveling from the city of Winterthur to Syria to join the group in 2015.
Switzerland revoked dozens of passports for security reasons during World War II and the years thereafter, but this is the first time it has done so based on the citizenship law effective since 1953.
https://www.jpost.com/Middle-East/Swiss-revoke-citizenship-from-dual-national-Islamic-State-recruiter-601369
--------
Local community calls for change to Muslim portrayal in media
By Brian Rea
9/11/19
On the 18th anniversary of the attacks on Sept. 11, members of the Burlington Masjid and Elon communities came together for one goal: to bridge two communities together.
After Al-Qaeda, the Islamic-extremist terrorist group, claimed responsibility for the devastating attacks, some Americans began to fear all Muslims –– today known as Islamophobia. In 2001, hate crimes against American Muslims were six times higher, according to the FBI's Uniform Crime Report.
The Burlington mosque, in collaboration with the Oaks neighborhood, Multifaith Scholar program, Truitt Center and more, hosted Muslimedia, a dinner dedicated to discussing media coverage of Muslims and how it can fuel the stereotype around people of the faith.
Shahar Sayed, a member of the Burlington Masjid, said the mosque is trying to break through the stigma that all Muslims are dangerous.
"We're trying to overcome it by setting a new profile, making it by ourselves and presenting it to the community and others around us," he said. "That this is really the true profile of a Muslim."
Sayed called on the nearly 85 people at the event to help the mosque accomplish their goal.
"Be the missionaries that carry this message and spread it," he said. "When they go back home to their states or cities, or even in the school, making the school more open and more diverse."
Sonya Walker, an Elon senior and Multifaith Scholar, partners with the mosque as part of her studies.
"We're all neighbors, we're all in this area together and I think that getting to know the people in your community is huge," Walker said. "For me a big part of my Elon experience has been branching out."
Walker is researching Islamophobia in the airline industry. She said holding the event on Sept. 11 helped participants think differently of the Muslim community.
"It gives us a new conversation to have on this day that can be challenging for people," Walker said. "I think to have a new conversation, open doors is really important as we move forward in the United States."
Moneeb Sayed, Shahar Sayed's son and member of the Burlington Masjid, said he understands how the stereotypes around Muslims have an impact.
"When they're hearing a bunch of negative things happening to Muslims just because of who they are and what they believe, they felt like you know we should hide, you know just try to blend in more," Moneeb said.
On the anniversary of an event that fueled hate towards the group, Moneeb believes people need to look beyond what they see on the outside — or in media.
"An event like that should push us to be better," he said. "To push us to be more aware of who's around us and what is really a Muslim, what is really a Christian. Know a person not just by their religion, know them by who they are."
Steven Mabe, an officer for the Burlington Police Department, stepped foot into the Burlington Masjid for the first time. As a police officer, Mabe said he realizes how his profession also plays a role in how groups of people are perceived.
"I treat everybody the way they should be treated no matter race, religion or anything like that," Mabe said. "That's the way I was raised, that's the way I grew up."
For Moneeb, the first step to breaking any stereotype starts with saying hello.
Full report at:
https://www.elonnewsnetwork.com/article/2019/09/burlington-masjid-muslim-stereotypes-muslimedia
--------
Russia-Israel relations have 'new quality': Putin
13.09.2019
By Ali Cura
MOSCOW
Relations between Moscow and Tel Aviv have gained a "new quality," Russian President Vladimir Putin told Israeli Prime Minister Benjamin Netanyahu on Thursday.
"I will say upfront that it is largely due to your efforts that our relations have acquired a new quality in both security and military cooperation issues," Putin said during a meeting with Netanyahu in the coastal city of Sochi in the wake of a controversial election pledge by the Israeli leader to annex the occupied West Bank. "We all know how important this is, especially considering the persisting threat from international terrorism."
Noting that Netanyahu had a "fairly detailed discussion" with Defense Minister Sergey Shoygu and top executives of the Russian defense ministry, Putin said further details "concerning this area" will be discussed.
The Russian president said the two countries maintained "regular contact" in almost every area, adding that "considerable" growth in trade between Russia and Israel was recorded in 2018.
Referring to upcoming Knesset elections on Sept. 17, Putin said his country is not uninterested in the future of Israeli parliament members and Russia considers more than 1.5 million former Soviet citizens living in Israel as "compatriots."
"Naturally, we are not indifferent as regards to future Israeli MPs, let me be straight about this. We are hoping they will be responsible politicians that will certainly maintain all recent achievements in bilateral relations and will move forward with us in developing Russian-Israeli ties," he said.
Also, referring to the invitation of Israeli President Reuven Rivlin to visit Israel at the beginning of next year in conjunction with Holocaust Remembrance Day, Putin said he will visit Israel "with great pleasure."
Full report at:
https://www.aa.com.tr/en/europe/russia-israel-relations-have-new-quality-putin/1582527
--------
Greece: Students protest state-appointed Muslim cleric
Fatih Hafiz Mehmet
12.09.2019
Students in a high school of Greece's Turkish minority prevented the entrance of a Greek-appointed mufti (Muslim cleric) by calling him an "unwanted" person, according to local media.
Western Thrace region of Greece is home to a Muslim-Turkish minority numbering around 150,000 people.
The minority has the right to elect its own muftis according to international treaties, however, the Greek state does not recognize this and appoints the muftis itself.
Xanthi-based Millet newspaper reported that Greek-appointed mufti of Komotini, Cihat Halil, tried to enter Medrese-i Hayriye, a minority secondary-high school, on Wednesday, in order to attend the opening ceremony of the 2019-2020 school year.
However, the students built a human barrier at the entrance of the school to bar the entrance of Halil.
In a video shared at the Facebook account of Millet over the incident, Halil tried to convince the students but the students response was "We do not want you".
Then, Halil used the backdoor to enter the school.
Recently appointed by the Greek state, Halil is trying to impose his authority on the Turkish minority.
Continuing their protests, nearly all of the students went out of the school and refused to attend the opening ceremony. There were only 15 students attending the ceremony.
The election of muftis by Muslims in Greece is regulated by the 1913 Treaty of Athens, a Greek-Ottoman Empire pact which was implemented by Athens in 1920.
But in 1991, in violation of international law, Greece annulled its law implementing the 1913 treaty, and unlawfully started to appoint the muftis itself.
The muftis appointed by the Greek state have since usurped local Muslims' right of jurisdiction over family and inheritance matters.
The majority of Muslim Turks in Western Thrace do not recognize the muftis appointed by the Greek state and instead rightfully elect their own muftis.
Full report at:
https://www.aa.com.tr/en/europe/greece-students-protest-state-appointed-muslim-cleric/1580358
--------
UK appoints Muslim 'freedom of religion' envoy
Shafi Musaddique
Sep 12, 2019
Britain will have a new envoy dedicated to overseeing efforts to bring faith communities together and promote religious tolerance.
Prime Minister Boris Johnson appointed Rehman Chisti to the position of envoy for Freedom of Religion & Belief on Thursday.
He will replace Foreign Office minister Tariq Ahmad and is tasked to oversee foreign office support for persecuted Christians alongside wider issues of religious freedom.
Mr Rehman was previously Vice Chairman of the Conservative Party.
"I'm delighted to appoint Rehman as my new Special Envoy and look forward to him building on the important work we have already done on this issue," said Mr Johnson.
"The UK will always be a passionate advocate for greater tolerance, respect and understanding internationally."
"As someone whose family came to the UK when I was six years old, and my father had taken up a role as an Imam, my family and I have always been able to openly and freely practise our faith," said Mr Chisti.
"I want to ensure every citizen around the world is able to enjoy this basic right. Freedom of Religion, practice and belief is one of the foundations of a free society."
Mr Christi arrived in the UK in 1984 from Pakistan and has since lived in Gillingham and Rainham, on the outskirts of London.
Full report at:
https://www.thenational.ae/world/europe/uk-appoints-muslim-freedom-of-religion-envoy-1.909760
--------
Africa
Sudanese on the streets, call for new judicial appointments
12 September 2019
Thousands of Sudanese rallied in the capital Khartoum on Thursday in the largest protest since the country's transitional government was announced, demanding the chief of the judiciary and general prosecutor be removed because of alleged ties to ousted autocratic former president Omar al-Bashir.
Sudan's Forces for the Declaration of Freedom and Change, the umbrella coalition representing different pro-democracy parties and groups, called for a "million-man march" to pressure the joint civilian-military Sovereign Council – formed last month as part of a power-sharing deal between protesters and the generals – to appoint judges known for their competence as well as political impartiality.
The generals had previously dismissed nominations put forward by pro-democracy protesters for Sudan's two top judicial posts.
"Judicial and legal reforms should be a top priority during the transitional period; however, we have seen inaction on the part of sovereign council to appoint a new head of the judiciary and a new general prosecutor," Ahmed Rabie, a leader of the Sudanese Professionals' Association, said. The group has spearheaded protests since al-Bashir was still in power.
The Sovereign Council, comprised of five military members and six civilians, is expected to rule the country along with a cabinet and a legislative body for a little more than three years. Last week, Prime Minister Abdalla Hamdok, a longtime economist, announced the make-up of his cabinet after several weeks of deliberations.
The announcement of transitional state institutions came following pressure from the United States and its Arab allies amid growing concerns the political crisis could ignite a civil war.
"The Sudanese revolution does not only aim at changing a president or bringing in new ministers but it aims at restructuring the Sudanese state," said Rabie. "Hence, it is illogical to have officials belonging to the ancient regime on top of the state's civil and judicial apparatuses."
Both incumbent judiciary chief and public prosecutor were appointed by the military council, which took over the helm of state after ousting al-Bashir in April. Under the terms of the power-sharing deal, the military council was dissolved and replaced by the Sovereign Council.
In Thursday's rallies, protesters waving Sudanese flags chanted: "The people want the martyr to be avenged," in reference to those killed during the crackdown. They also raised banners reading: "The appointment of new judiciary chief and public prosecutor is a revolutionary demand."
https://english.alarabiya.net/en/News/middle-east/2019/09/12/Sudanese-on-the-streets-call-for-new-judicial-appointments.html
--------
Islamists Kill Nine Soldiers In Northeast Nigeria
September 12, 2019
Islamist militants killed nine Nigerian soldiers in an attack on a military base in the northeast of the country, three soldiers and an official from a security agency said on Wednesday.
A decade-long insurgency in the northeast, started by Islamist group Boko Haram in 2009, has claimed more than 30,000 lives. A breakaway faction that pledges allegiance to Islamic State has become the dominant group in the insurgency, carrying out attacks on military bases over the past year.
The soldiers and security officer, all of whom spoke on condition of anonymity, said Islamist militants attacked troops on Tuesday at a military base in Gudumbali - a town in Borno, the state worst hit by the insurgency.
They said nine soldiers were killed in the attack and 27 were missing.
Full report at:
https://www.jpost.com/International/Islamists-kill-nine-soldiers-in-northeast-Nigeria-601436
--------
Libyan Air Force shoots down three Turkish drones in Misrata
13 September 2019
The Libyan Air Force announced on Friday that three Turkish drones have been destroyed in Libya's Misrata, adding that all aircraft positions in the city have also been destroyed.
In a statement, the air force said that two drones were downed in the area around the al-Jufra airbase in Hun, and a third drone was downed in the Kufra district.
The Libyan National Army announced early on Friday that a Turkish drone which attempted to target al-Jufra air base was shot down, an Al Arabiya correspondent reported.
Full report at:
https://english.alarabiya.net/en/News/north-africa/2019/09/13/Libyan-army-destroys-Turkish-aircraft-positions-in-Misrata.html
--------
22,000 missing in decade-long Boko Haram terrorism in Nigeria: Red Cross
Sep 12, 2019
The International Committee of the Red Cross (ICRC) says more than 20,000 people, mostly children, have gone missing as a result of a decade-long militancy by the the Takfiri Boko Haram terrorist group in northeast Nigeria.
In a statement issued on Thursday, ICRC President Peter Maurer said nearly 60 percent of those missing were children and that it was the highest number of missing persons registered with the organization in any country.
"Every parent's worst nightmare is not knowing where their child is. This is the tragic reality for thousands of Nigerian parents, leaving them with the anguish of a constant search," Maurer said at the end of a five-day visit to Nigeria.
"People have the right to know the fate of their loved ones, and more needs to be done to prevent families from being separated in the first place," he added.
During the visit, Maurer spoke with family members affected by conflict in the northeastern cities of Maiduguri and Monguno, many of whom have missing relatives.
He also met with Nigerian President Muhammadu Buhari, senior government officials, civil society and business leaders.
The Red Cross said that some families were often separated while fleeing attacks, while others have had loved ones kidnapped or detained and do not know their whereabouts.
"The ICRC works with the Nigeria Red Cross and other Red Cross and Red Crescent societies in the region to trace missing people by showing photographs, calling out names and going door-to-door in camps and communities," the statement said.
"So far, 367 cases have been solved since ICRC received its first cases in 2013, underscoring the immense challenges that come with finding missing people and reconnecting them with their families in Nigeria," it said.
Boko Haram and its Daesh-supported ISWAP splinter group have intensified attacks on civilian and military targets in recent months, despite the Nigerian government's insistence that the terrorists have been defeated.
Nigerian army chief Lieutenant General Tukur Buratai admitted that humanitarian efforts were being hampered.
"Large swathes of the northeast of the country remain completely inaccessible to humanitarian organisations. People have also been displaced by fighting many times, making them harder to find," he added.
Some observers allege that certain Nigerian officials are profiting from the unrest via corruption and have little interest in ending the bloodshed.
Rights groups have also accused some Nigerian security forces of abuses in the fight against Boko Haram, including extra-judicial killings and mass arrests.
Full report at:
https://www.presstv.com/Detail/2019/09/12/606028/ICRC-Nigeria-Boko-Haram-Peter-Maurer--Muhammadu-Buhari-Borno-State
--------
Sudan, South Sudan leaders vow to seek peace in their troubled nations
Sep 12, 2019
War is "no longer an option" for Sudan and South Sudan, their leaders agreed Thursday during talks which focused on border disputes and the oil trade, but also resolving protracted conflicts in both nations.
Sudan's new prime minister Abdalla Hamdok met with South Sudanese President Salva Kiir on his first official visit since becoming premier, following the overthrow of Omar al-Bashir.
"I am very delighted to be here in my second home, Juba. We are looking for a very strategic, very distinguished relationship between our two nations, and the sky is the limit for this relationship," Hamdok said upon his arrival.
After the two-hour meeting, South Sudan's Foreign Minister Awut Deng said the two leaders had discussed issues that had never been resolved under the 2005 peace deal that ended two decades of war with Khartoum and paved the way to South Sudan's independence in 2011.
This includes the demarcation of the border between the two nations, trade issues and the movement of citizens.
"I think the time has come for us in the two countries to silence the guns. War is no more an option for our people. We need to have peace, and sustainable peace in our two countries," said Deng.
"We can only do this in an environment where all of us have agreed to come out with a road map and work for peace."
'Brothers and sisters'
South Sudan plunged into its own war two years after independence that has left almost 400,000 dead and displaced millions.
Tensions have also remained high between Khartoum and Juba over border disputes and the oil trade, however the two nations are increasingly moving to normalize ties.
"We are brothers and sisters. We have been one country and now we are two countries but we are still one nation and we hope to develop our relations," said Sudan's Foreign Minister Asma Mohamed Abdalla.
Analysts say the two nations have been pushed together by the grinding war in South Sudan -- which has defied several peace attempts -- and an economic crisis in Sudan, which was hard-hit by the collapse of the south's oil industry.
The worsening economic crisis sparked nationwide protests that triggered the fall of Bashir.
One of Bashir's last moves before his ouster was to broker a peace deal between Kiir and his rival, rebel leader Riek Machar, at a time when much of the world had wearied of trying to solve the crisis.
However, the 2018 peace deal has stalled as Sudan has been roiled by its own crises in recent months.
Observers are anxious to see if Khartoum's new government will push Kiir and Machar to advance on the implementation of the deal.
The two men met this week in Juba for the first time in five months, with a power-sharing government meant to be set up by November.
Sudan's conflicts
In a further sign of rapprochement between the two countries, Kiir offered in 2018 to mediate peace talks between Khartoum and rebels in the Blue Nile, South Kordofan and Darfur conflict zones.
The Blue Nile and South Kordofan fought alongside the south for independence, however were left north of the border in 2011 and have continued their own insurgency against Khartoum.
Rebels in Darfur also waged a long war over marginalization in the western region.
Hamdok has vowed to end these conflicts which have left thousands dead and millions displaced.
This week armed groups from those areas held talks in Juba which ended Wednesday in the signing of a deal on "pre-negotiation principles" with Khartoum.
Full report at:
https://www.presstv.com/Detail/2019/09/12/606017/Sudan-South-Sudan-Peace-Troubled-Nations
--------
Arrests, intimidation and influence in play as Tunisia faces election on Sunday
September 13, 2019
TUNIS: Media magnate Nabil Karoui's run for president was testing the rules of Tunisia's young democracy even before he was put in custody last month charged with tax fraud and money laundering.
As his unlicensed news channel broadcasts footage of him doling out aid to the poor, Karoui, 56, is campaigning from behind bars, denying accusations he attributes to political chicanery.
With Tunisia holding only its third free vote since its 2011 revolution, Karoui's candidacy has raised questions over what role money and the media should play, and brought accusations that the government is interfering with the judicial process.
If he beats the 25 other candidates to the presidency, but is then convicted and barred from office, it could prompt outrage among his voters — and a political crisis in Tunisia.
However, with the first round of voting this on Sunday, and a second round due in October or November, no date has yet been set for a verdict that would declare him guilty or innocent, though a lesser hearing on Friday may release him for now.
Recent opinion polls put Karoui ahead of the other candidates who include liberal Prime Minister Youssef Chahed and the moderate Ennahda party's Abdelfattah Mourou.
Chahed rarely mentions Karoui by name, but says his own campaign is aimed at combating "media mafia" and "adventurers who threaten the democratic transition."
Many in the political establishment see Karoui as a populist illicitly using his TV station and charity for political gain.
Karoui's allies in turn paint his arrest and other moves that threatened to curb his influence as part of an undemocratic conspiracy to keep him from office and marginalize poorer Tunisians they say he champions.
Local and foreign election monitoring groups have complained that he was unable to take part in a recent televised debate, arguing that it breached his right to speak to voters on equal terms with rivals.
Intimidation
The arguments over his candidacy were on full view in the impoverished Kabariya district of Tunis this week, when a small group of youths threatened Karoui supporters handing out leaflets, forcing them to scramble back into their cars.
Samira Chaouachi, a Karoui campaign officer, said the intimidation of his volunteers in Kabariya showed he was being targeted by powerful forces.
His arrest, a run-in with the media regulator and an ultimately unsuccessful parliamentary bill that would have kept him from running, were also evidence of a campaign against him, Chaouachi said, blaming the prime minister.
Chahed and other government officials have said Karoui's arrest was a purely judicial decision and that the government had no part in decisions taken by the independent media regulator.
The Kabariya incident took place in a wasteland where groups of children were playing amid piles of garbage prowled by street dogs, and where several residents had earlier said they planned to vote for him.
"Nobody cares for us. Nabil Karoui is the only one to help Kabariya. All Kabariya will vote for him," said Mohammed Ali, a casual laborer in black t-shirt and jeans.
A woman, who did not give her name but said she planned to vote for Karoui based on his charity's largesse there, added simply: "I'll vote for whoever pays me."
Plenty of poorer Tunisians are not sold on Karoui, however. "We are not stupid. We are poor, but he cannot buy us with his money," said Habiba Riahi, 41, a teacher standing in a Tunis shop.
Karoui had built a media company with his brother before the revolution, but rose to prominence after it as his Nesma TV backed secular parties against the moderate Ennahda, helping them win elections in 2014.
His national popularity, however, is based on the charity he founded in 2016 to combat poverty, which he named for a son who died in a road crash, and on his television station's news program.
It combines critical coverage of the government with reports about Karoui's own philanthropy, showing him visiting forgotten parts of Tunisia to give food, bedding and blankets to the poor.
The media regulator ordered it taken off air, leading to a police raid on its headquarters, which the channel said was aimed to silence a critical voice. It continues to broadcast, still without a license.
It set the stage for another battle as Parliament passed an amendment to the electoral law to stop candidates benefiting from charitable associations or foreign funding in the year before an election.
Full report at:
https://www.arabnews.com/node/1553776/middle-east
--------
Turkey decorating historic mosque in South Africa
Hassan İsilow
12.09.2019
By Hassan Isilow
PRETORIA, South Africa
Turkish Cooperation and Coordination Agency (TIKA) is currently carrying out works to decorate a historic mosque in South Africa with ornamental Turkish calligraphy.
The interior decoration of Noor el Hamidiye Mosque -- built in Cape Town in 1884 -- is underway after renovation efforts were completed in the 135-year-old mosque a few years ago, Mehmet Akif Sekerci, TIKA's coordinator in South Africa, told Anadolu Agency.
"We hope to complete the decoration in two months,'' he said in an interview in the capital Pretoria.
Renovation of Soweto Mosque
This year, TIKA also renovated another historic mosque in Soweto township in Johannesburg.
The Soweto Mosque was severely damaged in 2002 when suspected right-wing extremists bombed the Dlamini area which is close to the mosque.
"We are very grateful to the Turkish government, which refurbished our mosque, and the people of Soweto appreciate this very much," said Luqmaan Mogapi, head of communications at the mosque.
Built in 1984, the mosque was the first in Soweto which was home to many anti-apartheid activists, including the late President Nelson Mandela.
"The late Winnie Mandela was our guest of honor at the opening of the mosque in August 1986," said Mogapi.
Winnie Mandela was a South African anti-apartheid activist and the second wife of Nelson Mandela.
He said many famous Muslims visited the mosque, including the late legendary boxing champion Muhammad Ali.
- Renovation of hospital in Lesotho
Operating in South Africa for two years, TIKA has carried out several development projects in the country and the southern region of the Africa continent at large.
Lebohang Matsoso, an administrative assistant at TIKA, told Anadolu Agency that the aid agency renovated and provided equipment at a maternity ward at Scott Hospital in Lesotho last year where the king of Lesotho was born.
TIKA also partnered with South African authorities to help refurbish orphanages, particularly those for children born with HIV/AIDS.
Full report at:
https://www.aa.com.tr/en/africa/turkey-decorating-historic-mosque-in-south-africa/1582470
--------
Al-Shabaab militants kill 3 KDF soldiers in latest rocket attack
September 13, 2019
Three Kenya Defense Forces troops were among five people killed on Thursday in the latest Al-Shabaab attack on the Kenya security forces in North Eastern.
Is there information that you would like Kenyans to know? Tell Hivisasa and we will share with the world. Click here to submit.
Al-Shabaab militants launched a rocket propelled grenade that destroyed ironically, an armoured vehicle, injuring over 20 security forces along Elwak in Mandera.
The teams were travelling between Farhama and Elram when their two armoured vehicles and a lorry were hit by the rocket fired by suspected Al Shabaab militants.
The attack badly damaged the vehicles, killing three KDF soldiers and two ASTU personnel. Those injured were evacuated to Nairobi for treatment.
"It is a shame that they died in such an attack in a vehicle that is supposed to protect them. It raises questions on the suitability of these carriers," said an official aware of the incident.
It's not clear how the grenade could destroy a vehicle that is meant to be resistant to such attacks. President Uhuru Kenyatta procured armoured vehicles in 2016.
The attack came at the time when it emerged that Kenya has lost majority of troops in Somalia. At least 1,800 AMISOM soldiers have been killed by Al-Shabaab.
Further, politics between Somalia and Kenya escalated recently, with the former opposing the latter's bid to have Al-Shabaab listed as a terrorists group.
Abukar Dahir Osman, Somalia's Permanent Representative to the UN in New York, argued that Al Shabaab can be tamed through existing UN Security Council resolutions, as long as there was a regional co-operation on it.
"[We] urge [the] Kenyan government to implement existing Security Council resolution 751 targeting AS (al-Shabaab), including the ban of illegal charcoal trade in Somalia, which is the lifeline of AS to finance its operations in the region," Mr Osman tweeted on Wednesday.
Full report at:
https://hivisasa.com/posts/45125847-al-shabaab-militants-kill-3-kdf-soldiers-in-latest-rocket-attack
--------
Somali military court hands death sentence, jail term to Al-Shabaab militants
September 12, 2019
A member of the militant group Al-Shabaab was today sentenced to death while another one was jailed for life after a military court found them guilty of involvement in a deadly market bombing in the capital, Mogadishu.
The two were identified as Hassan Ali Maalim Bare (HassanBoy) and Sayid Adan Nur (Istin Boy).
The military court in Mogadishu accused Hassan Ali Maalim Bare (Hassan Boy) and Sayid Adan Nur (Istin Boy) of being the masterminds behind the killing of seven innocent civilians on 26 November 2018 in a market in Kawo Godey neighborhood of Wadajir district of Mogadishu.
A third suspect, Muhidin Mohamed Ahmed Khalif (C Jey), was accused of being a member of the Al-Shabaab after he allegedly gave a false name to the investigating agencies.
The court today sentenced Hassan Ali Maalim Bare (Hassan Boy) to death while Sayid Adan Nur (Istin Boy) was sentenced to life in prison. However, the court ordered the release of Muhidin Mohammed Ahmed Khalif (C Jey).
The judge noted that the defendant can appeal the case.
Full report at:
https://www.somaliaffairs.com/news/somali-military-court-hands-death-sentence-jail-term-to-al-shabaab-militants/
--------
Mideast
What Israel's Jordan Valley annexation plan means for a Palestinian state
DAOUD KUTTAB
September 12, 2019
JERUSALEM: Israeli Prime Minister Benjamin Netanyahu's threat to annex the Jordan Valley and the northern Dead Sea area of the occupied West Bank has left Palestinian development planners in disarray.
The threat, if implemented, will rule out the two-state solution as a political concept, and have serious implications for a Palestinian state's viability with regard to water, agriculture, natural resources and tourism.
Netanyahu vowed on Tuesday that if he is returned to office in the Sept. 17 election, he will "immediately" extend "Israeli sovereignty over the Jordan Valley and northern Dead Sea." The Jordan Valley accounts for about one-third of the West Bank.
Opinion polls indicate that Netanyahu's Likud party is neck and neck with the opposition Blue and White party, and may struggle to form a coalition. His controversial pledge could get him the backing of right-wing parties.
Jad Ishaq, director general of the Applied Research Institute, said the land that Netanyahu referred to in his televised speech accounts for a big chunk of the West Bank.
"From the standpoint of Palestinian agriculture, this is the breadbasket," Ishaq told Arab News.
Around 65,000 Palestinians and 11,000 Israeli settlers live in the Jordan Valley and northern Dead Sea area, according to Israeli human rights group B'Tselem.
The main Palestinian city is Jericho, with about 28 villages and smaller communities.
Ishaq, who advises Palestinian officials, said Netanyahu's threat, if carried out, would kill off the possibility of a viable Palestinian state.
"Simply put, this will deny us our water rights in the Jordan River, and limit our potential for mining
our national resources and for recreational tourism in the Dead Sea," he added. Ishaq put the potential annual income from these activities at an estimated $2 billion.
"This Israeli annexation plan stunts the sustainability, contiguity and integrity of a future Palestinian state," he said.
"The plan leaves it without any control over the borders with Jordan, and converts Palestinian areas into an entity comprising cantons that won't survive."
Depriving Palestinians of the right to derive financial advantage from Dead Sea minerals would amount to a major economic blow, Ishaq said.
"At present, Dead Sea minerals are being divided between Jordan and Israel. Each country earns an average of $1.5 billion annually," he added.
Sani Meo, publisher of the tourism monthly This Week in Palestine, said access to the Dead Sea and the Jordan Valley is vital for the development of Palestinian tourism. "There's huge potential for tourism here that would be destroyed," he told Arab News. --------
Meo expressed concern that the absence of internal tourism will exacerbate existing problems.
"The only opening for us is to the east, and now that's being blocked," he said. "We can't get to Gaza and we can't travel to Lebanon. Every time we discover a strategic opening, they (the Israelis) shut it."
Netanyahu's threat "will cause more tensions. This is short-sightedness on the part of the Israelis," Meo said.
"By destroying the small signs of hope, the Israelis are building up more pressure inside a veritable pressure cooker. They're unable to understand that it will eventually bring about an explosion."
Israel captured the West Bank, including East Jerusalem, from Jordan in the 1967 war. More than 2.5 million Palestinians now live there, in addition to nearly 700,000 Jewish settlers.
https://www.arabnews.com/node/1553716/middle-east
--------
Turkish families seek answers over relatives' disappearances
September 13, 2019
After 100 days behind bars over accusations of belonging to a Turkish "terrorist organization," Mustafa Yilmaz was relieved to be back with his wife and daughter and allowed to return to work. But his problems were far from over. On Feb. 19, six weeks after his release, he disappeared.
His wife, Sumeyye Yilmaz, says CCTV footage shows him being confronted outside their home after leaving for work and taken by two men before a black van passes by.
She fears he is now being held by "deep state" operatives and possibly tortured.
Yilmaz is one of 28 men that rights activists and lawmakers say have been disappeared by security forces since a failed coup in July 2016.
Twenty-five of them have since reappeared — either they turned up in the custody of the authorities or near a mountain somewhere in Turkey — but Yilmaz and two others are still missing.
The activists and MPs say that many of the 28 were tortured — the government says it has a zero-tolerance policy toward torture.
"Why is my partner not being released? What do they want to do? Is he still alive?" Sumeyye, 27, said in an interview with AFP, as their two-year-old daughter played nearby.
"In the first few days he was taken, my daughter would ask 'Where is he?' But now she has stopped. She's a child, she's forgetting," she said, through tears.
Yilmaz, 33, was one of six men who disappeared within a few days of each other in Ankara, Istanbul, the southern city of Antalya and the northwestern province of Edirne in February.
All of them had been accused of ties to an Islamic organization run by US-based cleric Fethullah Gulen, whom Ankara claims ordered the 2016 attempted coup.
On July 28, the families were told that four of the missing were being held by Ankara police. Yilmaz and another man, Gokhan Turkmen, were not among them, which hit Sumeyye particularly hard.
"The period after July 28 was like hell for me," she said. Both Mustafa and Sumeyye were accused of ties to the Gulen group — a charge that has seen tens of thousands of people arrested or stripped of their jobs since the coup bid. The couple denies the claims.
However, Mustafa, a physiotherapist, was arrested last October and sentenced to six years in prison. He was out pending an appeal when he disappeared.
The nightmare began for Sumeyye when she received a call from her husband's employer at around 11:00 a.m. to say he had not shown up for work.
First, she called hospitals, and even at one point feared he could have run off.
But she became suspicious when the authorities showed little interest, and she says the police are still not doing enough to find her husband.
"No effective investigation ... or procedure has been started," Sumeyye said, adding it was "still not too late" to find him.
Human Rights Watch says the six men taken in February were "forcibly disappeared" and the four who re-emerged have been denied lawyers.
It said their wives had described them as traumatized.
Lawmaker Omer Faruk Gergerlioglu, of the pro-Kurdish leftist Peoples' Democratic Party who spearheaded a social media campaign to try to find the six, said he believed they had been tortured. "They were in a wretched state. When the families asked where they had been, the men said: 'Close this issue, leave it alone'," said Gergerlioglu.
Those who took them wanted "to interrogate them for a long time," he added. The four men have since been formally charged over suspected Gulen links.
"I assume that the goal here is to spread terror" among suspected Gulen supporters, said Ozturk Turkdogan, head of the Turkish Human Rights Association.
"Obviously our main suspect is the state," he added.
Turkdogan said the disappearances often followed a similar pattern, particularly the use of black VW Transporters, according to CCTV images or witnesses.
Contacted by AFP, no comment was provided by the Ankara public prosecutor's office and police, while the Interior Ministry did not respond to requests.
Cases of missing people have been rare in Turkey since the 1990s, and activists are concerned by the rising number since 2016.
Since the four men's reappearance, another case has come to light. The family of father-of-three Yusuf Bilge Tunc, 35, have said he was taken by unknown individuals on Aug. 6.
Tunc was accused of Gulen ties — claims which he denied — and fired from his job at the state agency overseeing the defense industry.
His family says police claim to have no information on his whereabouts, but that one officer suggested he had run off.
"For the sake of argument, let's say that there was a problem between us ... why would he not say anything to his parents?" asked Tunc's wife, who did not wish to be named.
"The most painful thing in the world is not knowing what has happened to him." Like Sumeyye, they have appealed for help from the European Court of Human Rights and the UN.
Full report at:
https://www.arabnews.com/node/1553786/middle-east
--------
Netanyahu bot gets Facebook 'hate speech' suspension
September 13, 2019
JERUSALEM: Israeli Prime Minister Benjamin Netanyahu's right-wing Likud party was found on Thursday to have violated Facebook's hate-speech policy after a post from his account saying Arabs "want to destroy us all."
Israeli media reported that the post which said Israeli Arabs "want to destroy us all — women, children and men" appeared on Netanyahu's official Facebook page and was subsequently removed by Likud.
"After careful review of the Likud campaign's bot activities, we found a violation of our hate speech policy," a Facebook statement said, referring to an automated chat function.
"We also found that the bot was misusing the platform in the time period allowed to contact people. As a result, we temporarily suspended the bot for 24 hours. Should there be any additional violations, we will continue to take appropriate action."
A Likud spokesman told AFP that the freeze went into effect on Thursday morning and would not affect the party's online election campaign.
Netanyahu, who is fighting an election battle for his political survival, said the message had nothing to do with him.
"It wasn't me. It was one of the workers at our election headquarters," he told Israeli public
radio. "That mistake was fixed quickly."
"Think logically: Do you think I would really write such a thing?"
"I have friends in Arab countries and I have respect for human beings regardless of whether they are Jewish or Arab, Muslim or Christian."
Netanyahu has long faced accusations from critics that he has demonized Israel's 1.4 million Arab citizens with his political rhetoric.
With the Sept. 17 vote looming, he and Likud drew outrage from opposition parties with a push for last-minute legislation that would allow party officials to bring cameras to polling stations.
His critics labelled it a naked attempt to depress turnout among Israel's Arab population, as it could intimidate many into staying away.
Full report at:
https://www.arabnews.com/node/1553751/middle-east
--------
Israeli parties vie for Arab vote in bid to oust Netanyahu
September 12, 2019
Tira/Israel: Challengers to Israeli Prime Minister Benjamin Netanyahu in next Tuesday's election have courted Israel's Arab minority, hoping that a strong turnout from this unlikely source could tip the scales in their favor.
The centrist Blue and White party headed by former armed forces chief Benny Gantz has plastered Arab towns with campaign posters.
Gantz has appeared on Arabic language television, hoping to capitalize on the growing number of Arab voters ditching Arab parties in favor of other challengers.
"This is a change in strategy from the previous election," said Ram Ben-Barak, a Blue and White candidate and former deputy director of the Mossad intelligence agency who is leading the campaign to woo Arab citizens. Blue and White is currently pollling neck-and-neck with Netanyahu's right-wing Likud party and its allies.
Arabs make up 21 percent of Israel's population. But frustration with disunity among Arab-dominated parties and dismay over what they see as Israel's discriminatory practices against them helped push the community's turnout to a 20-year low in the last parliamentary election in April.
Netanyahu failed to form a governing coalition after that race, leading to a new election.
More than 28 percent of Arab voters cast ballots for mostly-Jewish party lists in the April election, up from about 17 percent four years earlier, according to Arik Rudnitsky, a researcher at the Israel Democracy Institute.
Most of those votes went to Blue and White and the left-leaning Meretz party, data showed. Ben-Barak says the extra votes will help limit right-wing gains.
"It will still serve Blue and White if they vote for others but will serve twice if they vote for us," Ben-Barak said.
Discrimination
Most Arabs still vote for parties led by members of their community, which comprises mainly descendants of the Palestinians who remained in their homes or were internally displaced after the 1948 war that surrounded Israel's creation.
Ayman Odeh, who leads the Joint List coalition of four mostly Arab parties, said Netanyahu's pre-election pledge is part of his "right-wing apartheid vision."
which consists of "erasing the civilian status of the Arabs in Israel" and "annexing the (Palestinian) territories."
Netanyahu's announcement on Tuesday that he plans to annex the Jordan Valley drew condemnation from Arab lawmakers, who regularly speak out in support of Palestinians in the occupied West Bank and Gaza, territory Israel captured in the 1967 Middle East War.
However, despite the bid to win Arab votes, Gantz's Blue and White has given no indication it was trying to differentiate itself from Netanyahu on this issue.
Gantz told Army Radio on Thursday: "I am in favor of leaving the valley in Israeli hands in any possible scenario."
Indeed, annexation does not factor heavily into the Arab minority's political agenda, which focuses on issues of discrimination, inequality and crime in their own communities, according to the Konrad Adenauer Program for Jewish-Arab Cooperation.
Despite holding Israeli citizenship, many Arabs say they face discrimination in areas such as health, education and housing. Poverty among Arab citizens is 47 percent, compared with a national average of 18 percent, according to Israel's National Insurance Institute.
The Mossawa Center rights group says Israel's state budget often favors Jews, allocating more funds to Jewish localities, schools, and institutions than to Arab ones.
Netanyahu's Likud party counters that its 15 billion shekel ($4.2 billion) "is more than any government has ever invested in the Arab society," according to Eli Hazan, Likud's foreign affairs director.
Voter intimidation
In a rallying cry to right-wing supporters on election day in 2015, Netanyahu famously declared that Arabs were flocking to polls "in droves" to defeat him.
Arab turnout fell by a third to 49 percent in April's election, the lowest since 1999, the Israeli Democracy Institute said. Overall turnout was about 69 percent.
Likud sent election monitors equipped with body cameras to Arab polling stations during that contest, alleging voter fraud in what Arab politicians called an attempt at voter intimidation.
Netanyahu failed on Wednesday to pass a bill which would allow cameras in all polling stations next week. As the measure was debated on the Knesset floor, Odeh pulled out his cellphone and appeared to begin filming Netanyahu inches from his face, getting the lawmaker kicked out of the chamber.
"No prime minister has incited against Arabs like Benjamin Netanyahu," Odeh told Reuters at a campaign event in Tira, an Arab village in central Israel.
The Joint List ran on two separate tickets in April and saw their total representation in the 120-member Knesset fall from 13 to 10. This time, the Joint List has reunited in a bid to increase turnout.
"If we vote 65 percent and above, we will beat Netanyahu and the right-wing government," Odeh said.
Odeh in August said he would join a center-left coalition -but only under a series of conditions, including resuming peace talks with the Palestinians and canceling a law passed last year which declared Israel the "nation-state" of the Jewish people.
"We refuse to join any government that treats us as second-class citizens in our homeland," Odeh said.
But no Arab party has ever served in a governing coalition, meaning they have little say in shaping Israeli policies. With most Israeli parties having ruled out forming a coalition with Arab parties, some Arab lawmakers are advocating a different approach to having their voices heard.
"We don't have a psychological barrier to being in government," said Issawi Frej, an Arab politician in the left-wing Meretz party, which has joined the Democratic Union list backed by former prime minister Ehud Barak.
Frej has struck a chord with some Arabs who say they are tired of being expected to vote only for Arab parties that have little prospect of joining a ruling coalition.
Full report at:
https://www.arabnews.com/node/1553701/middle-east
--------
Erdogan adviser criticizes Saudi Arabia for 'favoring non-Muslims over Turkey'
12 September 2019
A senior adviser to Turkish President Recep Tayyip Erdogan criticized Saudi Arabia on Thursday for "favoring the Europeans and non-Muslims" over Turkey and other Muslim countries after the recent visit of the Saudi Arabian foreign minister to Cyprus.
"What does the Kingdom of Saudi Arabia benefit from this visit and establishing this relationship with Southern Cyprus, the Roum (Rum), which Turkey does not recognize?" Yasin Aktay, a senior adviser to Erdogan and the Turkish AK Party, asked during an interview on state-broadcaster TRT Arabi channel.
"Roum" is a term used by Turks to refer to the people and countries of Greek Orthodox Christian origins.
"Saudi Arabia should not have recognized this country but as a Muslim country and as part of the Organization of Islamic Countries, we were waiting and wishing for them to recognize the state of Turkish Cyprus (Turkish Republic of Northern Cyprus) which is a Muslim country. They take the Europeans, the Roum and the non-Muslims as friends of theirs but are moving away from Muslims. This is surprising," he added.
Saudi Arabia's Foreign Minister Ibrahim al-Assaf began an official visit to Cyprus on Wednesday where he met with Cypriot President Nicos Anastasiades. They reviewed bilateral relations, as well as the latest developments at the international level.
Al-Assaf said there's "high interest" in developing relations "on all fronts" with Cyrpus, given the European Union member country's geographic location and longstanding ties with the Arab world.
Cypriot Foreign Minister Christodoulides described the visit - the first by a top Saudi official - as historic, noting that the two countries shared a common vision.
According to AFP, Cyprus has been divided on ethnic lines since Turkish troops occupied its northern third in 1974, following a Greek Cypriot coup sponsored by the military junta - then in power in Athens - seeking union with Greece. Turkey continues to maintain a sizeable military presence in the north of the island. Turkey, which has no diplomatic relations with Cyprus, is the only country which recognizes the breakaway state in the north of the island.
Turkey's Aktay also accused Saudi Arabia of "moving away from Muslims."
"Truthfully, this country is responsible and takes responsibility of being the custodian of the Two Holy Mosques, so they should be more keen to protect the interests of the Ummah (Islamic community) and Muslims," Aktay said. The Kingdom's role as custodian of the Two Holy Mosques includes facilitating the Islamic pilgrimage of Hajj for approximately 2.3 million Muslims from around the world.
Aktay also said that Saudi Arabia should approach solving the problems of the Islamic world with "more rationality" and that Saudi Arabian Foreign Minister al-Assaf's visit to Cyprus was in conflict with its regional role.
"This visit to the Roum and this challenge to Turkey from this policy is not worthy of the Kingdom to do so. They should take a more rational stance and should realize that Turkey is not an enemy to the Kingdom of Saudi Arabia. Turkey wants to advise her as a true brother and friend to establish justice," he added.
Aktay previously accused Saudi Arabia and the UAE of "treason" over what he called "normalization" with Israel, despite the Gulf countries having no diplomatic ties with Israel - while Turkey has had diplomatic ties with the state since 1949, with relations booming in the 1990s.
Full report at:
https://english.alarabiya.net/en/News/middle-east/2019/09/12/Erdogan-adviser-criticizes-Saudi-Arabia-for-favoring-non-Muslims-over-Turkey-.html
--------
AQAP and Islamic State resume fighting in Yemen
BY CALEB WEISS
September 11, 2019
Following sporadic raids against each other over the summer, al Qaeda in the Arabian Peninsula (AQAP) and the Islamic State in Yemen (IS-Y) have engaged in open warfare in Yemen's Al Bayda since late August.
Since Aug. 27, the two groups have claimed a combined 29 attacks against each other in Al Bayda's Qayfa region. This region has seen fierce fighting between the two in the past and has historically been a critical area for AQAP.
Both sides have said its men have taken and retaken territory, launched improvised explosive device (IED) attacks against one another, sniped opposing militants and attacked various positions via mortars and rockets.
AQAP has been responsible for the majority of claims (23), while IS-Y has mainly reported its men repelling AQAP assaults. The heaviest days of fighting have so far been Sept. 1 and Sept. 9, in which the majority of the claims were published.
Islamic State photo reports of the fighting appear to back up the claims that its men have repelled AQAP assaults. Many of the photos detail dead bodies and captured weapons.
The renewed fighting has mainly taken place in Qayfa area and its surrounding villages, including Al Hamida, Al Zoub, Sarar, Awaja, Liqah, Al Najd, and Abu Ghayth. FDD's Long War Journal has attempted to map out the fighting above.
Interestingly, AQAP has accused IS-Y of working with Houthi militants, which have indeed historically operated in the Qayfa region, against its forces. In return, IS-Y has accused AQAP of working with Yemeni military forces against its men.
This latter accusation repeated an earlier claim made in the Islamic State's weekly Al Naba newsletter last week. In that issue, the unnamed emir of IS-Y's Al Bayda Province said that "AQAP coordinates with the army of the tyrant (Mansour) Hadi."
The emir then stated that AQAP has been weak against the Houthis and have not actively targeted the insurgent movement.
That said, the two jihadist groups have reported attacks against both the Houthis and the UAE-backed Security Belt forces in recent weeks.
The latest spate of open conflict between AQAP and IS-Y is the heaviest fighting between the two since April. In that fighting, which also occurred in Qayfa, dozens of fighters on both sides were killed.
Prior to April, the two engaged in sporadic outbursts of conflict and propaganda videos since the the overall infighting between AQAP and IS-Y began in the Qayfa region in July 2018. Both sides also engaged in taking prisoners during this period, a practice that has continued into recent months.
In the years prior, the two groups operated within an apparatus of uneasy cohabitation amid various propaganda campaigns. This degradation largely tracks with how the relationship between al Qaeda and the Islamic State elsewhere has played out, such as in Syria and Somalia.
Full report at:
https://www.longwarjournal.org/archives/2019/09/aqap-and-islamic-state-resume-fighting-in-yemen.php
--------
Israel minister: US official said no change on Iran sanctions
12 September 2019
Israeli Finance Minister Moshe Kahlon said Thursday a visiting senior US treasury official told him that sanctions against Iran would remain in full force.
"I just finished an excellent working meeting with Sigal Mandelker, the undersecretary of the treasury," he wrote on his Twitter account.
Full report at:
https://english.alarabiya.net/en/News/middle-east/2019/09/12/Israel-minister-US-official-said-no-change-on-Iran-sanctions-.html
--------
Israeli PM Netanyahu: Rocket attacks make new war in Gaza inevitable
12 September 2019
Israeli Prime Minister Benjamin Netanyahu said on Thursday that continued rocket fire from Gaza is making another war against militants in the coastal strip inevitable, his latest headline-grabbing announcement just days before Israel heads to parliamentary elections.
Netanyahu divulged that advanced plans were in place to strike Gaza and said he would decide the optimal timing of the offensive, given the Gaza Hamas rulers' unwillingness or inability to stop the daily barrages.
The Israeli leader has been criticized for failing to respond harshly to the rockets, which have been frequently sending residents of southern Israel scurrying for cover. Netanyahu himself was whisked away by bodyguards from a campaign event on Tuesday when Palestinian militants fired rockets toward the area where he was.
Israel withdrew from the Gaza Strip in 2005 and Hamas militants overtook the territory by force two years later. Israel and Hamas have fought three wars and engaged in several other rounds of violence over the past decade.
"I do not wage war unless it is a last resort and I don't risk the lives of our soldiers and citizens just to get applause," Netanyahu said in an interview with Kan Reshet Bet Radio. "We will probably have no choice but to set out on a big campaign, a war against the terror forces in Gaza."
"I won't start it one minute before we are ready, and we are preparing for a 'different war'," he added, shortly before flying to Russia for a lightning meeting with President Vladimir Putin.
It was Netanyahu's first major interview to a mainstream media outlet in a frenetic campaign in which he has been dictating the agenda with a dizzying array of maneuvers. Just this week, he has alleged fraud in Arab voting areas and has pushed for legislation to place cameras in polling stations on election day.
He also claimed to have located a previously unknown Iranian nuclear weapons facility and vowed to annex the heart of the West Bank if he wins re-election.
His pledge to extend Israeli sovereignty over the Jordan Valley sparked international condemnation. A spokesman for the UN secretary-general said that if it were carried through it would be a "serious violation of international law."
The UN statement comes after Saudi Arabia, a regional power that has grown closer to Israel in recent years, condemned the move, along with several others who warned it could inflame the Middle East and eliminate any remaining Palestinian hope of establishing a separate state.
Full report at:
https://english.alarabiya.net/en/News/middle-east/2019/09/12/Israeli-PM-Netanyahu-Rocket-attacks-make-new-war-in-Gaza-inevitable.html
--------
Explosion on a road in southeast Turkey kills 4, wounds 13
September 12, 2019
ANKARA: Turkish officials say Kurdish rebels have detonated an improvised explosive device on a road in southeast Turkey, killing four people and wounding 13 others.
The local governor's office said the explosion Thursday on a road near the town of Kulp hit a vehicle carrying villagers who were returning home after gathering wood. The private DHA news agency said the explosion caused the driver to lose control and the vehicle veered into a ditch.
The Kurdistan Workers' Party, or PKK, has waged a more than three-decade old insurgency in Turkey's mostly Kurdish southeast region. The conflict has killed tens of thousands of people since it started in 1984.
Full report at:
https://www.arabnews.com/node/1553661/middle-east
--------
URL: https://www.newageislam.com/islamic-world-news/india-compromised-principles-vasudhaiva-kutumbakam/d/119735
New Age Islam, Islam Online, Islamic Website, African Muslim News, Arab World News, South Asia News, Indian Muslim News, World Muslim News, Women in Islam, Islamic Feminism, Arab Women, Women In Arab, Islamophobia in America, Muslim Women in West, Islam Women and Feminism