New Age Islam News Bureau
23 Sept 2017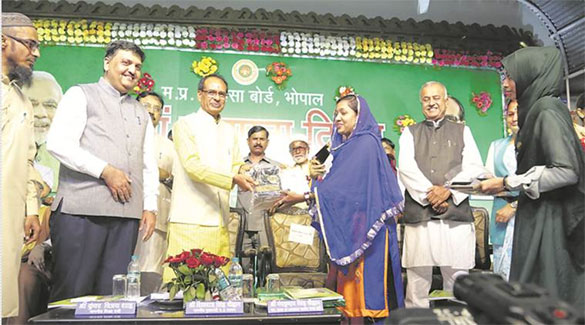 CM Shivraj Singh Chouhan at the felicitation event to mark the 20th foundation day of MP Madrasa Board on Friday. (Express photo)
------------
• India: MP Education Minister's Appeal to Madrasas: Unfurl Tricolour Daily
• Baloch, Sindhis Hold Protest Rally against Pak Outside UN
• Rohingya Muslim Children 'Heavily Traumatized' From Dangerous Journey to Bangladesh
• Nigeria's Supreme Islamic Body Replies CAN, Accuses It of Islamophobia
• Barzani: We Are Ready For Dialogue, But After Kurdish Referendum
India
• Madhya Pradesh Education Minister's Appeal to Madrasas: Unfurl Tricolour Daily
• India's Slave Brides: Commission for Minorities Wants Entry of Sheikhs to Be Monitored
• BSF Using Chilli Sprays, Stun Grenades to Stop Rohingya Muslims from Entering India
• Pakistan shells border posts, hamlets in J&K; BSF jawans among 7 injured
• Two terrorists arrested for Banihal terror attack
--------
Pakistan
• Baloch, Sindhis Hold Protest Rally against Pak Outside UN
• Jamaat-e-Islami, Pakistan, For Independent State for Rohingyas
• Myanmar foreign ministry summons Pak envoy to censure over Rohingya
• Stance on terror boldly conveyed to world: PM
• Civil, military leadership united on all key issues: PM Abbasi
• IHC dismisses petition seeking disqualification of Gulalai
--------
South Asia
• Rohingya Muslim Children 'Heavily Traumatized' From Dangerous Journey to Bangladesh
• Permanent Peoples' Tribunal Finds Myanmar Guilty Of Rohingya Genocide
• Rohingya refugee tide is India's challenge too: Bangladesh
• Man throws shoe at Hekmatyar during Friday prayers in Herat
• Afghanistan strongly reacts at Pakistan PM's speech at UN General Assembly
--------
Africa
• Nigeria's Supreme Islamic Body Replies CAN, Accuses It of Islamophobia
• South Africa: Understanding the Court Judgment on Polygynous Muslim Marriages
• UN: At least three killed in Sudan clashes over Bashir visit to south Darfur
• Jordan's young crown prince makes global debut in UN speech
--------
Arab World
• Barzani: We Are Ready For Dialogue, But After Kurdish Referendum
• Saudi Arabia Celebrates 87th National Day with Nationwide Festivities
• UAE FM: Iran Violates 'Letter and Spirit' Of Nuclear Deal
• Iraq Kurd Head Resists Pressure to Scrap Referendum
• Gov't Forces Drive ISIL Terrorists out of Large Swaths of Land in Central Iraq
• Terrorists Fail to Prevail over Syrian Army Positions in Hama Province
• Syrian Army Ready to Liberate Deir Ezzur's Largest Island from ISIL
• ISIL Terrorists Agree to Surrender Positions in Eastern Hama to Syrian Army
• Syrian Soldiers Drive ISIL out of Six More Regions West of Deir Ezzur
• Homs: Terrorists Withdraw from Two Strategic Regions in Central Syria
• Israeli Air Force Targets Non-Military Airport in Syria
• Report: Rockets hit Damascus airport area in probable Israeli attack
--------
Mideast
• Hadi: Houthis Are Running an Iranian 'Expansionist Agenda' In the Region
• Defying Trump, Iran Says Will Boost Missile Capabilities
• Yemen's FM calls for identifying party obstructing resolution
• Iranian regime's mafia and Nazi-style excesses
• Turkey's key security meeting ends, statement says Iraqi Kurdish referendum illegitimate, unacceptable
• Turkish novelist Aslı Erdoğan receives Erich Maria Remarque Peace Prize in Germany
--------
North America
• Marriott Says It Will Not Cancel Conference Hosted By Anti-Muslim Hate Group
• Trump To Scrap 'Muslim Ban' and Replace It With New Targeted Restrictions, Says Official
• Donald Trump's travel ban on nationals of six Muslim countries expires on Sunday
• More countries could be listed for harsh US travel restrictions
• US 'more a pariah state' without Iran nuclear deal: Analyst
--------
Europe
• The Hot-Button Issue of Muslim Integration in Germany
• Muslim attorney speaks at Interfaith Council
• Teenager charged over London Underground attack
• Russian submarine attacks Fatah al-Sham terrorists in Syria's Idlib
• Spanish police arrest suspect over Barcelona attacks
--------
Southeast Asia
• Duterte: 'Alien' Ideology, Not Islam, Root of PH Terror Problem
• China Welcomes Myanmar's Efforts to Alleviate Situation in Rakhine
• Musa praised for giving RM334 million to schools, non-Muslim bodies
• Misuari: Malaysia-friendly elements sabotaging Philippine peace talks
Compiled by New Age Islam News Bureau
URL: https://www.newageislam.com/islamic-world-news/india-mp-education-ministers-appeal/d/112639
--------
India: MP Education Minister's Appeal to Madrasas: Unfurl Tricolour Daily
September 23, 2017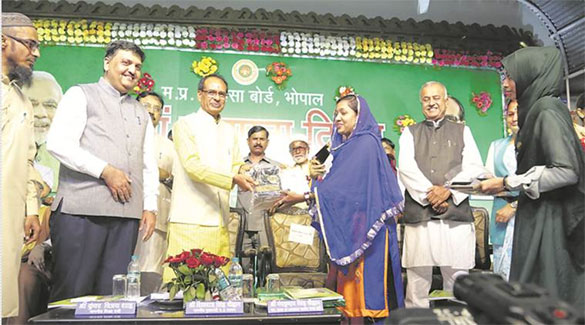 CM Shivraj Singh Chouhan at the felicitation event to mark the 20th foundation day of MP Madrasa Board on Friday. (Express photo)
--------
A month after the Madhya Pradesh government told madrasas to mandatorily hoist the Tricolour and organise a Tiranga Rally on the occasion of Independence Day, state School Education Minister Vijay Shah on Friday appealed to madrasas to unfurl the Tricolour and make students sing the national anthem daily to instil patriotism among them.
Speaking at a function to mark the 20th foundation day of the MP Madrasa Board here, the minister said madrasas follow all rules laid down by the school department. "Regular schools unfurl the Tricolour and sing the national anthem daily. I appeal to all madrasas in MP to unfurl the Tricolour and sing the national anthem daily. I don't think anybody should have a problem with that. Nobody has,'' he said.
The minister congratulated the board for working to develop "nationalistic ideology" among its students. Shah had recently announced that students of government schools in Satna district would answer the daily roll call with 'Jai Hind' from October 1.
Chief Minister Shivraj Singh Chouhan, who was chief guest at the function, said, "How to love one's country and help it march ahead should be part of school curriculum''. He also said the Prophet stressed on loving one's country.
The board, under its chairman Syed Imad Uddin, is already engaged in an exercise to revise its curriculum on the theme "Vatan Se Mohabbat Ka Islam Dharma Mein Kya Mahatva Hai (What is the importance of love for one's country in Islam)".
The Chief Minister said students should be taught love, brotherhood and patriotism. "We drink the same water and eat the same food and our blood is red. We can follow different faiths,'' he said after felicitating the best madrasas, best teachers and meritorious students.
Emphasising the need to impart modern education in madrasas, Chouhan said education that makes students struggle for jobs is meaningless. "We should skill them and make them competent enough to face life's challenges. On one hand, there is joblessness and on the other, there is a lack of skilled people.''
Responding to the board chairman's request, the CM increased the amount given by the state government every year to each madrasa for creating infrastructure from Rs 25,000 to Rs 50,000.
http://indianexpress.com/article/india/madhya-pradesh-education-ministers-appeal-to-madrasas-unfurl-tricolour-daily-4856905/
--------
Baloch, Sindhis hold protest rally against Pak outside UN
Sep 22, 2017
UNITED NATIONS: Members of the Baloch and Sindhi community today held a joint protest outside the UN headquarters against atrocities and human rights violations by security forces in Pakistan in the restive Balochistan province and Sindh.
Organised by the Baloch National Movement (BNM) and Jeay Sindh Qaumi Mahaz (JSQM) protesters raised their voice against brutal Pakistani military operations, enforced disappearances, torture and killings of civilians.
Nabi Bakhsh Baloch, secretary general, BNM-North America stated that the ongoing Pakistani military operation in the Kolwah area of Balochistan has resulted in fatalities while a large number of residents were taken away by soldiers who also set fire to their homes and properties.
"For the record, this scenario is not about Myanmar or Rohingya Muslims but Balochistan where Pakistan's Islamic army is committing genocide against its own Muslim population," he said.
In a statement, Sarang Ansari, JSQM - North America strongly condemned the "Pakistani state policy" of repressing the voice of political dissent in Sindh resulting in mass enforced disappearances, targeted killings, forced conversion to Islam of Hindu girls and brutal sectarian violence deliberately targeting Sufi shrines and places of worship of religious minorities.
Ansari demanded "immediate action by the UN to stop Pakistan from using terrorist jihadist outfits in Sindh and Balochistan against secular nationalist organisations".
In a joint memorandum submitted to the UN Secretary General, BNM and JSQM urged the world body to urgently take action against Pakistan army's "war crimes" committed against innocent civilian populations and the political dissent in Balochistan and Sindh. "People of Sindh and Balochistan demand for an urgent UN intervention to stop the Pakistani state atrocities, gross human rights violations and crimes against humanity committed against civilian populations," the memorandum said.
"Suffering families ask for the return of thousands of Baloch and Sindhi missing persons illegally taken away by the Pakistan army in the last several years. UN should send a peace and human rights mission to Islamabad to find ways to end all military operations in Sindh and Balochistan," the joint memorandum said.
http://timesofindia.indiatimes.com/world/pakistan/baloch-sindhis-hold-protest-rally-against-pak-outside-un/articleshow/60793304.cms
--------
Rohingya Muslim children 'heavily traumatized' from dangerous journey to Bangladesh
By MUNEEZA NAQVIThe Associated Press
Fri., Sept. 22, 2017
Rohingya Muslim children, who crossed over from Myanmar into Bangladesh, stretch out their arms out to collect chocolates and milk distributed by Bangladeshi men at Taiy Khali refugee camp in Bangladesh. (DAR YASIN / THE ASSOCIATED PRESS)
----------
BALUKHALI REFUGEE CAMP, BANGLADESH—Abdul Hamid has the wide-open smile of a child and the eyes of an adult. By age 12, the Rohingya Muslim boy has seen more than anyone should have to see in a lifetime.
He saw his father shot by "Burma soldiers," he volunteers in a calm yet deeply unsettling tone, lifting two fingers of his right hand to illustrate the act. When his father didn't die right away, he saw the soldiers slash his throat.
His mother fled their home in Burma with Hamid and four younger siblings. They hid in forests for days and then walked for two days to reach the safety of Bangladesh.
Now he is the "elder" of his family, he says. So he tries to provide for them as best he can in a place where hundreds of thousands of people share his family's desperation. He stands on one edge of a vast, muddy field with a group of other boys, hoping that a passing aid truck will throw him some packets of food.
Children make up about 60 per cent of more than 420,000 people who have poured in to Bangladesh over the last four weeks — Rohingya Muslims fleeing terrible persecution in Burma.
They have seen family members killed and homes set on fire. They have known fear and terror. And they have endured dangerous journeys through forests and on rickety boats.
Sometimes they've done it alone. UNICEF has so far counted more than 1,400 children who have crossed the border with neither parent.
Now they've traded the fear and terror of Burma's northern Rakhine state for the chaos of refugee camps in Bangladesh. Tens of thousands of strangers live cheek by jowl in normally uninhabitable places that are hardly the safe havens to nurture a childhood.
Hunger is a constant and most children have to beg at some point if they are to eat. To do that, they have to leave their tents. Their parents, who are simply too overwhelmed and impoverished themselves, cannot chaperone them.
Most of the babies are sick, burning with fevers or suffering from diarrhea. Clean water and toilets are so rare as to be nonexistent.
"These children have been through a terrible experience. They are heavily traumatized," says Fatema Khyrunnahar, a child protection officer with UNICEF who is working to set up what the agency calls "child friendly spaces" within the squalor and misery of the Rohingya camps.
These are rare spaces where the children can be around each other. Play and sing and shout and have books read to them.
And in a small room that was built just a week ago in this refugee camp, they seem to do just that — at first.
But of course the children of Balukhali and other refugee camps need more. And you only need to look closely at the children in the small room to see the wariness and sadness. Their bodies are tense. Their eyes dart around.
"They are under so much stress," Khyrunnahar says. She has worked with children in distress before, but says the tragedy of the children in these refugee camps sometimes overwhelms her.
They need counselling — first to express their trauma and perhaps later, if they are lucky, to let it go.
There's a 10-year-old boy who crossed the border clutching his 6-year-old sister. A neighbour brought the two children after both their parents were killed.
"For many days he did not speak," Khyrunnahar says.
Finally, he said that the family he stays with "does not love me."
"He loves to be held and hugged. He's clearly missing that," she says, but she also understands the problems of the family that brought him to safety. They're struggling, too.
The problems are enormous. Aid agencies such as UNICEF and MSF, which are working with children in these camps, say they're barely scratching the surface when it comes to addressing their mental and physical well-being.
"We're very worried about the scale of the crisis and the gap there is" between the need and available aid, says MSF's project co-ordinator for emergency response in Cox's Bazar, Arunn Jegan.
"Such a large number of children without caretakers are extremely vulnerable," Jegan says.
Trafficking, servitude, sexual abuse and getting separated from their families are some of the fears that lurk here for children.
Their circumstances have turned them into adults well before their time. Eight or 10-year-olds are caregivers and guardians for their toddler and infant siblings. They stand on the roadside, babies on their hips and in their arms, waiting endlessly for the trucks that distribute food aid.
It doesn't take long for a chaotic scene to break out. A van of local volunteers may drive by, tossing out packets of biscuits or water bottles or even money. Large groups of Rohingya standing along the road start running after it, men, women and children.
It's easy for children to wander too far away from home. They get confused about direction, simply following other groups of kids or adults to places where they think they might get some food or other relief material being handed out.
That's what happened to sisters Majidia and Jasminara, who appeared to be about 10 and 6. As aid trucks pulled into a food delivery area, they lost track of their sister Dilnawaz. She is younger than Jasminara, the older girl said as she sobbed inconsolably.
"I told her not to go. I told her not to go," she kept repeating as tears poured down both their faces.
But the little girl, likely hungry, just vanished into the crowd: easily more than 5,000 people corralled by police and soldiers.
The sobbing girls waited surrounded by a growing crowd. Public announcements were made. More announcements were made.
The once somewhat organized crowd that was waiting for food became chaotic as people walked away with bundles of rice.
Darkness fell.
Little Dilnawaz didn't make her way back to her sisters.
https://www.thestar.com/news/world/2017/09/22/rohingya-muslim-children-heavily-traumatized-from-dangerous-journey-to-bangladesh.html
--------
Nigeria's Supreme Islamic Body Replies CAN, Accuses It of Islamophobia
22 SEPTEMBER 2017
By Nasir Ibrahim
The Nigerian Supreme Council for Islamic Affairs (NSCIA) has responded to claims made by the Christians Association of Nigeria (CAN) on the issuance of Sukuk bond by the federal government.
The Christian body had described the issuance of the bond that as an attempt to sell Nigeria to Arab nations.
But a statement by the Deputy Secretary General of the NSCIA, Salisu Shehu, said, "CAN cannot claim ignorance about the fact that even the World Bank has been involved in issuing SUKUK and the floating of SUKUK Bonds. Interestingly also, several non-Muslim countries across Africa, Europe and Asia have also instituted Islamic Financial System generally and SUKUK in particular. Worthy of mention here are Kenya, Tanzania, South Africa, United Kingdom, Luxembourg, Russia, China, Singapore and a number of firms in the United States.
"Less than two years ago, Britain hosted a World Conference on Islamic Banking and Finance and David Cameron, the then British prime minister, openly declared that their intention was to make UK the hub of Islamic Finance in the World.
"It would certainly be embarrassing for CAN to be told that the first and foremost state in Nigeria to submit application for loan to the Islamic Development Bank is a Christian-dominated state in the South-East."
The NSCIA said what had kept Nigeria together is the culture of mutual understanding, tolerance, and by extension, the spirit and principle of give and take.
"This has been the factor that made Muslims to tolerate several practices or things that are essentially Christian in nature and outlook, in substance and form and indeed in principle and practice, but imposed on us," the group said.
"We have not been talking of Christianization because Sunday has been forced on us as a work-free day, or the Cross as our hospital sign and symbol, our membership of the International Red Cross, and many other things including almost all the titles of the heads of academic institutions (Chancellor, Provost, Dean, Rector, etc.).
"Despite this remarkable tolerance from Muslims over the years, CAN appears to be increasingly becoming Islamophobic and paranoid about its hate and intolerance of Islam, casting aspersions, unnecessarily overheating the polity and unjustifiably creating fear and distrust in the minds of peace-loving citizens of our great country.
"We are poised to advise CAN to, in the spirit of Biblical injunctions, uphold the truth for its sake and tread the path of honour and refrain from statements capable of causing disaffection and promoting disharmony that may lead to conflict in the country."
The statement also implored all Imams to, as a matter of responsibility, use their sermons ( Khutbah) to further remind the Muslims about the Islamic teachings of patience, pardon and forgiveness in the face of provocation and even aggression.
"Our Imams should tell our Muslim brothers and sisters that they should not in any way try to retaliate the unwarranted attacks and killings of Muslims in the South-East on innocent Igbo citizens within their localities or neighbourhoods with whom they are living peacefully and harmoniously," the NSCIA said.
"That is the injunction of the Qur'an and must be complied with. Allah says in the Qur'an, chapter 60, verse 8 that:"Allah does not forbid you to be kind and just to those who did not fight against you on account of religion, nor drove you out of your homes. Surely Allah loves those who are equitable."
http://allafrica.com/stories/201709220443.html
--------
Barzani: We are ready for dialogue, but after Kurdish referendum
22 September 2017
Massoud Barzani, president of the Kurdistan region of Iraq announced on Friday that the disputed independence referendum will go ahead on September 25.
Barzani, who has been under international pressure to delay the vote, defiantly told his supporters that the referendum would go ahead as scheduled and that "anyone who opposes it can go to the ballot box and vote no".
Saudi Arabia called upon the parties concerned to engage in dialogue in order to achieve the interests of the Iraqi people in all its components and to ensure security and peace in Iraq and preserve its unity and sovereignty, according to a statement issued by a source from Riyadh's government last week.
The UN Security Council also warned on Thursday that a referendum on independence by Iraq's Kurdistan region was potentially destabilizing and urged dialogue.
In a unanimous statement, the 15-member council said the referendum planned for Monday could hinder efforts to help refugees return home.
Russian Foreign Minister Sergei Lavrov on Friday told his Iraqi counterpart Ibrahim al-Jaafari that Moscow supported Iraq's territorial integrity and sovereignty, the Russian Foreign Ministry said in a statement.
"The Russian side confirmed its constant support for the unity, sovereignty and territorial integrity of Iraq," the ministry said.
We may die for our goal
In his speech in front of over 30,000 Iraqi Kurds in Erbil Barzani said that the region is ready for dialogue, but only after the scheduled referendum takes place.
Barzani said that the issue of postponement of the referendum has gone out of his hands after it became a public issue.
Barzani declared that "we may die for our goal."
"We have tried a lot with all parties to reach a solution to the problems and abide by the constitution, but they did not accept the partnership," he said.
He stressed that the Iraqi constitution emphasizes a "union" and not "unity".
Barzani talked about the bombardment of Halabja by chemical weapons during Saddam Hussein's rule, as well as Saddam's campaign against Kurdish villages in Iraq.
"We thought after 2003 that we were building a new Iraq, but instead of building a democratic civilian state, we found a sectarian state."
"They should have sent weapons to the Peshmerga, but they cut the budget," he said. "Baghdad believed the Kurds were divided and could not complete the referendum."
"After the constitution of Iraq was drafted, we accepted it, but Baghdad did not comply with it. Article 140 of the constitution was not implemented," he said.
Barzani said that "the referendum is not to draw out the border, but to assert our right for independence,"
The head of the Kurdistan region of Iraq rejected all local, regional and international pressure to postpone the referendum, saying: "They have been pressing us day and night.
He insisted: "I will not take a position that shames my people, who does not want a referendum can go to the polls and says no."
He pointed out that the Iraqi Kurdistan are now "choosing between freedom and slavery" and that the Peshmerga will not allow the territory to fall "into the hands of enemies".
Barzani praised the role of the Peshmerga in fighting against ISIS, highlighting their sacrifices.
Preparations for referendum complete
Evidence on the ground indicates that the Kurdistan region is on track to conduct the referendum on September 25 despite all internal and external rejection.
The Electoral Commission in the region said that the number of ballot boxes amounted to 12 thousand and are distributed at over 2000 centers in all areas where the referendum will be held.
The referendum will be held in the disputed areas of Kirkuk, Nineveh and Diyala, as well as the district of Tuz Khurmato.
The Commission pointed out the completion of logistical and technical measures and the preparation of observers and supervisors of the referendum.
https://english.alarabiya.net/en/News/middle-east/2017/09/22/Barzani-We-are-ready-for-dialogue-but-after-Kurdish-referendum.html
--------
India
India's slave brides: Commission for Minorities wants entry of sheikhs to be monitored
September 23, 2017
The National Commission for Minorities (NCM) has urged the Narendra Modi government to strictly monitor entry of sheikhs in the country after Hyderabad police this week busted a racket that sold off minor girls to men from Arab nations on the pretext of marriage. Observers say it has been an open secret for long that a nexus of brokers and qazis has been running such a ring where girls are trafficked from perhaps all parts of the country. Now, the NCM has requested the ministry of external affairs to scrutinise the entry of sheikhs, especially those over 50 years of age.
Thousands of India's slave brides are often destined for a lifetime of abuse and hardship in the Gulf nations. Girls from poor families are sold like commodities to the Arabs, many of whom arrive in India on tourist visas. In a letter to minister Sushma Swaraj, NCM chairperson Syed Ghayorul Hasan Rizvi has asked that "the ministry for external affairs may instruct all the Indian missions in the middle-eastern countries to strictly verify and scrutinise the background of these sheikhs, especially aged 50 or above, before issuing visa to them." The letter added that the issue needs to be dealt with strictly as it is bringing "disrepute to the country".
In another letter to the union home ministry, Rizvi urged the Centre to prepare a comprehensive list of such incidents and crimes so that a realistic assessment of the problem is available, claiming it is widespread.
"The National Commission of Minorities is of the view that ministry of home affairs must issue instructions to all the concerned agencies of the states and the union territories to sternly deal with the nexus of brokers, qazis, hotel owners and sheikhs and arrest them for outraging the modesty of innocent Muslim girls on the pretext of 'nikah'," it said.
HOW POOR MUSLIM WOMEN ARE LURED
The letters by Rizvi made observations about the dismal plight of these trafficked girls who are often pushed into prostitution as they are deserted by the sheikhs after reaching abroad. "It is a fact that Muslim women from poor families are lured by agents for contract marriage with sheikhs coming from Oman, Qatar and other middle- eastern countries Upon reaching there, these girls are deserted by sheikhs and are tortured, sold and forced into prostitution by them. Many of these girls are forced to work as servants by these sheikhs as they are already married ," Rizvi wrote.
The NCM moved the two ministries as it received a complaint from advocate Mehmood Pracha of Nizamuddin West in Delhi. This Wednesday, Hyderabad Police busted a major racket of contract marriages of young Muslim girls by sheikhs and arrested 20 people including five Omani nationals, three from Qatar and three qazis. Apart from them, their local contacts were also arrested, including five brokers and four lodge owners.
The police said that the information was leaked when they got a tip-off from a minor girl who had earlier been interviewed by one of the sheikhs for the purpose of marriage. Cops blew the lid off the well-oiled machinery of the ring as the local brokers would indulge the sheikhs right from the time they landed at the airport, providing them accommodation and information about potential girls from economically poor background. The brokers would then convince the families to marry their girls to the rich sheikhs, luring them with promises of a bright and happy future for the girls. The girls were also interviewed.
http://indiatoday.intoday.in/story/gulf-countries-sheikh-indian-muslim-brides-hyderabad-modi-govt/1/1054222.html
--------
BSF Using Chilli Sprays, Stun Grenades To Stop Rohingya Muslims From Entering India
Sep 22, 2017
India has stepped up security along its largely porous eastern border with Bangladesh and is using "chilli and stun grenades" to block the entry of Rohingya Muslims fleeing from violence in their homeland of Myanmar, officials said on Friday.
Border forces, which wants to deport around 40,000 Rohingya already living in the country, citing security risks, have been authorised to use "rude and crude" methods to stop any infiltration attempts.
"We don't want to cause any serious injury or arrest them, but we won't tolerate Rohingya on Indian soil," said a senior official with the Border Security Force (BSF) in New Delhi.
"We're using grenades containing chilli spray to stop hundreds of Rohingyas trying to enter India ... the situation is tense," added the official, who declined to be identified as he was not authorised to speak to media.
More than 420,000 Rohingya have fled to Bangladesh since Aug. 25, when a coordinated attack by Rohingya insurgents on Myanmar security forces triggered a counteroffensive, killing at least 400 people, mainly militants. The United Nations has called the assault a "textbook example of ethnic cleansing".
Densely populated Bangladesh is struggling to shelter all the refugees desperate for space to set up shacks, sparking worries in India that the influx could spill into its territory.
R.P.S. Jaswal, a deputy inspector general of the BSF patrolling a large part of the border in eastern state of West Bengal, said his troops were told to use both chilli grenades and stun grenades to push back the Rohingya.
A chilli grenade makes use of a naturally-occurring compound in chilli powder to cause severe irritation and temporarily immobilise its target.
Prime Minister Narendra Modi's government is growing increasingly hostile towards the Rohingya in India, with Home Minister Rajnath Singh calling on Thursday for their deportation as illegal migrants.
Seeking to get legal clearance for the deportation plan, the home ministry told the Supreme Court this week it would confidentially provide it with intelligence information showing Rohingya links with Pakistan-based militants.
Most of the peace-loving refugees had no link to criminal activity, two Rohingya men protesting against the deportation move told India's top court on Friday.
An official of India's federal investigations agency said it was seeking help from Muslim religious leaders to step up surveillance of the Rohingya.
Police have arrested a suspected al Qaeda member they believe was trying to recruit Rohingya in the country to fight security forces in Myanmar. More than 270 Rohingya have been in Indian jails since 2014.
Full report at:
http://www.hindustantimes.com/india-news/bsf-using-chilli-sprays-stun-grenades-to-stop-rohingya-muslims-from-entering-india/story-YOz5G4csWLqYEfIjxdUcxO.html
--------
Pakistan shells border posts, hamlets in J&K; BSF jawans among 7 injured
Sep 23, 2017
JAMMU: Pakistani troops targeted Indian border outposts and hamlets in Jammu, Samba and Poonch districts in overnight firing and shelling, injuring two BSF jawans and five civilians, officials said on Saturday.
Continuous violations of the ceasefire by Pakistan along the International Border (IB) and the Line of Control (LoC) have forced hundreds of border residents to flee their homes.
Pakistan troops engaged in heavy firing and mortar shelling on villages and border outposts in Arnia, R S Pura and Ramgarh sectors along the IB in Jammu and Samba districts since last evening, the officials said.
They targeted over 20 villages.
Three civilians in Satowali village of R S Pura sector were injured in Pakistani shelling and had to be hospitalised, they said, adding that another villager was injured in Treva in Arnia sector.
In Ramgarh sector in Samba, two BSF jawans suffered minor injuries in Pakistani firing, the officials said.
Pakistan also engaged in heavy firing and shelling in Poonch sector along the LoC on Friday evening. An eight-year-old boy was injured in the firing, they said.
Over 500 people were evacuated by the police from a few border hamlets targeted by Pakistani troops last night.
The villagers have been housed in a camp.
Over 20,000 people have also fled their homes and hearths in Arnia and R S Pura sectors in the past few days, the officials said.
There have been continuous firing and shelling by Pakistani troops along the IB and the LoC between September 13 and September 18.
Firing and shelling resumed on September 21 after a two-day lull.
A BSF jawan and a civilian were killed and 25 others including five BSF personnel were injured in the shelling and firing by Pakistani troops during the period.
Full report at:
http://timesofindia.indiatimes.com/india/pakistan-shells-border-posts-hamlets-in-jk-bsf-jawans-among-7-injured/articleshow/60803588.cms
--------
Two terrorists arrested for Banihal terror attack
Sanjay Khajuria
Sep 22, 2017
JAMMU: Security forces arrested two terrorists from Kashmir's Ramban district on Friday for their involvement in the Banihal terror attack in which a Sashastra Seema Bal jawan was killed.
"Barely after 30 hours after the attack, security forces in a joint operation with local police zeroed in on the attackers and arrested two. The hunt for the third accused is ongoing," Inspector general of police (Jammu zone) SDS Jamwal said. He added that the youth were radicalised in Anantnag for revival of militancy in the area.
"Two attackers namely Iqbal Khan, 21, and Mohammed Arif, 25, were arrested for their involvement in the Banihal attack. They were pursuing studies in Degree College in Anantnag," Jamwal said.
An Army spokesperson said the two accused were handed over to the police. "The arrest is a significant blow to the nefarious designs of anti-national elements who promote and support terrorism in an otherwise peaceful Chenab valley in the state of J&K," he added.
Full report at:
http://timesofindia.indiatimes.com/india/two-terrorists-arrested-for-banihal-terror-attack/articleshow/60799930.cms
--------
Pakistan
Jamaat-e-Islami, Pakistan, For Independent State for Rohingyas
September 23, 2017
LAHORE - Rallies and demonstrations expressing solidarity with the oppressed Rohingya Muslims were held all over the country on the appeal of Jamaat-e-Islami chief Sirajul Haq.
Protestors demanded immediate expulsion of the Myanmar envoy from the country and snapping all ties with her. Rallies were staged in the federal capital, the provincial capitals, besides major cities all over the country.
Sirajul Haq said the Pakistan government had not taken any step in line with the nation's aspirations on the issue of the Rohingya Muslims. It was unfortunate, he said, that the Muslim rulers were not raising their voice in support of the oppressed Muslims for the fear of the world powers. He said had there been any bold Muslim rulers imbued with self respect and sense if dignity, the bloodletting of the Muslims of Kashmir, Myanmar and Palestine would not have been possible.
He urged Prime Minister Shahid Khaqan Abbasi to visit the Rohingya refugee camps, sever all ties with Myanmar, and also mobilise other Muslims states for a complete boycott of Myanmar. "All Muslim states should sever all ties with Myanmar till its government agrees to give all rights to the Rohingya Muslims," Siraj suggested and added the Muslim world should demand an independent state for the Myanmar Muslims to permanently resolve the issue.
JI deputy chief Hafiz Idrees, while addressing rally outside Mansoora on Multan Road said that the violence against the Rohingya Muslims in Myanmar was unprecedented and said that the Muslim rulers would have to wake up to stop the genocide of the Burmese Muslims. If the Myanmar envoy was not expelled forthwith, he added, the JI would stage a 'million march' towards the Myanmar embassy.
JI Information Secretary Amirul Azeem said on the occasion that the world conscience and the United Nations proved to be deaf, dumb and blind to the bloodshed of the Muslims in Myanmar.
http://nation.com.pk/lahore/23-Sep-2017/ji-for-independent-state-for-rohingyas
--------
Myanmar foreign ministry summons Pak envoy to censure over Rohingya
September 22, 2017
The foreign ministry of Myanmar has summoned Pakistan's Ambassador to Yangon Dr Tariq to record a protest over Pakistan's 'critical highlighting' of the Rohingya issue on Friday.
Earlier this month, Pakistan's Foreign Ministry had summoned Myanmar's envoy in Islamabad, U Win Myint, to record a protest against the persecution of the Rohingya.
According to Radio Pakistan, Foreign Secretary Tehmina Janjua stressed for effective measures to prevent the recurrence of such violence; providing security to Rohingya Muslims and upholding their rights to live and move without fear and discrimination.
The ambassador had assured the foreign secretary to convey the concerns of the government and people of Pakistan to the Myanmar government.
http://nation.com.pk/national/22-Sep-2017/myanmar-foreign-ministry-summons-pak-envoy-to-censure-over-rohingya
--------
Stance on terror boldly conveyed to world: PM
September 23, 2017
NEW YORK: Prime Minister Shahid Khaqan Abbasi on Thursday said his visit had achieved its objective of conveying Pakistan's strong stance against terrorism as "the international community was now showing its understanding and appreciation of the country's commitment and its sacrifices."
The prime minister was addressing a news conference for Pakistani media while winding up his four-day visit to New York. Abbasi said he made some headway in putting relations back on track with the United States.
The PM, who led the Pakistan delegation to the 72nd session of the UN General Assembly, went through a hectic schedule in New York and met President Donald Trump, Vice President Mike Pence and several other world leaders on the sidelines of the assembly.
PM warns US against 'starving Pakistan of funds'
The prime minister had 27 engagements, including several important bilateral meetings with different heads of governments.
He said his other engagements included meetings with the heads of World Bank, World Economic Forum, UN Secretary-General, besides interaction at the Council of Foreign Relations.
In his speech at the UNGA, Abbbasi said "I had presented Pakistan's point of view effectively and forcefully and have been getting a positive feedback."
The prime minister, who was flanked by Foreign Minister, Khawaja Asif and Pakistan's Ambassador to the UN Maleeha Lodhi, said he looks forward to the visit of a US delegation to Pakistan.
The announcement of the delegation was made after the PM had a one-on-one meeting with US Vice President Mike Pence.
PM Abbasi heads to New York to represent Pakistan at UN
Abbasi said, "Pakistan has rendered a lot of sacrifices in its war against terrorism and played a key role in countering the threat of terrorism in the country." He said that Pakistan's stance was clear that it wants to fight terrorism in all its forms and manifestations, adding "We are partners in the war against terrorism and the international community has accepted it."
To a question, Khawaja Asif said he has had a meeting with the national security adviser of Afghanistan and several issues of mutual concern were taken up. He added that during the meeting both sides agreed to carry forward the talks, and that he has been invited to visit Kabul.
Meanwhile, PM Abbasi said his bilateral meeting with President Ashraf Ghani could not be materialised due to scheduling difficulties.
Responding to a question, the prime minister said, "Peace cannot be brought to Afghanistan by war. Afghans need to sit down together and resolve their own issues." He added that those with whom we are fighting have their leadership in Afghanistan. Nobody wants peace more than us in Afghanistan, he remarked.
We want peace with India: Nawaz Sharif
The premier said the Taliban were operating in Afghanistan, and Pakistan had nothing to do with them.
Responding to a question, the foreign minister said he had an informal chat with the Indian Minister for External Affairs Sushma Swaraj at a diplomatic reception. He said he had enquired after her health after her kidney transplant.
The PM, while referring to his demand for appointment of a Special Envoy on Kashmir, said the world body would look into it. He said, "The dossier presented has information about the atrocities being perpetrated against Kashmiris and expressed hope that Pakistan would get a positive response."
Full report at:
https://tribune.com.pk/story/1513918/stance-terror-boldly-conveyed-world-pm/
--------
Civil, military leadership united on all key issues: PM Abbasi
Anwar Iqbal | Masood Haider
September 23, 2017
UNITED NATIONS: Prime Minister Shahid Khaqan Abbasi has rejected the suggestion that civil-military differences in Pakistan have weakened Pakistan's influence in the international community.
"There's no difference between the civilian and military establishments on key national issues," said the prime minister when asked if this 'dispute' had also impacted his visit to the United Nations.
"The military and civilian leaderships are united on all key issues. One country, one policy, we are all on one page," he said. "We are all working for the country. It's not nice to create rifts where there's none."
The premier completed his four-day visit to the United Nations headquarters on Friday. Hours after his address at the General Assembly, he briefed the Pakistani media on his meetings, both inside the UN and on its sidelines.
"No more do more. We did not hear it anywhere," when asked if the Americans were still asking Pakistan to do more.
Asked about the US proposal to send a delegation to Islamabad for talks on bridging bilateral differences, Mr Abbasi said it was too early to talk about the technical details of the proposed delegation, its agenda and Pakis­tan's expectations. "Both sides are now working on it."
US Vice President Mike Pence had suggested sending a delegation to Islamabad during his meeting with the prime minister. The US wanted to send the delegation soon after Mr Trump's Aug 21 policy speech but Pakistan requested rescheduling.
Mr Abbasi also talked about his brief meeting with President Trump on Tuesday night, saying it happened after his talks with Mr Pence. "President Trump pulled me aside and we talked for two or three minutes," he said.
Responding to a question about the UN secretary general's response to a dossier on Kashmir, Mr Abbasi said the UN had a mechanism for responding to such documents. "Our dossier on Indian atrocities in Kashmir had 250 to 300 pages and includes evidence and pictures. It will have an impact, on world leaders and the international media. But such things take time," he said.
Asked why the international community refuses to believe Pakistan's stance that there are no terrorist safe havens on its soil, the premier said: "It's not because our policy has failed [as the journalist suggested]. Diplomacy is a process. We stated our position, based on facts and logic. It will have an impact," he said.
"But bad news sells better. The claim about safe havens is juicy news. But people are accepting Pakistan's stance as correct."
Foreign Minister Khawaja Asif, who also addressed the news briefing, pointed out that China, Russia and other nations had reacted positively to Pakistan's position on Afghanistan. The US had some reservations but those too would be removed, he added.
The prime minister and the foreign minister both rejected the suggestion that Afghan President Ashraf Ghani had postponed a meeting with Mr Abbasi earlier this week because of some differences.
They said the meeting was scheduled at 11am on Tuesday but President Trump was still addressing the General Assembly then, so both sides agreed to reschedule the meeting. "We will meet soon," said the foreign minister, adding he met the Afghan national security adviser on Thursday and discussed several sensitive issues, including cross-border attacks.
Responding to a question, the prime minister said there's no instability in Pakistan. "A government was removed, and returned in four days. Where's instability? It only shows democracy's strength. Whomever I met at the UN, praised this," he said. "We respect courts, but want them to use the same standard, same process for all."
The prime minister said he did not mention Indian spy Kulbhushan Jadhav in his talks at the UN because the visit was focused on other issues. "Did I take any name?" he asked.
Full report at:
https://www.dawn.com/news/1359496/civil-military-leadership-united-on-all-key-issues-pm-abbasi
--------
IHC dismisses petition seeking disqualification of Gulalai
September 22, 2017
The Islamabad High Court (IHC) Friday dismissed plea, seeking disqualification of Ayesha Gulalai as Member National Assembly (MNA).
A single judge bench of Justice Aamir Farooq announced the reserved judgment on Friday in petition moved by Kulsoom Khaliq Advocate in-person and remarked that petitioner should approach appropriate forum.
The petitioner appraise the court that Ayesha was elected MNA on the ticket of Pakistan Tehrik-e-Insaf (PTI) and she remained in the said party and has so far not resigned from the party even after levelling baseless allegations against party chairman Imran Khan.
She alleged that Ayesha levelled baseless allegation without any solid proof and material.
She further said that she had been approaching the National Assembly speaker for disqualifying Ayesha but no action required under the law was taken so far.
Full report at:
http://nation.com.pk/national/22-Sep-2017/ihc-dismisses-petition-seeking-disqualification-of-gulalai
--------
South Asia
Permanent Peoples' Tribunal finds Myanmar guilty of Rohingya genocide
September 22, 2017
The Myanmar government is guilty of genocide against the Rohingya people and other Muslim minorities, according to the international Permanent Peoples' Tribunal.
The seven-man panel tribunal announced its verdict after considering documentary and expert evidence as well as the testimony of some 200 victims of the atrocities committed against the Rohingya, Kachin and other minority groups in Myanmar.
Head judge Daniel Feierstein, who founded the Centre for Genocide Studies in Argentina, read out the findings following five days of hearing held at the Universiti Malaya Legal Faculty moot court.
He said that the Myanmar regime was indicted and found guilty of genocide, war crimes and crimes against humanity.
"The tribunal ruled that Myanmar is guilty of genocide against the people of Kachin and Muslim groups there," he said.
The tribunal also made 17 recommendations following the judgement.
Among the recommendations announced by judge Gill H. Boehringer was that the Myanmar government cease the acts of violence against the Muslim minorities there.
"Visas and free access must be granted to the United Nation's Fact Finding to probe the atrocities committed against the Rohingya, Kachin and other groups in Myanmar," he said.
He added the Myanmar government must also amend its constitution and abolish discriminatory laws to give rights and citizenship to the oppressed minorities.
He said that the international community must provide financial help to countries such as Bangladesh and Malaysia that are hosting the influx of refugees escaping the violence.
He added that the tribunal's findings, judgement and recommendations would be forwarded to international bodies and civil groups to pressure the Myanmar government to act accordingly.
Organising committee chairman Dr Chandra Muzaffar hailed the verdict as a significant step towards recognising the crimes committed in Myanmar.
"The tribunal has called evil by its name by using terms such as crimes against humanity and genocide," he said.
He said the tribunal's findings and judgement should be used as the basis for international bodies such as the Asean, International Criminal Court and superpowers to act.
The recent crisis in Myanmar has resulted in over 420,000 Rohingya refugees fleeing across the border to Bangladesh.
Malaysia has strongly questioned the manner in which Myanmar addressed the Rohingya issue, saying that the country had denied permission for the international community to provide humanitarian aid to the ethnic group.
The Permanent Peoples' Tribunal was founded in Italy in 1979 and comprises 66 international members.
Since its establishment, the tribunal has held 43 sessions on numerous cases involving human rights and genocide.
http://www.thedailystar.net/world/rohingya-crisis/peoples-tribunal-finds-myanmar-guilty-rohingya-genocide-1466008
--------
Rohingya refugee tide is India's challenge too: Bangladesh
by Praveen Swami
September 23, 2017
Hasina and Rashidul Islam's third child came into the world at lunchtime Wednesday. Blood from his birth ran from the floor of the tarpaulin-sheet shelter, over sodden yellow clay, into a ditch running along the road. No chicken was slaughtered to celebrate the birth of a son: the family had just ended a 15-day journey to safety, fleeing the hamlet of Toarbil in Myanmar's Rakhine state. "I don't know what the future holds for us," Rashidul Islam said, "I can't even afford to bury my son if he dies."
In Bangladesh, now home to a tide of refugees that United Nations estimates put at 500,000, and unofficial ones place up to 200,000 higher, officials fear that failure to address the needs of desperately poor families could see this catastrophe degenerate into a region-wide security crisis. Long-term hardship, officials are warning, can spark communal destabilisation inside Bangladesh, and set off security challenges.
Nurul Avsar, also known as Ruhullah, one of the key leaders of Harkah al-Yaqin, the jihadist group which sparked off the war in Rakhine, was himself a refugee, graduating from organised crime to terrorism, local authorities say. Bangladesh officials privately say they want to see India push Myanmar to agree to a safe-zone proposal, which should allow the Rohingya to return to the country. The safe-zone idea, alluded to by Prime Minister Sheikh Hasina, envisages UN-supervised areas in which the Rohingya can live, while larger political issues are addressed.
India has so far sent a 100-tonne consignment of emergency aid to the refugees, but Bangladesh hopes the gesture will be followed by action. "India has always stood by Bangladesh at times of crisis," says Road Transport Minister and Awami League general secretary Obaidul Quader. "Now, we need India to stand by us again."
The stench of excrement, sweat and desperation hang over Bahukhali camp and its neighbour, Kutupalong. Sprawled over more than 2,000 acres of forest newly made available to refugees, the camps have already begun to overflow. Though experts have applauded the Bangladesh government's efforts, its resources and those of NGOs have been overwhelmed by sheer numbers. There is desperate shortage of sanitation.
Husna Begum, who ended a two-week journey from the Rakhine coast to Hariyakhali, near Shah Porir Dwip on Wednesday, paid over 300,000 kyat, or almost Rs 15,000, to bring herself and her two children to safety. Her husband, she says, was shot dead as she attempted to flee a Myanmar army attack on their village, Nang Song.
Finding herself physically too weak to fight among the desperate crowds who throng relief trucks, Husna Begum and her to infants survive on begging by the roadside. Bar small cash handouts, there isn't much: well-meaning charities have brought so many clothes that the roads are strewn with a carpet of discards, but fresh water and construction material is desperately short.
READ | Myanmar tapped into communal divide, fear, paved way for violence in Rakhine
"I managed to get a tarpaulin three days ago," Husna Begum says, "but I am very afraid someone will snatch it away." She is also scared, with reason, of assault: violence flares often amid the desperation, and single women are easy targets.
Muhammad Zubair, a volunteer with the Islamic religious charity Markaz-ul-Islami, says there are just not enough people on ground to cater to the needs of the refugees. "To build homes for 400,000-500,000 people, do you have any idea how difficult that is. This is a test of the world's compassion."
Bangladesh authorities, for their part, have viewed the influx of religious charities with a wary eye. Following the 2012 violence, the Lashkar-e-Taiba-linked Falah-i-Insaniyat Foundation is known to have operated in the region, providing a channel to route funds to the Rohingya Solidarity Organisation, one of the precursors of Harkah al-Yaqin.
Failure to find solutions, officials say, is certain to legitimise communal politics within the region — no small threat. Earlier this summer, over 200 homes belonging to ethnic Chakma tribals, Buddhist by faith, were set on fire by plains settlers attempting to seize the lands. In 2012, the last major refugee complex led local Islamist politicians to attack, and raze, a Buddhist temple in the Cox's Bazar area.
Bangladesh signed a peace accord with Chakma insurgents in 1997, but security officials fear the conflict could be reignited should tensions continue to simmer in the Cox's Bazar camp. Local authorities have deployed additional police through the area.
Trying to contain the risk of conflict, the government has been seeking to contain refugees to camps. The élite Rapid Action Battalion was pushed into service Thursday, evicting more than 200 refugee families from a plot near the controversial Imam Muslim Islamic Centre in Cox's Bazar; loudspeakers announcements have been made asking Rohingya not to leave registered camps. The Bangladesh army has also been deployed to help in relief work.
In practice, the enterprise has been as successful as herding cats. Harried police officials asking refugees to report for issue of biometric identity cards were simply being ignored Thursday evening.
Large numbers of Rohingya refugees are also living with kin, scattered across the entire Cox's Bazar belt . "There are hundreds of people living on our village," says Phular Del resident Hamid Bahadur, "and even more in the older, registered refugee camps in the area. No one has the heart to deny someone in this situation a home."
"There is no hard evidence on the presence of terrorists from Myanmar among the refugees," says Afroz-ul-Islam Tutul, the Superintendent of Police in charge of the refugee population in Cox's Bazar. "But we are very aware of the dangers in this situation, and determined."
Private hospitals in Cox's Bazar have treated people with gunshot wounds — some elderly, some children, but several young men who make no secret of having participated in battles. In a video-taped interview to The Indian Express, Abdullah Malik described how he had been shot during an attack on a police station — and vowed to return again.
From its experience of past Rohingya refugee waves — estimated at 200,000 in 1978, another 200,000 in 1998-1999, and some 10,000 each year in between — Bangladesh knows addressing the needs of this influx will be hard to meet. Few Rohingya have an education, because of poor infrastructure in the Rakhine state; many eke out a living as rickshaw drivers or construction labourers, often volunteering to work at wages lower than local residents.
Endemic poverty has also made the Rohingya refugees vulnerable to crime. In 2015, a trial of human traffickers in Thailand threw up evidence over 500, who had paid touts to work illegally, had been left to die in jungle camps, mainly the elderly and those too weak to do hard labour.
Lieutenant General Manas Kongpaen, a senior Thai military officer, was among those convicted of trafficking Rohingya from Bangladesh. Though the traffickers have since been driven underground, the practical impact has been to boost prices for illegal passports, police say.
Bangladesh police say young Rohingya have also been extensively used by Bangladesh-based criminal cartels to smuggle Yaba, a cocktail of methamphetamine and caffeine popular among drug-users throughout south-east Asia. "How are we going to educate these tens of thousands of kids, if we don't want them ending up at religious seminaries," one Bangladesh official asked. "How do we meet the needs of women and orphans? How do we create employment? It is just not possible for Bangladesh to do this alone."
Full report at:
http://indianexpress.com/article/india/rohingya-refugee-tide-indias-challenge-too-bangladesh-myanmar-4856866/
--------
Man throws shoe at Hekmatyar during Friday prayers in Herat
Sep 23 2017
A man in western Herat province of Afghanistan attempted to attack the leader of Hezb-e-Islami Gulbuddin Hekmatyar with his shoe in western Herat province of Afghanistan.
The incident took place during the Friday prayers in the central mosque in Herat city at noon time today.
According to the eyewitnesses, the man who was among the hundreds of the prayer participants throw a shoe at Hekmatyar as he was in lead of the Friday prayers.
In the meantime, sources close to Hekmatyar have said the man who attempted to hit the leader of Hezb-e-Islami was pardoned for his act.
However, the other eyewitnesses are saying that the incident sparked chaos among the prayer participants.
The eyewitnesses are saying that the security forces also intervened to disperse the people who were worried that a suicide bomber had infiltrated among the people.
The issue has been widely shared on social media as there are mixed reactions regarding the move of the man, attempting to hit the leader of Hezb-e-Islami.
Hekmatyar joined peace process last year and signed a peace deal with the government in September.
Full report at:
http://www.khaama.com/man-throws-shoe-at-hekmatyar-during-friday-prayers-in-herat-03503
--------
Afghanistan strongly reacts at Pakistan PM's speech at UN General Assembly
Sep 22 2017
The Afghan government's mission in the United Nations strongly reacted at the allegations of the Pakistani Prime Minister regarding the terror sanctuaries in Afghanistan by raising questions regarding the safe havens and places where the Al-Qaeda and Taliban founds were killed or died as well as the killing of the former Taliban supreme leader Mullah Akhtar Mansoor.
"My delegation is exercising its right of reply because of an erroneous claim by one member-state regarding the presence of safe-havens and sanctuaries in Afghanistan," the Afghan mission in UN said in a statement.
The statement further added "Such reference is a deliberate attempt by the government of Pakistan to divert international attention over Pakistan's longstanding failure to take effective action against various terrorist groups and sanctuaries on its territory. It remains evidently clear to the global community that the propagation of terrorist activities by State and non-State actors in neighboring Pakistan constitutes the main source of insecurity in our country Afghanistan and the wider region."
"Afghanistan has persistently and consistently sought to address this outstanding issue through various channels, including bilateral and other mechanisms. Nevertheless, efforts to this end have yielded no results, whatsoever. At this juncture, Pakistan has another opportunity to engage in a comprehensive dialogue to resolve outstanding issues that have prevented it from adopting a clear and decisive stance in combating terrorism and a constructive approach for peace and security in Afghanistan," the statement added.
"In seeking a clear picture of the current situation, let us ask the following questions:
Where was the mastermind of international terrorism, leader of Al-Qaeda, Osama Bin Laden killed? Answer: In the capital of Pakistan: Islamabad.
Where did the notorious leader of the Taliban, Mulllah Mohammad Omar, die? Answer: In a hospital in Karachi.
Where was Mullah Akhtar Mansour, the successor of Mullah Omar, found and killed by international forces? Answer: Baluchistan of Pakistan. And guess which country's passport he was using for travel to different locations? Pakistan's.
Where is the leadership fo the Quetta and Peshawar Shuras located at this very moment? Answer: The name of locations just metnioned speaks for theselves.
From what country has almost every single terrorist element, and some 20 internationally recongized terrorist groups enter into Afghanistan and continue to do so? Answer: Pakistan," the Afghan mission in UN said.
It also added "What was just mentioned are few examples of the incessant support enjoyed by extremist groups from Pakistan. Moreover, these are not jut the words of Afghanistan. These have been claimed and verified by various credible international sources."
According to the Afghan mission in UN "Long before any foreign intervention and the so-called "Civil War" in Afghanistan, Pakistan had adopted a policy of use of violent proxies in pursuit of political objectives."
"Lastly, wasn't it H.E Prime Minister Abbasi of Pakistan himself who in an interview a few days ago admitted that the culprits of the massive terrorist truck bomb on 31 May in Kabul may have entered from Pakistan to Afghanistan," the Afghan mission in UN said, adding that "Event though not necesary, we wish to categorically reject any claim of any support provided to terrorist groups in Afghanistan. The facts speak for themselves. Now is the time for Pakistan to opt for a constructive approach in combating terrorism and promoting peace in our region."
Full report at:
http://www.khaama.com/afghanistan-strongly-reacts-at-pakistan-pms-speech-at-un-general-assembly-03502
--------
Africa
South Africa: Understanding the Court Judgment On Polygynous Muslim Marriages
22 SEPTEMBER 2017
By Letlhogonolo Mokgoroane
Wills Act unfairly discriminates against second and subsequent wives
The Western Cape High Court ruled on 14 September 2017 that a spouse in a polygynous (where one man marries many wives) Muslim marriage can inherit property after their husband's death in terms of a provision in the Wills Act.
Section 2C(1) of the Wills Act provides that where a person dies and leaves his or her property to their children and spouse, if the children give up their right to inherit, the spouse will receive the property.
In this case, Mr Harnaker married Ms Anima Harnaker (the first wife) and then married Ms Farieda Harnaker (the second wife) under Islamic law. Mr Harnaker wanted to purchase property and in 1982, he applied for home loan from a bank. He learned that to qualify for the loan, he needed to be legally married under South African law. At that time, polygynous marriages were unlawful in South Africa. Currently, Islamic marriages are still not fully recognised under South African law.
So Mr Harneker entered into a civil marriage under the Marriage Act with the first wife with the agreement from the second wife that this was to obtain the loan. They then obtained the loan, purchased the property, and Mr Harneker and the first wife became lawful owners of the property.
In his will, Mr Harneker stated that he recognised both women as his wives. He directed that his property be shared in terms of Islamic law. This means that all the wives, as well as his nine children, would stand to inherit from him. According to the executor of the property, the children gave up their right to inherit, leaving their mothers as the sole receivers of their father's property. This meant that in terms of the Wills Act, the children's share would be given to the "surviving spouse".
The property purchased by Mr Harneker and the first wife formed part of his property. The executor of the property considered both wives to fall under the term "surviving spouse" in the Wills Act. However, the Registrar of Deeds, the office in charge of managing documents relating to ownership of properties, rejected this view and found that only the marriage to the first wife, concluded under the Marriage Act, was valid and protected under the law. This meant that the second wife was not considered a "surviving spouse" under the Wills Act and could not inherit her half of her husband's property.
As a result, the wives brought a case to the Western Cape High Court. In this case, the wives argued that the facts demonstrate unfair treatment in respect of widows as "surviving spouse" in Muslim polygynous marriages. Furthermore, they argued that Mr Harnaker's marriage to the second wife was recognised under Islamic law and in terms of Section 9 of the Constitution of South Africa, the equality provision, which prohibits discrimination on various grounds. Also, the wives argued that the second wife's marriage could not be less important than marriages like civil marriages and African customary marriages, which are recognised under our law. Similarly, the dignity of women in a polygynous marriage cannot be less than women in a civil marriage or a customary marriage. The wives argued that the concept "surviving spouse" as understood by the Registrar unfairly discriminates against the second wife on the grounds of religion and marital status.
The Women's Legal Centre, admitted as a friend of the Court, argued that the non-recognition of Muslim polygynous marriages particularly affects women, who are vulnerable and marginalised compared to those married according to civil or customary law.
The High Court had to decide whether not including spouses in Muslim polygynous marriages in the term "surviving spouse" in the Wills Act ignores the equality provision of the Constitution.
In his reasoning, Judge Andre Le Grange ruled that the provisions of section 2C(1) of the Wills Act create a difference between a surviving spouse married in terms of the Marriage Act and surviving spouse(s) married under Islamic law. This difference will only be allowed if it is connected to a valid purpose to be achieved by the government. This test was created by the Constitutional Court when it ruled that a difference between people is acceptable if it is connected to valid purpose that a government seeks to achieve. The judge found that this difference amounts to unfair discrimination, an unjust treatment that prevents opportunities to any person on grounds such as sex, gender, marital status, religion etc -- under the equality provision of the Constitution. In making this finding, the judge observed that the difference does not have a valid government objective. Therefore the provision is unconstitutional. The judge agreed that the second wife was treated unfairly on the basis of her religion and marital status. As a result, the court ruled that this discrimination was unconstitutional.
The court found that the term "surviving spouse" as is currently used in the Wills Act does not include women married in a polygynous Muslim marriage. So the court ruled that the term "surviving spouse" includes spouses married under Islamic law
This judgment is a step in the right direction to affording equal protection to Islamic marriages under South African law. However, without legislation regulating these marriages, women married under Islamic law have to continue to approach the courts to confirm their rights in a piecemeal fashion.
http://allafrica.com/stories/201709220185.html
--------
UN: At least three killed in Sudan clashes over Bashir visit to south Darfur
23 September 2017
At least three people were killed and more than 20 wounded when Sudanese troops clashed at a South Darfur refugee camp with displaced people protesting against a visit by President Omar Al-Bashir, the United Nations mission said on Friday.
The clashes erupted when troops dispersed protesters after Bashir was visiting the Shatia area, where the government has been accused of ethnic cleansing, in his first trip there since the conflict in Darfur war broke out in 2003.
Bashir travelled to Darfur to show progress before a US decision in October on lifting sanctions in return for Sudan meeting conditions, including resolving conflicts and improving humanitarian efforts on the ground.
At least three displaced people were killed and 26 more wounded when troops cleared protesters at the Kalma camp, the joint UN African Union peacekeeping mission, known as UNAMID, said in a statement.
"I call upon everyone involved in this situation to restore calm as soon as possible. A peaceful resolution of differences is the only way forward for the Darfuri people," said UNAMID Joint Special Representative, Jeremiah Mamabolo.
Sudan's government did not immediately respond to calls seeking comment.
Conflict in Darfur began in 2003 when mainly non-Arab tribes took up arms against Sudan's Arab-led government.
Full report at:
https://english.alarabiya.net/en/News/middle-east/2017/09/23/UN-At-least-three-killed-in-Sudan-clashes-over-Bashir-visit-to-south-Darfur.html
--------
Jordan's young crown prince makes global debut in UN speech
22 September 2017
Just a year out of college, Jordan's crown prince has made his debut on the world's biggest stage, addressing the UN General Assembly – the clearest sign yet that he is on a fast track to a prominent public role at home and abroad.
The accelerated roll-out of 23-year-old Crown Prince Hussein underscores the continuity of the family - a reassuring prospect for Western and Arab allies who view the stability of the kingdom, a front-line state in the battle against extremism, as a key concern.
The prince is also seen as a domestic asset for the family at a time of sharp economic downturn and growing discontent, particularly among his contemporaries. More than half of Jordanians are younger than 24, with more than one-third in that age group unemployed, and many feel excluded from opportunities.
Hussein's growing visibility and focus on the concerns of his generation "would give many today a kind of hope that something will change in Jordan," provided it is linked to a reform plan, said analyst Amer Sabaileh.
'Largest generation of young people'
In his General Assembly speech, delivered in fluent English, the crown prince introduced himself as an advocate for the "largest generation of young people in history," but focused mostly on familiar Jordanian themes.
He portrayed his desert kingdom bordering conflict-ridden Syria and Iraq as a defender of moderation and inclusiveness in a region "too often deafened by division and extremism." He also argued that the world hasn't provided enough aid to Jordan, a leading refugee host nation buffered by external shocks in recent years.
The palace portrayed Thursday's speech as part a natural progression in his training, which has included an undergraduate degree in international history from Georgetown University in Washington, D.C. and an officer's course at Britain's Sandhurst military academy.
"It's a role he has been growing into, and the issue of youth empowerment is dear and close to him," a palace official said on condition of anonymity in line with regulations. It's also a role he might play for years to come. At age 55, his father, Jordan's King Abdullah II.
Ceding spotlight
For Abdullah, it made sense to cede the spotlight in New York to his son, said David Schenker of the Washington Institute for Near East Policy think tank.
Abdullah, one of the best-known Arab leaders, has successfully promoted Jordan's moderate image in 18 years in power, and presenting his son to a wider audience helps burnish "brand Jordan," said Schenker.
The speech is part of the crown prince's training, along with his participation in meetings with President Donald Trump and other leaders on the sidelines of the General Assembly, said Schenker.
"When the transition eventually does come, years down the road, it makes it easier for Hussein," he said. Abdullah and his father, the late King Hussein, had far less time to prepare.
Hussein was only 17 when he became king two years after the 1951 assassination of his grandfather, then-King Abdullah I, and a year after his father, Talal, had to abdicate due to illness.
Hussein ruled for almost 46 years, much of that time with his brother, Hassan, by his side as crown prince. Shortly before his death in February 1999, Hussein unexpectedly named then 37-year-old Abdullah as crown prince.
The current king designated his oldest son as crown prince much earlier - in 2009, at the age of 15. Since then, the prince has become a familiar presence in Jordan.
An early official portrait of a round-faced, teen-age Hussein, with a mop of curly hair and rimless glasses, hangs in government offices alongside those of his father and grandfather.
After graduation from high school in 2012, his exposure grew, as he began sitting in on his father's high-level meetings and championed programs focusing on the problems of young Jordanians.
He has promoted a youth leadership program and a technical university, among other things. In 2015, he became the youngest person to chair a session of the UN Security Council, dealing with the role of young people in countering violent extremism. In May, he gave the opening speech at the World Economic Forum's Middle East session.
Image of accessibility
The prince has also cultivated an image of accessibility. His Instagram account, with more than 1.1 million followers, shows him boxing, cooking on a campfire in the desert, clowning for the camera with his siblings, playing a guitar and leaning against a motorcycle in a brooding James Dean-style pose. He's seen shaking hands with world leaders, but also with Jordanian sanitation workers.
Hussein is stepping into a prominent role at a time of major domestic problems. Jordan buckles under a heavy debt burden, vital trade routes to Syria and Iraq closed in 2015 - the latter only reopening recently - and unemployment is rising sharply. Abdullah said in a recent interview that the economy is his top concern and that it "keeps me and Jordanians up at night."
Traditionally, governments appointed by the king have absorbed the public's dissatisfaction, with the monarch seen as being above the political fray, despite his central role in setting policy.
Full report at:
https://english.alarabiya.net/en/News/middle-east/2017/09/22/Jordan-s-young-crown-prince-makes-global-debut-in-UN-speech.html
--------
Arab World
Saudi Arabia celebrates 87th National Day with nationwide festivities
23 September 2017
Saudi Arabia has been decked green — the color of its flag — as patriotic fervor and national pride take precedence over everything else.
In celebration of the country's 87th National Day on Saturday all roads in the capital and other important cities have been covered with green flags and posters of King Salman and Crown Prince Muhammad Bin Salman, deputy premier and minister of defense.
Many citizens have even got their cars painted green to celebrate the day.
Celebrations, featuring wide variety of programs and activities include patriotic events, folk arts and dances, processions and fireworks, have been held throughout the Kingdom with the start of the celebrations since Thursday.
Crown Prince statement
On the occasion of the National Day, Crown Prince Mohammed Bin Salman, emirs of various provinces, ministers and high-ranking civilian and military officials greeted the people and reminded them of the endeavors made by the Kingdom's founder late King Abdul Aziz in unifying the Kingdom, as well as the unprecedented growth and massive developments witnessed in the Kingdom during the period of his successors.
In his statement, the Crown Prince commended the Kingdom's growth and prosperity under the great leadership of King Salman, saying: "what our country is witnessing today is due to the continuation by King Salman of what has been done by the former kings of this country of giving, goodness and development as well as efforts to serve Islam and support Muslims. On this occasion of recalling the unification of this great nation, we emphasize the Kingdom's effective and influential status and role on the regional and international arenas, with its commitment to work for the achievement of international peace and security and its pursuit for the good of all humanity," he said.
The Crown Prince said: "With our Kingdom becoming an active member of G20, the grouping of the world's strongest economies, we look ambitiously forward to seeing the Kingdom as a pioneering model at all levels, depending on the role of young male and female citizens in this regard with striving to accomplish the Kingdom's Vision 2030 which marks the beginning of a new phase of development and hard work for future advancement as well as the pursuit for everything in the interest of the country."
The Crown Prince also reiterated the Kingdom's resolve to root out terrorism and extremism. "Under the leadership of King Salman, this country has affirmed its right to uphold the truth and commitment to its principles to achieve justice as well as its quest for the achievement of regional security and world peace."
Others leaders and citizens also said the Kingdom was witnessing a glorious era and a blessed renaissance with more security and stability under the leadership of King Salman. Prince Abdul Aziz Bin Saud Bin Naif, minister of interior, said that the most significant achievement of the Kingdom after its unification is its security and stability, which are considered as the foundations for the progress of any nation and prosperity of its people.
Sheikh Abdullah Al-Asheikh, president of the Shoura Council, lauded the Kingdom's Vision 2030 and National Transformation Program of 2020, saying that these would contribute to upgrade the Kingdom's position as one of the most powerful economies in the world besides bringing in remarkable improvement in the services being extended to the citizens in all walks of life.
Minister of Culture and Information Awwad Al-Awwad greeted King Salman and Crown Prince Muhammad Bin Salman as well as the people of Saudi Arabia on the occasion of the National Day. He also recalled the remarkable achievements made by the Kingdom in terms of its security, stability, progress and prosperity under King Abdul Aziz and his successors.
Festivities
This year, the General Entertainment Authority (GEA) is hosting 27 diverse festivities across 17 cities within Saudi Arabia to mark the National Day and all these programs and events are planned in line with the Vision 2030. Celebrations with the motto of "Strengthening Social Bonds," began on Thursday and will run through Monday in Riyadh, Jeddah, Dammam, Hail, Alkhobar, Jazan, Abha, Onaiza, Tabuk, Sakaka, Jubail, Yanbu, Hafr Al-Batain, Hofuf, Madinah and Najran.
To light up Saudi Arabia's horizon with high technology, the GEA has organized laser shows and vibrant firework displays. Citizens and expatriates will have the opportunity to enjoy a chain of related events, which will highlight the country's achievements through an eclectic combination of sports events, cultural shows, fireworks and concerts.
The Ministry of Municipal and Rural Affairs has made elaborate arrangements to make the celebrations a great success in all parts of the Kingdom with the involvement of all segments of the society and all departments and agencies. As part of this, all the main roads and streets of major cities and towns were decorated with Saudi flags and wide variety of cultural programs and activities with the slogan of "Serving the Nation," have been kick-started
A festival in Madinah — "A Nation's Smile" — combines the story of the country with a historical past and a brighter future
Eleven Saudi and Gulf music artists are to entertain the audience at the Al-Johara Stadium in Jeddah. The participating artists will include Mohamed Abdo, Majed Al-Mohandes, Aseel Abu Baker, Abdulmajeed Abdullah, Tala Salamah, Abadi Al-Johar, Hussein Al-Jasmi and Abdullah Al-Rowaished.
Other events lined up during the five-day celebrations include car festivals, sports and folklore shows, bazaars, fashion shows, dancing fountains, parades, hot air balloon rides and even the Jungle Book play. Organizers will harness high-end technologies including 3D shows, LEDs and HD projections — the results promise to be magnificent.
This article was first published in the Saudi Gazette.
https://english.alarabiya.net/en/News/gulf/2017/09/23/Saudi-Arabia-celebrates-87th-National-Day-with-nationwide-festivities.html
--------
UAE FM: Iran violates 'letter and spirit' of nuclear deal
23 September 2017
The United Arab Emirates said on Friday it considers that Iran violates both the "letter and spirit" of the 2015 nuclear deal agreed between the Islamic Republic and world powers.
"Two years have passed since Iran's nuclear agreement with no sign of change in its hostile behavior; it continues to develop its nuclear program and violates the letter and spirit of that agreement," UAE Foreign Minister Sheikh Abdullah bin Zayed al-Nahayan told the UN General Assembly.
"Therefore we support enhanced controls on Iran's nuclear program and continued assessment of the agreement and its provisions," he said.
UAE Foreign minister affirmed his country's commitment and sovereign right to the three islands occupied by Iran.
Regarding Qatar crisis, Sheikh Abdullah said that the anti-terror states have taken the necessary measures to stop Qatar 's support for terrorism.
UAE foreign minister also praised Saudi Arabia's leadership in providing humanitarian support to the Yemeni people.
Full report at:
https://english.alarabiya.net/en/News/gulf/2017/09/23/UAE-FM-says-supports-enhanced-controls-on-Iran-s-nuclear-program.html
--------
Iraq Kurd head resists pressure to scrap referendum
Sep 23, 2017
ARBIL - Iraqi Kurdish leader Massud Barzani insisted Friday that a controversial September 25 independence referendum for his autonomous Kurdish region in northern Iraq will go ahead, even as last-minute negotiations aimed to change his mind.
Iraq's Kurds have faced mounting international pressure, including from neighbouring Iran and Turkey, to call off the referendum that the UN Security Council has warned was potentially destabilising. "The referendum is no longer in my hands, nor is it in those of the (political) parties - it is in your hands," Barzani told a large crowd at a football stadium in the regional capital of Arbil.
"We say that we are ready for serious open-minded dialogue with Baghdad, but after September 25, because now it is too late," he said of Monday's plebiscite.
On Saturday, the veteran Kurdish leader is to hold a news conference at which he is expected to announce definitively whether the vote will take place.
Negotiations are still going on aimed at persuading Barzani to postpone any referendum, according to officials close to the discussions. "Nothing is definitive yet. Discussions are continuing to try to offer him serious guarantees that will convince him to change his mind," said one official who did not wish to be identified.
The commander of the Iranian Revolutionary Guards' foreign operations, Major General Qassem Soleimani, was Friday in the Iraqi Kurdish province of Sulaimaniyah and headed for Arbil, a high-ranking source in the province said.
"It's his last visit before the referendum to advise Kurdish officials that Iran is seriously hostile to it and warn them to call it off," the source said.
Iran and Turkey both have sizeable Kurdish populations of their own and fear the vote in northern Iraq will stoke separatist aspirations at home.
The Iraqi government is also opposed to the referendum in the oil-rich Kurdish region, which it has called unconstitutional.
In 2014, after a dispute over oil exports, Baghdad decided to suspend payments to Barzani's Kurdish regional government of 17 percent of Iraq's national budget.
Wages, including those of Kurdish peshmerga fighters, were slashed after the end of those transfers, which were worth around $12 billion (10 billion euros) and made up 80 percent of the region's budget revenues.
"The Iranians are still pushing for negotiations between Kurdistan and Baghdad," the source said.
Soleimani has told Kurdish officials that "Iran is pressuring Baghdad so it accepts Kurdish demands and solves the issues of the budget, peshmerga salaries and disputed areas".
Iraqi Kurdistan has since 2003 been made up of the three provinces of Arbil, Dohuk and Sulaimaniyah, but its leaders have laid claim to other areas that are constitutionally under Baghdad's authority, including the oil-rich province of Kirkuk.
The Iraqi Kurds would like these disputed areas to take part in the vote.
On Thursday, the UN Security Council warned the referendum was "potentially destabilising".
The council urged "dialogue and compromise" to address differences between the Iraqi government and the regional authorities.
It also said the vote could weaken the military campaign against the Islamic State militant group, "in which Kurdish forces have played a critical role".
Baghdad this week launched offensives to oust IS from the last two pockets it controls in Iraq.
Despite tensions over the referendum, Iraqi forces on Friday recaptured IS-held Sharqat on their drive to retake the nearby northern town of Hawija back from the militants.
On the political front, Prime Minister Haider al-Abadi said on Tuesday he rejected an independence referendum under any form, even non-binding. The poll was "rejected, whether today or in the future," he said.
On Wednesday, Saudi Arabia urged Barzani to cancel the referendum to avoid further "crises" in the region.
But the Iraqi Kurdish leader has refused to give in, and on Thursday rejected an initiative from Iraqi President Fuad Massum - himself a Kurd - for negotiations.
Massum, in a document seen by AFP, suggested starting UN-backed talks towards a deal with Baghdad.
He suggested forming a high committee, to be presided over by the head of state and to include the parliament speaker as well as the prime ministers of Iraq and Iraqi Kurdistan.
The UN envoy for Iraq would also be involved.
In areas disputed between Arbil and Baghdad, some have issued strong warnings against the vote.
In the town of Tuz Khurmatu in the province of Salaheddine, an official from the Hashed al-Shaabi paramilitary umbrella group has said he will not allow the poll.
"We're ready for a fight to the death," said Atef Annajar, whose group is dominated by Iran-backed Shiite militias, adding however that "the leadership is trying to calm the situation".
Full report at:
http://nation.com.pk/international/23-Sep-2017/iraq-kurd-head-resists-pressure-to-scrap-referendum
--------
Gov't Forces Drive ISIL Terrorists out of Large Swaths of Land in Central Iraq
Sep 22, 2017
The spokesperson was quoted by the English-language Lebanon-based AMN as reporting that the Iraqi Armed Forces, led by Hashd al-Shaabi (Popular Mobilization Units), have liberated at least 15 villages in the Al-Shirqat region with a total area as large as 140sq/km, which is located directly Northwest of Huweija.
Once the Al-Shirqat region is cleared, the Iraqi forces will be able to penetrate the ISIL's last line of defense North of Huweija and enter this terrorist stronghold.
The Huweija operation began at dawn on Thursday morning and has been incredibly successful, given the terrorist group's fierce resistance to the Iraqi military's advance.
An Iraqi media outlet reported on Sunday that the Iraqi Army troops and popular forces managed to push ISIL terrorists back from a strategic region in Western Anbar at border with Syria.
The Arabic-language Elam al-Harbi reported that the Iraqi pro-government forces liberated Akashat region in the Western part of Anbar province.
Elam al-Harbi said that the army soldiers, the volunteer forces of Hashd al-Shaabi, Hashd al-Ashayer (tribes) and a regiment of police of Akashat stormed ISIL's defense lines and liberated the region, reopening Akashat's road to Highway.
Full report at:
http://en.farsnews.com/newstext.aspx?nn=13960631000546
--------
Terrorists Fail to Prevail over Syrian Army Positions in Hama Province
Sep 22, 2017
The army soldiers, backed up by the country's Air Force and artillery units, clashed fiercely with the ISIL in Satahiyeat region, fending off their heavy attack on the pro-government forces' positions.
Also, the army aircraft pounded the remaining pockets of terrorists after the army recaptured lost lands in Northern Hama.
Relevant reports said on Thursday that the army continued its military operation against Al-Nusra Front (Tahrir al-Sham Hay'at or the Levant Liberation Board) in Northern Hama, killing a number of terrorists, including a notorious commander.
Maher Alu Abu Al-Abbas, field commander of Al-Nusra Front, was killed in tough battle with the Syrian army in Northern Hama, the websites close to the terrorist groups reported.
Abu Al-Abbas participated in battles against the Syrian army in Aleppo and Idlib cities.
Full report at:
http://en.farsnews.com/newstext.aspx?nn=13960631000658
--------
Syrian Army Ready to Liberate Deir Ezzur's Largest Island from ISIL
Sep 22, 2017
The army men, led by detachments from the Republican Guard and 5th Legion, attacked ISIL's defense line at Sakar Island's Central Park, scoring a new advance after a fierce battle against the terrorists.
Sakar Island is situated directly East of the Deir Ezzur Military Airport; its proximity to this strategic installation makes it a top priority for the Syrian Army's High Command.
Once Sakar Island is cleared of ISIL terrorists, the army will turn its attention to the Hatla district that is located along the Eastern bank of the Euphrates River.
Hatla was once inhabited by a large Shiite population; however, most of the civilians fled this district after terrorists executed more than 60 people in a massacre.
Moscow on Thursday warned the US that if US-backed groups in Northeast Syria again attack positions of Syrian pro-government forces backed by Russia, the Russian military would use all its force to retaliate.
The troops of the SDF, a group that receives support from the US military, twice attacked positions of the Syrian Arab Army in the Deir Ezzur province with mortar and rocket fire, according to the Russian Defense Ministry's spokesman, Major General Igor Konashenkov.
Meantime, the Syrian army and popular forces continued their military advances in other parts of Syria, including Deir Ezzur.
Deir Ezzur
Konashenkov said, "Russia unequivocally told the commanders of US forces in Al Udeid Airbase (Qatar) that it will not tolerate any shelling from the areas where the SDF are stationed."
He further added that the attacks put at risk Russian military advisers embedded with Syrian government troops.
"Fire from positions in regions controlled by the SDF will be suppressed by all means necessary," he stressed.
Konashenkov said Moscow suspected the SDF of colluding with the terrorist group ISIL in Deir Ezzur rather than fighting it, as it claims to be. He said Russia had detected the transfer of SDF militants from the ISIL stronghold of Raqqa, to join forces with the terrorists.
"SDF militants work to the same objectives as ISIL terrorists. Russian drones and intelligence have not recorded any confrontations between ISIL and the 'third force,' the SDF," the Russian general said.
The statement said that the siege of Raqqa by the SDF was halted, apparently in response to the latest advances by Syrian government forces in Deir Ezzur, which was located to the East from Raqqa along the Euphrates River.
"The Central parts of the former ISIL capital, which account for roughly 25 percent of the city, remain under full control of the terrorists," Konashenkov remarked.
According to the statement, the Syrian government troops "continued their offensive operation" to destroy the last "ISIL bridgehead" near the city of Deir Ezzur, the provincial capital. Troops led by Syrian Army General Suheil al-Hassan liberated around 16 sq/km of territory and two settlements on the Western bank of the Euphrates River.
"More than 85 percent of Deir Ezzur territory is under the full control of Syrian troops. Over the next week the city will be liberated completely," Konashenkov said.
The city of Deir Ezzur in Eastern Syria was besieged by ISIL in 2014. Syrian government forces lifted the blockade of the city in early September.
However, the liberation of Deir Ezzur also triggered a confrontation between Syrian government forces and the US-backed SDF militants, the point of contention being control of Deir Ezzur's oil fields.
Full report at:
http://en.farsnews.com/newstext.aspx?nn=13960631000509
--------
ISIL Terrorists Agree to Surrender Positions in Eastern Hama to Syrian Army
Sep 22, 2017
The English-language Beirut-based AMN reported that the ISIL terrorists have already begun to leave the villages and towns of Soha, Abu Hubailat, Akash, Al-Barghouthyah and Umm Mil, all located along the M-45 highway in the Southeastern countryside of Hama.
It added that around 1,000 ISIL militants and family members were to be transferred from Hama to Deir Ezzur in a deal signed by the army on Thursday evening.
The evacuation is expected to reach a conclusion before the end of the week. The ISIL-held villages in Central Homs are also expected to be handed over shortly.
Relevant reports said on Thursday that the army continued its military operation against Al-Nusra Front (Tahrir al-Sham Hay'at or the Levant Liberation Board) in Northern Hama, killing a number of terrorists, including a notorious commander.
Maher Alu Abu Al-Abbas, field commander of Al-Nusra Front, was killed in tough battle with the Syrian army in Northern Hama, the websites close to the terrorist groups reported.
Abu Al-Abbas participated in battles against the Syrian army in Aleppo and Idlib cities.
Full report at:
http://en.farsnews.com/newstext.aspx?nn=13960631000481
--------
Syrian Soldiers Drive ISIL out of Six More Regions West of Deir Ezzur
Sep 22, 2017
The sources reported that the army men pushed ISIL back from Hawayej Ziab Shamiyeh, al-Sa'adat, Tal Salem, Mount Tarif, al-Mesrab and Anabeh regions on the Western bank of the Euphrates River.
They went on to say that the army has decreased its distance to the town of Ma'adan, the last stronghold of ISIL in Southeastern part of Raqqa province, after its recent advances.
Local sources said on Thursday that a new group of ISIL terrorists, including a senior commander, fled Eastern Deir Ezzur amid the rapid advances of the Syrian Army troops in the province.
The sources pointed to the continuing trend of ISIL terrorists' fleeing from Deir Ezzur, and said Nasr al-Shamri nom de guerre Jahjah, a notorious ISIL commander, has fled al-Basireh region in Eastern Deir Ezzur.
http://en.farsnews.com/newstext.aspx?nn=13960631000433
--------
Homs: Terrorists Withdraw from Two Strategic Regions in Central Syria
Sep 22, 2017
The army men pushed ISIL back from the villages of al-Mazbal and Mas'adah in al-Shourmeriyeh mountain, inflicting major losses on the terrorists.
Field sources said on Thursday that the Syrian army engaged in fierce clashes with the ISIL terrorists in the surrounding areas of Jubb al-Jarah region East of Homs, and took control of Mazin al-Baqar village.
The army units also advanced towards the Tal Ayed al-Hassoun to the East of al-Masoudieh village in the outskirts of Jubb al-Jarah and took military control of the region.
The Syrian army troops killed a large number of terrorists and destroyed their military equipment in Eastern Homs.
http://en.farsnews.com/newstext.aspx?nn=13960631000339
--------
Israeli Air Force Targets Non-Military Airport in Syria
Sep 22, 2017
The English-language Beirut-based AMN reported that the two Israeli missiles did not cause much damage to the airport or its surroundings.
The report also indicated that the attack did not kill or wound any civilians or military personnel present at the airport last night.
Not long after the missile strike, the Syrian Air Defense reportedly downed an Israeli drone near the town of Beit Jinn along the Damascus-Quneitra provincial border.
In August, the Syrian air defense system shot down an Israeli warplane violating the country's air space.
The Israeli fighter jet was targeted over the city of Al-Quneitra at the time.
Israel regularly violates the Syrian airspace and it launches missile attacks against the country.
In August, the Israeli Air Force resumed airstrikes on Western Syria, targeting Brigade 68 Base in Khan Al-Sheih in Damascus province and Brigade 90 Base in the al-Quneitra province after a six hour halt in attacks that followed their multiple air raids over the Golan Heights.
The Brigade 68 Base had no heavy weaponry that could reach Israel's borders and the soldiers inside its parameters had been under siege by the al-Qaeda-linked group of Al-Nusra Front and their allies from Ajnad al-Sham and Jeish al-Islam.
Full report at:
http://en.farsnews.com/newstext.aspx?nn=13960631000525
--------
Report: Rockets hit Damascus airport area in probable Israeli attack
22 September 2017
Two rockets struck near Damascus airport at dawn on Friday, Lebanese TV station al-Mayadeen reported, an attack it said had probably been carried out by Israeli warplanes from outside Syria's borders.
Al-Mayadeen gave no further details in the report carried in a news flash on screen. An Israeli military spokeswoman declined to comment on the reports of the air strike, saying: "We do not respond to such reports."
Earlier this month, the Syrian army reported an Israeli air strike on a military site in Syria's Hama province. Israel says it has hit arms convoys of the Syrian military and its Iranian-backed ally Hezbollah nearly 100 times in the past five years.
The Syrian Observatory for Human Rights, which monitors Syria's civil war, said the attack earlier this month was on a facility of the Scientific Studies and Research Centre, an agency which the United States describes as Syria's chemical weapons manufacturer.
Full report at:
https://english.alarabiya.net/en/News/middle-east/2017/09/22/Report-Rockets-hit-Damascus-airport-area-in-probable-Israeli-attack.html
--------
Mideast
Hadi: Houthis are running an Iranian 'expansionist agenda' in the region
22 September 2017
Yemeni President Abdrabbuh Mansour Hadi said on Thursday that the coup d'état was carrying out an Iranian"expansionist agenda" in the region.
Hadi said in a speech to the UN General Assembly that Iran is supporting the coup militias with funds, weapons and missiles.
"Sustained peace can only be possible if this state ceases interfering in our affairs, creating tensions and stoking feelings of hatred," he said.
The Houthi militias form a threat to peace and security in the region and international navigation, he added.
He pointed out that the alliance between the Houthis and the ousted Saleh imposed war on the Yemeni people and curbed the political track, stressing that the problem in Yemen is not only a political conflict, but an attempt to impose extremist beliefs.
Hadi said in his speech that the coupists looted the state funds and reserves of the Central Bank, and that the war they launched left a total destruction in all aspects of life in Yemen.
Addressing the United Nations, President President Abdrabbuh Mansour Hadi urged international pressure on Houthi rebels who control the capital Sanaa and also appealed for greater humanitarian assistance.
"We in the Yemeni government are ready to provide all facilitation so that humanitarian assistance can reach anywhere in Yemen, and also the areas under the control of the Houthis," he told the General Assembly.
The United Nations has listed Yemen as the world's number one humanitarian crisis, with seven million Yemenis on the brink of famine and cholera causing more than 2,000 deaths.
https://english.alarabiya.net/en/News/gulf/2017/09/21/Complaint-over-Ghufran-tribe-violations-presented-to-UNHCR-.html
--------
Defying Trump, Iran says will boost missile capabilities
Sep 23, 2017
Iran will strengthen its missile capabilities and not seek any country's permission, President Hassan Rouhani said on Friday rejecting demands from U.S. President Donald Trump.
Rouhani spoke at a military parade where an Iranian news agency said one of the weapons on display was a new ballistic missile with range of 2,000 km (1,200 miles), capable of carrying several warheads.
The Tasnim news agency, which quoted the head of the Revolutionary Guards' aerospace division, Amirali Hajizadeh, gave few other details of the missile.
Iranian state television showed footage of the firing of "Khoramshahr missile" but did not specify if the test-fire happened on Friday or in the past.
At the U.N. General Assembly on Tuesday, Trump said Iran was building its missile capability and accused it exporting violence to Yemen, Syria and other parts of the Middle East.
He also criticized the 2015 pact that the United States and six other powers struck with Iran under which Tehran agreed to restrict its nuclear program in return for relief from economic sanctions.
In a speech broadcast on state television, Rouhani said: "We will increase our military power as a deterrent. We will strengthen our missile capabilities ... We will not seek permission from anyone to defend our country.
"All countries in the world supported the nuclear deal in the United Nations General Assembly this year ... except the United States and the Zionist regime (Israel)," Rouhani said.
U.S. Secretary of State Rex Tillerson has said that the agreement must be changed or the United States could not stick with it. Iran has said its nuclear accord cannot be renegotiated.
The prospect of Washington reneging on the deal has worried some of the U.S. allies that helped negotiate it, especially as the world grapples with North Korea's nuclear and ballistic missile development.
Chinese Foreign Minister Wang Yi said tensions on the Korean peninsula underlined the importance of the Iranian deal, and that China would continue to support it.
Trump put Iran "on notice" in February for test-firing a ballistic missile and imposed new economic sanctions in July over its missile program and "malign activities" in the Middle East.
Full report at:
http://nation.com.pk/international/23-Sep-2017/defying-trump-iran-says-will-boost-missile-capabilities
--------
Yemen's FM calls for identifying party obstructing resolution
23 September 2017
Yemen's Foreign Minister Abdulmalik Al-Mekhlafi said during his speech at the UN General Assembly session on Yemen, that the the government is ready to cooperate in all fields in order to alleviate the suffering of Yemenis.
However, he blamed the international community for indiscriminately accusing everyone of obstructing the resolution, and urged it to define the parties responsible.
Al-Mekhlafi expressed his hope that the children of Yemen receive support and the necessary assistance, especially with the spread of the phenomenon of dropping out of schools and recruiting them by the militias to participate in the war.
Dr. Abdullah bin Abdulaziz al-Rabiah, supervisor-general of the King Salman Humanitarian Aid & Relief Centre, said during the meeting that Saudi Arabia's total aid to Yemen exceeded $ 221 million, focusing on food, medicine, education and developing infrastructure.
Full report at:
https://english.alarabiya.net/en/News/gulf/2017/09/22/Hadi-Houthis-are-running-an-Iranian-expansionist-agenda-in-the-region.html
--------
Iranian regime's mafia and Nazi-style excesses
22 September 2017
Gone are the days when pious Shiite religious leaders rode on donkeys, in are the days of showy go-getters who ride around in BMWs and Porsches, all compliments of the Iranian political system created by the present theocratic regime.
With the lion's share of cash generated by the country's economy pouring into their coffers, it enables these fat cat clerics of the Tehran administration, to fill their bank accounts with billions of dollars that have been generated through the hard work of the Iranian workforce.
As far as Khamenei is concerned, money has come easy. Just like mafia bosses of the West, he pays no taxes on the cash he generates from his vast financial empire, which is said to have earned him in the region of $95 billion, a large portion of which is salted away in foreign bank accounts.
Khamenei's riches far exceed the wealth of the late shah, who was vilified for his monetary excesses, and was one of the main excuses given for the overthrow of the pro-Western monarch.
In good old Mafia tradition, the theocrats have become adept at hiding their assets, not only in foreign bank accounts, but also in foreign business ventures. The best way of describing all the members of the Tehran administration, is by the moniker of "the wealth and power mafia", which ironically was bestowed on Hashemi Rafsanjani and his family by the state-run Fars news agency, in a revealing account it published: "Detailed report of the activities of the wealth and power mafia".
Slush funds
Just like most despots, terror groups and mafia clans, not only do the theocrats hide their cash in foreign bank accounts, real estate, and foreign business ventures, they also make apt use of charitable foundations, which come in very useful, as they serve as lucrative slush funds for both the theocrats and their cronies, who appear in the eyes of the public to be aiding the needy, which leaves them free of scrutiny.
The Abdulazim Religious charity has the perfect method for which to rake in the cash, often by using a business owner's Shia conscience as a moral lever,they use deceit to relieve him of company shares, which they explain goes to aiding the "needy". Then eventually, these wheelers and dealers coerce the proprietor into signing over the lion's share of his business, including that of his own stake, leaving Khamenei's cronies in charge of the funds, which become a part of Rey Investment Co, a company run by the Supreme Leader's charity.
Where protecting their assets is concerned, just like their mafia counterparts, the Tehran regime uses violence to control their vast business empire, which on the part of the theocrats, extends to virtually all of Iran's national assets. Over the years, it has taken large body counts for the clerical regime to remain in control of this lucrative empire, having used arbitrary killing, imprisonment, torture and character assassination against all rivals to protect it.
'Hit squads' to eliminate rivals
Another trait which has been adopted by the regime, used by both the Mafia and the Nazis is 'hit squads'. US mobster Al Capone used them to beneficial effect, when he orchestrated the St Valentine's Day Massacre, in which several ofhis opponents were machine-gunned to death by his underlings in a garage on 14 February 1929, in a bid to get rid of the rivals.
The Nazis also used such a method during the Night of the Long Knives,when from 30 June 1934 to 2 July 1934, Hitler fabricated a charge against Ernst Rohm, the leader of the three million strong Nazi militia the Sturmabteilung (SA Storm Battalion),accusing Rohm of planning a coup against him.Hitler felt that Rohm was getting too ambitious in his political aims, as he was pushing Hitler to seize power by force, while Hitler wanted to gain power through eroding democracy through political means, just like Khamenei has now done.
So, to bring an end to Rohm's ambitions, Hitler sent out onto the streets his SS and Gestapo death squads, and during the roundup of SA commanders, Hitler used the opportunity to remove all other political rivals that might eventually stand in his way of ultimate power. The barbarity was unbelievable, many were hacked to death, others summarily executed, and it is estimated that 400 people were murdered during that bloody purge.
During the period when Khomeini was consolidating his power, anybody who voiced opposition to him also paid the ultimate price. During his 1988 purge, 30,000 dissidents – who wanted to see a more democratic form of leadership – were slaughtered in the prison system alone.
Then there was a dark period between the 1980s and 1990s, when Iran's notorious Ministry of Intelligence and Security (MOIS) sent out death squads to silence Iranian dissidents, most of whom were living abroad. During this period, the same modus operandi as the Nazis was employed. They brutally murdered both men and women in frenzied attacks, often hacking them to pieces, in a bid to scare off dissidents from speaking out against the regime.
'Serial killings' by the regime
This string of brutal slaughter was dubbed by the press as the "serial murders", carried out with such fervour it pointed to the perpetrator being insane, and with some of these attacks having taken place in Iran, the general public was so shocked by the brutality, they thought a mad man was on the loose, and the regime was forced to investigate the incident, which was eventually placed at the door of "rogue" MOIS operators, in a bid to give the Tehran regime at least some form of "plausible deniability".
Just like it was with Hitler, the world is blind to Khamenei's true intentions of world domination, because it sounds too incredible. But the world once thought the same of Hitler, when Neville Chamberlain stepped off a plane claiming that Hitler was a man the world could deal with, clutching a piece of paper, which he triumphantly announced would bring "peace in our time", and then much in the same way, Obama claimed this with his Iran Deal.
Full report at:
https://english.alarabiya.net/en/perspective/features/2017/09/22/Iranian-regime-s-mafia-and-Nazi-style-excesses.html
--------
Turkey's key security meeting ends, statement says Iraqi Kurdish referendum illegitimate, unacceptable
September/22/2017
Turkey's National Security Council Meeting (MGK) which convened under President Recep Tayyip Erdoğan ended late on Sept. 22, stressing that the Iraqi Kurdish independence referendum slated for Sept. 25 was illegitimate and unacceptable.
"The illegitimacy of the referendum announced by the KRG as on Sept. 25 and its unacceptance was once again specified. It was strongly stressed that this step which directly threatens Turkey's national security was a grave mistake that threatens Iraq's political unity and territorial integrity as well as peace, security and stability of the region," the statement read issued after the meeting.
It also added that Turkey reserved its rights originating from bilateral and international conventions.
"Turkey reserves its rights originating from bilateral and international conventions if this referendum is held despite all of our warnings," it stated.
It once again urged the Kurdish Regional Government to cancel the referendum which it said was "threatening Turkey's national security."
Full report at:
http://www.hurriyetdailynews.com/turkeys-key-security-meeting-ends-statement-says-iraqi-kurdish-referendum-illegitimate-unacceptable.aspx?pageID=238&nID=118306&NewsCatID=338
--------
Turkish novelist Aslı Erdoğan receives Erich Maria Remarque Peace Prize in Germany
September/22/2017
Turkish novelist Aslı Erdoğan received Erich Maria Remarque Peace Prize in the German city of Osnabrück on Sept. 22.
Erdoğan, who spent 132 days in jail after being arrested last summer, gave a speech before the ceremony, expressing her happiness at being in Germany for the ceremony but highlighting that "180 writers in Turkey are still in jail and unable to go abroad."
She had been arrested on charges of carrying out "terror propaganda" in a probe into the now-closed daily Özgür Gündem, which Ankara condemned as a mouthpiece for the outlawed Kurdistan Workers' Party (PKK).
Erdoğan was released in December 2016 but because her charges are ongoing she was given a travel ban, hindering her from participating in five award ceremonies abroad up until now.
The travel ban was lifted by a court order on June 22, and the authorities finally returned Erdoğan's passport more than two months after her travel ban was lifted, her lawyer stated on Sept. 8.
Germany Foreign Minister Sigmar Gabriel said he was very happy for Erdoğan to be able to receive the prize in Germany.
Speaking to Deutsche Welle in an interview on Sept. 1, Erdoğan expressed her frustration about not being able to travel abroad before receiving back her passport.
Full report at:
http://www.hurriyetdailynews.com/turkish-novelist-asli-erdogan-receives-erich-maria-remarque-peace-prize-in-germany-.aspx?pageID=238&nID=118291&NewsCatID=386
--------
North America
Marriott Says It Will Not Cancel Conference Hosted By Anti-Muslim Hate Group
By Abha Bhattarai
September 22, 2017
The nation's largest anti-Muslim hate group is scheduled to hold its annual conference at a Marriott International property four miles from the White House, despite pressure from advocacy groups that have been calling on the hotelier to cancel the event.
ACT for America, which has promoted its ties to the Trump administration, is hosting a two-day conference at the Crystal Gateway Marriott in Arlington, Va., on Oct. 2 and 3. The group's website says the event will be "the nation's largest national security-focused grass-roots gathering."
It was not clear how many people would attend, but ACT for America — which is classified as a hate group by the Southern Poverty Law Center — says it has 750,000 members.
Marriott said it will not cancel the conference.
"We are a hospitality company that provides public accommodations and function space," a Marriott spokesman said in an email. "Acceptance of business does not indicate support or endorsement of any group or individual."
Muslim Advocates, a civil rights group, says it sent a letter to Arne M. Sorenson, Marriott's president and chief executive, on Sept. 11 asking him to reconsider the company's stance on the event.
"Marriott clearly and proudly states on its website that 'diversity and inclusion is fundamental to our core values and strategic business goals,' " the letter said. "We believe that hosting this anti-Muslim convention is antithetical to this otherwise clear commitment."
A spokesman for the group said he was disappointed that Marriott had decided to move ahead with the event.
"Given Marriott's commitment to being inclusive and diverse, we were optimistic that they would do the right thing here," said Scott Simpson, public advocacy director for Muslim Advocates. "This is very incongruous with their stance as a company."
Sorenson has been an outspoken critic of President Trump's travel ban affecting citizens from Muslim-majority countries, and has publicly criticized the president's plans to build a wall on the Mexican border.
As a company, Marriott, which is the world's largest hotel chain, has also been proactive in its stance on LGBT issues, immigration reform and other social and political issues. In 2010, the company called off plans to host a conference organized by the white nationalist group American Renaissance at the Washington Dulles Marriott. (A number of other hotels, including the Westin Washington Dulles Hotel and the Four Points by Sheraton Manassas Battlefield did the same.)
Marriott's decision to host the event comes after other corporations have publicly refused to do business with white supremacists and hate groups. The home-sharing service Airbnb recently refused to accommodate people who were attending last month's white supremacist rally in Charlottesville. Shortly after, GoDaddy, CloudFlare and Google said they would sever ties with the neo-Nazi site Daily Stormer.
According to ACT for America's website, its two-day conference and legislative briefing will include talks from national security experts and meetings with lawmakers. Former Trump spokeswoman Katrina Pierson will give the keynote address at the event's awards luncheon.
"ACT for America's mission is clear," the site said. "Political correctness and cowardness has no place in America. We proudly stand strong on our Judeo-Christian foundation. We will not be silenced. We will not fail."
The Crystal Gateway Marriott's website showed that it was hosting the event. Act for America's site says the hotel is offering a discounted nightly rate of $250 for attendees from Oct. 1 to Oct. 5.
ACT for America's annual conference, which it calls ACTCON 2017, had previously been held at the Omni Shoreham Hotel in Northwest Washington in 2013, 2015 and 2016. A spokeswoman at the hotel said she was not sure why ACT for America had moved its event this year. She declined to give her name or title.
"We have enjoyed a great working relationship with them, and my suspicion is that their move to another hotel was a space issue," she said. "There was no controversy around hosting them, and we would welcome them back, just as we would any group."
ACT for America, founded a decade ago by Brigitte Gabriel, a Lebanese-born Christian, has forged close ties with the Trump administration.
"ACT for America has a direct line to Donald Trump," Gabriel wrote in a fundraising email last year. The group, she added, "has played a fundamental role in shaping his views and suggested policies with respect to radical Islam."
The group was also behind anti-Muslim demonstrations across the country this summer that attracted white supremacist groups.
"I don't believe in having Muslims in the United States," Francisco Rivera, of the white supremacist group Vanguard America, said at one of the demonstrations. "Their culture is incompatible with ours."
https://www.washingtonpost.com/business/economy/marriott-says-it-will-not-cancel-conference-hosted-by-anti-muslim-hate-group/2017/09/22/5983cda4-9efb-11e7-9083-fbfddf6804c2_story.html?utm_term=.16132d90e5b6
--------
Trump to scrap 'Muslim ban' and replace it with new targeted restrictions, says official
Alexandra Wilts
September 23, 2017
Donald Trump's ban on travellers from six Muslim-majority nations will reportedly be replaced with more targeted restrictions on visitors from certain countries.
The new measures, aimed at stopping security threats from entering the US, are expected to be more specific and affect more countries than Mr Trump's original travel ban.
The new order could go into effect as eary as this weekend, when the Trump administration completes its review of gaps in the government's screening and vetting procedures for those seeking to enter the US.
According to the Wall Street Journal, the Department of Homeland Security originally found that 17 countries were failing to comply with US standards, such as informing the US of known terrorists and issuing reliable passports.
Facing the threat of being included in Mr Trump's travel ban, about half of those 17 nations made changes to bring them into compliance.
Those that did not are likely to be imposed with "tailored sanctions commensurate with their deficiencies" that take into account the threat posed by the country and any foreign policy implications of levying such restrictions, one person told the Journal.
While the restrictions would differ for each country, people living in the targeted nations could be prevented from travelling to the US or could face increased scrutiny as they attempt to obtain a visa.
Mr Trump still needs to approve the new plan, which appears to resemble what he had in mind earlier this month.
"The travel ban into the United States should be far larger, tougher and more specific," Mr Trump wrote after a bomb exploded on a London Underground train last Friday.
Chaos erupted at airports in January following the administration's rollout of its first travel ban, which blocked entry to the US for citizens from seven countries – Iran, Iraq, Somalia, Sudan, Yemen, Syria and Libya – for a period of 90 days. Iraq was later removed from the list as a result of criticism that the original order overlooked the country's role in fighting terrorism.
The ban has also been harshly criticised by immigrant rights activists, members of Congress in both parties, business executives, academic leaders and diplomats from around the globe.
After a furious legal assault on the executive order delayed its implementation, the ban was allowed to go into limited effect by the Supreme Court in June while the justices consider whether Mr Trump's order is lawful.
Full report at:
http://www.independent.co.uk/news/world/americas/us-politics/trump-muslim-ban-scrap-restrictions-travel-countries-list-reports-a7961956.html
--------
Donald Trump's travel ban on nationals of six Muslim countries expires on Sunday
September 22, 2017
President Donald Trump's contentious travel ban expires Sunday with little clarity over whether America's door will reopen for travelers from six majority-Muslim countries. Based on the policy, US embassies or representatives in Syria, Iran, Libya, Somalia, Sudan and Yemen should resume granting visas to their nationals planning to visit the United States for work, study, pleasure or to emigrate. But some think the Trump administration, determined to stick to his election promise to block Muslims from the country, will extend the 90-day ban at least until the Supreme Court can rule on it next month.
Omar Jadwat, an American Civil Liberties Union lawyer who has argued against the ban in court, said politics, not national security, would likely decide the issue. "The animating principle for the government throughout has been, the president wants a ban, the president wants to ban as many people as he can, as many Muslims as he can, and we're going to do what we can to make that possible," he told reporters. "I think that's how we got to where we are now."
The ban — which initially included Iraq and was accompanied by a 120-day block on all refugees — sparked a political uproar when Trump first announced it on January 27, a week after becoming president. The ban was frozen by courts after a weekend of chaos at airports and a barrage of lawsuits by immigration advocates and civil liberties groups. The administration's stated reason was national security: the need to ensure the six countries have adequate vetting procedures for travelers, so as to prevent terrorists from entering the country.
But critics alleged that it amounted to Trump's promised "Muslim ban" which courts agreed was unconstitutional because it discriminated against a single religion. Several states also sued to block it on grounds that it prevented legitimate visa holders, family members, US residents, students in universities and foreign workers for US companies from entering the country. After losing challenges in appeals courts, on March 6 the White House unveiled a revised ban, excluding Iraq and exempting people who already had visas. Nine days later that, too, was frozen, by a judge in Hawaii, for largely the same reasons as the original.
Full report at:
http://indianexpress.com/article/world/donald-trumps-travel-ban-on-nationals-of-six-muslim-countries-expires-on-sunday-4855981/
--------
More countries could be listed for harsh US travel restrictions
23 September 2017
More countries could be hit with tough travel restrictions to the United States after the ban on people from six mainly Muslim countries expires from Sunday, Trump administration officials hinted Friday.
White House and Homeland Security officials said that after a 50-day review, they had identified a number of countries that could not or were not willing to meet US standards for identifying potential terror threats.
President Donald Trump, whose initial measures against the six countries were blasted as an effective "Muslim ban," has yet to make a final decision on which nations will make the new list for much-restricted issuance of US visas, they said.
The officials refused to identify the countries or give a number.
Spectrum of measures
But they said the new presidential order will implement a "spectrum" of measures that could range from just tougher vetting of applicants -- like demanding access to their cellphones and social media accounts -- to a full, open-ended travel ban.
"Our enemies and our adversaries are dead set on exploiting our defenses to enter our country and we've got to do everything possible to keep nefarious actors out," said Miles Taylor, counselor to the secretary of homeland security.
"The goal here is not to indefinitely block certain nationals from coming to the United States. The goal is to protect Americans until foreign governments do comply with our standards and no longer pose a risk to the welfare and the security of the United States."
That left the way ahead murky for citizens of Syria, Iran, Libya, Somalia, Sudan and Yemen, who have been blocked from obtaining US visas since the ban began at the end of June.
According to a Wall Street Journal report, the new list could possibly have eight or nine countries on it, including some if not all of the six currently affected.
Political uproar
The ban -- which initially included Iraq and was accompanied by a 120-day block on all refugees -- sparked a political uproar when Trump announced it on January 27, a week after becoming president.
It came after he had repeatedly promised in last year's election to block Muslims from the United States.
The ban was frozen by courts after a weekend of chaos at airports and a barrage of lawsuits by immigration advocates and civil liberties groups.
The administration's stated reason was national security: the need to ensure the six countries have adequate vetting procedures for travelers, to prevent terrorists from entering the country.
But critics argued successfully in court that it was unconstitutional because it targeted a single religion.
Five months of legal wrangling led to a Supreme Court ruling on June 26 that permitted the government to implement a narrower version of the original ban, while putting off a full review of its legality until October 10.
Deficient countries
In the meantime, the Department of Homeland Security undertook a 50-day review of some 17 countries seen as deficient in establishing the identities of their own people, cooperating on terror threat information, and other security issues.
"What this is really about is, 'Can we validate their identity?' Taylor said.
While it was rolled out badly and poorly justified, the original ban gave the government "breathing room" to review global risks and establish a security baseline by which to measure other countries.
During the review, Taylor said, "We were actually able to get some of those who were non-compliant to be compliant." Others however "were willfully noncompliant and unwilling to engage with the United States."
Raj Shah, White House deputy press secretary, would not say when Trump would make a final decision on the replacement to the travel ban.
Full report at:
https://english.alarabiya.net/en/News/world/2017/09/23/More-countries-could-be-listed-for-harsh-US-travel-restrictions.html
--------
US 'more a pariah state' without Iran nuclear deal: Analyst
Sep 23, 2017
US President Donald Trump's attempts to undermine the 2015 nuclear deal between Iran and the six world powers would further isolate Washington on the world stage, says an analyst in Chicago.
Stephen Lendman, an author and radio host, made the remarks when asked about Trump's first speech at the United Nations, where he attacked the nuclear deal, known as the Joint Comprehensive Plan of Action, or JCPOA, reached between Iran and the P5+1 group—the US, the UK, France, Russia, China and Germany.
The Trump administration has been seeking a pretext to scrap or weaken the deal, which limits Washington's abilities to put pressure on Iran.
Trump made clear his frustration with the landmark agreement during his debut UN speech on Tuesday, telling world leaders that Washington felt "embarrassed" for signing the JCPOA.
The Republican president described the agreement as "the worst and most one-sided transaction the US has ever entered into," a characterization he often used during his presidential campaign.
"I don't think that Trump has ever looked at the deal," Lendman told Press TV on Friday. "I don't think he knows what is in it, what it says, what it does and what it does not do."
Describing Trump as a "right-wing extremist," Lendman said Trump was only repeating things he heard from "other line-minded individuals in Washington and of course Israel, which is very hostile to Iran."
Trump said earlier this week that he had made a decision on whether he was going to pull the US out of the nuclear deal but kept it a secret.
"I think the outcome of this one way or the other will be Trump would try to subvert the deal or undermine it," Lendman argued.
"He will try to pull some stunts so that he can justify what he wants to do, pull out of the deal directly or indirectly," he added. "If he does it, he will make America more a pariah state than it already is."
Tehran has rebuked Trump's rhetoric, with Iranian Foreign Minister Mohammad Javad Zarif describing it as an "ignorant hate speech" that was "unworthy of a reply."
Full report at:
http://www.presstv.ir/Detail/2017/09/23/536123/US-Trump-JCPOA-Iran-nuclear-Lendman
--------
Europe
The hot-button issue of Muslim integration in Germany
by Yasemin El-Menouar
Sep 23, 2017
The topic of integration of Muslims has become a "hot-button" issue in Germany. Many wonder whether people whose roots are in the Islamic Middle East can succeed in integrating. They are afraid of parallel societies and refer to an alleged reluctance of the newcomers to adapt to German society.
Immigration and integration were a major topic in the televised election debate between Angela Merkel and the chancellor's Social Democrat challenger Martin Schulz.
When Turkish immigrants came to Germany as "guest workers" about half a century ago there was no integration policy. Why should there have been? Once the work had been done, they intended to return home. But they stayed, and made their way in German society, without language courses and state programmes, often with good neighbours and personal initiative. Now they have grown-up grandchildren, third-generation Turkish Germans. Those families are, for most people in Germany, nothing unusual.
So can the integration of Muslims in Germany be called a success story? In many areas, notwithstanding the scepticism, integration has made considerable progress, despite the poor starting conditions, according to a recent study by the Bertelsmann Stiftung.
Muslims from immigrant families assimilate with the indigenous population across generations in language skills, standards of education and employment rate, in Germany and in other European countries studied. The integration of Muslims is no different from that of immigrants of other faiths.
In Germany this process is working because much has been achieved in terms of integration policy, especially over the past 10 years. Today, children of immigrants have early support to learn German. There are obligatory integration and language courses for adult immigrants. Another driver of integration is the labour market, because skilled workers are needed, but also because access has been facilitated for immigrants by an accelerated process of work permits and jobs initiatives. Nevertheless, Muslims still often occupy low-paid jobs.
The perception of Muslims as being not well integrated, which some people still have, can be traced back to the perception of their religion. The Bertelsmann Stiftung survey shows that many Muslims in Europe are more religious than other groups. They also retain their connection to their countries of origin over generations. How this is perceived depends on what you understand by integration.
For a long time the prevailing view in Germany was that those who come should adapt. That has largely happened. But Muslim immigrants keep their faith and are also changing Germany more visibly. For instance, there is an increasing number of mosques. For some they are a symbol of a lack of integration. But why? Here we can see the influence of radical Islamists who have shaped a public image of Islam that does not reflect the reality of the majority of Muslims. Rightwing populists have been able to exploit this.
What lessons can be learnt? We should not be misled by extremists or people with a divisive populist agenda. Growing diversity is not a sign of a lack of integration or a risk to social cohesion. It can be a resource, and the Muslim faith, like any other belief or world view, can enrich our country, as long as everyone abides by common rules.
Muslims want to participate, and to be accepted as Muslims — as German Muslims, and the majority of them have a strong connection to our country. Successful integration is not a one-way street: immigrants are challenged by the new society to adapt and to reinvent themselves but also the indigenous population is challenged to take seriously its own claims to plurality. Or more concretely: it depends on the civic involvement of everybody in Germany.
We learnt that this is possible in 2015. When refugees of the war-torn countries of the Middle East arrived at German railway stations, they were welcomed by many. However, there also were — and still are — concerns and fears about whether it will be possible to integrate so many people. But if we look at what has been achieved — often in the absence of integration policy — we can be confident that, given the new projects and measures applied since 2015, that integration of the newcomers will succeed.
Integration requires, not least, exchange and understanding. When various social groups merely live alongside one another it intensifies prejudices. Instead we must be willing to talk with one another about where we are different and about what we share. We have already achieved much of this in Germany — even if we do have a long way to go.
https://www.ft.com/content/dde5a332-9196-11e7-83ab-f4624cccbabe
--------
Muslim attorney speaks at Interfaith Council
September 22, 2017
By Miranda Davis
GREENFIELD — Several hot topics and the state of affairs in general for Muslims in America brought civil rights attorney Tahirah Amatul-Wadud to the Interfaith Council of Franklin County on Thursday at the Second Congregational Church.
Amatul-Wadud, a Springfield attorney who runs a law practice with a focus on civil rights and domestic relations law, was a White House invitee in December 2015 for a program on celebrating and protecting America's tradition of religious pluralism. She also has been a public speaker on aspects of family law, women's issues, civic engagement, interfaith solidarity, children's issues, race and religion.
On Thursday, her focus was several issues for Muslim Americans that are in the news, including the Deferred Action for Childhood Arrivals (DACA), President Donald Trump's Muslim immigration ban, militarization of local police departments and a pre-existing Muslim registration from 9/11.
Of DACA, Amatul-Wadud said that many of the recipients of the policy's protections are Hispanic, but there are populations from Middle Eastern and North African countries, too.
"They exist and they're underserved," she said.
Amatul-Wadud also discussed the criteria for receiving DACA status, saying that there's common misconceptions that those with DACA status can use welfare programs, which they cannot. She added that they have to stay in the country, reapply for status every two years, have to pay Social Security and can have no criminal history.
"They're really the cream of the crop," she said. "If they weren't, they wouldn't get into the program."
Amatul-Wadud told the group of about 20 about the stories that aren't always covered by mainstream media outlets, and spoke about how terrorism is characterized in America. She also discussed the Countering Violent Extremism program, where community groups would receive money to report possible radical extremists.
She also touched on a recent United Nations report with interviews from ISIS members and said the report indicated that many who join ISIS aren't able to discuss the Muslim faith in depth.
Full report at:
http://www.recorder.com/Muslim-Attorney-talks-in-Greenfield-12657050
--------
Teenager charged over London Underground attack
Sep 23, 2017
LONDON :- British police said Friday they had charged an 18-year-old man with attempted murder following last week's bombing of a London Underground train, which injured 30 people.
Ahmed Hassan, who was arrested the morning after the attack on September 15, was also charged with use of the explosive triacetone triperoxide (TATP), a statement said. The teenager, who is believed to be an Iraqi orphan, lived with British foster parents in the London suburb of Sunbury. The house was one of several addresses searched by police after the attack.–AFP
Earlier on Friday, London police chief Cressida Dick said the bomb set off on a packed rush-hour tube train was "very, very dangerous" and had been packed with shrapnel.
The explosion at Parsons Green station in south-west London, was Britain's fifth terror attack in six months, and was claimed by the Islamic State group.
Hassan was arrested in the southern English port of Dover shortly before 08:00 am the following day.
"Thank goodness nobody was killed at Parsons Green. It must have been absolutely horrific for the people in the train. As you know, many people suffered injuries," Dick told LBC radio.
"That was a very, very dangerous bomb. It partially detonated. It had a large quantity of explosive and it was packed with shrapnel."
Full report at:
http://nation.com.pk/international/23-Sep-2017/teenager-charged-over-london-underground-attack
--------
Russian submarine attacks Fatah al-Sham terrorists in Syria's Idlib
Sep 22, 2017
A Russian submarine has launched a barrage of Kalibr cruise missiles at the positions of the foreign-sponsored and Takfiri Jabhat Fatah al-Sham – previously known as the Nusra Front – militant group in Syria's northwestern province of Idlib and destroyed them only a few days after the extremists attacked a unit of Russian Military Police in the crisis-hit Arab country.
The Russian Defense Ministry said in a statement that the Veliky Novgorod submarine of the Varshavyanka class – designated "Improved Kilo" by the US-led North Atlantic Treaty Organization (NATO) – fired the missiles on Friday from the Mediterranean Sea.
"The missile strike targeted the recently detected terrorist strongholds, manpower, and armored vehicles, as well as the ammunition depots of the Jabhat al-Nusra terror group in Idlib province," an unnamed military source said.
The source added, "The missiles flew about 300 kilometers. According to the objective monitoring data, all the targets have been hit."
Earlier this week, Jabhat Fatah al-Sham terrorists had attacked Russian troops stationed in the neighboring Hama Province.
Colonel General Sergei Rudskoi, the head of the Russian General Staff's Main Operations Department, also said on Tuesday that Jabhat Fatah al-Sham militants had launched a large-scale attack on the positions of Syrian troops in the Idlib de-escalation zone in order to stop the government forces' offensive in Dayr al-Zawr province. The attack was later repelled.
Idlib province, which borders Turkey, is largely under the control of Jabhat al-Nusra terrorists. It is covered by one of four designated de-escalation zones set up to separate extremist groups, including Daesh and Jabhat Fatah al-Sham, from the so-called moderate outfits.
Syrian army establishes control over several villages in Dayr al-Zawr
Meanwhile, Syrian army soldiers have liberated several villages in the western flank of the eastern province of Dayr al-Zawr from the grip of Daesh terrorists.
Syria's official news agency SANA reported that army units had established control over the villages of Halbia, Zalbia and al-Qasabi.
Army bomb disposal teams are now combing the villages in order to defuse bombs and improvised explosive devices left by Daesh terrorists.
Later in the day, the privately-owned and pro-government al-Ikhbariya al-Soriyah television news network reported that Syrian government forces had reached the banks of the Euphrates River, and completed the siege on Takfiri militants inside the provincial capital city of Dayr al-Zawr.
Daesh overran large parts of Dayr al-Zawr province, including its many oil fields, in mid-2014 as it seized swathes of land in Syria and neighboring Iraq.
By early 2015, the Takfiri terrorists were in control of some parts of Dayr al-Zawr city and besieged the remaining parts, which were under government control. It is estimated that 100,000 people remain in the government-held parts of the city.
Full report at:
http://www.presstv.ir/Detail/2017/09/22/536081/Russian-submarine-attacks-Fateh-alSham-terrorists-in-Syrias-Idlib
--------
Spanish police arrest suspect over Barcelona attacks
22 September 2017
Spanish police arrested a 24-year-old man in a coastal town 200 kilometers (124 miles) south of Barcelona on Wednesday, suspected of assisting the terrorist cell responsible for a string of terror attacks in August.
The Spanish resident, originally from Morocco, had a close relationship with those responsible for the attacks in Barcelona and Cambrils which left 16 dead, according to a statement from Spain's Interior Ministry.
After the Barcelona attack, in which a young man drove a van through a crowded street, police discovered the terrorist cell had been planning a much more serious attack.
Police say the cell had acquired at least 100 kilograms of highly explosive acetone peroxide (TATP) and planned to fill vans with it in order to blow up various important landmarks in Barcelona.
However, the material is highly volatile and the terrorists accidentally triggered it, blowing up their base and killing the presumed mastermind behind the attack, an imam called Abdelbaki Es Satty, the night before the Aug. 17 van attack.
TATP has also been used in recent attacks in Paris, Brussels and Manchester.
Spain's Interior Ministry says the man arrested on Wednesday is suspected of helping the terrorists obtain the materials needed to make the explosives and had an especially close relationship with the radical imam.
Full report at:
http://www.worldbulletin.net/europe/194237/uber-loses-licence-to-operate-in-london
--------
Southeast Asia
Duterte: 'Alien' Ideology, Not Islam, Root of PH Terror Problem
Sep 23, 2017
DAVAO CITY, Philippines – President Rodrigo Duterte made it clear that the country is not staging a warfare against Islam as it struggles to end the war with local terrorist groups linked to the Islamic State group (ISIS).
"It is not Islam. I should know. I would be the last person to condemn the Moro people," Duterte said at a gathering with reporters on Friday evening, September 22.
Duterte's message came as the country hopes it could finally end the conflict in Marawi, where the troops clash with the Maute Group.
The fighting, which began on May 23, has killed at least 147 government forces, 45 civilians, and 660 terrorists, to which Duterte described as a war "where no Filipino could win."
"Because of that alien ideology it brought them some kind of evil," he said.
Duterte, during the celebration of Islamic New Year on September 21, called for peace and hoped that Filipinos would be able to rise up to the many challenges the country faces with "trust" and "mutual respect."
On Friday, he explained the importance to prioritize its negotiations with the Moro Islamic Liberation Front (MILF) under the leadership of Al Haj Murad Ebrahim.
Earlier this month, he assured the MILF that the passage of the proposed Bagnsamoro Basic Law (BBL) is an administration priority, this while the indigenous tribes within the Autonomous Region in Muslim Mindanao (ARMM) would want to see a revised version of the legislation.
"That is why we do our best to talk to Murad. Nobody is winning in war just like in Marawi. Puro Pilipino lahat. (We're all Filipinos.)" – Rappler.com
https://www.rappler.com/nation/183078-duterte-alien-ideology-philippines-terror-problem
--------
China Welcomes Myanmar's Efforts to Alleviate Situation in Rakhine
September 22, 2017
China's Foreign Minister Wang Yi said China welcomes the measures taken by Myanmar's government to alleviate the situation in Rakhine state.
Wang made the comments in New York on Thursday on during a meeting on the sidelines of the annual United Nations General Assembly with Myanmar officials, according to a Foreign Ministry statement.
More than 400,000 Muslim Rohingya have fled from Rakhine across the border to Bangladesh following a counter-insurgency offensive by Myanmar's army in the wake of militant attacks on security forces. UN officials have described Myanmar's strategy as "ethnic cleansing".
http://www.thedailystar.net/world/myanmar-rohingya-refugee-crisis-china-welcomes-myanmars-efforts-alleviate-situation-rakhine-1466056
--------
Musa praised for giving RM334 million to schools, non-Muslim bodies
September 22, 2017
KOTA KINABALU: Sabah Chief Minister Musa Aman has won praise for allocating another RM31.4 million this year for schools and non-Islamic religious bodies in the state.
The chairman of the Sabah Dong Zong, Jimmy Yong, noted that over the past decade, Musa had disbursed RM333,999,199 to non-Islamic religious bodies, Chinese independent schools and mission schools in Sabah.
"We are thankful for the generous contribution on the state government's part," he said in a statement today.
Yong added: "However, it didn't come as a surprise to us as the chief minister has always shown tremendous commitment towards uplifting the lives of the people of Sabah, regardless of their race and religion."
In announcing the latest allocation on Sept 19, Musa had said RM14 million from that amount would go to various schools in the state, including Chinese independent and mission schools.
He set aside RM17.4 million for non-Islamic religious bodies, such as churches, and Chinese, Hindu and Sikh temples.
Musa had said that 551 institutions would benefit from this "large allocation" which was "reflective of the state government's commitment to upholding religious freedom".
Saying the RM333,999,199 allocation was a significant amount, Yong added that it reflected Musa's policy of ensuring that Sabah retained its multiracial harmony.
"The state government has never neglected the people of Sabah and as a result, we have become the role model for other states, especially when it comes to unity.We have no doubt these policies will continue under the chief minister.
"Our requests for assistance have never been turned down. We can see the effects clearly, with both Chinese primary and secondary schools equipped with everything we need to ensure our children have access to good education."
Yong was confident the Chinese community would continue to prosper under Musa's leadership.
Yong said Musa's support and fairness towards everyone had resulted in Sabah maintaining unity, with its people of various racial and religious backgrounds respecting each other.
Full report at:
http://www.freemalaysiatoday.com/category/nation/2017/09/22/musa-praised-for-giving-rm334-million-to-schools-non-muslim-bodies/
--------
Misuari: Malaysia-friendly elements sabotaging Philippine peace talks
September 22, 2017
PETALING JAYA: The founder and leader of the Moro National Liberation Front (MNLF), Nur Misuari, has accused certain quarters friendly with Malaysia of attempting to drive a wedge in the peace process between Muslim separatists and the Philippine government in which he is involved.
"The problem here is that some people play dirty. They know that it's just a matter of time and we can probably conclude our talks with the government," he was quoted as saying by the Arab News web portal today.
The former governor of the Autonomous Region of Muslim Mindanao however maintained an optimistic stance towards the negotiations undertaken by the current government led by president Rodrigo Duterte.
He praised Duterte, who assumed power in June last year, for being more effective in negotiating with the separatists than the preceding administrations in Manila which he claimed were "conspiring with Malaysia".
"The president, being from Mindanao, I think he understands us much better than the previous ones," he was quoted as saying.
"The other (administrations), they were just pulling our legs, conspiring with Malaysia… With this president, probably, it is a different thing," he added.
He also cautioned that if the negotiations fail, the logical consequence would be war.
Misuari, who was governor from 1996 to 2001, was enlisted by Duterte to participate in the peace process.
He said he had informed Duterte that MNLF would help in dealing with Maute miltants in southern Philippines who have given their allegiance to the Islamic State (IS) terrorist network.
In late May, the Maute rebel army began deadly attacks on Marawi City in Mindanao, in a campaign also actively participated by IS fighters from other countries.
"I told the president… there's no need to employ tanks, bombers, cannons, mortars. We will deal with it hand-to-hand," Misuari was quoted as saying.
He reportedly added that he wanted to prevent the destruction of Marawi's infrastructure.
In May this year, Misuari was charged with three counts of corruption by the Philippine courts in relation to the purchase of materials for three education projects when he was Mindanao governor.
He alleged that certain "wayward elements" who did not want the peace talks to succeed had influenced the action taken against him.
He claimed to have been informed that the parties "who are serving as puppets of the former Philippine colonial government (referring to the previous administration) and who also have links with Malaysia, spoke to some people in the office of the (current) president."
He was also quoted as saying that the alleged purchase took place after he was forced to end his governor's term and make an escape to Sabah in 2001 following accusations that he was staging a rebellion against the Philippine government.
The Malaysian government led by then prime minister Dr Mahathir Mohamad had at that time rejected his request for asylum.
In November last year, Nur Misuari had alleged that Malaysian leaders were using the Moro people in kidnap-for-ransom activities around Mindanao.
Full report at:
http://www.freemalaysiatoday.com/category/nation/2017/09/22/misuari-malaysia-friendly-elements-sabotaging-philippine-peace-talks/
--------
URL: https://www.newageislam.com/islamic-world-news/india-mp-education-ministers-appeal/d/112639
New Age Islam, Islam Online, Islamic Website, African Muslim News, Arab World News, South Asia News, Indian Muslim News, World Muslim News, Women in Islam, Islamic Feminism, Arab Women, Women In Arab, Islamophobia in America, Muslim Women in West, Islam Women and Feminism