New Age Islam News Bureau
28 Feb 2019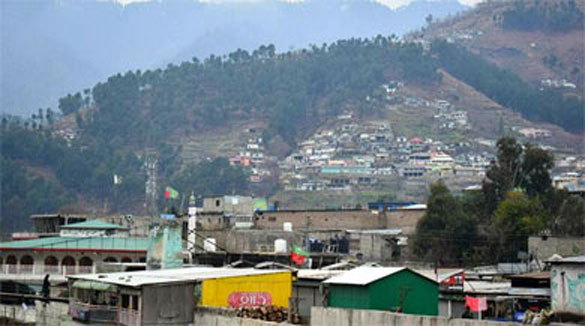 Balakot in Pakistan's Khyber Pakhtunkhwa province. (AP)
-----
• India Hands Over Dossier to Pakistan on Jaish Involvement in Pulwama Terror Attack
• Air Force Pilot Abhinandan Varthaman to Be Released Tomorrow: Imran Khan
• Intel on Jaish-e-Mohammad Camp: Capacity of 600, 4 Routes Into J&K
• US, UK, France Bring Fresh Proposal for UNSC Ban on Jaish Chief Masood Azhar
• At Indian Air Raid Site, No Casualties and a Mysterious School
• Let's Talk, Else This May Escalate: Imran Khan
• Philippine President Offers Citizenship to Rohingya
• Ex-Taliban Official: 'No Afghan Peace Deal If Air Raids Continue'
• Leadership Pick Threatens Stability of Philippine Autonomous Region for Muslims
India
• India Hands Over Dossier to Pakistan on Jaish Involvement in Pulwama Terror Attack
• Air Force Pilot Abhinandan Varthaman to Be Released Tomorrow: Imran Khan
• Intel on Jaish-e-Mohammad Camp: Capacity of 600, 4 Routes Into J&K
• Two JeM terrorists killed in Shopian encounter
• Govt unmoved by Pakistan PM Imran Khan's speech, face-off could escalate
• Bloodied & grilled, IAF pilot Abhinandan stays calm, collected
• Sushma Swaraj to leave for UAE today to attend Islamic cooperation meet as guest of honour
• NIA raids houses of separatists and owner of car used in Pulwama attack
• Special Task Force, Kolkata Police arrest two Jamaat-ul-Mujahideen Bangladesh operatives in West Bengal; explosive materials seized
--------
Europe
• US, UK, France Bring Fresh Proposal for UNSC Ban on Jaish Chief Masood Azhar
• Dutch Court Rules against Muslim Man Who Refused To Shave Beard for Job
• UK: Muslim Leaders Take Lead on Interfaith Dialogue
• UK Labour protests motives behind Hezbollah ban
• Germany urges Pakistan, India to show restraint
• EU warns Pakistan, India of risky results of tensions
• UK calls for restraint by India, Pakistan
• In Moscow meeting, Netanyahu finds a friend unwilling to help curb Iran
--------
Pakistan
• At Indian Air Raid Site, No Casualties and a Mysterious School
• Let's Talk, Else This May Escalate: Imran Khan
• Jaish Into Real Estate, Trading To Fund Terror Acts
• Pakistan using China's weakness to ensure support
• Pakistan foreign minister Qureshi threatens to boycott OIC meeting over Sushma Swaraj's participation
• Jubilant crowds pour onto streets across Sindh to celebrate downing of Indian planes
• Indian pilot fired into air before being captured
• Fazl Urges UNSC to Take India to Task Over War-Mongering
• PM Imran's call for dialogue must be reciprocated by India: Bilawal
--------
South Asia
• Philippine President Offers Citizenship to Rohingya
• Ex-Taliban Official: 'No Afghan Peace Deal If Air Raids Continue'
• Nearly 40 militants killed in Afghan Special Forces operations and airstrikes
• UNICEF Appeals for $152 Million for Critical Support to Rohingya Refugees
• Heavy casualties inflicted on Taliban commanders and militants in Balkh province
• Taliban announces 2-day break in talks with the U.S. representatives in Qatar
• 3 ISIS-K militants killed in Afghan, Coalition Forces operations in Nangarhar
--------
Southeast Asia
• Leadership Pick Threatens Stability of Philippine Autonomous Region for Muslims
• Take stern action against those who insult Islam, Prophet Muhammad - Anwar
• Prophet Muhammad and the old man
• In Semenyih, some Umno leaders see room to reinvent scandal-plagued selves
• Man confesses to Facebook post portraying AG as anti-Islam
• AG lodges report over anti-Islam allegations
• Anwar: Take stern action against those who insult Islam and Prophet Muhammad
--------
Arab World
• Yazidi Children in Syria Await Family Reunions
• Kushner Meets Saudi's MBS for First Time since Khashoggi Murder
• Report: US Relocates ISIL Commanders after Receiving Terrorists' Gold Treasure
• Russia says it will evacuate Syria refugee camp, blaming US
• Russia and Syria say US forces are on Syrian territory 'illegally'
• Iraqi PM says country could help transfer non-Iraqi ISIS detainees from Syria
• Egypt in spat with Turkey after Ankara slams EU for joining Arab forum
• Syria's Bashar Assad invites Iran FM Zarif to visit Damascus
--------
Mideast
• Palestinians Reject Monthly Tax Transfer from Israel over Prisoners Dispute
• Israel arrests former Palestinian militant for 'terror'
• Egypt hits back at Turkey over EU-Arab summit criticism
• Israeli warplanes, gunships strike multiple targets in Gaza Strip
• Israel strikes Gaza after 'explosive balloon' damages house
--------
Africa
• Booby-Trapped Corpse Kills 17 Civilians in Mali
• Push for UN listing of Al-Shabaab
• Nigeria's Buhari says election was 'free and fair'
• 'Sudan state of emergency meant to curb smuggling'
• 'Turkey resolute to increase cooperation with Chad'
--------
North America
• UN Welcomes Turkish, Greek Cypriot Leaders Meeting
• Canada prepares for return home of Daesh fighters
• NGOs, trade unions visit Venezuelan embassy in Turkey
Compiled by New Age Islam News Bureau
URL: https://www.newageislam.com/islamic-world-news/india-hands-dossier-pakistan-jaish/d/117881
--------
India Hands Over Dossier to Pakistan on Jaish Involvement in Pulwama Terror Attack
Feb 27, 2019
India on Wednesday handed over to Pakistan a dossier on "specific details" of involvement of Jaish-e-Mohammad (JeM) in the Pulwama terror attack on CRPF as also the presence of camps of the UN-proscribed terror outfit in that country.
The dossier was handed over to the Acting High Commissioner of Pakistan, who was summoned by the Ministry of External Affairs to lodge a strong protest over Pakistan Air Force targeting Indian military installations, a day after the Indian counter-terror action against JeM. Government sources have claimed that over 350 JeM terrorists were killed in the pre-dawn strike on the terror camps in Pakistan on Tuesday.
The JeM had taken responsibility of the terror strike in Kashmir's Pulwama district on February 14, in which 40 CRPF personnel were killed. "Regret was expressed at continuing denial by Pakistan's political and military leadership at the presence of terrorist infrastructure in territories under its control," the MEA said.
"A dossier was handed over to Pakistani side with specific details of JeM complicity in Pulwama terror attack and the presence of JeM terror camps and its leadership in Pakistan," it said.
The MEA said Pakistan was conveyed that India expects it to take immediate and verifiable action against terror emanating from territories under its control. In response to the Indian counter-terror operation, Pakistan air force tried to target certain locations in Jammu and Kashmir on Wednesday morning which was countered by IAF jets.
In the engagement, India shot down a Pakistani jet while an IAF pilot was captured by Pakistan. India also lost a MiG 21 aircraft. India lodged a strong protest at the unprovoked act of aggression by Pakistan, including by violating the Indian air space and targeting military posts. "This is in contrast to the India's non-military anti-terror pre-emptive strike at a JeM terrorist camp in Balakot on February 26," the MEA added.
https://www.hindustantimes.com/india-news/india-hands-over-dossier-to-pakistan-on-jaish-involvement-in-pulwama-terror-attack/story-rWmq7YTCOtS6LKWAx92G9K.html
--------
Air Force Pilot Abhinandan Varthaman to Be Released Tomorrow: Imran Khan
February 28, 2019
NEW DELHI: Indian Air Force pilot Abhinandan Varthaman, taken captive by Pakistan on Wednesday, will be released tomorrow as a "gesture of peace", Imran Khan declared today, hours after the US called for immediate steps towards de-escalation and President Donald Trump revealed that there would be "reasonably attractive news" from Pakistan and India.
"Yesterday I tried to call (Prime Minister) Narendra Modi to say that we don't want escalation. Our push for de-escalation doesn't mean we are afraid," Imran Khan said, speaking at the country's parliament.
"We have an Indian pilot. As a peace gesture, we will release him tomorrow," said the Pakistan Prime Minister to desk-thumping in the national assembly.
India had ruled out Imran Khan's call for a dialogue yesterday in a televised statement in which he declared that Pakistan had taken custody of an Indian pilot. There would be "no deal" on the pilot's release, top officials asserted today.
Wing Commander Abhinandan Varthaman was captured after an aerial combat between Indian and Pakistani fighter planes on Wednesday.
Before his capture, the government said, he shot down two Pakistani pilots when he hit an F-16 jet.
Amid soaring tension, the government last evening summoned the Pakistani envoy and handed over a demarche demanding the "immediate and safe return" of the pilot. It also strongly objected to Pakistan's "vulgar display" of the pilot in videos and said Pakistan "would be well advised to ensure that no harm comes to him".
Pakistani Foreign Minister Shah Mahmood Qureshi said Imran Khan was willing to consider the pilot's release if it led to de-escalation, but added: "Our PM Imran Khan is ready to talk on the phone to Prime Minister Narendra Modi, but is Modi-ji ready?"
This morning, President Trump, addressing a press conference in Hanoi on the sidelines of his meeting with North Korean leader Kim Jong Un, offered hope of de-escalation.
"I think reasonably attractive news from Pakistan and India, they have been going at it and we have been involved and have them stop, we have some reasonably decent news, hopefully it's going to be coming to an end, this has been going on for a long time, decades and decades," the US President said.
The US had called on India and Pakistan to "cease all cross-border military activity" and to take immediate steps to deescalate the situation and return to stability, including through direct communication.
The pull-back comes a day after hostilities between the neighbours peaked, with aerial combat between Indian and Pakistani warplanes for the first time in 48 years.
A day before, India had sent fighter jets to Pakistan and struck the biggest training camp of the terror group Jaish-e-Mohammed, which was behind the suicide attack on February 14 in Kashmir's Pulwama, in which over 40 soldiers were killed.
https://www.ndtv.com/india-news/pakistan-pm-imran-khan-says-indian-air-force-pilot-will-be-released-tomorrow-2000714
--------
Intel on Jaish-e-Mohammad camp: Capacity of 600, 4 routes into J&K
Rahul Tripath
February 28, 2019
A mosque was being used as a cover for the Balakot training camp of Jaish-e-Mohammad, sources said a day after the facility was destroyed in a "non-military" strike by the Indian Air Force (IAF). The facilities at the camp were spread over an area of 6 acres and comprised 5-6 buildings with a capacity to accommodate more than 600 people, they added.
According to intelligence reports, the camp was used for radicalisation by showing propaganda videos on the IC 814 hijacking and the 2002 Godhra riots, officials said.
They added that after training, the militants were sent to Jammu and Kashmir, primarily through four routes. They have been identified as Balakot-Kel-Dudhniyal, Kel-Kainthawali, Kel-Lolab district and Kel-Kachama Kralpora, an official said. All the routes led to Kupwara, the reports stated, according to an official.
According to intelligence reports, the camp was used to impart training to militants in different types of courses like a three-month advanced combat course known as Daura-e-Khas, an advanced armed training course called Daum-al-Raad and a "refresher training programme," an official said.
"Militants there are being trained in handling weapons like AK 47, machine guns, LMG, rocket launcher, under barrel grenade launcher and grenades. Apart from basic training in weapon handling, they are also being trained in jungle survival, ambush and communication using GPS and map reading etc," an intelligence report said. Officials said that before the inception of JeM, the camp was used by Hizbul Mujahideen.
The intelligence note said the militants at the camp started their day at 3 am with the recitation of Quran followed by exercise. Later, they were imparted arms training and lessons on how to camouflage, ambush and escape, the note said. The number of militants receiving training at this camp was estimated to be between 200-300 any time of the year, it said.
https://indianexpress.com/article/india/intel-on-jaish-e-mohammad-camp-capacity-of-600-4-routes-into-jk-5603905/
--------
US, UK, France bring fresh proposal for UNSC ban on Jaish chief Masood Azhar
Feb 28, 2019
UNITED NATIONS: The US, the UK and France have moved a fresh proposal in the UN Security Council to designate Pakistan-based terror group JeM chief Masood Azhar as a global terrorist, a listing that will subject him to global travel ban, asset freeze and arms embargo.
The fresh proposal was moved Wednesday by the three permanent vetowielding members of the 15-nation Security Council. The Security Council Sanctions Committee will have 10 working days to consider the fresh proposal submitted by the three members.
The proposal is the fourth such bid at the UN in the last 10 years to list Azhar as a global terrorist.
In 2009, India moved a proposal to designate Azhar, whose UN-proscribed Jaish-e-Mohammed (JeM) claimed responsibility for the suicide attack against Indian security forces in Pulwama on February 14 in which over 40 Central Reserve Police Force (CRPF) personnel were killed.
In 2016 again, India moved the proposal with the P3 - the United States, the United Kingdom and France in the UN's 1267 Sanctions Committee to ban Azhar, also the mastermind of the attack on the air base in Pathankot in January, 2016.
In 2017, the P3 nations moved a similar proposal again. However, on all occasions, China, a veto-wielding permanent member of the Security Council, blocked India's proposal from being adopted by the Sanctions Committee.
It remains to be seen how China will vote on the proposal this time.
China, a close ally of Pakistan, has consistently blocked moves first by India and later by the US, the UK and France to designate Azhar as a global terrorist by the 1267 Committee by putting technical holds.
France assumes the crucial rotating presidency of the UN Security Council in March.
At least 40 CRPF personnel were killed and many injured on February 14 in one of the deadliest terror attacks in Jammu and Kashmir when a JeM suicide bomber rammed a vehicle carrying over 100 kg of explosives into their bus in Pulwama district.
India has strongly reiterated its appeal to all members of the international community to support the proposal to list terrorists, including Azhar, as designated terrorists under the 1267 Sanctions Committee of the UN Security Council, and to ban terrorist organisations operating from territories controlled by Pakistan.
https://timesofindia.indiatimes.com/india/us-uk-france-bring-fresh-proposal-for-unsc-ban-on-jaish-chief-masood-azhar/articleshow/68194345.cms
--------
At Indian Air Raid Site, No Casualties And A Mysterious School
by Asad Hashim
Feb 28, 2019
Jaba, Pakistan - Indian air raids launched on Pakistani territory earlier this week destroyed parts of a mostly uninhabited forest and a farmer's field, witnesses and local officials told Al Jazeera, although mystery remains around a seminary run by armed group Jaish-e-Mohammed (JeM) near the bombing site.
Four bombs hit a forest and a field in a remote area outside of the northern Pakistani town of Jaba, about 100km north of the capital, Islamabad, Al Jazeera found on a visit to the site on Wednesday.
Splintered pine trees and rocks were strewn across the blast craters, and there was no evidence of any infrastructure debris or casualties. Metal shrapnel from the bombs was visible at four distinct craters.
India claimed on Tuesday to have conducted air raids against a "Jaish-e-Mohammed training camp" in the area, saying "a very large number of JeM terrorists, trainers, senior commanders and groups of jihadis who were being trained for [suicide] action were eliminated."
Pakistan denied that any casualties had occurred. On Wednesday, Pakistan's military said its aircraft launched air raids on six locations on the India-administered territory in the disputed region of Kashmir.
Local hospital officials and several residents who rushed to the scene said they did not find any bodies or wounded people following the Indian attack, which took place at approximately 3am local time on Tuesday.
"I woke up at the sound of the first explosion, and ran out of bed," said Nooran Shah, 58, a farmer on whose land two of the bombs landed. "The second blast knocked the doors off my house."
When Shah went outside to investigate, he said, a piece of shrapnel or a stone struck him on the forehead, leaving a wound.
Syed Rehman Shah, 50, a neighbour, said he, too, ran outside his home when he heard the blasts.
"I heard four loud explosions, separated by a few seconds each," said Rehman Shah. "It felt like the day of judgement had come."
Shah said he saw "fire and smoke" when he exited his home, and ran to the aid of his neighbour.
Shah was unconscious on the ground with a wound to his forehead, he said. He was moved to safety and later taken to hospital. The walls of Shah's home appeared cracked, with several holes where shrapnel appeared to have hit them.
"We are just farmers out here, we grow wheat and maize," said Rehman Shah. "Some people keep some livestock."
Mysterious JeM madrassa
Following the air raids, India's foreign ministry said it had hit a training camp run by JeM founder Masood Azhar's brother-in-law, Yousuf Azhar.
Founded in 2000, JeM is an armed group that has launched several high-profile attacks against Indian security and government targets, mostly in the disputed region of Kashmir.
Most recently, JeM claimed a suicide attack that killed at least 42 Indian security forces personnel in the Indian-administered Kashmir town of Pulwama, triggering the latest crisis between nuclear-armed India and Pakistan.
India accuses Pakistan of offering sanctuary to JeM and other armed groups. Following the Pulwama incident, a top Indian military commander said the country had evidence the attack had been "controlled" by Pakistani intelligence.
Pakistan denies the charge, and says it has been acting against JeM since banning the group in 2002.
Less than a kilometre to the east of one of the bomb craters, atop a steep ridge, sits a seminary run by JeM, residents told Al Jazeera. A road sign located some distance away confirmed the location of the seminary, and that it was run by the armed group. The sign for the Madrassa Taleem-ul-Quran lists Masood Azhar as its leader, and Muhammad Yousuf Azhar as its administrator.
Masood Azhar founded the JeM after he was released from Indian custody in exchange for more than 150 hostages after the hijacking of an Indian commercial airliner in 1999. He remains under US sanctions for JeM's alleged links with the Afghan Taliban.
Yousuf Azhar is wanted by India in connection with the 1999 hijacking.
Al Jazeera was unable to visit the site of the seminary.
Religious fighters
Residents offered conflicting accounts of the facility's work, with some saying it only offered religious education for local schoolchildren, while others alleged it was a training camp for JeM fighters.
"The madrassa there, at the top of the mountain, that is a training camp for mujahideen [religious fighters]," said one resident, gesturing in the direction of the seminary. He spoke on condition of anonymity given the sensitivity of the subject.
"Everyone here knows there is a Jaish camp there, at the madrassa," said another 31-year-old local resident, also on condition of anonymity. "It is an active training centre, they teach people how to fight there."
Others, however, disputed that claim.
"There is no camp here, and no terrorists either," said Mir Afzal Gulzar, who lives a few kilometres away from the bombing site.
"There was a mujahideen camp here, during the 1980s, but it is gone now," he said.
There is evidence to suggest the seminary was an active recruitment centre, if not training site, for JeM.
In April 2018, Abdul Rauf Asghar - a top JeM commander and Masood Azhar's brother - addressed a yearly religious gathering at the seminary, calling upon those present to join "jihad", or Islamic religious war, according to an article in JeM-affiliated publication al-Qalam.
"This institution is progressing every day in its aim of providing education, and instruction in religion and jihad," reads the article.
Speakers at the event praised the concept of fighting in the name of religion and "offered arguments against certain notions that have been spread against jihad", the article says.
A US Department of Defense memo dated January 31, 2004, leaked by Wikileaks in 2011, indicates the existence of "a [JeM] training camp that offers both basic and advanced terrorist training on explosives and artillery" located near Jaba's geographic location.
The memo detailed the case of Khalil Rehman Hafez, a Pakistani national and member of JeM, who was captured in Afghanistan while fighting US forces and transferred to the Guantanamo Bay prison. Hafez was released and repatriated to Pakistan in 2004.
Back at the bomb site in Jaba, the afternoon sun shines through a thick pine forest, as local residents gather at Nooran Shah's house. Some investigate the crater, under the watchful eye of Pakistani soldiers, while others pose for the cameras of local media.
In the shadow of the cracked wall of Shah's house, a defiant group begins to yell patriotic slogans for the cameras.
Shah, a slight man clad in a blue shalwar kameez and still sporting a white bandage around his forehead, turns to face another interviewer.
https://www.aljazeera.com/news/2019/02/indian-air-raid-site-casualties-mysterious-madrassa-190227183058957.html
--------
Let's talk, else this may escalate: Imran Khan
Feb 28, 2019
ISLAMABAD: Without maintaining the N-word , Pakistan Prime Minister Imran Khan cautioned India that an escalation between the two nuclear neighbours could spin out of control.
In his address to Pakistan, Khan said: "My question to the Indian government is - with the weapons that you have and the weapons we have, can we afford a miscalculation? Shouldn't we think about what will happen if the situation escalates? This will not be in my control or in Narendra Modi's control."
Khan said all wars are miscalculated, and no one knows where they lead to.
"It is important where we go from here. From here, it is imperative that we use our heads and act with wisdom," Khan said, adding, "I would say, better sense should prevail. Let's sit together and settle this with talks."
K han also emphasised that Pakistan Air Force's action on Wednesday in which Indian Air Force lost an aircraft and one IAF pilot was captured was a planned one. "We took action today and we had planned that there should be no collateral damage, no casualty. The sole purpose of our action was to convey that if you can come into our country, we can do the same," Khan said.
He said he spoke to the army chief on Tuesday morning after the IAF strikes and added, "We did not respond in haste – this would have been irresponsible as it would have resulted in casualties on their side. We wanted to assess first what kind of damage was caused before deciding on our action."
Khan said Pakistan had offered investigation to India after the Pulwama attack, adding, "I understood the pain of the families (who lost their dear ones in the Pulwama attack). I have visited hospitals and seen the pain of people affected by violence. We have lost 70,000 of our own and I know what those who are left behind and those who are injured feel."
"We offered India that we would cooperate. It is not in Pakistan's interest to let our land be used for terrorism. There is no dispute there," he said.
"I had therefore warned India against aggression and said we will be compelled to respond because no sovereign country can allow that (violation of its sovereignty," Khan said.
https://timesofindia.indiatimes.com/world/pakistan/lets-talk-else-this-may-escalate-imran-khan/articleshow/68193320.cms
--------
Philippine president offers citizenship to Rohingya
February 28, 2019
Philippine President Rodrigo Duterte on Tuesday offered Filipino citizenship to Rohingya refugees and reiterated his willingness to accept them into the country, a local news portal reported.
"I am willing to accept Rohingyas," GMA News, an online portal, quoted Duterte as saying while he was addressing a convention in capital Manila.
Last April, Duterte also called the military crackdown on Rohingya community in Myanmar's Rakhine State as "genocide" prompting strong criticism from Myanmar, it added, forcing him to issue an apology.
The Rohingya, described by the UN as the world's most persecuted people, have faced heightened fears of attack since dozens were killed in communal violence in 2012.
According to Amnesty International, more than 750,000 Rohingya refugees, mostly women and children, have fled Myanmar and crossed into Bangladesh after Myanmar forces launched a crackdown on the minority Muslim community in August 2017.
Since Aug. 25, 2017, nearly 24,000 Rohingya Muslims have been killed by Myanmar's state forces, according to a report by the Ontario International Development Agency (OIDA).
More than 34,000 Rohingya were also thrown into fires, while over 114,000 others were beaten, said the OIDA report, titled "Forced Migration of Rohingya: The Untold Experience."
Some 18,000 Rohingya women and girls were raped by Myanmar's army and police and over 115,000 Rohingya homes were burned down and 113,000 others vandalized, it added.
The UN has also documented mass gang rapes, killings – including of infants and young children – brutal beatings and disappearances committed by Myanmar state forces.
In a report, UN investigators said such violations may have constituted crimes against humanity and genocidal intent.
https://www.yenisafak.com/en/world/philippine-president-offers-citizenship-to-rohingya-3475626
--------
Ex-Taliban official: 'No Afghan peace deal if air raids continue'
by Shereena Qazi
Feb 28, 2019
Kabul, Afghanistan - A return to peace is not possible in Afghanistan if its government continues to conduct air strikes which have resulted in countless civilian casualties, a former Taliban official has said.
In a press conference in Kabul on Wednesday, Syed Mohammad Akbar Agha, who is the current leader of Rah-e-Nejat (High Council of Salvation), said President Ashraf Ghani's government is sabotaging peace talks being held in Qatar between Taliban representatives and US officials.
"The government doesn't want peace. They are still targeting civilian areas while claiming to have targeted Taliban hideouts," Agha told Al Jazeera, adding that air raids are being carried out "almost every day".
"We are all positive about peace and very serious, especially now that Mullah Abdul Ghani Baradar is directly involved in the talks in Qatar," he said.
"We are expecting positive results for peace in Afghanistan."
Taliban and United States officials are meeting for the third day on Wednesday in Qatar's capital Doha, where two main issues being discussed in the high-level talks are: the withdrawal of US troops from Afghanistan, and assurances that Afghanistan will not be used by foreign armed fighters.
The talks have gained momentum in recent months after the US decided to engage with the Taliban, which has been waging a deadly armed rebellion since the group was removed from power in 2001.
US President Donald Trump's administration is seeking to end the 17-year war, the US's's longest, that has left thousands dead.
According to the United Nations, at least 32,000 civilians have been killed and another 60,000 wounded in the last decade, when the organisation began compiling the data.
Civilian deaths
Baradar, one of the Taliban founders, is attending the talks in Doha for the first time. He is the highest-level representative to take part in negotiations with the US special envoy for peace, Zalmay Khalilzad.
The Taliban have repeatedly refused to negotiate with the Afghan government, calling it a "puppet" of the US.
"We, like all the Afghans, want peace in this country. The Taliban are now sitting down to talk, which means they are ready for peace as well," Agha told Al Jazeera.
"But if innocent civilians are killed this way in air strikes, they will never trust the government and will, in fact, stand against it."
Agha, former leader of Taliban's Jaish-e-Muslimeen wing, fought against the Afghan forces after the US toppled the Taliban government in 2001. His council is currently seen making efforts to restore peace in Afghanistan.
Officials from the Afghan government were not immediately available for their reaction on Agha's comments in the press conference.
Last year, the UN Assistance Mission in Afghanistan (UNAMA) expressed its "strong concern" at the rising number of civilian casualties from air raids.
The report said aerial attacks killed 149 people and wounded more than 200 civilians in the first half of 2018, up by 52 percent from the same period a year before that.
Among the deadly incidents was the one in the northern province of Kunduz in April 2018, when an Afghan air raid killed or wounded 107 people, mostly children, at a religious gathering.
The government said the bombing had targeted a Taliban meeting where senior members of the group were planning more attacks.
https://www.aljazeera.com/news/2019/02/taliban-official-afghan-peace-deal-air-raids-continue-190227105310760.html
--------
Leadership Pick Threatens Stability of Philippine Autonomous Region for Muslims
February 27, 2019
TAIPEI —
The Philippine government's pick of transitional leadership for a newly formed Muslim autonomous region shows early signs of isolating armed rebel groups that hoped to share power, threatening the region's long-term stability.
Philippine President Rodrigo Duterte late last week named the chairman of the Muslim rebel group Moro Islamic Liberation Front as interim chief minister of a transition authority for the region, which will cover about 4.3 million people and get special government funding as well as control over some natural resources.
The pick for chairman and the front's majority of seats in the new agency give it a lead over 20 other armed groups that have advocated Muslim autonomy on the southern island of Mindanao. Rebel violence has left about 121,000 people dead in Mindanao since the 1960's, giving the island a bad reputation among tourists and investors..
But analysts fear the exclusion of other groups could lead to rebel-vs-rebel struggles that eventually could hobble the government's goal of using the autonomous region to keep peace.
The Moro National Liberation Front -- an organization unrelated to the other front -- complained Sunday when it got just five of the 80 transition authority seats, domestic media reported. The Moro Islamic Liberation Front got 41.
"With Muslim groups, the main issue is that they're not necessarily speaking for everyone, and so you now have a situation where you need to deal with complaints about being excluded from the process," said Herman Kraft, political science professor at the University of the Philippines Diliman.
"I think it goes beyond the idea of what the groups are actually fighting for," Kraft said. "It's really more a question of who claims to represent the interests of the Muslims in the Philippines."
Presidential mandate
Duterte told the chairman, Al Haj Murad Ebrahim, to use "democratic values" in building up the autonomous zone, called the Bangsamoro Autonomous Region of Muslim Mindanao. The Moro Islamic Liberation Front signed a 2014 peace deal with the government, agreed to disarm and helped officials set up the new region.
"Always work for the best interest and welfare, not only of the Bangsamoro people but every Filipino who lives in that region," Duterte said, as quoted on the presidential website.
In July, Duterte signed a law authorizing the region's formation on 12,536 square kilometers of land. Officials hope the region will offer some of the self-rule that Muslims have sought for some 500 years in the majority Catholic country. That outcome could in turn ease fighting and let Mindanao develop economically via new infrastructure and investment.
"The key word is 'build and they will come,'" said Jonathan Ravelas, chief market strategist with Banco de Oro UniBank in Metro Manila. "If you build infrastructure, businesses will come and eventually you'll get to see interested investors."
Insiders, outsiders
Multiple rebel groups would hope to help steer the autonomous region so they get access to resources and legitimacy for their own stakeholders, who include specific southern Philippine ethnic groups and large families.
The Maute Group, for example, drew support from an influential family as it fought a five-month war with troops in 2017. Groups excluded from the autonomous region's leadership will stay intact as new ones form, said Enrico Cau, associate researcher at the Taiwan Center for International Strategic Studies.
"You will have instability in the region from new splinter groups that are nothing but ammunition of the bigger groups trying to get their things done," Cau said.
Mindanao's most internationally known rebel group, Abu Sayyaf, has built connections with the Middle Eastern terrorist sponsor Islamic State since 2016. Abu Sayyaf periodically kidnaps and beheads foreign tourists. It took credit in January for two deadly church bombings in Sulu province, where voters had just rejected joining the autonomous region. Some scholars saw the bombings as an Abu Sayyaf protest against the region's formation.
Duterte responded by commanding troops to "crush" Abu Sayyaf, his office website says.
The Moro Islamic Liberation Front will need to reach out effectively to other rebels as well as indigenous populations and Mindanao's Christians who live in the autonomous region, Cau said.
"The MILF leadership should be expected given that it has been the negotiating party with the government throughout the peace process," said Carl Baker, director of programs with think tank Pacific Forum CSIS in Honolulu. "The major problem with MILF leadership will be the lack of experience with governing a diverse region."
https://www.voanews.com/a/philippine-muslim-region/4805715.html
--------
India
Two JeM terrorists killed in Shopian encounter
M Saleem Pandit
Feb 28, 2019
SRINAGAR: At least two terrorists affiliated with the Jaish-e-Muhammad (JeM) were killed in an encounter on Wednesday between security forces and terrorists in South Kashmir's Shopian district on Wednesday.
The gunfight broke out after forces launched a search operation in Memender area of Shopian district following specific information about the presence of militants there.
The search party, as per police, was fired upon by the hiding militants. The firing was retaliated, thus leading to a gunfight that left Jaish two militants dead.
Police identified one of the killed terrorists as Suhail Nazir Mir of Saidapora Payeen, Shopian. The other was from Pakistan. Incriminating materials, including arms and ammunition, were recovered from the site of encounter.
Police spokesman said -- as per police records -- both militants were involved in conspiring and executing several attacks and were wanted for their complicity in a series of crimes, including attacks on security establishments and civilian atrocities.
It was a clean operation and no collateral damage was reported.
A case has been registered and investigation in the matter has also been initiated.
https://timesofindia.indiatimes.com/india/two-jem-terrorists-killed-in-shopian-encounter/articleshow/68193317.cms
--------
Govt unmoved by Pakistan PM Imran Khan's speech, face-off could escalate
Feb 28, 2019
NEW DELHI: Unmoved by Pakistan PM Imran Khan's overture for talks, which he couched with the risk of nuclear escalation, India said Wednesday's aerial battle along the LoC was an act of aggression, raising the prospects of a fresh escalation. Highlighting this, New Delhi issued a demarche to acting Pakistan high commissioner Syed Haidar Shah.
India's submission, which came even as PM Narendra Modi held
discussions with three service chiefs, raises the possibility of retaliatory action against what India said was an "unprovoked act of aggression, including violation of Indian air space by the Pakistan Air Force and targeting of Indian military posts".
In response to Khan's talks offer, high commissioner Shah was given a dossier with what India said were "specific details and JeM complicity in the Pulwama attack and presence of JeM terror camps and its leadership in Pakistan".
Khan's long statement, in which he dwelled on the dangers of miscalculation, said he recognised the hurt caused by the Pulwama attack and said he is ready for any kind of dialogue on terrorism. "But I would like to tell you again, that right now, better sense should prevail. We should sit down and talk about our problems," he said.
India expressed regret at Pakistan's continuing denial of terrorist infrastructure by its political and military leaders.
The view in the Indian leadership seemed to be that Khan's remarks are a ruse to secure de-escalation without any significant concessions and that Pakistan's bid to establish some equivalence through its LoC raid needs to be responded to firmly without handing out any fig leaves to Islamabad.
Pakistan's claim that the foray of its jets at the LoC was only to signal its capacity to retaliate to the IAF strike on Balakot, and Khan's warning that miscalculations could leave neither him or Modi in control of events, did not wash with India which said the two incidents are not comparable.
The Indian demarche said the Pakistani "aggression" is in contrast to India's 'non-military pre-emptive' strike at a Jaish-eMohammad terror camp on Tuesday. "It is clearly conveyed that India reserves the right to take firm and decisive action to protect its national integrity against any act of aggression or cross-border terrorism," he said.
While any retaliation - and consequent escalation - is not ruled out, it is clear that a pledge to discuss terrorism is not likely to be sufficient for a reduction in tensions. The Indian position was clearly outlined by a call for immediate and verifiable action against terrorism sourced from territory under Pakistan's control.
Full report at:
https://timesofindia.indiatimes.com/india/govt-unmoved-by-pakistan-pm-imran-khans-speech-face-off-could-escalate/articleshow/68192912.cms
--------
Bloodied & grilled, IAF pilot Abhinandan stays calm, collected
Neeraj Chauhan
Feb 28, 2019
NEW DELHI: Held after his plane crashed across the Line of Control, Wing Commander Abhinandan Varthaman was beaten by locals, made to identify himself with hands tied behind his back and a rag across his injured face and finally recorded saying that he was being treated well by his captors.
Three videos on social media showed the pilot display remarkable poise in custody. In one, shot in what seems like an office room where he stands with hands tied and a bloodied face, the young pilot says he is not required to reveal anything more than his name and service number and inquires who his captors are.
The videos, particularly the third one which has the officer saying he has been treated well and will not change his account even if out of captivity, seem part of a Pakistani PR effort to signal that the pilot is not being maltreated even though the earlier clips might be intended to address sentiments at home.
The final video has Abhinandan holding a cup of tea and saying, "The officers of the Pakistani army have looked after me very well, are thorough gentlemen, starting with the captain who rescued me from the mob... this is what I would expect my army to behave."
But when asked which part of India he came from, the officer firmly responds, "Am I supposed to tell you this? I am sorry major...
I am from down south." He quickly says "the tea is fantastic" when asked if he liked the beverage, but politely declines to speak on the make of his aircraft, saying, "I am sure you have found the wreckage." He then says "I am sorry I am not supposed to tell you this" when asked about his mission.
The pilot, who went down on the wrong side of the LoC after a fierce engagement with Pakistani jets, was the centre of attention all day long as television and social media speculated his fate. A terse Indian announcement that a pilot was missing only heightened the suspense before his video recorded statement emerged.
The officer's composure and calm despite his hostile reception and the fact of being in captivity at a time of high tensions between India and Pakistan came through in the videos. In the last one, his injuries appear to have been treated while he has a band-aid on his right hand in which he holds a cup of tea.
In the first video, locals in PoK are seen punching and slapping him on the face, hurling abuses even as the officer is on the ground. Pakistani soldiers are heard saying he should be left alone. Indian officials said there was a possibility that he was further beaten as the clip does not show any injury to his face.
In the second video, the officer has a bloodied face. Here, his hands and feet are tied as he stands in a room. Asked about his identity by a Pakistani officer, he says, "Can I begin please? Yeah, My name is Wing Commander Abhinandan. My service number is 27981. I am a flight pilot."
A Pakistani officer then asks him "what else?" to which Abhinandan coolly replies, "I am sorry sir. That's what I am supposed to tell you." The Pakistani officer goes on to ask him about his squadron to which Abhinandan replies, "I am not supposed to tell you that."
Full report at:
https://timesofindia.indiatimes.com/india/bloodied-grilled-iaf-pilot-abhinandan-stays-calm-collected/articleshow/68192889.cms
--------
Sushma Swaraj to leave for UAE today to attend Islamic cooperation meet as guest of honour
February 28, 2019
Minister of External Affairs Sushma Swaraj will leave for United Arab Emirates (UAE) on Thursday to take part in the inaugural session of the foreign ministers' conclave of Organisation of Islamic Cooperation (OIC) in Abu Dhabi.
Sushma Swaraj has been invited by UAE as the guest of honour at the Islamic meet to be held on March 1 and 2. The invitation was opposed by Pakistan who threatened to boycott the meet over the Indian minister's participation.
The UAE visit of Sushma Swaraj will come at a time when tensions between Indian and Pakistan are on an all-time high as one Indian Air Force pilot remains in the custody of Pakistan.
On Wednesday, Pakistan Foreign Minister Shah Mehmood Qureshi had threatened the OIC that he won't attend the meet after the latter extended an invitation to Sushma Swaraj to be the guest of honour.
Speaking on Geo News show, Mehmood Qureshi said, "I have spoken to the United Arab Emirates foreign minister and have expressed my reservations over her invitation. I have made myself clear that India has shown aggression."
"Under the current circumstances, it will not be possible for me to attend OIC meeting where Sushma Swaraj is present," Qureshi had said.
This is the first time India has been invited as the guest of honour at an OIC meeting. The OIC is an international organisation founded in 1969 and works towards protecting and safeguarding the rights of the Muslim world.
The invitation for the event was extended by HH Sheikh Abdullah bin Zayed Al Nahyan, Foreign Minister of the UAE, and accepted by Sushma Swaraj. Sushma Swaraj is expected to address the inaugural plenary in Abu Dhabi.
Extending the invitation, the UAE Foreign Ministry said the "friendly Republic of India" had been invited as the guest of honour for "all its international political weight and diverse cultural heritage and an important Islamic component."
Responding to the invitation, Indian Ministry of External Affairs had said, "We see this invitation as the desire of the enlightened leadership of the UAE to go beyond our rapidly growing close bilateral ties and forge a true multifaceted partnership at the multilateral and international level."
Full report at:
https://www.indiatoday.in/india/story/sushma-swaraj-islamic-meet-guest-of-honour-uae-mehmood-qureshi-pakistan-tensions-india-1466794-2019-02-28
--------
NIA raids houses of separatists and owner of car used in Pulwama attack
Feb 27, 2019
The National Investigative Agency (NIA) raided the homes of separatists in the Valley for a second consecutive day on Wednesday, and searched 11 spots in south Kashmir, including the house of the owner of the vehicle that was used in the February 14 suicide bombing, which killed 40 CRPF troopers.
On Tuesday, NIA teams raided seven places in Srinagar, including the houses of Hurriyat chairman, Mirwaiz Umar Farooq, and Jammu and Kashmir Liberation Front chairman, Yasin Malik, in relation to a terror funding case.
The NIA said Wednesday's raids were in connection to the ongoing investigation in the terror attack on a Central Reserve Police Force (CRPF) convoy and in a case relating to the "terror funding" of separatists. The terror funding case pertains to allegations that some separatists received funds from Pakistan through hawala channels.
"The houses of Mudassir Ahmad Khan and Sajjad Bhat (both active militants of the Jaish-e-Mohammed and accused in the Pulwama attack) were searched. Searches were also conducted in the houses of active overground workers of Jaish-e-Mohammed in Tral, Awantipora and Pulwama areas of south Kashmir. Incriminating materials including diaries containing coded writings were seized,'' the spokesman said.
Full report at:
https://www.hindustantimes.com/india-news/nia-raids-houses-of-separatists-and-owner-of-car-used-in-pulwama-attack/story-tbgmnkrthdxhhIUFjgOEgN.html
--------
Special Task Force, Kolkata Police arrest two Jamaat-ul-Mujahideen Bangladesh operatives in West Bengal; explosive materials seized
Feb 27, 2019
Kolkata: Two operatives of Jamaat-ul-Mujahideen Bangladesh (JMB) have been arrested from West Bengal's Murshidabad district and a cache of explosive materials seized from their possession, a senior police officer said on Wednesday.
In a joint operation by the Special Task Force (STF) of the Kolkata Police and the Murshidabad police, Moshibur Rahman (35) alias Farooque and Ruhul Amin alias Saifullah (26) were apprehended on Tuesday night, he said.
"Both Moshibur and Ruhul, residents of Murshidabad district, are active members of the outlawed JMB. A cache of explosive materials, including aluminium dust, calether (spirit of ether) and sulphuric acid, have been recovered from their possession," the senior officer said.
The duo happen to be associates of Kauser and Sajjad, who were nabbed on 29 January for their involvement in 2014 Burdwan blast case, he said. On 2 October, 2014, a blast had occurred in a house at Khagragarh in Burdwan district, killing two persons.
"We have interrogated Sajjad and found out that Moshibur and Ruhul have been trained in making acid bombs. Their plan was to attack the police and get Kauser released," the officer said.
With Tuesday's successful raid in Murshidabad, the number of JMB operatives arrested in a month rose to six, he added. On 16 February, Ariful Islam alias Arif (22) was arrested from the city's Babughat area for his alleged links to the terror outfit.
Three days later, Asif Iqbal alias Nadeem, another resident of Murshidabad district, was held at Santragachi railway station in Howrah district. Islam was involved in 2018 Bodh Gaya blast case, police had claimed.
Full report at:
https://www.firstpost.com/india/special-task-force-kolkata-police-arrest-two-jamaat-ul-mujahideen-bangladesh-operatives-in-west-bengal-explosive-materials-seized-6161721.html
--------
Europe
Dutch court rules against Muslim man who refused to shave beard for job
27 Feb 2019
A Dutch court has backed the suspension of a Muslim man's benefits over his refusal on religious grounds to shave his beard while on training for a job.
The unnamed man had been offered a job as an asbestos removal officer but was subsequently told he would need to be clean shaven in order to undergo the training course.
When he refused on the basis of his religious convictions, Amersfoort city council suspended payments to both him and his wife for a month under the Participatiewet, which provides a minimum income for every legal resident in the Netherlands.
The man appealed the decision at the court of central Netherlands, where he claimed that the removal of his benefits was an infringement of article nine of the European convention on human rights which protects the right to freedom of thought, conscience and religion.
The council argued that there was a danger of asbestos particles ending up in the man's beard, which is harmful to his health. They added that his facial hair would also impact on the effectiveness of the respiratory mask he would need to wear.
Lawyers for the council went on to conclude that the man, who had been unemployed for two years, would have received an automatic job on completing his training and that they had to act in the interests of the taxpayer.
The man responded that he would have been willing to wear an alternative respiratory mask on the market suitable for those with beards but the court concluded that the training required the use of a specific mask.
The court's appeal board ruled that the decision was "unmistakably an infringement of [the man's] right to religious freedom" but that this was tolerable if there was a legal basis and society required it.
In the summing up the judges took into account the lack of any prospect of other employment given the man's history including time in jail, psychological problems and a gambling addiction.
"The provision offered … did not involve any internship or training, but was provided with a job guarantee", the court said. "For the appellant, the training was therefore an excellent, concrete chance for regular work …
"Due to the refusal to participate in the training, the appellant did not make use of the guaranteed opportunity to gain access to the labour market. As a result, he put undue pressure on the public funds to the detriment of those who, in solidarity, bear the costs of the provisions in the Participatiewet."
The judges ruled that the suspension of payments was "deemed necessary in the interest of the protection of the rights and freedoms of others".
The Dutch welfare system has undergone significant changes in recent years corresponding with a fall in unemployment from 6.9% in 2014 to around 3.9% today, the pre-financial crisis level. But real wage growth has been slow with work contracts being increasingly short-term.
https://www.theguardian.com/world/2019/feb/27/netherlands-cuts-muslim-mans-benefits-refusing-shave-beard
--------
UK: Muslim leaders take lead on interfaith dialogue
27.02.2019
By Muhammad Mussa
LONDON
Muslim leaders in the U.K. visited churches, synagogues, Hindu and Sikh temples in interfaith solidarity amid rising hate crime.
Leaders from the Muslim Council of Britain (MCB), Muslim Council of Wales, Muslim Council of Scotland and the Belfast Islamic Centre made visits Tuesday to the places of worship to demonstrate common experiences shared religious groups as minorities in the U.K.
"At a time when the country is polarized by Brexit and hate crime is on the rise, the symbolic action aims to emphasize the importance of communities of all faiths and none in coming together and putting aside differences for the common good," read a statement by the MCB said.
The visits in England, Wales, Scotland and Northern Ireland came one week before the commencement of the annual Visit My Mosque Day, in which more than 250 mosques across the U.K. will open their doors to the general public.
Secretary-General of the MCB, described his visit to the West London Synagogue as a "privilege", saying "it was great to hear about the similarity of the Jewish religious services to my own faith as a Muslim, alongside the synagogue's active outreach programs for refugees and the homeless.
"I strongly encourage more of my fellow Muslims to visit other faith institutions as this will only make our bonds stronger as we have more in common than what divides us," he added.
Rabbi Helen Freeman of the West London Synagogue, welcomed Khan and representatives from the MCB. "We value the building of bridges of understanding with those of all faiths. So it was my particular pleasure to welcome visitors from the Muslim Council of Britain as we look forward to celebrating 'Visit My Mosque Day' on Sunday March 3," he said.
The Rev. David Compton of the Methodist Agape Centre in Belfast, Northern Ireland, hosted representatives of the Belfast Islamic Centre and spoke of the importance of building bridges of friendship between different communities in the U.K. to build a cohesive society and breakdown stereotypes that only rule hate crime.
Executive Director of The Inter Faith Network for the UK, Dr. Harriet Crabtree, said this: "Mutual exchange of visits to community places of worship is an important part of building and strengthening good inter faith relations. These visits arranged in connection with Visit My Mosque are a significant demonstration of this."
The Muslim Council of Britain is the U.K.'s largest Muslim umbrella organization, representing more than 500 institutions and mosques and holds annual events such as Visit My Mosque Day that aim unite communities across the U.K.
In the last three years, there has been a sharp rise in Islamophobia and anti-Muslim hate crime in the U.K. with 2017 having a record number of attacks against Muslims. In 2018 there were over 1,200 reports of Islamophobic attacks, a 26 percent surge from the previous year.
Full report at:
https://www.aa.com.tr/en/culture/uk-muslim-leaders-take-lead-on-interfaith-dialogue/1404670
--------
UK Labour protests motives behind Hezbollah ban
Feb 27, 2019
UK's Labour Party has voiced its official objection to the move by the British Home Secretary Sajid Javid to have Lebanese resistance group Hezbollah proscribed as a terrorist organization. Already approved by Parliament, the House of Lords is widely expected to back the decision which would see support for Hezbollah punishable by up to 10 years in jail.
https://www.presstv.com/Detail/2019/02/27/589744/UK-Labour-protests-motives-behind-Hezbollah-ban
--------
Germany urges Pakistan, India to show restraint
27.02.2019
By Ayhan Simsek
BERLIN
Germany on Wednesday called on both Pakistan and India to de-escalate tensions after cross-border air raids set the region on edge.
"The federal government makes an urgent appeal for both sides to refrain from steps that could further escalate the conflict," German Foreign Ministry spokeswoman Maria Adebahr told a news conference in Berlin, adding that India and Pakistan bear responsibility for regional stability.
She expressed hope that the two nuclear neighbors would use existing dialogue channels to de-escalate tensions and find a peaceful solution.
Pakistan and India claimed on Wednesday that they had shot down each other's fighter jets, in a significant escalation between the two countries over Kashmir.
India claimed on Tuesday its warplanes entered Pakistani airspace and bombed a "militant camp," after over 40 Indian troopers were killed in a suicide attack in Indian-administered Kashmir on Feb 14.
The Pakistani civil and military officials have rejected the claims.
On Wednesday, Pakistan said it had shot down two Indian fighter jets that crossed into Pakistani territory.
Full report at:
https://www.aa.com.tr/en/asia-pacific/germany-urges-pakistan-india-to-show-restraint-/1404766
--------
EU warns Pakistan, India of risky results of tensions
27.02.2019
By Serife Cetin
BRUSSELS
The EU warned Pakistan and India of recent "serious and dangerous consequences" on Wednesday because of heightened tensions.
"Tensions along the 'Line of Control' between India and Pakistan have escalated militarily during the last days," said EU's foreign policy chief Federica Mogherini. "This has the potential to lead to serious and dangerous consequences for the two countries and the wider region."
She urged Islamabad and New Delhi to resume diplomatic contacts at the political level pleaded with both sides to exercise the "utmost restraint and avoid any further escalation."
"The European Union will remain in contact with both countries and will continue to closely monitor the situation," she said.
Tension between the two nuclear neighbors rose after Indian jets intruded Pakistan's airspace early Tuesday.
Full report at:
https://www.aa.com.tr/en/asia-pacific/eu-warns-pakistan-india-of-risky-results-of-tensions/1404755
--------
UK calls for restraint by India, Pakistan
27.02.2019
By Ahmet Gurhan Kartal
LONDON
The U.K. is "deeply concerned" about rising tensions between Pakistan and India and is urging restraint, British Prime Minister Theresa May said Wednesday.
Speaking at a weekly question session in the House of Commons, May said the British government is monitoring developments closely, and they hope tensions can be de-escalated.
The U.K. "urgently calls for restraint on both sides to avoid further escalation," May said.
She said they are in contact with both sides and "urging dialogue and diplomatic solutions for regional stability."
Labour Party leader Jeremy Corbyn said they "support urgent dialogue" between the two countries in order to "reduce the tensions and to deal with the root causes of it."
The politicians' remarks came amid reports that Pakistan and India claimed they had shot down each other's fighter jets.
Echoing May, Foreign Secretary Jeremy Hunt also said the U.K. is "very concerned" about the latest developments.
Hunt described India and Pakistan as "good friends of the U.K.," adding that he has been in touch with the foreign ministers of both.
"We are urging restraint on all sides," Hunt said.
"Neither side wants to see this escalate further but this is going to take a really critical restraint in the days ahead, and we are doing everything we can to support de-escalation of the tensions that are happening at the moment," he added.
The tension between the two nuclear neighbors rose after Indian jets intruded into Pakistan's airspace early Tuesday.
Full report at:
https://www.aa.com.tr/en/europe/uk-calls-for-restraint-by-india-pakistan/1404547
--------
In Moscow meeting, Netanyahu finds a friend unwilling to help curb Iran
Jonathan Brown
February 27, 2019
The strain in ties between Israel and Russia were laid bare on Wednesday as President Vladimir Putin hosted talks with Prime Minister Benjamin Netanyahu focusing on Iran's role in Syria.
Before the meeting in Moscow, Mr Netanyahu said the key agenda points would be military co-operation and Syria and curbing Iranian influence in the country.
"We will continue to act until we get the Iranians out of Syria because Iran threatens to destroy Israel," he said.
It was a message he repeated during a meeting with Mr Putin before closed-door negotiations began.
"The biggest threat to stability and security of the region is Iran," Mr Netanyahu said.
His visit came as Mr Putin intensified efforts to find a political resolution to the conflict in Syria.
Earlier in February, the Russian president hosted talks with the leaders of Iran and Turkey.
The talks between Mr Putin, Turkish president Recep Tayyip Erdogan and Iran's Hassan Rouhani on Valentine's Day were dominated by the fallout from US President Donald Trump's decision to pull American troops from Syria.
Mr Trump's plans, since changed, leave Mr Netanyahu with one fewer ally against Iranian influence in a country torn apart by eight years of war.
"The withdrawal puts Israel in an even more difficult position than previously," says Anna Borshchevskaya, senior fellow at the Washington Institute for Near East Policy. "Israel's only real ally in the conflict now is Russia."
Before Wednesday's talks, Mr Netanyahu made it clear that he regards Mr Putin as a key player who can curb Iranian influence and proxies backed by Tehran.
But analysts say Mr Putin may be unable or unwilling to intervene on Israel's behalf.
"It's wishful thinking that Russia can help curb Iranian influence in a meaningful way,' Ms Borshchevskaya told The National.
"Moscow ultimately has neither the ability nor desire to do so, but he is interested in the pretence of being helpful. The fact of the matter is, Putin's entire Syria strategy has been predicated on a partnership with Iran."
Israel has responded to Iran's growing presence in Syria by launching dozens of air strikes against militants backed by Tehran. Mr Netanyahu says those militants want to use Syria as a launching pad to attack Israel.
But as the war in Syria appears to wind down, Russia's patience with Israel's air campaign appears to be running thin.
In Sochi this month, Mr Putin promised that the territorial integrity of Syria would be restored and news organisations run by the Kremlin have voiced loud criticism of recent Israeli sorties over Syria.
When Mr Netanyahu last visited Russia in May, the relationship between the two leaders looked rosier.
The Israeli president was one of just two world leaders to stand side by side with Mr Putin during a bombastic military parade on Red Square to commemorate the end of the Second World War.
Relations have been more strained since September when Moscow blamed Israel for shooting down a Russian surveillance plane over the Mediterranean.
Russia's Defence Ministry said that four Israeli F-14s had hidden behind the Ilyushin Il-20 plane when Syrian air defence targeted the jets.
After the incident, Mr Netanyahu failed to organise an official meeting at the Paris Peace Forum in November, although the two leaders did meet several times on the sidelines.
The meeting in Moscow this week, the first since November, was not without complications.
With elections looming in Israel, Mr Netanyahu made a last minute delay to the talks, originally scheduled for last week, over fears that two opposition parties were forming a coalition before the April ballot.
Full report at:
https://www.thenational.ae/world/mena/in-moscow-meeting-netanyahu-finds-a-friend-unwilling-to-help-curb-iran-1.831204
--------
Pakistan
Jaish into real estate, trading to fund terror acts
Feb 28, 2019, 0
NEW DELHI: Banned terror group Jaish-e-Mohammed, long dependent on the Pakistani state and donations, has over the years opened "legitimate businesses" to raise cash for carrying out its main task of exporting terror to India.
Since 2007, the terror outfit has been investing in real estate, production and distribution of consumer goods and commodity trading, an assessment by Indian and US intelligence officials said. According to the US state department, Jaish doesn't keep money in banks now to avoid seizures.
"These investments are known to ISI and the Pakistani military but they allow JeM to flourish as it suits their anti-India agenda," said an officer, requesting anonymity.
Indian officials said the organisation was cash rich as it was able to freely seek donations for a "religious" cause and invest in various business. According to the US state department, JeM raises funds through Al Rehmat Trust and Al Rashid Trust.
Intelligence inputs and international reports concluded that JeM exploited the state of lawlessness, failure of governance and lack of jobs in Pakistan to increase its strength while it continued to get arms, ammunition and money from the establishment.
The outfit is estimated to have over 1,000 trained terrorists with several thousand more as recruits and students in various madrasas. Its recruitment arms are spread across Pakistan with the main focus on southern Punjab (Pakistan), where other terrorist groups like Lashkar-e-Jhangvi, Lashkar-e-Taiba, factions of Al Qaida and Taliban also operate freely.
According to the Brussels-based International Crisis Group, the area between and around southern Punjab's Rajanpur, Sindh's Kashmore and Balochistan's Dera Bugti districts "have created sizeable sanctuaries for criminal and jihadist groups".
Terror groups, including JeM, have even occupied three small islands on the Indus river. The islands have lax law enforcement and the riverine terrain is often inaccessible, which suits these groups.
In the areas around Rajanpur and Dera Ghazi Khan districts, bordering Balochistan, "many jihadist madrasas, some directly linked to Islamabad's Lal Masjid", have come up over the years, the ICG said. Taunsa town in Dera Ghazi Khan is a major jihadist base.
Officials said Jaish uses a range of tactics — stationary and vehicle-borne improvised explosive devices, suicide bombings and targeted assassinations — in its attacks both in India and Pakistan.
https://timesofindia.indiatimes.com/india/jaish-into-real-estate-trading-to-fund-terror-acts/articleshow/68193410.cms
--------
Pakistan using China's weakness to ensure support
Saibal Dasgupta
Feb 28, 2019,
BEIJING: Pakistan is working on China's vulnerabilities to ensure its continued support during the military conflict with India, informed sources said.
China depends heavily on the Pakistani military for different reasons, one of which is the protection of Chinese citizens employed in the China-Pakistan Economic Corridor and a range of other areas. An estimated 60,000 Chinese live in Pakistan.
The Chinese government also needs support from the Pakistani military to make sure that Taliban militants do not cross the border into the disturbed region of Xinjiang in western China. Separatist militants of Xinjiang are known to have received assistance from Pakistan- and Afghanistan-based militants in the past.
Pakistan's main worry is dilution of the support it enjoys from China, which provides credibility to its actions besides heavily financing it.
Chinese state councillor and foreign minister Wang Yi said on Wednesday that Pakistan has always been opposed to terrorism. This kind of blatant support for Islamabad even after external affairs minister Sushma Swaraj briefed him about the Pulwama attack shows that Pakistan has been able to persuade Beijing to continue supporting it.
China has its own sources in the Pakistani military to gauge the mood of the armed forces in the neighbouring country.
Informed sources said the Chinese government has a direct relationship with the Pakistani military which is separate and distinct from its connect with the political leadership in Islamabad. Pakistan's military generals regularly visit China to interact with top officials of the People's Liberation Army.
The close relationship is also strengthened during China-based training programmes for Pakistani forces and joint military exercises.
The $50 billion CPEC project is being built with close support from the Pakistani military establishment. It is a showcase project for China's ambitious Belt and Road Initiative, which has not been particularly successful in other parts of the world.
Full report at:
https://timesofindia.indiatimes.com/world/pakistan/pakistan-using-chinas-weakness-to-ensure-support/articleshow/68191036.cms
--------
Pakistan foreign minister Qureshi threatens to boycott OIC meeting over Sushma Swaraj's participation
Feb 27, 2019
ISLAMABAD/DUBAI: Pakistan foreign minister Shah Mehmood Qureshi on Wednesday threatened to boycott a meeting of the Organisation of Islamic Cooperation (OIC) scheduled for next month in the UAE if India's external affairs minister Sushma Swaraj participates in it.
Swaraj has been invited as a "guest of honour" at the inaugural session of the foreign ministers' conclave in Abu Dhabi on March 1-2.
"I have no reservations with the OIC or any other Islamic country. My reservations are with Indian foreign minister Sushma Swaraj's attendance at the OIC meeting," Qureshi told Geo News.
"If Swaraj attends the meeting then I will not participate in it," Qureshi said.
He said shared that UN secretary-general Antonio Guterres and Turkish foreign minister Mevlut Cavusoglu telephoned him.
"We believe India has committed aggression against a brother Islamic country and attacked a founding member of the OIC," Qureshi quoted Cavusoglu as saying.
"The Turkish foreign minister said there is no reason for Indian foreign minister Sushma Swaraj to attend the meeting of the Organization of Islamic Countries (OIC) and Turkey will fully oppose her invitation and opportunity to address," he added.
Last night, Qureshi said he spoke to his UAE counterpart Sheikh Abdullah bin Zayed Al Nahyan expressed his reservations over invitation to Swaraj.
"Under the current circumstances, it will not be possible for me to attend OIC meeting where Swaraj is present," he said.
Meanwhile, the OIC on Tuesday "condemned" India's "incursion and aerial violation" in Pakistan.
It urged India and Pakistan to exercise restraint and avoid any steps that would endanger peace and security in the region. It called upon both parties to act responsibly and encouraged them to seek peaceful solution to current crisis without resort to use of force.
It also called on them to embrace dialogue and work towards de-escalation of current situation as a matter of priority.
The OIC contact group on Jammu and Kashmir held an emergency meeting at the OIC general secretariat in Jeddah and expressed deep concern over the heightened tension in the region and called for immediate de-escalation.
Full report at:
https://timesofindia.indiatimes.com/world/pakistan/pakistan-foreign-minister-qureshi-threatens-to-boycott-oic-meeting-over-sushma-swarajs-participation/articleshow/68184779.cms
--------
Jubilant crowds pour onto streets across Sindh to celebrate downing of Indian planes
Feb 28, 2019
HYDERABAD: Jubilant activists of various political and social organisations and general public poured onto streets across the province on Wednesday to express solidarity with Pakistan's armed forces for giving a befitting reply to Indian aggression.
In Hyderabad, leaders of local chapters of religious and political parties issued statements condemning Indian war-mongering. They said India was undermining peace in the region.
Pakistan Peoples Party's member of Sindh Assembly Abdul Jabbar Khan said that Pakistan wanted peace but Indian rulers were waging war for their nefarious designs. Pakistan had always tried to avoid war, he said.
He said that India must understand now that they should not take everything for granted.
There could not be any compromise on Pakistan's integrity that was why all political and religious forces were united regardless of their political differences, he said.
Sindh Taraqqi-pasand Party chairman Dr Qadir Magsi said that increasing tension between Pakistan and India was threatening world peace. Rulers on both sides should resolve all bilateral issues through dialogue, he said.
He feared Sindh would become battleground of proxy war because not only ethnic terrorists but religious extremists and separatists would try to foment terrorism to divide Sindh with Indian support.
Qaumi Awami Tehreek president Ayaz Latif Palijo accused India of pushing the region into war. He said that Modi's team was spreading hatred against Pakis­tan through media and urged United Nations to take notice of the Indian aggression.
He said that Pakistan had taken steps to relax visa policy and opened Kartarpur border to promote peace and condemned Pulwama attack, but India linked it with Pakistan without presenting any evidence.
He said that Western powers and neighbours wanted Pakistan to withdraw from CPEC and India wanted to stall Pakistan's progress.
India, Afghanistan and Israel and world powers were not willing to accept defence and economic cooperation between Pakistan, China, Iran, Saudi Ara­bia and Russia and India was exploiting the situation for elections.
Jamaat-i-Islami leader Hafiz Tahir Majeed praised Pakistan army for shooting down Indian military jets and Pakistan Tehreek-i-Insaf's (PTI) Imran Qureshi said that shooting down of Indian aircraft had exposed Indian propaganda.
SUKKUR: Activists of Maz­door Shehri Ittehad took out a rally in Jacobabad to express joy at Pakistan army's befitting reply to India.
The Ittehad chairman Haji Ghulam Nabi Rind and others said in their speeches at DC Chowk where the rally terminated that they were celebrating Pakistan army's response to India and said that Narendra Modi had worked himself up into war hysteria to gain popularity and win election.
The rally participants danced to drumbeats, raised slogans in favour of Pakistan army and distributed sweets.
A rally was taken out by activists of JI and Qaumi Amn Comm­ittee in support of Pakistan army in Kandhkot. The leaders said that entire nation stood by their army and was ready to sacrifice their lives for the safety and security of the country.
The Sukkur Development Alli­ance decided to take out 'Pakistan Zindabad — India Mur­d­a­bad' rally from Sarrafa Bazaar to Clock Tower roundabout on Thursday.
The alliance leaders Mufti Mohammad Ibrahim Qadri and others said that nations who felt proud of their martyrs could never be defeated.
"We are proud of our armed forces and nation is ready to sacrifice their lives for the sake of the country," they said.
They said that Indian war-mongering had put peace of the region at risk but the nation was united and stood by their army to respond to any attempt at aggression.
MIRPURKHAS: Activists of Anjuman Tajiran, Young Lawyers Forum, Ulema Action Committee took out rallies to express solidarity with Pakistan armed forces.
The participants of the rallies raised slogans against India and in support of Pakistan military as they marched through main roads before converging on local press club where their leaders made speeches and condemned Indian aggression.
They said that the nation was ready to fight if India wanted war and it stood by its armed forces.
NAWABSHAH: Members of Anjuman Tajir Ittehad and other organisations took out rallies against Indian aggression and in support of Pakistan army.
The Ittehad leaders said that every Pakistani including women and children stood by their valiant armed forces.
They condemned Indian aggression and warned if Indian prime minister imposed war on the country every citizen would play his or her part for the defence of Pakistan.
NAUSHAHRO FEROZE: Resi­dents of Naushahro Feroze and Moro towns took out rallies to express solidarity with Pakistan armed forces.
Full report at:
https://www.dawn.com/news/1466449/jubilant-crowds-pour-onto-streets-across-sindh-to-celebrate-downing-of-indian-planes
--------
Indian pilot fired into air before being captured
Tariq Naqash
February 28, 2019
MUZAFFARABAD: Mohammad Razzaq Chaudhry was in the courtyard of his house in Horra'n village, located barely 7km from the Line of Control (LoC) in Azad Jammu and Kashmir's Bhimber district, at about 8:45am on Wednesday when the "smoke and sound" made him realise that a dogfight was going on up above in the sky.
Upon watching them carefully, the 58-year-old political and social activist of the area noticed that two aircraft had caught fire but while one of them sped across the LoC, the other burst into flames and came down speedily.
Its wreckage fell more than one kilometre away from the house of Mr Razzaq towards the eastern side in a deserted field.
Mr Razzaq said he saw a parachute descending towards the ground, which made landing around one kilometre away from his house but on the southern side.
"A pilot emerged out of the parachute safe and sound," he told Dawn from Horra'n village by telephone.
Mr Razzaq said he had in the meantime made calls to several youngsters in the village, asking them not to go close to the wreckage until arrival of the army personnel but get hold of the pilot.
In pictures: PAF downs Indian aircraft violating Pakistan airspace, pilot held captive
The pilot, who was equipped with a pistol, asked the youngsters whether it was India or Pakistan. On this, one of them intelligently responded that it was India. The pilot, later identified as Wing Commander Abhi Nandan, shouted some slogans and asked which place exactly it was in India.
To this, the same boy responded that it was Qilla'n.
The pilot told them that his "back was broken" and he needed water to drink.
Some emotional youth, who could not digest the slogans, shouted Pakistan army zindabad. On this, Abhinandan shot a fire in the air while the boys picked up stones in their hands.
According to Mr Razzaq, the Indian pilot ran a distance of half a kilometre in backward direction while pointing his pistol towards the boys who were chasing him.
During this brisk movement, he fired some more gunshots in the air to frighten them but to no avail, he said. Then he jumped into a small pond where he took out some documents and maps from his pockets, some of which he tried to swallow and soaked others in water.
The boys kept on asking him to drop his weapon and in the meanwhile one boy shot at his leg, Mr Razzaq said.
Finally, he came out and said he should not be killed. The boys got hold of him from both arms. Some of them roughed him up, in a fit of rage, while others kept on stopping them.
In the meanwhile, army personnel arrived there and took him into their custody and saved him from the wrath of the youths, he said.
"Thanks God, none of the furious boys shot him dead because he had given them quite a tough time," he said.
The detained pilot was then taken to an army installation in Bhimber in a convoy of military vehicles.
Full report at:
https://www.dawn.com/news/1466569/indian-pilot-fired-into-air-before-being-captured
--------
Fazl urges UNSC to take India to task over war-mongering
M.B. Kalhoro
February 28, 2019
LARKANA: Jamiat Ulema-i-Islam-Fazl (JUI-F) chief Maulana Fazlur Rahman has urged the United Nations Security Council and other international organisations to ask India why it has imposed war — that can prove harmful for the entire region — on Pakistan.
The maulana said at a press conference at Larkana Press Club here on Wednesday that Indian aggression was a war crime as the country violated the Line of Control on the pretext of unfounded claims of Pakistan's involvement in Pulwama incident. India should have provided proof of the incident instead of imposing war, which was an irresponsible act, he said.
He said that Indian war hysteria was inexplicable at best as one could not understand what the Modi government could achieve by stoking war in the region. "Though we are confronting domestic, political and economic problems and our foreign policy is heading for failure we have complete confidence in Pakistan army and it is our first priority," he said.
As a mark of solidarity with Pakistan army his party would stage protests across the country on Friday and appealed to all religious and political parties to participate in peaceful demonstrations in large numbers, he said.
He urged all political and religious parties to participate in processions, protests and demonstrations and assured Pakistan army that the nation stood by it.
The maulana said in answer to a question about invitation to Indian external affairs minister Sushma Swaraj to the meeting of Organisa­tion of Islamic Cooperation (OIC) that OIC was an ineffective forum which carried no weight.
He said that India did not qualify to be an Islamic country while Pakistan was a large Muslim nation. It was right decision to boycott the OIC's emergency meeting, he said, adding that war was fire that burned everything to ashes.
He said that Kashmir was a disputed issue and Pakistan had always welcomed international arbitration for settling it but India resisted such attempts. "Our stand about weaker role of international organisations in helping settle Kashmir dispute is still unchan­ged," he said.
He said that India got the answer when Pakistan established its defence capability by downing two Indian warplanes. And now, he said, India would have to retreat.
Asked if the government should send delegations to leading nations to muster support for its stand, the maulana said that they could only wish for it but the question was whether present rulers had the capacity to effectively advocate the country's case.
About JUI-F's planned 'million march' under obtaining conditions, he said Thursday's march would be held as per schedule but its objective would now be expressing solidarity with defence institutions.
Full report at:
https://www.dawn.com/news/1466447/fazl-urges-unsc-to-take-india-to-task-over-war-mongering
--------
PM Imran's call for dialogue must be reciprocated by India: Bilawal
Feb 28, 2019
KARACHI: Pakistan People's Party (PPP) Chairman Bilawal Bhutto Zardari on Thursday stated that India must reciprocate to the dialogue offer by Prime Minister Imran Khan and should de-escalate the situation before its too late.
Urging India to go for peace, Bhutto wrote on his Twitter handle: "It is the youth of the subcontinent who will pay in blood and coin for generations to come for the shortsighted decisions of a few today. Pakistan's Prime Minister's call for dialogue must be reciprocated, time to deescalate before it's too late."
BilawalBhuttoZardari
✔
@BBhuttoZardari
It is the youth of the subcontinent who will pay in blood and coin for generations to come for the shortsighted decisions of a few today. Pakistan's Prime Minister's call for dialogue must be reciprocated, time to deescalate before it's too late.
2,947
10:30 - 28 Feb 2019
Twitter Ads information and privacy
967 people are talking about this
Prime Minister Imran Khan on Wednesday said that Pakistan has offered to hold peace talks with India previously and is still willing to do so as "terrorism is not in Pakistan's interests".
While addressing the nation following the shooting down of two Indian aircraft by Pakistan Air Force, the premier started his address saying, "I wanted to take you into confidence regarding the situation arising since yesterday."
"After the Pulwama incident, we offered India to cooperate in the probe. We know they have suffered casualties," he said.
"Pakistan has suffered casualties in the past so we offered to cooperate with India. Because terrorism is not in Pakistan's interests," PM Imran added.
"We had said that Pakistan would be forced to respond if India carried out aggression."
"We didn't take action yesterday morning because we didn't know the full extent of the damage. Otherwise, it would have been irresponsible. That's why we waited," he explained.
PM Imran further said, "Our plan from the start has been no casualties for India. The purpose was just to show India that if they can enter our space, we can too."
"The problem is, where do we go from here? It is crucial that India acts sensibly in this situation," he asserted.
Full report at:
https://www.pakistantoday.com.pk/2019/02/28/pm-imrans-call-for-dialogue-must-be-reciprocated-by-india-bilawal/
--------
South Asia
Nearly 40 militants killed in Afghan Special Forces operations and airstrikes
27 Feb 2019
The military sources are saying that nearly 40 anti-government armed militants have been killed during the operations of the Afghan Special Forces and airstrikes which were conducted in Nangarahr, Wardak, Ghazni, Uruzgan, Logar, Takhar, Paktia, and Helmand provinces in the past 24 hours.
The sources further added that 3 Taliban militants were killed during the operations of the Afghan Special Forces which were conducted in Achin district of Nangarhar and Chak district of Wardak province. Afghan security forces have killed more than 60 Taliban fighters in the region since last week, including 8 within the last 36 hours.
The Afghan Special Forces conducted similar operations in Tarinkot city of Uruzgan and Dasht-e-Qala district of Takhar province leaving 14 Taliban militants dead, the sources said.
"Afghan Special Forces conducted a raid in Charkh district and destroyed over 4,600 pounds of homemade explosives," the sources said adding that "Air strikes in Zurmat district of Paktia province killed 3 Taliban fighters."
At least 19 Taliban militants were killed during the Afghan Special Forces operations and airstrikes which were conducted in Sangin district of Helmand, Qarabagh and Andar districts of Ghazni, and Shindand district of Herat province, the sources said.
https://www.khaama.com/nearly-40-militants-killed-in-afghan-special-forces-operations-and-airstrikes-03389/
--------
UNICEF appeals for $152 million for critical support to Rohingya refugees
27.02.2019
UNICEF is appealing for $152 million to provide critical support for Rohingya refugees and host community residents in Bangladesh this year, said a top UN official on Wednesday.
"To date we have only 29 percent of the required funds and we're working hard to get the rest," Henrietta Fore, UNICEF's executive director, told reporters in Bangladesh's capital Dhaka following a two-day visit to Rohingya refugee camps in the southern city of Cox's Bazar.
"There is a great need for the people to feel that they are out of the crisis in the context of stability, health care, education, water, sanitation and nutrition," she said.
In neighboring Myanmar, she added, most Rohingya "have no legal identity or citizenship and in Bangladesh, [Rohingya] children are not being registered at birth, they lack a refugee status."
Citing a December study, she said 180,000 Rohingya children age 4-14 are now enrolled in learning centers across the area of Cox's Bazar, showing how great the need for education is.
"Today, without a legal identity, they are at the mercy of traffickers and drug dealers," said Ahmed Al Meraikhi, UN humanitarian envoy, speaking alongside Fore.
When asked by Anadolu Agency, both officials admitted that the international community has yet to create any situation for the safe and dignified return of Rohingya refugees who fled the 2017 military crackdown in Myanmar to Bangladesh.
"We are seriously working both privately and officially in this regard, and the international community is working for justice, which is extremely important for the Rohingya," Fore added.
Persecuted people
The Rohingya, described by the UN as the world's most persecuted people, have faced heightened fears of attack since dozens were killed in communal violence in 2012.
According to Amnesty International, more than 750,000 Rohingya refugees, mostly women and children, have fled Myanmar and crossed into Bangladesh after Myanmar forces launched a crackdown on the minority Muslim community in August 2017.
Since Aug. 25, 2017, nearly 24,000 Rohingya Muslims have been killed by Myanmar's state forces, according to a report by the Ontario International Development Agency (OIDA).
More than 34,000 Rohingya were also thrown into fires, while over 114,000 others were beaten, said the OIDA report, titled "Forced Migration of Rohingya: The Untold Experience."
Some 18,000 Rohingya women and girls were raped by Myanmar's army and police and over 115,000 Rohingya homes were burned down and 113,000 others vandalized, it added.
The UN has also documented mass gang rapes, killings-including of infants and young children-brutal beatings and disappearances committed by Myanmar state forces.
Full report at:
https://www.dailysabah.com/world/2019/02/27/unicef-appeals-for-152-million-for-critical-support-to-rohingya-refugees
--------
Heavy casualties inflicted on Taliban commanders and militants in Balkh province
28 Feb 2019
The Taliban militants and their commanders have suffered heavy casualties during the clashes and airstrikes in northern Balkh province.
The 209th Shaheen Corps of the Afghan Military in the North in a statement said at least 8 Taliban militants were killed and 5 others were wounded during the airstrikes and armed clashes which took place at around 1:20 pm local time in Chematal district.
The statement further added that a similar clash took place between the security forces and Taliban in Tawa Village of Shulagara district leaving 8 militants dead including their commander Mullah Faiz Ur Rahman. The dead bodies of two militants were left in the area.
According to 209th Shaheen Corps, at least 13 militants also sustained injuries during the same clashes and one of their commanders Mullah Hafeez is also among those wounded.
Full report at:
https://www.khaama.com/heavy-casualties-inflicted-on-taliban-commanders-and-militants-in-balkh-province-03392/
--------
Taliban announces 2-day break in talks with the U.S. representatives in Qatar
28 Feb 2019
The Taliban group on Thursday announced that the Taliban and U.S. representatives have agreed on a 2-day break in ongoing talks in Doha, the capital city of Qatar.
The group in a statement said the two sides had extensive talks regarding foreign troops withdrawal over the past two days and discussions also took place regarding the prevention of Afghanistan from being used against the others.
"The meetings ended last night as both negotiation teams agreed to take a break today and tomorrow for consultations and preparation for the third meeting which shall be held on Saturday," the statement added.
The group also added that the Mullah Abdul Ghani Baradar, the political deputy of the group met with the deputy Prime Minister and Minister of Foreign Affairs of Qatar Abdul Rahman al-Thani, National Security Advisor Muhammad al-Masnad, US State Department's Special Representative Zalmay Khalilzad and commander of U.S. forces in Afghanistan Scott Miller.
Full report at:
https://www.khaama.com/taliban-announces-2-day-break-in-talks-with-the-u-s-representatives-in-qatar-03391/
--------
3 ISIS-K militants killed in Afghan, Coalition Forces operations in Nangarhar
27 Feb 2019
At least three militants affiliated with the Islamic State of Iraq and Syria Khurasan (ISIS-K) were killed during the operations of the Afghan and Coalition Forces in eastern Nangarhar province of Afghanistan.
The 201st Silab Corps of the Afghan Military in the East said the militants were killed in the vicinity of Mamand Tangi area of Achin district.
The statement further added that the Afghan National Police and Afghan Local Police forces conducted operations with the air support of Coalition Forces which resulted into the killing of 3 ISIS-K militants.
The 201st Silab Corps also added that the local residents and security personnel have suffered casualties during the operations.
Full report at:
https://www.khaama.com/3-isis-k-militants-killed-in-afghan-coalition-forces-operations-in-nangarhar-03390/
--------
Southeast Asia
Take stern action against those who insult Islam, Prophet Muhammad - Anwar
February 27, 2019
KUALA LUMPUR: PKR president Datuk Seri Anwar Ibrahim today called for stern action be taken against anyone who insults Islam or Prophet Muhammad.
He said people were free to express their views on religious aspects, but insulting a religion was totally unacceptable.
"We need to differentiate between the right and freedom to criticise or question on some religious aspects but insulting the religion (Islam) and Prophet (Muhammad) is a stupid and wicked thing to do, and of no benefit to the country.
"If there are people who think this (insulting religion) means freedom (of expression) and a liberal attitude, they are misguided," he said at a press conference after officiating at the presentation of the Utusan Group Literary Awards 2018, here, today.
Anwar, however, reminded not to view insults against a religion as that representing the opinions of any particular community.
He said currently, the government was focusing on economic development and improving people's lives, as such, it did not wish to be deviated by the views of such individuals.
"Therefore, the authorities need to take fast and stern action to avoid a recurrence of such irresponsible action as intolerance could have negative effects," said Anwar, who is also the Member of Parliament for Port Dickson.
On the Semenyih state seat by-election, Anwar said so far, public reception to Pakatan Harapan had been encouraging.
On preparing for the Rantau state seat by-election, he said a discussion would be held today to share views on the list of candidates, the election machinery and strategies.
Anwar said he was not sure of the number of names but confirmed that Rembau PKR division deputy chief, Dr S. Streram was on the list.-- Bernama
https://www.nst.com.my/news/nation/2019/02/464449/take-stern-action-against-those-who-insult-islam-prophet-muhammad-anwar
--------
Prophet Muhammad and the old man
28 Feb 2019
THE news reported that a 68-year-old jobless man has been charged at the sessions court over an offensive caricature, said to be of Prophet Muhammad, which was posted on his Facebook account. He had allegedly uploaded a posting which could cause disharmony between Muslims and non-Muslims with the intention to annoy any person.
Michael H. Hart, in his book, The 100: A Ranking of the Most Influential Persons in History, chose the prophet to lead the list of the world's most influential persons, as he has been the only man in history who was successful on the religious and secular levels.
What could be the motivation for the old man to post such a thing? Could it be jealousy or envy of the prophet or just to create social disharmony? He may not know the love of Muslims towards the prophet is jealously guarded. Or he is in disharmony himself?
According to Chinese pathology, there are three principal causes of disharmony that brings about diseases: external factors, emotions and irregularities in day-to-day living. Of the main five organs (liver, heart, spleen, lung and kidney) which one(s) is(are) causing the illness? Each organ has a Yin and Yang element within and it is the imbalance between them that leads to diseases.
My immediate response to this case is, I pity the old man.
The prophet had warned us that during the end of times, there will be an age of slander and libel. Injustice rampant, ignorance widespread and neglect creates much chaos. Humans are seen to be living devoid of guidelines and restrictions, without any means of differentiating between right from wrong and truth from falsehood and jihad is no longer about defending honour.
Why do we seem to be lacking in inner strength and morality? As I see it, part of the problem is due to the lack of faith in our hearts and the lack of reading and understanding.
Let us look at the early days of preaching by the prophet. It was confined to Mecca. It was not just the elite of Mecca that attacked him but even children hurled dust and insulted him.
He then moved to Taif. This was one of the most painful and hurtful incidents in his life. There, he met the chiefs of the major tribe (the Thaqeef tribe) and told them about Islam – worshipping only one god and leaving idol worship. They rejected him, insulted him and got the children or street urchins to throw stones and drive him out of town. With people jeering at him as his ankles bled profusely, he ran out, finding shelter in an empty orchard.
Alone, bleeding, and rejected, he rests on a rock and prayed to Allah. He is so compassionate and merciful, he did not ask Allah for punishment or to execute revenge against the Thaqeef tribe.
He, not overcome with rage or hate, opted for mercy and not violence towards them. Instead he said to Angel Jibreel, "I rather hope that Allah will raise from among their descendants people who will worship Allah the One, and will not ascribe partners to Him".
If we look to Taif today we come to appreciate the prophet's vision, patience and mercy. Today Taif, is the summer capital of Saudi Arabia and it is known for its produce.
Now, why do I pity the old man?
Here and now, we have people making police reports just because an old man uploaded an "offensive" caricature. Police have many other matters to deal with.
Today, a mere mention of Islam leads to misgiving and dreadful feelings, not because the faith is associated with fear but the neo-Muslims failed to be truthful Muslims in the real sense. Many Muslims only claim to love the prophet, but they do not follow his ways.
For this case, I would have expected someone from the religious bodies or the minister in charge of religious affairs to come forward to counsel the old man and let him understand why Muslims love the Prophet. The strength of love for him is connected to the Muslim's faith.
They have failed miserably in demonstrating compassion. It is the most frequently occurring word in the Quran – "In the name of God, the Compassionate, the Merciful" – 114 times. The minister himself, a few months ago said, that it will be the government's policy to promote compassionate Islam.
In fact, the Prophet himself is described in the Quran as 'Rahmatan lil Alamiin' for the whole world and the creations (Surah Al-Anbiya' 21:107). Essentially, rahmah means love or affection.
And for the old man, and in future – all Malaysians, please try to understand one another. Let us cherish our multiethnic and multicultural society that emphasises unity, loyalty and respect for others.
The prophet strictly warned against any maltreatment of people of other faiths. He said: "Beware! Whoever is cruel and hard on a non-Muslim minority, or curtails their rights, or burdens them with more than they can bear, or takes anything from them against their free will; I (Prophet Muhammad) will complain against the person on the Day of Judgment" (Abu Dawud).
"And when you call to prayer, they take it in ridicule and amusement. That is because they are a people who do not use reason" (Surah Al-Ma'idah 5:58).
"Whether therefore ye eat, or drink, or whatsoever ye do, do all to the glory of God. Give none offence, neither to the Jews, nor to the Gentiles, nor to the church of God" (1 Corinthians 10:31-32).
Full report at:
https://www.themalaysianinsight.com/s/136705
--------
In Semenyih, some Umno leaders see room to reinvent scandal-plagued selves
28 February 2019
By Zurairi AR and R. Loheswar
SEMENYIH, Feb 28 — In several spots across town, Pakatan Harapan (PH) has erected giant billboards touting itself and the Selangor state government as: "Kita bukan pencuri, kita bukan pembohong, kita bukan perompak".
The slogan in Malay asserts that PH politicians are not "thieves, liars and robbers", an apparent dig at former prime minister Datuk Seri Najib Razak and other Umno leaders who have been charged and investigated over a litany of abuses during their administration.
For the by-election this Saturday, the ruling pact is putting a forward fresh-faced Muhamad Aiman Zainali, 30, who comes with no political baggage, against Barisan Nasional's (BN) Zakaria Hanafi, who at 58 is a former Umno division chief.
But it is uncertain whether voters here have taken PH's assertion to their hearts, if the local reception towards Najib's several visits since a fortnight ago is any indication.
"It may look like a lot of people but the majority of them aren't locals. They brought outsiders and those who want pictures with him and are nearby may have popped by as well.
"But we know that most were outsiders. The crowd is fake," Hulu Langat PH committee member Padmaanathan Doraisamy told Malay Mail.
In a visit to hypermarket Tesco two weeks ago, Najib was feted by shoppers who were raring for opportunities to take "selfies" with him. Mostly Malays, the shoppers are presumably part of the majority demographic that makes up roughly seven in 10 voters in the state seat.
This was despite the 42 charges that Najib is currently facing in court, in alleged offences that run from abuse of power and criminal breach of trust to money-laundering and tampering with audit reports — most of them linked to 1Malaysia Development Bhd (1MDB).
But the charges have taken a back seat in some voters' minds as Najib has since adopted a more people-friendly image, bringing along the viral "Bossku" trend wherever he goes.
Despite local campaigner's dismissal of Najib's stunts, his popularity does seem to vex top PH leaders, with DAP stalwart Lim Kit Siang urging voters earlier this week to vote for PH in order to nip Najib's intended political comeback in the bud.
Is there room for more than one 'bossku'?
T-shirts with Najib's caricature riding a moped and the "Malu apa bossku?" rallying call are now part and parcel of BN's campaign, despite Umno secretary-general Tan Sri Annuar Musa telling Malay Mail that Najib's newfound fame does not automatically translate into popularity at the ballots.
Wherever there is a BN "ceramah" or rally each evening, one would be sure to find enterprising youths selling those t-shirts for as cheap as merely RM5 each. And at daytime, at least one stall can be seen erected near the BN campaign headquarters.
Met near the BN headquarters, teenage trader Mohd Awaluddin, 16, told Malay Mail he could make up to RM6,000 when there is a massive turnout to a BN ceramah.
"People buy either to support him or just for fun. They buy motorcycle stickers as well, and ride around in a gang for fun. It's all because Najib went viral," said another trader nearby who called herself Zana Zee.
Seemingly riding on Najib's coattails, the former Umno president has at times been accompanied by his entourage which included not only the incendiary Datuk Lokman Noor Adam and Datuk Seri Jamal Md Yunos, but also Datuk Seri Jamil Khir Baharom and Datuk Seri Shahidan Kassim.
The latter two, of note, have in the past few months laid low amid several scandals linked to them.
Muslim pilgrims' fund Lembaga Tabung Haji had since late last year been mired in alleged financial misappropriation. It was previously under the purview of Jamil Khir as the minister in charge of religious affairs.
Meanwhile, Shahidan was charged with molesting an underaged girl in Perlis late last year. He had then snubbed an arrest warrant while performing the Haj, and has so far skipped court three times, claiming deteriorating health.
"These people saw Najib was having a good time, so why not join him? Birds of a feather stick together," Padmaanathan commented.
The 'secret' behind Najib's sudden popularity
Datuk Seri Ahmad Zahid Hamidi, who recently handed over Umno presidential duties to Datuk Seri Mohamad Hasan after facing 46 charges in court, has also appeared in Semenyih in a personal capacity. Just earlier this month, he was slapped with another charge.
Last week, he came clad in a white Baju Melayu and blue sarong, performing evening prayers with locals before joining them for supper at a humble "mamak" joint. Unlike Najib who was just pictured riding a moped, Zahid rode a rugged 745cc Honda X-ADV crossover scooter.
But locals think it is unlikely that Zahid, or other scandal-plagued Umno leaders, could replicate Najib's surprise fame, as the latter "resonates" with some voters when he took PH to task for its alleged manifesto U-turns or failures.
"He's got the aura," said Zana, referring to the Pekan MP.
Local political analyst Ooi Kok Hin suggested that the bold reappearances of these Umno leaders may be down to the public's lack of understanding of the charges and investigations against them, in no small part due to the media's "normalisation and legitimisation" of them.
But pointing to the Cameron Highlands by-election won by BN, Ooi said Najib's viral popularity paled in comparison to the effects of patronage politics that have been practised there as long as BN and the Pekan MP have been in power.
"Forty years of patronage politics, he has people indebted to him," said the Monbusho scholar at Waseda University, Japan.
"No matter what they have been accused of, there will be people — select key people and the connected masses in their patronage network — whose success and fortune depend on their political fate."
According to Ooi, the resurgence of these leaders may not only pose a danger to PH's campaign, but to BN's attempt at reforming itself under the new leadership of acting Umno president Mohamad — also known as Tok Mat.
"The old guards' reluctance to give up influence and power is impeding Tok Mat's leadership.
Full report at:
https://www.malaymail.com/news/malaysia/2019/02/28/in-semenyih-some-umno-leaders-see-room-to-reinvent-scandal-plagued-selves/1727615
--------
Man confesses to Facebook post portraying AG as anti-Islam
28 February 2019
By Jerry Choong
KUALA LUMPUR, Feb 28 — A man known only as Mohd Shahrizan has stepped forward and admitted to posting a fabricated message depicting Attorney General (AG) Tommy Thomas as anti-Islam.
In a Facebook post yesterday, Mohd Shahrizan apologised for his earlier post titled in Malay "Penghina Nabi dan Islam bukan penjenayah, mereka berhak lontarkan pandangan" (Those who insult the Prophet and Islam aren't criminals, they have a right to express their views), which he said was wrongly attributed to Thomas.
"I have been made to understand that the viralled statement is absolutely untrue and the statement is defamatory to the Attorney General that could jeopardise his reputation," the post read.
Mohd Shahizan said he should have been more careful and verified the facts before making comments, but blamed anger for his controversial post that that later went viral on social media.
"This was after another Facebook user named Foo Sing Wai was accused in court for offending the Prophet Muhammad and his wife Aisyah," he said, referring to the inflammatory caricature of the two Islamic figures posted and spread on social media.
Foo, a 68-year-old man, has since been charged on two counts of causing disharmony and improper use of network facilities over his provocative Facebook post, to which he pleaded not guilty.
"I hope the Attorney General has the heart to forgive my mistake, which I promise not to repeat," Mohd Shahizan said.
He added that he removed his post six minutes later, after realising the allegation was false.
He hoped he would be spared further action after his open apology to the AG.
Full report at:
https://www.malaymail.com/news/malaysia/2019/02/28/man-confesses-to-facebook-post-portraying-ag-as-anti-islam/1727787
--------
AG lodges report over anti-Islam allegations
February 27, 2019
PUTRAJAYA: Attorney General Tommy Thomas today lodged a police report against allegations that he is anti-Islam.
Putrajaya police chief Assistant Commissioner Rosly Hassan confirmed that a report was made on behalf of Thomas.
The report was over allegations circulating on social media that he was anti-Islam.
Rosly said the attorney-general's special officers Siti Rahayu Mumazaini and Amir Nasarudin had come to the police headquarters in the afternoon today to make an official report.
"It is confirmed a report was lodged today by two officers on the matter. However the Attorney-general was not present.
"The case will be investigated by Bukit Aman," he said in a brief text message.
Meanwhile Kuala Lumpur Police Chief Commissioner Datuk Seri Mazlan Lazim when contacted said the case would be investigated by Bukit Aman Classified Crime Investigation Unit (USJT).
Earlier, a grey Proton Perdana was seen entering the police station at 3.15pm and left at 4.45 pm.
An online portal reported that Thomas had confirmed lodging the report, adding that he wanted the police to investigate the matter.
"There has been a vicious message circulating on social media claiming that I am anti-Islam.
"This is a total lie. It is for this reason, the police report was lodged for the matter to be investigated," he told the online news portal earlier.
Full report at:
https://www.nst.com.my/news/nation/2019/02/464335/ag-lodges-report-over-anti-islam-allegations
--------
Anwar: Take stern action against those who insult Islam and Prophet Muhammad
27 February 2019
KUALA LUMPUR, Feb 27 — PKR president Datuk Seri Anwar Ibrahim today called for stern action be taken against anyone who insults Islam or Prophet Muhammad.
He said people were free to express their views on religious aspects, but insulting a religion was totally unacceptable.
"We need to differentiate between the right and freedom to criticise or question on some religious aspects but insulting the religion (Islam) and Prophet (Muhammad) is a stupid and wicked thing to do, and of no benefit to the country.
"If there are people who think this (insulting religion) means freedom (of expression) and a liberal attitude, they are misguided," he said at a press conference after officiating at the presentation of the Utusan Group Literary Awards 2017, here, today.
Anwar, however, reminded not to view insults against a religion as that representing the opinions of any particular community.
He said currently, the government was focusing on economic development and improving people's lives, as such, it did not wish to be deviated by the views of such individuals.
"Therefore, the authorities need to take fast and stern action to avoid a recurrence of such irresponsible action as intolerance could have negative effects," said Anwar, who is also the Member of Parliament for Port Dickson.
On the Semenyih state seat by-election, Anwar said so far, public reception to Pakatan Harapan had been encouraging.
On preparing for the Rantau state seat by-election, he said a discussion would be held today to share views on the list of candidates, the election machinery and strategies.
Full report at:
https://www.malaymail.com/news/malaysia/2019/02/27/anwar-take-stern-action-against-those-who-insult-islam-and-prophet-muhammad/1727577
--------
Arab World
Yazidi Children in Syria Await Family Reunions
February 27, 2019
WASHINGTON —
U.S.-backed Syrian forces battling Islamic State militants in their last hideout in eastern Syria said they have rescued dozens of Yazidi children held by the militant group for years.
Syrian Democratic Forces (SDF), a Kurdish-led alliance, said last week that they had successfully freed more than a dozen Yazidi children from IS as they evacuated civilians from the Syrian town of Baghuz.
"Among many children saved from [IS] territory today, a group of Yazidi children also arrived to safe areas," SDF spokesman Mustafa Bali said in a tweet.
Yazidis, a Kurdish-speaking religious minority, are viewed as infidels by IS extremists.
In August 2014, IS militants made a massive attack on Sinjar, once home to the largest Yazidi community in the world. At least 5,000 Yazidis, mostly men and boys, were killed during the attack on the Iraqi city.
Sex slaves, soldiers
IS then kidnapped thousands of Yazidi children and women, who were subsequently used as sex slaves and child soldiers.
The 12 children recently freed by IS in Baghuz are now in a special residence near Hasaka, a Kurdish-held area in northeast Syria.
"I was held for more than four years," said Mazin Salim, 14, a former captive.
"When they first took me from my village [near Sinjar], they kept me in Mosul for several weeks," he told VOA in a phone interview this week.
Salim added that "along with many other Yazidi children, I was then taken to a location in Syria. I believe it was Aleppo. After staying there for a few months, they transferred us to Raqqa."
Raqqa, the de facto capital of IS, was liberated by the SDF with support from the U.S.-led coalition in October 2017.
"When fighting intensified in Raqqa, they moved us to an area near Baghuz," Salim said.
The Yazidi teenager said that while he was in custody, IS indoctrinated him with its extremist ideology.
"In the beginning, they would beat me every day because I didn't know Arabic and didn't know anything about Islam," Salim explained. "But slowly, they taught me how to read verses from the Quran."
'Cubs of the Caliphate'
During its brutal reign in Syria and Iraq, IS recruited child soldiers to be part of what it called "Cubs of the Caliphate," a unit made up of brainwashed and abused children who would carry out suicide attacks, execute civilians and perform other cruel acts.
"I checked up on all of these children," said Shahin Hossein, a Kurdish doctor who has been providing medical care to the Yazidi children since their arrival. "All of them have varying degrees of psychological problems."
Hossein said some of the children have been suffering from physical illnesses for a long time without receiving any treatment.
Since the battle to capture Baghuz began this month, it has been easier for SDF fighters to find Yazidi children and women.
"Before this final battle in Baghuz, we had contacts in Daesh territory who would provide us with information about Yazidi captives," SDF spokesman Bali told VOA, using an Arabic word for IS. "So, we would carry out special operations to rescue them. But since all civilians are leaving Baghuz, it is easier to identify Yazidis as they come out of the town."
Once they are identified, Yazidi children and women are taken to a different location, separate from camps hosting other civilians fleeing IS.
"Our job is to receive them, give them medical treatment and then facilitate their return to Sinjar," said Mahmoud Resho, a coordinator at the Yazidi House Council, a local organization that supports Yazidi refugees and captives.
"So far, we have a total of 25 children and a woman who are waiting to go to their families in Sinjar," Resho told VOA.
A child who refused to be named for security reasons said that he was able to communicate with his family in Sinjar through the Yazidi House Council and that "he can't wait to see them again."
Resho said the Iraqi government has recently closed its border with Syria. "That's why these people have been waiting for a while," he added.
Uncertainty about families
Another problem facing Yazidi children rescued from IS in Syria is that many don't know the whereabouts or statuses of their families, Resho said.
"These kids have been kidnapped for almost five years. Some of their families are either killed or have migrated to Europe," he said.
Salim said he doesn't know what awaits him in Sinjar.
"I miss my family so much, but I don't know whether they're alive or dead," he said.
https://www.voanews.com/a/freed-yazidi-children-in-syria-await-reunion-with-families/4807226.html
--------
Kushner meets Saudi's MBS for first time since Khashoggi murder
Feb 28, 2019
Senior White House adviser Jared Kushner met Saudi Arabia's Crown Prince Mohammed bin Salman (MBS) on Tuesday for the first time since the murder of Saudi journalist Jamal Khashoggi.
The talks in the Saudi capital Riyadh, part of Kushner's tour of the Middle East, focused on ways of "increasing cooperation" between the United States and Saudi Arabia as well as efforts to resolve the Israeli-Palestinian conflict, a White House statement said.
"Building on previous conversations, they discussed increasing cooperation between the United States and Saudi Arabia, and the Trump administration's efforts to facilitate peace between the Israelis and Palestinians," the statement said.
"Additionally, they discussed ways to improve the condition of the entire region through economic investment," it said.
This was the first face-to-face meeting between Kushner, who is also US President Donald Trump's son-in-law, and MBS since the murder of Khashoggi at the Saudi consulate in Istanbul on October 2.
A firm critic of Saudi's reform programme under the stewardship of MBS, Khashoggi was looking to obtain paperwork certifying he was single so that he could marry his Turkish fiancee, Hatice Cengiz.
Riyadh initially insisted that Khashoggi had left the consulate alive before changing its account and admitting that the journalist was killed in an operation it said was undertaken by "rogue elements".
MBS behind Khashoggi murder
The US Congress blasted the White House for its reluctance to hold Saudi Arabia accountable for the murder of Khashoggi, a US resident and Washington Post columnist.
In December the US Senate passed a resolution that directly pinned the blame for the murder on MBS and a second resolution that to end US military assistance for the devastating Saudi-led war in Yemen.
Neither Khashoggi nor the war in Yemen were mentioned in the White House statement on Kushner's meeting in Saudi Arabia.
Also present at the meeting were Jason Greenblatt, special representative for international negotiations, and US Special Representative for Iran Brian Hook.
Kushner met on Wednesday with Turkish President Recep Tayyip Erdogan for talks focused on his Middle East peace plan. Also present at the meeting with Kushner was Berat Albayrak, Turkey's finance minister and Erdogan's son-in-law.
It lasted two hours, according to state news agency Anadolu. No further details were available.
Erdogan is a strident critic of Israel and the Trump administration's policies in the region. He has frequently said Israel's actions against Palestinians are similar to methods used by the Nazis.
New peace plan
Kushner arrived in Ankara after stops in Bahrain and the United Arab Emirates to discuss his Israeli-Palestinian peace initiative.
In a recent interview with Sky News Arabia, Kushner said details of his proposed initiative would be revealed after Israel's elections April 9.
Palestinians hope occupied East Jerusalem, which was captured by Israel in the 1967 Six-Day War, will be the capital of their future state. Israel claims all of Jerusalem as its capital.
Trump has said he wants to conclude an Israeli-Palestinian peace agreement by the end of his first term and Kushner was tasked with preparing it.
Full report at:
https://www.aljazeera.com/news/2019/02/kushner-meets-saudi-mbs-time-khashoggi-murder-190227180423352.html
--------
Report: US Relocates ISIL Commanders After Receiving Terrorists' Gold Treasure
Feb 27, 2019
According to the initial information obtained in Deir Ezzur, the US Army troops stationed in Al-Jazeera region of Eastern Euphrates agreed with the ISIL commanders to relocate them to safe places after receiving tens of tons of gold ingot that the terrorists had stolen from different parts of Syria and Iraq, the state-run SANA news agency reported.
The local sources, meantime, reported that the US Army took control of ISIL's 50 tons of gold treasure in Baqouz region in Southeastern Deir Ezzur after it had reached an agreement with the terrorists.
They pointed to the recent intensified movements by the US choppers concurrent with flights over several ISIL-controlled regions in Eastern Euphrates, and said that the US has conducted important heliborne operations in key areas where the ISIL commanders' hideouts are located and where the gold treasure was hidden.
In a relevant development earlier last week, a source close to Kurdish forces said that the US Army was taking ISIL's gold treasure that is estimated to weigh around 50 tons from Eastern Syria to America.
The Kurdish-language Bas News quoted a Kurdish source as saying that the Americans have transferred tens of tons of the gold ingots they have seized from the ISIL terrorists in Baghouz region in Southeastern Deir Ezzur to their own country and only kept a small portion of the treasure to be given to the Kurdish fighters.
The source who spoke on the condition of anonymity reiterated that about 50 tons of ISIL's gold has been sent to the US from the US military base in Kobani in Northeastern Aleppo.
The report comes as the US has been using the airport in Southern Kobani for transferring consignments and military equipment in recent years.
In a relevant development earlier this month, the US Army troops took out a sum of 40 tons of gold ingots belonging to the ISIL in heliborne operations after agreeing with the terrorist group and while Washington is preparing to announce the end of ISIL in Eastern Euphrates.
"The US troops in concordance with the ISIL terrorist group relocated big boxes packed with ISIL's gold treasure on several helicopters from al-Dashisheh region in Southern Hasaka," the SANA news agency quoted local sources in Eastern Deir Ezzur said.
The sources pointed to boxes containing 40 tons of gold ingots that the ISIL had hidden in the Eastern part of al-Shadadi city, and said that the ISIL had stolen the treasure of gold from the Iraqi city of Mosul and different parts of Syria.
The US troops reportedly took out a group of ISIL terrorist commanders from Eastern Syria in two heliborne operations in Hajin region of Eastern Deir Ezzur and al-Dashisheh in Southern Hasaka and they were directed to the place where the gold treasure was hidden.
In a relevant development earlier this month, the London-based Syrian Observatory of Human Rights (SOHR) said the Washington-backed militants were trying to find and seize millions of dollars and at least 40 tons of gold left behind by the ISIL terrorist group.
The SOHR reported that the ISIL terrorists had stolen about 40 tons of gold and millions of dollars from the population once under their control in Iraq and Syria, which was later transferred to Eastern Euphrates in Eastern Deir Ezzur.
"The US-led coalition forces and the Syrian Democratic Forces (SDF) deliberately do not target the areas under the control of the ISIL terrorists and commanders in Eastern Euphrates in Deir Ezzur as they are trying to locate this treasure by forcing the ISIL militants to speak about its location after surrendering," it quoted informed sources as saying.
They noted that part of the cash dollars and gold have been transferred from Turkey to the areas under the ISIL control by Turkish brokers and intelligence service who have close ties with the ISIL.
Meantime, an SDF Commander, Adnan Afrin, said that the ISIL is now under the siege of the SDF in an area no larger than one square kilometers in Eastern Euphrates.
In a relevant development earlier in February, a prominent Syrian military expert revealed that Washington plans to transfer the remnants of the ISIL terrorists from Eastern Euphrates to other regions through Turkey and Iraq.
The Arabic-language website of Sputnik quoted Brigadier General Mohammad Issa as saying that less than 600 ISIL militants are stationed in a 4-km/sq region in Eastern Euphrates who will be soon evacuated from the region to foreign territories.
He added that the operations to transfer these militants will be conducted similar to the operations earlier carried out to evacuate the ISIL terrorists from Raqqa, saying that the US forces will transfer them via Iraq or Turkey to some other Arab states for future operations.
Issa questioned the US forces' claims of fighting against the terrorist groups along with the Syrian Democratic Forces (SDF), stressing that the Syrian army will soon move to retake control over this region.
Media reports said last Sunday that the US army had agreed with the ISIL on the latter's exit from areas under Washington's control in Eastern Euphrates.
The US-led coalition troops and the SDF had reached an agreement with the ISIL terrorists on the militants' retreat from areas under the control of the US and its allied forces, the Arabic-language al-Mayadeen TV news channel reported.
It pointed to the preparations by the ISIL to move its terrorists out of Eastern Euphrates, and said that the ISIL terrorists might be transferred to al-Anbar desert of Badiya al-Tanf in Western Iraq.
The report comes as the SDF claimed that it had started the final battle for uprooting the remaining elements of the ISIL from Eastern Euphrates.
Also the Arabic-language service of RT quoted media activists as saying on Saturday that the US-led coalition forces have carried out heliborne operations in the Eastern Badiyeh of Deir Ezzur.
Full report at:
http://en.farsnews.com/newstext.aspx?nn=13971208000627
--------
Russia says it will evacuate Syria refugee camp, blaming US
27 February 2019
Russian officials say they are organizing an evacuation from a refugee camp in southern Syria where tens of thousands suffer from lack of food and medical supplies.
Russia's taskforce for the return of refugees said Wednesday that Russian troops together with the Syrian government are preparing to arrange an evacuation from the Rukban camp on March 1.
Russia has blamed the United States for failing to provide adequate living conditions in the camp which is home to about 40,000 people. Food and medicine deliveries to the camp have often failed due to poor security.
Full report at:
https://english.alarabiya.net/en/News/middle-east/2019/02/27/Russia-says-it-will-evacuate-Syria-refugee-camp-blaming-US.html
--------
Russia and Syria say US forces are on Syrian territory 'illegally'
27 February 2019
Russia and Syria issued a joint statement on Wednesday calling on US forces to leave Syria and to allow people inside a refugee camp southeast of the country to be evacuated by Russian and Syrian forces.
The statement, released by Russia's Ministry of Defence, said Russian and Syrian forces had prepared buses to relocate refugees at the camp in the Rubkan area and would guarantee them safe passage so they could start new lives.
"We also call on the United States, whose military units are on Syrian territory illegally, to leave the country," the joint statement read.
Full report at:
https://english.alarabiya.net/en/News/middle-east/2019/02/27/Russia-and-Syria-say-US-forces-are-on-Syrian-territory-illegally-.html
--------
Iraqi PM says country could help transfer non-Iraqi ISIS detainees from Syria
27 February 2019
Iraq could help transfer non-Iraqi ISIS detainees held by the Syrian Democratic Forces (SDF) in Syria, Prime Minister Adel Abdul Mahdi said on Tuesday.
Iraq will either help repatriate those citizens to their home countries, or prosecute on its own those suspected of having committed crimes, he said at his weekly news conference.
"Some countries could ask Iraq to help to transfer some of her Daesh citizens to the other country, like France for example," Abdul Mahdi said, using the Arabic acronym for ISIS. "Iraq might help, would help, helped to transfer those people to their country. It is one battle and Iraq should fulfill its duties and obligations."
"Fighters belonging to Daesh from other countries that their states, their countries refuse to receive - how should we deal with that?" he asked.
"Each case we should study the names, whether they participated in terrorist acts in Iraq. Then they could be judged by Iraqi tribunals."
Earlier in the press conference, the prime minister specified that Iraq would not receive from Syria foreign fighters whose home countries refused to take back from Iraq.
The comments came one day after Iraqi President Barham Salih said that 13 ISIS detainees who were transferred to Iraq last week from the Syrian Democratic Forces would be tried in Iraq.
Two Iraqi military sources told Reuters on Sunday that the US-backed SDF handed over 14 French and six non-Iraqi Arab Islamic detainees last week.
The fate of foreign detainees in SDF custody has become more pressing in recent weeks as US-backed fighters planned an assault to capture the last remnants of the group's self-styled caliphate.
The militant group still poses a threat in Iraq and some western officials believe that ISIS's leader, Abu Bakr al-Baghdadi, may still be hiding in the area.
Full report at:
https://english.alarabiya.net/en/News/middle-east/2019/02/27/Iraq-PM-says-country-could-take-non-Iraqi-ISIS-detainees-from-Syria.html
--------
Egypt in spat with Turkey after Ankara slams EU for joining Arab forum
Feb 27, 2019
Ankara and Cairo have engaged in a war of words after Turkey criticized European leaders for turning a blind eye to the recent executions in Egypt and attending a summit in the North African state.
Speaking at an election campaign rally in Giresun Province on Tuesday, President Recep Tayyip Erdogan said that the EU's acceptance of an invitation by Egyptian President Abdel Fattah el-Sisi, to the first joint EU-Arab League meeting in the city of Sharm el-Sheikh "shows how insincere" the 28-nation bloc is.
"The EU is against death penalties and execution is prohibited in EU member countries. So how can one speak about democracy in these EU states, which accepted the invitation of Sisi, who executed nine young men last week?" Erdogan inquired.
The Turkish president also accused Sisi of having executed at least 42 people since coming to power.
Separately on Tuesday, Turkish Foreign Minister Mevlut Cavusoglu said it was hypocritical for EU leaders to attend the Egypt meeting, noting that they "do not have values; they just have interests."
"The whole EU leadership supporting Sisi and being in the same place as him on the days after these young saplings were martyred, executed is a photograph of exactly what we are saying," he said. "This is a double standard, it is hypocrisy."
The nine Egyptians were convicted of involvement in the 2015 killing of Public Prosecutor Hisham Barakat.
Relations between Ankara and Brussels have been strained, especially since 2016 over the EU's criticism of the scale of the post-coup crackdown and Turkey's claim that the bloc failed to show solidarity after the attempted overthrow.
Reacting to comments by Turkish officials on Wednesday, Egyptian Foreign Ministry spokesman Ahmed Hafez rebuked Erdogan for what he called expressing "his continued embrace" of the Muslim Brotherhood, which the Sisi administration has banned.
"Turkish President Erdogan once again speaks to us about Egypt and its political leadership, clearly showing hatred," he said.
Hafez also cited human rights accusations against Turkey, including the jailing of journalists and the firing of government employees in the aftermath of the 2016 coup attempt, saying, "This narrative illustrates the lack of credibility of what the Turkish president is promoting."
Wave of condemnations
Amnesty International said the victims' "trials had been marred by torture allegations," adding that it was just "a testament to the magnitude of injustice in the country."
Additionally, UN human rights experts voiced alarm at the executions, saying, "These convictions appear to be in direct disregard of both Egyptian and international law and procedure."
"We are all the more concerned that several other cases pending in the courts of individuals convicted in similar circumstances and facing the death penalty amid reports of a lack of due legal process," they said.
Furthermore, Ahmed el-Attar of the Egyptian Commission for Rights and Freedoms emphasized that the Egyptian authorities should have suspended the executions until formal requests for their re-examination were studied.
"They (the Egyptian authorities) didn't follow procedure and carried out the death sentences on all the defendants," violating "their own procedural laws, Article 448 of the Egyptian Code of Criminal Procedure," he said in a statement.
Full report at:
https://www.presstv.com/Detail/2019/02/27/589673/Turkey-EU-Egypt-summit
--------
Syria's Bashar Assad invites Iran FM Zarif to visit Damascus
February 27, 2019
LONDON: Syrian President Bashar Assad on Wednesday invited Iranian Foreign Minister Mohammad Javad Zarif to visit Damascus, state news agency IRNA reported, without specifying a date for the trip.
Zarif tendered his resignation two days ago but Iran's President Hassan Rouhani rejected it on Wednesday, calling it "against national interests."
http://www.arabnews.com/node/1459056/middle-east
--------
Mideast
Palestinians reject monthly tax transfer from Israel over prisoners dispute
27 February 2019
The Palestinian Authority has rejected the first 2019 monthly tax transfer from Israel because it slashed the portion designated for financial support to families of militants who are jailed in Israel, a PA minister said.
The decision came despite increasing cash flow troubles, caused in part by US aid cuts, that could destabilize the PA, an interim self-government body set up following the 1993 Oslo accords between the Palestinians and Israel.
Under the interim accords, Israel collects taxes on imports into the Israeli-occupied West Bank and in the Gaza Strip, an enclave under Palestinian Islamist rule since 2007, and makes monthly transfers of the proceeds to the PA.
The tax transfers make up about half of the PA's budget, according to Palestinian Finance Ministry data.
On Feb. 17, Israel announced a freeze on about 5 percent of that money affecting stipends the PA pays to families of Palestinian militants killed or jailed by Israel.
In response, Palestinian President Mahmoud Abbas said the PA itself would keep paying the stipends rather than accept a partial tax transfer.
"We have refused to receive the 700 million shekel ($194 million) transfer after Israel deducted 42 million shekels from it," Hussein al-Sheikh, the PA minister of civil affairs, told Reuters regarding the monthly transfer.
The Israeli finance ministry declined to comment.
Some analysts see potential danger if PA financial troubles mount in the West Bank, where the Authority maintains security cooperation with Israel even as Israeli-Palestinian peace talks have been stalled for years.
"Coupled with other de-funding measures, stability in the West Bank is being compromised in worrying ways," said Tareq Baconi of the International Crisis Group think tank. But he said Israel may reverse its decision rather than risk a PA collapse.
Palestinian Finance Minister Shukri Bishara said last week the PA faced "difficult days" in the coming weeks, hinting it might have to cut the salaries of some civil servants.
Israel and the United States say the PA's stipend policy fans Palestinian violence while the Palestinians see the slain and jailed Palestinians as heroes of a national struggle to end Israeli occupation and create an independent state.
The United States passed legislation last year to sharply reduce aid to the PA unless it stopped the pay-outs.
Washington has slashed hundreds of millions of dollars of funding to humanitarian organizations and UN agencies which aid the Palestinians as it seeks to pressure Abbas to enter peace negotiations with Israel.
https://english.alarabiya.net/en/News/middle-east/2019/02/27/Palestinians-reject-monthly-tax-transfer-from-Israel-over-prisoners-dispute.html
--------
Israel arrests former Palestinian militant for 'terror'
27 February 2019
Israeli security forces arrested a prominent former Palestinian militant and a lawyer on Wednesday in a West Bank raid over "terror" allegations, officials said.
"Zakaria Zubeidi and Tareq Barghout were arrested over their involvement in current severe terror activity," the Shin Bet domestic security service said in a statement, refusing to provide further details.
The Palestinian Prisoners Club said Zubeidi, the former head of the Al-Aqsa Martyr Brigades militant group, was arrested in a village near Ramallah in the occupied West Bank.
The arrests come with Israeli security forces concerned over increased tensions in the West Bank after recent scuffles at a Jerusalem holy site and Israel's decision to withhold tens of millions of dollars in tax transfers to the Palestinian Authority.
Tax transfers
Israel is withholding $138 million in tax transfers to the Palestinian Authority over its payments to the families of prisoners, or prisoners themselves, jailed for attacks on Israelis.
Israel is also gearing up to hold elections on April 9.
Zubeidi had faced charges in the past from the Palestinian Authority for taking part in a shooting attack on the residence of Jenin governor Qaddura Musa in 2002.
Musa died after suffering a heart attack during the incident, and Palestinian security forces arrested dozens of people, including Zubeidi, shortly afterward.
Zubeidi had helped found Jenin's Freedom Theatre.
Full report at:
https://english.alarabiya.net/en/News/middle-east/2019/02/27/Israel-arrests-former-Palestinian-militant-for-terror-.html
--------
Egypt hits back at Turkey over EU-Arab summit criticism
27 February 2019
Egypt hit back Wednesday at Turkish criticism of EU leaders for meeting their Arab counterparts in the Red Sea resort of Sharm el-Sheikh just days after Cairo executed nine people.
The foreign ministry accused Turkish President Recep Tayyip Erdogan of partisanship towards the Muslim Brotherhood, the outlawed Islamist movement that Egyptian authorities have said inspired the nine men executed last week to carry out the 2015 murder of the country's top prosecutor.
His statement "clearly involves hatred and expresses its (Turkey's) continued embrace and support of the Muslim Brotherhood," ministry spokesman Ahmed Hafez said.
He accused Erdogan of hypocrisy, citing a list of alleged human rights abuses by Ankara.
"This ... illustrates the lack of credibility of what the Turkish president is promoting," Hafez said.
Erdogan had accused the European Union of insincerity on Tuesday for attending the joint summit hosted by his Egyptian counterpart Abdel Fattah al-Sisi in the Red Sea resort of Sharm el-Sheikh on Sunday and Monday.
"Can we talk about democracy in EU member countries who accepted the invitation of Sisi, who has executed 42 people since he came to power and nine young people last week, although capital punishment is banned (in the EU)?" he asked.
"It is not possible to understand them. The EU is not sincere."
Since Sisi overthrew elected President Mohamed Morsi, an Erdogan ally, when army chief in 2013, members of the group have found refuge in Turkey as it has faced a sweeping crackdown at home.
Egypt has outlawed Morsi's Muslim Brotherhood as a terrorist organization and handed down death sentences or lengthy prison terms against hundreds of its leaders.
Full report at:
https://english.alarabiya.net/en/News/middle-east/2019/02/27/Egypt-hits-back-at-Turkey-over-EU-Arab-summit-criticism.html
--------
Israeli warplanes, gunships strike multiple targets in Gaza Strip
Feb 27, 2019
Israeli fighter jets and attack helicopters have struck multiple targets in the southern Gaza Strip in their latest air raids against the besieged enclave.
There were no immediate reports of casualties caused by the Israeli strikes carried out on Wednesday night.
According to Palestinian media reports, several posts belonging to Hamas resistance forces in the south of the coastal enclave were hit, including one in the Khan Yunis seafront and another outside the city.
Some of the sites hit are believed to belong to Izz ad-Din al-Qassam Brigades, the military wing of Hamas.
The Israeli military claimed the airstrikes were conducted in response to an explosive device allegedly flown into the occupied territories from the Gaza Strip which had reportedly detonated outside a home in the Eshkol region, causing damage but no injuries.
Tel Aviv's airstrikes come as Palestinians have held weekly protests on the Gaza border since last year over the siege on the enclave and the right for refugees to return to their homes they were forcibly expelled from during the 1948 creation of Israel.
The Israeli regime's forces on Friday shot dead a Palestinian and injured dozens more in mass protests along the fence separating the besieged Gaza Strip and the Israeli-occupied territories.
More than 260 Palestinians have been killed by Israeli forces ever since anti-occupation protest rallies began in the Gaza Strip on March 30, 2018. Over 26,000 Palestinians have also sustained injuries.
The Gaza clashes reached their peak on May 14 last year, on the eve of the 70th anniversary of Nakba Day (Day of Catastrophe), which coincided with the US embassy relocation from Tel Aviv to occupied East Jerusalem al-Quds.
On June 13, 2018, the United Nations General Assembly adopted a resolution, sponsored by Turkey and Algeria, condemning the Israeli regime for the death of Palestinian civilians in Gaza.
Full report at:
https://www.presstv.com/Detail/2019/02/27/589746/Israel-fighter-jet-airstrike-Gaza-Hamas-balloon
--------
Israel strikes Gaza after 'explosive balloon' damages house
February 28, 2019
JERUSALEM: Israeli aircraft targeted several militant sites in Gaza after an "explosive balloon" launched from the Palestinian enclave damaged a house in the Jewish state, the army said Thursday.
"An explosive balloon launched from the Gaza Strip damaged a house in an Israeli community, apparently after exploding in the air," the army said in a statement.
"In response, IDF fighter jets and attack helicopters struck a number of terror targets in a Hamas military compound in the central Gaza Strip," the statement said.
Eye witnesses in Gaza said a position of Al Qassam Brigades, the military wing of the Hamas rulers, was targeted in western Deir al Balah, south of Gaza city late Wednesday.
There were no reports of casualties in Gaza.
Palestinians in Gaza have for months been sporadically launching balloons with incendiary and explosive devices at southern Israel in parallel with weekly protests and clashes taking place at the fence.
At least 251 Palestinians have been killed by Israeli fire since March 2018, the majority shot during weekly border protests and others hit by tank fire or air strikes.
Two Israeli soldiers have been killed over the same period.
Full report at:
http://www.arabnews.com/node/1459271/middle-east
--------
Africa
Booby-trapped corpse kills 17 civilians in Mali
Feb 27, 2019
Seventeen civilians were killed and 15 were wounded in a blast caused by a booby-trapped corpse in central Mali, security sources and a local official said on Wednesday.
The incident occurred on Tuesday in Diankabou, a small town about 150 kilometers (90 miles) east of the city of Mopti, they said.
A local official told AFP it was caused by "an explosive device which was planted on the body of a man who had been shot dead."
A security source confirmed the information, saying: "The body exploded, killing 17 people."
Among the victims were the parents of the man whose body had been booby-trapped, he said.
The man had gone to find food for his cattle and had never returned. His parents then found the corpse.
"They rather unwisely approached the body which exploded, killing 17 people. The gunmen who killed him had planted explosives on his body and around it," the source said.
"This is a method that [extremists] use to cause maximum deaths," another security source said.
The attack was the first incident of its kind in Mali. On February 14, extremists in neighboring Burkina Faso used an identical method, rigging a corpse dressed in military fatigues with explosives. The blast killed two police officers and an army doctor. Mali has been struggling to return to stability after Al-Qaeda-linked extremists took control of the north in early 2012, prompting a military intervention by France.
Although they were routed in the French operation in 2013, large stretches of the landlocked African state remain out of government control.
Most of the violence is centered in Mali's central and southern regions but it has also spread across its borders, affecting neighboring Burkina Faso and Niger.
The country has also been blighted by inter-communal violence between farmers and herders which last year killed more than 500 civilians, UN figures show.
https://www.presstv.com/Detail/2019/02/27/589717/Mali-Extremists-Bomb-
--------
Push for UN listing of Al-Shabaab
FEBRUARY 28 2019
The January 15 terrorist attack on the Dusit complex in Nairobi, in which 21 people were killed and scores of others injured, necessitates a review of counter-terrorism measures.
It exposes the dynamism of terrorism and instigates the need for increased cooperation to effectively and comprehensively battle terror elements in our midst.
Kenya should capitalise on the global support following the attack to engage in diplomatic mobilisation for the listing of Al-Shabaab by the United Nations.
While the African Union (AU), UN and some member states have made concerted efforts in fighting Al-Shabaab, the group is yet to be designated as a terrorist outfit or an affiliate of the two major global terrorist organisations, al-Qaeda and the Islamic State (Isis).
That means that efforts such as the AU Mission in Somalia (Amisom) troops helping the Somalia National Army (SNA) in fighting the militants, with Kenya among the troop-contributing countries, are insufficient.
ALLEGIANCE
Conspicuously, the Dusit attack, among many others in Somalia and Kenya, meet the UN's threshold for listing: "Participating in the financing, planning, facilitating, preparing or perpetrating of acts or activities by, in conjunction with, under the name of, on behalf of, or in support of al-Qaeda, ISIL or affiliates."
Al-Shabaab pledged its allegiance to al-Qaeda in 2010, which was formally recognised in 2012.
The two have since had a symbiotic relationship with the frequency and brutality of Al-Shabaab attacks in the region intensifying.
In its routine post-attack propaganda, Al-Shabaab said Dusit was partly in response to the shifting of the United States embassy in Israel from Tel Aviv to Jerusalem by Washington and cited foreigners as its primary targets.
Contrary to its largely traditional nationalist focus on 'liberating' Somalia, the justification demonstrates the increasing globalist pro-al-Qaeda jihad agenda and affirms the link between the two groups. Al-Qaeda even celebrated the Dusit attack.
RECOGNITION
The UN has acknowledged terrorism as a global threat and listed al-Qaeda and Isis and their affiliates as such.
But listing of Al-Shabaab as an affiliate of al-Qaeda has always attracted objections from otherwise unexpected war on terror campaigners among UN member states.
Attempts at listing got the backing of regional countries — such as Somalia, Djibouti, Ethiopia, Uganda and Burundi — but failed due to objections by the US and the United Kingdom.
The UK sought to know whether having Al-Shabaab in the UN Resolution 1267 list would see Kenya pursue its delisting from the Somalia-Eritrea sanctions regime.
The US said the Somalia-Eritrea and the 1267 regimes differed in their treatment of humanitarian aid to terrorist-controlled territories.
The American and British ambassadors in Kenya should be put to task and answer the hard questions: Why the double standards on the so-called war on terror; mobilising global backing yet objecting when initiated by another country?
SANCTIONS
Why should they claim to be at the forefront in the war yet object to designation of a key terrorist outfit as one?
Are the objections only considerate of their national foreign policy interests at the expense of regional security?
Why should Kenya bear the ultimate price through attacks for being their ally yet they object to the listing of a common enemy?
The US has supported co-listing in other Jihad theatres — such as Syria, Yemen and Libya — and there have been no technical concerns since both sanction regimes have complementary mandates.
Under the Somalia-Eritrea regime, the UN has focused on an arms embargo and a ban on charcoal sales by Al-Shabaab.
Consequently, the sanctions are insufficient to deal comprehensively with the regional threat posed by Al-Shabaab.
EMASCULATE
The listing of Al-Shabaab would have many benefits. First, it would end financing of the militants, whether voluntary or forced.
Secondly, the increased military pressure could rout the militants from their central and southern Somalia strongholds.
Thirdly, the SNA, Amisom and other entities would be better equipped to fight the outfit.
Fourthly, the listing would catch the eye of regional and global counter-terrorism actors, sparking a campaign for global action against Al-Shabaab.
Fifthly, it would prohibit transfer of arms and related material to the group and prevent its militants, sympathisers and financiers from entering or transiting through territories of member states.
Sixthly, provision of technical assistance or military training to Al-Shabaab would be outlawed.
Full report at:
https://www.nation.co.ke/oped/opinion/Push-for-UN-listing-of-Al-Shabaab/440808-5002396-65n7j6/index.html
--------
Nigeria's Buhari says election was 'free and fair'
27 February 2019
Nigerian President Muhammadu Buhari said on Wednesday there were no doubts as to his re-election after his beaten rival promised a legal challenge against the result.
"From the comment of several observers, both local and foreign, it is obvious that the elections were both free and fair," he said in a speech at the electoral commission.
Buhari's second, four-year term was confirmed in results announced late on Tuesday, after a delayed election that sparked anger and claims of rigging and conspiracy.
The 76-year-old former military ruler, of the All Progressives Congress (APC), beat Atiku Abubakar, from the People's Democratic Party (PDP), by 3.9 million votes.
But the PDP has accused the ruling party of conspiring with the electoral commission to manipulate the results. Abubakar called it a "sham election" and vowed to go to court.
Buhari's comments came as he received his certificate of election at the Independent National Electoral Commission (INEC) in the capital, Abuja.
After shaking hands with commissioners, he said the election was "another milestone in Nigeria's democratic development", 20 years after the country returned to civilian rule.
Buhari's victory in 2015 was the first time an opposition candidate had defeated an incumbent president at the ballot box.
In a short acceptance speech, he promised to build on his first term, which notably saw him tackle Boko Haram extremists and launch a high profile anti-corruption campaign.
That campaign has been criticized for being one-sided against his political opponents but he sought to reassure critics that his government would "engage all parties".
"We have the best interest of Nigerians at heart... and we will work to deliver a better Nigeria," he added.
Civil society groups monitoring the election said 53 people were killed in a weekend of political violence.
Buhari said Saturday's vote was "overwhelmingly peaceful" and sent his condolences to the families of those who lost their lives.
Full report at:
https://english.alarabiya.net/en/News/world/2019/02/27/Nigeria-s-Buhari-says-election-was-free-and-fair-.html
--------
'Sudan state of emergency meant to curb smuggling'
Feb 27, 2019
Sudan's newly appointed First Vice President Awad Mohamed Ahmed Ibn Auf says the state of emergency declared across the country is aimed at stopping smuggling activities "destroying" the economy, not targeting the ongoing anti-government demonstrations.
"The state of emergency has nothing to do with the demonstrations as those who are demonstrating are Sudanese citizens," the official said on Wednesday.
Over the past months, the rapidly deteriorating economic situation in Sudan has prompted citizens to take part in mass protests.
Ibn Auf, who also serves as the defense minister, has already shown a conciliatory tone to the youths taking part in the demonstrations.
"The emergency is meant to curb smuggling that is destroying our economy."
Sudanese officials have regularly said that widespread smuggling of gold and other commodities across the country have severely damaged the economy.
On Tuesday, four Western countries, namely the United States, Britain, Norway and Canada, expressed concern about the state of emergency.
In a joint statement issued by their Khartoum embassies, the countries called on court officials in Sudan to release those detained during anti-government demonstrations.
Full report at:
https://www.presstv.com/Detail/2019/02/27/589720/Africa-Sudan-Ibn-Auf-Protest-State-of-Emergency
--------
'Turkey resolute to increase cooperation with Chad'
27.02.2019
President Recep Tayyip Erdogan on Wednesday said Turkey is resolute about increasing cooperation with Chad and other African countries.
Speaking at a news conference with his Chadian counterpart Idriss Deby Itno in Ankara, Erdogan said the current trade volume between Chad and Turkey must be increased to $100 million.
"Our trade volume is now around $60 million. This is a very low figure. We have a population of 82 million and Chad has 15 million, which makes 97 million. This shows how low the trade volume is. We are now committed to increase this trade volume to $100 million," Erdogan said, adding that they signed four agreements with Chad.
Erdogan went on to say they have encouraged the private sector to develop trade and increase investments with Chad and thanked Itno for the support they provided to Turkish entrepreneurs.
He added Turkey would also increase the number of flights to Chad from two to three per week.
The Chadian president vowed to increase the trade volume between the two countries "to reach a level that suits us".
Describing his meeting with Erdogan "tremendously successful", Itno said they discussed ways to extend the cooperation in different sectors.
"We have the opportunities and possibilities to do so. We just need the courage to take the necessary steps. I think we can seize these opportunities with Turkey's experience and Turkish companies' knowledge and skills," he said.
Full report at:
https://www.aa.com.tr/en/africa/turkey-resolute-to-increase-cooperation-with-chad/1404890
--------
North America
UN welcomes Turkish, Greek Cypriot leaders meeting
27.02.2019
WASHINGTON
The UN Security Council on Wednesday welcomed a meeting between Turkish and Greek leaders of the divided island of Cyprus, praising progress made as well as the increased interaction between the two communities.
"The members of the Security Council urged the sides and all involved participants to renew their political will and commitment to a settlement under United Nations auspices," the Security Council said in a statement.
"The Security Council reiterated their support for a Cypriot-led process and reaffirmed the primary role of the United Nations in assisting the parties to reach a settlement," the statement added.
Turkish Cypriot President Mustafa Akinci and Greek Cypriot leader Nicos Anastasiades met Tuesday in the UN Green Zone under the auspices of UN Cyprus Envoy Elizabeth Speha, where they agreed on a number of issues to increase confidence, including the interoperability of cellphone networks and electrical grids, as well as clearing hazardous areas.
Akinci said he exchanged views on the issue of extending the jurisdiction of founding states, in a possible solution to the Cyprus issue.
He also mentioned that soldiers were working to clear nine minefields on both sides of the island, with a goal of making the island mine-free.
Cyprus has been divided since 1974, when a Greek Cypriot coup was followed by violence against the island's Turks and Ankara's intervention as a guarantor power.
It has seen an on-and-off peace process in recent years, including the failed 2017 initiative in Switzerland under the auspices of guarantor countries Turkey, Greece and the U.K.
The Security Council called on the two leaders to put their efforts forward expeditiously because the status quo on the island is unsustainable.
https://www.aa.com.tr/en/americas/un-welcomes-turkish-greek-cypriot-leaders-meeting/1404882
--------
Canada prepares for return home of Daesh fighters
28.02.2019
Canada must prepare for the return of a dozen or more of its citizens who fought for Daesh, now that the terror organization is near collapse, authorities said Wednesday.
Canada said the fighters captured in Syria would probably be released and cross into Turkey, and officials are working with authorities there to send them back to Canada to be dealt with on home soil.
The Royal Canadian Mounted Police (RCMP) said due to the withdrawal of U.S. forces from Syria, the fate of captured Canadian Daesh fighters is uncertain.
"We need to get ready in case they come back sooner than we had expected," said RCMP Deputy Commissioner Gilles Michaud in an interview with media.
Police and prosecutors are putting together a plan that will see charges laid or peace bonds brought into play for returning fighters. In Canada, persons who sign a peace bond can be arrested if they commit an additional crime.
The so-called Syrian Democratic Forces (SDF), an ally of the U.S., recently captured several Canadian Daesh members, which may mean they will be freed once the U.S. pulls most of its troops out of Syria.
While the UK is cancelling citizenships for any of its Daesh members, the U.S. has urged countries to take fighters back and prosecute them.
Canadian officials plan to assess each fighter upon their return home and then take one of three actions: criminal charges, terrorist peace bonds or deradicalization interventions, which aim to get those with extreme and violent religious or political ideologies to adopt more moderate and nonviolent views.
The RCMP has been feverishly working with local police and government organizations to ensure Daesh members are fully vetted upon their return.
"The reason why we're doing all of this is because any information on any individual that could pose a threat to Canadians, we will investigate fully," Michaud said.
Full report at:
https://www.aa.com.tr/en/americas/canada-prepares-for-return-home-of-daesh-fighters/1404961
--------
NGOs, trade unions visit Venezuelan embassy in Turkey
27.02.2019
Representatives from various Turkish trade unions and non-governmental organizations (NGOs) visited the Venezuelan Embassy in capital Ankara on Wednesday.
The group consisting of members from the Confederation of Turkish Trade Unions (TURK-IS), HAK-IS Trade Union Confederation (HAK-IS), Confederation of Public Servants Trade Union (MEMUR-SEN), Humanitarian Relief Foundation (IHH) and Freedom of Belief Platform members expressed support for the Venezuelan people and President Nicolas Maduro.
"We support the fight for the freedom of the Venezuelan people and the Maduro government," IHH Ankara spokesman Mustafa Sinan told reporters on the steps of Caracas's mission.
He called on all NGOs in the world to "protect the oppressed people in Venezuela together."
The group later met with Venezuelan Ambassador Jose Gregorio Bracho Reyes.
Venezuela has been rocked by protests since Jan. 10, when Maduro was sworn in for a second term following a vote boycotted by the opposition.
Tensions escalated when Juan Guaido, who heads Venezuela's National Assembly, declared himself acting president on Jan. 23, a move which was supported by the U.S. and many European and Latin American countries.
Full report at:
https://www.aa.com.tr/en/americas/ngos-trade-unions-visit-venezuelan-embassy-in-turkey/1404601
--------
URL: https://www.newageislam.com/islamic-world-news/india-hands-dossier-pakistan-jaish/d/117881
New Age Islam, Islam Online, Islamic Website, African Muslim News, Arab World News, South Asia News, Indian Muslim News, World Muslim News, Women in Islam, Islamic Feminism, Arab Women, Women In Arab, Islamophobia in America, Muslim Women in West, Islam Women and Feminism