New Age Islam News Bureau
30 Jul 2013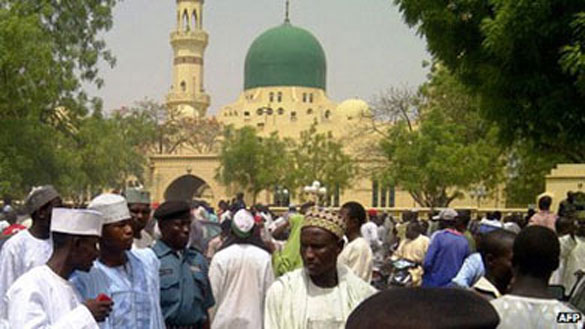 Photo: Kano is the biggest city in the north with a majority Muslim population
------------
Pakistan
• India-Born Mamnoon Hussain Elected Pakistan President
• Taliban launch major attack on Pakistani prison, free 300 inmates
• Jihad to continue till 'revolution of Islam': Jamaat-e Islami Chief
• Four suspected militants killed in Quetta operation
• I will be symbol of federation: Mamnoon
• Balochistan CM announces peace talks with militants
• World's concern about minorities in Pakistan
• Benazir murder case: Musharraf to be indicted on Aug 6
• Only time will tell if PTI allies itself with PPP, says Imran
Arab World
• At least 12 die when Syrian forces shell mosque in Homs
• Egyptian people respect those who respect their will, 'Rebel' tells Ashton
• Self-interest rules West Asia's support after Morsy fall
• Saudi arrests Shias after gun battle: Report
• Bahrain king endorses 'anti-terror' powers
• Palestinian leader in Cairo for show of support
Africa
• Militants kill nine Tunisian soldiers as protests rage
• Nigeria: 12 die in blasts in Kano's Christian area
• Tunisia's PM says Islamist-led Cabinet will not resign
• Grenade kills nine children in Sudan warzone: website
• Libya PM to reshuffle cabinet amid wave of attacks
• Tunisian Protesters Call for Fall of Government as Military Cracks Down
Europe
• Al-Qaida group kidnaps Italian priest in Syria, activists say
• Muslim Converts In Mexico Make Up A Diverse, Fast-Growing Community
• Islamic radicals test ground in calm Ukraine
• Egypt's ousted Morsi 'well,' has access to news: Catherine Ashton
North America
• US returns stolen Saddam Hussein sword to Iraq
• US hosts Israel, Palestinians for peace talks
• Obama urges 'good faith' in Israel-Palestinian talks
• Oklahoma Muslims volunteer at food bank during Ramadan
Mideast
• US drone kills three Qaeda suspects in Yemen: tribal source
• Iran nominee seen as olive branch to United States
• Abbas wants 'not a single Israeli' in future Palestinian state
• Yemeni Journalist Jailed at Obama's Request Blossoms
India
• Murder threat to the leaders of various Hindu outfits
• Indian Embassy brands FOKASA an 'illegal organization'
• Grand Imam of Al Azhar replaced by Zakir Naik as Islamic Personality of the year
• Infiltration bids foiled, two militants killed in Kashmir
• India has to carefully weigh Pakistan's offer
• Rare Egyptian vultures sighted in Odisha
• In Kashmir's riot zone, only a Pundit's house has remained safe
• We are not against Muslims, says BJP
Southeast Asia
• Indonesian Palace Angry at Alleged Western Spying
• Philippine troops kill Muslim rebels who attack oil truck
• Parties' pandering hurts Shia, Ahmadiyah
• FT advisory body to oversee non-Islamic houses of worship - Bernama
• 'Perak mufti's proposal to amend Articles 3, 5, and 11against human rights'
• SBY's Ramadan Biscuits Suggest Pramono Run on Cards
South Asia
• "We will not follow unconstitutional orders": Maldives Police Commissioner
• Hefazat-e-Islam challenges AL over polls
• Bangladeshi held for selling porn in Mekkah
• Maldives preparing for presidential polls
Compiled by New Age Islam News Bureau
URL: https://newageislam.com/islamic-world-news/india-born-mamnoon-hussain-elected/d/12818
----------
Pakistan
India-Born Mamnoon Hussain Elected Pakistan President
July 30, 2013
Mr. Hussain emerged as a clear winner in the Presidential poll held on Tuesday.
India-born Mamnoon Hussain, a close aide of Prime Minister Nawqaz Sharif, was today elected as the 12 th President of Pakistan and will replace the incumbent, Asif Ali Zardari, in September.
Mr. Hussain emerged as a clear winner in the one-sided contest with former judge Wajihuddin Ahmad of the Pakistan Tehreek-i-Insaf party, State media reported.
Pakistan People's Party withdrew its candidate, Raza Rabbani, and boycotted the election held on Tuesday in protest against the change in the date of polling.
The polling started at 10 a.m. amidst tight security arrangements.
Born in the historic city of Agra, Mr. Hussain, who belongs to the Urdu-speaking ethnic group that migrated from India during partition in 1947, was the candidate of the ruling PML-N.
Over 1,000 members of the national Parliament and four provincial assemblies cast their ballots for the largely ceremonial head of the state.
The office of the President is ceremonial in Pakistan, but he is still the Constitutional chief of the armed forces but cannot order deployments.
He also appoints the services chiefs at the recommendation of the Prime Minister.
Pakistan has so far had 11 Presidents, out of which five were military generals. Four of them illegally got powers through coups, whereas the first President, Major Sikandar Mirza was elected in 1956 after the first Constitution was adopted.
AP adds
Prime Minister Nawaz Sharif will remain the most powerful figure in the civilian government in Pakistan, a key ally for the United States in battling Islamic militants and negotiating an end to the war in neighbouring Afghanistan.
Controversy broke out last week when the Supreme Court agreed to a request by the PML-N to move forward the election originally scheduled for August 6 because some lawmakers wanted to travel to Saudi Arabia for pilgrimage during the end of the Islamic holy month of Ramadan.
The country's former ruling party, the Pakistan People's Party, which has the second highest number of seats in the National Assembly, announced that it would boycott the Presidential election in response to the court's ruling. The PPP complained that the judges ruled without hearing from the Opposition, and the new election date didn't give the party enough time to campaign.
The court's decision sparked criticism from outside the party as well from observers who have long warned about the Supreme Court's tendency to overreach. They argued that the decision about the election date should have been left to the country's election commission, which originally scheduled the vote for August 6.
The party's decision to boycott could affect the perceived legitimacy of the election, although Mr. Hussain was still expected to win even if the PPP fielded a candidate. Mr. Hussain's opponent, Wajihuddin Ahmed, is a retired Sindh High Court judge nominated by the Pakistan Tehreek-e-Insaf party led by former cricket star Imran Khan.
Mr. Hussain will replace Asif Ali Zardari, whose five-year term ends on September 8. Mr. Zardari rose to power after his wife, former Prime Minister Benazir Bhutto, was killed in a gun and bomb attack in December 2007.
Mr. Zardari has been a contentious figure as President and has often battled with both the powerful army and the Supreme Court.
But Mr. Zardari's Government is widely perceived to have done little to address the major problems facing the country, especially the pervasive electricity shortages that crippled Pakistan's economy and left some people without power for up to 20 hours per day.
"Zardari will be remembered as a quite a controversial President, but a major survivor," said Mr. Rizvi.
The army launched major operations against the Pakistani Taliban during Mr. Zardari's tenure, but the group has proven resilient and continues to stage frequent attacks against security personnel and civilians.
http://www.thehindu.com/news/international/south-asia/indiaborn-mamnoon-hussain-elected-pakistan-president/article4970118.ece
----------
Taliban launch major attack on Pakistani prison, free 300 inmates
Omer Farooq Khan, TNN | Jul 30, 2013
ISLAMABAD: Pakistani Taliban disguised as policemen attacked a prison in the country's northwestern town of Dera Ismail Khan, freeing more than 300 prisoners late on Monday.
The jail officials said that several of the prisoners, four security personnel and two assailants were killed in the attack. The prison was housing at least 5000 prisoners, 250 of them hardcore militants.
Malik Qasim Khattak, advisor to the ministry of prisons, said that around 50 to 60 gunmen attacked the jail with bombs and guns before entering into the detention facility. "They detonated about 60 bombs inside the facility which caused the collapse of prison wall. The assailants succeeded in freeing more than 300 prisoners," Khattak said, adding that the militants blew up two electricity transformers which created complete darkness.
While accepting responsibility for the attack, the Tehreek-i-Taliban Pakistan (TTP) had claimed that their attackers had freed around 300 inmates.
"We had sent around 150 fighters including a squad of suicide bombers. The aim was to free the inmates and it was a successful action as Taliban managed to free at least 300 prisoners," said Shahidullah Shahid, the newly appointed spokesperson of TTP.
The bombings inside the prison triggered a gunfight between the militants and policemen which continued for hours. As the police personnel could not control the situation, the local administration had called the military. "The attack was so severe and abrupt that we had to call the army to overpower the fighters. As many as 5,000 prisoners including 250 belonging to banned outfits were held in the jail," said Khalid Abbas, deputy inspector general of prisons of Khyber Pakhtunkhwa (KP) province.
The law enforcement agencies with the help of army had cordoned off the prison and surrounding area before launching an operation.
The militants also destroyed all the police vehicles with hand grenades, jail officials said.
"The biggest problem for the security forces was to identify the militants as they too were wearing police uniforms. There was complete blackout and it was very much difficult on whom to open fire", Abbas said. He said that prison authorities had recently received a letter from the intelligence agencies informing about a possible attack on prison. The D I Khan prison is the third biggest detention facility in KP.
Dera Ismail Khan is on the edge of Pakistan's tribal region of South Waziristan. Pakistan army had launched a military operation against the militants of South Waziristan and flushed them out of the region.
Khyber Pakhtunkhwa is on the hit list of the militants. About 57 people were killed in twin suicide blasts on Friday in Kurram tribal region. Shaukat Yousafzai, KP's information minister, said that the incident might be a continuation of the current wave of terrorism in the province.
In April 2012, more than hundred heavily armed militants, affiliated with Pakistani Taliban broke a prison in Bannu town next to North Waziristan tribal region, freeing nearly 400 prisoners. One of the militants freed in that attack was Adnan Rasheed, an ex-official of Pakistan air force, who was involved in attack on president Pervez Musharraf in the garrison city of Rawalpindi.
Rasheed recently drew media attention by writing a long letter to teenage education activist Malala Yousafzai, who was shot in the head by the Taliban last year in an attempt to kill her.
http://timesofindia.indiatimes.com/world/pakistan/Taliban-launch-major-attack-on-Pakistani-prison-free-300-inmates/articleshow/21476041.cms
----------
Jihad to continue till 'revolution of Islam': Jamaat-e Islami Chief
30 July 2013
Karachi—Jamaat-e Islami (JI) Chief Syed Munawar Hasan said that the Ghazva-e Badr taught us the lesson of tolerance and it was a war between right and wrong ideology.
He expressed these views while addressing an Iftar party organised by JI District East near Federal Urdu University of Arts, Science and Technology at University Road Saturday
JI Chief said that the Islamic movements were being carried out by the help of Almighty Allah and will continue despite conspiracies hatched by western powers.
He said that movements of 'Jihad' were still continued in the shape of Hezbollah, Taliban and Hamas and will continue till the complete revolution of Islam.
Hasan expressed gratitude over the Prime Minister's Muhammad Nawaz Sharif's statement in which, he had stated that to restore Morsi government in Egypt, adding that the western think tank should review the situation in Egypt.
He hoped that the Pakistani government should take more bold steps in connection with Egypt situation.
JI Chief strongly lambasted the statement issued by Foreign Office, in which it stated that the issue of Bangladesh was its internal issue.
Ameer JI East Osama Razi informed that 200 people have been died in Egypt in a day during clashes with Egyptian Army.
Earlier, JI workers and supporters staged protest demonstration at main University Road. They raised placards and banners inscribed with "restore Morsi government in Egypt", "stop Indian army barbarism in Kashmir", "Friends of United States are traitor", "Judicial terrorism in Bangladesh against Islamic movement not acceptable", "Down with United States", Revolution in Arab countries Zindabad", "US conspiracies against `democracy in Egypt not acceptable".
http://pakobserver.net/detailnews.asp?id=213954
--------
Four suspected militants killed in Quetta operation
SYED ALI SHAH
Jul 30, 2013
QUETTA: Four suspected militants were killed Tuesday morning during an operation by police and other law enforcement agencies in Bakra Peri area of Quetta, the capital of militancy-hit Balochistan province.
A police official who requested not to be named since he was not authorised to speak to the media told Dawn.com that forces launched a massive pre-dawn operation in Bakra Peri area of Quetta against suspected insurgents involved in a series of terrorism incidents.
Forces also detained four members of the suspected militants' family including a woman and two children during the operation that lasted over two hours, he said.
Two personnel of the Anti Terrorists Force were also said to be injured during the operation. The injured personnel were rushed to the Combined Military Hospital for medical treatment.
The militants retaliated by firing rockets at the security forces and strongly resisted the operation, said the police official. However the forces effectively condoned off the area and killed the militants.
Rocket launchers, bombs, hand grenades and other arms and ammunition from the spot, claimed the police.
The official said the suspects were involved in a series of sectarian-linked terrorism incidents including bomb blasts and target killings.
This operation comes a day after provincial Chief Minister Dr Abdul Malik Baloch announced that the government was prepared to hold peace talks with all militants groups operating in Balochistan.
http://dawn.com/news/1032978/four-suspected-militants-killed-in-quetta-operation
----------
I will be symbol of federation: Mamnoon
Jul 30, 2013
LAHORE: Pakistan Muslim League-Nawaz (PML-N) presidential candidate Mamnoon Hussain said on Monday that he will be the symbol of federation.
"The new president will be elected democratically," he said while addressing the media. Hussain added that he would resign from his party post if he gets elected as president. Talking about Pakistan Peoples' Party's (PPP) boycott of the election, he said, "There are cases pending against the PPP in the courts and they are afraid the rulings in the cases might go against them.
Full report at:
http://www.dailytimes.com.pk/default.asp?page=2013\07\30\story_30-7-2013_pg1_4
----------
Balochistan CM announces peace talks with militants
SYED ALI SHAH
Jul 30, 2013
QUETTA: Chief Minister Balochistan Dr Abdul Malik Baloch has announced to hold dialogue with all militant groups operating in the restive province of Pakistan.
Speaking in the Balochistan Assembly over worsening law and order in the province on Monday, Dr Baloch said a high powered committee comprising members of the assembly would be formed to hold dialogue with all militant groups operating in Balochistan.
"Formal negotiations would be initiated soon after Eid-ul-Fitar," he announced in the house. Dr Baloch said use of force has not produced any positive result and emphasised on political solution to all issues of the province.
Full report at:
http://dawn.com/news/1032767/balochistan-cm-announces-peace-talks-with-militants
----------
World's concern about minorities in Pakistan
CLAAS-UK, written by Nasir Saeed
July 30, 2013
The issue of minority rights in Pakistan is discussed often around the world these days, in parliaments, human rights groups like Amnesty International, religious freedom departments, foreign affairs committees and international organisations like the Commonwealth and the UN.
By contrast, the Pakistani government hardly mentions it and pays very little attention to the repression minority groups in the country are suffering. If anyone attempts to lobby or campaign on this issue, they are threatened and silenced like Sherry Rehman, and the late Salman Taseer and Shahbaz Bhatti.
Full report at:
http://www.humanrights.asia/news/forwarded-news/AHRC-FAT-020-2013
----------
Benazir murder case: Musharraf to be indicted on Aug 6
Jul 30, 2013
RAWALPINDI: Former military ruler General (retd) Pervez Musharraf is to be indicted on August 6 in the Benazir Bhutto murder case, an anti-terrorism court (ATC) in Rawalpindi said Tuesday.
Musharraf was also produced amidst tight security during today's hearing of the case headed by ATC judge Habibur Rahman.
Copies of records pertaining to the case were made available to the former military strongman and he kept a set of the copies after signing the requisite document.
Moreover, Saud Aziz, who was City Police Officer (CPO) of Rawalpindi when Benazir was assassinated on December 27, 2007, and the then SP Khurram Shahzad appeared before the ATC.
Full report at:
http://dawn.com/news/1032961/benazir-murder-case-musharraf-to-be-indicted-on-aug-6
----------
Only time will tell if PTI allies itself with PPP, says Imran
July 30, 2013
KARACHI: Pakistan Tehreek-e-Insaf (PTI) chairman Imran Khan has said his party's senior leadership made the decision to take part in the presidential polls after mutual consultation.
He said this on Monday in the Express News programme 'To The Point'.
Imran lamented that the presidential elections had already become controversial. "We could have registered our protest by boycotting it; but then we could not hope to stop the government from getting their candidate elected. So we decided not to leave the field open for them."
Full report at:
http://tribune.com.pk/story/583833/candid-talk-only-time-will-tell-if-pti-allies-itself-with-ppp-says-imran/
----------
Arab World
At least 12 die when Syrian forces shell mosque in Homs
Jul 30 2013
At least 12 people were killed on Tuesday when Syrian government forces shelled worshippers as they were leaving a mosque after morning prayers, activists close to the opposition said.
Shells hit near Al-Houssami Mosque in Dablan in the central province of Homs, wounding more than 30 people, said Omar Homsi, a Homs-based activist.
He said that as ambulances rushed to help the injured, Syrian troops carried out a second round of shelling that caused more casualties.
Meanwhile, the Britain-based, pro-opposition Syrian Observatory for Human Rights said a family of seven, including four children, were killed by a government shell as they fled Khalidiyeh, a neighbourhood in the city of Homs. The area has fallen into government control on Monday, according to state media.
Full report at:
http://www.thehindu.com/news/international/world/at-least-12-die-when-syrian-forces-shell-mosque-in-homs/article4969645.ece
----------
Egyptian people respect those who respect their will, 'Rebel' tells Ashton
30 July 2013
Leaders of the anti-Morsi 'Rebel' (Tamarod) campaign met with European Union foreign policy chief Catherine Ashton in Cairo on Monday and stressed they reject "deals" and a safe exit for Mohamed Morsi and other leaders of the Muslim Brotherhood.
Ashton is in Cairo for talks following the killing of at least 80 supporters of ousted president Mohamed Morsi during violent clashes with the police early on Saturday morning.
"Everyone involved in bloodshed must be subject to a fair trial," Mahmoud Badr, one of the leaders of Rebel said, according to a statement on the group's official website.
"We asked her if she would personally accept an armed sit-in to be set up under her house, one that would force her to go to her home before being searched thoroughly and would turn the gardens surrounding her house to places for people to sleep, and would construct toilets in them," read the statement.
Full report at:
http://english.ahram.org.eg/NewsContent/1/64/77754/Egypt/Politics-/Egyptian-people-respect-those-who-respect-their-wi.aspx
--------
Self-interest rules West Asias support after Morsy fall
MARTIN CHULOV
Jul 30 2013
The fallout from the ousting and detention of Mohammed Morsy continues to polarise Egypts stakeholders across the region and beyond. The Gulf states in particular — Qatar excluded — have been quick to assert their geopolitical heft in post-Morsy Egypt, pledging sorely-needed multibillion dollar aid packages.
Saudi Arabia
Despite ruling a conservative Islamic society, underpinned by sharia law, Saudis leaders have jumped on the ousting of Mr. Morsy and his Muslim Brotherhood constituency, offering $ 5billion in aid and loans in recent weeks. The rush to offer charity stands in contrast to the past year, when next to nothing flowed from Riyadhs coffers to Mr. Morsys government. The democratic process that brought Mr. Morsy to power was not welcomed by Riyadh, where revolt and insurrection across the region have been perceived in some quarters as a potential trickle-on threat to the kingdom.
Full report at:
http://www.thehindu.com/news/international/world/selfinterest-rules-west-asias-support-after-morsy-fall/article4969596.ece
----------
Saudi arrests Shias after gun battle: Report
30 July 2013
Saudi security forces arrested nine Shia after a gun battle in the oil-rich east, one of them wanted over protests among the minority community, a Saudi-owned newspaper reported on Tuesday.
The nine were overpowered without casualty on Monday after the firefight in Awamiya, a protest flashpoint in the Sunni-ruled kingdom's Eastern Province, interior ministry spokesman Mansur al-Turki told pan-Arab daily Asharq al-Awsat.
Full report at:
http://english.ahram.org.eg/NewsContent/2/8/77788/World/Region/Saudi-arrests-Shias-after-gunbattle-Report.aspx
--------
Bahrain king endorses 'anti-terror' powers
30 July 2013
MANAMA – Bahrain's King Hamad ordered the government on Monday to implement a parliamentary call for tough measures against what the authorities are calling an upsurge in "terrorism."
The monarch forwarded to the government recommendations adopted on Sunday by parliament, ordering their "quick implementation," the official BNA news agency said.
Parliament gave authorities powers to revoke the citizenship of anyone "recognized as guilty of committing or inciting an act of terrorism."
Full report at:
http://www.saudigazette.com.sa/index.cfm?method=home.regcon&contentid=20130730175327
----------
Palestinian leader in Cairo for show of support
AP | Jul 29, 2013
CAIRO: Palestinian leader Mahmoud Abbas has met with Egypt's interim president in Cairo in a show of support for the government that took over after Mohammed Morsi's ouster.
The visit on Monday comes as Egyptian authorities are investigating the role of Abbas' rival Palestinian group Hamas in a 2011 prison break that freed Morsi and several other members of the Muslim Brotherhood who had been detained under the previous regime.
Full report at:
http://timesofindia.indiatimes.com/world/middle-east/Palestinian-leader-in-Cairo-for-show-of-support/articleshow/21465604.cms
----------
Africa
Militants kill nine Tunisian soldiers as protests rage
July 30th, 2013
Militants killed nine Tunisian soldiers and stripped them of their weapons Monday near the Algerian border, as thousands demonstrated against the Islamist-led government.
The soldiers were found with their throats cut, and had been stripped of their weapons and uniforms after an armed group ambushed them, said medical and military sources in Kasserine near Mount Chaambi, the site of the attacks.
Four other soldiers were wounded, the sources added, in the area where the army has been tracking Al-Qaeda-linked militants.
State broadcaster Wataniya 1 said that those killed were "members of an elite unit," without giving further details on the clashes.
Residents said that thousands took to the streets in the town of al-Qasreen, near the site of the attack on the army, and many protesters were demanding the government's ouster.
Full report at:
http://www.albawaba.com/news/militants-kill-nine-tunisian-soldiers-protests-rage-510507
----------
Nigeria: 12 die in blasts in Kano's Christian area
30 July 2013
Nigeria's military says at least 12 people died in multiple blasts that rocked a Christian area in Nigeria's northern and mainly Muslim Kano city.
Military Joint Task Force spokesman Ikedichi Iweya says "a couple" of people were wounded in Monday night's attack by suspected members of the Islamic extremist Boko Haram network.
But an Associated Press reporter watched security forces ferrying scores of wounded to hospitals after the explosions around a bar where people where drinking, playing snooker and table tennis.
Full report at:
http://english.ahram.org.eg/NewsContent/2/9/77787/World/International/Nigeria--die-in-blasts-in-Kanos-Christian-area.aspx
---------
Tunisia's PM says Islamist-led Cabinet will not resign
30 July 2013
Tunisia's Prime Minister Ali Laarayedh said on Monday that the Islamist-led government will not resign despite opposition calls following the assassination of left-wing leader Mohammad Brahimi last week.
In a defiant press conference, Larayedh promised to finish the constitution by October and hold elections on Dec. 17.
"This government will stay in office: we are not clinging to power, but we have a duty and a responsibility that we will exercise to the end," he told state television, proposing December 17 as the date for a general election.
Full report at:
http://english.alarabiya.net/en/News/middle-east/2013/07/29/Tunisia-s-PM-says-Islamist-led-Cabinet-will-not-resign.html
---------
Grenade kills nine children in Sudan warzone: website
Jul 30, 2013
KHARTOUM: Nine children have been killed by an unexploded grenade blast in Sudan's South Kordofan, a website based in the war-torn region says.
The incident happened near Cham Chaka village southeast of Abu Kershola, said Nuba Reports, a website of "citizen reporters" in South Kordofan's Nuba Mountains battleground.
It said the explosion happened when a group of youngsters found an unexploded rocket-propelled grenade.
"The children picked up the round and it exploded, killing nine of the children and wounding five," Nuba Reports said.
Full report at:
http://dawn.com/news/1032954/grenade-kills-nine-children-in-sudan-warzone-website
----------
Libya PM to reshuffle cabinet amid wave of attacks
July 30, 2013
Libya's premier said Monday he would restore a feared Gaddafi-era security agency and reshuffle the cabinet to help resolve a political crisis and end a wave of violence.
Ali Zeidan said he would reactivate the Internal Security Agency which helped keep the former dictator in power for decades to try to stem a spate of bombings and assassinations, particularly in the east of the country.
"I understand the population's opposition to this agency that was used by the former regime to repress the people," he said.
"But without an efficient intelligence body, we cannot stop the attacks," he said the day after two explosions outside the courthouse in second city Benghazi wounded 43 people, according to the latest health ministry toll.
Full report at:
http://www.hindustantimes.com/world-news/africa/Libya-PM-to-reshuffle-cabinet-amid-wave-of-attacks/Article1-1100455.aspx
--------
Tunisian Protesters Call for Fall of Government as Military Cracks Down
30 July 2013
Mass protests continued throughout Tunisia on Monday following popular outrage over the assassination of leftist opposition leader Mohammed Brahmi last week.
Opposition leaders are now calling for the dissolution of the current government as the political crisis looms and protesters amass in one of the largest demonstrations since Tunisia's 'Arab Spring' in 2011, Reuters reports.
Police forces sealed off Bardo Square with barbed wire in the capital city of Tunis on Monday morning, declaring it "a closed military zone" after demonstrations and clashes between pro- and anti-government protesters continued throughout the weekend and into early Monday morning.
Full report at:
http://www.commondreams.org/headline/2013/07/29-2
----------
Europe
Al-Qaida group kidnaps Italian priest in Syria, activists say
Reuters | Jul 30, 2013
AMMAN: Al-Qaida-linked fighters in the rebel-held eastern Syrian city of Raqqa on Tuesday abducted a prominent Italian Jesuit priest who championed the uprising against President Bashar al-Assad, activists said.
Members of the Islamic State of Iraq and the Levant kidnapped father Paolo Dall'Oglio while he was walking in the city, which had fallen under the control of militant Islamist brigades, the sources in Raqqa province told Reuters.
Syrian authorities expelled Dall'Oglio from the country last year after he helped victims of Assad's military crackdown from a monastery in the Anti-Lebanon mountains north of Damascus.
http://timesofindia.indiatimes.com/world/middle-east/Al-Qaida-group-kidnaps-Italian-priest-in-Syria-activists-say/articleshow/21471899.cms
----------
Muslim Converts In Mexico Make Up A Diverse, Fast-Growing Community
By Bernd Debusmann
30 July 2013
MEXICO CITY – When Moroccan national Said Louahabi arrived in Mexico City in 1994, he and fellow Muslims had to attend religious services at the Pakistani embassy because there were no mosques or Islamic centers.
"I started looking for Muslims and a mosque when I first arrived," Louahabi, an English teacher, told Fox News Latino. "At the time, we met at the Pakistani embassy, and there were only about 80 people — most of us were foreigners."
Now, Louahabi prays alongside hundreds of other Muslims — foreigners and Mexicans alike — at the three-story Muslim Community Educational Center in the city's upscale Anzures neighborhood.
Full report at:
http://latino.foxnews.com/latino/lifestyle/2013/07/29/muslim-converts-in-mexico-make-up-diverse-fast-growing-community/#ixzz2aWB83EXC
----------
Islamic radicals test ground in calm Ukraine
30 July 2013
More than a thousand bearded men, muffled in scarves and accompanied by veiled women, stand under the hot sun, waving black and white flags and chanting "Allahu Akbar!" (God is Greatest).
This is not a scene from the Middle East or Central Asia but a rally of the supporters of the Islamist Hizb ut-Tahrir (Party of Freedom) in Simferopol -- the capital of the Ukrainian Black Sea region of Crimea.
Hizb ut-Tahrir seeks to re-establish a Caliphate -- a pan-Islamic state based on Islamic rule like in the medieval era -- across the Middle East and Central Asia.
Banned in several states, it is now showing surprising strength in Crimea, a balmy seaside holiday resort region which has its own substantial Muslim Tatar minority.
Full report at:
http://english.alarabiya.net/en/perspective/2013/07/29/Islamic-radicals-test-ground-in-calm-Ukraine-.html
---------
Egypt's ousted Morsi 'well,' has access to news: Catherine Ashton
AFP | Jul 30, 2013
CAIRO: Egypt's ousted president Mohamed Morsi is "well" and has access to news, EU foreign policy chief Catherine Ashton said on Tuesday after meeting him at an undisclosed location.
"Morsi is well," she told reporters, adding that he had access to newspapers and television, and describing their talks as "friendly, open and very frank."
Ashton held two hours of talks with Morsi in the early hours of Tuesday, with sources telling AFP she left Cairo on a military helicopter.
She declined to say where Morsi was being held or to characterize his comments to her.
"I'm not going to put words in his mouth," she said.
"We had a friendly, open and very frank discussion," she added. "We talked in-depth."
Ashton arrived in Cairo on Sunday night for an intensive schedule of meetings with Egyptian government officials and opposition representatives.
Full report at:
http://timesofindia.indiatimes.com/world/middle-east/Egypts-ousted-Morsi-well-has-access-to-news-Catherine-Ashton/articleshow/21483770.cms
----------
North America
US returns stolen Saddam Hussein sword to Iraq
AP | Jul 30, 2013
WASHINGTON: A gold-laden sword looted from ousted Iraqi dictator Saddam Hussein's personal office in the aftermath of the US invasion of Iraq has been returned to Iraqi authorities.
The Homeland Security Department yesterday returned the 43-inch sword with an embellished blade and sheath with gold inlaid Arabic writing to the Iraqi ambassador.
The sword was seized by the US government in January 2012 after it was found for sale at an auction in Manchester, New Hampshire.
The auction company, which sold the sword for $15,000 before it was seized, said it was brought to the United States by an American combat historian. The department says the sword, a gift to Saddam, is not a modern battlefield weapon and could not be considered a war trophy.
http://timesofindia.indiatimes.com/world/us/US-returns-stolen-Saddam-Hussein-sword-to-Iraq/articleshow/21479455.cms
----------
US hosts Israel, Palestinians for peace talks
July 30, 2013
Diplomats long have stressed the urgency of resolving the Israeli-Palestinian conflict, yet as a new round of Mideast peace talks begins, Secretary of State John Kerry thinks there are more reasons than ever to move quickly. In Kerry's thinking, time is running out. It would be
difficult to remove a mushrooming number of Israeli settlements, which have doubled in the West Bank since 2000, even if Israel wanted to. The Palestinians are claiming that Arabs will outnumber Jews in the Holy Land by 2020. And last year, the U.N. General Assembly recognized a state of Palestine in the West Bank, Gaza and east Jerusalem - a move that could let the Palestinians take their complaints over settlements to the International Criminal Court.
Full report at:
http://www.hindustantimes.com/world-news/Americas/US-hosts-Israel-Palestinians-for-peace-talks/Article1-1100621.aspx
----------
Obama urges 'good faith' in Israel-Palestinian talks
AFP | Jul 29, 2013
WASHINGTON: US President Barack Obama welcomed the imminent start of renewed peace talks between Israel and the Palestinians on Monday, but urged both sides to approach them with honesty.
"The most difficult work of these negotiations is ahead, and I am hopeful that both the Israelis and Palestinians will approach these talks in good faith," he said.
http://timesofindia.indiatimes.com/world/us/Obama-urges-good-faith-in-Israel-Palestinian-talks/articleshow/21463989.cms
-------
Oklahoma Muslims volunteer at food bank during Ramadan
30 July 2013
Even while fasting in observance of Ramadan, Noran Abueisheh wants to make sure others don't go hungry.
Abueisheh, 15, was one of more than 130 Oklahoma Muslims to volunteer Saturday at the Regional Food Bank of Oklahoma in Oklahoma City.
Ramadan is one of the five pillars of Islam. Observant Muslims abstain from food, drink and sensual pleasures from dawn to sunset during the month, which commemorates the divine revelation of the Quran to the Prophet Muhammad. The holy month ends Aug. 8
Abueisheh, a Westmoore High School student, was bagging rice from a huge box into individual packets. She said it felt good to get out and serve her community.
Full report at:
http://newsok.com/oklahoma-muslims-volunteer-at-food-bank-during-ramadan/article/3866862
----------
Mideast
US drone kills three Qaeda suspects in Yemen: tribal source
Jul 30, 2013
ADEN: A US drone strike killed three suspected Al-Qaeda militants in Yemen at dawn on Tuesday in the second such attack in three days, a tribal source told AFP.
"The car in which the three were travelling — two Yemenis and a Saudi — was blown to pieces and all of them were killed outright," the source said.
The attack struck in Shabwa, a southern province that borders Abyan, where Saturday night's strike hit.
"It was carried out by a US drone," the source said, speaking on condition of anonymity.
The strike targeted two vehicles on the road between Al-Aram and Al-Saeed.
"Only one vehicle was hit and the other got away," the source said.
The United States, the only country to operate drones in the region, has sharply increased its use of them against Al-Qaeda targets in Yemen over the past two years.
Washington regards Al-Qaeda in the Arabian Peninsula (AQAP), a merger of militants in Yemen and neighbouring Saudi Arabia, as the worldwide jihadist network's most active and dangerous branch.
Full report at:
http://dawn.com/news/1032962/us-drone-kills-three-qaeda-suspects-in-yemen-tribal-source
----------
Iran nominee seen as olive branch to United States
Jul 30 2013
DUBAI/PARIS : If Iranian President-elect Hassan Rouhani wanted to signal his determination to rebuild relations with the United States and strike a "grand bargain," he could hardly do better than pick Mohammad Javad Zarif as his foreign minister.
Iranian news agencies reported on Monday that Zarif, a former ambassador to the United Nations and Tehran's leading connoisseur of the U.S. political elite, is set to be in the cabinet Rouhani will announce after taking office on Sunday. A source close to Rouhani confirmed Zarif will be nominated as foreign minister.
Full report at:
http://www.indianexpress.com/news/iran-nominee-seen-as-olive-branch-to-united-states/1148651/
----------
Abbas wants 'not a single Israeli' in future Palestinian state
Reuters | Jul 30, 2013
CAIRO: Palestinian President Mahmoud Abbas laid out his vision on Monday for the final status of Israeli-Palestinian relations ahead of peace talks due to resume in Washington for the first time in nearly three years.
Abbas said that no Israeli settlers or border forces could remain in a future Palestinian state and that Palestinians deem illegal all Jewish settlement building within the land occupied in the 1967 Middle East war.
The forceful statements appeared to challenge mediator US secretary of state John Kerry's hopes that the terms of the talks, scheduled to begin Monday night over dinner, be kept secret.
Full report at:
http://timesofindia.indiatimes.com/world/middle-east/Abbas-wants-not-a-single-Israeli-in-future-Palestinian-state/articleshow/21475400.cms
-------
Yemeni Journalist Jailed at Obama's Request Blossoms
Rooj Alwazir
30 July 2013
On July 23 2012, Abdulelah Haider Shaye, a Yemeni journalist imprisoned since 2010 at the request of Obama,was finally released from Yemeni State Prison.
Shaye was a well-respected Yemeni journalist, known in Yemen for his investigative journalism and breaking stories. He was recognized in the U.S. for conducting interviews with the US born Islamic cleric, Anwar Al Awlaki and with leaders of al Qaeda in Yemen, and often provided news coverage for US media outlets such as the Washington Post and ABC news. He later came to the spotlight in December 2009 after reporting on a military offensive that the Yemeni government claimed it had carried out against Al Qaeda militants but had actually been carried out by the United States. Shaye went to the site that the Yemeni forces claimed to be a "suspected al Qaeda training camp" in Al Majalah village in southern Yemen only to discover dozens of dead bodies and the remnants of missiles and cluster bombs, weapons the Yemeni government didn't have. To Shaye, things were not adding up.
Full report at:
http://www.commondreams.org/view/2013/07/29-6
----------
India
Murder threat to the leaders of various Hindu outfits
Jul 30 2013
Coimbatore: The BJP office here today received a letter threatening to kill 12 persons belonging to various Sangh Parivar organisations if their demand for immediate release of Abdul Nassar Madani, the Kerala-based PDP leader who is an accused in the 2008 Bangalore serial bomb blasts, was not met immediately, police said.
The letter sought immediate release of Madani lodged in a jail in Bangalore. It threatened to kill leaders of various organisations of BJP, including Hindu Munnani and VHP, if their demand was not met, police sources said.
Tamil Nadu BJP Secretary, G K S Selvakumar and district BJP president, Nanda Kumar met city Police Commissioner A K Vishwanathan and sought protection to front-ranking leaders of these organisations.
Full report at:
http://www.indianexpress.com/news/murder-threat-to-the-leaders-of-various-hindu-outfits/1148420/
----------
Indian Embassy brands FOKASA an 'illegal organisation'
30 July 2013
The Indian Embassy Monday termed FOKASA "an illegal organization" and has rejected its statements against the judicial system of Saudi Arabia and the embassy for allegedly not utilising the Indian Community Welfare Fund (ICWF) effectively.
Indian Embassy spokesperson Surinder Bhagat told Arab News that the embassy rejects statements made by illegal associations or self-styled social workers criticizing the judicial system of Saudi Arabia.
"We have seen a report attributing a statement to an illegal organization in Saudi Arabia called 'FOKASA,' which alleges that the majority of Indian citizens in Saudi Arabian jails are convicted without a fair trial. The embassy rejects such irresponsible statements casting aspersions on the judicial system of Saudi Arabia," Bhagat said.
Full report at:
http://www.arabnews.com/news/459635
----------
Grand Imam of Al Azhar replaced by Zakir Naik as Islamic Personality of the year
Jul 30, 2013
Dubai: The Dubai International Holy Quran Award (DIHQA) has named Dr. Zakir Naik of India as the Islamic Personality of the Year for 2013, replacing Shaikh Ahmad Al Tayyeb, Grand Imam of Al Azhar, who was earlier named by DIHQA.
The decision was announced by Ebrahim Bumilha, Chairman of DIHQA's organising committee, on Monday.
Bumilha said that the decision was taken due to Shaikh Al Tayyeb's inability to travel because of the worsening security situation in Egypt.
Full report at:
http://gulfnews.com/news/gulf/uae/zakir-naik-named-islamic-personality-of-the-year-1.1214199
----------
Infiltration bids foiled, two militants killed in Kashmir
PTI | Jul 30, 2013
SRINAGAR: Army on Tuesday foiled two infiltration bids along the Line of Control in north Kashmir's Kupwara district, killing two militants.
An infiltration bid was foiled by troops along the LoC in Macchil Sector of Kupwara district, a defence spokesman said.
Two militants have been killed in the operation, which was going on till reports last came in.
The spokesman said another counter-infiltration operation was in progress in Hafruda forests of nearby Handwara area in the district.
Full report at:
http://timesofindia.indiatimes.com/india/Infiltration-bids-foiled-two-militants-killed-in-Kashmir/articleshow/21480386.cms
----------
India has to carefully weigh Pakistan's offer
Jul 30 2013
"No Chinese foray can match the conquest that songs from Raj Kapoors films, Shah Rukh Khans dialogues and even the samosa have madeâ€
The government has to carefully weigh Pakistans offer to resume talks and take a suitable decision in the light of events of the recent past, External Affairs Minister Salman Khurshid said on Monday.
Asked about Indias response to the new Pakistan governments purported recent offer for talks, Mr. Khurshid said no opening had been refused in the past. However, the latest one would have to be taken up carefully after addressing peoples hurt over soldiers being beheaded by Pakistans Army earlier this year.
Full report at:
http://www.thehindu.com/news/national/india-has-to-carefully-weigh-pakistans-offer/article4967486.ece
----------
Rare Egyptian vultures sighted in Odisha
Jul 30 2013
Rare Egyptian vultures have been spotted near Laxmipur in Chikiti forest range of Odishas Ganjam district. The forest department intends to carry out a survey of the birds.
"A survey should be conducted and their nesting site located,†said wildlife warden of Khurda Pityush P. Mohapatra.
A bird-watcher recently sighted 13 such birds and reported it to the divisional forest officer, Berhampur.
Full report at:
http://www.thehindu.com/sci-tech/energy-and-environment/rare-egyptian-vultures-sighted-in-odisha/article4970130.ece
----------
In Kashmir's riot zone, only a Pundit's house has remained safe
AHMED ALI FAYYAZ
Jul 30 2013
As Shias and Sunnis clashed, everybody felt vulnerable but Ganjoo and his house were an exception
When some Jamaat-e-Islami ideologues founded the organisations guerrilla arm Hizbul Mujahideen at a secret meeting in this tiny hamlet towards the end of 1989, teenagers like Ashraf Dar discovered themselves to be the mightiest — thanks to the AK-47s that flew in from Muzaffarabad. Their arms came with a lot of blood: Budgams first encounter occurred at Nakara. Three of the four militants killed were from Dooru. A hand grenade went off accidentally in the mosque, killing a civilian. Akbar Dars son died. A dozen others were injured.
Full report at:
http://www.thehindu.com/news/national/other-states/in-kashmirs-riot-zone-only-a-pandits-house-has-remained-safe/article4967839.ece
----------
We are not against Muslims, says BJP
Jul 30 2013
New Delhi: In an apparent bid to wriggle out of the Congresss attempt to trap them into communal-secular debate, the BJP leadership on Monday alleged that the ruling party was trying to paint the saffron party as averse to the minority community.
"They are giving this wrong impression for vote bank politics...We follow a policy of neither appeasement nor discrimination. The BJP is not against Muslims but against terrorism,†former party president Nitin Gadkari said on Monday while addressing BJPs women workers.
Full report at:
http://www.indianexpress.com/news/We-are-not-against-Muslims-says-BJP/1148460/?indian_top
----------
Southeast Asia
Indonesian Palace Angry at Alleged Western Spying
Jul 30, 2013
The State Palace on Monday lashed out at foreign governments that allegedly spied on Indonesian leaders, saying the practice was unethical.
"Wiretapping is not good for bilateral relations," presidential spokesman Teuku Faizasyah said at the State Palace on Monday.
The comments come days after allegations resurfaced that at a Group of 20 conference in London in 2009 attended by Indonesian President Susilo Bambang Yudhoyono, intelligence agencies including Britain's General Communication Headquarters and the US National Security Agency tapped into delegates' personal e-mails and text messages.
The allegations published by Australian media outlets on Friday, which suggested that the Indonesian delegation was among those spied upon, were believed to have flowed from leaks on intelligence-gathering techniques by US whistleblower Edward Snowden.
Faizasyah said the Indonesian government would investigate the extent of damage caused by the alleged security breach.
Full report at:
http://www.thejakartaglobe.com/news/indonesian-palace-angry-at-alleged-western-spying/
----------
Philippine troops kill Muslim rebels who attack oil truck
Jul 30 2013
Philippine troops killed eight breakaway Muslim rebels who attacked an oil tanker truck and placed bombs along a highway, forcing its closure for several hours, as sporadic clashes raged on Tuesday in a restive southern province.
The driver of the oil truck prevented a disaster by speeding away from dozens of gunmen belonging to the Bangsamoro Islamic Liberation Movement, toward an army outpost in Maguindanao provinces Guindolongan town, regional military spokesman Col. Dickson Hermoso said.
Full report at:
http://www.thehindu.com/news/international/world/philippine-troops-kill-rebels-who-attack-oil-truck/article4970361.ece
----------
Parties' pandering hurts Shia, Ahmadiyah
July 30 2013
Political pragmatism by major political parties, that have long pandered to majority Sunni voters, has prevented the parties from protecting the rights of minority Muslim groups such as the Ahmadiyah and Shia.
Although nine political parties in the House of Representatives have provisions in their statutes to protect the rights of minority groups, some of them, particularly the Islamic-based National Awakening Party (PKB), the United Development Party (PPP) and the Prosperous Justice Party (PKS), have openly supported the Religious Affairs Ministry's decision to maintain regulations deemed discriminatory against minorities groups, including the 2008 Joint Ministerial Decree that bans Ahmadis from practicing their faith over fears of blasphemy.
Full report at:
http://www.thejakartapost.com/news/2013/07/30/parties-pandering-hurts-shia-ahmadiyah.html
----------
FT advisory body to oversee non-Islamic houses of worship - Bernama
JULY 30, 2013
The Ministry of Federal Territories and Urban Wellbeing will set up an advisory body for Non-Islamic Houses of Worship to study the notices of vacancy and determine areas for the construction of houses of worship.
Its Deputy Minister Datuk Dr J. Loga Balan said the advisory body would also investigate actions to vacate the sites by the authorities, by taking into account the religious sensitivity of the multi-racial community.
Full report at:
http://www.themalaysianinsider.com/malaysia/article/ft-advisory-body-to-oversee-non-islamic-houses-of-worship-bernama
--------
'Perak mufti's proposal to amend Articles 3, 5, and 11against human rights'
30 July 2013
PETALING JAYA : The call by Perak Mufti Tan Sri Harussani Zakaria to amend Articles 3, 5, and 11 of the Federal Constitution, which relate to freedom of religion and personal liberty, runs contrary to basic human rights, say legal and religious experts.
"What he is trying to do is to exclude Muslims from constitutional protection (as Muslims would only be governed by syariah law)," Malaysian Centre for Constitutionalism and Human Rights coordinator Edmund Bon told theSun today.
Full report at:
http://www.thesundaily.my/news/782904
---------
SBY's Ramadan Biscuits Suggest Pramono Run on Cards
Jul 30, 2013
President Susilo Bambang Yudhoyono may have been seeking to spread Ramadan cheer when he invited guests to his private residence at Cikeas in West Java to break the fast on Saturday, but politics was not far from his mind.
Guests at the gathering received as a gift two cans of biscuits — coupled with a greeting card from the president, his wife Ani, and her brother, Pramono Edhie Wibowo.
The decision to include the former Army chief of staff on the card fueled speculation that the president was backing him in his bid to secure the Democratic Party presidential nomination at an upcoming convention.
Full report at:
http://www.thejakartaglobe.com/news/sbys-ramadan-biscuits-suggest-pramono-run-on-cards/
----------
South Asia
"We will not follow unconstitutional orders": Maldives Police Commissioner
By Neil Merrett | July 29th, 2013
Police Commissioner Abdulla Riyaz has said his institution will continue to refuse any orders it decides are "unconstitutional", while expressing concerns over leaked proposals allegedly devised by the Maldivian Democratic Party (MDP) to reform the country's security forces.
In an interview on the Maldives Police Service (MPS) website, Commissioner Riyaz expressed concern at a leaked policy paper that he alleged sought to dismantle and undermine law enforcement, calling for the opposition MDP to clarify if the policies were genuinely part of the party's election policy.
"I don't want to say anything specifically about something that has been prepared politically or for a political purpose, but we do have a constitution and the MPS is an institution formed by the constitution," he said, speaking just over a month ahead of the 2013 presidential election.
Full report at:
http://minivannews.com/politics/we-will-not-follow-unconstitutional-orders-even-if-a-new-president-is-installed-tomorrow%E2%80%9D-police-commissioner-riyaz-61712
----------
Hefazat-e-Islam challenges AL over polls
Manik Miazee Politics
Jul 30, 2013
The Hathazari madrasa-based group said the defeat of Awami League candidates in the recently concluded city corporation polls showed that the people were opposed to the party since they had not fulfilled Hefazat's 13-point demands
Hefazat-e-Islam has warned that the Awami League would not get a single seat in the next general elections if the government bans the Islamist organisation.
They said the defeat of Awami League candidates in the recently concluded city corporation polls showed that the people were opposed to the party since they had not fulfilled Hefazat's 13-point demands.
Full report at:
http://www.dhakatribune.com/politics/2013/jul/30/hefazat-e-islam-challenges-al-over-polls
----------
Bangladeshi held for selling porn in Mekkah
30 July 2013
JEDDAH — Makkah Police officers raided a room at Al-Nahdah neighborhood, north Jeddah, which a Bangladeshi man allegedly used for recording and selling pornography movies. The police was tipped off about the Bangladeshi worker's illegal activities. He was kept under surveillance for several days before his room was raided. Videos, screens, a computer, printer, and 1,450 CDs with pornographic material were confiscated from the place. Jeddah Police spokesman First Lt. Nawaf Al-Bouq said the Bangladeshi worker is still under investigation.
http://www.saudigazette.com.sa/index.cfm?method=home.regcon&contentid=20130730175309
----------
Maldives preparing for presidential polls
By N SathiyaMoorthy | July 30th, 2013
Come September the Maldives will be having the second multi-party elections for the nation's presidency.
Only recently, incumbent President Mohammed Waheed Hassan Manik said the 2008 Constitution has provided for a presidential form of government under a parliamentary scheme, and the nation is facing the consequences. Waheed did not say if it included the controversial circumstances revolving around his own ascendancy to power when he was Vice-President to Mohamed Nasheed, the first President elected under the multi-party scheme.
Full report at:
http://minivannews.com/politics/comment-maldives-preparing-for-presidential-polls-61735
----------
URL: https://newageislam.com/islamic-world-news/india-born-mamnoon-hussain-elected/d/12818