New Age Islam News Bureau
25 May 2019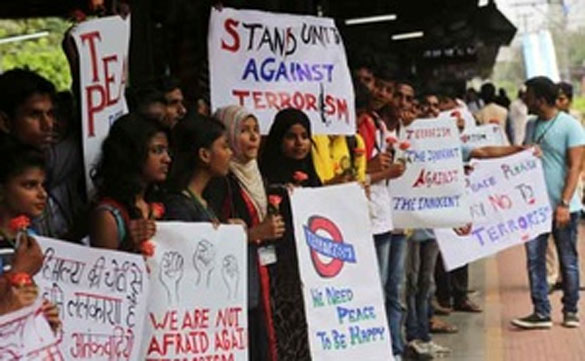 Representational Image: College students hold placards during a rally to condemn terrorism at a railway platform in Mumbai. Reuters
---------
• India Bans Islamist Terror Group Jamaat-Ul-Mujahideen Bangladesh
• Iran's Envoy to the UN Raps 'Idiotic' Trump for Calling Iran 'Nation of Terror'
• Islamists in Sudan Rally In Support Of Islamic Rule
• Trump Defies Congress, Clears Arms Sales to S. Arabia, UAE
• Isis Suspect Told Parents He Wanted To Behead School Friend, Court Hears
India
• India Bans Islamist Terror Group Jamaat-Ul-Mujahideen Bangladesh
• More Muslim and Women Legislators In Indian Lok Sabha
• Indian envoy rules out talks with Pakistan unless it stops supporting terror
• Al-Qaeda affiliate Chief Zakir Musa killed in encounter
• India stopped purchasing Iranian oil after US waivers expired: Envoy
• Govt bans Jamaat-ul-Mujahideen Bangladesh, says outfit promoted acts of terrorism
--------
Mideast
• Iran's Envoy to the UN Raps 'Idiotic' Trump for Calling Iran 'Nation of Terror'
• Iran Top Military Chief Issues Threat: 'Our Hands Are On the Trigger'
• Saudi Arabia Urges Int'l Community to Take Firm Stand against Houthis
• Houthis Lead Coercive Recruitment Campaign against African Refugees
• Solutions acceptable to Palestinians required for Palestine peace
• 16 Palestinians hurt in clashes with Israeli forces at Gaza border
• 9 Yemenis killed as Saudi-led jets hit petroleum derivatives plant
• Yemen president accuses UN envoy Griffiths of siding with Houthis
--------
Africa
• Islamists in Sudan Rally In Support Of Islamic Rule
• Despite Western-Backed Response, Sahel Extremists Gaining Ground
• Nigeria nabs Boko Haram logistics supplier
• Strike kills two militants as US-backed forces push into ISIS territory in Somalia
• Libya coast guard rescues 290 migrants off eastern coast of Tripoli
• Saudi Crown Prince meets deputy head of Sudan's Transitional Military Council
• Pro-Haftar forces target parliament in Libyan capital
--------
North America
• Trump Defies Congress, Clears Arms Sales to S. Arabia, UAE
• Pentagon Calls Terror Groups Key Obstacle In Taliban Talks
• U.S. calls for ceasefire as heavy fighting hits northwest Syria
• Trump says he will send 1,500 troops to Middle East
• US State Department misses deadline to explain Iran arms control report
• Retired generals, diplomats warn Trump against Iran war
• US military targets ISIS-Somalia in fifth airstrike since April
--------
Europe
• Isis Suspect Told Parents He Wanted To Behead School Friend, Court Hears
• Netherlands Wants Tribunal to Try Some Islamic State Members
• Turkish parliament speaker to visit N Macedonia, Bosnia
• Germany urges peaceful solution to Iran crisis
• UK envoy: Turkey would greatly contribute to EU
--------
South Asia
• Bomb In Afghan Mosque Kills Senior Cleric During Friday Prayers
• 'Results' needed from Myanmar over Rohingya return: UNHCR head
• Ramadan Helping Hand for Bangladesh's Poor
• Bangladesh to erect fence to fight Rohingya trafficking
• Explosion rips through a mosque in Kabul, killing or wounding at least 17 people
--------
Southeast Asia
• Arrested Malaysian Militants Tested Bombs In Kedah
• Nothing enviable about scholarships for Palestinians, Kit Siang's aide tells MCA
• Indonesian presidential challenger appeals election loss
--------
Arab World
• Misery Grows At Syrian Camp Holding ISIS Family Members
• Yemeni Drone Hits Saudi Patriot Missile Battery in Najran Base
• Idlib: Syrian Army's Massive Military Operations Imminent
• Iraqi protesters urge Baghdad to stay out of US-Iran dispute
• Syrian helicopters distribute Idlib evacuation leaflets in preparation for military campaign
• Saudi Arabia stresses need for enhanced cooperation in global fight against terrorism
--------
Pakistan
• Bomb at Sunni Muslim mosque in Pakistan kills two, wounds 14
• One killed, several injured in a blast in Pakistan
• Imran rejects MQM-P's demand for division of Sindh
• Iran happy with Pakistan's stance on Gulf crisis
• Pakistan among top states where Facebook curbed most content
• CTD arrests six activists of banned organisations
• Three killed in Quetta mosque bombing
Compiled by New Age Islam News Bureau
URL: https://www.newageislam.com/islamic-world-news/india-bans-islamist-terror-group/d/118706
--------
India bans Islamist terror group Jamaat-ul-Mujahideen Bangladesh
24 May 2019
The Press Information Bureau announced the ban imposed by the home ministry on Friday, a day after the Bharatiya Janata Party or BJP of Hindu nationalists claimed a huge election victory with historic majority.
National security was one of the key mandates of Indian Prime Minister Narendra Modi, who on Thursday scored a dramatic election victory.
Known as Jamaat-ul-Mujahideen Bangladesh or JMB, the group's manifestations in any forms such as Jamaat-ul-Mujahideen India or Jamaat-ul-Mujahideen Hindustan are also banned in India from now on.
PIB said a central government notification dated Thursday states the JMB, its other formations and their manifestations have "committed acts of terrorism, promoted acts of terrorism and have been engaged in radicalisation and recruitment of youth(s) for terrorist activities in India".
Having been banned in Bangladesh in 2005 after random bomb attacks, the group's revived faction Neo-JMB surfaced in recent years.
The banned militant group is blamed for many attacks, including the killings of foreigners at Holey Artisan bakery in Dhaka on July 1, 2016, and killings of secular writers and bloggers, which were claimed by Middle East-based Islamic State or al-Qaeda.
The government and law enforcement said home-grown militants were carrying out the attacks.
In India, media reported arrests of a number of JMB operatives different times as the militants reportedly took shelter there.
Indian law enforcers made one of the latest arrests in August last year.
The arrestee, Mohammed Jahidul Islam alias Boma Mizan, was wanted for his alleged involvement in the 2014 Burdwan blast and last year's Bodh Gaya blast.
Besides arrests in a massive crackdown on militants after the Dhaka café attack, law enforcers in Bangladesh have killed a number of suspects in so-called shootouts during anti-terrorism drives.
In January this year, the law enforcers arrested last fugitive café attack suspects Shariful Islam alias Khalid and Mamunur Rashid Ripon.
According to a report from Indian publication Anandabazar in early 2017, Indian detective agencies believed that Khalid and Ripon were attempting to raise militant groups in West Bengal.
https://bdnews24.com/world/south-asia/2019/05/24/indian-bans-islamist-terror-group-jamaat-ul-majahideen-bangladesh
--------
Iran's Envoy to the UN Raps 'Idiotic' Trump for Calling Iran 'Nation of Terror'
May 24, 2019
Iran's envoy to the UN has hit out at US President Donald Trump's "idiotic" terror accusations, saying Tehran has been the biggest victim and strongest enemy of terrorism in the region.
The strong reaction by Majid Takht-Ravanchi came after Trump on Thursday called Iran "a nation of terror" despite his earlier patronizing messages to the Iranian people.
"The US president's contradictory words about Iran clearly show his endless hostility toward Iran and the great Iranian nation," Takht-Ravanchi said.
"These idiotic remarks, more than anything, show [Trump's] ignorance of thousands of years of the Iranian history, and a lack of knowledge about the country," the Iranian envoy added.
Speaking to reporters in Washington Thursday, Trump said, "Iran has been a very dangerous player, a very bad player. They are a nation of terror and we won't put up with it."
Iranians, he alleged, is now suffering from massive financial problems, adding they have inflation that's about the highest in the world.
Trump pulled the US out of an international nuclear deal with Iran last year, and reimposed toughest sanctions ever on the country, drawing rebuke even from the United States' closest allies.
"Trump's insistence on using insulting words against Iran only doubles the Iranian nation's determination to resist the policy of pressure and intimidation," Takht-Ravanchi said.
He said Iran has been "the biggest victim and at the same time the strongest enemy of terrorism in the region."
"Destroying Daesh and other similar terror groups in recent years has been among the latest measures of Iran in this regard," he added.
Since taking office in 2016, Trump has flip-flopped on the Iranian nation: he has once in a while called the Iranians "a terrorist nation" and soon after expressed his support for them.
In January 2018, Trump announced his "respect" for small riots in some Iranian cities, saying the US would provide "great support" to them "at the appropriate time."
Iranian Foreign Minister Mohammad Javad Zarif fired back.
"Trump has an odd way of showing 'such respect' for Iranians: from labeling them a 'terrorist nation' & banning them from visiting the US, to petty insults on the name of the Persian Gulf," Zarif said at the time.
On Monday, a senior Iranian official said Trump is a "crazy president" whose threats against Iran aren't going to work, adding if the US president wants to talk, he'll not only have to show some respect, but come up with a consistent message.
His remarks came after Trump called Iran "No. 1 provocateur of terror" and threatened the country with "official end".
"In his mind, Trump thinks he has a gun to Iran's head with sanctions and he is trying to shut down our economy," Iran's director of foreign affairs for the country's parliament, Hossein Amir-Abdollahian, told CNN.
"Also, Trump is not quite balanced and stable in his decision making, so we are dealing with a confused White House," he said.
Amir-Abdollahian said Trump has "got no idea about the culture and mentality of the Iranian people" if he thinks threats will work against Iran.
"Forty years of Islamic Revolution in Iran have shown that you cannot talk to Iran through threats," the official said.
https://www.presstv.com/Detail/2019/05/24/596758/Iran-Takht-ravanchi-Trump-Shanahan-terrorist-nation
--------
Islamists in Sudan rally in support of Islamic rule
May 25, 2019
KHARTOUM, Sudan – Thousands of Islamists in Sudan long allied with ousted president Omar al-Bashir's regime are rallying to support military-backed Islamic rule in the face of alleged attempts by protesters to abolish it.
Friday's rally in the capital Khartoum was called by Nusrat al-Sharia and Rule of Law, a coalition of Islamic parties. Protesters chanted, "Freedom, peace, justice and Shariah are the people's choice."
Demonstrators gathered in a street leading to the presidential palace but security forces blocked off roads to the palace.
Mohammad Abdel-Kareem, vice president of the coalition, says the rally is a message to the Forces for the Declaration of Freedom and Change "that (Islamists) have a say in Sudan." The FDFC represents the demonstrators who helped bring about the military overthrow of al-Bashir on April 11 after nearly four months of protests..
https://www.foxnews.com/world/islamists-in-sudan-rally-in-support-of-islamic-rule
--------
Trump defies Congress, clears arms sales to S. Arabia, UAE
May 25, 2019
WASHINGTON:US President Donald Trump, saying there is a national emergency because of tensions with Iran, swept aside objections from Congress and cleared the sale of $8 billion worth of weapons to Saudi Arabia, the United Arab Emirates and Jordan.
The Trump administration informed congressional committees on Friday that it would go ahead with 22 military sales to the Saudis, United Arab Emirates and Jordan, infuriating lawmakers by circumventing a long-standing precedent for congressional review of such sales.
In documents sent to Congress, Secretary of State Mike Pompeo listed a wide range of products and services that would be provided to the three countries. They include Raytheon precision-guided munitions (PGMs), support for Boeing Co F-15 aircraft, and Javelin anti-tank missiles, which are made by Raytheon and Lockheed Martin Corp.
Some lawmakers and congressional aides had warned earlier this week that Trump, frustrated with Congress holding up weapons deals like the sale of the Raytheon-made bombs to the Saudis, was considering using a loophole in arms control law to go ahead by declaring a national emergency.
Lawmakers had been blocking sales of offensive military equipment to Saudi Arabia and the United Arab Emirates for months, concerned about the huge civilian toll of the two countries' air campaign in Yemen.
Congressional sources said Friday's order included all the defence equipment that members of Congress had been blocking.
"I am disappointed, but not surprised, that the Trump administration has failed once again to prioritise our long-term national security interests or stand up for human rights, and instead is granting favours to authoritarian countries like Saudi Arabia," Senator Bob Menendez said in a statement.
Menendez is one of the members of Congress who reviews such sales because he is the ranking Democrat on the Senate Foreign Relations Committee.
Another, the Republican Foreign Relations Committee chairman, Senator Jim Risch, said he had received formal notification of the administration's intent to move forward with "a number of arms sales". In a statement, Risch said: "I am reviewing and analysing the legal justification for this action and the associated implications."
In his memorandum to Congress justifying the sale, Pompeo listed years of actions by Iran. "Iranian malign activity poses a fundamental threat to the stability of the Middle East and to American security at home and abroad," he wrote, and cited "a number of troubling and escalatory indications and warnings" from Tehran.
Congressional aides questioned the contention that the weapons had to do with Iran, saying the equipment and services listed by the administration includes large amounts of offensive weapons, like the tank ammunition.
https://www.dawn.com/news/1484437/trump-defies-congress-clears-arms-sales-to-s-arabia-uae
--------
Isis Suspect Told Parents He Wanted To Behead School Friend, Court Hears
23 May 2019
The parents of a Muslim convert suspected of joining Islamic State sent or attempted to send him money despite him telling them he wanted to behead a former schoolfriend who had joined the army, a jury has heard.
John Letts and Sally Lane challenged their son Jack Letts after he responded to a Facebook post by Linus Doubtfire in 2015, the Old Bailey heard.
Doubtfire had posted a picture of a group of soldiers upon his completion of a commando artillery course, to which Jack had responded: "I would love to perform a martyrdom operation in this scene."
The jury heard that when the parents questioned him after his post, Jack said: "I admit it was wrong if I seemed like I was joking. I genuinely believe attacking the British army is a very praiseworthy action … I would happily kill each and every one of Linus Unit personally."
The court was told that Jack continued: "This message is for you, Mum and Tyler [his younger brother], I honestly want to cut Linus [sic] head off. I hope he finds himself lost in Baji or Fallujah one day and sees me whilst I'm armed and I'll put six bullets in his head."
His mother responded by asking for proof it was him writing the messages about beheading, the jury heard. The prosecution said this demonstrated that the couple had doubts about whether they were dealing with Jack before they agreed to send money.
John Letts, 58, and Lane, 56, from Oxford, are accused of sending or attempting to send their son a total of £1,723 between September 2015 and January 2016 after he travelled to Syria. They deny three charges under section 17 of the Terrorism Act 2000.
The prosecution claims that from information available to them at them time, they "knew or had reasonable cause to suspect" the money might be used to fund terrorism.
Jack converted to Islam aged 16 and left for the Middle East aged 18. He married in Iraq before going to Syria. He is now 23.
The jury heard that in another Facebook post, seen by his parents, Jack shared a picture of himself at the Tabqa Dam in Raqqa. Alison Morgan QC, prosecuting, said Jack could be seen "making a gesture with his finger".
Email, text and Facebook messages later retrieved by police showed his parents' shock and despair on discovering Jack's whereabouts, the court heard. Lane told one of Jack's friends he had phoned her and was "OK for now" but "he's in the worst place possible and doesn't want to leave".
She confided to another friend: "I still can't quite believe he's been so utterly stupid. I can only think that his mental illness (OCD) was deeper than we thought."
John Letts told his son when he showed no sign of returning to the UK: "You are now caught up in a crusade that has left so many lives shattered." He said Jack was "a pawn … helping to spread hatred, pain, anger, suffering and violence".
Police began investigating Jack's activities in early 2015 and warned his parents they could not send him money, the court has heard. When they told their son of this, he responded: "Please convey to the British police that I'm not planning on coming back to their broken country … Convey to them from me: 'Die in your rage, soon you'll be the ones being raided.'"
In exchanges with her son, Lane asked him to stop telling her of his "barbaric impulses".
In one, she blamed herself, telling Jack: "Clearly I indulged you, I made you think you were the centre of the universe. I was a terrible parent that gave you too much power as a child. I should have made you adapt to the world, instead of adapting myself to your world. I have done you no favours by doing this," the jury heard. She continued: "This is a sign of mental illness and I have to bear some responsibility for that as your mother."
On 2 September 2015, Lane transferred £223 to an unknown person in Lebanon at Jack's request, it was alleged. She asked her son: "Can you guarantee they have nothing to do with Jihad? As I could go to prison." Jack said they did not, and she added: "As I said to you before, I would go to prison for you if I thought it gave you a better chance of actually reaching your 25th birthday," the jury heard.
When police questioned her about the transfer, she said she hoped the money would help Jack to get glasses, and she did not believe she was supporting terrorism. She told officers: "I am trying to get him out of terrorism and I don't think he's a terrorist," the jury heard.
The prosecution alleged the couple had no idea what was going on in Jack's world, and had accused him of lying to them.
A second attempt, to transfer £1,000 to Lebanon, was made in December 2015 when Jack said he wanted to leave Syria and needed it to pay for travel and smugglers, the jury heard. When that was blocked, a third attempt, to transfer £500 using a false name to Lebanon, was made on 4 January 2016. It was also blocked, and the couple arrested the following day.
Lane, in an email to a work colleague, said the couple had gone ahead despite the warnings from police they risked prosecution. They had had to "weigh up the pros and cons of sending him the money so he can get out alive and not sending him the money so we wouldn't get a criminal record," she wrote.
"We believe most parents would make the same decision we did," she added.
Morgan, concluding her opening, said it was clear the couple knew they were breaking the law. She added: "They no longer knew the person that their son had become. Someone who was quite happy to put six bullets into the head of a former schoolfriend."
https://www.theguardian.com/uk-news/2019/may/23/isis-suspect-told-parents-he-wanted-to-behead-schoolfriend-court-hears
--------
India
More Muslim and Women Legislators In Indian Lok Sabha
25.05.19
The number of Muslim Lok Sabha MPs has increased marginally but their proportion remains far below the community's share in the population, prompting an academic to regret the "deliberate denial of opportunities" to Muslim politicians by all parties.
The 17th Lok Sabha will have 26 Muslim members, up from 22 in the previous House. While Muslims make up 14 per cent of the population, MPs from the community accounted for just over six per cent of Lok Sabha members on an average till 2014.
Their representation declined to about 4 per cent in 2014, when the Narendra Modi government came to power, and has risen to about 4.8 per cent.
Uttar Pradesh and Bengal have elected six Muslim candidates each — the highest — with Kerala, Jammu and Kashmir, Assam and Bihar accounting for most of the rest. Prominent among them are National Conference leader Farooq Abdullah, AIMIM chief Asaduddin Owaisi and Samajwadi Party candidate Azam Khan.
Trinamul has five Muslim MPs — Nusrat Jahan Ruhi (Basirhat), Afrin Ali (Arambagh), Khalilur Rahman (Jangipur), Abu Taher Khan (Murshidabad) and Sajda Ahmed (Uluberia) — followed by the Congress with four. The sixth Muslim MP from Bengal is Abu Hashem Khan Chowdhury (Malda South) of the Congress.
In 1980, the Lok Sabha witnessed its highest Muslim membership ever: 49. The lowest was 11 in 1952, after the first general election.
Afroz Alam, director of the Centre for the Study of Social Exclusion and Inclusive Policy at Maulana Azad National Urdu University, Hyderabad, said all the political parties tended to deny opportunities to Muslim candidates.
"There should be equitable representation so that it does not look discriminatory. A ground of majoritarianism has been created where all parties are reluctant to field Muslim candidates on the grounds of 'winnability' and polarisation. It's not healthy for our democratic tradition," Alam said.
The BJP fielded seven Muslim candidates like last time, and all of them lost again. The Bahujan Samaj Party and the Samajwadi Party fielded six and four Muslim candidates, respectively, and each saw three of its Muslim candidates win.
Alam, however, stressed that it would be wrong to argue that only a Muslim MP would represent the community's interests.
"The parties should not consider a candidate's religion…. Religion should not be the criterion for denying or awarding nomination," he said. "Muslims too should avoid the symbolism of identity forwarded by any party."
The Lok Sabha will have 76 women, up from 62 the last time. Some 668 women had contested in 2014, the number rising to 724 this time. The Congress had fielded 54 women and the BJP, 53. Trinamul had 17 women candidates (41 per cent) in Bengal while the BJD fielded 7 women in Odisha.
Bengal and Uttar Pradesh have elected the highest number of women each — 11 — while Odisha has elected 7.
Paul Divaker, general secretary of the National Campaign for Dalit Human Rights, said the number of women increasing in the House was good news.
"The women's performance will depend on the opportunities their parties give them. But their presence in the House will send out a message about women's empowerment and encourage ordinary women," Divaker said.
Social activist Ashok Bharati hoped that whatever the number of Muslim MPs in the House, the new Lok Sabha would corner the government more successfully than the previous one over any lynching of minorities or Dalits.
During a discussion on mob lynching in the Rajya Sabha in July 2017, the Opposition had cited 77 instances under the NDA's then 38-month-old rule, including 63 where Muslims were the victims. The list, furnished by Congress leader Ghulam Nabi Azad, included 14 instances from Jharkhand, 11 from Uttar Pradesh, 9 from Haryana, 5 from Rajasthan and 4 from Gujarat.
https://www.telegraphindia.com/india/more-muslim-and-women-legislators-in-lok-sabha/cid/1691196
--------
Indian envoy rules out talks with Pakistan unless it stops supporting terror
May 24, 2019
India will not hold talks with Pakistan until it gives up its state policy of supporting terrorism, the country's Ambassador to the US Harsh Vardhan Shringla said, hours after Prime Minister Narendra Modi was reelected in a general election fought on strong nationalistic sentiments. Ties between India and Pakistan hit a new low after the Pulwama terror attack. Tensions flared up after a suicide bomber of Pakistan-based Jaish-e-Muhammed (JeM) killed 40 CRPF personnel in Kashmir's Pulwama district on February 14.
Amid mounting outrage, the Indian Air Force (IAF) carried out a counter-terror operation, hitting the biggest JeM training camp in Balakot, deep inside Pakistan on February 26. The next day, Pakistan Air Force retaliated and downed a MiG-21 in an aerial combat and captured an IAF pilot, who was handed over to India. Shringla said the onus of the peace talks to improve the relationship between the two south Asian neighbours lies on Pakistan. As long as a particular country uses terrorism as an instrument of state policy and India continues to be at the receiving end of that policy, no Indian government will get a mandate from the people to reach out to that country, he told a group of American reporters as results of the general elections were declared in New Delhi in which Modi was voted back to power with a strong mandate .Responding to a question on the future of the India-Pak relationship, Shringla said the day Pakistan adjourns terrorism as a means of achieving its end, "I think the government will be within its mandate" to start a better relationship with its western neighbour.
"I think it is the desire of every Indian to have good relations with Pakistan. You see our relations with Bangladesh, you see our relations with Nepal, Bhutan, Sri Lanka, Maldives, Afghanistan. We have excellent relationships," he said. Pakistan Prime Minister Imran Khan Thursday congratulated Modi on his electoral triumph and expressed desire to work with him for peace and prosperity in the region. Shringla said it is part of Prime Minister Narendra Modi's inclusive effort – Sabka Saath, Sabka Vikas – to be part of their development. His policy is development for all, including India's neighbours, the top diplomat said.
"We have committed USD 27 billion to the development of our neighbourhood and Pakistan is welcome to join. But it cannot be pursuing a policy of supporting terrorism on the one hand and then trying to talk of peace on the other. That double handed policy is not something that we can deal with anymore," Shringla said.
Full report at:
https://www.hindustantimes.com/india-news/indian-envoy-rules-out-talks-with-pakistan-unless-it-stops-supporting-terror/story-g1rLPD0qRznmrTRMcPeaiJ.html
--------
Al-Qaeda affiliate chief Zakir Musa killed in encounter
24.05.19
In a "major success", security forces killed the chief of an Al-Qaeda affiliate in Kashmir, Zakir Rashid Bhat alias Zakir Musa, in an encounter at a village in south Kashmir's Tral on Friday, officials said.
Musa, who heads the Ansar Ghazwat-ul-Hind, came to the limelight in Kashmir Valley after he denounced Pakistan, cut ties with the banned Hizbul Mujahideen terror group and vowed allegiance to the Al-Qaeda.
A carrom player, Musa in his teenage represented Jammu and Kashmir at various national championships.
Inspector General of Police Swamyam Prakash Pani said the operation was conducted with utmost precaution and proper care was taken to avoid collateral damage.
"He was one of the oldest militant and wanted for several terror-related crimes," Pani told PTI.
A police spokesman said his killing was a major success as "Musa had a long history of terror crime since 2013".
"He was initially associated with proscribed terror outfit Hizbul Mujahideen but later floated Ansar Ghazwat-ul-Hind (AGuH)," the police spokesman said.
Musa was trapped when police, along with CRPF and Army personnel, cordoned off Dadsara village in Tral in Pulwama district on Thursday evening.
Efforts to make him surrender failed and he started firing at the approaching security forces team.
In the ensuing encounter, Musa was killed in the early hours of Friday and his body was recovered at the crack of dawn, the officials said.
Musa was declared as proclaimed offender by a special court of the National Investigation Agency in Punjab's Mohali earlier this month in connection with serial blasts in Jalandhar in September last year, the spokesman said.
Several thousand people participated in the funeral prayers of Musa and seven rounds of 'Namaz-e-Janaza' were held to accommodate the huge rush of people who had gathered at his native village Noorpura in Awantipora of Pulwama district.
Active since April 2013, Musa was studying in his first year B.Tech when he picked up arms and joined hands with Burhan Wani, the poster boy of Hizbul Mujahideen killed in an encounter with security forces in 2016. In three years time, Musa had gained popularity among the locals in south Kashmir and was considered as a natural successor to Wani after his death.
However, he shocked the militant groups and separatist camps in the valley in 2016 when his video of threatening Hurriyat leaders surfaced if they continued to support Kashmir's accession to Pakistan.
Seen often brandishing guns along with Wani, the appearance of Musa changed completely from the beginning of 2017 and his videos and pictures showed him with flowing beard and holding on to a stick similar to slain Al-Qaeda chief Osama bin Laden.
The self-styled commander of the AGuH had in May 2017 threatened the Hurriyat Conference leaders for claiming that the movement in Kashmir was for establishing a secular state.
"We are fighting for 'Azadi baraye Islam (Freedom for the sake of Islam)', I am fighting for freedom for the sake of Islam. My blood will spill for Islam and not for a secular state," he had said.
"I am warning all those hypocrite Hurriyat leaders. They must not interfere in our Islamic struggle. If they do, we will cut their heads and hang them in Lal Chowk," he had said before parting ways with Hizbul Mujahideen.
Musa, according to the officials, was influenced by Yemeni preacher Anwar al-Awlaki, who was one of the main recruiter and motivator of Al-Qaeda terror group.
Protests broke out on Thursday night and Friday in Shopian, Pulwama, Awantipora and downtown Srinagar, with people raising slogans in favour of Musa, prompting authorities to impose curfew in some parts of the Valley as a precautionary measure.
Full report at:
https://www.telegraphindia.com/india/al-qaeda-affiliate-chief-zakir-musa-killed-in-encounter/cid/1691164
--------
India stopped purchasing Iranian oil after US waivers expired: Envoy
May 24, 2019
India has stopped importing oil from Iran after American waivers granted to eight buyers expired early this month, New Delhi's envoy here has said, becoming the latest country to comply with the US sanctions on Tehran over its nuclear programme.
Indian Ambassador to the US, Harsh Vardhan Shringla said India has also ended oil import from Venezuela despite feeling the pinch.
The US in January imposed sanctions on Venezuela's most important global business – producing and selling crude oil – as the Trump administration ratcheted up its bid to force socialist president Nicolas Maduro out of power.
The US reimposed sanctions on Iran in November after pulling out of a 2015 nuclear accord between Tehran and six world powers. To reduce Iran's crude oil export to zero, the US ended on May 2 waivers that had allowed the top buyers of Iranian oil, including India, to continue their imports for six months.
Shringla said India has stopped importing oil from Iran after the United States refused to extend exemption from sanctions earlier this month.
As of late April, India had dropped its dependency on Iranian oil from about 2.5 billion tonnes a month to 1 million tonnes a month, he said.
"We do understand that this has been a priority for the US administration, although it comes at a cost to us because we really need to find alternative sources of energy," Shringla said at a news conference here Thursday.
India, he said, has stopped importing oil from both Iran and Venezuela. Noting that the US did talk of trying to maintain price stability, he said in the short term, there has been reduced price stability.
Iran earlier used to supply 10 per cent of India's oil needs.
The Trump administration hopes to compel Iran to negotiate a "new deal" that would cover not only its nuclear activities, but also its ballistic missile programme and what officials call its "malign behaviour" across the Middle East.
The sanctions have led to a sharp downturn in Iran's economy, pushing the value of its currency to record lows, quadrupling its annual inflation rate, driving away foreign investors, and triggering protests.
Iran insisted the sanctions were illegal and that it had attached "no value or credibility" to the waivers.
India joins Greece, Italy, Taiwan and Turkey which have stopped importing Iranian oil.
Shringla was confident that US sanctions would not affect its partnership in developing Iran's Chabahar port.
He said the Chabahar port is a lifeline for Afghanistan. It is a port that provides both humanitarian assistance and supplies to Afghanistan.
It is in the interest of both the US and India and all others concerned to ensure that the lifeline continues to exist, he said. The US has exempted India's development of Chabahar port from its Iranian sanctions.
State Department Spokesperson Morgan Ortagus told reporters that the US wanted all countries to stop importing oil from Iran.
"We want the whole world to comply with these sanctions, and we're grateful for our partners and allies that are respecting them," she said when asked about India's decision.
Shringla said India depends heavily on the Middle East for its energy needs and is against any further escalation of tension in the region.
"We would not like to see any move towards any escalation in that area," he told reporters when asked about the increased tension between the US and Iran after which the Trump administration deployed military assets in the region.
"For the simple reason that we depend very heavily on stability in that part of the world. Their supplies are a major part of our energy requirements. A very large number of Indians also work in the Gulf. So obviously peace and stability in that area is very very critical," Shringla said.
Shringla's quest for de-escalation of tension came on a day when US President Donald Trump did not rule out sending troops to the Middle East to counter Iran.
"I would (consider sending troops to the Middle East) if we need them. I don't think we're going to need them. I really don't. I would certainly send troops if we need them," Trump told reporters at the White House.
"Iran has been a very dangerous player, a very bad player. They are a nation of terror and we won't put up with it. The deal that was signed by (former) president (Barack) Obama was a horror show. It's a terrible deal. The minute I collapsed that deal and terminated it, Iran went in a very bad direction," the US president said.
On the ruling BJP's massive victory in the elections in India, Shringla said the re-election of Prime Minister Narendra Modi is a good news for India-US relationship.
"I think the mandate is good news for India-US relations. We have achieved a great deal in last five years under leadership of Prime Minister Modi and (US) President Trump," he said.
As a result of the strong mandate that Modi has received, the Indian diplomat said, there would be new dynamism in bilateral relationship.
The new government is not only looking to continue what they have achieved with the US the last five years, but also to consolidate, he said.
"This range from defence sector to national security and counter terrorism co-operation, and examine how they can facilitate greater investment in India," he said.
Full report at:
https://indianexpress.com/article/india/india-stopped-purchasing-iranian-oil-after-us-waivers-expired-envoy-5747152/
--------
Govt bans Jamaat-ul-Mujahideen Bangladesh, says outfit promoted acts of terrorism
May 24, 2019
Two months after Jamaat-e-Islami (JeI) Jammu and Kashmir was banned, the Home Ministry on Friday declared Jamaat-ul-Mujahideen Bangladesh an "unlawful organisation".
"In the 1st Schedule to the Unlawful Activities (Prevention) Act, the following entries shall be inserted, namely- Jamaat-ul-Mujahideen Bangladesh or Jamaat-ul-Mujahideen India or Jamaat-ul-Mujahideen Hindustan and all its manifestations," the MHA said in a statement.
The listing under the First Schedule of the UAPA means the outfit is now a banned organisation in India, a home ministry official said.
The Home Ministry said the outfit had committed acts of terrorism, promoted acts of terrorism and was engaged in radicalisation and recruitment of youths for terrorist activities in India.
"Jamaat-ul-Mujahideen Bangladesh was engaged in recruitment and raising funds for terrorist activities, procurement of explosives/chemicals and assembling of IEDs," the Home Ministry statement said.
Jamaat-ul-Mujahideen Bangladesh came into existence in the year 1998 with the objective of establishing a Caliphate through Jihad.
"Involvement of JMB cadres has been established in Burdwan bomb blast and Bodh Gaya blast. Assam Police has found involvement of JMB in five cases registered by them and a total of 56 accused belonging to JMB have been arrested," the MHA said.
The Home Ministry further said the Jamaat-ul-Mujahideen Bangladesh planned to set up permanent bases within 10 km along the Indo-Bangladesh border near West Bengal, Assam and Tripura and spread its network in south India.
Full report at:
https://indianexpress.com/article/india/home-ministry-bans-jamaat-ul-mujahideen-india-bangladesh-5747158/
--------
Mideast
Iran top military chief issues threat: 'Our hands are on the trigger'
by Zachary Halaschak
May 23, 2019
Iran's highest-ranking military official offered a stark warning after reports emerged that the U.S. is considering deploying 10,000 troops to the Middle East.
"The enemies should know that the Iranian military will not waste even a single moment monitoring the enemies' schemes and adventurism," said Chief of Staff to the Iranian Armed Forces Maj. Gen. Mohammad Hossein Bagheri in a statement Thursday, according to Iran's state-run news service.
"Our hands are on the trigger and we are firmly prepared to annihilate any aggressor and greedy eyes against the Islamic Iran," he said.
The U.S. is considering sending an additional 10,000 troops to the region, according to Wednesday reports, as tensions between the two countries continue to rise.
"The new conditions of countering the US arrogant and pharaonic threat invite all the Iranians to enter the fields of jihad, full alert, and mobilization of more power," said Bagheri.
There has been an overt pressure campaign by the U.S. to target Iran's finances, including new sweeping sanctions against Iran's metals industry. The U.S. deployed the USS Abraham Lincoln Carrier Strike Group and a bomber task force to the Middle East earlier this month in response to potential threats to the U.S. and U.S. assets in the region.
A rocket of the same model used by Iran detonated outside the U.S. embassy in Iraq Sunday. Trump responded by declaring that a war would be "the official end of Iran."
https://www.washingtonexaminer.com/news/iran-top-military-chief-issues-threat-our-hands-are-on-the-trigger
--------
Saudi Arabia Urges Int'l Community to Take Firm Stand Against Houthis
24 May, 2019
Saudi Arabia has called on the international community to shoulder its responsibilities by taking a firm stand against the Iran-backed terrorist Houthi militias after targeting vital populated areas in the Kingdom with ballistic missiles and unmanned aerial vehicles.
Such attacks are a flagrant violation of international and humanitarian law and relevant Security Council resolutions, said Acting Permanent Representative of the Kingdom of Saudi Arabia to the United Nations Dr. Khaled Manzlawiy.
Making the Kingdom's speech at a Security Council session on "Protection of Civilians in Armed Conflict", Manzlawiy said Riyadh is constantly urging the international community to adopt a unified and comprehensive approach to protect and distance civilians from armed conflicts.
Full report at:
https://aawsat.com/english/home/article/1737681/saudi-arabia%C2%A0urges-int%E2%80%99l-community-take-firm-stand-against-houthis
--------
Houthis Lead Coercive Recruitment Campaign against African Refugees
24 May, 2019
Grappling with grave losses that struck its fighter ranks recently, Houthi militias revamped their foreign recruitment program, employing coercion as a tactic to get African mercenaries and youth to fight on their side.
Houthis, in the last two weeks, have been running an extensive recruitment campaign, local sources in Sanaa, a stronghold for the group, told Asharq Al-Awsat, saying African youth were forcibly drafted into training camps after militia commanders failed to gain the support of nearby tribes.
Sources unveiled that Houthis have been saturating their ranks with hired African mercenaries, fighting for a paid rate ranging from $80 to $100.
Houthi supervisors specialized in recruitment operations and who are popular among African refugees, according to same sources, have been assigned with militarizing refugees and the sorting and categorizing of new recruits according to previous combat experiences.
Most of the newly enrolled Houthi militias are being deployed to front lines.
Recruitment campaigns targeted Africans of different age groups who had sought refuge in a number of neighborhoods in Sana and Houthi-run territory.
A majority of the new recruits are Ethiopian and Somali nationals, sources noted.
After conscription, mercenaries are vetted by Iran-sponsored commanders who also conduct combat training courses in undisclosed boot camps. The most recent wave of foreign militia recruitment saw the conscription of 76 new fighters.
Apart from being trained in armed combat, trainees also undergo a fierce sectarian indoctrination program.
Families of Houthi-hired African fighters complain that they are being pressured by hard living conditions under Houthi rule in Sanaa. In addition to the starvation-level suffering they face, they are being pressured into accepting their relatives, mostly the family's breadwinner, picking up arms.
Full report at:
https://aawsat.com/english/home/article/1737646/houthis-lead-coercive-recruitment-campaign-against-african-refugees
--------
Solutions acceptable to Palestinians required for Palestine peace
May 25, 2019
Qatar has refuted US President Donald Trump's controversial proposal for peace between Palestinians and the Israeli regime, saying the demands of the Palestinian people need to be considered in any such plans.
Qatar's Foreign Ministry said in a Friday statement that economic development needed for peace in Palestine could not be achieved without "fair political solutions" acceptable to Palestinians.
The statement was referring to the Trump's so-called "Deal of the Century" plan set to be unveiled next month. The White House will lay out the first part of Trump's so-called peace plan when it holds an international conference in Bahrain in late June.
"Tackling these challenges requires sincerity of intent, concerted efforts from regional and international players and appropriate political conditions for economic prosperity," the statement added.
"These conditions would not be achieved without fair political solutions to the issues of the peoples of the region, especially the Palestinian issue, in accordance with a framework acceptable to the brotherly Palestinian people," it added.
Trump's plan has been dismissed by Palestinian authorities ahead of its unveiling at the end of the holy fasting month of Ramadan and the formation of the new Israeli cabinet.
Speaking in the occupied West Bank city of Ramallah on April 16, Palestinian Prime Minister Mohammad Shtayyeh lashed out at Trump's initiative, asserting that it was "born dead."
Shtayyeh noted that negotiations with the US were useless in the wake of the country's relocation of its embassy from Tel Aviv to Jerusalem al-Quds, which Palestinians consider the capital city of their future state.
Doha's opposition to the US' plan is significant given that the "Deal of the Century" was expected to encourage investment in the West Bank and Gaza Strip by Arab donor countries - including Qatar - before grappling with thorny political issues at the heart of the conflict.
Full report at:
https://www.presstv.com/Detail/2019/05/25/596829/Qatar-deal-century-Palestine-Israel-trump
--------
16 Palestinians hurt in clashes with Israeli forces at Gaza border
May 24, 2019
Israeli troops have shot and wounded more than a dozen Palestinians during anti-occupation protests near the fence between the besieged Gaza Strip and the occupied territories.
Thousands of demonstrators turned out for the protests on Friday but largely kept their distance from the fortified frontier.
The protesters threw rocks and firebombs from behind clouds of black smoke of burning tires at Israeli troops, who responded with tear gas and rubber-coated steel bullets.
The spokesman for the Ministry of Health in the enclave, Ashraf al-Qudra, said 14 people were injured after suffering gunshot wounds and excessive tear gas inhalation.
Volunteer paramedic Dalia Abu Raidah was treated for a wound after a tear gas canister hit him in the foot. Photojournalist Atta Hadayed was also struck with a rubber bullet east of Khuza'a town in the southern Gaza Strip.
Palestinians have held weekly rallies on the Gaza border to protest the siege on the enclave and demand the right for refugees to return to their homes they fled during the 1948 creation of Israel.
More than 270 Palestinians have been killed by Israeli forces ever since anti-occupation protest rallies began in Gaza on March 30, 2018. Over 16,000 Palestinians have also sustained injuries.
The Gaza clashes reached their peak on May 14 last year, on the eve of the 70th anniversary of Nakba Day (Day of Catastrophe), which coincided this year with the US embassy relocation from Tel Aviv to occupied East Jerusalem al-Quds.
On June 13, 2018, the United Nations General Assembly adopted a resolution, sponsored by Turkey and Algeria, which condemned Israel for Palestinian civilian deaths in the Gaza Strip.
The resolution, which had been put forward on behalf of Arab and Muslim countries, garnered a strong majority of 120 votes in the 193-member assembly, with 8 votes against and 45 abstentions.
The resolution called on UN Secretary General Antonio Guterres to make proposals within 60 days "on ways and means for ensuring the safety, protection, and well-being of the Palestinian civilian population under Israeli occupation," including "recommendations regarding an international protection mechanism."
Full report at:
https://www.presstv.com/Detail/2019/05/24/596806/Palestinians-hurt-Israeli-forces-Gaza-border
--------
9 Yemenis killed as Saudi-led jets hit petroleum derivatives plant
May 24, 2019
Nearly a dozen people have been killed when Saudi-led military aircraft carried out a string of airstrikes against an area in Yemen's southwestern province of Ta'izz.
Local sources, speaking on condition of anonymity, told Arabic-language al-Masirah television network that the warplanes struck a petroleum derivatives plant in the Mawiyah district of the province on Friday afternoon, leaving nine people dead and several others injured.
Earlier, Saudi-backed militiamen loyal to Yemen's former President Abd Rabbuh Mansur Hadi lobbed a barrage of mortar shells at a vegetable oil extraction workshop at Kilo 16 area of al-Hali district in the strategic western Yemeni province of Hudaydah. There were no immediate reports about the extent of damage caused and possible casualties.
Scores of Saudi-paid militiamen were also killed and injured when Yemeni army soldiers, backed by allied fighters from Popular Committees, mounted a surprise attack in the Khabb wa ash Sha'af district of the country's northern province of al-Jawf.
Separately, Yemeni troops and their allies struck the positions of Saudi soldiers and their mercenaries in the Rabuah area of the kingdom's southern border region of Asir.
Saudi Arabia and a number of its regional allies launched a devastating campaign against Yemen in March 2015, with the goal of bringing the government of Hadi back to power and crushing the Houthi Ansarullah movement.
The US-based Armed Conflict Location and Event Data Project (ACLED), a nonprofit conflict-research organization, estimates that the Saudi-led war has claimed the lives of over 60,000 Yemenis since January 2016.
Full report at:
https://www.presstv.com/Detail/2019/05/24/596786/Yemenis-killed-as-Saudiled-jets-hit-petroleum-derivatives-plant
--------
Yemen president accuses UN envoy Griffiths of siding with Houthis
May 24, 2019
SANAA: Yemen's internationally recognized president sent a letter to the UN chief, criticizing his envoy to the country over allegedly siding with Iran-aligned Houthi militia, the president's office said Friday.
In the letter addressed to Antonio Guterres, Yemeni President Abed Rabbo Mansour Hadi accused Martin Griffiths, the UN special envoy to Yemen, of undermining chances for peace. Hadi also warns his government would stop dealing with the UN envoy.
"I can no longer tolerate the violations committed by the special envoy, which threaten prospects for a solution," read the five-page letter, a copy of which was released to reporters Thursday.
It also accuses Griffiths of treating the militia as a "de-facto government and as an equal to the legitimate and elected government" of Yemen.
The conflict in Yemen began with the 2014 takeover of the capital, Sanaa, by the Houthi rebels. A coalition of Arab countries, including Saudi Arabia and the UAE, allied with Hadi's government, has been fighting the Houthis since March 2015.
The fighting has killed an estimated 60,000 people and left millions suffering from lack of food and medical care.
Tensions arose between Griffiths and Hadi last week after the UN announced the long-delayed Houthi withdrawal from the flashpoint port city of Hodeidah.
Hadi's government accused Griffiths at the time of turning a blind eye that the militants had allegedly only handed control of the port to "militia leaders" loyal to them. The "redeployment of Houthis" from Hodeidah was part of a UN-brokered deal concluded in December.
Hadi went on to say that Griffiths's "poor understanding" of the Yemeni conflict makes him unfit for his post.
While briefing the UN Security Council on the situation in Yemen last week, Griffiths urged the warring sides to maintain the momentum of the Houthi withdrawal from Hodeidah — the country's lifeline to foreign aid — and to work urgently on a political solution to the devastating conflict.
There were "signs of hope" but "also alarming signs" that could threaten progress, Griffiths said, a reference to continuing clashes in the southern Dhale province.
Full report at:
http://www.arabnews.com/node/1501601/middle-east
--------
Africa
Despite Western-backed response, Sahel extremists gaining ground
May 25, 2019
ABIDJAN: Exremists are scoring gains in the Sahel, defying efforts by five countries in the fragile region to fight back with Western help against Islamist militancy.
Areas of insecurity on the Sahara's poor, arid southern rim are widening, analysts say, even as the so-called G5 Sahel group — Burkina Faso, Chad, Mali, Mauritania and Niger — seek to expand their anti-terror campaign.
"Overall, the security situation in the Sahel continued to deteriorate, having spillover effects on neighboring countries that are not members of G5 Sahel, including Benin, Cote d'Ivoire (Ivory Coast) and Togo," United Nations Secretary-General Antonio Guterres said this month.
Guterres said in recent months, armed groups had been sighted on Mauritania's border with Mali, attacks on security forces had continued unabated in Mali itself, "terrorist groups, militias and armed gangs" had proliferated in Burkina, and jihadists had killed dozens of soldiers and civilians in Niger.
At the end of last year more than 120,000 people had been displaced in Mali, a tripling in the space of a year, while 160,000 have fled their homes in Burkina.
According to a French military source, there are about 2,000 fighters across the Sahel, of which up to 1,400 are in Mali.
Their hallmark tactics — brutal gun attacks, roadside bombings and hostage taking — seek to weaken the rule of law and authority of the state, often fomenting intercommunal fighting on which they capitalize.
"There are not necessarily more attacks, but the attacks are more violent. The groups have acquired some technical competence," said Mahamadou Sawadogo, a researcher at the Crossroads of Study and Research for Democracy and Development at Senegal's Gaston Berger University.
"There's an increase in power at the quantitative level and also in their efficiency," noted Lassina Diarra, author of a book on West African countries facing transnational terrorism.
"In Burkina, there appears to have been a merger of means between groups affiliated to Al-Qaeda and those affiliated to the Islamic State," he said.
"It seems that they now lend each other a helping hand."
Diarra suggested that battle-hardened fighters may have arrived from the Middle East after the so-called Islamic State lost its territory in Syria.
"We are seeing changes in operational methods with the use of explosives, mines and car bombs" combined with more ambitious raids, he said.
Both academics showed concern at the weakness of regional armies, particularly in Burkina.
The problems facing the G5's armed forces are well known. Their militaries are under-equipped and poorly trained, even though governments are already earmarking as much as 15 percent of their budgets on security.
With support from France and others, the G5 countries are pushing ahead with plans for a pooled 5,000-man force.
But at present, they lack coordination in border zones, where extremist forces are particularly active and whole populations become internally displaced.
"The armed groups play with these borders," Sawadogo said.
Even if militants do not maintain a permanent presence, their zone of influence is growing.
"They don't need to be there all the time, holding ground. They create the feeling of insecurity with sporadic attacks," Diarra said.
"They harass the symbols of the state" and drive out civil servants working for it, Sawadogo noted. "They don't have a hold over areas but they are not seeking to be a static force. It's governance from a distance."
"They have created comfort zones," he argued. "And now there's a corridor" that extends from southwest Burkina Faso to Mali and western Niger.
"We need to fight against the ideology of the jihadists," Diarra said when asked how to fight back. He recommended providing instruction for imams that would avoid radical preaching and "factors for recruitment."
"We have to fight on the same ground as the jihadists, use the same strategy," Sawadogo said.
"For now, the jihadists benefit from complicity. They move around, prepare attacks and routes to fall back. They pass through villages."
But while village folk know about the armed groups, the security forces get little or no intelligence to strike, he said.
Both researchers insisted on the need to uphold the presence of the state, with officials in place and a degree of local investment to help restore confidence among citizens.
With the right structure in place, they said, people might be inclined to help the security forces and ignore militant extremism.
http://www.arabnews.com/node/1501781/world
--------
Nigeria nabs Boko Haram logistics supplier
2019-05-24
ABUJA, May 23 (Xinhua) -- Nigeria on Thursday confirmed the arrest of a 24-year-old man who specialized in giving logistics support to the Boko Haram terror group in the country's northeast region.
The suspect, named Aliyu Muhammed, was nabbed on April 25, following intelligence report gathered by the security agency, according to Ibrahim Abdullahi, head of the Security and Civil Defence Corps (NSCDC) in the northern state of Borno.
Muhammed was on his way to supply some materials to Boko Haram when he was nabbed by security agents.
Abdullahi told Xinhua that the suspect and his accomplices played different roles in perpetrating various attacks on public buildings, religious centers, and market places in Maiduguri, the Borno State capital, and its environ.
Muhammed, who claimed to be an autorickshaw driver in the Maiduguri metropolis, said he was recruited by Boko Haram six months ago.
On April 7, almost three weeks before his arrest, five people were confirmed killed and 45 others were wounded following a twin suicide attack on Muna community, on the outskirts of Maiduguri, the birthplace of Boko Haram where the suspect operated.
Nigeria's northeast region has been a stronghold of the extremist group Boko Haram. Over past months, the Nigerian government has launched several military operations to eliminate the terrorist threat.
Full report at:
http://www.xinhuanet.com/english/2019-05/24/c_138083934.htm
--------
Strike kills two militants as US-backed forces push into ISIS territory in Somalia
May 23, 2019
STUTTGART, Germany — The U.S. military said it killed two Islamic State fighters Wednesday in Somalia, where there has been an uptick in airstrikes against the militant group in the past month.
In recent years, nearly all of U.S. Africa Command airstrikes in Somalia have been directed against al-Shabab, a homegrown terrorist group linked to al-Qaida that has waged a decadelong battle against country's weak central government.
But ISIS-Somalia, which has been a small but persistent presence over the past three years, is becoming a more frequent target. AFRICOM has launched five airstrikes in the past month against the group, which some analysts estimate has a force strength of about 200.
AFRICOM is targeting ISIS elements in Somalia "to limit and disrupt freedom of movement in the area and to eliminate leaders of the organization," the command said.
"Our efforts to locate and eradicate ISIS leaders who control a range of activities — from operations to financing and communications — is hitting at the heart of the organization and disrupting their ability to continue their terrorist activities," said Rear Adm. Heidi K. Berg, AFRICOM's director of intelligence, in a statement Thursday.
The most recent airstrike occurred in Somalia's Golis mountains, AFRICOM said.
Last month, AFRICOM said it also killed ISIS-Somalia's second-in-command, Abdulhakim Dhuqub, in a strike.
Somalia's military, with the help of "partner forces," is pushing into territory where ISIS operates, AFRICOM said.
The U.S. military presence in Somalia also has grown as U.S. forces assist local troops in the battle against Al-Shabab, a group with an estimated 5,000 fighters that has been the main target of U.S. strikes.
The number of AFRICOM airstrikes in the country has steadily increased, going from 35 in 2017 to 47 in 2018. So far in 2019, it has conducted more than 30 airstrikes there.
Last month, the command acknowledged that it killed two civilians during a 2018 strike in Somalia, which marked the first public acknowledgement that noncombatants had been killed in the military's expanded bombing campaign in the country.
Weeks earlier, the human rights group Amnesty International had said it found credible evidence that at least four of five civilian casualty incidents it investigated in Somalia's Lower Shabelle were the result of U.S. airstrikes in recent years, with up to 14 civilians killed and eight wounded.
Full report at:
https://www.stripes.com/news/strike-kills-two-militants-as-us-backed-forces-push-into-isis-territory-in-somalia-1.582461
--------
Libya coast guard rescues 290 migrants off eastern coast of Tripoli
24 May 2019
Libya's coast guard rescued 290 migrants clinging to inflatable rafts on Friday in two operations near the capital Tripoli, a naval forces spokesman said.
The western coast of Libya is the main departure point of hundreds of thousands of migrants fleeing their countries from wars and poverty to reach shores of Italy.
A coastguard vessel rescued 87 migrants off Qarabuli, a town 50 km eastern Tripoli, on an inflatable boat, naval forces spokesman Ayoub Qassem told Reuters. The coast guard is part of Libya's Navy.
Another group of 203 migrants was rescued from two inflatable boats off Zlitin, a town 160 km east of the capital, Qassem said.
"The illegal migrants were found clinging to shabby and broken boats. They were rescued by patrols of coastguards on two different vessels," Qassem said.
The migrants have been handed-over to anti-illegal migration department after they were disembarked at two cities of Khomas and Janzur, said Qassem. They are from different Arab and sub-Saharan countries, including seven women and a child.
Full report at:
https://english.alarabiya.net/en/News/north-africa/2019/05/24/Libya-coast-guard-rescues-290-migrants-off-eastern-coast-of-Tripoli.html
--------
Saudi Crown Prince meets deputy head of Sudan's Transitional Military Council
24 May 2019
Saudi Arabia's Crown Prince Mohammed bin Salman on Thursday met the deputy head of Sudan's Transitional Military Council who is visiting the kingdom, Saudi Press Agency said early on Friday.
The meeting between Mohammed bin Salman and General Mohamed Hamdan Dagalo, who goes by the nickname Hemedti, was held in the city of Jeddah. According to the SPA, they discussed cooperation between the two countries and the latest developments taking place in the region.
Dagalo was accompanied by the official spokesman of the Sudanese Military Council General Shamsaddin Kabbashi.
The meeting was also attended by both Saudi Arabia's Minister of State for Foreign Affairs Adel al-Jubeir and Minister of State Dr. Musaed bin Mohammed al-Aiban.
On Sunday, Saudi Arabia deposited $250 million with the Sudanese central bank, according to a statement from the Kingdom's ministry of finance.
The move will strengthen Sudan's "financial position, alleviate pressure on the Sudanese pound and achieve more stability in the exchange rate," the statement said.
Full report at:
https://english.alarabiya.net/en/News/gulf/2019/05/24/Saudi-Arabia-s-Crown-Prince-meets-deputy-head-of-Sudan-s-military-council-.html
--------
Pro-Haftar forces target parliament in Libyan capital
Mahmoud Barakat
24.05.2019
TRIPOLI
Forces loyal to renegade military commander Khalifa Haftar on Friday carried out airstrikes on several positions, including the parliament building, in capital Tripoli, where Libya's Government of National Accord (GNA) is based.
"The airstrikes targeted the Rixos building in central Tripoli, which houses the GNA-affiliated House of Representatives," a local source told Anadolu Agency.
No casualties have yet been reported as a result of the airstrikes.
In a subsequent statement, the GNA's Interior Ministry condemned the attack, saying it should be "added to the long list of war crimes perpetrated by Haftar's forces".
It went on to urge the international community to "shoulder its responsibility for this aggression against Libya's capital, which threatens the safety and security of civilians".
On April 4, Haftar, who is affiliated with a rival government based in eastern Libya, launched a wide-ranging campaign to capture Tripoli.
After several weeks of fighting on Tripoli's outskirts, however, Haftar's campaign has thus far failed to achieve its primary objective.
Nevertheless, Haftar's forces remain deployed in several areas around the capital.
Libya has remained beset by turmoil since 2011, when long-time leader Muammar Gaddafi was ousted and killed in a bloody NATO-backed uprising after four decades in power.
Full report at:
https://www.aa.com.tr/en/africa/pro-haftar-forces-target-parliament-in-libyan-capital/1488362
--------
North America
Pentagon calls terror groups key obstacle in Taliban talks
Anwar Iqbal
May 25, 2019
WASHINGTON: The US Department of Defence has highlighted the presence of terrorist groups in Afghanistan as the key issue that would determine the fate of the ongoing talks between the United States and the Taliban.
The latest report by the Pentagon's 'Lead Inspector General for Operation Freedom's Sentinel' reviews the quarter ending March 31 and covers the activities of terrorist groups in both Afghanistan and Pakistan.
It focuses "particularly (on) Al Qaeda and ISIS-K," noting that those two groups "remain a central focus of the Operation Freedom Sentinel (OFS) mission and has emerged as one of the key concerns in the ongoing peace negotiations."
Operation Freedom's Sentinel (OFS) is the official name used by the US government for the US-led global war on terrorism.
"As the peace talks continue, the questions of whether the Taliban can help influence and deny sanctuary to these groups, and the extent to which an ongoing US counter-terrorism presence may be required, have become more prominent," says the report while highlighting Washington's concerns in Afghanistan.
US and Afghan officials have stated that there are at least 20 terrorist organisations operating in Afghanistan and Pakistan. The report includes estimates of how many fighters these groups have in the region.
The report notes that most of these groups do not have global aspirations or reach. "For example, Tehrik-e-Taliban Pakistan, one of the larger groups, focuses on fighting the Pakistani government," it adds.
According to these estimates: ISIS-K, Haqqani Network and Tehrik-e-Taliban Pakistan are the three largest groups in the region. Each has between 3,000 to 5,000 fighters.
The Islamic Emirate High Council is the fourth with 1,000 fighters. Al Qaeda, one of the strongest terrorist groups in the region before the US invasion has now been reduced to 300 fighters.
Islamic Movement of Uzbekistan and Lashkar-e Tayyiba also have about 300 fighters. Tariq Gidar Group has 100-300 fighters, Jamaat ul-Ahrar 200, Islamic Turkestan Movement 100, Islamic Jihad Union 25 and Jamaat Dawa Quran 25.
https://www.dawn.com/news/1484435/pentagon-calls-terror-groups-key-obstacle-in-taliban-talks
--------
U.S. calls for ceasefire as heavy fighting hits northwest Syria
May 23, 2019
WASHINGTON/BEIRUT — The United States on Wednesday called for a new ceasefire in Syria as rival forces clashed in the country's northwest, where the government is waging an offensive on the last big stretch of rebel-held territory.
Syrian President Bashar al-Assad launched his assault late last month, saying rebels had breached an existing ceasefire, triggering a civilian exodus by bombarding Idlib and adjacent areas. The latest clashes mark the biggest escalation since last summer between Assad and his rebel enemies in Idlib province and a belt of territory around it.
Washington late on Tuesday said it had seen signs that Assad may be using chemical weapons, including an alleged chlorine attack, in the latest offensive and warned that it would respond "quickly and appropriately" if this were proven. Assad has denied such allegations throughout the war.
"What we really need in Idlib and throughout the country is a ceasefire," James Jeffrey, U.S. special representative for Syria engagement and special envoy to the global coalition to defeat the ISIS militant group, said at a House of Representatives Foreign Affairs Committee hearing.
"These conflicts, back and forth exchanges .... just put tremendous pressure on civilians, they raise the specter of nation-to-nation clash," he said. "So we're very much engaged in trying to get this stopped and get it back to the ceasefire we had basically since September."
However, fighting raged on Wednesday as rebels sought to roll back army advances in the face of a heavy bombardment, state media, insurgents and a war monitor said. Weeks of air strikes, shelling and clashes have driven some 180,000 people from their homes, raising fears of a new humanitarian disaster.
The Syrian government says it is responding to attacks by al Qaeda-linked militants.
When asked about the use of chemical weapons, Jeffrey said the United States remained vigilant on any potential such attack but said it did not have confirmation.
"We do not at this point have any confirmation that chlorine, which was the substance that was suggested or alleged, has been used. ... We haven't finished our review," he said.
France's foreign ministry said it noted the allegations "with a degree of alarm" and that they needed to be investigated.
The Trump administration has twice bombed Syria over Assad's alleged use of chemical weapons, in April 2017 and April 2018. In September, a senior U.S. official said there was evidence showing chemical weapons were being prepared by Syrian government forces in Idlib.
Jeffrey also said the U.S. was engaging with Russia to help de-escalate the conflict in Idlib. "Despite the recent tragic offensive there, Moscow has reconfirmed, at least on paper, their commitment to the ceasefire deal with the Turks," he said.
"Living under bombardment"
The region, home to an estimated 3 million people, including many who fled other parts of Syria as government forces advanced in recent years, has been partly shielded by a truce agreement since last year, brokered by Russia and Turkey. However, Russia has voiced increasing frustration with what it calls violations of the agreement.
Full report at:
https://www.nbcnews.com/news/world/u-s-calls-ceasefire-heavy-fighting-hits-northwest-syria-n1009116#anchor-Livingunderbombardment
--------
Trump says he will send 1,500 troops to Middle East
24 May 2019
US President Donald Trump said on Friday he will send about 1,500 American troops to the Middle East, mostly as a protective measure, amid heightened tensions with Iran.
"We want to have protection in the Middle East. We're going to be sending a relatively small number of troops, mostly protective," Trump said as he left the White House for a trip to Japan.
"Some very talented people are going to the Middle East right now. And we'll see what happens," he said.
The Pentagon said only about 900 of the 1,500 troops will be newly deploying and that 600 are already in the region and will be extended. It said they include Patriot missile battery personnel, manning for surveillance aircraft and engineers.
The forces would help strengthen US defenses in the region, two sources told Reuters earlier on condition of anonymity.
The US military deployed a carrier strike group, bombers and Patriot missiles to the Middle East earlier this month in response to what Washington said were troubling indications of possible preparations for an attack by Iran.
"Right now, I don't think Iran wants to fight. And I certainly don't think they want to fight with us," Trump said.
"But they cannot have nuclear weapons," he continued. "They can't have nuclear weapons. And they understand that."
"This is a prudent response to credible threats from Iran," said Acting Defense Secretary Patrick Shanahan.
Pentagon officials said the 1,500 additional troops were in response to recent incidents in the region that US intelligence had tied to Iran's leadership.
Those have included a rocket attack on the Green Zone in Baghdad, explosive devices that damaged four tankers in Fujairah at the entrance to the Gulf, and a Houthi drone attack against a Saudi oil installation.
"We view this as a campaign," said Rear Admiral Michael Gilday, director of the Pentagon's Joint Staff.
Gilday stressed that the expanded US military presence in the region, including an aircraft carrier task force, B-52 bombers, and an amphibious attack vessel deployed earlier this month, are defensive and meant to address an alleged ongoing threat from Iran.
"We think that through a combination of a very measured deployment of assets as well as public messaging, we are again trying to underscore that we are not seeking hostilities with Iran."
Rhetoric between Tehran and Washington has escalated in recent weeks as the United States tightened sanctions with what it said was the goal of pushing Iran to make concessions beyond the terms of its 2015 nuclear deal.
Trump warned on Monday that Iran would be met with "great force" if it attacked US interests in the Middle East.
Earlier, a US official told Al Arabiya correspondent in Washingtonon Friday that President Trump agreed to send more troops to the Middle East.
The Trump administration at that time had not disclosed a specific number for the additional troops buildup to be sent to the region, in a move to beef up defenses against potential Iranian threats.
On Thursday, President Trump said that he was willing to consider sending more US troops to the Middle East to counter Iran, as he prepared to meet Pentagon officials to discuss it later in the day.
Full report at:
https://english.alarabiya.net/en/News/middle-east/2019/05/24/US-official-Trump-agreed-to-send-more-troops-to-the-Middle-East.html
--------
US State Department misses deadline to explain Iran arms control report
May 24, 2019
The US State Department has purportedly failed to meet a deadline to provide conclusive information to a congressional committee tasked with investigating whether an annual arms control report meant to politically demonize Iran and justify a military action against the Islamic Republic.
Speaking on condition of anonymity, sources with knowledge of the matter said on Thursday that the US State Department officials had missed a May 23 deadline to brief three congressional committee chairmen regarding the report on "adherence to and compliance with arms control, nonproliferation and disarmament agreements and commitments."
The Democratic chairmen of the House of Representatives Foreign Affairs, Armed Services and Intelligence committees had asked Secretary of State Mike Pompeo in a May 16 letter to provide a State Department briefing and documents no later than Thursday.
The sources said no such communication had been received and the issue raised speculations among congressmen that the report had politicized and skewed assessments against Iran in a bid to lay the groundwork to justify a military action.
The three chairmen told Pompeo in their letter that they were "deeply concerned" the arms control report may have been produced by political appointees "disregarding intelligence or distorting its meaning."
The chairmen said the US State Department was legally bound to submit to Congress a "detailed report" on compliance by the US and other countries with international arms control accords but this year's report was only 12 pages long that contained "no meaningful discussion" and consisted "largely of hypotheticals or opinion."
Several sources told Reuters that the report made them wonder if the administration of US President Donald Trump was painting Iran in the darkest light possible just like what the George W. Bush administration did by using bogus and exaggerated intelligence to justify its 2003 aggression against Iraq.
"It's piling inference upon inference here to try to create a scary picture," said a congressional aide, who requested anonymity.
"There is significant concern that the entire sort of purpose ... was to help build a case for military intervention in Iran in a way that seems very familiar," the official added, referring to the Bush administration's use of erroneous intelligence before the Iraqi war.
Tensions started to mount between Tehran and Washington in May last year, when Trump pulled his country out of the 2015 nuclear deal with Iran, officially known as the Joint Comprehensive Plan of Action (JCPOA), and re-imposed harsh sanctions against the Islamic Republic in defiance of global criticisms.
The tensions saw a sharp rise on the first anniversary of Washington's exit from the deal as the US moved to ratchet up the pressure on Iran by tightening its oil sanctions and sending military reinforcements, including an aircraft carrier strike group, a squadron of B-52 bombers, and a battery of patriot missiles, to the Middle East.
The Trump administration said the deployment of US forces in the Middle East was a "defensive" move against Iran, claiming it had received reliable evidence from various sources that showed Tehran was conspiring to attack the US interests and those of its allies in the region.
Iranian authorities have frequently announced that the allegations raised by Washington regarding Iran's threat to conduct attacks on US interests were based on "fake intelligence."
The deployment of US special forces to the Persian Gulf came following a series of attacks on oil tankers off the coast of the United Arab Emirates.
Iran has warned that such sabotage operation may be part of a general ploy to target Iran amid increasing regional tensions.
Several senior American politicians have warned that Iran hawks in Trump's team are cooking up intelligence in order to convince Trump that Iran is indeed a threat, putting Washington on the same path that led to the ill-fated invasion of Iraq back in 2003.
Iran has dismissed the possibility of war despite the US military deployment to the Persian Gulf. The US president has also reportedly ordered his administration to avoid a military confrontation with Iran.
Full report at:
https://www.presstv.com/Detail/2019/05/24/596793/US-State-Department-arms-control-report-deadline
--------
Retired generals, diplomats warn Trump against Iran war
Servet Günerigök
25.05.2019
WASHINGTON
A consortium consisting of retired American admirals, generals, ambassadors and senior government executives expressed deep concern Friday over the current escalation with Iran.
"A war with Iran, either by choice or miscalculation, would produce dramatic repercussions in an already destabilized Middle East," said the group in a letter addressed to U.S. President Donald Trump.
Signed by 76 people, the letter was published Friday by the War on the Rocks website.
It came hours before Trump's announcement that 1,500 additional U.S. troops will be sent to the Middle East amid heightened tensions between Tehran and Washington.
A war would "drag the United States into another armed conflict at immense financial, human and geopolitical cost", the letter warned.
It said lack of direct communication between the two countries' political and military leaders only increases the possibility of a miscalculation resulting in unintended military conflict.
The signatories urged Trump to immediately reduce the dangerous levels of regional tension.
"Crisis de-escalation measures should be established with the Iranian leadership at the senior levels of government as a prelude to exploratory diplomacy on matters of mutual concern," they wrote.
Earlier this month, the U.S. sent a carrier strike group and bomber task force to the Middle East, citing a "credible threat" from Tehran.
Full report at:
https://www.aa.com.tr/en/americas/retired-generals-diplomats-warn-trump-against-iran-war/1488745
--------
US military targets ISIS-Somalia in fifth airstrike since April
May 23, 2019
Washington (CNN)The US targeted ISIS fighters in Somalia for the fifth time since mid-April, killing two terrorists in an airstrike Wednesday, US Africa Command said in a statement.
"Our efforts to locate and eradicate ISIS leaders who control a range of activities -- from operations to financing and communications -- is hitting at the heart of the organization and disrupting their ability to continue their terrorist activities," Rear Adm. Heidi Berg, the director of intelligence of US Africa Command, said in a statement Thursday.
The recent series of strikes against ISIS-Somalia have taken place in the Golis Mountains, located in the northern part of the country.
US Africa Command said in April that a strike in the same area killed the organization's second in command.
Full report at:
https://edition.cnn.com/2019/05/23/politics/isis-somalia-fifth-airstrikes/index.html
--------
Europe
Netherlands wants tribunal to try some Islamic State members
By Edith M. Lederer
May 23, 2019
UNITED NATIONS — The Netherlands called Thursday for the establishment of a tribunal to prosecute members of the Islamic State extremist group responsible for "mass atrocity crimes."
Dutch Foreign Minister Stef Blok made the proposal at a U.N. Security Council meeting on the protection of civilians in conflict, saying there must be accountability and an end to impunity for violations of international human rights and humanitarian laws.
He said Islamic State fighters responsible for mass atrocities should be prosecuted, preferably in the region, and if feasible by "an ad hoc or hybrid international criminal tribunal."
"I am fully aware of the complex obstacles on our road towards this goal," Blok said. "But we have to keep in mind: Justice is a prerequisite of lasting peace and security."
He said the Netherlands will organize a ministerial meeting on the prosecution of fighters from IS, which is also known as ISIL, on the sidelines of the annual gathering of world leaders at the General Assembly in September.
"I invite Security Council members and others to join us on this road towards justice," Blok said.
The Islamic State group's self-declared "caliphate" that once spanned a third of both Iraq and Syria has been defeated on the battleground but its fighters are now staging insurgent attacks.
The atrocities its fighters and supporters committed have left deep scars. Thousands of members of Iraq's Yazidi minority, mainly women and girls, were raped and enslaved, while men were killed. Suspected homosexuals were pushed off roofs to their deaths. Captured Americans and other Westerners were beheaded, and an unknown number of suspected opponents were killed.
A Security Council resolution backed by more than 60 countries to refer the Syrian conflict to the International Criminal Court was vetoed by both Russia and China in May 2014. A new attempt at the council to refer Syria to the ICC would almost certainly face a similar fate.
The General Assembly established an independent panel in December 2016 to assist in the investigation and prosecution of those responsible for war crimes or crimes against humanity in Syria.
In September 2017, the Security Council voted unanimously to ask the U.N. to establish an investigative team to help Iraq preserve evidence "that may amount to war crimes, crimes against humanity and genocide" committed by Islamic State extremists.
In March, the Iraqi government, with U.N. support, started exhuming a mass grave left behind by IS in the northwestern Sinjar region in the presence of Nobel Peace Prize laureate Nadia Murad, whose slain Yazidi relatives are believed to have been buried in the area. Murad said it marked the first exhumation of a mass grave containing the remains of Yazidis.
The U.N. investigative team said in a report circulated Thursday that to date the excavation of 12 grave sites has been completed and investigators have started collecting "testimonial evidence."
In the report to the Security Council, the team said investigators plan to focus on three initial areas: IS attacks against the Yazidis in Sinjar in August 2014; IS crimes in Mosul between 2014 and 2016 "including the execution of religious minorities, crimes involving sexual and gender-based violence and crimes against children"; and the mass killing of unarmed Iraqi air force cadets from Tikrit Air Academny in June 2014.
The report said survivors come from all communities in Iraq "and their message has been consistent and clear: ISIL must be held accountable for its crimes."
"This call for accountability is not one of retribution, but one of justice," the report said. "Those who have spoken to the investigative team wish for the crimes of ISIL to be exposed, openly and objectively, so that the world can see the true nature of those acts and so that we can, together, honor the victims."
https://www.washingtonpost.com/world/europe/netherlands-wants-tribunal-to-try-some-islamic-state-members/2019/05/23/47f68aca-7d86-11e9-b1f3-b233fe5811ef_story.html?noredirect=on&utm_term=.d80ce54f9032
--------
Turkish parliament speaker to visit N Macedonia, Bosnia
Yildiz Nevin Gundogmus
24.05.2019
Turkey's parliament speaker will visit North Macedonia and Bosnia and Herzegovina between May 25-27, according to a statement from the speaker's press office.
Mustafa Sentop will meet with President of North Macedonia Stevo Pendarovski on Saturday, the statement said.
He will also visit International Balkan University in Skopje and participate in an iftar, fast breaking dinner.
Full report at:
https://www.aa.com.tr/en/europe/turkish-parliament-speaker-to-visit-n-macedonia-bosnia/1488676
--------
Germany urges peaceful solution to Iran crisis
Ayhan Şimşek
24.05.2019
BERLIN
Germany on Friday urged a peaceful solution to tensions between U.S. and Iran ahead of Secretary of State Mike Pompeo's visit to Berlin next week.
Speaking at a news conference in Berlin, deputy government spokeswoman Martina Fietz said recent tensions with Iran over its nuclear program and role in the region would be among the topics of Merkel-Pompeo meeting on May 31.
"As you know the Federal Government believes that all the issues regarding Iran can only be solved in a peaceful way, through talks and agreements. And of course the Chancellor would express this position during her meeting with Mr. Pompeo," she said.
Earlier this month, Pompeo had cancelled a long-planned visit to Berlin at short notice and travelled to Baghdad, amid reports in the U.S. media that claimed Iran or affiliated groups ware preparing to attack American troops in Iraq.
Recent weeks have seen steadily mounting tensions between Tehran and the Washington.
On Sunday, following a rocket attack near the U.S. Embassy in Baghdad, President Donald Trump told Iran not to threaten the U.S., saying it will be Tehran's "official end".
Last week, the U.S. deployed a carrier strike group to the Persian Gulf, citing "intelligence" of an imminent Iranian attack on U.S. interests in the region.
Tehran responded to the escalation by threatening to close the Strait of Hormuz, a main artery for global oil shipments linking the Persian Gulf to the Gulf of Oman and Arabian Sea.
Despite U.S. President Donald Trump's "maximum pressure" campaign on Iran with new sanctions, EU heavyweights -- Germany, France and the U.K. -- continue to back the 2015 nuclear deal with Tehran.
Full report at:
https://www.aa.com.tr/en/europe/germany-urges-peaceful-solution-to-iran-crisis-/1488489
--------
UK envoy: Turkey would greatly contribute to EU
Murat Egilmez
24.05.2019
Turkey's membership in the European Union would contribute greatly to both sides, the U.K.'s ambassador to Ankara said Friday.
"Turkey's accession process and the membership process are stalled at the moment. It's not going anywhere, and for now, it's hard to be optimistic," said Dominick Chilcott in an exclusive interview with Anadolu Agency.
However, evaluating Ankara's decades-long negotiations with the 28-member bloc, Chilcott said conditions could quickly change at any time.
He stressed that the current lack of progress had nothing to do with Turkey's culture, size or geographical position.
"In principle, there is no reason why Turkey should not become a member state. It would be a very successful state of the EU, make a big contribution and benefit hugely from EU membership," he said.
Chilcott pointed out that Turkey was an indispensable and powerful ally of the EU but emphasized that both sides needed to make certain changes for the current partnerships to continue.
'Huge burden'
"With 3.6 million Syrian refugees and half a million refugees from other countries, Turkey carries a huge burden," said Chilcott.
"Everybody in the international community should be grateful for all the efforts Turkey makes," he said.
Chilcott underlined that the EU's current contributions were only a "small part of the cost Turkey already bears".
"It's for the politicians to discuss among themselves what the right amount is. It was the amount agreed between President [Recep Tayyip] Erdogan's government and the European Union," Chilcott said.
"I am sure more help would be much appreciated here in Turkey," Chilcott added.
In 2016, Turkey and the EU signed a deal aiming to stem the flow of irregular migrants through the Aegean Sea by taking stricter measures against human traffickers and improve conditions for nearly 3 million Syrian refugees in Turkey.
The deal also allows for the acceleration of Turkey's EU membership bid and visa-free travel for Turkish nationals within the Schengen Area on the condition that Ankara meets all 72 requirements set by the EU.
Turkey has long complained of the EU being slow to deliver the promised funds for refugees and failing to uphold its end of the deal concerning visa-free travel.
*Dilara Hamit in Ankara contributed to the story
Full report at:
https://www.aa.com.tr/en/europe/uk-envoy-turkey-would-greatly-contribute-to-eu/1488457
--------
South Asia
Bomb in Afghan mosque kills senior cleric during Friday prayers
May 24, 2019
KABUL: A bomb exploded in a mosque in the Afghan capital, Kabul, during Friday prayers, officials said, killing three people including a senior preacher and wounding at least 20 men who had gathered for worship.
The preacher, Samiullah Raihan, was a supporter of the Western-backed Afghan government which Taliban militants are trying to bring down. He was also a member of the National Ulema Council, Afghanistan's top Muslim clerical body.
Firdaws Faramarz, a police spokesman, said explosives were apparently placed near the altar of the Al-Taqwa mosque, a place used by the mosque leader to initiate the prayers.
The neighborhood where the bombing took place is dominated by Sunni Muslims. No group has claimed responsibility for the attack but the Taliban and Daesh fighters regularly stage attacks in the capital.
The explosion hit at a time when dozens of men had gathered for prayers. The death toll could rise, said a second official.
http://www.arabnews.com/node/1501556/world
--------
'Results' needed from Myanmar over Rohingya return: UNHCR head
May 24, 2019
YANGON: Myanmar must "show results" to convince Rohingya refugees to return, the UN's High Commissioner for Refugees Filippo Grandi said Friday at the end of his first visit to Myanmar since the crackdown against Rohingya Muslims in 2017.
A brutal military campaign in western Rakhine state forced some 740,000 Rohingya over the border into Bangladesh.
Around one million Rohingya now languish in sprawling refugee camps from various waves of persecution.
A UN fact-finding mission called for Myanmar's top generals to be prosecuted for "genocide" and the International Criminal Court (ICC) has started preliminary investigations.
During his visit Grandi spoke with both Rohingya and ethnic Rakhine Buddhist communities in Maungdaw and Buthidaung in northern Rakhine, the epicenter of the violence.
He also held discussions with officials in capital Naypyidaw, including civilian leader Aung San Suu Kyi, describing all talks as "constructive."
"My message is: 'please accelerate', because it has been very slow in the implementation in this first year. We need to show results," he told AFP in an interview in Yangon.
"This is not enough to convince people to come back," he said.
Grandi visited the camps in Bangladesh in April.
The two countries have signed a repatriation agreement but so far virtually no refugees have returned, fearing for their safety and unconvinced they will be granted citizenship.
Myanmar pejoratively labels the Rohingya as "Bengali," implying they are illegal interlopers and the community has had its rights eroded over decades.
Gaining independent access to northern Rakhine is difficult with most journalists, observers and diplomats only allowed on brief chaperoned visits.
Grandi defended the UNHCR's involvement in a plan by the Bangladeshi government to move some 100,000 refugees onto low-lying island Bhashan Char.
The area in the Bay of Bengal is prone to flooding and cyclones.
Rights groups oppose the scheme that has also so far been universally rejected by the Rohingya themselves.
The refugee agency must be "involved" to have the necessary information in order to take a stance on the issue, Grandi said.
"We're still at that stage, no more than that."
He also visited camps near Rakhine's capital Sittwe, where nearly 130,000 Rohingya have been confined since a previous bout of violence in 2012.
Myanmar has announced it will close the camps but many are skeptical the displaced will enjoy more freedoms.
Grandi said the UNHCR would reconsider its role in providing services if conditions did not substantially improve.
Full report at:
http://www.arabnews.com/node/1501636/world
--------
Ramadan helping hand for Bangladesh's poor
May 25, 2019
Muslim man Eunus Ali, 70, collects fast-breaking food items during Ramadan from a Buddhist temple at Kamalapur in Bangladeshi capital Dhaka on May 21. (Photo by Stephan Uttom/ucanews.com)Forty-year-old wheelchair-bound Muslim street beggar Rahima Begum spends much of her time around the strikingly modern Kamalapur central railway station in the southern part of Bangladeshi capital Dhaka.Ten-year-old Jharna accompanies her mother as she pleads for alms, often until late at night.But during the Islamic holy fasting month of Ramadan, Rahima finishes begging early then lines up with hundreds of other poor people at the gate of the Dharmarajik Buddhist Temple and Monastery in Kamalapur.The Organization for Promotion of Buddhist Culture in Bangladesh has for two decades been administering the provision by monks of 'iftar' fast-breaking evening meals to poor Muslims during Ramadan."Buddhists are great people with love for poor people like us," Rahima told ucanews.com before collecting two iftar food boxes from the monks on the evening of May 21."I think rich Muslims should follow their example to support people who cannot afford a good iftar meal."Eunus Ali, 70, moved to Dhaka some 20 years ago and comes to the Buddhist temple every year. He lives in a slum with his wife, a daughter and a grandchild, but his four married sons live separately and don't look after their parents."We are poor people, so I come here to collect iftar for my family," he said."Some conservative Muslims are uneasy about taking food from non-Muslims, but I don't see that as a problem because Allah blesses all food."The presence of a large number of poor people in the area sparked the idea of offering iftar fast-breaking meals, said Dr. Pranab Kumar Barua, who is the president of the Organization for the Promotion of Buddhist Culture's advisory council.He described this as "an expression of our love" for the needy that fosters unity and harmony.Popular Islamic shrinesIn northern Dhaka, Uttara Friends' Club has been providing iftar meals to hundreds of rickshaw pullers and poor street people every day during the current Ramadan period.In northwestern Sylhet city, two popular Islamic shrines dedicated to prominent Islamic preachers, Hazarat Shah Jalal and Hazarat Shah, have been offering iftar to some 500 poor Muslims daily during this year's holy month.Meanwhile, the marriage of Hindu couple Purnima Karmakar and Bimol Das on May 19 was possible because a Muslim businessman funded most of the expenses from his Zakat religious tax money, said Poly Saha, a local college teacher."This is a great example of interfaith harmony in the country," she said.Purnima's father passed away four years ago from cancer and her mother has been working as a housemaid ever since to support the family.Zakat is an obligatory religious tax and one of the five pillars of Islam. The money collected from Zakat is to be distributed to people living in poverty ahead of the Eid festival marking the end of Ramadan.This is a time for expression of fraternity and solidarity, noted Bishop Bejoy N. D'Cruze of Sylhet, who is the chairman of Catholic Bishops' Commission for Christian Unity and Inter-religious Dialogue. Ramadan evokes good religious sentiments among Muslims, especially fraternal love for each other and for the poor," he told ucanews.com. "They believe expressing fraternal love and solidarity with others makes them worthy for Allah's blessings."Bishop D'Cruze also pointed out that individual Muslims, as well as Islamic organizations, arrange interfaith iftar programsAnd members of other faiths also helped each other during religious festivals and holidays, the prelate added.Maolana Fariduddin Masoud, from the Bangladesh Jamiatul Ulama (Council of Clerics) told ucanews.com that in Bangladesh it is believed that while religion is personal, festivals are for all.People were overwhelmingly proud of the nation's rich heritage of pluralism and harmony, he added. "Our first identity is we are human beings and then we are adherents of religious faiths," Masoud said. "It's really good to see that when people are in need, others lend support. This is what all religions teach and this is how we can forget our differences and we can drive away hatred and violence from the world."Bishop D'Cruze believes Bangladesh has in recent years been overcoming religious extremism.Government efforts and public opposition meant militancy had been largely neutralized, but tensions remained."Recent terrorist attacks in New Zealand and Sri Lanka frighten us, but we still hope we can live freely in harmony," Bishop D'Cruze said.The Vatican, in a Ramadan message, called for the promotion of religious fraternity to foster peace.
https://international.la-croix.com/news/ramadan-helping-hand-for-bangladeshs-poor/10179#
--------
Bangladesh to erect fence to fight Rohingya trafficking
SM Najmus Sakib
24.05.2019
DHAKA
Bangladesh has opted for barbed wire-fencing around refugee camps amid a dramatic rise in the trafficking of Rohingya.
Mohammad Abdul Kalam, chairman of Bangladesh's Refugee Relief and Repatriation Commission (RRRC), told Anadolu Agency on Wednesday that the move was decided on back in 2017 but was not implemented as it had not reached a crisis level then.
The fence "would not only prevent Rohingya from being trafficked but could help control their tendency of leaving the camp area", Kalam said.
"A huge refugee community [of Rohingya] is residing there in Cox's Bazar. The entire region [of neighboring countries] would be put in danger if the Rohingya issue is not given due importance."
Refugees leave the camps out of frustration due to a lack of jobs and other basic facilities, he said.
Myanmar is responsible for resolving the issue and the international community should pressure its government to repatriate their people, he added.
Senior Bangladeshi government officials have observed the need for fencing around Rohingya camps in order to prevent Rohingya from leaving the camp area and to halt human trafficking, according to local daily The Financial Express.
"We have plans to erect barbed wire fencing around the camps in Cox's Bazar to prevent criminal activities," the daily quoted Home Minister Asaduzzaman Khan Kamal as saying.
"Nearly every day, we prevent Rohingya from being trafficked to Malaysia through the Bay of Bengal. There is no boundary around the refugee camps. If there was, such incidents could be reduced," a police official in Cox's Bazar who declined to be named told Anadolu Agency
Earlier, the government proposed allocating 31.9 million Bangladeshi Taka (around $378,141) for erecting barbed wire fencing around the 11 Rohingya camps of Cox's Bazar.
The proposal has been sent to the Finance Ministry for approval.
Fencing not solution
Nay San Lwin, campaign coordinator of rights group Free Rohingya Coalition, told Anadolu Agency on Thursday that wire-fencing will not solve problems that plague the camps.
"[There is need] to educate the refugees not to fall [into] the trap of criminals and human traffickers.
"Most important is to destroy the main group behind the traffickers who are engaging in the camps.
"Setting up wire-fence will be like putting Rohingya into concentration camps. I have visited Nazi concentration camps. I don't want my fellow Rohingyas take refuge in the same concentration camps."
The Rohingya, described by the UN as the world's most persecuted people, have faced heightened fears of attack since dozens were killed in communal violence in 2012.
According to Amnesty International, more than 750,000 Rohingya refugees, mostly women and children, have fled Myanmar and crossed into Bangladesh after Myanmar forces launched a crackdown on the minority Muslim community in August 2017.
Since Aug. 25, 2017, nearly 24,000 Rohingya Muslims have been killed by Myanmar's state forces, according to a report by the Ontario International Development Agency (OIDA).
More than 34,000 Rohingya were also thrown into fires, while over 114,000 others were beaten, said the report, titled "Forced Migration of Rohingya: The Untold Experience".
Some 18,000 Rohingya women and girls were raped by Myanmar's army and police and over 115,000 Rohingya homes were burned down and 113,000 others vandalized, it added.
The UN has also documented mass gang rapes, killings – including of infants and young children – and brutal beatings and disappearances committed by Myanmar state forces.
Full report at:
https://www.aa.com.tr/en/asia-pacific/bangladesh-to-erect-fence-to-fight-rohingya-trafficking/1488368
--------
Explosion rips through a mosque in Kabul, killing or wounding at least 17 people
24 May 2019
An explosion ripped through a mosque in Kabul city earlier this afternoon killing one person and injuring at least 16 others.
A spokesman for the Ministry of Interior Nasrat Rahimi said the incident took place at around 1:20pm local time in Isteghfar Mosque.
Rahimi further added that the explosion killed a religious cleric Mawlavi Rehan and injured at least 16 others.
Full report at:
https://www.khaama.com/explosion-rips-through-a-mosque-in-kabul-killing-or-wounding-at-least-17-people-03469/
--------
Southeast Asia
Arrested Malaysian militants tested bombs in Kedah
MAY 24, 2019
PETALING JAYA (THE STAR/ASIA NEWS NETWORK) - The authorities are continuing the search for the stash of two militant expert bomb makers arrested in Kedah recently, who had managed to conduct tests on their home-made explosives.
Intelligence sources told The Star that Malaysians Muhammad Syazani Mahzan and Muhamad Nuurul Amin Azizan managed to produce the explosives, believed to be Triacetone triperoxide (TATP), and even tested this near their homes in Kuala Muda, a town located in the northern Malaysian state.
"Authorities have strong indications that the duo have managed to test their weapons. It is fortunate that the militants were caught before they could use the explosives on their targets," a source said.
The authorities also believe that the two suspects had hidden various materials and chemicals to make bombs, including TATP.
Produced by mixing acetone and hydrogen peroxide, TATP is a high-impact explosive that can be easily manufactured with readily accessible reagents and is extremely difficult to detect.
"It can destroy and kill anything or anyone within a 25m to 50m radius," a source said. "TATP is usually fitted into a pipe bomb, which can be detonated remotely via a safety fuse. It is commonly used by terrorists in Thailand and Indonesia."
The most recent example of the use of TATP was the coordinated suicide bombings by a single family on three churches in Surabaya, Indonesia, in May last year.
The family of six, including a nine-year-old girl, killed at least 13 people. A police station was also targeted during the bombings.
Inspector-General of Police Abdul Hamid Bador said that both Muhammad Syazani and Muhamad Nuurul Amin had gone for bomb-making training in Yogyakarta in 2018 conducted by the Jemaah Ansharut Daulah Indonesia terror group.
"Both suspects also cased a few churches in Yogyakarta for potential targets. Muhammad Syazani also planned to target a non-Muslim house of worship in Malaysia via a suicide bomb attack," Datuk Seri Abdul Hamid said.
Both militants were among three men detained in an anti-terror swoop in Kedah and Selangor on May 14 by the Counter Terrorism Division (E8). The third man is Indonesian Nuruddin Alele, alias  Fatin Tir.
"The Indonesian suspect was planning to flee the country once his terror plans were successful. He was planning to head to Indonesia via illegal jetties around Banting," a source said.
According to the sources, only the Indonesian militant belonged to a wolf pack while the Malaysians had links but belonged to another cell.
It was reported last Monday that four members of an Islamic State in Iraq and Syria (ISIS) wolf pack cell were detained in Kuala Lumpur and the Klang Valley.
They were planning to assassinate four VIPs and target non-Muslim houses of worship in the Klang Valley as well as entertainment outlets.
Six improvised explosive devices were also seized during the raids along with a CZ 9mm pistol and 15 bullets.
Since February 2013, a total of 488 militants have been detained, while the E8 thwarted 25 terror plots in the country.
https://www.straitstimes.com/asia/se-asia/arrested-malaysian-militants-tested-bombs-in-kedah
--------
Nothing enviable about scholarships for Palestinians, Kit Siang's aide tells MCA
24 May 2019
BY IDA LIM
KUALA LUMPUR, May 24 — There is no need to politicise or to envy the scholarships that will be offered by local universities to students from Palestine, DAP's Iskandar Puteri MP Lim Kit Siang's aide today told an MCA leader.
Lim's political secretary Syahredzan Johan pointed out that the newly-announced RM11.48 million worth of scholarships will not involve government funds and was not the first time that such education assistance is being offered to international students.
"The practice of offering scholarships to international students is not something extraordinary, apart from scholarships offered to Malaysians only.
"I urge Tan Chee Hiong to first study the amount of scholarships that have been offered by the private sector to Malaysians in comparison to foreign students before issuing a statement," Syahredzan said in a statement today in response to the MCA deputy youth chief.
Syahredzan also said Palestinians are known to be among the most oppressed people in the world
"These scholarships that are being offered gives an opportunity for those who qualify to receive education in Malaysia, a country that is peaceful if compared against Palestine. So, there is nothing to be jealous of with these scholarships," he added.
Yesterday, Tan had in a statement questioned the scholarships to the Palestinian students, suggesting that the current government has more than enough funds to do so despite the latter's assertion of a high national debt.
Tan had said Malaysians are compassionate and would not object aid to other countries for diplomacy and humanitarian purposes, but said Malaysians should be prioritised when it comes to care given out.
Today, Syahredzan corrected Tan by pointing to the Higher Education Department's clarification that the scholarships were contributions from private universities and are not government-funded.
"The MCA deputy youth chief's statement is nothing more than an attempt to politicise this issue," Syahredzan claimed, adding that the noble efforts by these universities should be celebrated instead of being disputed.
Syahredzan said that this would be in line with Malaysia's position of standing firmly in support of Palestine's continued criticism of the "Zionist" regime's alleged cruel acts on Palestinians.
On Wednesday, Prime Minister Tun Dr Mahathir Mohamad reportedly announced that RM11.48 million worth of scholarships will be offered via the Palestinian Cultural Organisation Malaysia (PCOM) for Palestinian students to pursue bachelor, masters and PhD courses in 12 universities in Malaysia.
Dr Mahathir's announcement initially drew flak from the public where access to tertiary education has re-emerged recently as a touchy topic, but several Pakatan Harapan leaders have since clarified that the scholarship did not come out of Putrajaya's coffers.
Yesterday, Higher Education Department director-general Datin Paduka Siti Hamisah Tapsir said a total of 140 Palestinians will be eligible to pursue their studies in Malaysia under the RM11.48 million worth of scholarships to be funded entirely by the 12 universities.
The 12 universities comprise of public university Universiti Utara Malaysia (UUM) with a RM128,000 contribution, and 11 private universities based in Malaysia.
The other universities are Albukhary International University (RM3.5 million), Management and Science University (RM1.1 million), Mahsa University (RM1.094 million), Kolej Universiti Islam Perlis (RM1.02 million), City University (RM1 million), Multimedia University (RM1 million), UCSI University (RM719,433), Universiti Teknologi Petronas (RM681,500), Universiti Tenaga Nasional (RM575,000), Sunway University (RM500,000) and Universiti Kuala Lumpur (RM158,400).
Full report at:
https://www.malaymail.com/news/malaysia/2019/05/24/nothing-enviable-about-scholarships-for-palestinians-kit-siangs-aide-tells/1756105
--------
Indonesian presidential challenger appeals election loss
25 May 2019
Indonesia's opposition candidate lodged an appeal Friday over claims that he lost the presidential election due to widespread cheating, allegations that spawned deadly rioting in the capital Jakarta.
At least eight people were killed and hundreds were injured in two nights of street battles between police and protesters opposed to Joko Widodo being re-elected leader of the world's largest Muslim-majority country.
The level of violence in the capital had not been seen in years.
Widodo's rival Prabowo Subianto, a retired general with strong ties to the Suharto dictatorship that collapsed in 1998, has claimed that the April 17 poll was a fraud.
On Friday, his legal team filed a formal challenge to the results at Indonesia's Constitutional Court, according to an AFP reporter at the scene.
The court is expected to issue a ruling by the end of June.
Election officials and analysts have discounted Subianto's rampant cheating claims, and he lost a similar court battle in 2014 when Widodo defeated him.
Official results this week showed Widodo won the election, setting off peaceful demonstrations by Subianto supporters.
But as thousands flowed into central Jakarta on Tuesday and Wednesday evening, some protesters hurled stones, fireworks and Molotov cocktails at police lined up behind a razor wire barricades near the election supervisory agency building.
Police fired water cannons, tear gas and rubber bullets at crowds, as dozens of cars were torched.
By Thursday the chaos had subsided, but parts of the city's downtown core remained blocked off and heavily guarded by tens of thousands of military and police.
Since the rioting, more than 400 demonstrators have been arrested, according to police, who blamed the violence on "provocateurs" they claimed mixed with the crowd to stir up trouble.
Police have offered few details on how the demonstrators died or who was responsible, though earlier said some had gunshot and blunt force wounds.
Authorities denied firing live rounds into the crowd.
Full report at:
https://english.alarabiya.net/en/News/world/2019/05/25/Indonesian-presidential-challenger-appeals-election-loss.html
--------
Arab World
Misery Grows At Syrian Camp Holding ISIS Family Members
May 23, 2019
In northeast Syria, an overcrowded detention camp is home to more than 73,000 people who lived in the former ISIS caliphate. Almost three-quarters of the al-Hol camp residents are children — born to Syrian, Iraqi and other foreign parents who flocked to the ISIS caliphate over the five years it ruled territory here.
In recent visits to the camp, NPR was told of babies dying from malnutrition and disease, and found women collapsed by the side of the road.
A woman moaning in pain sits on the pavement, too weak to pull herself up to a metal bench after undergoing kidney surgery at a hospital outside the camp earlier that day. There's no transportation to take her to her tent.
Nearby, an Iraqi mother holds a baby with a skull fracture from a fall. "I wanted a scan to make sure she is all right, but they won't send me for one," she says.
Along a road in the camp, a woman dressed in an enveloping black niqab has collapsed. A group of women flags down a passing van, then gathers around and lifts her into the back seat.
By mid-April, 200 children had either died on their way to the camp from the last ISIS stronghold of Baghouz, or shortly after arriving. Many died of malnutrition or hypothermia, and with shortages of medical facilities and infant formula for mothers who can't nurse, children's health in the camp remains precarious.
Officials say some international aid agencies are reluctant to provide assistance to people with a perceived ISIS affiliation.
"A shortage of everything"
"We are continuously dealing with cases of malnutrition," says Massoud Ramo of the Kurdish Red Crescent, a regional aid organization that is one of the few openly operating in the camp.
Ramo, a clinic director, says over the most recent week, six children under age 5 died from various causes. Fourteen children were sick enough to be transferred to a hospital an hour away.
"The biggest problem is transporting the patients," says Ramo. "There are waves of people coming and not enough ambulances or emergency room staff."
In the clinic's makeshift emergency room, one of a handful in the desolate camp, Dr. Sino Antar explains to an Iraqi couple how to treat their baby for diarrhea. Then he turns to an infant with breathing problems.
"There is always a shortage of everything. There's a lack of supplies and the numbers of patients are huge," he says.
Each day, more than 100 children are brought to the clinic. A ceiling fan hanging from the corrugated metal roof moves air around the small room, packed with people. Women sit on the floor, waiting for their children to be seen.
In May, it's already 90 degrees, just the start of a season with much higher temperatures. The heat, along with inadequate water and sanitation, has raised fears of typhoid and other diseases sweeping the camp.
"Don't tell anyone you saw us here"
Five years ago, ISIS took over large parts of Iraq and Syria, declaring an Islamic caliphate that drew foreigners from all over the world to fight and live in it. The territorial caliphate was defeated in March, with a final battle in Baghouz.
Surviving fighters and their families were taken into custody by Kurdish-Syrian forces. The men ended up in jail; the woman and children put in the back of trucks to be taken to camps like al-Hol, where they are detained and waiting for their governments to decide what to do with them. Some 30,000 of the camp residents are Iraqi.
Iraqi and Kurdish-Syrian officials have met to come up with a plan for repatriating them, but fewer than 5,000 have agreed to go. Kurdish Syrian officials say they won't send back anyone to Iraq against their will.
Normally in a camp of this size, there would be plenty of international aid organizations eager to talk about the help they're providing. Here, even though most of the camp residents are children, there's been little help from the rest of the world.
Some international aid organizations that work in al-Hol prefer to remain under the radar, operating in the camp under a United Nations agreement along with U.N. agencies such as UNICEF and the World Health Organization — but without the direct approval of the Syrian government.
"Don't tell anyone you saw us here," a representative of one major aid group tells NPR.
The foreigners' annex
One of the few major international groups operating in the camp, Doctors Without Borders, says residents of the foreigners' section in particular are not receiving proper medical care. More than 11,000 foreign women and children, believed to be mostly from North Africa and Europe, stay in a separate, heavily guarded section of the camp, known as the annex. Without a fixed clinic and without freedom of movement, some women are giving birth in their tents, the aid group says.
At the foreigners' annex, NPR saw dozens of women crowded around a steel gate leading to the larger camp, asking to be allowed out to the market and other services. Most were refused. Camp authorities said there was a shortage of guards to accompany the women.
The guards now tasked with protecting the women are from the same Kurdish forces that fought ISIS in Syria. Kurdish-Syrian officials say more than 11,000 of their fighters were killed fighting the militant group.
On NPR's visit to the annex, a Chechen woman emerged from a tent to ask for help for her son, who she said was injured and desperately needed an operation. NPR was not allowed by guards to speak with her at length.
"There's a clear distinction made between people in the third-country national annex and people in the rest of the camp," Will Turner, program manager for Doctors Without Borders, told NPR by phone from Amsterdam, referring to non-Iraqi foreigners.
Doctors Without Borders operates a mobile clinic in the foreigners' annex, but only recently has been given approval by camp authorities to open a fixed clinic.
"We initially did have a separate clinic for some weeks that was closed [by camp management] due to security concerns," Turner says.
Some women in the annex reported being threatened by more militant Russian and North African wives of ISIS fighters, who they said were trying to enforce ISIS rules within the camp.
Others said the guards conducted almost nightly raids on some sections of the camp, searching for phones and other contraband items, and shot in the air to scare children throwing rocks.
The camps are in Rojava, the Kurdish region of northeast Syria that broke away from Syrian government control, adding another level of complication for organizations operating there. The region's administration is not recognized by most foreign governments.
Aid donors' reluctance
Turner says a wider problem is that some international donors have been reluctant to fund camp operations in general.
"It's been reported to us that donors are particularly having difficulty in supporting populations coming from ISIS-controlled areas," he says.
A Kurdish official in charge of camps says some Western aid organizations also tell her they can't fund projects because some of the families were connected to ISIS.
"Their excuse is that these are 'terrorist families' and they say, as humanitarian NGOs, they don't support terrorists," says Magda Amin, a director for the Kurdish-Syrian regional government.
The groups specifically named by Amin denied making those comments.
Several Western aid officials — who did not want to be identified to maintain their relationship with Syrian-Kurdish authorities — said those authorities were preventing aid organizations from scaling up their operations, particularly in the foreigners' section. Some said authorities had cited fears for the safety of aid workers.
Meanwhile, there are concerns from international aid officials that more children are dying than are being counted.
"The stories that people tell you make us very concerned that there are greater numbers of children, particularly, dying in the tents, than we actually really have an idea of," says Turner.
https://www.npr.org/2019/05/23/726075657/misery-grows-at-syrian-camp-holding-isis-family-members
--------
Yemeni Drone Hits Saudi Patriot Missile Battery in Najran Base
May 24, 2019
The attack was carried out by Qasef-2K drones and was successful as it hit the Saudi regime's Patriot missile system inside Najran airport in Southern Saudi Arabia on Thursday.
It was the third strike by Ansarullah Movement in a week, the first one was three days ago when the Najran base's ammunition depot was hit on Tuesday and the Saudi fighter jets were hit in their hangar in Najran base on Wednesday.
Ansarullah resistance group has stepped up missile and drone attacks on Saudi Arabia's targets over the past ten days in a resurgence of tactics that had largely subsided since late last year amid United Nations-led peace efforts.
Yemen's Ansarullah movement has warned that its recent attack on a major Saudi oil facility was the start of operations against 300 vital targets in Saudi Arabia and the UAE.
The Ansarullah said on Sunday its drone attack on pumping stations of the Saudi state oil company Aramco was the start of operations against 300 vital targets.
The group added that other planned targets include military headquarters and facilities in Saudi Arabia and the United Arab Emirates.
Saudi Arabia and a number of its regional allies launched a devastating campaign against Yemen in March 2015, with the aim of bringing the government of former Yemeni President Abd Rabbuh Mansur Hadi back to power and crushing the Ansarullah movement.
Despite Riyadh's claims that it is bombing the positions of the Ansarullah fighters, Saudi bombers are flattening residential areas and civilian infrastructures. Weddings, funerals, schools and hospitals, as well as water and electricity plants, have been targeted, killing and wounding hundreds of thousands.
According to a December 2018 report by the Armed Conflict Location and Event Data Project (ACLED), a nonprofit conflict-research organization, the Saudi-led war has claimed the lives of over 60,000 Yemenis since January 2016.
Save the Children, a charity, has reported that more than 84,700 children under the age of five may have starved to death in Yemen since the Saudi regime and a coalition of its allies launched the brutal war on the already-impoverished nation.
France, the United States, the United Kingdom and some other Western countries have faced criticisms over arms sales to the Saudi Arabia and the UAE, whose aggression against Yemen has affected 28 million people and caused what the United Nations calls "one of the worst humanitarian crises in the world". According to the world body, Yemen is suffering from the most severe famine in more than 100 years.
Full report at:
http://en.farsnews.com/newstext.aspx?nn=13980302000728
--------
Idlib: Syrian Army's Massive Military Operations Imminent
May 24, 2019
The Arabic-language al-Watan newspaper reported that the Syrian Army's helicopters have been dropping communiques over villages in the surrounding areas of Idlib asking people to evacuate those regions before the Army kicks off its massive liberation operation.
Meantime, the Syrian Army's artillery and missile units heavily pounded military positions and movements of Tahrir al-Sham al-Hay'at (the Levant Liberation Board or the Al-Nusra Front) and other terrorist groups in the towns of al-Hobait and Kafr Naboudeh in Northwestern Hama, destroying several of their military vehicles and hardware as well as killing and wounding a large number of the militants.
On Tuesday, the Syrian Army foiled attacks by Tahrir al-Sham al-Hay'at aimed at retaking control of their already lost areas in Northwestern Hama and Southern Idlib.
The Syrian Army engaged in fierce clashes with Tahrir al-Sham terrorists who had attacked the government forces' military positions in al-Hamimiat and al-Jabin axis.
A large number of invading terrorists were killed and wounded in clashes with the Syrian Army and others retreated.
The Syrian Army's artillery units, meantime, targeted the terrorists' military positions in Kafr Zita, al-Bavizeh, al-Latamaneh, al-Arbaeen, al-Zuka and al-Hobait, killing and injuring several of them.
Full report at:
http://en.farsnews.com/newstext.aspx?nn=13980303000311
--------
Iraqi protesters urge Baghdad to stay out of US-Iran dispute
25 May 2019
Thousands of supporters of populist Iraqi Shiite Muslim cleric Muqtada al-Sadr urged political and factional leaders on Friday to stay out of any conflict between Iran and the United States.
Protesters from the movement of Moqtada al-Sadr, who once led Shiite militiamen against US forces and is also vocally critical of Iranian influence in Iraq, chanted "no to war" and "yes to Iraq" in central Baghdad and the southern city of Basra.
Iraqis worry that their country will be caught up in any escalation of US-Iranian tensions, which spiked earlier this month when President Donald Trump's administration said it had sent additional forces to the Middle East to counter alleged threats including from Iranian-backed militias in Iraq.
Politicians and Shiite paramilitary leaders have called for calm and the Iraqi government has tried to position itself as a mediator between the two sides.
"We've just recovered from Islamic State. Iraq must not be used as a base to try to harm any country. America doesn't want Iraq to be stable," said protester Abu Ali Darraji.
There was speculation that al-Sadr, whose political bloc came first in Iraq's parliamentary election last year, would speak to demonstrators in Baghdad but he did not appear.
Sadr campaigned last year on a platform of Iraqi nationalism, opposed to both US and Iranian influence in the country.
Amid rising US-Iran tension, a rocket was fired last week into Baghdad's fortified Green Zone, which houses government buildings and diplomatic missions, but caused no casualties. No group claimed responsibility; US officials say they strongly suspect Iran's local allies.
The attack came after Secretary of State Mike Pompeo warned Iraqi leaders that if they failed to keep in check powerful Iran-backed militias, Washington would respond with force.
US intelligence had showed militias positioning rockets near bases housing US forces, according to Iraqi security sources.
After pulling out of Iran's 2015 nuclear deal with world powers, Trump restored US sanctions on Iran last year and tightened them this month, ordering all countries to halt imports of Iranian oil or face sanctions themselves.
Iraq has said it will send delegations to Washington and Tehran to help calm tensions.
Full report at:
https://english.alarabiya.net/en/News/middle-east/2019/05/25/Iraqi-protesters-urge-Baghdad-to-stay-out-of-US-Iran-escalation.html
--------
Syrian helicopters distribute Idlib evacuation leaflets in preparation for military campaign
May 24, 2019
The Syrian army has warned civilians to leave the country's northwestern Idlib province as it prepares for a final military campaign to flush terrorists out of the region.
Leaflets were distributed from Syrian helicopters urging residents to leave the entire province in order to protect their lives, the Syrian al-Watan newspaper reported on Thursday.
The impending operation comes amid an escalation in clashes in the province after the Syrian army launched an offensive to counter numerous terrorist violations of an earlier de-escalation agreement.
Under the agreement, which was signed between Russia and Turkey last year, Takfiri groups had to withdraw from areas bordering government-controlled areas in the region.
Despite Turkey's pledge to implement the deal, the Takfiri groups have never complied with the agreement and have periodically launched attacks against Syrian troops from the buffer zone.
Turkey steps up support for terrorists
Turkey has set up patrols and bases in the province on the pretext of monitoring the agreement.
However, sources speaking to the al-Watan newspaper said the observation bases have effectively turned into command-and-control centers for the terrorists, providing them with arms and information on Syrian military deployments.
The sources made specific references to Turkey's monitoring base in Shir al-Maghar, saying it had actively helped terrorist groups regain control of the previously-liberated town of Kafr Nabuda south of Idlib on Wednesday.
The reports said Turkey had provided the terrorists with military and supply vehicles along with anti-tank guided missiles (ATGMs) which were widely used in the attack.
Syrian forces later published images of destroyed vehicles used by the terrorists, which appeared to be Turkish-made "Panthera F9" armored personnel carriers (APCs).
Syria has witnessed increased hostile drone attacks, notably targeting the strategic Hmeimim airbase in the northeastern Latakia province and various vital installations in the west-central Hama province.
Russia had previously warned that advanced technologies on unmanned aerial vehicles (UAVs) acquired by terrorists required "professional knowledge and experience" in operating drones.
US, UK, France again raise chemical attack fears
With the Syrian campaign to liberate Idlib going into high gear, Paris expressed concern over a possible "humanitarian catastrophe", warning against any Syrian operation.
Washington and London have also sought to intimidate Damascus, threatening to "respond appropriately" if recent allegations of chemical weapons use are confirmed.
The threats came after mysterious reports of four members of the al-Qaeda-linked Hayat Tahrir al-Sham (HTS) terrorist group having been admitted to hospital from "respiratory failure" emerged.
The US and its allies, which have greatly supported different terrorist groups in Syria, have periodically used dubious claims of government chemical attacks to pressure or even launch strikes against Damascus.
Full report at:
https://www.presstv.com/Detail/2019/05/24/596756/Syria-Idlib-evacuation
--------
Saudi Arabia stresses need for enhanced cooperation in global fight against terrorism
May 24, 2019
JEDDAH: The fight against terrorism remains a global priority, Saudi Arabia said on Thursday, as the Kingdom emphasized the need for the international community to work together to eradicate the threat it poses.
The comments were included in a speech delivered by the Saudi delegation at the 28th session of the Commission on Crime Prevention and Criminal Justice in Geneva. Led by Interior Ministry adviser Abdullah Al-Ansari, the delegates presented a review of the Kingdom's efforts in the realms of crime prevention and criminal justice. They highlighted the fact that no effort is being spared in the fight against terrorism, which is a high priority for the nation.
The Saudis also stressed the need for continued international cooperation to defeat terrorism, and said that the Kingdom has ratified most of the international measured designed to combat the threat. The country has also implemented a number of anti-terror measures, including: the establishment of a Presidency of State Security to address security challenges, in particular those posed by terrorism and its financing; the founding of a National Cybersecurity Authority to address cyber threats; and the amendment of counterterrorism laws.
The commission heard that the Kingdom's security services had uncovered and disrupted active terrorist cells across the country. In addition, a number of initiatives have been developed to address the problem of returning terrorist fighters. These include the Terrorist Financing Targeting Center, the members of which includes the GCC states, and which is jointly led by Saudi Arabia and the United States. It maintains strict control over the banking sector, ensures the proper organization of the charitable sector, and imposes sanctions on those found guilty of financing terrorism.
The delegation pointed out that the Kingdom continues to lay the foundations for a long-term strategy to defeat extremism. This includes the founding of the Global Center for Combating Extremist Ideology, and the expansion of anti-extremism programs through the King Abdul Aziz Center for National Dialogue to address the growing threat of radicalization and recruitment of young people by armed militias such as Daesh.
At the international level, the Kingdom has pledged $100 million to support the G5 Sahel counterterrorism task force in West Africa, and is a founding member of the Global Counterterrorism Forum. In addition, Saudi experts participate in joint military programs targeting terrorism around the world.
The country also hosted a meeting of the Islamic Military Counter Terrorism Coalition to address the ideological, financial, military and media aspects of the fight against terrorism, and the Ministry of Interior has implemented numerous judicial and legal assistance requests to assist in the battle.
A number of draft resolutions arose from the session, the most important of which included: technical assistance for the implementation of international counterterrorism conventions; combating the online sexual exploitation and abuse of children; strengthening technical assistance and international cooperation to combat cybercrime; and the adoption of preparations for the 14th UN Congress on Crime Prevention and Criminal Justice in April 2020 in Kyoto, Japan. During discussions about these resolutions, most of the amendments suggested by the Kingdom were adopted to strengthen international cooperation.
Full report at:
http://www.arabnews.com/node/1501406/saudi-arabia
--------
Pakistan
Bomb at Sunni Muslim mosque in Pakistan kills two, wounds 14
MAY 24, 2019
QUETTA, Pakistan (Reuters) - A bomb at a mosque in the Pakistani city of Quetta on Friday killed two worshippers and wounded 14, officials said.
The blast went off at the Sunni Muslim mosque when people were offering Friday prayers.
"There were about 100 people there when a bomb exploded very close to the prayer leader," said police officer Abdul Qayum.
There was no claim of responsibility.
Quetta is the capital Baluchistan province which has been plagued for decades by a separatist insurgency. The separatists usually attack energy infrastructure and the security forces.
Sunni Muslim militants also operate in the province. They usually attack government targets and members of the Shi'ite Muslim minority.
Attacks on Sunni mosques are rare.
Police said they were investigating.
https://www.reuters.com/article/us-pakistan-blast/bomb-at-sunni-muslim-mosque-in-pakistan-kills-two-wounds-14-idUSKCN1SU16X
--------
One killed, several injured in a blast in Pakistan
May 24, 2019
ISLAMABAD: At least one person was killed and over a dozen injured in a blast targeting a mosque during Friday prayers in Pakistan's southwestern Balochistan province, police said.
The explosion targeted the Rehmania Mosque in Pashtunabad area of the provincial capital Quetta, it said, adding that the injured have been shifted to different hospitals for treatment.
"The death toll could rise as it was a big explosion," said a security official.
According to the police, the nature of the bombing was not known but it looked as if a planted device was detonated.
Balochistan has witnessed several attacks of this kind in recent months.
Full report at:
https://timesofindia.indiatimes.com/world/pakistan/one-killed-several-injured-in-a-blast-in-pakistan/articleshow/69480743.cms
--------
Imran rejects MQM-P's demand for division of Sindh
Imran Ayub
May 25, 2019
KARACHI: In what appears to be a setback for his coalition partner Muttahida Qaumi Movement-Pakistan that has been demanding a new province to be carved out of Sindh, Prime Minister Imran Khan said on Friday that he was against creation of another province in Sindh.
Mr Khan hinted at introduction of a new local government system in the province on the pattern of the LG system of Punjab and Khyber Pakhtunkhwa.
The prime minister had a busy schedule in Karachi after he landed at the old terminal of Quaid-i-Azam International airport in the evening. He wrapped up his visit within a few hours after meeting members of the business fraternity as well as leaders of the Pakistan Tehreek-i-Insaf (PTI) and coalition parties and chairing a couple of meetings on development projects.
During his interaction with participants of different meetings, he blamed previous governments for the current economic crisis for which he "cannot spare the thieves" and termed the members of his recently-appointed economic team "experts". At the same time, the prime minister "requested" the business fraternity to benefit from the amnesty scheme.
The most crucial political stance of PM Khan came during a meeting with leaders of the PTI and coalition parties at the Governor House where he categorically turned down the demand for a new province to be carved out of Sindh.
"The PTI is against creation of another province in Sindh. After introduction of the PTI's new local bodies system there would be no need for any kind of division in the province," the prime minister said, according to a statement.
The meeting was attended by Federal Minister Faisal Vawda, Leader of the Opposition in the Sindh Assembly Firdous Shamim Naqvi, Khurram Sher Zaman, Haleem Aadil Sheikh, Ashraf Qureshi, former chief minister Arbab Ghulam Rahim, Pakistan Muslim League-Functional's Sadruddin Shah Rashdi, Nusrat Sehar Abbasi and Nand Kumar and others.
The statement said that the meeting also discussed the political situation of Sindh and the ongoing federal-funded development projects in the province.
Poverty alleviation
Earlier, the prime minister held a meeting with leaders of the business fraternity where he sought their support for poverty alleviation and suggestions for policies bringing "ease of doing business."
"Poverty alleviation is my mission for which the traders community must extend their support," the PM said in the meeting with a delegation of the Federation of Pakistan Chambers of Commerce and Industry and other members of the business fraternity.
"I want my government to be acknowledged as the most trade- and investment-friendly government. It was corruption during the previous government which brought on the economic crisis and marred our economy. We have inherited a fragile economy. I cannot let the plunderers off."
Mr Khan said, "The government wants the private sector to play a key role in bringing about economic stability. The government would extend all-out facilities to promote investment and business activities. Bringing ease of doing business, reforms in the Federal Board of Revenue and creation of a conducive and friendly atmosphere for the business are among the government's foremost priorities."
'Tough time ahead'
Later, addressing a fund-raising event for the Shaukat Khanum Memorial Hospital, the prime minister warned about tough time ahead but sounded confident that it would be over within the next three months.
"Let me tell you that another two or two and a half months are tough for the economy," he said. "And it is obvious because corruption was rampant during the previous governments and the way our leaders in the past ruled the country, this crisis was eminent. But it would be over. I assure you it would be over within next three months and we would start stabilising and thriving."
Mr Khan said the crisis tested nations and it was high time for the people of Pakistan to face these challenges with unity. He referred to the European countries which were devastated by the World War but the people of those countries never lost hope and returned to peace, development and prosperity through their resolve and willingness.
Full report at:
https://www.dawn.com/news/1484391/imran-rejects-mqm-ps-demand-for-division-of-sindh
--------
Iran happy with Pakistan's stance on Gulf crisis
Baqir Sajjad Syed
May 25, 2019
ISLAMABAD: Iranian Foreign Minister Javad Zarif said on Friday Pakis­tan was convinced that the pressure being exerted on Iran by the United States was unjustified.
Mr Zarif, who was on a two-day visit to Pakistan for consultation with Pakistani leaders on the escalation in tensions between his country and the US and its Arab allies, in an interview with Iranian newswire IRNA, after his meetings, said he was happy that "Pakistan understands our position … and considers US pressure on Iran as unjustified."
The Iranian foreign minister, who was on his 10th visit to Pakistan since assuming office six years ago, met Prime Minister Imran Khan, Foreign Minister Shah Mehmood Qureshi, National Assembly Speaker Asad Qaiser and Army Chief Gen Qamar Bajwa. In his talks, Mr Zarif shared Iranian perspective on evolving crisis in the Persian Gulf, where the US has deployed a naval aircraft carrier, B-52 bombers at an airbase in Qatar and F-15 jets and is planning to station thousands of soldiers in the region, in addition to issues on the bilateral agenda, particularly border security.
Mr Zarif's reading of Pakistani position is consistent with what the Foreign Office spokesman had said at an earlier media briefing. "The US decision to deploy aircraft carrier and bombers has added to the tensions and the existing precarious security situation in the Middle East," the spokesman had said.
The Iranian foreign minister described his discussions with Pakistani leaders as "useful" and "constructive". He found that his Pakistani hosts shared his views on the destabilising role of "imperialist forces".
The two sides discussed how regional countries could cooperate to counter American hegemonic policies towards Muslim countries, he said.
Mr Zarif said economic sanctions against Iran were "economic terrorism".
On border security, he urged cooperation against terrorism and groups active in the border regions. The terrorist groups, he stressed, enjoyed external support. He said Pakistan had promised to take all steps for the recovery of the remaining kidnapped Iranian guards. Pakistan had earlier recovered most of the guards who had been kidnapped last October, but two of them still remain in abductors' captivity.
Mr Zarif believed Iran and Pakistan could enhance border cooperation through implementation of their agreements.
The two sides discussed ways to expand bilateral ties in different areas, particularly energy sector and regional issues.
The visiting Iranian foreign minister said in his meetings with Pakistani leaders, he also discussed cooperation among Muslim states, the US and "Zionist aggression" against innocent Palestinians, especially the "deal of century".
Foreign Minister Shah Mahmood Qureshi, during a meeting with his Iranian counterpart at Foreign Office, said tensions in the region were not in anyone's interest and Pakistan would try to lower tensions in the region and maintain peace and stability.
Mr Qureshi called for resolution of outstanding issues through dialogue and urged all sides to exercise restraint.
Both Prime Minister Imran Khan and FM Qureshi in their meetings with Mr Zarif called for resolving the issues within the framework of international law and through diplomatic engagement.
Full report at:
https://www.dawn.com/news/1484393/iran-happy-with-pakistans-stance-on-gulf-crisis
--------
Pakistan among top states where Facebook curbed most content
Ramsha Jahangir
May 25, 2019
KARACHI: The total content restricted in Pakistan by social media giant Facebook doubled between July and December 2018, according to the platform's latest transparency report released on Friday.
Facebook restricted 4,174 items within Pakistan during the second half of 2018, as compared to 2,203 pieces from the first half of the year.
After India (17,713 items restricted), which topped the list of countries where the platform restricted maximum content, Pakistan ranked second followed by Brazil (4,026).
According to the breakdown of the content restricted in Pakistan, Facebook suspended 3,811 posts, 343 pages and groups, 10 profiles and one album. On Instagram, the platform restricted a total of nine items — seven posts and two accounts.
Facebook said it restricted content in Pakistan for violating local laws prohibiting blasphemy, anti-judiciary content, defamation, and condemnation of the country's independence.
The government's requests to Facebook also spiked in the period under review, as the authorities sent 1,752 data requests and sought data of 2,360 users/accounts. In the first half, the government had sent 1,233 requests to Facebook.
Facebook responds to government requests for data in accordance with applicable law and its terms of service. The platform complied with 51 per cent of the government requests.
The platform also accepts government requests to preserve account information pending receipt of formal legal process.
"When we receive a preservation request, we will preserve a temporary snapshot of the relevant account information but will not disclose any of the preserved records unless and until we receive formal and valid legal process," it explained.
During July-Dec 2018, the Pakistan government sent 488 preservation requests as opposed to 430 in the first half and specified 709 users/accounts compared to 580 to the platform.
Globally, in the second half of 2018, government requests for user data increased by 7pc from 103,815 to 110,634. Of the total volume, the United States continues to submit the highest number of requests, followed by India, the United Kingdom, Germany and France.
The volume of content restrictions based on local laws also increased globally by 135pc from 15,337 to 35,972.
The report also reported on temporary internet disruptions that impacted the availability of Facebook products.
"In the second half of 2018, we identified 53 disruptions of Facebook services in nine countries, compared to 48 disruptions in eight countries in the first half of 2018. This half, India accounted for 85 per cent of total new global disruptions," it added.
Over 35,000 posts removed
"We are closely working with Facebook to crack down on hate speech and impersonation. In the past six months, over 35,000 posts were suspended by the platform for hate speech alone," Prime Minister's Focal Person on Digital Media Arslan Khalid told Dawn.
The government representative said that 60pc of the content restricted involved hate campaigns by religious groups, particularly pertaining to the Aasia Bibi case. Another 100 profiles were reported to the platform by the Pakistan Telecommunication Authority (PTA) for impersonation, he added.
When approached, Facebook did not confirm or deny the government claims.
However, in its third Community Standards Enforcement Report released on Thursday, the platform said it removed 4m million posts (65pc) globally for pushing hate speech between Jan-March 2018. Till a year ago, only 38pc (2.5m) content was identified as hate speech by the social media giant.
"The safety of our community in Pakistan is absolutely vital to us. Within our Community Standards, we have clear rules against hate speech and incitement to violence, and our policies also prohibit individuals and organisations who engage in violence or organised hate to have a presence on our services," a Facebook spokesperson told Dawn by email.
Facebook defines hate as material that directly attacks people based on protected characteristics like race, ethnicity, national origin and religious affiliation. It does not look to political issues or the reason for hate speech.
Despite having 15,000 dedicated content reviewers based around the world to review content in over 50 languages — including Urdu — the company acknowledged in its report that it still struggled to proactively spot hate speech.
Although posts containing hate speech were among the most appealed types of content, they were the least likely to be restored. Facebook reversed itself 152,000 times out of the 1.1m appeals it heard related to hate speech.
As opposed to terrorist propaganda, nearly all of it was removed from the platform before a user reported it; just over a third of the hate speech content had to be reported to be removed.
In just the first three months of this year, the company took action against 5.4m pieces of content that included child sexual exploitation, 6.4m pieces of terrorist propaganda, and 1.76bn pieces of spam, among other banned content.
Facebook also axed a record of 2.2 billion fake accounts in the first three months of 2019, nearly double the 1.2bn removed during the fourth quarter of 2018. The social media giant estimated that 5pc of its 2.4 billion monthly active accounts are fake.
Between October 2018 and March 2019 alone, the company removed 3bn fake accounts, almost all of them within minutes of creation.
"For fake accounts, the amount of accounts we took action on increased due to automated attacks by bad actors who attempt to create large volumes of accounts at one time," Guy Rosen, Facebook's vice president for integrity, said in a blog post.
Full report at:
https://www.dawn.com/news/1484390/pakistan-among-top-states-where-facebook-curbed-most-content
--------
CTD arrests six activists of banned organisations
May 25, 2019
LAHORE: The Counter Terrorism Department (CTD) in a massive crackdown has arrested six activists of the proscribed organisations from various parts of the province for collecting funds for financing terrorism.
Those arrested were collecting funds for the proscribed organisations — Jaish-i-Muhammad and the Lashkar-i-Jhangvi, says a spokesperson for the CTD here on Monday.
He said Muhammad Zahid and Irfan Ahmad of JeM were arrested from Gujranwala, and Zafar Iqbal of JeM from Rawalpindi.
Similarly, the CTD teams arrested Hanzala and Hamza of LeJ from Lahore while Ijaz Ahmad of the same banned organisation from Multan.
No member of any proscribed organisation would be allowed to collect funds for financing terrorism and extremism under the law of land, the spokesperson said.
Full report at:
https://www.dawn.com/news/1484381/ctd-arrests-six-activists-of-banned-organisations
--------
Three killed in Quetta mosque bombing
May 25, 2019
QUETTA: At least three people were killed and 20 injured in an explosion inside a mosque in the Pashtoonabad area on Friday.
The injured are shifted to nearby Civil Hospital Quetta, while two of them were in a critical position.
According to Quetta Deputy Inspector General (DIG) Abdul Razzaq Cheema, the attack was carried out through an improvised explosive device (IED) ahead of Friday prayers when 30 to 40 people were present inside the mosque.
There has been no claim of responsibility as of yet.
Prime Minister Imran Khan expressed grief over the tragic loss of precious lives and sought a report from the authorities concerned. He also directed the authorities to provide the wounded with the best possible medical facilities.
Balochistan Chief Minister Jam Kamal Khan also condemned the incident and expressed grief over the deaths and multiple injuries caused by the explosion.
Leader of the Opposition in the National Assembly Shehbaz Sharif also condemned the attack.
"The person who attacks the house of God on a Friday in the month of Ramzan cannot be a Muslim," he said, adding that the continuous rise in terrorist incidents was extremely worrisome.
PPP Co-Chairman Asif Ali Zardari also issued a condemnation and stressed the need for "eliminating the nurseries that nurture extremist ideologies".
"Those who spill the blood of humans are unforgivable," he said and urged the government to provide protection to the people. He extended his sympathies to the families of the victims.
Balochistan —long been plagued by an insurgency and targetted killings – is reeling under a fresh wave of terrorism, as Baloch insurgents and other religious outfits have ratcheted up attacks in the restive province, targetting LEAs and minority Shias, respectively.
In May alone, the province faced at least five terror attacks, including an attack on non-native labourers working in Dera Murad Jamali.
On May 9 –the same day a blast had rocked Lahore— three people, including a tribal elder, were killed in Qila Abdullah blast.
On May 10, two miners and three Frontier Corps personnel were killed in an attack and a subsequent landmine blast in the Khost area of Harnai district.
On May 11, militants belonging to the Balochistan Liberation Army (BLA) stormed a five-star hotel in Gwadar, leaving five people, including a navy soldier, dead. The operation to clear the hotel took one day. The attack was targeted at Chinese investors allegedly present at the hotel.
On May 13, at least four policemen were killed and several others wounded after a bomb attack targeted their vehicles while they stood guard outside a mosque in Quetta.
On May 14, three labourers, reportedly from Sindh province, were killed in a targeted attack. No one claimed responsibility for the attacked.
In April, the province fared no better either, with two major blasts targeting law enforcers and minority Hazara community separately.
On April 12, at least 20 people were killed and 48 wounded by a powerful suicide blast apparently targeting the Hazara community at a crowded fruit market in Quetta.
A faction of the Taliban claimed the attack. The group said it collaborated with Lashkar-e-Jhangvi (LeJ), which has been behind numerous bloody attacks in Pakistan. There was no immediate confirmation from LeJ.
On the same day, two civilians were killed and 10 injured in the evening as an improvised explosive device (IED) had gone off when FC vehicle was passing through a market.
On April 18, at least 14 people were killed in an ambush on several buses travelling between Karachi and Gwadar in the remote Ormara area of Balochistan province on Thursday.
Full report at:
https://www.pakistantoday.com.pk/2019/05/24/quetta-mosque-blast-leaves-two-dead-20-injured/
--------
URL: https://www.newageislam.com/islamic-world-news/india-bans-islamist-terror-group/d/118706
New Age Islam, Islam Online, Islamic Website, African Muslim News, Arab World News, South Asia News, Indian Muslim News, World Muslim News, Women in Islam, Islamic Feminism, Arab Women, Women In Arab, Islamophobia in America, Muslim Women in West, Islam Women and Feminism