New Age Islam News Bureau
1 Dec 2019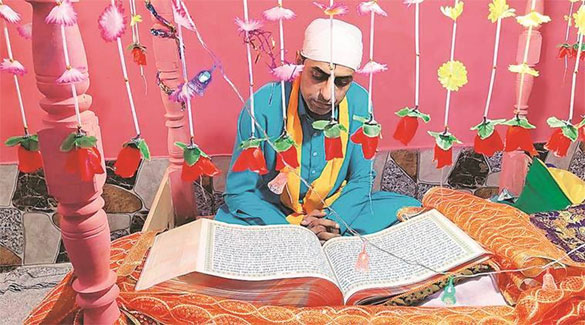 At Gurdwara Baba Nanak.
----------
• In Pakistan Village with No Sikhs, Hindus Renovate and Reopen Gurudwara, Muslims Prepare Langar
• CAN Warns Against Moves by Supreme Council for Sharia to Allegedly Islamize Nigeria
• Egyptian Authorities Remove and Ban Ten Muslim Brotherhood's Preachers from Mosques
• London Bridge Attack: Islam Has No Place for Those Hell-Bent On Destruction - They Belong In The Bowels Of Hell
• Amid The BHU Professor Appointment Row, A Look At Muslim Scholars Of Sanskrit In History
• Muslim and Jewish Youth Groups Unite In Edmonton to Serve Homeless
• Exiled Crown Prince, Reza Pahlavi, Calls on Iranians To Prepare For Downfall Of Islamic Republic
Compiled By New Age Islam News Bureau
URL: https://www.newageislam.com/islamic-world-news/in-pakistan-village-with-no/d/120406
Pakistan
• JuD chief Hafiz Saeed to Face Trial for Terror Financing Charges On December 7
• Multan lecturer on global religious freedom victims list
• 'Pervez Musharraf is our benefactor,' says Fawad Chaudhry
• Sheikh Rashid makes important prediction about Zardari's case
• Opposition parties to be taken on board in legislation: FM Qureshi
------
Africa
• Tunisia's Islamist Party's Chief Resigns, Exposing Rifts within Ennahda Leadership
• How Benue, Miyetti Allah Peace Accord Failed
• What Nigerian Muslim leaders said about Osinbajo
• South Africa's military drills with Russia and China raise eyebrows
------
Arab World
• Islamic State attack kills three security Asayish members in Iraqi Kurdistan
• Iran on the rack: Demonstrations in Beirut over crackdown in Iraq
• Four Saudi artists show their work at travelling exhibition
• Saudi Fund for Development finances 240 projects in 42 countries
• Emir of Kuwait congratulates Custodian of the Two Holy Mosques on fifth anniversary of his reign
• Custodian of Two Holy Mosques Congratulates Romania's President on His Country's National Day
• KSRelief sets up mobile clinics to treat Yemenis
------
Europe
• Germany Denies Planning To Ban Hezbollah
• Ireland set for Islamic State detainee, young daughter to return from Turkey
• Birmingham's Green Lane mosque speaks out over London Bridge terror attack
• Muslim men open up about the financial strain of providing for their family
• Islamic State says London Bridge attack carried out by one of its fighters
• London Bridge terrorist praised former al-Qaeda leader Osama bin Laden as 'beautiful'
------
India
• After Ayodhya Verdict — 'Nirmohi Akhara Has Everything, Yet Nothing'
• 3 AIMIM Leaders Booked After Police Stop 'Outsiders' From Entering Mosque Located On • The Reserve Police Lines Campus In Pratapgarh District
• Pak minister's disclosure on Kartarpur corridor has exposed their nefarious designs: Amarinder Singh
------
North America
• Suriname President Desi Bouterse convicted of murder for 1982 executions
------
Mideast
• Pakistani citizen sent thousands of saplings to Iraq to provide shade to Arbaeen pilgrims
• Iranian General: Islamic Revolution Hub of Muslim World Power
• Turkey, Malaysia, Qatar can pioneer in Islamic finance
• Are you 'brain-dead': Turkey's Erdogan raps Macron before NATO summit
• Libya's Interior Ministry Apprehends ISIS-Ansar Al-Sharia Coordinator
• Two Belgian officials boycott trade delegation to Israel
• Turkey's top religious body opens mosque in Djibouti
• Iran begins registering candidates for parliamentary polls
• Tehran: US Economic Shock Over, Iran to Run New Mechanisms with Friendly States
• Iran's Navy Unveils New Drone, Subsurface Positioning System
• Iran Urges WHO, UN to Adopt Measures against US Inhumane Sanctions
------
South Asia
• NATO Will Prevent ISIS from Reviving In Afghanistan: Stoltenberg
• Senior Jamiat Party Members Attack Each Other On Facebook
• President Ghani Attends Pul-e-Khishti Mosque Reconstruction Closing Ceremony
• Four Ansar al-Islam men arrested in city
• Rohingya Muslim Group Says They Are Not 'Bengalis'
• President orders contract termination of Afghan major gold, copper mines, contractor considers it politically biased
------
Southeast Asia
• PKR strife may cost Anwar the PM's post, say analysts
• MACC letter links sacked pair to projects, says PKR
• Facebook bows to Singapore fake news law with 'correction'
------
In Pakistan village with no Sikhs, Hindus renovate and reopen gurdwara, Muslims prepare langar
Written by Divya Goyal
November 30, 2019
The followers of Guru Nanak (Nanak Naam Lewa) have renovated and reopened a gurdwara at a village in Pakistan's Sindh that had been lying closed since the Partition. Apart from the Sri Guru Granth Sahib, a Bhagwad Gita has also been installed at Gurdwara Baba Nanak.
Speaking to The Indian Express, Dewa Sikandar, member, Pakistan Hindu Council, said the gurdwara, lying abandoned at the village Janoji in Salehpat of Sindh province's Sukkur district, was reopened Friday as part of celebrations marking the 550th birth anniversary of Guru Nanak.
"Gurdwara Baba Nanak has been reopened after a year of renovation work, which was carried out with the help of donations from Nanak Naam Lewa Sangat. The Hindu community living in Sukkur and Khairpur districts contributed and nearly Rs 6 lakh was spent to renovate the two-room gurdwara," said Sikandar.
Interestingly, there is no Sikh population in Janoji and entire arrangements were made by members of the Hindu and Muslim communities. "The local Muslim villagers arranged langar for the devotees. They prepared lunch and karha prasad and also decorated the gurdwara for opening day. Nanak Naam Lewa Sangat chanted Waheguru prayers as well as aarti," Sikandar said, adding that Hindus in Sindh are ardent followers of Nanak and call themselves "Nanakpanthis".
"A caretaker will now live at the gurdwara and the Bhagwad Gita will continue to remain installed here. However, since there is a proper maryada to be followed for sewa of Guru Granth Sahib, the Holy book will be taken back to Salehpat main gurdwara and will be brought here once a year till we do not get a permanent granthi," he added.
Sikandar said that senior PPP leader Syed Khursheed Ahmed Shah, who hails from Sukkur and was elected both to provincial and national assembly from here, also gave a grant of Rs 2 lakh for the gurdwara's renovation. Shah was recently arrested in a corruption case by National Accountability Bureau (NAB) of Pakistan.
In Sindh province of Pakistan which has the highest Hindu population, people continue to follow Nanakpanthi culture and are followers of Nanak despite being Hindus.
https://indianexpress.com/article/pakistan/in-pak-village-with-no-sikhs-hindus-renovate-and-reopen-gurdwara-muslims-prepare-langar-6143953/
------
CAN warns against moves by Supreme Council for Sharia to allegedly Islamize Nigeria
November 30, 2019
By John Owen Nwachukwu
The national leadership of the Christian Association of Nigeria, CAN has warned that attempts by the Supreme Council for Sharia in Nigeria and its likes to Islamise the country will fail.
According to CAN, such action will be vehemently resisted.
National Director, Legal and Public Affairs, CAN, Kwamkur Samuel Vondip, stated this in response to claims by the General Secretary of Sharia Council, Dr. Nafiu Baba Ahmed in an interview with Sun.
"In the first place, the Supreme Council for Sharia in Nigeria is known for making inflammatory statements and inciting religious disharmony.
"The primary purpose of the group from their comments generally is to Islamise Nigeria. They are not known to CAN as a responsible and recognized religious body."
He said that CAN has been in good working relationship with the Nigeria Supreme Council for Islamic Affairs (NSCIA), led by the Sultan of Sokoto, His Eminence, Alhaji Sa'ad Abubakar.
He added, "At the leadership of both CAN and NSCIA, which is the two major religious groups in Nigeria, we are doing everything possible to ensure religious harmony and peace through interfaith activities of Nigeria Inter-Religious Council (NIREC).
"It's unfortunate to know that while responsible Nigerians are making efforts for harmony and peaceful coexistence, we have a group that is bent on fomenting troubles and inciting disharmony."
According to him, CAN will not engage in any arguments that will not bring peace and development to the nation.
He asked "responsible" religious leaders and government institutions to be more concerned about the challenges Nigerians are passing through.
"Instead of calling for the Islamisation or Christianization of Nigeria, we rather will call for government to ensure Nigeria and Nigerians come out of poverty, insecurity, ensure infrastructural developments, have our children well educated so they can canvass for better health facilities in Nigeria."
https://dailypost.ng/2019/11/30/can-warns-against-moves-by-supreme-council-for-sharia-to-allegedly-islamize-nigeria/
------
Egyptian Authorities Remove and Ban Ten Muslim Brotherhood's Preachers from Mosques
Sunday 01/12/2019
CAIRO - Egyptian authorities have stepped up their crackdown on the Muslim Brotherhood by taking moves to keep preachers affiliated with the Islamist group away from mosques.
The Ministry of Islamic Endowments, which is responsible for organising the work of tens of thousands of mosques across Egypt, recently sacked ten preachers for belonging to the Brotherhood, the movement of late Islamist President Muhammad Morsi.
The same preachers cannot preach at any of the nation's mosques in the future, the ministry said in a statement on November 21.
The ministry's decision is part of a nationwide clampdown on the movement that rose to power in 2012 but then turned into the main source of instability after Egyptians protested against it with help from the army a year later.
Egyptian authorities accuse the Muslim Brotherhood, which started as an educational charity organisation in 1928 but then turned to politics using the Islamic religion, of destabilising the country and staging hundreds of terrorist attacks.
Muslim Brotherhood-affiliated militias have carried out numerous attacks against state institutions and churches and targeted dozens of members of the police force.
In late 2013, Egypt designated the Brotherhood a "terrorist" organisation. A year later, the parliament passed a law that banned the appointment of the affiliates of terrorist organisations in state agencies.
These were the two laws the Ministry of Islamic Endowments used in justifying the dismissal of the ten aforementioned preachers.
"The ministry has rules that ban the involvement of mosque preachers in politics," said Sheikh Fouad Abdel Azeem, the undersecretary of the Ministry of Islamic Endowments. "This involvement affects their independence negatively and does not serve public interests."
Muslim Brotherhood affiliates are at the centre of an all-out purge in other state institutions.
Muslim Brotherhood loyalists had been part of Egypt's administrative apparatus for decades. Thousands of these affiliates were given jobs in state institutions in the one year during which Morsi ruled, specialists said.
"They succeeded in infiltrating all institutions, especially during this one year," said leading political Islam specialist Muneer Adeeb. "This is very dangerous."
In October, Minister of Education Tarek Shawqi revealed that his ministry had sacked 1,070 schoolteachers who belonged to the Muslim Brotherhood.
The dismissal of these teachers, he said, aimed to protect the pupils against extremism.
The Muslim Brotherhood is deeply entrenched in Egypt's schools and mosques. Control over the mosques and the schools allowed the Islamist group to reach many members of the public.
Apart from preaching at the mosques, Muslim Brotherhood affiliates offered free tutorials to poor children. Outside the mosques, they offered free food and medicines to the poor.
The presence of the Brotherhood in the mosques is seen as an unparalleled danger by authorities because mosque preachers have access to millions of people every day. The mosques have also proven to be important recruitment grounds for terrorist organisations.
Egyptian educational authorities have revised school curricula with the aim of removing extremist content. Al-Azhar, the epicentre of Sunni Islamic learning, is also doing the same with the curricula it teaches at its schools and universities.
In July, Minister of Islamic Endowments Mokhtar Gomaa warned against the Muslim Brotherhood presence in state institutions and called for its presence to be eradicated.
The ministry sends the applications of potential workers, especially preachers, to security agencies to check whether they are connected with terrorist or extremist groups before hiring them.
Ministry inspectors keep an eye on the preachers after they are hired and assess their performance.
The ministry also asks the members of the public to send evaluations of the preachers at their local mosques and complaints, if there are any.
"These three mechanisms decide whether preachers will keep their jobs," Abdel Azeem said.
Keeping extremists away from the mosques is seen as an important step in Egypt's war against extremism and extremist groups, especially the Muslim Brotherhood.
There are 102,000 mosques in Egypt. The Ministry of Islamic Endowments has a total workforce of 60,000. These workers have a strong influence on the beliefs and the behaviour of the public in a country where religion is the orbit of life for many, analysts said.
"The presence of the Brotherhood in state institutions is extremely dangerous," said political science researcher Ammar Ali Hassan. "It is especially dangerous in the case of the mosques because it can use these mosques in spreading its ideology."
https://thearabweekly.com/authorities-remove-and-ban-ten-muslim-brotherhoods-preachers-mosques
------
London Bridge Attack: Islam Has No Place For Those Hell-Bent On Destruction - They Belong In The Bowels Of Hell
ByAnila Baig
30 NOV 2019
I went to bed thinking the London Bridge attacker was a mental health patient or a Far Right extremist and woke to the news that not only he was a convicted terrorist out on licence but shared the same heritage as me, a British-born Pakistani.
Am I sad Usman Khan was shot dead by police? No, I just wish they had got to him before he took the lives of two innocent people and injured dozens of others.
Now for the aftermath - the recriminations, the hand-wringing and proclamations that Islam is a religion of peace and there will probably be a spike in reprisal attacks against innocent Muslims and mosques.
Obviously we can't possibly all share that same twisted ideology otherwise there would be atrocities occurring on a daily basis but I do get fed up with the way the community is portrayed.
We are either poor trembling victims of Far Right hatred, cowering underneath our niqabs and even Muslims are prevented from speaking out about uncomfortable truths in case it gives ammunition to the racists- or we are ALL bloodthirsty maniacs.
The truth is we are like everyone else. Most of us are decent and some of us are criminals.
https://www.mirror.co.uk/news/uk-news/anila-baig-islam-no-place-20995268
------
Amid the BHU professor appointment row, a look at Muslim scholars of Sanskrit in history
December 1, 2019
Is Sanskrit an alien language for the Muslims? Not quite, if one rummages through the history of the subcontinent. It is hard to find any period after the advent of the Muslims without reference to Muslim scholars of Sanskrit. The recent protests against the appointment of a Muslim professor in Sanskrit Vidya Dharma Vigyan department at Banaras Hindu University (BHU), therefore, seem to be the new way of the admirers of Manusmriti, the Vedic text which denigrates lower classes, to wallop the "other".
To begin with, the animal fables of Panchatantra, based on ancient oral traditions, were converted into Sanskrit text dated roughly to 250 BC. It was translated into Arabic in the eighth century as Kalilah wa Dimnah by Abdullah Ibn al-Muqaffa. The original Sanskrit text of Panchatantra perished and it was translated into Indian languages from Arabic.
Firdausi, a 10th-century Persian poet of Iran, tells the story of the Persian translation of Panchatantra in the epic Shahnama. According to Shahnama, the translator Borzuy, a physician who had visited India in search of a herbal medicine, had heard that the herb he was looking for would return a cadaver to life when it is sprinkled over it. Most probably Firdausi had some knowledge of Sanjeevani herb fetched by Hanuman, as mentioned in Ramayana, which he touched upon in his epic.
Al-Biruni (973-1050 AD), one of the great literary figures of the medieval Islamic era, is counted among the early Muslim Sanskrit scholars. His encyclopaedic work on India, Tahqeeq ma li-l-hind min maqulah (Verifying All That the Indians Recount) explores every aspect of Indian life, including culture, religion and philosophy. Al-Biruni was an erudite scholar of Sanskrit and a linguist who wrote over a hundred books, some of them on Samkhya, a philosophical system, and Yoga.
The first Sanskrit book which is believed to have been translated into Persian was Suka-Saptati (Tales of a Parrot) as Tutinama, circa 12th century compilation of amusing ancient narratives, told by a wise parrot to a lonely, sad woman separated from her husband to save her from straying. Tutinama got unprecedented popularity and was translated into many European languages. In addition to Tutinama, Zia Nakhshabi, a Persian physician and Sufi living in India, translated Kok Shastra or Rati-Rahasyam (Secrets of Sex) into Persian.
Sufi poet and scholar Amir Khusro (1253-1325) had a great knowledge of Vedas and Puranas. Unfortunately, none of his Sanskrit books lasted, but he used numerous Sanskrit words in his prose and poetry. Khusro focused on the documentation of languages, with separate mention of Sanskrit, in his masnavi (extensive poem) titled Nuh-Siphar (Nine Skies). He also wrote a Persian couplet about the language: "Sanskrit naamazahd-e-kuhanash-aammanadar adkhabaraz kun makanash (Sankrit is a Brahmin, belongs to ancient era and common people don't know it").
Muhammad bin Tughlaq (1290-1351) is referred as a wise fool in history due to his failed expeditions. Two Sanskrit inscriptions of his era confirm his generosity towards every culture. British historian Stanley Lane-Poole considered him "a man of knowledge and keen student of Sanskrit poetry who colonised in Avadh a particular settlement for Sanskrit poets called Swarg Dwar (The Doors to Heaven)".
Among the later sultans of the Delhi Sultanate, Firoz Shah Tughlaq (1309-1388) was the first who felt the necessity to translate several ancient Sanskrit texts into Persian, writes historian Abraham Eraly in The Age of Wrath (2014). Zain-ul-Abidin, a 15th century ruler of Kashmir, appointed some professional scribes to translate Mahabharata and Kalhana's Rajatarangini, written in the 12th century, into Persian. He believed these translations would give an insight into the Indian philosophy and culture to the rest of the world.
Mughal emperor Akbar's period may be called the golden era of Sanskrit literature. During this period, the Muslims started to take greater interest in Sanskrit literature and Hindu religion. Akbar (1542-1605) ordered Mulla Abdul Qadir Badayuni to translate Singhasan Battisi (Thirty-Two Tales of the Throne), Atharvaveda and Ramayana. Badayuni translated the Ramayana and the Singhasan Battisi (Khirad-Afza, Wisdom-Enhancing Book) but could not complete the translation of Atharvaveda. Almost all courtiers and chroniclers of Akbar, including Faizi, Abul Fazal, Todar Mal, Badayuni and Raskhan, were well-versed in Sanskrit. Faizi translated Nal-Damyanti as Masanabi Nalaudaman and wrote the preface of Mahabharata which was a collective translation of many scribes.
It was Akbar who paved the way for Dara Shikoh (1615-1669), admittedly the greatest scholar of the Mughal dynasty. He devoted himself to the comparative studies of religion. He also translated the Bhagavad Gita into Persian. Swami Nand Das and Baanwali Das translated Prabodh Chandrodaya (The Moon of Intellect) and Yoga Vasishtha for him.
Dara Shikoh's Samudra Sangama (The Confluence of Oceans), is the most important text for the comparison of Sufism with Indian doctrines and spiritual practices, writes French historian Jean Filliozat. Dara's greatest literary achievement was the translation of 52 Upanishads from Sanskrit into Persian, titled Sirr-i-Akbar (The Great Secret) and, in some manuscripts, Sirr-ul-asrar (The Secret of Secrets).
Emperor Shah Jahan (1592-1666), Dara Shikoh's father, had employed two Sanskrit poets — Bansidhar Mishra and Hari Narayana. They translated many ancient Sanskrit texts into Persian. Maneshwar and Bhagwati Sawaman wrote two books on astronomy and prosody, respectively, under his patronage. After Dara Shikoh, only one reference to Sanskrit is found: when Azam, son of Aurangzeb, sent a gift of mangoes to his father, he wrote the Sanskrit names of mangoes as "rasavalas" and "sadharas".
Urdu poet Allama Iqbal was also a scholar of Sanskrit and a staunch follower of Adi Shankaracharya. He translated some shlokas of Bharthari, the 5th century AD Sanskrit writer who wrote Vakyapadiya on Sanskrit grammar and linguistic philosophy, and Satakatraya, a volume of poetry. In Javed Nama (Book of Eternity, 1932), he introduced Brahmarshi Vishvamitra, many Sanskrit poets, and Rumi. Iqbal also translated Gayatri Mantra. A note from the translator was also published with the translation of Gaytri Mantra, mentioning particularly one of its words, tat savitur. Iqbal wrote that it was an untranslatable world and he merely tried to reach its closest meaning by translating it as "perpetual luminescence".
Muslims have not stopped learning Sanskrit even now. Israil Khan, who received the President's award for his knowledge of the Vedas in 1993, has written several books on Sanskrit, including Yaskiye Nirukti Vivechan (The Etymologies Of Yaska 1985) and Themes of Atharvaveda (2001). Mohammed Hanif Khan Shastri got the Padma Shri award in 2009 for his contribution to Sanskrit. Maaruf-ur-Rahman, a young scholar, has written Bhartiya Sanskriti Mein Manovigyan (Psychology in Indian Culture, 2016). Hasnain Nazmi is a contemporary poet of Sanskrit. Rajesh Sarkar, professor in BHU Sanskrit department, reveals in an article that several works of Islamic literature were written in Sanskrit. Today, hundreds of Sanskrit scholars are engaged in academic activities all over India. In the charged and changed political scenario, one wonders whether they will be allowed to continue.
https://indianexpress.com/article/express-sunday-eye/banaras-hindu-university-appointment-row-muslim-scholars-sanskrit-history-6142960/
------
Muslim and Jewish youth groups unite in Edmonton to serve homeless
BY ALLISON BENCH
November 30, 2019
Two youth groups from different religious backgrounds joined forces to help the less fortunate in Edmonton on Saturday.
Young women from the Muslim group Gathering Angels and the Bat Mitzvah group from Temple Beth Ora organized a care package and lunch service for people at Boyle Street Community Services.
"I really want to teach these girls that our job in this world pretty much is to serve others," said Nesrine Merhi-Tarrabain, the leader of the Gathering Angels.
Merhi-Tarrabain said that she has been encouraging her girls to volunteer for several years but recently got a call from a local Jewish temple to suggest a collaboration.
"I thought that would be a great opportunity. First of all, getting them to go out and volunteer and do something meaningful, and the other thing… would be to get to know other kids from the wider Edmonton community," said Gila Caine, the rabbi at Temple Beth Ora.
About two dozen teens participated — around a dozen from each group.
"When it comes down to helping others, we should put our differences aside, and truly just bring out our humanity in us. We should really serve others for that reason," said Merhi-Tarrabain.
Merhi-Tarrabain said that many of the girls in the group donated some of their own money to buy supplies for care packages.
Nour Tarrabain, 16, said that the experience of volunteering with another religious group has helped give her a new perspective.
"It's been very eye-opening," Tarrabain said. "Two completely different groups and religions coming together and doing the perfect thing: giving back to the community and just helping one another.
https://globalnews.ca/news/6239558/jewish-muslim-teens-helping-homeless/
------
Exiled Crown Prince, Reza Pahlavi, Calls on Iranians To Prepare For Downfall Of Islamic Republic
December 01, 2019
In a statement released on his Telegram channel on Saturday Reza Pahlavi, the last Crown Prince of Iran has said that preparing for the "inevitable downfall of the Islamic Republic" and "leadership in transitional period" is a matter of utmost importance for Iranians now.
"Less than two years ago…while stressing that the downfall of the Islamic Republic was both near and inevitable, I stated that the prospects of the fall of the system and what will follow it requires us Iranians…to shape a modern authority. [Bringing about] the downfall of a political system requires preparation," Reza Pahlavi declared in his statement.
Reza Pahlavi went on to say that forming a political authority to lead the country during the transition period must begin now. "This political leadership will eventually prepare the country for legal, political and economic transition from an Islamic government to an Iranian government on the basis of votes in ballot boxes," the son of the last Shah of Iran who was ousted by the Islamic Revolution in 1979, stressed.
In his statement the 59-year-old former Crown Prince who addressed his statement to Iranian politicians, teachers, artists, lawyers, soldiers as well as "commanders of Iranian armed forces" said that as a soldier in the national struggle he will never give up and "political apparatuses must be entrusted to capable and knowledgeable politicians."
Iran's Supreme Leader Ali Khamenei in his first reaction to the protests on November 17 took aim at the former royal family of Iran calling them "the sinister and malicious Pahlavi family" and accused them of inciting "riots" and supporting "thugs".
Prince Reza Pahlavi showed a strong reaction to Khamenei's accusations on November 20 and said Khamenei's accusations against protesters who took to the streets in protest to the threefold increase in the price of gasoline and its rationing was "cowardly."
https://en.radiofarda.com/a/exiled-crown-prince-calls-on-iranians-to-prepare-for-downfall-of-islamic-republic/30300752.html
------
Pakistan
JuD chief Hafiz Saeed to face trial for terror financing charges on December 7
Nov 30, 2019
LAHORE: Mumbai terror attack mastermind and chief of the banned JuD Hafiz Saeed will be prosecuted for terror financing charges by an anti-terrorism court here next month, an official said on Saturday.
An Anti-Terrorism Court (ATC) in Lahore held a hearing against Saeed and his accomplices on terror financing on Saturday and fixed December 7 as the date for indictment of the Jamat-ud Dawa (JuD) chief and others in the case.
"ATC judge Arshad Hussain Bhutta fixed December 7 for indictment of Saeed and others after hearing the arguments of prosecution and defence lawyers," a court official told after the hearing.
He said prosecutor Abdur Rauf Bhatti requested the court to hold day to day hearing to conclude the trial at the earliest which was opposed by Saeed's counsel.
"The judge said he has to conclude the trial on evidence and merit," the official said, adding that the court adjourned the proceedings till December 7.
Saeed was brought to the ATC amidst tight security from the Kot Lakhpat jail. The journalists were not allowed to enter the court to cover the proceedings due to security measures adopted by the Punjab Police.
The Counter Terrorism Department (CTD) of the Punjab Police had registered 23 FIRs against Saeed and his accomplices on the charges of "terror financing" in different cities of the Punjab province and arrested the JuD chief on July 17. He is detained at the Kot Lakhpat jail in Lahore.
The cases have been registered in Lahore, Gujranwala and Multan for collection of funds for terror financing through assets/properties made and held in the names of Trusts/ Non Profit Organisations (NPO) including Al-Anfaal Trust, Dawatul Irshad Trust and Muaz Bin Jabal Trust.
Under pressure from the international community, the Pakistani authorities have launched investigations into matters of the Lashkar-e-Taiba (LeT), JuD and its charity wing the Falah-e-Insaniat Foundation (FIF) for their holding and use of trusts to raise funds for terrorism financing.
According to the CTD, the investigation was launched into financing matters of proscribed organisations - JuD and Lashkar-e-Taiba (LeT) - in connection with implementation of the UN sanctions against these designated entities and persons as directed by NSC (National Security Committee) in its January 1 meeting chaired by prime minister Imran Khan for implementing National Action Plan.
"These suspects made assets from terrorism financing funds. They held and used these assets to raise more funds for more terror financing. Hence, they committed multiple offences of terrorism financing & money laundering under Anti Terrorism Act 1997. They will be prosecuted in ATCs (Anti Terrorism Courts) for commission of these offences," the CTD said.
The US department of the treasury has designated Saeed as a Specially Designated Global Terrorist, and the US, since 2012, has offered a $10 million reward for information that brings JuD chief to justice.
On July 3, top 13 leaders of the banned JuD, including Saeed and Naib Emir Abdul Rehman Makki, were booked in nearly two dozen cases for terror financing and money laundering under the Anti-Terrorism Act, 1997.
The CTD had registered an FIR against Saeed and others for illegally grabbing a piece of land in Lahore and setting up a seminary.
According to officials, JuD's network includes 300 seminaries and schools, hospitals, a publishing house and ambulance service.
In March, Punjab police said that government seized control of 160 seminaries, 32 schools, two colleges, four hospitals, 178 ambulances and 153 dispensaries associated with the JuD and its charity wing FIF in the province.
At least 56 seminaries and facilities being run by the JuD and FIF in southern Sindh province were also taken over by authorities in the same month.
Saeed-led JuD is believed to be the front organisation for the LeT which is responsible for carrying out the 2008 Mumbai attack that killed 166 people.
https://timesofindia.indiatimes.com/world/pakistan/jud-chief-hafiz-saeed-to-face-trial-for-terror-financing-charges-on-december-7/articleshow/72308616.cms
------
Multan lecturer on global religious freedom victims list
Wajid Ali Syed
December 1, 2019
WASHINGTON: The US Commission on International Religious Freedom (USCIRF) has placed Junaid Hafeez, a former lecturer from Multan under trial for alleged blasphemy, on its global victims' database highlighting extreme trauma and death threats to his life in jail.
The Commission is an independent, bipartisan US federal government commission dedicated to defending the universal right to freedom of religion or belief abroad.
The Commission reviews facts and circumstances of religious freedom violations and makes policy recommendations to the president, the secretary of state, and Congress.
It also prepares a list of victims from all over the world who have been victimized on religious grounds.
In its updated list of victims, the Commission has included the Pakistani teacher's name detailing that his case has continued for over six years, while Hafeez "languishes in solitary confinement." The Commission further said that the "lengthy trial is now on its eighth judge and the prosecution has repeatedly failed to produce evidence of the alleged blasphemy."
"Mr Hafeez has experienced extreme trauma to his mental and physical health, in part fueled by death threats against himself, his family, and his lawyers; his previous defense counsel was murdered in May 2014," the Commission says.
Earlier, the Commission also released a policy report on Pakistan in which it hailed Aasia Bibi's acquittal.
According to the report, nearly 80 individuals in Pakistan remain imprisoned on blasphemy charges.
"Many of these individuals face death sentence, though none have yet been legally executed by the government for blasphemy," it said, adding that Pakistan was one of the only three countries in the world that enforce death penalty against accused individuals.
It further said "mere accusation of blasphemy is often all that is needed to spark disruptive public reactions, including rioting and mob violence, with the UN Committee against Torture reporting that Pakistani authorities have made "inadequate efforts" to protect vulnerable individuals."
The report had concluded that while the Pakistani Supreme Court and other officials have recognized the growing problem of false blasphemy accusations being used to target religious minorities, political leaders — under pressure from certain religious group — have made no serious steps to repeal the blasphemy law.
In its 2019 Annual Report, the USCIRF provided a number of recommendations for improving the situation of Pakistan's religious minorities.
The recommendations relating to the blasphemy law include urging the Pakistani government to take action like releasing blasphemy prisoners and other individuals imprisoned for their religion or belief.
It also recommended that the US government should negotiate a binding agreement, as authorized under the International Religious Freedom Act, with the Pakistani government to improve religious freedom conditions in the country.
https://www.thenews.com.pk/print/576932-multan-lecturer-on-global-religious-freedom-victims-list
------
'Pervez Musharraf is our benefactor,' says Fawad Chaudhry
December 1, 2019
Federal Minister for Science & Technology Fawad Chaudhry said former president General (retired) Pervez Musharraf was the nation's benefactor.
"Pervez Musharraf has rid us of PML-N chief Nawaz Sharif in 1999 that's why, he is our benefactor," said the federal minister, addressing a ceremony in Jhelum.
Responding to a question about the PML-N chief's return to Pakistan, the minister was of the view, "Even Nawaz Sharif's family has no hope of his homecoming."
"When Pervez Musharraf was in power, a lot of people used to stand queuing up to light his cigar," he pointed out.
Chaudhry said all the political parties are unanimous on extension to Chief of Army Staff General Qamar Javed Bajwa's tenure, hoping the relevant legislation would be completed in the next parliamentary session.
On November 19, an Islamabad special court reserved the order in high treason case against the former president to be announced on November 28. Musharraf and the federal interior ministry filed an application against the reservation of the verdict.
The Lahore High Court had declared the petition of the former president as maintainable on Tuesday while overruling the LHC registrar's objections. Musharraf in his petition said that the Special Court has reserved judgment in the case on November 19 without hearing his stance.
He also questioned formation of the Special Court, saying that the then prime minister alone granted approval for the constitution of the Special Court and the cabinet's sanction was not sought.
A three-judge IHC bench headed by Chief Justice Athar Minallah had set aside the November 19 order of the Special Court and instructed it to hear all sides before deciding the case.
https://www.thenews.com.pk/latest/577078-musharraf-is-our-benefactor-says-fawad-chaudhry
------
Sheikh Rashid makes important prediction about Zardari's case
November 30, 2019
Federal Minister for Railways Sheikh Rashid made an important prediction about former president Asif Zardari's money laundering case, on Saturday.
"Zardari's case will be resolved through plea bargain by March," the minister predicted.
Rashid also shed light on Chief of Army Staff General Qamar Javed Bajwa's extension.
"The decision of army chief's extension will be made within six weeks," Rashid said.
"General Bajwa has been given an extension of three years," he said.
The minister also noted that the incumbent government has got a total of three years left as well.
"General Bajwa is standing alongside the government and Imran Khan," he said.
He also criticized Shehbaz Sharif for accompanying his brother and former prime minister Nawaz in London.
"Shehbaz Sharif is enjoying vacations while it is Nawaz who is actually sick," he said.
https://www.thenews.com.pk/latest/576690-sheikh-rashid-makes-important-prediction-about-zardaris-case
------
Opposition parties to be taken on board in legislation: FM Qureshi
November 30, 2019
MULTAN: Foreign Minister Shah Mehmood Qureshi said on Saturday that Pakistan Tehreek-e-Insaaf (PTI) government would legislate on army chief's extension by taking the opposition parties on board.
Talking to media, he said the PTI government was waiting for a detailed judgment of the Supreme Court, adding the government would move forward after taking the opposition parties into confidence.
He hoped that the opposition would demonstrate responsibility and would cooperate with the incumbent government on the legislation.
Qureshi remarked that the PTI government always respected courts and it did not create any hindrance.
He said the PTI government gave extension to army chief within the ambit of law, however, the apex court identified some areas regarding extension in the service of army chief and the PTI government would make legislation to address the ambiguities.
The legislation would also facilitate the future governments, Qureshi said and added that Chief of Army Staff General Qamar Javed Bajwa was given extension due to particular security challenges and in the best national interests.
The Foreign Minister observed that Pakistan was playing an important role in peace process in Afghanistan.
About Kashmir issue, he observed that Pakistan had achieved numerous successes at international level.
He stated that the Kashmir issue had been taken up twice in US Congress and the Congress was also questioning India about human rights violations in the held Valley, he said.
The issue had been internationalized after five decades, he said and added that a Kashmir Cell had also been set up at the Foreign Office.
He urged the media to keep highlighting the issue of human rights violations in the held Valley.
He stated that media should be the voice of innocent people of occupied Jammu and Kashmir.
There was a complete blackout in the occupied Valley, he added.
The sit-in by JUI-F had damaged the Kashmir cause as the issue was not taken up properly in the media, he added.
https://www.thenews.com.pk/latest/576669-opposition-parties-to-be-taken-on-board-in-legislation-fm-qureshi
------
Africa
Tunisia's Islamist party's chief resigns, exposing rifts within Ennahda leadership
Sunday 01/12/2019
TUNIS - Tunisia's Islamist Ennahda party's top official stepped down in protest of the ruling party's policies amid fierce jockeying for control of the movement's decision-making process.
Zied Laadhari's decision to step down as secretary-general of the party follows his resignation as a minister in the cabinet of Prime Minister Youssef Chahed. The moves exposed rifts within a disciplined party that is usually mum about internal differences. Dissonant voices within Islamist ranks have amplified since Ennahda President Rached Ghannouchi has tried to steer cabinet formation while serving as the first Islamist speaker of parliament in 64 years.
"I have been all the time committed to and respectful of the party's choices even when I disagreed… But at the end I find myself really helpless to carry on with any leadership responsibility whether in the party or in the government in the current climate," said Laadhari in his resignation letter made public November 28.
Laadhari faulted the party for nominating agriculture expert Habib Jemli as the next prime minister, casting doubts on the competence of the nominee for the top job. The choice of Jemli, he said, "is putting the Islamist movement and the country on a path fraught with risks we do not know the repercussions and costs of."
Laadhari's resignation showed Islamists had failed to regroup after their differences were exposed before the presidential and parliamentary elections in September and October.
With the resignation of Laadhari, 44, the infighting has extended to the party's successor generation on which Ennahda was counting to broaden its base among the urban and highly skilled middle class.
With the fissures in leadership and the rise of a more radical Islamist group, Al Karama Coalition, that has 21 seats in parliament and is both an ally and rival of Ennahda, the latter faces hard choices. A rightward shift would discredit its narrative of being a moderate "Muslim Democratic" movement.
Ennahda has so far boasted an appearance of stability and discipline, as well as an ability to attract all conservative segments of the population to its carefully crafted political plank.
Ennahda came first in the parliamentary elections, winning 52 seats and earning the right to nominate the prime minister, who will select the next cabinet.
Ghannouchi was elected speaker after the party got the vote of the liberal Qalb Tounes party. Both parties backtracked on their pledges to "never ally" with each other.
Ghannouchi and other leaders in the Islamist movement had said Qalb Tounes "is clouded with corruption suspicions" after its leader Nabil Karoui was jailed for money laundering and tax evasion before the second round of the presidential elections October 13.
Laadhari said he would have preferred for Ennahda to have nominated for prime minister an "independent personality… renowned for their competence, fairness and boldness to unify the largest spectrum of Tunisians and able to restore trust at home and enhance the image of the country abroad."
"I was not convinced by the decisions and choices taken by the party's institutions, the latest of these decisions involving the case of the formation of the next cabinet that I see has failed to meet the expectations of the Tunisians and their message during the latest elections," Laadhari added.
"I feel that we are repeating the same mistakes of the past at a moment when I believe the next government could be the government of the last chance for the country. We have no margin for error because any mistake will come with heavy prices."
Laadhari did not name who among the party's leaders is or are behind the policies he criticises.
But other party leaders point to Ghannouchi for designing Ennahda's strategy for the elections and managing its aftermath.
Disgruntled activists assailed Ghannouchi after Ennahda's candidate, Abdelfattah Mourou, failed to win the presidency.
Mourou, as the party's presidential candidate, won 434,530 votes, an indication that Ennahda's electorate had fallen from 1.5 million in 2011 and 1 million in 2014.
Unprecedented challenges to Ghannouchi's leadership surged after the first round of the presidential elections, which many Islamists viewed as a defeat for the party and the policies of its leader.
Ghannouchi was asked for the first time publicly to step down.
The protest mood then spread. The first salvo emanated from Zoubeir Shehoudi, a senior Ennahda official who was for a while Ghannouchi's chief-of-staff.
"I ask him (Ghannouchi) to resign from politics and stay home," Shehoudi said. He accused Ghannouchi of being surrounded by "a corrupt and corrupting minority in the party's leadership."
Tunisian analysts argued that the nomination of Jemli, a former junior minister in the Ennahda-led government in 2012-2013 who lacks a party base or broad support among the public, would make it easy for Ennahda to control both the parliament and the government.
According to experts, Ghannouchi is trying to be the kingmaker behind a safe choice for prime minister as he competes for power and influence with President Kais Saied, who won a resounding 73% of the popular vote.
"The choice of Jemli to lead the next government was not sound based on considerations of political independence and competence. Although Jemli has no party activity within Ennahda, no one can deny he is close to the movement. That perception is widespread among the public," Laadhari told a local television station after his resignation.
"As for the competence, I estimate that the country is saturated with economic competences more recognised than Habib Jemli," added Laadhari.
"However, for the record, Ghannouchi was not enthusiastic about Jemli. He leaned towards a more open and independent personality," he said.
"I'm not convinced of the whole ongoing process. When I see Jemli holding two meetings with Said Jaziri (head of the ultraconservative Errahma party) and when I see these folkloric encounters and when I look at the list of his advisers I say to myself the country is not going in the right direction," added Laadhari.
https://thearabweekly.com/tunisias-islamist-partys-chief-resigns-exposing-rifts-within-ennahda-leadership
------
How Benue, Miyetti Allah Peace Accord Failed
December 1, 2019
It is not surprising that the recently celebrated peace initiative in Benue State between the state government and Miyetti Allah has broken down. George Okoh reports
The enactment of anti-open grazing law in Benue State was two weeks ago, believed to have paid off, when Miyetti Allah Kautal Hore, an advocacy group promoting the welfare of Fulani pastoralists in the country, a forthnight ago apologised to Governor Samuel Ortom of the state over the various herdsmen attacks and killings in the state.
Aside from apologising for the killings, the group also promised the governor that its people would henceforth live in harmony with farmers in the state, saying it was an assurance they had already undertaken.
Governor Ortom, who seemed relieved by the development, further clarified that the law was put in place to serve the best interest of everyone by way of ending the senseless killings of innocent people as well as encourage the idea of ranching as the globalbest practice of animal husbandry.
The development, however, came on the heels of a peace initiative brokered by the Chairman of Air Peace Airline, Chief Allen Onyeama, who reckoned there should be amicable solutions to the incessant killings in the state and beyond.
National Secretary of Miyetti Allah Saleh Alhassan, who spoke with journalists in Makurdi, the state capital, during the peace meeting, expressed regrets of the herders' group over the many killings in the state and pledged to ensure peaceful coexistence between herdsmen and farmers, moving forward.
But Alhassan has since denied apologising over the killings in Benue. According to a source close to him, he said he was misquoted.
"When it was time for the governor to talk, he (governor) asked me to talk first before he would talk, so I can only sympathise with the governor and the people and how can I apologise for what we did not do? We maintain our position that we are not responsible for the killings?
"I did not represent the organisation at the event; my people had called me and I explained the scenario to them. I cannot sell my organisation. My presence in Makurdi shows that we are not hidden and we do not have anything against the people," he added.
As a result of this rebuttal, the National Leader of Fulani Nationality in Benue State, Alhaji Garus Gololo, described as worrisome for any Fulani group or groups to apologise to Ortom over the Fulani herdsmen/farmers' crisis that resulted in wanton destruction of properties and killings.
Gololo, said in Makurdi, the Benue State capital, that there was no basis for any apology because no Fulani nationality group including the Miyetti Allah Kautal Hore and the Miyetti Allah Cattle Breeders Association of Nigeria as well as others, was a killer group, and could not have claimed responsibility for any killing.
With the denial, both parties appeared to have returned to the trenches, holding on to their views on the matter.
Few days after the alleged apology, Miyetti Allah organisation further issued a strong warning to state governors.
National President of the organisation, Abdullahi Bodejo, was quoted in some fora as saying, "Yes. We are just saying the same thing, whether Ruga or cattle colony, but the only thing is that Fulani issue in Nigeria is being used to play politics. If you are losing election and you want to gain back lost ground, play the Fulani politics. If you want to win election in 2023, you can start using anti-grazing law.
"We have grazing routes and grazing reserves and if Nigeria wants to solve the herdsmen and farmers clashes once and for all, you are a governor and you want to enjoy peace in your state, youdon't need any long meeting, just create a particular area for the Fulani and equip them with modern amenities. Instead of doing this, they are playing bad politics with Fulani.
"Since when the Ruga started, I'm yet to see any, except the efforts being made by the Zamfara State governor. No other governor is doing anything about it; it is still politics.
"Look at the support given to rice farmers through anchor borrowers programme; it is running into several billions of naira, and yet there is nothing for the Fulani business.
"Some people are saying cattle rearing is a private business, but the about 99 per cent of the cows we are eating in this country are from Fulani. "States are making revenues from cows. For example, in Lagos, over 6,000 cows are killed daily and the state government is making so much money from that and that is the way it is in other states of the country.
"These governors are not serious, that is why they are talking about antigrazing laws; they are not serious in maintaining peace in their state; they are not serious in carrying everybody along. They want to politicise Fulani issue. See how they are criminalising the Fulani man. These people they arrested for criminal activities are not Fulani, some of them have learnt Fulani languages and people say they are Fulani.
"Even small children have been made to believe that the problem of this country is the Fulani. But Fulani are very peace loving;they don't have any problem."
But immediately, the Benue government fired back, calling on the security agencies to arrest and prosecute leaders of the herders group.
In a statement, the government said; "We read with shock, the statement in some dailies credited to the National President of Miyetti Allah Kautal Hore, Abdullahi Bodejo in which he threatened that governors who refuse to establish cattle colonies also known as Ruga settlements will not know peace in their states.
"The Miyetti Allah Kautal Hore's outing has confirmed the fact that the group is not only responsible for attacks on farming communities in parts of the country but is also determined to reject any method of animal husbandry that does not agree with nomadic cattle breeding and are poised to sponsor violence in states not willing to donate land for open grazing.
"Utterances such as those of Bodejo are inciting and direct invitation for anarchy. No group should be above the law to be dictating to states on how to accord preference to it at the expense of other Nigerians.
"We call for the arrest and prosecution of the Miyetti Allah Kautal Hore President for persistently making statements capable of stirring crises in the country."
It said Bodejo in the same media reports had singled out Governor Ortom for vilification, saying the governor has been playing politics with the Open Grazing Prohibition and Ranches Establishment Law to win sympathy and gain advantage.
The government said Benue would not take the threat by Miyetti Allah Kautal Hore lightly, adding that, "the law of the land is sacrosanct and must be obeyed by everyone. Any individual or group who wants to breed animals in the state should be prepared to ranch them.
"Nigerians irrespective of place of origin and ethnicity, who wish to do lawful business in Benue State are encouraged to do so as the Ortom administration is willing to collaborate with investors in different sectors of the economy. The Governor is equally committed to supporting security agencies to guarantee peace in all parts of the state."
However, condemning the Miyyeti Allah president too, Nobel Laureate, Prof. Wole Soyinka, warned Bodejo, over his constant threat on governors over land.
Soyinka, who visited Ortom in Makurdi, said each governor had the protection of the Nigerian constitution to take his own decisions and enforce them accordingly in the best interest of the state.
0He described the grazing law, which a state like Benue has been implementing as the best that could promote modern method of animal husbandry.
"You see, each state must realise that it has to take its own decisions and enforce them as best as the state can. All I have to say to people, who make such kind of threats is that when they come to Ogun State, we will have a suitable response for them and I think all the states of the federation should take the same position," he said.
Consequently, the Benue government has embraced the Federal Government National Livestock Implementation Plan (NLTP) with a caveat that everyone involved must adhere strictly to the Open Grazing Prohibition and Ranches Establishment Law, 2017.
Although many pundits alleged that the NLTP was another form of RUGA or Colony earlier presented by the federal government, the programme has been finally launched in Makurdi. And with this move by the Benue government, herders might shift position and embrace peace.
https://www.thisdaylive.com/index.php/2019/12/01/how-benue-miyetti-allah-peace-accord-failed/
------
What Nigerian Muslim leaders said about Osinbajo
November 30, 2019
By Seun Opejobi
Vice President Yemi Osinbajo has been described as the pride of Nigeria by the Nigerian Supreme Council for Islamic Affairs (NSCIA).
Ishaq Oloyede, Secretary-General of NSCIA said Prof. Osinbajo, who gave a keynote address at the opening ceremony of the General Assembly of NSCIA on Friday, has successfully combined his religious commitments with public administration, something that is worth emulating.
"He is a model of a person combining religious commitment with public administration. He has done that creditably well. Mr. Vice President we want to thank you on behalf of the Muslim community of this country. You are a pride to this nation, we thank you and pray that God will continue to be with you," he said.
Also speaking at the event, President-General of NSCIA and Sultan of Sokoto, Muhammadu Sa'ad Abubakar, applauded the Vice President for his leadership, which he said was given to him by God.
"We have the privilege of having the Vice President here who is a pastor, and I am pleased that he is here to listen to the comments we will make and to listen to him giving the keynote speech, which I believe he will say a lot having known him for some time.
"He has leadership given to him by the Lord God Almighty, it is a trust and responsibility and he is here in his capacity as VP and we invited him to give the keynote speech as VP of Nigeria and he accepted to be here," the Sultan of Sokoto said.
Prof Salisu Shehu, Deputy Secretary-General of NSCIA praised the Vice President for gracing the event. "I believe as you have graciously accepted to be here to honour this event by coming personally, I believe that when resolutions are presented to you, we are sure that you'd give the necessary executive support to those resolutions."
In his keynote address, Osinbajo commended the NSCIA for bridging the religious gap in Nigeria. "This Council is of particular importance to us as a nation because it not only promotes solidarity among Nigeria's Muslims but also serves as an important intermediary between the government and the Muslim community and between Muslims and persons of other faiths."
https://dailypost.ng/2019/11/30/what-nigerian-muslim-leaders-said-about-osinbajo/
------
South Africa's military drills with Russia and China raise eyebrows
29 November 2019
This week's unprecedented joint trilateral sea exercise of the South African, Russian and Chinese navies has raised some eyebrows in Western embassies in Pretoria and defence think tanks back in their capitals.
They are asking if Exercise Mosi is a signal that Pretoria is switching its military allegiance from the West to the two nations the United States (US) regards as its greatest security threats. And could this be regarded as a 'BRICS-lite' military drill involving three of the five BRICS members (the other two being India and Brazil). In other spheres, BRICS often regards itself as being a counter to the West.
Exercise Mosi comes barely a month after another show of Russian military force in South Africa – the landing at Waterkloof Air Force Base of two Russian supersonic Tupolev Tu-160 Blackjack bombers, capable of carrying nuclear weapons. Escorted in by South African fighter jets, this marked the first touchdown in Africa of the Russian aircraft.
Why the sudden burst of military activity, particularly with Russia? The Blackjack bombers landed just as President Cyril Ramaphosa was taking off to attend the first Russia-Africa summit in Sochi, where defence and security cooperation were on the agenda.
Ramaphosa denied the two events had deliberately occurred simultaneously to send a message about South Africa-Russian military relations. Military experts confirm the visit was planned long ago. Nevertheless it's difficult to accept that all this military activity is not meant to be sending a message to someone.
Russian military expert Captain Vasily Dandykin has presented the joint naval exercise as a sort of proto-BRICS manoeuvre. He noted that at the recent BRICS summit Russian President Vladimir Putin called for greater integration among BRICS countries in the military sphere (currently non-existent) and not only in economics and politics.
Dandykin suggested the cooperation was significant because of growing Russian and Chinese interest in Africa. There was also "an element of diplomacy, a flag demonstration. Having sent Russian ships to South Africa, Defence Minister Sergey Shoygu, as it were, demonstrated to the United States that the Russian fleet could act together with the Chinese anywhere in the world," he said.
He was sure Western governments would take note of this. Indeed it seems they have and some Western analysts are warning of a switch in allegiance by South Africa from the West to the East.
That seems a bit of a stretch, at least in the short term. One former admiral points out that a full BRICS military exercise is unlikely because of the distrust between China and India, who still have border disputes to resolve. He also suggests Brazil could have been absent from this exercise because its current right-wing President Jair Bolsonaro wouldn't have wanted to do anything to offend his friend US President Donald Trump.
Darren Olivier, a director of South Africa's African Defence Review, cautions against over-interpreting recent events as indicating an ideological or strategic shift of Pretoria away from its predominant military partnerships with North Atlantic Treaty Organisation (Nato) countries towards Russia – Nato's arch-rival – and China.
He says, for instance, that the doctrine and logistics, not to mention equipment, of South Africa's navy are geared towards Nato. The navy has conducted exercises with Nato itself in the past but more frequently and more recently with individual Nato members like Germany, the US and France. Its biggest regular joint drill is Exercise Good Hope with the German navy, a logical partner given that South Africa's frigates and submarines are German-made.
Olivier also points out that Exercise Mosi is simulating 'low-hanging fruit', such as anti-piracy drills and joint disaster rescue missions. Exercise Good Hope, by contrast, regularly simulates real warfare. This, another defence source suggests, indicates a degree of mistrust or at least tentativeness on the part of South Africa – and perhaps Russia and China – about fully working together.
Olivier says one factor that might provoke suspicion that South Africa is switching allegiance is that joint military exercises with Western partners have become scarcer. But that's because of drastic cost-cutting in the South African National Defence Force, not because of any ideological or strategic decision by Pretoria, he says.
Like Dandykin, some South African military experts see Exercise Mosi as expressing Russia and China's interests in Africa as a whole, more than their interest in South Africa specifically. The Russian and Chinese ships involved were in African waters anyway, for other reasons, so it wasn't difficult to extend their journeys to visit Cape Town for the exercise.
"For Moscow and Beijing this was also about demonstrating their ability to project power, to travel to the other end of the planet to visit a country they don't have very deep military relations with, just to show they can do it, without jeopardising their normal operations," one said. This expert saw the visit of the Tu-160 bombers as allowing Russia to boast the ability of the planes to fly the enormous distance to South Africa non-stop.
The visit may also have illustrated some tentativeness between the two sides. It was reported at the time that the Russian aircraft were escorted in by South African Air Force Hawk trainer fighters and Gripen fighter jets. But other reports say the Gripens were in fact never in the air at the same time as the Tu-160s because of suspicions on one or both sides that flying in close proximity would somehow reveal classified tactical information.
If this is true, it shows the limits to military co-operation between South Africa and Russia, perhaps because of the former's Nato-oriented military doctrine and culture. This would be hard to give up, the expert said, making it unlikely that South Africa would emulate Rwanda which recently reconfigured its entire military on the Chinese model.
A Western diplomat agrees that it's unlikely South Africa is switching allegiance, at least for now, noting that this would contradict the welcome tendency by new international relations minister Naledi Pandor to try to balance South Africa's relations between the West and BRICS. "It's worth keeping an eye on for the future," says Olivier. "But I don't think there's any concern yet about a full-scale change in South Africa's military orientation." DM
https://www.dailymaverick.co.za/article/2019-11-29-south-africas-military-drills-with-russia-and-china-raise-eyebrows/
------
Arab World
Islamic State attack kills three security Asayish members in Iraqi Kurdistan
November 30, 2019
`GERMIYAN, Iraqi Kurdistan,— Islamic State militants attacked a small town in a part of Iraqi Kurdistan known as Garmiyan late Friday, killing three Kurdish Asayish (security) personnel including a commander and injuring eight others.
A top-ranking local Asayish commander Simko Muhammad and two other Asayish were killed in an Islamic State mortar and sniper attack in Kwlajo late Friday, media reported.
Under cover of darkness, members of the terror group shelled the town of Kwlajo, located in the Kifri district, and then attacked the perimeter of the town with various weapons, leading to clashes with security services.
The Asayish unit had gone out on patrol to investigate a mortar explosion and were ambushed in a combined attack using snipers and bombs, which exploded near their vehicles, a source at Kalar hospital told NRT.
In the secondary attack, five Asayish members, two children, and one woman were also wounded.
Casualties were rushed to Sulaimani's Shar Hospital.
The source said that Islamic State (ISIS) militants had infiltrated the town and planted bombs ahead of the ambush.
ISIS militants continue to be active in the disputed areas, despite its defeat and loss of the territory, and have launched a number of attacks in the last few months.
The Garmiyan Administration is an unofficial province in Iraqi Kurdistan Region that includes the three districts Kalar, Kifri, and Chamchamal, in territory disputed between Baghdad and Erbil. Kurdish security forces (Asayish) protect these areas.
https://ekurd.net/islamic-state-attack-kills-2019-11-30
------
Iran on the rack: Demonstrations in Beirut over crackdown in Iraq
NAJIA HOUSSARI
December 01, 2019
BEIRUT: Iran faced anger on two fronts on Saturday as demonstrators in Lebanon took to the streets of Beirut to support protesters in Iraq.
Tehran has orchestrated a violent crackdown on Iraqi protests in which more than 420 people have been killed, and its Hezbollah proxy in Lebanon has been accused of complicity in attacks on protesters demonstrating there against corruption and financial hardship.
Demonstrators staged a candlelit vigil outside Iraq's embassy in Beirut on Saturday to denounce the violence in Baghdad and southern Iraq. They held up photos of Iraqi protesters who have been killed, and one woman wrapped an Iraqi flag around her shoulders.
"The uprising in Iraq and the uprising in Lebanon are one," said vigil organizer Layal Siblani. "A protester killed there is a protester killed here."
Another demonstrator in Beirut said: "We have to stand in solidarity with our Iraqi counterparts who are being arrested and killed on a daily basis."
Elsewhere in Beirut, the mothers of activists targeted by opponents of the protests marched under banners declaring "nothing divides us" as they voiced their anger over violent attacks on protesters.
A group of mothers in Tabaris, a largely affluent Christian neighborhood, marched to Khandak El Ghamik, a poorer area with a large number of Amal Movement and Hezbollah supporters.
One woman urged residents of the area not to attack protesters. "Politicians disagree in the day and agree in the evening, and we should not be dragged into incitement," she said.
Protesters also organized a demonstration outside a barracks of the Internal Security Forces in Beirut, in protest at the arrest of activists.
Meanwhile in Iraq protesters burned tires and surrounded a police station in the southern city of Nassiriya on Saturday. Demonstrations also continued in Baghdad, but there were fewer reports of casualties than on the previous two days.
Security forces have used live ammunition, tear gas and stun grenades against protesters for nearly two months, and dozens have been killed in the past few days in Nassiriya and Najaf.
Iraq's Cabinet on Saturday approved the resignation of Prime Minister Adel Abdul Mahdi, which is expected to be confirmed by Parliament on Sunday.
https://www.arabnews.com/node/1592111/middle-east
------
Four Saudi artists show their work at traveling exhibition
01 December 2019
Four Saudi artists have been showcasing their work at a unique traveling biennale that has visited 43 cities in 23 countries, and concludes this week in Riyadh.
Fatima Al-Banawi, Sara Abu Abdallah, Faisal Samra and Ayman Zedani took part in the second BIENALSUR exhibition, which began in Buenos Aires in Argentina in May. Saudi Arabia is its only Middle East venue.
The traveling exhibition invites audiences to explore contemporary art that reflects their own lives, with the aim of encouraging intercultural dialogue and understanding.
Al-Banawi's exhibit is a video installation called "A Blink Of An Eye," a performance piece with five distinct stories.
"When we separate ourselves from the screen of our phones, we think that these experiences only happen to these people, but not to us, and through the installation the viewer can interact with a story in a deeper way," she told Arab News.
"When I work on storytelling, I am speaking in a universal language, and through Vision 2030 Saudi Arabia is addressing a universal language by using arts, culture, storytelling and filmmaking to speak to the local and the global society."
Zedani's work is also an installation, exploring how time is tangible. It consists of dyed liquid seeping through pottery cups, creating different patterns that act as a timepiece.
https://www.arabnews.com/node/1592106/lifestyle
------
Saudi Fund for Development finances 240 projects in 42 countries
December 01, 2019
RIYADH: The Saudi Fund for Development (SFD) became a major pillar of the national economy during the past five years by supporting Saudi exports and financing the private sector with SR29.7 billion ($7.92 billion) in funding, says a report issued by the SFD.
In accordance with its strategy, SFD increased its contribution to the Kingdom's Vision 2030 by supporting local content when implementing its projects, and hiring Saudi consultants and contractors at a total cost of SR5.12 billion.
In light of the Kingdom's contribution to the achievement of economic and financial objectives in developing countries, SFD provided grants and loans amounting to more than SR44 billion to finance 240 projects in 42 countries, the report said
The SFD's main objectives are to participate in financing uplift projects in developing countries by granting them necessary loans, technical aids required for financing studies and institutional support.
Since the launch of the fund in the 1970s, it has financed programs in different economic sectors including transportation, agriculture and energy.
https://www.arabnews.com/node/1592086/saudi-arabia
------
Emir of Kuwait congratulates Custodian of the Two Holy Mosques on fifth anniversary of his reign
2019/11/30
Kuwiat, November 30, 2019, SPA -- Sheikh Sabah Al-Ahmad Al-Jaber Al-Sabah congratulated Custodian of the Two Holy Mosques King Salman bin Abdulaziz Al-Saud on the occasion of the fifth anniversary of his accession to power.
Crown Prince of Kuwait Sheikh Nawaf Al-Ahmad Al-Jaber Al-Sabah congratulated Custodian of the Two Holy Mosques King Salman bin Abdulaziz Al-Saud on the occasion of the fifth anniversary of his accession to power.
Prime Minister of Kuwait Sheikh Sabah Khalid Al-Hamad Al-Sabah congratulated Custodian of the Two Holy Mosques King Salman bin Abdulaziz Al-Saud on the occasion of the fifth anniversary of his accession to power.
https://www.spa.gov.sa/viewfullstory.php?lang=en&newsid=2005070
------
Custodian of Two Holy Mosques Congratulates Romania's President on His Country's National Day
2019/11/30
Riyadh, Nov. 30, 2019, SPA -- Custodian of the Two Holy Mosques King Salman bin Abdulaziz Al Saud has sent a cable of congratulations to Romanian President Klaus Iohannis on the occasion of his country's National Day.
On behalf of the people and Government of the Kingdom of Saudi Arabia, the King expressed his sincere congratulations and best wishes of permanent health and happiness to His Excellency the President, and further progress and prosperity to the friendly Government and people of Romania.
https://www.spa.gov.sa/viewfullstory.php?lang=en&newsid=2004828
------
KSRelief sets up mobile clinics to treat Yemenis
01 December 2019
SANAA: Saudi Arabia is leaving no stone unturned to provide humanitarian aid throughout Yemen without any discrimination.
In this regard, the Kingdom has launched several projects through the King Salman Humanitarian Aid and Relief Center (KSRelief) to alleviate the suffering of the people of the war-torn country.
On Saturday, KSRelief continued the implementation of a water and sanitation project at Khaniq Camp in Sanaa in collaboration with the Taybah Foundation for Development.
Between Nov. 21 and 27, 171,500 liters of water for domestic use and 122,500 liters of potable water were pumped and tons of garbage was transported to landfill sites.
KSRelief has also established mobile clinics at the camp where a large number of people have been given necessary medical care. The emergency department received 420 people while 998 patients were given medications for different ailments. A mobile laboratory has also been established to carry out tests.
KSRelief provides urgent treatment for wounded and injured Yemenis in their country, and those for whom treatment is not possible in Yemen are transferred to Saudi Arabia and other countries in the region.
The center has implemented numerous health projects in Taiz, including support for Al-Thawra Hospital, which the center has provided with equipment, supplies and medicines.
The first phase of support to the hospital's orthopedic department alone amounted to $3.15 million.
On Nov. 23, KSRelief signed a deal with the Selah Foundation for Development to send SR3.2 million worth of winter aid packages to Yemen.
The aid package will include 5,600 blankets, jackets and children's hats to be distributed among displaced and poor families in Sanaa, Al-Bayda, Taiz, Marib, Al-Jawf, Dhale, Shabwa, Hadramout, Lahij, Aden and Al-Mahrah.
https://www.arabnews.com/node/1592071/saudi-arabia
------
Europe
Germany denies planning to ban Hezbollah
November 30, 2019
AhlulBayt News Agency (ABNA): Germany has denied media reports that it intends to impose a complete ban on the Lebanese movement Hezbollah in its entirety.
Interior Ministry spokesperson Steve Alter announced on Twitter Friday that "an alleged government decision on a ban on Hezbollah" could not be confirmed, rebutting a report by Germany's leading news weekly Der Spiegel.
On Thursday, Der Spiegel claimed it had "learned from government circles" that the Foreign Ministry, the Interior Ministry and the Ministry of Justice had reached an agreement in the previous week to designate the political wing of Hezbollah as a terrorist organization in line with the official position of the United States, Israel and the Arab League.
Thus far, most EU member states have refrained from branding the political arm of the Lebanese resistance movement as a "terrorist organization".
Earlier this year, the British government broke with the rest of Europe to designate the entire Hezbollah organization as a terrorist entity.
UK Home Secretary Sajid Javid said at the time that the UK government was no longer able to maintain a distinction between Hezbollah's political and military activities and thus would include the group's political unit in its blacklist.
The political wing of Hezbollah is a democratically elected political party with representation in the Lebanese parliament.
In May 2018, the Hezbollah resistance movement and its political allies secured more than half the seats in the country's parliamentary elections.
Israel reacted to the results with typical animosity, with the regime's then education minister Naftali Bennett saying Hezbollah's gains showed that the Lebanese state was indistinguishable from the group and that Tel Aviv should not distinguish between them in any future war.
Hezbollah's role in an anti-militancy campaign in Syria has angered Western countries that have, for the past eight years, supported terrorist groups opposed to the government of President Bashar al-Assad.
Hezbollah has played a major role in helping Assad purge the Syrian territory from terrorist groups.
The resistance group also responds to Israel's frequent aerial incursions into Lebanon.
Lebanon has been afflicted with political uncertainty following nationwide protests against economic mismanagement and corruption which have led to the resignation of Prime Minister Saad Hariri.
The economic protests come as growth in the country has plummeted in the wake of endless political deadlocks and economic woes of a remarkable scale in recent years.
https://en.abna24.com/news//germany-denies-planning-to-ban-hezbollah_990280.html
------
Ireland set for Islamic State detainee, young daughter to return from Turkey
DECEMBER 1, 2019
DUBLIN (Reuters) - Ireland expects to repatriate an Irish citizen aligned to Islamic State and her two-year-old daughter from Turkey this weekend, Prime Minister Leo Varadkar said on Saturday, as authorities in Ankara continues its deportation of detainees.
Turkey says it has captured 287 militants in northeast Syria, where Turkish troops launched an offensive against the Kurdish YPG militia last month, and has hundreds more jihadist suspects in detention.
It began deporting foreign citizens linked to Islamic State earlier this month and Ireland confirmed shortly afterwards that Lisa Smith and her daughter were the two Irish citizens identified by Ankara for deportation.
"It is anticipated that two Irish citizens, Lisa Smith and her daughter will return to Ireland this weekend," Varadkar told reporters.
"Obviously when it comes to her daughter, she's a child and she will be protected. In relation to Lisa Smith, the Gardai (Irish police) are going to want to speak to her, they may be in a position to charge her and if they do a prosecution may follow."
Dublin has said for months that it has a responsibility to find a way to bring Smith back to Ireland after she became aligned to the militant group in Syria and that its main concern was for the safe repatriation of her daughter.
Smith had said in media interviews that she wished to return home.
Varadkar had previously said that a security assessment would need to be carried out to ensure that Smith "does not become a threat to life and limb in Ireland."
Turkey has accused its European allies of being too slow to take back their citizens who had travelled to the Middle East to join Islamic State. Meanwhile, European countries are trying to speed up a plan to move thousands of jihadists out of Syrian prisons and into Iraq.
So far Turkey has repatriated 10 German nationals, one U.S. citizen, and one British suspected fighter. Eleven detainees from France will be repatriated in early December, Interior Minister Suleyman Soylu was quoted as saying on Thursday.
https://in.reuters.com/article/syria-security-ireland/ireland-set-for-islamic-state-detainee-young-daughter-to-return-from-turkey-idINKBN1Y50SD?rpc=401&
------
Birmingham's Green Lane mosque speaks out over London Bridge terror attack
ByDavid Bentley
30 NOV 2019
Officials at the Green Lane mosque in Birmingham have condemned the London Bridge terror attack that took place on November 29.
Describing it as "an atrocious attack upon innocent people in London", Green Lane Masjid and Community Centre (GLMCC) in the Small Heath area of the city said it was saddened to hear of the deaths of two victims.
Usman Khan, 28, stabbed to death a man and a woman in the knife rampage on Friday afternoon, leaving three other people injured.
In a statement, GLMCC said: "Our thoughts and condolences are with their families, the injured and all those affected.
"While details are still emerging, we encourage people to remain calm and await the full facts of the investigation."
Mohammed Saeed, Chair of Trustees at GLMCC, added: "We must not allow the perpetrators of such awful attacks to meet their aims of causing division and fear amongst our communities. We hold firmly on our belief.
"As we have seen in previous incidents, there are perverse and distorted minds that seek to create disunity in our society."
He continued: "GLMCC strongly condemns such crimes. We encourage everyone to show solidarity and counter the narrative of those behind all forms of malicious hatred."
He concluded by quoting from Qu'ran 5:32: "Whoever kills an innocent soul, it is as if he had slain mankind entirely. And whoever saves one – it is as if he had saved mankind entirely."
Usman Khan was on licence and wearing an electronic monitoring tag when he attended a conference on prisoner rehabilitation hosted by Learning Together at Fishmongers' Hall and reportedly "threatened to blow up" the building.
Armed with two knives and wearing a fake suicide vest, Khan was tackled by members of the public, including ex-offenders, before he was shot dead by police on London Bridge next to the Hall.
Footage posted online shows Khan being taken to the ground as one man sprays him with a fire extinguisher and another, reportedly a Polish man who worked at the Hall, lunges towards him with a 5ft narwhal tusk believed to have been taken from the wall inside the building.
In February 2012, Khan, who had been based in Stoke-on-Trent, was handed an open-ended indeterminate sentence for public protection, with a minimum term of eight years.
He was part of an al Qaida-inspired terror group - linked to radical preacher Anjem Choudary - that plotted to bomb the London Stock Exchange and build a terrorist training camp on land in Pakistan-controlled Kashmir owned by his family.
A list of other potential targets included the names and addresses of the Dean of St Paul's Cathedral in London, then London mayor Mr Johnson, two rabbis, and the American Embassy in London.
But the sentence for Khan, along with two co-conspirators, was quashed at the Court of Appeal in April 2013 and he was given a determinate 16-year jail term, then freed on licence in December last year and made to wear the tag.
The Parole Board said it had no involvement in his release and that Khan "appears to have been released automatically on licence" halfway through his sentence.
Metropolitan Police Commissioner Cressida Dick confirmed police are not actively seeking anyone else over the attack.
Officers have been searching a three-storey block of flats in Wolverhampton Road, Stafford, where Khan is believed to have lived.
Meanwhile, the Queen and Duke of Edinburgh have sent a message of sympathy to those killed and affected by the "terrible violence", and praised the "brave individuals who put their own lives at risk to selflessly help and protect others".
The attack came weeks after the UK's terrorism threat level was downgraded to "substantial" from "severe", meaning attacks were thought to be "likely" rather than "highly likely".
London Bridge was the scene of a terror attack in 2017 - also during a general election campaign - when eight victims were killed along with the three terrorists, who were also wearing fake suicide vests and armed with knives.
https://www.birminghammail.co.uk/news/midlands-news/birminghams-green-lane-mosque-speaks-17343420
------
Muslim men open up about the financial strain of providing for their family
Faima Bakar
Saturday 30 Nov 2019
In Islam, a woman's money belongs only to her while a man is obligated to spend on his wife and children. In fact, a Muslim man isn't allowed to ask a woman for money – but she may offer to share her wealth. This is considered fair as men are entitled to a higher inheritance and may be the breadwinner in their families. However, in 21st-century society, it's seldom possible to survive on one income. So many households run on the financial offerings of both partners. For the most part though, men are expected to cover expenses. For some, that comes with difficulties, such as taking out loans, borrowing from their families and asking their partner for help, which some find 'embarrassing'. As we're covering all things money and debt this month on Metro.co.uk, we asked men from the Muslim community about what it's like to shoulder the majority of financial responsibilities. We want to demystify the taboo nature of earning and spending while showing that though money problems can be alienating, you are not alone in your struggles. And while Muslim men may find it difficult to fulfill their Islamic obligation, which includes paying a mahr (a gift from the groom to the bride), many others are in a similar situation. After speaking to some Muslim men, there is one common factor being blamed for accruing debt: large weddings. Though most agree that extravagant weddings have become a cultural norm, not a religious one, they often find themselves succumbing to the pressure, resulting in precarious financial situations. Here is what five men said about their financial hardship… Numan, 32 'At my wedding, we spent about £55,000 between both parties. We both felt the financial strain and my in-laws had to borrow money from the banks. 'A big wedding doesn't just put financial strains during the wedding, it also affects it afterward. 'For people with an average income, it's a huge pressure. It depends on person to person. If you are an immigrant, then you're worse off. 'I have to pay off my debts, run my family here plus help my family back home and at the same time pay loads of money to the UK Border Agency for my citizenship. 'These all add up. My main issue is with large expensive weddings. The question to ask is do we need to invite all these people, buy expensive outfits, hire flashy cars for one day? 'Or shall we use this money for a secure future?' Zibran, 26 'A wedding isn't and should never be a financial burden on the couple at all. Islam doesn't encourage or advocate for us to go above and beyond to throw the grandest parties for a wedding celebration. 'Sure, if you have the means, that's a different story. But to take out loans when you succumb to parents and in-laws and elders' "tradition, ritual and cultural values", that is where it gets messed up 'Like many others out there, I had the mentality that I would not fall into the trap that will cause financial damage to me. Nevertheless, I had to give in, in the end.
'My wife and I try to stick to our Islamic values. At the same time, we also share the load of the family in a sensible manner. 'We both know it's pretty difficult to live on just my salary, so she is always more than happy to contribute. 'It's not fair on her to contribute to our family expenses "equally". Our salaries aren't the same, so why should we contribute the same amount? Hence we each contribute towards our combined expenses against the ratio of our earnings. 'If I could do my wedding all over again, I would skim it down to just the bare minimum. I would have a very intimate and close ceremony that I can afford without taking any loan. 'Wasting money on these ceremonies has done no good or bought any positive impact on our lives so far. If I didn't spend all that extravagant money and rather put that in a down payment for a house, it would have been the much better investment.' Riyad, 35 'For my wedding, my mum pulled out £10,000 and my wife and I pulled out £10,000 because her family wasn't satisfied with having a simple ceremony. 'My wife got a loan and we now go halves on paying it whereas my mum got her loan from family and friends. 'We get burnt out when unexpected costs pop up, for example, household maintenance or buying gifts for guests. 'It's unfair that we still had to cough up so much despite it being clear we didn't want to spend so much. 'It causes a strain on our relationship when the topic comes out. But we've known each other for 12 years and in that time we've gone through lots of different s*it.
Ahsan, 29 'My wedding mainly affected my savings. 'I had accumulated a sizeable amount of savings over the years, to put down for a house deposit. 'However, in getting married, I massively underestimated some costs by around £7,000 (mahr, costs of honeymoons, having more guests than initially anticipated, cost of wedding dress!) 'This has hindered and delayed any potential house-buying plans. Fortunately, I didn't have to borrow, but the costs of a wedding are so ridiculous these days that this is an actual issue. 'Recently I've had to help two friends with a private loan in order to help with their wedding costs – and hearing about wedding debt in our community is sadly a common issue.'
https://metro.co.uk/2019/11/30/muslim-men-open-financial-strain-providing-family-11061171/?ito=newsnow-feed
------
Islamic State says London Bridge attack carried out by one of its fighters
NOVEMBER 30, 2019
CAIRO (Reuters) - Islamic State said the London Bridge attack on Friday was carried out by one of its fighters, the group's Amaq news agency reported on Saturday. The group did not provide any evidence.
It added that the attack was made in response to Islamic State calls to target countries that have been part of a coalition fighting the jihadist group.
British police on Friday shot dead a man wearing a fake suicide vest who stabbed two people to death in London and wounded three more before being wrestled to the ground by bystanders, in what the authorities called a terrorist attack.
https://uk.reuters.com/article/uk-islamic-state-security/islamic-state-says-london-bridge-attack-carried-out-by-one-of-its-fighters-idUKKBN1Y40L3?rpc=401&
------
London Bridge terrorist praised former al-Qaeda leader Osama bin Laden as 'beautiful'
David Bentley
30 NOV 2019
London Bridge attacker Usman Khan once praised former al-Qaeda leader Osama bin Laden as "beautiful", it has emerged.
In a recording made before he was imprisoned, Usman Khan said jihadists could train abroad before returning to the UK - with the only possible outcomes being 'victory, prison or martyrdom'
The 28-year-old was recorded inviting fellow Muslims to his jihadi training camp in Pakistan prior to being jailed in 2012, StokeonTrent Live reports.
Khan's attempts to recruit others to his cause were captured by bugs hidden by the security services at his Tunstall home in December 2010.
The 20-year-old was also heard talking about how state benefits could be used to fund the training facility, which he had set up with his fellow radicals.
Khan, who was shot dead by police yesterday after stabbing two people to death in London, was released from prison in December after serving a sentence for preparing for terrorist acts, along with two others from Stoke-on-Trent.
During the trial at Woolwich Crown Court in February 2012, prosecutor Andrew Edis read excerpts from a conversation between Khan and an unknown man, which had been recorded at Khan's home in Persia Walk, Tunstall.
The two men discussed politics, ideology and their love of Osama bin Laden - who in 2011 was killed by American special forces during a raid in Pakistani - and described him as "beautiful."
Khan then went on to talk about the terrorist training camp in Kashmir, which he and his colleagues had been funding.
He said: "Brothers should encourage other brothers to come. We've got something serious set up."
He said that once trained the jihadists could return to the UK, with the only possible outcomes being victory, prison or martyrdom.
Khan also talked about the funding of the training camp in Kashmir, which had been disguised as a normal madrassa (an Islamic seminary).
He explained that he could make more money on Jobseeker's Allowance in a day than he could earn in a month in Kashmir.
The court also heard excepts from a later conversation at Persia Walk, where Khan was discussing planting bombs in Stoke-on-Trent pubs with his fellow terrorists.
https://www.birminghammail.co.uk/news/midlands-news/london-bridge-terrorist-praised-former-17342729
------
India
After Ayodhya verdict — 'Nirmohi Akhara has everything, yet nothing'
December 1, 2019
Nearly a month after the Supreme Court rejected its claim to the Ram Janmabhoomi site, the Nirmohi Akhara, located in one of the bylanes of Ayodhya, is surprisingly quiet. While it hopes to find a place in the trust to be set up by the government to build a temple on the disputed land, the six teenagers sitting next to its gate are more concerned about their future.
There are 14 teenagers currently living at the Akhara, whose activities revolve around praying to Ram. Head Mahant Dinendra Das says he accepts the Supreme Court verdict as Ram's will. "Jo nirnaya aaya, woh uchit tha (Whatever the decision, it was right)."
For the residents of the Akhara, which is spread over two bighas and buildings that have seen better days, the day starts at 4.30 am and includes chores, prayers, cooking and lessons on Ram Katha. They hope to become Katha Vachaks (those who recite religious literature and perform prayers).
Not very interested in the nitty-gritties of the Ayodhya title suit case, 17-year-old Ram Sarvendra Nath Shukla says, "Nirmohi Akhara has everything, yet nothing." Belonging to a poor family, Shukla came here from Siddharthnagar, about 140 km away, two years ago. His cousin is also at the Akhara.
The residents share a room, which is bare but for a few mats and cots. In a corner grains, vegetables, and rice are stored, while another corner has a gas stove for cooking.
Most of the residents have mobile phones, which was how they kept track of the Ramjanmabhoomi-Babri Masjid case. Asked about it, they say, "Ramji ki kripa hai, ismein Ram ki ichcha chhupi hai (It is all a blessing of Ram. His wishes are evident)."
There are a few other rooms, including the one where Dinendra Das lives. These rooms are in a new structure, built in 2017, with an LED television in the verandah that the boys sometimes watch.
Most study at a nearby Sanskrit school run by a private trust. A few also go to a priest at the neighbouring ghat for free lessons. Says Shukla, "The education is not as it should be, but we have few options. We wish we had better access to Sanskrit teaching."
The 17-year-old studied at a private school till Class 8 before moving to the Akhara. Shukla says his father, also a Katha Vachak, got to know about the Akhara from an acquaintance. He has no regrets, Shukla adds, saying his family is happy he is studying, and are not worried as yet that he may become an ascetic, like some Akhara students.
Apart from what he studies at the Akhara, one of the residents, Arvind Tiwari, is enrolled in Class 11 at a private English-medium school nearby, in the science stream. "Since my family has been associated with the Akhara, they decided to send me here. I want to eventually join the NDA (the National Defence Academy)," says Tiwari, who came two years ago.
That makes Tiwari an object of envy for his fellow residents, who call him "English-medium wale bhaiyya". They let him skip cooking duties because of this status. Says one of them, "Bhaiyya studies from 10 am to 4 pm, then goes for coaching." Tiwari nods, "I have no time."
Ayush Das, 16, also knows both worlds. While his father is an engineer, he came to the Nirmohi Akhara through his uncle, a Katha Vachak and local priest, around a year ago. Back at his village in Sultanpur, Das studied at a private school.
One of the Akhara members, Durgesh Shukla, says the Ayodhya judgment shows that the organisation needs to educate the world about its contributions, including in managing the Ram Janmabhoomi site. The Akhara claims that one of their gurus was killed by Babur's commander Mir Baqi in order to capture the disputed area and build the Babri Masjid. "Nirmohi is one who has given up all worldly possessions. The Akhara was formed for the protection of sadhus. There are records showing it fought battles along with then naresh (king) against invaders such as Babur, Humayun, Akbar, Aurangzeb, Wajid Ali. However, today, we have lost a political battle. We failed to put forward our claim properly," says Durgesh Shukla.
While the Allahabad High Court had given the Akhara one-third of the disputed 2.77 acres in Ayodhya, in a three-way share in 2010, the Supreme Court dismissed its suit ruling it was barred by time limitation.
The Akhara is hoping the government will now include it in the temple trust, as the court asked. At a recent meeting, it resolved to seek "important" posts in the trust's management, and that the rights to worship Ram Lalla be given to the Ramanandi Vaishnav Sect, to which the Akhara belongs.
However, a request for a meeting with Prime Minister Narendra Modi is still to get a response.
https://indianexpress.com/article/india/ayodhya-verdict-babri-masjid-nirmohi-akhara-has-everything-yet-nothing-6144670/
------
3 AIMIM Leaders Booked After Police Stop 'Outsiders' From Entering Mosque Located On The Reserve Police Lines Campus In Pratapgarh District
December 1, 2019
A case of rioting and assault on public servant was lodged against three AIMIM leaders in Pratapgarh district on Saturday following a clash with policemen who refused locals to offer Friday prayers at a mosque located on the Reserve Police Lines campus.
The row erupted on Friday noon when policemen stopped a group of people from entering the Police Lines. As people protested, Inspector Shailendra Singh, in-charge of Police Lines, told them that Pratapgarh SP Abhishek Singh had ordered to not allow outsiders to visit the religious places on the campus.
As some of the men tried to enter the campus, a scuffle ensued with the policemen. Later, a case was filed against three AIMIM office bearers —- district president Israr Ahmad, general secretary Zafrul Hasan and secretary Shujatullah — and other unidentified persons under IPC sections 147 (rioting), 149 (unlawful assembly), 153-B (assertions prejudicial to national integration), 332 (voluntarily causing hurt to public servant), 353 (assault to deter public servant from discharge of his duty), 447 (criminal trespass) and section 7 of the the Criminal Law Amendment Act.
"We have been offering prayers at the mosque since I started practising at the district court. I have been told by elders that the mosque has been always open to non-police people forever. At least 200 persons offer Friday prayers there every week. On Friday, all of a sudden, police put up barricades," said Saeedul Haque (35), a lawyer who was present during the scuffle.
Additional SP (East), Surendra P Dwivedi, said, "The mosque in Police Lines is used only by family members of police personnel who live there. It is a secured area. Outsiders are not allowed there and to improve their political stature, some workers of AIMIM entered the mosque to create a communal issue."
https://indianexpress.com/article/india/3-aimim-leaders-booked-after-police-stop-outsiders-from-entering-mosque-6144901/
------
Pak minister's disclosure on Kartarpur corridor has exposed their nefarious designs: Amarinder Singh
Dec 1, 2019
CHANDIGARH: Punjab Chief Minister Captain Amarinder Singh on Sunday said that Pakistan Railway Minister Sheikh Rashid's disclosure that Kartarpur Corridor was the brainchild of their Army Chief General Qamar Javed Bajwa had exposed Islamabad's nefarious intent behind the initiative.
Even as he expressed serious concern over this admission by the Pak minister, the chief minister said that Rashid had completely bared open the wicked design of Pakistan behind the Corridor, which India had hoped would emerge as a bridge of peace between the two countries.
The CM also took strong exception to Rashid's remarks that "the Corridor would hurt India, which would forever remember the wound inflicted on it by Gen Bajwa with the Kartarpur Corridor."
Terming it an open and blatant threat against India's security and integrity, Captain Amarinder warned Pakistan not to attempt to indulge in any misadventure against its neighbour.
"Don't make the mistake of reading weakness in our gratitude for the opening of the Corridor," warned the Chief Minister, asserting that India would give a befitting response to any bid by Pakistan to attack its borders or its people. Declaring that India would never let Pakistan fulfil its despicable ambitions against the former, he said any such attempt by Islamabad would be met with retaliation of the kind that they would never be able to survive.
Captain Amarinder recalled that he had all along maintained that while he was extremely happy, as a Sikh, at the opening of the Corridor to enable access to Indian devotees to the historic Kartarpur Gurdwara, the threat it posed to our country could not be ignored. The Chief Minister had, in fact, been repeatedly urging caution over the matter, warning that Pakistan was trying to win the sympathies of the Sikhs by opening the corridor to further the ISI-backed Referendum 2020 agenda.
This had been quite evident from various facts, most notably that Bajwa had disclosed the Pakistani decision to build the Corridor to then Punjab minister Navjot Singh Sidhu at the time of Imran Khan's swearing-in ceremony, said the Chief Minister. "Imran had not even taken over then, yet their Army Chief had spoken about this to Sidhu. How was it possible unless Bajwa was the one behind the Corridor decision," asked Captain Amarinder, recalling that he had pointed this out long back.
Given the revelation of the Pakistan minister, Captain Amarinder also urged Sidhu to be more cautious in his dealings with the Imran Khan government and not allow his personal friendship with the Pakistan Prime Minister cloud his judgement in any way, as that could be harmful to India's interests.
https://timesofindia.indiatimes.com/india/pak-ministers-disclosure-on-kartarpur-corridor-has-exposed-their-nefarious-designs-amarinder-singh/articleshow/72316888.cms
------
North America
Suriname President Desi Bouterse convicted of murder for 1982 executions
November 30, 2019
A court in Suriname on Friday convicted President Desi Bouterse of murder for the execution of 15 opponents in 1982 following a coup to seize power, sentencing the man who has dominated the former Dutch colony's recent history to 20 years in prison.
Opposition parties called for Bouterse, currently in China on an official visit, to step down. The military court that found him guilty has not yet ordered his arrest.
Bouterse was expected to return to Suriname on Saturday or Sunday, skipping a planned trip to Cuba, the vice president of his National Democratic Party told local newspaper De Ware Tijd. Ramon Abrahams told the paper he was in telephone contact with Bouterse and called an emergency meeting of the party.
Bouterse led the South American country through the 1980s as head of a military government, then assumed office again in 2010 and secured re-election five years later.
The court ruled that Bouterse had overseen an operation in which soldiers under his command abducted 16 leading government critics – including lawyers, journalists and university teachers – from their homes and killed 15 of them at a colonial fortress in the capital Paramaribo.
One trade union leader survived and later gave testimony against Bouterse.
Bouterse, who has steadfastly denied the charges, is able to appeal the decision. The president, who was represented by a lawyer in the trial, has so far made no comment on his conviction.
In a statement, the Surinamese government said it had "taken note of the developments and calls on the community to keep the peace."
A math genius crippled by mental illness — the mystery behind Vashishtha's world
Congress' Nana Patole elected unopposed as Maharashtra Speaker after BJP withdraws
Amit Shah listening, Rahul Bajaj speaks: No one will tell you... not sure you like criticism
Critics have vilified the 74-year-old Bouterse as a dictator who has clung to power in the country of 560,000 people, which gained independence from the Netherlands in 1975.
Angelic del Castillo, head of the opposition Democratic Alternative '91 party, said Bouterse had "disqualified himself" from remaining Suriname's leader and demanded he immediately resign. "This is in the interest of the dignity of the office and of our nation," del Castillo said in a statement.
Joint Condemnation
In 1999, Bouterse was convicted in absentia of drug trafficking by a court in the Netherlands, though he has denied any wrongdoing. A Suriname judge in 2005 convicted Bouterse's son, Dino, of leading a gang that trafficked in cocaine, illegal arms and stolen luxury cars.
As a junior military officer, Bouterse took part in the 1980 coup against Suriname's first prime minister, Henck Arron, and immediately promoted himself to army chief-of-staff, becoming effective ruler of the government.
The court on Friday evening later convicted six other former military officers, including the country's current consul to neighboring French Guiana, of murder for their part in the episode, including forcibly removing victims from their homes at night or participating in the shooting.
In a joint statement, the diplomatic missions of the Netherlands, United States, United Kingdom, Spain, Germany and France to Suriname said it was "critical" that the verdicts be "implemented and upheld in accordance with the rule of law."
Bouterse left the army in late 1992 and went into business and politics, heading the pro-military National Democratic Party (NDP) and remaining a prominent if controversial national figure.
Bouterse and the NDP have consistently tried to obstruct court proceedings, which began in 2007. In 2012, the NDP-controlled National Assembly passed an amnesty law giving him immunity but that was later invalidated by a court ruling.
https://indianexpress.com/article/world/suriname-president-desi-bouterse-convicted-of-murder-for-1982-executions-6144054/
------
Mideast
Pakistani citizen sent thousands of saplings to Iraq to provide shade to Arbaeen pilgrims
November 30, 2019
AhlulBayt News Agency (ABNA): A senior Pakistani citizen has sent thousands of saplings to Iraq with a purpose to provide shade to Arbaeen pilgrims.
According to the Express Tribune newspaper, Mohammedi Durbar wants to plant nearly 50,000 trees along the entire 80-km pilgrimage route between Iraq's Najaf and Karbala.
Every year millions of people make the pilgrimage for Arbaeen. Mohammedi Durbar said that earlier he planted some trees in Najaf to see if they could thrive there and the test was a success.
He added the first batch of 9,800 saplings of eight types of trees, up to eight months old, set off from Karachi by a truck on Friday, for their journey via Iran to Iraq.
Durbar says the saplings will be well looked after on their journey with the truck stopping to ensure they get regular sunshine and water.
He said the trees will spend the winter in a nursery in Baghdad, with the planting due to begin in March.
Durbar estimates it will take three years to plant all of the trees at a cost of US $160,000 which he is paying. He is not sure if he will live to see pilgrims walking under his trees, but he knows he has found his calling after a lifetime in the industry.
"I thank God, at this age, he has put me on the right path," he said. "Partnership with nature is good."
https://en.abna24.com/news//pakistani-citizen-sent-thousands-of-saplings-to-iraq-to-provide-shade-to-arbaeen-pilgrims_990296.html
------
Iranian General: Islamic Revolution Hub of Muslim World Power
November, 30, 2019
TEHRAN (Tasnim) – A senior Iranian general said the Islamic Revolution would form the centerpiece of the Muslim world's power by shaping a modern Islamic civilization.
Addressing a cultural ceremony in Tehran on Saturday, Major General Yahya Rahim Safavi, a top military aide to the Leader of the Islamic Revolution and the incoming president of the "Research Institute of Sacred Defense Sciences and Hierology", said the Islamic Revolution in Iran would create a modern Islamic civilization, which would in turn shape the hub of power in the Islamic world in the current century.
Major General Yahya Rahim Safavi highlighted a decline in the power of the arrogant countries, saying the oppressed nations are going to defeat the tyrants and arrogant powers.
Highlighting Leader of the Islamic Revolution Ayatollah Seyed Ali Khamenei's remarks about the defeat of the US and Israeli policies, the general said Iran, Iraq, and Syria have succeeded in combatting Takfiri terrorists and the wicked policies of the US, the Israeli regime, and their regional servants under the Leader's expert guidance.
The Sacred Defense –Iraqi imposed war on Iran in the 1980s- shaped the ideology of resistance, which later shaped the axis of resistance and brought victories for the nations of Iraq, Syria, Lebanon and Yemen, he added.
In a speech in March 2018, Ayatollah Khamenei highlighted Iran's influential role in the region, saying that the Islamic Republic has made an essential contribution to defeating Takfiri terrorists.
"The Islamic Republic managed to liberate the people from these Takfiris in an important part of this region," Ayatollah Khamenei said at the time.
In recent years, the Middle East has been plagued with Takfiri terrorist groups like Daesh (also known as ISIS or ISIL), which are believed to have been created and supported by the West and some regional Arab countries.
The terrorist groups, which claim to be Islamic but whose actions are anything but, have been committing heinous crimes not only against non-Muslims, but mostly against Muslims in the region.
In November 2017, the self-proclaimed caliphate of Daesh collapsed after Syrian and Iraqi armed forces and their allies, including Iran, managed to recapture the terror group's last strongholds in the two Arab countries.
https://www.tasnimnews.com/en/news/2019/11/30/2149985/iranian-general-islamic-revolution-hub-of-muslim-world-power
------
Turkey, Malaysia, Qatar can pioneer in Islamic finance
November 30, 2019
Ready to be taken to the next level, the burgeoning sector of Islamic finance is ready to take root in new regions through Turkey, Malaysia and Qatar, according to a leading figure in Qatari finance.
Speaking to Anadolu Agency in an exclusive interview, the CEO of the Qatar Financial Centre Yousuf Al-Jaida said Malaysia could act as a gateway for Islamic finance into Asia, with Turkey into Europe and Qatar the Middle East and Africa.
He stressed that Malaysia was ready with its legal framework to facilitate the sector, as well as such products as Sukuk -- a non-interest-bearing note. Qatar, and Turkey need to step up and do more for the sector, which should be pioneered by Muslim countries.
Underlining that Doha and Ankara needed to step up and do more, he said these three countries could form a large platform to share experience, technology and knowledge in the $2.4-trillion field.
"I think we can create something really superb and magnificent for the industry," Al-Jaida said, adding that Islamic finance is now growing at an even quicker pace than traditional or conventional finance.
The CEO highlighted several new potential fields for Islamic finance, such as Islamic financial technologies, Islamic reinsurance and Islamic asset management.
"I think we have a very bright and rosy future, but there is a lot of work that needs to be done," he noted.
With economic problems mounting across the globe, Al-Jaida said Islamic finance could be a role model for the world economy.
- Istanbul Finance Center
Touching on Turkey's Istanbul Finance Center project, expected to be completed in 2022, Al-Jaida expressed optimism in the center's potential.
"We have been talking to the Malaysians and the Istanbul Financial Center and hopefully very soon we're going to be signing a very important MoU," he said.
Strategically located between European and Muslim countries, the Istanbul Finance Center hopes to become a center of the non-bank financial sector.
Al-Jaida urged Turkey to collaborate with Qatar and Malaysia to establish Islamic finance as a successful sector in the country.
- Qatar's investments in Turkey
"Turkey is a massive country. It's a very important market. It's very well-opened in terms of foreign direct investment," asserted Al-Jaida.
He cited Qatar's investments in Turkey, stressing that Qatar has committed $10 billion as of yet, and that 35% of this has been invested.
Turkey should make legal reforms to attract more foreign direct investment, he said, adding: "But there's no doubt, the Turkish market is very attractive and very interesting."
The hydrocarbon-rich Gulf state of Qatar currently invests in Turkey's banking, real estate and health sectors.
"Investments will follow healthy political relations and our relations with Turkey go back hundreds of years."
https://www.yenisafak.com/en/news/turkey-malaysia-qatar-can-pioneer-in-islamic-finance-3506258
------
Are you 'brain-dead': Turkey's Erdogan raps Macron before NATO summit
November 30, 2019
Turkish President Tayyip Erdogan said on Friday that Emmanuel Macron's warning that NATO was dying reflects a "sick and shallow" understanding, telling the French president "you should check whether you are brain dead".
The comments drew a swift rebuke from the French foreign ministry, which summoned Turkey's ambassador to Paris to protest over what a French presidential adviser called "insults".
Erdogan was speaking days ahead of a summit of the military alliance, which Macron has said is experiencing "brain death" because of U.S. unpredictability under President Donald Trump and strained ties with Turkey.
The Turkish and French presidents, who have traded criticism over Ankara's cross-border offensive in northeast Syria, will be among NATO leaders meeting at a summit of the transatlantic alliance in Britain on Dec. 4.
"I'm addressing Mr Macron from Turkey and I will say it at NATO: You should check whether you are brain dead first," Erdogan said.
Macron said in an interview three weeks ago there was a lack of strategic coordination between European allies on the one hand and the United States and Turkey, on the other. He has also decried NATO's inability to react to what he called Turkey's "crazy" offensive into northern Syria.
On Friday, French officials said they expected substantial clarifications from Erdogan rather than a war of words.
"Let's be clear, these are not statements, they are insults," a presidential adviser said. "The president says things clearly. It's up to Turkey to provide the answers that we and many allies expect."
Amit Shah listening, Rahul Bajaj speaks: No one will tell you... not sure you like criticism
Macron's adviser said that beyond the issue of Turkey's offensive in Syria, its refusal to back a NATO defence plan for the Baltic republics and Poland was unacceptable.
"Turkey can't take the defence plans of Poland and the Baltic countries hostage," the adviser said.
Turkey is refusing to back a NATO defence plan for the three Baltic states and Poland unless it secures more political support from its allies for its fight against Kurdish YPG militia in northern Syria.
Ankara views the YPG as terrorists with links to militant Kurdish separatists in southeast Turkey.
Macron's remarks on NATO drew strong reaction from France's neighbours who say Europe still has to rely heavily on the U.S.-led alliance for its defence. Macron said on Thursday his remarks had been a useful wake-up call and that he would not apologise for saying them.
https://indianexpress.com/article/world/are-you-brain-dead-turkeys-erdogan-raps-macron-before-nato-summit-6144024/
------
Libya's Interior Ministry apprehends ISIS-Ansar Al-Sharia coordinator
November 30, 2019
The Libyan Interior Ministry said its Tajoura central backup personnel had arrested "the coordinator of operations between ISIS and Ansar Al-Sharia", Emad Al-Shagaabi.
The ministry said in a statement that after thorough and delicate search operations, Tajoura central backup personnel arrested Al-Shagaabi on Friday evening, saying he was placed under investigation before being sent to the Public Prosecutor's Office for further legal procedures.
"We warn all those who wish to destabilize Libya that the Ministry is going to take legal actions against them. No extortion of state institutions is allowed and our personnel will respond effectively to any terrorist threats." The statement reads.
Last Sunday, the Interior Minister Fathi Bashagha called on all authorities to work toward arresting Al-Shagaabi as he is "coordinator between ISIS and Ansar Al-Sharia".
https://www.libyaobserver.ly/news/libyas-interior-ministry-apprehends-isis-ansar-al-sharia-coordinator
------
Two Belgian officials boycott trade delegation to Israel
November 30, 2019
AhlulBayt News Agency (ABNA): Representatives of two local governments in Belgium have pulled out of a trade delegation to Israel in a move seen as a major victory for proponents of the anti-Israel Boycott, Divestment, and Sanctions (BDS) movement.
Pascal Smet, the foreign trade secretary of the government of the Brussels region, announced the decision on Thursday, according to the French-language public-service broadcasting organization RTBF.
Elio Di Rupo, the prime minister of the Belgian state of Wallonia and a former prime minister of the kingdom of Belgium, pulled out of the delegation last week.
"The lack of progress in the peace process, the lack of progress on the ground and the violation by Israel of major elements of the Geneva Convention are prompting us to hold back on official cooperation," said Di Rupo.
The mission, which is scheduled to take place in December, will include business people and representatives of commercial enterprises from across Belgium.
This is while Israel has stepped up its crackdown against those who support the BDS movement.
The movement was initiated in 2005 by over 170 Palestinian organizations and later turned international. It is meant to initiate "various forms of boycott against Israel until it meets its obligations under international law" and end its occupation of Palestinian lands.
Last year, Israel published a list of 20 organizations whose activists would be barred from entering the occupied territories due to their support for boycott campaigns.
Israel's strategic affairs ministry has been allocated $36 million to combat the BDS movement.
Thousands of volunteers worldwide have joined the BDS movement, which calls on people and groups across the world to cut economic, cultural and academic ties to Tel Aviv, to help promote the Palestinian cause.
https://en.abna24.com/news//two-belgian-officials-boycott-trade-delegation-to-israel_990300.html
------
Turkey's top religious body opens mosque in Djibouti
Nov 30 2019
The Turkish Diyanet Foundation (TDV), affiliated with Turkey's Religious Affairs Directorate, has finished construction of a mosque in Djibouti, Turkish daily Sabah reported on Friday.
Parliamentary Speaker Mustafa Şentop attended the opening ceremony in the east African country, alongside Djibouti's Prime Minister Abdoulkader Kamil Mohamed.
President of Religious Affairs Ali Erbaş led the Friday prayer at the new mosque, Sabah said.
Turkey and Djibouti are reviving bilateral relations as members of the international Muslim community, Şentop said at the ceremony.
Turkey, under Justice and Development Party (AKP) governments, has spent some half a billion dollars to build over 100 mosques in recent years in various countries around the world, including those formerly governed by the Ottoman Empire, as part of efforts to extend its influence and play a leading role in the Muslim world in what has been called a soft power project.
https://ahvalnews.com/directorate-religious-affairs/turkeys-top-religious-body-opens-mosque-djibouti
------
Iran begins registering candidates for parliamentary polls
Dec 1, 2019
DUBAI, UNITED ARAB EMIRATES: Iran has begun registration of candidates for running in the country's parliamentary elections set for February 2020, the official IRNA news agency reported on Sunday.
The elections will be a gauge for the popularity of the moderate and reformist camps that President Hassan Rouhani represents.
It comes after unrest over government-set petrol prices earlier in November.
Iran has not released any figures on the death toll, though Amnesty International says at least 161 were killed in the protests. An Iranian lawmaker has said more than 7,000 were arrested.
The current speaker of Parliament, Ali Larijani, who played a major role in the government increasing energy prices, has said he will not run in the election. He has been speaker for 12 years.
The elections will be held on February 21 and the new Parliament will begin working in May.
Candidates run in 208 constituencies for 290 seats. A constitutional watchdog, the Guardian Council, vets and must approve those wishing to run in the elections.
Those wishing to register must be between 30 and 75 years old, and hold a masters degree to be qualified.
https://timesofindia.indiatimes.com/world/middle-east/iran-begins-registering-candidates-for-parliamentary-polls/articleshow/72316815.cms
------
Tehran: US Economic Shock Over, Iran to Run New Mechanisms with Friendly States
Sat Nov 30, 2019
TEHRAN (FNA)- Iranian Deputy Foreign Minister Seyed Abbas Araqchi said on Saturday that the negative effects of the US unilateral sanctions have been cushioned, adding that Tehran is going to use new mechanisms to bolster economic ties with friendly countries.
"Although some shocks were imposed on our economic ties with partner countries after US withdrawal from the Joint Comprehensive Plan of Action (JCPOA), they have now subsided as we have found new mechanisms in our relations with our economic partners, especially with China," Araqchi said upon arrival in Beijing today.
"New ways have been found [for economic cooperation] and we are returning to stable economic ties with China but it is necessary to remove some obstacles and raise bilateral economic relations to a higher level," he added.
He said that the trip is being made upon the official invitation of his Chinese counterpart for making consultations over the status of JCPOA, noting, "from the beginning of negotiations over JCPOA, we have held consistent consultations with our Chinese and Russian friends and this trip is the continuation of such consultations."
Due to other parties' failure to honor their commitments under the JCPOA, the deal is not in a good condition and Iran has not been able to gain its interests from the 2015 agreement, Araqchi said.
After Iran's decision to reduce commitments to the JCPOA, more serious consultations are needed between Iran and its friends, he highlighted.
The Iranian diplomat pointed to next week's meeting of the JCPOA Joint Commission, adding, "It was necessary to review the agenda of the meeting with our colleagues in the Chinese Foreign Ministry and try to have a closer stance in the upcoming commission."
Araqchi will hold a meeting with Chinese officials on Sunday to confer on Iran Nuclear Deal.
Early in August, Iranian Foreign Minister Mohammad Javad Zarif reminded the White House that harsh policies against Iran, China and Russia will not serve Washington's intention to reverse the shift in global power, advising American officials to stop worsening the situation around their country with isolating moves.
In two successive tweets on August 02, Zarif said the US cannot change the fact that global power is shifting in favor of Iran, Russia and China by resorting to sanctions and killing deals, advising Washington to, instead, adapt to the new realities on the world stage and "stop isolating itself".
Early in July, Zarif said that Washington is no longer capable of paying the price to keep its status as the most powerful country in international relations, adding that the US economy is not as unrivaled as it was before and consequently incompetent to pay the price for American superiority.
Speaking on the sidelines of the National Day of Industry and Mining, Zarif told reporters that Europe is now after independence from the US in its economy because the US economy is no longer the unchallenged super economy of the world.
Late in May, Iranian Parliament Speaker Ali Larijani quoted Iran's Supreme Leader Ayatollah Seyed Ali Khamenei as saying that US utilitarianism is in decline as it creates 'international anomalies.
He added the creation of the ISIL terrorist group had roots in the US utilitarianism with the aim of destroying the Islamic nations.
Also, in March, Zarif also censured Washington's foreign policy and interventionist role in the Middle East, asserting, "Its recklessness just displays panic of an empire in decline."
Early in November, Top Military Aide to the Iranian Supreme Leader Major General Yahya Rahim Safavi asserted that the US' power is fading away and Washington is unable to win control over Iranians' economy and fate.
https://en.farsnews.com/newstext.aspx?nn=13980909000621
------
Iran's Navy Unveils New Drone, Subsurface Positioning System
Sat Nov 30, 2019
TEHRAN (FNA)- Iran's Navy unveiled a vertical takeoff naval drone with the capability to fly horizontally and land on water, dubbed Pelican-2, on Saturday morning in a ceremony where a homegrown Inertial Navigation System (INS) was also put on display.
Iranian Army Commander Major General Abdolrahim Mousavi and Navy Commander Rear Admiral Hossein Khanzadi unveiled 2 homegrown Iranian Navy achievements at an exhibition in Tehran this morning.
One of the products was a vertical takeoff naval drone, dubbed Pelican-2, which is a sophisticated long-range drone equipped with four motors for vertical movement and a powerful propeller for horizontal movement. The drone can take off from the cruising warships for patrol and reconnaissance missions and this drone can even land and float on water in an emergency.
The Navy has employed Pelican-2 on naval fleets in international waters.
Another product unveiled at the exhibition was a homegrown Inertial Navigation System (INS) used for positioning and navigation of submarines below the surface, where the conventional GPS system is not applicable.
The Iranian system, developed under the Soren project, has been manufactured with a special technology available to only a few countries.
On Thursday,Chief of Staff of the Iranian Armed Forces Major General Mohammad Hossein Baqeri underlined the important role played by the country's Naval forces in the establishment of security and stability in the Persian Gulf.
General Baqeri said that the deterrence power of the Iranian Navy brings stability and security to the Persian Gulf, Strait of Hormuz, and Sea of Oman.
He congratulated the National Navy Day in Iran, saying that forty years after the 1979 Islamic Revolution, friends and foes admit that the main source of the stability and security of the Persian Gulf, Strait of Hormuz, and Sea of Oman is the active presence of the Iranian Navy.
Undoubtedly, the power of the Iranian Navy at the international waters in fact is the fruit of the will of all personnel of the Navy, General Baqeri said.
He added that the Iranian Navy is powerful enough to give a crashing response to the enemies and all ill-wishers.
The Iranian Navy transferred its main headquarters from the capital city of Tehran to the port city of Bandar Abbas, on the shores of the Persian Gulf waters.
Rear Admiral Khanzadi inaugurated the new headquarters in Bandar Abbas last Thursday.
He said that the plan to move the Navy's headquarters started some years ago with the guidance of the Islamic Revolution Leader Ayatollah Khamenei so that the force would be closer to operational zones.
"A significant part of Navy HQ elements will be transferred (to Bandar Abbas) and the naval forces will be led with an increased focus," he said.
Rear Admiral Khanzadi said that this transfer "will increase the speed of operations and will allow the Navy to have more focus on waters".
He noted that the measure will have various cultural, social, and economic effects in the region and will turn into a great capacity for the people of Hormozgan province.
Capacities of the Navy will be accessible to local people which is a great development, Rear Admiral Khanzadi said.
The Iranian Navy has in recent years along with the Islamic Revolution Guards Corps (IRGC) Navy strengthened its capabilities and was equipped with different home-made weapons.
https://en.farsnews.com/newstext.aspx?nn=13980909000730
------
Iran Urges WHO, UN to Adopt Measures against US Inhumane Sanctions
Sat Nov 30, 2019
TEHRAN (FNA)- Iranian Health Minister Saeed Namaki, in a letter to Director-General of the World Health Organization (WHO) Tedros Adhanom Ghebreyesus, reminded that the US is obstructing the import of medications for patients of his country, adding that the WHO and the United Nations (UN) are responsible to adopt a measure against Washington's inhumane moves.
"The brave Iranian people are being victimized by plots and economic sanctions that have been imposed by the US administration," Namaki said in a letter to Ghebreyesus on Friday, adding that international organizations should not remain silent about Washington's cruel economic sanctions that also target Iran's food and medicine, warning of the adverse consequences of the bans.
Iranians, he added, have been the target of the severe restrictions that have badly affected imports of food, medicine and medical equipment.
The Iranian minister said Washington claims such sanctions do not include medicine, medical equipment and food, and they are meant to suspend exchanges in international banking systems. However, he argued, the behavior that the White House has adopted only goes in line with its efforts to intentionally stop imports of essential goods for the needy.
The health minister emphasized that major obstacles put by the US in the way of Iran's import of medicine and medical equipment have had a negative impact on the treatment of many Iranian patients.
"By imposing sanctions on the Iranian nation, the US has not only committed economic terrorism but in practice it has carried out a crime against humanity," Namaki said.
As the main organization in charge of providing universal public health coverage, the WHO must not remain indifferent to this important issue, the Iranian minister said.
He added that officials of the United Nations must be held accountable for the adoption of measures in violation of law.
Last year, US President Donald Trump unilaterally pulled Washington out of the 2015 nuclear deal with Iran, officially known as the Joint Comprehensive Plan of Action (JCPOA), and unleashed the "toughest ever" sanctions against Tehran.
Officially, the sanctions exempt humanitarian goods, such as medicine and medicinal instruments. But in reality, the measures have restricted Iran's access to medical and health services.
In May, the Academy of Medical Sciences of Iran wrote a letter of complaint to the UN in this regard.
In the letter, addressed to UN Secretary General Antonio Guterres, the Academy's President Alireza Marandi mentioned a previously written complaint in condemnation of the "unjust" sanctions.
Earlier this month, an NGO announced that Iranian children suffering from epidermolysis bullosa (EB) are the new victims of inhumane US sanctions against Tehran, as Washington's bans are preventing a Swedish supplier from sending protective bandages to the country.
The NGO added that American bans have so far killed 15 of these children.
Hamid Reza Hashemi-Golayegani, the head of the NGO that helps such patients, said on Sunday that at least 15 Iranian children with epidermolysis bullosa (EB) have died since the US launched its new sanctions on Iran in August.
That is because Swedish medical companies which provided protective bandages for such patients have halted supplies due to the restrictions, he said.
Five days before Hashemi-Golayegani's remarks, Permanent representative of Iran to the United Nations Office in Geneva Esmayeel Baqayee Hamaneh censured the US for imposing sanctions which are globally considered as illegal, adding that Washington is violating human rights principles by obstructing patients' access to needed medications.
Baqayee Hamaneh called the US "blind and inhumane sanctions" as one of the challenges that violate the human rights of the Iranian people, including the right to health and the right of free access to medicine and treatment.
He made the remarks, addressing a ceremony at the Human Rights Achievement Exhibition in Geneva.
Baqayee Hamaneh also pointed to the great challenges that have been imposed on the path of growth and development of the Iranian people over the past four decades, and went on to say that the Islamic Republic of Iran has firmly believed in national capacities and relied on popular support to overcome these obstacles.
In relevant remarks last month, Namaki condemned the US medical sanctions against the country, calling for the World Health Organization (WHO)'s action against Washington.
"The US cruel sanctions and blocking the Iranian people's access to medicine, medical equipment and food stuff threatens the Iranians' heath and is a crime against humanity," Namaki said, addressing a conference of the East Mediterranean countries' health ministers in Tehran.
He said that Iran is committed to provide health and hygiene services to all people living in the country, including the Shiites, Sunnis, Jews, Christians, Zoroastrians and even prisoners who have received death sentence, calling on the WHO not to allow the US warmongers to threaten people's health by sanctions and pressures.
https://en.farsnews.com/newstext.aspx?nn=13980909000169
------
South Asia
NATO will prevent ISIS from reviving in Afghanistan: Stoltenberg
Sunday, 01 Dec 2019
The North Atlantic Treaty Organization (NATO) will prevent reviving of ISIS caliphate in Afghanistan which they lost it in Syria and Iraq, said the secretary general on Friday.
Afghanistan shows the strength of NATO, bringing Allies, partners together, addressing a common challenge to prevent Afghanistan from once again becoming a safe haven for international terrorists. And it's extremely important that we avoid or prevent ISIS to establish themselves in Afghanistan, or to try to re-establish a kind of terrorist caliphate in Afghanistan, which they lost in the Levant, said Jens Stoltenberg.
Jens Stoltenberg, the secretary general for NATO briefed the journalists in a press conference about the agenda of the NATO's leaders meeting which will happen on 3rd and 4th of December in London and assured that the NATO's mission in Afghanistan will be part of the talks.
Leaders will take stock of NATO's role in the fight against terrorism when they meet next week including our training missions in Iraq and Afghanistan which continue to play a key role in preventing the resurgence of ISIS and other terrorist groups, Stoltenberg added.
The NATO secretary general also welcomed the 'contacts' between United States and the Taliban group in Afghanistan as the peace talks resume.
"I welcome that there are contacts, talks between the United States and the Taliban. This is also something which the US is consulting with other NATO Allies on regularly. Secretary Pompeo has discussed, briefed Allies. Ambassador Khalilzad had briefed Allies, discussed this with Allies. And we are consulting all the time, because it's not only US that is in Afghanistan, but you have to remember that there are also many non-US troops in Afghanistan. And this remains our biggest military operation outside Europe", he said.
This comes as the president of United States, Donald Trump paid a surprise visit to Afghanistan last week, saying that the Taliban wants to make deal.
Trump said the U.S. and Taliban have been engaged in peace talks and insisted the Taliban want to make a deal after heavy U.S. fire in recent months and he was optimistic about a ceasefire as peace talk resume.
"We are saying it has to be a ceasefire. And they don't want to do a ceasefire, but now they do want to do a ceasefire, I believe… and we'll see what happens.", he said.
https://www.khaama.com/nato-will-avoid-isis-to-revive-in-afghanistan-stoltenberg-98784/
------
Senior Jamiat party members attack each other on Facebook
Saturday, 30 Nov 2019
The deputy chief of Jamiat Party, Ahmad Zia Massoud and the chief executive of the party, Atta Mohammad Noor attacked each other on Facebook amid the electoral controversy in Afghanistan.
Atta Mohammad Noor, the former governor of Northern Balkh province and the chief executive of Jamiat party had said the Afghan security forces have the right to suppress the civilians who march on the streets, the deputy of Jamiat party, Ahmad Zia Massoud, has claimed in a statement published on his official Facebook page.
Its clear from Atta Mohammad Noor's remarks that he believes in a dictatorial government and does not recognize the civil freedom, Massoud has said.
Being the deputy of Jamiat party, I strongly condemn the statement by Atta Mohammad Noor and I consider it to be contrary to the ideological values of the party and in contrast to the thoughts and beliefs of late Professor Burhanuddin Rabbani, the founder and leader of Jamiat party, Massoud has added.
Atta Mohammad Noor has posted another piece on his official Facebook page, accusing Zia Massoud of dealing with president Ghani for money and achieving a government seat.
Thee are dozens of documented cases that unveils your character defects, and I have always transcended, Atta has written in a Facebook page.
Noor has questioned Zia Massoud saying that Massoud used to regard Abdullah Abdullah a weak politician in the 2014 election and what has happened that he has turnt to his supporter in the 2019 election?
On Friday, the 29th of November, thousands of Kabul residents marched on the streets and formed a large gathering near the presidential palace criticizing the election commission and government.
The marchers included supporters of Abdullah Abdullah and the senior members of the 'stability and convergence' electoral team including Haji Mohammad Mohaqqiq, Enayatullah Babur Farahmand, Farkhunda Zahra Naderi and Zuilfiqar Omid.
The strikes accused President Ghani of being an unfair leader and of interfering in the electoral commissions affairs in his favor.
Enayatullah Babur Farahmand, the first deputy candidate for the stability and convergence electoral team said that around 300K fraudulent votes have been counted by the Independent Election Commission, which needs to be taken out and the recount of votes must restart then.
This comes as it is unclear when the result for presidential election of Afghanistan held on the September 28, will be announced.
https://www.khaama.com/senior-jamiat-party-members-attacks-on-each-other-on-facebook-45643/
------
President Ghani Attends Pul-e-Khishti Mosque Reconstruction Closing Ceremony
Sunday, December 01, 2019
Kabul (BNA) President of the Islamic Republic of Afghanistan Mohammad Ashraf Ghani attended the closing ceremony of Pul-e-Khishti reconstruction work, a statement from the Presidential Office said Saturday.
A number of government high-ranking officials have also attended the ceremony, during which the country's president unveiled the Pul-e-Khishti Mosque Tableau and said he hoped his commitments on what he described works and services for the country's mosques and holy sites have been done well, the statement said.
The president while speaking about the long background of the historical mosque of Pul-e-Khishti, said the mosque dated back 300 years and that he was happy to have the holy place reconstructed.
The president also thanked the in charges of the ministry of urban development for their efforts in reconstruction of the mosque. "This is their commitment to our religion and culture."
"For me, this is the place of pleasure that Allah Almighty give me the success to reconstruct the holy places, particularly the completion of the reconstruction work of Pul-e-Kheshti," the statement quoted.
More than 129 million Afghanis have been spent in the reconstruction work of the mosque after president Ghani order by the end of 2017, said the statement. The mosque had initially been built during the era of Amir Abdul Rahman Khan, then reconstructed during the eras of Habibullah Khan, King Amanullah Khan and Mohammad Zahir Shah.
Work on building up to 377 mosques continues all over the country's districts while 26 others are completed at the provincial centers.
http://www.bakhtarnews.com.af/eng/politics/item/41213-president-ghani-attends-pul-e-khishti-mosque-reconstruction-closing-ceremony.html
------
Four Ansar al-Islam men arrested in city
DHAKA, Dec 1, 2019 (BSS) – Rapid Action Battalion (RAB) claimed to have
arrested four active members of the banned militant outfit Ansar al-Islam
also known as Ansarullah Bangla Team (ABT)in an overnight drive in city's
Khilkhet area.
Detail information of the arrestees could not be known immediately till
filling of this report at 12:11 pm.
Senior Assistant Director of RAB's Legal Aid and Media Wing and Senior ASP
Md Mizanur Rahman Bhuiyan confirmed the matter to BSS.
A team of elite anti-crime force conducted a sudden raid in Nikunja area
of Khilkhet in the city early today responding to a secret tip-off, and
arrested them, he said.
RAB recovered jihadi books and leaflets from their possession during the
time, he added.
https://www.bssnews.net/?p=311932
------
Rohingya Muslim group says they are not 'Bengalis'
Sorwar Alam
30.11.2019
A Rohingya group has strongly rejected a joint statement by a coalition of rebels in Myanmar in which the persecuted Muslim community was described as "Bengali".
Mohammed Ayyub Khan, president of the Rohingya Solidarity Organization (RSO), termed the joint statement as "baseless, falsification and misrepresentation of the word Rohingya".
A coalition of rebel groups -- the Ta'ang National Liberation Army, Arakan Army and Myanmar National Democratic Alliance Army -- said on Thursday they are ready to provide international courts with evidence of war crimes by the Myanmar military between 2009 and 2019 against ethnic people, including "Bengali Muslims", referring to the Rohingya Muslim community in the western Rakhine state.
"But the irony is that the statement mentioned the word Bengali instead of Rohingya," Khan said in a statement, adding that the statement "hurts the feelings of Rohingya in particular and Muslims in general".
He urged the rebel groups -- which have been fighting against the Myanmar army in Shan and Rakhine state -- to "concentrate their energies in their struggle against the Burmese [Myanmar] army instead of the concocted campaign against Rohingya".
"We are Rohingya Muslim, not Bengali Muslim," Khan told Anadolu Agency.
Rohingya, an ethnic Muslim community in Rakhine state of Myanmar, has long been facing systematic persecution and genocide by the military, according to several UN reports.
Amnesty International said that more than 750,000 Rohingya refugees, mostly women, and children, have fled Myanmar and crossed into Bangladesh after Myanmar forces launched a crackdown on the minority Muslim community in August 2017, pushing the number of persecuted people in Bangladesh above 1.2 million.
Since Aug. 25, 2017, nearly 24,000 Rohingya Muslims have been killed by Myanmar's state forces, according to a report by the Ontario International Development Agency (OIDA).
More than 34,000 Rohingya were also thrown into fires, while over 114,000 others were beaten, said the OIDA report, titled Forced Migration of Rohingya: The Untold Experience.
Some 18,000 Rohingya women and girls were raped by Myanmar's army and police and over 115,000 Rohingya homes were burned down and 113,000 others vandalized, it added.
https://www.aa.com.tr/en/asia-pacific/rohingya-muslim-group-says-they-are-not-bengalis/1659875
------
President orders contract termination of Afghan major gold, copper mines, contractor considers it politically biased
Sunday, 01 Dec 2019
The two major Afghan mining contracts are to be terminated, Afghan president has ordered in a high economic council meeting.
Afghan president Mohammad Ashraf Ghani has ordered to terminate the contracts for Badakhshan gold mine and Balkhab copper mine of Sar-e-Pul on Wednesday.
The decision has been made in the last week' high economic council, chaired by the president, said Abdul Qadeer Mutfi, the spokesperson for the ministry of mines and petroleum.
The contracting company has not fulfilled its commitments as per the contract documents and therefore the members of Afghanistan's high economic council have decided to go for the contracts termination process, Mutfi said.
According to the Turkish Afghan Mining Company (TAMC), the 4 key obligations of the contractor have already been completed before the deadline of November 7, 2019 , but only the last element which is provision of performance bond has not yet provided due to the unknown political situation, and the contractor had appealed for a period extension until the Afghan presidential elections results are announced and the new government is in place.
In a letter dated November 6th 2019 which was addressed to the Large-Scale Mining Committee of Afghanistan, the contractor have said that they have fulfilled the 4 key elements of the contract which includes the following:
A baseline environmental and social survey for the Badakhshan Gold project area;
An exploration plan for Badakhshan Gold with a project schedule, detailed description of the proposed activities, a justification for why those activities are being proposed and a detailed budget that corresponds to the schedule and our proposed activities;
An environmental impact mitigation plan related to the activities proposed in the exploration plan;
An environmental remediation plan related to the activities proposed in the exploration plan and their impacts.
"Our core focus remains the same as it was when we signed our mining contract in October of 2018, which is: starting exploration activities at the Badakhshan Gold Project as soon as they can occur safely and within the bounds of reasonable risk and cost. We believe this focus is consistent with the goal of helping to develop the mining sector in Afghanistan in general as much as generating success in our own project. Both are goals we share with the Ministry of Mines and Petroleum, among other stakeholders, including the people of Afghanistan", the letter says.
Several obstacles currently impede our immediate progress, however, we believe these obstacles to be temporary, said TAMC.
The letter also indicates that the contracting company has requested the government for another six months extension until the political situations get stable and they can fight with the barriers and obstacles including the security issues by then.
Our investors are committed to making this a reality. In order for that to happen, they, like any experienced mining investor will need an environment that is supportive of mining project development. Granting an extension of the performance bond obligation until May of 2020 at this time, will help maintain their belief that Afghanistan still holds the same promise it did when they invested in 2011 and will be a concrete example of the level of support of the Government of Afghanistan, Bradly Barnett, the CEO of the company wrote to the committee.
A founding member and parter of TAMC told Khaama Press that the decision made in the High Economic Council is political and is in contrast to the discussions they have had with the ministry of mines and petroleum and the large-scale mining committee.
The Afghan partner for this contract is the ex minister of Urban Development and Housing, Sadat Mansoor Naderi who comes from a political sector and supported president Ghani in the 2014 elections, but in the 2019 election his family and political party endoresed Abdullah Abdullah.
These two contracts were signed between between the in October 2018 after a 6-year tendering period.
Ian Hannam, a former JPMorgan Chase & Co. banker and the co-owner of Centar Ltd., signed the contracts with the Afghan officials during a ceremony held in the Embassy of Afghanistan in Washington last year on October 5th.
Afghanistan's acting finance minister Mohammad Humayoun Qayoumi and the minister of mines and petroleum Nargis Nehan had attended the signing ceremony on behalf of the Afghan government.
According to the contractor, the exploration works in the two sites were scheduled to begin this year, covering a 500 square kilometer area for the exploration of copper in Balkhab in North of Afghanistan.
These contracts valued over 600 million dollars which were supposed to initiate with an initial investment of 78 million dollars by the extractors.
https://www.khaama.com/president-orders-termination-of-afghan-major-gold-copper-mines-contractor-considers-it-political-89876/
------
Southeast Asia
PKR strife may cost Anwar the PM's post, say analysts
Nicholas Chung
December 1, 2019
PETALING JAYA: Two analysts have warned that PKR president Anwar Ibrahim's chances of becoming prime minister have been put at risk by the widening rift between his faction and that of deputy president Mohamed Azmin Ali.
James Chin of the University of Tasmania's Asia Institute and Azmi Hassan of Universiti Teknologi Malaysia noted that the infighting has spread to the party's divisions in various states as well as its youth wing.
Chin said Anwar must work quickly to end the discord or certain parties might cite it as the chief reason for their objection to his takeover of the prime minister's post from Dr Mahathir Mohamad.
"The whole thing makes PKR look very bad and will definitely affect the power transition," he said. "People will have serious doubts that PKR is capable of ruling the country."
He told FMT both Anwar and Azmin had been cast in a bad light by the infighting.
He said the current conflict in PKR Youth was a result of the rivalry between the two, adding that a similar situation might be brewing in the party's women's wing.
The rift has resulted in a number of disputes, such as one involving a decision on the person most appropriate to open the youth wing's congress and another which ended with the Sarawak PKR convention going ahead despite state chief Baru Bian's insistence on its cancellation.
Factions in PKR Youth have been in a tit-for-tat over the sacking of its permanent chairman and deputy chairman, with one side claiming it was illegitimate and the other maintaining it was in accordance with regulations.
Azmi told FMT the sacking was probably due to the decision by the two to openly show support for Azmin.
He said he found it hard to believe the youth leadership's explanation that the two were removed because they were not qualified to be youth members since they were older than 35.
"The question that begs to be answered is why now, with the PKR congress looming?" he added.
He expects Anwar to use the party's upcoming national convention to stamp his authority on the party that he founded, but he warned of a "full-scale boycott" by Azmin's faction.
"If this boycott comes about, then it will spell a very difficult future for PKR," he said. "Its internal power struggle will occur more openly.
"This internal strife will also affect Pakatan Harapan (PH) as the government of the day since the party is considered the pillar of PH together with DAP."
He also said the squabble had made Anwar and Azmin appear keener to "fulfil their political egos" than to serve the people.
"I'm not saying it's their real intention, but that's the effect of their squabble on the general public's perception," he said.
https://www.freemalaysiatoday.com/category/nation/2019/12/01/pkr-strife-may-cost-anwar-the-pms-post-say-analysts/
------
MACC letter links sacked pair to projects, says PKR
Predeep Nambiar
November 30, 2019
GEORGE TOWN: Allegations about projects and two recently sacked PKR members were contained in a letter from the Malaysian Anti-Corruption Commission, PKR secretary-general Saifuddin Nasution Ismail said today.
Saifuddin defended the dismissal of Central Leadership Council (MPP) member Zakaria Hamid and ordinary member Ismail Dulhadi, saying there were no apologies for the party doing the right thing after finding out about the corruption allegations.
Party president Anwar Ibrahim, speaking to reporters separately here, disputed the contents of a letter demanding that he apologise for the sacking. He said two vice-presidents who signed the letter had said that the draft that they saw had not contained the demand for an apology.
The MACC allegation against Zakaria involved a RM20,000 public works contract to PKR leaders in the Bera area while the allegation against Ismail involved "marked-up prices" for a project in 2018, Saifuddin told reporters.
Quoting from the MACC letter, which was sent to the party on Oct 23, he said Zakaria was alleged to have told members that the project was part of a RM300,000 allocation by the housing and local government ministry.
"MACC's prosecutors have deliberated on this case and had recommended that action be taken against Zakaria and Ismail under the party's disciplinary and ethics code," Saifuddin said. "So, what do we do? This is a comprehensive report by the MACC, after it was referred to the deputy public prosecutor."
After the pair's sacking was revealed last week, MACC deputy chief commissioner Azam Baki admitted that a letter recommending disciplinary action had been mistakenly sent to PKR. Azam said it was not MACC's responsibility to advise political parties.
Saifuddin said PKR's disciplinary board had deliberated on the MACC letter "and decided we ought to carry out a decision as recommended by the MACC".
He said the case was unprecedented. "This is a new case. We have never faced a report by MACC, giving us full details, comments and other allegations. We thought we did not want to wait for the courts to decide," he said.
He said he had written to Zakaria (about the dismissal) and Zakaria would have two weeks to make an appeal.
Anwar disputes demand for apology, says two vice-presidents unaware of it
Anwar said two vice-presidents, Sivarasa Rasiah and Tian Chua, had disputed the contents of a letter demanding that Anwar apologise for the sacking.
The letter, signed by the deputy president Azmin Ali, was supported by 20 members of PKR's Central Leadership Council.
Anwar said that Sivarasa and Chua, both co-signers of the letter, "had never agreed to the part asking me to apologise over the sacking".
"That was not in the draft. This should not be played around. Not all is true."
He said he had no objection to the other part of the letter urging the disciplinary board to reconsider the sacking. "I do not have any objection to that. For me, PKR was formed to fight abuse of power and corruption."
Anwar was here for the "Islam-Confucianism Civilisational Dialogue" held at the Spice Arena. He and Chief Minister Chow Kon Yeow opened the event, which was attended by Saifuddin, who is state assemblyman for Pantai Jerejak.
https://www.freemalaysiatoday.com/category/nation/2019/11/30/macc-letter-links-sacked-pair-to-projects-says-pkr/
------
Facebook bows to Singapore fake news law with 'correction'
Dec 1, 2019
SINGAPORE: Facebook published a correction on a user's post on Saturday following a demand from Singapore, the first time a tech giant has complied with the city-state's law against misinformation.
Authorities had ordered the company to correct a post promoting an article on a fringe news site containing "scurrilous accusations" of election rigging, ramping up their use of a controversial law against misinformation. The law gives ministers powers to tell platforms to put warnings next to posts they deem false, but that activists fear could be used to curb free speech.
https://timesofindia.indiatimes.com/world/rest-of-world/facebook-bows-to-singapore-fake-news-law-with-correction/articleshow/72314461.cms
------
URL: https://www.newageislam.com/islamic-world-news/in-pakistan-village-with-no/d/120406
New Age Islam, Islam Online, Islamic Website, African Muslim News, Arab World News, South Asia News, Indian Muslim News, World Muslim News, Women in Islam, Islamic Feminism, Arab Women, Women In Arab, Islamophobia in America, Muslim Women in West, Islam Women and Feminism