New Age Islam News Bureau
30 Oct 2017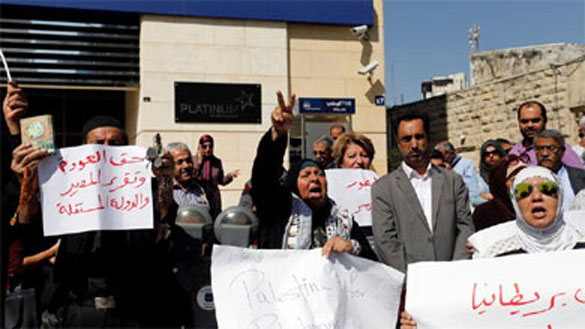 A group of British activists journeyed to Jerusalem to protest at the Balfour Declaration. It comes as Palestinians, like the ones pictured, are taking part in protests calling on Britain to apologise for the statement. REUTERS/Mohamad Torokman
------
• In Pakistan, Bhajan Concert with Urdu Songs from Gita Wows Audience
• British Activists Walk From UK to Palestine to Apologize For Balfour Declaration
• If Muslim Population Continues Growing India Will Become Islamic Nation by 2027, Says Hindu Yuva Vahini
• Saudi Drive to 'Moderate Islam' Welcomed At UN
• Turkey Planning to Unite Euphrates Shield Militants under One Single Army
Pakistan
• In Pakistan, Bhajan Concert with Urdu Songs from Gita Wows Audience
• US Senators Have Raised Ahmadis' Issue with Pakistan: Fazl
• Scholars Call For Implementation of Islamic Code of Ethics
• 'Sharif's clash with institutions dangerous for country'
• Kunar's deputy governor abducted in Peshawar
• Two 'militants' killed in clash with tribal militia near Pak-Afghan border
• Senate body to discuss attack on journalist Ahmad Noorani, says Rehman Malik
• Islamabad, Kabul must cooperate for regional peace, says Sherpao
--------
Europe
• British Activists Walk From UK to Palestine to Apologize For Balfour Declaration
• Religious Freedom, Not Secularism, Key to Europe's Future, Vatican Official Says
• Extremists and returning jihadists 'offered council house bribes to reintegrate'
• Is Austria the future for Europe regarding Muslim refugee influx?
• Islamic intellectual Tariq Ramadan faces second rape accusation in France
--------
India
• If Muslim Population Continues Growing India Will Become Islamic Nation by 2027, Says Hindu Yuva Vahini
• After 50 Years, Bell Rings In Harmony At Kashmir's 120-Year-Old Church
• Another Kerala Parent Moves SC, Seeks NIA Probe into Daughter's Conversion to Islam
• Why Swami Vivekananda Wished India's Future Had Strong Muslim Bodies and Vedantic Souls
• 431 Pak Hindus granted long-term visas
• China Set To Block Masood Azhar Ban Defying US, India
• India sends first consignment of wheat to Afghanistan through Chabahar port in Iran
• Separatists call for 'mass agitation' if SC delivers verdict against Article 35A
--------
Arab World
• Saudi Drive to 'Moderate Islam' Welcomed At UN
• Syria Army, IS Clashes in Deir Ezzor Kill 73
• Egypt court orders ban on 'anti-Islam' broadcast
• Bahrain foreign minister calls for freezing Qatar out of GCC
• Another Military Column of Turkish Army Enters Northwestern Syria
• Syrian Army Frees Civilians Kidnapped by Terrorists in Hama
• Iraq prepares to attack Al-Qaim after destroying ISIS defences
• Saudi minister: Lebanon's silence toward Hezbollah 'strange'
• Copts call for action over church closures in southern Egypt
• 2 police officers killed in attack in Egypt's Sinai
• New round of Syria talks begins in Astana
• Iraq to deploy soldiers to key Kurdistan border crossing
--------
Mideast
• Turkey Planning to Unite Euphrates Shield Militants under One Single Army
• Israel to Postpone Controversial 'Annexation' Bill
• Nuclear Chief: Iran Can Resume 20% Uranium Enrichment at Fordow in 4 Days
• Source Says Iranian President Turned Down Trump's Invitation to Face-to-Face Talks
• IAEA Reaffirms Iran's Commitment to N. Deal Undertakings
• Reports: Iranian support of Houthi militias in Yemen reaches its peak
• Hamas official: Unity deal to remain on track despite car bomb
• Asiri: The Arab coalition has maintained the identity of the Yemeni state
• Israel plans to demolish homes of Palestinian 'attackers'
• Europe continues to support Iran, JCPOA: Austria
--------
South Asia
• Taliban Kill 22 Afghan Cops in Multiple Attacks
• 8 Killed, Wounded In Latest Taliban and ISIS Clash In Nangarhar
• Bangalee Muslim identity was never simple
• Myanmar's Tourism Dreams Pierced by Rohingya Crisis
• Big Turnout at Myanmar Pro-Army Rally Defies Rohingya Outcry
--------
North America
• US: Hundreds Protest Myanmar In Front Of White House
• A Muslim-American 4th-Grader's Peace Appeal to 'Our Father' President
• Another anti-Islam protest by Pegida Canada results in assault charge
• Tech Firms Must Do More on Extremism: WEF
• Kushner reportedly makes visit to Saudi Arabia out of the public eye
• Indian Muslim worker sued Accenture US for discrimination
--------
Southeast Asia
• Report: Authorities Fear Return of Malaysian Militants after IS Beaten In Raqqa, Marawi
• All Speakers on Islam Need 'Tauliah', Says Jamil
• VP Jusuf Kalla unironically calls Indonesia a model of religious tolerance for other countries
--------
Africa
• What the Fall of ISIS Means For North Africa
• Al-Qaeda linked group busted in Tunisia
• In Niger, Where U.S. Troops Died, a Lawless and Shifting Landscape
• Turkey, Somalia agree to boost bilateral relations
• Islamic way of life mesmerizes Masai chief in Istanbul
Compiled by New Age Islam News Bureau
URL: https://www.newageislam.com/islamic-world-news/in-pakistan-bhajan-concert-with/d/113073
--------
In Pakistan, Bhajan Concert with Urdu Songs from Gita Wows Audience
Mohammed Wajihuddin
Oct 30, 2017
Set in a battlefield, Bhagavad Gita is an allegory for struggles to establish dhamma or good behaviour. It was with this spirit that noted Bhajan singer Anup Jalota broke his own Pratigya (vow) not to ever perform in Pakistan and held a bhajan concert in Pakistan's Sindh last week.
A few days after the two countries' border security forces exchanged sweets to celebrate Diwali, Jalota (64), electrified the 50,000-strong audience at Sindh's Sai Satram Ashram- held Bhajan concert with some of his Urdu songs from Bhagavad Gita. "My job as a musician is to close the cleavages, promote peace and reduce hostility," Jalota told TOI before flying off to London where he was to perform on Sunday at a concert.
"True that I announced in February this year that I would not hold any commercial show in Pakistan, but Sai Satram Ashram of Sindh was approaching me for long. This time I agreed and decided to take the message of Gita across the border," says Jalota. He claims several Muslims attended the concert. "My message is clear. We can't afford to make this world a Kurukshetra. We must change it into a peaceful place."
Son of bhajan singer Purushottamdas Jalota (he had sung in Mahatma Gandhi's prayer meetings), Jalota has created a massive following out of singing Hindi devotional numbers, including Shlokas from the Gita. But he is currently on a mission to take the Gita's message to the Muslim world. "My Pakistan concert is part of this mission," he says. He plans to hold similar concerts in the Gulf countries too.
He is recording the Gita in Urdu and will soon cut a recording in Urdu of the epic. Aiding him in this Herculean task is Lucknow-based poet Anwar Jalalpuri who has converted the Gita's 701 Shlokas into 1,761 Urdu couplets. "I read Gita in Hindi, English and Urdu and have a little knowledge of Sanskrit too. The Gita fascinates me for the logical interpretations of life's situations it presents," Jalapuri said on phone from Lucknow.
Six years ago, Jalalpuri, through a common friend, met Jalota and tied up for the project. Jalalpuri's book Urdu Shairi Mein Gita (Gita in Urdu Poetry) which has won him many accolades, including UP government's highest award the Yash Barti, cast a spell on Jalota. "Its lines are simple and convey the message convincingly. I have already recorded around 1,000 couplets and will record the rest soon. I want to take Gita's message to everyone, including Muslims," says Jalota.
A devout Muslim, Jalalpuri says the Gita is significant also because of the words of wisdom it carries despite being the oldest scripture on earth. "The Gita is 5,000 years old, much older than all other religious texts. It is not just about the dialogues between Pandava prince Arjun and his charioteer and guide Krishna on the battlefield. Its message is universal and eternal," says Jalapuri who has also translated many verses from the Quran into Urdu poetry.
Explaining how he converted the Gita's Shlokas into Urdu couplets, he cites the initial Shloka which talks about Dhritrashtra, the blind king to whom his charioteer Sanjaya narrates the events in the Kurukshetra war. The epic, in Jalalpuri's translation, opens thus: " Dhritrashtra Ankhon Se Mahroom the/Magar yeh na samjho ke woh masoom the (Dhritrashtra was blind/ But don't think that he was unaware of the happenings around him). Unless you know the history of Kurukshetra, you can't appreciate the true message of Gita, the poet explains.
The Gita's emphasis on karm (work or action) has both Jalota and Jalalpuri amazed. "The simple line that man should just do his work and leave the rest to God is enticing. If the world practices this formula, much of its miseries will vanish," says the singer. It was to perform a noble karm that took the singer to Pakistan.
https://timesofindia.indiatimes.com/city/mumbai/in-pakistan-bhajan-concert-with-urdu-songs-from-gita-wows-audience/articleshow/61328953.cms
--------
British activists walk from UK to Palestine to apologize for Balfour Declaration
29 October 2017
A group of British activists walked for 174 days (about six month) from the UK to Jerusalem to apologize for "Balfour Declaration", which granted Palestinian territories to Israel on its 100th anniversary.
The activists launched a campaign to reject the Israeli occupation. The Palestinian government threatened to resort to international courts to prosecute Britain if it insisted on celebrating the occasion and not apologizing to the Palestinians.
Chris, one of the activists, walked thousands of kilometers across 11 countries to Palestine, accompanied by a group of British comrades, declaring their opposition to the pact Foreign Minister Arthur James Balfour granted the Jews a hundred years.
Over 100 activists walked with Palestinians through villages and viewed Israeli settlements expansions.
Elias Dais, a member of the Secretariat of the Holy Land, explained how throughout the year they bring together similar groups to raise awareness the impact of the occupation.
The villagers and their children welcomed the British group on their tour.
The British government continues to commemorate "Balfour Declaration" despite 100 years of suffering continuing till today.
https://english.alarabiya.net/en/News/middle-east/2017/10/29/British-activists-walk-from-UK-to-Palestine-to-apologize-for-Balfour-Declaration-.html
--------
If Muslim Population Continues Growing India Will Become Islamic Nation By 2027, Says Hindu Yuva Vahini
October 30, 2017
A Hindu Yuva Vahini leader on Sunday alleged it is the Muslim community's conspiracy to increase their population to make India an Islamic nation by 2027, remarks that are likely to stoke a controversy.
The right-wing organisation was founded by Chief Minister Yogi Adityanath in 2002 and he is also the chief patron of the outfit. "If the Muslim population continued to grow at the same pace, India will become an Islamic country by 2027. It's a conspiracy of the Muslim community. They want to have total control over India," Nagendra Pratap Tomar, the western Uttar Pradesh head of the outfit, said at workers' conference.
"Muslims bear children not because they want to have them, but because they want to occupy the whole country," he alleged.
http://indianexpress.com/article/india/india-will-become-islamic-nation-by-2027-if-muslim-population-continued-to-grow-hindu-yuva-vahini-4913047/
--------
Saudi drive to 'moderate Islam' welcomed at UN
James Reinl
30 October 2017
NEW YORK: Crown Prince Mohammed bin Salman's efforts to modernize Saudi Arabia by returning to "moderate Islam" has been welcomed by the UN official charged with promoting traditional rights around the world.
Karima Bennoune, the UN's special rapporteur in the field of cultural rights, praised the crown prince's reforms as "very welcome steps" while also highlighting some areas in Saudi policy where she felt there was room for improvement.
The crown prince last week unveiled plans to return the Kingdom to a more moderate form of Islam that is more open to other religions and to "eradicate the remnants of extremism very soon."
Bennoune, an Algerian-American and professor at the University of California Davis School of Law, welcomed the statement and praised last month's decision to allow women to drive cars for the first time, which is due to come into effect next year.
"Certainly the suggestion of what was termed in the speech a more moderate form of Islam is something certainly to be recognized. What is absolutely, critically important now is to see the implementation of those words and what that means," Bennoune told Arab News.
Bennoune addressed several steps Saudi leaders could take that would help the country realize the goal of a more tolerant, pluralist society that the crown prince described in his speech at the Future Investment Initiative (FII) conference in Riyadh.
She put emphasis on women, saying that some had faced pressure regarding artistic performances, while many others faced issues over "modest dress and punishments that can result if they don't comply" with clothing rules.
Bennoune has been a human rights advocate for more than two decades and was appointed a UN rapporteur in October 2015. For the UN, she works under the Geneva-based Human Rights Council, but can speak independently of governments and the world body.
Last year, the Saudi crown prince unveiled plans, known as Vision 2030, to bring social and economic change to the oil-dependent Kingdom. To that end, he has proposed a partial privatization of state oil company Saudi Aramco and to boost the size of the nation's sovereign wealth fund.
http://www.arabnews.com/node/1185326/saudi-arabia
--------
Turkey Planning to Unite Euphrates Shield Militants Under One Single Army
Oct 29, 2017
The Arabic-language al-Watan daily quoted the dissident-affiliated websites as disclosing that governor of Aintab, governor of Kilis, commander of Turkish Special Forces, Turkish intelligence agents, lieutenant commander of the coalition and commanders of the terrorist groups held a meeting at the venue of the base of the Turkish Special Forces .
Al-Watan further said that the participants in the meeting agreed on turning militant groups into a united army.
The paper said that based on the agreement the entire militant groups should forget their previous names and must gather under the title of united army, adding those groups that oppose the agreement should hand over their weapons, ammunition, command posts, positions, vehicle and equipment.
Turkish security sources said on Saturday that over 5,000 militants were trained by the Turkish forces to go on mission as policemen in the regions under the control of the terrorists affiliated to the Ankara-led Euphrates Shield in Northern Syria.
The sources said that Turkey's Police Academy was supervising the training courses for 5, 631 Syrian militants in order to be deployed in the regions controlled by the militants of the Euphrates Shield and in the town of Azaz in Northern Aleppo.
The sources further said that the militants went under training courses in five camps affiliated to the Turkish police academy, adding that almost 20 percent of the militants participated in the trainings under the supervision of the Turkish special operation police.
http://en.farsnews.com/newstext.aspx?nn=13960807001186
--------
Pakistan
US senators have raised Ahmadis' issue with Pakistan: Fazl
October 30, 2017
ISLAMABAD - Jamiat-i-Ulema-i-Islam-Fazl (JUI-F) chief Moulana Fazlur Rehman on Sunday disclosed that some American senators in their joint letter to Pakistan's Foreign Ministry have expressed concern over the way Ahmadis are being treated in the country. Rehman, who is also chairman of the Parliamentary Committee on Kashmir, said this while speaking at a reference organized by the Federal Union of Journalists (Dastoor Group) in memory of renowned scholar and journalist Aga Shorish Kashmiri on his 42nd death anniversary.
The function, presided over by Leader of the House in Senate Raja Zafarul Haq, was also addressed by politicians, scholars and senior journalists.
Expressing serious concern over the meddling of US senators in the internal affairs of the country, the JUI-F chief said that the whole nation was in a state of shock over the move adding that the Western powers also tried to pressurise Pakistan in the past either on the finality of the Prophethood (PBUH) or the laws relating to the blasphemy of Holy Prophet (PBUH) and other revered personalities.
Zafarul Haq said that the issues related to some changes in the declaration form for candidates relating to finality of the Prophethood (PBUH) were resolved and the remaining irritants would be managed in the upcoming session of the National Assembly.
Haq also headed a committee which probed the changes relating to the finality of Prophethood (PBUH) in the declaration form and the committee has already submitted its report to former premier Nawaz Sharif.
While talking about the personality of Shorish Kashmiri, Haq said that he had played a vital role in the freedom movement and awakening the Muslims of the Sub-continent.
He also referred to his personal relations with Shorish Kashmiri saying he (Shorish) was very happy when he fought the case of Aslam Qureshi, a hero of Khatam-e-Nabuwat Movement.
He also talked about Shorish Kashmiri's scholarly work and shed the light on other dimensions of his personality.
Rehman also paid glowing tributes to Shorish Kashmiri and highlighted his contribution to the freedom movement and his unflinching support for Mujahideen.
Rehman said that he used to call his father Mufti Mahmood as Derwish chief minister of the then NWFP and talked about personal relations of Shorish Kashmiri with his father.
He also said that when Shorish Kashmiri died his funeral prayer was led by his father Mufti Mahmood.
http://nation.com.pk/30-Oct-2017/us-senators-have-raised-ahmadis-issue-with-pakistan-fazl
--------
Scholars call for implementation of Islamic code of ethics
October 30, 2017
Islamabad - Muslim scholars at an international seminar held here at Allama Iqbal Open University (AIOU) called for following Islamic code of ethics to settle social, religious and political differences.
The scholars included Prof Dr Muhammad Yasin Mazhar Siddiqui and Dr Ubaid Ullah Fahad Falhi from India, Prof Dr Fatehur Rehman Qureshi, Sudan, Dr Abdul Hameed, Aljazair and Dr Muhammad Hafiz from United Kingdom, said a news release on Sunday.
The seminar was arranged by the University's department of Arabic and Islamic studies and attended by research scholars and students of PhD from various parts of the country.
Vice-Chancellor Prof Dr Shahid Siddiqui who presided over the event said that the AIOU fulfils its social responsibility of motivating the youth to seek aspirations from the Holy Quran and Seerat-un-Nabi for having a peaceful and harmonious living.
The educational institutions, he added are needed to play their due role in purging the society from extremist tendency. They should educate their students to respect the view-point of others, while adhering to their own belief.
He said the diversity of views is the beauty of a society, if it is taken in a positive and healthy way. Disagreement on any issue should be settled in agreeable manner, he asserted.
Dr Siddiqui said the AIOU has been developed as a hub of social, literary and cultural activities in order to address the basic issues of the society.
By holding the conference, they tried to project the Islamic norms of settling disputes and differences through peaceful means.
We believe that extremism and tendency of enforcing once own opinion by force is harmful for society. The AIOU is engaged in promoting positive learning practices to serve the society. Research culture is being promoted in the country to address the socio-economic issues of the country, he added.
Dr Muhammad Yasin in his key-note address spoke in detail about the Islamic teachings for resolving differences in social, religious and political life. He quoted various sayings of the Holy Prophet (Peace be upon him) and those of Khalfiq-e-Rashideen that teach them how to avoid conflict and unrest in the society.
He said the difference of opinion should not be turned into confrontation or hostility. In a Muslim and civilized society, the diversity of views should be taken in a good spirit, and collective judgment or majority decisions should be allowed to prevail. Emerging difference in individual and collective life is something natural and it has been happening so since the very beginning. Spirit of accommodation and compromise must be upheld in settling disputes and disagreements in day-to-day life. The society suffers when someone considers him always right and takes the other side wrong.
Full report at:
http://nation.com.pk/30-Oct-2017/scholars-call-for-implementation-of-islamic-code-of-ethics
--------
'Sharif's clash with institutions dangerous for country'
October 30, 2017
SUKKUR: Leader of the Opposition in the National Assembly Syed Khursheed Ahmed Shah has said that use of inflammatory words in politics and confrontation with state institutions is dangerous for stability and sovereignty of the country.
Mr Shah said at a public meeting in Wairy village in Salehpat taluka, 39 kilometres from here, on Sunday that Pakistan Peoples Party (PPP) had in past supported Mian Nawaz Sharif for the sake of democracy and the system and not to save the person of Mr Sharif.
He said that parliament was supreme institution and politicians must uphold its integrity and sanctity. "We asked Mr Sharif time and again to give respect to parliament and attend its sessions regularly because we believe parliament has solutions to all problems of politicians but PML-N never paid heed to the advice and today everyone can see the situation the party is mired in," he said.
He said that all politicians, including Pakistan Tehreek-i-Insaf chairman and others must give due importance to the parliament. It was because of such attitude of politicians that the country had to listen to the mantra of 'do more' again and again, he said.
Mr Shah said that heads of PTI and PML-N considered it below them to come to the parliament because they regarded it an inferior forum.
Politicians must remember that the very people who could send them to parliament and make them rulers could also expel them from their high positions and public offices, he said.
He said that use of inflammatory words in politics and confrontation with state institutions was dangerous for stability and sovereignty of the country.
About PTI chief Imran Khan's seeking pardon from the Election Commission of Pakistan (ECP), Mr Shah said that if a politician was in the habit of committing wrongs and then asking for pardon, he should then say good-bye to politics forever.
He said that Imran Khan had forfeited his right to do politics after having sought pardon from ECP. He should clarify before people whether his criticism of ECP was wrong or his seeking pardon from it, he said.
He said that if a genuine politician was to take a principled stand he was required to stand firm like a rock and refuse to budge from his place.
Zulfiqar Ali Bhutto spurned making requests for pardon and therefore he was alive in people's hearts till this day, he said.
Mr Shah said that Mr Sharif used to drag Pakistan Peoples Party into courts and he never spared any opportunity to remove the party's governments.
Full report at:
https://www.dawn.com/news/1367125/sharifs-clash-with-institutions-dangerous-for-country
--------
Kunar's deputy governor abducted in Peshawar
October 29, 2017
PESHAWAR/ISLAMABAD: The deputy governor of Afgha­nistan's Kunar province, Qazi Mohammad Nabi Ahmadi, was kidnapped from Peshawar's Dabgari area on Friday, officials said.
Mr Ahmadi is a leader of Gulbuddin Hekmatyar's Hizb-i-Islami which signed a peace deal with the Afghan government in September last year.
The local law enforcement agencies did not know about Mr Ahmadi's visit until his abduction was reported by his relatives and the Afghan consulate in Peshawar took up the matter with Pakistani authorities.
No group has claimed responsibility for his kidnapping. However, it is being speculated that the incident could be linked to a political rivalry or an operation against the militant Islamic State group taking place in the Afghan province where Mr Ahmadi is serving as the deputy governor.
A senior police official told Dawn that the deputy governor's brother Habibullah had approached the police and told them that Mr Ahmadi had come to Peshawar for treatment of his kidney ailment.
The official said that the deputy governor did not possess a passport or other documents to validate his arrival in Peshawar. He had visited different parts of Peshawar, including Shahi Mehman Khana and Qinchi Chowk, before some unidentified people took him away in a car from the Dabgari area within the jurisdiction of the East police station to some undisclosed location.
The police official said that the complainant, Habibullah, had switched off his mobile phone and was not in contact to help investigate the matter. He said the Foreign Office and the Afghan consulate had not contacted the police so far in this regard.
"We are investigating the case to get any clue through closed-circuit television cameras at the Torkham border and other sources regarding the whereabouts of the deputy governor, who had not followed the legal procedure for coming to Peshawar," the official said.
However, the officials at the East police station denied having any information about the deputy governor. "We have no information in this regard," said an official at the police station.
The arrival of the deputy governor and his subsequent abduction raised questions about the alertness of the law enforcement agencies about the movement of Afghans, a security analyst said.
Hizb-i-Islami is internally facing a rift after Mr Hekmatyar's decision to sign the peace deal with the Afghan government and his return to Kabul. Several key leaders of Hizb have since gone missing or have been killed including one in Peshawar in May this year. The Hizb man killed in Peshawar — Haji Farid — was a personal aide to Mr Hekmatyar and his son's father-in-law.
Therefore, security analysts believe Mr Ahmadi's abduction could also be a result of the political rivalry.
But at the same time they do not discount the possibility of involvement of the outlawed Tehreek-i-Taliban Pakistan (TTP) in his kidnapping.
Kunar is also home to IS and TTP hideouts and a security operation against IS militants is under way in the deputy governor's province in which several of its senior cadres have been killed. Therefore, some fear that the TTP, which is allied with the IS and forms its core fighting force, could have been involved in the kidnapping.
Full report at:
https://www.dawn.com/news/1367010/kunars-deputy-governor-abducted-in-peshawar
--------
Two 'militants' killed in clash with tribal militia near Pak-Afghan border
Ali Akbar
October 29, 2017
At least two suspected militants were killed in a clash with the Aman Lashkar, a pro-government tribal militia, near the Pak-Afghan border in Khyber Agency on Sunday.
The clash began after the militants attacked a militia post in the Zakhakhel area in tehsil Ladi Kotal with heavy arms, according to security sources.
The sources said that no members of the Aman Lashkar were harmed in the attack, whereas two militants were killed in retaliatory firing.
Members of the militia recovered the bodies of the dead militants. Some of the attackers fled to Afghanistan, the sources added.
Security personnel remain vulnerable to attacks by militants in areas near the Pak-Afghan border.
Khyber Agency is one of the most sensitive of these areas. On Oct 3, a security official, Naib-subedar Azher Ali, lost his life in an alleged terrorist attack on the Pakistani post in Khyber Agency from across the Afghan border.
In September, 22-year-old lieutenant Arsalan Alam was martyred in a terrorist attack on a post in Rajgal valley.
Full report at:
https://www.dawn.com/news/1367045/two-militants-killed-in-clash-with-tribal-militia-near-pak-afghan-border
--------
Senate body to discuss attack on journalist Ahmad Noorani, says Rehman Malik
October 30, 2017
ISLAMABAD: Chairman of the Senate Standing Committee on Interior Rehman Malik on Sunday announced that the case of journalist Ahmad Noorani would be taken up at the committee.
Mr Malik said this during his visit to the Pakistan Institute of Medical Sciences (Pims) where the reporter is under treatment.
Mr Noorani, who works for The News, was admitted to the Surgical Intensive Care Unit after six people on motorbikes beat him up roundly on Friday.
Talking to media persons, Mr Malik said it was the responsibility of the government to ensure transparent investigation into the incident.
"However being the head of the standing committee I take the notice of the incident. We will demand the file of the incident from law enforcement agencies. Prime Minister Shahid Khaqan Abbasi should also take interest in the investigation into the incident," he said.
He also asked the government to make the Hamid Mir Commission report public and if there was any "complication" at least parliament could be taken into confidence.
"Earlier journalists Matiullah Jan and Aizaz Syed have also come under attacks. Media should continue raising questions over such incidents," he said.
Pims media coordinator Dr Waseem Khawaja said Mr Noorani was out of danger and stable.
He claimed that as chances of another attack on Mr Noorani could not be rejected so Pims and police security were on high alert.
In Sukkur, journalists held a protest in front of the local press club to protest against the attack on Mr Noorani.
The protest was led by Sukkur Union of Journalists president Jawed Memon during which participants raised slogans demanding arrest of culprits involved in the attack.
Full report at:
https://www.dawn.com/news/1367223/senate-body-to-discuss-attack-on-journalist-ahmad-noorani-says-rehman-malik
--------
Islamabad, Kabul must cooperate for regional peace, says Sherpao
Ali Hazrat Bacha
October 30, 2017
PESHAWAR: Qaumi Watan Party chairman Aftab Ahmed Khan Sherpao has urged both Islamabad and Kabul to remove the trust deficit and improve bilateral relations, which is essential for restoring sustainable peace and strengthening trade and economy in the region.
Speaking at the 5th foundation day of QWP at Dalazak Road here on Sunday, Mr Sherpao said that the rising wave of terrorism in Pakistan and Afghanistan had put the peoples' stability in the region at stake.
He said that the increasing incidents of extremism in the region were detrimental to the progress and stability, and therefore extended cooperation and cordial relations between the two neighbouring states would help control the menace of terrorism.
He said that the decade-long issue of terrorism could only be addressed through mutual cooperation.
Mr Sherpao rejected the US's Afghan policy, saying Pakistan had not been taken on board.
He said that the US policy would seriously shake the balance of power in the region, which might lead to instability and turmoil. He asked the US to revisit its policy, remove flaws and evolve a proactive Afghan policy as per the wishes and input of Pakistan otherwise no one would accept the dictation.
The QWP leader lamented delaying tactics in the Fata-KP merger, saying that putting the issue on the backburner would increase the sense of deprivation among the tribal people. He said that the people of Fata were also citizens of Pakistan, but they had been denied their rights and equal status in the country.
The people of Fata, he said, had rendered enormous sacrifices for the stability and protection of the borders of the country but their sacrifices had been ignored by the federal government and they were intentionally kept deprived of the rewards.
He said that the Frontier Crimes Regulation should be abolished.
The merger, he said, was the demand of QWP from the day-one which stood firmly with the tribal people and would never step back from this cause.
He said that his party was the staunch supporter of the rule of law and democracy. He said that any tussle among the institutions would undermine the system in the country.
Mr Sherpao said that the Khyber Pakhtunkhwa government had failed to bring any change in the lives of the people. He claimed the provincial government could not pursue its case for share in the China-Pakistan Economic Corridor project. He rejected the results of by-election on NA-4, Peshawar, and demanded vote recount.
He said the ruling party in KP had claimed to make a new Khyber Pakhtunkhwa, but it could not bring any change in the lives of the people which had exposed their credentials.
QWP provincial chairman Sikandar Sherpao, central general secretary Hashim Babar and other party leaders also spoke on the occasion.
Full report at:
https://www.dawn.com/news/1367214/islamabad-kabul-must-cooperate-for-regional-peace-says-sherpao
--------
Europe
Religious freedom, not secularism, key to Europe's future, Vatican official says
October 29, 2017
In 2003, British Prime Minister Tony Blair was asked about his faith during a magazine interview. As Blair began to offer an answer, he was interrupted, cut off by Alastair Campbell, the prime minister's director of strategy and communications. "We don't do God," Campbell said. " I'm sorry." Campbell seemed to know, in the not-so-distant past of European politics, that any public mention of religion was a serious taboo.
This week, as top ecclesial and political leaders gather in Rome to discuss the future and identity of Europe, Vatican Secretary for Relations with the States Archbishop Paul Gallagher said that religion is no longer a forbidden subject in European politics.
"The days when you could say 'we don't do religion' are over," Gallagher said. "Many diplomatic services throughout Europe and elsewhere are now running courses, literally accelerated courses to make up time on religion," he said, explaining that political leaders are beginning to recognize that "the world is a very religious place."
Increase in religious affiliation worldwide continues to grow around the world, he said, explaining that this fact "brings with it a very big responsibility for believers." "I think we have to take that responsibility very seriously, and make sure that religion is making a positive contribution, and that religion, and if you want to say even the Catholic religion, is a part of the solution and not the problem."
Archbishop Gallagher spoke alongside German Cardinal Reinhard Marx at an Oct. 27 press conference on a major conference titled "(Re)Thinking Europe: A Christian Contribution to the Future of the European Project," taking place in Rome this week, drawing hundreds of high-level European Church and political leaders.
Running Oct. 27-29, the conference is organized by the Commission of the Bishops' Conferences of the European Community (COMECE) in partnership with the Holy See, and will consist of a joint, constructive reflection on the challenges facing Europe. Some 350 participants from 28 delegations representing all E.U. countries are in attendance, including high-level E.U. politicians and Catholic hierarchy, academics, ambassadors, representatives of different Catholic organizations and movements, as well as from other Christian delegations.
Responding to a question posed by CNA on the role religion can play in Europe given its Christian roots, Pope Francis' continuous call to go back to those roots, and the growing presence of Islam, Gallagher said he believes there is a growing awareness and recognition in the world of "the positive things religion does."
Although Europe continues to grapple with a high influx of migrants, Gallagher said,"I think we have to stick to principles. If we believe in religions freedom, then it is valid for a Hindu, for a Muslim or anybody, as it's valid for a Christian." The archbishop also said that, in his view, there is "often a great degree of misinformation and 'scaremongering' of the sizes of the Islamic communities around Europe." The Pew Research Center estimates that Muslims constituted 6% of Europe's population in 2010.
While Europe works to carve out a path forward, Gallagher said he believes religions will play "a positive role." This, he said, is first of all because "we do recognize that some of the liberal, secularist thought that was part of much of our societies, is not in good health either." He said we have to "combat a lot of political correctness that exists within Europe," as well as the tendency "to kick religion into the private sphere and not to allow it to be part of the public debate." "This is something which we obviously have to work on, and it is a work in progress," he said.
Also weighing in on the issue, Cardinal Marx, Archbishop of Munich, President of the COMECE and Coordinator of the Vatican's Council for the Economy, noted that 20 years ago many people thought "religion would disappear" from society. "That was the common conviction of many sociologists and politicians, that society will progress and religion will disappear; secularism." However, "that's not the case."
"Religions will be very important for the 21st century," he said, explaining that a key question conference participants will have to ask themselves on the role of religions is: "will they be an instrument of peace and dialogue, or of confrontation?" For Christians in particular, the Second Vatican Council said the People of God, the Church, are "a sacrament of unity for all human beings," and not just those inside the Church.
"We are not only for us, and the Pope is underlining this," Marx said. "We are not narcissistic, inside ourselves, we are part of a solution for all human beings." "I do not see that the Church is 'less interesting' in the public world," he said, and stressed the need to continue pursuing a dialogue with Islam, which he noted isn't new to Europe. "So for the future, I think the Catholic Church has to play a very important role to find ways of dialogue, ways of relating to this religion, which is very important for the 21st century and Europe," he said.
The cardinal said his greatest fear moving forward is not so much that religion will be ignored or eradicated, but that "it will be instrumentalized for other reasons, for political reasons. That will be perhaps the great fear for the 21st century."
http://www.angelusnews.com/articles/death-penalty-repeal-a-growing-trend-among-republican-lawmakers
--------
Extremists and returning jihadists 'offered council house bribes to reintegrate'
29 OCTOBER 2017
Proposals to offer extremists including returning jihadists taxpayer-funded housing and help into work are a "fundamental error" amounting to bribes to potential terrorists, it has been claimed.
The Home Office is looking at a new strategy to reintegrate extremists that could even see them propelled to the top of council house waiting lists if needed.
Under pilot schemes being looked at, police and local authorities would assess extremists formerly investigated as suspects by the security services to see what danger they pose and what it would take to help reintegrate them into society.
Extremists who had nowhere suitable to live could be put in social housing by the local council and could have their rent paid if necessary, according to reports.
They could also be given priority on waiting lists and helped into education and training or found a job with public bodies or charities.
Up to 20,000 extremists who have been previously investigated by MI5 will be targeted in the scheme called Operation Constrain, the Mail on Sunday reported.
Whitehall sources confirmed the scheme could also apply to Britons returning from Islamic State group territory in Syria.
A source said: "We are planning a number of pilots to explore the best way to diverting such people from terrorism and extremist activity."
Col Richard Kemp, a former Government counter terrorism adviser, last night questioned whether would-be terrorists were driven by deprivation. Opening the policy to people who had gone to fight in Syria would be "obscene", he said.
He said: "I think it's a very much mistaken policy. When you look at the profile of many of the people who have been involved in terrorist attacks in the UK, or travelled overseas, they do not come from deprived backgrounds.
He went on: "If someone is inclined to be an extremist, you are not going to bribe them into not being a terrorist. It's not going to change them."
Andrew Bridgen, Conservative MP for north west Leicestershire, added: "This sounds like a reward for being on a list of potential terrorists. You can't buy people's loyalty to this country."
The debate over what to do with Britons returning from Syria has intensified as the caliphate of Islamic State in Iraq and Levant (Isil) collapses.
Around 850 Britons are thought to have travelled to Syria in recent years and around 350 are thought to have returned. So far only a small proportion have been prosecuted and counter terrorism officials have said it can be difficult to find evidence that they committed crimes in the war zones of Syria and Iraq.
Max Hill QC, the government's terrorism law watchdog, earlier this month suggested those who had travelled out of naivety might need to be reintegrated rather than prosecuted.
MI5 earlier this year confirmed that some 20,000 people had been "persons of interest" in counter terrorism investigations in the past.
Full report at:
http://www.telegraph.co.uk/news/2017/10/29/extremists-returning-jihadists-offered-council-house-bribes/
--------
Islamic intellectual Tariq Ramadan faces second rape accusation in France
29-10-2017
Swiss Islamic intellectual Tariq Ramadan faced a second accusation of rape in France this week, giving rise to vitriolic attacks on his accusers on social media.
A second legal complaint for rape was filed against Ramadan, who is a professor of contemporary Islamic studies at the UK's Oxford University, on Thursday.
The plaintiff is not speaking to the media, according to her lawyer, Eric Morain, but both Le Parisien and Le Monde newspapers say they have seen the complaint and report that she has supplied doctors' certificates to back up her account of an assault in a hotel in a provincial French city.
On 20 October Henda Ayari, a former Salafist who has become a secular feminist, accused Ramadan of raping her as the fallout from the scandal over Hollywood film moghul Harvey Weinstein hit France.
Ramadan, who is the grandson of the founder of Egypt's Muslim Brothers, has denied her accusations and sue for libel but had not responded to the second allegation by Sunday.
He is a controversial figure in France, enjoying some support among the country's Muslims while his opponents suspect him of wanting to bring Islam into politics.
Some of his supporters laid into Ayari on social media this week.
Some insinuated that if the assault had taken place it was her own fault, claiming that Islam forbids a woman to be alone with a man.
Full report at:
http://en.rfi.fr/france/20171029-islamic-intellectual-tariq-ramadan-faces-second-rape-accusation
--------
India
After 50 years, bell rings in harmony at Kashmir's 120-year-old church
OCTOBER 29, 2017
Peerzada Ashiq
Srinagar's Holy Family Catholic Church lost its original bell in an arson attack in 1967 and the new bell's installation was attended by Muslims, Hindus, Sikhs too.
A new bell in Srinagar's Holy Family Catholic Church is ringing in the spirit of harmony after the previous one went silent half a century ago.
The 105 kilogram bell was inaugurated on Sunday at a short ceremony at 11.30 a.m. in the church located on Srinagar's M.A. Road by representatives of Muslims, Hindus, Christians and Sikhs.
The Parish priest Father Roy Matthews officiated.
"It is a joyous moment for all of us. Kashmir has a rich composite culture and harmonious coexistence is the very essence of Kashmiriyat. So I see this against that background, with representatives of various religions joining us in our happiness. At the same time, we want to send out a message at the national, international and local levels that we are one here and we love and accept each other as we are," said Father Matthews.
Representatives of several religions were present, "to jointly ring the new bell for the first time in the past 50 years," said church committee spokesman S.M. Rath.
The British-era church, built in 1896, had lost its original bell in a fire sparked by "an arson incident" on June 7, 1967.
The bell, the largest of its kind in the State, was a gift from a Kashmiri Christian family. Kashmir hosts a small Christian population, and has three main churches in Srinagar and Baramulla. The Christian population, as per the 2011 census, is 0.28% in the State.
Around 30 Catholic families live in the Valley. "This ceremony is a historic occasion for the microscopic Christian community in Kashmir," said the spokesman.
Arab-Israeli war
The arson of 1967 was triggered by the Arab-Israeli war, and the church was rebuilt a few years later. The new bell is made of cast iron and was installed by local carpenters and labourers, aided by those from outside.
On Sunday, as the bell rope was pulled by the representatives jointly, a group of children from different religious backgrounds sang in chorus.
Pandits should return
Gyani Jaipal Singh, a Sikh representative, said he joined in "to keep peace and harmony alive in Kashmir." Haji Manzoor, another representative, said, "This act sends a message to those [Kashmiri Pandits] who migrated from the valley [in the early 1990s] to return."
Last year, the church members had a muted Christmas celebration in the wake of more than 90 civilian deaths in protests across the Valley.
http://www.thehindu.com/news/national/other-states/church-bell-rings-in-kashmir-church-after-5-decades/article19944708.ece
--------
Another Kerala parent moves SC, seeks NIA probe into daughter's conversion to Islam
Dhananjay Mahapatra
Oct 30, 2017
NEW DELHI: Another parent from Kerala has moved the Supreme Court seeking a probe by the National Investigation Agency (NIA) into her daughter's alleged conversion to Islam+ through 'love jihad' and being lured into joining jihad for the dreaded Islamic State in Afghanistan.
The NIA, meanwhile, submitted a sealed cover report to the SC on the pattern emerging from conversion of several young Hindu girls to Islam and how several persons had played a common role in convincing these girls to change their faith. The SC had asked the NIA to probe the 'love jihad'+ angle after the case relating to marriage of another girl, Hadiya, to Shafin Jahan was challenged by her father.
The Kerala HC had annulled the marriage and entrusted Hadiya's custody to her parents. A bench headed by CJI Dipak Misra, scheduled to hear the Hadiya-Shafin case on Monday, had questioned the HC's jurisdiction to annul a marriage as Shafin had challenged the decision .
In the fresh petition, Bindu Sampath made a passionate plea through advocate Aishwarya Bhati claiming that her daughter had fallen victim to "the pernicious phenomenon of love jihad which has wreaked havoc in the lives of many young hapless girls and their families".
"The petitioner is from a simple god-fearing and patriotic family. She has two children and her son is a serving officer in the Indian Army. Her daughter was studying in a dental college when she fell victim to sinister radical Islamic designs," Bhati said. Sampath's petition is not listed for hearing on Monday before the bench headed by the CJI.
The mother's narration, if true, depicts a pitiable tale. "Nimisha, petitioner's daughter, was lured into a relationship, abused, impregnated, forced to abort, converted to Islam and finally abandoned by one Sajjad Rehman, all this when she was studying in college. In her (daughter's) vulnerable state, she was coerced into marriage by one Isa alias Baxen, who had himself converted to Islam from Christianity," Sampath said.
"Despite the petitioner's understanding attitude towards her daughter's interfaith marriage, based on feigned love and her so called 'free will', Nimisha was coerced into leaving the country and joining jihad on a false pretext. She is now believed to be in an IS camp in Khorasan province of Afghanistan," the mother said .
"It is not a case of isolated instance of entrapment and exploitation but one involving a motivated scheme of operation as a much larger scale. Terrorist organisations like the IS are operating a well-orchestrated and well-oiled scheme to fulfil their devious designs on the country," Sampath said.
Full report at:
https://timesofindia.indiatimes.com/india/kerala-woman-moves-sc-seeks-nia-probe-into-daughters-conversion-to-islam/articleshow/61329022.cms
--------
Why Swami Vivekananda wished India's future had strong Muslim bodies and Vedantic souls
29-10-2017
In his addresses in India, Vivekananda made no mention of his Vedanta lectures. His focus was completely different. His emphasis was on the deprived and the underprivileged people of the country, in serving whom one would serve god. Spirituality was not for the weak or possible on an empty stomach. He sought, therefore, to create mass consciousness through education, regenerate the people by creating a national character, and believed social reform measures would follow in due course since they could not be forced on a people not ready for them.
Describing the Hindu orthodoxy of his days as a religion of "don't touchism" where virtue was found in the purity of the cooking pot, he did not hesitate to debunk the puerile practices that still existed in popular Hinduism. He said, whether the bell should be rung on the right side or the left, whether the sandal paste mark should be placed on the forehead or some other part of the anatomy; people who spend their days and nights in such thoughts are truly wretched. And we are the wretched of the earth and are kicked around because our intelligence goes no further.
Aghast that millions of rupees were spent on temple rituals while the living god perished for want of food and education, Vivekananda lamented, "A mortal sickness is abroad in our land. The entire country is one vast lunatic asylum." Continuing his outburst, he cried, "Throw away the bells and the rest of the rubbish into the river Ganges and worship the incarnate God in man, worship all that are born as human beings." As Professor Tapan Raychaudhuri concluded, such a man could hardly be called a Hindu revivalist.
At the same time, Vivekananda's plans for national reconstruction gave priority to Hinduism with an agenda to correct its institutions such as the caste system so that inequity could give way to mutual respect. He considered all Hindus to be brothers and believed that in the time to come the Sudras, or the working class, who were lowest in the caste ladder, would initiate a revolution for their own space in the hierarchy. Elaborating on her master's ideas, Sister Nivedita wrote, All castes are equal in Dharma. It is by the fulfilment of swadharma, one's own duty, not by the dignity of the task to be performed, that a man's social virtue is measured. The integrity of a scavenger may be more essential to the commonwealth at a given moment, than that of an emperor. All tasks were equally honourable that serves the motherland.
Vivekananda spoke of taking back into the fold of Hinduism all those who had been constrained to leave it for Islam and Christianity because of certain intolerant practices. Interviewing Vivekananda for Prabuddha Bharata in 1899, Nivedita had asked her master whether those returning to the fold would choose their own form of religious belief out of the "many-visaged Hinduism", and she was told categorically that, of course they would have to choose for themselves. "For unless a man chooses for himself, the very spirit of Hinduism is destroyed. The essence of our Faith consists simply in the freedom of the Ishtam." Repeatedly, Vivekananda proclaimed his belief in communal synthesis by stating, for instance, that he wanted future Indians to have strong Muslim bodies and Vedantic souls.
To Nivedita, he mentioned his intense pride in the artistic inheritance of the Mughal era and his admiration for the Mughal policy of taking Hindu brides so that the rulers of India had Muslim fathers and Hindu mothers. As Nivedita wrote of her master, "He was the modern mind in its completeness," who never made the mistake of thinking the reconciliation of the old and the new was an easy matter. "How to nationalise the modern and modernise the old, so as to make the two one, was a puzzle that occupied much of his time and thought."
In her introduction to the Complete Works of Swami Vivekananda, Nivedita explained that Hinduism needed to organise and consolidate its own ideas. Quoting Swami, she wrote, We Hindus do not merely tolerate, we unite ourselves with every religion, praying in the mosque of the Mohammedan, worshipping before the fire of the Zoroastrian, and kneeling to the cross of the Christian. We know that all religions alike, from the lowest fetishism to the highest absolutism are but so many attempts of the human soul to grasp and realise the infinite. So we gather all these flowers, and binding them together with the cord of love, make them into a wonderful bouquet of worship.
Full report at:
https://www.dailyo.in/arts/sister-nivedita-swami-vivekananda-margot-mughals-muslims-hindus/story/1/20292.html
--------
431 Pak Hindus granted long-term visas
Oct 30, 2017
ISLAMABAD: Pakistan on Sunday released 68 Indian fishermen held for allegedly violating its territNew Delhi: The government has granted long-term visas to 431 'minority' community citizens of Pakistan last month, making them eligible to apply for Aadhaar number and buy property in India.
The move is in sync with the Narendra Modi government's policy to help minorities from Pakistan, Afghanistan and Bangladesh, largely Hindus, seeking long-term stay in India for alleged fear of religious persecution back home.
"The ministry of home affairs granted long-term visas to 431 Pakistani nationals last month. They are from minority communities of that country," a PTI report quoted an official as saying.
The Centre had earlier announced that citizens belonging to minority communities in Pakistan, Afghanistan and Bangladesh - Hindus, Sikhs, Buddhists, Jains, Parsis and Christians - but staying in India on long-term visas can purchase a small dwelling unit sufficient to serve the needs of a family for self-use and suitable accommodation for carrying out self-employment.
However, they cannot buy immovable property in and around restricted or protected areas, including cantonment regions.
Such minority nationals of Pakistan, Afghanistan and Bangladesh are also allowed to obtain PAN cards, Aadhaar numbers and driving licences, take up self-employment or do business, apart from free movement within the state of their stay and transfer of long-term visa papers from one state to another. The 431 Pakistani nationals with long-term visas can open bank accounts without prior approval of the Reserve Bank of India.
Full report at:
https://timesofindia.indiatimes.com/india/431-pak-hindus-granted-long-term-visas/articleshow/61329134.cms
--------
China set to block Masood Azhar ban defying US, India
Sachin Parashar
Oct 30, 2017
BEIJING: In what could plunge India-China ties into fresh turmoil, China is likely to officially block and thereby terminate a US backed proposal to get Pakistan based Jaish-e-Mohammed (JeM) chief Masood Azhar+ designated a global terrorist by the UN.
The proposal, which had the backing of UK and France too, was introduced by the US+ in January this year and, days later, put on a technical hold by China which, as a permanent UNSC member, wields veto power.
The technical hold was extended by Beijing for another 3 months in August and is set to expire this week on Thursday. Since it can't be extended any further, as top intelligence sources closely watching the development said, China is moving to introduce a "full fledged block" to dispose off the US proposal.
China's selective approach to fight against terrorism, made manifest by its position on Azhar who is seen as a strategic asset by Pakistan authorities, has turned into a major foreign policy challenge for India. This development belies all hopes of a Chinese review of its stand on Azhar in the light of Beijing's decision to allow India to name Pakistan based terror groups like JeM and Lashkar in the Xiamen Brics Declaration. Brics followed the August 28 Doklam military stand-off disengagement which, as the government has repeatedly said, still stands despite reports of a Chinese troop build-up "well within China" but not very far from the Doklam plateau.
India has repeatedly conveyed to China that Azhar has been indicted by Indian agencies for his involvement in the Pathankot airbase attack case and that he continues to head a terror group already proscribed by the UN. China continues to insist though that there isn't enough "solid evidence" against him.
The fact that China has effectively ruled out any cooperation with India on the issue of cross-border terrorism is as much a setback for the US as it is for New Delhi. When PM Narendra Modi met US President Donald Trump in Washington this year, the 2 leaders had welcomed a new consultation mechanism on domestic and international terrorist designation listing proposals.
The same again came up during Secretary of state Rex Tillerson's visit to India this week and Tillerson agreed that the 2 countries needed to have a dialogue soon on terrorist designation. Sources said this dialogue will likely take place anytime in the next few months with focus on getting Azhar listed by the UNSC sanctions committee.
In his meeting with Trump, Modi had thanked him for the US listing of the Hizbul Mujahideen leader as a Specially Designated Global Terrorist as evidence of the US commitment to end terror "in all its forms". China's intransigence on Azhar, bordering dangerously on outright hostility, will further test the US resolve though as India seeks Washington's support to rein in cross-border terrorism and as Trump seeks to mend ties with China with a visit to Beijing next month.
The issue of Azhar is in fact likely to figure prominently in India's foreign policy agenda with other world powers like Russia. Of all the 3 major issues which have bedeviled ties with China in the recent past, including NSG and CPEC, it was on Azhar, widely acknowledged as an international terrorist, that India expected Beijing to not overplay its hand.
Full report at:
https://timesofindia.indiatimes.com/india/china-set-to-block-masood-azhar-ban-defying-us-india/articleshow/61328798.cms
--------
India sends first consignment of wheat to Afghanistan through Chabahar port in Iran
Oct 29, 2017
NEW DELHI: In a landmark move towards realising an alternate strategic transit route to land-locked Afghanistan bypassing Pakistan, India on Sunday sent the first consignment of wheat to Afghanistan through Chabahar port in Iran.
The first shipment, which left Kandla port to go via Chabahar port in Iran, was flagged off through video conferencing by External Affairs Minister Sushma Swaraj and her Afghan counterpart Salahuddin Rabbani.
"The shipment of wheat is a landmark moment as it will pave the way for realisation of Chabahar port as an alternate, reliable and robust connectivity for Afghanistan," the Ministry of External Affairs (MEA) said in a statement.
"I am delighted that today we have joined a momentous occasion for the people of the three countries," Swaraj said, describing the move as an important step in realising the shared aspirations to carve out "new routes" of peace and prosperity.
"The wheat that is leaving the Indian shores today, is a gift from the people of India to our Afghan brethren. It is a testament to the continued commitment of the government and the people of India to support our Afghan brethren in building a normal, peaceful, prosperous, secure and bright future for themselves," Swaraj said.
This is an important step towards establishing regional connectivity initiatives, particularly as the world remains enamoured of China's grand OBOR project. Amar Sinha, former envoy to Afghanistan told TOI, "This large shipment will establish the viability of a new commercial route, realising a long-standing Afghan dream and filling a critical gap in India's connectivity."
Today's wheat shipment is also a logical conclusion to a process started soon after the Taliban was ousted from Kabul in 2001, when India started lending its political and economic resources to help rebuild a shattered Afghanistan.
Even as early as in 2002, Pakistan blocked India's efforts to send wheat to Afghanistan during a food-scarce year. India donated 1 million metric tons of wheat to the World Food Program (the largest single donation in its history) in the form of high-energy fortified biscuits for WFP's school feeding programme, thus beginning a long assistance relationship with Afghanistan.
In June this year, India and Afghanistan had launched an air freight corridor between the two countries to boost trade as Pakistan continues to deny land transit access through its territory. The current Afghan president Ashraf Ghani recently threatened reciprocal measures if Pakistan refused to abide by an Af-Pak trade and transit agreement to allow goods from India to traverse through Pakistan.
"The people of India, Afghanistan and Iran have been connected through shared commonalities of art and culture, ideas and knowledge; language and traditions. Today, we are rejuvenating these connects and commonalities. I believe that this is the starting point of our journey to realise the full spectrum of connectivity," Swaraj said.
The moving of the shipment was made easier by a trilateral agreement to establish an international transport and transit corridor signed by PM Narendra Modi, Afghan president Ashraf Ghani and Iranian PM Hassan Rouhani in May 2016.
Full report at:
https://timesofindia.indiatimes.com/india/india-sends-first-consignment-of-wheat-to-afghanistan-through-chabahar-port-in-iran/articleshow/61324064.cms
--------
Separatists call for 'mass agitation' if SC delivers verdict against Article 35A
October 29, 2017
Three separatist leaders on Sunday urged the people of Kashmir to launch a "mass agitation" if the Supreme Court delivered a verdict in favour of pleas seeking the repeal of Article 35A and said any effort to "tinker with" a state subject law will create "a Palestine-like situation". In a joint statement in Srinagar, Syed Ali Geelani, Mirwaiz Umar Farooq and Mohammad Yasin Malik urged the people to "launch a mass agitation if the Supreme Court delivered a verdict against the interests and aspirations of the people of the state".
The matter is expected to come before the Supreme Court shortly. The Article relates to special rights and privileges of the permanent residents of Jammu and Kashmir. Article 35A, added to the Indian Constitution by a Presidential Order in 1954, also empowers the state's legislature to frame laws without attracting a challenge on grounds of violating the Right to Equality of people from other states or any other right under the Constitution.
"Any move to tinker with a state subject law will create a Palestine-like situation," the leaders said. They asked the people to prepare for protests against any change in the law that bars people from outside Jammu and Kashmir from acquiring immoveable property in the state. "A conspiracy has been hatched to change the demography of the Muslim-majority state," they claimed and urged scholars and writers to make people aware of the consequences if the state subject law was repealed.
Full report at:
http://indianexpress.com/article/india/separatists-call-for-mass-agitation-if-sc-delivers-verdict-against-article-35a-4912467/
--------
Arab World
Syria army, IS clashes in Deir Ezzor kill 73
October 30, 2017
BEIRUT - Heavy clashes between Syria 's army and the Islamic State group in Deir Ezzor city have killed at least 73 fighters in the last 24 hours, a monitor said Sunday.
Syria 's army controls most of Deir Ezzor city, capital of Deir Ezzor province in the country's east, and made further advances after responding to an IS attack that began Saturday, the Britain-based Syrian Observatory for Human Rights monitor said.
The monitor said the fierce fighting Saturday killed at least 50 IS fighters, as well as 23 Syrian soldiers and pro-regime militiamen.
Observatory director Rami Abdel Rahman said government forces had captured two new neighbourhoods and the municipal stadium.
"IS is now encircled in an area between the city and the (Euphrates) river," Abdel Rahman said.
IS once held large sections of Deir Ezzor city, and for nearly three years laid siege to other parts of it that remained under government control.
In early September, advancing government forces broke the siege, and they have been working since to expel the jihadists from the rest of the city.
Abdel Rahman said the fighting that began Saturday was the fiercest in the city since government troops broke the siege, adding that clashes were continuing Sunday, with regime ally Russia carrying out heavy air strikes in support of the army and allied fighters.
Deir Ezzor , an oil-rich province that borders Iraq, was once a stronghold of IS, but the jihadist group faces twin assaults there, from the regime and the US-backed Kurdish-Arab Syrian Democratic Forces.
The jihadists have already been expelled from neighbouring Raqa province, and are now confined to just a few pockets of territory in Deir Ezzor .
More than 330,000 people have been killed in Syria since the conflict began in March 2011 with anti-government protests.
http://nation.com.pk/30-Oct-2017/syria-army-is-clashes-in-deir-ezzor-kill-73
--------
Egypt court orders ban on 'anti-Islam' broadcast
Oct 29, 2017
An Egyptian court ruled Sunday that a television programme deemed contrary to Islamic law should not be broadcast, following a request from the country's highest institution of Sunni Islam.
Grand Imam Ahmed al-Tayeb of Al-Azhar had demanded that the authorities ban "With Islam" presented by controversial intellectual reformer Islam Behairy and aired by private channel Al Qahera Wel Nass.
Al-Azhar accuses Behairy of "regularly attacking Islamic law".
Although Al-Azhar advocates tolerance and moderate Islam in conferences, it also routinely asks for programmes and shows in which secular Egyptians criticise current Islamic practices or heritage to be banned.
Behairy has infuriated Al-Azhar's traditional clergy in the past with attacks on canonical religious books and some of Sunni Islam's most important scholars.
He served a year in prison for "insulting religion" before being released in late 2016 under a presidential pardon.
Full report at:
http://www.hindustantimes.com/world-news/egypt-court-orders-ban-on-anti-islam-broadcast/story-i6yx6bQ954oJtviKh0hR1M.html
--------
Bahrain foreign minister calls for freezing Qatar out of GCC
October 30, 2017
Bahrain will not attend the upcoming GCC summit if Qatar does not change its stand, and the right step to preserve the Gulf Cooperation Council (GCC) is to freeze Qatar's membership, Bahrain's foreign minister said on Twitter on Sunday.
Khalid bin Ahmed Al Khalifa also said on his account on Twitter that "if Qatar thinks that its current playing with time and evading will buy it time till the upcoming GCC summit, then it's mistaken. If the situation remained as it is we won't attend this summit."
He added "the right step to preserve GCC is to freeze Qatar's membership in the council... otherwise we are fine with its outing from the council."
Full report at:
http://nation.com.pk/30-Oct-2017/bahrain-foreign-minister-calls-for-freezing-qatar-out-of-gcc
--------
Another Military Column of Turkish Army Enters Northwestern Syria
Oct 29, 2017
The websites said that a long convoy of the Turkish army entered the town of Kafar Lusin in Northern Idlib.
The websites said that the Turkish convoy included several trucks, personnel carriers and armored vehicles, adding that the convoy further headed towards Western Aleppo.
The Syrian Army High Command announced that the pro-government forces were getting ready to launch a large-scale offensive to retake Idlib province from the terrorist groups.
According to the statement released by the military command, General Mohammad Khaddour would be leading the operation to retake the Abu al-Dhohour Airport in Eastern Idlib.
General Khaddour would also lead the operations to recapture the town of Abu Dali in Northern Hama, the statement added.
General Khaddour is considered as one of the most experienced officers in the Syrian Army; he is also the commander of the elite 3rd Legion.
Full report at:
http://en.farsnews.com/newstext.aspx?nn=13960807000704
--------
Syrian Army Frees Civilians Kidnapped by Terrorists in Hama
Oct 29, 2017
The sources said that the army soldiers stormed ISIL's defense lines and freed 19 civilians, including four children, kidnapped by the ISIL in al-Sa'an region and kept in a jail in the village of Um Sahrij in Northeastern Hama.
Earlier reports said that the army troops stormed the defense lines of the Al-Nusra Front (Tahrir al-Sham Hay'at or the Levant Liberation Board) in Northeastern Hama and drove the terrorists out of two more villages.
The army men hit Al-Nusra positions hard along the road connecting the towns of Sheikh Hilal to Ithriya and captured the villages of al-Khafiyeh and Rasm Sawi.
Full report at:
http://en.farsnews.com/newstext.aspx?nn=13960807001314
--------
Iraq prepares to attack Al-Qaim after destroying ISIS defences
29 October 2017
Iraq's joint operations forces announced its arrival near Al-Qaim after destroying ISIS defense forces and groupings around the judiciary vicinity.
This comes in lieu of an attack that was carried out within 48 hours in the location, as well as the return of Rawah's besieged judiciary, which leaves government forces with the task of sweeping the Anbar desert from terrorist cells.
Government forces confirmed a fast move towards ISIS west of the country, while the terrorist organization continues to resist using explosives after they have exhausted their supply of suicide bombers, and explosive cars.
The heads of the joint operation stated that only a few kilometers separate their forces from the Al-Qaim borders, ISIS's last stronghold location. This is due to efficient organizational deployment points around the country that impeded the terrorist organization's progress.
Security sources have stated that government forces may raise the Iraqi flag in Al-Qaim within the next two days, and at the same time attack the besieged Rawah district.
Following Rawah district, the Anbar desert, which is said to house some factions of ISIS who have fled the confrontations, will be next.
Full report at:
https://english.alarabiya.net/en/News/middle-east/2017/10/29/Iraq-prepares-to-attack-Al-Qaim-after-destroying-ISIS-defenses.html
--------
Saudi minister: Lebanon's silence toward Hezbollah 'strange'
29 October 2017
Saudi Minister of State for Gulf Affairs Thamer al-Sabhan voiced his surprise that the Lebanese government and people are silent over the practices of the Lebanese militia Hezbollah.
"It's not strange for the terrorist militia (of Hezbollah) to participate in a war against the kingdom upon directions from the lords of global terrorism but what's strange is the Lebanese government and people's silence," he said on Twitter.
Sabhan has repeatedly called for confronting Hezbollah. On Thursday, he voiced the importance of confronting it and restraining it.
"To curb the terrorist militia (of Hezbollah), those who work with it and cooperate it with on the political, economic and media fronts must be punished. There must be serious efforts to restrain it on the domestic and foreign levels and to confront it by force," he added on Twitter.
https://english.alarabiya.net/en/News/gulf/2017/10/29/Saudi-minister-Lebanon-s-silence-toward-Hezbollah-strange-.html
--------
Copts call for action over church closures in southern Egypt
29 October 2017
Coptic Christians in the south of Egypt renewed calls on local authorities for an end to discrimination, after a number of churches have been closed down in recent weeks.
Two churches in two separate villages in the southern province of Minya have been shut down by the authorities, a statement by the Minya diocese said.
It said worshippers were harassed at both churches and pelted with rocks at one of them.
"We have kept quiet for two weeks after the closure of one of the churches, but due to our silence the situation has worsened ... it is as if prayer is a crime the Copts must be punished for," the statement, dated Saturday, read.
A third church was closed following rumors of a pending attack, but the diocese said no attack has taken place since and the church remains closed.
The Minya security directorate spokesman declined to comment. The governor's office did not immediately respond to a request for comment.
Coptic Christians, who make up 10 percent of Egypt's population of nearly 95 million, say they have been persecuted for years. Many feel the state does not take their plight seriously enough.
Nonetheless, the Copts are vocal supporters of President Abdel Fattah al-Sisi, who has vowed to crush Islamist extremism and protect Christians. He declared a three-month state of emergency in the aftermath of two church bombings in April which has since been renewed.
Though ISIS has long waged a low-level war against soldiers and police in Egypt's Sinai peninsula, it has stepped up its assault on Christian civilians in the mainland.
Full report at:
https://english.alarabiya.net/en/features/2017/10/29/Copts-call-for-action-over-church-closures-in-southern-Egypt.html
--------
2 police officers killed in attack in Egypt's Sinai
Oct 29, 2017
Two police conscripts have been killed in a fresh attack on security forces in Egypt's restive Sinai Peninsula.
Security officials said Sunday that suspected militants had attacked a police vehicle on the outskirts of el-Arish, Sinai's largest city, earlier in the day.
Hospital officials confirmed that the two officers had been killed. They said 10 other conscripts were also wounded in the attack.
The attack is the latest to target security forces in Sinai, a turbulent region on the Mediterranean which has been gripped by militancy since the ouster of former president Mohammed Morsi in 2013. A branch of Daesh, a Takfiri group mainly based in Iraq and Syria, has claimed many attacks in Sinai over the past years while it has also expanded its assaults to mainland Egypt.
Under the leadership of former army chief Abdel Fattah el-Sisi, who led the coup that ousted Morsi four years ago, Egypt has been battling other militant groups, including those that have emerged out of a chaos in neighboring Libya. A high-profile attack on October 20 in the Western Desert raised fears about a fresh bout of violence in the area. Police said 16 officers were killed in the ambush attack that took place some 130 kilometers outside of Cairo. Security sources put the fatality above 50 policemen.
Egypt's Defense Minister Sedki Sobhi vowed Tuesday that the North African country would be soon cleansed of militancy.
Full report at:
http://www.presstv.com/Detail/2017/10/29/540306/Egypt-Sinai-attack-police
--------
New round of Syria talks begins in Astana
Oct 30, 2017
A new round of Syria peace talks brokered by Iran, Russia, and Turkey has begun in Kazakhstan's capital of Astana.
It is the seventh round of talks in what is referred to as the Astana peace process for Syria.
Delegations from the Syrian government and armed opposition groups as well as the three guarantor states are present at the talks. So are representatives from the United Nations, Jordan, and the United States, according to reports.
The Iranian delegation, headed by Deputy Foreign Minister Hossein Jaberi Ansari, arrived in the Kazakh capital on Sunday.
Expert-level talks began that same day, and the high-level talks will continue until Wednesday.
Kazakh Foreign Minister Kairat Abdrakhmanov said earlier in October that the 7th round of the talks would address the issue of captives and mine clearance. The strengthening of a recent ceasefire is expected to be at the heart of conversations. Mechanisms for aid delivery will also be reviewed.
Syria has been beset by conflict since March 2011.
Another peace process for Syria has been ongoing under the auspices of the UN. Known as the Geneva peace process, it has achieved little in comparison with the Astana process, which began just this year and has already cultivated in the establishment of four deescalation zones which are expected to ease the conflict now in its seventh year.
Meanwhile, there are unconfirmed reports of plans to enforce no-fly zones over these areas.
Full report at:
http://www.presstv.com/Detail/2017/10/30/540325/Kazakhstan-Syria-Astana-peace-talks-7th-round
--------
Iraq to deploy soldiers to key Kurdistan border crossing
Oct 29, 2017
Members of the Iraqi Federal Police force are going to be deployed to a key border crossing in the country's semi-autonomous Kurdistan region after Iraqi government forces and Kurdish Peshmerga fighters reached an agreement in a bid to resolve a conflict about control of border crossings.
An Iraqi government source, speaking on condition of anonymity, told AFP that Iraqi and Kurdish military commanders struck a deal in the strategic northern city of Mosul, located some 400 kilometers (250 miles) north of the capital Baghdad, late on Sunday for government forces to take control of Fishkhabur border crossing.
Fishkhabur is a vital oil export point on the border with Turkey and Syria.
Peshmerga fighters exchanged heavy artillery fire with the Iraqi army soldiers there over the past few days. Iraqi officials then gave the Kurds an ultimatum to withdraw from the area around Fishkhabur "within several hours."
On Friday, Prime Minister Haider al-Abadi ordered a 24-hour suspension of military operations against Kurdish forces to allow for talks.
Abadi said the talks were meant to pave the way for the peaceful deployment of Iraqi troops at the border crossings of Kurdistan region.
Tensions simmered between Iraq's Kurdistan Regional Government (KRG) and the Baghdad government in the wake of last month's Kurdish independence referendum and a dire "threat of civil war" there.
The referendum on secession of the Kurdistan region was held on September 25 despite strong opposition from Iraqi authorities, the international community, and Iraq's neighboring countries, especially Turkey and Iran.
On October 12, an Iraqi government spokesman said Baghdad had set a series of conditions that the KRG needed to meet before any talks on the resolution of the referendum crisis could start.
Full report at:
http://www.presstv.com/Detail/2017/10/29/540307/Iraqi-soldiers-to-deploy-at-key-Kurdistan-border-crossing
--------
Mideast
Israel to postpone controversial 'annexation' bill
29 October 2017
Israeli Prime Minister Benjamin Netanyahu has decided to postpone a vote on a controversial bill that critics say would amount to the de facto annexation of Israeli settlements surrounding Jerusalem, an official said Saturday.
The bill had been expected to be voted on by a ministerial committee on Sunday, in a move that would fast-track its progress through parliament.
But the Israeli official said on condition of anonymity that the bill needs "diplomatic preparation," declining to elaborate further.
It was a signal that Netanyahu wants to first discuss the bill with the US White House, which has been seeking to restart long-stalled Israeli-Palestinian peace talks.
"The law also needs diplomatic preparation and thus will be postponed for the moment," the official said.
The bill would absorb major Israeli settlements currently in the occupied West Bank into Jerusalem by enlarging the city limits.
Its opponents argue that it is a step towards full unilateral annexation of the West Bank settlements affected -- a move that would be sure to spark international outrage.
For the vast majority of the international community, the status of Israel's settlements, built on land the Palestinians see as part of their future state, is to be decided in peace negotiations.
The bill has drawn harsh criticism from Palestinians and those hoping to salvage the two-state solution.
Settlements affected are Maale Adumim, Beitar Illit, Efrat, Givat Zeev, and the Gush Etzion settlement bloc.
Intelligence and Transportation Minister Yisrael Katz, who has pushed for the bill, says it would add an additional 150,000 people to Jerusalem's population, strengthening its Jewish majority.
Israel occupied the West Bank, including east Jerusalem, in the Six-Day War of 1967. It later annexed east Jerusalem in a move never recognized by the international community.
It sees the entire city as its indivisible capital, while the Palestinians want the eastern sector as the capital of their future state.
https://english.alarabiya.net/en/News/middle-east/2017/10/29/Israel-to-postpone-controversial-annexation-bill-.html
--------
Nuclear Chief: Iran Can Resume 20% Uranium Enrichment at Fordow in 4 Days
Oct 29, 2017
"We can produce 20% (uranium enrichment) at Fordow in 4 days but we don't want the nuclear deal to collapse," Salehi told reporters after a joint press conference with Director-General of the International Atomic Energy Agency (IAEA) Yukiya Amano in Tehran on Sunday.
He further warned that his organization enjoys the capability to boost uranium enrichment to 100 thousand SUWs in a matter of around a year if the deal is abrogated.
The Iranian atomic chief also referred to the section T of the 2015 nuclear deal which is related to the inspection system, and said, "We have spoken about the section T and our positions have been clearly declared. The section T does not include any peculiar inspections. When the section T was being compiled, these (Iran's) considerations were taken into account but unfortunately, the other side is after its own interpretations."
In relevant remarks on Saturday, AEOI Spokesman Behrouz Kamalvandi underlined that the issue with the inspection of his country's military sites ended forever after Tehran permitted the International Atomic Energy Agency (IAEA) to inspect Parchin in 2015. "When there is no nuclear activity in a place, there is no reason to go there. They (the westerners) launched baseless propaganda in the international media in the past few years that certain activities were being carried out in Parchin site and finally, we were forced to end this issue once and forever and it happened and the case was closed and the IAEA's Board of Governors also confirmed it," Kamalvandi said.
Full report at:
http://en.farsnews.com/newstext.aspx?nn=13960807000644
--------
Source Says Iranian President Turned Down Trump's Invitation to Face-to-Face Talks
Oct 29, 2017
"US President Trump has invited President Rouhani to a face-to-face meeting during Mr. Rouhani's visit to New York to participate in the UN annual conference in September but our president has turned down the offer," Mahdi Faza'eli wrote on Sunday.
Noting that the demand was raised one day after Trump's insulting speech against Iran at the UN, he said French President Emanuel Macron has also been trying to persuade President Rouhani to accept the meeting, but failed.
Faza'eli underlined that the US statesmen's efforts to hold talks with Iran are nothing new, and said, "The Americans are sure that such negotiations will benefit them but they will have no achievements for Iran but harm."
Hours after initial FNA report on Sunday, Iranian Foreign Ministry Spokesman Bahram Qassemi confirmed Faza'eli's revelation, saying that "this willingness (to meet President Rouhani) was expressed by the American side, but was rejected by the Islamic Republic of Iran's president".
Yet, Qassemi denied Macron's mediation efforts, saying that the part of the report that refers to the French president is incorrect.
Trump gave a harsh assessment of Iran during his first address to the United Nations General Assembly as President.
"The Iran deal was one of the worst and most one-sided transactions the US has ever entered into," Trump said. "Frankly, that deal is an embarrassment to the United States, and I don't think you've heard the last of it. Believe me.
Full report at:
http://en.farsnews.com/newstext.aspx?nn=13960807001122
--------
IAEA Reaffirms Iran's Commitment to N. Deal Undertakings
Oct 29, 2017
"Iran is acting based on all its undertakings, and all parties to the nuclear deal should also act upon their undertakings," Amano told reporters after a meeting with Head of the Atomic Energy Organization of Iran (AEOI) Ali Akbar Salehi in Tehran on Sunday.
Noting that the IAEA has been supervising and verifying Iran's commitment to the nuclear deal, he said, "The IAEA can confirm that Iran is acting according to its undertakings."
Asked by reporters about US President Donald Trump's remarks against the nuclear deal, Amano said, "The nuclear deal is an agreement between the Group 5+1 (the US, Russia, China, Britain and France plus Germany) and Iran, and the UN Security Council has supported it and the IAEA is responsible with supervising and approving implementation of undertakings under the deal."
In relevant remarks earlier this month, Iranian Ambassador and Permanent Representative to the United Nations Gholamali Khoshrou underlined that the IAEA can determine whether Tehran has remained committed to the nuclear agreement the country signed with the world powers in Vienna on July 14, 2015.
Full report at:
http://en.farsnews.com/newstext.aspx?nn=13960807000834
--------
Reports: Iranian support of Houthi militias in Yemen reaches its peak
29 October 2017
Iran has not stopped backing Houthi militias till today since their takeover of Sanaa, despite international efforts and decisions to deter its interference.
And with the restoration of more than two thirds of Yemen, Iran's involvement in arming and training Houthi militias has been clearly exposed. This is what coalition leaders highlighted in one of their documents, as well as stating that Hezbollah members are supervising the training of the Houthi militias.
Iran's support peaked by supplying the militias with more long-range ballistic missiles that were smuggled into Yemen. This came in the midst of the rising defeat of the Houthis on battlefronts as well as the militia's strong disagreements with ousted president Saleh.
These were the same missiles used to attack Saudi lands, as well as in the failed attempt to attack the holy city of Mecca.
A report published by the 'Center for Research on Armed Conflict' in London also revealed that the militia are using Iranian technology.
They were supplied with unmanned drones called Qasif. They claim that they have built these drones, however it was later discovered that they were Iranian drones Ababeel1.
Remotely controlled explosive boats were used in several operations against relief and monitoring coalition ships. The boat bombs also came from Iran, but were not used until 9 months after the war had started.
The longer this war continues, the longer Iran is in violation of Security Council resolution number two thousand two hundred and sixteen, which condemns sending arms to Houthi Militias and Saleh.
And after failed attempts at misleading the international community, the Houthis have no choice but to mislead their own community by claiming that they are at war with the Unites States of America, and not Saudi Arabia and the United Arab Emirates.
Full report at:
https://english.alarabiya.net/en/News/middle-east/2017/10/29/Reports-Iranian-support-of-Houthi-militias-in-Yemen-reaches-its-peak.html
--------
Hamas official: Unity deal to remain on track despite car bomb
29 October 2017
Hamas security chief Tawfiq Abu Naim left hospital Saturday after being wounded in a car bombing and pledged that an agreement aimed at ending a decade-long rift with rivals Fatah would remain on track.
The Friday explosion that moderately wounded Abu Naim was branded by the Hamas interior ministry as "a failed assassination attempt."
Hamas chief Ismail Haniya signaled Israel was to blame, but no one has claimed responsibility.
Abu Naim said in a statement on Saturday that "the objectives of those who committed this despicable act will not be achieved."
"We are determined to leave the split behind and realize the important national unity at all costs," he said.
Abu Naim said a November 1 deadline for Hamas to hand over border crossings to the Palestinian Authority would be adhered to.
Palestinian president Mahmud Abbas's Fatah movement signed a reconciliation accord on October 12 with Islamist movement Hamas, which has run the Gaza Strip for 10 years.
Under the deal, the Fatah-dominated Palestinian Authority is to resume control of Gaza -- which Hamas seized in a near civil war with Fatah in 2007 -- by December 1.
The fate of the Hamas security forces after it transfers power to the PA in the territory is one of the most delicate issues facing the reconciliation process.
Abbas wants the handover to be comprehensive and include all security institutions, but the Hamas leader in Gaza, Yahya Sinwar, has said "no one" can force his group to disarm.
Israel and the United States have meanwhile said that Hamas must disarm as part of any unity government.
They have also said it must recognize Israel.
The Abbas-led Palestine Liberation Organization has recognized Israel, but Hamas has not.
Full report at:
https://english.alarabiya.net/en/News/middle-east/2017/10/29/Hamas-official-Unity-deal-to-remain-on-track-despite-car-bomb.html
--------
Asiri: The Arab coalition has maintained the identity of the Yemeni state
30 October 2017
Ahmed Asiri, deputy head of general intelligence in Saudi Arabia, confirmed that the coalition which supports the legitimacy in Yemen has contributed to maintain the factors and identity of the Yemeni state, and this is clearly demonstrated by enabling the legitimate government to communicate with the international community through its embassies around the world.
During the meeting, which gathered international parties interested in humanitarian assistance under the sponsorship of the King Salman Center for Relief and Humanitarian Aid, which was held on Saturday, in Riyadh, Asiri stressed the importance of holding a workshop at for the specialists and executives to be put detailed plans plans to improve the performance of relief and humanitarian work in Yemen, addressing shortages in all aspects, whether people working within Yemen or the mechanisms and procedures used to deliver aid to all Yemeni governorates and follow up the disbursements of funds provided by States and international donors, pointing out that Saudi Arabia and the Gulf countries fulfilled their financial obligations.
Asiri stressed the need to use the exact terms when writing reports submitted to the UN and the Security Council.
He refused to name the transfer of people from Africa across Yemen to the Saudi border as "The generosity of the Yemeni people towards the Africans" but the correct term is "Buying and selling people."
Asiri stressed that we should call those who are now in Sana'a after they were kidnapped in Yemen by the officials, as coups involved in crimes and tragedies that happened to the Yemeni people.
He said that the term "siege" is inaccurate, as what is being implemented is "international inspection procedures" to ensure that all parties in Yemen do not conduct arms smuggling and prolong the war.
He called on all humanitarian organizations to deal with the Yemeni crisis on the basis of Yemen as one entity, pointing out that Saudi Arabia is still paying the budget of operating Al-Salam hospital in Se'ada, which is the source of attacks on the Saudi borders; because of the alliance's belief that all the Yemeni citizens are victims of the coup and there should be no discrimination between the Yemeni people.
Asiri also called on the international community to contribute in finding a political solution to the Yemeni crisis through the UN envoy, which will put an end to the humanitarian crisis in Yemen.
Full report at:
https://english.alarabiya.net/en/News/gulf/2017/10/30/Asiri-The-Arab-alliance-has-maintained-the-factors-of-the-Yemeni-state.html
--------
Israel plans to demolish homes of Palestinian 'attackers'
Oct 29, 2017
Israeli Minister for Military Affairs Avigdor Lieberman says he seeks to expand a step further the contentious policy of demolishing the homes of those Palestinians who have been involved in purported fatal assaults against Israeli settlers, so that it could also include those Palestinians whose alleged attacks left Israelis with serious injuries.
Lieberman, in a statement on Sunday, instructed the military to "examine the possibility to demolish the homes of" those Palestinians "who carried out attacks in which Israeli civilians were seriously wounded," adding that such a measure would be "effective" in deterring other Palestinians from planning and carrying out future "attacks."
"There's no difference between an attack that ends in murder and one that ends in a serious injury. In both cases the homes of the terrorists must be demolished," he said.
Since 1967, the Israeli regime has been enforcing the draconian policy of demolishing the homes of those Palestinians who are deemed by Tel Aviv to be behind fatal attacks against Israeli settlers. The practice, however, was temporarily halted from 2005 to 2014, with the exception of 2009, when scores of homes were sealed and razed in East Jerusalem al-Quds.
Nevertheless, in 2014 Israeli Prime Minister Benjamin Netanyahu announced as a policy the resumption of demolitions in the occupied West Bank.
Tel Aviv has been occupying the West Bank, including East al-Quds, since taking the Palestinian territory by force in 1967. Ever since the occupation, it has been propping up settlements throughout the land, in a move condemned by the United Nations, and considered illegal under international law, which bans construction on occupied territory.
Over the past few years, the West Bank and other Palestinian territories of East Jerusalem al-Quds and the besieged Gaza Strip have been witnessing what is widely referred to as the Third Intifada or Palestinian Uprising against the Israeli occupation.
Full report at:
http://www.presstv.com/Detail/2017/10/29/540282/Israel-Lieberman-Palestinian-homes
--------
Europe continues to support Iran, JCPOA: Austria
Oct 29, 2017
A senior Austrian Foreign Ministry official says European countries are opposed to any self-willed measure endangering the multilateral 2015 nuclear agreement, throwing his country's weight behind the deal.
Austria and other European countries are standing by Iran through their support for the nuclear accord, known as the Joint Comprehensive Plan of Action (JCPOA), Secretary General for Foreign Affairs at Austria's Foreign Ministry Michael Linhart said in a meeting in Tehran on Sunday with Chairman of the Iranian Parliament's Committee on National Security and Foreign Policy Alaeddin Boroujerdi.
He added that Vienna and other European capitals would never allow any self-willed measure to pose a threat to the JCPOA.
Iran and the five permanent members of the United Nations Security Council – the United States, France, Britain, Russia and China – plus Germany signed the nuclear agreement on July 14, 2015 and started implementing it on January 16, 2016.
Under the JCPOA, Iran undertook to put limits on its nuclear program in exchange for the removal of nuclear-related sanctions imposed against Tehran.
US President Donald Trump delivered an anti-Iran speech on October 13, in which he said he would not be certifying Iran's compliance with the terms of the JCPOA under a domestic American law and warned that he might ultimately terminate the agreement.
In a closed-door meeting, chaired by European Union foreign policy chief, Federica Mogherini, in Luxembourg in mid-October, EU foreign ministers reaffirmed their support for the historic nuclear agreement, saying the accord was working and was a key component of non-proliferation efforts.
After the meeting, the foreign ministers issued a statement, expressing their determination to fully implement the international nuclear agreement.
Elsewhere in the meeting, the Austrian official said his country supported the expansion of parliamentary cooperation with Iran.
Linhart expressed hope that Tehran and Vienna would adopt necessary strategies to improve political, economic and parliamentary relations.
Iran will give fitting response to JCPOA breach: MP
The Iranian lawmaker, for his part, lashed out at the US president for making spiteful remarks against the nuclear deal.
"The JCPOA is a collective agreement endorsed by the UN [Security Council] Resolution [2231] and no one can terminate it unilaterally," Boroujerdi said.
He emphasized that the Islamic Republic would give a "fitting response" to any possible unilateral and unwise measure by the US in violation of the JCPOA.
Since his presidency in January, a year after the deal took effect, Trump has been pushing for renegotiation of the deal or US withdrawal from the agreement.
Full report at:
http://www.presstv.com/Detail/2017/10/29/540304/Iran-Austria-Alaeddin-Boroujerdi-Michael-Linhart-Mohammad-Javad-Zarif-JCPOA
--------
South Asia
Taliban kill 22 Afghan cops in multiple attacks
October 30, 2017
KABUL - Taliban insurgents, some wearing night-vision goggles, killed 22 Afghan policemen in separate attacks on checkpoints over the weekend in the latest blow to the country's beleaguered security forces.
Militants wearing the goggles launched a pre-dawn assault on a police post in Khan Abad district in the northern province of Kunduz on Sunday and killed 13 officers, said provincial police chief Abdul Hamid Hamidi. Only one policeman survived the attack, he told reporters.
The attackers destroyed the checkpoint and stole a Humvee, according to district governor Hayatullah Amiri.
On Saturday Taliban fighters killed nine policemen and wounded two others stationed at checkpoints in Ghazni, the capital of the southeastern province of the same name, said provincial governor's spokesman Mohammad Arif Noori.
Twelve of the militants were killed and four wounded, Noori said.
The Taliban claimed the attacks in statements to media.
The insurgents have stepped up attacks on security installations as they seek to demoralise police and troops and steal equipment to fuel the insurgency.
The militants have acquired "dozens" of armoured Humvees and pickup trucks in recent years, defence ministry deputy spokesman Mohammad Radmanesh told AFP recently. Some of those vehicles have been used in suicide attacks on police and military bases with devastating effect.
Afghan forces have suffered soaring casualties since NATO forces ended their combat mission in late 2014.
http://nation.com.pk/30-Oct-2017/taliban-kill-22-afghan-cops-in-multiple-attacks
--------
8 killed, wounded in latest Taliban and ISIS clash in Nangarhar
Oct 29 2017
At least eight militants were killed or wounded during the latest infighting among the Taliban and ISIS militants in eastern Nangarhar province.
Accordign to the local officials, the latest clash broke out between the two sides in the early hours of Saturday morning in Khogyani district.
The officials further added that both sides suffered casualties during the clash with the ISIS suffering the most casualties.
The provincial government media office also confirmed the incident and said at least five ISIS militants were killed and three Taliban insurgents were wounded during the clash.
A statement by the provincial government said the incident took place at around 5 am local time Sprai area of the district.
The anti-government armed militant groups have not commented regarding the incident so far.
This comes as several militants were killed or wounded in a similar incident in Khogyani district of Nangarhar on 18th october.
According to the officials, two militants were killed from the ISIS side while three Taliban insurgents including one of their local leaders identified as Ismail who was also famous as Fawad were among those killed from the Taliban side.
Full report at:
http://www.khaama.com/8-killed-wounded-in-latest-taliban-and-isis-clash-in-nangarhar-03736
--------
Bangalee Muslim identity was never simple
October 30, 2017
The Bangalee Muslim identity has never been a simple or straightforward matter that can be only aligned with one's adherence to Islamic faith or nationality although people's identity is often linked to both, said Professor Emeritus Anisuzzaman during a lecture yesterday.
He was speaking on "Muslims in Bengal (up to the 18th century): Plurality of Identity". The lecture was based on the premise that the idea of identity is more subtle, fluid and multi-layered than people think. An individual has multiple identities although he or she may choose one over the others.
The event was the third of an ongoing lecture series, organised by Gyantapas Abdur Razzaq Foundation. The earlier two lectures were delivered by Prof Rehman Sobhan and Badruddin Omar.
Prof Anisuzzaman said, "It's important to note that one's religious identity, like one's residence or marital status, can change. But our ancestral and linguistic identity is immutable."
Highlighting that the plurality of identity cannot be ignored, he said, "The plurality of identity can lead to unrest and crisis if we decide to assume only one identity, or mix up different components of our identity."
"When we identify a group of people as Bangalee Muslim, we highlight only one aspect of their self-identity. But if we observe closely, we'll see that they contain multitudes," he said.
Prof Anisuzzaman noted that in the 19th century, the Bangalee Muslims faced a crisis of identity because of a conflict between their Bangalee and Muslim identities.
The lecture drew upon historical documents, accounts by contemporary writers and literary sources to present a compelling picture of the diversity of Muslims in terms of their preference of languages, attires, occupation, customs, and moral, religious and political beliefs -- which made them different not only from their Hindu counterparts, but also from each other.
There were upper-class and lower-class Muslims -- much like the division of classes among the Hindus -- and their social position was determined by their history of origin, occupation, language and whether or not one was born Muslim or converted to Islam after birth, Prof Anisuzzaman said.
He quoted an anonymous researcher who described how one's superior social position was decided. "Nobility was determined by immigration from the west in direct proportion to the nearness in point of time and distance in point of land of origin from Bengal to Arabia."
Meanwhile, the Hindus and Muslims lived in such close proximity that often their myths, fables and accounts of historical figures were intermingled to present a unique style of literature that both could relate to, he said. But people's awareness of self-identity did not start to become acute until after the 19th century, said Anisuzzaman.
Presiding over the programme, Bangla Academy Director General Shamsuzzaman Khan said there were divisions among Muslims and other faiths and also among the Muslims themselves, but there was harmony as well.
Commenting on the lecture of Anisuzzaman, he said there could not be a more inclusive study of the social history of the Bangalee Muslims.
Full report at:
http://www.thedailystar.net/city/bangalee-muslim-identity-was-never-simple-1483702
--------
Myanmar's tourism dreams pierced by Rohingya crisis
October 29, 2017
Only a few years ago Beyonce and Jay-Z were posing for photos among Myanmar's famed temples, heralding the former junta-run country's rise as one of the hottest new tourist destinations on the map.
But that dream is cracking as images of burnt villages and Muslim Rohingya fleeing army-led violence in western Rakhine shock the globe, sparking outrage over a staggering scale of human suffering that has festered along the border.
Ever since the bloodshed broke out in late August, tourism operators have witnessed a cascade of cancellations, rippling fear through a nascent industry that was gearing up for its high season in October.
"Almost all the trips scheduled for October and November have been cancelled due to instability in the country, because of the situation in Rakhine state," said Tun Tun Naing from New Fantastic Asia Travels and Tour, an agency that leads trips to the pristine beaches and mist-shrouded lakes that dot the lush country.
"Most groups in Japan, Australia and other Asian countries cited security reasons and some Europeans have clearly said they boycotted because of the humanitarian situation," he told AFP.
In Yangon, a bustling city known for its crumbling colonial architecture, some foreign tourists could still be seen circling the gilded Shwedagon Pagoda that looms over the former capital.
But they admitted that the ongoing crisis is an awkward backdrop for their holiday.
"It's very sad to see what the country is becoming, our guide told us that Muslims were dangerous and that they were not Burmese," said French tourist Christine, who declined to give her surname, of a crisis that has spiked religious tensions in the Buddhist majority country.
Some distinguished guests are also keeping their distance, with Prince Charles, heir to the British throne, and his wife Camilla deciding to skip a stop in the former colony during an autumn tour of Asia.
- One step forward, two back? -
There are fears the refugee crisis could throw Myanmar's fledgling tourism sector back to the dark days under military rule, when many travellers passed over the pariah state to avoid lining the pockets of generals who brutally suppressed human rights.
All that had started to change after the army initiated a transition to partial democracy in 2011.
The move saw Western sanctions lifted as foreign tourists flocked to landscapes unspoiled by the crowds and travel infrastructure that has mushroomed elsewhere in the region.
The first half of 2017 kicked off well with a 22 percent increase in visitors compared to the previous year, according to figures from the Ministry of Tourism, which hopes to double the number of annual arrivals to 7.5 million by 2020.
But at the end of August, western Rakhine state was in flames.
Raids by mobs of poorly-armed Rohingya militants prompted a military backlash so brutal the UN says it likely amounts to ethnic cleansing of the Muslim minority.
More than half a million Rohingya have fled to neighbouring Bangladesh in two months, carrying testimony of killings, rape and arson at the hands of soldiers and Buddhist mobs.
Their chilling stories, alongside photos of gaunt and weary refugees cramming into Bangladesh's ramshackle refugee camps, have seized headlines around the globe and cast a pall over the young democracy's rise.
A few hours south of the conflict zone in Rakhine state lies Mrauk-U, an ancient capital and hallowed archaeological site.
Two months into the crisis, locals say the site is empty of the tourists normally buzzing around its ruins.
Full report at:
http://nation.com.pk/29-Oct-2017/myanmar-rohingya-crisis
--------
Big turnout at Myanmar pro-army rally defies Rohingya outcry
October 29, 2017
Military songs rang out across downtown Yangon on Sunday as tens of thousands rallied in defence of Myanmar's army, an institution accused by the global community of driving Rohingyas from the country.
More than 600,000 Rohingya have fled western Rakhine state to Bangladesh since late August when raids by militants from the minority group were met with ruthless army "clearance operations".
The United Nations has led global condemnation, calling the crackdown a "textbook" example of ethnic cleansing.
US Secretary of State Rex Tillerson phoned army chief Min Aung Hlaing earlier this week to express his concerns at alleged atrocities in Rakhine state and urge a swift and safe return for the Rohingya.
But inside Myanmar support for the army has surged, an unlikely turnaround for a once feared and hated institution that ruled for 50 years and whose lawmakers lost heavily in 2015 polls.
Those elections sent Aung San Suu Kyi's pro-democracy party into power, but the Rohingya crisis has put her government on the backfoot.
Demonstrators carried banners lauding Commander-in-Chief Min Aung Hlaing and rebuking the international community for "pressuring the Tatmadaw," as Myanmar's army is known.
"The Tatmadaw is essential for the country, it protects our ethnic groups, races and religion," said Nan Aye Aye Kyi, 54, as the rally snaked through Yangon to the iconic Sule Pagoda.
The Rohingya are not recognised as one of Myanmar's patchwork of ethnic groups.
Fear of a Muslim takeover of Buddhist-majority Myanmar through Rakhine state has been kindled over decades by the army, which is now casting itself as saviour of the nation.
Kyaw Than, 64, a retired sergeant who served in the army for 41 years said the Tatmadaw "is protecting the whole country", adding allegations of murder, rape and arson against the Rohingya were "not true".
But international pressure is tightening.
The US is weighing targeted sanctions against key military leaders, while Pope Francis is scheduled to talk peace on a landmark visit to the country next month.
Aung San Suu Kyi has faced the sharp end of global outcry over the crisis, with fellow Nobel laureates joining a cast of world leaders in urging her to condemn the army and speak up for the Rohingya.
Suu Kyi's supporters say the once garlanded rights champion is hamstrung, with any criticism of the still-dominant army likely to provoke a strong response.
Full report at:
http://www.dhakatribune.com/world/south-asia/2017/10/29/big-turnout-myanmar-pro-army-rally-defies-rohingya-outcry/
--------
North America
US: Hundreds protest Myanmar in front of White House
30.10.2017
By Safvan Allahverdi
WASHINGTON
Hundreds gathered in front of the White House on Sunday to protest the ongoing violence targeting the Rohingya Muslim minority in Myanmar.
The nation's largest Muslim civil rights and advocacy organizations, Council on American-Islamic Relations (CAIR), Islamic Society of North America (ISNA), Muslim American Society (MAS) and many others took their grievances to the U.S. capitol.
Civil society representatives from various backgrounds called on the Myanmar authorities to end the bloodshed and urged the Trump administration to act more effectively on the persecution in Rakhine state as well as use its influence on the Myanmar government.
Since Aug. 25, 603,000 Rohingya have crossed from Myanmar's western state of Rakhine into Bangladesh, according to the UN.
The refugees are fleeing a military operation and Buddhist mobs that killed men, women and children, looted homes and torched Rohingya villages.
"If this is not a genocide, I do not know what is," Oussama Jammal, Secretary General of the US Council of Muslim Organizations (USCMO) said, recalling the United Nations' 'genocide' definition.
The UN has documented mass gang rapes, killings -- including infants and young children -- brutal beatings, and disappearances committed by security personnel. In a report, UN investigators said such violations may have constituted crimes against humanity.
ADAMS Center President, Seyid Mukher stressed that American Muslims should impress upon the U.S. government to act against the violence.
"This genocide was happening in Rakhine State yesterday. It is happening today but it should not be tomorrow," he added, remarking that the persecution of Rohingya people has been on going for a decades.
Protestors chanted against Myanmar authorities, carried banners reading "Stop the genocide in Rakhine now" and "Save our brothers and sisters in Myanmar". The event ended without conflict.
In addition, the Deparment of State on Sunday said the U.S. delegation led by Acting Assistant Secretary of State, Simon Henshaw would hold meetings both in Burma (Myanmar) and Bangladesh to discuss the ongoing violence in Rakhine State and to improve the delivery of humanitarian assistance to displaced persons in Burma, Bangladesh, and the region.
The meetings will be held between October 29 and November 4. "The delegation will meet with various stakeholders to discuss the U.S. and international responses to the ongoing crisis and to explore durable solutions," it said in a statement.
According to Bangladeshi Foreign Minister Abul Hasan Mahmood Ali, around 3,000 Rohingya were killed in the Myanmar crackdown.
The Rohingya, described by the UN as the world's most persecuted people, have faced heightened fears of attacks since dozens were killed in communal violence in 2012.
http://aa.com.tr/en/americas/us-hundreds-protest-myanmar-in-front-of-white-house/951134
--------
A Muslim-American 4th-Grader's Peace Appeal To 'Our Father' President
By Hatsanda Millatmal
October 30, 2017
An open letter addressed to "Dear my respected president, his Excellency Mr. Donald Trump" under the title "Mr. President! I Am Confused, Can You Help?"
I am very proud to be a U.S. citizen, and live in this God blessed country with abundant resources and great access to almost anything one may wish. I always hear from people around me at school and in the community so many great things about the United States of America.
They all tell me that America is a land of opportunity and was fundamentally founded to provide liberty, justice, equality and democracy to all who make it to this land.
America was set to be a role model for the rest of the world in the areas of democracy, justice, human rights and development. I am hearing from all around that Americans were and supposed to be well-respected by all people and nations throughout the world.
However, through my large community contacts as an Afghan descendant Muslim-American, I hear rumors and stories totally contradicting with what we as Americans believe and hear all around. I have seen hundreds of houses bombed, thousands of innocent villagers including children, women and elders being killed.
Isn't this true that MOAB (Mother Of All Bombs) was used by America in a very small poor country, Afghanistan, which killed more innocent Afghans than the ISIS, who were miraculously evacuated just hours before bombing?
I hear rumors, which were partially confirmed by Mrs. Hillary Clinton as the secretary of state, that almost all of these radical Islamic groups, Jihadist, Taliban and ISIS have been produced, trained, armed, supplied and funded through Pakistan by the U.S. from time to time as a tool for obtaining American's military and political aims.
These militant groups have been used by America to terrorize the innocent public in those countries, by sabotaging peace, killing innocent people and banning girls from going to school, etc.
Led and trained by Pakistani ISI, they train and brainwash the naive uneducated Muslims to become suicides, blow themselves and kill other innocent people in Afghanistan, Syria, Iraq, Pakistan, India, Kashmir etc.
Our brave heroine, Malala Yousafzai, is a good surviving example. I am confused. Americans feel proud when they throw MOAB on ISIS (presumably) in Afghanistan, but they defend ISIS in Syria when Russian bomb them.
I have seen pictures of children blown to the air, women stoned, men hanged and schools and bridges destroyed by these vicious Jihadists with the direct or indirect support of America through Pakistan. This is what the public believes in those countries, which history proved that they are a lot smarter than we think of them.
I see so many pictures of the atrocities committed as war crimes by the American bombing. Those pictures make me sick and nauseated and disturbs my sleep and causes me nightmares for many nights any time I see them.
I wonder if you know, which you should know, where and how these militant groups are getting their funding and supplies from. Where do they have their training camps?
I heard that Osama Bin Laden was found in a military base in the capital of Pakistan, Taliban are trained in madrasas in Pakistan using the American funding, and they are still having their offices in Pakistan.
Lately, it was stated by CIA that the American and Canadian family recently saved and released by Pakistan were held in Pakistan for five years. With our great CIA and FBI, if the U.S. does not know where these guys operate from and get funded, then both CIA and FBI should be dissolved for not doing their job.
Full report at:
http://themoderatevoice.com/muslim-american-4th-graders-peace-appeal-father-president/
--------
Another anti-Islam protest by Pegida Canada results in assault charge
October 29, 2017
An unlikely assembly of about 30 to 40 people, Pegida Canada's membership is small enough to fit on a single school bus but loud enough to provoke violent clashes with counter-protesters on the steps of London city hall.
One person was charged with assault after the group's most recent rally Saturday, the latest in a string of demonstrations that have tested the limits of tolerance.
Its August protest — which prompted London city council, in a unanimous vote, to ask city staff to review their use of public space guidelines — was a flashpoint for violent clashes with anti-hate demonstrators.
Two people were arrested at its September rally when fists flew once again.
But Pegida Canada is planning another rally in November, its members united by fear of Islamic radicalism and a desire to preserve what they see as traditional Canadian values.
"What we want to do here is protect our Canadian democracy. That's our aim," said a Pegida Canada organizer who did not want to give her real name, fearing violence. Online, she uses the moniker Jenny Hill.
Her group is an offshoot of the European far-right movement Patriotic Europeans Against the Islamization of the West. Hill, who has relatives in Europe, was inspired to start the chapter in January 2015.
Pegida Canada largely is middle class and white, but includes blue collar workers and academics, men, women, Christians, Jews, students and seniors, Hill said.
"We're just concerned citizens. We like Canada just the way it is," said member Dave Capuano, who works as a carpenter.
"One of the signs I like the best is 'Love Muslims but reject Islam,' " said member David Wolfe, 43, a labourer from Goderich.
"I don't want the changes happening in Europe, in terms of demographics, to happen here."
Though there are supporters in other provinces and online, including more than 30,000 followers on Facebook, the Southwestern Ontario chapter is the only organized one in the country.
Hill said Pegida Canada is motivated by fear of terror attacks by radical Islamists, fear of the dissolution of Western values and fear of the loss of Judeo-Christian culture.
"I'm not intent on inflaming, I'm intent on educating," she said.
The Facebook group shares news stories about crimes committed by Muslims, columns critical of radical Islam and content from firebrand conservative outlets such as The Rebel and Breitbart.
"(Our supporters) see what's happening around the world, not just terror attacks, but the implementation of Islam in the West, and that scares them because they're afraid of losing freedom of speech or just freedom, period," said Hill.
Pegida does have some genuine concerns, said Salim Mansur, a Western University professor and vice-president of the Council of Muslims Facing Tomorrow, an advocacy group that opposes violence and extremism in the name of Islam.
"There has been violence, there has been terrorism, there have been shootings," Mansur said.
But the problem comes when otherwise legitimate worries are exaggerated or used to stoke fear or xenophobia, hate crime researcher Barbara Perry said.
She has no doubt Pegida Canada does just that.
"They really are a single-issue hate group. Their focus really is on Islam and the threat posed by Muslims and the threat posed by Islam and Sharia law and all of those pieces they imagine are creeping into Canada," said Perry, a social scientist at University of Ontario Institute of Technology in Oshawa.
Anti-Islam groups in Canada fear monger, paint Islam as inherently violent or terrorism-­inspiring, overstate the threat of Sharia law creeping in and don't distinguish between fundamentalists or extremists and the rest of the Muslim community, Perry said.
Groups such as Pegida Canada are a brand of hate group, one that isn't explicitly racist, she said. They hide behind what she calls cultural nationalism, a dislike and fear of a group that goes beyond skin colour.
"They're very careful not to talk about race," she said.
"They do that, I think, to present themselves in a more sanitized fashion. It's as insidious, if not more, than to talk about white nationalism."
More concerning still, said Perry, is the fact that Pegida Canada stood alongside the Three Percenters — an armed anti-Islamic group — at its August rally.
The move suggests sympathy or complacency with the far-right group's message, Perry said.
"(The Three Percenters) are more violent, and are more extreme in their views and rhetoric. I think that that's cause for concern," she said.
Pegida Canada is relatively new in the landscape of Canadian anti-Islamist organizations, and it's one to keep an eye on, said University of Toronto political scientist Chris Cochrane.
"We really don't have any research at all on this group in particular," he said. "They are different from other far-right groups and that's a bit of the problem, I think, in trying to understand these movements in general."
What Cochrane does know, according to public opinion research during the past decade, is anti-Muslim opinion in Canada is high and is increasing. He said messages from groups such as Pegida Canada are resonating.
"It's changing people's minds. It's giving people the feeling that their positions, which they may have otherwise kept to themselves, are perfectly legitimate to express publicly," he said.
But if groups such as Pegida are marching to promote their message, concerned citizens should be hitting the streets, too, said Alan Dutton, national director of the Canadian Anti-racism Education and Research Society.
"We've had these huge demonstrations against racism and they've had a big impact because people have shown they're concerned," he said.
Full report at:
http://www.lfpress.com/2017/10/28/anti-hate-protesters-drown-out-small-group-of-pegida-canada-supporters-at-rainy-city-hall-rally-saturday
--------
Tech firms must do more on extremism: WEF
October 30, 2017
U.S. tech firms such as Facebook Inc and Twitter Inc should be more aggressive in tackling extremism and political misinformation if they want to avoid government action, a report from the World Economic Forum said on Monday.
The study from the Swiss nonprofit organization adds to a chorus of calls for Silicon Valley to stem the spread of violent material from Islamic State militants and the use of their services by alleged Russian propagandists.
Facebook, Twitter and Alphabet Inc's Google will go under the microscope of U.S. lawmakers on Tuesday and Wednesday when their general counsels will testify before three U.S. congressional committees on alleged Russian interference in the 2016 U.S. presidential election.
The report from the World Economic Forum's human rights council warns that tech companies risk government regulation that would limit freedom of speech unless they "assume a more active self-governance role."
It recommends that the companies conduct more thorough internal reviews of how their services can be misused and that they put in place more human oversight of content.
Full report at:
http://nation.com.pk/30-Oct-2017/tech-firms-must-do-more-on-extremism-wef
--------
Kushner reportedly makes visit to Saudi Arabia out of the public eye
Oct 29, 2017
Jared Kushner, the Jewish senior adviser and son-in-law of US President Donald Trump, has reportedly taken a secret trip to Saudi Arabia, marking his third visit to the monarchy this year.
US Deputy National Security Adviser Dina Powell and the administration's Middle East envoy Jason Greenblatt traveled with Kushner on a commercial flight to Saudi Arabia on Wednesday and returned on Saturday, Politico reported Sunday, citing a White House official.
"The senior advisor to the president, the deputy national security advisor for strategy, and the special representative for international negotiations recently returned from Saudi Arabia," the White House official said.
The official further asserted that Kushner has been in touch with Israelis as well as certain countries in the Middle East.
"The senior advisor has also been in frequent contact with officials from Israel, the Palestinian Authority, Egypt, United Arab Emirates, Jordan and Saudi Arabia," said the official.
The Jewish presidential son-in-law has been tapped as a negotiator to bring about peace between Israel and Palestinians.
Ivanka Trump's husband is also a person of interest in an ongoing probe into possible collusion between the Trump campaign and the Kremlin, an allegation both side have denied.
"While these regional talks will play an important role, the president reaffirms that peace between Israelis and Palestinians can only be negotiated directly between the two parties and that the United States will continue working closely with the parties to make progress toward that goal," said the unnamed official.
Trump has already suggested that he would not pursue decades of American policy in favor of the so-called two-state solution in the Israeli-Palestinian conflict.
He has also vowed to move the American embassy from Tel Aviv to Jerusalem al-Quds, a move indicating that Washington recognizes the city as the capital of Israel, as the New York billionaire has previously asserted.
Before winning the 2016 election, Trump promised Israeli Prime Minister Benjamin Netanyahu to "recognize Jerusalem (al-Quds) as the undivided capital of the state of Israel."
Full report at:
http://www.presstv.com/Detail/2017/10/29/540315/Kushner-takes-secret-trip-to-Saudi-
--------
Indian Muslim worker sued Accenture US for discrimination
October 29, 2017
NEW YORK: Mohammad Ali, an Indian Muslim worker has sued Accenture, one of the larger US consulting firms claiming that he was discriminated at work because of his race and religion.
According to the lawsuit, filed in Houston federal court, Ali alleged that he was paid a lower salary, demoted and he wasn't given his annual bonus and "the discrimination has caused Mr. Ali significant economic harm—in the neighborhood of seven figures," reported Bloomberg.
According to Ali, even though he regularly exceeded the given annual sales targets, he was paid a lower salary than his counterparts.
He claims that he gave a $50 million sales target, whereas his colleagues had targets of $30 million. His white manager knew that Ali is a practising Muslim.
Full report at:
https://www.siasat.com/news/indian-muslim-worker-sued-accenture-us-discrimination-1248907/
--------
Southeast Asia
Report: Authorities fear return of Malaysian militants after IS beaten in Raqqa, Marawi
October 30, 2017
KUALA LUMPUR, Oct 30 — Intelligence personnel are concerned about the return of Malaysian militants from Raqqa, Iraq and Marawi, Philippines where the Islamic State (IS) have been routed.
Deputy Home Minister Datuk Nur Jazlan Mohamed said that IS fighters were already fleeing Iraq and Syria, and regrouping elsewhere to rebuild their capabilities to set up an Islamic State, especially South-east Asia, including Malaysia, Philippines and Indonesia.
He reportedly said that this was because the three countries have large and potentially sympathetic Muslim populations.
"They may be inspirational to new recruits and are able to organise new attacks," Nur Jazlan was quoted saying by The Star newspaper, adding that both Malaysian and foreign terrorists were both making an inroad into Malaysia.
"The additional challenge for the counter-terrorism (CT) units is to locate where they are, prevent their reorganisation in this regions, deny access to heavy and mass destruction and anticipate the location and timing of future attacks," Jazlan was quoted saying.
An unnamed intelligence personnel told The Star, however, that it is unlikely that the Malaysian militants fleeing Syria would come here.
"They will either go to Pakistan or Thailand and head into Indonesia.
"Then they may take a boat to sneak into Malaysia via the backdoor and probably report a lost identity card to get back their identity cards," the source reportedly said.
"Their mindset is different from before they left Malaysia. They could be trigger-happy," the source said, adding that this was because of the militant battleground expertise.
Last week, AFP reported Philippines Defence Secretary Delfin Lorenzana saying that a five-month battle against IS supporters in the southern Philippines that claimed more than 1,000 lives had ended.
Lorenzana said there were no more militants, known locally as coming from the Maute group, providing resistance following an intense final battle after which 42 bodies were recovered.
In June, Singapore daily The Straits Times cited Philippine General Eduardo Año as its source, saying a 38-year-old former lecturer from Universiti Malaya's (UM) Islamic Studies faculty was wounded in battle last month and believed to have died on June 7. According to the general, the lecturer, Mahmud Ahmad, was suspected of funnelling over 30 million pesos from global terror network, the Islamic State (IS) to gain firearms, food and other supplies to finance the militants' siege of the southern Philippine city.
The Straits Times reported Malaysian counter-terrorism authorities confirming Mahmud had been raising funds for the South-east Asian terror campaign, but could not confirm his death as his body had yet to be found.
Last week, Inspector-General of Police Tan Sri Mohamad Fuzi Harun said the Malaysian police had already contacted their Philippine counterparts and were ready to despatch a forensic team to that country to identify Mahmud's remains.
http://www.themalaymailonline.com/malaysia/article/report-authorities-fear-return-of-malaysian-militants-after-is-beaten-in-ra#L1gjjqOWvdQht3Wx.97
--------
All speakers on Islam need 'tauliah', says Jamil
Farhan Darwis
October 30, 2017
KUALA LUMPUR: Putrajaya today defended the arrest of Mustafa Akyol by Islamic authorities last month, saying the Turkish writer was also bound by a requirement that anyone speaking on topics of Islam must get official teaching credentials.
"Every speaker wanting to hold programmes in the form of lectures in Malaysia must get permission and credentials from the state religious department or the relevant state mufti," Jamil Khir Baharom, the minister in charge of Islamic affairs, told the Dewan Rakyat today in a written reply to DAP's Teresa Kok (DAP-Seputeh).
Kok had asked if public lectures and speeches on Islam including in universities must also get clearance from religious authorities.
On Sept 25, Akyol was arrested by the Federal Territory Islamic Department (Jawi) at the Kuala Lumpur International Airport (KLIA), as he was preparing to board a flight to Rome after completing a lecture tour organised by Islamic Renaissance Front (IRF). Jawi said Akyol violated an offence under the Syariah Criminal Offences (Federal Territories) Act which requires Islamic speakers to get "tauliah", a rule normally applicable to those who speak on Islam in mosques and suraus.
Akyol had expressed surprise by the requirement.
"I don't claim to be a mufti or imam with religious authority," he told FMT hours before departing Malaysia.
"I just had referred to the more liberal views in Islamic tradition, from an academic perspective, and the fact that even this raises alarm is puzzling to me," he said.
Full report at:
http://www.freemalaysiatoday.com/category/nation/2017/10/30/all-speakers-on-islam-need-tauliah-says-jamil/
--------
VP Jusuf Kalla unironically calls Indonesia a model of religious tolerance for other countries
By Coconuts Jakarta
Oct. 30, 2017
Human rights activists have become increasingly concerned about a rising climate of religious intolerance in Indonesia. While the archipelago nation had long been upheld as a bastion of religious moderation, NGOs like Human Rights Watch argue that state-sanctioned, faith-based discrimination is becoming more common while recent polls show a serious increase in religiously intolerant attitudes amongst the general public.
But Indonesia's vice president, Jusuf Kalla, didn't think it was worth mentioning any of those concerns when he was speaking to ASEAN Youth Interfaith Camp (AYIC), held at Islamic Center Universitas Pesantren Tinggi Darul 'Ulum (Unipdu) in Jombang, East Java yesterday. Instead, VP JK said that Indonesia was one of the best places in the world to learn about interfaith tolerance.
"Indeed, Indonesia is often a place to learn about maintaining tolerance," JK told the AYIC participants as quoted by Tempo.
Ads by AdAsia
End of ad break in 30 s
You can close Ad in 5 s
And what, in the vice president's mind, makes Indonesia such a great place to learn about religious tolerance? First and foremost, the holidays.
"There are 15 official holidays (in Indonesia), three national ones, five for Islamic religious holidays, three Christian, and one each for Hinduism, Buddhism and Confucianism. Buddhists, whose adherents are less than 1 percent (of the population) have their own holiday, which is not the case in any other country in this world, China and Thailand are Buddhist and Hindu majority so there is no Idul Fitri (holiday)," JK said.
(We'll concede he kinda has a point there – one of the few things about other religions that even hardline Islamists in Indonesia don't seem to protest is getting the day off of work to celebrate their holidays.)
The vice president also said that religious tolerance was evident in the makeup of the president's cabinet, which includes members of different religions, as well as the country's 7 non-Muslim governors.
Regarding the last point, JK did not mention how many of those non-Muslim governors were elected in regions with non-Muslim majorities. One notable example of a non-Muslim governor in a Muslim-majority region is Basuki "Ahok" Tjahaja Purnama, the Chinese-Christian former governor of Jakarta, but he's not a great example of the country's religious tolerance, for obvious reasons.
JK ended his speech by asking the audience and all young people to help foster religious tolerance and understanding, noting that he himself runs a forum on religious harmony in Makassar.
Full report at:
https://coconuts.co/jakarta/news/vp-jusuf-kalla-unironically-calls-indonesia-model-religious-tolerance-countries/
--------
Africa
What the Fall of ISIS means for North Africa
By Moha Ennaji
October 29, 2017
ISIS's few remaining members live the worst of their circumstances. They have only two options: either continue fighting and die, or escape, though they cannot go anywhere, as they are trapped.
This raises fears that the organization will launch new terrorist attacks in foreign countries as its fighters return to their homelands. Already the last two years has seen a change in ISIS's tactics as attacks on civilians in foreign lands have multiplied.
North Africa has conventionally been the backyard of major terrorist activity, predominantly Al-Qaida in the Islamic Maghreb (AQIM). ISIS group also poses a significant threat to the region and to Western civilians and interests.
Since 2014, Moroccan authorities dismantled 53 terrorist cells associated with the organization of the "Islamic State", known as the "Daesh"; while about 1664 Moroccans participated in the Syrian-Iraqi conflict, including 285 Moroccan women and 378 children, 221 of whom returned home, while 596 were killed.
The terror threats have created a sense of insecurity in major parts of the region, and ISIS has been the primary perpetrator. Westerners have been attacked in Algeria, Tunisia, Mali and other countries, further amplifying the sense of insecurity and instability.
This is particularly so in light of its seizure of a major territory in Libya. It has, for some time, played the role of a -de facto- governing body in Libya's Sirte City. This affords it a comfortable launching pad for attacks across other Libyan cities, and trans-nationally in Algeria and Tunisia – and potentially in Europe.
To face these threats, North African countries have taken security measures and are struggling to deal with youth radicalization and violent extremism. But, what is missing is a comprehensive regional approach, as well as cooperation and information sharing between governments. It is still the exception to see the governments in the region cooperate, combine resources and share intelligence to combat a common adversary.
Some countries have implemented important programs. For instance, Morocco's training of certified Imams throughout North Africa and the Sahel, as well as for European mosques has proven effective; also some amnesty laws, as well as new anti-terrorist laws in Europe.
Other national programs are worth considering: a community-based approach fostering participative citizenship and encouraging local development; developing career plans for ex-combatants and others; micro-projects for small and medium size businesses; health care assistance; cultural initiatives for the arts and music; and using the media, particularly social media, to promote social cohesion.
Morocco has taken proactive steps in the war against terrorism and extremism with a practical approach that has contributed to a large number of terrorist cells being dismantled. These important measures include: re-training of imams to teach and spread tolerant and peaceful Islam; the formation of religious guides to educate young women and men in schools, prisons and other public spaces about the true principles of Islam; the reform of secular and religious education so that schools become more open and integrated in modernity and more oriented to problem solving; the monitoring of mosques so that they do not become a safe heaven for extremism and hate speech; the fight against social exclusion through the National Initiative for Human Development, launched by the government in 2005; and the rise of enhanced security services.
All these key countermeasures entail that we need a combination of both tough and soft responses to deal with the security threats posed by the radicals, such as anti-terrorism laws, monitoring returnees, imprisonment coupled with reintegration and reeducation, community participation, psychological support, job training, etc.
Recently, European countries have intensified their security measures, allocating huge sums to establish security and serenity. The European Union's interior and justice ministers officially launched a European anti-terrorism center within the Europol office in The Hague to exchange information between the intelligence services in the EU and North African countries, urging all EU member states to engage in the war against terrorism.
All abhorrent terror attacks must be addressed in various ways in the long and short terms.
First, in the short term, a proactive policy and strategy should be adopted, where national security control must be tightened, with coordination between North African and European countries. The sources and funding of terrorism must be purged all over the world immediately.
Additionally, prison monitoring is to be strengthened and the imams should be re-trained in order to teach median tolerant Islam, its noble morals and values, and contribute to the immunization of Muslim youth against terrorist propaganda, especially in social media. There is an urgent need to produce a moderate and appropriate Islamic discourse of human values in Arabic and European languages
Second, in the long term, all forms of extremism and terrorism must be fought through crucial reforms in the political, economic, social and cultural fields, including educational reform – with a focus on critical and creative thinking – that can lead to employment and integration into society.
Thus, North African governments should focus their efforts on economic, political, and social issues to find concrete solutions to the real problems, and engage with civil society and youth, using a community-based approach to manage the terrorism threat. https://www.moroccoworldnews.com/2017/10/232413/isis-north-africa-terrorism/
--------
Al-Qaeda linked group busted in Tunisia
29 October 2017
A terrorist group affiliated with al-Qaeda was captured late Saturday, according to interior ministry's statement.
"Four terrorists, between the ages of 27 and 32, linked to al-Qaeda were busted in the capital," the statement said.
The Al-Qaeda linked "Uqba Ibn Nafi" terrorist group was first known for their attacks on Chaambi Mountains near the Algerian border, in 2012. The attack killed scores of Tunisian army personnel and police.
Later they targeted security forces in the west of the country in the years of 2013 and 2014.
http://www.worldbulletin.net/africa/195425/al-qaeda-linked-group-busted-in-tunisia
--------
In Niger, Where U.S. Troops Died, a Lawless and Shifting Landscape
By DIONNE SEARCEY and ERIC SCHMITT
OCT. 29, 2017
DAKAR, Senegal — When United States forces set out on what was ultimately a deadly joint patrol with Nigerien soldiers this month, they were entering terrain crisscrossed by criminal elements and terrorist organizations in a dangerous, yet often forgotten, corner of the world.
The area in Niger, near the border with Mali, is known to host groups loyal to both Al Qaeda and the Islamic State and has long been used as a smuggling route for arms, drugs and people. Just over a week ago, gunmen killed 13 Nigerien soldiers in an attack on their base, not far from where the joint patrol was ambushed, the latest in dozens of assaults unleashed in the past two years.
The chief suspect in the Oct. 4 ambush is a group affiliated with the Islamic State operating in a desolate area that has long suffered from poverty and government inattention.
"They are presenting an alternative to a state that villagers associate with corruption and neglect," said Corinne Dufka, a regional director for Human Rights Watch who has studied the area for years.
Questions about the attack, which killed four Americans and five Nigeriens, have emerged because members of the convoy have given conflicting accounts about whether the patrol was simply ambushed or was attacked after it was reassigned to support a separate clandestine counterterrorism mission against Islamic insurgents, according to accounts from military officials from both countries. Americans are deployed there to "advise and assist," military officials have said, not to engage in combat missions.
The United States has about 800 service members in Niger, yet the scale of its military operations there surprised even two high-ranking senators: Chuck Schumer of New York, the Democratic leader, and Lindsey Graham, an influential South Carolina Republican, said in recent interviews on "Meet the Press" that they had not realized the extent of the military's involvement in Niger.
"We don't know exactly where we're at in the world, militarily, and what we're doing," Mr. Graham said.
About 6,000 American troops are in Africa, most of them in Djibouti. About one-third of all troops are Special Forces or Special Operations forces, many working on advise-and-assist missions like the patrol in Niger.
Niger and other West African countries have a long history of working with American forces. Niger last hosted major military training exercises carried out by Special Operations forces in 2013 and will do so again early next year.
In Niger, several hundred American troops work at the drone base in the capital, Niamey, and about 200 others have arrived to work at a $50 million drone base under construction at Agadez.
Niger is host to some of the continent's biggest problems. Aside from the terrorist groups operating on its western borders, Niger is fighting the Islamist militant group Boko Haram on its southeastern frontier. The country suffers from overpopulation, with one of the highest birthrates in the world, and ranks as one of the world's poorest nations.
The lack of government attention to rural regions is among the factors thought to have helped spawn militant groups and, in recent years, to have helped the insurgents to recruit.
No group has yet claimed responsibility for the Oct. 4 attack, which occurred near the border village Tongo Tongo. But both the Americans and Nigeriens have said that the chief suspect is ISIS in the Islamic Sahel, an outfit that has pledged allegiance to the Islamic State. They suspect a village leader stalled the convoy when soldiers entered, allowing militants time to assemble and prepare their ambush, which occurred not far from Tongo Tongo.
French security officials say the ISIS branch has 40 to 60 core members, but it is often joined by sympathetic villagers and has temporary alliances with other local groups. The officials, who spoke on the condition of anonymity because of their diplomatic protocols, said that French and Nigerien patrols have in recent months engaged in minor skirmishes with militants in the border region where the Americans were killed.
Militants, including the ISIS fighters, have proved to be adept at staging hit-and-run attacks, with machine-gun-toting fighters on motorcycles and more heavily armed insurgents in pickup trucks launching quick, harassing strikes and then melting into the desert.
The ISIS branch and its leader, Adnan Abu Walid al-Sahraoui, sought the recognition of the Islamic State in 2015, according to the United States Defense Department. Its pledge was acknowledged more than a year later, in October 2016, through a media channel tied to the Islamic State.
Around that time Mr. Sahraoui's group carried out several attacks in the region, including operations against militias loyal to French and United Nations peacekeeping troops deployed in northern Mali.
ISIS in the Islamic Sahel — Sahel refers to a band of desert that stretches from the Atlantic Ocean to the Red Sea — has also attacked a customs outpost in Burkina Faso, near the borders with Mali and Niger, and tried a jailbreak in Niger at a building housing suspects from Al Qaeda groups and Boko Haram.
The group is smaller than other organizations in the region, and many security experts suspect that the militants did not realize they were attacking American forces that could easily overpower them in planned operations.
There are no indications that the Islamic State has directed any attacks in Niger or offered any guidance. But analysts said that was not surprising given Mr. Sahraoui's knowledge of the area.
"These guys are experienced fighters," said Andrew Lebovich, a visiting fellow at the European Council on Foreign Relations and a researcher on security and political issues in the region. "They have actively been conducting operations for several years." Operating in a vortex of ethnic tension, Mr. Sahraoui has an extensive background in the Islamist insurgent groups active there since the 1990s.
In his late 30s or early 40s, Mr. Sahraoui is believed to have spent some of his childhood in refugee camps in Algeria during the Western Sahara War and later joined the fight to create an independent state in Western Sahara. Eventually he joined Islamist groups that made their way to Mali.
He once referred to himself as "emir" of a group with ties to Al Qaeda that in 2012 took control of territory in Mali, instituting its own rule until French troops ousted it in 2013. He has occupied leadership roles alongside another of the region's most-wanted terrorists, Mokhtar Belmokhtar.
Infighting in the region's offshoots of Al Qaeda in recent years has led to mergers, the formation of splinter outfits and eventually the alignment of Mr. Sahraoui's cluster with the Islamic State.
While it does not appear that groups loyal to Al Qaeda are cooperating with ISIS in the Islamic Sahel, they have not fought in the recent past, leading analysts to suspect they are communicating.
"The fact that they both operate in the same regions suggests at least some manner of contact between them," Mr. Lebovich said.
Other groups loyal to Al Qaeda are thought to be responsible for a string of attacks in the past two years on hotels, cafes and resorts frequented by Westerners in Mali, Burkina Faso and Ivory Coast. This month, the United States Embassy in Senegal warned Americans to avoid seaside hotels and businesses in Dakar.
The tactics of insurgent groups in the region have shifted in recent years, according to a report from the International Crisis Group. Instead of trying to seize control of major towns, they are now using bases in the countryside to launch strikes. In some areas, the tactic has forced national security forces and local authorities to retreat, leaving large rural areas in the control of insurgents.
The terrorist organizations in the area compete for recruits among the booming population of young people in a region that has enormous unemployment. Niger has joined regional coalitions, which have sent military units to help in its fight against terrorism.
Full report at:
https://www.nytimes.com/2017/10/29/world/africa/niger-ambush-isis.html?mtrref=www.google.co.in&gwh=85B494989046773D163B4E790523ADF3&gwt=pay
--------
Turkey, Somalia agree to boost bilateral relations
29 October 2017
Turkey and Somalia agreed on enhancing bilateral cooperation to defeat terrorism and improve security in the African nation, Somali Prime Minister Hassan Ali Khayre said.
"As the outcome of my visit Turkey and Somalia have agreed to have a strategic cooperation between our two countries on security, fighting terrorism, economic growth and economic development on infrastructure and businesses," Khayre told Anadolu Agency on Friday, during his first official visit to Turkey.
"We also agreed on a project to create jobs in Somalia through investment in infrastructure and we hope that this will lead to increase business activity in the country," he said.
Khayre underlined that Turkish contractors and investors have invested more than $350 billion in more than 118 countries, noting that only $75 million of this number go to Somalia.
The Somali prime minister said that the leaders of the two countries also agreed on the strategic business alliance and stated that the investment in Somalia will increase in the future.
During his three-day visit, Khayre on Thursday met the injured victims of the recent Mogadishu blast, who have been receiving treatment in a hospital in Ankara.
Khayre said that the health condition of some victims have improved, while there are others in critical condition.
Full report at:
http://www.worldbulletin.net/africa/195419/al-qaeda-linked-group-busted-in-tunisia
--------
Islamic way of life mesmerizes Masai chief in Istanbul
29.10.2017
By Gokhan Yilmaz
Islam has left a Masai tribal chief mesmerized after he got a taste of what a modern, Muslim life looks like in Turkey during his first ever visit outside of his closely-knit community in Africa.
From experiencing the Muslim call of prayer at the Blue Mosque to bathing at a Turkish hammam in Istanbul, 58-year-old Torakaa Kiberenge did many things for the first time, which left him wide eyed and full of smiles.
Kiberenge belongs to the Masai tribe -- a Nilotic ethnic group from southern Kenya and northern Tanzania who believe the modern way of life kills the human spirit, which in turn prevents people like him from using any sort of gadgets.
Prior to this experience, Kiberenge did not drive a car, or had every flown on a plane or seen a big ship. Even going to a hospital to get treatment from doctors was a new experience to him.
Dressed in a long blue cloth over his body, Kiberenge went everywhere in Istanbul sporting his long traditional earrings as well as a baton and a dagger that he uses for hunting lions, and which symbolizes his status as a tribal chief.
He was accompanied by Ahmet Kemal Oncu, board member of Istanbul-based NGO -- the Africa-Turkey Initiative -- that facilitated his visit and Hasan Suleyman, a Tanzanian university student in Turkey who translated Kiberenge's words into Turkish.
Istanbul provincial Mufti Prof. Dr. Hasan Kamil Yilmaz apprised Kiberenge about Islam's rich history, which made the simple man from Africa used to his own simple ways very emotional.
'I love Islam'
"What you told me [about Islam] has affected me a lot," he said.
"I hope I will return to Turkey for the second time as a different person…Let's pray for each other now."
Kiberenge later presented a specially-made baton as a token of his appreciation to Yilmaz.
In his interview with Anadolu Agency, Kiberenge said when the NGO representative Oncu and his wife visited him in Tanzania, he learnt about the existence of Islam for the first time and then "got curious about it".
"Believe it or not, I love Islam," he said.
"Your country is peaceful. I truly want my children to know and be raised with Islam. I hope we become Muslims one day."
There were lots of firsts for Kiberenge, including many things that others take for granted. For example, having a kitchen or a bathroom in the house; use of appliances such as an oven, washing machine or a time piece.
'Why do you need?'
But before he could even think of what a smartphone is, Kiberenge was discovering how to eat with forks, spoons and knives on a table full of porcelain plates.
Naturally, he was full of questions: "Am I in a different world? Everybody have cars here, the roads are full of it. Everyday I see a new thing here. How do they build these buildings? How do the elevators work?"
But at the same time he wondered whether humans needed all of this to live.
"Do your roads and cars never sleep? Why do you need all those big apartments? Do not all these things tire your soul? Who is pulling the elevator up?" he said.
About how people treated him in Istanbul, he said he was at first weary of people trying to hug him and greet him.
"Aren't those people 'muzungu' [bad fair-skinned men]? I would ask myself. They always wanted to take pictures with me.
Full report at:
http://aa.com.tr/en/culture-and-art/islamic-way-of-life-mesmerizes-masai-chief-in-istanbul/950652
--------
URL: https://www.newageislam.com/islamic-world-news/in-pakistan-bhajan-concert-with/d/113073
New Age Islam, Islam Online, Islamic Website, African Muslim News, Arab World News, South Asia News, Indian Muslim News, World Muslim News, Women in Islam, Islamic Feminism, Arab Women, Women In Arab, Islamophobia in America, Muslim Women in West, Islam Women and Feminism