New Age Islam News Bureau
3 Jan 2020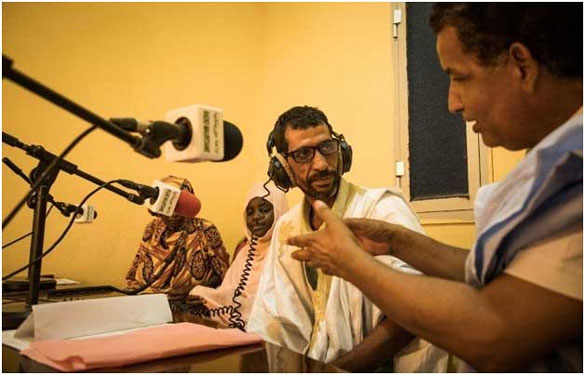 At the radio station in Selibabi, Mauritania. Credit: World Bank/Vincent Tremeau
--------
• In Mauritania, Imams take to Radio Waves to say Child Marriage is Against Islam
• Belgian Imam 'Frustrated' After Being Barred From Flying over US Territory Pentagon Says
• Who Is Qassim Soleimani, The Shadowy Leader Of The Islamic Revolutionary Guard Corps' Quds Force?
• 'Bigger Than Bin Laden': Iran Expert Hails Qassim Soleimani's Killing As 'Massive Blow To The Regime'
• Indian Court Slams State Police for Framing Innocent Muslims in Anti-Citizenship Law Protests
• Bangladesh Islamists Stop Milk Bank Even Though Doctors Say Bangladeshi Children Are Malnourished
• Iraqis 'Dancing In The Street' After Soleimani Death: Pompeo
• Karachi University Tells Students to Comply With Ethical Norms While Using Social Media
• Muslim Ethnic Minorities Not Forced To Work In Xinjiang
Compiled By New Age Islam News Bureau
URL: https://www.newageislam.com/islamic-world-news/in-mauritania-imams-take-radio/d/120699
------
Europe
• Milton Keynes Mosque Members Bring Gifts to Emergency Services To Help Combat "Big Issue" Of Islamophobia
• MCB Responds To Islamophobic Graffiti at South London Mosque
• Golders Green Mosque hosts interfaith blood donation event
• Balancing Adversaries: Russian Policy in the Gulf and the Role of Russian Muslims
• Swiss revoke mother's citizenship over suspected Islamic State links
• Building near UK mosque comes under Islamophobic attack
• Islamic Finance Gains Ground In UK
• Council bosses set to approve £400,000 community centre for Ely Muslims
------
North America
• Pentagon Says US Airstrike Killed Powerful Iranian General Qassem Soleimani
• Terror alert: US asks its airlines to exercise caution in and over Pakistan airspace
• Pentagon confirms Donald Trump ordered killing of Iran Guards commander
• Congress not notified ahead of Soleimani killing: Senior US lawmaker
• Islamic State Claims Responsibility For Deadly Attack In Ingushetia
------
Mideast
• Maryam Rajavi: Elimination Of Qassem Soleimani and Head of Iraq's Suppressive Bassij Force Is Irreparable Blow To Mullahs' Regime
• Qassem Soleimani was Iran's celebrity soldier, spearhead in Middle East
• Meet the comics bringing Jews and Muslims together through stand-up
• Iran supreme leader vows 'severe revenge' for Soleimani killing
• Top Iran security body calls urgent meeting after Soleimani 'martyrdom'
• Turkey, Iran sign deal to strengthen religious ties
------
India
• No info on Organisation of Islamic Cooperation meet on J&K: MEA
• Police Action Premeditated, Muslims Targeted: Interim Report On Mangaluru Firing
• As India Violence Gets Worse, Police Are Accused of Abusing Muslims
• Shia Waqf Board chairman warns against PFI
• CAA-NRC: Indian Muslims have broken the spell
------
South Asia
• General Soleimani had helped US upstage Taliban in Afghanistan post-9/11
• Taliban destroys telecom towers following occupancy of a district in northern Jawzjan province
• Media staff killed in Afghanistan's southern Helmand province
• India shares Governance story with Afghanistan through capacity building programs
• US Chief Negotiator to Meet Taliban in Qatar
• 999 Bangladeshis were in India illegally, says Border Guards Bangladesh head
------
Arab World
• Qatar's Islamic Financial Services Sector Growth Prospects 'Closely Tied' To Country's Economic Expansion: OBG
• Emirates Islamic expands digital experience
• Saudi Arabia sets out night shift labour code
• Saudi Arabia extradites suspect in murder of Pakistani social media star
• Prayers for rain performed across Saudi Arabia
------
Pakistan
• UAE Crown Prince announces $200m support for Pakistan
• Consensus, parleys part of democracy: PM Imran Khan
• Islamic finance industry needs a global ecosystem driven by tech
• General Bajwa's extension case: PTI lobbies with opposition parties for amendments in Army Act
• Govt tables amendment bills in NA to fix age limit of services chiefs
• Senators engage in heated debate over Musharraf conviction
• Lawyer being probed for Secret Act 'violations', court told
------
Southeast Asia
• Only Malay-Muslim can be Malaysia's education minister, insists PAS MP
• Sarawak's non-Muslim religious unit gets second head after pioneer retires
• How BN might have won GE14 had Cambridge Analytica stayed alive
------
Africa
• 4 killed in Kenyan bus attack claimed by Islamic extremists
• JAMB: Muslim students lament NIN frustration
• Sheikh Zakzaky utterly deprived of medical care in prison: Daughter
------
In Mauritania, Imams take to Radio Waves to say Child Marriage is Against Islam
SELIBABI, Mauritania, Jan 2 2020 (IPS) - "I refused to marry off my daughter for a simple, good reason: I want my daughter to be empowered," said Lemeima mint El Hadrami, 49. "I don't want her to go through the same difficulties I did when I was young." El Hadrami was married when she was only 13.
As is often the case for child brides, she became pregnant in adolescence and was forced to drop out of school. She had two daughters, both following difficult pregnancies. Then her husband left them.
"Back then, people didn't know that child marriage was harmful to a girl's health. It was a common practice for us," she recalled. El Hadrami is from Selibabi in southeastern Mauritania, a country where 37 per cent of girls are married off by age 18.
Ending child marriage in Mauritania and other countries in the Sahel, where the median age women and girls marry is 16.6, calls for a change in society's unwritten rules governing the practice. This means getting buy-in from religious and community leaders on a whole host of related issues, including gender discrimination and ending gender-based violence.
The UN Population(fund (UNFPA) is working with partners to help raise awareness of the cascading harms caused by child marriage – from school discontinuation to higher maternal health risks and poorer long-term outcomes for girls and their families.
"An immature girl cannot bear a child because she herself is still a child whose body is not ready to carry a baby," said Telmidy, the imam of the Kuba Mosque in Selibabi, stressing that many adolescent girls in his communities have died for that reason alone.
Telmidy is one of 200 religious and community leaders mobilized across Mauritania by the Sahel Women's Empowerment and Demographic Dividend (SWEDD) project, a collaboration between UNFPA and others, to show that child marriage is in fact haram, or forbidden by Islam.
"Early marriage is a complex issue and we have addressed it in a manner that respects Islam," he said. "Islam protects the dignity of men and women."
Telmidy and his fellow imams want to be agents of change. "We discuss and share our knowledge of Islam and our experience by going door to door or during Friday prayers and people are starting to understand and respond."
The SWEDD project is financed by the World Bank and implemented by the governments of Benin, Burkina Faso, Chad, Côte d'Ivoire, Mali, Mauritania and Niger, with technical support from UNFPA.
In addition to working with religious leaders, the project shares messages on girls' empowerment through a popular radio programme.
"I was really moved by the messages on the radio," El Hadrami said. "I do not want my daughter to experience the same difficulties that I did. I would like her to go as far as possible in her studies, to have a good job – a job that will allow her to enjoy a decent standard of living. She could become a minister, a doctor or a midwife."
The radio messages work in concert with the faith-based outreach efforts.
"The recommendations and guidelines broadcast on the radio are very important, especially because they are supported by religious beliefs," said Telmidy. "People must listen to the radio to be informed."
The imams have reached around 370,000 people in rural Mauritania with training sessions on the dangers of child marriage. UNFPA is also helping the national network of Islamic scholars to learn about sexual and reproductive health issues, including not only related child marriage concerns, but also the benefits of birth spacing, and the importance of ending gender-based violence and female genital mutilation.
"Islam is a religion that honours human beings. Any action that harms an individual's physical or mental health is therefore forbidden," said Hademine Saleck Ely, an imam from the Central Mosque of Nouakchott. "But some people are wedded to traditional practices and do not understand the danger of these customs."
Telmidy pointed out that acquiring knowledge is compulsory for all Muslims: "The Qur'an shows that a father has a responsibility to educate his daughters and protect them, and that he must delay their marriage until they turn 18… He must also allow them to earn a living, that is their right."
"We must assume our responsibilities and fulfill our mission to share our knowledge with the community," he added.
A version of this story was first published at www.worldbank.org.
http://www.ipsnews.net/2020/01/mauritania-imams-take-radio-waves-say-child-marriage-islam/
------
Belgian Imam 'Frustrated' After Being Barred From Flying over US Territory
Thursday, 02 January 2020
A Belgian imam known for advocating a form of "rational Islam" found out he was barred from flying over US territory after being denied boarding on his flight to Mexico.
Ghent-based Khalid Benhaddou was at Zaventem airport when a check-in clerk told him he would not be allowed on board his flight, citing a decision by the US security services.
"I had booked a trip to Mexico, but when my passport was checked at the check-in counter I was told that my departure was being refused by the United States Secret Agency (sic), because I was flying over American territory," Benhaddou said, according to De Standaard.
He said that the reason for the US agency's decision was not disclosed to him, and described the incident as "frustrating" and "a very bad signal" when reporting it to the Belga news agency himself.
Benhaddou is the main imam of the El Fath mosque in Ghent, has published several books and is known for promoting a "rational Islam," which he argues can counter stricter forms of practising the religion.
He is also the chair of the Platform of Flemish Imams and a founder of CIRRA, an Islam expertise centre researching and advising on intercultural and Islam-related questions, and his work, including on preventing radicalisation, has earned him recognition from the Flemish government and the Flemish League of Human Rights, who awarded him prizes in 2017 and 2018.
"This is of course very frustrating, not only because I have lost my money — since the airline is not at fault— but mainly because I went out of my way in the fight against extremism," Benhaddou said, adding: "If people who are committed to this are stopped and humiliated, this is a very bad signal."
Benhaddou said he intends to reach out to the American embassy, hoping that a diplomatic solution could be reached and noting that he had not been the only one confronted with such a situation.
"This story goes further than my person, because I hear that many other people experienced the same thing," he said.
Gabriela Galindo
The Brussels Times
https://www.brusselstimes.com/all-news/belgium-all-news/87086/record-year-for-antwerp-airport/
------
Who is Qassim Soleimani, the shadowy leader of the Islamic Revolutionary Guard Corps' Quds force?
By Vandana Rambaran
The elusive Iranian Gen. Qassim Soleimani, head of the Islamic Revolutionary Guard Corps' (IRGC) elite Quds Force, was killed in a U.S.-led airstrike at Baghdad International Airport on Friday, the Pentagon confirmed Thursday.
A military mastermind, Soleimani is suspected of directing a mob of hundreds of Iranian-backed militants to storm the U.S. Embassy in Baghdad this week, triggering a two-day faceoff with American forces at the most heavily fortified U.S. diplomatic mission in the world.
Attackers at the scene spray-painted "Soleimani is our leader" under a broken window at the embassy and displayed flags at the site.
The Pentagon said in a statement Thursday night that it acted at the direction of President Trump.
"[...The] U.S. military has taken decisive defensive action to protect U.S. personnel abroad by killing [Qassim] Soleimani, the head of the Iranian Revolutionary Guard Corps-Quds Force, a U.S.-designated Foreign Terrorist Organization," the Defense Department (DOD) said. "General Soleimani was actively developing plans to attack American diplomats and service members in Iraq and throughout the region."
Soleimani was the long-running leader of the elite intelligence wing called the Quds Force -- a special forces external arm of the IRGC responsible for supporting terrorist proxies across the Middle East. It reports directly to Iran's Supreme Leader Ali Khamenei and was itself designated a terror group in 2007. The group is estimated to have amassed a militia of 20,000 fighters.
American officials have condemned the Quds Force as being responsible for spreading Iran's Islamic revolution, supporting terrorists, subverting pro-Western governments and waging Iran's foreign wars.
Secretary of State Mike Pompeo had deemed Soleimani equally as dangerous as Islamic State (ISIS) leader Abu Bakr al-Baghdadi, who was similarly killed in a U.S. military raid in October.
Outgoing U.S. Army Chief of Staff Gen. Ray Odierno told Fox News in an exclusive exit interview in 2015: "Qassem Soleimani is the one who has been exporting malign activities throughout the Middle East for some time now. He's absolutely responsible for killing many Americans. In fact, I would say the last two years I was there, the majority of our casualties came from his surrogates, not Sunni or Al Qaeda."
In April 2019, the State Department announced that Iranian and Iranian-backed forces led by Soleimani were responsible for killing 608 U.S. troops during the Iraq War.
Soleimani, who took over the external operations wing of the IRGC in 1998, was known as one of the most powerful military leaders in the Middle East, and the State Department believes he was the masterminded behind the major military operations, bombings and assassinations that accounted for at least 17 percent of all U.S. personnel deaths in Iraq between 2003 and 2011.
"General Soleimani and his Quds Force were responsible for the deaths of hundreds of American and coalition service members and the wounding of thousands more," the DOD said. "He had orchestrated attacks on coalition bases in Iraq over the last several months -- including the attack on Dec. 27 -- culminating in the death and wounding of additional American and Iraqi personnel. General Soleimani also approved the attacks on the U.S. Embassy in Baghdad that took place this week."
Soleimani was first designated a terrorist and sanctioned by the U.S. in 2005 for his role as a supporter of terrorism. In October 2011, the U.S. Treasury Department tied Soleimani to the failed Iranian plot to assassinate the Saudi ambassador to the United States at a popular restaurant in Washington, D.C.
Considered one of the most powerful men in Iran, he was routinely referred to as the "shadow commander" or "spymaster," but in recent years had tapped his social media of more than 800,000 followers to post selfies from the battlefields in the region and emerge into the limelight, solidifying his military clout. His Instagram was later banned in April 2019 because of the U.S.' designation of the IRGC as a Foreign Terrorist Organization (FTO).
Soleimani's rise to power and notoriety began in an impoverished farming village in the southeastern province of Kerman, where he was born in 1957.
He became an IRGC fighter at the age of 22 and gained the approval of Ayatollah Khamenei, earning his position as a Revolutionary Guard commander during the Iran-Iraq war between 1980 and 1988.
Soleimani aided Afghan rebels along Iran's eastern frontier who were holding out against the Taliban, and in 1998 later ascended to the most sensitive and esteemed position as the Major-General of the Quds Force.
Under Soleimani's vision and leadership, analysts say, he carefully purported to carve out a "Shi'a Crescent" in long-held Sunni territory throughout the ISIS battle. The crescent is essentially a land path that runs from Tehran through Baghdad to Damascus and then to Beirut -- where it is considered to be a direct threat on Israel's doorstep.
When the Syrian regime, under the rule of President Bashar al-Assad, was defeated in 2012 during the country's Civil War, it was Soleimani who brought in Shiite militiamen from Lebanon, Iraq and Afghanistan to Syria, and then the Russians in 2015, to turn the tide against rebel forces and help Assad recapture key cities and towns.
Beyond militias in Iraq and the pariah government of Syria, Soleimani is considered to be chiefly responsible for propping up proxies ranging from Hezbollah in Lebanon to the Houthis in Yemen and even has a foothold with elements of the Maduro regime in Venezuela.
"This strike was aimed at deterring future Iranian attack plans," the Pentagon added in its statement Thursday. "The United States will continue to take all necessary action to protect our people and our interests wherever they are around the world."
https://www.foxnews.com/world/qassim-soleimani-shadowy-iran-revolutionary-guard-corps-leader-quds-force
------
'Bigger than bin Laden': Iran expert hails Qassim Soleimani's killing as 'massive blow to the regime'
by Philip Klein
January 02, 2020
Iran expert Mark Dubowitz did not mince words when trying to convey the enormity of the killing of Iranian terrorist commander Qassim Soleimani, declaring the news "bigger than bin Laden" and predicting it would be a "massive blow to the regime."
Dubowitz, CEO of the Foundation of Defense of Democracies, was initially skeptical of reports that Soleimani had been killed. But once more confirmation started coming in, he took to Twitter in an attempt to convey the magnitude of the event.
"If it's true Suleimani is dead, this is bigger than bin-Laden," he wrote. "Bigger than [Hezbollah's Imad] Mugniyeh. Bigger than [Islamic state leader Abu Bakr] Baghdadi. For two decades, Suleimani has been the most powerul, savvy & effective terrorist on the planet. He's enjoyed full backing of powerful terrorist state. Irreplacable."
Trying to draw an analogy to the United States, he also wrote, "If your view is Suleimani can easily be replaced, you know nothing about how he has completely dominated [Quds Force] & [Islamic Revolutionary Guard Corps] for 20 yrs. Ops, intel, foreign relations, political warfare, strategy. It's like losing your [Joint Chief of Staff] commander, CIA director & foreign minister — all at once."
He predicted, "I imagine lots of Iranians will also wake up in a few hours with smiles on their faces. This is a massive blow to the regime."
https://www.washingtonexaminer.com/opinion/bigger-than-bin-laden-iran-expert-hails-qassim-soleimanis-killing-as-massive-blow-to-the-regime
------
Indian Court Slams State Police for Framing Innocent Muslims in Anti-Citizenship Law Protests
02.01.2020
New Delhi(Sputnik) India has witnessed large-scale protests, some violent, against a controversial citizenship law enacted by the federal government early in December. The northern state of Uttar Pradesh saw large-scale violence and arson during the demonstrations that resulted in the deaths of at least at 18 people in clashes with security forces.
A local court in the Muzaffarnagar district of Uttar Pradesh, however, has found charges against four Muslims in connection with violence and rioting in the region to be "baseless".
According to a senior lawyer associated with the case, the court has asked the cops to release them after almost 10 days in dentention.
The court found that at the time of the protest, the accused were taking their father, a patient with kidney issues, to the hospital.
Sources with the Uttar Pradesh Police have claimed that they conceded the four were innocent. They have also stated that the crackdown on protesters was done on government orders.
Earlier, the state government in Uttar Pradesh had announced it would deal with arsonists during the protests and any loss to public or private property would be recovered from them. The state police arrested hundreds of protesters and locked them up in jails.
Eighteen people were officially confirmed dead during violent protests in the state of Uttar Pradesh, the highest number of casualties so far during demonstrations against the new law in the country.
The law, enacted on 12 December, allows Indian citizenship to persecuted minorities of Hindus, Sikhs, Buddhists, Parsis, Christians from three neighbouring Islamic countries – Afghanistan, Bangladesh, and Pakistan – if they have been living in India for "not less than five years".
It, however, did not extend the same treatment to Muslims – something which many deem to be a violation of the Indian Constitution and discriminatory.
https://sputniknews.com/asia/202001021077919052-indian-court-slams-state-police-for-framing-innocent-muslims-in-anti-citizenship-law-protests/
------
Bangladesh Islamists Stop Milk Bank Even Though Doctors Say Bangladeshi Children Are Malnourished
01/02/2020
by Sumon Corraya
Dhaka (AsiaNews) – The Institute of Child and Mother Health, a private hospital in Matuail (Dhaka Division), was scheduled to launch Bangladesh's first human milk bank last month, but could not start because of opposition from Muslim radicals.
The bank was set up in order to counter widespread child malnutrition in one of the countries in the world most affected by the problem. For radical Muslim clerics however, the scheme violated Islamic law and must be scrapped.
The milk programme was supposed to feed up to 500 orphans and infants of working mothers, and was especially important since child nutrition is essential to avoid stunted growth in the newly born.
The project was set to open on 1st December, but has been postponed to a date to be determined. Its founder and coordinator, Dr Mojibur Rahman, raised funds from private donors to pay for it and brought all the equipment from Spain.
"I visited Kuwait, Iraq, Iran and Pakistan to see their human milk banks," he said. "I learnt their laws and talked with Muslim clerics. We were ready to begin our service, but because of the opposition of [local] Muslim clerics, we've paused the project for now."
The doctor noted that he submitted the programme to the Islamic Foundation. As a Muslim, "I will not break any Islamic law." For this reason, "I hope people will support us" in helping "malnourished and orphaned children."
Bangladesh has "high rates of child malnutrition and stunted growth," he added. "Thirty children die out of a thousand. Around 176 mothers per 100,000 die during child birth."
National Tafshir Parishad, an Islamist group, sent a legal notice to the hospital, stopping the programme. A spokesman for the group, Ataur Rahman, said that "Sharia (Islamic law) does not allow milk banks. They would be against Islam. Milk banks create the risk of marriage between people who drank the same woman's milk."
Other Muslim experts instead back the project. Maulana Farid Uddin Masud, president of the Islamlah Muslimin Council and Khatib (sermon leader) at the Eidgah in Sholakia, Kishoreganj district, is one of them.
"If other Muslim majority nations such as Pakistan, Iran, Iraq and Malaysia have created milk banks, Bangladesh can also set up this kind" of bank. "I think many children will benefit from the project," he said. "We should see how they solved the issue."
For Edward Pallab Rozario, a Catholic doctor, "Human milk banks are needed for orphans and critically ill children. They can save babies treated in intensive care units and those whose mothers are not available. I think Bangladesh should set up some human milk banks."
http://www.asianews.it/news-en/Islamists-stop-milk-bank-even-though-doctors-say-Bangladeshi-children-are-malnourished-48932.html
------
Iraqis 'dancing in the street' after Soleimani death: Pompeo
January 03, 2020
WASHINGTON: Secretary of State Mike Pompeo posted a video on Twitter Thursday he said showed Iraqis "dancing in the street" after the United States killed top Iranian commander Qasem Soleimani.
"Iraqis — Iraqis — dancing in the street for freedom; thankful that General Soleimani is no more," Pompeo wrote, alongside footage of scores of people running along a road and waving what appeared to be Iraqi flags and other banners.
President Donald Trump ordered the killing of the Iran Revolutionary Guards commander, who died Friday "in a decisive defensive action to protect US personnel abroad," the Pentagon said.
"General Soleimani was actively developing plans to attack American diplomats and service members in Iraq and throughout the region," the Department of Defense said in a statement.
"General Soleimani and his Quds Force were responsible for the deaths of hundreds of American and coalition service members and the wounding of thousands more."
Pompeo did not provide a source for the video or offer any details about where the images were filmed.
The strike at Baghdad's international airport also killed the deputy chief of Iraq's powerful Hashed Al-Shaabi paramilitary force.
A pro-Iran mob this week laid siege to the US embassy following deadly American airstrikes on a hard-line Hashed faction.
The US had called the strikes in response to a rocket attack days earlier that killed an American contractor working in Iraq.
The Pentagon said Soleimani had orchestrated attacks on coalition bases in Iraq over the past months, including on December 27, the day the contractor was killed.
"General Soleimani also approved the attacks on the US Embassy in Baghdad that took place this week," it said.
Republican lawmakers quickly spoke out Thursday in strong support of Trump's attack that killed Soleimani.
"In a display of resolve and strength, we struck the leader of those attacking our sovereign US territories," top House Republican Kevin McCarthy said in a statement.
The sentiment was swiftly echoed by his fellow Republicans.
"Wow - the price of killing and injuring Americans has just gone up drastically," Senator Lindsey Graham, a close confidant of Trump, wrote on Twitter.
Former US ambassador to the United Nations Nikki Haley also praised the attack.
"Qassem Soleimani was an arch terrorist with American blood on his hands," Haley said on Twitter. "his demise should be applauded by all who seek peace and justice. "proud of president trump for doing the strong and right thing."
The high praise from the right stood in stark contrast to reaction from Democrats, who severely criticized Trump's latest move in a sign of Washington's polarization ahead of this year's presidential elections.
"President Trump just tossed a stick of dynamite into a tinderbox," said former vice president Joe Biden, who leads the pack of Democratic contenders, in a statement.
"Iran will surely respond. We could be on the brink of a major conflict across the Middle East," Biden said.
US entrepreneur and Democratic presidential candidate Andrew Yang wrote on Twitter that "war with Iran is the last thing we need and is not the will of the American people.
"We should be acting to deescalate tensions and protect our people in the region."
Democratic Vermont senator and presidential candidate Bernie Sanders said "Trump's dangerous escalation brings us closer to another disastrous war in the Middle East that could cost countless lives and trillions more dollars."
It was already a topic trending in US-based think tank and diplomatic circles late Thursday.
"Make no mistake: any war with Iran will not look like the 1990 Gulf war or the 2003 Iraq war," Richard Haass, president of the US-based Council on Foreign Relations, wrote on Twitter.
"The region (and possibly the world) will be the battlefield," he wrote.
https://www.arabnews.com/node/1607776/middle-east
------
Karachi University tells students to comply with ethical norms while using social media
January 3, 2020
A new code of ethics issued by the University of Karachi on Thursday restrains students from what it describes as activities "against the ideology of Pakistan and Islam".
The guidelines read that students have no right to interfere in the varsity's administrative activities. "There should be no activity against the ideology of Islam and Pakistan, or national security and integrity, and no interference in the varsity's administrative activities," says the statement issued by KU Student Adviser Dr Syed Asim Ali.
"The social media activities of the students must be in accordance with ethical norms that must not provoke regional and sectarian divide," says Dr Ali. The varsity's student adviser says the students must keep a strict check on "such external individuals who come to the varsity and get involved in non-academic activities".
Dr Ali warns that smoking and use and sale of gutka, paan and chhalia are strictly prohibited and "will be dealt with as per the law if anyone is found involved. No unauthorised use of the varsity's property is allowed including transport."
The adviser instructs all students to respect the teachers and the non-teaching staff and to cooperate with the security staff for ensuring discipline. "Graffiti and posters on walls are also prohibited."
Also, he adds, strict action will be taken against anyone found carrying arms or ammunition or explosive material on the campus. "All students should follow the university rules and regulations, including maintaining at least 75 per cent attendance in classes."
He says any programme in the varsity will need a five-day prior written permission from the relevant chairman and department, and all co-curricular activities must be held with the guidance of the departmental student advisers.
Students are also directed not to enter the residential area of the campus. "Students found in violation of the university code of conduct will be dealt with in accordance with the university's rules and regulations."
https://www.thenews.com.pk/print/592912-ku-tells-students-to-comply-with-ethical-norms-while-using-social-media
------
Muslim ethnic minorities not forced to work in Xinjiang
2020/1/2
The New York Times on Monday published an article headlined "Inside China's Push to Turn Muslim Minorities Into an Army of Workers." The article said Muslim ethnic minorities in Northwest China's Xinjiang Uyghur Autonomous Region suffer from "forced labor" and the policies are designed to make them "more secular and urbanized like China's Han majority."
The article was simply distorting the facts. The development of manufacturing is the only way out for any developing country, especially for the regions that are relatively poor. Xinjiang is no exception. Western developed countries took the same path. Some manufacturing industries are being transferred to Xinjiang, which is an extension of China's manufacturing chain. Training qualified manufacturing workers is crucial to maintaining the stability and development of a region.
Today, Chinese government encourages key companies to set plants in Xinjiang. In the past few years, many high-tech manufacturing companies have settled in Xinjiang, such as SAIC Volkswagen, Guangzhou Automobile Group Co and SANY Heavy Industry Co. More and more young people in Xinjiang have become industrial workers and Xinjiang has become an important base of China's textile industry. From 2014 to 2018, 2.3147 million people in Xinjiang have been lifted out of poverty, which is very important to people's livelihood in Xinjiang.
To develop a modern manufacturing industry, sufficient and qualified manpower is of great importance. This is the reason why Chinese government has been providing training for workers in Xinjiang to make them more qualified for employment. Take the US manufacturing industry. The New York Times surely understand that the biggest problem of the US manufacturing is the shortage of labor, and many young people in the US are unwilling to work in factories. But why are some Western media telling a completely different story when it comes to Xinjiang?
Vocational training, especially in manufacturing, is something that all responsible governments should do. The US has provided vocational training for American people as well. But the Chinese government has done better and invested more than the US. Since Xinjiang does not develop as much as other Chinese regions, the Chinese government has invested more and launched more incentive policies in Xinjiang. This is a successful experience of China's development.
The New York Times also said that people in Xinjiang were forced to do their work. The US media ignored these people's hard work, as if the Muslim ethnic minorities just want to sit idle and enjoy the fruit of others' work.
Muslim ethnic minorities in Xinjiang are just like people in other parts of China. No matter what their religion or ethnicity, they want to live a good life and work hard to achieve it. People in Xinjiang are striving for decent and stable jobs and more savings for their children's education. If the New York Times said Muslim ethnic minorities were forced to work, the media either did not understand what these people really need, or was simply slandering them.
The human rights of Uyghur people in Xinjiang are not up to the US or any other Western countries. As Xinjiang region is becoming a manufacturing center in Northwest China, Muslim ethnic minorities will really benefit from the support of the central government's policies. Time will tell.
https://www.globaltimes.cn/content/1175555.shtml
------
Europe
Milton Keynes mosque members bring gifts to emergency services to help combat "big issue" of Islamophobia
Thursday 02 January 2020
Members of the Zainabiyya Islamic Centre in Milton Keynes took Christmas presents to local emergency services workers to show their appreciation for the hard work they put in all year round.
Volunteers distributed presents to Great Holm Fire Station, MK Police Station and Milton Keynes Hospital.
A spokesman for the Islamic Centre said: "As Islamophobia is a big issue today, building relationships within the local community is upmost importance by gathering people together to
wrap Christmas presents to share at hospitals, fire stations and police stations."
Kumayl Rajani, President of Zainabiya Islamic Centre said: "We would like to welcome all to our centre faith or no faith. Building relationships within the local community is very important in this day and age."
One of the volunteers, Nusrat Somji, said: "Islam teaches us to be selfless to put others' needs before our own. Being given the opportunity to provide just a small token of our appreciation to the selfless men and women in our emergency services who sacrifice time with their families is an honour."
Chris Montague from the Great Holm Fire station said: "Thank you for your visit to the Fire Station and for your kind gifts from the mosque. If you would ever like a visit to the mosque we will be very happy to come down."
https://www.miltonkeynes.co.uk/news/people/milton-keynes-mosque-members-bring-gifts-to-emergency-services-to-help-combat-big-issue-of-islamophobia-1-9189612
------
MCB RESPONDS TO ISLAMOPHOBIC GRAFFITI AT SOUTH LONDON MOSQUE
In response to the Islamophobic graffiti spray-painted at North Brixton Islamic Cultural Centre in Lambeth, South London, Harun Khan, Secretary General of the Muslim Council of Britain, said: "It is deeply concerning that after reports of similar incidents in Birmingham, we now see Islamophobic graffiti targeting Muslim communities in Brixton. Given the largest amount of religious based hate crime targets Muslims and the ongoing rise of the far-right, we continue to call on the government to start taking Islamophobia seriously and proportionately to the risk Muslim communities face.
"It is welcome that the Mayor of London, the local MP and local faith and non-faith communities have publicly come out in solidarity. We look forward to the government speaking out and treating these incidents with the seriousness they deserve."
https://mcb.org.uk/press-releases/response-to-islamophobic-graffiti-at-south-london-mosque/
------
Golders Green Mosque hosts Interfaith blood donation event
2nd January
People of all faiths and none were invited to help save a life this winter by donating blood at a special donation session.
Faiths Forum London hosted the event at Golders Green Mosque for the first time during the festive break.
Giving blood within the faith of Islam is encouraged as it is an act of charity. There is a verse in the Qur'an which states "whoever saves one life, it is as if he has saved the whole of mankind".
Similarly, in Jewish scripture it states, "Therefore, Adam [from whom all humanity descended] was created singly, to teach us that whoever destroys a single life" is considered by Scripture to have destroyed the whole world and whoever saves a single life is considered by Scripture to have saved the whole world.
Rabbi Natan Levy said, "I've come today to meet my neighbours and give blood at the Markaz Hippodrome because there are people right here in Golders Green who feel that this generous and open hearted community does not belong here.
"Not only do they most certainly belong, but their warmth, their charity, and their willingness to work with people of other faiths like me is inspirational. And I, my family, and my community are each deeply enriched by sharing Golders Green with a thriving Muslim faith centre in our midst."
https://www.asianimage.co.uk/news/18133713.golders-green-mosque-hosts-interfaith-blood-donation-event/
------
Balancing Adversaries: Russian Policy in the Gulf and the Role of Russian Muslims
by Diana Galeeva
Under Putin's leadership, Russia returned to the Middle East using a 'pragmatic approach', which includes balancing adversaries. At the beginning of the Gulf Crisis it 'pursued an even-handed approach', offering to mediate between Qatar and the Anti-Terror Quartet (Saudi Arabia, the UAE, Bahrain, Egypt). As the crisis continues Russia has developed its policies on balancing between both blocs, with each being important sources of foreign investment, a market for Russian weapons, and potential allies in oil and gas sectors. The recent engagements prove this as well. Putin's official visit to Saudi Arabia and the United Arab Emirates on 14–15 October 2019, and the Russia-Africa Summit, which was co-chaired by Russian President Putin and Egyptian counterpart Abdel Fattah El-Sisi on 23–24 October, was geared towards deepening relations with the Quartet. At the same time, on 18 October, a working visit of Russia's Deputy Foreign Minister Boghanov to Doha further developed relations with Qatari officials.
Russian Muslims: 'Forgotten' players
This balancing adversaries policy was not solely developed by the federal government, but also by the Russian Muslim republics. The role Russian Muslims play in balancing these relations is often overlooked despite a shared Islamic identity potentially opening doors to close relations between Russia and the GCC. Chechnya's relations with the Anti-Terror Quartet, and Ingushetia's with Qatar, demonstrate this potential.
Chechen case
Chechen leader Ramzan Kadyrov is a prominent supporter of Putin's policies. Due to his active position in building close relations with Middle Eastern states, especially in the Gulf, observers view him as the main representative of Russian Muslims in the region. While heads of other republics also play important roles in building bilateral relations with the Middle East, undoubtedly Kadyrov's personality assists in Russia's close relations with the 'brothers', as Kadyrov refers to the Anti-Terror Quartet leadership.
Shared Islamic identity is Chechnya's key political card for building bilateral relations. In 2018, Kadyrov performed the Hajj in Saudi Arabia, which also served as an opportunity to meet with the Saudi leadership to discuss deepening economic, cultural, and scientific relations. Additionally, the Chechen leadership strongly supports the stated aim of promoting 'moderate Islam' in the Islamic world under the leadership of the Anti-Terror Quartet, especially Saudi Arabia and the UAE. In 2019, Kadyrov gave a speech supporting moderate Islam under the patronage of King Salman.
Chechnya has close bilateral relations with the UAE, another key member of this bloc, with interests based on economic cooperation and shared Islamic identity. Reportedly, UAE investments were used to build the Grozny Mall, and the tallest building in Russia and Europe, the MFC Akhmat Tower, managed by Emirati hotel operator, Address Hotels + Resorts.
Ingushetia's strategy in the Gulf
While Kadyrov defends Saudi Arabia and the UAE's push for moderate Islam, the former leader of Ingushetia and recently appointed deputy defence minister of Russia, Yunus-bek Yevkurov, has built close diplomatic relations with Qatar and its religious clerics. In February 2018, during an official visit to Qatar, Yevkurov visited Ali Al-Qaradaghi, the secretary general of the International Union of Muslim Scholars (headed by Sheikh Yusuf Al-Qaradawi, a spiritual leader of the Muslim Brotherhood, an organisation officially banned in Russia). Yevkurov's Instagram account reported: 'I expressed gratitude to the Sheikh for his efforts to consolidate Muslim society, for his contribution to strengthening stability in our region …'. These words suggest that Ingushetia's leader supports an Islamist-friendly bloc, consisting of Qatar and other states, such as Turkey and Iran, united in opposition to 'moderate Islam'. None of this is surprising as it allows Russia to balance both sides in the ongoing Gulf Crisis.
Reportedly, Yevkurov is a reliable intermediary for the emirate's advancements of economic interests in Ingushetia, and from there, the rest of Russia. Qatar has invested in Ingushetia since 2014, when Russia's economic crisis began. In addition to energy facilities, Qatar promised to invest in a wide range of sectors, including the automotive industry, tourism, and technology parks. Qatari investors are set to help Ingushetia authorities construct an Islamic complex in Magas – the Republic's capital – which would be the largest religious, cultural and educational centre in the country. As both cases demonstrate, following the Russian federal government policy to balance adversaries in the ongoing Gulf Crisis, Russian Muslims are important in keeping this balance.
https://blogs.lse.ac.uk/mec/2020/01/02/balancing-adversaries-russian-policy-in-the-gulf-and-the-role-of-russian-muslims/
------
Swiss revoke mother's citizenship over suspected Islamic State links
JAN 2, 2020
The Swiss authorities have revoked the citizenship of a French-Swiss women for her suspected links to the Islamic State militant group.
In an information published in the Federal Gazetteexternal link on December 31, the State Secretariat for Migration (SEM) said the 30-year-old dual national from Berolle, near Morges in canton Vaud, had been stripped of her Swiss nationality in accordance with the law.
The SEM confirmed to swissinfo.ch that the woman's nationality had been revoked for her alleged links to Islamic State.
"She acted against the interests of the Swiss state," SEM spokesman Daniel Bach told swissinfo.ch.
The authorities say they did not know where exactly she was currently residing. However, according to the Tages-Anzeiger newspaperexternal link the woman, who grew up in Geneva, fled to Islamic State-held territory in Syria with her two oldest daughters in 2016, unbeknown to their two fathers. Once there, she allegedly married and had another child with a jihadist fighter who was killed in a drone raid in 2018.
The woman has reportedly been living in precarious conditions in internment camps in northern Syria with her three children since the beginning of 2019.
SEM has purportedly been trying to repatriate two of her children who have Swiss nationality, however, they have reportedly failed due to opposition from the mother.
"It's a possibility. If it's better for the children we will try to repatriate them," said Bach.
The authorities' decision to revoke the mother's Swiss nationality can still be appealed before the Federal Administrative Court in St Gallen within 30 days, according to the SEM.
Second time
Switzerland revoked dozens of passports for security reasons during World War Two and the years thereafter, but this is the second time it has done so based on the citizenship law effective since 1953.
In September, the Swiss authorities withdrew the Swiss citizenship from a Swiss-Turkish manexternal link who had been sentenced in 2017 to several years in prison for carrying out propaganda and recruiting fighters for an Islamist terrorist organisation.
According to Article 42 of the Federal Act on Swiss Citizenshipexternal link, "the SEM may, with consent of the authority in the canton of origin, revoke the Swiss, cantonal and communal citizenship of a person holding dual nationality if his or her conduct is seriously detrimental to the interests or the reputation of Switzerland".
Under Article 30 of the Ordinance on Swiss Citizenshipexternal link, this is the case if the person has committed a serious crime in connection with terrorist activities or violent extremism. Decisions are taken on a case-by-case basis and only if the person has dual nationality. After someone's citizenship has been withdrawn, Switzerland can deny entry to them if deemed a security threat.
At present, fewer than five cases have been opened at SEM regarding the possible withdrawal of Swiss nationality of individuals linked to the Syrian conflict, Bach said. Another 15-20 cases are under review.
In June, the Federal Council said that it had identified over a dozen dual nationals suspected of committing crimes abroad during terrorist activities.
http://www.swissinfo.ch/eng/nationality_swiss-revoke-mother-s-citizenship-over-suspected-islamic-state-links/45468312
------
Building near UK mosque comes under Islamophobic attack
02.01.2020
A building near a mosque in south London was vandalized with Islamophobic slogans, British police said on Thursday.
Officers attended the building near the North Brixton Islamic Cultural Centre after reports of "anti-Islamic slogans" on a building's walls.
"Disgusted to hear that Islamophobic slogans have been spray-painted near the North Brixton Islamic Centre," London Mayor Sadiq Khan wrote on Twitter.
He said the Metropolitan Police worked with Lambeth Council to have them removed, "but let me be clear: all prejudice is cowardly and criminals will face the full force of the law."
Miqdaad Versi, from the Muslim Council of Britain (MCB), said it was "worrying to hear about this racist incident."
Islamophobic incidents have risen significantly following the terror attacks in London and Manchester in 2017 and they were fuelled further due to a number of factors, such as Brexit and the proliferation of far-right groups spreading misconceptions about immigration and faith.
The issue was a hot pre-election debate as the MCB, the U.K.'s largest Muslim body, many times urged the Conservative Party leadership to tackle the issue of Islamophobia within the party and investigate Tories accused of it.
Islamophobic comments by Tory party members and councilors were found online, with some calling for the bombing of mosques, and others making racist comments about Khan and Tory Home Secretary Sajid Javid.
British Prime Minister Boris Johnson pledged an investigation into any hate crimes and racist incidents in his party before the Dec. 12 election, with which he had a landslide victory and the majority in the House of Commons.
Johnson was previously accused of Islamophobia when he compared women who wear Islamic garb to "bank robbers and letter boxes."
His comments triggered a national outcry, but an internal Conservative investigation cleared him of wrongdoing.
https://www.aa.com.tr/en/europe/building-near-uk-mosque-comes-under-islamophobic-attack/1690116
------
Islamic finance gains ground in UK
January 3, 2020
Although a host of new faith-based lending or savings accounts have been launched in the UK market, only 54 percent of Muslim consumers have tried any of them, according to the 2019 Islamic Finance Consumer Report from Gatehouse Bank. The UK is home to an estimated four million Muslims, who contribute £30 billion ($39 billion) to the British economy, according to the Muslim Council of Britain.
Moreover, the UK Islamic finance sector holds an estimated £15 billion ($19 billion) of assets, the largest outside the Middle East and Asia; nevertheless, Islamic retail banking is yet to fully take hold in the country, according to experts. Charles Haresnape, CEO of Gatehouse Bank, a British Islamic finance challenger bank with assets of around $1.2 billion, said, "The problem is that most people don't really understand Islamic finance; even Muslims don't understand it."
He said that Gatehouse is intent on developing the Islamic finance sector in Britain. "We commissioned our latest report in conjunction with [Islamic marketing agency] Ogilvy Noor because there wasn't any meaningful research about the market."
Founded in 2008, Gatehouse is part of a small clutch of Islamic lenders in the UK, led in size by Qatar-owned Al Rayan Bank, which holds assets of $1.8 billion. Haresnape predicts growth for the UK Islamic finance market, driven by the country's expanding young Muslim population, but said awareness and education would be key factors in driving uptake.
"The [Islamic finance] market will grow significantly if we can get the message out there. There is some positivity [in our survey] but we need to create awareness to get more traction," Haresnape said. "Islamic banking can offer better deposit rates with the same guarantees as conventional banking; it's up to us to make it clear what is on offer. […] As more competition comes in, it may help to grow the market."
The Gatehouse study found that more work needs to be done to increase awareness and address negative perceptions of Islamic finance. Only a third of non-users view Islamic finance "favourably", and almost two-thirds of Muslim consumers are "sceptical" about the veracity of Shariah-compliant products, the survey found. Shelina Janmohamed, Vice President at Ogilvy Noor, told Zawya, "The [Islamic finance] industry needs to look at where all the key barriers are and ask whether an individual institution or an industry should invest … my feeling is that there needs to be an industry-wide campaign for Muslim communities."
"Muslims are often looking to their peers to see if they should take up Islamic finance. So if banks can jumpstart the communities with some understanding, that would trigger quite a wave of interest and uptake," Janmohamed said. According to the Gatehouse report, friends, family and colleagues are the most common sources of information among those who have never used Islamic finance; 34 per cent of those yet to use Shariah-compliant products have heard about it through these channels.
Omar Shaikh, an advisory board member for the Islamic Finance Council UK (IFCUK), London, said that Islamic finance is still a young industry that hasn't yet managed to build a "proper" retail portfolio. Shaikh said that the industry had been increasing its offerings, such as the recently introduced buy-to-let financing package from Gatehouse and a range of industry-wide savings accounts, but much more needs to be done.
He also noted that there is room for growth in areas such as car financing, pilgrimage tour financing, SME funding and insurance. "With such a small portfolio, it's not surprising that the industry doesn't have enough penetration. Admittedly, there are some regulatory challenges with formulating new [Islamic finance] products, but no one has even tried to take it on and crack it yet."
However, Shaikh said, Muslim deposit offerings have become more "visible", regularly featuring on mainstream media channels and rankings. "The whole world of Islamic savings has become very attractive and has a broader appeal because the rates can be high." He added that the British population is generally undereducated about personal finance, both conventional and faith-based offerings. "There is a big awareness gap generally, plus a lot of Muslims don't even know that Islamic finance products exist."
He recommended that individual banks carry out systematic structured campaigns with strong roadshow and marketing elements. "The first phase of bringing Islamic finance into the UK is complete; it has been successful. They have good profitable lending books. Now it's about setting the stage for phase two."—Zawya
https://pakobserver.net/islamic-finance-gains-ground-in-uk/?utm_source=rss&utm_medium=rss&utm_campaign=islamic-finance-gains-ground-in-uk
------
Council bosses set to approve £400,000 community centre for Ely Muslims
02 January 2020
Ely Muslims want to transform the rundown terrace house in Broad Street into a place to "improve understanding, cohesion and integration".
The proposal is recommended for approval by the planning committee of East Cambridgeshire District Council (ECDC) on Wednesday (January 8).
It was brought to debate by Councillor Lis Every, who said it would be "in the interest of the public" to learn more about the plans.
But nearby residents raised concerns over traffic problems adding to existing problems, while others said "long term benefits would outweigh any harm" to businesses.
Among supporters is the Paradise Centre who has hosted the Ely prayer group for 18 years.
However, conservation officers objected saying the design ambitions were "so low", "neither preserving nor enhancing the conservation area".
Planning officers said the application should be approved with opening hours as one of the conditions.
The times will be 6am to 11pm Monday to Friday and 7am to 10pm on Saturdays, Sundays, Bank Holidays and Public Holidays.
"The design of the proposal is suitable for this area of Ely that has a mix of traditional properties," the report states.
"If a fully functioning mosque is sought then this site would not be appropriate as it would create significant disturbance during anti-social hours.
"However, a community centre with controlled hours that reflect the entire day would work."
The two storey terraced house at 34 Broad Street is in a poor state of repair and has been flooded on at least two occasions, says the applicants.
It will be transformed into a mock Victorian building designed to look like two terrace houses.
Fronting Broad Street will be a property in keeping with the street and with a two-bedroom flat.
To the rear it is planned two-storey extensions split into two halls with an office and kitchen at first floor level.
Trustees of the Muslim community said: "We believe that the Ely council and the Ely community are a forward thinking people and by granting us permission to use it for the prayer times will enable us to feel part of this community." It would improve "community cohesion" they added.
https://www.elystandard.co.uk/news/approval-for-ely-muslims-community-centre-1-6448682
------
North America
Pentagon says US airstrike killed powerful Iranian general Qassem Soleimani
Jan 3, 2020
The Pentagon said Thursday that the US military has killed Gen. Qassem Soleimani, the head of Iran's elite Quds Force, at the direction of President Donald Trump.
An airstrike killed Soleimani, architect of Iran's regional security apparatus, at Baghdad's international airport Friday, Iranian state television and three Iraqi officials said, an attack that's expected to draw severe Iranian retaliation against Israel and American interests.
The Defense Department said Soleimani "was actively developing plans to attack American diplomats and service members in Iraq and throughout the region." It also accused Soleimani of approving the attacks on the US Embassy in Baghdad earlier this week.
A statement released late Thursday by the Pentagon said the strike on Soleimani "was aimed at deterring future Iranian attack plans."
The strike also killed Abu Mahdi al-Muhandis, deputy commander of Iran-backed militias in Iraq known as the Popular Mobilization Forces, or PMF, Iraqi officials said. The PMF media arm said the two were killed in an American airstrike that targeted their vehicle on the road to the airport.
Citing a Revolutionary Guard statement, Iranian state television said Soleimani was "martyred" in an attack by US helicopters near the airport, without elaborating.
US President Donald Trump, who was vacationing on his estate in Palm Beach, Florida, but sent out a tweet of an American flag.
Their deaths are a potential turning point in the Middle East and if the US carried them out, it represents a drastic change for American policy toward Iran after months of tensions.
Tehran shot down a US military surveillance drone and seized oil tankers. Meanwhile, the US blames Iran for a series of attacks targeting tankers, as well as a September assault on Saudi Arabia's oil industry that temporarily halved its production.
The tensions take root in Trump's decision in May 2018 to withdraw the US from Iran's nuclear deal with world powers, struck under his predecessor.
Congress not notified ahead of Soleimani killing: Senior US lawmaker
A senior Iraqi politician and a high-level security official confirmed to The Associated Press that Soleimani and al-Muhandis were among those killed in the attack shortly after midnight. Two militia leaders loyal to Iran also confirmed the deaths, including an official with the Kataeb Hezbollah faction, which was involved in the New Year's Eve attack by Iran-backed militias on the US Embassy in Baghdad.
The security official, speaking on condition of anonymity, said al-Muhandis had arrived to the airport in a convoy along with others to receive Soleimani, whose plane had arrived from either Lebanon or Syria. The airstrike took place near the cargo area after he left the plane to be greeted by al-Muhandis and others.
Two officials from the Iraqi Popular Mobilization Forces said Suleimani's body was torn to pieces in the attack while they did not find the body of al-Muhandis. Asenior politician said Soleimani's body was identified by the ring he wore.
The officials spoke on condition of anonymity because of the sensitivity of the subject and because they were not authorized to give official statements.
As the head of the Quds, or Jersualem, Force of Iran's paramilitary Revolutionary Guard, Soleimani led all of its expeditionary forces. Quds Force members have deployed into Syria's long war to support President Bashar Assad, as well as into Iraq in the wake of the 2003 US invasion that toppled dictator Saddam Hussein, a longtime foe of Tehran.
Soleimani rose to prominence by advising forces fighting the Islamic State group in Iraq and in Syria on behalf of the embattled Assad.
US officials say the Guard under Soleimani taught Iraqi militants how to manufacture and use especially deadly roadside bombs against US troops after the invasion of Iraq. Iran has denied that. Soleimani himself remains popular among many Iranians, who see him as a selfless hero fighting Iran's enemies abroad.
Soleimani had been rumored dead several times, including in a 2006 airplane crash that killed other military officials in northwestern Iran and following a 2012 bombing in Damascus that killed top aides of Assad. Rumors circulated in November 2015 that Soleimani was killed or seriously wounded leading forces loyal to Assad as they fought around Syria's Aleppo.
Earlier Friday, an official with the Popular Mobilization Forces said seven people were killed by a missile fired at Baghdad International Airport, blaming the United States.
The official with the group known as the Popular Mobilization Forces said the dead included its airport protocol officer, identifying him as Mohammed Reda.
A security official confirmed that seven people were killed in the attack on the airport, describing it as an airstrike. Earlier, Iraq's Security Media Cell, which releases information regarding Iraqi security, said Katyusha rockets landed near the airport's cargo hall, killing several people and setting two cars on fire.
It was not immediately clear who fired the missile or rockets or who was targeted. There was no immediate comment from the US
The attack came amid tensions with the United States after a New Year's Eve attack by Iran-backed militias on the US Embassy in Baghdad. The two-day embassy attack which ended Wednesday prompted President Donald Trump to order about 750 US soldiers deployed to the Middle East.
It also prompted Secretary of State Mike Pompeo to postpone his trip to Ukraine and four other countries "to continue monitoring the ongoing situation in Iraq and ensure the safety and security of Americans in the Middle East," State Department spokeswoman Morgan Ortagus said Wednesday.
The breach at the embassy followed US airstrikes on Sunday that killed 25 fighters of the Iran-backed militia in Iraq, the Kataeb Hezbollah. The US military said the strikes were in retaliation for last week's killing of an American contractor in a rocket attack on an Iraqi military base that the US blamed on the militia.
US officials have suggested they were prepared to engage in further retaliatory attacks in Iraq.
"The game has changed," Defense Secretary Mark Esper said Thursday, telling reporters that violent acts by Iran-backed Shiite militias in Iraq including the rocket attack on Dec. 27 that killed one American will be met with US military force.
He said the Iraqi government has fallen short of its obligation to defend its American partner in the attack on the US embassy.
The developments also represent a major downturn in Iraq-US relations that could further undermine US influence in the region and American troops in Iraq and weaken Washington's hand in its pressure campaign against Iran.
https://timesofindia.indiatimes.com/world/middle-east/irans-gen-soleimani-killed-in-airstrike-at-baghdad-airport/articleshow/73077598.cms
------
Terror alert: US asks its airlines to exercise caution in and over Pakistan airspace
Jan 2, 2020
NEW DELHI: The United States has warned its airlines to exercise caution in Pakistan airspace due to "extremist/militant activity". The US Federal Aviation Administration (FAA) has issued a notice to airmen (NOTAM) in this regard for its airlines, commercial operators and aircraft registered there flying into; out of; within; or over Pakistan till January 1, 2021, and will be re-evaluated then. The FAA NOTAM was issued on March 23, 2019, and was valid till end of last year, which has now been extended.
"Exercise caution during flight operations. There is a risk to US civil aviation operating in the territory and airspace of Pakistan due to extremist/militant activity. There continues to be a risk to US civil aviation from attacks against airports and aircraft, particularly for aircraft on the ground and aircraft operating at low altitudes, including during the arrival and departure phases of flight," the NOTAM says.
The background information for this NOTAM posted on FAA website on December 30, 2019, refers to the India-Pakistan conflict too. "In addition to the extremist/militant threat to US civil aviation operations in the territory and airspace of Pakistan, there may be flight disruptions and airspace closures implemented due to clashes in the Kashmir Region with little or no warning. On 26 February 2019, the Indian Air Force crossed the Line of Control and claimed to have conducted air strikes against Jaish-e-Mohammed (JeM) extremist/militant training camps, in response to a JeM attack against Indian forces in … Kashmir on 14 February. On 27 February 2019, Pakistan carried out retaliatory air strikes on unidentified targets in … Kashmir and subsequently claimed to have shot down two Indian fighter jets entering Pakistani airspace."
"India and Pakistan employ a variety of advanced air-to-air fighter aircraft and surface-to-air missile systems capable of targeting aircraft up to and beyond overflight altitudes typically used by civil aircraft. Although India and Pakistan have no intent to target civil aviation, if military operations were to resume, such operations could present an inadvertent risk to U.S. civil aviation. Historically, Pakistan and neighboring air navigation service providers have managed their airspace appropriately to deconflict and protect civil aviation overflight operations in response to clashes in the Kashmir Region," the background info says.
"The ongoing presence of extremist/militant elements operating in Pakistan poses a continued risk to US civil aviation from small-arms fire, complex attacks against airports, indirect weapons fire, and anti-aircraft fire, any of which could occur with little or no warning. While, to date, there have been no reports of man-portable air defence systems (manpads) being used against civil aviation in Pakistan, some extremist/militant groups operating in Pakistan are suspected of having access to manpads. As a result, there is a potential risk for extremists/militants to target civil aviation in Pakistan with manpads," it adds.
The FAA says "some manpads are capable of reaching a maximum altitude of 25,000 feet above ground level."
The justification for this advisory will be re-evaluated by January 1, 2021.
Two American carriers - United and Delta - and Air India have direct flights between US and India. Other Indian carriers like SpiceJet and IndiGo overfly Pakistan between some cities in India and Afghanistan, Gulf, Saudi Arabia and Turkey. "FAA notams are for American carriers or for American airspace," said an operations head of an Indian airline that flies over Pakistan. No Indian carrier currently flies to Pakistan.
FAA's "background information regarding US civil aviation in the territory and airspace of Pakistan" says: "Between 2014 and 2019, extremist/militant groups operating in Pakistan have demonstrated their ongoing capability and intent to target civil aviation through multiple attacks on aviation infrastructure, including airports. In August 2019, two individuals were arrested for firing small arms directed at a commercial aircraft on approach into Islamabad International Airport (OPIS)…. In 2015, extremists/militants attacked two remote airfields in Baluchistan Province and one Pakistani Air Force Base in Peshawar, resulting in a number of deaths and injuries. In an August 2015 attack on Jiwani International Airport (OPJI), extremists/militants destroyed an air traffic control radar facility…"
"In addition to the extremist/militant threat to US civil aviation operations in the territory and airspace of Pakistan, there may be flight disruptions and airspace closures implemented due to clashes in the Kashmir Region with little or no warning…. India and Pakistan employ a variety of advanced air-to-air fighter aircraft and surface-to-air missile systems capable of targeting aircraft up to and beyond overflight altitudes typically used by civil aircraft. Although India and Pakistan have no intent to target civil aviation, if military operations were to resume, such operations could present an inadvertent risk to US civil aviation. Historically, Pakistan and neighboring air navigation service providers have managed their airspace appropriately to deconflict and protect civil aviation overflight operations in response to clashes in the Kashmir Region," the background information says posted on FAA website on December 30, 2019, says.
https://timesofindia.indiatimes.com/world/us/terror-alert-us-asks-its-airlines-to-exercise-caution-in-and-over-pakistan-airspace/articleshow/73075460.cms
------
Pentagon confirms Donald Trump ordered killing of Iran Guards commander
Jan 3, 2020
WASHINGTON: US President Donald Trump ordered the killing of Iran Revolutionary Guards commander Qasem Soleimani+ , who died in Baghdad "in a decisive defensive action to protect US personnel abroad," the Pentagon said.
"General Soleimani was actively developing plans to attack American diplomats and service members in Iraq and throughout the region. General Soleimani and his Quds Force were responsible for the deaths of hundreds of American and coalition service members and the wounding of thousands more," the Department of Defence said.
Following Soleimani's death, Trump tweeted an image of the US flag without any further explanation.
Congress not notified ahead of Soleimani killing: Senior US lawmaker
The strike, which occurred at Baghdad's international airport on Friday in Iraq, also killed the deputy chief of Iraq's powerful Hashed al-Shaabi paramilitary force. A pro-Iran mob this week laid siege to the US embassy following deadly American air strikes on a hardline Hashed faction.
The US had called the strikes in response to a rocket attack days earlier that had killed an American contractor working in Iraq.
The Baghdad airport was hit in a volley of missiles just after midnight Friday, Iraq's military had announced.
Security sources told AFP the bombardment hit a Hashed convoy and killed eight people, including "important figures." Soleimani heads the Islamic Revolutionary Guard Corps' Quds Force and also serves as Iran's pointman on Iraq, visiting the country in times of turmoil.
"At the direction of the President, the US military has taken decisive defensive action to protect US personnel abroad by killing Qasem Soleimani, the head of the Iranian Revolutionary Guard Corps-Quds Force, a US-designated Foreign Terrorist Organization," the Pentagon said.
"This strike was aimed at deterring future Iranian attack plans," it added. The Pentagon said that Soleimani had orchestrated attacks on coalition bases in Iraq over the past months, including on December 27, the day the US contractor was killed. "General Soleimani also approved the attacks on the US Embassy in Baghdad that took place this week," it said.
https://timesofindia.indiatimes.com/world/us/pentagon-confirms-trump-ordered-killing-of-iran-guards-commander/articleshow/73078568.cms
------
Congress not notified ahead of Soleimani killing: Senior US lawmaker
Jan 3, 2020
WASHINGTON: US lawmakers were not told in advance of the attack ordered by President Donald Trump that killed a top Iranian military commander, a Senior House Democrat said late Thursday.
The strike conducted in Iraq against Iran's Qasem Soleimani "went forward with no notification or consultation with Congress," House Foreign Affairs Committee chairman Eliot Engel said in a statement.
Soleimani was "the mastermind of immense violence" who has "the blood of Americans on his hands," the Democratic lawmaker said.
But "to push ahead with an action of this gravity without involving Congress raises serious legal problems and is an affront to Congress's powers as a coequal branch of government," Engel added.
https://timesofindia.indiatimes.com/world/us/congress-not-notified-ahead-of-soleimani-killing-senior-us-lawmaker/articleshow/73079322.cms
------
Islamic State Claims Responsibility For Deadly Attack In Ingushetia
January 02, 2020
The Islamic State (IS) extremist group has claimed responsibility for an attack in Russia's North Caucasus region of Ingushetia, in which a police officer was killed.
Two young men rammed their car into a police officer on December 31, and then attacked other police officers with knives in the Ingush capital, Magas.
Regional authorities said one police officer died and three others were wounded in the incident. One of the attackers, 18-year-old Mikail Miziyev, was killed while another, 23-year-old Akhmed Imagozhev, was wounded and is currently in hospital.
The IS group said in a statement dated January 1 that it was responsible for the attack, according to the SITE Intelligence Group, which tracks the online activity of jihadist organizations.
Ingushetia's leader, Makhmud-Ali Kalimatov, publicly criticized police for what he called "insufficient measures to beef up security on New Year's Eve."
Attacks on police and authorities have persisted for years in the volatile North Caucasus region after Russia drove out a separatist government in one of the region's provinces, Chechnya, in the second of two devastating post-Soviet wars.
https://www.rferl.org/a/islamic-state-claims-responsibility-for-deadly-attack-in-ingushetia/30356052.html
------
Mideast
Maryam Rajavi: Elimination Of Qassem Soleimani And Head Of Iraq's Suppressive Bassij Force Is Irreparable Blow To Mullahs' Regime
03 January 2020
TIME TO EVICT IRGC FROM THE REGION
Mrs. Maryam Rajavi, the President-elect of the National Council of Resistance of Iran (NCRI), described the elimination of Qassem Soleimani and Abu Mehdi Muhandes, the head of Iraq's suppressive Bassij force, as an irreparable blow to the clerical regime. Mrs. Rajavi emphasized that the time had come to evict the mullahs from the region, especially from Iraq, Syria, and Lebanon, and expel the IRGC from these countries. In this way, Iraq, which had been delivered by the United States to the clerical regime on a silver platter, will be liberated from the yoke of the religious fascism ruling Iran.
Qassem Soleimani was one of the most vicious criminals in Iran's history. He was personally involved in the massacre of hundreds of thousands of people in the region and in driving millions of others from their homes. He was also the mastermind of the massacre of the Mujahedin-e Khalq (PMOI/MEK) in Camp Ashraf in Iraq, and of many other terrorist operations against the Iranian Resistance in that country, in Iran, and in other countries. With his elimination, the process of overthrowing the mullahs will be greatly expedited.
Moreover, with the death of the criminal Abu Mahdi al-Muhandis, the head of Iranian regime's proxy Bassij force in Iraq and a notorious murderer, whose crimes had been exposed by the Iranian Resistance since two decades ago, the time has come for the victory of the Iraqi people's uprising and the liberation of Iraq from the Iranian regime's occupation.
Mrs. Rajavi added: While the prospects for the ruling theocracy's overthrow is within reach, it is time for the regime's armed forces to refrain from firing on the Iranian people, lay down their weapons and surrender. The armed forces' patriotic personnel must join the people of Iran.
Recalling the martyrdom of at least 1,500 children of the Iranian people and endless arrests during the November 2019 uprising, Mrs. Rajavi underscored: The international community, especially the European Union, must end the policy of appeasement and recognize the right of the Iranian people to resist and rise for freedom to replace popular sovereignty in place of the mullahs' rule.
Secretariat of the National Council of Resistance of Iran
https://www.ncr-iran.org/en/ncri-statements/president-elect/27162-maryam-rajavi-elimination-of-qassem-soleimani-and-head-of-iraq-s-suppressive-bassij-force-is-irreparable-blow-to-mullahs-regime
------
Qassem Soleimani was Iran's celebrity soldier, spearhead in Middle East
Jan 3, 2020
Iranian Major-General Qassem Soleimani, the top commander of the elite Quds Force of the Revolutionary Guards, helped Iran fight proxy wars across the Middle East by inspiring militias on the battlefield and negotiating with political leaders.
His death on Friday in a U.S. air strike on his convoy at Baghdad airport marked the end of a man who was a celebrity at home and closely watched by the United States, Israel and Tehran's regional rival Saudi Arabia.
The Pentagon said the strike was aimed at deterring future Iranian attack plans.
Soleimani was responsible for clandestine overseas operations and was often seen on battlefields guiding Iraqi Shi'ite groups in the war against Islamic State.
He was killed along with top Iraqi militia commander Abu Mahdi al-Muhandis. Both men were seen as heroes in Iran's fight against its enemies and state television heaped them with praise shortly after their deaths were announced.
debris
The television showed footage of him with Iran's Supreme Leader Ayatollah Ali Khamenei and in war zones in military garb, including as a young high-school graduate commanding a unit in Iran's war with Iraq in the 1980s.
After that, he rose rapidly through the ranks of Iran's Revolutionary Guards to become chief of the Quds Force, a post in which he helped Iran form alliances in the Middle East as it came under pressure from U.S. sanctions that have devastated the Islamic Republic's economy.
The United States designated the Revolutionary Guards a foreign terrorist organization in 2019, part of a campaign of maximum pressure to force Iran to negotiate on its ballistic missile program and nuclear policy.
Soleimani had a pointed reply: any negotiation with the U.S. would be "complete surrender."
Soleimani's Quds Force shored up support for Syrian President Bashir al-Assad when he looked close to defeat in the civil war raging since 2011 and also helped militiamen defeat Islamic State in Iraq.
Its successes have made Soleimani instrumental to the steady spreading of Iran's clout in the Middle East, which the United States and Tehran's regional foes Saudi Arabia and Israel have struggled to keep in check.
Khamenei made Soleimani head of the Quds Force in 1998, a position in which he kept a low profile for years while he strengthened Iran's ties with Hezbollah in Lebanon, Assad's government, and Shi'ite militia groups in Iraq.
In the past few years, he has acquired a more public standing, with fighters and commanders in Iraq and Syria posting images on social media of him on the battlefield, his beard and hair always impeccably trimmed.
"WE ARE CLOSE TO YOU"
Soleimani's growing authority within Iran's military establishment was apparent in 2019 when Khamenei awarded him the Order of Zolfiqar medal, Iran's highest military honour. It was the first time any commander had received the medal since the Islamic Republic was established in 1979.
In a statement after Soleimani's death, Khamenei said harsh revenge awaited the "criminals" who killed him. His death, though bitter, would double the motivation of the resistance against the United States and Israel, the Iranian leader said.
"Soleimani is ... not a man working in an office. He goes to the front to inspect the troops and see the fighting," a former senior Iraqi official, who asked not to be identified, said in an interview in 2014.
"His chain of command is only the Supreme Leader. He needs money, gets money. Needs munitions, gets munitions. Needs material, gets material," the former Iraqi official said.
Soleimani was also in charge of intelligence gathering and covert military operations carried out by the Quds Force and in 2018 he publicly challenged U.S. President Donald Trump.
"I'm telling you Mr. Trump the gambler, I'm telling you, know that we are close to you in that place you don't think we are," said Soleimani, seen wagging an admonishing finger in a video clip distributed online.
"You will start the war but we will end it," he said, with a checkered keffiya draped across the shoulders of his olive uniform.
"GETS WHAT HE WANTS"
Softly-spoken, Soleimani came from humble beginnings, born into an agricultural family in the town of Rabor in southeast Iran on March 11, 1957.
At 13, he travelled to the town of Kerman and got a construction job to help his father pay back loans, according to a first person account from Soleimani posted by Defa Press, a site focused on the history of Iran's eight year war with Iraq.
When the revolution to oust the Shah began in 1978, Soleimani was working for the municipal water department in Kerman and organised demonstrations against the monarch.
He volunteered for the Revolutionary Guards and, after war with Iraq broke out in 1980, quickly rose through the ranks and went on to battle drug smugglers on the border with Afghanistan.
"Soleimani is a great listener. He does not impose himself. But he always gets what he wants," said another Iraqi official, adding that he can be intimidating.
At the height of the civil war between Sunni and Shi'ite militants in Iraq in 2007, the U.S. military accused the Quds Force of supplying improvised explosive devices to Shi'ite militants which led to the death of many American soldiers.
Soleimani played such a pivotal role in Iraq's security through various militia groups that General David Petraeus, the overall head of U.S. forces in Iraq at the time, sent messages to him through Iraqi officials, according to diplomatic cables published by Wikileaks.
After a referendum on independence in the Kurdish north in 2017, Soleimani issued a warning to Kurdish leaders which led to a withdrawal of fighters from contested areas and allowed central government forces to reassert their control.
He was arguably even more influential in Syria. His visit to Moscow in the summer of 2015 was the first step in planning for a Russian military intervention that reshaped the Syrian war and forged a new Iranian-Russian alliance in support of Assad.
His activities had made him a repeated target of the U.S. Treasury: Soleimani was sanctioned by the United States for the Quds Force's support for Lebanon's Hezbollah and other armed groups, for his role in Syria's crackdown against protesters and his alleged involvement in a plot to assassinate the Saudi ambassador to the United States.
Soleimani's success in advancing Iran's agenda had also put him in the crosshairs of regional foes Saudi Arabia and Israel.
Top Saudi intelligence officials looked into the possibility of assassinating Soleimani in 2017, according to a report in the New York Times in 2018. A Saudi government spokesman declined to comment, the Times reported, but Israeli military officials publicly discussed the possibility of targeting him.
https://timesofindia.indiatimes.com/world/middle-east/qassem-soleimani-was-irans-celebrity-soldier-spearhead-in-middle-east/articleshow/73080143.cms
------
Meet the comics bringing Jews and Muslims together through stand-up
PJ Grisar
January 2, 2020
In April of 2019, comedian Eitan Levine held a five-day comedy festival at his New York apartment. Yeganeh Mafaher was part of a diverse slate of comics who graced Levine's living room with her set, which explores — among other topics — being Iranian-American and looking like Anne Frank. The two had not met before the night of her performance, but Mafaher was about to get to know Levine pretty intimately.
"We were given neck lanyards and I was given his old Yeshiva one, and for some reason I got nervous right before we got onstage, so I started playing with it in my mouth," Mafaher said. "And Dan Katz, another comic, goes 'He used to be fat. You know his neck rolls used to sweat on that? Good luck!' And I got on."
In recent weeks, Mafaher, who was born in Iran to a Muslim father and a Christian mother, and Levine, a Yeshiva University alum who grew up in an Orthodox community in New Jersey, have been working on producing a comedy show designed to promote cultural exchange — though, one that involves less spit and sweat (hopefully).
The idea came to them in October when they were drunk on the subway traveling south from Levine's home base on the Upper West Side.
"We realized that we have an angle, a hook to get booked at places, because she's Muslim and I'm Jewish," Levine said. "These are groups that have maybe not had the best run of things, but we thought, 'If we can get along, then everyone else can get along!'"
The result of that tipsy conversation is the Shalom Habibi Tour, a comedy jaunt featuring Jewish, Muslim and Arab comedians that kicks off at the Marlene Meyerson JCC in Manhattan on January 25. Levine and Mafaher will anchor each show and follow the standup sets with Q&As that will be recorded as podcasts.
Comics for the first night include Josh Gondelman, a writer for the late-night Showtime series "Desus and Mero" and curator of the @SeinfeldToday Twitter account; Usama Sidhdiquee, who's been featured on Comedy Central and is a regular at the Comedy Cellar; and Marcia Belsky, the co-writer and star of "Handmaid's Tale: The Musical" (which, yes, is a comedy).
"The tour isn't like, 'Let's sit in the same room and figure out Israel right now,'" Levine said. "I'm not saying that we're not going to talk about the hard stuff when the hard stuff comes up, but the point of the tour isn't to talk about the hard stuff; the point of the tour is unity."
So far, Shalom Habibi has dates in Atlanta, Omaha, Des Moines, Sacramento, North Carolina and LA. While the two producing comics will be doing a lot of traveling, the venture may create an obstacle to future trips for Mafaher. She believes having a producing credit on a show centered on Muslim and Jewish unity might spell trouble should she want to return to Iran, the country she left as a child and where many of her relatives still live.
"If they were to find out about this tour it would not be good, so I could probably never go back, which is crazy," Mafaher said.
"I think my dad's gonna send me less memes," Levine said of his father's pro-Trump, anti-AOC emails, with an air of faux martyrdom. "So we're all sacrificing for this great cause."
https://forward.com/culture/437555/meet-the-comics-bringing-jews-and-muslims-together-through-stand-up/?utm_source=rss&utm_medium=feed&utm_campaign=Main
------
Iran supreme leader vows 'severe revenge' for Soleimani killing
Jan 3, 2020
TEHRAN: Iran's supreme leader Ayatollah Ali Khamenei vowed "severe revenge" after the United States killed the commander of the Islamic republic's Quds Force, General Qasem Soleimani, in Baghdad on Friday.
"Martyrdom was the reward for his ceaseless efforts in all these years," Khamenei said on his Farsi-language Twitter account in reference to Soleimani, also declaring three days of mourning.
"With him gone, God willing, his work and his path will not be stopped, but severe revenge awaits the criminals who bloodied their foul hands with his blood and other martyrs' in last night's incident".
Iran's Revolutionary Guards confirmed Soleimani had been killed early Friday, saying he was "martyred" in an attack by US helicopters on Baghdad airport.
Soleimani was one of the most popular figures in Iran and seen as a deadly adversary by America and its allies.
Khamenei called Soleimani the "international face of the resistance" and said he was killed by "the most cruel of those on earth".
All people who back the resistance would be his "avengers", he added.
"The lack of our devoted and dear general is bitter, but continuing the fight and achieving final victory will embitter the murderers and criminals even more," he added.
https://timesofindia.indiatimes.com/world/middle-east/iran-supreme-leader-vows-severe-revenge-for-soleimani-killing/articleshow/73080232.cms
------
Top Iran security body calls urgent meeting after Soleimani 'martyrdom'
Jan 3, 2020
TEHRAN: Iran's top security body called an urgent meeting Friday over the "martyrdom" of Quds Force commander Qasem Soleimani by the United States in Baghdad, semi-official news agency ISNA reported.
"In a few hours, an extraordinary meeting of the Supreme National Security Council will be held to review the murderous attack on the vehicle of General Soleimani in Baghdad that lead to his martyrdom," ISNA quoted its secretariat spokesman Keyvan Khosravi as saying.
https://timesofindia.indiatimes.com/world/middle-east/top-iran-security-body-calls-urgent-meeting-after-soleimani-martyrdom/articleshow/73079096.cms
------
Turkey, Iran sign deal to strengthen religious ties
January 03, 2020
JEDDAH: Turkey and Iran have agreed to strengthen their religious ties in a new deal signed last week in Ankara between the religious authorities of both countries.
The new initiative — led by Abouzar Ebrahimi Torkaman, the head of Iran's Islamic Culture and Communication Organization, and Ali Erbas, the head of Turkey's Religious Affairs Directorate — includes the translation of theological books, the organization of activities "to strengthen the unity of Ummah," joint publications to combat Islamophobia in the West, cooperation over services to pilgrims, the exchange of religious texts, and an Islamic teaching exchange program.
Speaking at a joint event, Erbas said, "We mobilize all our resources to combat the agitation that is targeting Muslims, and the measures that are taken by some Muslim countries in the region, which regrettably compromise Muslims' esteem and pride."
The deal has come as a surprise to many, since Turkey is a Sunni state and Iran a Shiite theocracy. The two were once fierce adversaries, during the times of the Ottoman and Persian empires. And the new initiative has sparked concern among Muslims in Turkey who are critical of its potential repercussions in the teaching of Islam. The hashtag #WeAreNotShia was trending on social media in Turkey after the deal was announced.
Seth J. Frantzman, executive director of the Middle East Center for Reporting and Analysis, said the new religious deal builds on economic cooperation between the two countries and their mutual interests — along with Russia — in Syria.
"It also comes in the wake of a meeting in Malaysia where both Iran and Turkey expressed interest in a new 'gold dinar' currency. There is a growing consensus that Turkey and Iran have much in common in the region and globally," Frantzman told Arab News.
The new deal, he suggested, shows that the two countries are keen to cooperate in other spheres of interest.
"It illustrates that the concept of the Shia-Sunni divide is partly a myth," he said. "The Muslim Brotherhood — which underpins the AKP in Turkey — and Iran's Ayatollahs have things in common. The Iranian IRGC and the Brotherhood met in 2014 in Turkey to discuss joint strategy."
The agreement comes just a few months after Ankara and Tehran — guarantors of the Astana process in Syria alongside Russia — found themselves at odds over their regional policies.
Iran, a close ally of Syrian President Bashar Assad, opposed Turkey's military operation in northern Syria against Syrian Kurdish forces as well as its establishment of military posts inside Syria. In return, Turkey accused Iran of betraying the consensus between them.
https://www.arabnews.com/node/1607666/middle-east
------
India
No info on Organisation of Islamic Cooperation meet on J&K: MEA
Jan 3, 2020
SRIDHAR KUMARASWAMI
New Delhi: India reached out to countries across the world including neighbouring countries such as Bangladesh to explain its view point on the Citizenship Amendment Act (CAA), saying it is the "internal matter of India", that it "does not seek to strip anybody of citizenship", and that it "does not alter the basic structure of the Constitution," the ministry of external affairs said on Thursday.
The Indian government also conveyed to foreign governments that the CAA provides for "expedited consideration" of citizenship to "persecuted minorities", adding that it also does not affect existing means of acquiring citizenship available to other communities.
The obvious reference of course was to convey that Muslims from other countries can also be conferred Indian citizenship as per other provisions of law.
In response to a question, the MEA also said India was "not aware" of any Organisation of Islamic Cooperation (OIC) meeting designed to specifically discuss the Kashmir issue.
"We did reach out to countries across all the regions. We did write to our missions and posts to tell them to share our perspectives on CAA to the host Government. There are three to four points that we asked the missions to share — that it is a matter internal to India, that the Act just provides expedited consideration for Indian citizenship to persecuted minorities already in India from Pakistan, Afghanistan and Bangladesh... that it does not affect the existing avenues which are available to other communities from seeking citizenship, that it does not seek to strip anybody ... (of citizenship) from any faith, (that) it does not alter the basic structure of the Constitution," MEA spokesperson Raveesh Kumar said on Thursday.
"We have (also) explained our position to the Bangladesh government," the MEA spokesperson added.
This was obviously in the context of concerns expressed in certain quarters about whether the CAA controversy would have any adverse fallout on Indo-Bangladesh ties.
Just on Wednesday, Prime Minister Narendra Modi had spoken to leaders of most Saarc countries including Bangladesh Prime Minister Sheikh Hasina.
The government said it had resorted to a "two-pronged strategy", of reaching out to foreign ambassadors and high commissioners stationed in Delhi and also to foreign governments directly in their capitals through Indian ambassadors and high commissioners posted in those countries.
https://www.deccanchronicle.com/nation/current-affairs/030120/no-info-on-organisation-of-islamic-cooperation-meet-on-jk-mea.html
------
Police action premeditated, Muslims targeted: Interim report on Mangaluru firing
03rd January 2020
MANGALURU: The interim report of a fact-finding team involving representatives of People's Union for Civil Liberties (PUCL) All India People's Forum (AIPF) and National Confederation of Human Rights Organisations (NCHRO), has stated that the police action on anti-CAA and NRC protests in Mangaluru on December 19 in which two persons were killed was 'premeditated'.
It said that cops selectively attacked Muslims, targeted shops belonging to the community and even attacked a mosque. A day before the incident, the police preparations went to the extent of arranging sand bags and riot gear at the location including deployment of external KSRP forces in the vicinity of various places, which suggests that the police action was premeditated. Cumulatively, there were not more than 200-300 protestors and not 6,000-7,000 as claimed by the police.
The team, which has gone through 60-70 videos circulated widely, said initially there were not than 150 youths who protested by only shouting slogans but were dispersed by the police, which used disproportionate violence against them.
It appears there was confusion among the youth about whether or not the protest announced for that day had been cancelled, as the message of cancellation issued after the imposition of prohibitory orders under Section 144 had not circulated to all. Thereafter, the report says the police went on a rampage and stormed into shops in the vicinity, pulling out people, selectively attacking Muslims.
At around 4 pm, a team of police attacked Ibrahim Khaleel mosque where 80 persons were praying peacefully. The police apparently sought to chase certain youth into the said mosque and then initiated an indiscriminate attack on the mosque with stones and teargas through and above the slats of the mosque gate.
Further, the report says that the leaders of the community were brought in by the police to calm the situation down. In fact, they were succeeding in doing so when one leader Ashraf was injured on the head by the police. This aggravated the situation.
The report also claims that Abdul Jaleel and Nausheen, who were killed in police firing, were bystanders and were not part of the protest.
YJ Rajendra, PULC state president, said the fact that the police mentioning the religion of riot-accused as 'Muslims' in an open FIR again proves beyond doubt that the police acted with prejudices against the community. "If the police claim that they opened fire as the protestors tried to torch the police station is true, then CCTV images in the police station should be made public," he demanded.
On police creating havoc in ICU of private hospital, Rajendra said hospitals are not targetted even during wars.
https://www.newindianexpress.com/states/karnataka/2020/jan/03/police-action-premeditated-muslims-targeted-interim-report-on-mangaluru-firing-2084484.html
------
As India Violence Gets Worse, Police Are Accused of Abusing Muslims
By Kai Schultz and Sameer Yasir
Jan. 2, 2020
NAGINA, India — The teens were trapped.
As the protest broke up, Indian police officers in the town of Nagina chased a group of Muslim teenagers into an empty house. They grabbed them and took them to a makeshift jail. And then, the boys and community leaders said, the officers tortured them.
Four of the boys, who ranged in age from 13 to 17, said in interviews with The New York Times that police officers used wooden canes to beat them and threatened to kill them for taking part in demonstrations against a divisive citizenship law that has fueled rallies and rioting across India. Three had obvious signs of deep bruising or other injuries.
Many Indians fear that the new law, which is seen as a huge political victory for Prime Minister Narendra Modi and his Hindu nationalist base, is blatantly discriminatory toward Muslims and threatens the very foundation of India as a secular and tolerant nation.
In Uttar Pradesh, the northern Indian state where Nagina is and the one with the most Muslim residents, the rioting has been among the most intense, and the violent backlash from the police has been the most deadly and troubling.
According to accounts by the detained boys in Nagina, along with family members and other officials in their town who spoke to them immediately after they were released, police officers over the course of 30 hours terrorized them and others who had been demonstrating on Dec. 20.
Police officials in the town deny that any abuse happened, or that minors had been detained at all around that time.
According to two of the boys, the officers laughed during beatings, saying, "You will die in this prison."
"They were so scared that hardly anyone could speak," said Khalil-ur-Rehman, a municipal officer in Nagina who met the children at a police station as soon as they were released on Dec. 22. "How do you justify detaining minors, let alone beating them black and blue?"
As the Indian authorities struggle to contain the nationwide protests, more accounts are emerging of abuse meted out by police officers.
According to interviews with more than three dozen people in several Uttar Pradesh towns, almost all the violence has been directed toward Muslim residents. More people — at least 19 — have been killed in this state during the protests than anywhere else in India.
Witnesses said that police officers opened fire on demonstrators with live ammunition, broke into houses and stole money, and threatened to rape women. The BBC aired footage showing police officers knocking down security cameras in a Muslim neighborhood and shattering the windows of parked cars.
The Indian news media has reported that Uttar Pradesh police officers were encouraged by their superiors to kill protesters engaged in violence, but that innocent people were also targeted. In one case, officers smacked a 72-year-old Muslim man with a rifle butt, telling him, "Muslims have only two places: Pakistan or the graveyard."
Harsh Mander, a human rights activist who formerly worked in India's civil service, said he visited homes resembling "wastelands," where the police had destroyed kitchens, smashed television sets and threatened to seize property. He said the authorities had interpreted the citizenship law as giving them license to force Muslims into neighboring Pakistan and, as they see it, "settle the unfinished business of Partition."
"The police have become a lynch mob," he said.
Police and state officials have denied using excessive force or singling out Muslims. They have emphasized the need to preserve order and protect innocent people against "radical groups" with "deep-rooted conspiracies" to commit violent acts.
"The kind of action the government is taking against rioters has become an example for the entire country," read a Friday tweet from the office of Yogi Adityanath, Uttar Pradesh's chief minister and a close ally of Mr. Modi.
But many residents accuse Uttar Pradesh officials of mounting an organized campaign to terrify Muslims into submission. The new citizenship bill, which creates a special path for non-Muslim migrants in India to receive citizenship, has provoked the biggest backlash Mr. Modi has faced since becoming prime minister in 2014.In Uttar Pradesh, where destructive riots erupted and protesters vandalized property, there is a growing number of accounts of police officers having been given the green light by senior officials to use harsh measures.
In an audio recording that some residents and officials say features the voice of Sanjeev Tyagi, the superintendent of police in the Bijnor district, which includes Nagina, a man orders police officers to "break the arms and legs of those throwing stones at police stations."
"Go and fix them," he said.
Mr. Tyagi looked surprised and a bit disturbed when asked, during an interview with The New York Times, about this recording. He declined to say whether his was the voice on the recording, which one officer, who spoke on condition of anonymity to avoid reprisals, said had been radioed out to the police force. Since then it has been widely shared on social media.
After India's Parliament passed the Citizenship Amendment Act on Dec. 11, hundreds of thousands of protesters poured into the streets in many cities across the country to oppose the law, which favors every major South Asian faith over Islam.
Mr. Modi has defended the law, saying that it would not strip citizenship from India's Muslims and that it was intended to help religious minorities fleeing persecution in neighboring Muslim-majority countries. He said those protesting the bill were "spreading lies."
On Dec. 19, Mr. Adityanath, a monk and staunch Hindu nationalist, publicly urged the state police to "take revenge" on protesters who were vandalizing public property. Mr. Adityanath has called Muslims "a crop of two-legged animals that has to be stopped." During his tenure as chief minister, the state police have killed dozens of suspects in altercations known in India as police "encounters."
On the afternoon of Dec. 20, as Friday Prayer ended and people began to hit the streets across Uttar Pradesh to protest the citizenship bill, violence exploded in several towns at the same time. Thousands of officers were deployed.
At the Jama mosque in Nagina, protesters soon found themselves surrounded by the police. More than a hundred were detained and bused to an empty badminton court, where they were beaten with bamboo canes, witnesses said.
At least 21 teenagers were among the group, according to the four boys who were interviewed. Adult family members were with them during the interviews.
One of the detainees, a 15-year-old boy who showed reporters deep bruises on his leg, said police officers seemed most provoked by those who did not initially cry.
"Everyone was screaming," said the boy, whose identity is being withheld because he is a minor and fears punishment by officials. "They forced us to drink bottles of water and then they would beat us when we asked to go to the bathroom."
Another detainee, a 16-year-old with a bandaged hand that he believed had been broken, said that a few police officers had tried to stop the abuse but were outnumbered. He said officers seemed to enjoy depriving them of sleep and making them cold.
In the interview, Mr. Tyagi, the police superintendent for the Bijnor district, denied that minors were among the people detained then, calling those reports "totally baseless."
Mr. Tyagi stated that protesters in Nagina had gotten out of control, posing a risk. He shared videos that showed protesters rampaging in Bijnor's business district, breaking store windows and vandalizing a vehicle that he said belonged to a Hindu man. Police officials said that at least 288 officers statewide were injured, including 61 from gunshot wounds.
"We were worried that Hindus and Muslims were about to fight each other," Mr. Tyagi said, pointing to the state's long, bloody history of such riots.
Many of these towns are now filled with grief. The family of Mohammed Suleman, a young man fatally shot in a protest on Dec. 20, still can't believe he is gone.
Sitting in Mr. Suleman's bedroom, a concrete shell filled with books, Mr. Suleman's uncle, Anwar Usmani, broke down as he spoke about the boy, who he said woke up every day at 5 a.m. to study for the Indian civil service exam.
"He wanted to serve the country that killed him," Mr. Usmani said.
Mr. Suleman's family said that they had to beg police officials to give back his body after their vehicle was stopped on their way back home to the town of Nehtaur from a nearby city, where they had sought a doctor to try to save him.
Family members who had been in the vehicle said that Mahaveer Singh Rajawat, a law enforcement official for Nehtaur, pointed a gun at their chests and told them: "Behave and be silent, or I will declare that those who died were terrorists!" Mr. Suleman's body was returned to them, but they were threatened by the police not to try to rouse public sympathy by publicly displaying it.
When asked about this during an interview with The Times, Mr. Rajawat abruptly left his office and drove away in a jeep. Mr. Tyagi, the superintendent of police, said he was not aware of these accusations.
Surrounded by mourning women, Mr. Suleman's mother, Akbari Khatoon, rocked on her bed and wailed.
"The police killed him in cold blood," she said, "and that is what the world should know."
https://www.nytimes.com/2020/01/02/world/asia/india-protests-police-muslims.html
------
Shia Waqf Board chairman warns against PFI
2 January 2020
Lucknow (Uttar Pradesh) [India], Jan 2 (ANI): Shia Central Waqf Board chairperson Waseem Rizvi on Thursday alleged that the people associated with organisations like Popular Front of India (PFI) are using madrasas to shelter themselves.
"Many organisations like PFI are flourishing in India with the help of ISIS. After seeing madrasas functioning in areas bordering with Nepal, I wrote a letter to the Prime Minister stating that if these madrasas are not closed, then more than half of Indian Muslims will have a mentality like ISIS in coming 15-20 years ... The reality is the people associated with organisations like PFI are using madrasas to shelter themselves," said Rizvi in a statement.
The chairman also applauded the Lucknow Police for arresting three members of PFI including its state president Waseem Ahmad.
Earlier, Union Minister Ravi Shankar Prasad had said that the role of the PFI is coming forward in violence and the Home Ministry will decide about action against the organisation based on the evidence.
Uttar Pradesh DGP OP Singh wrote a letter to the Ministry of Home Affairs, requesting to impose a ban on PFI citing investigations of the organisation's involvement in the violent protests against the Citizenship (Amendment) Act (CAA) on December 19. (ANI)
https://in.news.yahoo.com/shia-waqf-board-chairman-warns-against-pfi-162952308.html
------
CAA-NRC: Indian Muslims have broken the spell
January 02, 2020
As the tail-end of the tattered year dragged itself into the burrow of eternity, a series of anti-CAA (Citizenship Amendment Act) and anti-NPR (National Population Register) saw Indian Muslims finally coming out and refusing to be mute or invisible.
The younger lot among them has no problem appearing on social media. Muslims of India have realised they can no longer hide and fight. In Delhi, for example, in the rally around the Jama Masjid, Muslim protesters held high in their hands copies of the Indian constitution that guaranteed them equality of rights in a secular republic. Hundreds waved the Indian national flag.
For close to seven decades since India's Independence, the Muslim population of the country, except during the far and few between days of riots shied away from public display of their resentment. To a telling extent, they were dependent on political parties like the Indian National Congress or the various versions of the Muslim League to articulate their politics.
The year-end protests indicate they no longer trust political parties to fully represent their grievances. It is equally possible that the political vacuum in India — the protests had no real leadership — by default eased the need for a new generation of educated and young Muslims to align with a political party.
Equally, the show of flags and the display of the copies of the Constitution while holding on to their custom (many wore burqa, for instance) could be interpreted as a secularisation of a minority rather famous for its allegiance to orthodoxy.
If sustained, this could be a significant development for the future. It also means that where the Congress Party, generally the vote-bank ally of the minorities, failed to convert the Indian Muslim into the mainstream, the BJP, seen as a polarisation force, by its trenchancy, has succeeded in bringing about an integration of sorts.
New-fangled secular streak
This paradox will keep the BJP on guard through 2020. In the state of Delhi, where a loose cannon like Arvind Kejriwal (Aam Aadmi Party — AAP) is in power as the chief minister for the last five years, the assembly election is due in January-end. Kejriwal, a bitter foe of Narendra Modi, is sure to exploit the new-fangled secular streak of young Muslims.
In November 2020, again, the important state of Bihar will be going in for the assembly polls. Here too, the minority politics will play a crucial role. If Delhi goes Kejriwal's way, or if, for that matter, the Congress party marks a comeback, it will be a clear indication that the tide is beginning to turn against the BJP.
If this happens, it is not likely that Modi or Shah will go back on the back foot. All hard governments and strong states like to see their people in queues. In India, whether it was the demonetisation or the National Population Register, a queue defines the shape and structure of the State power.
A queue delineates, shores up the power on one side as the State, through a window where the line ends, decides if the man or woman is rewarded for his wait, for proving he is the subject of the State. The State gives, the subject receives.
Cause for queues
Modi's government, therefore, is likely to give more cause for queues. A queue gives a sense of purpose, a sense of order, too. There is the hope of a goody at the end of it. A line is more comforting than a smudge, surely? And contrary to general expectation, the reasons for the queues will consolidate Hindu votes, and polarise people further. It is in this way that the BJP will hang on to power.
A war threat or a terrorist incident will fuel those consolidations. The year that went by was not a good one for the Indian economy. And it doesn't look like revving up. In a poor-performing economy, then, the feel-good must be derived from a political or cultural impetus. What better than a sense of identity as a patriot or a Hindu? Or, increasingly, both.
I tend to see 2020 as an even more fraught year if only because there is no other way but confrontation for political parties to find a way forward. The silver lining is the understated secularisation of the Indian Muslim. And around this time next year, India just may have to thank the BJP for it.
https://gulfnews.com/opinion/op-eds/caa-nrc-indian-muslims-have-broken-the-spell-1.68757792
------
South Asia
General Soleimani had helped US upstage Taliban in Afghanistan post-9/11
Prabhash K Dutta
January 3, 2020
General Qassem Soleimani had an envious resume for a clandestine operative. He was the man, many believed in Iran, whom country's supreme leader Ali Khamenei was preparing as his successor. Days after Iran-backed Shia militia entered the US embassy in Iraq, US President ordered Soleimani's killing.
Deaths of Soleimani and Abu Mahdi al-Muhandis, the leader of Kataib Hezbollah - a constituent of the Popular Mobilisation Forces (PMF), comprising of 40 Shiite militia groups in Iraq - and the US's role behind the killings have been confirmed by both the US and Iran.
General Soleimani was a cult figure in Iran and the most visible face on Iranian news television. Before turning an enemy of the US, Soleimani played key role in the American success in Afghanistan in the aftermath of 9/11 terror attacks in America.
The September 11 aerial attacks using passenger planes to target key US installations in 2001 had left the US and the world shocked and in fear of terrorist outfit, Al-Qaeda. Its leader Osama bin Laden was operating from Afghanistan, which was under the rule of Taliban-another fundamentalist terror outfit with political ambitions.
The US was looking for actionable intelligence against Al-Qaeda for which it needed to fight Taliban and restore a civilian government in the country. Attacking another country was, though not surprising for the US in the backdrop of the Iraq experience, but it required an actionable intelligence to work as a solid reason and a concrete plan. Both came the US's way in late 2001 courtesy Qassem Soleimani, the head of Quds Forces.
Quds literally means holy. In Persian Quds is a reference to Jerusalem, a city claimed by the Jews, the Christians and the Muslims.
Creation of Quds Forces was a defining moment of the Iranian Islamic Revolution that began in 1979 and continued for few years before then supreme leader Ayatollah Kohmeini took complete control of Iran.
Quds Forces is an equivalent to an amalgamation of the Central Intelligence Agency (CIA) and Special Forces of the US. Quds Forces is the foreign intelligence and clandestine military operation wing of the Iran's Revolutionary Guards Corps. It has its influence not only in West Asia - where Hezbollah is its fiercest protégé - but even beyond up to Thailand and Latin America.
Soleimani had risen to prominence in Iran during the Iran-Iraq war (1980-88). He was part of a special force and registered many victories over the forces of Saddam Hussein of Iraq. After victories in many battles, Soleimani would return carrying a goat on his shoulders prompting the Iraqis to dub him as "the goat thief".
This goat thief became head of the Quds Forces in 1998. Three years later, when Al-Qaeda terrorists hijacked five planes in America and crashed them to selected targets, Soleiman was in complete control of regional intelligence.
Though the US and Iran did not have a diplomatic relation after 1980, this did not stop Soleimani to cooperate with the US, when it sought assistance against Taliban and Al-Qaeda.
The US wanted to punish the perpetrators of 9/11 while Soleimani wished to punish Taliban because they had targeted Shia Afghans.
A series of meetings between the US officials and negotiators named by Soleimani was held, beginning with the one in Geneva days after 9/11 attacks. By the start of October 2001, Soleimani was said to have got irritated with the delay in US attacks on Taliban.
In one of the meetings in early October 2001, Soleimani's negotiators "threw" a map at the US officials telling them "attack here first", "attack there then" and "attack here next". The US officials kept the map, and on October 7 bombings began on Taliban installations.
In three years' time, a US-backed government took over the reins of power in Afghanistan though Taliban continued to exert pressure in certain areas of the country. During these years, Osama bin Laden fled Afghanistan and took refuge in Pakistan. In 2011, the US commandos killed Osama bin Laden in a special operation in Pakistan's garrison town Abbottabad.
Soleiman had the credit to show the US forces a pathway to take on Taliban and Al-Qaeda. However, only three months after the US began bombing on Taliban, then President George Bush clubbed Iran in the axis of evil, turning Soleiman an enemy of the US.
In April 2019, the Trump administration declared Iranian Revolutionary Guard and Quds Forces terrorist outfits calling for action against people associated with the forces.
Curiously, the order to kill Qassem Soleimani came, the Pentagon has said, from US President Donald Trump. This has come at a time when Trump is facing impeachment. The House of Representatives has impeached him and process is under for a trial in the Senate.
https://www.indiatoday.in/world/story/general-soleimani-had-helped-us-upstage-taliban-in-afghanistan-post-9-11-1633600-2020-01-03
------
Taliban destroys telecom towers following occupancy of a district in northern Jawzjan province
Thursday, 02 Jan 2020
Taliban has destroyed three telecom towers in Darzab district of northern Jawzjan province, officials said.
Taliban militants took over Darzab, a district in northern Jawzjan province of Afghanistan on Tuesday, they put on fire and destroyed three telecom towers following the occupancy of the area, Maroof Azar, a spokesperson to Jawzjan governor told media.
The telecom towers destroyed by Taliban belong to three private telecommunication firms including Roshan, MTN and Etisalat, Azar said.
According to Azar, the residence of Darsab and Ghos Tapa districts of Jawzjan province have lost mobile connections as a result of this incident.
"Taliban were going to destroy a 'public hospital' in Darzab too, which was avoided due to the mediation of elders of Darzab.", Maroof Azar said.
Taliban took over the full control of Darzab district on Tuesday, the ANSDF drew back peacefully on the demand of Darzab districts who were tired of fighting between the two parties in the last 90 days.
However, Afghanistan Ministry of Defense (MOD) had said in a statement that Afghan forces have changed their base from 'Antan Hill' to another location due to cold weather condition.
This comes as another report earlier suggested that MTN, a privately registered telecom service provider in Afghanistan and part of the Global MTN, the largest South African Telecom firm has been accused of bribing Taliban and Al-Qaeda terrorist groups in Afghanistan for safeguarding their 'transmission towers'.
The allegation is under review of a federal court in the United States.
MTN says it is reviewing allegations that it paid protection money to militant Islamist groups in Afghanistan.
"It remains of the view that it conducts its business in a "responsible and compliant manner in all its territories". MTN has said.
https://www.khaama.com/taliban-destroys-telecom-towers-following-occupancy-of-a-district-in-northern-jawzjan-province-667755/
------
Media staff killed in Afghanistan's southern Helmand province
Thursday, 02 Jan 2020
An employee of Radio Samoun was killed in Lashkargah city of Helmand province, Nai reported.
Nai, Supporting Open Media in Afghanistan published a statement on Thursday about the death of a media staff in Helmand province.
According to Nai, Safar Muhammad, part-time technician of Samoun Radio was killed in Helmand province on Wednesday Night.
"On 1st January 2020, Wednesday evening Mr. Safar Muhammad had been out for an invitation but on Thursday morning his death body was found in Safiyan area of Lashkargah city in Helmand province.", Hayatullah Sahil, Editor in Chief of Samoun Radio told Nai;
The case is under investigation, Muhammad Omar Zawak, Helmand Governor's Spokesperson said to Nai.
"The results of their investigation will be shared with the public through a press conference, but it isn't yet clear whether this incident relates to Safar Mohamamd's profession or not.", the Helmand police have said.
No individual or group has immediately claimed the responsibility for this assassination case.
Nai asks the local authorities in Helmand to thoroughly follow up this case and make it clear what was the reason behind his assassination.
This is the first assassination case in 2020. 10 journalists and media staff were killed during the last year which it revealed a decrement of assassination cases of journalists but still it was one of the bloodiest years for journalists.
According to a report Nai published earlier this week, 10 journalists and media staff were killed in 2019.
https://www.khaama.com/media-staff-killed-in-helmand-of-afghanistan-nai-wants-gov-to-pay-serious-attention-investigating-the-assassination-78965/
------
India shares Governance story with Afghanistan through capacity building programs
Thursday, 02 Jan 2020
The Ministry of External Affairs of India published a statement on Thursday in reference to the capacity building program for Afghanistan government employees which as conducted the in the last week of December in India.
A special capacity building program for Afghanistan Central Civil Registration Authority (ACCRA) was organised by the Registrar General & Census Commissioner, India and Unique Identification Authority of India (UIDAI), India's External Ministry said in a statement.
The program was conducted from December 23-30, 2019 in New Delhi followed by a field visit to Chandigarh. Afghan officials also visited UIDAI's premises to study India's AADHAAR initiative in detail.
The program elements included study of system of registration of citizen's births and deaths, vital statistics and indicators system and AADHAAR. The participants were also given hands on experience with a live demonstration of the software and the processes of registration of birth and deaths; and explained methodology of census enumeration.
Afghan participants thanked India for the arranging the course that would contribute to their efforts for better implementation plans for creating a framework of population register.
Earlier, from November 13-17, 2019, a capacity building program was organised for officials from National Statistics and Information Authority, Afghanistan by FRRO New Delhi to help streamline their immigration procedures. the statement further added.
India remains of the most popular development and capacity building partner in Afghanistan and has a wide array of training and scholarship program for Afghans including under its ITEC. More than 3500 Afghans nationals benefit from the same.
https://www.khaama.com/india-shares-governance-story-with-afghanistan-through-capacity-building-programs-87640/
------
US Chief Negotiator to Meet Taliban in Qatar
By Ayaz Gul
January 02, 2020
ISLAMABAD, PAKISTAN - U.S. lead negotiator Zalmay Khalilzad is expected to meet Qatar-based Taliban envoys later this week to find out whether the insurgent group is ready to reduce violence in Afghanistan for the sake of resuming peace talks.
An official at the American Embassy in Kabul, who requested not to be identified, made the disclosure Thursday, nearly three weeks after Khalilzad paused the dialogue as retaliation to a major Taliban attack on the largest U.S. military base north of the Afghan capital.
The U.S. embassy official, while referring to recent Taliban statements, noted the Taliban leadership has debated the issue in internal deliberations, and Khalilzad wants to learn the outcome at the upcoming meeting.
In his last interaction with insurgent negotiators in Doha on December 12, the Afghan-born U.S. envoy had asked them "to consult their leadership" about observing a temporary cease-fire, or a reduction in violence, before the two sides could return to the negotiating table.
Taliban spokesman Zabihullah Mujahid earlier this week confirmed its leaders have conducted internal consultations, saying they focused solely on a U.S. request for easing "the scale and intensity of violence" against foreign troops.
Mujahid insisted, however, the insurgent group has "no intention" to declare a nationwide cease-fire with Afghan forces, saying that issue would come under discussion when Taliban-Afghan negotiations begin.
U.S. Ambassador to Afghanistan John Bass questioned those assertions while speaking to the local TOLO news channel on Wednesday.
"It's important that before we would resume our discussions with the Taliban, they signal not just to us but more importantly to their fellow Afghans who are dying in this conflict, that they, the Taliban, are prepared to act differently and to choose a different future course," Base said.
He also emphasized that Washington is not contemplating "a reduction in violence or a cease-fire" only between the Taliban and U.S.-led international forces.
"It has to include Afghan forces because otherwise there wouldn't be a reduction in violence, because most of the violence that happens in this country is against Afghan citizens," Bass said.
The year-long U.S.-Taliban negotiations have revolved around assurances the insurgents would not allow Afghan soil to be used for terrorist attacks against other nations and they would enter into intra-Afghan negotiations to find a permanent resolution to internal disputes.
In return, American and coalition troops would agree to a "conditions-based" withdrawal from Afghanistan, meeting the core insurgent demand.
Taliban officials, though, maintain they would start negotiations with Afghan stakeholders only after a foreign troop withdrawal agreement is signed with the U.S.
Meanwhile, Taliban insurgents over the past week have carried out major battlefield attacks against Afghan security forces across the country, killing about 100 of such personnel.
Most of the attacks have taken place in the country's north despite harsh winter conditions, when hostilities typically subside.
The number of U.S. service members killed in Afghanistan in 2019 totaled 20, the highest in five years. Most of the fatalities occurred in combat.
While tens of thousands of combatants have been killed in the 18-year-old war, America's longest, the United Nations disclosed earlier this week more than 100,000 Afghan civilians have been killed or injured in the last 10 years alone.
https://www.voanews.com/south-central-asia/us-chief-negotiator-meet-taliban-qatar
------
999 Bangladeshis were in India illegally, says Border Guards Bangladesh head
Suvojit Bagchi
JANUARY 03, 2020
Nearly 1,000 Bangladesh nationals were detained in Bangladesh in 2019 for living in India "illegally", and the Bangladesh government has initiated legal proceedings against them, Major-General Shafeenul Islam, Director-General of Border Guards Bangladesh (BGB), said in Dhaka on Thursday.
This is the first time in recent decades that Bangladesh has made public the number of its citizens who had lived "illegally" in India.
The announcement came following the talks between the Directors-General of the Border Security Force (BSF) and Border Guards Bangladesh in New Delhi from December 25 to 30, 2019.
Nine hundred and ninety-nine Bangladesh nationals — 135 children, 258 women and 606 men — were detained, Major-General Islam said at a press conference. And 312 of them were arrested in November and 133 in December. Officials said they were arrested on the border, while going to India or returning home. Their identities were ascertained and legal proceedings initiated "as per law for illegally entering and staying" in another country. Those arrested were either kept in custody or freed on bail.
Dhaka's assurance
A couple of weeks ago, Prime Minister Sheikh Hasina's foreign policy adviser Gowher Rizvi said in Kolkata that Bangladesh would take its citizens back if they were illegally staying in India. "But it has to be proved that the person is a Bangladesh citizen," he had said.
Bangladesh also submitted a list of 96 Indians "illegally" staying in Bangladesh. Of them, 62 were handed over to the Border Security Force (BSF) and the rest were detained. Legal proceedings were opened against them. At least 35 Bangladesh nationals have been killed in border firing, Major-General Islam said.
https://www.thehindu.com/news/international/999-bangladeshis-were-in-india-illegally-says-border-guards-bangladesh-head/article30464179.ece
------
Arab World
Qatar's Islamic financial services sector growth prospects 'closely tied' to country's economic expansion: OBG
January 02 2020
Pratap John
Growth prospects of Qatar's Islamic financial services (IFS) sector are closely tied to the "continued expansion" of the country's economy, which is expected to "remain buoyant" as its natural gas exports persist, a new report has shown.
The continued expansion of the GCC's Shariah-compliant assets is being driven by a number of ongoing regional developments, including the 2022 FIFA World Cup, which is hosted by Qatar, and the stabilisation of energy prices, Oxford Business Group (OBG) has said in a report.
The Islamic finance industry has been an important component of the nation's financial system since the early 1980s, when the first shariah-compliant bank opened its doors for business, OBG said in its 2019 report.
Islamic financial services have been growing at a "strong" pace over recent years, with shariah-compliant assets expanding at a compound annual growth rate (CAGR) of 11% between 2012 and 2017, outpacing their conventional counterparts.
In early 2019, a total of four Islamic banks were licensed by the Qatar Central Bank (QCB), between them accounting for around 25% of Qatar's banking sector assets, according to the Ministry of Finance. They have driven the development of the IFS industry and hold the largest share of its assets, worth around QR348bn ($95.6bn) as of September 2018.
Takaful (Islamic insurance) and non-bank financial institutions accounted for around 1.3% of total IFS assets in 2017. A total of five takaful and re-takaful companies are licensed by the QCB, and their activities have established the country as the second-largest Shariah-compliant insurance sector in the GCC.
Sukuk (Islamic bonds) accounted for around 18% of total IFS assets in 2017, thanks in large part to the government's issuance of sovereign sukuk, which dominate the market with just over 71% of total issuances.
The Shariah-compliant asset management segment, in which sukuk play a vital role, is where IFS has made the greatest proportional advance, with Shariah-compliant funds accounting for $224mn by the end-2017, or over 50% of the Qatari asset management segment, according to the Qatar Financial Centre (QFC).
Together, Qatar's IFS institutions establish the country as one of the most vibrant Shariah-compliant markets in the region. With 100% foreign ownership laws in place, an attractive tax environment and ease of business start-up, the nation is also a competitive hub for IFS firms looking to conduct business in untapped global markets, the report said.
https://www.gulf-times.com/story/652330/Qatar-s-Islamic-financial-services-sector-growth-p
------
Emirates Islamic expands digital experience
January 3, 2020
Dubai
Islamic finance has developed markedly in recent years. According to a study conducted by Thomson Reuters, more than 1,300 Sharia-compliant organisations – holding combined assets under management of some $2.4trn – offered products and services under the umbrella of Islamic finance in 2018. In its modern form, Islamic finance is a relative newcomer to the financial services sector, with origins tracing back to the foundation of the Islamic Development Bank in 1975.
However, it has certainly modernised quickly. In fact, many institutions have since embraced new technology to deliver faster and more reliable services to their customers. Emirates Islamic is dedicated to providing the latest digital banking solutions and an enhanced banking experience This is certainly the case for Emirates Islamic, where we are dedicated to providing the latest digital banking solutions and an enhanced banking experience. We were the first Islamic bank in the UAE to launch a mobile banking app and consistently lead the Islamic banking sector in terms of digital innovation.
As new trends develop in the market, we will continue to adapt to give our customers the very best service. At Emirates Islamic, our customers are helping to drive our pursuit of more innovative banking solutions. For example, they recognise the world-class features of our mobile banking app, which has received more than 25,000 reviews on the App Store and possesses an excellent average rating of 4.5 stars. We revamped the app in late 2018 and have subsequently delivered regular enhancements and updates. As a result, it now has more than 250 features, including a demo that lets both customers and non-customers experience the app's key services without having to log in.
This feature makes Emirates Islamic the only financial institution within the region to have a fully working demo included within its app.
Our app also allows customers to benefit from cardless cash withdrawals, a cash-on-call facility and a remote card management system that enables users to activate, block or unblock their cards, as well as change their PIN instantly. Its QuickRemit function, meanwhile, allows customers to transfer funds to partner banks in India and Pakistan in less than 60 seconds. Moreover, the app's peer-to-peer service, Instapay, enables customers to send and receive funds with just a mobile number. —Agencies
https://pakobserver.net/emirates-islamic-expands-digital-experience/?utm_source=rss&utm_medium=rss&utm_campaign=emirates-islamic-expands-digital-experience
------
Saudi Arabia sets out night shift labor code
ASEEL BASHRAHEEL
January 03, 2020
JEDDAH: Businesses can now hire people for night shifts as the Kingdom shifts to 24-hour trading, with the government releasing the terms and conditions for employment.
The regulations are to make sure the rights of night shift workers are protected and that employers maintain a healthy work environment.
Night shifts run from 11 p.m. to 6 a.m., according to a ministry statement on Twitter, and there should be a 12-hour rest period between every night shift for an individual worker. A shift rotation should take place in every organization every three months, enabling night shift workers to switch to day shifts after three months.
Employers are expected to provide medical insurance, as well as compensatory benefits in working hours and salaries. There should be no difference between day and night shift workers, and they should have equal rights, the Twitter statement said.
Some can be exempt from night shifts, including those with medically approved conditions, the elderly and those with familial obligations, as well as women who are 24 weeks pregnant.
Musa'ab Hariri, the founder of successful burger joint Crave with branches in Jeddah and Makkah, said he was willing to run his business on a 24-hour basis and that he supported the Ministry of Labor and Social Development's initiative.
"In a way, it supports local manpower and it helps provide jobs to those who need them," he told Arab News, but said the only issue that might arise was the familial obligation clause because local workers would struggle to accept night shifts because of such obligations.
Crave already operates until 2 a.m. and opens for longer on weekends and vacations. "Food and beverage businesses like ours are the ones that will benefit the most from it," he said. "Operating for longer hours will offer opportunities for more workers and will increase revenue."
The business has previously experimented with after-midnight-delivery, said Hariri, and sales picked up after a while although they were stale to begin with.
"People want variety, if you look at delivery services that actually operate late, you'll come up short with a few fast food options. People want more, especially in cities with nightlife like Jeddah. We did well with delivery, so I'm optimistic about operating the restaurant as a whole."
Saudi legal consultant Dimah Alsharif said the decision to allow commercial activities to operate throughout the day was directly related to enabling the quality of life concept that the Kingdom's reform plan was working toward.
"On the commercial side, it will definitely stimulate commercial activity, its development and desired goals and targets," she told Arab News. "Special care must be taken when applying these (night shift) hours to working women given their circumstances, especially since the labor code stipulates that women may not be employed during the evening period for at least 11 consecutive hours, unless a decision is issued by the minister specifying the exceptions."
https://www.arabnews.com/node/1607656/saudi-arabia
------
Saudi Arabia extradites suspect in murder of Pakistani social media star
SIB KAIFEE
January 03, 2020
ISLAMABAD: A fugitive suspected of instigating the murder of Pakistani model and social media star Qandeel Baloch has been extradited from Saudi Arabia, Interior Ministry officials revealed on Thursday.
Muzaffar Iqbal was arrested by Interpol and handed over to Pakistan's Federal Investigation Agency (FIA) on Wednesday before being transferred into the custody of police authorities in the city of Multan, Abdul Aziz Uqaili, the ministry's additional secretary and spokesman, told Arab News.
Uqaili said that Iqbal had been moved from the Kingdom to Pakistan with the help of Interpol's National Central Bureau in Riyadh.
Baloch, 26, who rose to prominence with her videos on social media networks which often challenged social norms in Pakistan, was strangled in July 2016 at her parents' home in Muzaffargarh in the eastern Punjab province.
Her so-called "honor killing" focused huge attention on the deaths of other Pakistani women at the hands of close family members, placing law enforcement agencies in the country under pressure to act quickly in her case to apprehend her killers.
https://www.arabnews.com/node/1607716/saudi-arabia
------
Prayers for rain performed across Saudi Arabia
January 03, 2020
RIYADH: Muslims across Saudi Arabia performed the Istisqa (rain-seeking) prayer in accordance with the Prophetic Sunnah during drought, praying to Allah Almighty for rainfall.
King Salman urged the people throughout the Kingdom to perform the Istisqa prayer on Thursday, the Royal Court said in a statement.
In Makkah, the prayer was performed in the Grand Mosque and attended by Prince Badr bin Sultan bin Abdul Aziz, acting governor of Makkah.
In Madinah, the prayer was performed at the Prophet's Mosque and was attended by Prince Faisal bin Salman, governor of Madinah.
In Riyadh, the prayer was performed at Imam Turki bin Abdullah Mosque and was attended by Prince Faisal bin Bandar, governor of Riyadh.
The prayer was also performed in other regions and attended by governors and senior officials.
In their sermons, the preachers urged Muslims to pray to Allah Almighty for repentance and forgiveness, doing good and charitable deeds and beseeched for rainfall.
https://www.arabnews.com/node/1607671/saudi-arabia
------
Pakistan
UAE Crown Prince announces $200m support for Pakistan
Mehtab Haider
&Mumtaz Alvi
January 3, 2020
ISLAMABAD: Prime Minister Imran Khan on Thursday underlined the importance of Pakistan-United Arab Emirates special relationship and laid emphasis on deeper economic ties between the two sides during his meeting with Sheikh Mohamed bin Zayed Al Nahyan, Crown Prince of Abu Dhabi and Deputy Supreme Commander of the UAE Armed Forces, who met with him.
The crown prince was accompanied by a high-level delegation comprising cabinet members and senior officials. In a special gesture, the crown prince was received by Prime Minister Imran Khan at the Nur Khan Airbase. Sheikh Mohamed had earlier visited Pakistan in January 2019. The prime minister apprised Crown Prince Sheikh Mohamed bin Zayed of India's inhuman lockdown in the Indian Occupied Kashmir (IOK), continuing for over 150 days. He also highlighted India's discriminatory Citizenship Amendment Act and the National Register of Citizens and their negative consequences.
Imran underscored the need for the world community to take urgent steps to address India's state oppression in IOK, immediate removal of the continuing lockdown and other restrictions, avoidance of escalation of tensions on the LoC and peaceful resolution of the Jammu and Kashmir dispute in accordance with the UN Security Council resolutions.
The OIC's role in the advancement of the Islamic Ummah's cause was also discussed. The prime minister also appraised the crown prince of Pakistan's efforts and positive contribution to the Afghan peace and reconciliation process. He underlined that a peaceful, stable and prosperous Afghanistan was in the interest of Pakistan and the region.
The crown prince underlined the strategic importance of the UAE-Pakistan relations and extended cordial greetings for the brotherly people of Pakistan and good wishes for their accelerated development in the year 2020 and beyond. He also underlined the UAE's support for peace and stability in South Asia and peaceful resolution of issues. Nahyan also appreciated Pakistan's important role in the OIC. The visit of the crown prince was the first by a foreign dignitary to Pakistan in 2020, and reflective of the special relations between Pakistan and the UAE, which continue to grow deeper. The two leaders reaffirmed their resolve to take these relations to a new level.
Imran Khan and Sheikh Mohamed bin Zayed held wide-ranging talks focusing on bilateral, regional and international issues. The discussions continued over the luncheon, hosted by the prime minister in honour of the crown prince and his accompanying entourage. The prime minister expressed satisfaction at the frequent exchange of high-level visits between Pakistan and the UAE and the steady development of cordial ties between the two fraternal countries. Underlining the strategic importance of the Pakistan-UAE special relationship, the prime minister stressed the imperative of deeper economic engagement.
Imran highlighted the economic turnaround in Pakistan and the growing opportunities for foreign investment as well as fruitful trade and commercial engagement with key partner countries. Welcoming the UAE's interest in investing in myriad sectors in Pakistan, the prime minister assured maximum facilitation for the UAE investments. Among others, the possibilities in the energy and tourism sectors were highlighted. Closer collaboration in the Small and Medium Enterprises (SMEs) sector was also underlined. The prime minister highlighted the positive contributions of more than 1.6 million expatriate Pakistani community, which consider the UAE as their second home. Imran Khan also thanked the UAE leadership and its people for their commitment to Pakistan's socio-economic development, focused in particular on health, education and youth.
Sheikh Mohamed bin Zayed Al Nahyan also announced $200 million support to Pakistan after holding meeting with Imran Khan. In a tweet, Adviser to PM on Finance Dr Abdul Hafeez Shaikh stated that he would like to thank HRH Sheikh Mohamed bin Zayed Al Nahyan for announcing $200 million support to Pakistan after meeting with Prime Minister Imran Khan. He said the money will be spent on small business promotion and jobs. "This support is testimony to the expanding economic relations and friendship between our countries," he stated. The crown prince departed after completing the daylong visit of Pakistan.
https://www.thenews.com.pk/print/592835-uae-crown-prince-announces-200m-support-for-pakistan
------
Consensus, parleys part of democracy: PM Imran Khan
Muhammad Saleh Zaafir
January 3, 2020
ISLAMABAD: Prime Minister Imran Khan has said decisions in democracy are made with mutual consultation and therefore changes in the NAB rules will be presented in parliament.
The premier conceded that amendment in the National Accountability Ordinance, 1999, was a tough decision but it had to be made in the interest of the country.
Addressing a gathering of senior civil servants here Thursday, the prime minister claimed that the decision was difficult because a party that has had a 22-year-long struggle for accountability and is considered strict and is viewed to have this mission is under greater scrutiny. He reminded that a lot of criticism has been made on account of it, including by the opposition.
"But it was not easy because we had to carry our party too and in a democracy you need to develop a consensus within the party and its leadership," he said. He claimed that the real aim of the government is wealth creation, so the country which is buried under the burden of loans can be freed of it.
The prime minister recalled that in the last 10 years, Pakistan has mounted a debt of Rs24 trillion. "It was Rs6 trillion but from 2008-2018 it rocketed to Rs30 trillion. Half of the tax we collected last year was spent on interest payments. The key right now is wealth creation in the country," he said.
Imran Khan was of the view that wealth creation will take place when there is industrialisation in the country, when its agricultural output increases and when the housing scheme brought in by the PTI, along with its 40 associated industries, takes off. He said industrialisation will also help create jobs.
"For that, our governance system needs to be streamlined, so decisions can be made expediently," he said, adding that decisions weren't being made due to fear of the National Accountability Bureau (NAB).
The prime minister stressed on improving governance for economic stabilisation in the country. The prime minister said the NAB's fear curtailed the role of bureaucracy in development projects. He said themain purpose of the NAB Ordinance was to insulate bureaucracy from NAB's fear and make business easier.
The prime minister said the government has stabilised the country's economy and now efforts are being made to accelerate economic growth. He said 2020 will be the year of growth and development and development is not possible without wealth creation. "Concerns were legitimate because so many were probed over procedural mistakes. So we realised we will need to take this step and offer bureaucrats protection, as well as the business community," he said.
Imran Khan said that the business community does not fall within the purview of NAB because the very definition of corruption is using public office for private gain. He said that if one reads the amendment, it simply provides for NAB to not interfere in their business dealings. "And the tax cases are FBR's as it is. They have nothing to do with NAB," he said.
The premier said he has tried to convince the NAB chairman about amendments to remove impediments to business and governance. It would be pertinent to mention that the government has brought about drastic changes in the country's accountability law through the National Accountability Ordinance, 1999 under a presidential ordinance that was promulgated on December 27. Under the ordinance, the powers of NAB were curtailed keeping in view frequent complaints of the civil servants and the business community.
https://www.thenews.com.pk/print/592829-consensus-parleys-part-of-democracy-pm-imran-khan
------
Islamic finance industry needs a global ecosystem driven by tech
January 3, 2020
There are a number of factors that have contributed to this slowdown. The overall macroeconomic conditions, geopolitical tension in key Islamic finance markets, and the threat of trade wars have all contributed to a slowdown in economic and banking growth. The Islamic finance industry is no exception, but there are some factors that are specific to our industry. As the industry reaches maturity in established Islamic finance markets in Malaysia and GCC, experts have predicted that growth would be mostly driven by emerging and frontier Islamic finance markets. We are already seeing a number of governments in markets across central Asia, Southeast Asia and Africa promoting policies to facilitate the growth of Islamic finance. Despite this, these markets have not demonstrated the level of growth that was expected, and a number of structural challenges continue to persist, such as standardization, awareness and access to information and expertise. Unless these are addressed, it is unlikely that these new markets will be able to carry the growth of the Islamic finance industry.
To address these challenges, the industry must come together to create a global ecosystem for Islamic finance. Currently, we have several disconnected hubs that each operate at different stages of their development and focus on addressing the specific needs of their domestic markets. Emerging and frontier Islamic finance markets have a distinct disadvantage when it comes to engaging with the more developed markets or benefiting from their information expertise. The industry needs to work to create a global ecosystem, driven by technology, that can narrow the information gap so that institutions in Africa and/or America have the same access as institutions in Bahrain, Malaysia and the UAE.
As the world's largest provider of data and information, we at Refinitiv have a critical role to play. Islamic finance has been a key area of focus for us since 2001. We provide data and insights to over 400,000 financial professionals around the world, who rely on our information for strategic decision making. In Islamic finance, we have noticed a significant demand for not just financial information, but also for qualitative information related to regulations, fatwa, standards and other content sets. For an Islamic bank, it is equally important to know the structure and share consideration of a sukuk, as it is to know the price, return, and credit worthiness of the issuer.
Therefore, we have focused on collecting and distributing financial and qualitative information to the industry. Our Islamic finance development indicator (IFDI) is the most comprehensive Islamic finance database available today. We collect the details of every Islamic institution that discloses its financials (over 1400 institutions in 72 countries) and can provide a dollar by dollar breakdown of the $2.5 trillion Islamic finance industry. Supplementing this, we provide extensive information related to Islamic money markets, sukuk, equities, indices, funds and other content, to ensure our clients are empowered with the market information they require.
In addition, on the qualitative side, we have developed a comprehensive Sharia and legal monitor for the Islamic finance industry. The Sharia and legal monitor provides a database of various content sets covering more than 20,000 data points including regulations, standards, fatwa, sample contracts, guidance notes, scholar information and many others. This information has been translated to English (where required) and has been smart tagged to ensure users from around the world can easily access and benefit from this information.Fintech is going to be a complete game changer for the Islamic finance industry. Fintech will breakdown borders to create a global industry and enable institutions to provide the next generation of products and services, along with transparency, that will bring the industry closer to its core principles. In addition, technology will improve the efficiency of Islamic institutions, so that there will be no operational or cost disadvantage for Islamic banks compared to the conventional ones.
However, in order to achieve this, we have to work towards addressing the structural challenges facing the industry. Standardization must be promoted across markets to create a global industry rather than a number of individual self-contained markets. Awareness needs be increased amongst all stakeholders to align expectations and increase adoption of Islamic finance solutions. And finally, we must address the issue of access to information and expertise. Without this, we will continue to see different markets developing at different rates, with inefficiency and other hurdles hindering the growth of Islamic finance in emerging and frontier markets. —(Courtesy: Salaam Gateway)
https://pakobserver.net/islamic-finance-industry-needs-a-global-ecosystem-driven-by-tech/?utm_source=rss&utm_medium=rss&utm_campaign=islamic-finance-industry-needs-a-global-ecosystem-driven-by-tech
------
General Bajwa's extension case: PTI lobbies with opposition parties for amendments in Army Act
Jan 2, 2020
ISLAMABAD(PAKISTAN): The Pakistan Tehreek-e-Insaf (PTI) led government on Thursday reached out to members of opposition parties to garner support for making amendments to the Army Act and the Constitution in order to give a three-year extension to the Chief of the Army Staff (COAS) General Qamar Javed Bajwa.
The move comes a day after the proposed amendments were rushed through the Cabinet, which unanimously granted its approval for the changes, both to the Constitution and the Army Act, reported Dawn.
Pakistan's Supreme Court in November last year had directed the government to remove ambiguity in rules on the issue of extension in the army chief's tenure.
A delegation of PTI lawmakers including Defence Minister Pervez Khattak, Ali Muhammad Khan and Qasim Suri, met PPP leaders, including the party chairman Bilawal Bhutto Zardari earlier in today evening.
According to sources, the PPP assured its support for the amendments but raised concern over the fact that details of the amendments had not been shared with the opposition lawmakers.
Bilawal during the meeting pushed for the government to follow the parliamentary rules and regulations regarding amendments in the Army Act, party sources added.
Earlier in the day, a delegation of PTI lawmakers including Defence Minister Khattak, Leader of the House for the Senate Shibli Faraz and Senator Azam Swati, met PML-N leaders, where the latter assured their support for the proposed amendments. The PML-N delegation comprised Khawaja Asif, Sardar Ayaz Sadiq, and Rana Tanvir, among others.
PML-N Senator Mushahidullah Khan told reporters that the party leadership in London has given the nod to support the amendments through consensus.
The government is likely to introduce the amendment bill in parliament on Friday after building a consensus with the opposition on the matter.
The government needs the support of opposition parties to make the amendments as any amendment to the Constitution needs to be approved by at least two-thirds of the membership of each House - the National Assembly and Senate.
According to a copy of the draft amendment bill, the government plans on making amendments to Sections 8, 176 and 176A of the Pakistan Army Act, 1952. A chapter dealing with the appointment of the army chief and the chairman Joint Chiefs of Staff Committee will also be added to the Act.
https://timesofindia.indiatimes.com/world/pakistan/general-bajwas-extension-case-pti-lobbies-with-opposition-parties-for-amendments-in-army-act/articleshow/73075594.cms
------
Govt tables amendment bills in NA to fix age limit of services chiefs
Naveed Siddiqui
January 03, 2020
Federal Minister for Defence Pervez Khattak on Friday tabled the Pak­­­is­tan Army (Amend­ment) Act 2020 in the National Assembly, paving the way for a three-year extension for Chief of the Army Staff (COAS) Gen Qamar Javed Bajwa.
Khattak also presented the Pakistan Navy (Amendment Act) and the Pakistan Air Force (Amendment Act), separately.
The laws will fix 64 years as the maximum age limit of the three services chiefs — chief of army staff, chief of air staff and chief of naval staff — and the chairman of the joint chief of staff committee, with the prime minister having the prerogative to give an extension to any of them in future after completion of their normal tenure at the age of 60 years and the president having the power to give the final nod.
During the brief session, PML-N's Khawaja Asif asked that the production orders of those leaders who are under detention be produced. The session was adjourned until 11am tomorrow (Saturday).
The bills are also expected to be tabled in the Senate today. Additionally, meetings of the Senate and National Assembly standing committees on defence have been called today afternoon at 2pm.
Speaking to reporters, PPP Chairperson Bilawal Bhutto Zardari said that PPP will support the legislation if it is done through the parliamentary rules and regulations.
He said that the bills will first be sent to the National Assembly Standing Committee on Defence and the matter will be discussed in the House, adding that PML-N had not taken the opposition into confidence before offering the government their unconditional support on the legislation.
Earlier, Prime Minister Imran Khan arrived at the Parliament for a meeting of the PTI parliamentary committee.
PTI Minister Fawad Chaudhry also said the bills would be reviewed by the committee and then debated during tomorrow's session.
Leaders of the ruling Pakistan Tehreek-i-Insaf (PTI) have expressed confidence that the bill will be passed by the parliament with the required simple majority. The current sessions of the Senate and the National Assembly were convened on a 24-hour notice on Dec 31 – a move that took many by surprise.
Accord between govt, opposition
In a rare show of agreement, the government and the opposition reached consensus on Thursday over the proposed amendments to the Army Act. PML-N assured the government of its "unconditional" support to the bill, but PPP cautioned the government against displaying haste in the matter to ensure proper and sagacious legislation thro­ugh the parliament.
Law Minister Farogh Naseem had said all parties and stakeholders were on the same page regarding the passage of the bill.
Earlier, in an urgent meeting on Wednesday, the federal cabinet had unanimously approved proposed amendments to the Constitution and the Army Act in order to give a three-year extension to Gen Bajwa.
The extension conundrum
Prime Minister Imran Khan had previously extended Gen Bajwa's tenure through a notification in August 2019, but the top court suspended it on Nov 26, 2019, due to irregularities in the manner of extension.
After three days of heightened uncertainty, the apex court, through a short order on Nov 28, 2019, had announced that Gen Bajwa would remain the COAS for another six months during which the parliament would legislate on the army chief's extension/reappointment.
In its detailed verdict released on Dec 16, 2019, the top court had emphasised that it was up to the parliament to carry out legislation that would provide "certainty and predictability" to the post of the COAS for all times to come.
"We would like to emphasise that this crucial matter of the tenure of COAS and its extension, which has a somewhat chequered history, is before the Parliament, to fix for all times to come," wrote Justice Syed Mansoor Ali Shah, a member of the three-judge bench which heard the case, in the court's 43-page judgment.
"It is now for the people of Pakistan and their chosen representatives in the Parliament to come up with a law that will provide certainty and predictability to the post of COAS, remembering that in strengthening institutions, nations prosper."
Both Justice Mazhar Alam Khan Miankhel and Justice Asif Saeed Khosa agreed with Justice Shah's judgment, with Justice Khosa saying in his additional note that it had been a "shocking revelation" to the bench that the terms and conditions of service of the COAS, the tenure of his office, extension in the tenure of his office or his reappointment to that office "have remained unregulated by any law so far".
In the wake of the apex court's order, the government had decided to introduce the amendment bill in parliament on Friday (today) after building a consensus with the opposition on the matter.
Expected amendments
The government needs the support of opposition parties to make the amendments as any amendment to the Constitution needs to be approved by at least two-thirds of the membership of each House – the National Assembly and Senate.
"We are hopeful that the bill seeking amendments in the army act, which requires a simple majority, will be passed from both houses unanimously on Friday," said PTI MNA Malik Amir Dogar.
He said that under a provision, the maximum age limit of the army, navy and air force chiefs and joint chief of staff committee will be 64 years in case they are given an extension in their tenures.
According to the bill, Section 8-A, B, C, D, E, F will be inserted in the Army Act where Section 8-C about retirement age and service limits of the army chief says: "The retirement age and service limits prescribed for a general, under the rules and regulations made under this Act, shall not be applicable to the Chief of the Army Staff, during his tenure of appointment, reappointment or extension, subject to a maximum age of sixty-four (64) years. Throughout such tenure, the Chief of the Army Staff shall continue to serve as general in the Pakistan Army."
Section 8-A (2) said the terms and condition of the COAS shall be determined by the president on the premier's advice.
Dogar said amendments in the Army Act could not be challenged in any court of law as Section 8B(2) says: "Notwithstanding anything contained in this act or any other law, or any order or judgement of any court, the appointment, reappointment or extension of the chairman, JCOSC, or the exercise of discretion by the appointing authority in this regard, shall not be called into question before any court on any ground whatsoever."
https://www.dawn.com/news/1526048/govt-tables-amendment-bills-in-na-to-fix-age-limit-of-services-chiefs
------
Senators engage in heated debate over Musharraf conviction
Iftikhar A. Khan
January 03, 2020
ISLAMABAD: The Senate on Thursday witnessed a heated debate between the government and the opposition over the conviction of former military dictator Pervez Musharraf in the high treason case.
Taking part in the debate, Mushahidullah Khan, parliamentary leader of the Pakistan Muslim League-Nawaz, said there should be some forum to ascertain the authenticity of accusations against Justice Qazi Faez Esa of the Supreme Court, Waqar Ahmad Seth, Chief Justice of the Peshawar High Court, and a former judge of the Islamabad High Court.
He said whether one accepted it or not, the verdict delivered by Justice Seth against Gen Musharraf was bound to be written in letters of gold.
He regretted that Law Minister Farogh Naseem had allegedly used derogatory language against Justice Seth. "How this state could be run," he said while questioning the behaviour of the ruling party.
While Mushahidullah welcomes verdict in treason case, Saif says no one can punish ex-ruler
He said Nawaz Sharif alone had the courage to file a case against Gen Musharraf under Article 6 of the Constitution. He recalled that Prime Minister Imran Khan had been saying in the past that Gen Musharraf had committed treason, but now he and his law minister were saying something else.
The PML-N lawmaker called for revival of student and trade unions to prevent influx and influence of corrupt elements and interest groups in politics.
He condemned the government's recent decision to pull out of the Kuala Lumpur summit.
The government changed its decision under the pressure of those who did not even support Pakistan on the Kashmir issue and rather honoured Narendra Modi with award, he added.
He recalled that Nawaz Sharif had not only provided land for the Shaukat Khanum Cancer Hospital but also given it Rs500 million.
Barrister Mohammad Ali Saif of the Muttahida Qaumi Movement, while taking part in the debate on the presidential address to the joint sitting of parliament, said that Gen Musharraf was being wrongly blamed for all the troubles the country was facing, including bad economy, political instability and internal and external problems.
"The decision of Justice Waqar Ahmed Seth will be written in a shameful manner and in shameful words on the grounds that he gave the decision without reading the Constitution and the relevant verdicts of courts," he said.
"I want to remind those who are happy over the sentence that this will remain mere their wish as no one can punish Musharraf," said Senator Saif, who was once a close aide to the former military ruler.
He said the case against Mr Musharraf was political in nature and the general was in no way guilty of treason.
He said had it been a genuine case, those who had endorsed Gen Musharraf's actions should also have been brought to the dock.
He also referred to the National Reconciliation Ordinance and said that politicians had made compromises with Gen Musharraf in the past.
He said politicians had supported Gen Musharraf as well as the judiciary which had justified many of his decisions, including the 1999 coup.
"History and facts have been distorted."
He said military generals were even being blamed for the misadventures and mistakes that were actually made during civilian rule.
He pointed out that during the Zulfikar Ali Bhutto government, politicians were victimised and many of them sent to jails and even eliminated. "Bhutto had faced all these allegations and not the military," he said.
He said many politicians got themselves nurtured in the nursery of Gen Ziaul Haq. The senator came down hard on PML-N for allegedly attacking the Supreme Court building in 1997.
He said PML-N had tortured journalists, including Najam Sethi, in the past and pointed out that it was not a dictatorial regime. He reminded the house that it was the PML-N which set up the Ehtesab Commission to victimise its political opponents.
https://www.dawn.com/news/1525964/senators-engage-in-heated-debate-over-musharraf-conviction
------
Lawyer being probed for Secret Act 'violations', court told
January 03, 2020
RAWALPINDI: The defe­nce ministry informed the Lahore High Court's Rawalpindi bench on Thursday that retired Lt Col Inamur Rahim — who had been picked up from his residence in Askari 14, Rawalpindi — is in the custody of its subordinate agency and that he is being probed for his alleged violation of the Official Secret Act.
A representative of the defence ministry told Justice Mirza Viqas Rauf of the LHC that advocate Rahim was taken into custody under the Pakistan Army Act (PAA) for alleged violation of the Official Secret Act. The representiave did not specify exactly what violations had been committed by the detained lawyer.
Advocate Rahim had filed numerous petitions for the recovery of missing persons and against administrative orders of the army or armed forces. Moreover, he was the counsel in petitions filed against high-profile court martial proceedings about GHQ attack and conviction of naval officers and others.
Advocate Ahsanuddin Sheikh and retired Brigadier Wasaf Khan Niazi appeared before the court to argue for the petition seeking recovery of advocate Rahim.
Advocate Sheikh said that in case advocate Rahim had violated the Official Secret Act, he should have been dealt with in accordance with the law as revelations about his whereabouts had been made in the LHC after about three weeks of his disappearance.
Justice Rauf asked the deputy attorney general to apprise the court of the grounds for the arrest, and as he could not satisfy the judge, the court summoned the additional attorney general on Friday (today) in connection with the case.
On Dec 20, the LHC had directed the ministries of defence and interior to submit affidavits about the whereabouts of Mr Rahim.
The interior ministry denied custody of advocate Rahim, while the defence ministry confirmed that the retired officer had been taken into custody under the PAA.
According to an FIR registered about alleged abduction of the lawyer, advocate Rahim had been picked up by unknown people from his residence in Askari 14, which is considered a secured locality in the garrison city. The FIR states that Mr Rahim was asleep when unidentified individuals trespassed into his residence and forcibly kidnapped him while extending threats to family members. Since Dec 17, he whereabouts were not known. Earlier, Mr Rahim's son Hasnain Inam told the Morgah police that someone rang the doorbell at around 12.30am on Dec 17.
https://www.dawn.com/news/1525978/lawyer-being-probed-for-secret-act-violations-court-told
------
Southeast Asia
Only Malay-Muslim can be Malaysia's education minister, insists PAS MP
Friday, 03 Jan 2020
UALA LUMPUR, Jan 3 — The next education minister must be Malay and Muslim, according to PAS MP Ahmad Amzad Hashim.
The Kuala Terengganu MP also expressed fear that Maszlee Malik may have been forced out of the post yesterday by an "agenda to weaken" efforts to base national education on the Federal Constitution.
The PAS lawmaker likely meant vernacular education.
"His replacement as education minister must be a Malay-Muslim with better qualities and possessing the drive to bolster education based on Malaysia's mould as a sovereign Islamic nation," he said in a statement.
Maszlee resigned unexpectedly as education minister yesterday, blaming unfavourable press and politics for his premature departure.
The ministry sought to highlight various policies and achievements from Maszlee's time as minister, but he highlighted major controversies that had overshadowed these while delivering his exit speech.
Maszlee listed these as the plan to teach Jawi in vernacular schools, a further controversy over the provision of free breakfasts in schools nationwide at the cost of billions, and the cancellation of a contract to provide online connectivity to students and teachers.
The Jawi controversy, in particular, had caught the Pakatan Harapan unawares and left the ruling coalition in a dilemma that will cost it support no matter how the still-unresolved issue is finally decided.
While Ahmad Amzad only signalled his disapproval of vernacular education today, others such as Perlis Mufti Datuk Mohd Asri Zainal Abidin have been more overt in claiming it to be an interminable barrier to national unity.
Vernacular education is constitutionally guaranteed in Malaysia but has become increasingly contested with the resurgence of communal politics since the last general election, as it is seen as a touchstone of Chinese-based parties such as DAP.
https://www.malaymail.com/news/malaysia/2020/01/03/only-malay-muslim-can-be-malaysias-education-minister-pas-mp-insists/1824243
------
Sarawak's non-Muslim religious unit gets second head after pioneer retires
Thursday, 02 Jan 2020
KUCHING, Jan 2 — The Sarawak government's groundbreaking Unit For Other Religions (Unifor) deputy director Richard Lon today officially took over as its director after the mandatory retirement of Datuk Dr Ngenang Janggu at the age of 65.
The handover of duties at the state secretariat at Wisma Bapa Malaysia was witnessed by Deputy Chief Minister Datuk Amar Douglas Uggah, who is also the minister-in-charge of Unifor.
Lon, 50, was the special administrative officer of former Deputy Chief Minister Tan Sri Alfred Jabu for 11 years before his latest appointment.
Ngenang was appointed director of Unifor, which is under the Chief Minister's Office, in February 2017 after retiring as the permanent secretary to the state ministry of modernisation of agriculture and rural economy.
Unifor is the brainchild of a former Sarawak chief minister the late Tan Sri Adenan Satem who saw the need for a unit to be set up to look after the affairs of non-Islamic religions.
Sarawak is the only state in Malaysia to have such a unit dedicated to helping different houses of worship, not only in their physical development but in securing building sites as well as new cemetery sites.
For this year Chief Minister Datuk Patinggi Abang Johari Openg has announced an allocation of RM50 million for UNIFOR, which was previously known as Unit for Non-Islamic Affairs.
https://www.malaymail.com/news/malaysia/2020/01/02/sarawaks-non-muslim-religious-unit-gets-second-head-after-pioneer-retires/1824024
------
How BN might have won GE14 had Cambridge Analytica stayed alive
Friday, 03 Jan 2020
BY ZURAIRI AR
KUALA LUMPUR, Jan 3 ― On May 9, 2018, millions of Malaysians went to the ballot boxes and, for the first time in six decades, the country had a change of government as Barisan Nasional (BN) was handed a shocking loss.
But things might have been different if controversial big data firm Cambridge Analytica (CA) and its parent, SCL Group, not imploded from a data harvesting and election manipulation scandal, causing both to declare bankruptcy on May 2 just one week prior to the 14th general election (GE14).
Documents involving the attempts of SCL Group's Southeast Asian subsidiary to influence voting in GE14 were previously leaked by the Merdeka Papers in March 2018, two months before the election.
On New Year's Day this week, former CA employee Brittany Kaiser leaked more documents obtained between 2014 and 2018 for the first time to the public, shining new light on SCL and CA's arguably failed venture with BN.
"In the name of shedding light on these dark practices, I am releasing documents and emails in full for the public good. I do this to strengthen the case for data rights and enforcement of our electoral laws online globally.
"We should all be seeking a more ethical digital future for ourselves and our children," Kaiser said in a statement.
SCL approached BN for GE14 through Ahmad Zahid Hamidi
When news broke that CA and SCL had dealings in Malaysia, the BN administration was quick to point fingers at Datuk Mukhriz Mahathir as the main link, since SCL Southeast Asia's director, the late Azrin Zizal, was the former Kedah Umno chief's media officer until 2013.
It has been confirmed that Azrin died in April last year of lymphoma.
Azrin had also claimed that he worked for Mukhriz personally and provided communications and strategy advice for him until 2015, including during the 2013 general election. Mukhriz denied the claims.
None of the many new documents leaked this week made any mention of Mukhriz, and the documents showed that Azrin only acted as SCL director since 2016.
However, under Azrin's tenure, SCL first approached Datuk Seri Ahmad Zahid Hamidi, then deputy prime minister and Umno deputy president, to facilitate his attendance and speech at the Concordia Summit in New York on September 19 and 20, 2016.
Zahid was then heading the Putrajaya delegation to the 71st session of the United Nations General Assembly and on a working visit in New York between September 19 and 25. His speech at the UN was later panned for his shaky English delivery.
The Merdeka Papers had described Concordia as "a more right-wing version of the Clinton Global Initiative", and CA chief executive Alexander Nix would also deliver his keynote speech at the summit.
In a leaked email thread on September 6, London-based SCL employee Tee Ganbold Edwards said Zahid would contribute to the "Intelligence from Open Sources: Partnerships for International Security" dialogue, and asked whether the firm or the event organiser will be covering Zahid's accommodation while in New York.
"The Malaysian Government Officials normally stay at St Regis New York, but the Grand Hyatt also works," Edwards wrote. A stay in the former starts at around RM3,600 per night, while the latter around RM850 per night.
While Zahid was in New York, SCL also planned for a courtesy call on the side between him and Mark Turnbull, then the managing director for CA's non-United States political division, SCL Elections.
In a September 16 email, Azrin said he was dealing with Zahid's political secretary directly to secure the meeting, preferably for a breakfast encounter. It is unclear if this ever took place.
However, SCL had referred to the meeting as part of its outreach for its SCL Elections subsidiary, which it claimed "has an unrivalled track record in political campaign management and worked on more than 100 campaigns across five continents over 25 years".
The October meetings
A month later, Azrin began proposing a week of meetings with key BN figures and Malaysia's captains of industry to pitch SCL's services.
In the first proposal of SCL's itinerary for Malaysia, Azrin had suggested for the SCL team to attend the Selangor BN Elections Candidates' Retreat in Port Dickson on October 7 to 9, 2016.
The programme was to be launched by Selangor Umno chief Tan Sri Noh Omar, and Turnbull was set to deliver a session on October 8, titled "Leadership branding around the world; case studies and method for branding". Zahid would have closed the event on the last night.
Azrin had also proposed for separate courtesy calls with then prime minister Datuk Seri Najib Razak, Umno secretary-general Datuk Seri Tengku Adnan Mansor, and then Selangor mentri besar Datuk Seri Mohamed Azmin Ali.
These meetings and visit to Port Dickson would later be omitted in the final draft of the itinerary.
In subsequent revisions, the proposed meetings with BN would include names such as Umno Youth exco members Datuk Tengku Azman Zainol Abidin "on behalf of Barisan Nasional Strategic Director, Minister at Prime Minister's Department (Economic Planning Unit) ― Datuk Seri Abdul Rahman Dahlan was then holding that position ― and Datuk Hazali Abu Hassan "on behalf of Umno Youth chief Khairy Jamaluddin"; and Datuk Suffian Awang, named as "chief executive of BN War Room".
Hazali's meeting was "to bring recommendations to Umno Youth exco meeting", said a note by Azrin in the itinerary.
A supper in the posh Mandarin Oriental KL on October 10 was also planned with Datuk Seri Aminuddin Mustafa on behalf of Tengku Adnan "to evaluate SCL's services and success stories", said the same note.
In a leaked email dated October 4, Azrin had noted that Tengku Adnan and Aminuddin had requested for SCL to prepare a proposal along with the cost needed for the firm's services to help BN's campaign in 40 Parliamentary seats.
This included 27 seats that BN wished to retain: Arau, Pendang, Jerai, Kulim Bandar Baru, Ketereh, Machang, Bagan Serai, Kuala Kangsar, Telok Intan, Balik Pulau, Cameron Highlands, Bentong, Bera, Sungai Besar, Hulu Selangor, Kuala Selangor, Setiawangsa, Titiwangsa, Segamat, Labis, Ledang, Muar, Tebrau, Pasir Gudang, Pulai, Kota Marudu, and Beaufort.
The other 13 were seats BN wished to regain: Alor Setar, Bachok, Pasir Putih, Kuala Krai, Kuala Nerus, Bukit Gantang, Temerloh, Gombak, Sepang, Lembah Pantai, Telok Kemang (now Port Dickson), Batu Pahat, and Sandakan.
Of these 40 seats, BN would eventually only win six: Arau, Ketereh, Machang, Kuala Kangsar, Cameron Highlands, and Bera.
The proposal also needed to include a timeline for the whole exercise involving all seats, suggestion of the number of enumerators needed for the exercise, and a list of requirements that the local partner would need to prepare.
As an aside, Azrin noted that: "the costing sheet be separated as there will be cost adjustments when presented to the minister."
In another email, he highlighted that: "I believe that the local partner will 'mark up' from our costs". The name of the local partner who would have benefited from the cost mark-up was not stated.
It is also unknown if these meetings ever happened, and whether BN had decided to engage SCL's services for the election.
However, one of the leaked documents was a copy of Turnbull's hotel voucher for Mandarin Oriental's "deluxe room city view" for five nights from October 7 to 12, 2016, suggesting that plans to proceed were afoot.
By October 5, Azrin had requested for more funding from SCL for his operations, saying: "I realise that there is already a referral agreement in place between me and SCL Group however, would it be possible to add on another 10 per cent to our costs to kick start SCL Southeast Asia?"
The long history of BN and Cambridge Analytica
Prior to Azrin, the previous director of SCL in charge of Malaysia was Shahid Shayaa, who identified himself as senior private secretary to the Minister in charge of Performance Management Delivery Unit (Pemandu), Datuk Seri Idris Jala.
Later when he founded social analytics firm Berkshire Media, the firm was engaged by BN in 2012 for its integrated political campaign for 13th general election which included "signature SCL techniques", according to the Merdeka Papers.
A leaked May 2014 proposal by SCL Commercial to state oil and gas giant Petronas Bhd titled "Winning the perception game for Petronas" detailed Berkshire and Shahid's past involvement with BN.
It said the communication campaign involved centralised command centre integrating more than 100 team members or leaders working in different cells and units to carry the same messaging throughout the year, involving analysing more than 100 hot topics from social media.
The campaign also created a brand new identity for BN, "Better Nation", to appeal to young voters and fence-sitters ― in addition to extensive use of paid media" and more than 200 to 300 creative artworks including political posters.
The Better Nation brand died off after GE13, but its Facebook page has up until now shared anti-Pakatan Harapan posts. It is unknown who is managing the brand now.
SCL would again approach Petronas with another proposal in September 2014 titled "Enhancing the strategic communication capacity of Petronas ― Targeted community engagement: A data-driven solution".
According to Merdeka Papers, while presented on the surface as intended primarily to "improve Petronas's reputation and corporate social responsibility and communications" SCL sources revealed this campaign had from the start meant "to deliver a psychographic political data model and campaigning tools for the use of BN".
In the September proposal, SCL said this programme would contribute towards enhancing the public perception of both Petronas, and then BN administration.
This campaign proposed for Petronas in May 2014 would have initially cost US$1.3 million (roughly RM5.3 million). By September that year, it would have ballooned to US$2.1 million (roughly RM8.6 million).
Malay Mail is seeking comments on the matter from the individuals and firms named in this story.
In March 2018, CA came under intense scrutiny after The New York Times and The Guardian newspapers reported that the company had used data obtained from roughly 50 million Facebook users without their permission.
The reports alleged that the Cambridge Analytica used this data to manipulate voting sentiments, and led to investigations in both the US and the UK.
The social media platform suspended the firm and hired forensic auditors to find out if CA had misused the data.
The company's website had listed five office locations in New York, Washington, London, Brazil and Malaysia.
Both CA and SCL closed shop and started insolvency proceeding in May 2018.
Turnbull has since started a similar firm to CA, the London-based Auspex International.
Pakatan Harapan won the GE14. Zahid is now Umno president and BN chairman.
Azrin had been listed as a director for ZRCAM Pte Ltd since March 2015, "managing private relations with high net worth clients for a private placement fund company in the Labuan Offshore Financial Centre".
https://www.malaymail.com/news/malaysia/2020/01/03/how-bn-might-have-won-ge14-had-cambridge-analytica-stayed-alive/1824311
------
Africa
4 killed in Kenyan bus attack claimed by Islamic extremists
Four people were killed in Kenya Thursday after Islamic extremists opened fire on a convoy of bus passengers, officials say.
Al-Shabab, a jihadist group based in neighboring Somalia with links to Al Qaeda, claimed responsibility for the attack on its Andalus radio station.
The gunmen fired at a convoy of three buses and two vans that were being escorted by police to Lamu, said Lamu County Commissioner Irungu Macharia. The four were killed when the vehicles were shot by attackers in an area along the eastern coast, Macharia said.
The first bus was hit with bullets on its side and tires. Other vehicles in the convoy stopped and the gunmen opened fire at passengers fleeing on foot into the bushes.
The police escort had been delayed and was behind the convoy but arrived in time to prevent a massacre, Macharia said.
When the extremists opened fire three passengers were shot at close range and died instantly, police said. The fourth fatality was a conductor of one of the buses. Two other passengers were wounded.
Mombasa County Governor Ali Hassan Joho condemned the attack in a tweet, calling it "unacceptable."
Somalia's Al-Shabab rebels have stepped up attacks in Kenya in recent weeks. The group has vowed retribution for Kenya sending its troops to Somalia to fight the extremists.
Security analyst Andrew Franklin said the Kenyan government is not adequately addressing the rising security threat.
"There is low-intensity conflict going on and they (government officials) are not treating the situation in the five front-line counties with the seriousness it deserves," he said, referring to the counties that border Somalia.
Franklin said the Kenyan government does not have the resources in place to rapidly respond to ambushes. Police are not properly equipped and trained and the vehicles they use are not appropriate for use in rural areas, he said. Nor do police have enough personnel to respond effectively, he said.
Al-Shabab stepped attacks in Kenya in December. The group killed 11 people in Mandera county who were pulled from a bus on December 6. The group killed two non-Muslim construction workers in Garissa county on December 17 and on Dec. 22 burned construction equipment owned by a Muslim contractor that was being used to develop a road in Mandera.
"It flies in the face of what the government is saying, which is that things are getting better or that al-Shabab is a ragtag militia on its back-foot."
https://www.foxnews.com/world/4-killed-kenyan-bus-attack-islamic-extremists
------
JAMB: Muslim students lament NIN frustration
January 3, 2020
Muslims Students' Society of Nigeria (MSSN) Lagos State Area Unit has expressed displeasure about the process of enrolment of students for their National Identity card with the National Identity Card Commission (NIMC).
Since the Joint Admission and Matriculation Board (Jamb) mandated National Identity Number (NIN) as prerequisite for registration, MSSN Amir (President) Dr. Saheed Ashafa said the students have been subjected to undue stress while applying to register for the exercise.
Ashafa spoke in Epe, Lagos during the closing of the society's 108th annual Islamic Vacation Course (IVC).
He said Nigerians wake up at midnight and even abandon their businesses while students equally abandon schools and classes in order to secure a place for early registration at the centres.
"We should not forget that NIN is now a condition attached to registration for JAMB, hence, NIN registration centres are congested without any hope of success in the process," he said
Ashafa bemoaned the fact that the process is marred by extortion, bribery and all forms of corrupt practices.
He suggested that adequate monitoring and check and balance be put in place to solve logistic issues and ease the process.
Dr. Ashafa urged the regulatory authority, NIMC, to ease the affairs of the people and not the other way round.
The problem, he said, must be addressed immediately to rekindle the hope of Nigerians in the exercise.
https://thenationonlineng.net/jamb-muslim-students-lament-nin-frustration/
------
Sheikh Zakzaky utterly deprived of medical care in prison: Daughter
January 2, 2020
AhlulBayt News Agency (ABNA): Badia Ibraheem Zakzaky, daughter of the leader of the Islamic Movement of Nigeria, Sheikh Ibraheem Zakzaky, expressed deep concern about her father's health conditions after being transferred to the general prison ward, saying that he does not have any access to doctors.
"Three weeks ago, they (the Nigerian authorities) transferred Sheikh Zakzaky to the general prison, while he was not in good health conditions and have not allowed him to have his medication and visit doctors," Badia said on Wednesday.
She underlined the need for her father to receive proper treatment outside Nigeria, and said, "They aim to martyr Sheikh Zakzaky and they bother and annoy our family very much."
Back in 2015, Nigerian security forces raided the city of Zaria, during which they detained Sheikh Zakzaky, who is in his mid-sixties. The raid left more than 300 of his followers and three of his sons dead. The Sheikh lost one of his eyes; his wife also sustained serious injuries.
He has been kept in custody along with his wife and a large number of his followers ever since.
A High Court ordered the Department of State Services on December 5 to transfer the cleric and his wife, Zinat, to the Correctional Center in Kaduna state, Northwest of the country.
Members of the Islamic Movement in Nigeria (IMN) said that any attempt to take the couple anywhere other than a hospital will put them in further jeopardy.
The IMN said the facilities at the Kaduna Central Prison are dilapidated, adding that it was the same prison where some survivors of the December 2015 raid perished due to a lack of medical attention.
Last year, the IMN accused the Nigerian government of having poisoned Zakzaky in jail after "large and dangerous quantities of lead and cadmium have been found in his blood".
Last August, in an exclusive interview with FNA, Dr. Pourrahim Najafabadi, MD, said Sheikh Zakzaky needs to be cured by an experienced medical team of physicians in a specialized multi-specialty hospital outside Nigeria, since there is no such medical center in the African country.
In September, Tehran's provisional Friday Prayers leader Hojjatoleslam Kazzem Seddiqi blasted the international bodies which claim support for human rights for keeping mum about the dire situation of detained Nigerian cleric Sheikh Ibrahim Zakzaky.
https://en.abna24.com/news//sheikh-zakzaky-utterly-deprived-of-medical-care-in-prison-daughter_998503.html
------
URL: https://www.newageislam.com/islamic-world-news/in-mauritania-imams-take-radio/d/120699
New Age Islam, Islam Online, Islamic Website, African Muslim News, Arab World News, South Asia News, Indian Muslim News, World Muslim News, Women in Islam, Islamic Feminism, Arab Women, Women In Arab, Islamophobia in America, Muslim Women in West, Islam Women and Feminism