New Age Islam News Bureau
16 Dec 2017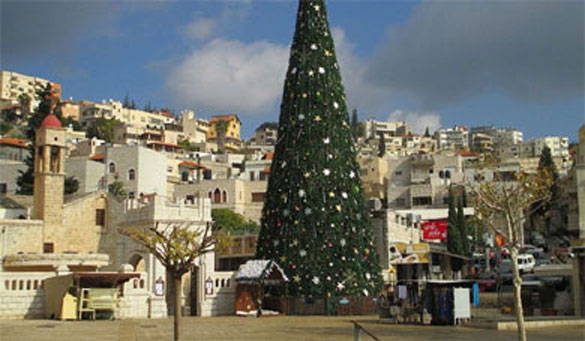 A 2012 photo depicting Nazareth, Israel, around Christmas. Photo credit: Dr. Avishai Teicher of Pikiwiki Israel. Image accessed via Wikimedia Commons
------
• In Malaysia, Religious Concerns Stall Child-Bride Reform
• Nazareth Mayor 'Cancels' Christmas in Protest of U.S. Jerusalem Decision
• US Signals Western Wall Has To Be Part of Israel
• UN 'Shocked and Appalled' At Mass-Execution in Iraq
• Trump Will Be 'Banned' From This Part of London If His Visit to Britain Goes Ahead
Southeast Asia
• In Malaysia, Religious Concerns Stall Child-Bride Reform
• In Sermon, Muslims Scolded For Retail Funding Of Israel
• China backs State of Palestine with East al-Quds as capital
• Cops ambush two-wheeled terrors with pre-dawn raids in Serdang
• Najib receives Bahrain's highest award
• Dr M calls Trump a 'villain' for Jerusalem plan
--------
Mideast
• Nazareth Mayor 'Cancels' Christmas in Protest of U.S. Jerusalem Decision
• Saudi Warplanes Kill More Than 70 People in Yemen
• Four Palestinians killed in new wave of violence
• Yemeni army liberates most of Bihan as Houthis flee from Shabwa
• Turkey to distribute handbook on Islam to Syrians
• Iran accuses US of trying to hide own role in Yemen
• 'Sanaa sniper' targets Houthis, kills three prominent commanders
• US complicit in Saudi war crimes in Yemen: Iran's Zarif
--------
North America
• US Signals Western Wall Has To Be Part of Israel
• Faith Leaders Say Trump's Anti-Muslim Tweets Violate Constitutional Protections
• Canadian-Iranian sentenced to prison for sanctions violations
• US' McMaster pledges cooperation with Turkey amid row
• Police arrest suspect in connection with Islamic-themed graffiti spree
--------
Arab World
• UN 'Shocked and Appalled' At Mass-Execution in Iraq
• Top Shiite Cleric Opposes Disbanding Of Iraq's Hashed Militia
• Sahel force funding shows Saudi serious on terrorism fight
• Syrian Army Captures More Ground near Golan Heights
• Russian Jets Unleash Massive Attack on Terrorists in Northwestern Syria
• Syrian Army Seizes Large Depot of Arms, Telecom Equipment in ISIL Positions in Deir Ezzur
• Syria: Al-Nusra to Leave Eastern Damascus Imminently
• Louvre A Symbol Of Peace And Harmony, Say Muslim Scholars
--------
Europe
• Trump Will Be 'Banned' From This Part of London If His Visit to Britain Goes Ahead
• 'Syrian Refugees Improve Armenia's Social Fabric'
• Russia, Iran, Turkey agree on protecting Syria integrity, fighting terror: Lavrov
• Syria, N Korea feature in annual Putin press conference
• Britain First Deputy Head Jayda Fransen Released On Bail over Comments on Islam
--------
India
• Madras High Court Restrains State from Demolishing Madrasa Building, Built in 1761
• Now, Rajasthan HC Issues Rules For Religious Conversions, Inter-Faith Marriages
• Muslim Body from Mumbai Asks Centre to Clear Stand on Trump's Jerusalem Move
• Mutual agreement, not confrontation key to solving Ayodhya dispute: Sri Sri Ravi Shankar
• Body of Jaish-e-Mohammed terrorist found from Pulwama district in J&K
• Terror funding: Court seeks NIA's reply on stone pelter's bail plea
--------
Pakistan
• Senators Seek Details of Islamic Military Alliance's Terms of Reference
• PM Abbasi for Society with No Tolerance for Religious Extremism, Violence
• Terrorists are not true Muslims, says Ahmad Nawaz
• US warns Islamabad regarding Haqqani network threats to Pakistan
• Sikh community in Hangu 'being forced to convert'
• PM urges to renew pledge to fight terrorism on Peshawar attack anniversary
• Imran Khan not out, Jahangir Tareen disqualified for life: Supreme Court
• Saudi Arabia offers scholarships for Pakistani students
--------
South Asia
• Rohingya Death Toll 'Could Have Climbed Past 13,000'
• 16 Militants Killed, Wounded In Kandahar and Paktika Operations: MoD
• Taliban execute two civilians over unknown charges in Nangarhar
• Islamic Foundation to hoist 61,083 national flags on Victory Day across Bangladesh
• Bangladesh stops Rohingya preparing to board boat to Malaysia
• Another commander of the Red Unit of Taliban killed in Farah province
--------
Africa
• Africa: Ethiopia Backs the AU's Stance on Jerusalem
• Russia says open to working with US to try to resolve Libya crisis
• Libyan leader: Qatar, Turkey and Sudan stoking conflict
• Muslim, Christian leaders converge in Lagos for convention
Compiled by New Age Islam News Bureau
URL: https://www.newageislam.com/islamic-world-news/in-malaysia-religious-concerns-stall/d/113595
--------
In Malaysia, religious concerns stall child-bride reform
Dec 16, 2017
KUALA LUMPUR, MALAYSIA—When the man who raped Saira asked for her hand in marriage, she was disgusted but unsurprised.
She was just 16. Her rapist expected she would keep her mouth shut if they were married, she figured. He wouldn't be the first Malaysian to protect himself that way from prosecution.
But Saira would not comply. The Muslim schoolgirl took her case to court, and her attacker was sentenced to eight years in jail.
"There might be pressures from the outside, but this is where you have to be strong," says Saira, not her real name, about resisting the unlikely marriage proposal. Today, she's a confident 19-year-old, working at a full-time job.
If underage marriage were outlawed, say girls' rights activists, there would be no risk that teen rape victims could be silenced by forced loyalty to their new husbands.
But as conservative strands of Islamic opinion gain influence in multi-ethnic, multi-religious Malaysia, child advocates are finding it an uphill battle to make marriage a matter for adults only.
Courts, but not necessarily justice
Lobbyists pressuring the government to criminalize child marriage "were getting quite a lot of momentum" at one stage, says Tham Hui Ying, vice president of Malaysia's Association of Women Lawyers. "But suddenly it became a hot button issue. It's religious," so politicians are "not going to push to outright ban child marriage," she says.
Malaysia operates a dual legal system. Civil law sets the minimum age of marriage at 18. But under Islamic law, which applies to the Muslim majority on family and morality issues, girls may marry as young as 12 with approval from a Sharia court.
Underage marriage cuts across ethnic and religious lines. About 1,000 Muslim teens get married every year, according to government figures. Fewer than half that number of underage non-Muslims wed, needing the consent of their state's Chief Minister.
Nobody knows how many rapists avoid jail through marriage; rapes and out-of-court settlements often go unreported. But two court cases have galvanized efforts to outlaw child marriage altogether.
In 2013, a Sharia court in the eastern state of Sabah granted a 40-year-old restaurant manager permission to marry a 12-year-old girl he had raped. A civil court dropped the rape case when the man later said he was going to marry his victim.
That decision flew in the face of Malaysian law, which does not allow rapists to escape prosecution by marriage. But it illustrated how far courts – influenced by customary law or cultural habits – sometimes disregard the law of the land.
It also showed how difficult it can be for prosecutors to mount a successful case against a rapist without their key witness. If an underage victim has married her aggressor, she may well feel duty-bound to protect her husband.
Alarmed by the ruling, which triggered international headlines and public outrage the Sabah Women's Action Resources Group (SAWO) led calls to the Attorney General to proceed with the criminal case. Eventually it went to trial. In 2014 the rapist, still married to his child bride, was sentenced to 12 years in jail.
"We wanted this case to set a precedent for other cases in the future," says SAWO's president, Winnie Yee, in a telephone interview.
It did not do so, though. Last year a court in the eastern state of Sarawak again ignored the law, dismissing charges against a man accused of raping a 14-year-old girl after defense lawyers announced the pair had married.
Following pressure from rights groups, a retrial was ordered. But when the girl was called to testify she refused to give evidence and asked for the case to be withdrawn.
A shifting religious landscape
Ms. Yee had hoped the conviction SAWO helped secure in Sabah would give impetus to her campaign for a ban on child marriage, but "there haven't been any massive changes," she says. "We are a bit disappointed. We need public awareness and a huge outcry."
That has yet to materialize at a time when religious sentiment is on the rise and when parents are anxious to prevent pre-marital sexual relations and pregnancies.
"Muslim conservatism is permeating our society right now," says Shareena Sheriff, a program manager at Sisters in Islam, a women's group urging law reform on child marriage. And that is making child marriage a religious issue rather than a rights issue.
Malay Muslims form the majority of Malaysia's 30 million citizens, but the nation is also home to sizable ethnic Chinese and Indian communities, who are mostly Christian, Hindu, or Buddhist.
The tone of increasing Islamic conservatism is divisive, some Malaysians fear. In September, a launderette in southern Malaysia was rebuked by the state's Sultan for its "Muslim-only" policy. The same month organizers cancelled a craft beer festival in Kuala Lumpur after protests by Islamists.
The trend has been noticeable since the government introduced Islamization policies in the 1980s, and is increasingly influenced by hardline theologies from the Middle East.
Not all Muslims support child marriage. The influential National Fatwa Council has declared the practice harmful, for example.
But the rise of a more austere form of Islam is strengthening religious arguments that defend child marriage, analysts say. And when the ruling party is courting the conservative Muslim vote ahead of elections expected in 2018, the government has little appetite to promote anti-child marriage legislation.
Though Tuan Ibrahim Tuan Man, the deputy president of Malaysia's biggest Islamist party, insists that marriage does not absolve a rapist of his crime, he does not oppose child marriage on principle.
"The big question is not age, but responsibility," says Mr. Tuan Ibrahim, whose party is expected to be a kingmaker at the next elections. "In the context of Islam, they (under 18-year-olds) can be married."
Campaigners calling for a ban on child marriage know that legislation alone won't be enough to end the practice, deeply ingrained in religious and cultural beliefs, but insist that it's a good starting point.
The government argues that cultural norms would override any legislation, says Melissa Akhir, a senior advocacy officer at the Penang-based Women's Centre for Change. "But we think the law must lead the way on rights."
https://www.csmonitor.com/World/Asia-Pacific/2017/1215/In-Malaysia-religious-concerns-stall-child-bride-reform
--------
Nazareth mayor 'cancels' Christmas in protest of U.S. Jerusalem decision
December 15, 2017
Nazareth, the hometown of Jesus Christ, will observe a tempered Christmas holiday to protest President Donald Trump's decision to recognize Jerusalem as the capital of Israel, the city's mayor announced in a press conference on Thursday.
While not banning the holiday outright, Mayor Ali Salam said that numerous events will be canceled because the president took the "joy" out of the holiday with his political move, Newsweek reported.
"Our identity and faith aren't up for debate," Mr. Salam said during a press conference Thursday, Newsweek reported. "The decision [by Trump about Jerusalem] has taken away the joy of the holiday, and we will thus cancel the festivities this year."
Nazareth, a Muslim-majority city in Israel, stages a Christmas celebration each year with performances, a holiday market, tree lighting and parade.
It's known as one of the holiest cities in Christianity, the place where the Angel Gabriel told Mary she was pregnant with the son of God, and the city where Jesus was raised.
The Jerusalem Post reported that not all celebrations would be canceled, with the Mayor acknowledging the commercial importance to resident businesses attracting thousands of visitors.
Public performances will not take place but the holiday market, tree lighting and parade will continue, the Post reported.
A statement by the Council of the Arab Orthodox Community in Nazareth, posted on the municipality's Facebook page, read in Arabic that the Christmas tree lighting would be moved to Saturday as a "modest" protest against "the aggressive American decision." Soon after Mr. Trump made his announcement on Jerusalem last week, officials in the Palestinian-Authority-controlled city of Bethlehem turned off the lights on that city's Christmas tree in protest.
On Friday, protests took place in Nazareth, Jerusalem, Bethlehem and in other Arab-majority cities across Israel and the West Bank.
https://www.washingtontimes.com/news/2017/dec/15/nazareth-mayor-cancels-christmas-protest-us-jerusa/
--------
US signals Western Wall has to be part of Israel
Dec 15, 2017
The administration of US President Donald Trump has signaled that the Western Wall, a site of worship in Jerusalem al-Quds' Old City, has to be a part of Israel.
The declaration by two US senior officials on Friday came amid mounting tension over Trump's decision to recognize Jerusalem al-Quds as Israel's capital.
The officials, who spoke on condition of anonymity, ruled out any scenario that did not retain Israeli control over the site.
"We cannot envision any situation under which the Western Wall would not be part of Israel. But as the president said, the specific boundaries of sovereignty of Israel are going to be part of the final status agreement," the Associated Press quoted one of the officials as saying.
Another official later added by email, "We note that we cannot imagine Israel would sign a peace agreement that didn't include the Western Wall."
This also came ahead of Vice President Mike Pence's trip to the region on Wednesday, a visit Trump officials said is aimed at reinforcing the president's announcement on Jerusalem al-Quds.
Trump made the controversial announcement in a speech at the White House on December 6, saying his administration would also begin a process of moving the American embassy in Tel Aviv to the holy city, which is expected to take years.
Israeli Prime Minister Benjamin Netanyahu hailed Trump's recognition as "historic" and a "courageous and just decision."
Washington's policy move triggered demonstrations in the occupied Palestinian territories, Iran, Turkey, Pakistan, Egypt, Jordan, Tunisia, Algeria, Iraq, Morocco and other Muslim countries.
The entire Jerusalem al-Quds is currently under Israel's control, while the regime also claims the city's eastern part, which hosts the third holiest Muslim site.
The city has been designated as "occupied" under international law since the 1967 Arab War, which Palestinians want as the capital of their future state.
http://www.presstv.com/Detail/2017/12/15/545742/US-Israel-Western-Wall-Jerusalem-
--------
UN 'shocked and appalled' at mass-execution in Iraq
December 15, 2017
The United Nations on Friday harshly criticised the mass-hanging of 38 men at a prison in southern Iraq this week, urging Baghdad to immediately halt all executions.
Iraq on Thursday hanged 38 jihadists belonging to the Islamic State group or Al-Qaeda for terrorism offences at a prison in the southern city of Nasiriyah, according to provincial authorities.
It was the largest number of executions in Iraq on a single day since September 25, when 42 people were put to death in the same prison.
"We are deeply shocked and appalled at the mass execution on Thursday," United Nations human rights office spokeswoman Liz Throssell told reporters in Geneva.
The hangings, she warned, "once again raises huge concerns about the use of the death penalty in the country".
The UN had determined that all of the 38 executed prisoners were men and had been convicted for terrorism-related crimes, but could say nothing more about their identities, she said.
A prison source however told AFP that they were all Iraqis, but that one also held Swedish nationality.
The executions came after Prime Minister Haider al-Abadi on Saturday declared victory against the Islamic State group after a three-year campaign by government forces backed by a US-led coalition to retake territory seized by the jihadists.
The UN and rights watchdog Amnesty International have repeatedly voiced concerns about the use of the death penalty in Iraq , which ranks among the world's top executioners, after China, Iran and Saudi Arabia.
"Given the flaws of the Iraqi justice system, it appears extremely doubtful that strict due process and fair trial guarantees were followed in these 38 cases," Throssell warned.
"This raises the prospect of irreversible miscarriages of justice and violations of the right to life," she said.
The UN has learned of 106 executions in Iraq so far this year, including the mass-hangings in September.
"We once again urge the Iraqi authorities to halt all executions, establish an immediate moratorium on the use of the death penalty and carry out an urgent and comprehensive review of the criminal justice system," Throssell said.
http://nation.com.pk/15-Dec-2017/un-shocked-and-appalled-at-mass-execution-in-iraq
--------
Trump Will Be 'Banned' From This Part of London If His Visit to Britain Goes Ahead
Dec. 15, 2017
LONDON — Amid a debate in Britain over whether President Trump's invitation to visit the country should be rescinded over his inflammatory tweets, officials in the London borough of Greenwich took pre-emptive action: If the visit goes ahead, the president will not be welcome there.
This "is a peaceful and welcoming place that celebrates difference and diversity, but in the case of President Trump we are willing to make an exception," said Denise Hyland, Greenwich's top local government official, after councilors adopted a motion Thursday recommending Trump not be allowed to visit the historic neighborhood.
Greenwich is home to the Prime Meridian, a conceptual line that divides the Earth into eastern and western hemispheres, as well as Cutty Sark, the legendary British last real tea clipper ship. The area's rich maritime history, historical buildings and riverside location draw hordes of locals and tourists alike. A councillor motion has no ultimate legal weight, but it is a declaration of wishes, akin to a resolution.
Greenwich councilors expressed, according to the motion, "alarm at the decision of President Trump to retweet Islamophobic Propaganda" and "sadness at the President's bigoted attitude towards women and ethnic minorities."
Trump regularly tweets or retweets unverified, inaccurate and prejudicial information.
He angered many Britons when he publicly feuded with London Mayor Sadiq Khan, the first Muslim to hold the post, in the wake of the London Bridge terror attack.
Late last month, Trump retweeted three Twitter posts originally published by Britain First, an extreme right-wing group. The posts included anti-Muslim video clips. British Prime Minister Theresa May rebuked Trump for his retweets, saying he was "wrong" to do that. Trump responded: "Don't focus on me, focus on the destructive Radical Islamic Terrorism that is taking place within the United Kingdom. We are doing just fine!"
May extended an invitation for Trump to make an official state visit to Britain shortly after she visited him in Washington in January, but it has been repeatedly put on hold. The White House postponed the trip until 2018 without saying why.
There is no suggestion that Trump intended to visit Greenwich.
Thousands of people protested in February, calling on May to withdraw the invitation for a state visit. A petition to cancel the trip was signed by nearly 2 million people.
Woody Johnson, the U.S. ambassador to Britain, told the BBC this week that he expects Trump to make a working visit to to the country in the new year, when the president could personally dedicate the new U.S. Embassy building.
Johnson conceded that some "feathers were ruffled" in the exchange between May and Trump about the anti-Islam tweets, but insisted there had been a "misinterpretation" and that they had arisen out of Trump's instincts to "protect Americans."
"He is not going to go down the path of a lot of politicians and maybe be namby pamby about it," Johnson said in the BBC radio interview. "He is going to come out, he is going to probably take some chances . . . to accomplish that security goal."
https://www.usatoday.com/story/news/world/2017/12/15/trump-visit-britain/954742001/
--------
Southeast Asia
In sermon, Muslims scolded for retail funding of Israel
December 15, 2017
KUALA LUMPUR, Dec 15 — A Friday sermon by Selangor religious authorities today expressed frustration over Muslims' continued patronage of brands whose profits allegedly fund the establishment of an Israeli state.
The Selangor Islamic Religious Department (Jais) also accused Muslims of being side-tracked and distracted by prosperity and "extreme entertainment", which it claimed were part of Zionist tactics to erode the faith of the Islamic community.
"It is painful; while Muslims worldwide rise up to protest what is being perpetrated by the Zionist regime towards Palestinians, there are those among Muslims who do not care about Palestine issue," said the sermon distributed to mosques in the state.
"It is more unfortunate that there are Muslims who are still so absorbed and continue to support aid given to Israel through the purchase of food, cigarettes, or even professional services whose profits clearly given to fund the Israel state.
"Where is the dignity of the Muslim community?" it asked.
Jais then said this situation was the result of the Muslims' reliance on global superpowers instead of God.
However, the sermon neglected to identify any of the goods and services whose proceeds purportedly go to fund Israel.
United States president Donald Trump's decision to recognise Jerusalem as the Israeli capital has stoked anger among Muslims worldwide, with some Malaysians directing their ire towards local companies and brands they accused of providing funds to the US and Israel.
Among those targeted was McDonald's Malaysia operated by Gerbang Alaf Restaurants Sdn Bhd, despite its largest shareholder being a Muslim after it was bought by Saudi Arabia's Lionhorn Pte Ltd a year ago.
McDonald's Malaysia lodged a police report yesterday against several NGOs and individuals for calling for a boycott and accusing the fast food chain of contributing to the Israel-Palestine conflict.
In a separate sermon, federal body Malaysian Islamic Development Department (Jakim) accused Jewish Zionists of invading Jerusalem and the holy Al-Aqsa Mosque to resurrect the kingdom of Solomon ― an Israeli king recognised as a Muslim prophet ― among others as a way to strengthen the position of the Freemasons.
Some Muslims believe in the conspiracy theory involving an alleged secret coalition between the Jews and the Freemasons, including PAS president Datuk Seri Abdul Hadi Awang who last month linked Saudi Arabia and its allies to a so-called "Mason-International Zionist" network.
Since last week, Muslims here have protested against the US embassy in Kuala Lumpur after Friday prayers, with Najib and Hadi planning to both spearhead a similar rally in Putrajaya next week.
http://www.themalaymailonline.com/malaysia/article/in-sermon-muslims-scolded-for-retail-funding-of-israel#jKh7vrtgovKJFjuu.97
--------
China backs State of Palestine with East al-Quds as capital
Dec 15, 2017
China has called for the establishment of a Palestinian state with full sovereignty and independence and with East Jerusalem al-Quds as its capital.
A Chinese Foreign Ministry spokesman, Lu Kang, said on Thursday that Beijing understood the concerns of Muslim countries about the status of occupied territories after a controversial move by US President Donald Trump to declare that the US would recognize Jerusalem al-Quds as the "capital" of Israel.
Trump announced the decision last week, saying his administration would begin a process of moving the American embassy from Tel Aviv to the holy city.
The move triggered demonstrations in the occupied Palestinian territories, Iran, Turkey, Egypt, Jordan, Tunisia, Algeria, Iraq, Morocco, and other Muslim countries.
It also triggered outspoken opposition by world countries, including Europe.
"We support the settlement of this issue in accordance with relevant UN resolutions and international consensus," Lu said. "We also support the establishment of an independent State of Palestine that enjoys full sovereignty, with East Jerusalem as its capital and based on the 1967 border."
He also said Beijing hoped that a comprehensive, fair, and enduring solution could soon be found to the Israeli-Palestinian conflict.
The Organization of Islamic Cooperation (OIC), which convened an urgent summit in the Turkish city of Istanbul, declared Trump's move null and void.
The OIC also called on all Muslim nations to respond by pressing the world for the recognition of East Jerusalem al-Quds as the capital of a Palestinian state.
Full report at:
http://www.presstv.com/Detail/2017/12/15/545682/China-Palestine-sovereign-state-East-Jerusalem-alQuds-capital-Trump
--------
Cops ambush two-wheeled terrors with pre-dawn raids in Serdang
BY EMMANUEL SANTA MARIA CHIN
December 16, 2017
PETALING JAYA, Dec 16 — A group of illegal motorcycle street racers who terrorised the Besraya highway in Serdang over past weeks were ensnared by police raids early this morning.
The riders were targeted for the illegal racing activities as well as dangerous riding stunts that threatened other users of the highway.
Ads by AdAsia
In the raids held from 12am to 4am, 15 officers from the Bukit Aman Traffic Investigations and Enforcement Department (JSPT) managed to arrest 15 males aged between 15 and 28. They also seized 15 motorcycles for illegal modifications.
Bukit Aman JSPT director Senior Assistant Commissioner Sharul Othman Mansor said police believe the illegal racers were encouraged to get involved by a motorcycle shop nearby.
"Of the seized motorcycles, four of them were fitted with number plates bearing the letters AMM, an abbreviation for a mechanic store named Kedai Motor Ah Meng.
"We believe this mechanic has been encouraging and supposedly sponsoring some of these illegal racers, by tuning and modifying their motorcycles," he said.
He said the motorcyclists would normally race each other starting at the Solaris Serdang Petronas station before turning back several kilometres ahead.
"The group races every weekend, and usually moves around from one location to another along the same stretch of highway, attempting to avoid the authorities.
"Fortunately officers operating undercover managed to track them down and finally nab the group," he said.
Full report at:
http://www.themalaymailonline.com/malaysia/article/cops-ambush-two-wheeled-terrors-with-pre-dawn-raids-in-serdang#zOwSwx0kbKMyVipg.97
--------
Najib receives Bahrain's highest award
December 16, 2017
MANAMA, Dec 16 ― Prime Minister Datuk Seri Najib Razak has been conferred Bahrain's highest award.
Najib received King Hamad Order for Development from the Bahrain ruler, King Hamad Isa Al Khalifa at Shaikh Hamad Palace here, last night.
The prime minister has the distinction of being the first foreign leader to be conferred Bahrain's new highest award created two years ago.
Najib began his three-day official visit with an audience with King Hamad at the palace earlier.
The prime minister's wife Datin Seri Rosmah Mansor accompanied Najib during the audience.
King Hamad also conferred the Bahrain's Medal of First Degree on Defence Minister Datuk Seri Hishammuddin Hussein during the award conferment ceremony.
The Bahrain monarch later hosted a state dinner for the visiting prime minister, Rosmah and the Malaysian delegation at the palace.
Full report at:
Kuala Lumpur and Manama have established diplomatic ties since 1974. ― Bernama
http://www.themalaymailonline.com/malaysia/article/najib-receives-bahrains-highest-award#UtXO6CuyP8Cl82Ic.97
--------
Dr M calls Trump a 'villain' for Jerusalem plan
December 15, 2017
KUALA LUMPUR, Dec 15 — Muslim-majority Malaysia's former prime minister Tun Dr Mahathir Mohamad today called US President Donald Trump an "international bully" and a "villain" for his move to recognise Jerusalem as Israel's capital.
Trump last week reversed decades of US policy by recognising Jerusalem as the capital of Israel, and said the United States would move its embassy to Jerusalem from Tel Aviv in the coming years.
The status of Jerusalem is one of the thorniest barriers to a lasting Israeli-Palestinian peace. Israel considers Jerusalem its eternal and indivisible capital and wants all embassies based there.
Palestinians want the capital of an independent state of theirs to be in the city's eastern sector, which Israel captured in the 1967 Middle East war and annexed in a move never recognized internationally.
The anger from Trump's decision "will lead to what is called terrorism", the 93-year-old Mahathir told a a protest rally in front of the US embassy in Kuala Lumpur.
"Today we have an international bully. Trump, go find someone your own size. This (Jerusalem plan) will only stir the anger of the Muslims," said Mahathir, the chairman of Malaysia's opposition coalition.
"We must use all our power to oppose this villain who is the president of the United States," he said, urging all Muslim countries to cut ties with Israel.
Muhyiddin Yassin, another opposition leader, called on the Malaysian government to not proceed with planned investments in the United States.
Last week, Malaysian Prime Minister Datuk Seri Najib Razak urged Muslims worldwide to oppose any recognition of Jerusalem as Israel's capital.
Social media users in Muslim-majority Malaysia vowed to boycott US companies, such as McDonald's Corp, following Trump's decision. The chain's Malaysian franchise said it did not support or engage in any political or religious conflicts.
Full report at:
http://www.themalaymailonline.com/malaysia/article/dr-m-calls-trump-a-villain-for-jerusalem-plan#4Kd14ySJWrYD5YZV.97
--------
Mideast
Saudi warplanes kill more than 70 people in Yemen
Dec 15, 2017
More than 70 Yemeni people have been killed in airstrikes by Saudi warplanes on the impoverished country of Yemen, reports said Friday.
Yemen's al-Masirah television network said the Saudi warplanes bombed a market in the Mawza district in the west of Ta'izz province on Friday. According to a preliminary count, the airstrike left eight people dead and 15 others injured.
At least 15 people also lost their lives in Saudi air raids on the northern province of Sa'ada. According to al-Masirah, 12 of the victims were killed in two airstrikes that hit a market and a car in the Munabbih district. The three other victims, including two women, were killed in earlier air raids on the districts of al-Dhaher and Shada. The aerial attacks also left five people injured in the northern province.
Medics and security sources also reported on Friday that Saudi air raids claimed the lives of 28 people around Yemen's west coast.
Saudi airstrikes also killed another 20 people, mostly women and children, in al-Hudaydah Province, in Yemen's northwest.
The airstrikes were carried out against residential areas on Friday. Another 10 people were injured.
Saudi Arabia has been incessantly pounding Yemen since March 2015 in an attempt to crush the popular Houthi Ansarullah movement and reinstate the former Yemeni president, Abd Rabbuh Mansur Hadi, a staunch ally of the Riyadh regime.
More than 12,000 people have been killed since the onset of the campaign. Much of the Arabian Peninsula country's infrastructure, including hospitals, schools and factories, has been reduced to rubble due to the war. The Saudi-led war has also triggered a deadly cholera epidemic across Yemen.
http://www.presstv.com/Detail/2017/12/15/545727/Saudi-airstrikes-Yemen
--------
Four Palestinians killed in new wave of violence
December 16, 2017
GAZA CITY - Four Palestinians were killed and hundreds wounded Friday in violence with Israeli forces across the Palestinian territories, as tens of thousands of people joined new protests against Washington's recognition of Jerusalem as Israel's capital. US President Donald Trump's December 6 announcement that he would break with decades of American policy and move his embassy to Jerusalem has stirred international condemnation, as well as protests across the Palestinian territories and Arab world.
Demonstrators have burned American and Israeli flags and trampled on pictures of Trump amid concerns his announcement would lead to major bloodshed.
On Friday three men were killed in violent clashes between Israeli troops and stone-throwing Palestinians .
Two died along the border of Israel and the Gaza Strip, the Palestinian health ministry said, as the Hamas Islamist group that rules the enclave had called for another "day of rage" against Trump's decision.
A third was killed in clashes north of Jerusalem after being shot dead in the chest by the Israeli army, the health ministry said.
The fourth man stabbed an Israeli border police officer near a checkpoint on the outskirts of the occupied West Bank city of Ramallah, before being shot, police said.
The assailant, who later died of his wounds, wore what appeared to be a suicide vest, though it was unclear if it was operational. The violence comes days before US Vice President Mike Pence is due to visit Israel, though he will no longer meet with Palestinian officials after they cancelled meetings in protest at the embassy move.
Protests broke out across the West Bank, with major ones taking place in Hebron and Nablus, after the end of the weekly Muslim prayers, often a catalyst for clashes between young Palestinians and Israeli soldiers.
In Gaza, tens of thousands of protesters took to the streets and a few thousand clashed with Israeli forces along different parts of the border.
The Palestinian health ministry said 164 people were injured in Gaza, with five in serious condition, while more than 100 were hospitalised across the West Bank The Israeli army said around 2,500 people were involved in "riots" across the West Bank and about 3,500 in Gaza. In Jerusalem itself, there were minor scuffles in the Old City after Friday prayers.
Friday's death brought to eight the number of Palestinians killed in violence or air strikes since Trump's Jerusalem move. Four men were killed in Gaza last week, with two involved in protests and two Hamas militants killed in an Israeli air strike.
In Jordan, thousands of people also demonstrated on Friday in the latest round of protests called by the Muslim Brotherhood, burning Israeli and American flags.
The diplomatic fallout also continued, with Turkish President Recep Tayyip Erdogan saying Trump's decision was a "bomb" thrown at the entire Middle East.
Reaffirming his past accusations that Israel is a "terror state" because of its treatment of the Palestinians , Erdogan said Friday: "Trying to make Jerusalem capital of a terror state is not a situation that can be accepted by Muslims." The status of Jerusalem is one of the most controversial issues in the Israeli-Palestinian conflict.
Israel seized control of the eastern part of the city in the 1967 Middle East war and sees the whole of Jerusalem as its undivided capital, while the Palestinians view the east as the capital of their future state.
For decades global powers have avoided taking an opinion, keeping their embassies in Tel Aviv instead.
Trump declared, however, that he would move the embassy and has recognised the city as Israel's capital.
Amid condemnation from much of the international community, the Palestinians have announced they will no longer view the Americans as a mediator in negotiations with the Israelis.
On Friday, the Holy See said that Pope Francis would meet Jordan's King Abdullah II at the Vatical next week.
Abdullah, the custodian of the Muslim holy sites in Jerusalem, and the pope have both voiced deep concern over Trump's move.
A poll conducted after Trump's announcement by the respected Palestinian Center for Policy and Survey Research found 45 percent of Palestinians supported a violent popular uprising, up from 35 percent three months previously.
Khalil Shikaki, the centre's director, said the "only possible explanation" for the increase was Trump's decision.
He said, however, the effectiveness of the Israeli forces and the Palestinian security forces' ongoing cooperation with them had ensured the protests in the West Bank remained relatively minor.
While angered by Trump's declaration, Palestinian president Mahmud Abbas has not instructed his party Fatah or security forces to cut ties with Israel.
"Hamas is too weak in the West Bank to carry out any serious attacks (and) Fatah does not want to engage in violence ," Shikaki said. "This is not likely to change any time soon."
Full report at:
http://nation.com.pk/16-Dec-2017/four-palestinians-killed-in-new-wave-of-violence
--------
Yemeni army liberates most of Bihan as Houthis flee from Shabwa
15 December 2017
The military operation against the Houthi militia is escalating in the Shabwa governorate amid significant progress by the national army and popular resistance, especially in the Asilan and Bihan districts.
The commander of Yemeni forces in Bihan told al-Hadath reporter on Friday that most of Bihan was liberated except for some small villages, as the Yemeni army was keen to preserve the lives of civilians.
He also announced that dozens of Houthi militiamen were captured, and that the Arab coalition was a vital help in the operations in Bihan.
Military sources had stated earlier that violent confrontations took place between Yemeni forces and the Houthi militia, during which the army and resistance forces managed to control the areas of Jaabour, al-Khazan, al- Noqob, Jabal bin Saban, the West and East banks and the Saadi branch of the district of Asilan.
Meanwhile, militiamen retreated from clashes in Shabwa.
The sources also reported growing disagreements between the Houthis and Republican Guard forces loyal to former Yemeni President Ali Abdullah Saleh, in the rural part of Bihan, northwest of Shabwa.
This resulted in the withdrawal of some members of the Republican Guard from battlefronts indicating increasing anger due to the latest incidents in Sanaa.
The sources pointed out that the militia lost many of their leaders and fighters in the Bihan battlefronts.
Full report at:
https://english.alarabiya.net/en/News/gulf/2017/12/15/Yemeni-army-liberates-most-of-Bihan-as-Houthis-flee-from-Shabwa.html
--------
Turkey to distribute handbook on Islam to Syrians
15.12.2017
ANKARA
Turkey's top religious authority on Friday announced the production of a handbook in Arabic on the principles of Islam for Syrians both in Turkey and their war-torn country.
The Presidency of Religious Affairs is publishing 20,000 copies of the handbook, called Al-Fiqh ilmihal, for Syrian Muslims of the Sunni Shafii sect.
The Arabic handbook will be distributed both in Syria and to Syrians living in refugee camps in Turkey.
The two-volume handbook, prepared by the help of Syrian Islamic scholars, aims to dispel misrepresentations of Islam spread by terrorist groups in the region like Daesh, offering instead a reliable source of information on Islam.
The books will be distributed through the offices of the muftis in Turkey's southern Kilis and Gaziantep provinces, neighboring Syria.
According to the UN, Turkey is the top refugee host in the world, providing home to some 3.2 million Syrian refugees who have taken shelter after fleeing the war.
Syria has been locked in a devastating conflict since early 2011, when the Bashar al-Assad regime cracked down on pro-democracy protests with unexpected ferocity.
Full report at:
http://aa.com.tr/en/culture-and-art/turkey-to-distribute-handbook-on-islam-to-syrians/1005950
--------
Iran accuses US of trying to hide own role in Yemen
December 16, 2017
TEHRAN - Iran 's foreign minister accused the United States on Friday of trying to divert attention from its own responsibility for the deadly war in Yemen with claims of Iranian weapons shipments.
Mohammad Javad Zarif was responding to claims by US ambassador to the United Nations Nikki Haley that a missile fired by Yemeni rebels at Riyadh airport on November 4 was "made in Iran ".
"No amount of alternative facts or alternative evidence covers up US complicity in war," Zarif said on Twitter.
"While Iran has been calling for ceasefire, aid and dialogue in Yemen from day 1, US has sold weapons enabling its allies to kill civilians and impose famine."
Saudi Arabia, which has led a military intervention in Yemen with US backing since March 2015, on Friday demanded immediate action against its regional arch rival over the alleged missile deliveries.
"It is necessary to take immediate steps against the terrorist activities of the Iranian regime," said a government statement carried by the official Saudi Press Agency.
Haley said Washington had "undeniable" evidence that at least two missiles fired at Saudi Arabia by the Yemeni rebels as well as other weaponry had been manufactured in Iran .
But her comments went beyond the findings of a UN investigation which reached no firm conclusion on whether the missiles came from an Iranian supplier, saying only that they had a "common origin" to some Iranian designs.
Asked about Haley's claims that the evidence was irrefutable, Sweden's ambassador to the United Nations Olof Skoog said: "She may be in possession of evidence that I have not seen. The information that I have up to now is less clear."
The Saudi-led coalition imposed a blockade on rebel-held ports in Yemen in response to the November 4 missile attack which has been only partially lifted, intensifying what the United Nations has described as the world's worst humanitarian crisis.
More than 8,750 people have been killed since the coalition launched its intervention, most of them civilians, according to the World Health Organization.
Full report at:
http://nation.com.pk/16-Dec-2017/iran-accuses-us-of-trying-to-hide-own-role-in-yemen
--------
'Sanaa sniper' targets Houthis, kills three prominent commanders
15 December 2017
A sniper, whose identity remains a mystery, has been killing Houthi commanders in Sanaa thus spreading fear among the Houthi militia's ranks, local sources and media outlets said.
The unknown sniper now dubbed "Sanaa sniper" has so far killed three prominent Houthi commanders who were identified as Yahya Hussein al-Houthi, Mohammed Daghsan and Mohammed al-Sayaghi.
Many Houthi commanders now fear for their lives and some have gone into hiding and no longer roam the streets of Sanaa out of fear they might be the next.
Some activists say the sniper may be a Republican Guards' member supporting late President Ali Abdullah Saleh and that he is targeting Houthis in response to their recent series of kidnappings and executions of Saleh's supporters.
Full report at:
https://english.alarabiya.net/en/News/gulf/2017/12/15/-Sana-a-s-sniper-targets-Houthis-kills-three-prominent-commanders.html
--------
US complicit in Saudi war crimes in Yemen: Iran's Zarif
Dec 15, 2017
Iranian Foreign Minister Mohammad Javad Zarif says the United States is complicit in Saudi war crimes in Yemen amid Washington's baseless claim that Tehran is providing supply of ballistic missiles to Yemen's Houthi Ansarullah movement.
"No amount of alternative facts or alternative evidence covers up US complicity in war crimes," Zarif said in a post on his official Twitter account on Friday.
He added that the US has sold weapons to its allies enabling them to "kill civilians and impose famine," in reference to Washington's arms deal with Riyadh in its aggression against Yemen.
The top Iranian diplomat emphasized that Iran has been calling for "ceasefire, aid and dialogue" in Yemen since the conflict began in the impoverished country.
The Iranian foreign minister's post came after US Ambassador to the United Nations Nikki Haley claimed Thursday that a missile the Yemeni army had fired at Saudi Arabia last month was supplied by Tehran.
In a statement released on Thursday, Iran's UN mission categorically dismissed Haley's claim as "unfounded" and said, "This purported evidence ... is as much fabricated as the one presented on some other occasions earlier."
The Iranian Ambassador to the UN, Gholam Ali Khoshroo, also rejected his American counterpart's claims and said the "show" Haley put up earlier in the day was merely meant to cover up Washington's own supply of lethal weapons to the Saudi regime, which have resulted in the deaths of Yemeni women and children.
"Iran wants peace, dialog and an immediate ceasefire and a halt to bombardments" against Yemen, said the senior diplomat, emphasizing that the US "must, above all, end its arms sales to Saudi Arabia."
On November 4, a missile fired from Yemen targeted the King Khalid International Airport near Riyadh, reaching the Saudi capital for the first time.
The Houthi movement, which has been fighting back a Saudi aggression, said it had fired the missile but the Riyadh regime was quick to point the finger at Iran.
Full report at:
http://www.presstv.com/Detail/2017/12/15/545703/Zarif-Houthi-Twitter-Saudi
--------
North America
Faith leaders say Trump's anti-Muslim tweets violate constitutional protections
By Ann E. Marimow
December 15, 2017
President Trump's recent tweets featuring inflammatory anti-Muslim videos have figured prominently in legal challenges to the administration's latest travel ban on certain citizens of eight countries.
The president's sharing of the three videos posted by a far-right British activist also raised concerns this week from a coalition of faith-based organizations that say Trump's retweets went too far and violated constitutional protections. The faith leaders and legal advocates asserted in a letter to the White House on Thursday that the president's messages are at odds with the Establishment Clause of the First Amendment that prevents the government from denigrating a particular religion or showing hostility toward a single faith.
"These tweets sought to draw attention to the misdeeds of Muslims, simply on account of their being Muslim," according to the letter, signed by Christian, Muslim, Jewish and Sikh organizations and drafted by Georgetown Law's Institute for Constitutional Advocacy and Protection.
"Your decision to retweet these messages carried a dark and unmistakable message: Muslims are to be feared; Islamic practices pose a danger to society; Muslims can never be truly equal citizens under the law," according to the letter sent to Trump and the White House counsel's office.
In federal court last week, the administration's lawyer affirmed the government's view that messages from the president's Twitter account — @realDonaldTrump — are official statements of the president. Even so, Deputy Assistant Attorney General Hashim M. Mooppan told the U.S. Court of Appeals for the 4th Circuit that the recent retweets of the videos were legally irrelevant to challenges to the president's travel order that now applies to six Muslim-majority countries and to North Korea and Venezuela.
Federal judges have blocked earlier versions of the travel order as an unconstitutional ban on Muslims in part because of the president's statements on Twitter.
With its letter to the president Thursday, the coalition of religious organizations is not threatening legal action, but rather pressing Trump to consider constitutional boundaries before taking to Twitter.
"In the future, we urge the president to refrain from using his official perch to share divisive messages that denigrate the religion of any American," said Joshua Geltzer, the institute's executive director and a former high-ranking national security official at the Justice Department during the Obama administration.
The chair of the institute is Neal Katyal, a Georgetown professor who is leading one of the challenges to the travel order at the U.S. Court of Appeals for the Ninth Circuit.
White House officials have not directly addressed whether the president should share content whose authenticity was not verified. The authenticity of the videos in the original post that Trump shared has not been verified. The videos included captions: "Muslim migrant beats up Dutch boy on crutches!," "Muslim destroys a statue of Virgin Mary!" and "Islamist mob pushes teenage boy off roof and beats him to death!"
White house press secretary Sarah Huckabee Sanders has defended the retweets as evidence that Trump wants to "promote strong borders and strong national security."
A White House spokesman did not immediately respond Thursday to a request for comment on the letter.
https://www.washingtonpost.com/news/acts-of-faith/wp/2017/12/15/faith-leaders-say-trumps-anti-muslim-tweets-violate-constitutional-protections/?utm_term=.3f4dd81b3423
--------
Canadian-Iranian sentenced to prison for sanctions violations
16 December 2017
WASHINGTON: A Canadian-Iranian man was sentenced Friday to 32 months in prison for violating US sanctions against Iran.
Between 2014 and 2016, Ali Soofi, 63, "conspired to export military items from the United States to Iran, both directly and through transshipment to intermediary countries, without a license," according to prosecutors.
Soofi "sought to purchase and ship numerous items, including helicopters, high-tech machine gun parts, tank parts, and military vehicles, from the United States to Iran, all without a license and while knowing that such shipments were illegal under US law," a statement from the US Attorney's Office for the Southern District of New York added.
He pleaded guilty to one count of conspiracy to violate US sanctions against Iran, and was sentenced to 32 months in prison plus one year of supervised release.
Washington has implemented a series of economic sanctions against Tehran and its elite Revolutionary Guards Corps forces.
Full report at:
http://www.arabnews.com/node/1209831/world
--------
US' McMaster pledges cooperation with Turkey amid row
15 December 2017
President Donald Trump's National Security Advisor has vowed to remain in lockstep with Turkey in the fight against terror groups -- just days after his comments sparked a row with Ankara.
"We recognize and support Turkey's efforts to bolster border security, halt foreign fighters, and fight ISIL, and we will continue to work together to ensure ISIL's enduring defeat," H.R. McMaster said in comments.
"As noted, we will also increase efforts with Turkey and other partners to stop extremist actors that abuse financial infrastructure across the region. And the United States will continue to stand with Turkey, as we have for decades, against the terrorist threat from the PKK," the "Iconoclast General" added.
At an event earlier this week hosted by the British think tank Policy Exchange in Washington, McMaster said Turkey and Qatar are the main sponsors of radicalism and claimed Turkey's problems with the West were mainly due to the rise of its ruling party.
The National Security Council later said it was "committed to its strategic partnership with Turkey to bring stability to the region and defeat terrorism in all its forms".
"We appreciate Turkey's efforts to increase its border security, stem the flow of foreign fighters through its territory and fight on the ground to clear ISIS [ISIL] from key towns in Syria," it said.
But McMaster's comments drew a swift rebuke from Ankara.
The Turkish Foreign Ministry said McMaster's remarks were acknowledged with "sadness" and due to the position he holds, he "must know better" because the comments are "baseless claims are far beyond reality, astonishing and unacceptable," the ministry said.
Seeking to walk back his remarks, McMaster told Anadolu Agency he was seeking to highlight "the need to cut off funding in the region that benefits not only terrorist organizations but also those organizations that spread radical ideology.
"I was making the point that the United States and Turkey can do more together to cut off the finances of those who foment hatred and violence based on irreligious ideology," he said. "The United States has long supported and will continue to support Turkey."
Full report at:
http://www.worldbulletin.net/america-canada/196895/us-mcmaster-pledges-cooperation-with-turkey-amid-row
--------
Police arrest suspect in connection with Islamic-themed graffiti spree
Dec 15, 2017
Police have arrested a 52-year-old Windsor man in connection with a spree of Islamic-themed graffiti that targeted media organizations and bus shelters across the city.
The words "Sharia now" and "Islam executes drug dealers" were scrawled in red paint on a bus shelter and the windows of CBC Windsor Wednesday.
Similar messages were spotted at locations around the city including CTV and the Windsor Star.
Police received reports a man matching the description of the suspect was at a business on Chatham Street around noon Friday.
The man was arrested without incident and is facing "numerous" counts of mischief for the property damage.
Full report at:
http://www.cbc.ca/news/canada/windsor/graffiti-spree-windsor-1.4451764
--------
Arab World
Top Shiite cleric opposes disbanding of Iraq's Hashed militia
15 December 2017
Iraq's most revered Shiite cleric, Ayatollah Ali al-Sistani, on Friday opposed calls to disband a controversial paramilitary force which was instrumental in defeating the Islamic State group in the country.
Iraq is "always in desperate need of heroic men who have backed up the army and federal police and who fought alongside them on different fronts", said Abdel Mahdi al-Karabalai, the Ayatollah's representative.
"We need to continue to benefit from this important source of energy, within the constitution and judicial framework," he said in a sermon at weekly prayers in the Shiite holy city of Karbala, south of the capital.
Karabalai stressed that the Hashed al-Shaabi's arms belonged to the state and its mission was to defend national security.
The force was established in 2014 after Sistani urged Iraqi citizens to take up arms against IS jihadists who had swept aside government forces and seized control of much of northern Iraq.
But the Hashed, a Shiite-dominated alliance, remains deeply divisive and has been accused of a string of abuses.
Known in English as the Popular Mobilisation Units, the various forces within the Hashed can field a total of between 60,000 and 140,000 fighters.
Iraq's parliament has classed it as a state force operating within the constitution.
Calls have been growing from the West for the Hashed to disband, with French President Emmanuel Macron proposing "a gradual demilitarisation" of the group and for all militias in Iraq to be "dismantled".
But Hashed spokesman Ahmad al-Assadi, who is also a member of parliament, told AFP on Friday that Sistani had stood up for the units to be retained as part of Iraq's security system.
The Hashed suffered 7,637 dead and 21,300 wounded in the three-year war to drive out IS, according to a top Hashed commander, Qais Khazali.
https://english.alarabiya.net/en/News/gulf/2017/12/15/Top-Shiite-cleric-opposes-disbanding-of-Iraq-s-Hashed-militia.html
--------
Sahel force funding shows Saudi serious on terrorism fight
15 December 2017
Saudi Arabia's hefty donation to a new anti-terror force in west Africa's Sahel region is a conspicuous attempt by Riyadh to show it is serious about fighting extremism, analysts say.
The new G5 Sahel force pools troops from Burkina Faso, Mali, Mauritania and Niger in an area of desert the size of Europe where extremist groups have been thriving.
Money had been a major obstacle to getting it off the ground, meaning Riyadh's pledge of 100 million euros ($118 million) is a relief for former colonial power France, which has spearheaded the project.
But Saudi-watchers say getting involved also serves twin purposes for Riyadh: countering accusations that it finances extremism, and consolidating influence in a region where it has invested for years.
"Fighting terrorism and extremism with zero tolerance is our priority," Saudi Foreign Minister Adel Al-Jubeir told Le Monde newspaper on Thursday.
The United Arab Emirates, also keen to demonstrate its commitment to fighting extremism, has offered an additional 30 million euros to the fledgling force.
The cash brings total funding over the initial 250 million euros needed to get the force up and running following last month's maiden mission in the volatile border zone between Burkina Faso, Mali and Niger.
The Saudi contribution is "very important", according to a source close to the talks where the donations were announced Wednesday following a summit hosted by French President Emmanuel Macron.
"The Saudis have always been suspected of financing terrorism. We've said to them, 'Take part in some kind of multilateral cooperation, and that suspicion will be lifted,'" the source said.
Riyadh has long faced accusations that it exports a radical form of Sunni Islam, Wahhabism, by funding Koranic schools, mosques and charity groups around the world.
But Saudi Crown Prince Mohammed bin Salman is seeking to rein in the influence of religious ultra-conservatives in the kingdom, which has been hit by multiple attacks blamed on extremists.
- Growing French ties -
Prince Mohammed -- widely known by his nickname "MBS" -- has presented himself as a champion of moderate Islam as he seeks to modernise Saudi Arabia.
Last month he launched a military coalition of 40 Muslim countries, vowing to "pursue terrorists until they are wiped from the face of the earth".
And Riyadh was already a member of the US-led anti-jihadist coalition fighting in Iraq and Syria.
"Saudi Arabia has an interest both in combating violent jihadi movements and in being seen to do so," said Jane Kinninmont, a senior research fellow at British think-tank Chatham House.
"This isn't entirely new under MBS," she added.
"Saudi leaders have been aware of the risks of transnational violent Islamist movements for a long time -- especially since 9/11 and since Al Qaeda started to attack Saudi Arabia in 2003."
Diplomatic interests are at play too in yielding to French pressure to join the project, Kinninmont said.
"France's ties with the Gulf have been growing for years and as the UK prepares to leave the EU, France is likely to become the new best friend of the Gulf states within the EU," she said.
Florent Geel, Africa director at the International Federation for Human Rights, said the Saudis, like Qatar, "have been investing a lot in the Sahel for 10 to 15 years -- in mosques, in social projects."
He asserted this was a form of "Wahhabist expansionism to counter Sufism", the mystic form of Islam widespread in the Sahel, saying the Saudis had "financed a form of radicalisation".
Nicolas Desgrais, a researcher at the University of Kent in England who specialises in military cooperation in the Sahel, said Riyadh had been cultivating influence in Burkina Faso for years.
"In Burkina, the Saudis have been involved for many years via associations, free clinics, Koranic schools -- to the point of replacing public policy," he said.
Burkinabe authorities have been trying to crack down on Saudi influence of late, he added -- but the kingdom's new involvement in the Sahel force may provide fresh opportunities to increase its clout.
Full report at:
https://sg.news.yahoo.com/sahel-force-funding-shows-saudi-serious-terrorism-fight-162034963.html
--------
Syrian Army Captures More Ground near Golan Heights
Dec 15, 2017
The army men, led by their elite 42nd Brigade of the 4th Mechanized Division, stormed Al-Nusra's defense lines at the large hilltop of Tal al-Ahmar on Friday morning.
According to a military report, the army's 42nd Brigade has imposed full control over Tal al-Ahmar after losing the hilltop two days ago during an Al-Nusra's attack.
With Tal Al-Ahmar once again under their control, the army has asserted fire control over the road linking the towns of Beit Saber and Mughur al-Mir.
Relevant reports said on Thursday that the army inflicted a major defeat on the al-Nusra Front and earned control over more regions in Southwestern Damascus.
The army forces, supported by missile and artillery units, raided al-Nusra positions in Southwestern Damascus, winning back full control of al-Khazan.
Other Syrian army troops could seized control of Tal al-Ahmar in the Eastern parts of Beit Jinn farms as well as Tal al-Ziyat region.
Full report at:
http://en.farsnews.com/newstext.aspx?nn=13960924000498
--------
Russian Jets Unleash Massive Attack on Terrorists in Northwestern Syria
Dec 15, 2017
The source said that the warplanes launched over 20 airstrikes above the Idlib province, targeting the towns of Abu Dali, Musharifah, Tal Marq, Abu 'Umar, and Al-Mashad.
The source added that the fighter jets launched at least 15 strikes over the towns of Al-Rahjan and Al-Shakousiyah in Northeastern Hama.
The Russian airstrikes were conducted ahead of the Syrian Army's planned offensive that is expected to begin in Southeastern Idlib today.
Kremlin Spokesman Dmitry Peskov said on Wednesday that Russia was long present in the (Middle East) region and pursued its pragmatic interests and was oriented to mutually beneficial and mutually trusting cooperation, adding that it was not about trying to fill a vacuum because there's no vacuum.
Commenting on Russian President Vladimir Putin's surprise visit to Syria, as well as to Turkey and Egypt, on Monday, and responding to the question if it was caused by the desire to strengthen Moscow's positions in the Middle East, Peskov said that "it was about the purposeful and consistent work of the Russian side in line with the policy that has long been formulated by the Russian president," adding that this policy was aimed at restoring the (Syrian) Arab Republic, support its legitimate authorities and seek a political settlement to the crisis, Sputnik reported.
"In essence, the operation to save Syria and liberate the territory of Syria from terrorists has been completed, and there is no longer any need to use large-scale combat potential. There is no object for using this potential. So the supreme commander-in-chief decided to withdraw (the forces)," Peskov told reporters.
Asked whether Russia feared that if it withdrew most of its troops, a situation similar to the one in Palmyra, where terrorists earlier launched a counteroffensive, could arise, he said, "Here the decision was made by Supreme Commander-in-Chief Putin first. Let us say, today the situation differs much from the situation of the last months and recent years."
Full report at:
http://en.farsnews.com/newstext.aspx?nn=13960924000340
--------
Syrian Army Seizes Large Depot of Arms, Telecom Equipment in ISIL Positions in Deir Ezzur
Dec 15, 2017
The army men combed the neighborhoods of Dawar Qassan Aboud, al-Arzi, Ali Beik and Sheikh Yasin in Deir Ezzur city and seized a large volume of weapons and munitions, including mortars, machineguns, bombs and telecommunication devices.
The Syrian Army troops repelled ISIL's heavy offensive on pro-government forces in Southeastern Deir Ezzur on Wednesday, killing tens of terrorists.
The army men warded off ISIL's heavy attack on their positions in al-Jala'a and al-Ramadi regions North of the town of Albu Kamal in Southeastern Deir Ezzur, killing tens of suicide attackers and destroying their bomb-laden vehicles in a ten-hour-long clash.
The army men killed tens of terrorists and forced their remaining pockets to retreat towards the Eastern bank of the Euphrates River, seizing arms and ammunition left behind by the fleeing militants.
In the meantime, other units of the army men deployed at Deir Ezzur border with Homs province engaged in heavy fighting with a group of ISIL terrorists that tired to prevail over the pro-government forces' positions in Badiyeh (desert) of Humeimeh in Eastern Homs.
Full report at:
http://en.farsnews.com/newstext.aspx?nn=13960924000309
--------
Syria: Al-Nusra to Leave Eastern Damascus Imminently
Dec 15, 2017
The news websites said that Al-Nusra in Eastern Ghouta has embarked on enrolling its members for evacuation to Idlib province.
The websites reported that talks are underway for expulsion of almost 400 non-Syrian members of Al-Nusra from Eastern Ghouta to Idlib, adding that the army has called for opening roads towards the Shiite towns of Fua'a and Kafraya that are still under the siege of the militants in the Northwestern countryside of Idlib city to dispatch aid convoys to the town in return for opening a road to militant-held regions in Eastern Ghouta via Arbin passageway.
In the meantime, field sources said that the army is well-prepared to storm the Al-Nusra positions from different fronts to liberate Eastern Ghouta if talks with Al-Nusra fails to gain results.
An Arab media outlet reported on Wednesday that the main militant groups in Eastern Damascus were negotiating with the Syrian and Russian officials over ending the presence of the Al-Nusra Front terrorists in Eastern Ghouta.
The Arabic-language al-Watan daily quoted well-informed sources as saying that intense talks were underway between reconciliation committees and the Russian forces with the representatives of Jeish al-Islam and Faylaq al-Rahman to pave the ground for the imminent withdrawal of Al-Nusra terrorists from Eastern Damascus.
The paper reminded the Syrian army's control over Eastern Ghouta and the pursuing withdrawal of the Al-Nusra from the region, and said the talks concentrated on the annihilation of Al-Nusra or its withdrawal from Eastern Ghouta and its expulsion to other militant-held regions, including Idlib.
Full report at:
http://en.farsnews.com/newstext.aspx?nn=13960924000240
--------
Louvre A Symbol Of Peace And Harmony, Say Muslim Scholars
December 15, 2017
Abu Dhabi: A high-level delegation of dignitaries, scholars and intellectuals participating in the fourth annual forum for Promoting Peace in Muslim Societies, visited the Louvre Abu Dhabi museum.
The delegation was headed by Mustafa Ceric, former Grand Mufti of Bosnia and included other intellectuals such as Shaikh Mohammad Mukhtar Ould Imbala, Head of Mauritania's Fatwa and Grievances Supreme Council, Amar Mirghani Hussein, Sudanese Minister of (religious) Guidance and Endowments and Salho Jay, Imam of the Juma Masjid in South Africa. The three-day forum was held in Abu Dhabi from December 11-13 and witnessed the participation of more than 700 scholars, intellectuals and religious dignitaries from around the world.
The delegation toured the museum's various sections, especially the Gallery of Universal Religions, which displays works that reflect the communication, cooperation, solidarity and harmony between the different religions.
Shaikh Mohammad Imbala from Maurtainia, cited Surat Ar-Rum, "… Travel through the land and observe how was the end of those before," and emphasised that the masterpieces are remnants of peoples and nations, and should be a lesson to remind us that we need to endeavour to be remembered for acts of goodness, love, peace and coexistence.
Bosnian Grand Mufti, Ceric, said that these masterpieces embody progress achieved throughout different historical periods and reflect coexistence and harmony between the various races and civilisations. "The museum is a miniature version of the universe's glorious history," he said.
The Louvre Abu Dhabi Museum symbolises the epitome of human connection and unity, as its artworks will span the entirety of human existence. It also reflects the values of coexistence and tolerance shared by nations throughout the ages, which are key pillars to the progress and prosperity of nations. Values that were established by His Highness late Shaikh Zayed bin Nahyan, and pursued by the country's current dynamic leadership,
Full report at:
http://gulfnews.com/news/uae/louvre-abu-dhabi/louvre-a-symbol-of-peace-and-harmony-say-muslim-scholars-1.2141511
--------
Europe
'Syrian refugees improve Armenia's social fabric'
By Tamila Varshalomidze
Dec 16, 2017
The presence of Syrian refugees in Armenia's mono-ethnic society has been celebrated in the capital Yerevan through the personal initiative of an art curator and three photographers who have been documenting the migration since the eruption of the war in Syria in 2011.
A documentary photo exhibition that opened on Friday was called Home to Home, to highlight the fact that the 20,000 new arrivals were descendants of Armenians who fled from Turkey to Syria during another war more than 100 years ago.
The idea for the event came from Anna Kamay, an art curator, who told Al Jazeera that she was fascinated by the positive changes introduced by the refugees in her community.
Kamay said the new arrivals started small businesses - including new restaurants with good service - demonstrated strong work ethic and even brightened up the streets by wearing colourful clothes.
"People in Yerevan dress mostly in dark colours ... These people brought lots of new colours with them. There are kind of a novelty here, bringing cultural and economic change to the country," she said.
"Armenian community was a very strong one in Syria, and if it wasn't for the war, they would never move to Armenia. So it is a very unfortunate circumstances, but at the end, we have what we have, a boost to the local economy, a very precious human capital and also diversity that we really lack in Armenia."
Easy integration
It is not clear whether any of the 20,000 refugees moved on to other countries or returned to Syria, but the initial number put Armenia - with its population of 2.9 million - high up on the list of the countries with the highest per capita ratios of refugees to nationals - six refugees to 1,000 locals.
Their integration was relatively easy as the new arrivals had the same ethnicity, religion and language [with different dialect].
"Initially they're taken a little bit like foreigners ... Armenia is mono-ethnic, so people here don't know how to deal with others," said Anush Babajanyan, one of the three photographers featured in the exhibition, along with Piruza Khalapyan and Nazik Armenakyan.
"But Syrian Armenians are very communicable, open and lively so a lot of the times they make the right first step and that helps."
The hardest part for the refugees was the lack of economic opportunities, she said.
"People don't tend to move to Armenia, they tend to leave due to our economic difficulties," she said.
Some of the Syrian Armenians even settled in Armenian-controlled Nagorno-Karabakh, a conflict region that is internationally recognised as part of neighbouring Azerbaijan where cross-border shootouts are common.
They were lured by free rural accommodation provided by the de facto government and the prospect of feeding their families by working the land.
"It is interesting because it is not so peaceful there, but a lot of people who moved there say: 'If I am going to be in a conflict zone, I want to be in a conflict zone that relates to my people. I can relate to this conflict more than the conflict in Syria'," said Babajanian.
From Aleppo to Yerevan
The unwanted prospect of involvement in the Syrian conflict made Shant Klzy Muradian, 19 at the time, decide to seek shelter in Armenia as well.
The native of Syria's Aleppo city arrived in Yerevan in 2015 with his brother, leaving behind his parents and grandparents. His mother joined him recently.
"It is not very easy here, but I don't see us ever going back home, but maybe in 10, 20 years we will reconsider," he told Al Jazeera.
The 21-year-old is one of the refugees whose life is featured in the exhibition.
Muradian was reluctant to have his photo taken at first, but then he changed his mind.
"At the beginning, I was not comfortable with it. But now I am happy I did it because maybe it will help other refugees to get more support when they arrive," he said.
"I was lucky. My cousin [who arrived four years earlier than me] helped me to find a job [at a kitchen], but maybe others will not have relatives or friends here [to get them started]. It will be harder," said Muradian.
Kamay said only time would show whether the refugees would stay in Armenia, move on to other countries or go back to Syria, but it was very important for her and the photographers to document "this moment when we have 20,000 Syrian Armenians among us".
"It is a story of not only migration but also of courage, resilience and willingness to start a new life."
http://www.aljazeera.com/indepth/features/2017/12/refugees-improve-armenia-social-fabric-171214061224398.html
--------
Russia, Iran, Turkey agree on protecting Syria integrity, fighting terror: Lavrov
Dec 16, 2017
Russian Foreign Minister Sergei Lavrov says Moscow, Tehran and Ankara see eye to eye on the need to fight terrorism in Syria and maintain its territorial integrity despite pursuing different political agendas.
In an address to Russia's Federation Council, the upper house of the parliament, on Friday, Lavrov hailed the intra-Syrian peace talks in the Kazakh capital, Astana, as a successful example of cooperation between Russia, Iran and Turkey to resolve the Syria conflict.
"As the president [of Russia Vladimir Putin] has stated many times, our (the three states') goals and interests do not fully coincide,...our countries have different approaches to various aspects of the Syria issue, [but] we stand together when it comes to the need to defeat terrorism, preserve Syria's territorial integrity and harmonize relations between all of its ethnic and religious groups," he said.
"These common interests ensure consistent and effective activities on the Astana platform," the top Russian said, referring to the intra-Syrian peace process underway in the Kazakh capital with the mediation of Russia, Iran and Turkey.
So far, seven rounds of the Astana talks have brought representatives from Syria's warring sides to the negotiating table in a bid to end the foreign-backed militancy in the Arab country, which broke out in March 2011.
Iran and Russia are allies of the Syrian government, while Turkey supports several anti-Damascus armed groups.
The fourth round of the Astana discussions in May resulted in an agreement on four de-escalation zones across Syria, which have sharply reduced fighting in the conflict zones.
The top Russian diplomat, however, did not elaborate on whether it was necessary to set up a permanent trilateral group on Syria, stressing that instead of "bureaucratic" bodies, there should be "flexible coalitions."
"On the whole, current global problems are of such a nature that fixed bureaucratic bodies are not needed. Instead of them, flexible coalitions, which allow us to react to modern challenges in a quick and effective way, are needed," he said.
Lavrov further emphasized that he was is sure that the last remnants of the Daesh terrorist groups will be defeated completely in Syria.
Backed by Iranian military advisors and Russian airpower, the Syrian armed forces managed to free their entire homeland from the Daesh terror group last month.
In late November, the presidents of Iran, Russia and Turkey, which are acting as the guarantors of the Syria ceasefire, met in the Black Sea resort city of Sochi.
Full report at:
http://www.presstv.com/Detail/2017/12/16/545766/Russia-Iran-Turkey-Lavrov
--------
Syria, N Korea feature in annual Putin press conference
By Sonia Gallego
15 Dec 2017
Russia's President Vladimir Putin has given his annual live press conference in Moscow on Thursday.
He spoke about domestic and foreign issues, including the war in Syria and the threat of North Korea's nuclear missile system, as well as his ambitions ahead of Russia's presidential elections in March.
http://www.aljazeera.com/news/2017/12/syria-korea-feature-annual-putin-press-conference-171214185241876.html
--------
Britain First deputy head Jayda Fransen released on bail over comments on Islam
December 15 2017
The deputy leader of far-right group Britain First has been released on bail after appearing in court in Belfast charged over comments about Islam made in a social media posting.
Jayda Fransen, 31, has been charged with threatening behaviour over remarks made earlier this week beside a peace wall dividing Catholics from Protestants in the city.
The comments were posted on social media on Wednesday.
The message said it was shot in the staunchly unionist Shankill area of west Belfast.
The video post was critical of Islam.
Fransen was bailed after a short hearing before a district judge in Belfast Magistrates' Court on Friday, although p olice objected to her release.
Fransen, from Anerley in south east London, was arrested at the same court on Thursday, having appeared on a charge related to other remarks she made at a Northern Ireland Against Terrorism rally in the city in August.
Britain First leader Paul Golding, 35, was also arrested at court on Thursday as he accompanied Fransen.
He was later charged with using threatening, abusive, insulting words or behaviour during a speech he made at the same Belfast rally in August.
Golding was bailed to appear in the same court next month and Fransen will also appear before that court again next month.
Fransen winked and raised her fist skyward in the dock after bail was granted. Around a dozen supporters clapped and cheered in the public gallery.
A police officer had objected to bail, claiming Fransen would commit similar offences to the one she is charged with if released.
He said Fransen had made comments urging people to "rise up and take action now" against the "Islamic ideology".
He raised concerns further similar comments could lead to attacks on Muslims.
Judge Fiona Bagnall said she acknowledged his concerns but said she would apply bail conditions to mitigate that risk.
Fransen has been prevented from going within 500 metres of any demonstration or procession in Northern Ireland - the same condition applied when she appeared on the August charge on Thursday.
"We'll see if bail terms work," the judge told the court.
"If they don't work, she'll be brought back to court and she will be in custody."
Outside court, Fransen accused the Police Service of Northern Ireland (PSNI) of "political policing".
"This is political policing which is not what we stand for - we stand for democracy and free speech and this is a blatant attempt to prevent free speech," she said.
"I am expressing an opinion which I am entitled to do - men have fought, bled and died for that right and everything I have stated specifically about the Islamic ideology I can back up with facts straight from the Islamic scripture.
"This is a clear campaign to silence us and I assure you it won't work."
Golding flanked Fransen outside court.
He said the judge's decision to grant her bail had thwarted police efforts to crack down on his group.
"This is big blow to the police plan to stifle Britain First from getting a foothold in Northern Ireland," he said.
Full report at:
https://www.belfasttelegraph.co.uk/news/northern-ireland/britain-first-deputy-head-jayda-fransen-released-on-bail-over-comments-on-islam-36411490.html
--------
India
Madras High Court Restrains State from Demolishing Madrasa Building, Built in 1761
DECEMBER 14, 2017
The Madras High Court on Wednesday restrained the State government from demolishing the heritage building of the Government Madrasa-I-Azam Higher Secondary School at Anna Salai here and directed the School Education department to explain by December 22 why it wanted to raze the structure.
A Division Bench, comprising Justices T.S. Sivagnanam and K. Ravichandrabaabu, passed the interim order on a public interest litigation petition filed by Abdul Basith, an alumni of the school as well as the incumbent executive committee member of the parent teacher association of the institution.
In his affidavit, the petitioner claimed that the school was more than 200 years old. It had a glorious past and a part of the school property belonged to the Nawabs of Carnatic/Arcot and that it had originally served as the residence of Princess Khayrunissa Begum, wife of the 12th Nawab Ghulam Mohammed Ghouse Khan.
In 1761, the then Nawab Wallajah established a Madrasa (school) for the exclusive use of the children from the royal family. Subsequently, the last Nawab Ghulam Ghouse Khan Bahadur widened the medium of instruction and subjects taught in the school and named the institution after his pen name Azam.
The syllabus of the school was changed to the English system in 1859 and it started admitting students irrespective of caste, creed or community. The campus also housed a mosque and an orphanage, the petitioner said.
The petitioner claimed that a committee appointed by the High Court in 2006, to survey heritage buildings in the city, had identified the Madras-I-Azam school building as one of the heritage structures. Agreeing that the building was now in a dilapidated condition, he contended that the government should only restore and not demolish it.
http://www.thehindu.com/todays-paper/tp-national/tp-tamilnadu/hc-restrains-state-from-demolishing-madrasa-i-azam-school-building/article21617329.ece
--------
Now, Rajasthan HC issues rules for religious conversions, inter-faith marriages
Dec 16, 2017
JAIPUR/JODHPUR: Hearing a case of alleged 'love jihad', the Rajasthan HC on Friday issued tough guidelines for religious conversions and inter-faith marriages and directed that these will remain in force till the state government brought a law to govern conversions.
While disposing of a habeas corpus petition filed by one Chirag Singhvi, who had alleged that his sister Payal was forcibly converted to Islam to marry one Faiez Modi, the HC issued detailed 10-point guidelines and said it was doing so "to check the problem of forcible conversion of religion".
Henceforth, a person wishing to convert to another religion in Rajasthan will have to inform the concerned district collector / sub-divisional magistrate / sub-divisional officer who shall put the information on their notice boards the same day and also ascertain that the conversion is not forceful. Once the person has converted, he or she can marry only a week after adopting a different faith.
As part of the guidelines, the person solemnising such marriages has to also ensure that the information of conversion has been duly given to the authorities. If a marriage is in contravention of the guidelines, it can be declared voidable upon complaint of the aggrieved party, the court said.
Payal, who took the name Arifa after conversion, had submitted an affidavit on a stamp paper of Rs 10 to the local police to declare that she had converted to Islam. During one of the hearings last month, the HC had taken a serious note of this with Justice Gopal Krishan Vyas, who headed the division bench, remarking, "In this way, tomorrow, even I could address myself as Gopal Mohammad."
On Friday, the bench of Justice Vyas and Justice VK Mathur said, "There is specific pleading in the writ petition that nowadays members of the minority community (were) targeting girls aged 16-17 years of Hindu and Jain community and subsequently, as soon as those girls attain the age of 18-19 years, after converting them to the minority community, forcibly preparing false and forged documents to solemnize marriage of teenagers."
The bench further noted, "We are aware of the fact that under Article 25 of the Constitution of India, there is fundamental right granted to the citizen for freedom of religion and every citizen of India is entitled to follow any religion, but the question arises whether forcible conversion of religion for the purpose of marriage is justified? Obviously, the answer is 'NO'."
The bench observed that in some religions, marriages can be solemnized without conversions but in some others this was not possible. The bench referred to Sura-2- Ayat 221 of the Holy Quran quoted by the Maulvi who converted Payal to Islam and solemnised her marriage to Faiez.
The court said an important aspect of the matter was that within half an hour all the proceedings, including change of religion and 'nikah', were completed by the Maulvi.
"Nowadays, the problem of forcible conversion of religion has become a serious problem because teenagers are forcibly converting only for the purpose of solemnizing marriage," the court said.
Full report at:
https://timesofindia.indiatimes.com/india/now-rajasthan-hc-issues-rules-for-religious-conversions-inter-faith-marriages/articleshow/62091822.cms?
--------
Muslim body from Mumbai asks Centre to clear stand on Trump's Jerusalem move
Dec 15, 2017
Asking the India government to clear its stand on the US President Donald Trump's recognition of Jerusalem as Israel's capital, the All India Muslim Majlis-e-Mushawarat (AIMMM) on Friday said it was opposing Trump's declaration.
"We are having an in-house meeting today [Saturday] to discuss the issues concerning Jerusalem because it violates Oslo agreement," said SM Mallik, executive member, AIMMM (Mumbai).
The Oslo Accords is an agreement signed between the State of Israel and the Palestine Liberation Organisation (PLO) on September 13, 1993, at the White House. It was supposed to end the Israeli-Palestinian conflict over staking claim to Jerusalem.
Calling the Trump's decision 'unjustified and irresponsible', AIMIM said the US move violate previous peace efforts initiated on various international platforms.
"President Trump just destroyed every possibility of a two-state solution. It shattered decades of diplomacy and disrupted the Arab-Israeli peace talks. The 1967 borders must be respected and Jerusalem must remain the capital of Palestine," said Saeed Khan, vice president, ad hoc committee of AIMMM (Mumbai).
The members also asked the Indian government to clear its stand, like it did in case of Non-Aligned Movement — wherein India formed a bloc of nations who did not support either US or Russia — because the relations with Palestine dates back to pre-Independence era. AIMMM also extended its support to an online petition 'Jerusalem must remain the capital of Palestine', which has garnered more than 14 lakh votes so far.
"The government of India must take a note of it. The Indian policy has been in favour of Palestine since we believe in human rights and justice. It is time for the government to come forward and support the Palestinians and oppose the declaration made by Trump," Saeed said.
Ministry of External Affairs (MEA) spokesperson Raveesh Kumar had said that India's position on Palestine was "consistent and independent" and not determined by a third country.
Full report at:
http://www.hindustantimes.com/mumbai-news/muslim-body-from-mumbai-asks-centre-to-clear-stand-on-trump-s-jerusalem-move/story-Lefg2hfzg3Mte1MKZ5lQNL.html
--------
Mutual agreement, not confrontation key to solving Ayodhya dispute: Sri Sri Ravi Shankar
December 15, 2017
Spiritual leader Sri Sri Ravi Shankar, who has taken a personal interest in mediating on the Ayodhya dispute, has said he has received positive feedback from several quarters and will continue to engage with the various stakeholders on the matter.
Speaking on the sidelines of an interactive session in Kolkata, the Art of Living founder said, "We have received positive feedback and shall continue with the process. What one can achieve through mutual agreement can never be achieved through confrontation."
"I would like to speak to more people. I have been speaking to all stakeholders and want to ensure that both communities come together. Out of court settlement is the best," he added.
Last month, the spiritual leader had met Uttar Pradesh Chief Minister Yogi Adityanath and visited Ayodhya to pitch for an out-of-court settlement in the Babri Masjid-Ram Janmabhoomi dispute.
"I know some may not agree with this, but Muslims by and large are not opposing the Ram temple," the Art of Living founder had said then.
With questions being raised by both the Vishwa Hindu Parishad (VHP) and All India Muslim Personal Law Board (AIMPLB) on his offer to mediate in the dispute, Ravishankar said, "Whatever I do, I am doing in my personal capacity."
With the Parliament set to take up the triple talaq issue in the winter session beginning from Friday, the spiritual guru stressed on the need for gender equality in India.
Full report at:
http://indiatoday.intoday.in/story/muslims-by-and-large-are-unopposed-to-ram-temple-in-ayodhya-says-sri-ravi-shankar/1/1110879.html
--------
Body of Jaish-e-Mohammed terrorist found from Pulwama district in J&K
December 16, 2017
The body of a terrorist belonging to the Jaish-e-Mohammad (JeM) was found by the police from south Kashmir's Pulwama district on Saturday, reports PTI. Acting on a tip-off, the body was recovered from the Tral area of the district, a police official said. He added that the slain terrorist, apparently a foreign national, was killed in an explosion which took place while explosives were being assembled in a hideout. The identity of the slain terrorist was being ascertained, the official said.
Director General of Police (DGP) S P Vaid said the slain terrorist belonged to the JeM and that he was killed in an explosion while an improvised explosive device (IED) was being fabricated in a hideout.
Full report at:
http://indianexpress.com/article/india/body-jaish-e-mohammed-terrorist-pulwama-district-jammu-and-kashmir-4985115/
--------
Terror funding: Court seeks NIA's reply on stone pelter's bail plea
December 15, 2017
An alleged stone pelter, arrested by the NIA in connection with its probe into the funding of terror and separatist activities in Kashmir Valley, on Friday moved a court in New Delhi seeking bail. District judge Poonam A Bamba sought a response from the National Investigating Agency (NIA) by January 18 on the application moved by 24-year-old Javed Ahmed Bhat, claiming that he was wrongly implicated in the case.
The NIA arrested Bhat on September 5 for his alleged involvement in stone pelting and organising groups of youths who would throw stones at the security personnel involved in counter-insurgency operations.
In his bail application moved through advocate M S Khan, Bhat claimed that he neither indulged in any anti-national activity, nor was associated with any organisation or participated in stone pelting. "He (Bhat) is having clean antecedents and there is no material of any nature connecting him with the incidents of stone pelting in any manner whatsoever. He is a permanent resident of Kashmir, having roots in the society and a wife and a child to look after," the application said.
The NIA arrested Bhat, a Kulgam resident, and a freelance photo-journalist for their alleged involvement in stone pelting and mobilising support against security personnel through social media in the Valley.
The arrest were made after filing a case earlier on May 30 in which the leader of the Pakistan-based Jamaat-ud-Dawa and banned terrorist outfit Lashkar-e Taiba, Hafiz Saeed, was named as an accused.
Bhat was also involved in circulating on social networking sites pictures and videos that sparked widespread rumours in the Valley, the NIA alleged.
The NIA had earlier arrested seven people in the case of alleged funding of terror and subversive activities in the Kashmir Valley to fuel unrest there.
Full report at:
http://indianexpress.com/article/india/terror-funding-court-seeks-nias-reply-on-stone-pelters-bail-plea-4984659/
--------
Pakistan
Senators seek details of Islamic Military Alliance's Terms of Reference
Mumtaz Alvi
December 16, 2017
ISLAMABAD: There was a strong call from legislators in the Senate on Friday that the government should share the Terms of Reference (ToR) of the Saudi Arabia-led Islamic Military Alliance with Parliament.
They insisted that the role of Parliament, which had declined Saudi call for armed support from Pakistan in the Yemen conflict, should not be underestimated. One senator charged that while US President Donald Trump was head of the alliance, former Army Chief Raheel Sharif was working as his deputy.
Taking part in discussion on the admitted adjournment motion moved by PPP Senator Sherry Rehman regarding the key commitments made by the government to the coalition without taking Parliament into confidence, senators alleged that after government failed to take any decision about sending troops to Riyadh, it was the Parliament, which said no to military support for Yemen war.
PPP Senator Farhatullah Babar said that it was frightening that both the Foreign Office and the Parliament were in the dark about the terms of reference of the Islamic Military Alliance, even three weeks after it was formally launched in Riyadh and defence ministers of member countries met to finalise its strategy and future plans.
He pointed out that while the FO talks of the four domains of the alliance, including military also, but it too had no clue of what exact role the military would play in the enterprise. "Reading out from the press talk of the FO spokesman, that he (the spokesman) had no information and asked the authorities for more details," he said.
Babar questioned as to who was authority beyond the FO and the Parliament which was privy to the details of engagement in the four listed domains particularly the military, and warned against consequences of engaging in a military conflict in the Middle East.
"We have already burnt our fingers in conflict in Afghanistan; let us not burn ourselves totally by engaging in a military conflict in the Middle East," he regretted. He said that according to official statement about the purpose of Riyadh meeting was 'to outline coalition's strategy'. "The military commander further stated that it 'encompasses four key areas of ideology, communications, counter-terrorism financing and military to fight terrorism," he said.
Babar noted that at first the Foreign Minister assured that Pakistan would not join without first agreeing on terms of reference of the alliance. But then in unexplained haste and relaxing all rules forbidding such appointment before completion of two years of retirement the former army chief was sent as head of the military coalition.
"But even after the defence ministers have actually met and supposedly finalised the terms and the alliance formally launched, no one seemed to know what the terms were. It only strengthens the perception that invisible and un-accountable ghosts were running all policies," he charged.
He said that within days of the Riyadh meeting, the former strongman Yemen's Abdullah Saleh, who tilted towards Saudi Arabia, was brutally murdered. This should serve as a warning of conflict spiraling and dragging Pakistan in the quicksand of Middle East.
Babar's remarks prompted Chairman Senate Mian Raza Rabbani to observe that he might be picked up by the unknown forces before he completes his six-year term in March. But another PPP Senator Abdul Rehman Malik told Rabbani not to think like that as his colleagues were not
weak that anybody could even dare to touch Senator Babar. To this, Rabbani said that he had stated that in a 'lighter mood in order to put Senator Babar at ease. Senator Usman Kakar of PKMAP said that the real head of Islamic Military Alliance was US President Donald Trump and former army chief Raheel Sharif was working as his deputy. He said that involvement of democratic governments in the Middle Eastern countries, particularly in Saudi Arabia and Iran, was the only solution to the crisis. He said the Saudi money was being used for harboring terrorism in the Islamic country, as there was not a single country that was not faced with the menace of terrorism. He continued Washington could not have recognised Jerusalem as Israel's capital without consulting Riyadh.
Senator Malik regretted that no one knew about the exact mandate of the alliance, and no one knew as to who would fund it. PPP Senator said there should be some law about sending troops to join the alliance like there was no issue for sending troops to UN peace-keeping mission.
PTI's Senator Shibli Faraz said that the Parliament had lost its glory as it failed to come up to the expectation of the people due to which no one was ready to give it due importance. Another PTI Senator Azam Swati alleged that the government had completely failed to manage things both internally and externally due to which the country had become a laughing stock.
He said the only solution to steer the country out of the prevailing crisis was a fresh mandate as soon as possible. He added the situation of Pakistan's Parliament was even worse than that of OIC, prompting Rabbani to defend the Parliament, saying the Parliament was far better than OIC, as the situation of OIC has become worsened.
https://www.thenews.com.pk/print/256693-senators-seek-details-of-islamic-military-alliance-tors
--------
PM Abbasi for society with no tolerance for religious extremism, violence
December 16, 2017
ISLAMABAD: Prime Minister Shahid Khaqan Abbasi has urged the nation to make a pledge to build a democratic society with zero tolerance for violence and extremism in name of religion, sect, ethnicity or race.
In his message to the nation on the anniversary of the tragedy of Army Public School (APS) Peshawar to be observed on Saturday (December 16), the prime minister said the day would be remembered as black day in country's history when barbaric elements had targeted the innocent children of the APS.
He said the children who had gone to school for study, returned either in coffins or severely injured.
He said the Pakistani nation had rendered unprecedented sacrifices in war against terrorism, more than any other nation in the world.
The prime minister viewed that the APS tragedy had led to the historic national unity and promoted the nation to make a firm resolve for unanimously launching a decisive action against terrorists.
He said the valiant security forces of Pakistan defeated the terrorists under the National Action Plan and broke their back consequent to their tireless efforts.
The blood of the innocent people has come to fruition making the Pakistani nation the only nation across the world that had defeated the terrorists.
Prime Minister Abbasi said the memory of the APS victims would continue disturbing us. This day would keep recalling us as how much innocent souls we had sacrificed to purge our homeland of terrorists.
He said December 16 was the day to pay tribute to those innocent people and sympathize with their grieved parents and the nation would keep their immortal sacrifice alive forever.
He said it was also the day to renew our national resolve against terrorism and keep all of the extremists from our ranks.
Full report at:
http://nation.com.pk/16-Dec-2017/pm-abbasi-for-society-with-no-tolerance-for-religious-extremism-violence
--------
Terrorists are not true Muslims, says Ahmad Nawaz
December 16, 2017
Ahmad Nawaz is a survivor of the Army Public School, Peshawar attack of December 16, 2014, in which 144 students lost their lives at the hands of terrorists who stormed the school. Ahmad who lost his younger brother Harris Nawaz in the incident was himself injured grievously. After initial treatment in Pakistan, he went to the UK where he was treated at the Queen Elizabeth Hospital in Birmingham.
On discharge from the hospital in September 2015, he thought of doing something to benefit the next generation of kids, so he initiated an Education Campaign in the UK.
Mr. Muhammad Nawaz the father of Ahmad Nawaz , speaking to The Nation said, "We were living a very content life in Peshawar. My sons were like my arms (a cultural way of expressing the support sons provide to the family), one was martyred and the other became disabled. I can't forget that in the last moments of his life my son (who died) would have been scared when the terrorists asked the children to line up. I wonder what was going through his mind. They had shot Harris on the head and when we received his body his face was not recognizable."
After burying Harrison on 17th December the father Muhammad Nawaz took an oath. "After I buried my son Harris Nawaz I vowed I won't remain silent now. I will speak up against this menace. I asked for the resignation of the then Chief of the Army Staff General Raheel Sharif and others who (in his view) were responsible for the protection of my children. The politicians had made so many promises especially Pakistan Tehreek e Insaf's Chairman Imran Khan had said that he would personally fight our case but these kids were not important enough as his election issue. However I was asked to remain quiet by some of the agencies; even the Taliban called to warn me that if I don't stop raising my voice I will lose Ahmad also; but I did not back out. I now make only one request to the government of Pakistan and the Army, a judicial commission should be established under the Supreme Court's Chief Justice and according to the findings everyone should be punished so no one ever has to lose their children like this ever again."
The father then told the Nation about a British lady who stepped forward to help them and bore all the expenditures of Ahmad's treatment, after they moved to UK where Ahmed was treated and after that enrolled in school for his education.
As a survivor of terrorism Ahmad, who after losing his brother and many friends wanted to teach children about peace and love. He started a campaign for Education and Peace and went to different schools in the UK to share his story.
This helped him create awareness in schools in the UK from where a number of students have gone to Syria, Libya and Iraq to join terrorist groups. In his message he tells the students that "I am a victim of those terrorist groups, they are not true Muslims ." Due to his efforts many students were inspired by his story and the way he stood up against radicalization. This campaign has not only helped people understand Islam, inspired children and promoted Pakistan's positive image.
About the National Action Plan, Ahmed said "There were about 20 actionable points in it but only 6 have been implemented. (He feels that) A similar sum of money should be spent on education as is spent on procuring guns and weapons; there is a dire need for quality education in areas where counter terrorist operations are taking place. Basically operation is not the solution to these problems only education can resolve these issues."
Ahmad's father recalled an incident where a British journalist asked Ahmad what he would do if the terrorists ever came in front of him again. To which Ahmad responded, "First I'll box them and then I'll tell them that I will forgive you only on one condition and that is that you provide education to your children. To eliminate terrorism they should be provided with education."
Full report at:
http://nation.com.pk/16-Dec-2017/terrorists-are-not-true-muslims-says-ahmad-nawaz
--------
US warns Islamabad regarding Haqqani network threats to Pakistan
Dec 15 2017
The US officials have warned Islamabad regarding the potential threats posed by the terror groups having safe havens in Pakistan, including the notorious Haqqani terrorist.
The US Secretary of State has reportedly said Pakistan could lose control of its territory if it does not sever ties with the Haqqanis and other terrorists, according to the local Dawn News.
Tillerson has reportedly made the remarks during his conversation at a think tank earlier this week.
"Pakistan has allowed so many terrorist organisations to find safe haven within its territories, and these organisations are growing in size and influence, that at some point I have said to the leadership of Pakistan, you may be the target, and they turn their attention from Kabul and decide they like Islamabad as a target better," he has warned.
The Afghan and US officials have long been insisting that the leadership councils of the Taliban and the notorious Haqqani terrorist network are based in the key cities of Pakistan where from they plan and coordinate attacks in Afghanistan.
Full report at:
https://www.khaama.com/us-warns-islamabad-regarding-haqqani-network-threats-to-pakistan-04050
--------
Sikh community in Hangu 'being forced to convert'
Dec 16, 2017
The Sikh community in Pakistani has raised serious concerns on Friday after 'being forced to convert to Islam' by a government official in Hangu district of Khyber Pakhtunkhwa (KP).
The Sikh community lodged a formal complaint with the office of Deputy Commissioner Hangu Shahid Mehmood in which they claimed that Assistant Commissioner Tehsil Tall Yaqoob Khan was behind the alleged forced conversions.
District Nazim Hangu for minority Farid Chand Singh filed the complaint and said the Sikh community has been living in this area since 1901 and have never come across such nuisance. Religious believers have always lived in harmony and peacefully with Muslims.
Singh added that Hungu district despite being referred as a hotbed for sectarian conflicts has never been a source of harm to the Sikh community and the Sikhs in the area have never been approached to convert to Islam before. More so the Muslims of the area have always stood up for the Sikhs when in need.
It was reported by Express Tribune that Singh said, "Had it been from someone ordinary, it would have never been felt so offending but when you hear such things from a government official, it becomes something really serious."
"We the residents of Doaba area are being tortured religiously," read the complaint.
"The Constitution empowers us to defend our religious beliefs against anyone and we want you to call AC Tall Yaqoob Khan and inquire the issue," the complaint read, adding that the issues should be investigated so that the community could live in Pakistan with 'love, peace, and harmony'.
Meanwhile, DC Hangu Shahid Mehmood said that the assistant commissioner never meant to upset or offend the members of the Sikh community and while saying things he never meant.
He added that Yaqoob Khan was not trying to 'forcefully' convert anyone to Islam; rather we ensure that our district promotes religious freedom for all.
"We have ensured religious freedom and safety of the community members across the district and we are clear about it," added Mehmood.
Full report at:
https://www.pakistantoday.com.pk/2017/12/16/sikh-community-in-hangu-being-forced-to-convert/
--------
PM urges to renew pledge to fight terrorism on Peshawar attack anniversary
Dec 16, 2017
ISLAMABAD: Prime Minister Shahid Khaqan Abbasi on Friday urged upon the nation to pledge to build a democratic society with no tolerance for violence or extremism in the name of religion, sect, ethnicity or race.
In his message to the nation on the anniversary of Peshawar Army Public School (APS) attack, the prime minister said that the day would be remembered as a black day in the country's history, when barbaric elements targeted innocent children of APS.
Recalling the children who had gone to school to study in the morning but came back in coffins in the afternoon, he said that Pakistan had rendered unprecedented sacrifices in the war against terrorism, more than any other nation in the world.
The prime minister remarked that the APS attack had led to the unification of the nation in its resolve to confront and defeat terrorism. He said that the valiant security forces of Pakistan had defeated terrorists following the National Action Plan.
He said that the blood of innocent martyrs of Pakistan had come to fruition in that Pakistan had become the first nation in the world to successfully defeat terrorism. He said that the APS martyrs' memory would continue to haunt the entire nation, reminding them of the countless sacrifices that had to be made to rid the country of terrorists.
Full report at:
https://www.pakistantoday.com.pk/2017/12/15/pm-urges-to-renew-pledge-to-fight-terrorism-on-peshawar-attack-anniversary/
--------
Imran Khan not out, Jahangir Tareen disqualified for life: Supreme Court
December 15, 2017
The Supreme Court on Friday handed down its much-awaited judgement in the Imran Khan, Jahangir Tareen disqualification case, rejecting Hanif Abbasi's petition for Khan's disqualification but disqualifying Jahangir Tareen for life.
The verdict was announced in Courtroom No. 1 by a three-judge bench comprising Chief Justice Nisar, Justice Umar Ata Bandial and Justice Faisal Arab.
'Imran not out'
The chief justice, reading out the judgement in the packed courtroom, said the court had found that Khan was not liable to declare offshore company Niazi Services Ltd in his 2013 nomination papers as he was not a shareholder or director of the company.
The court's detailed judgement noted that the money trail provided by Imran Khan sufficiently covered the Bani Gala property's purchase price, the funds provided by Jemima Goldsmith, Khan's ex-wife, and the proceeds from the sale of Khan's apartment in London.
The court held that the Bani Gala property was Khan's property; he had bought the land for his family, but was gifted the property by his ex-wife, Jemima Khan, after their separation, the chief justice remarked while reading the judgement.
'Tareen was dishonest'
The bench found PTI secretary general Jahangir Tareen to be dishonest under Article 62(1)(f) of the Constitution and Section 99 of Representation of People Act (ROPA) on one count among the multiple charges brought against him.
Article 62(1)(f) — which sets the precondition for the head of government to be "sadiq and ameen" (truthful and honest) — had led to the disqualification of Nawaz Sharif from holding public office in the July 28 judgement on the Panama Papers case.
"The respondent [Tareen] is disqualified in terms of Article 62(1)(f) of the Constitution read with Section 99(1)(f) of ROPA for the non-declaration of his property/asset i.e. 'Hyde House' in his nomination papers, and in making untrue statement before this Court, that he has no beneficial interest in SVL [offshore company]; therefore, he should cease to hold the office as the member of the National Assembly with immediate effect," read the judgement.
The judgement noted that Tareen may have committed the offence of insider trading, but could not be judged for having committed a crime because of the terms of his settlement with the Securities and Exchange Corporation of Pakistan (SECP). The court also stated that the matter had been closed by the SECP after Tareen paid a fine, and so could not be used as a grounds to disqualify him.
On the matter of alleged misrepresentation and short payment of agricultural income tax by Tareen, the court said it would not issue a declaration on it because the matter was currently sub judice in multiple courts.
The court also said it was not convinced that Tareen had been involved in acquiring loans and having them written off for his benefit, which would have demonstrated dishonesty. It noted that the loans acquired by FPML allegedly written off by Tareen were actually written off in 2010, before Tareen was even a shareholder or director of the company. Therefore, he could not be held responsible for it.
Read: What is insider trading?
Foreign funding
The SC directed that the foreign funding case against PTI as a party be investigated by the Election Commission of Pakistan (ECP), as Abbasi had no locus standi to pursue it.
"It is the responsibility of the ECP to look at the foreign funding case in detail," Justice Nisar said.
The court ruled that the ECP should, for the sake of impartiality, look into the foreign funds of the party over the preceding five-year period only.
Delay in verdict
The CJ said that the delay in the verdict, which was announced more than an hour late in Courtroom No.1, was due to a mistake on one page. "We had to go through the entire 250-page document," he explained, apologizing for the delay.
He asked that the verdict be heard with patience.
Petitioner Abbasi as well as other members of PML-N — including Talal Chaudhry and Maryam Aurungzeb — were present in the court.
Neither Imran Khan — currently in Karachi — nor Tareen were in attendance.
Strict security arrangements were made for today's verdict. At least 900 security officers were stationed outside the court, with 300 more deployed inside.
Courtroom No. 1 was last in the limelight when a five-judge SC bench comprising Justices Asif Saeed Khosa, Gulzar Ahmed, Ejaz Afzal Khan, Sheikh Azmat Saeed and Ijaz-ul-Ahsan disqualified Nawaz Sharif as prime minister in the Panama Papers case.
The case
The petition, filed by Abbasi in November 2016, accuses the two PTI leaders of not declaring their assets to the Election Commission of Pakistan (ECP) and seeks their disqualification based on alleged violations of the lncome Tax Ordinance 1979 and Representation of Peoples Act 1974.
On May 3, amidst a heightened political backdrop, a three-member bench of the apex court had begun hearing the petition.
During the length of the case, the lawyers from both sides had presented their arguments for over 100 hours and referred to 73 different cases as precedent, DawnNews reported. After more than 50 court hearings, the verdict was reserved on November 14.
Abbasi's petition
Abbasi's petition had sought the PTI leaders' disqualification under charges of false declaration before the ECP, non-disclosure of assets in offshore companies, and for being a foreign-funded party.
The petiton had aruged that by failing to disclose the existence of "Niazi Services Limited" — an off-shore company allegedly owned by the PTI chairman — to the ECP, Khan stands in violation of the Income Tax Ordinance of 1979.
Additionally, Abbasi had claimed that the 'off-shore company' has consistently been submitting its financial documents to the relevant authorities in the Channel Islands, where the company is said to be based.
Abbasi had maintained that Imran Khan failed to formally declare his 'off-shore company' to authorities in Pakistan and opines that Khan's intention to establish the off-shore company, which was dissolved in October 2015, was rooted in tax evasion.
Furthermore, Abbasi had argued that Imran Khan failed to disclose to the ECP his Rs2.97 million purchase of a luxury apartment in the capital city of Islamabad. That, he had argued, is a violation of the Peoples Act of 1974 and can result in the dismissal of PTI Chairman Imran Khan.
Questions posed to Imran's lawyer
Throughout the proceedings of the case, Khan's lawyer Advocate Naeem Bukhari was questioned by the apex bench on various matters, specifically the money trail for PTI chief's flat in London and his Banigala property.
In one of the hearings, Advocate Bukhari was questioned over Khan's failure to declare the London flat as an asset. He had told the court that the flat was not declared as it was located outside of Pakistan.
Over several hearings, the court had sought clarity from Khan's lawyer with regards to the PTI chief's Banigala residence, questioning where the money for it had come from and if Khan had accepted a loan or a gift from his former wife, Jemima Khan, to purchase the property.
During the course of the hearing, the bench had also asked for the account details of Niazi Services Limited (NSL), Khan's offshore company, that was dissolved in 2015
Tareen's land and off-shore company
The court had raised questions pertaining to Tareen's 18,500 acres of land, which his lawyer had argued was leased and not owned. The lawyer had attempted to explain why his client had not declared the land is his election forms and had made the distinction between land owned by his client and that which was leased as the basis for his defence.
Full report at:
https://www.dawn.com/news/1376766/imran-khan-not-out-jahangir-tareen-disqualified-for-life-supreme-court
--------
Saudi Arabia offers scholarships for Pakistani students
MOHAMMED RASOOLDEEN
16 December 2017
RIYADH: Saudi Arabia has reserved a quota for scholarships for Pakistanis in undergraduate programs in various universities, Education Minister Ahmed Al-Eissa told Pakistani Ambassador Khan Hasham bin Saddique during a meeting in Riyadh on Thursday.
The minister told the ambassador that the scholarships are given to students based in Pakistan under an educational and cultural program between the two countries.
This will help students from both countries benefit from respective educational opportunities, Al-Eissa said.
Sardar Mohammed Kattak, first secretary of political and media affairs at the Pakistani Embassy, lauded the scholarships and the Saudi government's generosity.
He said the ambassador asked the minister to facilitate the operation of two purpose-built school buildings in Riyadh and Dammam. Their construction will start soon.
Bin Saddique said there are 10 Pakistani community school buildings in the Kingdom and they are rented.
Full report at:
http://www.arabnews.com/node/1209776/saudi-arabia
--------
South Asia
Rohingya death toll 'could have climbed past 13,000'
December 15, 2017
Rohingya refugees are demanding an international trial of Myanmar military figures, as a new report emerged estimating the death toll during the mass exodus to Bangladesh as high as 13,700.
According to the report from Medecins Sans Frontieres (MSF) more than 6,700 Rohingyas, including at least 730 children under the age of five, were killed in the first months of a Myanmar military crackdown that started in August in Myanmar's northern Rakhine State in response to attacks by Muslim militants.
However, MSF said based on samples of mortality rates and suveyed households, the figure could be between 9,400 and 13,700. More than 620,000 Rohingya fled to Bangladesh refugee camps during the recent crackdown.
The figures, released on Dec. 14, are thought to be a conservative estimate, but still much higher than the Myanmar military's official death toll of about 400.
"We met and spoke with survivors of violence in Myanmar, who are now sheltering in overcrowded and unsanitary camps in Bangladesh," said Doctor Sidney Wong, MSF medical director.
"What we uncovered was staggering, both in terms of the numbers of people who reported a family member died as a result of violence, and the horrific ways in which they said they were killed or severely injured. The peak in deaths coincides with the launch of the latest 'clearance operations' by Myanmar security forces in the last week of August."
Abul Hashem, 48, a Rohingya father of five living in Kutupalong refugee camp in Cox's Bazar told ucanews.com that it was difficult to say whether the MSF report is an accurate reflection of the killings and atrocities.
"But it is true many Rohingya were victims of massacres and the number should be more than the MSF estimate," said Hashem, who fled his home in the Maungdaw area of Rakhine on Oct. 20.
"While fleeing to Bangladesh, we saw many dead bodies lying beside Rohingya villages, most of them shot dead. Also, we saw many people wounded by bullets who were fleeing towards the border."
He added that the refugees wanted a proper investigation into the killings by the United Nations. They also wanted trial and punishment of the perpetrators in an international criminal court, he said.
Calls for a hearing in the international court in The Hague are rising on social media, particularly in the West and amongst fellow muslims.
Abdul Kalam, 38, a Rohingya father of two in Balukhali refugee camp in Cox's Bazar, claims the MSF report underestimatesthe the real figures.
"I had 10 brothers and altogether 60 people in our family. The military and Moghs (Rakhine Buddhists) killed five of them with six still missing. I think the figure from the MSF report is underestimated and the real figure should be more than 15,000," Kamal told ucanews.com.
He added that the Rohingya wanted not only justice from the international community, but also the return of the missing if they are still alive.
Dr. Wong admitted that the number of deaths is likely to be underestimated "as we have not surveyed all refugee settlements in Bangladesh and because the surveys don't account for the families who never made it out of Myanmar".
He added that the group had heard reports of entire families who had perished after they were locked inside their homes, while they were set alight.
Khodeza Begum, 31, came to Bangladesh from Maungdaw in Rakhine on Sept. 3 with her three children. Her husband was shot dead by Myanmar soldiers.
"I have seen with my own eyes how brutally my husband was killed by gunfire along with five to seven Rohingya men. I have lost touch with my brother, who I presume was also killed. I have seen so many dead bodies, and I don't think the number 6,700 is correct, it should be much higher," Begum told ucanews.com.
Sultan, a Rohingya resident from Maungdaw in the northern part of Rakhine, believes the death toll is at least 10,000.
He said that some Rohingya families are not staying in the camps in Bangladesh and some families that lost all members were not surveyed in the MSF report. He cited an example of a friend's family where only one man survived after his parents and siblings were killed.
Khin Mg, a Rohingya resident from Buthidaung, said the Rohingya death toll was much higher than the official account of 400.
He said seven relatives were killed in Maung Nu village where some 700 people remained and the other 5,300 fled to Bangladesh. He estimates about 900 deaths in Buthidaung alone.
Khin Mg said violence had stopped in Buthidaung, but the situation had yet to return to normal. The Muslim community members are restricted from movement, work, and they need to bribe police to go from one village to another.
"The Rakhine community can go everywhere and move at night, but the rights remain curbed for the Muslim community," Khin Mg told ucanews.com.
Around 85 percent of the Rohingya population in Maungdaw, Buthidaung and Rathedaung townships in Myanmar's northern Rakhine province have fled to Bangladesh over the last twelve months, leaving behind only 100,000-150,000 according to the International Crisis Group's report of Dec. 7.
https://www.ucanews.com/news/rohingya-death-toll-could-have-climbed-past-13-000/81087
--------
16 militants killed, wounded in Kandahar and Paktika operations: MoD
Dec 16 2017
At least sixteen militants were killed or wounded during the operations in southern Kandahar and southeastern Paktika provinces involving air and ground operations, the Ministry of Defense (MoD) said.
According to a statement by MoD on Friday, at least nine militants were killed during the operations in Shah Wali Kot district of Kandahar province.
The statement further added that some weapons and ammunition were also destroyed during the operation.
The ministry also added that one insurgent was killed and six others were wounded during an airstrike in Barmal district of Patkika.
In another operation in Posht-e-Rod district of Farah, at least two militants were killed, the statement by MoD added.
The anti-government armed militant groups have not commented regarding the reports so far.
Full report at:
https://www.khaama.com/16-militants-killed-wounded-in-kandahar-and-paktia-operations-mod-04051
--------
Taliban execute two civilians over unknown charges in Nangarhar
Dec 10 2017
The Taliban insurgents have executed two civilians over unknown charges in eastern Nangarhar provice of Afghanistan, the local officials said Sunday.
The incident took place late on Saturday night in the vicinity of Shirzad district of Nangarhar.
The provincial government media office in a statement confirmed the incident and said the two civilians were martyred by the Taliban insurgents.
The statement further added that the deceased individuals had no links with the government institutions.
The Taliban militants group has not commented regarding the report so far and it is yet not clear on what charges the two civilians have been killed.
Nangrhar has witnessed relative calmness since the Taliban group regime was toppled down but certain districts of the province have started to witness growing insurgency activities during the recent years.
Both the Taliban insurgents and militants affiliated with the Islamic State terror group are attempting to expand their foothold in this province although operations are underway to suppress their activities.
Full report at:
https://www.khaama.com/taliban-execute-two-civilians-over-unknown-charges-in-nangarhar-04017
--------
Islamic Foundation to hoist 61,083 national flags on Victory Day across Bangladesh
December 15, 2017
The foundation will also organise discussions and special prayers on the occasion
The Islamic Foundation has announced to celebrate the Victory Day on Saturday by hoisting the national flag at 61,083 places across Bangladesh.
Besides, discussions will be held at different places and special prayers and Quran recitals will be organised at Baitul Mukarram National Mosque on the day, said a press release from the foundation on Friday.
It said the national flags will be hoisted in 61,083 places around the country, including 64 district and divisional offices, 550 upazila offices, and different training and education institutes and resource centres affiliated with the foundation at dawn on Saturday.
Full report at:
http://www.dhakatribune.com/bangladesh/2017/12/15/islamic-foundation-national-flags-victory-day/
--------
Bangladesh stops Rohingya preparing to board boat to Malaysia
Dec 15, 2017
COX'S BAZAR: Bangladesh police arrested an alleged human trafficker and intercepted two Rohingya refugees preparing to board a boat for Malaysia, officials said on Friday.
Police acting on a tip-off raided a home near the coastal town of Teknaf in southeastern Bangladesh, where five people had assembled ahead of a promised voyage across the Bay of Bengal. Two Rohingya Muslims, both men, were among the group.
The pair had arrived from Myanmar since August, when a surge of violence in Rakhine state forced hundreds of thousands of Rohingya across the border.
The other three would-be passengers were Bangladeshi, another police officer said.
"They were herded there as part of an effort to take them to Malaysia. They said they would be taken there by sea," Teknaf police chief Main Uddin told AFP.
"Among the five, there were two Rohingya men who had already paid 10,000 taka ($120) each. The arrested person is being charged with human trafficking."
The would-be passengers told police they had promised to pay the alleged trafficker, a Bangladeshi, another 200,000 taka each upon arrival in Malaysia.
Since August nearly 650,000 Rohingya Muslims have fled a military operation in Myanmar's westernmost Rakhine state described by the UN and US as "ethnic cleansing".
Bangladesh authorities worry many refugees may risk travelling to Southeast Asia by boat, a route once popular among Rohingya seeking economic opportunities outside the grim, long-standing camps in Cox's Bazar.
People smugglers in recent years have sent tens of thousands of Rohingya from Bangladesh to Malaysia, a Muslim- majority country in Southeast Asia, usually between November and March when seas are calmest.
But these networks were targeted by Bangladesh in 2015 after Thai authorities discovered mass graves and boats overcrowded with thousands of migrants drifted at sea while Southeast Asian nations squabbled over a solution.
Bangladesh police said they were questioning the alleged people smuggler to determine whether he was part of a larger regional trafficking ring.
Bangladesh has arrested dozens of suspected traffickers and broken up networks since the 2015 crackdown, but authorities fear these networks could be revived during the latest Rohingya crisis.
The refugees living in camps in Cox's Bazar are prohibited from leaving the area, but already aid groups and officials say trafficking networks are targeting the stateless minority.
Bangladesh in recent months has stepped up patrols in coastal areas and fishing villages where traffickers moor their vessels, police say.
"We have zero tolerance toward human trafficking. We are working day and night," Iqbal Hossain, head of police in Cox's Bazar district where the Rohingya camps are located, told AFP.
Full report at:
https://timesofindia.indiatimes.com/world/south-asia/bangladesh-stops-rohingya-preparing-to-board-boat-to-malaysia/articleshow/62083799.cms
--------
Another commander of the Red Unit of Taliban killed in Farah province
Dec 14 2017
Another senior Taliban leader who was in in charge of the Red Unit command of the group for western Farah province has been killed during a counter-terrorism operation.
The Ministry of Defense (MoD) spokesman Gen. Dawlat Waziri said the Taliban leader Daud Muzamil was initially injured in an airstrike condcuted in Khak-e-Safid district few days ago.
Gen. Waziri further added that Muzamil was in charge of the Red Unit command of the Taliban besides he was appointed as the military commission chief of the group for Farah.
He said at least eight people were killed in the airstrike and eight others including commander Muzamil were wounded.
According to Gen. Waziri, commander Muzamil died of the wounds he had sustained during the airstrike.
The anti-government armed militant groups have not commented regarding the report so far.
This comes as Taliban's "Red Unit" commander in Helmand province, Mullah Shah Wali, aka Haji Nasir, was killed in a kinetic strike in Musa Qalah, Helmand, Dec. 1. One of Wali's deputy commanders and three other insurgents were also killed in the strike.
Full report at:
https://www.khaama.com/another-commander-of-the-red-unit-of-taliban-killed-in-farah-province-04048
--------
Africa
Africa: Ethiopia Backs the AU's Stance On Jerusalem
14 DECEMBER 2017
By Kylie Kiunguyu
American President Donald Trump officially recognised Jerusalem as the capital of Israel. This places his country on the opposite side of the issue from virtually the entire international community, including the African Union and Ethiopia.
On 6 December 2017, Trump officially announced that the US formally recognised the contested city of Jerusalem as Israel's capital. He added that plans were afoot for their embassy to be moved, reversing nearly 70 years of bipartisan US foreign policy. While the Israeli prime minister, Benjamin Netanyahu, welcomed Trump's decision as historic, key Arab allies and the African Union have expressed fear regarding what it might mean for regional stability.
The Ethiopian government says its embassy will continue to be located in the known Israeli capital, Tel Aviv, despite this development. At a media conference, the spokesperson for the Ethiopian Foreign Ministry, Meles Alem, told reporters that Trump's announcement applied to the US alone.
"We, as part of the African Union, endorse the two-state solution," he added.
The AU has gone on to describe their stance thus: "The Chairperson of the African Union Commission, Moussa Faki Mahamat, notes with deep concern the decision of the United States government, announced today, to recognise Jerusalem as the capital of the State of Israel.
"He regrets this decision, which will only increase tensions in the region and beyond and further complicate the search for a solution to the Israeli-Palestinian conflict.
"The Chairperson of the Commission reiterates the solidarity of the African Union with the Palestinian people and its support for their legitimate quest for an independent and sovereign state, with East Jerusalem as its capital.
"In this context, he calls for renewed international efforts to find a just and lasting solution to the conflict, based on the existence of two states, Israel and Palestine, living side by side in peace and security, within the framework of relevant African Union and United Nations pronouncements."
World leaders have since slammed the move, calling it a setback for peace efforts between Israel and Palestine and a security risk to the larger Middle East region. The European Union, the United Nations and African Union have all expressed concern over Trump's move.
The European Union, the United Nations and African Union have all expressed concern over Trump's move.
The move has provoked a series of anti-American protests across the Muslim world. Deadly clashes have erupted between Israelis and Palestinians in Gaza. Somalia, Djibouti, Egypt and other African countries have expressed their condemnation.
Ethiopia is a known ally of both the United States and Israel. Their relation with the US hinges on anti-terrorism and diplomacy. The same factors are at play in Ethiopia's relationship with Israel, in addition to cultural and traditional ties that have been in existence for decades.
http://allafrica.com/stories/201712150303.html
--------
Russia says open to working with US to try to resolve Libya crisis
15 December 2017
Russia is open to working with the United States to try to solve the crisis in Libya, Russia's ambassador to Libya was cited as saying on Friday by the RIA news agency.
He was also cited as saying that Moscow was ready to initiate the lifting of an international arms embargo on Libya, but that was something he said could only be done once the North African country had a united army.
He also mentioned that there are no guarantees yet that the weapons given to Libya will not end up in terrorists' hands.
The Libyan government is allowed to import weapons and related material with the approval of a UN Security Council committee overseeing the embargo imposed in 2011.
Libya is subject to an arms embargo imposed on its security authorities by the international community amid chaos that pervades the country and the proliferation of weapons between a number of militia.
Full report at:
https://english.alarabiya.net/en/News/north-africa/2017/12/15/Russia-says-open-to-working-with-US-to-try-to-resolve-Libya-crisis.html
--------
Libyan leader: Qatar, Turkey and Sudan stoking conflict
Malek Awny
16 December 2017
CAIRO: Ahmed Gaddaf Al-Dam, political leader of the Libyan National Struggle Front (LNSF) and cousin of the late Muammar Qaddafi, accused Qatar, Turkey and Sudan of working to fuel the conflict in his country.
They are doing so "for the service of Israel, the fragmentation of Libya and the division of its territories, the forfeiture of its people and resources, and the installation of a puppet government," he said in a statement.
Hundreds of Daesh militants have entered Libya via Tunisia from Syria and Iraq, he said, accusing European countries of overlooking this.
"Libya has been subjected to a major conspiracy, and the West does not want to end the conflict in Libya because Western interests conflict with Arab interests," he added.
A spokesman for the Libyan National Army (LNA) earlier warned of continued pockets of Daesh and Al-Qaeda in the country, and said intelligence reports confirmed the movement of Daesh terrorists from Syria and Iraq to Libya with the help of foreign countries.
Gaddaf Al-Dam said the LNA "captured a few weeks ago many groups of intruding terrorists in Kafrah" in southeast Libya, and some terrorists entering the country then head to Egypt.
He accused some quarters in Qatar and Libya of conspiring to kill him, warning them that they are "messing with the lion's tail."
Libyans are helpless due to the lack of a recognized political administration that can protect them, Gaddaf Al-Dam said.
"I feel pain every day and cry every morning because of the situation Libya has reached," he added.
The LNSF was established on Dec. 16, 2015, and includes 10 Libyan political organizations inside and outside the country.
It supports the LNA under the command of Khalifa Haftar to "restore the sovereignty of Libya and purge it from terrorism and terrorists, and restore safety and security to the Libyan people."
The LNSF says it aims to reach lasting national reconciliation without any foreign interference.
Gaddaf Al-Dam warned all those conspiring against Libya: "An eye for an eye and a tooth for a tooth."
Meanwhile, the LNA said the operation to clear Benghazi of terrorist pockets is ongoing. The area around the Baladi Hotel has witnessed fighting for about 10 days amid a cautious advance by the LNA due to the presence of land mines.
Full report at:
http://www.arabnews.com/node/1209761/middle-east
--------
Muslim, Christian leaders converge in Lagos for convention
Dec 16 2017
Over 3000 participants are expected at the Fifth National Convention of the Muslim Public Affairs Centre (MPAC) holding in Lagos today.
MPAC is an incorporated public service agency working for the defence, empowerment and promoting individual liberties, religious, civil and political rights of Nigerian Muslims.
The convention, with Daily Trust as a media partner, has the theme: "Public Trust and Accountability."
The Executive Chairman of the centre, Mr. Disu Kamar, told Daily Trust that the convention would also promote inter-faith dialogue as speakers cut across religious divides.
Full report at:
https://dailytrust.com.ng/muslim-christian-leaders-converge-in-lagos-for-convention.html
--------
URL: https://www.newageislam.com/islamic-world-news/in-malaysia-religious-concerns-stall/d/113595
New Age Islam, Islam Online, Islamic Website, African Muslim News, Arab World News, South Asia News, Indian Muslim News, World Muslim News, Women in Islam, Islamic Feminism, Arab Women, Women In Arab, Islamophobia in America, Muslim Women in West, Islam Women and Feminism