New Age Islam News Bureau
5 Oct 2017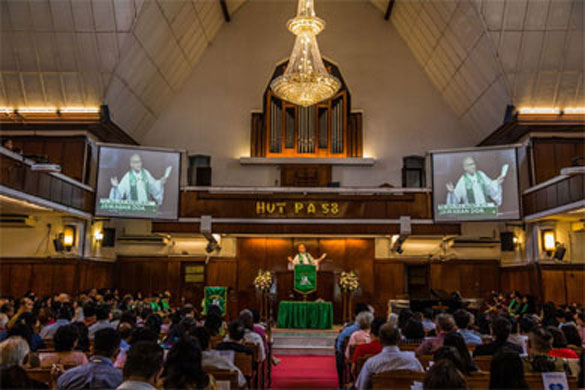 St. Paul's Church in Jakarta, Indonesia. About 90 percent of Indonesia's 260 million people are identified as Muslim, but the country has a small, influential Christian population. Credit Kemal Jufri for The New York Times
------
• Reports of 'Recruitment' Of Prisoners in Karachi Jail by IS Rejected
• HRW Says Myanmar Army Raping and Executing Rohingya Muslims
• In Indonesia, a Mosque and a Church Foster Friendship amid Religious Tensions
• Erdogan: Turkey Never Concedes to Iraqi Kurdistan Region's Joint Decision with Mossad
• Syria Army Ousts ISIS from All of Hama Province
Southeast Asia
• In Indonesia, a Mosque and a Church Foster Friendship amid Religious Tensions
• 'Ayopoligami' - Polygamy in Indonesia Made Easier With New App
• Sahadah Ilah sect deviates from Sunni teachings, says NS Mufti
• Umno unfazed by DAP's presence at '4 All' dialogue, says Annuar Musa
• 'Tinder for polygamists': Indonesian firm angers with app for multiple marriages
• Iran-Funded Centre a Lifeline for Jakarta's Marginalized Shia Minority
--------
Pakistan
• Reports of 'Recruitment' Of Prisoners in Karachi Jail by IS Rejected
• 'Pakistan Pursues Zero-Tolerance Approach against All Militants'
• Dunford Says 'Clear To Me' That the ISI of Pakistan Has Connections with Terror Group
• US voices concern about stability of Pakistan government
• Bajwa's visit to Kabul presages new chapter in resolving Afghan conflict: Mattis
• Three convicted terrorists hanged in Khyber Pakhtunkhwa prison
• JUI-S withdraws candidate in PTI's favour
--------
South Asia
• HRW Says Myanmar Army Raping and Executing Rohingya Muslims
• 11 ISIS Militants Killed In Latest US Airstrikes in East of Afghanistan
• Islamist Parties Want Caretaker Govt Restored For Elections in Bangladesh
• UN praises Bangladesh for supporting Rohingya refugees
• Buddhist community cuts festival expense to aid Rohingya refugees
• New US policy carries message of bloodshed for region: Karzai
• Bangladesh destroys boats ferrying Rohingya from Myanmar
• Taliban militants and commanders suffer heavy casualties in Kunduz
--------
Mideast
• Erdogan: Turkey Never Concedes to Iraqi Kurdistan Region's Joint Decision with Mossad
• Bomb Planted By Kurdish Militants; Killed Four Turkish Soldiers
• 4 soldiers killed as bomb blast hits Turkey's Hakkari
• US, foreign powers after creation of new Israel: Leader
• Turkey sentences 40 to life in jail over Erdogan death plot
• Iran Asks Iraqi Kurdistan Officials to Compensate for Wrong Decisions
• Turkish president arrives in Tehran for talks with Iranian officials
--------
Arab World
• Syria Army Ousts ISIS from All of Hama Province
• Russian Strike Kills 38 Fleeing Civilians In Syria
• Fresh US-Led Airstrikes Leave 15 Syrian Civilians Dead In Raqqah
• Hezbollah commander killed in clashes with Daesh in Syria
• Syrian Army Drives Terrorists out of Several Heights in Eastern Homs
• Iraq forces retake centre of ISIS bastion Hawija
• Saudi Arabia arrests 46 people amid crackdown on dissent
--------
North America
• US, Israel Afraid Of Independent Iran: Chomsky
• 180 House Dems Ask Trump to Certify Iran Nuclear Deal
• US Senator Cotton calls on Trump to decertify Iran nuclear deal
• Tillerson working to keep US in Iran deal: Report
• Somali man charged in Canada attack was ordered deported from US
--------
Europe
• Germany Redeploys Anti-ISIS Surveillance Jets To Jordan
• Russia Accuses US Of Supporting, 'Flirting With' Daesh In Eastern Syria
• Johnson criticized for his provocative remarks about Libya
• Russia remains committed to Iran nuclear deal: Putin
• Russia probing Daesh claims about captive soldiers in Syria
• After Edmonton, we must learn how to fight extremism
--------
Africa
• Five Dead in Suicide Bombing in Libya's Misrata
• 17 dead in Nigeria boat capsize
• 3 US commandos killed, 2 injured near Mali border in Niger
• Pastor Nevers Mumba says Islam plans to 'invade' Zambia
--------
India
• Yogi Adityanath Uses 'Love Jihad' To Target Left In Kerala
• India, Bangladesh Foreign Secys to Meet, Rohingya Issue on Table
• J&K: Pakistan violates ceasefire in Poonch district, no casualties reported
Compiled by New Age Islam News Bureau
URL:https://www.newageislam.com/islamic-world-news/in-indonesia-mosque-church-foster/d/112778
--------
In Indonesia, a Mosque and a Church Foster Friendship amid Religious Tensions
By JOE COCHRANE
OCT. 4, 2017
JAKARTA, Indonesia — On a tree-lined side street in the Indonesian capital sits a colonial-era Protestant church with rustic wooden pews and stained-glass windows, and an antique pipe organ built into a large wall behind the altar.
Across the street is a modern, 100,000-square-foot mosque with towering arches at its entrances and a cavernous prayer area laid wall-to-wall with red carpet.
Despite their different faiths, the two houses of worship are friendly, helpful neighbors — and an example of pluralism in the world's most populous Muslim-majority nation at a time of heightened fears over religious intolerance.
"We respect each other," said Nur Alam, an imam at the Sunda Kelapa Grand Mosque, which opened in 1971. "If we never offend other people, then we will be respected."
Across the street, Adriaan Pitoy is a pastor at St. Paul's Church, which was built in 1936 under the Dutch colonial administration. "Our relationship is just one of many steps we take," he said of the neighbors at the mosque. "We also go to other mosques to promote dialogue. Our relationship with our friends next door is normal."
A Muslim woman selling tissues outside the entrance of St. Paul's. Some of the church's staff members are also Muslim. Credit Kemal Jufri for The New York Times
This type of religious harmony among neighboring houses of worship is evident not just in Jakarta, but across the Indonesian archipelago. About 90 percent of Indonesia's 260 million people are identified as Muslim, but the country also has small but influential Christian, Hindu, Buddhist and Confucian populations.
Yet these friendly relations are regularly overshadowed by international news reports and social media posts about racial intolerance and fears of the "Islamization" of Indonesia.
In recent years, there have been hundreds of cases of hard-line Islamic groups harassing, attacking and in some cases even killing religious minorities including Christians, Shiite Muslims and members of the Ahmadiyah Islamic sect, and forcibly closing hundreds of churches and other houses of worship across the country.
Then there is Indonesia's domestic terrorism, dating back to 2000, including multiple bombings and attacks in Jakarta and the resort island of Bali by terrorist cells that pledged loyalty to Al Qaeda or the Islamic State.
"If you see the actions of these hard-line groups, and threats from ISIS, or Indonesian militants coming back from Syria, they are a threat to interfaith cooperation in Indonesia," said Theophilus Bela, former president of the Jakarta Christian Communication Forum, who has for years documented attacks on, and discriminatory actions against, churches in Indonesia.
A recent local challenge to religious harmony can be found cater-cornered from St. Paul's Church and the Sunda Kelapa Grand Mosque, where, across a boulevard and public park, lies the official residence of the governor of Jakarta.
Outside the Sunda Kelapa Grand Mosque in Jakarta. The mosque and the church coordinate to share parking spaces during their busiest services. Credit Kemal Jufri for The New York Times
Basuki Tjahaja Purnama was supposed to be living there. Instead, he is in prison, serving a two-year sentence for blaspheming Islam in a case that ignited violent street marches through Jakarta by hard-line Islamist groups. They demanded he be prosecuted or lynched outright for citing a verse of the Quran that warns Muslims against taking Christians and Jews as allies.
Mr. Basuki, a Christian, subsequently suffered a landslide loss in a runoff election in April. A few weeks later, he was convicted by a Jakarta court and immediately transferred to a high-security prison, to the cheers and celebrations of hard-line Islamic groups gathered outside the courthouse.
Mr. Basuki's prosecution and imprisonment shocked much of the country, in particular its religious minority communities.
Despite the case and its stoking of Muslim-Christian tensions, both Mr. Nur and Mr. Pitoy contend that the episode of Mr. Basuki was more political than religious, and they say they are not worried about the long-term durability of Indonesia's pluralistic tradition.
"The people of Indonesia know that there have been conflicts among religious groups, but actually it's not really just because of religious faith, but maybe it's political, economic and things like that," Mr. Pitoy said. "Sometimes it's difficult to differentiate between politics and religion — especially in Indonesia."
In August, Christian Solidarity Worldwide, a human rights organization founded in Britain, released a report saying that Indonesia's centuries-old tradition of religious pluralism was "under severe threat," and that its reputation as a moderate, democratic Muslim-majority nation that protects freedom of religion was being undermined.
The main gate of Sunda Kelapa Grand Mosque. Religious harmony in Indonesia is regularly overshadowed by international news reports about racial intolerance and fears of "Islamization." Credit Kemal Jufri for The New York Times
The report said some Christian communities particularly feared for their safety.
"There's almost a sense that they are second-class citizens in their own country," said Benedict Rogers, the organization's East Asia team leader.
In response to the fall of Mr. Basuki, who used to attend St. Paul's, Indonesia's president, Joko Widodo, one of his key political allies, established a special task force to reinforce the country's state ideology, known as Pancasila, which enshrines pluralism.
Despite Mr. Basuki's case, violent attacks on religious minorities have decreased substantially in the past five years. The Setara Institute for Democracy and Peace, a nongovernmental organization in Jakarta, had recorded only 93 such attacks this year through August, compared with 264 in all of 2012.
"But the number of blasphemy cases because of social media, because people have comments on Facebook and groups report them to the police, that is growing now," said Bonar Tigor Naipospos, vice chairman of the Setara Institute's executive board.
Mr. Nur and Mr. Pitoy both said Indonesia's core problem with religion is not intolerance, but a lack of education and understanding among its people. Less than half of all Indonesians have completed primary school, according to the government's statistical bureau.
"Indonesia is Muslim-majority — you have to accept it — but the lower class has a very simple knowledge" of Islam, Mr. Nur said. "That is why, if you want to know about the essence of Islam, which is peace and tolerance, study the Quran."
When asked if he thought that religious intolerance was growing in Indonesia, Mr. Pitoy, the pastor at St. Paul's, said, "I don't think so."
"The problems are about poverty and making social justice a reality," he said of the challenges facing the church. "Also, with globalization, there are failures internally, and it has created many sudden changes. It's very important to have a common foundation, and we have it with our Constitution and Pancasila."
A version of this article appears in print on October 5, 2017, on Page A8 of the New York edition with the headline: Where Christians and Muslims Share a Street. Order Reprints| Today's Paper|Subscribe
https://www.nytimes.com/2017/10/04/world/asia/indonesia-muslims-christians.html?mtrref=www.google.co.in&gwh=347E8E62C1CB3768A519CC2A754CE75A&gwt=pay
--------
Reports of 'recruitment' of prisoners in Karachi jail by IS rejected
Hasan Mansoor
October 05, 2017
KARACHI: While 17 inmates belonging to banned militant outfits were shifted from Karachi Central Prison to a jail in Sukkur on Wednesday, a provincial minister insisted that "not a single" prisoner had been recruited by the militant Islamic State group in the correctional facility.
A senior official in the provincial government told Dawn at least 17 prisoners belonging to various banned militant organisations were shifted to the Sukkur Central Prison "for security reasons".
Officials said the shifting of these prisoners was part of the authorities' plan in the light of some recent development in which law enforcement agencies reportedly carried out another raid at the Karachi Central Prison during which a couple of inmates were taken into custody for allegedly being involved in recruiting other inmates for IS.
According to recent media reports, the suspects belonging to a banned organisation had "recruited" several prisoners in jail; of these, a dozen had been released on bail and their whereabouts were not known.
Since then, a number of prisoners had been shifted elsewhere from the Karachi prison.
Last month, the provincial government had shifted 90 "high-profile" inmates from the Karachi prison to jails in other districts of the province and Rawalpindi on advice of intelligence and law enforcement agencies.
Also on Wednesday, Sindh Law Minister Ziaul Hasan Lanjar, who also holds the prisons portfolio, paid a visit to the Karachi Central Prison and praised jail officials for their work despite threats to their lives.
Speaking to reporters, he said security of jails in Sindh had "tangibly improved".
He claimed no recruitment for IS had been made inside the Karachi prison. "Not a single prisoner belonging to banned organisations has been recruited from the central prison," said Mr Lanjar.
About reports of the law enforcement agencies' raid on Karachi jail, the minister said the paramilitary Rangers had raided the premises at the request of the prisons department. However, a similar raid conducted by the Counter-Terrorism Department (CTD) of the Sindh police the next day was not sanctioned, he added.
The controversy regarding the alleged presence of IS in the Karachi jail had emerged following the CTD raid.
Minister Lanjar said most prisoners belonging to militant organisations had already been shifted elsewhere.
"At least 90 per cent of such prisoners [having connection with the banned groups] have been shifted to various other prisons across the province; thus, such reports [showing IS recruitment]" have little merit, he said.
A CTD report claimed that militants locked up at the prison had access to the facility's record room and sensitive files.
The report came after the escape of two militants — Shaikh Mohammad Mumtaz alias Firaun alias Sher Khan and Mohammad Ahmed Khan alias Munna — affiliated with the banned Lashkar-i-Jhangvi from Karachi Central Prison.
The CTD had said the two LJ militants escaped to Afghanistan after fleeing the Karachi jail in June.
An official report prepared after the jailbreak had claimed inmates belonging to banned outfits were virtually running the prison and managing their network from behind bars with impunity.
Minister Lanjar conceded that inmates ran the prison in the past, but "now the situation has changed and those who are entrusted to run the facility are running it".
https://www.dawn.com/news/1361831/reports-of-recruitment-of-prisoners-in-karachi-jail-by-is-rejected
--------
HRW Says Myanmar Army Raping and Executing Rohingya Muslims
Oct 5, 2017
Human Rights Watch says Myanmar's military "summarily executed" and sexually assaulted dozens of Rohingya Muslims during a raid on a village in the west of the country over a month ago.
According to a report released by the international human rights group on Wednesday, the Myanmar army attacked a residential compound where a large number of villagers had converged out of fear for their lives on August 27.
"Soldiers had beaten, sexually assaulted, stabbed, and shot villagers who had gathered for safety in a residential compound," the report said.
"These atrocities demand more than words from concerned governments; they need concrete responses with consequences," said the groups deputy Asia director, Phil Robertson.
He added that satellite imagery showed the near-total destruction of the village after the army had left.
"The soldiers loaded the bodies – some witnesses said a hundred or more – into military trucks and took them away," he added.
The report went on to quote survivors of the raids who recounted their survivals or deaths of their loved ones.
"One soldier, identified by many witnesses as Staff Sergeant Baju, led several soldiers into a courtyard and began calling to the people hiding in the house in the Rohingya language," said a witness.
Then they battered them to death with their guns, he added.
Another survivor said the people of his village had been killed by the soldiers as if "they were clearing the jungle with their thin, sharp, and long knives."
"Many were stabbed to death. When I tried to flee I was shot in the chest but was able to escape," said another witness.
Rohingya-majority Rakhine state has been emptied of half of its Muslim population over the past weeks and more people are on the move as unspeakable acts of violence continue against the Rohingya.
Many witnesses and rights groups have reported systematic attacks, including rape, murder and arson, at the hands of the army and Buddhist mobs against Rohingya Muslims, forcing them to leave their generations-old homes and flee to overcrowded and squalid refugee camps in Bangladesh.
The UN has described the new crackdown on Rohingya as "a textbook example of ethnic cleansing."
http://www.presstv.ir/Detail/2017/10/05/537511/myanmar-rohingya-human-rights-watch-execution
--------
Erdogan: Turkey Never Concedes to Iraqi Kurdistan Region's Joint Decision with Mossad
Oct 04, 2017
"We don't recognize the illegal referendum in Kurdistan region. At present no world state but Israel supports it. In our view, the decision which has been taken at around a table with Mossad is not acceptable," Erdogan said in a joint press conference with his Iranian counterpart Hassan Rouhani in Tehran on Wednesday.
"Iran and Turkey have firm positions on this issue which are clear to everyone. We merely deal with the central government in Iraq and consider the referendum in Kurdistan region as illegitimate," he added.
Erdogan warned that Iran, Iraq and Turkey have adopted certain measures against the Iraqi Kurdistan region which will be intensified.
In relevant remarks last Monday, Chief of Staff of Iran's Armed Forces Major General Mohammad Hossein Baqeri underlined that Tehran and Ankara don't recognize the results of the recent independence referendum in the Iraqi Kurdistan region, and added that the two countries will increase their military cooperation.
General Baqeri made the remarks after meeting with his Turkish counterpart General Hulusi Akar in Tehran.
"During the meeting, we held talks on common threats against the two countries and different regional issues, including the referendum in the Iraqi Kurdistan region, and the two countries had identical views about emphasis on Iraq's unity and territorial integrity and defying this referendum," General Baqeri told reporters.
Last Wednesday, Iran ordered its state and private sector companies to ban cargoes of fuel products heading to or coming from the Iraqi Kurdistan Region.
Due to the recent developments in the region, and under an order by the General Office of Border Affairs and Civil Defense, the international shipping companies and the drivers are banned from loading and shipping fuel products from or to the Iraqi Kurdistan Region until further notice, a circular by Iran Road Maintenance and Transportation Organization read.
The organization has communicated the order to all the related companies since September 27.
Secretary of Iran's Supreme National Security Council (SNSC) Ali Shamkhani had noted last Wednesday that more sanctions will be imposed on Kurds in Iraq after closing the country's airspace to the Iraqi Kurdistan region.
"Mr. Shamkhani believed that trilateral negotiations among Iran, Iraq and Turkey will continue concurrent with talks with the Kurdistan region's groups and parties, and boycott pressures will be exerted too," Jabbar Khouchakinejad, an Iranian legislator, quoted Shamkhani as saying in a private session at the parliament last Wednesday.
According to the MP, Shamkhani stressed that different measures will be adopted to make the Kurds withdraw from their stances and the Iraqi government can even resort to military action because this separatism has happened in Iraq and the referendum has been against the Iraqi constitution, he added.
"The SNSC secretary also emphasized that Iran will support the Iraqi government's measures," Kouchakinejad said.
The referendum was held on September 25 in defiance of the central government in Baghdad, which says the referendum is unconstitutional and called on the Kurdish leadership to drop the plan.
Iran, Iraq, and Turkey have jointly voiced concerns about the Kurdish independence vote, warning that it could fan the flames of tensions in the Middle East.
The UN Security Council also unanimously issued a statement, voicing alarm over "the potentially destabilizing impact" of the plebiscite. The 15-member council urged "dialogue and compromise" to address the differences between Baghdad and the Kurdish authorities.
http://en.farsnews.com/newstext.aspx?nn=13960712001499
--------
Syria army ousts ISIS from all of Hama province
4 October 2017
The Syrian army and allied fighters drove the ISIS from their last positions in the central province of Hama on Wednesday, October 4, after heavy fighting, a monitor said.
The Syrian Observatory for Human Rights, a Britain-based monitor of the war, said ISIS was no longer present anywhere in the province for the first time in 3 years.
The army, backed by ally Russia, launched a campaign against ISIS in Hama in early September, capturing some 50 villages and the strategic town of Uqayribat, the Observatory said.
"On Wednesday, regime forces managed to take control of all the last remaining villages in the hands of Daesh (ISIS) in eastern Hama province after more than a month of fierce clashes between the two sides," Observatory director Rami Abdel Rahman said.
The monitor said more than 400 ISIS fighters and nearly 190 Syrian soldiers and allied militiamen had been killed in the fighting.
There was no immediate announcement in Syrian state media, but the Al-Watan newspaper, which is close to the government, reported that "the army has taken complete control of eastern Hama province."
"Daesh is no longer present in Hama province," it added.
The government holds large parts of Hama province, and all of the provincial capital.
But ISIS and other rebels hold pockets of territory in the northeast and south.
ISIS' loss of Hama province comes after they were forced in June to withdraw from their last positions in Aleppo province further north.
The militant group is also facing multiple offensives elsewhere in the country.
The US-backed Syrian Democratic Forces, an alliance of Kurdish and Arab fighters, is battling to oust ISIS from their onetime stronghold of Raqqa.
The SDF is also fighting ISIS in neighbouring Deir Ezzor province, where the regime is waging its own campaign against the militant group as well.
More than 330,000 people have been killed in Syria since the conflict began with anti-government protests in March 2011.
https://english.alarabiya.net/en/News/middle-east/2017/10/04/Syria-army-ousts-ISIS-from-all-of-Hama-province.html
--------
Pakistan
'Pakistan pursues zero-tolerance approach against all militants'
05-Oct-17
WASHINGTON: Foreign Minister Khawaja Asif on Wednesday raised the issue of United States' South Asia Policy with Secretary of State Rex Tillerson and told him that Islamabad had pursued a zero-tolerance and an indiscriminate approach in its campaign against "all terrorist and militant groups", read a statement issued by the Foreign Office on Wednesday.
Pakistan and the US shared a common desire for peace and stability in Afghanistan and the region at large, the foreign minister maintained.
The minister pointed out that Pakistan had been making achievements in its war against terrorism. "In contrast to other countries, the incidences of terrorism in Pakistan have seen a marked decline - with a salutary impact on economic and commercial activity," Asif was quoted as saying.
"This was made possible because Pakistan has pursued a zero-tolerance and an indiscriminate approach in its campaign against all terrorist and militant groups."
The foreign minister informed the US secretary of state about the strong public reaction in Pakistan regarding the pronouncement of the US administration's South Asia Policy, which Asif said was based on "inadequate recognition of Pakistan's sterling contribution in the fight against terrorism".
In addition to huge human and material cost incurred by Pakistan, Asif said, "Our cultural ethos as a moderate state had suffered due to protracted instability in Afghanistan."
Secretary Tillerson acknowledged and appreciated the sacrifices rendered by Pakistan in the struggle against terrorism, said the press release.
He agreed that cooperation between Pakistan and the US in Afghanistan was crucial to achieving durable peace and stability in the region. "Pakistan's interests and concerns will be accommodated, since its role was critical to President Trump's South Asia Strategy," he was quoted as saying.
http://dailytimes.com.pk/pakistan/05-Oct-17/pakistan-pursues-zero-tolerance-approach-against-all-militants
--------
Dunford Says 'Clear To Me' That the ISI of Pakistan Has Connections with Terror Group
Oct 04 2017
The Chairman of the Joint Chiefs of Staff of the United States General Joseph Dunford has confirmed that the military intelligence of Pakistan's military, Inter Services Intelligence (ISI), has connections with the terror group.
Gen. Dunford informed in this regard while briefing the US lawmakers in the Senate Armed Services Committee.
"It is clear to that ISI has connections with the terrorist groups," Gen. Dunford said.
This comes as the Afghan and US officials are saying that the conflict in the country has links with the sanctuaries of the terrorist groups, particularly the Taliban and Haqqani network which have remained intact in the key cities of Pakistan.
While announcing the new US strategy for Afghanistan and South Asia late in August, the US President Donald Trump strongly criticized Pakistan regarding the terror sanctuaries, saying "For its part, Pakistan often gives safe haven to agents of chaos, violence, and terror. The threat is worse because Pakistan and India are two nuclear-armed states whose tense relations threaten to spiral into conflict. And that could happen."
On the other hand, the foreign minister of Pakistan Khawajah Asif admitted last month that terrorist groups and its leaders like Haqqanis are liabilities in yet another gesture the groups were nurtured and have remained intact in the country despite growing international pressures.
Speaking at an event at the Asia Society in New York, Asif said asked Washington to stop blaming Islamabad for the Haqqani network and other terrorist networks, including the one being led by Hafiz Saeed.
Full report at:
http://www.khaama.com/dunford-says-clear-to-me-that-the-isi-of-pakistan-has-connections-with-terror-group-03573
--------
US voices concern about stability of Pakistan government
Anwar Iqbal
October 05, 2017
WASHINGTON: US Sec­retary of State Rex Tillerson said after a meeting with Foreign Minister Khawaja Asif on Wednesday that he believed the United States had a reliable partner in Pakistan.
In his brief remarks to the media following the meeting, Sec­retary Tillerson expressed concerns about the future of Pakistan's government, stressing that Washington wanted a stable government in Islamabad.
While the secretary's remarks about the future of US and Pakistan's relationship came as a pleasant surprise for Pakistan observers in Washington, his comments on stability of the government in Islamabad alarmed many. This marks the first time a US official has publicly addressed the political conflict in Islamabad, clearly backing the political setup.
When asked if the meeting with Pakistan's foreign minister had convinced him that the United States had a reliable partner in Pakistan, Secretary Tillerson respon­ded: "Yes, I believe we do."
The top US diplomat added that US-Pakistan relationship held extraordinary importance in the region. "And as we rolled out the South Asia strategy, we spoke about it in a regional context," he said.
FM Khawaja Asif meets Tillerson at State Department
"It is not just about Afghanistan. This is about the importance of Pakistan, and Pakistan's long-term stability as well," said Mr Tillerson, directly addressing Islamabad's fear that Washington continued to view its relationship with Pakistan from the perspective of neighbouring Afgha­nistan, and in doing so, ignored Islamabad's interests.
Although the question put to him did not mention the political situation in Pakistan, Mr Tillerson used the opportunity to address it. "We have concerns about the future of Pakistan's government too, in terms of them — we want their government to be stable. We want it to be peaceful. And many of the same issues they're struggling with inside of Pakistan are our issues," he said.
The secretary of state added: "So, we think there is an opportunity for us to strengthen that relationship. We're going to be working very hard at all levels, from the State Department to the Defence Department to our intelligence communities, as well as economic, commerce opportunities as well."
This was an obvious reference to concerns, expressed both publicly and privately, by US and Pakistani officials since Aug 21, when President Donald Trump announced his new strategy for South Asia in a speech from the White House. Informed leaks to the media indicated that the US-Pakistan relationship was on the brink of a break-up.
Even on Wednesday, a number of news outlets in the US and Pakistan reported that the Trump administration could strike Pakistan out of its list of major non-Nato allies and stop, or greatly reduce, its economic and military assistance to Islamabad. Some reports also talked about the possibility of expanding drone strikes inside Pakistan to target alleged terrorist safe havens.
Secretary Tillerson, however, reemphasised the need to engage with Pakistan at all levels — instead of walking away from it — for rebuilding a relationship that has been and continue to be mutually beneficial.
He explained that the new US strategy for South Asia "really is a regional approach, and Pakistan is critical, I think, to the long-term stability of the region".
Later, the Pakistan Embassy issued a statement, saying that Foreign Minister Asif and Secretary Tillerson had met at the State Department on Wednesday for an exchange of views on bilateral and regional issues of mutual interest. Mr Asif, who is visiting Washington at Secretary Tillerson's invitation, said that Pakistan and the United States shared a common desire for peace and stability in Afghanistan and the region at large, the embassy's statement said.
Mr Asif had pointed out that Pakistan was winning its war against terrorism, and in contrast to other countries, the incidence of terrorism in Pakistan had seen a marked decline. This has also had a salutary impact on economic and commercial activity which was made possible because Pakistan had pursued zero-tolerance and indiscriminate approach in its campaign against all terrorist and militant groups, he said.
The minister informed the secretary of state about the strong public reaction in Pakistan to the US administration's South Asia Policy — "based on inadequate recognition of Pakistan's sterling contribution in the fight against terrorism".
The embassy said that Secretary Tillerson had acknowledged and appreciated the sacrifices rendered by the people and armed forces of Pakistan in the struggle against terrorism. He said that Pakistan's interests and concerns would be accommodated since its role was critical to President Trump's South Asia Strategy. He added that future stability of Pakistan was an important element of the US strategy.
Full report at:
https://www.dawn.com/news/1361819/us-voices-concern-about-stability-of-pakistan-government
--------
Bajwa's visit to Kabul presages new chapter in resolving Afghan conflict: Mattis
October 05, 2017
WASHINGTON: Chief of the Army Staff Gen Qamar Javed Bajwa's visit to Kabul earlier this week presages a new chapter' in ending the Afghan conflict, says US Defence Secretary James Mattis.
Appearing before two congressional panels on Tuesday, Secretary Mattis also revealed that the United States had chalked out a plan for reengaging Pakistan for resolving bilateral differences.
"Right now, based on a very recent visit by the chief of army staff from Pakistan, there is actually optimism [here] and in Kabul that his visit presages a new chapter," Mr Mattis told the Senate Armed Services Committee.
Secretary Mattis and Chairman Joint Chiefs of Staff Gen Joseph Dunford appeared before the Senate and House Armed Services Committees to brief lawmakers on the situation in Afghanistan.
"We were encouraged, just this week, with General Bajwa's visit to Afghanistan…He had very good meetings with Afghan leadership. Our leadership was engaged in those meetings as well," said Gen Dunford.
Mr Mattis said the US assistant secretaries and national security staff would visit Pakistan soon for talks on how to reengage Islamabad in efforts to eradicate terrorism. And these visits will be followed by himself and Secretary of State Rex Tillerson, he told the House Armed Services Committee.
"I would like to think we will be successful," but that the United States "has an enormously powerful number of options" if not, said Mr Mattis.
"I think that right now with the growing consensus against terrorism, they'll find themselves diplomatically isolated, they'll find themselves economically in increasing trouble as countries that are damaged by this terrorism coming out of there say enough is enough and take steps," he said.
In the morning session, Mr Mattis told the committee that the US would try "one more time" to work with Pakistan on the Afghanistan front before President Donald Trump turned to "other options" to address Islama­bad's alleged support for militant groups.
At the House committee, Gen Dunford accused Pakistani intelligence agencies of having links with certain terrorists group and urged them to sever those ties.
"I think it's clear to me that the ISI has connections with terrorist groups," said the general while responding to a question from Senator Joe Donnelly.
"Gen Dunford, is it your sense that the ISI is still helping the Taliban?" Senator Donnelly asked.
Gen Dunford said he believed a multilateral approach might help in bringing changes in Pakistan's behaviour. Secretary Mattis backed this claim, acknowledging that Pakistani intelligence agencies were helping the Taliban.
"We have seen havens left to the terrorists' own devices. We have seen the government of Pakistan come down on terrorism, while ISI appears to run its own foreign policy," he said.
Mr Mattis said the Trump administration was very clear and firm in what it expected from Pakistan and was using all options to bring about that change.
"There are a number of lines of effort being put together now in Secretary of Treasury's office, Secretary of State's office, my own office, the intel agencies. We are also working with Secretary General Stoltenberg to ensure that Nato's equities are brought to bear," Mr Mattis said, responding to a question on why would Pakistan change its mind on terrorist safe havens this time.
Full report at:
https://www.dawn.com/news/1361833/bajwas-visit-to-kabul-presages-new-chapter-in-resolving-afghan-conflict-mattis
--------
Three convicted terrorists hanged in Khyber Pakhtunkhwa prison
05-Oct-17
ISLAMABAD/TURBAT: The army on Wednesday said that three more hardcore terrorists were hanged at a jail of Khyber Pakhtunkhwa after they were convicted over involvement in terrorism.
An army statement said the convicts were involved in committing heinous offences relating to terrorism, including an attack on Pakistan International Airlines plane at Peshawar airport, killing of innocent civilians and attacking armed forces of Pakistan and law enforcement agencies. The convicts were tried by military courts, the Inter-Services Public Relations (ISPR) said.
According to details, convict Sajid, s/o Ibrahim Khan, was a member of a proscribed organisation. He was involved in the firing on a PIA plane landing at the Peshawar airport, which resulted in the death of Mrs Maqnoon and injuries to two other passengers. He was also involved in the killing of innocent civilians and attacking law enforcement agencies, which resulted in the death of Pir Israr along with his eight family members, civilian Niaz Gul, Assistant Sub Inspector Sajid Khan, and injuries to civilians and police officials. The convict was in possession of firearms and explosives. He confessed to the crimes before the magistrate and the trial court.
The second convict to be hanged was Behram Sher, s/o Khairan. He was a member of a proscribed organization and involved in destruction of Government Girls Primary School as well as attacking armed forces of Pakistan, which resulted in the death of a soldier and injuries to two other soldiers. He was also in possession of explosives. The convict confessed to his crimes before the magistrate and the trial court, and was also awarded death sentence.
The third one was Fazal-e-Ghaffar, s/o Shehzada. The convict was a member of a proscribed organization and involved in attacking the armed forces of Pakistan, which resulted in the death of four soldiers and injuries to another soldier. He was also in possession of a suicide jacket. The convict confessed to his crimes before the magistrate and the trial court, and was awarded death sentence.
Meanwhile, the Frontier Corps (FC) Balochistan on Wednesday destroyed at least six terrorist hideouts and apprehended five militants during security operations in different areas of the province.
The intelligence-based operations (IBOs) were conducted in Kahan, Loralai and Kuchlak areas, according to a statement issued by the ISPR.
Weapons and ammunition were recovered from the terrorists, the statement added. The IBOs were conducted as part of military offensive Operation Radd-ul-Fasaad, which was initiated in February this year against "latent threat of terrorism" in the country.
Full report at:
http://dailytimes.com.pk/pakistan/05-Oct-17/three-convicted-terrorists-hanged-in-khyber-pakhtunkhwa-prison
--------
JUI-S withdraws candidate in PTI's favour
October 05, 2017
PESHAWAR - The Jamiat Ulema-e-Islam-Sami (JUI-S) on Wednesday withdrew its candidate in the by-election for NA-4 Peshawar seat in favour of the Pakistan Tehreek-i-Insaf (PTI) candidate.
The JUI-S central Secretary Information, Maulana Yousaf Shah, made this announcement at a press conference held at Peshawar Press Club on Wednesday.
KP Minister for Information Shah Farman was also present on the occasion.
The by-election is scheduled to be held on October 26. The NA-4 (Peshawar) seat fell vacant due to the sudden death of the PTI disgruntled MNA Gulzar Khan.
It is pertinent to mention here that Arbab Amir Ayub is contesting the by-election on the PTI's ticket. He is the younger brother of the ANP former MNA late Arbab Zahir.
Beside others, JUI-S leader Maulana Bilal, District Ameer Maulana Abdul Haseeb Haqqani, Fata chapter leader Maulana Saeedur Rahman Haqqani, and Mufti Zafar Zaman were also present on the occasion.
Provincial Minister for Information Shah Farman criticised the PML-N led federal government for omitting a clause regarding the finality of the Prophethood (Khatm-e-Nabuwat) in the recently passed Elections Reforms Bill 2017.
He termed it a sensitive matter and will be taken it seriously. He also said that the Bill was passed aimed to benefit a specific person.
The minister said that the incumbent PTI-led provincial government had made Khatm-e-Nabuwat as part of the education curriculum, besides taking other measures.
Without mentioning the name of Jamiat Ulema-e-Islam-Fazl (JUI-F), he blamed the religious parties in alliance with the government for omitting the clause regarding Khatm-e-Nabuwat from the Elections Reforms Bill.
JUI-S leader Maulana Yousaf Shah said that his party had never been compromised on religious matters, and appreciated good steps of any government and opposed wrong one.
He said that the JUI-S had neither shown opposition nor support to the Pakistan Tehreek-i-Insaf. Although, he said that the JUI-S appreciated the KP government's steps toward the promotion of religious teachings in the province.
Therefore, the JUI-S will support the PTI candidate in the by-poll in the constituency NA-4 on October 26.
Shah also strongly condemned the PML-N government for omitting of Khatm-e-Nabuwat clause from the election bill 2017. He said that the word declares, in the nomination paper, should be replaced previous word 'oath'.
He said that the JUI-S would take an extreme step to pressurize the government to retake the amendment in the recently passed election bill and ensure re-inclusion of the omitted clauses in it.
He also said that the amendments had brought after thorough deliberation of several months, saying the clause was removed to give benefit to a specific person to head a party.
Shah Farman said that conspiracies were being hatched against the country, but will never compromise on any clause regarding Khatm-e-Nabuwat and foil any conspiracy against Islam, he vowed.
He said the journey of the PTI and the JUI-S for the country and Islam would be continued for a longer period. "We are joining hands for common objectives and will make vigorous efforts for the protection of country's sovereignty and Islam," Shah Farman vowed.
In reply to a query, the JUI-S leader said that the basic purpose of the two parties' alliance was to attain common objectives instead of coming to power.
Full report at:
http://nation.com.pk/national/05-Oct-2017/jui-s-withdraws-candidate-in-pti-s-favour
--------
South Asia
11 ISIS militants killed in latest US airstrikes in East of Afghanistan
Oct 04 2017
At least eleven militants affiliated with the Islamic State of Iraq and Syria (ISIS) Khorasan were killed in the latest airstrikes conducted by the US forces in eastern Nangarhar province of Afghanistan.
The provincial government media office in a statement said the airstrikes were carried out in Achin district on Tuesday.
The statement further added that the militants were targeted in Mamand Dara and Dab village areas of the district.
Some weapons and ammunition of the militants were also destroyed in the airstrike, the statement said.
It also added that the local residents and security personnel on the ground did not suffer any casualties in the airstrikes.
Nangarhar is among the relatively calm provinces in East of Afghanistan but the anti-government armed militants have increased their insurgency activities in some districts of the province during the recent years.
A similar airstrike killed a key member of the terror group in this province earlier this week.
The provincial police commandment in a statement said the airstrike was carried out by the US forces with unmanned aerial vehicles on Sunday killing two ISIS members including a key member of the terror group identified as Qari Zahid.
http://www.khaama.com/11-isis-militants-killed-in-latest-us-airstrikes-in-east-of-afghanistan-03575
--------
Islamist Parties Want Caretaker Govt Restored For Elections in Bangladesh
October 04, 2017
The majority of Islamist parties want a caretaker government to supervise the next general election, fearing any poll supervised by the incumbent party will not be free and fair.
The demand was repeatedly raised by the Islamist parties during the Election Commission's (EC) dialogues with 40 registered political parties, which began on August 24 with just over a year before the country goes to the polls.
The EC sits with the parties, the media and eminent citizens before an election and considers their recommendations for organising free and fair polls. Up until Monday, it sat with 22 of the smaller parties.
These included nine Islamist parties which have all demanded the restoration of the non-party election oversight system.
They are: Bangladesh Muslim League, Khelafat Majlish, Bangladesh Islami Front, Islami Andolan Bangladesh, Bangladesh Khelafat Majlish, Islamic Front Bangladesh, Jamiat Ulema-e-Islam Bangladesh, Bangladesh Muslim League, and Bangladesh Khelafat Andolan.
"We want the caretaker provision back since elections held under it in the past were above criticism at local and international levels, and the results were well accepted," said Jamiat Ulema-e-Islam Secretary General Noor Hossain Qasimi as part of his party's 11-point demands.
"But elections – both local and national – held under partisan governments are controversial."
Also Read- BNP explores options to have the caretaker govt verdict reviewed
The caretaker system was introduced in 1996 by the BNP-led government after bloody street protests by opposition parties led by the Awami League.
Under this system, a non-party neutral interim government was installed for 90 days after the dissolution of parliament to supervise the general election and hand over power to the next elected government. It was intended to end violence and fraud in the polls.
But it came under fire after the 2007-08 military-backed caretaker government stayed in office beyond its tenure and incarcerated Prime Minister and Awami League President Sheikh Hasina and her arch political rival Khaleda Zia, who leads the opposition BNP.
After winning the 2008 election, the Awami League government abolished the system in 2011 and paved the way for organising elections under the incumbent government.
The BNP and its allies boycotted the most recent election, held in January 2014 under the Sheikh Hasina administration, demanding the provision be restored.
"None of the elections held under partisan governments have been neutral," said Ahmed Abdul Kader, the secretary general of Bangladesh Khelafat Majlish which has made a similar demand as part of its 32-point proposal.
"There is little chance that the next general election will be free and fair under the incumbent government. In Bangladesh, the partisan government has never proven to be impartial (so) the polls-time government has to be neutral."
Bangladesh Muslim League in its recommendations proposed dissolving the parliament on the day the EC announces the schedule for the elections, which must be held by early 2019.
Also Read- Is army deployment a prerequisite to a fair election?
Islami Andolan Bangladesh said it wanted an interim government to supervise the next polls as it would "create a congenial atmosphere for an inclusive election". It also insisted on the deployment of the army and creation of a level-playing field during the polls.
Bangladesh Khelafat Andolan came up with 38 proposals, including bringing the administration and concerned ministries under the EC during the election.
Mahfuzul Haque, secretary general of Bangladesh Khelafat Majlish, said: "We do not believe that the next general election will be free and fair if the ruling party oversees it."
There is a constitutional obligation for organising parliamentary polls within the last 90 days of the government's tenure.
The EC published an initial road map on July 16 and stated it would hold talks with various quarters from July 31. It is scheduled to sit with election observers, women leaders, and election managing experts.
Full report at:
http://www.dhakatribune.com/bangladesh/politics/2017/10/04/islamist-parties-want-caretaker-govt-restored/
--------
UN praises Bangladesh for supporting Rohingya refugees
October 05, 2017
The United Nations (UN) has praised Bangladesh and its people for aiding the helpless Rohingya refugees and conveyed its initiatives to raise funds to cover the increasing humanitarian needs.
Two senior UN officials met Foreign Minister AH Mahmood Ali at the Foreign Ministry on Wednesday and passed on the messages, said a Foreign Ministry statement.
Under Secretary General for UN Office for Coordination of the Humanitarian Affairs and Emergency Relief Coordinator (UN OCHA) Mark Lowcock and UNICEF Executive Director Anthony Lake called on Ali after returning from Cox's Bazar.
The statement said the minister also solicited UN support for the repatriation of the Rohingya as the UN agencies extended their humanitarian assistance for the forcibly displaced Myanmar nationals.
Ali said Myanmar's de facto leader Aung San Suu Kyi's recently sent as her representative union minister U Kyaw Tint Swe, who conveyed their willingness to take back their nationals who have taken refuge in Bangladesh.
The foreign minister said the number of forcibly displaced Rohingya exceeded 900,000 as over 500,000 Rohingyas crossed into Bangladesh in just one month.
"Their presence is creating serious humanitarian challenge for Bangladesh," the statement quoted him as saying.
UN OCHA on Tuesday released an additional $12 million from the Central Emergency Response Fund to urgently help the most vulnerable Rohingya refugees and their host communities in Bangladesh.
"The people of Bangladesh have offered a generous welcome, but the current conditions in the camps are terrible. Without much more international assistance, the refugees, who have suffered greatly, could face a health catastrophe on top of the existing tragedy," Lowcock said during his visit to one of the refugee sites in Cox's Bazar.
Full report at:
http://www.dhakatribune.com/bangladesh/foreign-affairs/2017/10/05/un-praises-bangladesh-rohingya-refugees/
--------
Buddhist community cuts festival expense to aid Rohingya refugees
October 04, 2017
The Buddhist community in Bangladesh has declared that they will forgo parts of their festivities for Probarona Purnima, their second biggest religious festival, and donate the cost of a major event for the Rohingya refugees who have recently arrived in Bangladesh.
Community leaders announced this decision at a meeting with senior Awami League leaders at the party president's Dhanmondi political office on Wednesday morning.
Bangladesh United Buddhists' Forum Chief Convener Ashokh Barua said: "We will not celebrate the lantern festival this year during Probarona Purnima. The expenditure of the festival will be given to Prime Minister Sheikh Hasina to aid the refugees."
Probarona Purnima festival, marking the end of Vassa, a three-month retreat, will be observed on October 5. Traditionally, the Buddhists celebrate the day by flying numerous paper lanterns or Fanush, among other rituals.
Earlier, the Buddhist community had announced that it will refrain from the lantern festival to protest the violence against the Rohingya in Myanmar's Rakhine State.
Full report at:
http://www.dhakatribune.com/bangladesh/2017/10/04/buddhist-community-cuts-festival-expense-aid-rohingya-refugees/
--------
New US policy carries message of bloodshed for region: Karzai
October 05, 2017
LONDON - Former Afghan president Hamid Karzai has said that new US policy about Afghanistan carries a message of fight and bloodshed in the region.
This is not for the first time that the US has criticized Pakistan's role in war on terror. In an exclusive interview with BBC on Wednesday, Karzai said, "I believe that this US politics has some hidden conspiracy or strategy for this region."
The former Afghan president said that US President Donald Trump's new policy had no hope and peace message for Afghanistan and the region because it had no room for negotiations and restoration of peace.
About speech on new US policy for Afghanistan and terrorists' safe havens, Karzai said this had not happened for the first time. He said he wished Pakistan and Afghanistan to live like two brothers and hoped that Islamabad, comprehending the situation, would extend cooperation and friendship with Kabul.
To a question about statements that Afghan leadership had asked the US to take terrorists to task inside Pakistan, Karzai said, "We have never favoured military action against Pakistan, We don't want that to happen."
"We want friendship with Pakistan, but Pakistan will also have to treat Afghanistan as a sovereign and dignified country," he said.
When asked about Chief of Army Staff Qamar Javed Bajwa's recent Kabul visit, he said he sees the tour a positive development and helpful in restoration of peace in the region.
He said, "We are not saying that Iran, Russia and China have made Afghanistan a battlefield. Instead, we are saying that after new US policies and her attitude, the regional countries are casting a doubtful eye on US role and activities in Afghanistan. "Why the situation in Afghanistan is deteriorating day by day. We want Afghanistan should not be a battlefield due to the US and its wrong policies.
Full report at:
http://nation.com.pk/national/05-Oct-2017/new-us-policy-carries-message-of-bloodshed-for-region-karzai
--------
Bangladesh destroys boats ferrying Rohingya from Myanmar
Oct 5, 2017
Bangladeshi authorities have destroyed about 20 boats that ferried Rohingya Muslims fleeing violence in Myanmar, accusing smugglers of using the huge exodus to bring methamphetamine into the country.
Refugees told Reuters that border guards also beat and arrested passengers and crew as they landed at Shah Porir Dwip, on the southern tip of Bangladesh on Tuesday night, before the vessels were smashed to pieces by locals.
The local commander of Border Guards Bangladesh (BGB), Lieutenant Colonel Ariful Islam, denied there were beatings, and said the action was a crackdown on human trafficking and the smuggling of methamphetamine, a drug known locally as "ya ba".
"The boats are trying to carry passengers they are not supposed to," he told Reuters.
He accused the organisers of the boat journeys of exploiting destitute Rohingyas by charging them for the short trip to Bangladesh. Some passengers told Reuters they had paid 10,000 Bangladeshi takas (US$123) each for the trip, although others said they travelled free.
More than half a million Rohingya Muslims have arrived in Bangladesh from predominantly Buddhist Myanmar since its armed forces responded to attacks by militants on Aug 25 with a counteroffensive described by United Nations officials as
"ethnic cleansing".
While four passengers told Reuters they saw no drugs on board, Lieutenant Colonel Islam said border guards had found a large quantity of the drugs in the water on Tuesday night.
"Maybe the carrier had dropped it before disembarking," he said.
Smashed with sledgehammers
At a teeming processing centre in nearby Teknaf, Ibrahim Holil, from the village of Maungdaw Moknibara in Myanmar's Rakhine State, described on Wednesday how he said he was hit with a stick by a border guard as he helped his relatives disembark from their boat.
"There is nothing in this boat. Only our belongings," he said.
Farous Ahmad, 65, said his two sons - Sura Ahammed and Dildar Ahammed - were arrested soon after they landed. He said they had worked as crew on the trip because they had no money to pay the fare.
"They also beat me everywhere. I do not know where my sons are," he told Reuters. "I don't know why the BGB arrested my sons. People told me the BGB would shelter us in Bangladesh but yet they arrested them and also we had to spend the whole night
sitting."
Asked about the allegations of beatings, Lieutenant Colonel Islam said: "It is never possible. Please check your source and motive."
Reuters reporters saw the remnants of the smashed boats.
Nearby was a pile of sledgehammers and machetes.
A local fisherman, Robi Alam, said the BGB had given local people money to destroy the boats.
Massive influx
Bangladeshi authorities said last month they would crack down on fisherman charging Rohingya for ferrying them to safety, which they described as human trafficking.
Thousands of people continue to cross land and sea borders daily to reach Bangladesh, putting great strain on one of the poorest countries in a poor region.
One refugee, who asked not to be identified, said his relatives were among 6,000 people waiting in Myanmar to cross to Bangladesh by boat on Wednesday night.
He said news of the destruction of the boats and the arrests on Tuesday night had spread, and he was concerned that the owners of other vessels would be deterred from making the trip.
Including the latest influx, about 1 million Rohingya, who were mostly stripped of their citizenship by a 1982 law passed by the military junta that then ruled Myanmar, now live in Bangladesh after fleeing periodic outbreaks of violence.
Resentment against the stateless group has brewed for years in Bangladesh, where authorities have linked them to a surge in methamphetamine use.
Seizures of the drug jumped more than 2,500 percent to 29.4 million pills between 2011 and 2016 and police and government officials say the Rohingya refugees, who cannot easily be traced, are the traffickers' preferred mules.
The authorities have cited a growing drug problem as one reason for pushing ahead with a controversial scheme to move thousands of refugees from their border camps to an undeveloped island in the Bay of Bengal.
Myanmar and Bangladesh are also discussing a framework for returning the Rohingyas to Myanmar.
Full report at:
https://www.malaysiakini.com/news/397323
--------
Taliban militants and commanders suffer heavy casualties in Kunduz
Oct 04 2017
The Taliban militants and their commanders suffered heavy casualties during the latest counter-terrorism operations in northern Kunduz province of Afghanistan.
According to the 209th Shaheen Corps of the Afghan national army, the latest casualties were inflicted to the Taliban insurgents in Imam Sahib district.
The officials of the Shaheen Corps said at least elevent Taliban insurgents were killed and seventeen others were wounded during the operations.
The officials further added that two senior commanders of the group identified as Qari Turab and Qari Nazir were among those killed.
Two other senior Taliban leaders identified as Mawlavi Mazhari and Qari Khanjar were also wounded during the operations, the official said.
The Shaheen Corps officials said the operations were conducted by the Afghan Air Force and ground forces in the past 24 hours.
This comes as at least 31 militants were killed and 16 others were wounded after airstrikes and artillery raids pounded the Taliban positions in Imam Sahib district on Sunday.
Full report at:
http://www.khaama.com/taliban-militants-and-commanders-suffer-heavy-casualties-in-kunduz-03577
--------
Southeast Asia
'AyoPoligami' - Polygamy in Indonesia made easier with new app
04.10.2017
The notion that a man can take four wives while a woman can marry only one, strikes at the heart of the concept of gender equality, say activists opposing male polygamy, a practice that pits religious and cultural conservatives against liberals and gender rights activists.
The debate elicits sharp and passionate feelings among both proponents and opponents of the custom in which one man has multiple wives. Male polygamy, technically called polygyny, differs from polyandry, where a wife takes multiple husbands.
Polygyny has been practiced for millennia across the world by a wide array of societies and civilizations. In a survey of over a thousand societies conducted by the University of Wisconsin in 1998, it was revealed that only 186 of these were monogamous. The practice was quite common in 588 societies while about 453 had occasional polygyny. Only four practiced polyandry. Some anthropologists are of the view that polygamy has been the norm through human history.
Male polygamy is now outlawed in many places, but not all. It continues to be prevalent in a number of countries, particularly in Africa and the Middle East. The practice remains legal in Muslim-majority nations like Indonesia, Egypt, Malaysia and Morocco as well as in non-Islamic ones like South Africa.
In Muslim societies, many use religion as a basis to justify the tradition. The Koran ordains that a Muslim man can marry up to four wives, if he can care for them all equally well. This provision is used to lend religious legitimacy to such marriages, and polygyny is found in almost all Muslim populations, albeit on a very limited scale due to a raft of legal, social and economic obstacles.
Controversial app
This is also the case in Indonesia, the world's most populous Muslim nation where over 80 percent of the over 250 million inhabitants adhere to Islam and male polygamy is legal. It is hard to gauge the extent to which it is practiced in Indonesia due to the high degree of unregistered marriages there.
Even though polygamy in Indonesia - in contrast to Middle Eastern societies - is not viewed as a taken-for-granted right of Muslim men, observers say, the number of polygamous unions in the Southeast Asian nation is significant.
Indonesian app developer Lindu Pranayama has even spotted a need for a smartphone app to assist married men in finding additional wives. Realizing that there were many married men looking to take more wives and few online services to meet their needs, he developed the smartphone app "AyoPoligami" - roughly meaning "let's do polygamy" - to "bring together male users with women who are willing to make 'big families,'" Reuters news agency quoted him as saying.
"We see a current phenomenon where a lot of men are looking to engage in polygamous marriages but when they go to regular dating sites, they don't see options for polygamy, they don't see options for finding second, third, or fourth wives," Pranayama said.
Since its April launch, AyoPoligami, similar to the dating app Tinder, has been downloaded over 10,000 times before it stopped registering new members after concerns emerged that fake accounts were being set up, and that men were using the site without the knowledge of their first wives.
A new version is set to be launched on October 5, and will impose stricter rules on users including requiring them to provide an identification card, marital status and a letter of permission from their first wives.
'Normalizing polygamy'
Nevertheless, the app has proved contentious in Indonesia. Critics like Indriyati Suparno, a commissioner on the government-backed National Commission on Violence Against Women, claim it's trying to "normalize polygamy," a practice they regard as "a form of violence against women."
Uly Siregar, an Indonesian writer, says such apps encourage the practice and make it easier for men to enter into polygamous unions, to the detriment of women's welfare.
The law governing marriages in Indonesia imposes strict regulations on married men seeking to take an additional wife. Religious courts give permission to such unions only if a man's existing wife is disabled, suffering from incurable illness or unable to bear children. In addition, the man needs to present the consent of his current wife or wives, and has to be financially capable of supporting all his wives and children equally.
But observers question the utility and relevance of the guidelines, pointing out that many men give false information to gain permission from the courts and deny their wives' right to refuse to consent to additional marriages.
Nong Darol Mahmada, a gender rights activist, underscores that most married men resort to lies when they start mulling over taking a new wife. She says the practice has in reality resulted in poor familial conditions for many wives and children.
"In many cases, domestic violence occurs in polygamous marriage," said commissioner Suparno.
Debate rages on
Opponents of male polygamy vociferously stress that the tradition is completely at odds with modernity. They argue that the institutionalization of men's right to more than one sexual partner perpetuates gender inequality that favors men's entitlement within marriage over women's.
Beyond concerns related to legality and gender rights, there is the issue of reaching an arrangement which is satisfactory to all the parties involved in a polygamous union.
Experts say husbands and wives in polygamous marriages are in constant negotiations over sexual and emotional attachments. The arrangement, they note, doesn't usually lead to satisfactory relations between husbands and wives or between co-wives, with sexual jealousy toward each other strongly influencing their relationships.
Proponents of male polygamy, though, claim that it is a justified means of satisfying a man's sex drive, and is a more honest and preferable alternative to having sex outside of marriage and hiding mistresses and illegitimate children.
While some explicitly refer to the Islamic faith to justify their right to take an additional wife, it is difficult to gauge the effect of religiosity on the tendency to engage in polygamy. Scholars underscore the fact that Islam is used to argue both for and against the custom.
In some places, reports suggest that religious leaders and imams influence village men not to take multiple wives and to remain monogamous. Deeply religious men may also be reluctant to marry more than one wife if they feel they cannot meet the requirements and responsibilities laid down in Islamic law for taking additional wives.
The debate surrounding polygamy due to the launch of AyoPoligami comes amid growing conservatism among Indonesian Muslims - a trend that experts say undermines the social progress on women's rights.
"People are always choosing religion as a reference point in their lives. And if religion is dominated by male scholars with patriarchal tendency, then people will automatically follow their teachings," said Suparno.
http://www.dw.com/en/ayopoligami-polygamy-in-indonesia-made-easier-with-new-app/a-40802610
--------
Sahadah Ilah sect deviates from Sunni teachings, says NS Mufti
October 4, 2017
NILAI, Oct 4 — The Negeri Sembilan Fatwa Committee has recently decided that the teachings of 'Sahadah Ilah' or 'Sahadah Allah' by Sheikh Ismail Kassim deviated from the teachings of the Ahli Sunnah Wal Jamaah.
State Mufti Datuk Mohd Yusof Ahmad said following the decision, the man was banned from conducting the group's activities in the state.
"The Negeri Sembilan Islamic Religious Affairs Department's (JHEAINS) enforcement division has been informed of the decision for further action. Currently, the department, together with the police, are monitoring the situation," he told reporters here today.
Mohd Yusof was commenting on reports on the man's teachings being spread via his Facebook account.
The mufti said he and several members of the Negeri Sembilan Fatwa Committee and the fatwa research panel had several meetings with the man, who hailed from Sabah, asking him to explain his teachings, but failed to get his cooperation.
Full report at:
http://www.themalaymailonline.com/malaysia/article/sahadah-ilah-sect-deviates-from-sunni-teachings-says-ns-mufti#uOhP7RsIEyoZIHiI.97
--------
Umno unfazed by DAP's presence at '4 All' dialogue, says Annuar Musa
October 5, 2017
BUKIT MERTAJAM, Oct 5 — Umno was unfazed by the presence of a DAP member at its 'Dialogue Perjuangan 4 All' in Balik Pulau and Permatang Pauh recently and even acknowledged him favourably.
Penang Chief Minister's Information officer Zaidi Ahmad was Umno Information chief Tan Sri Annuar Musa's subject at a press conference after the '4 All' dialogue at Wisma Transformasi Permatang Pauh here last night.
He said Zaidi, a former pilot with the Royal Malaysian Air Force had asked him the same question about the United States Department of Justice's report on the 1Malaysia Development Berhad (1MDB).
"He already asked me the question on Tuesday night in Balik Pulau and I had given him the answer. Last night he was present again (Permatang Pauh) and asked the same question. We did not dismiss him but explained to him again.
"In fact, I told him that we welcomed the Opposition's presence if an explanation was what they wanted," he told reporters here.
Meanwhile, Annuar also reminded Umno members in Penang against being misled by the hate politics played up by DAP.
He said Umno must prove that the party was a responsible party and would continue to champion the people's interests alongside other Barisan Nasional components.
Full report at:
http://www.themalaymailonline.com/malaysia/article/umno-unfazed-by-daps-presence-at-4-all-dialogue-says-annuar-musa#xDWZO0rA8GFpf8Fr.97
--------
'Tinder for polygamists': Indonesian firm angers with app for multiple marriages
5 October 2017
A new Tinder-like dating app for wannabe polygamists is courting controversy in Indonesia, the world's largest Muslim-majority nation, where such unions are legal but largely seen as taboo.
The application, which has been downloaded 50,000 times since its release this May, is marketed as an online platform to match male and female users ready to be part of a "big family".
Ironically, says the app's creator, 35-year-old Lindu Cipta Pranayama, it was the growing rate of divorce that inspired his creation.
"In Islam, polygamy is permitted," he says, "But what happens in Indonesia, if the wife isn't willing to share her husband with another woman is eventually they'll get divorced."
With a homepage featuring an illustration of a bearded man in between four women in Islamic headscarves, the site, argues its creator, has been designed to help smooth the process for men seeking more than one wife.
Upon registration to ayopoligami.com male users have the option of ticking a box claiming they have obtained permission from their first wife to enter a polygamous relationship – although men without that permission can also join.
Under Indonesia's 1974 marriage law polygamy is conditionally permitted, allowing a man to have up to four wives.
Codified in law but ultimately decided by the religious courts, to marry a second wife a man must obtain written permission from his first wife, and prove that he can financially support his burgeoning family, as well as treat his wives "justly," among other requirements.
Given the stringent conditions, in reality most polygamous unions in Indonesia are carried out unofficially, and not always harmoniously.
In late August a second wife in the sharia-ruled province of Aceh fatally stabbed a first wife, who police said had approached her husband to ask him for money.
People that have downloaded the polygamy dating app are predominately from Indonesia, but also neighbouring Malaysia and Singapore.
Pranayama is targeting his app to lead to 50 marriages this year, but so far the ratio of users – 80 percent male, 20 percent female – isn't entirely favourable.
Ayopoligami, which is also open to widows, widowers and singles, and is linked to a dating group on the encrypted app Telegram, has received mixed reviews from users.
Women's rights activists have criticised the new innovation, with one Islamic professor, Siti Ruhaini Dzuhayatin, telling the Guardian that men in Indonesia only use polygamy to "justify their immoral practices".
Despite the absence of reliable data, Nina Nurmila, author of the 2009 book "Women, Islam, and Everyday Life, Renegotiating Polygamy in Indonesia," estimates that about five percent of Indonesia's population is engaged in polygamous unions.
"It doesn't sound like much, but Indonesia is huge," she says, of the country's population of more than 250 million, "Even 2-3 percent is a lot!"
The social stigma around polygamy in Indonesia means that such unions are normally hidden from the public eye. But Nurmila says the practise appears to be making a bit of a comeback, at least online, where she has noticed a wave of conservative blowback.
"In the last five months I have started to regularly receive memes and pictures promoting polygamy," she says, "These fundamentalist groups are responding to what many feminists have done in the country, trying to counter what we do."
In the face of mixed reviews, including that his app might be part of a growing tide of fundamentalism, or a technological tool that helps excuse adultery, Pranayama isn't too fazed.
It's not polygamy that is wrong, he argues, but the deception that often surrounds it.
Full report at:
https://www.theguardian.com/world/2017/oct/05/tinder-for-polygamists-indonesian-firm-angers-with-app-for-multiple-marriages
--------
Iran-Funded Centre a Lifeline for Jakarta's Marginalized Shia Minority
October 04, 2017
JAKARTA, INDONESIA —
The first month of the Islamic calendar, Muharram, is not a very big deal for most Indonesians, outside of New Year's Day. But every night of Muharram since it started on Sept. 21, hundreds of Shia Muslims have come together at a tile-clad building in South Jakarta to ceremonially mourn the death of the prophet Muhammad's grandson.
They listen to a live or streaming sermon in Bahasa Indonesia or Farsi and pray, often tearfully.
The mourning rites of Muharram are an important Shia tradition, but as Indonesia's Shia minorities face growing intolerance, they have steadily lowered their profile. So this month's nightly gatherings at the Islamic Cultural Center (ICC), which was built in 2002 with funding from Iran, are among the largest sites of Shia activity in the whole country.
Over 99 percent of Indonesian Muslims belong to the Sunni denomination, but that belies Shia cultural influence in the world's largest Muslim-majority country. (Sunni and Shia are the two major Muslim denominations, which diverged early in Islamic history over a debate on the rightful successors to the prophet.)
Shia Islam may have been the first strain to reach Indonesia, through Arab traders who reached Aceh around the 12th century, and Shia traditions like ancestor worship and feast days for saints are still observed in pockets across Indonesia, even by Sunnis.
But most of Indonesia's roughly one million Shia are concentrated in the Jakarta metro area, and the ICC is a nexus of their community.
Iranian Outpost in Indonesia
ICC, clad in blue and white ceramic tiles imported from Iran, is handily the most striking building on its drab, but busy, South Jakarta road. It's open seven days a week and has a large Indonesian-language library, decorated with photos of the Ayatollah of Iran and framed posters for Iranian tourist sites.
Ali Hussain Alatas, the ICC's secretary, is a Hadrami, Yemeni diaspora who have lived in Indonesia for centuries, often as prosperous traders. He grew up in Central Java and studied for five years in Qom, Iran, the global center of Shia scholarship.
"In Jakarta, we rarely have problems carrying out our activities, whether they are classes or religious celebrations," said Alatas, over cups of tea at the Center. "We maintain good relations with Nahdlatul Ulama, Muhammadiyah, and the government. But cultural understanding has really decreased in recent years."
ICC offers classes in religion, Arabic, and Farsi, and facilitates scholarships to Iran. It has also become an inadvertent community center for Jakarta's sizable refugee community from Afghanistan, Pakistan, and Iran, many of whom have been trapped in Indonesia for years after Australia closed its maritime borders to refugees in 2014.
There were hundreds of young Afghan men and families last Thursday night at ICC, enough to spill out from the Farsi sermon to the steps outside.
Growing Intolerance
In 2012, an East Java branch of the National Ulama Council issued a fatwa against Shia Muslims, calling them deviants, and the same year, several Shia were driven out of their homes. There has been a trickle of anti-Shia violence since then, and in 2014, a "National Anti-Shia Alliance of Indonesia" was founded in Bandung, West Java.
"Our goal is to provide information to Muslims throughout Indonesia about the Shi'ite heresy… and awaken Muslims who have been affected by Shi'ite heresy to return to the true teachings of Islam according to the Qur'an," said Athian Ali Muhammad Da'i, a Javanese cleric who leads the Alliance.
When pressed for reasons why he felt Shi'ism posed a threat to Indonesia, he listed contract marriages, which he claims have created an epidemic of HIV and fatherless children in Iran, and a "culture of self-harm" during the Muharram mourning rituals, which he said were "so inhuman, even animals do not do it."
Culture Wars
Just a five-minute walk from ICC is LIPIA, the Saudi-funded university that opened in 1980 and is a major outpost of Saudi proselytization in Indonesia. This makes a narrow strip of Warung Jati Barat Road a microcosm of the Muslim world's arch-rival spheres of influence.
Iran and Saudi Arabia have been waging cultural proxy wars ever since the 1979 Iranian revolution: both are large, oil-rich theocracies with aspirations to set the agenda for the global Muslim community.
Alatas said the ICC's location was just a coincidence, but went on to denounce "Wahhabism," a derogatory label applied to Saudi Salafism.
"There is growing intolerance against our community, when Islamic radicalism arising from Saudi Wahhabi beliefs is the real threat," he said.
He claimed that LIPIA students sometimes come to discreetly browse the ICC library, perhaps, he said, seeking an alternative to the puritanical ideology taught at LIPIA.
Iran's imprint on modern Indonesia is negligible compared to that of Saudi Arabia, whose institutions have supported some of the nation's most prominent conservative politicians and independent figures, like Habib Rizieq Shihab, leader of the thuggish Islamic Defenders Front.
The growing popularity of Saudi Salafism has often been linked to intolerance against Shia and Ahmadiyya, another Muslim minority group, in Indonesia. But it's not quite so simple: several mainstream, so-called "moderate" Indonesian organizations like Nahdlatul Ulama embrace anti-Shia rhetoric too.
"The National Ulama Council has distributed pamphlets against Shia and Ahmadiyya," said Noorhaidi Ismail, a professor at State Islamic University of Yogyakarta. "The government has developed an anti-Shia discourse because they periodically need a common enemy. In my opinion, it is not the Salafis who are responsible for this intolerance."
"Being Shia in Indonesia… sometimes it's easy, sometimes it's hard," said Rohma, a 40-something Indonesian woman who cleans ICC during the day. She converted to Shi'ism after working in Saudi Arabia for five years, during which she developed a distaste for Salafism and eventually the Sunni faith in general.
Full report at:
https://www.voanews.com/a/iran-funded-center-helpful-to-shia-community/4055767.html
--------
Mideast
Bomb planted by Kurdish militants; killed four Turkish soldiers
Oct 5, 2017
A bomb planted by Kurdish militants ripped into a military vehicle, killing four soldiers and wounding four more, as they travelled in southeast Turkey near the border with Iran on Wednesday morning, local authorities said.
Kurdistan Workers Party (PKK) militants were behind the attack, which occurred in the Yuksekova district of Hakkari province, the provincial governor's office said in a statement.
Security sources said a large number of armoured vehicles were sent to the site of the blast. The governor's office said the wounded were being treated at a nearby hospital.
More than 40,000 people have been killed since the PKK launched its separatist insurgency in 1984. It is designated a terrorist group by Turkey, the United States and European Union.
The collapse of a peace process between the state and the PKK brought an end to a ceasefire in July 2015 and thousands have been killed in renewed fighting since then across mainly Kurdish southeast Turkey.
http://nation.com.pk/international/04-Oct-2017/bomb-planted-by-kurdish-militants-killed-four-turkish-soldiers
--------
4 soldiers killed as bomb blast hits Turkey's Hakkari
Oct 4, 2017
A bomb explosion has hit Turkey's southeastern Hakkari Province, leaving four soldiers dead and four others injured.
Turkey's Hurriyet Daily News website reported that the blast took place in Hakkari's Yuksekova district on Wednesday and the wounded soldiers were taken to hospital.
The provincial governor's office blamed the incident on the outlawed Kurdistan Workers' Party (PKK) and said that a large number of armored vehicles were dispatched to the region to capture the perpetrators of the bombing.
Over the past few years, Turkey has seen a rise in terror attacks targeting civilians and security forces. Most of the assaults were claimed either by the PKK militants or Daesh terrorists.
Turkey has banned the PKK as a terrorist organization. The militant group has been calling for an autonomous Kurdish region since 1984. The conflict has left more than 40,000 people, mostly Kurds, dead.
A shaky ceasefire between Ankara and the PKK that had stood since 2013 was declared null and void by the militants in 2015 in the wake of a large-scale Turkish military campaign against the group. Attacks on Turkish security forces have soared ever since. Turkish air force has been carrying out operations against PKK positions in the country's troubled southeastern border region as well as in northern Iraq and neighboring Syria.
http://www.presstv.ir/Detail/2017/10/04/537421/Turkey-Hakkari-PKK
--------
US, foreign powers after creation of new Israel: Leader
Oct 4, 2017
Leader of the Islamic Revolution Ayatollah Seyyed Ali Khamenei says the United States and Israel benefit from the recent referendum in Iraq's Kurdistan region, stressing Washington and foreign powers seek to create a new Israel.
"The United States and foreign powers are untrustworthy and seek to create a new Israel in the region," Ayatollah Khamenei said.
The Leader made the remarks in a meeting with Turkish President Recep Tayyip Erdogan in Tehran on Wednesday.
Ayatollah Khamenei stressed that holding the Kurdish vote in Iraq was an act of betrayal against the region and posed a threat to the future of the Middle East, warning about the long-term repercussions of the vote for Iraq's neighbors.
"Iran and Turkey should take every possible measure against the move and the Iraqi government, too, should make decisions and take serious action," the Leader said.
Ayatollah Khamenei said enemies were trying to keep Iran and Turkey away from major regional developments, noting foreign powers and Israel have been seeking to create contention between regional countries.
The Leader said Iran-Turkey cooperation on major developments in the Muslim world was highly significant and instrumental.
Ayatollah Khamenei expressed satisfaction with Tehran-Ankara cooperation during the Astana talks on Syria, which he said had resulted in the improvement of the situation in the Arab country.
The Leader, however, raised the alarm that the issue of Daesh and Takfiri terrorists would not be solved unless a long-term and genuine plan was adopted.
Elsewhere in his remarks, the Leader also called for further promotion of economic ties between Iran and Turkey.
For his part, Erdogan underscored the need for a powerful alliance between Iran and Turkey in the region.
Touching on Iraq's Kurdish session vote, the Turkish president said Ankara, Baghdad and Tehran should take joint action against the move.
Based on undisputable evidence, the US and Israel have reached a general agreement on the Kurdish session vote, Erdogan said, regretting that Iraq's Kurdish leader Massoud Barzani had made an unforgivable mistake.
He said the independence vote was unacceptable to Iraq's neighbors.
He also said that the US, France and Israel were after disintegration of countries in the Middle East to reap their own benefits, adding that they sought the same plot for Syria.
Full report at:
http://www.presstv.ir/Detail/2017/10/04/537485/Iran-Ayatollah-Khamenei-United-States-new-Israel-Iraq-referendum-Erdogan
--------
Turkey sentences 40 to life in jail over Erdogan death plot
Oct 5, 2017
ISTANBUL - A Turkish court on Wednesday handed life sentences to 40 people convicted of plotting to assassinate President Recep Tayyip Erdogan at a luxury Aegean hotel during last year's failed coup.
Thirty-one defendants, including senior military officers, were each given four life sentences at the trial in the southwestern city of Mugla, the private Dogan news agency reported. They include former brigadier general Gokhan Sahin Sonmezates who was accused of directing the plot. Former elite commando Zekeriya Kuzu, who was famously found hiding in a cave four days after the failed coup, also received a life term.
A further nine defendants each received a single life sentence, Dogan added. Another key figure in the trial, Erdogan's former military aide-de-camp Ali Yazici, was sentenced to 18 years in jail. Just one suspect out of 47 in total, former lieutenant colonel Huseyin Yilmaz, was acquitted.
- 'It's enough' -
The trial began on February 20 and is one of many such processes taking place across Turkey to try those who allegedly took part in the failed bid to oust Erdogan on July 15, 2016.
Some verdicts have already been handed out in lower-profile cases but it is the first ruling involving alleged top plotters.
The failed coup left 249 people dead, not including the putschists, and the authorities have vowed no compromise will be made in bringing those involved to justice.
Two police officers were killed by the so-called "assassination team" while guarding the hotel.
Guzel Eker, the mother of one of the officers Nedip Cengiz Eker, described her relief and pain at the verdict.
"I am burning inside. It is enough for me that they have been given life sentences," she said, quoted by state-run Anadolu news agency.
Over 50,000 people have been arrested under the state of emergency imposed following the coup bid during a heavily criticised crackdown which has raised fears over Turkey's justice system in the West.
Turkey accuses Pennsylvania-based Muslim cleric Fethullah Gulen of orchestrating the attempted coup. Gulen, a former Erdogan ally turned arch-foe, strongly denies Ankara's claims.
Some of the suspects, including Sonmezates, admitted taking part in the coup bid during the trial but denied any links to Gulen.
Gulen was also on trial in absentia in Mugla. But the judge separated his case from the trial along with two other suspects.
Ravza Kavakci Kan, ruling Justice and Development Party deputy leader, praised the judicial process after hearing the verdict in court.
"This gives us hope that the courts are delivering verdicts after this ugly, treacherous coup attempt," she said, quoted by Anadolu.
One of the lawyers representing the prime ministry, Halit Cokan, said the verdict stemmed from an "open trial" and demonstrated "Turkey was a state with the rule of law".
- '15 minutes from death' -
Erdogan has said the assassination plot left him minutes from death after he fled the Grand Yazici Hotel in Marmaris, where he had been holidaying with his family, and went back to Istanbul by plane.
"If I had stayed 10 or 15 additional minutes there, I would have been killed or I would have been taken," Erdogan told CNN in an interview just days after the coup.
But some commentators have cast doubt on whether the president was in such immediate danger as the "assassination team" only arrived at the hotel well after he had left.
According to the parliamentary commission that investigated the coup plot, a 34-man team of putschists arrived at Erdogan's hotel at 3.20 am (0020 GMT). But Erdogan landed in Istanbul at 3.40 am (0040 GMT).
Some Erdogan supporters had called for the plotters to face the death penalty, which Turkey abolished in 2004 as part of its bid to join the European Union.
Full report at:
http://nation.com.pk/international/05-Oct-2017/turkey-sentences-40-to-life-in-jail-over-erdogan-death-plot
--------
Iran Asks Iraqi Kurdistan Officials to Compensate for Wrong Decisions
Oct 04, 2017
"Iran and Turkey don't accept at all exacerbation of ethnic and religious differences and separatist moves which have been plotted by the conspirators and aliens for our region, and in the two countries' views, Iraq is a unitary country and Syria is a unitary state too," President Rouhani said at a joint press conference with his Turkish counterpart Recep Tayyip Erdogan in Tehran on Wednesday.
Stressing that Tehran and Ankara don't accept change in geographical borders at all, he said, "Iraq's Kurdistan is one of our good neighbors and brothers and we don't want to put any pressure on the people in the Iraqi Kurdistan region, but some wrong decisions that certain leaders of this (Iraqi Kurdistan) region have taken should be revised and compensated."
In relevant remarks on Tuesday, Iranian Defense Minister Brigadier General Amir Hatami underlined that his country will boost cooperation with Iraq in the fight against any moves to disintegrate the country, warning the separatists that playing into the US and Israel's hand is doomed to failure.
"The Islamic Republic of Iran is opposed to separatism in Iraq and distortion of the country's borders and we consider the separatist stream as harmful to the regional security and don't spare any efforts to safeguard the regional countries' territorial integrity and stability and today that this destructive stream has been formed in Iraq, we will certainly have more extensive cooperation with that country to confront such moves," General Hatami said, addressing a ceremony in Tehran.
Noting that attempts to disintegrate the regional countries is the other side of the coin of terrorism, he said that the countries and regimes which have organized the terrorist groups in the region are now supporting secession.
Full report at:
http://en.farsnews.com/newstext.aspx?nn=13960712001443
--------
Turkish president arrives in Tehran for talks with Iranian officials
Oct 4, 2017
Turkish President Recep Tayyip Erdogan has arrived in the Iranian capital, Tehran, for discussions with the country's senior officials on issues of bilateral and regional significance.
Iranian President Hassan Rouhani officially welcomed his Turkish counterpart in Tehran on Wednesday.
Erdogan is accompanied by a high-ranking delegation of four Turkish cabinet ministers of economy, energy, customs and culture as well as Turkish investors and business owners.
Apart from political issues, bilateral economic ties will top the agenda of the planned talks between the Iranian and Turkish officials.
The two neighboring countries are key economic partners and plan to enhance their annual trade volume to $30 billion.
According to the head of Iran-Turkey Commerce Chamber, Reza Karami, Iran-Turkey trade volume in the first eight months of 2017 was over $7.25 billion. During the period, Iran's exports to Turkey amounted to $5.15 billion, while imports from the country reached $2.1 billion.
The two countries have also taken measures to forge closer military cooperation.
Just prior to Erdogan's visit, Turkish Chief of General Staff Hulusi Akar visited Tehran, where he sat down for talks with senior Iranian officials, including President Rouhani and Iranian Defense Minister Brigadier General Amir Hatami.
Akar's visit followed a trip by Chief of Staff of the Iranian Armed Forces Major General Mohammad Baqeri to Turkey in mid-August.
Erdogan's visit, his second in three years, comes at a critical juncture on the regional political stage.
Both Iran and Turkey have raised concerns about a secession push by Iraq's semi-autonomous Kurdistan region.
Full report at:
http://www.presstv.ir/Detail/2017/10/04/537435/Iran-Turkey-Erdogan
--------
Arab World
Russian strike kills 38 fleeing civilians in Syria
Oct 5, 2017
BEIRUT - A Russian air strike killed 38 civilians on Wednesday as they tried to cross the Euphrates river to escape fighting in eastern Syria's Deir Ezzor province, a monitor said.
The Syrian Observatory for Human Rights, based in Britain, said nine children were among those killed as they tried to cross the river aboard rafts, escaping from areas where Russian-backed regime forces are battling the Islamic State group. The monitor, which earlier gave a toll of 20 in the strikes, said the dead included an Iraqi family.
Deir Ezzor borders Iraq and civilians have fled into the province to escape the battles against IS in their own country.
Two campaigns are being fought against IS in east Deir Ezzor, with one on the western side of the Euphrates river that slices diagonally across the province led by Syrian troops and backed by ally Russia.
The second is being fought by the US-backed Syrian Democratic Forces, an alliance of Kurdish and Arab fighters, on the eastern bank of the river.
The Observatory relies on a network of sources inside Syria, and says it determines whose planes carry out raids according to type, location, flight patterns and munitions used.
The group has reported hundreds of civilians killed in operations against IS in Deir Ezzor and neighbouring Raqa province, where the SDF is fighting with US support to capture the former militant bastion Raqa city.
On Tuesday, the Observatory said a US-led coalition strike in Raqa killed at least 18 civilians.
The coalition says it takes all measures possible to avoid civilian casualties and that it investigates each credible allegation.
Meanwhile, the Syrian army and allied fighters drove the Islamic State group from their last positions in the central province of Hama on Wednesday after heavy fighting, a monitor said.
The Syrian Observatory for Human Rights, a Britain-based monitor of the war, said IS was no longer present anywhere in the province for the first time in three years.
The army, backed by ally Russia, launched a campaign against IS in Hama in early September, capturing some 50 villages and the strategic town of Uqayribat, the Observatory said.
"On Wednesday, regime forces managed to take control of all the last remaining villages in the hands of Daesh (IS) in eastern Hama province after more than a month of fierce clashes between the two sides," Observatory director Rami Abdel Rahman said.
The monitor said more than 400 IS fighters and nearly 190 Syrian soldiers and allied militiamen had been killed in the fighting.
There was no immediate announcement in Syrian state media, but the Al-Watan newspaper, which is close to the government, reported that "the army has taken complete control of eastern Hama province." "Daesh is no longer present in Hama province," it added. The government holds large parts of Hama province, and all of the provincial capital. But militants and other rebels hold pockets of territory in the northeast and south.
IS's loss of Hama province comes after they were forced in June to withdraw from their last positions in Aleppo province further north.
The militant group is also facing multiple offensives elsewhere in the country.
The US-backed Syrian Democratic Forces, an alliance of Kurdish and Arab fighters, is battling to oust IS from their onetime stronghold of Raqa.
The SDF is also fighting IS in neighbouring Deir Ezzor province, where the regime is waging its own campaign against the militant group as well.
More than 330,000 people have been killed in Syria since the conflict began with anti-government protests in March 2011.
http://nation.com.pk/international/05-Oct-2017/russian-strike-kills-38-fleeing-civilians-in-syria
--------
Fresh US-led airstrikes leave 15 Syrian civilians dead in Raqqah
Oct 4, 2017
More than a dozen civilians have been killed after the US-led coalition purportedly fighting the Daesh Takfiri terrorist group carried out a series of aerial assaults in Syria's militant-held northern city of Raqqah.
The Arabic-language Syria Now news website reported that 15 people were killed on Wednesday, when US-led warplanes targeted a residential building in the al-Kahroba neighborhood of the city, located about 455 kilometers (283 miles) northeast of the capital Damascus.
The development came only a day after 21 civilians lost their lives and 14 others sustained injuries in US-led aerial attacks against al-Tausiyah neighborhood of Raqqah.
The city of Raqqah, which lies on the northern bank of the Euphrates River, was overrun by Daesh terrorists in March 2013, and was proclaimed the center for most of the Takfiris' administrative and control tasks the following year.
It is estimated that some 300,000 civilians are trapped inside Raqqah, including 80,000 displaced from other parts of Syria. Thousands have fled in recent months, and the United Nations Office for the Coordination of Humanitarian Affairs believes about 160,000 people remain in the city.
On June 6, the US-backed militiamen from the so-called Syrian Democratic Forces (SDF) said they had launched an operation aimed at pushing Daesh out of Raqqah.
The US-led coalition has been conducting airstrikes against what are said to be Daesh targets inside Syria since September 2014 without any authorization from the Damascus government or a UN mandate.
The military alliance has repeatedly been accused of targeting and killing civilians. It has also been largely incapable of achieving its declared goal of destroying Daesh.
The so-called Syrian Observatory for Human Rights reported on September 23 that more than 2,800 civilians had been killed in US-led airstrikes across Syria over the past three years.
The Britain-based monitoring group reported that 427 people, including 137 minors and 113 women, were killed in the aerial attacks between May 23 and June 23 this year.
The US-led air raids also resulted in the injury of hundreds of civilians, some of whom suffered permanent disabilities and had to have their limbs amputated.
The aerial raids caused massive destruction of residential buildings and civilian infrastructure as well.
Full report at:
http://www.presstv.ir/Detail/2017/10/04/537480/Fresh-USled-airstrikes-leave-15-Syrian-civilians-dead-in-Raqqah
--------
Hezbollah commander killed in clashes with Daesh in Syria
Oct 4, 2017
The Lebanese Hezbollah resistance movement says one of its senior commanders has been killed during clashes with Takfiri Daesh terrorists in central Syria.
Hezbollah said on Wednesday that 44-year-old Ali al-Hadi al-Ashiqon, also known by his nickname Alhaj Abbas, was martyred in Syria's central desert of Palmyra on Monday, AP reported.
The resistance movement has played a critical role in the Syrian military's counter-terrorism operations over the past few years.
Daesh elements have lately retreated from much of the territory under their control amid sweeping advances by Syrian government forces on the battlefield.
On Friday, Syrian troops, backed by allied forces, foiled a Daesh attempt to wrest control of a strategic road connecting Palmyra to the eastern city of Dayr al-Zawr.
"The Syrian army and its allies completely secured the Dayr al-Zawr-Palmyra highway after foiling the intense attack," a Hezbollah media unit said.
Russia strike kills terrorist commanders
Separately on Wednesday, Russia said its latest air raid in Syria had critically injured one of the leaders of the so-called Tahrir al-Sham militant group and killed a dozen of his field commanders as well as around 50 of his bodyguard.
Russian Defense Ministry spokesman Major General Igor Konashenkov said in a statement that Abu Mohamad al-Golani was targeted in an intelligence-led special operation while he was meeting his commanders.
"As a result of the strike, the Nusra Front leader, Abu Mohamad al-Golani, sustained numerous shrapnel wounds and, having lost an arm, is in a critical condition, according to information from several independent sources," he said.
Golani was the head of the Nusra Front terrorist group before it merged with other militant outfits to form the so-called Tahrir al-Sham in January 2017.
Full report at:
http://www.presstv.ir/Detail/2017/10/04/537447/Syria-Lebanon-Hezbollah-Daesh-Russia
--------
Syrian Army Drives Terrorists out of Several Heights in Eastern Homs
Oct 04, 2017
The army units and Qalamoun Shield Forces carried out a joint offensive against ISIL in Eastern Homs and managed to take control over Mount al-Mahsah, Mount Jabil and Fat'ha al-Mahsah region.
In the meantime, the army soldiers engaged in fierce clashes with the terrorists near al-Sukhnah and the town of al-Quaryatayn, killing over 100 terrorists and capturing tens of others.
Field sources reported that the army has dispatched a large number of forces and a large volume of equipment to areas near al-Sukhnah and has created a strong circle of forces around the town to prevent ISIL from moving towards Palmyra (Tadmur) city.
Earlier reports said that the army soldiers took control over the villages of al-Jaberiyeh and Baraqa al-Nashmeh North of the village of Um al-Rish.
Full report at:
http://en.farsnews.com/newstext.aspx?nn=13960712001029
--------
Iraq forces retake centre of ISIS bastion Hawija
5 October 2017
Iraqi forces said Thursday they had retaken the center of ISIS group stronghold Hawija and were pushing forward in their assault on one of the last ISIS enclaves in the country.
Troops, police and paramilitaries "liberated the whole of the center of Hawija and are continuing their advance," the operation's commander, Lieutenant General Abdel Amir Yarallah, said.
Government and allied forces backed by a US-led coalition launched an offensive last month to oust ISIS from Hawija, a longtime insurgent bastion.
The town is among the final holdouts from the territory seized by the militants in 2014 and its recapture would leave only a handful of remote outposts in ISIS hands.
The United Nations said on Tuesday that an estimated 12,500 people had fled the town since the launch of the offensive to retake Hawija and surrounding areas last month.
The UN's humanitarian affairs office said the number of people still in the town was unknown but could be as high as 78,000. It said humanitarian agencies have set up checkpoints, camps and emergency sites capable of receiving more than 70,000 people who could flee.
Full report at:
https://english.alarabiya.net/en/News/middle-east/2017/10/05/Iraq-forces-retake-center-of-ISIS-bastion-Hawija-.html
--------
Saudi Arabia arrests 46 people amid crackdown on dissent
Oct 5, 2017
Saudi Arabia has detained 46 people over their posts on social media amid a heavy-handed crackdown on dissent in the Arab kingdom.
The official Saudi Press Agency reported on Wednesday that 22 people were arrested for "inciting public opinion" on social media and other offenses, such as posting content and videos online.
The report said that investigations had been launched into the individuals' goals, adding that a Qatari citizen was among the detainees.
It also noted that another 24 people were arrested in the northwestern province of Ha'il for "exploiting social networking sites to promote lies and exaggerations" with the goal of provoking "sedition and tribal tensions."
Saudi Arabia has launched a severe crackdown on dissent over the past few years, detaining a large number of prominent clerics and activists.
The arrests also come amid speculation that King Salman bin Abdulaziz Al Saud may abdicate in favor of his son, Crown Prince Mohammed bin Salman.
They also come just over a week after a gender-mixed celebration of Saudi national day in September which, according to analysts, was aimed at highlighting Riyadh's social and economic reform push, dubbed "Vision 2030."
Full report at:
http://www.presstv.ir/Detail/2017/10/05/537510/saudi-arabia-dissent-crackdown
--------
North America
US, Israel afraid of independent Iran: Chomsky
Oct 4, 2017
The United States and Israel cannot tolerate Iran as an "independent force" and that is why Washington and its allies have been "tormenting" the people of Iran over the past decades, says prominent American scholar Noam Chomsky.
In an interview excerpted from his upcoming book Global Discontents: Conversations on the Rising Threats to Democracy, Chomsky discussed the real reasons behind his country's years-long animosity towards Iran, dismissing as mere smokescreens Washington's objections to Iran's nuclear program and its support for resistance groups in Lebanon and Palestine.
"Iran has long been regarded by US leaders, and by US media commentary, as extraordinarily dangerous, perhaps the most dangerous country on the planet," Chomsky said in response to a question by David Barsamian, the book's co-author.
The scholar noted that Washington's doctrinal system tends to introduce Iran as a "dual menace" that "is the leading supporter of terrorism, and its nuclear programs pose an existential threat to Israel, if not the whole world."
Support for 'terrorist' groups
Chomsky explained that America's branding of Iran as a state sponsor of terror was based on Israel's interests.
"In the real world, Iranian support for terrorism translates to support for Hezbollah, whose major crime is that it is the sole deterrent to yet another destructive Israeli invasion of Lebanon, and for Hamas, which won a free election in the Gaza Strip—a crime that instantly elicited harsh sanctions and led the US government to prepare a military coup," he argued.
Rather ironically, the philosopher pointed out to America's unconditional support for Saudi Arabia, which he described as "a brutal dictatorship, miserably repressive" committing "disgraceful atrocities in Yemen."
The US has been providing weapons and intelligence to the Riyadh regime over the course of its more than two-year-long aggression that has killed more than 12,000 Yemeni civilians.
Iran's nuclear program
Chomsky dismissed US claims that Iran was in possession of nuclear weapons and said any concerns in this regard had been alleviated by Tehran's own calls for destroying all weapons of mass destruction (WMDs) in the Middle East region.
"Such a zone is strongly supported by the Arab states and most of the rest of the world and is blocked primarily by the United States, which wishes to protect Israel's WMD capabilities," he said.
Real reasons behind Washington's animus
The renowned historian said the "true reasons" behind America's hostility towards Iran were the country's growing regional influence and the 1979 Islamic Revolution that led to the ouster of US-backed monarch Mohammad Reza Shah.
"The United States and Israel cannot tolerate an independent force in a region that they take to be theirs by right," he argued. "An Iran with a nuclear deterrent is unacceptable to rogue states that want to rampage however they wish throughout the Middle East."
Chomsky said Washington was still angry about the Iranian people's removal of Shah, "the dictator installed by Washington."
"Iran cannot be forgiven for overthrowing the dictator installed by Washington in a military coup in 1953, a coup that destroyed Iran's parliamentary regime and its unconscionable belief that Iran might have some claim on its own natural resources."
Citing more instances of US double standards, Chomsky noted that former US President George H. W. Bush had invited Iraqi nuclear experts to the US for advanced training in nuclear weapons production.
'Tormenting' Iranians
Chomsky said Washington's enmity towards Iran has been an ongoing trend over the past six decades and "scarcely a day has passed when Washington was not tormenting Iranians."
"After the 1953 military coup came US support for a dictator described by Amnesty International as a leading violator of fundamental human rights," he said.
After that, the Unite States, under then President Ronald Reagan, directly helped Iraq's former dictator Saddam Hussein with his military invasion against Iran, which lasted for eight years.
"Hundreds of thousands of Iranians were killed, many by chemical weapons. Reagan's support for his friend Saddam was so extreme that when Iraq attacked a US ship, the USS Stark, killing 37 American sailors, it received only a light tap on the wrist in response. Reagan also sought to blame Iran for Saddam's horrendous chemical warfare attacks on Iraqi Kurds," Chomsky added.
Anti-Iran sanctions, Trump presidency
After the Iran-Iraq War, Washington tried to pressure Iran by resorting to harsh economic sanctions.
"Washington has been the driving force behind harsh sanctions against Iran that continue to the present day," he added.
The situation has only gotten worse under current US President Donald Trump, Chomsky said, adding that the US president "has joined the harshest and most repressive dictators in shouting imprecations at Iran."
Trump committed to destroying planet: Chomsky
Although Trump has on many occasions threatened Iran and imposed new sanctions against the Islamic Republic in order to weaken a landmark nuclear deal it signed with six world powers in 2015, Chomsky said the animus went beyond the billionaire-turned-president.
"It includes those regarded as the 'adults' in the Trump administration, like James 'Mad Dog' Mattis, the secretary of defense. And it stretches a long way into the past."
http://www.presstv.ir/Detail/2017/10/04/537502/Iran-US-Chomsky-JCPOA-Trump-nuclear-deal-sanctions
--------
180 House Dems ask Trump to certify Iran nuclear deal
Oct 5, 2017
At least 180 members of the US Congress have called on President Donald Trump to endorse the Iran nuclear deal, saying an American withdrawal from the pact would be against the interests of the United States and its allies.
Led by Florida Representative Ted Deutch and North Carolina Representative David Price, about 180 House Democrats signed a letter to Trump on Wednesday urging him to recertify the nuclear deal, unless he can present "credible evidence of a material breach" of it by the Iranians.
The lawmakers wrote there has been no tangible evidence that Iran has violated any elements of the nuclear pact, officially known as the Joint Comprehensive Plan of Action (JCPOA), which puts some restrictions on Iran's nuclear program in exchange for the removal of nuclear-related sanctions.
The letter comes just days before Trump has to report to Congress whether or not Iran is complying with the nuclear deal. If he argues that Iran is not in compliance, that could cause an American withdrawal from the international pact.
The International Atomic Energy Agency (IAEA) has recently reported that Iran is complying with the agreement.
In their letter to Trump, the lawmakers said that "absent credible and accurate information confirming a material breach, we are concerned that withholding certification of Iran's compliance or walking away from the [nuclear deal] would harm our alliances, embolden Iran, and threaten US national security."
They added that so far, no such evidence has been presented to Congress. They ended their letter by asking Trump to implement "vigorous enforcement" of the nuclear deal.
During a Senate hearing on Tuesday, US Defense Secretary James Mattis said Trump must consider remaining a party to the nuclear deal because the international accord serves US interests.
Last month, US Secretary of State Rex Tillerson admitted that Tehran was in "technical compliance" with the 2015 nuclear agreement.
The remarks by the Pentagon chief and the top US diplomat were in sharp contrast with Trump's assessment that the nuclear agreement is an "embarrassment" to the US.
Trump has desperately sought a pretext to scrap or weaken the JCPOA, and get rid of the limits it imposes on the US ability to pursue more hostile policies against Iran.
The US Republican president faces an October 15 deadline for certifying that Iran is complying with the deal. Such certification is needed by US law every 90 days in order for Congress to continue to withhold nuclear-related sanctions against Iran, itself a US commitment under the JCPOA.
The Trump administration has twice so far certified Iran's compliance with the deal, but if he refuses to do that for a third time, then the Republican-controlled Congress will have 60 days to decide whether to re-impose sanctions waived under the deal. That would allow Congress to effectively decide whether to kill the deal.
This is while the other parties to the deal, along with the entire international community, have thrown their weight behind the accord, praising the Islamic Republic for its full commitment to its side of the bargain.
European envoys fight for Iran nuclear deal
According to reports, the British, French, German and European Union ambassadors to the US were to hold a meeting with Democratic senators on Capitol Hill on Wednesday night.
British Ambassador Kim Darroch was in Congress on Wednesday with his French, German and EU counterparts meeting with US lawmakers "to provide information on the European position on the JCPOA," a British embassy official told Reuters.
Former Undersecretary of State and lead Iran negotiator Wendy Sherman and former Energy Secretary Ernest Moniz and Treasury Secretary Jack Lew were also scheduled to participate in the discussions via videolink.
Full report at:
http://www.presstv.ir/Detail/2017/10/05/537521/180-House-Dems-ask-Trump-to-certify-Iran-nuclear-deal
--------
US Senator Cotton calls on Trump to decertify Iran nuclear deal
Oct 4, 2017
US Senator Tom Cotton has called on the administration of President Donald Trump to decertify the 2015 Iran nuclear agreement, just hours after US Defense Secretary James Mattis said the US should remain in the international accord.
Cotton, a Republican from Arkansas and a member of the Senate Armed Services Committee, told an audience at the Council of Foreign Relations (CFR) on Tuesday that Trump was correct in calling the deal "a direct national security threat."
"Put simply, this deal only makes sense if you assume, contrary to all experience, that Iran will evolve into a peaceful, law-abiding regime in ten years," Cotton said at CFR, a New York-based think tank specializing in US foreign policy.
During a Senate hearing on Tuesday, Mattis said Trump must consider remaining a party to the nuclear deal because the international accord serves US interests.
The remarks by the Pentagon chief were in sharp contrast with Trump's assessment that the nuclear agreement is an "embarrassment" to the US.
Trump has desperately sought a pretext to scrap or weaken the nuclear deal, known as the Joint Comprehensive Plan of Action (JCPOA), and get rid of the limits it imposes on the US ability to pursue more hostile policies against Iran.
The US Republican president faces an October 15 deadline for certifying that Iran is complying with the deal. Such certification is needed by US law every 90 days in order for the Congress to continue to withhold nuclear-related sanctions against Iran, itself a US commitment under the JCPOA.
The Trump administration has twice so far certified Iran's compliance with the deal, but if he refuses to do that for a third time, then the Republican-controlled Congress will have 60 days to decide whether to re-impose sanctions waived under the deal. That would let Congress effectively decide whether to kill the deal.
Full report at:
http://www.presstv.ir/Detail/2017/10/04/537476/US-Senator-Tom-Cotton-Trump-Iran
--------
Tillerson working to keep US in Iran deal: Report
Oct 4, 2017
US Secretary of State Rex Tillerson has reportedly been working on a plan to keep the United States in a 2015 multilateral nuclear deal with Iran despite vociferous rhetoric against the agreement by his boss, President Donald Trump.
The CNN on Tuesday cited several US officials and Western diplomats as saying that Tillerson is working with congressional lawmakers to amend US legislation that requires the US president to report on Iranian compliance with the deal every three months.
The deal, known as Joint Comprehensive Plan of Action (JCPOA), was struck in July 2015 and began being implemented in January the next year. Apart from Iran and the US, the other parties to the agreement are France, Russia, Germany, China, and the UK.
Trump, who ran for presidency on the Republican ticket, has long despised the deal in part because he perceives it as a legacy of Democratic former president Barack Obama. Since taking office a year after the deal took effect, Trump has twice certified Iranian compliance under the specific American law that Tillerson is now reportedly planning to have amended.
Those two certifications have been offered only half-heartedly, and indications are that a third one — due shortly in mid-October — may not be forthcoming.
All the other parties to the deal have been citing repeated reports by the International Atomic Energy Agency (IAEA) — the official institution in charge of verifying Iranian compliance — to stress that the deal is working and must stand.
The US would thus risk losing the partnership of its European allies and Russia and China if it went ahead with a unilateral withdrawal from the JCPOA. Observers have long considered that prospect to be one that would seriously dent the US's stature and credibility.
Perhaps mindful of that unsavory outcome, Tillerson has been working centrally with Senate Foreign Relations Committee Chair Bob Corker to amend the so-called Iran Nuclear Agreement Review Act of 2015, under which the US president has to report Iranian compliance to the Congress every 90 days.
Corker, an early opponent of the deal who cosponsored the bill, has more recently said the US would be isolated if it withdrew unilaterally from the JCPOA while Iran was in compliance with it.
One senior administration official said, "Tillerson has said the problem with the JCPOA is not the JCPOA. It's the legislation."
Tillerson reportedly told foreign ministers from the six other parties to the deal about the contours of his plan during a meeting held on the sidelines of the United Nations General Assembly (UNGA) meeting in September.
Under the deal, Iran agreed to apply certain limits to its nuclear program, and in return, the US, the United Nations and the European Union terminated all nuclear-related sanctions against Tehran.
Trumpian opposition
Trump, who campaigned mainly on a platform of undoing every major achievement of his predecessor, has previously threatened to "rip up" the Iran deal, has called it "the worst deal ever," and, most recently, called it an "embarrassment" to the US.
During his first address to the UNGA last month, Trump labeled the deal "one of the worst and most one-sided transactions the United States has ever entered into."
Observers believe the US president has effectively boxed himself in with the harsh rhetoric, and Tillerson's plan may be a face-saving way out.
According to the CNN report, Tillerson wants the bill to change so that presidential verifications of Iranian compliance would not be required and that, instead, the US administration would regularly report on other Iran-related issues, such as its missile defense program and regional activities.
The CNN said "several US officials" had told the news network "that the White House has seemed open to the plan."
But it was unclear how far Tillerson's plan could go. He has had his differences of opinion with Trump, and the US president has in the past displayed impetuous behavior on matters of policy.
Meanwhile, US Defense Secretary Jim Mattis has said Trump's administration has to consider remaining a party to the Iran deal.
Mattis is an Iran hawk. His tour in the United States Central Command was in 2013 cut short by the Obama administration, "which believed he was too hawkish on Iran," according to The New York Times.
Full report at:
http://www.presstv.ir/Detail/2017/10/04/537412/US-Tillerson-plan-Iran-deal
--------
Somali man charged in Canada attack was ordered deported from US
4 October 2017
The Somali immigrant charged with attempted murder in connection with a weekend vehicle and knife attack in Edmonton, Alberta, was detained in the United States pending deportation before claiming refugee status in Canada, US officials said on Tuesday.
Abdulahi Hasan Sharif, 30, is accused of running down a police officer with his car on Saturday night and then stabbing him repeatedly. Police said he fled before driving a U-Haul truck into four pedestrians during an attempt to evade capture.
Sharif was in custody in the United States for about four months in the summer and autumn of 2011, US Immigration and Customs Enforcement (ICE) spokeswoman Lauren Mack said in a statement.
He was ordered deported to Somalia but released on an "order of supervision" on Nov. 23, 2011. Sharif did not appear for a scheduled meeting in January 2012, and efforts to locate him "were not successful," the statement said.
Sharif "had no known criminal history at the time of his encounters with ICE," the ICE statement added.
Canadian Public Safety Minister Ralph Goodale said Sharif made a refugee claim at a Canadian border crossing in 2012 and obtained refugee status later that year.
In 2015, a complaint led police to probe Sharif's alleged extremist ideology, but officers found no grounds for criminal charges after what the Royal Canadian Mounted Police described as an "exhaustive investigation."
Goodale said on Monday it would be wrong to blame the attack on any shortcomings in Canada's immigration and refugee vetting system.
Sharif, who faces 11 charges including five counts of attempted murder, appeared via video in an Edmonton court on Tuesday wearing an orange jail uniform. He had a Somali interpreter, although he did not speak.
He occasionally looked down or clasped his hands in front of him and still bore facial bruises that police say he sustained while evading capture.
A community leader, Mahamad Accord, who did not speak to Sharif but learned about him from the local Somali community, said Sharif was from a Somali ethnic minority and little known in the community.
Edmonton police did not immediately respond to a request for comment.
Full report at:
https://english.alarabiya.net/en/News/world/2017/10/04/Somali-man-charged-in-Canada-attack-was-ordered-deported-from-US.html
--------
Europe
Germany redeploys anti-ISIS surveillance jets to Jordan
5 October 2017
Germany on Wednesday moved four Tornado jets flying surveillance missions against ISIS to Jordan after withdrawing them from Turkey amid a bilateral dispute, the defense ministry said.
Berlin decided in June to pull out the contingent after Ankara repeatedly denied German lawmakers the right to visit about 250 German troops then stationed at Turkey's Incirlik NATO base near Syria.
As part of the move to Jordan, Germany reduced the Tornado fleet that takes high-resolution images of potential ISIS targets from six aircrafts to four, citing the jihadist group's reduced strength.
"In a few days the surveillance jets will resume their missions for the coalition partners in the fight against ISIS," a German defense official said.
Long tense German-Turkish ties plunged to a new low after last year's failed coup against President Recep Tayyip Erdogan and the subsequent crackdown on alleged plotters and state enemies.
Turkey had previously denied German lawmakers the base visits because of anger over Germany's parliament labelling the Ottomans' World War I-era massacre of Armenians a "genocide" in June 2016.
Germany joined more than 20 other countries in doing so.
Armenians say that 1.5 million of their people were killed by Ottoman forces from 1915 in the first genocide of the 20th century.
Turkey vehemently rejects any use of the word genocide, saying that up to 500,000 Armenians died when they rose up and sided with invading Russian troops in World War I.
https://english.alarabiya.net/en/News/middle-east/2017/10/05/Germany-redeploys-anti-ISIS-surveillance-jets-to-Jordan.html
--------
Russia accuses US of supporting, 'flirting with' Daesh in eastern Syria
Oct 4, 2017
Russia has accused the US forces of providing intelligence to the Daesh Takfiri terrorists in eastern Syria, saying Washington is clearly "flirting" with the terrorist group.
"The main obstacle to completing the defeat of Islamic State (Daesh) in Syria is not the military capability of the terrorists but the support for them, and flirtation with them, by the United States," Major General Igor Konashenkov, a spokesman for Russia's Defense Ministry, said on Wednesday.
Konashenkov made the comments after a group of Syrian forces came under a series of attacks by Daesh in the province of Dayr al-Zawr, where Syria is trying to push the terrorists out of their last strongholds in the region.
The Russian general said the attacks on the Syrian government forces had come from an area near the border with Jordan where the US maintains a military mission.
Konashenkov said Daesh had the precise coordinates of the Syrian forces before the attack and that such information could only have been obtained through aerial reconnaissance.
"If the United States views such operations as unforeseen 'coincidences,' then the Russian air force in Syria is prepared to begin the complete destruction of all such 'coincidences' in the zones under their control," Konashenkov said.
Russia has been a major backer of Syria's fight against terrorists over the past two years. The US and allies in the West have repeatedly criticized Russia's assistance, which came at an official request by Damascus in September 2015 and has led to crucial wins against militants.
Full report at:
http://www.presstv.ir/Detail/2017/10/04/537473/Russia-Syria-Daesh-US
--------
Johnson criticized for his provocative remarks about Libya
Oct 4, 2017
British Foreign Minister Boris Johnson has come under fire for saying that the Libyan city of Sirte could be a tourist site should it clear the dead bodies.
Johnson made the provocative remarks in a side meeting at the Conservative Party conference in Manchester on Tuesday.
"They literally have a brilliant vision to turn Sirte, with the help of the municipality of Sirte, to turn it into the next Dubai. The only thing they've got to do is clear the dead bodies away and then they'll be there," he said.
His remarks drew laughter from some activists from Prime Minister Theresa May's party, but then the chair of the event changed the subject by saying, "Next question."
Johnson's gaffe has provoked strong backlash, with some describing his comments as unacceptable and some others calling for his resignation.
"For Boris Johnson to treat those deaths as a joke -- a mere inconvenience before UK business people can turn the city into a beach resort -- is unbelievably crass, callous and cruel," said the shadow foreign secretary, Emily Thornberry.
Backbench Conservative lawmaker Heidi Allen along with Anna Soubry, a former Tory cabinet minister, also called on May to "sack" Johnson.
Allen's cabinet colleagues Damian Green and Sarah Wollaston joined her in criticizing Johnson.
Green told Sky News that "everyone, including Boris, needs to be careful in their use of language," while Wollaston told a BBC Radio channel that "demeaning jokes about real people murdered in Libya would be crass even from a standup; appalled to hear this from our foreign secretary."
Johnson, in response, not only did not apologize but attacked his critics on Twitter, saying, "Shame people with no knowledge or understanding of Libya want to play politics with the appallingly dangerous reality in Sirte."
Damian Green, the first secretary of state, defended Jonson, but said he should have been more careful in choosing his words.
He said that "the bodies he was referring to are often Daesh fighters who have been booby-trapped."
However, Jeremy Hunt, the health secretary, said he could not defend Johnson's views, noting, "Boris is Boris and that was very unfortunate language. I don't want to defend that."
Johnson's political career has been dominated by blunt comments and personal controversy.
Sirte, the major stronghold of Daesh outside Iraq and Syria, fell to the Takfiri terrorists in February 2015. The full recapture of the city would be a major boost to the unity government, which has come to office through support from the United Nations.
Full report at:
http://www.presstv.ir/Detail/2017/10/04/537449/UK-British-Foreign-Minister-Boris-Johnson--Libya
--------
Russia remains committed to Iran nuclear deal: Putin
Oct 4, 2017
Russian President Vladimir Putin says his country will continue to support the 2015 Iran nuclear deal because the Islamic Republic has honored all of its commitments.
"All reports of the International Atomic Energy Agency (IAEA) say that Iran fully meets all its commitments. We are guided by these considerations and will back the deal, which was brokered under the previous US administration, although we had many differences on other issues," Putin said Wednesday, during a plenary session of the Russian Energy Week-2017 international forum.
Known as the Joint Comprehensive Plan of Action (JCPOA), the landmark deal followed marathon talks between Iran and the P5+1 group of countries—the US, the UK, France, Russia, China and Germany—and went into effect in January last year.
The accord put some limitations on Iran's peaceful nuclear program in exchange for the removal of all nuclear-related sanctions against the country.
While the JCPOA is widely viewed as a highlight of former US President Barack Obama's eight years in office, his successor Donald Trump has spared no efforts to undermine it.
In his debut United Nations General Assembly speech last month, Trump denounced the deal as "a horrible agreement" and said Tehran was not "living up to the spirit" of it.
The American head of state's claims contradicted with numerous IAEA reports that confirm Iran's commitment to the terms of the agreement.
Putin said during his speech that only the IAEA, as an influential organization recognized by the world community, could determine what parties were in compliance with the deal.
"Now all countries meet their commitments... and we will support this deal," the Russian president said.
Russia handling Kurdistan situation with care
Elsewhere, Putin addressed the Iraqi Kurdistan region's bid for independence from the Arab country, saying Moscow was handling the situation with care.
"Our statements are somewhat careful and cautious since we don't want to aggravate or blow up the situation," Putin argued. "Everything that is happening inside a country is its own affairs."
Referring to threats by Turkey, a firm opponent of the secession bid, to block oil exports from the region, Putin cautioned against moves that would "affect global energy markets."
"This will affect global energy markets, and the prices will go up. But I think few are interested in that, and therefore we should closely follow what happens in real life," he added.
Defying international concerns about partitioning Iraq and undermining the ongoing fight against terrorist groups in the country, the Kurdistan Regional Government held a controversial independence referendum on September 25.
Anti-Russia sanctions harming global economy
The Russian leader also discussed the economic sanctions imposed on Russia by the US and its European allies, saying such "unilateral" sanctions are used for unfair competition and have global consequences.
"Some of our partners are using a number of restrictions, unilateral, financial and the so-called 'sectoral' sanctions, for unfair competition," the Russian president said.
Russia urges 'mutually beneficial' relations with US
"An adverse impact of such steps is evident for the world's economy at large and for the whole global energy sector," he added.
The sanctions followed the 2014 reunification of the Crimean Peninsula with Russia in a referendum.
Double standards in war on terror
Putin also gave a separate speech on Wednesday in Krasnodar, where he discussed the global war on terror.
Pointing to the rising number of terror attacks across the world, he said the international community needed to abandon double standards and adopt an "integrated approach" in fighting terrorism.
"We support an integrated approach to countering terrorism, the spread of its ideology and funding illegal armed groups, as well as rejection of the double standard policy in the fight against the major modern threat," the Russian president said.
"We call on the global community to carry out key resolutions of the UN Security Council in this sphere," Putin noted.
Full report at:
http://www.presstv.ir/Detail/2017/10/04/537472/Russia-Putin-Iran-nuclear-deal-JCPOA-Kurdistan
--------
Russia probing Daesh claims about captive soldiers in Syria
Oct 4, 2017
Russian authorities have launched an investigation into claims by the Daesh Takfiri terrorist group that it has taken captive two Russian soldiers in eastern Syria.
Russia's Foreign Ministry said on Wednesday that it was working to determine the identity and whereabouts of the two individuals Daesh claimed were Russian soldiers, who it had captured in the province of Dayr al-Zawr.
The two men were shown in a video released on Wednesday. Moscow swiftly denied that any of its military personnel were under the captivity of Daesh.
The Kremlin also said it was looking into reports that one of the men depicted in the Daesh video was a member of a paramilitary Russian group called the Great Don Army. Dmitry Peskov, the spokesman for Russian President Vladimir Putin, said authorities were treating the reports from the Cossack unit's with caution.
"Moscow is concerned about those individuals in case they are actually Russian citizens," he said, adding that the statement from the paramilitary unit had no official value but authorities would still look into reports.
The Great Don Army, which has been linked to the Russian military in the midst of a conflict in eastern Ukraine over the past few years, said it did not know how its member identified as Roman Zabolotny ended up in Syria. Moscow has repeatedly denied any links to the group while also dismissing reports that it dispatched private security firms to fight alongside Syrian government troops. Russian authorities say there might be citizens in Syria who are fighting on their own initiative.
Full report at:
http://www.presstv.ir/Detail/2017/10/04/537467/Russia-Daesh-captives-Syria
--------
After Edmonton, we must learn how to fight extremism
By AHMED SAHI
Wed., Oct. 4, 2017
"Cry havoc, and let slip the dogs of war."
Since the dreadful Paris attacks of 2015 that killed 130 and really set off the "Islam vs. the West" narrative, a barrage of pundits and political figures throughout the western world have been suggesting that perhaps it's time to declare societal war with Islam.
The seemingly endless succession of terror attacks this year – including the recent heinous attack in Edmonton – has resulted in a major spike in anti-Islam sentiment, as evidenced by a poll released last week, and is looking to some like a turning point in the relationship between the West and Islam.
Some are now calling for a re-examination of not only how Islam and Muslims are perceived in western countries, but even how they ought to be treated by Western governments.
In France, Britain, Germany, Sweden and other parts of Europe, the drums for social confrontation against Islam boom louder seemingly every day. The tension in France and the U.K is particularly high as large Muslim populations have been tainted by small pockets of extremist-leaning Imams who cause rallies vilifying the governments and cultures of those countries.
Accordingly, those countries have seen the rise of apprehension toward Muslims, leading their governments to enact legislation aimed at muting the presence and "threat" of their Muslim populations, including a veil ban in France.
But in Canada, we need to remember that Western attitudes need not be monolithic on their views of Islam and Muslims, and on how Muslims should be treated and what role they have in the social fabric.
We're the country with the "little mosque on the prairie." Has any other western country ever endeared Islam in such a way? Portrayed the humanity and belonging of Muslims in such a pop-culture and mainstream manner?
No – that's Canada for you. And that's why "we stand on guard for thee." Muslims love this country for so many reasons like this.
Canada is the new beginning – the fresh start. Why must we then make the same mistakes of the parent nations whence this nation was born?
Why burden ourselves with the social discord that other nations have festered over centuries?
In the wake of the Manchester, London and Paris attacks, there's been a marked rise in the amount and severity of sentiment from some commentators in Canada, echoing the chorus of reaction from other western nations, in calling for a toughened and less accommodating approach in governmental and social attitudes towards Muslims.
We shouldn't squander the freshness of our country – which is itself the biggest promise we have. Canada today is a model for the whole world, a living example of immigration and multiculturalism that has flourished and become the envy of all.
That said, it is true that we are now faced with one of the greatest issues of our generation, a new and shadowy foe in the form of radicalization, and we will be judged not by how we did when times were rosy, but rather when times got tough.
Ultimately, the battle against home-grown extremism is multi-faceted and so too should our approach be.
First and foremost, there's nothing like on-the-ground intelligence gathering. Recently, I was approached by someone conducting a study on radicalization to sit down for a discussion. A few seconds after we started dinner, the man notified me he was a CSIS agent trying to gather information on the subject. I was taken aback, but during the course of that discussion, I realized just how effective this type of intelligence gathering – not from remote recordings and distant data collection, but from practical on-the-ground efforts – can be to get a true heartbeat on the situations and people at play.
Just as important, to be able to properly identify at-risk individuals and develop grassroots ways to tackle radicalization, there are many aspects to what this type of support and facilitation could entail. One of the prime areas is informational awareness campaigns that help to correct wrongly held notions about concepts such as "jihad" and "holy war" and "caliphate" which are leveraged by ideological recruiters to misguide susceptible youth.
The other important aspect of this information battle is the online frontier. That's where most of the recruiting and proliferation of radical ideology is happening, and we need to know how to not only track, but engage and counter the forces in the online battleground we call social media.
In the end, it all boils down to who can win the war of information that this whole phenomenon of homegrown extremism centres on, because ultimately it's not about guns or surveillance, it's about the ideas.
Full report at:
https://www.thestar.com/opinion/commentary/2017/10/04/after-edmonton-we-must-learn-how-to-fight-extremism.html
--------
Africa
Five dead in suicide bombing in Libya's Misrata
4 October 2017
At least five dead in suicide attack in Libya's Misrata, and more than 20 wounded at a court complex in the Libyan city.
Libyan media sources reported that ISIS militants conducted a double suicide bombing in Misrata. ISIS has claimed the attack in the Libyan city of Misrata, the militant group's news agency Amaq said.
It said fighters loyal to the group had attacked a court building in the city where shooting and an explosion were reported.
The sources said a suicide bomber detonated an explosive vest inside the building, which is in the centre of Misrata, a coastal city about 200 kilometres (125 miles) east of Tripoli.
The damage caused by a suicide attack was carried out by two terrorists, reported Libya Al Aan.
Security source Ali al-Ghubaini, said two terrorists blew themselves up following a clash with members of the security in the city, reported Al Arabiya.
Al-Ghubaini added on his facebook page, that the two explosions resulted in minor injuries among police officers, and the clashes are still ongoing.
A witness said he believed the attackers had used rocket propelled grenades, and that their identity was not clear.
Local media reported earlier gunfire and an explosion.
According to local media reports, the bombings and clashes have killed five people, including court employees and injured dozens of others, as these clashes continue in the courtyard surrounding the court complex.
The pictures, which were circulating on social media showed the effects of the bombings on the courthouse and the vehicles parked in its vicinity.
A medical source from Misrata Central Hospital told Al Arabiya that the health sector in the city is in a state of maximum alert, calling on the people to donate blood, as many victims have serious injuries.
https://english.alarabiya.net/en/News/middle-east/2017/10/04/Three-dead-and-at-least-20-wounded-in-Libyan-city-of-Misurata.html
--------
17 dead in Nigeria boat capsize
Oct 5, 2017
KANO:- At least 17 people drowned when a boat ferrying around 60 passengers capsized in northwest Nigeria, the National Emergency Management (NEMA) said on Wednesday. The boat smashed into a tree trunk in the rain-swollen River Niger on Tuesday. "So far 17 bodies have been removed from the water, 12 yesterday and another five this morning", NEMA coordinator Suleiman Karim told AFP. Another 17 passengers were rescued by emergency workers and local divers, Karim said. –AFP
"We are still searching for at least 26 people because the 60-passenger boat was full at the time of the accident", he said.
http://nation.com.pk/international/05-Oct-2017/17-dead-in-nigeria-boat-capsize
--------
3 US commandos killed, 2 injured near Mali border in Niger
Oct 5, 2017
Three US Army special operations commandos have been killed and two others injured in Niger
Colloquially known as the Green Berets, the special forces came under fire in the West African country on Wednesday, sources told the Associated Press.
The forces were near the capital Niamey when the incident happened, officials said on condition of anonymity.
The two wounded ones were reportedly taken to a hospital in Niamey, where they remained in a stable condition.
The Takfiri members of the so-called al-Qaeda in the Islamic Maghreb were tapped as the possible attackers.
Five Nigerien soldiers were among the dead, said Namatta Abubacar, an official for the region of Tillaberi in Niger
The forces were allegedly part of a joint US-Nigerien patrol, operating north of Niamey and near the Mali border, when they came under "hostile fire," according to statement released later by the US Africa Command.
They are supposedly providing "training and security assistance" to the Nigerien Armed Forces to fight against violent extremists and terrorists there.
The US Army's measures in the impoverished country involve "support for intelligence, surveillance and reconnaissance (ISR) efforts," read the statement.
According to the White House, US President Donald Trump was notified of the deadly ambush as he was flying aboard Air Force One from Las Vegas to Washington Wednesday night.
"We are working to confirm details on the incident and will have more information as soon as we can confirm facts on the ground," a spokesman for the US Africa Command told The Washington Post.
A Niger diplomatic source also told Reuters the attackers had crossed the border from Mali.
Full report at:
http://www.presstv.ir/Detail/2017/10/05/537509/3-US-commandos-killed-in-Niger
--------
Pastor Nevers Mumba says Islam plans to 'invade' Zambia
October 5, 2017
VICTORY Ministries founding leader Pastor Nevers Mumba says Muslims have a well-planned strategy to infiltrate Zambia and the rest of Southern Africa.
Reacting to story published in last edition of The Church (Issue 182) concerning the unprecedented growth of Islam in Zambia, Pastor Mumba said the threat of Islam in the country is not an imagination but a reality.
Statistics show that Islam has been spreading in Zambia as a faster rate than it was previously thought. Estimations show that there could be as many as a million Muslims in Zambia. Islam is employing various strategies to grow their religion in Zambia.
And according to Pastor Mumba who is also an opposition leader, Muslims have an objective of taking over nations.
"Let me tell you something. The threat covering the whole lot of Africa is not an imagination. It's a reality. It's not just a threat. It's a plan which has been mooted over many years. And Islam is steadily moving from the Northern part, across Africa to the Southern of Africa. And Zambia because of its roots in the Christian faith has become one of the most difficult areas to penetrate for Islam," observed Pastor Mumba.
Pastor Mumba revealed that Islam is using money to buy off politicians so that they allow Islam to penetrate a country with ease.
"However, the strategy that Islam is using in a way is far more superior than what the Christians are using. If you have noticed, Islam do not even use crusades to change nations or take over Africa like Christians are using… just church and crusades. Islam has gone to another level. Islam realizes that if they take over nations at the governmental level, then it becomes easier for them to take over those nations without a single crusade," said Pastor Mumba.
He added: "All they do is realize that in 5 years' time, they will be an election in Zambia for instance. Then Islam, according to their strategy, they are going to look around for a candidate that is either Muslim and if there is no Muslim, they are going to find a candidate whom they are going to fund whose commitment will be to spread Islam and allow it to thrive in that country. So, they support a presidential candidate and other members of parliament in order for them to get hold of the country. So, this is how they are doing it. So, from the State Houses of Africa, Islam is controlling the legislature, the judiciary, its controlling the land distribution and thereby having strategies to take over the continent."
Pastor Mumba lamented that Muslim nations like Saudi Arabia appear to have taken over the Zambian government through such strategies.
But Pastor Mumba called on Christians in the country to rise to the occasion and make sure that Zambia is not fully infiltrated by Islam.
"On the side of us Christians, we have a problem. We have limited God to the church walls and a few crusades that we have. We have decided to make our preachers the superstars that are thriving, getting rich and showing that 'we are doing very well…we are prophets. We are making a lot of money.' And yet we have no strategy to take over nations.
"I will give you my own example, I have been an evangelist for many years. An evangelist goes into dark areas to reveal Christ and bring light. I went into politics because it's a dark area where light is needed. Unfortunately some Christians do not realize is that by taking over government, then you are starting to influence that nation with Godly values and Godly legislation.
"So, if we don't take over our countries and allow Christians of morality and integrity to govern our country, then I think that Islam will come into this country in the manner that we have never experienced.
Full report at:
https://www.lusakatimes.com/2017/10/05/pastor-nevers-mumba-says-islam-plans-invade-zambia/
--------
India
Yogi Adityanath uses 'love jihad' to target Left in Kerala
By Liz Mathew
October 5, 2017
A day after BJP president Amit Shah launched a padayatra against political violence in the Left-dominated regions in Kerala, UP Chief Minister Yogi Adityanath on Wednesday raked up the issue of "love jihad" and said the soil of Kerala is set to turn into the "soil of saffron and nationalism".
"CPM says this soil is red because it is blood-soaked. But it will not last like this. I am telling you this soil will turn into soil of saffron and nationalism," Adityanath said at a rally in Kannur on the second day of BJP's fortnight-long padayatra.
Referring to "love jihad" — the alleged trend of Muslim boys tricking girls from other religions into marriage — Adityanath said the Left government in Kerala has not taken effective measures to contain it.
Read | Pinarayi to BJP: You have not understood Kerala, we are ready for any challenge
"The High Court in the state had given instructions to the state. Now the Supreme Court too has observed through various judgments that love jihad exists in Kerala and Karnataka," Adityanath said, adding, "Kerala (government) has not taken any effective measure to contain it."
"Now let NIA probe it. Doodh ka doodh, paani ka paani hone do (Let the truth come out)," Adityanath said during the padayatra.
He asserted that the communists were set to be wiped out from Kerala in the face of BJP's political challenge.
"Kannur in Malayalam means land of tears. But I warn you that in the coming days it will be the CPM that will have to shed tears because they are going to be defeated," Yogi said at a public meeting Wednesday evening.
Adityanath, who started his address by referring to Sabarimala and Padmanabhaswany temples, accused the ruling Left of trying to make Kerala a hub of "jihadi terrorism".
"Violence has no place in democracy. If CPM believes in democracy, it has to answer to these murders. Democracy is about discussions and consensus…They raise slogans of secularism. But in the guise of secularism, they are trying to make this state a hub of Jihadi terrorism," Adityanath said at the public meeting at the end of the padayatra. "But BJP will not let it happen. We have to strengthen our fight against such jihadi activism."
Addressing the public meeting, BJP general secretary Arun Singh alleged that the political violence and the murders in the region were backed by the CPM government. "BJP workers in the state will be supported by party workers across the country," Singh said.
Read | In small state like Kerala, 300 died of dengue: Yogi Adityanath
Adityanath is one of the top leaders the BJP leadership has decided to field during the padayatra. MP CM Shivraj Singh Chouhan and his Maharashtra and Goa counterparts Devendra Fadnavis and Manohar Parrikar, respectively, Union Ministers Ananth Kumar, Smriti Irani, Dharmendra Pradhan, Narendra Tomar, Mahesh Sharma and V K Singh are among the other leaders expected to participate in the yatra.
While the BJP has been a marginal political player in Kerala, RSS has had deeper presence in the state. With the BJP in power at the Centre now, RSS is learnt to have been nudging it to raise the stakes in Kerala in a bid to expand its presence. In fact, the latest missive for this is learnt to have come to the BJP early in August.
BJP sources revealed that BJP's offensive against the Left government in Kerala was firmed up during a coordination meeting of top RSS functionaries — general secretary Bhaiyyaji Joshi, joint general secretaries Krishna Gopal and Dattatreya Hosabale — with BJP president Amit Shah during the monsoon session of Parliament.
During the meeting, the RSS leaders are learnt to have impressed upon the BJP chief to raise their political pitch against the "samyawadi, asahishnu shaktiyon" (communist and intolerant forces) in Kerala.
http://indianexpress.com/article/india/up-cm-yogi-adityanath-uses-love-jihad-to-target-left-in-kerala-4874887/
--------
India, Bangladesh foreign secys to meet, Rohingya issue on table
October 5, 2017
Bangladesh Foreign Secretary Shahidul Haque is likely to meet Foreign Secretary S Jaishankar on Thursday when the Rohingya crisis is expected to be discussed.
Haque, who arrived in New Delhi Tuesday, is also meeting Indian officials to deal with the Rohingya crisis, with which Dhaka is grappling because of the arrival of refugees.
The two foreign secretaries will also discuss possible dates for the visit of External Affairs Minister Sushma Swaraj to Dhaka for a joint consultative commission meeting, possibly around October 22-23.
Sources said that while the Rohingya issue will be one of the key matters to be discussed, both sides will review the entire gamut of bilateral relations.
This comes days after India reassured Bangladesh of extending "diplomatic and humanitarian" support on the Rohingya issue as Dhaka presented its case to the envoys of the UN Security Council member states here. More than 4.36 lakh refugees have crossed the border from Myanmar's Rakhine state since August 25 when a military crackdown was launched following attacks on security forces, allegedly by a Rohingya group.
"We are fully supportive of Bangladesh. We will continue to stand beside Bangladesh diplomatically and (in a) humanitarian way," India's High Commissioner to Bangladesh Harsh Vardhan Shringla said during an event to mark the signing of a cooperation deal between a Bangladeshi and an Indian health facility.
Swaraj had earlier expressed India's full support to Bangladesh's stance over the Rohingya issue as international concern grows over the fate of the refugees. A Bangladesh government official said this year's JCC meeting is "crucial" for the relations between the two neighbours.
Full report at:
http://indianexpress.com/article/india/india-bangladesh-foreign-secys-to-meet-rohingya-issue-on-table-4874911/
--------
J&K: Pakistan violates ceasefire in Poonch district, no casualties reported
October 5, 2017
Pakistan on Thursday yet again violated ceasefire in Jammu and Kashmir's Poonch district reported news agency ANI. Pakistan has been restoring to continuous unprovoked firing along the LoC in Poonch's Digwar district. No loss of life has been reported so far.
The incidents breaks after Pakistan on Wednesday summoned India's Deputy High Commissioner for the second time this week over the alleged "ceasefire violations" by Indian troops along the Line of Control which resulted in the death of two civilians.
Earlier, on Monday, two minors — 10-year-old boy and a 15-year-old girl — were killed and five other civilians were injured as the Pakistani troops opened mortar shelling along the Line of Control (LoC) in Poonch district of Jammu and Kashmir.
Full report at:
http://indianexpress.com/article/india/jk-pakistan-violates-ceasefire-in-poonch-district-no-casualties-reported/
--------
URL: https://www.newageislam.com/islamic-world-news/in-indonesia-mosque-church-foster/d/112778
New Age Islam, Islam Online, Islamic Website, African Muslim News, Arab World News, South Asia News, Indian Muslim News, World Muslim News, Women in Islam, Islamic Feminism, Arab Women, Women In Arab, Islamophobia in America, Muslim Women in West, Islam Women and Feminism