New Age Islam News Bureau
26 Nov 2013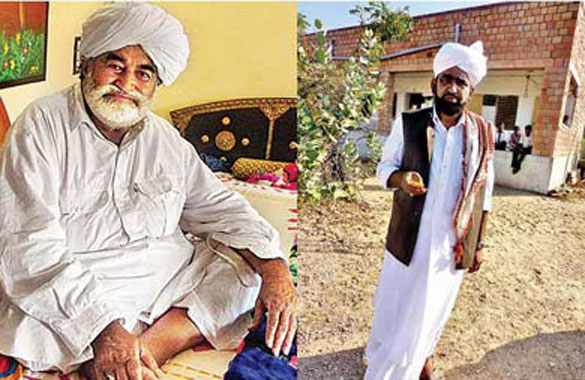 Ghazi Faqeer, Khalifa of Pir of Pagara, and Maulvi Abdul Malook, disciple of Shah Mehmood Qureshi influence over 5 lakh Muslim votes of Rajasthan
-----------
South Asia
• In Afghanistan, Stoning Of Adulterers May Be Legalised In New Law
• Jamaat-e-Islami men cut tendons of 3 Jubo League activists
• Radical Islamic group threatens more China attacks
• President Yameen not to interfere with judicial processes
• Jamaat men attack several handmade crude bomb police outpost in Satkhira
Africa
• Angola Denies It Banned Islam, Destroyed Mosques
• Islamic Militants Find 'Sin' at Nigerian Wedding
• Tensions Mount in Libya's Benghazi after Deadly Unrest
• Central African Republic 'descending into chaos' – UN
Southeast Asia
• Identifying Malay customs not in line with Islamic teachings
• Absence of Strong Political Icon Hurting Islamic Parties' Prospects in Next Year's Elections
• Sabah Christians to meet on Allah issue
• List un-Islamic Malay culture, Jaik urged
North America
• NYPD Forced To Produce Muslim Surveillance Records
• Obama takes on critics of Iran deal, praises diplomacy
• US says concerned with Egyptian law that restricts protests
• US warns Karzai it may leave no troops in Afghanistan
• Syrian people need new leadership, military no solution to violence: US
• Obama cites Indian-American's case to push for immigration reform
• CAIR-NY to Announce Article 78 Filing by Muslim Targets of NYPD Spying
Europe
• Important to bring 26/11 perpetrators to justice: UN official
• Jailed hate preacher Abu Qatada urges to continue jihad in Syria
• French spies planned to pose as neo-Nazis to assassinate Islamic hate cleric in London
• Council of Europe warns on Turkey freedoms
• Syria peace talks to take place without Assad: France
• NATO launches largest-ever cyber security exercises
Mideast
• Yemen air strike kills 12 'Qaida' militants: Ministry
• Istanbul Monastery 'To Be Turned Into Mosque'
• Iran hangs 16 in reprisal for Pakistan border killings
• Iran will start implementing nuclear agreement in weeks: Zarif
• Middle East unrest fuels Sunni-Shiite rift
Arab World
• The Syrian rebels who have 'no problem' fighting alongside Al Qaeda
• 11 dead in mortar fire on Aleppo: Syria state media
• No future role for Assad: Syria Opposition
• Egyptian army kills leading jihadi in northern Sinai
• Demonstrators defy Egypt protest law
• Syria rebels will not halt fighting for Geneva 2
• 'Mubarak-Era Back' as Egypt's Military-Backed Regime Bans Public Protest
• Journalists in Syria face growing risk of kidnap
• Saudi Arabia beheads Pakistani for drug trafficking
India
• Pakistan biggies hold influence over 5 lakh Muslim votes of Rajasthan
• After attack, fissures widened on how best to deal with Pakistan
• Lashkar-e-Taiba, 26/11 Villain and India's Enemy at the Gates
• Kidnapped officials of Delhi-based Company in Bangladesh militant hideout
• Indian delegation may visit Iran for discussions on urea plant
• CSI Mumbai: How the Americans helped crack the Lashkar code
• 26/11 Mumbai attacks: Five years on, life goes on at Leopold cafe
Pakistan
• 26/11 attacks: Pak lawyer says documents inadmissible, accused may walk free
• Pakistan Army targets militants in North Waziristan
• Former Pak PM declared fugitive in Bugti murder case
• Petition filed against Sharif in Pakistan for failing to end drone strikes
• Pakistan inducts indigenously built drones
• Altaf says it's time to demand shooting down of drones
• Some in Pakistan threatened by Turkish TV invasion
• NATO supplies will pass through my dead-body: warns Dasti
• Two killed in Quetta bus firing
Australia
• Sydney conference hears Australian Muslims experience higher rates of racism
Compiled by New Age Islam News Bureau
URL: https://newageislam.com/islamic-world-news/in-afghanistan,-stoning-adulterers-be/d/34603
------------
South Asia
In Afghanistan, Stoning Of Adulterers May Be Legalised In New Law
New Afghan law to revive stoning met with severe opposition from human rights group
Nov 25 2013
Kabul: A new law in Afghanistan that would bring back the inhuman punishment of death by stoning for moral crimes was the point of contention as human rights group Human Rights Watch (HRW) urged international donors to cut funding to the conflict-ridden nation if it seeks to return to the ways of its predecessor Taliban government.
The Taliban, which ruled in Afghanistan from the mid 1990s to 2001, ran a totalitarian regime trying to socially engineer Afghan society based on a unique interpretation of Sharia, Islamic religious law, that spelled out draconian punishments for people who failed to keep in line with it.
The Afghan committee of the Karzai government that is framing the new constitution, however, has refuted these allegations. A statement said the constitution is at best in its preliminary stages and could take up to two years to complete.
The concerned provision states if a couple is found by a court to have engaged in sexual intercourse outside a legal marriage, both the man and woman shall be sentenced to "stoning to death if the adulterer or adulteress is married." It further states that the "implementation of stoning shall take place in public in a predetermined location." If the "adulterer or adulteress is unmarried," the sentence shall be "whipping 100 lashes."
Brad Adams, Asia director of HRW, said, "It is absolutely shocking that 12 years after the fall of the Taliban government, the Karzai administration might bring back stoning as a punishment. President Karzai needs to demonstrate at least a basic commitment to human rights and reject this proposal out of hand."
Afghanistan made a commitment to uphold international standards of human rights after the end of the Taliban government in 2001 when power was transferred to a new government. It ratified several human rights conventions and is a sigNATO ry to the International Covenant on Civil and Political Rights.
This comes in the backdrop of hectic diplomatic engagement with the US for what will happen after foreign troops vacate Afghanistan in 2014.
http://www.indianexpress.com/news/new-afghan-law-to-revive-stoning-met-with-severe-opposition-from-human-rights-group/1199403/
------------
Jamaat-e-Islami men cut tendons of 3 Jubo League activists
26 Nov 2013
Men of Jamaat-e-Islami and its student wing Islami Chhatra Shibir severed tendons of three Jubo League activists at Khaerhat in Zianagar upazila under the district yesterday.
The victims are Bahadur Khan, 32, president of Jubo League unit of ward No 3 in Balipara union, its vice president Akman Sarder, 35, and activist Emran, 22.
Over a trivial matter, a group of Jubo League men beat up three Shibir men when they were going to Gosherhat Bazar in the Upazila on Saturday morning, police and locals said.
As a sequel to the incident, around 200 Jamaat-Shibir men attacked the Jubo League men, hacked them at different parts of body and cut tendons of their legs at Khaerhat, about a quarter kilometres from the house of convicted war criminal Delwar Hossain Sayedee, at 9:00am yesterday.
The attackers also tried to gouge two eyes of Akman. They also vandalised at least seven houses of Awami League (AL) men at Khan Bari and the AL office at Khaerhat during the incident.
On information, police rushed in and sent the victims to Pirojpur Sadar Hospital, said Nasiruddin Mollik, officer in charge of Indurkani Police Station.
Akman and Bahadur were shifted to Barisal Sher-e-Bangla Medical College Hospital as their condition deteriorated.
http://www.thedailystar.net/beta2/news/jamaat-shibir-men-cut-tendons-of-3-jubo-league-activists/
---------
Radical Islamic group threatens more China attacks
The Associated Press
November 26, 2013
A radical Islamic group seeking independence for the northwestern Chinese region of Xinjiang has warned of possible new attacks in Beijing.
The purported head of Turkistan Islamic Party, Abdullah Mansour, praised an Oct. 28 attack at Tiananmen Gate that killed two tourists and the three attackers. Mansour called the attack a "jihadi operation." However, it wasn't clear whether he was claiming the group planned the attack.
Mansour said future attacks could target the Great Hall of the People, China's legislative seat. He spoke in an 8 minute, 11 second video posted on the Internet on Nov. 12 and picked up by the Washington-based SITE Intelligence Group, which monitors jihadist websites.
Some observers question whether the group is capable of organizing attacks and even whether it exists in an organized manner.
Source: The Associated Press
http://www.lasvegassun.com/news/2013/nov/25/as-china-terrorist-threat/
-----------
President Yameen vows not to interfere with judicial processes before calling for cases to be expedited
By Mariyath Mohamed | November 25th, 2013P
President Abdulla Yameen has stated that his administration will not interfere in the judicial process, while also calling on authorities to expedite both the investigation and prosecution of pending cases.
"We will not try to influence the judiciary to rule on any case in any certain way," said the president, addressing supporters at a PPM coalition rally held on Sunday night under the title of 'Thank you, nation'.
"My government is not one that will pressurize the judiciary to rule on any case in any particular way. We will not do such a thing. However, the cases pending at courts must be expedited. This is a personal right constitutionally guaranteed to every citizen," Yameen stated,
"Even tonight, I call to expedite any cases against a child or person. What the state can do to facilitate this is to ensure we provide the facilities needed to do this," Yameen said.
Parliament
Yameen spoke about the no-confidence vote against Prosecutor General Ahmed Muiz – who subsequently resigned this afternoon – saying that members are appointed to independent institutions with trust placed in them, but that the current parliament removes them if they are dissatisfied regardless of whether any fault is found.
He commented on the work of the parliament, saying that although the state is working with loyalty and is aiming to protect the constitution, the parliament has the complete authority to send a particular person back home if they are displeased with him for any reason, regardless of whether or not they can pinpoint the reasons for it.
He then went on to say that when no-confidence motions are passed against senior leaders of independent institutions, their reason for dismissal and their faults must be laid out for all to see, adding that the current parliament did not seem to share his viewpoint.
"While the government is looking at providing services to the public, and at fulfilling the larger policies included in our manifesto, we require the institutions to be able to match us step for step and walk alongside us. If not, the complete development that I speak of cannot be brought to the Maldives," he stated.
Nasheed Administration
Speaking at the rally, President Yameen announced that the various allegations made against members of the administration of former President Mohamed Nasheed will be investigated by "specific state institutions created for the purpose", and that the current government will not be involved in the process.
Yameen spoke of the importance of leaving behind the mindset where the opposition are viewed as enemies, and highlighted the importance of working together with even those who differ in political views. He said that, despite differences in political opinions, one must forgive others.
"There is an Auditor General. There is an Anti-Corruption Commission. Thankfully, the judiciary is an institution we have trust in. Neither our party nor I believe these are matters that I need to interfere in," he stated.
While noting that there are many needs of the citizens, the president said that the main thing the people desired was peace and stability. He commended the first days of his government, claiming they had demonstrated an exemplary conduct of working in unity and refraining from envy and enmity.
Local council and parliamentary elections
The upcoming elections for the local councils and parliament were also discussed, with Yameen stating that during contests, citizens would not judge the government by the fluency of their political rhetoric, but by the level of stability maintained in the country and the speed at which their needs are met.
"Regardless of how little time there is, with Allah's will we have begun some work. Our work is to ensure that in the coming local council elections, our work is done in a manner that will be accepted by the citizens," Yameen stated.
Vice President Jameel also stated that the PPM coalition will "employ the same formula used to win the presidential election to achieve a sweeping win with a large majority in the upcoming local council and parliamentary elections".
Jameel stated that while the "formula" is based on three concepts, the main and most important one is unity amongst separate political parties.
"This is a success that was gained for the protection of this country. A success gotten for the sake of protecting the religion of Islam. If we are to offer thanks for this success in the coming days, we must listen to that prayer of the people. The thanks can be given by not forgetting to deliver the major things we must provide for the citizens," Jameel told the gathered supporters.
He added that the biggest fear in Maldivian hearts is that Islam might be eradicated from the country, pledging to appoint Quran teachers for every Maldivian school in the next 14 days in an attempt to prevent this from happening.
The vice president added that the Yameen administration had also begun work to establish an Islamic University in the country.
http://minivannews.com/politics/president-yameen-vows-not-to-interfere-with-judicial-processes-before-calling-for-expedition-of-cases-72306
---------
Jamaat men attack several handmade crude bomb police outpost in Satkhira
26 Nov 2013
Jamaat-Shibir activists brought out a procession and attacked the outpost by exploding a several handmade crude bombs at the spot
A group of Jamaat-Shibir activists swooped on a police outpost at Gazirhat Goranbaria area of Debhata, Gaibandha 7pm last evening, while police in reply opened fire.
Witnesses said Jamaat-Shibir activists brought out a procession and attacked the outpost by exploding a several handmade crude bombs at the spot.
Debhata upazila Jamaat Secretary Nur Mohammad said police arrested Jamaat activist Mohidul from Goranbaria. As Jamaat activists tried to snatch him away from custody, police fired at them.
Full report at:
http://www.dhakatribune.com/bangladesh/2013/nov/26/jamaat-men-attack-police-outpost-satkhira#sthash.FsZPdqX3.dpuf
---------
Africa
Angola Denies It Banned Islam, Destroyed Mosques
By Connor Adams Sheets
November 25 2013
Angola became a hot topic in the international media over the weekend, as news outlets around the world wrote about reports that the Southwest African nation had banned Islam and had begun to dismantle mosques.
But an official at the Angolan Embassy in Washington, D.C., who did not want to be identified while discussing the sensitive matter, said that there is no such ban, and that the reports are erroneous.
"The Republic of Angola … it's a country that does not interfere in religion," the official said via telephone Monday afternoon. "We have a lot of religions there. It is freedom of religion. We have Catholic, Protestants, Baptists, Muslims and evangelical people."
News of Angola's supposed ban on Islam originated in the African press, which went so far as to quote the nation's president and minister of culture offering statements that suggested the premise of the reports was accurate.
A second official at the Angolan Embassy in the U.S. reiterated that the diplomatic seat has not been made aware of any ban on Islam in the country.
"At the moment we don't have any information about that," the official told IBTimes via phone on Monday. "We're reading about it just like you on the Internet. We don't have any notice that what you're reading on the Internet is true."
A close examination of some of the initial reports about the supposed ban and dismantling of mosques reveals some suspect findings. One such discrepancy is that a Google Images search shows that a photograph published by numerous news outlets this month that purportedly depicts the minaret of an Angolan mosque being dismantled in October 2012 had been used at least as early Jan. 23, 2008, when the Housing & Land Rights Network posted it to illustrate an article about the destruction of Bedouin homes in Israel.
Full report at:
http://www.ibtimes.com/angola-denies-it-banned-islam-destroyed-mosques-1484898
----------
Islamic Militants Find 'Sin' at Nigerian Wedding
November 26, 2013
Boko Haram is a group that does not care about the lives of civilians. All they care about is their conception of what their god wants of them, namely the death of all western civilization.
Nigeria has suffered from years of political unrest, and is currently facing the growing threat of the Islamic militant group known as the Boko Haram. This is a group committed to putting Sharia law (an religious extremist version of Islamic law), in place in Nigeria. The group has been responsible for approximately 10,000 deaths in the region between 2001 and 2013. The most recent tragedy they took responsibility for is the attack of a wedding convoy, where over 30 victims have been identified, including the groom.
Full report at:
http://www.newsbcc.com/nigeria/nigeria/islamic_militants_find_sin_at_nigerian_wedding/395775/
----------
Tensions Mount in Libya's Benghazi After Deadly Unrest
November 26, 2013
Local officials called for civil disobedience including strikes for three days from Tuesday in the eastern Libyan city of Benghazi after deadly clashes between radical Islamist fighters and the army.
The call issued by Benghazi's city council came as defence ministry officials, according to a source, were in talks with jihadist group Ansar al–Sharia to provide its fighters a safe passage out of the city on condition they leave their weapons behind.
For several hours on Monday the army clashed with the jihadists after one of its patrols was attacked near the headquarters of Ansar al–Sharia, a group blamed for the killing of the US ambassador in 2012.
Full report at:
http://www.thejakartaglobe.com/international/tensions-mount-in-libyas-benghazi-after-deadly-unrest/
------------
Central African Republic 'descending into chaos' - UN
26 Nov 2013
The Central African Republic (CAR) is descending into "complete chaos", the UN deputy secretary general has warned, calling for urgent action.
Jan Eliasson urged the Security Council to strengthen the African Union-led force in the country, and to turn it into a UN peacekeeping operation.
The CAR has been in turmoil since rebels seized power in March, with warnings of a possible genocide.
France has said it would contribute about 1,000 troops to the force.
Senior UN and French officials have warned that a cycle of violence between the Muslim minority, now in power, and the Christian majority could become a genocide.
It is not known how many people have been killed in the conflict this year because it is too dangerous to access the rural areas where most killings occur, a UN spokeswoman told the BBC.
Full report at:
http://www.bbc.co.uk/news/world-africa-25095471
------------
Southeast Asia
Identifying Malay customs not in line with Islamic teachings
New Straits Times
November 26, 2013
JITRA: The Kedah government will cooperate with the state Islamic Religious Department and state Art and Cultural Department to identify Malay customs and traditional practices which are not in accordance with Islamic teachings.
State Youth and Sports, Art, Culture, Heritage and Non-Governmental Organisations Committee chairman Aminuddin Omar said this was needed as certain traditional practices were not fit to be practised as they were against the religion's teachings.
He cited an example of the lambung kain, which he said was still being practised by some people.
Full report at:
http://www.nst.com.my/nation/general/identifying-customs-not-in-line-with-islamic-teachings-1.411109#ixzz2lkMNrbgf
------------
Absence of Strong Political Icon Hurting Islamic Parties' Prospects in Next Year's Elections
November 26, 2013
With the lack of a strong Islamic figure in Indonesia's current political scene and the rise of other political icons such as Jakarta Governor Joko Widodo, Islamic-based parties may have to settle for nominating a vice presidential candidate in next year's election, a new survey shows.
"It is very difficult for Islamic parties if they want to support their own presidential candidates," Umar S. Bakry, the executive director of the National Survey Institute (LSN), said on Monday. "The most realistic move for them is to nominate a vice presidential candidate."
Full report at:
http://www.thejakartaglobe.com/news/observers-absence-of-strong-political-icon-hurting-islamic-parties-prospects-in-next-years-elections/
-------------
Sabah Christians to meet on Allah issue
NOVEMBER 26, 2013
In an unprecedented move, pastors and church leaders are gathering today in Kota Kinabalu across denominational lines to take a common stand against religious intolerance in the wake of what their leaders claim as "extreme action against the church in Malaysia".
This comes on the eve of yet another "Allah" case before the court. Hearing on the long delayed dispute, filed in 2007, is scheduled to begin on Friday at the Kuala Lumpur High Court.
Full report at:
http://www.themalaysianinsider.com/sideviews/article/sabah-christians-to-meet-on-allah-issue-sin-chew-daily
-----------
List un-Islamic Malay culture, Jaik urged
November 26, 2013
Bernama
JITRA: The Kedah Islamic Religious Department (Jaik) has been asked to list Malay cultural traditions that are not in conflict with Islamic teachings for practice by Muslims in the state.
State Youth and Sports, Arts, Culture and Heritage, and Non-Governmental
Organisation Committee chairman, Aminuddin Omar today said this was necessary to avoid confusion among Muslims on which cultural traditions they could practise and which they should not.
Full report at:
http://www.freemalaysiatoday.com/category/nation/2013/11/24/list-un-islamic-malay-culture-jaik-urged/
------------
North America
NYPD Forced To Produce Muslim Surveillance Records
November 26, 2013
A federal judge ruled that targets of the NYPD's surveillance of Muslims can probe the department's files.
Brooklyn U.S. District Judge Pamela Chen's order comes at an early phase of a lawsuit against the NYPD, one of three such ongoing legal efforts. It will allow the plaintiffs in the case, represented by the American Civil Liberties Union, to make extensive legal discovery that could bolster their allegations that the department has engaged in unconstitutional spying.
The ACLU sued the NYPD over revelations from reporting by the Associated Press that the NYPD had engaged in widespread surveillance of Muslim communities in and around New York City. Another group is suing over spying in New Jersey, and civil rights lawyers have also revived a lawsuit, first filed in the 1970s, in an attempt to curb the department's surveillance after 9/11.
Full report at:
http://www.huffingtonpost.com/2013/11/25/nypd-muslim-surveillance_n_4339419.html
-----------
Obama takes on critics of Iran deal, praises diplomacy
26 Nov 2013
President Barack Obama took on critics of a newly brokered nuclear deal with Iran Nov. 25 by saying their tough talk was good for politics but not for U.S. security.
Top Republicans - as well as U.S. ally Israel - have criticized Obama for agreeing to the deal and some Democrats, who tend to more hawkish about Iran than Obama's administration, have been skeptical about it.
Full report at:
http://www.hurriyetdailynews.com/obama-takes-on-critics-of-iran-deal-praises-diplomacy.aspx?pageID=238&nID=58533&NewsCatID=358
-----------
US says concerned with Egyptian law that restricts protests
REUTERS
2013-11-26
WASHINGTON: The United States on Monday expressed concern over a new law in Egypt that restricts demonstrations and said it agrees with groups that argue the law does not meet international standards and hampers the country's move toward democracy.
"The United States wants Egypt's transition to an inclusive democracy to succeed," State Department spokeswoman Jen Psaki said in a statement after Egyptian security forces fired tear gas to disperse university students who had defied the law, which was passed on Sunday.
Full report at:
http://www.dawn.com/news/1058700/us-says-concerned-with-egyptian-law-that-restricts-protests
-----------
US warns Karzai it may leave no troops in Afghanistan
AFP
2013-11-2
KABUL: US national security advisor Susan Rice told Afghan President Hamid Karzai Monday that a delay in signing a troubled security deal risked the US pulling troops out of the country completely next year.
The US said that Karzai had called for "new conditions" for signing the bilateral security agreement (BSA) to allow US forces to remain in the country after 2014.
The president held talks with Rice in Kabul after he hedged on when he would accept the deal despite a "loya jirga" assembly of Afghan tribal elders and politicians on Sunday urging him to sign it promptly.
Full report at:
http://www.dawn.com/news/1058697/us-warns-karzai-it-may-leave-no-troops-in-afghanistan
-----------
Syrian people need new leadership, military no solution to violence: US
Nov 26 2013
Washington : The upcoming Geneva conference on Syria is the best opportunity to form a new, transitional governing body in the country through mutual consent, the US has said.
"To contain the growing threat from extremism and foreign fighters within Syria, and to ensure respect for Syria's territorial sovereignty, we cannot delay the work of establishing a transitional government," US Secretary of State John Kerry said yesterday.
"Since foreign states have considerable influence on the factions waging war within Syria, they too have an important role to play. While it is ultimately up to the Syrian people to form a new government and bring an end to the conflict, the United States and our partners can help get them there," he said as he welcomed the convening of the Geneva conference on Syria.
Full report at:
http://www.indianexpress.com/news/syrian-people-need-new-leadership-military-no-solution-to-violence-us/1199721/
---------
Obama cites Indian-American's case to push for immigration reform
PTI | Nov 26, 2013
WASHINGTON: US President Barack Obama has cited the case of an Indian-American woman entrepreneur in the Silicon Valley, who got a green card following over 12 years of agonizing wait, to push for a comprehensive immigration reform that would attract best talents from across the globe.
"We're training our own competition, rather than invite those incredibly talented young people, like Geetha, to stay here and start businesses and create jobs here," Obama said in his remarks on immigration in San Francisco on Monday.
Geetha Vallabhaneni, an entrepreneur who immigrated to the United States from India 15 years ago in pursuit of the American dream, was given the privilege to introduce Obama at the event.
Full report at:
http://timesofindia.indiatimes.com/nri/us-canada-news/Obama-cites-Indian-Americans-case-to-push-for-immigration-reform/articleshow/26418335.cms
---------
CAIR-NY to Announce Article 78 Filing by Muslim Targets of NYPD Spying
November 26, 2013
(NEW YORK, N.Y., 11/25/13) -- On Tuesday, November 26, the New York chapter of the Council on American-Islamic Relations (CAIR-NY), along with other Muslim and civil rights organizations, will hold a noon news conference at One Police Plaza with Imam Abdur-Rashid and Samir Hashmi, who have filed Article 78 petitions against the NYPD in response to the department's refusal to provide intelligence records gathered on the two men.
Press release by the Law Firm of Omar T. Mohammedi, LLC:
Since 2002, the New York City Police Department (NYPD) has engaged in a domestic surveillance program and practice of religious profiling that targets Muslim individuals, places of worship, businesses, schools, student groups, and other establishments located in and throughout New York.
Full report at:
http://www.cair.com/press-center/press-releases/12271-cair-ny-to-announce-article-78-filing-by-muslim-targets-of-nypd-spying.html
------------
Europe
Important to bring 26/11 perpetrators to justice: UN official
PTI | Nov 26, 2013
UNITED NATIONS: As India marks the fifth anniversary of the Mumbai terror attacks on November 26, it is "important" that the perpetrators of the "terrible crime" should be brought to justice, UN secretary general Ban Ki-moon's spokesman said.
The 26/11 terror attacks, in which 166 people were killed was a "terrible crime, an awful terrorist attack," Ban's spokesman Martin Nesirky told PTI here.
"Certainly, it is important that those who were responsible are brought to justice. There has already been some action in that regard," he said.
A commemorative event marking the fifth anniversary of the Mumbai attacks has been organized in New York by the American India Public Affairs Committee along with the American Jewish Committee Asia Pacific Region.
Full report at:
http://timesofindia.indiatimes.com/india/Important-to-bring-26/11-perpetrators-to-justice-UN-official/articleshow/26394660.cms
------------
Jailed hate preacher Abu Qatada urges to continue jihad in Syria
November 26, 2013
Jailed hate preacher Abu Qatada has urged his followers to continue the jihad in Syria in his first edict published in years.
Writing from his prison cell in Jordan, Qatada, who was deported from Britain in July, said his fellow extremists should stay committed to the 'conquest' of Jerusalem.
The edict has been published on several Islamist websites from where it has been downloaded at least 12,000 times, the Sunday Times reports.
Qatada claims that he had been prevented from praising his jihadist brothers while living in England because of the restrictions placed on him at the time.
He apologised for not having been able to send a message of support to Jihadists fighting the Assad regime.
Full report at:
http://www.dailymail.co.uk/news/article-2512711/Jailed-hate-preacher-Abu-Qatada-urges-followers-continue-jihad-Syria-prison-cell-Jordan.html#ixzz2ln3eQdPd
------------
French spies planned to pose as neo-Nazis to assassinate Islamic hate cleric in London
November 26, 2013
French spies plotted to pose as neo-Nazis to assassinate Abu Hamza, the hate cleric, in London because they were so frustrated with Britain's failure to deal with him, it was claimed Sunday.
They planned to send the fanatic fake death threats from the far-Right group Combat 18 before shooting him with weapons said to be associated with that group.
In a separate move, they also plotted to kidnap Hamza and take him to France, a report by the campaign group Hope not Hate claimed.
Intelligence services across the Channel hatched the assassination plan in 1999, amid tensions between the two countries over the scale of Islamist extremism in Britain.
Full report at:
http://news.nationalpost.com/2013/11/25/french-spies-planned-to-pose-as-neo-nazis-to-assassinate-islamic-hate-cleric-in-london-report/
------------
Council of Europe warns on Turkey freedoms
26 Nov 2013
The Council of Europe warned Tuesday that Turkish police action against non-violent demonstrators during the wave of anti-government protests in June could have a "chilling effect" on freedoms in a country seeking to join the European Union.
"The police's handling of demonstrations in Turkey exposes once again the long-standing, serious human rights problem of the misconduct of law enforcement officials in the country," Nils Muiznieks, Council of Europe Commissioner for Human Rights, said in a report after a fact-finding visit to Turkey in July.
Full report at:
http://www.hurriyetdailynews.com/council-of-europe-warns-on-turkey-freedoms.aspx?pageID=238&nID=58547&NewsCatID=339
----------
Syria peace talks to take place without Assad: France
26 Nov 2013
Long-delayed Syria peace talks due in January will take place without the presence of President Bashar al-Assad or radical opposition groups, France's foreign minister said on Tuesday.
"The purpose of Geneva-2 is not to have an armchair discussion about Syria, it's to have mutual agreement between regime representatives -- without Assad -- and the moderate opposition in order to form a transitional government," Laurent Fabius told French radio.
"It's very difficult, but it's the only solution that allows us at once not to have Mr Bashar al-Assad and not to have the terrorists," he said, referring to the jihadist members of Syria's fractured opposition.
Full report at:
http://www.hurriyetdailynews.com/syria-peace-talks-to-take-place-without-assad-france.aspx?pageID=238&nID=58536&NewsCatID=359
----------
NATO launches largest-ever cyber security exercises
26 Nov 2013
NATO on Tuesday launched its largest-ever cyber exercises to practise warding off massive, simultaneous attacks on member states and their partners.
Based at the alliance's cyber defence centre in EU member Estonia, the exercises will last three days and include participants in over 30 European states.
"Cyber attacks are a daily reality and they are growing in sophistication and complexity," Jamie Shea, a NATO official specialising in emerging security challenges, said in a statement.
"NATO has to keep pace with this evolving threat." Around 400 legal and IT experts as well as government officials will take part in the operation code-named "Cyber Coalition 2013".
http://www.hurriyetdailynews.com/NATO -launches-largest-ever-cyber-security-exercises.aspx?pageID=238&nID=58548&NewsCatID=359
----------
Mideast
Yemen air strike kills 12 'Qaida' militants: Ministry
AFP | Nov 26, 2013
SANAA: A Yemeni air raid has killed 12 suspected members of al-Qaida in the restive southern province of Abyan, the interior ministry said on Tuesday.
The "terrorist elements" were targeted as they travelled in one vehicle in the province's Mehfed region, the ministry said in a statement.
It said that an investigation was underway to identify the bodies of those killed in the strike.
It added that the air raid took place at the "beginning of the week," which could imply Sunday.
Full report at:
http://timesofindia.indiatimes.com/world/middle-east/Yemen-air-strike-kills-12-Qaida-militants-Ministry/articleshow/26405217.cms
------------
Istanbul monastery 'to be turned into mosque'
AFP | Nov 26, 2013
ISTANBUL: A ruined fifth century monastery in Istanbul is to be turned into a mosque next year, local media reported on Tuesday, amid a row with Greece over possible similar moves for the ancient Hagia Sophia complex.
The plans for the Monastery of Studios, which was dedicated to St John the Baptist and was considered the most important of Constantinople, were revealed by the Hurriyet Daily News.
Religious authorities in the city could not immediately be reached for comment on the report, which comes amid increasing criticism of the government over its attempts to impose Islamic values on secular society in Turkey.
Full report at:
http://timesofindia.indiatimes.com/world/europe/Istanbul-monastery-to-be-turned-into-mosque/articleshow/26423622.cms
--------
Iran hangs 16 in reprisal for Pakistan border killings
New Straits Times
November 26, 2013
Iran said it executed 16 "rebels" Saturday in reprisal after gunmen killed at least 14 border guards near the border with Pakistan, in a rugged area often rocked by violence.
The ambush happened overnight in the mountains of Sistan-Baluchestan, a province in southeastern Iran.
The province is home to a large community of minority Sunni Muslims, unlike the rest of Shiite-dominated Iran, where drug traffickers and Sunni militants operate.
"Fourteen border guards were killed during armed clashes in the region of Saravan, and five others were wounded," the official IRNA news agency said, citing what it called an informed source.
Full report at:
http://www.nst.com.my/world/iran-hangs-16-in-reprisal-for-pakistan-border-killings-1.412942#ixzz2lkOOijOJ
-------------
Iran will start implementing nuclear agreement in weeks: Zarif
Reuters Posted online: Tue Nov 26 2013
Dubai : Iranian Foreign Minister Mohammad Javad Zarif said on Sunday his country would begin implementing a nuclear agreement struck with world powers in the next few weeks, as hundreds of supporters welcomed him and his negotiating team home. Meanwhile, on Monday, France's foreign minister said sanctions against Iran could be eased as soon as December. "In the coming weeks - by the end of the Christian year - we will begin the programme for the first phase," Zarif said in a live interview at the airport.
Full report at:
http://www.indianexpress.com/news/iran-will-start-implementing-nuclear-agreement-in-weeks-zarif/1199546/
------------
Middle East unrest fuels Sunni-Shiite rift
November 26, 2013
Relations between Sunni and Shiite Muslims in the Middle East could plunge to new lows as the violence in Syria worsens and sectarian rhetoric looms in upcoming Iraqi elections, experts say. Fears of worsening ties came as Shiites commemorated an anniversary of the symbolic split between
them and Islam's other main branch, and in the aftermath of a twin suicide bombing last week at the Iranian embassy in Beirut which was claimed by an al Qaeda-affiliated group and killed 25 people.
Full report at:
http://www.hindustantimes.com/world-news/middle-east-unrest-fuels-sunni-shiite-rift/article1-1155722.aspx
----------
Arab World
The Syrian rebels who have 'no problem' fighting alongside Al Qaeda
November 26, 2013
ANKARA // The Syrian rebel groups that Turkey has allowed to proliferate near its border include many who have said they have no problem fighting alongside Al Qaeda against the president, Bashar Al Assad.
"Al Qaeda is helping us, while foreign countries are not," said Besil Abu Arab, 20, a member of the Ahrar Al Sham militia, as he received treatment in a makeshift hospital in the Turkish border town of Reyhanli.
Mr Abu Arab has lost movement in his left arm since he was shot near Aleppo a month ago.
Abu Imar Halebi, a fighter with the Aleppo-based movement Abu Amara, agreed that Al Qaeda fighters were an asset. He said he did not oppose their goal of establishing Islamic law in Syria, though his own group prefers to explain its benefits and win popular assent rather than impose it by force.
Full report at:
http://www.thenational.ae/the-syrian-rebels-who-have-no-problem-fighting-alongside-al-qaeda#ixzz2lkC32dHn
------------
11 dead in mortar fire on Aleppo: Syria state media
26 Nov 2013
Eleven people were killed on Monday in mortar fire on a regime-held district of Syria's northern city of Aleppo, state media reported.
"Eleven killed and 20 others injured in a terrorist mortar attack on Jamilia district," the news agency SANA reported, citing a police source in the city.
The Syrian Observatory for Human Rights also said that 11 people were killed in the attack, saying rebel fighters had fired the mortar rounds.
Observatory director Rami Abdel Rahman said the dead were civilians, and included three children.
Full report at:
http://english.ahram.org.eg/NewsContent/2/8/87481/World/Region/-dead-in-mortar-fire-on-Aleppo-Syria-state-media.aspx
----------
No future role for Assad: Syria Opposition
Nov 26 2013
Syria's main Opposition group in exile says there can be no role for President Bashar Assad in any future transitional government.
In a statement, the Western-backed Syrian National Coalition also urges the international community to "prove its seriousness" ahead of a planned peace conference by securing humanitarian corridors so that aid can reach besieged areas of the country.
Tuesday's statement follows a United Nations announcement that the warring sides in Syria would attend a conference in Geneva on January 22, the first face-to-face talks to end the Syrian civil war.
http://www.thehindu.com/news/international/world/no-future-role-for-assad-syria-opposition/article5393983.ece
-----------
Egyptian army kills leading jihadi in northern Sinai
Nov 26 2013
The Egyptian army has killed a leading al-Qaida—inspired militant and his son in clashes in the northern Sinai Peninsula, according to an Egyptian military officer.
The official said army units killed Mohammed Hussein Muhareb and his son Mansour Tuesday in a firefight with a group of militants in al—Joura village, south of the town of Sheikh Zuweid.
The official said Muhareb was the leader of a militant cell responsible for an August attack that killed 25 Egyptian police conscripts.
Other militants fled the area leaving the bodies of Muhareb and his son, the spokesman said on condition of anonymity, according to regulations.
The northern Sinai region, which borders the Gaza Strip and Israel, has been restless for years. But attacks have grown more frequent since the overthrow of Islamist President Mohamed Morsy.
http://www.thehindu.com/news/international/world/egyptian-army-kills-leading-jihadi-in-northern-sinai/article5393536.ece
----------
Demonstrators defy Egypt protest law
26 Nov 2013
A number of political movements have called for protests in Cairo on Tuesday in defiance of a new protest law dubbed oppressive by opponents.
The law was issued on Sunday by interim President Adly Mansour, sparking anger from political parties and human rights groups.
Controversial articles include requiring protest organisers to notify authorities three days in advance of a protest's aims and demands, and imposing heavy jail terms and fines on individuals who break the law.
In a test of the law's effectiveness, several movements have called for protests, either to defy the law itself or to present their demands, without notifying the interior ministry as the law requires.
Full report at:
http://english.ahram.org.eg/NewsContent/1/64/87503/Egypt/Politics-/Demonstrators-defy-Egypt-protest-law.aspx
---------
Syria rebels will not halt fighting for Geneva 2
World Bulletin / News Desk
November 26, 2013
The head of the Free Syrian Army said on Tuesday that rebel forces loyal to him would not join a planned peace conference in Switzerland in January and would continue their fight to topple President Bashar al-Assad throughout the talks.
"Conditions are not suitable for running the Geneva 2 talks at the given date, and we, as a military and revolutionary force, will not participate in the conference," General Salim Idriss told the pan-Arab news channel Al Jazeera.
Full report at:
http://www.worldbulletin.net/?aType=haber&ArticleID=123710
------------
'Mubarak-Era Back' as Egypt's Military-Backed Regime Bans Public Protest
November 26, 2013
In 2011, the Arab Spring hit its zenith in the streets of Cairo when hundreds of thousands of youth and pro-democracy activists upended the social order, cast off a dictator and declared the start of a revolution based on the simple but radical notion that they would no longer remain silent or allow their dignity as citizens be thwarted by a repressive regime that forbade their right to assemble, protest, or dissent.
On Sunday, however—as the start of that hopeful revolution approaches its third anniversary—a new law effectively banning protests and granting the military-backed secret police "carte blanche" in Egypt was signed by interim President Adly Mansour.
Full report at:
http://www.commondreams.org/headline/2013/11/25-2
---------
Journalists in Syria face growing risk of kidnap
26 Nov 2013
BEIRUT — Behind a veil of secrecy, at least 30 journalists have been kidnapped or have disappeared in Syria — held and threatened with death by extremists or taken captive by gangs seeking ransom.
The widespread seizure of journalists is unprecedented, and has been largely unreported by news organizations in the hope that keeping the kidnappings out of public view may help to negotiate the captives' release.
Full report at:
http://www.saudigazette.com.sa/index.cfm?method=home.regcon&contentid=20131126187747
----------
Saudi Arabia beheads Pakistani for drug trafficking
26 Nov 2013
Saudi authorities beheaded on Tuesday a Pakistani man convicted of smuggling drugs to the ultra-conservative Muslim kingdom, the interior ministry said.
The man was found guilty of attempting to smuggle an undisclosed amount of heroin that he had swallowed, the ministry said in a statement carried by SPA state news agency.
His beheading in the eastern city of Dammam brings to 72 the number of executions carried out in Saudi Arabia this year, according to an AFP count.
Full report at:
http://english.ahram.org.eg/NewsContent/2/8/87512/World/Region/Saudi-Arabia-beheads-Pakistani-for-drug-traffickin.aspx
----------
India
Pakistan biggies hold influence over 5 lakh Muslim votes of Rajasthan
Nov 26, 2013
A political tussle between two powerful politico-religious families of Pakistan's Sindh province is casting a shadow on the border districts of Rajasthan, which goes to polls on December 1.
The 19 assembly seats from the border districts, primarily from Bikaner, Barmer, Jaisalmer and Jalore, have a population of over 5, 00,000 Muslims, mostly Sindhis. Their allegiance is a matter of influence of two Pakistani figures; the spiritual leader, the Pir of Pagara, who is the custodian of Pakistan's Sakhar (Sukkur) shrine and Shah Mehmood Qureshi, the custodian of a shrine in Multan. While the Pir of Pagara, Syed Mardan Shah, played the role of kingmaker in Sindh and Pakistan's federal politics, Qureshi — top leader of Imran Khan's Pakistan Tehreek-e-Insaf — has served as Pakistan's foreign minister.
Mardan Shah died last year, but his dissidents enjoy control over the Pir's disciples in the border region through the aged Khalifa, or lieutenant, Ghazi Faquir. Incidentally, Ghazi's son, Saleh Mohammad is a sitting MLA, and the Congress candidate from Pokhran in the elections. He is up against the BJP's Shaitan Singh. Qureshi's wand of influence is being held in this region by Maulana Taj Mohammad.
Full report at:
http://www.dnaindia.com/india/report-pakistan-biggies-hold-influence-over-5-lakh-muslim-votes-1925013
------------
After attack, fissures widened on how best to deal with Pakistan
November 26, 2013
NEW DELHI: The mayhem of 26/11 did not change the contours of India's foreign policy towards Pakistan. Instead, it sharpened the debates within the country about how to handle the country's troublesome neighbour.
One consequence is that it made moving the peace process forward that much harder. "The demand for justice, the need for reciprocity, that has been created, has been added to New Delhi's demands," says Rana Banerjee, Pakistan analyst and former number two of the Research and Analysis Wing. "That we haven't gotten even minimal satisfaction on bringing the Lashkar-e-Taiba leadership to book," says ex-foreign secretary, Kanwal Sibal, has made the attack an "impediment" towards forward movement.
Full report at:
Hindustan Times
------------
Lashkar-e-Taiba, 26/11 villain and India's enemy at the gates
November 26, 2013
The spectacular terror attack in Mumbai five years ago that held the bustling city under siege for more than three days was planned and plotted to lift the spirits of the Lashkar-e-Taiba cadre. Ten suicide bombers were trained to undertake the long sea journey, hold hostages and inflict maximum damage on India's financial nerve centre.
Apart from the havoc they wreaked at multiple locations in the city of dreams, the attacks were central to the Lashkar's own survival as the 'Army of the Pure', the literal meaning of the outfit. Key conspirator David Coleman Headley alias Daood Geelani would reveal to officials from the National Investigation Agency (NIA), three years later, that the senior leadership of the LeT was having problems holding on to their cadre.
Full report at:
http://www.hindustantimes.com/india-news/laskhar-e-taiba-26-11-villain-and-india-s-enemy-at-the-gates/article1-1155436.aspx
------------
Kidnapped officials of Delhi-based Company in Bangladesh militant hideout
TNN | Nov 26, 2013
AIZAWL: Three officials of a Delhi-based company, who were kidnapped by suspected National Liberation Front of Tripura (NLFT) ultras on Saturday, are now believed to be held captive at the outfit's hideout in Bangladesh, sources in Mizoram police said.
A senior police officer told TOI that the abducted persons were taken to Zopui and Thangnang areas in Bangladesh, a safe haven for north-eastern insurgent groups.
"We learned from intelligence inputs that the hostages have been taken to Bangladesh, but we have not received any news regarding any ransom demand from the abductors," the officer Full report at:
http://timesofindia.indiatimes.com/india/Kidnapped-officials-in-Bangladesh-militant-hideout/articleshow/26385269.cms
------------
Indian delegation may visit Iran for discussions on urea plant
PTI | Nov 25, 2013
NEW DELHI: India is likely to expedite the process of setting up of urea and chemical plants in Iran and a delegation may visit the country next month for discussions on gas prices as the Persian Gulf nation gets relief from global sanctions.
Rashtriya Chemicals and Fertilisers (RCF), Gujarat Narmada Valley Ferilisers & Chemicals (GNFC) and Gujarat State Ferilisers & Chemicals Ltd (GSFCL) are planning to jointly set up urea and chemical plants in Iran with an estimated investment of Rs 7,500-8,000 crore.
"Talks are already at an advanced stage and with the lifting of sanctions on Iran by United States, the process is likely to expedite," a senior official of the Fertiliser Ministry said when asked about the setting up of proposed plants in Iran.
Full report at:
http://timesofindia.indiatimes.com/india/Indian-delegation-may-visit-Iran-for-discussions-on-urea-plant/articleshow/26366764.cms
------------
CSI Mumbai: How the Americans helped crack the Lashkar code
November 26, 2013
Four days after the terror assault on Mumbai ended, an unmarked C-130 Hercules landed at Santa Cruz airport. Its cargo: a combined FBI and CIA team of a dozen forensic experts from the United States.
A half-dozen Indian and US sources helped piece together how the US and India joined forces to carry out the ultimate crime scene investigation.
The US experts had been dispatched by their president George W Bush after a request for technical assistance by India on the second day of the attack. Prime Minister Manmohan Singh avoided asking for direct US intervention, but Indian experts were aware they lacked the ability to secure a trail of evidence which they knew would go back to Pakistan.
Full report at:
http://www.hindustantimes.com/india-news/csi-mumbai-how-the-americans-helped-crack-the-lashkar-code/article1-1155518.aspx
------------
26/11 Mumbai attacks: Five years on, life goes on at Leopold cafe
IANS | Nov 26, 2013
MUMBAI: Five years have gone by since that horrible night and beer is flowing freely at south Mumbai's Leopold Cafe. The popular hangout in Colaba has put behind it the scars of the November 26, 2008 attack.
That night, three of the 10 Pakistani terrorists who had sneaked into the city via the sea route opened fire at Leopold Cafe, frequented by foreigners, claiming 10 lives. The terrorists hit other points in south Mumbai and by the time the mayhem ended 60 hours later, 166 were dead, including 26 foreigners, and more than 300 were injured.
At the Leopold Cafe, the bullet holes have been covered with framed posters that try to hide gruesome memories of the attack. In the past, the waiters at Leopold had a tough time obliging customers by pointing out the bullet holes.
Full report at:
http://timesofindia.indiatimes.com/city/mumbai/26/11-Mumbai-attacks-Five-years-on-life-goes-on-at-Leopold-cafe/articleshow/26403819.cms
------------
Pakistan
26/11 attacks: Pak lawyer says documents inadmissible, accused may walk free
Imtiaz Ahmad
November 26, 2013
The seven members of the Lashkar-e-Taiba (LeT) undergoing trial in Pakistan for the 26/11 Mumbai terror attacks may be let off on technical grounds, says a former defence attorney in the case.
Lawyer Riaz Akram Cheema, who has now dissociated himself from the case citing "personal reasons", has said the dossier provided by the Indian authorities in the case does not qualify as "admissible evidence."
Cheema was part of a Pakistani judicial commission that visited India in September to cross-examine witnesses in the case and collect other evidence.
The commission recently submitted the dossier to the anti-terrorism court (ATC) here, but it is yet to be examined by the court and cross-examined by the defence lawyers.
Cheema told a local newspaper here that the dossier was inadmissible under several sections of Pakistani law.
Full report at:
http://www.hindustantimes.com/india-news/26-11-attacks-pak-lawyer-says-documents-inadmissible-accused-may-walk-free/article1-1155433.aspx
------------
Pakistan Army targets militants in North Waziristan
PTI | Nov 26, 2013
ISLAMABAD: The Pakistan Army on Tuesday launched an offensive against terrorists in the North Waziristan tribal region near the Pak-Afghan border.
Army's helicopter gunships shelled position of terrorists in Mir Ali, media reports here said.
The attack by the Army came two days after the terrorists killed two security persons and injured five others in a remote control bomb explosion in the area.
The North Waziristan is a haven for Pakistani Taliban, linked to the al-Qaida.
The US had been nudging the Pakistan Army for launching a military operation in North Waziristan. However, Army has refused to do so.
Full report at:
http://timesofindia.indiatimes.com/world/pakistan/Pakistan-Army-targets-militants-in-North-Waziristan/articleshow/26407016.cms
-----------
Former Pak PM declared fugitive in Bugti murder case
Nov 26 2013
Former Pakistan Prime Minister Shaukat Aziz was on Tuesday declared a fugitive along with two others by an anti—terrorism court in Quetta in connection with the 2006 murder of Baloch nationalist leader Akbar Khan Bugti.
The court also rejected former President General Pervez Musharraf's request for exemption from attendance in the case.
Aziz, former Governor of Balochistan Owais Ahmed Ghani and former district coordination officer (DCO) Abdul Samad Lasi were declared fugitives and the court ordered the authorities to seize their properties.
Full report at:
http://www.thehindu.com/news/international/south-asia/former-pak-pm-declared-fugitive-in-bugti-murder-case/article5393579.ece
-----------
Petition filed against Sharif in Pakistan for failing to end drone strikes
PTI | Nov 26, 2013
ISLAMABAD: A contempt of court petition has been filed against Prime Minister Nawaz Sharif and the federal authorities in the Peshawar high court over the government's failure to end US drone strikes.
Jamiat Ulema-e-Islam-Sami's provincial president Maulana Yousuf Shah and former deputy speaker provincial assembly Ikramullah Shahid filed the petition on Monday.
The high court had passed an order in May declaring drone strikes a "war crime". However, drone strikes continue in tribal and adjoining areas.
The Prime Minister and secretary for the ministry of interior were named as respondents.
Defence Council of Pakistan (DPC) chairperson and Ulema-e-Islam-Sami (JUI-S) chief Maulana Samiul Haq said Peshawar, Islamabad and Karachi were not safe after the recent drone strike in Hangu.
Full report at:
http://timesofindia.indiatimes.com/world/pakistan/Petition-filed-against-Sharif-in-Pakistan-for-failing-to-end-drone-strikes/articleshow/26417552.cms
-----------
Pakistan inducts indigenously built drones
MEENA MENON
November 26, 2013
Pakistan on Monday inducted the first fleet of indigenously developed Strategic Unmanned Aerial Vehicles (UAVs), named Burraq and Shahpar UAV Systems, into the Pakistan Army and Pakistan Air Force.
An official statement from the Inter Services Public Relations described it as "a landmark and historic event" and an effective force multiplier which has been added to the inventory of the armed forces. In the future, these UAVs could also be gainfully employed in various socio-economic development projects as well, it pointed out.
Full report at:
http://www.thehindu.com/news/international/south-asia/pakistan-inducts-indigenously-built-drones/article5391718.ece
-----------
Altaf says it's time to demand shooting down of drones
DAWN.COM
2013-11-26
KARACHI: Chief of the Muttahida Qaumi Movement (MQM) Altaf Hussain has said that political parties should continue their protests against drone attacks until the government decides and announces to shoot them down, DawnNews reported.
Speaking to a delegation of party members from Pakistan and members of MQM's Coordination (Rabita) Committee in London, Hussain said the parties protesting against drone strikes should also declare 'jihad' against terrorist organisations like Al Qaeda, Taliban and other banned organisations adding that, that is when his party would join them in their protests.
Full report at:
http://www.dawn.com/news/1058705/altaf-says-its-time-to-demand-shooting-down-of-drones
---------
Some in Pakistan threatened by Turkish TV invasion
AP
2013-11-26
Ottoman Turks never expanded their empire as far as today's Pakistan, but some here fear their descendants are now launching a cultural invasion — via popular soap operas that Pakistani artists and politicians say threaten the local TV industry and the country's conservative Islamic values.
Some of the Turkish shows feature actresses wearing miniskirts and showing cleavage, a far cry from the billowing shalwar kameez garments worn by most Pakistani women that hardly reveal skin.
Full report at:
http://www.dawn.com/news/1058704/some-in-pakistan-threatened-by-turkish-tv-invasion
---------
NATO supplies will pass through my dead-body: warns Dasti
November 26, 2013
After PTI sit-in in Khyber Pakhtunkhwa, controversial MNA Jamshaid Dasti has begin a protest to halt NATO supplies against US drone strike in South Punjab and said that it will now restore over his dead body.
Talking to media, Dasti said that like Khyber Pakhtunkhwa and Karachi, the NATO supply will remain close in South Punjab.
Full report at:
http://www.nation.com.pk/pakistan-news-newspaper-daily-english-online/national/26-Nov-2013/NATO -supplies-will-pass-through-my-dead-body-warns-dasti
---------
Two killed in Quetta bus firing
November 26, 2013
At least two persons were killed when unidentified armed militants opened fire at a bus here on Tuesday.
According to police, two armed motorcyclists opened fire at a local bus on Sariab Road near Gahi Khan Chowk resultantly injuring two persons and sped away.
The injured were rushed to Civil Hospital Quetta but both succumbed to their wounds on the way.
Full report at:
http://www.nation.com.pk/pakistan-news-newspaper-daily-english-online/national/26-Nov-2013/two-killed-in-quetta-bus-firing
---------
Australia
Sydney conference hears Australian Muslims experience higher rates of racism
By Danuta Kozaki
November 26, 2013
An international conference on what it means to be a Muslim in a culturally diverse society has heard that most Muslims experience much higher rates of racism than the average Australian.
An international conference on what it means to be an Australian Muslim has heard that most Muslims experience much higher rates of racism than the average Australian.
The two day conference has been organised by Charles Sturt University's Centre for Islamic studies and Civilisation, along with the Islamic Sciences and Research Academy Australia.
The Centre's director, Mehmet Ozalp says the inaugural conference is needed to examine what it means to be an Australian Muslim in the 21st century.
Full report at:
http://www.radioaustralia.net.au/international/2013-11-25/sydney-conference-hears-australian-muslims-experience-higher-rates-of-racism/1224894
-----------
URL: https://newageislam.com/islamic-world-news/in-afghanistan,-stoning-adulterers-be/d/34603