New Age Islam News Bureau
9 March 2018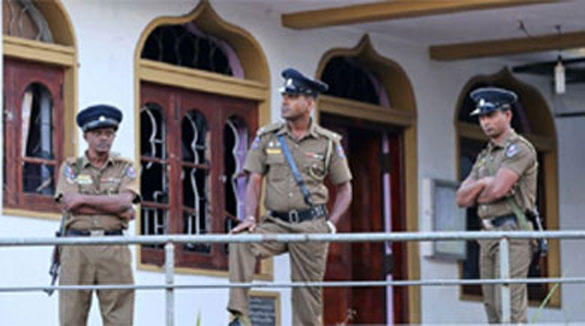 Sri Lankan police officers stand outside a vandalized Mosque in Poojapitiya, in central Sri Lanka, Wednesday, March 7, 2018. Sri Lanka's president declared a state of emergency Tuesday amid fears that anti-Muslim attacks in several central hill towns could spread. (AP Photo/Rukmal Gamage)
-----
• In 4 of 11 'Love Jihad' Cases, Hindu Men Converted To Islam, Finds NIA
• IHC Directs EC to Register Hafiz Saeed's Political Outfit 'Milli Muslim League'
• US Museum Strips Rights Award From Suu Kyi
• Cubs of the Caliphate - Rehabilitating Islamic State's Child Fighters
• US Announces $5 Million Reward for Information on Pak Taliban Leader Maulana Fazlullah
India
• In 4 of 11 'Love Jihad' Cases, Hindu Men Converted To Islam, Finds NIA
• Terrorism Grossest Violation of Human Rights: India Replies To Pakistan At UNHRC
• Supreme Court Strikes Down Kerala HC Order: NIA Can Probe, But Hadiya Free To Live Her Life
• Another Cleric Bats For Shifting Of Mosque in Ayodhya
• AIMPLB Spokesperson Maulana Sajjad Nomani Booked For Sedition
• After 'terroristan', India has a new phrase to describe Pakistan
• Bhima-Koregaon riots state-sponsored terrorism, says Opposition
• Expelled AIMPLB member Nadvi to form 'Manavta Kalyan Board'
• False stories claim Ireland prepping for Muslim immigration
--------
Pakistan
• IHC Directs EC to Register Hafiz Saeed's Political Outfit 'Milli Muslim League'
• Govt Yet To Completely Confiscate JuD, FIF Assets: Report
• Only State can declare jihad against evil forces: minister
• Saudi Arabia, Pakistan Face Same Enemy, Says Imam-e-Ka'aba
• Haqqani Network receiving significant support in Pakistan: NATO commander
--------
South Asia
• US Museum Strips Rights Award From Suu Kyi
• Buddhist Mobs Sweep through Sri Lanka's Muslim Neighborhoods
• Suspected US drone strike kills 20 TTP militants in Afghanistan
• US drone strike kills 5 ISIS militants in East of Afghanistan
• Myanmar Says It Would Like To See 'Clear Evidence' Of Genocide
• Khaleda reading books, news, her family say as she spends a month in jail
• Germany to increase troop level in Afghanistan to 1300 soldiers
--------
Arab World
• Cubs of the Caliphate - Rehabilitating Islamic State's Child Fighters
• Iraq Gives Death Sentence to Sister of Former Al-Qaeda Leader
• Saudi Crown Prince holds talks with UK's Archbishop of Canterbury
• Syria regime pummels besieged Eastern Ghouta
• Terrorists in Eastern Ghouta Seek Help after Army's Intensified Attacks
• Syrian Army Driving North-South Wedge in Eastern Ghouta
• Popular Uprising against Terrorist Groups Reported in Eastern Ghouta
• Syrian troops split rebel-held enclave near capital, 45 dead
• Hashd al-Sha'abi formally inducted into Iraq security system
• Syrian correspondent slain while covering army advances in militant-held Eastern Ghouta
--------
North America
• US Announces $5 Million Reward for Information On Pak Taliban Leader Maulana Fazlullah
• Iran's Supreme Leader Uses #MeToo Movement to Attack U.S. And Promote Islam on Twitter
• Donald Trump Removing Muslim Federal Judge for Trying To Implement Sharia • Law in America Is Fake News
• 'Anti-Muslim Conspiracy Theorist' To Train Georgia Law Enforcement Officers on Islam
• Iraq war was the best thing ever happened to Israel: Scholar
--------
Mideast
• Islamic Jihad Denounces Palestinian Authority Crackdown
• Don't Trade Global Peace for Economic Benefits: Iran Tells UK
• Iran ready to boost ties with post-Daesh Iraq: VP
• Slew of anti-Palestinian bills points to impending Israeli elections
• Iran ready to help Afghanistan fight terror: Defense chief
• Arabs' failure to take action encouraged US move on al-Quds: Palestinian FM
• New law authorizes Israeli police to indefinitely hold Palestinian corpses
• Turkey, Iraq to carry out joint military ops against PKK in N Iraq: Turkish FM
• Turkish forces, allied militants capture town in Syria's Afrin
• Menace of Houthi-laid land mines adds to Yemeni misery
--------
Europe
• Anti-Muslim Extremists Retweeted by Trump Are Convicted of Hate Crimes
• Chief Inspector: English Schools Need to Address Extremist Elements
• Saudi Arabia Wants More UK Trade Deals, Say Crown Prince's Team
• New Management Appointed To Run Geneva Mosque
• Alabama man pleads guilty to trying to help Islamic State
• UK terror-related arrests rose almost 60% to record high in 2017
• Terror accused 'dedicated book to Muslim demise'
• Labour Party accuses UK of killing children in Yemen
• Protestors react to visit by Saudi Crown Prince
--------
Southeast Asia
• Project to Prevent Youth Radicalisation Will Be Expanded
• 11 nations, including Malaysia, sign trade deal minus US
• PPBM leaders remember Sanusi as an erudite father figure
• Kazakhstan eyes sovereign Sukuk, central Sharia board
--------
Africa
• Islamic Convention Underscores Unity for Muslim Scholars, Ummah
• How al Shabaab prey on starving Somali villages for food, cash and children
• Only zero hunger can wipe out Boko Haram – Obasanjo
• Rann: Finally, Police speak on Boko Haram attack; disclose death toll
Compiled by New Age Islam News Bureau
URL: https://www.newageislam.com/islamic-world-news/in-4-11-love-jihad/d/114538
--------
In 4 of 11 'Love Jihad' Cases, Hindu Men Converted To Islam, Finds NIA
Mar 08, 2018
The National Investigation Agency (NIA), which examined so-called cases of "love jihad" at the order of the Supreme Court in connection with the Hadiya case, found that four of the 11 cases it looked at involved Hindu men converting to Islam or being convinced to convert to Islam to marry Muslim women.
In each of these cases, complaints were filed by the parents or relatives of the couples.
Kerala police chief Loknath Behera confirmed that a list of 89 such cases, finally pruned to 11, was shared with the National Investigation Agency by the local police.
The case of Hadiya, who converted to Islam and married Shedfin Jahan, was one of the 11. Hadiya's marriage was annulled by the Kerala high court on the basis of a petition filed by her father but the Supreme Court on Thursday set aside the high court order.
The high court had, in its order, termed the marriage of Hadiya with Shefin Jahan a "sham".
It had also stated that a single-judge bench of the court had, in another case, taken cognisance of the functioning of radical organisations pursuing activities of converting young Hindu women to Islam on the pretext of love.
"The fact remains that such activities are going on around us in our society," the high court had said and gave custody of Hadiya back to her parents.
But Shefin Jahan approached the Supreme Court against the high court order.
During the hearing, the top court asked National Investigation Agency to investigate whether there was a pattern or an organised effort behind these conversions and marriages.
The top court also called Hadiya to listen to her views and the girl told the judges that she embraced Islam and married Shefin Jahan on her own free will.
"In all these cases, the National Investigation Agency found that similar set of persons and institutions associated with the Popular Front of India (PFI) were involved in efforts to convert these four boys and seven girls," said a home ministry official who asked not to be named.
Officials added that in at least three cases, efforts at conversion failed.
Popular Front of India's lawyer KP Muhammed Shareef said the organisation is not involved in any sort of conversion.
He also denied the charge of 'love jihad', a controversial term coined by fringe Hindu groups to describe what they claim is a conspiracy by Muslims to lure Hindus into marriage.He alleged that allegations against the Popular Front of India have been made with a sinister design. "Presently National Investigation Agency is not an impartial body (but) still good and honest officers are serving in it who I personally know," said Shareef.
https://www.hindustantimes.com/india-news/in-4-of-11-love-jihad-cases-hindu-men-converted-to-islam-finds-nia/story-MpIO7d3DwVLXMmAXQjKs2K.html
--------
IHC Directs EC to Register Hafiz Saeed's Political Outfit 'Milli Muslim League'
March 08, 2018
The Islamabad High Court on Thursday issued an order to the Election Commission of Pakistan to allow the registration of Jamaat-ud-Dawa (JuD) chief terrorist Hafiz Saeed's political party -- Milli Muslim League (MML).
The court passed its order as it suspended the ECP decision to bar the party from registering itself as a political outfit.
The MML had approached the High Court claiming that its political prospects were being snubbed owing to pressure from the United States.
In August last year, Hafiz Saeed, who masterminded the deadly 2008 Mumbai attacks, had launched his political party. But the Election Commission had in October rejected the application of MML.
The development comes a day after the Lahore High Court extended its stay against the "possible arrest" of the Mumbai terror attack mastermind till April 4.
The US Department of the Treasury has designated Hafiz Saeed as a Specially Designated Global Terrorist. He was placed on the terrorism blacklist by the United Nations in December 2008.
https://www.indiatvnews.com/news/world-islamabad-hc-directs-election-commission-to-register-hafiz-saeed-s-political-outfit-milli-muslim-league-431643
--------
US museum strips rights award from Suu Kyi
March 09, 2018
WASHINGTON - The US Holocaust Memorial Museum said Wednesday it was stripping Myanmar's de facto leader Aung San Suu Kyi of a prestigious human rights award, accusing her of doing little to halt the ethnic cleansing of Rohingya Muslims.
Suu Kyi was awarded the Holocaust Museum's Elie Wiesel award six years ago "for her courageous leadership and great personal sacrifice in resisting tyranny and advancing the freedom and dignity of the Burmese people." But the Museum said it was rescinding the award due to her inaction over what it called "mounting evidence of genocide" committed by the Myanmar military.
"As the military's attacks against the Rohingya unfolded in 2016 and 2017, we had hoped that you - as someone we and many others have celebrated for your commitment to human dignity and universal human rights - would have done something to condemn and stop the military's brutal campaign and to express solidarity with the targeted Rohingya population," the museum said in a letter to Suu Kyi.
Instead, it said, her political party, the National League for Democracy, has refused to cooperate with UN investigators and added to the anti-Rohingya rhetoric.
The party has also obstructed journalists trying to report on the mass murder and expulsion to Bangladesh of the Rohingya.
"The military's orchestration of the crimes against Rohingya and the severity of the atrocities in recent months demand that you use your moral authority to address this situation," they said.
In November a joint report by the Museum and Southeast Asia-based watchdog Fortify Rights - based on testimony they gathered in the field - documented "widespread and systematic attacks" on Rohingya civilians.
The award was named after Elie Wiesel, a survivor of the Nazi genocide against Jews who spent much of his life campaigning for human rights , himself winning the Nobel Peace Prize in 1986.
Suu Kyi, the country's symbol of democracy for decades, has come under heavy criticism for her refusal to stand up for the Rohingya.
About 700,000 Rohingya have fled over the border to Bangladesh since August, with horrifying testimony of murder, rape and arson by soldiers and vigilante mobs.
In January US diplomat Bill Richardson resigned from a Suu Kyi-appointed panel set up to ease tensions with the Rohingya, assailing her for an "absence of moral leadership."
Various organizations have taken back honours bestowed on the onetime human rights icon, but Myanmar has rarely responded to the moves.
In a statement posted by a government spokesman on Wednesday, however, Myanmar's embassy in Washington said it regretted that the Museum had been "misled and exploited by people who failed to see the true situation" in Rakhine.
It added that the decision will have no bearing on local support for Suu Kyi but that it would "redouble its efforts in finding a lasting solution" to the crisis.
In Geneva on Wednesday the UN human rights chief Zeid Ra'ad Al Hussein called for a new body tasked with preparing criminal indictments over the Myanmar atrocities.
https://nation.com.pk/09-Mar-2018/us-museum-strips-rights-award-from-suu-kyi
--------
Cubs of the Caliphate - rehabilitating Islamic State's child fighters
8 Mar 2018
RAWANGA CAMP, Iraq (Reuters) - While children who have been through war typically draw devastating pictures of the violence they have suffered, few show themselves as the perpetrators.
The suicide belts, car bombs and other explosives sketched again and again by a 14-year-old boy newly arrived at this camp in northern Iraq are the ones he built himself: used by Islamic State militants against civilians and troops in Iraq and Syria.
One image depicted him killing a man with a spray of bullets, something he said he did during three years as a child fighter forcibly conscripted by Islamic State.
Kidnapped from his Yazidi homeland in northern Iraq, he said he got used to the sound of bombs falling on Islamic State's de facto capital, Raqqa, in Syria, as security forces closed in last year.
Giving him time to draw and talk about his experience is part of a treatment programme to help him move on and protect both him and others from lasting damage.
Hundreds of children are estimated to have been used as fighters by Islamic State, including boys who joined with their families or were given up by them and the offspring of foreign fighters groomed from birth to perpetuate its ideology.
Experts have warned that indoctrinated children, who began escaping the clutches of Islamic State as its territory fractured last year, could pose an ongoing threat to security, both regionally and in the West, if they are not rehabilitated.
Treating Yazidi children, who were separated from their families and in many cases orphaned, holds particular challenges.
PERSECUTED TWICE
There is little in the way of specialised care for them in Iraq, where the minimum age of criminal responsibility is nine. The government has detained and prosecuted dozens of children for their suspected IS affiliation, according to a recent report by New York-based Human Rights Watch.
Naif Jardo Qassim, a psychotherapist treating children at Rawanga refugee camp near Dohuk emphasised that they are "victims and not criminals," and should be treated as such.
Highlighting the scale of the task, Yazidi teacher Hoshyar Khodeida Suleiman recounts the story of one of his students, a young boy reunited with his family in the autumn.
A few days later, the boy's father woke up in the middle of the night to find his son wielding a knife to his throat, confused about whether he should kill his parents or himself.
"He was screaming that they were infidels and that he would rather die than be one of them," Suleiman said.
When the militants overran Yazidi towns and villages in 2014, it killed or enslaved more than 9,000 adults and children in what the United Nations has called a genocidal campaign against a religious minority labelled heretic by Islamic State.
It sold girls and women into slavery, marrying some off to fighters, and trained many boys to join the ranks of what it called the Cubs of the Caliphate, posting videos of them committing atrocities in the name of its self-declared state.
Most of the children returned, not home, but to displacement camps in northern Iraq, where they live with relatives – their parents either missing or killed by the militants.
"Everything changed while they were gone," said Qassim. "That's if they even remember anything from their lives before."
Adding to that instability is the weight of the traumas they have endured.
"These children have seen their families killed, or were kidnapped, beaten and brainwashed," he said. "In some cases, they witnessed executions, were forced to kill or were raped, multiple times, for years."
Qassim works for Yahad In-Unum, one of a handful of international NGOs which has set up a children's centre in the camp, where children can receive psychological treatment, ranging from talk to art therapy.
They also come to play, said Qassim, "and remember how to be children again".
REMEMBERING
Qassim's six-month-old centre is currently treating 123 children, a mix of girls and boys all under the age of 18, recently returned from Islamic State-held territory.
"When they first come back from captivity, the children can often be aggressive, violent, confused and angry," he said, adding that many of the children were forced to forget their native Kurdish. "That quickly dissolves into anxiety and deep depression, as the trauma begins to settle in."
The centre devises a treatment programme for each child, which involves both individual and group therapy sessions.
"We slowly work to undo the years of brainwashing they were subjected to," said Qassim. "We want them to forget the last few years and start again."
He said all the children he has treated were successfully "de-indoctrinated", adding, "no child is beyond saving".
The relative novelty of so-called deradicalisation programmes means opinion is divided over their effectiveness; Laila Ali, spokesperson for UNICEF in Iraq which supports such services, says rehabilitation is "absolutely possible".
Some children are harder to reach than others, particularly those who have forgotten life before IS.
One 10-year-old boy was smuggled out of Syria just three and a half weeks ago and has since been living with his uncle in the camp. Shy at first, he became animated when describing his "accomplishments" during his fighter training in Deir Ezzor, Syria and said he is not sure his current life is better.
Qassim says he exhibits confusion about whether he should denounce Islamic State's teachings. He and other children sneak off to pray in the toilets, unconvinced they will not get in trouble with Islamic State for shirking religious obligations.
Qassim says he is hopeful he will be back to normal soon.
Some face new humiliations on their return. "I had to move in with my relatives because my parents said they would never accept me back because of what I did," said one former fighter, now aged 15.
Qassim is the only psychotherapist at his centre and the work takes its toll. "It's very difficult to hear children tell you these stories - of rape, of combat, of killings... In my life, I'd never heard such horrors."
With little in the way of funds or a roadmap, some community members have pitched in to help in their own ways.
Suleiman aims to rehabilitate Yazidi children at Sharya refugee camp near Dohuk by "reconnecting them with their Yazidi faith", with an emphasis on "humanity and human decency".
On a rainy afternoon in late February, they came to class in traditional clothes he had given them: white dresses and scarves with black and gold headbands for the girls; trousers, matching waistcoat and red and white keffiyeh scarf for the boys.
"It's a simple thing," he said. "But the clothes are a reminder of who they are and where they come from."
https://www.thestar.com.my/news/world/2018/03/08/cubs-of-the-caliphate--rehabilitating-islamic-states-child-fighters/
--------
US announces $5 million reward for information on Pak Taliban leader Maulana Fazlullah
March 09, 2018
The US on Friday announced a USD 5 million award for information leading to the arrest of Afghanistan-based Maulana Fazlullah, leader of Tehrik-e-Taliban Pakistan (TTP), an outfit which carries out terrorist attacks inside Pakistan.
Under its rewards for justice program, the US also announced a USD 3 million reward each for information on Abdul Wali, of Jamaat ul-Ahrar (JuA), and Mangal Bagh leader of Lashkar-e-Islam.
Jamaat-ul-Ahrar is a terrorist organisation that split away from TTP while the Lashkar-e-Islam is based in the Khyber Tribal Agency in Pakistan.
The announcement came as the Pakistani Foreign Secretary Tehmina Janjua held meetings with officials of the Trump administration including the White House and the State Department.
The State Department said TTP is a terrorist organisation based in the tribal areas of eastern Afghanistan. It has historically maintained close ties to al-Qaida.
Since being appointed by the group's central Shura Council in November 2013, Fazlullah has organised and directed several TTP attacks against Pakistani interests and has publicly blamed the US for military operations against the group.
In December 2014, Fazlullah's operatives carried out the most lethal terrorist attack in Pakistani history when its operatives killed 151 people, including more than 130 children, during an attack against the Army Public School in Peshawar, Pakistan.
In 2012, Fazlullah ordered the failed assassination of Pakistani schoolgirl Malala Yousafzai who promoted girls' right to education and publicly criticized Fazlullah and the TTP, the State Department said.
Abdul Wali reportedly operates from Afghanistan's Nangarhar and Kunar Provinces. Under Wali's leadership, JuA has been one of the most operationally active TTP networks in Punjab Province and has claimed multiple suicide bombings and other attacks throughout Pakistan.
In March 2016, JuA conducted a suicide bombing at a public park in Lahore, Pakistan, that killed 75 people and injured 340. In August 2015, JuA claimed responsibility for a suicide bombing in Punjab that killed Punjab Home Minister Shuja Khanzada and 18 of his supporters.
Wali is also known as Omar Khalid Khorasani. He was born in Mohmand Agency, Pakistan, and is believed to be in his late 30s. He is a former journalist and poet and studied at a number of madrasas in Karachi.
According to the State Department, Mangal Bagh and his group earns revenue from drug trafficking, smuggling, kidnapping, raids on NATO convoys, and taxes on transit trade between Pakistan and Afghanistan.
Bagh has led Lashkar-e-Islam since 2006 and has routinely shifted alliances to protect illicit revenue streams while enforcing an extreme version of Deobandi Islam in the areas of eastern Afghanistan and western Pakistan that he controls, particularly Nangarhar Province, Afghanistan.
Born in Khyber Agency, Pakistan, he is believed to be in his mid-40s. Bagh is a member of the Afridi tribe. He studied at a madrasa for several years and later fought alongside militant groups in Afghanistan.
https://www.indiatvnews.com/news/world-us-announces-5-million-reward-for-information-on-pak-taliban-leader-maulana-fazlullah-431685
--------
India
Terrorism grossest violation of human rights: India replies to Pakistan at UNHRC
Mar 9, 2018
NEW DELHI: India today condemned Pakistan's statement made at UN Human Rights Council, where it had accused the former of human rights violation in Kashmir, saying that "terrorism is the grossest violation of human rights".
In a Right of Reply filed at the 37 Session of the UN Human Rights Council, New Delhi reminded Islamabad about the state of human rights within its own borders and said that Pakistan has been using the argument of human rights as a shield to mask its territorial ambitions.
"This council should be mindful that the dubious concern for human rights is coming from a country, which has systematically abused and violated the human rights of the people in Balochistan, Sindh, Khyber Pakhtunkhwa as well as Pakistan Occupied Kashmir," it said in a response to Pakistan's statement.
It also urged the Council to direct Pakistan to end its support to terrorism and cease cross-border infiltration.
"We urge the Council to call on Pakistan to end cross-border infiltration; to dismantle special terrorist zones, safe havens and sanctuaries, to take verifiable actions, including terror financing; to provide freedom to the people of Pakistan Occupied
https://timesofindia.indiatimes.com/india/terrorism-grossest-violation-of-human-rights-india-replies-to-pakistan-at-unhrc/articleshow/63223903.cms
--------
Supreme Court strikes down Kerala HC order: NIA can probe, but Hadiya free to live her life
by Ananthakrishnan G
March 9, 2018
THE SUPREME Court Thursday set aside the Kerala High Court order annulling the marriage of Hadiya, a 25-year-old Hindu woman who converted to Islam two years ago, to a Muslim man and said she was free to "pursue her future endeavours in accordance with the law".
"Considering the arguments advanced on both sides, in the facts of the present case, we hold that the High Court should not have annulled the marriage between appellant No.1 Shafin Jahan and respondent No.9, Hadiya alias Akhila Asokan, in a Habeas Corpus petition under Article 226 of the Constitution of India," said the order issued by a three-judge bench headed by Chief Justice of India Dipak Misra.
"She (Hadiya) appeared before this Court on November 27, 2017, and admitted her marriage with appellant No.1. In view of the aforesaid, the appeal stands allowed. The judgment and order passed by the High Court is set aside. Respondent No.9, Hadiya alias Akhila Asokan, is at liberty to pursue her future endeavours according to law," stated the bench.
The court also said the National Investigation Agency (NIA) can go ahead with its probe into a so-called "larger conspiracy" behind the alleged forced religious conversion of Hadiya and others in Kerala.
"We clarify that the investigations by the NIA in respect of any matter of criminality may continue in accordance with law," said the bench, also comprising Justices A M Khanwilkar and D Y Chandrachud.
Months after converting to Islam in January 2016, Hadiya married Jahan, triggering allegations of forced conversion. Claiming that her daughter had been "brainwashed", Hadiya's father K M Asokan moved the Kerala High Court which annulled the marriage and sent Hadiya to her parents' custody last May. On an appeal by Jahan, the Supreme Court summoned Hadiya, interacted with her in open court and sent her to continue her studies in a Salem college.
The NIA's probe, on a direction from the Supreme Court, began in August last year. The agency filed a status report of its probe in the court and claimed that there was a "well oiled machinery" behind the conversion of Hadiya and other girls.
On Thursday, Senior Advocate Shyam Divan, appearing for Asokan, said the High Court was within its powers to annul the marriage. "There is an inherent jurisdiction in a court of law to annul a marriage in an appropriate case," he said, arguing that the expanding concept of law takes into account the question of "marriage frauds".
Justice Chandrachud said that while courts could annul marriages, the power should be exercised only in exceptional circumstances. "For instance, there may be the case of a 16-year-old married off to a 75-year-old. There, she may be incapable of asserting her free will because of her poverty, etc. Such cases border on trafficking and we may invoke our powers… But where there are two consenting adults, can we go into the justness of the marriage?" he said.
Divan contended that while no third party could ordinarily get involved in a marriage between two consenting adults, the facts of this case justified the High Court order. He said that public law has evolved to account for situations where a marriage may be intended to defeat a state interest or even a private interest.
Justice Chandrachud, however, said that "the moment we step into the realm of public law, we are stepping into a dangerous domain". "There may be several state interests. Marriage and personal relations are the core of plurality of Indian culture. We must do everything to protect it…We can't allow the test of reasonableness to the legality of marriage," he said.
At this point, CJI Misra said: "How can we get into the question whether consent is free or not, specially when the parties are mentally sound?"
Additional Solicitor General Maninder Singh, appearing for the NIA, claimed that "marriage" in this case "was a disguise to further an offence". "This marriage was a ploy to get her out of court proceedings," Singh said, and implored the Bench to take a look at NIA's status report.
The Bench said the government was free to take action if it found that the parties were involved in any criminal act.
Full report at:
http://indianexpress.com/article/india/supreme-court-strikes-down-kerala-hc-order-nia-can-probe-but-hadiya-free-to-live-her-life-5091458/
--------
Another cleric bats for shifting of mosque in Ayodhya
Mar 08, 2018
A Solapur-based Islamic scholar Maulana Shahabuddin Firdausi has endorsed Maulana Salman Nadwi's stance on shifting the Babri Mosque away from the dispute site even as the All India Muslim Personal Law Board (AIMPLB) ruled out an out of court settlement at this juncture of Ayodhya issue on Wednesday.
"The whole earth is a mosque. A place of worship can be replaced in the greater interests of the Indian Muslims and this will be a desirable step in Babri Masjid case," Maulana Firdausi said in a tweet tagging Maulana Salman Nadwi and Zafar Sareshwala, chancellor of Maulana Azad National Urdu University. Despite his about turn and statement that he was dropping the Ayodhya issue from his agenda, Nadwi quickly re-tweeted Maulana Firdausi's tweet.
A peace activist, Maulana Firdausi, has also authored a book on triple talaq and has set up a blood bank in Solapur.
The AIMPLB, however, dismissed such attempts to broker a negotiated settlement saying that it was too late for talks and only a court verdict on the matter was acceptable to it.
"This is not the first time that Sri Sri Ravi Shankar is trying to mediate. He tried the dialogue route earlier also but drew a blank," said AIMPLB secretary and lawyer Zafaryab Jilani.
The apex body of Muslims on religious issues, however, took exception to the Art Of Living (AOL) spiritual leader's comment that "the country can become like Syria and Muslims should leave their claim on Ayodhya."
"This is an attack on country's well-being," AIMPLB general secretary Maulana Wali Rehmani said to PTI. On the letter written to the AIMPLB by Ravi Shankar on Tuesday, in which he suggested Muslims gift one acre at Ayodhya site to Hindus who will provide five acres for a mosque, Rehmani said, "he will comment on it only after discussion with board members." "We will come out with a detailed reply to his (Ravi Shankar's letter) letter soon," said AIMPLB spokesperson Maulana Sajjad Nomani.
Asked about AOL founder's concerns regarding communal violence, Maulana Rahmani said, "If he has any such apprehension, he should find a way out to avoid a situation of communal clashes."
Full report at:
https://www.hindustantimes.com/lucknow/another-cleric-bats-for-shifting-of-mosque-in-ayodhya/story-LGbAuSHxrJNafQmgVDM8fI.html
--------
Aimplb Spokesperson Maulana Sajjad Nomani Booked For Sedition
MARCH 8, 2018
Lucknow: The Hazratganj police lodged an FIR on Wednesday against AIMPLB spokesperson Maulana Sajjad Nomani on sedition charges for allegedly hurting religious feelings during a speech in Hyderabad.
UP Shia Waqf Board chairman, Waseem Rizvi in his written complaint alleged that Nomani in his February 9 speech in the general council meeting of the All India Muslim Personal Law Board (AIMPLB) in Hyderabad had displayed feelings of hate against the country, communities and religions.
The complainant has alleged that Nomani in his February 9 speech in the general council meeting of the All India Muslim Personal Law Board (AIMPLB) in Hyderabad had deliberately hurt religious feelings, police said.
"Referring to Rohingya Muslims, Maulana Sajjad Nomani said attempts are underway to make the situation of Indian Muslims like that of their Rohingya counterparts. He even said he had proof of arms, ammunition and training being given to all, even in the smallest of villages, to make Indian Muslims suffer. This speech was widely broadcast by television channels, having a mass impact," Rizvi said.
Nomani has been booked under sections 124-A (sedition) and 153-A (promoting enmity between different groups on ground of religion, race, place of birth, residence and language), police said.
He also faces charges under the IPC section 153-B (imputations, assertions prejudicial to national-integration) and 298 (uttering, words with deliberate intent to wound the religious feelings of any person).
Full report at:
https://theshahab.com/2018/03/08/aimplb-spokesperson-maulana-sajjad-nomani-booked-for-sedition/
--------
After 'terroristan', India has a new phrase to describe Pakistan
Shailaja Neelakantan
Mar 9, 2018,
NEW DELHI: After famously conferring on it the title 'Terroristan', and after evocatively describing it as the 'Ivy League of terrorism', India yesterday coined another phrase to denote Pakistan - "special terrorist zone".
India was making a play on the title 'special economic zone', which is given to an area within a country that has special business-boosting economic regulations different from that in the rest of the country. In talking about Pakistan at the United Nations (UN) yesterday, India tweaked that title to "special terrorist zone", to describe the country's continuing support for terror and its provision of safe havens for terrorists.
"We urge the Council to call on Pakistan to end cross border infiltration; to dismantle special terrorist zones, safe havens and sanctuaries, to take verifiable actions, including on terror financing...", said Mini Devi Kumam, second secretary, India's Permanent Mission at the UN Human Rights Council (UNHRC) in Geneva.
Kumam was countering an allegation made by Pakistan earlier at the forum, about human rights violations in Jammu and Kashmir. She said terrorism "is the grossest violation" of human rights.
"The real problem in the State of Jammu and Kashmir is terrorism, which has constantly received sustenance from Pakistan and territories under its control," said Kumam.
Last September, at the UN General Assembly in New York, India said "Pakistan is now 'Terroristan', with a flourishing industry producing and exporting global terrorism." This comment made news not just in the South Asian media, but also in the British and US press. Almost exactly a year before the 'Terroristan' comment, India described Pakistan as "the Ivy League of terrorism", castigating it for financing and supporting terrorist groups it uses as proxies against India.
"The land of Taxila, one of the greatest learning centres of ancient times, is now host to the Ivy League of terrorism. It attracts aspirants and apprentices from all over the world. The effect of its toxic curriculum is felt across the globe," said India's representative at the UN General Assembly two years ago.
Yesterday, India's representative at the UNHRC said Pakistan has made a habit of misusing the Geneva forum to make misleading references about internal matters pertaining to Jammu and Kashmir.
"Pakistan has long been attempting to mask its territorial ambitions and use of terrorism as a state policy under the guise of concern for human rights," said Kumam.
She also pointed out the incongruity of a country that oppresses its minorities talking about human rights violations.
"This Council should be mindful that the dubious concern for human rights is coming from a country, which has systematically abused and violated the human rights of the people in Balochistan, Sindh, Khyber Pakhtunkhwa as well as Pakistan Occupied Kashmir," Kumam said.
Full report at:
https://timesofindia.indiatimes.com/india/after-terroristan-india-has-a-new-phrase-to-describe-pakistan/articleshow/63227478.cms
--------
Bhima-Koregaon riots state-sponsored terrorism, says Opposition
Mar 08, 2018
The opposition led by the Congress and the NCP came down heavily on the BJP-Shiv Sena government in Maharashtra on Thursday over the Bhima-Koregaon caste violence, calling it an act of "state-sponsored terrorism".
They also raised the issue of the demolition of a statue of Communist icon Vladimir Lenin in Tripura, where the BJP recently swept to power.
Raising a short duration debate in the Legislative Council on the Bhima-Koregaon riots, Sharad Ranpise (Congress) wanted to know why the government has appointed the chief secretary to the probe panel headed by a retired High Court judge.
He claimed this was done to influence the probe into the January clashes in Bhima-Koregaon village in Pune district and alleged the Fadnavis government is trying to divide communities.
"A political party with communal ideology was behind the oppression of the downtrodden castes. The pulling down of a Lenin's statue in Tripura was lauded by a secretary of that party," he said.
Ranpise urged the government not to create disharmony among different castes and refrain from practising the British -era divide and rule policy.
"Why the police did nothing to stop a large mob of 500 to 700 people armed with stones when they were charging at the war memorial (near Bhima-Koregaon). This was because the riots were an act of state-sponsored terrorism," he said.
The Congress legislator said the incident was a fallout of two-and-a-half thousand years of oppression of the downtrodden castes by the upper castes.
"Communal harmony is being disturbed by raking up issues like cow protection, love jihad, ghar wapsi," he said.
Referring to the commemoration of the 200 years of Bhima-Koregaon war of January 1, 1818 in which the British forces defeated the Peshwa army, he wanted to know as to why senior ministers visited the venue on December 31 when they knew the event was scheduled the next day.
Jaidev Gaikwad (NCP) alleged the work on disturbing communal harmony was going on for the last 10 to 15 years.
He argued the trouble in Bhima-Koregaon was fomented by "outsiders".
Vijay Girkar (BJP), however, said heavy deployment of police personnel prevented escalation of violence.
Jogendra Kawade (Peoples Republican Party) alleged the riots were an organised attack on the Dalit community.
The violence had erupted when Dalit groups were celebrating the bicentenary of the Bhima-Koregaon battle in which the forces of the British East India Company defeated the Peshwa's army.
Full report at:
https://www.hindustantimes.com/india-news/bhima-koregaon-riots-state-sponsored-terrorism-says-opposition/story-n5pTCtBl4QWwk7nZTvm0jM.html
--------
Expelled AIMPLB member Nadvi to form 'Manavta Kalyan Board'
March 8, 2018
Expelled member of the All India Muslim Personal Law Board (AIMPLB), Maulana Salman Nadvi, on Thursday announced he is setting up a 'Manavta Kalyan Board' with an aim to spread the message of humanity in the society.
"I am constituting the board to spread message of humanity. It will have members of all the religions. The objective is to stand united where ever there is an atrocity on anyone irrespective of his caste," Nadvi told reporters here.
He said that while the AIMPLB was for issues related to personal laws, there was a need to constitute a board, from where the voice of the oppressed could be raised.
Not only Muslims, people from all religions can raise their voice from this forum, he said.
"There was no such platform after 1947 from where issues related to all castes and religions were taken and attempts could be made to resolve contentious issues," he said.
Asked about the Ayodhya issue, Nadvi said the issue was not on his agenda at present.
"I tried for an amicable solution but both the communities are not ready," he said.
In February, the All India Muslim Personal Law Board (AIMPLB) had expelled Nadvi, who expressed his view that shifting of the Babri mosque was permissible.
"The atmosphere should be good (between the two communities)…There is permission for this in the Sharia. As per the Hanbali school of (Islamic) thought, a mosque can be shifted," Nadvi had said.
Full report at:
http://indianexpress.com/article/india/expelled-aimplb-member-nadvi-to-form-manavta-kalyan-board-5090958/
--------
False stories claim Ireland prepping for Muslim immigration
March 9, 2018
Dublin, Mar 8 (AP) An Irish government plan to address population growth isn't an outline for "nation-destruction" that will bring in 1 million immigrants from Muslim countries, as claimed by several false stories circulating online.
The plan to address growth doesn't specify countries where immigrants would come from, nor their religions.
Several websites tie all projected increases in the Ireland 2040 plan to immigrants, "likely Muslims", from Afghanistan, Africa, the Middle East and Pakistan and claim the prime minister, Taoiseach Leo Varadkar, is an "ethnic Indian." The prime minister is the son of a Hindu doctor from India and an Irish nurse.
The sites said Varadkar was talking about the migration of more than a million people when he said, "It's our big vision for how we want to reshape Ireland." The plan describes projected growth of around 1.1 million over 22 years. The leading nationalities of people moving to Ireland in the year before the country's most recent census in 2016 were returning Irish citizens, followed by people from the United Kingdom and those from Brazil.
Full report at:
http://www.india.com/news/agencies/false-stories-claim-ireland-prepping-for-muslim-immigration-2934122/
--------
Pakistan
Govt yet to completely confiscate JuD, FIF assets: report
March 9, 2018
ISLAMABAD: The assets of Jamaatud Dawa (JuD) and Falah-i-Insaniyat Foun¬da¬tion (FIF) have still not been completely confiscated, it was revealed on Thursday, according to a local English daily.
This was revealed by Interior Secretary Arshad Mirza, who was speaking at a meeting of the Senate Standing Committee on Interior. The meeting also discussed the possible implications on Pakistan of the Financial Action Task Force's (FATF) decision to include the country on the greylist from June and any steps that can be taken to mitigate the implications.
The Intelligence Bureau has prepared a list of JuD and FIF assets, through what the interior secretary described as "geo-mapping of properties and assets of banned organisations".
Both the organisations were moved from the watch list to the list of proscribed organisations after the government introduced a presidential ordinance amending the Anti-Terrorism Act to include UN-designated terrorist groups and individuals in the domestic listing.
https://www.pakistantoday.com.pk/2018/03/09/govt-yet-to-completely-confiscate-jud-fif-assets-report/
--------
Only State can declare jihad against evil forces: minister
MARCH 9, 2018
PESHAWAR: Federal Minister for Interior Ahsan Iqbal said Thursday that only State has the right to declare jihad in a Muslim country against evil forces and that no citizen has the right to call for the killing of the citizens.
Addressing a ceremony here at the Frontier Constabulary headquarters, the interior minister said rulings by individuals for jihad will only create anarchy and destabilize the country. He said some terrorist outfits had made the country hostage few years back and Pakistan was being considered the most dangerous place for living. While today, it is an emerging economic nation and a peaceful country, he said.
The minister said that government, army and police were united in war against terrorism as result of which the terrorists were on the run. "We will not rest until elimination of the last terrorist. We will make the country a peaceful abode for our children," he resolved.
In his media talk following the event, Ahsan Iqbal said PTI chief Imran Khan was known for making tall claims whereas he himself did not follow the same in practical life. "We have put the country on road to progress under the leadership of former prime minister Nawaz Sharif but certain hidden forces are against it," he said, adding many important projects have been brought to the country under the CPEC which will ensure massive investment in the country besides making Pakistan an economic giant.
"We desire peace in Afghanistan as a peaceful neighbourhood was in the interest of Pakistan," he said, adding that India did not want peace in Pakistan and Afghanistan and that arrest of Indian spy Kulbhushan Jadhav was a proof of it.
Full report at:
https://dailytimes.com.pk/212311/only-state-can-declare-jihad-against-evil-forces-minister/
--------
Saudi Arabia, Pakistan face same enemy, says Imam-e-Ka'aba
March 9, 2018
LAHORE: The Imam of Ka'aba, Al-Sheikh Saaleh bin Mohammad Aal-e-Talib, has said both Saudi Arabia and Pakistan are committed for dominance of Islam and security of Harmain Sharifain. That was why, he added, both were facing serious dangers of terrorism and had the same enemy.
Speaking as the chief guest at the third session of the opening day at the 24th 2-day All Pakistan Ahle Hadith convention at Kala Shah Kaku, about 35-km from Lahore on Thursday, he said that both countries would have to remain united to counter the tough challenges of subversion and the enemy.
The convention was presided over by president of Markazi Jamiat Ahle Hadith Pakistan (MJAH), Senator Prof Sajid Mir, while Federal Minister for Religious Affairs Sardar Mohammad Yousuf, Federal Minister Hafiz Abdul Karim, and other dignitaries coming from different countries and Pakistan also spoke on the occasion.
The Imam warned that Islam was being tagged with terrorism, though it had been the most peaceful religion all through history. However, the Muslim countries across the world were being subjected to terrorism and destruction, from Iraq to Syria and from Palestine to Kashmir. He warned the enemies of Islam that they would remain the ultimate losers since Allah Almighty has taken upon Himself to protect Islam. He urged Muslims to shun all kinds of differences, get united to fight the tough enemies, and not to allow them to weaken the strength of Muslims. He also reaffirmed the pledge of Saudi Arabian regime for safeguarding the Muslim Holy places, Harmain Sharifain, at all costs and counter all conspiracies to create terror in the garb of worship to keep the pilgrims and the masses safe and secure. "Saudi Arabia always welcomes the pilgrims of Harmain Sharifain, but we are fully committed to protecting the Muslim holy places at all costs, and will spare no sacrifice for this objective," he said.
Al-Sheikh Saaleh bin Mohammad Aal-e-Talib is on a three-day visit to Pakistan on the invitation of MJAH President Senator Sajid Mir. During his stay in the provincial metropolis, Imam of Ka'aba will lead Maghrib prayers at Jamiat Ashrafia Lahore on Friday and Isha prayers at Masjid Ahle Hadith Lawrence Road. Earlier, in the day he laid the foundation stone of the proposed Islamic Centre at the Capital City, Kala Shah Kaku. Imam praised the commitment and love of the people and government of Pakistan for safeguarding the Harmain Sharifain. He said both countries had close brotherly relations based on Islam, love and friendship. He said King Salman bin Abdul Aziz has great love for Pakistan and he had sent his regards for Pakistanis. He also conveyed the regards from the Ulema and people of Saudia Arabia for Pakistan. Sajid Mir, in his address, said Hajj has been the pivotal worship of Islam and it must be spared from politics and negative agendas.
Earlier, while addressing the reception, hosted by Federal Minister for Communication Hafiz Abdul Karim, Imam of Kaaba emphasised that the foreign policy of Kingdom of Saudi Arabia was focused on elimination of terrorism. He said his country was fully aware of its friends and foes. He emphasised the need for accuracy in media reports, saying media was considered fourth pillar of the state, but he considered that media had become the first pillar for the objective of maintaining peace and stability in the world.
Full report at:
https://www.thenews.com.pk/print/290152-saudi-arabia-pakistan-face-same-enemy-says-imam-e-ka-aba
--------
Haqqani Network receiving significant support in Pakistan: NATO commander
Mar 8, 2018
WASHINGTON: The Haqqani Network continues to enjoy significant support inside Pakistan due to which the terrorist group is still carrying out attacks across the border in Afghanistan, a top NATO commander has said.
The second in command in the Haqqani Network is effectively driving the Taliban today, said general Petr Pavel, chairman of the NATO Military Committee.
"We still see that there is a significant support, or at least provision of safe haven to Haqqani network (in Pakistan)," Pavel told Defense Writers Group yesterday.
A number of high profile attacks in Afghanistan in the last couple of months were delivered by the Haqqani network, General Pavel said.
General Pavel has been chairman of the NATO Military Committee since June 2015.
As such he said Pakistan has a very important role to play in the Afghan peace process.
Full report at:
https://timesofindia.indiatimes.com/world/pakistan/haqqani-network-receiving-significant-support-in-pakistan-nato-commander/articleshow/63217770.cms
--------
South Asia
Buddhist mobs sweep through Sri Lanka's Muslim neighborhoods
By Bharatha Mallawarachi 
March 8, 2018
KANDY, Sri Lanka — Buddhist mobs swept through Muslim neighborhoods in Sri Lanka's central hills, destroying stores and restaurants and setting homes on fire despite a curfew, a state of emergency and a heavy deployment of security forces, residents said Thursday.
In the small town of Pallekele, mobs ignored the curfew that was supposed to keep them off the streets and used gasoline bombs to burn four homes, said Mohamed Nazar.
An angry crowd gathered around Nazar's house around 8 p.m. Wednesday, throwing rocks and shouting, so the family turned off the lights so no one could see inside. "Then a large flame came and the house caught fire," Nazar said.
His father hid under a sofa as the flames took hold, but Nazar grabbed him and they ran out. Authorities eventually put out the fire, but much of his family's belongings were destroyed, he said.
Many residents of the area around Kandy, the main hill town, described a series of similar attacks since the violence began early this week. The streets of most towns were all but empty except for police and soldiers.
As evening began to fall Thursday, many Muslims worried that darkness could bring more attacks, and that police would do little to stop them.
"We can't trust the army and police. My shop has been attacked in their presence and I don't know what could happen tonight," said Mohamed Faraz, whose butcher shop was ransacked.
The government ordered a state of emergency Tuesday and later shut down popular social media networks, saying they were being used to spread false rumors that led to the attacks.
"Technology created to bring people together is being used to pull people apart," technology minister Harin Fernando was quoted as saying by the Sri Lanka Mirror newspaper. "Social media websites such as Facebook, Whatsapp and Viber ... have been used to destroy families, lives and private property."
Some see the violence rooted in the spread of hard-line Buddhism.
Sri Lanka has long faced a bitter ethnic divide between the majority Sinhalese and the minority Tamils, fueling a decades-long civil war as Tamil militants tried to carve out their own homeland.
But in the years since the war ended in 2009, a religious divide has grown, with the rise of Buddhist nationalist groups that stoke anger against the minority Muslims, saying they are stealing from Buddhist temples or desecrating them, or forcing people to convert to Islam. Muslims also own many of Sri Lanka's small shops, and many Muslims suspect small-town jealousy has led to some attacks.
Sinhalese are overwhelmingly Buddhists, while Tamils are mostly Hindu, Muslim and Christian.
"It is vital that all political leaders, religious and other community leaders condemn violence," the European Union ambassadors to Sri Lanka said in a statement Thursday, calling for "urgent action against hate crimes."
Full report at:
https://www.washingtonpost.com/?utm_term=.d45bc698ebb5
--------
Suspected US drone strike kills 20 TTP militants in Afghanistan
March 08, 2018
A suspected US drone strike on a training camp in an isolated part of Afghanistan's eastern province of Kunar on Wednesday killed more than 20 Pakistani Taliban militants preparing to launch suicide attacks in Pakistan , officials said.
Two Pakistani intelligence officials said the attack, carried out in a village called Saresha Sultan Shah, killed at least two senior figures in the movement, besides someone believed to be a trainer of suicide bombers.
The Pakistani Taliban , also known as Tehreek-e Taliban Pakistan or TTP, are separate from the Afghan Taliban and combine a number of groups that fight the government of Pakistan . The US State Department has put it on a list of foreign terrorist organisations.
Last month, a suspected US drone strike on the Pakistani side of the border killed the deputy leader of the TTP, who have been waging a campaign of bombings and other attacks on Pakistani forces.
The Pakistani intelligence officials said Wednesday's drone strike in Kunar, an undeveloped and thickly forested province on the two countries' border, took place during a visit by senior TTP figures prior to sending the militants into Pakistan .
They said it killed Gul Mohammad, a TTP leader in Bajaur Agency on the Afghan border, and Qari Yaseen, whom officials described as a "master trainer of suicide bombers". A son of TTP leader Fazlullah Khorasani was also killed, they added.
Sources in the Pakistani Taliban confirmed the strike had killed more than a dozen of their members but said Fazlullah Khorasani, who was visiting the training camp at the time of the attack, had not himself been killed.
A spokesman of the NATO-led Resolute Support mission and US forces in Afghanistan headquarters in the capital, Kabul, did not confirm the report.
"We were not aware of this report and have no additional information to offer," he said in an emailed statement.
Last year, the CIA requested increased authorities to conduct covert drone strikes against militant targets in Afghanistan .
Full report at:
https://nation.com.pk/08-Mar-2018/suspected-us-drone-strike-kills-20-ttp-militants-in-afghanistan
--------
US drone strike kills 5 ISIS militants in East of Afghanistan
Mar 08 2018
At least five militants affiliated with the Islamic State of Iraq and Syria (ISIS) terrorist group were killed in an airstrike in eastern Nangarhar province of Afghanistan.
The provincial police commandment issued statement earlier today confirming that the airstrike was carried out by the US forces using unmanned aerial vehicle.
The statement further added that the militants were targeted in Landi area in Mamand Dara of Achin district.
According to the Nangarhar police commandment, another ISIS militant was also wounded and some weapons and ammunition were destroyed in the airstrike.
The airstrike did not incur any loss to the local residents as well as the security personnel conducting operations on the ground, the statement said.
The anti-government armed militant and terrorist groups including the ISIS militants have not commented regarding the report so far.
This comes as the 201st Silab Corps of the Afghan Military said Tuesday that four terrorists belonging to the ISIS group were killed in similar airstrikes in Nangarhar and Kunar provinces.
According to Silab Corps, at least two of the militants were killed in Nawagi area in Achin district of eastern Nangarhar province.
Full report at:
https://www.khaama.com/us-drone-strike-kills-5-isis-militants-in-east-of-afghanistan-04602/
--------
Myanmar Says It Would Like To See 'Clear Evidence' Of Genocide
March 9, 2018
GENEVA – Myanmar wants to see clear evidence to support accusations that ethnic cleansing or genocide has been perpetrated against its Muslim minority in Rakhine state, National Security Adviser Thaung Tun said on Thursday.
"The vast majority of the Muslim community that was living in Rakhine remain," he told reporters in Geneva. "If it was a genocide, they would all be driven out."
Nearly 700,000 Rohingya have fled Rakhine into neighbouring Bangladesh since insurgent attacks sparked a security crackdown in August, joining 200,000 refugees from a previous exodus.
On Wednesday, UN human rights chief Zeid Ra'ad al-Hussein said he strongly suspected "acts of genocide", while Myanmar's military published a lengthy response to widespread allegations over its campaign in Rakhine, saying its investigations had cleared troops of almost all alleged abuses.
Zeid told the UN Human Rights Council that reports of bulldozing of alleged mass graves were a "deliberate attempt by the authorities to destroy evidence of potential international crimes, including possible crimes against humanity".
Thaung Tun said charges of ethnic cleansing and genocide were very serious and should not be bandied about lightly.
"We have often heard many accusations that there is ethnic cleansing or even genocide in Myanmar. And I've said it before and I'll say it again – it is not the policy of the government, and this we can assure you. Although there are accusations, we would like to have clear evidence," he said.
"We should look into that before making a pronouncement on whether there is ethnic cleansing or genocide."
Myanmar has not allowed UN investigators into the country to investigate. A UN fact-finding mission is due to report on Monday on its initial findings, based on interviews with victims and survivors in Bangladesh and other countries.
Thaung Tun added that Myanmar was willing to accept back people who had fled and provide safety and dignity for them, showing that it did not want them out of the country, and that only a minority of Rakhine's population of 3 million had left.
He said the Muslims who fled largely did so because the Arakan Rohingya Salvation Army (ARSA) armed group had sowed fear. He accused ARSA of having forced villagers to join their attacks on the security forces and had insisted on a scorched earth policy, burning villages in retreat.
Rohingya trace their presence in Rakhine back centuries. But most people in majority-Buddhist Myanmar consider them to be unwanted Muslim immigrants from Bangladesh. The army refers to the Rohingya as "Bengalis," and most lack citizenship.
Thaung Tun said former residents would be welcomed back if they were willing to "participate in the life of the nation", for example by learning the Burmese language.
Full report at:
http://ewn.co.za/2018/03/09/myanmar-says-it-would-like-to-see-clear-evidence-of-genocide
--------
Khaleda reading books, news, her family say as she spends a month in jail
2018-03-08
She is passing the days reading books and news, her family say.
Her wait for bail lingers on with her lawyers moving the High Court 11 days after getting a certified copy of the verdict issued by a special court sentencing her to five years in prison on Feb 8.
The High Court is scheduled to decide on the petition on Sunday after getting related documents.
Her sister Selina Islam, brother Shamim Eskandar and his wife Farida Kaniz, who have visited the BNP chief in jail several times, told bdnews24.com she was reading books and newspapers most of the time, but not watching television.
They said she was being provided with food by the jail authorities.
When any family member brings any food for her, the jail authorities let her have it after screening.
The 73-year-old has to take medicines regularly for problems in her heart, eyes and knee. She also has to follow a diet.
Her physicians have gone to the jail for her check-ups several times, but the prison authorities have barred them saying they would call the doctors if need be.
After visiting her on Wednesday, senior BNP leaders said their chief has remained mentally strong.
"She is tackling the hostile situation courageously. She is ready to make sacrifices for the country and democracy," Secretary General Mirza Fakhrul Islam Alamgir said.
Standing Committee Member Moudud Ahmed said they had been concerned about Khaleda's health.
"But it seemed yesterday that she is physically well and mentally very strong," he said.
Khaleda is the second former head of government after HM Ershad to go to jail for corruption.
The BNP alleges the Zia Orphanage Trust graft charges are false and politically motivated.
After the special court in Bakshibazar issued the verdict on Feb 8, Khaleda was taken to the old Dhaka Central Jail on Nazimuddin Road. She is the lone prisoner in the jail as the authorities moved the inmates to the new central jail in Keraniganj two years ago.
She was kept at a room previously used by the jail superintendent and then moved to a room previously used as the daycare centre of the jail.
The BNP leaders had alleged she had not given the status of a special prisoner as a former prime minister.
The widow of president Ziaur Rahman later got the status. The authorities also went on to allow her house help to stay with her in a move termed 'unprecedented' by the Awami League.
As a special prisoner, she can read books and newspapers. There is also a TV in her room.
'Feroza' quiet
Khaleda's house 'Feroza' in Gulshan has fallen quiet since she has been put in jail.
BNP leaders and her relatives are not going to the house, now occupied only by the security guards and house helps.
"The house is totally empty. We wait for her return every day," one of the guards told bdnews24.com.
Full report at:
https://bdnews24.com/politics/2018/03/08/khaleda-reading-books-news-her-family-say-as-she-spends-a-month-in-jail
--------
Germany to increase troop level in Afghanistan to 1300 soldiers
Mar 08 2018
Germany will deploy hundreds more soldiers to Afghanistan as the cabinet of the government of Germany on Wednesday approved the deployment of more soldiers in the framework of the NATO-Resolute Support Mission.
The German defense minister Ursula Von Der Leyen has said the troop level in Afghanistan will be increased to 1300 soldiers.
According to reports, Germany is currently having more than 960 troops in Afghanistan who are mainly operating within the framework of the NATO train, advise, and assist mission in the northern parts of the country.
This comes as the NATO Secretary General Jens Stoltenberg said last month that the alliance is aiming to increase the number of the international forces in the framework of the train, advise, and assist mission to close to 16,000 during the year 2018.
NATO Secretary General Jens Stoltenberg told reporters in Brussels that "At least twenty-eight Allies and partners are increasing their troop contributions to our training mission in Afghanistan."
Stoltenberg further added "We are aiming to have close to 16,000 personnel there this year. Up from around 13,000 last year."
Full report at:
https://www.khaama.com/germany-to-increase-troop-level-in-afghanistan-to-1300-soldiers-04600/
--------
Arab World
Iraq gives death sentence to sister of former al-Qaeda leader
Mar 8, 2018
The sister of a former al-Qaeda leader in Iraq who was killed in 2010 has been sentenced to death in a Baghdad court on terrorism charges, including collaborating with militants in terror operations.
The conviction was announced in a Thursday statement issued by Iraq's Supreme Judicial Council spokesman Abdul-Sattar Bayrkdar, saying that Abu Omar al-Baghdadi's sister was found guilty of "offering logistic support and help to (terrorists) in carrying out criminal acts."
According to the statement, other charges cited for the conviction of the woman -- whose identity is yet to be disclosed -- include "distributing money" among the terrorists in Mosul, which was overrun in 2014 by Daesh-led militants who engaged in a terror campaign in the northern Iraq city and its surrounding regions for over three years.
Bayrkdar said the woman's husband was also a member of the al-Qaeda leadership, who was sentenced to death earlier.
However, he did not elaborate on the nature of other charges and the years the woman had collaborated with the al-Qaeda in Iraq.
Al-Baghdadi, according to the report, was killed in April 2010 along with Abu Ayyub al-Masri, another key al-Qaeda leader based in Iraq, during an operation by Iraqi forces.
The statement by Iraq's judiciary spokesman initially identified the convicted woman as the sister of Abu Bakr al-Baghdadi, the shadowy leader of the notorious Daesh terror group.
Daesh emerged from al-Qaeda in Iraq, which was linked to the main group famously led by Saudi national Osama bin Laden, who was reportedly killed in Pakistan in a covert operation by US forces.
In mid-2014, Daesh controlled vast areas in northern and western Iraq, including Iraq's second-largest city of Mosul, which was under the militants' rule for more than three years.
The Iraqi military declared victory over Daesh last December, after driving out the notorious militants from northern and central Iraq. Hundreds of women, including foreigners, were taken into custody by Iraqi forces during the operations that liberated the regions under Daesh occupation.
The whereabouts of Abu Bakr al-Baghdadi remain unknown despite a number of rumors that he was killed or injured during airstrikes and ground battles both in Iraq and Syria.
Full report at:
http://www.presstv.com/Detail/2018/03/08/554788/Iraq-sister-of-former-alQaeda-leader-death-sentence-Supreme-Judicial-Caoucil-AbdulSattar-Bayrkdar-Abu-Omar-alBaghdadi
--------
Saudi Crown Prince holds talks with UK's Archbishop of Canterbury
8 March 2018
Saudi Crown Prince Mohammed bin Salman has met with the Archbishop of Canterbury on the second day of his historic visit to the United Kingdom.
The crown prince vowed to promote religious freedom during his meeting with Archbishop of Canterbury Justin Welby in Lambeth.
His visit to the church on Thursday comes following his historic visit and meeting with Coptic Pope Tawadros II at Cairo's largest Coptic cathedral on Monday during the first leg of his maiden tour as Saudi Crown Prince.
The meeting at Lambeth Palace was also attended by one of the Church of England's first senior female bishops, Christine Hardman, the bishop of Newcastle, and Nick Baines, the bishop of Leeds, according to Christian Today.
https://english.alarabiya.net/en/News/gulf/2018/03/08/Saudi-Crown-Prince-holds-talks-with-UK-s-Archbishop-of-Canterbury.html
--------
Syria regime pummels besieged Eastern Ghouta
March 09, 2018
HAMMURIYEH - Syrian forces pursued a relentless air and ground offensive against Eastern Ghouta on Thursday, moving closer to retaking the rebel enclave but also depriving desperate civilians of vital aid.
More than 900 civilians have been killed in the nearly three-week assault on the last rebel enclave outside the capital, where dozens suffered overnight from a suspected chlorine attack.
On another front in Syria's complex seven-year war, pro-Turkey rebels seized control of the key northern town of Jandairis from Kurdish fighters. Russia-backed government forces have retaken more than half of Eastern Ghouta , a monitor says, since launching their devastating offensive on the enclave on February 18.
The fighting has prompted international outrage, culminating in the UN Security Council demanding an immediate ceasefire, aid deliveries and evacuations. New air strikes on the town of Zamalka killed at least seven civilians, the Britain-based Syrian Observatory for Human Rights monitor said. An aid delivery planned for Thursday was meant to bring relief to war-weary civilians inside Eastern Ghouta , which is home to 400,000 inhabitants who have been living under government siege since 2013.
But with bombardment continuing, the joint convoy between the United Nations, International Committee of the Red Cross (ICRC) and Syrian Arab Red Crescent could not go through. "The convoy for today is postponed," ICRC spokeswoman Ingy Sedky said.
It marks the second time this week aid operations have been disrupted by military developments, with food deliveries cut short Monday due to bombardment.
Jens Laerke, a spokesman for the UN's humanitarian coordination office (OCHA), said: "The movement of the convoy was not authorised by the Syrian authorities due to security reasons." Eastern Ghouta towns and villages have fallen in quick succession in recent days, with regime forces on the verge of cutting the remaining rebel-held territory into two isolated pockets. A military official on Thursday said the regime would open up a new "humanitarian corridor" for civilians wishing to flee from the south of the enclave. AFP's correspondent in the town of Hammuriyeh saw motionless bodies lying in the streets on Thursday after a night of ferocious bombing.
On Wednesday, volunteers from the civil defence group known as the "White Helmets" were seen trying to douse flames burning two men lying dead on the street next to a motorbike after a strike. Dozens of civilians were treated in the town for breathing difficulties late Wednesday, with medics reporting symptoms consistent with a toxic attack.
Doctors at one facility treated at least 29 patients with signs of exposure to chlorine, according to the Syrian American Medical Society (SAMS), which supports hospitals in Eastern Ghouta . It said victims were suffering from shortness of breath, wheezing, and redness of the eyes.
Several families were seen trying to reach fresh air late Wednesday on the roof of a four-storey building in Hammuriyeh, after air strikes on their neighbourhood.
"I'm going to suffocate," two children screamed as rescue workers carried them down from the roof.
Regime forces have been repeatedly accused of using chlorine on Eastern Ghouta in recent weeks, which both the government and Russia have staunchly denied.
Syria's war has killed more than 340,000 people and displaced millions since starting in 2011 with the brutal repression of anti-government protests. It has since spiralled into a complex conflict involving world powers. Since January 20, Turkey-led rebels have pressed an assault on the Kurdish enclave of Afrin in the north of the country.
On Thursday, Turkish forces and allied Syrian rebels seized the town of Jandairis, the Observatory said.
"Turkish forces and allied Syrian rebels took full control of Jandairis... after heavy and sustained bombardment by the Turkish aviation," it said.
A rebel commander from the Turkey-backed Faylaq al-Sham group told an AFP reporter in Jandairis the town was under full control.
"The entire city of Jandairis was liberated from the secessionist gangs," said the commander, who goes by the name Abu Saleh. "The fight will continue until the whole of Afrin is cleared of them."
Turkey says the Kurdish People's Protection Units (YPG) who control the enclave are a "terrorist" group.
But the Kurdish militia have also formed the backbone of a US-backed alliance that has successfully fought the Islamic State jihadist group in Syria .
The UN Security Council on February 24 demanded a 30-day cessation of hostilities across the country, but the resolution has done little to bring relief to civilians.
The UN's top body met behind closed doors on Wednesday in an attempt to shore up the ceasefire.
UN peace envoy Staffan de Mistura briefed the meeting and offered to help broker a deal with Russia to allow fighters in Eastern Ghouta to leave, a diplomat said.
Full report at:
https://nation.com.pk/09-Mar-2018/syria-regime-pummels-besieged-eastern-ghouta
--------
Terrorists in Eastern Ghouta Seek Help after Army's Intensified Attacks
Mar 08, 2018
Sources affiliated to Faylaq al-Rahman reported that some militant groups in Eastern Ghouta of Damascus have agreed to withdraw from the region and have started negotiations with Ankara to evacuate hundreds of al-Nusra members.
They added that the militants in Eastern Ghouta hope that Turkey would be able to pave the ground for reaching a 24-hour-long ceasefire agreement with Russia.
Meantime, Spokesman of Turkish President Recep Tayyip Erdogan, Ibrahim Kalin, told a news conference that Ankara was working to extend a five-hour daily truce in Syria's Eastern Ghouta to 24 hours and that Erdogan would discuss the situation there with Iranian President Hassan Rouhani on Wednesday.
Based on reports, 240 terrorists whose evacuation has been proposed are affiliated to al-Nusra and they are not included in the UN Security Council's ceasefire agreement.
But the military spokesman of Jeish al-Islam terrorist group denied holding any negotiations to leave Eastern Ghouta, adding that they will remain in the region.
The Syrian and Russian armies have announced that the militants in Eastern Ghouta can leave the region along with their family members and personal weapons.
Meantime, people in Eastern Ghouta disclosed on Wednesday that the terrorists have been plundering the humanitarian aid convoys that were delivered to the war-torn region earlier in the week.
The supply of humanitarian aid to the Syrian town of Douma in Eastern Ghouta by a UN-Syrian Arab Red Crescent convoy was almost jeopardized by the two-hour talks between the convoy members and head of the local military and political councils, the sources said.
"After the convoy entered Douma, the talks between the convoy staff and leaders of the local military and political councils took place in one of the local mosques, being recorded on video, and the record was later used by the Jeish al-Islam militants for propaganda purposes," a source said.
"At the same time, due to the two-hour delay, the delivery of humanitarian aid and medicine to civilians was in fact under the threat of disruption," the source added.
The source emphasized that the humanitarian agencies were able to personally verify that militants forcibly kept civilians in the area as a "human shield".
Full report at:
http://en.farsnews.com/newstext.aspx?nn=13961217000678
--------
Syrian Army Driving North-South Wedge in Eastern Ghouta
Mar 08, 2018
The London-based Syrian Observatory for Human Rights (SOHR) reported on Thursday that the Syrian army has regained control of 50% of Eastern Ghouta.
A military source also said that the army is only 1km away from an area where it could drive a wedge between the Northern and Southern Eastern Ghouta.
Once the Syrian army manages to split Eastern Ghouta, the Damascus forces will have ultimately secured the vehicle management base and meet up with their forces in the area.
Meantime, the Arabic-language al-Akhbar newspaper referred to the Syrian army's efforts to divide Eastern Ghouta into the Northern and Southern parts, and reported that implementation of this plan will change the field realities a lot and will provide a last chance to the terrorists to sign the peace agreement with the Syrian army.
Also, reports from the terrorist-held areas in Eastern Ghouta said that they have lost their morale and fled to safer areas.
Military sources said on Wednesday that the Syrian army troops managed to further advance against terrorists in Eastern Ghouta and are about to lay siege on the towns of Douma and Mesraba.
The sources said that the army units managed to prevail over the terrorists' positions and deploy near the town of Douma, Jeish al-Islam's center in Eastern Ghouta.
Also, the army men, deployed in the Northwestern part of Eastern Ghouta, stormed terrorists' strongholds near the town of Mesraba from the Southern and Northern parts of al-Ab Farms.
In the meantime, other units of the army move towards Mesraba from Beit Sawa, local sources said.
The army has gained fire-control over Mesraba and Beit Sawa.
According to another military source, the army is expected to launch a large-scale attack on the two towns in the coming hours, as they mount more pressure on the remaining militants in the region.
Full report at:
http://en.farsnews.com/newstext.aspx?nn=13961217000429
--------
Popular Uprising against Terrorist Groups Reported in Eastern Ghouta
Mar 08, 2018
The residents of al-Hamouriyah neighborhood carried the flag of the Syrian Arab Republic in the streets of the town, while chanting in support of the government and army.
The residents of al-Hamouriyah also called on the militants inside the town to leave in order to avoid any clashes in this part of Eastern Ghouta.
Meantime, efforts by the Damascus government to negotiate with the terrorists to leave Eastern Ghouta have failed for the latter's defiance to hold talks. Damascus has even specified a safe corridor for the terrorists to leave Eastern Ghouta but none of them has accepted to retreat.
Syria and Russia have repeatedly demanded that the militants surrender their East Ghouta pocket in order to avoid any clashes.
In a relevant development on Wednesday, Syria's flags were seen hoisted inside a major militant-held town in Eastern Ghouta region as army troops are increasingly expanding control in the terrorist bastion.
Local sources said that Syria's flag has been hoisted by people in the terrorist-held settlements of Sabqa and Hamouriyeh in Eastern Ghouta.
The sources said that the people, whose region has been under several years of terrorists' occupation, are preparing to welcome the Syrian Army in their villages, settlements and towns.
Full report at:
http://en.farsnews.com/newstext.aspx?nn=13961217000270
--------
Syrian troops split rebel-held enclave near capital, 45 dead
8 March 2018
Syrian government forces seized vast swaths of territory including farmland in the opposition-held suburbs of Damascus on Wednesday, effectively dividing the besieged enclave in two and further squeezing rebels and tens of thousands of civilians trapped inside, state media and a war monitor reported.
The government, determined to wrest the eastern Ghouta suburbs from the control of rebels after seven years of war, has resorted to extreme levels of shelling and bombardment to clear the way for its troops to advance on the ground. Hundreds have been killed in the past two weeks, including 45 on Wednesday according to the Syrian Observatory.
Doctors and residents reported intense shelling and cases of suffocation and difficulty breathing, accusing the government of using chlorine gas Wednesday night. Hamza Hassan, a surgeon working at one of the hospitals in eastern Ghouta, said that staff was overwhelmed with chlorine odor and that he had treated 29 children with difficulties breathing.
Such reports, which have been recurrent in the past weeks, could not be independently confirmed. The government has repeatedly denied using chlorine gas.
Earlier on Wednesday, the state-affiliated al-Ikhbariya TV station broadcast live shots from the region, showing dense columns of smoke rising above the town as explosions and rockets could be heard flying overhead. Syria's Central Military Media said troops took control of the town of Beit Sawa and most of Misraba, both rebel-held communities in the heart of the enclave.
The Syrian Observatory for Human Rights said that by nightfall, Syrian government troops and allied militias had seized half of the territory held by rebels in eastern Ghouta and split the enclave in two halves - a north and southern part.
By slicing the territory, the Syrian government succeeds in further squeezing rebels, making it more difficult for them to continue to hang on to the territory.
The killing continues
Dramatic videos released by the opposition's Syrian Civil Defense on Wednesday showed rescuers digging away hard-packed rubble to rescue a dust-covered little boy and a baby girl in the town of Arbeen. The Britain-based Observatory, which monitors the war through a network of activists on the ground, said more than 50 people were killed in the bombardment Wednesday.
In Geneva, UN human rights chief Zeid Ra'ad al-Hussein denounced what he said were attempts by Syria's government to justify indiscriminate, brutal attacks on hundreds of thousands of civilians by the need to combat a few hundred fighters in eastern Ghouta, calling it "legally and morally unsustainable."
"When you are prepared to kill your own people, lying is easy too. Claims by the government of Syria that it is taking every measure to protect its civilian population are frankly ridiculous," he said.
Full report at:
https://english.alarabiya.net/en/News/middle-east/2018/03/08/Syrian-troops-split-rebel-held-enclave-near-capital-45-dead.html
--------
Hashd al-Sha'abi formally inducted into Iraq security system
Mar 9, 2018
Iraqi Prime Minister Haider al-Abadi has issued a decree, ordering the formal inclusion of pro-government fighters from the Popular Mobilization Units (PMU) in the Arab country's security forces.
According to the decree announced on Thursday, the volunteer forces, better known by the Arabic name Hashd al-Sha'abi, will be granted many of the same rights as members of the military.
The decree added that Hashd al-Sha'abi fighters will be given equivalent salaries to those members of the military under the Ministry of Defense's control.
They will also be subject to the laws of military service, and will gain access to military institutes and colleges.
The fighters have played a major role in the liberation of Daesh-held areas to the south, northeast and north of the Iraqi capital Baghdad, ever since the terrorists launched an offensive in the country in June 2014.
Iraq has repeatedly condemned allegations of sectarian nature against Hashd al-Sha'abi.
In December 2016, Baghdad warned Riyadh of the ramifications of meddling in Iraq's internal affairs, after Saudi Foreign Minister Adel al-Jubeir said Iraq cannot realize unity with the presence of the Popular Mobilization Units.
Saudi Arabia has repeatedly labeled the PMU, which incorporates volunteer forces from different Iraqi factions and tribes, as a Shia movement and called for the dismantling of the group.
Full report at:
http://www.presstv.com/Detail/2018/03/09/554828/Hashd-alShaabi-Iraq-PMU-Abadi
--------
Syrian correspondent slain while covering army advances in militant-held Eastern Ghouta
Mar 8, 2018
A field correspondent for the press office of the Syrian army has lost his life while covering territorial gains being made by government forces and allied fighters from popular defense groups in battles against foreign-sponsored Takfiri terrorists in the militant-held Eastern Ghouta enclave.
Syria's official news agency, SANA, reported that Hasan Ali Badran died on Thursday as Syrian troopers and their allies were engaged in fierce clashes against members of the Jabhat Fateh al-Sham Takfiri terrorist group, formerly known as al-Nusra Front, in the besieged area.
The development came a day after a cameraman for Iran's Arabic-language al-Alam television news network was killed when covering latest developments in the southern part of Syria's embattled northwestern province of Idlib.
Yazan Kahil was filming the advances of pro-government Syrian forces while he stepped on an improvised explosive device left behind by Takfiri terrorists, and lost his life.
UN: Fighting in Eastern Ghouta drives out 50,000 civilians
Meanwhile, the spokeswoman for the United Nations Office for the Coordination of Humanitarian Affairs in Syria says a combined population of 50,000 people has been displaced in the wake of the recent wave of deadly violence in Eastern Ghouta.
Linda Tom noted that the displaced civilians come from the towns of Mesraba, Hammouriyeh and Mudeira.
Syria's Ghouta 'hell on earth' for children: UNICEF chief
Additionally, the head of the United Nations Children's Fund (UNICEF) has described the militant-held Eastern Ghouta enclave as a "hell on earth" for children, stressing that aid is urgently needed for the people trapped there.
"We need in the humanitarian community a chance to deliver assistance. Convoys need to come in with food and supplies, and the last convoy was only half unloaded," Henrietta Fore told Reuters in an interview.
A UN aid convoy was allowed into Eastern Ghouta on Monday, but it had to depart before being completely offloaded because of the fighting.
Eastern Ghouta, a besieged area on the outskirts of Damascus with a population of some 400,000 people, has witnessed deadly violence over the past few weeks, with Takfiri terrorists launching mortar attacks on the Syrian capital in the face of an imminent humiliating defeat.
Full report at:
http://www.presstv.com/Detail/2018/03/08/554819/Syrian-correspondent-slain-while-covering-army-advances-in-militantheld-Eastern-Ghouta
--------
North America
Iran's Supreme Leader Uses #Metoo Movement To Attack U.S. And Promote Islam On Twitter
By Tom O'connor
3/8/18
Iran's top cleric and supreme leader has taken advantage of a popular outcry against sexual harassment and assault in the U.S. to highlight the ills of Western society and promote his own revolutionary Shiite Muslim system.
Coinciding with International Women's Day on Thursday, Iranian Ayatollah Ali Khamenei tweeted messages praising the role of women in an Islamic society and fired off on what he called a "deviant model" that reduced women to their physical appearance and sexuality in the West.
Khamenei, whose government the U.S. has criticized as being repressive and supportive of terrorism, countered by evoking the #MeToo social movement that has seen women, especially in the U.S., speak out against abuses committed by high-profile figures, targeting those in entertainment, journalism, politics and even President Donald Trump himself.
"The western model for women is symbolic of consumerism, cosmetics, showing off for men as a tool of male sexual arousal. All they claim, including gender injustice and so on, is just talk. The reality is different," a tweet read on his official English-language Twitter account.
"You have heard that a significant number of prominent women in the west declared one after the other over the past few months that while on their job, they have been violently and forcefully abused. They were prominent western women," the following tweet continued.
Khamenei appeared that day at an event commemorating the birth of Fatimah Zahra—the only daughter of the Islamic Prophet Muhammad and a revered figure in Shiite Islam—and began his series of tweets by sharing previous quotes of his own that addressed the role of women.
"If women do not take part in a social movement of a nation, that movement will not gain any results. July 11, 2012."
"Women are stronger than men. Women can completely control and influence men with their wisdom and delicacy. May 11, 2013."
"The best people who can follow up and solve women's issues are women themselves. Apr 19, 2014."
Hours later, he praised the framework of the "Islamic woman" and "today's Iranian woman," whose traits include "modesty, chastity, eminence, protecting herself from abuse by men, refraining from humiliating herself into appeasing men." He said the hijab, which is mandatory for women in Iran to wear, blocks female Muslims from being subjected to the abuses they would suffer in the West, calling the headscarf "a means of immunity, not restriction."
He also condemned what he called Western plots against Iran, calling the U.S. government a "provoker of sedition & corruption." Khamenei and Iranian Foreign Minister Mohammad Javad Zarif have previously taken to social media to criticize Trump's support for widespread protests earlier this year that the Iranian government has partially blamed on outside actors such as the U.S., Israel and Saudi Arabia.
International Women's Day is considered a public holiday in a number of countries around the world, including Afghanistan, Armenia, Azerbaijan, Belarus, Burkina Faso, Cambodia, China (for women only), Cuba, Georgia, Guinea-Bissau, Eritrea, Kazakhstan, Kyrgyzstan, Laos, Madagascar (for women only), Moldova, Mongolia, Montenegro, Nepal (for women only), Russia, Tajikistan, Turkmenistan, Uganda, Ukraine, Uzbekistan, Vietnam and Zambia.
It is not an official holiday in Iran and demonstrations in support of it are often broken up by authorities. The U.S. has not recognized International Women's Day, either, likely because of the day's socialist origins.
http://www.newsweek.com/iran-supreme-leader-uses-me-too-movement-attack-us-promote-islam-twitter-836888
--------
Donald Trump Removing Muslim Federal Judge For Trying To Implement Sharia Law In America Is Fake News
March 8, 2018
President Donald Trump removing a Muslim federal judge for trying to implement Sharia law in America is fake news. There is no truth to a report that Trump or his administration removed a Muslim federal judge for trying to add Sharia law into current U.S. law. Trump has been the subject of many fake news, tweets, photographs and memes. This is just another one in a long list of them.
Where did this fake news originate? Webviners.com published the fake news article on Feb. 28, 2018, reporting that a Muslim federal judge had been removed from his role by Trump after the judge attempted to insert Sharia law into his rulings. You can read the fake news below.
22nd Circuit Court of Appeals Justice Hansam al Alallawalahi-Smith made headlines this week when he overturned a ruling out of Dearborn, Michigan. The ruling allowed two critical and violent tenets of Sharia Law to be practiced here in the United States.
When asked why the feds have the right to allow a man to brutalize his wife for speaking with another man and to beat her nearly to death if she were to act on her impulses, the judge mentioned the systematic infusion clause and said the Sharia Law should be allowed because the 14th Amendment guarantees them the rights guaranteed by other states. Those laws may be acceptable to savages, but here in America, we have higher standards.
"President Trump used an old precedent and an executive order to remove al Allalawaralahali-Smith from the bench, citing gross negligence of his duties and wanton disregard for the United States Constitution, reports As American As Apple Pie.
Democrats can't stop complaining over this, claiming that since the appointment wasn't Trump's, he can't use the precedent to fire him.
However, there is no truth to the above story. What is the problem with the story to make it false? For one thing, there is no 22nd Circuit U.S. Court of Appeals as the country only has 13 appellate courts below the U.S. Supreme Court, which include 12 Circuit U.S. Courts of Appeals and the Federal Circuit U.S. Court of Appeals. In addition, there is no record of a "Judge Hansam al Alallawalahi-Smith."
Politifact reported that there is no "systematic infusion clause," and the 14th Amendment largely deals with citizenship rights. Under Sharia law, believers' submission to the will of Allah is the fundamental tenet of Islam. Islamic law is therefore the expression of Allah's command for Muslim society and constitutes a system of duties that are incumbent upon a Muslim by virtue of his religious belief.
Nonetheless, people were fooled on social media into believing that Trump actually removed a Muslim federal judge. Rather, the story is based upon a rise in Islamophobia is an intense fear or hatred of, or prejudice against, the Islamic religion or Muslims, especially when seen as a geopolitical force or the source of terrorism. Here are some examples of people sharing the fake news on social media.
Additionally, Politifact noted that the fake news originated from As American As Apple Pie which carries the following disclaimer:
"It is not a lie and it is not fake news because it is not real If you believe that it is real, you should have your head examined. Any similarities between this site's pure fantasy and actual people, places, and events are purely coincidental and all images should be considered altered and satirical."
Full report at:
https://www.business2community.com/government-politics/donald-trump-removing-muslim-federal-judge-trying-implement-sharia-law-america-fake-news-02027844
--------
'Anti-Muslim Conspiracy Theorist' To Train Georgia Law Enforcement Officers On Islam
By Kashmira Gander
3/8/18
Civil rights groups urged law enforcement officials in Georgia to pull a "hateful" and "potentially unconstitutional" training course about Islam for officers, run by a speaker described as an "anti-Muslim conspiracy theorist."
David Bores, an ex-police officer and retired Army lieutenant general, was set to present a course titled ISIS, the Muslim Brotherhood, and Threats to L.E. [law enforcement] at the Barrow County Sheriff's Office on Thursday.
The eight-hour-long program was previously titled Islam in America but appears to have been renamed on the Barrow County Sheriff Office's website, a spokesperson for the American Civil Liberties Union (ACLU) of Georgia told Newsweek.
"It is inappropriate for law enforcement to teach that people of an entire faith are inherently more dangerous than others," said Sean Young, legal director of the ACLU of Georgia.
Calling on the department to drop the session, activists have drawn attention to the controversial content of programs previously held by Bores. In 2016, he delivered a talk titled "The Current Threat of Islamism" to the Atlanta Vietnam Veterans Business Association.
The presentation "was riddled with misrepresentations of Muslims and Islam, unsubstantiated statistics and images of nonwhite men, representing them as 'rapists' or 'violent,'" the ACLU said.
The summary of a separate course ran by Bores on June 25, 2013, at the Dawson County Sheriff's Office in Nebraska was titled "Islamist Ideology: Does It Conflict With Our Law Enforcement Mission?" It claimed that it would help participants distinguish between "peaceful Muslims and those that want to subvert our Constitution by imposing Sharia law."
It also claimed that "because Islam is a widely recognized and practiced religion, many believe we must automatically grant to it all the rights and privileges offered to other expressions of worship, lest we be accused of being politically incorrect, of being intolerant of multi-cultural beliefs, or worse, of being labeled Islamophobic."
The description of the course to be held in Barrow County appears to mirror Bores's past teachings by using vocabulary including "jihadist enemy" and alleging that Islam poses "challenges to LE [law enforcement] and the Constitution."
In an open letter addressed to law enforcement officials in Georgia, the Georgia branch of the ACLU expressed its "deep concern about an inflammatory, hateful, and potentially unconstitutional 'training course.'" It noted that the First Amendment prohibits U.S. courts from imposing any religious law and forbids the government from targeting Americans based on their faith.
It called on the Georgia Association of Chiefs of Police to clarify allegations that it had approved the course and to withdraw its support if true.
"This so-called 'training,' in addition to being potentially in violation of the Constitution, is an affront to the professionalism of our brave men and women in uniform, the communities they have sworn to protect, and the taxpayers whose dollars are being wasted on this program," the letter read.
It added, "Failure to immediately cancel this training may also expose your office to constitutional liability under both the First and Fourteenth Amendments."
The Southern Poverty Law Center has called Bores an "anti-Muslim conspiracy theorist."
On Monday, the ACLU of Georgia, the Georgia Chapter of the Council on American-Islamic Relations (CAIR), Asian Americans Advancing Justice, and Project South held a press conference urging the Barrow County Sheriff's Office to drop Bores's course.
Edward Ahmed Mitchell, the director of CAIR, told the press conference that he had attended a conference by Bores several years ago.
"This man was so effective in teaching people to hate a religion and fear its followers that to this day I still remember some in that audience murmuring, 'Well, if they, Muslims, are going to kill us, maybe we should start killing them," Mitchell said, according to NBC affiliate 11Alive.com.
Citing a CAIR report on Bores that collected course plans and footage from his sessions, Mitchell added, "Mr. Bores has been teaching some of the most virulent and horrible bigotry that you can imagine."
However, Barrow County Sheriff Jud Smith told 11Alive, "I took the class, and none of that, I perceived, was bigoted."
He added, "We have studied other extremist groups, such as the KKK, such as neo-Nazi groups, Black Panther Party. So we want to arm our deputies with information that's relevant to what's going on in society."
Commenting on the course's apparent name change, the ACLU of Georgia's Young told Newsweek, "If it walks like a duck and quacks like a duck, it's a duck. Changing the name of this hate-mongering session fails to hide the vile, inflammatory nature of this program."
The Barrow County Sheriff's Office, the Georgia Association of Chiefs of Police, and Dawson County Sheriff's Office Law Enforcement Center did not immediately respond to requests for comment.
Full report at:
http://www.newsweek.com/anti-muslim-conspiracy-theorist-train-georgia-law-enforcement-officers-islam-836776
--------
Iraq war was the best thing ever happened to Israel: Scholar
Mar 9, 2018
American scholar Dr. Kevin Barrett says the moral and economic cost of the failed war on Iraq destroyed the United States but it was the best thing ever happened to Israel.
Dr. Barrett, a founding member of the Scientific Panel for the Investigation of 9/11, made the remarks during an interview with Press TV on Thursday while commenting on a recent Trump statement about the Iraq war.
At a closed-door event with Republican donors in Florida this weekend, Trump called the 2003 invasion and occupation of Iraq the "worst decision ever made" by Washington.
"That was Bush. Another real genius. That was Bush," Trump said, referring to former US President George Bush. "That turned out to be wonderful intelligence. Great intelligence agency there."
In early 2003, the US, backed by the UK, invaded Iraq under the pretext that the regime of Saddam possessed weapons of mass destruction (WMD). No such weapons, however, were ever found in Iraq.
The invasion plunged Iraq into chaos, resulting in years of deadly violence and the rise of terrorist groups like Daesh (ISIL), while leaving more than one million Iraqis dead.
Dr. Barrett said that "Trump has repeatedly attacked the decision by then-President George Bush to invade Iraq, and once again he has said that 'it was the worst decision ever made.'"
"Even allowing for hyperbole which is very much a normal practice from Trump, this statement is quite accurate in this sense that is the US has been decimated by the moral and economic cost of this failed war on Iraq – failed from the American standpoint anyway, not so much from the Israeli standpoint," he added.
"The biggest cheerleaders for the war in Iraq were the neoconservatives who are essentially operatives of the extremist Likudnic wing of the Israeli government. And they have made no secrets of their joy about the American debacle in Iraq which destroyed Iraq as a potential adversary to Israel," the analyst said.
"And it's so interesting that Trump gets along so well with Benjamin Netanyahu, the extremist prime minster of Israel, and yet they have such completely opposite views of the war in Iraq," he continued.
"Trump says 'it's the worst thing that has ever happened to America,' whereas Netanyahu said that it's the best thing ever happened to Israel. Specifically about ten years ago Netanyahu told an Israeli newspaper that 'We are benefiting from one thing, and that is the attack on the Twin Towers and Pentagon, and the American struggle in Iraq.' Netanyahu also insisted that this had 'swung American public opinion in our favor,' meaning in Israel's favor," the scholar noted.
Full report at:
http://www.presstv.com/Detail/2018/03/09/554829/Iraq-war-was-the-best-thing-ever-happened-to-Israel
--------
Mideast
Islamic Jihad denounces Palestinian Authority crackdown
By KHALED ABU TOAMEH
8 March 2018
The Palestinian Islamic Jihad (PIJ) on Thursday accused the Palestinian Authority of targeting members of the terror group in the West Bank because of their "political and social activities."
In recent days, scores of PIJ members were summoned for interrogation or arrested by the PA security forces in Hebron, Ramallah, Tulkarem, Qalqilyeh, Jenin, and Nablus, said Daoud Shehab, spokesperson for Islamic Jihad in the Gaza Strip
On Thursday, the PA's Preventative Security Force arrested 12 PIJ members in the Jenin area.
The PA security forces, he said, have been summoning for interrogation or arrest "anyone connected to the intifada and the resistance, including those who support the families of prisoners and martyrs."
Shehab accused the PA of stifling social and political activities. "There's no room anymore for political and social work in the West Bank."
PA security sources said that the crackdown on PIJ was linked to the terror group's increased activities in the West Bank. The arrests are not linked to the suspects' political or social activities, the sources clarified, without elaborating.
Among those taken into custody are Maher al Akhras, a senior PIJ operative, and his son, Islam.
The two were arrested during a raid on their home in the village of Silet al Dahriyeh, near Jenin, Palestinian sources said.
Earlier, the PA security forces arrested Hikmat Odeh, another PIJ operative, after raiding his home in Tulkarem, the sources added, noting that he had been released from Israeli prison a few weeks ago after serving a seven-year sentence for security-related offences.
In the Hebron area, the PA security forces arrested Malek Abu Shkhaidem, Nail Bashir, and Mahmoud Odeh, according to the sources.
Fathi al Qara'wi, a Hamas member of the Palestinian Legislative Council in the West Bank, strongly condemned the PA clampdown, saying there was widespread anger among the Palestinians because of the arrests.
He claimed that the PA security forces have also been arresting Palestinians because of posts on social media and statements in support of Palestinian prisoners held by Israel.
The Hamas official said that Odeh, who was arrested in Tulkarem, was beaten by PA security forces in front of his family members. The PA security forces' actions were tantamount to crimes, he charged.
https://www.timesofisrael.com/islamic-jihad-denounces-palestinian-authority-crackdown/
--------
Don't trade global peace for economic benefits: Iran tells UK
Mar 8, 2018
Tehran has chided British leaders over their anti-Iran remarks during the Saudi crown prince's first official foreign visit, calling on them to stop trading global peace and security for economic interests.
Foreign Ministry spokesman Bahram Qassemi on Thursday condemned the "irresponsible unison" of the British and Saudi officials in accusing Iran of destabilizing the region as Mohammed bin Salman visited London.
"It is an interesting joke that British authorities, in their meeting with the officials of a country such as Saudi Arabia which is an aggressor against Yemen and the cause of a humanitarian tragedy and war crimes in the country and the main source, promoter and sponsor of extremism, terrorism and conflagration in the Middle East and the world, are making such statements against Iran," he said.
"Britain and other countries must, in a responsible move, pressure Riyadh into stopping bloodshed in Yemen and exporting terrorist ideologies and not trade their economic interests with global peace and security," Qassemi added.
Bin Salman arrived in the UK on Wednesday for a three-day trip, where the Downing Street spokesperson said the two sides had agreed to counter Iran's "destabilizing" role in the region after a meeting between the Saudi crown prince and British Prime Minister Theresa.
They "discussed Iran, agreeing on the importance of working together to counter Iran's destabilizing regional activity," according to the spokesperson.
Bin Salman and May also agreed on a target of 65 billion pounds ($90 billion) of mutual trade and investment in the coming years, hailing it "a significant boost for UK prosperity ... as we prepare to leave the European Union."
People gathered outside May's office to protest Britain's role in the war on Yemen, which has left more than 13,600 people dead and destroyed the impoverished nation's infrastructure, plunging it to one of the worst humanitarian crises.
"The political and arms support of the UK and some other countries such as the US for Saudi Arabia is a threat to security, peace and stability of the whole region," Qassemi said.
"Britain's unison with Riyadh makes the country's responsibility in the formation, escalation and continuation of crises in the West Asian region heavier and the achievement of peace and cooperation among the regional states more difficult, prolonged and costly," he said.
Full report at:
http://www.presstv.com/Detail/2018/03/08/554786/Iran-UK-Saudi-Arabia
--------
Slew of anti-Palestinian bills points to impending Israeli elections
Akiva Eldar
March 8, 2018
One of the typical symptoms of election fever is a life-threatening outbreak of populist legislation. The epidemic does not distinguish between radical right and center-right, and does not spare politicians hiding behind the label of center-left. Unfortunately for those elected officials, the media is busy these days with public corruption scandals and the governing coalition crisis over the military draft law for ultra-Orthodox Jews. They have sidelined the Israeli-Palestinian conflict and its implications, such as the instability of the Palestinian Authority, Israel's only potential partner for peace. Nonetheless, Knesset members are energetically promoting a series of proposed bills that could indicate the agenda of the coming election campaign. Prime Minister Benjamin Netanyahu may avoid starring in television and radio campaign advertising spots in light of his many ongoing criminal investigations, but his hallmark slogan and the title of the book he published in 1995 — "Fighting Terrorism" — will continue to take center stage.
On March 5, the Knesset gave overwhelming initial approval to proposed legislation allowing Israel to deduct money from various taxes it collects for the PA to punish it for "supporting terrorism." Fifty-two lawmakers voted for the bill, which openly violates a 1994 interim agreement between Israel and the Palestinians. Only 10 refused to greenlight this distortion of the Paris Protocol, the interim agreement regulating economic ties between Israel and the PA under which Israel commits to collect taxes for the Palestinians, such as customs import duties and income tax deducted from the pay of Palestinians working in Israel, and transfer these revenues to the PA.
Knesset member Dov Khenin of the Joint List said during the Knesset debate on the bill that Israel was not doing the Palestinians "any favors" by handing over the money and was not doing so out of the "goodness of its heart." His fellow party member Aida Touma-Sliman suggested changing the language of the bill to replace the word "deduct" with "steal." However, in addition to eight of her party members, only two Knesset members of the left-wing Meretz opposed the proposed law. Twelve Zionist Camp Knesset members and eight members of Yesh Atid, both opposition parties, voted in favor of the bill.
As far as anyone knows, no Knesset member has ever suggested a bill that would deduct funding for rabbinical colleges or the West Bank outposts that have served as home to Jewish terrorists, mosque arsonists, students who beat up soldiers and rabbis who incite against Palestinians. Israeli taxpayers continue to funnel massive budgets to religious institutions that advocate xenophobia. State-supported local councils collaborate with Jews stealing Palestinian lands. No one even considered withholding social welfare benefits from the widow and orphans of mass murderer Baruch Goldstein, who killed 29 worshippers in a Hebron mosque in 1994, nor from the families of other Jewish terrorists.
Supporters of the bill, which faces two additional Knesset votes before it becomes law, complain that the PA and its leadership "glorify" terrorists who attack Israelis, while Israel has named innumerable streets and town squares after the pre-state Etzel and Lehi underground organizations responsible for the killing of dozens of Arab bus passengers and passersby as well as British and Jewish soldiers suspected of collaborating with the enemy. The bill, however, is not simply an expression of contempt for a signed pact with the Palestinians for the sake of picking up a few votes. It is being promoted at the expense of endangering the voters. Subjecting the PA budget to cuts means withholding pay from its employees, among them members of the security forces. The greatest beneficiaries of such moves are Hamas and the Islamic Jihad, the two Islamist Palestinian groups funded directly by Iran and Qatar. Israeli defense officials consistently praise the coordination with the Palestinian security agencies that has saved the lives of many Israelis.
On March 6, the Knesset Internal Affairs Committee voted for a bill initiated by Bezalel Smotrich of HaBayit HaYehudi, authorizing district police commanders to prevent the handover of Palestinian terrorists' bodies to their families if an officer entertains "reasonable suspicion" that the funeral procession would endanger lives by "inciting to terrorism or identifying with a terrorist organization or activity." In explanatory remarks, the bill's author noted that in some cases, funeral procession participants have raised banners and made speeches expressing support for the attack in which the terrorist had died or calling for additional attacks.
The lawmakers have obviously never seen the funerals of Jewish settlers killed in West Bank terror attacks. They have never heard participants' calls for revenge and incitement to carry out tit-for-tat attacks against Arabs. Committee members were unmoved by the reservations of the state prosecutor's representative, attorney Gavriela Pissman, who said the law was unnecessary given that both the penal code and anti-terrorism laws address suspicions that a funeral procession could turn into an incitement parade. She noted that the prosecution had been unable to establish a link between incitement and terrorism, adding that she would be "glad" to get research supporting such claims. However, with the threat of another Knesset member hijacking the legislative initiative and raking in public plaudits, who needs research studies? Never mind that they may show that refusal to hand over bodies intensifies hatred of Israel and encourages Palestinian violence.
Next week, Israel's Security-Diplomatic Cabinet is expected to debate proposed death penalty legislation for terrorists. The objection by different security branches to the law has not deterred Defense Minister Avigdor Liberman, who is leading the initiative. He has even threatened to bring down the government if the religious parties in the coalition continue resisting the bill. Netanyahu, who has in the past objected to the death penalty, adapted his views to the findings of polls indicating support among right-wing voters for the execution of terrorists — only Palestinians ones, of course. Poll findings presented March 4 at the annual Sderot Conference on Israeli Society suggest that almost 70% of Israeli Jews support the death penalty for terrorists who kill Jews.
Full report at:
https://www.al-monitor.com/pulse/originals/2018/03/israel-palestinian-authority-knesset-laws-terrorists-taxes.html
--------
Iran ready to help Afghanistan fight terror: Defense chief
Mar 8, 2018
Iran's defense chief says the Islamic Republic supports peace and security in neighboring countries, especially Afghanistan, voicing Tehran's readiness to help the country in its fight against terrorists at Kabul's request.
Brigadier General Amir Hatami made the remarks in a meeting with Ahmad Tamim Asi, Afghanistan's deputy defense minister for policy and strategy in Tehran on Thursday.
Hatami further said Tehran attaches great importance on "security, peace and stability in the region and will spare no effort in this regard," stressing that Afghanistan enjoys a special status among Iran's other neighbors.
He pointed to Iran's effective advisory support for Iraq and Syria in their operations against Takfiri terrorists, and said Tehran, if asked by the Kabul government, is also ready to provide Afghanistan with advisory and security assistance in its fight against terrorism.
The Iranian defense chief further called for concerted efforts by regional countries to eliminate the threats facing the region, saying that the presence of foreigners does not serve the interests of regional countries.
The Afghan official, for his part, said his visit to Tehran is aimed at enhancing the military and defense ties between the two sides, adding that no country is allowed to undermine bilateral relations between the two neighbors.
Full report at:
http://www.presstv.com/Detail/2018/03/08/554767/Iran-defense-Minister-Afghanistan-Tamim-Asi-terrorism
--------
Arabs' failure to take action encouraged US move on al-Quds: Palestinian FM
Mar 8, 2018
Palestinian Foreign Minister Riyad al-Maliki has criticized the Arab states' indifference towards the Palestinian conflict over the past decades, arguing that their failure to carry out concrete actions encouraged the United States to continue its "unfortunate approach" and declare Jerusalem al-Quds as the capital of Israel.
"Our failure has also given a small country like Guatemala the green light to decide to relocate its embassy to al-Quds," Maliki told Palestine's official WAFA news agency on Thursday.
He added that Guatemalan Foreign Minister Sandra Jovel would not reverse her decision to move her country's diplomatic mission from Tel Aviv to Jerusalem al-Quds, "simply because she is fully aware that Arab countries do not have any means to pressure Guatemala to overturn its measure."
"Guatemala's impertinence stems only from the fact that Arabs have failed to execute any of the decisions that they have taken for so many years. If we are unable to carry out such decisions, how could we prevent Guatemala or any other country from taking such a step on al-Quds," Maliki pointed out.
Guatemala's President Jimmy Morales has announced that the Central American country's embassy will be moved to Jerusalem on May 16, two days after the United States is scheduled to do the same.
Speaking on Monday at the annual American Israel Public Affairs Committee (AIPAC) conference in Washington, DC, Morales said that the embassy move "strongly evidences Guatemala's continued support and solidarity with Israel."
The occupied Palestinian territories have witnessed a new wave of tension ever since Trump announced his decision on December 6 last year to recognize Jerusalem al-Quds as Israel's capital and relocate the US embassy in Israel from Tel Aviv to the occupied city.
The dramatic shift in Washington's policy vis-à-vis the city triggered demonstrations in the occupied territories, Iran, Turkey, Egypt, Jordan, Tunisia, Algeria, Iraq, Morocco and other Muslim countries.
On December 21, the UN General Assembly overwhelmingly voted in favor of a resolution that calls on the US to withdraw its controversial recognition of Jerusalem al-Quds as Israeli "capital."
In an attempt to avert the resolution, Trump threatened reprisals against the countries that backed the measure, which had earlier faced a US veto at the UN Security Council.
Full report at:
http://www.presstv.com/Detail/2018/03/08/554821/Arabs-Palestine-alQuds-US-Israeltake-action-encouraged-US-move-on-alQuds-Palestinian-FM
--------
New law authorizes Israeli police to indefinitely hold Palestinian corpses
Mar 8, 2018
The Israeli regime's legislative body, the Knesset, has approved a controversial bill that allows police authorities to indefinitely keep corpses of alleged Palestinian assailants.
The act unveiled Thursday was passed late Wednesday, just hours after the passage of yet another contentious legislation, authorizing the regime's interior ministry to strip Palestinians in East Jerusalem al-Quds of their permanent residency permits "if they are involved in terrorism."
The bill was sponsored by two Knesset members from Prime Minister Benjamin Netanyahu's right-wing Likud and the religious-nationalist Jewish Home parties.
Arab lawmaker Yousef Jabareen of the opposition Joint List party described the bill as "a delusional and draconian law of a delusional government."
The other legislation on revoking permanent residency permits of Palestinians was also introduced by a Likud lawmaker and passed by 48 votes to 18, the Knesset said.
The Israeli regime announced in 2016 that it would not release the bodies of alleged Palestinian assailants killed during attacks for burial unless Palestinians living in Gaza released the remains of two Israeli military officers believed to have been killed during a 2014 Israeli military campaign in Gaza.
Netanyahu signaled back in November 2017 that Israel would not repatriate the bodies of five Palestinians killed when the Israeli army blew up a tunnel allegedly stretching from the Gaza Strip into the occupied territory.
The Israeli Supreme Court ruled in December that the policy was illegal and gave the regime six months to enact new legislation.
The revised act authorizes police district commanders "to set conditions for returning the body of a terrorist for family burial," according to a Knesset statement.
According to the new act, in case the commander decides that a funeral may trigger another attack or turn into a political rally in support of violence, he can then impose limits on the time, location and number of mourners and "a body could be held until the family agrees to the terms."
Full report at:
http://www.presstv.com/Detail/2018/03/08/554814/Palestine-Israeli-regime-Knesset-controversial-bill-Palestinian-assailants
--------
Turkey, Iraq to carry out joint military ops against PKK in N Iraq: Turkish FM
Mar 8, 2018
Turkish Foreign Minister Mevlut Cavusoglu says Ankara and Baghdad will carry out a joint military operation against members of the Kurdistan Workers' Party (PKK) militant group in the northern parts of the Arab country.
The top Turkish diplomat announced the news at a joint press conference with his Austrian counterpart Karin Kneissl in Vienna on Thursday, less than two months after Ankara launched a full-scale cross-border military operation in Syria's northern region of Afrin with the declared aim of eliminating the US-backed Kurdish People's Protection Units (YPG).
The Turkish government regards the YPG as a Syrian offshoot of the PKK, which has been fighting for an autonomous region inside Turkey since 1984.
Cavusoglu did not give further details about the joint operation, but said "both Syria and Iraq need to be cleared off from all terrorist groups. Otherwise the political steps that will be taken regarding a political solution would fail."
The senior Turkish diplomat also stressed that mutual steps would be taken against "terrorists" after Iraq's parliamentary elections, scheduled for May, as both sides had agreed on the issue in previous high-level meetings.
The PKK, viewed as a terrorist organization by Turkey, reportedly has camps in the Qandil Mountains in northern Iraq, from which it purportedly carries out attacks into Turkey.
Cavusoglu praised Iraq for its landmark victory against the Daesh Takfiri terrorist group inside the country, but he said that "during this period the PKK infiltrated into cities from Qandil and other mountains."
The Iraqi army, backed by popular volunteer forces, managed last December to rid the country of Daesh, which had captured large swathes of land in Iraq's north and west at the onset of its campaign of terror in 2014.
Since July 2015, the Turkish air force has been carrying out operations against the PKK positions in the country's troubled southeastern border region as well as in northern Iraq and neighboring Syria.
In early December 2015, Turkey deployed a contingent of its troops to the Bashiqa military camp north of Mosul, claiming that the move had been earlier coordinated with Iraqi officials.
Baghdad swiftly denied the claim and called on Ankara to immediately withdraw its forces from the camp.
Full report at:
http://www.presstv.com/Detail/2018/03/08/554806/Turkey-Iraq-Cavusoglu-PKK-YPG-Afrin-Daesh
--------
Turkish forces, allied militants capture town in Syria's Afrin
Mar 8, 2018
Turkish army forces and allied militants from the so-called Free Syrian Army (FSA) have seized control of a town in Syria's northwestern Afrin region that has been the target of a military campaign over the past weeks.
Turkey's state-run Anadolu news agency reported the capture of Jandairis on Thursday, saying members of the Kurdish People's Protection Units (YPG) were pushed out of the city center following intense clashes.
Airstrikes intensified on Jandairis after Turkish forces captured the hill overlooking the town a day earlier, it added.
The Turkish troops and allied militants have so far seized five of Afrin's seven urban centers, according to Anadolu.
The so-called Syrian Observatory for Human Rights (SOHR) confirmed the full capture of Jandairis by the Turkish forces "after heavy and sustained bombardment by Turkish aviation."
SOHR head Rami Abdel Rahman said the Syrian town had suffered extensive destruction.
Turkey launched an operation in the Syrian city of Afrin on January 20 to eliminate the YPG, which Ankara views as the Syrian branch of the outlawed Kurdish Workers Party (PKK).
It came after the US said it would work with the so-called Syrian Democratic Forces (SDF) militants to set up a new 30,000-strong "border security" force.
The US views the YPG as an ally in Syria, where the militant group forms the backbone of the SDF that is being trained, equipped and protected by the Americans.
Syria condemned the Turkish campaign as an act of aggression, which is meant to support terror outfits operating inside the conflict-plagued Arab country.
Full report at:
http://www.presstv.com/Detail/2018/03/08/554791/Syria-Turkey-Afrin
--------
Menace of Houthi-laid land mines adds to Yemeni misery
8 March 2018
AL-MOKHA, Yemen: Yasser Yassin was driving along a road on Yemen's rugged Red Sea coast when a blast sent his Toyota Hilux flying into the air.
When he regained consciousness, the 30-year-old merchant realized he couldn't move his right leg or see with his right eye.
Yassin's car had hit an anti-tank mine, one of thousands left by Houthi fighters three months earlier when they conceded the Al-Khoukha port area to southern Yemeni forces, their civil war adversaries in that part of Yemen.
His recovery has been far from straightforward, despite help from an anti-Houthi military coalition whose leading members are Saudi Arabia and the United Arab Emirates.
"They (coalition) took me to Aden where they fixed my leg, but there was an issue with the metal prosthesis and my leg got infected," Yassin, leaning on his crutches, said while visiting Al-Mokha hospital for a follow-up after the blast in February.
Yemen has been devastated by three years of conflict in which President Abd-Rabu Mansour Hadi's government, backed by the Saudi-led Arab coalition, is fighting to drive the Houthis out of cities they seized in 2014 and 2015.
The United Nations says the war has created the world's biggest humanitarian crisis, and rights groups say both sides have inflicted indiscriminate violence, including, in the Houthis' case, through the use of banned anti-personnel mines.
Houthi officials did not respond to a Reuters request for comment. Both sides in the conflict deny accusations by human rights groups that they have carried out war crimes.
The results of land mine use can be seen in the hallways of the hospital in Al-Mokha town, located not far north of the strategic Bab Al-Mandab strait, which were crowded with victims and visitors on a recent visit by Reuters.
Doctors and medical staff made their way between armed men to provide first aid to patients wounded by land mines, as well as by shrapnel and mortars.
"I was walking with my brother, I stepped on a mine and it went off," said Rashida, a 13-year-old girl fitted with a rudimentary prosthetic leg.
Her father said she had never attended school because the closest one to their village in Taiz province was 30 km (18 miles) away and had closed down after the Houthis invaded Taiz.
Residents and medics from Al-Mokha and nearby villages said land mines had caused more casualties than the fighting in the area, which has seen the Houthis pushed out of some Red Sea coastal areas since 2016.
The explosives were buried randomly across the region, including in residential areas, playgrounds and under trees where many Yemenis traditionally sit to chew the local mild narcotic qat leaves, they added.
It is not clear how many people have been killed by these weapons, but two doctors and a government official said dozens had died just in the coastal areas of Al-Mokha, Al-Khoukha and Al-Heiss since Houthi forces started withdrawing in early 2017.
The UAE armed forces and Yemeni troops said they harvest between 250 and 300 land mines every week in the western region. More than 40,000 devices have been neutralized since coalition-allied forces took control of the Red Sea coast in a series of battles starting in 2016.
Around 90 percent of the land mines were locally made and most of the victims are civilians, they said.
"They also have Russian-made land mines which they took from government warehouses when they invaded the capital Sanaa," said an expert in explosives in the UAE armed forces, who declined to be named.
The UAE has been arming, training and paying thousands of fighters from southern provinces, called the Southern Resistance, to capture western coastal areas and push the Houthi armed movement back to their homeland in the north.
The war is entering its fourth year this month and, despite Houthi losses in parts of western Yemen, they still control Yemen's most populated areas.
Millions of civilians are trapped under heavy coalition air strikes, as well as a tough crackdown by the Houthis. Famine, cholera and diphtheria affect about eight million people, including two million severely malnourished children.
Last year, Human Right Watch called on the Houthis to cease using land mines and observe the 1997 Ottawa Convention ban on anti-personnel mines, which took effect in 1999. Yemen signed the treaty in 1998.
"Most of the victims who survived lost one or two of their legs, and many are crippled and cannot do any physical work," said Ghassan Massoudi, director of Al-Mokha hospital. Massoudi said the military wing of the hospital was treating also civilian land mine victims.
That side of the facility gets most of the attention from the internationally recognized government and the Saudi-led coalition, as it treats fighters from the frontlines in Al-Jarahi district — 90 km (56 miles) away — where the Southern Resistance and allies from fellow coalition member Sudan face mortar bombs and heaving shelling from the Houthi side.
Yassin said the coalition would not pay for his trip to India — where many Yemenis seek medical treatment — when he needed new surgery on his leg and eye, as he was not a fighter.
So he paid his own way.
Full report at:
http://www.arabnews.com/node/1262106/middle-east
--------
Europe
Anti-Muslim Extremists Retweeted by Trump Are Convicted of Hate Crimes
By RICHARD PÉREZ-PEÑA
MARCH 8, 2018
LONDON — The leaders of an anti-Muslim extremist group in Britain have been found guilty of hate crimes and sentenced to prison, months after they drew international attention for helping President Trump get entangled in a diplomatic dispute with British leaders.
A judge in Folkestone Magistrates' Court on Wednesday convicted Paul Golding, the leader of the group, Britain First, of one count of religiously aggravated harassment, and Jayda Fransen, the deputy leader, of three counts of the same offense. Mr. Golding was sentenced to 18 weeks in prison, and Ms. Fransen to 36 weeks.
The two were convicted over posting videos online of their harassment of Muslims in May 2017, at the same time as a trial of three Muslim men and a teenager who were accused and later convicted of raping a 16-year-old girl.
Britain First, estimated to have about 1,000 members, was little known outside the country until November, when Mr. Trump tweeted links to anti-immigrant and anti-Muslim videos made by the group, some of which were misleading.
Britain First basked in the attention, but Mr. Trump was rebuked by Prime Minister Theresa May and other politicians, in multiple countries and across a broad ideological spectrum, as well as by human rights groups.
In January, the president canceled a scheduled trip to Britain, to coincide with the opening of a new United States Embassy in London. It was clear that he would be met with large protests, fueled partly by those tweets, and 1.8 million people signed a petition calling on the government to rescind its invitation for a state visit.
Mr. Trump said on Twitter that he had called off the trip because he objected to the decision to close the old embassy and build a new one in a less glamorous location south of the Thames, a move that he falsely attributed to former President Barack Obama.
Britain First is a Christian nationalist group that opposes immigration and contends that Islam is destroying the country, and it has used inflammatory tactics like publicly confronting Muslims on the street about their religion, and going into mosques.
Ms. Fransen, 32, and Mr. Golding, 36, have accused the government of criminalizing their opinions. On Wednesday, the group posted a picture of the two on its Facebook page under the words, "their only crime is loyalty."
During the trial in the rape case, Ms. Fransen and Mr. Golding made video recordings, which they posted on social media, of Ms. Fransen knocking on the doors of places where they believed the defendants were present — though in each case, prosecutors said, they were wrong — and insulting them and daring them to come out and face her.
In one instance, prosecutors said, Ms. Fransen yelled into a defendant's home, when only his pregnant girlfriend and their two small children were inside. In another, she warned against "dirty Muslim" pedophiles "touching our kids."
"These defendants were not merely exercising their right to free speech but were instead aiming religiously aggravated abuse at innocent members of the public," said the chief crown prosecutor, Jaswant K. Narwal.
Ms. Fransen and Mr. Golding have been arrested several times.In one instance, a court fined her, and sentenced him to eight weeks in jail for violating a court order barring him from entering any mosque.
https://www.nytimes.com/2018/03/08/world/europe/britain-first-hate-crime-uk.html?mtrref=www.google.co.in&gwh=719AD1788C834EF925B26C89AEE8D012&gwt=pay
--------
Chief inspector: English schools need to address extremist elements
Mar 8, 2018
LONDON — As the country grapples with religious extremism, Britain's Parliament has turned its focus toward an increasingly fraught space: English schools.
Parliament's highly influential education select committee heard Wednesday (March 7) from England's chief inspector of schools, whom some appreciate for her frankness on the issue and others accuse of unfairly singling out Muslims.
Chief inspector Amanda Spielman made headlines at a conference last month for her remarks after a clash between educators and Muslim parents.
Speaking to members of Parliament on Wednesday, Spielman reiterated her concerns about religious extremism in English schools and said her inspectors had found in some private Islamic schools that children had been shown films of people being beheaded and that they had been taught that it is acceptable for men to beat their wives.
Although these most extreme examples were found in private schools that were not properly registered with authorities, Spielman also expressed concerns about state schools.
That British parliamentarians have chosen to intervene in the issue signifies how much anxiety surrounds it — in education circles and British society at large. Educators have come into conflict with conservative Muslim parents who want their children to be able to observe religious practices even in secular state schools. The parents accuse the schools of thwarting religious expression.
The politicians' decision to summon Spielman — head of the Office for Standards in Education — before the select committee followed her public comments warning of grave tensions in schools over religion, particularly Islam, and her urging of head teachers to promote a "muscular liberalism."
On Wednesday she told MPs that what she meant by this was: "Living British values … If we tolerate deeply intolerant practices and culture, we are not living British values," she said.
Spielman said inspectors had found in schools "books by people who are banned from entering the country, books promoting very concerning practices."
She also called Britain's education system "unusually permissive" and called for inspectors to have more oversight of unregistered schools.
Spielman's earlier comments on the conflict between religious and British values were made last month at a conference on education organized by the Church of England. There she expressed support for a London head teacher who had tried to ban girls under the age of 8 in her school from wearing the hijab and to stop children fasting on school premises. That teacher had been called a racist and likened to Adolf Hitler in a spoof video. The school's governors overturned the ban and made her apologize.
Spielman, in the same speech, also warned of extremists using education "to isolate and segregate, and in the worst cases, to indoctrinate impressionable minds with extremist ideology."
After Spielman's comments, her critics accused her of intolerance toward Islam and of conflating culturally conservative Muslims with extremists.
As freelance writer Samira Shackle wrote in The Guardian: "Spielman's speech made a big leap from the debate about children wearing the hijab, to extremism. It is a leap that is made all too often by public officials, particularly when it comes to education. We see it time and time again: any policy question that relates to Muslims is immediately framed as an issue of terrorism, fundamentalism or a failure to integrate."
The Muslim Council of Great Britain responded to Spielman's remarks: "Ms. Spielman continues to issue a disproportionate number of public statements about Muslims and apparent links to extremism."
Although Islam is now Britain's second-largest religion, Muslims still make up a small share of the population: 4.4 percent, or 2,786,000 people. But with very few Islamic schools and the Muslim population concentrated mainly in inner cities, especially London, the student bodies of some secular state schools have become almost entirely Muslim.
She has won support for her outspokenness. Her predecessor as chief inspector, Sir Michael Wilshaw, warned that given the profound changes in British society, schools need official guidance from government over whether girls should wear the hijab in class.
Wilshaw told the BBC: "The (U.K.) has enormously changed. When heads want to change things, they have now to take into account deep-seated and sincere feelings. … The government needs to step in." He also warned that government ministers were too reluctant to act: "There is a reticence and it's leaving head teachers alone, isolated and vulnerable."
The National Secular Society, one of Britain's leading organizations favoring more secular public spaces, has also expressed concerns that teachers aren't given the support they need when faced with parents who want a more religious school culture.
Its education and schools officer, Alastair Lichten, said: "It is possible to come down on either side of the argument about religious dress in schools, but the haranguing of teachers who make the decision is a real problem."
Spielman's agency also wants to investigate the activities of religious organizations that offer education to children out of school. While this would include madrassas, offering instruction to Muslim boys, it would also encompass that most traditional of English institutions, the Church of England Sunday school, where children are taught Bible stories.
But the Church of England is resisting any changes to the law that would allow her agency's inspectors to investigate, perceiving it as an infringement of freedom.
Full report at:
https://www.ncronline.org/news/world/chief-inspector-english-schools-need-address-extremist-elements
--------
Saudi Arabia wants more UK trade deals, say crown prince's team
8 Mar 2018
The UK should turn to Saudi Arabia for new trade and investment opportunities after Brexit and not a backward-looking Commonwealth, Saudi ministers said on the second day of a controversial visit to the UK by the country's crown prince.
As the UK and Saudi Arabia set out a broad ambition to strike nearly $100m of commercial deals over the next decade, the powerful Saudi energy minister, Kalid A al-Falih, told a business conference in London: "I would like to think that Saudis can be the pivotal link to a new partnership sphere for the UK that is perhaps not positioned in the past, as is the Commonwealth, but forward-looking, looking at the demographics of the Middle East, Africa, and Islamic world to which Saudi Arabia is central."
The UK should regard the kingdom as the dominant force in the Gulf and "your gateway to Africa, one of the next frontiers", he said.
Al-Falih's pitch, emphasising that both the UK and Saudi Arabia were at "inflection points", underlines the extent to which the Saudis sense the UK will need to step up its search for new trade partners after Brexit to replace lost EU markets.
UK and Saudi entities on Thursday signed more than 18 economic agreements worth more than £1.5bn, covering education, pharmaceuticals and banking.
Before heading to Chequers for a private dinner with the prime minister, the 32-year-old crown prince, Mohammed bin Salman, held a round of meetings mainly at the Saudi embassy in Mayfair. Seen as the dominant figure in Middle East politics possibly for decades to come, Bin Salman held court to the chief executives of major British banks, the chancellor of the exchequer, Phillip Hammond, and a select group of MPs. The crown prince emphasised the role education and women's empowerment will play in Vision 2030, his plan to transform and modernise his country. He also went to Lambeth Palace to meet the Archbishop of Canterbury, Justin Welby.
Backed by a PR advertising blitz, the crown prince and an entourage of senior ministers have been touting the kingdom's determination to modernise both economically and socially, as well as wean itself off its dependence on oil as its sole revenue generator.
But he faces an uphill battle to convince opposition politicians in the UK that his reforms are not cosmetic, or that his foreign policy gambles in Lebanon, Qatar and Yemen are not reckless. There has been little attempt by Saudi officials accompanying the crown prince to argue that greater freedoms for women will also lead to wider political freedoms, at least in the near term.
Following his meeting with Bin Salman, Welby expressed his distress about the humanitarian situation in Yemen, according to a Lambeth House statement. The Saudis insist they have ended their blockade of the country's ports, and are now contributing to a UN aid programme.
Welby also "shared his concern about limits placed on Christian worship in the kingdom and highlighted the importance for leaders of all faiths to support freedom of religion", the statement said.
No details of the meeting with Hammond were briefed but the Saudi energy minister confirmed the sale of Saudi Aramco, the state-owned oil company, will not go ahead this year. The Saudi state plans to borrow about $31bn this year to bridge an expected budget deficit of $52bn and fund growth plans after its economy shrank last year, mainly due to low oil prices.
Dr Hoda al-Helaissi, a member of Saudi Arabia's Shura Council and one of the most senior women in Saudi public life, emphasised the intense social and economic pressure on the government to undertake reforms. "Saudi households can no longer live comfortably on one salary, forcing women out into the labour market," she said. By 2030, she predicted, a further 1.3 million women would join the labour market, making women 30% of the workforce.
Full report at:
https://www.theguardian.com/politics/2018/mar/08/saudi-arabia-wants-more-uk-trade-deals-say-crown-princes-team
--------
New management appointed to run Geneva mosque
MAR 8, 2018
Switzerland's largest mosque, which has been embroiled in various controversies, has a new director, reports Swiss public radio, RTS. This follows calls for reforms by the secretary-general of the Saudi Arabia-based Muslim World League (MWL).
Switzerland's largest mosqueexternal link has replaced the director of the Islamic Cultural Foundation of Geneva, which manages the place of worship in Petit-Saconnex, Geneva, according to RTS external linkand the Tribune de Genève newspaper on Thursday. The previous director, Ahmed Beyari, who was in charge from 2012, stopped work at the mosque in early February and has taken retirement, RTS said. His replacement is a former Saudi ambassador who has been appointed by the MWL and approved by the Geneva foundation. A vice-director in charge of communication has also been chosen. Full details are expected to be presented soon.
+ Muslims well integrated into Swiss society
The changes at the mosque follow a visit to Geneva last November by the secretary-general of MWL Mohammad bin Abdul Karim Al-Issa and his vows to reform the place of worship to make it a "model of culture, dialogue and integration". The former Saudi justice minister said if this was not achieved, MWL would seriously consider withdrawing all support to the centre.
Fiche S
In an interview with the Tribune de Genève on November 17external link, Al-Issa said errors had been made in past recruitment at the mosque.
Four French employees, including two imams, who had reportedly been placed by French officials on a backlist known as "Fiche S", were removed from their posts soon after his November visit. Fiche S, or "S file status", is reserved for individuals who are considered potential threats to French national security. Their lawyer said on Thursday that the four individuals were planning to file appeals against their dismissals before a Swiss court.
In last year's interview, Al-Issa denied that the Geneva mosque was a centre for indoctrination of extremists. In 2015, the Tribune de Genève reported that 20 young extremists had attended the mosque for several months, two of whom allegedly travelled to Syria.
Full report at:
https://www.swissinfo.ch/eng/society/shake-up_new-management-appointed-to-run-geneva-mosque/43955784
--------
Alabama man pleads guilty to trying to help Islamic State
9 Mar, 2018
BIRMINGHAM, Ala. (AP) — An Alabama man pleaded guilty to terrorism charges Thursday, admitting that be bought bomb-making materials and had hoped to conduct attacks at a military installation or police stations.
In federal court in Birmingham, Aziz Sayyed, 23, of Huntsville, entered the plea to charges that he sought to aide a foreign terrorist organization.
Federal prosecutors said that, after watching videos from the Islamic State terrorist group earlier this year, Sayyed purchased ingredients to make an explosive and told others about his hope to use it in a car bomb or explosive belt. Sayyed also shared the videos and expressed his support for the terrorism organization and terrorist attacks.
According to the plea agreement, Sayyed, told people he wanted to attack police stations or the Redstone Arsenal military installation in Huntsville. He was arrested after discussing his plans with an undercover FBI agent in June.
Sayyed's plea agreement stipulates a 15-year prison sentence. He is scheduled to be sentenced in June.
A lawyer representing Sayyed could not immediately be reached for comment.
U.S. Attorney Jay E. Town of Alabama said that a tip led to the investigation and arrest.
Full report at:
http://www.nzherald.co.nz/world/news/article.cfm?c_id=2&objectid=12009385
--------
UK terror-related arrests rose almost 60% to record high in 2017
8 Mar 2018
The number of people arrested for terrorism-related offences in Britain rose by 58% to a record high of 412 in 2017 – one of the most intense periods of terrorist attacks in recent history.
The Home Office quarterly statistics published on Thursday show there were 412 arrests in 2017 compared with 261 in 216.
The record figures include 12 people arrested for the Westminster attacks in March, 23 people linked to the attack in Manchester in May, 21 arrests connected with the London Bridge attack in June and one arrest in connection with the Finsbury Park mosque attack later that month. A further seven arrests were made in connection with the attack on Parsons Green tube station in September.
The figures reflect the growing threat from jihadists in Britain. The director general of MI5, Andrew Parker, spoke in October of "a dramatic upshift in the threat this year" to the "highest tempo I've seen in my 34-year career".
The detailed Home Office figures show that the 412 arrests in 2017 resulted in 135 people being charged – 110 of them for terrorism-related offences. More than half – 228 or 55% – were released without charge, 33 were released on bail pending further investigation and 13 faced alternative action.
So far, 29 of the 110 people charged with a terrorist offence in 2017 have been prosecuted. All of them were convicted. A further 76 are awaiting prosecution. The remaining five cases have either not proceeded or are pending.
The latest figures show there were 224 terrorist prisoners in jails in Britain at the end of 2017 – an increase of 24%, or 43, over the previous year – and continuing the upward trend seen in recent years. The overwhelming majority – 86% – held Islamic extremist views while 9% were rightwing extremists including from the recently banned National Action,. The remaining 5% were classified as "other ideologies".
The Home Office announced earlier this month that MI5 had reduced the threat level to Britain from Northern Ireland-related terrorism from substantial to moderate meaning a terrorist attack was possible but not likely. However, the threat to the UK from international terrorism remained at severe, meaning an attack was highly likely. The threat in Northern Ireland from Northern Irish terrorism also remains at severe.
The quarterly statistics show that the Metropolitan police has stepped up its use of counter-terror stop and search powers. The number of searches carried out rose 59% in 2017 to 767 from 483 the year before.
Full report at:
https://www.theguardian.com/uk-news/2018/mar/08/uk-terror-related-arrests-rose-almost-60-to-record-high-in-2017
--------
Terror accused 'dedicated book to Muslim demise'
8 March 2018
A man accused of terrorism offences dedicated a book he had started writing to Muslims who were going to "soon suffer" their "demise", a court has heard.
Connor Ward, 25, from Banff, denies breaching the Terrorism Act.
Mr Ward told the High Court in Edinburgh he started to compose a work called "Combat 18 British Mosque Address Book".
He denies he planned any kind of terror attack.
In the title page of the book, the accused had written a dedication to Muslims which was shown to the jury.
It read: "This book is dedicated to all that follow Mohammed and the Islamic faith. You will all soon suffer your demise."
No violent purposes
Mr Ward told prosecutor Richard Goddard that the book's title was a "working" one and that he did not intend the information contained in it to be used for violent purposes.
He said: "That's how it sounded in my head. To me at the time that phrase was not a threat in the way that you are making it sound."
He also denied a suggestion from Mr Goddard that he was planning to commit an act of terrorism.
Full report at:
http://www.bbc.com/news/uk-scotland-north-east-orkney-shetland-43332914
--------
Labour Party accuses UK of killing children in Yemen
Mar 8, 2018
The UK government is responsible for the many children who have been killed and injured as a result of Saudi Arabia's deadly war on Yemen, the Labour Party has said.
In a fiery critique of the Conservative government, Labour leader Jeremy Corbyn grilled Prime Minister Theresa May during the latest Prime Minister's Question (PMQ) at the House of Commons on Wednesday, saying her administration was "colluding" in war crimes against the people of Yemen.
The stark criticism coincided with the arrival of Saudi Crown Prince Mohammed bin Salman for a three-day trip that experts say is aimed at boosting military ties between London and Riyadh.
Saudi Arabia and its Arab allies launched a war on Yemen in March 2015 to reinstall its former Riyadh-allied government. The military aggression has so far killed over 13,600 Yemenis.
Leading the war is bin Salman, who is also Saudi Arabia's defense minister. The Saudi military has enjoyed strong logistic and intelligence support by the US and the UK over the course of the deadly war.
"This Government is responsible for the decisions that are being taken to support this military campaign and support this aerial bombing campaign of Yemen, and has directed British military personnel to take part in advising the targeting of aerial operations in Yemen," Corbyn's spokesman said after the debate.
"The consequence of that has been significant and extensive of targeting of civilian infrastructure and very large numbers of civilian casualties, including very large numbers of children," he added.
Over 5,000 children have been killed by Saudi Arabia's war on Yemen since it began in March 2015, according to a report by the UN children's agency UNICEF that was published in January.
The report added that at least two million Yemeni children were out of school, and that 400,000 were facing malnourishment.
Full report at:
http://www.presstv.com/Detail/2018/03/08/554770/UK-Yemen-children-Saudi-war
--------
Protestors react to visit by Saudi Crown Prince
08 March 2018
Protests erupted outside No.10 Downing Street and Buckingham Palace, the residence of Prime Minister Theresa May, as Crown Prince Mohammed Bin Salman began his state visit to the U.K. meeting with the Queen and the Prime Minister.
Organised by Stop The War Coalition and Hands Off Yemen, hundreds of demonstrators stood outside Downing Street holding placards that read "Crown Prince not welcome. Stop arms sale to Saudi Arabia" and "Bin Salman is a War Criminal".
Labour MP, Chris Williamson, said that Saudi Arabia has breached human rights not only with its military operations in the region but also with its domestic policies. He went on to further criticise the Tory government for welcoming the prince.
Williamson, speaking to al-Jazeera said that he was "absolutely appalled with the humanitarian disaster that is being perpetrated in Yemen by the Saudi regime and it is being made possible by the armament of this country"
The Crown Prince along with May and other British officials are expected to discuss security and defence cooperation as well as business and investment between the two Kingdoms.
The U.K. has been an historic arms supplier to Saudi Arabia, gaining lucrative deals that number in the billions. However, in recent years, the government has come under increasing scrutiny over its support in the western backed and Saudi-led war in Yemen.
Early on Wednesday, the leader of the opposition Jeremy Corbyn, criticised the Prime Minister and her government's lack of criticism of the Saudi regime, arguing that "it cannot be right that the U.K.government is colluding in what the United Nations says is evidence of war crimes".
The Prime Minister, however, defended her government's relationship with the Kingdom, arguing that the U.K. has played an influential role in bringing to light the many issues the Kingdom faces.
"The Prime Minister raised our deep concerns at the humanitarian situation in Yemen. The Prime Minister and Crown Prince agreed on the importance of full and unfettered humanitarian and commercial access, including through the ports, and that a political solution was ultimately the only way to end the conflict and humanitarian suffering in Yemen" a Downing Street spokesperson said.
Full report at:
http://www.worldbulletin.net/europe/199536/protestors-react-to-visit-by-saudi-crown-prince
--------
Southeast Asia
Project to prevent youth radicalisation will be expanded
March 9, 2018
Singapore's Malay/Muslim community recognises the dangers of extremist ideology and is taking steps to counter its spread here, Minister-in-charge of Muslim Affairs Yaacob Ibrahim said in Parliament yesterday.
A key project spearheaded by a network of young asatizah, or religious teachers, to prevent radicalisation among youth, will be expanded, he said. The Asatizah Youth Network, which has 11 religious teachers trained in digital media and counselling, will see its membership grow to 30 by the year end.
Dr Yaacob announced this as he laid out plans to strengthen religious education and key community institutions, one of three key strategies he highlighted for the Malay/Muslim community, along with efforts to support families and children and help people embrace technology.
Noting that Muslims have been set against non-Muslims in many societies by the spread of extremist ideology and acts of terror by the Islamic State in Iraq and Syria, Dr Yaacob said the same cannot be allowed to happen in Singapore. He also cautioned against religious teachers preaching segregation and a rejection of the secular state. "This is surely the road to alienation, marginalisation and ruin. In Singapore, we must stand united against such ideologues and ideologies, and against Islamophobia," he said.
The young, especially, must be inoculated against such views, he added during the debate on the budget for the Ministry of Culture, Community and Youth, which oversees Muslim Affairs.
Responding to Mr Zainal Sapari (Pasir Ris-Punggol GRC), who asked how young people can be protected from radical ideology, Dr Yaacob said over the next five years, the Islamic Religious Council of Singapore (Muis) aims to conduct drop-in sessions for youth at Al-Falah Mosque in Orchard Road, and continue training asatizah in digital media engagements and counselling techniques to counter youth radicalism. This is on top of growing the Asatizah Youth Network, formed last year, he said.
He also gave an update on Singapore's plan to develop an Islamic college here, in response to queries from Dr Intan Azura Mokhtar (Ang Mo Kio GRC) and Dr Fatimah Lateef (Marine Parade GRC). He said he has gone with Muis officials to study different models of tertiary Islamic education in Middle Eastern countries such as Egypt, Jordan and Turkey, as well as multi-religious nations such as the United States and Canada. "An Islamic college in Singapore would adapt appropriate features from overseas institutions so that we will, in time, produce Islamic teachers and scholars who balance a deep learning of the Islamic sciences with broad-based skills and knowledge, and more importantly are rooted in the belief and practice of Islam in Singapore's multi-religious and multi-racial context," he said.
http://www.straitstimes.com/politics/project-to-prevent-youth-radicalisation-will-be-expanded
--------
11 nations, including Malaysia, sign trade deal minus US
March 9, 2018
SANTIAGO: Eleven countries including Japan and Canada signed a landmark Asia-Pacific trade agreement without the US on Thursday in what one minister called a powerful signal against protectionism and trade wars.
The deal came as US President Donald Trump vowed earlier in the day to press ahead with a plan to impose tariffs on steel and aluminium imports, a move that other nations and the International Monetary Fund said could start a global trade war.
The Comprehensive and Progressive Agreement for Trans-Pacific Partnership (CPTPP) will reduce tariffs in countries that together amount to more than 13% of the global economy – a total of US$10 trillion (RM39 trillion) in gross domestic product. With the United States, it would have represented 40%.
"Today, we can proudly conclude this process, sending a strong message to the international community that open markets, economic integration and international cooperation are the best tools for creating economic opportunities and prosperity," said Chilean President Michelle Bachelet.
Heraldo Munoz, Chile's minister of foreign affairs, said he expected Chile's trade with China, its top trading partner, to continue growing alongside trade with CPTPP countries.
Even without the US, the deal will span a market of nearly 500 million people, making it one of the world's largest trade agreements, according to Chilean and Canadian trade statistics.
The original 12-member agreement, known as the Trans-Pacific Partnership (TPP), was thrown into limbo early last year when Trump withdrew from the deal three days after his inauguration. He said the move was aimed at protecting US jobs.
The 11 remaining nations finalised a revised trade pact in January. That agreement will become effective when at least six member nations have completed domestic procedures to ratify it, possibly before the end of the year.
"We are very hopeful like others that we will see the CP TPP coming into effect about the end of the year or shortly thereafter," said Australia Trade Minister Steven Ciobo.
'The way forward'
The revised agreement eliminates some requirements of the original TPP demanded by US negotiators, including rules to ramp up intellectual property protection of pharmaceuticals. Governments and activists of other member nations worry the changes will raise the costs of medicine.
The final version of the agreement was released in New Zealand on Feb 21. The member countries are Australia, Brunei, Canada, Chile, Japan, Malaysia, Mexico, New Zealand, Peru, Singapore and Vietnam.
"We're proud… to show the world that progressive trade is the way forward, that fair, balanced, and principled trade is the way forward, and that putting citizens first is the way forward for the world when it comes to trade," Canadian Trade Minister Francois-Phillippe Champagne said.
In January, Trump, who also has threatened to pull the US out of the North American Free Trade Agreement, told the World Economic Forum in Switzerland that it was possible Washington might return to the TPP pact if it got a better deal. However, New Zealand's trade minister said that was unlikely in the near term, while Japan has said altering the agreement now would be very difficult.
On Thursday, Munoz said the CPTPP was not an agreement against anyone and several governments had said they want to join it.
Trump vowed on Thursday to impose a 25% tariff on steel imports and 10% tariff on aluminium imports, although he said there would be exemptions for Nafta partners Mexico and Canada.
He announced the plan for tariffs last week, rattling financial markets.
Full report at:
http://www.freemalaysiatoday.com/category/nation/2018/03/09/11-nations-including-malaysia-sign-trade-deal-minus-us/
--------
PPBM leaders remember Sanusi as an erudite father figure
BY SYED JAYMAL ZAHIID AND MAY ROBERTSON
March 9, 2018
KUALA LUMPUR, March 9 ― The late Tan Sri Sanusi Junid had abandoned his long-time party Umno last year to form Parti Pribumi Bersatu Malaya (PPBM) along with several other former Umno leaders.
After he passed away this morning, many of his PPBM comrades have described the former minister as a principled and knowledgeable man, who was also kind, but firm.
To them, Sanusi was also considered a conduit to Umno's successes in the past; his intellectual prowess appealed to many and drove Malays to actively join politics.
Datuk A. Kadir Jasin, a former newsman who was later appointed PPBM supreme council member, related that Sanusi was among the early intellectual Malays to join politics when he joined Umno in Negeri Sembilan as a banker.
"He was deeply knowledgeable, a walking dictionary on history, economy and politics. He read voraciously," Kadir said, when asked to describe the late Sanusi.
"[He was also] a Muslim modernist. He was among the founders of [Muslim Youth group] Abim. A storyteller per excellence. An unconventional politician and administrator."
Meanwhile PPBM strategic bureau chief Datuk Rais Hussin praised him Sanusi as a valiant fighter for truth and justice for the people and the nation.
"[He was] cery fatherly with his narrative telling of the real history behind the scenes in Malaysian politics and personally learnt so much from his lectures and discussions," Rais said, relating that Sanusi was even present at Pakatan Harapan's manifesto launch last night.
PPBM Youth chief, Syed Saddiq Syed Abdul Rahman concurred with Rais, pointing out that Sanusi was "an exemplary father-like figure" for young leaders in PPBM.
"He was soft-spoken, yet witty. Kind, yet firm … Even during our last conversation about a month ago, he was a walking Wikipedia," Syed Saddiq told Malay Mail, referring to the online encyclopedia.
"[He was] a library of knowledge. He could share the exact date or time of a historical event which illuminates our nation."
PPBM information chief Datuk Kamaruddin Nor said he first knew Sanusi back in the 1970s when they both were part of Abim's pioneers, and related Sanusi's role in forming Shamelin ― a cooperative society for the poor Malays to partake in the country's booming economy then.
"Under his stewardship the co-operative society has grown to become one amongst the big national societies it is today. But he made his mark in politics more than in others," he said, relating Sanusi's appointment as minister and then Kedah mentri besar.
The former Umno politician was appointed minister of regional and rural development in 1981 and later minister of agriculture in 1986. He later served Kedah between 1996 and 1999.
"He was a man of ideas some of which were ahead of his time. Partly due to that he was no stranger to controversy," Kamaruddin said.
"The family may have lost a son. I have lost a brother and a friend. PPBM suffers a loss of its staunchest supporter."
Full report at:
http://www.themalaymailonline.com/malaysia/article/ppbm-leaders-remember-sanusi-as-an-erudite-father-figure#UjsBJKuUD4YYZrUL.97
--------
Kazakhstan eyes sovereign Sukuk, central Sharia board
March 9, 2018
Kazakhstan's financial centre expects the government to issue Islamic bonds, or sukuk, in coming months as part of efforts to develop Islamic finance business in the central Asian country, an official said.
Final legislative changes to allow issuance of sovereign sukuk are nearly complete, alongside registration of a special purpose vehicle by the Ministry of Finance, said Alibek Nurbekov, head of the Islamic finance department at the Astana International Financial Center (AIFC).
The AIFC, an economic zone modelled on Dubai's International Financial Center, is the centrepiece of the former Soviet republic's plans to become a regional financial hub.
"Issuance of sovereign sukuk is planned in the first half of 2018 in total up to $300 million dollars," Nurbekov said.
The sale would follow sukuk issued by the Development Bank of Kazakhstan in 2012, a deal that raised 240 million ringgit ($61.51 million) via the Malaysian market.
A central sharia board would be established in the first half of the year, said Nurbekov, while rules covering Islamic insurers and a fund for Islamic endowments are also planned.
Islamic banks have traditionally used internal sharia boards to ensure the religious compliance of their products, but a centralised model is gaining favour across the industry.
Full report at:
https://pakobserver.net/kazakhstan-eyes-sovereign-sukuk-central-sharia-board/
--------
Africa
Islamic convention underscores unity for Muslim scholars, Ummah
March 9, 2018
By Adeola Yusuf
National Convention conveyed by the Majlisu Tajdidi Tadamunil Muslimeen Association (MTTM), an amalgamated body of four like-minded Dawah organisations in Nigeria has called on all Islamic organisations to come and join the struggle for the unification of Ummah.
This move, the convention of organisations, which include The Muslim Congress (TMC), Jama'atut Tajdidil Islamy (JTI), Organisation of Tadamunil Muslimun (OTM) and Jama'atul Muslimeen Foundation (JMF) said, was the only way to bring back the lost glory of the Muslim community.
The communiqué signed by the Deputy National Chairman, MTTM, Malam Abubakar Mujahid, said the convention had in attendance delegates from 27 states of the federation and the FCT with the theme: "Unification of Thought".
The communiqué reads: "The convention called on all Islamic organisations to come and join the struggle for the unification of Ummah, which is the only way to bring back the lost glory of the Muslim community.
"Participants noted that the unification of thoughts among Muslims in Nigeria is the best way to make the country a better society for all. This is because the true teaching of Islam centres on humanity, justice and fairness to all manner of people.
"The convention called on politicians to be a vanguard for promoting peace, unity and coexistence among Nigerians, instead of creating disharmony and animosity among the citizen in attempt to achieve parochial interest at the detriment of the corporate existence of the nation.
"Participants reminded political leaders that they do not have any country other than Nigeria and should therefore work towards making it great, prosperous, social and economically viable."
While condemning the abduction of 110 students of Government Girls Science and Technical College Dapchi, Yobe State by suspected Boko Haram, the communiqué called for collaborative efforts among government, security agencies and civil society organisations towards ensuring safe rescue of the Dapchi schoolgirls and the remnants Chibok schoolgirls abducted since April, 2014.
He said the convention registered its condolence to all members, family, friends and Nigerian Muslim community over the death of one of the country's renowned Islamic scholar, Sheikh Abubakar Turaita, who was an active member of this Da'awah till his death in February 2018.
The convention had in attendance the Deputy Governor of Zamfara State, Alhaji Ibrahim Wakkala Muhammad, Sarkin Malaman Gusau and a number of leaders of prominent/leading Islamic organisations including Supreme Council for Sharia in Nigeria, Federation of Muslim Women Association in Nigeria, National Islamic Centre, Community Youth and Development among others.
https://newtelegraphonline.com/2018/03/islamic-convention-underscores-unity-muslim-scholars-ummah/
--------
How al Shabaab prey on starving Somali villages for food, cash and children
Mar. 08, 2018
Reports have emerged of how al Shabaab militants in Somalia are extorting huge sums from starving communities.
The militants are also forcibly recruiting hundreds of children as soldiers and suicide bombers.
This comes as the terror group endures financial pressures, a decrease in numbers and an apparent crisis of morale.
Intelligence documents, transcripts of interrogations from recent defectors, and interviews conducted on returnees by security agents confirm the situation.
"Worse is that they lurk in the villages waiting for us to receive any food or medical aid from the AMISOM troops or humanitarian organisations and then they forcibly come for them," Omar from Gedo region said in an interview.
"They even confiscate painkillers from mothers who have just delivered."
After decades of causing havoc in the south and central Somalia as well as in Mogadishu, al Shabaab was forced to retreat to rural areas following an intervention by AMISOM troops.
With the current drought in Somalia and the continuing bombardment from the Somalia National Army, AMISOM, and its international partners, it now appears that the militants are not only suffering operational defeat but are also suffering a crisis of morale and financial pressure.
This has prompted the drive to squeeze revenue out of poor rural communities.
A recent defector from central Somalia told government interrogators that the group forces "Muslims to pay for pretty much everything except entering the mosque."
In another interview, a former mid-ranking commander, who defected four months ago, described how he oversaw the taxation of every aspect of people lives.
For instance, he says wells were taxed at Sh200,000 per month and a fee of Sh35,000 levied at water holes for every camel drinking there.
In Bai province, Southern Somalia residents are forced to pay an annual collective tax of a thousand camels, each worth Sh50,000, and several thousand goats.
In addition, trucks using roads in al Shabaab controlled territory pay Sh180,000 for each trip.
Five per cent of all land sales is taken as tax, and arbitrary levies of up to Sh1,0000,000 imposed on communities for "educational purposes".
However, in a contradicting move, the group has warned residents in some towns that they would be punished if they have any contact with humanitarian agencies or the AMISOM troops for fear of being spied on.
Al Shabaab actualised this threat on January 20 when they destroyed the main communication mast supporting Elwak town.
This was after the residents engaged KDF soldiers who were inquiring about residents' health needs in preparation for a medical camp.
KDF, however, went ahead and carried out the medical camp the following week treating over 150 residents.
In addition to all the setbacks al Shabaab is facing, there is also evidence that the militants are suffering from manpower shortages, thus the increased recruitment drive for child soldiers.
Residents confirm that since July last year, the militant group has been aggressively and forcibly taking boys from their homesteads to have them join the group.
The middle commander defector further added that: "Al-Shabaab used to demand money or children from clans but now they demand both."
Another defector said al Shabaab is now insisting that all male children must attend its boarding schools from as early as six-years-old.
In school, the children train as fighters and later join fighting units in their mid-teens.
The defectors reveal brainwashing and indoctrination of the boys from their early ages is done within the schools.
Police say in January 2018, Somali troops stormed one such school run by al Shabaab and rescued 32 children who had been taken as recruits then 'brainwashed' to be suicide bombers.
The children are now undergoing intensive psychological treatment to try and mitigate the effects of years of indoctrination.
It is said the militia has further put to death dozens of Somalis who they prosecute in their 'kangaroo courts', conducted forced marriages, and used civilian populations as human shields and most recently the killing of foreign fighters within their rank and file on suspicion of spying for AMISOM and international forces.
Last week in Gedo region, four men and a 16-year-old boy were shot dead by a firing squad after being accused of spying for the Somali authorities.
The militants, according to police, also imposes tight restrictions on media.
Most people only listen to al Shabaab radio stations or get news from al Shabaab lectures which go on for hours and which all must attend.
Some people risk harsh punishments to listen in secret to Voice of America and the BBC.
According to Beledweyne area chief, the terrorists also manipulate rivalries between clans by instigating allegations against each other.
The draconian punishment, seizures, taxes, and abductions run counter to the strategic guidance issued by al Qaida leader Ayman al-Zawahiri.
He has called for affiliates of the veteran group to build consensus and support among local communities.
Full report at:
https://www.the-star.co.ke/news/2018/03/08/how-al-shabaab-prey-on-starving-somali-villages-for-food-cash-and_c1726939
--------
Only zero hunger can wipe out Boko Haram – Obasanjo
March 9, 2018
A former President of Nigeria, Olusegun Obasanjo, has said the Boko Haram insurgency can only be defeated if governments tackle the issue of hunger and joblessness.
Mr. Obasanjo made this statement while in Maiduguri, the Borno State capital, where he presided over a meeting of the Zero Hunger Forum, a social development goal program of both the Nigerian government and international development partners.
He said research had proven that most Boko Haram fighters picked up arms against the state, not for the advancement of any religious conviction but as a means of fighting hunger and lack of job.
The former military dictator-turned democrat is the chairman of the SDG program on zero hunger in Nigeria where he is currently leading the campaign against hunger across select states in the country.
He explained that of the 17 SDG agenda of the international community, "zero hunger is number two".
"Zero hunger, or ending hunger has ramification, on 14 other goals. Infant mortality, alleviation of poverty, maternal mortality and all of them have things to do with food security and nutrition", he said.
"So when the world food program asked me to lead a committee to work out and implement zero hunger in Nigeria, I was more than delighted to do so. And I want to say, that we are not trying to reinvent the wheel. We are not trying to bring new policy; we have enough policies that have been neglected by non-implementation, and if we can implement the policy that we have there will be no doubt that we will beat hunger by the year 2025".
He said the program does not directly give money to feed Nigerians but create an enabling environment for food production and job creation for the people.
"This is what we are doing; we are trying to help those who need help. In one of the states, someone asked that how much does the Zero Hunger Forum has to combat hunger and I said the truth is that we have no money; but we have what we can do to help by making sure certain policies are implemented. We have things we can do to make sure we put hunger at bay in Nigeria and particularly in the North-eastern part of Nigeria.
Mr. Obasanjo said recent research by World Bank on Boko Haram revealed that most Boko Haram fighters had no clear religious conviction that drive their radical state of mind other than hunger and lack of means of sustenance.
"The world Bank said they interviewed 26 former Boko Haram members and 25 of them out of 26 said they were in Boko Haram because they have no job," he said.
"Only one of them said he was there because of religious conviction. So zero hunger tends to contribute in bringing an end to insurgency – not only in the North-east, not only in Borno state, but also generally in Nigeria.
"So in the next two days we will interact, we will find out things, we will listen and share thoughts and by the time we finish we will know that we have all gained something, we have all learned and will be able to move forward in food production, and nutrition in this state and by extension in the whole of Nigeria."
He said the two day meeting would provide opportunity for participants to also see the efforts being made by the Borno State Government in the area of food production.
He commended the Borno State Governor for taking the lead in the area of investment on agricultural tools and equipment which he said surpassed that of any state in the country. He however said such multi-billion investment can only make meaning if there is a safe environment to put them to use for the general benefit of the people.
"And we have seen your agricultural equipment, and I can say authoritatively that there is no state in Nigeria that has the quantity of the agricultural equipment that Borno State has. The only thing now is how do we make use of the equipment for maximum production".
He said government must do all that is possible to improve security so that locals could derived immense from the opportunities being made possible through agriculture.
"For that to happen, there must be efficient evidence of security, otherwise, those naughty boys and girls whom we call Boko Haram, will continue to look for soft underbelly, like a farmer working on his farm, an isolated village, where they will make life impossible through threats and intimidation of the life of the people", he said
"I believe what we are doing, zero hunger, would help in fighting the scourge of the insurgency".
Earlier the Borno State Governor, Kashim Shettima, said his government is very much alive with the challenges before it, which he said has to do with hunger and poverty.
"Prior to the insurgency, Borno used to be the home of wheat, rice, beans and animal production in Nigeria…we believe that we have challenges, no doubt about it. But the challenges is mainly tied to poverty. But agriculture provides us with the platform to fighting poverty, hunger and disease in our society."
He said his government has invested in the whole agricultural value chain and in the fullness of time when peace is won, Borno will roll out its full-scale of its huge investment in the food production section which is said is second to none in the entire country.
Full report at:
https://www.premiumtimesng.com/news/more-news/261203-zero-hunger-can-wipe-boko-haram-obasanjo.html
--------
Rann: Finally, Police speak on Boko Haram attack; disclose death toll
March 8, 2018
The Borno state commissioner of police, Damian Chukwu, said on Thursday that six soldiers and four policemen were killed in Rann, a remote local government headquarters where Boko Haram attacked last week.
The figure quoted by the commissioner of police was the first official disclosure of casualties the security forces suffered in the attack that killed three aid workers.
The three victims worked for the United Nations at Rann's displaced persons camp.
Two other female workers are believed to have been abducted by the terror group.
While giving details of its losses last week, the UN also said eight members of the Nigerian security forces were killed.
The police chief, Mr. Chukwu, said the toll was higher.
"During the attack on Rann, six soldiers died and we lost four policemen," he told journalists at a press conference Thursday.
He did not give further details.
Meanwhile, the police in Borno have issued a 21- day for residents with illegal arms to surrender their weapon or risk arrest and prosecution.
Mr. Chukwu gave the directive while addressing senior police officers in his command on Thursday.
He said it was the direct order of the Inspector General of Police, Ibrahim Idris, in view of the escalation of armed communal conflict across the country.
He said any person found with such arms, "will be dealt with in with laws of the land".
"We must brace up to our responsibilities, so that it does happen again. That was how 276 Chibok schoolgirls were abducted by in April 14, 2014.
Full report at:
https://www.premiumtimesng.com/news/headlines/261172-rann-finally-police-speak-boko-haram-attack-disclose-death-toll.html
--------
URL: https://www.newageislam.com/islamic-world-news/in-4-11-love-jihad/d/114538
New Age Islam, Islam Online, Islamic Website, African Muslim News, Arab World News, South Asia News, Indian Muslim News, World Muslim News, Women in Islam, Islamic Feminism, Arab Women, Women In Arab, Islamophobia in America, Muslim Women in West, Islam Women and Feminism