New Age Islam News Bureau
30 March 2018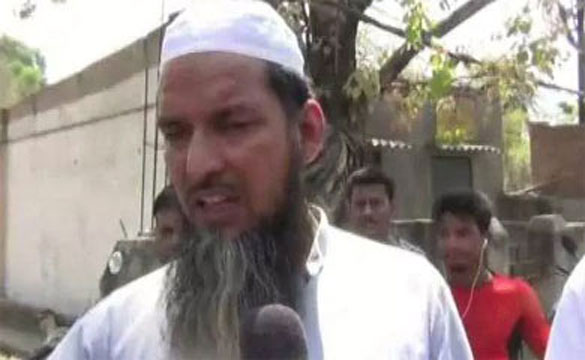 Imdadul Rashidi, the Imam of a local mosque, asked people to keep peace after son's death
----
• Ram Navami Violence: His Son Dead, Asansol Imam Says If You Retaliate, Will Leave Town
• JuD Amir, Hafiz-Saeed, Reiterates Move to Launch 'Jihad' Against India
• Pope Washes Two Muslim Prisoners' Feet in Easter Ritual
• Federal, Provincial Govts Put on Notice for Obstructing JuD's Humanitarian Activities
• Bangladesh to Focus Muslim World's Challenges, Share Success Stories at OIC Dhaka Meet
• Saudi's Grand Mufti Slams Houthis As 'Corrupt Tyrants'
India
• Ram Navami Violence: His Son Dead, Asansol Imam Says If You Retaliate, Will Leave Town
• JuD Amir Reiterates Move to Launch 'Jihad' Against India
• Despite Crackdown, Pro-IS Campaign Still Strong on FB
• Uniform Civil Code: Law Commission Will Steer Clear Of Muslim Marriage Laws
• Exclusive: Operation All-Out 2 will target Kashmir's top 14 terrorists
• Man working as spy for Pakistan's ISI arrested from Amritsar
• Papers show arrested Bangladeshis helped terror operatives: Pune unit
--------
Europe
• Pope Washes Two Muslim Prisoners' Feet in Easter Ritual
• EU: Islam Is Part of Our History, Present, Future
• France Expels Moroccan Imam Accused of Legitimizing Jihad
• Driver tries to ram soldiers as France mourns terror victims
• Unprecedented hate campaign target Muslims across Britain
• Moroccan authorities arrest 8 for suspected ISIL links
--------
Pakistan
• Federal, Provincial Govts Put on Notice for Obstructing JuD's Humanitarian Activities
• Cambridge Analytica's Parent Company Worked On Anti-Jihad Project in Pakistan: Christopher Wylie
• Pakistan hands over dossier to Afghan embassy on TTP, Daesh hideouts
• Teachers Need To Impart Islamic Values to Students: Dr Zia
• Afghanistan-based terrorists behind Swat attack, Kabul told
• Pak militant leader vows to support President Ghani in issuing a Fatwa
--------
South Asia
• Bangladesh to Focus Muslim World's Challenges, Share Success Stories at OIC Dhaka Meet
• Afghanistan Provided Location Of Terror Sanctuaries Used Against Pakistan: FO
• Muslim Student Association's Spring Banquet supports Rohingya relief effort
• Awami League working to win over religious voters
• OIC Council of Foreign Ministers to give special attention to Rohingya crisis
• Video shows joint Afghan-US Special Forces raid on ISIS commander's hideout
--------
Arab World
• Saudi's Grand Mufti Slams Houthis As 'Corrupt Tyrants'
• Countdown Starts for Final Deal between Jeish Al-Islam, Syrian Gov't in Eastern Ghouta
• Mufti of Lebanon supports Saudi Arabia against Houthi terrorist missile attacks
• Saudi Crown Prince: If We Don't Succeed, Likely War with Iran in 10-15 Years
• Saudi Shura member: Qatar uses intelligence to attract extremist group leaders
• Syrian government gives rebels in enclave 3-day ultimatum
• Infighting Escalating among Terrorist Groups in Northern Syria
• Syrian Army Seizes Terrorists' Weapon-Making Workshop in Deir Ezzur
• Saudi De Facto Leader Meets Leaders of Pro-Israeli Lobbies In US
--------
Southeast Asia
• Selangor Stops Anti-Shia Mention In Friday Sermons
• Embracing Moderation, a Malaysian Cause: Anifah
• Indonesia's president confident of winning fight against extremism
• Indonesia prosecutors seek 16 years prison for ex-speaker
--------
Africa
• Muslims, Christians Hold Joint Celebration of Annunciation
• A New Radicalised 'Al Shabab - Boko Haram', But This Time In Mozambique
• Informant: Plot against Muslims Began After Orlando Attack
• Gunmen attack central Mali hotel, kill one and hurt two others
• Ethiopia to swear in new prime minister on April 2
• 8 people killed by vehicle blast in Libya
• Nigerian Army Advises Boko Haram To Embrace FG's Amnesty Offer
--------
Mideast
• How Mohammed Bin Salman Unites Usually Divided Iranians
• Israel Deploys 100 Sharpshooters on Gaza Border for Palestinian Protests
• Yemeni retaliatory attacks leave nine Saudi soldiers dead
• Nine soldiers, five militants killed in attack on elite Yemeni force
• Turkish-Russian Military Officials' Talks Fail in Tal Rifa'at
• 10 UAE-backed troops killed in Yemen Islamist attack
--------
North America
• Court Rules In Favour Of NYPD in Muslim Surveillance Case
• Can A Michigan Doctor Become America's First Muslim Governor?
• Four al Qaeda militants killed in US strike in Yemen: Pentagon
• Trump says US will withdraw from Syria 'very soon'
• US involved in 'battlefield management' of Saudi war against Yemen: Mattis
Compiled by New Age Islam News Bureau
URL: https://www.newageislam.com/islamic-world-news/new-age-islam-news-bureau/imam-rashidi-of-asansol-shows-the-way-his-son-dead,-the-imam-tells-muslims,-if-you-retaliate,-will-leave-town/d/114770
--------
Ram Navami Violence: His Son Dead, Asansol Imam Says If You Retaliate, Will Leave Town
by Ravik Bhattacharya
March 30, 2018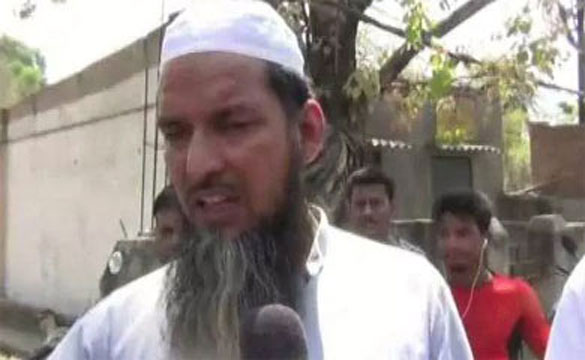 Imdadul Rashidi, the Imam of a local mosque, asked people to keep peace after son's death
----------
Hours after his 16-year-old son was found dead, becoming the fourth victim of violence triggered by Ram Navami processions across the state since Sunday, Maulana Imdadul Rashidi, Imam of a mosque in Asansol, on Thursday presided over a congregation where he appealed for peace. He told the crowd that he would leave the mosque and the town if there was any retaliation for his son's death.
Sibtulla Rashidi, who appeared for his Class X board exams this year, was reported missing after communal clashes in Rail Par area of Asansol on Tuesday afternoon. According to sources, he was picked up by a mob. His body was recovered late on Wednesday night and identified on Thursday. He is suspected to have been beaten to death.
"There was chaos outside when he went out. He was picked up by a group of miscreants. My older son alerted the police, but he was made to wait at the police station. We were later informed that a body had been recovered by the police. He was identified in the morning," Rashidi, 48, told The Indian Express.
As thousands of people gathered at the Eidgah Maidan in the afternoon, after Sibtulla was buried, Rashidi appealed for peace. "I want peace. My boy has been taken away. I don't want any more families to lose their loved ones. I don't want any more houses to burn. I have already told the gathering that I will leave Asansol if there is any kind of retaliation. I told them that if you love me, you will not raise a finger," said Rashidi, Imam of Noorani Mosque in Chetladanga Nadi Par.
"I have been an Imam for the last 30 years. It is important that I give the right message to the people — a message of peace. I need to get over my personal loss. People of Asansol are not like this. This is a conspiracy," he said.
"The Imam was instrumental in calming the angry youth and cooperated with the administration. We are proud of him. Despite the pain he is suffering following the loss of a son, he appealed for peace," said Jitendra Tiwari, Mayor of Asansol.
"We did not expect this from a father who has just lost his son. This is an example, not only for Bengal but for the entire country. People started to cry after his speech. I was present there… I was awestruck. There was anger among the youth after the body was found, but the message for peace struck the right chord. He is popular in the area. If he had not appealed for peace, Asansol would have been caught in a fire," said Mohammed Nasim Ansari, councillor of Ward 25 in Asansol, where the victim's family lives.
http://indianexpress.com/article/india/ram-navami-violence-his-son-dead-imam-says-if-you-retaliate-will-leave-town-5116798/
--------
JuD Amir, Hafiz-Saeed, Reiterates Move to Launch 'Jihad' Against India
March 29, 2018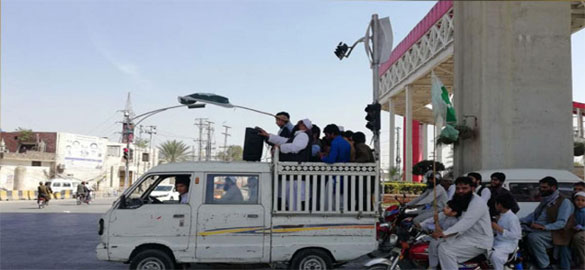 Terror mastermind Hafiz-Saeed-led Jamaat-ud-Dawa (JuD) has reiterated his desire to launch a jihad or holy war against India from Pakistani soil.

----------

Terror mastermind Hafiz-Saeed-led Jamaat-ud-Dawa (JuD) has reiterated his desire to launch a jihad or holy war against India from Pakistani soil.

Addressing a gathering of over 4,000 people during 'Friday sermon' in Rawalpindi recently, Maulana Abdul Rahman, Amir of the JuD, said Pakistan being an Islamic state is a centre of jihad loving people who would love to launch a jihad against India.

He said, "Pakistan is a centre of preparation of battle against India under 'Ghazwa-e-Hind'. Also, it is a centre of jihad loving people. Why we should not foil the conspiracies of infidels being hatched against Islam. Infidels only want liberalism and openness to be prevailing in Pakistan."

"But now lovers of Pakistan will certainly rise and foil their all conspiracies. We will sacrifice our lives but will not allow infidels to become successful in their conspiracies", said Rahman in his address.

The JuD Amir also fuel venom against the United States and Israel.

Rahman said, Trump, Modi and Israel are issuing threats against Muslims. They are hatching propaganda against Muslims by terming them fundamentalists, extremists and terrorists. They (U.S.) are the biggest terrorists. They had dropped atom bomb on Hiroshima and Nagasaki and killed crores of people."

Pakistan claims to have put a ban on activities of Jamaat-ud-Dawa, but they openly sends threat to India. Rahman said, 'A group of our army will start battle against India and Allah almighty with his blessing had saved that group from fire of hell."

He added, "The caravan of Islam would convert whole India into Pakistan. No hurdle will be able to stop this carvan. Allah is the protector of this caravan."

JuD chief and founder of Lashkar-e-Taiba, Hafiz Saeed, is accused of masterminding the 2008 Mumbai terror attacks. The U.S. has offered a USD 10 million bounty for him.

However, Pakistan continues to use Saeed and his organization as a proxy against India.

http://www.business-standard.com/article/news-ani/jud-amir-reiterates-move-to-launch-jihad-against-india-118032900554_1.html

--------

Pope washes two Muslim prisoners' feet in Easter ritual

Mar 30, 2018

Pope Francis washed prisoners' feet at a Rome jail on Thursday, including two Muslims, an Orthodox Christian and a Buddhist, once again choosing to celebrate Holy Thursday among Italy's incarcerated.

"Everyone always has the opportunity to change life and one cannot judge," said Francis to the prisoners of the city's all-male Regina Coeli prison.

It is the fourth time in the pope's five year papacy that he has celebrated the Holy Mass in an Italian jail.

"For me, visiting the sick, going into prison, making the prisoner feel that he can have hope of rehabilitation, that is the preaching of the Church," said Francis in a recent book of interviews.

This year, the twelve inmates washed by Francis hailed from Italy, the Philippines, Morocco, Colombia, Moldova, Sierra Leone and Nigeria.

The rite, performed yearly on Maundy or Holy Thursday, commemorates Jesus Christ's Last Supper with the apostles.

In Christian tradition, Jesus is said to have washed their feet ahead of the meal in a gesture of humility.

"I am a sinner like you but today I represent Jesus… God never abandons us, never tires of forgiving us," Francis said to the inmates.

The ceremony is part of the run-up to Easter Sunday.

Since his election in 2013, the pope has moved the feet washing ceremony outside the walls of the Vatican and into centres for vulnerable people or those on society's margins.

In his first year he visited a youth detention centre where he performed the ritual on a group of young inmates including two Muslims — the first Catholic leader ever to do so.

In 2014 he washed the feet of elderly and disabled people, in 2015 he did so in a prison, and in 2016 he chose a migrant reception centre.

Last year the pope went to Paliano jail outside Rome where he washed the feet of former mafiosi in a prison known for housing inmates who have informed on old mobster allies.

https://www.pakistantoday.com.pk/2018/03/29/pope-washes-two-muslim-prisoners-feet-in-easter-ritual/

--------

Federal, provincial govts put on notice for obstructing JuD's humanitarian activities

Mar 30, 2018

The federal and provincial governments have been put on notice by the Lahore High Court (LHC) on Thursday for creating hurdles in the humanitarian activities of Hafiz Saeed's banned outfit Jamaatud Dawa (JuD).

The directives were issued by LHC judge Ameenuddin Khan while hearing Hafiz Saeed's petition.

The petitioner's attorney AK Dogar argued that JuD had always taken part in philanthropic activities but they were now being impeded due to "pressure from the US and India". He said that obstructing any person or entity's welfare work was unconstitutional and the government should be asked to not harass his client's outfit and allow it to resume its philanthropic activities.

The federal government's attorney asked the court for some time to compile its answer. The request was granted by the court and the case was adjourned until April 27.

https://www.pakistantoday.com.pk/2018/03/29/federal-provincial-govts-put-on-notice-for-obstructing-juds-humanitarian-activities/

--------

Bangladesh to focus Muslim world's challenges, share success stories at OIC Dhaka meet

2018-03-29

"A new emerging Bangladesh needs to be known," Md Shahriar Alam said on Thursday while speaking on why Bangladesh is hosting the council of foreign ministers or CFM at a seminar ahead of the meeting in the first week of May.

"Islamic Values for Sustainable Peace, Solidarity and Development" – is the theme of the Dhaka meeting, the state minister said.

He said with the decision of hosting the meet, Bangladesh has already become part of the OIC CFM Troika and an "influential" member of the eight members OIC Executive Committee for three years.

"Bangladesh's leadership role in OIC is going to enhance its good image and strengthen its diplomatic position in safeguarding and promoting its interests not only in the OIC framework but also at global stage with beneficial impacts both at home and abroad," Shahriar said, adding that Rohingya issue will also get prominence.

"Under the leadership of Prime Minister Sheikh Hasina and in pursuit of her government's Vision 2021 of a digital middle income Bangladesh, we have been most successful in attaining the MDGs and with steady economic growth of above 6 percent for a decade we have lately come out of the LDC brackets.

"Bangladesh is progressing confidently in all indices of development with a number of success stories such as - in being a model UN country, an inclusive society of interfaith harmony, having high rate of poverty eradication and a range of social safety net, women's empowerment and gender equality, peace keeping in the world, largely containing terrorism, enhancing climate resilience, advancing in the fields of health, education, ICT, and STI.

"Time has therefore come that we share these success stories and our best practices with our brotherly countries of OIC...," he said.

The Bangladesh Institute of International and Strategic Studies (BIISS) organised the seminar to discuss about the upcoming meeting.

Bangladesh joined the Islamic grouping in 1974 during its second summit in Lahore.

Shahriar said at the initial stage, the OIC membership "indeed helped Bangladesh in securing recognition, establishment of bilateral relations with the Arab world which subsequently provided us with the first external labour market and a new source of foreign assistance."

Oil-rich Middle East still remains the largest source of foreign remittance representing around 70 percent of global remittance inflow, he said.

"Socio-cultural interaction with the Muslim world also helps our people strengthen and flourish their Islamic values and bondage," he said, adding that Bangladesh was also benefitted by the OIC's institutions like IDB which is a source of development credit for Bangladesh.

He said during the meeting, the challenges the Islamic world is facing such as the conflicts, division, tension and instability of the Muslim world will get focus.

Those will be discussed along with the problems of terrorism and violent extremism, sectarian tendencies, hatred, prejudice and Islamophobia, massive humanitarian crises with forced displacements- seriously affecting rights and dignity of the Muslim minorities like the Rakhine Muslims of Myanmar, persistent poverty and socio-economic backwardness of Muslim societies are OIC priorities.

Protection of their rights and fundamental freedoms therefore, will remain a major preoccupation of this CFM, he said.

Rohingya problem will get prominence with a separate sideline session on the humanitarian challenges of the Muslim world with special focus on the Rohingyas on May 6 and prior to that a visit to the Rohingya make shifts in Cox's Bazar will take place on May 4.

Bangladesh has brought a new resolution on multi-sectoral connectivity for the meeting, he said.

It is also taking the lead in forming a private sector and track 1.5 based economic cooperation initiative called South East Asian Cooperation (SEACO) with regional economic cooperation and integration in mind involving three South East Asian member states.

"Ultimate objective is to have a regional FTA and thereby encourage OIC FTA with this building block basis example," the state minister said, adding that the need of reforms of the OIC systems will also be discussed.

https://bdnews24.com/bangladesh/2018/03/29/bangladesh-to-focus-muslim-world-s-challenges-share-success-stories-at-oic-dhaka-meet

--------

Saudi's Grand Mufti slams Houthis as 'corrupt tyrants'

Mar 30, 2018

JEDDAH: The Grand Mufti of Saudi Arabia condemned the Houthi militia's aggression toward the Kingdom on Thursday, describing it as a failed attempt by a corrupt tyrant who was "not of Islam."

Sheikh Abdul Aziz Al-Asheikh, who is the head of the Supreme Council of Scholars, praised the courage of the Saudi forces who had defended the country from the attacks.

Saudi air defenses intercepted seven ballistic missiles fired toward various targets in Saudi Arabia by Houthi militia in Yemen earlier this week. He said: "We must be united with our leaders and we appeal to them ... and defend them."

The Grand Mufti said the attack was a "serious criminal act of aggression that was misguided and was not an Islamic act." He described the Houthis as "corrupt tyrants," whose actions bore no relation to Islam.

In a statement issued on Thursday, the UN Security Council's members stressed that the attacks are a serious threat to the Kingdom's security and to regional security. Concern was expressed over Houthi militias' declaration that they plan to continue attacking the Kingdom and other countries in the region.

French Foreign Minister Jean-Yves Le Drian said that Iran is supplying Houthi militia in Yemen with weapons. "There is a problem in Yemen that the political process has not started and that the Kingdom of Saudi Arabia is under constant attacks being carried out by Houthi militias who are getting weapons from Iran," he said.

The Australian Imams Council condemned the launch of ballistic missiles by Iran-backed Houthi militias in several cities of the Kingdom, including Riyadh.

President of Australian Imams Council Sheikh Shady Alsuleiman said in a statement: "The more-than-200-member Council, Australia's largest Islamic legal body, condemns this aggressive and criminal act, and affirms its stand by the Kingdom in defending its security and stability and confronting the repeated attacks carried out by Iran-backed Houthi militias."

The Islamic communities in Australia also condemned the missile attack in Saudi Arabia.

"The Australian Federation of Islamic Councils condemns this criminal operation," the head of the Australian Federation of Islamic Councils, Dr. Rateb Junaid, said in a statement.

For its part, the Association of Muslims Union of Australia (UMA) has condemned the Houthis' targeting of cities and residential communities with ballistic missiles while the Arab Information and Communication Technologies Organization (AICTO) condemned the launching of ballistic missiles carried out by Houthi coup militias on the Kingdom of Saudi Arabia.

In a statement issued on Thursday, AICTO stressed its solidarity with the Kingdom in confronting any attempt to threaten its security and stability, praising the success of the Saudi military forces.

Grand Mufti of the Republic of Tunisia Sheikh Othman Battikh said: "This is done by those who do not want the good for the Arab and Islamic world, as the attack on the Kingdom of Saudi Arabia is an attack on the entire Muslim World and Muslims wherever they are. It is undoubtedly a crime against all peace advocates in the world."

http://www.arabnews.com/node/1275516/saudi-arabia

--------

India

Despite Crackdown, Pro-IS Campaign Still Strong on FB

Prashanth M P

Mar 30, 2018

KOZHIKODE: The supporters of the Islamic State (IS) in Kerala are continuing their campaigns in support of the terror outfit despite crackdowns by security agencies.

TOI has accessed an IS sympathizer's Facebook account which is used for spreading the ideology of the banned organisation. The account, in the name of 'Abu Maryam', is most likely to be fake. No information or photograph is given about the person who claims that he was once a worker of the Popular Front of India (PFI).

Abu Maryam says he was dejected by the PFI because "the organization teaches the verses from Quran that deals with Jihad, but fails to implement it in real life. PFI asserts that it is not afraid of anyone but Allah, but it is indeed scared of the police, the state and the possibility of a ban."

In post on June 21, 2017, Abu Maryam asks PFI to disband its political wing the Social Democratic Party of India (SDPI) as the party is leading the Muslims to Kuffr (disbelief in Islam). "The day PFI disown this Kufr (SDPI) it will get assistance from Allah," says the post.

He believes that the politics of Islam is Sharia and constitution is Quran. "The Sunnah of the Rasool, who implemented the politics, should be followed by every Muslim," he said.

According to Abu Maryam, Sharia cannot be implemented through religious propagation or democracy, but only through Jihad. He said a Caliphate is established in Iraq and Syria, but the Muslim organizations in India are turning a blind eye to the development. Fortunately, some persons have realized its importance and have made a hijra (migration) to the Caliphate, he said.

In another post, Abu Maryam said there are 10 qualifications to be become a Caliph and Abu Bakr al-Baghdadi has fulfilled all the conditions.

Police have so far identified 15 PFI workers who have joined the IS. Among them six have been arrested, four are believed to have been killed and the rest are suspected to be holed up in IS strongholds in Syria and Afghanistan.

It may be recalled that in 2014 the PFI leadership had cautioned its cadres against associating with 'dubious' organizations such as the IS. The revelation that more of its cadres have joined the terrorist outfit will be a major embarrassment for the organization.

IS propaganda through the social media was disrupted after the death of the kingpin Shajeer Mangalassery Abdulla and the arrest of the cadres who were handling the Facebook accounts. The propaganda was mainly through the accounts of Sameer Ali, Ameer Ali, Salim Yunus, Omar al-Hindi, Abdulla ibn Abdulla, Akbar K Puram and Adhil AX.

https://timesofindia.indiatimes.com/city/kozhikode/despite-crackdown-pro-is-campaign-still-strong-on-fb/articleshow/63538333.cms

--------

Uniform civil code: Law Commission will steer clear of Muslim marriage laws

Mar 30, 2018

The Law Commission of India, the country's top law advisory body, which is working on a draft Uniform Civil Code (UCC), will steer clear of most personal laws relating to Muslim marriage and divorce so as to avoid a conflict with the Supreme Court, chairman Balbir Singh Singh Chauhan said on Thursday.

The commission firmed up its stand days after the Supreme Court admitted pleas to examine the practices of polygamy, nikah halala, nikah mutta and nikah misyar . The last three are different types of temporary contractual marriages.

"How can we touch what is sub judice? The effect of the Supreme Court's decision will be binding upon us," Chauhan, a former judge of the top court, explained. He said the commission would, however, still examine Muslim personal laws "relating to adoption and succession".

The commission has till the end of its term in August to submit its report on the UCC while the SC admitted the pleas on March 26.

The commission's decision effectively means that it will not deliberate on the most politically contentious and hotly debated personal laws. The Shah Bano case in 1986, after which the government brought in a law to negate the effect of an SC judgment awarding maintenance to the plaintiff, triggered the debate over the constitutional allowance for different communities to follow their personal laws with regards to marriage, divorce, maintenance, adoption and succession.

Hindu family laws were modified in the 1950s but those for the Christians and Muslims are colonial-era relics.

Activists have long argued that Muslim personal law, which has remained mostly unchanged, contains provisions that are unfair to Muslim women, often victims of polygamy and the triple talaq system.

Senior advocate Kamini Jaiswal described the commission's decision as a setback for making personal laws more equitable for women. The UCC has been a long-standing poll promise and ideological position of the ruling Bharatiya Janata Party (BJP) but many minority groups have opposed it because they see it as an effort to erase their cultural and religious identities.

In June 2016, the law ministry sent a reference to the commission asking it for an in-depth examination of "matters in relation to the Uniform Civil Code" and whether the time was ripe for bringing it in.

The commission issued an appeal on March 19 asking stakeholders and the public at large to send in their suggestions and comments on the issue of the UCC. The appeal also said that suggestions related to triple talaq should be excluded because a bill to criminalise the practice of Talaq-e-biddat or instant triple talaq is pending in Parliament. The deadline for writing in to the commission ends on April 6.

An official involved in the process who asked not to be identified said a "large majority of the responses" to a questionnaire circulated by the commission in October 2016 pertained to Muslim marriage and divorce issues. Most political parties opposed to the BJP rejected the commission's exercise to seek responses, calling it a part of the ruling party's political agenda.

Full report at:

https://www.hindustantimes.com/india-news/uniform-civil-code-law-commission-will-steer-clear-of-muslim-marriage-laws/story-3pWR2VM1jXnXQ5nbUsaBuN.html

--------

Exclusive: Operation All-Out 2 will target Kashmir's top 14 terrorists

March 29, 2018

The Centre will launch Operation All-Out Part 2 in Jammu and Kashmir to target top 14 commanders of terrorist outfits like Lashkar-e-Taiba (LeT), Jaish-e-Mohammed (JeM), Hizbul Mujahideen (HM) and Tehreek-ul-Mujahideen.

According to sources, 250 terrorists are active in the state.

A hit list containing names of terrorists like Zeenat-ul-Islam alias Alkama, LeT's Shopian divisional commander; Wasim AH alias Osama, LeT's Shopian district commander and Showkat AH Tak alias Huzaifa, LeT's Pulwama district commander has been prepared, according to intelligence sources.

The list, which is available with India Today, also contains names of Umar Bhai, LeT's Baramulla district commander; Dada Bhai, LeT's Anantnag district commander and Mohd. Bin Qasim, HM's operational commander.

Under Operation All-Out, a joint offensive of the Army, CRPF, Jammu and Kashmir Police, BSF, and IB launched in the second half of 2017, 39 terrorists, including 23 of foreign origin, have been killed so far this year.

The number of terrorists eliminated also includes 14 members of JeM, 11 LeT members and 6 of Hizbul Mujahideen.

Lieutenant General (retired) and defence expert Shankar Prasad feels that though 215-225 terrorists were eliminated under Operation All-Out last year, the strategy and approach to target militancy should be changed.

"The operation should be conducted only on intelligence inputs. Even local supporters of terrorists should be targeted," he told India Today.

Full report at:

https://www.indiatoday.in/india/story/operation-all-out-2-to-target-14-top-terrorists-1200837-2018-03-29

--------

Man working as spy for Pakistan's ISI arrested from Amritsar

Mar 29, 2018

AMRITSAR: A man, who was allegedly working as a spy for Pakistani intelligence agencies, was today arrested here by the State Special Operations Cell (SSOC) and Military Intelligence, the Punjab Police said.

On the basis of specific information, a team of SSOC led by Inspector Gurinderpal Singh arrested Ravi Kumar from the Chatiwind police station area in Amritsar district.

Photographs of vital installations, hand-made maps of restricted areas, photocopies of restricted training manuals of the Army and information regarding Army attack formations were recovered from him, according to a Punjab Police release.

He has been booked under the provisions of the Official Secrets Act, and Section 120-B of the IPC.

The preliminary questioning of Kumar revealed that he was recruited by an official of Pakistan's Inter-Services Intelligence (ISI) through Facebook about seven months ago.

He gave them information with regard to the movement of "Army units, construction of new bunkers on the Indian side of the border, photographs of Army vehicles and their formation signs, exercises and trainings and activity/construction", the release read.

Kumar's ISI handlers sponsored his visit to Dubai from February 20 to 24 where he was briefed regarding tasks, the Punjab Police said.

Investigations have revealed that Kumar was in regular touch with Pakistani intelligence officers through mobile phones and Internet and was provided funds routed through Dubai.

The release read: "It has also come to light that Pakistan-based agencies operate a large number of fake Facebook accounts in the name of young girls who actively try to befriend with unemployed young people and retired/serving officials in the armed force and subsequently try to allure them into espionage activities."

Full report at:

https://timesofindia.indiatimes.com/india/man-working-as-spy-for-pakistans-isi-arrested-from-amritsar/articleshow/63536795.cms

--------

Papers show arrested Bangladeshis helped terror operatives: Pune unit

March 30, 2018

THE Pune unit of the state Anti-Terrorism Squad (ATS) on Thursday claimed it has seized documents that revealed some Bangladeshi nationals, arrested earlier by the unit, had helped members of the banned Bangladeshi outfit Ansarullah Bangla Team (ABT), considered a 'front organisation' of Al Qaeda.

On March 17, the ATS had arrested three Bangladeshis, who were allegedly living in Pune illegally and were suspected to have provided logistical and financial assistance to members of the ABT. They were identified as Mohammed Habibur Rehma Habib alias Raj Jesub Mandal (31), Mohammed Ripen Hussain alias Rubel (25) and Hannan Anwar Hussain Khan alias Hannan Baburli Gazi (25).

The arrests were the result of a joint operation by central intelligence agencies, Military Intelligence and the ATS.

Later, two more Bangladeshi nationals — Mohammad Aahat Ali and Mohammad Hassan Ali — were arrested from

Raigad and Mumbai, on charges of helping others procure identity proofs such as Aadhaar cards, with the help of

fake documents.

The five arrested suspects were produced in court on Thursday and their police custody was extended till April 5. The investigating officer, ACP Sunil Darekar, told the court the ATS has recovered debit cards from the suspects. The cards were in the name of 'Sopan Biswas and Tushar Biswas', suspected operatives of the ABT, said police. Police said they have also recovered a diary which has records of the money given to ABT operatives.

From Aahat Ali and Hassan Ali, the two Bangladeshi nationals arrested later, police have recovered four Aadhaar cards, three PAN cards, 34 empty casings of SIM cards, several money transfer receipts, six cell phones and memory cards.

Intelligence agencies, including Military Intelligence and the ATS, have been verifying details of several individuals after receiving specific inputs from West Bengal Police about some illegal Bangladeshi immigrants who were living in Pune.

Investigators said they were zeroing in on a "systematic network" that brought Bangladeshis to India illegally, helped them procure Indian identity documents, and find jobs. The illegal migrants are then "used" to provide shelter to terror operatives, they said.

Full report at:

http://indianexpress.com/article/india/papers-show-arrested-bangladeshis-helped-terror-operatives-pune-unit-5116780/

--------

Europe

EU: Islam is part of our history, present, future

Mar 30 2018

European Commission First Vice-President Frans Timmermans chaired a roundtable Wednesday with ten European imams hailing from six EU Member States (Belgium, Bulgaria, France, Germany, Italy and The Netherlands).

The roundtable follows up on a commitment made in the framework of the European Commission's official dialogue with religions to organise a dedicated meeting with Muslim religious leaders. This dialogue is also part of the discussions on the Future of Europe.

Timmermans said in press statements after the meeting that "the Commission is strongly committed to promoting diversity in Europe. Islam is part of our history, Islam is part of our present and Islam will be part of our future."

"The way we help our citizens - whatever their background may be - to embrace the diversity that is a reality in European societies is going to determine much of our collective future," he said.

The meeting was an occasion to commence an open and deeper dialogue with Muslim communities on a number of issues of common interest and concern including, the role and training of imams, the discrimination faced by Muslims, the role of education, religious freedom, the threat of right-wing and "Islamist extremism" and the challenges and opportunities posed by migration, he noted.

Timmermans indicated that this would be the commencement of an ongoing dialogue, which he intends to develop and to foster with Muslim leaders and civil society going forward.

https://www.dailytrust.com.ng/eu-islam-is-part-of-our-history-present-future.html

--------

France Expels Moroccan Imam Accused of Legitimizing Jihad

By Sana Elouazi

March 29, 2018

The deputy imam of the Torcy mosque, located in east of Paris, was deported to Morocco on Wednesday, following his arrest by police services early morning.

"He will be taken back to the border under an expulsion order and must take a plane to Morocco during the day," local authorities said.

A deportation committee had issued in December 2017, a statement against expelling the 50-year-old, who had been living in France since 1992. Tlaghi also worked as a professor of mathematics before being suspended from his post by the National Education in France.

"He is accused of having violated basic principles of the Republic," his lawyer, Gilles Devers, said at that time.

"If my client receives a notification of the deportation order, we will file an interlocutory liberty in the administrative court of Melun," Devers added.

The decision included sermons held in 2016 and 2017, during which "the two imams of the mosque had explicitly legitimized armed jihad by calling on the faithful to pray for jihadists around the world to destroy the enemies of the mosque in France and in the world."

The French daily, le Parisien, reported that the Torcy mosque, which could accommodate up to 500 worshipers, was the subject of an administrative closure order in April 2017, for being "a place where radicalism and incitement to jihad were advocated."

Full report at:

https://www.moroccoworldnews.com/2018/03/243340/france-expels-moroccan-imam-legitimizing-jihad/

--------

Driver tries to ram soldiers as France mourns terror victims

March 29, 2018

A man driving a car with fake licence plates tried to ram a group of soldiers out jogging in southeast France today, security sources told AFP, sparking fears of a new attempted attack as the country mourns the victims of an Islamist shooting spree last week.

Speaking French and Arabic, the man first threatened a group of soldiers at around 8 am in Varces-Allieres-et-Risset, near Grenoble, and then tried to run down another group returning to their barracks from a jog, the sources added.

"The soldiers managed to get up onto the pavement without being hit," army spokesman Colonel Benoit Brulon told AFP.

The driver of the small Peugeot 208 hatchback, who was accompanied by a woman, sped off before being arrested around lunchtime in Grenoble, police and military sources said.

Prosecutors in Grenoble, a town in the foothills of the French Alps, said the incident was not being treated as a terrorist attack for the moment and the motive remained unclear.

The incident comes with France on edge after a jihadist rampage in the towns of Carcassonne and Trebes last week where a 25-year-old gunman killed four people, including a policeman who took the place of a hostage in a supermarket siege.

The people of Trebes paid an emotional farewell to three local victims at a ceremony in the square of the sleepy town on Thursday, held a day after a national tribute to officer Arnaud Beltrame in Paris led by President Emmanuel Macron.

"You fell under the bullets of terrorism and took with you the insouciance of a little town in Occitanie where no one expected to ever experience such happenings," Trebes Mayor Eric Menassi told mourners at the gathering attended by Prime Minister Edouard Philippe.

The security forces have been repeatedly targeted during the string of jihadist attacks that have claimed the lives of 240 people around France in the past three years.

At least six security force members have been killed during that period.

In last week's attack, the Moroccan-born gunman Radouane Lakdim fired at a group of policemen returning from a jog before storming the Super U store and shooting dead two people. He also killed the passenger of a car he hijacked in Carcassonne.

Beltrame intervened during the supermarket siege to take the place of a cashier Lakdim was using as a human shield.

But after three hours of negotiations the gunman, who claimed allegiance to the Islamic State group, slit Beltrame's throat before himself being shot dead by police.

Paying tribute to Beltrame at a national ceremony in Paris yesterday, President Emmanuel Macron said his act of self-sacrifice would "remain etched in French hearts".

Lakdim, who had a criminal record for weapons and drugs offences, was on a watchlist of suspected radicals, but authorities had concluded that he did not pose a threat.

Full report at:

http://www.business-standard.com/article/pti-stories/driver-tries-to-ram-soldiers-as-france-mourns-terror-victims-118032900699_1.html

--------

Unprecedented hate campaign target Muslims across Britain

29th Mar 2018

Hamed Chapman

Police forces across the UK are investigating an unprecedented coordinated hate campaign against Muslims nationwide, including suspicious packages sent to several Muslim MPs and encouraging a so-called 'Punish a Muslim Day' in April.

At least four Muslim Labour MPs, Rupa Huq (Ealing Central and Acton), Rushanara Ali (Bethnal Green and Bow), Mohammad Yasin (Bedford) and Afzal Khan (Manchester Gorton), were in receipt of anonymous 'Punish a Muslim Day' letters containing sticky substances, which police described as "low level noxious" and resulted in staff being taken to hospital as a precaution. There were conflicting reports whether one was also sent to Local Communities Secretary Sajid Javid as his office did not acknowledge to The Muslim News whether he had received the letter or not.

"If the cowards that perpetrated this think that this will stop me standing against hatred they are sorely mistaken. In the House, I highlighted the culture of anti-Muslim sentiment which has sadly become inherent in some of the right-wing press. It's time for some of our media to recognise the responsibility they have not to inflame tensions and inspire hatred," Dr Huq said in a statement to The Muslim News.

Greater Manchester Police were among forces to have issued warning guidelines to anyone in receipt of the threatening letters that were also reported to have also been sent to Muslims in West Yorkshire, South Yorkshire, Leicestershire and Birmingham as well as London, while Counter Terrorism Policing North East were said to be providing national coordination for the investigation.

Scotland Yard further revealed that the malicious hate crime letter was also being circulated online and copies were also being received through Whatsapp. It incited people to carry out violent acts against Muslims, including verbal abuse, removing a woman's hijab or head-scarf, physical assault, using acid as a weapon and attacking mosques. "Butcher a Muslim using gun, knife, vehicle or otherwise," and "burn or bomb a mosque," and even "Nuke Mecca", it said.

"I am sure that the whole House (of Commons) will join me in condemning this unacceptable and abhorrent behaviour, which has no place in our society," Prime Minister, Theresa May, said when questioned in Parliament. "An investigation is underway and steps are being taken to bring the perpetrators to justice," she added.

Opposition Leader, Jeremy Corbyn, said that the "disgusting hate-filled letters sent to Muslim fellow citizens and colleagues in Parliament are utterly contemptible." Labour is committed to tackling Islamophobia and anti-Muslim hate crime and those that seek to divide us will find that our country is "united in mutual respect, proud of our diversity and ready to protect our shared future. Today we stand together with those facing this vile Islamophobia, to show them support, care and solidarity."

In response to an urgent question put forward by Yasmin Qureshi in Parliament asking what the Government will do in the face of this threat, junior Home Office Minister, Victoria Atkins, repeated the Government line that it takes hate crime and Islamophobia "extremely seriously and the UK has a robust legislative framework to respond to it."

Full report at:

http://muslimnews.co.uk/newspaper/top-stories/unprecedented-hate-campaign-target-muslims-across-britain/

--------

Moroccan authorities arrest 8 for suspected ISIL links

30 March 2018

Moroccan security forces on Thursday arrested eight people suspected of belonging to the ISIL terrorist group, according to the Interior Ministry.

In a statement, the ministry said that the suspects had been involved in "a terrorist plot aimed at undermining the kingdom's security and stability".

"The terrorist cell, active in the cities of Wad Zem [in central Morocco] and Tangier [in the north], was broken up Thursday," the statement read, going on to note that the cell's eight members were aged between 21 and 31 years old.

According to the ministry, the arrest of the suspects was part of a "proactive response" by the Moroccan authorities "to threats related to the so-called 'Islamic State' [i.e., ISIL]".

One month ago, the Moroccan authorities announced that a six-member ISIL cell had been dismantled.

And in late 2017, Moroccan security forces arrested six people in the city of Fez for suspected ISIL links.

Full report at:

http://www.worldbulletin.net/africa/200455/mayor-of-tripoli-freed-after-abduction

--------

Pakistan

Cambridge Analytica's parent company worked on anti-jihad project in Pakistan: Christopher Wylie

Mar 30, 2018

LONDON: Former employee of Cambridge Analytica (CA), Christopher Wylie, has revealed that the controversial data firm's parent company, SCL Group, was hired to work in India between 2009 and 2010 to "assess the phenomenon of honour killing" in Punjab, Haryana, UP and Rajasthan. However, Wylie hasn't named the client for whom SCL Group worked on this subject.

This is among the revelations gleaned from 122 pages of written evidence provided by Wylie, a former research director with CA, to the House of Commons' digital, culture, media and sport committee, made public Thursday night. Wylie had given a lengthy statement to the British parliamentary committee on Tuesday when he had claimed CA had worked for Congress.

The evidence given by Wylie to the panel states: "At the level of enforcement, local police and magistrates are often sympathetic to the practice of killing. This has made enforcement of the law somewhat problematic. SCL helped its client to better understand the often convoluted and secretive culture surrounding honour killings. SCL analysed the issue via problem space mapping and on that foundation proposed a number of interventions to stop honour killings."

It was revealed in the evidence on Thursday CA was also engaged for anti-jihadist projects in Pakistan as well as Pakistan-Occupied Kashmir.

SCL's client UK FCO hired the firm in October 2008 to carry out a behavioural study in Pakistan to counter violent jihadism. It then "delivered actionable recommendations, which impacted on policy in the near term and the FCO's strategic direction in the country", the evidence says.

According to the evidence, in 2009, SCL carried out behavioural research in the Federally Administered Tribal Areas (FATA) of Pakistan, the northern areas and two locations within POK. However, the client for this research is not named. The aim was to "understand support for and recruitment into violent jihadist and militant Islamic groups", according to the evidence.

That led to the development of a strategic communication plan aimed at countering radicalisation and violent extremism which included "promotion of local heroes", "the empowerment of older women" and "education campaigns focusing on the utilisation of local welfare groups", it was stated in the evidence.

https://timesofindia.indiatimes.com/india/cambridge-analyticas-parent-company-worked-on-anti-jihad-project-in-pakistan-christopher-wylie/articleshow/63539000.cms

--------

Pakistan hands over dossier to Afghan embassy on TTP, Daesh hideouts

Mar 30, 2018

ISLAMABAD: Pakistan on Thursday handed over a dossier to the Afghan embassy containing evidence of the involvement of Afghanistan-based terrorist organisation Tehreek-e-Taliban Pakistan (TTP) in the suicide bombing at a Pakistan Army unit in Swat.

The dossier, handed down by Foreign Office (FO) to the Afghan embassy, also carried the evidence of the presence of TTP, Jamaatul Ahrar (JuA) and other terrorist groups' hideouts in Afghan territory. The Afghan side was asked to take effective action against terrorist hideouts from where they had been financing, planning and undertaking cross border terrorist attacks on Pakistani military posts, cities and towns.

Pakistan had welcomed President Ghani's vision for peace and supported his offer of peace talks with the Taliban. Afghan leadership, including NSA Atmar, had appreciated and thanked Pakistan for supporting the Afghan peace and reconciliation process, during Pakistani NSA's visit to Kabul on March 18. Pakistan had been urging the Taliban through its public statements as well as private messaging to join the peace process.

FO Spokesperson Dr Faisal told a weekly media briefing that Pakistan was aware of the fact that terrorist groups including TTP, JuA, LI and Daesh had established sanctuaries on the Afghan side of the Pak-Afghan border.

"These terrorist groups are involved in undertaking cross-border raids on our military posts. Our border troops only open fire when they are fired upon and the response is always directed at the point of origin and is proportionate," he said.

He said that Pakistan had shared the locations of the hideouts of these groups with Afghan and US authorities on many occasions, however, its concerns had not yet been fully addressed. "This issue has been addressed in some locations where Afghanistan has established its border posts and deployed its troops," he added.

On the question of the rise of Daesh in Afghanistan, Dr Faisal said that Pakistan had been consistently raising serious concerns about the rise of Daesh in Afghanistan. "Concentration of Daesh along the borders with Pakistan, Iran and China further alarms us of its negative implications for Afghanistan, Pakistan and regional security. Daesh has been involved in cross-border raids at Pakistani military posts," he said. "We have, on many occasions, shared with Afghanistan and RSM the evidence of their involvement in cross border raids and the location of their hideouts in Afghan territory and urged them to take effective action to root-out Daesh sanctuaries in Afghanistan," he added.

There had been a phenomenal rise in the growth of poppy cultivation and drug production in Afghanistan, which was fueling the war economy in Afghanistan by empowering terrorists and extremist networks. It was an issue of major concern for Pakistan.

The spokesman said that Foreign Minister Khawaja Asif, while leading the Pakistani delegation to the Tashkent Conference on Afghanistan, emphasised the need of a regional approach for lasting peace and stability in Afghanistan and the region. The foreign minister said that Pakistan had consistently stressed the early resolution of the Afghan conflict through a political settlement. He also stated that bringing Taliban to the table and establishing peace and stability in Afghanistan was a shared responsibility of the international community.

Khawaja Asif reiterated Pakistan's support for Afghan President Ashraf Ghani's national peace and reconciliation plan, unveiled during the Kabul process meeting on February 28 and his offer of peace talks to the Taliban under an Afghan-led and Afghan-owned process. He said that there was a need to put collective pressure on Taliban to avail this opportunity to shun violence and join the peace process.

Full report at:

https://www.pakistantoday.com.pk/2018/03/29/pakistan-hands-over-dossier-to-afghan-embassy-on-ttp-daesh-hideouts/

--------

Teachers need to impart Islamic values to students: Dr Zia

Mar 30, 2018

MULTAN: Islamic International University Islamabad (IIUI) Islamic Research Institute Director General Professor Dr Muhammad Ziaul Haq on Thursday said that teachers needed to impart Islamic values to their students.

Addressing the second session of an international conference titled "The Tradition of Adoption, Innovation and Transmission in Islamic Culture and Civilisation", he said that proper knowledge about the Islamic culture, civilisation and values would surely help the young generation to make rapid progress and compete with the world.

Dr Zia said that the "Paigham-e-Pakistan" (Message of Pakistan) initiative was a unanimous declaration of scholars from all schools of thoughts against the menace of terrorism. "Muslims do not want any conflict with other civilisations," he said and urged the youngsters to play their effective role for the progress of the country.

He also said that efforts were being made to include the 'Message of Pakistan' in the curriculum.

Speaking on this occasion, Bahauddin Zakariya University (BZU) Islamic Studies Department Chairman Professor Dr Abdul Qadus Suhaib observed that respect for humanity was a basic principle of the Islamic values.

"The Holy Quran clearly remarks that all men are equal, however, one could get preference on the basis of his quality of Taqwa (piousness)," he said.

Dr Abdul Qadus maintained that Islam stressed on Husn-e-Akhlaq (good character) which was a highly supreme quality. "Islam spread in the world within just 23 years and it was only due to the Husn-e-Akhlaq of Prophet Muhammad (PBUH)," he added.

He also said that brotherhood was yet another beautiful quality of Islam. Similarly, truthfulness and dispensation of justice were some of the best characteristics of the Islamic culture, added Dr Abdul Qadus.

While addressing the conference, Dr Kashif Mehmood said that the menace of terrorism could be defeated through ideology, which was now being established at the national level.

Full report at:

https://www.pakistantoday.com.pk/2018/03/29/teachers-need-to-impart-islamic-values-to-students-dr-zia/

--------

Afghanistan-based terrorists behind Swat attack, Kabul told

Baqir Sajjad Syed

March 30, 2018

ISLAMABAD: The attack on an army unit in Swat was carried out by the banned Tehreek-i-Taliban Pakistan (TTP) terrorists based on Afghan soil, said a dossier handed over to Afghanistan on Thursday.

The dossier containing proof of TTP involvement in the suicide attack on an army unit in Swat and presence of sanctuaries of the TTP and the Jamaatul Ahrar in Afghanistan was handed over by the Foreign Office to the Afghan embassy in Islamabad, FO spokesman Dr Muhamamd Faisal said.

Eleven soldiers were martyred when a suicide bomber blew himself up near a military camp in Swat's Kabal area in February. The TTP had claimed responsibility for the attack in emails sent to journalists.

"The Afghan side was asked to take effective action against terrorist hideouts from where they have been financing, planning and undertaking cross-border terrorist attacks on Pakistani military posts, cities and towns," an FO statement said.

The dossier was given to the Afghan embassy as US Assistant Secretary of State Alice Wells arrived in Islamabad for talks on Pakistani efforts for bringing peace and security to Afghanistan. Although ties between Pakistan and the United States have been getting colder, the latter out of its compulsions in Afghanistan has been trying to improve security cooperation between Islamabad and Kabul.

Earlier this month a US drone targeted a TTP-run camp in Kunar in eastern Afghanistan killing 21 suspected militants, including the master trainer of would-be suicide bombers. Military spokesman Maj Gen Asif Ghafoor had at a press briefing a day earlier acknowledged that US-led Resolute Support Mission had started addressing Pakistani concerns and taken action against several sanctuaries along the Paki-Afghan border.

Speaking at the weekly media briefing, the FO spokesman, however, said the concerns about TTP, JuA, and Lashkar-i-Islam sanctuaries had not been fully addressed. He noted that things had improved in areas where Afghanistan had established border posts and deployed troops.

These terrorist groups have established sanctuaries on Afghan side of the Pak-Afghan border and were involved in cross-border raids on Pakistani military posts, Dr Faisal said.

Pakistan has on a number of occasions shared the locations of the safe havens of these groups with Afghan and the US authorities.

Talks with US

Pakistan and the US, during a meeting between visiting US official Amb Wells and Foreign Secretary Tehmina Janjua, reaffirmed their resolve to act against all groups that were operating against Pakistan and Afghanistan.

This was Amb Wells' second visit to Pakistan. Recently Foreign Secretary Janjua has also visited Washington and Prime Minister Shahid Khaqan Abbasi has met US Vice President Mike Pence during a private visit to the US.

These engagements, the FO said, were meant to continue the conversation for strengthening bilateral relations and promoting peace and security in the region.

The two sides during the meeting between Foreign Secretary Janjua and Amb Wells took stock of the bilateral relationship, Pakistan's counterterrorism efforts, FATF grey listing and efforts for reviving Afghan peace talks.

"Both sides agreed that the momentum of the peace initiative unveiled in Kabul by President Ashraf Ghani and followed up in Tashkent needs to be carried forward," the FO said.

A separate statement by the national security adviser's office on Amb Wells' meeting with NSA retired Lt Gen Nasser Janjua said the US encouraged good relationship between Pakistan and Afghanistan to enable the two countries to work in a cooperative framework.

Gen Janjua, meanwhile, laid emphasis on mutually trusting each other and "continuing intelligence sharing and cooperation".

Prisoners issue

Dr Faisal said India had not moved further on the humanitarian initiative involving the exchange of elderly, mentally challenged and female prisoners.

Full report at:

https://www.dawn.com/news/1398452/afghanistan-based-terrorists-behind-swat-attack-kabul-told

--------

Pak militant leader vows to support President Ghani in issuing a Fatwa

Mar 29 2018

A Pakistani militant leader and founder of Harakat-ul-Mujahideen Fazlur Rehman Khalil has vowed to support President Ghani in issuing a Fatwa against the militant attacks including suicide bombings in Afghanistan.

In an exclusive interview with the Associated Press and in response to the criticisms of the Afghan leaders, Khalil said President Ashraf Ghani should call Islamic scholars in his country together to issue a fatwa of their own. He offered to go to Kabul to help craft the fatwa."If Ghani does this we will support his initiative. We wish he would do it. If Afghans sit with us we will support them."

"Terrorism, suicide attacks, blasts, and killing of innocent people are forbidden in Pakistan, in accordance with Sharia (Islamic law)," he added.

The chairman of the Afghanistan Ulema Council Mawlawi Qeyamuddin Kashaf in response to the Fatwa of the Pakistani Ulemas said late in January this year that the Holy Quran is not only a revelation to the Pakistani nation and Ulemas.

He criticized for denouncing the suicide and terrorists attacks as illegitimate (Haram) only in Pakistan.

Full report at:

https://www.khaama.com/pak-militant-leader-vows-to-support-president-ghani-in-issuing-a-fatwa-04748/

--------

South Asia

Afghanistan provided location of terror sanctuaries used against Pakistan: FO

MARCH 30, 2018

ISLAMABAD: The Foreign Office said on Thursday that it was concerned over safe havens of terrorist outfits on the Afghan side of the border.

In the weekly press briefing, Foreign Office spokesperson Dr Mohammad Faisal said terrorist groups including the TTP, JuA, LI and Daesh held sanctuaries on the Afghan side from where they were undertaking cross-border raids on military posts on the Pakistani side.

He said that Pakistan has shared the locations of these safe havens with Afghan and US authorities on many occasions. "We have been consistently raising serious concerns about the rising footprint of Daesh in Afghanistan. Concentration of Daesh along the borders with Pakistan, Central Asian Republics, Iran and China further alarms us of its negative implications for Afghanistan, Pakistan and regional security," he added.

The FO spokesperson said documents handed over to the Afghan officials contained evidence of Afghanistan-based TTP's involvement in the recent Swat suicide attack.

He said Afghanistan had been asked to take action against militant sanctuaries that were a hotbed of anti-Pakistan activities.

Further, the spokesperson said that during National Security Adviser Nasser Janjua's recent visit to Kabul, Afghan President Ashraf Ghani invited Prime Minister Shahid Khaqan Abbasi to Afghanistan, which the PM has accepted. "It is a welcoming development, and part of our continuous dialogue and engagement with Afghanistan and the international community for a lasting solution to the Afghan problem. It is true that peace in Afghanistan is inextricably linked to Pakistan's peace and stability," he said.

Dr Faisal reiterated that Pakistan had always supported an Afghan-owned and Afghan-led peace process in Afghanistan. "Our policy on Afghanistan remains unchanged," he said.

The spokesperson strongly rejected the Afghan NSA's remarks in the US. "We strongly reject the allegations levelled by him and believe that such statements only serve to negatively reflect on our bilateral relationship." Earlier on March 28, Pakistan had called for 'collective pressure' on the Afghan Taliban and other insurgent groups to bring them to the negotiating table. The statement came from Foreign Minister Khawaja Asif who led a Pakistan delegation to the Tashkent Conference on Afghanistan.

https://dailytimes.com.pk/221441/afghanistan-provided-location-of-terror-sanctuaries-used-against-pakistan-fo/

--------

Muslim Student Association's Spring Banquet supports Rohingya relief effort

Mar 30, 2018

As a crisis unfolds on the other side of the world, a group of Johns Hopkins students are determined to help in whatever way they can.

This Sunday, the Johns Hopkins Muslim Student Association will host its Spring Banquet to benefit an organization providing emergency aid to the Rohingya, a group of Muslims who have been systematically targeted and driven from their homes in Myanmar.

"I've been tracking what's going on in Myanmar since I came to Hopkins," says Zoya Sattar, a second-year international studies major and co-chair of MSA's external community relations. "This genocide is taking place right now, but the issue isn't in the headlines anymore. We wanted to do something about it."

Since last summer, an estimated 671,000 Rohingya refugees have crossed into Bangladesh—making it past land mines planted along the border by Myanmar authorities. They have survived rampant arson, rape, torture, and extrajudicial killings reportedly carried out by the Myanmar Armed Forces, only to face overcrowding, disease, and starvation in refugee camps.

In a commentary for The Lancet, Chris Beyrer, a professor at the Johns Hopkins Bloomberg School of Public Health, called the mass killings of the Rohingya a violation of human rights.

"The accounts of survivors and the evidence of widespread attacks on civilians make a clear case that crimes against humanity must be formally investigated and the perpetrators held accountable," he wrote.

For members of the Muslim Student Association, the chance to provide aid to the Rohingya represents an opportunity to "be the change they want to see in the world."

"Every major change begins at a micro level," Sattar says. "The little things we do—educating people, raising money for charities—that's the best way to give back to the community and hopefully make the world a more peaceful place."

The Spring Banquet will feature Afghan cuisine catered by Baltimore restaurant Maiwand. It will also include a talk by Naveed Ahmed, assistant regional coordinator of the organization Helping Hand for Relief and Development, which is conducting an emergency humanitarian response in Bangladesh supporting Rohingya refugees.

Renowned Islamic scholar and activist Dalia Mogahed will deliver the keynote address, titled "Hope and Happiness in this Crazy World."

After dinner, the MSA will hold an evening prayer, or maghrib, in an adjacent room. Non-Muslim attendees will have the option to observe and join the prayer.

"There are a lot of misconceptions about what Islam says and what we believe, and a lot of that can be solved by simply knowing Muslim people around you," says Haroon Ghori, president of the MSA and a senior biomedical engineering and computer science major. "Events like the Spring Banquet—making a presence in the Hopkins community—go a long way toward showing what we believe and how we contribute to the community and the world."

Full report at:

https://hub.jhu.edu/2018/03/29/muslim-student-association-rohingya-relief/

--------

Awami League working to win over religious voters

March 30, 2018

Under the plans, 300 lawmakers will receive funds of around Tk7,885 crore from the government to upgrade 1,800 madrasa buildings of up to six storeys high in their constituencies

The government is planning to build and renovate thousands of mosques and madrasas across the country to appeal to the religious spirit of the electorate ahead of the upcoming national polls.

Under the plans, 300 lawmakers will receive funds of around Tk7,885 crore from the government to upgrade 1,800 madrasa buildings of up to six storeys high in their constituencies.

Besides this, the Islamic Foundation, a wing of the religious ministry, is making progress on a project to build 1,010 new Ebtedayee madrasas as part of "Darul Arqam" – a new concept of madrasas with branches across the country aiming to spread the accurate Islamic spirit.

The government has also attached significant importance to the building of 560 model mosques and Islamic cultural centres as part of a project approved 11 months ago.

Before the most recent parliamentary elections of January 5, 2014, lawmakers received a similar injection of infrastructure funding. On that occasion, a total of around Tk6,000 crore was disbursed to develop the country's road network.

Awami League lawmaker Mahbub Ara Begum Gini denied that the latest initiatives are an overt tactic to turn voters towards the ruling party ahead of the next elections, which are likely to be held in December.

"This is not a strategy to sway a vote bank," she told the Dhaka Tribune. "Our government believes that religiously motivated people are under-facilitated. Our strategy is to develop all the sectors of the country including the religious community."

A section of political analysts, however, say such initiatives will regardless have little impact on the religious vote bank as this portion of the electorate has traditionally been averse to voting for the Awami League.

"Religious hardliner groups like Hefazat-e-Islam and its aligned voters will never root for Awami League despite the fact that Awami League is not against the religious spirit," Prof Nurul Amin of Dhaka University's political science department said.

Another prominent political analyst, who works at a private university and preferred to remain anonymous, said the ruling party is "trying to change this mindset with the development of mosques and madrasas."

Education Ministry's miscalculation?

The Technical and Madrasa Education Division under the Education Ministry has already sent a detailed project proposal (DPP) to the planning commission for the "Selected Madrasa Development" project.

If this is approved by the Executive Committee of the National Economic Council (Ecnec), each lawmaker will be given Tk22.5 crore over four fiscal years to upgrade six madrasa buildings in their constituencies.

However, a member of the Planning Commission has queried the integrity of the government's proposal.

Wishing to remain anonymous, he said they were yet to receive the list of madrasas selected for the project by the MPs due to an error by the Education Engineering Department under the Ministry of Education.

"Without the list, how is it possible to calculate what amount has been allocated to which madrasa?" he said. "If there is no accurate list of madrasas, there will be room for embezzlement."

An official of the Technical and Madrasa Education Division said they were still working on the lawmaker list of madrasas, which will be completed "in a few days".

In another twist, the division has not yet conducted a study of the proposal even though rules state that it must for any project where the budget rises above Tk25 crore.

"It seems like a political project to fatten up lawmakers ahead of the national election," said an official of the Planning Commission on condition of anonymity.

Model madrasas in crisis?

Despite Ecnec giving their approval in April 2017 to construct 560 model mosques and Islamic cultural institutes across all upazilas of the country, no progress has been made in the project.

The government is yet to receive any part of Tk8,170 crore in funding committed to the project by Saudi Arabia.

"We are working to collect the funds from Saudi Arabia in accordance with the deal," an official of the Ministry of Foreign Affairs said.

The project was agreed in talks between Prime Minister Sheikh Hasina and King Abdullah of Saudi Arabia in Jeddah in April 2016.

However, the government has an alternative plan in which the Religious Affairs ministry will build model mosques in all divisions initially, instead of all upazilas.

A detailed project proposal has already been prepared in this regard and the government wants to begin construction work before the national elections, a source at the Prime Minister's Office said.

Darul Arqam madrasas

There has been more progress in the project to build 1,010 new Ebtedayee madrasas as part of "Darul Arqam."

Full report at:

http://www.dhakatribune.com/bangladesh/politics/2018/03/30/awami-league-working-win-religious-voters/

--------

OIC Council of Foreign Ministers to give special attention to Rohingya crisis

March 29, 2018

Bangladesh is currently sheltering more than a million Rohingya refugees

The current Rohingya crisis and the challenges facing the Muslim Ummah – the conflicts, division, tension and instability of the Muslim world – will get focus in the 45th Council of Foreign Ministers (CFM) of the OIC scheduled to be held in Dhaka in May.

"Protection of their (Rohingyas) rights and fundamental freedom, will, therefore, remain a major preoccupation of this CFM," said State Minister for Foreign Affairs M Shahriar Alam on Thursday.

He was addressing a seminar on the theme – 'Upcoming 45th Council of Foreign Ministers (CFM) of OIC, Dhaka: Revisiting A Shared Journey' in the capital.

Shahriar said the problems of terrorism and violent extremism, sectarian tendencies, hatred, prejudice and Islamophobia, massive humanitarian crises with forced displacements, persistent poverty, and socio-economic backwardness of Muslim societies are OIC priorities.

The CFM is currently finalising resolutions and proposals regarding political, economic, social, cultural, and family affairs issues, he said.

"We see these issues being approached under four broad ranges of draft resolutions: those relating to peace, conflict resolution, mediation and security; those relating to OIC economic and development agenda; those relating to minorities and humanitarian questions, and those relating to OIC reforms," said the state minister.

The Bangladesh International Institute of Strategic Studies (BIISS) organized the seminar.

There will be a separate sideline session on the humanitarian challenges of the Muslim world with special focus on the Rohingyas on May 6, and prior to that a visit to the Rohingya makeshift camps in Cox's Bazar will take place on May 4.

A comprehensive reform of the OIC and its system is also a crying need of the day for greater efficiency, dynamism, and clout of the Organisation, said the state minister.

"Bangladesh along with some other brotherly countries are working hard with their thoughts and proposals for OIC reforms in a number of areas," he said.

Full report at:

http://www.dhakatribune.com/world/south-asia/2018/03/29/rohingya-crisis-get-focus-oics-council-foreign-ministers/

--------

Video shows joint Afghan-US Special Forces raid on ISIS commander's hideout

Mar 29 2018

The US Military has released a new video which shows a joint raid conducted by the Afghan and US military that resulted into the killing of a ISIS commander in northern Jawzjan province of Afghanistan.

Afghan Special Security Forces and U.S. Special Operators killed an ISIS-K commander and another terrorist fighter during a partnered nighttime raid in the isolated village of Mughul, Darzab district, Jowzjan province, Afghanistan, Mar. 26-27, 2018, according to a report by NATO Special Operations Component Command-Afghanistan.

The report further adds that this tactical defeat of ISIS-K fighters in Jowzjan is the most recent in a series of Afghan and U.S. SOF counterterrorism successes targeting ISIS-K in northern Afghanistan this year.

The source also added htat on Mar. 22, ASSF and USSOF eliminated four ISIS-K fighters in Darzab district. Six days earlier on Mar. 16, a U.S. airstrike killed ISIS-K platoon commanders, Omair and Abu Samaya, as the duo met in Sar-e Pul province. Later that evening, an ASSF nighttime raid on the ISIS-K headquarters in Jowzjan resulted in the removal of another 13 terrorists. Omair and Abu Samaya's predecessor Khitab Aka, ISIS-K's head facilitator of foreign fighters in Jowzjan, was captured by Afghan forces on Jan. 28.

Full report at:

https://www.khaama.com/video-shows-joint-afghan-us-special-forces-raid-on-isis-commanders-hideout-04747/

--------

Arab World

Countdown Starts for Final Deal between Jeish Al-Islam, Syrian Gov't in Eastern Ghouta

Mar 29, 2018

The sources said that Damascus and Jeish al-Islam have worked out a major part of the deal, however, there are still small issues that need to be agreed upon.

The sources added that the deal could be sealed within the next 48 hours, as long as Jeish al-Islam continues to comply with the demands of the Syrian government and the Russian Reconciliation Center.

It now appears that the government and Jeish al-Islam have agreed on the destination of the militants after their departure from Eastern Ghouta.

The sources said earlier today that Jeish al-Islam terrorists have called on the Russian Reconciliation Center for Syria to help them move from Douma in Eastern Ghouta to Eastern Qalamoun or Dara'a, a second request that had already been turned down by both Damascus and the Russian Center.

The sources said that the main obstacle to an agreement in Douma is Jeish al-Islam's refusal to be transported to Northern Syria.

The sources added that Jeish al-Islam claims to be at loggerheads with the Turkish-backed militants in Northern Syria and, hence, is adamant to a relocation to Aleppo or Idlib.

http://en.farsnews.com/newstext.aspx?nn=13970109000551

--------

Mufti of Lebanon supports Saudi Arabia against Houthi terrorist missile attacks

30 March 2018

The Mufti of Lebanon, Sheikh Abdul Latif Fayez Durian, asserted his condemnation of the Houthi missile attacks on the villages and cities of Saudi Arabia.

"We are committed to support security in Saudi Arabia, and we condemn the Houthi terrorist missile attacks that have sought to harm the cities, towns and villages of Saudi Arabia," he said.

The Mufti stressed that "the security of Saudi Arabia means the security for every Arab and every Muslim."

"Muslims in Lebanon have no other choice but to be with Saudi Arabia," he said.

The Security Council on Wednesday strongly condemned Houthi missile attacks on Saudi Arabia.

The Security Council affirmed that the ballistic missiles launched by the Houthi militias threaten the security of the region and expressed the concern that the militias announced their intention to target Saudi Arabia and other countries.

It urged that all member States implement fully the arms embargo as required by Security Council resolutions, including resolution 2216.

The security Council members expressed their deep concern over the violation of the embargo.

Saudi Arabia's air defense forces blocked 104 ballistic missiles fired by the Iran-backed Houthi militias against the kingdom since the dawn of June 6, 2015 when a Scud missile was destroyed by the Saudi Patriot defense system, in addition to seven ballistic missiles which were launched this week on a number of Saudi cities.

Full report at:

https://english.alarabiya.net/en/News/middle-east/2018/03/30/Mufti-of-Lebanon-We-stand-with-Saudi-Arabia-against-Houthi-terrorist-missile-attacks.html

--------

Saudi Crown Prince: If we don't succeed, likely war with Iran in 10-15 years

30 March 2018

If Saudi Arabia doesn't succeed in continuing to impose economic and political sanctions to terminate Iran's nuclear program, they are likely to go to war with Iran in 10-15 years, the kingdom's Minister of Defense and Crown Prince Mohammed bin Salman told the Wall Street Journal in an interview this week.

The crown prince called on the international community to create more pressure on the Iranian regime so as to avoid a military conflict.

"We have to succeed so as to avoid military conflict," the royal said. "If we don't succeed in what we are trying to do, we will likely have war with Iran in 10-15 years."

The nuclear agreement had been made by Trump's predecessor, Barack Obama, which loosened sanctions on the country in return for promises to curb their nuclear program.

The agreement has been continuously criticized as it made way for the Khamenei regime to meddle in Arab countries' affairs, the crown prince stated. Following the nuclear deal, Iran has been visibly building its influence in Syria and Iraq, and supplying Yemen's Houthi militia and rebels with weaponry used against Saudi Arabia.

More recently, Saudi forces intercepted seven Yemeni rebel missiles targeting major cities, including Riyadh. It was the first attack the involved a casualty. The missile remains were later discovered to be of Iranian making.

In the interview, the prince dismissed the attacks as a sign of weakness. "They want to do whatever they can do before they collapse," he said of the Houthi militia.

He added that the kingdom had no choice but to intervene in the Yemen crisis, or else foreign terrorist groups would have harbored there.

"If we didn't act in 2015 we would have had Yemen divided in half between the Houthis and al Qaeda," the crown prince said.

The Muslim Brotherhood

In his interview with CBS's 60 minutes, Crown Prince Mohammed bin Salman said that the extremist ideologies of the Muslim Brotherhood "invaded" the education system in the kingdom.

Saudi Arabia, along with Egypt, Bahrain and the UAE, boycotted Qatar and blocked all diplomatic and economic ties due to Doha's funding of terrorist groups like the Muslim Brotherhood.

"The Muslim Brotherhood is an incubator for terrorists," Prince Mohammed said. "We have to get rid of extremism. Without extremism no one can become a terrorist."

The crown prince's US visit

In his two-week visit to the US where the crown prince met with the country's top business and political figures, several deals were made to bolster investments and the economy of the kingdom.

With the prince's 2030 Vision, Saudi Arabia is moving towards becoming a more liberal society.

"We can't drag people to live in Saudi Arabia in an environment that is not competitive," said the prince, who is spearheading a plan to diminish the kingdom's dependence on oil revenues. "The environment in Saudi Arabia is pushing even Saudis outside Saudi Arabia. That is one reason we want social reforms."

Full report at:

https://english.alarabiya.net/en/News/gulf/2018/03/30/Saudi-Crown-Prince-If-we-don-t-succeed-likely-war-with-Iran-in-10-15-years.html

--------

Saudi Shura member: Qatar uses intelligence to attract extremist group leaders

29 March 2018

A member of the Saudi Shura Council and the King Abdulaziz Center for National Dialogue accused Qatar of using its intelligence apparatuses to attract the leaders of several organizations like al-Qaeda and the Saudi branch of the Muslim Brotherhood.

In an interview with Al Arabiya, Issa al-Ghaith said Doha granted al-Qaeda leader in Saudi Arabia, Abdel Aziz al-Muqrin, a Qatari passport to facilitate his entrance into the kingdom to execute terrorist activities.

He added that the Sururist group, which was established in Saudi Arabia after defecting from the Saudi branch of the Muslim Brotherhood, was also among the list.

Ghaith also noted that members of the Muslim Brotherhood and Sururist Movement visited Qatar and were also seen in Rabaa Square when Mohammed Mursi was president of Egypt.

He said that they have also been to Istanbul, adding that these members blindly defended Qatar and Turkey, while instigating against their own countries.

"We have thousands of books, most of which are worthless, while there is a complete absence of publications about this dangerous reality of secret ideology-based organizations that have existed for years and that threaten our lives, thoughts and country. I can only remember one book on the matter called Awakening Islam by Stephane Lacroix," he said.

Ghaith criticized the general dereliction at dealing with these secret and dangerous organizations and noted that Iran, Turkey and Qatar have been interfering in other countries' affairs via their agents which consist of Sunni and Shiite Islamist organizations.

"We need professional security apparatuses in the Arab world to deal with what happened and with what has been happening for at least 40 years, since 1979," Ghaith said.

Full report at:

https://english.alarabiya.net/en/News/gulf/2018/03/29/Saudi-Shura-Council-member-Qatar-uses-intelligence-to-attract-leaders-of-extremist-groups.html

--------

Syrian government gives rebels in enclave 3-day ultimatum

March 29, 2018

BEIRUT — The Syrian government has given a final, three-day ultimatum to the largest rebel group in the enclave of eastern Ghouta to leave the last remaining rebel-held town in the area, state TV reported on Thursday.

According to the TV report, the 72-hour deadline began on Wednesday night.

Talks have been deadlocked for days between the Army of Islam group, which controls the Syrian town of Douma, just outside of Damascus, and Russian mediators.

The Syrian government and its Russian backers have insisted that Army of Islam members leave the area for northern Syria.

Army of Islam spokesman Ammar al-Hassan said the government is insisting that the group's fighters move north but that they have rejected such demands.

Pro-government media have warned of an all-out offensive on Douma if the rebels don't withdraw.

In Moscow, the Russian defense minister said Syrian rebels attempted to put dozens of suicide attackers on buses evacuating residents from Damascus' eastern suburbs.

Sergei Shoigu said during Thursday's meeting with visiting U.N. envoy to Syria Staffan de Mistura that the Russian military received a tip about the planned attacks from locals in eastern Ghouta and disarmed the would-be attackers.

Shoigu said the military found seven belts packed with explosives for suicide missions on Monday, another 32 on Tuesday and nine on Wednesday.

"It's easy to imagine what would happen if those suicide attackers blew themselves up on the buses carrying women and children," Shoigu added.

He said that 130,000 civilians and 11,000 rebels have so far left eastern Ghouta over the past two weeks.

De Mistura, who also met with Russian Foreign Minister Sergey Lavrov, said after their talks that it is essential to ensure the safety of civilians being evacuated from eastern Ghouta.

Full report at:

https://www.washingtonpost.com/world/middle_east/syrian-government-gives-rebels-in-enclave-3-day-ultimatum/2018/03/29/7577edd2-3362-11e8-b6bd-0084a1666987_story.html?utm_term=.59fa3c9e5ff8

--------

Infighting Escalating among Terrorist Groups in Northern Syria

Mar 29, 2018

The sources reported that gunmen of Nouralddeen al-Zinki, affiliated to Syria's Tahrir Front, launched a heavy assault on Tahrir al-Sham Hay'at near the town of Dar al-Izzah and managed to capture Basraton settlement and its surrounding areas after Tahrir Al-Sham withdrew further West of Dar al-Izzah.

Pro-Zinki activists also claimed that at least five militants from Tahrir Al-Sham were killed during the advance.

Al-Zinki's assault comes just days after Tahrir Al-Sham killed several members of Syria's Tahrir Front in Eastern Aleppo.

In a relevant development on Monday, heavy infighting erupted between Tahrir al-Sham Hay'at and Syria's Tahrir Front in Ajel and Jamiat al-Sa'adiyeh villages in Western Aleppo, the towns of Khan al-Sobol and Kafr Batikh in Idlib, the village of al-Jaradeh in Southern Idlib and the two villages of al-Mansoureh and Kharbat al-Naqous in Western Hama.

Tahrir al-Sham Hay'at also won control of al-Mohandeen Awal, al-Mohandeseen Thani, Sheikh Ali, Reef al-Ateba, al-Fouj 46, Tadil, Ajil, Urum Soqra, Taqad, Kafr Nouran, al-Tawameh, Kafr Karamayn, Ma'arat al-Na'asan and Mirnaz regions.

Tahrir al-Sham Hay'at erected checkpoints in the village of Atmeh near the border with Turkey and stopped traffic of fuel vehicles from Northern Aleppo to Idlib.

Reports from the region said Tahrir al-Sham Hay'at also imposed control over Ram Hamdan, Hazreh, Kafr Yahmoul, Ma'arat Mesrin, Tarmanin, Tala'adat Waqah, Aqrabat, Kafr Lousin, Atmeh and Deir Hissan regions in Northern Idlib.

The infighting erupted after a huge blast rocked the base of the foreign members of Tahrir al-Sham Hay'at in Central Idlib on Saturday, inflicting tens of casualties on the terrorist group.

Militant-affiliated sources reported that a bomb-laden car was detonated in front of a building called 'National Salvation Government' in the Center of Idlib city.

The sources added that the building belongs to the Uzbek militants of Tahrir al-Sham, saying that at least 15 militants were killed and tens of others were wounded in the explosion.

Tensions have intensified among the terrorists in Idlib province in recent days.

Full report at:

http://en.farsnews.com/newstext.aspx?nn=13970109000562

--------

Syrian Army Seizes Terrorists' Weapon-Making Workshop in Deir Ezzur

Mar 29, 2018

The sources said that the army uncovered a large weapons factory that was used by the ISIL to produce mortar shells, IEDs and other types of explosives.

The sources further said that the weapons factory was discovered by the army units in the town of Mahkan, North of ISIL's former stronghold of al-Mayadeen.

In a relevant development last week, the army troops found a mass grave in the Southeastern province of Deir Ezzur that contained tens of bodies of the civilians and military men executed by the ISIL Takfiri terrorists.

The army forces discovered the mass grave in Deir Ezzur city's Central garden that contains nearly 150 civilians and military men during purging operations on Thursday.

Local sources said the victims were executed by the ISIL during its rule over the region, adding that signs of torture were seen on a number of the dead bodies.

http://en.farsnews.com/newstext.aspx?nn=13970109000407

--------

Saudi de facto leader meets leaders of pro-Israeli lobbies in US

Mar 30, 2018

Saudi Crown Prince Mohammed bin Salman has met with the leaders of a number of pro-Israeli lobbying groups during his tour of the United States as the kingdom is moving towards normalization of diplomatic relations with the Tel Aviv regime at the expense of the Palestinian issue.

According to a leaked copy of his itinerary, the Israeli Haaretz daily reported that bin Salman had conferred with officials from the American Israel Public Affairs Committee (AIPAC), Stand Up for Israel (ADL), the Jewish Federations of North America (JFNA), Presidents' Conference, B'nai B'rith and the American Jewish Committee (AJC).

The meeting comes as AIPAC, ADL and the JFNA have long fought against the pro-Palestine movement Boycott, Divestment and Sanctions (BDS), and spared no efforts to confront the global campaign.

Additionally, the groups donated millions to the Israeli regime to advance its expansionist policies and construct more settler units on occupied Palestinian territories.

Speaking in an interview with France 24 television news network on December 13, 2017, Saudi Foreign Minister Adel al-Jubeir said the kingdom has a "roadmap" to establish full diplomatic ties with the Tel Aviv regime.

In mid-November last year, a Lebanese paper published a secret document showing that the Saudis were willing to normalize relations with Israel as part of a US-led Israeli-Palestinian peace effort and unite Saudi-allied countries against Iran.

The document, published by al-Akhbar daily, was a letter from the Saudi foreign minister to bin Salman, explaining why it was in the kingdom's interest to normalize relations with Israel. The letter said a rapprochement between Saudi Arabia and Israel has risks for the kingdom due to the strength of the Palestinian cause among Muslims.

The Saudis' willingness to boost ties with Israel has offended several Arab countries, including Jordan.

As for the Palestinian refugee issue, the letter says the Saudis would be willing to help the estimated five million Palestinian refugees worldwide settle in the host countries rather than being brought back to the occupied Palestinian territories.

The Israeli military's chief-of-staff, Gadi Eizenkot, recently said the regime was ready to share intelligence with Saudi Arabia on Iran.

Full report at:

http://www.presstv.com/Detail/2018/03/30/556862/Saudi-Israel-MBS-bin-Salman-US-AIPAC-

--------

Southeast Asia

Selangor stops anti-Shia mention in Friday sermons

Mohamad Fadli

March 30, 2018

PETALING JAYA: Selangor Islamic authorities stopped the practice of including several lines labelling Shia Islam as deviant during Friday sermons in mosques as of two months ago.

A quick check of official sermons in the last few weeks reveals that a line in which Muslims are told to remain as followers of Sunni Islam while invoking God to protect them against "deviant teachings" such as Qadiyani and Shia, has not been part of the second half of the weekly sermon since early February.

"Hence, we sincerely beseech You, O Allah, strengthen our imaan and creed according to that of Ahl as-Sunnah wal-Jamaa'ah, accept our righteous deeds, cultivate our soul with good mannerisms, unite our hearts, bestow upon us rizq with blessings, enrich us with beneficial knowledge, protect us from disasters and save us from teachings that are outside the fold of Islam such as Qadiyaani, deviant teachings such as Shee'ah, and other teachings deemed as deviating from Islamic teachings or contradicting the creed of Ahl as-Sunnah wal-Jamaa'ah," runs the doa, or invocation, according the official English translation provided by the Selangor Islamic Religious Department (Jais).

When contacted, Jais suggested that the omission of the line had nothing to do with a change in stand.

Jais director-general Haris Kasim told FMT that the department's committee in charge of preparing the Friday sermon has discussed and decided on the change, to shorten the duration of the Friday service in view of the prayer time getting later.

The times of the five obligatory prayers in Islam, including the weekly Friday prayer, are determined by the position of the sun and vary at different locations.

"However, the khutbah committee will be sensitive and take into account current issues and circumstances to amend the Friday sermon in line with the prayer time, and is prepared to insert again the invocation or any other texts," said Haris.

Malaysia's Islamic authorities regard Shia Muslims as "deviant" following an edict issued by the national fatwa council in 1996.

Shia is the second largest branch of Islam, with a substantial following in Iraq, Iran, Kuwait, Bahrain, Lebanon and several areas in Saudi Arabia, Yemen and Pakistan.

Selangor's exco for Islamic affairs Ahmad Yunus Hairi meanwhile supported Jais' right to amend the text of the sermon to facilitate Muslims.

He said the latest amendment would also ensure that Muslims do not rush in performing their prayer.

http://www.freemalaysiatoday.com/category/nation/2018/03/30/selangor-stops-anti-shia-mention-in-friday-sermons/

--------

Embracing moderation, a Malaysian cause: Anifah

30 March 2018

KOTA KINABALU: Malaysia's resolution on moderation adopted at the United Nations General Assembly last year is a testament of it's commitment to the cause. In his Easter wish to Christians in the country, Datuk Seri Anifah Aman said, as the Foreign Minister, he takes the promotion of moderation as both a professional and personal responsibility. In his tenure, Anifah was also instrumental in establishing diplomatic presence for Malaysia in the Vatican City - an unprecedented move. "Today, Good Friday, marks the solemn beginning of Easter weekend, the holiest of Christian holidays. "Growing up in Sabah, with its highly diverse ethnic and religious backgrounds, I understand the sheer importance and symbolism this weekend brings to the adherents of Christianity. "Across the denominations, the themes of sacrifice and resurrection are embraced as the leitmotif. These values are not alien to me. As a Muslim, I was raised to respect and cherish everyone regardless of their creed." He lamented however the beauty from acceptance of difference appears to be fading in the face opf extremism. "We conveniently forget that we share many similar values and outlook - values such as acceptance, love and respect." This was why he took it as a personal and professional commitment to promote moderation and described the adoption of the resolution in the UN were "small steps, but a-thousand-mile journey starts with one". "These moves might not be significant to some, but to me it speaks volumes - reflecting our ethos of moderation and acceptance. Once again I wish all Christians a blessed Easter weekend."

https://sg.news.yahoo.com/embracing-moderation-malaysian-cause-anifah-041155335.html

--------

Indonesia's president confident of winning fight against extremism

March 29, 2018

JAKARTA -- It is hard to remember after entering the surroundings of lndonesia's Bogor presidential palace that the youthful looking, understated man tooling around the sprawling property in a golf buggy is head of the world's most populous Muslim-majority country and the third-largest democracy.

President Joko Widodo, or "Jokowi" as he is widely known, has the air of both a statesman and what some describe as a "boy from the kampong [village]." A well-documented fan of heavy metal music, he's also known for his frequent visits to communities around the country. Today on his buggy ride through the public gardens adjoining the palace he stops frequently to take selfies and chat with eager crowds who mob the open vehicle. "This is the only vehicle I'm allowed to drive," he said with a characteristic smile. "I try to [get out] most weekends."

It's this common touch that helped to propel Jokowi to office. Born in a slum in Solo, Central Java, he became a businessman running a provincial furniture factory before serving as the governor of Jakarta. Then in 2014 he ran for president, winning a bitterly contested national election -- a historic victory for an outsider with no ties to the military or political establishment.

The fallout from that poll still reverberates in the combative political atmosphere of Indonesia today with daily headlines about the latest moves by opponents and long-running tensions between the president's office and the unruly parliament. Even with polls putting Jokowi's approval rating at 76%, there was intense political jockeying before his party, the Indonesian Democratic Party of Struggle (PDI-P), formally endorsed him as its presidential candidate for the 2019 national election.

It is a measure of Indonesia's Byzantine politics that a popular leader would have no guarantee of being re-anointed by his party to contest a second term. On the contrary, even a year ago, there were rumors of military coups to unseat Jokowi after hundreds of thousands of people took to the streets to demonstrate against his former close ally, Jakarta Gov. Basuki "Ahok" Tjahaja Purnama.

Slamming the governor's Chinese-Christian background, Islamist groups stirred up anger, accusing him of blasphemy for "insulting" the Quran -- a charge for which Ahok was subsequently tried, convicted and is currently serving a jail sentence.

Tahe upheaval brought Jokowi into confrontation with the country's increasingly hard-line Islamist groups. He came out swinging. In July 2017, the government used special regulations to disband the Muslim group Hizbut Tahrir Indonesia, citing its support for a caliphate. Though about 87% of Indonesia's population of 261 million is Muslim, the country is officially a secular state -- a fact that Jokowi often emphasizes. Following the ban of HTI, he tightened up regulations on mass movements to make it easier to outlaw groups that contravened the country's constitutionally enshrined principles.

Asked today about the challenge of balancing the country's more extremist elements, and whether Indonesia is still as consciously secular as it was, he chooses his words carefully. "Pluralism is in Indonesia's DNA. Islam in Indonesia has always been peaceful and tolerant. Nothing will change this. No group will be allowed to threaten Indonesia's peace and harmony," he said. "We constantly work with religious leaders and community groups to fight extremism."

It is a statement that suggests there will be more struggles ahead, not least over the latest broadside from ultra-conservative Islamist lawmakers and lobbyists who have supported proposals before parliament to criminalize gay and premarital sex. The proposed laws have triggered international condemnation from rights groups and once again highlighted the growing influence of conservative Islamists in the country -- and Jokowi's fragile position between competing interest groups.

Again, the president plays the diplomat. "Indonesia has cultural norms that must be respected," he said of the controversial proposals. "However, our constitution does not allow anyone to be the subject of violence or discrimination because of who or what they are -- and that is the point."

Full report at:

https://asia.nikkei.com/Features/Interview/Indonesia-s-president-confident-of-winning-fight-against-extremism

--------

Indonesia prosecutors seek 16 years prison for ex-speaker

Mar 29, 2018

Indonesian prosecutors Thursday demanded 16 years of imprisonment for former parliament speaker Setya Novanto in one of the graft-riddled country's biggest corruption cases.

The veteran politician has been indicted for allegedly taking bribes and kickbacks amounting to $7.4 million related to the procurement of an electronic ID system for Indonesia's more than 250 million inhabitants.

Novanto, 62, former chairman of a major political party, has also been accused of playing a key role in embezzlement from the $440 million project which led to the loss of $170 million from government coffers.

Lead prosecutor Abdul Basir called for the court to order Novanto to pay $7.4 million in restitution to the state.

Prosecutors also demanded the seizure of Novanto's assets if the man once regarded as one of Indonesia's most influential politicians fails to pay.

Several other politicians, as well as government officials and businessmen have been charged and convicted in relation to the case.

"We respect the prosecutors' demand but we do hope for (the judges') wisdom because my client has been helping investigators," said his lawyer Firman Wijaya.

The trial has been adjourned to April 13 to hear Novanto's defense plea.

Novanto, who has faced corruption allegations in the past but never been convicted, was detained on November 20 last year after a bizarre drama that involved a failed raid on his palatial estate and a shady car crash.

He was arrested in hospital after he claimed to have been injured in the crash.

Full report at:

http://www.presstv.com/Detail/2018/03/29/556823/Indonesia-parliament-speaker-corruption-investigation

--------

Africa

Muslims, Christians hold joint celebration of Annunciation

Mar 29,2018

AMMAN — The Catholic Center for Studies and Media (CCSM) in Jordan on Wednesday held the first Christian-Islamic celebration of the Annunciation under the patronage of Deputy Prime Minister Jamal Sarayrah, a CCSM statement said.

In the presence of bishops and heads of Churches in Jordan, representatives of the Iftaa Department, of the Chief Islamic Justice Department, of the Ministry of Awqaf and Islamic Affairs, and of several Islamic associations, Sarayrah stated: "We meet today to take part in the celebration marking the Feast of the Annunciation… considering the common denominators between Islam and Christianity, and believing that our success will only be attained through the success of everyone despite their various cultural backgrounds and ideologies."

The ceremony also witnessed the attendance of members of Parliament, ambassadors, foreign and local media, a Lebanese delegation representing "the Christian-Muslim Meeting Around Mary", in addition to Christian and Muslim believers.

"Over the years, Jordan has been consolidating relations among citizens based of the common denominator among religions: humanity. We have launched several initiatives under the guidance of His Majesty King Abdullah, which have been adopted worldwide as a basis for dialogue and brotherhood."

In his opening address, CCSM director Rif'at Bader said: "Since His Majesty King Abdullah assumed his constitutional responsibilities, Christmas was marked as an official holiday for all citizens, and an annual meeting of the Jordanian united family has been conducted with His Majesty." He also cited last year's meeting at the Baptism Site which affirmed the Hashemite custodianship of the site.

"As we jointly celebrate Christmas, we are here today to set the foudation for a joint celebration of the Feast of Annunciation in order to have it added to the sublime Jordanian initiatives in the field of harmony," Bader stated, adding that "the only allowed extremism is that relevant to love, brotherhood and altruism."

He continued: "We have gathered today as one family to say that we support the establishment of new and distinguished relations between Muslims and Christians not only in our holy country, but throughout the world," and stressed the centre's support to the Amman Message, according to the statement .

For his part, Secretary General of Lebanon's "Christian-Muslim Meeting around Mary" Naji Al-Khoury voiced his hope to see the Islamic-Christian celebration also become an annual national holiday in Lebanon, stressing that "this marks a new stage in Christian-Muslim relations, as well as a flourishing stage of lasting friendship between the Jordanian and Lebanese peoples".

The ceremony included readings from the Bible and the Quran as well as religious hymns by the Spring of Choir and Al Falah Choir, the statement concluded.

http://www.jordantimes.com/news/local/muslims-christians-hold-joint-celebration-annunciation

--------

A New Radicalised 'Al Shabab - Boko Haram', But This Time In Mozambique

29 March 2018

What's left of the Nanduadua mosque lies deep within a labyrinth of alleyways in Mocimboa da Praia, a port town in Mozambique's far north.

A handful of veiled women hurry past the one-time place of worship, which is now reduced to rubble.

"It was the mosque of criminals," local resident Ussene Amisse told AFP. "The mosque of those with hearts of stone."

The Mozambique government ordered it to be levelled in October after a bloody attack blamed on radicalized Muslim youth who allegedly worshipped at the mosque.

The apparent extremist attack -- the first of its type in the country -- sent a shockwave through Mozambique, which emerged from its long civil war in 1992.

The strike targeted a nearby police and military post, leaving two officers and 14 attackers dead.

A number of subsequent armed incidents and kidnappings followed, fuelled by long-suppressed frustrations in the majority-Muslim northern region.

'Taken by surprise'

The initial bloodshed happened in the small hours of October 5. "We heard shouting and gunfire," recalls local man Juma Tuaibo.

"We quickly understood that the youth from the mosque were behind the incidents. We fled to seek refuge in a nearby village."

Dozens of armed men, known locally as "al-Shabaab" -- Arabic for "youth" though with no confirmed link to the Somali militantt group of the same name -- stormed the police station, the fire station and a forest ranger post.

In a matter of hours, they had taken control of the town. "We were taken by surprise," a local official told AFP on condition of anonymity.

"It took us two days of fighting and the deployment of reinforcements to chase them out of town."

Authorities were initially hesitant about identifying their new enemy, referring vaguely to a group seeking to "upset the established order". The attackers had nothing to do with Al-Shabaab, officials insist.

In the following weeks, at least 300 Muslims were arrested and several mosques forced to close.

President Filipe Nyusi also fired the heads of the army and the intelligence agencies, blaming them for having missed the warning signs.

An emerging threat

But in Mocimboa, the emergence of a radical faction in the Muslim community was widely known. "It started three years ago. Fifty or so young people from the town said that we weren't true Muslims," said Ussene Amisse, a teacher at a Koranic school.

"Some of them learnt these things in Somalia. It was when they returned that they started to cause problems."

Radicalized men told their followers not to send their children to school, not to vote and to disobey the authorities.

"They followed the example of fundamentalists in other countries," sighs Amadi Mboni, one of the town's religious leaders.

"We knew, we informed our authorities of the danger -- but we weren't able to prevent some of our children and grandchildren from joining them."

According to official statistics, 17 percent of Mozambicans are Muslim but Islamic leaders say the real figure could be double. In Mocimboa, more than half of the population is Muslim.

The neglected north

Frelimo, the ruling party since national independence, has long trumpeted the peaceful coexistence of different religions in Mozambique. But the country's north has largely been excluded from the economic growth of the last 20 years.

Many in the north also doubt that they will reap the rewards of the vast gas deposits recently discovered off the shores of Palma near Mocimboa.

In a region which sees itself as a neglected outpost, radical Al-Shabaab-style ideology has found a receptive audience.

"It's an area of Islamist influence, where state power is weak," said journalist and commentator Fernando Lima.

Other than a pair of armoured vehicles stationed outside police headquarters, Mocimboa is quiet for now.

Mayor Fernando Neves says everything has gone back to normal since the attacks. "We have started working again," he said. "These people used Islam to try to divide us... but we didn't let them."

Fear spreading

While security checkpoints have been removed, police warnings to travelers visiting the region suggest an ongoing risk.

Police refuse to comment on the number of Islamist sympathizers thought to still be at large, but several witnesses reported that the group has retreated to nearby forests.

Last week, raiders stormed Chitolo village where one man was killed and several homes were burnt down, according to state radio.

"Since the attacks, I don't want to go to other villages, I'll only go there armed," said Amisse Oumar, a traditional chief of Quelimane village, 15 kilometers (10 miles) north of Mocimboa. "People can no longer access their fields, people don't have any more food."

Oumar said a female villager was kidnapped in October while another man was captured and his head reportedly cut off.

There are dozens of similar stories of kidnappings blamed on "al-Shabaab".

Boko Haram tactics?

And while the number of abductions is still far from the scale of kidnappings by Boko Haram in Nigeria, there are striking similarities in their tactics.

"I was in the field on January 1 with my wife when I saw armed men in the forest," said Momadi Mfaoume.

"We ran, but my wife was captured. Other women who managed to escape told me that my wife had been forced to remarry," he added, sobbing. Authorities said they were not aware of the disappearances.

Full report at:

https://english.alarabiya.net/en/features/2018/03/29/VIDEO-A-new-Al-Shabab-Boko-Haram-but-this-time-in-Mozambique-.html

--------

Gunmen attack central Mali hotel, kill one and hurt two others

March 29, 2018

A government official in Mali says gunmen killed one person and wounded two others in an attack on a hotel frequented by aid workers and businessmen in central Bandjagara city. Interior security spokesman Amadou Sangho says four gunmen entered the Hotel la Falaise late Wednesday, opening fire on a soldier standing guard. He fired back but was killed. Two civilians, including a hotel employee, were wounded, reports AP.

The attack comes days after Prime Minister Soumeylou Boubeye Maiga visited Bandjagara, promising to defeat Islamic extremists. No group has claimed responsibility for the attack, though jihadists have increasingly carried out attacks in central and northern Mali. It is the first such attack in Bandjagara.

The Dogon region once was a major tourist site, but jihadist violence since 2012 has reduced visits.

http://indianexpress.com/article/world/gunmen-attack-central-mali-hotel-kill-one-bamako-5116124/

--------

Ethiopia to swear in new prime minister on April 2

Mar 29, 2018

Ethiopia's prime minister-elect Abiye Ahmed will be sworn in on Monday, its parliament said, after the ruling coalition chose him to succeed Hailemariam Desalegn as its chairperson.

The ruling Ethiopian People's Revolutionary Democratic Front coalition on Tuesday voted in the 42-year-old, a retired lieutenant general from Ethiopia's largest ethnic group, the Oromo, to take over the government.

Ethiopia is Africa's second most populous country and has had the fastest growing economy on the continent for the past decade, but protests that began in 2015 have caused the biggest threat to the EPRDF since it took power in 1991.

"The House of People's Representatives will hold an extraordinary session on April 2 to swear in Dr. Abiye Ahmed," the body said in a statement.

His predecessor Hailemariam, from the small Wollayta ethnic group, resigned last month after sustained protests in the Oromiya and Ahmara regions where people say they are politically and economically marginalized.

Abiye will now face pressure to appeal to legions of disaffected youth and to push through promised reforms.

Full report at:

http://www.presstv.com/Detail/2018/03/29/556835/Ethiopia-prime-minister-parliament-vote-protest-economy

--------

8 people killed by vehicle blast in Libya

30 March 2018

Eight people were killed Thursday by a bomb-laden vehicle on a checkpoint near Libya's eastern city of Ajdabiya, a stronghold for forces loyal to the military commander Khalifa Haftar, according to a local security source.

The source said the attack killed six soldiers and two civilians, while it injured some others.

On March 9, three people were also injured by a car-bomb attack in the south of Ajdabiya city. The ISIL terror group claimed responsibility for the attack.

Libya has remained dogged by turmoil since 2011 when a bloody uprising ended with the ouster and death of President Muammar Gaddafi after more than four decades in power.

Since then, the country's stark political divisions have yielded two rival seats of power -- a legislative assembly in the eastern city of Tobruk (to which Haftar is loyal) and a government based in the capital Tripoli -- along with a host of heavily-armed militia groups.

http://www.worldbulletin.net/africa/200465/8-people-killed-by-vehicle-blast-in-libya

--------

Nigerian Army Advises Boko Haram To Embrace FG's Amnesty Offer

MAR 29, 2018

The Nigerian Army has advised Boko haram terrorist group to accept Federal Government's amnesty offer by laying down their arms.

Army public relations officer, Brig.-Gen Texas Chukwu, in a statement on Thursday, reminded the terror group that the window of opportunity for its members to embrace the Federal government's amnesty offer is still open.

Chukwu also disclosed that troops had arrested three suspected Boko Haram terrorist at Ngurore.

He explained that one of the suspects, who was wounded as a result of gunshot confessed to have participated in the attacks carried out by the sect.

The Army also commended members of the civilian Joint task force (CJTF) for patriotism, resilience and cooperation with troops in the fight against the insurgents.

While calling on members of the public to emulate the vigilance of the CJTF, and report any suspicious persons or objects to the nearest military location, Chukwu recalled that President Muhammadu Buhari had on March 23, said the Federal Government is ready to offer amnesty to members of the Boko Haram sect that are willing to drop their arms.

The President made the offer at a meeting with the schoolgirls who recently regained freedom after they were abducted from their school in Dapchi, Yobe State by Boko Haram terrorists.

"Federal Government is ready to rehabilitate Boko Haram militants who are ready to lay down their arms.

"While further efforts are being made to secure the release of every abducted citizen in Nigeria, Government is ever ready to accept the unconditional laying down of arms by any member of the Boko Haram group, who show strong commitment in that regard.

"We are ready to rehabilitate and integrate such repentant members into our society," the President said.

Full report at:

http://saharareporters.com/2018/03/29/nigerian-army-advises-boko-haram-embrace-fgs-amnesty-offer

--------

Mideast

How Mohammed bin Salman unites usually divided Iranians

Saeid Jafari

March 29, 2018

Saudi Crown Prince Mohammed bin Salman's war of words against Iran seems to have had a unifying effect among usually divided Iranians. The 32-year-old prince adopted a particularly tough tone against Tehran during his March 19 interview with CBS' "60 Minutes," sparking Iranian anger both toward him and Saudi Arabia.

In the interview, Mohammed accused Iran of supporting terrorism, saying, "Many of the al-Qaeda operatives are protected in Iran. … This includes the son of Osama bin Laden, the new leader of al-Qaeda. He lives in Iran and works out of Iran. He is supported by Iran." Mohammed also ridiculed the idea of Iran and Saudi Arabia being comparable in terms of military and economic strength and said, "Iran is not a rival to Saudi Arabia. Its army is not among the top five armies in the Muslim world. The Saudi economy is larger than the Iranian economy. Iran is far from being equal to Saudi Arabia."

These statements quickly triggered reactions in Iran, where people took to social media to express their anger. Many criticized Mohammed on Twitter, with some arguing that despite its powerful army and three years of war, Saudi Arabia has yet to succeed in Yemen. While Persian social media is usually sorely divided over political issues, there seems to be a consensus when it comes to condemnation of Mohammed's words.

In addition to condemning the Saudi-led war in Yemen, other Iranians were quick to point out the contradictions in Mohammed's statements. For instance, Bahman Kalbasi, a New York correspondent for BBC Persian — which is outlawed in Iran — tweeted March 15, "The Saudi crown prince has given an interview to CBS' '60 Minutes' on the verge of his visit to the United States. On the one hand, he says Iran's army and economy is so weak that it cannot be a rival for Saudi Arabia. On the other hand, he says Iran's [supreme] leader is the new Hitler and is seeking to expand his power."

Meanwhile, calls have been made on Instagram to target all social media pages linked to Mohammed. Amid these calls, "Special Royal" — which claims to be a dedicated account for the images and life of the crown prince — has come under attack by Persian speakers who have written anti-Mohammed comments in both Persian and Arabic.

Nosratollah Tajik, a former Iranian ambassador to Jordan, told Al-Monitor, "Iranians do not take [Mohammed's] threats seriously for different reasons. First, Saudi Arabia is sitting on several critical fault lines, including the topic of succession and the growing [public] demands that have yet to be met. Therefore, it is going through a sensitive period. Second, to bypass its internal crises, it needs to create an external enemy. On the other hand, [Mohammed] is trying to gain [US President] Donald Trump's political and military support."

He added, "However, Trump's comments after meeting with [Mohammed] indicate that the main priority for Trump's America is to exhaust Saudi finances as much as possible and under different pretexts, such as the sale of military armaments. Therefore, it is natural that Iranian society, despite its political differences, adopts a unified stance against such an issue and such a foreign enemy. Iran must pursue strategic patience in this situation and allow for this country [Saudi Arabia] to become more engulfed in its own self-inflicted problems."

The concept of the creation of a foreign enemy in order to advance a domestic agenda is well established in political science. In this vein, some analysts in Iran believe that one of the main reasons why Mohammed is fueling the fire with Iran is to pave his domestic Saudi road for advancing his internal reforms and agendas. However, it should be noted that he has simultaneously provided the Islamic Republic with this same gift. Iran has no desire to increase tensions with Saudi Arabia, and its senior officials have on numerous occasions called for the need to engage in dialogue and remove tensions with the kingdom. But these efforts have done little to allay the tension and hostility between the two regional powers.

Under such circumstances, the Iranian public tends to trust its own political system more than before, thereby creating a stronger sense of patriotism and thus greater unity on the issue at hand. This unity allows senior Iranian officials to stand up to Mohammed bin Salman's threats and adventurism with more confidence.

For now, things in Washington seem to be moving in Mohammed's favor, especially as his allies keep being added to Trump's team. However, one important point should be borne in mind: Former US President Barack Obama succeeded in instilling divisions among Iranians by increasing doubt about the prospect for serious political reform within Iran. Now, thanks to Trump and Mohammed, attention is on US and Saudi threats, with many among even the die-hard opponents of the Islamic Republic now in agreement on the need to deal with foreign adversaries.

https://www.al-monitor.com/pulse/originals/2018/03/iran-saudi-mbs-60-minutes-threats-unity-reaction-iranians.html

--------

Israel deploys 100 sharpshooters on Gaza border for Palestinian protests

29 March 2018 T

The Israeli military has deployed more than 100 sharpshooters on the Gaza border ahead of a planned mass Palestinian demonstration, Israel's top general said in an interview published on Wednesday.

Organizers said they expect thousands in Gaza, including entire families, to answer their call to gather in ten cities in five locations along the sensitive border from Friday in a six-week protest for a right of return of Palestinian refugees to what is now Israel.

Citing security concerns, the Israeli military enforces a "no go" zone for Palestinians on land in Gaza adjacent to Israel's border fence.

Lieutenant-General Gadi Eizenkot, the military's chief of staff, told the Yedioth Ahronoth daily that the military would not allow "mass infiltration" or tolerate damage to the barrier during the protests.

"We have deployed more than 100 sharpshooters who were called up from all of the military's units, primarily from the special forces," Eizenkot said in the interview. "If lives are in jeopardy, there is permission to open fire."

Israeli soldiers are confronted by frequent violent Palestinian protests along the Gaza border and have used tear gas, rubber bullets and live ammunition against demonstrators who the military said hurled rocks or petrol bombs at them.

Organizers said the protest is supported by several Palestinian factions, including Gaza's dominant Islamist Hamas movement.

Nickolay Mladenov, the UN special coordinator for the Middle East peace process, called on all sides "to exercise restraint and take the necessary steps to avoid a violent escalation".

Full report at:

https://english.alarabiya.net/en/News/middle-east/2018/03/29/Israel-deploys-100-sharpshooters-on-Gaza-border-to-prepare-for-Palestinian-protests.html

--------

Yemeni retaliatory attacks leave nine Saudi soldiers dead

Mar 29, 2018

At least nine Saudi soldiers have been killed when Yemeni army soldiers and fighters from allied Popular Committees launched separate attacks in Saudi Arabia's southwestern border regions of Jizan and Najran as they continue their retaliatory raids against the Riyadh regime's aerial bombardment campaign.

A Yemeni military source, speaking on condition of anonymity, told Arabic-language al-Masirah television network that Yemeni forces and their allies fatally shot eight soldiers in the al-Khobe district of Jizan, located 966 kilometers (600 miles) south of the Saudi capital, Riyadh, on Thursday evening.

The source added that Yemeni sources also fatally shot a Saudi trooper at al-Shorfa military base in Najran, located 844 kilometers south of Riyadh.

Separately, Yemeni army soldiers and Popular Committees fighters fired a domestically-developed Badr-1 missile at facilities belonging to Saudi Arabia's Aramco oil giant in Najran.

There were no immediate reports about the extent of damage caused.

Moreover, Saudi military aircraft carried out an airstrike in the northwestern Yemeni city of Sa'ada, leaving eight civilians dead.

Local sources said there were four women among the deceased.

The Yemeni Ministry of Human Rights announced in a statement on Sunday that the Saudi-led war has left 600,000 civilians dead and injured since March 2015.

The United Nations says a record 22.2 million Yemenis are in need of food aid, including 8.4 million threatened by severe hunger.

A high-ranking UN aid official recently warned against the "catastrophic" living conditions in Yemen, stating that there is a growing risk of famine and cholera there.

"After three years of conflict, conditions in Yemen are catastrophic," John Ging, UN director of aid operations, told the UN Security Council on February 27.

He added, "People's lives have continued unraveling. Conflict has escalated since November driving an estimated 100,000 people from their homes."

Full report at:

http://www.presstv.com/Detail/2018/03/29/556860/Yemen-Saudi-soldiers-dead

--------

Nine soldiers, five militants killed in attack on elite Yemeni force

30 March 2018

ADEN: Suspected Al-Qaeda militants attacked a military checkpoint in southeastern Yemen, killing at least nine soldiers from a local force backed by a member of the Arab coalition fighting in the country, an official said on Thursday.

The official said that five suspected militants also died during the gun attack late on Wednesday outside Al-Mukala, the Hadramout provincial capital, against a unit of the Hadrami Elite Forces.

The unit was set up and trained by the UAE, as part of a strategy to combat Al-Qaeda.

Hisham Al-Jaberi, a local military commander, said at least four other soldiers from the Hadrami Elite Forces were also wounded in the attack in an area called Wadi Hajjar.

Al-Qaeda's Yemen affiliate, Al-Qaeda in the Arabian Peninsula (AQAP), had briefly seized control of Mukalla and several other towns and cities in the neigboring Shabwa, Abyan and Al-Bayda provinces. Local forces, backed by the UAE member of the Arab coalition, drove them out in a series of military operations over the past two years.

Full report at:

The coalition, which includes the UAE, is fighting in Yemen against Iran-aligned Houthis.

http://www.arabnews.com/node/1276061/middle-east

--------

Turkish-Russian Military Officials' Talks Fail in Tal Rifa'at

Mar 29, 2018

The sources said that the Turkish Army refused to force the militants in Jisr al-Shughour in Southern Idlib to hand over the town to the Syrian Army, adding that the move prompted the Russians to refuse to hand over Tal Rifa'at in Northern Aleppo to Turkey.

The militants in Jisr al-Shughour have long been a thorn in the Syrian Army's side, as the town's proximity to Lattakia leaves them within striking distance of government areas.

In recent days, the Syrian and Russian air forces have increased their attacks on Jisr al-Shughour in an effort to get the militants to be more receptive to handing over the town.

Field sources reported on Wednesday that the Russian Air Force carried out several rounds of combat flights over the positions of Tahrir al-Sham Hay'at (the Levant Liberation Board or the Al-Nusra Front) in Southern Idlib, destroying terrorists' bases.

The Russian jets flying out of the Humeimim Airbase in Southwestern Lattakia carried out several raids, striking Tahrir al-Sham Hay'at's positions in the Southern part of Idlib province.

Full report at:

http://en.farsnews.com/newstext.aspx?nn=13970109000270

--------

10 UAE-backed troops killed in Yemen Islamist attack

29 March 2018

Ten Yemeni soldiers trained and backed by the United Arab Emirates were killed Wednesday in an attack by armed Islamist extremists in southwest Yemen, military and medical sources said.

Five gunmen were also killed in the attack on a military post in the Hajr district of the port city Mukalla, a high-ranking military source said on condition of anonymity.

A source at the Ibn Sina military hospital in Mukalla confirmed that 10 soldiers had been pronounced dead after the attack.

Mukalla, located on the Gulf of Aden, has been controlled by the Saudi-backed government of President Abedrabbo Mansour Hadi since 2016, when al-Qaeda's branch in Yemen withdrew from the city.

The UAE is a key member of a military coalition, led by Saudi Arabia, which has fought alongside the Yemeni government against Yemen's Houthi rebels as well as Islamist groups.

The UAE trains and supports elite forces in southeast and southwest Yemen, including brigades stationed in Mukalla known as "Quwat al-Nokhba".

The troops were key in driving al-Qaeda in the Arabian Peninsula out of Mukalla in April 2016, one year after they overran the coastal city in the midst of Yemen's civil war.

Islamist networks, including AQAP and the Islamic State group, have exploited the Yemen war to expand their presence in pockets across southern Yemen.

Full report at:

https://english.alarabiya.net/en/News/gulf/2018/03/29/10-UAE-backed-troops-killed-in-Yemen-Islamist-attack-.html

--------

North America

Court Rules In Favour Of NYPD in Muslim Surveillance Case

By Chris Carola?

March 29, 2018

ALBANY, N.Y. — The New York Police Department can use a Cold War-era legal tactic to conceal whether it put two Muslim men under surveillance, the state's highest court ruled Thursday.

The Court of Appeals, in a split 4-3 decision, ruled that the NYPD was in its rights to decline acknowledging whether records existed pertaining to possible surveillance of a Talib Abdur-Rashid, a Manhattan imam, and Samir Hashmi, a former Rutgers University student.

In 2012, the two men filed separate Freedom of Information Law requests seeking any records the NYPD had relating to surveillance or an investigation. The NYPD responded by saying it could "neither confirm nor deny" the records even existed.

The men sued the NYPD separately in lawsuits prompted by a series of Pulitzer Prize-winning stories by The Associated Press on NYPD surveillance of Muslim groups in New York and New Jersey after the Sept. 11, 2001 terror attacks. After moving through lower courts, the two cases were combined for the Court of Appeals case.

In affirming a lower court ruling, the Court of Appeals said that the NYPD properly invoked the so-called Glomar doctrine in response to state FOIL requests by neither confirming nor denying whether the records existed.

In her written opinion for the majority, Chief Judge Janet DiFiore said "the NYPD's response neither confirming nor denying the existence of the investigative or surveillance records sought is compatible with FOIL and the policy underlying those exemptions, which is to provide the public access to records without compromising a core function of government — the investigation, prevention and prosecution of crime."

"I am extremely disappointed" by the ruling, said Omar Mohammedi, the Manhattan attorney representing both men.

Mohammedi said he was still reviewing the decision Thursday and didn't know yet what his next move would be.

"I do believe New Yorkers have lost a lot of their rights and their open government," he said.

"We are pleased that the Court found that a Glomar response is permissible under FOIL and was used appropriately by the NYPD here," Sgt. Jessica McRorie, an NYPD spokeswoman, said in a written statement.

She added that the NYPD has rarely used the Glomar doctrine and "will continue to do so only on a very limited basis and where appropriate."

The Glomar doctrine is named for the Hughes Glomar Explorer, a massive salvage ship built by Howard Hughes, the eccentric industrialist who died in 1976. The CIA had used the ship in 1974 to retrieve a portion of a Soviet submarine that had sunk in the Pacific Ocean in 1968, killing everyone aboard.

The Glomar attempted to lift the sub to the surface, but most of the sub broke apart and fell back to the ocean floor.

When a journalist sought information on the Hughes-built ship in 1976, a federal court issued a ruling that allowed the CIA to "neither confirm nor deny" whether records existed on the mission. The Glomar doctrine has since been used by agencies if information falls within certain exemptions.

https://www.washingtonpost.com/national/court-rules-in-favor-of-nypd-in-muslim-surveillance-case/2018/03/29/18e94568-3379-11e8-b6bd-0084a1666987_story.html

--------

Can a Michigan doctor become America's first Muslim governor?

Mar 30, 2018

MARCH 29, 2018 DETROIT—On a blustery April morning in 2007, a University of Michigan senior named Abdulrahman El-Sayed stepped onto a podium inside the famous Ann Arbor stadium and delivered a six-minute commencement speech to tens of thousands, punctuating his remarks with an emphatic "Go Blue!"

A few minutes later Bill Clinton, the keynote speaker, took the same microphone: "I don't want to embarrass your senior speaker," the 42nd president said, "but I wish every person in the world who believes that we are fated to have a clash of civilizations, and cannot reach across the religious divides, could have heard you speak today."

After the ceremony, Dr. El-Sayed says in an interview, the former president approached him in the football stadium's locker room. "I hope someday you'll consider running for office," he says Mr. Clinton told him. "I really appreciate that," El-Sayed responded. "But I don't know if you saw my first name?"

Eleven years later, El-Sayed is in the middle of a potentially historic gubernatorial campaign. If elected, he would become the first Muslim governor in US history. At 33, he would also be among the youngest in decades. Campaigning on an ambitious plan to revitalize Michigan's struggling cities, he's emerged as a legitimate challenger for Michigan's Democratic nomination in August, behind former Michigan Senate minority leader Gretchen Whitmer.

"It's not a surprise that he's generated a very strong and passionate following," says Michigan Democratic Party chairman Brandon Dillon. "When you meet him and hear him speak, you can't help but be impressed."

El-Sayed grew up in Bloomfield Hills, a wealthy Detroit suburb, in a blended Arab-American family. Both of his parents immigrated to Michigan from Egypt, although El-Sayed grew up mostly with his father and his stepmother, a white woman from rural Michigan, both of whom worked as engineers. His childhood amounted to a very American cultural mash-up: His father was a part-time imam and one of his grandmothers was a Presbyterian deacon; he played high school football and spent summer holidays with relatives in Egypt.

It's a background, El-Sayed says, that translates particularly well into connecting with a wide cross-section of voters. "One of the things that I'm very thankful for is my upbringing," he says, and "[the] ability to traverse and move through different worlds."

After completing two years at the University of Michigan's medical school, he won a Rhodes Scholarship, then went on to earn a doctorate in public health from Oxford University and an M.D. from Columbia University, where he became an associate professor of epidemiology.

In 2015, with Detroit a year or so out of bankruptcy and reeling from a burgeoning water shutoff crisis, El-Sayed moved back to Michigan to lead a turnaround of the city's public health department. He was 30 – the youngest-ever top health official of a major US city. He would go on to implement programs to curb infant mortality, give thousands of students eyeglasses, and test lead levels in hundreds of schools.

Inspired by Flint, travel ban

In February 2017, El-Sayed announced he was quitting the post to run for governor. Weeks earlier, a newly inaugurated President Trump had signed the first version of a travel ban for residents of seven predominantly Muslim countries. El-Sayed, as a Muslim and a public health expert, says he was motivated to enter the race partly in response to both Trump-era policies and the Flint water crisis – a preventable public health disaster that investigators have linked to state government cost-cutting efforts. Thus far, 15 current or former state and City of Flint employees have been charged with crimes from misdemeanors to involuntary manslaughter after lead leached into the city's water when the supply was switched to the Flint River. A second criminal investigation examining crimes of fraud and greed is also under way.

"The ways in which government has failed people [are] myriad and diverse," he says, "but no matter where you go people are just so frustrated."

El-Sayed is a progressive Democrat whose campaign is inspired by that of Vermont's Independent Sen. Bernie Sanders (who won Michigan's Democratic primary). Central to El-Sayed's message is the idea that government has been hijacked by corporate influences, and he emphasizes that he's not accepting corporate PAC donations. He says he's not worried about angering "a bunch of very powerful, very rich people who usually buy elections against people like me."

He also promises a comprehensive approach to improving government. Earlier this year, El-Sayed released a detailed "Urban Agenda": The 45-page document, presented as a holistic approach to improving the difficult circumstances of an urban three-year-old child in Michigan, includes a push for tuition-free higher education for qualifying families and a statewide single-payer health care system, but also specific initiatives to address Detroit's tax foreclosure epidemic, improve adult education, and upgrade the state's drinking-water infrastructure.

Michigan has been dominated by a Republican legislature for years, and in November 2016 elected a Republican president for the first time in nearly two decades. But the state's political climate, analysts say, could be ripe for a drastic change of course after Republican Gov. Rick Snyder, whose tenure was tarnished by the Flint water crisis. "After eight years of Snyder, everyone's looking for a change," says Michigan Democratic strategist Joe DiSano, referring to the incumbent governor. "[El-Sayed] is visceral change."

He began as a relatively unknown longshot, but over the past year El-Sayed's campaign has gained momentum. He now counts a team of some 2,500 volunteers across the state, including Sanders campaign veterans, and a war chest of more than $2 million, mostly raised from small donations.

His name recognition and support among the Muslim community is "almost unanimous," says Fatina Abdrabboh, executive director of the American Muslim & Minority Advocacy League.

For a community that feels targeted, the success of El-Sayed serves as a tremendously powerful counternarrative, she says: "It's not your name that matters. It's not what level of religiosity [you have] or your adherence to a group. It's credentials. It's vision. It's platform and policy."

Campaign controversy

Perhaps unsurprisingly, the campaign has also inspired Islamophobic backlash. In one viral meme, traced to the pro-Trump Facebook page Patriots For America USA, El-Sayed is pictured straightening his tie while all-caps letters warn that "Abdul El-Sayed is running to be the first Muslim governor ... to turn all of Michigan into Dearborn!" That's a reference to the largely-Arab Michigan city that's often the target of false claims of Sharia law and racist attacks.

In late January, the campaign hit its first major controversy, when questions about El-Sayed's eligibility surfaced in a Bridge Magazine story. Michigan's constitution dictates that a governor has to have been a registered voter in the state at least four years before the general election. El-Sayed was registered in New York as recently as March 2015, the magazine reported; he had previously registered in Michigan as a teenager and re-registered in 2016 with a New York driver's license. Although El-Sayed's eligibility would have to be officially challenged in court, the election lawyers Bridge consulted "raised serious questions about his legal qualifications to be on the 2018 state ballot."

In an interview, El-Sayed called the controversy a politically-motivated attempt to add an asterisk to his name. His campaign says that he's maintained an apartment in Michigan since 2008. The state's Democratic Party called on the campaign to clear up the issue in court to prevent last-minute chaos, and last week, the campaign filed a request for a judgment in Wayne County Circuit Court.

Full report at:

https://www.csmonitor.com/USA/Politics/2018/0329/Can-a-Michigan-doctor-become-America-s-first-Muslim-governor

--------

Four al Qaeda militants killed in US strike in Yemen: Pentagon

March 30, 2018

WASHINGTON: The Pentagon said Thursday a US military strike in Yemen killed four al Qaeda militants, the seventh such strike in the country this month.

In a statement, the Pentagon said the strike against Yemen's al Qaeda branch, known as Al Qaeda in the Arabian Peninsula (AQAP), was carried out near al-Bayda.

"No civilians were present and therefore none were injured or killed as a result of the strike," the statement said.

https://nation.com.pk/30-Mar-2018/four-al-qaeda-militants-killed-in-us-strike-in-yemen-pentagon

--------

Trump says US will withdraw from Syria 'very soon'

Mar 30, 2018

President Donald Trump has announced that the US will withdraw from Syria "very soon," just hours after the Pentagon highlighted the need for American troops to remain in the war-torn country.

"We will be coming out of Syria, like, very soon. Let the other people take care of it now," Trump said on Thursday during a speech on infrastructure spending in the state of Ohio.

The US has reportedly more than 2,000 troops stationed in eastern Syria, in addition to several thousand others in the Arab country's north.

"But we're going to be coming out of there real soon. Going to get back to our country, where we belong, where we want to be," Trump said.

Trump also complained that the US has wasted trillions of dollars in Middle East wars, but gets "nothing" in return.

"We spent $7 trillion in the Middle East. And you know what we have for it? Nothing," Trump declared, promising to focus future US spending on building jobs and infrastructure at home.

"Remember I used to say 'keep the oil' as a civilian. We never kept the oil. If we kept the oil, we would have been OK. If we kept the oil, we wouldn't have ISIS (Daesh), because you know who kept a lot of the oil: ISIS. That's how they funded themselves. They kept the oil. We didn't keep the oil. Stupid, stupid," he said.

Trump's remarks on pulling out of Syria were made just hours after chief Pentagon spokesperson Dana White told reporters that "important work remains to guarantee the lasting defeat of these violent extremists", referring to Daesh.

In January, then US Secretary of State Rex Tillerson announced that the US military would remain in Syria indefinitely.

The US and its allies have been bombarding what they call Daesh positions inside Syria since September 2014 without any authorization from the Damascus government or a UN mandate.

Syria has on several occasions written to the UN, complaining that the US was flagrantly violating its sovereignty. The US supports militants fighting to topple President Bashar al-Assad and has repeatedly attacked Syrian army positions.

On Thursday, Russian Foreign Ministry spokeswoman Maria Zakharova voiced alarm at US plans to fortify its military presence in Syria, saying heavy equipment was arriving at the American base in the eastern town of al-Tanf in Homs Province.

"We are still concerned about reports that the United States and its allies are consolidating their illegal military presence in the territory of sovereign Syria. In particular, heavy military equipment is arriving in the zone established by the United States around the settlements of al-Tanf in the southeast of the country," Zakharova said.

The US and its allies have been bombarding what they call Daesh positions inside Syria since September 2014 without any authorization from the Damascus government or a UN mandate.

The strikes, however, have on many occasions resulted in civilian casualties and failed to fulfill their declared aim of countering terrorism.

The Syrian Foreign Ministry has on several occasions written to the UN, complaining that the US is flagrantly violating the sovereignty of Syria by targeting residential neighborhoods.

Full report at:

http://www.presstv.com/Detail/2018/03/30/556868/US-Trump-Syria-military-withdraw

--------

US involved in 'battlefield management' of Saudi war against Yemen: Mattis

Mar 29, 2018

US Defense Secretary James Mattis has acknowledged that Washington has been involved in managing Saudi Arabia's brutal airstrikes in Yemen.

Speaking to reporters at the Pentagon on Tuesday, Mattis said the US military is "doing the planning" of Saudi Arabia's military campaign against Yemen.

"So this is a very dynamic sort of battlefield management," he said.

Mattis also admitted that the US has been involved in mid-air refueling of Saudi warplanes, claiming that the operation could help minimize civilian casualties in the war-torn country.

The Pentagon chief's comments contradict long-standing claims of a very limited, non-combat engagement in the Saudi war on Yemen. The US has previously said that it provides intelligence and logistical support.

The White House also claims that its involvement has nothing to do with the civilian death toll in the Arab country.

Saudi Arabia has been incessantly pounding Yemen since March 2015 in an attempt to crush the popular Houthi Ansarullah movement and reinstate former president, Abd Rabbuh Mansur Hadi, who is a staunch ally of the Riyadh regime.

The conflict has killed about 14,000 people in Yemen, displaced more than 2 million and driven the country to the verge of widespread famine.

Much of the Arabian Peninsula country's infrastructure, including hospitals, schools and factories, has been reduced to rubble due to the war.

Earlier this month, the US Congress voted against a resolution that sought to end America's support for the war.

Last week, the administration of US President Donald Trump approved weapons sales to Saudi Arabia totaling more than $1 billion, despite growing pressure from rights groups to halt arms deals between the West and Riyadh.

Amnesty International has slammed the United States, Britain and France for their continued arms sales to Saudi Arabia and the United Arab Emirates.

Full report at:

http://www.presstv.com/Detail/2018/03/29/556820/US-Defense-Secretary-James-Mattis-Saudi-Yemen-war

--------

URL:https://www.newageislam.com/islamic-world-news/new-age-islam-news-bureau/imam-rashidi-of-asansol-shows-the-way-his-son-dead,-the-imam-tells-muslims,-if-you-retaliate,-will-leave-town/d/114770

New Age Islam, Islam Online, Islamic Website, African Muslim News, Arab World News, South Asia News, Indian Muslim News, World Muslim News, Women in Islam, Islamic Feminism, Arab Women, Women In Arab, Islamophobia in America, Muslim Women in West, Islam Women and Feminism