New Age Islam News Bureau
06 November 2020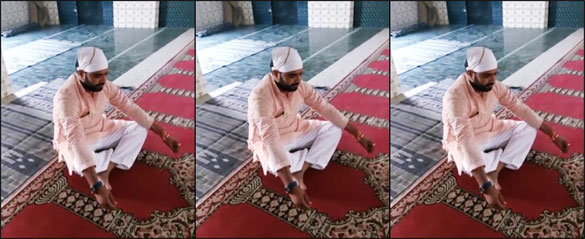 Manupal Bansal reciting 'Hanuman Chalisa' at a mosque in Baghpat. Photo: Facebook
-----
• Bangladesh MP, Liyakot Hossain Khoka, Would Gladly Accept Death Penalty After Killing French President Macron
• Putin Backs Idea Of Urging Countries To Pass Laws To Protect Sentiments Of Believers
• Facebook Fights Hate Speech Against Muslims Before Myanmar Election
• Rights Centre: Israeli Demolition Of Palestinian Homes Amounts To 'Ethnic Cleansing'
• Covid-19 Became Another Tool To Promote Hatred Against Muslims: Pakistan Human Rights Minister at Istanbul Security Council
• If Elected, US President, Biden Likely To Keep Trump's Pro-Israel Decisions: Prince Turki
India
• Imam of a UP Mosque 'Removed' From Post for Allowing A Hanuman Chalisa Recital – The Hindu Man, Who Played It, Penalised
• Karnataka BJPs core committee too demands laws to curb 'Love Jihad'
• Pak Shifts Kartarpur Management To Non-Sikh Body, India Slams Step
• 2 civilians injured as terrorists fire upon forces in Pulwama, encounter on
• J&K: Unidentified terrorist killed in gunfight in Pampore
--------
South Asia
• Bangladesh MP, Liyakot Hossain Khoka, Would Gladly Accept Death Penalty After Killing French President Macron
• Militants Shot Students 'One By One' In Afghan University Attack: Survivor
• Violence Spikes in Afghanistan Despite Peace Efforts
• Taliban Commander Killed in Helmand Operation
• NSA Mohib Tackles 'Current Security Status' with Ghani
--------
Europe
• Putin Backs Idea Of Urging Countries To Pass Laws To Protect Sentiments Of Believers
• Vienna gunman rampaged alone, intelligence was fumbled, minister says
• Teenager Charged In France For Hailing Teacher's Beheading
• Europe's cities are becoming a refuge for Islamist extremists
• Islamist terrorism: Germany is home to more than 600 agitators
• France bans Turkish ultra-nationalist Grey Wolves group
• Questions mount over Vienna gunman, a convicted ISIL sympathiser
• Albanian IS Repatriation From Syria Will Be Long Journey, Experts Say
--------
Southeast Asia
• Facebook Fights Hate Speech Against Muslims Before Myanmar Election
• Apex Court of Malaysia To Hear If Muslim Can Be Held Liable For Wrecking Non-Muslim Marriage
• Indira Gandhi sues IGP, police over failure to return daughter kidnapped by fugitive Muslim convert ex-husband
• Congregational, Friday prayers allowed in Mukim 12 amid CMCO, says Penang mufti
--------
Mideast
• Rights Centre: Israeli Demolition Of Palestinian Homes Amounts To 'Ethnic Cleansing'
• Yemeni security forces kill high-profile Daesh terrorist in southern Ibb province
• Child killed, several wounded in Houthi attacks on Taiz
• Turkey's efforts to deport Daesh terrorists in vain as Europe fails to handle foreign fighters
--------
Pakistan
• Covid-19 Became Another Tool To Promote Hatred Against Muslims: Pakistan Human Rights Minister at Istanbul Security Council
• Pakistan PM's luncheon becomes session for allies to vent anger against govt
• Trouble for govt coalition as PML-Q skips lunch with PM
• Russian troops arrive for drill with Pakistan military
• Pakistan emphasises expeditious progress on CPEC projects
--------
North America
• If Elected, US President, Biden Likely To Keep Trump's Pro-Israel Decisions: Prince Turki
• Israeli Minister Warns Of War If Biden Wins, Returns To Iran Deal
--------
Arab world
• Iraq's Kata'ib Hezbollah Warns Of 'Tougher' War If US Troops Refuse To Leave
• Islamic State resurfaces with attacks in Iraq's Diyala province
• US to sanction Lebanon's Gebran Bassil for Hezbollah ties: Sources
• Beirut volunteer 'Dream Team' continues to rebuild three months after port explosion
• OIC condemns cremation of COVID-19 infected Muslim remains in Sri Lanka
• Impoverished Syrian refugee sets himself on fire outside UN center in Lebanon
--------
Africa
• Elite European Anti-Jihadist Force Takes First Steps In Sahel
• Sudanese Workers In UAE Deceived Into Fighting Alongside Libyan Rebels, HRW Warns
• Libyan parliamentarians meet for peace talks in Morocco
• At least 40 fleeing extremist violence drown in Mozambique
• Somalia: SNA Kills 11 Al-Shabaab Militants in Southern Somalia
• Gunmen Kill 8 in Central Mali Attack
Compiled by New Age Islam News Bureau
URL: https://www.newageislam.com/islamic-world-news/imam-up-mosque-removed-post/d/123394
--------
Imam of a UP Mosque 'Removed' From Post for Allowing A Hanuman Chalisa Recital – The Hindu Man, Who Played It, Penalised
Nov 6, 2020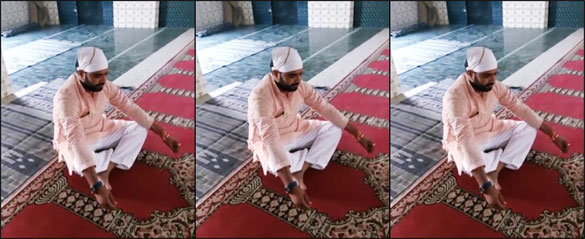 Manupal Bansal reciting 'Hanuman Chalisa' at a mosque in Baghpat. Photo: Facebook
-----
Hindu Man Also Penalised, Imam 'Removed' From Post
Meerut: The decision to allow a Hanuman Chalisa recital inside a mosque has led to strong pushback from the mosque and the administration at a village in Baghpat. The cleric who had granted permission has been asked to go and both he and the person who played it have been challanned with Rs 5-lakh personal bonds each.
The village, Vinaypur, is home to about 8,000. On Tuesday, Manu Pal Bansal played the Hanuman Chalisa inside the local mosque with permission from the cleric, Ali Hasan. Bansal is national vice-president of an organisation that has been seeking population control laws, Jansankhya Samadhan Foundation. He live-streamed the video, in which the Hanuman Chalisa is playing with just him in attendance at the mosque.
The day he held the recital, neither police nor the local administration took any action. The mosque's managing committee, too, did not approve but did not stop Bansal that day. Hasan said, "He came to me with a request to sit inside the mosque. How could I say no? Everyone is allowed to be in god's presence."
It was the same day four men had been arrested for reciting the Hanuman Chalisa at a mosque in Mathura. On Monday, a day before that, founder of Delhi-based Khudai Khidmatgar Faisal Khan and three others had been booked for offering namaaz at a temple in Mathura. While the four men who were arrested had said their action was in response to that, the cleric of the Mathura mosque had not pressed charges. Then, on Wednesday, president of the Yogi Youth Brigade, Ajay Tomar, was arrested in Agra for reciting the Hanuman Chalisa at a mosque. Later that day, two others were arrested for defiling a mosque with saffron paint, also in Agra.
In this case, no charges have been pressed because the cleric had granted permission, but they have each been challanned with a Rs 5-lakh 'muchalka paaband', or personal bond which they will have to pay if they "disturb the peace" again.
"The whole thing was only meant to promote communal harmony," Hasan said. Bansal had the same explanation: "Why the controversy? I got permission from Imam sahib. I went alone and played the Hanuman Chalisa."
After it drew attention, the mosque's managing committee reportedly removed Hasan. A local source said he has already left the village. Baghpat SP Abhishek Singh told TOI, "Initially, the committee said they would remove him. Then, there was some talk of getting him back. But it's their internal matter."
As to why a personal bond was imposed on Hasan and Bansal, additional district magistrate of Baghpat Amit Singh said, "While the act had been permitted by the cleric, the bond was meant to prevent any untoward incident."
https://timesofindia.indiatimes.com/city/meerut/rs-5-lakh-personal-bond-imposed-on-cleric-who-permitted-hanuman-chalisa-recital-at-up-mosque/articleshow/79066715.cms
--------
Bangladesh MP, Liyakot Hossain Khoka, Would Gladly Accept Death Penalty After Killing French President Macron
Shamima Rita, Narayanganj
November 4th, 2020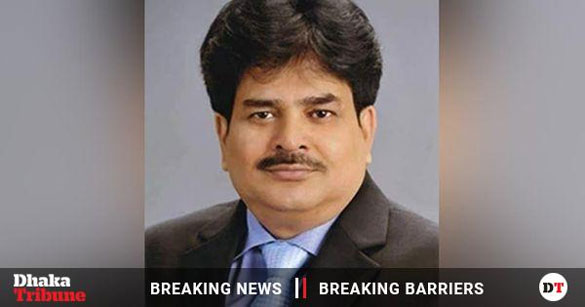 File photo of Narayanganj 3 MP Liyakot Hossain Khoka Collected
-----
Narayanganj 3 MP Liyakot Hossain Khoka has said he will gladly accept the death penalty after he kills Emmanuel Macron, the president of France, for insulting the Prophet Muhammad (PBUH).
His rant, which has gone viral on social media, comes amid the tension between the Muslim world and France over cartoon caricatures of the Prophet.
The lawmaker made the comment on Monday night while addressing a discussion on the life and work of the late Shah Ahmad Shafi of Hefazat-e-Islam, at the Aminpur ground in Sonargaon municipality of Narayanganj.
A near 13 minute video of the rant was uploaded the next day on a Facebook page many believe is run by the MP himself.
Liyakot said: "I am speaking not as a member of parliament but as a Muslim. I want to tell this to the president of France — if you were in front of me today, I would have killed you and walked to the gallows with a smile on my face."
He also appealed to Prime Minister Sheikh Hasina to sever diplomatic ties with France.
"You [Sheikh Hasina] were born in a Muslim family. Your father was a true Muslim; he has done a lot for the Muslim community. You yourself do not go to sleep without offering tahajjud prayers first. As a member of parliament, I urge you to renounce diplomatic relations with France," he said.
Also Read- France Issue: Foreign minister writes his French counterpart
2020/11/dt-770-x-90-1604207604176.gif
The MP continued: "A session of parliament has been called on November 8. Please raise a proposal during this session to cancel the diplomatic ties with France, we will be on your side. Also, propose a new law in the parliament to issue the death penalty against those who insult my Prophet (PBUH)."
The video, which has already gone viral on social media, received mixed reactions. Some have rebuked such a declaration from a lawmaker, while some have praised his words.
Liyakot Hossain Khoka is currently serving his second term as an MP. He was elected as a lawmaker for the first time from Jatiya Party on January 5, 2014. He was elected for the second time in 2018.
He was a member of the Parliamentary Standing Committee on the Ministry of Power, Energy and Mineral Resources in the 10th Parliament and is a member of the Parliamentary Standing Committee on the Ministry of Commerce in the 11th Parliament.
He is currently a presidium member of the Jatiya Party, additional secretary general (Dhaka Division) and the president of the Jatiya Swechchhasebak Party Central Committee.
Protests in Muslim countries, including Bangladesh, calling for a boycott of French products over a caricature of Prophet Muhammad (PBUH) published by a French magazine are ongoing.
President Emmanuel Macron criticized Islamists and vowed not to "give up cartoons" depicting Prophet Muhammad (PBUH). Macron's comments came in response to the beheading of a teacher, Samuel Paty, outside his school in a suburb outside Paris earlier last month, after he had shown cartoons of Prophet Mohammed during a class he was teaching on free speech
On Monday, Hefazat-e-Islam Bangladesh issued a 24-hour ultimatum to the government to shut down the Embassy of France in Dhaka.
https://www.dhakatribune.com/bangladesh/2020/11/04/bangladesh-mp-would-gladly-accept-death-penalty-after-killing-french-president-macron
--------
Putin Backs Idea Of Urging Countries To Pass Laws To Protect Sentiments Of Believers
05 November 2020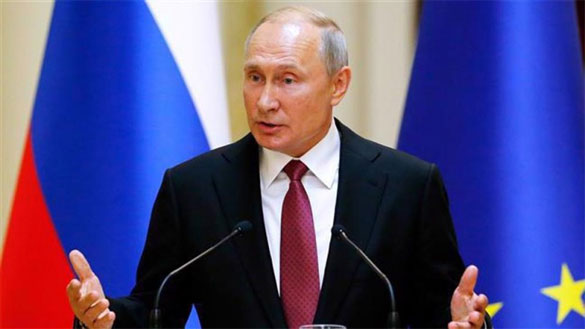 Russian President Vladimir Putin
-----
Russian President Vladimir Putin has expressed his support for a proposal by a leading mufti from the country's North Caucasus region to call on other United Nations (UN) member states to pass laws protecting the feelings of religious believers.
"We need to think about it. It is indeed a good initiative and I don't understand how anyone would oppose banning actions that insult the feelings of religious believers," Putin said during an online meeting with religious leaders on Wednesday.
The Russian president said he would order the country's Foreign Ministry to consider the matter.
The initiative was put forward by Chairman of the North Caucasus Muslim Coordination Center Ismail Berdiyev, who cited Russia's own law protecting the feelings of religious believers.
Russia has been enforcing that law since 2013. A blasphemy law that came into force in July also allows for prison sentences of up to three years for those who offend Russian citizens' religious feelings.
The development comes as French President Emanuel Macron's back-to-back insults against Islam and Islamic sanctities over the past several months have outraged the roughly two billion Muslims in the world.
In September, Macron defended the right to blasphemy in France after French satirical magazine Charlie Hebdo republished sacrilegious cartoons of Prophet Muhammad (PBUH). On October 2, Macron claimed in a speech that Islam was "in crisis globally" and announced his plan "to reform Islam" to supposedly make the faith more in line with French values.
Later, Macron supported a French teacher's displaying of cartoons insulting the Prophet (PBUH) in his class. "France will never renounce caricatures," Macron declared, defending the teacher for "promoting freedom."
Macron's comments have angered not only the Muslim community in France but all Islamic nations and groups, leading to protests and calls for boycott of French products.
Islamophobia has been a common practice of some European leaders and extremist groups in recent years in the wake of terrorist attacks in the continent by sympathizers or members of the Takfiri Daesh group.
Muslim leaders in Europe and around the world have reiterated their unequivocal condemnation of the terrorist attacks.
https://www.presstv.com/Detail/2020/11/05/637961/Putin-backs-idea-of-urging-countries-to-pass-laws-to-protect-sentiments-of-believers
--------
Facebook fights hate speech against Muslims before Myanmar election
November 6, 2020
SINGAPORE: One of two Muslims allowed to run for the ruling party in Buddhist-majority Myanmar's general election on Sunday, Sithu Maung, worries fake news on Facebook could damage his chances.
Within a torrent of racist abuse and misinformation posted about him ahead of the polls are false claims he plans to close Buddhist monastic schools and to advocate for the teaching of Arabic.
"They use race and religion to attack me," the 33-year-old told Reuters in the commercial capital of Yangon, where he is standing for a seat won by the ruling party in the last election.
"These days people use social media more than ever … and when they see false information 10 times it becomes the truth."
Social media companies face a global challenge to stop disinformation around elections, including the 2020 US vote. In Myanmar, the stakes for Facebook are particularly high after previous accusations it helped incite genocide.
Half of Myanmar's 53 million people use Facebook, which for many is synonymous with the internet.
Facebook executives told Reuters hate speech in Myanmar was "near historic lows" after it invested in resources from artificial intelligence language and photo detection to measures to slow the spread of viral content.
But civil society groups have found dozens of networks of accounts, pages, and groups spreading ethnically and religiously charged falsehoods that they fear could lead to strife and undermine the second election since the end of hardline army rule in 2011.
Reuters separately found more than two dozen such pages and accounts. Ten were removed after Reuters requested comment on them from Facebook.
"There's a short-term immediate concern of all this disinformation and hate speech fuelling real-world violence," said Jes Kaliebe Petersen, CEO of tech hub Phandeeyar, part of the Myanmar Tech Accountability Network (MTAN), a civil society group coordinating efforts to reduce risks posed by social media.
Harmful content, he said, is "spreading like wildfire".
The government of leader Aung San Suu Kyi, her ruling National League for Democracy (NLD) and the election commission did not respond to requests for comment.
Typical
Although the NLD is widely expected to win the election easily, as it did in 2015, there is precedent for social media hate speech leading to violence in Myanmar.
Anti-Muslim rumours on Facebook were widely seen as helping to trigger deadly riots in 2012 and 2014. In 2017, violent speech on Facebook was blamed for supporting an army crackdown on Rohingya Muslims that drove more than 730,000 to flee Myanmar.
But Rafael Frankel, Facebook's director of public policy for Southeast Asia, told Reuters that ahead of the election: "What we have seen so far is typical and nothing in any way out of the ordinary from what we would see in other parts of the world when an election is happening."
Even before campaigning got underway, Facebook deleted 280,000 items in Myanmar for hate speech in the second quarter of 2020, up from 51,000 in the first quarter.
Meanwhile, it is verifying accounts for some politicians — including Sithu Maung — and giving them a direct line for complaints.
Facebook also said it had taken down hundreds of accounts for "coordinated inauthentic behaviour" including about 70 it traced to members of Myanmar's military on Oct. 8.
Among the blocked army-linked accounts were two that had attacked Sithu Maung with ethnic and religious slurs.
The pages found by Reuters were also pro-army and included some newly created pages that replicated others that had only recently been blocked by Facebook.
The army did not respond to a request for comment.
Disinformation
It is not the first time Facebook has blocked pages linked to Myanmar's army: In 2018, it banned 20 top military officials and organisations for inauthentic behaviour, including commander in chief Senior General Min Aung Hlaing.
This week, Min Aung Hlaing accused unspecified social media platforms of bias in their treatment of Myanmar politics as he questioned the credibility of the elections more generally.
Those claims were widely spread by pro-military accounts and pages found by Reuters and removed by Facebook.
But it is not only the army that has been using Facebook to spread disinformation, researchers say.
Some pages that Facebook has taken down had content supportive of Suu Kyi's NLD.
Opposition politicians, including from the army-linked Union Solidarity and Development Party, the ruling NLD's biggest rival, have also been among the targets: branded as Muslim sympathisers or close to China by accounts whose origins are unclear.
The USDP did not respond to a request for comment.
Researchers say that the online vitriol is amplified by numerous "inauthentic" networks that spread narratives through pages, groups, and fake accounts.
Some pages, including dozens found by Reuters, style themselves as independent news or entertainment sources, and post the same content simultaneously on Facebook and other social media.
Others have taken out paid ads to promote politicians, including army chief Min Aung Hlaing — reaching more than a million people — but ran them without a disclaimer in violation of Facebook policies on political advertising.
"Facebook has taken down a few networks of assets involved in this type of problematic behaviour, but there is a lot more," said MTAN researcher Victoire Rio.
"These malicious actors always seem to come back, often using the same names and logos, which calls into question Facebook's ability to tackle these issues comprehensively."
https://www.freemalaysiatoday.com/category/world/2020/11/06/facebook-fights-hate-speech-against-muslims-before-myanmar-election/
--------
Rights Centre: Israeli Demolition Of Palestinian Homes Amounts To 'Ethnic Cleansing'
05 November 2020
A human rights group says a recent Israeli demolition operation, which displaced dozens of Palestinian inhabitants in the occupied West Bank, amounts to "an ethnic cleansing."
"The operation was conducted under the Israeli annexation and settlement-expansion schemes, which can only be described as an act of ethnic cleansing against the indigenous Palestinian population," the Palestinian Center for Human Rights (PCHR) said in a report on Thursday.
Late on Tuesday, the Israeli regime's bulldozers, heavily guarded by soldiers, razed to the ground a Bedouin village in the vicinity of Tubas in the Jordan Valley, leaving homeless dozens of inhabitants of the village, half of whom were children.
The bulldozers proceeded to demolish 70 civilian properties, including storerooms and residential tents that sheltered 11 families composed of 60 persons, mostly children, PCHR said.
Some sources earlier said that the Israeli demolition of the village displaced 73 villagers, including 41 children.
According to the report, the tented homes, animal shelters, latrines, and solar panels were among the structures that had been razed in the area.
The demolitions were preceded by the confiscation of several Palestinian vehicles and other possessions. The Israeli soldiers also raided Palestinian homes in the area and confiscated money and precious items from local residents.
On Wednesday, the displaced families were seen trying to salvage their belongings from the wreckage in the freezing rain.
A Palestinian aid group has provided tents as temporary shelter for those who lost their homes, but residents said they were not sufficient for the village's families, including children. They said villagers were now sleeping on the rubble of their destroyed shacks.
PCHR has called on the international community and UN bodies to uphold their legal and moral duties and to urgently intervene to curb Israel's ongoing crimes against the Palestinians.
The European Union on Thursday called on Israel to stop demolishing Palestinian homes and buildings in the occupied West Bank and withdraw its threat to demolish Palestinian schools, slamming the move as "an impediment toward the two-state solution."
"This large-scale demolition confirms once again the regrettable trend of confiscations and demolitions since the beginning of the year," said a statement issued by the spokesman for EU Foreign policy chief Josep Borrell.
It said the occupying regime had threatened to demolish 52 Palestinian schools, including one in Ras al-Teen in the West Bank, adding that the school had been constructed jointly by the European bloc and its member states.
Data by the United Nations's Office for the Coordination of Humanitarian Affairs (OCHA) shows that Tuesday's demolition is second only in scale to a clearing that took place in al-Farisiya Ihmayyer in the northern Jordan Valley on July 19, 2010. The last time such a large group of people was displaced was in March 2016.
Separately, OCHA's humanitarian coordinator Yvonne Helle on Thursday called on Israel to halt unlawful demolitions.
"Their vulnerability is further compounded by the onset of winter and the ongoing COVID-19 pandemic," she said. "Some of the demolished structures had been donated as humanitarian assistance."
OCHA) has said there has been a sharp increase in the number of Palestinian houses being demolished by Israel in the occupied West Bank during the coronavirus pandemic.
UN Humanitarian Coordinator for the Palestinian territories Jamie McGoldrick has recently warned that the trend would make the Palestinians more susceptible to health risks.
Israeli authorities demolish Palestinian homes in the occupied West Bank usually claiming that the structures have been built without permits. They also sometimes order the Palestinian owners to tear down their own homes or pay the demolition costs to the municipality.
More than 600,000 Israelis live in over 230 illegal settlements built since the 1967 Israeli occupation of the Palestinian territories of the West Bank and East Jerusalem al-Quds.
The UN Security Council has condemned Israel's settlement activities in the occupied territories in several resolutions.
Less than a month before US President Donald Trump took office, the United Nations Security Council in December 2016 adopted Resolution 2334, calling on Israel to "immediately and completely cease all settlement activities in the occupied Palestinian territories, including East Jerusalem" al-Quds.
Palestinians reject Trump's so-called peace proposal as it awards the Israeli regime nearly all the occupied land on which it has built its illegal settlements.
Dubbed the "Deal of the Century," the blueprint effectively grants the Israeli regime a green light to annex even the most isolated settlements in the occupied Palestinian territories.
https://www.presstv.com/Detail/2020/11/05/637991/Palestine-Israel-Jordan-Valley--PCHR-UN-OCHA-EU-
--------
Covid-19 Became Another Tool To Promote Hatred Against Muslims: Pakistan Human Rights Minister at Istanbul Security Council
November 6, 2020
Islamabad: The COVID -19 pandemic has become just one more tool to promote hatred against Muslims, branding them as spreaders of the disease.
This was stated by Federal Minister for Human Rights Dr. Shireen Mazari as she addressed the 6th Istanbul Security Council. Mazari talked about 'Security in the Post COVID-19 World and Transformation of Security Institutions'
Federal Minister highlighted that pandemic has severely and adversely impacted the global economy and the everyday life of individuals and nations. "We had been reaping the benefits of interconnectedness. It has shown that no one is safe unless everyone is safe," she said.
She said that multilateralism would help the complex challenge arising from COVID-19. "However, when the crunch came each country was left to fend for itself, or chose to do so as a matter of deliberate policy and countries and societies started turning inwards."
The Minister pointed out that global crises should have brought humanity together. "Instead, the pandemic has revealed the fault lines and accentuated existing and emerging threats to international peace and security."
She also mentioned that rather than coming together and set our differences aside, the world is witnessing a global resurgence in tolerance, discrimination, racism, and violence against monitories and other vulnerable groups in many countries accompanied by extreme nationalism, xenophobia and aggression.
She also highlighted that prejudice, discrimination, and violence against Muslims including Islamophobia is one of the manifestations of these extremist trends. "Islamic shrines and holy places are being destroyed; Prophet (PBUH) was insulted and the Holy Quran was burnt perversely in the name of freedom of expression and opinion. The hypocrisy of Western states, especially some members of the EU, has become too overt to ignore. It is unfortunate that Islamophobia has become a political strategy for electoral and political gains and combating falling approval ratings," she said.
Dr. Shireen Mazari also stressed upon that Prime Minister Imran Khan has called on the General Assembly to declare an "International Day to Combat Islamophobia". He has written to the leaders of Muslim states urging them to collectively take the lead in breaking the cycle of hate and extremism, and raise their voice against Islamophobia.
She said that taking advantage of the world's preoccupation with the COVID-19 pandemic, and to perpetuate its illegal occupation of Indian illegally Occupied Jammu and Kashmir ( IIOJK), the BJP government has introduced illegal domicile rules in IIOJK in a bid to change the disputed region's demography to advance its Hindutva agenda through a demographic assault.
Minister for Human Rights Dr. Shireen Mazari concluded with remarks that the world today is confronted with multiple global challenges: the COVID crises, resurgence of old and emergence of new conflicts, extremism state-backed ideologies and renewed competitions across frontiers. "We cannot meet these challenges without multilateralism cooperation and solidarity."
https://www.thenews.com.pk/print/739719-covid-19-became-another-tool-to-promote-hatred-against-muslims-shireen-mazari
--------
If Elected, US President, Biden Likely To Keep Trump's Pro-Israel Decisions: Prince Turki
Emily Judd
05 November 2020
If US president, Joe Biden will not undo the Trump administration's pro-Israel actions such as the recognition of Jerusalem as Israel's capital and Israeli sovereignty over the Golan Heights, said former Saudi Arabian intelligence chief Prince Turki Al-Faisal on Wednesday.
"I think Mr. Biden as president is not going to draw back from where Mr. Trump has driven America - whether it is on Jerusalem, on the Golan Heights, or on the so-called Abrahamic Accords," said Al-Faisal, who was also previously Saudi Arabia's ambassador to the US, during a Beirut Institute summit in Abu Dhabi.
"My concern about some Arab quarters particularly my Palestinian friends and brothers is if they expect that a president Biden is going to be different from Mr. Trump, I think they will be sorely disappointed in that," he added.
Last year, Trump recognized Israeli sovereignty over the Golan Heights, territory seized by Israel in the 1967 Arab-Israeli war and officially annexed from Syria in 1981.
A senior Biden campaign official told American news outlet Jewish News Syndicate this week that Biden will likely not reverse US recognition of Israel's sovereignty over the Golan Heights.
Trump moved the US embassy in Israel from Tel Aviv to Jerusalem in 2017, a contentious decision that recognized Jerusalem as the united capital of Israel.
Biden has said he will keep the US embassy in Jerusalem if elected president.
Israel considers the entire city of Jerusalem its capital, while the Palestinians see East Jerusalem as the capital of their future state.
This year, Trump brokered the Abraham Accords – normalization agreements between Israel and Arab Gulf states, the United Arab Emirates and Bahrain.
Biden said at the time he was "gratified" by the Israel-UAE peace at the time of its announcement.
"The United Arab Emirates and Israel have pointed a path toward a more peaceful, stable Middle East. A Biden-Harris administration will seek to build on this progress," he said in a statement.
However, Biden's running mate Kamala Harris promised this week that if elected, Biden will restore economic assistance to the Palestinians and reopen the Palestine Liberation Organization (PLO) office in Washington - reversing steps taken by Trump administration.
Under Trump, the State Department cut more than $200 million in aid to the West Bank and Gaza and closed the PLO mission in the US capital.
Al-Faisal noted that Biden has said he will reverse one Trump Middle East policy: US President Donald Trump's withdrawal from the Iran nuclear deal, known as the Joint Comprehensive Plan of Action (JCPOA).
"Biden has said that he will go back to the JCPOA, but that he will have conditions for going back. We still don't know what those conditions are," he said.
https://english.alarabiya.net/en/News/middle-east/2020/11/05/If-US-president-Biden-likely-to-keep-Trump-s-pro-Israel-decisions-Prince-Turki
--------
India
Karnataka BJPs core committee too demands laws to curb 'Love Jihad'
Nov 5, 2020
MANGALURU: The core committee leadership of Karnataka unit of Bharatiya Janata Party that met in Mangaluru on Thursday endorsed an emerging view among party leadership on the need for strict law that addresses the issue of religious conversion for marriage. Touted as 'Love Jihad' by the Saffron political outfit, the committee unanimously urged the government to bring forth legislation after discussing the issue with the bureaucracy and the party.
The committee that analysed polling data for Rajarajeshwari Nagar and Sira assembly constituencies, by-poll for which was held on Tuesday and elections to legislative council seats – two each from teachers and graduates' constituencies – expressed confidence that the BJP candidates and party backed candidates for council polls will win the same easily, noted Aravind Limbavali, state BJP vice-president and member of the committee.
Briefing the media on decisions taken at the core committee, he said the committee also decided to revisit the Karnataka Prevention of Cow Slaughter and Preservation Bill, 2010, but one that failed to get the Presidential nod then. The subsequent Congress government led by Siddaramaiah scrapped the bill, Limbavali said, adding the committee was of the view that this bill must be revived by taking into consideration the present day realities.
With Karnataka scheduled to go to Rajya Sabha polls on December 1 to fill the vacancy that the death of its member Ashok Gasti has brought forth, Limbavali said the committee deliberated on at least 12 names. "Short list of 3-4 names based on various considerations will be sent to the central election committee through the state BJP chief Nalin Kumar Kateel. The final decision of the candidate will be that of the CEC," Limbavali said.
Organisationally, it was decided that residential training camps for party functionaries in the run up to panchayati raj body polls will be intensified. The first round of training is underway from November 1 and will end on November 25 and the second round will start from November 26 and end on December 6. This second round will be held at 'Maha Shakti' Kendra (ZP constituency level) with the 'Pancha Ratnas' and 'Page pramukhs' in attendance.
Dismissing any talk of leadership change at the government level, Limbavali said this is purely a figment of Siddaramaiah's imagination. "The party and the core committee is solidly behind B S Yediyurappa and he will continue to head the state government for the next 2-1/2 years," Limbavalli said, adding that this was not even a topic of discussion for the party's core leadership. Organisationally, the party will rally behind Nalin Kumar Kateel, he added.
https://timesofindia.indiatimes.com/city/mangaluru/karnataka-bjps-core-committee-too-demands-laws-to-curb-love-jihad/articleshow/79060580.cms
--------
Pak shifts Kartarpur management to non-Sikh body, India slams step
Nov 6, 2020
NEW DELHI/ISLAMABAD: India on Thursday strongly condemned Pakistan's decision to transfer the management and maintenance of Kartarpur Sahib Gurdwara to a non-Sikh body. The government said Pakistan's move was against the spirit of Kartarpur Corridor, as also the religious sentiments of the Sikh community.
Pakistan was reported to have transferred the management and maintenance of the shrine from the Pakistan Sikh Gurdwara Prabhandhak Committee, run by the minority Sikh community, to the administrative control of the Evacuee Trust Property Board, a non-Sikh body, on Wednesday. India called upon Pakistan to reverse its arbitrary decision to deprive the Sikh minority community of its right to manage affairs of the gurdwara.
"We have received representations from the Sikh community expressing concern at this decision by Pakistan targeting the rights of the minority Sikh community in Pakistan," the MEA said. It added that such actions only exposed the reality of the Pakistani government's tall claims of protecting the rights of religious minority communities. Pakistan though described the Indian statement as baseless and fallacious propaganda by New Delhi.
"The malicious propaganda by the Indian government is simply an attempt to malign the 'peace corridor' initiative to detract attention from India's own reprehensible human rights violations of minorities in India," a statement issued by the foreign office said.
https://timesofindia.indiatimes.com/india/pak-shifts-kartarpur-management-to-non-sikh-body-india-slams-step/articleshow/79072413.cms
--------
2 civilians injured as terrorists fire upon forces in Pulwama, encounter on
Nov 5, 2020
SRINAGAR: Two civilians were injured, one of them critically, after terrorists fired upon security forces in Lalpora area of Pampore in South Kashmir's Pulwama district on Thursday evening, which triggered an encounter in the area, officials said.
The holed-up terrorists opened fired upon a joint team of J&K Police, Army and CRPF soon after the forces carried out a cordon-and-search operation in Lalpora. The two civilians were caught in the crossfire, resulting in injuries to them. The injured have been identified as Abid Nabi and Kifayat Ahmad, both residents of Pampore.
Police said contact has been established with the terrorists and the operation was on till the time of filing of this report.
Kashmir zone police on its official Twitter handle said: "During CASO at #Lalpora #Pampore, #Militants fired indiscriminately in which two unknown persons got injured. Search in the area is going on."
Meanwhile, in two separate crimes, a shopkeeper was gunned down and a cab driver shot at by terrorists in Pulwama district on Thursday evening, officials said. The first crime took place in Tral and the slain shopkeeper has been identified as Muhammad Ayoub Ahanger.
In the second crime, cab driver Muhammad Aslam Wani was fired upon by terrorists in Wanpora area. Wani sustained bullet injuries in the attack.
https://timesofindia.indiatimes.com/india/2-civilians-injured-as-terrorists-fire-upon-forces-in-pulwama-encounter-on/articleshow/79068390.cms
--------
J&K: Unidentified terrorist killed in gunfight in Pampore
Nov 06, 2020
Edited by Smriti Sinha
An unidentified terrorist was killed in South Kashmir's Pampore area in a gunfight which was still in progress at the time of filing of this report.
The security forces had launched the operation in Lalpora area of Pampore on Thursday evening after terrorists opened fire on civilians. They halted the operation for the night and resumed it Friday morning.
A police spokesperson confirmed the killing of one terrorist. "Terrorists fired indiscriminately in which two unknown persons got injured. Search is going on in the area," the spokesman said late Thursday night.
On Thursday night at Awantipora, terrorists fired upon a shopkeeper identified as Mohammad Ayoub Ahanger near Tral bus stand, grievously injuring him. He was shifted to a nearby hospital where he was declared brought dead.
In Pulwama, terrorists fired upon a driver, Mohammad Aslam Wani of Wanpora, Pulwama, leaving him injured.Wani is being treated at hospital.
"Cases have been registered under relevant sections of law in PS Tral and PS Pulwama respectively. Investigation is in progress," said the police spokesperson.
DGP Dilbag Singh had said earlier that this year, around 200 terrorists have been killed in J&K, including several top commanders. Around 190 militants were killed in Kashmir alone.
https://www.hindustantimes.com/india-news/j-k-unidentified-terrorist-killed-in-gunfight-in-pampore/story-sEwvLlYaKeohzmgblcgTMO.html
--------
South Asia
Militants shot students 'one by one' in Afghan university attack: survivor
04/11/2020
Students were gunned down "one by one" as they leapt from the windows of Kabul University classrooms when militants stormed the campus earlier this week, a survivor told AFP Wednesday.
At least 22 people, mostly students, were killed and another 27 wounded when three gunmen stormed the university on Monday, spraying classrooms with bullets in an assault claimed by the jihadist Islamic State group.
Mohammad Qasim Kohistani, 22, a student of public policy at Kabul University, one of Afghanistan's main educational institutions, described how the seven-hour attack unfolded.
"We were waiting for our teacher to come... suddenly, we heard loud sounds coming from the first floor," Kohistani, who was in a classroom on the second floor, told AFP.
"We knew something was wrong, we started jumping from the windows."
Kohistani took refuge under a window ledge with his friends, a bloody scene unravelling above him as the attackers went room to room searching out victims.
"After a gunman took over our class he started shooting fleeing students from the window," he said.
"The (other two) gunmen were shooting students one by one from a close range," he added.
Hundreds of students fled, some by scrambling over perimeter walls and onto the streets, others by barricading themselves inside rooms until they were rescued by Afghan special forces.
- Best friend killed -
Among those killed was Kohistani's best friend, Ahmad Ali, who stopped to help another friend, Roqia.
"He didn't jump from the window because Roqia had fainted," he explained.
"He wanted to save her but the gunman shot both of them in the head and killed them."
Kohistani, who sprained a leg when he jumped, stayed hidden for hours on campus.
"It was the most horrible moment of my life," he said.
"All through the day we were hearing their wails and cries for help but we were helpless."
After the attack ended, Kohistani came to learn that the attackers had killed everyone inside one of the classrooms below his.
"I am still in trauma. Yesterday, I was not even able to talk," he said.
Officials said two attackers were shot dead by security forces, while the third blew himself up during the assault.
The attack was claimed by IS, the second such assault the group had carried out on an educational centre in less than two weeks in the capital.
However, Vice President Amrullah Saleh has blamed the Taliban and their allies in Pakistan for the attack.
The Taliban have denied it was involved.
Afghan security forces have been grappling with surging violence that has only worsened in recent months despite the government holding peace talks with the Taliban in Qatar.
Afghanistan held a national day of mourning on Tuesday, while students demonstrated outside Kabul University, holding banners which read "Stop killing us".
https://www.france24.com/en/live-news/20201104-militants-shot-students-one-by-one-in-afghan-university-attack-survivor?utm_source=iterable&utm_medium=email&utm_campaign=1689625_
--------
Violence Spikes in Afghanistan Despite Peace Efforts
By Carla Babb
November 05, 2020
WASHINGTON - If U.S.-Taliban peace negotiators expected the Taliban to reduce violence in Afghanistan, the latest report from a key government watchdog is a rude awakening.
Average daily enemy-initiated attacks in Afghanistan were up 50% from July 1 to Sept. 30 of this year, compared to between April 1 and June 30, according to the Special Inspector General for Afghanistan Reconstruction, also known as SIGAR.
U.S. Forces-Afghanistan (USFOR-A) has characterized overall enemy-initiated attacks this quarter as "above seasonal norms."
Anti-government forces accounted for at least 83% of civilian casualties this quarter, according to the SIGAR report released Thursday. The Taliban is responsible for 38% of those deaths and injuries. This was an overall increase in casualties since the last quarter.
The Department of Defense told SIGAR in its report that Taliban violence "could undermine" the U.S.-Taliban peace agreement if it continues at this "unacceptably high" rate. It added that the longtime Afghan insurgent group was "calibrating" the amount of violence to remain at a level it determines is within the bounds of the U.S.-Taliban agreement while "harassing" the Afghan government and setting "favorable conditions for a post-(U.S.) withdrawal (from) Afghanistan."
While the United States has been critical of the Taliban's intensified attacks across Afghanistan, officials have continued to withdraw American troops and stopped short of calling the group's actions a complete breach of their peace agreement. About 4,500 U.S. troops are currently in the war-torn country.
The U.S. peace envoy for Afghanistan reconciliation, Zalmay Khalilzad, last week pressed warring Afghan parties to reduce battlefield hostilities.
"I return to the region disappointed that despite commitments to lower violence, it has not happened. The window to achieve a political settlement will not stay open forever," said Khalilzad.
And earlier last month, the U.S. carried out several targeted strikes against Taliban fighters who were firing on Afghan forces in Helmand province.
U.S. Gen. Austin S. Miller, the commander of the U.S. and NATO forces in Afghanistan, said the Taliban attacks were "not consistent with the U.S.-Taliban agreement" and needed to stop "immediately."
According to the SIGAR report, the U.S. military would not disclose whether there had been confirmed or suspected Taliban attacks on U.S. personnel or facilities since the beginning of the Afghan peace negotiations, calling the answer classified.
https://www.voanews.com/south-central-asia/violence-spikes-afghanistan-despite-peace-efforts
--------
Taliban Commander Killed in Helmand Operation
By Mohammad Haroon Alim
05 Nov 2020
Abdullah Jan, a Taliban commander, was killed along with eight of his fighters in the Nawa district of Helmand Province.
During the reciprocal operations, security forces defused 28 Improvised Explosive Devices placed on public places.
Meanwhile, the Ministry of Defense reported, three Taliban militants were killed and five others were wounded in the Gizab district of Uruzgan Province, during ANDSF's reciprocal attacks. Much of the weapons and ammunition belonging to the group were also destroyed.
In Nangarhar, at least 22 Taliban insurgents have been killed and seven others are wounded in the clashes with Afghan forces in the Sherzad district of the province, officials told media.
A spokesman for the Nangarhar governor, Attaullah Khogyani, told media the Taliban had attacked Afghan forces on patrol in the Kachrai area of Sherzad district.
Nangarhar is an insecure province in the east of the country, with the Taliban active in some parts, some anti-government groups are also reported to have been active in the area.
https://www.khaama.com/taliban-commander-killed-andsf-reciprocal-operation-helmand-8787876/
--------
NSA Mohib Tackles 'Current Security Status' with Ghani
By Mohammad Arif Sheva
06 Nov 2020
KABUL, Afghanistan – President Ashraf Ghani in a meeting with Abdullah Abdullah, Chairman of High Council for National Reconciliation (HCNR), discussed ongoing challenges and peace process Thursday at the Presidential Palace.
"Both sides discussed appointments of the HCNR members to fill the remaining vacants," said ARG in a tweet. "Abdullah briefed the President on his recent visit to the Islamic Republic of Iran."
Meanwhile, National Security Advisor Hamdullah Mohib tackled the current security situation, including the escalating violence throughout the country.
"In the meeting, Dr. Hamdullah Mohib, the National Security Advisor provided updates to President Ghani and Dr. Abdullah Abdullah on current security status as well as recent spike in violence by the Taliban across the country," said the ARG.
The visit came days after gunmen stormed Kabul University, killing at least 20 – mostly undergraduate students – and wounded further scores.
The attack sparked a widespread criticism among social media users and Afghan citizens over incompetent leadership of the president and security heads, calling for their resignation if the culprits are not apprehended.
https://www.khaama.com/nsa-mohib-tackles-current-security-status-with-ghani-33453/
--------
Europe
Vienna gunman rampaged alone, intelligence was fumbled, minister says
NOVEMBER 4, 2020
By Francois Murphy
VIENNA (Reuters) - Large quantities of mobile phone footage have confirmed that the jihadist who killed four people in a rampage in Vienna on Monday was the only gunman, but Austria fumbled intelligence on him, Interior Minister Karl Nehammer said on Wednesday.
Austria arrested 14 people aged 18 to 28 on Tuesday in connection with the attack and is investigating them on suspicion of belonging to a terrorist organisation, he said. But it would also have to investigate its own actions, he added.
"Before the terror attack began, according to the information currently available, some things also went wrong," Nehammer told a news conference.
In July, neighbouring Slovakia's intelligence service had handed over information suggesting the attacker had tried and failed to buy ammunition there, Nehammer and a top ministry official, Director General for Public Security Franz Ruf, said.
"In the next steps evidently something went wrong here with communications," said Nehammer, who called for the formation of an independent commission to examine the errors made.
After receiving the tip-off from Slovakia, Austria's domestic intelligence agencies at the federal and provincial level made the necessary checks and sent questions back to Bratislava, Ruf said.
"It's up to the commission to clarify whether the process went optimally and in line with the law," he said, when pressed on what had gone wrong. Austria's National Security Council signed off on setting up the commission later on Wednesday.
The gunman, who was shot dead by police within minutes of opening fire, was a 20-year-old with dual Austrian and North Macedonian citizenship. Born and raised in Vienna, he had already been convicted of trying to reach Syria to join Islamic State and had spent time in jail.
All of those arrested in Austria have a "migration background", Nehammer said. Vienna police chief Gerhard Puerstl added that some were dual citizens of Bangladesh, North Macedonia, Turkey or Russia.
Neutral Austria, part of the U.S.-led Global Coalition to Defeat ISIS formed in 2014, has for years seen jihadist attacks as its biggest security threat and warned of the danger posed by foreign fighters returning from Iraq or Syria or their admirers.
At the end of 2018, the authorities knew of 320 people from Austria who were actively involved or had wanted to participate in jihad in Syria and Iraq. Of these, around 58 people were thought to have died in the region and 93 to have returned to Austria. Another 62 were prevented from leaving the country.
Nehammer repeated criticism of a deradicalisation programme, saying the gunman had "perfectly" fooled the programme to reintegrate jihadists into society.
But Moussa Al-Hassan Diaw, a co-founder of Derad, the organisation that runs the programme, rejected Nehammer's assertion, telling Reuters: "It was always clear that this person was in no way deradicalised."
LONE GUNMAN
Members of the public had handed in more than 20,000 mobile phone videos that the authorities analyzed before coming to the conclusion that there was only one gunman, Nehammer said, putting an end to lingering confusion on that point.
Switzerland has also arrested two men in connection with the attack. Its justice minister said the two were "obviously friends" with the gunman.
Ruf said Austria was in contact with Switzerland and another country that he declined to identify over the investigation.
North Macedonia said on Tuesday three people were somehow involved in the attack and all had dual Austrian and North Macedonian citizenship. It identified them only by initials.
On Wednesday afternoon Austrian Chancellor Sebastian Kurz's office said President Emmanuel Macron of France, which has suffered two deadly attacks recently amid Islamist anger over the publication of satirical caricatures of the Prophet Mohammad, would visit Vienna on Monday.
Six hours later, it said the meeting was postponed "because of the COVID-19 situation in Europe", adding: "instead, a video conference will take place at the beginning of the week on the fight against Islamic terrorism and political Islam."
https://www.reuters.com/article/uk-austria-attack/video-evidence-confirms-lone-vienna-gunman-theory-minister-idUKKBN27K20G?utm_source=iterable&utm_medium=email&utm_campaign=1689625_
--------
Teenager charged in France for hailing teacher's beheading
November 05, 2020
MARSEILLE: A teenager has been charged in the southern French city of Marseille with supporting terrorism for remarks he made during a homage for murdered teacher Samuel Paty, a prosecutor said Thursday.
The 14-year old boy, an Afghan national, openly welcomed the killing in class, saying he "would have done the same," the La Provence newspaper reported.
The teenager had been released after questioning but will remain under supervision, Marseille prosecutor Dominique Laurens told AFP.
Marseille has clocked up seven such school-related incidents this week, the head of the region's education authority Bernard Beignier told La Provence.
Three of them were believed to involve the "justification of a terrorist act."
Paty was beheaded near his school outside Paris last month by an 18-year-old Chechen man after an angry online campaign over him showing cartoons mocking the Prophet Muhammad as part of a free-speech lesson.
On Tuesday, prosecutors in the eastern city of Strasbourg opened an inquiry into two 12-year-olds over comments made during a national homage to Paty, suggesting that the teacher had got what he deserved.
They added that two similar incidents were also reported involving children aged eight and nine, prompting a social welfare inquiry.
Interior minister Gerald Darmanin told lawmakers this week that 66 inquires into alleged support of terrorism had been opened since Paty's death, often involving "young people, aged 12 to 16."
https://www.arabnews.com/node/1759016/world
--------
Europe's cities are becoming a refuge for Islamist extremists
6 November 2020
Britain's terror threat level has been upgraded to 'severe' this week, following jihadist attacks in both France and Austria. Raising a terror alert is not enough though to stop more attacks. The government's security and bureaucratic response to terror is always playing catch-up and constantly on the defensive. And unless we take the time to understand the enemy, we cannot force it into retreat and defeat.
We must first of all be honest. Our country and compatriots depend on us getting this right. The threat we currently face is not about racism – which is why Christian Nigerians or Hindu Indians do not become terrorists in the West. It is not about unemployment, either – which is why white, working-class men, a demographic with high levels of unemployment, do not become suicide bombers. Instead, the threat from the menace of Islamist terror stems from a narrative – a dangerous cocktail of religion and politics – of the past, anger in the present, and a vision for the future. It is that narrative that we must confront head on and destroy.
The political Islamist foe fights us now on three fronts. First, the toughest fight is with regards to freedom of expression. The killing of Samuel Paty, the Charlie Hebdo magazine attack, previous outrages against Denmark, Norway, and the attempts to kill Salman Rushdie by a fatwa from Iran, all point to a rising three-decade long trend of intolerance.
Since the Enlightenment, the West has progressed past the notion of banning cartoons or offending religious figures. The blood of millions spilt during the Reformation, wars of religion, and two world wars have left us with this freedom. That same, inseparable liberty to offend is also what allows European Muslims to thrive as citizens and believers. This basic but powerful idea is yet to be understood fully.
Muslim civilisations, too, were once confident in this freedom. The Prophet's wife, Ayesha, would say to him 'How convenient that your God reveals verses that satisfy your desires.' Nasredin Hodja, a Muslim satirist entertained generations of people with his books of jokes and caricatures. For centuries, the Sufis mocked orthodox believers and their rituals. Blessed was blasphemy.
We Muslims again need to learn to joke, to laugh more and accept that in the West, since the times of the ancient Greeks, mockery and theatre have been the norm. Islamists cannot and must not destroy this inheritance.
Secondly, the hatred of Jewishness did not end with the Nazis. That same, old mental disease possesses Islamists – and their attack outside a synagogue in Vienna this week (the first of six locations to be targeted) appears to have been the expression of that sickness of mind. In Britain, France and Germany, repeatedly, Islamists have targeted Jewish people and symbols. Islamists reject Jewish history, the modern state of Israel and whether it's Hamas or ISIS, are sworn enemies of the Jewish state.
Our Arab allies, the United Arab Emirates, Bahrain, Egypt, Jordan and Sudan deserve our full support for refuting this anti-Semitic narrative by practically extending the hand of friendship to Israel this year. As Arab-Israeli peace and normalisation takes hold in the Muslim world, Europe's cities are fast becoming the last refuge of Islamist radicals. This blunder will have serious consequences for our own peace and security.
Thirdly, Vienna as a choice for a terror operation by Islamic State was not an accident. European apologists who claim that Western foreign policy drives Islamist violence have been proven wrong again. They cannot blame Vienna for recent wars and colonialism in the Muslim world. In fact, the Ottoman caliphate and Austro-Hungarians even fought together on the same side in the first world war. But after they lost, Turkey subsequently became a secular republic and over the last century, most Muslim governments across the world have rejected the concept of a supra-national caliphate and engaged in building secular nation states. And that is exactly what the Islamists oppose.
By attacking Vienna now, not only are they settling old scores, but reminding their Jihadist foot soldiers that previous wars are still raging. For it was in Vienna in 1683, that the Ottoman caliphate was beaten back by Europe. For two centuries, the Ottomans attempted to conquer and subdue Vienna as a base to conquer the rest of Europe. But in 1683, the loss and humiliation of the Ottomans was total. The caliphate never recovered and not a single substantial military victory was made afterwards. That body blow from the infidel West still haunts those who wish to recreate their Islamist empire.
They refuse to accept that the caliphate is a historical relic. The European victory in 1683 was not a Christian only effort: King Sobieski of Poland, who came to the aid of the Hapsburgs, was assisted by his loyal Tartar Muslims who fought valiantly in battle against the Ottomans. The Muslims loyal to Poland did not believe in the necessity of a caliphate, nor Islamic imperial conquests. Therein lies the secret to our fight-back today.
By supporting Muslim nations and individuals who are modern, enlightened, secular and at peace with the world, we further isolate and defeat Islamists who crave a caliphate, hate Jews and wish to kill our freedoms. In this pursuit, Britain has been muted. Combating terrorism with police and security is too late: we must go further upstream.
In France, President Macron deserves more support. From the land of Descartes and Voltaire, Macron has mounted an uncompromising clarion call for liberty. Islamism is 'not welcome on French soil' he declared. Boris Johnson and Britain should rally around France in the spirit of Locke and Burke to conserve civilisation. We too must have the courage to say 'Not in our country!' Islamists do not belong in the West. Anything less is capitulation, unbecoming of the nation of Churchill and freedom. For when we have the courage to say they don't belong here, their behaviour will change, peace-loving Muslims will hand them over to the authorities earlier, a younger generation will not follow them.
https://www.spectator.co.uk/article/europe-s-cities-are-becoming-a-refuge-for-islamist-extremists
--------
France bans Turkish ultra-nationalist Grey Wolves group
04.11.2020
The French government on Wednesday banned the Grey Wolves, a far-right nationalist group accused of violent actions and inciting hate speech in France.
The ban was approved during a weekly Cabinet meeting, according to government spokesperson Gabriel Attal.
France accused the group of "extremely violent actions," spreading "extremely violent threats'' and creating "incitement to hatred against authorities and Armenians,'' Attal said, citing an Armenian memorial near the eastern city of Lyon that was found defaced last weekend.
The 1915 Armenian genocide memorial had "Grey wolf" and "RTE," the initials of Turkish President Recep Tayyip Erdogan, written on it, as well as pro-Turkish slogans.
Armenians have long campaigned for the mass killings of their ancestors in the Ottoman Empire from 1915 to be recognized as genocide. France backs their call.
Who are the Grey Wolves?
The Grey Wolves group is linked to a top ally of the Turkish president and is seen as a militant wing of the Nationalist Movement Party (MHP), which is allied with Erdogan's Justice and Development Party (AKP) in the Turkish parliament.
The Grey Wolves was a nickname given to members of a fringe Turkish movement that emerged in the 1960s and 1970s.
The group used violence in the 1980s against leftist activists and ethnic minorities.
France and Turkey row
Wednesday's ban follows escalating tensions between Ankara and Paris over France's fight against extremism.
Erdogan recently said French President Emmanuel Macron needed "mental treatment" for defending caricatures of the Prophet Muhammad.
France has been cracking down on militants after the beheading of schoolteacher Samuel Paty over the use of caricatures of the Prophet Muhammad as well as what French police have called a deadly Islamist attack at a church in Nice.
Tension between France and Turkey has also been growing over the Nagorno-Karabakh conflict.
Ankara has backed its ally Baku in the fighting. The region is a part of Azerbaijan but has been controlled by ethnic Armenian separatists since a 1990s war claimed 30,000 lives.
Turkey hits back
In reaction to the ban on the Grey Wolves, Ankara vowed to "respond in the firmest way possible."
The Turkish Foreign Ministry denied the very existence of the group, saying France was "dealing with an imaginary formation."
In a statement, the ministry said the French government had to "protect the freedom of assembly and expression of Turks in France."
It accused the French government of ignoring "incitements, threats and attacks" against Turks in France.
The Foreign Ministry said banning the group showed, "The French government is now completely under Armenian influence." It accused France of "double standards" and "hypocrisy" because it allows the Kurdistan Workers' Party (PKK) and other groups to be active in France.
Turkey considers the PKK to be a terrorist organization.
https://www.dw.com/en/france-bans-turkish-ultra-nationalist-grey-wolves-group/a-55503469?utm_source=iterable&utm_medium=email&utm_campaign=1689625_
--------
Questions mount over Vienna gunman, a convicted ISIL sympathiser
4 Nov 2020
Questions were mounting in Austria on Wednesday about how a convicted ISIL (ISIS) sympathiser was able to carry out the deadly gun rampage in the heart of the capital Vienna.
Investigators are trying to piece together more information about the gunman's circle after detaining 14 people in the wake of Monday's shooting, the first major attack in Austria for decades.
The assailant, named as 20-year-old dual Austrian Macedonian national Kujtim Fejzulai, had been convicted and sentenced to prison in April last year for trying to travel to Syria to join ISIL.
But he was released on probation in December, before the end of his 22-month sentence, and had been referred to organisations specialising in "de-radicalisation".
ISIL, which has claimed numerous attacks in Europe, said on Tuesday a "soldier of the caliphate" was responsible for the shooting, which killed four people and left more wounded.
The gunman opened fire indiscriminately in the historic centre of the city just hours before Austria imposed a coronavirus lockdown when people were out in bars and restaurants enjoying a final night of relative freedom.
The streets of Vienna were returning to normal on Wednesday – albeit under the virus restrictions – after schools and shops had largely stayed closed after the attack.
Austrian Chancellor Sebastian Kurz has described the decision to release Fejzulai – who was shot dead by police on Monday evening – as "definitely wrong".
"If he had not been released then the terror attack would not have been possible," Kurz told public broadcaster ORF on Tuesday.
Austria's top security chief Franz Ruf told local media that at his last session of a publicly-funded de-radicalisation programme in late October, Fejzulai had condemned the recent attacks in France.
Interior Minister Karl Nehammer said on Tuesday the attacker had successfully "fooled" the programmes in order to achieve his early release.
Nehammer said his case had shown up a "fracture" in the system and that raids at Fejzulai's home after the attack revealed plentiful evidence of his radical views.
He referred to a Facebook post in which Fejzulai posed with the Kalashnikov and the machete he would go on to use in the attack, together with ISIL slogans.
"Nobody would have thought him capable of something like this," Nikolaus Rast, the lawyer who represented Fejzulai last year, told AFP on Wednesday.
He also raised questions about possible oversights by the de-radicalisation programmes Fejzulai had attended.
"Without wanting to put the blame on someone, if they are the experts, why didn't they notice anything?" Rast said.
"They must have had the most – and the last – contact with him."
Police are now working on the assumption that Fejzulai was the sole gunman after the authorities initially feared in the aftermath of the attack that more than one assailant could be at large.
They have carried out 18 raids and made 14 arrests over the killings, and Ruf said it was possible some of those currently being questioned by police could be accomplices.
The investigation is spanning several countries, with Switzerland making two arrests and Macedonia, where Fejzulai has family roots, cooperating with the Austrian authorities.
Kurz on Tuesday called for an EU response to "political Islam", saying the ideology was "dangerous" for European freedoms and values.
His office said on Wednesday he had been in touch with French President Emmanuel Macron to discuss joint initiatives in the fight against "terrorism".
The recent republication of cartoons of the Prophet Muhammad in France has caused new tensions worldwide, sparking protests in some Muslim-majority countries.
France itself has seen a deadly assault on churchgoers in the Mediterranean city of Nice and the beheading of a teacher near Paris.
https://www.aljazeera.com/news/2020/11/4/questions-mount-over-vienna-gunman-a-convicted-isil-sympathiser?utm_source=iterable&utm_medium=email&utm_campaign=1689625_
--------
Albanian IS Repatriation From Syria Will Be Long Journey, Experts Say
By Ezel Sahinkaya
November 04, 2020
The recent repatriation of an Islamic State (IS) woman and four children from the Kurdish-controlled al-Hol camp in northeastern Syria is being applauded as an important step by Albania to deal with its citizens abroad who have been affiliated with the terror group.
Some observers say they are expecting a long journey ahead for the country as it addresses the rehabilitation of IS families and their reentry into society.
"Although modest in size, this transfer signals Albania's shift toward a proactive approach for the repatriation of its citizens, especially children and women," Adrian Shtuni, a Washington-based security and radicalization expert, told VOA.
Roughly 13,500 foreign women and children are among about 70,000 IS families held by the Kurdish-led, U.S.-backed Syrian Democratic Forces (SDF) in northeastern Syria, according to a report in April by the Crisis Group. Researchers in Albania say at least 70 members of the group hold Albanian citizenship.
Albanian Prime Minister Edi Rama said last week that he was in Beirut to bring home from Syria a 41-year-old woman, Floresha Rasha; her three children – Amar, Emel and Hatixhe Rasha; and another minor, Endri Dumani. The five Albanians were evacuated from the al-Hol camp in a process mediated by the Syrian Arab Red Crescent.
Mark Ghraib, Albania's honorary consul in Beirut, said the Albanians had been given medical checkups and provided with proper care. Authorities have not disclosed many details about the health of the evacuees but said Floresha Rasha uses a wheelchair because of "severe injuries" and will need immediate surgery upon her arrival in Tirana.
Floresha Rasha will face investigation to determine if she was involved in any terrorist attacks during her seven years in Syria, according to the Albanian Special Anti-Corruption Prosecution. The four children, however, do not have any criminal liability under Albanian law because of their age.
Complex operation
Kurdish authorities repeatedly have called on countries to repatriate their citizens, saying imprisoned IS fighters and their families are a burden on their limited resources.
Albanian Interior Minister Sander Lleshaj said in September that the return of the Albanian adults would face legal challenges because "they are considered the losing side of an armed battle." He said the government was on track, though, to bring home 28 children.
The government in Tirana first planned to repatriate dozens of its citizens in August 2019. But Albanian State Minister Elisa Spiropali subsequently announced the process was suspended because of the changing geopolitical situation in Syria following Turkey's military operations and the partial withdrawal of U.S. troops in October 2019.
The halt prompted a protest in September by relatives of the IS children, who said the government had to put more effort into bringing home minors who are citizens.
Following the protest, Lleshaj went to Beirut to discuss with his Lebanese counterparts the possible repatriation of children and women from the camps
"For children, we are trying to save them from that hell," Lleshaj told Albania's national Top Channel in September.
Rights groups describe al-Hol camp as "massively" crowded and unsanitary. Doctors Without Borders reported in August that the camp was witnessing a rise in confirmed COVID-19 cases, with very little health care available.
Radicalized women
Since the territorial defeat of IS in March 2019, many IS foreign women in Syria have petitioned their home countries to take them back because of harsh conditions in the camps.
Some experts noted that some of the women remain radicalized, however, and do not want to be repatriated home because they expect a revival of IS.
"They honestly believe that 'brothers' are going to go and liberate them," Vera Mironova, a research fellow at Harvard University Davis Center for Russian and Eurasian Studies, told VOA.
"When you are talking to them, they are like, 'You know, brothers are standing on a hill around the camp, and they are watching us or preparing to attack the Kurds,' " Mironova said.
IS members who are not connected by marital ties usually refer to each other as brothers and sisters. The group's fighters reportedly have attacked the SDF at least twice to break into the camps to free their family members.
Mironova also added that another motivation for these women who prefer to stay is to raise their children in the camp, which they consider an Islamic land, thinking that their countries do not have Islamic practices.
Some may not seek return
Similarly, Adrian Shtuni says the assumption that all of the Albanian women being held in the camp are eager to return home may not be accurate.
"Substantiated media reports that a number of Albanian women went into hiding to evade repatriation point to a less well-understood aspect of the reality in camps," Shtuni told VOA.
"This highlights once more that though repatriation in itself is a complex effort, it is only the beginning of a long-term process of rehabilitation from trauma and violent extremism required to prepare returnees for reentry into mainstream society," Shtuni added.
Rama in the past has said his Cabinet is well-prepared to hold IS adult members accountable, and to prepare for the return of the brainwashed children into society.
In a news conference last week, Rama announced his government rehabilitation program for children was being assisted by the children's relatives and was equipped with the necessary care, psychologists, teachers and doctors.
"The progress of these children will be monitored. Work will be done step by step to integrate them into the social structures, based on the opinion that will be given by doctors and psychologists," Rama added.
More than 100 Albanians are reported to have joined the conflicts in Iraq and Syria, alongside other ethnic Albanians from Kosovo and North Macedonia. The U.S. State Department's 2019 Country Report on Terrorism determined the terrorism threat in Albania came mainly from foreign fighters returning from Iraq and Syria, along with Albanian youth being radicalized to terrorism.
https://www.voanews.com/extremism-watch/albanian-repatriation-syria-will-be-long-journey-experts-say?utm_source=iterable&utm_medium=email&utm_campaign=1689625_
--------
Southeast Asia
Apex Court of Malaysia To Hear If Muslim Can Be Held Liable For Wrecking Non-Muslim Marriage
V Anbalagan
November 5, 2020
PUTRAJAYA: The Federal Court has allowed a housewife leave to appeal on whether a Muslim could be held liable for wrecking the marriage of a non-Muslim couple.
The apex court will proceed to hear further arguments later based on two legal questions approved today.
Judge Nallini Pathmanathan said the questions posed by the housewife, identified as AJS,
had crossed the threshold as required under Section 96 of the Court of Judicature Act.
"The questions need further arguments and it is a matter of public interest," she said in the proceeding conducted online because of the imposition of the conditional control movement order.
An applicant must show that the questions framed are raised for the first time and would be of public advantage and constitutional importance. The questions are:
Whether Section 3(3) of the Law Reform (Marriage and Divorce) Act (LRA) precludes a non-Muslim petitioner from citing a Muslim as a co-respondent on an allegation of adultery for judicial separation, and
Whether a court when interpreting Section 3(3) of the LRA should have regard to the presumption that Parliament does not intend to legislate in violation of Articles 5(1) and 8(1) of the Federal Constitution.
Lawyers Gopal Sri Ram and Ravi Nekoo represented AJS, while counsel Siew Choon Jern appeared for the respondent, identified as RIS, and the co-respondent, JBMH.
On July 6, a three-member bench of the Court of Appeal, in reversing a High Court ruling, held that a Muslim cannot be made a party in a matrimonial dispute involving non-Muslim couples.
Judge Kamardin Hashim said there was merit in the appeal, but he did not provide the grounds for overruling the ruling.
High Court judge Faizah Jamaludin had ruled that a co-respondent could only be named in a divorce petition and not a judicial separation, regardless of his or her religion.
In July last year, AJS filed a petition for judicial separation against her husband, known as RIS.
AJS also included JBMH, a Muslim woman, as she was said to be having an affair with RIS.
JBMH then filed an application to remove her name on the basis that the LRA did not apply to Muslims.
The identities of the parties involved have been withheld as provided for in the High Court ruling.
Siew had told the Court of Appeal on July 6 that Section 3(3) of the LRA was clear that it excluded Muslims.
"It is a blanket exclusion. The only exception is in relation to Muslim converts who had civil marriages," he said.
Ravi, who represented AJS, said the court had to look into the legislative intent of Section 3(3). "Parliament would not have given a cloak of immunity to a Muslim who wrecks the marriage of non-Muslim couples and allow them to get away with it," he said.
https://www.freemalaysiatoday.com/category/nation/2020/11/05/apex-court-to-hear-if-muslim-can-be-cited-for-wrecking-non-muslim-marriage/
--------
Indira Gandhi sues IGP, police over failure to return daughter kidnapped by fugitive Muslim convert ex-husband
05 Nov 2020
KUALA LUMPUR, Nov 5 ― Copies of the writ of summons filed by a kindergarten teacher M. Indira Gandhi against the Royal Malaysia Police (PDRM) and three others have been hand-delivered to all the defendants.
The teacher is suing the PDRM and three others for their failure to find and bring back her youngest daughter, who is abducted by her Muslim convert ex-husband, Muhammad Riduan Abdullah, 11 years ago.
Her lawyer, Rajesh Nagarajan when contacted said the writ of summons and the statement of claims had been handed over to the Inspector-General of Police (IGP) and PDRM two days ago, and to the Home Ministry and the Government of Malaysia, yesterday.
"The case management has also been set for Nov 30 via e-review before the High Court Deputy Registrar Idamasliza Maarof," he said.
In her statement of claim, Indira claimed that the IGP had deliberately and negligently ignored the mandamus order from the Federal Court and failed to investigate or take appropriate action to return her daughter, Prasana Diksa, to her.
She claimed that the IGP in his press statement dated Jan 27, 2020, said that he knew the whereabouts of her ex-husband, formerly known as K. Patmanathan, 51, and was trying to get a "happy ending" for the plaintiff.
"Based on the statement, it clearly showed that the first defendant failed to arrest Muhammad Riduan (Patmanathan) and return Prasana to me despite knowing his whereabouts," she said.
Indira also claimed that all the defendants had played their roles in making decisions or ordering the PDRM to execute the committal warrant against Muhammad Riduan as ordered by the Federal Court on April 29, 2016.
She claimed that the behaviour of all the defendants had directly caused her separation from her youngest daughter, who is now 12, to continue until today and that their behaviour had also caused Mohd Riduan to flee.
She is seeking RM100 million in general, aggravated and exemplary damages, as well as a declaration that the first defendant had committed the tort of nonfeasance in public office, and the second, third and fourth defendants were also vicariously liable for the tort of nonfeasance committed by the first defendant.
Indira and Patmanathan were married on April 10, 1993, and had three children.
However, she said, on March 11, 2009, the man converted to Islam and changed the religion of their three children to Islam and that on Sept 29, 2009, he had also obtained the custody of the three children from Ipoh Syariah Court.
The plaintiff said she then filed an application for full custody of the children which was granted by Ipoh High Court on March 11, 2010.
However, Prasana was forcibly taken by Muhammad Riduan after the court ordered him to hand over the children to their mother.
The couple divorced on August 8, 2012. ― Bernama
https://www.malaymail.com/news/malaysia/2020/11/05/indira-gandhi-sues-igp-police-over-failure-to-return-daughter-kidnap-by-fug/1919695
--------
Congregational, Friday prayers allowed in Mukim 12 amid CMCO, says Penang mufti
06 Nov 2020
GEORGE TOWN, Nov 6 — Mosques and surau in areas in Mukim 12, Barat Daya near here which have been placed under the conditional movement control order (CMCO) are allowed to hold Friday prayers and other congregational prayers subject to the standard operating procedures (SOP) set by the authorities.
Penang mufti Datuk Seri Dr Wan Salim Wan Mohd Noor said in accordance with the decision taken by the Islamic Affairs State Executive Council Meeting (MMK), the number of people in the congregation is based on the actual capacity of the prayer hall of the mosques or surau concerned.
"Friday prayer sessions should be completed within 20 minutes only and no qabliyyah prayers (prayers that are performed before every obligatory prayer) are allowed," he said when contacted today.
On Wednesday, Senior Minster (Security Cluster) Datuk Seri Ismail Sabri Yaakob announced that CMCO would be imposed in Mukim 12, Barat Daya from Nov 6-18 following increase in the number of Covid-19 cases in the sub-district.
Wan Salim said however, activities such as religious lectures or talks as well as visiting of graves in Muslim cemeteries, are not allowed to be held throughout the CMCO period.
"The CMCO directives for the implementation of activities in mosques and surau in the state will be issued from time to time subject to the current situation and advice from the Health Ministry and the National Security Council," he said.
Meanwhile he said during the CMCO period, solemnisation ceremonies can only be held at the District Religious Office with the maximum attendance of 10 family members from both of the groom and bride sides.
Burial can only be attended by gravediggers, talqin reader and family members of the deceased with the most minimal number of attendees, he added. — Bernama
https://www.malaymail.com/news/malaysia/2020/11/06/congregational-friday-prayers-allowed-in-mukim-12-amid-cmco-says-penang-muf/1919941
--------
Mideast
Yemeni security forces kill high-profile Daesh terrorist in southern Ibb province
05 November 2020
Yemeni security forces have carried out a military operation targeting the hideouts of Daesh Takfiri terrorists in the country's southwestern province of Ibb, killing a senior militant in the process.
The Arabic-language al-Masirah television network, citing a statement released by the Yemeni Interior Ministry, reported that Salah al-Rashedi, better known by the nom de guerre Abu Yousef al-Ta'izi, was killed on the outskirts of al-Qaida city when he refused to surrender himself and engaged in a fierce exchange of gunfire with security troops.
The statement added that Rashedi was from the At Ta'iziyah district of the southern coastal province of Ta'iz, and was wanted for promotion of violent extremism as well as a number of targeted killings.
Also on Thursday, Saudi fighter jets launched an airstrike against a Yemeni area close to the kingdom's southern border region of Najran. There were no immediate reports of casualties available though.
Saudi-led warplanes also carried out nine airstrikes against Medghal and Sirwah districts in the strategic central Ma'rib province, but there were no reports of possible casualties or the extent of damage caused.
Elsewhere in the northern province of al-Jawf, Saudi-led aircraft launched three air raids against Khabb wa ash Sha'af district. No reports of casualties were quickly available.
Saudi Arabia and a number of its regional allies launched a devastating military campaign against Yemen in March 2015, with the goal of bringing the government of former president Abd Rabbuh Mansur Hadi back to power and crushing the popular Ansarullah movement.
The US-based Armed Conflict Location and Event Data Project (ACLED), a nonprofit conflict-research organization, estimates that the war has claimed more than 100,000 lives for over the past five years.
The Ansarullah movement, backed by armed forces, has been defending Yemen against the Saudi-led alliance, preventing the aggressors from fulfilling the objectives of the atrocious war.
https://www.presstv.com/Detail/2020/11/05/637982/High-profile-terrorist-killed-in-anti-Daesh-operation-in-southern-Yemen
--------
Child killed, several wounded in Houthi attacks on Taiz
November 05, 2020
AL-MUKALLA: Iran-backed Houthi mortar and drone attacks on military and civilian targets in Yemen's southern city of Taiz have killed a civilian and wounded at least 14 more, local military officers and residents said.
An explosive-laden drone hit a military post in Jabal Habashy district on Wednesday, wounding 10 soldiers, Abdul Basit Al-Baher, the Yemeni army spokesperson in Taiz, told Arab News by telephone on Thursday.
"The drone was carrying a large amount of explosive materials and detonated as soldiers were guarding their post," Al-Baher said.
Also on Wednesday, a primary school student was killed and four more wounded when a mortar shell fired by the Houthis exploded in a residential area in Camb district, east of Taiz, residents said.
The students were returning home from school when the shell landed, critically wounding one who later died at a local hospital.
Eshraq Al-Maqtari, a human rights activist in Taiz and who was at the scene of the explosion, said on Twitter that there had been no clashes between government forces and the Houthis in the area, currently under the control of government forces.
The Medecins Sans Frontieres (MSF)-supported Al-Thawra Hospital in Taiz received three wounded children under the age of 10, and urged both sides to avoid targeting civilians.
"MSF reiterates its call to all armed groups to abide by international humanitarian law and take all necessary precautions to avoid civilian casualties," the charity said on Twitter.
Yemen's Ministry of Human Rights strongly condemned the Houthi shelling of residential areas, and called upon the international community to work on halting the deadly attacks and lifting the rebels' siege of Taiz.
Intense fighting between government forces and the Houthis continued in the city on Thursday for the sixth consecutive day, as loyalists pushed to expel the Houthis from the suburbs.
Al-Baher said the fighting raged in the eastern and northeastern parts of the city, and that government forces liberated a street and a number of hills in the last three days.
For the last five years, Houthi militiamen have been in control of the city's outskirts, from where they regularly shell Taiz's heavily populated downtown areas.
The rebels have come under criticism from local and international rights organizations for blocking the deliveries of vital humanitarian supplies to millions of people in the city.
In the northern province of Jouf, fierce fighting between government forces and the Houthis raged on Wednesday and Thursday near the strategically important Al-Khanjer military base, leaving dozens dead on both sides.
Yemen's Ministry of Defense said on Wednesday that army troops and allied tribesmen, backed by air cover from Arab coalition warplanes, pushed the Houthis from a number of locations north of Al-Khanjer.
Yemeni army commanders said they were cutting key supply lines to the Houthis before marching toward the city of Hazem, the capital of Jouf, that fell to the rebels in March.
In the capital city of Sanaa, and other Houthi controlled areas in northern Yemen, the rebels have in the last three days held several mass funerals for dozens of their fighters, including many field commanders, who were killed in fighting in different contested areas of the country.
Yemen's Human Rights Minister Mohammed Askar told Arab News that the Houthi attacks on civilian areas in Taiz showed that the militias were not serious about making peace in Yemen.
"What happened is a crime against humanity and a new escalation by the Houthis. It confirms the militia has no intention to make peace," the minister said.
Abdu Abdullah Majili, a Yemeni army spokesman, told Arab News the Houthis had violated human right laws and religious and social norms that prohibit targeting residential areas during war.
"We call upon the UN to condemn Houthi violations and to designate this criminal militia as a terrorist organization," Majili said.
https://www.arabnews.com/node/1758971/middle-east
--------
Turkey's efforts to deport Daesh terrorists in vain as Europe fails to handle foreign fighters
NOV 04, 2020
The recent terrorist attack in Vienna that killed four people proved to the world that the threat of Daesh still haunts Europe. The surprising thing, however, was the fact that the attacker was handed to Austrian authorities by Turkey, only to be released shortly after, showing the incapability of European states to subdue foreign fighters.
At least four people were killed and 22 more were wounded in a terrorist attack in the Austrian capital, an official said Tuesday. Speaking at a news conference in Vienna, Interior Minister Karl Nehammer said the assailant, who was killed in a police operation last night after the attack, was a sympathizer of the Daesh terrorist group. Daesh also declared later that it was responsible for the attack.
"We have not yet found any evidence indicating a second attacker," he said, adding that the investigation was still ongoing.
The attack received widespread condemnation from all corners of the globe, including Turkey, which expressed that it stood in "solidarity" with the Austrian people and was waging its own campaign against terrorism.
"We are saddened to receive the news that there are dead and wounded as a result of the terrorist attack that took place in Vienna," the Turkish Foreign Ministry said in a statement.
"As a country that has been fighting against all sorts of terrorism for decades, Turkey stands in solidarity with the Austrian people."
In fact, Turkey already showed its support for Austria's fight against terrorism back in 2018, when it captured and deported the attacker to Austria in a series of efforts that appear to have been in vain.
Austrian authorities have confirmed that the 20-year-old assailant was known to police as he was arrested last year for attempting to travel to Syria to join Daesh. Local media identified him as Kujtim Fejzulai who had both North Macedonian and Austrian citizenship. He was released from jail in December due to his young age. Austrian police arrested 14 suspects on Tuesday after raiding more than a dozen locations across the country.
Fejzulai was radicalized in 2016, he told the court. He and his friend first tried to travel to Kabul, but the plan failed when they found out that they lacked the necessary entry visa. In September 2018, Fejzulai left Austria alone and went to Turkey in hopes of joining Daesh fighters in neighboring Syria. Two days after his arrival in Turkey, Fejzulai was arrested, detained and eventually sent back to Austria. Fejzulai was convicted and sentenced in April last year but was already released on probation in December. He had reportedly received counseling from a nongovernmental organization (NGO) that specializes in deradicalizing extremists.
Paris, Brussels attackers also deported by Turkey
But this is not the first time that European states failed in handling foreign fighters who were successfully deported by Turkey.
In 2016, Turkey announced that one of the attackers in the Brussels suicide bombings was deported in 2015 from Turkey, and Belgium subsequently ignored a warning that the man was a militant. Back then, Turkish authorities identified the man as Ibrahim El Bakraoui, one of the two brothers named by Belgium as responsible for the attacks that killed at least 31 people in Brussels in 2016 and were claimed by Daesh.
In previous cases, European officials have said that without evidence of a crime, such as having fought in Syria, they cannot jail people deported by Turkey. Among such cases was Brahim Abdeslam, one of the suicide bombers in Paris in November, who was also sent back to Belgium from Turkey in 2015.
Since the beginning of the Syrian civil war in 2011, nearly 5,000 foreign fighters traveled from the European Union to conflict areas in Syria and Iraq, according to the European Union Agency for Law Enforcement Cooperation, better known under the name Europol, estimates. During this time, Turkey has been a frequent route for these foreign fighters due to its geopolitical position that acts as a bridge between Europe and the Middle East.
Turkey recognized Daesh as a terrorist organization in 2013. Since then, the country has been a frequent target of Daesh terrorists as they committed suicide bombings, seven bombings and four armed attacks. During these attacks, 315 people were killed and hundreds more were left injured. In response to the attacks, Turkey has launched counterterrorism operations against the terrorist group both within and outside the borders of the country. These operations have intensified since 2016, and so far, thousands of suspects have been detained and arrested.
Turkey insists on deportations
As part of Turkey's ramped-up efforts to repatriate foreign terrorists, the Interior Ministry said on Nov. 9, 2019, that the country would begin extraditing captured Daesh terrorists to their home countries.
According to the Turkish Foreign Ministry, at the time, there were more than 1,000 foreign terrorist fighters in Turkey's repatriation centers, almost 780 of whom were deported back to their countries of origin in 2019. Ankara expressed multiple times that by being returned to the EU, the detainees might be prosecuted and thus prevented from being further radicalized in camps filled with fellow former combatants.
While Turkey was arguing that foreign-born terrorists should be returned to their countries of origin, the issue has caused controversy in other places, especially Europe, where many countries refuse to accept the terrorists. Although the 1961 New York Convention made it illegal to leave people stateless, several countries, including Britain and France, have not ratified it, and recent cases have triggered prolonged legal battles.
Despite the resistance from many European countries, Turkey has continued to deport foreign fighters all around the continent, including to Germany, Finland, Norway and Denmark.
Meanwhile, the operations against the terrorist group within the country resumed as well. For instance, last month alone, Turkish security forces inflicted a heavy blow to Daesh, arresting 204 suspects including senior figures in multiple anti-terror operations across the country. The operations with the largest scale took place in metropole cities of the country such as Istanbul and Ankara.
In the capital Ankara, seven suspects who were accused of planning attacks on Turkish national holidays were detained last week. They were reportedly planning attacks on the Oct. 29 Republic Day and during the Nov. 10 ceremonies commemorating the death of the founder of the modern Turkish state, Mustafa Kemal Atatürk. In another operation in the capital, 25 suspects, including 24 Iraqis and one Finn, were arrested.
Some of the arrested terrorists were not only from a foreign nation but also wanted by some European countries, such as Soumaya Raissi, who was arrested in Adana province. Raissi, a 30-year-old Tunisian national, was wanted by French authorities and identified as "dangerous" and an "activist," sources said on the condition of anonymity due to restrictions on speaking to the media.
https://www.dailysabah.com/politics/war-on-terror/turkeys-efforts-to-deport-daesh-terrorists-in-vain-as-europe-fails-to-handle-foreign-fighters?utm_source=iterable&utm_medium=email&utm_campaign=1689625_
--------
Pakistan
Pakistan PM's luncheon becomes session for allies to vent anger against govt
Nov 6, 2020
ISLAMABAD: The allies of Pakistan Tehreek-e-Insaf (PTI) on Thursday used the luncheon organised by Prime Minister Imran Khan to vent out their anger on issues they were facing.
Citing sources, The News International reported that the allies expressed reservations over the non-provision of development funds and the lack of development projects in their constituencies. "They also protested against the unresolved issues of the people of their constituencies," the sources were quoted as saying.
During the luncheon, Dr Fehmida Mirza, Minister for Inter-provincial Coordination, said, "The people of Sindh are being treated like stepchildren."
"It is inappropriate to ignore elected parliamentarians in the federal government's plans," she added.
Similarly, the Pakistan Muslim League (F) (PML-F) informed Imran Khan of the neglect felt by the people of Sindh.
"We are your allies, but the government does nothing to prove it," Pir Pagara reportedly said.
Sources further informed The News International that the Muttahida Qaumi Movement-Pakistan (MQM-P) and the Grand Democratic Alliance (GDA) also opened up about their views regarding the Government of Sindh, noting that the PPP had control of each department of the province.
The coalition parties also alleged that the bureaucrats in Sindh were running federal projects as per the wishes of the PPP.
The MQM-P, while expressing reservations regarding the implementation of the Karachi Transformation Plan (KTP), demanded that the promises made to the southern port city be fulfilled, The News International said.
"The MQM-P accused the Sindh government of nepotism with regard to the Ehsaas program and disbursements from the Pakistan Bait-ul-Mal, saying only those the provincial government favoured or knew were being rewarded," the sources said.
This comes amid a tense political situation in Pakistan, with a pro-democracy coalition organised in Punjab, Sindh, and Balochistan in October by the Pakistan Democratic Movement (PDM) which is gathering support amongst the masses.
The campaign to topple Khan's government had brought the tabooed topic of military intervention up for discussion.
https://timesofindia.indiatimes.com/world/pakistan/pakistan-pms-luncheon-becomes-session-for-allies-to-vent-anger-against-govt/articleshow/79074809.cms
--------
Trouble for govt coalition as PML-Q skips lunch with PM
Syed Irfan Raza
06 Nov 2020
ISLAMABAD: Amid the opposition's movement against the government, Prime Minister Imran Khan on Thursday met government allies who piled up complaints before him regarding non-provision of development funds, price hike and keeping them away from decision-making.
The prime minister faced a difficult situation during a lunch he hosted for the government-allied parties, which was not attended by the Pakistan Muslim League-Quaid (PML-Q) whose leader Monis Elahi later in a meaningful tweet said his party's alliance with the ruling Pakistan Tehreek-i-Insaf was "for the vote and not for lunch".
On the other hand, the prime minister assured the leaders of allied parties that all their issues would be resolved soon as he was personally reviewing them.
The opposition under the Pakistan Democratic Movement (PDM) launched a movement last month to topple the government on issues of price hike, "unstable" economic situation and rights of the provinces.
Government's allies pile up complaints about non-provision of development funds, price hike and keeping them away from decision making
The allied parties which attended the luncheon reception included the Muttahida Qaumi Movement (MQM), Grand Democratic Alliance and Jamhoori Watan Party (JWP). They complained about lack of development funds, price hike, missing parsons and not keeping them on board in decision making.
The reception was also attended by leaders of the Balochistan Awami Party, some federal ministers, Punjab Chief Minister Usman Buzdar, Khyber Pakhtunkhwa Chief Minister Mahmood Khan and Balochistan Chief Minister Jam Kamal Khan Alyani.
Housing Minister Tariq Bashir Cheema of the PML-Q, while talking to Dawn, said his party was not taken on board in decision making by the Center.
A source in the PML-Q said the party had also complained that the prime minister usually visited Lahore but never met Punjab Assembly Deputy Speaker Chaudhry Pervez Elahi. "He [prime minister] did not even inquire about the health of ailing PML-Q president Chaudhry Shujaat," the source said.
Mr Cheema said the PML-Q had nothing to show to the people what achievement had so far been made by the government. "It will become quite difficult for us to further go along PTI, if the ruling party does not mend its ways," he added.
MQM leader Aminul Haq said his party chief Khalid Maqbool Siddiqui had expressed disappointment over the government's attitude towards fulfillment of the party's demands. He said his party had raised the issue of missing MQM workers and slow pace of implementation on the Rs1.1 trillion Karachi Transformation Plan.
"Mr Siddiqui said what answer we can give to the families of missing MQM workers. The government has given a mammoth development package to Karachi, but nothing is being seen on ground. It's still dark there and this darkness has been conveyed to the prime minister," Mr Haq added.
Later, in a private TV show, Mr Siddiqui said his party particularly and other government allies did not want to topple the government amid the opposition's movement against the government. "We will not become a part of any move to topple the government," he added.
Federal Minister for Inter-Provincial Coordination Dr Fahmida Mirza raised the issue of lack of development activities in her hometown Badin and central parts of Sindh. She said the federal government institutions and ministers were not serious about addressing the problems of central Sindh.
JWP chief Shahzain Bugti also raised the issue of missing persons in Balochistan, especially those belonging to his party. He said many missing parsons of other parties in Balochistan had been recovered, but no one so far from his party.
The prime minister assured the allies that he would address all the problems mentioned by them. He said the allies would see something practical on the matters. Mr Khan also discussed with the allies the opposition's movement against the government and reiterated that he would not give any NRO-like ordinance to the opposition leaders involved in mega corruption and money laundering.
Talking about the unprecedented inflation in the country, the prime minister said he was personally reviewing the situation and assured them that prices would become stable in the days to come.
Minister for Science and Technology Fawad Chaudhry, while talking to Dawn, said the prime minister was of the view that the government should not initiate those projects which would provide temporary benefits to the allies and the PTI in elections, but those which would give deep effect on the country's economy.
https://www.dawn.com/news/1588881/trouble-for-govt-coalition-as-pml-q-skips-lunch-with-pm
--------
Russian troops arrive for drill with Pakistan military
06 Nov 2020
ISLAMABAD: Russian troops arrived here on Thursday to participate in the joint Russian-Pakistani military exercise codenamed Druzhba (Friend­ship) 5.
"Russian Federation Special Forces' contingent arrived in Pakistan for two weeks long joint exercise Druzhba 5. The exercise is aimed at sharing both armies' experiences in counterterrorism domain," the ISPR said in a statement.
Russian defence ministry, meanwhile, said the exercise was aimed to strengthen military cooperation between the two countries, and it was being held under the framework of international military cooperation.
The two-week-long drills would formally commence on November 8 in Tarbela. Some 70 Russian troops and officers are participating in the exercise that would continue till Nov 21. Almost an equal number of soldiers are participating from Pakistan side.
"During the exercise, the military personnel of the two countries will exchange experience and work out interaction in performing tasks within the framework of training combat operations, in particular, to destroy illegal armed formations," the Russian defence ministry said.
Sky diving and hostage rescue operations will be highlights of the exercise, the ISPR statement said.
These exercises have been regularly held since 2016 alternating between Pakistan and Russia. Pakistan is hosting the drills for the third time. Russia has, meanwhile, held the war games twice.
"This year, due to the epidemiological situation in the world, the stages of the exercise will be held in compliance with all measures to prevent spread of the new coronavirus infection. All Russian military personnel were tested for Covid-19 before leaving for the exercise," the Russian defence ministry said.
https://www.dawn.com/news/1588880/russian-troops-arrive-for-drill-with-pakistan-military
--------
Pakistan emphasises expeditious progress on CPEC projects
06 Nov 2020
ISLAMABAD: Foreign Minister Shah Mehmood Qureshi on Thursday stressed the need for expeditious progress on China-Pakistan Economic Corridor (CPEC) projects.
Talking to the newly-appointed Chinese Ambassador Nong Rong, Mr Qureshi hoped that he would use his experience in trade and infrastructure development to "fast-track CPEC projects and promote industrialisation in Pakistan".
Pakistan and China had launched the second phase of the CPEC in April 2019. Industrialisation was to be the main feature of the second phase. However, the progress in the second phase has been sluggish.
Mr Qureshi, during the meeting, particularly called for speeding up the completion of CPEC projects at Gwadar so that the upcoming port could achieve its potential.
He sought increased cooperation in the agriculture sector and opportunities for Pakistan to export its agricultural products to Chinese market. Agriculture projects were also part of the CPEC-II.
The foreign minister exp­ressed the hope that the upcoming 10th meeting of the Joint Cooperation Com­mittee would be "fruitful and mutually beneficial" and would approve the inclusion of mega projects in the CPEC. He underscored the importance Pakistan atta­ch­ed to the ML-1 project for expansion and reconstruction of the railway tracks.
There have been reports that Chinese have been reluctant to finance ML-1 project because of the low interest rate of the loan being offered by Pakistan. The $6.8 billion project is planned to be executed with the help of 90 per cent Chinese loans.
Pakistan had initially planned to start the ML-1 upgradation project in January 2021, but it looks that its rescheduling is imminent.
The Chinese envoy said that his country would "firmly support timely completion of CPEC" and would strive to make it a high-quality demonstration project of the Belt and Road Initiative.
https://www.dawn.com/news/1588883/pakistan-emphasises-expeditious-progress-on-cpec-projects
--------
North America
Israeli minister warns of war if Biden wins, returns to Iran deal
November 06, 2020
DUBAI: Democractic presidential candidate Joe Biden's position on the Iran deal could lead to a "violent confrontation" between the two countries, local daily The Jerusalem Post reported, citing an Israeli minister.
"Biden has said openly for a long time that he will go back to the nuclear agreement," Settlements Minister Tzachi Hanegbi said.
Hanegbi said most Israelis, including Prime Minister Benjamin Netanyahu, saw the 2015 deal as "mistaken – and that's an understatement."
"If Biden stays with that policy, there will, in the end, be a violent confrontation between Israel and Iran," he said.
But another Israeli minister had a different opinion on a likely Biden victory.
Knesset Foreign Affairs and Defense Committee Chairman Zvi Hauser said he knew Biden's stances during his tenure as US vice president, calling him a "true friend of Israel."
"I assume that even if the Iran Deal is renewed… it will be better than the previous one," he added.
https://www.arabnews.com/node/1759161/middle-east
--------
Arab world
Iraq's Kata'ib Hezbollah Warns Of 'Tougher' War If US Troops Refuse To Leave
05 November 2020
Iraq's anti-terror Kata'ib Hezbollah group, a faction of the country's Popular Mobilization Units (PMU) or Hashd al-Sha'abi, has warned that a "tougher and stronger" confrontation awaits US forces should they defy a timetable set for their withdrawal from the Arab country.
Kata'ib spokesman Muhammad Mohi stressed on Thursday that the conditional ceasefire with foreign soldiers in Iraq should be taken seriously as the limits and conditions set by the resistance will be followed by confrontation.
He also referred to a statement by the Iraqi Resistance Coordination Commission, which warned that the next stage of the resistance will soon happen.
"This stage may be tougher and stronger featuring new types of weapons," Mohi explained.
The Americans may not be able to assess the capabilities of the Iraqi resistance groups, but they should know that those factions have the potential to engage them and thwart their schemes, he added.
The Kata'ib spokesman further urged the Iraqi government to preserve the country's sovereignty and control its land and sky, otherwise it will be accused of collaborating and colluding with the Americans.
Anti-US sentiment has been running high in Iraq following Washington's January 3 assassination of top Iranian anti-terror commander Lieutenant General Qassem Soleimani and senior Hashd al-Sha'abi commander Abu Mahdi al-Muhandis, in addition to several other comrades, outside the Baghdad airport.
Just two days later, Iraqi lawmakers unanimously passed a bill mandating the expulsion of all foreign troops from the country.
Washington, however, has threatened sanctions should US troops be expelled from Iraq instead of ending the occupation of the Arab country.
Last month, members of the Iraqi Resistance Coordination Commission published a statement suggesting that they would halt their military operations against the US troops, including rocket attacks, providing that Washington does not persist in maintaining its presence there.
The resistance groups also agreed on a conditional ceasefire with American forces and stressed that the "conditional opportunity" was created "to respect the good efforts made by some national and political figures to draw up a clear and specific timetable for the implementation of the decision of the Iraqi people, parliament, and government on withdrawal of foreign troops from Iraq."
They, however, threatened to "use all the weapons at their disposal" against American forces if they refuse to pull out from Iraq.
https://www.presstv.com/Detail/2020/11/05/637955/Iraq-Kata-ib-Hezbollah-US-forces
--------
Islamic State resurfaces with attacks in Iraq's Diyala province
Shelly Kittleson
Nov 4, 2020
Another recent uptick in attacks attributed to the Islamic State (IS) in the long-problematic Diyala region northeast of Baghdad near the Iranian border has raised questions about security in the region, while many warn of worsening sectarian tension there and elsewhere.
A Shiite sheikh from the Bani Kaab tribe who was reportedly active in the fight against IS near Khailaniyah in the Muqdadiyah area of Diyala was killed on Oct. 27 along with four of his relatives. The sheikh was said to have been beheaded, while his body was rigged with explosives that then killed those who had come to retrieve him.
Initial reports had stated that a shepherd or buffalo herder had been kidnapped and killed but later it was discovered that the victim was the Bani Kaab tribal sheikh.
First deputy speaker of the Iraqi parliament Hassan Karim al-Kaabi, from the same tribe, issued a statement on the attack, mourning the tribal leader and calling him "one of the great sheikhs who fought terrorism."
IS later posted a photo of the "execution" in which three of its fighters are seen wearing scarves across their faces with guns pointed at the back of the head of a gagged, elderly man on a dusty, tree-flanked dirt road under the bright Iraqi sun.
Coming as it did shortly after eight Sunni youths were killed on Oct. 17, in a nearby province, their bodies found with their hands tied behind their backs, and four others disappeared — an incident that many have said is connected to Shiite Iran-linked armed groups — some see this as an attempt to stoke greater animosity between Iraq's sects.
Though IS clearly claimed responsibility for the attack, some hint more or less explicitly at the possibility of other groups — including both Iran-linked armed groups and Kurdish ones — benefiting from or even having direct involvement in the incident for sectarian or other reasons.
Iraqi forces launched a ground and air operation to clear about a dozen villages in the area on Oct. 31, and on Nov. 2 the Interior Ministry announced that it had arrested two men in connection with the incident.
The spectacular nature of this attack garnered greater attention, but similarly violent incidents — many of which are subsequently claimed by IS — are reported on an almost daily basis in Diyala.
In the last 10 days of October alone, for example, IS reportedly attacked a village with mortars and snipers in the Jalawla subdistrict of the same region and claimed responsibility not only for the killing of the sheikh and his family members, but also for a mortar attack on Sunni tribal Popular Mobilization Units (PMU) in the Sherwan area. IS also claimed responsibility during that time period for the killing of four Iraqi intelligence agents and the wounding of two others near Muqdadiyah; the killing of three "Shiite militants" at a fake checkpoint set up east of Jalawla; the bombing of eight barracks and watchtowers operated by Iraqi SWAT teams in the Waqf area of the province; and a roadside bomb attack on a vehicle carrying Sunni tribal PMU fighters in the al-Wahda village in the outskirts of al-Azim.
There are conflicting reports about the details of several of these incidents. For example, local media stated that the three "Shiite militants" killed at a fake checkpoint were instead civilians and that others had been abducted.
A US military official noted to this reporter earlier this year that, in any case, IS claims of responsibility for attacks in Iraq and the number of people killed by them roughly match the coalition's own findings and information gathered from multiple sources.
In response to questions on international coalition support for anti-IS operations in Diyala during the month of October sent to coalition spokesman Col. Wayne Marotto, Media Relations Officer Cpt. Jose F. Uriarte responded via email on Nov. 1, stating that "the support we provide from the air through intelligence, surveillance and reconnaissance, strike and other capabilities has been a key part of our efforts to enable the Iraqi Security Forces," but that the Strike Summary for October 2020 was not yet available.
In September, however, the coalition "conducted seven strikes against Daesh targets consisting of 16 engagements" in Iraq, resulting in "18 enemies killed, six cache sites destroyed and four tunnels destroyed," he said.
IS and other terrorist and insurgent groups have long exploited the thick orchards and other geographical characteristics of Diyala. For example, the Jordanian-born leader of al-Qaeda in Iraq at that time, Abu Musab al-Zarqawi, was killed in a 2006 airstrike when hiding east of the regional capital, Baqouba.
The surrounding area with Iran across the border to the east, the Hamrin mountains running from the Iranian border to the dividing line between the Salahuddin and Kirkuk regions to the west near Hawija and Garmiyan to the north also suffer from varying levels of instability and/or the presence of non-state actors.
Areas disputed between the central government and the Kurdistan Regional Government (KRG) suffer gaps in security due to disagreements between the two, though some improvement seems to have been made since Prime Minister Mustafa al-Kadhimi was sworn into office on May 7.
Worthy of note is that some of the recent IS members killed by Iraqi security forces and whose names have been announced were Kurdish, as evidenced by their nom de guerre, such as Abu Hassan al-Kurdi, who was killed in late October near Mandali, a town in Diyala on the border with Iran.
Kadhimi chose the Mandali border crossing for the launch of his anti-corruption efforts at border points across the country, which are notorious for the loss of customs revenue and have been accused of being open to various types of trafficking.
Mandali is just south of the Garmiyan, an area in the southeastern part of the Kurdistan Region of Iraq (KRI) administered by the KRG, but in the Diyala region under the central government.
A security official working in the disputed territories that Al-Monitor met in September in Garmiyan but who cannot be named, as he was not authorized to speak to the media noted that the history of the Kurdish jihadist group Ansar al-Islam affects the local area.
He said that, in the early 1990s, "because there were so many extremists inside the Islamic movement, they fought against the (Patriotic Union of Kurdistan) PUK in this area — from Kifri to Sulaimaniyah. Hundreds of Islamists were killed. A few hundred remained and went to the mountains — of course, with the support of the Iranian government. Even if they (Iran) are Shia and the others (Kurdish Islamists) are Sunni. Why? Because (the Kurdistan Democratic Party) KDP and PUK were calling for democracy and, as you know, the Iranian government does not want democracy."
"We have the names" of Kurdish Islamist terrorists still in the Hamrin mountains, he said, noting that as concerns IS, "almost 200 Iraqi Kurds joined."
According to officials at the Interior Ministry, he added, "About 130 were killed and 70 are still around." The security official said they have "no information about what happened to them."
Provocative gestures by Shiite-led armed groups in the area have meanwhile long been blamed for sowing the seeds of more sectarian grievances in the area, especially around the Khanaqin and Jalawla areas.
When this journalist returned to report from Jalawla in early 2015 following its liberation from IS and after she had been on the frontlines with peshmerga forces in their attempts to retake the multiethnic city in September 2014, for example, a green Shiite banner raised atop the minaret of a Sunni mosque was pointed out in anger to her by some natives of the area.
Shiite-led PMU operating in the area have also been accused of preventing Sunni internally displaced persons from returning to their homes in some areas of the province.
Such grievances may be used by IS to foster instability in the area and detract from the brutality of their recent killings.
https://www.al-monitor.com/pulse/originals/2020/11/iraq-diyala-terrorism-isis-sectarianism.html?utm_source=iterable&utm_medium=email&utm_campaign=1689625_
--------
US to sanction Lebanon's Gebran Bassil for Hezbollah ties: Sources
Joseph Haboush and Nadia Bilbassy-Charters
05 November 2020
The United States is set to slap sanctions on the leader of Lebanon's biggest Christian party and ally of Hezbollah, Gebran Bassil, sources familiar with the decision confirmed late Thursday.
"This is big," one source told Al Arabiya English, adding that the decision had been in the works for some time due to Bassil's role in providing political cover for the Iran-backed Hezbollah.
For all the latest headlines, follow our Google News channel online or via the app.
Bassil is Lebanon's former foreign minister and the son-in-law of President Michel Aoun.
The Wall Street Journal first reported that the Trump administration is expected to announce the decision on Friday.
A separate source with knowledge of the matter told Al Arabiya English that a televised announcement would be made early Friday.
This comes as part of Washington's maximum-pressure campaign against Iran and its proxies around the region.
Read more: Lebanese officials hit by US sanctions over corruption, support to Hezbollah
Earlier this year, the US expanded the scope of sanctions on Lebanese officials to include non-Hezbollah members. Ali Hasan Khalil, the former finance minister and top political aide to Speaker Nabih Berri, was sanctioned alongside former Public Works Minister Yousef Fenianos.
Lebanon has been without a government since August after Hassan Diab resigned following the deadly Aug. 4 Port of Beirut explosion.
Lawmakers designated Mustapha Adib, Lebanon's ambassador to Germany, to form a new government. He also stepped down after failing to form the government he wanted - free of influence from the traditional political parties.
Saad Hariri was then nominated on October 22 to try to form a government. Although reports suggested he had made quick progress in his efforts to form a new government, momentum appears to have slowed in recent days.
Bassil and Hezbollah did not name Hariri; however, they have demanded certain representation in the next government.
A State Department Spokesperson told Al Arabiya English that the selection and appointment of a new government was a decision for the Lebanese people to make.
But, the spokesperson added: "As Secretary [of State Mike] Pompeo has repeatedly stated, business as usual is not acceptable."
Asked if the US would work with a new Lebanese government that included Hezbollah, the official skirted the question. "Iranian-backed Hezbollah is a terrorist organization that is more concerned with its own interests and those of its patron Iran, than what is best for the Lebanese people," the official said.
https://english.alarabiya.net/en/News/middle-east/2020/11/06/Lebanon-s-Gebran-Bassil-to-be-sanctioned-by-US-over-Hezbollah-ties-Sources-
--------
Beirut volunteer 'Dream Team' continues to rebuild three months after port explosion
Robert McKelvey
05 November 2020
When Dutch construction worker Jasper Duivenstijn and Portuguese pharmacist Joao Pequeno heard about the devastation caused by the August 4 Beirut Port blast, they hopped on the first plane to Lebanon with nothing but the clothes on their backs and suitcases full of tools, looking to do whatever they could for the city's beleaguered citizens.
Three months on, the repair work being done in the aftermath of the blast, which claimed over 200 lives and left an estimated 300,000 people without homes, is still mounting up.
Duivenstijn and Pequeno work their normal jobs for between 6 to 8 months of the year, and then spend the rest of the year offering their services in disaster zones like Serbia and Croatia. They had originally intended to head to Bosnia but changed plans when they heard about the Beirut blast.
Together, they have been working around the clock – without any payment – for months, battling feverishly against an endless stream of projects and repair works that continue to pour in from desperate families across the city.
"We could see loads of teams cleaning up, but it was still an absolute mess," Duivenstijn told Al Arabiya English. "People were living in half collapsed buildings. I only do paid work to support myself. As soon as I've made enough money, this is what I do."
Their efforts have inspired other specialists – both locally and from abroad – to join them in their cause. Initially, they were working in the streets, directly in front of the damaged buildings. Now, this aptly named and ever-expanding 'Dream Team' has a brand new workshop in Beirut's popular Mar Mikhael district, thanks to an ongoing collaboration with local NGO Kilna Ya3ni Kilna, as well as Lebanese architect Ola Khazaal.
"A common friend introduced me to them, as they could help me in rebuilding the houses," said Khazaal. "I loved how they were so dedicated to helping others. Then we tried to make this group between us, so we can just help more."
Originally founded in December 2019, Kilna Ya3ni Kilna ("All Of Us Means All Of Us" in English) started out as a small-scale initiative to distribute donations amid both public demonstrations against Lebanon's entrenched political elite and a deepening financial crisis that continues to grip the country. The organization's name is a play on the anti-government chant heard in the protests: "All of them means all of them."
"Before the blast, we were helping people with food, medicine and rent money," said Rayan Khatoun, a survivor of the Beirut blast and one of Kilna Ya3ni Kilna's key organizers. "After the blast, it became more urgent, for shelter, so [Khazaal's] receiving funds, and then we're putting in our funds. Three months later and people are still without windows and doors. The guys are basically offering free labor. People are getting all of this for free."
Local support
Acquiring the necessary raw materials was initially challenging, with items like glass and wood being particularly hard to source, especially with only limited funds available. Without a constant supply of cash, the Dream Team has to make the best of what is available to them.
"As an architect, I can get stuff for a reduced price and – as they know that we are doing this for the re-building of Beirut – they also take this into consideration," explained Khazaal.
In the absence of much state-organized help, the massive outpouring of support from the local community has been essential, with local suppliers offering deep discounts to the continuing reconstruction effort. Even the workshop space itself has been offered with a significantly reduced rent fee.
"The people are incredible," remarked Pequeno. "Apart from being really nice, the response that we saw from the locals and whoever's around has been amazing. I never saw anything like it in terms of disaster response. People really know what to do here, which is amazing to see."
The workshop is not simply a matter of convenience, however. With the onset of the winter in Lebanon, torrential rainstorms have already begun to sweep the country, bringing the risk of further destruction to already damaged houses.
"Before, we'd offer a person a basic door straight out of our factory and ask them to paint it themselves, because it's quite time consuming and it requires a lot of space which we didn't have," explained Duivenstijn. "That was fine then. Now, we need this space with a roof over our heads. We need to have it completely painted before we install it."
Despite the urgency of the situation and many offers of paid work, the Dream Team is committed to offering their specialist skills free of charge to the people of Beirut for as long as they are needed. While Duivenstijn and Pequeno do plan to move on eventually, they hope others will continue to provide structural support over a longer period of time.
"We don't want to take jobs from people," said Duivenstijn. "The moment we feel like we're actually taking away work from paid workers here, that's when we'll stop, but as long as there's too much work to be done and a lot of people will not get help because they're on a waiting list, we'll stay."
https://english.alarabiya.net/en/features/2020/11/05/Beirut-explosion-Beirut-volunteer-Dream-Team-continues-to-rebuild-three-months-after-port-explosion
--------
OIC condemns cremation of COVID-19 infected Muslim remains in Sri Lanka
November 06, 2020
JEDDAH: The Independent Permanent Human Rights Commission (IPHRC) of the Organization of Islamic Cooperation (OIC) expressed its deep concerns on Thursday over multiple reports indicating that the Sri Lankan government is cremating all people who die in the COVID-19 pandemic. This effectively bans burials, a practice followed by many religious minorities, including Muslims.
The issue has been raised by many human rights organizations, and the UN Special Rapporteur on Freedom of Religion and Belief urged the government to respect burial rights of its Muslim minority.
The World Health Organization's advice on governmental responses to the COVID-19 pandemic does not prescribe cremation as being in any way recommended. Hence, there is no reasonable justification to enforce cremation as an obligatory measure.
Accordingly, IPHRC urges the Sri Lankan government to fulfill its human rights obligations by respecting the right of its Muslim minority to practice their religion free from any discrimination, including the uncompromised right to honor the dignity of their dead in line with their religious beliefs and obligations.
https://www.arabnews.com/node/1759081/saudi-arabia
--------
Impoverished Syrian refugee sets himself on fire outside UN center in Lebanon
November 05, 2020
BEIRUT: A Syrian refugee in Lebanon on Thursday set himself on fire outside the UN High Commissioner for Refugees' (UNHCR) reception center in Beirut.
Security personnel at the center acted swiftly to smother flames engulfing the man before he was rushed to hospital for emergency treatment.
The incident followed another recent suicide attempt by a Syrian suffering unbearable economic hardship in Lebanon and wanting to leave the country.
Omer Elnaiem, senior strategic communication and advocacy officer for the UN agency in Beirut, told Arab News: "It's a tragic incident. UNHCR is in close contact with the family and medical team at the hospital to follow up on his condition. Efforts are now focused on ensuring he gets all the necessary medical support.
"Syrian refugees are demanding the UNHCR to resettle them and their families in a third country. The number of refugees demanding to return to Syria is small and shrinking, and this is due to the economic situation," he said.
According to latest figures, as of Sept. 30 there were 879,529 Syrian refugees registered with the UNHCR in Lebanon, most of them living in camps scattered around the country. Large numbers of Syrians also work in agriculture, construction, security, and other professions in Lebanon.
The UNHCR said more than 80 percent of Syrian refugees in Lebanon live below the extreme poverty line, up from 55 percent last year.
"By the end of 2019, the UNHCR had submitted the files of 84,000 Syrian refugees for resettlement from Lebanon, and 59,500 refugees have left.
"The countries that receive refugees to be resettled do not reveal the numbers they receive. And the spread of the coronavirus disease (COVID-19) has paralyzed, at a global level, the process of searching for a third country and having countries receive any refugees," Elnaiem added.
Of the 1.4 million refugees that the UNHCR has estimated were in urgent need of resettlement around the world, only 63,696 got the chance through the agency last year.
Elnaiem said: "We understand the pain of the Syrian refugees as we understand the situation of the Lebanese hosting these refugees. We monitor how the economic crisis reflects on the situation of the Syrian refugees, and we are trying to increase financial assistance to them."
Abu Ahmed Saiba, head of the Syrian Refugee Voice in Lebanon committee, told Arab News that needs now exceeded all the assistance provided.
He said: "A Syrian in his 60s attempted a few weeks ago to hang himself in the border town of Arsal due to the stress he was suffering. He could not bear the humiliation he was subjected to by the aid providers after he became unemployed due to the economic situation in Lebanon."
He added: "With the return of winter, the rain flooded the refugees' tents again, and tens of families spent the night on Wednesday in the open because the water swept away their tents. Eighty tents have been destroyed."
Arsal, situated about 124 km northeast of Beirut, houses 150 Syrian refugee camps filled mostly by people who fled fighting in the western Syrian city of Al-Qusayr and its surrounding area.
Saiba called for urgent action from the UNHCR, the International Committee of the Red Cross (ICRC), and other global aid organizations to help avert the humanitarian crisis, exacerbated by the COVID-19 outbreak.
"There is an acute shortage of all that is required — shades, wood, mattresses, blankets, cleaning materials, disinfectants, and relief materials.
"Humanitarian aid, according to the funding available to the UNHCR, reaches 31 percent of the total number of Syrian refugee families. This includes monthly multi-purpose cash and food support. An additional 17 percent of the families receive food aid only."
Elnaiem said: "With the onset of winter, refugees are suffering greatly as they are unable to secure their basic needs. Winter is their biggest challenge, especially for those who live in mountainous areas.
"The UNHCR is preparing to launch its winter campaign to secure winter clothes, blankets, food, and cash assistance to help refugees during the harsh winter season."
He added that UNHCR aid had not diminished despite Lebanon's economic crisis and the pandemic.
A recent Access Center for Human Rights research paper highlighted difficulties being faced by local civil society organizations.
https://www.arabnews.com/node/1758911/middle-east
--------
Africa
Elite European anti-jihadist force takes first steps in Sahel
05/11/2020
Inside a military base in northern Mali, a concrete bollard emblazoned with French, Estonian and Swedish flags marks a zone reserved for a new anti-jihadist unit of elite European troops.
Dubbed Task Force Takuba, the new joint deployment marks a coup for France, which has sought partners in its long fight against Islamist militants in Africa's vast Sahel region.
French troops first deployed to Mali in 2013 after a jihadist insurgency broke out in the country the previous year.
But despite their presence, jihadist violence has spread to neighbouring Burkina Faso and Niger.
Thousands of soldiers and civilians have been killed in the conflict, and hundreds of thousands more have had to flee their homes.
Anger at the seemingly endless insurgency in Mali also fuelled protests against president Ibrahim Boubacar Keita, culminating in his ouster in a military coup on August 18.
At the base in the city of Gao, about a dozen French and Estonian soldiers from Takuba sit under an awning, surrounded by storage containers and light military vehicles.
They discuss their first mission: A sweep operation conducted in the lawless Mali-Burkina Faso border region last month, alongside local troops and French regulars.
Takuba troops are tasked with supporting elite Malian soldiers, who use motorbikes and pick-up trucks to zip into territory lost to jihadists at high speed.
"Malian armed forces arrived alone in the villages, so that the population could see them," said the commander of the Franco-Estonian unit, who gave his name as Aurelien, while the Europeans worked "discreetly".
Despite their different backgrounds, the polyglot force had little trouble working together.
"For our unit, it's the first time we work with the French," said an Estonian soldier. "So far there is no problem of interoperability".
Belgium, the Czech Republic, Denmark, Estonia, Germany, the Netherlands, Norway, Portugal, Sweden and the United Kingdom all made a political commitment to send special forces to Mali in March. French special forces will also participate.
But Takuba is still in its initial stages, and it is not yet clear when the different countries will deploy their troops -- with many countries requiring prior parliamentary approval.
- 'Other Europeans will join us' -
France currently has 5,100 soldiers spread across the Sahel as part of its Operation Barkhane -- and has lost some 45 soldiers since first intervening in Mali in 2013.
At a French forward base in Menaka, a town about an hour's drive east from Gao, engineers are preparing for the arrival of more European special-forces units.
A French commander who gave his name as Cedric said he expected Czech counterparts to arrive soon. The Czech parliament approved their deployment last month.
A successful beginning for Takuba is considered crucial to its longterm success.
And for France, which is hoping to eventually drawn down its own military commitment in the region, the stakes are high.
A 150-strong Swedish unit is also scheduled to deploy early next year, along with three Blackhawk helicopters.
This unit -- unlike other European contingents in Takuba -- will carry out rapid-response missions instead of shadowing local troops.
Italy too has authorised the deployment of up to 200 soldiers, but it is not yet clear when they will arrive.
"We hope that other Europeans will join us," said Commander Aurelien, pointing to the need for extra support in securing the lawless border region in Mali and Burkina Faso.
https://www.france24.com/en/live-news/20201105-elite-european-anti-jihadist-force-takes-first-steps-in-sahel?utm_source=iterable&utm_medium=email&utm_campaign=1689625_
--------
Sudanese workers in UAE deceived into fighting alongside Libyan rebels, HRW warns
06 November 2020
Human Rights Watch (HRW) says hundreds of Sudanese men reportedly recruited by an Emirati security firm as guards in the United Arab Emirates (UAE) have been tricked into fighting in Libya for renegade military commander General Khalifa Haftar.
The New York-based organization announced in a report that Black Shield Security Services hired more than 390 Sudanese men, who thought they were coming to work as security guards in the wealthy Persian Gulf country.
They expected to be posted in malls, hospitals, hotels, or at the entrance of embassies or government buildings.
Upon arrival at Abu Dhabi International Airport, a group of more than 40 Sudanese men were met by two Emirati men, who introduced themselves as representatives of Black Shield Security Services, according to Human Rights Watch.
The company representatives immediately confiscated the men' passports – a pervasive practice in the UAE despite official prohibition since 2002. The men then boarded buses and were taken to a compound in the city of Ghiyathi, situated about 300 kilometers (186 miles) to the east.
Over the next few weeks, more Sudanese men arrived at the military compound, but company representatives were nowhere to be seen. Instead, members of the Emirati Armed Forces gave them military uniforms, confiscated their phones and told them they would undergo security training for at least eight weeks, HRW pointed out.
"They taught us [military] field skills, battle drills, the army crawl, and many other things that had nothing to do with a security guard job," one of the men, identified only by the given name Amer, said.
He added, "We trained to use all types of weaponry, the Kalashnikov, machine guns, RPGs, and mortars. We were taught how to disassemble and assemble the weaponry, how to use hand grenades, and how to shoot at targets."
Amer and the other men were later transported to, and housed in a dilapidated military compound in the eastern oil-rich Libyan town of Ras Lanuf. The Sudanese men lived in the compound alongside Libyan fighters aligned with Haftar's self-styled Libyan National Army (LNA). They were told they would guard the surrounding oil facilities.
Finally, after one of the Sudanese men in Libya managed to tell his family back in Khartoum about the situation, some of the men's families protested at the UAE embassy in the Sudanese capital and demanded their relatives be immediately returned to Sudan.
Days later, they protested again in front of the Sudanese Ministry for Foreign Affairs, and Sudanese activists amplified their calls on social media.
Arriving back in the UAE, the Sudanese men who refused to work without being informed of their work location were moved out of the Ghiyathi compound to another nearby compound, where they were housed in trailers in detention-like conditions without their phones for one week.
Once all Sudanese employees of Black Shield were reunited at a migrant workers' accommodation in the Emirati city of Bani Yas, the men said they wanted to go back to Sudan immediately.
The Sudanese men have assembled a team of local volunteer lawyers, headed by Suleiman Jiddi since returning home, and have taken legal actions against local companies that contributed to tricking Sudanese men into recruitment by Black Shield Security Services and fighting in Libya.
The UAE has routinely and systematically violated a 2011 UN Security Council arms embargo on Libya, according to UN experts' reports. It reportedly supplies weapons and ammunition to General Hiftar's loyalists, operates armed drones in support of LNA forces and has an operating base in eastern Libya.
Libya first plunged into chaos in 2011, when a popular uprising backed by a NATO intervention led to the ouster of long-time leader Muammar Gaddafi.
Two rival seats of power have emerged in the country since 2014, namely the internationally-recognized government run by Prime Minister Fayez al-Sarraj, and the parliament based in the eastern city of Tobruk, supported militarily by Haftar's rebels.
The Libyan rebels are supported by the UAE, Egypt, and Jordan. They launched an unsuccessful military offensive to seize the capital, Tripoli, and unseat the government in April 2019.
The Libyan military has undone many of the rebels' gains.
https://www.presstv.com/Detail/2020/11/06/638016/Sudanese-workers-in-UAE-deceived-into-fighting-alongside-Libyan-rebels-HRW-warns
--------
Libyan parliamentarians meet for peace talks in Morocco
November 05, 2020
RABAT: Libyan politicians from the war-ravaged North African nation's rival administrations met for the latest round of peace talks in Morocco on Thursday.
The lawmakers met in the coastal town of Bouznika, south of Morocco's capital Rabat, for talks that come ahead of a major meeting in Tunisia slated for November 9.
The talks follow a "permanent" UN-backed cease-fire agreement signed in Switzerland last month, intended to pave the way toward a political solution to the country's grinding conflict.
Libya, with Africa's largest proven crude oil reserves, has been wracked by conflict for nearly a decade, since the overthrow and killing of dictator Muammar Qaddafi in a NATO-backed uprising in 2011.
It has since been dominated by armed groups and divided between two administrations that have been bitterly-opposed: the Government of National Accord (GNA) in the capital Tripoli, and a rival administration in the east backed by military strongman Khalifa Haftar.
Warring factions returned to the negotiating table in September in UN-supported talks, with negotiations being held in Morocco, Egypt and Switzerland.
Details of the agenda of the talks in Morocco have not been released.
Negotiators are pushing parallel efforts to broker peace, with the military section of talks taking place this week for the first time on Libyan soil.
On Tuesday, former enemy officers sat together in a joint military commission and agreed on a road map for implementing the cease-fire deal.
https://www.arabnews.com/node/1759006/middle-east
--------
At least 40 fleeing extremist violence drown in Mozambique
By Tom Bowker
November 4, 2020
MAPUTO, Mozambique — At least 40 people fleeing extremist violence in northern Mozambique drowned when their boat sank, according to officials and reports in local media.
The boat had set off from Palma, a coastal town near the Tanzanian border, and picked up the majority of its 74 passengers near Namandingo, according to the Mozambican news services, Mediafax and Zitamar News.
The boat hit rocks and sank near Ibo island, said the reports.
At least 32 people were saved, but about 40 people drowned, according to the Portuguese news agency, Lusa. The boat was overloaded as it ordinarily carries about 30 people, reported Lusa.
The drownings occurred as thousands of people are fleeing the extremist violence in the northern part of Cabo Delgado province, many of them taking boats to get to safety.
More than 12,000 refugees arrived on 250 boats that came to Pemba, Cabo Delgado's provincial capital, in the last two weeks of October, reported Mediafax, citing a local government document which said more than half of the arrivals were children.
More than 400,000 people have fled their homes in northern Mozambique because of the conflict with the extremists, Doctors Without Borders said this week. The NGO said that around 100,000 internally displaced people have sought refuge in and around Pemba and "lack clean drinking water and are exposed to malaria with barely any protection, while they remain in unsanitary, crowded conditions, increasing the risk of an outbreak of measles, diarrhea or COVID-19."
The medical charity said it requires urgent support from the Mozambican government to be able to meet the basic needs of the displaced people.
"If no immediate action is taken, this situation will rapidly deteriorate," Alain Kassa, the Mozambique country director of Doctors Without Borders. He called upon the "Mozambican authorities for support to mobilize additional humanitarian staff and supplies without delay."
The organization suspended its operations in the Cabo Delgado towns of Mocimboa da Praia and Macomia earlier this year due to insurgent attacks and shifted operations to Pemba and Metuge where it set up camps for the displaced.
https://www.washingtonpost.com/world/africa/at-least-40-fleeing-extremist-violence-drown-in-mozambique/2020/11/04/403e1de2-1eb7-11eb-ad53-4c1fda49907d_story.html?utm_source=iterable&utm_medium=email&utm_campaign=1689625_
--------
Somalia: SNA Kills 11 Al-Shabaab Militants in Southern Somalia
3 NOVEMBER 2020
At least eleven Alshabab fighters including senior commander have been killed in an operation conducted by the Somali National Army in Lower Shabelle region in southern Somalia.
A statement from the army radio quoting senior military officials noted that the troops killed the senior commander alongside his ten bodyguards.
The senior Alshabab commander was identified as Muad Dhere and was in charge of Jubba regions.
"The special forces killed the senior Alshabab commander in charge of Jubba regions in the operation," read part of the statement published on the army radio.
Al-Qaida affiliated group al-Shabab did not comment on the latest incident.
Alshabab remains a major impedance to Somalia's quest for peace and stability despite concerted effort to vanquish the team
https://allafrica.com/stories/202011040163.html?utm_source=iterable&utm_medium=email&utm_campaign=1689625_
--------
Gunmen Kill 8 in Central Mali Attack
NOVEMBER 4, 2020
Gunmen have killed eight people in central Mali, a local official and security ministry staffer said Wednesday, in the latest violence to hit the war-torn Sahel state.
Militants attacked a minibus Tuesday, the officials said, which was traveling between the towns of Bandiagara and Bankass in central Mali's volatile Mopti region, which is prone to frequent jihadist attacks and ethnic killings.
"Armed men opened fire on the minibus," a local government official told AFP, adding that eight people died, four escaped and eight were seriously wounded, three of them children.
An official from Mali's security ministry, who also requested anonymity, confirmed the details of the attack and the death toll.
The local government official, and a survivor interviewed by AFP, both blamed the attack on jihadists.
Mali has been struggling to contain a jihadist insurgency that emerged in the north in 2012 and prompted a military intervention by France.
The extremists were routed in the French operation but regrouped. Today large stretches of the landlocked African state remain outside of government control.
Fighting, which has sometimes taken on an ethnic dimension, has since spread to the center of the country and neighboring Burkina Faso and Niger.
Thousands of soldiers and civilians have been killed, and hundreds of thousands have had to flee their homes.
Tuesday's attack occurred near the border with Burkina Faso, a region where militants also killed 12 Malian soldiers in a raid in mid-October.
Anger at the conflict fuelled protests against president Ibrahim Boubacar Keita, culminating in his ouster in a military coup on August 18.
https://www.thedefensepost.com/2020/11/04/gunmen-kill-8-central-mali/?utm_source=iterable&utm_medium=email&utm_campaign=1689625_
--------
URL: https://www.newageislam.com/islamic-world-news/imam-up-mosque-removed-post/d/123394
New Age Islam, Islam Online, Islamic Website, African Muslim News, Arab World News, South Asia News, Indian Muslim News, World Muslim News, Women in Islam, Islamic Feminism, Arab Women, Women In Arab, Islamophobia in America, Muslim Women in West, Islam Women and Feminism