New Age Islam News Bureau
5 Jun 2017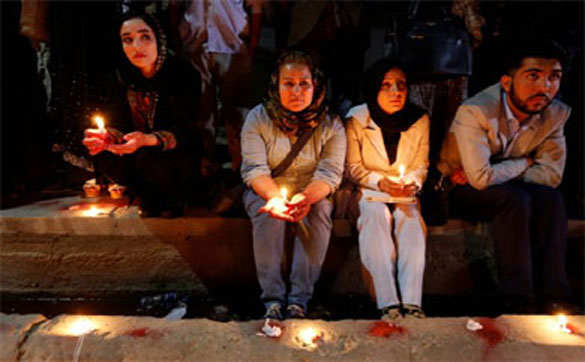 People hold candles for the victims of Wednesday's blast in Kabul. | REUTERS
----
• Iftaar Steadily Assuming a Secular Character in India
• Candle Light Vigil for Kabul Blasts' Victims
• Zakir Naik Accuses India's Hindu Leaders of Hypocrisy
• Houthi Militias Ban Yemenis from Performing Ramadan Tarawih Prayers
• Muslims and Jews Shared Iftar in New York
India
• Iftaar Steadily Assuming a Secular Character in India
• Pakistan-Backed Terror Module Busted In Punjab, 3 Arrested
• Four terrorists killed after they attacked CRPF camp in J&K's Bandipora district
• Army convoy attacked in Valley, two soldiers killed
• Government takes serious note of phone tapping of prominent Muslims during UPA rule
• NIA conducts fresh raids in Kashmir, seizes foreign currency
• Army rejects Pak military video of attacks on Indian posts
--------
South Asia
• Candle Light Vigil for Kabul Blasts' Victims
• ISIS Leaders among 22 Killed In Airstrikes, Ground Operations in East of Afghanistan
• • Remaining suicide bomber, 12 terrorists arrested after Kabul funeral bombing
• Taliban's shadow deputy governor and 10 militants killed in Kapisa
• Afghan intelligence release new findings about Kabul funeral bombing
• Afghan govt's call for talks rejected as Jamiat-e-Islami called emergency meeting
• Fear penetrates Kabul after deadly cycle of violence
--------
Southeast Asia
• Zakir Naik Accuses India's Hindu Leaders of Hypocrisy
• Malaysia, Other SE Asian Countries Push Aside Trump Doubts to Combat Terror Threat
• Fresh battle ends bid to free civilians in war-torn Philippine city
• Transgender activist hits back at 'outrageous' stand of Muslim NGO
• PM stresses need to win ideological warfare against terrorism
• PAS urges ban on 'Zionist Christian' assembly in Melaka
• Police anti-terrorism unit to be expanded into division
• Philippines' Duterte Says Islamic State Not Behind Casino Attack
--------
Mideast
• Houthi Militias Ban Yemenis from Performing Ramadan Tarawih Prayers
• Yemen's Ansarullah Slams World's Inaction against Saudi War
• Eight PKK militants killed in eastern Turkey
• Security forces kill eight PKK militants in eastern Turkey
• Some Palestinian ex-prisoners in Gaza say their salaries withheld
• Western terror policies have 'backfired': Khamenei
• Leader: Islamic Revolution gave identity, independence to Iran
--------
North America
• Muslims and Jews Shared Iftar in New York
• U.S. Schools 'Bowing' To Islam during Ramadan
• London Bridge Attack Sees Muslim Community Leaders Condemn Rampage That Claimed Seven Lives
• Donald Trump slams London mayor Sadiq Khan, uses attacks to promote Muslim travel ban
--------
Europe
• After London Terror, Time For 'Difficult Conversations' With Saudi, Corbyn Says
• London Attacks Herald Guerrilla Terror Tactics
• Italy bomb scare sparks stampede, injures 1,500
• UK's Rudd says London attackers probably 'radical Islamist terrorists'
• ISIS claims responsibility for deadly attack on London
• Police make 12 arrests in connection with London attack
• Theresa May says 'enough is enough' after seven killed in London Bridge attack
--------
Arab World
• Bahrain, Saudi Arabia, Egypt, UAE Cut Ties with Qatar; Say It Supports 'Terrorism'
• ISIS Massacres Civilians While Preventing Them from Fleeing Mosul
• Syrian Soldiers Expel ISIL from Aleppo; Maskana Freed
• Dara'a: Syrian Army Kills Tens of Al-Nusra Terrorists, 3 Commanders
• Syrian Special Forces Repel ISIL's Massive Attack in Homs Province
• Homs: Syrian Army Fends Off ISIL's Powerful Attacks on Key Oil Fields West of Palmyra
• Syrian Forces Advancing Against US-Backed Militants Regardless of Washington Threats
• Syrian Air, Ground Forces Hit ISIL Hard to Lift Siege of Deir Ezzur
• Iraqi paramilitaries take Baaj town west of Mosul from ISIS
• Saudi Arabia to 'provide all facilities for Qatari pilgrims'
• Organization of Islamic Cooperation condemns attack on London Bridge
• Syrian army troops liberate Aleppo town from Daesh clutches
--------
Pakistan
• Christian Sanitary Worker Dies As Muslim Doctors Deny Treatment on Touching In Fasting
• Arab Countries Think Pakistan Is Their Security Guard
• Pakistani troops kill 12 militants southwestern Balochistan province
• Pakistan urged to exit Saudi-led military alliance; anti-Iran stance harmful for Islamabad
• Malik asks Sharif to mediate between Saudi Arabia, Iran
• Shia Hazara siblings gunned down in Quetta
--------
Africa
• 11 Killed As Two Bombers Attack Refugee Camp in Cameroon
• Muslim Lawyers Urged To Educate Muslims on Rights
• How did a former Egyptian officer come to head an extremist group in Libya?
• Libya's army claims control over Al-Jufra central region
• Tunisia PM warns anti-corruption fight is firm
• Sudanese FM visits Cairo for talks meant to defuse bilateral tensions
Compiled by New Age Islam News Bureau
URL: https://www.newageislam.com/islamic-world-news/iftaar-steadily-assuming-secular-character/d/111419
--------
Iftaar Steadily Assuming a Secular Character in India
Jun 5, 2017
Nagpur: Iftaar, the evening meal when Muslims end their daily Ramadan fast at sunset, is not only much-awaited by Muslims but also by non-muslims, who like to indulge in non-vegetarian delicacies made to celebrate the pious month.
The rising temperature is affecting the appetites for many. "Ramzan keeps getting shifted to ten days early every year. So, temperatures are going to be a concern for at least next six or seven years. As the summer is still on, I've been making dishes with much less masala. We have chicken and mutton samosa, methi bhajiya, kanda bhajiya, biryani and halwa, which are common every year. This time, I am also in the process of introducing chicken chilly," says Mohammed Sadiq, who runs a food stall in Jaffer Nagar. Guddu, as he is commonly known as, doesn't take any orders for iftaar since his regular customers are his priority. "I do not want to tamper with the quality," he says.
During this month, Guddu sells over 400 samosas and 100 kebabs in merely three hours in the evening. He echoes a common sentiment among Nagpurians when he says that he is waiting for the rains to embrace the skies.
Using the festival, in order to promote peace and harmony between those of Hindu and Muslim faiths, Jamaat-e-Islami Hind, Nagpur is organizing an iftaar exclusively for non-muslim men at the markaz in Zingabai Takli, Sneh Nagar, at 6pm on June 18. On June 19, iftaar will be held the same way for only women at Shiv Nagar. Here, pure vegetarian food will be served. "The idea is to promote interaction between Muslims and non-Muslims. Through such events, we come in contact of poor Hindu widows, students and others who need our help. Many of us Muslims are also vegetarians," says member and professor Ayub Khan.
Conversely, ex-president of District Bar Association, Sudeep Jaiswal had organized an iftaar for all the Muslim lawyers, staff and judges at the masjid in the district court premises. "I'm a pure vegetarian, but my iftaar, organized solely on my expenses, has traditional non-vegetarian dishes. I've been doing it for over 10 years now and it gives me immense satisfaction. All religions are equal to me," he says.
Masjids remain a major source for iftaar for many Muslims who don't wish to do it separately or cannot afford. "The concept behind fasting in Ramzan is to bring people of all classes at one level and make them realize what starving is," says Khan, adding that generous donations are made to the masjids during this time around.
"Bohras start their iftaar at 8pm after finishing the 7pm namaz. In between sunset prayers, we give devotees a glass of milk. We cater to a population of nearly 1350 people for whom iftaar is prepared at the masjid," says Hatimbhai Dhamangaonwala, secretary of Shanti Nagar masjid. Elders are taken care of in the masjid, and there is also provision of rotis for the diabetics who are forbidden rice, he says.
http://timesofindia.indiatimes.com/city/nagpur/iftaar-steadily-assuming-a-secular-character/articleshow/58991105.cms
--------
Candle light vigil for Kabul blasts' victims
June 05, 2017
PESHAWAR - To condemn the killings of innocent people in back to back blasts in Kabul, dozens of activists of civil society staged a protest demonstration here late on Saturday night.
Chanting slogans against the acts of terrorism and blasts in Kabul, they protested in front of Peshawar Press Club to show solidarity with those who lost their near and dear ones in recent explosions in Afghanistan.
Holding banners and placards inscribed with different slogans, the protesting participants led by Dr Said Alam Mehsud, chief of Olasi Tehreek, said that Pakhtuns were being killed on both sides of the Pak-Afghan border.
Students, lawyers, civil society members, activists from various organisations and workers of Awami National Party (ANP) and other political parties while protesting called for dismantling all terrorist networks in Pakistan and action against Punjabi Taliban. Besides, women activists, some members from minorities also participated in the rally.
Speaking to the protesters, Dr Said Alam said that Pakhtuns' genocide had been on since long, which he condemned in strong words and asked Islamabad and Kabul to raise a joint voice against terrorism worldwide.
Calling the recent expulsions in Kabul the worst kind acts of terrorism in Afghanistan, he said that militancy would continue until indiscriminate actions is taken against all kind of militants. To defeat terrorism, Pakistan and Afghanistan should sit together to point out the elements weakening both the countries by carrying out acts of terrorism, he said, adding that "Today we are here and protesting the killing of over 90 people in a single explosion in Kabul, a horrific blast in the recent past in Afghanistan".
The protesting members of the civil society called for stern action against terrorists. They said that at this critical juncture, they are with the victim families.
Later, they lit candles outside Peshawar Press club in memories of Kabul blasts victims.
http://nation.com.pk/national/05-Jun-2017/candle-light-vigil-for-kabul-blasts-victims
--------
Zakir Naik Accuses India's Hindu Leaders Of Hypocrisy
June 5, 2017
PETALING JAYA: Islamic preacher Zakir Naik says India must look at the extremism of some Hindu leaders in the country first before accusing him of the same.
The founder of the Islamic Research Foundation (IRF) said in an interview recently that even Indian Prime Minister Narendra Modi was not too long ago barred from entering certain countries.
"About 15 years ago when he (Modi) was the chief minister of Gujarat state, there were many NGO reports that he was responsible for the killing of 2,000 Muslims within the state.
"There were reports filed against him in several parts of the world and he was barred entry from the United States, the United Kingdom and many other countries for several reasons.
"However, three years ago, when he won the elections, he became prime minister and all these sanctions were removed," Naik told KTV Al Majlis, a TV channel run by Kuwait's state-owned Kuwait Television (KTV), in an interview on May 26.
He lamented how just by being India's PM, all the sanctions against Modi were lifted and Modi has since visited many countries, including Muslim nations, building ties.
Accusing Modi's Bharatiya Janata Party (BJP) of being against Muslims, Naik said he was expecting some backlash since Modi came to power.
"He (Modi) was waiting for some excuse to stop my activities," Naik said, alleging that Indian authorities used the fact that one out of the six terrorists in an attack in Dhaka, Bangladesh last year had been a fan of his on Facebook, to come after him.
When asked how many Facebook fans he had, Naik answered: "About 16.6 million".
In June last year, Bangladesh banned Naik's channel Peace TV following allegations that it had incited terrorism.
Naik also referred to the selection of known Hindu nationalist, Yogi Adityanath as the chief minister of Uttar Pradesh as further proof of his accusation of state oppression against Muslims.
"The state of democracy in India is such that the one who asked to dig graves of Muslim women and rape the corpses has now become the chief minister of the largest state," he told KTV Al Majlis.
In his defence, Naik said that he was not involved in any act of planning or inciting terrorism through his videos.
"My videos have been online for the last 10 to 15 years. So, why did the government only look into the matter now?
"Many times, the Indian government had even invited me to give a lecture on religion in the National Academy of Hyderabad," he said.
He also repeated a sentiment he expressed at a press conference in Kuala Lumpur in April, where he claimed that the Indian police would torture him if he returned home.
"I told (the authorities) I am ready to give the interview on Skype, phone or video conferencing. If I go there, they will torture me. So why should I go there?" he said at a press conference following an event titled "Convergence of 150 intellectuals with Dr Zakir Naik: Countering Islamophobia" at the Universiti Malaya Alumni Clubhouse on April 16.
In March this year, India's National Investigation Agency issued a notice for Naik to return to the country for questioning. He failed to do so.
The authorities there have also filed a money-laundering case against Naik, while his Mumbai-based IRF has been accused of inciting Muslims and promoting enmity between different communities.
Naik has insisted he has not broken any law under the Indian constitution, as "any one is allowed to preach and propagate the ideas of a religion" in the country.
Naik has been in the spotlight since last year, when he came to Malaysia to give talks in various states and events.
On April 18 this year, Malaysia's Deputy Prime Minister Ahmad Zahid Hamidi revealed that Naik had been given permanent residency status in the country more than five years ago.
More recently, the Middle East Monitor reported that Naik, 51, had been given citizenship by Saudi Arabia.
http://www.freemalaysiatoday.com/category/nation/2017/06/05/zakir-naik-accuses-indias-hindu-leaders-of-hypocrisy/
--------
Houthi Militias Ban Yemenis from Performing Ramadan Tarawih Prayers
5 June 2017
Video footage have shown Houthi militias preventing Yemenis from performing Tarawih Ramadan prayers from several mosques across the capital Sanaa in recent days.
Mosque imams were told to sign pledges not to perform Tarawih, performed after evening prayers during the holy month of Ramadan, according to strict instructions that have been distributed by the Ministry of Endowments, currently under Houthi control which they control.
One video showed defiant Yemenis performing Tarawih in one of the mosques in Sanaa and were stopped and expelled on direct instructions of the militia leader Abdulmalik al-Houthi.
Issa al-Athri, a close associate of ousted former president Ali Abdullah Saleh, published a video confirming the prevention of Tarawih prayers in all mosques with the exception of al-Saleh Mosque located in al-Sabeen square.
"The oppressed Sanaa! This we have a mosque without worshipers! The Houthis do not care about anyone who attends or otherwise! The most important thing is to prevent Tarawih prayers," Former Minister of Culture Khaled Al-Ruwishan said as he posted a picture on Facebook commenting on the Houthi decision to ban Ramadan prayers in the capital.
https://english.alarabiya.net/en/News/gulf/2017/06/05/VIDEO-Houthi-militias-ban-Yemenis-from-performing-Ramadan-Tarawih-prayers.html
--------
Muslims And Jews Shared Iftar In New York
June 4, 2017
At Iftar time, Muslims gathered in the 5th Avenue near Trump Tower in New York to protest the Islamophobic policies and rhetoric of the Trump administration on Friday 02. Linda Sarsour, Palestinian-American civil rights militant, was behind the initiative that was launched on Twitter, and sought to bring Muslims together for Iftar at the mentioned location.
Jewish Americans and members of the Jews for Racial & Economic Justice association also joined the protestors and made a circle around the Muslims while they made their Maghrib prayer, in order to protect them.
The event was also in collaboration with New York State Immigrant Action Fund (NYSIAF) and another grassroots of Muslim Americans promoting justice in the US called MPower Change.
Videos and photos of this gathering have gone viral on social media, especially on Twitter, where the hashtag#IftarInTheStreets was used heavily by hundreds of people who appreciated the initiatives.
A video shows Muslims making their prayer in one corner of the avenue, whereas the Jewish militant are forming a circle around them. Another video that was published by Carlene Pinto, a militant in Jews for Racial & Economic Justice association shows the members of the same association feeding the Muslims who had just broken the fast.
The positive Tweets under the hashtag #IftarInTheStreets all celebrated the events and thanked the participants. One Person said: "This is what America was built on. Uplifted to see Jews and Muslims interacting in this way.
Jews for Racial & Economic Justice association said on their Twitter account: "Thank you to who came out tonight. It was an honor to stand with our Muslim family as they observed Iftar tonight."
https://www.moroccoworldnews.com/2017/06/218690/muslim-jews-shared-iftar-new-york/
--------
India
Pakistan-backed terror module busted in Punjab, 3 arrested
Jun 4, 2017
CHANDIGARH: The Punjab Police on Saturday claimed to have busted a terror module having direct links with Pakistan's ISI-backed banned terror outfit, International Sikh Youth Federation (ISYF) with arrest of three terrorists.
Police claimed that the arrested terrorists, Gurdial Singh, Jagroop Singh and Satwinder Singh, had been trained and tasked by the ISI to carry out terror attacks and target various 'anti-panthic and anti-Sikh forces/individuals' by Pakistan-based ISYF chief Lakhbir Rode, and Harmeet Singh alias Happy alias PHD.
Preliminary investigations by the Punjab Police have also revealed that a part of the consignment of arms and ammunition, seized by the BSF on May 21 this year close to the international border in Amritsar, was supplied by ISYF. Two terrorists, Maan Singh and Sher Singh, had been arrested by the BSF last month, while they were attempting to pick up the said consignment.
According to a spokesperson of the Punjab Police, while Gurdial hails from Hoshiarpur district, both Jagroop and Satiwinder are residents of Shaheed Bhagat Singh Nagar district. A .32 bore pistol, with one magazine and 10 cartridges and a .38 bore revolver, with 7 cartridges, was recovered from the suspects.
While Gurdial and Jagroop were arrested from their native homes, Satwinder was apprehended at a police checkpoint close to his village in Pojewal Police station in Balachaur sub-division.
The spokesperson said Gurdial Singh was the chief operative of this terror module and was introduced to Lakhbir Singh Rode, who is staying in a safe house in Lahore cantonment, by Germany based Balvir Singh Sandhu. Gurdial had met Rode several times during his visits to Pakistan, as part of religious jathas, in the last 6-7 years.
During his last visit of Pakistan in November 2016, Gurdial Singh had arranged a visa for Jagroop Singh and he had travelled to Lahore with a Jatha. During interrogation, the duo revealed that during his stay in Lahore (November 12-21, 2016), Jagroop met Rode and Harmeet through Balvir.
Jagroop confessed that he was taken to the ISYF chief blindfolded at an undisclosed location and imparted a four-day training course by the ISI in handing AK-47 rifle and smaller weapons. He was also trained in techniques of sabotaging railway tracks by loosening the securing/fastening mechanisms of fish-plates, nuts and bolts.
The spokesperson said that both Gurdial and Jagroop were tasked to carry out terrorist attacks in India and also motivated to target various 'anti-panthic and anti-Sikh forces/individuals'. Lakhbir Rode and his associates had promised to provide them arms and ammunition across the border in India.
The interrogation of the suspects has also revealed that during his visits to Pakistan, Gurdial was in regular touch with Balvir, who originally hails from village Paddi Surat Singh, PS Mahilpur in Hoshiarpur. Gurdial had also been in touch with some militant groups in J&K.
The spokesperson said that Satwinder was also an active member of this 'action group' and, along with Jagroop, he was directly in touch with his mentors in Pakistan and Germany. Both Gurdial and Balvir have terrorist backgrounds, with criminal cases registered against them in 1992 and 1988. A Thompson gun had been recovered from Gurdial in 1992.
The spokesperson said that the terrorists were nabbed after a meticulous intelligence-led operation of Shaheed Bhagat Singh Nagar District police. They have been booked u/s 121,121A, 120B of the IPC, Sec 25,54 and 59 of the Arms Act and Sec 15, 16, 17 and 18 of the Unlawful Activities Act, vide FIR No.28, and further investigations are in progress.
http://timesofindia.indiatimes.com/india/pakistan-backed-terror-module-busted-in-punjab-3-arrested/articleshow/58987572.cms
--------
Four terrorists killed after they attacked CRPF camp in J&K's Bandipora district
Jun 5, 2017
NEW DELHI: Four terrorists were killed on Monday morning in retaliatory fire by security forces as they attempted to attack a CRPF camp at Sumbal+ in Bandipora district of Jammu and Kashmir.
The heavily armed militants tried to enter the camp of 45 Battalion CRPF at Sumbal in Bandipora at around 3.45am by opening fire at the sentry post. The gunbattle between the security forces and terrorists went on till 6.15am.
According to police official the firing was retaliated by the guards even as police reinforcement was rushed to the scene of gun battle.
"Four militants were killed in the retaliatory firing and the suicide attack was foiled," the official said. Their bodies were recovered along with four AK rifles, one UGL, UBGL grenades and hand grenades.
Full report at:
http://timesofindia.indiatimes.com/india/four-terrorists-killed-after-they-attacked-crpf-camp-in-jks-bandipora-district/articleshow/58993330.cms
--------
Army convoy attacked in Valley, two soldiers killed
by Mir Ehsan
June 4, 2017
Two soldiers were killed and four others were injured Saturday when militants attacked an Army convoy in south Kashmir's Qazigund area on the Srinagar-Jammu National Highway. Officials said that militants, hiding in bushes and behind trees, fired at the convoy and fled the spot. The attack took place near Hillar village when the convoy was heading to Srinagar from Jammu.
Of the six soldiers injured, two died at the Army Base Hospital in Srinagar. Following the attack, the Army and the Special Operations Group of J&K Police launched search operations in the area. The National Highway was closed to traffic for more than half an hour.
Militant outfit Hizbul Mujahideen claimed responsibility for the attack.
Defence spokesman Colonel Rajesh Kalia told The Sunday Express that two soldiers lost their lives. "Four injured soldiers are being treated at Army Base Hospital. The convoy was coming towards Srinagar when it was attacked,'' he said.
The attack came a day after Army chief General Bipin Rawat met Army commanders at the XV Corps headquarters.
Full report at:
http://indianexpress.com/article/india/kashmir-army-convoy-attacked-in-valley-two-soldiers-killed-4687897/
--------
Government takes serious note of phone tapping of prominent Muslims during UPA rule
June 4, 2017
The government has taken a serious note of alleged interception of conversations purportedly of prominent Muslims, during the UPA dispensation, on extending legal assistance to accused from the community in various terror-related cases. The intercepted conversations were recently aired by a TV channel.
It is learnt that law officers are being roped in for their opinion on taking possible legal action against those responsible for intercepting the conversations since the view in government circles is that these are in contravention of the statute. A senior government law officer said prima facie it appears that appropriate procedure was not followed with regard to the interception of the conversations, which were believed to be between some prominent Muslim personalities, including a well-known actress.
The officer, an additional solicitor general, said that recording is permissible only under special circumstances with the nod of the Union home ministry. He said if the required procedures were not followed, then the government can ask as to under what circumstances the previous dispensation was snooping on the prominent Muslims and initiate legal action.
The law officer was giving his comments in the wake of reports that the previous UPA government was snooping on prominent Muslim personalities, including the actress and a prominent writer.
Eminent lyricist Javed Akhtar had filed a PIL, along with late journalist B G Verghese, in the Supreme Court seeking an independent probe into the encounter killings which had showed an alleged pattern of Muslims being targeted. The apex court has appointed a committee headed by its retired judge H S Bedi which is enquiring into the alleged encounter killings in Gujarat between 2002 and 2006.
Full report at:
http://indianexpress.com/article/india/government-takes-serious-note-of-phone-tapping-of-prominent-muslims-during-upa-rule-4688978/
--------
NIA conducts fresh raids in Kashmir, seizes foreign currency
Neeraj Chauhan
Jun 5, 2017
NEW DELHI: A day after recovering cash worth Rs 2.50 crore, letter heads of Lashkar-e-Taiba and Hizbul Mujahideen during raids on separatists, the National Investigation Agency continued its raid at five places on Sunday as well and recovered US dollars and currencies of Saudi Arabia and UAE.
The agency said in a statement that raids were conducted at Srinagar, Jammu and Gurgaon on Sunday including premises of separatists, traders and hawala operators suspected to terror funding in Jammu and Kashmir.
NIA added that it had detected several bank accounts, foreign currencies apart from other incriminating material like correspondence with jailed troublemakers, suspicious transactions and mobile phones.
Some of the prominent persons raided include former president of LoC Traders' Association Tariq Ahmed Khan, Farooq Baggu and Kamal alias Bittu of Jammu. The house of one Zahoor Watali in Gurgaon was also searched.
NIA spokesperson Alok Mittal said that these persons were questioned as well during the searches.
NIA sources said that they have strong evidence to prove that the civil unrest and stone pelting in Kashmir valley was being funded from Pakistan through separatists. The agency sources said that there could be arrests also in the matter soon.
The NIA wants to be completely sure about the evidence before registering the FIR. Several hawala dealers are under the scanner for helping separatists get the money routed from a third country.
Sources say they are also investigating if shell companies based in India or abroad were used for the funding, which run into several crores.
On Saturday, NIA teams raided 23 places in Delhi, Haryana and J&K and found Rs 2.50 crore in cash and letterheads of Hizbul Mujahideen and LeT.
Other material seized on Saturday included property-related documents, pen-drives, laptops, and incriminating documents.
Full report at:
http://timesofindia.indiatimes.com/india/nia-conducts-fresh-raids-in-kashmir-seizes-foreign-currency/articleshow/58991899.cms
--------
Army rejects Pak military video of attacks on Indian posts
Jun 4, 2017
NEW DELHI: The Indian Army today rejected as "false and fabricated" a video circulated by Pakistan purportedly showing attacks by its military on some Indian posts along the Line of Control in Jammu and Kashmir.
A spokesperson of the Pakistani military had tweeted the video clip titled "Pak Army strikes Indian Posts on LoC".
"It is false and fabricated," a top Indian Army official said here.
The Indian Army had also rejected the Pakistan military's claim that five Indian soldiers were killed in Tatta Pani sector along the LoC yesterday when Pakistani troops had retaliated to Indian fire.
A senior army official said there was no casualty and only a woman sustained injuries in the Pakistani firing.
On May 23, the Indian Army had released a video of "punitive fire assaults" on Pakistani positions across the Line of Control, inflicting "some damage".
Pakistan however had dismissed the Indian Army's assertion of destroying its posts in the Naushera sector.
Full report at:
http://timesofindia.indiatimes.com/india/army-rejects-pak-military-video-of-attacks-on-indian-posts/articleshow/58989429.cms
--------
South Asia
ISIS leaders among 22 killed in airstrikes, ground operations in East of Afghanistan
Jun 05 2017
At least twenty two militants affiliated with the Islamic State of Iraq and Syria (ISIS) terrorist group were killed in a series of airstrikes and ground operations in eastern Nangarhar province of Afghanistan.
According to the local government officials, the operations were conducted in the past 24 hours in the restive Achin district.
The officials further added that the militants were targeted in the vicinity of Mamand Dara, Lata Band Bazar, Pekha, and some other areas.
The two ISIS local leaders killed during the operations have been identified as Saqib and Noman, the officials said, adding that three vehicles belonging to the terror group were also destroyed.
Nangarhar is among the relatively calm provinces in eastern Afghanistan but the anti-government armed militant groups have recently increased their insurgency activities in some parts of the province during the recent years.
This comes as the Afghan forces are busy conducting counter-terrorism operations to eliminate the militants affiliated with the ISIS terrorist group in Nangarhar province.
The operations are being conducted in coordination with the US forces based in Afghanistan who are mainly carrying out airstrikes as part of a broader role granted to them by the Obama administration last year.
http://www.khaama.com/isis-leaders-among-22-killed-in-airstrikes-ground-operations-in-east-of-afghanistan-02871
--------
Remaining suicide bomber, 12 terrorists arrested after Kabul funeral bombing
Jun 04 2017
The Afghan intelligence operatives have arrested a remaining suicide bomber and twelve other terrorists in connection to the deadly suicide bombing targeting the funeral in Kabul on Saturday.
The Afghan intelligence, National Directorate of Security (NDS), in a statement said the operatives o the directorate have made the arrests following the attack on Mohammad Salim Izadyar's funeral and burial ceremony.
A group of at least three suicide bombers who had disguised themselves as funeral participants detonated their explosives among the prayer participants, leaving scores of people dead or wounded.
The Ministry of Interior confirmed 6 people were killed and 87 others were wounded in the coordinated explosions targeting the burial ceremony of Mohammad Salim Izadyar.
The funeral was organized for Mohammad Salim Izadyar, the son of the first deputy house speaker of the Afghan Senate House, Meshrano Jirga.
Full report at:
http://www.khaama.com/remaining-suicide-bomber-12-terrorists-arrested-after-kabul-funeral-bombing-02867
--------
Taliban's shadow deputy governor and 10 militants killed in Kapisa
Jun 04 2017
The shadow deputy governor of the Taliban group for northeastern Kapisa province of Afghanistan has been killed during an operation of the Afghan Special Forces, the Afghan army said Sunday.
According to 201st Silab Corps of the Afghan National Army in the East, Mawlavi Dost Mohammad was killed during an operation conducted by the commando forces of the Afghan National Army.
At least ten insurgents belonging to the Taliban group were also killed during the operation, the 201st Silab Corps said, adding that the operation was conducted in Khamir Daran area located between Kohi Safi and Tagab districts.
Kapisa has been among the relatively calm provinces in northeastern parts of the country but the security situation in some remote parts of the province has started to deteriorate during the recent years.
This comes as the Afghan National Defense and Security Forces (ANDSF) personnel have stepped up counter-terrorism operations to suppress the insurgency activities of the militants.
Full report at:
https://www.khaama.com/talibans-shadow-deputy-governor-and-10-militants-killed-in-kapisa-02866
--------
Afghan intelligence release new findings about Kabul funeral bombing
Jun 05 2017
The Afghan Intelligence, National Directorate of Security (NDS), released its new findings regarding the coordinated suicide attack on Salim Izadyar's funeral ceremony in Kabul.
The new findings were released after the arrest of one of the remaining suicide bombers and twelve other terrorists who were apparently detained during an operation today.
According to NDS, the suicide bombers were trained in Mawlavi Ahmad Madrasa located in Chaman area of Quetta city of Pakistan and were sent to Kabul for the suicide attack.
NDS further added that the suicide bombers managed to pass through strict security measures by placing the explosives inside their shoes.
A group of at least three suicide bombers who had disguised themselves as funeral participants detonated their explosives among the prayer participants, leaving scores of people dead or wounded.
Salim Izadyar, the son of Mohammad Alam Izadyar, the first deputy house speaker of the Afghan Senate, was killed during the violent protests in Kabul on Friday.
Full report at:
http://www.khaama.com/afghan-intelligence-release-new-findings-about-kabul-funeral-bombing-02870
--------
Afghan govt's call for talks rejected as Jamiat-e-Islami called emergency meeting
Jun 04 2017
The Jamiat-e-Islami led by foreign minister Salahuddin Rabbani and Balkh governor Ata Mohammad Noor reportedly called an emergency meeting after the recent deadly incidents in Kabul.
Noor in a statement said the government's call for talks to reach to an understanding regarding the recent incidents, was rejected during the meeting of the Jamiat-e-Islami.
Noor said it also concluded in the meeting to seek clarification from the Chief Executive Officer Abdullah Abdullah regarding his stance about the latest upheavals.
He said a delegation has been appointed to enter into negotiations with Abdullah so that he can clarify his stance on whether he will stay with Jamiat-e-Islami or he will support those behind the brutal attacks on the protesters.
Noor had earlier expressed strong reaction to coordinated suicide attack that targeted the funeral ceremony of Salim Izadyar in Kabul on Saturday afternoon, calling it a cowardly conspiracy.
Noor who is also the chief executive of Jamiat-e-Islami, issued a statement after the attack and said such attacks further increases the doubts regarding the hand of certain circles inside the system.
Calling the yesterday's incident a direct attack on a specific political movement, Noor also harshly criticized the security establishments and questioned their capabilities to ensure security for a small gathering despite having credible intelligence information and reports regarding the possible attacks.
Full report at:
http://www.khaama.com/afghan-govts-call-for-talks-rejected-as-jamiat-e-islami-called-emergency-meeting-02868
--------
Fear penetrates Kabul after deadly cycle of violence
Jun 5, 2017
"Today, Kabul looks like the city of the dead," Mohammed Asif Yousufi says solemnly from the photography studio he owns on the outskirts of the Afghan capital.
"I have never seen this kind of sadness and fear spread across the city before," Yousufi adds. He is not alone in feeling like this. Kabul has just suffered one of the bloodiest weeks in years, leaving its streets devoid of life and its residents gripped by fear - and feeling unprotected. The cycle of violence began on Wednesday when a powerful truck bomb ripped through the city's diplomatic zone.
At least 90 people, mostly civilians, were killed and hundreds were wounded. Officials described the attack as "one of the biggest" to have hit the capital. Two days later, residents took to the streets to demand answers from the government, who they accuse of security and intelligence failures. Clashes between protesters and security forces broke out, resulting in the death of at least five people.
On Saturday, Afghan police and intelligence officials urged everyone to stay indoors, citing a threat of possible attacks targeting large gatherings of people.
In Kabul's Sarai Shamali area, a funeral was taking place at that time for the son of Senator Mohammad Alam Izdyar who was killed in Friday's protests.
Haseeb Motaref was present at the burial ceremony when he heard a first blast as soon as the mullah said: "Allahu akbar" (God is great).
The triple explosion at the at the Tapa Marshal Fahim cemetery left at least 20 people dead, raising the death toll to more than 100 people dead in just four days of violence - and the numbers are rising. As anger against the government has grown, President Ghani's international partners have become increasingly alarmed [Reuters]
"As the explosion happened, I ran in panic and cried for help as I saw many dead bodies ripped apart," Motaref told Al Jazeera.
"Where are the security forces? Where is the police? The Afghan intelligence? Who will protect us?"
Pictures of men throwing stones at the remains of a suicide attacker at the cemetery were widely shared on social media. "We are angry, we are sad. The security services, the police are not efficient," Motaref said.
The Taliban, which is fighting the government and foreign forces, issued swift denials that it had any role in the attacks, and instead blamed factional rivalries within the government.
The government accused the Taliban-allied Haqqani Network and Pakistan of the attack. Amid the rising tension, police locked down much of Kabul city with checkpoints, while armoured vehicles were seen patrolling the streets.
Some shops, restaurants and universities were closed for the day.
"People here are demanding answers from the government," Yousufi, the photography studio owner, told Al Jazeera.
"We just want peace and security as we had enough of seeing innocent people getting killed." But Gul Nabi Ahmadzai, Kabul garrison commander, said the threat level had decreased as of Sunday.
"There are no reports of any possible attacks today, but we are asking everyone to stay vigilant," he told Al Jazeera.
As the number of victims rose, the United Nations and a host of international allies urged for unity and solidarity.
"The attack today, conducted by those opportunistically seeking to use these very fragile moments to destabilise Afghanistan, follows so much violence this week," the UN said in a statement after Saturday's explosions. "In the context of so much suffering, now is the time to seek unity and solidarity."
In the first three months of the year, at least 715 civilians were killed across the country, after almost 3,500 in 2016, the deadliest year on record for Afghan civilians. –Al Jazeera
But despite the recent suffering, Yousufi believes the city will be able to "rise from the ashes".
Full report at:
http://nation.com.pk/international/05-Jun-2017/fear-penetrates-kabul-after-deadly-cycle-of-violence
--------
Southeast Asia
Malaysia, other SE Asian countries push aside Trump doubts to combat terror threat
June 5, 2017
HONG KONG, June 5 — As global defence chiefs debated what "America First" and China's rise meant for Asia's future, regional officials focused on a more immediate concern: terrorism.
South-east Asian defence officials who attended Asia's most high-profile security conference in Singapore this weekend repeatedly urged cooperation to counter what they said was the growing threat of Islamic extremism in the region.
They said the risk was growing that Islamic State fighters might gravitate toward predominantly Muslim countries such as Indonesia and Malaysia, and Muslim areas in the southern Philippines, as they lose ground in the Middle East.
"To me, the most immediate challenge in my mind is meeting head-on the threat of Daesh," Malaysian Defence Minister Datuk Seri Hishammuddin Hussein said, using an alternative name for the Islamic State.
"Real military gains have been made against Daesh in the last couple of months. This, however, gives rise to the disturbing prospect that the Asia-Pacific is now in Daesh's crosshairs."
Hishammuddin ranked the threat above North Korea's nuclear weapons programme and territorial disputes in the South China Sea — great-power debates that dominated speeches by Australian Prime Minister Malcolm Turnbull and US Defence Secretary James Mattis at the Shangri-La Dialogue.
The annual gathering has often been preoccupied with questions about strategic competition between a rising China and the US, where the election of President Donald Trump has fuelled doubts about its post-World War II commitment to the region.
The final day of the conference was overshadowed by the latest terror attack in London, which killed seven people.
Concerns about Islamic extremism have long simmered in South-east Asia, which is home to about 15 per cent of the world's 1.57 billion Muslims. In the last month, the Indonesia capital Jakarta was struck by twin suicide bombings that killed three police officers, and Philippine President Rodrigo Duterte declared martial law to fight Islamic State-linked militants in the country's restive south.
Hishammuddin and Indonesia's Defence Minister Ryamizard Ryacudu were expected to travel to Manila this week to discuss ways to improve regional cooperation against violent extremism.
The three countries are expected to begin their first joint anti-piracy patrols in the Sulu Sea on June 19, a water body that sits between them and has become a popular access point for terror groups.
Ryamizard described the patrols as a platform for greater security collaboration in the region, inviting Singapore, Thailand and other South-east Asian nations to join. "No single country can deal with and resolve security threats independently," he said. The nascent framework fit with Turnbull's advice during his keynote address Friday that smaller nations couldn't rely on great powers and needed to band together against common threats. The 10 states of the Association of South-east Asian Nations have been divided over how much sway to give the two big powers jockeying for influence, China and the US
"Coordinating to fight terrorism is an easy thing, where everyone can agree on who the bad guy is," said Euan Graham, director of the international security programme at the Lowy Institute for International Policy in Sydney. "By the same token, it doesn't negate sources of strategic tension or suspicion."
Asean has been vexed over how to handle China's claims to more than 80 per cent of the South China Sea, which overlap those of five other nations. China has used patrols by its growing naval and coastguard fleets to establish sovereignty over the region's disputed territory.
Such questions surfaced during one public to-and-fro Sunday when Colonel Lin Liu, an associate research fellow with China's Academy of Military Science, asked defence officials from Indonesia and the Philippines what her country could do to help. Philippine Undersecretary for Defence Ricardo David said any additional participation would have to be discussed by the trilateral patrol group.
Mattis, during his own remarks, highlighted US efforts to provide assistance to Malaysia and Indonesia to improve information sharing and maritime domain awareness and to train Philippine counter terrorism forces fighting in the south.
Several South-east Asian defence officials warned of active groups of extremists within their borders. David said 250 to 400 foreign fighters were believed to be operating in the Philippines, while Hishammuddin said at least six people suspected of ties to Islamic State had been arrested in Malaysia in the past week.
Singaporean Defence Minister Ng Eng Hen said at least 31 regional groups have pledged allegiance to the Islamic State and there was evidence of growing transnational cooperation between them.
"Porous borders and dense jungles provide easy access and safe havens for terrorism training camps," Ng told the conference. "If these groups further entrench themselves in our region, more attacks will occur." — Bloomberg
http://www.themalaymailonline.com/malaysia/article/malaysia-other-se-asian-countries-push-aside-trump-doubts-to-combat-terror
--------
Fresh battle ends bid to free civilians in war-torn Philippine city
Jun 5, 2017
Marawi, - Efforts to rescue up to 2,000 civilians trapped by fighting between troops and Islamist militants in a southern Philippine city failed Sunday when a proposed truce ended in a hail of gunfire and explosions, authorities and witnesses said.
The civilians were pinned down nearly two weeks ago in the centre of Marawi on Mindanao island, where gunmen loyal to the Islamic State group are holding out against a military assault.
The government said 178 people have been killed so far. Local authorities said government officials, working through intermediaries, had reached agreement with the militants to observe a four-hour ceasefire Sunday to let the trapped civilians leave.
But the officials failed to secure agreement from their own military for the truce, provincial crisis management committee spokesman Zia Alonto Adiong told AFP.
He said the military only allowed rescuers to access areas on the fringes of zones held by the militants, and barred them from entering bombed-out city blocks.
As a result only some 170-plus trapped residents were led to safety Sunday, according to the military.
"We felt a bit disappointed and betrayed. We're talking about lives of people, my God!" Adiong said.
"There are 2,000 people who need immediate help (after) 13 days without food."
Gunfire and explosions, including from several artillery shells, later forced the rescuers to retreat, AFP journalists saw. There were contradictory reports on who was firing.
"The military... did not approve entry into high-risk areas to avoid putting our humanitarians in danger and any possibility that may complicate the situation," President Rodrigo Duterte's spokesman Ernesto Abella said in a statement.
The chief delegate for the International Committee of the Red Cross in the southern Philippines told AFP those rescued Sunday were mostly men and appeared to be in relatively good health.
By contrast, 14 of the nearly 200 rescued on Saturday had to be hospitalised, Roberto Petronio said.
"These were mostly children who were suffering from diarrhoea and malnutrition," he added.
The military has bombarded Marawi with air strikes and waged fierce street-to-street battles with hundreds of gunmen since they began a rampage through residential areas waving the black flags of the IS.
A total of 120 gunmen including eight foreign fighters, 38 soldiers and police and 20 civilians have been killed, officials said, giving lower figures than previously for civilian deaths.
Scores of people made a daring dash for safety on Saturday, including one of Marawi's most respected politicians who had hidden 71 Christians in his home and led 144 people through downtown streets strewn with rotting corpses.
Sunday's ceasefire deal was initially reached following a meeting last week between Duterte and the Moro Islamic Liberation Front (MILF), the nation's biggest rebel organisation which offered to broker a halt in hostilities using contacts with the fighters in Marawi, Adiong told AFP. Unarmed MILF rebels were to have escorted the civilians to safety during a four-hour period ending at noon (0400 GMT).
The main Muslim rebel groups like the MILF have signed accords with the government aimed at forging a final peace, giving up their separatist ambitions in return for autonomy.
But small hardline groups, including the Maute and Abu Sayyaf, which are involved in the Marawi battle, have refused to negotiate and sought to unite behind IS.
Indonesia's Defence Minister Ryamizard Ryacudu said on Sunday there are about 1,200 IS operatives in the Philippines.
He was speaking at a security forum in Singapore. Philippine Defense Undersecretary Ricardo David, speaking at the same event, put the figure at about 250-400.
The clashes in Marawi erupted when security forces raided a house to arrest Isnilon Hapilon, a veteran Filipino militant regarded as IS's leader in the Philippines. He is on the US government's list of most-wanted terrorists.
Full report at:
http://nation.com.pk/international/05-Jun-2017/fresh-battle-ends-bid-to-free-civilians-in-war-torn-philippine-city
--------
Transgender activist hits back at 'outrageous' stand of Muslim NGO
Ho Kit Yen
June 4, 2017
PETALING JAYA: Focus on the real issue, which is curbing the spread of HIV.
This is the advice transgender rights activist Nisha Ayub has for a Muslim medical practitioners and health workers group which has come out in support of a health ministry contest to "prevent" transgender and homosexual behavior.
Nisha said the stand of the Pertubuhan Ikatan Pengamal Perubatan dan Sains Kesihatan Muslim Malaysia's (I-Medik) was "outrageous".
She said the group is not focusing on the real issue — that is to stop the spread of HIV.
"It seems they are not talking about preventing the HIV virus spreading but preventing the LGBT community from their sexual affiliations," she told FMT today.
LGBT refers to the lesbian, gay, bisexual and transgender community.
Nisha said "corrective measures do not work and will create more harm to these people, making the community go more underground".
The activist is attached to the Seed Foundation, an NGO that works with the local transgender community.
Nisha was responding to I-Medik's statement yesterday that supported the health ministry's programme to discourage transgender and homosexual activities in the country.
I-Medik's vice-president Dr Rafidah Hanim said based on the AIDS Response Progress Report 2016, prepared by the HIV/STI (sexually transmitted infection) section of the health ministry's disease control division, men who have sex with men and transgenders are most affected by AIDS, along with sex workers and people who inject drugs.
Nisha, who was the winner of the US Secretary of State's International Women of Courage Award last year, said I-Medik should base its statement on facts and figures, and not its personal perception towards the LGBT group.
"The spread of HIV is highest through heterosexual couples, not through transgenders or homosexuals," she said.
"If I-Medik wants to talk about HIV prevention, they need to look at the whole perspective, not going against a certain group."
It was reported on Friday that the health ministry is holding a contest on ways to "prevent" homosexuality and transgenderism.
The contest invites participants to submit video clips for categories, including one called "gender identity disorder".
Full report at:
http://www.freemalaysiatoday.com/category/nation/2017/06/04/transgender-activist-hits-back-at-outrageous-stand-of-muslim-ngo/
--------
PM stresses need to win ideological warfare against terrorism
June 5, 2017
PUTRAJAYA, June 5 — Malaysia has to also win the ideological warfare to address the threat of terrorism instead of only with the use of military and police assets and through arrests, Datuk Seri Najib Razak said today.
The Prime Minister said the recent terrorist attacks in Kabul, Manchester (United Kingdom), Marawi (the Philippines), Jakarta and London were serious and most saddening.
"Alhamdulillah (Praise be to God), our country has been spared these attacks so far. However, the threat of terrorism must be addressed, but not just with the use of military and police assets and arrests," he said at the monthly assembly of the Prime Minister's Department at Dataran Perdana Putra here..
Najib said it was important to win the ideological warfare against the threat of terrorism but more than that it was vital "to understand what Islam really is, what it demands of us".
Defence Minister Datuk Seri Hishammuddin Tun Hussein attended the assembly for the first time following his appointment as Minister with Special Functions in the Prime Minister's Department in April.
Quoting a verse from the Quran on belief in Allah (God), Najib advised that the reminder by God be used as a guide to keep Malaysia peaceful and blessed so that work could be carried out to develop the country for the well-being of the people.
The Prime Minister said Malaysia did not need groups which pretended to do good but brought devastation instead.
Najib also referred to the establishment of the King Salman Centre for International Peace and described it as a triumph for Malaysia.
Full report at:
http://www.themalaymailonline.com/malaysia/article/pm-stresses-need-to-win-ideological-warfare-against-terrorism
--------
PAS urges ban on 'Zionist Christian' assembly in Melaka
June 5, 2017
ETALING JAYA: PAS today called on the government to ban a church assembly planned to be held in Melaka this month with an alleged agenda to promote "Zionist Christianity" and "Jewish culture".
The party's information chief, Nasrudin Hassan, described the event as a provocation that challenges the sensitivities of Muslims in Malaysia.
"We can never forget the sufferings of Muslims caused by the atrocities of Israel. Now, they seek to create an extreme provocation to Muslims by organising Jerusalem's Jubilee on Malaysian soil.
"This Jewish culture should never be allowed to take root in our country. The government must take stern action. Don't challenge the sensitivities of Muslims. Don't rile this Malay land with this Zionist Christian activity," he warned in a post on Facebook accompanied by a poster of the upcoming event.
"Lately, the enemies of Islam have been playing rough and are growing bolder. Now, they are targeting Malaysia. They want to build a den here. All the ummah, rise before it's too late."
The assembly, carrying the theme "Nations of the Golden Gate Aligning with Jerusalem's Jubilee", is scheduled to be held from June 15 to 18 at the Calvary Life Assembly (Chinese).
Zionist Christians refer to a group of Christians who believe the return of the Jews to the holy land in Jerusalem fulfils a biblical prophecy and heralds the "Second Coming" of Jesus to save mankind.
They based this belief on the Old Testament which is the source of Jewish teachings.
The event in Malacca is organised with the cooperation of a Petaling Jaya-based group called "Elim Freedom", which also reveres the role of Jerusalem. Another organiser is the Jerusalem House of Prayer For All Nations (JHOPFAN), an organisation based in Israel founded by American pastor Tom Hess.
According to the organisers, Melaka was chosen to host the assembly because Asean – Association of Southeast Asian Nations – is celebrating its 50th Golden Jubilee this year.
"Why not in Malaysia?" says Christianity Malaysia, a Christian portal which carried a write-up on the assembly.
Full report at:
http://www.freemalaysiatoday.com/category/nation/2017/06/05/pas-urges-ban-on-zionist-christian-assembly-in-melaka/
--------
Police anti-terrorism unit to be expanded into division
June 4, 2017
BACHOK: The Royal Malaysia Police's anti-terrorism unit will be upgraded into a division to take on bigger responsibilities and prevent acts of terrorism from taking place in the country.
Deputy Prime Minister Ahmad Zahid Hamidi said the division located at Bukit Aman would be headed by one of the most senior officers.
"This is a sign of the government's concern over terrorism and the rejection of terrorism-related incidents."
Zahid, who is also home minister, told reporters this after attending a programme to instil noble values of Ramadan among home ministry staff at the Mahmudi Mosque here tonight.
Present were International Trade and Industry Minister Mustapa Mohamed, Deputy Rural and Regional Development Minister Ahmad Jazlan Yaakub and Bachok Umno division head Awang Adek Hussin.
The ministry's staff, as well as orphans and single mothers, were also feted to breaking of fast at the event.
Zahid said he would be calling for a Police Commission (SPP) meeting soon to discuss the move to upgrade the anti-terrorism unit.
"I will ask SPP members to confirm the upgrade of the unit into a division."
He said before this there used to be Anti-Terrorism Division but it became a unit four years ago.
However, he said following incidents of terrorism abroad, including the latest in the centre of London on Saturday night, a division should be set up and headed by one of the most senior officers.
"We feel a senior officer should be put in charge for a holistic approach to combat terrorism and we should also do more, including obtaining the cooperation of the entire community."
Full report at:
http://www.freemalaysiatoday.com/category/nation/2017/06/04/police-anti-terrorism-unit-to-be-expanded-into-division/
--------
Philippines' Duterte Says Islamic State Not Behind Casino Attack
Jun 5, 2017
Manila. Philippine President Rodrigo Duterte said on Saturday (03/06) that Islamic State militants were not behind the attack on a casino in the capital that killed at least 36 people, supporting a police assessment that it was merely a botched robbery.
The gunman who burst into the Resorts World Manila entertainment complex early on Friday, firing shots, setting gaming tables alight and killing dozens, all suffocating in thick smoke, had been labeled by a top lawmaker as a "lone wolf" terrorist.
"That is not the work of ISIS," Duterte, using an acronym for Islamic State, told reporters in Cagayan de Oro city where he was visiting troops. "The work of ISIS is more cruel and brutal, they would simply kill people for nothing."
Clips from the casino CCTV, which police and officials at Resorts World released on Saturday, showed the gunman was firing shots at the ceiling and setting gaming tables and slot machines ablaze.
The gunman, whose identity remains unknown, was caught on camera purportedly stealing casino chips worth 113 million pesos($2.27 million) from a storage room before he was later found by security officers, who shot and wounded him during an exchange of fire.
"Why would you steal plastic you won't be able to use?" Duterte said. "That guy is crazy."
But Pantaleon Alvarez, speaker of the lower house of Congress and a close ally Duterte, said he was not convinced the incident was a criminal case of armed robbery and arson.
"This is a clear example of a 'lone wolf' terrorist attack targeting civilians to inflict maximum loss of life and damage to property, as what has happened in other countries," Alvarez said in a statement.
Duterte's spokesman, Ernesto Abella, said on Friday there was no proof linking the casino attack to a protracted urban battle between government troops and Islamist militants in the country's south. His security adviser, Hermogenes Esperon, said all the evidence pointed to an attempt to steal casino chips.
"We must draw up a clear and better plan to secure Metro Manila and other urban centres from IS-linked groups that we already know will attempt to kill and maim in pursuit of their jihadist ideology," Alvarez said.
The stolen chips have been recovered.
Police said on Saturday there were two "persons of interest" who have connections with the gunman and are cooperating with the investigation.
Wake-Up Call
The attack at the casino hotel complex, which is close to an airport terminal and air force base, lasted more than six hours.
Security experts and patrons at the casino on Friday expressed alarm at the apparent ease with which a lone gunman was able to enter the building, open fire and start a fire whose smoke killed more than 30 people.
Firefighters discovered the bodies in the main gaming area, hours after the country's police chief had said the situation was under control.
Police corrected earlier statements about the attacker.
They originally said he arrived at the hotel in a private car, but changed that to a cab, and they had described him as Caucasian and English-speaking but the cab driver told them he spoke in the local language.
Full report at:
http://jakartaglobe.id/international/philippines-duterte-says-islamic-state-not-behind-casino-attack-2/
--------
Mideast
Yemen's Ansarullah slams world's inaction against Saudi war
Jun 4, 2017
The leader of Yemen's Houthi Ansarullah movement has stressed that they will continue to resist Saudi Arabia's aggression against their country.
Abdul-Malik Badreddin al-Houthi made the remark on Sunday during a televised speech in which he also noted that Riyadh's onslaught is aimed at dividing the nation.
He went on to call on the people of Yemen to safeguard their unity against all external threats and challenges. Houthi further stressed that the nation is united with Ansarullah.
He also slammed the international community's silence towards Saudi Arabia's war against Yemen which has now entered its third year.
Saudi Arabia launched its deadly campaign against Yemen in March 2015 to push back the Houthi Ansarullah fighters from Sana'a and to bring back to power Abd Rabbuh Mansur Hadi, Yemen's president who has resigned and is a staunch ally of Riyadh.
The campaign, which lacks any international mandate and has faced increasing criticism, has claimed the lives of more than 12,000 people, most of them civilians.
The relentless airstrikes have also put more than half of all health facilities in Yemen in a state of complete or partial shutdown. Furthermore, the war-torn nation has been grappling with a deadly cholera outbreak since last October, which has killed some 600 people since April.
Nearly 3.3 million Yemeni people, including 2.1 million children, are currently suffering from acute malnutrition. The Saudi aggression has also taken a heavy toll on the country's facilities and infrastructure, destroying many hospitals, schools, and factories.
Certain Arab countries, including the United Arab Emirates, Bahrain and Qatar, are partners to the military aggression.
http://217.218.67.231/Detail/2017/06/04/524223/yemen-houthi-saudi-arabia-war
--------
Eight PKK militants killed in eastern Turkey
Jun 5, 2017
Ankara - Turkish security forces killed eight militants from the outlawed Kurdistan Workers Party (PKK) in eastern Turkey on Sunday, state-run Anadolu Agency reported, citing the local governor. Security forces were searching for another militant who was believed to be on the run after the operation, the governor of the eastern Kars province, Rahmi Dogan, was quoted as saying. "Eight terrorists were killed and the security forces are searching for another terrorist who is on the run," he said.
http://nation.com.pk/international/05-Jun-2017/eight-pkk-militants-killed-in-eastern-turkey
--------
Security forces kill eight PKK militants in eastern Turkey
Jun 4, 2017
At least eight members of the Kurdistan Workers' Party (PKK) have been killed after Turkish security forces launched an operation against the militants in the country's eastern province of Kars.
Rahmi Dogan, the governor of Kars, said on Sunday that security forces were searching for another militant who was believed to be on the run after the operation, state-run Anadolu Agency reported.
"Eight terrorists were killed and the security forces are searching for another terrorist who is on the run," Anadolu quoted Dogan as saying.
Ankara has been engaged in a large-scale military campaign against the PKK in its southern border region over past months.
A shaky ceasefire between the PKK, which has been calling for an autonomous Kurdish region since 1984, and the Turkish government collapsed in July 2015. Attacks on Turkish security forces have soared ever since.
Over the past few months, Turkish ground and air forces have been carrying out operations against the PKK positions in the country's troubled southeastern border region as well as northern Iraq and Syria.
Full report at:
http://217.218.67.231/Detail/2017/06/04/524175/Turkey-PKK-Kars-Kurds
--------
Some Palestinian ex-prisoners in Gaza say their salaries withheld
Jun 5, 2017
Scores of former Palestinian prisoners freed by Israel and living in the Gaza Strip said on Sunday their stipends from the Western-backed Palestinian Authority have been suspended in an apparent bid to appease Israel and the United States.
A spokesman for Palestinian prisoners said that 277 freed prisoners in the Gaza Strip, most of whom are aligned with the Islamist Hamas group that runs the coastal enclave, were surprised to find their May stipends had not been paid.
Israeli Prime Minister Benjamin Netanyahu has demanded that the Palestinians, who view prisoners as national heroes, stop paying stipends to them and their families, and U.S. lawmakers have warned that Palestinian funding could be cut off unless Palestinian President Mahmoud Abbas halts the practice.
Israel says the payments are a reward and encouragement for the prisoners' actions against it but the Palestinians say they are welfare payments to support them and their families.
Some 6,500 Palestinians are currently being held in Israeli jails, many of whom were convicted of attacks or planning attacks against Israelis.
Zaid Al-Kilani, a former prisoner from Hamas who was serving a life sentence before he was freed in a prisoner swap for Israeli soldier Gilad Shalit in 2011 said:
"Abu Mazen (Abbas) is punishing freed prisoners by suspending the salaries they and their families rely on...We believe the Palestinian Authority has succumbed to American and Israeli pressure," he said.
Palestinian Authority officials were not available for comment but the move may also be an attempt by Abbas to force reconciliation between the Fatah movement, which holds sway in the Israeli-occupied West Bank and Hamas, which controls Gaza.
Several attempts at reconciliation, most recently in 2014, have failed to produce a power-sharing government for the West Bank and Gaza.
Full report at:
http://nation.com.pk/international/05-Jun-2017/some-palestinian-ex-prisoners-in-gaza-say-their-salaries-withheld
--------
Western terror policies have 'backfired': Khamenei
Jun 5, 2017
Tehran - Attacks by the Islamic State group in Europe and elsewhere show that Western policies in the Middle East have backfired, Iran's supreme leader Ayatollah Ali Khamenei said on Sunday. "Today, Daesh (IS) is being pushed out from its birthplace in Iraq and Syria and is moving to other countries - Afghanistan, Pakistan and even the Philippines and European countries," Khamenei said in a televised speech.
"This is a fire that (Western powers) themselves ignited and now has backfired on them," he told a gathering of senior officials in Tehran at a ceremony to mark the anniversary of the death of revolutionary leader Ayatollah Ruhollah Khomeini in 1989.
Khamenei used the speech to push back against some of the reformist rhetoric used by President Hassan Rouhani during his successful bid for re-election last month.
Rouhani called his conservative opponents "extremists" and promised greater civil liberties and more dialogue with the West.
"Do not dismiss revolutionary behaviour as extremism. Being revolutionary is the need of the country today," Khamenei said.
"Rationality means not coming under the dominance of the power of America and its arrogance again, once one has freed oneself from it."
He said Iran's regional rival Saudi Arabia had demonstrated the high price exacted from countries siding with the United States, highlighting the billion-dollar purchases agreed during President Donald Trump's May visit to Riyadh.
Full report at:
http://nation.com.pk/international/05-Jun-2017/western-terror-policies-have-backfired-khamenei
--------
Leader: Islamic Revolution gave identity, independence to Iran
Jun 4, 2017
Leader of the Islamic Revolution Ayatollah Seyyed Ali Khamenei says the Islamic Revolution gave identity and independence to Iranian society by toppling the previous tyrannical regime.
Ayatollah Khamenei made the remarks when addressing a ceremony held to mark the 28th anniversary of the passing of founder of the Islamic Republic, Imam Khomeini.
Stressing the grandeur of Imam Khomeini's personality, the Leader noted that every effort must be made to prevent distortion of Imam Khomeini's personality and ideas through repetition of ideas cherished by him.
"If something that is true is not repeated with all details and specifications, it may be gradually distorted. Most of you know that there are motivations for distorting the personality of the Imam and distorting the revolution, which was the greatest feat of the honorable Imam," the Leader added.
The Leader said the secret of the success of Imam Khomeini's movement was that he managed to bring the youth and all people into the arena and to keep them there.
Ayatollah Khamenei noted that Imam Khomeini's ideas, including freedom, social and economic justice, and the need to get rid of US domination were among major factors, which attracted the Iranian youth to the revolution.
The Leader stated that as a result of Imam's ideas, young people even in those countries that are subservient to the United States, like Saudi Arabia, cherish the idea that their countries must be freed from US domination.
Ayatollah Khamenei went on to note that the Islamic Revolution, which was led by Imam Khomeini, was not merely limited to change of government and its goal was not simply to oust one group from power and replace it with another group.
The Leader said previous movements in Iran had failed, because they sought to achieve a minimum level of goals, but Imam's movement pursued maximum goals and succeeded.
Ayatollah Khamenei further stated that Iranians experienced a "decisive, very important and sensitive" era in the 1980s, describing the decade as seeing "the most violent terrorism" which targeted the Iranian nation.
"During those years, thousands of the Iranian people were martyred by terrorists. The 1980s is the decade of the [Iraqi] imposed war," the Leader stated.
During this decade, the Leader added, the toughest sanctions were imposed on the country in all areas, including on Iran's financial bodies.
Ayatollah Khamenei said the Iranian nation, particularly the youth, managed to resist and overcame all problems during that period.
The enemies have so far failed to deal major blows to Iranians, who have succeeded in making progress and carrying out great tasks, the Leader said.
The Leader stated that Imam Khomeini had described the US as the "Great Satan and an unreliable state," adding that the heads of European countries have confessed that no one can trust Washington, which attests to truth of Imam Khomeini's ideas.
"This is wisdom. The Americans are unreliable with respect to all issues," Ayatollah Khamenei pointed out.
'Al Saud will never defeat Yemen; Bahrain intervention illogical'
In another part of his address, the Leader expressed regret that Muslims in some countries, including Yemen, Syria, Bahrain and Libya, were facing numerous problems even in the holy fasting month of Ramadan.
"The Saudi government is bombarding Yemen day and night and exerting pressure on Yemen. Definitely, this is a mistake," Ayatollah Khamenei said.
"The Saudi government must know that if it proceeds with such an approach even for the next 10 or 20 years, it will fail to achieve a victory against the Yemeni people. This is a crime against the innocent people and will bear no fruit."
The Leader also condemned the "illogical" presence of Saudi Arabia in Bahrain and said the Bahraini government must engage in negotiations with the people of the country.
Ayatollah Khamenei criticized acts of intervention by a foreign country and Riyadh's policymaking in Bahrain, saying such moves were "irrational and unwise" and would create problems for nations.
It is wrong and inefficient to impose one's own will on a nation, the Leader said, adding that this policy would never yield a result "even if it is accompanied by hundreds of billions of dollars in US bribes."
Ayatollah Khamenei further criticized the wrongful presence of foreign countries in Syria contrary to the will of its government and nation, stressing, "The Syrian issues must be solved through dialogue."
The Leader warned that enemies were waging "proxy wars" in Syria, Bahrain and Yemen as well as other parts of the Muslim world.
'High turnout in election shows Iranians' trust in Islamic establishment'
Ayatollah Khamenei also hailed the massive participation of the Iranian people in the presidential election late last month, saying it showed public trust in the Islamic establishment.
Full report at:
http://www.presstv.ir/Detail/2017/06/04/524178/Iran-Leader-Islamic-Revolution-Ayatollah-Seyyed-Ali-Khamenei-Imam-Khomeini-anniversary
--------
North America
U.S. Schools 'Bowing' To Islam During Ramadan
06/04/2017
High schools across America are being pressured to offer time off school, in-school prayer rooms, and special dietary demands by Muslim students observing the Islamic holy month of Ramadan.
One campus in Brooklyn has agreed not to serve food at its prom until after sundown while another school in upstate New York is setting up prayer rooms to satisfy the demands of students who observe Ramadan.
Among the Muslim groups agitating for special privileges for Muslim students are the Council on American-Islamic Relations, the Muslim Student Association and Sound Vision.
Sound Vision offers on its website a "6-Step Guide" for Muslims on how to pressure their local schools into granting "religious accommodations" for Islam. The guidelines instruct parents to know U.S. laws about religious freedom and then "get the support of a teacher." The guidelines start with the following statement:
"Does your child need a prayer room to perform Zuhr in during lunchtime? Does he need time off for Juma? Or do you want to convince a teacher or principal to give your daughter the day off for Eid-ul-Fitr?
"Whatever Islamic obligation you want accommodated at your child's school, it must be done in a methodical, clear and proper manner."
It also helps to get the local media on your side.
Brooklyn Tech seniors will gather at Pier Sixty in Manhattan for their prom on June 3, but not all their classmates will be able to attend, lamented the local ABC affiliate, WABC-TV.
That's because the party this year falls during Ramadan, a month-long time of fasting and prayer.
In an online petition started by the Muslim Student Association, an offshoot of the extremist Muslim Brotherhood, students are asking school officials to move the prom to another day.
In an effort to accommodate the MSA, school officials said they won't allow food to be served at the prom until after Muslim fasting ends at 9 p.m.
The principal also met with the MSA Tuesday "to make sure this never happens again," WABC reported.
Learn how the influx of refugees and other Muslim migrants is transforming our schools and communities, one city at a time, in the investigative blockbuster "Stealth Invasion: Muslim Conquest through Immigration and Resettlement Jihad."
Special accommodations for Islam in U.S. public schools is a trend that is gaining steam. And it's happening at the same time schools are eliminating Christian holidays or changing them to generic time off. Christmas is now 'winter break' and Easter is 'spring break.'
Just last week the largest school district in Saratoga County, in upstate New York, announced it will open special prayer rooms on campus where Muslim students can pray during school hours during Ramadan.
The Shenendehowa High School Principal told CBS-6 that two classrooms are being set aside exclusively for Muslim prayer during the Islamic holiday.
One parent sent CBS-6 a letter of complaint, stating:
"Since prayer for other religions was removed from school years ago, I feel as [Shenendehowa] has crossed the line on allowing this on campus."
The woman's complaint was in response to an email from the Shenendehowa High School Principal to students and parents addressing the month of Ramadan.
The letter states in part:
"Prayer occurs on a daily basis for practicing Muslims. This can be challenging in today's modern public high school. In an attempt to make reasonable accommodations for students and employees to meet their personal religious obligations, room 65 in High School West and room 109 in High School East have been set aside so students can incorporate this important aspect of their religion into their daily activities while at school."
A school spokesperson told CBS-6 the decision was made after the high school principal met with the leader of a local mosque in an attempt to improve the school's "cultural proficiency."
She said the school can't refuse a student's request to leave class for required prayer, and the on-campus prayer room allows Muslim students to return to class quickly after praying.
Required prayer? Required by who? If a Catholic student's priest required a student to say the Rosary during school hours would the school officials' comply by offering a special "safe space?"
These are all questions parents should be asking, say Christian counselors and activists.
Schools such as Liberty High School in Frisco, Texas, as well as high schools in Minnesota and Michigan have opened permanent Muslim prayer rooms, as previously reported by WND.
These cases demonstrate the breakneck pace at which America is "bowing before the demands of Islamic sharia law," says Michele Bachmann, former congresswoman from Minnesota.
"Islamic law insists on societal domination everywhere, including in western Christianized nations like the US and the UK," she said.
"Nowhere can anyone point to an example of an Islamic nation that allows the advancement of Christianity or Judaism, in fact our faiths are denigrated by them.
"In Islamic dominated countries Christians and Jews are persecuted and killed," Bachmann said. "In the biblical lands of Judea and Samaria in Israel, Arab communities post large signs saying 'no Jews allowed.'"
Islam is neither tolerant nor willing to coexist with other religions, she said, yet it demands that other religions not only tolerate it but observe its holidays in the public institutions of non-Muslim societies.
It's no coincidence that schools are a particular focus, she said.
"At the epicenter of American growth and community life are American public schools," Bachmann said. "It is no coincidence our kids are the primary targets for Islamic civilization jihad. Advocates of turning the U.S. into an Islamic enclave are advancing and winning."
The advancement of Islam in public schools is not going to slow down unless non-Muslim parents take an active stance against it, says anti-Shariah activist Pamela Geller.
"We need to hit this on all fronts. This should be a multi-pronged effort," Geller told WND. "I hope the Trump administration will get involved, but we will never overcome this without energetic grassroots activism."
University and college campuses have long been compromised and bought off with jihad millions. Now grade schools, junior and senior high schools are in the sights of the enemy. Common Core proselytizes for Islam, and the real history of jihadi wars, land appropriations, annihilations and enslavements is scrubbed from school textbooks. High schools offer senior electives called "Islam and the Modern World," requiring students to purchase the notorious Islamic apologist John Esposito's The Straight Path.
Geller gives parents a comprehensive plan of action against this in her book "Stop the Islamization of America."
"They need to be proactive and complaining to school boards, school district officials, and local representatives, and persisting until these injustices are eradicated."
Robert Spencer, author of the Jihad Watch blog for the David Horowitz Freedom Center, agrees that short of greater parental engagement with school officials, the Islamization of American schools will march forward. The ACLU, which has been at the forefront of many legal challenges to any vestige of Christianity in public schools, is nowhere to be found when it comes to fighting the presence of Islam.
"It's ironic that after fighting for decades against Christian prayers in public schools, the ACLU is AWOL regarding the increasing Islamic presence in public schools," Spencer said. "We need constantly to call attention to this hypocrisy and double standard, and call upon the relevant elected officials to take action or face the consequences at the ballot box. Of course, before that can be done, a great effort must be made to raise awareness of this issue."
Where is Betsy DeVos?
Spencer said lawsuits like the one filed recently against San Diego public schools may be effective and should be pursued but Trump's education secretary, Betsy DeVos, should also get involved.
"After all, the Trump administration is supposed to be dedicated to draining the swamp, and here is a particularly fetid one," he said.
Bachmann said the forces advancing the traditional ideals of Western civilization are on the ropes in Europe and are under assault in the U.S.
"Watch out Western civilization, your apathy will kill you."
Bachmann said the U.S. Constitution promises every citizen a republican form of government.
"Islam is at war with freedoms we take for granted — freedom of thought, religious expression and expression of speech.
"If the government fails us at the public school level, then the U.S. will embrace and enforce Islamic laws on the rest of us faster than any of us could imagine, and be prepared to live as foreigners under assault in our own nation."
Candidate Trump wouldn't have tolerated stories about Islamic prayer rooms in public schools, Bachmann said.
"Our Education Secretary could issue guidelines and could threaten lawsuits against these schools," she said. "Obama Attorney General Eric Holder threatened Anoka High School in Anoka, Minnesota, with retribution if they failed to knuckle under and advance wholesale the gay agenda. Holder won and the school district caved."
Clifton Park resident Kevin Lynch said he doesn't have an issue with the school's decision to open Islamic prayer rooms in his child's school.
"If that's what they're asking for and they're allowed to have it I don't see a problem with that," Lynch told CBS-6.
The message below is from Donald Flynt, Principal of Shenendehowa High School:
Dear Parents/Guardians and Students,
The school district recognizes the diverse religious backgrounds and values represented in the school community and the importance of being sensitive to the needs of all students and personnel.
Ramadan is the ninth month of the Islamic lunar calendar. From Saturday, May 27 through Saturday, June 24, 2017, Muslims around the world spend the daylight hours in a complete fast. In addition to fasting, prayer occurs on a daily basis for practicing Muslims. This can be challenging in today's modern public high school.
In an attempt to make reasonable accommodations for students and employees to meet their personal religious obligations, room 65 in High School West and room 109 in High School East have been set aside so students can incorporate this important aspect of their religion into their daily activities while at school.
Please note that this is voluntary and student-initiated. Involvement of school employees is a non-participatory capacity. The allowance of this does not materially and substantially interfere with the orderly conduct of educational activities within the school.
Students may arrange with Mr. Gutchell or Mrs. Lennon-McMahan at HSW to use room 65. Students in HSE may see Mr. Flynt or Mr. Smith to access room 109. Parents are encouraged to contact me at 881-0310, ext. 61415 or at flyndona@shenet.org with questions, comments or concerns.
http://www.wnd.com/2017/06/u-s-schools-bowing-to-islam-during-ramadan/#1GOmhWWZQ0tUBoD1.99
--------
London Bridge Attack Sees Muslim Community Leaders Condemn Rampage That Claimed Seven Lives
04/06/2017
The Ahmadiyya Muslim Community on Sunday joined the Muslim Council of Britain in condemning the London Bridge terror attack and distancing Islam from the actions of those behind the killing spree.
Shortly after 10pm on Saturday a van ploughed into pedestrians on the bridge before three men rampaged with knives nearby, leaving seven dead and 48 injured. On Sunday, 21 victims remained in a critical condition.
Speaking to HuffPost UK, Ahmadiyya Muslim Community Iman, Abdul Quddus Arif, detailed how his "heart was bleeding" in the aftermath of the attack but wanted to make it clear that the incident - carried out by men described as being of Mediterranean appearance, who reportedly shouted "this is for Allah" - did not reflect the values of his religion.
"It's important that we stand united against terrorism. Terrorism has no religion. It's vital to ensure that everyone knows that," he said.
"Basically, not in my name, not in the name of Islam. I want to make that very clear. I want to make that very clear."
The Ahmadiyya Muslim Community on Sunday joined the Muslim Council of Britain in condemning the London Bridge terror attack and distancing Islam from the actions of those behind the killing spree.
Shortly after 10pm on Saturday a van ploughed into pedestrians on the bridge before three men rampaged with knives nearby, leaving seven dead and 48 injured. On Sunday, 21 victims remained in a critical condition.
Speaking to HuffPost UK, Ahmadiyya Muslim Community Iman, Abdul Quddus Arif, detailed how his "heart was bleeding" in the aftermath of the attack but wanted to make it clear that the incident - carried out by men described as being of Mediterranean appearance, who reportedly shouted "this is for Allah" - did not reflect the values of his religion.
"It's important that we stand united against terrorism. Terrorism has no religion. It's vital to ensure that everyone knows that," he said.
"Basically, not in my name, not in the name of Islam. I want to make that very clear. I want to make that very clear."
Arif said the terror attack impacted him in two ways: "Yesterday evening my heart was bleeding for two reasons. It was bleeding because it was London, my city, and secondly, my Islam, the religion that I follow, was being tarnished at the hands of these so-called Muslims."
The Iman said he had experienced some negativity online in the wake of the attack with someone on Twitter responding to him with calls for the UK to curb Muslim immigration.
"It's not nice, not pleasant, but of course, I can certainly understand their sentiments. That's why it's vital for us to come out, even more. Condemn such practices. The media, more often than not, also says, 'Where are the Muslim voices?' Well, they're here. And hopefully, those Muslim voices are being heard today as well."
The Muslim Council of Britain echoed many of Arif's sentiments, while also condemning the attack in the strongest terms.
The council's secretary general, Harun Khan, said in a statement: "I am appalled and angered by the terrorist attacks at London Bridge and Borough Market, in my home city.
"These acts of violence were truly shocking and I condemn them in the strongest terms.
"Muslims everywhere are outraged and disgusted at these cowards who once again have destroyed the lives of our fellow Britons."
Khan said the fact the attack happened in the month of Ramadan, when many Muslims were praying and fasting, "only goes to show that these people respect neither life nor faith".
Full report at:
http://www.huffingtonpost.co.uk/entry/london-bridge-attack-sees-muslim-community-leaders-condemn-rampage-that-claimed-seven-lives_uk_593430dce4b02478cb9c8991
--------
Donald Trump slams London mayor Sadiq Khan, uses attacks to promote Muslim travel ban
June 4, 2017
US President Donald Trump today slammed London's Pakistani-origin mayor Sadiq Khan saying it was not the time to be "politically correct", and touted his controversial Muslim travel ban in view of the London Bridge terror attacks that killed seven people and wounded nearly 50. "We must stop being politically correct and get down to the business of security for our people. If we don't get smart it will only get worse," Trump said.
In a series of early morning tweets, Trump lashed out at Khan, who reportedly suggested there was no reason for alarm after three attackers drove a van into crowds on London Bridge and then went on a stabbing rampage in nearby Borough Market. "At least 7 dead and 48 wounded in terror attack and Mayor of London says there is 'no reason to be alarmed!'" he said. "Do you notice we are not having a gun debate right now? That's because they used knives and a truck!"
He was referring to a statement by the London mayor in which Khan said he was "grieving" for the victims and insisted that terrorists "would not win." But the statement available on the official website of the London mayor did not use the phrase "there's no reason to be alarmed," which Trump referred to in his tweet to criticise the Pakistani-origin mayor.
Later, a spokesman for Khan said the London mayor would not respond personally to Trump's "ill-informed" tweet. "He has more important things to do than respond to Donald Trump's ill-informed tweet that deliberately takes out of context his remarks urging Londoners not to be alarmed when they saw more police – including armed officers – on the streets," the spokesman said.
The spokesman said Khan "is busy working with the police, emergency services and the government" to co-ordinate the response to the cowardly terrorist attack. Earlier, the US president also used the London attacks to promote and urge for support to his proposed travel ban on people from six Muslim-majority countries.
"We need to be smart, vigilant and tough. We need the courts to give us back our rights. We need the travel ban as an extra level of safety!" Trump told his 31.4 million Twitter followers. The Justice Department last week asked the US Supreme Court to reinstate Trump's executive order banning travel to the US from six Muslim-majority nations while it appeals a lower-court ruling that upheld a nationwide block on the ban.
Trump through the order had banned visa issuance to citizens of Iran, Libya, Somalia, Sudan, Syria and Yemen. He also retweeted a tweet from conservative news website Drudge Report which said that there were fears of new terror attacks ahead of the general election in the UK on June 8.
Meanwhile, US Department of Homeland Security said it was "closely monitoring" the situation in the UK. "We are working with our inter-agency partners and foreign counterparts to gain further insight into reported attacks against civilians on London Bridge and in the surrounding areas."
The Homeland Security secretary has been briefed on the incidents and the response, it said in a statement, adding they were in contact with and stand ready to assist the UK. The issue of inter-agency cooperation had made headlines last month when British Prime Minister Theresa May complained to Trump about leaking of intelligence to US press about the Manchester bombing that killed 22 people at a pop concert.
US State Department spokesperson Heather Nauert condemned "the cowardly attacks" targeting innocent civilians in London. "The US stands ready to provide any assistance authorities in the United Kingdom may request," she said in a statement.
Other American leaders also condemned the London Bridge terror attack – the third such incident in three months. Paul Ryan, Speaker of the US House of Representatives, said, "We stand resolute with our friends in London and send prayers to the victims. Terror and hate will never triumph." Senate Minority Leader Chuck Schumer said, "My heart is with the people of London, the victims of this string of terrorist attacks, and their families."
"We stand in solidarity with the United Kingdom. Terrorism must not prevail," said Congressman Ted Poe. Congresswoman Ann McLane Kuster tweeted, "My thoughts and prayers are with the people of London and all of the UK." Congressman Eliot L Engel, ranking member of the House Committee on Foreign Affairs, said the US "must stand ready to help our ally track down the perpetrators and swiftly bring them to justice."
Full report at:
http://indianexpress.com/article/world/donald-trump-slams-london-mayor-sadiq-khan-uses-attacks-to-promote-muslim-travel-ban-4688997/
--------
Europe
After London terror, time for 'difficult conversations' with Saudi, Corbyn says
Jun 4, 2017
British opposition leader Jeremy Corbyn says it is time for the UK to hold "difficult conversations" with Saudi Arabia and other Arab states of the Persian Gulf in the wake of the London terror attack.
Terror on and near the London Bridge left at least seven people dead and wounded almost 50 others on Saturday.
"Yes, we do need to have some difficult conversations starting with Saudi Arabia and other Persian Gulf states that have funded and fueled extremist ideology," Corbyn said in Carlisle, north England, on Sunday.
Daesh claims responsibility
Saudi Arabia and some of its regional allies have already been implicated in support for Takfiri terrorism, currently wreaking havoc in Iraq and Syria.
On Saturday, three knife-wielding assailants drove a hired van into pedestrians on London Bridge and stabbed others nearby in an attack initially praised and subsequently claimed by the Daesh Takfiri group.
"A detachment of Daesh fighters executed yesterday's London attack," said a statement posted on Amaq's media page, monitored in Cairo.
The opposition leader, who will face Prime Minister Theresa May in a June 8 snap election, also censured Islamophobia in the wake of the attack.
"We must resist Islamophobia and division and turn out on June 8 united in our determination to show our democracy is strong," asserted the Labour leader.
http://217.218.67.231/Detail/2017/06/04/524220/Time-to-call-Saudi-after-London-terror
--------
London attacks herald guerrilla terror tactics
Jun 5, 2017
NEW DELHI: The London attacks are the latest in a trend of "jihadi guerrilla warfare" carried out by self-radicalised Islamists as well as individuals and groups acting on the directions of Islamic State handlers located in remote regions controlled by the organisation.
The use of a heavy vehicle to mow into crowds and the stabbing spree in central London bear the palmprints of the extremist group's methods.
IS propagandists have repeatedly urged adherents to attack host societies if unable to travel to Syria and Iraq to wage battle, arguing that such actions will please the group's leaders and are a weighty blow in the cause of the alleged caliphate the movement espouses.
IS spokespersons have urged its terror footsoldiers to abandon any compunction over killing civilians, arguing that such distinctions do not apply to "impure" societies and for good measure invoke drone attacks to spur a sense of vengeance. British PM Theresa May denounced the "single evil ideology of Islamist extremism", indicating the UK government sees the outrage as act of jihadi terrorism. The religious invocations of the attackers reported by witnesses seem to buttress this conclusion.
The urban warfare police forces are faced with is difficult to anticipate even with highly advanced technical surveillance. The dangers stem from home grown terrorists as was the case with the Westminster attacker whose family had come from Pakistan. But the threat has also originated from among refugees fleeing the middle-east whose ranks include radicals, sometimes infiltrated by the IS.
The conservative beliefs of the new populations make integration more difficult as many arriving in Europe are suffused with the conviction that host societies should change rather than them. The genuine sufferings of thousands escaping the chaos in the middle-east sharpens the dilemma for democratic nations.
The role of IS handlers has been uncovered by Indian agencies probing IS plots and has been supplemented by statements of individuals who have returned or were deported.
The IS has consistently encouraged recruits to take to arms and on occasion has even provided a support network.
The identity of the individuals acting on behalf of the IS is shrouded in mystery and they are often known by names,almost certainly assumed, and remain in contact with terror cells through encrypted chats and emails that use servers that are located beyond the reach of conventional service providers.
Full report at:
http://timesofindia.indiatimes.com/world/uk/london-attacks-herald-guerrilla-terror-tactics/articleshow/58991731.cms
--------
Italy bomb scare sparks stampede, injures 1,500
June 05, 2017
Piazza San Carlo - More than 1,500 people were injured, three seriously, after a bomb scare triggered a stampede among Juventus fans watching the Champions League final in Turin, local authorities said Sunday.
In an update on Saturday's dramatic events in a square packed with supporters watching the Cardiff match on a giant screen, the local prefecture said 1,527 had been treated for mainly minor injuries.
Three people were in a serious but not life-threatening condition, including a young boy. Local media described him as a seven-year-old and said he was in a coma with serious chest injuries after being trampled in the crush.
AFP reporters who witnessed the scenes said the panic seemed to have been triggered by fireworks, followed by one or more people shouting that a bomb had exploded - a notion that quickly filtered through the crowd.
The incident compounded a miserable night for fans of Turin-based Juventus, who lost the final 4-1 to Real Madrid.
It also underlined the impact recent acts of terror are having on a jittery public across Europe, and the dilemmas now faced by organisers of any mass gathering of people following the Bataclan, Paris and Manchester concert attacks.
"This is a city that lives with anxiety and panic is something that is very difficult to control," said Turin Prefect Renato Saccone.
The scare in Turin came just minutes before another deadly attack unfolded in London with assailants driving a van into pedestrians on London Bridge and then going on a stabbing spree before being shot dead by police.
"Even if there have been no attacks in Italy, the panic of last night shows they are achieving their objectives even here," said Roberto Calderoli, a Senator for the Northern League.
Several thousand fans had turned up to watch the match in the Piazza San Carlo in downtown Turin.
As fear took hold, a rush towards exit points quickly accelerated and the square emptied so quickly it was left strewn with hundreds of shoes ripped off people's feet as they ran.
The square was still dotted with shoes, clothes, bags and patches of blood on Sunday morning. The high number of cuts was blamed on beer in glass bottles having been freely available before and during the match from unlicensed vendors.
"We heard a noise, then there was a movement of people like a wave and everyone started falling over each other," said Luca, one of the fans caught up in the drama.
"I have got blood on me from the people who fell on top of me, people were screaming, jumping over each other," he told AFPTV. "It was really awful - we really thought it was Manchester again."
Some of the injuries occurred after a railing around the entrance to an underground car park beneath the square gave way under the weight of the crush, causing some of those injured to fall up to two metres onto tarmac.
Local media cited older Juventus supporters present as saying the panic had evoked painful memories of the 1985 Heysel disaster, in which 39 mostly Italian fans died when they were crushed by a collapsing wall before the start of that year's European Cup final, against Liverpool.
Full report at:
http://nation.com.pk/national/05-Jun-2017/italy-bomb-scare-sparks-stampede-injures-1-500
--------
UK's Rudd says London attackers probably 'radical Islamist terrorists'
Jun 5, 2017
The attackers who killed seven people and wounded 48 in central London on Saturday were probably radical Islamist terrorists, Britain's interior minister Amber Rudd said today.
"As the prime minister said, we are confident about the fact that they were radical Islamist terrorists, the way they were inspired, and we need to find out more about where this radicalisation came from," Rudd told ITV television.
http://nation.com.pk/international/04-Jun-2017/uk-s-rudd-says-london-attackers-probably-radical-islamist-terrorists
--------
ISIS claims responsibility for deadly attack on London
5 June 2017
ISIS has claimed responsibility for the London attacks, which left seven people dead, an online news agency affiliated with the extremist group said on Monday.
A "detachment of fighters from ISIS carried out London attacks yesterday" the Aamaq news agency said, referring to Saturday's assault which saw three men in a van plough into pedestrians on London Bridge before going on a stabbing spree.
British Prime Minister Theresa May on Sunday blamed "evil Islamist ideology" for the attack, as police said they had arrested 12 suspects
Saturday night's rampage at a popular nightlife hub around London Bridge by three men wearing fake suicide vests was the third deadly terror attack in Britain in less than three months and came only days before snap elections.
Full report at:
https://english.alarabiya.net/en/News/world/2017/06/05/ISIS-claims-responsibility-for-deadly-attack-on-London.html
--------
Police make 12 arrests in connection with London attack
4 June 2017
Police made 12 arrests in east London on Sunday in connection with an attack on Saturday night in which seven people died and 48 were injured, London's Metropolitan Police Service said in a statement.
"Officers from the Met's Counter Terrorism Command have this morning, Sunday 4 June, arrested 12 people in Barking, east London, in connection with last night's incidents in London Bridge and the Borough Market area. Searches of a number of addresses in Barking are continuing," the statement said.
Three assailants drove a van into pedestrians on London Bridge before stabbing people on the street in the nearby Borough Market area. All three were shot dead by police at the scene.
Raid in east London
Police raided an address in east London used by one of the three attackers who killed seven people in the city center, Sky News reported on Sunday, citing unnamed sources.
An eyewitness to the raid told Sky he heard several bangs during the operation and was later told they were controlled explosions.
Full report at:
https://english.alarabiya.net/en/News/world/2017/06/04/Police-raid-flat-of-one-of-London-Bridge-attackers-Sky-News.html
--------
Theresa May says 'enough is enough' after seven killed in London Bridge attack
4 June 2017
Theresa May has warned that there has been "far too much tolerance of extremism" in the UK and, promised to step up the fight against Islamist terrorism after the London Bridge attack, saying "enough is enough".
The prime minister set out plans to crack down on extremism after chairing a meeting of the Cobra committee following the attack in the centre of the capital in which seven people were killed by three attackers.
The statement's content has concerned senior Labour figures who believe it is a breach of a cross-party agreement to put aside political campaigning and is insensitive to people only just discovering that they have lost loved ones.
In a sombre address outside 10 Downing Street, May said internet companies must not allow extremism a place to exist, but added that there was also a need to tackle "safe spaces in the real world", which would require "difficult" conversations.
The prime minister also suggested the idea of increased prison terms for terrorism offences, even relatively minor ones.
Islamist militancy was the thread that linked the otherwise unconnected attacks in London Bridge, Westminster and Manchester, she said.
"It is an ideology that is a perversion of Islam and a perversion of the truth," she said. "Defeating this ideology is one of the great challenges of our time. But it cannot be defeated through military intervention alone."
She continued: "It is time to say enough is enough. Everybody needs to go about their lives as they normally would. Our society should continue to function in accordance with our values. But when it comes to taking on extremism and terrorism, things need to change."
May said the recent spate of attacks showed the UK was "experiencing a new trend in the threat we face".
She continued: "As terrorism breeds terrorism and perpetrators are inspired to attack, not only on the basis of carefully constructed plots after years of planning and training, and not even as lone attackers radicalised online, but by copying one another and often using the crudest of means of attack."
Action was needed in the UK as well as overseas, she added. "While we have made significant progress in recent years, there is – to be frank – far too much tolerance of extremism in our country.
"So we need to become far more robust in identifying it and stamping it out across the public sector and across society. That will require some difficult, and often embarrassing, conversations.
"But the whole of our country needs to come together to take on this extremism, and we need to live our lives not in a series of separated, segregated communities but as one truly United Kingdom."
The shadow foreign secretary, Emily Thornberry, said May's statement appeared to be a breach of an agreement with Labour to put aside political campaigning until Sunday night.
Thornberry told BBC Radio 4's The World This Weekend the statement was insensitive to the needs of those who were just becoming aware that their loved ones had died.
She said: "None of the things [May] is proposing in the four-point plan are immediate steps, and so I regret the timing of this. There is an agreement between the parties that there will not be party political campaigning until this evening or tomorrow.
"I think that [what May has said] is drawing us into a debate – I think there is time enough to discuss these issues. To come out on to the steps of 10 Downing Street immediately in the aftermath of a terrible outrage would not be something that would be expected.
"[May] has said 'enough is enough'. Well I thought enough was enough after 9/11, I thought that enough was enough after 7/7. I didn't think we should be taking any more of these attacks on our people, we all agree on that.
"We need to do more but we also need to be sensitive to the fact that there are people who are only just discovering that their loved ones have died."
Iain Duncan Smith, a former Tory work and pensions secretary, told the World this Weekend that May would probably try to toughen up terrorism, prevention and investigation measures, known as Tpims. These are the measures introduced by the coalition to place restrictions on people who are suspected of being terrorists but who have not been convicted of an offence.
Duncan Smith said that was one of the things May was referring to when she spoke about toughening anti-terror laws.
Asked on The World This Weekend whether that meant internment, he replied: "I don't think that is what is on the table. But I think what is on the table is a much tighter view about the way we got about this Tpim stuff. One of the things that I was concerned about in coalition – I know Theresa May was when she was home secretary – was during the coalition the Tpim order that we brought in, which gives those powers, was watered down. And I think it was weakened too much."
The foreign secretary, Boris Johnson, who was once London's mayor, also said attitudes had to change, saying: "The wells of tolerance are running empty."
In a statement, Johnson urged Londoners to "carry on with business as usual", but said: "To those who sympathise or encourage or harbour or aid or abet these killers – in any way – we say enough is enough. Your time is up."
The home secretary, Amber Rudd, said security services did not believe the attackers were part of a wider plot, which is why the independent Joint Terrorism Analysis Centre (JTAC) had not advised raising the national alert level.
Rudd told ITV's Peston on Sunday show: "We don't believe there are additional elements which could be carrying on the attack we saw last night – JTAC, rather, has made that assessment, so they haven't recommended going to critical."
May confirmed that the election would not be postponed, saying: "Violence can never be allowed to disrupt the democratic process. So those campaigns will resume in full tomorrow and the general election will go ahead as planned on Thursday.
"As a country our response must be, as it has always been, when we have been confronted by violence we must come together. We must pull together. And united, we will take on and defeat our enemies."
She praised the "great courage and great speed" of the police and of other emergency services. "On behalf of the people of London and on behalf of the whole country, I want to thank and pay tribute to the professionalism and bravery of the police and the emergency services, and the courage of members of the public who defended themselves and others from the attackers," she said.
Her comments follow the decision by the Conservatives, Labour and Liberal Democrats to suspend election campaigning after the attack. The Scottish National party and Greens are also doing this.
Full report at:
https://www.theguardian.com/uk-news/2017/jun/04/london-attack-theresa-may-says-enough-is-enough-after-seven-killed
--------
Arab World
Bahrain, Saudi Arabia, Egypt, UAE cut ties with Qatar; say it supports 'terrorism'
June 5, 2017
Bahrain, Saudi Arabia, Egypt and the United Arab Emirates (UAE) severed ties with Qatar on Monday after accusing the nation of supporting 'terrorism' and Islamic groups. The move comes amid a deepening rift between the Gulf Arab nations, reported the Associated Press. The dispute between Qatar and its neighbouring countries began after the former alleged in May that hackers took over its state-run news agency and published fake comments from its ruling Emir regarding Iran and Israel. The other four countries had, at the time, responded by blocking all Qatari-based media, including Al-Jazeera.
The four countries announced that they would withdraw their respective diplomatic missions from Qatar, which recently won the bid to host the 2022 FIFA World Cup, within the next few days. The nations have also cut off all air and sea movement to the peninsular country.
Bahrain, the first country to cut ties with gas-rich Qatar, accused it of backing terrorism 'at all levels' and interfering in its internal affairs. It said its diplomatic mission will be withdrawn from Doha, the capital of Qatar, within 48 hours. It directed all Qatari diplomats to leave Bahrain within the same period, after completion of all necessary procedures. The country's official news agency, Bahrain News Agency, added that Bahrain would cut off its airspace, ports and territorial waters to air traffic and shipping between the counties within 24 hours. The government has banned its citizens from travelling to Qatar or from staying there. Qatari residents and visitors have been given 14 days to leave the Kingdom.
"Based on the insistence of the State of Qatar to continue to undermine the security and stability of the Kingdom of Bahrain and to interfere in its domestic affairs, as well as on the escalation and incitement of its media and its support to acts of terror and to financing armed groups associated with Iran to carry out subversive attacks and spread chaos in the Kingdom in flagrant violation of all agreements, covenants and principles of international law without any regard to values, law, morals or consideration of the principles of good neighbourliness or pledge to the premises of Gulf relations, and the denial of previous commitments, the Kingdom of Bahrain announces the severing of its diplomatic relations with the State of Qatar in order to preserve its national security," Bahrain's state media portal said.
Saudi Arabia, which soon after announced that it was breaking off diplomatic relations with Qatar, said the move was initiated to protects its Kingdom from terrorism and extremism, reported Reuters. Its official news agency stated it would cut diplomatic and consular relations with Qatar "proceeding from the exercise of its sovereign right guaranteed by international law and the protection of national security from the dangers of terrorism and extremism". Saudi Arabia cut all land air and sea contacts with Qatar "and urges all brotherly countries and companies to do the same."
Saudi has also said Qatari troops would be expelled from the on-going war in Yemen. The Saudi-led Arab coalition has been involved in the war for the last two years.
Shortly after, Egypt and the United Arab Emirates announced they would be ending diplomatic ties with Qatar, Egypt accused Qatar of backing terrorism groups, while UAE said it is "destabilising security of the region." The Egyptian foreign ministry announced that its airspace and seaports have been sealed off for all Qatari transportation in a bit to ensure 'national security', AP reported.
UAE's state news agency WAM reported that its diplomats have been given 48 hours to leave the country. It cited Qatar's "support, funding and embrace of terrorist, extremist and sectarian organisations," AP reported.
Meanwhile, in light of these events, Abu Dhabi's state-owned airline firm Etihad Airways has announced suspension of its flights to and fro Doha from Tuesday morning, until further notice. The last flight from the country to Doha will depart at 2.45 am (local time) on Tuesday, Reuters reported.
Qatar has not yet commented on the developments.
http://indianexpress.com/article/world/bahrain-saudi-arabia-egypt-uae-qatar-cut-ties-terrorism-hackers-4689382/
--------
ISIS massacres civilians while preventing them from fleeing Mosul
4 June 2017
The Iraqi Observatory for Human Rights said civilians in the Zanjili neighborhood in Mosul are living tragic circumstances as they are getting killed by ISIS while attempting to flee the group's strongholds.
"ISIS is preventing civilians from fleeing. If they receive any information that someone is trying to escape or if they capture anyone while attempting to escape, he is immediately executed," the observatory said in a report.
An eyewitness from the Zanjili neighborhood who managed to reach Iraqi security forces said that on 3 a.m. on Saturday, ISIS found the safe passage which families had been using to escape towards security forces.
"This passage is near the Pepsi factory. ISIS threw grenades on civilians who were gathering to escape then used machine guns to kill whoever insisted on escaping while some of them returned to Zanjili," he added.
Another eyewitness said ISIS used loudspeakers and ordered "killing anyone who tries to escape," and urged all its snipers to kill families who take the road that's near the Pepsi factor.
Meanwhile, an official in the Nineveh local government said: "The massacre happened at 3 a.m. and ended 7 hours later. 250 civilians fell victims of the attack. The bodies are still on the road waiting to be removed."
Full report at:
https://english.alarabiya.net/en/News/middle-east/2017/06/04/ISIS-massacres-civilians-while-preventing-them-from-fleeing-Mosul.html
--------
Syrian Soldiers Expel ISIL from Aleppo; Maskana Freed
Jun 04, 2017
Following clashes with ISIL terrorists in Eastern Aleppo, the Syrian army captured tens of villages and towns in areas surrounding the key Maskana town and eventually forced a large number of terrorists in Maskana to retreat towards Raqqa.
Meantime, the engineering units of the Syrian army also cleared these regions of hundreds of mines, bombs and IEDs left behind by the terrorists.
The army troops also managed to seize control over the water pumping stations and electricity generators of the region and also regained control over the mountains along the Maskana-Raqqa road.
A military sources said following the liberation of Maskana as ISIL's last bastion in Eastern Aleppo, it seems that ISIL's presence in the province has come to end and the Syrian troops have practically ended the Takfiri terrorists' presence in the province.
Meantime, a battlefield source said that in view of the geographical location of Maskana which links Eastern Aleppo to Badiyeh (desert), the Syrian army will most probably move towards Badiyeh and other army units will also move towards the Eastern countryside of Hama province to help the Syrian soldiers in the newly-started military operations in the region. By taking control of Maskana, the Syrian troops are now on the verge of entering Raqqa province.
Syria's state media said on Saturday that over 1,200 ISIL terrorists have been killed and hundreds more have been wounded in the ongoing operation of the Syrian army in Eastern Aleppo that has resulted in the liberation of tens of towns and villages so far.
The Syrian state news agency said that the army soldiers engaged in fierce clashes with ISIL and drove them out of the villages of al-Eisalan, al-Qar, Maskana wheat silos, al-Aajouziyeh, al-Mahmoudiyeh, al-Feisaliyeh and al-Tayebeh today.
It reported that the army men's fresh operation in Eastern Aleppo has resulted in the liberation of 22 villages and farms and the killing of over 1,200 ISIL terrorists, adding that hundreds more have also been wounded in the clashes.
The agency added that 10 senior commanders, including Abu Hazifi Libya'yee, the commander of ISIL in Eastern Aleppo are among the terrorists killed in the recent operation.
In the meantime, 12 command posts, 101 military vehicles, 4 tanks, 2 BMP vehicles and 7 cannons of ISIL have also been destroyed.
Military sources said earlier today that the army troops continued their anti-ISIL operation to recapture the strategic town of Maskana in Eastern Aleppo and managed to take back 10 villages and regions, adding that the pro-government forces have gained control over the Raqqa-Maskana highway.
The sources said that the army men engaged in fierce clashes with ISIL and drove them out of the villages of Doweirineh, al-Balisiyeh, Um Hajra, al-Morteza al-Qadimiyeh and al-Sharideh in Eastern Aleppo.
Full report at:
http://en.farsnews.com/newstext.aspx?nn=13960314000550
--------
Dara'a: Syrian Army Kills Tens of Al-Nusra Terrorists, 3 Commanders
Jun 04, 2017
The social media affiliated to the terrorist groups reported that at least 26 Al-Nusra Front militants were killed in an unsuccessful attack on government forces' positions in Manshiyeh region in Dara'a province over the past 24 hours.
Three senior Al-Nusra Front commanders, Wassim Youness Salaj al-Moslemeh, Hassan Sabahi nom de guerre Aba Zayd and Mahmoud Hamed al-Za'abi were among the Al-Nusra casualties.
Meantime, another convoy of the Syrian army forces arrived in Dara'a province along with a large cargo of weapons and military equipment.
The fresh forces joined their comrades on Wednesday as the Syrian army had earlier dispatched two other convoys of soldiers to Dara'a.
Hundreds of Syrian forces and a large batch of military supplies were sent to Dara'a province as it seems that pro-gov't forces are preparing to start a new anti-terrorism operation in the region.
Military sources also disclosed on Saturday that the Syrian Army has forwarded a large volume of modern military equipment to its borders with Jordan to reinvigorate its forces' imminent operation in the Southern province of Dara'a.
The sources announced that a large number of the Scud-b (Golan) missile launchers and tanks have been sent to Dara'a to join the army's imminent operation to recapture the Southern parts of Dara'a city that are still under terrorists' control.
According to military sources, the pro-government forces are now in the preparation stage for a special operation to completely liberate the Dara'a city and recapture Jumrak border crossing to Jordan.
Media sources reported that unprecedented angst has covered the entire terrorist-held regions in Dara'a city after arrival of a large number of fresh Syrian Army soldiers and armored vehicles in the Southern city.
Full report at:
http://en.farsnews.com/newstext.aspx?nn=13960314000523
--------
Syrian Special Forces Repel ISIL's Massive Attack in Homs Province
Jun 04, 2017
The ISIL terrorists heavily hit the positions of the Syrian special forces (ISIL hunters) in Height 681 with mortar shells and missiles to pave the way for their advances.
ISIL Hunters managed to repel the attack while killing and wounding scores of ISIL militants as well as arresting one of the ISIL members alive.
The captured ISIL terrorist disclosed that the terrorist group's massive attack was part of a reconnaissance mission to gather intel for a planned offensive to recapture Tiyas airbase and further advance to the energy fields at Al-Faraqlas.
The Homs-Palmyra road is one of the most strategic routes for the Syrian army to dispatch troops and weapons as well as equipment to the warfront in the countryside of Homs province.
Russian military experts had trained a large number of Special Forces of the Syrian Army known as "ISIL Hunters" to fight against terrorists in Eastern Homs and in the Western territories of the ancient city of Palmyra.
ISIL Hunters had played a significant role in the liberation of Tadmur from ISIL Takfiri group.
The ISIL Hunters were trained by the Russian Special Forces in Lattakia, and are experts in guarding government facilities in desert regions, arms and ammunition depots and military airports and fight against terrorists in oil and gas fields.
The Syrian army's special forces are also safeguarding Palmyra and the nearby oilfields in Homs province.
Full report at:
http://en.farsnews.com/newstext.aspx?nn=13960314000413
--------
Homs: Syrian Army Fends Off ISIL's Powerful Attacks on Key Oil Fields West of Palmyra
Jun 04, 2017
The ISIL launched massive attacks on the Syrian army's military positions near al-Sha'er and Hayan oilfields West of Palmyra, but the terrorists were pushed back by the Syrian army after several hours of clashes.
Meantime, a military source said that after losing its military positions in Palmyra and its nearby regions, the ISIL has mobilized its elements in the surrounding areas of the two oilfields to seal off the Homs highway to the Syrian troops who are advancing deep into Badiyeh (desert) in an area near T4 Station.
Meanwhile, another political analyst announced that after sustaining heavy defeats in the Eastern countryside of Homs, the ISIL intends to approach Qalamoun regions by taking control over Hayan and Sha'er energy zones.
In relevant developments last Saturday, the Syrian and Russian fighter jets continued their heavy airstrikes on ISIL strongholds and movements in Eastern Homs, inflicting major losses on the terrorists, field sources said.
The sources said that the Syrian fighter jets pounded ISIL's concentration centers and movements in Jubb al-Jarah in Eastern Homs, and the supply lines of ISIL between the villages of Hibreh Qarbi, Hibreh Sharqi, Rasm al-Sab'a, al-Rabiyeh, al-Shiheh and Rasm al-Arnab.
The sources added that several vehicles and a large volume of military equipment of ISIL were fully destroyed and a large number of terrorist were killed in the air raids.
The sources, meantime, said that the Russian army aircraft backed up the Syrian army ground forces in Homs, targeting ISIL's positions in the region.
Another military source said that the Russian fighter jets targeted ISIL's vehicles and gathering centers in areas near the town of al-Sukhnah, destroying the vehicles and killing a number of militants.
The Syrian and Russian fighter jets are also monitoring ISIL's movements in Homs day and night.
Full report at:
http://en.farsnews.com/newstext.aspx?nn=13960314000396
--------
Syrian Forces Advancing Against US-Backed Militants Regardless of Washington Threats
Jun 04, 2017
"The Syrian army and its allied forces managed to advance 1,400 square kilometers in Badiyeh region East of Palmyra (Tadmur) over the past 24 hours," a military source said.
The military source went on to say that the Syrian army continued its advances from point Moqhi al-Shahmieh and reached Jaliqam intersection which is connected to al-Tanf passage and Jordan borders.
The military source reiterated that the army troops inflicted heavy casualties on ISIL terrorists and the military operations are still underway.
The Syrian Army had managed to secure over 5,000 square kilometers of the Syrian Desert from the clutches of ISIL during the first stage of a special military operation.
According to a military source, all objectives of the first stage of Operation Grand Dawn – secure the Damascus-Palmyra route and the Khneifis phosphate mines and factories (chief source of this mineral in Syria) – have been accomplished.
The source stressed that the Russian Aerospace Forces provided air support to the advancing Syrian government forces, and have recently dealt a serious blow to the ISIL logistics' chain by obliterating a number of terrorist supply convoys.
Simultaneous with the rapid advances of the Syrian Army troops towards al-Tanf border-crossing the US-led coalition dropped thousands of leaflets over the army-controlled region calling on them to retreat from Southern Syria.
Meanwhile, the Syrian Army troops fortified their positions in Syria's Badiyeh in order to get ready for launching the next phase of their military operations against terrorists and sealing the border with Iraq.
Field sources also said that the Hashd al-Shaabi (Iraq's Popular Mobilization Forces) is ready to fight against ISIL along with the Syrian Army troops to free the strategic al-Tanf border-crossing.
The sources added that following deployment of forces at borders with Syria the Hashd al-Shaabi is coordinating with the Syrian army to jointly storm ISIL and free al-Tanf border town and region.
In a relevant development on Friday, the Syrian Army troops seized a number of US-made Humvee armored vehicles after capturing an ISIL base in Badiyeh in Eastern Homs.
The army men were carrying out cleansing operation in the newly-captured regions in Badiyeh when they discovered several High Mobility Multipurpose Wheeled Vehicle (HMMWV), commonly known as the Humvee, at the ISIL base.
Full report at:
http://en.farsnews.com/newstext.aspx?nn=13960314000304
--------
Syrian Air, Ground Forces Hit ISIL Hard to Lift Siege of Deir Ezzur
Jun 04, 2017
The Syrian fighter jets heavily pounded the ISIL's military positions and bases in the surrounding areas of Panorama, Tal-e Aloush, Tal-e 17, al-Mokabat, al-Tharda intersection South of Deir Ezzur.
Meantime, other army units launched heavy artillery and missile attacks on ISIL's movements and military positions in al-Maqaber (cemetery) and al-Mokabat regions as well as Jebel al-Tharda, Sorieh Juneid, Tal-e Aloush, Tal-e Milad, Panorama farms, al-Shababi housing complex and near Regiment137.
A large number of ISIL terrorists were killed and wounded in the Syrian army attacks. The ISIL's military vehicles and equipment were also destroyed in the Syrian army attacks.
Field sources reported on Wednesday that the Syrian Army troops are coordinating the last steps of a large-scale operation to storm ISIL's defense lines through three directions to liberate the terrorist-held parts of Deir Ezzur city and its countryside.
The sources said that the army is about to launch a large-scale operation to lift ISIL's siege of Deir Ezzur, adding that the plan of operation is ready and the forces and military equipment have been deployed in projected positions.
The sources further said that the Lebanese Hezbollah Resistance Movement has dispatched a number of its forces and field commanders to Deir Ezzur, adding that Hezbollah fighters are to shake hands with other pro-government forces that will start their operation towards Deir Ezzur from Palmyra city in Homs province.
The sources said that the army troops are to start their operation from Palmyra towards the strategic town of al-Sukhnah with the aerial back up of the Syrian and Russian fighter jets in order to move towards Deir Ezzur after liberation of al-Sukhnah.
In the meantime, another military operation will be launched from inside Deir Ezzur city Westward to join the army soldiers that will arrirve in the region from Palmyra front.
Simultaneous with the joint operation of the army men and their popular allies through three fronts in Deir Ezzur, the Iraqi popular forces of Hashd al-Shaabi will kick off an operation in the deserts of Anbar province in Western Iraq near the border with Deir Ezzur to weaken terrorists' defense abilities and accelerate collapse of ISIL.
Military sources said on Tuesday that the army soldiers, backed up by the country's Air Force, engaged in a fresh round of clashes with ISIL in near Palmyra city and seized control over Mount al-Mostadireh 20km away from Palmyra.
They added that the army aircraft, meantime, carried out several combat flights over ISIL's positions, supply lines and movements in al-Talileh, Station 3 and around the town of al-Sukhneh in Badiyeh (desert) of Palmyra, inflicting major losses on the militants.
Full report at:
http://en.farsnews.com/newstext.aspx?nn=13960314000331
--------
Iraqi paramilitaries take Baaj town west of Mosul from ISIS
4 June 2017
Shiite paramilitaries have captured the Iraqi town of Baaj from ISIS, further shrinking the northern region under militant control as part of a US-backed campaign to retake the city of Mosul, the Iraqi military said on Sunday.
Eight months into the Mosul offensive, ISIS militants have been dislodged from all of the city except an enclave along the western bank of the Tigris river.
ISIS's grip on the Iraqi side of the northern region along the border with Syria, a desert area where Iraqi and US sources believe ISIS leader Abu Bakr al-Baghdadi is hiding, has been ebbing as forces fighting on the side of Iraq's government have advanced.
The Iraqi air force provided cover for the thrust into Baaj of the Shi'ite paramilitaries known as Popular Mobilization, said a statement from the Iraqi joint operations command.
Popular Mobilization is steered by neighboring Shi'ite regional power Iran, an adversary of the United States, but is playing a part in the campaign to defeat Islamic State, an enemy of both, in Mosul and the surrounding province of Nineveh.
Iraqi government armed forces are focusing their effort on dislodging insurgents from remaining pockets in Mosul, since 2014 ISIS's de-facto capital in Iraq.
While reporting nominally to Iraq's Shiite-led government, Popular Mobilization has Iranian military advisers, one of whom died last month fighting near Baaj.
Securing border territory between Iraq and Syria is important for Iran to reopen a land route to supply Syrian President Bashar al-Assad's army with weapons in his protracted war with rebels and militants.
A statement published by Popular Mobilisation announcing the capture of Baaj came from Abu Mahdi al-Muhandis, a prominent leader of the paramilitary with longstanding ties to Iran.
Full report at:
https://english.alarabiya.net/en/News/middle-east/2017/06/04/Iraq-s-PMU-captures-key-ISIS-held-area-near-Syria-border.html
--------
Saudi Arabia to 'provide all facilities for Qatari pilgrims'
5 June 2017
Saudi Arabia on Monday said it would provide all facilities and services needed by Qatari pilgrims currently in the kingdom following a Saudi decision to sever diplomatic and consular ties with Qatar.
Earlier, a statement issued by the Saudi Press Agency instructed Saudi citizens to not travel, stay or transit in Qatar. Saudi citizens and visitors currently in Qatar are requested to leave the country in no more than 14 days.
For security purposes, Qatari citizens are also not allowed to enter or transit in Saudi Arabia. The kingdom will give Qatari citizens no more than 14 days to leave the country.
But these directives do not affect Qatari pilgrims currently in the kingdom, Saudi Arabia has insisted.
https://english.alarabiya.net/en/News/gulf/2017/06/05/Saudi-Arabia-to-provide-all-facilities-for-Qatari-pilgrims-despite-diplomatic-freeze-.html
--------
Organization of Islamic Cooperation condemns attack on London Bridge
5 June 2017
The Organization of Islamic Cooperation (OIC) has condemned in the strongest terms the "cowardly attack carried out on London Bridge and in nearby Borough Market on Saturday", which resulted in the killing of at least seven lives and left dozens of others injured.
In a statement to Saudi Press Agency (SPA), OIC Secretary General Dr. Yousef Al-Othaimeen expressed his "shock and sadness over the heinous act that runs contrary to the sanctity of human lives and humanity".
The Secretary General also offered his sincere condolences to the families of the victims, the government and the people of United Kingdom on their tragic loss of lives, and wished early recovery to the injured people.
He further reiterated the principled position of the OIC against all forms and manifestations of terrorism.
Seven victims were killed and three attackers were shot dead by armed British police after a van ploughed into pedestrians on London Bridge and reports of multiple stabbings in the nearby Borough Market area on Saturday night.
Full report at:
https://english.alarabiya.net/en/News/gulf/2017/06/05/Organization-of-Islamic-Cooperation-condemns-London-Bridge-attacks.html
--------
Syrian army troops liberate Aleppo town from Daesh clutches
Jun 4, 2017
Syrian army soldiers have managed to liberate a key town in the northern province of Aleppo from Daesh Takfiri terrorists as they continue to score more territorial gains in battles against extremists across the war-ravaged Arab country.
A military source, speaking on condition of anonymity, told Syria's official news agency, SANA, that Syrian troops had regained control of Maskanah town, which lies on the western bank of Lake Assad and is located 100 kilometers (62 miles) southeast of the provincial capital city of Aleppo, on Sunday.
"Military units continue to advance in the east of Aleppo province and track down groups of Daesh terrorists. Security and stability has been restored to the strategic town of Maskanah and a number of areas," the source added.
The recapture of Maskanah marks a great victory for Syrian government forces as the town is the last important civilian population center on the eastern border of Aleppo with the militant-held neighboring province of Raqqah.
"Whoever controls Maskanah controls the axes running between Aleppo and Raqqah. Daesh presence in the eastern flank of Aleppo Province is now at its end," an unnamed Syrian military official commented.
Rami Abdel Rahman, the director of the so-called Syrian Observatory for Human Rights, said Daesh Takfiris are now in control of some villages scattered in the desert eastern and southeastern parts of Aleppo Province; and the terrains can easily be recaptured.
Syrian Kurdish militias seize major dam in Raqqah
Meanwhile, the so-called Syrian Democratic Forces (SDF) have established full control over a strategic dam on the Euphrates River in Raqqah Province following intense clashes with members of the Takfiri Daesh terrorist group.
The US-backed SDF militias, made up of an alliance of Arab and Kurdish fighters, announced in a statement on Sunday that the forces had captured the Baath Dam in the morning, and renamed it Freedom Dam.
The Baath dam on the Euphrates is located 22 kilometers (14 miles) upstream from the city of Raqqah. Its water turbines reportedly can generate 81 megawatts of electricity, and its storage capacity is 0.09 cubic kilometers.
The US administration is set to use the Kurdish People's Protection Units (YPG), a major component of the SDF, in a planned US-led offensive to retake Raqqah, which has served as the main stronghold of Daesh in Syria since 2014.
Ankara views the YPG as the Syrian branch of the Kurdistan Workers' Party (PKK) militant group, which has been fighting for an autonomous region inside Turkey since 1984.
Speaking to reporters while on a visit to Montenegro on May 10, Turkish Foreign Minister Mevlut Cavusoglu stated that Washington knows Ankara's position on the YPG very well and should not take wrong steps in Syria.
The top Turkish diplomat added that the United States needed to distinguish between the YPG and their Arab allies in the SDF, and that the Arabs should be the ones to enter Raqqah.
Full report at:
http://217.218.67.231/Detail/2017/06/04/524176/Syrian-army-recapture-key-town-Maskanah
--------
Pakistan
Christian Sanitary worker dies as Muslim doctors deny treatment on touching in fasting
Jun 5, 2017
Umerkot, Pakistan: June 3, 2017. (Qaisar Loudhi) A Christian Sanitary worker who became unconscious after cleaning gutter kept struggling for life in hospital of Umerkot for 35 minutes and died without any medical support when Muslim doctors denied to touch his dirty body as they were fasting.
The Holy Month of Ramadan in Pakistan is underway when Muslims are fasting like other Islamic states around world. The Holy month of Ramadan is termed as month of blessings, forgives, peace and love according to Islam but in remote district of Thar desert of Sindh this Holy Month of Ramadan turned in cruelty when Muslim doctors who were fasting observed a human being dying before their eyes and cries of relatives and coworkers of Sanitary workers not pushed them to mercy and love.
According to details, one Christian employee of Municipal committee of city of Umerkot, named as Irfan Masih entered in gutter for cleaning on June 1, 2017, during duty timings on orders of his officer and due to poisonous gases became unconscious.
On the same time two more men jumped inside to save Irfan and others who trapped but all fell unconscious due to the same reason.
According to Irfan`s brother Pervaiz Masih "After he received the call about the incident he reached the occurred place and pulled his brother out of the manhole and rushed to Civil hospital as quickly as possible.
In the Civil Hospital Umerkot, sewer cleaner Irfan Masih kept gasping for breath, his family members pleaded with the hospital staff to treat him, but the senior doctor at the facility refused to touch his sludge-covered body as he was "fasting".
Dr Yousaf said to his ward boy to wash ugly Christian first otherwise I do not want to touch his body because I am on fasting and my clothes will be dirty if I touched him and walked away.
After this Parvaiz Masih cleaned his brother and requested the doctors again but the one of the doctor named Dr Allah Dad Rathored replied to parviaz Masih that don`t disturb us we know that well about our job and also know how to treat patients and after which an oxygen pump was sent for Irfan, that was empty, so, he died.
The FIR ( first information report ) has been lodged under section 319,34 PPC against six suspects including three doctors on behalf of the father of Irfan Masih.
According the police one of the accused Dr Jaam kunbhar has been arrested and two others have fled away.
Pak Center For Law and Justice (PCLJ) said, doctor committed criminal negligence in this case. it is a example of prejudice and hatred which Pakistani Christians are facing in Pakistan. Doctor should be punished and justice should be done in this case.
http://www.pakistanchristianpost.com/detail.php?hnewsid=6484
--------
Arab Countries Think Pakistan Is Their Security Guard
Jun 4, 2017
By Khurram Sajjad
The unexpected denial to the premier of Pakistan to speak at the Arab-Islamic summit internally jolts Pakistan's relationship with the Arab world despite the submission of apologies for a snub. The summit was aimed at exhibiting solidarity against the menace of extremism and terrorism. Despite the fact that the summit belonged to Pakistan, which has lost about 70,000 people in the wake of the foreign futile artillerist crusade of 'war on terror', it was imperative for Pakistan to speak up at the forum for internationalising Indian animus as well as its success of dealing with terrorism valiantly at the domestic front. The Modi's threat of isolating Pakistan is still vivid in the consciousness of Islamabad. In the face of such a situation, Pakistan-China cahoots go in full of shine to glare the world ahead.
Pakistan is always deemed as bedrock of the Muslim world for its possession of nuclear weapons. But the Muslim world believes her to act like a security guard towards Muslim states. Pakistan has pledged with the Muslim world that it would safeguard all the Holy Places situated in Saudi Arabia. Pakistan has always been proud of her relationship with the GCC countries and China. At some occasions, it also assumed the role of an intermediary between the two sectarian arch-rival states; Saudi Arabia and Iran. These states are embroiled in activities threatening to crumble the global peace, impacting the world order, and walloping Yemen and Syria respectively.
At the Islamic summit, American newly-elected president made his first overseas trip to Saudi Arabia, since his January swearing-in, to rejuvenate the bilateral relationship strained under the Obama administration. It is argued that the trip is a reprieve from the crush of controversies that had marred his nascent presidency. By capitalising on the summit, the US struck a deal of $110 billion with Saudi Arabia on the supply of weapons.
Donald Trump broke the legacy of US's oratory by uttering the phrase of "radical Islamic extremism" euphemism for "radical Islamic terrorism". He vehemently stressed on the need to extinguish Islamic extremism emanating from the middle-east, describing a "battle between good and evil" in lieu of a clash between the West and Islam.
Trump repeatedly said during his presidential campaign that "Islam hates us"; however, in the summit standing before dozens of regional leaders, he shrewdly steered the phrase to "Islam is one of the world's great faiths". Nor did he mention a travel ban on the Muslim immigrants.
However, he fumed against the scourge of extremism. He told the summit to 'drive them out of your place of worship. Drive them out of your communities'.
Moreover, Iran was also maligned by Trump, who claimed that 'Iran is destruction and chaos' and 'is indulged in sponsoring global terrorism'. The Arab leaders overtly expressed their anguish against Iran and went on to support the statement of the US president. At the same time, Trump mentioned the name of India as a future regional player.
By negating Pakistan's viewpoints, Indian state-sponsored terrorism against Pakistan and also its atrocities against the innocent Kashmir seem to be perpetual. Iran also seems to be no more supportive for Pakistan after the formation of Saudi-led 41 states Islamic Military Alliance to Fight Terrorism (IMAFT), headed by the former exalted army chief of Pakistan who is still examining the purpose of it in its true spirit. So much so, the formulation of Arab NATO is also being viewed after the success of the alliance. Since Iran is worried about the hegemonic control of Saudi Arabia in the middle-east through the use of military alliance, therefore Iran is poised to defend its vested interests. In order to weaken the military-alliance, the bloc of Iran-Afghanistan-India is likely getting strengthened to encircle Pakistan and truncate Chinese influence across South Asia. Iran would also continue to flare up the blaze of exacerbation if its interests are stymied.
Furthermore, Iran always maintained its influence over the Persian Gulf akin to that of Eqypt, over its territorial proximity to a narrow length of Persian Gulf, whereby around 40% of global oil trade lies. However, after the successful completion of CPEC, Pakistan's Gawadar port will overshadow the significance of Arab ports as well as the Iranian influence. This would result in declining Iranian influence over the gulf due to the diversion of whopping foreign trade from the port of UAE to Gawadar port. Hence, Pakistan would achieve the opportunity to gravitate foreign investments along with foreign goods.
India may be sidelined by the existing foreign investors due to its soaring poverty and emerging energy crisis. Fortunately, Pakistan gets an edge of China, the CARs and Russia to reduce its conventional dependence on pricey oil source to generate energy. Therefore, India has been avidly ambitious to join the cartel of Nuclear Suppliers Group to meet energy gap through nuclear energy after securing the support from US, Japan and Australia. Not only this, India also indirectly fears from the UN resolution on Kashmir, and thus intends to obtain permanent membership of Security Council for acquiring the right of potential veto power to overpower or undo the resolution.
In addition, the inclination of Iran towards India would be strengthened after the formation of 41-state Islamic Military Alliance. Iran would back every move of India irrespective of being legitimate or illegitimate, in spite of its inward repugnance against Indian outrages in Kashmir. Iran believes that the growing bilateral relation between India and the US would likely keep its sovereignty intact.
On the other hand, Israel does not want Iran to spread its tentacles across the middle-east, for which it is taking the support of US to isolate Iran from the world. While at the same time, Israel and India are the strong allies. Iran likely relies on India to bring reconciliation to its relationship with Israel. Once the harmony fades away Iran would be able to hold its influence firmly over Saudi Arabia. Let alone the Chahbahar Port that may also have prospects in future.
Under such a situation, Pakistan wanted its position to be considered neutral. Thus, it desired to get an access to the podium at the summit. Most notably, snubbing Pakistan's version among the Arab leaders has created ambiguities to Iran in a very complex relationship. Clarity of the Pakistan's foreign policy could have been achieved if given the opportunity of speech at the Islamic summit.
Full report at:
http://blogs.dunyanews.tv/15833/arab-countries-think-pakistan-is-their-security-guard
--------
Pakistani troops kill 12 militants southwestern Balochistan province
Jun 5, 2017
Pakistani government forces have killed some 12 militants in the country's southwestern Balochistan province.
On Sunday, the Pakistani army announced that the militants had been killed during operations which were carried out in the province's Mastung district.
Last month, at least 25 people were killed in Mastung when a bombing was carried out near a mosque in the town shortly after Friday prayers.
The Takfiri Daesh terrorist group claimed responsibility for the bombing, which was apparently meant to target the convoy of Deputy Chairman of Senate Abdul Ghafoor Haideri as it exited the mosque. Local reports said Haideri had suffered minor injuries in the blast. He was transferred to provincial capital Quetta for treatment.
Pakistan's Balochistan province has seen several gun and bomb attacks over the past couple of years.
In May, ten construction workers were killed in an attack by gunmen the province.
Pro-Taliban militants and some Baloch militant groups have carried out numerous attacks against security forces as well as civilians despite frequent offensives by the Pakistani army.
Full report at:
http://217.218.67.231/Detail/2017/06/05/524225/pakistan-balochistan-militants-mastung
--------
Pakistan urged to exit Saudi-led military alliance; anti-Iran stance harmful for Islamabad
Jun 04, 2017
A leading Pakistani newspaper on Sunday urged the government to pull out of the Saudi-led military alliance, saying its anti-Iran stance was harmful to Islamabad's interests.
The Dawn said in an editorial that Pakistan's decision to participate in the Islamic Military Alliance or IMA and to allow former Army chief General Raheel Sharif to accept a Saudi offer to militarily head it "appear to have been taken in haste".
The alliance "may have some counter-militancy aims but it is also increasingly clear that it has been conceived by the kingdom as an anti-Iran alliance", the Dawn said.
The editorial said the Muslim world did need leadership and coordination in the fight against militancy, terrorism and extremism and theoretically the IMA could be a meaningful platform. But it should have involved the entire Islamic world.
"The IMA is plainly the anti-thesis of that, and, therefore, a potentially dangerous and destabilizing alliance.
"The Saudi leadership has explicitly stated that Iran is a threat to Saudi Arabia and countries allied with it.
"President Trump and his administration have explicitly embraced the Saudi-led IMA as a potential counter to the influence of Iran in the Middle East."
The Dawn said Pakistan cannot afford to be part of "an overtly sectarian military alliance and membership and leadership of the IMA is inimical to the historical and future strategic interests of this country.
"While a close relationship with Saudi Arabia is warranted, better relations with Iran are necessary too.
Full report at:
http://www.hindustantimes.com/world-news/pakistan-urged-to-exit-saudi-led-military-alliance-anti-iran-stance-harmful-for-islamabad/story-hlk8Q8NFLvyJcl7a8dATrI.html
--------
Malik asks Sharif to mediate between Saudi Arabia, Iran
June 05, 2017
ISLAMABAD - Former interior minister Senator Rehman Malik on Sunday asked Prime Minister Nawaz Sharif to play a role in mediation between Saudi Arabia and Iran amid tensions between the Muslim-majority countries.
The senator wrote a letter to the prime minister seeking urgent response to the Saudi-Iran crisis.
"It is highly important to mention here that [the] Kingdom of Saudi Arabia being our trusted old friend and Iran too is our Muslim neighbouring country and the tension between both countries will subsequently create a wedge among Muslim world, hence, it is high time for Pakistan to take initiative to defuse the tension between the two Muslim countries," he wrote.
The Pakistan People's Party (PPP) leader, while underlining the highly significant position of Pakistan among Muslim community said: "Pakistan being a nuclear power, a frontline state fighting against terrorism and one of the largest Muslim states, which enjoys most strategic position in the region, must contribute to stop the situation to deteriorate further, particularly when it comes to the unity of the Ummah".
Malik expressed concern that Pakistan was not given due importance at the recent summit in Riyadh – attended by the US President, Donald Trump.
He wrote: "Pakistan's sacrifices in the War on Terror, during which Pakistan lost more than 60,000 innocent lives, suffered a monumental economic loss of more than $125 billion, unfortunately, it appears, have not been recognised by the international community."
The senator said that the terrorist organisations including the ISIS were misusing the name of Islam and they were operating in various parts of the world including Muslim-majority countries. He said that the ISIS was a replica of al-Qaeda, which had extended its domain from the Middle East to the Pak-Afghan border.
"ISIS is basically a planted organisation, which is targeting to create wedge within the Muslim Ummah," the PPP senator was of the opinion.
Expressing concern over Pakistan and the Pakistani prime minister being "overlooked" at the Saudi summit, the lawmaker wrote: "Pakistan was ignored and not given opportunity to express its experiences against terrorists and how Pakistan has suffered in this war on terror, which Pakistan is fighting for the international community."
Emphasising over the need for unity among the Ummah and conciliation between Saudi Arabia and Iran, Senator Malik referred to the holy Quran where Allah Almighty says "….conciliation between mankind; and he who does this, seeking the good pleasure of Allah, We shall give him a great reward - Al-Nisa 4:114."
Urging prime minister of Pakistan to play his role in mediation between Saudi Arabia and Iran, he said: "In view of serious rising situation, I sincerely urge, that, you as prime minister of Islamic Republic of Pakistan, to play role in mediation between the Kingdom of Saudi Arabia and Islamic Republic of Iran on [an] urgent basis."
Senator Malik advised the prime minister to seek the endorsement of the parliament through a joint session for this sacred mission.
Full report at:
http://nation.com.pk/national/05-Jun-2017/malik-asks-sharif-to-mediate-between-saudi-arabia-iran
--------
Shia Hazara siblings gunned down in Quetta
Saleem Shahid
Jun 5, 2017
QUETTA: A man and his young sister belonging to the Shia Hazara community were gunned down in the Spiny Road area on Sunday, police said.
The siblings were going to Marriabad from Hazara Town on a motorbike when they came under fire near Killi Tirkha. They suffered serious injuries and died while being taken to the hospital by the police.
"The victims received bullets to their head," hospital sources said.
Police quoted the area people as saying they did not hear any gunshots, implying the assailants had used silencer-fitted weapons. "We saw a man and a woman travelling on a motorbike suddenly fell on the road and were bleeding," police said, quoting eyewitness.
The deceased were identified as Shakeel Ahmed and Hawa Bibi and they were going to Hazara Town to see their relatives.
Police termed the incident targeted killing. "It appears to be a case of targeted killing," Regional Police Officer Abdul Razzaq Cheema said.
Full report at:
Police registered a case against unidentified attackers and started investigation.
https://www.dawn.com/news/1337451/shia-hazara-siblings-gunned-down-in-quetta
--------
Africa
11 killed as two bombers attack refugee camp in Cameroon
Jun 3, 2017
Authorities in northern Cameroon say two girl bombers have attacked a camp for those displaced by Boko Haram violence, leaving 11 people dead.
The dead included the young bombers, who detonated their explosives at the camp in Kolofata, said Gov. Midjiyawa Bakari of the Far North region. Several dozen others were wounded, the governor added.
Authorities believed the girls had entered Cameroon the night before from neighboring Nigeria, where Boko Haram has killed more than 20,000 people in its eight-year insurgency that has spread into neighboring countries.
Northern Cameroon has seen a rise in such attacks, with some towns targeted repeatedly.
In January 2016, two female bombers attacked a mosque in Kolofata, killing at least 10 people. In September 2015, bombers killed nine people there.
Boko Haram is known for kidnapping girls and using children to carry out bomb attacks. In April, the UN children's agency (UNICEF) said at least 117 attacks had been carried out by youth in the Lake Chad basin region since 2014, with nearly 80 percent of the bombs strapped to girls. They are sometimes drugged before missions.
The Takfiri terrorist group two years ago began attacking in neighboring countries that have supported the Nigerian military's efforts to counter it. A multinational force is now active in the region.
In December 2016, Nigeria declared that Boko Haram had been "crushed" after the military cleared out its strongholds, but attacks have continued.
UNICEF on Friday said Cameroon had been hosting 96,000 registered Nigerian refugees since mid-May, but many were returning. More than 12,000 went back last month.
Full report at:
http://217.218.67.231/Detail/2017/06/03/524088/Cameroon-Nigeria-bomber-Boko-Haram-UNICEF-refugees
--------
Muslim Lawyers Urged To Educate Muslims On Rights
Jun 5, 2017
Prof. Abdulwahab Egbewole of the University of Ilorin, on Sunday, advised Muslim lawyers to educate and assist Muslims on their fundamental rights.
Egbewole gave the advice in Ibadan at the 20th Annual Ramadan Lecture organised by Muslim Lawyers' Association of Nigeria (MULAN), Oyo State.
The university don, who presented a lecture entitled `Fundamental Human Rights in Nigeria: A Myth or Reality' stated that Muslims needed to be educated on the three generations of rights provided by law.
He explained that such rights include the right of Muslims to practice their religion in line with Section 38 of the 1999 Constitution.
"This right as guaranteed by the constitution could only be achieved through the principles of Islamic Law.''
Egbewole said that Islamic law was a complete way of life that regulates the affairs of Muslims.
He explained that the fundamental rights enshrined in the Constitution were rooted in Islam, adding that the prescriptions of Islam are more comprehensive.
"This means that Muslims can realise their right to freedom of religion using the same constitutional provisions.
"Muslims have not engaged the law enough to the extent of realising fully their guaranteed rights," he said.
Egbewole, who is the Director, General Studies of the University, noted that recent wranglings over the use of hijab by Muslims was unnecessary as it did not infringe on other's rights.
The university don stressed that Muslims in the legal profession must make available their expertise for Muslims to enjoy the rights available to them.
He said that they needed to engage more in pro bono services for the purpose of making fundamental rights truly available to Nigerian Muslims.
"Muslims should agitate for their rights through dialogue," he added.
Similarly, Mr Adebayo Shittu, Minister of Communications urged Muslims to seek more knowledge on the practice of the religion.
He also urged Muslim lawyers to support Muslims in pursuing their fundamental rights, adding the Constitution of Nigeria guaranteed rights of individuals to practice their religion.
Shittu, a special guest at the event, called on Nigerian youths to key into the N-Power scheme of the federal government, which he said would soon engage another 300,000 graduates.
Mr Lasun Sanusi, a Senior Advocate of Nigeria, said Muslims must move away from constant complaints and commit themselves to practising the religion holistically.
Sanusi identified poverty and ignorance as factors affecting people's understanding of their rights.
Earlier, Mr Akeem Adetunji, the Chairman, MULAN, Oyo State Chapter stated that the association had in the last one year engaged actively in its Da'awah project.
Adetunji said that the association had provided free legal services to the needy during the period.
Full report at:
The event was attended by notable Judges, Magistrates, Lawyers and hosts of others.
https://www.pmnewsnigeria.com/2017/06/04/muslim-lawyers-urged-educate-muslims-rights/
--------
How did a former Egyptian officer come to head an extremist group in Libya?
4 June 2017
Libyan army spokesperson Colonel Ahmed Al-Mesmari said Hisham Ashmawi, a former Egyptian officer who is currently the commander of an extremist group in Darnah in northeastern Libya, seems to be involved in the Minya bus attack which killed 29 Copts last week.
In a press conference on Friday, Mesmari said Ashmawi was suspended from the Egyptian army in 2012 and is now leading terrorist operations from Darnah.
The 35-year-old was a lieutenant colonel in the Egyptian army and he served in Sinai for around 10 years. He was suspended from the army based on a judicial decision that was made after he began spreading extremist ideas among soldiers.
Terrorist cell
Ashmawi, who is also known as Abu Omar al-Mohajer, then formed a terrorist cell which included four suspended army officers and others in the army. He then joined Ansar Bait al-Maqdis which later renamed itself the Sinai Province after it pledged allegiance to ISIS.
Ashmawi was accused of most terrorist operations which happened in Egypt such as the attempt to assassinate former interior minister Mohammed Ibrahim. He was also accused of planning and participating in the 2014 Sinai ambush where 22 soldiers were killed.
In 2013, he traveled to Darnah in Libya and announced his defection from Sinai Province and joined Al-Mourabitoun which supports Al-Qaeda in the Islamic Maghreb.
Full report at:
https://english.alarabiya.net/en/News/middle-east/2017/06/04/How-did-a-former-Egyptian-officer-become-commander-of-an-extremist-group-in-Libya-.html
--------
Libya's army claims control over Al-Jufra central region
3 June 2017
Sources told Al Arabiya News Channel on Saturday that the Libyan National Army has claimed controlled completely over Al-Jufra central region.
The media office for the Libyan National Army's Brigade 12 also confirmed that Al Jufra Air Base has been recaptured. The media office said the army is now in control of the base after facing no resistance from "terrorists."
Earlier, the Libyan Army has warned civilians at Al-Jufra region to stay away from militant areas or hideouts.
Recapturing Al-Jufra comes after Libya's "Dignity Operation" alongside Egypt conducted up to 10 airstrikes in Al-Jufra Thursday night, the local Libyan Observer reported.
Meanwhile, spokesperson of the Libyan National Army's "Dignity Operation" Ahmed Al-Mismari said Friday that the army leadership has no political ambitions but aims to uproot "terrorism" from the region.
Mismari, who said that after having taken control of the Jufra airbase, the army would advance on to the town of Bani Walid and westwards.
He added that Egyptian air strikes on the eastern town of Derna had also been in coordination with the army.
"We confirm the presence of two Egyptian terror chiefs inside Derna and they are Hashim Ashmawi, a former officer dismissed by the Egyptian Armed Forces who is preparing an army named the "Free Egyptian Army"; in military bases close to Derna, and Mohammed Suroor, commander of the "Migrants Battalion," he said.
On 28 May, the Libyan Air Forces affiliated with the Libyan Army said that Egyptian and Libyan air forces had expanded their operations in Libya, launching raids that targeted "terrorist groups" in the Al-Jufra region.
Full report at:
https://english.alarabiya.net/en/News/north-africa/2017/06/03/Libya-s-army-claims-control-over-Al-Jufra-central-region-.html
--------
Tunisia PM warns anti-corruption fight is firm
Jun 4, 2017
Tunisian Prime Minister Youssef Chahed has warned that no one would be spared in the government's massive anti-corruption fight.
"We aim to tear down the systems of corruption," Chahed said Sunday, vowing that in coordination with Tunisia's President Beji Caid Essebsi "no one will be protected in this war against corruption."
The premier rejected allegations that the government launched a crackdown in response to increasing protests south of the country.
"I hear some people say this is just a campaign, but it's not -- it is state policy... Corruption in our country is widespread," Chahed said, adding, "The struggle against corruption will be a long-term war, a sustained policy."
Tunisia arrested a dozen notable figures last month on suspicion of involvement in corruption. Those arrested included businessmen, suspected smugglers and even a former security official and Chahed said some of them were accused of "incitement and alleged financing of the protest movement" in the south.
"It is a system that can be seen everywhere... Even social protests are exploited by this system (of corruption), and terrorists also benefit from it," he said.
Chahed also responded to criticism that the government was using a state of emergency to make the arrests, saying "exceptional circumstances" required "exceptional measures." He said more arrests are planned and people would "get used" to the crackdown as it has been the case during anti-terrorism fight in Tunisia.
Full report at:
http://217.218.67.231/Detail/2017/06/04/524177/Tunisia-crackdown-corruption
--------
Sudanese FM visits Cairo for talks meant to defuse bilateral tensions
Jun 4, 2017
Sudan's foreign minister has visited Egypt in the hope of defusing months of tensions between the two neighbors locked in a border dispute, but there are reports of no tangible progress in the discussions.
On Saturday, Ibrahim Ghandour held talks with his Egyptian counterpart, Sameh Shoukry, in Cairo, where the two diplomats spoke of the "holy" relations binding the two Nile-Basin nations.
In a joint news conference following their meeting, Ghandour and Shoukry said they had held "honest" talks, but reported no tangible results in efforts to hammer out their differences over a number of issues, including sovereignty over the so-called Halayeb Triangle on the Red Sea.
The two Afro-Arab neighbors share a combined border stretching from the Mediterranean coast to east Africa.
Cairo-Khartoum relations soured after Khartoum renewed a British colonial-era claim to the Halayeb Triangle, an Egyptian-held territory.
Sudan first submitted a complaint against Egypt over the territory to the UN Security Council in 1958. Despite renewing the complaint on almost annual basis, Egypt has so far refused to submit the dispute to international arbitration.
Speaking at the presser, Shoukry said "there are deeply entrenched relations capable of overcoming whatever is inflicted upon them," striking a positive note. "We are working toward a frank dialogue capable of removing misunderstandings and confusion."
Ghandour, in turn, said that he delivered a message from President Omar Bashir to Egyptian President Abdel-Fattah el-Sissi on bilateral ties and conveyed what he called some of Bashir's "concerns."
He also sought to play down recent frictions between the countries and said Sudan and Egypt arguing are trying to "open a new page in cultural, security and economic relations."
The Sudanese minister's trip came after President Bashir accused Egypt last month of supporting rebels in the restive Darfur region. Cairo denied the allegation.
Full report at:
He also said both sides were also exploring ways of addressing trade and consular rows.
http://217.218.67.231/Detail/2017/06/04/524148/Egypt-Sudan-talk-to-downplay-strains
--------
URL: https://www.newageislam.com/islamic-world-news/iftaar-steadily-assuming-secular-character/d/111419
New Age Islam, Islam Online, Islamic Website, African Muslim News, Arab World News, South Asia News, Indian Muslim News, World Muslim News, Women in Islam, Islamic Feminism, Arab Women, Women In Arab, Islamophobia in America, Muslim Women in West, Islam Women and Feminism