New Age Islam News Bureau
7 March 2018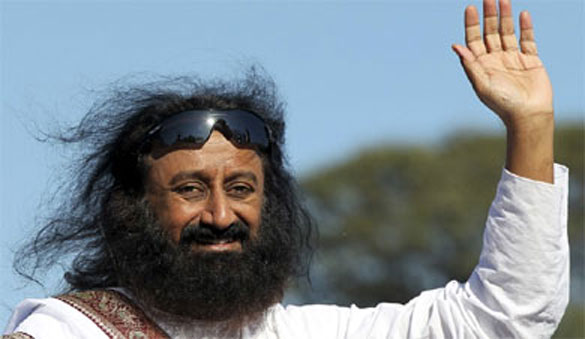 Art of Living founder Sri Sri Ravi Shankar
----
• 'If Ram Mandir Issue Is Not Solved, We Will Have a Syria in India,' Says Sri Sri Ravi Shankar
• Senate Panel Forwards Proposals to CII on Misuse of Blasphemy Law
• Saudi Crown Prince Shocks Islamists with Bold Moves in Egypt
• Islamic Group Hails Chinese Province Ningxia's Progress on Muslim Rights
• Bangladesh Islamic School Burns Students' Mobile Phones
India
• 'If Ram Mandir Issue Is Not Solved, We Will Have a Syria in India,' Says Sri Sri Ravi Shankar
• 15 Kashmiri Militants Have Returned Home Since Last Nov Heeding Family Appeals After Majid Khan quit LeT: Police
• HC Disposes Muslim Man's Plea to Get Back Hindu Wife, Sends Her Back to Parents
• Islamic State claims second Kashmir attack
• Convert doesn't lose inheritance under Hindu Succession Act: Bombay HC
• Sunjuwan mastermind dead: Police intercepted Mufti Waqas' conversations with terrorists
• Pakistan army says it shot down Indian 'spy drone' near LoC in PoK
--------
Pakistan
• Senate Panel Forwards Proposals to CII on Misuse of Blasphemy Law
• 42% of Terrorist Attacks in February Targeted At Least
• FIA Arrests Terrorist Involved In Recruiting People for Islamic State in Karachi
• Pakistan to extend every possible support for Afghan peace: Khawaja Asif
• CTD kills five suspected militants in Chaman
• Lahoris Made World's Best Astrolabes In 17th Century, Says Dutch Scholar
• As US Influence Wanes, Russia Embraces Pakistan
--------
Arab World
• Saudi Crown Prince Shocks Islamists with Bold Moves in Egypt
• Kurds Pull Back From ISIS Fight In Syria, Saying They Feel Let Down By U.S.
• Strikes Hit Syria's Battered Ghouta As Death Toll Hits 800
• Zawahiri Incites Followers in the Maghreb
• Forget 'stereotypes' about Saudi Arabia, UK firms urged
• Saudi Arabia defends 'just' Yemen war ahead of UK visit
• Iraq force that helped beat Daesh turns to reconstruction
• Social media misused to spread extremism, security experts say
• Russian military transport plane crashes in Syria, 32 dead
• West Seeking to Rescue Militants through Chemical Attack Accusations
--------
Southeast Asia
• Islamic Group Hails Chinese Province Ningxia's Progress on Muslim Rights
• Wanted In India, Naik Set to Rebuild Empire in Friendly Malaysia
• Security Expert: 23 Armed Groups Fused, Forming 'ISIS Philippines'
• Five Malaysian NGOs Submit Memorandum to UN on Syria Attack
• Report: Nazri tells non-Muslims to vote for BN to protect their rights
• Afghan and Pakistani Islamic Scholars Will Come to Indonesia for Peace Conference
--------
South Asia
• Bangladesh Islamic School Burns Students' Mobile Phones
• Rohingya Say They Won't Return to Myanmar Now
• Infighting among militants leaves 5 dead, 2 wounded in East of Afghanistan
• 4 ISIS militants killed in US drone strikes in Kunar and Nangarhar
--------
Mideast
• Erdoğan to UN Security Council: 'Damn your resolution in Syria'
• Iran: Dozens of ISIL Plans to Attack Shiite Shrine in Mashhad Thwarted
• Israel detains eight Palestinians in overnight raids
• Saudi-backed Yemen forces advancing closer to Haradh border
• Israel to legalize withholding bodies of Palestinians killed by regime forces
• Yemeni sharpshooters kill four Saudi soldiers in retaliatory attacks
--------
Europe
• Saudi Prince Urges UK to Promote Moderate Islam
• Tajikistan's Islamist Extremists Concentrated in Big Cities at Home and in Russia
• Muslim Community In Russia '25 Million' Strong
• Hundreds of jihadists and children with Dutch ties still in IS territory
• Russia Rejects 'Unfounded' Reports of Syria Using Chemicals
• U.N. Panel Links Russia to Potential War Crime in Syria
• London has potential to lead in Islamic finance, says IDB President
--------
Africa
• Islamic State Releases a Video of Deadly Attack on US Soldiers In Niger
• Violence Leaves 16 Dead in Central Nigeria
• Boko Haram: Suicide bomber kills 4, injures 17 in Borno
• Nigeria: How IPOB Mesmerized and Humiliated Igbo Leaders in Enugu
--------
North America
• US Opposes Interaction with Taliban as A Counter to Islamic State — State Department
• Jerusalem Safe Enough to Move U.S. Embassy There, City's Mayor Tells Congress
• Sweden finds Trump was right on immigration, gang violence
• Event in Georgia Reveals CAIR is as Pro-Hamas as Ever
Compiled by New Age Islam News Bureau
URL: https://www.newageislam.com/islamic-world-news/if-ram-mandir-issue-solved/d/114512
--------
'If Ram Mandir Issue Is Not Solved, We Will Have a Syria in India,' Says Sri Sri Ravi Shankar
March 6, 2018
Bengaluru: Art of Living founder Sri Sri Ravi Shankar on Tuesday renewed his appeal to the All India Muslim Personal Law Board (AIMPLB) to consider an out-of-court settlement to the Ram Janmabhoomi row, saying he feared a "large-scale" communal flare up if the case was settled by a court or through legislation.
In an open letter to the AIMPLB members, he said going through the court was a loss for both Hindus and Muslims and an out-of-court settlement would be a "win-win situation" for both the communities.
"I urge the leaders of both faiths to take this action seriously. Otherwise, we are pushing our country to the brink of a civil war," said Ravi Shankar, who has been making persistent mediation efforts, meeting Muslim and Hindu leaders, to find a solution to the dispute.
He gave four possible situations -- the court giving away the land to the Muslims, awarding the land to the Hindus, upholding the Allahabad High Court order that says there should be a mosque built on one acre whilst the remaining 60 acres be utilised to build the temple and Parliament passing a legislation.
"In all the four options, either through the court or through the government, the result will be devastating for the nation in general and the Muslim community in particular," he said.
Ravi Shankar said the best solution would be an out-of-court settlement, in which the Muslim bodies come forward and gift one acre of land to the Hindus, who, in turn, would gift five acres of land nearby to the Muslims to build a bigger mosque.
He also told the AIMPLB leaders that Islam permitted the shifting of the mosque to another location and that cleric Maulana Salman Nadvi and many other Muslim scholars had endorsed it.
Ravi Shankar, however, said, "Muslims are not surrendering this land to the people who demolished the Babri Masjid or to a particular organisation.
"On the contrary, they are gifting it to the people of India. They must keep this in their minds and spirit. It is only reconciliation and an expression of their broad-mindedness, benevolence, magnanimity and goodwill."
https://www.news18.com/news/india/ayodhya-row-if-muslims-dont-settle-india-could-be-pushed-to-civil-war-says-sri-sri-1680667.html
--------
Senate panel forwards proposals to CII on misuse of blasphemy law
Jamal Shahid
March 07, 2018
ISLAMABAD: A Senate committee has forwarded recommendations to the Council of Islamic Ideology (CII) for its comments on misuse of blasphemy law.
The Senate Functional Committee on Human Rights, which met on Tuesday, recommended that the offender who registered a false case (under Section 295C of the Pakistan Penal Code) should be given the same punishment as provided for the offence under this section.
Section 295C provides for death penalty for anyone found guilty of defaming the Holy Prophet (peace be upon him).
Headed by Nasreen Jalil of the Muttahida Qaumi Movement, the committee met to consider various reports on preventing misuse of the blasphemy law and suggest the way forward.
Among other recommendations in its report, the committee believed that members of district interfaith committees and local influential people should also be involved in the initial stages of investigation. It strongly advocated that the provision of Section 156-A of the PPC (carrying out of investigations by a superintendent of police) be strictly implemented in letter and spirit.
The committee also recommended that the law related to false evidence under Sections 194 and 211 of the PPC needed to be strengthened and strictly implemented.
"The complainant who lodges a complaint under Section 295C should produce two witnesses in support of his accusation," Farhatullah Babar of the Pakistan Peoples Party read out one of the recommendations aloud.
It was observed that these recommendations were based on the reports of the Council of Islamic Ideology as conveyed by the Ministry of Religious Affairs.
While the committee felt it necessary that procedural amendments and those to prevent the misuse of the law might be done, Mufti Abdul Sattar of the Jamiat Ulema-i-Islam-Fazl aked the participants to leave the subject alone.
Mufti Abdul Sattar failed to understand the plea of his counterparts when they tried to explain that the committee was not seeking amendments to the law but only wanted to take measures to prevent its misuse.
Nasreen Jalil told the Mufti that even the CII believed that the law should not be abused. She drew her colleague's attention to the CII's annual reports of 2000-01 and 2003-04.
https://www.dawn.com/news/1393715/senate-panel-forwards-proposals-to-cii-on-misuse-of-blasphemy-law
--------
Saudi crown prince shocks Islamists with bold moves in Egypt
By Thomas Lifson
March 6, 2018
It is hard to overstate the significance of a hugely symbolic move by the reformist crown prince of Saudi Arabia, Mohammed bin Salman (MbS). American media mostly are clueless about religion and lack any understanding of the momentous changes underway in the Kingdom of Saudi Arabia, with the full support of the Trump administration. The fact that MbS is reputed to be close to Jared Kushner seals the deal: the mainstream media have little interest in extolling the world-historical transition underway in the nation that is pre-eminent in Sunni Islam, the Guardian of the Holy Cities of Mecca and Medina, and which has been the moneybags for radical jihadists for three generations.
This move, as recorded by the Saudi-owned Al Arabiya network, is startling and highly important.
Saudi Arabia's Crown Prince Mohammed bin Salman has arrived at the St. Mark's Coptic Orthodox Cathedral in Cairo in an historic visit to the church.
Prince Mohammed was met by Pope Tawadros II, 118th and current Pope of Alexandria.
Earlier in the day, the prince visited the office of the Al-Azhar Sheikh.
In the evening, the Saudi Crown Prince and Sisi will see an improvisation theater show at Cairo's Opera House focused on correcting destructive ideas and fighting terrorism.
This picture, with MbS under a picture of Jesus and meeting with the Coptic pope, is a potent symbol of where the winds are blowing in the former home and treasurer of the Islamist movement.
A second dispatch from Al Arabiya includes the crown prince's invitation to Copts to visit Saudi Arabia. Egypt's Coptic population is under siege by murderous Islamists, so the signal that they are to be treated as guests is vital. Arab culture places a tremendous emphasis on being a gracious host, and re-classifying Copts from the category of "infidels" worthy of scorn and persecution to welcome "guests" is powerful:
Crown Prince Mohammed bin Salman invited Egypt's Coptic Christians to visit Saudi Arabia after a rare meeting in Cairo's main cathedral.
Speaking to Egyptian media after the visit the head of the Egyptian church, Pope Tawadros II said: "In the name of the Coptic Orthodox church we welcome Prince Mohammed's visit to his second country Egypt.
"Prince Mohammed spoke a lot of his affection for the Copts," the Pope said, adding that the kingdom's heir to the throne invited him and all Copts to visit Saudi Arabia.
The two men walked together through St Mark's Cathedral, in what Egypt's state news agency described as the first tour of its kind.
The visit came on the second day of the Saudi Crown Prince's visit to Egypt – his first foreign visit since he became heir to the throne. ...
He also met Egypt's top Islamic official, Ahmad Al-Tayyeb at Al-Azhar, the foremost seat of learning in Sunni Islam.
The visit to Al-Azhar is crucial. Simply stated, MbS is seeking to defang Muslim extremists who seek to destroy Christianity in Arab- and Muslim-majority countries. Garnering support from the most respected source of Islamic scholarship (no doubt accompanied by the offer of funds from the Saudi treasury) is the carrot to be used in persuading Wahhabi clergy to change their preaching, with the denial of Saudi funds to recalcitrant advocates of armed jihad supplying the stick.
The visit isn't entirely symbolic, though. Reuters reports that "[t]he two countries on Sunday set up a $10 billion joint fund to develop a planned mega-city."
This new city, called Neom, will be built at the top of the Red Sea, where Egypt's, Israel's, Jordan's, and Saudi Arabia's borders meet.
It is planned to be a free city or open city, where Saudis can live a fully modern 21st-century life, freed of religious regulations that will be gradually relaxed elsewhere in the kingdom. In addition, nationals from Jordan, Egypt, and Israel can enter and work there in planned high-technology investments. Its isolation from the rest of Saudi Arabia will allow it to be different and to become a magnet for Saudis – males and females – who wish the free of the shackles of pious Muslim life.
Saudi Arabia is also fully committing to the survival of Egypt's reformist President el-Sisi:
Alongside posters urging people to vote for Sisi, large banners were put up in central Cairo on Monday with images of the Egyptian president, Prince Mohammed and Saudi King Salman bin Abdulaziz. "Welcome to your second country," said one; another read "Saudi and Egypt are one hand, one nation."
Reforming Islam to reconcile it with modern, technological societies based on free will is one of the most important tasks for the world to accomplish. These moves by MbS make it clear that he is betting his career and indeed his life on accomplishing that task.
https://www.americanthinker.com/blog/2018/03/saudi_crown_prince_shocks_islamists_with_bold_moves_in_egypt_.html
--------
Islamic Group Hails Chinese Province Ningxia's Progress On Muslim Rights
06th March 2018
The spokesman of the Islamic Association of China (IAC) on Tuesday hailed local efforts to promote ethnic unity and religious freedom in Northwest China's Ningxia Hui Autonomous Region, a region that has one-fifth of China's Hui ethnic groups.
BEIJING, (UrduPoint / Pakistan Point News, app - 06th Mar, 2018 ):The spokesman of the Islamic Association of China (IAC) on Tuesday hailed local efforts to promote ethnic unity and religious freedom in Northwest China's Ningxia Hui Autonomous Region, a region that has one-fifth of China's Hui ethnic groups.
"As a major hub for Muslims in China, the region has made remarkable efforts in sinicizing Islam," Jin Rubin, deputy chairman and spokesman of the association, told the Global Times on Tuesday. Ningxia has around 2.47 million Hui people, which accounts for 36 percent of the region's population, and a majority of them believe in Islam, according to official data.
The region has 4,391 mosques and 10,150 registered imams, which makes religious staff a significant group to promote patriotism and unity in the region, Jin said. Ningxia has vowed to protect religious freedom through multiple measures, including the education sector.
The Ningxia Institute of Socialism and Ningxia Islamic Institute have been conducting training and seminars on religious affairs.
"As most of China's imams only have a high school education background, they are eager to enrich religious knowledge to improve themselves and better serve believers and the prosperity of society," he said.
At a time of knowledge explosion, young Muslims in China are especially eager to learn about developments in the religious sector, he noted. "China's religious freedom policy has been praised by several Arab countries, which gives us more confidence to share Chinese Muslims' stories to the world," said the spokesman, who is in charge of IAC's religious exchanges with other countries.
During the exchanges, China must firmly resist the infiltration of extremism, he noted. "Anti-extremism has been a consensus in the Islamic world. Extremism has distorted the Islamic doctrines to serve their political agenda, and mild and inclusive ideals have always been the mainstream in the Islamic world," Jin noted.
The region has also made huge progress in ethnic works, Ningxia officials said at a panel discussion held on the sidelines of China's annual meeting of the National People's Congress. "Party and government officials in the region regard national unity as a lifeline of every work and a basis for the region's scientific development," Jin said.
https://www.urdupoint.com/en/world/islamic-group-hails-chinese-province-ningxia-275089.html
--------
Bangladesh Islamic school burns students' mobile phones
March 7, 2018
DHAKA: A school in Bangladesh said Tuesday it had confiscated hundreds of mobile phones and torched them in a bonfire because they were distracting students from their learning.
Pupils at the seminary in southeast Bangladesh were ordered to hand over their cellphones to school administrators who then tossed the devices en masse into a fire in a nearby field."These devices are ruining their character," said Azizul Hoque, a spokesman for the Darul Ulum Moinul Islam madrassa.
"The students use internet (on their phones) throughout the night and then doze during classes the next morning. Their parents are concerned." Hoque said the seminary — a 123-year-old institution with 14,000 registered students — was not against technology "but the negative results of mobile phones far outweigh its positives".
"We are flooded with letters seeking fatwas (Islamic edicts) from Muslims against the use of mobile phones, as many complained that the gadgets were frequently used for extramarital affairs." The madrassa in Hathazari, outside the port city of Chittagong, is headed by Ahmad Shafi, the head of hardline Islamist group Hefazat-e-Islam.
https://www.thenews.com.pk/print/289400-bangladesh-islamic-school-burns-students-mobile-phones
--------
India
15 Kashmiri militants have returned home since last Nov heeding family appeals after Majid Khan quit LeT: Police
Mar 07, 2018
At least 15 young Kashmiri militants have returned home respecting appeals from their families after footballer Majid Khan renounced insurgency last November on his mother's request, said police in the militancy-hit state.
According to director general of police Shesh Paul Vaid, the latest among these returnees this March were two young men who responded to their parents' appeal to leave the path of violence.
"Some 15 boys have returned since Khan's return. Every drop counts. Whatever little it is, their lives and their families are saved from getting ruined," Vaid said on Tuesday.
Police too have a hand in bringing the militants back to society. Officers talk to the families of known militants to persuade them to leave the armed struggle.
"If a youngster agrees, he contacts his family and we are kept in the loop," Vaid said. The identity of these returnees is kept secret to keep them from harm's way.
Kashmir has been recording sort of a trend in militants returning to their families after 20-year-old Khan, who had joined the Lashkar-e-Taiba (LeT) militant group, left the organisation on November 16 last year after his mother's tearful plea to him to come back home in a video that was widely shared on social media.
A resident of Anantnag in south Kashmir, Khan was a bright student and a popular goalkeeper in the local team before he joined the LeT, which put his family and neighbours in considerable grief. The LeT said he was "permitted" to leave on his mother's request.
Police believe the return of youngsters was having "some effect" on local militancy. "Obviously, as people come back, there is a possibility of the level of violence coming down," Vaid said.
According to the DGP, there has been a "slight drop" in the number of Kashmiris joining militancy this year compared to 2017. "The reasons can be quite a few. One is that a lot of terrorists were killed, which acted as a deterrent, and another thing is that we are talking to families of youngsters. A lot of persuasion is going on," he said.
As many as 206 militants were killed by security forces in Jammu and Kashmir in 2017 of which 85 were residents of the state, according to police records.
Human rights activist Khuram Parvez saw nothing new in militants giving up arms, saying hundreds have left militancy in the early 1990 as well.
Calling it a good trend, he cautioned that security agencies should not hype up such events for their "petty interests". It needs to been seen whether they were actually persuaded by parents to leave militancy or were forced by security agencies to do so, he said.
"We witnessed in the past some families being harassed, forcing the young men to return," he said.
Parvez, who is a project coordinator with the Jammu and Kashmir Coalition of Civil Society, found an interesting aspect in the trend. "Youth are joining and leaving militancy. This means militants are allowing them to do so … and there is no pressure," he said.
https://www.hindustantimes.com/india-news/15-kashmiri-militants-have-returned-home-since-nov-2017-after-footballer-majid-khan-quit-let/story-EZmSczM948LO6XNWOC8kxN.html
--------
HC Disposes Muslim Man's Plea to Get Back Hindu Wife, Sends Her Back to Parents
by Milind Ghatwai
March 7, 2018
The Madhya Pradesh High Court has disposed a habeas corpus petition filed by a Muslim man who said that the parents of his Hindu wife had "illegally detained" her because they did not approve of their marriage.
Sameer Khan moved the high court in January, saying he married the 23-year-old woman in September and that the couple lived in Indore, where he runs a boutique. When her parents came to know of the marriage they took her away and did not let her return, he stated.
The woman was produced in the court of justice J K Maheshwari on February 26. She said in court that she wanted to return to Sameer if he agrees not to marry again and she is not asked to change her name.
Advocate Kuldeep Pathak, the petitioner's counsel, said after Sameer agreed to the conditions, the woman agreed to return to him. Government advocates then suggested that the judge hear the woman in his chamber because she had not been able to make up her mind and appeared confused.
When the court met again at 3.30 pm, the woman said she wanted to go back to her parents, who were present in court. The parents told the court that they will take care of their daughter.
Noting that the woman was previously in an association with the petitioner, the judge asked the parents to maintain a good and congenial atmosphere at home.
Full report at:
http://indianexpress.com/article/india/madhya-pradesh-hc-disposes-muslim-mans-plea-to-get-back-wife-sends-her-back-to-parents-5088689/
--------
Islamic State claims second Kashmir attack
March 7, 2018
After being pushed back in the Middle East, the so-called Islamic State is claiming responsibility for violent attacks in India's Jammu and Kashmir state.
The terror group is claiming its second attack on security forces in less than four months in the Muslim-majority state bordering Pakistan.
Amaq News Agency, the propaganda wing of Islamic State, said its members killed policeman Farooq Ahmad in Srinagar, Kashmir's capital, on Feb. 24.
The killed policeman was guarding the house of separatist leader Fazul-Haq Qureshi.
Attacks on security forces have become routine in Kashmir, where Islamic militants continue an armed struggle to free the region from Indian rule to establish an Islamic nation or to join with the Islamic state of Pakistan. The killing of Ahmad is more worrisome for security forces after Islamic State claimed responsibility.
State police chief S.P. Vaid for the first time confirmed that some members of militant groups in the region may have been influenced by Islamic State ideology to establish a global caliphate through violence.
A police official told ucanews.com on March 5 that it was the second attack the terror group had publicly claimed in India.
"First came the IS flags and then some youths at certain protest marches openly shouted pro-IS slogans," he said, adding that investigators have taken the claim seriously.
Islamic State earlier claimed responsibility for the Nov. 17 killing of another police officer, he said.
Some separatist leaders want a political decision, not an armed struggle, to free the region, putting them at loggerheads with militants.
Kashmir's chief Muslim cleric and separatist leader, Mirwaiz Umar Farooq, told ucanews.com that Kashmiri people have been working for an amicable solution to the Kashmir problem, and Islamic State has no role in it.
"Our movement has nothing to do with these world-level groups" and its freedom movement has nothing to do with violence, Mirwaiz said on March 4.
A police official in Srinagar told ucanews.com that there were several instances that proved that Islamic State is trying to influence youth in Kashmir. He said several groups on social networks were directly linked to the terror organization.
"We are keeping a close vigil on social media sites. It is through the internet that IS is trying to make its presence felt in Kashmir," the official said.
In 2014, when Islamic State flags were waved during protest marches against Indian rule, the then state chief minister Omar Abdullah shrugged it off as the act of some "stupid" youth and said Islamic State had no presence in Kashmir.
However, in March 2017, militant leader Zakir Rashid Bhat, alias Musa, released a video exhorting Muslims to fight for the supremacy of Shariah and Islam in Kashmir.
In another video, Musa asked people not to entertain the idea of nationhood, which he said was against Islamic teachings. He wanted protesters to stop shouting pro-Pakistani slogans and instead to shout "Shariyat ya Shahadat" (Islamic law or martyrdom).
The slogan is the hallmark of global militant groups that reject the idea of nation states and fight to establish an Islamic caliphate.
Full report at:
https://www.ucanews.com/news/islamic-state-claims-second-kashmir-attack/81711
--------
Convert doesn't lose inheritance under Hindu Succession Act: Bombay HC
Mar 6, 2018
MUMBAI: The Bombay High Court today held that a Hindu woman or a man does not lose the right to inherit parents' property under the Hindu Succession Act even after converting to another religion.
Justice Mridula Bhatkar upheld a lower court's order in favour of Nazneen Qureshi, a city resident.
"The right to inheritance is not a choice but it is by birth and in some cases it is acquired by marriage. Therefore, renouncing a particular religion and to get converted is a matter of choice and cannot cease relationships which are established and exist by birth," Justice Bhatkar said.
"Therefore, a Hindu convert is entitled to his/her father's property, if father died intestate (without making a will)," she added.
Qureshi, born to Hindu parents, converted to Islam in 1979 and married a Muslim man.
After the death of her father, she laid equal claim to a flat and a shoe shop owned by her father along with her five sisters and a brother.
Her brother contested her claim, saying that as she had converted to Islam, she must be disqualified under the Hindu Succession Act.
The brother also sold off the shoe shop and did not share the proceeds with Qureshi, her plea said.
She filed a civil suit and the lower court granted her plea that her brother be restrained from selling or creating any third party rights in the family's flat.
The brother challenged the order in the HC.
His counsel argued that as the Act did not apply to Muslims, Christians, Jews and Parsis, by marrying a Muslim and changing her religion Qureshi had "lost the right in the suit property".
Her lawyer, however, argued that section 26 of Hindu Succession Act disqualifies descendants of a convert, but not a convert herself or himself.
Full report at:
https://timesofindia.indiatimes.com/india/convert-doesnt-lose-inheritance-under-hindu-succession-act-bombay-hc/articleshow/63190190.cms
--------
Sunjuwan mastermind dead: Police intercepted Mufti Waqas' conversations with terrorists
Mar 07, 2018
Technology finally did him in. Mufti Waqas, the operational commander of the Jaish-e-Mohammad, who masterminded the attack on the army camp in Sunjuwan on February 10, was finally tracked down to a house in Kashmir Valley's Awantipora and shot dead after a two-hour encounter.
The Jammu and Kashmir Police had been hunting for him after the Sunjuwan attack that killed six soldiers and one civilian. It was sure of his involvement in the strike on the army camp after it intercepted conversations between him and the three terrorists who stormed the camp on the outskirts of Jammu.
Waqas, believed by officials to have infiltrated the Valley from Pakistan in mid-2017 was a key associate of Jaish chief, Masood Azhar, who was responsible for the attack on the air force base in Pathankot in January 2016.
SP Vaid, director general, Jammu and Kashmir Police, confirmed that the Sunjuwan terrorists were in touch with their handler, Waqas, during the terror strike that lasted over 48 hours.
"The terrorists were communicating with a Pakistani national who they were reporting to in the Valley,'' Vaid said on February 13. He confirmed on Tuesday that the Pakistani national was Waqas, who was eliminated in an encounter Monday night. "He was the one communicating with the terrorists,'' Vaid confirmed.
According to police officials, Waqas's elimination is a 'big step' in the fight against militancy because he is believed to have been instrumental in indoctrinating two local Kashmiri militants who carried out a suicide attack on a CRPF camp in South Kashmir's Lethpora on December 31.
The only other time a local blew himself up was in April 2000 when 17-year-old Afaq Ahmad Shah drove a stolen Maruti car laden with explosives into the high-security barrier of the Srinagar-based 15 Corps headquarter.
Full report at:
https://www.hindustantimes.com/india-news/sunjuwan-mastermind-dead-police-intercepted-mufti-waqas-conversations-with-terrorists/story-pkefSY1DR2nH3icKPRPY3K.html
--------
Pakistan army says it shot down Indian 'spy drone' near LoC in PoK
Mar 07, 2018
Pakistan's military says it shot down an Indian "spy drone" after it entered airspace in Pakistan-occupied Kashmir.
The military said in a statement late Tuesday that the drone violated Pakistan's airspace and was spying when it was shot down in the village of Chirikot along the Line of Control in Kashmir. It said Pakistani troops retrieved the wreckage.
The army said it was the fourth Indian drone it shot down in the past year.
https://www.hindustantimes.com/india-news/pakistan-army-says-it-shot-down-indian-spy-drone-near-loc-in-pok/story-xytMKKTPwx7b1eiiHUVj4M.html
--------
Pakistan
42% of Terrorist Attacks in February Targeted At Least
MARCH 7, 2018
ISLAMABAD: Down over 11 percent from the month before, some 24 terrorist attacks took place in Pakistan during February 2018, according to monthly security report released by the Pak Institute of Peace Studies on Tuesday.
"These attacks claimed 38 lives – compared to 49 in the previous month – and inflicted injuries on 46 others. As many as 10 attacks or 42 percent of the total attacks reported from across Pakistan targeted personnel of security and law enforcement agencies. Among those 38 killed in terrorist attacks were 13 army officials, 12 civilians, eight FC men and three policemen, besides two militants," the report revealed.
It noted that the highest number of terrorist attacks for any region of the country was reported from Balochistan. "Nine reported attacks from the province claimed 15 lives and injured another 16 people. Ten personnel of security and law enforcement agencies were killed in terrorist attacks in the province, largely in three attacks launched by the militants of Tehreek-e-Taliban Pakistan (TTP)," according to the report.
As many as six terrorist attacks took place in Khyber Pakhtunkhwa (KP) during February 2018. These attacks claimed 15 lives – 11 army officials, two civilians, one policeman and one militant – and injured 19 others. Most of these casualties resulted from an attack on army officials in Kabal tehsil of Swat, which claimed the lives of 11 officials, the report revealed.
"Seven terrorist attacks took place in four agencies of FATA, which claimed six lives – four civilians and two army soldiers – and injured eight others," the report said.
While no terrorist attack was reported from interior of Sindh, one attack in Karachi claimed one life and wounded one person.
One incident of landmine explosion killed two persons and injured another in Bhimber district of Azad Kashmir, the report concluded.
https://dailytimes.com.pk/211482/42-terrorist-attacks-february-targeted-leas/
--------
FIA arrests terrorist involved in recruiting people for Islamic State in Karachi
March 6, 2018
The Federal Investigation Agency (FIA) on Tuesday, nabbed a terrorist involved in luring young people for recruitment of the Islamic State.
FIA's counter-terrorism wing has arrested Imran aka Saiful Islam in an undercover raid in Karachi. Islam has been allegedly facilitating terrorists by using social media to lure youth into joining Islamic State (IS). A variety of suspicious items including a flag of IS, terrorism-inclined literature, internet devices and mobile phones have been recovered from the accused.
Islam was produced before a judicial magistrate where FIA investigators alleged that he used social media to brainwash young people to join militant network of IS. The FIA prosecutor appealed for a 14-day physical remand of the accused citing his involvement in the cybercrime case.
After hearing arguments from both sides, the court handed Islam to FIA's custody for a two-day physical remand.
Sources within FIA said that the suspect was arrested upon identification from Khalilur Rehman, who is already in custody. Both the suspects have been involved in corrupting, brainwashing and inducting Pakistani youth for IS using social media platforms. Saiful Islam particularly targeted youngsters for which he had been maintaining over fifty pages on Facebook.
Full report at:
https://tribune.com.pk/story/1652470/1-fia-arrests-terrorist-involved-recruiting-people-islamic-state-karachi/
--------
Pakistan to extend every possible support for Afghan peace: Khawaja Asif
MAR 7TH, 2018
ISLAMABAD: Foreign Minister Khawaja Muhammad Asif Tuesday reiterated Pakistan's full cooperation for peace in Afghanistan.
Pakistan had provided support to United States in Afghan war, and that the war could not be won without the help of our country, he said while talking to a private news channel.
"We have made the efforts to control the terrorism after an immense sacrifices, " he said.
Khawaja Muhammad Asif said due to strategic location, America was still using our country. Pakistan had handed over 27 people to US, he said.
To a question about relations with US, he said there was a "trust deficit" between the two countries but we wanted to have good relations with US based on equality.
Foreign Minister made it clear Pakistan would never compromise on national interest and dignity of the country.
He said, "We had made mistakes in the past and we have paid the heavy price."
The FM said that due to the effective foreign policy, Pakistan's relations with Russia was increasing.
To another question regarding Pakistan's name in Financial Action Task Force (FATF) list, he said all out efforts would be made to bring the country out of this list.
He said name of Pakistan had been in the grey and black list of FATF during the regime of Pakistan Peoples Party (PPP).
Replying to a question about Liquified Natural Gas (LNG) agreements, he said, "LNG would have positive impact on national economy."
Commenting on Senate elections, he said the workers of Pakistan Muslim League Nawaz (PML-N), were loyal for Nawaz Sharif. The candidates had contested the Senate elections as independent candidates but no one was leaving the party.
Anyone could see the results and popularity of PML-N in Lodhran, Chakwal, Sargodha and other elections, he added.
Expressing his point of view about Shahbaz Sharif's nomination for premiership, he said that Chief Minister Punjab had made great struggle and sacrifices for the PML-N.
The Punjab province had achieved record development and progress under dynamic leadership of Shahbaz Sharif.
Full report at:
https://www.brecorder.com/2018/03/07/403340/pakistan-to-extend-every-possible-support-for-afghan-peace-khawaja-asif/
--------
CTD kills five suspected militants in Chaman
March 7, 2018
QUETTA: The Counter Terrorism Department (CTD) claimed to have killed four suspected militants, belonging to a proscribed terror group, in an encounter at Chaman near Pakistan-Afghan border.
According to the details, police officials raided a house in Chaman after receiving a tip-off from intelligence agencies regarding the presence of suspected militants in the area. Having sniffed the raid, the suspects resorted to firing. The cops befittingly responded and killed four terrorists.
Full report at:
https://www.pakistantoday.com.pk/2018/03/06/ctd-kills-five-suspected-militants-in-chaman/
--------
Lahoris made world's best astrolabes in 17th century, says Dutch scholar
Haneen Rafi
March 07, 2018
KARACHI: "The best astrolabes in the 17th century were made in the city of Lahore which most people in this country are unaware of," said Dr Jan P. Hogendijk while speaking at Habib University on Tuesday.
Dr Hogendijk is part of a Dutch team from the department of mathematics, University of Utrecht, the Netherlands, that travels far and wide to educate people about the historical significance of the astrolabe, its uses and the general history of astronomy in mediaeval Islamic civilisation.
There are many uses of an astrolabe, said Dr Hogendijk. It was used at a time when there were no watches, so one of its uses was to determine time. You can also use it to find the direction of the poles, during the day and even at night. During the day you need the sun for it while at night you will need the starts. It is also used in astronomy.
"They started making astrolabes in Lahore in 1560 and continued till 1700s. A family in Lahore became very good in making astrolabes which were more sophisticated than what was being made in the rest of the world," said Dr Hogendijk.
They looked like complex pieces of art but were an accurate representation of the constellations in the sky, he added. All the pieces made were made following precise mathematical measurements and thus were considered to be the best in the world.
The thickness of those plates was only one millimetre and eventually it was decided to investigate what made the astrolabes from Lahore so distinct from any other. Thus a synchrotron was used to examine them. "It was found that the astrolabe made in Lahore had a different metal composition and contained much more zinc than it was assumed to be possible," he said. "This is part of Pakistan's heritage and thus more people must know about it."
Dr Hogendijk, also a professor of history of mathematics, was at the hub of the lecture and he debunked myths regarding astrolabes; for one he insisted that astrolabes were never used for navigation as is widely believed. He criticised the rampant misinformation present on the internet which has misled people into believing this.
Dr Hogendijk said: "There are around 2,000 Islamic astrolabes that still exist. In the golden era of Islam, astrolabes were widely used in society, and their mention is also present in Rumi's poetry." He quoted examples from Rumi's poetry where astrolabes are referenced.
"When we try to access information on astrolabes, we find mostly European sources, even though there is a rich Islamic tradition with regards to astrolabes. This is why we conduct these workshops."
About the interest Dutch people have in mediaeval Islamic science, Dr Hogendijk said that it is also because "we have in our country one of the best collections of Islamic manuscripts in the world. Since 1630 CE the University Library in Leiden preserves one of the largest collections of mediaeval Arabic manuscripts in the world."
Dr Hogendijk's team included Willem Frederik de Graaf and Tom Jon Ester Reijngoudt, who will help him conduct a workshop on the standard astrolabe.
Full report at:
https://www.dawn.com/news/1393617/lahoris-made-worlds-best-astrolabes-in-17th-century-says-dutch-scholar
--------
As US influence wanes, Russia embraces Pakistan
MARCH 7, 2018
ISLAMABAD: As US influence in Islamabad wanes, Pakistan's former adversary Russia is building military, diplomatic and economic ties that could upend historic alliances in the region and open up a fast-growing gas market for Moscow's energy companies.
Russia's embrace of Pakistan comes at a time when relations between the United States and its historical ally are unravelling over the war in Afghanistan, a remarkable turnaround from the 1980s when Pakistan helped funnel weapons and US spies across the border to aid Afghan fighters battling Soviet troops.
Though the Moscow-Islamabad rapprochement is in its infancy, and it is neighbour China that is filling the growing void left by the United States in Pakistan, a slew of energy deals and growing military cooperation promise to spark life into the Russia-Pakistan relationship that was dead for many decades.
"It is an opening," Defence Minister Khurram Dastgir Khan said. "Both countries have to work through the past to open the door to the future." The cosier diplomatic ties have so far focused on Afghanistan, where Russia has cultivated ties to the Afghan Taliban militants who are fighting US troops. Moscow says it is encouraging peace negotiations. Both Russia and Pakistan are also alarmed by the presence of Islamic State (IS) inside Afghanistan, with Moscow concerned the group's fighters could spread towards central Asia and closer to home. In Pakistan, IS has already carried out major attacks.
"We have common ground on most issues at diplomatic levels," Prime Minister Shahid Khaqan Abbasi said. "It's a relationship that will grow substantially in the future."
During a trip to Moscow last month by Foreign Minister Khawaja Asif, the two countries announced plans to establish a commission on military cooperation to combat the threat of IS in the region. They also agreed to continue annual military training exercises that began in 2016 and followed the sale of four Russian attack helicopters to Pakistan, as well as the purchase of Russian engines for the Pakistan Air Force's JF-17 fighter jets that Pakistan's military assembles on its own soil.
The detente has been watched with suspicion by Pakistan's neighbour and arch-foe India, which broadly stood in the Soviet camp during the Cold War era. In the last two decades, the close Russia-India relationship has been underpinned by huge arms sales by Moscow to a country it calls a 'strategic partner'.
Pakistan eyes enhanced ties with Russia in balancing the US influence. "If the Russians start backing the Pakistanis in a big way at the political level, then it creates a problem for us," said Sushant Sareen, a leading expert on India's relations to Pakistan and Afghanistan with New Delhi-based Observer Research Foundation. India's foreign ministry did not respond to a request for comment on Russia's ties with Pakistan, but has previously said that its own relations with Moscow have stood the test of time, and that the two nations are building up defence and energy relations, including collaboration on nuclear reactors in India.
Russian overtures to Pakistan offer a badly needed diplomatic lifeline for the South Asian nation as it faces growing friction with Western powers over its alleged links to militants. At US urging, and with backing from Britain, France and Germany, a global financial watchdog, the Financial Action Task Force (FATF), last month decided to place Pakistan back on its watchlist of countries with inadequate terrorist-financing controls, potentially hurting Pakistan's fragile economy.
The US move, which Islamabad angrily dismissed as an effort to 'embarrass' Pakistan, followed Washington's announcement in January to suspend $2 billion in military assistance.
Kh Asif said his nation made a historical error by 'tilting 100 per cent' to the West and was now eager to build alliances closer to home with the likes of China, Russia and Turkey. "We want to correct the imbalance of our foreign policy over 70 years," he said. "We are not divorcing that relationship (with the West). But we want to have a balance in our relationships … we want to be closer to our friends in our region."
Defence Minister Khan said Pakistan's military, which has historically been heavily reliant on US weapons and aircraft, may have no choice but to ramp up purchases from the likes of Russia.
The cooling relationship with Washington is already pushing Islamabad closer to China, which is investing about $60 billion in infrastructure in Pakistan. Pakistan is among several nations that have been courted by Moscow after falling out with Washington, including the Philippines and Qatar, but Russia's long-term aims for the Pakistan relationship are unclear, according to Petr Topychkanov, a senior researcher at the Stockholm International Peace Research Institute. "It's not very transparent, even in Russia," he said. "There is no serious public debate, there is no detailed explanation to the Russian public about what Russia wants in Pakistan." Russia's foreign ministry did not immediately respond to a request for comment about Moscow's increasingly close relations with Pakistan. Russia and Pakistan are negotiating potential energy deals worth in excess of $10 billion, according to Pakistani energy officials. Kh Asif said four to five huge power projects "will cement our relationship further".
Russia last month appointed an honorary council in the Khyber Pukhtunkhwa province, where its companies are in talks to build an oil refinery and a power station. But the biggest deals focus on gas supply and infrastructure to Pakistan, one of the world's fastest growing liquefied natural gas (LNG) import markets. "On a strategic basis, Russia is coming in very fast on the energy side," said a senior Pakistani energy official.
In October, Pakistan and Russia signed an inter-governmental agreement (IGA) on energy, paving the way for Russian state-giant Gazprom to enter negotiations to supply LNG to Pakistan. The talks are expected to conclude within three months and Gazprom is considered 'one of the front-runners' to clinch a long-term supply deal, according to the Pakistani official. Based on two monthly LNG cargo deliveries, that deal would be worth about $9 billion over 15 years, he added.
Full report at:
https://dailytimes.com.pk/211590/us-influence-wanes-russia-embraces-pakistan/
--------
Arab World
Kurds pull back from ISIS fight in Syria, saying they feel let down by U.S.
By Liz Sly
March 6, 2018
BEIRUT — U.S.-allied forces in eastern Syria said Tuesday that they are withdrawing from the front lines of the war against the Islamic State in order to battle the United States' NATO ally Turkey elsewhere in the country, jeopardizing the fight against the militants.
Citing disappointment with the United States, the Kurdish-dominated Syrian Democratic Forces (SDF) said they were pulling fighters off the front lines in the province of Deir al-Zour, where Islamic State fighters have been putting up a fierce fight in a pocket of territory on the eastern bank of the Euphrates River. The holdouts there are thought to include some of the most senior leaders of the organization who escaped the cities of Mosul in Iraq and Raqqa in Syria last year, U.S. officials say.
The move follows an effort by the Trump administration to assuage Turkish ire over the U.S. military's close relationship with Syrian Kurdish forces. Those forces have been instrumental in the capture of vast swaths of territory from the Islamic State over the past three years, including the militants' self-styled capital, Raqqa.
According to a statement by the SDF, which has received arms and training from the United States, the fighters will relocate to the Kurdish-controlled enclave of ­Afrin in northwestern Syria to help fend off a six-week-old Turkish offensive that has reportedly killed hundreds of civilians, displaced more than 10,000 people and contributed to one of the worst crises in U.S.-Turkish relations in decades.
It is with "regret" that the "painful decision" has been made to pull fighters away from the battle in Deir al-Zour, the SDF statement said. The decision would not have been taken, it added, "were it not for the failure of the international community to curb the Turkish aggression and put real pressure" on the government of President Recep Tayyip Erdogan to "stop its madness within our Syrian borders."
The SDF withdrawal was a direct result of Kurdish frustration with the recent American rapprochement with Turkey and the lack of support Washington has given to the Kurds in their fight against Turkish troops in Afrin, according to Aldar Xelil, a senior official with the self-proclaimed Kurdish-led administration governing northeastern Syria.
"The international coalition let us down," he said in an interview over Skype. "They did not do what we expected them to do for us after a very long partnership."
"We are allies. The Americans should have helped us. We were allies for a very long time," he added. "For one and a half months we have been under attack by Turkey. Turkey is using NATO weapons to attack an American ally. We were partners in the fight against [the Islamic State], and they did not do anything to help us."
The redeployment involves about 1,500 to 1,700 fighters drawn mostly from Arab groups affiliated with the Kurdish-
dominated SDF. Thousands of Kurdish fighters had previously left northeastern Syria for Afrin, and operations against the Islamic State had already come to a standstill, Xelil said. Some SDF fighters will remain on the front line there, alongside U.S. troops, and will continue to defend their positions, he said.
In recent months, the Islamic State fighters have begun to regroup, Xelil warned. "There is a danger this will give ISIS a chance to revive, to come back to life, and they might even expand their territory again," he said.
The U.S. military said operations against the Islamic State had slowed but not stopped entirely, and warned that U.S. support for the SDF could be jeopardized by the withdrawal from the fight.
"We are aware of the departure of some SDF forces from the Middle Euphrates River Valley and continue to point out the potential costs of any distraction from the defeat-ISIS fight," Maj. Adrian Rankine-Galloway, a U.S. military spokesman, said in an emailed statement. "The Coalition will achieve its goals, but the increased complexity of the situation in Syria can result in operations taking longer." U.S. support for the SDF will continue "as long as they remain focused on the defeat-ISIS fight," Rankine-Galloway added. "Any military efforts outside those specifically focused on defeating ISIS do not, and will not, receive coalition support."
The SDF withdrawal reflects the deepening complexities of the U.S. involvement in Syria as the fight against the Islamic State winds down, leaving about 2,000 U.S. troops in de facto control of a vast swath of northeastern Syria alongside a Kurdish-dominated force that is anathema to Turkey.
The Syrian Kurdish group that dominates the SDF is closely affiliated with the Kurdistan Workers' Party, or PKK, which is designated a terrorist organization by Turkey and the United States. Over the past three years, Turkey has repeatedly expressed its frustration over the level of U.S. military support for the Kurdish People's Protection Units, or YPG, which is the main component of the SDF and has been described in U.S. intelligence reports as the Syrian branch of the PKK.
A visit by U.S. Secretary of State Rex Tillerson to Ankara last month went a long way toward assuaging Turkish concerns. Tillerson described Turkey as the "enduring" ally in the complicated triangular relationship, and a meeting is due to take place in Washington on Thursday to establish a mechanism for what U.S. officials have described as "diluting" the YPG's level of control in northeastern Syria.
On the table is the fate of Manbij, a majority-Arab town in northern Syria that is under the control of the SDF despite promises to Turkey made by the Obama administration that the Kurdish allied forces would withdraw after the Islamic State was driven out. The SDF statement on the withdrawal from the Islamic State fight may have been timed ahead of the talks to put pressure on the United States not to surrender Manbij to Turkey, analysts said.
That the Trump administration has alienated the Kurds in seeking to regain Turkish trust reflects the complexities of a war that pushed the United States into alliances with multiple armed groups in Syria and Iraq that are often at odds with one another.
The Turkish-Kurdish dispute predates the Islamic State war by decades and has now left the United States in "an impossible position," said Aaron Stein of the Atlantic Council. "The U.S. is trying to manage a war in Syria while dealing with two allies who can't stand each other," Stein said. "The U.S. refuses to admit it has a major problem here."
The Trump administration is divided over whether to prioritize repairing the U.S. alliance with Turkey or to remain loyal to the Kurds. The U.S. military favors the Kurdish allies it has fought alongside, and the State Department is mindful of Turkey's broader importance to the United States' NATO relationships and the building tensions with Russia, Stein added. "The U.S. is stuck, and there are really no good outcomes here," he said.
https://www.washingtonpost.com/world/kurds-pull-back-from-isis-fight-in-syria-say-they-are-let-down-by-us/2018/03/06/3fd2c2ca-2173-11e8-946c-9420060cb7bd_story.html?utm_term=.ff89bdc9c07e
--------
Strikes hit Syria's battered Ghouta as death toll hits 800
March 07, 2018
DOUMA - Heavy air strikes and clashes shook the Syrian rebel enclave of Eastern Ghouta on Tuesday, as France and Britain called for an emergency UN Security Council meeting on the escalating violence.
Eight hundred civilians - including at least 177 children - have been killed since Russia-backed regime forces launched an assault on the besieged enclave outside Damascus on February 18, the Syrian Observatory for Human Rights said in its latest death toll. Russia suffered its own heavy losses on Tuesday as the defence ministry said a Russian transport plane crashlanded at an airbase in western Syria , killing all 32 people on board.
Bombardment and clashes in Eastern Ghouta, the last major rebel stronghold near Damascus have persisted despite a month-long ceasefire demanded by the Security Council more than a week ago.
At least 19 civilians were killed on Tuesday, according to the Syrian Observatory, a Britain-based monitor.
The relentless attacks prompted France and Britain to request an emergency meeting of the top UN body, expected to gather on Wednesday, to discuss the ceasefire's failure to take hold. Government troops have advanced rapidly across farmland in Eastern Ghouta in the past week and had wrested control of 40 percent of the enclave as of early Tuesday.
In the enclave's main town of Douma, air strikes have reduced homes to piles of rubble on both sides of the road, an AFP correspondent reported.
Exhausted civil defence workers on Tuesday took advantage of a few hours of calm to dislodge the body of a resident, killed in bombardment several days ago, from a collapsed building.
Other civilians used the lull in air strikes to venture out from cellars to gather a few necessities from what was left of their homes.
Some gathered the pieces of furniture smashed in the raids to use as fuel or sell to their neighbours.
An AFP reporter in Hammuriyeh said air strikes were continuing to pummel the town on Tuesday.
The raids came after around 18 people suffered breathing difficulties in the town following a strike there late Monday, the Observatory reported.
It had no firm word on the cause.
Eastern Ghouta's around 400,000 residents have lived under government siege since 2013, facing severe shortages of food and medicines even before the latest offensive began.
Forty-six aid trucks entered Eastern Ghouta on Monday for the first time since the offensive started, but had to cut short their deliveries and leave due to heavy bombardment.
"The people we've met here have been through unimaginable things. They looked exhausted," Pawel Krzysiek of the International Committee of the Red Cross said afterwards.
"And the aid we've delivered today is by no means enough," he said on Twitter, ahead of another aid delivery planned for Thursday.
The UN Human Rights Council on Monday ordered investigators to examine the latest violence in the enclave.
It condemned "the indiscriminate use of heavy weapons and aerial bombardments against civilians, and the alleged use of chemical weapons in Eastern Ghouta".
Eastern Ghouta is the last opposition bastion on the Syrian capital's doorsteps, and the regime is keen to retake it to secure Damascus.
Rebels there have fired waves of rockets and mortars onto eastern Damascus neighbourhoods.
On Tuesday, three civilians were killed and eight wounded in mortar fire on the neighbourhood of Jarmana, according to state news agency SANA.
Regime ally Russia last week announced a five-hour daily "humanitarian pause" in the region, during which it said it would guarantee safe passage to civilians wishing to flee the enclave.
No Syrian civilians are known to have used the "humanitarian corridor".
On Tuesday, Russia announced that the exit route had been expanded to allow rebels, not just civilians, to leave the enclave.
Russia's air force intervened in Syria in 2015 on behalf of President Bashar al-Assad, helping his troops retake key cities across the country.
Moscow's defence ministry said on Tuesday that a Russian transport plane crashed on landing at the Hmeimim airbase, killing its 26 passengers and six crew members.
"The reason for the crash according to preliminary information could have been a technical fault," the ministry said, adding that the plane had not come under fire according to a report from the ground.
More than 340,000 people have been killed and millions displaced in Syria since the start of the civil war in 2011 with the brutal repression of anti-government protests.
Over the years, numerous rounds of UN-backed Syria peace talks have failed to stem the fighting.
Full report at:
https://nation.com.pk/07-Mar-2018/strikes-hit-syria-s-battered-ghouta-as-death-toll-hits-800
--------
Zawahiri incites followers in the Maghreb
March 6, 2018
Earlier today, al Qaeda's propagandists released the latest message from their leader, Ayman al Zawahiri. The message, titled "France Has Returned Oh Descendants of the Lions," is addressed to Muslims in the Maghreb. Zawahiri praises the historic, local resistance to foreign "invaders," while also calling for continued jihad against all those who oppose the implementation of sharia.
The opening of the production includes footage of various jihadists throughout North and West Africa, especially al Qaeda's Group for Support of Islam and Muslims ("Jama'at Nusrat al-Islam wal-Muslimin," or JNIM), which was established in early 2017. JNIM brought together several existing al Qaeda factions under a common banner. The group is openly loyal to Zawahiri.
"I would like to direct these words of mine to our Muslim Ummah in the Islamic Maghreb, and I say to it: You have been – throughout the history of Islam – an impervious shield for your Ummah against invaders and aggressors," Zawahiri says at the opening of his remarks.
The al Qaeda leader lauds those who have resisted the French, Italians, Spanish and English in the region, saying the Muslim community "continues to resist and fight, even forcing the disbelieving invader to leave, and leaving behind its supporters, who are of our skin and speak with our tongue."
Zawahiri builds on the anti-Western experience of the 20th Century, claiming that the people hoped their "rulers," "after the departure of the foreign invader," would govern by the "Islamic Sharia, and impart justice upon you, and simplify the Shura, and grant victory to the oppressed, and stamp down the corrupt."
In Zawahiri's telling, governance according to Sharia was not realized because the "supporters of the disbelieving invader pursued" believers "in the worst manner," spreading deviant creeds and behaviors, while also stripping Muslims of their wealth.
The al Qaeda master criticizes the regimes that ruled in the latter part of the 20th Century and into the early 21st Century, saying they "surrendered to a regime of the greatest international criminals, and were subjected to its economic laws, and recognized the existence of Israel."
At this point, Zawahiri returns to one of his regular laments, arguing that the 2011 uprisings have failed to deliver true Islamic governance. He says that the "revolutions of the mighty Arab people" were like an "earthquake" that "shook the world mightily." The Ummah "was given glad tidings toward the approaching demise of tyranny and the tyrants, and the tyrants of Tunisia fled, and Libya rose up against its tyrants, and the tyrants of the Maghreb hurriedly sought to contain the wave of anger, and the criminals of Algeria shuddered and stole it."
However, a "conspiracy" led to the return of "the old corruption," which was "more ferocious and even more corrupt" than before. Zawahiri repeats his charge against "Islamic movements," meaning the Muslim Brotherhood and other Islamist groups, claiming that they "shared in the conspiracy" by spreading a "culture of compromise."
Still, Zawahiri says there is hope for the jihadist cause, as the "peoples' revolutions were preceded and coincided with a courageous jihadist uprising, which prevailed in the Islamic Maghreb from the peaks of the Atlas and the coasts of Tunisia and even to the plains of the Sahel and the desert and the Muslim country of Sudan." In all of these areas, the jihadists supposedly "allied together against the international and local apostasy." This is, of course, an exaggeration. The jihadists have suffered multiple setbacks, including internal disputes, especially after the rise of the Islamic State in 2014.
The al Qaeda master calls on potential new recruits to fight for the cause, saying they are the "descendants of the lions" who fought previous foreign interventions. Modern day foreigners are the same as "those who fought your fathers and killed them and expelled them." Zawahiri warns: "They have returned to kill your Muslim brothers and expel them, and to remind you that you are still under their occupation and their oppression."
The French and their allies continue to battle JNIM in Mali. And Western nations back anti-jihadist forces elsewhere as well.
Since 2015, Zawahiri has produced a steady stream of commentary on events around the world. Many of his messages are contained in short videos, usually less than ten minutes long. Whereas Zawahiri was once known for his long-winded commentary (and he still occasionally produces longer talks), it seems an editor at As Sahab (al Qaeda's propaganda arm) has convinced the veteran jihadist to trim his speeches. For instance, the video released today is just over seven minutes in length.
Full report at:
https://www.longwarjournal.org/archives/2018/03/zawahiri-incites-followers-in-the-maghreb.php
--------
Forget 'stereotypes' about Saudi Arabia, UK firms urged
7 March 2018
LONDON: The visit to the UK by the Crown Prince of Saudi Arabia, Mohammed bin Salman, this week will set the stage for a new trading relationship between the two countries, Dr. Afnan AlShuaiby, head of the Arab-British Chamber of Commerce, predicted.
Sitting in her Mayfair office, AlShuaiby told Arab News that with Brexit on the horizon and the Kingdom seeking to diversify its economy, "the sky is the limit" when it comes to business and trade partnerships.
The crown prince arrives in London on Wednesday and will hold talks with the British prime minister, Theresa May, as well as senior business and intelligence figures.
AlShuaiby said she is optimistic the visit will encourage more UK companies to invest in Saudi Arabia. Britain's decision to leave the EU made it even more important for British companies to focus on improving trade relations with partners outside Europe, she said.
"I would like to see more British interest in Saudi Arabia and more companies investing in Saudi Arabia, whether they are small and medium companies or even the bigger companies that haven't explored or been in Saudi Arabia," she said.
"(The crown prince's visit) is going to be a very good opportunity for the two sides to finalize agreements together and a way to move forward," she said. "I would like to see solid agreements come out of it."
AlShuaiby urged people to look beyond preconceived ideas about Saudi Arabia and consider the benefits the visit could have on UK business and trade.
"When a guest comes, they should be welcomed. That's a courtesy for any place," she said
"People don't know what's happening in Saudi Arabia, specifically in the past two years. There's a lot of positivity on all levels and a lot of reforms. I haven't seen that in the UK media — there is no interest," she said.
Changes that have made headlines in the UK include the decision last year to allow women to drive, as well as the crown prince's anti-corruption drive that resulted in hundreds of businessmen and ministers being detained in the luxury Ritz-Carlton hotel in Riyadh last November.
AlShuaiby has been at the forefront of efforts to strengthen business links between the UK and Saudi Arabia since she was appointed secretary general and chief executive of the chamber just over a decade ago. She is the first woman to be appointed to the role in the 40-year history of the organization, set up in the mid-1970s to encourage trade between the UK and other Arab League countries.
The Saudi national gained her first degree at the King Saud University in Riyadh, and went on to complete an MA in educational administration at the American University, followed by a Ph.D. in leadership administration at George Washington University, both in Washington.
In her role at the chamber, she has spearheaded conferences, research services, forums and other networking events to help make key introductions between UK companies and their Saudi Arabian and Arab League counterparts. "We are the matchmaker," she said. In 2016, UK exports to Saudi Arabia were worth $6.62 billion compared with $3 billion in 2006, according to World Bank data.
With Saudi Arabia pushing forward with plans to diversify the country's economy and its reliance on oil, AlShuaiby said business opportunities for UK companies are only likely to grow. The Kingdom's Vision 2030 strategy, launched in 2016, set out a timetable for economic diversification and social reform.
"The sky is the limit," she said, noting health care, education, research and development, and cybersecurity as areas of mutual interest between the two countries. There is a "big move" toward renewables as well, she said.
The film and cinema industry is opening up to outside investment, following a decision in December to lift the 35-year ban on cinemas in the Kingdom. Last month, the UK-based cinema chain Vue International signed an agreement with a Saudi partner to open about 30 multiplexes in the Kingdom.
"I think the focus of the visit is going to be geared more toward business and Vision 2030. There is a tremendous move in Saudi Arabia, and things are moving very fast," she said.
"It is very important that the UK embarks and becomes a strategic partner in this whole vision.
"I would like the government to encourage the private sector in the UK. People need to be reassured — and if the government reassures them, they are more comfortable and will have a better appetite for working with Saudi Arabia," she said.
AlShuaiby explained that some UK businesses, particularly small-to-medium-sized firms, are reluctant to operate in the Kingdom due to "old stereotypes" about the country.
"British businesses are still a little bit cautious about doing business in Saudi Arabia," she said, referring to concerns about the country's business climate and the law surrounding commercial disputes. She insisted that "things have changed" with regard to the legal system.
"We need a different way of viewing things. Not the average stereotype of Saudi Arabia — the desert and camel. That is part of our history and our culture, and we are proud of it, but we have also built skyscrapers. It is a very modern country," she said. --------
AlShuaiby called on larger UK firms already active in the Kingdom to "mentor" smaller companies.
AlShuaiby's comments are backed up by a recent World Bank report, "Doing Business in 2018," which found that the Kingdom had implemented six key reforms last year, the largest number in the Middle East and North Africa region.
The report, published in December, said it was now easier to start a business, register property, enforce contracts and trade across borders in the Kingdom. The bank's country director for Saudi Arabia, Nadir Mohammed, said such efforts "send a strong signal to investors interested in investing in the Kingdom."
Given these improvements, AlShuaiby warns that Saudi Arabia is no longer a place to fly in and out of to make a quick buck. Only "serious" UK investors are wanted, she said.
"This is the message I would like to send out — is we need a long-term sustainable partner. We want to be partners for a long time," she said.
Full report at:
http://www.arabnews.com/node/1260811/saudi-arabia
--------
Saudi Arabia defends 'just' Yemen war ahead of UK visit
6 March 2018
LONDON: Saudi Arabia's Foreign Minister on Tuesday defended his country's "just" war in Yemen, on the eve of Crown Prince Mohammed bin Salman's controversial visit to Britain.
"They criticize us for a war in Yemen that we did not want, that was imposed on us," Adel Al-Jubeir told BBC Radio 4.
"They criticize us for a war in Yemen that is a just war, that is supported by international law," he added.
Turning to Saudi Arabia's "Vision 2030" plan to diversify its oil-reliant economy, Al-Jubeir said that Britain would be a major beneficiary.
"After Brexit, there will be huge opportunities for Britain as a result of Vision 2030," he told the BBC.
Full report at:
http://www.arabnews.com/node/1260531/saudi-arabia
--------
Iraq force that helped beat Daesh turns to reconstruction
7 March 2018
AL QURNAH: Three months ago, Ibrahim Ali was using his digger to smash down defensive embankments built by Daesh group militants in northern Iraq.
But after years of digging for victory, he and his comrades have now turned their skills to civilian use: gouging out irrigation channels for farmers in the southern province of Basra.
"What I'm doing makes me happy," he said, gelled hair glimmering above his sun-browned face.
In 2014, Ali and tens of thousands of others mobilized against Daesh, in response to a call by Iraq's top Shiite authority, Ayatollah Ali Sistani.
They joined the Hashed Al-Shaabi, or Popular Mobilization Units, a paramilitary umbrella organization set up to fight Daesh.
Aged 23 at the time, Ali left his parents and his work as a day laborer in the province of Babylon, south of Baghdad.
As he knew how to operate bulldozers and other heavy equipment, he was assigned to the Hashed's engineering corps, with its slogan: "build and fight."
In December, Iraq announced victory over the Sunni extremists of Daesh, but the Shiite-dominated Hashed was not disbanded.
Having proved itself as a formidable force on the battlefield, the coalition has become popular across the country, including among many Sunnis.
It now seeks to become a key political player, putting forward candidates in May elections and playing more of a role in the country's civilian affairs.
Ali joined other Hashed engineers and drivers heading to Basra — an overwhelmingly Shiite province with more oil resources but poorer infrastructure than any other province.
"We started fighting, now we're building, which is also a way to continue the fight," said Kazem Akram, the engineer in charge of Ibrahim's team in the Al-Qurnah district.
Further east, along the Iranian border, other Hashed teams are clearing mines, while elsewhere their excavators are building or grading roads.
Basra was the first province to see the Hashed launch such projects, but senior officials have said others may be rolled out across the country soon.
"The Hashed has a long-term strategy, relying on its personnel: engineers like me, but also doctors, lawyers, all the professionals who joined it," Akram, a father of three, told AFP.
Mohammad Karim, 24, joined the Hashed in 2015 after graduating as an engineer in Baghdad in 2015.
Unlike many young Iraqis suffering high unemployment, he says he received job offers. But he preferred to enlist in the Hashed.
After more than two years on the front, he is now overseeing the renovation of the edges of a school in Basra, a port city with more than two million residents.
"With the rain, the dirt road was muddy, there was no sewage system and the children had to wade to get to class," he said.
The Hashed has stepped into the breach, agreeing with the municipality to take over the job of rebuilding.
From his workshop in front of the school, Abou Raed, in his 40s and in charge of 11 people, observes the machines in action.
"Basra is Iraq's cash cow: we call it the Mother of Oil, but we don't even get the most basic services," he said.
"The authorities never come here, but the Hashed, which has already spilled its blood for Iraq, is here for us."
Basra prides itself on having given up more "martyrs" in the fight against Daesh than any other province. Posters line the roads and monuments stand in the villages to commemorate those who have fallen in battle.
And despite the fact that the battle is over, the Hashed still has tens of thousands of members.
"All they have done and all these people, can't simply disappear," Karim said.
Hashed engineers take home around 750,000 dinars a month (a little more than $600, 480 euros), a good salary in Iraq and higher than they would earn in the public sector. They also enjoy some level of job security.
Others, Karim said, are there "because it is a humanitarian job."
"The Hashed will remain," he said.
That suits Khalil Fahd, head of the Al-Qurnah water authority. In the past two months, Hashed workers have dug about 40 kilometers (25 miles) of irrigation canals in his district.
Full report at:
http://www.arabnews.com/node/1260896/middle-east
--------
Social media misused to spread extremism, security experts say
March 6, 2018
Abu Dhabi: Extremists misuse social media platforms to spread false ideologies and hatred, which go against the true message of Islam, security experts said in Abu Dhabi on Tuesday.
They were speaking at a conference on 'Tolerance, Moderation and Dialogue in Countering Terrorism' organised by the Ministry of Interior at Abu Dhabi National Exhibition Centre.
The two-day conference, which ended on Tuesday, was held under the patronage of Lt-General Shaikh Saif Bin Zayed Al Nahyan, Deputy Prime Minister and Minister of Interior.
Media today is one of the strongest tools used by terrorist groups to "pollute" young minds and recruit them, experts said.
As such, a huge responsibility lies on all media organisations and operators of social media sites to cross-examine the content before making it public, experts added.
At the event, a large number of scholars, religious leaders and security experts gathered to exchange their views on countering extremism in the world.
Fernando Rivas from the strategy department of Intelligence Centre for Counter-Terrorism and Organised Crime at Spain's interior ministry said: "These terror organisations network and use social media platforms to execute their attacks, this is what we experienced in Spain.
"From our experience in Spain, we have learnt that we should stop the dissemination of terrorists' messages through the social media networks, internet and block them from spreading ill ideologies among people to radicalise [them]."
Governments must communicate effectively with people to explain the motives of extremist groups and their misinformation, which propagates hatred and fake ideologies among people.
Spain has created an observatory called "Islamophobia" to spread positive and correct messages about Islam among society, through civilian groups and Arab quarters of Spain, he said.
"We work together at the ministry to dispel wrong notions and promote positivity in the society."
The role of print and electronic media is key to promote government's initiatives and spread awareness among the society to prevent people from getting "trapped" by radical groups, Rivas said.
He added that fake news and theories are served on a platter everyday on these sites, and the media needs to clarify to the people what is right and wrong.
Role of individuals
Along with media, individuals are also responsible to correct the society by spreading only right messages.
Dr Sultan Al Nuaimi, associate professor and academic researcher, said: "When an individual receives a message, if he/she understands that it follows a certain destructive ideology, he should not forward it to others."
The UAE has tough rules to combat propagation of wrong ideologies through social media sites but individuals also have a part to play. Stricter media rules doesn't mean to encroach on or snatch the freedom of individuals, he said.
"There is no meaning to an individual's freedom if he becomes a threatening element or part of the destruction of a nation," Al Nuaimi said.
Such freedoms are not beyond the welfare and security of the country, Al Nuaimi said.
Mohammad Al Hammadi, editor-in-chief of National Geographic Al Arabiya magazine, said he felt sorry to state that electronic media in the Arab world was exploited to be part of promoting fake ideologies and messages about Islam.
"Islam never teaches rejection of others, violence and killing of people. But with extreme sadness, I would like to say that media were compromised in the region and they propagated wrong messages, which severely defamed the name of Islam and harmed its followers," Al Hammadi said.
"Today we want to correct these wrong ideologies through media," Al Hammadi said.
Full report at:
http://gulfnews.com/news/uae/government/social-media-misused-to-spread-extremism-security-experts-say-1.2183740
--------
Russian military transport plane crashes in Syria, 32 dead
March 06, 2018
A Russian transport plane crashed on landing at the Hmeimim airbase in Syria Tuesday, killing all 32 on board, Russia's defence ministry said.
There were 26 passengers and 6 crew, the ministry said in a statement carried by RIA Novosti agency. It did not specify whether all of them were in the military.
"The reason for the crash according to preliminary information could have been a technical fault," the ministry said, adding that the plane had not come under fire according to a report from the ground.
The transporter was around 500 metres (yards) from the runway, the statement said.
A commission will investigate the causes of the crash.
The Russian military prosecutor's office has initiated a check of possible violation of aviation safety, a spokesman said.
Antonov-26 planes are used by the military in Syria for internal flights transporting troops and supplies between provinces, Kommersant business daily reported.
The planes have also been used on press tours.
Moscow began conducting air strikes in Syria in September 2015, and its intervention has swung the nearly seven-year conflict firmly in favour of the forces of ally President Bashar al-Assad.
Russia's President Vladimir Putin made a surprise visit to Hmeimim in December where he ordered the start of a pullout of Russian troops, saying their task in the war-torn country had been largely completed.
Three battalions of military police and officers of the Russian Centre for Reconciliation would remain in Syria , as well as two Russian bases, Defence Minister Sergei Shoigu said on a subsequent trip.
- Military losses -
Russia's official military losses in the Syrian war before the crash were 45. If all those killed Tuesday were serving in the military, the toll would rise to 77.
The most recent officially acknowledged military loss in battle in Syria was last month when a Russian pilot was killed after his plane was downed over Idlib province.
Russia has also acknowledged that five of its citizens were killed in a US-led coalition bombing in the eastern Deir Ezzor province on February 7, in the first admission of non-military combat casualties.
Moscow also said "several dozen" were wounded in the coalition strike.
The United States said its strike killed at least 100 regime and allied fighters and various reports indicated a death toll of up to several hundred Russians from the strike.
Russian nationals are regularly reported to be serving as paid mercenaries in Syria and taking on dangerous missions that often lead to casualties.
However, officials deny this and serving as a mercenary is illegal under Russian law.
Hmeimim base has been targeted in several attacks.
The military said that two drones carrying explosives attacked the base in January without causing any casualties.
On New Year's Eve last year, a mortar attack on the base killed two Russian soldiers.
Full report at:
https://nation.com.pk/06-Mar-2018/russian-military-transport-plane-crashes-in-syria-32-dead
--------
West Seeking to Rescue Militants through Chemical Attack Accusations
Mar 06, 2018
The victories achieved by the army in Eastern Ghouta have made the terrorists and their sponsors repeat their common lies and fabricate allegations to stop the advance of the army and protect the terrorists, in addition to using those allegations as a pretext to launch aggression against Syria.
The Syrian Government has at UN sessions warned against the campaign through which the terrorist organizations are preparing for the scenario.
Confirmed information revealed few days ago that the terrorist groups had been ordered by their sponsors to use the chemical weapon in Eastern Ghouta to accuse the Syrian Army in a false flag operation.
Military analysts believe that the failure of the terrorism-sponsoring states to ensure support for their tools in Eastern Ghouta pushed them to use the chemical attack false flag scenario which they have used several times before, but their allegations have been disclosed.
A media outlet reported earlier today that US President Donald Trump's administration and the US army are planning to launch a second attack on Syria under the pretext of Damascus forces' chemical attack in Eastern Ghouta.
As US Department of Defense Spokesperson Dana White has stressed that the United States "has not seen any evidence yet" of the use of chemical weapons by the Syrian government in Eastern Ghouta, the Donald Trump administration discussed the possibility of "a new military action" against Syria as a punitive measure, citing Damascus' alleged use chemical weapons in Eastern Ghouta, the Washington Post quoted unnamed US officials as saying, raising the prospect of a second US strike on President Bashar al-Assad in less than a year.
According to the newspaper, the topic was discussed during a gathering in the White House, which was attended by Trump, Chief of Staff John Kelly, National Security Adviser Herbert McMaster and Defense Secretary Jim Mattis.
The Washington Post cited a senior US administration official as saying that Mattis was "adamantly" against acting militarily in response to the reports about Damascus' chlorine attacks and that McMaster "was for it".
Another official claimed that at the end of the day, "the President did not endorse any military action and that officials decided to continue monitoring the situation".
In early February, the Syrian Foreign Ministry stressed that the Washington accusations that Damascus used chemical weapons in Eastern Ghouta are groundless and that Damascus strongly condemns such allegations.
In late January, the White Helmets, a Syrian opposition civil defense group operating in militant-held areas, reported that three civilians had been killed and dozens more were wounded in a suspected chlorine gas attack on Eastern Ghouta.
According to recent reports, the controversial White Helmets group is preparing for another plot against the Syrian government through a false-flag chemical attack in Eastern Ghouta of Damascus.
The Spokesperson for the United States administration had accused Syria of preparing to stage a chemical attack in the country, threatening that Washington would make Damascus pay "a heavy price".
As Washington claims that it fights against the ISIL group, US warships fired 59 Tomahawk cruise missiles from two warships in the Mediterranean Sea at the Shayrat airfield in Homs province on April 7, following a chemical weapons incident in Idlib province on April 4 which the Western countries blamed on the Damascus government.
Full report at:
http://en.farsnews.com/newstext.aspx?nn=13961215001153
--------
Southeast Asia
Wanted in India, Naik set to rebuild empire in friendly Malaysia
Faiz Zainudin and Sheith Khidhir Bin Abu Bakar
March 7, 2018
PUTRAJAYA: Friday prayers at the Putrajaya mosque have just ended. As worshippers rush to beat the fast building traffic congestion outside, a small crowd begins to gather at the back row of the main prayer hall.
The excitement at the end of the weekly congregation here is almost a ritual now. Their focus is Zakir Naik, India's most controversial Muslim preacher.
Naik is wanted in different ways in India and Malaysia.
Authorities in India have been eager to question him on allegations of extremism and money laundering, charges Naik has dismissed as false. In Malaysia, Naik finds solace not only in support from government leaders and local Muslim leaders – his celebrity status among his millions of fans worldwide has increased his welcome within the local Muslim community.
The small crowd follows Naik as he makes his way outside, escorted by two local men. They are hired from a local security company to be his personal bodyguards.
Outside, Naik catches up with Ahmad Zahid Hamidi, the deputy prime minister. Naik's freedom depends on Zahid, who heads the powerful ministry in charge of immigration and who could put the preacher on the next flight to Mumbai "at the press of a button", as one close associate told FMT.
Zahid would be obliged to comply with such a request. "If the Indian government makes a request to extradite him (Naik) based on Mutual Legal Assistance, we will return him," he had told Parliament last November.
Outside the mosque, the men hug like old friends, touching their chins.
"Congratulations," Zahid is heard telling Naik, before they part ways.
Zahid's congratulatory message is timely. Just a week earlier, the Kuala Lumpur High Court threw out a lawsuit led by Hindraf. The Hindu pressure group is unhappy that the Malaysian government is "harbouring" the fugitive Naik by giving him permanent resident (PR) status.
For more than two decades, Naik has spoken on comparative religion, a topic that has drawn large crowds to his lecture events around the world, but which has not sat well with some Hindu and Christian groups.
This is not the only reason for Naik's controversial reputation.
Following the terrorist attacks of 2016 in Dhaka, Bangladesh, there were accusations that he had inspired one of the youths who carried out the attacks.
Rohan Imtiaz, 22, had reportedly shared a video clip of one of Naik's old lectures praising Osama bin Laden, the Saudi citizen linked to the 9/11 attacks in the US.
"If he is terrorising America, the biggest terrorist, I am with him. Every Muslim should be a terrorist. The thing is that if he is terrorising a terrorist, he is following Islam," Naik said in the video shared on Facebook.
For decades, Naik's missionary activities were carried out under his Islamic Research Foundation (IRF), a well-oiled centre he set up in Mumbai.
Friendly surroundings
At Tamara Residence, a middle-class condominium just a stone's throw from the Prime Minister's Office, there is no celebrity welcome for Naik, who had just arrived after attending Friday prayers.
That sort of indifference, so to speak, allows Naik the space and time to recoup, even with the intense surveillance he could be under by Indian police.
Like other neighbourhoods in Putrajaya, the bulk of residents here are civil servants, but there are also many expatriates from the Middle East and the Indian subcontinent.
It is here that Naik has been holding meetings with his aides, including a businessman who recently arrived from Mumbai.
Although Naik's future plans are not known, they are not hard to guess.
With his path cleared by the recent High Court ruling against his critics, now is the best time for Naik to rebuild his IRF, which was shut down by Indian authorities over allegations of money laundering and promoting extremism.
One source with knowledge of the preacher's activities told FMT that plans to rebuild his "empire", specifically his Peace TV Islamic propagation channel, are already underway.
Naik has hosted many like-minded Muslims at his unit in Tamara Residence, including local preachers who share his vision of spreading an "austere" version of Islam, similar to that promoted by some Gulf governments, including Saudi Arabia.
Naik has a large following around the world. Every day, his Facebook page dishes out attractive Islamic graphics containing Quranic and lecture quotes to some 17 million fans. In his home state alone, he has wowed the crowd in mega-lecture events, where his skills in quoting the Bible and Veda often draw applause.
But his Salafist style of Islam has come under criticism from Muslim scholars in India, where Islam was mostly spread under the influences of local cultures and religions, including by Sufis who are condemned by Salafis as heretics.
Among his critics is prominent author Wahiduddin Khan, who once suggested that Naik's popularity was just a symptom of the Muslim world's decline after centuries of ruling vast empires.
"The wave of Islamophobia in the aftermath of 9/11 and the occupation of Iraq and Afghanistan have only added to the Muslims' sense of injury," Wahiduddin, commonly known as the "Maulana", was quoted as saying by Times of India.
"In such a situation, when a debater like Zakir Naik, in eloquent English, takes on preachers of other faiths and defeats them during debates, the Muslims' chests puff with pride."
Naik, who was bestowed with Saudi Arabia's highest award three years ago, could easily make the kingdom his home. However, he decided to set up base in Malaysia.
"He finds the Malaysian authorities more supportive, and the country is conducive for his da'wah (propagation) work," said a source who is familiar with Naik's activities.
Rebuilding an empire
Naik probably made the right decision, at least business-wise. A man with millions of Muslim fans around the world would come in handy for politicians who cannot avoid playing the religion card.
Last year, Malay right-wing group Perkasa presented Naik with a "Malay warrior" award. Naik also found admirers in both government and opposition leaders. One vocal supporter is Perlis mufti Mohd Asri Zainul Abidin, who is often forced to defend himself against accusations of promoting Wahhabism, the derogatory name for Salafism.
At the Surau Al-Syifa frequented by Tamara residents, Naik is not a regular figure.
The surau has hosted speakers from abroad for its religious programmes, but Naik is not one of them although there are plans to change this.
"People here are quite comfortable with his presence," said a residence committee member when met at the surau.
But Naik is busy with other plans.
With help from well-placed locals, he has been quietly rebuilding Peace TV in Malaysia, with an office space somewhere in the administrative capital.
Naik has made no secret of this plan. In 2016, he told Utusan Malaysia of his expansion plan for Peace TV in this part of the world, including to broadcast in Malay and Mandarin.
In the past, he had sent Malaysians to Mumbai for "intensive training" to produce more speakers like him.
"In 12 to 45 days, God willing, Malaysia will have a preacher like me," he had told Utusan.
Whether or not Naik or his "clones" continue his work in Malaysia remains to be seen. For now, it looks like his decision to settle down here is paying off, both in his personal life and his business of Islamic propagation.
http://www.freemalaysiatoday.com/category/nation/2018/03/07/wanted-in-india-naik-set-to-rebuild-empire-in-friendly-malaysia/
--------
Security expert: 23 armed groups fused, forming 'ISIS Philippines'
March 6, 2018
Metro Manila (CNN Philippines, March 6) — The Armed Forces of the Philippines (AFP) is validating reports that 23 armed groups in the country are now consolidating their forces under one name, "ISIS Philippines."
ISIS Philippines is among the groups recently declared terrorists by the US State Department.
Security analyst Rommel Banlaoi identified the 23 groups as follows:
1. Ansar Dawlah Fi Filibbin (ADFF)
2. Rajah Solaiman Islamic Movement (RSIM)
3. Al Warakarul Islamiyah Battalion
4. Jama'at Ansar Khilafa
5. Bangsamoro Islamic Freedom Fighters (BIFF)
6. Ansharul Khilafa Philippines Battalion
7. Bangsamoro Justice Movement
8. Khilafa Islamiya Mindanao (KIM)
9. Abu Sayyaf Group (Hapilon faction)
10. Syuful Khilafa Fi Luzon
11. Jama'atul Tawheed Wal Jihad (IS Lanao in Butig)
12. Ma'rakah Al-Ansar Battalion
13. Dawla Islamiyyah Cotabato
14. Dawlat Al Islamiya Waliyatul Masrik
15. Ansar Al-Shariah Battalion
16. Jamaah Al-Tawhid wal Jihad Philippines
17. Jundul-Tawhid Battalion (ASG Sulu)
18. Abu Dujanah Battalion
19. Abu Khubayn Battalion
20. Jundallah Battalion
21. Abu Sadr Battalion
22. Jamaah Al Muhajirin Wal Anshor (Philipina)
23. Islamic State of Marawi
Banlaoi said most of these groups are based in Mindanao.
"We are trying to confirm the veracity of that information. Yesterday, informal reports came in regarding the matter and I referred it to our intelligence community and operations and people on the ground. We are trying to confirm that," said military spokesman BGen. Bienvenido Datuin in an ambush interview.
But the military admitted that after the Marawi Seige ended in October 2017, remnants of the ISIS-inspired Maute Group are now trying to recover by recruiting, reorganizing and retraining to rebuild their losses during the five-month-war.
"We are not discounting the possibility that they plan another attack. That's what we are trying to preempt," said Datuin.
Metro Manila, a target
Two alleged high-profile ISIS-affiliated personalities were arrested in Metro Manila in a month, Tunisian Fehmi Lassoued and Maute Group Sub-leader Nasser Lomondot.
With their arrest, authorities are not discounting the possibility that terror groups are planning an attack in Metro Manila.
In fact, in a leaked confidential memorandum from the Philippine National Police in Region 10, Manila is among the six areas that are allegedly targets of 'ISIS bombers'.
"Their targets are the populated areas, malls, and plazas. Cities mentioned are Zamboanga, Davao, Manila, Cebu, Iloilo, CDO, and cities of Northern and Southern Luzon," the document stated citing a text message received by the regional intelligence office.
The PNP confirmed the authenticity of the document but it's content is still subject for validation.
"The document is authentic. It really came from R2 of PRO 10, yung intelligence. However, the contents of that document requesting for validation is yet to be validated," said Philippine National Police (PNP) Spokesman CSupt. John Bulalacao in a phone interview.
Bulalacao said PNP Region 10 has already launched an investigation saying that whoever leaked the document will be met with administrative cases.
Bulalacao advised the public to refrain from circulating or sharing the documents in social media so avoid public panic.
Post-Marawi analysis
Jasminder Singh of Rajaratnam School of International Studies in Nanyang Technological University in Singapore said millions of dollars looted in Marawi City are "being used for recruitment."
Singh added that ISIS-inspired groups are already planning their next move, with new cells emerging in other parts of Mindanao like Jolo, Cotabato, and Basilan.
Singh and Banlaoi also noted that some leaders of ISIS-inspired groups are still alive:
1. Abu Dar - the alleged leader of ISIS in Southeast Asia replacing Isnilon Hapilon.
2. Amin Baco - the Malaysian who worked with the Abu Sayyaf Group and notorious terrorists like Zulkifli Bin Hir alias Marwan.
3. Abu Turaifie - leader of a break-away group of the Bangsamoro Islamic Freedom Fighters.
4. Mauwiyah - a Singaporean-Indian who is known to be one of the longest staying foreign terrorists in Mindanao.
"The remaining jihadists of ISIS Philippines are still propagating the ideology of ISIS and they are taking advantage of the existing grievances of people in Mindanao," said Banlaoi.
The alleged new Emir of ISIS in the Philippines and Southeast Asia Abu Dar is said to be staying in Pagayawan town in Lanao Del Sur.
Assemblyman Zia Alonto Adiong, the spokesman of the provincial government of Lanao Del Sur said the presence of remnants of terror groups in the province threatens the efforts to stabilize the peace and order situation and rehabilitation efforts for Marawi City.
With this, they are continuously working with the security sector to flush-out terror groups in their area.
"The idea really is one: identify areas where these terrorist organizations are possibly hiding; number two is to remove possible mass base support; and number three is to entice all mayors, LGUs in the province to work closely with our security sector," Adiong said in a video statement.
The military, however, assured that they are on top of the situation as they monitor the movements of these groups.
Full report at:
http://cnnphilippines.com/news/2018/03/06/security-expert-23-armed-groups-fused-forming-isis-philippines.html
--------
Five Malaysian NGOs submit memorandum to UN on Syria attack
March 6, 2018
PUTRAJAYA, March 6 — Five Malaysian non-governmental organisations (NGO) today submitted a memorandum to the United Nations (UN) office in Malaysia here, demanding the UN put a stop to killing innocent civilians in eastern Ghouta, Syria.
Their spokesman, Amir Amsaa Alla Pitchay said the five NGO demanded the UN intervene and end the attack in Syria in the interest of civillians, especially women and children.
He was speaking to reporters after handing over the memorandum.
The five NGO were Ikatan Rakyat Insan Muslim Malaysia, Martabat Jalinan Muhibbah Malaysia, Pertubuhan Kebajikan Warisan Lebuh Tamil, Persatuan Kebajikan Majlis Madrasah Muslim Malaysia and Muslim Active Members.
UN Secretary-General Antonio Guterres was reported to have described the situation in Syria as "hell on earth" for the common people living there.
Last month, Israel carried out raids inside the war-torn country, claiming it attacked Iranian targets in Syria.
Full report at:
http://www.themalaymailonline.com/malaysia/article/five-malaysian-ngos-submit-memorandum-to-un-on-syria-attack#DMt2iWFkjdE97Vqw.97
--------
Report: Nazri tells non-Muslims to vote for BN to protect their rights
March 6, 2018
KUALA LUMPUR, March 6 — Malaysian non-Muslims wanting to ensure their rights are protected should vote for non-Muslim Barisan Nasional (BN) candidates, said Tourism and Culture Minister Datuk Seri Nazri Aziz. 


Nazri in an interview with local portal Malaysiakini said that an Umno-led government would not compromise people's rights for political gains. 


"I appeal to the non-Muslims, their best bet is to vote for MCA, MIC, and to work with Umno," he told Malaysiakini. 


"Umno has shown through its leadership from the days of the alliance's coalition and BN after independence. There was nothing that the government had done to put fear in non-Muslims that their rights are being compromised," said Nazri who is also an Umno supreme council member.
"To me, I am being honest, if you really worry about where the country is heading to and you want some comfort, and you ask me where it lies, I will tell you to vote for our component parties," said Nazri.
He also told the portal that he would not allow the enactment of new laws that compromised the rights of non-Muslims in the country.
"I was (previously) a minister in the Prime Minister's Department and now I am Tourism and Culture minister," he was quoted by Malaysiakini as saying.
Full report at:
http://www.themalaymailonline.com/malaysia/article/report-nazri-tells-non-muslims-to-vote-for-bn-to-protect-their-rights#Vdz9FJ6yoQJA1yFi.97
--------
Afghan and Pakistani Islamic Scholars Will Come to Indonesia for Peace Conference
March 06, 2018
Jakarta. Islamic scholars from Pakistan and Afghanistan will come to Bogor, West Java, later this month for a conference organized by the Indonesian government to find solutions to the decades-long conflict in Afghanistan.
"We hope the conference will result in a mutual agreement, or a fatwa, to bring peace in Afghanistan," Vice President Jusuf Kalla said on Tuesday (06/03), as quoted by Suara Pembaruan.
Kalla, accompanied by Foreign Minister Retno Marsudi, held a meeting with members of the Indonesian Ulema Council (MUI) to discuss preparations for the event, which is scheduled for March 15-19.
Last week, Kalla and Retno visited Kabul, where the vice president attended the second Kabul Process conference as guest of honor and reaffirmed Indonesia's commitment to assist Afghanistan in peacebuilding efforts.
Kalla said that the situation in Afghanistan is becoming more conducive, as the Taliban have reportedly laid down their weapons and showed willingness to participate in the process of democratization.
The role of Islamic scholars, or ulema, according to the vice president, can be crucial in forging a path for sustainable peace in the war-torn country.
According to Muhyiddin Junaidi, head of MUI's department of international relations, Indonesia was chosen to act as a peace mediator, because Afghanistan perceives it as a neutral actor, state news agency Antara reported.
"There will be 45 ulema, 15 from each country," Muhyiddin said.
Full report at:
http://jakartaglobe.id/news/afghan-pakistani-islamic-scholars-will-come-indonesia-peace-conference/
--------
South Asia
Rohingya Say They Won't Return to Myanmar Now
March 06, 2018
Bangladesh handed over a list of more than 8,000 Rohingya refugees to Myanmar last week to kick-start their repatriation. But Rohingya community members in Bangladesh say they are not willing to return to Myanmar because the situation for them is still hostile in Rakhine, where they lived.
"Persecution of the Rohingyas is still going on and they are still fleeing Myanmar every day. The soldiers killed my wife and son. No action has been taken against those who raped and murdered so many Rohingyas. With all perpetrators still at large there we will not feel safe in Rakhine at all," Abdur Rahman, a Rohingya refugee in Balukhali camp in Cox's Bazar, Bangladesh, said. "We cannot return to Rakhine in this situation."
Ko Ko Linn, a Rohingya refugee community leader in Bangladesh, said that Rohingya would not return to Myanmar because the government seems to have decided to force them into some new settlements away from the villages where they lived.
"Almost all of the around 300 villages of Rakhine, from where the Rohingyas were driven away, have been set on fire in the past months. At least 48 of those villages were completely flattened using bulldozers in the past weeks. It's clear they do not want the Rohingyas to return to the villages where they lived," he told VOA. "None from our community wants to enter Myanmar's new settlements, which are nothing but open air prisons."
Following a military crackdown in August, in which Myanmar's soldiers were accused of rape, murder and arson in Rohingya villages, hundreds of thousands of ethnic Rohingya began crossing over to neighboring Bangladesh. Myanmar has strongly and consistently denied the allegations of abuses and atrocities.
Late last year, Bangladesh signed a deal with Myanmar to repatriate some 700,000 Rohingya refugees. Last month, Bangladesh Home Minister Asaduzzaman Khan Kamal handed over a list of 8,032 Rohingya refugees to his Myanmar counterpart, Lieutenant General Kyaw Swe, following a meeting in Dhaka.
Myanmar Social Welfare, Relief & Resettlement Minister Win Myat Aye told VOA's Burmese Service in a recent interview that Myanmar's immigration ministry was trying to verify the list received from Bangladeshi authorities.
"It's now under verification in accordance with the agreement. This verification process already took actions for two days now. I think it will take about a week to finish the verification work and will send it to the Bangladesh authorities," the Myanmar minister said. "We can accept 300 refugees per day through two border crossing points."
An unsafe return
But Rohingya refugee community leaders accuse the Myanmar government of being insincere about the issue of repatriation.
Linn said with the Rohingyas still being targeted violently in Rakhine, the conditions are not good for them to return to Myanmar.
"Last week the authorities in Burma said they were verifying the list of the Rohingyas for repatriation. But, even this week we saw the Rakhine militants loot many Rohingya households and the security forces set alight their houses. On March 1, Burmese forces violently threatened around 6,000 displaced Rohingyas living in no man's land and fired at them, forcing half of them to cross over to Bangladesh," he said.
Since the talks between Bangladesh and Myanmar, Rohingya at the main refugee camp in Cox's Bazar have held several demonstrations to protest the repatriation process. Many said that while they would be happy to return to their homeland in Myanmar, but only if the country agrees to "return" them their citizenship and guarantees their safety.
"They must keep U.N. peacekeeping forces ready in Arakan for our security before we return. Burma (Myanmar) must accept us as ethnic Rohingya and return our citizenship and related basic rights. They must allow us to return to our villages where we lived and return our confiscated lands and compensate for our losses because of the military crackdown," said Mohammad Islam, a Rohingya community leader in Cox's Bazar.
Most Rohingya do not possess citizenship in Myanmar, where the government says they must accept the label Bengali, a term rejected by most Rohingya leaders.
The whole bi-lateral repatriation scheme has been fundamentally flawed right from the start because both Myanmar and Bangladesh did not involve the Rohingya in the negotiations, said Phil Robertson, deputy director of the Asia division of Human Rights Watch.
"No wonder the Rohingya are wholly unsatisfied with Burma's promises for 'security' if they return because there are no real guarantees for protection, no international monitors, no accountability for past rights abuses, and no way to prevent a Burmese soldier from turning on them again," he said.
He added that the refugees should not be returned to camps guarded by the very same forces who forced them to flee massacres and gang rapes.
https://www.voanews.com/a/rohingya-fear-repatriation-is-unsafe/4282273.html
--------
Infighting among militants leaves 5 dead, 2 wounded in East of Afghanistan
Mar 07 2018
At least five militants were killed and two others were wounded during an infighting in eastern Nangarhar province of Afghanistan.
The provincial police commandment said the latest infighting took place in the vicinity of Nazian district.
According to a statement by the provincial police commandment, a group of insurgents clashed with each other in Morgi area and as a result five were killed and two others were wounded.
It is yet not clear to which group the militants belonged to but similar incidents have taken place between the Taliban and ISIS insurgents in the past.
Nangarhar has been among the relatively calm provinces in East of Afghanistan since the fall of the Taliban regime but the anti-government armed militant groups have been attempting to expand their insurgency activities in some of the remote parts of the province during the recent years.
Both the Taliban and militants affiliated with the Islamic State terror group have presence in some districts of Nangarhar.
Full report at:
https://www.khaama.com/infighting-among-militants-leaves-5-dead-2-wounded-in-east-of-afghanistan-04590/
--------
4 ISIS militants killed in US drone strikes in Kunar and Nangarhar
Mar 06 2018
At least four militants affiliated with the Islamic State of Iraq and Syria (ISIS) terrorist group were killed in the US drone strikes in eastern Kunar and Nangarhar provinces of Afghanistan.
The 201st Silab Corps of the Afghan Military in the East said the latest drone strikes were carried out in the past 24 hours.
According to Silab Corps, at least two of the militants were killed in Nawagi area in Achin district of eastern Nangarhar province.
In a similar airstrike in Watapur district of Kunar province, at least two more ISIS militants were killed, the 201st Silab Corps said.
The source also added that the airstrikes have not caused any casualty to the local residents.
The anti-government armed militant and terrorist groups including the ISIS insurgents have not commented regarding the report so far.
Both the Taliban and militants affiliated with the Islamic State terror group have presence in some districts of Nangarhar as well Kunar provinces.
Full report at:
https://www.khaama.com/4-isis-militants-killed-in-us-drone-strikes-in-kunar-and-nangarhar-04588/
--------
Mideast
Erdoğan to UN Security Council: 'Damn your resolution in Syria'
March 06 2018
Turkish President Recep Tayyip Erdoğan has slammed the United Nations Security Council's (UNSC) resolution for a 30-day ceasefire in Syria, blasting the international community for "inaction" over the humanitarian situation in Eastern Ghouta.
"UNSC, damn your resolution. What is the meaning of a decision that has not been implemented? You are deceiving humanity, you are cheating," Erdoğan said on March 6, speaking at a meeting of the ruling Justice and Development Party's (AKP) parliamentary group.
An aid convoy began to cross into Syria's Eastern Ghouta on March 5, bringing the first relief to the besieged enclave since one of the deadliest government assaults of the seven-year war began two weeks ago.
Syrian President Bashar al-Assad vowed on March 4 to continue a military push into the biggest remaining opposition stronghold near Damascus, saying the offensive did not contradict five-hour ceasefires arranged each day by his main ally Russia.
Erdoğan criticized the situation in Eastern Ghouta, saying "it is not humane."
"The world is greater than five," he said, referring to the UNSC's five permanent members: France, Russia, the U.K, the U.S. and China. He blasted "the world order formed after the Second World War," stating that the power of five countries over others is "like mocking the whole of humanity."
As the Turkish military continues its "Operation Olive Branch" in the northwestern province of Afrin in Syria, Erdoğan said Turkey aims to "transform the region to a place with the humane environment from infrastructure to structure, with safety and peace where Syrian brothers and sisters can live."
"We talk about all this with Westerners. We have spoken to Russia and the U.S.," he said.
"Terrorist organizations and the forces behind them are not concerned about the prosperity and the future of the Syrian people. That's why this effort unsettles them," he added.
Stating that Turkey's motivation in the Afrin operation is to "clear the terror corridor from Turkey's border," Erdoğan said this "terror corridor targets Turkey's security."
"The aim of the terror corridor is Turkey's territorial integrity, its unity, its determination for development and its power. They can all use all the distraction tactics they want. They can use any diplomatic games they want. We see this truth," he added.
http://www.hurriyetdailynews.com/erdogan-to-un-security-council-damn-your-resolution-in-syria-128319
--------
Iran: Dozens of ISIL Plans to Attack Shiite Shrine in Mashhad Thwarted
Mar 06, 2018
"The shrine of Imam Reza (AS) was a target of the ISIL terrorist group and tens of plots to attack the shrine have been defused with God's help," Bakhtiari said on Tuesday.
Yet, he noted that the shrine's security check and control department is to use X-ray systems to end body search for pilgrims.
In relevant remarks earlier this month, a senior Iranian intelligence ministry official announced that the country's security forces have thwarted several plots and attempts by 30 terrorist groups other than the ISIL.
"In addition to the ISIL, measures of 30 terrorist groups have been foiled by the Iranian security forces in the past few years," the deputy intelligence minister for anti-terrorism operations said in the Southern province of Fars.
"Over 30 armed terrorist groups have had on agenda actions to foment insecurity in the country and distort people's tranquility in the past few years," he added.
Full report at:
http://en.farsnews.com/newstext.aspx?nn=13961215001536
--------
Israel detains eight Palestinians in overnight raids
March 06, 2018
Israeli forces rounded up eight Palestinians in overnight raids across the Israeli-occupied West Bank, according to the Israeli military on Tuesday.
In a statement, the army said the individuals were detained for "suspected involvement in popular terrorist activities," without giving further details.
The army said its forces came under fire during a raid in Jenin in the northern West Bank. No injuries were reported.
According to Palestinian figures, roughly 6,400 Palestinians are currently held in Israeli prisons, including dozens of women and 300 children.
Full report at:
https://www.yenisafak.com/en/world/israel-detains-eight-palestinians-in-overnight-raids-3136147
--------
Saudi-backed Yemen forces advancing closer to Haradh border
6 March 2018
The Arab Coalition forces pushed forward a large military force closer to the border of Haradh city in Hajjah province, northwest of Yemen.
According to military sources, the Saudi unit has pushed a military brigade into the Haradh axis as part of a military operation aimed at ending the control of the Houthi militias over the city.
The arrival of the Saudi forces coincided with the launch of a military operation against the militias in the city with limited participation of Sudanese and Yemeni forces from the fifth military zone.
Saada and Hajjah fronts witnessed clashes and artillery shelling from the forces of the National Army, supported by the Joint Saudi Forces, which targeted the positions and the defenses of the Houthi militias.
The bombing coincided with the flight of the coalition aircrafts, and carrying out a number of raids targeting the militias in the internal roads in Saada and Jouf.
Full report at:
https://english.alarabiya.net/en/News/gulf/2018/03/06/-Yemen-Saudi-military-force-heading-closer-to-Haradh-border.html
--------
Israel to legalize withholding bodies of Palestinians killed by regime forces
Mar 7, 2018
Israel's parliament (Knesset) is expected to approve a controversial bill that allows police to withhold the bodies of Palestinians killed by the regime's forces and refuse to hand them over to their families for burial.
The bill, co-sponsored by right-wing Israeli lawmakers Anat Berko and Bezalel Smotrich, has passed its first reading, and will be put to vote in two more readings later on Wednesday.
If approved, the law will authorize police to determine the conditions under which the funerals for Palestinian victims will be held.
The law would be enforced in Israeli cities and in occupied East Jerusalem al-Quds, but not in the West Bank.
Under the law, Israeli police could issue an order to postpone the handing over of bodies until those organizing the funerals promise to meet certain conditions.
The conditions include a limit on the number of participants at the funeral, a ban on the participation of certain individuals as well as a specified time, site and route for the procession.
In special cases, police could even demand the posting of a bond to guarantee that certain conditions are carried out during the burial.
The police would also be permitted to delay the transferring of a body if it deems that the funeral could lead to a loss of life or injury.
Back in January, Israeli lawmaker Jamal Zahalka described the act of preventing someone's burial as shameful.
"All cultures see burying the dead as a commandment, and preventing a burial is an act of villainy. You are giving Jews a bad name," he said.
Israel dramatically increased the practice of refusing to hand over Palestinians' bodies since the beginning of a wave of unrest across the occupied lands in October 2015.
In July 2017, however, the Israeli Supreme Court ruled that police do not have the legal authority to delay the returning of bodies to their families.
Full report at:
http://www.presstv.com/Detail/2018/03/07/554617/Israel-Knesset-Palestinian-bodies
--------
Yemeni sharpshooters kill four Saudi soldiers in retaliatory attacks
Mar 6, 2018
Yemeni army soldiers, backed by fighters from allied Popular Committees, have shot dead four Saudi troopers in the kingdom's southwestern border regions of Jizan and Najran, in retaliation for the Riyadh regime's military campaign against the crisis-hit country.
A Yemeni military source, speaking on condition of anonymity, told Arabic-language al-Masirah television network that Yemeni forces shot and killed three soldiers in Quwa villages of Jizan, located 967 kilometers southwest of the capital Riyadh, on Tuesday afternoon.
Yemeni forces and their allies also targeted another Saudi trooper at al-Ashah base in the kingdom's Najran region, located 844 kilometers (524 miles) south of Riyadh.
Saudi Arabia has been incessantly pounding Yemen since March 2015 in an attempt to crush the popular Houthi Ansarullah movement and reinstate former president, Abd Rabbuh Mansur Hadi, who is a staunch ally of the Riyadh regime.
At least 13,600 people have been killed since the onset of Saudi Arabia's military campaign against Yemen. Much of the Arabian Peninsula country's infrastructure, including hospitals, schools and factories, has been reduced to rubble due to the war.
The United Nations says a record 22.2 million people are in need of food aid, including 8.4 million threatened by severe hunger.
A high-ranking UN aid official recently warned against the "catastrophic" living conditions in Yemen, stating that there is a growing risk of famine and cholera there.
"After three years of conflict, conditions in Yemen are catastrophic," John Ging, UN director of aid operations, told the UN Security Council on February 27.
He added, "People's lives have continued unraveling. Conflict has escalated since November driving an estimated 100,000 people from their homes."
Full report at:
http://www.presstv.com/Detail/2018/03/06/554566/Yemeni-sharpshooters-kill-four-Saudi-soldiers-in-retaliatory-attacks
--------
Europe
Saudi prince urges UK to promote moderate Islam
6 Mar 2018
Saudi Arabia's Crown Prince Mohammed bin Salman Al Saud has urged Britain to promote moderate Islam as he prepares to make an official visit to the UK on Wednesday.
The 32-year-old is regarded as a reformer after allowing women to drive and seeking to instil wide-ranging changes to the country's economy – a plan he called Vision 2030.
However his visit is likely to be greeted by widespread protests over Saudi Arabia's human rights abuses, including fuelling a war in Yemen that has killed more than 100,000 people and persecuting religious minorities.
Non-Islamic places of worship such as churches are banned and Christians in Saudi, most of whom are migrant workers from India, Philippines and Africa, face deportation if they speak about their faith in public.
Persecution charity Open Doors ranks it as the 12th most dangerous country to be a Christian.
'Wahhabism, a strict interpretation of Islam, dominates life in Saudi Arabia, and all Saudis are considered Muslims,' Open Doors said on its website. 'The legal system is based on Sharia (Islamic law), and it is illegal to evangelise Muslims; conversion to another religion is punishable by death. There are no church buildings at all, and house churches are raided; Christians risk arrest, imprisonment, lashing, deportation and sometimes torture.'
However the young Saudi prince is seeking to boost relations with the West as part of his plan to move the country's economy away from a reliance on oil. One of the key aspects to his Vision 2030 is selling a stake in the state-owned oil company Saudi Aramco, which financial experts say could raise around $100 billion for the kingdom.
'We believe that Saudi Arabia needs to be part of the global economy,' he said in an interview with the Telegraph. 'People need to be able to move freely, and we need to apply the same standards as the rest of the world.
'After Brexit there will be huge opportunities for Britain as a result of Vision 2030.'
He went on: 'The relationship between Saudi Arabia and Britain is historic and goes back to the foundation of the Kingdom.
'We have a common interest that goes back to the earliest days of the relationship. Our relationship with Britain today is super.'
As well as meeting with the prime minister, the crown prince is due to meet a member of the royal family, have private meetings with the heads of MI5 and MI6, and be invited to attend a meeting of the National Security Council – a rare privilege for a visiting foreign dignitary.
'The British and Saudi people, along with the rest of the world, will be much safer if you have a strong relationship with Saudi Arabia,' he said.
'The extremists and the terrorists are linked through spreading their agenda. We need to work together to promote moderate Islam.'
He added: 'We want to fight terrorism, and we want to fight extremism because we need to build stability in the Middle East.
'We want economic growth that will help the region to develop. Because of our dominant position, Saudi Arabia is the key to the economic success of the region.'
https://www.christiantoday.com/article/saudi-prince-urges-uk-to-promote-moderate-islam/126915.htm
--------
Tajikistan's Islamist Extremists Concentrated in Big Cities at Home and in Russia
March 6, 2018
Despite popular misperceptions of religiosity in general and Islam in particular flourishing most strongly in poor rural areas, the Islamist revival of the last 30 years has been primarily an urban phenomenon. This has been the result of the loss of familial ties by those who moved from villages into the rapidly growing cities as well as the communication revolution, which has allowed Islamist activists to reach the new urbanites. That is what happened in Iran and in the countries affected by the Arab Spring. And it is now occurring in Central Asia—and nowhere more than in Tajikistan, the most Islamic, and one can also say Islamist, country in that region (see EDM, February 6).
The rise of Salafists and Wahhabists in major Tajikistani cities and among Tajik diasporas in Russian cities like Moscow have long been a concern for officials in Dushanbe, who fear that these movements could link up with other forces, domestic and foreign, to produce an Islamist revolution. The authorities have, thus, tried to prevent these trends from overwhelming traditional Tajik Islam. Most of their methods have proved counterproductive—be they closing down rural mosques or calling home some 6,000 Tajikistanis studying in madrassahs abroad but not providing them with jobs on their return (News.tj, November 3, 2017; see EDM, February 6, 2018). As a result, the situation has reached critical mass, and an Islamist explosion in Tajikistan's cities is increasingly likely.
Two Tajikistani experts, Khokim Mukhabbatov and Mavdzhigul Ibadullayeva of the Muslims Against Narcotics, Extremism, Force and Terrorism, describe in some detail how that precarious situation came about (Islamio.ru, February 23). They note that Salafism or Wahhabism, as this trend is usually referred to in Tajikistan, arrived there already in the 1980s, as a result of the Iranian revolution and the war in Afghanistan. From the beginning, most of the Salafists and Wahhabists there were young men between the ages of 18 and 30 who had left their villages for the cities or for work in the Russian Federation. Lacking the stability their families and the local rural mullahs provided, they were prime candidates for recruitment by Salafists from abroad. That is still the case today. And the size of this cohort has increased as the cities have swelled in size and the number of Tajiks who have worked in Russian cities has risen over the last 15 years.
These young people, the two experts say, have had their religious worldview formed not by imams and mullahs in their villages but by Internet sites that appealed to them as Muslims rather than as villagers or Tajiks. It was only a short step from there for them to become recruits for the Caliphate (Islamic State) and to take up jihad against other Muslims—including Shiias and the Ismailis, both of whom have strong communities in Tajikistan, and Sunnis, who the web preachers said had sold out their faith.
A decade ago, Mukhabbatov and Ibadullayeva say, Tajikistani Senator Oli Turadzhonzoda already warned that "the Salafists have the upper hand in several major cities. In the kishlaks [rural settlements], districts and rural areas, there are almost none of them." That pattern continues to this day, the two experts contend.
Dushanbe has vacillated between incentives and suppression to deal with the domestic growth of Islamism. On the one hand, the government has tried to make concessions such as amnesties and reaching out to Salafist backers in Qatar and Saudi Arabia. On the other hand, the authorities have cracked down hard on Salafists and Wahhabists inside the country—especially upon their return from studying abroad or working in the Russian Federation—by adopting new laws that impose draconian sentences of many years in prison for such activities. Neither approach has worked, the two experts say. The first has been taken by the Salafists as an indication of their own strength and the weakness of the Tajikistani government. And the second has created an ever larger group of people either in prison or listed as extremists who have no reason to support the government and every reason to join with others in opposing it or even seeking its overthrow.
The Salafists and Wahhabists have a real advantage compared to Tajikistan's government: they understand and can use modern technologies to reach and organize their followers, something Dushanbe lags in, Mukhabbatov and Ibadullayeva argue. But that is not their only advantage. The Salafis reject most of modern science even as they use its fruits, the two continue. But they are particularly sensitive to traditional ways. Unlike the government, they use local dialects in reaching out even to their urban followers "in order to more quickly find a common language" and "strengthen their influence" in the country as a whole via their urban constituency. In addition, they reject any attention to the pre-Islamic history of the country, oppose the use of Russian in Tajikistan, and reject all efforts to improve ties with Moscow.
Full report at:
https://jamestown.org/program/tajikistans-islamist-extremists-concentrated-big-cities-home-russia/
--------
Muslim community in Russia '25 million' strong
06.03.2018
The Muslim community in Russia is now 25 million people strong and continues to grow, Grand Mufti of Russia Sheikh Rawil Gaynetdin has told Anadolu Agency.
The number of Muslims in Russia is increasing mainly because of two factors: high birth rate among Muslim families and through the arrival of people from Central Asia, Gaynetdin said.
He said the number of Muslims was also mentioned in the population census.
Sheikh Gaynetdin said most Muslims in the country live in the Moscow region and other major metropolitan areas such as St. Petersburg and Yekaterinburg.
There is also a high concentration of followers of Islam in the regions where Islamic states were located before the formation of a single Russian state; today these regions are Tatarstan, Bashkortostan, the republics of the North Caucasus, the mufti said.
Muslims are indigenous people of Russia; more than 58 peoples, nationalities and ethnic groups have historically practiced Islam, he said.
He also noted that Islam was declared as the state religion in one of the states located in the territory of present-day Russia -- in the Volga Bulgaria, in 922, which was 66 years earlier than the acceptance of Orthodox Christianity as the state religion of Kievan Rus.
"Islam came to Russia in the seventh century. Followers of our Prophet Muhammad came to Russia 22 years after he left earthly life.
"They came to a city that is currently known as Derbent, it is in Southern Dagestan. And the first Adhan, call to worship, in Russia, was made on the lands of Dagestan," the mufti said.
The majority of Russian Muslims are Sunnis of Hanafi school of thought but there are also some Sunnis of Shafi'i school and Shias, Gaynetdin said.
"Russian Shias are mainly Azeris and Tajiks from Pamir and they are small in number. Most Shias live in Derbent, southern Dagestan.
"In Moscow, only one community is registered as Shia," he said.
3 federal centers
However, he said Islam in Russia remains very tolerant and respectful both to other religions and within other sects of Islam.
"We do not divide Muslims into Shias and Sunnis, for us they are all members of the United Muslim Ummah," Gaynetdin said.
The sheikh said when guests from the Middle East visit Russia, they say ties within the Russian Ummah were exemplary.
The Russian system of Muslim administration consists of three federal centers: In Moscow, there is the Council of Muftis of Russia; the Muslim Spiritual Authority is in the city of Ufa and the Muslim Spiritual Authority is in the Caucasus, which acts as the coordination center of Muslims in the North Caucasus.
"Islam is a very democratic religion, we do not have one hierarchy like in Christianity.
"There is no pope or Ecumenical Patriarch for Islam. In Islam, each country has its own spiritual institutionalization.
"There is a hierarchy, the system of spiritual authority. In Russia, there are three federal centers and we believe that this is the best option for the management of Muslim religious affairs in Russia," the mufti said.
Speaking about the Jerusalem issue, Gaynetdin expressed the fear that if Israel usurped power over the holy city, Muslims would not be able to pray there.
Jerusalem or Al-Quds is the third holiest site in Islam, where Prophet Muhammad ascended to the throne of God and where he received a gift from Allah -- salah (namaz) for Muslims. Before Allah sent down his command to face the Holy Kaaba, the first Qibla was in Jerusalem, the sheikh said.
"Jerusalem is the sacred place of our three monotheistic religions.
Full report at:
https://aa.com.tr/en/asia-pacific/muslim-community-in-russia-25-million-strong/1081608
--------
Hundreds of jihadists and children with Dutch ties still in IS territory
6th March 2018
Nearly 200 people who joined the jihad in Syria and Iraq as well as at least 175 children have ties to the Netherlands and are still in the strife-torn countries, mostly with the Islamic State group, Dutch authorities said Tuesday.
"More than half of the minors are younger than four years, with at least two-thirds having been born on the battlefront," the Dutch intelligence and security agency AIVD said in its 2017 annual report.
Of around 280 people who have left the Netherlands since the start of Syria's civil war in 2011 to join jihadist groups, about 185 were still in the region, said the AIVD, also warning that an increasing number of them were coming back home.
"We are expecting more returnees, mainly women and children, now that IS has lost almost all of its territory," the Dutch agency said.
"The returnees form a serious threat because they were in the (IS) area for a long time. Most likely they took part in, or witnessed serious acts of violence, including the children," the AIVD said, believing they had become "ideologically more hardened." Around 50 people have returned from jihadist-held areas in Syria and Iraq since 2011, a third of them women, the agency said recently.
The Netherlands has so far been spared the wave of attacks by Islamist jihadists which has rocked its neighbours in recent years, including Belgium, Britain and France.
Dutch security forces however have thwarted four planned terror attacks in the Netherlands since 2011, the AIVD said in January.
In its latest 21-page report, the AIVD warned Tuesday of increased left- and right-wing extremism.
Far-right extremists were mainly driven by issues such as immigration and anti-Muslim sentiments, and have often spurred a counter growth on the extreme left, the AIVD said.
"For instance, at a demonstration by the extreme right against asylum seekers, without a doubt there will be a non-permitted counter-demonstration by the left, where there will also be left-wing extremists," the AIVD said.
Full report at:
https://www.expatica.com/nl/news/country-news/Netherlands-jihad-children_1740203.html
--------
Russia rejects 'unfounded' reports of Syria using chemicals
Mar 6, 2018
Russia has rejected allegations that the Syrian government is using chemical weapons, stressing that only an international body can rule on the issue based on an "impartial" probe.
"The provocations are continuing that spawn such insinuations and unfounded accusations against the Syrian leadership," Kremlin spokesman Dmitry Peskov told reporters on Tuesday.
Last week, the so-called Syrian Observatory for Human Rights, which is sympathetic to the militants operating against the Damascus government, claimed a suspected chlorine attack had taken place in the militant-held al-Shifuniyah village of the Eastern Ghouta region on February 25.
Russian Foreign Minister Sergei Lavrov described the alleged chemical attack as "bogus stories in the media."
Prior to the Observatory's report, the Russian Defense Ministry had warned that militant groups in Eastern Ghouta were preparing a false flag attack in a bid to blame the Damascus government for using chemical weapons against civilians.
On Monday, The Washington Post quoted US officials as saying that the government was considering new military action against the Syrian government in response to reports of suspected chemical weapons use.
The United Nations Human Rights Council also ordered investigators to examine what it called "the alleged use of chemical weapons in Eastern Ghouta."
Peskov said, "In Syria the chemical weapons were destroyed. That was verified not only by the Russian side but by the OPCW (Organization for the Prohibition of Chemical Weapons)."
He further noted that for Russia, such accusations against the Syrian government need to be based on "the findings of an international commission, an international working group, only the result of an impartial investigation."
"In the absence of such an investigation, all accusations are nothing but insinuations," the Kremlin spokesman added.
Syria turned over its entire chemical stockpile under a deal negotiated by Russia and the United States back in 2013.
On April 7, the US launched a missile attack against Shayrat Airbase in Syria's Homs Province. Washington claimed that the air field targeted in the missile raid was the origin of the April 4, 2017, purported chemical attack on the town of Khan Shaykhun in Syria's Idlib Province.
Full report at:
http://www.presstv.com/Detail/2018/03/06/554532/Russia-Syria-chemical-Dmitry-Peskov
--------
U.N. Panel Links Russia to Potential War Crime in Syria
By NICK CUMMING-BRUCE
MARCH 6, 2018
GENEVA — United Nations investigators have linked Russian forces to a possible war crime in Syria for the first time, reporting on Tuesday that a Russian plane was responsible for airstrikes on a market last year that killed scores of civilians.
The plane carried out a series of attacks in November on the town of Al Atarib, west of Aleppo, killing at least 84 people and injuring more than 150, the United Nations Commission of Inquiry on Syria said.
The strikes may not have specifically targeted civilians, the panel ruled, but the use of unguided blast bombs in a densely populated area could amount to a war crime on the part of Russia, which has played a crucial role in backing the Syrian government. The finding formed part of the panel's 15th report on the conflict in Syria, which also said that the Syrian government had used chemical weapons in rebel-held areas of Damascus and that the United States-led coalition had inflicted heavy casualties in airstrikes aimed at Islamic State forces.
"All parties share guilt for completely disregarding the rules of war and for failing to adequately protect civilians," the panel's chairman, Paulo Sérgio Pinheiro, told reporters in Geneva.
The Russian mission to the United Nations in Geneva did not immediately respond to the findings.
The grim conclusions, based on more than 500 interviews, coincided with reports of heavy civilian casualties in the Damascus suburb of eastern Ghouta, where Syrian and Russian forces pushed on with a ferocious offensive aimed at crushing the last major rebel stronghold in the area.
Airstrikes and shelling there on Monday killed 94 civilians, according to the Union of Medical Care and Relief Organizations, based in France. They also forced an aid convoy, the first to reach the enclave in over three months, to leave before it had fully unloaded.
United Nations investigators had previously reported Russia's critical role in the war in the two years since it stepped in to rescue of President Bashar al-Assad's faltering army, but a panel member, Hanny Megally, said this was the first time the commission had been able to nail down Russian involvement in a specific incident.
The panel cited evidence from early warning observers in Syria, who tracked the fixed-wing aircraft from a Russian air base 100 miles from Al Atarib, until its attacks in the early afternoon, when the town's market was crowded with people who had left work.
The panel also rejected the United States-led coalition's account of multiple airstrikes last March on a school building in Raqqa Province, which investigators said killed at least 150 of the 200 civilians who were housed there after fleeing fighting elsewhere. The panel said it had found no evidence to support the coalition's claim that the school was occupied by Islamic State fighters.
The coalition attack did not amount to a war crime because it had no intent of hitting a civilian target, the panel concluded, but had violated international law by failing to take adequate precautions to protect civilians.
The international coalition had also inflicted countless civilian casualties in daily airstrikes on Islamic State fighters in the city of Raqqa, launching attacks even though the militants were using civilians as human shields, the panel said.
The commission also faulted the coalition-backed Syrian Democratic Forces over their internment of some 80,000 civilians who had fled the fighting around Islamic State strongholds in Raqqa and Deir al-Zour to vet them for possible links to the jihadists.
They continued to keep thousands of internally displaced people in camps, investigators said, including women, children and the disabled, in what the panel said amounted to arbitrary and unlawful detention.
After six and a half years collecting evidence, commission members said on Tuesday that they planned to work vigorously on behalf of the victims but emphasized "there can be no trade-off between justice for the victims and a viable political solution" to the conflict.
Full report at:
https://www.nytimes.com/2018/03/06/world/middleeast/syria-russia-un-war-crimes.html?mtrref=www.google.co.in&gwh=3D372F79347BF4F2A2F6F9F871E10A9E&gwt=pay
--------
London has potential to lead in Islamic finance, says IDB President
Noor Nanji
March 6, 2018
London has a huge opportunity to lead in Islamic finance and in the sukuk market, the president of the Islamic Development Bank said.
"We have a real opportunity to recognise the potential of Islamic finance here in the UK," Dr Bandar Hajjar said in a speech at the Sukuk Summit at the London Stock Exchange. "Both the UK government and the IDB are actively promoting this objective."
The Islamic banking industry has grown at a double-digit rate over the last decade, reaching $3.5 trillion last year alone. But despite this growth, Islamic finance has typically been seen as a specialist or niche activity in the West, Dr Bandar said.
Sukuk – an Islamic bond, structured to generate returns for investors while adhering to Sharia, which prohibits taking interest – is a key part of the Islamic finance system. Total international sukuk issuances reached $95 billion in 2017, after achieving $85 billion the year before, a clear indication the industry is in its early stages and offers "enormous potential for growth" across the world, Dr Bandar said.
Britain is became the first non-Muslim country to issue a sukuk in 2014. Earlier this year, the UK's Al Rayan Bank also became the first bank in the world to issue a public sukuk in a non-Muslim country.
More broadly, the UK has become an increasingly important global centre for Islamic finance. Britain's Islamic finance industry is now the largest of any OECD country, and there are already five standalone Islamic banks in the UK, along with more than 20 other banks that offer Islamic financial services.
"The potential for the future growth of Islamic finance is clear," Dr Bandar. "London's emerging role as a hub for Islamic finance is underpinned by historical links with Muslim countries. This will remain strong and get even stronger."
Wayne Evans, adviser in International Strategy at influential financial lobby group TheCityUK, said that Dr Bandar's confidence in London's potential to lead in Islamic finance is justified.
"London is the premier Western centre for Islamic finance," he told The National. "As the world's leading financial centre, it is ideally placed to help to develop the market for Islamic finance and cater to the growing needs and ambitions of customers and clients in this space."
Brexit has led to concerns in some quarters that London's status as a global financial centre could be at risk. However, Mr Evans believes that the UK's imminent departure from the EU will have no bearing on its ability to realise its potential in Islamic finance.
"Brexit is essentially a European issue. It shouldn't affect the UK's relationship with the rest of the world," he said. "If anything, it will make London even more determined to build on its international business, and that includes Islamic finance."
The Jeddah-based IDB, with a subscribed capital of $33 billion, has a funding plan for the first six months of 2018 estimated at $2.5 billion, Dr Bandar said. Subject to market conditions, it will soon launch a benchmark sized sukuk issue, with the proceeds going to foster the economic development and social progress of its 57 member nations.
Full report at:
https://www.thenational.ae/business/banking/london-has-potential-to-lead-in-islamic-finance-says-idb-president-1.710803
--------
Africa
Islamic State Releases A Video Of Deadly Attack On US Soldiers In Niger
March 07, 2018
The Islamic State just released a video that allegedly shows three U.S. soldiers being attacked in Niger.
The video, which has been circulating for months among journalists, reportedly shows three soldiers on the run from militants. The men have few resources to fend off dozens of militants armed with machine guns and grenades.
The scene comes from an October 4, 2017, attack on U.S. troops near the Niger-Mali border. A team of 12 U.S. soldiers had been sent on a mission with a team of Nigerians. (The Pentagon has declined to explain their assignment; U.S. officials previously told reporters that the patrol had been asked to help a team hunting for a senior Islamic State member.)
On their way back, they stopped at a village for food and water. U.S. military officials think a villager may have alerted militants that U.S. commandos were near, setting off an ambush. Four U.S. soldiers were killed in the firefight. The remains of three soldiers were found the day of the attack. The fourth, La David T. Johnson, was found several days later, prompting questions about how he'd died and whether he'd been captured alive or killed at close range.
Months later, a group affiliated with the Islamic State claimed credit for the attack, confirming a suspicion of U.S. officials. Over the weekend, the group released a video via Telegram and to a Mauritanian news outlet that captures three soldiers fighting for their lives.
The nine-minute clip opens with a pledge of allegiance to Islamic State leader Abu Bakr al-Baghdadi by members of Jamaat Nusrat al-Islam wal-Muslimin, a terrorist group made up of West African jihadist groups.
The video then cuts to footage of several armed militants running in a desert area.
Next, it shows three U.S. soldiers, allegedly filmed by a camera on one of the soldier's helmets. In the clip, the soldiers are clearly outgunned and overwhelmed. One is slowly driving an unarmed SUV, ducking because the vehicle is under fire. Two others are walking behind, firing their weapons at attackers.
Then, one of the Americans drops. The two other soldiers try to pull him to safety, then flee into the scrub. Finally, the soldier wearing the camera on his helmet falls to the ground. The last shot shows militants surrounding him and firing at him at point-blank range.
The Pentagon says the video shows the Islamic State's "depravity." They are reviewing the incident and are expected to release a thorough report on what happened, and lessons learned.
The United States has about 800 troops in Niger to help train local forces and fight terrorism. October's events have led to questions from Congress and others about why the United States has soldiers deployed in Niger, and whether they're safe.
"Knowing that they were asked to try to complete and execute this type of mission with that type of equipment, I just - I could not believe it," Rep. Marc Veasey, D-Texas, who serves on the House Armed Services Committee, told CBS. "Why they were asked to continue to go onto this mission I think is something that we all need to find out."
The release of this video - nearly half a year after the attack and months after the Islamic State claimed credit - may explain something about the current terror landscape in North Africa. The affiliate that released the video only recently pledged its allegiance to the Islamic State. Jamaat Nusrat al-Islam wal-Muslimin is run by Adnan Abu Walid al-Sahraoui. Until 2011, Sahraoui was a high-level al-Qaida operative.
In 2012, he helped create Jamaat Nusrat. In 2015, he swore loyalty to the Islamic State in a video. That film was not released for more than a year by the group's news agency. Even now, Sahraoui has struggled for play from al-Qaida outlets; instead, his group circulates information through Mauritanian websites affiliated with al-Qaida. As the New York Times explained:
"That lack of a consistent media presence may suggest that Mr. Sahraoui's unit has not been fully accepted by the Islamic State, or else that the group has not managed to establish the logistical ties that have allowed other affiliates to post statements and videos of attacks on its platforms."
This video, which once again emphasizes Sahraoui's allegiance to the Islamic State, may have been a bid for attention and acceptance by the Islamic State.
https://www.ndtv.com/world-news/islamic-state-releases-a-video-of-deadly-attack-on-us-soldiers-in-niger-1820522
--------
Violence leaves 16 dead in central Nigeria
Mar 6, 2018
At least 16 people, mostly women and children, were killed in clashes between youths and cattle herders in central Nigeria, police said Tuesday.
Monday's violence in the village of Omutu, in the Okpokwu area of Benue state, is the latest flare-up linked to tensions over land and grazing rights in the restive region.
State police spokesman Moses Yamu said in a statement that a meeting had been called to calm anger after a herdsman was killed on Monday and another went missing.
"Unfortunately as the search and peace meeting were going on some herdsmen surreptitiously went on (a) rampage, resulting in the macheting to death of 15 persons, mainly women and children," he said.
Yamu said some houses were set on fire during the violence and four people were arrested.
"An extensive patrol of the community is ongoing, which will be reinforced with the (military) special forces," he added.
The chairman of the Okpokwu local government area, Francis Ejembi, described the violence as "heart-rending", and said the death toll could increase.
"We are moving corpses and the injured from the village to the hospital and so far we have moved about 10 corpses and several injured persons to Saint Mary's Hospital, Okpoga, the local government headquarters," he said.
Central Nigeria has become the scene of almost daily clashes between settled farmers and the largely nomadic herders in a battle for land and resources.
Religion adds an extra dimension to the clashes, as farmers such as the ethnic Tiv people of Benue are Christian, while the herders are mainly ethnic Fulani Muslims.
Benue has been a flashpoint in recent months after resistance to a new law banning open grazing for cattle.
In January, 73 people from Tiv farming communities were buried at a mass funeral after a series of attacks blamed on Fulani herders.
More than 100 people have been killed since early January, with 100,000 fleeing their homes to safety, according to the local emergency management agency.
After months of pressure on President Muhammadu Buhari to act, the Nigerian army announced the deployment of troops to several states, including Benue, to end the violence.
Full report at:
http://www.presstv.com/Detail/2018/03/06/554547/Nigeria-Violence-Death-Toll-
--------
Boko Haram: Suicide bomber kills 4, injures 17 in Borno
March 6, 2018
By Maina Maina
Borno state police command has confirmed that a male suicide bomber riding on a bicycle detonated IED strapped to his body at Muna Datti area , killing himself and three Civilian JTF members.
A statement from the Police Public Relations Officer, Mr. Joseph Kwaji said 17 people were also injured as a result of the suicide attack.
"Scene visited by EOD and patrol teams.
The death and injured were evacuated to UMTH Maiduguri. Normalcy has been restored," the statement said.
It could be recalled that, this is coming barely 24 hours when the Deputy Inspector General of police (DIG), Habila Joshak, and the Commandant General of the Nigeria Security and Civil Defense Corp (NSCDC), Abdullahi Gana, arrived Maiduguri and visited schools in respect of the Dapchi schoolgirls abduction by suspected Boko Haram insurgents and reassured residents of the Federal Government's determination to end insurgency in the northeast.
http://dailypost.ng/2018/03/06/boko-haram-suicide-bomber-kills-4-injures-17-borno/
--------
Nigeria: How IPOB Mesmerized and Humiliated Igbo Leaders in Enugu
7 MARCH 2018
By Emeka Mamah
The Indigenous People of Biafra, IPOB, has banned further discussions on Nigerian unity anywhere in the South-East.
IPOB made this known in its letter of apology to Igbo leaders for disrupting the General Assembly of the Eastern Consultative Assembly, ECA, at the Universal Hotel in Enugu last Tuesday. One of the leaders, Professor Elochukwu Amucheazi had his red cap, eyeglasses and his mobile phone taken away, although they were later returned to him.
The meeting was convened to address the "Unresolved National Question," as well as honour some leaders of the old Eastern Region for their contributions towards the development of the area.
Two of the leaders, Chairman of Igbo Leaders of Thought, ILT, Prof. Ben Nwabueze and Chief Mbazulike Amechi were honoured while those who were honoured posthumously included Dr. Nnamdi Azikiwe, Dr. Sam Mbakwe, Chief (Mrs.) Margaret Ekpo and Philip Efiong. Popularly known as the Boy is Good, Amechi was a former member of the Zikist Movement and nationalist, who fought for the country's independence along with the first President of Nigeria and Owelle of Onitsha, the late Dr. Nnamdi Azikiwe, Chief Obafemi Awolowo, Chief Eyo Ita, the Sardauna of Sokoto, Alhaji Ahmadu Bello, Chief Okotie Ebo, Chief Dennis Osadebey and Anthony Enahoro among others.
Among those who also attended the occasion were the Deputy Leader of the ECA, Chief (Mrs.) Maria Okwor, Dr. Azikiwe's widow, Prof. (Mrs) Uche Azikiwe, former National Secretary of Ohanaeze Ndigbo, Chief Nduka Eya (Egbevumbe); former Director- General of the National Orientation Agency, NOA, Prof. Amucheazi, Prof. Obasi Igwe, Prince Emeka Onyesoh, and the founder of Igbo Youth Movement and Secretary of ECA, Evangelist Elliot Ugochukwu-Uko.
Others were Comrade Emma Zopmal, National Youth Leader of the Middle Belt Youth Forum; Mr. Aniekan Akamkpan and Douglas Warmate, both leaders from Akwa Ibom State and the Calabari Kingdom respectively.
However, in its letter of apology to the Igbo leaders signed by the Media and Publicity Secretary of IPOB, Emma Powerful, the organisation blamed "what precipitated the collapse of the event," on the announcement of a posthumous award "for Dr. Nnamdi Azikiwe who is seen by all as the sole architect of the monstrous one Nigeria project that has brought untold shame and misery that consumed over three million Biafran lives and still doing so till today...
"Had Nnamdi Azikiwe been blessed with the same parochial mind-set as Sir Ahmadu Bello and Chief Obafemi Awolowo, then Nigeria would have evolved differently from this blood- sucking, corrupt and evil monstrosity that is now the laughing stock of the world.
"We respect our honest elders like Prof. Nwabueze and Chief Amechi and will continue to do so. What happened was a protest against the one Nigeria project; not them. Nobody in tune with his or her senses will endorse the form of apartheid being visited on Biafrans by the current regime of Muhammadu Buhari.
"What ordinary Biafrans are witnessing in Nigeria today is worse than what blacks experienced in South Africa that gave birth to the anti-apartheid movement the world over. We would like the world to view the outburst at Enugu as sign of what is to come in the near future. Our people and a majority of other people that wish to be referred to as Nigerians are all tired of the one Nigeria experiment and wish to go their separate ways.
"IPOB, it must be said, has made it very clear; we are not interested in a restructured Nigeria, all we want and prepared to settle for is outright independence, which can only be ascertained via a referendum.
"Anybody talking about restructuring is risking the anger of the people... Groups like Ohaneze Ndigbo which is favoured by Abuja were the same people, alongside the South-East governors, who invited the murderous Nigerian Army under the guise of Operation Python Dance II to kill and slaughter innocent men, women and children for daring to demand to be free from Nigeria.
"It will be in their best interest to refrain from holding such events (on Nigerian unity) anywhere in Biafra land, as anything that could be seen to endorse the continued existence of one Nigeria will be peacefully resisted."
It specifically warned members of Ohanaeze Ndigbo to shelve their meeting on restructuring of Nigeria scheduled for March 16, in Enugu, pointing out that its members would not tolerate any discussion on Nigerian unity in Biafra land because of the level of discriminations against the easterners in the country over the years.
However, signs that there would be trouble emerged when Chief Amechi began to speak by mentioning how, he along with other compatriots, fought for the country's independence.
"My children here in this gathering, I was among those who fought for Nigeria's independence from British rule, but the constitution now being used was not the original constitution written by the founding fathers," he said, as the people began to murmur openly.
Amechi further went down memory lane by mentioning the different constitutional conferences held by the founding fathers to produce the 1963 Constitution which gave autonomy to the regions, adding that the said constitution had been bastardised by various northern military leaders who ruled the country for over 30 years to ensure northern hegemony. He noted that the current attack by herdsmen against the people of southern Kaduna, Benue, Taraba and Adamawa was a continuation of the Jihad launched against non-Muslim Nigerians by Usman Dan- Fodio.
He said that the Zangon Kataf people in Kaduna, Jukuns in Taraba, the Kanuri in Borno and Tiv in Benue states could not be overrun by the jihadists hence, the herdsmen and Boko Haram terrorists were being encouraged by the government in power to continue from where the jihadists stopped. Amechi stressed that the Boko Haram attack on the people of Borno and Yobe states was because the Kanuri Empire was not conquered by the jihadists hence the on-going war to overrun and bring them under the Caliphate.
"In Borno, they are killing the Kanuri who defeated the jihadists from the Uthman Dan Fodio Empire. They are also killing people of Zangon Kataf in Kaduna, Tivs in Benue, as well as natives of Taraba- the Jukuns.
"In the southern part of Nigeria, it is only Governor Ayo Fayose that is fighting for the people. The governors of the South-East are like jelly fishes. They are hiding their heads in the sand like ostriches... ," he said.
Amechi further said that the 1999 Constitution was an illegal document and the source of all the problems in Nigeria and therefore insisted that a new constitution was the only way to salvage Nigeria now.
According to him, those who were resisting the restructuring of Nigeria under a new constitution were only making it difficult for the country to survive, adding that the only option left to keep Nigeria united was to restructure it into regions.
On his part, Prof. Nwabueze insisted that Nigeria should be restructured before the next elections, as according to him, "Only a new constitution built on regional autonomy can save it."
Nwabueze stressed that the continuous delay in reconstructing Nigeria would not augur well for nation, pointing out that the country needed to resolve the national question before the next elections. In his own speech, the Founder of Igbo Youth Movement, IYM, Evangelist Ugochukwu-Uko, said that the people were angry with Nigeria.
Full report at:
http://allafrica.com/stories/201803070102.html
--------
North America
US opposes interaction with Taliban as a counter to Islamic State — State Department
March 06, 2018
WASHINGTON, March 6. /TASS/. The United States does not support the idea of possible cooperation with the radical Taliban movement, aimed to counterbalance the strengthening of the Islamic State (IS, ISIS - a terrorist organization outlawed in Russia) in Afghanistan, Principal Deputy Assistant Secretary Alice Wells of the Bureau of South and Central Asian Affairs at the Department of State told journalists.
She commented on the recent statements of US officials claiming that Russia is arming the Taliban. Wells said that Moscow and Tehran allegedly propose to consider the possibility of interaction with the Taliban movement in order to neutralize the strengthening of the local branch of the IS in Afghanistan. The US diplomat specified that she means the Khorasan terrorist group. Over the last few months Moscow has repeatedly denied the assumption of supporting the Taliban and sending weapons to them.
US concerns
"I can't speak to arming of the Taliban. What I can speak to are concerns that we have by Russia and by Iran that justify the Taliban on the basis that they are opposed to ISIS Khorasan. And this breakdown in consensus against the Taliban and the idea that there should be diplomatic intelligence liaison with the Taliban, we think, is quite detrimental to peace and prospects for peace because it sustains a Taliban ecosystem that has encouraged and supported these terrorist groups in Afghanistan," Wells said.
According to her, the way to defeat ISIS Khorasan is to strengthen the Government of Afghanistan and to work with the Government of Afghanistan to defeat ISIS.
"It's not to support the Taliban. And so that's our concern over what we've seen as hedging behavior by countries in the region," she said.
"We've raised our concerns with the Russians. We've certainly raised our concerns about propaganda that suggests that the United States is not intent on defeating and fighting ISIS Khorasan. Over the last year, we've intensified our efforts against ISIS Khorasan. We've tripled the amount of bombing raids against ISIS. We've expanded our own military efforts. We've taken emirs off the battlefield, thousands of - over 1,600 fighters off the battlefield, "" Wells said.
"And those efforts will continue because I think all of us recognize that while the Taliban may be - represent an insurgency, they stand for and are Afghan nationalists of one type. ISIS is a nihilistic force that is bent on the very destruction of Afghanistan. And so there is a seriousness, an extreme seriousness of effort, in defeating ISIS by Resolute Support Mission and by the U.S. bilateral counterterrorism forces that are in Afghanistan," she concluded.
When reporters asked Wells to elaborate about statements that Russia was willing to interact with Taliban she said:
"All I can say is that what we - what we've seen publicly and what the Russians have stated publicly is their willingness to engage diplomatically and in an intelligence fashion with the Taliban. And that has to be disturbing because the Taliban is not an asset, the Taliban is creating the terrorist ecosystem that allows 20 terrorist organizations to operate in the Afghanistan-Pakistan area."
No evidence provided
The US party has not yet provided any evidence of Russia's arming the Taliban.
In October, head of NATO Military Committee, Czech general Petr Pavel told reporters that the North Atlantic Alliance does not have data that would confirm the reliability of the recent conclusions about the transfer of weapons to the Taliban by Russia.
Last year, Russia's Foreign Ministry rejected such insinuations by some representatives of the US administration and some Afghan officials. Foreign Ministry spokeswoman Maria Zakharova said, in particular, that there was a "misinformation campaign in the United States about the alleged arming of the Taliban in Afghanistan."
http://tass.com/world/992891
--------
Jerusalem safe enough to move U.S. embassy there, city's mayor tells Congress
March 6, 2018
The mayor of Jerusalem has assured U.S. Congress that America faces no additional terrorist threat by moving its embassy from Tel Aviv to the ancient city despite opposition from Palestinians and the greater Muslim world.
"The importance of the move to Jerusalem is second to nothing else," Nir Barkat told members of the House Committee on Oversight and Government Reform on Tuesday while visiting Washington. "God forbid if there is a security challenge, I assure you we will not shy away from it."
On Monday, President Trump told Israeli Prime Minister Benjamin Netanyahu that he may visit Israel for the opening of the embassy, slated for early May.
"We're going to have it built very quickly and very inexpensively," Mr. Trump said to reporters before a meeting with Mr. Netanyahu. "While not making any specific commitments, we're looking at coming … If I can, I will."
On Tuesday, Mr. Barkat discussed the history of Jerusalem during a roundtable gathering hosted by House Committee on Oversight and Government Reform member Rep. Ron DeSantis. The Florida Republican played a key role on Capitol Hill advocating for the move, including scouting possible sites for the new facility while visiting Israel.
Mr. Barkat also praised Mr. Trump for his "boldness and leadership" on the issue and noted that Israelis deeply appreciate the historical significance of the White House's decision to recognize Jerusalem as a capital, and move the embassy there, 70 years after President Harry Truman recognized Israel as a sovereign state.
On Monday, Mr. Netanyahu, who was visiting Washington to address the pro-Israel group AIPAC, sang similar praises for the Trump Administration's Jerusalem decision.
"Mr. President, this will be remembered by our people, throughout the ages," the prime minister said. "And as you just said, others talked about it; you did it."
Palestinians, meanwhile, have lashed out the decision and argue that it negates the United States as a credible negotiator in peace talks.
Full report at:
https://www.washingtontimes.com/news/2018/mar/6/jerusalem-mayor-assures-congress-city-safe-enough-/
--------
Sweden finds Trump was right on immigration, gang violence
March 6, 2018
Sweden's prime minister, who criticized President Trump last year for blaming Swedish violence on Muslim refugees, said Tuesday that he's cracking down on immigration and gang violence to make Sweden great again.
At a White House news conference with Mr. Trump at his side, Prime Minister Stefan Löfven spoke of his own Trump-like agenda of implementing tougher laws on immigration and crime, and of spending more money on law enforcement.
"We have our share of domestic challenges, no doubt about that," Mr. Lofven said. "We are dealing with it every day, allocating more resources to the police, more resources to the security police, tougher laws on crime, tougher laws on terrorism."
Not only that, he said Sweden's crackdown on immigration and gangs is working.
"We can see some results now in our three major cities, decrease in shootings because we're attacking the organized crime very tough," the prime minister said. "And we'll keep on doing that. There is no space in Sweden for organized crime. They decrease freedom for ordinary people."
It sounded very much like Mr. Trump's rhetoric against the MS-13 gang members that he seeks to deport in larger numbers, and his policies to limit migration from certain Muslim-majority countries until better screening is in place to weed out potential terrorists.
The president, who enjoys being right as much as anyone, told the audience in the East Room that he had been correct about Sweden all along.
"Certainly you have a problem with immigration, it's caused problems in Sweden," Mr. Trump told a Swedish journalist. "I was one of the first ones to say it. I took a little heat, but that was OK. I proved to be right. But you do have a problem. I know the problem will slowly disappear, hopefully rapidly disappear."
A year ago, soon after Mr. Trump took office, he was roundly criticized in the U.S. media and in Europe for blaming a rise in crime in Sweden on an influx of Muslim refugees.
"You look at what's happening last night in Sweden," the president said back then at a rally in Florida. "Sweden. Who would believe this? Sweden. They took in large numbers. They're having problems like they never thought possible."
At the time, Swedish officials said they didn't know what Mr. Trump was talking about. Some people accused Mr. Trump of responding to an erroneous news report.
A year ago, Mr. Lofven chided Mr. Trump publicly, saying "We must all take responsibility for using facts correctly and for verifying anything we spread."
But on Tuesday at the White House, the prime minister had changed his tune. He noted that Sweden had received 163,000 refugees in 2015, with most arriving in a span of a few months.
"We inherited a legislation that was not sustainable, legislation on migration," Mr. Lofven said. "We changed the legislation, so now we have decreased the number of refugees, and we're also putting pressure on the other European Union countries to take their share of the responsibility."
The New York Times reported last weekend that Sweden has experienced a rise in clan-like violence, including gangs using hand grenades, that accompanied an influx of immigrants from certain parts of Europe and the Middle East. There have been more than 100 incidents involving military-grade explosives in the Stockholm metro area, which police have attributed to an "arms race" among immigrant gangs, the paper reported.
The story said there were few such incidents in Sweden until 2014, but since then, the number of explosions and seizures of grenades has risen.
Mr. Lofven refuted recent reports that immigrant-related crime in Sweden had become so bad that authorities had designated "no-go zones" deemed too dangerous to enter.
"We also have problems with organized crime in Sweden, shootings," he said. "But it's not like you have these 'no-go' zones."
Until recently, Sweden had the most generous immigration laws in Europe. Former Prime Minister Fredrik Reinfeldt in 2014 made a famous speech urging Swedes to "open their hearts" to refugees seeking shelter.
But in 2016, as problems grew, Sweden enacted a law valid for three years that makes family reunification of refugees more difficult. The law stopped recent immigrants with residency permits from bringing their immediate family members to Sweden.
In the U.S., Mr. Trump wants to end so-called "chain migration," which he says has allowed an immigrant to sponsor numerous relatives to follow him or her, with not enough vetting of the family members.
Mr. Lofven, again sounding a lot like Mr. Trump, said Sweden is overcoming its immigration and crime problems with a thriving economy.
Full report at:
https://www.washingtontimes.com/news/2018/mar/6/trump-right-immigration-gang-violence-sweden-finds/
--------
Event in Georgia Reveals CAIR is as Pro-Hamas as Ever
Joe Kaufman
March 7, 2018
On Saturday, February 24, 2018 — nearly 24 years after the founding of the Council on American-Islamic Relations (CAIR) by activists associated with Hamas — CAIR-Georgia hosted its second annual fundraising banquet. A seemingly benign American non-profit organization, CAIR-GA's event theme was 'Living Our Faith, Defending Your Freedom.' It's a catchy slogan, evoking an image of American liberty and justice. Yet, the banquet's theme has little to do with reality. In truth, not much about CAIR has changed since it was founded; it continues to espouse radical ideologies and nurture the Islamist anti-Israel obsession.
One of the headline speakers at the event was the Executive Director of CAIR-Florida, Hassan Shibly, who has a lengthy record of bigoted rhetoric and extremist behavior. In August 2014, he tweeted that "Israel and its supporters are enemies of God and humanity." Yet, his November 2006 interview with his university's newspaper revealed Shibly's clear disregard for "humanity" — as long as those humans are Israeli. Questioned about Hezbollah, Shibly told the paper that the violent, Iran-supported group was "absolutely not a terrorist organization." Shibly also denied that Hezbollah sought to murder Israeli civilians, despite multiple Human Rights Watch reports to the contrary.
Shibly's extremist sentiment is not exactly surprising. It was under Shibly's leadership that CAIR-Florida co-sponsored a July 2014 pro-Hamas rally outside the Miami branch of the Israeli consulate, where attendees repeatedly screamed, "We are Hamas," "Let's go Hamas," and "Hamas kicked your ass." Following the rally, the event organizer, Sofian Zakkout, wrote in Arabic, "Thank God, every day, we conquer the American Jews like our conquests over the Jews of Israel!"
Even more disturbing, if possible, was Shibly's April 2017 Facebook post, in which he promoted a video lauding convicted Palestinian terrorist Marwan Barghouti as a "hero."
Shibly's ire isn't only directed at Jews or Israelis, however. He's also shown considerable hostility to his fellow Muslims. In November 2017, Shibly endorsed Khatme Nubuwwat (KN), an international network dedicated to inciting violence and hatred against Ahmadiyya Muslims, a peaceful Muslim sect that has suffered persecution at the hands of Islamists.
Shibly seems not to care that KN has also used threatening language against the United States, labeling America "the land of infidels." Apparently, his concern for "humanity" is narrower than CAIR would like us to know.
Given the other speakers' (including activist Linda Sarsour and CAIR-Georgia Executive DirectorEdward Ahmed Mitchell) purported concern for human rights, it's a wonder they didn't protest being featured alongside such a purveyor of hateful propaganda.
Perhaps Sarsour and Mitchell were happy to speak alongside Shibly because their views, in fact, align with Shibly's illiberal ideas.
Lately, Sarsour has been making headlines as a leader in the feminist movement, co-chairing both the 2017 and 2018 Women's Marches. Yet, when it comes to her hatred for Israel, Sarsour's rhetoric is far more similar to that of Hamas than someone who claims to care about the equal rights of minorities. In October 2012, she tweeted, "Nothing is creepier than Zionism," and in a recent Facebook post, she excused Palestinian terror, saying, "Nobody gets to tell an occupied people how to respond to their own oppression and the continued stripping of their humanity, agency and land… Oppressed people determine how, when and where to resist." Of course, for Palestinian terrorists Hamas and Islamic Jihad, this includes suicide bombings, rocket attacks, and mass stabbings of Israeli civilians. Like Shibly, Sarsour ignores this.
Edward Mitchell, for his part, is just as open about his support of the Muslim Brotherhood as Sarsour is about her hatred of the "creepy" Jewish national liberation movement. This month, Mitchell posteda report lamenting the sentencing of five leaders of the Holy Land Foundation (HLF), an Islamist charity that covertly raised millions of dollars for Hamas — a Muslim Brotherhood offshoot — and was subsequently shut down by the U.S. government. Incidentally, during the HLF trials in 2007 and 2008, CAIR was named an (unindicted) co-conspirator to the crime.
And, when Egypt's mufti endorsed the death sentence against ousted Egyptian president and Muslim Brotherhood leader Mohamed Morsi, Mitchell wrote, "I hope this isn't true. May God grant freedom to all the wrongfully imprisoned men and women of Egypt." Morsi had been charged with colluding with foreign groups, including Hamas, to commit terrorist acts. Mitchell tweeted that Morsi's death sentence was "laughable," and, in another Twitter exchange, he even suggested to the Muslim Brotherhood that they demand Morsi's release from prison and the return of their "assets."
Full report at:
http://thejewishvoice.com/2018/03/07/event-georgia-reveals-cair-pro-hamas-ever/
--------
URL: https://www.newageislam.com/islamic-world-news/if-ram-mandir-issue-solved/d/114512
New Age Islam, Islam Online, Islamic Website, African Muslim News, Arab World News, South Asia News, Indian Muslim News, World Muslim News, Women in Islam, Islamic Feminism, Arab Women, Women In Arab, Islamophobia in America, Muslim Women in West, Islam Women and Feminism