New Age Islam News Bureau
18 Jan 2015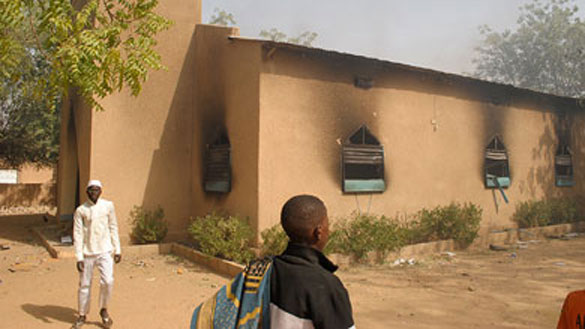 Residents watch a ransacked church that burned after thousands of protesters gathered following Friday prayers to vent anger at the depiction of the prophet in the publication of a cartoon of the Prophet Mohammed in the latest edition of the French satirical weekly, Charlie Hebdo, on January 16, 2015 in Zinder (AFP Photo / STR)
------------
Europe
• iCondemn: Satirical App Helps Muslims 'Condemn' Extremism
• Nearly Half French Oppose Publishing Mohammad (PBUH) Cartoons: Poll
• Belgian radicals on margins even among hometown Muslims
• German anti-Islam PEGIDA cancels rally over 'ISIL death threat'
• No link between Greece arrests and Belgium jihadists: Belgian prosecutor
• Spain to suspend 'Alliance of Civilizations' activity: Report
• Germany Investigates 350 People over Involvement with ISIL
• Anonymous Burial for Charlie Hebdo Attacker despite Objections
Africa
• At Least Seven Churches Torched In Niger in Anti-Charlie Hebdo Riots
• Niger President: 10 Dead After Anti-Charlie Hebdo Protests
• Nigerian Police: Boko Haram Suicide Bomber Kills 4, Wounds Dozens
• Libya recognised government army declares ceasefire
• Morocco Uncovers Takfiri Militant Cell Connected to ISIL
• Nigeria's neighbours band together to fight Boko Haram
Arab World
• ISIL Jihadists Free 200 Elderly Yazidis in North Iraq
• Syria: Dozens of Takfiri Militants Killed in Quneitra, Idlib
• Iraq: 80 ISIL Terrorists Killed
• Syria: Hundreds of Terrorists Surrender to Army in Eastern Ghouta
• Charlie attack raises stakes for Saudi Arabia in flogging case
• Saudi couples find premarital counseling 'useful'
• Al-Qaeda says downs Syrian cargo plane, army say fog causes crash
Pakistan
• Peshawar's Christian Community Protests against Blasphemous Cartoons
• Linking Terrorism with Religion Unjustified, Says Fazlur Rehman
• Four suspected militants arrested in Killa Abdullah, Chaman
• 192 militancy cases against banned outfits to be heard on priority
• Nawaz Sharif for indiscriminate action against terrorists
• Dec 16 blackest day in Pakistan's history: Altaf Hussain
• All set to introduce Hindu Marriage Bill in Sindh Assembly
India
• Hindu Boys Enroll In Madrasa, Muslim Boys in RSS-Run School
• Arrested ISIS Recruit Introduced To Terror Group by Girlfriend, Nicky Joseph alias Ayesha
• J&K: Two Jaish-e-Muhammad militants killed in Sopore encounter
• Kerala ahead in enrolment of Muslim students in schools
South Asia
• Helmand Suicide Attack Left 4 Killed, 10 Injured
• Death Sentence announced to the killer of foreign aid workers in Herat
• Viber, Tango blocked in Bangladesh
• PM Sheikh Hasina: No delay to arrest arsonists
• Bangladesh Minister: Terrorist acts are being carried out in the name of blockade
Mideast
• Israel Cracks First Local Islamic State Cell
• Iran Bans Newspaper over Article on Charlie Hebdo
• Israel lobbies foreign powers to cut ICC funding
• Nuclear talks will succeed only if pressure on Iran stops: Tehran
• Istanbul police alarmed over three bombs across city
• Palestinians throw eggs at Canadian FM for pro-Israel stand
North America
• Muslim Man Detained In US without Charge to Get Compensation
• Anti-Islamic US Pastor Opens Florida French-Fry Stand
• Vigils in US remember victims of Peshawar attack
• US urges Islamabad, Kabul to help each other seize terrorists
Southeast Asia
• I Will Fight Islamic Authorities Till the End, Vows Kassim Ahmad
• Asian skinheads send anti-racism message at KL gigs
• Brazil, Netherlands Recall Indonesia Ambassadors After Executions
Compiled by New Age Islam News Bureau
URL: https://www.newageislam.com/islamic-world-news/new-age-islam-news-bureau/icondemn--satirical-app-helps-muslims--condemn--extremism/d/101091
----------
Europe
iCondemn: Satirical app helps Muslims 'condemn' extremism
18 January 2015
Are you a Muslim? Did you feel the urge to publically condemn a recent wave of Islamic extremism?
Well, there is an app for you to do so; and it is called iCondemn.
Following the attacks on satirical magazine Charlie Hebdo in Paris last week, voices calling for Muslims to condemn the killings of journalists rose on social media networks.
Muslim leaders and clerics were quick to denounce the attack. But that may not have been enough for the likes of media tycoon Ruport Murdoch who tweeted that Muslims should be held responsible for "their growing jihadist cancer." Or for the New York Times' columnist Roger Cohen who reiterated Murdoch's calls, urging "moderate Muslims" to denounce extremism.
With the growing number of terror attacks by the Islamic State of Iraq and Syria (ISIS), al-Qaeda, Boko Haram, and other similar terrorist organizations committing violence around the world in the name of religion, Muslims are increasingly finding themselves obliged to "denounce" terror.
Daniel Haqiqatjou, the developer of the app, came with a perfect satirical solution.
"Some have argued that Muslims shouldn't be required to condemn every single criminal act done in the name of their religion," he wrote in his blog Muslim Matters. "After all, asking Muslims to condemn terrorism is akin to demanding Muslims assume guilt for the crimes of a deranged few, and that's just racist."
"Rather than stopping our condemnations, I believe Muslims need to be making more condemnations," he added.
In order to show the world that Muslims too condemn terrorism, Haqiqatjou said the "condemnation game" should be taken to the "next level."
"According to my calculations, we need to be denouncing things at fifty times the volume and at least twenty times the speed to meet all the demand. The problem is all that denunciation takes a lot of time and resources. We need a 21st century solution to this problem."
With the app, Non-Muslims will finally see that the majority of Muslims keep themselves distanced from the acts committed by a bunch of extremist minds.
"With the iCondemn®, Muslims can say 'not in my name' at the speed of life!," he wrote in reference to a similar online campaign that started after And non-Muslims no longer need to wonder whether 1.6 billion Muslims around the world feel the guilt and sincerely apologise for that latest reprehensible crime some idiot carried out while shouting "Allahu Akbar!""
http://english.alarabiya.net/en/media/digital/2015/01/17/App-for-Muslims-to-condemn-terrorism-.html
----------
Nearly half French oppose publishing Mohammad (PBUH) cartoons: poll
Jan 18 2015
PARIS: Almost half of French oppose publication of cartoons depicting Islam's Prophet Mohammad (PBUH), according to a poll Sunday, as global debate deepened on the limits of free speech in the wake of the Charlie Hebdo killings.
The Ifop poll found 42 per cent believe Mohammad (PBUH) cartoons seen as offensive by many Muslims should not be published. Fifty per cent said they backed "limitations on free speech online and on social networks."
However, 57 per cent said opposition from Muslims should not prevent the cartoons being published, according to the poll, published in Le Journal du Dimanche.
The poll found overwhelming support, 81 per cent, for stripping French nationality from dual nationals who have committed an act of terrorism on French soil.
Sixty eight per cent favoured banning French citizens from returning to the country if "they are suspected of having gone to fight in countries or regions controlled by terrorist groups," such as Syria.
The same percentage backed bans on people suspected of wanting to join jihadist movements from leaving France.
However, 57 per cent of respondents to the poll opposed French military intervention in countries including Libya, Syria and Yemen.
The poll was conducted last week in the wake of the slaughter at Charlie Hebdo's office in Paris, where Islamist gunmen killed 12 people, saying they were taking revenge for repeated publication by the magazine of Prophet Mohammad (PBUH) caricatures.
Also read: Three churches burned in Niger during Charlie Hebdo protests
On Saturday, five people were killed and churches were set on fire in Niger in the latest protests by Muslims against Charlie Hebdo's decision after the massacre to print another Mohammed cartoon.
French Foreign Minister Laurent Fabius condemned the violence in Niger while President Francois Hollande called freedom of expression "non-negotiable".
http://www.dawn.com/news/1157806/nearly-half-french-oppose-publishing-mohammad-pbuh-cartoons-poll
----------
Belgian radicals on margins even among hometown Muslims
Jan 18 2015
VERVIERS: Worshippers at one of Belgium's biggest mosques united on Friday in dismay that, barely half a mile away, two of their own community may have died in a blaze of gunfire the night before as they prepared a national campaign of violence.
But among the thousand or so who turn out for weekly prayers at the Assahaba Mosque, in the once flourishing industrial heart of Verviers, many hastened to note that the Islamist plot against police of which the gunmen were suspected did not spring from mainstream teachings among Belgium's half-million Muslims.
"Islam is a religion of peace. We must behave well towards others, be they Christian, Jew or Muslim," 31-year-old Hicham Boumajjal said as he entered the old tannery that became a house of prayer for children of mainly Moroccan immigrants who flocked to Verviers' then thriving industries in the 1960s.
"Militants have even attacked other Muslims," said Boumajjal. "So they make no sense."
Making sense of why so many young Belgians - proportionately far more than any other country in Europe - fight in Syria and return with dreams of wreaking mayhem on their homeland is a conundrum not just for the government in Brussels and its EU neighbours, but for community leaders in towns like Verviers.
"I don't have a solution and I don't think the authorities have one either," said Franck Hensch, who teaches as an imam at the Assahaba Mosque. "So now the real question is - what can we do together with authorities and civil society in order to find solutions to the trend of radicalisation of some young people."
The authorities have given few details about the two men who opened fired with an array of assault weapons on police who raided their apartment on rue de la Colline, a 10-minute walk from the mosque on the other side of the river Vesdre.
The two dead and an accomplice who was detained were all Belgian citizens. Like several of a further 14 people held, mainly in Brussels, they had recently returned from Syria, where Islamist fighters have recruited some 300 Belgians since 2011.
But neighbours in Verviers, nestled in the hills between the city of Liege and the German border, said the dead gunmen were local young men from typical backgrounds for the town. Despair at unemployment and alienation from the modern consumer society around them has been widely blamed for turning some to violence.
With some 50,000 inhabitants and a glorious industrial past in wool and textiles behind it - Verviers has much in common with its English twin town Bradford - the city's hillsides are dotted with derelict factory sites. Unemployment stands at about 12 percent, well above the 8.5 percent national average.
Joblessness among the young is even higher. But for imam Hensch, there is more to youngsters becoming radical.
"The Internet is the main source of radicalisation, on top of all the elements which already make some weaker than others," he said. This, along with the lure of self-styled "street preachers", made it hard for community leaders to counteract it.
"Who can defend against youngsters who can be radicalised in just a few weeks or months?" he asked. "What should we do?"
The Belgian government, which sees no connection with last week's attacks in Paris beyond the broad trend of homegrown Islamist violence, has been taking a lead in Europe in trying to address the risk from "foreign fighters" returning from Syria.
A verdict in a trial of 46 Belgians involved in recruiting for Syria was postponed this week and is due next month. But while the authorities promise retribution to those who take up arms, like the Frenchman accused of shooting dead four people last year at Brussels' Jewish Museum, they are also seeking to understand and find ways to help steer them away from violence.
EU counter-terrorism chief Gilles de Kerchove told public radio in his native Belgium: "The solution? It's what Belgium is doing ... assessing, case by case ... maybe giving psychological help, maybe helping a person find a place back in society, or clearly punishing those with blood on their hands."
Among the youths of Verviers who gathered not at the mosque but to stare at the forensic teams still combing the scorched hideout of the alleged "terror cell", the radicals' motivations appeared as perplexingly unclear as they are to the authorities.
"They were young Muslims from Verviers we know from school and around town," said one youth, Manu, though he did not know the dead men's names. "You meet people like that and they tell you how they are dissatisfied with their life and disappointed with society. But you don't expect them to go crazy like that."
http://www.dailytimes.com.pk/region/18-Jan-2015/belgian-radicals-on-margins-even-among-hometown-muslims
----------
German anti-Islam PEGIDA cancels rally over 'ISIL death threat'
Jan 18 2015
Germany's anti-Islamic PEGIDA movement said it has cancelled a planned march on Jan. 19, citing a death threat against organizers from the Islamic State of Iraq and the Levant (ISIL).
"Cancelled! Dear friends, unfortunately we must cancel our 13th meeting due to security concerns," the group "Patriotic Europeans Against the Islamisation of the Occident" said on its Facebook page on Jan. 18.
"What in police jargon is called an 'abstract threat' has changed to a 'concrete death threat' against a member of the organizing team. ISIL terrorists have ordered his assassination."
Germany's Der Spiegel news weekly reported Friday that foreign intelligence services had picked up communications by some "known international jihadists", without giving specific details.
The intelligence, which was passed to German authorities, indicated they had discussed possible attacks on PEGIDA rallies.
"We take these leads very seriously," Spiegel quoted an unnamed high-ranking security official as saying.
PEGIDA said it had discussed the threat with state police and the internal security agency.
It had decided to scrap the event in the eastern city of Dresden as it could not guarantee the security of marchers and feared "collateral damage".
Top-circulation daily Bild said in an online report that the threat targeted PEGIDA founder Lutz Bachmann.
Dresden police declined immediate comment.
PEGIDA marches began in Dresden with several hundred supporters three months ago and have steadily grown, to number 25,000 last Monday, five days after the attacks in Paris by Islamists in which 17 people were killed.
http://www.hurriyetdailynews.com/german-anti-islam-pegida-cancels-rally-over-isil-death-threat-.aspx?pageID=238&nID=77093&NewsCatID=351
----------
No link between Greece arrests and Belgium jihadists: Belgian prosecutor
Jan 18 2015
No link has been established between at least four people arrested by Greek anti-terrorism police and a jihadist cell broken up this week in Belgium, the Belgian prosecutor's office said Jan. 18.
"There is no connection between these people and the enquiry" in Belgium, Eric Van Der Sypt, spokesman for the federal prosecutor's office, said.
A Greek police source said investigators had sent DNA evidence and fingerprints to Belgium to establish whether Abdelhamid Abaaoud, the 27-year-old suspected mastermind of the Belgian cell, was among the four suspects.
Belgian authorities say the group targeted in a police raid Thursday in the eastern town of Verviers, in which two suspects were killed, was plotting to kill Belgian police officers.
The federal prosecutor's office has refused to comment on local media reports that Abaaoud, a Belgian national of Moroccan origin, planned the foiled attacks from Greece or Turkey.
The reports say he made calls from Greece to the brother of one of the two suspects killed in the shootout with police in Verviers.
According to Belgian media, Abaaoud spent time fighting alongside the Islamic State of Iraq and the Levant (ISIL) in Syria.
He was already known to security forces after appearing in an ISIL video, at the wheel of a car transporting mutilated bodies to a mass grave.
He is also known as the older brother of a 13-year-old boy dubbed Syria's youngest foreign fighter by British media after photos surfaced of him posing with weapons.
Thirteen people were arrested across Belgium in connection with the Verviers cell, five of whom were later charged with "participating in the activities of a terrorist group."
Weapons, bomb-making materials, police uniforms and fake documents were found during searches of their homes.
Two fugitives who left Belgium immediately after the attack have been arrested in France.
The Belgium raid came a week after Islamist attacks in and around Paris killed 17 people, rekindling fears in Europe about the threat posed by young Europeans returning home after fighting alongside extremist groups in the Middle East.
Belgium estimates that 335 of its people have gone to fight in Syria and Iraq in the last few years -- making it the European country with the highest proportion of nationals enlisted with Middle Eastern jihadist groups.
http://www.hurriyetdailynews.com/no-link-between-greece-arrests-and-belgium-jihadists-belgian-prosecutor-.aspx?pageID=238&nID=77085&NewsCatID=359
----------
Spain to suspend 'Alliance of Civilizations' activity: Report
Jan 18 2015
Spain will reportedly suspend its activities in the "Alliance of Civilizations," jointly launched by Turkey and Spain in 2005.
The Spanish government has issued an order to not to give importance to the meetings, Doğan News Agency reported, arguing that the initiative" has lost its significance."
According to the report, the alliance was also removed from the National Security Strategy Document, under pressure from the ruling party lawmakers who argue that it would wrong to mention alliance "at a time jihadist terrorize Europe."
The Alliance of Civilizations was launched in 2005 by the prime ministers of Turkey and Spain, and later adopted by the Secretary-General of the United Nations to become a U.N. initiative and referred to as the United Nations Alliance of Civilizations (UNAOC).
In 2013, Spain had also quit its position as the co-sponsor of the "Alliance of Civilizations" initiative, an initiative proposed by former Spanish Prime Minister Jose Luis Rodriguez Zapatero during the 59th session of the General Assembly of the United Nations in 2005.
The same report also claimed that Spanish Prime Minister Mariano Rajoy wants to cancel the 6th Turkey-Spain Intergovernmental Summit, which is scheduled to be held this year. Rajoy is in an election year and wants to make time to meet his voters instead, according to the report.
http://www.hurriyetdailynews.com/spain-to-suspend-alliance-of-civilizations-activity-report.aspx?pageID=238&nID=77078&NewsCatID=510
----------
Germany Investigates 350 People over Involvement with ISIL
Jan 18 2015
A hundred terrorist cells operating in Germany are being monitored by the country's authorities that also have 350 people under investigation for suspected ties with the Islamic State of Iraq and the Levant (ISIL) Takfiris, reports said.
According to Welt am Sonntag, the 100 terrorist cells range from 10 to 80-member groups that have been spreading online propaganda and collecting funds for terror-related purposes. Some of the group members have recently returned from Syria, RIA Novosti reported.
Earlier, German Justice Minister Heiko Maas told the Bild am Sonntag newspaper that German authorities are investigating 350 suspects over their possible involvement with ISIL.
Militants who have travelled to Syria, Iraq and other war-torn regions to fight for various extremist groups, such as ISIL, often return back to home countries to conduct terrorist attacks on behalf of the radical organizations they are involved with.
According to BBC, 600 German citizens, as well as around 600 British and over 1,300 French nationals are believed to be currently fighting in Syria and Iraq.
http://english.farsnews.com/newstext.aspx?nn=13931028000735
----------
Anonymous burial for Charlie Hebdo attacker despite objections
Jan 18 2015
PARIS: City officials in Reims say one of the terrorists responsible for attacks last week that killed 17 people was buried in the eastern French city over their objections and despite concerns that the grave could become a shrine for extremists.
Said Kouachi, the elder of the two brothers who together gunned down 12 people on Jan 7 in their attack on Charlie Hebdo, was buried at the demand of the French government, officials in Reims said in a statement on Saturday.
"Given the risk of disturbance of the peace and in order to quickly turn the page of this tragic episode, it was decided to do the burial quickly," the city said.
Earlier in the week Reims Mayor Arnaud Robinet said he'd "categorically refuse" a request by Kouachi's family to bury him in Reims, 144 kilometers east of Paris, where he lived before police killed him and his brother on Jan 9.
"I don't want a grave that serves to attract fanatics. I don't want a place that promotes hate," Robinet said in an interview on France Info radio on Thursday.
Full report at:
http://www.dawn.com/news/1157739/anonymous-burial-for-charlie-hebdo-attacker-despite-objections
---------
Africa
At least seven churches torched in Niger in anti-Charlie Hebdo riots
18 January 2015
At least seven churches were burned Saturday in Niger's capital Niamey during rioting in response to the publication of a Prophet Mohammed cartoon in France's Charlie Hebdo magazine, an AFP correspondent reported.
The sites, which were primarily evangelical churches, were torched on the left bank of Niamey, several of them housed in small villas that bore no distinctive religious signs. Protesters were also headed for the right bank, which also contains numerous churches.
Around 100 helmeted riot police stood in front of the Niamey cathedral at midday, protecting it from a crowd of stone-throwing youths. Earlier, police fired tear gas to disperse some 1,000 youths in front of the city's grand mosque and AFP witnessed protesters in several parts of the city armed with iron bars and clubs.
France's embassy in Niamey warned French citizens to stay indoors after rioters also ransacked several French-linked businesses, including telephone kiosks run by Orange.
"Be very cautious, avoid going out," the embassy said on its website.
Full report at:
http://english.alarabiya.net/en/News/africa/2015/01/17/Niger-police-fire-teargas-at-Charlie-Hebdo-protesters.html
----------
Niger President: 10 dead after anti-Charlie Hebdo protests
Jan 18, 2015
The President of Niger says at least 10 people have been killed after violent protests over a French publication's cartoon depicting Islam's prophet.
President Mahamadou Issoufou said that five deaths were reported after demonstrations in the capital of Niamey on Saturday. The victims were inside churches and bars that were set ablaze, he said.
On Friday, at least five people were killed in the town of Zinder after prayer services there.
The violence erupted after the French satirical weekly Charlie Hebdo published a new cartoon depicting the Prophet Mohammed. The issue, published on Wednesday, was the first following a January 7 terrorist attack on its headquarters that left 12 dead.
Physical depictions of the prophet are considered blasphemous, and protests have erupted in a number of predominantly Muslim countries this week.
http://www.thehindu.com/news/international/world/niger-president-10-dead-after-anticharlie-hebdo-protests/article6798948.ece
----------
Nigerian Police: Boko Haram Suicide Bomber Kills 4, Wounds Dozens
Jan 18 2015
A Boko Haram suicide bomber killed four people and wounded dozens Sunday in an attack at a bus station in Potiskum, Northeastern Nigeria, police said.
"We have evacuated four dead bodies and 48 injured persons from the scene of the suicide blast," a police officer said, Mail Online reported.
The bomber "blew up his car at a bus station," said the officer, asking not to be identified because he was not authorized to speak to the media.
According to the reports, the attack bore the hallmarks of Boko Haram terrorist attacks.
http://english.farsnews.com/newstext.aspx?nn=13931028001173
----------
Libya recognised government army declares ceasefire
Jan 18 2015
The army of Libya's internationally recognized government announced on Jan. 18 that it would cease fire, two days after an Islamist-backed militia alliance announced a truce.
"We declare a ceasefire from midnight (2200 GMT) Sunday," said the army said, stressing however that it would continue to pursue "terrorists", as UN-brokered peace talks resume in Geneva next week.
The army also said it would monitor the situation on ground "to prevent any change in front lines or transportation of weapons and ammunition," which it would consider a violation of the truce.
Soldiers "have been given the right to defend themselves if they come under fire," the statement added.
Full report at:
http://www.hurriyetdailynews.com/libya-recognised-government-army-declares-ceasefire----.aspx?pageID=238&nID=77094&NewsCatID=357
----------
Morocco Uncovers Takfiri Militant Cell Connected to ISIL
Jan 18 2015
Moroccan authorities reported that they had dismantled a militant cell which recruited people to join the Islamic State of Iraq and the Levant (ISIL) terrorists in Syria and Iraq.
The aim was to train the fighters to perpetrate attacks upon their return, RT reported Saturday.
Eight members of the cell had already been convicted in the past. A security source told Reuters that about 2,000 Moroccans have fought in Syria and Iraq, and about 200 have been arrested upon their return to Morocco.
The country has already seen terrorist acts; the latest in 2011 resulted in the deaths of 15 people.
http://english.farsnews.com/newstext.aspx?nn=13931028000118
----------
Nigeria's neighbours band together to fight Boko Haram
Jan 18 2015
LIBREVILLE: Cameroon, Chad and Niger have launched a regional bid to combat the Boko Haram militants, as their attacks spread beyond Nigeria and concern mounts over the Nigerians' failure to regain control.
The three neighbours have opted for a joint military response to the cross-border threat from Boko Haram fighters and have made veiled criticisms of Nigeria, whose armed forces appear no match for the militant group that emerged in 2009.
Brutal raids, massacres, suicide bomb attacks and kidnappings by Boko Haram have claimed at least 13,000 lives and driven an estimated 1.5 million people from their homes, mainly in arid northeast Nigeria.
Officially, all four states, whose borders converge in remote territory at Lake Chad, formed a military alliance that was due to take shape last November to battle Boko Haram. But building a combined Lake Chad force seems to have dropped off the agenda.
Full report at:
http://www.dawn.com/news/1157740/nigerias-neighbours-band-together-to-fight-boko-haram
--------
Arab World
ISIL jihadists free 200 elderly Yazidis in north Iraq
Jan 18 2015
The Islamic State of Iraq and the Levant (ISIL) group released more than 200 mostly elderly members of northern Iraq's Yazidi minority Jan. 17 who had been held for months, officials and activists said.
The Yazidis were freed on the front line southwest of the city of Kirkuk and met by Kurdish peshmerga forces who brought them to a health centre in Altun Kopri, on the road to the Kurdish regional capital of Arbil.
"These men and women had been held in Mosul," Khodr Domli, a leading Yazidi rights activist told AFP at the centre. "We already have names for 196 and there could be some more."
"Some are wounded, some have disabilities and many are suffering from mental and psychological problems," he said.
According to officials from Kirkuk and Arbil, the group was moved from Mosul via Hawija and freed at the Khaled entrance to Kirkuk on Saturday.
Dozens of Kurdish doctors and nurses provided emergency care at the Altun Kopri health centre, where Yazidis who had heard the news started to mass at the gates, hoping to be reunited with missing relatives.
"We have dispatched laboratory teams to check their blood, to control for things such as polio and possible contagious diseases," said Saman Barzanji, director general of the Arbil health department.
Full report at:
http://www.hurriyetdailynews.com/isil-jihadists-free-200-elderly-yazidis-in-north-iraq-.aspx?pageID=238&nID=77081&NewsCatID=352
----------
Syria: Dozens of Takfiri Militants Killed in Quneitra, Idlib
Jan 18 2015
Foreign-backed militants sustained a heavy toll in Quneitra and Idlib provinces, as the Syrian Army expanded its offensives across the Arab country, a security source said.
A senior army official, speaking on condition of anonymity, said that the army troops stormed the hideouts of the rebels in the towns of Mumtana, Mas'hara, Tall Mas'hara and Tall al-Bzaq in the countryside of the Southern province of Quneitra, leaving a large number of the insurgents dead and injured.
Meanwhile, the rebels suffered major losses in the areas of Ein al-Ghazal, al-Marj, Bani Ezz, al-Bara, Kafr Ouwaid, al-Majass, al-Shweiha, and Qara'a al-Ghazal in Idlib countryside, when the army made more gain in the province, the source added.
Syria has been the scene of insurgency since 2011 when certain western powers and their regional allies voiced loudly that Syrian protests have no diplomatic solution and they started supplying the country's opposition groups with their arms and funds.
In 2014, specially after victory of President Bashar al-Assad in the country's presidential election, the army has gained upper hand in its anti-terrorism campaign, and has been partly successful in sealing borders with Turkey and Jordan.
http://english.farsnews.com/newstext.aspx?nn=13931028000718
----------
Iraq: 80 ISIL Terrorists Killed
Jan 18 2015
Senior Iraqi security officers announced that around 80 ISIL terrorists were killed, mostly in Anbar province, Western the country.
The Iraqi army's operations also led to inflicting heavy losses upon the terrorists' vehicles and equipment in different areas, including Baghdad, Al-Manar reported Saturday.
http://english.farsnews.com/newstext.aspx?nn=13931028000252
----------
Syria: Hundreds of Terrorists Surrender to Army in Eastern Ghouta
Jan 18 2015
Over a thousand foreign-backed militants turned themselves in to the Syrian army in Eastern Ghouta in Damascus countryside.
Over 1,000 terrorists gave up fight and surrendered themselves to the Syrian authorities in the farms of Zobdin town in Eastern Ghouta, the Al-Ahd news website reported on Sunday.
Several groups of militants have surrendered to the Syrian army in the Damascus Countryside in the last several months.
Thousands of gunmen have been laying down their weapons and turning themselves in to authorities in areas across the country.
This number seems to be on the rise as the army has been making steady gains in the battlefield against the terrorist groups, recapturing an increasing number of areas, including strategic sites, which helped cut off many of the militants' supply routes and forced them to surrender or run away.
The conflict in Syria started in March 2011, when sporadic pro-reform protests turned into a massive insurgency following the intervention of western and regional states.
The unrest, which took in terrorist groups from across Europe, the Middle-East and North Africa, has transpired as one of the bloodiest conflicts in recent history.
As the foreign-backed insurgency in Syria continues without an end in sight, the US government has boosted its political and military support to Takfiri extremists.
http://english.farsnews.com/newstext.aspx?nn=13931028000822
--------
Charlie attack raises stakes for Saudi Arabia in flogging case
Jan 18 2015
RIYADH: Saudi Arabia's ruling family is coming under pressure from Western countries over its weekly flogging of writer Raif Badawi for "insulting Islam", but it appears more worried about the risk of offending domestic conservatives if it lets him off.
The political stakes over the punishment of Badawi, who will face 50 more lashes on Friday, have been heightened by the Paris attack on Charlie Hebdo newspaper and its publication on Wednesday of new cartoons.
The kingdom is attempting to marshal conservative Muslims behind a campaign against Islamist militants in al Qaeda and Islamic State (IS), but has stirred anger among many of them for what they see as its weak response to the cartoons.
Riyadh issued an unqualified statement of condemnation of the attack, echoed by conservatives in the country, but it did not strongly criticize the images and its ambassador took part in a solidarity march in which protesters carried the cartoons.
Full report at:
http://www.dailytimes.com.pk/region/17-Jan-2015/charlie-attack-raises-stakes-for-saudi-arabia-in-flogging-case
----------
Saudi couples find premarital counselling 'useful'
18 January 2015
More than three-quarters of Saudis believe premarital prep courses are "vital" to ensuring the success of marriage, according to a survey conducted by the Social Rehabilitation and Awareness Association.
Almost 15 percent of respondents believe attendance is "important," 2.33 percent said it was "slightly important" and 5.63 percent believe such courses are useless, the Al-Riyadh newspaper reported.
The association posted the results on its website and announced the launch of courses for newlywed and engaged couples, focusing on the skills needed to manage marital relationships.
The association's general supervisor Sheikh Mazin Al-Ferea, who is also a family counselor and educational expert, said the course focuses on the basic skills that a married couple needs during their life together.
Full report at:
http://english.alarabiya.net/en/perspective/features/2015/01/18/Report-Saudis-find-premarital-counselling-useful-.html
----------
Al-Qaeda says downs Syrian cargo plane, army say fog causes crash
Jan 18 2015
The Syrian wing of al-Qaeda, the Nusra Front, said on Twitter today it had shot down an army cargo plane carrying food and ammunition overnight in the northwest of the country, but Syrian state television blamed the loss on bad weather.
Reuters could not verify either account due to security and reporting restrictions in Syria.
Syrian state television quoted a military source as saying the cargo plane crashed due to "weather conditions and heavy fog" yesterday. The crew had died as the plane crashed while attempting to land at the Abu al-Duhur military airport in Idlib province.
"Nusra Front downed a military cargo plane overnight above the Abu al-Duhur military airport," the tweet said.
Several Syrian air force jets and helicopters have been shot down in Syria's civil war, which erupted after the government cracked down on pro-democracy protests in 2011.
A US-led coalition is flying sorties in Syria to strike the hardline Islamic State group, an offshoot of al-Qaeda that is also fighting the Syrian army.
Last month, a Jordanian air force pilot was captured by Islamic State fighters after his plane was downed near the militant group's stronghold of Raqqa in northeastern Syria.
http://www.themalaysianinsider.com/world/article/al-qaeda-says-downs-syrian-cargo-plane-army-say-fog-causes-crash#sthash.sl2mynsR.dpuf
----------
Pakistan
Peshawar's Christian community protests against blasphemous cartoons
Jan 18 2015
PESHAWAR: Peshawar's Christian community on Sunday staged protests against French magazine Charlie Hebdo in solidarity with Muslims around the world and demanded that the cartoonists behind the anti-Islam caricatures be brought to justice
Christian Community staged rallies from different churches in the provincial capital, including the All Saints Church, which was targeted in a bomb attack on Sept 2013.
Holding placards and banners condemning the blasphemous sketches and cartoons, the protesters marched to Peshawar Press club.
The demonstrators also chanted slogans against the French government.
The Christian community termed the blasphemous cartoons as serious threat to the religious harmony and world peace.
Such sketches promote intolerance, hatred, violence and extremism, according to the protesters.
The demonstrators also urged the world community to take solid and concrete measures against such inciting steps.
Heavily armed men shouting religious slogans stormed the headquarters of the satirical weekly Charlie Hebdo in Paris on Jan 8 killing 12 people, including the editor-in-chief.
The attack sparked global outrage as world leaders rallied in solidarity with the victims of the attack claimed by the Al Qaeda in Yemen.
Full report at:
http://www.dawn.com/news/1157808/peshawars-christian-community-protests-against-blasphemous-cartoons
----------
Linking terrorism with religion unjustified, says Fazlur Rehman
Jan 18 2015
SUKKUR: Chief of Jamiat Ulema-e-Islam (JUI-F) Fazlur Rehman has said that his party did not want to part ways with the government but wanted to mend the situation living within the system. Talking to media persons before consultative meeting of party at Manzalgah Seminary in Sukkur on Saturday, Fazlur Rehman said that protest of his party was not aimed at withdrawal of its support and cooperation to the government but to pinpoint the discrepancies in its policies. He said before questioning him about leaving the government alliance, one should ask Khurshid Shah that when he is going to join the government. The JUI-F chief said that as terrorism in the name of religion and sect is unacceptable likewise targeting religious institutions over the suspicion and alleged involvement in terror was also unjustified. Fazl said that there exist more than 26,000 registered seminaries across the country, 22,000 have applied for registration while only 241 seminaries were unregistered which is less than zero point figure. He said that like other educational institutions, religious seminaries are also sacred. Terrorism cannot be linked with religion, sect, linguistic, region or caste, he asserted. The JUI-F chief said that terrorists are enemy of humanity and all should be united to flush the menace from the country and the region. He said that difference of JUI-F over the 21st Constitutional Amendment was that it had not clarified all aspects of terrorism and it was the constitutional right of his party to express concerns over it. Fazl said that when the 21st constitutional amendment was adopted unanimously, the government delegation was holding dialogues with him at his chamber therefore without participation of JUI-F in the law making process is discriminatory act. He said that no where in the world, it happens that government consults opposition but ignores its allied parties before making any constitutional amendment.
http://www.dailytimes.com.pk/national/18-Jan-2015/linking-terrorism-with-religion-unjustified-says-fazlur-rehman
----------
Four suspected militants arrested in Killa Abdullah, Chaman
Jan 18 2015
QUETTA: Security forces arrested four suspected militants from Killa Abdullah district of Balochistan on Sunday morning.
A security official, who declined to be named, told Dawn.com that security forces conducted a raid in Jangle Pir Alizai area of Killah district.
He said two suspected militants identified as Maulavi Shah Wali and Hafiz Niamatullah were picked up by forces during the raid.
The suspects were later shifted for interrogation by security forces.
In another raid, security forces arrested two suspected militants from Killi Tekhdar area of Chaman, Pakistan's bordering town with Afghanistan. Forces also recovered weapons from their possession.
In Quetta, police detained 31 suspects during various raids. Police said hate materials and CDs were recovered from the suspects possession.
Security forces have intensified their actions in Quetta and other parts of Balochistan after the announcement of National Action Plan to combat terrorism in the country.
The crack-down against the militants has increased in the province in the aftermath of the terrorist attack on a school of Peshawar on December 16.
http://www.dawn.com/news/1157812/four-suspected-militants-arrested-in-killa-abdullah-chaman
----------
192 militancy cases against banned outfits to be heard on priority
Jan 18 2015
KARACHI: Of the over 2,700 cases pending disposal before the 19 antiterrorism courts across the province, 192 cases of bomb blasts and militant attacks by proscribed organisations have been prioritised for hearing on a day-to-day basis as provided under the Anti-Terrorism Act (ATA) of 1997, it emerged on Saturday.
Official sources told Dawn that Justice Anwar Zaheer Jamali of the Supreme Court, who is also the monitoring judge of the ATCs in Sindh, chaired a meeting on Saturday that was informed of bifurcation of cases into "militancy-related" and "others" by the ATCs.
The meeting was attended by nine judges of the ATCs in Karachi, judges in charge of the Sindh High Court for the ATCs Justices Munib Akhtar and Mohammed Ali Mazhar, member inspection team-II Judge Abdullah Channa, the home and finance secretaries and an additional inspector general of police.
The sources said that the performance of the ATCs in the province was reviewed at length and Justice Jamali expressed his satisfaction over the efficiency of the judges.
Nonetheless, they said, he directed the presiding officers to further improve their performance without any fear in view of the current wave of terrorism in the country.
They said some of the ATC judges complained to Justice Jamali that the investigation officers (IOs) often failed to produce prosecution witness in court.
The sources said that home and police authorities were directed by the monitoring judge to ensure production of accused persons, prosecution witnesses, case properties and IOs in the ATCs.
Full report at:
http://www.dawn.com/news/1157676/192-militancy-cases-against-banned-outfits-to-be-heard-on-priority
----------
Nawaz Sharif for indiscriminate action against terrorists
Jan 18 2015
MADINA: Prime Minister Nawaz Sharif has said that Peshawar incident is not just a national tragedy but international tragedy adding that action against terrorists and their sympathisers will be taken indiscriminately
Talking to media on his return to the country after conclusion of a two-day private visit to Saudi Arabia, the prime minister said that directives have been given to shut down websites of all banned organisation and those fanning sectarianism.
He said that political and military leadership are united in implementing National Action Plan adding that no one can stay impartial in war against terrorism. The premier said that there was no room for terrorists in Pakistan.
Nawaz offered his respects and salam at Roza-e-Rasool (SAW) in Madina on Friday night.
He offered Isha Praryers and nawafil in Masjid-e-Nabvi and prayed for solidarity and prosperity of Pakistan and the Muslim Ummah. The prime minister performed Umrah at Makkah on Friday.
http://www.dailytimes.com.pk/national/18-Jan-2015/nawaz-sharif-for-indiscriminate-action-against-terrorists
----------
Dec 16 blackest day in Pakistan's history: Altaf Hussain
Jan 18 2015
KARACHI: Founding leader of Muttahida Quami Movement Altaf Hussain demanded immediate arrest of patrons of the murderers of the innocent children of Army Public School Peshawar.
In a statement issued from London Secretariat, MQM chief said the December 16, 2014 was the blackest day in the history of the country. He said the ruthless terrorists killed at least 142 people, including students and teachers.
Hussain said even after a month had passed, no arrest of the patrons and facilitators was made yet. He said the parents of the deceased children were in grave pain and agony. He said it was the government's responsibility to provide justice to the bereaved families.
He demanded Prime Minister Nawaz Sharif, Interior Minister Chaudhry Nisar Ali Khan, Governor Khyber Pakhtunkhwa Sardar Mehtab Abbasi and Chief Minister Pervez Khattak to arrest the facilitators and patrons of the ruthless murderers. He said the patrons of the terrorists should be brought to the justice and affective safety measures should be taken in schools to preempt such incidents.
http://www.dailytimes.com.pk/sindh/17-Jan-2015/dec-16-blackest-day-in-pakistan-s-history-altaf-hussain
----------
All set to introduce Hindu Marriage Bill in Sindh Assembly
Jan 18 2015
KARACHI: All set to introduce much awaited Hindu Marriage Bill in the Sindh Assembly (SA)'s next session starting from January 23 after Supreme Court of Pakistan (SC) directive of a two-week deadline to federal government to finalise the draft of the proposed Hindu marriage registration bill aiming help remove hurdles in registering Hindu community marriages.
We are preparing to present two bills i.e 'Hindu Marriage Bill 2015' and 'Stop Force Conversation Of Religion' bills during upcoming SA session, said Parliamentary leader of Pakistan Muslim League (F) and sole opposition minority member in SA Nand Kumar Goklani while talking to Daily Times.
The apex court on January 13 directed four provinces to solve problems being faced by the minority community. The Court ordered the federal government on January 13 to ensure the draft of the proposed Hindu Marriage Registration Bill was laid before the Cabinet for final approval in two weeks.
Full report at:
http://www.dailytimes.com.pk/sindh/18-Jan-2015/all-set-to-introduce-hindu-marriage-bill-in-sa
---------
India
Hindu boys enrol in madrassa, Muslim boys in RSS-run school
Jan 18, 2015
Breaking stereotypes, 11 Hindu children have enrolled in a madrassa here while as many as 140 Muslim boys have joined an RSS-run school.
According to the principal of Madrassa Jameeatul Ansar, the parents' love for the Urdu language and literature motivated them to put their children in the madrassa.
"The Hindu students and their parents love the Urdu language and poets like Mirza Ghalib, Firaq Gorakhpuri, Jigar Moradabadi and others have a following, cutting across distinctions of community religion. Also, the families are keen that their children learn the traditional etiquette," said Khalid Ansari, principal of the madrassa.
Madrasses have for long been associated with traditional Islamic religious teachings, but now most of them have joined the mainstream education system and are teaching mainstream subjects.
Full report at:
http://www.thehindu.com/news/national/other-states/hindu-boys-enrol-in-madrassa-muslim-boys-in-rssrun-school/article6799210.ece
----------
Arrested ISIS Recruit Introduced To Terror Group by Girlfriend, Nicky Joseph alias Ayesha
Srinath Vudali,TNN | Jan 18, 2015
HYDERABAD: British national Nicky Joseph alias Ayesha may have introduced city techie Salman Mohiuddin to groups sympathetic to the Islamic State of Iraq and Syria (ISIS) as hundreds of her compatriots are in the ranks of the dreaded outfit.
"Mohiuddin developed a channel to join the ISIS and undergo training with the help of Joseph as the latter used his software knowledge in cyber space to further the cause of the extremist group," sources privy to the investigation said.
Mohiuddin was arrested at RGI Airport on Thursday night while he was about to board a Dubai-bound flight. He was allegedly planning to travel to Syria along with Dubai-based Joseph, who happens to be his girlfriend, and join ISIS ranks. After training, he wanted to return to India and carry out the group's activities here, the sources said.
Cyberabad police said that in one of the three Facebook accounts opened by Mohiuddin, which were sympathetic to the ISIS cause, over 180 messages were posted by like-minded persons, most of them suspected to be from India, as the engineering post-graduate took the task of recruiting local youth for the group ever since his return to the city.
Full report at:
http://timesofindia.indiatimes.com/india/Arrested-ISIS-recruit-introduced-to-terror-group-by-girlfriend/articleshow/45927316.cms
----------
J&K: Two Jaish-e-Muhammed militants killed in Sopore encounter
PTI | Jan 18, 2015
SRINAGAR: Two Jaish-e-Muhammed militants were killed in an encounter with security forces in Sopore town of north Kashmir.
Security forces cordoned off Saidpora village in Sopore following information about presence of militants in the area, a police officer said.
He said as the forces closed on the target house, the militants opened fire which was retaliated, triggering off the gunbattle.
Two militants were killed in the encounter.
http://timesofindia.indiatimes.com/india/JK-Two-Jaish-e-Muhammed-militants-killed-in-Sopore-encounter/articleshow/45927865.cms
----------
Kerala ahead in enrolment of Muslim students in schools
Preetu Nair,TNN | Jan 18, 2015
KOCHI: Enrolment of Muslim students in primary and upper primary schools in Kerala has gone up by 23% to 25% in the last eight years. The increase at the national level is just 5%. The same disparity is reflected at the secondary and higher secondary levels.
The Centre began collecting information on enrolment of Muslim children in schools in 2006-07. The number of Muslim students in primary classes (I to IV) in Kerala was 1.6 lakh or 10% of the total number of students in this segment then. The national average then was 9%.
In 2013-14, 6.89 lakh students enrolled in classes I to IV in the state are Muslim, that is, almost 35% of the total. The national average is 14%.
These stats are based on Elementary Education in India: Trends (2005-06 to 2013-14) released by National University of Educational Planning & Administration (NUEPA) this month. The report was prepared by analyzing data collected for District Information System for Education (DISE) from 2005 to date.
Full report at:
http://timesofindia.indiatimes.com/india/Kerala-ahead-in-enrolment-of-Muslim-students-in-schools/articleshow/45927066.cms
-------
South Asia
Helmand suicide attack left 4 killed, 10 injured
Jan 18 2015
A suicide Attack targeting a convoy of Afghan security forces in southern Helmand province has left four killed and 10 injured behind.
Pacha Gul Bakhtyari, security officer of Helmand province told Khaama Press that a suicide attacker targeted convoy of Afghan National Civil Order Police (ANCOP) in Dorahi area of the city of Lashkargah around 02:00PM Sunday.
He said four policemen embraced martyrdom and ten others wounded in the attack.
He added that the wounded policemen have been transferred to hospital where three of them were announced in critical condition.
This was the 2nd suicide attack in the country today.
The 1st one also took place in the country's southern part of Kandahar.
The target of the suicide attacker was Haji Sayed Khan Khakrezi, chairman of the provincial council of Kandahar but he escaped unhurt.
Except the suicide attacker there was no death in the attack but a child who was at the site of the explosion wounded.
http://www.khaama.com/suicide-attack-reported-in-helmand-killing-at-least-4-people-more-soon-28026
----------
Death Sentence announced to the killer of foreign aid workers in Herat
Jan 18 2015
A court has announced death sentence to the alleged killer of two foreign aid workers in Herat province.
According to Herat officials, Farhad who received death sentence yesterday was involved in about 40 terrorist attacks including the killing of two foreign aid workers, Local elders, Afghan National Police and Afghan National Army soldiers.
Court ordered imprisonment to two other persons in charges of assisting the killer.
One was announced five years and another was announced 2 years and six months imprisonment.
The crime of killing aid workers took place in July last year.
Gunmen riding on a motorbike opened fire at a Taxi in which two Finnish female aid workers were traveling killing both of them on the spot.
The deceased were employees of a christian aid charity International Assistance Mission (AIM).
IAM has been operating in Afghanistan since 1966.
The organization was in the past blamed by Taliban for preaching Christianity but IAM has rejected the claim.
http://www.khaama.com/death-sentence-announced-to-the-killer-of-foreign-aid-workers-in-herat-28025
----------
Viber, Tango blocked in Bangladesh
Jan 18 2015
The government has blocked popular internet calling and messaging services Viber and Tango on security grounds.
Bangladesh Telecommunication Regulatory Commission (BTRC) has sent letters to the mobile phone operators and international internet gateway operators regarding the closure.
BTRC Secretary Sarowar Alam confirmed this to the Dhaka Tribune.
The notice was also sent to several embassies in Dhaka informing that the service will be inactive from 12am, Sunday to 6pm.
Later, the duration of the closure was extended till 12am on Monday.
http://www.dhakatribune.com/bangladesh/2015/jan/18/govt-shuts-down-viber#sthash.pjQFwfZB.dpuf
----------
PM Sheikh Hasina: No delay to arrest arsonists
Jan 18 2015
Prime Minister Sheikh Hasina has directed the inspector general of police (IGP) and Dhaka Metropolitan Police (DMP) commissioner to arrest bomb exploders and arsonists swiftly.
The premier gave the order while visiting police constable Shamim Mia who is undergoing treatment in the Intensive Care Unit (ICU) of Square Hospitals in the capital on Sunday noon.
During the visit, Hasina enquired about the health of Shamim and asked the authorities concerned to provide better treatment to him.
Shamim was injured critically when miscreants hurled crude bombs at a police van in front of Matsya Bhaban at Ramna in the capital Saturday night. Four other policemen were also wounded in the incident.
Shamim was first admitted to the ICU of Dhaka Medical College Hospital (DMCH) with splinter injuries on his head and other parts of the body and later was shifted to Square Hospitals.
Later, Sheikh Hasina visited Dr Shahnaz, daughter of former chief of Army Staff General Mustafizur Rahman, at the same hospital.
IGP AKM Shahidul Haque and DMP Commissioner Asaduzzaman Mia were present on the occasion.
http://www.dhakatribune.com/bangladesh/2015/jan/18/pm-no-delay-arrest-arsonists#sthash.sIvHoyai.dpuf
----------
Bangladesh Minister: Terrorist acts are being carried out in the name of blockade
Jan 18 2015
Civil Aviation Minister Rashed Khan Menon yesterday said the BNP-led alliance was carrying out terrorist activities in the name of blockade in the country.
The blockade, which was called by the BNP-led allinace, was only observed in their statements, he said.
He was speaking at a memorial meeting of Comrade Amal Sen at Bakri villahe under Bagharpara upazila in Jessore.
About the dialogue with the BNP-led alliance, he said: "They want the dialogue and so do we to resolve the problem.
"But they want the dialogue with conditions and with a mind of conspiracy against the country and its democracy and so we do not think such dialogue can be meaningful," he said.
He criticised the government for "creating disparity in the new pay scale."
"The employees had demanded that their pay scale be made 1:5 while the government did it it 1:10 [8000:80000]."
MPs Fazle Hossain Badsha, Mustofa Lutfullah and Sheikh Hafizur Rahman also spoke at the meeting, with Workers' Party President Iqbal Kabir Jahid in the chair.
http://www.dhakatribune.com/politics/2015/jan/18/menon-terrorist-acts-are-being-carried-out-name-blockade#sthash.GoA1XYJD.dpuf
--------
Mideast
Israel cracks first local Islamic State cell
Jan 18 2015
Israel said today it had cracked the first Islamic State cell on its soil, made up of seven Arab citizens who would be prosecuted on charges of planning attacks in the Jewish state and communicating with the insurgent group in Syria.
The defendants, including a lawyer who was representing himself in court, denied the charges of belonging to an illegal group, aiding terrorism and contacting foreign agents, a Justice Ministry spokesman said after a gag order on the case was eased.
Though members of Israel's 20% Arab minority rarely turn to armed violence, many chafe at state authority and security officials worry about Islamist doctrines taking root.
Dozens of Israeli Arabs and Palestinians have travelled to Syria and Iraq to join insurgent groups. Israel's Shin Bet domestic intelligence agency said on January 4 it had broken up a cell in the occupied West Bank linked to Islamic State.
The seven Israeli Arab suspects, aged 22 to 40 and all from the northern Galilee region, were arrested in November and December and told investigators they had undergone radical Islamist studies and prepared weapons and funding for attacks, the Shin Bet said in a statement.
Full report at:
http://www.themalaysianinsider.com/world/article/israel-cracks-first-local-islamic-state-cell#sthash.P1u5pWAn.dpuf
----------
Iran bans newspaper over article on Charlie Hebdo
Jan 18 2015
TEHRAN: Iran's judicial authorities have banned a newspaper for publishing a front-page headline allegedly indicating support for French satirical weekly Charlie Hebdo.
Mohammad Ghoochani, chief editor of the daily Mardom-e-Emrooz, or Today's People, is quoted by the semi-official Tasnim news agency as saying his paper has been ordered closed for publishing a front-page story on the French magazine controversy.
The article's headline on Tuesday quoted filmmaker and activist George Clooney as saying "I am Charlie Hebdo".
Iran has condemned both the magazine's publication of caricatures of the Prophet Muhammad (Peace Be Upon Him) and the deadly assault on the magazine's Paris office by extremists who killed 12 people.
http://www.dawn.com/news/1157634/iran-bans-newspaper-over-article-on-charlie-hebdo
----------
Israel lobbies foreign powers to cut ICC funding
Jan 18 2015
Israel is lobbying member-states of the International Criminal Court to cut funding for the tribunal in response to its launch of an inquiry into possible war crimes in the Palestinian territories, officials said on Jan. 18.
ICC prosecutors said on Friday they would examine "in full independence and impartiality" crimes that may have occurred since June 13 last year. This allows the court to delve into the war between Israel and Hamas militants in Gaza in July-August 2014 that killed more than 2,100 Palestinians and 70 Israelis.
The decision came after Palestinian President Mahmoud Abbas, in the absence of peace talks and against strong opposition from Israel and the United States, requested ICC membership, which comes into effect on April 1.
Full report at:
http://www.hurriyetdailynews.com/israel-lobbies-foreign-powers-to-cut-icc-funding.aspx?pageID=238&nID=77083&NewsCatID=352
----------
Nuclear talks will succeed only if pressure on Iran stops: Tehran
Jan 18 2015
A complex deal on Iran's nuclear programme can be reached only if global powers stop pressuring Tehran, Foreign Minister Mohammad Javad Zarif warned Jan. 17 evening.
"If the Western countries want to negotiate with the Islamic Republic of Iran, they must make a political decision, which for some could be difficult, and stop with the pressure," Zarif told Iranian state television.
His comment came as Iran's deputy foreign minister Abbas Araghchi prepared for talks in Geneva Sunday with the so-called P5+1 group of global powers towards a comprehensive deal which would rein in Tehran's nuclear programme in exchange for relief from a tight network of sanctions.
Following an interim accord in November 2013, two deadlines for a final deal have been missed, and now a third one is looming on July 1.
Full report at:
http://www.hurriyetdailynews.com/nuclear-talks-will-succeed-only-if-pressure-on-iran-stops-tehran-.aspx?pageID=238&nID=77089&NewsCatID=359
----------
Istanbul police alarmed over three bombs across city
Jan 18 2015
The morning of Jan. 18 began with bomb denunciations for police and locals at three separate locations in Istanbul.
A cardboard box left on an Atatürk statue in the Maltepe district on the Asian side of the city was discovered, and security teams and a bomb squad were immediately dispatched to the scene after citizens called police. There was reportedly writing on the box saying those responsible for the Cizre incidents would be held accountable.
After the bomb squad defused the suspicious box amid high-security measures, police determined the device was a handmade pressure-induced grenade made from lighter fluid cylinders and containing fuel. The bomb pieces were taken by police for further investigation.
Another bomb exploded near an electric distribution unit on Millet Avenue in the Fatih district. No casualties were reported and police have launched an investigation into the incident.
Full report at:
http://www.hurriyetdailynews.com/istanbul-police-alarmed-over-three-bombs-across-city.aspx?pageID=238&nID=77090&NewsCatID=341
----------
Palestinians throw eggs at Canadian FM for pro-Israel stand
18 January 2015
RAMALLAH, West Bank: Palestinian protesters heckled and threw eggs at Canadian Foreign Minister John Baird during a visit to the occupied West Bank on Sunday, denouncing Ottawa's diplomatic support for Israel.
Baird was not hit, but one of the eggs smacked onto the roof of his car after a meeting with his Palestinian counterpart at the Foreign Ministry in Ramallah.
Several dozen Palestinian special forces armed with machine guns and riot gear made no effort to confront the egg-throwers among a crowd of about 100 protesters.
"You're not welcome," the demonstrators shouted at Baird.
Canada was among a handful of countries that voted against Palestinians' successful bid to become a non-member state at the United Nations General Assembly in 2012. This month, Baird called a Palestinian move to join the International Criminal Court "concerning and dangerous."
Full report at:
http://www.arabnews.com/featured/news/691281
----------
North America
Muslim man detained in US without charge to get compensation
Jan 18 2015
NEW YORK: An American Muslim man held two weeks without charge after the Sept 11, 2001, attacks will get $385,000 as compensation from the US government, it was announced on Friday by the American Civil Liberties Union (ACLU).
Abdullah al Kidd was detained in 2003 as a "material witness", a formulation widely used in the US after the New York attacks to ensure suspects were available to testify in terrorism cases.
Al Kidd was held in solitary confinement for two weeks. He said he suffered daily strip searches and was detained under harsh conditions including 24-hour illumination of his cell, a press release by ACLU said.
He was then placed on probation for 15 months.
Kidd was never charged and was never called to testify at the trial of a student accused of visa fraud for which he was arrested. The student's trial resulted in a verdict of not guilty.
Under the settlement, the US government offered its "regrets" and agreed to compensate Kidd, an American convert to Islam, the American Civil Liberties Union (ACLU) said in New York.
http://www.dawn.com/news/1157717/muslim-man-detained-in-us-without-charge-to-get-compensation
----------
Anti-Islamic US pastor opens Florida french-fry stand
18 January 2015
An anti-Islamic American pastor who features on the same Al-Qaeda hit list as the slain editor-in-chief of the Charlie Hebdo satirical magazine has opened a french-fry stand in a Florida mall.
Terry Jones, 63, garnered international attention and hundreds of death threats following his 2013 arrest for planning to burn copies of the Koran on the anniversary of the September 11, 2001 attacks.
That and the actual burning of a copy of the Islamic holy book in 2011, which sparked deadly riots in Afghanistan, earned Jones a No. 2 spot on an Al-Qaeda hit list.
The same list features Stephane Charbonnier, the editor-in-chief of Charlie Hebdo who was slain as two Islamist gunmen stormed the publication's Paris office on January 7 and massacred 12 people.
Full report at:
http://english.ahram.org.eg/NewsContent/2/9/120599/World/International/AntiIslamic-US-pastor-opens-Florida-frenchfry-stan.aspx
----------
Vigils in US remember victims of Peshawar attack
Jan 18 2015
WASHINGTON / NEW YORK: "Never again, not in our name," was the message thousands of Pakistanis and their supporters in the US and Canada sent on Friday night to the terrorists who killed at least 132 children and nine staff members at Peshawar's Army Public School on Dec 16.
In the US capital, and in more than a dozen other cities in the United States and Canada, people braved freezing cold and chilly winds to attend the vigils, held exactly one month after the massacre.
Two slogans — "Pakistan zindabad" and "Taliban murdabad" — were chanted again and again as participants urged authorities to catch those responsible for the attack.
"Dec 16, 2014 is Pakistan's 9/11. We can never forget what happened in Peshawar," said acting ambassador Asad Majeed Khan, who visited site of the vigil in Washington to express solidarity with those in mourning.
Full report at:
http://www.dawn.com/news/1157755/vigils-in-us-remember-victims-of-peshawar-attack
----------
US urges Islamabad, Kabul to help each other seize terrorists
Jan 18 2015
WASHINGTON: The US has urged Pakistan and Afghanistan to work with each other to bring terrorists to justice.
The statement came on Saturday after news reports said the Afghan authorities had arrested five men for their involvement in the Dec 16 attack on a school in Peshawar, claimed by the Tehreek-i-Taliban Pakistan (TTP).
"We want to see these kinds of people who have plotted and planned terrorist attacks brought to justice and held accountable," US State Department's deputy spokesperson Marie Harf told reporters in Washington.
"How that happens, we'll see. But certainly, we believe it's important."
According to a report by the Associated Press news agency, Afghan officials said the arrested men had helped the TTP carry out the attack and were arrested recently near Afghanistan's border with Pakistan.
Full report at:
http://www.dawn.com/news/1157752/us-urges-islamabad-kabul-to-help-each-other-seize-terrorists
----------
Southeast Asia
I will fight Islamic authorities till the end, vows Kassim Ahmad
Jan 18 2015
Hounded by Islamic authorities and taken to court for having different religious views, Muslim scholar and activist Dr Kassim Ahmad, who is facing charges for allegedly insulting Islam, has vowed to fight to the end.
The 82-year-old Malay scholar's slight, frail frame belies a tenacity to stand up for his views and beliefs. He believes that God willing, he will be the victor in court.
"I am an incorrigible optimist. I am a fighter. I won't give up. You fight, you lose. You fight again and you lose again. Then you will win... like a child learning to walk has to fall down and get up again," he told The Malaysian Insider recently at his home in Kulim.
He said his age was not an obstacle for him to continue his legal battle although going to court in Kuala Lumpur was tiring.
On January 6, Kassim lost his first appeal to challenge the Federal Territory Islamic Religious Department (Jawi) that charged him with insulting Islam.
The Kuala Lumpur High Court ruled that his case fell under the Shariah Court, dismissing his judicial review application to challenge his arrest and prosecution in the Shariah Court for allegedly insulting Islam and disobeying the religious authorities over his participation at a seminar.
Full report at:
http://www.themalaysianinsider.com/malaysia/article/i-will-fight-islamic-authorities-till-the-end-vows-kassim-ahmad#sthash.Wsgdp4OK.dpuf
----------
Asian skinheads send anti-racism message at KL gigs
Jan 18 2015
Asian "skinheads" converged in Kuala Lumpur over the weekend for two days of full-throated live music performances – but with a message far different from that often associated with their Western cousins.
Sporting shaven heads, tattoo-covered torsos and leather boots, the roughly 200 skinheads from Japan, Thailand and Malaysia gathered to spread their anti-racism, anti-drugs credo.
The event was organised by the Malaysian chapter of SHARP – Skinheads Against Racial Prejudice – a group that first emerged in the United States in the 1980s.
Bob Panjang, one of the SHARP organisers, said it was the first time such a gathering had been held in Muslim-majority Malaysia.
"We are not the Nazi skinhead groups that are racists. We don't promote Malay power in Malaysia," he said, referring to the country's ethnic majority group.
"We promote the spirit of brotherhood. We oppose racism and we have Chinese and Indians in our group."
Full report at:
http://www.themalaysianinsider.com/malaysia/article/oi-malaysia-asian-skinheads-gather-in-anti-racism-event#sthash.l0QnqWV4.dpuf
----------
Brazil, Netherlands Recall Indonesia Ambassadors After Executions
Jan 18 2015
Jakarta. Brazil and the Netherlands recalled their ambassadors in Indonesia after the Southeast Asian nation ignored their pleas for clemency and executed six prisoners for drug offences on Sunday, the first executions under President Joko Widodo.
The five foreigners and one Indonesian were killed by firing squad shortly after midnight, the Attorney General's Office said. The foreigners were from Nigeria, Malawi, Vietnam, the Netherlands and Brazil.
Brazil recalled its ambassador in Jakarta for consultations and said the executions would affect bilateral relations.
"The use of the death penalty, which the world society increasingly condemns, affects severely the relationship of our countries," the presidency said in a statement published by Brazil's official news agency.
The Netherlands, a former colonial power in Indonesia, also recalled its ambassador and condemned the execution of its citizen, Ang Kiem Soei.
Full report at:
http://thejakartaglobe.beritasatu.com/news/brazil-netherlands-recall-indonesia-ambassadors-executions/
----------
URL: https://www.newageislam.com/islamic-world-news/new-age-islam-news-bureau/icondemn--satirical-app-helps-muslims--condemn--extremism/d/101091