New Age Islam News Bureau
28 August 2020
Myanmar Muslim May Thandar Maung says she hasn't been able to get an ID card because of her religion and so is unable to vote in the upcoming election
-----
• Israeli Court Rules for Removal of Settler Homes from Palestinian Land
• Australia PM Open to Talks to Repatriate New Zealand Mosque Gunman
• Even Buddhism, Christianity, Hinduism Prohibit Alcohol, PAS MP Says
• Tablighi Jamaat: MEA Says 1,095 Look Out Circulars Deleted; 630 Foreign Members Left India
• Feds: NYPD Ambush Suspect Had Interest In Islamic Extremism
• After Talks with Arab Officials, US Position 'Has Not Changed' On Jerusalem: Official
• Imran Invites Afghan Peace Chief Dr Abdullah Abdullah To Discuss Ways for Clearing the Path to Intra-Afghan Dialogue
South Asia
• I Want to Vote - Myanmar's Muslims and Hindus Side-lined in Election
• More Than 100K Rohingya Children Born in Squalid Camps in Bangladesh, Myanmar
• Intra-Afghan Talks to Begin Next Week: Abdullah
• Taliban kill four civilians during clashes with Afghan forces
--------
Mideast
• Israeli Court Rules for Removal of Settler Homes from Palestinian Land
• Al-Quds Mufti quits UAE forum over endorsement of Israel normalization
• Iran Calls for UN's Immediate Measures to Help Save Yemeni Civilians
• Iran Exports Nearly 50 Percent of Non-Oil Goods to Neighbouring States
• Rouhani Voices Iran's Readiness to Continue Cooperation with IAEA
• IAEA Granted Access to Two Sites, Says Has No More Demands to Visit Undeclared Iranian Centres
• Turkey not the cause of instability in eastern Mediterranean, Erdogan tells Trump
• Arab Coalition intercepts Houthi ballistic missile targeting Saudi Arabia's Najran
• Israel demolishes Palestinian village in Negev desert for 177th time
• Israel establishing intelligence bases on Yemeni island in cooperation with UAE: Report
--------
New Zealand and Australia
• Australia PM Open to Talks to Repatriate New Zealand Mosque Gunman
• 'Wicked' New Zealand mosque gunman sentenced to life without parole
• Sydney judge orders restrictions on extremist's movements
--------
Southeast Asia
• Even Buddhism, Christianity, Hinduism Prohibit Alcohol, PAS MP Says
• Muslims encouraged to have Islamic calendar - Zulkifli
• Malaysia-Philippine Frontier: Sabah Tightens Borders After Terror Attack in Jolo
• Court orders trial judge to determine religious status of 39 Ahmadiyya followers
--------
India
• Tablighi Jamaat: MEA Says 1,095 Look Out Circulars Deleted; 630 Foreign Members Left India
• Punish Mumbai And Pulwama Plotters, Shared Enough Proof: India To Pak
• Pulwama case: India to cite money trail to Pak banks at FATF
• BJP MP, Harnath Singh Yadav, Wants Islamic Studies Off UPSC List
• Cannot Discriminate Against Shia Muslims: Bombay High Court Directs State to Allow Muharram Rituals
• Security Tightened in Srinagar To Stop Muharram Procession Amid Covid Pandemic
• Delhi 2020 religious' riots: Amnesty International accuses police of rights abuses
• 'Dragon's favourite': Hindu groups target Bollywood's Aamir Khan
--------
North America
• Feds: NYPD Ambush Suspect Had Interest In Islamic Extremism
• Trump's Iran policy makes United States more isolated: Harris
• Convicted Terrorist Arrested in California on Meth Charges
--------
Arab world
• After Talks with Arab Officials, US Position 'Has Not Changed' On Jerusalem: Official
• Deadly Sectarian Clashes Near Beirut Between Hezbollah Supporters, Local Clan
• Lebanese presidency to consult with Parliament on Monday to designate new PM
• Coronavirus: Syria cases likely 'far exceed official figures' says UN
• Lebanese army's neutrality, legitimacy put to the test amid clashes with protesters
• Nearly two dozen Saudi troops enter US base in northeastern Syria: Report
• Arab parliamentary union slams incessant attacks by Turkish forces, militants on Syrian civilians
• Iraqi President Salih calls on Turkey to stop cross-border incursions, respect sovereignty
--------
Pakistan
• Imran Invites Afghan Peace Chief Dr Abdullah Abdullah To Discuss Ways for Clearing the Path to Intra-Afghan Dialogue
• Allowing Nawaz to leave was a 'mistake', says PM Imran
• Rehbar committee meeting after Ashura: Fazl
--------
Africa
• Boko Haram Massacres 75 People in Nigeria: Report
• US Says Airstrike Kills 6 Al-Shabaab in Somalia after Ambush
• Congo army says Islamist militia kills 20 in east
• EU freezes Mali training missions after coup
• Sudan PM to Pompeo: Govt. has no mandate to normalize with Israel
--------
Europe
• Turkey's Erdogan Warns Greece Against Taking 'Path to Ruin'
• French minister heads to Iraq amid ISIS resurgence
• Greece says ready for conditional de-escalation with Turkey in Mediterranean
• France's Macron to head to Beirut to pressure Lebanese political elite
Compiled by New Age Islam News Bureau
URL: https://www.newageislam.com/islamic-world-news/i-want-vote-myanmars-muslims/d/122740
--------
I Want to Vote - Myanmar's Muslims and Hindus Side-lined in Election
August 28, 2020
Myanmar Muslim May Thandar Maung says she hasn't been able to get an ID card because of her religion and so is unable to vote in the upcoming election
-----
MEIKTILA: One of Myanmar's five million young adults, May Thandar Maung had been excited to cast her ballot for the very first time in November's election.
But the 18-year-old is Muslim and says that means she will remain voiceless.
"My religion means I haven't been able to get an ID card," she tells AFP in her hometown of Meiktila in central Myanmar – and no ID means no vote.
She describes how local officials have obstructed her attempts for over a year, while Buddhist peers faced no such delays, in a town where memories of brutal inter-communal violence in 2013 are still raw.
The majority-Buddhist nation is widely expected to return Aung San Suu Kyi's National League for Democracy (NLD) party to power on Nov 8 in the second polls since Myanmar emerged from outright military rule in 2011.
The country's Rohingya Muslims – whether in Bangladeshi refugee shelters or confined to camps and villages in Myanmar – will nearly all be completely disenfranchised.
But Myanmar also has many more Muslims of other ethnic heritage – about 4% of the population –whom the country, in theory, accepts as citizens.
In practice, however, it can be very different.
Muslims complained to AFP of systemic corruption, detailing how they are forced to pay backhanders of hundreds of dollars – exorbitant rates in a country where a quarter of the population lives in poverty.
Three members of Maung Cho's family had to pay US$370 each, the 53-year-old says, many times higher than the token sums of 'tea money' demanded of Buddhists.
Mixed bloods
Their experiences are echoed by Muslims across the country, says Yangon-based analyst David Mathieson.
"Anti-Muslim sentiment is ever-present with discrimination in schools, the workplace and access to government jobs," he says.
Challenges continue even for those who obtain an ID in a country where these cards state the holder's ethnicity.
Many Muslims say false ethnic identities, usually from South Asia, are increasingly being foisted on the community.
Maung Cho's family has lived in Myanmar for generations, yet when his renewed ID card came back, it labelled him as "Indian-Muslim".
"It must have been my beard," he tells AFP, ruefully.
Like other so-called "mixed bloods", he now faces extra scrutiny at every ID check and must even stand in a separate queue at immigration offices.
Myanmar Hindus – who number about 250,000 – are also often branded as "mixed bloods" and face similar problems.
Yangon-based Tun Min, 28, tells AFP it took him 10 years to get an ID card.
Last week he chose to speak out, posting a video on Facebook explaining the discrimination his community faces.
"I drove a taxi for eight years but only used to work at night because I couldn't apply for a licence without an ID card."
The 'B' word
The least desirable label, however, is "Bengali", a pejorative term normally used to refer to the persecuted Rohingya.
Myanmar faces charges of genocide at the UN's top court after the military drove out about 750,000 Rohingya in a supposed crackdown on militants in 2017.
Many of the 600,000 who remain in Myanmar live in what Amnesty International calls "apartheid" conditions, refused citizenship and deprived of rights.
Mathieson says there have been numerous reports in recent years of other Muslims across Myanmar also being coerced into adopting "Bengali" as an identity.
He blames "racist and discriminatory" bureaucratic procedures rather than an official policy but warns the government has not tried to stamp the practice out.
The NLD has "more important agendas than pursuing a reverse engineering of a racist system many of their supporters are comfortable with".
An immigration department official, asking not to be named, refuted allegations of corruption and discrimination, insisting ID cards were granted in accordance with the law.
Progress?
But Maung Cho says he thinks racism against Muslims is worse now than under the military junta, describing his community as "disappointed and depressed".
Many people he knows feel so disillusioned they plan not to vote in the upcoming election.
A campaign to boycott the vote is gathering pace.
Former student leader and political prisoner Sithu Maung is one of just two Muslims out of 1,143 NLD candidates. In 2015, the party fielded no Muslim candidates at all.
He says he understands his community's disappointment but denies times are worse than under the military.
"They should be optimistic about the future. The NLD has only had five years in power."
But optimism is in short supply among young people like May Thandar Maung.
"Even though I was born here, I can't vote and that's discrimination," she says.
https://www.freemalaysiatoday.com/category/world/2020/08/28/i-want-to-vote-myanmars-muslims-hindus-sidelined-in-election/
--------
Israeli Court Rules for Removal of Settler Homes from Palestinian Land
27 August 2020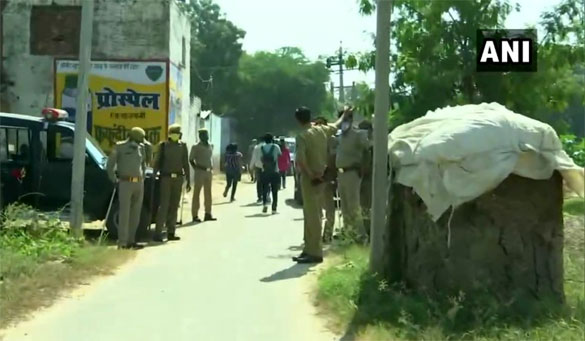 A picture shows the Israeli settlements of Mitzpe Kramim (R) and Kokhav HaShahar (l) in the occupied West Bank on June 18, 2020. (AFP)
------
Israel's Supreme Court ruled on Thursday that a cluster of homes in an Israeli settlement outpost in the occupied West Bank was built on privately owned Palestinian land and must therefore be removed.
Accepting a petition by Palestinian plaintiffs, Israel's top court overturned a 2018 District Court ruling which had broken judicial ground by recognizing the Mitzpe Kramim settlers' claim to the land, despite it being owned by Palestinians.
The District Court had declared the settlers the legal owners, finding that Israeli authorities were unaware the land was privately owned when they originally mapped out the area.
That ruling was based on an Israeli law which states that transactions with legal faults could be valid if they were conducted in "good faith."
Established 20 years ago on a hilltop overlooking the Jordan Valley, Mitzpe Kramim is home to about 40 families, most of whom live on Palestinian-owned plots and say they received Israeli authorities' approval to set up there.
But the Supreme Court said that the Israeli authorities had not acted in good faith by "turning a blind eye to the many warning signs given over many years," which showed the plots were actually owned by Palestinians.
Placing most of the responsibility for what it called "the painful outcome for Mitzpe Kramim's residents" on the state, the court gave authorities 36 months to find alternative housing for them.
Most countries consider the settlements built on land Israel captured in the 1967 Middle East war as illegal.
Israel and the US dispute this. The Palestinians want the West Bank as part of a future state.
About 450,000 Israeli settlers live in the territory among some three million Palestinians. Israeli Prime Minister Benjamin Netanyahu's plan to annex parts of the West Bank was shelved this month in a diplomatic deal with the United Arab Emirates.
https://english.alarabiya.net/en/News/middle-east/2020/08/27/Israeli-court-rules-for-removal-of-settler-homes-from-Palestinian-land.html
--------
Australia PM Open To Talks To Repatriate New Zealand Mosque Gunman
August 28, 2020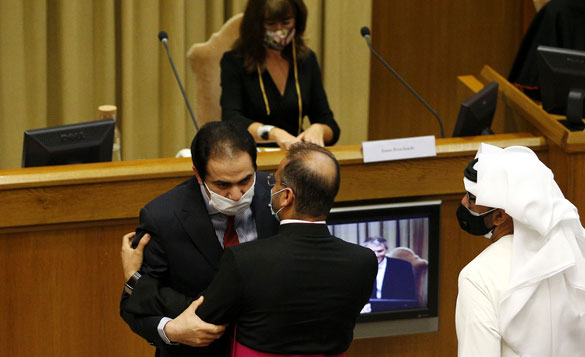 Police snipers keep watch from the High Court building's roof on the last day of the sentencing hearing for Brenton Tarrant. (Photo: AFP/Sanka Vidanagama)
------
Canberra is open to the idea of New Zealand sending the Australian-born gunman behind the Christchurch mosque massacre back home to serve his life sentence, Prime Minister Scott Morrison said Friday.
White supremacist Brenton Tarrant was sentenced to life without parole on Thursday for the attacks on two mosques last year that killed 51 Muslim worshippers. Soon after the punishment was handed down, New Zealand Deputy Prime Minister Winston Peters said Tarrant, 29, should be transferred to the Australian prison system.
"The Islamic community and all of New Zealand has already suffered enough without having to pay astronomical prison costs to keep him safe in our prison system," Peters said.
Australia's Morrison said he had received no request to transfer Tarrant but he was prepared to talk about the prospect with his New Zealand counterpart Jacinda Ardern.
"Whether he is held in Australia or New Zealand, look we're open to that discussion," he told Seven News television.
"That obviously has a lot of implications, these sorts of decisions. The prime minister of New Zealand and I will talk about those issues."
He said the wishes of survivors and bereaved family members would be paramount in any decision on Tarrant's future.
"Most of all we are concerned about what the views of the families would be for those affected and we want to do the right thing by them," he said.
Tarrant, a former gym instructor from the rural New South Wales town of Grafton, moved to New Zealand in 2017 and immediately started planning an attack on the country's Muslim community.
Government documents show it is costing around NZ$4,900 (US$3,240) per day to keep Tarrant behind bars, compared to NZ$302 for a regular prisoner.
The documents say he is "likely to have needs and present risk at a level of severity beyond any" managed in New Zealand before.
Tarrant has already caused issues for prison authorities, when a letter he wrote from jail was posted on the extremist website 4Chan in August last year.
In it, Tarrant praised British fascist Oswald Mosley and warned "there is a great conflict on the horizon".
The Corrections Department apologised and promised it would not happen again.
Lawyers at Tarrant's sentencing this week revealed that in a pre-sentencing interview in April he said he had renounced his racist views and felt remorse for the attacks.
But judge Cameron Mander on Thursday rejected the gesture as "uncorroborated, self-serving and a relatively recent phenomenon", before imposing life without parole, an unprecedented sentence in New Zealand.
Tarrant is likely to be kept in isolation for his own safety at New Zealand's only maximum-security prison in Auckland, where 80 percent of inmates are Maori or Pacific islanders.
https://www.indiatoday.in/world/story/australia-pm-open-talks-repatriate-new-zealand-mosque-gunman-1716029-2020-08-28
--------
Even Buddhism, Christianity, Hinduism prohibit alcohol, PAS MP says
Minderjeet Kaur
August 26, 2020
KUALA LUMPUR: A PAS MP today said all religions do not allow their followers to consume alcohol, sparking a brief tiff with a DAP MP.
Nik Muhammad Zawawi Salleh (PAS-Pasir Puteh) said Islam did not stop others from selling alcohol but other religions such as Buddhism and Hinduism did not allow adherents to consume alcohol.
But Ngeh Koo Ham (PH-Beruas) asked Zawawi to correct his facts as other religions, such as Christianity, allowed people to taste alcohol but not to get drunk.
"During Jesus' last supper, they had wine," said Ngeh.
However, Zawawi told Ngeh to check his facts, including about Christianity "before the Bible was amended", as even a bit of liquor was not allowed.
Ngeh retorted by telling Zawawi to ask other religious experts first, prompting the PAS MP to say he had read about Christianity written by Christians.
"It was not written by Muslims. I read from the source," he said, adding that he was not putting any religion down as all religions did not allow their devotees to drink liquor.
While debating the Road Transport (Amendment) Bill 2020, he also urged the government to monitor the sale of liquor at "wild entertainment outlets".
He said entertainment was allowed but if it went overboard then it might cause more problems, including drink driving.
He urged the authorities to test patrons before they left such outlets to prevent accidents.
https://www.freemalaysiatoday.com/category/nation/2020/08/26/even-buddhism-christianity-hinduism-prohibit-alcohol-pas-mps-says/
--------
Tablighi Jamaat: MEA says 1,095 look out circulars deleted, 630 foreign members left India
Aug 28, 2020
NEW DELHI: As many as 1,095 look out circulars have been deleted and 630 foreign members of the Tablighi Jamaat have left India, the Ministry of External Affairs said on Thursday.
On the issue of foreign Tablighi Jamaat members stuck in India for violating visa rules and pandemic restrictions, MEA Spokesperson Anurag Srivastava said the ministry has been actively facilitating their consular access, deletion of LOCs and smooth repatriation to their respective countries.
"We have kept the respective foreign embassies informed through the entire process," he said.
"As of August 24, 1,095 look out circulars (LOCs) were deleted and 630 foreign members of the Tablighi Jamaat have left India," he said at an online media briefing.
These members of the Tablighi Jamaat were charged under the Foreigners Act for indulging in activities that were incompatible with their visa status, he said.
Therefore, for such activities, appropriate category of visa has to be sought, Srivastava said.
To a separate question on whether External Affairs Minister S Jaishankar will participate in the Shanghai Cooperation Organization (SCO) foreign ministers' meeting next month, Srivastava said the minister has received an invitation for the meeting to be held in Moscow and a decision on his participation would be made known once it is taken.
On whether the Kerala government had sought MEA's approval for signing an MoU with the UAE Red Crescent Authority - an NGO -- for a project, Srivastava said no such approval had been taken.
https://timesofindia.indiatimes.com/india/tablighi-jamaat-mea-says-1095-look-out-circulars-deleted-630-foreign-members-left-india/articleshow/77795828.cms
--------
Feds: NYPD ambush suspect had interest in Islamic extremism
By Michael R. Sisak
August 27, 2020
NEW YORK — A man who ambushed a New York City police officer in June — stabbing him in the neck and stealing his gun to shoot other officers — had an interest in violent Islamic extremism and punctuated the attack with screams of "Allahu Akbar," prosecutors alleged in court papers filed with his indictment Thursday on state and federal charges.
Days later, according to prosecutors, suspect Dzenan Camovic told a hospital worker: "My religion made me do it."
Camovic, a 21-year-old Bosnian immigrant living illegally in the U.S., faces state charges including attempted aggravated murder and federal charges including theft and unlawful possession of a firearm. Camovic's lawyer said arraignments could be scheduled within a few weeks.
The attack happened amid protests over the Minneapolis police killing of George Floyd, leading to speculation among police and union officials that he had been inspired by anti-police rhetoric. Officer Yayonfrant Jean Pierre and the other wounded officers survived their injuries.
Camovic's lawyer, Robert Stahl, refuted the government's assertion that his client showed support for the Islamic State or other terrorist groups. Camovic "is a troubled young man in a number of respects, as opposed to having any terrorist or Islamic leanings," Stahl said in a telephone interview.
Federal prosecutors and the Brooklyn district attorney's office announced the indictments within minutes of each other Thursday, just as the police department was releasing surveillance and body camera footage that captured the chaotic scene just before midnight on June 3.
The video, some of which was previously made public, shows Camovic walking up and stabbing Jean Pierre in the neck as the officer stood on a street corner while assigned to an anti-looting patrol.
The bloodshed happened hours after an 8 p.m. curfew that was intended to quell the at-times violent protests. Federal prosecutors said Camovic cased the area first, walking past the area and crouching nearby for several minutes before attacking.
After the stabbing, Camovic is seen chasing another officer, Randy Ramnarine, before rushing back toward Jean Pierre. Ramnarine fired two shots at Camovic and Jean Pierre fired six times. Camovic then wrestled Jean Pierre's gun away from him and fired six shots — wounding Ramnarine and another officer in the hand. Ramnarine and a responding sergeant returned fire.
Camovic was hospitalized with gunshot wounds to the face, legs and torso before being moved to the city's Rikers Island jail complex. His injuries, including a shattered wrist and elbow, have required several surgeries and he is still receiving physical therapy, Stahl said. Last month, a judge ordered Camovic to undergo a psychiatric evaluation.
While recovering days after the attack, federal prosecutors said, Camovic mistakenly told a worker at Kings County Hospital that he had killed two police officers and explained that "my religion made me do it."
According to federal prosecutors, Camovic texted a friend "Ill be a while" just before attacking Jean Pierre. Camovic's phone contained deleted images of Arabic writing referencing the Islamic State and the name of a magazine it has used to radicalize and recruit followers, federal prosecutors said.
Camovic had CDs and a thumb drive in his Brooklyn bedroom containing audio and video files of lectures and sermons by Anwar al-Awlaki, a deceased Islamic cleric and reputed al-Qaeda leader, federal prosecutors said.
About a year before the attack, Camovic started expressing interest in Islamic State and other Syrian-based terrorist groups and asked about the permissibility of killing civilians, federal prosecutors said, citing information provided by an unidentified person interviewed during the investigation. Camovic did not hold extreme religious beliefs, the person said, according to federal prosecutors.
In a statement, Attorney General William Barr said Camovic "used the cover of chaos" of the Floyd protests to commit a "premeditated and cowardly" attack. Barr said Camovic's alleged use of encrypted messaging and the hidden part of the internet known as the dark web prevented investigators from learning more about his plans and who else may have been involved.
"If not for the heroism and bravery of the responding NYPD officers who returned fire and took the assailant down early in the attack, untold additional officers and innocents could have been killed or injured," Barr said.
Camovic has no criminal record and immigrated to the U.S. as a young child because of turmoil in his homeland, Stahl said. Federal prosecutors said he was born in Germany, has Bosnian citizenship and no legal immigration status in the U.S.
Federal prosecutors lodged an immigration detainer against him and filed paperwork requesting that he be kept in jail pending the outcome of his case, arguing that he has no incentive to stay in the U.S. while facing certain deportation. Stahl said they would not oppose continued detention.
"It's not like he snuck into the country or something, but his immigration status is perilous because he's stateless," Stahl said.
https://www.washingtonpost.com/national/feds-nypd-ambush-suspect-had-interest-in-islamic-extremism/2020/08/26/e3533702-e7e3-11ea-bf44-0d31c85838a5_story.html?utm_source=iterable&utm_medium=email&utm_campaign=1475497_
--------
After talks with Arab officials, US position 'has not changed' on Jerusalem: Official
27 August 2020
The United States continues to back an undivided Jerusalem as Israel's capital, the State Department told Al Arabiya English on Thursday, as Arab allies maintain their stance of East Jerusalem being the capital of a future Palestinian state.
"The United States' position has not changed," said a State Department spokesperson when asked if the Trump administration would amend their Mideast peace plan to propose East Jerusalem as the future Palestinian capital.
The Trump plan, which supports a two-state solution to end the Israeli-Palestinian conflict, calls for an "united" Jerusalem as Israel's capital and assigns a future Palestinian capital to be in a suburb area to the east of the city of Jerusalem.
The Palestinians, according to the plan, would not control any part of the Old City of Jerusalem that includes the Islamic holy site Al Aqsa and the holiest place in Christianity the Church of the Holy Sepulchre – both demanded by the Palestinians.
Previous US administrations have held the position that the city of Jerusalem should never be divided, according to former US Ambassador Dennis Ross.
"Prior to the Trump Administration, the US position was that the city of Jerusalem should never be divided again, but that the political status of the city must be resolved through the negotiations between the parties," said Ross, a former special assistant to US President Barack Obama, in an interview with Al Arabiya English.
Trump's predecessor President Barack Obama said during a 2008 AIPAC speech that "Jerusalem will remain the capital of Israel and it must remain undivided."
Palestinian, Arab, and other world leaders have long contended that any peace agreement must return territory Israel annexed in the 1967 war, as stated by the United Nations Security Council Resolution 242.
This annexed territory includes the part of the city known as East Jerusalem - where 360,000 Palestinians currently live under Israeli occupation, confronted by a wall separating them from Palestinians in the West Bank, which the International Court of Justice (ICJ) concludes is against international law.
Arab leaders emphasize East Jerusalem as Palestinian capital
After the United Arab Emirates' historic agreement to normalize ties with Israel, Pompeo embarked on a Middle East tour on Monday beginning in Israel, with stops in Sudan, Bahrain, the UAE, and Oman.
Pompeo said Monday that he was hopeful other Arab nations will follow the UAE.
However Gulf countries such as Bahrain and Saudi Arabia have reiterated their support for the Arab Peace Initiative, which states that relations with Israel can only be reached upon actualization of a Palestinian state with East Jerusalem as the capital.
In a meeting with Pompeo on Wednesday, Bahrain's King Hamad bin Isa al-Khalifa emphasized an Israeli-Palestinian peace process that "leads to the establishment of an independent and sovereign Palestinian state with East Jerusalem as its capital," according to the country's state news agency.
Saudi Arabia's Foreign Minister Faisal bin Farhan Al Saud has said the Kingdom is committed to the Arab Peace Initiative and former Saudi Arabian intelligence chief Prince Turki al-Faisal said his country has "set a price for concluding peace between Israel and the Arabs."
"It is the creation of a sovereign Palestinian state with Jerusalem as capital, as provided for by the initiative of the late King Abdullah," Prince Turki wrote in the newspaper Asharq al-Awsat, and translated on Al Arabiya English's dedicated In Translation page, on Friday.
The Arab Peace Initiative was first presented by then-Saudi Arabian Crown Prince Abdullah bin Abdulaziz al Saud in 2002 and is support by the Arab League, whose members include Sudan, Bahrain, Saudi Arabia, the UAE, and Oman.
https://english.alarabiya.net/en/features/2020/08/27/After-talks-with-Arab-officials-US-position-has-not-changed-on-Jerusalem-Official.html
--------
Imran Invites Afghan Peace Chief Dr Abdullah Abdullah To Discuss Ways for Clearing the Path to Intra-Afghan Dialogue
Baqir Sajjad Syed
27 Aug 2020
ISLAMABAD: Prime Minister Imran Khan on Wednesday invited Afghan peace chief Dr Abdullah Abdullah to discuss ways for clearing the path to intra-Afghan dialogue.
Prime Minister Khan, according to his office, called the chairman of Afghan High Council for National Reconciliation, Dr Abdullah Abdullah, and invited him "to visit Pakistan at the earliest to share perspectives on advancing the Afghan peace process and forging closer ties between the two countries".
Mr Khan said Pakistan looked forward to the commencement of intra-Afghan talks at the earliest. He urged Afghan leaders to seize the historic opportunity for achieving an inclusive political settlement.
The call followed a meeting between Foreign Minister Shah Mehmood Qureshi and a Taliban delegation from their Qatar-based political office led by Mullah Baradar, the deputy chief of insurgents dealing with political affairs, at the Foreign Office on Tuesday.
Mr Qureshi had after the talks said: "After listening to the Taliban delegation, I'm optimistic of progress in the near future despite problems and the presence of spoilers. Hopefully a way out would be found."
The foreign minister had further said: "The Taliban look ready and agreeable to moving in the direction of a settlement of the outstanding issues through dialogue." Mr Qureshi's comments created fresh hopes for talks that have been held back because of an impasse over the issue of release of prisoners.
The Afghan government was to release 5,000 Taliban militants in exchange for its 1,000 Afghan security forces personnel held by the insurgents under an agreement signed by the US and Taliban in February.
The Afghan government is, however, reluctant to release the remaining 320 Taliban prisoners despite an approval by the Loya Jirga and a subsequent presidential decree ordering their release. The latest demand of the Afghan government is that Taliban set free 22 more Afghan commandoes in their captivity.
Mr Abdullah, after talking to Mr Khan, tweeted that both leaders during their conversation emphasised the importance of the "unique opportunity to reduce violence, start I/A talks & pursue a path to a dignified & durable peace".
While thanking Mr Khan for the invitation, Mr Abdullah said, he would visit Pakistan in near future.
Mr Abdullah too has been advocating the release of the remaining Taliban prisoners so that the long-awaited talks could start.
"We are calling for the completion of the prisoner exchange & immediate beginning of the intra-Afghan talks to put an end to agony of a nation," he tweeted on Monday.
Foreign minister
In a related development, Foreign Minister Shah Mahmood Qureshi on Wednesday informed the top outgoing diplomat of US in Islamabad, Mr Paul Jones, that efforts for Afghan peace had reached a critical phase.
"The foreign minister said … the process has now reached a crucial phase and all Afghan sides should seize this historic opportunity and commence intra-Afghan negotiations at the earliest to achieve an inclusive and comprehensive political settlement," a statement of Foreign Office quoted the foreign minister as telling the US ambassador.
US Charge d'Affaires Ambassador Paul Jones visited Mr Qureshi for a farewell call.
https://www.dawn.com/news/1576637/imran-invites-afghan-peace-chief-for-talks
--------
South Asia
More than 100K Rohingya children born in squalid camps in Bangladesh, Myanmar
AUG 26, 2020
An estimated 108,037 Rohingya children have been born in squalid refugee camps in Bangladesh and Myanmar over the past several years, facing an uncertain future, according to an analysis by the Save the Children.
According to the humanitarian aid organization, the children have limited access to education and health care, no freedom of movement and are almost entirely dependent on aid.
Save the Children analyzed population data from refugee camps in Bangladesh since August 2017 and displacement camps in Myanmar's Rakhine State since 2012 to mark three years since more than 700,000 Rohingya fled Myanmar in the wake of brutal violence.
The persecution of Rohingya Muslims is one of the worst humanitarian tragedies of our time but is also the most overlooked.
The Rohingya, described by the United Nations as one of the most mistreated communities in the world, have been facing systematic state aggression in the northern Rakhine state of Myanmar since the early 1970s. The Myanmar government has long been blamed for genocidal policies against the minority Muslim community.
In Bangladesh, there are currently an estimated 75,971 children under 3 years old in the refugee camps in Cox's Bazar, or 9% of the total refugee population. Nearly all of them were born after their mothers fled from Myanmar, the study added.
More than 1 million Rohingya refugees are living in Bangladesh, and nearly half of them are children.
Meanwhile, in Myanmar, displacement camps in Rakhine State have been housing Rohingya Muslims as well as Kaman Muslims since 2012 following previous waves of ethnic violence. Using data by the U.N. High Commissioner for Refugees (UNHCR) up to December 2019, Save the Children estimates there are 32,066 children under seven years of age spread across 21 camps, representing over 25% of the displaced population.
Due to apartheid policies put in place leading up to the genocide in Myanmar, Rohingya children have often been unable to attend mixed Rakhine-Rohingya schools and are instead kept in separate education facilities where the quality of education is low.
As a result of Myanmar's ongoing human rights abuses against Rohingya, more than 73% of those in Rakhine State identify as illiterate, according to a report released in 2018 by the Burmese Rohingya Organization U.K. (BROUK).
In Bangladesh, the situation seems little better for Rohingya refugees.
Given that close to 1 million Rohingya refugees have been largely housed in dozens of refugee camps in Bangladesh after last year's huge exodus, many Rohingya children are unable to access education.
Rohingya need to have accreditation to gain a formal education, BROUK said. If they are lucky enough, they are often taught in classrooms that are severely overcrowded and badly resourced.
https://www.dailysabah.com/world/asia-pacific/more-than-100k-rohingya-children-born-in-squalid-camps-in-bangladesh-myanmar
--------
Intra-Afghan Talks to Begin Next Week: Abdullah
By Muhammad Arif Sheva
27 Aug 2020
KABUL, Afghanistan – The chairman of the High Council for National Reconciliation Abdullah Abdullah said the long-awaited Intra-Afghan dialogues on peace in Afghanistan will begin next week.
The first talks will take place in Qatari capital Doha, where Afghanistan and Taliban delegations will come together to end the 18-year war in the country, which apparently exhausted both parties – Afghan citizens being the beads for the political settlement.
One of the main topic for this long-awaited gathering is to implement a comprehensive ceasefire in the war-torn country, where the people could with no fear pursue the life they ever dreamt of for decades.
It came a month after the initial schedule for the talks were delayed due to a complicated issues on the release of Taliban prisoners, where the opposition group insist to free all its group members capture by the Afghan government.
Earlier this month, Afghan President Ashraf Ghani released at least 80 of the 400 Taliban prisoners upon the decision made by the Loya Jirga – a national assembly; making the Taliban persistent on their demand of freeing the remaining 320 prisoners.
According to sources, among the Taliban prisoners are some who were directly linked to killing of a number of foreign nationals, including Australia and France, opening doors for the Afghan leaders to reconsider their decision upon request of the foreign government.
Chairman Abdullah did not comment whether or not the issue is solved.
https://www.khaama.com/intra-afghan-talks-to-begin-next-week-abdullah-23556/
--------
Taliban kill four civilians during clashes with Afghan forces
27 August 2020
Taliban militants have killed four civilians during clashes with Afghan forces in the central flood-hit Parwan province, local officials say.
Abdul Shukoor Qudoosi, a district official, said on Thursday that clashes took place between Afghan and Taliban forces in Bagram, which is located in Parwan province and houses the biggest US military base.
"Taliban fighters opened fire on civilians fleeing areas worst hit by the flash floods," said Qudoosi.
"Taliban were clashing with Afghan forces and they killed civilians who were in an autorickshaw near an army checkpoint," Qudoosi said, adding that it appeared as if the militants mistook the passengers for Afghan soldiers.
At least one Afghan soldier was reportedly killed and two were injured in the fierce fighting in the troubled region.
In recent weeks, the Taliban have staged almost daily battlefield attacks across various parts of the war-ravaged country.
The spike in violence comes as talks between the Taliban and the Afghan government have stalled again in the wake of a controversial prisoner swap.
The swap has stumbled over the final few hundred prisoners. Kabul is reluctant to release "dangerous" Taliban militants tied to deadly attacks.
At least three people were killed and dozens others injured in a truck bomb attack near a military base in Afghanistan's northern province of Balkh on Thursday.
Official data shows bombings and other assaults by the Taliban have surged 70 percent since the militant group signed the deal with the United States in February.
The deal envisages a complete withdrawal of US forces from Afghanistan, and the Taliban have pledged not to attack American and other foreign forces.
The Afghan government is a party neither to the negotiations nor to the deal, but it has been acting in accordance with its terms, including by agreeing to free Taliban prisoners.
Washington invaded Afghanistan and toppled the Taliban-run government in 2001 on the pretext of fighting terrorism following the September 11 attacks.
The Taliban, however, never stopped their attacks, citing foreign military presence as one of the main reasons behind their continued militancy.
Afghanistan has been gripped by insecurity since the US and its allies invaded the country as part of Washington's so-called war on terror in 2001. Many parts of the country remain plagued by militancy despite the presence of foreign troops.
The Daesh terrorist group has also emerged in the Asian country more recently.
https://www.presstv.com/Detail/2020/08/27/632752/Afghanistan-Taliban--Parwan-Abdul-Shukoor-Qudoosi--
--------
Mideast
Al-Quds Mufti quits UAE forum over endorsement of Israel normalization
27 August 2020
Grand Mufti of Jerusalem al-Quds Sheikh Muhammad Hussein has resigned from the so-called Forum for Promoting Peace in Muslim Societies (FPPMS) after the UAE-based organization issued a statement endorsing a recent normalization agreement between Abu Dhabi and Tel Aviv.
"Normalization is a stab in the back of Palestinians and Muslims, and a betrayal for Muslim and Christian holy sites in Jerusalem [al-Quds]," Sheikh Hussein said on Wednesday, where he announced his resignation.
It was the second such resignation in recent days. Muslim-American activist Aisha al-Adawiya also quit the FPPMS on Sunday over the organization's statement.
She stressed that the topic of normalization was never brought up at a recent board meeting and that "there was no agreement on any kind of support for the UAE's deal with Israel."
"As a result of this breach of trust and consistent with my values, I'm announcing my resignation," Adawiya said in a Facebook post.
Earlier this month, the FPPMS claimed that normalization deal "stopped Israel from extending its sovereignty over Palestinian lands" and was a means to "promote peace and stability across the world."
It, however, faced criticisms over the controversial statement and was forced to remove it from its platforms.
The Israel-UAE deal was announced by the White House on August 13, sparking anger among Palestinians and supporters of their cause against Israeli occupation.
Emirati officials have tried to portray the normalization deal as a successful means to stave off Israel's West Bank annexation plan, but Israeli Premier Benjamin Netanyahu has reaffirmed his commitment to the land grab scheme.
In the wake of the deal, the al-Quds Mufti issued a fatwa (religious decree) banning Muslims from taking advantage of the normalization between Israel and the UAE to travel to the occupied lands and pray at the Al-Aqsa Mosque compound.
"It is forbidden for a Muslim to arrive in a plane of [either] the United Arab Emirates or not of the United Arab Emirates to the Lod Airport [in Israel], which today they call Ben-Gurion Airport, in order to come and pray at Al-Aqsa Mosque. This is false marketing in terms of religious law: legally false, religiously offensive," he said.
https://www.presstv.com/Detail/2020/08/27/632718/alquds-Jerusalem-mufti-resign-UAE-Israel-normalization
--------
Iran Calls for UN's Immediate Measures to Help Save Yemeni Civilians
Aug 27, 2020
Khaji made the remarks in a meeting with UN Secretary-General's Special Envoy for Yemen Martin Griffiths.
Khaji urged the UN to defend the rights of the people of Yemen in a bid to put an end to killing innocent people, as well as lifting the imposed sanctions on Yemen.
The diplomat, meantime, voiced Iran's support for the political settlement of the crisis in Yemen, Tehran's constructive measures to establish the ceasefire, complete elimination of the blockade, as well as advance the peace process in the country.
Griffiths, for his part, elaborated on the recent UN actions on drafting a joint statement, praising Iran's constructive role in the political process of Yemen.
During the meeting, both sides exchanged views on observing the ceasefire and peace process in Yemen.
Saudi Arabia and its allies, including the United Arab Emirates, Morocco, and Sudan, launched a brutal war against Yemen in March 2015 in an attempt to reinstall Yemen's former president Abd Rabbuh Mansur Hadi.
The aggression initially consisted of a bombing campaign but was later coupled with a naval blockade and the deployment of ground forces to Yemen. Hundreds of thousands of people have died since the war began, says Yemen's Health Ministry.
The Saudi-led war has also taken a heavy toll on the country's infrastructure, destroying hospitals, schools, and factories. The United Nations (UN) has said that a record 24 million Yemenis are in dire need of food, including 8.4 million threatened by severe hunger.
Despite Riyadh's claims that it is bombing the positions of the Ansarullah fighters, Saudi bombers are flattening residential areas and civilian infrastructures.
According to several reports, the Saudi-led air campaign against Yemen has driven the impoverished country towards humanitarian disaster, as Saudi Arabia's deadly campaign prevented the patients from travelling abroad for treatment and blocked the entry of medicine into the war-torn country.
https://en.farsnews.ir/newstext.aspx?nn=13990606000279
--------
Iran Exports Nearly 50 Percent of Non-Oil Goods to Neighbouring States
Aug 27, 2020
"Since 47 percent of Iranian products are exported to neighboring countries, it seems that high capacities of border provinces should be used optimally in line with the increasing exports," Ansari said on Thursday.
He underlined the need to use border capacities of the country to promote export.
Despite tough sanctions imposed against Iran, the country attained positive growth in export terms and the US anti-Iran policy, in bringing the country into its knee, has failed, Ansari highlighted.
Focusing on the export of products to neighboring countries and setting up better equipment and opportunities to facilitate trade with neighbors are of salient programs of the Iranian Ministry of Foreign Affairs in the economic sector, he said, adding, "export capacities with a focus on export of agricultural products should be strengthened and developed in Ardabil province."
Productions should be made with the aim of export and in this way, export of products in agricultural sector should be supported duly, he emphasized.
Transfer of foreign exchange obtained from export into the country is one of the major problems facing those who are active in economic sector, he said, adding, "bartering goods can be considered as a safe way to settle the problem."
Elsewhere in his remarks, Ansari pointed to the markets of Caucasian countries which have good capacity for export of products from this province to these countries due to the lingual commonalities and emphasized, "drastic planning should be made for importing and exporting products, so that both the government and Parliament are staunch supporter of export activities in the country wholeheartedly."
In relevant remarks on Thursday, Minister of Road and Urban Development Mohammad Eslami said that Iran's border trade with neighboring countries is underway through tens of border customs offices by observing health protocols safeguards.
Eslami made the remarks in a video conference with Turkmen Foreign Minister Rashid Meredov.
Iranian borders are facilitators of trade relations with the neighboring states and there are currently 30 customs office which are operating in this field, the Iranian minister said, expressing hope that the volume of trade exchanges with the friendly countries, including Turkmenistan would reach the previous level before the coronavirus epidemic.
Eslami underlined the importance of removal of any restrictions in order to boost trade between Iran and Turkmenistan.
He called for Turkmenistan cooperation for safely re-opening Sarakhs and Incheboron border terminals and remove obstacles to railroad link in border crossings.
Sarakhs, Bajgiran, Lotfabad and Incheboron are four land border crossings with Turkmenistan in east of the Caspian Sea and northeastern Iran.
In a releveant development, caretaker of Ministry of Industry, Mine and Trade Hossein Modarres Khiabani announced on July 5 that 80 percent of the border crossings have reopened and border trade is underway.
Modarres Khiabani said that 60 percent of the country's non-oil products are exported to 15 neighboring states.
https://en.farsnews.ir/newstext.aspx?nn=13990606000752
--------
Rouhani Voices Iran's Readiness to Continue Cooperation with IAEA
Aug 27, 2020
"In view of Iran, IAEA is of paramount importance and like in the past, the Islamic Republic of Iran is ready to cooperate with IAEA within the framework of safeguards." Rouhani made the remarks in his meeting with IAEA Chief Rafael Grossi on Wednesday.
"In addition to its technical and specialized duties in the field of 'safeguards' and 'Additional Protocol', which Iran voluntarily implements, the IAEA also has an important responsibility in relation with JCPOA and preservation of this multilateral document signed between Iran and six world powers in the Vienna in July 2015," he added.
The US unilaterally withdrew from JCPOA in May 2018, Rouhani said and reiterated, "More than two years after the US withdrawal from JCPOA, Americans are well aware that their action was wrong."
Grossi, for his part, expressed his satisfaction with the agreement made with the Atomic Energy Organization of Iran (AEOI) during his visit to Iran underlined the necessity for expansion of further cooperation between Iran and IAEA.
JCPOA was really a great success for all parties involved in the nuclear talks so that IAEA assumes a great responsibility to preserve it (JCPOA), Grossi stressed without referring to the US illegal withdrawal from the agreement.
On a tweet on Tuesday evening, Grossi had also voiced his willingness for further cooperation with Iran.
In relevant remarks, Iranian Foreign Minister Mohammad Javad Zarif once again stressed his country's full transparency in terms of nuclear activities, adding that over 92 percent of the IAEA's total inspections in the world are conducted in Iran.
"Iran has been fully transparent: over 92 percent of IAEA total comparable global inspections were carried out in Iran," Zarif wrote on his Twitter account on Tuesday.
"Some are intent to torpedo transparency thru pressure to reopen closed matters. We want normal relations w/ IAEA," he added.
Zarif met and held talks with Director-General of the International Atomic Energy Agency Rafael Grossi in Tehran on Tuesday afternoon.
During the meeting, Zarif emphasized that IAEA should act professionally and impartially in its interactions.
In relevant remarks, Head of the Atomic Energy Organization of Iran (AEOI) Ali Akbar Salehi described his Tuesday talks with Director-General of the International Atomic Energy Agency (IAEA) Rafael Mariano Grossi as "constructive", stressing that Tehran will not act beyond undertakings.
Salehi made the remarks in a joint press conference with Grossi after holding negotiations with him in Tehran on Tuesday.
"Iran has well shown that it does not accept demands beyond its undertakings. We act based on our undertakings and the Agency acts within the framework of the agreements with Iran," Salehi said.
He appreciated Grossi and the IAEA for cooperation with a spirit of understanding, and said, "Good agreements were made between the two sides and a statement is due to be issued and both sides are working on it."
Salehi underlined the need for the IAEA to act based on principles of independence and professionalism.
Grossi, for his part, said that the IAEA acts based on documents and not the desires of the director-general, and added, "We guarantee that the Agency is not influenced but it is under pressure. We do not allow these pressures to affect our activities as much as we can."
https://en.farsnews.ir/newstext.aspx?nn=13990606000208
--------
IAEA Granted Access to Two Sites, Says Has No More Demands to Visit Undeclared Iranian Centres
Aug 27, 2020
"Iran and the IAEA reached an agreement on the resolution of the safeguards implementation issues specified by the IAEA, in good faith. In this regard, Iran is voluntarily providing the IAEA with access to the two locations specified by the IAEA and facilitating the IAEA verification activities to resolve these issues," a statement issued by the two sides in Tehran said on Wednesday.
"The IAEA verification activities will proceed in accordance with the CSA and the AP, and the IAEA's standard verification practice as implemented for all States with CSAs and APs on equal basis and without discrimination," it added.
"... the IAEA and Iran recognize that these safeguards implementation issues are exclusively related to nuclear material and activities subject to safeguards under the CSA and the AP," the statement reiterated.
"In this present context, based on analysis of available information to the IAEA, the IAEA does not have further questions to Iran and further requests for access to locations other than those declared by Iran under its CSA and AP," the two sides underscored in their final statement.
Here is the full text of the joint statement,
Joint Statement by The Director General of the IAEA and The Vice-President of the Islamic Republic of Iran and Head of the AEOI
Tehran, 26 August 2020
The International Atomic Energy Agency (IAEA) and the Islamic Republic of Iran (Iran) agreed to further reinforce their cooperation and enhance mutual trust to facilitate the full implementation of Iran's Comprehensive Safeguards Agreement (CSA) and the Additional Protocol (AP) thereto, which is provisionally applied by Iran since 16 January 2016.
After intensive bilateral consultations, Iran and the IAEA reached an agreement on the resolution of the safeguards implementation issues specified by the IAEA, in good faith. In this regard, Iran is voluntarily providing the IAEA with access to the two locations specified by the IAEA and facilitating the IAEA verification activities to resolve these issues. Dates for the IAEA access and the verification activities have been agreed. The IAEA verification activities will proceed in accordance with the CSA and the AP, and the IAEA's standard verification practice as implemented for all States with CSAs and APs on equal basis and without discrimination.
In the context of resolution GOV/2015/72 adopted by the Board of Governors on 15 December 2015, the IAEA and Iran recognize that these safeguards implementation issues are exclusively related to nuclear material and activities subject to safeguards under the CSA and the AP.
In this present context, based on analysis of available information to the IAEA, the IAEA does not have further questions to Iran and further requests for access to locations other than those declared by Iran under its CSA and AP.
Both sides recognize the independence, impartiality, and professionalism of the IAEA continue to be essential in the fulfillment of its verification activities.
The IAEA will continue to take into consideration Iran's security concerns, by protecting all safeguards confidential information in accordance with the IAEA's Statute, the relevant provisions of the CSA and the AP, and the established IAEA confidentiality regime, standards, and procedures.
https://en.farsnews.ir/newstext.aspx?nn=13990606000106
--------
Turkey not the cause of instability in eastern Mediterranean, Erdogan tells Trump
27 August 2020
Turkish President Recep Tayyip Erdogan said it is not Turkey that has created instability in the eastern Mediterranean in a phone call with US President Donald Trump, the Turkish Presidency said via its Twitter account.
Turkey has been widely accused of stoking tensions through a series of steps to assert its claims over disputed maritime rights over vast swathes of the eastern Mediterranean, accusations it denies.
"President Erdogan underscored that Turkey has proven with concrete steps it has taken that it favors dialogue and de-escalation of tensions," the statement said after the phone call where the heads of state discussed biliateral matters as well as regional developments.
Erdogan's comments come as Turkish media outlet TRT Arabic reported that the country will host military drills involving the use of live ammunition in the eastern Mediterranean next week.
The drills will take place on Tuesday, September 1, and Wednesday, September 2, said TRT, despite concerns being voiced by Greece, Cyprus and other countries over Turkey's ongoing seismic exploration mission in the disputed waters.
"We are determined to protect our rights in the eastern Mediterranean," the Turkish media outlet quoted the country's Defense Minister Hulusi Agar as saying.
https://english.alarabiya.net/en/News/middle-east/2020/08/27/Turkey-not-the-cause-of-instability-in-Eastern-Mediterranean-Erdogan-tells-Trump.html
--------
Arab Coalition intercepts Houthi ballistic missile targeting Saudi Arabia's Najran
28 August 2020
The Arab Coalition has intercepted a ballistic missile launched by the Iran-backed Houthi militia toward the southern city of Najran in Saudi Arabia.
https://english.alarabiya.net/en/News/gulf/2020/08/28/Arab-Coalition-intercepts-Houthi-ballistic-missile-targeting-Saudi-Arabia-s-Najran.html
--------
Israel demolishes Palestinian village in Negev desert for 177th time
27 August 2020
Israeli forces have displaced hundreds of Bedouin Palestinians after demolishing their village in the Negev region for the 177th time, as the Tel Aviv regime presses ahead with its expropriation of Palestinian lands for the expansion of illegal Israeli settlements.
On Thursday morning, Israeli bulldozers, heavily guarded by the regime's soldiers, stormed the al-Araqib village and razed all of its tents and makeshift homes, making its inhabitants, including children and elderly people, homeless for the 177th time, the Palestinian Information center reported.
Al-Araqib, populated by members of the al-Turi Arab Bedouin tribe, is one of dozens of Bedouin villages in the Negev desert, which are "unrecognized" by the Israeli regime.
Since January, Israeli forces had demolished the village, some eight kilometers north of Beersheba, five times, the last of which was on March 5.
The village, with about 220 residents, was initially demolished on July 27, 2010, but has since been rebuilt dozens of times by its residents and activists, who are challenging Israel's repeated attempts to uproot the villagers from their native land.
Israel to demolish several homes
The Israeli authorities on Wednesday issued demolition orders against three homes in Nahalin town, west of Bethlehem, and stop-work orders for six under-construction ones there, the Palestinian Information Center reported.
Subhi Zaidan, the mayor of Nahalin, confirmed that the Israeli military had already notified three local residents of its decision to make them and their families homeless.
Separately on Wednesday, Israeli authorities allowed the annexation of 525 dunums of Palestinian-owned lands in the town and confiscated them as property belonging to the so-called Jewish national fund, the report added.
Shlomo Neiman, the head of Gush Etzion regional council, hailed the courts' orders and described the annexation step as a historic measure taken after 76 years.
He added that the occupied lands would be used to expand Gush Etzion settlements, in the northern parts of the occupied West Bank.
The annexation orders came after Israeli courts rejected all documents that had been filed by Palestinian locals proving their ownership of the annexed area.
Over half a million Israeli settlers live in more than 230 settlements built since the 1967 occupation of the West Bank and East Jerusalem al-Quds. Built on the occupied land, the settlements are internationally condemned as illegal.
Palestinians want the West Bank as part of their future independent state with East Jerusalem al-Quds as its capital.
https://www.presstv.com/Detail/2020/08/27/632749/Palestine-Israel-Araqib-Negev-demolition-Nahalin--
--------
Israel establishing intelligence bases on Yemeni island in cooperation with UAE: Report
27 August 2020
Israel, in cooperation with the United Arab Emirates (UAE), is to build intelligence-gathering bases on a Yemeni island in a strategic area overlooking the Bab al-Mandab Strait, a new report says, four years after Tel Aviv began to build its largest spy base in the region.
Citing a number of sources, including some Yemeni ones, the French-language news outlet JForum said in a report that the Tel Aviv regime plans to build a number of spy bases on Socotra Island, which is almost 3,650 square kilometers.
Socotra, some 350 kilometers south of Yemen in the Indian Ocean, is the name of the largest island of a Yemeni archipelago, where a number of smaller islands are still uninhabited.
According to the report, a delegation of Israeli and Emirati intelligence officers arrived on the Socotra Island very recently and examined various locations for establishing the planned intelligence bases.
It cited an unnamed high-ranking Eritrean source as saying that Israel in 2016 had started to build its largest intelligence-gathering base at the top of Mount Ambassaira, south of the Eritrean capital of Asmara.
The purpose of the base, according to the report, is to electronically monitor forces belonging to a Saudi-led military coalition waging a war against Yemen and the Daesh Takfiri terrorist group in the region, the report added.
It also monitors the activities of Houthi fighters in Yemen and Iran's naval movements in the region, beside analyzing sea and air traffic in the southern Red Sea, it added.
According to the report, the Israelis and Emiratis are currently making all logistical preparations to establish intelligence bases to collect information from across the Gulf of Eden, including Bab al-Mandab and south of Yemen, which is under the control of forces loyal to the UAE.
Two sites on Socotra have so far been selected for spy bases, namely the Momi region in the east of the island, where the Jamgua Center will be built and a locality in the west of the island, where Katanan Center will be established, it added.
Citing Yemeni sources, the report went on to say that Israeli and Emirati intelligence experts believe that these two sites are topographically the most appropriate places to set up the bases, whose jobs will be collecting electronic information from southern Yemen, the Persian Gulf, the Gulf of Eden, the Egyptian Bab al-Mandab and the Horn of Africa.
The US recently announced that the UAE had "normalized" relations with the Tel Aviv regime, becoming the third Arab government — after Egypt and Jordan — to establish relations with Israel.
https://www.presstv.com/Detail/2020/08/27/632739/Israel-UAE-spy-bases-Yemeni-island-Report
--------
New Zealand and Australia
'Wicked' New Zealand mosque gunman sentenced to life without parole
27 Aug 2020
New Zealand mosque gunman Brenton Tarrant was sentenced to life in prison without parole on Thursday for the massacre of 51 Muslim worshippers, with a judge calling his actions "wicked" and "inhuman".
As the sentence was read out, there was jubilation outside the courtroom, with crowds cheering and singing the national anthem — "God Defend New Zealand".
Judge Cameron Mander said Tarrant's "warped" ideology and "base hatred" led the Australian white supremacist to murder defenceless men, women and children last year in New Zealand's worst terror attack.
"Your crimes are so wicked, that even if you are detained until you die it will not exhaust the requirements of punishment and denunciation," Mander said as he announced a sentence that is a New Zealand legal first.
The judge solemnly read out the names of those murdered in a livestreamed rampage and recounted in forensic detail how Tarrant executed the wounded as they pleaded for help on March 15 last year.
"It was brutal and beyond callous. Your actions were inhuman," the judge said, pointing out that Tarrant deliberately attacked Friday prayers to maximise casualties.
Tarrant, 29, retained the same impassive demeanour through the four-day hearing as survivors and bereaved family members gave heart-wrenching testimony of their incalculable loss.
Gamal Fouda, the imam of Al Noor mosque — one of those targeted by Tarrant — said the sentence was what the Muslim community had hoped for.
"But no punishment is going to bring our loved ones back and our sadness will continue for the rest of our lives," he said.
Prime Minister Jacinda Ardern, who was praised for her compassionate and decisive response to the shootings, also welcomed the sentence.
"The trauma of March 15 is not easily healed but today I hope is the last where we have any cause to hear or utter the name of the terrorist behind it," she said.
"His deserves to be a lifetime of complete and utter silence."
As New Zealand reeled from the shootings, Ardern immediately moved to tighten gun laws and pressure social media giants to curb online extremism.
She expressed hope that members of the country's traumatised Muslim community felt "the arms of New Zealand around you" during the painful sentencing process.
Ardern's Australian counterpart Scott Morrison echoed the sentiment, condemning Tarrant's "cowardly and horrific" crimes.
"It is right that we will never see or hear from him ever again," he said.
'Racist and xenophobic'
Tarrant sparked global revulsion when he rampaged through two Christchurch mosques for 20 minutes during Friday prayers.
He had admitted 51 charges of murder, 40 of attempted murder and one of terrorism over the attacks, after reversing an initial not-guilty plea.
Prosecutor Mark Zarifeh said the atrocity was "without comparison in New Zealand's criminal history".
"The offending was motivated by an entrenched racist and xenophobic ideology ... in my submission, the offender is clearly New Zealand's worst murderer," he said.
Zarifeh said life behind bars was "the only proper sentencing option" for Tarrant.
For much of the sentencing, the court heard testimony from dozens of his victims and their families.
"Since my husband and son passed away, I've never had a proper, normal sleep. I don't think I ever will," widow Ambreen Naeem told the court.
"His punishment should continue forever."
Fearing Tarrant may use the platform to spout extremist ideology, the court had imposed tight restrictions on the reporting of proceedings.
Before the sentencing, Tarrant, a former gym instructor, had sacked his legal team and declared he would represent himself.
Instead, he waived his right to speak and court-appointed lawyer Pip Hall made a brief one-line statement on his behalf.
"Mr Tarrant does not oppose the application that he should be sentenced to life imprisonment without parole," Hall said.
The court was told that Tarrant had made a belated expression of remorse during a pre-sentence interview with prison authorities in April, when the killer described his actions as "unnecessary, abhorrent and irrational".
But Judge Mander rejected Tarrant's gesture as "uncorroborated, self-serving and a relatively recent phenomenon", saying he had never shown any compassion for his victims and probably retained his racist views.
He is likely to be kept in isolation for his own safety at New Zealand's only maximum-security prison in Auckland, where 80 per cent of inmates are Maori or Pacific islanders.
https://www.dawn.com/news/1576740/wicked-new-zealand-mosque-gunman-sentenced-to-life-without-parole
--------
Sydney judge orders restrictions on extremist's movements
26 August 2020
SYDNEY -- An Australian judge on Wednesday issued a rare order restricting the movements of an extremist when he is released from a Sydney prison after serving 12 years for a terrorism-related conviction.
Police applied for the control order against former Qantas cabin cleaner and online publisher Belal Saadallah Khazaal before he is released from prison this weekend.
Federal Court Justice Michael Wigney made the order, but the conditions and his reasons will not be made public until sensitive information is redacted from the judgment.
Khazaal was 39 in 2008 when he was found guilty by a New South Wales state Supreme Court jury of making a document connected with assisting a terrorist act.
The online book, which described itself as a "practical guide to achieving martyrdom," included advice on assassination techniques and listed countries to be targeted, including Australia.
Control orders were created under counterterrorism legislation in 2005 to protect the public from extremist acts. Orders have been issued against seven people since then.
Restrictions can include a curfew at a home address, wearing an electronic monitoring device, limits to use of telecommunications and regular reporting to police.
Khazaal, the former editor of "Call to Islam" magazine, was sentenced to 12 years in prison with a non-parole period of nine years. The term expires on Sunday.
https://abcnews.go.com/International/wireStory/sydney-judge-orders-restrictions-extremists-movements-72619676?utm_source=iterable&utm_medium=email&utm_campaign=1475497_
--------
Southeast Asia
Muslims encouraged to have Islamic calendar - Zulkifli
27 AUG 2020
KUALA LUMPUR: Every Muslim family is encouraged to have an Islamic calendar or taqwim in their house as a reference or life compass for matters pertaining to Islamic law as well as a reminder of important dates.
Minister in the Prime Minister's Department (Religious Affairs) Datuk Seri Dr Zulkifli Mohamad Al-Bakri (pix) said that every 'ibadah' (religious ritual) in Islam must refer to the Hijri year and the taqwim is significant to decide on important dates and celebrations, 'zakat' (tithe) and 'iddah' (the period a woman must observe after the death of her husband or after a divorce) as well as the age of puberty.
"Taqwim plays an important role in the management of human life. It is a system closely related to social and religious activities, and also in managing daily lives," he told reporters after launching the Pusrawi International College of Medical Sciences (PICOMS) Hijri calendar here, today.
PICOMS, a higher-education institution under the Federal Territories Islamic Religious Council (MAIWP), has published the taqwim in collaboration with I Quest Training Consultancy which offers special features for Muslims.
They include a colour system, infographics and unique symbols to show important dates, information on suitable dates for voluntary fasting and reading the Quran, religious events and celebrations, as well as public and school holidays.
Zulkifli said that PICOMS' '1 Home 1 Taqwim' campaign would also be expanded so that the Muslim community in Malaysia would benefit from the calendar. — Bernama
https://www.thesundaily.my/local/muslims-encouraged-to-have-islamic-calendar-zulkifli-II3695921
--------
Malaysia-Philippine Frontier: Sabah Tightens Borders After Terror Attack in Jolo
Amy Chew
2020-08-26
Sabah is tightening its borders to prevent Abu Sayyaf Group militants from entering its territory in search of "safe haven" after this week's twin suicide bombings in the nearby southern Philippines, the police chief in the Malaysian Borneo state told BenarNews.
At least 15 people were killed and more than 75 injured in the two explosions on Jolo Island that were carried out Monday by two widows of members of ASG, a pro-Islamic State extremist group, the Philippine military said Wednesday.
In an interview, State Police Commissioner Hazani Ghazali said "we have tightened up our borders, deployed our assets after the bombings."
"We don't want militant suspects to come over here to make Sabah their safe haven," he told BenarNews, adding, "We are on the alert."
According to security experts in the Philippines, at least three more female bombers are at-large in the restive southern region – including two daughters of an Indonesian woman who was involved in a suicide bombing at a church in Jolo last year – and the two women who carried out Monday's attacks were each paid at least 3 million Philippine pesos (U.S. $61,750) ahead of the twin bombings.
Jolo town, where the attacks took place, is the capital of the island province of Sulu, which lies close to Sabah's eastern coast. In the past, ASG members have fled to Sabah from the Sulu Islands to lie low during times when the Philippine military has conducted clearing operations against the militants.
In 2017, Malaysian police said they had foiled a plan by Abu Sayyaf to attack the closing ceremony of the Southeast Asian Games in Kuala Lumpur. From 2013 to September 2018, a total of 27 Abu Sayyaf members were arrested by police in Malaysia.
On the Philippine side of the border with Sabah, which is separated by the Sulu and Celebes seas, the military said it was hunting for other suspects linked to Monday's attacks. They said the attacks were planned by Mundi Sawadjaan, an ASG operative and bomb maker who is believed to be the nephew of Hatib Hajan Sawadjaan, the commander of the IS branch in the Philippines.
It is believed that at least three other female suicide bombers are roaming in the southern Philippines, according to Rommel Banlaoi, chairman of the Philippine Institute for Peace, Violence and Terrorism Research, a local think-tank.
"[They are] two Indonesians, daughters of the Jolo Cathedral bombers, and one Egyptian, the daughter of a female Egyptian bomber who died in September 2019," Banlaoi told BenarNews.
In January 2019, an Indonesian couple, Rullie Rian Zeke and Ulfah Handayani Saleh, blew themselves up at the Our Lady of Mount Carmel Cathedral, killing 23 people.
The couple were members of Indonesia's IS affiliate, Jemaah Ansharut Daulah (JAD), according to security analysts in that country. Philippine officials have said the married couple carried out the twin bombings under orders from Hatib Hajan Sawadjaan.
In Jakarta, a senior Indonesian counter-terrorism source confirmed that at least one of the couple's three children was still in the Philippines.
"[T]he daughter of Rullie, is married … [and] is still in Philippines," the source told BenarNews. He gave no other details.
ASG's use of female suicide bombers is a major shift in the group's tactics because women and girls come under less scrutiny than men, said Mimi Fabe, professor of financial terrorism and transnational organized crime at the Philippine National Police College.
Before the 2019 church bombings in Jolo, all the suicide bombers in such attacks carried out in the Philippines were male.
"The [latest] Jolo bombing was a strategy of the ASG to encourage more female suicide bombers among the locals … Because it gives a more chilling effect to our troops," Fabe told BenarNews.
"[Also] the Muslim women do not undergo body searches, unlike the men," she added.
Once a rare occurrence, there have been five suicide bombings since July 2018, including the latest blasts.
The two female suicide bombers in Jolo were each paid an estimated "3 million to 5 million pesos [$61,750 to 102,900]," money which is believed to have come from foreign sources, Fabe said.
"The money went to their families. In operations like this, the money is paid prior to the mission," said Fabe, adding there was a need to look into the terrorism financing aspect of the latest terrorist attack.
"I expect more bombings since the ASG receives funding from abroad. Unless we disrupt the terrorism funding, more female volunteers will step forward as female suicide bombers," she added.
According to Fabe, the two female suicide bombers were believed to have been "trained" by an Indonesian foreign fighter.
"There is a clear effort on the part of the funders and the terrorists to incite their women to engage in violent attacks," Fabe said.
Sabah: Kidnappings, illegal entry
Meanwhile, Sabah has deployed assets from the navy, military, police, and the Malaysian Maritime Enforcement Agency (MMEA) to beef up security along the state's east coast, where abductions by kidnap-for-ransom groups, working in concert with Abu Sayyaf, have taken place sporadically.
"So far so good, we have no incidents," said Hazani, who took over on Aug. 12 as police chief in Sabah after serving as commander of the Eastern Sabah Security Command (ESSCOM), the agency that oversees security along the eastern Sabah coastline,
Hazani said at least one kidnap-for-ransom group had been eliminated this year and there were an estimated five groups still in operation.
ESSCOM, through its intelligence unit, was tracking down boat skippers who collude with illegals to enter waters of the Eastern Sabah Security Zone, according to a report by Bernama, the state-run news agency.
Its Public Action Division director, Terry Henry said the move was aimed at breaking the chain involving the entry of illegal immigrants into Sabah.
"This is towards ensuring our country, especially Sabah, is free of illegals," Bernama quoted him as saying at the merdeka @ Kalabakan district community program organized by ESSCOM and the Tawau Information Department on Tuesday.
"Those found colluding with illegals and trying to harbor them could be jailed for up to five years or fined RM10,000 [U.S. $23,980] or both, if convicted," he said.
https://www.benarnews.org/english/news/malaysian/Sabah-Jolo-attack-08262020164349.html
--------
Court orders trial judge to determine religious status of 39 Ahmadiyya followers
V Anbalagan
August 27, 2020
PUTRAJAYA: The Court of Appeal has remitted to the High Court to determine whether 39 individuals, including foreigners, who professed the Ahmadiyya belief are Muslims or otherwise.
A three-member bench chaired by Badariah Sahamid said if the persons were Ahmadiyya by original faith, then the Selangor shariah court had no jurisdiction over them in the state.
She said should it be proven that they were following the faith after converting out of Islam, then the religious court had authority over them.
Badariah said the information in the identity cards on the religious status of Malaysians was not conclusive proof which faith one belonged to.
Badariah, who sat with Zabariah Mohd Yusof and Nor Bee Ariffin to hear appeals from the Selangor government and the religious authorities last year, delivered the judgment on Tuesday.
The bench set aside the relief given in a judicial review on July 6, 2018 by then High Court judge Vazeer Alam Mydin Meera to the applicants pending their religious status.
The bench has also ordered Vazeer, who is now a Court of Appeal judge, to rehear the matter as soon as possible.
Twenty Malaysians, eight Pakistani asylum seekers, two Indian nationals and an Indonesian were performing Friday prayers on April 11, 2014 at the community centre in Batu Caves, Selangor.
They challenged the Selangor Islamic Religious Department (JAIS) for trying to charge them with shariah offences, on the basis that Islamic authorities in Selangor do not recognise Ahmadiyya as Muslims.
The group was informed that they had not obtained written permission to use the premises – a shoplot in Dolomite Park, Batu Caves – for purposes which may only be carried out on, in or by a mosque, contrary to Section 97 of the Administration of the Religion of Islam (State of Selangor) Enactment 2003.
Vazeer went on to rule that the Selangor religious authorities have no right to stop religious activities of the Ahmadiyya community, who follow a sect which Muslims generally regard as being outside the fold of Islam.
The judge also ruled that JAIS has no right to bring charges against members of the sect for violating a state fatwa against Ahmadiyya teachings.
On a broader note, Badariah, who will go on mandatory retirement next month, said
Ahmadiyya were, as with all other persons, entitled to the freedom of religion subject to Articles 11(4) and (5) of the Federal Constitution.
"But because of the dual legal system in Malaysia, their status, as to whether they are
Muslims or not, coupled by the fact that their MyKad may state their religion to be 'Islam' may give rise to ambiguity in their religious status," she said.
She said the difficulties were compounded as the issuance of MyKads by the National Registration Department is pursuant to federal powers.
Badariah said perhaps it was timely that all the states along with the federal government worked out a unified regime to determine the religious status of the Ahmadiyya so that they are not put at risk of shariah investigation and prosecution.
https://www.freemalaysiatoday.com/category/nation/2020/08/27/court-orders-trial-judge-to-determine-religious-status-of-39-ahmadiyya-followers/
--------
India
Punish Mumbai and Pulwama plotters, shared enough proof: India to Pak
Aug 28, 2020
Rezaul H Laskar
India on Thursday demanded Pakistan should prosecute the perpetrators of the 2019 Pulwama terror attack and 2008 Mumbai carnage, saying the main accused in last year's suicide bombing – Jaish-e-Mohammed (JeM) chief Masood Azhar – continues to be sheltered by Islamabad.
New Delhi also called on Islamabad to act against UN-designated terrorists such as Dawood Ibrahim, saying Pakistan's assertion that its actions to enforce the global body's sanctions doesn't mean it admits to the presence of such individuals on its territory reflects its "insincerity" in tracking down global terrorists operating from Pakistani soil.
India's response to Pakistan's rejection of the National Investigation Agency's (NIA) chargesheet in the Pulwama terror attack was outlined during a weekly news briefing by external affairs ministry spokesperson Anurag Srivastava, who said Islamabad was evading its responsibility even after New Delhi had shared "enough evidence" on the suicide bombing.
The chargesheet filed by the NIA in a court in Jammu on Tuesday named Masood Azhar, his two brothers Abdul Rauf Asghar Alvi and Ammar Alvi, his nephew Mohammad Umar Farooq and 15 others who carried out the bombing at Pakistan's behest. The attack killed 40 Indian troopers and triggered a brief stand-off between the two countries.
Pakistan rejected the chargesheet on Wednesday, contending it contained fabrications to further the Indian government's "anti-Pakistan rhetoric and its narrow domestic political interests". It also said the Indian side had failed to respond to two requests for further information on the terror attack.
Responding to a question on whether India will share further information with Pakistan on the attack, Srivastava said: "Jaish-e-Mohammed had claimed the responsibility of the Pulwama attack. The organisation and its leadership are in Pakistan. It is regrettable that Masood Azhar, the first accused in the chargesheet continues to find shelter in Pakistan."
He added, "Enough evidence has been shared with Pakistan but it continues to evade responsibility."
The chargesheet, Srivastava said, was filed after an investigation lasting a year-and-a-half since the attack on February 14 last year. "It has been filed to address the act of terrorism and to bring perpetrators of such a heinous crime to justice. Our aim is not to simply issue statements or notifications," he said.
Srivastava also pointed out that Pakistan was yet to take "any credible action" against perpetrators of the Mumbai terror attacks of 2008, which claimed 166 lives, including 25 foreign nationals.
The Mumbai attacks were carried out by a 10-member team of Pakistan-based Lashkar-e-Taiba (LeT). Pakistani security agencies arrested seven men, including LeT operations commander Zakiur Rahman Lakhvi, in the weeks after the attack but their trial has made little headway even after scores of hearings. Lakhvi was released on bail in 2015 and his current whereabouts are unknown.
Pakistan also recently issued two statutory regulatory orders (SROs) to enforce UN Security Council sanctions on hundreds of terrorist individuals and entities, including Masood Azhar, LeT founder Hafiz Saeed and Dawood Ibrahim ahead of an expected assessment of its counter-terror financing actions by the Financial Action Task Force (FATF). One of the orders listed three addresses in Karachi for Ibrahim, though Pakistan has long denied the mob boss' presence in the country.
After the matter was widely reported in the Indian media, Pakistan's foreign ministry said in a statement the SROs didn't amount to "Pakistan admitting to the presence of certain listed individuals on its territory".
Asked about this matter, Srivastava said: "Pakistan's assertion that the SRO does not mean that it admits to the presence of listed individuals on its territory or that it would impose any new measures on these listed individuals, lays bare the insincerity of Pakistan in responding to legitimate expectations of the world that they will track down international terrorists based on its soil."
Pakistan, he said, has "not only maintained its opposition to this international consensus but it has also chosen not to act against" the terrorists. "Pakistan has never taken any credible and verifiable action against terror entities or listed individuals, including the most wanted ones," he added.
Srivastava said the denial by Pakistan's Foreign Office "calls into question their intentions and it would not mislead the world community in believing its propaganda". He added, "Pakistan must take credible action and ensure that the listed individuals are prosecuted."
Ibrahim, wanted by India for his role in the 1993 Mumbai bombings, has regularly featured in lists of wanted terrorists and dossiers provided by India to Pakistan.
In response to another question, Srivastava reiterated that Pakistan's envoy to the UN had issued a statement on August 24 about addressing a Security Council meeting on Monday on threats to international peace and security from terrorism that subsequently turned out to be untrue.
"The briefing and discussions at this UNSC meeting were confined to members only and we had sought clarification from the Indonesian chair, who informally confirmed to us that there was no scope for any non-member to speak in this discussion. Our permanent mission to the UN has clearly rebutted all allegations made by Pakistan in this statement," he said.
Sameer Patil, fellow for international security studies at Gateway House, said it is important for the Indian government to keep highlighting the issue of terrorism emanating from Pakistan even if such assertions hadn't resulted in any change in the neighbouring country's behaviour.
"The statement on Pulwama may be more for domestic consumption since cross-border terrorism remains an emotional issue. Not to highlight it could be seen as some sort of acquiescence on the issue, and no Indian government, least of all a BJP government, will want a charge like that levelled against it. But highlighting it also shows India is still pursuing the issue and this is important from the domestic and international perspective," he said.
https://www.hindustantimes.com/india-news/punish-mumbai-and-pulwama-plotters-shared-enough-proof-india-to-pak/story-WDknCG1QltRHXiZi6VVJ0M.html
--------
Pulwama case: India to cite money trail to Pak banks at FATF
Aug 28, 2020
NEW DELHI: The irrefutable trail of Rs 10.4 lakh cash deposits by Pakistan-based Jaish-e-Mohammed masterminds into Pulwama case accused Muhammad Umar Farooq's two bank accounts in Peshawar and Khyber Agency to finance the February 14, 2019, fidayeen attack, is likely to strengthen India's case for Pakistan being 'blacklisted' by the Financial Action Task Force (FATF).
Pakistan's delivery on FATF's 27-point action plan to curb terror financing and money laundering will come up for review by the multilateral body on September 14, followed by the final decision at the body's plenary in October.
Sources said India may raise the funding trail of Pulwama attack to banks in Pakistan, to highlight Islamabad's "limited" understanding of the terror financing risk emanating from its jurisdiction.
"The fact that a Jaish terrorist was receiving funds in his bank accounts back in Pakistan, with which he bought the car and explosives used for the blast in India that killed 40 CRPF jawans, shows that Pakistan has failed to deliver on its promises of due diligence in its banking system," an officer said. The NIA's probe into the Pulwama attack has found that cash deposits totalling Rs 10.4 lakh were made in five instalments into Umar's separate bank accounts in Meezan Bank, Peshawar, and Allied Bank in Khyber Agency.
The trail of all the five deposit slips has been retrieved from Umar's phone that was broken into with the help of CERT-In. These funds were deposited after Umar made a request to his uncles Abdul Rouf Asghar and Ammar Alvi.
The voice clips where Umar asks them for money for the Pulwama attack, after which the cash deposits were made, have been submitted as evidence in the NIA chargesheet on Tuesday.
Of the over 10 lakh Pakistani rupees deposited in Umar's accounts, Rs 5.7 lakh was used for purchase and modification of the car and procuring explosives, including ammonium powder from Amazon.
https://timesofindia.indiatimes.com/india/pulwama-case-india-to-cite-money-trail-to-pak-banks-at-fatf/articleshow/77793949.cms
--------
BJP MP, Harnath Singh Yadav, Wants Islamic Studies Off UPSC List
28.08.20
A BJP parliamentarian, Harnath Singh Yadav, has told The Telegraph he plans to raise in the Rajya Sabha a demand for the removal of Islamic Studies as
a subject from the Union Public Service Commission exam.
His decision coincides with a pro-Hindutva campaign against the purportedly rising number of Muslims clearing the civil services exam, although the MP
denied any such link.
He, however, insisted that Islamic Studies — which covers the history of the rise and spread of Islam as well as Islam's contributions to science, philosophy, art and architecture, among other things — shouldn't be part of exams to select future civil servants and police officers.
"I have strong objections against Islamic Studies being part of the UPSC," the Rajya Sabha member from Uttar Pradesh said.
Asked why, he cited platitudes usually heard in Right-wing echo chambers and suggested "incompatibility" with "Indian culture".
The MP added: "I shall gather more information on the subject and raise it during the upcoming session of Parliament and demand its removal (from the UPSC exam)."
Parliament is expected to be convened in mid-September.
Harnath's comments come against the backdrop of a controversy over a television channel chief posting a teaser for a news programme on the "infiltration" of the civil services by Muslims, which he labelled "UPSC jihad" and "bureaucracy jihad".
Several IAS officers and the IPS Association have expressed outrage at Sudarshan News editor-in-chief Suresh Chavhanke and demanded action against him for the "communal" teaser.
Chavhanke is followed on Twitter by many key BJP leaders. The channel is widely perceived as peddling blatantly communal campaigns that BJP members cannot raise directly, with the objectives of testing the waters and influencing public opinion.
Harnath's name had figured in one of Chavhanke's tweets in which he claimed the parliamentarian had agreed to raise the subject of "UPSC jihad" in the Upper House.
The MP acknowledged having spoken to Chavhanke recently but denied he had anything to do with the "UPSC jihad" or "bureaucracy jihad" posts.
"My issue is limited to demanding the removal of Islamic Studies from the UPSC and I will do it," he said.
Harnath denied any bias against Muslims and underlined that he had consistently been raising issues related to the UPSC exam in the Rajya Sabha.
"I have been demanding that the UPSC papers be prepared primarily in Hindi and the regional languages. They shouldn't be translated from English," he said.
Harnath said the quality of the translation tended to be poor and handicapped rural students who chose to read and answer the questions in Hindi or the regional languages.
Officially, the BJP has refrained from commenting on the Sudarshan TV controversy.
Several retired and serving civil servants have condemned the campaign and demanded action.
"A news story targeting candidates in civil services on the basis of religion is being promoted by Sudarshan TV. We condemn the communal and irresponsible piece of journalism," the IPS Association tweeted.
A post from retired IPS officer N.C. Asthana said: "By casting doubts on the integrity and impartiality of a constitutional body like the UPSC in selection of officers for All-India Services, he is spreading disaffection for the constitutional scheme of governance."
Serving IPS officer Niharika Bhatt has castigated the "despicable attempt at hate mongering" and demanded the use of "the strictest legal provisions" against the campaign.
"Why don't police arrest him and why SC or HCs or minorities commission or UPSC don't take suo motu cognisance now?" tweeted IAS officer Prabhjot Singh.
Some Twitter users have demanded that the social media platform suspend Chavhanke's account.
An official from a government coaching centre for the UPSC exam said the results of the 2019 exam, announced a fortnight ago, showed that Muslims accounted for only 5 per cent of the successful candidates, up from 4.5 per cent last year.
https://www.telegraphindia.com/india/bjp-mp-wants-islamic-studies-off-upsc-list/cid/1790274
--------
Cannot discriminate against Shia Muslims: Bombay high court directs state to allow Muharram rituals
KAY Dodhiya
Aug 27, 2020
The Bombay high court (HC) has said that it would be discriminatory if the Shia Muslims, who are seeking permission to commemorate the martyrdom of Imam Hussain by observing rituals as per the norms laid down by the Maharashtra government's disaster management department, are barred, as a similar approval was given to the Hindus to celebrate the annual 10-day Ganesh Utsav that started on August 22, despite the prevailing coronavirus disease (Covid-19) outbreak.
The observations were made while hearing a petition filed by All India Idara Tahfaz-e-Hussainiyat, an organisation from south Mumbai, which had sought directions to the state government to allow a limited number of people be allowed to perform mehendi, alam and taziya rituals for the Muharram.
HC has asked the state government and the disaster management department to hear the petitioner and submit their report by Friday (August 28) morning.
A two-member HC division bench, comprising justices SJ Kathawalla and Madhav Jamdar, while hearing the petition on Thursday, was informed that Shia Muslims in Mumbai and Maharashtra desired to observe a period of mourning for two hours on four days of the Islamic month of Muharram – from August 27 to 30 -- by performing rituals.
Advocate Rajendra Shirodkar, who appeared for the petitioner along with advocate Shehzad Naqvi, submitted that the Shia Mulsims were seeking permission for a group of 20-50 of them to perform the rituals through a procession, which would start at Bhendi Bazar and end at Mazgaon Kabrastan in Mumbai.
When the court sought to know about the mehendi, alam and taziya rituals, Shirodkar explained that a group of Shia Muslims would carry flags and replicas of the mausoleum of Imam Hussain and go from Bhendi Bazar to Mazgaon.
However, HC was not convinced and sought an explainer that was submitted by Shirodkar later in the day. Shirodkar submitted that though the prayer was made for 20-50 Shia Muslims, the number of participants could be reduced as per the court's order.
State additional government pleader Geeta Shastri and government pleader Poornima Kantharia opposed the petition.
They stated that the petition was seeking permission for a procession, where thousands of Shia Muslims take part in the annual procession and it should not be allowed because of the prevailing viral outbreak and it would impossible for the state authorities to enforce social distancing norms.
Kantharia submitted since Ganesh Utsav processions were not permitted, similarly there should be a ban on the Muharram procession.
Earlier, Shastri informed HC that the Supreme Court (SC) on Thursday had rejected a petition for carrying out Muharram processions throughout the country following which the court perused the summary of the apex court's order.
The court observed that there was no SC order barring Muharram processions across the country. The court stated that the petition in SC was only for taking out a procession in Lucknow, Uttar Pradesh, and other states were not involved in it.
"If limited permissions are issued for Lord Ganesha, then refusing permissions for Muharram would be discriminatory. Hence, we direct the (state) authorities to give the petitioner a hearing and decide on it," said Justice Kathawalla.
The court directed Amitabh Gupta, principal secretary (home), Maharashtra; and Kishor Raje Nimbalkar, secretary, disaster management department, Maharashtra, to give the petitioner a hearing.
The court also directed Gupta and Nimbalkar to submit a report on the state government's decision on Friday morning.
HC will hear the case again in the first half on Friday.
https://www.hindustantimes.com/mumbai-news/cannot-discriminate-against-shia-muslims-bombay-high-court-directs-state-to-allow-muharram-rituals/story-va6Do07gdy8j55Sl9r3DrK.html
--------
Security tightened in Srinagar to stop Muharram procession amid Covid pandemic
Aug 28, 2020
Authorities in Srinagar have tightened security in some parts of the city especially around business nerve centre Lal Chowk to ensure that Muharram processions are not taken out on Saturday.
The processions have been banned because of the Covid-19 pandemic.
Late Thursday night, police started closing roads towards the city centre Lal Chowk by placing barbed wire and barricades. Similar steps were also taken in other parts of the city like Batamaloo, Karan Nagar, Dalgate and Rainawari areas. But shops and business establishments in other parts of the city are functioning as usual.
Earlier on Thursday, Divisional Commissioner Kashmir, Pandurang K Pole had ruled out any chance of allowing Muharram processions.
"Restrictions will continue on all religious processions and gatherings in all districts," Pole said during a meeting with Shia groups.
Traditionally, a procession used to be taken out from Guru Bazar to Dalgate area of the city on the eighth day of Muharram before militancy erupted in the Valley.
Authorities have not allowed a procession on this route for almost 30 years now.
On several occasions in the past, security forces scuttled Muharram processions in Batmaloo, Jahangir Chowk, Abi Guzar and Dalgate by using tear gas shells.
On Tuesday night, police arrested two persons in Srinagar for allegedly raising Azadi slogans during a Muharram procession.
https://www.hindustantimes.com/india-news/security-tightened-in-srinagar-to-stop-muharram-procession-amid-covid-pandemic/story-JhNOqNPzSaIWBvFBwxaOAP.html
--------
Delhi 2020 religious' riots: Amnesty International accuses police of rights abuses
28 August, 2020
Indian police "committed serious human rights violations" during deadly religious riots in Delhi earlier this year, Amnesty International alleges.
It said police beat protesters, tortured detainees and at times took part in riots with Hindu mobs.
More than 40 people died when clashes broke out between Hindus and Muslims over a controversial citizenship law. Muslims bore the brunt, Amnesty said.
The Delhi police are yet to respond to Amnesty's request for a response.
The investigation corroborates the BBC's reporting on incidents of police brutality and complicity during the riots in February, the deadliest in the city for decades. The police denied any wrongdoing.
Some of the top findings of the Amnesty report mirror the BBC's investigation into the Delhi police's role in the violence.
Videos had emerged on social media and messaging groups from the Khajuri Khas area in north-east Delhi, in which police are seen acting with a mob and throwing stones. We investigated these videos by gathering eyewitness testimony from both communities.
One shopkeeper alleged that police gave stones to him and other Hindus to throw at Muslims over the road. Bhoora Khan, a Muslim whose home and shop across the street were burnt down, also alleged the police acted with Hindus against Muslims.
We also investigated another set of videos that showed a group of policemen brutally beating a Muslim man, Faizan. The man died a few days later. His brother Naeem told me Faizan succumbed to the injuries he suffered at the hands of the police.
While the Delhi police didn't initially respond to the BBC's request for a reply, after the report aired, they told BBC Hindi they would look into what is seen in these videos. But many, including Amnesty, are asking how the police can be trusted to investigate allegations against their own men.
The Amnesty report says that while Hindus also suffered losses, Muslims were disproportionately targeted in the riots.
"The riot that seemed far from spontaneous saw almost three times the number of Muslim casualties compared to Hindus. Muslims also bore the brunt of loss of business and property," it said.
"The percentage may be lower but establishments and homes owned by Hindus were not left completely untouched," it added.
The Citizenship Amendment Act (CAA) - which critics say is anti-Muslim - sparked massive protests across India after it was passed last year.
One such demonstration in Delhi turned violent - clashes broke out between protesters for and against the law.
"The riot that seemed far from spontaneous saw almost three times the number of Muslim casualties compared to Hindus. Muslims also bore the brunt of loss of business and property," it said.
"The percentage may be lower but establishments and homes owned by Hindus were not left completely untouched," it added.
The Citizenship Amendment Act (CAA) - which critics say is anti-Muslim - sparked massive protests across India after it was passed last year.
One such demonstration in Delhi turned violent - clashes broke out between protesters for and against the law.
The violence soon took religious overtones and the rioting continued for three days, with Muslim homes and shops being targeted by violent mobs.
The report says its forensic analysis of videos from the rioting supports the conclusion that the police stood by, allowing rioters to wreak havoc in some places.
It also alleges that hate speeches by right-wing leaders sparked the riots - but notes that the police have taken no action against them.
On the other hand, it says, police have arrested civil rights activists, teachers and students, most of them Muslim.
"Not even a single political leader that made hate speeches, which advocated violence in the build-up to the riots has been prosecuted," it said.
The report recommends an independent inquiry into the allegations.
"As the Delhi police investigate who is responsible for the riots, there have been no investigations till now into the human rights violations committed by the Delhi police during the riots," says the report.
Several other reports have also raised questions over police conduct during the riots. A report by the Delhi Minorities Commission also alleged that the police allowed Muslim homes and shops to be targeted by mobs.
https://www.bbc.com/news/world-asia-india-53891354
--------
'Dragon's favourite': Hindu groups target Bollywood's Aamir Khan
28 August, 2020
On August 15, Turkish First Lady Emine Erdogan posted a picture of her meeting Bollywood star Aamir Khan on Twitter. It soon went viral.
"I had the great pleasure of meeting @aamir_khan, the world-renowned Indian actor, filmmaker, and director, in Istanbul…" Emine Erdogan tweeted after meeting the Muslim actor, who was in Turkey to shoot his latest film, Laal Singh Chaddha.
Pro-government supporters were furious at Khan for taking a picture with the wife of Turkish President Recep Tayyip Erdogan, who has criticised the Indian government's decision to strip Indian-administered Kashmir of its special status last August.
Erdogan has backed Pakistan in the dispute over Kashmir, a territory both India and Pakistan claim as its own but rule in parts.
New Delhi told Ankara not to "interfere" in its internal affairs after President Erdogan expressed concern over the deteriorating situation in the Muslim-majority region, which has been under security lockdown since its limited autonomy was removed on August 5, 2019.
India also acted against Malaysia for criticising its Kashmir move by banning the import of palm oil from the Asia Pacific nation.
'Anti-national'
Khan, one of the biggest Bollywood stars, was soon the top Twitter trending topic along with Erdogan, with Hindu nationalists branding the film star "anti-national" and "unpatriotic" for standing with the "enemy".
His criticism was not limited to social media, where the pro-government users dominate. A recent report by The Wall Street Journal said Facebook India executives failed to act against anti-Muslim posts by governing party leaders. Facebook has about 300 million users in India.
This week, the right-wing Rashtriya Swayamsevak Sangh (RSS) volunteer organisation, which is the ideological parent of the governing Bharatiya Janata Party (BJP), criticised Khan's ties with Turkey, saying he was "forging friendships with those that are considered enemies of India".
The RSS magazine, Organiser, put Khan on its cover calling him "The Dragon's favourite Khan", a reference to China.
The 55-year-old star was attacked for his massive popularity in China, which has been accused of transgressing into Indian territory across Line of Actual Control (LAC) - the de facto border between the two Asian countries.
"Aamir seems to be the favourite of the Chinese Communist Party system and the fact his movies are doing so well is an indication that he is being promoted by Chinese state," the editor of the weekly Hitesh Shankar told a news website.
Growing marginalisation of Muslims
Khan is a brand ambassador for Chinese smartphone maker Vivo, and is also a major draw on the mainland with films such as Dangal (2016). He has 1.16 million followers on China's Twitter-like platform, Weibo.
Prime Minister Narendra Modi's government has fanned growing hostility towards China following a deadly clash on their disputed Himalayan border on June 15. Modi is a devout Hindu and a lifelong RSS member.
Since Modi came to power in 2014, the BJP government has enacted a number of policies that have raised fears of marginalisation among India 200-million-strong Muslim minority.
Last year, Modi's government passed a citizenship law that made faith a basis for acquiring Indian citizenship in the officially secular nation. The new law, which sparked nationwide protests, was dubbed "fundamentally discriminatory" by the United Nations.
The three Khans
Bollywood has a long tradition of Muslim movie stars and the so-called three Khans - Aamir, Salman and Shah Rukh - have dominated the industry for the last 30 years.
But Aamir Khan stands out because of his outspokenness.
He is one of Bollywood's most bankable leading men and has appeared in dozens of films - often playing Hindu or Sikh heroes. He has an enormous fan club, which includes millions of Hindus.
Khan was the target of a vicious online campaign in 2015 and forced out of several advertisement campaigns after he said his wife feared for the safety of their children in India.
At the time, India was reeling under a climate of insecurity following the lynching of a Muslim man for allegedly eating beef, which many Hindus believe to be sacrilegious. Since then, dozens of Muslims have been lynched by Hindu mobs over rumours of cow slaughter or smuggling.
In the past, Hindu right-wing groups have called for boycott of films starring Khans, particularly Shah Rukh Khan and Aamir Khan. In recent years, the three stars have largely remained silent on issues facing the minority community.
The BJP has denied its policies are against the minority community but has done little to stop its supporters from indulging in online hate speech against Muslims.
https://www.aljazeera.com/news/2020/08/favourite-hindu-groups-target-bollywood-aamir-khan-200827100846118.html
--------
North America
Trump's Iran policy makes United States more isolated: Harris
27 August 2020
US Democratic vice-presidential nominee Kamala Harris has said that the United States is more isolated now than ever from its allies due to President Donald Trump's policies against Iran, noting that his approach has led to an "alone America".
"The Trump administration took the issue of the arms embargo against Iran to the (UN) Security Council recently and only one other country voted with us. I think it's fair to say this (Trump's) America First approach has been America alone which is not in our best interest or in the interest of our allies," she said.
Harris said that, "I serve on the Intelligence committee and I believe that we are more isolated than ever from our allies and that we need help for us to meet this challenge."
"Our administration will hold Iran's government accountable and rejoin a diplomatic agreement if Iran comes back into compliance. And we will work with our allies, of course, to strengthen the Iran deal and push back Iran's other destabilising actions," the first-term Senator from California said at a virtual fundraiser.
Earlier in August, the United Nations Security Council rejected a US resolution to extend an arms embargo on Iran that is due to expire in October as part of the 2015 Iran nuclear deal, known as the Joint Comprehensive Plan of Action (JCPOA), which has been endorsed by Security Council Resolution 2231.
The US resolution needed support from nine of 15 votes to pass. Eleven members abstained, including France, Germany and Britain (nuclear deal signatories), while the US and the Dominican Republic were the only "yes" votes.
The Trump administration had repeatedly threatened to trigger the so-called snapback provisions of the 2015 nuclear deal if it cannot secure an arms embargo extension.
Elsewhere in her remarks, Harris said, if voted to power, Democratic presidential candidate Joe Biden's administration would offer unwavering support for Israel and would never let Iran obtain a nuclear weapon.
"Joe has made it clear he will not tie security assistance to any political decisions that Israel makes and I couldn't agree more," Harris said.
"I pledge to you the Biden-Harris administration will sustain our unbreakable commitment to Israel's security, including the unprecedented military and intelligence cooperation pioneered during the Obama-Biden administration and the guarantee that Israel will always maintain its qualitative military edge."
Former vice-president Biden helped shape the unprecedented $38 billion US military assistance to Israel agreed in 2016, which was the largest military aid package in American history, Harris said.
Harris said, "That Iran nuclear deal, as we all know, blocked Iran's pathways to a nuclear weapon and it was working, as was verified by international inspectors and the US intelligence community. But Donald Trump withdrew from it...promising a better deal and a cowed Iran, but instead Iran is revving up its nuclear activity and becoming more provocative."
US President Trump withdrew from the Iran nuclear deal in 2018, which was clinched under Barack Obama, and reinstated Washington's unilateral sanctions as part of the US maximum pressure campaign against the Islamic Republic.
The US has suffered another debasing defeat at the UN Security Council last week to gather support even from its allies to trigger the return of all UNSC sanctions against Iran through the "snapback" mechanism.
13 of the 15 council members, including the three European nations still party to the JCPOA, agreed that the US is no longer part of the deal and therefore its notification of "snapback" has no effect.
French deputy UN ambassador Anne Gueguen said the trio (France, Germany and Britain) are willing to work with council members, including the other JCPOA participants, Russia and China, "to seek a realistic path forward that could secure the support of the council."
On Wednesday, Iran called on the remaining parties to the 2015 Iran nuclear deal not to allow the US to use the UN Security Council as a tool to advance its own agenda, urging the JCPOA partners and UNSC members to stand up to US intimidation.
https://www.presstv.com/Detail/2020/08/27/632704/Trump-Iran-policy-United-States-isolated-Harris-snapback-nuclear-deal-
--------
Convicted Terrorist Arrested in California on Meth Charges
Aug. 26, 2020
RIVERSIDE, CALIFORNIA (AP) — A man who served years in prison for conspiracy to commit terrorism has been arrested in Southern California on suspicion of selling large quantities of methamphetamine, federal prosecutors said Wednesday.
Ahmed Binyamin Alasiri, also known as Kevin Lamar James, faces two counts of distribution of meth, according to a statement from the U.S. Attorney's office. It wasn't immediately known if the 44-year-old Garden Grove resident has an attorney.
Alasiri was on supervised release following a 2009 conviction for conspiracy to levy war against the United States through terrorism, prosecutors said. Alasiri's co-conspirators committed armed robberies of gas stations to raise money for attacks Alasari had planned on U.S. military operations and Israeli and Jewish facilities in Southern California, prosecutors said. Alasiri completed his prison sentence in September 2019.
He's been ordered detained pending the outcome of the narcotics case. Arraignment is scheduled for September 14.
Alasiri allegedly sold 1 pound (0.45 kilograms) of 96% pure methamphetamine to a buyer on July 24 for $3,700, according to court papers. On August 6, Alasiri allegedly again sold another pound of methamphetamine to the same buyer for the same price, the court filing said. Laboratory analysis of the second purchase showed the meth was 98 percent pure, the filing said
https://www.usnews.com/news/best-states/california/articles/2020-08-26/convicted-terrorist-arrested-in-california-on-meth-charges?utm_source=iterable&utm_medium=email&utm_campaign=1475497_
--------
Arab world
Deadly sectarian clashes near Beirut between Hezbollah supporters, local clan
27 August 2020
At least two people were killed Thursday in clashes that broke out between Hezbollah supporters and a local clan south of Beirut, over a religious banner.
Local eyewitnesses told Al Arabiya English that an argument over the displaying of a religious flag in Khaldeh led to a gunfight between the two sides.
For all the latest headlines follow our Google News channel online or via the app.
Hezbollah supporters were raising flags to mark Ashoura before local clan members objected. Closer video shows the gunfire battle between Hezbollah supporters and Sunni Arab tribe members of Beirut's Khaldeh area.
The Lebanese army arrived at the scene and blocked the road to calm the situation. The army then released a statement saying four people were arrested and efforts were underway to apprehend the remaining suspects.
The tribe members called on the army to intervene and protect local residents. A statement released by the Sunni Arab tribes placed the blame on the country's political elite and Hezbollah. "Hezbollah turned its arms into sectarian and militia weapons," the statement said.
Ashoura is an annual a religious commemoration held by Shia Muslims on the tenth day of tenth day of the Islamic month of Muharram to mark the death of Imam Hussein, the grandson of Islam's Prophet Mohammed, who was killed in battle.
"It is a jungle here," one eyewitness said shortly after the clashes broke out.
Progressive Socialist Party Walid Joumblatt said that the main highway that passed through Khaldeh was for all Lebanese. ""It is forbidden for any political side or sectarian party to tamper with the road and area that is for all," he tweeted.
https://english.alarabiya.net/en/News/middle-east/2020/08/27/Clashes-in-Beirut-s-southern-town-of-Khaldeh-erupts-between-local-tribes-Hezbollah.html
--------
Lebanese presidency to consult with Parliament on Monday to designate new PM
28 August 2020
The Lebanese presidency will convene consultations with parliamentary blocs on Monday to designate a new prime minister, the presidency said, after the government quit earlier this month following the catastrophic explosion at Beirut port.
The president is required to designate the candidate with the greatest level of support among MPs.
Sunni politician Saad al-Hariri is so far the only serious name floated for the post. But he said earlier this week he was not a candidate after several major parties said they did not support his return to the job.
https://english.alarabiya.net/en/News/middle-east/2020/08/28/Lebanese-presidency-to-consult-with-Parliament-on-Monday-to-designate-new-PM.html
--------
Coronavirus: Syria cases likely 'far exceed official figures' says UN
27 August 2020
A senior UN humanitarian official says reports of Syrian health care facilities filling up and increasing death notices and burials appear to indicate that actual coronavirus cases "far exceed official figures" of 2,440 cases confirmed by the government's Ministry of Health.
Assistant Secretary-General for humanitarian affairs Ramesh Rajasingham told the UN Security Council on Thursday that "rising patient numbers are adding pressure to the fragile health system."
He says many people "are reluctant to seek care at medical facilities, leading to more severe complications when they do arrive," and "health workers still lack sufficient personal protective equipment and associated supplies."
Of the more than 2,400 cases confirmed by the Ministry of Health, Rajasingham says, "the majority cannot be traced to a known source."
https://english.alarabiya.net/en/coronavirus/2020/08/27/Coronavirus-Syria-cases-likely-far-exceed-official-figures-says-UN.html
--------
Lebanese army's neutrality, legitimacy put to the test amid clashes with protesters
Mona Alami
28 August 2020
As Lebanon faces renewed protests, the Lebanese Armed Forces' neutrality and legitimacy is being put to the test, as its members are routinely put in the direct path of protesters. While the army's unity's does not seem to be at risk experts say, the willingness of low ranking officers to repress crowds is diminishing.
And the longer the political and economic crises last, the less willing common foot soldiers will be to carry out the will of the state.
"The army is in a difficult position. On one hand, it is conscious that corruption plagues the political class controlling the state's institutions [has] sway over the army. On the other, it has to protect peaceful protests while preventing any riots," said General Khaled Hamadeh, a retired general and an expert on military affairs.
For all the latest headlines follow our Google News channel online or via the app.
The historically well-respected institution is under severe pressure, as the situation is tenuous and protesters and security forces have clashed sporadically. The Lebanese parliament granted the army with sweeping power in the wake of the Beirut explosion that killed 181 people and injured over 6,000 others.
The protests that followed the blasts have placed the Lebanese army (LAF) between an angry street and the ruling elite. The explosion was caused by 2,750 tons of ammonium nitrates, which the government knew about, and that had been stored at the port since 2013.
Hezbollah and its Christian ally the Free Patriotic Movement, which have backed the government of PM Hassan Diab at the time of the bombing have been largely the target of the public ire.
"The army is reflective of the country's political divisions. The fact that Christian Patriarch Bechara Boutros Rai is now indirectly blaming (Christian) President Michel Aoun and its ally Hezbollah for the Lebanese disastrous situation will have an impact on the army's Christian leadership," Hamdeh said.
"To that, one has to add sectarian tensions resulting from those who are siding with or against Hezbollah. While this may not affect the army's unity per say, it will reflect on the process of effective decision making," he continued.
Patriarch Rai indirectly attacked this week Lebanon's current political leadership, attributing implicitly the Beirut bomb blast to Hezbollah's weapons caches.
As tensions rise further between the Lebanese political elite and the Lebanese population, the LAF, called into the streets to maintain peace, may find themselves in between the two groups with increasing frequency.
Above the political divide
So far, the LAF have attempted to remain above the sectarian and political foray, maintaining a semblance of neutrality, but this has been broken by acts of defiance of retired soldiers.
During the protests, in the wake of the Beirut blast, the Lebanese army drove out a group of demonstrators, led by retired soldiers who had stormed the foreign ministry during the anti-government demonstrations on October 8. The retired army officers were led by former general Samer Rammah, who said he felt that President Michel Aoun, himself a former general, who he once served under in the 1980s, "did not respect his oath."
Other pressure groups are represented by the antigovernment movement National Salvation Front, led by Chamel Roukoz, former brigadier general of the Ranger regiment of the LAF and son in law of President Michel Aoun.
Roukoz said he does not believe in violent action against public institutions. "People have the right to express their opinion and for peaceful demonstrations," he explained. Roukoz warned that protests cannot turn into a direct confrontation with the security forces.
Roukoz was also critical of the recent brief attempts by hawkish retired LAF members to occupy the state's institutions
"We are in a very similar situation [compared to] the early years of the Syria war," said a retired soldier on condition of anonymity who hails from Tripoli.
The war in Syria pushed the army to increase coordination with Hezbollah, which supported the regime of Alawite President Bashar al-Assad against a largely Sunni rebellion. This coordination ran parallel of a crackdown on Lebanese extremists in Lebanon. Those who supported the Syrian revolution, particularly those in the Sunni political street, were critical of the coordination between the LAF and Hezbollah.
Because of this perceived coordination, several suicide attacks and bombings also targeted LAF positions between 2012 and 2013 as terrorist groups moved into Lebanon from nearby war-battered neighboring Syria.
"At the time, members of my family fought in Syria and I supported them; I was against the regime of Bashar al-Assad. Today I support the protestors and I do not see how we can repress people who are voicing our concerns and injustices of which we are the victims," added the retired soldier.
The LAF today faces another similar daunting balancing act. This time, divisions are not along political and sectarian lines, but between the ruling elite and an increasingly angry population.
In October 2019, mass demonstrations swept across Lebanon after the government announced new austerity measures set against the backdrop of an unpreceded economic crisis. The August 4, the explosion at the Beirut port which destroyed large swaths of Beirut, only worsened the divide between the population and the political class.
"I think that the security forces can still withstand the pressure on the short term, but as the crisis prolongs, in the backdrop of the state economic failure, LAF elements may start buckling under the strain," said a high former security source, speaking on condition of anonymity.
The Lebanese government defaulted in March on its $1.2 billion Eurobond payment, triggering talks with the IMF to restructure some $90 billion in debt. Since then, the Lebanese pound has lost more than 80 percent of its value and the salary of an average soldier has now reached around $120 a month, said General Hamadeh. Soldiers previously earned around 1,292,000 Lebanese pounds ($855 at the official exchange rate) each month, according to one article from French daily L'Orient Le Jour.
The LAF command is nonetheless wary of the economic threat posed to the army on the long-term, says a source in the Lebanese ministry of defense.
"Soldiers are thus offered increased food, transport and health subsidies," explained the Ministry of Defense source who spoke to Al Arabiya English on condition of anonymity. However, at the end of June, the army scrapped meat from the meals it offers soldiers as food prices have skyrocketed.
Facing pressure from the street, the political class has used the army as a first line of defense under the new state of emergency, giving it the power to declare curfews, refer civilians to military tribunals for alleged security breaches, prevent public gatherings and censor the media.
"The army is going to face increasing problems at the level of how soldiers and commanders choose to execute orders. The less convinced of the orders soldiers are, the more likely they will try avoid executing these orders," said Hamadeh.
https://english.alarabiya.net/en/features/2020/08/26/Lebanese-army-s-neutrality-legitimacy-put-to-the-test-amid-clashes-with-protesters.html
--------
Nearly two dozen Saudi troops enter US base in northeastern Syria: Report
28 August 2020
Saudi Arabia has reportedly deployed nearly two dozen combat troops to a US-run military base in Syria's oil-rich northeastern province of Hasakah as the Riyadh regime and some of its regional allies are vying with the United States to loot the natural resources of the war-ravaged country.
Lebanon's Arabic-language al-Mayadeen television news network, citing an informed source, reported that 20 Saudi soldiers, led by an officer called Saud al-Joghaifi, arrived at the US base in the city of Shaddadi on Wednesday.
The source added that the Saudi troops were accompanied by a convoy of US-led forces from the coalition purportedly formed to fight the Daesh Takfiri terrorist group, which withdrew from Camp Taji, situated 20 kilometers (12 miles) north of the Iraqi capital Baghdad, earlier this week.
Back on December 21 last year, informed local sources, speaking on condition of anonymity, told the Arabic service of Turkey's official Anadolu news agency that dozens of Saudi soldiers had arrived at Omar oil field in Syria's eastern province of Dayr al-Zawr aboard helicopters.
The sources added that the troops were expected to guard Saudi and Egyptian experts, who had arrived at the energy facility a week earlier and were believed to be working for Saudi Arabia's giant state-owned oil company, Saudi Aramco.
The report noted that the deployment of Saudi soldiers to the oil field coincided with the arrival of about 30 trucks equipped with digging and drilling machinery.
The sources said the vehicles had entered Syrian territory from northern Iraq, and that Saudi soldiers were stationed in a residential area close to Omar oil field that is said to be housing American troops.
Since late October 2019, the United States has been redeploying troops to the oil fields controlled by Kurdish forces in eastern Syria, in a reversal of President Donald Trump's earlier order to withdraw all troops from the Arab country.
The Pentagon claims the move aims to "protect" the fields and facilities from possible attacks by Daesh. That claim came although Trump had earlier suggested that Washington sought economic interests in controlling the oil fields.
The presence of US forces in eastern Syria has particularly irked the civilians, and local residents have on several occasions stopped American military convoys from entering the region.
Syria, which has not authorized the presence of the US military in its territory, says Washington is "plundering" the country's oil.
https://www.presstv.com/Detail/2020/08/28/632771/Nearly-two-dozen-Saudi-troops-enter-US-base-in-northeastern-Syria--Report
--------
Arab parliamentary union slams incessant attacks by Turkish forces, militants on Syrian civilians
27 August 2020
The Arab Inter-Parliamentary Union (AIPU) has condemned in the strongest terms the inhumane practices and relentless attacks by Turkish military forces and their allied militants against Syrian people in the northern part of the war-ravaged country.
"The AIPU follows with grave concern the inhuman acts being perpetrated by Turkey and its associated terrorist groups against brotherly Syrian people, and their constant attacks on Syrian soil under false pretexts that only expose their desire for an unjustified and flagrant military aggression," it said in a statement released on Thursday.
The union then called on the Ankara government to "respect the rights of neighbors and the relations that bind Turkey with the Arab world. The AIPU underlines that such practices would not foster stability in the region, but would rather provoke more conflicts."
It called on the international community and the United Nations to intervene immediately and put an end to violations being committed by Turkish forces and their allied militants against Syrian people and territories.
The AIPU also called on "Arab councils and parliaments to issue statements in rejection of attacks by any party or country on any brotherly Arab country."
The Arab Inter-parliamentary Union also underscored its "complete support for brotherly Syria as it defends its sovereignty and nation," noting that it is confident that Damascus can well defend Syria's sovereignty and territories.
The AIPU is an Arab organization composed of parliamentary groups representing Arab parliaments. It was established in the wake of the 1973 Arab–Israeli War and amid the atmosphere of Arab solidarity, which encouraged Arab cooperation through political, professional and other institutions. The union is based in the Jordanian capital city of Amman.
On October 9, 2019, Turkish forces and Ankara-backed militants launched a long-threatened cross-border invasion of northeastern Syria in a declared attempt to push Kurdish militants affiliated with the so-called People's Protection Units (YPG) away from border areas.
Ankara views the YPG, which is supported by the White House, as a terrorist organization tied to the homegrown Kurdistan Workers' Party (PKK), which has been seeking an autonomous Kurdish region in Turkey since 1984.
Two weeks after the invasion began, Russian President Vladimir Putin and his Turkish counterpart, Recep Tayyip Erdogan, signed a memorandum of understanding that asserted YPG militants had to withdraw from the Turkish-controlled "safe zone" in northeastern Syria within 150 hours, after which Ankara and Moscow would run joint patrols around the area.
The announcement was made hours before a US-brokered five-day truce between Turkish and Kurdish-led forces was due to expire.
https://www.presstv.com/Detail/2020/08/27/632758/Arab-parliamentary-union-slams-incessant-attacks-by-Turkish-forces-militants-on-Syrian-civilians
--------
Iraqi President Salih calls on Turkey to stop cross-border incursions, respect sovereignty
27 August 2020
Iraqi President Barham Salih has called on Turkey to stop its ongoing operation in the country's semi-autonomous Kurdistan region against hideouts of the Kurdistan Workers' Party (PKK) militant group, saying the cross-border offensive is violating Iraq's sovereignty.
Speaking in a meeting with visiting French Defense Minister Florence Parly in Baghdad on Thursday, Salih stressed the need for an end to the Turkish military aggression on the Iraqi soil, saying Ankara's actions are in violation of the Iraqi sovereignty as well as international law and undermine good neighborly relations.
The Iraqi president then called for concerted international efforts in the fight against terrorism, and stronger cooperation and coordination to combat all forms of extremism.
Parly, for her part, voiced France's support for the stability and sovereignty of Iraq.
The French defense minister added that her country is ready to provide training, munitions as well as logistical support to Iraqi security forces.
The two officials also discussed ways for further development of Iraq-France bilateral relations, and expansion of cooperation in all fields, especially security and military capabilities.
They exchanged viewpoints on the latest regional and international developments as well.
Turkish min.: We have no problem with our Iraqi brethren
Separately on Thursday, Turkey's Defense Minister Hulusi Akar stated that Turkish forces will continue their military operations in northern Iraq.
"We're going to destroy the [terrorist] threat there; that's our goal," Akar said in an exclusive interview with the official Anadolu news agency.
"Our struggle within this framework will continue until the last terrorist is neutralized. There is no retreat. This is President Recep Tayyip Erdogan's instruction. We will save our nation that has suffered from this calamity (PKK) for more than 40 years. This is our wish," the Turkish defense chief emphasized.
"Apart from that, we do not have a problem with our Iraqi brothers. We are already discussing the operations with the Iraqi administration and the efforts to neutralize terrorists there," he added.
The Turkish military started its ground campaign, dubbed Claw-Tiger Operation, against PKK positions in northern Iraq on July 17. Claw-Eagle Operation, the air campaign, had begun two days earlier.
Turkish ground and air forces frequently carry out operations against PKK positions in the country as well as in northern Iraq and neighboring Syria.
A shaky ceasefire between the PKK and the Turkish government collapsed in July 2015. Attacks on Turkish security forces have soared ever since.
More than 40,000 people have been killed during the three-decade conflict between Turkey and the autonomy-seeking militant group.
https://www.presstv.com/Detail/2020/08/27/632734/Iraqi-President-Salih-calls-on-Turkey-to-stop-cross-border-incursions-respect-sovereignty
--------
Pakistan
Allowing Nawaz to leave was a 'mistake', says PM Imran
28 Aug 2020
Prime Minister Imran Khan on Thursday said that allowing former premier Nawaz Sharif to leave the country was a "mistake" and that his government "regretted" the decision.
In a wide-ranging interview to ARY News on Thursday night, the prime minister hinted that the government was pressurised into sending Nawaz abroad, saying that the reports presented to the government suggested that the PML-N supremo was severely ill.
The federal cabinet, he said, had held a long debate over whether the government should let Nawaz leave on humanitarian grounds.
Furthermore, the prime minister added, the court had declared that the government would be responsible, should anything happen to Nawaz. The premier also recalled that PML-N president Shehbaz Sharif submitted indemnity bonds worth Rs7 billion, promising Nawaz would return to the country.
"Now we feel embarrassed. Now he [Nawaz] has started doing politics [from] there as well and, when you see him, it seems like there is nothing [wrong] with him.
"We did not give and NRO, we tried our best to do what we could, but the medical opinion presented to us was that if we didn't do anything, he [Nawaz] could die, that he might not even reach London. This is what we were told and after that we would have been held responsible. So after that we sent him in good faith."
When asked if he would order an inquiry in order to confirm if he was presented with "fake reports", the prime minister said that he had been in contact with Punjab Health Minister Dr Yasmin Rashid — whom he described as a "die-hard, visionary worker" of the ruling PTI — at the time and she conveyed all medical opinions regarding Nawaz's condition. He said that Dr Faisal, who is an expert of infectious diseases, had concluded that Nawaz's platelets count did not pose much of a threat but some related diseases may lead to serious problems.
In response to a question, the prime minister admitted that a royal had asked the government to let Nawaz leave, but refused to take a name citing "international relations".
"They (Sharifs) do have connections abroad. But they (the royal) did not assert it, they said it in a very polite manner. It wasn't like 'if you don't do this, this will happen'."
He, however, insisted that the request from the unnamed king was "not an issue" for him.
"I would never have allowed [Nawaz to leave] if medical opinion did not suggest that his life in danger."
Prime Minister Imran also lamented that the country had suffered in the past because "there have always been two laws, one for the powerful and one for the weak".
He criticised the infamous verdict passed by then chief justice Mohammad Munir that "justified martial law" and added that it "showed that might is right".
FATF blacklist
The PM also addressed the recent opposition move to block two bills regarding measures in compliance with the Financial Action Task Force (FATF). He pointed out that the country was placed on FATF grey list during PML-N's tenure and the PTI government had introduced the bills in order to prevent the financial watchdog from placing Pakistan on its blacklist.
He warned that if Pakistan was placed on the blacklist, the country would suffer the same challenges as Iran as all international organisations would stop dealing with the country. As a result, he said, the rupee would fall which would lead to inflation.
"People talk about inflation now. If we are placed on the blacklist, we will experience inflation that would ruin our economy."
He repeated that the incumbent government had inherited a crumbling economy, which has only now started to recover. If Pakistan was placed on the blacklist, the country "would face destruction that India is working towards".
He condemned the opposition for blocking the legislation despite knowing that India has been trying to place Pakistan's name on the blacklist for the past two years. He said that the opposition is insisting that the government takes out money laundering sections from the bills and have also proposed 34 amendments in the NAB Ordinance which essentially mean to "dig a grave and bury NAB in it".
https://www.dawn.com/news/1576771/allowing-nawaz-to-leave-was-a-mistake-says-pm-imran
--------
Rehbar committee meeting after Ashura: Fazl
August 28, 2020
ISLAMABAD:
Jamiat Ulema-e-Islam-Fazl (JUI-F) chief Fazlur Rehman on Thursday announced that opposition parties' Rehbar committee meeting including the Pakistan Muslim League-Nawaz (PML-N) and Pakistan Peoples Party (PPP) will be held after Ashura.
Fazl expressed his views while chairing a meeting of the small opposition parties at his residence where his proposal for calling the meeting was approved.
The participants of the meeting included PkMAP Mehmood Khan Achakzai, Usman Kakar, NP's Senator Mir Kabeer, ANP leader Mian Iftikhar, MNA Amir Haider Hoti, JAH's Sajid Mir, BNP leader Akhtar Mengal and JUP's Shah Owais.
The opposition parties also backed the JUI-F chief's suggestion of Charter of Democracy (CoD) between them which would be discussed in the all parties conference (APC).
Speaking to media after the meeting, Fazl demanded fresh and transparent elections and stressed that the institutions should work under the constitution.
"Those opposition parties [which] have met [today] were invited a week ago so that they could exchange their views on the current political situation. The meeting, which had been scheduled earlier, has been held now because of the death of Mir Hasil Bizenjo," he said.
Fazl observed that PML-N president Shehbaz Sharif had visited him a few days earlier and added that he wanted to take the members of opposition parties into confidence on the development.
He noted that the elections held on July 25, 2018 were a "fraud" and added that the opposition's Rehbar committee's meeting would be held soon where the agenda for the APC would be decided.
The JUI-F chief stated that he wanted the supremacy of law in the country and demanded the reconstitution of the election commission.
"In the first phase, meeting of Rehbar committee will be held in which recommendations will be forwarded and agenda for APC will be decided," he said.
Responding to a question, Fazl negated the impression that there was a split in the opposition and maintained that a procedure for the anti-government movement had to be decided.
He said that Akram Durrani will call the Rehbar committee meeting.
https://tribune.com.pk/story/2261546/rehbar-committee-meeting-after-ashura-fazl
--------
Africa
Boko Haram massacres 75 people in Nigeria: Report
27 August 2020
At least 75 members of a community have been killed by the Boko Haram terrorist group in Nigeria's northeastern province of Borno, a report says.
The massacre occurred in the town of Gwoza, Turkey's official Anadolu news agency quoted Ali Ndume, a senator and chairman of the Senate Committee on the Army, as saying on Wednesday.
Ndume said that despite the security operations in the flashpoint region, people were being killed by Boko Haram almost on a daily basis, warning that the situation was very bad in the area. "Even as a senator, I still can't go to Gwoza because it's not safe," he said.
On Monday, Amnesty International said in a report that at least 1,126 people had been killed in rural areas across several states in central and northeastern Nigeria amid an alarming escalation in raids and kidnappings by armed bandits since January.
Northwestern Nigeria has been wracked by years of violence involving clashes between rival communities over land, attacks by heavily-armed criminal gangs, and reprisal killings by vigilante groups.
Nigeria also faces the terrorist activities of the Takfiri Boko Haram group in the northeast, conflicts in central states, and other militant activity in the Niger Delta to the southeast.
Boko Haram's violence has spilled over into the neighboring countries of Chad, Niger, and Cameroon, which have created a joint military force to fight the terrorists.
https://www.presstv.com/Detail/2020/08/27/632714/Nigeria-Boko-Haram-massacre-
--------
US Says Airstrike Kills 6 Al-Shabaab in Somalia after Ambush
26 Aug 2020
JOHANNESBURG — The United States military says it killed six al-Shabaab extremists with an airstrike in Somalia after the al-Qaida-linked group attacked Somali forces while U.S. forces were nearby.
The U.S. Africa Command statement said Monday's airstrike was carried out near Darasalam village in southern Somalia's Lower Shabelle region after al-Shabaab fighters attacked from a building in the area. The statement said three al-Shabaab fighters were wounded.
Plan Ahead Today
There is no one-size-fits-all when it comes to long term care insurance. Consider applying for FLTCIP 3.0, which offers comprehensive coverage as well as added premium stability.
No U.S. forces were killed or wounded, the statement said, dismissing an al-Shabaab claim of U.S. casualties. Somalia's government in a separate statement said the U.S. forces were there to advise and assist local ones.
Al-Shabab remains the most active Islamic extremist group in Africa, and the U.S. under President Donald Trump has increased the number of airstrikes against it. The U.S. Africa Command calls the group a "danger to Africa and the United States."
In January, al-Shabaab killed a U.S. service member and two U.S. contractors in an attack on a military airstrip in neighboring Kenya. It was al-Shabaab's first attack against U.S. forces in that country, and the group quickly shared online images of masked fighters standing next to blazing aircraft.
The U.S. military has since stepped up its warnings about al-Shabaab's increasingly sophisticated use of propaganda.
https://www.military.com/daily-news/2020/08/26/us-says-airstrike-kills-6-al-shabaab-somalia-after-ambush.html?utm_source=iterable&utm_medium=email&utm_campaign=1475497_
--------
Congo army says Islamist militia kills 20 in east
Erikas Mwisi Kambale
AUGUST 26, 2020
BENI, Democratic Republic of Congo (Reuters) - Islamist militants killed at least 20 people during attacks on three villages in eastern Congo, the army and a local administrator said.
The Allied Democratic Forces (ADF), a Ugandan armed group operating in eastern Democratic Republic of Congo for more than three decades, have killed more than 1,000 civilians since the start of 2019, according to United Nations figures.
The army and local authorities discovered the victims of the latest massacre on Wednesday in the villages of Mapasana, Mayitike and Sayuni, around 30km north-west of the city of Beni.
The killings come just three days after a similar raid that left 13 dead.
Late last year the Congo army launched a large-scale operation against the ADF, sparking a string of revenge attacks against civilians that the U.N. says may constitute war crimes.
"The population is distraught and on edge," said Rosette Kabula, deputy administrator for Beni territory. "It is a moment of mourning."
"Our ultimate mission is to protect the integrity of the national territory, but unfortunately the enemy is bypassing our troops to attack the population," said Antony Mwalushayi, an army spokesman.
The attacks started at around 6 p.m. on Monday, and finished at around 5 a.m. the following day, according to CEPADHO, a local civil rights group.
"Our sources indicate that the assailants have engaged in real carnage," said Omar Kavota, vice president of CEPADHO, in a statement.
Several attacks attributed to the ADF have also been claimed by Islamic State, although researchers and analysts say there is a lack of hard evidence linking the two groups.
The insecurity has forced hundreds of thousands to flee their homes and complicated Congo's response to the COVID-19 pandemic.
https://www.reuters.com/article/us-congo-violence/congo-army-says-islamist-militia-kills-20-in-east-idUSKBN25M189?utm_source=iterable&utm_medium=email&utm_campaign=1475497_
--------
EU freezes Mali training missions after coup
26 August 2020
The European Union has suspended its training missions in Mali after the military coup this month that removed President Ibrahim Boubacar Keita from power, EU officials said on Wednesday.
The two missions training Mali's army and police as part of international efforts to stabilize Mali and extend the state's authority are frozen because they were designed to support "the legitimate national authorities," one EU official said.
Officials said the suspension was temporary. West African mediators and Mali's coup leaders are discussing the possibility of a transitional government, which could allow the EU to eventually resume training in partnership with the United Nations.
The coup has raised the prospects of further political turmoil in Mali which, like other countries in the region, is facing an expanding threat from Islamist militants.
EU defense ministers meeting in Berlin on Wednesday will discuss the situation in Mali, the officials said.
Drawn up in late 2012 to help Mali's army regain control of the country after France drove out militants in the north, the EU military mission (EUTM Mali) has more than 600 soldiers from 28 European countries including EU and non-member states.
Its headquarters in Mali's capital Bamako was targeted by militants in 2016, although no personnel were hurt.
The EU agreed in 2014 an additional civilian mission (EUCAP Sahel Mali), sending experts to give advice and training to the internal security forces in Mali, the police, Gendarmerie and National Guard.
EU training will continue in neighboring Niger and Burkina Faso, officials said.
https://www.presstv.com/Detail/2020/08/26/632667/EU-Mali
--------
Sudan PM to Pompeo: Govt. has no mandate to normalize with Israel
26 August 2020
Sudan's Prime Minister Abdalla Hamdok has dashed America's hopes for quick normalization with Israel, saying his government has no mandate to establish ties with Tel Aviv and any such a decision should wait until after the transitional period ends in the African country.
During talks in the capital Khartoum on Tuesday, Hamdok "clarified" to US Secretary of State Mike Pompeo that the country's transitional period "is being led by a wide alliance with a specific agenda — to complete the transition, achieve peace and stability in the country and hold free elections," Sudanese government spokesman Faisal Saleh said in a statement.
It "does not have a mandate beyond these tasks or to decide on normalization with Israel," Hamdok was quoted as saying.
The Sudanese prime minister also reaffirmed the importance of separating normalization of ties from a US decision to remove Sudan's designation as a state sponsor of terrorism, Saleh pointed out.
Sudan's interim government took power last year after longtime leader Omar al-Bashir was overthrown by the army following mass popular protests. It is set to remain in office until elections in 2022.
Pompeo arrived in Khartoum on Tuesday to push for Sudan's normalization with Israel, two weeks the US brokered a highly contentious peace deal between the regime and the United Arab Emirates (UAE).
Following the talks, the US State Department said in a statement that Pompeo and Hamdok discussed "positive developments in the Sudan-Israel relationship."
Sudan that has no formal relations with Israel has been cozying up to the regime over the past year.
In February, Sudan's leader, General Abdel Fattah al-Burhan, the chairman of the ruling council in the country, met with Israeli Prime Minister Netanyahu in Uganda, sparking anger among politicians and public at home, where anti-Israel and pro-Palestine sentiments run high.
After the US announced the UAE-Israel deal, Sudanese Foreign Ministry spokesperson Haidar Badawi Sadiq said in an interview with Sky News Arabic that "there is no reason for the hostility to continue between Sudan and Israel," in comments that drew Netanyahu's praise and raised speculation that Khartoum may be the next in line to normalize with Tel Aviv.
The Sudanese official was, however, sacked shortly afterwards over "unauthorized" comments, with Sudanese Foreign Minister Omer Ismail saying that his ministry "didn't discuss the possibility of relations with Israel in any way."
Palestinians have derided the UAE's decision to normalize with Israel as "backstabbing," with President Mahmoud Abbas warning other Arab countries against following Abu Dhabi's lead.
Pompeo in Bahrain to talk normalization
Pompeo visited the Israeli-occupied territories before arrival in Sudan.
Later on Tuesday, Pompeo left Sudan for Bahrain as part of a tour aimed at getting more Arab countries to follow in the UAE's footsteps.
Palestinians have denounced the agreement as a "betrayal" of their cause.
Meanwhile, there are reports that an Israeli delegation and top aides to US President Donald Trump will fly together on board an Israeli airliner directly from Tel Aviv to Abu Dhabi on Monday for talks on cementing UAE-Israel normalization deal.
Netanyahu said in a video statement that White House senior adviser Jared Kushner, national security adviser Robert O'Brien, US Middle East envoy Avi Berkowitz and other US officials will escort the Israeli delegation led by national security adviser Meir Ben-Shabbat.
A high-ranking US administration official confirmed the participation of Kushner, O'Brien and Berkowitz, and said former US Special Representative for Iran Brian Hook would also be on the flight.
Talks will focus on ways to promote Israeli-UAE cooperation in various sectors, Netanyahu added.
https://www.presstv.com/Detail/2020/08/26/632624/Sudan-Israel-normalization-Pompeo
--------
Europe
Turkey's Erdogan warns Greece against taking 'path to ruin'
26 August 2020
Turkish President Recep Tayyip Erdogan says Turkey would not give up "what it deserves" in the Mediterranean Sea, warning Greece against making mistakes that would pave the way to its "ruin," as the two countries remain locked up in a dispute over energy resources in the sea.
"We will not compromise what is ours… We are determined to do whatever is necessary," Erdogan said on Wednesday.
"We invite our counterparts… to beware that any error could pave the way to their ruin," the Turkish president said.
The remarks came after Greece said it would launch joint military exercises with France, Italy, and Cyprus in the eastern Mediterranean on Wednesday.
"Cyprus, Greece, France and Italy have agreed to deploy a joint presence in the eastern Mediterranean as part of the quadripartite cooperation initiative," the Greek Defense Ministry announced in a statement.
The drills, south of Cyprus and the Greek island of Crete, will last three days, according to the statement, which also said, "The tensions and instability in the eastern Mediterranean have heightened disputes on issues concerning maritime space."
A standoff has already intensified between Turkey and Greece over oil and gas exploration rights in the eastern Mediterranean. The two have been at loggerheads over overlapping claims for hydrocarbon resources in the waters.
Turkey's discovery of major gas deposits in waters surrounding Crete and Cyprus has further escalated tensions between them.
The European Union (EU) has taken the side of Greece in the dispute.
EU foreign ministers are scheduled to meet in the German capital, Berlin, on Thursday and Friday. They are expected to press the bloc to impose sanctions on Turkey.
Ankara said on Tuesday that it was ready for talks with Greece without preconditions over the row.
Greece and Turkey almost went to war in 1974 over Cyprus, which has since been divided, with the northern third run by a Turkish Cypriot administration recognized only by Turkey and the southern two-thirds governed by the internationally-recognized Greek Cypriot government.
Meanwhile, German Foreign Minister Heiko Maas made an emergency visit to both Athens and Ankara to meet with his counterparts over the dispute.
https://www.presstv.com/Detail/2020/08/26/632647/Turkey-Greece-Mediterranean-path-to-ruin
--------
French minister heads to Iraq amid ISIS resurgence
27 August 2020
French armed forces minister Florence Parly began a trip to Iraq on Thursday that the ministry said formed part of the country's ongoing commitment to the fight against terrorism and its support for Iraq's sovereignty.
"The minister for the armed forces is insistent upon the fact that Islamic State remains a serious challenge which we must continue to face up to. French airstrikes against isolated pockets of Islamic State have picked up in recent months," the French armed forces ministry said in a statement.
Ministry officials said Paris was concerned by a resurgence in Iraq of ISIS, which is profiting from political uncertainty in the country and rivalries between Iran and the United States in the region.
https://english.alarabiya.net/en/News/middle-east/2020/08/27/French-minister-heads-to-Iraq-amid-ISIS-resurgence.html
--------
Greece says ready for conditional de-escalation with Turkey in Mediterranean
27 August 2020
Greek Prime Minister Kyriakos Mitsotakis says Athens is ready for a "significant de-escalation" in the eastern Mediterranean if Turkey stops its "provocative actions" in the area.
In a telephone conversation with US President Donald Trump on Wednesday, Mitsotakis offered to de-escalate "on the condition that Turkey immediately stops its provocative actions."
Turkey and Greece have been at loggerheads over oil and gas exploration rights in the eastern Mediterranean. Turkey has dispatched a seismic research vessel — and warships to escort it — to an area in the sea that is disputed with Greece.
Greek naval vessels have been shadowing the Turkish ships. Earlier, one Greek and one Turkish naval vessel were involved in a minor collision.
Germany, meanwhile, has been mediating to defuse the tensions between Turkey and Greece.
On Tuesday, Turkish Foreign Minister Mevlut Cavusoglu said after a meeting with visiting German Foreign Minister Heiko Maas that Ankara was ready for talks with Athens without any preconditions.
"We are in favor of negotiations for fair sharing but nobody should lay down preconditions. This cannot happen with preconditions laid down by Greece," Cavusoglu said.
Turkish President Recep Tayyip Erdogan had said on Wednesday that his country would not give up "what it deserves" in the Mediterranean Sea, threatening Greece with "ruin."
Separately on Wednesday, Greece and its European Union (EU) allies France, Italy, and Cyprus held military exercises in the eastern Mediterranean while Turkey carried out its own with the US Navy nearby.
Mass, who visited both Greece and Turkey, said the dispute between the two countries, both of them NATO members, had now entered a "very critical" phase, criticizing the joint naval drills by the US and Turkey as "not helpful."
NATO Secretary General Jens Stoltenberg has said he is "personally regularly in contact with Ankara and Athens."
France has been more assertive against Turkey. The Mediterranean "should not be a playground for the ambitions of some — it's a shared asset," French Defense Minister Florence Parly tweeted earlier, in an apparent reference to Turkey.
Meanwhile, an informal EU foreign ministerial meeting is scheduled in the German capital, Berlin, for Thursday and Friday. Greece is expected to press the bloc to impose sanctions on Turkey.
Greece and Turkey almost went to war in 1974 over Cyprus, which has since been divided, with the northern third run by a Turkish Cypriot administration recognized only by Turkey and the southern two-thirds governed by the internationally-recognized Greek Cypriot government.
https://www.presstv.com/Detail/2020/08/27/632700/Greece-Turkey-de-escalation
--------
France's Macron to head to Beirut to pressure Lebanese political elite
August 28, 2020
PARIS: French President Emmanuel Macron will head to Beirut next week to pressure local politicians into pressing ahead with the creation of a government that can implement urgent reforms, a French presidential official said on Friday.
"The president has said it he will not give up. He made a commitment to do what needs to be done and to apply the necessary pressure to put this program in place," the official told reporters ahead of Macron's visit to Beirut next Monday and Tuesday.
The official added it was time for Lebanese political parties to temporarily step aside and ensure a government of change was put into place.
https://www.arabnews.com/node/1725896/middle-east
--------
URL: https://www.newageislam.com/islamic-world-news/i-want-vote-myanmars-muslims/d/122740
New Age Islam, Islam Online, Islamic Website, African Muslim News, Arab World News, South Asia News, Indian Muslim News, World Muslim News, Women in Islam, Islamic Feminism, Arab Women, Women In Arab, Islamophobia in America, Muslim Women in West, Islam Women and Feminism