New Age Islam News Bureau
16 Sept 2019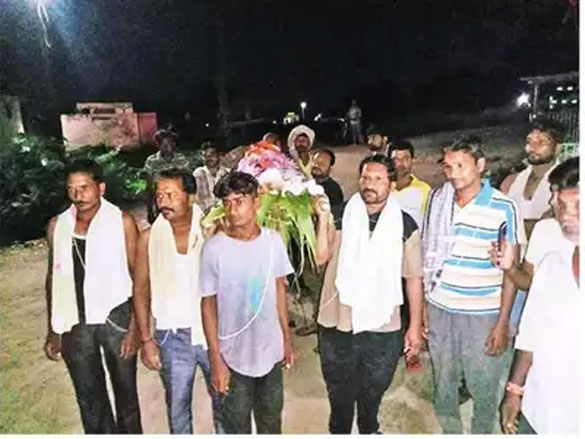 Brothers Abu, Naseer and Zuber Qureshi (with white cloth) ca ..carry the bier of their father's best friend, Bhanushankar Pandya
-------
• Humanity Broke the Shackles of Religion: Muslim Brothers Embraced Hindu Customs and Rituals to Give a Hindu Brahmin the Funeral
• Ayodhya Varta Committee to Engage Influential Hindu-Muslim Leaders To Resolve The Dispute
• Jamiat Ulema-e-Hind to Form a Committee To Draft A Roadmap To Modernise Madrasas
• Muslim, Jewish Leaders Team Up In 'Exemplary' European Initiative
• Lifestyle Website for Muslim Teens Is Covertly Funded by the UK Home Office's Counter-Extremism Programme
• Alleged Blasphemy by Hindu Principal Leads to Riots in Pakistan
• Jamaat Chief Slams World's Silence on Kashmir
• Zakir Naik, the Foreigner. Who Stoked Political Chaos in Malaysia
• Afghan Taliban Stronger Than Ever After US Spends $900 Billion
• India's Ruling BJP's Ideological Allies Advise Modi to Ignore US, Go for Iranian Oil
• Extremist Misinformation Leads to Death and Destruction: Saudi Islamic Affairs Minister
India
• Humanity Broke the Shackles of Religion: Muslim Brothers Embraced Hindu Customs and Rituals to Give a Hindu Brahmin, the Funeral
• Ayodhya Varta Committee to Engage Influential Hindu-Muslim Leaders To Resolve The Dispute
• Jamiat Ulema-e-Hind to Form a Committee to Draft A Roadmap To Modernise Madrasas
• Democratic Presidential Candidate, Kamala Harris Raises Jammu and Kashmir Issue
• As RSS Praises Dara Shikoh, It's Time to Give This Liberal Face of Islam His Due
• J&K part of sovereign India, Pakistan should leave PoK: UK MP
• Sunni Waqf Board, Nirvani Akhara seek Ayodhya mediation
• SC issues notice to Centre, J&K on detention of NC chief Farooq Abdullah
• Scrapping of Article 370: Radical Sikh groups to protest in Delhi
• Protest dharnas across Punjab in Kashmir's support
• J&K: Curfew reimposed in Kishtwar after death of Hurriyat leader
• 'Spend time with minorities in Pakistan': BJP MP to Malala Yousafzai on J&K tweet
• J&K: Shopian villagers line up at DC's office to ask about their young men
• Pakistanis happy, treat Indians as kin: Sharad Pawar
• Kartarpur Corridor: After Differences In Third Round Of Talks, India Sends Draft Agreement To Pakistan
--------
Europe
• Muslim, Jewish Leaders Team Up In 'Exemplary' European Initiative
• Lifestyle Website for Muslim Teens Is Covertly Funded by the UK Home Office's Counter-Extremism Programme
• New threat to Saudi Arabia comes from two fronts and one actor - Iran
• Muslim charity workers suffered 'humiliating questioning' by terror police during aid trip
• How Qatar is playing a double game in France with Macron's consent
--------
Pakistan
• Alleged Blasphemy by Hindu Principal Leads to Riots in Pakistan
• Jamaat Chief Slams World's Silence on Kashmir
• Azadi March: PML-N to walk alongside Maulana Fazl against federal government
• Reaction forced supporters of Sindh's division to backtrack: CM Shah
• Israeli PM's statement a threat to global peace, says Pakistan
• Imran, Malala among 500 influential Muslims list
• Shehbaz Sharif to meet Fazlur Rehman in Islamabad today
• Pakistan summons Afghan, Indian diplomats after soldiers, civilian killed
--------
Southeast Asia
• Zakir Naik, the Foreigner. Who Stoked Political Chaos in Malaysia
• Rakyat Being Consumed By 'Extremist' Politics, Says Salleh
• Khaled Nordin: Umno and PAS need support of all Malaysians, not just Malays
• Jollibee's first Malaysian store gets halal status from Jakim
• Stay the course, don't react to PAS-Umno union, Pakatan Youth tells coalition leaders
• Coalition of collusion heading for a confrontation: The new normal
• Reject racist policies, Guan Eng tells East Malaysians after Umno-PAS charter
--------
South Asia
• Afghan Taliban Stronger Than Ever After US Spends $900 Billion
• 90 terrorists killed, 20 injured in counter-terrorism operation by US, Afghan forces in Paktika
• Taliban shadow district and spy chiefs among 35 killed in Farah operations
• For the first time, Taliban losing more fighters than Afghan military: Khalid
• Special Forces kill 14 Taliban militants; destroy multiple weapons caches in 3 provinces
• Two Afghan Taliban shadow governors killed as air strikes step up
• Airstrike kills Taliban's shadow governor for Samangan and his comrades
• Taliban revokes ban on Red Cross, provides security guarantees
--------
Mideast
• India's Ruling BJP's Ideological Allies Advise Modi to Ignore US, Go for Iranian Oil
• Netanyahu's annexation plans show Israel trying to change identity of Palestine: OIC
• Turkey censures Israeli regime over 'racist' annexation plan
• Netanyahu approves new settlement only two days prior to general elections
• Delivery of second S-400 battery to Turkey completed, defense ministry says
• Pressure grows in US for firm response to Iran after Aramco attacks
• Houthi attack on Saudi Aramco facilities act of terror: Japanese defense minister
--------
Arab World
• Extremist Misinformation Leads to Death and Destruction: Saudi Islamic Affairs Minister
• Baghdad Denies Iraqi Territory Used to Hit Saudi Oil Facilities
• Car bomb kills 10 in Syrian town near Turkish border, say sources
• Palestinian President Abbas in call with Saudi King condemns attacks on Aramco
• UN chief condemns Saudi attacks, calls for restraint
• Thousands of people return to hometowns in northwestern Syria
• Syrian president issues new amnesty reducing punishment for crimes
• Car bomb blast in militant-held Syrian town kills 11 civilians
• Organizers promise 'exceptional' Saudi National Day celebrations
• The shadowy forces attacking civilian targets in Saudi Arabia
• Egypt says no 'breakthrough' with Ethiopia over Nile dam
• Coalition says 'good progress' in north Syria buffer zone, thousands return to government-seized areas
--------
Africa
• Nigerian Children Who Escaped Boko Haram Say They Faced Another 'Prison': Military Detention
• Karoui, Saied claim victory in first round of Tunisia polls
• Libya journalists caught in the crossfire
• Al-Shabaab attacks kill 17 in Somalia
• Al-Shabaab roadside bomb kills six people in Somalia
--------
North America
• Muslim Identity Explored Through New BRIC, BHS Exhibition
• Seek Refuge: the Millennial Muslim label blending street style with modestwear
• Trump says US 'locked and loaded' in response to Saudi oil facilities attack
• Trump says 'incorrect' he is willing to meet Iran with 'no conditions'
• Iran's sanction relief proposal by Trump prompted Bolton's departure: Report
• Trump and Netanyahu discuss defence treaty days before Israeli vote
Compiled by New Age Islam News Bureau
URL: https://www.newageislam.com/islamic-world-news/humanity-broke-shackles-religion-muslim/d/119757
--------
Humanity Broke the Shackles of Religion: Muslim Brothers Embraced Hindu Customs and Rituals to Give a Hindu Brahmin the Funeral
Sep 16, 2019
AHMEDABAD: Humanity broke the shackles of religion when three Muslim brothers in a Gujarat town embraced Hindu customs and rituals for a day to give their father's dear friend of four decades, a Brahmin, the funeral he would have wanted.
Bhanushankar Pandya's adopted family in Savarkundla town of Amreli district is as conservative as they come. Brothers Abu, Naseer and Zuber Qureshi, who earn a living working as daily-wage labourers, offer namaz five times a day and have never skipped a Ramzan fast.
But when it came to performing the last rites of Pandya, who had been living with them for years, the siblings had no qualms about wearing dhotis and a janeu (sacred thread) each on Saturday to cremate their "uncle".
"When Bhanushankar uncle was on his death bed, we procured Ganga jal for him from a Hindu family. When he passed away, we told our neighbours that we wanted to perform his last rites in accordance with rituals followed by Brahmin families. We were told that the janeu was a must to lift the bier. We readily agreed to it," Zuber said.
The pyre was lit by Naseer's son Arman. "We are also going to have Arman's head tonsured on the 12th day because that is the custom Hindus follow," Naseer said.
Bhikhu Qureshi, his father, and Pandya were friends since they first met as labourers over 40 years ago. Qureshi died three years ago, leaving Pandya broken.
'Uncle would wholeheartedly celebrate Eid'
Bhanushankar uncle did not have a family; so when he fractured his leg many years ago, our father asked him to move in with us. He became part of our family," Abu said.
"Our children used to address him as 'Dada' and our wives would touch his feet to seek his blessings. Uncle would wholeheartedly participate in Eid festivities, never forgetting to buy gifts for the kids," his brother Naseer added.
Till Bhanushankar lived, Qureshis would separately prepare pure vegetarian meals for him. The family's acts of kindness haven't gone unnoticed. Parag Trivedi, vice-president of Amreli Jilla Brahm Samaj, said, "By performing Bhanushankar's last rites in accordance with Hindu rituals, Abu, Naseer and Zuber have set an example in communal harmony."
https://timesofindia.indiatimes.com/india/muslim-brothers-give-brahmin-uncle-a-hindu-cremation-with-all-rituals/articleshow/71142226.cms
--------
Ayodhya Varta Committee To Engage Influential Hindu-Muslim Leaders To Resolve The Dispute
Sep 15, 2019
New Delhi: The Ayodhya Varta Committee will engage Hindu and Muslim influential leaders to mediate in resolving the Babari Mosque-Ayodhya Temple land dispute.
"Ayodhya Varta Committee was set up in 2016. It will again try to resolve the Ayodhya land dispute by engaging influential people from both sides to discuss and find a solution to the issue," said Jamaat Ulama-e-Hind president Molana Suhaib Qasmi on Sunday.
The mediation process is likely to start by mid-October, he added.
"Several attempts have been made to resolve the land dispute. However, mediation by weak leaders will not resolve the issue," he said.
"Even many Muslims want the construction of Ram Mandir in Ayodhya. They also want the mosque in the vicinity so that a strong message of religious harmony can be sent out," said Qasmi.
"If the court could have resolved the land dispute, it would have done in the last 70 years. I don't think even now the court will be able to give an effective solution to the issue," he said.
Earlier today, BJP lawmaker Subramanian Swamy batted for the construction of a temple on the disputed land and asserted that the fundamental rights of Hindus are above the property rights of Muslims.
The Supreme Court is conducting a day-to-day hearing in the case pertaining to the ownership of the 2.77 acres of land in Ayodhya and is likely to pass a verdict later this year.
https://www.timesnownews.com/india/article/ayodhya-varta-committee-to-engage-influential-hindu-muslim-leaders-to-resolve-the-dispute/489348
--------
Jamiat Ulema-e-Hind to Form a Committee To Draft A Roadmap To Modernise Madrasas
SEP 16, 2019
NEW DELHI: Thirty five years after a proposal was made to introduce "modern education" in Indian madrasas and was strongly opposed and rejected, the Jamiat Ulema-e-Hind, one of the most important Muslim religious bodies in the country, has decided to form a committee of Muslim scholars and educationists to prepare a roadmap to introduce modern education in over 20,000 Deobandi madrasas in North India.
According to Jamiat members, the decision was made considering the constant scrutiny that Madrasas face, and keeping in mind the "future employment prospects of Muslim children".
While multiple governments, right from 1993, have tried to modernise madrasas spending crores, the funds, according to experts, have largely been used by state-funded madrasas, even as madrasas affiliated to Deobandis and Ahl-e-Hadis refused to take part in these initiatives.
The member added that the body had reached a consensus after deliberations, as some opposed the idea. They felt the decision would lead to disappointment in the community, which could feel the body was doing what the Modi government wants it do. Some felt the "impact of formal education will take away the spirit of Islam from madrasas".
Most madrasas, which are part of the Deoband school of thought, follow the Darse Nizami syllabus which includes the study of the Quran, Fiqh (jurisprudence), Islamic law, history, theology and philosophy and Arabic grammar. Maths and science are offered at the secondary level, but since they are optional, there are often no teachers for these subjects, a member said.
Kamal Farouqui, an educationist and Council member said the move is "historic" because in the eighties, a proposal mooted to introduce science in Deobandi madrasas was not even taken up for discussion at a general council meeting in Delhi.
"Madrasas have never taught anything ill about any religion but they are often demonised, spoken of as being breeding grounds of terror, which is completely false. What we want is that students who graduate from madrasas also get jobs as auditors, managers, professors. Why shouldn't a person qualified to be a maulvi also be a professional? This will add strength not only to Islam, but also to society".
A member of the body said it takes about nine years for a student at a madrasa to become a 'Fazil' (eminent) and it is in this curriculum, which also includes Islamic history and economics in the Islamic world, that the committee will suggest changes.
"Computer science, maths, science, economics, communication skills are part of the proposal. Now, depending on the resources, we are working on the final recommendations after which it will be presented to the council."
The member added that the body will work with madrasas and students in getting their degrees registered at the National Institute of Open Schooling or the Indira Gandhi National Open University (IGNOU) or other government-approved education boards.
Madrasas have been a point of contention between the BJP and Muslims. While madrasas have been called breeding grounds for Islamic extremism by some BJP members, the Muslim community, particularly those who follow the Barelvi and Deobandi schools of thought, have often resisted government interference in madrasa education while those belonging to the Shia order, some of Ismaili and Bohras, have modern, formal education in their madrasas for many years now.
Muslim religious organisations had also opposed the UPA government's move in 2009 to introduce a central madrasa bill saying it was a threat to the "autonomy of madrasas".
Over the years, the scrutiny of madrasas has only increased, members said. The Maharashtra government was the first in 2015 to make it mandatory for all registered madrasas to teach four subjects compulsorily, but only 500 of the over 1,500 registered madrasas had agreed to concede initially. Other governments such as UP and Gujarat had made it compulsory for madrasas to register all their details, including funding online. https://economictimes.indiatimes.com/news/politics-and-nation/muslim-religious-body-to-form-a-committee-to-draft-a-roadmap-to-modernise-madrasas/articleshow/71143267.cms
--------
Muslim, Jewish leaders team up in 'exemplary' European initiative
15.09.2019
Author Christoph Strack
Although the site is remote, it has plenty of symbolism: Beginning this Sunday, Jewish and Muslim religious leaders from some 15 countries will meet in the southern Italian city of Matera, one of Europe's 2019 cultural capitals, to take part in the Jewish European Islamic Summit. The leaders are laying the groundwork that will allow them to speak out together more strongly on the issues affecting them.
"I think the project, in this particular arrangement, is rather unique. It is a tender blossom that must be nurtured and that deserves further support," Tarafa Baghajati tells DW. Baghajati, a civil engineer from Vienna, is one of Austria's more prominent imams. Together with others, the 58-year-old founded the Initiative of Austrian Muslims (IMÖ) in 1999. He was also involved in the creation of Platform Christians and Muslims, founded in 2006. He will be taking part in the summit in Matera.
Into the future, side by side
The project is indeed unique. In Europe, generally, Jewish and Muslim leaders often only appear together at public events hosted by politicians, at three-way dialogues between Christians, Jews and Muslims, or at interfaith conferences.
But three years ago, another group was founded: the Muslim Jewish Leadership Council (MJLC). It was established when a total of 14 European Jewish and Muslim leaders met in Vienna at the King Abdullah bin Abdulaziz International Centre for Interreligious and Intercultural Dialogue, known as KAICIID.
At first, the MJLC was a small group. Notably, Rabbi Pinchas Goldschmidt, the president of the Conference of European Rabbis (CER), was a member from the start. Over the course of several meetings, mutual trust grew and a true exchange began. The MJLC organized the conference in Matera.
Hurdles in Vienna
While the KAICIID is financed by Saudi Arabia, it is respected among experts. Yet it is currently under threat. In June, the lower house of Austria's parliament voted to withdraw from the international organization and moved to cancel the agreement establishing Vienna as the KAICIID's headquarters, leaving KAICIID's future uncertain. Austria was one of the group's initial founders, along with Saudi Arabia and Spain.
Yet, the Matera meeting of Jewish and Muslim religious leaders represents a new dimension in a dialogue that is often overshadowed by the Middle East conflict. Imams and rabbis from Ireland to Greece and Romania, from Lithuania to Portugal, will be in attendance. CER Secretary General Gady Gronich told DW that in choosing Matera, the group wanted to underline the fact, "that we are all part of Europe's culture."
Moreover, Gronich added, Italy, like many other European countries currently governed by right-wing populists, recently sought to limit religious practices related to the slaughtering of animals and the circumcision of young men, both of which are common in Judaism and Islam. For now, those initiatives have been put aside, he said.
Concern about right-wing populists
Gronich says Europe's Jewish and Muslim communities are both very concerned about such political attempts aimed at limiting religious practices. He explained that in Matera, both sides hope to create a new committee. Comprised of two Jewish and two Muslim leaders, the committee would be able to publicly address controversial topics and discuss them with political leaders in Brussels or other European capitals.
Baghajati also talked about these concrete attempts to limit religious practice and immediately referred to the "rise of right-wing populists" across the continent. He pointed to the Alternative for Germany (AfD), far-right parties in Austria, Matteo Salvini and his League party in Italy, and Geert Wilders' Party for Freedom (PVV) in the Netherlands.
Baghajati said such groups push Islamophobia, "mainly against refugees, but also against Muslims in general, as a political platform with populist overtones." He pointed out that although such sentiments were being peddled 20 years ago, some of the groups using them have now assumed governing power.
"That is why we are saying, 'nip it in the bud.' And who better to sound the alarm than Jews or Muslims," Baghajati said. "Together, we want to show that a liberal Europe, one of openness and with respect for human rights, is the right way forward."
Standing up against anti-Semitism
Another topic that leaders from the MJLC and others gathered in Matera will discuss is the problem of anti-Semitism among refugees and migrants.
"Instances of anti-Semitism among migrants is troubling," Granich said. "Unforunately, we're hearing of such cases more frequently, on a weekly basis. Nevertheless, the Jewish community has many Muslim partners and friends across Europe who stand with us in opposition to it."
Gronich said a number of "formal and informal" discussions aimed at tackling the problem have already taken place. He added that, "We cannot forget that there are a number of groups on the Muslim side that do not want to talk to us. It's not all rosy, and not everyone is willing to engage in dialogue. But we want to exchange ideas with those who are willing to talk, so that we can build a future together."
A role model for Europe
Of course, much dialogue happens beyond public view, such as last year, when a group of 30 rabbis visited Tunisia.
In Berlin, rabbis and imams have worked together in a more public fashion over the years. And recently, religious leaders have taken to accompanying young Jews and Muslims on visits to the Auschwitz-Birkenau Memorial and Musuem, a former Nazi German concentration and extermination camp located in what is today Poland, in order to foster understanding of the Holocaust.
Baghajati spoke of the "very positive experience" both sides have enjoyed in Austria. He said rabbis and imams have taken members of their communities along on trips together, and that the groups have stood in solidarity with one another when confronted with anti-Semitic or Islamophobic attacks. In his opinion, the relationship is "exemplary for Europe."
Another thing Baghajati finds remarkable is the fact that, "Imams and rabbis are coming together on their own, without third-party mediation — here in Europe, outside the Middle East. And that they're saying, we don't want anyone to tell us how relations between Jews and Muslims have to be."
"If intellectuals or religious dignitaries — imams and rabbis — on both sides don't do this, who will?" he added.
https://www.dw.com/en/muslim-jewish-leaders-team-up-in-exemplary-european-initiative/a-50439636
--------
Lifestyle Website for Muslim Teens Is Covertly Funded by the UK Home Office's Counter-Extremism Programme
Nosheen Iqbal
15 Sep 2019
A Muslim online lifestyle platform targeting British teenagers is covertly funded by the Home Office's counter-extremism programme, the Observer has learned.
The revelation about funding of the project has led to a row between its owners, a former Muslim employee and its Muslim audience.
SuperSisters was built in 2015 by J-Go Media, a company of nine staff members from east London that describes itself as "a not-for-profit community group" and has two decades of experience of engaging with Muslim communities in East London. SuperSisters is promoted as a "global platform for young Muslimahs in east London to share and create inspiring and empowering content".
But after realising that recent funding for the project was coming from Building a Stronger Britain Together (BSBT), an arm of the government's counter-extremism strategy, readers expressed anger and accused its directors of betraying the Muslim community. Two Muslim employees have since resigned.
Sabah Ismail, a social media manager for SuperSisters from February to August this year, said: "In my naiveity, I thought that through this 'opportunity' at SuperSisters, I really could help to make real change, pushing forward a different narrative from Muslim women themselves, showing that we are empowered and multi-faceted … I realise now that with the Home Office funding the project at the root, there was no way I could do this, regardless of the content I was pushing out."
SuperSisters was conceived by J-Go in response to Shamima Begum and two other British schoolgirls running away to Syria in 2015. The project secured funding from Prevent, the National Counter Terrorism Security Office's controversial strategy, which was set up to stop people becoming terrorists or supporting terrorism. Prevent has repeatedly faced claims of state-sanctioned spying on Muslims and is currently under independent review.
J-Go's directors, Jon Hems and Jan Bros, stated: "Where we acknowledge we went wrong, and we apologise for it, is not more clearly stating the source of funding on the SuperSisters Instagram and blog, not just our [parent] website [J-GoLtd.com]."
According to J-Go, "countering extremism for us is about sharing an alternative narrative to highlight positive stories coming from a diverse contributor network".
However, SuperSisters is left battling the widespread suspicion that it was purposely designed to promote a state-approved notion of the Islamic faith with the potential to track its target audience of British Muslim girls aged 13 to 19. One reader, Aeysh Ahmed, wrote on Instagram: "I am actually shocked ... it's deeply problematic that non-Muslims feel they have the right to define what our unified identity is." Another user, @the_hybrid_life, said: "This is truly shocking and disturbing and feels entirely like a violation."
Former contributors have claimed that at one point there were no Muslim women employed by J-Go working on the editorial for SuperSisters, while still giving readers the impression that this lifestyle site covering health, politics and current affairs and poetry was made for and by young Muslim women. J-GO deny this and stated: "There were Muslim women on the team the entire duration of the project ... We have never claimed to be a platform made by Muslim women ... our 'SuperSisters' are the women and girls we've featured on our page."
But Ismail confirmed that she was surprised to find there were no Muslim women in the editorial or creative team when she joined, and that "despite [J-Go] running a project for Muslim women, most of the team were far removed from the principles of Islam, some even disagreeing out-rightly with our beliefs".
She worked on the project under the lead of a non-Muslim, female creative producer who ran SuperSisters for two years and prior to joining J-GO, had tweeted: "I can handle religion if you're not involving me in it and its not causing world wars, terrorist attacks or homocides. Oh wait…".J-GO has been rocked by the resignations of two members of its Muslim staff last month and has suspended activity on its blog. Ismail says she felt "used" as "a female Muslim puppet" to legitimise the project and in her final month, was given a managerial role running SuperSisters while still only being paid the London Living Wage (£10.55 per hour). Amid producing videos, articles and social media posts, Ismail used religious text quoting the Prophet Muhammad in content designed for a Muslim audience. One day she turned up to work to find "all that was taken off the site and archived. They said they wanted to do away with anything overtly Islamic".
It has been reported that state agencies have been actively involved with online propaganda targeted at Muslim citizens by offering "counter-narratives" to what they consider radical Islam. The Home Office's Research, Information and Communications Unit, or Ricu, has worked extensively with PR agencies and new media companies since 2007 to target those who fit the profile of vulnerable young Muslim.
J-Go declined to comment on whether they had ever worked with or for Ricu but admitted erasing some of Ismail's posts, and told the Observer: "We acknowledge that J-Go is not an Islamic organisation in either mission, majority staff composition or majority leadership composition. We therefore do not believe we have the credibility or authority to post passages from theological texts."
Aside from its online presence, SuperSisters was also funded to organise workshops and events aimed at British Muslim girls in east London. J-Go denied this was a data capturing exercise and said: "There are two forms which we ask attendees to complete during the workshops. The first is an attendance sheet. As part of our safeguarding policy for supervising children under 18, we ask that parents put in their postcodes in case we cannot locate the parent in an emergency ... it would be incorrect to imply that the SuperSisters project could ever be a data capturing operation. We do not have the resources, motivation or requirement to do that."
Yet the scandal at J-Go comes after another media company, which claims to "counter fake news and champion authentic voices", was exposed last month by Middle East Eye for creating a social media network called This is Woke, targeting young Muslims on behalf of the Office for Security and Counter-Terrorism (OSCT). The staff, working under Breakthrough Media, which has subsequently been rebranded as Zinc Network, have been bound by the Official Secrets Act. The company, located near Westminster, is closely aligned to government and has been key to the delivery of multiple RICU projects. The Home Office declined to comment on this case, claiming that national security concerns were "of overriding importance" against public interest in transparency surrounding its counter terror and extremism projects.
Suhaiymah Manzoor-Khan, an activist and poet who withdrew from the Bradford Literature festival in July after learning it was also funded by BSBT, describes the Home Office's practices as "shadowy" and "racist". She said: "[It matters] because not only our public institutions, but our media platforms, arts and culture events, civic life and social lives are being targeted at every level because we are Muslim. This is what decimates trust. Who and what are we supposed to trust for information or opinion or insight when our identities and experiences are being violently coopted and repackaged to us in the name of "protecting" us?
"At every level of every institution, the idea that Muslims are all at risk of perpetrating violence has been enshrined in the name of security and is causing the mass surveillance and targeting of us across the board. This is Orwellian."
BSBT has awarded more than £9m to organisations since 2015. The Home Office said: "BSBT is an open and transparent programme, which supports local people in their vital work to bring communities together, promote fundamental values and tackle the spread of all extremist ideologies.
"The Home Office has provided BSBT grant funding for the SuperSisters project since 2018 to provide support for Muslim women."
https://www.theguardian.com/uk-news/2019/sep/15/lifestyle-website-for-muslim-teens-is-covertly-funded-by-the-home-office
--------
Alleged blasphemy by Hindu principal leads to riots in Pakistan
Sep 16, 2019
A mob in Ghotki town of Pakistan's Sindh province on Sunday vandalised temples, a school and shops and residences of the Hindu community after a student accused his school principal belonging to the minority community of blasphemy.
The ruling Pakistan Tehreek-e-Insaf's legislator Ramesh Kumar Vankwani, who is also patron-in-chief of Pakistan Hindu Council, told TOI on phone that the violence followed a day after the student, aged 13, complained to his parents accusing his principal, Notan Das, of blasphemy.
The parents then met Abdul Haq, the controversial religious figure who is alleged to have played a prominent role in forcible conversions of Hindu girls in Sindh. Haq, better known as Mian Mithu Bharchoondi, made the boy's allegation public by asking the mosques in the town to make announcements on loudspeakers about the incident, said Vankwani. This instigated a mob against Hindus, he added.
"The mob vandalised Sant Sachhosatnad as temple and also damaged some other Hindu temples. They also damaged the school where Notan teaches as also the shops and houses of Hindus," he said.
Human Rights Commission of Pakistan shared a video of protesters breaking the infrastructure of the school and expressed concern. "Alarming reports of accusations of blasphemy in Ghotki and the outbreak of mob violence," it said.
Videos of stick-wielding locals were shared on social media in which they were seen vandalising a Hindu temple and damaging the school where the incident took place, the Dawn newspaper reported. Ghotki SSP Farrukh Lanjar, while talking to reporters, said police were controlling the law and order situation in the area. Sukkur additional IGP Jamil Ahmed said: "We are trying to deal with a serious situation in a cool, calculated, impartial and professional manner. Moderate and educated sections of society must fully support our earnest efforts to do justice"
Vankwani, who is member of the National Assembly from Tharparkar — about seven-hour drive from Ghotki — said this is not the first time that Mian Mithu was involved in attacks on Hindus in Pakistan. He added that Mian Mithu's son Mohammad Aslam registered an FIR in the present case. The legislator said while he himself had handed over Notan to the police following the blasphemy charges, no one has been arrested for attacks on properties of the minority community.
Vankwani said the allegation and the subsequent violence was a glaring example of misuse of the controversial blasphemy laws. In Pakistan, blasphemy against Islam is a serious accusation and can even lead to death sentence.
https://timesofindia.indiatimes.com/world/pakistan/alleged-blasphemy-by-hindu-principal-leads-to-riots-in-pakistan/articleshow/71143210.cms
--------
Jamaat chief slams world's silence on Kashmir
Saleem Shahid
September 16, 2019
QUETTA: Jamaat-i-Islami chief Senator Sirajul Haq has criticised the international community for its silence over Kashmiri people's genocide by Indian occupation forces.
Addressing participants of the Kashmir Awami March on Sunday, he said the brave Baloch and Pakhtun tribesmen would not leave their Kashmiri brothers alone in these testing times.
He said the federal government was only issuing statements but not taking any practical step to mitigate the sufferings of Kashmir people.
"Millions of people will shut down Islamabad if the government betrayed the people of Kashmir," the Jamaat-i-Islami chief warned.
"The rulers will find no place to hide if they tried to damage the Kashmir cause," he added.
A large number of people, including JI workers and supporters, reached Quetta from different parts of Balochistan to take part in the march.
One party worker was killed and another suffered injuries when their vehicle coming from Nasirabad met an accident on Quetta-Sukkur highway.
The participants of the march holding placards and banners inscribed with anti-Indian slogans gathered near Railway Hokey Ground and later marched up to district courts where the JI chief and other party leaders addressed them.
Senator Sirajul Haq said thousands of people had rendered sacrifices for the liberation of held Kashmir over the past seven decades, but unfortunately Pakistani rulers never showed any commitment to the cause.
He said it had become obvious that the Modi government wanted to change the demography of held Kashmir and its ultimate goal was to attack Azad Kashmir, so the Pakistani government should immediately take decisive steps to thwart enemy's designs.
The JI chief said the curfew in held Kashmir had entered 43rd day, but the world was acting as a silent spectator and no one was asking India to stop genocide in the occupied valley.
He said Prime Minister Imran Khan, instead of acting alone, should have invited the national leadership to attend the recent rally in Muzaffarabad to send a clear message to India that the Pakistani nation was united in support of the Kashmiri people.
Senator Haq said the government had failed to bring improvement in any sector during its rule of more than one year. The economy was in crisis and there were no employment opportunities for millions of youths, he added.
"Inflation has hit an all-time high and people are showing desperation over the government's performance."
He said the Transparency International had warned against increase in corruption.
The JI chief said his party would hold Kashmir marches in Sargodha on Sept 20, in Muzaffarabad on Sept 27 and in Lahore on Oct 6.
He said the JI would keep raising the voice for the people of Balochistan at every forum.
Balochistan JI chief Maulana Abdul Haq Hashmi and other party leaders also spoke on the occasion.
https://www.dawn.com/news/1505480/jamaat-chief-slams-worlds-silence-on-kashmir
--------
Zakir Naik, the Foreigner. Who Stoked Political Chaos In Malaysia
September 15, 2019
KUALA LUMPUR — Controversial Indian Muslim preacher Zakir Naik is on the wanted list in India due to his extreme religious remarks and allegedinvolvement in money laundering.
Many Muslim countries have denied him entry.
But in Malaysia, he is well received by the Pakatan Harapan (PH) government.
Within the coalition, however, there is a split because of him.
The ground sentiment is also divided into two, on racial and religious lines. One side has defended him while the other side asked for his repatriation.
As a Muslim preacher, Zakir Naik is popular in the Muslim community.
He has his charm. While promoting Islam, he would downgrade other religions, especially the Hindus and Christians.
But, as a guest in Malaysia, he has crossed the red line. If he is merely promoting Islam, no one is against him. But he insults other religions in his speeches and utters racist remarks, questioning the loyalty of Malaysian Indians.
He has also described Malaysian Chinese as guests too.
This obviously runs against the Constitution that calls on people of all races and ethnic groups to live in harmony, under the same roof.
Political leaders such as the Prime Minister Dr Mahathir Mohamad and Youth and Sports Minister Syed Saddiq Syed Abdul Rahman have condemned him for his improper remarks.
But he claimed that the content of his speech has been distorted and even issued legal notice to politicians such as Human Resources Minister M. Kulasegaran and Penang Deputy Chief Minister II Dr P. Ramasamy who slammed his remarks.
Police have since stepped-in to investigate. Zakir was banned from making public speeches. Many states have also banned him from speaking.
Sensing the turn of events, Zakir apologised for his racial remarks.
He was called up by the police for interrogation, but no legal action has since been taken against him and he is still free to move around in Malaysia.
The latest development is that he has been invited to attend an event in Malacca.
Zakir is still well-received among Muslim leaders and Muslim community.
In fact, even though Dr Mahathir has criticized his racist remarks, this does not mean that he has changed his attitude towards Zakir.
Dr Mahathir still insists on not repatriating Zakir on the ground that no country would take him. He even stressed that if Zakir is extradited, he risks being killed.
Zakir is allowed to remain in Malaysia as he has political value.
Dr Mahathir's Parti Pribumi Bersatu Malaysia (PPBM), needs Zakir to win the support of Malay voters.
His rival Umno collaborates with the Pan-Malaysian Islamic Party, Parti Islam SeMalaysia (PAS) and this has put pressure on the ruling PH.
Dr Mahathir's aim is to unite the Malays.
Hence, he would not risk revoking Zakir's permanent residency in Malaysia or repatriate him to India.
Under international extradition rules, Malaysia should handover Zakir to India for the latter to prove his innocence in local court.
Under political need, Pribumi has followed Dr Mahathir on this matter.
Syed Saddiq, who has condemned Zakir earlier, made a 180 degree turn in his attitude towards Zakir.
He invited Zakir to dinner, urged all Malaysians to move forward by letting go and not to be trapped by Zakir's acts and remarks.
Those open-minded Malays are stunned by Syed Saddiq's remarks too.
Malacca state Executive Councillor Mohd Rafiq Naizamohideen is another Pribumi leader who defended Zakir and clashed with his counterpart in PH.
The stand of Malay leaders in other parties under PH is also ambiguous.
Parti Keadilan Rakyat chairman Anwar Ibrahim disagreed with Zakir's racial remarks.
But he also said Zakir should be grateful to the government for allowing him to remain in Malaysia.
Anwar supported Dr Mahathir's move of not extraditing Zakir and said he hoped that local organisations should stop holding rallies over the matter which will cause more tensions in racial ties.
Parti Amanah Negara secretary-general Mohd Anuar Mohd Tahr in a statement, claimed that Zakir has been used by someone as propaganda in order to incite hatred among ethnic groups and religions.
On the opposition side, former Prime Minister Najib Tun Razak, who granted Zakir permanent residency, has been extremely low profile on this matter.
Najib has assumed Zakir is someone convenient for him to garner Malays' support as well.
PAS president Hadi Awang shares the same stand with Dr Mahathir on the latter's refusal to repatriate Zakir and claims the move is in line with Geneva Convention.
Hadi also accused the Democratic Action Party, one of the coalition members of Pakatan Rakyat, for playing up the issue.
Nik Abduh, vice president of PAS said those Muslims who want to expel Zakir are hypocrites while those non-Muslims are traitors and enemy of Islam.
All these clearly show that Zakir commands value in the politics of Malaysia.
Even if Indian Prime Minister Narendra Modi has made a request for Zakir to be extradited during his talk with Dr Mahathir in Russia recently, Dr Mahathir remains unmoved.
Racial ties among ethnic groups in Malaysia are deteriorating.
Even if political power has changed hands, the situation remains the same and is even more challenging now.
It is time for PH to look after the interests of Malaysians and not to comply with extremism.
People who incite hatred ought to be stopped.
PH should revoke Zakir's permanent residency and expel him to prevent racial and religious harmony from being damaged.
https://opinion.inquirer.net/123990/the-foreigner-who-stoked-political-chaos-in-malaysia
--------
Afghan Taliban stronger than ever after US spends $900 billion
Sep 15, 2019
For many Afghans like Zohra Atifi, whose husband was killed under Taliban rule, the American invasion in 2001 marked a chance to start over after living under an oppressive regime.
Yet 18 years later, after the US spent nearly $900 billion and more than 147,000 people died, the Taliban are growing more confident of returning to power. The militant group controls or contests half of the country, more territory than any time since they were toppled in 2001. And they've come close to a deal with the US that could give them even more power, even after President Donald Trump abruptly put the talks on hold.
What's worse for the US and its allies: Many Afghans are growing disillusioned with the American-backed regime in Kabul and its inability, along with its foreign allies, to contain not just the Taliban but another deadly insurgent group — the Islamic State. One of Atifi's sons was killed by IS extremists two years ago.
"The collapse of their brutal regime by the Americans once gave us a hope — a cheerful hope — that we will all again be free of fears and violence like other countries," Atifi, 45, said at her stone house in the capital's Kart-e-Sakhi neighborhood. "But that didn't happen."
The high cost of the war, and the lack of clear gains on the battlefield, have contributed to a growing argument that it's time for the US to cut its losses and move on. Trump himself has signaled a determination to withdraw from what he's described as an "endless war," even as concerns mount in Afghanistan that such a move could lead to an all-out civil war.
"We've spent over $30 billion a year in Afghanistan for decades now," Secretary of State Michael Pompeo said on Sunday. "That's not a sustainable model. We've got to get it right."
Concern over America's presence in Afghanistan reaches across party lines. During a Democratic presidential debate Friday, Senator Elizabeth Warren said she'd bring US troops home without a peace deal, while former Vice President Joe Biden said the American military presence in the country isn't working.
High cost
Since ousting the Taliban, the US alone has spent about $877 billion dollars until March 2019 to restore stability, rebuild the country and fight the Taliban and other insurgents, according to a report by Special Inspector General for Afghanistan Reconstruction, a Pentagon Watchdog. About 14% ($121 billion) was for the reconstruction costs in both the civilian and security sectors.
Despite the sacrifices and significant financial costs, the US efforts have failed to produce a secure or developed Afghanistan, said Afghan lawmaker Breshna Rabi.
"The Taliban are stronger than at any time and are capable of spreading violence everywhere in the country, even under the nose of foreign forces' headquarters," said Rabi, who represents Balkh province in the lower house of parliament, and was one of more than 60 women elected in the 2018 poll. "Some of the US billions have been lost to corruption," she said. "The US money never reached the remote areas to improve the living standards of the poor people."
The US now has just 14,000 of the 22,673 foreign troops in Afghanistan, down from a peak of 100,000 in 2011. More than 2,400 US soldiers and 1,144 NATO coalition soldiers have been killed, according to icasualties.org that tracks US and NATO fatalities in Iraq and Afghanistan, while more than 20,500 American soldiers were wounded, it said.
Afghans have suffered even more. More than 32,000 Afghan civilians have been killed and about 60,000 wounded since 2009 by Taliban bombings, Afghan and foreign airstrikes and in the crossfire, a UN report found. A separate 2018 report by Brown University says a total of around 140,000 Afghan forces, civilians and Taliban militants died in the conflict.
Afghan President Ashraf Ghani told a summit in Davos the toll was far higher: his government estimates more than 45,000 Afghan forces were killed just since he took office in 2014.
Sliver of hope
Still, Afghanistan has come a long way since the Taliban's brutal regime was ousted. The media sector is thriving, with more than 1,800 print, broadcast and digital news outlets now operating in the country. Art and music scenes are flourishing, more than 3.5 million Afghan girls have enrolled in schools and many women have entered politics, now accounting for almost a third of 250 parliament seats. All these activities had been previously banned by the Taliban.
Over the years, the conflict has been both positive and negative for the Afghan economy, Tamim Asey, a former deputy defense minister, said by email. US contracts and development aid has boosted incomes, but the ongoing violence had inflicted a heavy human toll.
"The life of the Afghan people is definitely better — their living standards have gone up and at least they have a functioning government and a local economy," Asey said. "But due to the war economy nothing is sustainable. Everything could fall apart once the US cuts off its aid and withdraws its troops from Afghanistan."
The agreement between the US and the Taliban would've allowed the US to withdraw about 5,000 troops out of total 14,000 from five bases 135 days after the signing of the deal. More than 10,000 Americans military contractors and more than 8,600 military personnel from 40 NATO allies and non-NATO partners are also in the country to train and advise Afghan forces.
But even as the peace talks were coming to an end, the Taliban intensified its campaign of violence. Trump questioned whether they could negotiate a meaningful agreement: "How many more decades are they willing to fight?" he asked on Twitter.
He received the answer late Thursday — the Taliban addressed the president directly on Twitter, saying he has "yet to grasp the type of nation he is dealing with." Spokesman Zabihullah Mujahed went on to refer to Afghanistan by its infamous epithet, the "graveyard of empires."
Deadly attacks
Adding to skepticism that any deal with the Taliban would improve security on the ground, Islamic State — among 20 other terrorist groups active in the country — has continued to cause carnage, mainly targeting civilians. The group emerged in 2015 after the US handed over the security responsibility to the Afghan forces, and has since made significant inroads in the north. It is responsible for carrying out deadly attacks such as the bombing of a wedding party last month that killed 80 people.
Safety aside, food security and shelter also top the country's challenges, according to a survey conducted by Gallup. Ninety percent of 1,000 interviewed Afghans say its "difficult" to get by on household income and 57% have struggled to afford food in the past year, the report says.
Atifi, whose husband was killed in 1998, now supports her family of seven on just $27 per week. Her second-oldest son died in 2017, one of 20 others who perished in an Islamic State suicide bombing at a wrestling club in Kabul. She doesn't see much difference no matter who takes power in Afghanistan.
"You tell me what the difference between the Taliban regime and now is?" Atifi said, her voice cracking as tears rolled down her cheeks. "They're all murderers and they killed my beloved son."
https://timesofindia.indiatimes.com/world/south-asia/afghan-taliban-stronger-than-ever-after-us-spends-900-billion/articleshow/71136845.cms
--------
India's Ruling BJP's Ideological Allies Advise Modi to Ignore US, Go for Iranian Oil
Sep 15, 2019
"By its decision (not to purchase oil from Iran) India is on the way to losing the Chabahar port to China, which has continued to purchase Iranian crude oil, ignoring the US. Losing Chabahar would be a major strategic setback," said Ashwini Mahajan, national co-convener of the Swadeshi Jagaran Manch (SJM), or Forum for National Self-Reliance, an affiliate of Rastriya Swayamsevak Sangh (RSS), Sputnik reported.
India's strategic relations with Iran go beyond the oil trade. New Delhi is developing the strategic Chabahar port, considered a golden gateway for its trade with Iran, Afghanistan and Central Asian countries. The port, situated on the Indian Ocean in Iran's Sistan and Baluchistan province, is easily accessible from India's Western coast. It is seen as an answer to Pakistan's Gwadar Port, which is being developed with Chinese assistance.
The Chabahar route would result in a 60 percent reduction in shipment costs and a 50 percent reduction in shipment time from India to Central Asia.
Though the American sanctions won't hit the development of Chabahar's port (Washington had clarified that it is an exception), Mahajan fears Beijing would step in as a strategic ally of Tehran in times of crisis to replace New Delhi.
In the case of its S-400 acquisition from Russia, India had sidestepped the US sanctions, considering it "in the national interest".
Tehran has cultural and strategic relations with New Delhi. It has partnered with India to build a Transit and Transport Corridor to Afghanistan. Iran is also a partner in India's ambitious plan to reach out to Eurasia.
New Delhi had signed a Memorandum of Understanding with Moscow earlier this year for fast-tracking the International North-South Transport Corridor. The proposed multi-mode Corridor is designed to connect India to Russia, Western Europe, the Baltic States, and Scandinavia through the Persian Gulf. It would reduce transportation time by half.
During the recent India-Russia Summit, both New Delhi and Moscow had vowed in a joint statement to continue their trade and economic cooperation with Iran, which they qualified as "mutually beneficial and legitimate".
https://en.farsnews.com/newstext.aspx?nn=13980624000996
--------
Extremist misinformation leads to death and destruction: Saudi Islamic affairs minister
September 16, 2019
CAIRO: The Saudi Minister of Islamic Affairs, Dawah and Guidance Sheikh Abdullatif Al-Asheikh has said that misinformation disseminated by extremists and terrorists among Muslims leads to revolutions and loss of life, as well as the destruction of homelands and the dispersal of people.
Al-Asheikh made the remarks during a speech at the opening session of the 30th International Conference of the Supreme Council for Islamic Affairs, organized by the Egyptian Ministry of Awqaf in Cairo under the theme "Nation building in Islamic Jurisprudence."
He said that one of the most important rules for building countries agreed on by all nations and civilizations, and strengthened and emphasized by Islam, was establishing the rules of justice, tolerance, coexistence and fighting corruption and corrupters. Al-Asheikh said that one of the greatest sources of corruption was the intellectual corruption that generates all practical and behavioral corruption.
Al-Asheikh said that the radical ideology on which the terrorist organization the Muslim Brotherhood was founded spread militancy and hatred among people in the name of Islam, causing non-Muslims to resent Islam.
He underlined that building nations and promoting their strength does not happen through laziness and indolence, but by studying all material causes and civilized means in all aspects of life, whether military, economic, scientific and social. "Islam took into account these aspects with greatest care," Al-Asheikh said.
He said that Saudi Arabia was able to reconcile religious values with modernity, so that the land of the Two Holy Mosques became an example of civilization and modernity while adhering to the religious and Islamic foundations.
"The Kingdom also became a solid rock breaking the cunning of the enemies of Arabism and Islam, this would not have been possible without the help of God and the wisdom of its leaders, namely King Salman and Crown Prince Mohammed bin Salman," Al-Asheikh said.
Al-Asheikh concluded his speech by highlighting that Vision 2030, the National Transformation Program 2020 and the vital projects that the Kingdom was witnessing was a clear indication of the endeavors of Saudi Arabia in fighting corruption and corruptors.
https://www.arabnews.com/node/1554896/saudi-arabia
--------
India
Democratic Presidential Candidate, Kamala Harris Raises Jammu and Kashmir Issue
Sep 16, 2019
NEW DELHI: Raising the Kashmir issue in her speech, Democratic Presidential candidate Kamala Harris said: "We have to remind the Kashmiris that they are not alone in the world.
We are keeping a track on the situation. There is a need to intervene if the situation demands..."
https://timesofindia.indiatimes.com/india/kamala-harris-raises-jammu-and-kashmir-issue/articleshow/71142438.cms
--------
As RSS praises Dara Shikoh, it's time to give this liberal face of Islam his due
SWADESH SINGH
15 September, 2019
Senior RSS leader Krishna Gopal at a recent symposium in Delhi said that if India's Jews, Parsis, Jains and Buddhists feel secure, we must ask why Muslims "who ruled the country for 600 years are afraid".
The RSS leader was speaking at an event organised to mark the death anniversary of Mughal prince Dara Shikoh. He further said that had Dara Shikoh been the Mughal emperor in place of Aurangzeb, Islam would have "flourished more" in India.
Coming from a senior RSS functionary, these statements indicate an interest within the organisation to build a new narrative of Hindu-Muslim unity, and Dara Shikoh can offer the perfect starting point.
India today has more than 18 crore Muslims – these Muslims or their families chose India as their home on 15 August 1947. This country is as much theirs as anyone else's.
However, disruptive forces active across the borders, and organisations and individuals with pernicious agenda have constantly tried to stoke discontent by tapping and essentialising the Muslim identity of Indians.
These forces in the past have succeeded in sowing the seeds of confusion in the minds of young Muslims by using certain icons and narratives – Jinnah, two-nation theory, Wahabism and Islamic brotherhood are some examples.
Given that India has the third-largest Muslim population in the world, it is imperative that it counters these narratives with its own icons who draw strength from its unique local ethos and value systems.
Redefine Ganga-Jamuni tehzeeb
Over the years, the narrative of composite culture – often referred to as the Ganga-Jamuni tehzeeb – has found an odd set of advocates. There are leaders who believe that celebrating iftaar during Ramzan will convince Muslims that their interests would be taken care of. This brand of tokenism has failed to yield dividends in the last 70 years.
Today, the narrative of composite culture merely serves to hide the fact that the chasm between Hindus and Muslims is so deep that even minor incidents have the potential to snowball into communal riots. The old definitions of Ganga-Jamuni tehzeeb need to be updated and upgraded.
Missing in this picture is a new spiritual and ideological foundation that can hold up and strengthen the idea of unity between Hindus and Muslims. A foundation that goes beyond trite aphorisms, and identifies and celebrates the shared history, arts, literature and politics.
Mughal prince Dara Shikoh exemplifies this syncretic Indian culture. He was a leader, an artist, a writer, a thinker and a scholar whose unique approach towards Hindus and Muslims has led modern-day scholars to hypothesise that Indian history would have been different had he been the emperor of the Mughal kingdom.
Dara Shikoh stands out as a Mughal prince who was rooted in the Indian knowledge tradition – a truth-seeker who tried finding commonalities between the Hindu and Islamic spiritual traditions, and initiated a healthy debate and a dialogue between the two faiths.
He was appointed as the subedar by Shah Jahan and was believed to be the favoured choice for the Mughal crown. Dara was defeated by his younger brother Aurangzeb in the Battle of Samugarh on 29-30 May 1658 and was killed a year later on 9 September. Aurangzeb used the heresy argument to counter the overwhelming popularity of Dara. According to French traveller Francois Bernier, Dara was dressed in rags, tied to an elephant and paraded in the city before being killed.
Two brothers & contrasting views
The two brothers, Dara and Aurangzeb, had contrasting personalities. Dara was a devout Muslim, but tried understanding the Indian tradition. Aurangzeb used an orthodox version of Islam to persecute people, including his own brother, and unleashed a reign of terror. Ample evidence of this exists in his execution of ninth Sikh Guru Tegh Bahadur, levying jazia on non-Muslims and imposition of Sharia law.
Several attempts have been made in the past to project Aurangzeb as an effective king and gloss over the religious tyranny unleashed by him, with some even going so far as to claim that he actually 'protected' temples. These might look like harmless academic meanderings but they do, unintentionally perhaps, stifle liberal voices in Islam.
Consider for a moment the possibility of Dara Shikoh as the Mughal emperor. To begin with, Hindu-Muslim unity would have gained an organic ideological and spiritual foundation, and become an integral part of Indian life.
In the long run, the Mughal Empire would have likely flourished more under the umbrella of this spiritual and ideological unity, making it hard for the Europeans to gain a foothold in India. Further, the disastrous 'Two-Nation Theory' would have been no match for a more grounded narrative of Hindu-Muslim unity.
The liberal face of Islam
Dara believed in the existence of a single divine power, who is called by different names – Brahm or Noor. He followed the Qadri tradition of Sufism and believed in interfaith dialogues. Benaras and Allahabad played an important role in his spiritual journey. Dara wrote many treaties, but his two books Majma-ul-Bahrain (The Confluence of Two Seas) and Sirr-e-Akbar (The Greatest Mystery) started a dialogue among the intelligentsia of that time. Majma-ul-Bahrain was the first such book to offer a comparative study of Dharma Shastra and Quran to formulate a new vision for society.
In Sirr–e-Akbar, Dara translated Upanishads into Persian language – the West was introduced to these translations through Bernier. Dara, in the book, says that the 'hidden book' (Kitab-al-Maknoon) mentioned in Quran is nothing but Upanishads.
Throughout his life, Dara interacted with people from different religions as well as Sufi saints – from Kabir panthis to Muhibullah Allahabadi and Mullah Shah Badakshi, among others.
But efforts to give this icon of Indian syncretic culture his rightful place on the liberal wall-of-honour have been resisted by those who are quick to defend Aurangzeb. They try to fit Dara within the myopic good vs bad binary. What we instead need is a past vs future analysis. While Aurangzeb's orthodoxy was legitimised in the past, it is Dara Shikoh's liberalism that needs to be recognised by future generations.
Full report at:
https://theprint.in/opinion/as-rss-praises-dara-shikoh-its-time-to-give-this-liberal-face-of-islam-his-due/291688/
--------
J&K part of sovereign India, Pakistan should leave PoK: UK MP
Sep 15, 2019
LONDON: One of Britain's most outspoken MPs on the Kashmir issue Bob Blackman has called on Pakistan to leave Pakistan-occupied Kashmir, asserting that India has a sovereign right over the entire region.
Addressing a UK-based Kashmiri Pandit gathering organised here on Saturday, the Conservative Party MP countered the Pakistani government's plan to move a United Nations resolution in the wake of India's August 5 decision to revoke Article 370 of its Constitution and end the special status of Jammu and Kashmir.
"The entirety of the state of Jammu and Kashmir is part of sovereign India, and people that ask for UN resolution to be implemented ignore the first resolution, which is that Pakistani military forces should leave Kashmir to re-unite the state," Blackman said at the "Balidan Divas" or Day of Sacrifice event held in London.
Organised by the Kashmiri Pandits Cultural Society and All India Kashmiri Samaj (AIKS), the event involved a theatre production titled 'We Remember: The Journey of Kashmiri Pandits'. It was put together by children and friends of Britain's Kashmiri Pandit community to capture the sentiment behind the lost homes of many Kashmiris.
"A powerful performance by all the children in the play and the Bharatanatyam dance. Appreciate your commitment and support Bob Blackman," Indian High Commissioner to the UK Ruchi Ghanashyam said in a tweet.
Blackman has been speaking out in favour of India since the decision to revoke Article 370 found echoes among Britain's MPs.
The north London MP, who is also chair of the All Party Parliamentary Group (APPG) on British Hindus, has been a long-time supporter of Prime Minister Narendra Modi. He had also written to British Prime Minister Boris Johnson accusing Opposition Labour Party MPs of making provocative claims against India.
"I strongly support the revocation of Article 370… Narendra Modi has again shown proper and strong leadership in honouring the manifesto of the BJP – now is the time to properly integrate Jammu and Kashmir into the Indian Constitution," he said.
Tensions between India and Pakistan spiked after New Delhi ended Jammu and Kashmir's special status on August 5 and bifurcated it into two Union Territories.
Pakistan downgraded its diplomatic relations with India and expelled the Indian high commissioner following the revocation.
Full report at:
https://timesofindia.indiatimes.com/india/jk-part-of-sovereign-india-pak-should-leave-pok-uk-mp/articleshow/71138670.cms
--------
Sunni Waqf Board, Nirvani Akhara seek Ayodhya mediation
Sep 16, 2019
NEW DELHI: Two main parties from Muslim and Hindu sides have written to the Supreme Court mediation panel for resumption of negotiations for a settlement to the more than century-old dispute for ownership of the 2.77 acres Ram Janmabhoomi-Babri Masjid land in Ayodhya.
Sunni Waqf Board, which had filed a suit for ownership of the disputed structure in 1961, has written to the SC-appointed mediation panel, headed by former SC judge F M I Kalifulla and comprising renowned mediator and senior advocate Sriram Panchu and spiritual leader Sri Sri Ravishankar, seeking resumption of negotiations which were stalled on July 29 because of the hardline stand taken by Jamiat Ulema-e-Hind's Maulana Arshad Madani faction as well as VHP-backed Ram Janmabhoomi Nyas, which proposes to construct a Ram temple at the disputed site.
Ayodhya Graph
A letter expressing similar sentiments was written by Nirvani Akhara, one of the three Ramanandi Akharas in Ayodhya which manages and controls the Hanuman Garhi temple. Both Sunni Waqf Board and Nirvani Akhara expressed confidence in the SC mediation panel to carry out last mile negotiations for a settlement, which was left in limbo when parties were in touching distance just because of hardline stands of two of the many stakeholders which participated in the mediation process for 155 days starting from March 8.
Another Ramanandi Akhara — Nirmohi Akhara — had also strongly pitched for a negotiated settlement of the dispute when an SC bench of Chief Justice Ranjan Gogoi and Justices S A Bobde, D Y Chandrachud, Ashok Bhushan and S Abdul Nazeer agreed with Justice Bobde's suggestion in this regard and set up the three-member panel. Nirmohi Akhara is seeking priestly rights for the idols at the disputed site.
When the negotiation was in the final stages, stakeholders from both sides, barring the Arshad Madani faction of JUH and the Nyas, had almost reached a consensus and outlined the structure of the settlement, the main points of which were: a) Muslims will give up claims over the disputed site which the Hindus want for construction of a Ram temple; b) Muslims will be offered an alternative site and funds for construction of a mosque; and c) implementation of the Places of Worship (Special Provisions) Act, 1991, which prohibits conversion of any place of worship and provides for maintenance of the religious character of any place of worship as it existed on August 15, 1947.
Full report at:
https://timesofindia.indiatimes.com/india/sunni-waqf-board-nirvani-akhara-seek-ayodhya-mediation/articleshow/71142072.cms
--------
SC issues notice to Centre, J&K on detention of NC chief Farooq Abdullah
September 16, 2019
The Supreme Court Monday issued notice to the Centre and Jammu and Kashmir administration on a plea by Rajya Sabha MP and MDMK general secretary Vaiko seeking production of former J&K CM Farooq Abdullah.
A bench of Chief Justice Ranjan Gogoi and justices S A Bobde and S A Nazeer fixed the next date of hearing on September 30.
The court sought to know if the former J&K chief minister is under any kind of detention. "Union home minister said Abdullah was not under any kind of detention, but we don't know his whereabouts," Vaiko's counsel said in response.
Vaiko, in his petition, has claimed Abdullah is not being allowed to attend a seminar organised by him in Chennai.
Vaiko, who said he is a close friend of Abdullah for the past four decades, has contended that constitutional rights conferred on the National Conference leader had been deprived of on account of "illegal detention without any authority of law".
The Indian Express has learnt that Abdullah has been detained under the Jammu and Kashmir Public Safety Act. Sources in Kashmir say the Home Department has detained him under PSA after declaring his house as a Subsidiary Jail. There is no bar on meeting of relatives and friends.
Last week, the Srinagar Bench of the High Court of Jammu and Kashmir allowed two National Conference MPs to hold separate meetings with Farooq and vice president Omar Abdullah, who have been in detention since the abrogation of Article 370 on August 5.
While Omar has been detained at Hari Niwas, Farooq has been detained at his own house in Srinagar's Gupkar area.
The top court is hearing a batch of petitions regarding the situation in Jammu and Kashmir in the wake of the Centre revoking the special status granted to it under Article 370 of the Constitution. The court has also listed for hearing a petition by Congress leader Ghulam Nabi Azad.
Full report at:
https://indianexpress.com/article/india/supreme-court-jammu-kashmir-petitions-farooq-abdullah-vaiko-5998785/
--------
Scrapping of Article 370: Radical Sikh groups to protest in Delhi
September 16, 2019
Radical Sikh organisations from Punjab, in collaboration with the political outfits of Tamil Nadu and Kashmir, will hold a 'Justice March and Rally' in Delhi on September 26, to protest against the abrogation of the Article 370. The march and rally will be organised on the eve of Prime Minister Narendra Modi's address to the UN General Assembly, scheduled for September 27.
It will be jointly organised at Delhi's Jantar Mantar by the Shiromani Akali Dal (Amritsar) and the Dal Khalsa, with the participation of the representatives of the United Akali Dal, leaders and activists of political party Naam Tamilar Katchi from Tamil Nadu and Committee for Release of Political Prisoners from Delhi.
Addressing a press conference on Sunday, leaders of all the parties declared that the minorities and nationalities will protest to uphold the Kashmiris' right to speak.
"While the Prime Minister of India will present his side of story on Kashmir's so-called integration into India at the United Nations session, we will speak on behalf of the population, who have been detained at gunpoint and their lives paralysed, since August 5," the congregation said.
The leaders announced that while they will hold the demonstration in India, their aligned group, Sikh Youth of America, will protest outside UN headquarters in the US. They said that the Sikh, Tamil and Kashmiri diaspora in the US will protest against India's highhandedness against the minorities and the lockdown in Kashmir.
SAD (Amritsar) president Simranjit Singh Mann said, with more than 40 days of continued incarceration of the entire population of the valley, concerned political groups, human rights bodies, civil liberties champions and those with affinity towards Kashmir and Kashmiris had decided to converge at Jantar Mantar, to express their solidarity with the people of Kashmir and protest against the continued subjugation by the Indian state.
Dal Khalsa head Harpal Singh Cheema said that the march will serve as a rallying point to declare that the problem of Kashmir and the rights of the Kashmiris was an international issue and not a bilateral one as India, the Security Council or the United Nations thinks it to be.
Meanwhile, the party's spokesman Kanwar Pal Singh said, while they were comforted that the United Nations was raising its pitch of consternation against India on the overall situation in Kashmir, there was still room to do more.
Full report at:
https://indianexpress.com/article/india/scrapping-of-article-370-radical-sikh-groups-to-protest-in-delhi-5998145/
--------
Protest dharnas across Punjab in Kashmir's support
by Raakhi Jagga
September 16, 2019
Denied permission to organise a mega rally in Mohali and protest march to Chandigarh over the situation in J&K, 13 organisations under the banner of the Bharti Kisan Union (Ugrahan) on Sunday held protest dharnas in 14 districts, blocking various highways leading to the state capital.
The organisations had held several district-level protests across the state earlier this month over the Centre's decision to scrap Article 370 of the Constitution, which granted special status to J&K.
Punjab has witnessed several agitations against the revoking of Article 370.
The Kashmir National Struggle and Support Committee, formed by these organisations, had announced on Saturday that it will stage dharnas wherever its members are stopped by police. Posters put up for the Sunday rally have pictures of children with eye injuries from pellet guns.
Dharnas were organised at Bhucho Mandi, Rampura and Talwandi Sabo in Bathinda area blocking the Bathinda- Chandigarh highway after buses full of protestors going to Chandigarh were stopped midway. In Barnala, a dharna was organised on the Barnala-Chandigarh road near Badbar area.
Two other agitations were staged along the Moga-Barnala road near Himmatpura and the Dharamkot-Ludhiana road near Kishanpura area. In Mansa, a dharna was held on the Mansa intersection, the Barnala-Mansa state highway, in Muktsar, Faridkot, Sangrur, Ludhiana, Patiala etc. State highways were blocked from 10 am to 2 pm.
'Don't understand why state govt changed its stand'
"Protestors from Amritsar and Gurdaspur managed to reach till Ropar, where they were stopped and hence they staged dharna on the Ropar-Chandigarh state highway from 10 am to 2 pm. Likewise, dharnas were also held at Kurali, outskirts of Mohali, as people were stopped from entering Mohali," Sukhdev Singh Kokri Kalan, general secretary of BKU (Ugrahan) told The Indian Express. "We were allowed to hold rallies and protest marches in Bathinda, Jalandhar, Amritsar, Gurdaspur etc. on September 10, and took out a protest march from Bathinda city as well. Hence we felt surprised at how the state government changed its stand and denied us permission for the Mohali rally for Sunday. It would have been a collective rally and a first mega attempt in support of Kashmiris who are living under severe restrictions as of now."
The organisations that were part of this protest were: Bharti Kisan Union (Ugrahan), a farmer union active in Malwa Punjab, Pendu Khet Mazdoor Union, Textile Mazdoor Union, Karkhana Mazdoor Union, Punjab Students Union etc. These groups said they don't support any political organisations and hence they should not be linked with anyone. Lachhman Singh Sewewala, president of the Pendu Khet Mazdoor Union said, "We neither take nor give support to any political party. Our grudge is that when we were not stopped for district-level dharnas which we organised in different districts of Punjab from September 3 to 10, why did the government stop us from organising a rally in Mohali? On one hand, Rahul goes to Kashmir, Capt Amarinder calls August 5 'Black day', invites Kashmiri students for lunch at his residence on Eid, and on the other hand, he stopped us from organising today's rally."
Effigies burnt, many detained in Mohali
Protestors were carrying effigies of Prime Minister Narendra Modi, Punjab Chief Minister Capt Amarinder Singh in every bus. The effigies were burnt wherever they were stopped.
Jhanda Singh, president of the BKU (Ugrahan) and Kokri Kalan, said, "People of Kashmir were not asked about their choices before removal of Article 370 and 35-A which is against the written agreement. Rather, after its removal, restrictions have been imposed in Kashmir with claims that all is good in Kashmir. In Punjab, Kashmiri students and people working here are not becoming part of our struggle as they fear trouble. We are becoming their voice, after all someone has to raise the flag."
Hundreds of women were also part of the dharnas. In Mohali, around 30 persons were detained by police, and released later. Heavy police force had been deployed in the state highways in most districts of Malwa and protestors going in buses with banners, were stopped on the outskirts of districts like Bathinda, Sangrur, Muktsar, Barnala, Patiala, Ludhiana, from where they had started.
Full report at:
https://indianexpress.com/article/india/protest-dharnas-across-punjab-in-kashmirs-support-5998151/
--------
J&K: Curfew reimposed in Kishtwar after death of Hurriyat leader
September 16, 2019
A day after it was lifted, a curfew was reimposed in Kishtwar town in Jammu on Sunday following the death of a senior Hurriyat Conference leader Master Ghulam Nabi Gundna after a prolonged illness at a hospital in Ludhiana.
Kishtwar Deputy Commissioner Angrez Singh Rana said restrictions were reimposed as a precautionary measure against the possibility of any trouble during Gundna's Namaz-e-Janaza on Monday.
The curfew had earlier been imposed on Friday after the weapon of senior PDP leader's PSO was snatched. Gundna, 70, was a retired government school teacher.
Sources said he had considerable influence in the region. He is survived by his wife and five sons, one of whom is in Pakistan and another lodged in jail on charges of indulging in militancy-related activities.
Full report at:
https://indianexpress.com/article/india/jammu-kashmir-curfew-in-kishtwar-after-death-of-hurriyat-leader-5997771/
--------
'Spend time with minorities in Pakistan': BJP MP to Malala Yousafzai on J&K tweet
September 15, 2019
A day after Nobel Peace prize winner and education rights activist Malala Yousafzai shared stories of girls and young women from Kashmir and appealed to the United Nations to help children return to school, BJP MP from Karnataka Shobha Karandlaje Sunday asked her "to spend some time working with minorities of Pakistan".
In a Twitter post, Karandlaje reminded Malala of the persecution of girls of the minority communities in Pakistan. "Sincere request to the Nobel winner, to spend some time speaking with the minorities of Pakistan. To speak against the forceful conversation & persecution taking place on the minority girls in her own country! Developmental agendas got extended to Kashmir, nothing suppressed!"
Following the government's decision to scrap special status of J&K under Article 370, Kashmir has been under a lockdown amidst anticipation of violence even though most of the restrictions have now been eased.
Referring to the clampdown on communication, Malala on Saturday said she had spent the past week speaking with people living and working in the Valley, including journalists, human rights lawyers and students.
Shobha Karandlaje
✔
@ShobhaBJP
Sincere request to the Nobel winner, to spend some time speaking with the minorities of Pakistan.
To speak against the forceful conversation & persecution taking place on the minority girls in her own country!
Developmental agendas got extended to Kashmir, nothing suppressed! https://twitter.com/Malala/status/1172868495417237506 …
Malala
✔
@Malala
In the last week, I've spent time speaking with people living and working in #Kashmir - journalists, human rights lawyers and students.
592
9:44 AM - Sep 15, 2019
Twitter Ads info and privacy
290 people are talking about this
"I wanted to hear directly from girls living in Kashmir right now. It took a lot of work from a lot of people to get their stories because of the communications blackout. Kashmiris are cut off from the world and unable to make their voices heard," Yousufzai wrote on Twitter.
Malala also urged leaders at United Nations General Assembly (UNGA) to intervene and work towards peace in Kashmir. "I am asking leaders, at UNGA and beyond, to work towards peace in Kashmir, listen to Kashmiri voices and help children go safely back to school," Malala tweeted.
The Nobel laureate also recounted stories of three Kashmiri girls with whom she had interacted. One of the girls said the current situation in Kashmir could be described as "absolute silence" and "really scary". Meanwhile, another girl said she felt "purposeless and depressed" as she can't go to school and was missing out on her exams. A third woman said, "People speaking out for us adds to our hope. I am longing for the day when Kashmir will be free of the misery we have been going through for decades."
Malala
✔
@Malala
• Sep 14, 2019
Replying to @Malala
Here is what three girls told me, in their own words: "The best way to describe the situation in Kashmir right now is absolute silence. We have no way of finding out what's happening to us. All we could hear is the steps of troops outside our windows. It was really scary."
Malala
✔
@Malala
"I feel purposeless and depressed because I can't go to school. I missed my exams on August 12 and I feel my future is insecure now. I want to be a writer and grow to be an independent, successful Kashmiri woman. But it seems to be getting more difficult as this continues."
5,765
7:13 PM - Sep 14, 2019
Twitter Ads info and privacy
5,954 people are talking about this
"Pakistan doesn't react to how it's perceived in the world, carries forward their agenda and how Malala is helping run that agenda on Kashmir in the garb of her 'concern' for Kashmiri girls but am loving the meltdown Indians are having on behalf of Malala. So touching," said Shiv Sena leader Priyanka Chaturvedi in a tweet.
Full report at:
https://indianexpress.com/article/india/malala-yousufzai-twitter-jammu-kashmir-bjp-mp-shobha-karandlaje-5997162/
--------
J&K: Shopian villagers line up at DC's office to ask about their young men
September 15, 2019
When downed shutters and empty streets are what defines public space, the sight of a crowd gathered at a government office is odd — and telling. A group of around 30, all men, almost all of them elderly, have gathered at the sprawling Shopian district headquarters on Thursday.
Among them, they say, they represent almost every household in the nearby village of Sindhu Shirmal. They arrived here an hour or so ago when the office opened and are waiting to meet Deputy Commissioner Yasin Choudhary. Shopian tops the list of districts in the Valley with the largest number of persons — more than 40 — detained under the Public Safety Act, and sent to jails in other states.
A day earlier, five youngsters and three elderly were picked up from Sindhu Shirmal.
The villagers, who refuse to be named, plead with the DC to help them. Choudhary is wrapping up another urgent business: with apple harvest season on the horizon, he is coordinating with growers on procurement of the fruit by NAFED at minimum support price, that has been just announced by the government.
Located about 51 km from Srinagar, Shopian in South Kashmir is the apple bowl of the Valley. Its mandi is used by apple growers from neighbouring Pulwama district as well, so that they get the Shopian tag.
Choudhary repeats his defence of "nazuk halaat (sensitive situation)" in the Valley since August 5 — ahead of the government decision to abrogate Article 370 — and calls the administration's actions "preventive", but assures that he will speak with police and do his best to get the five men released. He wants the villagers to keep faith in the administration.
But they are agitated. "Police come every day and trouble us," a 61-year-old says. "If someone pelts stones on vehicles of security forces, boys from our village are picked up."
The three elderly picked up on Wednesday were Mohammed Yakub Bhat, Basheer Ahmed Shah and Mohammed Nissar Mir. "One of them is a Haji (just returned from Haj). They suspect he is from the Jamaat but he is not," says a 70-year-old. A villager says police detained them as they were looking for their children who are in hiding.
Struggling to contain his emotions, a septuagenarian bursts out, "We can bring the entire village with all youngsters to the DC's office. Police can take all the time they need to question each one. But picking a few men randomly every other day, and releasing them after a few days or a week. This is intolerable."
Plus, a villager says, they don't know whom to turn to for help. "Most politicians, local leaders, anyone with influence among us, is in jail."
Choudhary takes down the details of the five youths and asks villagers to return home and be patient. "Generally, no charges are pressed against anyone. No FIR will be registered," he assures.
Later, he tells The Sunday Express that the detentions aren't indiscriminate. "In most cases, the person picked up has a history of stone-pelting or some other issue… Generally, police do not pick up elders. In case of the three elderly, their children have an adverse history and they refused to cooperate with police."
The Deputy Commissioner adds that he had intervened earlier to facilitate the release of several young men held for alleged stone-pelting.
In an interview to The Indian Express last week, Director General of Police Dilbag Singh had said the detentions were part of a "strategy" — to "bond" with the community. "In some 300 cases, we have used community bonds to pick up and then release stone-pelters in Srinagar alone. And if 10 people come to seek release of 10 people per case, we have successfully engaged 3,000 people. They are released the same day," he said.
In Pulwama district, for instance, sources said, about 250 young men with some history of stone-pelting or minor criminal offences were picked up over the last one month or so. "We generally take an assurance from the village community — at times an informal bond — and let out many. Of these 250, almost 150 were released immediately based on assurances by the village. Such community policing has worked well for us. The village elders ensure that their boys do not indulge in stone-pelting or any other such activities. This sends a message to the entire neighbourhood," said a senior police officer in the district.
Full report at:
https://indianexpress.com/article/india/jk-shopian-villagers-line-up-at-dcs-office-to-ask-about-their-young-men-5996232/
--------
Pakistanis happy, treat Indians as kin: Sharad Pawar
Sep 16, 2019
MUMBAI: In potentially controversial statements, Nationalist Congress Party supremo Sharad Pawar has lavished praises on the people of Pakistan and alleged that the ruling BJP is spreading "misinfor mation".
"People here say Pakistanis are facing injustice and are unhappy but that is far from the truth. Such comments are being made only for political gains, without realising the actual situation in Pakistan," Pawar said at a meeting of minority community members at the party office on Saturday evening.
Justifying his contentions, the former defence minister pointed out that he had visited Pakistan several times and was always accorded warm hospitality.
"Pakistanis are of the belief that even if they can't travel to India to meet their relatives, they treat all Indians as their relatives," Pawar said.
He added that attempts are being made by the ruling dispensation to divide people in the name of Pakistan and Islam, minorities are being attacked, but no action is taken against the accused.
Pawar called upon the Muslim community in India to come forward and counter these goings-on in the country since progress cannot be achieved without amity and brotherhood among all communities.
Full report at:
https://timesofindia.indiatimes.com/india/pakistanis-happy-treat-indians-as-kin-sharad-pawar/articleshow/71142397.cms
--------
Kartarpur Corridor: After Differences In Third Round Of Talks, India Sends Draft Agreement To Pakistan
Sep 15 2019
Following a disagreement between the two sides in the third round of talks on the Kartarupur corridor, India has now gone ahead and given Pakistan a draft agreement from its side and is now hoping the latter reciprocates with some flexibility regarding its previous demands, reports Deccan Chronicle.
"It is hoped Pakistan will show the desired flexibility and concur with the draft agreement so as to ensure that the corridor is opened in November on the occasion of the 550th birth anniversary of Guru Nanak," an official was quoted Hindustan Times.
The dispute in the last round of talks with regarding Pakistan's insistence on charging pilgrims a fees of 20 US dollars (around INR 1420) each, a condition which India had rejected, terming it Pakistan's 'inflexible attitude'.
Full report at:
https://swarajyamag.com/insta/pattu-dikshithar-the-priest-who-permitted-wedding-of-sivakasi-family-in-sri-natarajar-temple-in-chidambaram-suspended
--------
Europe
New threat to Saudi Arabia comes from two fronts and one actor - Iran
Khaled Yacoub Oweis
Sep 15, 2019
Saudi Arabia is facing a major Iran-backed escalation of violence aimed at disrupting its economy in a challenge not seen since the attacks by Al Qaeda on foreign workers more than a decade ago.
Between 2003 and 2006, the authorities fought off hundreds of mostly Saudi militants who had returned from Afghanistan and aimed to bankrupt the kingdom by terrorising the foreign labour force and later undermining morale in the state security apparatus.
The current threat comes from across the kingdom's borders to the north and to the south – Iran's militia allies in Iraq and in Yemen, the target of the Saudi-led intervention since 2015.
Both are suspected of attacking Saudi civilian targets, most notably oil infrastructure, tankers and an airport in southern Saudi Arabia, in the past four months.
Most materially damaging was the attack on Saturday on a crucial oil plant, halving Saudi Arabia's production.
In the 2000s, advanced training and reconnaissance, a mix of tough action and leniency towards militants who handed themselves in, and an enhanced esprit de corps within the Saudi security forces, eventually contained Al Qaeda in the country.
A major state, Iran, stands behind the latest militant threat.
Tehran has been counting on its response to the US withdrawal from the 2015 nuclear deal and Washington's "maximum pressure" policy on Iran, to outlast President Donald Trump, who is up for re-election in November 2020, or force him to back down.
Although the Houthi rebel militia in Yemen claimed Saturday's attack, US officials said there was no evidence that it was them.
At the same time, there are Iraqi militias dominant in Baghdad's circles of power willing to do Iran's bidding.
Washington has opened channels with the Houthis to lure the group away from Tehran through a deal that would end the war in Yemen.
But past policies from the US and others with the Syrian regime, before the 2011 revolt, and with Iraqi militias, failed to dissuade proxies from their controllers in Tehran.
Saudi Arabia tried to woo Iraqi Shiite cleric Moqtada Al Sadr, who leads several militias and casts himself as anti-establishment.
But Mr Al Sadr appeared last week at a religious celebration in Tehran next to supreme leader Ayatollah Ali Khamenei, showing Iran's widespread influence.
Iran's rulers are unlikely to approve any Houthi compromise with Saudi Arabia without a major gain for Tehran.
They may be calculating that traditional US allies in the Middle East could become a casualty of Mr Trump's eagerness to strike grand bargains before the elections.
But Saturday's attack could also make it difficult for the US to soften its line, in the same way that the Afghan Taliban's deadly bombing in Kabul this month scuttled talks with Washington.
Although the attacks in Saudi Arabia did not target American interests directly, or the hundreds of American soldiers in the country, they challenge a long-standing US policy of securing Middle East energy supplies.
Oil prices rose sharply at start of trading on Monday, the first day of business in the West since the attack, with Brent benchmark crude gaining 8.7 percent to $65.5 per barrell by mid morning.
But the attack was mainly designed for political purposes. Whatever extra capacity Iran has, it will struggle to put any of it on the market under US sanctions.
There are market worries about the extent of the latest damage to the Saudi oil infrastructure and whether the attack reflects enhanced capability by Iran's proxies or is a statistical result of having hit Saudi Arabia so often.
US Secretary of State Mike Pompeo says Saudi has been struck almost 100 times.
The immediate objective for Saudi policymakers would be to protect the kingdom's major assets from further attacks.
In the 2000s, action against domestic militants was accompanied by political action that contributed to their division and eventual containment.
But among Saudi Arabia's foes in Sanaa and Baghdad, Iran remains a unifying force.
https://www.thenational.ae/world/new-threat-to-saudi-arabia-comes-from-two-fronts-and-one-actor-iran-1.910654
--------
Muslim charity workers suffered 'humiliating questioning' by terror police during aid trip
Basit Mahmood
15 Sep 2019
A Muslim charity has launched a legal challenge against the government after its aid workers were subjected to 'humiliating questioning' by counter terrorism police at Heathrow airport. Human Aid UK, says it was left with no option but to launch the legal bid to challenge controversial counter terrorism laws after a 'large pattern of harassment of Muslim Charities at UK borders'. The charity says it provides aid to war-torn areas across the Middle East, including Gaza, Syria and Yemen. It claims that in the latest incident on 9 July, its delegates and charity workers were stopped at Heathrow airport by border officials and counter terror police, as they tried to travel to Gaza to deliver aid. The charity says its donations for projects were also seized by the UK Border Agency during a schedule 7 stop. One of those who was questioned under schedule 7 of the Terrorism Act 2000, was the charity's operations director, Sohidul Islam, who described being 'humiliated' and feeling 'violated' during six hours of questioning.
He told Metro.co.uk: 'The schedule 7 stop made me feel violated. I went on this aid delegation to help the besieged women and children of Gaza, I am innocent yet I was treated like a criminal. 'Why? 'I was held for 6 hours, asked several questions, had my fingerprint and DNA samples taken. 'Additionally I was photographed from all angles like it was a police station mug shot.' Sohidul says he was released without charge following the questioning, but he and others had missed their flight and felt like their aid work was being 'criminalised'. He added: 'I was asked questioned about my religion, which mosque I pray at, my family member's details, and all things which seemed unconnected and irrelevant to the purpose of my travel, it seemed like a total fishing exercise to find something that isn't there.'
Schedule 7 of the Terrorism Act 2000 allows individuals to be detained at the border for up to six hours if counter terrorism officers believe they could be engaged in terrorist activities. Those detained have no right to silence, have to surrender their phones, computers and passwords and provide fingerprints and DNA. The chair of the charity, Nur Choudhury, says his staff and volunteers have been 'stopped repeatedly' under schedule 7 powers. He added: 'Like many Muslim charities delivering lifesaving aid overseas, Human Aid UK has had staff and volunteers stopped repeatedly under Schedule 7 powers. 'During these stops, our aid workers are searched, interrogated under terrorism laws and their fingerprints and DNA samples are taken.
Full report at:
https://metro.co.uk/2019/09/15/muslim-charity-workers-suffered-humiliating-questioning-terror-police-aid-trip-10748062/
--------
How Qatar is playing a double game in France with Macron's consent
Majed Nehme
14/09/2019
An unwavering supporter of the Muslim Brotherhood, Qatar has ambiguous relations with France. French writer Jacques-Marie Bourget, co-author of "Le Vilain Petit Qatar: Cet ami qui nous veut du mal" ("The Ugly Tiny Qatar: This Friend Who Means Us Harm"), termed Qatar as a "champion of lies and dissimulation."
For decades, Qatar has been weaving a web of economic, political and cultural ties with France, tinged with barely concealed mercantilism.
Since the publication of Bourget's investigation in 2013, other books have appeared shedding light on the relations between Paris and Qatari leaders since 1995, the year of the bloodless coup led by Hamad bin Khalifa al-Thani, against his father Emir Khalifa bin Hamad al-Thani.
The stated goal of the coup was to "reform the country and give it a place among modernised nations." However, Sheikh Hamad's putsch was directed mostly against the Saudi "big brother" and other Gulf emirates. It was also geared at promoting US interests in the region even if that was at the expense of the rest of the Arab world.
It is no coincidence that Doha's new ruler, one year later, launched Al Jazeera, which was infiltrated by the Muslim Brotherhood. The satellite TV channel has played — and still plays — a destabilising role in the Arab world while concealing its obscurantist discourse by claiming it is defending freedom of expression, except, of course, in the country it is broadcasting from.
The same year, construction started on the largest US military base outside the United States in Al Udeid within the framework of a defence agreement with Doha. This base houses about 10,000 US troops.
To buy the approval of the hawks in Washington, who have toyed with the notion of the Muslim Brothers being "freedom fighters," Qatar paid $8 billion in advance while its economy was bleeding profusely. In 2018, Qatar again spent a few billion dollars to expand the base.
Before that, Doha offered Turkish President Recep Tayyip Erdogan's regime, which has strong ties to the Muslim Brotherhood, a military base in the country. By generously opening their tiny territory to foreign bases, the Qatari leaders hope to buy an insurance policy while destabilising their imaginary enemies.
Towards the end of Francois Hollande's term as French president, France, which prided itself on defending human rights and democracy wherever they are flouted, did not hesitate to sign with Qatar in 2015 an arms contract for the delivery of at least 36 French Rafale warplanes, knowing that the tiny Gulf state was a major financier of Islamist organisations and their terrorist offshoots, including in France's traditional areas of influence in Africa.
It was one example of the mercantile but dangerous relations between the two countries. Hollande's France was marching in the footsteps of his right-wing predecessor, Nicolas Sarkozy.
Hollande's successor as president, Emmanuel Macron, did not deviate from this transactional strategy. He refused to criminalise the Muslim Brotherhood in France under the pretext that it has not "violated the laws of the republic." However, the material evidence for Qatar's public and occult financing of this movement in France and Europe is not lacking.
On September 24, the Franco-German TV channel ARTE is to broadcast an incriminating documentary titled "Qatar: guerre d'influence sur l'islam d'Europe" ("Qatar: A War of Influence on Islam in Europe). The film is the result of an investigation led by Georges Malbrunot from Le Figaro and Christian Chesnot from France Inter.
The two journalists spent two-and-a-half years investigating Qatar's strategy for control of Europe's Islam. They directly confronted some of the players in the strategy.
As stated by Flach Film and ARTE, the documentary producers, what started the investigation was a USB storage device delivered in 2016 by a whistle-blower to Malbrunot and Chesnot and which contains thousands of confidential documents from the opaque Qatar Charity, an NGO founded in 1992 and operating in 70 countries.
Lists of donors, including members of the reigning Thani family, bank transfers and mail were included in the leak, the producers said, revealing the emirate's proselytising offensive in Europe, with this powerful organisation financing 140 mosque projects, Islamic centres and schools, all of which are linked to the nebula of the Muslim Brotherhood.
Qatari officials denied the allegations, despite so much evidence against Doha.
Two decades ago, Richard Labeviere, a major figure of antiterrorist investigations, found evidence that Qatar Charity, a Doha financial arm, was the central hub of the Muslim Brotherhood's strategy. Labeviere published a book in 1999 detailing how Qatar's "terror dollars," to borrow his expression, circulated the terrorist nebula in Europe and elsewhere through Qatar Charity.
Macron must have known about this, at least during his time as economic adviser to Hollande and as minister of the economy but that did not prevent him from courting the sponsors of the Muslim Brotherhood in France through the Union of Muslim Organisations of France, which changed its name to Muslims of France in the hope of wiping out traces of its ties to the Muslim Brotherhood.
On April 17, 2018, Macron received the leaders of the Syria Charity organisation — reportedly not without links to Qatar Charity. The president of the NGO, which is active in Syria, is Syrian Muslim Brotherhood member Mohammed Alolaiwy, who boasted on Facebook to have unlocked "an envelope of 50 million euros ($55 million)."
Macron's complacency did not escape the former Gaullist deputy, Nicolas Dupont-Aignan, president of Debout La France, who declared on the news channel LCI that "Emmanuel Macron attacks the democratically elected heads of state of Hungary, Italy, America and Russia and turns a blind eye to Islamic terrorism."
Full report at:
https://thearabweekly.com/how-qatar-playing-double-game-france-macrons-consent
--------
Pakistan
Azadi March: PML-N to walk alongside Maulana Fazl against federal government
Sep 15, 2019
LAHORE: Pakistan Muslim League Nawaz (PMLN) stalwart, Ahsan Iqbal announced today that his political party was set to march alongside Maulana Fazl ur Rehman in his bid to lock down Islamabad as a protest against the incumbent government, ARY News reported on Sunday.
Emir Jamiat e Ulema Islam Fazl (JUIF) Maulana Fazl ur Rehman paid a visit to President Pakistan Muslim League Nawaz (PMLN) president, Shehbaz Sharif, in an effort to appease and gain support of leader of the opposition in the National Assembly for his up-coming sit-in protest under the name of 'Azadi March'.
PMLN stalwart and former speaker of the National Assembly, Ayaz Sadiq commenting on the meeting said that that he sided with Maulana's vision and wanted to participate in the sit-in protest.
Earlier in the day, Senator, Maulana Atta Ur Rehman of Pakistan Ulema e Islam Fazl (JUIF) made it clear that his party does indeed plans to lock down the capital to register their protest against the present government and its policies.
The Vice President of JUI (F), Khyber Pakhtunkhwa and brother of Maulana Fazl-ur-Rehman, the Emir of JUI (F) Pakistan said while explaining his intention behind the protest that to him and his party the current government and it's political apparatus has failed and they look to show their dissent against them by means of the protest.
Special Assistant to the Prime Minister on Information and Broadcasting Dr. Firdous Ashiq Awan in a series of tweets taunted the President of Jamiat Ulema Islam (JUI) Fazal Ur Rehman after Bilawal Bhutto and his party decided to be a no-show at his sit-in protest, ARY News reported on September 11.
The Pakistan People's Party (PPP) has bowed out of Jamiat Ulema-e Islam-Fazl (JUI-F) chief Maulana Fazl ur Rehman's sit-in in Islamabad, the party's chairperson Bilawal Bhutto Zardari announced prior.
https://arynews.tv/en/juif-pmln-shehbaz-fazl-ur-rehman/
--------
Reaction forced supporters of Sindh's division to backtrack: CM Shah
September 16, 2019
DADU: Sindh Chief Minister Syed Murad Ali Shah has said that after a strong reaction by Pakistan Peoples Party chairman Bilawal Bhutto-Zardari and others to Centre's move to impose Article 149 on the province, supporters of Sindh's division have started backtracking on their earlier statements.
As of now, they were apologising and denying their statements, he said while speaking to journalists after attending Soyem of PPP MPA Syed Ghulam Shah Jilani at Naining Sharif town on Sunday.
He said that changing the chief minister of Punjab was an internal issue of the Pakistan Tehreek-i-Insaf.
About the tragic death of two brothers while transporting the body of their loved one in Mirpurkhas, Mr Shah said that the tragedy occurred due to sheer negligence and whoever was found guilty would be punished.
He said that a resolution would be tabled in the Sindh Assembly in recognition of public services of the late Jilani who remained a member of the assembly from 1990 to 2018.
Sindh Minister for Information Saeed Ghani also arrived at Naining Sharif and offered condolence to the late Jilani's son Syed Mohammad Salih Shah.
Full report at:
https://www.dawn.com/news/1505407/reaction-forced-supporters-of-sindhs-division-to-backtrack-cm-shah
--------
Israeli PM's statement a threat to global peace, says Pakistan
Sep 16, 2019
ISLAMABAD: Pakistan has taken an exception to Israel Prime Minister Benjamin Netanyahu's statement to annex more Palestinian territories while calling "dangerous trend" and a "threat" to international peace and security.
The statement was made by Education Minister Shafqat Mehmood who represented Pakistan at the 16th extraordinary meeting of the Organisation of Islamic Cooperation (OIC) Council of Foreign Ministers held in Jeddah.
According to an official statement on Sunday, the OIC called the meeting at Saudi Arabia's request after Israeli Prime Minister Benjamin Netanyahu promised to annex the Jordan Valley if re-elected.
All Israeli settlements are viewed as illegal under international law.
The education minister said Tel Aviv's move would only inflame tensions in the region.
He appealed to the OIC members, the United Nations and the international community to revive their obligation towards the people of Palestine.
"The world should condemn such irresponsible announcements, being used as party slogans in the election campaign, which could jeopardise peace in the region," Mehmood was quoted as saying.
He also drew attention to the unfolding sufferings of the Kashmiri people in the past seven weeks at the hands of another occupying power.
Mehmood said the people of Palestine and Kashmir both share a history of over seven decades of occupation, adding, "Their right to self-determination which is protected under international law continues to be trampled upon."
"Both of them have been subjected to collective punishment, state-sanctioned terror, and unspeakable suffering," he added.
Full report at:
https://www.pakistantoday.com.pk/2019/09/15/israels-threat-to-annex-more-territories-threat-to-peace-says-pakistan-at-oic/
--------
Imran, Malala among 500 influential Muslims list
Sep 16, 2019
Prime Minister Imran Khan, Nobel Laureate Malala Yousafzai, former chairman of Punjab Information Technology Board Dr Umar Saif have been named among the World's 500 Most Influential Muslims.
The annual publication is compiled by the Royal Islamic Strategic Studies Centre in Jordan, highlights people who are influential as Muslims.
Turkish President Recep Tayyip Erdogan stands at the top of the most influential Muslims list, followed by Saudi King Salman bin Abdul-Aziz Al-Saud, King of Jordan Abdullah II ibn Al-Hussein stands at third, while Supreme Leader of Iran Ali Khamenei is at fourth. King of Morocco His Majesty Amir al-Mu'minin is at fifth.
Others in the list include Saudi Crown Prince Mohammad bin Salman, Russian professional mixed martial artist Khabib Nurmagomedov, British runner Mo Farah, MP Sajid Javed and London Mayor Sadiq Khan.
Among the top 50, ranked at 29 is PM Imran, whose crackdown on corruption and bringing "accountability" to the forefront has fast made him a global name.
He has already implemented cutbacks in government expenditure and is using his personal credibility to fundraise for a dam," the publication wrote.
A sporting legend, PM Imran played professional cricket for 22 years and is recognised as one of the game's finest all-rounders.
His other contributions include Shaukat Khanum Memorial Cancer Hospital and Research Centre and NUML University, which provides scholarship assistance to over 90 per cent of its students.
The youngest Nobel Prize laureate, Malala also gets an honourable mention in the publication. In 2013, Yousafzai addressed the UN, received the prestigious Sakharov Prize and was nominated for the Nobel Peace Prize which she co-received in 2014 at the age of 17.
She has also been listed as one of the 25 Most Influential Teens of 2014 by Times Magazine and has been granted audiences with royalty and world leaders.
Award-winning scientist, entrepreneur, innovator Dr Umar Saif is also part of the list.
A founding vice-chancellor of the Information Technology University in Punjab and one of the main forces behind the IT eco-system in Pakistan, Saif was named by MIT Technology Review's World's Top Young Innovators for the year 2011.
He was also named Young Global Leader by the World Economic Forum in 2010 and is the recipient of Sitara-e-Imtiaz.
Full report at:
https://www.pakistantoday.com.pk/2019/09/15/imran-malala-among-500-influential-muslims-list/
--------
Shehbaz Sharif to meet Fazlur Rehman in Islamabad today
Sep 16, 2019
ISLAMABAD: Opposition Leader in National Assembly and Pakistan Muslim League-Nawaz (PML-N) president Shehbaz Sharif is set to hold a meeting with Jamiat Ulema-e-Islam (F) chief Fazlur Rehman in Islamabad today.
As per details, in this meeting, apart from future plans for their political struggle, Islamabad lock-down will also come under discussion.
PML-N spokesperson Marriyum Aurangzeb told media that both leaders will also discuss the current situation in Indian occupied Kashmir (Iok).
https://www.pakistantoday.com.pk/2019/09/15/shehbaz-sharif-to-meet-fazlur-rehman-in-islamabad-today/
--------
Pakistan summons Afghan, Indian diplomats after soldiers, civilian killed
15 September 2019
Pakistan has summoned diplomats from Afghanistan and India after several shooting incidents along two different borders killed four Pakistani soldiers and a civilian woman.
Accusations of firing by both sides across the Afghan-Pakistani border, and by both Indian and Pakistani forces across an old ceasefire line dividing their areas in the Muslim-majority region of Kashmir are common.
The latest incidents come at an especially tense time between Pakistan and India, and as talks between the United States and the Afghan Taliban have broken down.
Pakistan's Foreign Office summoned an Afghan diplomat on Saturday to account for what it said was firing into Pakistan by militants in Afghanistan, a spokesman for Pakistan's foreign ministry said in a statement.
The militants shot and killed a Pakistani soldier on patrol in one incident late on Friday. In a second incident, Pakistani forces fencing a section of the border were attacked and three were killed, the ministry said on Saturday.
Both incidents occurred in Pakistan's northwestern Khyber-Pakhtunkhwa province.
Pakistan underscored in its meeting with the Afghan diplomat that Afghanistan was responsible for securing its side of the border.
An Afghan government spokesman could not be immediately reached. Afghan officials have in recent weeks accused the Pakistani military of several incidents of heavy artillery fire into Afghanistan.
Both of the uneasy neighbors are battling militant factions along their largely porous border and each accuses the other of harboring their militant enemies.
Pakistan also summoned an Indian diplomat on Saturday after it said firing by Indian forces across the Line of Control (LoC) in the disputed territory of Kashmir killed a 40-year-old woman from the village of Balakot.
The nuclear-armed neighbors have fought two of their three wars over Kashmir.
The LoC, an old ceasefire line, is the de facto border between the parts of Kashmir that India and Pakistan administer.
Tensions between the two countries have flared since Aug. 5 when New Delhi flooded Indian Kashmir with troops to quell unrest after it revoked the region's special status.
Pakistan foreign affairs spokesman Mohammad Faisal said in a statement on Saturday that India deliberately targets civilian areas. A spokesman for India's external affairs ministry could not be immediately reached.
Full report at:
https://english.alarabiya.net/en/News/world/2019/09/15/Pakistan-summons-Afghan-Indian-diplomats-after-soldiers-civilian-killed.html
--------
Southeast Asia
Rakyat being consumed by 'extremist' politics, says Salleh
September 16, 2019
PETALING JAYA: Former Sabah chief minister and federal minister Salleh Said Keruak said the current "extremist" politics was worrying, as it was leading to the waning of unity among races.
He said the values of moderation which underpinned unity have been swept away by the currents of the religious and racist politics of today.
"The rakyat has been instigated and are becoming victims of manipulation by parties with political interests. Every day, we hear stories that are not so nice.
"The embers of racism and religious extremism, if not controlled, will burn us all," Salleh, a former communications and multimedia minister, said in a blog post today.
He said that when it comes to the unity of races, Malaysia has always focused on the main three races – Malays, Chinese and Indians – putting aside the 57 ethnic groups found in Sabah and Sarawak.
"We are all Malaysians regardless of ethnic or sub-ethnic groups. But today, our voices are drowned by voices of racism and political extremism.
"We have to cooperate, regardless of our racial background," he said.
Recently, a Buy Muslim-made First (BMF) campaign spearheaded by a Muslim-interest group has been fiercely objected to by many parties, especially DAP.
The party's secretary-general, Lim Guan Eng, had criticised the silence of MCA and MIC on the alleged support for the campaign by Umno and PAS, adding that the campaign was a form of boycott of non-Muslim made goods.
Former prime minister Najib Razak also commented on the controversy, saying that Guan Eng and Lim Kit Siang were the "most inappropriate people" to be the face of the government's efforts to quash the campaign.
The nation has also been shocked by the arrests of Shia adherents, including foreigners, by state Islamic authorities.
On Sept 6, 23 people were detained in Gombak, Selangor, in remembering Ashura, while another eight were detained in Kempas, Johor.
The Human Rights Commission (Suhakam) has characterised the detention as a form of human rights violation, as it deterred people from practising their own faith.
Lawyers for Liberty also said the detention of Shia adherents violated international norms which assured freedom of religion and protection to minorities from discrimination by the authorities.
https://www.freemalaysiatoday.com/category/nation/2019/09/16/rakyat-being-consumed-by-extremist-politics-says-salleh/
--------
Khaled Nordin: Umno and PAS need support of all Malaysians, not just Malays
15 September 2019
BY DANIAL DZULKIFLY
KUALA LUMPUR, Sept 15 — Umno vice-president Datuk Seri Mohamed Khaled Nordin today said that Umno and PAS will need the support of all Malaysians to ensure the success of the political cooperation between both parties.
Khaled said the political cooperation that was formalised between the two biggest Malay parties yesterday is centred around the National Consensus where they would carve a political future that includes representation from all segments of the community.
"Umno and PAS have always believed that any cooperation between the two parties must take into account the diversity of this country.
"The cooperation of Umno and PAS alone will not bring about political victory and this is well understood by both parties.
"To form a government, Umno and PAS need the support of every Malaysian, not just Malays and Muslims. Umno and PAS have never ignored the interests of Malaysian citizens of various lineage and identity," he said in a statement.
Khaled explained that the National Consensus allows both parties to discuss various national issues across the political divide, such as economy, education and federalism, among other things.
"The purpose is to trigger a national discourse at a scale and impact that has never been seen before.
"The country can no longer be allowed to revolve around personality politics or let the country's direction to be determined by just the Prime Minister," he said.
Khaled said the political cooperation also celebrates the differences between Umno and PAS, where both parties are not constricted to a narrow view of ideologies or values.
He said this new political cooperation also opens its door to other political or civil society organisations who wish to participate.
"Even parties from Sabah and Sarawak, and various civil society organisations are welcome to join this National Consensus.
"So to anyone who perceives that the cooperation between Umno and PAS is only about Malay and Islam, they are misguided.
"Umno and PAS are much more sophisticated and will never be trapped in the racial and religious tropes that are depicted by Pakatan," he said.
Yesterday Umno and PAS signed a political cooperation memorandum charter known as the National Consensus Charter, that listed five cores of their alliance.
Full report at:
https://www.malaymail.com/news/malaysia/2019/09/15/khaled-nordin-umno-and-pas-need-support-of-all-malaysians-not-just-malays/1790723
--------
Jollibee's first Malaysian store gets halal status from Jakim
16 September 2019
By Ida Lim
KUALA LUMPUR, Sept 16 — Filipino fast food chain Jollibee's first outlet in Malaysia is now certified halal or permissible for Muslims to eat by the Department of Islamic Development Malaysia (Jakim).
Jollibee Malaysia has announced that Jakim had officially given the halal certification to its outlet at the Centre Point Sabah mall in Kota Kinabalu on August 16.
"The certification comes after a rigorous six-month accreditation process to ensure strict adherence to halal standards," Jollibee Malaysia said in a statement on Saturday on its official Facebook page.
Jollibee Malaysia also added that it has always aimed for customer satisfaction since opening its first outlet last December, noting that the obtaining of the halal certificate marks the fruit of its efforts to please consumers amid growing demand for halal food and products.
Jollibee Malaysia said halal compliance is a stamp of quality, adding that its newly-obtained halal certification would help create and build trust among its customers.
"As for Jollibee Malaysia, we are sure that the safety requirements are implemented accordingly which results in quality food," it said.
Other than its fried chicken Chickenjoy, Jolly Spaghetti and Yumburger, Jollibee Malaysia said it had introduced new products such as Cheesy Fries and Nasi Lemak Chickenjoy.
In February, Malay Mail reported that fast food franchisee Jollibee Foods Corporation (JFC) is expected to open over 100 stores in Malaysia in the next 10 years, with over half to be opened just in Sabah and Sarawak.
Jollibee, which also operates in Muslim countries like Brunei, UAE and Saudi Arabia, had adapted its local menu here to be pork-free.
Full report at:
https://www.malaymail.com/news/eat-drink/2019/09/16/jollibees-first-malaysian-store-gets-halal-status-from-jakim/1790921
--------
Stay the course, don't react to PAS-Umno union, Pakatan Youth tells coalition leaders
14 September 2019
BY SHAZWAN MUSTAFA KAMAL
KUALA LUMPUR, Sept 14 — Pakatan Harapan should stay the course and continue its efforts to fix the country's economy and to unite Malaysians and not fall into the trap of responding to PAS and Umno's formal union, the ruling coalition's Youth wing said today.
In a statement, PH Youth said that PAS and Umno's alliance is not a new development in the country's political history and should not warrant any form of response from PH.
"The real focus should be fighting for the people, prioritising important issues and strengthening the love to Malaysia.
"Matters relating to job opportunities, the quality of life for the B40, the importance of the country's youths and unity of Malaysians should be Pakatan Harapan's focus. Pakatan Harapan should also never forget to defend the future of Sabah and Sarawak," said the statement signed by PH Youth chief and Bersatu Youth chief Syed Saddiq Syed Abdul Rahman, PKR Youth chief Akmal Nasrullah Mohd Nasir, Amanah Youth chief Mohd Sany Hamzan and DAP Youth chief Howard Lee.
The statement added that PH's strength lies in the diversity of its members and supporters, and that time should not be wasted talking about opposition parties, and whatever pacts they may have formed.
Umno president Datuk Seri Ahmad Zahid Hamidi and his PAS counterpart, Datuk Seri Abdul Hadi Awang, created history today by signing the National Cooperation Charter that listed five cores of their alliance.
The basis of the charter, according to the statement, was to bring unify the ummah (Muslim community) to harmonise multiracial Malaysia.
The first of the five core was to uplift and protect the Federal Constitution that guarantees the formation of the country, Islam as the religion of the federal, the special rights of the Malays and Bumiputera and the rights of other races, Bahasa Melayu as the national language as well as guaranteeing the protection of the multiracial society.
The second core is to strengthen national cooperation through discussions that involve all religions, races and culture for the sake of the country.
The third is empowering the Islamic, Malay and Bumiputera agenda according to the Federal Constitution.
The fourth is to form a cooperation by spreading the Islam and Malay narrative without refusing the rights of other religions, races and cultures as the centre of the political stability, racial harmony and country's prosperity.
Full report at:
https://www.malaymail.com/news/malaysia/2019/09/14/stay-the-course-dont-react-to-pas-umno-union-pakatan-youth-tells-coalition/1790521
--------
Coalition of collusion heading for a confrontation: The new normal
14 September 2019
BY RAIS HUSSIN
COMMENTARY, Sept 14 — Malays, Muslim, even an all Male elites, are all entitled to form a coalition. God, after all, creates the world in different tribes and nations to learn from each other; as the Quran would have it.
But before one "learns" from one another, the coalition has to unlearn and relearn from their past too. In the case of Pakatan Harapan, the very young coalition, which admittedly is having difficulties in adjusting to running both a Federal and state government, after decades of being in the opposition, learned how to unlearn their enmity, their ideological conflicts, and differences in work habits, before they relearned how to operate as a unified body.
Pakatan Harapan, for the better or worse, is still going through this process of unlearning and relearning, to be a better coalition.
The unification of Umno and PAS, which has happened before, has nothing of the above. It began first as a stealthy embrace of the other even before the previous General Election, before morphing into stomping troops of Malay, potentially, Malay hyper nationalists.
If Malaysia needs to look at the danger of the latter, just look at BJP of India, which is now hell bent on transforming the biggest democracy in the world, into a devil-may-care Hindu Shastra, where the rights of minorities are all trampled.
Yet the tyranny of the majority is and must not be the benchmark of a new government. As and when they do, their ostensible numerical superiority will be used as a blunt weapon go silence the voice of all groups from Kuala Kangsar to Kota Kinabalu.
Can the union of convenience of PAS and Umno work, though, granted that it has failed miserably before in 1974-1978, leading to the declaration of an emergency in Kelantan? Yes it can for the same reason how they want to take Malaysia back into a mythical period where "Tanah Melayu" literally meant Malay Land.
Umno and PAS are working hand in hand to dominate 119 predominantly Malay seats in the Peninsular Malaysia first. They believe with a majority of seven, all other races will submit, consequently, surrender to them.
But the actual purpose is simpler. The politicians who coined and conceived this coalition are precisely those who have the most to gain; barring which they also have the most to lose if they don't reclaim the mantle of government. All of them under criminal breach of trusts, and prosecuted under various forms of Anti Money Laundering Act (AMLA) will get off scot-free — if their plans succeed — or be put behind the slammer if their plans failed.
Granted that PAS and Umno are allegedly complicit in the grand larceny of Malaysia, whether through 1MDB or Tabung Haji, their attempts to win the next General Election by hook or by crook is a dangerous dagger pointed at the heart of rule of law in Malaysia.
Malaysians will soon see identity politics with vehement intensity. Race and Religion will become a dominant discussion items amongst this ever changing political dynamics. Contestation of ideas or policies will soon take a back seat! PH must not fall for these narratives.
PH must technically and tectonically change its ways by focusing on what people want: mitigating costs of living, better quality of living, creations of credible jobs, affordable homes and affordable healthcare.
Full report at:
https://www.malaymail.com/news/malaysia/2019/09/14/coalition-of-collusion-heading-for-a-confrontation-the-new-normal/1790544
--------
Reject racist policies, Guan Eng tells East Malaysians after Umno-PAS charter
September 15, 2019
PETALING JAYA: DAP secretary-general Lim Guan Eng today said Sabahans and Sarawakians should be the key decision-makers in the rejection of "irresponsible, fascist and racist politics", a day after the charter between PAS and Umno was signed.
Lim said there have been certain parties lately who want to reject the "moderate Malaysia" approach by playing up issues related to race and religion and "fomenting hatred with lies" to run down the government.
But he maintained that only a moderate Malaysia that respects the rights of all races, religions and backgrounds can succeed in implementing "shared prosperity", referring to the government coalition's theme for its second year in power.
"By adhering to the basic principle of a 'Moderate Malaysia', as outlined in the Federal Constitution, every Malaysian is part of the national fabric of unity, that is inclusive, not exclusive, and recognises differences without any discrimination and shares responsibilities towards our problems and challenges (especially in achieving shared prosperity).
"Only a full and unequivocal support for a 'Moderate Malaysia' that does not single out minorities to blame, but is focused on wealth creation and equitable distribution of wealth from Sabah and Sarawak will ensure that the racists and religious extremists will not succeed in attaining power."
In a statement, Lim, who is also the finance minister, said such support will benefit Sabah and Sarawak because of the present federal government's commitment in fulfilling its GE14 manifesto promises.
He said even though some of these promises will take some time before they are implemented, given the current financial position of Putrajaya, Lim claimed his government is the only federal government that has "spelt out clearly what it wants to do for Sabah and Sarawak".
Prime Minister Dr Mahathir Mohamad announced the "Shared Prosperity Vision" concept when he tabled the 11th Malaysia Plan midterm review in Parliament on Oct 18 last year.
The national unity charter – Piagam Muafakat Nasional – signed by the PAS and Umno presidents yesterday seeks to uphold the interest of the Malays, Islam as the official religion, and Malay as the national language.
It vows to restore the confidence of the people in the "leadership of Islam, the Malays and the Bumiputeras".
Full report at:
https://www.freemalaysiatoday.com/category/nation/2019/09/15/reject-racist-policies-guan-eng-tells-east-malaysians-after-umno-pas-charter/
--------
South Asia
90 terrorists killed, 20 injured in counter-terrorism operation by US, Afghan forces in Paktika
Sep 15, 2019
PAKTIKA: In a joint counter-terrorism operation by the Aghan and the US forces, 110 Taliban terrorists were killed or injured in the South-eastern Paktika province on Sunday.
The Afghan security forces conducted the operations with the support of US airpower in Warmama district, 203rd Thunder Corps said, as cited by the Khaama Press.
The spokesperson of the Afgan National Army corp said that the security forces killed at least 90 terrorists during the operations and injured at least 20 others.
Moreover, the 203rd Thunder Corps said the security forces also destroyed 23 motorcycles, a tractor and some weapons during the operations.
https://timesofindia.indiatimes.com/world/south-asia/90-terrorists-killed-20-injured-in-counter-terrorism-operation-by-us-afghan-forces-in-paktika/articleshow/71136117.cms
--------
Taliban shadow district and spy chiefs among 35 killed in Farah operations
16 Sep 2019
The security forces killed at least 35 Taliban militants including the shadow district chiefs of the group for Anar Darah district of Farah.
The Police Headquarters of Farah in a statement said Sunday that the security forces conducted the operations with the support of the air power in Anar Dara district.
The statement further added that the security forces killed Syed Azim alias Sheikh Mansoor, the shadow district chief of Taliban for Anar Darah.
Full report at:
https://www.khaama.com/taliban-shadow-district-and-spy-chiefs-among-35-killed-in-farah-operations-04053/
--------
For the first time, Taliban losing more fighters than Afghan military: Khalid
16 Sep 2019
The acting minister of defense Asadullah Khalid has said the Taliban group is losing more fighters than the Afghan armed forces.
Speaking to CBS News, Khalid said for the first time the Taliban group is losing more fighters than the Afghan military.
Khalid further added that the Afghan forces are at the forefront of around 90% of the offensives and operations taking place around the country.
"In most of the operation now, Afghan force are doing this operation independently," he said.
This comes as the Afghan and U.S. forces have stepped up ground operations and airstrikes against Taliban and other militants across the country after the U.S. President Donald Trump called off peace talks with Taliban more than a week ago.
Furthermore, President Trump said in a Twitter post on Saturday "The Taliban has never been hit harder than it is being hit right now. Killing 12 people, including one great American soldier, was not a good idea."
Furthermore, Trump said "There are much better ways to set up a negotiation. The Taliban knows they made a big mistake, and they have no idea how to recover!"
Meanwhile, the Taliban group are hopeful that peace negotiations between the group's leaders and U.S. representatives will revive soon.
Taliban chief negotiator Sher Abbas Stanikzai recently told Russia's RT in Moscow "Our stance is that there is no solution to the conflict except negotiations and except peace on the table."
Full report at:
https://www.khaama.com/for-the-first-time-taliban-losing-more-fighters-than-afghan-military-khalid-04052/
--------
Special Forces kill 14 Taliban militants; destroy multiple weapons caches in 3 provinces
16 Sep 2019
The Afghan Special Forces killed at least 14 Taliban militants and destroyed multiple caches of weapons in 3 provinces.
The military officials said Monday that the Special Forces killed 5 Taliban militants and destroyed a cache of weapons in Anar Darah district of Farah.
The officials further added that the Special Forces killed 9 Taliban militants during an operation in Gurziwan district of Faryab.
The Special Forces also destroyed a cache of weapons of Taliban during the same raid.
Full report at:
https://www.khaama.com/special-forces-kill-14-taliban-militants-destroy-multiple-weapons-caches-in-3-provinces-04051/
--------
Two Afghan Taliban shadow governors killed as air strikes step up
15 September 2019
Afghan security forces, backed by US air strikes, killed two of Taliban shadow provincial governors, on Sunday, as fighting stepped up in the wake of the collapse of talks aimed at ending the conflict, officials said.
The operations, launched on Saturday night, were aimed at foiling attacks planned by the Taliban on Afghan forces, said a senior security official in the capital Kabul, adding that clashes have escalated following the collapse of diplomatic talks between the United States and the Taliban.
The defense ministry in a statement said at least 85 Taliban fighters were killed in a joint ground and air operation in southern Paktika province on Saturday night.
The figure was rejected by the Taliban, who said seven fighters had been killed and 11 wounded while casualties among the security forces were over 20.
"The rest of the claims are baseless," the movement's spokesman Zabihullah Mujahid said.
Clashes between the hardline insurgent group and Afghan forces intensified in northern Samangan province on Saturday where the Taliban's shadow provincial governor, Mawlavi Nooruddin, was killed along with four fighters in an air strike in Dara-e-Soof Payeen district, local officials said.
The Taliban, who have validated a parallel provincial governance structure, separate from the Afghan government, denied the governor had been killed.
"He (Nooruddin) is alive," Zabihullah Mujahid, a Taliban spokesman said in a statement.
In a separate incident, Mullah Sayed Azim, a Taliban shadow governor for Anar Dara district in western Farah was killed in a joint Afghan and foreign force raid.
"Sayed Azim was killed along with 34 other insurgents in Anar Dara," said Mohibullah Mohib, a spokesman for Farah provincial police.
Senior security officials in Kabul said several joint operations will be launched against Taliban and ISIS, a terrorist group, to prevent attacks on Afghan forces and civilians ahead of the presidential polls on Sept. 28.
Fighting picked up in several parts of Afghanistan last week after US President Donald Trump's abrupt cancellation of talks with the Taliban aimed at withdrawing US troops and opening the way to end to 18 year-long war in Afghanistan.
Last week the Taliban killed four Afghan special force members in a car bomb blast.
The Taliban, who now control the most territory they have had since 2001, are demanding the withdrawal of all foreign forces from Afghanistan.
The US forces, which provide all-important air support to Afghan troops, have entered into an intense offensive mode after the collapse of talks, said a senior security official.
"The determination to wipe out Taliban safe havens has gained a fresh momentum," he said on conditions of anonymity, adding that the clashes will end once the Taliban declares a ceasefire.
Full report at:
https://english.alarabiya.net/en/News/world/2019/09/15/Two-Afghan-Taliban-shadow-governors-killed-as-air-strikes-step-up.html
--------
Airstrike kills Taliban's shadow governor for Samangan and his comrades
15 Sep 2019
An airstrike killed the shadow governor of Taliban for Samangan and his comrades, the Afghan military said.
The 209th Shaheen Corps said in a statement that the security forces conducted the airstrike close to Tuqsan Village in Dara-e Suf Payeen district earlier today.
The statement further added that the airstrike killed Mawlavi Nooruddin, the shadow governor of Taliban for Samangan and his comrades.
Full report at:
https://www.khaama.com/airstrike-kills-talibans-shadow-governor-for-samangan-and-his-comrades-04048/
--------
Taliban revokes ban on Red Cross, provides security guarantees
15 September 2019
The Taliban on Sunday revoked its ban on the International Committee of the Red Cross (ICRC) in Afghanistan and gave a guarantee of security for its staff doing humanitarian work in areas under the group's control.
Taliban leaders imposed a ban on the ICRC and the World Health Organization (WHO) in April saying the organizations were carrying out "suspicious" activities during vaccinations campaigns and not sticking to their declared missions.
"The Islamic Emirate restores the former security guarantees to ICRC in Afghanistan and instructs all mujahideen to pave the way for ICRC activities and be mindful of security to this committee's workers and equipment," Taliban spokesman Zabihullah Mujahid said in a statement.
The Taliban refer to themselves as the Islamic Emirate of Afghanistan. The spokesman did not refer to the WHO in his statement.
Officials at ICRC and WHO in Kabul were not immediately available for comment.
The WHO has been carrying out a vaccination campaign in Afghanistan, one of the last countries in the world where polio is endemic. The ICRC has been providing medical support for more than 30 years.
Aid groups operating in Afghanistan stress that they do not take sides.
The ICRC, in particular, is known for its strict neutrality in conflicts.
Full report at:
https://english.alarabiya.net/en/News/world/2019/09/15/Taliban-revoke-ban-on-Red-Cross-provide-security-guarantees.html
--------
Mideast
Netanyahu's annexation plans show Israel trying to change identity of Palestine: OIC
Sep 15, 2019
The Organization of Islamic Cooperation (OIC) has censured Israeli Prime Minister Benjamin Netanyahu's plan to annex areas of the occupied West Bank as an election promise that is part of Tel Aviv's broader plans to change the identity of Palestine.
Speaking at an extraordinary meeting of the OIC in Jeddah on Sunday, Yousef bin Ahmad al-Othaimeen, the secretary-general of the organization, condemned Netanyahu's recent decision, referring to the plan as part of Israel's continued attempts to change the historical identity of Palestine.
He noted that the extraordinary meeting of OIC indicates the centrality of the Palestinian cause, describing Netanyahu's recent announcement as an "irresponsible" move that exposes Israel's systematic settlement policy.
Netanyahu on Tuesday promised to annex parts of occupied land in the West Bank, including the Jordan Valley and northern Dead Sea, if he wins the September 17 general elections. The plan drew sharp criticism from the Palestinians as well as countries in the Middle East, including Jordan, Iran, Turkey, Saudi Arabia and the United Arab Emirates.
The 69-year-old Chairman of the Likud-National Liberal Movement also reiterated his intention to annex Israeli settlements throughout the West Bank if re-elected, and in coordination with US President Donald Trump.
More than 600,000 Israelis live in over 230 settlements built since the 1967 Israeli occupation of the Palestinian territories of West Bank and East Jerusalem al-Quds. The UN Security Council has condemned Israel's settlement activities in the occupied territories in several resolutions.
The OIC chief stressed that the Israeli "aggressive" plan violates the UN Security Council (UNSC) resolutions, adding: "We affirm our utter rejection of the Israeli government's aggression against the sovereignty of the Arab territories."
The OIC also asked the international community to put an end to Israel's "aggressive" policies against the Palestinian people.
Othaimeen stressed that "there is no peace in the Middle East without finding a just solution to the Palestinian cause."
Palestinian Foreign Minister Riad Al-Maliki told the meeting that Netanyahu's latest move was the latest in a string of "provocative threats"
"After repeated and provocative threats to annex the illegal Israeli settlements in the occupied West Bank, including those that are ravaging the heart and soul of the Holy Land, the seriousness of which we warned against again and again, the Israeli prime minister issued another new and serious threat on September 10 when he announced his intention to enforce Israeli sovereignty over the Jordan Valley in the occupied West Bank and to annex it if he was re-elected," Maliki said.
"He referred to the region as the eastern border of Israel and promised that this process would be offered to annex all illegal settlements in the West Bank," the Palestinian minister added.
Maliki also urged OIC members to act together to ensure the implementation of international resolutions regarding the so-called peace process.
"We must work collectively and united at all international levels and with the international community to push them to shoulder their responsibilities and implement the international will, represented in the criteria of a just and lasting solution in accordance with international law and relevant resolutions, and the Arab Peace Initiative," he added.
Israel occupied the West Bank in the 1967 Six-Day War, in a move never recognized by the international community.
The Jordan Valley accounts for around one-third of the West Bank. Israeli right-wing politicians have long viewed the 2,400-square kilometer (926.65-square mile) strategic area as a part of the territory they would never retreat from and stated that the Israeli military would maintain its control there under any peace agreement with the Palestinians.
https://www.presstv.com/Detail/2019/09/15/606276/Israel-trying-to-change-Palestine-identity
--------
Turkey censures Israeli regime over 'racist' annexation plan
Sep 15, 2019
Turkish Foreign Minister Mevlut Cavusoglu has denounced Israel for continuing its "aggressive" policies after Prime Minister Benjamin Netanyahu announced his plan to annex more areas of the occupied West Bank following the upcoming elections.
Cavusoglu made the remarks on Sunday in Jeddah where the Organization of Islamic Cooperation (OIC) held an emergency meeting to discuss Netanyahu's recent remarks.
Netanyahu on Tuesday promised to annex parts of occupied land in the West Bank, including the Jordan Valley and northern Dead Sea, if he wins the September 17 general elections, drawing sharp criticism from the Palestinians as well as countries in the Middle East, including Jordan, Iran, Turkey, Saudi Arabia and the United Arab Emirates.
Cavusoglu condemned Netanyahu's "embarrassing" plan as a "despicable" attempt to get votes ahead of Tuesday's elections.
Turkey's top diplomat also censured what he called a lack of reaction from other Muslim states.
"Israel, encouraged by the support of certain countries, is continuing its aggressive policies that are turning it into a racist, apartheid regime," Turkey's official Anadolu news agency cited Cavusoglu as saying, adding, "If the whole Muslim community had reacted together, the reckless plans, policies and behavior of the United States and Israel would never have reached this point."
Reacting to Netanyahu's plan, the Palestine Liberation Organization (PLO) warned that Netanyahu's promise is the tip of the iceberg.
According to a weekly report by the PLO's National Office for the Defense of Land and Resistance of Settlement released on Saturday, Netanyahu plans to annex 75 percent of Area C, which accounts for more than 60 percent of the occupied West Bank, and would form a significant part of a future Palestine state under the so-called two-state solution. It is fully controlled by Israeli authorities.
Israel occupied the West Bank in the 1967 Six-Day War, in a move never recognized by the international community.
Full report at:
https://www.presstv.com/Detail/2019/09/15/606268/Turkey-condemns-Israel-annexation-plan
--------
Netanyahu approves new settlement only two days prior to general elections
Sep 15, 2019
Israeli Prime Minister Benjamin Netanyahu has approved the construction of a new settlement in the occupied West Bank, as the Tel Aviv regime goes ahead with land expropriation and settlement construction policies in violation of international law and UN Security Council resolutions.
The cabinet agreed on Sunday to turn the wildcat settlement of Mevoot Yericho in the Jordan Valley into an official settlement, Netanyahu's office said. It came only two days ahead of closely fought general elections as the premier and his main opponent Benny Gantz sought to rally support.
Around 30 families live in the outpost, which was established in 1999. Israeli settlers regularly set up caravan homes at sites in the West Bank with the hope of eventually gaining the Tel Aviv regime's approval as a settlement, which has repeatedly occurred.
The approval follows the Israeli premier's pledge last week to annex the Jordan Valley and the northern Dead Sea if he wins the September 17 snap polls.
Israel occupied the West Bank in the 1967 Six-Day War, in a move never recognized by the international community.
The Jordan Valley accounts for around one-third of the West Bank. Israeli right-wing politicians have long viewed the 2,400-square kilometer (926.65-square mile) strategic area as a part of the territory they would never retreat from and stated that the Israeli military would maintain its control there under any peace agreement with the Palestinians.
On Tuesday evening, Netanyahu promised to annex the Jordan Valley if he wins next week's general elections, drawing sharp criticism from the Palestinians as well as countries in the Middle East, including Jordan, Iran, Turkey, Saudi Arabia and the United Arab Emirates.
He also reiterated his intention to annex Israeli settlements throughout the West Bank if re-elected. Netanyahu said the move would be in coordination with US President Donald Trump.
Netanyahu went on to say that he would wait for the Trump administration to announce its controversial proposal for "peace" between the Israeli regime and the Palestinians; dubbed "the deal of the century," before the Tel Aviv regime makes any major policy changes on the status of Israeli settlements.
More than 600,000 Israelis live in over 230 settlements built since the 1967 Israeli occupation of the Palestinian territories of the West Bank and East Jerusalem al-Quds.
The UN Security Council has condemned Israel's settlement activities in the occupied territories in several resolutions.
Less than a month before US President Donald Trump took office, the United Nations Security Council in December 2016 adopted Resolution 2334, calling on Israel to "immediately and completely cease all settlement activities in the occupied Palestinian territories, including East Jerusalem" al-Quds.
Palestinians want the West Bank as part of a future independent Palestinian state with East Jerusalem al-Quds as its capital.
Full report at:
https://www.presstv.com/Detail/2019/09/15/606258/Netanyahu-approves-new-settlement-only-two-days-prior-to-general-elections
--------
Delivery of second S-400 battery to Turkey completed, defense ministry says
Sep 15, 2019
Turkey's Defense Ministry says the delivery of the second battery of the advanced Russian-made S-400 missile defense systems has been completed, and that the systems would become operational in April 2020.
The ministry announced in a statement that the delivery process was finished at Murted Airfield Command, located 35 kilometers (22 miles) northwest of the capital Ankara, on Sunday but the training of Turkish personnel was still ongoing.
The second part of the shipments began on August 27.
The first part of the S-400 delivery was completed in late July. Russia delivered 30 planeloads of S-400 hardware and equipment – as part of the initial batch – to Murted Airfield Command.
Ankara and Washington have been at loggerheads over Turkey's purchase of the S-400 systems, which the United States says are not compatible with NATO defenses and poses a threat to Lockheed Martin F-35 stealth fighter jets.
Turkish Foreign Minister Mevlut Cavusglu told Turkish-language CNN Turk television news network in an exclusive interview on Saturday that S-400 missile systems would be activated despite repeated US warnings.
"They (US officials) told us 'don't activate them and we can sort this out', but we told them that we didn't buy these systems as a prop," the top Turkish diplomat said, adding that Turkey would be open to buying US-made Patriot surface-to-air missile systems as well.
On September 9, US Treasury Secretary Steven Mnuchin said Donald Trump's administration was considering imposing sanctions on Turkey over purchase of S-400 systems, but no decisions have been made.
Cavusoglu told private Turkish-language TGRT Haber television news network in an exclusive interview back on July 22 that his country would take retaliatory measures in case the United States slapped sanctions on Ankara over the Russian-made systems.
"If the United States portrays an adversarial attitude towards us, we will take retaliatory measures, as we've told them. This is not a threat or a bluff. We are not a country that will bow down to those who show an animosity towards Turkey," he said.
Cavusoglu added that he did not expect the US administration to take such an action.
Turkish President Recep Tayyip Erdogan told Reuters in an interview on Friday that he would discuss a possible purchase of Patriot systems with Trump during a meeting at the UN General Assembly later this month.
He also noted that his close relationship with Trump could mend tensions over Ankara's purchase of the Russian S-400 missile defense systems.
The White House said on July 17 that it was no longer possible for Turkey to be involved in the program for the F-35 stealth jets after parts of S-400 began arriving in Ankara.
It also said it would impose sanctions on Turkey under the Countering America's Adversaries Through Sanctions Act (CAATSA).
The US Congress passed the CAATSA against Russia in August 2017 over allegations of interfering in the 2016 presidential election. The law, among other things, imposes sanctions on countries and companies that engage in contracts to purchase weaponry from Russia.
Moscow and Ankara finalized an agreement on the delivery of the S-400 in December 2017.
Back in April 2018, Erdogan and his Russian counterpart Vladimir Putin said in Ankara that they had agreed to expedite the delivery of the S-400. At the time, it was said that the delivery could be made between late 2019 and early 2020.
A number of (NATO member states have criticized Turkey for purchase of the S-400, arguing the missile batteries are not compatible with those of the military alliance.
They also argue that the purchase could jeopardize Ankara's acquisition of F-35 fighter jets and possibly result in US sanctions.
The S-400 is an advanced Russian missile system designed to detect, track, and destroy planes, drones, or missiles as far as 402 kilometers away. It has previously been sold only to China and India.
Ankara is striving to boost its air defense, particularly after Washington decided in 2015 to withdraw its Patriot surface-to-air missile system from Turkish border with Syria, a move that weakened Turkey's air defense.
Full report at:
https://www.presstv.com/Detail/2019/09/15/606246/Delivery-of-second-S400-battery-to-Turkey-completed-Defense-Ministry-says
--------
Pressure grows in US for firm response to Iran after Aramco attacks
September 15, 2019
WASHINGTON: An American senator has called for Washington to consider an attack on Iranian oil facilities as pressure grows in the US for a firm response to the Saudi Aramco strikes.
Saudi Arabia's Energy Minister Prince Abdulaziz bin Salman inspected the Aramco factories in Abqaiq and discussed with local officials the latest developments following the terrorist attack that targeted the two facilities.
Secretary of State Mike Pompeo blamed Iran for the drone attacks on Saturday against the Abqaiq oil processing plant and the Khurais oil field. He also suggested that unlike previous drone and missile attacks on the Kingdom, this one may not have been launched from Yemen by the Iran-backed Houthis. Reports have said that the attack may have originated in Iraq where Iran also holds sway over a large number of powerful militias.
"It is now time for the US to put on the table an attack on Iranian oil refineries if they continue their provocations or increase nuclear enrichment," Lindsey Graham, a Republican senator close to Donald Trump, said on Twitter.
Lindsey Graham
✔
@LindseyGrahamSC
• Sep 14, 2019
Replying to @LindseyGrahamSC
It is now time for the U.S. to put on the table an attack on Iranian oil refineries if they continue their provocations or increase nuclear enrichment.
Lindsey Graham
✔
@LindseyGrahamSC
Iran will not stop their misbehavior until the consequences become more real, like attacking their refineries, which will break the regime's back.
2,865
10:11 PM - Sep 14, 2019
Twitter Ads info and privacy
1,930 people are talking about this
"Iran will not stop their misbehavior until the consequences become more real, like attacking their refineries, which will break the regime's back."
Iran on Sunday denied it was behind the attack, but the Yemeni Houthi militia backed by Tehran, claimed they had launched them.
The White House on Sunday did not rule out a potential meeting between President Donald Trump and Iranian President Hassan Rouhani, even after Washington accused Iran of being behind drone attacks on Saudi oil facilities.
White House adviser Kellyanne Conway said the attacks "did not help" prospects for a meeting between Trump and Iranian President Hassan Rouhani during the United Nations General Assembly this month but she left open the possibility it could happen.
"You're not helping your case much," by attacking Saudi Arabia, civilian areas and critical infrastructure that affects global energy markets." Conway told the Fox News Sunday program.
The Trump administration's sanctions and "maximum pressure" campaign on Iran over its nuclear and ballistic missile program will continue whether or not the two leaders meet, she added.
The US ramped up pressure on Iran last year after trump withdrew from an international pact to curb Iran's nuclear program.
Washington has reimposed a tough sanctions regime on Tehran, which it accuses of hiding behind the nuclear deal to advance its missiles program and aggressive foreign policy in the Middle East.
Dominic Raab
✔
@DominicRaab
Just spoke to @SecPompeo about this egregious attack on the security of Saudi Arabia. This was a reckless attempt to damage regional security and disrupt global oil supplies. The UK condemns such behaviour unreservedly.
492
7:41 PM - Sep 15, 2019
Twitter Ads info and privacy
274 people are talking about this
Meanwhile, condemnation of the attacks continued from around the world.
Kuwait's emir telephoned King Salman on Sunday to express his condemnation of the attack.
Secretary General Antonio Guterres condemned the attack and called upon all parties to exercise maximum restraint to prevent any escalation.
King Salman also received a telephone call from Palestinian President Mahmoud Abbas expressing his deep condemnation.
Abbas affirmed that the Palestinian government and people stand with the Kingdom to confront these terrorist acts of aggression.
Full report at:
https://www.arabnews.com/node/1554851/middle-east
--------
Houthi attack on Saudi Aramco facilities act of terror: Japanese defense minister
September 16, 2019
TOKYO: Taro Kono, the defense minister of Japan, said that threats to his country's oil supply was the "most worrying scenario" he could imagine in international relations, in the wake of attacks on Saudi Arabian oil production facilities.
"The most pessimistic scenario right now is that something happens in the Straits of Hormuz and the oil supply gets cut down, and that would send a shock wave through the global economy. I think the price of oil is already rising after this attack on Saudi facilities, so that's the most worrying scenario right now," he told a conference in Tokyo, Japan.
However, speaking on the sidelines to Arab News, he insisted that Saudi Arabia would remain a reliable partner of Japan - which imports around 40 per cent of its crude from the Kingdom - and downplayed concerns about long-term supply problems.
"Saudi has been and will be an important source of our energy supply. We have international co-ordination, and we have reserves, so we are not really worried about that," he said.
Kono, who was until recently Japan's foreign minister, said that his country would be seeking to promote diplomatic solutions to the latest Middle East conflagration. "We definitely need to ease the tension between those countries. As Foreign Minister, the last thing I was doing was calling the Iranian Foreign Minister and the French Foreign Minister to ease the tension the region through diplomatic actions, and I think it's important to continue doing it.
"This Houthi attack on Saudi is a little different, because it's a terrorist attack. I think we may require some kind of military operation against those drone attacks, and that's something out of Japan's constitutional boundary. I think Japan will be focusing on diplomatic efforts in easing tension in the region."
Full report at:
https://www.arabnews.com/node/1555006/saudi-arabia
--------
Arab World
Baghdad Denies Iraqi Territory Used to Hit Saudi Oil Facilities
Sep 15, 2019
A Baghdad government statement denied "media reports that [Iraqi] territory was used to attack Saudi oil installations using drones".
According to a statement from the Iraqi Prime Minister's press-service, the constitution of Iraq does not allow the use of its territory for aggressive actions towards its neighbours.
Drones attacked Saudi Arabia's oil facilities on Saturday, causing major fires and disrupting oil production.
Yemen's Ansarullah movement claimed responsibility for the operation but the United States has blamed Iran for the incident. Tehran has rejected the allegations.
Following the strikes, US President Donald Trump, a stalwart supporter of the Riyadh-led war on Yemen, spoke on the phone with Saudi Crown Prince Mohammad bin Salman (MbS), who has been leading the military campaign in his capacity as the Saudi defense chief.
Trump offered Washington's support for what he called "Saudi Arabia's self defense", stating that the attacks on Saudi oil facilities had a negative impact on the US and global economies.
US Secretary of State Mike Pompeo also took to Twitter to put the blame on Iran, claiming, "Tehran is behind nearly 100 attacks on Saudi Arabia" and that "there is no evidence the attacks came from Yemen".
"The United States will work with our partners and allies to ensure that energy markets remain well supplied and Iran is held accountable for its aggression," he added.
On Sunday, Iranian Foreign Ministry Spokesman Seyed Abbas Mousavi blasted Pompeo for his big lies against Tehran, and categorically rejected his allegations about Iran's involvement in Yemeni attacks on Saudi Arabia.
"Such allegations and blind and fruitless remarks are meaningless and not understood in diplomatic framework," he said.
Iranian Foreign Minister Mohammad Javad Zarif also responded to Pompeo's claim, stressing that the American diplomat is now resorting to a campaign of "max deceit" against Tehran after the administration he serves failed to achieve the desired results from its anti-Iran "maximum pressure" policy — which has seen Washington impose the toughest of economic sanctions against the Iranian nation.
"US & its clients are stuck in Yemen because of illusion that weapon superiority will lead to military victory," Zarif wrote on Twitter.
Javad Zarif
✔
@JZarif
Having failed at "max pressure", @SecPompeo's turning to "max deceit"
US & its clients are stuck in Yemen because of illusion that weapon superiority will lead to military victory.
Blaming Iran won't end disaster. Accepting our April '15 proposal to end war & begin talks may.
3,052
2:40 PM - Sep 15, 2019
Twitter Ads info and privacy
1,448 people are talking about this
Saudi Arabia and a number of its regional allies launched a devastating campaign against Yemen in March 2015, with the aim of bringing the government of former Yemeni President Abd Rabbuh Mansur Hadi back to power and crushing the Ansarullah movement.
Despite Riyadh's claims that it is bombing the positions of the Ansarullah fighters, Saudi bombers are flattening residential areas and civilian infrastructures. Weddings, funerals, schools and hospitals, as well as water and electricity plants, have been targeted, killing 20,000 civilians, including women and children, and wounding hundreds of thousands.
France, the United States, the United Kingdom and some other Western countries have faced criticisms over arms sales to the Saudi Arabia and the UAE, whose aggression against Yemen has affected 28 million people and caused what the United Nations calls "one of the worst humanitarian crises in the world". According to the world body, Yemen is suffering from the most severe famine in more than 100 years.
A UN panel has compiled a detailed report of civilian casualties caused by the Saudi military and its allies during their war against Yemen, saying the Riyadh-led coalition has used precision-guided munitions in its raids on civilian targets.
https://en.farsnews.com/newstext.aspx?nn=13980624000790
--------
Car bomb kills 10 in Syrian town near Turkish border, say sources
15 September 2019
A rigged car exploded near a hospital in the Syrian town of al-Rai at the border with Turkey on Sunday, killing 10 people and wounding 15, the local council and a medical worker said.
The blast also caused damage in the hospital, said a statement from the council of the town, which lies in a part of northwest Syria under the control of Turkey-backed rebels.
Turkey's state-run Anadolu news agency said 12 civilians were killed after a "terror bomb attack" near the frontier.
Full report at:
https://english.alarabiya.net/en/News/middle-east/2019/09/15/Car-bomb-kills-10-in-Syrian-town-near-Turkish-border-say-sources.html
--------
Palestinian President Abbas in call with Saudi King condemns attacks on Aramco
15 September 2019
Palestinian President Mahmoud Abbas expressed in a phone call with Saudi Arabia's King Salman bin Abdulaziz on Sunday his condemnation of the "terrorist attacks" which hit two oil facilities in Saudi Arabia.
Abbas affirmed his, and the Palestinian people's "full solidarity" with Saudi Arabia in the fight against "this terrorism, which targets its security, land and the safety of its citizens," according to a statement carried by Palestinian & Info News Agency (WAFA).
During the phone call, President Abbas also thanked King Salman for his personal stand and the Kingdom's support for "Palestine in all international forums and at all levels, particularly the Kingdom's call for an extraordinary meeting" of the Organization of Islamic Cooperation (OIC) on the level of foreign ministers in Jeddah on Sunday.
Full report at:
https://english.alarabiya.net/en/News/gulf/2019/09/15/Palestinians-Abbas-in-call-with-Saudi-King-condemns-attacks-on-Aramco.html
--------
UN chief condemns Saudi attacks, calls for restraint
15 September 2019
UN Secretary-General Antonio Guterres on Sunday condemned the drone attacks on Saudi Arabian oil facilities and called on those involved to prevent escalation.
"The Secretary-General condemns Saturday's attacks on Aramco oil facilities in the Eastern Province in the Kingdom of Saudi
Arabia claimed by the Houthis," according to a statement from spokesman Stephane Dujarric.
"The Secretary-General calls upon all parties to exercise maximum restraint, prevent any escalation amid heightened tensions and to comply at all times with International Humanitarian Law," the statement added.
On Saturday, Saudi Arabia's Crown Prince Mohammed bin Salman received a phone call from US President Donald Trump following the drone attacks on oil production facilities in the Kingdom.
Full report at:
https://english.alarabiya.net/en/News/gulf/2019/09/15/UN-chief-condemns-Saudi-attacks-calls-for-restraint.html
--------
Thousands of people return to hometowns in northwestern Syria
Sep 15, 2019
Thousands of Syrians have returned to their hometowns in the country's northwest after government forces purged the areas of foreign-backed militants.
Syria's official news agency, SANA, reported that "thousands of citizens returned" to their villages and towns in the northern countryside of Hama province and the southern countryside of Idlib on Sunday.
The government has been making efforts to return the displaced to their towns and villages over the past months.
The so-called Syrian Observatory for Human Rights also confirmed the report, saying "around 3,000 people" were going home from other government-held areas.
Russian Foreign Minister Sergei Lavrov said on Thursday that he believes the war in Syria has come to an end. "The country is gradually returning to a normal, peaceful life."
Large parts of the northwestern province of Idlib and parts of neighboring Hama constitute the last major militant stronghold in Syria.
Late last month, the Russian Reconciliation Center for Syria announced a unilateral ceasefire by government forces in the Idlib de-escalation zone.
On August 5, the Syrian army declared in a statement the start of an offensive against foreign-sponsored militants in Idlib after those positioned in the de-escalation zone failed to honor a ceasefire brokered by Russia and Turkey and continued to target civilian neighborhoods.
The Syrian government troops, backed by Russian warplanes, have been regaining control of further areas once held by militants.
Full report at:
https://www.presstv.com/Detail/2019/09/15/606247/Displaced-Syrians-return--hometowns
--------
Syrian president issues new amnesty reducing punishment for crimes
Sep 15, 2019
Syrian President Bashar Assad has issued a decree granting amnesty and commuting sentences for all crimes committed before Sept. 14 this year, a move which could see thousands of prisoners released across the conflict-torn Arab country.
According to Syria's official SANA news agency, the Sunday's decree by the presidency would reduce the death penalty to life sentence with hard labor, and life sentences to 20 years, among other punishments.
The pardon would include freeing some prisoners detained under a 2012 "terrorism law."
Those imprisoned under the 2012 law over "conspiracy" or failing to inform the authorities of an act of "terrorism" are also to be released.
Prisoners with incurable diseases including cancer will be also covered by Assad's amnesty.
The decree stipulates granting a general amnesty for military deserters who turn themselves in within 3 months inside Syria or six months outside the country. The same goes for kidnappers who release their hostages safe and sound within the next month.
But the amnesty does not extend to those condemned over killing someone or rendering them paralyzed. It also does not cover Syrians who took up arms to fight the state, colluded with foreign nations against Syria, or joined terrorists.
During Syria's conflict with foreign-backed militants, the Damascus government issued similar amnesties to pardon those evading mandatory military service who could face years in prison.
In 2014, President Assad issued a decree granting "a general amnesty" for all crimes except "acts of terrorism." Later the same year, a minister said around 11,000 detainees had been released.
Also in July 2016, Assad said that the government would pardon militants who turn in their weapons, stressing that the policy had been exercised by Damascus since the beginning of the crisis in the country.
Russian Foreign Minister Sergei Lavrov said on Thursday that he believes the war in Syria has come to an end, adding, "The country is gradually returning to a normal, peaceful life."
In a separate development on Sunday, Assad received Russia's Special Envoy to Syria Alexander Lavrentiev and its Deputy Foreign Minister Sergey Vershinin, a day before a trilateral summit on Syria is to be held in the Turkish capital attended by presidents of Iran, Russia and Turkey.
Full report at:
https://www.presstv.com/Detail/2019/09/15/606279/Syria-President-Assad-Damascus-Daesh-Russia
--------
Organizers promise 'exceptional' Saudi National Day celebrations
RASHID HASSAN
September 16, 2019
RIYADH: Fireworks, concerts, festivals and international performances will be among the highlights of the 89th Saudi National Day celebrations this year.
The General Entertainment Authority (GEA) has announced a season of record-breaking events for the annual celebration.
At a press conference in Riyadh on Sunday, GEA CEO Amr Banaja said that Saudi citizens and residents can enjoy a number of entertainment activities planned across 13 regions of the Kingdom as part of the National Day season being supervised by the GEA from Sept. 19 to 23.
"The GEA is proud to oversee the Saudi National Day Season activities by launching a unified identity that brings together the society under "Himma Hatta El-Qimmah," Banaja said, inspired by the words of Crown Prince Mohammed bin Salman: "The Saudis' strength is like that of the Tuwaiq mountain."
The GEA was proud to be overseeing the occasion, Banaja said. "We are keen to have the largest international events to create an exceptional season befitting this dear country," he said.
"This year fireworks celebrations will continue for several days where more than 700,000 shots will be fired at an altitude of up to 300 meters, accompanied by music," he said.
Celebrations will be held in all regions during the season, and visitors will be able to enjoy a range of activities that reflected the unity of the nation and the cohesion of the people and leadership.
"Distinctive international shows designed especially for the National Day will be held in Riyadh from Sept. 21-23," he said.
Fireworks will light up Jeddah over Al-Hamra Corniche accompanied by sound and light effects and laser shows.
At the five-day Dhahran Exhibition in Dammam starting on Sept. 19, the world's largest theatrical producer "Cirque du Soleil" will present a specially designed show for Saudi National Day.
Forty artists will present 14 shows of acrobatics, sports, music, and dance. Eight concerts will also be held in a number of regions where, besides international stars, Saudi and Gulf artists will present patriotic songs.
The concerts will begin on the first day of the season on Sept. 19 at Al-Jouf University Stadium in Sakaka with performances by Khaled Abdulrahman and Nabil Shuail.
The next day, a concert will be held at King Khalid Sport City in Tabuk staged by artists Abdullah Al-Rowaished and Aseel Abu Bakr.
On Sept. 21, Majid Al-Mohandes and Dalia Mubarak will perform at Prince Abdul Aziz Bin Musaed Stadium in Hail.
On Sept. 22, two concerts will be performed at King Abdullah Sports City in Buraidah by artists Rashid Al-Majid and Balqees Fathi; the second at Prince Sultan Cultural Center in Jazan by "The Artist of Arabs" Mohammed Abdo and Turki.
On Saudi National Day (Sept. 23), three concerts will be held in Riyadh, Jeddah and Dammam.
Thousands will gather at King Fahd Cultural Center in Riyadh to listen to singers Hussein Al-Jasmi and Abadi Al-Jawhar.
In Jeddah, Rabeh Saqr and the artist Waad will perform at King Abdullah Sports City, while in Dammam, and in the Green Halls in Riyadh, Kuwaiti singer Nawal and the artist Ayed will entertain the audience.
Five forums will take place in five cities, where a number of speakers will present inspirational events.
Forums will be held in Madinah and Tabuk on Sept. 19, while in Abha and Buraidah the forum will be held on Sept. 21 and in Hail on Sept. 23.
Banaja said that the GEA had created 150 smartphone apps for the National Day celebrations with 40,000 downloaded so far.
He thanked the security authorities for their efforts to make the season a success, and all government, private and nonprofit sectors for their contribution.
The programs were mostly free, he said, though there were some concerts for which tickets could be purchased online.
Full report at:
https://www.arabnews.com/node/1554921/saudi-arabia
--------
The shadowy forces attacking civilian targets in Saudi Arabia
September 15, 2019
ABU DHABI: When drones targeted the facilities of Saudi Aramco on Saturday, they signaled not only a new phase of a terror campaign against Saudi Arabia but also the determination of malign regional actors to disrupt global oil supplies, cripple energy-reliant economies and stir Middle East tensions.
The two-pronged attack on oil-production facilities in Abqaiq and Khurais in the Eastern Province was the biggest on oil infrastructure since Saddam Hussein's invasion of Kuwait in 1990.
Responsibility for scores of attacks on civilian targets in Saudi Arabia involving rockets, drones and ballistic missiles has been claimed by Iran-backed Houthi militias since 2015. Saudi forces are part of a military coalition fighting the Houthis in Yemen.
The targets have included the holy city of Makkah, airports, royal residences, oil pipelines, desalination plants and oilfields.
A number of tankers in busy oil lanes have also been subjected to mysterious sabotage attacks involving mines, while commercial vessels have been harassed or seized by Iranian security forces.
Experts say world leaders need to close ranks to put an end to the undeclared war of aggression and bring the faceless perpetrators to heel.
Yossi Mekelberg, a professor of international relations at Regent's University London, says the attacks on vital installations represent a "really dangerous development" that Saudi Arabia and the wider world cannot afford to "sit back and let happen."
"This is provocation, plain and simple," he told Arab News. "This is a very serious escalation as it was an attack designed to cause major harm. Whoever did this knew it was provocation — and that a reaction is also guaranteed.
"Saudi Arabia will not be able to sit back and just let attacks like this happen. Attacks of this kind threaten a country's economy, its sovereignty, its integrity — however you look at it."
The Houthis said they carried out Saturday's attacks with the help of 10 drones. But Mike Pompeo, US secretary of state, suggested the projectiles may have been launched from another country. Along with Yemen, Iran has proxy forces in Iraq, Syria and Lebanon — a policy that has long been blamed for causing instability in the region.
"Amid all the calls for de-escalation, Iran has now launched an unprecedented attack on the world's energy supply," Pompeo said on Twitter. "There is no evidence the attacks came from Yemen."
The Arab coalition fighting to restore Yemen's internationally recognized government said it was investigating who was behind the attacks.
According to Jim Hanson, president of the Security Studies Group, "the attacks were likely to have been launched from Iraq and done by Hashd Al-Shaabi militias in cooperation with their Islamic Revolutionary Guard Corps (IRGC) handlers."
He said: "The distance from Houthi territory in Yemen is likely too far for the strikes to have come from there. The US should coordinate with Saudi Arabia to ensure the most effective response. Talk alone is not enough; this calls for action."
However, Iraq's prime minister has denied reports that Iraqi territory "was used for drone attacks on Saudi oil facilities."
In a statement issued on Sunday, Adel Abdul-Mahdi said: "Iraq is constitutionally committed to preventing any use of its soil to attack its neighbors. "The Iraqi government will be extremely firm with whoever tries to violate the constitution."
Prince Abdul Aziz bin Salman, Saudi Arabia's energy minister, said Saturday's incidents caused an interruption of an estimated 5.7 million barrels per day (bpd) of crude oil - or about half of the Kingdom's oil capacity, equivalent to five percent of the daily global oil supply. He confirmed there were no injuries to staff at the locations targeted.
According to Saudi Aramco, the Abqaiq facility is the largest crude oil stabilization plant in the world which processes more than seven million bpd of crude. The plant plays a vital role in removing sulphur impurities and reducing vapor pressure of the crude in order to make it safe for being transported by tankers.
The damage also led to the knockout of the production of two billion cubic feet of associated gas daily, used to produce 700,000 barrels of natural gas liquids.
A Refinitiv media advisory said "with the global demand forecasts being revised downwards on the back of trade wars and economic downturn, the impact on prices is expected to be limited unless further clarity on the extent of damage indicates a significant impact on Saudi Arabia's production and exports."
Commenting on the chances of a recurrence of such attacks, Mekelberg said: "If they do happen again, then the implication for the Gulf is huge. It could lead to great escalation and even war in the Gulf although I do not think this is something anyone wants.
"They will lead to not only Saudi Arabia but other countries, such as the US, to react."
Full report at:
https://www.arabnews.com/node/1554886/saudi-arabia
--------
Egypt says no 'breakthrough' with Ethiopia over Nile dam
September 15, 2019
CAIRO: Egypt says negotiations over an upstream Nile dam being built by Ethiopia have not led to any "breakthrough."
Foreign Minister Sameh Shoukry told reporters that talks over the $5 billion Grand Ethiopian Renaissance Dam have stopped for more than a year before restarting in Cairo on Sunday.
The long-running dispute centers on the filling and operation of what will be Africa's largest hydroelectric dam.
Shoukry says he hopes that Egypt, Sudan and Ethiopia can agree a timetable to reach a deal over the soon-to-be-completed dam.
Egypt fears the dam could reduce its share of the Nile River which serves as a lifeline for the country's 100 million people. Ethiopian maintains that the dam will help its development.
Full report at:
https://www.arabnews.com/node/1554861/middle-east
--------
Coalition says 'good progress' in north Syria buffer zone, thousands return to government-seized areas
September 15, 2019
TAL ABYAD, Syria: The US-led coalition said Sunday that "good progress" was being made in implementing a buffer zone in northern Syria along the Turkish border.
Turkey and the United States last month agreed on the so-called "security mechanism" to create a buffer between the Turkish border and Syrian areas controlled by the Kurdish People's Protection Units (YPG).
The YPG led the US-backed Syrian Democratic Forces (SDF) in battle against Daesh in Syria, but Ankara views the Kurdish fighters as "terrorists."
The United States and Turkey launched their first joint patrol of the border areas on September 8, but Ankara has accused Washington of stalling in the week since.
A coalition delegation on Sunday met with members of a military council in Tal Abyad, a northern town from which Kurdish forces started withdrawing late last month.
"We are seeing good progress for the initial phase of security mechanism activities," the coalition said in a statement handed out to journalists.
"The coalition and SDF have conducted multiple patrols to identify and remove fortifications to address concerns from Turkey," the statement said.
"Four joint US and Turkish military overflights" by helicopter were also carried out, it said.
Little is known about the buffer zone's size or how it will work, although Ankara has said there would be observation posts and joint patrols.
"We will continue the removal of certain fortifications in the security mechanism area of concern to Turkey," the coalition statement said.
Riad Al-Khamis, a joint head of the Tal Abyad military council, said the SDF had withdrawn from the area, to be replaced by the local forces.
He announced US-Turkish "joint patrols in the coming days to ensure the security of the border and the area."
"They will be joint patrols between the coalition or United States and Turkey in coordination with us, the Tal Abyad military council," he said.
"The coalition has promised to train the military personnel (of the council) — who are from this area — and support them logistically," he told reporters.
Turkey's President Recep Tayyip Erdogan has threatened to go his "own way" if the buffer zone was not set up by the end of September "with our own soldiers."
Foreign Minister Mevlut Cavusoglu on Tuesday belittled efforts to create the safe zone as largely "cosmetic."
Syria's Kurds have established a semi-autonomous region in northeastern Syria during the country's eight-year war.
Erdogan has repeatedly threatened to attack Kurdish-held areas in northern Syria, and the prospect of a US withdrawal after the territorial defeat of Daesh in March again stoked fears of an incursion.
Damascus labelled the first patrol last week as a flagrant "aggression" that seeks to prolong Syria's war.
Turkey has already carried out two cross-border incursions into Syria, the latest of which saw Turkish troops and Ankara's Syrian rebel proxies seize the northwestern enclave of Afrin last year.
Meanwhile, state media reported on Sunday that thousands have returned to their hometowns in northwest Syria after military advances by government loyalist against militants and allied rebels, .
"Thousands of citizens return to their villages and towns of the northern Hama countryside and the southern Idlib countryside," state news agency SANA said.
The Syrian Observatory for Human Rights, a Britain-based monitor, reported "around 3,000 people" going home from other areas under regime control.
Since August 31, a cease-fire announced by regime backer Russia has largely held in northwestern Syria, though the Observatory has reported sporadic bombardment.
SANA said the returns came amid "government efforts to return the displaced to their towns and villages."
The Idlib region of around three million people, many of them displaced by fighting in other areas, is one of the last holdouts of opposition to forces backing Syrian President Bashar Assad.
Moscow announced the cease-fire late last month after four months of deadly violence that displaced 400,000 people, most of whom fled north within the militant-run bastion, according to the United Nations.
Regime forces had chipped away at the southern edges of the militant-run stronghold throughout August, retaking towns and villages in the north of Hama province and the south of Idlib province.
Syria's civil war has killed more than 370,000 people since it started in 2011 with the repression of anti-government protests.
Assad's regime now controls more than 60 percent of the country after notching up a series of victories against rebels and militants with key Russian backing since 2015.
Full report at:
https://www.arabnews.com/node/1554806/middle-east
--------
Africa
Nigerian children who escaped Boko Haram say they faced another 'prison': Military detention
By Danielle Paquette
September 14, 2019
MAIDUGURI, Nigeria — Four hundred nights. Fatima counted each one as she lay on the ground with her toddler, crammed between strangers, swatting away mosquitoes in a room that stank of feces. She remembers thinking: Why did I escape the terrorists for this?
"Boko Haram treated us better," she said, tears sliding down her cheeks.
Fatima, now 18, is among thousands of children detained in recent years by Nigerian armed forces — including many who had fled extremist captors — amid a decade-long conflict that often turns victims into suspects.
Defense officials deny claims of abusive confinement and say they must vet everyone who emerges from the restive countryside: Boko Haram and other Islamist groups in Nigeria's northeast are known for sending children to carry out attacks. But human rights advocates say conditions in the holding centers are so appalling they thwart the military's goal of protecting — and deradicalizing — young people by breeding resentment of the government.
In interviews with The Washington Post, seven children who spent time in the Giwa barracks near the city of Maiduguri, as well as other military facilities, said they were allowed no outside contact. None of the seven, now ages 10 to 18, met with lawyers. The Washington Post is using only their nicknames because they fear reprisals.
One young man said soldiers beat him. One girl said a guard tried to rape her. All described an environment where they slept beside strangers on mats, were separated from family members by gender and saw people die of illness.
A new report from Human Rights Watch corroborates their accounts. Researchers said they met in June with 32 children and young adults who reported being packed into hot rooms without bedding or mosquito nets in a region where malaria is a top cause of death. They described an overwhelming stench coming from an open toilet, the authors wrote, and sometimes fainted in the heat.
The military called the report false.
"Apprehended children are kept in secured places, where they are adequately fed, profiled and de-radicalized before their release," Col. Onyema Nwachukwu, acting director of defense information, said in a public statement. "The children are provided with regular feeding, clothing, requisite medical attention, in-house spiritual and educational tutoring and other welfare needs."
Nigerian forces have released at least 2,200 children — nearly all without charges — since 2013 and treated them "as victims of war and not as suspects," Nwachukwu said in his statement. He did not respond to The Post's request for an interview.
The United Nations says more than 3,600 children have been held in military facilities during that period.
Over the past 10 years, Boko Haram, one of several extremist groups seeking to build an Islamist state in West Africa, has killed approximately 27,000 people.
The Nigerian military and international partners have shrunk the terrorists' footprint in recent years, but the group continues to launch devastating attacks from its remote outposts in the northeastern state of Borno. The terrorists often strap children with explosives and force them into crowds. Eight suicide bombers have struck Maiduguri, the state capital, since January.
Suspected Boko Haram fighters kill 65 in attack on funeral in Nigeria
Some in Nigeria fear the military's vetting strategy could keep those who have run from violence in hiding. The conflict has displaced more than 2 million people, and at least 22,000 remain missing, according to the International Committee of the Red Cross. About half were younger than 18 when they disappeared.
Ahmed Abdullahi, 64, said his two teenage sons dashed into the forest when Boko Haram ambushed their village in 2014.
"They won't be willing to come out," Abdullahi said. "They could be targeted by Boko Haram or by the military."
The allegations about the Giwa barracks come as the United States grapples with its own child-detention controversy — the Trump administration unveiled a regulation last month that would allow federal agents to indefinitely hold minors who try to cross the border. Reports have surfaced in Texas of children being forced to sleep on concrete floors with aluminum blankets, among other complaints.
Fatima said she spent 15 months in military custody before being released to a camp in Maiduguri for displaced people last summer.
She remembers walking to her older sister's village in 2014 when men with machine guns blocked the dirt path. They beat her, burned her face with the barrels of their AK-47s and later forced her to marry a fighter. She gave birth to a baby boy.
Fatima was 16 when she finally escaped the Boko Haram camp, running barefoot with her son wrapped in cloth on her back. Adrenaline and chance carried her to a group of Nigerian soldiers.
"Then I was in another kind of prison," she said. "Every day I prayed to leave."
Goggo, 14, said her ordeal began about four years ago when Boko Haram militants attacked her village. Soldiers found her hiding in the bush with her family. They accused her father and brother of being Boko Haram members and beat them, she said.
That was the last time she saw them.
Goggo said she spent two years in the women's side of Giwa. Two hundred people were kept in one big room, she said. The smell made her feel sick. She had trouble eating.
"I could see maggots crawling in my soup," she said.
One day, she said, a guard pulled her into another room and told her he wanted to make love to her. She screamed. Other soldiers ran in and stopped him.
Gmarley, 15, lost touch with his family after gunmen stormed his village five years ago. They ran one way. He bolted another.
Boko Haram fighters caught the 10-year-old and gave him a choice: Join us or die.
He spent three months with the terrorists, learning how to make bombs. Then the military charged the camp. Gmarley escaped in the chaos.
He walked all night back to his home village, where soldiers apprehended him.
"They pointed their guns at me," he said. "They kept saying, 'Your parents are Boko Haram.'"
Mallam, 18, wanted to be a fisherman. He left his village at age 12 with some friends to catch tilapia in a nearby river.
That is when insurgents sprang out and surrounded them. "All those with able bodies," he recalls them saying, "must join us or be killed."
The Boko Haram fighters walked the boys deep into the forest. For months, they tried to brainwash them: Everything Western is evil. Destroying the enemy is God's work.
Then they led them to a Boko Haram camp and armed them with AK-47s.
Mallam said he was forced to attack military outposts. He said he closed his eyes and fired at random.
If he shot at the ground, he said, he would look suspicious. If he returned with a bullet left in the chamber, they would kill him.
This pattern continued for five years before he plotted with a friend to escape. They waited for the guards to fall asleep and slipped away in the darkness, running to the first military bunker they could find.
The soldiers, he said, beat them with their guns and tied them up. They were ordered to kneel for two days.
He is not sure how long the military kept him.
"I had already made up my mind for the worst," he said. "If they should free me, fine. If they should kill me, fine."
Ismail Alfa contributed to this report.
'A famine unlike any we have ever seen': As Nigeria battles Islamist terrorists, millions are at risk of starvation
Why Shiite Muslim protesters and Nigeria's security forces keep clashing
Today's coverage from Post correspondents around the world
https://beta.washingtonpost.com/world/africa/nigerian-children-who-escaped-boko-haram-say-they-faced-another-prison-military-detention/2019/09/14/e30a0da2-d40c-11e9-8924-1db7dac797fb_story.html
--------
Karoui, Saied claim victory in first round of Tunisia polls
16 September 2019
Independent candidate Kais Saied and the party of jailed media magnate Nabil Karoui claimed on Sunday to have won through to the second round of Tunisia's presidential election.
"Nabil Karoui is in the second round", an official from his Qalb Tounes party told AFP, while Saied said he had come "first in the first round", citing exit polls.
"My win brings a big responsibility to change frustration to hope... it is a new step in Tunisian history... it is like a new revolution," the conservative law professor Saied said on Radio Mosaique.
Turnout in the first round of Tunisia's presidential election was 45 percent, the country's elections commission (ISIE) announced late Sunday after the close of polling.
"It is an acceptable level", said ISIE head Nabil Baffoun, who an hour before the close of the polls had urged young voters to carry out their civic duty.
Full report at:
https://english.alarabiya.net/en/News/north-africa/2019/09/16/Karoui-Saied-claim-victory-in-first-round-of-Tunisia-polls-.html
--------
Libya journalists caught in the crossfire
September 15, 2019
TRIPOLI: In a country splintered by conflict and propaganda wars, Libya's journalists are caught in the crossfire between battle fronts and partisan employers, exposing them to risks on the ground.
Fighting that erupted in early April when eastern strongman Khalifa Haftar launched an offensive on the capital Tripoli has only exacerbated the cleavages in the country's already fragmented mediascape.
The battle pits the forces of Tripoli's UN-recognized Government of National Accord (GNA) against fighters loyal to Haftar, who backs a parallel administration in eastern Libya.
The rival sides each run their own news agencies and official television channels. And Libya's private media outlets have dug in too — taking sides and thereby exposing their journalists to potential reprisals.
"Because of the conflict... journalists in Libya can't do their normal work anymore," Mohamed Al-Najem, who runs the Libyan Center for Freedom of Press (LCFP), told AFP.
Threats and attacks since the 2011 ouster of longtime leader Muammar Qaddafi have prompted several private television networks established by businessmen and politicians in the years immediately after his fall to pull out and transmit from abroad.
Some new outlets have followed suit, broadcasting politically charged content from overseas.
"The (Libyan) media, especially the ones broadcasting from abroad, are largely responsible for the exacerbation of hate speech and incitement to violence," Najem said.
Those outlets, he added, are "encouraging abuses on the ground, which affect their journalists." In its latest poll on worldwide press freedoms, Reporters Without Borders (RSF) ranked Libya 162 out of 180 countries.
The LCFP has documented 32 attacks on journalists since early April, in what it says marks an increase since Haftar launched his offensive.
"Libyan media is facing an unprecedented crisis," said RSF's North Africa head, Souhaieb Khayati.
He said many journalists were, "whether they like it or not," forced to work with Libya's warring factions. On July 16, the eastern-based administration backed by Haftar banned 11 TV stations it deemed hostile, accusing them of being "terrorism apologists."
Pro-Haftar outlets have banned journalists from covering the strongman's push to take the capital — unlike the GNA, which has opened up the front on its side to dozens of reporters.
"More than 150 foreign journalists have obtained visas since the beginning of the war," according to the GNA's foreign press department.
"Our role is limited to authorizations, but journalists are entirely responsible for their own security on the front," department head Abdelfattah Mhenni told AFP.
Since the fighting kicked off in Tripoli, an AFP cameraman and another from Reuters have been wounded covering clashes.
Their injuries come after the July 2018 abduction and murder of journalist Musa Abdul Karim and the death of photographer Mohammed bin Khalifa in January this year.
Since the beginning of the year, "journalists and other media professionals (in Libya) continued to be subjected to intimidation and arbitrary detention," UN Secretary-General Antonio Guterres said in a report published in late August.
He said the UN mission in Libya had "reviewed one case of unlawful killing and more than 10 cases of the arbitrary arrest and detention."
In early May, two journalists from a private anti-Haftar broadcaster were arrested by the strongman's forces while covering the fighting south of Tripoli.
They were released 23 days later, but only after tribal pressure.
None of the arrested or assaulted journalists agreed to talk to AFP for fear of reprisals against themselves or their families. Many have been forced to change phone number, move, or even flee the country.
In a push to protect journalists, the LCFP is working on a mobile phone app that would provide reporters with a safe way to document attacks.
Presented recently to a group of journalists in Tripoli, the application "Kon Chahed" (Be a witness) is now in its trial phase.
Full report at:
https://www.arabnews.com/node/1554741/middle-east
--------
Al-Shabaab attacks kill 17 in Somalia
September 15, 2019
The al-Shabaab militant group launched a series of attacks since Saturday that led to the death of at least 17 people in Somalia.
Lower Shabelle region officials told VOA Somali that the militants attacked the town of Qoryoley late Saturday using rocket propelled grenades and heavy machine guns, killing nine people. The town's mayor Sayid Ali Ibrajim told VOA that an RPG fired by the militants caused most of the casualties.
Somali government forces with support from African Union forces, who are based outside the town, repelled the attack, according to officials.
Some of the residents in Qoryoley alleged that heavy weapons fired by AU troops caused some of the civilians casualties. The governor of the region Ibrahim Adan Najah told VOA Somali that they are investigating the allegations. AMISOM forces did not immediately respond to the allegations.
Also in Lower Shabelle region on Saturday, two civilians were killed after al-Shabaab militants fired mortars on the ancient port town of Marka during a visit by the Prime Minister of Somalia Hassan Ai Khaire.
Al-Shabaab claimed they were targeting the prime minister but governor Najah told VOA Somali that the incident took place outside the town. Residents and security sources said one of the mortars landed in a residential area killing two women. The prime minister was unharmed and has returned to Mogadishu safely.
Governor Najah himself was attacked on Sunday after his convoy was targeted with a remote-controlled explosion while travelling in an agricultural area near the town of Shalanbod, about 20 kilometers south of Qoryoley town. According to security sources, two bodyguards were killed and four others were injured including two junior regional officials.
In the neighboring Middle Shabelle region, al-Shabab carried out a roadside explosion that killed four regional officials and injured six others on Saturday. Among the dead was Abdullahi Shitawe, deputy governor for finances, Sabrie Osman a former regional deputy minister for business, and businessman Hassan Baldos. A fourth person said to be a bodyguard was also killed.
Full report at:
https://observer.ug/news/headlines/61993-al-shabaab-attacks-kill-17-in-somalia
--------
Al-Shabaab roadside bomb kills six people in Somalia
September 14 2019
Two regional politicians, three of their bodyguards and one local aid worker were killed by a roadside bomb in Somalia, an official said Saturday.
The explosion took place on the road between the towns of Bal'ad and Jowhar in Hirshabelle state Saturday morning, about 100 kilometres north of the capital, Mogadishu, the state's president Mohamed Abdi Waare said in a statement.
Terrorist group al-Shabaab claimed responsibility for the attack on pro-insurgent radio station Andalus.
Full report at:
https://www.gulf-times.com/story/641626/Al-Shabaab-roadside-bomb-kills-six-people-in-Somal
--------
North America
Muslim Identity Explored Through New BRIC, BHS Exhibition
by Anna Bradley-Smith
September 15, 2019
The diversity of Muslim culture, identity and experience and how it is expressed by eight New York based contemporary artists, is on show at BRIC in Fort Greene.
Beyond Geographies: Contemporary Art and Muslim Experience has opened at BRIC House as part of Brooklyn Historical Society's Muslims in Brooklyn project, which creates and preserves a history of Muslim culture in Brooklyn, something that was largely missing from the records.
Through photography, installations, sculpture, video, performance, painting and drawing, artists Moreshin Allahyari, Laylah Amatullah Barrayn, Mona Saeed Kamal, Baseera Khan, Asif Mian, Umber Majeed, Nsenga Knight and Nooshin Rostami use layers and languages to explore how it is to be Muslim and American, and part of a diasporic community that shows how the world's boundaries are increasingly porous.
For artist Laylah Amatullah Barrayn it was an honor to show her documentary photography of Sufi communities in Senegal, who have a very strong cultural and political influence in Senegal and around the world.
"I hope that people who don't know about Sufism in Africa, they become curious and interested and I hope it might quell any misinformation about Sufism.
"I hope it opens a pathway for people to learn more about this community and Islam in general because there's a lot of misinformation out there, and this is an authentic and positive representation of this particular community."
BRIC House chief curator Elizabeth Ferrer said she wanted to challenge expectations and stereotypes and show complex works, largely unburdened by themes that have come to represent Muslim art, such as the veil or calligraphy.
"I wanted to talk about how these artists, who also happen to be Muslim, are working in the contemporary art discourse," said Ferrer.
"They merge the two ideas of what it is to be Muslim with what it is to be an artist in New York, so their work is very layered and I think often very challenging and often quite complex."
Ferrer said there's a lot to learn from the exhibit, the key message being there is no one way to be Muslim.
"Muslim identity is so varied, and it encompasses a multiplicity of experiences and perspectives. I hope that [the exhibit] makes people encounter others with an open mind whether you're Muslim or not."
BRIC president Kristina Newman-Scott said she was proud of the show, which tackles challenging subject matter and resonates politically and culturally.
Newman-Scott said BRIC provided a place for artists to push boundaries they might not be able to elsewhere, and the one constant between artists and shows was the excellence of their works.
The exhibition runs through November 17, with an artist Coffee and Conversation on Sept 21, a panel discussion on Sept 26, and a performance on Oct 9.
Brooklyn Historical Society, which started the Muslims in Brooklyn public art and history project in 2017, also opened sound-and-art exhibition An Opening, by Brooklyn artist Kameelah Janan Rasheed. The installation uses the oral histories BHS staff have collected from dozens of Brooklyn-based Muslims runs until June 30, 2020.
https://www.bkreader.com/2019/09/15/muslim-identity-explored-through-new-bric-bhs-exhibition/
--------
Seek Refuge: the Millennial Muslim label blending street style with modestwear
Hafsa Lodi
Sep 15, 2019
Try as I might to resist them, Instagram influencers do sometimes impact my shopping habits. So, when I saw Rima Zahran, a fashion blogger from Dubai, post an interesting image of a pastel-coloured top emblazoned with the words, "We are all refugees", I immediately clicked on it to learn more.
The design was from California label Seek Refuge, founded by ­Shazia Ijaz in 2018. The brand's name is a clever play on words. Not only is "seek refuge" a phrase that's often used in the Quran, advising Muslims to "seek refuge in the Lord" during times of need, but it also hints to a group of people Ijaz hopes to help through her business: refugees. She donates 10 per cent of profits to the International Rescue Committee's refugee aid efforts, a figure she aims to increase to 20 per cent by 2022.
Clothes for Generation M
The label caters to a growing population of diverse millennial Muslims who seek to balance faith with fashion, and who have been labelled "Generation M" by author Shelina Janmohamed. "I started Seek Refuge because I wanted to fill a gap in the market for shoppers such as myself – conscious consumers who are looking for fashion-forward ways to reflect their values," explains Ijaz, who worked in product marketing at American e-commerce portal Poshmark, before launching her brand.
Modesty is also engrained in the label's DNA, as Ijaz works with street-inspired silhouettes to attract both modesty-conscious consumers, as well as those who aren't particularly seeking modestwear. "Most people don't associate streetwear with modest fashion since the aesthetics are typically so different, but I found that streetwear's oversized silhouettes are in perfect sync with the modest fashion [movement]," she explains.
Long-sleeved sweatshirts in peach and grey feature the Arabic letters for "S" and "R" in graffiti-style typography on the front, and on the back, the brand's message: "We are all refugees." Elsewhere, a black hoodie features bell sleeves with white ribbon bows on the cuffs, and the word "nazr" with a line cutting through the text. Ijaz explains that the no nazr design is inspired by cultures that ward off the evil eye. The brand's bestseller is a distressed denim jacket with Arabic script scrawled across the back. "Our refuge jacket has become the brand's flagship design. Since we made it oversized, men love wearing it, too," says Ijaz, who was thrilled to see rapper Lupe Fiasco and comedian Hasan Minhaj sport the design. Modest-fashion model Mariah ­Idrissi, entrepreneur Marwa Atik of Vela Scarves and hijabi rapper Neelam are other famous faces who have supported the label.
Part of the modestwear movement
Modestwear has been championed by mainstream faces such as model Halima Aden and institutions including de Young Museum in San Francisco, which highlighted modest fashion in an exhibition in 2018, and Seek Refuge is a part of the booming modest-fashion movement pioneered by young Muslims across the globe.
"The industry is growing rapidly, and I don't see that slowing down," says Ijaz. "Muslims are finally being recognised as a powerful economic force, so mainstream brands are now catering to that market. And brands that have yet to take this step are falling behind. I envision that in the next few years, most brands will carry some kind of modest-fashion selection and my hope is that Muslim-owned businesses like Seek Refuge will be asked to help western brands reach a Muslim audience. We're all about appreciation over appropriation."
From the slogan tees at Christian Dior to the angry streets outside fast-fashion stores, fashion and activism are colliding on many fronts. While fashion platforms are embracing everything from racial diversity and inclusive body sizes to sustainability and transparency, political passion and religious drive lie behind Ijaz's fashion brand. "Our clothes and platform have been built to amplify the voices of refugees, women and Muslims – three groups whose rights are consistently threatened," reads the brand's mission statement.
The designer says that post 9/11, Islamophobia is still very much present in the US, and her clothing is an unapologetic protest to statements frequently made by President Trump. "Muslims in America have faced even more discrimination in the past decade, particularly the past four years," she says. "As the oppression of Muslims becomes worse in this country, particularly at the hands of our own government, the activism of our allies becomes that much greater."
The designs are manufactured in small-batch quantities at ethical manufacturing facilities, so tend to sell out quickly. Although based in the US, Ijaz has turned her eye towards expanding in the Middle East. "Keep an eye out for Seek Refuge in your local retailers," she tells me. Unable to wait, I decide to order a piece from the website, which ships internationally. My pick? The retro refugee T-shirt, in a pretty shade of lilac, decorated with a pixelated illustration of a mosque and the words "Seek refuge" in Arabic and English.
Full report at:
https://www.thenational.ae/lifestyle/fashion/seek-refuge-the-millennial-muslim-label-blending-street-style-with-modestwear-1.910607
--------
Trump says US 'locked and loaded' in response to Saudi oil facilities attack
September 16, 2019
Tensions are flaring in the Persian Gulf after US President Donald Trump said on Sunday the United States was "locked and loaded" for a potential response to the attack on Saudi Arabia's oil facilities.
"There is reason to believe that we know the culprit, are locked and loaded depending on verification, but are waiting to hear from the Kingdom as to who they believe was the cause of this attack, and under what terms we would proceed!" Trump said on Twitter.
The attack, which halved the kingdom's oil production and sent crude prices spiking, led Trump to authorise the release of US strategic reserves should they be necessary to stabilise markets.
The tweets on Sunday followed a National Security Council meeting at the White House and hours after US officials offered what they said was proof that the attack was inconsistent with claims of responsibility by Yemen's Iran-aligned Houthi rebels and instead pointed the finger directly at Tehran.
A US official said all options, including a military response, were on the table, but added that no decisions had been made. The official spoke on the condition of anonymity to discuss the internal deliberations.
Iran called the US claims "maximum lies" and threatened American forces in the region. The attack dimmed hopes for potential nuclear talks between Trump and Iranian President Hassan Rouhani at the UN General Assembly this week.
Iranian Foreign Ministry spokesman Abbas Mousavi dismissed the US allegation of responsibility as "blind and futile comments".
"The Americans adopted the 'maximum pressure' policy against Iran, which, due to its failure, is leaning toward 'maximum lies,'" Mousavi said in a statement.
Houthi leader Muhammad al-Bukhaiti reiterated his group's claim of responsibility, telling The Associated Press it exploited "vulnerabilities" in Saudi air defenses to strike the targets. He did not elaborate.
Earlier, US Secretary of State Mike Pompeo had also said there was no evidence the attack came from Yemen, where a Saudi-led coalition has been battling the Houthis for over four years in a conflict widely seen as a proxy war between Saudi Arabia and rival Iran.
Which direction did the attack come from?
The US government produced satellite photos showing what officials said were at least 19 points of impact at two Saudi energy facilities, including damage at the heart of the kingdom's crucial oil processing plant at Abqaiq. Officials said the photos show impacts consistent with the attack coming from the direction of Iran or Iraq, rather than from Yemen to the south.
Iraq denied that its territory was used for an attack on the kingdom. US officials said a strike from there would be a violation of Iraq's sovereignty.
The US officials said additional devices, which apparently didn't reach their targets, were recovered northwest of the facilities and are being jointly analysed by Saudi and American intelligence. The officials, who spoke on condition of anonymity to discuss intelligence matters, did not address whether the drone could have been fired from Yemen, then taken a round-about path, but did not explicitly rule it out.
The attacks and recriminations are increasing already heightened fears of an escalation in the region, after a prominent US senator suggested striking Iranian oil refineries in response to the assault, and Iran warned of the potential of more violence.
"Because of the tension and sensitive situation, our region is like a powder keg," said Iranian Brigadier General Amir Ali Hajizadeh. "When these contacts come too close, when forces come into contact with one another, it is possible a conflict happens because of a misunderstanding."
Full report at:
https://www.dawn.com/news/1505523/trump-says-us-locked-and-loaded-in-response-to-saudi-oil-facilities-attack
--------
Trump says 'incorrect' he is willing to meet Iran with 'no conditions'
16 September 2019
US President Donald Trump on Sunday appeared to play down the chances that he might be willing to meet with Iranian officials, saying reports that he would do so without conditions were not accurate.
"The Fake News is saying that I am willing to meet with Iran, 'No Conditions.' That is an incorrect statement (as usual!)," Trump said on Twitter.
Donald J. Trump
✔
@realDonaldTrump
The Fake News is saying that I am willing to meet with Iran, "No Conditions." That is an incorrect statement (as usual!).
48.9K
4:32 AM - Sep 16, 2019
Twitter Ads info and privacy
23.3K people are talking about this
https://english.alarabiya.net/en/News/middle-east/2019/09/16/Trump-says-incorrect-he-is-willing-to-meet-Iran-with-no-conditions-.html
--------
Iran's sanction relief proposal by Trump prompted Bolton's departure: Report
Sep 15, 2019
The abrupt departure of former US National Security Adviser John Bolton reportedly took place after President Donald Trump proposed the idea of lifting some US sanctions on Iran as an incentive for the Islamic Republic to come to the negotiating table.
Trump suggested easing sanctions against Iran as a means of encouraging Tehran to renegotiate the 2015 nuclear deal, officially called the Joint Comprehensive Plan of Action (JCPOA), but the idea did not sit well with Bolton, according to NBC News citing a source familiar with the matter.
Bolton, a well-known Iran hawk, made clear to the US president during their discussion in the Oval Office on Monday afternoon that he strongly disagreed with the proposal, the source said, adding that he was out as national security adviser the following morning.
Trump announced Bolton's dismissal in a tweet on Tuesday, saying he had "disagreed strongly with many of his suggestions," presumably meaning the hawkish politician's advocacy for regime change in Syria, Venezuela, North Korea and Iran.
This is while Bolton has claimed that he actually decided to quit and was not sacked by the president. He even insisted that he had attempted to resign before Trump's announcement.
Trump had sometimes joked about Bolton's image as a warmonger, reportedly saying in one Oval Office meeting that "John has never seen a war he doesn't like."
Bolton had adopted an aggressive approach towards Iran since his appointment to the top post by Trump. Independent observers have accused him of conniving with Israeli Prime Minister Benjamin Netanyahu in order to provoke a military conflict between Iran and the United States.
A White House spokesman said deputy national security adviser Charles Kupperman would fill Bolton's role on an acting basis.
The JCPOA was signed between Iran and six world states — namely the US, Germany, France, Britain, Russia and China. Washington, however, left the accord last May, leaving the future of the historic deal in limbo.
Critical of Washington's move, the European parties to the JCPOA vowed efforts to keep the deal in place by protecting Tehran against the US sanctions, but did little in practice.
On May 8, the first anniversary of Washington's unilateral exit from the deal Iran announced its decision to stop exporting excess uranium and heavy water for a 60-day period, during which the remaining sides would have to ensure that Iran is no more deprived of the economic benefits it was promised under the agreement.
Iran, which has been fully complying with all of its commitments despite the US pullout and the European shortfalls, began scaling down its commitments in early July, when a 60-day deadline set by Tehran for the other signatories to fulfill their side of the JCPOA was not met.
Tehran has given the European signatories another two months to take meaningful action to save the JCPOA as a France-led diplomatic process is underway between the two sides.
Tehran says its reciprocal measures will be reversible as soon as Europe finds practical ways to shield the Iranian economy from unilateral US bans.
Despite exerting "maximum pressure" on Iran, Trump has repeatedly offered to meet Iranian authorities and hold bilateral talks with no pre-conditions. Iran, however, says it will not negotiate under pressure.
Full report at:
https://www.presstv.com/Detail/2019/09/15/606263/US-John-Bolton-sanctions-JCPOA-Donald-Trump-dismissal
--------
Trump and Netanyahu discuss defence treaty days before Israeli vote
Sep 15, 2019
US President Donald Trump and Israeli Prime Minister Benjamin Netanyahu on Saturday discussed the possibility of moving forward on a defence treaty, just three days before Israeli voters go to the polls.
In a tweet, Mr Trump said such an agreement would "further anchor the tremendous alliance" between the two countries.
"I look forward to continuing those discussions after the Israeli Elections when we meet at the United Nations later this month!" Trump said, giving a tacit last-minute endorsement to Netanyahu's re-election bid.
Donald J. Trump
✔
@realDonaldTrump
I had a call today with Prime Minister Netanyahu to discuss the possibility of moving forward with a Mutual Defense Treaty, between the United States and Israel, that would further anchor the tremendous alliance....
76.2K
8:27 PM - Sep 14, 2019
Twitter Ads info and privacy
21.5K people are talking about this
The comments come as the international community awaits the release of Washington's long-delayed Middle East peace plan, which Secretary of State Mike Pompeo recently said could come within weeks.
Its publication was pushed back after Israel scheduled new elections, set for Tuesday.
Then last week, one of the key architects of the US plan, Jason Greenblatt, announced his resignation.
Mr Trump has repeatedly boasted that he is the most pro-Israeli US president in history. He slashed aid to the Palestinians and made big concessions to the Israelis, including the formal recognition by the US of Jerusalem as the capital of Israel.
As a result, the Palestinian Authority has cut off formal contact with the Trump administration, saying it is not an honest broker.
So far, Mr Trump has not commented on Mr Netanyahu's controversial pledge to annex Israeli settlements in the occupied West Bank and the Jordan Valley if re-elected — which would seem to go beyond US proposals for land swaps between Israel and the Palestinians.
Mr Netanyahu, 69, is fighting his second election in five months with a potential corruption indictment looming.
He suffered a major defeat in April, when his Likud party along with its right-wing and religious allies won a majority, but he failed to form a coalition.
After failing to form a coalition following the April 2019 vote, he passed a law to dissolve parliament and hold new elections, remaining prime minister in the interim.
The plethora of parties means that no faction has ever won an outright Knesset majority of 61 seats or more.
This means that after the votes are counted, the horse-trading begins, with larger parties or alliances wooing the smaller groups in an attempt to build a working coalition.
The president of Israel, currently Reuven Rivlin, is tasked with quizzing all parties after the results are declared to hear who they recommend to try and form a government.
Full report at:
https://www.thenational.ae/world/mena/trump-and-netanyahu-discuss-defence-treaty-days-before-israeli-vote-1.910307
--------
URL: https://www.newageislam.com/islamic-world-news/humanity-broke-shackles-religion-muslim/d/119757
New Age Islam, Islam Online, Islamic Website, African Muslim News, Arab World News, South Asia News, Indian Muslim News, World Muslim News, Women in Islam, Islamic Feminism, Arab Women, Women In Arab, Islamophobia in America, Muslim Women in West, Islam Women and Feminism