New Age Islam News Bureau
4 May 2017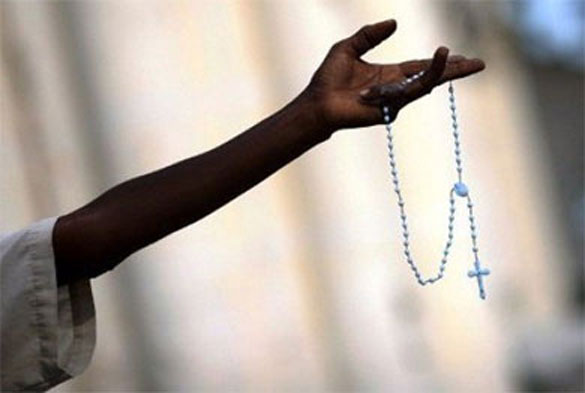 Pakistan Hospital administration forces its non-Muslim staffers to either recite verses from the Holy Quran at morning assembly or be marked absent for the day. PHOTO: REUTERS
----
• How Islamic State Is Spreading Wings in Indian States, Slowly but Surely
• An Islamic State Diary: 'Pakistan Like Iraq, History Will Repeat…'
• Why Pope Francis' Approach to Islam Breaks the Mould of Benedict and Previous Popes
• Pakistan Hospital Forces Non-Muslim Staffers to Recite Quran Verses
• Malaysia Smashes IS-Cell, As Presence Grows In Southeast Asia
India
• How Islamic State Is Spreading Wings in Indian States, Slowly but Surely
• An Islamic State Diary: 'Pakistan Like Iraq, History Will Repeat…'
• Satisfied With Islamic Laws on Nikah, Talaq, Fasakh, Virasat: AIMPLB
• RSS Muslim Manch May Adopt Kids of Talaq Victims
• Pakistan Students on 5-Day 'Peace' Visit Sent Back
• China denies shift in stand on Kashmir issue
• Massive anti-terror operation launched in J&K's Shopian
• J&K police suspect Lashkar-e-Taiba's involvement in twin bank robberies
--------
Europe
• Why Pope Francis' Approach to Islam Breaks the Mould of Benedict and Previous Popes
• 'Muhammad' Most Popular Boys' Name in London
• ISIS Militants Developing Own Social Media Platform: Europol
• Russia, Turkey underline need to continue anti-terror fight
• Furey: Trudeau tells world media alternative facts about Canada's 'headscarf bans'
--------
Pakistan
• Pakistan Hospital Forces Non-Muslim Staffers to Recite Quran Verses
• Consensus Developed On Teaching Quran Translation in Schools
• Pakistan to keep up efforts to reduce friction amongst Muslim countries, COAS tells Zarif
• PTI accused of compromising on patriotism by accepting foreign funds
• MQM-P says dialogue with Haqiqi essential for peace in Karachi
• Key Qaeda commander killed in drone attack
--------
Southeast Asia
• Malaysia Smashes IS-Cell, As Presence Grows In Southeast Asia
• Marriage and Divorce Bill Unfair To Muslims, Says Think Tank
• Ahok did not defame Islam: Harvard alumni petition
• Firebrand Monk Wirathu Travels to Myanmar's Troubled Rakhine State
• Malaysia at top spot in global Muslim travel market
• Muslim NGO: It Is Malays Who Are Discriminated Against
--------
Arab World
• Syria: ISIL Executes More Own Members in Deir Ezzur on Treason Charges
• Syrian Army Utilizing New Model of Advanced Missile-Launchers in War on Terrorists
• Bahraini clerics call on public to oppose anti-Qassim ruling
• Egyptian artist hopes for record with 700-metre Holy Quran
• 200 US Soldiers, Military Advisors Arrive at Syria-Iraq Borders
• ISIL Withdraws from More Positions under Syrian Army Attacks in Homs
• Syria: Tens of Gunmen, Family Members Leave Western Damascus for Idlib
• Syrian armed opposition to return to Astana peace talks
• 11 journalists killed covering Iraq conflict last year, observatory says
• Archaeologists find 4,000-year-old model garden in Egypt
--------
Africa
• Tunisia Jewish Representative 'Israeli Govt Disrupting Jewish Pilgrimage'
• Sudan: Saudi Minister - Relations between People Are Built On Love and Common Interests
• 1 killed, 9 wounded in attack on UN Mali camp
• Somali minister 'mistakenly' shot dead in Mogadishu
• Airstrike injures Boko Haram leader in north-eastern Nigeria
--------
South Asia
• 2 Suicide Bombers and A Child Killed In Kandahar Clash
• 8 dead as IS bomb hits NATO convoy in Kabul
• Taliban militant killed while planting roadside bomb in Balkh
• President Ghani had a serious talk with the ISI chief: Source
• Dhaka to host OIC foreign ministers' meet next year
• NATO SG vows continued fight against terrorism after Kabul suicide attack
--------
Mideast
• Thousands Rally In West Bank to Back Palestinian Hunger Strikers
• Trilateral UAE-Saudi-Yemen committee holds first meeting
• Crown Prince of Abu Dhabi receives Egypt's Sisi
• Iran: Saudi rejection of Tehran ties show kingdom's destructive policies
• Palestinian child target of Israeli settler hit and run
--------
North America
• Trump Assures Abbas Israeli-Palestinian Peace
• Muslim city council candidate feels targeted online
Compiled by New Age Islam News Bureau
URL: https://www.newageislam.com/islamic-world-news/how-islamic-state-spreading-wings/d/111024
--------
How Islamic State Is Spreading Wings in Indian States, Slowly but Surely
By Vinod Janardhanan , May 03, 2017
The state-wise break-up of Indians arrested for alleged links to Islamic State reveals a slow, yet nationwide appeal of the terror group.
Of the 75 held as of March this year, Kerala accounted for 21, Telangana 16, Karnataka nine, Maharashtra eight, Madhya Pradesh six, Uttarakhand four, Uttar Pradesh three, Rajasthan two, Tamil Nadu four and Jammu and Kashmir and West Bengal had one each. Apart from these, 10 suspected IS activists were held in multi-state raids on April 20.
There are up to seven IS terror modules in India, though the group is yet to carry out any major attack in the country.
At least 75 Indians are also believed to have gone to fight for IS in Syria, Iraq and Afghanistan, including some Indian-origin youngsters from other countries. Since 2014, some of them were arrested from airports while on their way to join jihad, while several are also reported to have died in battle abroad.
Perhaps the most famous of these was the group of 21, including at least six women and three children, which disappeared from northern Kerala and reportedly went to Nangarhar province of Afghanistan. When the US dropped the "mother of all bombs" on April 13 on caves in Nangarhar, it was reported that at least 13 Indians were among the 96 terrorists killed.
Two of the Kerala youngsters were killed in the same area, one in a drone strike, but it's not yet clear if some Malayalis died in the MOAB attack. A third man, a Christian who converted to Islam, died a couple of days ago.
While many plots by IS terrorists have been foiled, including one allegedly targeting Prime Minister Narendra Modi, the group's first known "successful" strike in India was a pipe bomb explosion in a Bhopal-Ujjain passenger train at Jabri railway station in Madhya Pradesh on March 7. The blast injured 10 passengers, with no fatalities.
Arrests of nearly 10 suspects linked to that blast led security agencies to modules in Madhya Pradesh and Uttar Pradesh, and to Saifullah, who fired back from his hideout in Lucknow before being shot dead.
Unlike the common perception, data from the National Investigation Agency revealed many of the youngsters joining IS are from middle or upper classes. Many including the Kerala youngsters had studied or worked in Gulf states.
They are mostly technically savvy, which explains their radicalisation online, through blogs, Twitter or groups on Facebook, WhatsApp, Telegram, Kik, VKontakte, Viber and Skype. According to an analysis of NIA data in January, 28 of the 52 arrested IS suspects were aged 18 to 25 and 20 of them were graduates.
The extent of online radicalisation was revealed first with the arrest of Mehdi Masroor Biswas in December 2014 from Bengaluru. Biswas used his twitter account @shamiwitness to send out more than 124,000 tweets that defended the IS and exhorted youngsters to join the group. Intelligence agencies were able to bust such online communications after infiltrating encrypted chat apps such as Telegram through mission Operation Chakravyuh.
Besides online radicalisation, some youngsters were brainwashed in person by people allegedly associated with radical preacher Zakir Naik and the Peace Foundation in Kerala and its schools.
In the first successful conviction of a case related to IS, a special court on April 21 sentenced two men to seven years in jail after they pleaded guilty to criminally conspiring to raise funds and recruiting people for the group.
http://www.hindustantimes.com/india-news/how-islamic-state-is-spreading-wings-in-indian-states-slowly-but-surely/story-jdIwORErcAOJ1bBUcf1WAM.html
--------
An Islamic State Diary: 'Pakistan Like Iraq, History Will Repeat…'
By Arun Janardhanan, May 4, 2017
From comparing jihad to the market and Pakistan to Iraq, and warning of pushing India back to the year 1001, the messages of Bestin Vincent alias Yahiya, who left Kerala last year to join an Islamic State affiliate in Afghanistan, reveal a strong sense of victimhood and delusions of grandeur.
Long before his reported death last week, Yahiya claimed in messages sent to The Indian Express since September 2016 on Telegram, the encrypted service, that India would "witness the time" of Sultan Mahmoud al Ghaznawi, who is said to have first invaded modern-day Afghanistan, Pakistan and parts of India in 1001.
Also Read Part I | Days before report of his death, he wrote: 'Not a fly has been affected by MOAB'
Turning to Pakistan, he claimed that the terrorist groups supported by them "will one day turn against them".
Yahiya also claimed that his goals were "much higher" than those of political parties and wrote that "the more you control and put pressure upon Muslims, the more hatred you are creating in the hearts of young people".
The Indian Express could not independently verify the validity of his claims. Last Saturday, Yahiya's father in Palakkad was informed that his son had been killed in US bombings.
Also Read Part II | 'There are many Indians… but are advised not to stay together'
Edited excerpts from Yahiya's messages:
'Pakistan Following Route Of Iraq'
"Pakistan is the worst apostate country and India is a mushrik (one who associates a worldly object with divine power) country.
"History will repeat. Pakistan is following the route of Iraq. Every group they create in the name of jihad like Lashkar-e-Khabeeth (Taiba) and others will one day turn against them and it is going to be in the hands of righteous ones. Then India will once again witness the time of Sultan Mahmoud al Ghaznawi (who first invaded modern day Afghanistan, Pakistan and parts of India in 1001)… No one will sleep peacefully…"
'No Party Can Compare To IS'
"No party can be compared to Islamic State. We live for life after death, while they live for this life. We love death as they love life. And war is not something new. It was there before 1000s of years, but all fight (was) for land or money or something like that. And we fight so that (the) whole world lives according to the law of Allah. No war is justified other than the war for the sake of Allah. Our aims and goals are much higher."
'People In Kerala Unaware'
"The people in Kerala are totally unaware of what's happening around them. They don't know what is Islam, nor (do) they know what a war is. The more you control and put pressure upon Muslims, the more hatred you are creating in the hearts of young people who fear Allah. The more you try to cage those lions, the more they get hungry and the more danger. Have you not witnessed what happened in Iraq, Syria and Afghanistan etc? They all began the fight against Islam. What happened in US and in Paris recently? They too fought Islam and (are) now living in fear."
'Jihad Is Like A Market'
"Jihad is like a market. It won't be open for long. But whoever makes the business in its right time would sweep a huge profit. This is a business with Allah, where we have to spend our life and wealth for the sake of Allah and his faith. In return, he gives us paradise. What a profitable trade."
'Our Language Is Different'
"Let me ask you, what is terrorism? What if, if I say, (I) am not a terrorist? We have everything, very comfortable life and what is the need of being a terrorist? How come the one who fight for his country becomes a soldier and the one who fights for his religion becomes a terrorist? Suppose, if someone go against (the) Indian government, the government will punish him, right?…
"We have a heart in our body. We also feel pain. But behind this journey there is a reason, there is a reason why we came to these mountains, leaving our family and home."
http://indianexpress.com/article/india/an-islamic-state-diary-pakistan-like-iraq-history-will-repeat-4639799/
--------
Why Pope Francis' Approach to Islam Breaks the Mould of Benedict and Previous Popes
May 03, 2017
The global growth of Islam and in particular the rise of Islamic extremism have forced recent popes to set out, with increasing urgency, a strategy for engaging the religion.
As Pope Francis' brief trip to Egypt over the weekend demonstrated, the most recent pontiffs have come up with starkly different approaches—though it's not yet clear if one is better than the other, or if either will be effective.
When Pope Emeritus Benedict XVI addressed the question of Islamic extremism he did so during a speech at a university in his Bavarian homeland where, as a priest and professor, Joseph Ratzinger had worked decades earlier.
That 2006 address in Regensburg, Germany, was a theological master class on the relationship between faith and reason. But it also angered Muslims who object to Benedict citing a 14th-century Christian emperor who claimed that the Prophet Muhammad had only brought the world things that were "evil and inhuman."
Moreover, Benedict also delivered his message to Islam from afar.
Francis, on the other hand, has made it his business to try to build bridges with the Muslim world with the energy of a missionary.
That approach was on display during his 27-hour trip to Egypt, viewed as the leader in the majority Sunni Islamic world, and a nation that is making a serious—though controversial—effort to crack down on extremist-inspired violence.
So important to Francis, in fact, is the "personal encounter" with Muslims that the pontiff put his own safety at risk by going to Cairo, a trip that took place less than three weeks after 45 worshippers were killed in bomb attacks on two Egyptian churches.
The pope even shunned a bulletproof vehicle and when he arrived at a sports stadium for an open-air Mass he greeted the crowds from an open-topped golf buggy.
"Whereas previous popes — even in more secure places — have ridden in bulletproof vehicles, Francis showed his courage in Egypt, and his will to be close to the people, by this simple gesture," explained Gabriel Said Reynolds, a professor of Islamic studies at the University of Notre Dame.
Reynolds took part in a recent Vatican-Muslim forum at Cairo's Al-Azhar university, a major center of Sunni-Islamic learning with global influence and expertise in interpreting the Quran. The dialogue that Reynolds is part of only restarted under Francis—who was elected in 2013—after relations had soured under Benedict.
Yet even as the current pope pushes for a personal encounter with Islam, his predecessor's legacy of engaging Islam via a theological challenge to extremist elements among Muslims continues to hold some sway.
Indeed, just as Francis was heading to Egypt a letter appeared from the retired pope to the president of Poland in which Benedict accused "radical Islam" of creating an "explosive situation in Europe."
Catholic defenders of Benedict's Regensburg address insist that he correctly addressed some uncomfortable truths within Islam and they point out that the speech led 138 Islamic scholars to write to Benedict in 2007, a letter that paved the way for a new Catholic-Muslim dialogue initiative.
Yet while it was Muslims who approached Benedict a decade ago, under Francis things are the other way round.
Francis' approach to Islam is characterized by a willingness to "cross over to the other side" — Egypt is the seventh Muslim majority country he has visited in his four years as pope. And a papal visit to Bangladesh, where almost 90 percent of the population are followers of Islam, is planned for later this year.
https://www.americamagazine.org/faith/2017/05/03/why-pope-francis-approach-islam-breaks-mold-benedict-and-previous-popes
--------
Pakistan Hospital Forces Non-Muslim Staffers to Recite Quran Verses
May 3, 2017
Lahore: The administration of a government-run hospital here forces its non-Muslim staffers to either recite verses from the Holy Quran at morning assembly or be marked absent for the day, a Pakistan media report said on Wednesday.
The issue came to light when Mian Mir Hospital, run by the City District Government Lahore, Medical Superintendent Dr Muhammad Sarfraz allegedly slapped a Christian paramedical staffer for not attending the assembly, the Express Tribune reported.
Following the incident, all paramedical staff protested against the superintendent and other hospital administration by shutting down all functions of the medical facility.
"This act of the MS is a violation of the Constitution of Pakistan," a Christian paramedical staffer, Marshal, was quoted as saying by the paper.
He asked religious scholars to sort out the issue as the hospital administration was pressurising them to leave their jobs.
"It is professional workplace; I don`t know why the administration is forcing our Christian brothers to do this. This is totally unacceptable," said another staff Fahad Ahmed.
Meanwhile, City District Government Lahore Health CEO Dr Muhammad Saeed said a high-level committee had been formed to look into the matter and a strict departmental inquiry would be initiated against anyone found guilty.
The hospital was named after Sufi saint Hazrat Mian Mir who rose to prominence during the time of Mughal emperor Jehangir. The saint himself was a big proponent of interfaith harmony.
http://zeenews.india.com/world/pakistan-hospital-forces-non-muslim-staffers-to-recite-quran-verses-2001965.html
--------
Malaysia smashes IS-cell, as presence grows in Southeast Asia
May 04, 2017
An Islamic State (IS) terror cell in Malaysia has been smuggling weapons in from southern Thailand and stockpiling them for about a year to prepare for attacks on home soil and abroad.
The cell, based in Kelantan, was exposed when police arrested six people in a nationwide swoop.
"The authorities believe they have been smuggling weapons for at least a year but it could have been longer than that," a source told The Star yesterday.
Two members of the terror cell, were arrested in Kelantan on March 24 and March 25 while another managed to escape to Golok.
Four other IS militants were detained in Malacca, Penang, Johor and Selangor in a major swoop by the Bukit Aman Counter Terrorism Division between March 24 and April 25.
The arrest by the Malaysian police is just one example of how the Islamic State's presence has grown across the region in the past three years.
Hundreds of recruits have travelled to Syria and Iraq from the Philippines, Malaysia, and Indonesia to join IS and affiliated groups have claimed responsibility for attacks in the southern Philippines, Malaysia, Indonesia, but they may also be expanding their targets.
A December 14 article by Ong Weichong in the Diplomat speculated that as IS loses ground in the Middle East, it may look to re-establish its base elsewhere – particularly "grey zones" in Southeast Asia with limited government control like the island of Sulawesi in the Philippines.
Southern Thaialnd, home to a separatist Muslim insurgency, has also been cited as a potential hotspot as well as Sabah in northern Malaysia.
IS could be expanding its targets as well, according to reports. Major financial centres like Hong Kong and Singapore could also be at risk, which are home to a number of international institutions and large communities of foreigners.
Hong Kong police warned on Wednesday that the city could be the victim of a "lone-wolf" attack by an IS-affiliated group, according to the South China Morning Post. While police did not identify any specific threats to the city, its vast transit system and connectivity could make it easy for a potential attack.
http://www.nationmultimedia.com/news/aec/asean_plus/30314206
--------
India
Satisfied With Islamic Laws on Nikah, Talaq, Fasakh, Virasat: AIMPLB
MAY 04, 2017
NEW DELHI: The All India Muslim Personal Law Board (AIMPLB), in its one page pro forma submitted to the Law Commission, has opposed any probable amendments to triple talaq.
The board's document says: "We are fully satisfied with the commands of Islamic laws, especially on Islamic orders related to Nikah (marriage), Talaq (divorce), Fasakh (annulment) and Virasat (inheritance). We are fully satisfied with and strongly deny the possibility of any type of change in them."
ET has reviewed a copy of the board's pro forma. Invoking the Constitution, it further reads: "The Constitution of India has provided complete freedom for followers of all faiths to practice their religion. We, therefore, do not accept uniform civil code in any form." The pro forma concludes: "We are with All India Muslim Personal Law Board to save and protect Shariah laws."
The board claimed to have obtained signatures from over four crore Muslims endorsing its pro forma. Providing their email addresses, the board has appealed to all the sigNATOries to email a copy of the pro forma to Prime Minister Narendra Modi, the Prime Minister's Office and Union law minister Ravi Shankar Prasad.
Earlier this week, PM Modi had raised the issue of gender justice and appealed that enlightened Muslims should lead the fight against triple Talaq. He had emphasised that the issue of triple Talaq should not be politicised. He had urged Muslims not to view the issue of triple Talaq through a "political lens". In its first meeting with the Law Commission last month, the board representatives had vehemently opposed the probable implementation of the code. Law Commission chairman, retired Supreme Court judge BS Chauhan, had dissuaded all apprehensions stating that the commission was still seeking views to explore the feasibility and get clarity on the definition of the code.
Meanwhile, the Law Commission is in the process of tabulating and examining the suggestions on uniform civil code and triple Talaq.
The Supreme Court has reserved the matter of triple Talaq for examination this summer break. http://economictimes.indiatimes.com/news/politics-and-nation/satisfied-with-islamic-laws-on-nikah-talaq-fasakh-virasat-muslim-board/articleshow/58504794.cms
--------
RSS Muslim Manch may adopt kids of talaq victims
May 4, 2017,
KOLKATA: The Muslim Rastriya Manch national executive committee will discuss a proposal for adopting minor children of Muslim women divorced through triple talaq.
MRM is a body floated by the Rashtriya Swayamsewak Sangh. MRM's Bengal unit has prepared a preliminary list of such children in several districts and has proposed to provide them free education.
Senior functionaries of MRM said that the issue would be discussed at its national executive meeting in Roorkee on Friday and Saturday. MRM members said it had come across many Muslim women and single mothers from Bengal divorced through triple talaq.
"We have received a proposal from the Bengal unit and some other states seeking scheme for children of women who have undergone triple talaq. We are trying to build a fund for rehabilitation and studies of the children of our Muslim sisters. The Bengal unit has proposed to provide free education to children free," Sahid Akhtar, convener of eastern states for MRM said.
Full report at:
http://timesofindia.indiatimes.com/india/rss-muslim-manch-may-adopt-kids-of-talaq-victims/articleshow/58509032.cms
--------
Pakistan students on 5-day 'peace' visit sent back
May 3, 2017
THE ESCALATION of tension between India and Pakistan, following the beheading of two Indian soldiers by a Pakistani border team on Monday, has had an unexpected fallout. Around 50 Pakistani children, who crossed the Wagah border on Monday for a five-day exchange programme to promote "peace and harmony", have been sent back.
"An NGO had invited Pakistani school students here. They came to India on the same day when the barbaric and inhuman act of killing and mutilating our soldiers happened. The ministry advised the NGO that it was not an appropriate time for such exchanges after we learnt that the children had crossed over to India on May 1," said Gopal Baglay, spokesperson of the Ministry of External Affairs (MEA).
The students, aged between 11-15, had visited the Golden Temple in Amritsar on Monday afternoon, and arrived in Delhi that evening. Following a sight-seeing trip in the capital, they were to visit Agra and participate in an exchange of experiences with Indian students at the Pakistan Embassy.
Organised by Delhi-based NGO, Routes2Roots, the visit, earlier slated for October 2016, was cancelled at the time in the wake of the announcement of surgical strikes by India along the LoC in September.
Full report at:
http://indianexpress.com/article/india/pakistan-students-on-5-day-peace-visit-sent-back-4639468/
--------
China denies shift in stand on Kashmir issue
May 3, 2017
BEIJING: China on Wednesday denied that it has plans of mediating between India and Pakistan to resolve the Kashmir issue due to its investments in the China-Pakistan Economic Corridor, saying the $50 billion-project has not affected its stand that the vexed issue should be settled bilaterally.
China's clarification came a day after an article in the Global Times said that Beijing now has a "vested interest" in mediating between India and Pakistan to resolve the Kashmir issue because of its hefty investment in the China-Pakistan Economic Corridor (CPEC) that passes through PoK.
"China's position on the issue of Kashmir is clear and consistent. It is an issue left over from history between India and Pakistan, and shall be properly addressed by India and Pakistan through consultation and negotiation," Chinese Foreign Ministry spokesman Geng Shuang told PTI here.
He also said that China will play a "constructive role" for the improvement of relations between India and Pakistan.
"The building of China-Pakistan Economic Corridor (CPEC) does not affect China's position on this issue," he said in a written response to a question about the article in the state-run Global Times, a ruling Communist Party of China publication.
"We sincerely hope that India and Pakistan will properly handle differences by increasing communication and dialogue, and jointly uphold regional peace and stability. China is willing to make constructive efforts for the improvement of India-Pakistan relations," Geng said.
The article yesterday sparked concerns about a shift in China's stand on the Kashmir issue as India is averse to any third-party mediation.
The article had also sought to justify Chinese intervention in bilateral disputes on the grounds of protecting heavy investments being made by Beijing under its Silk Road initiative, which is officially called the 'One Belt and One Road' project.
The article had said China cannot turn a "deaf ear" to protect heavy investments by its firms in the CPEC and the Silk Road projects by continuing with its policy of non- interference.
Full report at:
http://timesofindia.indiatimes.com/world/china/china-denies-shift-in-stand-on-kashmir-issue/articleshow/58498012.cms
--------
Massive anti-terror operation launched in J&K's Shopian
May 4, 2017
NEW DELHI: Security forces today launched a massive anti-terror operation in the Shopian district of Jammu and Kashmir, in the wake of a surge in terrorist-related incidents in the past few days.
They cordoned off almost two dozen villages in the district today and are in the process of conducting a huge search operation.
Suspected terrorists barged into a police post guarding the court complex of southern Shopian late on Wednesday night, and decamped with five service rifles. The terrorists also took away four INSAS rifles and an AK-47.
Separately, in Pulwama, two banks were robbed on Wednesday in a span of two hours.
Preliminary investigation had established the involvement of terrorist organisation Lashkar-e-Taiba in the bank loot incidents, said Pulwama superintendent of police Rayees Mohammed Bhat.
"Until now, we have identified one militant each from Padgampora and Khagpura, which proves Lashkar's involvement in the incident," he had said.
"It is clear that terrorist organisations like these are short of cash. We have also seen that they now carry more advanced technological gadgets. We are continuing the investigation," he added.
Full report at:
http://timesofindia.indiatimes.com/india/massive-anti-terror-operation-launched-in-jks-shopian/articleshow/58509672.cms
--------
J&K police suspect Lashkar-e-Taiba's involvement in twin bank robberies
May 3, 2017
NEW DELHI: The initial probe reports suggest Pakistan-based Lashkar-e-Taiba's involvement in the twin bank robberies in Jammu and Kashmir, Pulwama SP Rayees Mohammad Bhat said on Wednesday.
Earlier in the day, terrorists first stormed into Ellaquai Dehati Bank (a bank jointly owned by J&K government and State Bank of India) branch in Pulwama's Wahibug village and looted around Rs 5 lakh.
This was followed by another loot incident in the district that too in less than two hours.
"At around 3.20 pm, the terrorists struck at the Nehama branch of the Jammu and Kashmir Bank in the same district Pulwama," a police official had said.
The exact amount of cash looted by the terrorists is being ascertained, he said.
Yesterday, terrorists had robbed Rs 65,000 from another branch of Ellaquai Dehati Bank in Kulgam district.
Meanwhile, Jammu and Kashmir chief minister Mehbooba Mufti urged the people to rise against this "dangerous trend" of looting public money by spilling innocent blood.
The CM made the appeal during her visit to the families of five police personnel and two Jammu and Kashmir bank guards who were killed on May 1 by terrorists when they were on their duty to disburse cash in Kulgam district of south Kashmir.
Full report at:
http://timesofindia.indiatimes.com/india/lashkar-e-toiba-behind-kashmir-bank-heists-jk-police/articleshow/58502134.cms
--------
Europe
'Muhammad' most popular boys' name in London
MAY 04, 2017
According to DailyMail, The UK's most popular baby names have been revealed in a new survey, with Muhammed and Amelia topping the charts for the capital.
Research carried out in every city in the country has shown how long-time favourites such as Emily, Sophie, Jack and Oliver are still going strong in 2017.
At the same time, the Arabic name Muhammed came out as the most popular given to boys in culturally-diverse London, and was second most popular nationwide.
Meanwhile, Amelia proved among the biggest hits, coming top of the pile in 26 different cities including Birmingham, Leeds and Manchester.
Germanic names such as Harry, Henry and Charlie were favoured once again, accounting for nearly half of all the cities for most popular boys' name.
Over the border in Scotland, Jack and Olivia proved the most popular, while Osian was a big hitter in Wales.
The most popular boys names in the UK, in order, were Oliver, Muhammed, Noah, Harry, Jack, Charlie, Jacob, George, Ethan and Henry.
Meanwhile, the UK's most popular girls names were Olivia, Lily, Sophia, Emily, Amelia, Ava, Isla, Isabella, Isabelle and Sophie.
Data for the survey by Character Cottages was gathered through a mixture of regional research from Bounty.com and national records from BabyCentre.
Character Cottages director Andrew Soye said: 'As experts in family holidays it was really interesting to see how name trends varied through different cities and regions.
'Some of the most popular names appealed across the entire country while we also saw some names which were more localised to specific regions – often names that were traditional Gaelic or Welsh.'
http://nation.com.pk/international/04-May-2017/muhammad-most-popular-boys-name-in-london
--------
ISIS militants developing own social media platform: Europol
MAY 04, 2017
Islamic State militants are developing their own social media platform to avoid security crackdowns on their communications and propaganda, the head of the European Union's police agency said on Wednesday.
Europol Director Rob Wainwright said the new online platform had been uncovered during a 48-hour operation against Internet extremism last week.
"Within that operation it was revealed IS was now developing its very own social media platform, its own part of the Internet to run its agenda," Wainwright told a security conference in London. "It does show that some members of Daesh (IS), at least, continue to innovate in this space."
During a Europol-coordinated crackdown on IS and al Qaeda material, which involved officials from the United States, Belgium, Greece, Poland, and Portugal, more than 2,000 extremist items were identified, hosted on 52 social media platforms.
Jihadists have often relied on mainstream social media platforms for online communications and to spread propaganda, with private channels on messaging app Telegram being especially popular over the past year.
Technology firms, such as Facebook and Google, have come under increasing political pressure to do more to tackle extremist material online and to make it harder for groups such as Islamic State to communicate through encrypted services to avoid detection by security services.
However, Wainwright said that IS, by creating its own service, was responding to concerted pressure from intelligence agencies, police forces and the tech sector, and were trying to found a way around it.
"We have certainly made it a lot harder for them to operate in this space but we're still seeing the publication of these awful videos, communications operating large scale across the Internet," he said, adding he did not know if it would be technically harder to take down IS's own platform.
Wainwright also said he believed that security cooperation between Britain and the EU would continue after Brexit, despite British warnings it is likely to leave Europol and cease sharing intelligence if it strikes no divorce deal with the bloc.
"The operational requirement is for that to be retained. If anything, "If anything we need to have an even more closely integrated pan-European response to security if you consider the way in which the threat is heading," he said.
Europe, he added, is facing "the highest terrorist threat for a generation".
However, Wainwright said there were important legal issues that would have to be thrashed out and it was not easy "to just cut and paste current arrangements".
"The legal issues have to be worked through and then they have to be worked through within of course the broader political context of the Article 50 negotiations (on Britain's planned exit from the EU)," he said.
Full report at:
http://nation.com.pk/international/04-May-2017/isis-militants-developing-own-social-media-platform-europol
--------
Russia, Turkey underline need to continue anti-terror fight
May 3, 2017
Russia and Turkey have both underscored the need to continue the fight against terrorism and step up safe zones in war-torn Syria.
Russian President Vladimir Putin said at a joint news conference with his Turkish counterpart Recep Tayyip Erdogan in the Black Sea resort of Sochi on Wednesday that the two countries were boosting cooperation to battle terror.
"While exchanging opinions on the regional and international agenda, we paid much attention to the fight against terrorism. We agreed to intensify the cooperation between the intelligence agencies and ministries of defense in particular, to continue regular consultations on battling terrorism between the departments," he said.
Putin also hailed efforts by Moscow, Tehran and Ankara regarding the resolution of the Syria crisis, saying the attempts not only facilitated a nationwide ceasefire in Syria, but also brought warring sides to the negotiation table.
Erdogan, for his part, said Turkey would continue to take measures against what he called threats from its southern borders with Syria and Iraq, adding that he believed Putin would play a major role in establishing a truce in Syria.
The Turkish president added that Turkey considered no difference between the Kurdish People's Protection Units (YPG) and Daesh.
"We do not differentiate between terrorist organizations. Daesh, YPG, al-Qaeda are all the same for us," Erdogan said. "It is our mutual responsibility to scrape away their roots."
Russia, Turkey agree on Syria safe zones
The Russian president said Moscow and Ankara had both agreed that "the creation of safe zones must lead to further conciliation and strengthening of the ceasefire regime."
Moscow had already conducted "preliminary consultations" with Damascus, Tehran and US President Donald Trump concerning the safe zones in Syria, Putin added.
However, Syria's warring sides should themselves make "the final decision," he pointed out.
"In the end, only they are in charge of their country's fate. On our side, we – Russia, Turkey and Iran – as guarantors of a ceasefire, will make everything for such mechanisms to improve and be efficient," Putin said.
Regardless of the safe zones, the fight against the Daesh, Jabhat Fateh al-Sham and other terrorist groups operating in Syria should go on, the Russian president pointed out.
Erdogan, for his part, supported the formation of safe zones in Syria and expressed hope that "this zone of de-escalation will be accepted" at the Syria peace talks underway in the Kazakh capital, Astana.
Moscow, Ankara to scrap trade curbs except for tomatoes
The Turkish president said Ankara and Moscow had agreed to lift all trade restrictions, except those on exports of Turkish tomatoes to Russia.
Putin confirmed that a Russian import ban on Turkish tomatoes as well as visa restrictions with Turkey would stay in place for now.
Full report at:
http://www.presstv.ir/Detail/2017/05/03/520484/Russia-Turkey-Erdogan-Putin
--------
Furey: Trudeau tells world media alternative facts about Canada's 'headscarf bans'
BY ANTHONY FUREY
MAY 03, 2017
Once again, Prime Minister Justin Trudeau has misrepresented Canadian policy on the world stage.
In the cover story of the most recent issue of Bloomberg Businessweek, Trudeau claims the former Conservative government advocated "headscarf bans". It's simply not true.
The PM tells the influential American magazine that in the last election he "was up against a government than ran on snitch lines against Muslims and headscarf bans and a fear-filled narrative that Canadians chose to reject".
It's a sloppy take that completely mischaracterizes the former government's election platform and sends a false message about Canadian politics to the world.
No major political party in Canada has ever proposed a headscarf ban. The closest thing would be Quebec's failed charter of values, which would have banned the wearing of "conspicuous" religious symbols by public servants in the province. This would have applied to all religions.
Perhaps Trudeau was referring to how back in 2011 the Conservative government did enact a ban on full face veils for the brief one-time occasion when a woman delivers her citizenship oath. A court decision then forced them to defend this law at a time that coincided with the last election.
But this is nowhere near the same thing as banning mere headscarves. A number of countries in the Middle East and Europe have legislated some version of a ban on the more radical niqab or burqa, but no country has banned the commonplace hijab headscarf.
If that is what Trudeau was getting at, he misspoke big time.
Likewise the comment about "snitch lines against Muslims". The PM is clearly talking about the controversial barbaric practices tip line from the previous election. But to call it a line exclusively against Muslims is only half the story. Regardless of your views on it, there's no denying it was also intended as a line for Muslims, such as girls who were worried about being victims of honour-based violence.
Canadian readers of the magazine who followed the last election in depth will have the background to read between Trudeau's gaffes and suss out what he likely means. The majority of the magazine's international readership will not.
They will think Canadian politicians are advocating broad bans on the hijab and encouraging people to call the cops whenever they spot a regular Muslim person just walking down the street. These are troubling misconceptions to plant in people's minds. (And the magazine at no point fact checked Trudeau's errors.)
It's natural for Trudeau to cast his political opponents in a negative light. This crosses the line though. Trudeau talks a big game about unity. Yet all these antics do is divide.
The silver lining is the PM appears to be walking back his #WelcomeToCanada remarks from earlier this year, which wrongly conveyed the message that we have some sort of open borders policy.
Full report at:
http://www.torontosun.com/2017/05/03/furey-trudeau-tells-world-media-alternative-facts-about-canadas-muslim-related-policies
--------
Pakistan
Consensus developed on teaching Quran translation in schools
May 03, 2017
Islamabad-Ulema Committee constituted by the Ministry of Federal Education and Professional Training on Tuesday reached a consensus on the translation of Holy Quran to be taught in schools.
The meeting was chaired by Minister of State for Federal Education and Professional Training, Engineer Muhammad Baligh ur Rehman
The committee, which has representation of scholars of all major Islamic schools of thought, has been formed for having a consensus on translation of Holy Quran to be taught in schools pursuant to the approval of Compulsory Teaching of Holy Quran Act, 2017. The members of the committee have been recommended by the highest national body of country's seminaries, Ittehad Tanzeemat-ul-Madaris Pakistan (ITMP) and included Maulana Manzoor Ahmed Mangel (Wafaq ul Madaris ul Arabia), Allama Syed Arshad Saeed Kazmi (Madaris Ahl-e- Sunnat), Maulana Najeebullah Tariq (Wafaq ul Madaris us Salafia), Maulana Atta-ur-Rehman (Rabitat-ul-Madaris ul Islamia) and Allama Sheikh Muhammad Shifa Najfi (Wafaq ul Madaris-u-Shia).
Talking to the members, the minister said that government has formed the committee of esteemed scholars of country with sincerest intentions to have such translation of Holy Quran taught in schools that is endorsed and approved by all major Islamic schools of thought.
"Efforts made in the past to bring forth consensual translation of Holy Quran have not brought the desired outcome; but I am hopeful that the present committee with representation of all major religious institutions of the country and backing of national body of Madaris ITMP, will be successful in forging consensus on single translation text of Holy Quran", he said.
"All my prayers and best wishes are for this committee to provide much awaited gift for the nation," he said.
The participating clerics extended their gratitude to the minister and greatly appreciated the government's initiative to introduce compulsory teaching of Holy Quran with translation in schools.
They expressed all out support for the noble objective and agreed to bring out consensus based translation text of the Holy Quran for the purpose of teaching in schools very soon.
The Compulsory Teaching of Holy Quran Act 2017 entails mandatory teaching of Nazra Quran in classes 1 to 5 and the translation of Holy Quran in classes 6 to 12 in all federal public schools and private schools in ICT and federally administered territories. The bill has been approved by the National Assembly and is currently in the Senate for approval.
http://nation.com.pk/islamabad/03-May-2017/consensus-developed-on-teaching-quran-translation-in-schools
--------
Pakistan to keep up efforts to reduce friction amongst Muslim countries, COAS tells Zarif
May 03, 2017
RAWALPINDI: Iran's Foreign Minister, Mr Javad Zarif Khonsari called on Chief of Army Staff (COAS) General Qamar Javed Bajwa at GHQ on Wednesday.
During the meeting, issues of bilateral interest and regional security were discussed. Both sides agreed on improving bilateral border coordination to deny any space to the terrorists. Tremendous bilateral cooperation potential was identified in various fields.
Mr Khonsari appreciated the efforts of Pakistan and Pakistan Army against terrorism.
COAS said that Pakistan is committed to having lasting relations with Iran and will keep up its efforts to reduce friction amongst brotherly Muslim countries.
Earlier today, Iranian Foreign Minister Dr Javad Zarif called on the Prime Minister Muhammad Nawaz Sharif in Islamabad and discussed matters pertaining to bilateral relations and regional issues.
The Prime Minister expressed satisfaction on increasing high-level exchanges between the two countries to strengthen bilateral cooperation in diverse fields.
Full report at:
https://www.geo.tv/latest/140399-Pakistan-committed-to-having-lasting-relations-with-Iran-COAS
--------
PTI accused of compromising on patriotism by accepting foreign funds
MAY 04, 2017
ISLAMABAD: A senior counsel representing a leader of the Pakistan Muslim League-Nawaz accused Pakistan Tehreek-i-Insaf chief Imran Khan on Wednesday of entering what he called the dangerous area of compromising patriotism and loyalty to Pakistan by accepting foreign funds for his party.
Muhammad Akram Sheikh, who was representing PML-N leader Hanif Abbasi, argued before a Supreme Court bench that PTI was a foreign-funded party and its chairman had applied to the Foreign Agents Regulatory Authority (FARA) of the United States for registration of agents for the PTI Texas Liability Limited Company. After the registration of agents, money started pouring into the party's accounts, he alleged.
A three-judge bench of the court, headed by Chief Justice Mian Saqib Nisar, was hearing Mr Abbasi's petition which has sought Mr Khan's disqualification as well as that of his party's secretary general, Jehangir Khan Tareen, over "non-disclosure of assets, owning offshore companies and running a foreign-funded party".
Both Mr Khan and Mr Tareen, who regularly attended hearings of the Panama Papers case against Prime Minister Nawaz Sharif, did not turn up for the hearing on Wednesday in courtroom number one of the court.
The Political Parties Order, 2002 prohibited parties from receiving foreign funds, Mr Sheikh argued and added that the PTI had received $2.3 million in foreign funding between 2010 and 2013.
Recalling that FARA was the agency which had indicted well-known Kashmiri leader Dr Ghulam Nabi Fai for receiving foreign funds, the counsel submitted to the court papers containing names of members of the boards of companies which he had downloaded from the agency's website.
Mr Sheikh told the court that from 2013 to 2015, the PTI collected $1m in political donations from the Abraj Capital of the United Arab Emirates. Likewise, Tariq Shafi, the CEO of the Crescent Company, received Rs56m in July 2013 which was then transferred to the PTI. Mr Shafi received Rs58.8m on March 26, 2013 from the Harbour Services Ltd which was also transferred to the PTI.
This was done despite the fact that the party had submitted a certificate to the Election Commission of Pakistan (ECP) that it had not received any foreign funds, Mr Sheikh said.
Therefore, Mr Khan is hit by Article 62(1f) of the Constitution which deals with disqualification of a member of parliament for not being sagacious, righteous, non-profligate, honest and ameen.
In the Benazir Bhutto case of 1988 the court had held that every political party should account for the sources of its funds in accordance with the law under Article 17(3) of the Constitution.
The counsel also emphasised that the PTI chief had admitted to having a substantial offshore company called the Niazi Services Limited (NSL) which was further owned by three other offshore companies.
At this Chief Justice Nisar observed that it was an admitted fact that NSL was an offshore company and that Mr Khan was its substantial owner. But the court would look into the effects of all this later, adding that there was no bar on Pakistanis to own property abroad by creating an offshore company.
Mr Sheikh replied that Pakistani laws were extra-territorial which allowed acquiring of properties abroad but the same should be declared. The PTI chief became an income tax filer in 1982, the same year that he formed the offshore companies, but preferred not to disclose the possession of 107,000 pounds sterling for the purchase of London flats through NSL in the income tax returns from 1983 to 2015 which he claimed he purchased through the fortune he earned through cricket.
He said that NSL was incorporated in 1983 and dissolved in 2015. During this entire period Mr Khan contested three general elections but failed to declare the same in the nomination papers as well as in the income tax returns.
He also benefitted from a tax amnesty scheme launched during the government of former president Pervez Musharraf to whiten the London property by paying Rs240,000 but the same was never declared before the ECP or the income tax department.
Meanwhile, in a rather interesting development, the chief justice barred the people not linked to the case from making political statements about it outside the Supreme Court building. "We need to regulate the proceedings in accordance with the norms prevalent in the civilised world," Chief Justice Nisar observed.
He warned that ignoring the court's directives would attract negative consequences. "We should curtail the tendency of making political statements outside the court," he said, adding that the country would grow stronger if the institutions were strengthened.
The court accepted the request by the petitioner to implead the ECP as a necessary party in the plea by correcting the mistake committed earlier when Islamabad's chief commissioner was cited as a respondent in the petition.
Full report at:
https://www.dawn.com/news/1330940/pti-accused-of-compromising-on-patriotism-by-accepting-foreign-funds
--------
MQM-P says dialogue with Haqiqi essential for peace in Karachi
May 04, 2017
PAKISTAN
KARACHI: The political scenario of the provincial metropolis is witnessing a dramatic development as news has surfaced that leaders of Muhajir Qaumi Movement-Haqiqi and Muttahida Qaumi Movement-Pakistan will engage in an official dialogue after around 25 years of parting ways.
Positive messages have been exchanged between both the parties, but no plan of merger has come to fore yet, said MQM-P leader Kishwar Zehra while speaking on Aaj Shahzaib Khanzada Kay Sath on Wednesday.
She added their party carried out a movement for the rights of people of Karachi, which was given "moral support" by MQM-H founder Afaq Ahmed. "MQM-P chief Farooq Sattar even thanked him for that."
She maintained positive contact between both the parties is essential for peace in Karachi, however, a press conference by Ahmed is due on Thursday (today) after which the party's version of the expected plan will be known.
Mohajir Qaumi Movement parted ways with Muttahida Qaumi Movement around 25 years ago.
Does PTI trust the Supreme Court?
The issue of Pakistan Tehreek-e-Insaf adamant on its demand despite new orders from the court, was also discussed in the show.
Although the Supreme Court rejected names of nominees from the State Bank and Securities and Exchange Commission of Pakistan over transparency issues, the PTI officials remained adamant over their demand for the prime minister to step down until the probe completes.
When asked PTI leader Fawad Chaudhry said they wanted either the PM's resignation or announcement for new elections, because the PM's accountability is being challenged, more so because the summary on Dawn Leaks was also rejected by the army.
PTI chief's question in court
A similar situation arose, but this time the table was turned on the PTI chief when a lawyer of Pakistan Muslim League-Nawaz questioned Imran on being "Sadiq and Ameen". The PML-N lawyer, Barrister Akram Sheikh, told the court Imran was running PTI on foreign funding, therefore, as per the Constitution, he was not honest and truthful. This is because Political Parties Order, 2002 bars parties from accepting foreign funding, even those from overseas Pakistanis are not to be accepted.
Full report at:
https://www.geo.tv/latest/140439-MQM-Pakistan-says-dialogue-with-Haqiqi-essential-for-peace-in-Karachi
--------
Key Qaeda commander killed in drone attack
May 04, 2017
PESHAWAR - Key al Qaeda commander Abdur Rahim was killed on April 26 drone attack in Shankai Naray area of Tehsil Datta Khel in North Waziristan near Pak-Afghan border. Officials in the area have confirmed the killing of Abdur Rahim in the attack. At least seven terrorists were killed in a drone attack on the compound of Tehreek-e-Taliban Pakistan North Waziristan Ameer Akhtar Muhammad on April 26. Government sources have confirmed that 35-year-old Abdur Rehim was among the dead militants.
http://nation.com.pk/national/04-May-2017/key-qaeda-commander-killed-in-drone-attack
--------
Southeast Asia
Marriage and divorce bill unfair to Muslims, says think tank
Minderjeet Kaur
May 4, 2017
PETALING JAYA: A think tank has criticised proposed amendments to the Law Reform (Marriage and Divorce) Act, saying they infringe on the liberty of Muslims, particularly the newly converted.
Giving an example of such infringement, Azril Mohd Amin, chief executive officer of the Centre for Human Rights Research and Advocacy (Centhra), pointed to the requirement for consent of both parents for conversion of a child to Islam.
"This is discrimiNATOry against Muslims as conversion to other religions requires no such joint consent," he said.
He added that the requirement for joint consent would violate the Federal Constitution, which states that the religion of a child below the age of 18 shall be decided by his parent (either the mother or father) or guardian.
"This applies, regardless of the religion the child is converted to," Azril said.
"Unilateral conversions, therefore, are not unconstitutional and the decision of the High Court in Indira Gandhi's case is an error," Azril said, referring to the interfaith custody battle between a Hindu mother and her Muslim ex-husband and an Ipoh High Court judgement in 2013.
He also said custody by a non-Muslim parent was possible even after a child had converted to Islam.
He cited the case of R Subashini, in which the court granted her custody of her Muslim children although she was a non-Muslim. She eventually converted to Islam.
The bill to amend the 1976 Law Reform (Marriage and Divorce) Act was tabled in Parliament last November. It has yet to be debated on. It seeks to ban unilateral child conversions and to make clear that matters of civil marriage will be handled in civil courts.
Azril also complained that the bill favoured non-Muslims when it came to the division of property in divorce cases.
http://www.freemalaysiatoday.com/category/nation/2017/05/04/marriage-and-divorce-bill-unfair-to-muslims-says-think-tank/
--------
Ahok did not defame Islam: Harvard alumni petition
May 3, 2017
A group of Indonesian alumni of Harvard University and its fellowship programs has started an online petition, urging the judges of North Jakarta District Court to free Jakarta Governor Basuki "Ahok" Tjahaja Purnama from all blasphemy charges.
The petition from the graduates of the United States university has attracted more than 60,000 votes as of Wednesday, a week before the court plans to hand down its verdict against Ahok on May 9.
At the April 20 hearing, the pros­e­cu­tors de­manded the judges sen­tence Ahok to two years' pro­ba­tion if found guilty of vi­o­lat­ing Ar­ti­cle 156 of the Crim­i­nal Code (KUHP) on show­ing an­i­mos­ity to­ward oth­ers. They ad­mit­ted they could not prove Ahok had in­sulted Is­lam as a whole, but only in­di­vid­ual Mus­lims.
The Harvard alumni are of the opinion that Ahok's act did not qualify as a violation of any part of Article 156, namely hostility, hatred or contempt against an ethnicity, religion and race. The act in question is a speech he gave in Thousand Islands regency in September that quoted Surah Al Maidah 51, a Quranic verse of­ten used by cer­tain con­ser­va­tive Mus­lim groups to urge Mus­lims to vote only for po­lit­i­cal can­di­dates who share the same faith.
"… supremacy of law should be upheld. The courtroom should be a place where truth and justice are upheld, not a place for justification and legitimation of mobocracy," the petition stated.
Full report at:
http://www.thejakartapost.com/news/2017/05/03/ahok-did-not-defame-islam-harvard-alumni-petition.html
--------
Firebrand Monk Wirathu Travels to Myanmar's Troubled Rakhine State
MAY 04, 2017
Yangon. A Myanmar Buddhist monk renowned for his anti-Muslim sermons traveled to Rakhine State on Wednesday (03/05), an official said, sparking concern over religious tension in the region, where more than one million Rohingya Muslims live.
Wirathu - who once called himself the "Burmese bin Laden" - would visit the Muslim-majority northern part of the western state, said Police Colonel Nyan Win Oo of Maungdaw district police.
Police would provide security for the monk, Nyan Win Oo said, adding he was unaware of the reason for Wirathu's visit.
"He will go to ethnic villages and will be here for two or three days," he said, referring to settlements where non-Muslims live.
The Rohingya are not considered one of Myanmar's indigenous ethnic groups and are denied citizenship. They are instead regarded as illegal immigrants from neighboring Bangladesh.
An estimated 75,000 Rohingya fled across the border to Bangladesh from the Maungdaw area during a recent crackdown by Myanmar security forces in response to militant attacks on border posts.
The insurgents - who say they are fighting for Rohingya rights - killed nine policemen on Oct. 9, igniting the biggest crisis of national leader Aung San Suu Kyi's first year in power.
Soldiers and police stand accused of killings and gang rapes during the counterinsurgency operation that followed.
Several thousand non-Muslims, including members of the Buddhist Rakhine ethnic group, were also displaced by the unrest.
'Spreads Hate'
Wirathu, once jailed by Myanmar's former military regime, rose to prominence after the country began a transition to democracy in 2011, uncorking long-suppressed ethnic and religious tensions.
Clashes between Rohingya and Rakhine Buddhists in 2012 displaced about 140,000 people, mostly from the Muslim minority.
As violence and hate speech against Muslims spread to other parts of the country - where Muslims who are not Rohingya live among the Buddhist majority - Wirathu delivered sermons and preached on Facebook, urging Buddhists to boycott Muslim business and shun interfaith marriages.
He has continued to travel around the country despite Myanmar's highest religious authority in March barring him from preaching. Wirathu reacted to his silencing by posting online photographs of himself with his mouth taped over.
Although the recent conflict in northern Rakhine has abated in recent weeks, tensions remain high and Rohingya residents told Reuters late last month they feared travelling beyond their villages in case they encounter military patrols.
Full report at:
http://jakartaglobe.id/international/firebrand-monk-wirathu-travels-myanmars-troubled-rakhine-state/
--------
Malaysia at top spot in global Muslim travel market
4 May 2017
SINGAPORE: Malaysia has strengthened its position as the top performing destination of a sector expected to be worth US$220bil (RM952.6bil) by 2020, according to a release on the global Muslim travel market.
The Mastercard-CrescentRating Global Muslim Travel Index (GMTI) 2017, which covers 130 destinations, saw Malaysia keep the top spot while Indonesia moved up to third place in the overall rankings.
The Index showed a number of non-Organisation of Islamic Cooperation (OIC) destinations in Asia move up the rankings, a result of the concerted effort to adapt their services to cater to and attract the Muslim travel market.
Singapore retained its pole position for the non-OIC destinations, with Thailand, the UK, South Africa and Hong Kong rounding up the top five.
Japan moved up two places to take sixth spot with Spain entering the top 10 for the first time.
According to the research, the Muslim travel market is expected to grow a further US$80bil (RM346.4bil) to reach US$300bil (RM1.3 trillion) by 2026.
It was also revealed that in 2016, there were an estimated 121 million Muslim visitor arrivals globally - up from 117 million in 2015 - and this is forecast to grow to 156 million visitors by 2020 representing 10% of the travel segment.
Asia has remained the leading region in the world in terms of attractiveness to Muslim tourists with an average GMTI score of 57.6, with Africa coming in second place at 47.0, followed by Oceania (43.8), Europe (39.9) and the Americas (33.7).
"We are definitely seeing the influence of a new breed of young travelers, millennials and Gen Z who are combining technology with a real desire to explore the world while still adhering to their faith-based needs," chief executive officer of CrescentRating and HalalTrip, Fazal Bahardeen said.
"They will be the driving force for the next phase of growth. These younger travelers want greater choice, unique experiences and constant connectivity which can be seen with the growth of other Muslim lifestyle segments such as Halal food and modest fashion which link perfectly with the travel market," he said.
Meanwhile, Mastercard division president (Indonesia, Malaysia and Brunei) Safdar Khan said that with an overall expenditure of around US$155bil in 2016, the Muslim travel market remains a strong driver for the continued growth in travel across the world.
"At Mastercard, we're committed to supporting the growth of this segment and are working with our partners to constantly develop new and innovative programs and offerings for Muslim consumers," he said.
Full report at:
http://www.thestar.com.my/business/business-news/2017/05/04/malaysia-at-top-spot-in-global-muslim-travel-market/
--------
Muslim NGO: It is Malays who are discriminated against
Minderjeet Kaur
May 3, 2017
PETALING JAYA: Centre for Human Rights Research and Advocacy (Centhra), a coalition of Islamic NGOs, claims that it is actually the Malay Muslims who suffer religious discrimination in the country, while the minorities are free to practice their religions.
In refuting the findings of a report by the United States Commission on International Religious Freedom (USCIRF), Centhra chief executive officer Azril Mohd Amin said minorities in Malaysia do not suffer any religious discrimination.
"The reality is quite the opposite. The Malay majority suffers from discrimination on grounds of religious belief while the minorities are allowed free passes, even to the extent of breaking laws, on grounds of freedom of religion," he claimed.
Centhra was responding to the USCIRF's 2017 report which outlined some of the restrictions on religious freedom in the nation. Among other things, it said the Malaysian government actively restricted freedom of expression and punished those who criticised it, including online.
It also said Malaysia's prioritisation of the Malay Muslim identity was often to the disadvantage of religious and ethnic minorities and that minorities often experienced discrimination related to their faith, including having difficulties accessing religious materials, such as Bibles, and obtaining government permission to build houses of worship.
Saying this was not true, Azril gave as examples Hindu temples being erected on state land without the government's permission and churches violating planning laws by repurposing offices and commercial buildings as churches.
The lawyer said, in 2015 a shoplot in Taman Medan, Selangor, was converted into a church without the local authority's permission. This, he said, had violated the Street, Drainage and Building Act 1974.
"Yet the Selangor state government, under which the local authority for Taman Medan is part of, refused to enforce the requirement for permission and continued to allow the church free rein to operate illegally.
"There are also various instances of local authorities being stopped from carrying out demolition of illegal religious structures, all in the name of religious freedom, without regard for other considerations such as building hazards or public safety requirements.
"As for difficulty in obtaining government permission to build houses of worship, this is simply untrue," he asserted.
He claimed builders of non-Muslim houses of worship chose to do so illegally instead of applying to the local authority concerned, citing the desire to avoid costs and the bureaucracy involved in obtaining such permission.
On the other hand, he claimed, Muslims were being denied the right to perform mandatory Friday prayers by private companies but that the government was not taking action against them.
In April 2017, he said, two Muslim women were denied interviews with a hotel in Kuala Lumpur as they were wearing religious headgear.
"It is violating their religious freedom. But there is no restriction whatsoever on the ownership or even trade of non-Muslim religious materials. Bibles, for example, are sold openly in almost every general bookstore."
Azril said government funding was by no means restricted to the Department of Islamic Development Malaysia (Jakim) or Islamic groups only, as funds were also allocated to other religious groups.
"Claims that Jakim or Islamic institutions vilify religious minorities are again simply untrue and not backed by any evidence whatsoever.
"On the other hand, members of religious minorities typically vilify the majority Muslims instead."
He said the head of local NGO Lawyers for Liberty, Eric Paulsen, had claimed in a tweet not long ago that Jakim promoted extremism every Friday during its scripted sermons, disrupting religious harmony.
"The fact that there was no untoward incident arising out of this blatantly false, not to mention extremely rude, allegation speaks volumes of the restraint as well as tolerance for religious minorities in Malaysia.
"Meanwhile, Paulsen has been charged with sedition and has the right to defend himself before a court of law that accords with his constitutional and human rights."
He said shariah courts had existed within the territories that presently make up Malaysia for centuries, ever since Islam first arrived here.
Azril said it was the civil court system, introduced by former colonial ruler Britain, that were a later addition to the indigenous legal system here.
The USCIRF report had said that the dual system of civil and shariah courts as well as the layers of federal versus state laws, sultan-issued decrees, and fatwas (religious edicts), eroded the notion of a secular state and the constitution as the supreme law in Malaysia.
"The fact that both (laws) continue to exist in parallel again reflects the compromise reached by various ethnic and religious groups upon independence, and shariah courts are recognised within the existing constitutional framework."
He also explained why Islam could be propagated to the non-Muslims but non-Muslims were not allowed to propagate their religions to Muslims.
Full report at:
http://www.freemalaysiatoday.com/category/nation/2017/05/03/muslim-ngo-it-is-malays-who-are-discriminated-against/
--------
Arab World
Syria: ISIL Executes More Own Members in Deir Ezzur on Treason Charges
May 03, 2017
The sources said that the ISIL fire squad gunned down 10 of its own fighters in the town of al-Mayadeen on charges of treason.
Local sources reported on Tuesday that a large number of civilians took to the streets in a town near Deir Ezzur Province's border with Iraq, and clashed with the ISIL terrorists.
The sources said that a large number of people in the town of Albu Kamal along the Euphrates River attacked one of the checkpoints of ISIL Hasaba (security-monitoring) forces, setting fire at two of their vehicles.
The sources added that the ISIL started arresting people following the clashes.
Other sources reported that the Syrian Army's artillery and missile units pounded ISIL's positions and movements in al-Thardah mountain, Wadi (desert) al-Thardah, al-Thardah crossroad, the neighborhood of al-Orfi and cement-block making factories, killing and wounding a number of terrorists.
In the meantime, the Syrian forces opened tank fire at ISIL's positions Southwest of Tamin Brigade base in the Southern countryside of Deir Ezzur, killing a number of militants.
The army units also shot down a drone of ISIL which was equipped with imaging and rocket launching devices near the Eastern wall of the Deir Ezzur's military airport.
The army soldiers also engaged in heavy fighting with ISIL in al-Maqaber (cemetery) region, killing a number of terrorists, including a commander, nom de guerre Ahmad al-Janin.
ISIL's military hardware also was damaged in the clashes.
http://en.farsnews.com/newstext.aspx?nn=13960213000652
--------
Syrian Army Utilizing New Model of Advanced Missile-Launchers in War on Terrorists
May 03, 2017
The sources said that the Syrian army engineers have invented a new model of missile-launchers called Volcano and have mounded it on the BMP1 armored vehicle to enhance the army's combat capabilities and might in the war on the terrorist groups.
The engineers have modified BMP1 vehicles in order to be able to mount the Volcano Missile-Launchers on them, they added.
The sources went on to say that the Syrian engineers invented the new model of missile-launchers to install them on the highest point of BMP1 armored vehicles' chassis with the operational range of five to seven kilometers.
In the meantime, the Russian language Russkaya Gazeta newspaper said in a report that before modifying the BMP1 armored vehicles and shifting it into a missile-launcher, the army had mounted its missile-launchers on the Russian-made Sadko vehicles.
Russkaya Gazeta newspaper reported in mid-April that the Syrian army was using the state-of-the-art T-72 tanks in its campaign against the terrorist groups.
The paper said in a report that at least two T-72 tanks were monitored in Syria that enjoy some capabilities of the T-14 tanks that were among the latest state-of-the-art tanks in the world.
According to the report, one of the two tanks monitored in Syria was equipped with night vision systems and it could still be used for daylight missions if the tank's surveillance system was damaged in clashes.
The second tank was equipped with a camera and active protection system (Sarab) that made the armor resistant to a variety of enemy missiles. Also a Viper-72 system was mounted on the tank which could trace targets some 4km away.
Other reports said in March that the Syrian army optimized its T-72 battlefield tanks to resist against anti-tank missiles.
According to the Arabic-language al-Hadath news website, an optimized T-72 tank was hit by an anti-tank missile in a test field in Damascus province, but the tank remained unharmed and continued operations.
Diyana Mikhailov, a military expert, said that the T-72 tank merely sustained some small damage during the test, adding that the optimization process was successful.
The Syrian army had deployed the Russian T-90 tanks against the terrorists in Aleppo Front in Northern Syria in February 2016 after the T-72 tanks failed to resist against the terrorists' anti-tank missiles.
Full report at:
http://en.farsnews.com/newstext.aspx?nn=13960213001012
--------
Bahraini clerics call on public to oppose anti-Qassim ruling
May 3, 2017
Senior clerics in Bahrain have reiterated their unwavering support for Sheikh Isa Qassim, and called on all members of the public to roundly reject any court ruling against the distinguished Shia cleric, whom the ruling Al Khalifah regime has stripped of his nationality and plans to put on trial.
The clerics, in a statement released on Wednesday, highlighted that they will continue to support the 77-year-old cleric, who is the spiritual leader of the country's dissolved opposition bloc, the al-Wefaq National Islamic Society, till their last breath, Arabic-language online newspaper Manama Voice reported.
The statement further noted that people are ready to do whatever it takes to defend the country's religious leadership, describing Sheikh Qassim's trial as an attempt to undermine the religious entity in Bahrain.
The clerics pointed out that any verdict issued by the Bahraini regime court against Sheikh Qassim is void, and therefore must be popularly dismissed.
Bahraini authorities stripped the cleric of his citizenship on June 20, 2016. They later dissolved the Islamic Enlightenment Institution, founded by him, in addition to the opposition al-Risala Islamic Association.
The Manama regime has leveled charges of "illegal fund collections, money laundering and helping terrorism" against Sheikh Qassim, who has strongly rejected them.
A trial session had been scheduled for the senior cleric on March 14 but was postponed to May 7 amid fears of a surge in popular outrage.
Thousands of anti-regime protesters have held demonstrations in Bahrain on an almost daily basis ever since a popular uprising began in the kingdom in mid-February 2011.
They are demanding that the Al Khalifah dynasty relinquish power and allow a just system representing all Bahrainis to be established.
Full report at:
http://www.presstv.ir/Detail/2017/05/03/520458/Bahrain-clerics-support-Shia-Muslim-clergyman-Sheikh-Qassim
--------
Egyptian artist hopes for record with 700-metre Holy Quran
MAY 04, 2017
GHARBIA: An Egyptian artist who educated himself after dropping out of school has spent three years creating what he hopes is the world's biggest Holy Quran.
Saad Mohammed, who has hand-painted Islamic motifs on the walls and ceilings of his home in the town of Gharbia, north of Cairo, has reproduced the holy book on a paper scroll 700 metres long.
He displays the intricately decorated manuscript in a large wooden box with rollers at each end. "This Holy Quran is 700 metres long, and of course that's a large amount of paper," he told Reuters Television. "I self-funded this project for the past three years – and I'm an average person. I don't have assets or anything."
Mohammed wants to submit his Holy Quran for inclusion in Guinness World Records. Guinness says that while there is a record for the world's biggest printed Holy Quran, there is so far no record holder for the largest handwritten version.
Full report at:
http://nation.com.pk/international/03-May-2017/egyptian-artist-hopes-for-record-with-700-metre-holy-quran
--------
200 US Soldiers, Military Advisors Arrive at Syria-Iraq Borders
May 03, 2017
According to al-Mayadeen, the US forces were equipped with different weapons, ammunition, military vehicles and personnel carriers.
The US claims that its forces are missioned with supporting the Kurdish-led Syrian Democratic Forces (SDF).
Media sources disclosed in March that the US Army has deployed more forces and military equipment in the countryside of the town of Manbij in Northeastern Aleppo.
The Arabic desk of Sky News reported that Washington has deployed 200 fresh soldiers in al-Asaliyeh village North of Manbij town, adding that the total number of the US soldiers deployed in Manbij now stands at 700.
Full report at:
http://en.farsnews.com/newstext.aspx?nn=13960213001263
--------
ISIL Withdraws from More Positions under Syrian Army Attacks in Homs
May 03, 2017
The army soldiers engaged in fierce clashes with the ISIL in al-Shoumeriyeh mountain and took back control over more positions, killing tens of terrorists.
The army units managed to advance 9km in depth and 13km in width against ISIL and managed to take full control over al-Shoumeriyeh, ending their operation in the mountainous region.
Relevant reports said on Tuesday that the army troops, backed up by the country's Air Force, repelled ISILs' attack to take back lost positions in al-Shoumeriyeh mountain in Eastern Homs, inflicting heavy casualties on them.
The army soldiers engaged in fierce clashes with ISIL in wheat silos and in the regions of Jabab Ham and Rajm al-Qasr and managed to repel terrorists' attack after killing and wounding a number of terrorists.
Full report at:
http://en.farsnews.com/newstext.aspx?nn=13960213001064
--------
Syria: Tens of Gunmen, Family Members Leave Western Damascus for Idlib
May 03, 2017
The Arabic-language Al-Jadeed broadcaster quoted military information center of the Syrian government forces as saying that a sum of 100 gunmen and their family members left the town of Sabna for the militant-held regions in Idlib province using a corridor provided by the local authorities.
The evacuated gunmen had not agreed to lay down arms and join peace with the Syrian Army.
The Russian Reconciliation Center for Syria announced on Tuesday that militants in two more regions in Quneitra province handed over their weapons to the Syrian Army, adding that nearly 1,500 cities, towns and villages endorsed peace agreement with Damascus.
The Russian center said that representatives of two more regions in Quneitra inked the peace agreement with the army, adding, "The number of populated localities that have joined the reconciliation process in Syria has increased to 1,477."
"Negotiations are also underway to encourage militants in the provinces of Aleppo, Damascus, Hama, Homs and Quneitra to join the agreement on the cessation of hostilities," the center added.
"According to the report, the number of armed groups that have pledged commitment to accept and fulfill the conditions of the cessation of hostilities in line with the ceasefire agreement of 27 February 2016 has not changed, and stands at 143."
Full report at:
http://en.farsnews.com/newstext.aspx?nn=13960213000543
--------
Syrian armed opposition to return to Astana peace talks
4 May 2017
The Syrian armed opposition will return on Thursday to the talks on settling the Syrian conflict which are being held in the Kazakh capital Astana, RIA news agency quoted a source close to the negotiations as saying.
A diplomatic source told Reuters in Astana that the rebel delegation had not yet arrived at the venue.
Full report at:
https://english.alarabiya.net/en/News/middle-east/2017/05/04/Syrian-armed-opposition-to-return-to-Astana-peace-talks-RIA.html
--------
11 journalists killed covering Iraq conflict last year, observatory says
May 3, 2017
Eleven journalists were killed in Iraq in 2016 while covering the conflict, says the Journalistic Freedoms Observatory.
The observatory said in a report released on Wednesday that most of those killed last year had been covering the government's battle against Daesh Takfiri terrorists.
"From May 3, 2016 to May 3 (this year), 11 journalists were killed and 44 wounded across Iraq, including the Kurdistan region," said the Baghdad-based watchdog.
The report, which came on the occasion of World Press Freedom Day, said some journalists died by accident while others were killed by militants. It added that investigations surrounding the death of a few journalists have yet to be finished.
The watchdog said a total of 375 cases of violations of journalists' rights were recorded across Iraq last year, urging the government to do its utmost to protect media workers. It also called on journalists to follow security procedures.
For more than three years, Iraq has been battling Daesh terrorists in north and west of the country. The militants, who started wreaking havoc in Iraq in the summer of 2014, have been purged from most of the territories they used to control. The army and allies are currently in the final phases of an operation against Daesh in Mosul, Iraq's second largest city in the north.
Full report at:
http://www.presstv.ir/Detail/2017/05/03/520471/Iraq-journalists-fatality
--------
Archaeologists find 4,000-year-old model garden in Egypt
May 3, 2017
Archaeologists have found the remains of a model garden that dates back roughly 4,000 years outside a tomb in the Egyptian city of Luxor.
Egypt's Antiquities Ministry said on Wednesday that a Spanish archaeological mission had discovered the garden, which must have played a role in funerary rites, in Draa Abul Nagaa necropolis in western Luxor.
Mahmoud Afifi, the ministry's head of ancient Egyptian antiquities, described the discovery as important as it is a unique garden and no such garden has been discovered before in ancient Thebes, today known as Luxor.
He added that the garden was discovered during excavations in an open courtyard outside a Middle Kingdom (2050 to 1800 BC) tomb.
The head of the Spanish team, Jose Galan, described the discovery as a small rectangular garden that has an area of three by two meters.
It is reportedly divided into equal square plots each about 30 centimeters across. The plots seem to have each included various species of plants and flowers.
Two elevated spots were found in the middle of the garden, which were probably used for planting trees.
Galan added that the Spanish team also found the root and the trunk of a 4,000-year-old small tree, 30 centimeters tall, at one of the garden's corners as well as a bowl containing dates and other fruits, which could have been presented as an offering.
Ancient Egyptians were traditionally surrounding the deceased by objects they enjoyed in life, so they could continue to enjoy them in the afterlife.
Full report at:
http://www.presstv.ir/Detail/2017/05/03/520470/Ancient-funeral-garden-Egypt
--------
Africa
Tunisia Jewish Representative 'Israeli Govt Disrupting Jewish Pilgrimage'
3 May 2017
The representative of the Jewish community in Tunisia's Djerba, Perez Traboulsi, said in an interview with local media that all security precautions have been taken and are put in place to secure a safe pilgrimage.
"We are expecting 3,000 Jewish people to participate in the pilgrimage this year," Traboulsi said.
He also accused the Israeli government of trying to disrupt the event, giving the impression that Tunisia is not safe – which in reality is not true.
Israel warned its citizens on Wednesday against visiting Tunisia, where Jewish pilgrims will celebrate a religious festival later this month, citing the threat of jihadist attack. It also said any Israelis currently there should "leave the country immediately."
"Terrorist elements, especially those affiliated with global extremism, continue to act toward carrying out attacks in Tunisia," the counter-terrorism bureau said in a statement released by the office of Prime Minister Benjamin Netanyahu.
"There is a risk of attacks, against Jewish destinations as well," the bureau said, recommending that visits to Tunisia be avoided. The counter-terrorism bureau has issued similar warnings about Lag BaOmer in previous years, with last year's Djerba event taking place under heavy security due to heightened worries.
Tunisia was also where an engineer working for Palestinian movement Hamas was assassinated in December. Mohamed Zaouari, 49, was a drone expert, murdered at the wheel of his car outside his house in Tunisia's second city Sfax. Hamas accused Israel of killing him. Israel did not respond to the allegation.
Last month, the counter-terrorism bureau warned Israelis against visiting Egypt's Sinai region ahead of the Jewish Passover holiday. It even took the rare measure of closing the border crossing. The move followed a series of deadly bomb attacks on Egyptian churches.
During the 11 days the crossing was closed, a rocket from the Sinai hit southern Israel and an Egyptian policeman was killed near the peninsula's St Catherine's monastery in an attack claimed by ISIS. Djerba is home to one of the last Jewish communities in the Arab world.
But the number of pilgrims visiting El Ghriba has fallen sharply since a 2002 suicide bombing claimed by al-Qaeda killed 21 people. Prior to the attack, the celebrations in Djerba would attract almost 8,000 people each year, from countries including Britain, France and Italy as well as Israel.
https://english.alarabiya.net/en/News/middle-east/2017/05/03/Israelis-warned-not-to-visit-Tunisia-for-Jewish-festival-.html
--------
Sudan: Saudi Minister - Relations between People Are Built On Love and Common Interests
2 MAY 2017
Khartoum — The Saudi Minister for Islamic Affairs and Orientation, Dr. Salih Bin Abdul Aziz Al Sheikh, on Tuesday stressed that strong relations between people could be cemented further through brotherhood, love and common interests.
The visiting Saudi official who was touring the Islamic Jurisdiction Complex in Khartoum, said it is though peaceful call that the Islamic and Sunni sect could be united and that this was one of the main pillar for any Islamic call.
He said Fatwas are part and parcel of the Islamic community and that it was through good Fatwa that reform could be effected and good worshiping could be observed.
He said Saudi Arabia is the land for all Muslim people around the globe and that Saudi Arabia encourages the moderate Sunni sect as this would strengthen and empower this sect that would strengthen and multiply the Muslim umma.
Full report at:
http://allafrica.com/stories/201705030190.html
--------
1 killed, 9 wounded in attack on UN Mali camp
May 3, 2017
Shelling and rocket fire on a UN camp in the troubled Malian city of Timbuktu killed one person and wounded nine peacekeepers, the United Nations mission in the country said Wednesday.
"A mortar and rocket attack was launched against the MINUSMA camp in Timbuktu," a UN statement said, using the UN mission's acronym.
"The provisional toll is nine wounded among the peacekeepers, four seriously who are being evacuated to Bamako. The attack also killed one person, they are still being identified," it added.
The UN mission said it had reinforced the camp's defenses and deployed air cover to identify where the enemy fire had originated, describing it as a "terrorist" attack.
Full report at:
http://www.presstv.ir/Detail/2017/05/03/520493/Mali-UN-Peacekeeper-Rocket-Attack
--------
Somali minister 'mistakenly' shot dead in Mogadishu
May 4, 2017
Somalia's minister of public works and reconstruction, Abbas Abdullahi Siraji, was killed in Mogadishu in what was apparently an accidental shooting, government and police sources say.
In a statement, the government said it was "deeply saddened" by the death of Siraji, the youngest member of the Somali cabinet, who had grown up in a Kenyan refugee camp before winning election in 2016 and being named a minister by President Mohamed Abdullahi Mohamed.
Siraji's vehicle was mistakenly shot at by government security guards outside the presidential palace, a seNATOr, Ilyas Abdulahi, told AFP.
Sources said the gunmen were security guards for another government official, many of whom are escorted around the capital by armed guards in pick-up trucks.
"Armed men on board a pick-up truck in front opened fire on the minister's car as he followed, it seems it was a mistake but it is being investigated," said Ibrahim Mohamed, a police officer.
Siraji, 31, grew up in Dadaab, Kenya, among the world's largest refugee camps and won a surprise victory over a former minister in elections last year.
His story was widely seen as an inspiration for a country that has suffered conflict and anarchy for the last 25 years.
Full report at:
http://www.presstv.ir/Detail/2017/05/04/520515/Somalia-Mogadishu-police-Mohamed-Abdullahi-Mohamed-alShabab-militants-assassination
--------
Airstrike injures Boko Haram leader in north-eastern Nigeria
May 3, 2017
The leader of the Takfiri Boko Haram terrorist group, Abubakar Shekau, has been injured and one of his deputies has been killed when Nigerian Air Force jets bombed a remote area in northeastern Nigeria.
Civilian and security sources said on Wednesday that the jets bombarded militants who had gathered in Balla village, some 40 kilometers from Damboa, on the edge of Sambisa Forest, last Friday.
Babakura Kolo, a member of the civilian militia in Maiduguri, the capital of Borno state, confirmed that Shekau was injured and a number of commanders were killed in the air raid.
"Among them is his deputy called Malam Abba. They suffered heavy casualties because the bombings targeted a large gathering of his followers attending Friday prayers," media outlets quoted Kolo as saying.
One unnamed source with contacts within Boko Haram said the militant leader was being treated near the Nigerian border with Cameroon.
"Shekau was wounded in the bombings and is believed to be receiving treatment near the Nigerian border with Cameroon around Kolofata."
"His deputy, Abba Mustapha, alias Malam Abba, was killed in the attack along with another key lieutenant, Abubakar Gashua, alias Abu Aisha," the source added.
There was no immediate comment from the Nigerian military, which has previously claimed to have killed Shekau on at least three occasions.
In a statement on Tuesday, the Nigerian Air Force said it had bombed "a gathering of Boko Haram terrorists" last Friday "in a village 3.42 km northeast of Mangosum."
"Battle damage assessment conducted after the strike showed that several leaders of the Boko Haram terrorist organization and their followers were killed during the attacks," the statement read.
Ibrahim Bawa, a local fisherman in Konduga area, said Boko Haram terrorists went on a rampage following the airstrike.
Full report at:
http://www.presstv.ir/Detail/2017/05/03/520442/Nigeria-Boko-Haram-Shekau
--------
South Asia
2 suicide bombers and a child killed in Kandahar clash
May 04 2017
Two suicide bombers and a child were killed during a brief clash between the assailants and the security forces in southern Kandahar province.
According to the local government officials, the incident took place late on Wednesday evening in the central Kandahar city.
Provincial police spokesman Zia-ur-Rehman Durani said the militants had disguised in Burqa and managed to take position near a bakery in the vicinity of the 4th police district of the city.
He said the suicide bombers started fire on a check post that lasted for several minutes before they were shot dead.
Durani had said only the two suicide bombers were killed in the attack but the provincial public health officials are saying that a minor girl was killed and another civilian was wounded during the clash.
The anti-government armed militant groups including the Taliban insurgents have not commented regarding the report so far.
The security situation in Kandahar had improved during the recent years however the insurgents have increased their attacks in several southern provinces, including Helmand that resulted into the deteriorating security Kandahar.
The latest attack attempt in Kandahar city comes as the Taliban group launched its spring offensive last week and vowed to carry out more attacks across the country and in key cities.
http://www.khaama.com/2-suicide-bombers-and-a-child-killed-in-kandahar-clash-02713
--------
8 dead as IS bomb hits NATO convoy in Kabul
May 04, 2017
KABUL - A powerful blast targeting an armoured NATO convoy in Kabul killed at least eight people and wounded 28 Wednesday, including three coalition troops, officials said in an attack claimed by the Islamic State group.
The explosion, which came during morning rush hour on a busy road near the US embassy and NATO headquarters, killed "mostly" civilians, an interior ministry spokesman told AFP without giving a breakdown.
Three coalition service members received "non-life threatening wounds" but are in stable condition, a spokesman for US Forces-Afghanistan said, without confirming their nationalities.
The attack, claimed by IS via its Amaq propaganda agency, comes three weeks after the US dropped its largest non-nuclear bomb on the jihadist group's hideouts in eastern Afghanistan, triggering global shockwaves.
Monday's blast also comes days after the Taliban launched their "spring offensive", heralding a surge in fighting as the US seeks to craft a new Afghan strategy and NATO mulls boosting troop levels to break the "stalemate" against the resurgent militants. The attack, which IS said was a suicide car bomb and NATO said was an improvised explosive device (IED), damaged two of the convoy's heavily armoured vehicles and left a small crater in the road.
MRAP (Mine Resistant Ambush Protected) vehicles, which are designed to withstand large explosions, are routinely used by international forces moving around Kabul.
At least three civilian cars were also damaged, with one ablaze, while windows were shattered up to several hundred metres away. Firefighters and ambulances rushed stunned survivors to hospital as President Ashraf Ghani slammed the blast as a "criminal act".
NATO commander in Afghanistan General John Nicholson has said the US decision to drop the GBU-43/B Massive Ordnance Air Blast in Nangarhar province last month was a "very clear message" to IS: "If they come to Afghanistan they will be destroyed".
Some observers have condemned the move against a group that is not considered as big a threat to Afghanistan as the Taliban. Others suggested it would boost the Taliban, who have been in a turf war with IS in Nangarhar.
The weapon, dubbed the "Mother of All Bombs", killed at least 95 jihadists, according to the Afghan defence ministry, but fighting in the area has continued.
Last week, two US troops were killed in an operation against IS near where the bomb was dropped. The Pentagon has said it is investigating if they were killed by friendly fire.
Pentagon chief Jim Mattis warned of "another tough year" for both foreign troops and local forces in Afghanistan when he visited Kabul last month, though he would not be drawn on calls by Nicholson for a "few thousand" more troops against the Taliban insurgents.
But NATO chief Jens Stoltenberg told a German newspaper Sunday that the 28-nation alliance was considering boosting its troop strength once more given the "challenging" security situation.
The US has around 8,400 troops in the country with about another 5,000 from NATO allies. Most are taking part in NATO's train, assist and advise mission, though some are also carrying out counter-terror missions targeting IS and Al-Qaeda.
First emerging in 2015, IS's local affiliate in Afghanistan overran large parts of Nangarhar and Kunar provinces, near the Pakistan border, but their part in the Afghan conflict had been largely overshadowed by the operations against the Taliban.
Captain Bill Salvin, spokesman for US Forces-Afghanistan, said the local IS presence peaked at between 2,500 to 3,000 but that defections and recent battlefield losses had reduced their number to a maximum of 800.
"We have a very good chance of destroying them in 2017," Salvin told AFP recently.
Embattled Afghan forces meanwhile have been straining to beat back the Taliban insurgents since US-led NATO troops ended their combat mission in December 2014.
A report by US watchdog SIGAR said they suffered "shockingly high" casualties in the first three months of 2017.
Afghan analyst Ahmad Muradi told AFP Wednesday that whether attacks are carried out by IS or the Taliban, "the result is the same: it makes the government and its international supporters tired, and security forces too stretched out, fighting several enemies on several fronts at the same time".
Full report at:
http://nation.com.pk/national/04-May-2017/8-dead-as-is-bomb-hits-NATO-convoy-in-kabul
--------
Taliban militant killed while planting roadside bomb in Balkh
May 03 2017
A Taliban militant was killed as he was planting an Improvised Explosive Device (IED) in northern Balkh province of Afghanistan.
The 209th Shaheen Corps of the Afghan National Army (ANA) forces in the North said the incident took place recently in Chamtal district.
The source further added that the militant was busy planting the IED on a roadside when it went off prematurely, leaving the insurgent dead.
The anti-government armed militant groups including the Taliban militants have not commented regarding the report so far.
Taliban insurgents and militants belonging to the other insurgent groups frequently use Improvised Explosive Device (IED) as the weapon of their choice to target the security forces and government personnel but in majority of such incidents the ordinary civilians are targeted.
This comes as the United Nations Assistance Mission in Afghanistan (UNAMA) released its latest civilian casualties report last week, stating 715 civilians were killed in the first three months of 2017.
UNAMA attributed 21 per cent of civilian casualties to Pro-Government Forces – 451 civilian casualties (165 dead and 286 injured).
Full report at:
http://www.khaama.com/taliban-militant-killed-while-planting-roadside-bomb-in-balkh-02711
--------
President Ghani had a serious talk with the ISI chief: Source
May 04 2017
President Mohammad Ashraf Ghani had a serious talk with the Pakistani military intelligence, Inter Services Intelligence (ISIS) chief Gen. Naveed Mukhtar.
An informed source has said President Ghani handed over several documents to Gen. Mukhtar regarding some of the deadly attacks plotted and coordinated by the militants using the Pakistani soil.
The source speaking on the condition of anonymity told RFE that President Ghani emphasized during his meeting with Gen. Mukhtar that the relations between the two countries will not improve as long as practical steps are not taken against the terrorist groups.
The source further added that evidences and documents regarding the attack on American University in Kabul was plotted and executed by Ahmad Kandahari who is in Quetta in now.
President Ghani also added that the attack on the 209th Shaheen army corps was plotted in Peshawar city, asking the Pakistani authorities to take steps against the perpetrators.
The Afghan President said the newly-launched Taliban offensive 'Mansoori Operations' are being controlled from Karachi, Peshawar, Quetta, and North Waziristan.
Full report at:
http://www.khaama.com/president-ghani-had-a-serious-talk-with-the-isi-chief-source-02712
--------
Dhaka to host OIC foreign ministers' meet next year
May 04, 2017
Bangladesh will host the next OIC foreign ministers' meeting in the second quarter of 2018.
The decision was made at the OIC's senior officials meeting in Jeddah on Tuesday.
A draft resolution was unanimously adopted welcoming the bid of Bangladesh for hosting the 45th session of the Council of Foreign Ministers (CFM) of the 57-member organisation, the foreign ministry said in a statement.
This will be the second time CFM is taking place in Dhaka since Bangladesh hosted the 14th Islamic Conference of Foreign Ministers on December 6-11 in 1983. The Dhaka conference adopted final declaration and took resolutions on organisational, political, economical, cultural and administration issues.
Foreign Secretary Md Shahidul Haque led the Bangladesh delegation at the meeting, which decided on many important issues of Muslim Ummah for the betterment of lives of Muslim Ummah in the Organisation of Islamic Cooperation (OIC) member states.
The meeting also adopted a number of resolutions, including one on the Rohingya minorities. "Through this resolution the member states expressed their 'serious concern' over the situation of Rohingya Muslim population in the Northern Rakhine State of Myanmar," said the statement.
Full report at:
http://www.thedailystar.net/backpage/dhaka-host-oic-foreign-ministers-meet-1400305
--------
NATO SG vows continued fight against terrorism after Kabul suicide attack
May 03 2017
The Secretary General of the North Atlantic Treaty Organization (NATO) Jens Stoltenberg strongly reacted at the suicide attack in capital Kabul that left at least 8 civilians dead.
Stoltenberg said "I condemn the attack on the NATO convoy in Kabul. The fight against terrorism continues. My thoughts are with all those affected."
The Afghan President Mohammad Ashraf Ghani earlier said the terrorist groups are attempting to hide the massive losses they suffered by conducting such attacks.
President Ghani said the terrorist groups suffered heavy losses as a result of the counter-terrorism operations during the recent months and their latest attack that led to civilian casualties is an attempt to hide their defeat
The Islamic State of Iraq and Syria (ISIS) terrorist group offshoot operating under the name of ISIS-Khurasan claimed responsibility behind the attack.
The group claimed that 8 American soldiers were killed in the attack but the Afghan authorities said only eight civilians were killed in the attack.
The Ministry of Interior (MoI) said at least twenty civilians were also wounded in the suicide attack that took place in the vicinity of the 9th police district of the city, home to various key government and non-government compounds.
Full report at:
http://www.khaama.com/NATO-sg-vows-continued-fight-against-terrorism-after-kabul-suicide-attack-02710
--------
Mideast
Thousands rally in West Bank to back Palestinian hunger strikers
May 4, 2017
Several thousands of Palestinians have taken to the streets in the West Bank city of Ramallah to express their solidarity with the large number of Palestinian inmates who are on hunger strike in Israeli prisons.
Demonstrators gathered in Nelson Mandela Square on Wednesday, waved Palestinian flags and posters of Marwan Barghouti, the strike leader, bearing his quote "Our chains will be broken before we are."
Barghouti, 57, is a top leader of the Palestinian Fatah Movement. He began an open-ended hunger strike on April 17, dubbed the Freedom and Dignity Strike, along with some 1,500 other inmates in protest at their conditions in Israeli prisons.
During the past 17 days, more and more Palestinian inmates have joined the strike. Fifty prisoners were reported to have joined the protest action on Thursday.
The organizers of the Wednesday rally, including Barghouti's wife, Fadwa Barghouti, also called for "the largest campaign of civil disobedience" against Israel.
Barghouti, a highly popular figure among Palestinians, has been sentenced by an Israeli court to serve five life terms in jail over his role in a Palestinian Intifada (Uprising). He has been in Israeli prisons since 2002. He has been placed in solitary confinement following the initiation of the hunger strike.
The Palestine Liberation Organization (PLO) on Wednesday released a statement by Barghouti in which he said that he and the other hunger strikers in Israeli jails had launched the strike for "freedom and dignity" and would continue it until their "legitimate demands are met."
"Israel cannot silence us, nor isolate us, nor break us," he said, adding that, "This hunger strike aims to confront the ongoing and escalating unjust Israeli occupation policies against prisoners and their loved ones. We stress our determination to undertake this struggle whatever the cost."
The strikers are calling for immediate improvements in jail conditions, including longer family visits, proper medical attention, phone access, and an end to solitary confinements and administrative detention.
The much-criticized administrative detention is a policy under which Palestinian inmates are kept in Israeli detention facilities without trial or charge. Nearly 700 prisoners are currently held in such detention; some of them have served for up to 11 years.
Fadwa Barghouti also said that the hunger strike, as an act of protest, was part of the Palestinians' battle against "the occupation and for independence and dignity."
Meanwhile, Palestinians have been drinking salty water in an act of solidarity with the hunger strikers. On Wednesday, a group of Palestinians in the besieged Gaza Strip offered salty water to passersby and a number of restaurants in the Gaza City put that drink on their menus, too.
According to the prisoners' rights group Addameer, some 6,500 Palestinians were in Israeli prisons as of January this year, including 53 women and 300 children.
http://www.presstv.ir/Detail/2017/05/04/520519/Palestine-Ramallah-rally-hunger-strike-Marwan-Barghouti
--------
Trilateral UAE-Saudi-Yemen committee holds first meeting
4 May 2017
The trilateral high UAE-Saudi-Yemen committee, chaired by Yemeni Vice President Lt. General Ali Mohsen al-Ahmar, held its first meeting in Jeddah to discuss its work and recent contacts made between the political leaders of the three member states, Saudi Press Agency (SPA) reported.
The committee discussed its agenda for security action and progress of military operations being conducted in Yemen to liberate all Yemeni territory from militias loyal to the Houthis and former leader Ali Abdullah Saleh.
Recommendations made during the meeting were approved unanimously by members of the committee, SPA reported, and noted that the committee will hold regular meetings from now on.
Full report at:
https://english.alarabiya.net/en/News/gulf/2017/05/04/Trilateral-UAE-Saudi-Yemen-committee-holds-first-meeting.html
--------
Crown Prince of Abu Dhabi receives Egypt's Sisi
3 May 2017
Egyptian president Abdel Fattah Al-Sisi arrived on Wednesday for a two-day visit to the UAE.
He was received at the Presidential Airport by His Highness Sheikh Mohamed bin Zayed Al Nahyan, Crown Prince of Abu Dhabi and Deputy Supreme Commander of the UAE Armed Forces.
President Sisi was given an official reception, where the national anthems of both countries were played, followed by a 21-gun salute in his honor.
Egyptian President Abdel Fattah Sisi arrived on Wednesday for a two-day visit to the United Arab Emirates and was welcomed by His Highness Sheikh Mohammed bin Zayed Al Nahyan, Crown Prince of Abu Dhabi and Deputy Supreme Commander of the UAE Armed Forces. Sources confirmed to Al Arabiya News Channel the participation of the head of the government of the National Accord Fayez Al-Sarraj and Libyan National Army Commander Khalifa Hafter in a quadripartite meeting with the Crown Prince of Abu Dhabi and the Egyptian President to discuss the Libyan crisis.
Earlier on Wednesday, Al-Sarraj and Hafter issued a joint statement detailing the agreement, which was sponsored by the United Arab Emirates, on Tuesday.
The meeting, which was held at the invitation of Sheikh Mohammed bin Zayed, dealt with reviewing the current situation in the Libyan arena and discussing ways to get out of the crisis in order to secure the political, security and military tracks in Libya.
The statement added that a set of principles was agreed upon to ensure the preservation of the national sovereignty, and enable the military to perform its full tasks in the fight against terrorism, in addition to providing security and protect the capabilities of the Libyan people.
Full report at:
https://english.alarabiya.net/en/News/gulf/2017/05/03/Crown-Prince-of-Abu-Dhabi-receives-Egyptian-President-.html
--------
Iran: Saudi rejection of Tehran ties show kingdom's destructive policies
May 3, 2017
Iran says the Saudi deputy crown prince's remarks against the Islamic Republic are proof that the kingdom follows "confrontational and destructive policies" in the region and towards Tehran.
Iranian Foreign Ministry spokesman Bahram Qassemi was reacting on Wednesday to comments made by Mohammed bin Salman, who rejected the possibility of normalization of ties with Iran.
"Over the past years, Iran has shown in words and deeds that it endeavors towards utilizing common ground to reach understanding and cooperate with all regional countries," Qassemi said.
He added that unity in the Islamic world towards resolving the crises in the region is of utmost importance to Iran.
The spokesmen went on to stress that these crises all result from foreign interference and extremist Takfiri terrorism which has roots in Saudi-backed Wahhabism.
Wahhabism is the radical ideology dominating Saudi Arabia, freely preached by government-backed clerics there, and inspiring terrorists worldwide. Daesh and other Takfiri terror groups use the ideology to declare people of other faiths as "infidels" and then kill them.
On Tuesday, Salman, who is also Saudi Arabia's defense minister, ruled out ties with Iran after Tehran announced the possibility of de-escalation of tension if Riyadh halted its war against Yemen.
On Tuesday, Iranian Foreign Minister Mohammad Javad Zarif said the Islamic Republic was ready to normalize ties with Riyadh if the Kingdom halted its bombardment of Yemen and stopped supporting extremist groups.
Full report at:
http://www.presstv.ir/Detail/2017/05/03/520495/iran-saudi-qassemi-reaction
--------
Palestinian child target of Israeli settler hit and run
May 3, 2017
An Israeli settler has deliberately run over a Palestinian child in the occupied West Bank of city of Yatta south of al-Khalil (Hebron.)
The settler drove over Laith Yousif Shatat, eight, on Wednesday as the child was standing outside his school located in the town's eastern regions.
According to witnesses, the severely injured child was taken to a hospital in al-Khalil.
There have been dozens of "hit and run" incidents targeting Palestinians in different parts of the West Bank, with most of them largely going uninvestigated by Israeli authorities. Some of such incidents have even resulted in fatalities.
An Israeli settler also ran over and injured a middle-aged Palestinian man south of al-Khalil on January 6 as he was walking on the edge of a road.
Full report at:
http://www.presstv.ir/Detail/2017/05/03/520498/israel-settler-child-hit-khalil
--------
North America
Trump assures Abbas Israeli-Palestinian peace
3 May 2017
US President Donald Trump welcomed Palestinian President Mahmud Abbas to the White House Wednesday for what he hoped would be "terrific" talks on relaunching the Middle East peace process.
Trump assured Abbas that he sees a "very good chance" for Israeli-Palestinian peace and that "we will get it done."
He added: "We want to create peace between Israel and the Palestinians."
The US president greeted Abbas on the White House lawn, barely two and a half months after having received Israeli Prime Minister Benjamin Netanyahu.
"I'm committed to working with Israel and the Palestinians to reach an agreement," Trump confirmed. "But any agreement cannot be imposed by the United States or by any other nation. The Palestinians and Israelis must work together to reach an agreement that allows both peoples to live, worship, and thrive and prosper in peace."
The source of Trump's optimism was not immediately apparent. He offered no details about his effort or how it would be any different from attempts over the past two decades during which former Presidents Bill Clinton, George W. Bush and Barack Obama all tried and failed. Palestinian officials said after the meeting that Trump had not raised any specific proposals to restart negotiations.
Asked what distinguishes Trump's plans from previous attempts, White House spokesman Sean Spicer said merely: "The man is different."
The peace process has been stalled since 2014, and there have been no serious attempts to restart negotiations.
Like previous US leaders, Trump faces numerous obstacles in the long-shot bid. They include the contours of a potential Palestinian state, Jerusalem's status and the question of Palestinian refugees. Complicating it all are the vehement Palestinian criticisms of Israeli settlement construction and Israeli complaints that Palestinians are inciting violence.
Abbas insisted he is committed to peace, but he made clear Palestinian demands for a separate state based on borders that existed before the 1967 Mideast war, a capital in east Jerusalem and the return of Palestinian refugees.
"Our strategic option, our strategic choice is to bring about peace based on the vision of two states, a Palestinian state, with its capital of east Jerusalem, that lives in peace and stability with the state of Israel based on the borders of 1967," he said.
Abbas also said "peace" would allow Israel an opportunity to normalize ties with the Arab states. He also added that a peace deal based on a two-state solution would aid the fight against terrorism.
Israel rejects the 1967 lines as a possible border, saying it would impose grave security risks. Israel also opposes Palestinian demands on refugees and stakes its claim on an undivided Jerusalem as the capital of the Jewish state.
Trump did not discuss any of those issues Wednesday.
https://english.alarabiya.net/en/News/middle-east/2017/05/03/Trump-greets-Palestinian-leader-Abbas-at-White-House.html
--------
Muslim city council candidate feels targeted online
May 4, 2017
PEARLAND, Texas -- A woman running for city council in Pearland believes she is being targeted online because she's a Muslim.
That woman is Dalia Kasseb, who went block by block Tuesday afternoon to try and pick up last minute supporters.
"We're a very diverse community, and that diversity needs to show up in our community," Kasseb said.
For example, an article from The Atlantic titled "How American Muslims Are Trying to Take Back Their Government" was shared on Facebook by Pealand ISD trustee Rusty Deborde days ago.
Deborde also posted the comment, "Please spread the word. This is happening this election cycle right here in Pearland."
Deborde declined KHOU 11's repeated requests for comment.
Ex-city councilman Kevin Cole shared the same article, echoing similar thoughts to Deborde. Cole tells KHOU 11 News it's not an issue of "religion, race or gender with anyone that decides to run for political office in Pearland or anywhere else."
He says his concern is with the Islamic Society of North America, who he believes is targeting this and other political races around Texas.
Kasseb in the meantime is pushing forward.
"Muslims are a huge part of the community," she said. "We are your doctors, we are your healthcare professionals, we are the engineers and the business owners and we are here because we love America and we love our community.
Full report at:
http://www.khou.com/news/local/muslim-city-council-candidate-feels-targeted-online/436627680
--------
URL: https://www.newageislam.com/islamic-world-news/how-islamic-state-spreading-wings/d/111024
New Age Islam, Islam Online, Islamic Website, African Muslim News, Arab World News, South Asia News, Indian Muslim News, World Muslim News, Women in Islam, Islamic Feminism, Arab Women, Women In Arab, Islamophobia in America, Muslim Women in West, Islam Women and Feminism