New Age Islam News Bureau
31 Aug 2019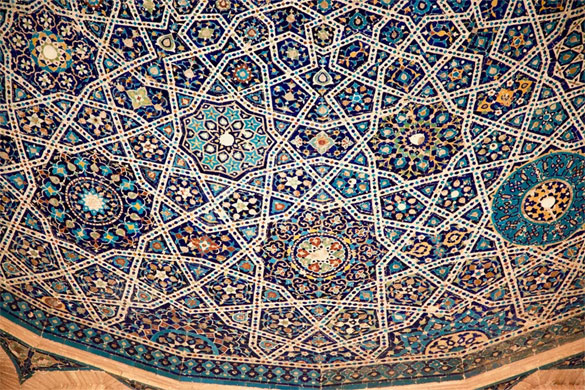 Geometric tile patterns from the dome of a Muslim tomb. William Hamblin
------
• How Christianity, Judaism, Islam, Buddhism and More Have Been Associated With the Uyghurs throughout History
• Khateeb of Shahi Masjid, Hyderabad, Calls for Boycott of Pakistani Muslim Clergy
• Bhagwat Meets Jamiat Ulema-E-Hind Chief Madani and Held Deliberations On The Current Political Situation In The Country
• 'Kashmir Hour' Observed In New Delhi, Paris, Jeddah, Tokyo
• Satellite Images Suggest Iranian Rocket Blew Up On Launch Pad
• Islamist Parties Stage Demo to Support Kashmiris, Urged the People of Bangladesh to Stand beside Kashmir People
• US Sets 2021 Trial Date For Alleged 9/11 Mastermind
Southeast Asia
• How Christianity, Judaism, Islam, Buddhism and More Have Been Associated With the Uyghurs throughout History
• China Says Uighur Award Nomination Is 'Supporting Terrorism'
• World Bank to Investigate if China Loan Funded Muslim Detention Camps
• Lawsuit by Muslim aerospace engineer settled days before Kansas trial
• Malaysia fights call to boycott non-Muslim halal products
• Iran, Malaysia agree to form supreme council of ties: Zarif
• Ex-aide confirms Najib signed RM246k cheque for 'Ah Jib Gor' Facebook, Chinese Weekly
• Jakarta roads to be closed Saturday night for Islamic New Year celebration
--------
India
• Khateeb of Shahi Masjid, Hyderabad, Calls for Boycott of Pakistani Muslim Clergy
• Bhagwat Meets Jamiat Ulema-E-Hind Chief Madani and Held Deliberations On The Current Political Situation In The Country
• Citizenship list in Indian state leaves out almost 2 million
• Be prepared to fight terrorists: Bipin Rawat visits Srinagar, warns troops of increased infiltration bids
• India asks Interpol secy gen to act on RCNs, including one on Naik
• Terrorists kill 65-year-old shopkeeper in Srinagar for keeping his shop open
• Ayodhya Dispute Case: Sunni WAQF Board Lawyer Threatened For Appearing For Muslim Parties, Contempt Plea Filed
• Report exposes bias in minds of cops against Muslims
• J&K police report: 280 law and order incidents in 3 weeks, Srinagar tops list
• First talks after J&K move: India, Pakistan make progress on Kartarpur
--------
Pakistan
• 'Kashmir Hour' Observed In New Delhi, Paris, Jeddah, Tokyo
• HRCP holds sit-in to highlight enforced disappearances
• China set to launch 27 new CPEC projects in Pak this year
• Time for Pakistan to pull out of OIC, says Rabbani
• ETPB recommends preserving, restoring temple in Moti Bazaar
• Indian Poet, Imran Pratapgarhi, Not Credited In New National Song Released By Info Ministry
• JUI-F to stage 'Azadi March' in Muzaffarabad on Sept 19
• Pakistan won't be placed on FATF blacklist, says Hammad Azhar
• Pak envoy calls on US to pressure India into ending held Kashmir clampdown
--------
Mideast
• Satellite Images Suggest Iranian Rocket Blew Up On Launch Pad
• In Iran's Hierarchy, Talks With Trump Are Now Seen as Inevitable
• Netanyahu tells Macron timing wrong for Iran talks on nuclear deal
• UN renews peacekeeping mission amid Israel-Lebanon tensions
• Suicide attack kills three STC fighters in Yemen's Aden
• UAE affirms right of self-defense against threats targeting Coalition forces
• Over 75 Gazans injured by Israeli forces
• Israel bears full responsibility for drone attack on Lebanon, Hariri tells UN chief
• Israeli forces getting into Iraq on forged US passports: Iraq's Harakat al-Nujaba
• Israel mocked for using mannequins to prevent Lebanese retaliation
--------
South Asia
• Islamist Parties Stage Demo to Support Kashmiris, Urged the People of Bangladesh to Stand beside Kashmir People
• Special Forces kill, detain more than 40 Taliban militants in Kabul and other provinces
• Taliban Peace Talks Cast Uncertainty on Presidential Vote
• Trump: U.S. will maintain presence in Afghanistan even if deal reached with Taliban
• Suspected Ansar-al-Islam member held in Dhaka
• Suicide blast wounds 4 civilians including women in Kabul
• Taliban's Ezatullah Sabawoon likely killed in Balkh province
• U.S. soldier dies during combat operations in Afghanistan
• Taliban militant brutally kills his father in Jawzjan province
• Afghan government says Taliban attacking city of Kunduz
--------
North America
• US Sets 2021 Trial Date For Alleged 9/11 Mastermind
• Trump Says US Not Involved In Iran Satellite Launch Failure
• US labels Lebanon bank with Hezbollah ties a 'global terrorist,' sanctions Iranian networks linked to regime
• From Latin America to West Africa, Hezbollah's complex web of connections is fuelling its terrorist activity
• Turkish President to meet Trump at UN on Syria, F-35s
--------
Arab World
• Why the Ghosts of Islamic State Still Haunt Raqqa
• Iraqi Judiciary Sentences 11 ISIS Members to Death
• IS local leader killed, 6 captured by paramilitary force in western Iraq
• Idlib: Syrian Army Continued Advances, Liberates Strategic Al-Tamane'ah Town
• Tahrir Al-Sham Terrorist Destroys Infrastructures of Northern Syria to Prevent Syrian Army's Advances
• Russian Ship Carrying Heavy Military Equipment, Tanks Heading to Syria
• Syrian Official: Khan Sheikhoun Liberation Turning Point in Failure of Ankara Plots
• UN to 'facilitate' evacuations from Syria desert camp
• Rights groups criticize UN for cooperating with MbS charity
• Iraq to file UN complaint against Israel over attacks on Hashd al-Sha'abi bases: Lawmaker
• Syrian army, allied forces retake more terrorist-held towns in Idlib
• Daesh suicide bomber kills southern separatist fighters in Yemen's Aden
--------
Africa
• Nigeria: 'Boko Haram - Why Army Adopts New Strategy'
• Sudanese demand info about those missing after military crackdown in June
• Boko Haram Terrorists Kill 8 Soldiers, 5 Missing In Ambush
--------
Europe
• Turkish FM Condemns Anti-Muslim Acts, Visits Recently Attacked Mosque In Norway
• Syria, Russia Step Up Assault on Rebel Stronghold-Opposition, Residents
• EU's Mogherini welcomes any progress beyond preserving Iran's nuclear deal
• UK finance minister 'livid' at PM Johnson over firing of aide, says report
• EU urges for dialogue window between Iran and US
Compiled by New Age Islam News Bureau
URL: https://www.newageislam.com/islamic-world-news/how-christianity-judaism-islam-buddhism/d/119621
--------
How Christianity, Judaism, Islam, Buddhism and more have been associated with the Uyghurs throughout history
Aug 30, 2019
The Uyghurs (or Uighurs, pronounced WE-ghurs) are a Turkic people numbering around 11-12 million, most of them living in the western half of modern Xinjiang province in China , in an area that is sometimes called Uyghuria. The Uyghurs first appear in history as a nomadic people living in the fertile fringes west and south of the Taklamakan Desert . The earliest religion of the Uyghurs was shamanism, the animistic worship of nature spirits, variations of which still exist among many Central Asian and Siberian peoples, including folk beliefs and traditions of the Uyghurs themselves.
Politically the Uyghurs formed a major power in Central Asia in the eighth through 11th centuries, often dominating their neighbors. Their central location on the international trade route known as the Silk Road, which connected China with the Middle East and Europe, created widespread cultural and religious contacts with surrounding peoples.
By the seventh century, Buddhism, Manichaeism and Christianity had all been established in Uyghuria. As early as the second century B.C., Buddhism was brought into Central Asia by merchants and monks who were underway from India to China. By the eighth century some Uyghur aristocrats had converted to Mahayana Buddhism and established important monasteries in Uyghuria.
In 742, the Uyghur kaghan (king) Tengri Bögü encountered Manichaean priests, who converted him. Thereafter Manichaeism became the official state religion for the next few centuries, though other religions still flourished. Manichaeism was a dualistic, gnostic religion founded in Iraq by the third-century prophet Mani, creating a syncretistic blend of Christianity, Zoroastrianism and Buddhism. (The famous St. Augustine was a follower of Mani before converting to Christianity.) Numerous Manichaean texts have been discovered in archaeological sites in Central Asia — creating the "Dead Sea Scrolls" of Manichaeism.
Nestorian Christianity (the Church of the East) entered Uyghuria and China in the seventh century, carried by Iranian Christian merchants traveling the Silk Road. Kashgar, the Uyghur capital, became a Nestorian metropolitan see in the 12th century. Although the Uyghur state never became officially Christian, Christianity spread among other Central Asian tribes, such as the Mongol tribes of Keraits and Naimans. Christian Mongols played an important role in the Mongol Empire founded by Genghis Khan.
Jewish merchants from Bukhara and Samarkand also reached Kashgar, making it one of the most religiously cosmopolitan cities in the world, with Shamanism, Buddhism, Manichaeism, Christianity, Islam and Judaism all practiced side by side.
Today, however, Islam is the most important religion in Uyghuria. It first appeared there in the 10th century, brought by merchants and mystics. Muslims gained influence as economic, diplomatic, and scholarly advisors to Uyghur princes. By the early 11th century, the Muslim Kara-Khanid Turks from the west conquered Uyghuria, bringing Islam with them as the new official state religion. Thereafter the Uyghurs were seldom politically independent, usually dominated by other Turkish or Mongol states.
Spread first by conversions, then by state patronage, Islam became the dominant religion of Uyghuria by the 15th century, and by the 18th century only small non-Muslim minorities remained. Uyghurs today are mostly Sunni Muslims, with strong influence from the Naqshbandi Sufi movement.
The conquest of Uyghuria by the Qing Chinese dynasty in the late 18th century brought a new era of strong Chinese influences in the region. The most dramatic change occurred in 1949, when Mao's Communist Chinese conquered Uyghuria, bringing their new anti-religious state ideology with them. The Chinese hoped to destroy all religious beliefs in their Communist utopia, leading them to suppress Islam in Uyghuria precisely as they tried to suppress Buddhism in Tibet.
Today the Uyghurs live in a Chinese police state, persecuted for the "religious extremism" of owning Uyghur books, growing a beard, praying or not drinking alcohol. There have been radical jihadist terror attacks on the Chinese, which the Chinese have used as an excuse to suppress Islam as a whole, rather than just its radical forms. Exact numbers are uncertain, but today there are around a million Muslim Uyghurs in Chinese concentration camps, representing perhaps as much as 20% of the adult population. These "reeducation camps" attempt to force the Uyghurs to abandon their language, culture and religion, becoming obedient socialist collaborators with the Chinese. The ongoing Communist Chinese violations of human rights against the Muslim Uyghurs, Buddhist Tibetans, and other minority groups in China are certainly among the most egregious examples of religious tyranny today.
https://www.deseret.com/2019/8/30/20837371/william-hamblin-daniel-peterson-christianity-judaism-islam-buddhism-muslim-uyghurs-history
--------
Khateeb Of Shahi Masjid, Hyderabad, Calls For Boycott Of Pakistani Muslim Clergy
Syed Mohammed
AUGUST 31, 2019
'It tends to de-contextualise Islamic scriptures to give Pakistan religious sanctity'
Imam and khateeb of the Shahi Masjid at Public Gardens, Ahsan bin Mohammed al Hamoumi, on Friday called for a complete boycott of Pakistani ulama (clergy) across lines of schools of thought.
The khateeb was delivering the Friday sermon to a packed congregation where he gave the call for boycott.
"There is no need to listen to them. Reject them. I say this with a sense of responsibility. Boycott them. Don't share the clips of Pakistani scholars on social media," Maulana Ahsan said.
The Maulana opined that a section of the Pakistani Muslim clergy tends to de-contextualise the Islamic scriptures to give Pakistan religious sanctity, but at the cost of Indian Muslims. Criticising the history of attacks on religious structures in Pakistan, he said unlike in Pakistan, Indian Muslims have kept their mosques safe and free from bombings.
Later in the day, Maulana Ahsan told The Hindu that India has Islamic scholars from all denominations and schools of thought. Indian Muslims, he said, should continue to approach them if they wish to learn the faith.
"One late aalim (religious scholar) claimed that Pakistan is mentioned in the Quran. This is a misrepresentation. They don't realise what implications such things will have. What does that mean? That Indian Muslims are against the Quran? God forbid. This is completely wrong," Maulana Ahsan said.
He maintained that the religious and political approaches and strategies of Pakistani clergy is incompatible with India. "I can assure you that the religious problems and divisions which are being seen in India such as the Shia-Sunni divide and differences of schools of thought are coming from Pakistan. All such divides stemming from Pakistan should be combated," he said.
https://www.thehindu.com/news/cities/Hyderabad/khateeb-of-shahi-masjid-calls-for-boycott-of-pakistani-muslim-clergy/article29303213.ece
--------
Bhagwat Meets Jamiat Ulema-E-Hind Chief Madani And Held Deliberations On The Current Political Situation In The Country
August 30, 2019
New Delhi: In a significant development, RSS Chief Mohan Bhagwat on Friday met Jamiat Ulema-e-Hind chief Maulana Syed Arshad Madani and held deliberations on the current political situation in the country.
Informed sources told ANI that the meeting, which took place at "Keshav Kunj" in Jhandewalan, the RSS headquarters in the national capital, lasted around one-and-half hours.
They claimed that Madani visited the RSS headquarters on the initiative of "Rashtriya Janmanch", a forum which works to foster national unity.
What transpired in the meeting was not immediately known but sources said it was an "unprecedented" meeting which will help the cause of social unity.
"The meeting was historical from the perspective of Hindu-Muslim unity. Both the sides were satisfied with the deliberations," a source said.
Former BJP General Secretary (Organisation) Ram Lal, who is back with RSS, has been asked to continue the dialogue and take forward the issues deliberated at the meeting.
The meeting comes amid growing tensions between India and Pakistan after the government's recent decisions of abrogation of Article 370 and bifurcation of Jammu and Kashmir into two Union Territories – Jammu-Kashmir and Ladakh.
It also comes days after the government passed a bill in Parliament criminalising triple talaq.
Madani, who recently presided over a meeting of Jamiat's Working Committee at its headquarters, had demanded that the government enact a special law to deal the issue of mob-lynching.
Madani had expressed his deep concerns about the deteriorating communal atmosphere, particularly "spurt of mob-lynching incidents" in the country after the re-election of the government.
https://www.siasat.com/bhagwat-meets-jamiat-ulema-e-hind-chief-madani-1601442/
--------
'Kashmir Hour' observed in New Delhi, Paris, Jeddah, Tokyo
Aug 31, 2019
ISLAMABAD: Pakistani and Kashmiri communities on Friday observed "Kashmir Hour" in various cities and capitals around the world.
According to dispatches, a walk was held at the Pakistan High Commission in New Delhi to express solidarity with the Kashmiri people in which all diplomats, staff members and their families participated. Banners and slogans calling for rights of the people of Kashmir were raised on the occasion.
Pakistan's Acting High commissioner Syed Haider Shah in his address to the participants said, "the peaceful demonstration was a message for the international community to fulfil promises they had made to the Kashmiri people." He said Pakistan would continue to extend diplomatic, political and moral support to the people of Kashmir until they get all their rights including the right to self-determination.
Speaking to the Pakistani community in Paris, Pakistan's ambassador to France, Moin ul Haque reiterated "the resolve of the government and the people of Pakistan to stand shoulder to shoulder with the Kashmiri people and to continue Pakistan's political, diplomatic and moral support for their cause." He called on the international community and the permanent members of the United National Security Council to take notice of the blatant human rights violations in Indian Occupied Kashmir (IOK).
Pakistan Consulate in Jeddah also observed Friday as Kashmir Solidarity Day to express solidarity with the people of IOK and to show their resolve to provide all political, diplomatic and moral assistance to the Kashmiri people.
Pakistan's ambassador to Saudi Arabia, Raja Ali Ejaz while speaking to the participants said: "The day was a manifestation of the resolve that (the) Pakistani nation would not remain silent until Kashmiris achieve their right to self-determination."
A gathering was also held at Pakistan Embassy in Tokyo from 12:00 am to 12:30 pm. The congregation carried flags of Pakistan and Azad Jammu and Kashmir. Ambassador Imtiaz Ahmed while speaking to the gathering said, "through inhuman and barbaric actions, the Indian government cannot suppress the righteous demand of the Kashmiri people."
https://www.pakistantoday.com.pk/2019/08/30/kashmir-hour-observed-in-new-delhi-paris-jeddah-tokyo/
--------
Satellite images suggest Iranian rocket blew up on launch pad
Aug 31, 2019
Iran apparently has now struck out in its attempts to launch a satellite this year.
Images taken from space Thursday appear to show that a rocket exploded at an Iranian space center that was gearing up for a satellite launch, suggesting the Islamic Republic suffered its third failed launch this year alone.
"Whatever happened there, it blew up and you're looking at the smoldering remains of what used to be there," David Schmerler, a senior research associate at the Middlebury Institute of International Studies, said after analyzing the images.
State media and officials did not immediately acknowledge the incident at the Imam Khomeini Space Center in Iran's Semnan province, some 150 miles southeast of Iran's capital, Tehran.
Aerial images of the space center provided to Fox News by Maxar's WorldView-2 satellite show gray and black plumes of smoke emanating from its launch pad.
In previous days, satellite images had shown officials there repainted the launch pad blue. On Thursday morning, half of that paint apparently had been burned away.
Schmerler said that the images suggest the rocket either exploded during ignition or possibly briefly lifted off before crashing back down on the pad. Water runoff from the pad, likely from trying to extinguish the blaze, could be seen along with a host of vehicles parked nearby.
Iranian satellite launches had been anticipated before the end of the year.
In July, Iran's Information and Communications Technology Minister Mohammad Javad Azari Jahromi said that Tehran planned three more launches, two for satellites that do remote-sensing work and another that handles communications.
The Nahid-1 is reportedly the telecommunication satellite, which authorities plan to have in orbit for two-and-a-half months. Nahid in Farsi means "Venus." The satellite, which had Iran's first foldable solar panels, was supposed to be in a low orbit around the Earth for some two-and-a-half months.
The semi-official Mehr news agency quoted Jahromi on Aug. 13 as saying that the Nahid-1 was ready to be delivered to Iran's Defense Ministry, signaling a launch date for the satellite likely loomed. Iran's National Week of Government, during which Tehran often inaugurates new projects, began Aug. 24.
Earlier on Thursday, Iran's Defense Minister Gen. Amir Hatami told the state-run IRNA news agency that the country's satellite activities were "being done in a transparent way," responding to AP and other foreign media reporting on activity at the space center.
"Whenever activity and research bear successful results, we will announce the good news," Hatami said. Iran at times in the past hasn't acknowledged failed launches.
The apparent attempt to launch the Nahid-1 comes after two failed satellite launches of the Payam and Doosti in January and February. A separate fire at the Imam Khomeini Space Center in February killed three researchers, authorities said at the time.
Over the past decade, Iran has sent several short-lived satellites into orbit and in 2013 launched a monkey into space.
The U.S. alleges such launches defy a U.N. Security Council resolution calling on Iran to undertake no activity related to ballistic missiles capable of delivering nuclear weapons.
Iran, which long has said it does not seek nuclear weapons, maintains its satellite launches and rocket tests do not have a military component.
https://www.foxnews.com/world/iran-rocket-launch-pad-space-satellite
--------
Islamist Parties Stage Demo To Support Kashmiris, Urged The People Of Bangladesh To Stand Beside Kashmir People
August 30th, 2019
They have urged the people of Bangladesh to stand beside Kashmir people
A platform of different Islamist parties has staged a procession in Dhaka expressing concern over the abrogation of the special status of Jammu and Kashmir by the Indian regime.
They also urged the people and government of Bangladesh to stand by them.
Under the banner of "All Parties for Kashmir Solidarity, Bangladesh", hundreds of protesters formed a rally followed by a procession that paraded different roads after Jumma prayers at the Baitul Mukarran national mosque on Friday.
They said that instead of granting independence to Muslim-dominated Kashmir, India has now decided to abolish the existing autonomy of Kashmir. "It is a violation of human rights," they said urging all to stage protests demanding the independence of Kashmir.
The procession, carrying placards with slogans-- 'stand up for Kashmir, Give back Kashmir's autonomy, stop killing Muslims in Kashmir, whose new Kashmir is this anyway etc, was started from the mosque and ended at the Doel Chattar (Nightingale intersection).
Addressing the procession, Abdur Rab Yousufi, vice president of Jamiat Ulema-e Islam Bangladesh, said that Kashmir's people have been facing oppression for many years and the rest of the world does not have the full picture of it.
Muslims fought for around 200 years for the independence of India to end the British rule, but in the independent India they did not get their rights. "If the oppression against Muslim does not end, they will fight again," he said.
Nur Hossain Kasemi, vice-president of Hefajat-e-Islam, said that on 13 August 1948, Nehru proposed at the United Nations that the people of Kashmir would decide their fate themselves. Pakistan and India would withdraw their forces and a referendum would be done under the supervision of the United Nations. But that did not happen.
He said that article 370 proves that Kashmir is not a part of India. Kashmir was independent and the people were in support of independence. They have been struggling for independence falling victim to a conspiracy for more than 70 years.
"Our solidarity forum is proclaiming unity with the people of Kashmir. We shall pray for Kashmir's independence and also be ready for all sorts of cooperation," he added.
The Indian government stripped Jammu and Kashmir of its semi-autonomy and statehood, creating two federal territories on August 5.
The order revoked Article 370 of India's constitution, which gave the state of Jammu and Kashmir its own constitution and decision-making rights for all matters except for defense, communications and foreign affairs.
The article also forbid Indians outside the state from permanently settling, buying land, holding local government jobs and securing educational scholarships.
https://www.dhakatribune.com/bangladesh/dhaka/2019/08/30/islamist-parties-protest-kashmir-situation
--------
US sets 2021 trial date for alleged 9/11 mastermind
Michael Hernandez
30.08.2019
WASHINGTON
A military judge set Jan. 11, 2021 for alleged 9/11 mastermind Khalid Sheikh Mohammed and four suspected accomplices to stand trial, according to a report published Friday.
Air Force Col. W. Shane Cohen set that date for the selection of the military jury to begin, according to the New York Times.
Military court proceedings will take place at Camp Justice, the military court portion of the notorious naval facility at Guantanamo Bay, Cuba.
Mohammed and the four other men were originally arraigned in May 2012. Prosecutors had been asking for a judge to set a trial date, but two judges declined to do so, according to the Times.
Slain al-Qaeda chief Osama Bin Laden claimed responsibility for the Sept. 11, 2001 attacks on New York's Twin Towers as well as the attack that day on the Pentagon.
Those attacks were carried out using three passenger planes hijacked by al-Qaeda operatives. A fourth plane, bound for either the White House or the Capitol, crashed in a field in Pennsylvania after passengers attempted to retake it from the hijackers.
Nearly 3,000 people were killed, including citizens of 77 countries.
Bin Laden was killed 10 years after the attacks in a covert operation carried out in Abbottabad, Pakistan at a compound where he was holed up.
Mohammed is reportedly open to cooperating with victims of the attacks in a lawsuit they are bringing against Saudi Arabia.
He offered his support if the U.S. federal government drops the death penalty in the trial in a military tribunal, the Wall Street Journal reported in July.
The lawsuit accuses the Saudi government of helping to coordinate the devastating tragedy. Riyadh has denied any role in the attacks.
A previous attempt to broker a plea agreement with Mohammed and the four other defendants was scrapped over concerns that dropping the death penalty would serve as an official censure of the government's torture of the detainees.
Mohammed was captured in a joint CIA operation alongside Pakistan's Inter-Services Intelligence agency in the city of Rawalpindi in March 2003. He was then transferred to CIA black sites where he was repeatedly subjected to interrogation methods criticized as torture.
https://www.aa.com.tr/en/americas/us-sets-2021-trial-date-for-alleged-9-11-mastermind-/1569413
--------
Southeast Asia
China says Uighur award nomination is 'supporting terrorism'
AUG 29, 2019
BEIJING (AFP) - Beijing slammed on Thursday (Aug 29) the nomination of a jailed academic from China's Uighur minority for one of Europe's top human rights awards, saying it equated to "supporting terrorism".
Europe's top rights body has shortlisted Ilham Tohti, an economics professor who was sentenced to life in prison in September 2014 after being convicted of separatism.
The 49-year-old economics professor "has worked for over 20 years on the situation of the Uighur minority and on fostering inter-ethnic dialogue and understanding in China", the Council of Europe's parliamentary assembly said in a statement after meeting on Monday in Prague.
But China's Foreign Ministry spokesman Geng Shuang on Thursday called Tohti a "separatist who supports extreme terrorism" and urged the Council of Europe to withdraw its nomination.
"This nomination is an attempt to whitewash his criminal activities and fool the human rights community," Mr Geng said at a regular briefing.
"We urge relevant agencies to withdraw their nominations and stop supporting separatist activities and terrorism."
Tohti is one of three nominees for the 2019 Vaclav Havel prize, along with Tajik human rights lawyer Buzurgmehr Yorov and a youth group promoting post-war reconciliation in the Balkans.
The winner of the €60,000 prize will be announced on Sept 30 in Strasbourg, home of the 47-country Council of Europe which founded the European Court of Human Rights.
Tohti has also been nominated by US lawmakers for the Nobel Peace Prize.
His nomination for the European prize comes as China's treatment of the Uighurs - a mostly Muslim, Turkic-speaking minority concentrated in China's tightly-controlled north-western Xinjiang region - comes under growing scrutiny.
Rights groups and experts say more than one million mostly Muslim ethnic minorities have been interned in re-education camps in Xinjiang.
China initially denied the existence of the camps before later admitting to running what it called "vocational education centres", which it presented as necessary to combat religious extremism and boost employment.
Last month, Beijing said "most" of those being held had now returned home, without providing details.
Previous winners of the Vaclav Havel prize - named after the late Czech dissident and former president - include Nobel laureate Nadia Murad, a Yazidi activist who survived torture and rape by the Islamic State, and Oyub Titiyev, a Chechen rights activist who spent 18 months in a Russian jail.
https://www.straitstimes.com/asia/east-asia/china-says-uighur-award-nomination-is-supporting-terrorism
--------
World Bank to Investigate if China Loan Funded Muslim Detention Camps
By Alan Rappeport
Aug. 30, 2019
WASHINGTON — The World Bank is investigating whether a $50 million loan it granted in 2015 for an education project in China's Xinjiang region has been used to fund Muslim detention camps.
The review comes amid growing global concern that China has detained one million or more Muslim Uighurs and placed them in "re-education" camps where they are forced to renounce their religious beliefs and embrace the ideology of the Communist Party.
The Trump administration, which has largely been quiet about human rights issues in China, has recently escalated criticism of activities in Xinjiang, and foreign companies that operate there are facing increased scrutiny from advocacy groups.
The controversy is the first major test for the World Bank's new president, David Malpass, a China hawk and former Treasury Department official who assumed the role this year after being selected by President Trump.
"We take such concerns extremely seriously," David Theis, a World Bank spokesman, said in a statement released Thursday night. "We are actively looking into the questions that have been raised about the project. If action is warranted, we will take it."
The loan was made in 2015, under the bank's previous leadership and two years before the internment camp program started in earnest. It was a relatively small amount of the total $1.8 billion the bank lent that year to China.
The $50 million is scheduled to be disbursed through next year. When the bank unveiled the plan, it said that the money would benefit thousands of young people in the region by offering them "better technical and vocational education and employment opportunities" through the support of five local colleges.
More than half of the estimated 24 million people in Xinjiang, an area about the size of Alaska, are Muslim ethnic minority groups. Most of them are Uighurs, who have a history of cultural independence and resistance to Chinese rule. China began cracking down on the region after a spate of antigovernment attacks in 2014, but most analysts say that the mass detentions and effort to forcibly indoctrinate the Uighurs began in 2017.
Questions about the project emerged last week after Senator Marco Rubio, Republican of Florida, and Representative Jim McGovern, Democrat of Massachusetts, released a letter to Mr. Malpass outlining concerns about the loan. The letter noted that disbursement of the loan continued even after it became evident that the Chinese government was spreading propaganda to defend the camps.
The two lawmakers, who lead the Congressional-Executive Commission on China, asked Mr. Malpass to provide proof that the bank's money was not being misused for involuntary internment under the guise of "vocational education."
"We believe such actions may constitute crimes against humanity perpetrated by the Chinese government against Uighurs and other Turkic Muslim minorities," they wrote.
The controversy over the loan was inflamed this week after Foreign Policy magazine reported that a World Bank employee sent a letter to an executive director on the bank's board last month listing numerous red flags about the educational project in Xinjiang and calling for a formal inspection of the work to ensure that the bank's policies are being honored. Mr. Theis said that bank management had not received a copy of the email but that its existence was possible.
And this week, Shawn Zhang, a Chinese-born law student at the University of British Columbia who researches Xinjiang, wrote in a report on Medium that it "is possible that this World Bank project is indirectly involved in Xinjiang's human rights crisis." Although he said that he believed the link was weak, he pointed to a tender notice from one of the vocational schools affiliated with the bank's project. The notice suggested the school was spending money on security items like 100 police batons and 30 tear gas launchers.
The World Bank said in its statement that it had conducted "supervision missions" twice a year since the project started to review procurement and financial management and that all goods and services bought using bank funding were subjected to annual audits by World Bank-approved auditors.
The bank was not previously aware of the purchases of the security equipment because its audits covered only the five schools that it was directly funding. The investigation that is underway will cover "partnership schools" that are affiliated with those institutions.
While supervisory work tends to be undertaken by staff in the region, the World Bank now plans to send officials from its Washington headquarters for site visits.
The results of the review could place the World Bank in an uncomfortable position with China, which is one of its largest shareholders and also a major borrower of bank funds.
Adrian Zenz, an independent expert on China's ethnic policies, said it was premature to draw a direct link between China's internment camps and the World Bank's loans, noting that the vocational training colleges it is working with are different from the involuntary labor programs that have been the subject of attention. But he said the investigation deserved serious treatment.
Other experts are more convinced of a link. James A. Millward, a professor at Georgetown University and an expert on the Xinjiang region, said that the internment camps in Xinjiang are being run jointly by local authorities and the Xinjiang Production and Construction Corps, or Bingtuan, suggesting misappropriation of the World Bank's money would not be surprising.
"The likelihood of any World Bank-funded project being associated with the concentration camps, or entities directly running the camps, is high," Mr. Millward said.
He added that foreign companies that have operations in Xinjiang or that source materials there that could have been produced with forced labor should also think twice about the policies that their funds are supporting.
The World Bank has for years faced criticism when its work wades into countries where human rights concerns are pervasive. In the late 1990s, the bank came under fire for the China Western Poverty Reduction Project, which would have relocated 58,000 Chinese farmers to the edge of Tibet. Human rights groups accused the Chinese government of trying to dilute the Tibetan population, and the Dalai Lama warned that the move would create problems.
The World Bank eventually scrapped the plan, and an internal report suggested that the bank had bent its own rules to accommodate China's leaders.
As recently as this year, groups like the Center for Global Development questioned why the World Bank was lending money to Myanmar despite abuses by the government against Rohingya Muslims.
Mr. Malpass has said that he believes lending to China should be scaled back given the size of its economy. In 2017, the bank lent $2.42 billion to China. This year, the total is expected to fall to $1.33 billion.
Development experts argue that the bank's money must be accounted for more closely.
Full report at:
https://www.nytimes.com/2019/08/30/us/politics/world-bank-to-investigate-if-china-loan-funded-muslim-detention-camps.html
--------
Lawsuit by Muslim aerospace engineer settled days before Kansas trial
August 31, 2019
WICHITA, Kansas: A court notice shows the federal lawsuit filed by a Muslim aerospace engineer has been settled days before the trial over allegations of discrimination stemming from a party at a Kansas lake.
The filing Friday in US District Court does not detail settlement terms between Munir Zanial and the Spirit Boeing Employees Association. The trial that had been scheduled for Tuesday is canceled.
The Malaysian national of Indian ancestry rented a pavilion at the group's lake in 2017 to celebrate Malaysian Independence Day. The lawsuit alleges the association suspended his rental privileges and reported him to authorities.
Full report at:
https://www.arabnews.com/node/1547686/world
--------
Malaysia fights call to boycott non-Muslim halal products
August 30, 2019
The racial tiff in Malaysia took a nasty turn with calls from social media users to boycott halal goods made by non-Muslims.
Entrepreneur Development Minister Mohd Redzuan Md Yusof yesterday said the campaign is 'not constructive'.
He said the online campaign should not be happen in a multiracial country.
"For example in the north, 70 percent of (some) halal products are produced by non-Muslims. It is not a problem. The campaign is not right. If it is halal, it's enough.
If there is a halal certification from the Islamic Development Department, it is enough to sell," he said at a media conference.
He called for a stop to the boycott though the government is unable to control the spread of such campaigns on social media.
A local NGO has joined the campaign started on social media by users who called for non-Muslims to stop using halal logos on their products.
The campaign results from reactions of some Malaysians to the opposition of NGO's and politicians in government against the introduction of Islamic calligraphy in schools.
Non-vernacular schools are to introduce the subject too, which enraged some NGO's and got some political leaders criticising their own government.
A rally planned by an local Indian NGO was cancelled upon intervention of Prime-Minister-to-be Anwar Ibrahim.
The latter said the introduction of Islamic calligraphy or Khat in schools is not necessary and the country should instead focus on Bahasa Malaysia.
The Persatuan Pengguna Islam Malaysia (PPIM) last week suggested the office responsible for the issuance of Halal logos should introduce new logos.
The PPIM said the Jabatan Kemajuan Islam Malaysia (Jakim) should issue halal certificates with the native languages of the producers of halal products.
This is meant to indicate whether the producer is Muslim or not. However, the Secretary General of the PPIM Dr Maamor Osman said the suggestion is for those who do not like the Khat or Islamic writings.
Full report at:
http://theindependent.sg/malaysia-fights-call-to-boycott-non-muslim-halal-products/
--------
Iran, Malaysia agree to form supreme council of ties: Zarif
August 30, 2019
According to ISNA, Zarif said his meeting with Malaysian Prime Minister Mahathir bin Mohamad was "very good and friendly".
"We talked about issues of the world of Islam, sanctions, the United States' illegal actions and also actions that the two countries [Iran and Malaysia] should take," he said.
Zarif started his Asian tour on Monday.
He first visited China and held two rounds of talks with Chinese Foreign Minister Wang Yi.
He was in Japan on Tuesday and met with Japanese Foreign Minister Taro Kono.
He met with Japanese Prime Minister Abe Shinzo on Wednesday.
Zarif also delivered a speech at the Japan Institute of International Affairs (JIIA) on Wednesday and met with top officials of the International Friendship Exchange Council (FEC) of Japan.
On the final leg of his tour, he arrived in Malaysia on Wednesday. He met with Malaysian Foreign Minister Saifuddin Abdullah and also the Malaysian prime minister.
He left Kuala Lumpur for Tehran on Friday.
Full report at:
https://www.tehrantimes.com/news/439766/Iran-Malaysia-agree-to-form-supreme-council-of-ties-Zarif
--------
Ex-aide confirms Najib signed RM246k cheque for 'Ah Jib Gor' Facebook, Chinese Weekly
29 August 2019
BY IDA LIM
KUALA LUMPUR, August 29 — Datuk Seri Najib Razak issued a RM246,000 cheque in an effort to provide "objective" information to Sino Malaysian community about his Barisan Nasional administration's policy in 2013, the ex-prime minister's one-time political secretary testified at the High Court today.
Datuk Wong Nai Chee, 50, said the cheque paid to tycoon Tan Sri Lim Soon Peng was intended for AD Network, which was the administrator of the "Ah Jib Gor" Facebook page account, as well as Akademi Kewartawanaan and Informasi Taima (AKIT) which managed a vernacular publication titled Chinese Weekly.
Wong, a practising lawyer, said the two platforms were used to put "government policy and government information in the right perspective", as well as promote more "balanced views" about the Najib administration within the Chinese community.
"There has been so much information in Facebook, true news as well as fake news, so we thought it very important for Facebook users to get only correct information from the government. So we had the 'Ah Jib Gor' Facebook that puts correct information on government to users at large," he said in the 1Malaysia Development Berhad (1MDB) trial on the second day of hearing.
Wong noted that the Chinese Malaysian community had a generally negative perception of the government and its policies prior to the 13th general election in 2013, and that it would be "timely" to address those views.
"The nature of the publication is to disseminate and distribute writings on government policies, political, economy, Chinese education, Chinese culture, including at times like GST," he said of Chinese Weekly and the consumption tax Goods and Services Tax.
Wong said the publication was intended to promote the view that not everything should be seen in a negative light and to highlight the "good things" done by Najib as prime minister, including helping the poor and aiding Chinese education.
Wong, who became Najib's political secretary on December 1, 2011, said he was introduced to Lim by the then prime minister.
Wong said Najib had given him the RM246,000 cheque issued out to Lim's bank account, and that Wong had then cashed in the cheque.
"If we were to issue personal cheque of prime minister, we don't want that to be circulating on Facebook, so we would rather pay to someone whom we trusted so he could pay them for us," he said in explaining the choice of Lim as a conduit for the funds.
Wong said Lim was asked to organise events or pass on information of Najib's events as Lim had direct contact with the Chinese community at the grassroots level, noting the latter's success in getting large numbers of people and certain target groups like senior citizens, to turn up.
"He did voluntarily, he didn't claim anything," he said, noting that Lim was seen as "trustworthy" to make the back-to-back payments to the two operators.
Wong agreed with the suggestion Najib could have used government funds for the running of the Facebook page and Chinese-language publication, but said Najib had never done so and had all the while used personal cheques.
Najib's second trial concerns four counts of abusing his position for his own financial benefit totalling almost RM2.3 billion from the sovereign investment fund and the resulting 21 counts of money-laundering.
Among the 21 counts of money-laundering brought against Najib last September, he was accused of having used illegal funds allegedly originating from 1MDB by issuing cheques totalling RM22.649 million to five recipients.
The five cheque recipients stated in the charges against Najib included Lim, who is said to have received RM246,000 on August 7, 2013.
This is not the first time Wong has spoken of personal cheques from Najib given to Lim for such purposes.
In Najib's first trial involving the alleged abuse of RM42 million belonging to a former 1MDB subsidiary, SRC International Sdn Bhd, Wong testified that RM238,194 was given to Lim to also be channelled for those operating the "Ah Jib Gor" Facebook page and Chinese Weekly.
"Ah Jib Gor" was the Chinese nickname for Najib, which Wong translated in court as meaning "brother Najib". Lim is founder of public-listed real estate company Titijaya Land Berhad.
Today, Wong also confirmed that Najib had signed a cheque dated January 21, 2012 for RM30,000 issued out to him, testifying that the sum was payment for fees to a political analyst which he then forwarded.
He explained that the Prime Minister's Office which he was working had at times asked others to carry out political assessment and political analysis.
Wong also confirmed Najib's signature on a third cheque dated May 23, 2012 for a sum of RM2,600, but could not recall what it was made out for.
Later when asked by lead prosecutor Datuk Seri Gopal Sri Ram, Wong confirmed that it was the "Prime Minister's Office" namely himself and Najib who did not want the latter's personal cheques being circulated online.
Wong was one of Najib's three political secretaries, with the latter two handling Islamic affairs and work such as those relating to Umno, Malays, economy and politics.
Wong said he handled political work including matters involving religions other than Islam and reaching out to the Chinese community.
Speaking at length about Najib's contributions to Chinese education such as the elevation of several colleges to become university colleges and funding for schools, Wong agreed that he was a tolerant prime minister in racial and religious matters, saying: "That's why I worked for him."
Today, Batu Kawan Umno division chief Datuk Mohd Noor Ahmad confirmed that then prime minister and then Umno president Najib had signed off on a RM100,000 cheque on August 6, 2013 to the division.
Mohd Noor said he was acting division chief for Batu Kawan Umno from March 2013, and became its chief from October 19, 2013 until now.
He said the division usually receives RM10,000 per month from Umno headquarters for its work that included helping the needy, but said such funds were insufficient.
Mohd Noor said he informed Najib of the lack of funds during an August 6, 2013 meeting with the latter in the Prime Minister's Office.
As for the RM100,000 cheque issued from an AmIslamic Bank account, Mohd Noor said the one who "wrote and signed was Datuk Seri Najib", later confirming it was the first time a prime minister had given such contributions during his time with a position in Batu Kawan Umno.
Mohd Noor confirmed the cheque was cashed in by the Umno division, adding that the RM100,000 was used to aid poor university students, and contributed to schools and for the needy during the end-Ramadan period.
Mohd Noor confirmed that the government has not charged Batu Kawan Umno officials or sought to forfeit the RM100,000, but also said the division's bank account has been frozen for about more than a year.
In the 1MDB trial, Batu Kawan Umno is alleged to have received one of the five cheques from Najib with funds allegedly originating from unlawful activities.
Full report at:
https://www.malaymail.com/news/malaysia/2019/08/29/ex-aide-confirms-najib-signed-rm246k-cheque-for-ah-jib-gor-facebook-chinese/1785385
--------
Jakarta roads to be closed Saturday night for Islamic New Year celebration
August 30, 2019
The Jakarta authorities will close several main roads in the capital to make way for hundreds of people taking part in a torch-lit parade to celebrate the Islamic New Year, 1 Muharram 1441 Hijri, on Saturday evening.
Some 2,600 people carrying torches will march from the Arjuna Wiwaha traffic circle to Hotel Indonesia traffic circle, both in Central Jakarta, at 7:30 p.m. on Saturday.
"The torch-lit parade is part of the Jakarta Muharam Festival and there will be dances, religious songs and chants of praise to Prophet Muhammad," Jakarta city secretary Saefullah said at City Hall on Thursday as reported by Antara.
He said there would also be sermons and mass prayers held during the event.
The festival will be held concurrently with the Halal Culinary Festival at two locations namely Jl. Kebon Kacang Raya and Jl. Imam Bonjol.
To ensure the event runs smoothly, over 300 officials from the Jakarta Transportation Agency will be deployed to manage the traffic flow during the road closures, Saefullah added.
The Jakarta administration will also provide parking spaces for people looking to enjoy the event.
"We strongly suggest residents use public transportation such as the MRT Jakarta, Transjakarta and Commuter Line services and avoid the traffic congestion to and from the locations," he said.
Several ambassadors from countries with sister cities to Jakarta are expected to attend the Jakarta Muharram Festival.
Around 3,700 personnel from the Jakarta Police and Public Order Agency are being assigned to safeguard the event. (gis)
The road closures will affect the following streets:
East and west sides of Jl. MH Thamrin, from Sarinah to the Hotel Indonesia traffic circle.
West side of Jl. Jenderal Sudirman, from Dukuh Atas to Hotel Indonesia traffic circle.
Jl. Imam Bonjol, from Hotel Indonesia traffic circle to Jl. Agus Salim.
Traffic diversions will be as follows:
Traffic from east side of Jl. Wahid Hasyim toward Jl. MH Thamrin will be diverted to west side of Jl. Wahid Hasyim.
Traffic from Jl. Kebon Kacang Raya toward the Hotel Indonesia traffic circle will be directed to make a U-turn.
Traffic from Jl. Teluk Betung will be rerouted to Jl. Sudirman
Full report at:
https://www.thejakartapost.com/news/2019/08/30/jakarta-roads-to-be-closed-saturday-night-for-islamic-new-year-celebration.html
--------
India
Citizenship list in Indian state leaves out almost 2 million
August 31, 2019
NEW DELHI: India on Saturday published the final citizenship list in the state of Assam that excluded nearly 2 million people amid fears they could be rendered stateless.
The list, known as the National Register of Citizens, intends to identify legal residents and weed out unauthorised migrants from the state.
A total of 31.1 million people were included in the list, leaving out 1.9 million people, according to a statement from the Assam government.
The controversial list has ended the wait of millions of Assam residents who will now find out whether they are Indians or "foreigners." Critics have viewed the exercise as an attempt to deport millions of minority Muslims, many of whom have entered India from neighboring Bangladesh.
"The entire process of NRC update has been meticulously carried out in an objective and transparent manner," said a statement issued by the registry authorities.
A steady trickle of people lined up to check their names on the final citizenship list in Buraburi village outside one of the many offices that have been set up across Assam for residents to verify the status of their citizenship applications.
Mijanur Rahman, a 47-year-old farmer, found himself, his 21-year-old son, and two of his daughters aged 16 and 14 included in the list. However, his wife and his other three daughters — all under the age of 10 — were excluded.
"I am really worried. We will see what the government does now. Maybe they will offer some help," a teary eyed Rahman told The Associated Press.
The NRC list is unique to Assam and was first prepared in 1951. It will include those whose names appeared in the 1951 document and their descendants. The list also includes those who had been on India's electoral rolls up to March 24, 1971, or in any other document approved by the central government.
The government said it carried out the mammoth exercise to detect and deport undocumented immigrants from Bangladesh. But the final publication of the citizenship list has stoked fear of loss of citizenship and long periods of detention.
The options of those left out of the list include appealing to the Foreigner Tribunals within 120 days of Saturday's announcement. The tribunals must decide on the cases within six months. If an appeal fails, the consequences include punishment in detention centers that are currently being set up by the government.
A draft citizenship list that was published last year excluded more than 4 million people, after which many either fled the state or even took their lives in exasperation.
India's powerful Home Minister Amit Shah has earlier called Bangladeshi migrants "infiltrators" and "termites."
The Hindu nationalist-led government of Prime Minister Narendra Modi, which fully backs the citizenship project in Assam, has often vowed to roll out a similar plan nationwide.
Earlier this summer, India's Supreme Court criticized the central government and Assam's state government, saying thousands of people who had been declared foreigners over the years had disappeared.
Assam, with a population of 33 million people, is in a state of high alert and additional security forces have been deployed in anticipation of possible violence following the publication of the list.
https://www.arabnews.com/node/1547746/world
--------
Be prepared to fight terrorists: Bipin Rawat visits Srinagar, warns troops of increased infiltration bids
Kanhaiya Sharma
Manjeet Singh Negi
August 30, 2019
Army Chief General Bipin Rawat arrived in Srinagar on Friday to review the prevailing security situation in Kashmir and exhorted all troops to be ready for any contingencies.
Sharing intelligence reports of a large number of terrorists ready to infiltrate from multiple launch pads across the Line of Control, Bipin Rawat reinforced the need to be prepared to meet the emerging security challenges effectively in view of the increased infiltration attempts
Bipin Rawat, who is on a two-day visit to the Valley and accompanied by the Chinar Corps Commander Lt Gen KJS Dhillon, visited the formations and units deployed along the Line of Control (LoC).
Bipin Rawat was briefed by the local commanders on the ceasefire violations by Pakistan, ground situation and the measures taken.
During his interaction with the soldiers on ground, Bipin Rawat lauded them for their high levels of morale and motivation. He appreciated the robust counter infiltration grid which has neutralised multiple infiltration attempts of terrorists.
Full report at:
https://www.indiatoday.in/india/story/be-prepared-to-fight-terrorists-bipin-rawat-visits-srinagar-warns-troops-of-increased-infiltration-bids-1593659-2019-08-30
--------
India asks Interpol secy gen to act on RCNs, including one on Naik
Aug 31, 2019
NEW DELHI: Visiting Interpol secretary general Jurgen Stock on Friday met union home secretary A K Bhalla, who is believed to have impressed upon him to take action on pending requests for Red Corner Notices, including against terror accused Zakir Naik, officials said.
Bhalla held a 30-minute meeting with Stock and is said to have conveyed to him the necessity to act on the pending RCN requests against fugitives avoiding Indian laws, according to a government official.
Stock also called on CBI Director Rishi Kumar Shukla where the duo discussed issues of "mutual interest". Delays in issuing RCN remains an issue concerning the CBI as in many important cases these notices have been issued after a considerable wait, sources said.
Shukla had raised issues of the Interpol entertaining the plea from high-profile fugitives on issues like human rights violations resulting in delays, they said. They refused to divulge if it came up during the discussions between Shukla and Stock on Friday.
During 2016, 2017 and 2018, red corner notice requests sent to Interpol by the Central Bureau of Investigation were 91, 94 and 123, respectively, and notices published by Interpol were 87, 84 and 76, respectively.
Full report at:
https://timesofindia.indiatimes.com/india/india-asks-interpol-secy-gen-to-act-on-rcns-including-one-on-naik/articleshow/70917932.cms
--------
Terrorists kill 65-year-old shopkeeper in Srinagar for keeping his shop open
Aug 30, 2019
SRINAGAR: Terrorists killed a 65-year-old shopkeeper for keeping his grocery shop open at Parimpora in the outskirts of Srinagar on Thursday late evening, triggering panic and fear in the entire Valley.
The killing of the shopkeeper in Srinagar city was first of its kind since the abrogation of Article 370 on August 5. The Srinagar shopkeepers had started to open up their shops with half-shutters down after three weeks of the scrapping of the Article 370 even as rioters warned them against it. But the killing at Parimpora deterred shopkeepers to the extent that there was no shop open in the interior lanes and bye-lanes of the Srinagar city on Friday, reports said.
According to eyewitnesses, three motorbike-borne terrorists shot at Ghulam Mohammad when he was closing down his shop on Srinagar-Baramulla road. He was killed for keeping his shop open as the Valley has been slowly trying to return to normal routine from a shutdown since August 5. The grocer succumbed to pistol bullet injuries in the hospital, police sources said.
The Valley has been under clampdown since the central government reorganized Jammu and Kashmir state, invalidating Articles 370 and 35A. Though there is no curfew and restrictions were eased after the first few days, most shops and businesses have remained shut due to fear of violence by separatists.
A 42-year-old truck driver was stoned to death in Bijbehara, Anantnag district by stone-pelters last week. Two Gujjars were kidnapped and killed by terrorists in Tral, south Kashmir in the third week of August. With the killing of the grocer in Srinagar, massive fear has spread in the entire business community across Kashmir valley.
Authorities today imposed restrictions across Kashmir valley again in view of the inputs about violence after the Friday prayers. Amid curfew-like situation in the Valley, thousands of residents offered Friday Nimaz in local mosques. However, the Friday congregation was not held at Jamia Masjid (Grand Mosque) at Nowhatta in old Srinagar city.
All the major streets were blocked by barricades and huge deployment of security forces. The Srinagar airport road at Hyderpora, Bhagat and Ram bagh was also blocked by temporary barricades, eyewitnesses said.
Restrictions were severe in view of stone-pelting incidents reported on Thursday evening at Natipora, Ram Bagh, Channapora, Batmalo and bypass road near Bemina and Batamallo.
Full report at:
https://timesofindia.indiatimes.com/india/terrorists-kill-65-year-old-shopkeeper-in-srinagar-for-keeping-his-shop-open/articleshow/70916028.cms
--------
Ayodhya dispute case: Sunni WAQF board lawyer threatened for appearing for Muslim parties, contempt plea filed
Aug 30, 2019
NEW DELHI: Sunni Central WAQF board lawyer, Dr Rajeev Dhavan, on Friday filed a contempt petition against one professor, N Shanmugam for allegedly threatening him for appearing for Muslim parties in the Ayodhya Babri Masjid land dispute case.
Dhavan has in his petition pleaded to the top court for initiation of contempt of court proceedings against Shanmugam for interfering with the court proceedings as he had written a threatening letter to him stating that he should not argue on behalf of the Muslim parties before the apex court.
The litigant, in his petition, stated that he had received a letter dated August 14, 2019, from Shanmugam threatening him for appearing for the Muslim parties.
Dhavan, through his Advocate-on-Record, Ejaz Maqbool, has submitted the petition to the top court seeking initiation of contempt proceedings against Shanmugam.
Full report at:
https://timesofindia.indiatimes.com/india/ayodhya-dispute-case-sunni-waqf-board-lawyer-threatened-for-appearing-for-muslim-parties-contempt-plea-filed/articleshow/70914306.cms
--------
Report exposes bias in minds of cops against Muslims
August 31, 2019
Several studies have, over the years, showed that a higher proportion of Muslims—relative to their population-share—tend to get arrested than most other religious/caste groups. In November 2016, for instance, The Indian Express reported that, at an all-India level, 15.8% of all convicts were Muslims as compared to their population share of 14.2%; and in the case of undertrials, the proportion of Muslims was an even higher 20.9%. In certain states, this ratio was a lot more adverse. In Maharashtra, for instance, while 12% of the population was Muslim, 20% of all convicts—and 30% of all undertrials—were Muslim; in Gujarat, Muslims were 10% of the population versus 21% of all convicts, and 22% of all undertrials. In Uttar Pradesh, the figures were 19%, 19% and 27%, respectively; it was 27%, 42% and 47% in the case of West Bengal. While the population data was from the 2011 Census, the criminal data came from the National Crime Records Bureau (NCRB).
A recent study—Status of Policing in India Report—brought out by Lokniti, CSDS and Common Cause explains this by showing how deep the communal prejudice is. Around half of the 12,000 police personnel surveyed across 21 states believed that Muslims are "naturally prone", in degrees varying from "very much" to "somewhat", to committing criminal acts. The bias was strongest in northern and central India, with an average of 63% of the police personnel in eight states in this region—Haryana, Uttar Pradesh, Madhya Pradesh, Bihar, Maharashtra, Jharkhand, Chhattisgarh, and Uttarakhand—believing that followers of Islam naturally have a criminal disposition.
While profiling on the basis of community or caste is not desirable, several law enforcement agencies the world over do some form of this, even if this is never explicitly acknowledged. But, surely this has to be based on a more serious analysis of crime and criminals? Though there has been an attempt to do this through the Crime and Criminal Tracking Network and Systems, the scientific profiling is, at best, patchy. An average of only 68% of police data from various districts and states is available at the national level; further, forensic psychology, including profiling, is conspicuous by its absence in Indian law enforcement and criminal justice system.
Full report at:
https://www.financialexpress.com/opinion/report-exposes-bias-in-minds-of-cops-against-muslims/1691773/
--------
J&K police report: 280 law and order incidents in 3 weeks, Srinagar tops list
by Naveed Iqbal
August 31, 2019
In the three weeks since the removal of the special status of Jammu and Kashmir and its bifurcation into two Union Territories, there have been around 280 law-and-order incidents across 10 districts of the Valley with more than 160 of these in Srinagar alone, according to an internal report of J&K Police accessed by The Indian Express.
At least 80 civilians have sustained pellet injuries in these incidents, official sources said, adding that two persons are currently undergoing treatment in hospitals.
The police, an officer said, count as a law-and-order incident any episode where "a person violates a law" even if "a group of boys barricade roads in their colony… Or, when they rough up a civilian. There are brushes with the forces too but these have been minor and have not led to any serious injury".
According to the police internal report, Srinagar has had more than 160 law-and-order incidents between August 5 and August 27. This is followed by approximately 22 incidents in Pulwama and 18 in Baramulla. The highest number of incidents recorded on a single day in the Valley was 24, reported on August 17.
Reporting of such incidents, the officer said, is high in Srinagar but "the intensity remains low" and "these are groups of not more than 10-15 people who are taking the law into their hands".
Within Srinagar, areas of Safakadal, Soura and Nigeen have been witness to maximum protests since the J&K administration imposed a lockdown on communication and movements within the state, ahead of the August 5 announcement.
The Safakadal area in downtown Srinagar has reported over 30 such incidents while Soura has reported 20 and the Nigeen area 15.
Movement restrictions were back Friday to pre-empt any likelihood of stone-throwing incidents post prayers. In Jenab Sahab Soura, an area that has been volatile since the first day of the lockdown, around 1,000 people gathered for the prayers. And yet again, prayers were not offered at Srinagar's Jamia Masjid.
An officer said one reason for the high number of incidents in Srinagar is its population of approximately 17.5 lakh, constituting about 30 per cent of the Valley count. "It is also difficult to predict Srinagar too precisely. In other districts, officers have understanding of pockets where such law and order incidents may occur," the officer said.
Full report at:
https://indianexpress.com/article/india/jammu-and-kashmir-law-and-order-incidents-srinagar-tops-the-list-jk-police-report-5952774/
--------
First talks after J&K move: India, Pakistan make progress on Kartarpur
by Kamaldeep Singh Brar
August 31, 2019
India and Pakistan made "good progress" on the technical aspects of the proposed Kartarpur Corridor at a meeting held here on Friday — the first after the government's decision to scrap Jammu and Kashmir's special status.
"It was a positive meeting and good progress has been made regarding timely completion of the corridor project," an official of the Pakistan Foreign Office told PTI in Lahore. "Both sides also agreed to have another meeting of technical experts to review the progress on the project," the official said A meeting on the "political aspects" of the project will also be held soon, the Pakistan official said."In that meeting, the Memorandum of Understanding (MoU) will be signed between the two countries on the corridor project," he said.
The meeting, held in makeshift tents at Zero Point, was attended by 10-15 officials from each side. These included officials of the Ministry of Home Affairs, Border Security Force, National Highways Authority of India, Land Ports Authority of India and Punjab government's irrigation department.
"The meeting was held in a cordial atmosphere," NHAI Chief Engineer T S Chahal told PTI. The two sides discussed technical issues including timing of completion of bridge, alignment of roads and other engineering aspects of the proposed crossing points.
Sources said discussions were held on the construction of a temporary service road, as both sides have agreed that there is no time to construct a bridge over the flood plains of Ravi before November 8 — the deadline set for opening the corridor.
"India has conveyed to Pakistan that we will construct a parallel arrangement of the bridge and service road on our side," said an NHAI official.
"We have already constructed a part of the bridge on our side. We have urged Pakistan to build a similar bridge on their side, so that the two can then be linked. But this may not be possible before November 8," said the official.
"So we have made two provisions on our side. We can use a ramp to connect the bridge with the service road; the service road on our side will be linked to the service road constructed by Pakistan. Or we can just use the service road for the entire stretch over the causeway," said the official.
"Most of the issues have been resolved. Now, the focus is on completing the pending work. India has already completed 75% of the construction work," the official said.
Full report at:
https://indianexpress.com/article/india/kartarpur-corridor-talks-progress-after-jk-move-india-pakistan-5952808/
--------
Pakistan
HRCP holds sit-in to highlight enforced disappearances
August 31, 2019
LAHORE: As the world observed the International Day of the Victims of Enforced Disappearances, the Human Rights Commission of Pakistan (HRCP) on Friday held a sit-in in front of the Lahore Press Club to highlight the issue.
Six families of the persons, three from Balochistan, who have reportedly disappeared also participated in the rally along with many rights activists in the city. Carrying placards and demanding return of those who went missing without a trace, the participants regretted that trend of enforced disappearances was still going on.
The placards demanded that 'enforced disappearance' be declared a crime, the missing persons should be recovered, those responsible (individual or institutions) be held accountable and due process of the law must be respected.
According to the HRCP literature distributed in the rally, the Commission of Inquiry on Enforced Disappearances (COIED) – a constitutional body mandated to hear such cases – had received 6,277 complaints and was able to address 4,020 out of them. Between January and July of 2019, 239 missing persons returned home. Those fortunate enough to return home were unwilling to divulge details of their disappearance, said commission.
Earlier, in a press release, the HRCP said: "Our thoughts are also with those Kashmiris who have been forcibly disappeared as part of the state crackdown in India-held Kashmir".
The HRCP called on the Pakistan government to carry through its long overdue promise to criminalise enforced disappearances under the Pakistan Penal Code. The state must also acknowledge allegations that the official data sorely underreports the number of forcibly disappeared persons – something that many victims' groups and human rights organisations have consistently pointed out, it added.
The commission called for the findings of the 2010 judicial commission on enforced disappearances to be made public.
The HRCP drew urgent attention to the need for Pakistan to sign and ratify the International Convention for the Protection of All Persons from Enforced Disappearance.
"Internal political instability or any other public emergency are no grounds for justifying enforced disappearances. Equally, the internment centres to which numerous forcibly disappeared persons have been traced must be declared unconstitutional. As such, these centres are black holes and have no place in a democratic structure that entitles a detained person to know what they have been charged with, the right to a fair trial and the right to remain in contact with their families and with legal counsel," the HRCP statement said.
https://www.dawn.com/news/1502643/hrcp-holds-sit-in-to-highlight-enforced-disappearances
--------
China set to launch 27 new CPEC projects in Pak this year
Aug 31, 2019
Karachi: China plans to launch 27 new projects in Pakistan under the second phase of the $60 billion China-Pakistan Economic Corridor (CPEC) this year, a media report quoted a senior Chinese diplomat as saying.
The ambitious CPEC links China's Kashgar city in Xinjiang province with Pakistan's Gwadar port in Balochistan through a network of roads, railways and highways . "There will be 27 new projects in the second phase of the CPEC," said consul general of China in Karachi, Wang Yu during a meeting organised by the Karachi Council on Foreign Relations on Thursday.
Full report at:
https://timesofindia.indiatimes.com/world/pakistan/china-set-to-launch-27-new-cpec-projects-in-pak-this-year/articleshow/70918536.cms
--------
Time for Pakistan to pull out of OIC, says Rabbani
Iftikhar A. Khan
August 31, 2019
ISLAMABAD: It was high time for Pakistan to pull out of the Organisation of Islamic Cooperation (OIC) as it was worse than the United Nations, former Senate chairman Mian Raza Rabbani said on Friday.
Taking part in a discussion on Kashmir in the Senate, he said the "bubble of an Islamic Ummah had burst" and Pakistan should reappraise its relationship with the Ummah.
Recalling that the OIC had failed to act whenever Pakistan or any other Muslim country faced a difficult situation, he referred to the 1990s genocide in Bosnia and the ethnic cleansing in Palestine. "The world has become too profit oriented and focused on economic interests."
He cited as examples a $15 billion deal signed recently between Aramco, the Saudi-owned oil giant, and India's largest conglomerate Reliance, conferment of the UAE's highest civil award on Indian Prime Minister Narendra Modi and signing of MoUs during the first-ever visit to Bahrain by an Indian premier last week to drive home the point that Muslim countries were too busy minding their own business to bother about issues like Kashmir.
Mr Rabbani said that parliament needed to inform all human rights organisations about the uninterrupted curfew and the state of human rights in India-occupied Kashmir.
"Pakistan should move an emergency motion at the general assembly of the Inter-Parliamentary Union in October and raise violation of human rights at the IPU's meeting in Maldives next month," Mr Rabbani suggested. He said parliament should try to convene special meetings of the Commonwealth Parliamentary Association and the Asian Parliamentary Association to raise awareness about the Kashmir issue.
"Parliament should prepare a list of all international treaties and covenants signed by India and inform the world how it's violating them today in Kashmir," he added.
The former Senate chairman said Pakistan should ask the UN Commission on Human Rights to convene a meeting on the matter and call upon the world body to send observers to Kashmir. "We should now focus on Asia and end our alignment with Washington."
In his speech, Senator Rehman Malik said crimes against humanity committed by the Indian forces made Narendra Modi liable to trial by the International Criminal Court. "I have already prepared a petition for filing with the ICC."
He said the revocation of Articles 370 and 35-A by the Indian parliament was a violation of UN resolutions. "It is unfortunate that the UN has failed to implement its own resolutions on Kashmir," the senator observed.
Mushahid Hussain Sayed of the PML-N underlined the need to have a three-pronged strategy to deal with the challenge posed by India's irresponsible actions as, ironically enough, New Delhi's draconian measures offered an opportunity as well. "India's claim of being a democratic and secular state stands exposed now. I have read 30 articles on the issue, 27 of which were against India," Senator Mushahid added.
He suggested that the strategy with regard to India should now be "Modi-specific and expose him as fascist and racist".
Mushahid Hussain observed that the nation must keep its own house in order to ensure that the international community took its stance on major issue seriously. "It's unthinkable that on one hand we have turmoil, instability, repression and division at home and, on the other, we run an effective foreign policy. We need a healing touch at home first."
The senator called for immediate release of former prime minister Nawaz Sharif, former president Asif Ali Zardari and two lawmakers belonging to the Pashtun Tahaffuz Movement. All 'political prisoners' should be released as well, he added.
Leader of the House in the Senate Shibli Faraz, while responding to Mushahid Hussain's remarks, said there were no political prisoners in the country. He noted that all parties were on one page on the Kashmir issue. He asked the chair to send the summary of the proceedings and proposals made by members to the prime minister and the Foreign Office.
Full report at:
https://www.dawn.com/news/1502721/time-for-pakistan-to-pull-out-of-oic-says-rabbani
--------
ETPB recommends preserving, restoring temple in Moti Bazaar
Aamir Yasin
August 31, 2019
RAWALPINDI: The Evacuee Trust Property Board (ETPB) North Zone has recommended preserving and restoring the Kali Mata Temple in Moti Bazaar after removing shops from its premises.
A senior ETPB official told Dawn that the board's Rawalpindi Chapter held an inquiry into the complaints of the Hindu community that Kali Mata Temple was being used for commercial purposes and it should be vacated and handed over to them for religious purposes.
He said after conducting an inquiry, the ETPB sent a report to evacuee board's secretary with a recommendation to preserve the temple and restore its religious sanctity.
In a letter to the ETPB secretary available with Dawn, the zonal administrator requested the department to remove all shops in the temple building and allow the Hindu community to perform their rituals.
The report said brief facts related to the Kali Mata Temple are that the evacuee trust property No C-29, situated in Moti Bazaar, Rawalpindi is a trust in itself and its dome is still intact.
There are serious discrepancies in the area of the property in question since in the master file of 1985 its area has been mentioned as seven marlas and 144 square feet but in the master file printed in 2016, its area is 13 marlas and 51 square feet.
As per existing rough sketch prepared by the field staff of the district office Rawalpindi, the area is almost the same as per master file entry of 2016 i.e. 13 marlas and 84 square feet. The current monthly rent is Rs2,706.
As per the old site plan, the temple with open court yard covers an area of six marla and 106 square feet.
As per official record, the said property was under the tenancy of Zakia Sultana who was running Liaquat Girls Middle School in the five rooms attached to Kali Mata Temple dome and open court yard.
In 1995, Zakia Sultana submitted an affidavit on a stamp paper, stating that she has no objection if tenancy of the said property be changed in the name of a person named Hamid Tufail.
The deputy administrator, ETPB, Rawalpindi addressed a letter to administrator (North Zone) to change the tenancy which was onward submitted to Punjab Deputy Secretary, ETPB, Lahore vide letter No 27-08-1995 and the ETPB chairman rejected the application on March 10, 1996.
Zakia Sultana handed over the temple's possession to the ETPB, which sealed the property at that time.
The new tenant, Hamid Tufail, filed a civil suit in a court and obtained de-sealing order.
In 2000, the zonal administrator transferred the tenancy in favour of Hamid Tufail. In 2004, the tenant submitted an application to grant approval for construction of roof on hall and vacant space.
On Dec 24, 2004, Zonal Administrator, ETPB (NZ), Rawalpindi granted approval and fixed monthly rent of Rs2,000 with the direction that the tenant will only construct a roof on the vacant space and a hall without any additional construction and alteration but the tenant demolished all the rooms and changed it in shape of a big hall.
However, the tenant is still paying a rent as per old rates whereas according to the zonal administrator (NZ), the monthly rent should have been Rs7,425 while as per bill delivery register monthly rent is Rs2,706.
The monthly rent, which was to be assessed w.e.f July 1, 2006 according to revised reassessment policy of the board has not been finalised as yet.
At present, a bridal and fancy dress mini mall is being run in the temple.
The dome still exists on the spot but adjacent rooms have been merged in the hall. The temple structure has been covered with wooden sheets.
Full report at:
https://www.dawn.com/news/1502679/etpb-recommends-preserving-restoring-temple-in-moti-bazaar
--------
Indian Poet, Imran Pratapgarhi, Not Credited In New National Song Released By Info Ministry
Aug 31, 2019
The Ministry of Information and Broadcasting on Friday released a new national song to mark Kashmir Solidarity Day but did not give credit to the Indian poet who had written it over a decade ago.
The song is based on the Indian poet and politician Imran Pratapgarhi's poem "Han Main Kashmiri Hun". It was played on television channels across the country on Friday as the nation marked Kashmir Hour to express solidarity with the Kashmiris suffering at the hands of Indian forces.
Special Assistant to Prime Minister on Information and Broadcasting Dr Firdous Ashiq Awan also shared it on Twitter, saying, "This poem accurately describes the plight of residents of Kashmir and how they are enduring Indian cruelty. We are standing with Kashmiris."
Full report at:
https://www.pakistantoday.com.pk/2019/08/30/indian-poet-not-credited-in-new-national-song-released-by-info-ministry/
--------
JUI-F to stage 'Azadi March' in Muzaffarabad on Sept 19
Aug 31, 2019
ISLAMABAD: Jamiat Ulema-e-Islam-Fazl (JUI-F) on Friday said that they will stage 'Azadi March' in Muzaffarabad on September 19.
Maulana Fazlur Rehman announced this while chairing a meeting of JUI-F on the issue of Kashmir and said that every kind of possible help will be extended to Kashmiri brothers and sisters.
"This government is not serious about Kashmir, they are not putting up enough efforts. JUI-F will continue to fight for the liberation of Kashmir," he said.
https://www.pakistantoday.com.pk/2019/08/30/jui-f-to-stage-azadi-march-in-muzaffarabad-on-sept-19/
--------
Pakistan won't be placed on FATF blacklist, says Hammad Azhar
Aug 31, 2019
ISLAMABAD: Minister for Economic Affairs Division Hammad Azhar said on Friday that it's not probable that Pakistan would be included in Financial Action Task Force's (FATF) blacklist.
He further said that India has tried every scheme against Pakistan but every time it failed without yielding any result. Pakistan is a responsible country and would always keep up with the international community, he said.
We have explicitly told all the participants of Asia-Pacific Group that Pakistan is working exactly per the requirements of FATF and would accomplish them soon.
Full report at:
https://www.pakistantoday.com.pk/2019/08/30/pakistan-wont-be-placed-on-fatf-blacklist-says-hammad-azhar/
--------
Pak envoy calls on US to pressure India into ending held Kashmir clampdown
Aug 31, 2019
WASHINGTON DC: The United States and the international community "must do more" to pressure India to end its militarized curfew over Kashmir, Pakistan Ambassador in Washington Asad Majeed Khan said on Wednesday.
During a wide-ranging interview with The Washington Times, Khan said that India's Prime Minister Modi has turned a vast section of the disputed Muslim-majority region into "practically a concentration camp."
Khan lamented that millions of people inside Indian-occupied Jammu and Kashmir (J&K) have been on lockdown without access to medicine or electricity, let alone telephones and internet, for nearly a month now since the BJP-led Hindu nationalist government stripped the held valley of its special constitutional status.
"Thousands are being put in prison," he said. "The world needs to be aware [of the detentions]."
Khan also weighed in on the prospect of a breakthrough in US peace talks with the Taliban in neighboring war-torn Afghanistan and on Islamabad's delicate balancing act as a partner of both China, the emerging superpower, and the United States.
The ambassador praised President Trump for not taking sides in the decades-old conflict over the territory, but he said more must be done. He said, "no other country has the same clout or influence as the US to basically urge India, to nudge India."
Azad Jammu and Kashmir Prime Minister Raja Farooq Haider Khan sought to promote the same message on a visit to Washington this week. He said, in an interview on Tuesday, that he wanted "to give a wake-up call to the United States that [it] should intervene immediately."
Full report at:
https://www.pakistantoday.com.pk/2019/08/30/pak-envoy-calls-on-us-to-pressure-india-into-ending-held-kashmir-clampdown/
--------
Mideast
In Iran's Hierarchy, Talks With Trump Are Now Seen as Inevitable
By Farnaz Fassihi
Aug. 29, 2019
In the power circles of Tehran, where "Death to America" is regularly chanted, the idea has taken hold that Iran must eventually negotiate with President Trump, according to several people with knowledge of the shift.
These people said Iran's leadership had concluded that Mr. Trump could be re-elected and that the country cannot withstand six more years of the onerous sanctions he has imposed.
It is a remarkable turnabout for the political establishment in Tehran, which for the past 40 years has staked its legitimacy on defiance of the United States but has been particularly hostile toward Mr. Trump.
President Hassan Rouhani of Iran teased a possible meeting with Mr. Trump earlier this week, indicating he would be willing if it would benefit Iranians.
Mr. Rouhani reversed himself within 24 hours, suggesting he may have been overruled by Iran's supreme leader, Ayatollah Ali Khamenei. But the people with knowledge of the Iranian hierarchy's thinking said Mr. Rouhani's behavior should be viewed as part of the emerging new strategy.
They said the strategy was following two parallel tracks: displaying a more defiant position on Iran's military and nuclear energy policies to irritate Mr. Trump, while signaling a willingness to talk under certain conditions, appealing to what are seen as his deal-maker instincts.
The ultimate decision on whether to negotiate with Mr. Trump lies with Iran's supreme leader, Ayatollah Ali Khamenei.CreditOffice of the Iranian Supreme Leader
"Iran has completely shifted," said Abbas Abdi, a onetime leader of the students who took hostages at the United States Embassy in 1979 and now a prominent figure in a faction known as the reformists, which is open to dialogue with the Americans.
Hard-liners who have opposed such dialogue, Mr. Abdi said, had "concluded that what works now with America is being tough but open to talks if Trump offers some guarantees."
Iranian leaders were predictably outraged last year after Mr. Trump abandoned Iran's 2015 nuclear agreement with world powers, demanded a more stringent accord and reimposed crippling sanctions on Iran.
While some may have hoped Mr. Trump could be dismissed as a one-term president, that view has faded.
The new strategy, those who spoke about it said, was also predicated on dangling a foreign-policy victory to Mr. Trump that he could use to bolster his re-election prospects.
In early August, First Vice President Eshaq Jahangiri held a meeting with a group of advisers and political affiliates to discuss the government's approach to dealing with the United States, according to one person who attended the meeting and another who had knowledge of it.
If Mr. Trump wanted a "more comprehensive" deal than the existing accord, then Iran would consider his demand — and even discuss parts of its ballistic missile program and Iran's role in the region — but in return Iran, too, would seek a more comprehensive guarantee from the United States for long-lasting economic relief, the people at the meeting said.
"This golden window of opportunity will likely not repeat in the next decade," Sadegh Alhusseini, a senior foreign-policy and economic adviser to Mr. Jahangiri, said in a Twitter message. "This is the start of the game for Iran. Approaching U.S. elections give Iran a rare card to play with Trump."
The "maximum pressure" campaign decreed by Mr. Trump has not threatened to collapse the Iranian government or led to a popular uprising, as some critics of the government had hoped. But rising tensions with the United States carry the risk of a military conflict, which Mr. Trump has said he wants to avoid.
Signs of Iran's strategy for dealing with Mr. Trump have become clearer in recent weeks.
Iran has downed an American drone, seized a British tanker, unveiled an improved missile defense system and exceeded the amount of enriched uranium permitted under the nuclear agreement.
As part of the strategy, people with knowledge of it said, the Iranians intend to escalate tensions even more in the next few months to strengthen their hand in potential negotiations.
Iran is expected to announce a further disengagement from the nuclear deal by the first week of September and Iranian officials have said they might increase uranium enrichment up to 20 percent, far higher than needed for civilian power use.
At the same time, Iran has strengthened diplomacy. Foreign Minister Mohammad Javad Zarif toured Europe, stopped at the Group of 7 summit on a surprise invitation from France, and traveled to China, Japan and Malaysia to meet heads of states.
Mr. Trump did not meet Mr. Zarif at the Group of 7 gathering, and it remains unclear what the Iranian foreign minister might have sought from the United States there. But sanctions relief of some kind was almost certainly raised, Iranian analysts said.
"Iranians are in a deep economic crisis and there is only one way out," said Nader Hashemi, director of the Middle East Center at Denver University. "They are going to try to push for making the deal as sweet as possible."
Mr. Zarif's appearance heightened speculation about direct talks after President Emmanuel Macron of France announced on the sidelines that Mr. Trump and Mr. Rouhani could sit down within weeks.
Mr. Trump gave no indication at the summit that lifting or suspending sanctions was on the table but he said other countries could give Iran a line of credit for its oil to "get them over a very rough patch."
For Mr. Rouhani's part, even while he rejected an imminent meeting with Trump, he offered a conditional opening.
"We won't reach a positive change in our relations with the U.S. without America ending sanctions and rectifying its mistakes," Mr. Rouhani said on Tuesday.
Opponents of such a meeting, in both countries, remain vocal, reflecting the history of mistrust that has shaped relations since the Islamic Revolution of 1979.
After Mr. Rouhani broached the mere possibility of a meeting with Mr. Trump, Kayhan, a Tehran newspaper that is a mouthpiece for the hard-line factions, asked: "Are you crazy?"
United Against Nuclear Iran, a New York-based group that supports Mr. Trump's repudiation of the nuclear deal, said, "The momentum created by maximum pressure could quickly evaporate should talks between the United States and Iran take place prematurely." The ultimate decision on whether to negotiate with Mr. Trump lies with Ayatollah Khamenei. Iranian analysts and politicians said that Mr. Zarif would not have been dispatched to the Group of 7 meeting without Ayatollah Khamenei's approval.
While Ayatollah Khamenei has always railed against the United States, he has in the past shown flexibility when all options were exhausted, if a compromise could be achieved with face-saving for Iran.
Iranian analysts and politicians have pointed to three examples when the government reversed itself and conceded to unbearable pressure: the release of American hostages in 1981, consent to the United Nations resolution to end the eight-year war with Iraq in 1988, and the Iran nuclear deal in 2015.
Ayatollah Ruhollah Khomeini, the father of the Islamic Republic, famously said that stopping the war with Iraq had been "more deadly than taking poison." Since then the expression "chalice of poison" has become a synonym in Iran for capitulation. ("Showing heroic flexibility" was the term preferred by Ayatollah Khamenei after the nuclear deal.)
Iranian politicians and analysts said the 1981 hostage negotiations with the United States are being studied as a potential precedent for discussions with Mr. Trump.
At that time, which also coincided with a presidential election season, Iran negotiated the release of the hostages with the administration of President Jimmy Carter but delayed freeing them, denying Mr. Carter an achievement that could have helped him win re-election.
The hostages were released as President Ronald Reagan was giving his inaugural address.
"The rhetoric you hear against talking to America is all part of the tactic," said Saeed Shariati, leader of an Iranian reformist political party. "Iran and the U.S. will never resolve their issue completely but they've made concessions before and they will have to do it once again."
https://www.nytimes.com/2019/08/29/world/middleeast/iran-trump-talks.html
--------
Netanyahu tells Macron timing wrong for Iran talks on nuclear deal
30 August 2019
Prime Minister Benjamin Netanyahu urged French President Emmanuel Macron on Friday to avoid new talks with Israel's regional arch-foe Iran, his office said, as European leaders pushed to save the 2015 nuclear deal.
"This is precisely the wrong timing to hold talks with Iran, while it is increasing its aggression in the region," Netanyahu told Macron in a telephone conversation that was initiated by the French leader, according to the Israeli statement.
Macron on Sunday paved the way for a potential breakthrough in the standoff between Washington and Tehran over the nuclear deal after Iran's foreign minister made a flying visit for talks with host France at the G7 summit.
On Monday, at the G7 summit, U.S. President Donald Trump said that he would meet Iran's president under the right circumstances and that talks were underway to see how countries could open credit lines to keep Iran's economy afloat.
The nuclear deal has been in jeopardy since the United States withdrew from it last year and re-imposed economic sanctions, seeking to push Tehran into wider security concessions including curbs on its ballistic missile program.
Netanyahu, who sees Iran as a mortal threat and has long opposed the nuclear deal, has urged that sanctions be re-imposed on Tehran. He has so far been in lockstep with the Trump administration over its Iran policy.
On Tuesday, Iranian President Hassan Rouhani said the Islamic Republic would not talk to the United States until all sanctions imposed on Tehran are lifted.
Rouhani said Iran was always ready to hold talks. "But first the US should act by lifting all illegal, unjust and unfair sanctions imposed on Iran," he said.
EU foreign policy chief Federica Mogherini said on Friday that the European Union will work to preserve the nuclear deal and would welcome any moves to add to its conditions.
Macron's diplomatic moves came as Israel-Iran tensions flared. Last Saturday, Israel's military struck in Syria in what it described as the thwarting of an Iranian-led killer-drone attack on Israeli targets.
On Thursday, Israel accused Iran of stepping up efforts to provide the Lebanese Hezbollah militia with precision-guided missile production facilities.
"Israel will defend itself against any attacks and prevent enemies that seek its destruction from obtaining nuclear weapons," Netanyahu told Macron, according to the statement.
Israel and the Iranian-backed Shi'ite Hezbollah are on high alert after drones were used on Sunday to attack what a security official in the region described as a target linked to precision-guided missile projects.
Full report at:
https://english.alarabiya.net/en/News/middle-east/2019/08/30/Netanyahu-tells-Macron-timing-wrong-for-Iran-talks-on-nuclear-deal.html
--------
UN renews peacekeeping mission amid Israel-Lebanon tensions
30 August 2019
The UN Security Council on Thursday voted to renew its long-running peacekeeping mission in Lebanon for a year, warning of a "new conflict" with neighboring Israel.
The draft resolution, written by France and approved unanimously, would allow for the approximately 10,000 members of the United Nations Interim Force in Lebanon (UNIFIL) -- which was created in March 1978 -- to stay in place.
According to the draft text, the Security Council warned that "violations of the cessation of hostilities could lead to a new conflict that none of the parties or the region can afford."
It "condemns all violations of the Blue Line" between Lebanon and Israel, "both by air and ground, and strongly calls upon all parties to respect the cessation of hostilities."
The Lebanese army fired on an Israeli drone in the southern part of the country on Wednesday.
That incident came just days after Shiite movement Hezbollah blamed an armed drone attack in its south Beirut stronghold on Israel -- an incident that President Michel Aoun said amounted to a "declaration of war."
"Urging all parties to make every effort to ensure that the cessation of hostilities is sustained," the Security Council called on all sides to "exercise maximum calm and restraint."
The resolution includes a requirement -- on the insistence of the United States, diplomats said -- for the UN secretary general to perform an evaluation on the UNIFIL mission and its staff before June 1, 2020.
Washington was unable, however, to reduce the maximum allowed number of peacekeepers deployed to 9,000.
Also at the US's request, the Security Council resolution calls for UNIFIL to have full access to the Blue Line.
It expresses "concern that UNIFIL still has not been able to access all relevant locations north of the Blue Line related to the discovery of tunnels crossing the Blue Line."
Full report at:
https://english.alarabiya.net/en/News/middle-east/2019/08/30/UN-renews-peacekeeping-mission-amid-Israel-Lebanon-tensions-.html
--------
Suicide attack kills three STC fighters in Yemen's Aden
30 August 2019
Three Southern Transitional Council (STC) fighters were killed on Friday in a suicide bombing claimed by ISIS in Aden, security sources said.
"A suicide bomber crashed his bomb-laden motorbike into a vehicle of the Southern Transitional Council on a roundabout in the Sheikh Saad district" of northern Aden, one of the sources told AFP.
Three of those on board the vehicle were killed and an unknown number wounded, including civilians near a busy marketplace.
ISIS claimed the attack in a statement posted on Amaq News Agency.
https://english.alarabiya.net/en/News/gulf/2019/08/30/Suicide-attack-kills-three-STC-fighters-in-Yemen-s-Aden.html
--------
UAE affirms right of self-defense against threats targeting Coalition forces
30 August 2019
The Ministry of Foreign Affairs and International Cooperation of the UAE issued on Thursday a statement published by WAM news agency on the developments in Yemen .
In response to the Yemeni Foreign Ministry's statement, the UAE said it affirms its "right of self-defense against all threats targeting the Arab Coalition forces."
The recent aggravation in offensives against the Arab Coalition forces and civilians pose a menacing threat to the security of the coalition, it stated. "This in turn has necessitated precise and direct air strikes on the 28th and 29th August, 2019, against terrorist militias as per the rules of engagement of the Geneva Convention and international humanitarian law."
"The military operation against the terrorist militias was based on confirmed field intelligence that the militias prepared to target the coalition forces - a development which required a preemptive operation to avert any military threat."
The strikes against the Arab Coalition were launched by armed groups affiliated with terrorist organizations, it said.
These armed groups attacked the Arab Coalition at Aden Airport, causing two injuries to the coalition forces.
"Accordingly, the Coalition responded as per their right of self-defense to protect the security of their forces."
The UAE reaffirmed that it will never hesitate to protect the Arab Coalition forces "whenever necessity arises and retains its right of response and self-defense."
The statement said: "The UAE intelligence departments observed over the past weeks that terrorist cells started to accelerate their activity across Yemeni territories in a way that poses menacing threat to the strides made by the Arab Coalition to uproot the scourge of terrorism in Yemen. This also threatens the efforts made by the coalition to combat the Houthi militia, which is benefiting from the spread of instability and terrorism.
Full report at:
https://english.alarabiya.net/en/News/gulf/2019/08/30/UAE-affirms-right-of-self-defense-against-threats-targeting-Coalition-forces.html
--------
Over 75 Gazans injured by Israeli forces
Aug 30, 2019
More than 75 Palestinians have been injured by Israeli forces during anti-occupation protests near the fence between the besieged Gaza Strip and the occupied territories.
Ashraf al-Qedra, the spokesman for the Gazan Health Ministry, said on his official Twitter account that 75 people, including 18 children and two women, were injured during the Friday rallies.
The spokesman noted that 42 of the wounded were hit with live ammunition.
He added that a medic and a journalist were also injured on Friday.
Palestinians have been holding weekly rallies in the area since last year to protest the siege on Gaza and stress the right to return of the refugees who have fled Israeli aggression since 1948.
At least 305 Palestinians have been killed by Israeli forces ever since the anti-occupation protest rallies began in the Gaza Strip on March 30, 2018. Over 18,000 Palestinians have also sustained injuries.
In March, a United Nations (UN) fact-finding mission found that Israeli forces committed rights violations during their crackdown against the Palestinian protesters in Gaza that may amount to war crimes.
Gaza has been under Israeli siege since June 2007, which has caused a decline in living standards.
Full report at:
https://www.presstv.com/Detail/2019/08/30/604891/Over-50-Gazans-injured-by-Israeli-forces
--------
Israel bears full responsibility for drone attack on Lebanon, Hariri tells UN chief
Aug 30, 2019
Lebanese Prime Minister Saad Hariri says the Israeli regime bears full responsibility for the last weekend's drone attack on the southern part of the country's capital Beirut.
"This unacceptable act threatens the stability and peace that has prevailed on the international border for 13 years," Hariri told UN Secretary-General Antonio Guterres in a telephone call on Friday afternoon.
Such acts of aggression, the Lebanese prime minister said according to a statement from his office, "threaten to drag the region into an unaccounted for conflict."
Hariri further noted that such an attack is unprecedented since the 2006 Israeli war on Lebanon.
He then called on the international community to put pressure on Israel to comply with UN Security Council Resolution 1701, which brokered a ceasefire in the war of aggression Israel launched against Lebanon.
Hariri finally told Guterres that he would continue regular communications with him in a bid to "deter any escalation."
On Tuesday, Lebanon's Higher Defense Council stated that the Lebanese nation reserves the right to defend the country "by any means necessary" in the wake of the drone strike.
"This is a right that is enshrined in the UN Charter," the Council, a government body in charge of defense policy, said in a statement on Tuesday, emphasizing that "national unity remains the best weapon in the face of any aggression."
The meeting was chaired by President Michel Aoun and attended by Hariri, the ministers of defense, interior, foreign affairs and finance, and the heads of security agencies.
"The President underlined the need to defend Lebanon's sovereignty and territorial integrity because it is a legitimate right," the statement noted.
Hariri had earlier called upon the Security Council to pressure Israel not to initiate any act of aggression against Lebanon.
"If Israel's aggressions escalate, this will have dangerous repercussions on Lebanon and the whole region," a statement by Hariri's office said.
The Lebanese Hezbollah resistance movement said on Monday that Israel had sent two drones into Lebanon on a bombing mission on the weekend.
According to Hezbollah, the first drone had fallen on a building housing Hezbollah's media office in Dahieh suburb. The second drone, which appeared to have been sent by Israel to search for the first one, had crashed in an empty plot nearby after being detonated in the air, it added.
Full report at:
https://www.presstv.com/Detail/2019/08/30/604890/Israel-bears-full-responsibility-for-drone-attack-on-Lebanon-Hariri-tells-UN-chief
--------
Israeli forces getting into Iraq on forged US passports: Iraq's Harakat al-Nujaba
Aug 30, 2019
Senior Israeli forces are getting into Iraq on fake US passports, Iraq's pro-government Harakat al-Nujaba Secretary-General Akram al-Kaabi says.
"Israelis are entering Iraq using fake American passports," al-Kaabi told Dejleh news network on Thursday night.
Recently, a female Israeli general entered Iraq, he said, adding she currently runs an Israeli military camp located in the Iraqi Kurdistan's capital, Erbil.
"We are well aware that Israeli [troops] are also present at the US embassy as well as the Ein al-Assad military base," the popular resistance force chief said.
Certain efforts by a "foreign power" are underway to revive the Daesh terrorist group in the Arab country, al-Kaabi said.
His remarks came in the wake of recent airstrikes in Iraq against the positions of pro-government Popular Mobilization Units (PMU), also known as Hashd al-Sha'abi.
Following the strikes, the spokesman of Kata'ib Hezbollah, another prominent Iraqi resistance group, said the attacks on the positions of Hashd al-Sha'abi were an attempt by the US and Israel to revive Daesh.
Mohammed Muhyee added that the next stage, which has been planned by the US, is to return thousands of foreign-backed Daesh terrorists to the Iraqi-Syrian border.
The attacks "were not accidental," but rather planned in advance after continued monitoring operations by Israeli and American drones, Muhyee pointed out.
On Tuesday, Iraqi Prime Minister Adel Abdul-Mahdi said his country's armed forces were fully prepared to respond firmly to any act of aggression launched either from outside or inside Iraq.
"The prime minister pointed to the high readiness of our armed forces to defend Iraq, its citizens and state institutions in addition to diplomatic missions operating in Iraq," his media office said in a statement released following a cabinet session.
"He also stressed the Iraqi forces' readiness to respond firmly and by all means available to any aggression launched either from outside or inside Iraq."
Daesh unleashed a campaign of death and destruction in Iraq in 2014, overrunning vast swathes of territory in lightning attacks. Iraqi government forces and allied fighters then launched operations to eliminate the terror outfit and retake lost territory. The PMU had a key role in flushing Daesh out of the areas it had occupied in Iraq.
Full report at:
https://www.presstv.com/Detail/2019/08/30/604858/fake-passports-Israeli-troops-Nujaba-US--Iraqs-Harakat-alNujaba-SecretaryGeneral-Akram-alKaabi
--------
Israel mocked for using mannequins to prevent Lebanese retaliation
Aug 30, 2019
The Israeli military is being mocked for positioning mannequins of soldiers in jeeps along the occupied territories' border with Lebanon, as it prepares itself for a retaliatory attack by the Lebanese resistance movement Hezbollah.
The mannequins in the jeeps were first spotted in photos released by Ali Shoeib, a correspondent of the Lebanese TV channel Al-Manar.
In his widely-shared tweet, Shoeib describes the photos as a new scandal "which is enough to oust the Israeli military's top brass."
He says the move indicates Tel Aviv's "stupidity", as the Israeli military has yet to "learn that it is facing a smart, professional, courageous, and faithful group that can defeat them."
The Lebanese journalist's tweet was later confirmed by an Israeli TV correspondent, who tweeted a photo of another doll in an apparently Israeli jeep.
The Lebanese news website Al-Ahed also tweeted, "Fearing Hezbollah's awaited response, Israeli occupation army places statues inside military vehicles on the border with Lebanon."
Ali Mortada, a reporter with Al Mayadeen TV, also posted several pictures, including a selfie along the border.
"No Israelis on the borders," he tweeted. "Where's the army that can't be defeated? They're placing toys instead of real soldiers. Start distributing diapers because your day is nearing."
According to Israeli media, the regime's military had earlier placed mannequins in bunkers to trick enemies "into thinking that these positions are full of soldiers and thus serve a deterrent effect."
The ridiculous move comes as the Hezbollah resistance movement has warned Israel of a "surprise blow" in retaliation for the regime's recent drone incursion into Lebanon.
In an interview with Russia's RT television network on Tuesday, Hezbollah Deputy Secretary General Sheikh Naim Qassem said that the recent Israeli drone attacks on the Lebanese soil could not be considered "a passing issue."
Full report at:
https://www.presstv.com/Detail/2019/08/30/604855/Israel-military-scandal-mocked-Lebanon-mannequin-doll
--------
South Asia
Special Forces kill, detain more than 40 Taliban militants in Kabul and other provinces
30 Aug 2019
The Afghan Special Forces killed or detained more than 40 Taliban militants during the operations in Kabul and other provinces of Afghanistan.
The military sources said Friday that the Afghan Special Forces detained a Taliban militant during an operation in Musahi district of Kabul.
The sources further added that the Special Forces killed 7 Taliban militants and destroyed a large cache of weapons during a similar raid in Giro district of Ghazni.
Furthermore, the Special Forces killed 2 Taliban militants and destroyed a small cache of weapons during a separate raid in Gelan district of Ghazni.
The Special Forces also destroyed a small cache of weapons during an operation in Mizan district of Zabul province.
Meanwhile, the Special Forces killed 21 Taliban militants and destroyed a small cache of weapons and drugs during an operation in Tarinkot district of Uruzgan.
The military sources also added that the Special Forces killed 10 Taliban militants during an operation in Chahar Bolak district of Balkh province.
https://www.khaama.com/special-forces-kill-detain-more-than-40-taliban-militants-in-kabul-and-other-provinces-03899/
--------
Taliban Peace Talks Cast Uncertainty on Presidential Vote
By Mujib Mashal and Fahim Abed
Aug. 29, 2019
KABUL, Afghanistan — On one track is the American negotiations with the Taliban over a troop withdrawal, possibly days away from a breakthrough. On the other is the Afghan presidential election, set for just a month from now.
They're both races against time, but also effectively against each other — clashing priorities that have set President Ashraf Ghani and American officials at odds, and have pushed Afghanistan's political future into one of its greatest periods of uncertainty since 2001.
American diplomats are pushing hard to reach a troop withdrawal deal with the Taliban that would immediately lead to the opening of direct talks between the insurgents and Afghan officials. The goal of those talks would be to hammer out what a political reconciliation would look like — and the Taliban have bluntly stated that holding the presidential election in that atmosphere would ensure that the war continued.
But Mr. Ghani, who is seeking another five-year term, is insisting that the vote, set for Sept. 28, must go ahead. He says the country's democracy must not be made a hostage to uncertain talks with the insurgency that could take years to resolve, even if they don't fall apart.
The uncertainty has cast a deep shadow over the election, with many of the 16 candidates challenging Mr. Ghani not bothering to hold big rallies just weeks before the vote. Others, despite printing billboards and holding meetings, are openly questioning whether the election in which they are campaigning will actually take place.
"I'm confident the elections won't happen," one of the candidates, Mohammed Shuhab Hakimi, told a crowd of hundreds who gathered to mark the start of his campaign earlier this month.
For Mr. Hakimi and many other candidates, the doubt stems from whether the United States would allow the elections to derail what has been unprecedented progress toward a negotiated end to the long, costly war.
In private discussions, Western diplomats say they worry that with Afghanistan's history of messy, destabilizing elections, another disputed vote right in the middle of Taliban talks would further weaken the Afghan government's hand in future negotiations. The days ahead will test just how much leverage the United States has over Mr. Ghani, who in a recent interview said that nothing could push back the elections.
Supporters of Abdullah Abdullah, Mr. Ghani's main rival, in Kabul last month. The last presidential election resulted in a drawn-out stalemate between the two.CreditHedayatullah Amid/EPA, via Shutterstock
"We as a nation have sacrificed in the past 18 years for our republic, and if we do not hold the elections it could be a setback to our democracy — for the sacrifices we have paid," said Sediq Sediqqi, a spokesman for Mr. Ghani. "Problems in the elections in the past cannot prevent us from holding elections in the future."
In the middle of this knot is Zalmay Khalilzad, the American envoy who is leading the peace efforts. Having joined a ninth round of talks with the Taliban in Doha, Qatar, presumably putting the final touches on a deal, Mr. Khalilzad was expected in Kabul as soon as Thursday evening to brief the Afghan leadership before he returns to Doha to announce the agreement with the Taliban, officials said.
The American-Taliban deal is to include a schedule for the withdrawal of the remaining American and NATO troops in the country, who number more than 20,000 all together. In return, the Taliban would provide assurances that it would not support international terrorist groups, so that Afghan soil would not be used for attacks against the West, and they would open direct talks with Afghan officials.
American and Western officials say they have prepared for an immediate start to direct talks between the Taliban and other Afghans, including the government, once the withdrawal schedule is announced. Some of the officials suggest their hope is that momentum in the talks will result in the elections being delayed.
Mr. Ghani's concerns are deeply rooted in history, when the withdrawal of the Soviet Union resulted in the Afghan state collapsing into anarchy. Mr. Ghani is cautioning against a rushed process that could bring about a repeat of that chaos.
One Afghan official described the moment this way: the Americans are managing a withdrawal, the Taliban a victory. In all this, Mr. Ghani is trying to respond to a heavy blow in a way that protects him and the system as much as possible.
Mr. Ghani has said that fresh elections would give a mandate to the new government, which could then negotiate with the Taliban from a stronger position. But others fear that going into elections when the past two votes have been disputed, with little done since to restore trust in the electoral process, risks a dispute that could eat up a great deal of time.
In public, American officials have had to walk a fine line. They cannot openly talk about postponing the elections of a sovereign nation.
"Both are important for the United States," the American ambassador to Kabul, John Bass, recently told local media about the tension between the peace talks and the elections. But he added, "Peace is our highest priority, because it is also the highest priority of the Afghan people."
Privately, it is clear that American officials see the elections as an obstacle to progress in the peace talks.
Afghanistan's last presidential election, in 2014, was so marred by fraud that it went into a disputed stalemate, leading then-Secretary of State John Kerry to negotiate a power-sharing agreement between Mr. Ghani, who became president, and his chief rival, Abdullah Abdullah, who became the government's chief executive.
The parliamentary elections last fall were also riddled with reports of fraud and abuse, doing little to restore people's faith in the process.
Mr. Ghani, over the past five years, has alienated many of the country's entrenched power brokers, who have rallied around Mr. Abdullah, again his main challenger. That raises the specter of another potential political dispute, dragging out at a time of waning leverage over the Taliban, with an American withdrawal in progress.
"We want to get our folks home as fast and in as large numbers as we can, and we want to make sure that never again is terror struck on the United States from that soil," is how Secretary of State Mike Pompeo on Tuesday described President Trump's directive to his administration.
The Afghan elections are also happening at a time of intensified violence, adding to the load of security forces already stretched by the fighting. It would mean tens of thousands of Afghan soldiers and police officers taking on additional election duties in the middle of a raging war.
Nearly 5,000 polling centers have been assessed as secure enough to open on election day, according to Brig. Gen. Moqim Abdulrahimzai, the director of operations for the Afghan police. That means about 2,000 centers would be closed because of violence.
Amid the uncertainty and high security threats, the few candidates who have begun campaigning have rarely held rallies outside a single, tightly guarded convention center in Kabul. Mr. Abdullah has been meeting small groups of supporters at home. Mr. Ghani has begun addressing gatherings around the country via video chat.
Full report at:
https://www.nytimes.com/2019/08/29/world/asia/afghanistan-election-taliban.html
--------
Trump: U.S. will maintain presence in Afghanistan even if deal reached with Taliban
AUGUST 29, 2019
WASHINGTON (Reuters) - President Donald Trump said on Thursday that U.S. troop levels in Afghanistan were being reduced to 8,600 but that American forces would remain in the country even if Washington reaches an agreement with the Taliban to end the 18-year war.
"Oh yeah, you have to keep a presence," Trump said in an interview with Fox News radio. "We're going to keep a presence there. We're reducing that presence very substantially and we're going to always have a presence. We're going to have high intelligence."
Trump said the U.S. force level in Afghanistan was being reduced to 8,600 "and then we make a determination from there as to what happens." Some 14,000 U.S. service members are currently in Afghanistan, among whom about 5,000 are dedicated to counterinsurgency operations.
The Taliban said on Wednesday it was close to a "final agreement" with U.S. officials on a deal that would see U.S. forces withdraw from Afghanistan in exchange for a pledge that the country would not become a haven for other Islamist militant groups.
"We hope to have good news soon for our Muslim, independence-seeking nation," Suhail Shaheen, a spokesman for the Taliban's political office in Doha said.
Both U.S. and Taliban negotiators have reported progress in their talks in recent weeks, raising the prospect of an end to the conflict. Zalmay Khalilzad, the U.S. special representative for peace in Afghanistan, was due to travel from Doha to Kabul this week for a meeting with Afghan leaders.
The United States invaded Afghanistan in 2001 and ousted its Taliban leaders after they refused to hand over members of the al Qaeda militant group behind the Sept. 11 attack on the World Trade Center and the Pentagon.
Trump has long called for an end to U.S. involvement in Afghanistan, writing on Twitter seven years ago that the war was "a complete waste" and six years ago that "we should leave Afghanistan immediately."
Since becoming president in January 2017, he has repeatedly said he could end the Afghanistan war quickly if he didn't mind killing millions of people, a claim he repeated in the interview with Fox News radio.
"We could win that war so fast if I wanted to kill 10 million people ... which I don't. I'm not looking to kill a big portion of that country," Trump said.
He denied the United States was acting too quickly by reducing troop levels, something he criticized his predecessor, Barack Obama, for doing in Iraq.
"We have to watch Afghanistan, but we're bringing it down," he said.
Trump warned that any attack on the United States again from Afghan territory would bring a massive response.
"We will come back with a force like they've never seen before," Trump told Fox News radio.
On Wednesday, the top U.S. military officer, Marine General Joseph Dunford, told reporters that it was too early to talk about the future of U.S. counterterrorism troops in Afghanistan.
"I honestly think it's premature to talk about what our counterterrorism presence in Afghanistan may or may not be without a better appreciation for what will the conditions (be)," said Dunford, the chairman of the Joint Chiefs of Staff.
He said that in the current security environment, local Afghan security forces needed U.S. support to deal with the violence.
Full report at:
https://www.reuters.com/article/us-usa-afghanistan-trump/trump-u-s-will-maintain-presence-in-afghanistan-even-if-deal-reached-with-taliban-idUSKCN1VJ1R8
--------
Suspected Ansar-al-Islam member held in Dhaka
Arifur Rahman Rabbi
August 30th, 2019
They also recovered Jihadi books and a mobile phone from the scene
Anti-Terrorism Unit (ATU) of police has arrested a suspected member of the banned militant group Ansar-al-Islam—also known as the Ansarullah Bangla Team (ABT).
The arrestee, identified as Abu Taiyeb, 19, was arrested from the Kuril Bishwa road area in Dhaka on Thursday.
Confirming the matter to Dhaka Tribune, ATU's Superintendent of Police (SP) Md Mahiduzzaman said: "On a tip-off that some people were planning an anti-state conspiracy, an ATU team conducted a drive and arrested Taiyeb.
Some Jihadi books and a mobile phone recovered from the scene, he added.
During primary interrogation, he told police that he, along with his associates, were running multiple groups including "Al-Harkatkul Jihad Fisabilla" using messenger and encrypted apps, SP Mahiduzzaman said.
He furthered that in these secret groups, they were planning, training and raising money for anti-state conspiracies, assassinations, public panic, intimidation and endangerment.
Full report at:
https://www.dhakatribune.com/bangladesh/militancy/2019/08/30/suspected-ansar-al-islam-member-held-in-dhaka
--------
Suicide blast wounds 4 civilians including women in Kabul
30 Aug 2019
The security officials confirm an explosion has taken place in Taimani area of Kabul city.
According to reports, the explosion has taken place in the vicinity of the 2nd street of Taimani.
Eyewitnesses say it was likely a suicide attack.
Meanwhile, an official in the Ministry of Interior confirmed that a suicide blast in 2nd street of Taimani has wounded 4 civilians, including 3 women.
No individual or group has so far claimed responsibility for the incident.
https://www.khaama.com/explosion-reported-in-taimani-area-of-kabul-city-03900/
--------
Taliban's Ezatullah Sabawoon likely killed in Balkh province
31 Aug 2019
The security forces conducted air and ground operations in northern Balkh province which killed or wounded at least 18 Taliban militants.
The 209th Shaheen Corp said in a statement that the security forces conducted the operations against Ezaullah Sabawoon, Taliban's shadow district chief for Chahar Bolak district of Balkh.
The statement further added that the security forces killed at least 10 Taliban militants during the operations and wounded 8 others.
Furthermore, the 209th Shaheen Corps said the security forces have likely killed Ezatullah Sabawoon during the operations.
Full report at:
https://www.khaama.com/talibans-ezatullah-sabawoon-likely-killed-in-balkh-province-03904/
--------
U.S. soldier dies during combat operations in Afghanistan
30 Aug 2019
A U.S. soldier lost his life during the combat operations in Afghanistan on Thursday, the Resolute Support Mission said.
The alliance did not disclose further information regarding the identity of the deceased soldier.
The alliance also did not disclose the location where the U.S. service member lost his life.
Meanwhile, the Resolute Support Mission said "In accordance with U.S. Department of Defense policy, the name of the service member is being withheld until 24 hours after notification of next of kin is complete."
https://www.khaama.com/u-s-soldier-dies-during-combat-operations-in-afghanistan-03901/
--------
Taliban militant brutally kills his father in Jawzjan province
28 Aug 2019
A Taliban militant has brutally murdered his father in northern Jawzjan province of Afghanistan, it has been reported.
The 209th Shaheen Corps in the North, citing the local sources said in a statement that Fraidoon, one of the militants of Taliban in Jawzjan province killed his father on charges of supporting the government.
The statement further added that the victim was also speaking against the activities of the Taliban militants.
Meanwhile, the sources have said the Taliban fighter escaped from the area after shooting his father to death.
Full report at:
https://www.khaama.com/taliban-militant-brutally-kills-his-father-in-jawzjan-province-03784/
--------
Afghan government says Taliban attacking city of Kunduz
31 August 2019
Afghanistan's government says the Taliban have again attacked one of the country's largest cities, Kunduz.
Presidential spokesman Sediq Seddiqi says Afghan security forces are repelling the attack in some parts of the city, a strategic crossroads with easy access to much of northern Afghanistan as well as the capital, Kabul.
The spokesman says the insurgent group has taken positions in civilian areas. Officials in Kunduz cannot be reached by phone.
Zabihullah (..ذبـــــیح الله م )
@Zabehulah_M33
• 2h
#کندز:
د اسلامي امارت مجاهدین هڅه کوي چې په هيڅ ځای کې هم ملکي خلکو او کورونو ته زیان ونه رسیږي او نه هم په ملکي کورونو کې پټیږي.
په دې اړه چې دښمن کوم پروپاګند کوي حقیقت نه لري.
مجاهدین د پټيدو لپاره د کندز ښار ته نه دي داخل شوي، په نظامي اهدافو برید کوي او دښمن تعقیبوي.
Zabihullah (..ذبـــــیح الله م )
@Zabehulah_M33
#Kunduz
Mujahidin are trying to prevent losses to civilians & their homes & are not taking shelter in civilian homes.
Enemy propaganda in this regard is baseless.
Mujahidin have not entered #Kunduz city to hide, are targeting military objectives & pursuing enemy.
41
10:42 AM - Aug 31, 2019
Twitter Ads info and privacy
See Zabihullah (..ذبـــــیح الله م )'s other Tweets
The attack comes as the Taliban and a United States envoy continue negotiations in Qatar on ending America's longest war. Both sides in recent weeks signaled they are close to an agreement.
Full report at:
https://english.alarabiya.net/en/News/world/2019/08/31/Afghan-government-says-Taliban-attacking-city-of-Kunduz.html
--------
North America
Trump says US not involved in Iran satellite launch failure
30 August 2019
US President Donald Trump said on Friday that the United States was not involved with a failed Iranian rocket launch, and he wished Tehran luck at finding out what went wrong.
"The United States of America was not involved in the catastrophic accident during final launch preparations for the Safir SLV Launch at Semnan Launch Site One in Iran," Trump said on Twitter.
Donald J. Trump
✔
@realDonaldTrump
The United States of America was not involved in the catastrophic accident during final launch preparations for the Safir SLV Launch at Semnan Launch Site One in Iran. I wish Iran best wishes and good luck in determining what happened at Site One.
View image on Twitter
46.5K
11:14 PM - Aug 30, 2019
Twitter Ads info and privacy
26.3K people are talking about this
The rocket exploded on its launch pad at a space center in northern Iran on Thursday, an Iranian official said. A US official also said Iran suffered a satellite launch failure.
The United States has warned Iran against rocket launches, fearful the technology used to put satellites into orbit could enable Tehran to develop the ballistic missile capability needed to launch nuclear warheads.
Tehran denies the US accusation that such activity is a cover for ballistic missile development.
The Trump administration has ratcheted up economic pressure on Iran with a series of economic sanctions to try to force it to renegotiate a pact reached with world powers in 2015 limiting its nuclear program.
Trump has offered to hold talks with Iran but Tehran says first it must get relief from US sanctions.
https://english.alarabiya.net/en/News/middle-east/2019/08/30/Trump-says-US-not-involved-in-Iran-satellite-launch-failure.html
--------
US labels Lebanon bank with Hezbollah ties a 'global terrorist,' sanctions Iranian networks linked to regime
Aug 31, 2019
The U.S. designated Lebanon-based Jammal Trust Bank a "global terrorist" Thursday over its ties to the Iran-backed Hezbollah terror group, one day after it slapped sanctions on Iranian networks it claimed facilitated "tens of millions of dollars' worth" of activities that benefited Iran's military and regime.
Washington, in partnership with Oman, also announced sanctions against four individuals accused of moving tens of millions of dollars between Iran's elite Quds Force and the military wing of the Islamic militant group Hamas in Gaza.
"Treasury is targeting Jammal Trust Bank and its subsidiaries for brazenly enabling Hezbollah's financial activities," Under Secretary for Terrorism and Financial Intelligence Sigal Mandelker said in a statement. "Corrupt financial institutions like Jammal Trust are a direct threat to the integrity of the Lebanese financial system. Jammal Trust provides support and services to Hezbollah's Executive Council and the Martyrs Foundation, which funnels money to the families of suicide bombers."
On Wednesday, the Treasury Department sanctioned two Iranian networks that it says engaged in "covert procurement activities benefitting multiple Iranian military organizations."
One of the now-sanctioned networks used a front company in Hong Kong to evade sanctions imposed by the U.S. and other nations, and oversaw "tens of millions of dollars' worth" of activity that targeted U.S. technology on behalf of people tied to the Islamic Revolutionary Guard Corps (IRGC) and the regime's missile program, according to the Treasury Department.
The second network acquired aluminum alloy products for entities controlled or owned by the Iranian Ministry of Defense and Armed Forces Logistics.
The Treasury Department's statement accused several Iranian nationals of playing critical roles in the schemes. Two of them, Hadi and Hamed Dehghan -- along with the latter's company, Ebtekar Sanat Ilya -- had several Iranian military clients, including Rastafann Engineering Company, the DOJ said. It's unclear if the men are related.
Rastafann had provided support to Iran's Naval Defense Missile Industry Group and the IRGC in the past. Ebtekar Sanat Ilya company also had customers including Iran Aircraft Manufacturing Industrial Company (HESA), the Shahid Bakeri Industrial Group (SBIG) and the Shahid Hemmat Industrial Group (SHIG).
"Since 2017 alone, these actors have used a network of intermediary companies, including a Hong Kong-based front company, to facilitate more than 10 million dollars' worth of proliferation-related transactions," Treasury said.
Hamed Dehghan also owned Hong Kong-based Green Industries, which he used as a front to buy military equipment from U.S. suppliers on behalf of Iranian entities that could not purchase the equipment otherwise because they were blacklisted for being involved in activity surrounding Iran's weapons of mass destruction, authorities said.
A third Iranian national, Seyed Hossein Shariat, owned Asre Sanat Eshragh Company, which for years obtained aluminum alloy products for several Iranian organizations.
"Since at least 2016, Asre Sanat Eshragh Company has procured large amounts of aluminum alloy products for multiple Iranian entities, including Iran Electronic Industries (IEI) and Iran Aviation Industries Organization (IAIO)," according to the Treasury Department.
"As the Iranian regime attempts to use complex schemes to hide its efforts to bolster its WMD [weapons of mass destruction] program, the U.S. government will continue to thwart them at every turn," Mandelker said.
Iranian President Hassan Rouhani this week walked back the idea of possible talks with President Trump regarding the countries' nuclear impasse, saying Iran would meet with the U.S. only if Trump agreed to lift sanctions.
"Without the U.S.' withdrawal from sanctions, we will not witness any positive development," Rouhani said in a speech Tuesday. "If someone intends to make it as just a photo-op with Rouhani that is not possible."
Full report at:
https://www.foxnews.com/world/us-hezbollah-lebanon-bank-iran-networks-facilitated-regime-activities
--------
From Latin America to West Africa, Hezbollah's complex web of connections is fuelling its terrorist activity
Emanuele Ottolenghi
Aug 29, 2019
When Paraguay announced it was designating Hezbollah as an international terrorist organisation last week, it created a new legal basis to take action against the Lebanese group's money laundering and terror-financing activities. These fundraising operations span the globe, from Latin America and the US to West Africa. Hezbollah exploits existing smuggling routes, links to cartels and relies on family networks to boost its coffers, without having to develop a criminal infrastructure.
With Hezbollah's proscription, Asuncion can help reduce the group's influence. The fight against Hezbollah needs to be global and Latin America, where much of the group's illicit activities are concentrated, is a good place to start.
Until recently, Latin American governments were unwilling to label Hezbollah a terrorist group. Last month, however, Argentina took the unprecedented step of doing so, noting Hezbollah's responsibility for terror attacks against an Israeli embassy and a Jewish community centre on Argentinian soil in 1992 and 1994. The designations followed Argentina's creation of a public registry for terror entities and individuals.
Argentina's actions clearly influenced Paraguay, its neighbour to the north, whose government previously refused to acknowledge the obvious. In January, Paraguay's then foreign minister Luis Castiglioni publicly denied that Hezbollah had engaged in illicit finance activities in the country. Interior minister Juan Ernesto Villamayor also downplayed the issue. Even then Supreme Court president Victor Manuel Nunez Rodriguez said he had no evidence Hezbollah was financing terrorism. The Trump administration urged Paraguay to reconsider. Multiple visits by senior officials – including Secretary of State Mike Pompeo to Paraguay in April and Argentina in July – ultimately persuaded Paraguay that it needed to get tougher on Hezbollah.
Even before the designation, Paraguay extradited a handful of suspected Hezbollah operatives to the US. However, the creation of a new legal instrument was necessary, given that Paraguay has for years been a key hub of the group's illicit finance operations. For four decades, the terrorist group built extensive infrastructure in the Tri-Border Area of Argentina, Brazil and Paraguay.
The TBA is a metropolitan centre, home to nearly one million residents and a well-developed tourism infrastructure, including three international airports. It is an ideal place for Hezbollah to establish roots and raise funds, given the pervasive corruption in Paraguay's government, not to mention its weak judicial system. The TBA is shared by three countries, with two languages, three currencies, weak border controls and well-established smuggling routes that have contributed to an illicit economy, which Brazilian authorities estimate is worth $18 billion a year. Hezbollah has taken its share of that economy through a network of local residents; the TBA has one of the largest Shiite Lebanese communities in Latin America.
Hezbollah's modus operandi in the TBA is a miniature version of what it does in Lebanon to co-opt Shiites. As in Lebanon, Hezbollah has funded Shiite communal institutions across Latin America. Where those institutions already existed, it has offered support. As a result, clerics in local mosques, instructors of youth movements such as the scouts, and teachers are imparting Hezbollah dogma to local communities.
Communities in Latin America regularly mark May 25, the day Israel withdrew from south Lebanon, with carefully choreographed communal events. They frequently welcome Hezbollah and Iranian clerics as speakers and support the group's media with local correspondents and get support, in turn, from Hezbollah's publications. For example, via the Lebanese embassy in Paraguay, Hezbollah mounted a campaign to prevent the extradition to the US of suspected Hezbollah financier Nader Mohamad Farhat. Shiite communities in the TBA also join in mourning Hezbollah's fallen.
Last week, for example, Lebanese residents of the TBA took to social media to mourn the death of two Hezbollah operatives, Yasser Ahmad Daher and Hassan Zbeeb, killed in southern Syria in the recent Israeli airstrikes. Israel claimed the two had travelled to Iran to train with drones before being dispatched to southern Syria and had been planning to mount an attack across the border.
Hezbollah can also leverage its followers to raise funds. Given Hezbollah's growing need to generate revenue over the annual group's subsidy from Iran, its financial backers and facilitators overseas escalated their involvement in illicit activities. In Latin America, this includes drug trafficking and money laundering. For cartels, Hezbollah offers an opportunity to expand their markets without having to build a faraway criminal infrastructure. After all, Hezbollah can leverage supporters across the globe. Access to this network offers cartels efficient channels to distribute merchandise to distant markets as well as repatriate revenue through complex trade-based money-laundering schemes.
In the Lebanese-Canadian Bank case of 2011, US authorities accused Hezbollah facilitators of laundering drug money for Mexican and Colombian cartels to the tune of $200 million a month by channelling it through West African used-car businesses that imported their inventory from US dealers. The money, once laundered, would be repatriated to Colombia, minus a hefty commission.
The complex web of connections necessary to run these schemes is rooted in family networks that run through Hezbollah-linked expatriate communities. For example, the Barakat family, the most identified with Hezbollah in the TBA, has multiple members and businesses, not only across Latin America but in West Africa too, an important area for Hezbollah's money laundering and drug-trafficking operations.
The US is not immune to such influence. Many of Hezbollah's schemes run through Miami and other American commercial hubs, as evidenced by a string of recent cases involving TBA businesses trading with front companies in both Miami and New York. Such schemes often triangulate with Hong Kong and China, where Hezbollah operatives have an established commercial presence, thus ensuring they control virtually every step of the trade.
The size and complexity of these operations has ensured that Hezbollah's terror-financing continues to thrive, despite criminal investigations into drug trafficking and money-laundering schemes.
If Hezbollah's sources of funding outside Tehran are to dry up, the Trump administration and its allies, especially in Europe and the Gulf, need to aggressively expand investigations to halt Hezbollah's fundraising.
Full report at:
https://www.thenational.ae/opinion/comment/from-latin-america-to-west-africa-hezbollah-s-complex-web-of-connections-is-fuelling-its-terrorist-activity-1.904231
--------
Turkish President to meet Trump at UN on Syria, F-35s
Zehra Nur Duz and Dilara Hamit
30.08.2019
Turkey's president announced Friday that he would meet with his U.S. counterpart in the UN General Assembly in late September.
Recep Tayyip Erdogan told reporters that he would mainly discuss the issues surrounding the northwestern Syrian town of Manbij, on which Turkey and the U.S. came to a deal focusing on the withdrawal of YPG/PKK terrorists from the region.
Erdogan also underlined that Turkey would "take care" of itself if the the Washington continued its current stance on Turkey's exclusion from the F-35 fighter jet program.
U.S. officials have expressed that short of completely doing away with the Russian S-400 system, Ankara would not be allowed to return to the Joint Strike Fighter program.
The Trump administration suspended Turkey from the F-35 system over Ankara's receipt of Russian S-400 missile defense systems, but there is some hope centered on a compromise wherein Turkey could keep the Russian anti-air system, but keep it turned off in order to return to the program.
U.S. President Donald Trump has repeatedly voiced reluctance to penalize Turkey over its purchase of Russia's S-400 missile defense system, doing so when announcing Ankara's removal from the program in July.
The Trump administration has maintained that the S-400 system could expose the advanced fighter to possible Russian subterfuge and is incompatible with NATO systems.
Turkey, however, counters that the S-400 would not be integrated into NATO systems and would not pose a threat to the alliance.
Regarding a safe zone in northern Syria, the U.S. and Turkey agreed to establish Erdogan said that US delegation sought to further narrow 20-mile safe zone, though temporary agreement holds.
Turkish and U.S. military officials reached an agreement on Aug. 7 that the safe zone in northern Syria will serve as a "peace corridor" for displaced Syrians longing to return home and a Joint Operations Center in Turkey will be set up to coordinate its establishment.
Idlib bombardment
Necessary warnings were expressed on harassment of Turkish observation points around Idlib, Syria following meeting with Putin, Erdogan added.
Continuing its violations of last year's cease-fire agreement, the Syrian regime on Aug. 22 attacked a Turkish military observation post in northwestern Syria with harassment fire, officials told Anadolu Agency.
Turkey and Russia agreed last September to turn Idlib into a de-escalation zone where acts of aggression are expressly prohibited.
Under the deal, opposition groups in Idlib would remain in areas where they were already present, while Russia and Turkey would carry out joint patrols in the area to prevent a resumption of fighting.
The Syrian regime and its allies, however, have consistently broken the terms of the cease-fire, launching frequent attacks inside the de-escalation zone.
The de-escalation zone is currently home to some 4 million civilians, including hundreds of thousands recently displaced by regime forces throughout the war-weary country.
Syria has been locked in a vicious civil war since early 2011, when the Assad regime cracked down on pro-democracy protests with unexpected ferocity.
Full report at:
https://www.aa.com.tr/en/americas/turkish-president-to-meet-trump-at-un-on-syria-f-35s/1569219
--------
Arab World
Why the Ghosts of Islamic State Still Haunt Raqqa
By Heather Murdock
August 29, 2019
RAQQA, SYRIA - The water near the edge of the Euphrates River in downtown Raqqa reflects a strange mix of blues, like a tropical sea rushing through an urban riverbed.
Men and boys splash near a bridge, newly built almost two years after the battle with Islamic State militants that left the city in ruins.
This was the epicenter of the self-declared "Caliphate" that ruled parts of Syria and Iraq for three years, imposing their harsh version of Islamic law and attracting devotees from around the world.
But as Raqqa slowly revives, emerging from a brutal war after years of extremist rule, an ever-present fear is growing. Will hiding militants return? Sleeper cells awake? Will supporters take their revenge on those that live in peace under the enemies of IS?
"We are scared," Abdullah, a 33-year-old father of five tells us, still dripping from his dip in the river. "If IS comes back they will kill us all."
A few blocks away, behind heavy cement walls, officials say attacks in the city are increasingly common, with four or five this month.
Many other attempts were thwarted, says Khalid Barkal, Raqqa's speaker of Parliament. After years of IS rule, he explains, devotion to the group runs deep among some people, and trauma and fear are widespread.
"My greatest happiness," Barkal tells us in his Raqqa office, "Will be when the IS supporters forget about that black flag."
Haunted by terror
But for Raqqa residents, forgetting can seem like a far away dream.
Na'eem Square, or Heaven Square, was nicknamed "Hell Square" under IS, because the severed heads of accused spies or criminals would be spiked on the fence for days in the center of town. The fence has been replaced, but residents say memories of extreme violence have not faded.
As we travel the city, soldiers, shopkeepers and government workers quietly tell us there are many secret IS supporters in Raqqa. At a fish restaurant in a garden near the city's other main bridge that's still destroyed from the battle, a 24-year-old waiter appears nervous when asked about the difference between now, and the time of IS.
"I only care about taking care of my house and my two daughters," he tells us, before offering us tea or lunch.
As we walk away, one of the young soldiers accompanying us — required security from local authorities — says he expects most people are still worried about saying anything negative about IS.
"People are scared," the soldier Hussein Fermo says. "They are afraid to talk in case IS comes back."
But the swimmer by the new bridge, Abdullah, tells us that he is not afraid because he would already be a target if IS returned. They killed his brother, Taher, before being defeated in Raqqa in 2017.
"When they first came, they said, 'We are Muslim,' and we believed them," he says. "But they arrested one person and [as a punishment for stealing] they cut off his hand in Na'eem Square."
Foreign prisoners
Tens of thousands of people from around the world flocked to Syria to join IS, and now thousands of suspected IS fighters are being held in northeastern Syrian prisons.
Local authorities, led by the U.S.-backed Syrian Democratic Forces, repeatedly have called for countries to take back their prisoners, or provide funding to help feed, house and secure them.
President Donald Trump has threatened to release the detainees to Europe if countries don't repatriate their citizens. SDF officials have asked for an international court to try the prisoners in northeastern Syria, where the victims mostly reside.
"I'm not sure what will happen," Abdullah says, before jumping in the river one last time. "But if it were up to me, I'd kill them all."
Local victims
Less than 5 kilometers from the riverside is Raqqa's football stadium, used as the city's main prison under IS, notorious for cruel punishments under draconian laws.
By the door is a cracked memorial to the suffering of the Yazidi women.
Thousands of women and children were kidnapped from their homes in Iraq and held as sex slaves in IS territories. Yazidi men where slaughtered en masse.
The groundskeeper shows us around, saying they are trying to fix it up for matches to entertain fans. For now, shrubs litter the ground and mortar fire appears to have shattered some of the stands.
"It wasn't just a prison," he tells us. "They packed hundreds of people on the pitch during the war. They were human shields so the coalition forces wouldn't bomb the militants."
But in a market downtown, shoppers and sellers are quick to tell us they would rather try to forget as much as they can the time of IS, and move on with rebuilding their economy. They can work to climb out of poverty, they say, but there is nothing they can do to stop future attacks.
"Give us electricity only, and we can rebuild ourselves," says one man in a plaid shirt and sandals, before walking off. "If the international coalition wanted to, they could fix this now."
https://www.voanews.com/middle-east/why-ghosts-islamic-state-still-haunt-raqqa
--------
Iraqi Judiciary Sentences 11 ISIS Members to Death
29 August, 2019
The Babel High Criminal Court has sentenced 11 ISIS members to death for a deadly 2014 attack on a bridge in Jarf al-Nassir district, south of Baghdad.
The latest verdicts are part of a series of trials and death or life sentences involving more than 18,000 terrorism suspects since 2005, according to the Iraqi High Commission for Human Rights (IHCHR).
The media office of the Supreme Judicial Council issued a statement saying the provincial criminal court examined the cases of 11 "suspects who confessed being ISIS members."
The terrorists admitted to staging an attack they called "al-Fadhilyah raid" on a strategic bridge located in Jarf al-Nassir, previously known as Jarf al-Sakhr, north of Babel. The attack destroyed the bridge, and killed three security forces and injured 19 others stationed nearby, said the statement.
The terrorists also confessed to committing other crimes at different locations and different times, according to the court.
The court held a public trial in the presence of the public prosecutor, the lawyers of the defendants, and issued a sentence of execution by hanging against the 11 convicts.
Jarf al-Nasr, which is about 40 kilometers from Karbala province, was a major stronghold of terrorist organizations such as al-Qaeda and later ISIS. Since then, the area has been the subject of a dispute between Shiite and Sunni political parties.
IHCHR member Ali al-Bayati said 18,306 people charged with terrorism have received death or life sentences by Iraqi courts.
Bayati told Asharq Al-Awsat that more than 900 convicts have been executed since 2005.
He expressed belief that the Iraqi authorities need to benefit from the international team approved by the United Nations to help Iraq in its investigations and sentences against elements accused of terrorism.
In September 2017, the Security Council adopted Resolution 2379 to establish a UN Investigative Team to Promote Accountability for Crimes Committed by ISIS in Iraq and the Levant (UNITAD).
In July, the head of UNITAD, Karim Asad Khan, told Council members that his team continued to work on collecting documentary and digital evidence, testimonies and forensic evidence of atrocities committed in Iraq.
Full report at:
https://aawsat.com/english/home/article/1877726/iraqi-judiciary-sentences-11-isis-members-death
--------
IS local leader killed, 6 captured by paramilitary force in western Iraq
2019-08-30
BAGHDAD, Aug. 29 (Xinhua) -- Iraq's paramilitary Hashd Shaabi force killed Thursday a prominent leader of Islamic State (IS) militant group and arrested six of his bodyguards in Iraq's western Anbar province.
An online statement by the Hashd Shaabi said a force from the 18th brigade conducted an operation in the desert area of Wadi Hauran in western Anbar province and killed Abdul-Salam Hamad, nicknamed Abu Nour, believed to be the IS leader for the capital Baghdad.
The force also captured Hamad's six bodyguards and wounded his aide, who blew up his explosive belt before being captured, the statement said without giving further details.
IS militants are known for exploiting the gorges of Wadi Hauran to set up hideouts and arms depots and use the area as a launching pad for attacks on civilians and security forces.
The operation came a day after the Iraqi forces backed by Iraqi and U.S.-led coalition aircraft concluded a major offensive dubbed "Victory Will" to hunt down remnants of IS militants in central Iraq.
The security situation in Iraq has been dramatically improved after Iraqi security forces fully defeated IS in late 2017.
Full report at:
http://www.xinhuanet.com/english/2019-08/30/c_138349138.htm
--------
Idlib: Syrian Army Continued Advances, Liberates Strategic Al-Tamane'ah Town
Aug 30, 2019
The Arabic-language website of the Russian Sputnik news agency quoted a military source from Colonel Soheil al-Hassan forces as saying that the Syrian Army troops started bombardment of Southeastern Idlib on Thursday night.
He noted that the Syrian Army' military operation covered farms located between the strategic town of al-Tamane'ah and the town of al-Khovein which has just been liberated.
The source said that the Syrian Army heavily pounded the terrorists' military positions in al-Tamane'ah after bombardment of their positions.
The Syrian Army managed to make advances in the Northern direction of al-Tamane'ah after its bombardment and clashes with the terrorists.
"Meantime, two other groups of Syrian Army troops continued their military operations from the Southern and Eastern sides of al-Tamane'ah," he noted.
The Syrian Army has laid siege on the center of al-Tamane'ah and started its raids from three directions.
The offensive to seize al-Tamane'ah comes after Syrian Army captured the strategic city of Khan Sheikhoun last week.
On Thursday, the Syrian Army started a new phase of military operations in Southeastern Idlib, regaining control over several strategic regions and approaching al-Tamane'ah town.
The Syrian Army forces, supported by artillery fire, attacked the positions of Ajnad al-Qafqaz in the town of al-Khuwain on Wednesday, fully recapturing the region which was a launchpad for the terrorists' attacks against the army positions.
They continued advance in the same front, liberating Arz al-Zarour and Tal Aqir regions as well as the farms near al-Tamane'ah region in Southeastern Idlib.
Meantime, the Arabic-language al-Watan newspaper quoted a military source as saying that the Syrian air force targeted the terrorists' supply lines and positions in Southeastern Idlib and on the road towards Aleppo, including al-Tamane'ah, al-Tah Kafar Sajnah, Jarjanaz and Saraqib, destroying 3 arms and ammunition depots, 2 command centers and over 12 armored vehicles and artilleries of militants and killing over 30 terrorists.
In a relevant development on Wednesday, the Damascus army backed by the Syrian and Russian air forces foiled a massive attack by the terrorist groups from several directions on the government forces' military positions in Southeastern Idlib, killing tens of terrorists.
The Syrian Army troops engaged in fierce clashes with a large number of terrorists of Tahrir al-Sham al-Hay'at (the Levant Liberation Board or the Al-Nusra Front), Ajnad al-Qafqaz and Harasuddin who had attacked army's military positions from Tal Marq, Sham al-Hawa, al-Jadouieh and al-Saloumieh West of the strategic town of Aboudali in the South and to the East of Idlib.
The Arabic-language al-Moraseloun news website quoted a military source as saying that the Syrian Army troops killed over 37 terrorists, including foreign militants, in the battle to push back the terrorists' attack, and also destroyed five armored and bomb-laden vehicles.
It also noted that the Syrian and Russian air forces are currently pounding the terrorists' military positions in al-Khovein, Um Jalal and the nearby villages in Southeastern Idlib.
Full report at:
https://en.farsnews.com/newstext.aspx?nn=13980608000427
--------
Tahrir Al-Sham Terrorist Destroys Infrastructures of Northern Syria to Prevent Syrian Army's Advances
Aug 30, 2019
The local sources pointed to Tahrir al-Sham's destruction of Syrian infrastructure in Aleppo and Idlib as an attempt to conceal its military positions in areas under their control in Aleppo and Idlib from the Syrian Army and Russia.
Meantime, the Syrian Army troops continued their military operations in Southern Idlib, and took control of all farms located between Tal Marq and al-Khowein regions East of al-Tamaneh strategic town.
Meantime, a military source pointed to the Syrian Army's dominance over the Eastern side of al-Tamaneh, and said that the Syrian Army troops are planning to take control of the town by advancing towards North and East.
In a relevant development on Thursday, the Arabic-language media outlets said that Turkey has decided to establish four new monitoring posts in Idlib province to block the Syrian army's rapid advances in the region.
The Arabic-language al-Baladi news website affiliated to the militants reported that the Turkish forces want to set up 4 new supervision points near the town of Saraqib, the town of Ariha on Aleppo-Lattakia road in Southern Idlib, the town of Mahmabal and the town of Jisr al-Shaqour in Western Idlib.
It also quoted a field source as saying on Wednesday that a high-ranking Turkish military delegation along with a number of terrorist commanders entered Idlib province through Kafar Lousin passageway, visiting several positions in the South, East and West.
Sources affiliated to the terrorists also confirmed that Turkey intends to strengthen its deployment in Idlib province to prevent the US army advance in the region.
The Syrian army started a new phase of military operations in Southeastern Idlib, regaining control over several strategic regions and approaching the town of al-Tamane'ah.
In a relevant development on Wednesday, the Damascus army backed by the Syrian and Russian air forces foiled a massive attack by the terrorist groups from several directions on the government forces' military positions in Southeastern Idlib, killing tens of terrorists.
The Syrian Army troops engaged in fierce clashes with a large number of terrorists of Tahrir al-Sham al-Hay'at, Ajnad al-Qafqaz and Harasuddin who had attacked army's military positions from Tal Marq, Sham al-Hawa, al-Jadouieh and al-Saloumieh West of the strategic town of Aboudali in the South and to the East of Idlib.
The Arabic-language al-Moraseloun news website quoted a military source as saying that the Syrian Army troops killed over 37 terrorists, including foreign militants, in the battle to push back the terrorists' attack, and also destroyed five armored and bomb-laden vehicles.
It also noted that the Syrian and Russian air forces are currently pounding the terrorists' military positions in al-Khovein, Um Jalal and the nearby villages in Southeastern Idlib.
Full report at:
https://en.farsnews.com/newstext.aspx?nn=13980608000376
--------
Russian Ship Carrying Heavy Military Equipment, Tanks Heading to Syria
Aug 30, 2019
The Arabic-language Al-Youm news website quoted maritime naval observer Yoruk Isik as saying that a Russian cargo ship has passed the Bosphorus Strait en route to the Port of Tartous in Western Syria.
It noted that Russia has dispatched several vessels to Syria in the last 10 days, and said that since it is very heavy, it is most probably carrying heavy military equipment such as tanks.
Al-Youm noted that the latest delivery by the Russian Navy comes at the same time the Syrian Army conducts military operations in Idlib, Hama and Lattakia provinces.
Russia has recently increased its weapons supply deliveries to Syria since the start of the military operations in Idlib, this has proven to be incredibly important for the Syrian military as the loss of military equipment has been quickly replenished by their Russian allies.
Last week, the Syrian army managed to enter Khan Sheikhoun after five years.
In a relevant development on Thursday night, the Syrian Army continued its advances in Northwestern Syria, and managed to take full control of the strategic town of al-Tamane'ah.
The offensive to seize al-Tamane'ah comes after Syrian Army captured the strategic city of Khan Sheikhoun last week.
The Arabic-language website of the Russian Sputnik news agency quoted a military source from Colonel Soheil al-Hassan forces as saying that the Syrian Army troops started bombardment of Southeastern Idlib on Thursday night.
He noted that the Syrian Army' military operation covered farms located between the strategic town of al-Tamane'ah and the town of al-Khovein which has just been liberated.
The source said that the Syrian Army heavily pounded the terrorists' military positions in al-Tamane'ah after bombardment of their positions.
The Syrian Army managed to make advances in the Northern direction of al-Tamane'ah after its bombardment and clashes with the terrorists.
Full report at:
https://en.farsnews.com/newstext.aspx?nn=13980608000448
--------
Syrian Official: Khan Sheikhoun Liberation Turning Point in Failure of Ankara Plots
Aug 30, 2019
After the Syrian Army took full control of Khan Sheikoun and foiled Ankara's plots, the terrorists have lost their hope in Ankara as they were waiting for further supports from Turkey, Idlib deputy governor-general Mohammad Fadi al-Sadoun said, pointing to the political importance of the liberation of Khan Sheikhoun which is the second largest city in Idlib province.
He pointed to the resignation of five Turkish officers, including one of the commanders in charge of Idlib operations after the liberation of Khan Sheikhoun and Northern Hama, and said that these development show Ankara's defeat vis-à-vis Syrian Army's achivements and that the continuous victories of the Syrian Army will influence Turkish President Recep Tayyip Erdogan's political future.
Al-Sadoun, meantime, pointed to the Russian officials' statements before Erdogan's visit to Russia on the need for putting an end to terrorism in Idlib, and said that while Erdogan has not fulfilled any of his pledges under the Sochi Agreement including his commitment to expel terrorists from the demilitarized zone, the Turkish Army has increased its military equipment and hardware in the region.
In a relevant development on Thursday, the media reports revealed that Turkey has decided to establish four new monitoring posts in Idlib province to block the Syrian army's rapid advances in the region.
The Arabic-language al-Baladi news website affiliated to the militants reported on Thursday that the Turkish forces want to set up 4 new supervision points near the town of Saraqib, the town of Ariha on Aleppo-Lattakia road in Southern Idlib, the town of Mahmabal and the town of Jisr al-Shaqour in Western Idlib.
It also quoted a field source as saying on Wednesday that a high-ranking Turkish military delegation along with a number of terrorist commanders entered Idlib province through Kafar Lousin passageway, visiting several positions in the South, East and West.
Sources affiliated to the terrorists also confirmed that Turkey intends to strengthen its deployment in Idlib province to prevent the US army advance in the region.
The Syrian army started a new phase of military operations in Southeastern Idlib, regaining control over several strategic regions and approaching the town of al-Tamane'ah.
In a relevant development on Tuesday, the Arabic-language media said that the Turkish government is trying to prevent the Syrian Army troops' advances towards the strategic city of Ma'aret al-Numan in Southern Idlib by setting up new military posts as the Damascus government forces are regaining control of more regions.
The Arabic-language Xeber24 quoted media activists in Idlib as saying that the Turkish Army troops in a new attempt in Idlib have set up new observation posts in Heish region and Water Pump station in Sida near Ma'aret al-Numan city in Southern Idlib.
They pointed to the entry of Turkish military delegation, including 16 Turkish officers, to the two regions, and said that Ankara intends to set up a new military base for its troops and the terrorist groups.
The media activists reiterated that the Tal-e Heish (Heish hilltops) strategic region is directly overlooking Ma'aret al-Numan Highway in Southern Idlib and Mourek in Northern Hama.
Full report at:
https://en.farsnews.com/newstext.aspx?nn=13980606000691
--------
UN to 'facilitate' evacuations from Syria desert camp
30 August 2019
The United Nations said Friday it will help evacuate civilians from an "abysmal" Syrian desert camp near the border with Jordan, after a mission last week determined who wanted to leave.
"We are ready to facilitate" evacuations from the Rukban camp, said Panos Moumtzis, the UN's Syria humanitarian chief.
"We want to make sure it happens in a voluntary way," he told AFP during an interview in Beirut, describing the situation in the camp as "abysmal."
According to the UN official, around 12,700 people remain in the isolated Rukban camp near a base used by the US-led coalition fighting ISIS.
The Syrian government and key backer Russia said in February they had opened corridors out of the camp, calling on residents to leave.
More than half of the original population has left in the past months, the United Nations says.
The UN and the Syrian Arab Red Crescent sent a mission to the camp last week to determine how many people remained inside and who wanted to leave, the UN official said.
"A little bit more than a third of them want to leave," Moumtzis said.
"The vast majority want to go into government-held areas and some others want to go to the north," held by the opposition, he added.
But the UN is not able to provide protection guarantees after civilians quit the camp, he said.
Some 47 percent of surveyed camp residents said they wanted to stay, citing reasons including "security concerns" and "fear of detention."
Rights groups have warned that civilians returning to government-held territory have faced detention and conscription.
Those fleeing to the opposition-held north might face violence in the Idlib region, where Russian and regime bombardment has killed more than 950 people since April.
Although Rukban has not received aid since February, the latest UN mission did not deliver any relief items beyond "a minimal number of health supplies", Moumtzis said.
But last week's visit is only the first part of a "two-step" plan -- the second of which will involve aid delivery, according to the UN official.
"The next mission -- I hope very quickly -- will go back and deliver the desperately needed assistance," he said, without providing a specific date.
Full report at:
https://english.alarabiya.net/en/News/middle-east/2019/08/30/UN-to-facilitate-evacuations-from-Syria-desert-camp-.html
--------
Rights groups criticize UN for cooperating with MbS charity
Aug 31, 2019
Rights groups have censured the United Nations for its decision to co-host a forum next month with a non-profit foundation established by Saudi Crown Prince Mohammed bin Salman, citing the kingdom's dire human rights record.
Joyce Bukuru, an advocacy officer for Human Rights Watch (HRW), told the Middle East Eye (MEE) news portal on Friday that the UN should not be promoting the heir to the Saudi throne, who has overseen the murder of dissident journalist Jamal Khashoggi, the abuses of the war on Yemen, and a "vicious domestic repression campaign that includes the alleged torture of women's rights activists."
"The UN shouldn't be rewarding this behavior with such partnerships," she added.
Bin Salman's MiSK Foundation — in partnership with UN Secretary General's Envoy on Youth Jayathma Wickramanayake — will hold an event, dubbed the Misk–OSGEY Youth Forum, on the sidelines of the UN General Assembly on 23 September.
The forum will bring together 300 young people, who are committed to achieving the UN Sustainable Development Goals (SDGs), almost a year after the assassination of Khashoggi.
Mandeep Tiwana, a program officer for the Civicus rights group, denounced the UN's decision to partner with the Riyadh regime as "disturbing."
"Young people in Saudi Arabia are completely denied the right to join their counterparts around the world in public mobilizations for gender equality and climate justice, which are key elements of the SDGs," he said.
The cooperation between the Saudi crown prince's foundation and the UN's youth envoy comes amid widespread criticisms about the Riyadh's heavy-handed crackdown on dissidents.
Khashoggi — an outspoken critic of bin Salman — was killed by a Saudi hit team inside the kingdom's consulate in Istanbul, Turkey, on October 2, 2018.
The CIA has concluded that bin Salman had ordered the murder of Khashoggi — who had been brutally dismembered inside Riyadh's mission.
In June, Agnes Callamard, the UN special rapporteur on extrajudicial, summary, or arbitrary executions, presented findings of her six-month investigation into Khashoggi's murder case, backing up Ankara's views on the murder and the CIA findings.
In her 101-page report, she said that there is "sufficient credible evidence" indicating that the Saudi crown prince bears responsibility for the murder and thus should be investigated.
Full report at:
https://www.presstv.com/Detail/2019/08/31/604913/Saudi-Arabia-MiSK-Foundation-Mohammed-bin-Salman-UN
--------
Iraq to file UN complaint against Israel over attacks on Hashd al-Sha'abi bases: Lawmaker
Aug 30, 2019
An Iraqi parliamentarian says the Baghdad government is preparing a complaint to the United Nations after investigations revealed that the Israeli regime is "certainly" behind several attacks on the bases of pro-government Popular Mobilization Units, better known by the Arabic word Hashd al-Sha'abi.
Ahmad al-Assadi, spokesman of the Fatah Alliance, told journalists on Thursday in his office in central Baghdad that government probes would name Israel.
"Some of the government investigations have reached a conclusion that the perpetrator behind some of the attacks is absolutely, certainly Israel," he said, declining to provide details on the evidence.
"The government is preparing sufficient evidence and documents to complain to the (UN) Security Council. It won't submit a complaint against an unknown entity," Assadi said.
The former official spokesman for Popular Mobilization Forces further noted that the US involvement in the airstrikes remained unclear.
"Israeli planes supported by the US? We can't make that accusation. Did America give a green light? We can't make that accusation," he said.
He added that Hashd al-Sha'abi forces had been expecting an attack amid rising tensions between Washington and Tehran since President Donald Trump withdrew the US from the 2015 nuclear deal, officially known as the Joint Comprehensive Plan of Action (JCPOA), in May 2018 and introduced harsh sanctions against Iran.
"Are the attacks that happened surprising for the Iraqi government, the Hashd al-Sha'abi, or other factions? Of course not. It's clear. The Hashd al-Sha'abi is being specifically targeted," Assadi said.
On Wednesday, Mansour al-Baiji, a member of the State of Law political coalition in the Iraqi parliament, called on the Baghdad government to forge an alliance with the countries that have protracted disputes with the United States in order to strike Israel in the wake of recent airstrikes on Hashd al-Sha'abi forces.
"The persistence of the Israeli regime and its targeting of military sites within our territory have not occurred unexpectedly, but rather under the auspices of the United States. They (Americans) opened the Iraqi airspace for them, and orchestrated all of this scenario. They are partners to the targeting of our territory," the Arabic service of Russia's Sputnik news agency quoted him as saying in a statement.
He then called on Prime Minister Adel Abdul-Mahdi, President Barham Salih and Parliament Speaker Mohammed al-Halbousi to refrain from "condemnation and denunciation," and instead "strike up alliances with the great powers that have disputes with (the United States of) America and bolster relations with Russia and China in a bid to ensure international protection" for Iraq.
Iraq's military said on August 26 it had launched an investigation into a purported Israeli strike that killed two Hashd al-Sha'abi fighters near the town of al-Qa'im close to the country's western border with Syria.
Sayf al-Badr, the spokesman for the Iraqi Health Ministry, said in a statement that at least one person was killed and 29 others were wounded in a powerful explosion that rocked a military base in southern Baghdad on August 12.
An ammunition warehouse reportedly exploded inside a federal police military base, named Falcon, in Owerij area near the southern district of Doura.
Arabic-language al-Ahad TV television network reported on July 19 that a drone had dropped explosives onto a base belonging to the Popular Mobilization Units near the town of Amerli, located about 170 kilometers north of the capital, in the early hours of the day, killing at least one PMU fighter and injuring four others.
Additionally, the Iraqi al-Etejah television network reported that an American B350 reconnaissance plane had flown over the area a few days earlier.
The Israeli regime has a record of attacking the forces fighting Takfiri Daesh terrorists in Syria.
In June 2018, Hashd al-Sha'abi fighters came under attack in Syria's border town of al-Hari, in the eastern province of Dayr al-Zawr, as they were chasing Daesh terrorists out of the area.
Full report at:
https://www.presstv.com/Detail/2019/08/30/604879/Iraq-UN-complaint-Israel
--------
Syrian army, allied forces retake more terrorist-held towns in Idlib
Aug 30, 2019
The Syrian army and its allied forces have made major gains in the northwestern Idlib province, pushing deeper into the last stronghold of Takfiri terrorists and foreign-backed militants.
Syrian government troops have managed to liberate the towns of Khwain, Zarzoor and al-Tamanah in southern Idlib, opposition sources and residents said on Friday.
Opposition activists claim they have seen probably Russian jet fighters flying at high altitudes, dropping bombs on the outskirts of Idlib, assisting the ground forces in retaking the strategic city.
They also claim the Syrian army has recently been reinforced by hundreds of troops from the elite Syrian Republican Guards, led by President Bashar al-Assad's brother, and fighters from the Lebanese resistance movement, Hezbollah.
The new lineup of Syrian troops facing a coalition of the Takfiri terrorists and mainstream Turkey-backed militants has been credited with the "rapid progress" achieved in the last few weeks, an army defector and two senior opposition sources conceded.
The fresh gains came one week after the army seized control of a pocket of territory in the northwestern province of Hama from militants who had held it since the early years of the war.
Since last Friday, the Syrian troops have pushed deep into a cluster of towns and their environs in the Hama countryside, encircling the militants and a Turkish military post there, shortly establishing control over the strategic town of Khan Shaykhun in Idlib.
Large parts of Idlib Province, occupied by the foreign-backed terrorists since 2014, and parts of Hama constitute the last major militant stronghold in Syria.
Full report at:
https://www.presstv.com/Detail/2019/08/30/604843/Syria-offensive-retake-idlib-militants
--------
Daesh suicide bomber kills southern separatist fighters in Yemen's Aden
August 30, 2019
ADEN: A suicide bomber on a motorcycle killed six southern separatist fighters on Friday on the outskirts of the Yemeni city of Aden, the site of a surge of violence that had complicated the near five-year-old war and undermined peace efforts.
Daesh claimed responsibility for the assault on the patrol from the Security Belt group, part of a separatist front fighting Yemeni government forces for control of the city, the extremist group's Amaq news agency said.
The separatists and the government are both part of an Arab coalition battling the Iran-aligned Houthis, which took over most of Yemen's cities in 2014.
https://www.arabnews.com/node/1547481/middle-east
--------
Africa
Nigeria: 'Boko Haram - Why Army Adopts New Strategy'
29 AUGUST 2019
Maiduguri — The Acting General Officer Commanding 7 Division of the Nigerian Army, Brigadier General Abdul Khalifa has said that the adoption of new strategy by the Nigerian Army is aimed at forcing the remnants of the Boko Haram terrorists to surrender.
Further making explanation on the " Super Camps" just adopted by the Army, he said is a concept in warfare, whereby the Army strongly hold position where it will be able to have reasonable resources within the " Super Camps " , and from the " super camps " the Army will be able to project power .
Brigadier General Khalifa who just took over Command of the 7 Division Nigerian Army, reveled two more concepts as Response Area ( RA ) and Strong Response Area ( SRA ) which he said will heat up the insurgents to surrender .
The new Acting GOC made the revelation yesterday in Maiduguri while on operational tour of Army units within the 7 Division and 7 Division Garrison, especially 211 and 251 battalion.
He said the essence of the response area and strong response area is for Soldiers to be able to carry out patrol, raids and ambush from these areas".
Brigadier General Khalifa noted that over sometimes, the Army has discovered that the criminal Boko Haram terrorists have the kind of mobility, because the Army were in defence.
He said:" Iam actually on an operational visit to units under 7 Division and 7 Division Garrison that is 211 and 251 battalion. You know this place is a frontline, and I have taken some inspection and some briefs, from there, we will know the next line of action.
"You know, Iam just coming to the Theatre, and Iam coming at a time, when we have a change in strategy. What we have now is a super concept and the super camp concept is a concept in warfare whereby we have a strongly held position, where we are able to have reasonable resources. Within this "super camps" we will be able to project power out.
"We have another concept which is the "Response Area" (RA) and "Strong Response Area (SRA). The essence of them is that the soldiers will be able to carry out patrol, raids, ambushes and what have you.
"Overtime, we have discovered that the criminal Boko Haram elements have mobility because, we are in defence. And then, we have this issue of people trying to say that the Boko Haram terrorists are better equipped or what have you".
"So we are trying to see how this strategy can change, that is why we have this new concept. Though, a lot have been achieved, but we still have some remnants of the Boko Haram terrorists around. Our ultimate aim is to force Boko Haram to surrender. We should be able to strangulate them. That is why we came up with these concepts. We should be able to take the fight to them. We should have greater mobility," Brigadier General Khalifa added.
https://allafrica.com/stories/201908290633.html
--------
Sudanese demand info about those missing after military crackdown in June
Aug 31, 2019
Hundreds of Sudanese take to the streets in the capital to demand authorities provide information about almost a dozen demonstrators who went missing during the military crackdown on a sit-in protest in Khartoum in June.
Protesters gathered in Khartoum and its twin city of Omdurman on Friday, carrying pictures of those missing.
"We also want an independent investigation into their cases," said a protester.
Thousands of Sudanese protesters, demanding civilian rule, were violently dispersed by armed men in military fatigues outside the Defense Ministry compound, in the capital on June 3. According to doctors linked to the protest movement, more than 100 people were killed that day.
The crackdown triggered global condemnation, with international organizations and several countries calling for an independent probe into the killings.
At least 11 people were reported missing after the crackdown, according to lawyers linked to the protest movement.
Other protesters may also have gone missing, but their cases would need further documentation, they said.
The sit-in outside the military headquarters began on April 6, after a brief pause in the more than three months of protests triggered by a deepening economic crisis blamed on long-time President Omar al-Bashir.
Sudan's military toppled and then arrested Bashir, putting an end to his nearly 30-year rule. It also formed a transitional military council to run the country.
Protesters, however, remained in the streets, calling on the country's military rulers running the country to hand over power to a civilian government.
Protest organizers say at least 250 people were killed in the unrest.
The military, which stands accused of ordering the massacre of peaceful protesters, formed an eleven-member sovereign council with the opposition earlier this month to rule the country over a three-year transition period.
The council, made up of five generals and six civilians, will initially be led by General Abdel Fattah Abdelrahman Burhan, who took over as Sudan's leader following the ouster of Bashir in April.
Full report at:
https://www.presstv.com/Detail/2019/08/31/604912/Sudan-unrest-protest-politics
--------
Boko Haram Terrorists Kill 8 Soldiers, 5 Missing In Ambush
AUG 31, 2019
Boko Haram terrorists have ambushed a military convoy along the Maiduguri/ Monguno highway, and reportedly killed at least eight soldiers, carting away weapons belonging to the Nigerian Army, a security source said.
The incident happened at Gasarwa village, some distance to Gajiram in Nganzai LGA of Borno State at about 10 am, Daily Trust reports.
Four military vehicles were burned.
According to the source, five soldiers were missing after the heavy gun battle.
"They were ambushed around the Gasarwa general area on Gajiram-Monguno road, the troops were from Monguno heading to Maiduguri before the incident happened. So far, eight soldiers have been confirmed dead and five are missing.
"The insurgents engaged the troops with Rocket-Propelled Grenades and small arms. Before the arrival of our troops from Monguno and the air support, the Boko Haram members had withdrawn with lots of weapons. They burned three gun trucks belonging to the army," Daily Trust quoted the security source as saying.
The source revealed that the remains of the dead soldiers were taken to Sector 3 headquarters in Monguno.
Sector 3 Commander, Maj. Gen. Bulama Biu, and some troops visited the ambush scene on a search-and-rescue mission.
Full report at:
http://saharareporters.com/2019/08/31/boko-haram-terrorists-kill-8-soldiers-5-missing-ambush
--------
Europe
Turkish FM Condemns Anti-Muslim Acts, Visits Recently Attacked Mosque In Norway
31.08.2019
As part of his two-day visit to the Norwegian capital Oslo, Foreign Affairs Minister Mevlüt Çavuşoğlu visited the Al-Noor Islamic center mosque, which was attacked on Aug. 10 by far-right activists following an anti-Muslim ideology on rise in the Western world. While condemning the act once again, Çavuşoğlu also expressed gratitude to the Norwegian authorities for their strong stance against such terrorist acts.
"We thank Norwegian authorities that send prudential messages against Islamophobia," Çavuşoğlu said while looking at the traces of the terrorist attack, adding that anti-Muslim sentiment can only be hindered by working together.
Çavuşoğlu was accompanied by Pakistan's Ambassador to Norway Zaheer Pervaiz Khan and Norwegian authorities during his visit to Al-Noor in the town Baerum.
The assailant entered the mosque in the affluent Oslo suburb of Baerum on Aug. 10 armed with multiple weapons and opened fire before being overpowered by a 65-year-old man, who suffered minor injuries. The suspect, who attempted to carry out a massacre resembling the Christchurch attack, was later detained. After the attack, Prime Minister Erna Solberg expressed her sympathy with those who had been present at the mosque or were affected.
Anti-Islam attacks have soared, especially in European countries, in recent years. For example, Germany has witnessed growing Islamophobia and hatred of migrants triggered by far-right parties, which have exploited fears over the refugee crisis and terrorism. Police recorded 813 hate crimes against Muslims last year. At least 54 Muslims were injured in the attacks, which were carried out mostly by far-right extremists.
During his visit upon the invitation of his Norwegian counterpart Ine Eriksan Søreide, the top diplomat's program also included a Victory Day reception and meeting with Turkish citizens. On the occasion of Victory Day, Çavuşoğlu attended the reception at the Turkish Embassy's official residence hosted by Turkey's Ambassador to Oslo Fazlı Çorman. At the reception, which started with the national anthems of the two countries, Çavuşoğlu stated in English, "We are determined to further our already perfect relations," adding that is was his pleasure to be in Oslo.
He indicated that bilateral, regional and international issues would be comprehensively handled. Çavuşoğlu also visited the Norwegian energy company Equinor and took part in a meeting at the Norwegian Institute of International Affairs (NUPI).
"Norway has a tradition of consultation and cooperation. Bilateral diplomatic relations continue since they were established in 1926. Both of our countries are critical partners in NATO," he said after the meeting.
https://www.dailysabah.com/diplomacy/2019/08/31/fm-condemns-anti-muslim-acts-visits-recently-attacked-mosque-in-norway
--------
Syria, Russia Step Up Assault on Rebel Stronghold-Opposition, Residents
Aug. 30, 2019
BEIRUT — Syria and its ally Russia have stepped up an offensive against the last big stronghold of Syrian rebels, mounting more air raids and deploying ground reinforcements including Iranian-backed militias, army defectors and residents said on Friday.
The Russian-led alliance is pushing into densely populated parts of Idlib province in the northwest where millions of people who fled fighting elsewhere in Syria have taken refuge.
The northwest offensive has prompted U.N. warnings of a new humanitarian crisis amid the gains by Damascus and its partner Moscow, which has helped President Bashar al-Assad turn the tide in the eight-year-old conflict since intervening in 2015.
Moving deeper into territory along the Turkish border, the advance took the town of Tamaneh after earlier capturing Khwain, Zarzoor and Tamanah farms, the defectors and residents said.
They were the first gains since the alliance, battling a coalition of jihadists and mainstream Turkey-backed rebels, seized a main rebel pocket in nearby Hama province last week.
The offensive has been reinforced by elite army units and Iranian-backed militias, the defectors and residents said.
"There are daily reinforcements coming from the Iranian militias, elite Republican Guards units and Fourth Armoured Division," Colonel Mustafa Bakour, a commander in Jaish al Izza rebel group, told Reuters.
Jets flying at high altitude dropped bombs on the outskirts of Idlib city, the heavily-populated provincial capital. The aircraft were believed to be Russian, according to activists who track the warplanes' activities.
Russia's defence ministry said Syrian government forces will unilaterally cease fire in the "de-escalation zone" in Idlib region on Saturday morning, TASS news agency said.
Turkey, Russia and Iran agreed in 2017 to make Idlib a de-escalation zone to reduce fighting, although the terms were never made public and the deal did not include jihadist groups.
Foreign Minister Sergei Lavrov said earlier this month that Russia had military personnel on the ground in Idlib province. [R4N25A021]
In recent weeks, Moscow sent more special forces that helped break months of stalemate on frontlines where rebels had been holding the army back, Western intelligence sources have said.
AIR STRIKES
Rebel resistance has been eroded by relentless air strikes against civilian areas since the advance began in late April. The campaign has destroyed dozens of hospitals, schools and civil defence centres, paralysing life in rebel-held areas.
Moscow and Damascus deny they have targeted civilians and say they are responding to militant attacks by the former Nusra Front, a jihadist alliance now known as Hayat Tahrir al-Sham that is the dominant force in Idlib.
Opposition sources say hundreds of troops from the country's elite Republican Guards, which is led by President Bashar al Assad's brother Maher al-Assad, have been deployed on the frontlines of southern Idlib province.
The rapid progress of the last few weeks has been attributed to the new lineup of Russian backed-forces, an army defector and two senior opposition sources conceded.
"The Russians have now moved to depending on the Iranians and elite army formations in this campaign," Bakour added, saying this was a move away from reliance on the so-called Tiger forces who previously provided most of the army's ground troops.
Speaking in Oslo, Turkey's Foreign Minister Mevlut Cavusoglu said Russia had assured Turkey its observation posts in northwest Syria would not be attacked.
Hundreds of angry Syrians protesting against the Russian and Syrian bombing demonstrated near the main Bab al Hawa border crossing with Turkey, demanding Ankara's intervention to stop the Russian backed offensive. Turkish security forces used tear gas to disperse demonstrators who sought to enter the Turkish side of the border, witnesses said.
Syrian troops taking part in the offensive have encircled rebels and a Turkish military observation post near the town of Morek. The post is one of 12 that Ankara established in the northwest under a deal with Moscow and Tehran two years ago to reduce fighting between Assad's forces and rebels.
Since capturing the strategic town of Khan Sheikhoun nearly 10 days ago, Russian and Syrian jets were now escalating strikes on the city of Maraat al-Numan that lies further north.
At least 12 civilians, including five children, were killed in raids on the city, where most of the inhabitants have fled.
Full report at:
https://www.nytimes.com/reuters/2019/08/30/world/europe/30reuters-syria-security-northwest.html?searchResultPosition=1
--------
EU's Mogherini welcomes any progress beyond preserving Iran's nuclear deal
30 August 2019
The European Union will continue working to preserve world powers' 2015 nuclear deal with Iran but would welcome any progress beyond it, EU foreign policy chief Federica Mogherini said on Friday.
"My role...is to preserve the full implementation of the existing agreements. Again if something else can be built on it, this would be welcomed and accompanied by the European Union," Mogherini told reporters during a meeting of EU foreign ministers in Helsinki.
The deal has been in jeopardy since the United States withdrew from it last year and reimposed tough economic sanctions on Iran, seeking to push Tehran into wider security concessions including curbs on its ballistic missile program.
New hope of unblocking the political impasse emerged after Iran's foreign minister made a flying visit for talks with host France at the G7 summit in Biarritz last Sunday.
"If this new momentum is real, this can build on the work that we have been doing for years," Mogherini said, referring to the existing treaty with Iran, called the Joint Comprehensive Plan of Action.
The 2015 nuclear deal between Iran and international powers aimed to curb Iran's nuclear activities in exchange for the lifting of many international sanctions on Tehran.
Mogherini declined to answer directly when asked if the United States now demanded that Iran does more than just going back in line with the existing deal's commitments.
Full report at:
https://english.alarabiya.net/en/News/middle-east/2019/08/30/EU-s-Mogherini-welcomes-any-progress-beyond-preserving-Iran-s-nuclear-deal.html
--------
UK finance minister 'livid' at PM Johnson over firing of aide, says report
31 August 2019
British finance minister Sajid Javid has challenged Prime Minister Boris Johnson over the dismissal of an aide by Johnson's top advisor which has caused tension between the government's two most powerful men, media said.
The Financial Times said on Friday that Javid was "livid" about the firing on Thursday of his press aide by Dominic Cummings, who was looking into whether government officials had helped opponents of Johnson's Brexit plans.
"He's absolutely furious," the newspaper quoted a colleague of Javid's as saying. "He doesn't consider the matter closed."
Javid had not threatened to resign but his relationship with Johnson had been compromised, the FT said.
Other newspapers also reported tensions between Javid and Johnson over the dismissal and other incidents which came as Britain's government is preparing for Brexit on October 31 and is trying to move ahead with a new domestic agenda too.
Javid is due to announce a one-year government spending plan on Wednesday with a focus on more funding for education, health and the police. Johnson announced details of the increase in schools spending on Friday.
Earlier this week, a speech that Javid planned to give to outline his economic program was cancelled at short notice.
An official in Johnson's office said he could not comment about any meeting between the two men on Friday but said they were working closely on a series of policies.
Full report at:
https://english.alarabiya.net/en/News/world/2019/08/31/UK-finance-minister-livid-at-PM-Johnson-over-firing-of-aide-says-report.html
--------
EU urges for dialogue window between Iran and US
Jamie Prentis
Aug 30, 2019
The European Union has thrown its support behind French-led efforts to engineer US-Iran talks and seize upon the momentum emanating from the G7 summit.
But Brussels was insistent Iran needed to abide by the landmark 2015 nuclear deal and reiterated it remained the only way forward in the face of US opposition.
Iran's foreign minister Javad Zarif was at G7 talks in France earlier this week on the invitation of President Emmanuel Macron. Talks between US President Donald Trump and his opposite Iranian number Hassan Rouhani have been proposed.
Mr Trump, who pulled out of the 2015 nuclear deal last year and re-enacted sanctions on Iran appeared open to the meeting although support in Tehran has been lukewarm amid a hardliner backlash.
Iran breached certain limits on its nuclear production imposed by the accord and has threatened to go further if its ailing economy is not supported. According to a quarterly report by the UN atomic watchdog shared on Friday Iran continues to enrich uranium to 4.5%, above the 3.67% allowed.
GermanForeignOffice
✔
@GermanyDiplo
Replying to @GermanyDiplo @HeikoMaas
FM @HeikoMaas in Helsinki on #Iran: We have gained new momentum since the G7 Summit. We want to take advantage of this and open the window of opportunity for further dialogue. It remains crucial that Iran return to compliance with its obligations under the #JCPoA.
13
3:01 PM - Aug 30, 2019
Twitter Ads info and privacy
See GermanForeignOffice's other Tweets
"Any development that goes in the direction of talks, contacts channels that open up and diplomacy is welcomed and supported by the European Union," said the EU's foreign policy chief Federica Mogherini.
"What happened in Biartitz a few days ago goes in that direction and is extremely welcomed and this is extremely supported by the European Union," she said at the sidelines of an informal EU summit in Helsinki.
On Friday morning Ms Mogherini chaired talks with the foreign ministers of the UK, France and Germany over Iran.
Arriving for the meetings Germany's Heiko Maas said the priority was opening a window of dialogue between Tehran and Washington.
"Especially after the G7 summit in Biarritz we are all of the opinion that the momentum that perhaps exists, the readiness for dialogue on both sides... must now be used," he said.
In a statement beforehand UK foreign minister Dominic Raab said the "discussions will build on the momentum of the positive G7 talks on Iran as we seek to de-escalate tension."
European leaders have consistently urged Tehran to abide by the 2015 deal, officially known as the Joint Comprehensive Plan of Action.
"My role...is to preserve the full implementation of the existing agreements. Again if something else can be built on it, this would be welcomed and accompanied by the European Union," Ms Mogherini said.
She said Brussels's main message was that they wanted "to support any initiative that is inclusive and that has a full ownership in the region, that can lead to de-escalation, and even if limited, to more cooperation in the Gulf."
The group of four also discussed the heightened tensions in the Arabian Gulf after attacks on oil tankers and the Iranian seizure of a British-flagged vessel last month.
Full report at:
https://www.thenational.ae/world/europe/eu-urges-for-dialogue-window-between-iran-and-us-1.904488
--------
URL: https://www.newageislam.com/islamic-world-news/how-christianity-judaism-islam-buddhism/d/119621
New Age Islam, Islam Online, Islamic Website, African Muslim News, Arab World News, South Asia News, Indian Muslim News, World Muslim News, Women in Islam, Islamic Feminism, Arab Women, Women In Arab, Islamophobia in America, Muslim Women in West, Islam Women and Feminism