New Age Islam News Bureau
16 March 2021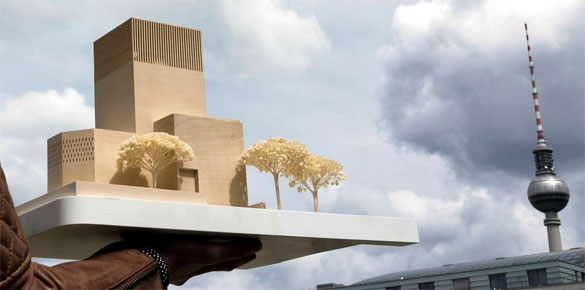 A model of the House of One at Petriplatz in Berlin. Getty Images
----
• Shia, Sunni Clerics Give Call For A Mega Rally At Jama Masjid On Friday against Moving Supreme Court To Remove 26 Verses Of The Quran
• Canada Calls On China to Stop Persecution of Uighurs, Tibetans
• Pakistan Joins First-Ever 'Int'l Day to Combat Islamophobia'
• Bangladesh: Rally Held Against Quran Petition in India
• Kyrgyzstan Repatriates Children of Extremists in Iraq
• Hamas, OIC, Palestine PM Censure Kosovo Decision to Open Embassy in Jerusalem Al-Quds
• Tunisia Announces Presidential Visit To Libya, First Time Since 2012
• Proper Management of 'Allah' Use Will Avoid Misinterpretation, Says Ex-Sabah Chief Minister
Europe
• House of One: Muslims, Jews and Christians to Worship under Single Roof in Berlin
• History Made As First Muslim Nominated For Lead Actor Oscar
• Arsonists target Muslim children's school in central Sweden
• UK sanctions Syrian leaders on 10th anniversary of failed proxy war
• EU liable for Syrian people's sufferings, shedding their blood: Foreign ministry
• London Isis supporter found guilty of plotting terror attack
--------
India
• Shia, Sunni Clerics Give Call For A Mega Rally At Jama Masjid On Friday against Moving Supreme Court To Remove 26 Verses Of The Quran
• Islamic State module case: NIA conducts searches at 11 locations in Delhi, Kerala and Karnataka; three arrested
• Jaish commander killed in J&K encounter
--------
North America
• Canada Calls On China to Stop Persecution of Uighurs, Tibetans
• Analyst casts doubt on US willingness to return to Iran deal
• Syrian conflict longer than two world wars: UN envoy
--------
Pakistan
• Pakistan Joins First-Ever 'Int'l Day to Combat Islamophobia'
• PDM decision on en masse resignations today: Maryam
• Saudi tycoon in Pakistan to end impasse over KE sale
• One arrested after cleric Muhammad Ali Mirza survives attack in Jhelum
--------
South Asia
• Bangladesh: Rally Held Against Quran Petition in India
• Taliban to Attend Afghan Peace Talks in Moscow
• Two killed after gunmen ambush university bus in Afghanistan
• Concerns rise over Sri Lanka's move to ban burqas and madrassas
• Avalanche kills 25 Taliban fighters on route from Pakistan
• Taliban attacks Pashdan dam of Herat province
• India, Bangladesh likely to sign three MoUs during PM Modi's visit
--------
Arab World
• Kyrgyzstan Repatriates Children of Extremists in Iraq
• United Nations says has helped 12 jurisdictions prepare Syrian war crimes cases
• US-occupied Iraqi air base hit by several rockets
• Syria foils 'large-scale' terrorist attack on Damascus: SANA
--------
Mideast
• Hamas, OIC, Palestine PM Censure Kosovo Decision to Open Embassy in Jerusalem Al-Quds
• Israel will be hit by 2,000 missiles a day in future war with Hezbollah: Israeli general
• Yemen: US must stop Saudi war, siege to set stage for political process
• Yemen's targeting of Saudi oil industry 'not simply a tactical decision in war'
• American proposal offers nothing new, serves Washington's interests: Top Yemeni official
--------
Africa
• Tunisia Announces Presidential Visit To Libya, First Time Since 2012
• Paris defends media freedom after news channel threatened by Algerian government
• European Union mulls visa pressure so northern African states take back migrants
• Libya's new interim prime minister sworn in, promises to represent all Libyans
• Police clash with anti-lockdown protesters in Jordan
• Boko Haram Threat Complicates Plans to Resettle Displaced Nigerians
• Nigerian troops kill 41 Boko Haram terrorists
• Armed men abduct schoolteachers, students in NW Nigeria
• Libya's new unity gov't sworn in by parliament
• Turkey decries Boko Haram terrorist attack in Nigeria
--------
Southeast Asia
• Proper Management of 'Allah' Use Will Avoid Misinterpretation, Says Ex-Sabah Chief Minister
• In Sarawak, five lodge police report against Selangor woman for remarks on 'Allah' ruling
• Malaysia government appeals ruling on Christians using 'Allah'
• Shunned by Umno, Bersatu's survival now rests with PAS, say analysts
Compiled by New Age Islam News Bureau
URL: https://www.newageislam.com/islamic-world-news/house-one-muslims-jews-christians/d/124554
--------
House of One: Muslims, Jews and Christians to Worship under Single Roof in Berlin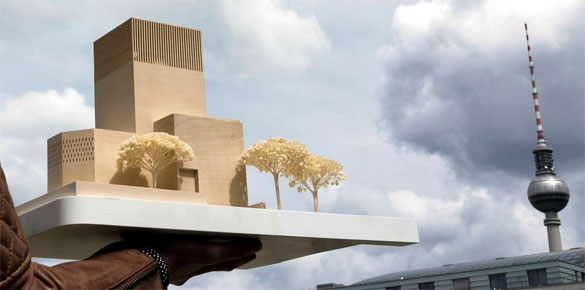 A model of the House of One at Petriplatz in Berlin. Getty Images
----
Thomas Harding
March 16, 2021
Under the 2.3 million red bricks arching over a new building in Berlin it is hoped that the seeds of peace can grow between the three Abrahamic religions.
When the cornerstone is laid at the House of One building this spring it will mark an increasingly global desire for togetherness among Muslims, Jews and Christians.
A decade in the making, the project puts all three religions under a single roof, a concept growing around the world with the Abrahamic House reaching completion in Abu Dhabi next year and similar projects in Central African Republic and Georgia in eastern Europe.
In interviews with The National, an imam, rabbi and priest have argued that the House of One could mark greater understanding between the monotheist beliefs.
"The Muslim community is tired of hate, violence and terror being spread to the world in the name of Islam," said Imam Kadir Sanci. "Now they see that Muslims - together Jews and Christians - are finally working effectively for peace. Many Muslims are happy that the House of One can be the voice of peace that can drown out the voice of violence."
His words were echoed by Rabbi Andreas Nachama. "The idea to have Jews, Muslims and Christians under one roof is attractive to people because it's a step towards peace between the religions."
For more than 50 years a parking lot in what was East Berlin has stood largely empty, with memories of the great church of St Peter demolished by the communists, largely forgotten in the Petriplatz area.
But in 2009, at the height of the conflicts in Iraq and Afghanistan, a group of religious thinkers decided that a route out of violence would be greater understanding by building a church, a synagogue and a mosque all housed within a central building.
"The Protestant community decided that we wanted not to rebuild a church but a sacred building to mirror the religious situation in our city," said Protestant theologian Roland Stolte, one of the founders. "We wanted to step back and give room for other religions, that was the main premise, for Jews and Muslims to join us in one sacred building."
The Protestant theologian said the concept accepted there was "no exclusivity of truth in other religions" but that the idea of House of One was to "look for hints of truth in other religions or in other worldviews".
The idea found global appeal. Donations totalling almost 9million Euros ($10.7m) have poured in from 60 different countries, including Egypt, Jordan and UAE as well as 30million Euros from the German government.
Respect for each religion's individual services and practices will remain strictly observed within the 46 metre high building separated into four distinct parts. It will contain three religious structures, each accommodating about 100 worshippers and then a central hall to which everyone is welcome, from atheists to tourists and others religions.
The project has also had close ties with the Abrahamic Family House in Abu Dhabi that will be completed next year. "We discussed it with people from the UAE embassy in Berlin and they have the same ideas, system and structure," said Roland Stolte. "The same hope too for more harmony between religions."
From a theological perspective, each theology accepts there should be no objection to the concept. "It is in the tradition of our honourable Prophet," said Imam Kadir Sanci and was inspired by examples from Islamic history. "For us, every step we take must be in accordance with the Quran and the Sunnah.
Father Gregor Hohberg, 53, a Lutheran pastor, said the philosophy was contained within the teaching of Jesus. "This goes hand in hand with the sharing and relinquishing of historically grown power, influence and privileges - entirely in the spirit of Jesus.," he said. "There are theological challenges and questions but no religion can come into the House of One with a final theology or an absolute claim of truth."
Worshippers had been attracted to his congregation because of the project. "We are not trying to create a mixed religion, but rather to live and celebrate diversity and the richness of differences."
It was also accepted by Imam Sanci that there would be some concerns or "headwinds" within the Muslim community who do "not know their own religion and its history sufficiently".
The idea of "sharing an umbrella" with Christians and Muslims came in the knowledge "that Abraham is our common father in belief and that we have the same God…is progress," said Rabbi Nachama.
Indeed, this symbolism of unity, forgiveness and understanding has greater meaning among the Jews in Germany where its people were the victims of the Holocaust. Today their number is just 200,000 where once there were an estimated 318,000 Jews and many more from a Jewish background before the Nazis came to power.
But Rabbi Nachama, whose father survived the Auschwitz and Sachsenhausen concentration camps and whose mother was sheltered by a non-Jew Germany family, believes the House can go some way to resolving conflict. "We can have greater understanding that while each has his own tradition we share the earth and we share the one God."
Imam Sanci is hopeful that the more people from different religions learn about each other the greater the chances of peace. "From the first minute of my involvement in the House of One, I was convinced that we are making an important contribution - albeit a modest one - to world peace. When people have conversations at eye level they are more likely to find reasons to be friendly with each other," he said. "People who refuse to get to know their counterparts are more prone to hostility and violence."
https://www.thenationalnews.com/world/europe/muslims-jews-and-christians-to-worship-under-single-roof-in-berlin-1.1184796
--------
Shia, Sunni Clerics Give Call For A Mega Rally At Jama Masjid On Friday against Moving Supreme Court To Remove 26 Verses Of The Quran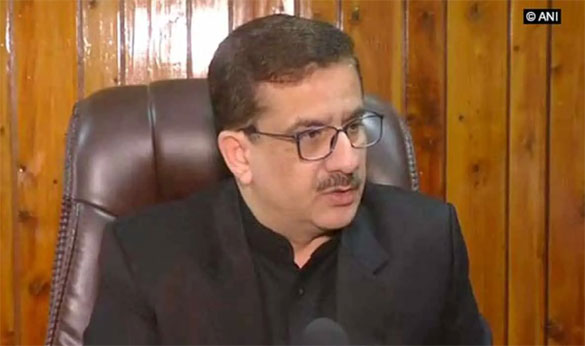 Hasan Rizvi
-----
Mar 16, 2021
MUMBAI: Continuing their protests against ex-chairman of UP Shia Central Waqf Board Waseem Rizvi for moving Supreme Court to remove 26 verses of the Quran, senior Shia and Sunni clerics have given a call for a rally at Delhi's Jama Masjid after the Friday Namaz on March 19.
United under the banner Tahaffuz-e-Quran (in protection of the Quran), the clerics addressed a rally at Lucknow on Sunday and resolved to continue their protests till the Supreme Court, they hope, dismissed the PIL. "Both Shias and Sunnis will participate in the rally at Jama Masjid on March 19. Since Waseem Rizvi has committed a sacrilege he should not be made in-charge of any Muslim organization or government departments dealing with Muslim issues," said Maulana Kalbe Jawad, senior Shia cleric and general secretary, Majlis-e-Ulema-e-Hind.
The meeting was also addressed by, among others, former member of All India Muslim Personal Law Board Maulana Salman Nadvi. Nadvi was expelled from the Board after he had publicly suggested that Muslims should handover the then disputed Babri Masjid-Ramjanmbhoomi land months before SC gave its verdict in November 2019.
Waseem Rizvi could not be contacted but reacting to the uproar his petition has created among Muslims, he told a section of the media: "I stand by what I had said in the petition and I am not scared by Anything. I will keep fighting for it till the end."
Meanwhile, in a video message which has gone viral, Waseem Rizvi's younger brother said that the family has nothing to do with him.
https://timesofindia.indiatimes.com/city/mumbai/shia-sunni-clerics-give-call-for-a-mega-rally-at-jama-masjid-on-friday/articleshow/81524435.cms
--------
Canada Calls On China to Stop Persecution of Uighurs, Tibetans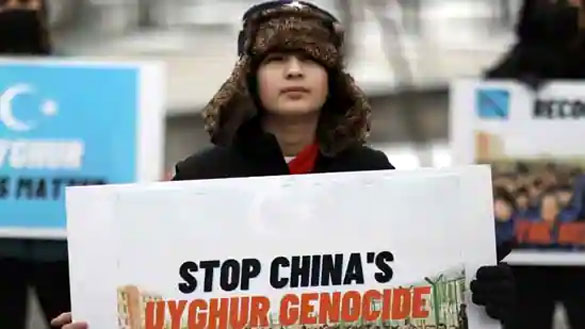 Canadian Leader of the Opposition Erin O'Toole said Canada must stand behind those who advocate for religious freedom. (REUTERS)
------
MAR 15, 2021
Conservative party of Canada has called on China to stop the persecution of people who practice their religion or belief including Christians, Tibetans and Uighurs.
In a statement issued on the 62nd anniversary of the Tibetan National Uprising Day, Canadian Leader of the Opposition Erin O'Toole said Canada must stand behind those who advocate for religious freedom.
The Conservative party leader paid tribute to "the brave women and men who sacrificed their lives for the just cause of Tibet", while noting his support for the nonviolent struggle of the Tibetan people for genuine autonomy, human rights, and justice for the past 62 years, without either malice or compromise.
"This is a great testament to the steadfastness and virtue that characterize His Holiness the Dalai Lama and the Tibetan people," the statement read.
He further expressed his commitment as a leader of the Conservative party of Canada for safeguarding religious freedom and protection of human rights for those oppressed and facing abuses.
"Conservatives have urged China to stop the persecution of people who practice their religion or belief including Catholics, other Christians, Tibetans, Uighurs, and Falun Dafa practitioners, including the genocide of the Uyghur people," the statement read.
"In a time when freedom of religion and belief is under increasing threat internationally, Canada must stand behind those who advocate for religious freedom," the statement added.
Last month, Canada's parliament has passed a non-binding motion that says China's treatment of its Muslim Uighur minority constitutes genocide.
The motion, sponsored by the opposition Conservative Party, passed by a vote of 266-0 in the House of Commons on Monday, though Trudeau and nearly his entire cabinet abstained.
Tibet was a sovereign state before China's invasion in 1950 when the People's Liberation Army (PLA) entered northern Tibet.
March 10 is regarded as 'Tibetan Martyrs' Day', dedicated to the patriotism of the heroic men and women of Tibet.
https://www.hindustantimes.com/world-news/canada-calls-on-china-to-stop-persecution-of-uighurs-tibetans-101615818308590.html
--------
Pakistan joins first-ever 'Int'l Day to Combat Islamophobia'
MAR 15, 2021
Pakistan became a member of the Organisation of Islamic Cooperation (OIC) on Monday to observe the first-ever "International Day to Combat Islamophobia." The OIC has decided to designate March 15 as a day to fight against Islamophobia globally each year.
In a statement, the Foreign Ministry of Pakistan said the OIC's unanimous support for the designation of this day is a reflection of the sentiments of billions of Muslims around the world.
"Today, joins members of the OIC in observing for the first time the 'International Day to Combat Islamophobia.' Marking this occasion, the OIC Group will hold a High-Level Event in New York on 17 March 2021," it said.
Last November, the OIC Council of Foreign Ministers in its 47th session, held in Niamey, Niger, unanimously adopted a resolution moved by Pakistan and Turkey to observe March 15 as the "International Day to Combat Islamophobia."
The Islamic group is now working with the international community to commemorate the day at the global level.
"Prime Minister Imran Khan has been the leading international voice in raising awareness on the grave consequences of rising systematic Islamophobia and in promoting inter-faith harmony," said the ministry, adding that the scourge of Islamophobia, fueled by populism, hate speech, and lack of knowledge and disinformation, is causing unimaginable suffering to Muslim minorities around the world.
Pakistan reaffirmed its support to continue to lead international efforts for building bridges between cultures and civilizations.
"Through the observance of this Day, we want to build better understanding of Islam and Islamic precepts. We intend to send a message of international solidarity and cooperation. We remain determined to promote values of peaceful co-existence as well as inter-faith and cultural harmony," the Pakistani Foreign Ministry further said.
The OIC in its report presented in the foreign ministers meeting in Niger last year said the spread of Islamophobia, both in momentum and outreach, is particularly alarming these days, for it has emerged as "a new form of racism" characterized by xenophobia, negative profiling and stereotyping of Muslims.
"The rise in hate crimes against Muslims both offline and online, as well as discrimination in education, employment, housing and healthcare sector, among others are well documented," said the global Muslim body in its report.
Studies in Europe and elsewhere have also revealed that Islamophobia is most visible in media and the discourse of right-wing political parties and groups who tend to exploit and build on the general fear of Islam for electoral gains.
In European countries and the U.S., anti-immigration and anti-refugee rhetoric has taken an anti-Muslim overtone and often becomes the central theme of campaigns by far-right parties.
"Pertinent to note that Islamophobia is also on the rise in some non-western countries where the Muslim communities and minorities face discrimination, hatred and violence, including in Kashmir," according to the OIC.
The OIC further reported that during the ongoing coronavirus pandemic, there has been a perceivable rise in negative narratives and hate speech in some countries holding the Muslim minorities responsible for spreading the COVID-19, as part of a disinformation campaign and "fake news," mainly on social media.
https://www.dailysabah.com/world/asia-pacific/pakistan-joins-first-ever-intl-day-to-combat-islamophobia
--------
Bangladesh: Rally held against Quran petition in India
Md. Kamruzzaman
16.03.2021
DHAKA, Bangladesh
Jamaat-e-Islami, Bangladesh's largest religious-political party, organized a rally in the capital Dhaka on Monday to condemn a petition filed in the Indian Supreme Court seeking the removal of 26 verses from the Muslim holy Quran.
Waseem Rizvi, former chairman of the Shia Central Board of Waqf (Trust) in Uttar Pradesh, India, as well as a Bollywood film producer, filed a petition two days ago claiming that parts of the Quran are "provocative of violence" and incite people to "jihad," which he interpreted as armed struggle.
Hundreds of Jamaat supporters came to the capital's business hub of the Motijheel area in small and large groups, and later rallied on the main road amid full-throat slogans against Rizvi.
The protesters also demanded that the Indian court immediately reject the petition and bring Rizvi to trial for hurting over a billion Muslims' religious sentiments around the world.
Speaking to Anadolu Agency, Jamaat leader Dr. Shafiqur Rahman said no Muslim would dare submit such a petition on the Quran as "Allah Himself has taken the guarantee to protect this book from any alteration."
It is the extreme audacity of Rizvi, the so-called Shia leader, who approached the court for the expulsion of 26 verses from the Quran, which remained unchanged for the last 1,500 years, Rahman added.
"Leave aside 26 verses, no one has the authority to alter even a single digit of the holy Quran," Rahman said.
He urged the Indian government to immediately arrest Rizvi and bring him to trial for hurting the religious sentiments of the world's Muslims.
According to Islamic scholars, the term "jihad" in Islam refers to struggles or strivings for some good cause, such as education, social change, or preaching Islam.
"Jihad is the name given to all-out attempts to accomplish some good aim. It never entails the killing of people or the use of terrorism. However, some anti-Islamic forces use the term as a synonym for terrorism as part of their Islamophobia propaganda," according to Rafiqul Islam, associate professor at the Arabic Department of Dhaka University.
https://www.aa.com.tr/en/asia-pacific/bangladesh-rally-held-against-quran-petition-in-india/2177238
--------
Kyrgyzstan repatriates children of extremists in Iraq
16 March ,2021
Dozens of children were returned to Kyrgyzstan from Iraq Tuesday in the ex-Soviet country's first major repatriation since hundreds of its citizens joined extremist groups fighting there and in Syria, the foreign ministry said.
Images showed the children holding balloons and stuffed animals after touching down at the capital Bishkek's Manas airport early Tuesday.
Scores of women from Central Asia are serving jail time in Iraq over their participation in the activities of extremist organizations, chiefly ISIS. In many cases, their husbands are assumed to have died in the fighting.
Kyrgyzstan's foreign ministry said in a statement that the repatriation of 79 children born to Kyrgyz parents was "carried out with the consent of their mothers, who remain in the Republic of Iraq."
The statement did not mention the status of the women.
It added that government services will work on the children's "rehabilitation and resocialization for further transfer to relatives".
Kyrgyzstan is the fourth state in former Soviet Central Asia to complete a repatriation mission from either Iraq or Syria following neighbors Kazakhstan, Uzbekistan and Tajikistan.
The Kyrgyz government thanked Iraq's government, the United Nations children's agency UNICEF and the International Red Cross and Red Crescent Movement.
A fifth Central Asian state, Turkmenistan, has not acknowledged its citizens joining the conflicts in Syria and Iraq.
https://english.alarabiya.net/News/middle-east/2021/03/16/Kyrgyzstan-repatriates-children-of-extremists-in-Iraq
--------
Hamas, OIC, Palestine PM censure Kosovo decision to open embassy in Jerusalem al-Quds
15 March 202
The Palestinian resistance movement Hamas and the Organization of Islamic Cooperation (OIC) have lambasted Kosovo for opening its embassy in the occupied Jerusalem al-Quds.
In a press release on Monday, Hamas spokesman Hazem Qassem said Kosovo's move was in sheer violation of international resolutions and humanitarian considerations, the Palestinian Information Center reported.
The decision by Kosovo, a partially-recognized state and disputed territory in Southeastern Europe, showed a blatant bias in favor of Israel, he said.
Donald Trump, the former president of the United States, sparked controversy by officially recognizing Jerusalem al-Quds as Israel's 'capital' in December 2017, before moving the US Embassy there from Tel Aviv in May the next year.
Israel lays claim to the entire Jerusalem al-Quds, but the international community views the city's eastern sector as occupied territory and Palestinians consider it the capital of their future state.
Kosovo opened its diplomatic mission in Jerusalem al-Quds on Sunday, weeks after establishing relations with Israel.
The Hamas official said Kosovo had been encouraged to make such a decision following the normalization of relations between Israel and some Arab countries, including the United Arab Emirates (UAE) and Bahrain.
Qassem also stressed that Jerusalem al-Quds would remain Palestinian and its Arab identity would never be erased.
OIC decries Kosovo, Czech for opening embassies in al-Quds
In a statement on Monday, the General Secretariat of the OIC censured Kosovo and the Czech Republic for opening their diplomatic missions in the occupied Jerusalem al-Quds, the official Palestinian Wafa news agency reported.
This illegal act "violates international law and all relevant UN resolutions, particularly UN Security Council resolution 478, which prohibits the establishment of diplomatic missions in the occupied city," it said.
The OIC also called for abstaining from holding prejudice toward the historical, legal, and political status of the occupied city, which forms an integral part of the Palestinian territories occupied since 1967.
Palestinian prime minister slams Kosovo, Czech for embassy opening
Separately on Monday, Palestinian Prime Minister Mohammad Shtayyeh denounced Kosovo and Czech's decision to open their diplomatic mission to Israel, Wafa reported.
Speaking during the weekly session of the Council of Ministers in Ramallah, the Palestinian premier said Kosovos had effectively recognized the occupied city as the 'capital' of Israel in blatant defiance of international law.
Shtayyeh also slammed the Czech Republic's opening of a branch of its Israel embassy, located in Tel Aviv, in Jerusalem al-Quds.
The Palestinian prime minister also affirmed such decisions could not deny the Palestinian people's legitimate rights to Jerusalem al-Quds.
https://www.presstv.com/Detail/2021/03/15/647355/Hamas-OIC-Kosovo
--------
Tunisia announces presidential visit to Libya, first time since 2012
16 March ,2021
Tunisian President Kais Saied is to travel to neighboring Libya Wednesday for the first visit by a head of state since 2012, his office announced, in a boost for its new UN-backed unity administration.
Saied's visit aims to show "Tunisia's support for the democratic process in Libya" following the swearing in on Monday of new interim Prime Minister Abdul Hamid Dbeibah on a pledge to reunite the divided country and lead it to December elections, the president's office said.
https://english.alarabiya.net/News/north-africa/2021/03/16/Tunisia-announces-presidential-visit-to-Libya-first-time-since-2012-
--------
Proper management of 'Allah' use will avoid misinterpretation, says ex-Sabah chief minister
16 Mar 2021
BY JULIA CHAN
KOTA KINABALU, March 16 — Parti Warisan Sabah president Datuk Seri Shafie Apdal believes proper management with sensitivity in using the word "Allah" will go a long way to prevent potential misuse and misinterpretation in multireligious Malaysia.
He said the word "Allah" is universally understood as the Arabic word for God and should not be exclusive to Muslims.
"In Islam, we believe that Allah is the God for all people, so why should it be exclusive to only one group?" he said in a Facebook Live session last night.
The former Sabah chief minister said the federal Cabinet during his time had discussed the matter, in the presence of Tan Sri Bernard Dompok, who eventually became Malaysia's first ambassador to the Vatican City.
"If we believe that God is the Almighty for all beings, then why are we not confident in others using the term?
"If there are potential abuses, that's where we have to manage it. As an example, you let people own guns, but not to shoot others. You allow people to own knives to cut meat, not to injure another. You do not take their guns or knives away," he said.
Shafie said in a situation as delicate as religion, the key is to manage the potential abuse and confusion.
"For instance, we don't allow Muslims to pray in church, so do not name your church Allah, to prevent confusion. Manage the use and potential misinterpretation. That is the way to go about it," he said.
"We need to have high tolerance and understand each other, not go for the extreme, that is divisive and bad for unity," he said.
On March 10, the High Court ruled that the federal government directive in a December 5, 1986 circular issued by the Home Ministry's publications control division was unlawful and unconstitutional.
The controversial decision meant that after decades, Christian Malaysians could use the word "Allah" to refer to their God.
The ruling was for Sarawakian Jill Ireland Lawrence Bill's legal challenge against the government's seizure of her eight educational compact discs containing the word "Allah" in their titles and which were meant for her personal use.
The word "Allah" is Arabic for God and has been adopted into the Malay language. It has been used for generations by Malay-speaking Christians in the country, especially those in Sabah and Sarawak.
The federal government has filed an appeal against the High Court decision.
https://www.malaymail.com/news/malaysia/2021/03/16/proper-management-of-allah-use-will-avoid-misinterpretation-says-ex-sabah-c/1958188
--------
Europe
History made as first Muslim nominated for lead actor Oscar
March 15, 2021
LONDON: British actor Riz Ahmed has made history by becoming the first Muslim to be nominated best lead actor for the film industry's most prestigious award: The Oscar.
Ahmed, 38, was nominated for his role in "Sound of Metal," which tells the story of Ruben, a rock-and-roll drummer and recovering addict whose life is sent into a tailspin when he loses his hearing.
Ahmed told The Times that he had immersed himself in the character of Ruben by attending Alcoholics Anonymous meetings, and learning drumming and sign language.
"When you learn things that take you away from yourself and your comfort zone — and I mean truly learn them — what it does is bring you home, back to yourself," he said.
"As an actor, you start off at this place of separation, and by the end, it's crazy, but you want to grab someone and tell them, 'This is me!'" he added.
"Ruben's journey in 'Sound of Metal' became my journey too. And it absolutely changed my life."
Muslims have seen Oscar success in the past, but this is the first time one has been nominated for the coveted lead actor award.
American-Muslim Mahershala Ali has taken home two Oscars for supporting actor for his roles in "Moonlight" in 2017 and "Green Book" in 2019, but nomination for lead roles has eluded him.
Ahmed will compete against six-time nominee and one-time winner Anthony Hopkins, one-time winner Gary Oldman, the late Chadwick Boseman and Steven Yeun. The Oscars will take place on April 25.
https://www.arabnews.com/node/1825956/art-culture
--------
Arsonists target Muslim children's school in central Sweden
15 March, 2021
A Muslim children's school in central Sweden was attacked by masked men on Monday who attempted to set fire to the building, according to local media reports.
Alsalamskolan School principle, Hussein Aldoaudi, told Swedish state broadcaster SVT that the attack on the school in Orebro province was captured on CCTV.
"In the footage, two masked men break windows on the lower floor of the school and throw flammable materials inside," Aldaoudi said.
"Because it was early in the morning, our only consolation was that no one was in the school," he added.
Aldaoudi said parts of the school, including its preschool department, will remain closed for refurbishment. The repair works are expected to last several weeks.
Despite works and safety checks ongoing, Aldaoudi said the school's pupils will return as normal on Monday.
Police have opened an investigation into the attack.
Anti-Muslim sentiment in Sweden has risen to prominence in recent years, with far-right movements and political parties gaining ground on anti-immigration platforms.
In its 2018 parliamentary elections, the Scandinavian country saw the far-right Sweden Democrats Party, once shunned for historical links to neo-Nazis, rise to become the third-largest party in parliament.
Last year, far-right groups in both Sweden and neighbouring Denmark staged public Quran burning events which ended in clashes with police and rioting.
https://english.alaraby.co.uk/english/news/2021/3/15/arsonists-target-sweden-muslim-childrens-school
--------
UK sanctions Syrian leaders on 10th anniversary of failed proxy war
15 March 2021
The British government has chosen the 10th anniversary of the failed campaign to oust the Syrian government by means of foreign-sponsored armed uprisings and Takfiri terrorism, to impose sanctions on six leading Syrians.
The sanctions were announced by Foreign Secretary, Dominc Raab, who claimed their object is to hold the Syrian government "to account for their wholesale assault on the very citizens they should be protecting".
The sanctioned individuals include Syrian foreign minister, Faisal Miqdad, government press officer, Luna al-Shibl, in addition to two army generals and two leading businessmen.
The sanctions – part of the UK's post-Brexit strategy of appearing more assertive on the world stage – freezes any assets the targeted individuals may have in the UK and bars them from traveling to Britain.
Currently 359 Syrian entities are sanctioned by the UK; of which 289 are individuals and 70 comprise organizations.
The UK's new post-Brexit sanctions regime has also been used against the leader of Belarus, Alexander Lukashenko, and other "senior figures" in the Belarusian establishment.
It is not yet clear just how effective these sanctions are, especially in view of the fact the targeted Syrian officials are unlikely to have any assets in the UK nor are they likely to be planning imminent trips to Britain.
Analysts have been at pains to point out the sanctions against Syrian officials are borne out of malice and frustration, in so far as the UK has failed to achieve even its minimal objectives in the Syrian conflict.
The increase of Western attacks and mainly the UK, on the Syrian government and head of state is related to the anniversary of the "revolution" of Jihadists and the failure of the #UK to achieve the #US objectives in #Syria.
Understandable. https://t.co/WrYhHjRzwt
— Elijah J. Magnier (@ejmalrai) March 15, 2021
https://www.presstv.com/Detail/2021/03/15/647353/UK-Syria-Sanctions-Dominic-Raab-Failed-Proxy-Warfare
--------
EU liable for Syrian people's sufferings, shedding their blood: Foreign ministry
15 March 2021
The Syrian Ministry of Foreign Affairs and Expatriates has denounced the European Union's recent declaration on the decade-long conflict in the war-torn Arab country, saying the bloc is responsible for the sufferings of Syrian people as it backs sanctions which amount to economic terrorism.
"The EU is liable for the miseries of Syrians and their carnage as it supports terrorism, and exercises economic terrorism [against Syria]. The EU is not in a position to advocate Syrians, and has no capacity to assume a positive role," Syria's official news agency SANA quoted an unnamed official at the ministry as saying in a statement on Monday.
The source added that the EU declaration on Syria is tainted with falsehood and unsubstantiated claims, overlooks realities on the ground, and underscores its continued hostile policies towards Syria.
The EU is involved in aggression against Syria through supporting terror groups and imposing economic sanctions, the statement said, adding that this makes the union responsible for the sufferings and slaughter of Syrian people.
The source went on to say that "the colonialist dreams of some EU members have become a thing of the past. The Syrian nation, who stood up against the French occupation, will not allow colonialists to return and meddle in the country's domestic affairs. They must realize only Syrians will seal their future."
The ministry highlighted that EU-sponsored conferences on Syria, which bring together enemies of the Syrian nation, fall within the framework of the bloc's flawed approach vis-à-vis Syria and are in line with its attempts to undermine Syria's national sovereignty.
On Sunday, the European Union said it will renew sanctions against the Damascus government in May, alleging the foreign-backed conflict in the war-ravaged country is still far from a solution.
Syria has been gripped by foreign-backed militancy since March 2011. The Syrian government says the Israeli regime and its Western and regional allies are aiding Takfiri terrorist groups wreaking havoc in the country.
Syrian government troops and their allies have managed to retake roughly 80 percent of the war-ravaged Arab country's territory from the Takfiri terrorists.
The Syrian army is fighting to drive out remaining militants, but the presence of US and European forces in addition to Turkish troops has slowed down its advances.
A new report by a humanitarian aid group has revealed that the economic cost of the ongoing foreign-sponsored conflict in Syria after 10 years is estimated to be at over USD 1.2 trillion, besides the loss of thousands of civilian lives and displacement of millions of people.
The 'Too high a price to pay: the cost of conflict for Syria's children' report launched by California-based World Vision International in partnership with Frontier Economics says even if the war ended today, the cost will continue to accumulate to the tune of an additional $1.4 trillion in today's money through to 2035.
The report went on to say that the negative impacts of the war on the Syrian children's health and education will bring the figure up to $1.7 trillion.
The group also said the life expectancy of Syrian children has been reduced by 13 years.
https://www.presstv.com/Detail/2021/03/15/647373/EU-liable-for-Syrian-people%E2%80%99s-sufferings-spilling-their-blood-Foreign-ministry
--------
London Isis supporter found guilty of plotting terror attack
12 Mar 2021
An Islamic State supporter who rapped about decapitations and wearing suicide vests has been found guilty of plotting to run amok with a sword during the coronavirus lockdown.
Sahayb Abu, 27, had bought two blades, balaclavas, a camouflage hat and body armour online in readiness for the planned terror attack last summer, the Old Bailey heard. He was arrested on 9 July after discussing guns with an undercover police officer, who he met on an Isis supporters' Telegram chat group.
A jury deliberated for 21 hours and 32 minutes to find him guilty of preparing for terrorist acts by a majority of 11 to one.
His brother, Muhamed Abu, 32, wept as he was cleared of failing to disclose information about a plot to authorities. He appeared distressed at his sibling's conviction, sobbing: "He's a clown, he's a buffoon."
Following the verdicts, Commander Richard Smith said Sahayb Abu was a "very dangerous individual", despite portraying himself as a clownish aspiring rapper called Masked Menace.
Smith, the head of the Met's counter-terrorism command, said: "There is no doubt in my mind that Sahayb had murderous intent, some of that was evidenced from the kind of things that he was posting online and sharing with others, including his brother."
The court heard how some of the defendants' relatives had been linked to extremism in the past. The defendants' half-brothers Wail and Suleyman Aweys went to Syria in 2015, where they are both believed to have died, the court was told.
Two years later, the court heard, the defendants were caught with their older half-brother Ahmed Aweys putting up poppy posters in east London saying British tax was used to "kill Muslims".
Sahayb Abu, from Dagenham in east London, went on to associate with known terrorists while serving a sentence for burglary at Wandsworth prison in south London. Among them was the Isis supporter Husnain Rashid, who was jailed for at least 25 years in 2018 for calling for an attack on Prince George.
Sahayb Abu was released from prison on 20 March last year, and went from being "locked up to locked down" as the Covid-19 pandemic struck, jurors heard. Over the next three months, he trawled the internet for Isis propaganda, including pictures of fighters in balaclavas with guns. He posed in his combat gear in homemade videos sent to Muhamed Abu.
In a disturbing rap, he described the London mayor, Sadiq Khan, as a "sellout" and talked about the murdered fusilier Lee Rigby.
He also posted extremist comments online and came to the attention of the undercover officer via the Telegram chat group. The pair met twice, and during their conversations used code words "silah" and "duty free" for firearms, which the officer claimed he could import.
Sahayb Abu said the time was coming to be an "action man rather than a chatty man" and commented "we need a 9/11 2.0", in reference to the World Trade Center attacks in New York. Police took the decision to arrest the brothers on 9 July last year.
https://www.theguardian.com/uk-news/2021/mar/12/london-isis-supporter-sahayb-abu-guilty-plotting-terror-attack?utm_source=iterable&utm_medium=email&utm_campaign=2102947_
--------
India
Islamic State module case: NIA conducts searches at 11 locations in Delhi, Kerala and Karnataka; three arrested
March 15, 2021
New Delhi: The National Investigation Agency (NIA) on Monday arrested three persons as it conducted simultaneous searches at 11 locations in Kerala, Karnataka and Delhi in connection with terror activities of a group propagating the violent ideology of ISIS, an official said.
An NIA spokesperson said the searches were carried out by the premier anti-terror probe agency with local police units at 11 locations – eight in Kerala's Kannur, Mallapuram, Kollam and Kasargod districts, two in Bengaluru and one in Delhi.
The case pertains to the terrorist activities of a group led by one Mohammed Ameen of Kerala, the official said.
Three people – Ameen and his associates Mushab Anuvar and Rahees Rashid – were arrested after preliminary examination, the NIA official said.
The group has been running various ISIS propaganda channels on different social media platforms such as Telegram, Hoop and Instagram for propagating the violent Jihadi ideology of ISIS, and radicalising and recruiting new members to the module, the NIA official said.
The NIA had registered a case against seven known and other unnamed persons under relevant sections of the Indian Penal Code and the Unlawful Activities (Prevention) Act on March 5, 2021.
The NIA official said the group of radicalised individuals, under the leadership of Ameen and having pledged allegiance to the proscribed terrorist organisation ISIS, had identified certain people in Kerala and Karnataka for targeted killing.
They had also planned to undertake Hijrat (religious migration) to Jammu and Kashmir for engaging in terrorist acts, the official said, adding that Ameen had travelled to Jammu and Kashmir immediately after his return to India from Bahrain in March 2020 and had been camping in Delhi for last two months for establishing a connection with Jammu and Kashmir-based operatives having allegiance to the ISIS.
The searches, which took place following the extensive verification by the NIA, the Delhi Police's Special Cell and the Kerala Police's Anti-Terrorism Squad, were conducted at the premises of Ameen and his associates who were members of the various groups/channels on encrypted chat platforms, according to the NIA.
During the searches, several digital devices including laptops, mobiles, hard disk drives, pen drives, multiple SIM cards of different service providers and incriminating documents have been seized, the official said.
The seized items are being scrutinised and will be sent for forensic examination, the NIA official said, adding that further investigation in the case continues.
https://www.firstpost.com/india/islamic-state-module-case-nia-conducts-searches-at-11-locations-in-delhi-kerala-and-karnataka-three-arrested-9421951.html
--------
Jaish commander killed in J&K encounter
Mar 16, 2021
SRINAGAR: A three-day anti-terror operation in Shopian's Rawalpora village came to a close on Monday with the killing of Jaish-e-Mohammad district commander Sajad Afghani alias Wilayat Lone, a day after his accomplice was gunned down at the site, confirmed IGP (Kashmir Range) Vijay Kumar.
Terming the killing of Afghani — instrumental in luring Kashmiri youth into terrorism, especially in Shopian — a "major success", the IGP lauded security forces for taking extreme care in ensuring no collateral damage in the operation. As a precautionary measure, internet services were suspended in the district on Monday.
The encounter began late Saturday after a joint team of the Army, CRPF and J&K Police, based on intelligence inputs, launched a cordon-and-search operation in Rawalpora. The holed-in ultras were offered a chance to surrender but they opened fire on the search party instead, triggering a gunfight. Even as the cordon remained intact, the fire exchange was suspended temporarily during the night.
When it resumed early Sunday, Jahangir Ahmad Wani from Shopian's Rakh Narapora area was killed and a US-made M-4 carbine rifle recovered from the spot even as stone-pelters tried to disrupt the encounter by targeting the security forces. This was the first time since the nullification of Articles 370 and 35A that terrorist sympathisers attempted to thwart an ongoing anti-terror operation. Three houses caught fire near the encounter site as miscreants tried to disturb the operation by creating law and order problems. Several stone-pelters were injured in the clash and many who sustained pellet injuries in police retaliation were hospitalised.
The firefight was suspended again on Sunday night to prevent civilian casualties, and ended with Afghani's killing on Monday morning, IGP Kumar added.
https://timesofindia.indiatimes.com/india/jaish-commander-killed-in-jk-encounter/articleshow/81518348.cms
--------
North America
Analyst casts doubt on US willingness to return to Iran deal
16 March 2021
A political analyst and foreign affairs journalist says he doubts the willingness of the US President Joe Biden administration to return to the 2015 nuclear deal with Iran amid Israeli opposition to the agreement.
Speaking in an interview with Press TV, Patrick Lawrence rejected Washington's claim that Tehran must take the first step to revive the nuclear deal as US National Security Adviser Jake Sullivan has said the ball is in Iran's court.
"The ball is in the Americans' court because they withdrew from this agreement unilaterally, then imposed sanctions, which are illegal. Plainly, the ball is in the Americans' court and they simply don't want to acknowledge this," he said on Monday.
The administration of former US president Donald Trump unilaterally abandoned the Iran nuclear deal in May 2018 and launched what his team called a "maximum pressure campaign."
Despite offering verbal support for the Iran deal, the European parties to the agreement — France, Britain, and Germany — succumbed to Washington's pressure and failed to fulfill their contractual commitments to Tehran.
That prompted Tehran to start taking a set of measures in several stages as part of its legal rights stipulated in Articles 26 and 36 of the deal itself, downgrading its obligations due to the non-performance of the agreement by the other parties.
Biden has spoken of a willingness to rejoin the Iran deal, but in practice, his administration has been sticking with Trump's futile pressure campaign so far. Washington says Tehran should return to full compliance with the deal before the US comes back.
Iran, however, says the US should first lift all the sanctions put in place under the Trump administration before the Islamic Republic stops the measures under Articles 26 and 36.
Lawrence said the White House's main issue was the Israeli regime.
"The principal problem facing the Biden administration is Israel. Israel must be made happy on the Iran question and Israel has made it very plain that it does not want the JCPOA to be re-opened, to be revived," he said, using an abbreviation for the Iran deal's official name.
Commenting on Iranian money blocked in South Korea and other countries as a result of American sanctions, Lawrence said the US "cannot reasonably expect Iran to rejoin negotiations when it's blocking money that belongs to Iran and the Iranian people."
Last week, US Secretary of State Antony Blinken suggested that the US would oppose the release of Iran's frozen funds from South Korea until Tehran returns to full compliance with the nuclear deal.
Lawrence said Biden, who was vice president under former president Barack Obama, was not rushing back to either of the two major diplomatic achievements of Obama's presidency, namely the 2015 Iran nuclear accord and the re-establishment of relations with Cuba.
"I really don't think that President Biden has any serious plans to revive the Iran nuclear accord, and America's participation in it," he said.
Elsewhere in his remarks, the analyst attributed the failure of the European signatories to the deal to turn their verbal support for the agreement into palpable action to their dependence on America.
He said the spineless behavior on the part of the Europeans dated back to "the Cold War, the immediate post-World War II years, when Europe grew very dependent on America" after European economies were destroyed.
"It grew very dependent on America economically and also for security. It's from that period that the Europeans surrendered any sense of autonomous initiative in questions of foreign policy," Lawrence said.
Touching upon the financial and political pressure exerted by the US on some countries in the Middle East, Lawrence said the US aimed to "make sure we have free access to the maximum of Middle Eastern petroleum reserves" and to "maintain its hegemony."
"As a hegemonic power, America, like most others in history, cannot tolerate 'deviation.' In this context, Iran is a deviant nation in the eyes of Washington. Syria is a deviant nation in the eyes of Washington," he said, hailing the Iranian and Syrian peoples for successfully resisting American sanctions and refusing to submit to a hegemonic power.
"I have nothing but admiration for Iranian people, and nothing but admiration for Syrian people because their economies have been mercilessly damaged, perhaps in some sectors destroyed. And nobody in either [country], so far as I can make out, is talking about caving in to the Americans," he said.
"I think all signs indicate that in the long term, Iran will prevail in its determination to maintain its territorial integrity, its independence, its sovereignty, and its right to determine its own path," he said.
https://www.presstv.com/Detail/2021/03/16/647406/Iran-deal-US-return-Biden-Israel-Patrick-Lawrence
--------
Syrian conflict longer than two world wars: UN envoy
Michael Hernandez
15.03.2021
WASHINGTON
The brutal conflict that has enveloped Syria has endured longer than both world wars combined, the UN's special envoy for the country noted on Monday on the civil war's 10-year anniversary.
Geir Pedersen said there is a "silver lining" of what he called a "relative calm" that now exists in Syria where frontlines have remained largely stable for the past year, stressing the situation should be used to make progress on a political settlement.
"The greatest danger of all is that the fragile calm unravels, leading to a new storm of all-out conflict and all that would mean for Syrians, the region, and beyond," he told the Security Council. "That is why I will always stress, first and foremost, the importance of consolidating this fragile calm into a true nation-wide ceasefire."
Pedersen called on council members to "not lose sight of the fundamental importance of a peaceful resolution."
"A political solution is the only way out, and I am convinced that it is possible. In some ways, it is more possible now than before, but to turn those possibilities into realities, creative and high-level engagement from key international players with a stake in this conflict will be needed," he said.
Syria's conflict began on March 15, 2011, in the southwestern province of Deraa when a group of students wrote on a school wall, "It's your turn next, doctor!" – a reference to regime leader Bashar al-Assad who was trained as an ophthalmologist.
As thousands of people took to the streets demanding reform, demonstrations soon spread to other provinces across the country. Assad's forces clamped down violently on the intensifying protests, setting off what would become the Syrian civil war.
Linda Thomas-Greenfield, the US's UN envoy, placed blame for the lack of a diplomatic resolution squarely with the Assad regime and its supporters.
"The regime has not taken a single step that would lay the groundwork for peace," she said. "We call on Russia to press the Assad regime to quit stalling. It's time for the regime to address the conflict's root cause: the basic demand of all Syrians to live in dignity, free from torture, abuse, and arbitrary detention."
https://www.aa.com.tr/en/americas/syrian-conflict-longer-than-two-world-wars-un-envoy/2176886
--------
Pakistan
PDM decision on en masse resignations today: Maryam
Imran Mukhtar
March 16, 2021
ISLAMABAD - The opposition Pakistan Muslim League-Nawaz (PML-N) leader Maryam Nawaz Monday said that Pakistan Democratic Movement (PDM), a coalition of opposition parties, will decide on giving en masse resignations from the assemblies in its crucial meeting being held on Tuesday (today).
"We are discussing the option of tendering resignations to oust the PTI government and PDM will take a final decision in its Tuesday's meeting being held here in Islamabad," said PML-N Vice-President Maryam Nawaz, along with other party leader, while briefing reporters after an internal party meeting.
Former PM and PML-N Supremo Nawaz Sharif chaired the meeting from London which discussed the matters of resignations and long march ahead of PDM meeting called to discuss the situation after defeat of its joint candidate Syed Yousaf Raza Gillani in chairman Senate election.
Responding to questions what will the PDM will do when Pakistan People's Party (PPP), an important part of the coalition, decided against tendering resignations, Maryam said that they would try to convince those on the issue to make a "last push to get rid of this government." She also indicated that PML-N was pressing for the resignations.
To a question whether PML-N leader Nawaz Sharif had given complete mandate to JUI-F chief Maulana Fazlur Rehman on issue of resignations and where will PPP stand on this matter, she said that this would also become clear in Tuesday's meeting as to "what consensus will develop and which party stood where?"
She also said that her party, having big vote bank, could decide at its own on the mater but she hoped that all parties in PDM will understand sensitivity of situation.
The PML-N vice president said that PDM was a coalition of different opposition political parties and every party had its own political views and ground realities. "Despite this, PDM is united on a larger agenda," she said adding that they would try to convince those who were not accepting the option of resignations. "We have accepted this for the larger interest of people," she said. It was necessary to use this option to oust Prime Minister Imran Khan from power, she emphasized.
She argued that a forceful voice of opposition was now being heard in the masses and it was encouraging Pakistan to move towards better future in this way. "It is our responsibility to bring civilian supremacy in Pakistan where vote would be respected."
https://nation.com.pk/16-Mar-2021/pdm-decision-on-en-masse-resignations-today-maryam
--------
Saudi tycoon in Pakistan to end impasse over KE sale
Khaleeq Kiani
March 16, 2021
ISLAMABAD: A Saudi group that had originally bought the Karachi Electricity Supply Corporation, now called K-Electric, in 2005 has re-entered the scene amid an impasse over the future of the power utility's business relations with the government following the downfall of Abraaj Capital chief Arif Naqvi.
The owner of the Aljomaih Holding Company of Saudi Arabia, Shaikh Abdulaziz Hamad Aljomaih, spent a hectic day here after his early morning arrival. He held separate meetings with President Arif Alvi, Prime Minister Imran Khan, ministers for finance, energy and privatisation and some other important stakeholders.
Senior officials of almost all the important ministries concerned were part of some of these meetings.
He will spend another busy day in Karachi on Tuesday (today) by having a series of meetings with all the stakeholders before flying back in the evening.
His visit followed a series of engagements between the KE management, some of its other foreign board directors and the government over the settlement of huge past payables and receivables and other matters including KE's another sale to the Shanghai Electric of China.
The owner of Aljomaih Group meets Alvi, Imran
Informed sources said the high-profile visitor discussed a business programme, challenges faced by the KE and overall investment and business regime in the country.
An official said it appeared the Aljomaih group was asserting itself as the actual owner of the KE after Mr Naqvi's arrest in London over alleged misappropriation of securities funds.
The Saudi businessman is reported to have explained to the authorities the Aljomaih group's investment strategies, saying the initial investment in Pakistan was driven by strong brotherly relationship between the people of the two countries and that he was still interested in looking into challenges facing the KE.
He told the authorities that the group was holding large investment funds, which take over loss-making entities, transform them into profitable organisations through restructuring and move.
In an apparent reference to the Shanghai Electric, he said it was now time for the KE to be run by a technical team.
Mr Aljomaih is the managing director-investments of Aljomaih Group and is principally responsible for all international investments on behalf of the group. He is the chairman of Arcapita Investment in Bahrain and holds numerous board positions in various portfolio companies of Aljomaih Group. Previously, he served on the board of directors of Etihad, Etisalat in Saudi Arabia and Dana Gas in the UAE.
Aljomaih Group had invested in K-Electric for the past 15 years since its privatisation in 2005. He also served as the first chairman of the KE's BoD at that time. He continued to be on the board of the KES Power, the company that holds the majority shares of KE.
Early this year, the Supreme Court had declined a federal government request for facilitating the settlement of almost Rs300 billion worth of financial claims and counter-claims among various public sector entities and KE.
The government requested the apex court to set some guiding principles for settlement or arbitration of huge build up of payables and receivables from the privatised KE. Concise statements of payables and receivables were also presented to the apex court in chambers.
The apex court was told that government officials were reluctant to take initiative for settlement of controversial amounts because of fears of the National Accountability Bureau (NAB).
A number of federal secretaries and chief executives of companies over the past five-six years had declined to be drawn into controversies relating to settlement or write-offs for such huge financial adjustments.
As a result, not only the prospective transfer of KE's majority shares to the Shanghai Electric had been stalled for years, but also the troubled integrated public utility was not doing enough for improvement of its system in the country's largest city, affecting the consumers in peak summers.
The issue was also hampering the signing of fresh agreements for power and gas supply to the KE, which could lead to 800-900MW shortage in Karachi in the coming summers.
The core problem is Rs272bn outstanding dues the National Transmission & Despatch Company and Sui Southern Gas Company claim against the KE on account of past electricity and gas supplies. Both companies are reluctant to sign fresh supply agreements with KE unless these dues are cleared.
Of this, the SSGC has a claim of Rs122bn against the KE that it says had developed over the years despite no formal gas supply agreement. Also, the NTDC management wants clearance of its Rs150bn before signing the agreement for additional power supply.
The KE, on the other hand, claims about Rs234bn against the government and its agencies on a gross payable basis and expects about Rs80bn net payments from the public sector provided all payables and receivables are settled on principal payment basis i.e. if both sides give up mark-up and settle for principal dues.
https://www.dawn.com/news/1612770/saudi-tycoon-in-pakistan-to-end-impasse-over-ke-sale
--------
One arrested after cleric Muhammad Ali Mirza survives attack in Jhelum
Amir Kayani
March 15, 2021
Popular cleric Engineer Muhammad Ali Mirza survived an assassination attempt at a religious academy in Punjab's Jhelum district, police said on Monday.
A suspect who allegedly attacked Mirza with a sharp-edged weapon on Sunday afternoon was taken into custody and a case was registered against him.
Mirza, a resident of Machine Mohallah of Jhelum city, has regularly been uploading his recorded as well as live videos of lectures and speeches on his social media pages and has 4.6 million followers on his YouTube channel.
In the First Information Report (FIR) of the incident registered on Mirza's complaint under Section 324 (attempted murder) of the Pakistan Penal Code, the cleric stated that he delivered a weekly dars (Islamic lesson) at a research academy situated in a building.
After Mirza delivered the lecture on Sunday afternoon, a man charged towards the cleric with a sharp-edged weapon "with the intention of murder" in the presence of many people, the FIR said. According to a police spokesperson, the incident occurred when Mirza was having photos taken after the lecture.
Mirza in his complaint said although the attacker was reaching for his neck, he moved quickly and was struck on his shoulder instead. The assailant then made a second attempt to reach Mirza but was stopped by two men present in the hall, according to the FIR.
Police spokesperson Chaudhry Mohammad Imran of City police station said Mirza had sustained a minor injury in the incident and was allowed to go home after being given first aid.
He identified the assailant as a 21-year-old resident of Lahore who had come to Jhelum "with the intention of murder".
After being arrested from the spot, the suspect accused Mirza of "deceiving people" and strongly took offence to his teachings, the police official said.
Last year in May, Jhelum police had arrested and booked Mirza for uttering derogatory and instigating remarks against known religious scholars. He was released a day later after a local court accepted his bail plea.
https://www.dawn.com/news/1612703/one-arrested-after-cleric-muhammad-ali-mirza-survives-attack-in-jhelum
--------
South Asia
Taliban To Attend Afghan Peace Talks In Moscow
March 16, 2021
Doha: Senior members of the Taliban will attend talks with the Kabul government in Moscow this week to discuss the future of war-ravaged Afghanistan, the insurgent group said Monday.
The two sides are due to meet at Russia's invitation ahead of a May deadline for US President Joe Biden to decide whether to end the two-decade military involvement in Afghanistan.
The US State Department said Monday that Washington's special envoy to Afghanistan, Zalmay Khalilzad, will also attend the meeting in Moscow as part of ongoing US efforts "to encourage and support the peace process."
The Thursday talks "will complement all other international efforts to support the Afghan peace process, and also reflects the international community's concerns about the progress to date," State Department spokeswoman Jalina Porter told reporters.
The US has encouraged the Afghan leadership to work towards establishing an "inclusive" government and peace accord amid fears of rapid Taliban gains once US troops leave.
"A high-level delegation of 10 members of the Islamic Emirate of Afghanistan, led by (Taliban co-founder) Mullah Baradar Akhund... will attend the meeting held in Moscow," tweeted Mohammad Naeem, spokesman for the Taliban office in Qatar.
The United States, despite tensions with Russia, has welcomed Moscow's role and also consulted its other rival China as diplomacy steps up.
Biden is wrapping up a review on whether to stick to an agreement with the Taliban negotiated by his predecessor Donald Trump who wanted to pull the last US troops from Afghanistan by May.
The Biden administration has signalled it wants to take a hard look at Trump's deal and its repercussions for Afghanistan and regional stability.
US Secretary of State Antony Blinken wrote a letter to Afghan leaders encouraging them to consider a "new, inclusive government".
He also proposed that talks take place within weeks in Turkey to seal a comprehensive peace deal with the Taliban.
Turkey plans to host an Afghan peace conference in Istanbul in April, Foreign Minister Mevlut Cavusoglu said last week.
The Russian and Turkish initiatives will run alongside the Qatar-hosted talks between the Afghan government in Doha which have been ongoing with long pauses since September 2020.
Cavusoglu has signalled that he did not necessarily expect the Istanbul meeting to produce an immediate breakthrough.
https://www.ndtv.com/world-news/taliban-to-attend-afghan-peace-talks-in-moscow-2391555
--------
Two killed after gunmen ambush university bus in Afghanistan
16 March ,2021
Gunmen ambushed a bus carrying university staff in northeastern Afghanistan on Tuesday killing the driver and a student, officials said, as attacks on civilians continued, while peace talks between the government and the Taliban remained stalled.
Six university lecturers were also wounded during the attack in Baghlan province, said Sayed Hamid Rushan, a spokesman for the interior ministry said.
The ministry blamed the Taliban for the attack, but the militant group denied involvement.
"The attack...has nothing to do with our mujahideen (fighters), we condemn the attack and consider it as a conspiracy of the enemy," said Zabihullah Mujahid, a Taliban spokesman.
On the other side of the country, unidentified gunmen attacked security forces guarding a dam in Herat, killing three, wounding one, according to officials in the western province.
Four other members of the security forces were missing.
Diplomats and advocates have become alarmed at the rising violence, including targeted attacks on government employees, journalists, academics and rights workers in recent months even as peace negotiations were being held in Qatar.
Human Rights Watch (HRW) issued a statement on Tuesday condemning the targeted killings, especially those against minority groups, women and journalists.
"Unidentified attackers have also gone after journalists, civil society activists, and professionals, killing many, driving some from the country, and leaving the rest to live in fear," said Patricia Gossman, associate Asia director at HRW.
With the US-brokered peace talks struggling to make headway, Washington's special envoy to Afghanistan Zalmay Khalilzad is currently on a regional visit, trying to find a way forward before a looming deadline for the withdrawal of US troops in May.
https://english.alarabiya.net/News/world/2021/03/16/Two-killed-after-gunmen-ambush-university-bus-in-Afghanistan-
--------
Concerns rise over Sri Lanka's move to ban burqas and madrassas
MAR 15, 2021
A Pakistani diplomat and a UN expert have expressed concerns over Sri Lanka's proposed move to ban the wearing of burqas.
Sri Lanka announced plans over the weekend to ban the wearing of burqas — garments worn by some Muslim women that cover the body and face — and also said it would close more than 1,000 Islamic schools known as madrassas, citing national security.
Pakistan's ambassador to Sri Lanka, Saad Khattak, tweeted on Monday that the ban would "only serve as injury to the feelings of ordinary Sri Lankan Muslims and Muslims across the globe."
The United Nations' special rapporteur on freedom of religion or belief, Ahmed Shaheed, tweeted that the "burqa bans are incompatible with int'l law guarantees of the right to manifest one's religion or belief & of freedom of expression."
On Saturday, Sri Lanka's minister of public security, Sarath Weerasekara, called the burqa a sign of religious extremism and said it has a direct impact on national security. Weerasekara signed a paper on Friday seeking the approval of the Cabinet of Ministers to ban burqas.
The wearing of burqas in Sri Lanka was temporarily banned in 2019 soon after the Easter Sunday bomb attacks on churches and hotels that killed more than 260 people in the Indian Ocean island nation. Two local Muslim groups that had pledged allegiance to the Islamic State group have been blamed for the attacks at six locations — two Roman Catholic churches, one Protestant church and three top hotels.
Sri Lanka also plans to ban more than 1,000 Madrassas, saying they are not registered with the authorities and do not follow the national education policy.
The decision to ban burqas and madrassas is the latest move affecting Sri Lanka's minority Muslims.
Muslims make up about 9% of the 22 million people in Sri Lanka, where Buddhists account for more than 70% of the population. Ethnic minority Tamils, who are mainly Hindus, comprise about 15% of the population.
https://www.hindustantimes.com/world-news/concerns-rise-over-sri-lanka-s-move-to-ban-burqas-and-madrassas-101615814005942.html
--------
Avalanche kills 25 Taliban fighters on route from Pakistan
15 Mar 2021
Local sources in Paktia province confirmed that 25 Taliban have been killed in an avalanche in the Jaji Ariob district of the province.
Mohammad Lal Amiri, spokesman for the Paktia Police HQ told the media that the incident took place on Sunday night in the " Zaghni" valley of Jaji Ariob district.
Amiri added that 25 Taliban including some group's Pakistani commanders were killed in the incident.
According to him, these Taliban affiliates intended to come to Afghanistan from Pakistan taking the mountainous route through the zone.
The Taliban have not yet commented.
The Meteorological Department warned of heavy snowfall in 30 provinces two days before the natural disaster hit.
This comes as the Ministry of Defense stated on Monday that the Taliban have suffered heavy casualties during the battles in Arghandab and Zherai districts of Kandahar province.
The Ministry of Defense said in a released statement on Monday that Afghan national defense and security forces backed by air support launched a clearance operation in Arghandab and Zherai districts of Kandahar province.
As a result of which 18 insurgents were killed and three others were wounded, MoD said in the statement.
The MoD bulletin added, that large premises of Zherai and the Kandahar-Helmand highway were cleared of Taliban fighters and the Highway is currently open to traffic.
During the operation, ANDSF also discovered and defused 13 mines placed in the Zherai, Dand, and Arghandab districts of Kandahar province.
The southern Kandahar province is one of the most insecure provinces of Afghanistan, where the Taliban has influence in various parts of the region.
https://www.khaama.com/avalanche-kills-25-taliban-fighters-on-route-from-pakistan-45357733/
--------
Taliban attacks Pashdan dam of Herat province
16 Mar 2021
Taliban attack on Pashdan damn in Herat killed three security forces assigned to protect the facility.
Local officials told the media that the incident happened on early Tuesday morning when armed men attacked the dam.
A spokesman for National Water Affairs Regulation Authority, Nizamudding Khpulwak indicated that the attack happened at around 3 am on Tuesday and further four security force members were wounded.
Mohammad Arif Achakzai, head of Pashdan dam told the media that the Taliban attacked an outpost far from the dam and has a lot of distance from the surrounding walls of the dam.
Taliban has not yet commented on the attack.
The damn is located in the Karokh region 25 kilometers northwest of Herat city, the dam has the capacity to intake 45 million cubic meters of water, generates two megawatts of electricity, and has the efficacy to irrigate 13,000 hectares of land, and most of all the project is reportedly worth about $117 million.
Last month Taliban insurgents also interrupted this development project by abducting 11 workers who were assigned at Pashdan Dam.
https://www.khaama.com/taliban-attacks-pashdan-dam-of-herat-province-54353599/
--------
India, Bangladesh likely to sign three MoUs during PM Modi's visit
Mar 16, 2021
DHAKA: India and Bangladesh are likely to sign three MoUs during Prime Minister Narendra Modi's visit to Dhaka next week to attend the celebrations of the golden jubilee of the country's independence and the birth centenary of its founder 'Bangabandhu' Sheikh Mujibur Rahman.
Prime Minister Modi and heads of state and government from Nepal, Sri Lanka, Bhutan and the Maldives will be among the distinguished foreign guests to join the celebrations under separate schedules.
"It's a historic event for Bangladesh as five heads of state and government never (without any summit) visited here within a time span of 10 days," Foreign Minister AK Abdul Momen told a media briefing here ahead of the 10-day celebrations starting on March 17.
"This is a very unusual time (due to Covid-19)… but heads of state and government of our neighbouring countries are coming here to show their tribute to our Father of the Nation," Momen said.
During his trip, Prime Minister Modi will hold talks with Prime Minister Sheikh Hasina and visit three places outside Dhaka.
The two sides are expected to sign three MoUs, Momen said.
"These (MoUs) are not final yet," he said.
Foreign Secretary Masud bin Momen said the MoUs were likely to be signed in the field of disaster management and cooperation between some institutions of the two countries.
"We are still working on every MoUs. We will get the final scenario regarding the MoUs within one or two days," he said.
According to the schedule, all the foreign leaders would visit the National Memorial in Savar to pay homage to the independence martyrs, Bangabandhu Museum at Dhanmondi 32 to pay tribute to Bangladesh's founding father, watch special military parades and join State banquets.
Prime Minister Modi is also set to visit the Bangabandhu shrine at his village home in Tungipara and two Hindu temples outside Dhaka - one in Gopalganj and the other in southwestern Satkhira.
The temples are places of worship, particularly of the Hindu Matua community. A large number of the Matua community members reside in West Bengal.
Maldivian President Ibrahim Mohamed Solih will be the first top foreign dignitary to arrive here on a three-day visit on March 17. He will be followed by Sri Lankan Prime Minister Mahinda Rajapaksa who will arrive here on a two-day tour on March 19.
Nepalese President Bidya Devi Bhandari will be in Dhaka on a two-day tour from March 22 while Bhutan's premier Lotay Tshering will visit Dhaka from March 24 to 25. Prime Minister Modi will arrive here on March 26 and return home the next day.
Momen said Chinese President Xi Jinping, French President Emmanuel Macron, Japanese Prime Minister Yoshihide Suga and Canadian Premier Justin Trudeau and some high-level leaders of different countries and international organisations would send video messages on the occasion
https://timesofindia.indiatimes.com/world/south-asia/india-bangladesh-likely-to-sign-three-mous-during-pm-modis-visit/articleshow/81526007.cms
--------
Arab World
United Nations says has helped 12 jurisdictions prepare Syrian war crimes cases
16 March ,2021
A United Nations body working to ensure justice for war crimes committed by all sides in Syria has provided information and evidence to 12 national jurisdictions, its chief disclosed on Monday as the country marked a decade of war.
Videos, photos, satellite imagery, "exfiltrated documents", witness statements and forensic samples constitute "the best documented situation since the end of World War Two", said Catherine Marchi-Uhel of the International Impartial and Independent Mechanism investigating the most serious crimes in Syria.
"It doesn't make the justice path easy, but it makes it possible," Marchi-Uhel , a former French judge, told a panel event hosted by Britain.
Her small team in Geneva is building a repository of the large amount of evidence and information and corroborated it in accordance with international criminal law standards, she said.
"We are cooperating with and assisting investigations and prosecutions in 12 different jurisdictions. We have received 100 requests for assistance in relation to 84 distinct investigations and prosecutions," Marchi-Uhel said. It had shared information and evidence for 39 of the 100 investigations.
Marchi-Uhel, referring to the 12 jurisdictions, later told Reuters: "A large proportion are in Europe".
A court in the German city of Koblenz last month sentenced a former member of Syrian President Assad's security services to 4-1/2 years in prison for abetting the torture of civilians, the first such verdict for crimes against humanity in the Syrian civil war.
Paulo Pinheiro, who heads a separate panel of UN war crimes investigators that keeps a confidential list of suspects, told Monday's event: "To date, the Commission of Inquiry has compiled initial information on more than 3,200 alleged individual perpetrators.
"That includes individuals from all sides of the conflict, including government and pro-government forces, anti-government armed groups, and United Nations-listed terrorist organizations, Hayat Tahrir al-Sham and ISIL," he said.
https://english.alarabiya.net/News/middle-east/2021/03/16/United-Nations-says-has-helped-12-jurisdictions-prepare-Syrian-war-crimes-cases
--------
US-occupied Iraqi air base hit by several rockets
15 March 2021
At least seven rockets have targeted another Iraqi air base occupied by American troops north of Baghdad, the latest in a string of attacks against US positions and interests in the Arab country.
Two of the rockets struck Al-Balad air base on Monday evening, but did not cause any casualties or damage inside the base, a security official said.
The other five rockets crashed into a nearby village, the official said, adding that all the rockets were fired from a separate village in the neighboring province of Diyala, east of the base.
No group has claimed responsibility for the attack yet, but there have been several such attacks in recent weeks targeting locations where US forces are positioned.
On March 3, an American sub-contractor was killed in a similar attack against another US-occupied air base, Ain al-Assad, in Iraq's western desert.
That came days after the US bombed the Popular Mobilization Units (PMU), an anti-terror unit of the Iraqi army, along the Iraqi-Syrian border.
Dozens of rocket attacks and roadside bombs targeted Western security, military and diplomatic sites in Iraq in 2020.
Anti-US sentiment has been running high in Iraq following Washington's January 3 assassination of top Iranian anti-terror commander Lieutenant General Qassem Soleimani and senior PMU commander Abu Mahdi al-Muhandis, in addition to several other comrades, outside the Baghdad airport.
Iraqi resistance groups have vowed to avenge the assassinations, but denied any role in such rocket attacks.
Two days after the assassinations, the Iraqi parliament voted for a resolution that called for an end to the presence of all foreign forces, including the Americans.
Washington, however, has threatened sanctions should US troops be expelled from Iraq instead of ending the occupation of the Arab country.
https://www.presstv.com/Detail/2021/03/15/647389/Iraq-US-air-base-attack
--------
Syria foils 'large-scale' terrorist attack on Damascus: SANA
15 March 2021
Syrian government forces have foiled a 'large-scale terrorist operation' by killing at least three terrorists and arresting three others who intended to launch attacks across the capital Damascus.
Syria's official news agency SANA reported on Monday that the plot, involving a large amount of explosives, had been foiled with the cooperation of residents from two villages in rural Damascus.
The elements, all of whom wore explosive belts, had been sent by a terrorist group to target various installations across the capital city.
In recent months, Syrian government forces have dealt heavy blows to terrorists.
In the meantime, Israel and the United States have frequently attacked certain positions inside Syria in what is considered as an attempt to prop up anti-Damascus terrorists.
The US forces were until recently airlifting members of the Daesh Takfiri terrorist group from one place in Syria to another, under the cover of darkness, in order to save them in the face of advancement and territorial gains by government forces.
The US military has also transferred to safe sanctuaries hundreds of Daesh terrorists and their relatives from Syrian territories to Iraq.
Numerous accounts have emerged alleging airlifts, weapon airdrops and aerial support for the Takfiri group, particularly as its strength has diminished in Syria and Iraq.
https://www.presstv.com/Detail/2021/03/15/647356/Syria-terrorist-attack-Damascus
--------
Mideast
Israel will be hit by 2,000 missiles a day in future war with Hezbollah: Israeli general
16 March 2021
A high-ranking Israeli military commander says the Hezbollah resistance movement can fire 2,000 missiles per day towards Israel in case a military confrontation breaks out with Lebanon.
Speaking at the B'Sheva Conference in Jerusalem al-Quds on Monday, OC Home Front Command Major Generl Uri Gordin said that some 2,000 rockets and missiles will be fired at the Israeli-occupied territories every day and will challenge Tel Aviv's military capabilities, according to The Jerusalem Post newspaper.
Gordin said the Israeli regime will activate what he described as a powerful military that has never been seen before during a future war with Hezbollah.
On March 3, Hezbollah Deputy Secretary General Sheikh Naim Qassem said the United States and Israel do not dare attack the Lebanese resistance movement since they are aware that the group's firm determination to respond to any act of aggression will never change.
Sheikh Qassem stressed at the time that Hezbollah intends to remain in a defensive position and does not want to initiate a war.
"Israel must understand that the battleground is not open for it," he said, adding that any future battle will be taken to the depth of the Israeli-occupied territories.
Earlier this year, Alon Ben-David, a military commentator for Israel's Channel 13 television network, said in an opinion piece that Hezbollah had boosted its missile power in the recent years as the Tel Aviv regime intensified its atrocities against Syria.
Titled "Is Israel ignoring the biggest strategic threat it faces?" his opinion piece said while Israeli authorities have been intensifying their acts of aggression against Syria, they have not stopped Hezbollah's efforts to establish an independent capability of producing and manufacturing accurate missiles on Lebanese territory.
"The main strategic threat facing Israel is not located in Syria, but in Lebanon, and as it stands, Israel is avoiding dealing with it," it added.
"Several estimations indicate that the organization has managed to accumulate a few hundred mid to long range accurate missiles by now," it said.
Lebanon fought off two Israeli wars in 2000 and 2006. About 1,200 Lebanese, most of them civilians, lost their lives during Israel's 33-day war on Lebanon back in the summer of 2006.
According to a 629-page report of the Winograd Commission, appointed by the Israeli regime itself, Hezbollah fighters involved in defending Lebanon against the Israeli war defeated the enemy and Tel Aviv was compelled to withdraw without having achieved any of its objectives.
The Winograd Commission was set by former Israeli prime minister Ehud Olmert in September 2006 to examine the events during Israel's 33-day war on Lebanon.
The commission was formed in the wake of public criticism and protest over the fact that the Israeli military had effectively lost the war by failing to achieve its aim of freeing two soldiers captured by Hezbollah fighters.
UN Security Council Resolution 1701, which brokered a ceasefire in the 2006 war, calls on Israel to respect Lebanon's sovereignty and territorial integrity.
Lebanon and the occupying entity are technically at war since the latter has kept the Arab country's Shebaa Farms under occupation since 1967.
https://www.presstv.com/Detail/2021/03/16/647410/Israel-will-be-hit-by-2,000-missiles-a-day-in-future-war-with-Hezbollah--General
--------
Yemen: US must stop Saudi war, siege to set stage for political process
16 March 2021
The spokesman for Yemen's Houthi Ansarullah movement says the US administration is not sincere in its calls for the restoration of peace to the country, stressing that Washington must make the Saudi-led invaders end their aggression and siege against Yemen to set the stage for a real political process.
"It is unacceptable for [the United States of] America to chant the slogan of human rights and express concern over the worsening humanitarian conditions in Yemen as a result of the [Saudi-led] aggression and siege, and then make that (humanitarian issues) subject to military and political bargaining," Mohammed Abdul-Salam wrote in a post published on his Twitter page on Monday
He was responding to US Secretary of State Antony Blinken's comments on supporting what he described as a Yemen free from foreign influence.
During a phone conversation with the UN's Yemen envoy Martin Griffiths, Blinken claimed that "the United States supports a unified, stable Yemen free from foreign influence, and that there is no military solution to the conflict," according to the US Department of State.
Washington plans to "reinvigorate diplomatic efforts" to end the war in Yemen, he said.
Abdul-Salam said a political process can achieve success only when it is free from coercion, adding, "We know the US is well aware of what can [truly] contribute to the restoration of peace in Yemen," but its misleading and unwise statements show Washington does not want such a thing to happen.
The Ansarullah spokesman said "our position is defensive. The US must first oblige aggressors to stop their aggression and lift the blockade against Yemen" in order to set the stage for a real political process.
Ansarullah sends peace plan to US envoy
Moreover, Mohammed Ali al-Houthi, a member of Yemen's Supreme Political Council, tweeted on Monday that the Ansarullah movement had presented its own vision plan for the cessation of hostilities in the war-torn country to US Special Envoy for Yemen Tim Lenderking.
"We are only demanding an end to the [Saudi-led] aggression, and removal of the blockade. We are not opposed to ceasefire and do not refuse any such bids," he said.
"We are actually confronting an all-out aggression against our country, besides occupation and siege by a coalition which is waging a war, invading our country and besieging our nation," Houthi added.
The senior Yemeni official noted that Ansarullah has submitted a plan for a nationwide ceasefire in Yemen, through Griffiths, to Lenderking.
The US special envoy for Yemen on Friday said during a webinar with the Atlantic Council think tank that Houthis are a "significant player" in Yemen and that needs to be acknowledged.
"I don't think you can operate by denying that reality," he said, adding that the US "never said the Houthis have no role in Yemen."
Lenderking, who recently returned from a three-week trip to the region, said Washington is looking for the Ansarullah's response to its peace plan, but claimed that Ansarullah does not appear interested in a ceasefire at this moment, and is supposedly prioritizing a military campaign to take the strategic central province of Ma'rib.
"I will return immediately when the Houthis are prepared to talk," Lenderking said.
UAE brings in foreign experts to Yemen's Socotra island to explore for oil, gas
Separately, the United Arab Emirates (UAE) has reportedly brought in a group of foreign experts to the strategic island of Socotra to assess the natural resources there.
An informed source, speaking on condition of anonymity, told the Yemeni Press Agency that the experts come from Pakistan, India and Egypt, and they are exploring for oil and gas reserves on the island, besides rich fishing grounds surrounding the island.
Home to some 60,000 people, Socotra overlooks the Bab al-Mandab Strait, a main shipping route that connects the Red Sea to the Gulf of Aden and the Arabian Sea. It has a unique ecosystem.
Socotra has been a source of tension between the UAE and Saudi Arabia, which have been vying for control of the resource-rich island.
Last June, UAE-backed separatists of the so-called Southern Transitional Council (STC) took control of Socotra in a move described by the administration of Yemen's former president Abd Rabbuh Mansur Hadi as "a full-fledged coup."
The French-language news outlet JForum said in a report last August that Israel, in cooperation with the UAE, was planning to build intelligence-gathering bases on the Socotra island.
The purpose of the bases, according to the report, is to electronically monitor Saudi-led forces waging a war on Yemen.
Israel and the UAE are currently making all logistical preparations to establish intelligence bases to collect information from across the Gulf of Eden, including Bab al-Mandab and south of Yemen, which is under the control of forces backed by the UAE, the report said.
Yemen launches drone attack on Saudi Arabia's King Khalid Air Base
Meanwhile, Yemen's military said it had launched yet another successful drone attack against King Khalid Air Base in southwestern Saudi Arabia in retaliation for the Riyadh regime's ongoing military aggression and blockade against the crisis-hit impoverished country.
Spokesman for the Yemeni Armed Forces Brigadier General Yahya Saree said on Tuesday that army troops and allied fighters from Popular Committees had carried out a strike against King Khalid Air Base, which is located near the city of Khamis Mushait, Yemen's Masirah television network reported.
He added that designated targets inside the air base had been successfully hit with a domestically-developed Qasef-2k (Striker-2k) combat drone.
Saree said the airstrike falls within Yemen's legitimate right to respond to the Saudi-led coalition's air raids as well as its continued all-out siege against Yemeni people.
A day earlier, Yemeni armed forces, backed by allied fighters from Popular Committees, had fired two domestically-developed ballistic missiles towards the southern Saudi city of Khamis Mushait.
Saudi Arabia's state-run al-Ekhbariya television news network, citing a statement issued by the Saudi-led coalition fighting in Yemen, claimed that the missiles landed in uninhabited border areas.
The coalition early on Tuesday said it had also intercepted an explosive drone flown towards Khamis Mushait.
Backed by the US and a number of other Western states, Saudi Arabia and a number of its regional allies launched the war on Yemen in March 2015, with the goal of bringing Hadi's government back to power and crushing the popular Ansarullah movement.
The Yemeni armed forces and allied popular groups have, however, gone from strength to strength against the Saudi-led invaders, and left Riyadh and its allies bogged down in the country.
https://www.presstv.com/Detail/2021/03/16/647403/Yemen-US-Saudi-war-siege-political-process
--------
Yemen's targeting of Saudi oil industry 'not simply a tactical decision in war'
15 March 2021
Sam Mahdi Torabi
The Yemeni army has officially declared that it will be targeting the Saudi oil industry in its efforts to counter the Saudi invasion and bombing. This is not simply a tactical decision in a war and the strategic and historic significance of the successful Yemeni attacks on the Saudi oil installations cannot be overstated.
Contrary to every other place in West Asia, America's military presence in Saudi Arabia was not inherited from the British and goes back to 1930, two years before the creation of the country called "Saudi Arabia" which was founded in 1932.
It was American oil companies that founded the "Saudi" oil industry during the rule of Abdul Aziz as the ruler of Najd and occupier of Dhahran, the eastern coast of what is today Saudi Arabia, the area where all the oil is deposited and which happens to be Shia-majority, an area historically, religiously, culturally and tribally part of Bahrain, southern Iraq and the Iranian provinces of Khuzestan and Busher, not Najd.
Americans have spent almost 9 decades and trillions of dollars "protecting" their Saudi oilfields from any potential rival and most importantly the local Shia-majority population who have been brutally suppressed by the Ale Saud regime for decades and declared "infidels" by Takfiri Wahhabi court clerics of the regime.
The significance of Saudi oil for the empire cannot be overstated when we look at some historic facts and documents. There is the famous exchange of letters between Winston Churchill and Franklin Roosevelt in 1944 quoted in Daniel Yergin's Pulitzer Award winning history of the oil industry, wherein Churchill and Roosevelt literally divide Persian Gulf oil amongst each other: Iranian oil is British, Saudi oil is American and Iraqi and Kuwaiti oil is divided equally.
There are the declassified documents of the Eisenhower administration which describe Saudi Arabian oil as the greatest strategic prize in the contemporary world, and maybe in human history.
There are the declassified secret agreements of the Nixon administration Treasury department following the end of the gold standard wherein Saudi Arabia pledges to always denominate its crude oil sales in US dollars and to purchase US treasury bills in return for US "protection" effectively replacing gold with Saudi oil reserves as backing for the US dollar and its position as the global hegemonic currency. This system literally means that unlike everybody else in the world that needs to work, earn money and then convert that money to dollars to purchase oil, the US can simply print money to purchase oil. A sweet deal indeed.
There is the Carter doctrine declared following the Islamic Revolution in Iran where the US declares the Persian Gulf region its "vital national interest" and declares that it will permanently deploy troops to that region formalized in the establishment of CENTCOM in the Reagan administration.
And there is of course the 1991 Persian Gulf War where the US openly and publicly declared that will go to war to protect Saudi oilfields and to "liberate" Kuwait, although it's clear which goal was more important given the history.
As recently as 2013, Charles Freeman, a fifty year veteran of the US State Department and US ambassador to Saudi Arabia during the 1991 war declares that the US strategy in the region is "Access", "Transit" and most importantly "Strategic Denial"- denial of the region to "rivals" the most dangerous of whom are the local populations. When in 2016 candidate Trump spoke about leaving the Middle East, Freeman in a sharp rebuke declared that if the US leaves the Middle East it can forget about being the global hegemon because this region is the center of all global interactions. Whoever rules West Asia rules the world.
Given this intense and multi-trillion dollar history of US "protection" of its oil in Saudi Arabia, it is now clear as to why the attacks by "barefoot Yemenis" on the Saudi oil industry using drones and missiles that might add up to a few million dollars is historically and strategically so important.
The US cannot do the most fundamental job that is the entire basis for its presence in the Arabian peninsula since 1930, that is the basis of its currency hegemony, that is the basis of its support of a medieval family dictatorship in Saudi Arabia and families similar to them in America's other fiefdoms in the region.
The entire security structure of the region and thus the world given the importance of the region as stated by American elites themselves, has clearly and unambiguously been put in question by the courageous and patient Yemeni people who where able to make history after six years of brutal and shameless bombardment, deliberate starvation and mass-murder by the US and its allies in the region.
Sam Mahdi Torabi holds a PhD in International Relations from London School of Economics and is the current director of the Resalat Strategic Studies Institute in the Iranian city of Qom.
https://www.presstv.com/Detail/2021/03/15/647375/Yemen-Sam-Mahdi-Torabi-Saudi-invasion-bombing
--------
American proposal offers nothing new, serves Washington's interests: Top Yemeni official
15 March 2021
A high-ranking Yemeni official says the American proposal for a nationwide ceasefire in the conflict-plagued Arab country offers nothing new, and only serves the interests of the US administration.
"The American proposal on Yemen doesn't present anything new. It rather repeated the mistake of previous US administrations towards Sana'a (Yemen's National Salvation Government)," Deputy Prime Minister for Security Affairs Major General Jalal al-Rowaishan said in an exclusive interview with Arabic-language al-Masirah television network on Sunday.
He added, "The United States and Europe must first work out a solution to the main issue, that is to stop the Saudi-led aggression and lift the siege of Yemeni people, and then think of negotiations."
Rowaishan further noted that the so-called US plan for a nationwide ceasefire in Yemen has nothing new in it, and "only guarantees Washington's interests," adding "Americans have no respect whatsoever for the interests of others and human rights."
"We welcome any clear proposal and peace plan anchored in the removal of the siege and cessation of hostilities," the senior Yemeni official pointed out.
US Special Envoy for Yemen Tim Lenderking on Friday said during a webinar with the Atlantic Council think tank that Houthis are a "significant player" in Yemen that needed to be acknowledged.
"I don't think you can operate by denying that reality," he said, claiming the US "never said the Houthis have no role in Yemen."
Lenderking, who recently returned from a three-week trip to the region, said Washington is looking for the Ansarullah's response to its peace plan, but claimed that Ansarullah does not appear interested in a ceasefire at this moment, and is supposedly prioritizing a military campaign to take the strategic central province of Ma'rib.
"I will return immediately when the Houthis are prepared to talk," Lenderking noted.
Commenting on the ongoing fighting in the strategic central province of Ma'rib, Rowaishan said, "This combat is part of the great battle of Yemen, and is not separate from it. Clashes in Ma'rib province, especially in Sirwah and Hilan districts, have been going on since the beginning of the Saudi-led aggression."
"The controversy in the Western media about Ma'rib is only in line with the aggressors' desire to prevent Yemenis from reaching a point where they can work out a political solution," he highlighted.
Over the past few weeks, Ma'rib has been the scene of large-scale operations by Yemeni troops and allied Popular Committees fighters, who are pushing against Saudi-sponsored militants loyal to Yemen's former president Abd Rabbuh Mansur Hadi.
Houthi: We are waiting for US to withdraw its elements from Yemen
Meanwhile, Mohammed Ali al-Houthi, a member of Yemen's Supreme Political Council, has reacted to US Secretary of State Antony Blinken's comments on supporting a Yemen free from foreign influence, describing them as "positive" but stressed they need to be backed by action.
"Blinken's comments on Yemen being free from foreign influence were positive," Houthi wrote in a post published on his Twitter page.
"We are waiting for [US] action to withdraw American elements and experts from the battle, and to neutralize American weapons and withdraw them from the confrontation.
"This is what we're looking for and what would be consistent with the comments," he added.
On Sunday, State Department spokesman Ned Price said Blinken told UN's Yemen envoy Martin Griffiths during a call that the "United States supports a unified, stable Yemen free from foreign influence, and that there is no military solution to the conflict."
Backed by the US and a number of other Western states, Saudi Arabia and a number of its regional allies launched the war on Yemen in March 2015, with the goal of bringing Hadi's government back to power and crushing the popular Ansarullah movement.
The Yemeni armed forces and allied popular groups have, however, gone from strength to strength against the Saudi-led invaders, and left Riyadh and its allies bogged down in the country.
https://www.presstv.com/Detail/2021/03/15/647357/American-proposal-has-nothing-new-in-it,-serves-Washington-interests-Top-Yemeni-official
--------
Africa
Paris defends media freedom after news channel threatened by Algerian government
15 March ,2021
The French government defended media freedom and the "right to inform" on Monday as it stood by the France 24 news channel, following fierce criticism from the Algerian government.
Algerian authorities on Saturday threatened to permanently withdraw the media accreditation for the broadcaster because of alleged "blatant bias" in its coverage of the country's pro-democracy protest movement.
"France defends press freedom everywhere in the world, as well as the safety of journalists and all of those who contribute to public debate," a spokesperson for the French foreign affairs ministry told reporters.
"The right to inform is a fundamental right which needs to be protected everywhere."
Although former Algerian president Abdelaziz Bouteflika stepped down in 2019 in the face of anti-regime protests, demonstrations have continued demanding an overhaul of the ruling system in place since independence from France in 1962.
Reporters Without Borders (RSF) ranked Algeria 146 out of 180 countries and territories in its 2020 World Press Freedom Index, a 27-place drop from 2015.
Journalists working for foreign media in Algeria are subject to bureaucratic and arbitrary press accreditation procedures which grant them permission to work in the country.
Agence France-Presse's Algeria bureau chief, Philippe Agret, was appointed in October 2019, but authorities have failed without explanation to provide him with any accreditation.
His predecessor as bureau chief, Aymeric Vincenot, was forced to leave the country in 2019 after the authorities refused to renew his accreditation.
https://english.alarabiya.net/media/2021/03/15/Protests-Paris-defends-media-freedom-after-threat-from-Algerian-government
--------
European Union mulls visa pressure so northern African states take back migrants
15 March ,2021
European Union ministers on Monday debated ways to persuade northern African countries to take back migrants denied entry into the 27-nation bloc, as the EU considers making it more difficult for those failing to cooperate to secure European visas.
Migrants arriving in Europe without authorization routinely lose or destroy their identity documents, or use fake papers, making it hard to work out where they came from and send them home. Sometimes the countries they live in or transit through are reluctant to take them back.
"We have to work for safe and fair and regular migration. We have to put together incentives in order to make third countries accept the people who have to go back, and to create a flow of regular migration," EU foreign policy chief Josep Borrell said.
The EU's executive body, the European Commission, has drawn up a list of how well 39 countries are cooperating on readmitting their nationals. Foreign and interior ministers were meeting Monday to discuss the list and what "incentives" might be used to encourage compliance.
"Now it's time to go to action. We need … to urgently agree on a limited number of countries that we should focus on and set up a timetable," EU Home Affairs Commissioner Ylva Johansson said Friday, after talking separately with interior ministers about the issue.
Johansson declined to name the countries on the list, and which might be the worst offenders.
"If we do not reach sufficient progress, I am ready to table proposals to the (European) Council already this summer for making restrictions on visa policy," she said, adding that if they cooperate well, "we are also ready to put on the table proposals for more generous visa policies."
The focus on visa restrictions is part of the European Commission's overhaul of the EU's failed asylum and migration policy, which was unveiled in September and aims to ensure that more migrants denied entry into Europe are sent home.
Under the EU's visa code, the European Commission assesses at least once a year how well countries cooperate on readmitting their nationals. EU member states can also notify the executive body when confronted with "substantial and persistent practical problems" with any country, triggering another assessment.
https://english.alarabiya.net/News/world/2021/03/15/European-Union-mulls-visa-pressure-so-northern-African-states-take-back-migrants
--------
Libya's new interim prime minister sworn in, promises to represent all Libyans
15 March 2021
Abdul Hamid Dbeibah has been sworn as Libya's Prime Minister until elections later this year, following years-long violence and division in the North African country.
Dbeibah took the oath of office in front of members of parliament in the eastern city of Tobruk on Monday, after lawmakers voted in support of a unity government and approved his cabinet last week.
"I swear by God almighty to perform my duties with honesty and sincerity," he said.
Dbeibah was selected through a UN-facilitated process early last month. He will serve in his post until elections are held on December 24.
He proposed a unity government including two deputy prime ministers, 26 ministers and six ministers of state in an attempt to resolve a decade of conflict in the country.
The parliamentary approval of Dbeibah's cabinet took place after a two-day session in the war-battered frontline city of Sirte on Wednesday.
"This will be the government of all Libyans," Dbeibah said in a brief speech after the vote. "Libya is one and united."
Libya has been grappling with unchecked violence since the overthrow, and later killing, of dictator Muammar Gaddafi in 2011 during an operation backed by NATO.
Since 2014, two rival seats of power have emerged in Libya, namely the UN-recognized government - known as the Government of National Accord (GNA) - based in the capital Tripoli, and another camp based in the eastern city of Tobruk, backed militarily by the so-called Libyan National Army (LNA), composed of armed rebel forces led by renegade General Khalifa Haftar.
The country descended into unprecedented chaos last year after the LNA moved toward Tripoli to seize the city. They were repelled by government forces.
The conflict has escalated into a regional proxy war fueled by foreign powers pouring weapons and mercenaries into the country.
Dbeibah's new interim government is expected to replace both existing administrations in Libya. He has pledged not to stand for office in December's vote.
Outgoing GNA head Fayez al-Sarraj has said he is "fully ready to hand over" power, while Haftar last month offered "the support of the armed forces for the peace process."
Dbeibah has called for the departure of some 20,000 foreign militants present in the country, adding that he would coordinate with the militants' countries of origin to arrange for their withdrawal.
"The mercenaries are a stab in our back – they must leave," Dbeibah said. "Our sovereignty is violated by their presence."
The UN Security Council on Friday called for all foreign forces to leave "without further delay."
However, challenges remain and the manner of Dbeibah's own appointment has drawn criticism in Libya with accusations of corruption and influence peddling as a UN inquiry found that he allegedly gained power after his supporters offered bribes as high as $200,000 to attract votes.
Holding free parliamentary and presidential elections under such circumstances in 2021 will be an immense task.
https://www.presstv.com/Detail/2021/03/15/647370/Libya-prime-minister-sworn-parliament-lawmakers-Tobruk-violence-division-elections
--------
Police clash with anti-lockdown protesters in Jordan
16 March 2021
Clashes have erupted in Jordan between police and people protesting against coronavirus-related restrictions.
Hundreds of protesters in several cities, including the capital, Amman, on Monday called for an end to the state of emergency that has been in place since last year to help curb the spread of the virus, as well as the resignation of the government.
Civic groups say the emergency laws violate civil and political rights.
Reuters cited witnesses and residents as saying that police used tear gas to disperse the protesters, who defied a night curfew, which has been extended several times since it was imposed a year ago, most recently on Saturday amid an increase in coronavirus cases in the country.
Jordan on Monday registered 9,417 new coronavirus infections, bringing the total number of cases to 486,470, including 5,428 deaths in the country of 10 million people.
According to the witnesses, dozens of activists were arrested in several cities and towns on Monday.
The protests also came amid anger over the death of nine patients, mostly suffering from COVID-19, on Saturday, when a hospital in the northwestern town of Salt ran out of oxygen.
The incident forced the Jordanian health minister to resign, and triggered protests in Amman and other cities on Sunday.
In televised comments on Monday, Jordan's King Abdullah vowed to hold those behind the incident in Salt accountable.
Abdullah further said he understood that people were facing difficulties due to the pandemic, but he warned of dissidents' attempts to sow discord.
Jordan last year suffered its worst recession in decades as a result of the pandemic.
https://www.presstv.com/Detail/2021/03/16/647413/Jordan-police-clash-anti-lockdown-protesters
--------
Boko Haram Threat Complicates Plans to Resettle Displaced Nigerians
By Haruna Shehu
March 14, 2021
MAIDUGURI, NIGERIA - Boko Haram militants have terrorized northeastern Nigeria for more than a decade, driving more than 2 million people from their homes, according to the United Nations.
At least 3,000 have fled from the countryside to the relative safety of Kawar Maila, a camp in Borno State's capital, Maiduguri.
Having escaped the Islamic extremists, these displaced people still face enormous challenges, struggling to get food and basic health care, to educate their children, to imagine a better future.
"Life here is very difficult. We are suffering," said Mohammed Abba, who had a farm in the Konduga government area, about 25 kilometers southeast of Maiduguri. Now, he, his wife and five children live in a single, cramped room.
"During the rainy season, you would be shocked to see how we must cope. This room floods and we can't sleep here," he said. Abba used to "raise animals and do trading. But this is our situation today."
His neighbor Falmata Abukar also came from Konduga with her husband. She blames what she considers inadequate health care in the camp for her son going blind in one eye.
"My child fell ill. He did not open his eyes for four days. He cannot see with that eye now," Abukar said. "The eye is beyond repair."
Widows, most with children, live in a donated warehouse – more than 180 people in rooms separated by hanging sheets of fabric or plastic. Women often sit together in the center, chatting while sifting ground maize to make a traditional dish called bisko.
The camp's residents, kept from their regular livelihoods, are trying to make ends meet. In daylight outside, women do needlework, crafting hats and other items to sell. So do girls who would have been in school if they were in their home communities.
Government pushes for resettlement
Borno State has 32 official camps for displaced people and roughly 200 informal settlements. These are supported by the State Emergency Management Agency (SEMA) and the federal government. They also receive support from humanitarian partners ranging from local groups to international organizations such as the U.N. International Children's Emergency Fund, the Norwegian Refugee Council, Save the Children and Doctors of the World.
The state's governor, Babagana Umara Zulum, said authorities are working to resettle many of the displaced by year's end.
"The IDPs [internally displaced persons) are tired of life in the camps," Zulum said. "They complain to us day and night about their plight. They do not have food, and their children are being exploited. They need to return to their homes."
That depends on regaining control of the territory from Boko Haram and protecting civilians, Zulum said. "We have to first ensure their safety. We don't want to resettle people where there is no security."
Concerns about security
Many homes of displaced people were destroyed or are in areas still vulnerable to Boko Haram attack. So, for now, authorities are moving to resettle people in cities closer to home that are patrolled by federal troops.
That does not reassure Abba Gana Kolomi, a fish trader from the town of Baga near Lake Chad. A friend who returned there gave him a grim report about continuing insecurity and how it restricts the ability to earn a living.
"People cannot go to fishing," he said. "They cannot find food anywhere, because no one has cultivated his farm or raised animals."
Venturing from better-protected cities to fish, farm or do other chores in rural Borno State can be dangerous. In mid-February, a group of displaced people gathering firewood near the town of Damboa were abducted – and five were killed – in a suspected Boko Haram attack.
https://www.voanews.com/africa/boko-haram-threat-complicates-plans-resettle-displaced-nigerians?utm_source=iterable&utm_medium=email&utm_campaign=2102947_
--------
Nigerian troops kill 41 Boko Haram terrorists
Adam Abu-bashal
16.03.2021
ABUJA, Nigeria
Nigerian special forces eliminated 41 Boko Haram fighters in the country's northeastern Borno state Monday.
Mohammed Yerima, a spokesman for the Nigerian Army, said in a statement that an anti-terror operation was carried out in Gulwa and Musuri villages in the Gamboru Ngala local government area.
The army also recovered sophisticated weapons and rescued 60 women and children who were being held by the terrorists, he said.
He added that four soldiers were killed and many others were injured during the operation.
Boko Haram launched a bloody insurgency in 2009 in northeastern Nigeria but later spread its atrocities to neighboring Niger, Chad and Cameroon, prompting a military response.
More than 30,000 people have been killed and nearly 3 million displaced in a decade of Boko Haram's terrorist activities in Nigeria, according to the UN Office for the Coordination of Humanitarian Affairs.
Violence committed by Boko Haram has affected some 26 million people in the Lake Chad region and displaced 2.6 million others, according to the UN Refugee Agency.
https://www.aa.com.tr/en/africa/nigerian-troops-kill-41-boko-haram-terrorists/2177207
--------
Armed men abduct schoolteachers, students in NW Nigeria
Ibrahim Garba Shuaibu
15.03.2021
KANO, Nigeria
An armed group on Monday abducted teachers and students of a primary school in northwestern Nigeria, a local official said.
In a statement, Samuel Aruwan, commissioner for Internal Security and Home Affairs of Kaduna State, said details about the actual number of students and teachers are being gathered.
Abdulsalam Adam, a local resident, told Anadolu Agency by phone the gunmen came to Rema, a community in Birnin Gwari, on about 12 motorcycles.
"Three teachers and some pupils have been reportedly abducted but we are trying to ascertain the true situation. Right now, some volunteers have gone after the bandits," Adam said.
"We are in the school right now, and are trying to comb the bushes around the school because some of the children ran into the bushes as the bandits ambushed the school. So, we don't know how many people were abducted at the moment."
The incident happened 24 hours after security forces thwarted an attempted abduction of 307 students of a government school in Ikara local government area of the state and another attack at the Federal Airport Authority of Nigeria (FAAN) quarters in Igabi area of the state.
On Thursday night, gunmen invaded the Federal College of Forestry Mechanization, Afaka, in Igabi area and abducted 39 students, including 23 girls.
https://www.aa.com.tr/en/africa/armed-men-abduct-schoolteachers-students-in-nw-nigeria/2176769
--------
Libya's new unity gov't sworn in by parliament
Mohammad Erteima
15.03.2021
TRIPOLI, Libya
Libya's new unity government headed by Prime Minister Abdul Hamid Dbeibeh was sworn in on Monday before the Libyan parliament in Tobruk city in eastern Libya.
Speaking to Anadolu Agency, Libyan lawmaker Mohammad al-Ra'eedh said more than 100 MPs attended the swearing-in session.
"A number of Arab and foreign ambassadors were present during the session," he added.
Earlier Monday, Dbeibeh's government took the constitutional oath before the High Court in the capital Tripoli before heading to Tobruk.
Last week, the Libyan parliament granted a vote of confidence to Dbeibeh's government with 132 votes of the 133 lawmakers who attended the session.
Libyans hope it will end years of civil war that have engulfed the country since the ouster and killing of strongman Muammar al-Qaddafi in 2011.
The war was exacerbated when warlord Khalifa Haftar, supported by several countries, including the United Arab Emirates, Egypt, Russia, and France, carried out a military onslaught to topple the Tripoli-based internationally recognized government for control of the North African country.
https://www.aa.com.tr/en/africa/libya-s-new-unity-gov-t-sworn-in-by-parliament/2176603
--------
Turkey decries Boko Haram terrorist attack in Nigeria
Sena Guler
15.03.2021
Turkey on Monday condemned a "heinous" terrorist attack in Nigeria that caused many casualties.
"We are deeply saddened by the news that 19 soldiers lost their lives and a further 13 wounded, during a terrorist attack perpetrated by the terrorist organization Boko Haram against a military convoy on 12 March 2021, in the Gudumbali region located in the Borno State of Nigeria," the Foreign Ministry said in a written statement.
"We strongly condemn this heinous terrorist attack," it said, extending condolences to the families of the deceased and the "friendly and brotherly" people and government of Nigeria.
It also wished a speedy recovery to the injured.
Boko Haram launched a bloody insurgency in 2009 in northeastern Nigeria but later spread its atrocities to neighboring Niger, Chad and Cameroon, prompting a military response.
More than 30,000 people have been killed and nearly 3 million displaced in a decade of Boko Haram's terror activities in Nigeria, according to the UN Office for the Coordination of Humanitarian Affairs.
Violence has affected 26 million people in the Lake Chad region and displaced 2.6 million others, according to the UN Refugee Agency.
https://www.aa.com.tr/en/africa/turkey-decries-boko-haram-terrorist-attack-in-nigeria/2175962
--------
Southeast Asia
In Sarawak, five lodge police report against Selangor woman for remarks on 'Allah' ruling
16 Mar 2021
MIRI, March 16 — Police here have received five reports lodged against a woman over her alleged inflammatory remarks on social media over the recent High Court ruling on the 'Allah' issue.
Miri police chief ACP Hakemal Hawari when contacted said the five reports were lodged by individuals and local non-governmental organisations (NGOs).
"The police reports were lodged between March 13 and 15. We have opened an investigation paper for further action," he said.
The widely-circulated video shows a woman, who claimed to be from Selangor, making several remarks, among them warning non-Muslims in the country not to challenge the patience of the Muslim community.
She also questioned why the court had allowed the word 'Allah' to be used by Christians in their Bible.
She said Islam's position as the country's official religion should not be challenged and vowed that she and 'her team' would take action against Christians in the country. — Borneo Post
https://www.malaymail.com/news/malaysia/2021/03/16/in-sarawak-five-lodge-police-report-against-selangor-woman-for-remarks-on-a/1958185
--------
Malaysia government appeals ruling on Christians using 'Allah'
15 Mar 2021
KUALA LUMPUR: The Malaysian government on Monday (Mar 15) appealed a court's decision to overturn a decades-old official ban and allow Christians in the Muslim-majority country to use "Allah" to refer to God.
The word has long been divisive in multi-ethnic Malaysia, with Christians complaining that attempts to stop them using it highlight the growing influence of conservative Islam.
But some Muslims accuse the sizeable Christian minority of overstepping boundaries, and the subject has fuelled religious tensions and sparked violence over the years.
Last week the Kuala Lumpur High Court ruled that Christians can use "Allah" in publications, siding with a member of the minority and striking down a ban that dated back to 1986.
A judge ruled the ban was unconstitutional, as Malaysia's constitution guarantees freedom of religion.
But the government lodged a challenge at the court of appeal saying it was "not satisfied" with the ruling, according to documents seen by AFP.
Authorities have long argued that allowing non-Muslims to use "Allah" could be confusing, and entice Muslims to convert.
The case began 13 years ago when officials seized religious materials in the local Malay language from a Christian at Kuala Lumpur airport that contained the word "Allah".
The woman - Jill Ireland Lawrence Bill, a member of a Malaysian indigenous group - then launched a legal challenge against the ban on Christians using the term.
Malaysia has largely avoided overt religious conflict in recent decades, but tensions have been growing.
In 2014 a church was hit with petrol bombs, while Islamic authorities have seized Bibles containing the word "Allah".
Less than 10 per cent of Malaysia's 32 million people are estimated to be Christians, coming from mostly ethnic Chinese, Indian or indigenous backgrounds, while 60 per cent are ethnically Malay Muslims.
https://www.channelnewsasia.com/news/asia/malaysia-government-appeal-ruling-christians-allah-publications-14412310
--------
Shunned by Umno, Bersatu's survival now rests with PAS, say analysts
16 Mar 2021
BY SYED JAYMAL ZAHIID
KUALA LUMPUR, March 16 — Umno's decision to withdraw its support for the coalition led by Parti Pribumi Bersatu Malaysia will pull large swathes of the Malay vote away from the splinter group to deal a blow powerful enough to decimate the young party at the next general election, analysts said.
Bersatu was founded with the initial aim of breaking Umno's grip on rural and conservative Malay votes but has seen marginal success.
Since its formation, the party has made little progress to counter Umno's clout, having to contend with a smaller supporter base of mostly disgruntled former members of its sister party with no grassroots support.
Umno and PAS on the other hand amassed up to 70 per cent of the Malay vote at the 2018 general election, with the former enjoying the lion's share. Hawkish Umno leaders have used this to pressure Bersatu into giving way.
Oh Ei Sun, a fellow at the Singapore International Institute of Foreign Affairs, said the numbers are testament to the parties' clout among rural and conservative Malays.
Voting data throughout the years suggest this is an electorate that often votes along partisan lines, and has stayed consistently with either Umno or PAS.
"I think for most conservative Malays — who make up the bulk of the overall voters — the fallback party is still unequivocally Umno, followed closely by PAS," the analyst said.
"This was testified in the 2018 general election, where Umno and PAS garnered more than 75 per cent of Malay votes. The progressive Malays — who are decidedly fewer in number — would likely go for Pakatan Harapan (PH)," he added.
The rest consists of urban moderates and liberals, most inclined towards PH. While just 30 per cent, their votes helped the multiracial pact achieve a landmark victory and ended Barisan Nasional's (BN) six-decade long monopoly on power.
There has been talk that Bersatu could woo Malay liberals too. Some party leaders have openly identified with progressive ideas by championing inclusive and welfare policies.
Datuk Seri Azmin Ali, who defected from PKR and is now a Bersatu supreme council member, has also shared hope that supporters from his former party would switch allegiances, citing disillusionment with the leadership of Datuk Seri Anwar Ibrahim.
But some analysts feel it would be hard for Bersatu to draw support from liberals, citing its role in the power grab that ousted PH last year.
"This actually leaves Bersatu in a lurch, as it cannot count on PH votes for obvious reasons, but they have yet to make significant inroads into the conservative Malay vote bank," Oh said.
With PAS throwing its full support behind Bersatu, that may work if the two parties can find a formula for seat distribution. Still, analysts noted that PAS has limited influence, with support strongest in the northern rice-belt states.
The Islamists are also in an election pact with Bersatu's rival, which has raised questions if it is possible for the three to cooperate in their respective pact and avoid a clash at some point.
Some analysts, however, have pointed to the emergence of new voters who see conservatism as a unifying ideology able to transcend partisan loyalty, which could work in favour of Bersatu.
Datuk Mohamad Abu Bakar, political analyst at UnisZa, said this is a generation of electorate born as a result of liberal governance under PH, and would vote for any party that champions conservatism as reflected in the positive rating for PN and the Umno-PAS-Bersatu alliance.
Yet these voters will still be forced to choose at the end of the day, as the tussle between Umno and Bersatu would effectively make the prospect of three parties sitting in a coalition purely based on conservatism unlikely.
"There has been a resurgence of traditional Malay-Muslim conservatism following PH rule, and this has translated into support for Umno-PAS-Bersatu as evidenced in the last couple of months," he said.
"But they need to harness this force in order to come up strong and formidable in the next election. So far they have been at loggerheads with each other," he added.
"Under pressure from Malay-Muslim conservationists, they might regroup, and present themselves as a common front. But as of today, this has not happened."
The induction of over 7.5 million young voters once the lowered voting age takes effect this July, and some four million more when the automatic registration begins, is also expected to add to the uncertainty both for conservative and liberal political forces.
The widely held view among analysts is that no one party can truly hold sway over this highly unpredictable electorate, making them a volatile force that could do either damage or good.
For prime minister and Bersatu president Tan Sri Muhyiddin Yassin, these young voters present an opportunity to level the playing field with its more established competitors, especially Umno.
But Mohamad Hisomuddin Bakar, director at the Ilham Centre, said winning them over will not be easy.
"Looking at the significant addition, I feel this government is unprepared to take the risk on a wave whose political inclination is hard to predict," he said.
"With this pandemic, the drastic dip in support for PN and the prime minister, and the addition of a voter segment deemed fragile or uncertain make it difficult for any party to dictate the trajectory of the upcoming election."
https://www.malaymail.com/news/malaysia/2021/03/16/shunned-by-umno-bersatus-survival-now-rests-with-pas-say-analysts/1958135
--------
URL: https://www.newageislam.com/islamic-world-news/house-one-muslims-jews-christians/d/124554
New Age Islam, Islam Online, Islamic Website, African Muslim News, Arab World News, South Asia News, Indian Muslim News, World Muslim News, Women in Islam, Islamic Feminism, Arab Women, Women In Arab, Islamophobia in America, Muslim Women in West, Islam Women and Feminism