New Age Islam News Bureau
13 May 2017
• Hizbul Mujahideen Threatens To Behead Hurriyat Leaders over Kashmir Statement
• 24 Indian Youths Who Joined IS Seen at Zakir Naik's Office
• Osama Bin Laden's Son May Take Top Role in Al-Qaeda, Plans to 'Avenge His Father': Report
• Pope, At Fatima Shrine, Urges End to Wars Tearing World Apart
• 26 Die As Pakistan Senate Deputy Leader Survives Bomb Attack in Mastung
India
• Hizbul Mujahideen Threatens To Behead Hurriyat Leaders over Kashmir Statement
• Violence in Sambhal: Attacked, Their Homes Destroyed, 9 Muslim Families Leave UP Village
• A Tale of Two Statements on PM Modi's Meeting With Muslim Delegation
• Pakistan troops fire 120 mm mortar bombs along LoC in Rajouri
• Cops put up posters of three Hizbul men wanted for Ummer Fayaz killing
• No role in Ummer Fayaz's killing, says Hizbul Mujahideen chief
--------
Southeast Asia
• 24 Indian Youths Who Joined IS Seen at Zakir Naik's Office
• As China Takes On Muslims, Pak Keeps Mum
• 'Do not claim monopoly on religious truth'
• Blasphemy Law Should Be Abolished: Wahid Foundation
• Indonesian Police Ask for Interpol's Help to Bring Back Firebrand Cleric
--------
South Asia
• Osama Bin Laden's Son May Take Top Role in Al-Qaeda, Plans to 'Avenge His Father': Report
• 12 ISIS militants killed in Nangarhar province of Afghanistan
• Myanmar: Police arrest Buddhist nationalists accused of stoking tensions with Muslims
• Myanmar army chief compares Rohingya crackdown to N Ireland
• Saudi Arabia: No Agreement on Funding for Bangladesh Mosques
--------
Europe
• Pope, At Fatima Shrine, Urges End to Wars Tearing World Apart
• Central Asia at Center Of Radicalism Debates after Recent Terror Attacks
• André Azoulay: Morocco a 'Haven of Coexistence'
• Eight things to know about Islam in Germany
• The Drumbeat against Jewish Ritual in Europe Sounds Once More
--------
Pakistan
• 26 Die As Pakistan Senate Deputy Leader Survives Bomb Attack in Mastung
• Pak-Iran Officials Agree To Cooperate Against Terror Attacks
• Islamabad High Court allows Geo News to air Ehsanullah Ehsan's interview
• Pemra warns TV channels not to air content jeopardising military's image
• Security forces foil terror bid in Kurram near Pak-Afghan border
• Islamic State claims attack on Pakistan lawmaker
• Bakhtawar terms Ehteram-e-Ramazan Bill ridiculous
--------
Arab World
• Skirmishes over Culture Strain Alliance between Saudi Rulers, Cleric
• ISIS's Baghdadi Has 'Fled Mosul and Left His Fighters to Die'
• Syrian Army Restores Security to Triangle of Damascus-Baghdad-Jordan
• Damascus: Most of Al-Qaboun District under Syrian Army Control
• US-backed forces prepare for final push on IS-held Raqa
• Syrian Soldiers Launch Fresh Operation in Eastern Homs to End ISIL's Siege of Deir Ezzur
• Syrian Soldiers win back Strategic Airbase in Eastern Aleppo
• Syrian Army Imposes Control over Terrorists' Main Road in Eastern Homs
• Syrian Army Dispatches More Troops to Eastern Damascus to Face Terrorists
• ISIL Suffers Heavy Casualties in Syrian Armed Forces' Attacks in Homs Province
• US Spy Plane Intercepted by Russian Fighter Jet over Black Sea
• Iraqi Popular Forces Target ISIL's Defense Lines Near Borders with Syria
• Damascus: Syrian Army Blasts Several Terrorists' Tunnels, Bunkers in Al-Qaboun District
• Russia Registers 9 Truce Violations by Terrorists in Syria, Situation in Safe Zones Stable
• Experts evaluate Hezbollah's withdrawal from Lebanon's eastern borders
• Operation to free northwestern Mosul resumes after civilian evacuations
--------
Africa
• Boko Haram Threatens To Bomb Nigerian Capital
• 'The Salafists Came To Africa To Destroy… Islam'
• The 5 African Countries Where Change Isn't Coming, for Better or Worse
• UNIFEMGA focuses on entrepreneurship for Muslim graduates
• Muslim clerics hold special prayers for Nigeria
--------
Mideast
• Turkey Detains Online Editor-In-Chief of Opp Daily
• Yemenis Stage Massive Rally against US Support of Saudi War on Yemen
• Erdogan hopeful for breakthrough in dispute on arming Kurds
• Yemeni government rejects southern autonomous council
• New UN proposals on Yemen include Al-Hudaidah
• Palestinian shot dead in west bank clash with Israelis: ministry
• Palestinians set to mark 69th anniversary of Nakba Day worldwide
• Norway's largest trade union boycotts Israeli regime
--------
North America
• Racism in US: Donald Trump Will Stop You, Man Tells Muslim Family in US
• Pence Says ISIS Is Guilty Of Genocide against Christians
• To ease fears, US Muslim schools reach out to neighbours
• From Saudi Arabia, Trump is set to promote peace
• Will this man seeking to lead Michigan be America's first Muslim governor?
• Nation Wide Campaign 'Ask Islam' Coming to Kingston
Compiled by New Age Islam News Bureau
URL: https://www.newageislam.com/islamic-world-news/hizbul-mujahideen-threatens-behead-hurriyat/d/111138
--------
Hizbul Mujahideen Threatens To Behead Hurriyat Leaders over Kashmir Statement
May 13, 2017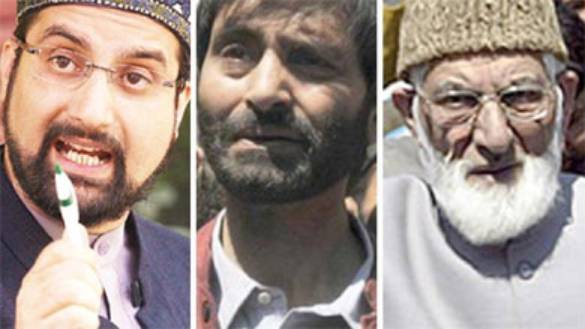 A combination photo of Kashmiri separatist leaders Mirwaiz Umar Farooq, Yasin Malik and Syed Ali Shah Geelani.(Agencies)
-----
SRINAGAR: Hizbul Mujahideen terrorist Zakir Bhat, who succeeded Burhan Wani after his killing in an encounter last year, threatened the Hurriyat separatists on Friday saying they would be hanged if they continued to describe Kashmir as a "political struggle" instead of an "Islamic uprising".
In a strongly worded audio message to separatists shared on social media, Zakir Bhat, aka Moosa, said: " Hum kufr ko chhod kar pehley aap ko latkayeingey. Lal Chowk mein inkey galey kateingey ! (Before we kill the disbelievers, we'll hang you... your heads will be chopped at Lal Chowk)."
Zakir insisted that the 27-year-old armed movement in Kashmir was an Islamic struggle, not a political fight, and also warned separatists not to meddle in the setting up a caliphate in J&K along the lines of the rule established by terror group Islamic State.
He warned them against using mosques and other Islamic symbols and slogans if they believed that Kashmir was a political struggle.
Hurriyat's Syed Ali Geelani, Mirwaiz Umar Farooq and Yasin Malik stress on resolution of the Kashmir issue by seeking the right to "self-determination".
The Mirwaiz, who is the custodian of the Jamia Masjid in Srinagar, demands the implementation of UN resolutions of 1947 regarding Kashmir every Friday.
Geelani, on the other hand, roots for Kashmir's accession to Pakistan. Addressing them, Zakir said, "You are our big problem... if you have to run this dirty politics, run it in your homes... if we have to implement the shariat, we have to implement it on ourselves."
Zakir, a native of terrorist-infested Tral in Pulwama district, was studying to be an engineer in a Chandigarh college before picking up arms in July 2016.
"I am not an ulema (sic), but scholars here are corrupt... fearful of crossing limits that they may be imprisoned. That is why we have to come forward," Zakir said, quoting a verse from the Quran. "They are actually political leaders and they can't be our leaders," Zakir said. "Our fight is purely for the sake of Islam, and we shall implement the shariat in Kashmir, insha-Allah," hesaid.
http://timesofindia.indiatimes.com/india/burhan-wani-successor-zakir-bhat-targets-hurriyat-brass/articleshow/58651619.cms
--------
24 Indian youths who joined IS seen at Zakir Naik's office
May 12, 2017
KUALA LUMPUR: A special judicial tribunal in India has upheld the government's ban on Zakir Naik's Islamic Research Foundation (IRF).
The tribunal found there were sufficient reasons, including a threat to India's security, to outlaw it.
The IRF had petitioned the judicial tribunal against the Nov 17, 2016 ban under the Unlawful Activities Prevention Act.
A report in the Times of India said the tribunal, headed by Justice Sangita Dhingra Sehgal, had relied on evidence that included the controversial preacher's speeches.
It also took cognisance of evidence that 24 youths who travelled from Kerala to Afghanistan to join the Islamic (IS) State were regulars at IRF's office in Mumbai.
The report quoted the tribunal as finding: "On analysing the speeches delivered by Zakir Naik, it is abundantly clear that the same are provocative and derogatory."
It added that the material placed before it showed that Naik was actually using the IRF as a platform to propagate a radical version of Islam.
The Times of India reported that the tribunal took a grim view of the "enduring impact" of Naik's provocative speeches, said to have "inspired the attackers who struck at Dhaka's Holey Artisan Bakery in 2016".
It also noted that Naik had failed to participate in the legal proceedings before it and had absconded and was untraceable.
The IRF petitioned the tribunal after the Delhi High Court, on March 16, held that the government's decision to ban the IRF was taken to safeguard national security.
Naik, who was granted Malaysian permanent resident status five years ago, has been in and out of Malaysia frequently.
His presence here has caused ill-feelings among people of the various religions, leading to heated verbal exchanges in the media between those who support him and those who want him barred from entering the country.
Meanwhile, India's National Investigation Agency has approached Interpol to issue a red corner notice against the controversial Islamic preacher.
If the red corner notice is issued against Naik, who is being probed for terror and money laundering charges, it would mean that he will be declared an international fugitive and could be arrested by any agency around the world.
http://www.freemalaysiatoday.com/category/nation/2017/05/12/24-indian-youths-who-joined-is-seen-at-zakir-naiks-office/
--------
Osama Bin Laden's Son May Take Top Role In Al-Qaeda, Plans To 'Avenge His Father': Report
May 13, 2017
A former FBI agent told a television news channel that personal letters seized during the raid that killed al-Qaeda leader Osama bin Laden showed that his son Hamza is poised to lead the terrorist organisation. Ali Soufan, who led the investigation against Laden after 9/11 attacks, in an interview to CBS news said that Hamza, who adored his father and wished to carry forward his ideology, will take over the top role in al-Qaeda to avenge his father's death. Revealing contents of the now-declassified letters, Soufan said that Hamza wrote the letters when he was 22 years old, in which he wrote, "I consider myself to be forged in steel. The path of jihad for the sake of God is what we live."
Soufan told the news channel that Hamza, now 28, can inspire and unite the jihadist movement. According to the former FBI agent, there are several similarities between Laden and his son. "His recent message that came out, he delivered the speech as if it's his father…using sentences, terminology that was used by Osama bin Laden." US recognises Hamza as "specially designated global terrorist", the same classification his father once held, Soufan told reporters.
He also said that Hamza has recorded two audio messages in last two years. "He's basically saying, 'American people, we're coming and you're going to feel it. And we're going to take revenge for what you did to my father…Iraq…Afghanistan'…the whole thing was about vengeance."
http://indianexpress.com/article/world/osama-bin-ladens-son-may-take-top-role-in-al-qaeda-plans-to-avenge-his-father-report-4653595/
--------
Pope, at Fatima shrine, urges end to wars tearing world apart
May 13, 2017
Pope Francis, visiting one of Catholicism's most famous sanctuaries, on Friday prayed for an end to wars he said were lacerating the world and urged the faithful to "tear down all walls" to spread justice and peace.
At the start of a trip that will see him on Portuguese soil for less than 24 hours, Francis arrived at the Shrine of Fatima, where the Catholic Church teaches that the Madonna appeared to three Portuguese children 100 years ago in what was then an impoverished farming village.
The main purpose of the trip to the central Portuguese town, which receives around 7 million people a year, is a huge open-air Mass on Saturday to declare two of the children saints.
The two, Francisco and Jacinta Marto, died shortly after the apparitions at the ages of 9 and 10. The third visionary, Lucia Dos Santos, became a nun and died in 2005 at the age of 97.
Watched by hundreds of thousands of people, Francis read a long prayer before a small statue of the Madonna, leaving a gold rose at her feet.
"I implore for the world concord among all peoples" he said, decrying blood "shed in the wars tearing our world apart".
Since his election in 2013, Francis has made hundreds of appeals for peace, including calling for international mediation to reduce tensions between the United States and North Korea.
A banner in the crowd read: "Please pray for peace in Korea".
In his prayer, which the huge crowd listened to in near silence, Francis also hammered home another major theme of his papacy - justice for the poor, refugees and outcasts.
"We will follow all paths and everywhere make our pilgrim way; we will tear down all walls and cross every frontier as we go out to every periphery to make known God's justice and peace," he said.
The story of Fatima's shepherd children has captivated Catholics since their first reported vision on May 13, 1917.
The Church believes the Madonna gave the children three messages, the so-called secrets of Fatima.
The first two were revealed soon and concerned a vision of hell, seen by believers as a prediction of the outbreak of World War Two, a warning that Russia would "spread her errors" in the world, and a need for general conversion to God and prayer.
The "third secret" intrigued the world for more than three-quarters of a century, inspiring books and cults convinced that it predicted the end of the world.
In 2000, the Vatican said it was a prediction of the 1981 assassination attempt on Pope John Paul on May 13, the same day of the first reported apparition in 1917.
John Paul believed the Madonna had diverted one of the bullets that hit him from his vital organs. He donated it to the sanctuary, where it is now embedded in the crown of the statue that Francis prayed before on Friday night.
http://nation.com.pk/international/13-May-2017/pope-at-fatima-shrine-urges-end-to-wars-tearing-world-apart
--------
26 Die As Pakistan Senate Deputy Leader Survives Bomb Attack in Mastung
SALEEM SHAHID
May 13, 2017
QUETTA: At least 26 people were killed and 40 others, including Senate Deputy Chairman Maulana Abdul Ghafoor Haideri, suffered injuries in a suicide attack on his convoy in the Mastung area, some 50km from here, on Friday.
The convey was targeted on the Quetta-Karachi National Highway when Maulana Haideri had just left a seminary after attending a graduation ceremony and offering Friday prayers.
The target of the attack was Maulana Haideri — who hails from Kalat — as the suicide bomber rammed the motorcycle he was riding into the vehicle in which the Maulana was travelling, a police official said. Parts of the motorcycle were found at the blast site.
Maulana Haideri is also general secretary of the Jamiat Ulema-i-Islam-Fazl.
The militant Islamic State (IS) group claimed responsibility for the attack through a statement posted on the website of its propaganda agency Amaq.
A large number of vehicles and motorcycles, including a police car, were destroyed in the blast that rocked the entire Mastung town, causing panic among the residents.
The deceased included Maulana Hafiz Qudratullah, Naib emir of Quetta district chapter of the JUI-F; Iftikhar Mughal, director staff of the Senate; Maulana Haideri's driver, Abdul Waheed, an official of the Anti-Terrorism Force; and seven volunteers of the JUI-F who were escorting Maulana Haideri as guards. The victims included Mohammad Adil, Mohammad Imran, Abdul Ghaffar, Zahoor Ahmed and Abdul Karim. Several bodies have not been identified.
A young girl, a child and a Mastung-based journalist, Abdul Hanan, were among the wounded.
The bulletproof vehicle of Maulana Haideri was severely damaged in the explosion. "The Maulana has received minor injuries and has been shifted to the Combined Military Hospital, Quetta," said Anwar-ul-Haq, the spokesman for the Balochisan government.
"I am alive but have received some injuries," Maulana Haideri told Dawn by telephone while going to hospital. "Almighty Allah saved my life but I have lost many workers and a leader of my party."
He said the blast was very powerful and he heard firing after it. "The vehicle in which I was travelling had been destroyed and people sitting with me have been severely injured," he said.
A witness said the blast took place when Maulana Haideri was moving to the place where lunch was to be served to the guests of the graduation ceremony.
"All of a sudden a massive blast took place near the vehicle in which the deputy chairman of the Senate was sitting," said Sardar Noor Ahmed Bangulzai, who had also received injuries. "After the blast, the place was engulfed by thick smoke and nothing was visible.
"When atmosphere cleared, I saw bodies lying here and there, even at the distance of 100 feet from the blast site," he said. "The injured were crying and asking for help."
Survivors, several covered in blood, were picking up body parts that lay scattered on the road among vehicles twisted by the blast.
Soon after the blast, security forces rushed to the site with rescue workers, who started shifting the injured and the bodies to the District Hospital and the Nawab Ghous Bakhsh Raisani Memorial Hospital in Mastung.
"The two hospitals have received 25 bodies and 35 injured," Sher Ahmed Satakzai, district health officer of Mastung, said. He feared that the death toll might rise as the condition of at least 10 injured, who were shifted to Civil Hospital Trauma Centre, Quetta, was serious.
Hospital sources said Maulana Haideri had received injuries on his arms, leg and ear.
Officials of the bomb disposal squad, after collecting evidence from the explosion scene, confirmed that it was a suicide attack. "We have reached this conclusion in the light of ball bearings and other evidence found at the site," an official said, adding that around 10kg of explosives were used for the explosion.
It was not the first suicide attack on the JUI-F leadership. In 2014, the party chief Maulana Fazlur Rehman survived a suicide attack in Quetta when he was returning after addressing a public meeting at Sadiq Shaheed Ground.
Security was beefed up in Quetta and other cities and towns of Balochistan after the attack as more policemen and Frontier Crops soldiers were deployed at different places.
Workers and supporters of the JUI-F blocked Quetta-Karachi highway after the incident. They put boulders on the road and suspended vehicular traffic.
Bazaars and shops closed in Mastung, Kalat and Khuzdar. Activists and supporters of the JUI-F took out protest rallies and marched on the roads.
The JUI-F has called for a general strike in Balochistan on Saturday.
PM condemns attack
Meanwhile, Prime Minister Nawaz Sharif has condemned the attack on the motorcade of Maulana Haideri, expressed concern for his well-being and prayed for his swift recovery, a statement from the PM House said, adds APP.
The prime minister expressed grief and sorrow over the loss of precious lives in the blast and directed the authorities concerned to ensure best medical treatment for the injured.
Mr Sharif also prayed for eternal peace for the departed souls and grant of courage to the bereaved families to bear the irreparable loss.
Balochistan Chief Minister Nawab Sanaullah Zehri has also condemned the attack and expressed sorrow over the death of innocent people. He has directed the inspector general of police to submit a report on the incident within 24 hours.
He said that peace, which had been restored with the efforts of security forces and the government, would be maintained at all costs.
The CM talked to Maulana Haideri by telephone from Beijing, where he had gone with the prime minister, and enquired after his health. He announced that the families of the victims who had lost their lives would be given compensation according to the policy of the provincial government.
He directed the officials concerned to provide best treatment to the injured people.
https://www.dawn.com/news/1332799/26-die-as-senate-deputy-leader-survives-bomb-attack-in-mastung
--------
India
Violence in Sambhal: Attacked, Their Homes Destroyed, 9 Muslim Families Leave UP Village
by Manish Sahu
May 13, 2017
Attacked by people from the majority community on at least two occasions in the last three days over alleged elopement of a Hindu woman and a Muslim man, at least nine Muslim families have left their village in Sambhal district of western UP. They fled to undisclosed destinations, the village head said. The people who left are relatives of the man who eloped with the Hindu woman and were allegedly attacked and beaten up by residents of their village, Nandrauli. The assailants, allegedly from the majority community, torched the property and household belongings of these families, the police said.
On Friday, village pradhan Pramod Kumar said, "Nine Muslim families left the village Thursday morning. They feared further attack. After learning about it, senior senior police officers, including Meerut Range DIG Onkar Singh, reached the village Thursday and held a meeting with seniors in the village." Sambhal's Superintendent of Police Ravi Shankar Chhabi said, "We have learnt that four or five families have left the village and gone to relatives' homes."
Two FIRs have been lodged at Gunnaur police station in the area and seven accused have been arrested so far. Senior police officials are camping in the village and trying to pacify the groups. Nandrauli has 80 per cent Hindu population.
Station House Officer of Gunnaur, Raj Pal Singh, said that on May 9, a local businessman named Ram Niwas lodged an FIR against his neighbour, Babloo, 22, and his friend Musharraf for allegedly abducting his daughter — Arti, 20 — from his house the night before. Babloo, a Muslim man, runs a dairy in the village.
Musharraf was arrested on Thursday but the police could not get any information from him about the duo on the run. According to SHO Singh, on the afternoon of May 9 a mob attacked five houses of people from the minority community, including that of Babloo. They threw stones and broke all furniture lying outside, he said. An FIR was lodged against 25 unidentified rioters.
While a police team was deployed after the attack, people from the Muslim community alleged that a group of armed men again targeted 15 houses the following night in presence of the police officials. "The men barged in and vandalised the homes. They later set the belongings on fire. They also beat up the occupants," alleged Ahmed Ali, a neighbour of Babloo.
Ali spoke with The Indian Express over telephone — he had left the village with his family "fearing further attack", and refused to divulge his location. The SHO claimed that policemen deployed in the village tried to intervene but were outnumbered by the mob. Additional force was sent in, and they brought the situation under control after a round of lathi-charge, the police said.
http://indianexpress.com/article/india/violence-in-sambhal-attacked-their-homes-destroyed-9-muslim-families-leave-up-village-4653447/
--------
A tale of two statements on PM Modi's meeting with Muslim delegation
by Abantika Ghosh
May 13, 2017
A Muslim delegation led by the Jamiat Ulama-i-Hind that met Prime Minister Narendra Modi on May 9 spoke to him at length about the "gulf" between the government and the Muslim community, the atmosphere of fear stemming from cow vigilantism and love jihad, and the need to accelerate welfare schemes for minorities. But these did not find mention in the press release put out by the Press Information Bureau of the government though the Jamiat statement did touch upon some of these.
Zahir Kazi, president of the Anjuman-i-Islam, Mumbai and one of 25 in the delegation, told The Indian Express: "Many people spoke on the issue in different tones. But the purport of it all is that the community feels it is being targeted. Extremist elements are taking the law into their own hands, something nobody should be allowed to do. Cow vigilantes, love jihad, all this is creating an atmosphere of fear, we told the Prime Minister."
Another member of the delegation, Akhtarul Wasey, vice-chancellor of Maulana Azad University in Jodhpur, said: "We told the Prime Minister that the statements that the Chief Minister of Uttar Pradesh and he himself had given about not allowing people take the law into their hands were not percolating to the ground level. Law enforcing agencies were not doing due diligence on this."
The Prime Minister, it is learnt, told the delegation that regardless of the background he comes from, he is the Prime Minister of 125 crore people of the country, and regardless of caste or creed, he is committed to their welfare. "It is my responsibility, he told us, that nobody feels discriminated against. It was the statement of a statesman," Kazi said.
But the official release put out by the PIB after the meeting made no such mention. This is what it said:
"Praising the Prime Minister's vision, members of the delegation expressed hope that the nationwide trust that he has among the people, will ensure prosperity and well-being of all segments of society. They said that the Muslim community is keen to be an equal partner in the making of New India.
Noting that terrorism is a major challenge, they expressed a common resolve to combat it with all their might. They added that it is the Muslim community's responsibility that under no circumstances should anyone compromise the nation's security or well-being. They said that the Muslim community would never allow any conspiracy against India to succeed.
Expressing concern at the situation in Kashmir valley, members of the delegation said that only Prime Minister Narendra Modi can resolve the issue.
They appreciated the Prime Minister's stand on the issue of Triple Talaq.
Members of the delegation, who are associated with educational institutions, also mentioned the progress made by their institutions, in Government initiatives such as cashless transactions, start-ups, and the Hackathon recently organized by NITI Aayog.
The delegation also appreciated the implementation of minority welfare schemes under the Union Government.
Welcoming the members of the delegation, the Prime Minister said that democracy's greatest strength is harmony and amity (mel milap). Emphasizing that the Government does not have any right to discriminate among citizens, the Prime Minister said that India's speciality has been its unity in diversity. He said that the new generation in India must not be allowed to fall victim to the rising global tide of extremism.
On Triple Talaq, the Prime Minister reiterated that the Muslim community should not allow this issue to be politicized, and urged the assembled gathering to take the responsibility for initiating reform in this regard."
While the official release stated that "the delegation also appreciated the implementation of minority welfare schemes under the Union Government", delegation members said they emphasised the need to step up these schemes.
While they expressed their appreciation about the Prime Minister's commitment to the making of a New India, delegation members also told him that it could not possibly become a reality unless every person in the country was a part of that and Muslims were equal stakeholders in that process.
The memorandum that the delegation submitted dealt at length with the issue. "Supremacy of Rule of Law is must for the security, integrity and development of our country. No one is above the law. It must be administered with total impartiality and equality. Your recent reprimand to private groups taking law in their hands and launching murderous attacks for salvaging cows has sent the correct message but much has to be done by law enforcing agencies and the state administration. The recent incidents of manslaughter on the pretext of cow slaughter have sent shock waves of terror and fear through Muslim, Dalit and the weakest sections of the society. We are afraid that the fear and despondence if unchecked could prove highly counterproductive."
Full report at:
http://indianexpress.com/article/india/a-tale-of-two-statements-on-pm-narendra-modi-meeting-with-muslim-delegation-4653513/
--------
Pakistan troops fire 120 mm mortar bombs along LoC in Rajouri
May 13, 2017
JAMMU: In yet another ceasefire violation, Pakistani troops on Saturday resorted to heavy shelling along the LoC in Jammu and Kashmir's Rajouri district, drawing sharp retaliation from the Indian Army.
This is third ceasefire violation along Indo-Pak border in J&K in past three days.
"Pakistani Army initiated indiscriminate firing of small arms, automatics, 82 mm and 120 mm mortars from 0715 hours along the Line of Control (LoC) in Nowshera sector", PRO, ministry of defence (MoD) Jammu- Lt Col Manish Mehta said.
The Indian Army posts are retaliating strongly and effectively, he said, adding that the firing is currently going on.
A BSF jawan suffered minor injuries yesterday when Pakistani Rangers violated ceasefire along the International Border and fired few bullets, warning the Indian troops working ahead of fence with a tractor in Arnia area in Jammu district.
BSF troops guarding the IB had also retaliated.
On May 10th and 11th, Pakistani troops resorted to mortar shelling and firing of automatic weapons on civilian areas near the LoC in Jammu and Kashmir, killing a woman and injuring two people including husband of the deceased lady.
Two Pakistani soldiers were injured in retaliation by the Indian side.
In the wake of the Pakistani action in Naushera tehsil of Rajouri district, the schools in the area were closed down and an evacuation plan was activated under which over 1200 people from various border hamlets are being shifted to safer places.
After the Pakistani shelling, Sub Divisional Magistrate (SDM) of Nowshera tehsil had issued an order, directing closure of all schools in the area as a precautionary measure.
An evacuation plan has been put in place in view of the intermittent shelling and firing along LoC, the officer had said.
The shelling has affected five-six hamlets along the LoC including Sheri Makeri, Namakdali and Khamba since Wednesday night.
As many as 27 families have been affected due to the shelling in which many houses, and a school, have been damaged partially or severely, he said.
More than 40 farm animals are also reported killed in the firing, he added.
A woman, identified as Akhtar Bi, was killed in Pukharni village on Wednesday night. Her injured husband, 40-year-old Mohammad Haneef, has been given a compensation of Rs 1 lakh. Another villager also received minor injuries.
Full report at:
http://timesofindia.indiatimes.com/india/pakistan-troops-fire-120-mm-mortar-bombs-along-loc-in-rajouri/articleshow/58654392.cms
--------
Cops put up posters of three Hizbul men wanted for Ummer Fayaz killing
M Saleem Pandit
May 13, 2017
SRINAGAR: The J&K Police released posters on Friday of three Hizbul Mujahideen (HM) terrorists wanted for the killing of Lt Ummer Fayaz and pasted these at several places in Shopian town of south Kashmir, offering a reward to anyone who could provide information about them.
The police identified the three as Ishfaq Ahmad Thoker (24) and Gayas-ul-Islam, residents of Padderpora, and Abass Ahmad Bhat (26) of Mantribugh.
Police, after its preliminary investigation, said that an active module of Hizbul Mujahideen was involved in Lt Fayaz's killing and an INSAS rifle snatched from cops may have been used in the murder. Two empty cartridges of an INSAS rifle were found where Lt Fayaz was shot dead.
Police posters stated: "Any person providing information regarding the criminals will be suitably rewarded and his identity will be kept secret." Sources said all three assailants have criminal records.
Thoker, a middle school dropout, used to be a daily wager in apple orchards and the fruit-packing industry during summers in Shopian, before he joined Hizb in 2015.
Full report at:
http://timesofindia.indiatimes.com/india/cops-put-up-posters-of-three-hizbul-men-wanted-for-ummer-killing/articleshow/58653314.cms
--------
No role in Ummer Fayaz's killing, says Hizbul Mujahideen chief
May 12, 2017
A police complaint has been filed against the Shahi Imam of Tipu Sultan Masjid in Kolkata, Maulana Noor-ur Rehman Barkati, for "defying" the Centre's order banning the use of red beacons on vehicles.
According to the police, the complaint was filed by one Suraj on Wednesday at Topsia police station in Kolkata.
Barkati had on Thursday claimed that as a religious leader, it was his "right" to use a red beacon on his vehicle.
"I am a religious leader and I have been using the red beacon for decades. I do not follow the orders of the Centre. Who are they to order me? In Bengal, only the orders of the state government are effective. I will use the red beacon. In Bengal, no one has removed it," he had told PTI.
Seeking to put an end to the "VIP culture" prevailing in the country, the Centre had decided that the red beacons would be removed from all the vehicles, including that of the prime minister, from May 1.
The Bengal unit of the BJP had come down heavily on the Imam for defying the orders of the Centre.
Full report at:
http://indianexpress.com/article/india/west-bengal-police-complaint-against-shahi-imam-of-tipu-sultan-masjid-for-defying-centres-order-on-red-beacons-4653235/
--------
Southeast Asia
As china takes on muslims, pak keeps mum
13th May 2017
The result of CPEC (China-Pakistan Economic Corridor) would be Pakistan turning into a country like Greece and taking unprecedented loans in the name of CPEC. Our voice will not be heard until and unless we rebel." This is what Pakistan's own intellectual Dr Qaiser Bengali, an economist, was saying in Karachi last week addressing a meeting. It was an expression of the growing concern among social scientists, activists and analysts.
Those involved in the meeting have seen Islamabad sliding irretrievably under Beijing's thumb in the same manner it came under American hegemony by joining the CENTO, Washington's group set up to counter growing Soviet influence during the Cold War. They are probably the few remaining civil society activists who oppose the Chinese hegemony.
The CENTO arms and cash that Pakistan obtained under that pact with the US were used to build up Islamabad's stance vis-a-vis India. In 1965 and 1971, these were used to get India to surrender. But time and again (including 1999's Kargil), it was Pakistan that had to face total defeat and seek the intervention of the US, USSR and China to get itself out of the sure exposure of its failure, both at the diplomatic and military level.
Without taking the right lesson from the repeated defeats, Pakistan has now gone over to China which is seeking to dominate the world. The warning to Pakistan PM Nawaz Sharif from Pakistan's own intelligentsia has come right at the time Sharif is leaving for Beijing to attend China's Belt and Road Forum, of which CPEC is a part.
The benefits are all for China: The rail and road line link Beijing's troubled province of Xinjiang to the sea.
Xinjiang is a Muslim-dominated province. Inspired by their religion, the Muslim Uighurs are battling the communist country's anti-religious assertions. China has banned wearing of hijabs by Muslim women, even the use of normal Muslim names including those resembling the Prophet's name (Muhammad) and holding of religious gatherings like Friday prayer groups.
Any public expression of religious identity by the Muslim minority in these areas leads to atrocities by the Chinese army. Pakistan, which calls itself the sword arm of Islam, is not only turning a blind eye to this ruthless suppression of human rights of fellow Muslims, but has also emerged as Beijing's sidekick.
The CPEC would be piling debt on a debt-ridden (a debt of $73 billion) economy because of the soaring trade deficit ($28 billion) of the economy of Pakistan. For all practical purposes, the Islamic state is in economic decline. Pakistan, for decades, has lived by exploiting the West's anti-Indian Cold War mentality. But almost all Western governments have become well informed about Islamabad's real intentions.
Beijing keeps its options in Pakistan alive by extending economic loans and aid in the name of using Pakistani territory as the fulcrum of its own One Belt, One Road policy of rallying Asian countries under its leadership. The Pakistani intelligentsia is saying that the proposed rail, road and industrial belt through Pakistan is China's attempt to get rid of its huge surplus of steel, cement etc. in the wake of a steep fall in Chinese exports to the West.
http://www.newindianexpress.com/opinions/2017/may/13/as-china-takes-on-muslims-pak-keeps-mum-1604195--1.html
--------
'Do not claim monopoly on religious truth'
May 13, 2017
At a time when anyone with an internet connection can turn into a "religious expert" overnight and start quoting Quranic verses and the Prophet's sayings just to declare people as heretics or apostates, two senior Muslim clerics have simple advice to offer: You cannot and should never claim a monopoly on religious truth.
Nahdlatul Ulama (NU) cleric Mustofa Bisri, affectionately known as Gus Mus, and Quraish Shihab, one of the few experts on Quranic exegesis in the country, appeared together on the televised Mata Najwa talk show on Thursday evening to express their concern about the growing religious intolerance and extremism in the country.
The two scholars, who have been close friends for 50 years, said they believed the problem was rooted in the attitude of some people who claimed to have the only true interpretation of Islam.
"God never asks what is five plus five because there will be only one answer. What God asks is, what makes 10? It can be seven plus three or eight plus two and etc. Therefore, truth is diverse," Shihab said. "Our mistake in understanding religion is to believe that there is only one truth, our version of truth."
Shihab elaborated that imposing the truth that one believed on others would trigger social friction, a situation with which Indonesia was currently struggling.
"Don't think that what you believe is the only truth. Don't monopolize truth," he highlighted, which was followed by applause from his audience of santri (Islamic students) and other Muslims, including relatives, who enthusiastically swarmed into the Bayt Al Quran Mosque in Tangerang to listen to the peaceful insights. Religious Affairs Minister Lukman Hakim Saifuddin was also seen in the audience.
Gus Mus concurred. He recalled a past argument when the two were discussing their contradictory opinions on the need to translate the Quran.
"I disagreed with him [Shihab] back then when he said that the Quran should not be translated. I've changed my mind now. He was right. We need to keep the Quran as it is because nowadays people are saying [we should] return to the Quran, by which they actually mean [we should] return to the Quran according to their interpretation," he said.
"Imposing an interpretation of the Quran is really dangerous, especially by those who refer to themselves as ulama, or not as ordinary people," Bisri emphasized.
The longtime friendship of Bisri and Shihab began when they met at Al Azhar University in Cairo in 1967. The two friends said that they remained two different individuals who often made different choices, including in regards to their careers, yet they maintained the same belief and commitment in promoting tolerance.
With their vast knowledge and educational backgrounds, they always preach peaceful subjects. They have refused to be addressed as ulama, saying that like everybody else, they are unholy.
During the show, the two friends also reminded the audience that the essence of Islam is moderation.
Full report at:
http://www.thejakartapost.com/news/2017/05/13/do-not-claim-monopoly-on-religious-truth.html
--------
Blasphemy Law Should Be Abolished: Wahid Foundation
May 13, 2017
Jakarta. Human rights group Wahid Foundation — named after Indonesia's fourth president Abdurrahman Wahid — said on Friday (12/05) that religious interpretations and expressions should not be likened to hate speech and urged the government to abolish the country's blasphemy law.
On Tuesday, Jakarta Governor Basuki "Ahok" Tjahaja Purnama was sentenced to two years of imprisonment for blasphemy against Islam. The sentence was heavier than the prosecutors' demand.
"The blasphemy law is against freedom of religious belief and freedom of expression. This law had sent more than 100 people to jail since 2014. This law shouldn't be used anymore [...] it should be abolished," Wahid Foundation chairwoman Yenny Wahid — Abdurrahman's daughter — said in a statement received by the Jakarta Globe.
The foundation also emphasized that "religious interpretations and expressions of peaceful intent should not be prosecuted."
Yenny said the court's decision should still be respected, and mass demonstrations should not be organized "to impose views on the ongoing legal process."
A series of shows of solidarity with Ahok was organized across Indonesia following the court verdict announcement. Many of his supporters gathered in front of Cipinang Prison in East Jakarta on Tuesday night and at City Hall and Proklamasi Monument in Central Jakarta on Wednesday.
The statement added that disagreements on the verdict against Ahok should "be expressed through available legal mechanisms."
Indonesia's continued use of the blasphemy law has come under fire with Ahok's sentencing, as citizens and international rights organizations such as the United Nations Human Rights Council and American-funded international non-governmental organization Human Rights Watch called on the government to review Article 156a of the Criminal Code on religious defamation, with the intent to abolish it.
Full report at:
http://jakartaglobe.id/news/blasphemy-law-abolished-wahid-foundation/
--------
Indonesian Police Ask for Interpol's Help to Bring Back Firebrand Cleric
May 13, 2017
Jakarta. Police submitted a dossier on firebrand cleric Rizieq Shihab's alleged defamation of Indonesia's national ideology Pancasila to the West Java Prosecutor's Office on Tuesday (09/05) and have asked for Interpol's help to bring him back to the country if he fails to return from a recent overseas trip.
Rizieq – the leader of hardline group Islamic Defenders Front (FPI) – was named a suspect in the case in January.
"We submitted the dossier to the prosecutors two days ago. They're still evaluating it to see if it's complete," Yunus said on Thursday.
Rizieq was charged with violating Article 154 and Article 130 of the Criminal Code on defamation of a national symbol or a public figure.
Interpol's help
Meanwhile, National Police spokesman Insp. Gen. Setyo Wasisto said they have enlisted the help of Interpol to bring back Rizieq to Indonesia in relation to a pornography case.
Rizieq had recently traveled to Saudi Arabia for umrah, the Muslim mini pilgrimage, and is understood to be on his way to Malaysia.
The cleric had been summoned twice by the police to no avail.
"If he doesn't come back of his own accord will ask NCB Interpol to issue a red notice," Setyo said in Jakarta on Friday.
Full report at:
http://jakartaglobe.id/news/indonesian-police-ask-for-interpol-help-to-bring-back-firebrand-cleric/
--------
South Asia
12 ISIS militants killed in Nangarhar province of Afghanistan
May 13 2017
At least 12 militants affiliated with the Islamic State of Iraq and Syria (ISIS) terrorist group's offshoot in Afghanistan, ISIS Khurasan, were killed during the operations in eastern Nangarhar province.
The provincial police commandment said the militants killed during the operations led by the security forces in Achin district.
The operations were conducted with the support of the air power, the police commandment added.
The anti-government armed militant groups including the ISIS loyalists have not commented regarding the report so far.
Nangarhar is among the relatively calm provinces in eastern Afghanistan but the anti-government armed militant groups have recently increased their insurgency activities in some parts of the province during the recent years.
This comes as an anti-ISIS operation is underway in Nangarhar to eliminate the presence of ISIS affiliates in this province.
The Hamza operations were launched nearly one month ago in response to the growing threats posed by ISIS loyalists in Nangarhar province.
The US forces based in Afghanistan are also providing support to the Afghan forces during the operations, mainly involving airstrikes.
http://www.khaama.com/12-isis-militants-killed-in-nangarhar-province-of-afghanistan-02741
--------
Myanmar: Police arrest Buddhist nationalists accused of stoking tensions with Muslims
May 12, 2017
Myanmar police have arrested two radical Buddhist nationalists and are seeking several more after they clashed with Muslims in the country's commercial capital Yangon, underscoring the authorities' growing concern over rising religious tensions.
The arrests came after nationalists led by the Patriotic Monks Union (PMU) raided flats on Tuesday in a Yangon district with a large Muslim population, igniting scuffles that were only broken up when police fired shots into the air. Two weeks ago, the same people had forced the closure of two Muslim schools.
"We have arrested two people since yesterday evening, and are still looking for the rest of them," said Police Major Khin Maung Oo, in charge the police station in Yangon's Mingalar Taung Nyunt district, where this week's scuffles took place.
Tensions between majority Buddhists and Myanmar's Muslim minority have simmered since scores were killed and tens of thousands displaced in intercommunal clashes accompanying the onset of the country's democratic transition in 2012 and 2013.
Mutual distrust has deepened since October, when attacks by Rohingya Muslim insurgents in northwestern Rakhine state provoked a massive military counter-offensive, causing around 75,000 Rohingya to flee across the border to Bangladesh.
The 13-month-old administration of Aung San Suu Kyi had made tentative moves against nationalist hardliners, but the arrests mark a significant step-up in the government's efforts, highlighting official concerns over a potential outbreak of violence in the country's main city, which has a substantial Muslim population.
Brigadier General Mya Win, the commander of Yangon's regional police security command, said extra security forces had been deployed and the police were on high alert to prevent communal violence. "We are patrolling around Muslim areas and have taken security measures around places of worship," he told Reuters.
Leaders of the nationalist PMU said they were acting independently of the Ma Ba Tha, a larger radical Buddhist and anti-Muslim organisation that counts among its leaders the firebrand monk Wirathu, who once called himself "Myanmar's Bin Laden".
Ma Ba Tha holds its nationwide congress in Yangon, a city of more than 5 million that has been a focus of foreign investment since a former military government ceded power in 2012, in two weeks and is expecting about 10,000 monks to attend.
TARGETING MUSLIMS
In both incidents, PMU monks and lay sympathisers targeted Muslim areas after attending a trial of fellow nationalists facing charges of inciting violence during a protest in front of the United States embassy in Yangon last year.
"We didn't want any confrontation with the nationalists so we allowed them to shut down our schools," said Tin Shwe, the chairman of the Muslim schools, referring to an incident on April 28. Tin Shwe, and a lawmaker from the ruling National League for Democracy, told Reuters the nationalists came to the schools with local administrators and policemen.
On Tuesday the group, again accompanied by local authorities and police, searched a building in a different part of Yangon shortly before midnight, claiming some Rohingya Muslims were staying there illegally.
Local residents confronted the nationalists, gathered in front of the building, prompting police officers to fire warning shots to break up the crowd.
A Yangon court issued the arrest warrant against seven people, including two monks, charging them with inciting communal violence, which carries a penalty of up to two years in prison.
Full report at:
http://indianexpress.com/article/world/myanmar-police-arrests-buddhist-nationalists-accused-of-stoking-tensions-with-muslims-4653059/
--------
Myanmar army chief compares Rohingya crackdown to N Ireland
May 13, 2017
YANGON - Myanmar's army chief defended his military's violent crackdown on Rohingya Muslims by comparing it to Britain's campaign to tackle sectarian conflict in Northern Ireland, according to a statement released by his office Friday.
UN investigators believe Myanmar's security forces may have carried out ethnic cleansing of the persecuted minority during a months-long operation in the north of Rakhine State.
The military campaign has left hundreds of Rohingya dead and forced some 75,000 to flee across the border to Bangladesh, bringing harrowing accounts of rape, torture and mass killings by soldiers.
Myanmar has repeatedly rebuffed the allegations, saying troops were carrying out necessary counter-insurgency operations after Rohingya militants attacked police border posts in October.
On Thursday Myanmar's army chief Min Aung Hlaing compared the crackdown to Britain's operations in Northern Ireland in a meeting with Jonathan Powell, a former top British negotiator in the peace process. Powell, who was chief of staff to former British prime minister Tony Blair, helped broker the Good Friday agreement in 1998 that ended decades of violence between Catholic Irish nationalists and Protestant British unionists in Northern Ireland. After the "terrorist attack... the Tatmadaw (Myanmar military) helped the police take security measures," the army commander said, according to a statement released on Friday "Such occurrence was similar to that of Northern Ireland." He also used the meeting to denounce any claim to citizenship by the more than one million Rohingya Muslims who live in Rakhine.
Stripped of citizenship by Myanmar's former military leaders in 1982, the Rohingya, who have lived in Rakhine for generations, are loathed by many in the Buddhist-majority country who claim they are illegal immigrants from Bangladesh and refer to them as "Bengalis".
Full report at:
http://nation.com.pk/international/13-May-2017/myanmar-army-chief-compares-rohingya-crackdown-to-n-ireland
--------
Saudi Arabia: No Agreement on Funding for Bangladesh Mosques
2017-05-12
Saudi Arabia has rejected claims by Bangladesh that it has agreed to provide $1 billion to build almost 600 mosques in the South Asian nation, saying such a major commitment would require a formal bilateral agreement.
Bangladesh Planning Minister AHM Mustafa Kamal had claimed last month that the Saudis would provide about 81.6 billion taka ($1 billion) to build 560 mosques from April 2017 to December 2019, with Bangladesh chipping in 8.9 billion taka (U.S. $110 million) for the massive project.
The executive committee of the national economic council, headed by Prime Minister Sheikh Hasina, had approved the project, Kamal announced on April 25.
Kamal's announcement of the Saudi commitment was widely reported in local and foreign media.
But Saudi Arabia's minister of culture and information, Awwad Alawwad, said on Thursday that his government has not committed such funding for the mosque-building project.
"Saudi Arabia has never committed to pay Bangladesh one billion dollars for the construction of mosques," he said in a statement sent to BenarNews on Thursday.
"This is simply not true," Alawwad said.
"Any commitment by the Saudi government of this nature would only be considered after receiving an official request from the host country's government. When such an agreement is finalized there would definitely be an official announcement by both countries," the minister stated.
He underlined "the important role of Saudi Arabia for Muslims worldwide," noting the kingdom's hosting of the two holiest mosques of Islam and millions of Muslim pilgrims every year.
But Kamal maintained Friday that Saudi Arabia had made the funding commitment.
"The agreement was with the Saudi king. Maybe the king did not inform the ministry," he told the Bangla Tribune newspaper when commenting on the Saudi denial.
Aid
On Friday, officials at Bangladesh's Islamic Foundation, an agency under the Religious Affairs Ministry in charge of implementing the mosque construction project, said they were confident the project would go ahead.
"We will supervise the construction of the 560 mosque complexes. These will be constructed jointly by the governments of Bangladesh and Saudi Arabia," foundation Director General Shamim Afzal told BenarNews.
"But I cannot give you any specific timeframe for the construction of the mosques," he said.
On Feb. 2, Religious Affairs Minister Principal Matior Rahman announced the massive mosque-building project to parliament, and two months later a senior official gave details of what he said was Saudi Arabia's financial commitment to it.
"The religious affairs ministry has adopted a project on construction of 560 mosques cum Islamic cultural centers at all districts and upazilas (sub-districts) with grants from Saudi Arabia," Matior said, according to a transcript of his remarks to lawmakers obtained by BenarNews.
Full report at:
http://www.benarnews.org/english/news/bengali/mosque-update-05122017164246.html
--------
Europe
Central Asia at center of radicalism debates after recent terror attacks
May 13, 2017
After the surprising revelation that recent terror attacks were perpetrated by Central Asian nationals, the world's attention has now turned to that region.
On April 7, 2017, five people were killed and 15 others were wounded in a truck attack in central Stockholm, Sweden's capital. The assailant was an Uzbek national, and according to Swedish and Uzbek officials, the attacker had joined Daesh before the attack.
On April 3, 2017, 14 people were killed and 51 others were injured in a metro attack in St. Petersburg. The perpetrator was an ethnic Uzbek from southern Kyrgyzstan.
On Jan. 1, 2017, 39 people were killed and at least 70 were injured in an incident at an Istanbul nightclub where hundreds of people were celebrating the New Year. The attack's perpetrator was an Uzbek national.
On June 28, 2016, 45 people were killed and more than 230 people were injured in a terror attack at Atatürk Airport in Istanbul. The attackers were from the Russian North Caucasus region, Uzbekistan and Kyrgyzstan.
Like nationals from approximately 80 other countries, it is obvious that fighters from Central Asian countries have also started joining Daesh. According to the International Crisis Group, approximately 2,000-4,000 foreign fighters have traveled to Syria from Central Asian countries, though studies have shown that these figures are still not equal to the members originating from North African and European countries.
According to the Soufan Group, 27,000-31,000 people have traveled to Syria and Iraq to join Daesh and other terrorist groups in the region, whose members originate from at least 86 countries.
Central Asia's five former Soviet republics are Kazakhstan, Kyrgyzstan, Tajikistan, Turkmenistan and Uzbekistan, home to about 66 million, with 55 million of them Muslim. Ferghana Valley, divided into three former-Soviet republics spread across eastern Uzbekistan, southern Kyryzstan and northern Tajikistan, is a region producing the majority of hopeful Daesh fighters traveling to Syria and Iraq.
The International Centre for the Study of Radicalization (ICSR) estimates that about 500 Uzbek nationals have traveled to Syria to fight for Daesh.
About 500 ethnic Kyrgyz and others from Osh have left the Ferghana Valley to fight for or to provide humanitarian assistance to Daesh. However, the exact number of Kyrgyz fighters is unknown due to the fact that varying sources often estimate differently, but the most reliable estimates say that around 500 have joined, so far.
The official number of Tajik fighters loyal to Daesh hovers around 200, however, the Tajik government has claimed that the number is much higher, possibly closer to 1,000.
According to Chinese media, about 300 Uighurs, a predominantly Muslim Turkic-speaking ethnic group, are fighting with Daesh in Iraq and Syria. However, this number is 114, according to the New America, a think tank in Washington D.C.
Daily Sabah spoke to Edward James Lemon from Columbia University's Harriman Institute and Ömer Behram Özdemir from Sakarya University's Middle East Institute on Daesh's recruitment from Central Asia and its reasons.
Lemon underlined that most of the fighters are coming from outside the region, saying: "There is no single cause that can explain why Central Asians have joined terrorist movements. Some are religious, but most are not. Many are educated. Recruits are from rural and urban areas, and are both rich and poor. I have found that most Central Asians are recruited from outside of the region, mostly while living in Russia as migrants. Far from home, many recruits have lost connections with their home, experienced trauma and discrimination. This makes them more vulnerable."
Özdemir touched on the need for political and social reform in Central Asian governments, explaining, "The attackers' nationality in all of these incidences demonstrates the need for social and political reforms in Central Asian governments."
"It is not surprising that radical movements find support among Central Asian countries, like Uzbekistan, where the politicians are under political pressure in their countries. The process of radicalization depends on the policies of the Central Asian governments in the region. Uzbek figures especially give us clues as to who the 'responsible' actor of the problems are in the region," Özdemir asserted.
Mentioning the reasons for recruitment, Burhan Kavuncu, the chairman of the International Turkistanis Solidarity Association, said the repressive policies of the Central Asian governments cause immigration, and it provides an advantage for extremist groups. "Uzbek and Tajik people have been oppressed for the 25 years since their independence. After the collapse of the Soviet Union, political parties, such as Erk and Nahda, were shut down in Uzbekistan and Tajikistan due to their members being arrested. Repressive policies in these countries triggered immigration, as nearly 10 million went to countries like Russia and Turkey, and this situation created a suitable human resource for the extremist groups in Afghanistan and Syria," Kavuncu said.
According to the U.S.-based Pew Research Center, the number of Muslims in Europe totals about 44 million, excluding Turkey. There are approximately 6,000 Daesh fighters from Europe, with the most originating from France, Germany and the United Kingdom. The number of foreign fighters from Western Europe has more than doubled since June 2014, the Soufan Group reported. Due to undependable sources, an exact number of fighters is hard to determine, but between 2,000-4,000 foreign fighters are believed to have traveled to Syria from Central Asian countries.
Studies show that the recruitment ratio from the Central Asian region, where 55 million Muslims live, is much lower than its European counterpart, where about 44 million Muslim live. "There are 55 million 'Muslim' people living in Central Asia. This means one in 13,750 or one in 27,500, depending on the estimate, is fighting in Syria and Iraq. This is lower than the recruitment of the Muslim populations in Europe. In Belgium, for example, one in 1,200 of the Muslim population is in Iraq or Syria and in Britain, the figure one in 3,000. So the figures are much lower," Lemon added.
https://www.dailysabah.com/asia/2017/05/13/central-asia-at-center-of-radicalism-debates-after-recent-terror-attacks
--------
André Azoulay: Morocco a 'Haven of Coexistence'
By Chaima Lahsini
May 12, 2017
"Thanks to the visionary and dynamic leadership of King Mohammed VI, Morocco has become a haven of coexistence and cultural resilience, deeply rooted in the values of modernity and humanism that distinguish the Moroccan model in today's world," said Larbi Rmiki, Head of Public Diplomacy at the Moroccan Embassy in the United States, speaking on behalf of Azoulay, who could not attend the ceremony.
Azoulay was awarded the World-Recognized Sephardic Jewish Leader Prize by the Foundation for Preserving the Visual History of the Jewish People for his work to bridge religious divides through arts and cultural collaborations.
"I am deeply grateful to the Foundation for the work you are doing in preserving Jewish history around the world and I am especially honored that you have dedicated a memorable moment to my country."
In his speech, Azoulay payed a heartwarming tribute to his childhood city, Essaouira, "a city that has been, throughout the centuries, a living and dynamic center of Jewish life, so much that at one point in history it was able to welcome in its fold a majority Jewish citizens."
In front of a large audience that came to celebrate the universality of the Moroccan model and understand the proximity and conviviality between Islam and Judaism in the Kingdom, Azoulay added that he has always felt that Essaouira is "a microcosm of Morocco, a land rich in the depth of its diversity where Islam and Judaism have mutually nourished and cultivated each other." He stressed that "since my childhood I have learned that the preservation of Judaism in Morocco is a matter of dignity and justice honored by all Moroccans."
The King's councilor also touched on the long-standing religious conflicts plaguing the Middle East, saying that through his "long search for a just peace in the region in the early 1970s when I founded the group "Identity and Dialogue" in Paris, he spent the following decades demonstrating that "Islamic and Jewish cultures were not opposed, but rather interdependent and complementary."
"As part of my work with the United Nations Alliance of Civilizations and as President of the Anna Lindh Foundation," said the royal advisor, "I have striven to tell the world that my Moroccan Jewish culture and identity have been nourished at the heart of the the Arab-Muslim world and would thus be reduced without the Muslim dimension, to the same extent that the Moroccan civilization would be incomplete without the enriching influence of Judaism."
Full report at:
https://www.moroccoworldnews.com/2017/05/216340/andre-azoulay-morocco-a-haven-of-coexistence/
--------
Eight things to know about Islam in Germany
Emma Anderson
12 May 2017
The Muslim community has actually had a presence - though small - in Germany for hundreds of years. Here are more facts you might not know about Islam in the country.
1. First Muslims in Germany date back to the 1600s
The very first Muslims to come to Germany, as far as recorded history goes, arrived as prisoners of war from the Siege of Vienna by the Ottoman Empire in 1683. But many were either baptized or eventually returned to their homelands, according to the German Islam Conference (DIK).
Between 1735 and 1739, more Muslim prisoners of war ended up in Germany during the Russo-Turkish War. In 1739, the Duke of Courland 'gifted' 22 Turks to join the so-called "tall guys" - Lange Kerls - Prussian regiment, and a prayer room was set up for them. Tartar and Bosnian Muslims also joined Prussian forces in 1741.
Later, when Prussia and the Ottoman Empire had a more cosy relationship, a number of Muslims began to live in Germany regularly. In 1763, for example, the Prussian court in Berlin established an Ottoman diplomatic position. In 1798 when the third envoy died, Prussian King Frederick William III created a burial site for him, and with it the first Islamic cemetery in Germany, which still stands today along Columbiadamm in Berlin.
The first mosque was constructed during the First World War within a prisoner of war camp in Wünsdorf, just outside Berlin.
The number of practitioners of Islam in Germany remained relatively negligible after that until the 1960s, when a guest worker programme with Turkey brought in large numbers of labourers. The Turkish population in Germany now makes up the largest ethnic minority in the country at around 3 million people with Turkish roots.
2. Around 5 percent of the population is Muslim
The most recent government figures released last year showed that between 4.4 million and 4.7 million Muslims lived in Germany, or between 5.4 to 5.7 percent of the population. This was an increase of about 1.2 million people since the last census in 2011.
The government attributed the growth to the large number of immigrants who came to the country last year, including the record number of nearly 900,000 refugees, many coming from predominantly Muslim countries.
A poll around the same time by Ipsos research group found that Germans tend to overestimate the size of the country's Muslim population. The survey showed that respondents generally thought Muslims made up as much as 21 percent of the population - roughly quadruple the actual size.
Experts predict that this population could grow by about another percentage point in the next four years.
3. Germany ranks fifth in EU for relative Muslim population size
While Germany has the largest population of Muslims in the European Union in total, its community of Islam followers is not the biggest per capita. One in four (25.3 percent) of Cyprus' roughly 1.2 million total residents are Muslim, while in Bulgaria about one in seven (13.7 percent) practice Islam, according to a Pew Research Center comparison last year.
Therefore Germany ranks fifth in the EU for the size of its Muslim community relative to the rest of its population, behind France (7.5 percent) and Belgium (5.9 percent). This also places Germany slightly above Austria (5.4 percent) and Greece (5.3 percent).
And when looking at the entire continent of Europe, Russia has the overall largest Muslim population at 14 million people, or 10 percent of its total population, according to Pew.
4. Germans used jihad to fight the First World War
During the First World War, German officials created a newspaper called "El Dschihad" (Jihad) to encourage Muslim soldiers from other countries to fight their "holy war", according to the German Historical Museum in Berlin.
The newspaper - published in various languages - was distributed to frontline areas, within German prison camps, as well as in places under French, English or Russian reign where Muslims lived.
Even the first mosque constructed in Germany was a part of this strategy, allowing prisoners to practice their religion, and then to teach them about the holy war in order to convince them to fight alongside Germany against the Allies.
5. Islam is not a recognized religious 'public entity'
Germany's constitution allows religious groups to become so-called "entities under public law", which grants them the ability to levy taxes on their members, among other rights.
It's up to individual states to grant organizations this status, and recognition is based on having a certain number of members, as well as a guarantee of permanence.
But Islamic practitioners are not organized in the same structured way as Jews or Christians in Germany, meaning they do not quite fit these criteria. Islam in Germany is very diverse, with separate practices broken down across Sunni groups as the most predominant, as well as Alevi, Shiite, Ahmadi, Sufi, Ibadi, and more. A study by the DIK in 2009 found that only 20 percent of Muslims belong to religious organizations or congregations.
"The right to levy 'church' taxes - and with this to carry out official activities - cannot be performed with a vague sense of identification according to the standards, and rather must be done only through a legally verifiable membership," explains German publication Legal Tribune Online as to why Islamic associations generally do not have public status.
"The blanket demand that 'Islam' finally be recognized as a religious community is as misleading as the perception that public entity status is only reserved for Christian Churches. What is crucial is whether a Muslim organization fulfills the constitutional requirements."
The first time a Muslim community became recognized under the public status was in 2013 by the state of Hesse to a local organization.
6. The first Muslim MP was elected in 1994
Cem Özdemir was the first Muslim elected to the Bundestag (German parliament) in 1994 - at least as far as the Central Council of Muslims in Germany knows, their spokesman told The Local.
Özdemir was born in Bad Urach, Baden-Württemberg as the son of a Turkish guest worker. In 1983, he obtained German citizenship. Özdemir told Spiegel in 2008 that he was a "secular Muslim".
7. North Rhine-Westphalia has generally had the largest Muslim population
Before Germany saw a record number of refugees arrive over the past two years, many from Muslim-majority countries, about one in three Muslims in Germany lived in the most populous state of North Rhine-Westphalia. About one-fifth of Germany's total population lives in the western state, for comparison.
That's according to data presented in 2009 by the DIK, which has not done a comparable study since. Because of the way Islam is organized and classified in Germany (as explained in number 5), there is no centralized way of counting the number of Muslims, so estimates rely on surveys.
8. German intelligence agencies have had their eye on radical Islamists since at least 1990s
Both the Central Council of Muslims in Germany and the DIK use their websites to denounce violence, terror and extremism in the name of Islam. The DIK also actively works with the German government to prevent radicalization.
A spokeswoman for domestic intelligence agency BfV told The Local that they have had their eye on possible Islamist extremists since at least the 1990s, but she said their focus on possible terror groups drastically changed after the September 11th 2001 attacks in the US.
That's because it emerged that members of a Hamburg terror cell had been key operatives in enacting the plane hijackings.
Before 2001, Islamism was tracked as a form of "foreign extremism" by the BfV. After 9/11, it became its own field of analysis for reports and in 2004, Germany set up the Joint Counter-Terrorism Centre in Berlin to connect security authorities at the federal and state levels.
Full report at:
https://www.thelocal.de/20170512/eight-things-to-know-about-islam-in-germany-muslims-religion
--------
The Drumbeat Against Jewish Ritual in Europe Sounds Once More
MAY 12, 2017
by Ben Cohen
This past week, Jewish ritual observance came under attack in both Belgium and Norway. While there is nothing suggesting that the respective moves against shechita (kosher slaughter) in Belgium and brit milah (Jewish circumcision) in Norway were coordinated, both speak to an ingrained tendency in Europe that dismisses these core requirements for Jews as no more and no less than cruelty of a particularly Jewish sort.
On May 8, the environment committee of the parliament in Wallonia — a French-speaking region accounting for more than half of Belgium's territory and a third of its population — voted unanimously to ban shechita on the grounds that the practice involves cruelty to animals; the decision will take effect in September 2019. On the same day, the annual convention of Norway's Progress Party — a libertarian, anti-immigration party that is a partner in the country's ruling coalition — passed a resolution urging a government ban on ritual circumcision for boys under age 16, on the grounds that it is a violation of human rights. Jews, as is well-known, circumcise their sons eight days after birth, in accordance with the biblical covenant between God and the patriarch, Abraham.
You may say that these developments are about many things. You might even make the case that antisemitism is a minor factor here. There are many more Muslims than there are Jews in Belgium, Norway and pretty much every other country in Western Europe — and they, too, circumcise their sons for religious reasons and consume ritually slaughtered halal meat. That certainly explains why right-wing populists like the National Front in France and the United Kingdom Independence Party have made halal slaughter a primary focus of their broader campaign against what they see as social acceptance of Islamic sharia law-based rites.
What this interpretation ignores, however, is that the problem of encroaching Islamism within European-Muslim communities is a relatively recent one. I would argue that it first became distinctly visible in 1989, when the Iranian regime issued a fatwa for the killing of the British author Salman Rushdie over his novel satirizing the Quran, The Satanic Verses. By contrast, for more than a century, antisemites have demonized Jewish rites with the same enthusiasm as their Church forebears.
One of the first acts of the Nazis after they came to power in Germany in 1933 was to ban shechita. The famous Nazi propaganda film Der Ewige Jude ("The Eternal Jew") portrayed shechita as a gruesome Jewish celebration of animal suffering.
And the revulsion at shechita was not confined to Germany. Associates of Arnold Leese, a reasonably prominent British fascist during the 1930s, often said Leese's violent antisemitism was intimately connected to his love of animals (he served with the Royal Army Veterinary Corps during World War I) and hence, his distaste for the kosher method of slaughter. I doubt this sentiment was Leese's alone.
Despite this frankly creepy history, contemporary advocates of the shechita and brit milah bans angrily deny that they are motivated by antisemitism — in much the same way, and for the same reasons, that anti-Zionists present the cause of eliminating Israel as a legitimate human rights campaign. It is, of course, tiresome for them to have to deal with the charge of antisemitism every time they take aim at Jews as a collective, so they flip the equation by depicting themselves as victims of a malicious reputational smear.
The sad thing is, this approach often works. It feeds into the sentiments of those segments of the European public who regard antisemitism as a censorship tool — preventing them from protecting animals, babies and national reputations unfairly soiled during World War II — and the right to condemn Israel for alleged human rights abuses.
To their great credit, Europe's often-cautious Jewish leaders have rarely failed to condemn the anti-ritual campaign in the strongest of terms. Back in 2012, when 600 German doctors signed a letter to a prominent newspaper advocating a ban on circumcision, Charlotte Knobloch, then perhaps the top leader of the German-Jewish community, wondered aloud "whether this country still wants us." When the Wallonia committee announced its ban on shechita last week, Moshe Kantor, president of the European Jewish Congress, called on "legislators to step back from the brink of the greatest assault on Jewish religious rights in Belgium since the Nazi occupation of the country in World War II."
It may sound like bombast, but it isn't. For 2,000 years in the Diaspora, Jewish identity was preserved by adherence to these religious commands. This, in turn, bred the resentment of supersessionist Church theologians and, later on, universalist Enlightenment philosophers. Both despised Jewish separateness even as their rulers enforced it through ghettoization and other discriminatory measures. From Martin Luther to Karl Marx, the imperative of ending the conditions for a separate Jewish existence — through means varying from outright persecution or conditional emancipation — has been a binding thread in European thought.
Full report at:
https://www.algemeiner.com/2017/05/12/the-drumbeat-against-jewish-ritual-in-europe-sounds-once-more/
--------
Pakistan
Pak-Iran officials agree to cooperate against terror attacks
SYED ALI SHAH
May 13, 2017
Pakistani and Irani officials met at the border town of Taftan on Friday morning to step up bilateral cooperation against the threat of terror attacks and ensure legal movement along the shared 900-kilometer-long border.
The officials resolved to carry out an inspection of the site where a recent border skirmish between armed militants and Iranian military personnel resulted in the deaths of 10 Iranian soldiers, a security official told DawnNews on condition of anonymity. Deputy Commissioner Chaghi, Shahak Baloch led the Pakistani delegation, while the Iranian delegation was led by Colonel Najaf Safri.
The meeting, which continued for almost six hours resulted in an agreement between the two delegations to continue contact and ensure better coordination to avert any untoward incident in the future.
The meeting took place under strict security arrangements at Taftan. In addition to Levies forces, Frontier Corps personnel were also deployed in the area in an effort to ensure a smooth and peaceful exchange between the two delegations.
After the April 26 incident that resulted in the death of 10 Iranian soldiers, Iran warned Pakistan of potential military strikes aimed at terrorist 'safe havens' on the Pakistani side of the border.
Tensions further escalated as an Iranian brigadier called on Pakistan to "take responsibility" for its alleged role in the April 26 attack.
Full report at:
https://www.dawn.com/news/1332673/pak-iran-officials-agree-to-cooperate-against-terror-attacks
--------
Islamabad High Court allows Geo News to air Ehsanullah Ehsan's interview
AAMIR JAMI
May 13, 2017
The Islamabad High Court (IHC) on Friday allowed Geo News to air an interview of former Tehreek-i-Taliban (TTP) spokesperson Ehsanullah Ehsan.
Ehsan had recently surrendered to the authorities and has since been in military's custody.
Pakistan Electronic Media Regulatory Authority (Pemra) had earlier barred the TV channel from airing the interview saying it would be "heart-wrenching and deeply disturbing for the loved ones of those killed in terrorist attacks to see the member of a terrorist organisation appearing on TV screen."
The Pemra order was challenged in Islamabad High Court (IHC) by the Independent Media Corporation (IMC), which is a conglomerate of the Jang Group of Newspapers [including Geo News].
Justice Amir Farooq accepted IMC's appeal and directed Pemra to bring the matter to court, if it feels any of its guidelines would be violated as a result of Ehsan's interview being aired.
Not too long ago, Pemra Chairman Absar Alam expressed his dissatisfaction with courts "stalling" Pemra's directives. Speaking at a press conference on Monday, he appealed to Chief Justice Saqib Nisar to expedite legal proceedings that have seen 333 out of 357 notices issued by Pemra challenged and stayed by different courts.
The court delivered its judgement on the matter of Ehsanullah Ehsan's interview being allowed to air, after hearing arguments from both sides.
IMC's counsel insisted that Pemra had failed to consider the interview in light of its context and explained to the court that the video interview, recorded in cooperation with the Inter-Services Public Relations (ISPR), was given to Pemra along with an invitation to edit the interview to its satisfaction but Pemra "refused" to do so.
IMC's counsel added that Geo News was careful not to violate the law, which is why they refrained from airing the interview and took the matter to court instead.
One the aims of airing the interview, IMC's counsel argued, was to encourage other terrorists to surrender.
Earlier, Pemra had issued the order against the airing of Ehsan's interview last month after promo of the interview was aired on Geo News.
Full report at:
https://www.dawn.com/news/1332683/islamabad-high-court-allows-geo-news-to-air-ehsanullah-ehsans-interview
--------
Pemra warns TV channels not to air content jeopardising military's image
SANAULLAH KHAN
May 13, 2017
A statement issued by Pakistan Electronic Media Regulatory Authority (Pemra) on Friday carried a warning for all TV channels against airing unverified news or analysis themed around the Pakistan Army or its relationship with the civilian government.
Pemra, in its latest statement, made it clear that all news and current affairs TV channels, including its employees, panellists and anchorpersons, shall not divulge in discussing unverified news or analysis pertaining to the country's civil-military relations without confirmation from the concerned institution.
The content, Pemra maintains, would be especially problematic if it accuses the military of something, tarnishes its 'image', or if it encourages anyone to take extra-constitutional measures.
"Those found in violation of the new Pemra guideline would be charged under Section 27 of the Pemra Ordinance 2002," the press release stated.
Earlier this week, the Pemra chairman was assured of the Army chief's support in dealing with threats that the media watchdog employees were allegedly facing.
Earlier in January, a Bol News show conducted by Dr Shahid Masood was served a notice by Pemra for "carelessly and recklessly" discussing civil-military ties.
The contents of the programme, which were reproduced in Pemra's show-cause notice, said Dr Masood stated in his programme that two ministers, one whose name starts with a 'K' and the other's with a 'D', were called to the Army headquarters (GHQ).
Dr Masood identified one of them as "dealing with the treasury" and the other as "related to defence".
Full report at:
https://www.dawn.com/news/1332680/pemra-warns-tv-channels-not-to-air-content-jeopardising-militarys-image
--------
Security forces foil terror bid in Kurram near Pak-Afghan border
ALI AKBAR
May 13, 2017
Security forces foiled a major terror bid near the Pak-Afghan border in Kurram Agency on Friday.
According to Assistant Political Agent Shahid Ali Khan, security force officers fired at an explosive-laden vehicle entering Pakistan from the Paktia province of Afghanistan as they suspected it to be a potential threat.
The shots fired at the vehicle detonated the explosives in the van, which, according to Khan, was to be used in a major terror plot in Parachinar.
Full report at:
https://www.dawn.com/news/1332662/security-forces-foil-terror-bid-in-kurram-near-pak-afghan-border
--------
Islamic State claims attack on Pakistan lawmaker
May 12, 2017
QUETTA, Pakistan — The Islamic State said it carried out a brazen suicide attack on a Pakistani lawmaker in southwest Baluchistan province Friday that killed 25 people despite a protracted crackdown on the assortment of militant groups operating in Pakistan.
Abdul Ghafoor Haideri, deputy leader of Pakistan's Senate or Upper House of Parliament, was only slightly wounded in the attack that occurred as his convoy left a girls-only Islamic seminary, where he had attended a graduation ceremony.
"There was a big bang and we couldn't understand what had happened," said Haji Abdul Hadi, a witness who was hit with flying debris.
The attack by Islamic State may have been a warning to Haideri's hard-line Jamiat-e-Ulema Islam against participating in the country's democratically elected government, said Zahid Hussain, an expert on militancy in Pakistan. JUI is a partner in Prime Minister Nawaz Sharif's government.
"It is a message to them that anyone who goes with the government will be targeted," he said, adding that it could also be that the Islamic State targeted Haideri because of his party's close alliance with Afghanistan's Taliban.
Many of Afghanistan's Taliban leaders studied at Islamic seminaries operated by Haideri's JUI and in Afghanistan the Islamic State is battling the Taliban, who have warned their followers against joining the group.
Fazl-ur Rahman, the head of JUI, who was twice the target of assassination attempts, did not name the Islamic State but said in the capital Islamabad that the attack was carried out by "antistate elements who want to bring their own brand of Islam to Pakistan. ... We have opted for the path of democracy and the constitution and we will stay the course."
Friday's attack on Haideri was the first time that one radical Sunni religious group has waged war on another, said Hussain, warning it does not bode well for peace, particularly in southwest Baluchistan province "where state control is the weakest."
Full report at:
http://www.sfgate.com/world/article/Islamic-State-claims-attack-on-Pakistan-lawmaker-11142646.php
--------
Bakhtawar terms Ehteram-e-Ramazan Bill ridiculous
May 13, 2017
KARACHI:- Bakhtawar Bhutto Zardari, daughter of slain ex-Prime Minister Benazir Bhutto, has tweeted against the Ehteram-e-Ramazan Bill approved by the Senate Standing Committee on Religious Affairs. According to her tweet, nobody should be stopped from eating or drinking during the month of Ramazan out of dehydration and heat stroke. Hence, she termed this a 'ridiculous law'. According to the law, the people eating or smoking openly during the month of Ramazan will be fined Rs 500 and a 3-month imprisonment.–NNI
Full report at:
http://nation.com.pk/national/13-May-2017/bakhtawar-terms-ehteram-e-ramazan-bill-ridiculous
--------
Arab World
Skirmishes over Culture Strain Alliance between Saudi Rulers, Cleric
May 13, 2017
Jeddah: When senior Saudi cleric Abdulaziz al-Tarifi told his almost one million Twitter followers that musical instruments were ungodly, it helped spark a hashtag among like-minded Saudis that "the people reject music academies."
The hashtag, echoing the language of Arab Spring revolts elsewhere, captured the hostility to reforms that introduced entertainment events from rock concerts and comedy shows to kick-boxing into the conservative kingdom.
But Nora Shanar, a writer at Saudi newspaper Elaph, spoke for swathes of people when she shot back to defend a shake-up of the Saudi cultural scene: "Don't speak in the name of the people."
"Speak in the name of those who don't love life and forbid music when God himself did not."
Such exchanges highlight strains between the ruling family's alliance with conservative clerics, which has been exposed as a reformist and powerful prince works to diversify the economy away from oil and permit new freedoms among Saudis steeped in cleric-imposed puritanism.
The entertainment events aimed at creating more jobs were allowed by Deputy Crown Prince Mohammed bin Salman, head of the royal court, defense minister and son of King Salman, as a matter of economic survival as well as entertainment for Saudi citizens, dependent for decades on welfare state benefits.
The changes are also intended to capture up to a quarter of the $20 billion currently spent overseas by Saudis, who are accustomed to traveling abroad to see shows and visit amusement parks in nearby tourist hub Dubai or further afield.
But the price for the Al Saud and for a powerful business class that supports modernization and a greater role for women has been tensions with traditionalist clerics upon whose support the ruling family relies for its legitimacy.
The Wahhabi religious establishment has had a symbiotic relationship with the Al Saud dynasty since the mid 18th century, offering its rule Islamic legitimacy in return for influence over important chunks of the state such as education and the judiciary, and a network of mosques and universities.
The clergy suspect bold initiatives conceived by the prince in leisure and tourism presage sweeping reforms in education, a bastion of conservatism where clerical control is believed by Western nations to have encouraged Islamist radicals – not just in Saudi Arabia but across the Muslim and Arab worlds.
As a result, resistance to reforms like women's employment and the encouragement of teaching on technical subjects persists in many corners of Saudi Arabia, the birthplace of Islam, propelled by clerics with vast social media followings.
Reforms Aim to Boost Economy
Bernard Haykel, professor of Near Eastern Studies at Princeton, expected the "overwhelmingly powerful" Saudi state could drive its social and economic reforms through despite conservative unease, using the argument they were vital for economic survival.
"The interesting thing about this moment is that you see, in effect, social liberalization but not for ideological reasons but for purely economic, fiscal and budgetary reasons," he said.
Haykel suggested there was a risk that any future popular economic discontent might be manipulated or mobilized by disaffected religious conservatives or opponents of MbS, as the 31-year-old deputy crown prince, is known.
But so far MbS, Middle East analysts say, has shown an ability to change course to head off any build up of steam, citing a recent decision to restore financial allowances to civil servants cut last year under an austerity program.
"The state is quite agile and dynamic in responding to what it feels are potentially sources of real dissent," Haykel added.
Curbing Religious Police
Historically, tensions have arisen between the Saudi royal family and the ultra-austere religious establishment.
Throughout the modern history of the kingdom, clerics have objected to what they regard as corrupting, for example women's education and permission for them to drive. Clerics lost the battle to stop the introduction of television in the 1960s, and for years were hostile to satellite TV.
But MbS can depend on his father King Salman, who is highly respected among conservative and senior clerics, to help him to implement his "Vision 2030" designed to prepare the kingdom's economy and its society for a future less dependent on oil.
On the ground in Saudi Arabia, reform and social change are tangible. Whereas Saudis once dined in silence, with music deemed offensive to conservative ears, restaurants around Riyadh now play jazz and lounge music.
And radical economic reforms, announced last year to protect Saudi Arabia from low oil prices, have been successful so far, with spending cuts that have sharply shrunk a $98 billion budget deficit, according to Mohammed bin Salman.
MbS's most significant social change to date has been to strip the feared mutawa religious police of the power to arrest or question people, a major development in the state's relations with clerics, and which met no mobilized opposition.
Praise and Anger
Insiders recount how MbS reminisces about what he sees as a more liberal, tolerant and open minded Saudi Arabia in the 1970s, which shut down in 1979 after the Iranian revolution and the seizure of the great mosque in Mecca by Islamist millenarian radicals. His aim, they say, is to try to restore that era.
According to some polls most Saudis, a majority of whom are under 30 and widely connected to the world via social media, are hungry to catch up with a world that has been passing them by.
But religious clerics are pushing back.
Conservative unease could be seen in tweets that followed a recent interview with Ahmed al-Khatib, the man spearheading the kingdom´s entertainment reforms, in which he said Riyadh will one day open cinemas and build an opera house.
Khatib, chairman of the General Entertainment Authority, said conservatives who denounced the opening of cinemas and entertainment events as sinful could simply opt to stay at home if they did not care for them.
Khatib later added that the authority would also arrange suitable entertainment for conservatives, too.
The kingdom had some cinemas in the 1970s but the clerics persuaded authorities to close them, reflecting rising Islamist influence throughout the Arab region at the time. Cinemas are still banned. While concerts started to be held this year, concerts and music in general are frowned on by clerics.
The comments by Khatib received a mostly positive response. On Twitter, a hashtag thanking his institution began trending along with images of people dancing and eating popcorn.
Khatib said GEA activities have created 20,000 jobs so far after only seven months.
However, many conservatives saw Khatib's comments as divisive and provocative. Mohammed al-Suhaim, a scholar of Islam at King Saud University in Riyadh, tweeted a hashtag calling for Khatib to be put on trial.
"Advice from a friend to Mohammad bin Salman: Restore [power] to the Committee for the Promotion of Virtue and the Prevention of Vice [mutawa religious police] and stop the Entertainment Authority," one unidentified tweet read.
Pace of Change
But the most prominent members of the religious authority, including many who previously criticized the entertainment push, were silent on the cinema issue.
The grand mufti said in January that cinemas could open the door to "atheistic or rotten" foreign films and encourage the mixing of the sexes, but did not comment on Khatib's remarks.
Diplomats say King Salman must allay the concerns of the clerical establishment, for no one else in the Al Saud has his connections or credibility with the religious establishment.
The king will be the last surviving son of King Abdelaziz ibn Saud, who founded modern Saudi Arabia in 1932 after three decades of Wahhabi-fueled conquest across the Arabian peninsula, to rule the kingdom, and he has been part of the inner circle of the Al Saud ruling family for decades.
In a meeting with the US ambassador in March 2007, described in a cable released by WikiLeaks, Salman said the social and cultural reforms instigated by then King Abdullah had to move slowly for fear of a conservative backlash.
But years later, by backing his son MbS, the king appears to have accepted that change in Saudi Arabia needs to accelerate.
http://jakartaglobe.id/international/skirmishes-culture-strain-alliance-saudi-rulers-clerics/
--------
ISIS's Baghdadi Has 'Fled Mosul and Left His Fighters to Die'
13 May 2017
An Iraqi counter-terror official has told Al Arabiya.net that ISIS chief Abu Bakr al-Baghdadi has fled Mosul and abandoned his soldiers, "leaving them to die."
General Maan al-Saadi said Baghdadi has fled to an unknown location and could be plotting further international attacks.
Saadi said that ISIS has been majorly pushed back in Mosul and that the extremists "no longer feel they have a place" in the city following the liberation of many neighborhoods.
In March, Baghdadi issued a statement acknowledging the group's defeat in Iraq, as he urged supporters to either hide or flee, Iraqi television network, Alsumaria, quoted local sources as saying.
Full report at:
https://english.alarabiya.net/en/News/middle-east/2017/05/13/ISIS-s-Baghdadi-has-fled-Mosul-and-left-his-fighters-to-die-.html
--------
Syrian Army Restores Security to Triangle of Damascus-Baghdad-Jordan
May 13, 2017
The army soldiers engaged in a tough battle with terrorists East of al-Saba'a Bayar region and seized control of the Zaza Triangle region.
The army men further advanced towards al-Mohadad hills and captured them.
A military source reported that the army's control over al-Mohadad hills East of Zaza Triangle separated Eastern Homs from Eastern Damascus and also restored security to the Damascus-Baghdad-Jordan Triangle.
The terrorists lost a number of members in the battle.
Local sources revealed on Thursday that the army dispatched hundreds of its forces stationed in de-escalation zones to the Southern borders of the country near Jordan.
Local sources in Sweida reported that the Syrian government deployed its forces, stationed in the province, in regions near the Jordanian border after the recent moves by the US, British and Jordanian military men and terrorists.
Meantime, heavy clashes continued between the Syrian army forces and the terrorists in Zaza and al-Saba'a Bayar regions in the Southeastern Badiyeh (desert) of Homs near the borders with Jordan after a major offensive by the militants two days ago.
Full report at:
http://en.farsnews.com/newstext.aspx?nn=13960223000425
--------
Damascus: Most of Al-Qaboun District under Syrian Army Control
May 12, 2017
The sources said that the army units launched a massive offensive after the terrorists inside al-Qaboun district refused to surrender their last positions to the government.
The sources added that led by the 42nd Brigade of the 4th Mechanized Division, the army managed to capture 27 buildings from the militants in Aa-Qaboun, paving the way for their big advance on Thursday afternoon.
According to local sources, the army men captured most of the building blocks in the Eastern sector of al-Qaboun, killing and wounding several terrorists.
Media sources confirmed on Thursday that the army was using amazing military vehicles against the terrorists in al-Qaboun region of Eastern Damascus which enjoyed a high power.
According to the Russian-language Vestnik Mordovia newspaper, the army was in possession of bulldozers and military AMR-2 vehicles to remove barriers created by the terrorists in al-Qaboun region. The vehicles were equipped for battle and combat.
Full report at:
http://en.farsnews.com/newstext.aspx?nn=13960222000425
--------
US-backed forces prepare for final push on IS-held Raqa
May 13, 2017
TABQA, Syria - US-backed fighters said Friday they were preparing for a final assault on the Islamic State group's Syrian bastion Raqa, likely next month, with new weapons and armoured vehicles promised by Washington.
The Syrian Democratic Forces (SDF) earlier this week captured the city of Tabqa and an adjacent dam, a major prize in the offensive for Raqa, the Syrian heart of IS's self-proclaimed "caliphate".
"The attack on Raqa will take place in the beginning of the summer," SDF commander Rojda Felat told AFP in Tabqa, which lies on the banks of the Euphrates River about 55 kilometres (34 miles) west of Raqa.
She later specified that it would probably start in June based on "military and tactical considerations".
SDF commanders announced the looming assault at a news conference in Tabqa, which the alliance of Kurdish and Arab fighters captured from IS on Wednesday along with the nearby dam in one of their most important victories yet.
On Friday, an AFP team entered Tabqa and the adjacent dam - Syria's largest - and saw rows of sandbags, mangled cars and craters from heavy bombardment dotting the structure.
The battle for Tabqa was marked by fears that the dam would be severely damaged and collapse, leading to massive flooding downstream. The body of an alleged IS fighter was seen on Friday floating in the reservoir created by the dam.
The SDF fight for Raqa - dubbed Operation Wrath of the Euphrates - has already seen the alliance capture large swathes of the surrounding province with help from the US-led coalition bombing IS in Iraq and Syria.
The SDF is working to tighten the noose around Raqa before a final assault. At their closest point, the US-backed forces are just eight kilometres (five miles) from the city.
They are backed by coalition air strikes, American special forces advisers and even a US Marines artillery battery.
SDF deputy head Qahraman Hassan said: "In the beginning of the summer, we will storm and liberate (Raqa) city."
His forces would receive "special weapons and armoured vehicles" to enter the city, Hassan said, after President Donald Trump changed US policy to allow arms deliveries to the SDF's Kurdish component.
No newly authorised aid had been delivered yet, Hassan said, but he added that "I believe this support will arrive soon."
A US defence official told AFP earlier this week that the equipment would include small arms, ammunition, machineguns, armoured vehicles and bulldozers.
Inside Tabqa, AFP's correspondent saw destroyed shops in the main marketplace, where militants had scrawled many of their slogans.
Signs sticking from a street post read "Know that paradise is achieved through combat," and "Prepare to fight with all your strength".
Tabqa residents began returning to their homes on Friday, but Shahhour Zuair, 46, told AFP the situation remained difficult.
As the fight around Tabqa intensified around two months ago, he fled with his six children and elderly parents. He made his way back two days ago when he heard the SDF had recaptured the city.
"The civilians are coming back but there is a lack of water, electricity, bread and food," he said, sitting in front of a pile of sandbags.
Mutia, 41, told AFP she was glad to be back in Tabqa after fleeing during the ferocious offensive.
Full report at:
http://nation.com.pk/international/13-May-2017/us-backed-forces-prepare-for-final-push-on-is-held-raqa
--------
Syrian Soldiers Launch Fresh Operation in Eastern Homs to End ISIL's Siege of Deir Ezzur
May 12, 2017
The army men, led by the 5th Legion and Tiger Forces, stormed the Talilah area East of Palmyra, inflicting heavy damage on ISIL militants defending the territory West of the strategic crossroad.
With their main line of defense fractured, the ISIL was forced to retreat from the Talilah area, paving the way for the Syrian Army units to press East towards the Talilah Crossroad and T-3 Pumping Station.
Meanwhile, along the Palmyra-Deir Ezzur Road, a unit from the 5th Legion attacked the ISIL's positions West of the Arak Gas Fields; the battle is ongoing at the moment.
The first phase of the offensive will focus on imposing control over the road leading from Palmyra to the T-3 Pumping Station and the territory West of the 'Arak Gas Fields; once completed, the Syrian Army will intensify their assault, as they make a big push towards Deir Ezzur from two different directions.
Relevant reports said on Thursday that the Syrian army continued anti-ISIL military operations to break the siege of Deir Ezzur airbase, advancing in strategic areas and killing a Belgian terrorist commander and several other foreign militants.
A field source said that the army units inched closer to Be'r Abu Hassan region adjacent to al-Ta'min brigade.
The source stated that during the army operations aimed at opening roads linking Deir Ezzur's Western regions to the airbase, the Syrian soldiers could advance in important areas in the Southwestern parts of the airbase, killing a Belgian commander and several other foreign members of the ISIL terrorist group.
They also could seize different types of weapons and ammunition from the ISIL.
The source added that the Syrian and Russian fighter jets are repeatedly targeting ISIL's positions in Deir Ezzur and have shattered all bases and roads used by the terrorist group, specially in the Cemetery region, brick factories and al-Mojbal, al-Thardah, Wadi al-Thardah and al-Ammal regions.
Full report at:
http://en.farsnews.com/newstext.aspx?nn=13960222000508
--------
Syrian Soldiers Win back Strategic Airbase in Eastern Aleppo
May 13, 2017
The army men that had laid siege on ISIL terrorists in Jarah airbase from three directions managed to capture the key airport after hours of fierce clashes, killing a large number of terrorists.
Local sources said that the ISIL left behind a large number of dead and wounded members and retreated towards Maskana region.
They added that the army's engineering units are now defusing bombs and landmines planted by the terrorists at the airbase.
A military source reported that after recapturing Jarah airport the army will continue its operation to liberate the town of Maskana.
He went on to say that a large number of fresh soldiers that were previously in de-escalation zones will arrive in Eastern Aleppo to intensify attacks on ISIL.
The sources underlined that Jarah airbase is now the main command center of the army forces to lead anti-ISIL operation and free Maskana and other regions in Eastern Aleppo.
In relevant developments in the province on Thursday the army continued military operations in Eastern Aleppo after capturing the town of al-Hadoum, expanding control in Deir Hafer region.
The army forces focused their military operations on advancing towards villages in the Southwestern parts of al-Jarrah airport, fiercely targeting the ISIL positions in the region.
A military source said that the Syrian army forces pounded the ISIL bases in the two villages of Atira and Jaraj al-Kabirah with missile and artillery fire, adding that the battle was raging near the two strategic regions.
The source added that if the army units captured the two regions, they would gain fire control over al-Jarah airbase and would surround it from three directions.
Another military source also said that the army forces inflicted tens of casualties on ISIL militants in Aleppo, as the terrorists were ordered to hold their ground and avoid retreating from al-Mahdoum as it was considered as one of the most important ISIL defense lines for the town of Maskana.
He added that after the Syrian army seizes control over al-Mahdoum, a major chunk of the Aleppo-Raqqa international highway would open to the Syrian army towards Maskana which is the last ISIL stronghold in Northeastern Aleppo and near the Western parts of Raqqa.
Military sources reported on Wednesday that the Syrian Army troops, backed up by the Russian Air Force, have started a large-scale operation in Eastern Aleppo and managed to drive ISIL out of more positions.
The sources said that the army soldiers stormed ISIL's defense lines in Eastern Aleppo and managed to capture the township of al-Mahdoum after killing and wounding a number of terrorists.
Full report at:
http://en.farsnews.com/newstext.aspx?nn=13960223000342
--------
Syrian Army Imposes Control over Terrorists' Main Road in Eastern Homs
May 13, 2017
The army men engaged in a fresh round of clashes with ISIL and seized control over a strategic road that connects the villages of Jabab Ham, Rasm Hamideh, Khirbet al-Sa'abeh and Hebreh al-Sharqi.
In the meantime, the army soldiers managed to drive the terrorists out of Mosheirefeh's Southern mine after hours of clashes and killing a number of militants.
Relevant reports said on Friday that the army's artillery and missile units along with the country's Air Force pounded ISIL's positons and movements in Eastern Homs, inflicting major losses on the terrorists.
The artillery and missile units shelled heavily ISIL's positions in the villages of al-Mosheirefeh al-Janoubiyeh, Habreh al-Qarbi, Habreh al-Sharqia, Rasm al-Tawil, Tala'a al-Sharqiyeh and Um Sahrij, destroying a number of military vehicles and killing a number of terrorists.
Full report at:
http://en.farsnews.com/newstext.aspx?nn=13960223000255
--------
Syrian Army Dispatches More Troops to Eastern Damascus to Face Terrorists
May 12, 2017
The sources confirmed that a convoy of reinforcements, comprised of both special forces, NDF popular fighters and regular infantry men that were originally deployed in Damascus city, have arrived in Eastern Damascus.
These reinforcements should give the army's 5th Legion a big boost in Eastern Damascus, as they attempt to push Southeast towards the Iraqi border-crossing.
Also, the army troops launched a fresh round of anti-terrorism operations in Southeastern Damascus on Tuesday and managed to advance against the terrorists of the Free Syria Army (FSA) along the key highway that connects Damascus to the Iraqi capital of Baghdad.
The army soldiers stormed FSA's defense lines along Damascus-Baghdad highway and took back control over al-Saba'a al-Bayar region and several more positions.
Full report at:
http://en.farsnews.com/newstext.aspx?nn=13960222000537
--------
ISIL Suffers Heavy Casualties in Syrian Armed Forces' Attacks in Homs Province
May 12, 2017
The artillery and missile units shelled heavily ISIL's positions in the villages of al-Mosheirefeh al-Janoubiyeh, Habreh al-Qarbi, Habreh al-Sharqia, Rasm al-Tawil, Tala'a al-Sharqiyeh and Um Sahrij, destroying a number of military vehicles and killing a number of terrorists.
In the meantime, the army aircraft bombed heavily ISIL's concentration centers in the region of Sabkhat al-Mouh, wheat silos of Palmyra city, al-Shoumeriyeh mountain and in surroundings of Jubb al-Jarrah, leaving a number of militants dead or wounded.
Reports said earlier today that the army troops and popular forces continued to hit ISIL's positions hard in Eastern Homs, taking fire control over key regions.
The army soldiers, the National Defense Forces (NDF) and the Lebanese Hezbollah fighters engaged in heavy clashes with ISIL and liberated several hilltops East of al-Shoumariyeh mountain.
The Syrian pro-government forces, backed up by the Russian Air Force's heavy airstrikes, broke through the ISIL's defense lines near Rasm Hamideh, resulting in the capture of all hilltops overlooking the desert region.
Full report at:
http://en.farsnews.com/newstext.aspx?nn=13960222000458
--------
US Spy Plane Intercepted by Russian Fighter Jet over Black Sea
May 12, 2017
"After approaching a plane at a safe distance the Russian pilot visually identified the flying object as a US surveillance plane P-8A Poseidon," the Russian military said, RT reported.
The Russian pilot "greeted" the US pilots with a special maneuver, after which the US plane changed its course away from the Russian border.
The incident occurred on May 9 at around 9am GMT, when Russian radars detected an aerial target over neutral waters of the Black Sea approaching the Russian border.
A Su-30 fighter jet was scrambled to intercept it, the ministry of defense said, adding that the jet safely returned to the base afterwards.
Previously, NBC reported that a Russian Su-27 jet approached a US plane over Black Sea neutral waters as close as seven meters.
The channel cited Captain Pamela Kunze, a spokeswoman for US Naval Forces Europe, who said that the aircraft was on a routine operation in international airspace. She also stated that US Navy aircraft and ships often interact with Russian ships and planes in and over international waters, and that "most interactions are safe and professional," according to NBC.
It comes about a week after Russian jets and bombers were intercepted while conducting routine flights near Alaska. The Russian Defense Ministry stated that these flights in no way violate any nation's borders or international rules, and similar missions are conducted over the Atlantic and the Arctic Oceans, as well as the Black Sea.
Full report at:
http://en.farsnews.com/newstext.aspx?nn=13960222000560
--------
Iraqi Popular Forces Target ISIL's Defense Lines Near Borders with Syria
May 12, 2017
The Hashd al-Shaabi, backed up by the country's Air Force, made their first push to capture the Nahiyah al-Qeirawan area this morning, striking the ISIL's defense lines from two different directions.
Sources told local media on Thursday that the Iraqi Security forces made a new progress in fight against ISIL militants during the operations to capture the right bank of Mosul city.
The sources said sections of the Iraqi Army's 16th Division crossed the Tigris River and recaptured Mesherfa and Hawi al-Kanisa neighborhoods on the Western bank of Mosul, after inflicting heavy losses on ISIL, Baghdad Post reported.
The sources stated that these forces had destroyed ISIL tunnels and killed 4 suicide bombers.
They added that the forces had destroyed the terrorist group's ammunition and weapons depots.
Elsewhere in Mosul, residents of Mesherfa neighborhood, besieged 7 months ago by ISIL terrorists, were evacuated from the area through passages provided by the security forces.
Security forces have retaken Eastern Mosul and half of its Western part after 7 months of battles. These forces are focusing now on controlling the Old City.
Full report at:
http://en.farsnews.com/newstext.aspx?nn=13960222000491
--------
Damascus: Syrian Army Blasts Several Terrorists' Tunnels, Bunkers in Al-Qaboun District
May 12, 2017
The 42nd Brigade of the army carried out a successful operation to seal the Eastern corridor of al-Qaboun and the 105th Brigade of the Republican Guard took the initiative along the Southeastern part of the district, targeting a chain of tunnels and trenches built by Faylaq al-Rahman terrorists.
The Syrian pro-government forces managed to destroy at least two tunnels and several trenches in Southeastern al-Qaboun on Thursday evening, killing at least 5 Faylaq al-Rahman militants, including one of their field commanders.
Faylaq al-Rahman has recently won control over the positions of Tahrir al-Sham Hay'at (the Levant Liberation Board) inside al-Qaboun, as the latter group willingly gave-up the area to their militant allies.
In relevant developments in the province on Thursday, the Syrian army restarted military operations near the capital after the Takfiri terrorists launched missile and mortar attacks against their positions in Eastern Damascus.
Full report at:
http://en.farsnews.com/newstext.aspx?nn=13960222000366
--------
Russia Registers 9 Truce Violations by Terrorists in Syria, Situation in Safe Zones Stable
May 12, 2017
"Within last 24 hours, the Russian party of the Russia-Turkey Commission on violations of the Joint Agreement has registered 9 cases of firing, including five cases in the province of Damascus, three cases in Hama and one cases in Lattakia," the bulletin said, Sputnik reported.
The Turkish side registered two ceasefire violations in the province of Dara'a, one – in the Damascus province and one more in the province of Homs.
According to the statement, most cases were registered in the areas controlled by ISIL and Al-Nusra Front (also known as Fatah al-Sham Front or the Levant Liberation Board).
Full report at:
http://en.farsnews.com/newstext.aspx?nn=13960222000571
--------
Experts evaluate Hezbollah's withdrawal from Lebanon's eastern borders
12 May 2017
Military experts are coming up with theories after the announcement of Hezbollah militias that they will dismantle their units on the borders of eastern Lebanon with Syria.
Experts believe that Hezbollah forces are re-positioning inside Syria again, especially after the agreement of the "four towns" in which the residents of the towns of Zabadani and Madaya were abandoned.
The announcement of the Hezbollah militia does not mean withdrawing from its participation in the Syrian war or their return to Lebanon.
The experts stressed that the dismantling of the forces on the eastern border was expected after the agreement of the "four towns", which gave the command over the whole of the eastern sector in Syria to the Syrian regime and its allies.
This announcement comes after the Secretary-General of the United Nations, Antonio Guterres, called on the Lebanese Government and the Lebanese Army to take the necessary measures to prevent Hezbollah from acquiring weapons and building paramilitary capabilities.
Full report at:
https://english.alarabiya.net/en/News/middle-east/2017/05/12/What-s-the-motive-behind-Hezbollah-s-withdrawal-from-Lebanon-s-Eastern-boarders-.html
--------
Operation to free northwestern Mosul resumes after civilian evacuations
12 May 2017
Iraqi military authorities on Friday resumed their fight to fully liberate northwestern Mosul from ISIS militants, after halting operations for four hours to secure evacuation of families, Al Arabiya News Channel reported.
Seven months into the Mosul campaign, ISIS has been driven out from all but a handful of districts in the city's western half including the Old City, where it is using hundreds of thousands of civilians as human shields.
The northwestern corner of Mosul includes the historic Old City center, the medieval Grand al-Nuri Mosque, and its landmark leaning minaret where the ISIS black flag has been flying since June 2014.
Iraqi anti-terrorism units are trying to recapture Al-Islah Al-Zira'i neighborhood, and some its units are readying to storm Al-Oraibi, Al-Rifa'i, Al-Najar localities to isolate Al-Zinjeeli and 17 of July neighborhoods, considered to be ISIS's most dangerous strongholds.
The anti-terrorism units said they destroyed 13 booby-trapped cars, which ISIS tried to launch at the entrance of Al-Islah Al-Zira'i and Al-Siha neighborhoods to prevent civilians from leaving.
Iraq's Defense Ministry has recently announced that Baghdad wants to liberate the northern city of Mosul before the start of the holy fasting month of Ramadan for Muslims in late May.
On Friday, the Iraqi forces continued to advance in the right side of Mosul in Al-Iqtisadiyeen neighborhood northwest of Mosul.
Mosul is separated by the Tigris River, making the left bank on the eastern side as the left side while the right bank on the western side as the right side.
ISIS is continuing its targeting of civilians who are trying to leave. Military sources said that the militant group has committed yet another massacre in the western side of Mosul when it executed 17 families who were attempting to evacuate.
Intelligence source said so far 60 people, including women and children, have been killed when trying to leave areas still under ISIS control.
Operation near Syria border
The Iraqi army forces also carried out a tactical operation to comb and search the desert areas west of Anbar province. The forces launched its defensive operation at a depth of 100 kilometers from the desert west of Al Anbar, during which dozens of ISIS militia were killed.
Full report at:
https://english.alarabiya.net/en/News/middle-east/2017/05/12/Civilians-evacuated-in-Mosul-to-hit-ISIS-neighborhoods-.html
--------
Africa
Boko Haram threatens to bomb Nigerian capital
May 13, 2017
The Boko Haram Takfiri terrorist group has reportedly threatened to launch bomb attacks against the Nigerian capital Abuja.
In a video obtained by Sahara Reporters, a US-based journalism website, a man calling himself a Boko Haram militant said "more bomb attacks are on the way, including Abuja."
On May 3, civilian and security sources in Nigeria claimed that Abubakar Shekau, the terror group's ringleader, had sustained injuries less than a week earlier when Nigerian Air Force warplanes bombarded a gathering of militants in Balla village in the northeastern province of Borno.
Boko Haram is predominantly active in the restive Borno province, its birthplace, and the capital is almost beyond its reach. However, Nigeria's Department of State Services, the country's state security agency, announced in April that it had foiled plans by the terror group to assault the UK and US embassies in Abuja.
Boko Haram terrorists started their reign of terror in 2009 with the aim of toppling the Nigerian government. In their heyday in early 2015, they managed to control an area in the country's northeast as vast as Belgium but lost most of that territory over the past year as a multinational task force, comprised of Chad, Cameroon, Niger and Nigeria, launched a campaign in February 2016 to eradicate the militant group.
On December 24, 2016, Nigerian President Muhammadu Buhari, who came to power in 2015 with a pledge to eliminate Boko Haram, announced that the army had "crushed" the terror group a day earlier by retaking its last key bastion, deep inside the thick Sambisa Forest.
The group, however, has resorted to sporadic shooting and bombing attacks in the northeast of the African country, spreading panic among the local residents. It also carries out cross-border attacks in Niger, Chad and Cameroon.
Boko Haram, whose name means "Western education is forbidden," has claimed responsibility for numerous deadly terror attacks in Nigeria during the past eight years. The attacks have so far claimed the lives of at least 20,000 people and displaced more than 2.7 million others.
In March 2015, the terrorists pledged allegiance to the Daesh Takfiri group, which is mainly operating in the Middle East.
The United Nations has already warned that areas affected by Boko Haram militancy face a humanitarian crisis.
http://www.presstv.ir/Detail/2017/05/13/521663/Nigeria-Boko-Haram-Abuja-bomb-Borno-Sambisa-Forest
--------
'The Salafists came to Africa to destroy… Islam'
MAY 12, 2017
'The Salafists came to Africa to destroy… Islam' says Chiekh Abbas Motaghedi, the Iranian director of Dakar's branch of Al-Mustafa. NAN- In an upmarket suburb of Senegal's seaside capital, a branch of Iran's Al-Mustafa University teaches Senegalese students Shi'ite Muslim theology, among other subjects. The branch director is Iranian and a portrait of Iranian Supreme Leader Ayatollah Ali Khamenei hangs on his office wall. The teaching includes Iranian culture and history, Islamic science and Iran's mother tongue, Farsi; students receive free food and financial help. The university is a Shi'ite outpost in a country where Sufism, a more relaxed, mystical and apolitical form of Sunni Islam, is the norm. Two miles away, the Islamic Preaching Association for Youth (APIJ) teaches the strand of Islam that predominates in Iran's great religious, political and military rival, Saudi Arabia. The APIJ funnels cash from donors in Saudi Arabia, Qatar, Dubai and Kuwait to mosques run by Salafists – conservative Sunni Muslims who are sworn enemies of Iran. The APIJ's shelves are stacked with Salafist theology texts adorned with gold-leaf Arabic inscriptions – texts its imams use to preach in some 200 mosques across Senegal. The two institutions embody a contest for influence in Senegal, and more widely in Africa, between Iran-backed Shi'ites and Saudi-funded Sunnis. It's one strand of a broad power struggle in which each side is spending millions of dollars to win converts. At stake is huge political influence, on a resource-rich continent that has often served as the theatre for rivalries between world powers. Interviews with teachers and converts on both sides shed light on the depth of the divide and the ways both sides try to gain an edge. The Iranian director of Dakar's branch of Al-Mustafa makes no secret of his concerns over his Saudi rivals. "The Salafists came to Africa to destroy … Islam," said Chiekh Abbas Motaghedi in February. Up the road, in the APIJ building, the Salafists show equal passion. "We cannot accept the Iranian influence in Senegal, and we'll do everything to fight it," said Chiekh Ibrahima Niang, the imam, sitting legs crossed in a silky white robe. "We need to show the world that Shi'ism is wrong." But for Senegal, either influence would be a disruption. It's a society that has always leaned towards political moderation, thanks largely to a tradition of tolerance espoused by its Sufi orders or "brotherhoods." "Where the brotherhoods are weak, as in eastern Senegal, is where the threat of radicalisation is highest," said Bakary Sambe, director of the Dakar-based Timbuktu Institute and a coordinator for the Observatory on Religious Radicalism and Conflicts in Africa. Iran has often been a destabilising influence: In 2010, an Iranian arms shipment was intercepted in the Nigerian port of Lagos which Senegal suspected were destined for rebels in its southern Casamance region. Dakar briefly cut ties with Tehran over it. Salafism is the more troubling strand, Sufis say: It is largely free of political interference, but has shared cause with violence that Senegal has so far escaped. "Salafists in Senegal are cousins of those making jihad in Mali," Ahmed Khalifa Niasse, son of a deceased powerful Sufi Imam and vocal critic of Gulf Arab religious influence, told Reuters at his palace in Dakar. "They see themselves as soldiers of God purifying Islam." Salafists vehemently deny that link. "Salafism has nothing to do with terrorism," says Niang. "Yes, there are people who want to use force to impose the Salafist way, but we are very much against them. We are against violence." TRAINING LOYALISTS Iran's supreme leader Khamenei supervises the activities of Al-Mustafa, which is based in the Iranian city of Qom and has branches in 50 countries. Thousands of students from across Africa receive enough Iranian money to enable them and their families to visit Qom while finishing their studies, said the son of a cleric based there who declined to be named because of the sensitivity of the issue. Al-Mustafa in Dakar receives 150 students a year and gives them free tuition, a stipend and breakfast, its director of studies Chiekh Adrame Wane told Reuters. Graduates repay the generosity by promoting Iran online or in books, said a professor based in Qom. In countries like Somalia, Iran pays for weddings and home furniture, including a TV and a fridge, if both couples are Shi'ite or newly converted to Shi'ism. Al-Mustafa is now Iran's main tool for promoting Shi'ism, said the professor, who also declined to be named. Its aim is "to train people to be loyal to the Islamic Republic and the Supreme Leader." A top official at Al-Mustafa in Qom, also declining to be named, gave a different view. "Our goal is purely cultural and educational. We want to promote higher education in Africa," he said. "Saudi Arabia, Kuwait, Turkey and many other countries have built their religious schools in Africa. Alongside them, there are many American and British Christian schools, and even Hindu schools. So there is a rivalry in Africa and if we do not establish our presence there, we would fall behind." Two senior Al-Mustafa officials said students and teachers at Al-Mustafa are routinely vetted by the Ministry of Intelligence or the powerful Islamic Revolutionary Guard Corps. Reuters was unable to independently verify this. Motaghedi, the Al-Mustafa director in Dakar, said the university had no involvement with the intelligence services or Iranian politics. "We're a private university … Our only mission is to teach, nothing else," he said, adding that Khameni was merely a patron and adopting Shi'ism was not a requirement for study. In the 2016 Iranian budget, Al-Mustafa received 2,390 billion rials ($74 million). But the university receives more funding from the office of the Supreme Leader and other conglomerates under his command, one official said. Neither Motaghedi nor Wane would comment on financial flows to the Dakar branch. "SIMPLE MESSAGE" At the APIJ in Dakar, Imam Niang extolled the virtues of Sunni Islam. "Salafism … has a simple message," he said as he scanned an ornate Koran through reading glasses. "To be a good Muslim, you must follow the practices of the Prophet Mohammed." Niang went to Koranic schools from age 6 until 27 and later studied in Saudi Arabia. Immediately after he returned in 1989, he and fellow conservatives set up the APIJ in Senegal. Since then, hundreds of modest mint-green and sky-blue mosques financed by the APIJ have sprung up in suburbs of Dakar and fishing villages across the country. A success for the Salafists was when they gradually took over worship at the main mosque at Dakar's Anta Diop University in the 1990s. Imam Ismaila Ndiaye, coodinator of Senegal's Salafist movements and preacher at the university, said his strand of Sunni Islam offered an alternative to Sufism, asserting that Senegal's secular state and liberal values were imposed on it by French colonisers. But he said Salafist mosques were not turning Senegalese youth towards jihad. "If the Catholics can finance projects in Senegal aimed at evangelising at people, then why shouldn't Saudi Arabia do the same thing?" he said. He said Gulf businessmen had committed only small sums to Sunni movements in Senegal – $20 million in total over several decades – but a steady stream of funds continues to what he identified as three main pillars of Salafism: the APIJ, al Falah, which was founded in 1975, and a movement on outskirts of Dakar led by firebrand cleric Ahmed Lo, who spent 17 years in Saudi Arabia. "THE RIGHT PATH" Judging who is winning the contest for influence is tricky. Imam Sherif Mballo, secretary general of the League of AhlulBayt, a pan-African Shi'ite movement founded last August, says there are between 30,000 and 50,000 Shi'ites in Senegal, where the population is 15 million. Mballo converted to Shi'ism after watching the Iranian revolution on TV, then worked with the Iranian embassy for 25 years, making several visits to Iran. But when it came to establishing his own pro-Iran Shi'ite group, after an initial injection from an Iranian businessman – he declined to say how much – he said he received nothing more.
Full report at:
http://www.vanguardngr.com/2017/05/salafists-came-africa-destroy-islam/
--------
The 5 African Countries Where Change Isn't Coming, for Better or Worse
May 12, 2017
Change is in the air in countries from France to South Korea, both of which see new presidents take office this month. But for the moment, at least, not much political change is to be found in Africa. A lack of change can reflect stability, but it can also reflect stagnation — as the populations of these five African countries are discovering:
Kenya
Nearly a decade after post-election violence there killed hundreds and displaced hundreds of thousands, Kenya has become one of sub-Saharan Africa's better stories. President Uhuru Kenyatta remains broadly popular, and while the country's fractured opposition once hoped it could put forward a single candidate to challenge Kenyatta, political egos got in the way. Elections will be held on Aug. 8, Kenyatta's path to reelection is clear, and the vote is likely to pass relatively peacefully.
But it's not just the political stability that spells good news for Kenya. Kenya's central bank is now helmed by the hyper-competent Patrick Njoroge, who continues the fight to bring inflation under control (currently at 10.3 percent). He will get a boost from the weather of all things—while drought conditions have caused food prices to spike (the price of maize is up 30 percent), the coming "long rains" season will provide some relief. And just in case state finances become precarious, the IMF is standing by to assist with a yet-untapped $1.5 billion program.
Angola
In oil-rich Angola, we'll see a new president, but the same party of power. The center-left People's Movement for the Liberation of Angola (MPLA) is expected to remain the majority in this August's legislative elections, paving the way for Joao Lourenco, the current Defense Minister, to assume the country's presidency.
Lourenco is a competent technocrat with a relatively scandal-free reputation, critical in a country as resource-rich as Angola (45 percent of the country's GDP comes from oil, as does 95 percent of its export revenue). Expect an anticorruption push as soon as he assumes office, part of a concerted effort to encourage foreign investment and boost the business environment.
Outgoing president Jose Eduardo dos Santos has ruled the country for 38 years—his departure inevitably brings some political upheaval, especially for investors who had grown accustomed to Dos Santos' centralized decision making style. But it's a managed transition, and Dos Santos will remain chair of the party and a formidable political presence in the country. Not bad—if only all leaders who've ruled for nearly four decades bowed out so gracefully.
Rwanda
Paul Kagame has been in power since 2000; this August, he will win his third seven-year term as president. There's not much suspense; last time Kagame ran in 2010, he won 93 percent of the vote. Kagame is no doubt a ruthless leader, but as far as most Rwandans are concerned, he's the only political game in town—and many have made their peace with that.
Kagame grew up as a refugee in neighboring Uganda, and rose to political power as part of the Rwandan Patriotic Front (RPF) that would eventually end the Rwandan civil war. He has ruled with a strong hand since assuming power, cracking down on the free press in particular (Reporters Without Borders ranks the country 159th out of 180 on the World Press Freedom Index). He's poised to continue doing so for the foreseeable future; the new constitution allows him an additional two five-year terms through 2034. His hanging on will probably drive another violent transition before 2034—it's just very hard to predict when or how.
Nigeria
As the health of 74-year-old president Muhammadu Buhari continues to deteriorate, Nigeria is caught in a holding pattern. A political crisis has been averted for the time being, with Buhari handing power to his vice president while he returns to London for medical treatment of an undisclosed illness. This virtually assures that the country won't undertake much-needed economic and business reforms until the February 2019 elections are over.
Having a president with frail health is always difficult, but it's especially problematic in Nigeria. By the terms of an informal agreement dating back to when democracy was restored in 1999, the presidency is meant to rotate every eight years between a Muslim northerner and a Christian southerner to reflect the country's demographics (roughly 50 percent of whom are Muslim and 40 percent Christian).
That hasn't worked out great for Northern Muslims, as their first president Umaru Yar'Adua died in office in 2010 after serving just three years. Should Buhari (a Muslim) die in office, his Christian vice president Yemi Osinbajo will assume the presidency—which is exactly what happened in 2010. Osinbajo will face pressure to step aside for a Muslim candidate in 2019 should it come to that. Combine that with an economy that just saw its first economic contraction in 25 years and a government that continues to battle the Islamist Boko Haram, and the short-term prospects for Nigeria aren't looking great at the moment.
South Africa
Jacob Zuma, who leads the African National Congress (ANC)—the party once-led by Nelson Mandela—remains in office despite almost 800 charges of corruption leveled against him. Given his continued control of the party, he is likely to survive the vote of no confidence slated to be held in the next month or so.
Full report at:
http://time.com/4777536/africa-change-kenya-angola-rwanda-nigeria/
--------
UNIFEMGA focuses on entrepreneurship for muslim graduates
13 May 2017
Chapter of the Obafemi Awolowo University Muslim Graduates' Association (UNIFEMGA).
The 17th Annual Luncheon/Public Lecture, which took place at the Conference Hall of the De Renaissance Hotel, Ikeja, offered a veritable learning experience and networking platform to over 200 participants at the event.
Driven by the need to diversify Nigeria's economy from crude oil, encourage participation of Muslim professionals in entrepreneurship and create alternative sources of income, amongst others, the association chose the theme: "Strategic Imperatives and Opportunities for Investments and Wealth Creation by Nigerian Muslim Professionals in Lagos", which was chaired by the Chairman of Access Bank Plc, Mrs. Mosun Belo-Olusoga while the Permanent Secretary, Office of Overseas Affairs and Investment (Lagos Global), Lagos State, Alhaji Abdul Ahmed Mustapha, delivered the lecture.
In his welcome address, Chairman of the Lagos Chapter of UNIFEMGA, Alhaji Tirimidh Taiwo Ayanbode, likened the country's economic quagmire to various human perspectives about a glass half-filled with water and advised members of the association to leverage on the opportunities in the recession period to better their lots.
"Some see half-filled glass while some see half-empty glass. Those that see half-empty see emptiness; hence they are pessimistic. Those that see half-filled see fullness and they are optimistic. The optimist says the glass is half-full; the pessimist say the glass is half-empty. And while they are arguing, the pragmatist takes the glass and drank its content. My brothers and sisters in Islam, we need the spirit of optimist and pragmatist. We should use the great opportunities in the present economic downturn for our betterment.
"Our approach should be of self-dependent and also discourage our reliance on government jobs. We should note that there is no such thing as unemployment in the world. What is referred to as unemployment is called lazy- thinking. Government is not to create jobs, but to create an enabling environment where entrepreneurs can grow, he noted."
He explained that the essence of the gathering was to gain insight of the programmes of the Lagos State Government on wealth creation and how the association could make the best use of the insights to create wealth for their families.
In her remarks, Olusoga who described herself as "an ambassador of Islam," said she has a responsibility first as a Muslim, as a woman, and as a light to others. She expressed her concern over the apparent weakening of the Islamic religion, which attributed to the members' lack of seriousness to it and called on Muslim faithful to be true representatives of their religion."
The bank chair advised Muslims to refashion their religion to suit the present realities, adding that Islam should be made more attractive. She challenged fellow Muslims to be ambassadors of the religion and be passionate about educating their children.
Olusoga encouraged Muslims to be properly educated in both the contemporary and Islamic education so as to be well-placed in the society, and called on Muslim parents to send their children to very good schools.
Delivering the lecture, the guest speaker Alhaji Abdul Ahmed Mustapha, said Islam encourages Muslims to be resourceful and regard wealth as God's blessing, and therefore, urged Muslims to lay their hands on anything that can afford them wealth and financial independence using legitimate means.
Highlighting the efforts of the Lagos State Government on wealth creation, Mustapha said government was working hard towards providing a safe and conducive environment for businesses, through security and rapid infrastructural development and renewal.
"Establishment of an Employment Trust Fund (LETF), to provide the minimum of five million capital annually for young entrepreneurs to establish small scale industries across the state. All Lagos residents, including UNIFEMGA members can access this fund", he noted.
Full report at:
https://guardian.ng/news/unifemga-focuses-on-entrepreneurship-for-muslim-graduates/
--------
Muslim clerics hold special prayers for Nigeria
May 13, 2017
- Nigerians have been urged to develop the true spirit of love and cultivate the culture of praying for their country and the leaders - The plea was made at a special prayer session in Lagos by Islamic clerics - The prayer session was tagged, "Muslims Pray for the Nation," and organised by The Muslim Congress (TMC), Lagos state chapter Hundreds of Muslim faithfuls joined top Islamic clerics in Lagos over the weekend to hold a prayer session for Nigeria and its leaders. The prayer session which was organised by the Lagos state chapter of The Muslim Congress (TMC) was tagged, "Muslims Pray for the Nation." Vanguard reports that leading Islamic scholars in Nigeria including Sheikh Moshood Ramadan and Sheikh Dhikrullah Shafii said one of the cardinal principle of religion and manifestations of love is to pray for your nation and its leaders.
"If the leaders are well guided and spiritually fortified, the nation too will be safe, peaceful and prosperous," they said. READ ALSO: After saying Buhari treats him like a son, FFK takes a swipe at Osinbajo NAIJ.com gathered that the clerics used the occasion to invoke Allah's protection and guidance for the ailing President Muhammadu Buhari, who is currently in London for medical attention. The congregation also prayed for Lagos state, as it celebrates its 50th anniversary of existence. Speaking with journalists, the National Amir of the Congress, Dr Luqman AbdulRaheem said it is the responsibility of every religious organisation to be patriotic and show sincere love for the country. His words: "As a responsible Muslim organisation, we felt that the love for our nation and president should be uppermost in our mind. That's why we decided to dedicate this month's Adhkar (prayer session) to pray for Nigeria and the president. "This is not the first time TMC will be organising prayer for Nigeria. We do it everyday, either individually or collectively. This is what we do at our Adhkar (prayer) centres every month. "We believe that we don't have to go to Abuja or seek for political patronage before we can pray for our country. We believe that the success of Nigeria as a country is the success of her citizens." During the special prayer which lasted for 4 hours, attendees were seen reciting carefully selected invocation from the Qur'an and Hadith.
Full report at:
https://www.naij.com/1104423-muslim-clerics-hold-special-prayers-nigeria.html
--------
Mideast
Turkey detains online editor-in-chief of Opp daily
May 13, 2017
ISTANBUL: Turkish authorities on Friday detained the editor-in-chief of the online edition of opposition daily Cumhuriyet, the latest in a string of arrests targeting the paper.
Oguz Guven was detained by police in Istanbul and taken to the city's police headquarters for questioning, the Anadolu news agency said.
It added he had been detained due to a news story about the death in a traffic accident this week of senior Turkish prosecutor Mustafa Alper who had been a leading figure in the prosecutions of suspects detained over the failed July 15 coup. It did not give further details. Guven had also said in a tweet that he was being detained.
One of Turkey's oldest newspapers, Cumhuriyet has been a leading critic of Turkish President Recep Tayyip Erdogan but seen 19 staff members charged under the state of emergency imposed after the failed coup. Most are in jail and those held under arrest include some of the biggest names in Turkish journalism, including the paper's current editor in chief, Murat Sabuncu; commentator Kadri Gursel; writer Ahmet Sik; and cartoonist Musa Kart.
The journalists, most of whom have been held in prison for the last six months, face jail terms of up to 43 years if convicted.
They are accused of membership in a banned "terror group" and aiding outlawed organisations, charges which supporters have denounced as ridiculous.
Meanwhile Cumhuriyet's former editor in chief, Can Dundar, was last year handed a five-year-and-10-month jail term and has now fled Turkey for Germany over a front-page story accusing the government of sending weapons to Syria.
According to the P24 press freedom website, there are 165 journalists behind bars in Turkey, most of whom were detained as part of the state of emergency imposed after the failed coup.
Turkey ranks 155 on the latest world press freedom index of Reporters Without Borders (RSF), below Belarus and the Democratic Republic of Congo, and a drop of four places from its 2016 ranking.
http://nation.com.pk/international/13-May-2017/turkey-detains-online-editor-in-chief-of-opp-daily
--------
Yemenis stage massive rally against US support of Saudi war on Yemen
May 12, 2017
Tens of thousands of people have held a massive rally in the Yemeni capital Sana'a to voice their outrage at the US-backed Saudi military campaign against the impoverished Arab country.
The demonstrators marched through Ma'rib Street in central Sana'a after Friday prayers, carrying Yemeni flags and banners in condemnation of US President Donald Trump's upcoming visit to the Saudi capital Riyadh later this month.
Participants in the rally also shouted slogans such as, "No to American terrorism," renewing the Yemeni people's steadfastness in the face of the Saudi aggression, which has been supported by the US.
The protesters condemned Washington for being complicit in the Saudi crimes against the Yemeni nation by providing the Al Saud regime with conventional and banned weapons.
In a speech to the demonstrators, Supreme Revolutionary Committee Chairman Muhammad Ali al-Houthi said the massive rally would be a prelude to a yet larger protest to be held concurrent with Trump's visit to Saudi Arabia.
Protesters also condemned some Persian Gulf Arab states for publicly aiding the Saudi regime in its brutal campaign against Yemenis and destroying their country.
Since March 2015, Saudi warplanes have been heavily bombarding Yemen in an attempt to crush the popular Houthi Ansarullah movement and reinstall the resigned president, Abd Rabbuh Mansur Hadi.
Latest tallies show that the imposed war has so far killed over 12,000 Yemenis and wounded thousands more. The Saudi aggression has also taken a heavy toll on the country's facilities and infrastructure, destroying many hospitals, schools, and factories.
Nearly 3.3 million Yemenis, including 2.1 million children, are currently suffering from acute malnutrition, while more than seven million people are grappling with starvation. The figures, however, could drastically increase if the Saudi war machine continues to breathe fire on Yemeni people.
UN warns about Saudi attack on Yemeni port
Meanwhile, the United Nations International Organization for Migration (IOM) warned that a possible Saudi attack on Yemen's Houthi-controlled port city of Hudaydah could displace several hundred thousands of people.
"A minimum of 400,000 people will flee the city eastwards, once Hudaydah is under attack," said IOM Director of Operations and Emergencies Mohammed Abdiker in a statement.
Located in the southern Yemeni province of Ta'izz, Hudaydah is part of a broad battlefront where Saudi forces are fighting the Yemeni army and its Houthi allies, who are in control of most of Yemen's northern and western regions. Some 80 percent of the war-torn country's food imports and relief aid also come through the port.
Full report at:
http://www.presstv.ir/Detail/2017/05/12/521650/Yemen-Saudi-Arabia-US-Trump-Houthi-Ansarullah-Hudaydah-rally
--------
Erdogan hopeful for breakthrough in dispute on arming Kurds
12 May 2017
Turkish President Recep Tayyip Erdogan expressed hope on Friday that his upcoming visit to Washington will constitute a new "milestone" for the troubled relations between the two NATO allies.
Speaking to reporters before leaving for trips to China and the United States, Erdogan said he was confident that talks with US President Donald Trump next week would lead to a "breaking point" in the US decision to arm Syrian Kurdish rebels.
Turkey has been angered by a US decision to provide arms to Syrian Kurdish fighters that Turkey considers terrorists and a serious threat to its security. Turkey says the group is an extension of the outlawed Kurdistan Workers' Party, or PKK.
Ties have also been strained by Turkey's demand for the extradition of US-based cleric Fethullah Gulen whom Turkey blames for last year's failed coup attempt.
The US considers the Syrian Kurdish fighters, known as the YPG, as the most effective group in the fight against Islamic State militants in their Syrian stronghold of Raqqa.
Turkey has called for the decision on arming the YPG to be reversed, criticizing what it calls a strategy of using one terrorist group to fight another. Turkey is also concerned about the possibility that the weapons could end up in the hands of the PKK.
"I see this trip as a new milestone in Turkey-US relations," Erdogan said. "I want to consider all the information we have received so far (on US arming Syrian Kurds) as hearsay... And I think this trip will be a breaking point on this issue."
Full report at:
https://english.alarabiya.net/en/News/world/2017/05/12/Erdogan-hopeful-for-breakthrough-in-dispute-on-arming-Kurds.html
--------
Yemeni government rejects southern autonomous council
12 May 2017
The government of war-ravaged Yemen on Friday rejected a self-proclaimed autonomous body in the formerly independent south whose formation is seen as an open challenge to the president's authority.
An official statement issued after President Abed Rabbu Mansour Hadi met his advisors in the Saudi capital "categorically rejected" the South Transition Council whose 26 members include the governors of five southern provinces and two government ministers.
The body was announced on Thursday by Aidarous al-Zoubeidi, the recently fired governor of the southern province of Aden.
"Such acts remain baseless and will never be accepted," the presidency statement said, adding that the move only served the Houthi rebels who have been fighting Hadi's internationally recognized government for more than two years.
Full report at:
https://english.alarabiya.net/en/News/middle-east/2017/05/12/Yemeni-government-rejects-southern-autonomous-council-.html
--------
New UN proposals on Yemen include Al-Hudaidah
12 May 2017
UN Special Envoy for Yemen Ismail Ould Cheikh Ahmed has met with ambassadors of countries sponsoring the Gulf Initiative to resolve the crisis in Yemen.
During the meeting, they discussed recent developments in Yemen as well as the efforts being made to resume consultations between the concerned parties to stop the ongoing conflict and to reach a political solution for the crisis in accordance with the GCC initiative, the National Dialogue and Security Council Resolution No. 2216.
ANALYSIS: What is behind Iran's new threats against its neighbors?
Yemeni President Abd Rabbuh Mansour Hadi has also met with UN Special Envoy for Yemen Ismail Ould Cheikh Ahmed. During the meeting, they discussed the latest developments in the country. GCC Secretary General Abdullatif bin Rashid Al-Zayani met with UN Ould Cheikh Ahmed.
Al-Sharq Al-Awsat newspaper quoted sources in the office of Ould-Sheikh Ahmed as saying that he has introduced new proposals that included the inclusion of Al-Hudaidah situation within the security plan in Yemen as it is one of the most severely affected areas of humanitarian crisis.
Full report at:
https://english.alarabiya.net/en/News/gulf/2017/05/12/New-UN-proposals-on-Yemen-include-Al-Hudaidah.html
--------
Palestinian shot dead in west bank clash with Israelis: ministry
12 May 2017
A Palestinian youth was shot dead during clashes with Israeli forces in the occupied West Bank on Friday, the Palestinian health ministry said.
The man was shot during the protests which are held weekly near the village of Nabi Saleh, north of Ramallah, and later died in a nearby hospital, the ministry said in a statement.
The dead man was named as Saba' Nidal Obaid, 20.
The Israeli army said in a statement to AFP it was "aware of reports" that a protester had been killed but could not confirm it.
"A violent riot involving dozens of Palestinians hurling rocks at (Israeli army) forces broke out earlier today," a spokeswoman said.
"Dispersal means," including firing live ammunition, were used "in response to that imminent threat".
A wave of unrest which erupted in October 2015 has claimed the lives of 263 Palestinians, 41 Israelis, two Americans, one Jordanian, an Eritrean, a Sudanese and a Briton, according to an AFP count.
Most of the Palestinians killed were carrying out knife, gun or car-ramming attacks, Israeli authorities say.
Full report at:
https://english.alarabiya.net/en/News/middle-east/2017/05/12/Palestinian-shot-dead-in-west-bank-clash-with-Israelis-ministry.html
--------
Palestinians set to mark 69th anniversary of Nakba Day worldwide
May 13, 2017
Palestinians across the world are set to mark the 69th anniversary of the Nakba Day (the Day of Catastrophe), when hundreds of their fellow Palestinians were forcibly evicted from their homeland by Israelis.
The Nakba Day is officially marked every year on May 15, one day after the Israeli regime came into existence in 1948.
Some 750,000 Palestinians were expelled from their lands in 1948 and were scattered across refugee camps in the occupied West Bank, the Gaza Strip, and Palestine's neighboring countries. Now, over five million Palestinian refugees are estimated to be still displaced.
Israel passed controversial legislation, known as the Nakba Law, in 2011, which authorized the regime's finance minister to cut the budget of institutions that mark the Nakba Day.
Earlier this week, Israel's right-wing Yisrael Beiteinu party proposed amendments to the law that call for imposing severe sanctions on universities, colleges and academic institutions that allow the Nakba Day commemoration.
Since Tuesday, a Palestinian flag has been flying over the City Hall in the Irish capital, Dublin, to draw attention to years of the Israeli occupation of Palestinian territory ahead of the Nakba Day.
The council said the move was "as a gesture of our solidarity with the people of Palestine living under occupation in the West Bank and Gaza… and with the… displaced Palestinians denied the right of return to their homeland."
The Ireland Palestine Solidarity Campaign (IPSC) welcomed the move.
"The refugees created during this ethnic cleansing and their descendants now number in the millions, and all are shamefully still denied their internationally mandated Right of Return to their homeland," said IPSC Chairperson Fatin Al-Tamimi.
Palestinians are seeking to create an independent state in the territories of the West Bank, East Jerusalem al-Quds, and the Gaza Strip, with East al-Quds as its capital.
Palestine's flag was also hoisted for the first time at the United Nations (UN) Headquarters in New York in September 2015.
Full report at:
http://www.presstv.ir/Detail/2017/05/13/521694/Palestine-Nakba-Day-2017
--------
Norway's largest trade union boycotts Israeli regime
May 13, 2017
Norway's biggest and most influential trade union has approved a boycott of Israel, as global outrage intensifies at the Tel Aviv regime's oppression of Palestinians.
The Norwegian Confederation of Trade Unions (LO) voted 197 to 117 in favor of an international economic, cultural, and academic boycott of Israel on Friday.
The Boycott, Divestment, Sanctions (BDS) movement, which campaigns for Palestinian rights, hailed the LO's move as a necessary means to secure fundamental Palestinian rights.
"By courageously heeding the Palestinian BDS call…, LO joins some of the world's most important trade union federations… in calling for meaningful BDS pressure on the corporations and institutions that have enabled decades of Israeli occupation, settler-colonialism and apartheid," said the BDS national committee.
It also expressed hope for close cooperation with LO to translate the new policy adopted by the trade union "into effective measures of accountability at the academic, cultural and economic levels to uphold human rights and international law."
It further urged LO to exert pressure on the Norwegian government to cut its military ties with Israel and to divest funds from all companies complicit in the regime's occupation and settlement activities in the occupied Palestinian territories.
However, Norwegian Foreign Minister Borge Brende criticized the boycott, writing on Twitter that the "government strongly opposes Norw Labour Union's decision: #boycott of #Israel. We need more cooperation and dialogue, not boycott."
Additionally, Israel's Ambassador to Oslo Raphael Schutz denounced the boycott as "immoral," saying he "condemns [the measure] in the strongest terms."
The BDS movement was initiated in 2005 by over 170 Palestinian organizations pushing for "various forms of boycott against Israel until it meets its obligations under international law."
Thousands of volunteers, trade unions, NGOs, academic and business societies, as well as cultural figures worldwide have joined the boycott campaign to help promote the Palestinian cause.
Back in March, the Israeli parliament passed a piece of legislation barring the entry of BDS supporters to the occupied territories.
Last month, the municipal council of Sint-Jans-Molenbeek in Belgium approved a bill that prohibited all forms of political, economic and cultural dealings with Israeli institutions and companies promoting the regime's occupation.
Over the past few months, Israel has given the go-ahead for the construction of many settler units that are considered illegal by much of the international community.
Full report at:
http://www.presstv.ir/Detail/2017/05/13/521677/Norway-trade-union-LO-Israel-BDS
--------
North America
Racism in US: Donald Trump will stop you, man tells Muslim family in US
May 12, 2017
A Muslim family's reunion in a Texas town turned ugly after a man at a beach allegedly hurled racial abuses and told them "Donald Trump will stop you".
Fourteen members of the family were on a week-long reunion in South Padre Island when the man, who was identified as Alexander Downing, of Waterford, Connecticut, approached them at a beach. Downing was recorded in a viral video screaming obscenities and phrases like, "Donald Trump will stop you," to the Muslim family on the beach, San Antonio Express-News reported.
He was arrested last week and was charged with public intoxication. Police determined Downing "was intoxicated in a public place and was a danger to himself and others," according to the South Padre Island Police Department incident report.
A video posted on YouTube by Noria, whose family asked their last names not be used for safety reasons, described in detail the moments before Downing was arrested. Downing approached Noria and her family and yelled multiple expletives at the family.
"You will never ever, ever, ever stop me," he tells the family.
"My Christianity will rise above your Sharia law. Guess what? ISIS don't mean (expletive) to me…"
Noria said in the video's description that two women asked her father for help as a man was harassing them. Her father approached Downings and asked him to let everyone enjoy the beach. Downings walked away but eventually came back and began yelling at the family.
"You're a (expletive) Muslim," he said.
Noria was quoted as saying that she was in town for a family reunion.
Ahmed, another family member, said the family shared the footage to get Downings charged with indecent exposure, as he made several explicit gestures toward the family which included children between the ages of 2 and 4.
"First and foremost, we are Americans who happened to be Muslims. Never have I ever experienced such a thing. We did not do anything to provoke him," Ahmed was quoted as saying.
The incident comes amid a series of intimidation and expletive-laden rants targeting Muslims being reported from across the country.
http://indianexpress.com/article/world/donald-trump-will-stop-you-man-tells-muslim-family-in-us-4653004/
--------
Pence says ISIS is guilty of genocide against Christians
May 12, 2017
The Trump administration is raising alarms about the Islamic State committing genocide against Christians, a conclusion that President Obama's team reached reluctantly only last year.
In a speech Thursday that didn't receive much press attention in Washington, Vice President Mike Pence told the World Summit in Defense of Persecuted Christians that atrocities are being committed against Christians across the Middle East, from Egypt to Syria to Iraq.
"The practitioners of terror harbor a special hatred for the followers of Christ, and none more so than the barbarians known as ISIS," Mr. Pence said. "That brutal regime shows a savagery, frankly, unseen in the Middle East since the Middle Ages. And I believe ISIS is guilty of nothing short of genocide against people of the Christian faith, and it is time the world called it by name."
The vice president also said President Trump won't stand for the persecution of Christians.
"He's made it clear that America will stand by followers of Christ in this hour of need," Mr. Pence said. "Our administration is fully committed in bringing relief and comfort to believers not only across the Middle East but across the world. This president knows the terrorists will not stop until we stop them. And under President Donald Trump, we will stop them."
In his first speech to the U.S. Central Command, in February, Mr. Trump said the Islamic State "is on a campaign of genocide." The president decided this week to send arms to Syrian Kurds fighting the extremist group, as U.S.-backed Iraqi forces continue to wage a battle against the Islamic State around Mosul.
Last year, after the House passed a measure requiring the State Department to make a determination by a deadline, then-Secretary of State John F. Kerry said the Islamic State was guilty of genocide against various groups in territories under its control.
Mr. Pence said the Christian faith "is under siege" around the world.
"Throughout the world, no people of faith today face greater hostility or hatred than the followers of Christ," he said. "In more than 100 countries spread to every corner of the globe — from Iran to Eritrea, Nigeria to North Korea — over 215 million Christians confront intimidation, imprisonment, forced conversion, abuse, assault, or worse, for holding to the truths of the Gospel."
The vice president said Mr. Trump "sees these crimes for what they are: vile acts of persecution animated by hatred — hatred for the Gospel of Christ."
He said Mr. Trump also knows who is committing the crimes.
Full report at:
http://www.washingtontimes.com/news/2017/may/12/pence-isis-guilty-genocide-against-christians/
--------
To ease fears, US Muslim schools reach out to neighbours
May 12, 2017
At a Roman Catholic high school in New York's Long Island suburbs, two dozen visiting Muslim students knelt and prayed while teens in uniform blazers from the host school looked on.
The trip's agenda was simple: give students whose schools are just 10 miles (16 km) apart but culturally worlds away a chance to get to know each other.
It is also part of an ambitious initiative that will be adopted by nearly 80 U.S. Islamic elementary, middle and high schools starting in the fall to give Americans a better picture of U.S. Muslims at a time when many feel targeted by President Donald Trump's administration.
"Sometimes Muslims in today's society are afraid of other people judging them," Laiba Amjad, a 19-year-old senior at MDQ Academy Islamic school in Brentwood, New York, said during the visit to Saint Anthony's High School in nearby Huntington.
"Other people are also afraid," she said, referring to non-Muslims. "They're thinking, 'What if that person is an extremist?'"
Americans are more likely to view Muslims, who make up 1 percent of the U.S. population, as extremists if they do not know one personally, according to a February poll by the Pew Research Center. The same survey found that 60 percent of Americans who know a Muslim believe there is little or no support among them for extremism but only 48 percent of those who do not know a Muslim believe that.
"I hadn't really interacted with many Muslims before this," 17-year-old Chris Beirne said while he and fellow Saint Anthony's seniors ate lunch with the visiting Muslim students.
"Muslims typically today are put into this one group with extremists," Beirne said. "I think the solution to that problem would be having events like this."
In an effort to overcome that perception, the Council of Islamic Schools in North America, the nation's only accrediting agency for Muslim schools, is changing its curriculum. It will ask its 78 accredited or member schools, located across 24 U.S. states, to arrange meetings between their own students and those at other, non-Muslim schools.
"People in this country, they want to know about Muslims, they want to know what's going on inside Islamic schools," said CISNA Director Sufia Azmat.
The Council is asking its educators to launch more volunteer projects outside the Muslim community, attend local government meetings and create a database of alumni to track their graduates' success.
The move comes at a time when Muslims are under intense scrutiny, largely the result of extremist attacks carried out in the name of Islam in the United States and abroad.
In the deadliest mass shooting in modern U.S. history, an American-born gunman pledging allegiance to various Islamic militant groups shot 49 people to death at a nightclub in Orlando, Florida, last June.
Mainstream Muslim religious leaders condemn the violence, saying their faith forbids it. Muslims are the second-most targeted religious group in the United States for hate crimes, behind Jews, according to the latest statistics from the Federal Bureau of Investigation.
A report by the Council on American-Islamic Relations released this month showed a 57 percent spike in the number of anti-Muslim hate crimes recorded in the United States last year compared with 2015.
In the 10 days following U.S. Election Day on Nov. 8, physical and verbal attacks against Muslims ticked up 6 percent compared to the same period the prior year, the Southern Poverty Law Center said.
'BE OPEN'
The details of the U.S. Islamic schools' new curriculum are still being hammered out, but the purpose is clear, CISNA's Azmat said: "Be open to outsiders."
A recent study of about a third of the nation's Muslim high schools conducted by the Institute for Advanced Studies in Culture at the University of Virginia found that the students did not vary much from their non-Muslim peers in terms of interests and sense of being American.
"These are very, very typical kids in a lot of ways, but also see themselves as Muslims and objecting to some things in American society just as a lot of Evangelical (Christian) and Jewish kids would," said Charles Glenn, an education policy expert who led the study of Islamic schools.
Many of the nation's Islamic schools have kept a low profile since the first school opened in the United States roughly 30 years ago, partly to avoid harassment.
The outreach efforts could face similar resistance to those of U.S. public schools that have attempted to teach about Muslims in social studies classes. Some parents in San Diego, California, and Chatham, New Jersey, recently objected to lessons about Muslims.
"You have given your alliance to people that are against our own Constitution," Alice Kaiser, who is part of a group opposing the San Diego Unified School District's anti-Islamophobia program, said about the program at a school board meeting late last month.
The Al Fatih Academy, an Islamic school in Reston, Virginia, has been used as a model by CISNA for community outreach.
Full report at:
http://www.hindustantimes.com/world-news/to-ease-fears-us-muslim-schools-reach-out-to-neighbours/story-P7NjCm4v5EgdaY5A2GFQEM.html
--------
From Saudi Arabia, Trump is set to promote peace
12 May 2017
President Donald Trump will encourage Washington's partners to promote peace, and confront chaos and violence during his scheduled trip to Saudi Arabia on May 23, US National Security Advisor H.R. McMaster said on Friday.
Saudi Arabia is going to be Trump's first foreign trip as head of the United States. When his trip to Saudi Arabia was announced, Trump said he would begin to construct a new foundation to combat "terrorism" in the trip.
His trips to Saudi Arabia, then Israeli and Italy is also to unite Muslims, Jews and Christians behind an effort to shun terrorism, McMaster said.
Full report at:
https://english.alarabiya.net/en/News/world/2017/05/12/McMaster-Trump-will-encourage-partners-to-promote-peace-at-Saudi-trip.html
--------
Will this man seeking to lead Michigan be America's first Muslim governor?
MAY 12, 2017
Abdul El-Sayed played football at his suburban Detroit high school. He was pretty good, so he was always double-teamed.
In his first game after the 9/11 attacks, opposing players hurled insults at him. "Go home." "Raghead." That sort of thing. In the blink of an eye, he recalled, "I went from being a chubby kid with a funny name to being a very stigmatized minority."
Naturally, he was angry. He took a swing at one of the taunters. "The coach pulled me out of the game and said, 'Listen, you're going to be Abdul El-Sayed for the rest of your life, and that's going to mean something to other people. You can use that as an excuse or you can use it as motivation. You get to pick that.'"
It became obvious some time ago which path he chose. Dr. El-Sayed excelled at high school, becoming captain of the football, lacrosse and wrestling teams. He won a Rhodes Scholarship. He earned a doctorate in public health from Oxford University and a medical degree from Columbia. At 30, he became the health director of Detroit.
Now he has set his sights on an even bigger job. Still only 32, he is running for governor of Michigan. If elected, the son of Egyptian immigrants would be the country's first Muslim governor. He would also be the youngest governor since a 32-year-old Bill Clinton was elected in Arkansas in 1978.
He declared his candidacy on Feb. 25, telling backers that "the politics of fear and hatred threaten to divide us." Since then he has been criss-crossing the state to seek support for the Democratic gubernatorial nomination.
It isn't the most promising time for a man named El-Sayed to be running for office. Hate crimes against Muslims are up. One recent report said the number of hate groups targeting Muslims tripled in 2016, the year Donald Trump won the presidency.
The Trump administration's attempts to ban immigration from seven mainly Muslim countries to "protect the nation from foreign terrorist entry into the United States" have left many Muslim Americans feeling ostracized, just as they did after 9/11. Over all, American feelings toward Muslims are warmer than they were a few years ago, polling by the Pew Research Center found, but Americans still view Islam less favourably than the other major religions.
In the Detroit area, tensions had been simmering long before the proposed ban. Angry words broke out in the northern suburb of Sterling Heights when some residents objected to a plan for a big mosque there.
Fatima Salman, 39, a community organizer and long-time friend of Dr. El-Sayed, says some people don't just whisper their hostility. Not long ago, she was dropping off her four-year-old at daycare when a man in another car saw her head scarf. He started honking his horn, made shooting motions with his hand and tried to run her off the road.
"The negative, ugly rhetoric this administration has been putting out, I can definitely see it trickling down," Ms. Salman said. "The Trump climate and all the fear make us worry about what the country is all about. Abdul's candidacy reminds us what the country was built on."
It is a theme Dr. El-Sayed never fails to repeat as he travels around Michigan. At a meeting of local Democrats at a public library in Plymouth, half an hour from downtown Detroit, he gave his own life story as an example of the United States at its best. He was raised, he said, "in this unlikely American family – probably the most unlikely American family you ever heard of."
His father grew up in Alexandria, Egypt, the son of a vegetable vendor and an illiterate homemaker. He was the youngest of six children. They lived in a one-bedroom apartment, where he would do his homework by the light of the streetlamps outside. Rising to the top of his highschool class, he got a visa to study engineering in Michigan.
He and his wife divorced shortly after Dr. El-Sayed was born. He married a Michigan woman, a professor of engineering, and Dr. El-Sayed grew up in their house. Thanksgiving dinners would feature debates among his father, the engineer and part-time imam; his grandmother on his stepmother's side, a Presbyterian deacon and nurse; and an uncle, an atheist who came to the United States from Communist Poland. Mohamed, Judy and Piotr would talk about everything from God to country to the meaning of democracy. They didn't always agree, Dr. El-Sayed said, but if they could come together every year around the Thanksgiving table, "I know that we can come together as a country."
With a strong family and a good education in public schools, Dr. El-Sayed rose quickly. In 2015, Detroit Mayor Mike Duggan appointed him to rebuild the health department, which had been privatized amid the city's financial collapse. He arrived to find just five employees, working in the back of the city parking department. As he walked through the parking lot to work on his first day, a man asked him, "Son, do you work here?" No, he said, I'm the health director of Detroit.
Detroit's health statistics are dire. Its infant mortality rate is worse than Mexico's. Dr. El-Sayed set up a SisterFriends program that matched expectant mothers with women who would guide them through their pregnancy. Another program provided free eyeglasses to needy schoolchildren.
When politics beckoned, he went to see the mayor. Mr. Duggan told him: If you run and you win, you will make history. Even if you lose, you will make a point. A few days later, Dr. El-Sayed gave his notice.
Though the election for governor is still a year and a half away, he has been campaigning hard ever since, spending hours on the road bouncing from university campus to candidates meeting to media interviews. As he put it, "I don't go less than 100 miles per hour." He has just completed a statewide tour, Listening For Our Future, that took him to 53 cities and 26 counties.
He is bound to face more established rivals for the Democratic nomination. Gretchen Whitmer, a former state Senate minority leader, has already joined the race. U.S. Congressman Dan Kildee said on Tuesday that he would not run, leaving Ms. Whitmer and Mr. El-Sayed the most prominent candidates so far. It's not clear yet which Republican the Democratic nominee would meet in the general election. The current governor, former business executive Rick Snyder, is serving his second term and is not allowed to run again, so the Republicans will have their own nomination race.
Whether an observant Muslim who wears a beard and prays regularly can win election in a state that just voted – narrowly – for Mr. Trump is an open question. Dr. El-Sayed's wife, Sarah Jukaku, a mental-health doctor whose family is from India, wears a head scarf.
On the other hand, Dr. El-Sayed said, his would not be the first breakthrough of its kind. "I know I look a bit different, but I have seen a successful politician who looked a bit different."
The reference to Barack Obama was deliberate, and Dr. El-Sayed has something of the same cool factor. In his narrow pants and checked shirts, he is as much at home in a hip Detroit coffee bar as he is in the Plymouth library.
hough he is a rookie politician, he knows how to work a room. He had the mainly white, mainly older crowd in Plymouth eating out of his hand with tried-and-true Democratic phrases such as "People before profits" and "No government by spreadsheet," quips about his "unfortunately named brother Osama" and appeals to American ideals such as freedom of religion and freedom of speech.
After a bitter election such as last year's, his call for healing, dialogue and a country in which everyone, regardless of origin, is considered equally American has obvious attraction.
He stressed that even if his election would make history, he is not running just to be the first Muslim governor. He is running to be the governor of Michigan. In any case, he said, people shouldn't be worrying about how others pray or who they pray to but what they are praying for, "and I can tell you I pray for us and I pray for my state and I pray for my country."
Full report at:
http://www.theglobeandmail.com/news/world/us-politics/michigan-abdul-el-sayed/article34966598/
--------
Nation Wide Campaign 'Ask Islam' Coming to Kingston
2017/05/12
The Ahmadiyya Muslim Youth Association has launched a nationwide campaign that is coming to Kingston on Saturday, May 13th.
The goal of the "Ask Islam" Q&A sessions is to provide Canadians with an open platform to learn about Islam from fellow Muslims in Canada.
Most people only know of Islam what they see in the papers and on news broadcasts. But that picture ignores most of this vast religion, which spans hundreds of cultures and dozens of countries and has such a rich and deep tradition of learning and spirituality.
In light of this, the Ahmadiyya Muslim Youth Association has launched this special event where an interactive question and answer session to have all your questions about Islam answered and learn from others too.
"Ask Islam" endeavours to build bridges of understanding with a unique QA session where people will get the chance to ask questions about Islam to a distinguished panel of guests.
The Ahmadiyya Muslim Youth Association will hold these events in more than 25 towns throughout Canada in an attempt to remove misconceptions about Islam.
The event in Kingston takes place on Saturday May 13th between 1pm and 5pm in the Kingston Frontenac Public Library (Isabel Turner) located at 935 Gardiners Rd by the Cataraqui Town Centre.
Full report at:
http://kingstonherald.com/release/ask-islam-kingston-2010319093
--------
URL: https://www.newageislam.com/islamic-world-news/hizbul-mujahideen-threatens-behead-hurriyat/d/111138
New Age Islam, Islam Online, Islamic Website, African Muslim News, Arab World News, South Asia News, Indian Muslim News, World Muslim News, Women in Islam, Islamic Feminism, Arab Women, Women In Arab, Islamophobia in America, Muslim Women in West, Islam Women and Feminism