New Age Islam News Bureau
23 May 2020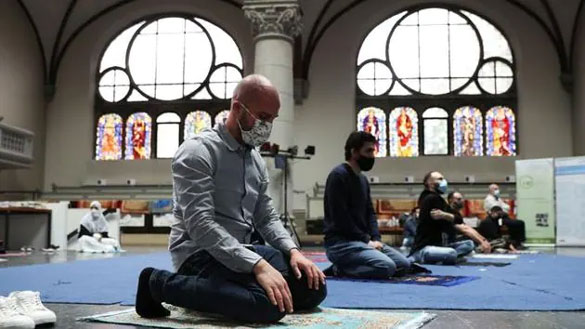 Muslims pray inside the evangelical church of St. Martha's parish, during their Friday prayers, as the community mosque can't fit everybody in due to social distancing rules, amid the Covid-19 outbreak in Berlin, Germany, May 22, 2020.(Reuters)
--------
• Berlin Church Hosts Friday Prayers for Muslims To Follow Social Distancing Rules
• German President: No Tolerance for Attacks on Muslims
• Taliban 'Reluctant to Publicly Break With Al Qaeda,' Inspector General Reports
• 97 Killed As Plane Crashes Into Residential Area Near Karachi Airport
• Muslim Generosity in Ramadan Is More Than A Feel-Good Story
• Lebanese Parliament Speaker Reiterates Rejection Of 'Deal of The Century'
• Iran: Israeli Regime Human-Killing Machine by Nature
• Pompeo Urges Libya's Turkish-Backed GNA To Accept Ceasefire, End Fighting
• Rohingya Targeted in Malaysia As Coronavirus Stokes Xenophobia
------
India
• Hizbul Mujahideen Regroups in Kashmir, Plans Attacks In 10 Days: Intel
• Different RamzanFor Different Folks: Mosques Shut, Poor Muslims Struggle for Food in Lockdown
• Eid-Ul-Fitr 2020: A Look at Festival's History and Significance as Muslims Gear Up to Celebrate End of Holy Month of Ramadan
• No Long Queues, Muslims Offer 'Namaz-E-Alvida' At Their Homes
• PM Modi condoles loss of lives in Pakistan plane crash
• Pakistan violates ceasefire along LoC in Rajouri, Poonch
• At OIC meeting, Maldives thwarts Pakistan's attempt to target India
--------
Europe
• Berlin Church Hosts Friday Prayers for Muslims To Follow Social Distancing Rules
• German President: No Tolerance for Attacks on Muslims
• Eid celebrations to go virtual as UK Muslims urged to stay at home
• Coronavirus: Berlin church hosts Muslims for Friday prayers
• Turkey slams Czech parliament resolution on 1915 events
• Former footballer raises $1M to build mosque in Spain
• British government to prosecute Hezbollah flag wavers at online protests
--------
South Asia
• Taliban 'Reluctant to Publicly Break With Al Qaeda,' Inspector General Reports
• Cyclone Amphan's impact on Rohingya worries UN agencies
• Myanmar to submit first report to ICJ on Rohingya order
• Afghan leaders condole deaths in plane crash in Karachi city of Pakistan
--------
Pakistan
• 97 Killed As Plane Crashes Into Residential Area Near Karachi Airport
• Taliban's SirajuddinHaqqaniAdmitted To Pak Military Hospital ForCovid-19: Intel
• Karachi mayor says does not expect survivors from crashed plane
• Opposition terms sugar commission report 'misleading'
• Pilots, cabin crew were all qualified, says PIA CEO after Karachi plane crash
• Critical Covid-19 patient left to die in ambulance
• WB okays $500m loan to help govt fight Covid-19 effect
• Pakistan, China promoting peace and development in region: FO
--------
North America
• Muslim Generosity in Ramadan Is More Than A Feel-Good Story
• Michigan Muslims Find New Ways to Celebrate Eid Amid A Pandemic
• During Ramadan, Muslims feed those in need in virus-hit Texas
• US OKs more arms to UAE despite violations: report
• Pakistan sends COVID-19 medical aid to US
• Turkish aide, US security advisor speak on phone
• Shooting at Corpus Christi Navy base investigated as terrorist attack, FBI says
• Pompeo pushed subordinates to come up with justification for Saudi arms sale: Report
--------
Arab world
• Lebanese Parliament Speaker Reiterates Rejection Of 'Deal of The Century'
• Saudi Representative To The UN Warns Of Growing IslamophobiaIn "Some Regions Of The World"
• Average monthly income in Saudi Arabia up nearly 9 percent over 4-year period: KPMG
• Coronavirus: Sheikh Mansoor bin Mohammed praises Dubai's proactive COVID-19 response
• Relatives of Saudi defector target of harassment at home: Report
• French Daesh terror suspects escape YPG-controlled jails in Syria
--------
Mideast
• Iran: Israeli Regime Human-Killing Machine by Nature
• Hezbollah Says Palestinian Land Should Return to Its Rightful Owners
• Commander: Iran Supporting Expansion of Jihad in Palestine
• Iran's Leader Vows End of 'Virus of Zionism' in Near Future
• Turkey envoy slams US senators for Uyghurs comments
• Top Commander Warns US of Iran's Decisive Response to Hostile Actions
• Jewish MP Calls on World Jews to Rise Up against Zionist Disaster
• FM Spokesman Blasts Europe's Servility to Zionist Lobby
• US breach of international obligations will definitely end up in anarchism: Iran
• Zionists always accuse their opponents of wrongdoings they do: American scholar
• Israel's annexation of West Bank could spell trouble for Middle East: Russia
--------
Africa
• PompeoUrges Libya's Turkish-Backed GNA To Accept Ceasefire, End Fighting
• Ethiopia, Egypt. Sudan signal readiness to resume talks on disputed dam
• Libyan Army spokesman accuses Erdogan of supporting terrorism, disrespecting int'l law
• Nigeria: Two Nigerian Soldiers, Three Boko Haram Fighters Killed in an Ambush - Official
--------
Southeast Asia
• Rohingya Targeted in Malaysia As Coronavirus Stokes Xenophobia
• Word 'Allah' in non-Muslim publications: Further case management of SIB Church's appeal set for June 29
• On Raya eve, DAP's Kit Siang urges people to embrace new norms, warns against letting go of original founding principles
Compiled by New Age Islam News Bureau
URL: https://www.newageislam.com/islamic-world-news/hizbul-mujahideen-regroups-kashmir-plans/d/121935
--------
Hizbul Mujahideen Regroups in Kashmir, Plans Attacks In 10 Days: Intel
May 22, 2020
NEW DELHI: Days after incurring huge set back in the Kashmir Valley with security forces eliminating its top commanders regularly, intelligence agencies have inputs that HizbulMujahideen is regrouping and it plans to strike back within 10 days carrying out multiple terror strikes across the valley.
They are planning to carry out large-scale terror attack where they would target security forces, intel says. The agencies said as the weakened Hizbul regroups, its main targets will not just be the security forces deployed in the valley at various places, but it also plans to carry out arms robberies.
Hizbul top commander RiyazNaikoo, who headed the Valley unit, was eliminated early this month after a pitch battle just minutes away from his home. The terror group plans to avenge Naikoo's death.
Intelligence agencies said that they are trying to "mobilise innocent youth amid encounter/curfew and COVID".
Sources said that a group of HizbulMujahideen terrorists from South Kashmir has reportedly reached Kishtwar. The intel said Hizbul militant AhrafMoulvi has move from Anantnag to Kishtwar to command the Hizbul cadres in the area.
The agencies said that they are planning to "exploit local youth as cannon fodder for selfish purpose". They are planning to use of stone pelters as human shield while carrying out terror activities.
"Possibility of managed hostage situation cannot be ruled out," Intelligence Bureau has alerted.
Naikoo, an HM leader, was eliminated by security forces on May 6. He was killed during an anti-terrorist operation conducted by the Army and Jammu and Kashmir Police in the Beighpura area of Pulwama district. The 35-year-old carried a bounty of Rs 12 lakh on his head and was a key target for India once he took charge of the HizbulMujahideen in Kashmir.
Five Hizbul militants have been spotted near Gurez and they are likely to attempt to enter into Jammu and Kashmir very soon, according to Intel.
Intelligence Bureau has also alerted that the Pakistan has planned to carry out attacks at various Indian Army posts on the Line of Control by their Battle Action Teams.
Two groups of terrorists in the Krishna Ghati and Naushera sectors are likely to strike posts in the area, the agencies have warned.
https://timesofindia.indiatimes.com/india/hizbul-regroups-in-kashmir-plans-attacks-in-10-days-intel/articleshow/75890917.cms?utm_source=contentofinterest&utm_medium=text&utm_campaign=cppst&from=mdr
--------
Berlin church hosts Friday prayers for Muslims to follow social distancing rules
May 23, 2020
A Berlin church is hosting Muslims who are unable to fit into their mosque for Friday prayers because of social distancing guidelines.
The Dar Assalam mosque in the Neukölln district normally welcomes hundreds of Muslims to its Friday services. But it can currently only accommodate 50 people at a time under Germany's coronavirus restrictions.
During the holy fasting month of Ramadan, the nearby Martha Lutheran church stepped in to help, hosting Muslim prayers in Arabic and German.
"It is a great sign and it brings joy in Ramadan and joy amid this crisis," said Mohamed TahaSabry, the mosque's imam, who led his congregation in prayer watched over by a stained-glass window depicting the Virgin Mary.
"This pandemic has made us a community. Crises bring people get together."
Places of worship reopened in Germany on May 4 after being shut for weeks under a coronavirus lockdown, but worshippers must maintain a minimum distance from one another of 1.5 metres.
The church, a red-brick neo-renaissance building in Berlin's Kreuzberg district could hardly offer a sharper contrast to the cultural centre in Neukoelln where the Muslim congregation is accustomed to gathering.
"It was a strange feeling because of the musical instruments, the pictures," said worshipper SamerHamdoun. "But when you look, when you forget the small details, this is the House of God in the end..."
The Islamic Council, an umbrella group of 400 mosques, said in April that many face bankruptcy because the closures stretched into the holy fasting month of Ramadan, usually a vital period for donations.
The church's pastor, Monika Matthias, said she had felt moved by the Muslim call to prayer.
"I took part in the prayer," she said. "I gave a speech in German. And during prayer, I could only say yes, yes, yes, because we have the same concerns and we want to learn from you. And it is beautiful to feel that way about each other."
https://www.hindustantimes.com/world-news/berlin-church-hosts-friday-prayers-for-muslims-to-follow-social-distancing-rules/story-PcndWHNONCjeTarw1sWyMK.html
--------
German president: No tolerance for attacks on Muslims
AyhanSimsek
22.05.2020
BERLIN
Germany's president has assured the country's Muslim citizens that growing racist hatred and violence by right-wing extremists will not be tolerated by the state and democratic majority in the country.
In a message marking Eid al-Fitr, the holiday following the end of Islam's holy month of Ramadan, Frank-Walter Steinmeier said this year's observance was overshadowed by the recent racist terrorist attack in Hanau, which claimed many Muslims as its victims.
"It was an attack on our peaceful coexistence and on all the values we share in this country: respect for human dignity, tolerance and diversity, freedom of belief," he said.
"Allow me to assure you that as Federal President I am committed to ensuring that we as a society resolutely oppose all forms of racist hate speech. Hatred and marginalisation, violent attacks on Muslims, attacks on mosques – we must not tolerate, we must not permit such things," he stressed. Steinmeier underlined that it is "the task of the state" to protect Muslims.
In February, a far-right extremist attacked two cafes in Hanau, killing nine people with migration backgrounds. Four people with Turkish roots died in the racist terror attack, as did one Bosnian, one Bulgarian, one Romanian, and a German-Afghan national.
A growing number of threats and attacks in Germany have targeted mosques and community institutions in recent months, raising fears among the country's Muslim population.
In February, police dismantled a far-right terror cell and arrested 12 suspects over plans to attack six mosques to provoke a civil-war-like situation in the country.
On Wednesday, after a special Cabinet meeting, Interior Minister Horst Seehofer said the government will implement a "zero tolerance policy" towards right-wing extremism, racism, and xenophobia.
On Monday a pig's head was mounted onto the door of mosque in southern Germany, triggering condemnation from Turkey.
Germany has the second-largest Muslim population in Western Europe after France. Among the country's nearly 4.7 million Muslims, 3 million are of Turkish origin.
https://www.aa.com.tr/en/culture/german-president-no-tolerance-for-attacks-on-muslims/1850298
--------
Taliban 'reluctant to publicly break with al Qaeda,' Inspector General reports
May 21, 2020
BY THOMAS JOSCELYN
On May 19, the Lead Inspector General (IG) for Operation Freedom's Sentinel released its quarterly report. The assessment covers recent events in the Afghan War, including the Feb. 29 withdrawal agreement between the U.S. and Taliban. Several parts of the report are summarized below.
The Taliban's leaders are "reluctant to publicly break with al Qaeda."
State Department officials, including Secretary of State Mike Pompeo and Special Representative ZalmayKhalilzad, have endorsed the Taliban's supposed counterterrorism assurances as part of the withdrawal accord. To date, however, there is no public indication of a "break" between the Taliban and al-Qaeda.
The State Department told the IG that "implementation of the U.S.-Taliban agreement will require extensive long-term monitoring to ensure Taliban
compliance as the group's leadership has been reluctant to publicly break with al Qaeda."
Left unsaid is how the Taliban could privately break with al Qaeda, without it becoming public. Al Qaeda's men would surely complain if its longtime blood brothers in the Taliban suddenly turned on them. There would be some outward indication of a break. There are at least several hundred al Qaeda fighters embedded within the Taliban-led insurgency, according to a United Nations monitoring team. Other al Qaeda-affiliated groups, including the Turkistan Islamic Party (TIP), are fighting to resurrect the Taliban's Islamic Emirate of Afghanistan as well.
The State Department's assessment points to fundamental questions: If the Taliban isn't willing to "publicly break" with al-Qaeda, then why should Americans believe any of the group's counterterrorism assurances? And if there is nothing to the Taliban-al Qaeda relationship, as some insist, then why wouldn't the Taliban issue a formal renunciation of al Qaeda as part of a deal with the U.S.?
The Taliban's "reluctance" in this regard is telling.
The IG cites additional reasons for skepticism. The Defense Intelligence Agency (DIA) cited "open-source reporting" indicating that while Al Qaeda in the Indian Subcontinent (AQIS) "was concerned about the peace talks," it "continued to maintain a close relationship with the Taliban." There's no evidence of a break between the Taliban and AQIS.
Al Qaeda's senior leadership has also lauded the deal. The IG cites an analysis by FDD's Long War Journal of a three-page statement issued by al Qaeda's general command. Al Qaeda praised the Feb. 29 accord as a "great victory" and encouraged people to "join the training camps under the leadership of the Islamic Emirate." There's no hint of concern in the statement. The IG also cites a January report by a UN monitoring team, which concluded that the Taliban and al Qaeda continue to enjoy a "mutually beneficial" relationship.
In addition, the IG points to an op-ed attributed to SirajuddinHaqqani that was published by the New York Times on Feb. 20, 2020. Haqqani is the deputy emir of the Taliban's Islamic Emirate. His network has been closely allied with al Qaeda since the 1980s. The author of the op-ed mentioned "disruptive groups," claiming that they are the subject of "politically motivated exaggerations" by "warmongers." At no point did the author mention al Qaeda, let along renounce the group or his longstanding relationship with it. And although the IG indicates that the "disruptive groups" include al Qaeda and others, "Haqqani" could just as easily have had the Islamic State's Khorasan province (ISIS-K), which opposes the Taliban, in mind. The IG reminds readers that, according to the FBI, Haqqani "maintains close ties to al Qaeda." Indeed, Haqqani does and there is no indication in the Times op-ed or elsewhere that this alliance has changed.
Both Haqqani and HaibatullahAkhundzada, the Taliban's "Emir of the Faithful," have been "reluctant" to publicly disavow al Qaeda.
Given that the U.S. pledged to withdraw all foreign forces from Afghanistan within 14 months of the deal being signed, it isn't clear how the U.S. can ensure "long-term monitoring." The U.S. has struggled to keep track of al Qaeda even with thousands of service members in country.
There are no verification or enforcement mechanisms specified in the terse, publicly-available text of the agreement. The State Department told the IG that the "details regarding the implementation arrangements for the agreement are classified and will be reported on in a future report's classified appendix."
The Taliban went on the offensive after the Feb. 29 agreement with U.S.
The U.S. and the Taliban agreed to a week-long "reduction in violence" leading up to the signing of the Feb. 29 withdrawal deal in Doha. Even though U.S. officials trumpeted this reduction period, the IG's office found that "Taliban violence continued at high levels" during that same week. Although the Taliban "limited violence against coalition forces," the group "increased attacks against the Afghan National Defense and Security Forces (ANDSF) during this period." However, Afghan officials themselves said that "violence was down about 80 percent nationwide during the 7-day agreement."
There is no ambiguity concerning what followed the Feb. 29 deal.
"[A]lmost immediately after signing this agreement" in Doha, the Taliban "ramped up attacks against the ANDSF." The jihadists "declared that ANDSF forces were not off-limits, and Taliban levels of violence escalated throughout Afghanistan, raising questions as to the future of the agreement."
Citing "media sources," the IG reports that the Taliban "launched more than 300 attacks, with major assaults in several provinces" and the "insurgents seizing territory and inflicting heavy ANDSF casualties" during the last two weeks of the quarter — meaning the second half of March.
On Mar. 22, the Taliban assaulted "ANDSF checkpoints and bases in Zabul province, killing 37" people. Three Taliban offensives were launched around Mar. 28 in the provinces of Kunduz, Faryab and Badakhshan.
The Taliban has consistently rejected calls for a ceasefire. Although its senior leaders have demonstrated an ability to control operations throughout the country, they have refused to rein in their insurgents.
U.S. officials have called on the Taliban to reduce violence, saying the current scale of the fighting may "jeopardize" the deal. But the U.S. continued to move forward with its troop withdrawals even as the Taliban escalated its operations against the ANDSF. The U.S. also continued to bomb Taliban positions in defense of the ANDSF.
More than two months after the deal was signed, President Ashraf Ghani announced that Afghan forces would no longer remain on the defensive and would resume offensive operations.
U.S. military suppresses information on "enemy-initiated" attacks and airstrikes .
The quarterly IG reports usually contain data on "enemy-initiated" attacks, a metric that defense officials have previously used to assess (sometimes inaccurately) progress in the war. However, the most recent report doesn't include such data.
According to Acting Inspector General Sean W. O'Donnell, although such data are "normally discussed in Lead IG reports," the Department of Defense (DoD) deemed the information "sensitive as it was part of ongoing interagency deliberations over whether the Taliban is complying with the terms of the agreement with the United States."
The DoD's argument is curious, to say the least. There is nothing in the written accord limiting Taliban attacks on the ANDSF. Publicly-available information, including reports cited by the IG, confirms that the Taliban went on the offensive after Feb. 29. The UN also separately maintains data on civilian casualties. The UN's reporting shows that the Taliban is still the main driver of war in Afghanistan and there was a "disturbing increase in violence" following the deal. And any attacks on coalition forces during the withdrawal would be noticeable. Therefore, it isn't clear why suppressing information about actions that are plain to see is somehow necessary for "interagency deliberations."
The DoD did state "that once the deliberations are complete, the attack data can be released to the public."
The U.S. military also refused to provide the IG with data on airstrikes for March. The IG's office reports that there were 417 airstrikes in January and 228 in February, but U.S. Forces – Afghanistan "would not release the March airstrike data due to the sensitivity of ongoing deliberations over the Taliban's compliance with the February 29 agreement." Again, it isn't clear why suppressing data on American airstrikes is necessary, given that the Taliban's post-deal offensive is obvious.
In addition to the data on "enemy-initiated attacks" and American airstrikes, the U.S. military previously withheld data on district-level stability, even though that was once considered a key metric of success.
Pakistan continues to harbor Taliban senior leadership, including Haqqanis.
The DIA reported to the IG's office that Pakistan "has encouraged the Afghan Taliban to participate in peace talks, but refrained from applying coercive pressure that would seriously threaten its relationship with the Afghan Taliban to dissuade the group from conducting further violence."
The DIA also relayed that "Pakistan continues to harbor the Taliban and associated militant groups in Pakistan, such as the Haqqani Network,
which maintains the ability to conduct attacks against Afghan interests."
Again, the Haqqani Network remains allied with al Qaeda.
ISIS-K remains a threat in Afghanistan, despite setbacks and loss of territory in Nangarhar.
The IG reports that "sustained military pressure" from the U.S. and ANDSF, "as well as from the Taliban, appear to have taken a heavy toll on the" Islamic State's so-called Khorasan province (ISIS-K).
The DIA "assessed that as of mid-March" ISIS-K had "approximately 300 to 2,500" members in Afghanistan, and "only 50 to 100" members in Nangarhar province. But the wide range in estimated personnel doesn't inspire confidence. As FDD's Long War Journal has repeatedly reported, it is unlikely that the U.S. knows how many ISIS members there are in Afghanistan or elsewhere.
ISIS-K has conducted "high-profile" attacks in Kabul this year and retains cells in Kabul and likely other provinces.
https://www.longwarjournal.org/archives/2020/05/taliban-reluctant-to-publicly-break-with-al-qaeda-inspector-general-reports.php
--------
97 killed as plane crashes into residential area near Karachi airport
May 22, 2020
A Pakistan International Airlines (PIA) passenger plane, with an estimated 99 people onboard, crashed in Karachi's Model Colony near Jinnah International Airport on Friday.
Sindh health officials have said that 97 people have been confirmed dead, while two survived the crash.
What we know so far:
Pilot had communicated a technical difficulty to the air traffic control moments before crash
Plane crashed a few hundred feet away from the runway
Rescue efforts currently under way; military personnel and rescue workers attempting to retrieve bodies from the rubble
Both survivors are in stable condition
19 victims have been identified
PIA spokesperson Abdullah Hafeez said that the A320 Airbus was carrying 91 passengers and 8 crew members from Lahore to Karachi on PK 8303. Eyewitnesses said the Airbus A320 appeared to attempt to land two or three times before crashing in a residential area near the airport.
"The aeroplane first hit a mobile tower and crashed over houses," witness Shakeel Ahmed said near the site, just a few kilometres short of the airport, according to Reuters.
MeeranYousuf, the media coordinator for the Sindh health minister, confirmed to Dawn.com that two passengers had survived and were brought to hospitals. She identified the survivors as Zubair and Zafar Masood, who is the president of Bank of Punjab.
"Zubair has 35 per cent burns and is being treated at the [Dr Ruth Pfau] Civil Hospital Karachi, while Masood has four fractures and is being treated at the DarulSehat Hospital," said Yousuf, adding that both were in stable condition. Moreover, she said that 19 victims had been identified so far.
A third person, who had earlier been identified as a survivor from the plane, was later confirmed to be a resident of the area where the plane crashed. She was among the 11 persons, who were injured when the plane crashed into the residential area, damaging several houses in its wake.
Yusuf said that the majority of the injured were women, as it was time for Friday prayers when the crash occurred. She added that all the injured residents were in stable condition.
Director Programming 24 News Ansar Naqvi was also among the passengers.
To inquire about the plane crash incident or passenger details, you may contact 02199242284, 02199043766, 02199043833.
Footage showed plumes of smoke rising from the site of the crash within the congested residential area. Ambulances and rescue officials arrived at the scene to help residents. Eyewitnesses told DawnNewsTV that the plane was on fire in the air before crashing.
Videos from the crash site obtained by Dawn.com showed bodies buried underneath rubble and residents gathering in streets littered with debris while Rangers and Sindh police carried out rescue operations.
Another video showed Edhi workers and firefighters hosing down the remains of the aircraft and searching for survivors.
Soon after the crash, Sindh Minister of Health & Population Welfare declared an emergency in all major hospitals of Karachi.
Speaking to the media outside Jinnah Postgraduate Medical Centre, Sindh Health Minister AzraPechuho said that officials were currently in the process of identifying the deceased in order to inform their families.
'Technical issue'
According to eyewitnesses, the plane crashed hardly a few hundred feet away from the runway. A transmission of the pilot's final exchange with air traffic control, posted on the website LiveATC.net, indicated he had failed to land and was circling around to make another attempt, reported AP.
"We are proceeding direct, sir — we have lost engine," a pilot can be heard saying.
"Confirm your attempt on belly," the air traffic controller said, offering a runway.
"Sir - mayday, mayday, mayday, mayday Pakistan 8303," the pilot said before the transmission ended.
PIA Chief Executive Officer Air Marshal Arshad Malik, who left for Karachi, said the pilot told the control room that there was a technical issue and he decided to go around rather than land even though two runways were ready for landing.
"Our crew is trained to handle emergency landings. All my prayers are with the families. We will continue to provide information in a transparent manner," said the spokesperson, Hafeez.
Sarfraz Ahmed — a firefighter at the crash site — told AFP the nose of the Airbus A320 and the fuselage had been heavily damaged by the impact, adding that rescuers had pulled four bodies from the wrecked aircraft, including some who were still wearing seat belts.
For his part, Pakistan Airlines Pilots' Association spokesperson Tariq Yahya, while speaking on Geo News, said that the plane seemed to be gliding at the end. "Communications show that the plane did not have power at the end and was gliding and couldn't make it to the runway," said Yahya, adding that it didn't have power when it was asked to climb to 3,000 feet.
He added, however, that these were "only assumptions and we will not know the exact cause until we find the blackbox."
Rescue operations
Late on Friday night, Sindh information minister Nasir Hussain Shah said that rescue efforts were still under way. He added that the administration had provided generators to help officials continue rescue efforts at night.
Prime Minister Imran Khan said he was "shocked and saddened by the PIA crash".
"Am in touch with PIA CEO Arshad Malik, who has left for Karachi, and with the rescue and relief teams on ground as this is the priority right now. Immediate inquiry will be instituted. Prayers and condolences go to families of the deceased," he said.
Chief of Army Staff (COAS) Gen QamarJavedBajwa condoled "loss of precious lives". "[COAS] Shares grief of bereaved families in this difficult time. COAS directed provision of full assistance to civil administration in rescue/ relief effort," said Inter-Services Public Relations (ISPR).
A statement by ISPR said Army Quick Reaction Force and Sindh Pakistan Rangers reached the site for relief and rescue efforts alongside civil administration.
SAPM on Information and broadcasting AsimSaleemBajwa said that on Prime Minister Imran Khan's directions, all emergency services and resources have been mobilised and evacuation is in progress.
Chief Marshal Mujahid Anwar Khan, Chief of the Air Staff, Pakistan Air Force expressed grief over the tragic air crash. He further said that PAF stands by PIA at this difficult time and extends all out support in the rescue operation.
Federal Aviation Minister GhulamSarwar also expressed deep grief and sadness over the incident and has ordered the Aircraft Accident Investigation Board to conduct an "immediate inquiry" into the crash.
Federal Information Minister ShibliFaraz called it an "extremely saddening accident".
"We are with the affected families in their grief. The primary attention is on relief activities right now."
In Pakistan's most recent deadly crash, a PIA plane in 2016 burst into flames after one of its two turboprop engines failed while flying from the remote north to Islamabad, killing more than 40 people.
The deadliest air disaster on Pakistani soil was in 2010, when an Airbus A321 operated by private airline Airblue and flying from Karachi crashed into the hills outside Islamabad as it came into land, killing all 152 people on board.
https://www.dawn.com/news/1558944/97-killed-as-plane-crashes-into-residential-area-near-karachi-airport
--------
Muslim generosity in Ramadan is more than a feel-good story
May 22, 2020
SimranJeet Singh
(RNS) — Most Americans who know about Ramadan at all know it as the holy month in which Muslims abstain from eating. What many of us don't realize is that Muslims also consider this to be the month of giving.
Oral traditions trace the practice of giving during Ramadan back to the Prophet Muhammad, who, according to hadith, was already "the most generous of all people" and, during the month of Ramadan, "used to be more generous than the fast wind."
This year, Ramadan was met by the coronavirus pandemic. Mosques were closed and congregations were unable to assemble, an unsettling disruption in an already unsettled time. But as religious actors often do, many Muslims have adapted their tradition of giving during Ramadan to meet our current moment.
Two of the largest Muslim-led organizations in the country — Emgage and Islamic Relief (USA) — have combined forces to bring together their respective expertise in civic engagement and humanitarian relief. Their campaign is calling on people to donate their federal stimulus checks to those in need. To date, they have already raised more than $12,700 through 1,371 supporters on their LaunchGood fundraising page.
Wa'elAlzayat, CEO of Emgage, explained, "Ramadan is a time where, because Muslims fast during the day, we become more in tune to the plight of people forced to fast full-time — the needy, homeless and low-income sectors of our society. We thought this campaign would be an incredible opportunity to draw upon our Islamic tradition and reallocate stimulus checks to those who need it most."
The campaign is unique, but it's not the only Muslim-led charitable effort during Ramadan. Muslims all over the country and across the world are rallying to support their communities. Boston-area Muslim groups collected and distributed 40,000 protective masks. A New York group, Muslims Giving Back, is distributing food in New York City every single night. The Seattle Muslim community's multifaceted approach is helping locals with rent, groceries, medical supplies and wellness checks.
Feel-good stories like these counter the overwhelmingly negative media portrayals of Muslims. A 2019 study from the Media Portrayals of Minorities Project at Middlebury College found that Muslims are the most negatively portrayed minority in American media. A 2018 report from the Institute of Social Policy and Understanding, a Muslim think tank, found that "foiled plots" by perpetrators who are perceived as Muslims received seven and a half times the media coverage as violence being plotted by other groups.
Columbia University professor Edward Said cogently argued that this kind of coverage results in the sustained dehumanization of Muslim-perceived peoples. So, we need feel-good stories to counter the historic levels of anti-Muslim bias.
At the same time, these stories present problems. For one, they play into the "Good Muslim, Bad Muslim" dichotomy so eloquently articulated by MahmoodMamdani. Second, stories about donating stimulus checks or helping people during a pandemic imply that Muslim generosity is anomalous or even exceptional. But charitable giving is a long-standing commitment that dates back to the founding of Islam and circles around the globe to this day.
We shouldn't be surprised when we see good Muslims doing good things, because this is what the tradition has always taught. It is we who, having seen the individual dots of Muslims' behavior, have failed to see the full picture.
It's a remarkable thing when we see it clearly: here's a community that has been so intensely and directly discriminated against, and here they come to serve the people around them indiscriminately, extending their own generosity to people who have knowingly harmed them. It's a beautiful thing to witness and an inspiring example of what it means to go high when others go low.
That fact that charity (zakat) figures into the Five Pillars of Islam, the five definitional practices expected of every Muslim, should tell us the foundational importance placed on giving as a spiritual practice.
In fact, when I reached out to a few Muslim friends to ask for their favorite passages from the Qur'an on generosity, each of them told me there are far too many to choose just one. One friend speculated that it might be the most discussed quality instilled through the Qur'an.
Another friend sent me this verse from Surah al-Insan: "And they feed, for love of Him, the poor, the orphan, the prisoner, saying: 'We feed you for Allah's pleasure only. We desire no reward or thanks from you.'"
This verse speaks to the purity of intentions that animate selfless generosity. This verse also helped me understand the motivation behind the Muslim-led campaign to reallocate stimulus packages to the most needy.
Another verse echoed in my head as I heard the words of Alzayat of Emgage: "As Muslims, we have an obligation to provide for the most vulnerable in our communities: we don't give contingent upon people liking us or being nice to us, we give in accordance with our tradition. We must not be complicit in a system in which vulnerable people are neglected and wealth is hoarded. As Muslims, it is our duty to help cultivate a world in which every person has their basic needs met."
https://religionnews.com/2020/05/22/muslim-generosity-in-ramadan-is-more-than-a-feel-good-story/
--------
Lebanese Parliament speaker reiterates rejection of 'deal of the century'
22 May 2020
Lebanese Parliament Speaker NabihBerri has reiterated Lebanon's rejection of US President Donald Trump's plan for the Middle East, warning that it aims to destroy the Palestinian cause and pave the way for the disintegration of the region.
In a speech on the occasion of the International Quds Day, Speaker Berri reiterated Lebanese rejection of the "humiliating" plan as well as the Israeli settlements built on occupied Palestinian land.
Berri emphasized the legitimacy of the Palestinian resistance against Israel.
International Quds Day, celebrated on the last Friday of the Islamic month of Ramadan, is seen as the legacy of the late founder of the Islamic Republic of Iran, Imam Khomeini, who is revered as a spiritual leader by Muslims across the world. On Quds Day, people across the world, regardless of their faith, denounce Israel's atrocities against the Palestinian people and voice their support for the Palestinian cause.
Berri described Trump's plan — which the US president has himself described as the "deal of the century" — as a formula that aims to destroy the Palestinian cause and revive a plot to disintegrate the region, starting with Palestine.
He also warned against what he said was the hostile agenda to divide Lebanon amid some domestic calls for the federalization of the country.
US President Donald Trump unveiled his plan for the Middle East during an event at the White House alongside Israeli Prime Minister Benjamin Netanyahu in January.
Palestinian groups have unanimously rejected Trump's one-sided plan, which largely meets Israel's demands in the decades-old conflict with the Palestinians while envisioning a Palestinian state with limited control over its own security and borders.
The so-called "peace" plan envisions Jerusalem al-Quds as "Israel's undivided capital" and allows the Tel Aviv regime to annex settlements in the occupied West Bank and the Jordan Valley. The plan also denies the right of return of Palestinian refugees to their homeland, among other controversial terms.
Trump's plan has triggered waves of protest rallies around the globe.
https://www.presstv.com/Detail/2020/05/22/625924/Lebanon-Berri-Palestine
--------
Iran: Israeli Regime Human-Killing Machine by Nature
May 22, 2020
"The Zionist Israeli regime is a human killing machine by nature taking the lives of Palestinians indiscriminately. 20-year-old Rouzan al-Najjar was a Gazan volunteer first aid responder who was shot and killed in 2018. The merciless Israeli forces shot her deliberately," the Iranian foreign ministry tweeted.
"Systematic torture is in the Israeli regime's DNA. It is a violent Zionist regime with long-standing policy of torturing innocent Palestinians to death. Its systematic torture is against every law even the primitive one and fundamental human rights. This is an act of barbarity. #Covid1948," read another tweet.
In another tweet, the foreign ministry wrote that the ccupation is the backbone of the Apartheid Israel.
"However, the younger Palestinian generation is brave enough not to tolerate occupation any longer. AhedTamimi is a 19-year-old activist who is the beacon of the nationwide land liberation movement. #Covid1948 #Palestine," it added.
And in a separate tweet, the Foreign Ministry said, "In Long-suffering imprisoned Palestinian women and children are the main victims of the Zionist Israeli regime's belligerence. They are severely beaten & routinely tortured while unjustifiably kept in the Israeli detention centers en masse. They must be freed immediately. #Covid1948."
In relevant remarks on Friday, Iranian Foreign Minister Mohammad JavadZarif in an Arabic message described the International Quds Day as marking the last phase of the Israeli regime's occupation and settlement in Palestine.
"Quds Day is the day for the revival of the Palestinian rights, and end of occupation and settlements," Zarif wrote on his Twitter account.
"Israel is the largest human rights violator, the only holder of nuclear weapons in the region and the most serious chronic threat to international peace and security," he added.
The top Iranian diplomat pointed out that the conspiracy of the racist Deal of the Century proved that Washington is a partner to the aggressors and there is no hope for it.
"The referendum is the only solution," Zarif reiterated.
The International Quds Day is an annual event opposing Israel's occupation of Beitul-Muqaddas. Anti-Zionist rallies and demonstrations are held on the last Friday of Ramadan in Muslim and Arab countries around the world, specially in Iran, as well as a large number of non-Muslim states.
The International Quds Day was started by the late Founder of the Islamic Republic, Imam Khomeini, in 1979 as a way of expressing solidarity with the Palestinians and underscoring importance of the holy Quds to Muslims.
Due to the outbreak of coronavirus in Iran, the International Quds Day will be commemorated differently without holding gatherings and rallies.
https://en.farsnews.ir/newstext.aspx?nn=13990302000400
--------
Pompeo urges Libya's Turkish-backed GNA to accept ceasefire, end fighting
22 May 2020
US Secretary of State Mike Pompeo on Friday pressed Libya's Turkish-backed Government of National Accord (GNA) for a ceasefire and criticized the flow of weapons as Tripoli pushes back against a year-old offensive.
Pompeo placed a phone call to Prime Minister Fayez al-Sarraj to "reiterate US opposition to the continued level of weapons and munitions being brought into the country," the State Department said.
Pompeo and Sarraj "emphasized the importance of an immediate halt to the fighting and return to political dialogue," a statement said.
Sarraj's UN-recognized GNA has been pushing back against an alternative government – supported by the Libyan National Army (LNA) – based in the eastern city of Benghazi whose forces are led by General KhalifaHaftar.
Haftar launched an offensive to capture the Libyan capital of Tripoli in April vowing to end the rule of militias that include hardline groups linked to Al Qaeda and others. General Haftar has reportedly received support from international allies opposed to extremism and the Muslim Brotherhood.
Pompeo's statement did not name any country for sending in weapons, but the GNA's key military supplier is Turkey, which signed a pact with Tripoli in November.
A report last month by the International Crisis Group said that Turkey has sent into Libya at least 100 military officers, shiploads of weapons and aerial defenses as well as at least 2,000 pro-Turkish fighters from Syria.
The United States officially backs the UN-recognized GNA and opposes Haftar's offensive.
But its position has caused confusion as President Donald Trump, who has close ties with Haftar's Arab allies, in April 2019 spoke with the strongman by telephone and praised him.
https://english.alarabiya.net/en/News/north-africa/2020/05/23/Pompeo-urges-Libya-s-Turkish-backed-GNA-to-accept-ceasefire-end-fighting.html
--------
Rohingya targeted in Malaysia as coronavirus stokes xenophobia
MAY 23, 2020
KUALA LUMPUR (Reuters) - Eleyas, a Rohingya Muslim, fled to Malaysia six years ago, seeking a safe haven from persecution in Myanmar.
Now he has been fired from his job by a boss who told him it was because of his origins and he is scared to leave his home in fear of arrest or harassment.
"I want to find a new job, but it's not safe. We're all just staying at home," Eleyas, 38, told Reuters, not giving his full name for fear of retribution.
For decades, Muslim-majority Malaysia welcomed Rohingya and largely turned a blind eye to their technically illegal employment in low-paying jobs.
But, as in some other parts of the world, the novel coronavirus outbreak has turned sentiment against foreigners, who have been accused of spreading disease, burdening the state and taking jobs as the economy plummets.
While the Rohingya have been the most obvious targets, other migrants are also worried in a country that relies heavily on foreign labour at factories, construction sites and plantations.
"There is harassment on the streets and online. I've never seen anything like this in Malaysia before," said one Malaysian activist, Tengku Emma ZurianaTengkuAzmi, from the European Rohingya Council rights group.
She was threatened with rape on Facebook after asking the government to allow boats carrying Rohingya refugees to land. The government turned back one boat with 200 refugees on board last month.
The Rohingya are a minority from largely Buddhist Myanmar, which brands them illegal immigrants although many say they can trace their ancestry there for generations. More than one million now live in camps in Bangladesh.
Some 700,000 Rohingya fled from their homes in 2017 alone in the face of crackdown by Myanmar's army.
Malaysia was long seen as a haven of relative freedom and prosperity by Rohingya and it is now home to more than 100,000 of them despite the fact that it brands them illegal immigrants rather than refugees.
RAIDS
But the coronavirus changed the atmosphere towards Malaysia's estimated millions of undocumented migrants and most of all towards the Rohingya.
Sentiment hardened as the government imposed economically paralysing movement restrictions to stop the spread of a virus that has now infected more than 7,000 people in the country of 31 million and killed 115 of them.
As the mood turned against migrants, the government carried out raids this month in which at least 2,000 foreigners were arrested, some led away in handcuffs by agents in protective gear.
The government has not given full details of the detainees' nationalities, but at least 800 of them were from Myanmar and the vast majority of people from Myanmar in Malaysia are Rohingya.
Prime Minister MuhyiddinYassin's office did not respond to requests for comment on the arrests and the backlash towards refugees and foreign workers.
The government has not said how many Rohingya have been found to have the virus.
Eleyas said that as the mood soured, he and eight other Rohingya workers were fired from their jobs at a supermarket. He did not identify the store, for fear he could be targeted.
"They told us they could no longer employ foreigners, only Malaysians," said Eleyas. Reuters spoke to five other migrants who said they had recently lost their jobs.
Two activist groups estimate that about 80% of the refugees who had jobs before lockdowns began were jobless. The unemployment rate among Malaysians rose to a five-year high of 3.9% in March.
"The community is in fear at the moment. Their challenges have increased due to the lockdown and the xenophobic attitude," said Hasnah Hussein, a Rohingya volunteer at migrant rights group Tenaganita.
RISK
The Malaysian Employers' Federation said the firing of migrant workers was to be expected as businesses struggled and undocumented workers would be first to go.
"Employers have always taken a risk by hiring refugees," the group's chief executive, ShamsuddinBardan, said.
Meanwhile, online attacks on Rohingya have surged - particularly after unfounded allegations that a Rohingya activist had demanded Malaysian citizenship.
Tengku Emma said that she had flagged hundreds of examples to Facebook including the attacks on herself. She said Facebook suspended two pages with more than 300,000 followers after she flagged them.
Facebook said it had removed content in Malaysia for violating its policies on hate speech, calls for violence and sexual exploitation. It declined to say whether or not it had seen an increase.
Rights groups have accused the government of failing to respond to the attacks and a U.N. rights official said the "hate campaign" was undermining efforts to curb the coronavirus.
The government has reiterated that the migrants are illegal immigrants and threatened legal action against Rohingya advocacy groups, saying no Rohingya organisation had ever been officially registered in Malaysia.
"The 'hate speech' directed at the Rohingya community raises serious concerns about the Malaysia government's commitment to protect human rights," a group of 84 non-governmental organisations wrote in a letter to Muhyiddin.
The government did not respond to a request for comment on the letter.
https://in.reuters.com/article/health-coronavirus-malaysia-rohingya/rohingya-targeted-in-malaysia-as-coronavirus-stokes-xenophobia-idINKBN22Z045
--------
India
Different RamzanFor Different Folks: Mosques Shut, Poor Muslims Struggle for Food in Lockdown
May 22, 2020
The month of Ramzan has come as a boon, says Shabana. Not because it's a holy month or because it leads up to Eid but because her children don't ask her for three meals a day when they are fasting.
The distraught mother, a part-time domestic worker in south Delhi, echoes thousands of devout Muslims scrambling to feed their families in an extended lockdown that has rendered them jobless and on the verge of penury.
A large number of daily wage workers, including rickshaw pullers and construction labourers, and their families depend on neighbourhood mosques for their two main meals during Ramzan - sehri, the pre-dawn meal at the beginning of a day of fasting, and iftaar, at the end of day.
But with mosques shut, they are left to fend for themselves, underscoring once again the magnitude of the crisis of unemployment and poverty triggered by the lockdown, which began on March 25 to stem the spread of the coronavirus.
Many continued to fast through Ramzan, which is nearing its end, hoping their prayers will help them pull through difficult times and looking at the fasting month as a blessing in disguise as they don't have to arrange for three meals a day.
"Ramzan is a boon in such difficult times as my children fast and don't ask for three meals in a day," said 28-year-old Shabana, who goes by only one name.
Her husband is stranded in Jharkhand and she lives in the Johri Farm locality in Okhla with her out-of-work brother and two children -- a 12-year-old son and a 10-year-old daughter.
"I was employed in three homes, but my employers asked me not to come once the lockdown began. Only one of them has paid me for these last two months when I was not working, " she told PTI.
"At least, during Ramzan, I just have to arrange for two meals. For sehri, we just make tea. And for iftaar, we manage with whatever little food we can arrange," she added.
"I can't bear to see my kids' faces when they go out during iftaar time and return dejected seeing others buying delicious food which we can't afford," she said.
Shabana is not alone in her misery.
Sitara, a 40-year-old out-of-work domestic help in Noor Nagar, said all her four children fast during Ramzan. If Shabana and her family manage with tea during sehri, her children and she just drink water.
"Earlier, during Ramzan, my children would go for evening (Maghrib) prayers and have iftaar at the mosque. But with mosques closed, there is just dal-roti or potato for iftaar," she told PTI.
Sitara said some of her previous employers have contacted her to get back to work but it will take some time as she injured her leg while rushing for free ''puri-aaloo'' being distributed in her neighbourhood.
The closing of mosques has not only hit the community iftaar made available with the people in the neighbourhood sending food contributions, but also made it difficult for charity organisations to reach out to the poor to help them in these difficult times.
Maulana Arshad Madani, president of the prominent Muslim organisation JamiatUlema-e-Hind, said his organisation has activated the vast network of madrassas in the country and is reaching out to homes with food and financial help through them.
"People from all classes, including daily wagers and the poor, would have iftaar in mosques. But they are closed this Ramzan and a major challenge has been to identify and reach out to people those in need," he told PTI.
"We have reached out to many providing financial assistance as well as food for iftaar and sehri, but obviously, many would have been left out. With so many losing their livelihood during lockdown, they would be suffering untold hardships," Madani said.
The stories of hardship are many and distressing.
Like that of 13-year-old Rehan, a vegetable seller, who keeps 'rozas' (the Ramzan dawn to dusk fast) not knowing whether he will manage a proper iftaar or have to manage by eating the tomatoes he has been selling all day.
Pushing his vegetable cart with one hand and holding his physically disabled younger brother Ayaan's hand with the other, the teen sells tomatoes in the bylanes of OkhlaVihar and nearby Noor Nagar.
"I am the sole bread earner of my family as my father passed away and I live with my mother, two sisters and my brother. Earlier, my brother and I used to have iftaar at mosques but that is not an option this time," he told PTI.
"Sometimes, the houses where we are selling vegetables offer us iftaar meals, but mostly we just eat some of the tomatoes we are selling," he said with a wry smile on his face, sounding wiser beyond his years.
Mohammad Shaukat, an out-of-work carpenter who stays with his wife, four children and mother in an OkhlaVihar shack, has borrowed Rs 2,000 from a money lender so the sehri and iftaar meals can be managed.
Recounting the travails of the family, his mother Khairunissa, who washed utensils for a living, said her son lost his job and so did she as several housing societies banned the entry of house maids amid the coronavirus outbreak.
"I make iftaari from whatever is available as the borrowed money is also running out fast. We just pray for Allah to bail us out in this time our fasting will bear fruit. We stay alive on this hope," she said tearfully.
Yasmeen Bano, her next door neighbour, has also borrowed money.
"I have borrowed Rs 1,000 as there were no rations in the house and my four daughters were hungry. They are too small to fast, but I keep all the rozas. I just eat the iftaar meal in a day and save the rest for my children. We live by the day. I don't know whether I will have food tomorrow or not," she said.
Ramzan is the ninth month of the Islamic calendar during which Muslims refrain from eating and drinking from dawn to dusk and end their fast in the evening.
The month is in its fourth week now and Eid will be celebrated on May 24 or 25, depending on the sighting of the moon.
https://www.indiatoday.in/india/story/different-ramzan-for-different-folks-mosques-shut-poor-muslims-struggle-for-food-covid-19-lockdown-1680910-2020-05-22
--------
Eid-Ul-Fitr 2020: A Look at Festival's History and Significance as Muslims Gear Up to Celebrate End of Holy Month of Ramadan
May 23, 2020
One of the most important festivals in the Islamic calendar, Eid-ul-Fitr marks the end of the holy month of Ramzan and is celebrated all over the world.
The celebrations of Eid begin with the first sighting of the new moon. It is believed that the first revelation of the Holy Quran was received by Prophet Muhammad during the holy month of Ramadan.
The start date of any lunar month varies according to the sighting of the new moon by religious authorities around the world. Since Eid-ul-Fitr also marks the beginning of the Shawwal month, the date of its celebration varies from place to place.
Significance of Eid
The celebrations are a way of paying respect and thanking Allah for giving his followers strength and endurance to observe a month-long fast.
As per a report in the Indian Express, the Islamic prayer or 'Salat' is usually offered in an open field and is performed in a congregation and has six takbirs, which is essentially the act of raising the hands to the ears while saying Allahu Akbar.
How is Eid celebrated
Eid-ul-Fitr generally sees people gather in open spaces or mosques for special prayers or Salat-al-Eid, which is followed by breakfast, their first daytime meal in a month. Gifts are exchanged among friends and family members. The festivities last for up to three days in most countries.
Full report at:
https://www.firstpost.com/india/eid-ul-fitr-2020-a-look-at-festivals-history-and-significance-as-muslims-gear-up-to-celebrate-end-of-holy-ramadan-month-8399621.html
--------
No long queues, Muslims offer 'Namaz-e-Alvida' at their homes
May 22, 2020
With all the mosques shut for public, Muslims in the state capital offered Namaz-e-Alvida indoors here on the last Friday of Ramzan.
Only those who reside on the premises of the mosques offered prayers inside that too while maintaining the social distancing. Maulana Khalid Rasheed FarangiMahali, Imam Eidgah said, the norms of lockdown 4.0 was completely followed by the people of the Muslim community as AlvidaNamaaz was offered indoors.
He also lauded the patience of the Muslim community saying, "The members of the community remained indoors and offered Namaz at homes. And not only namaz but Taraweh prayers too were offered while staying indoors," he said.
The Sunni cleric also made an appeal to offer Eid Namaaz also at the respective homes in order to avoid any mass gathering. Besides, he also appealed people to donate at least 50 percent of the Eid budget to the needy. He said the Eid moon will be sighted on May 23.
Full report at:
https://www.hindustantimes.com/lucknow/no-long-queues-muslims-offer-namaz-e-alvida-at-their-homes/story-9LtMloDKzjb6jnaR9t13VI.html
--------
PM Modi condoles loss of lives in Pakistan plane crash
May 22, 2020
NEW DELHI: Prime Minister NarendraModi on Friday condoled the loss of lives in a plane crash in Pakistan and wished a speedy recovery to those injured.
Many people are feared dead after a Pakistan International Airlines (PIA) plane with 107 people on board crashed into a densely populated residential area near the Jinnah International Airport in Karachi on Friday.
"Deeply saddened by the loss of life due to a plane crash in Pakistan. Our condolences to the families of the deceased, and wishing speedy recovery to those injured," he wrote on Twitter.
Deeply saddened by the loss of life due to a plane crash in Pakistan. Our condolences to the families of the deceas… https://t.co/BngwDOLJDo
— NarendraModi (@narendramodi) 1590152063000
https://timesofindia.indiatimes.com/world/pakistan/pm-modi-condoles-loss-of-lives-in-pakistan-plane-crash/articleshow/75896686.cms
--------
Pakistan violates ceasefire along LoC in Rajouri, Poonch
May 22, 2020
JAMMU: Pakistan on Friday violated ceasefire along the Line of Control (LoC) in J&K's Rajouri and Poonch districts, resorting to unprovoked and indiscriminate small arms firing and mortar shelling on forward Indian Army posts and border villages. This is the eighth such breach of truce in the past six days.
"Around 3.30am, Pakistan violated ceasefire and initiated firing of small arms accompanied by heavy shelling along the LoC in Poonch's Krishna Ghati sector, to which Indian Army effectively retaliated. There was no injury or damage suffered by own side," Jammu-based defence spokesperson Lt Col DevenderAnand said.
"Again around 7.20am, Pakistani troops breached the truce along the LoC in Nowshera sector of Rajouri district, attracting a befitting retaliation from own soldiers," Lt Col Anand added.
There has been no letdown in ceasefire violations by Pakistan even amid the global Covid-19 outbreak. On May 20, it breached truce along the LoC twice in Poonch — once in Kirni and Degwar sectors and the second time in Kirni and Qasba sectors. Prior to that, Pakistani troops twice opened unprovoked fire and shelled mortars targeting forward Indian posts in Rajouri'sSunderbani and Balakote sectors. Similar breaches of truce were reported along the LoC in Poonch'sGulpur sector on May 18 and Degwar sector on May 17.
https://timesofindia.indiatimes.com/india/pakistan-violates-ceasefire-along-loc-in-rajouri-poonch/articleshow/75903309.cms
--------
At OIC meeting, Maldives thwarts Pakistan's attempt to target India
May 22, 2020
NEW YORK: Maldives has called out propaganda against India at the virtual Organisation of Islamic Cooperation (OIC) meeting at the United Nations.
During the meeting, Pakistan reportedly made attempts to push its narrative of rising Islamophobia in India into the agenda.
However, Maldives thwarted the move and said: "Isolated statements by motivated people and disinformation campaigns on social media should not be construed as representative of the feelings of 1.3 billion".
Maldives Permanent representative to the United Nations, ThilmeezaHussain, minced no words and said alleging Islamophobia in the context of India would be factually incorrect.
"Let me state that singling out India, the largest democracy in the world and multi-cultural society and home to over 200 million Muslims, alleging Islamophobia would be factually incorrect," she said.
"It would be detrimental to the religious harmony in the South Asian region. Islam has existed in India for centuries and it is the second-largest religion in India, with 14.2% of the country's population," she added.
Of late, several Pakistan-based social media handles have been peddling lies to project India as "no place" for Muslims and claiming rise of Islamophobia in the country. India sees it as an attempt by Pakistan to create a wedge between India and the Arab World. Some Pakistan-based twitter handles even impersonated big personalities of the Arab world to run anti-India propaganda.
ThilmeezaHussain further said: "The world has seen an alarming rise in the culture of hatred, prejudice and racism. Violence has been exploited as a tool to promote political and other ideologies/ agendas. The Maldives stands firmly against such actions anywhere in the world, including Islamophobia, xenophobia or any form of violence to promote political or any other agenda."
Full report at:
https://timesofindia.indiatimes.com/india/at-oic-meeting-maldives-thwarts-pakistans-attempt-to-target-india/articleshow/75902285.cms
--------
Europe
Eid celebrations to go virtual as UK Muslims urged to stay at home
23 May 2020
Muslims across Britain are preparing to celebrate Eid al-Fitr remotely this weekend, with many mosques set to host virtual prayers during continued lockdown measures.
The religious festival marking the end of Ramadan usually brings families and friends together for communal prayers, food and to exchange gifts.
But this year community leaders have encouraged people to stay at home and adhere to physical distancing measures to curb the spread of Covid-19.
ShazSaleem, the secretary of Dudley Central mosque in the West Midlands, said Eid prayers would be held virtually via a WhatsApp group.
"Our only guidance to people has been to stay at home, stay safe. There's nothing stopping people from having a little garden thing at home with their household, but it's not the same thing," he said.
"It's like our Christmas, and it's an excuse for all families to get together. We've got elderly relatives, and we can't go and see them because we don't want to pose a risk to them. It's quite unfortunate and sad in that respect."
The mosque has been hosting virtual prayers throughout Ramadan and Saleem said that although celebrating remotely was the right thing to do this year, not being able to see loved ones would be a test for the community after an already difficult few months.
Dozens from the Muslim community in Dudley have died after contracting coronavirus. A banner has been pinned on a wall outside the mosque thanking frontline NHS staff for "protecting us all".
QariAsim, a senior imam at Makkah mosque in Leeds, said he would deliver an online sermon on the morning of Eid, send well-wishes to his congregation on Facebook and drop off cakes, baked at home with his family, to people in the community.
He said the situation was "really surreal" but that Muslims had no other choice.
"There is a palpable sense of sadness in the community given that usually mosques are jam-packed with people on this auspicious day," he added.
Other mosques, including the Islamic Centre in Nottingham, have offered guidance to people on how to celebrate Eid at home via Facebook videos. Some, such as the Khidmat Centre in Bradford, have handed out gift packs to children whose families are struggling financially.
At a Downing Street press conference on Thursday, the UK's chief medical officer, Prof Chris Whitty, urged Muslims to "adapt the celebrations" around physical distancing rules.
"The reason we must all do that is, this is to protect the whole community, all communities and all of us must find ways around this, of whatever faith," said Whitty.
"I know that all Muslim colleagues and friends of mine are adapting as every other faith has adapted over this period to make sure they can maintain both the celebration but also maintain the social distancing, which is absolutely critical to keeping the R [number] below one, and the transmission rates going down across the whole of the UK."
The Muslim Council of Britain has issued specific guidance for each nation, and urged people to celebrate Eid "in the same way as Ramadan: from home, and virtually with friends and family".
https://www.theguardian.com/world/2020/may/23/eid-celebrations-go-virtual-uk-muslims-urged-stay-home
--------
Coronavirus: Berlin church hosts Muslims for Friday prayers
22 May 2020
A Berlin church is hosting Muslims who are unable to fit into their mosque for Friday prayers because of social distancing guidelines.
The Dar Assalam mosque in the Neukölln district normally welcomes hundreds of Muslims to its Friday services. But it can currently only accommodate 50 people at a time under Germany's coronavirus restrictions.
During the holy fasting month of Ramadan, the nearby Martha Lutheran church stepped in to help, hosting Muslim prayers in Arabic and German.
"It is a great sign and it brings joy in Ramadan and joy amid this crisis," said Mohamed TahaSabry, the mosque's imam, who led his congregation in prayer watched over by a stained-glass window depicting the Virgin Mary.
"This pandemic has made us a community. Crises bring people get together."
Places of worship reopened in Germany on May 4 after being shut for weeks under a coronavirus lockdown, but worshippers must maintain a minimum distance from one another of 1.5 metres.
The church, a red-brick neo-renaissance building in Berlin's Kreuzberg district could hardly offer a sharper contrast to the cultural centre in Neukoelln where the Muslim congregation is accustomed to gathering.
"It was a strange feeling because of the musical instruments, the pictures," said worshipper SamerHamdoun. "But when you look, when you forget the small details, this is the House of God in the end..."
The Islamic Council, an umbrella group of 400 mosques, said in April that many face bankruptcy because the closures stretched into the holy fasting month of Ramadan, usually a vital period for donations.
The church's pastor, Monika Matthias, said she had felt moved by the Muslim call to prayer.
Full report at:
https://english.alarabiya.net/en/News/world/2020/05/22/Coronavirus-Muslims-pray-in-Berlin-church-to-comply-with-social-distancing-rules.html
--------
Turkey slams Czech parliament resolution on 1915 events
SedaSevencan
22.05.2020
Turkey on Thursday condemned a resolution adopted on May 20 by the senate of the Czech Republic's parliament on the 1915 events.
"The fact that the decision was taken in an environment with few members in the senate at a time when the whole world was struggling with the coronavirus pandemic reveals the insidious mentality behind it," the country's Foreign Ministry said in a statement.
The ministry said "it is not possible to impose more than a historical discussion on the events of 1915, as determined by Articles 173 and 231 of the 2015 judgment of the European Court of Human Rights, which was repeated by a second decision in 2017."
"Attempts to define a historical issue in the interests of politics and certain groups are unacceptable," it said.
"We call on those who want to present a one-sided view of history to consider President RecepTayyipErdogan's letter that expresses an understanding of sharing the common grief sent to Turkey's Armenian Patriarch on the occasion of April 24.
"We invite the Czech Parliament to respect the provisions of the Lausanne Peace Treaty, international court decisions and the historical and current sources of international law," it said.
Full report at:
https://www.aa.com.tr/en/europe/turkey-slams-czech-parliament-resolution-on-1915-events/1849793
--------
Former footballer raises $1M to build mosque in Spain
EmreAşıkçı
22.05.2020
Spanish football club Sevilla's veteran forward Frederic Kanoute helped raise $1 million to build a mosque in Spain's southern city of Seville.
Starting more than one year ago, the French-born Malian player raised $1 million in an online mosque campaign called Kanoute4SevilleMosque.
"When I played for Sevilla, I helped the Muslim community with their temporary musallah. They now need your help to build a masjid in Seville, a city that hasn't had the masjid for over 700 years," Kanoute shared a video on Twitter.
"I feel honored to be part of this project which I believe is worth supporting. A place like this will be a shining example of the life of Islam in our day Insha'Allah. We all know that one player alone doesn't win the match. Join our team we need your support," he added.
Kanoute said that the campaign reached $1 million as of Wednesday as he thanks to people who donate money or just spread this message.
"So thank you very much. May Allah reward you and elevate you all those who have participated to that campaign, or those who have contributed, whether it is with donating money or just spreading the message".
Kanoute, 42, converted to Islam at the age of 20.
Full report at:
https://www.aa.com.tr/en/europe/former-footballer-raises-1m-to-build-mosque-in-spain/1849737
--------
British government to prosecute Hezbollah flag wavers at online protests
Thomas Harding
May 21, 2020
The British government warned it will prosecute protesters who break the law if Hezbollah flags are displayed in online demonstrations.
In a change of policy in response to the coronavirus outbreak, the Home Office announced to The National that it will observe protests on Zoom and other online platforms.
Last year SajidJavid, then home secretary, designated the whole of Hezbollah as a terrorist organisation after its flags were flown at protests in London.
At the Trafalgar Square protest the flag, emblazoned with a Kalashnikov assault rifle, was flown.
Showing support for Hezbollah in the UK carries a maximum sentence of 10 years in jail.
This year's Al Quds Day event, a pro-Palestinian protest, will be held online on Friday.
The department said it would specifically focus on online protests that have been encouraged by organisers.
Whitehall officials said there had been an "adjustment" in Home Office policy after it said "prosecutions will follow if online protests broke the law.
"There is no place for hatred in our society," it said.
"While peaceful protest is a vital part of any democracy, if protests break the law or incite hatred, whether they are online or in public, there should be no doubt the police will take action."
The online protest has been organised by a group called the Islamic Human Rights Commission.
It has encouraged people to wave Palestinian flags during the online forum but has not asked them to avoid using the Hezbollah banner.
The Home Office said it did not comment on operational policing but it made it clear that Hezbollah was involved in terrorism after it designated the entire organisation in January this year.
The protest organiser was not a proscribed terrorist organisation so people could express their views at the online meeting, provided they did so within the law.
The Home Office said it was not government policy to comment on whether any group was under consideration for proscription as a terrorist group.
It said that Britain was committed to a free, open and secure internet where users' fundamental rights were protected.
Al Quds Day protests in Iran, where US and Israeli flags are regularly burnt at mass demonstrations in support of Hezbollah, have been called off because of the virus.
"What can we do at the time of Coronavirus?" the protest organiser said on its website.
"This Al Quds Day, when it is unlikely anyone can go out to protest.
"IHRC and other organisations are calling on you to fly a Palestinian flag in your window or on your car to show your support for the people of Palestine."
Al Quds Day march in London, held on the last Friday before the end of Ramadan, has been controversial for its signs of support for Hezbollah.
The day was declared in 1979 by Iran's Ayatollah Khomeini and is marked around the Middle East, the UK and US.
Until the entire organisation was banned last year, the yellow and green Hezbollah flags were legal on London's streets because protesters could claim they were only showing support for the group's political wing.
Andrew Rosindell, the Conservative MP who has raised issues about the Muslim Brotherhood targeting vulnerable people online during the pandemic, said he was "very concerned" about the demonstration taking place online.
"The Home Office must step in and take action against any individuals inciting hatred or violence, whether that be in public or online," Mr Rosindell said.
"Our focus on these terrible demonstrations must not waver simply because they are moving online."
Alan Mendoza, of the Henry Jackson Society think tank, said the Home Office decision was a welcome development.
"This means that as the conveners of this event, the IHRC, will have to take responsibility for what appears on their online platform," Mr Mendoza said.
"If an individual displays a banned Hezbollah flag on screen then they should be shut down and evicted from the conversation. Otherwise the organisers will be accessories to a crime."
Full report at:
https://www.thenational.ae/world/europe/british-government-to-prosecute-hezbollah-flag-wavers-at-online-protests-1.1022956
--------
South Asia
Cyclone Amphan's impact on Rohingya worries UN agencies
Peter Kenny
22.05.2020
Two UN agencies on Friday voiced concerns over dangers faced by some one million Rohingya refugees in Bangladesh due to Cyclone Amphan.
Jens Laerke, spokesman of the UN Office for the Coordination of Humanitarian Affairs (OCHA), said that according to initial reports, at least 72 people had been killed in India and 25 killed in Bangladesh.
He also expressed concerns over the growing number of coronavirus cases.
"The Bangladesh government evacuated 2 million people before the storm hit, and more than 12,000 cyclone shelters were set up with COVID-19 prevention equipment, including masks, sanitizers, soap and handwashing facilities. About one million people were also evacuated in India," said Laerke.
"Power supply was cut off to cities and towns, many of which are working to contain the COVID-19 pandemic. There are more than 26,000 confirmed COVID-19 cases in Bangladesh and nearly 400 deaths," he said at a UN video news briefing.
Half a million families may have lost their homes as a result of the cyclone, according to OCHA.
The OCHA spokesman said that the storm came with strong winds and heavy rain that also damaged crops.
"The Rohingya camps were largely spared from damage when Cyclone Amphan made landfall in Bangladesh and India on 20th May. However, a direct hit from a cyclone has the potential to be devastating," Elisabeth Byrs, World Food Program's spokeswoman, said at the same briefing.
"Bangladesh is the most densely populated country in the world where social distancing is a luxury most do not have. The situation is aggravated in Rohingya refugee camps in Cox's Bazar, where living conditions make it almost impossible to physically distance," she said.
Persecuted people
The Rohingya, described by the UN as the world's most persecuted people, have faced heightened fears of attack since dozens were killed in communal violence in 2012.
According to Amnesty International, more than 750,000 Rohingya refugees, mostly women and children, fled Myanmar and crossed into Bangladesh after Myanmar forces launched a crackdown on the minority Muslim community in August 2017, pushing the number of persecuted people in Bangladesh above 1.2 million.
Since Aug. 25, 2017, nearly 24,000 Rohingya Muslims have been killed by Myanmar's state forces, according to a report by the Ontario International Development Agency (OIDA)
https://www.aa.com.tr/en/asia-pacific/cyclone-amphan-s-impact-on-rohingya-worries-un-agencies/1850591
--------
Myanmar to submit first report to ICJ on Rohingya order
RiyazulKhaliq
22.05.2020
Myanmar on Saturday will submit its first compliance report to the International Court of Justice (ICJ) on a previous order to prevent and not commit genocide against the Muslim Rohingya minority in the country.
Early in January, the top UN court issued a provisional order asking Myanmar to implement certain preventive measures against the genocide of the persecuted community.
The ICJ may rule against making the report public. However, Myanmar was ordered to share a copy of the report with Gambia for the West African country to submit its comments.
The ICJ is set to hear Myanmar on its implementation of "all measures taken to give effect" to its order, seeking to ensure Yangon prevents genocidal acts -- including by its own security forces -- and preserve all potential evidence of genocidal acts.
The ICJ had given to Myanmar four months, ending on May 23, 2020. Subsequent reports will be filed every six months.
However, the UN's former Special Rapporteur on the situation of human rights in Myanmar, Yanghee Lee, said Myanmar had not taken any steps since the order.
"Sadly, no progress at all," Lee said in a webinar organized by the Global Justice Center.
The ICJ delivered its verdict on a case filed last December by Gambia.
The Maldives has also hired prominent human rights lawyer Amal Clooney to represent the persecuted Rohingya at the UN court alongside Gambia.
- ICJ ruling
According to the ruling by the ICJ, Myanmar is obliged to take all measures to prevent the killing or serious bodily or mental harm of members of the Rohingya community, as well as the deliberate infliction of life conditions that cause their "physical destruction" and measures " intended to prevent births within the group."
It must also ensure that its military or "any irregular armed units which may be directed or supported by it" must also comply with these points, and are not involved in "conspiracy to commit genocide, of direct and public incitement to commit genocide, of an attempt to commit genocide, or of complicity in genocide."
"Myanmar shall take effective measures to prevent the destruction and ensure the preservation of evidence related to allegations of acts," the order added, citing the international legal compacts on the prevention and punishment of genocide.
The country is to continue to submit reports on its compliance until a final decision on the case is rendered by the court.
Persecuted people
The Rohingya, described by the UN as the world's most persecuted people, have faced heightened fears of attack since dozens were killed in communal violence in 2012.
According to Amnesty International, more than 750,000 Rohingya refugees, mostly women and children, fled Myanmar and crossed into Bangladesh after Myanmar forces launched a crackdown on the minority Muslim community in August 2017, pushing the number of persecuted people in Bangladesh above 1.2 million.
Since Aug. 25, 2017, nearly 24,000 Rohingya Muslims have been killed by Myanmar's state forces, according to a report by the Ontario International Development Agency (OIDA).
More than 34,000 Rohingya were also thrown into fires, while over 114,000 others were beaten, said the OIDA report titled Forced Migration of Rohingya: The Untold Experience.
Full report at:
https://www.aa.com.tr/en/asia-pacific/myanmar-to-submit-first-report-to-icj-on-rohingya-order/1850993
--------
Afghan leaders condole deaths in plane crash in Karachi city of Pakistan
23 May 2020
Background photo – scripts taken from Twitter video uploaded by DanyalGilani
The Afghan leaders condoled over the deaths of more than 90 people after a Pakistan International Airlines (PIA) plane crashed in Karachi city of Pakistan.
"Afghans stand in solidarity with the people & government of Pakistan at this moment of grief. I was saddened to hear about PIA plane crash in Karachi. On behalf of the people of Flag of Afghanistan, I offer my condolences to the families who lost their beloved ones in this tragic incident," Abdullah Abdullah, the Chief the High Council for Reconciliation said.
Meanwhile, President Mohammad Ashraf Ghani, tweeted "My heart goes out to the families of victims who lost their lives in the PIA plane crash in Karachi. I offer my sincere commiserations to the people and the government of Pakistan. Afghans stand with you in this moment of grief."
The A320 plane crashed near Jinnah International Airport on Friday afternoon, killing at least 97 people.
Abdullah Hafeez, a spokesperson for the flag carrier, said that the A320 Airbus was carrying 91 passengers and 8 crew members from Lahore to Karachi on PK 8303.
Full report at:
https://www.khaama.com/afghan-leaders-condole-deaths-in-plane-crash-in-karachi-city-of-pakistan-08854/
--------
Pakistan
Taliban's SirajuddinHaqqani admitted to Pak military hospital for Covid-19: Intel
Shishir Gupta
May 22, 2020
SirajuddinHaqqani, the Taliban deputy leader has tested positive for coronavirus along with three commanders, according to anti-terror operatives in Delhi and Kabul.
SirajuddinHaqqani, who also heads the Taliban's sword arm Haqqani Network, is reported to have been taken to a Pakistani military hospital for treatment, possibly Rawalpindi.
The other Taliban leaders who are reported to have been infected with the virus include Mullah Amir Khan Muttaqi and FazalMazloom who are associated with the Taliban's negotiating team in talks with US Special Representative for Afghanistan Reconciliation ZalmayKhalilzad. The two Taliban leaders along with Mullah NooruddinTurabi, who was earlier based in Doha, are reported to be treated at hospitals in Quetta and Karachi.
Taliban leaders denied that some among its top leadership were down with Covid-19. Taliban spokesman Zabihullah said that the leaders of Islamic Emirate of Afghanistan, as the political wing of the Taliban is termed, were healthy and not unwell.
"Some outlets are circulating fake reports about a number of leaders of IEA including Deputy Khalifa Sahib SirajuddinHaqqani contracting coronavirus…. The said reports are the work of malicious circles trying to stoke fear," he tweeted.
Counter-terror operatives, however, insisted that they had checked the information from multiple sources.
The coronavirus infection, one official said, could be the reason why FazalMazloom was not spotted at the Taliban meetings at Doha earlier this month.
He, however, stressed that there was no confirmation available how the Taliban leaders had contracted the infection. Or if it had anything to do with their visits to Pakistan over the last two months.
A large proportion of Taliban leaders such as SirajuddinHaqqani are known to be close to Pakistan deep state that has guided and funded them apart from allowing use of its facilities. SirajuddinHaqqani also heads the terror group Haqqani Network that he inherited from his father JalaluddinHaqqani who set it up during the Afghan-Soviet war.
https://www.hindustantimes.com/india-news/taliban-s-sirajuddin-haqqani-admitted-to-pak-military-hospital-for-covid-19-intel/story-tXXkPlyrZHmnK0129M0ZLP.html
--------
Karachi mayor says does not expect survivors from crashed plane
May 22, 2020
ISLAMABAD: There are expected to be no survivors among those on board a Pakistan International Airlines (PIA) plane carrying 99 passengers and crew that crashed into a residential area of Karachi on Friday, the city's mayor Waseem Akhtar told Reuters.
"At the moment we have the view that there will be no survivors from the plane itself but it is not confirmed," Akhtar said by phone from the scene of the crash. He said there were thought to be survivors from the area where the plane crashed.
https://timesofindia.indiatimes.com/world/pakistan/karachi-mayor-says-does-not-expect-survivors-from-crashed-plane/articleshow/75894439.cms
--------
Opposition terms sugar commission report 'misleading'
Amir Wasim
May 22, 2020
ISLAMABAD: The country's two major opposition parties — Pakistan Muslim League-Nawaz (PML-N) and the Pakistan Peoples Party (PPP) — have expressed serious reservations over the Sugar Forensic Commission (SFC) report and termed it "misleading" and an attempt to save the "real culprits".
In separate statements in response to the SFC report, which was made public by the government after a special meeting of the federal cabinet here on Thursday, the leaders of both the PPP and PML-N expressed their surprise over the exclusion of the names of Prime Minister Imran Khan, Punjab Chief Minister Usman Buzdar and Adviser to the Prime Minister on Finance Abdul Hafeez Shaikh from the report, saying these were the people who had allowed sugar export when there was a shortage in the country.
The report of the SFC, which had been constituted to investigate and assign responsibility for the sugar shortage and price hike of the commodity in the country in recent times, has revealed the names of a number of sugar mills owned by politicians and their relatives, including those belonging to the ruling PTI and its allies, which were responsible for sugar crisis.
The report has also mentioned the names of the sugar mill, partially owned by PML-Q leader MoonisElahi, and another mill owned by former secretary general of the Pakistan Tehreek-i-Insaf Jahangir Tareen.
Mr Tareen took to Twitter to respond to the report, saying he was "shocked at the false allegations" levelled against him.
"I do not maintain two sets of books. I pay all my taxes diligently," he said, adding that he would "answer every allegation and be vindicated".
Similarly, PML-Q MNA from GujratMoonisElahi, whose party is a part of the ruling coalition headed by the PTI at the Centre and in Punjab, denied that he had any role in the affairs and management of the sugar mill.
Meanwhile, PML-N president and Leader of the Opposition in the National Assembly Shahbaz Sharif said the entire report was an "eyewash and a cover-up job to save the skin of the real culprits of this scandal Prime Minister Imran Khan, his cabinet and Punjab CM Usman Buzdar and his cabinet".
Talking to a private news channel, Mr Sharif said this scandal was not about who got the subsidy, but the real crime in all this was the "criminal decision" to allow sugar export against the written recommendation of the sugar advisory boards amid shortage of sugar in the country.
The PML-N president said this decision was sole responsibility and prerogative of the prime minister who was the head of the Economic Coordination Committee, even if he asked his finance adviser to chair it on his behalf.
The PML-N president said the prime minister should have appeared before the commission as he was the "prime suspect" in this case.
He claimed that this commission of inquiry and the media fiasco created over its report were a diversion from the real crime and the real criminal.
Another PML-N leader and former prime minister ShahidKhaqanAbbasi in a statement demanded that PM Khan, CM Usman Buzdar and finance adviser Hafeez Shaikh "must be arrested immediately" because they had allegedly made all the decisions to enable the sugar theft.
The Sindh government, headed by the PPP, in its reaction has termed the SFC report "misleading".
Official spokesman for the Sindh government MurtazaWahab said the PTI government was setting a new trend in the country "to justify of lies and incompetence through inquiry commissions and investigative boards".
"The terms of reference of the inquiry commission mandated it to probe affairs of two years 2019-20," Mr Wahab said while talking to a private news channel.
Full report at:
https://www.dawn.com/news/1558869
--------
Pilots, cabin crew were all qualified, says PIA CEO after Karachi plane crash
May 22, 2020
Pakistan International Airlines (PIA) Chief Executive Officer Arshad Malik on Friday said that the pilots and cabin crew aboard PK8303 — that crashed in a residential colony in Karachi earlier in the day — were all qualified.
"Accidents happen, but our pilots are trained for these kind of events. These planes have checks and balances that we are required to fulfill.
"My pilots were qualified, their checks and balances, and medical tests were complete. My cabin crew was also qualified and my plane's inspection was also complete."
According to Radio Pakistan, Malik also said that the plane was "technically fit for flying", adding that an aircraft is given clearance for flying after ensuring all technical requirements are fulfilled.
Malik was holding a press conference hours after a PIA passenger plane, with an estimated 99 people onboard, crashed in Karachi's Model Colony near Jinnah International Airport on Friday.
Addressing a press conference in Karachi, he said that an inquiry will be conducted into the plane crash by the Safety Investigation Board. "This is my responsibility and it is your right that you receive this information."
"What we know right now is that the plane technically, operationally and administratively, according to its schedule, arrives and establishes itself for a final landing approach.
"On that final landing approach, the pilot reports that he is ready [to land the aircraft]. The Civil Aviation Authority (CAA) controller gives him the go ahead [but] he does a go around.
"After this, he gives a call saying I will establish myself for a second approach. That is when something happened, and until we find the voice recorder and the data recorder [...] when those come then we will know if there was a technical fault or otherwise."
He added that when the plane began flying low, the air traffic controller asked the pilot is there was a problem. "They respond 'yes there is an issue' and that is where communication ends and the crash happens."
He added that PIA had emptied its airport hotels so that residents whose houses were affected in the crash can be accommodated.
"Fortunately, the plane landed in a street. It affected buildings in the vicinity but nothing collapsed. And, according to reports, miraculously there is no dead body there either."
He added that rescue operations were still under way and two to three days will be required to complete them. "Right now my teams are at Civil Hospital and at Jinnah Post Graduate Medical Centre. We will track all the victims and speak to their families."
Malik reiterated that the Safety Investigation Board, which will conduct an inquiry into the crash, is an independent institution, adding that PIA and the CAA will not interfere in its affairs.
He also refused to give an update about those killed in the crash, stating: "Until we have 100 per cent clarity, I will not give an update. We are currently in the process of collecting data."
Investigation team formed to probe incident
Meanwhile, the government has formed an investigation team to probe the incident. According to the notification, a copy of which is available with Dawn.com, the team will issue a preliminary report within one month's time.
The committee is headed by Air Commodore Usman Ghani, who is president of the Aircraft Accident Investigation Board.
According to the CAA, Aviation Minister GhulamSarwar directed that five family members of each passenger be provided with plane tickets for Karachi.
Full report at:
https://www.dawn.com/news/1558954/pilots-cabin-crew-were-all-qualified-says-pia-ceo-after-karachi-plane-crash
--------
Critical Covid-19 patient left to die in ambulance
Afzal Ansari
May 23, 2020
KASUR: A critical patient of Covid-19 died in a Rescue 1122 ambulance on way to the Lahore Expo Centre Field Hospital after two health facilities refused to accept him
Following a phone call, a Rescue 1122 team received ZaheerAsghar, 53, from the DHQ Hospital to shift him to the Lahore General Hospital.
The report said the LGH refused to accept the patient and rather referred him to the Expo Field Hospital.
The Rescue report said the patient died in the ambulance before reaching the Expo.
Asghar was buried in Rasoolpur village graveyard by a team of Rescue 1122 and the administration under SOPs for corona victims.
DHQ Medical Superintendent Dr Laiq Ahmad said Ashgar was suffering from kidney, diabetes and hypertension problems. He was brought here from the Ittefaq Hospital, Lahore, on Thursday.
"Since he needed dialysis, he was referred to Lahore because the DHQ could not afford dialysis of a corona patient for safety of others in need of this facility," the MS said.
Chief Executive Officer Dr Mubashar said the patient had multiple diseases, including renal failure, respiratory issues, high blood pressure and diabetes.
He said only serious patients were referred to Lahore to save their lives. He said big hospitals had facilities that were not available in small hospitals.
Full report at:
https://www.dawn.com/news/1559047/critical-covid-19-patient-left-to-die-in-ambulance
--------
WB okays $500m loan to help govt fight Covid-19 effect
KhaleeqKiani
May 23, 2020
ISLAMABAD: In a fast-moving process, the executive board of the World Bank has approved a $500 million loan to help Pakistan improve health and education facilities, generate jobs for women and strengthen social safety nets under its efforts to fight the impact of the Covid-19 pandemic.
The loan is set for quick disbursement and would be available to Pakistan well before the current fiscal year ends on June 30. The project will be financed by the International Development Association — a concessional window of the World Bank — and will have a 30-year maturity with a five-year grace period.
The concept papers of the project were cleared by the Central Development Working Party (CDWP) at a meeting presided over by the deputy chairman of the Planning Commission, Dr Jahanzeb Khan, early this week at the request of the finance ministry.
Pakistan has to meet a financing gap of $2 billion during the current fiscal, according to the International Monetary Fund estimates. Therefore, the finance division had presented seven concept papers for different loans from the World Bank and the Asian Development Bank for a total loan of about $1.8bn. All the papers were cleared by the CDWP.
The project "Securing Human Investments to Foster Transformation (SHIFT)" will contribute to improvements in the quality of civil registration and vital statistics, birth and death certification rates and the ability of the country to better plan for human capital accumulation.
The project seeks to implement in the country universal health coverage policy to improve health outcomes, increase sustainability of immunisation, better quality of education, boost engagement and recognition of women's participation in economic activities, develop safety net programmes, expand education and nutrition initiatives and provide cash transfers to the poor and the vulnerable to cope with the potential negative impact of the fiscal adjustment and of the Covid-19 pandemic.
The document prepared for the project says macroeconomic risk in Pakistan is high as the impact of Covid-19 will weaken ongoing stabilisation efforts and medium-term structural reforms and add additional pandemic-related shocks.
In a statement, the World Bank said the SHIFT programme would support policy reforms to help Pakistan's Covid-19 emergency response and protect human capital investments. It will support greater coordination between the provinces and the federal authorities to immunise millions of children and reduce their risks of contracting polio and other diseases. The SHIFT also improves targeted safety net programmes that will benefit 12m people impacted by the Covid-19 crisis, both at the federal and provincial levels.
"The global Covid-19 pandemic is impacting day-to-day life in Pakistan — not solely from economic disruptions but also additional stress on public services that jeopardise human capital accumulation," said IllangoPatchamuthu, World Bank's country director for Pakistan. "This programme underscores the criticality of universal healthcare and social protection services that are durable to exogenous shocks such as Pakistan is facing now."
The SHIFT supports three policy reforms aimed at building Pakistan's workforce and improving social safety-net programmes, including to increase the quality of essential services, particularly primary healthcare and equitable access to basic education, and civil registration and vital statistics, recognise women's economic contributions and support their participation in the labour force through appropriate working conditions, improve efficiencies in safety nets for Covid-19 response and strengthen effectiveness of national and federal safety net programmes in short- to medium term.
"Pakistan's ability to mitigate socio-economic impacts of Covid-19 depends on how quickly and efficiently social safety net programmes can reach those most in need," said Cristina Panasco Santos, task team leader for the programme. "This programme supports alignment efforts between Ehsaas and provincial safety net programmes to ensure that the most vulnerable and affected populations are identified and receive assistance."
Besides the SHIFT loan, the CDWP has cleared six other project concept papers to avail about a total of $1.7bn worth of foreign loans. Of these, two papers would lead to preparation of projects to seek about $288m credit from the World Bank, including $100m for Solid Waste Emergency Efficiency Programme and $188m for Hydromet and Ecosystem Restoration Services project.
One of the concept papers pertains to $9m Korean assistance to set up a nutrition centre to improve child and community nutrition. Others include $75m project for pension reforms, $300m for financial markets development and $500m for resilient institutions for sustainable economy.
Pakistan's total public debt to GDP ratio is already estimated to cross 90 per cent, significantly higher than 60pc debt to GDP ratio limit under the Fiscal Responsibility and Debt Limitation Act.
Full report at:
https://www.dawn.com/news/1559066/wb-okays-500m-loan-to-help-govt-fight-covid-19-effect
--------
Pakistan, China promoting peace and development in region: FO
May 23, 2020
ISLAMABAD: Pakistan on Friday said it was engaged with China for promoting peace, development and stability in the region, and believed that regional economic connectivity would provide a critical stimulus for creating broad-based growth.
The Foreign Office (FO), in a statement mentioning Pakistan and China as 'all-weather strategic co-operative partners', said that the two countries were engaged in prompting peace, development and stability in the region based on the principles of mutual respect, mutual benefit, win-win cooperation and shared development.
"Our ties are based on deep mutual trust and understanding," it stressed, adding that economic development and long-term prosperity of the people was the government's top priority.
The FO described China-Pakistan Economic Corridor (CPEC), a flagship project of the Belt and Road Initiative (BRI), as a "transformational project contributing positively and transparently to Pakistan's national development".
"Pakistan believes that regional economic connectivity will provide a critical stimulus for creating broad-based growth across the region," it said.
It emphasised that Pakistan had reiterated many times that its total public debt relating to CPEC projects was less than even 10 per cent of the total debt.
Moreover, the public debt obtained from China had a maturity period of 20 years and the interest was 2.34 per cent. If grants were included, the interest value slides down to about 2 per cent, it added.
The FO said that the claims made by some of the commentators and public officials on Pakistan's debt obligations relating to CPEC were contrary to facts. It stressed that CPEC, a long-term project, had helped address development gaps in energy, infrastructure, industrialisation, and job creation.
Full report at:
https://www.pakistantoday.com.pk/2020/05/22/pakistan-china-promoting-peace-and-development-in-region-fo/
--------
North America
Michigan Muslims find new ways to celebrate Eid amid a pandemic
byJihanAbdalla
May 23, 2020
Eid al-Fitr in the US state of Michigan this year is going to be very different, said Mahmoud Al-Hadidi, a physician and chairman of the Michigan Muslim Community Council.
There will be no mass prayers in the mosques, no communal breakfasts, no carnival and no evening parties. Even family gatherings will be limited.
"Usually we have a huge party at my house with 400 to 500 people," Al-Hadidi told Al Jazeera.
"I'm not gonna be doing that this year," Al-Hadidi said. "I'm going to be with my immediate family, and we're staying at home."
But the curbs on mass social gatherings put in place to contain the spread of the coronavirus, expected to last through at least May 28, have not dampened the holiday spirit. And residents of southeast Michigan, home to one of the largest Muslim communities in the United States, say they have found innovative ways to welcome the three-day holiday marking the end of the fasting month of Ramadan, while adhering to social-distancing measures.
"We are determined to celebrate and be happy despite all the circumstances, we will adapt," Al-Hadidi added.
Thousands are expected to tune in on Sunday morning for a live Eid sermon that will be aired on local television and streamed on social media. Later in the day, cars will be able to line up outside several mosques to enjoy live music and to receive gift bags for children, in this year's first-ever drive-thru Eid event.
Like most Muslims around the world, those of southeast Michigan, a community of over 250,000, traditionally celebrate Eid by visiting friends and relatives in their homes or attending large gatherings where people eat and socialise together.
"Normally we go to the mosque for prayer and breakfast, and at night we go out for dinner," Lama SammanNasry told Al Jazeera, "we spend most of the day out of the house."
SammanNasry - a resident of the Detroit suburb Franklin who works as a manager at an urgent care clinic and is the mother of four children - said she will be one of dozens who will be volunteering to hand out presents and food, hoping to help spread some joy.
"It's going to be a quieter celebration," she said. "It will be a different kind of celebration, definitely."
Michigan has been one of the hardest-hit states during the coronavirus pandemic, with over 53,000 cases of COVID-19 and over 5,000 deaths - the fourth-highest death toll in the country, according to Johns Hopkins University statistics.
The state also imposed one of the strictest stay-at-home orders, which prompted small groups of protesters, some armed, to demonstrate at the state capitol.
On Thursday, Michigan's governor Governor Gretchen Whitmer announced steps to reopen the state's economy and presented timelines for the resumption of some businesses and allowing some social gatherings.
"We've taken significant steps forward to re-engage our economy safely and responsibly over the past few weeks. Now we are going to take some time to ensure that these new measures are working," Whitmer said during Thursday's news briefing.
On Friday, US President Donald Trump said that he has deemed houses of worship as "essential" and called on governors across the country to allow them to reopen this weekend despite the threat of spreading the coronavirus.
"These are places that hold our society together and keep our people united," he said at a news conference at the White House.
"The people are demanding to go to church and synagogue, go to their mosque," he said.
Trump said that if governors do not abide by his request, he will "override" them. It remains unclear what authority he has to do so, and how governors - including Michigan's - will respond.
Meanwhile, FirasBazerbashi, a physician, says most residents in Michigan are fully aware of the health risks and will forego the customary community celebrations. He added that after weeks of quarantine, people have learned to replace family visits with phone calls and Zoom sessions, despite a renewed need to be physically close to family.
"It will be remarkably different," Bazerbashi told Al Jazeera. "It's really hard to be isolated from family and friends and being disconnected from the community."
"We are mentally prepared to have a COVID Eid, but it is still very challenging," he said.
https://www.aljazeera.com/news/2020/05/michigan-muslims-find-innovative-ways-celebrate-covid-eid-200521175210080.html
--------
During Ramadan, Muslims feed those in need in virus-hit Texas
byLaurin-Whitney Gottbrath
May 23, 2020
Nameer Salman's restaurant had about a dozen large groups already booked for iftar dinners before the coronavirus lockdowns and closures hit.
The Palestinian-American co-owner of Jasmine Cafe in Richardson, Texas, did everything in his power to keep his workers - "who are like our family," he said - employed throughout the lockdown in the US state, even allowing his employees to take home needed food items to help their families out.
But with the business largely closed for the beginning of the holy month of Ramadan, and at reduced capacity for the remainder as the state reopened, Salman knew the month would be hard.
"Usually Ramadan is the best month for us during the whole year," Salman said, adding that the cafe usually serves 400 to 500 people a day during the holy month.
"It's [usually] really, really busy," he told Al Jazeera over the phone.
When it became clear the large iftar dinners could not be held at the cafe, a patron - and Salman's best friend, who had booked an iftar dinner for more than 100 people - approached Salman with a question: Could the cafe still make the food and donate it to families in need instead?
Salman did not quite know how initially, but he knew the idea could work.
With the help of a couple of trusted-community members, local mosques, and eventually the Islamic Circle of North America (ICNA) relief, Salman circulated a flyer where individuals in need could contact the restaurant for free meals.
"What got my attention," he said, was the number of people who called saying they were in need of a meal - even before Ramadan began.
Restaurants, like Salman's, and food trucks across the United States have started initiatives to donate food this Ramadan, practicing the act of charity, but also helping keep their own workers afloat. In New York City, several Islamic organisations and businesses teamed up to feed the homeless during the month. Muslim restaurant owners in Connecticut have reportedly been delivering meals and masks to a local hospital.
Other Muslim communities, including in the Dallas area, which includes Richardson, have purchased meals from local restaurants to donate to help the financially hurt businesses and those in need.
'Need way bigger than usual'
Texas has more than 53,000 confirmed cases of coronavirus and at least 1,460 deaths, according to a Johns Hopkins University tally. While the state was one of the first to partially reopen, the state's April jobless rate was 12.8 percent - the worst monthly rate on record. More than two million of the state's estimated 29 million people applied for unemployment since mid-March.
"A lot of these people lost their jobs," Salman said, referring to those who called him for a meal. "And they were at home with [their] children."
Salman said their local initiative raised more than $40,000, which went to providing more than 5,800 meals. Every meal included four appetizers, a main dish - meat and chicken with rice and a vegetable - soup, bread and three desserts.
"We wanted those families to feel the same way we do [when we break fast]," Salman said.
He said they did not just serve Muslims, but anyone in the community who needs help. Some were given tickets to come through a drive-thru to pick up the meals, while other meals were delivered by Salman and his staff.
To reach more community members, Salman connected with ICNA, a nongovernmental organisation with offices across the US.
HalaHalabi, director of ICNA USA's refugee programme, helped Salman hand out tickets for free meals to those in need.
ICNA, which has food banks and other support services across the country, does annual Ramadan drives to distribute food and supply boxes, but by the time the holy month came around this year, Halabi said they had already used up most of their resources due to the spiking need caused by the coronavirus pandemic.
Halabi said she, her colleagues and ICNA volunteers searched out new donors. They were able to round up enough money and supplies to continue their Ramadan box drive. But they were also able to be a part of several hot-food initiatives, including Salman's, during this year's Ramadan.
"The need is way bigger than usual. Every year refugees are dependent on us [during Ramadan]," Halabi told Al Jazeera.
"But this year with the COVID, people literally don't have food," she said.
ICNA serves refugees, the homeless and immigrant communities throughout the Dallas-Fort Worth area. This includes Syrian, Iraqi, Afghan, and Rohingya communities - and many others.
Halabi said she worries especially for refugee communities during the pandemic.
"They need the support," she said.
As for Salman, he is looking forward to his business returning - the cafe's hookah lounge was allowed to reopen on Friday and Texas restaurants can now operate at 50 percent capacity - but he also hopes to continue the free meal initiative in some way after Ramadan ends this weekend.
Full report at:
https://www.aljazeera.com/news/2020/05/ramadan-muslims-feed-virus-hit-texas-200522214121567.html
--------
US OKs more arms to UAE despite violations: report
Michael Gabriel Hernandez
23.05.2020
WASHINGTON
The Trump administration has cleared the United Arab Emirates (UAE) of wrongdoing and approved the sale of thousand of mine-resistant vehicles, despite indications it violated past arms agreements, according to a report published Friday.
A CNN investigation found last year that as part of its campaign against Houthi rebels in Yemen the UAE and Saudi Arabia were transferring arms to forces it backs in the war-torn country, including those with ties to al-Qaeda, in violation of agreements with Washington.
Neither the UAE nor Saudi Arabia are allowed to transfer arms provided by the US without Washington's prior approval.
But following a year-long investigation, officials at the State Department have been telling lawmakers they are "satisfied no actual transfers were made," and has "made sure the UAE fully appreciates the letter of their agreements," anonymous officials told the news outlet.
The members of Congress said they would then approve the sale, which includes up to 4,569 Mine-Resistant Ambush Protected vehicles, estimated to cost $556 million, given the department's assurances.
The investigation's findings have not been made public despite concluding earlier in the year. But a State Department official not only confirmed the probe has wrapped up, but told CNN "We believe that the UAE now has a better understanding of its EUM (End User Monitoring) obligations."
One official told CNN it took a year for the Trump administration to conclude its investigation because of Abu Dhabi's "delaying tactics."
Full report at:
https://www.aa.com.tr/en/americas/us-oks-more-arms-to-uae-despite-violations-report/1851036
--------
Pakistan sends COVID-19 medical aid to US
AamirLatif
22.05.2020
KARACHI, Pakistan
In a rare move, Pakistan sent medical supplies to the US on Friday to support its fight against the coronavirus pandemic.
Pakistan's ambassador to Washington AsadMajeed Khan said the donation was a "token of friendship and solidarity" with the US, which is the world's worst-hit country with over 1.57 million cases and nearly 95,000 deaths.
The supplies were delivered on a Pakistani Air Force cargo plane that landed at Andrews Air Base in Maryland, the ambassador said.
Secretary Pompeo
✔
@SecPompeo
Appreciate Pakistan's goodwill donation of surgical masks and protective suits to @FEMA. This delivery is a symbol of U.S.-Pakistan solidarity in the fight against COVID-19. #WeAreInThisTogether #Partners4Prosperity
View image on TwitterView image on TwitterView image on Twitter
12.8K
1:53 AM - May 22, 2020
Twitter Ads info and privacy
4,590 people are talking about this
Senior US officials received the shipment of 100,000 protective masks and 25,000 coveralls for donation to the US Federal Emergency Management Agency (FEMA), according to a statement by the airbase authorities.
US Secretary of State Mike Pompeo also expressed his appreciation in a tweet.
Full report at:
https://www.aa.com.tr/en/americas/pakistan-sends-covid-19-medical-aid-to-us/1850348
--------
Turkish aide, US security advisor speak on phone
22.05.2020
Turkey's presidential spokesman Ibrahim Kalin on Friday held a phone conversation with US National Security Advisor Robert O'Brien.
During their conversation, Kalin and O'Brien discussed bilateral relations, the fight against coronavirus, NATO solidarity, as well as developments in Syria and Libya, said a Turkish source.
Regional issues were also among the topics addressed, said the source, who asked not to be named due to restrictions on speaking to the media.
During the talk, support for Libya's UN-recognized government and an end to warlord KhalifaHaftar's illegal activities and attacks were also highlighted.
They also agreed that there is a need for a solution to the Syrian crisis, which has been ongoing since 2011, and that more efforts are needed in the fight against terrorism.
Full report at:
https://www.aa.com.tr/en/americas/turkish-aide-us-security-advisor-speak-on-phone/1850194
--------
Shooting at Corpus Christi Navy base investigated as terrorist attack, FBI says
By Devlin Barrett
May 21, 2020
An apparent attack at the gate of a military base in Corpus Christi, Tex., on Thursday is being investigated as a terrorist incident, officials said, warning that while the gunman was dead at the scene, a second person may be tied to the violence.
Officials say shots were fired shortly after 6 a.m. at the north gate of Naval Air Station Corpus Christi. One sailor, a security officer, was injured but is expected to survive, officials said.
The gunman, who was not immediately identified, was dead at the scene.
FBI agent Leah Greeves called the incident "terrorism-related," adding "we may have a potential second related person of interest at large in the community, but we would encourage the public to remain calm, and if you see something, say something."
Greeves said investigators from multiple agencies are "working like crazy" to understand exactly what happened, and said the effort and cooperation among investigators was "awesome to see."
She said the investigation was still "fluid" and declined to provide more information while the FBI continued to gather evidence. Navy officials referred additional questions about the incident to the FBI.
FBI Director and attorney general blast Apple over Pensacola case
The shooting comes less than a week after officials in Washington announced that an attack at a naval air station in Pensacola, Fla., last year had been carried out by a Saudi Royal Air Force trainee who had been in contact with suspected members of al-Qaeda. That attack left three service members dead and eight others injured, and the gunman was killed by law enforcement officers.
The Pensacola attack led to an overhaul of how the U.S. military screens foreign military officers who come to the United States for training. An FBI examination of the Pensacola gunman's phones found he had been in contact with suspected terrorists since 2015, before he entered the United States.
Full report at:
https://www.washingtonpost.com/national-security/shooting-at-corpus-christi-navy-base-investigated-as-terrorist-attack-fbi-says/2020/05/21/63111df2-9ba8-11ea-ac72-3841fcc9b35f_story.html
--------
Pompeo pushed subordinates to come up with justification for Saudi arms sale: Report
23 May 2020
US Secretary of State Mike Pompeo ordered officials at the department under his watch to find a way to justify the use of an emergency declaration meant to expedite the $8 billion weapons sale to Saudi Arabia, CNN reports.
Four sources in the US State Department told the TV channel on Friday that they were stunned by the request to justify the emergency declared in May 2019 by Pompeo that enabled him to sidestep a congressional ban on arms export to the Riyadh regime amid the war on Yemen.
Under Pompeo's order, the sources said, State Department officials had to "reverse engineer the situation to provide the justification for a decision which was made in an aggressive and unconventional manner."
"They seemed to have a game plan and it had to be justified," said a State Department official.
"The attitude was very Trumpian," he added, referring to US President Donald Trump.
Pompeo's demand sent offices at the US State Department, with the regional office, the political military bureau and the legal office all set into motion to figure out how the emergency could be justified, according to the sources. The quick decision did not allow for a thorough discussion about the arms sale between the various government agencies involved.
"It seemed we [the Trump administration] were determined to turn a corner on [Jamal] Khashoggi (the Saudi dissident journalist murdered in Istanbul). The message was we need to move on, and provide the support," the official said. "It was an incredible display of audacity."
Last week, Trump fired State Department Inspector General Steve Linick, who was investigating his administration's use of emergency powers to sell arms to Saudi Arabia despite congressional opposition.
House of Representatives Foreign Affairs Committee Chairman Eliot Engel said he believes the probe into the $8 billion weapon sale could be one of the reasons for Linick's abrupt dismissal.
Pompeo denied any knowledge of the investigation, but The New York Times reported that the inspector general had sent the top US diplomat questions regarding the inquiry.
Pompeo also claimed that the allegations that he retaliated against Linick were "patently false".
On Thursday, however, a group of House Democratic leaders sent a letter to Pompeo denouncing Linick's removal and demanding that he be reinstated.
"Based on longstanding concerns with your actions - and new reports this week about potential abuses - this assault on the integrity and independence of Inspectors General appears to be an intentional campaign to undermine their ability to expose corruption and protect taxpayer dollars from waste, fraud, and abuse," they wrote.
In a May 24, 2019 letter to US lawmakers, Pompeo said that he "determined that an emergency exists, which requires the immediate sale of the defense articles and defense services" to Saudi Arabia, the UAE and Jordan in a bid to deter what he called "the malign influence" of Iran throughout the Middle East.
"The law is written broadly, but an emergency still means something even in the broadest of context," said a US congressional aide. "It is outrageous to suggest that an emergency would require an $8 billion arms sale of this nature whereby much of the weaponry was not built, some licenses were even given to start building those weapons in Saudi Arabia, it is laughable."
Riyadh is the largest buyer of American-made weaponry. Trump signed an arms deal worth $110 billion with Saudi Arabia in May 2017 on his first foreign trip since becoming president.
Full report at:
https://www.presstv.com/Detail/2020/05/23/625948/US-Mike-Pompeo-Saudi-Arabia-arms-sale-
--------
Arab world
Saudi Representative To The UN Warns Of Growing Islamophobia In "Some Regions Of The World"
May 23, 2020
DUBAI: Ambassador Abdullah bin Yahya Al-Muallami, the permanent representative Saudi Arabia to the UN, said he was concerned about the rise of Islamophobia in "some regions of the world" especially during the pandemic, the Saudi Press Agency has reported.
Al-Muallami said it was important to protect human rights as the world struggles with the COVID-19 crisis, adding acts of discrimination against Muslim should be addressed. |
The statements came during a virtual meeting of ambassadors of the Organization of Islamic Cooperation, which was also attended by other Saudi officials.
https://www.arabnews.com/node/1678731/saudi-arabia
--------
Average monthly income in Saudi Arabia up nearly 9 percent over 4-year period: KPMG
22 May 2020
Average monthly income in Saudi Arabia grew by nearly 9 percent over a four-year period, but the country has one of the lowest household savings rates among G20 countries surveyed, a new KPMG report showed.
Savings play a "pivotal role in a country's long-term economic growth," the report said. While average earnings increased 8.9 percent from 2014-2018, Saudi Arabia's savings rate stands at 1.6 percent, but KPMG provided suggestions on how to boost that rate to 10 percent, which is the international standard.
The Kingdom fell behind China, Germany, Mexico, South Korea, and the US among others for household savings rate in 2018, but it was ahead of Canada, the UK and South Africa.
Increasing savings in Saudi Arabia is part of the country's ambitious Vision 2030 plan, and savings can translate into more investments which in turn positively affect a country's economic growth.
KPMG identified several factors for the low level of savings in the Kingdom, which include a low level of financial literacy. A series of programs have been launched to increase financial literacy and ensure financial inclusion.
The report found that another reason for the low level of savings is that while average salaries have increased, average monthly consumption outpaced earnings.
"While the average household monthly income during 2007–18 increased by 5.3 percent, from SAR 14,084 ($3,748) to SAR 14,823 ($3,747), the average household monthly consumption expenditure grew 38.6 percent, from SAR 10,522 ($2,799) to SAR 14,584 ($3,880), during the same period.
Full report at:
https://english.alarabiya.net/en/News/gulf/2020/05/22/Average-monthly-income-in-Saudi-Arabia-up-nearly-9-percent-over-4-year-period-KPMG.html
--------
Coronavirus: Sheikh Mansoor bin Mohammed praises Dubai's proactive COVID-19 response
22 May 2020
Sheikh Mansoor Bin Mohammed, the chairman of Dubai's Supreme Committee of Crisis and Disaster Management, said on Friday that the proactive approach taken by the ruler of Dubai has enabled the UAE to minimize the negative impact of the virus.
The UAE began implementing measures aimed at slowing the spread of coronavirus back in early March, announcing the closure of schools on March 3. Dubai has implemented the strictest rules of the seven emirates that make up the UAE and was the only emirate to have a 24-hour curfew in place before restrictions were eased at the beginning of Ramadan.
Sheikh Mansoor praised the proactive response taken by Dubai ruler Sheikh Mohammed bin Rashid Al Maktoum, who is also the Vice President and Prime Minister of the UAE.
".@sheikhmansoor, Chairman of #Dubai's Supreme Committee of Crisis and Disaster Management: @HHShkMohd's principals of being proactive and taking preemptive action has enabled us to respond to the global pandemic and minimise its grave repercussions," tweeted the official Dubai media account.
.@SheikhMansoor, Chairman of #Dubai's Supreme Committee of Crisis and Disaster Management: @HHShkMohd's principals of being proactive and taking preemptive action has enabled us to respond to the global pandemic and minimise its grave repercussions. pic.twitter.com/RjsUuWfQMD
— Dubai Media Office (@DXBMediaOffice) May 22, 2020
He reportedly made the comments while chairing a meeting of Dubai's COVID-19 Command and Control Centre.
Sheikh Mansoor also praised the UAE's scientific community for its response to the pandemic.
"The #UAE's scientific scene is now experiencing its best phase. Scientists of the UAE are placing our nation among the countries shaping the world's future. The Command &Control Centre plays a major role at the heart of the nation's efforts to combat COVID-19," tweeted the official Dubai Media account.
Dubai Media Office
✔
@DXBMediaOffice
Replying to @DXBMediaOffice
.@SheikhMansoor: The #UAE's scientific scene is now experiencing its best phase. Scientists of the UAE are placing our nation among the countries shaping the world's future. The Command & Control Centre plays a major role at the heart of the nation's efforts to combat COVID-19.
https://english.alarabiya.net/en/coronavirus/2020/05/22/Coronavirus-Sheikh-Mansoor-bin-Mohammed-praises-Dubai-s-proactive-COVID-19-response-.html
--------
Relatives of Saudi defector target of harassment at home: Report
22 May 2020
Saudi authorities are reportedly using extreme harassment tactics against relatives of a dissident hiding abroad to force him to return to the kingdom.
The New York Times on Thursday said SaadAljabri, a former Saudi intelligence officer, has been under increasing pressure by Crown Prince Mohammed bin Salman to return to Saudi Arabia from Canada, where he has been hiding fearing his life.
Aljabri's son and associates told the newspaper that authorities had arrested four senior members of his family, including two of his adult children.
"They were kidnapped from their beds. I don't even know if they are alive or dead … It has been weeks and we don't know where they are," said Khalid Aljabri about the relatives arrested in Saudi Arabia.
Pressuring Aljabri by bin Salman comes two years after the young Saudi Prince reportedly orchestrated the gruesome assassination of Jamal Khashoggi, a dissident journalist who had been critical of bin Salman's policies before he was killed at the Saudi consulate in Istanbul in October 2018.
Aljabri, a graduate of artificial intelligence from Scotland, is believed to be very well-informed about Saudi Arabia's top secrets, including the identities of dissidents killed by bin Salman and the place where they have been buried.
The former officer served for a while as the right-hand man to Prince Mohammed bin Nayef, a former Crown Prince who has been sidelined by bin Salman.
Saudi authorities have accused Aljabri of involvement in corruption, saying he has been misusing his position to amass a personal fortune. Bin Salman wants him in the kingdom to have the money back.
Full report at:
https://www.presstv.com/Detail/2020/05/22/625907/bin-Salman-Aljabri
--------
French Daesh terror suspects escape YPG-controlled jails in Syria
MAY 21, 2020
Thirteen female suspected Daesh militants from France have escaped from YPG/PKK-controlled prisons in northern Syria, a Paris-based anti-terror monitor said Wednesday.
They included Hayat Boumedienne, the wanted partner of AmedyCoulibaly, who was one of the perpetrators of the January 2015 terrorist attacks in France, the Center for the Analysis of Terrorism (CAT) told Agence France-Presse (AFP).
The 13, who were mainly held in the Al-Hol and Ain-Issa camps, accounted for about a tenth of all French Daesh militant women held in Syria, said Jean-Charles Brisard, one of the co-founders of CAT.
He told AFP the women's escape showed the "inability" of local authorities to guarantee the detention of foreign terrorists.
"The main risk is that the jihadists will disperse and either reinforce jihadist organizations in Syria or Iraq, try to wage jihad somewhere else, or, in some cases, return clandestinely to Europe to commit attacks," he added.
Brisard said there were other prominent figures among the 13 women.
"Some were married to well-known jihadists, others made propaganda and appeared in the magazines of the Islamic State group," referring to the Daesh terror group.
AmedyCoulibaly in January 2015 opened fire at a supermarket in eastern Paris, killing four people, a day after he killed a young policewoman in Paris.
He was killed by security forces.
The supermarket siege came two days after the massacre at the offices of the Charlie Hebdo satirical weekly, where 12 people were killed.
Hayat Boumedienne was the center of international attention in 2015 after it emerged that just before the attacks she had entered Turkey at an Istanbul airport and passed by land into Syria.
There had been speculation that she had died after spending time around the Iraq-Syria border region but other reports then emerged that she had been seen in Al-Hol.
She is one of several people due to be tried in absentia starting in September in a trial in Paris dealing with the January 2015 attacks.
Previously, YPG/PKK terrorists had also set free hundreds of Daesh members or turned a blind eye to their escape.
The YPG/PKK terrorist organization had released more than one thousand Daesh terrorists and family members from the al-Hol camp in Hasakah.
The camp is a holding place for civilians who escaped the conflict in Deir el-Zour, along with the families of former Daesh members who surrendered and captured terrorists. Most of the civilians were forcefully brought to the camp by the YPG/PKK in April 2017, according to reports.
YPG/PKK terrorists run more than two dozen detention facilities, scattered around northeastern Syria. U.S.-based Human Rights Watch says the YPG/PKK holds about 12,000 men and boys suspected of Daesh affiliation, including 2,000 to 4,000 foreigners from almost 50 countries.
The inmates are held in overcrowded prisons where conditions are inhumane in many cases, according to Human Rights Watch and other rights groups.
The YPG-led forces also hold about 100,000 Syrian and foreign women and children who are family members of militant suspects in squalid camps across the areas they control.
Some Arabs, who form a majority of the inhabitants of the areas under the control of YPG/PKK militia, accuse the terrorist group of discrimination, an allegation rejected by the group's officials.
With crucial U.S. air and ground support, the YPG/PKK terrorists declared a military victory against Daesh last year after seizing control of the last sliver of land the militants controlled in southeast Syria. The Daesh terror group has resorted to guerrilla attacks since losing its last significant piece of territory in Syria last year.
Since the beginning, Turkey has opposed its NATO ally U.S.' partnership with the YPG/PKK in the fight against the Daesh in Syria, defending the argument that it is nonsense to support a terrorist group to defeat another one.
Under the pretext of fighting Daesh, the U.S. has provided military training and given truckloads of military support to the YPG/PKK, despite its NATO ally's security concerns.
The PKK, which is listed as a terrorist organization by Turkey, the U.S. and the EU, has waged a terror campaign against Turkey for more than 35 years and has been responsible for the deaths of nearly 40,000 people, including women and children. The YPG is the Syrian offshoot of the PKK terror group.
Full report at:
https://www.dailysabah.com/politics/french-daesh-terror-suspects-escape-ypg-controlled-jails-in-syria/news?gallery_image=undefined#big
--------
Mideast
Hezbollah says Palestinian land should return to its rightful owners
22 May 2020
Hezbollah's stance on the Palestinian cause has not changed in the face of recent developments in the occupied territories, says the Secretary General of the Lebanese resistance movement, insisting that the Palestinian land should return to its rightful owners.
"Palestine belongs to the Palestinian people, and it must return to the Palestinian people," Sayyed Hassan Nasrallah said in a televised speech marking the International Quds Day on Friday.
Hezbollah's position on the Palestinian issue, he said, has remained the same since the establishment of the resistance movement several decades ago. He added that Israel's recent attempts to seize more Palestinian land would fail to change that stance.
"Mistaken is he who thinks or bets that he can change our stance through waging wars, assassinations, sanctions or starvation."
The comments come against the backdrop of a renewed attempt by the Israeli regime to annex Palestinian territory in the occupied West Bank and the Jordan Valley.
The plan, which is expected to be rolled out in early July, has faced growing international criticism as the regime in Tel Aviv seeks to annex land it took by force after the 1967 War with the Arab countries.
However, the current regime is intent on implementing the plan mainly because it enjoys massive support from the United States.
No Palestinian will ever accept the plan in a huge blow to Israel and the US, he said.
Nasrallah said Israel would always remain "illegal" because of its nature as a "usurper" and an "occupier."
"Palestine from the sea to the river belongs to the Palestinian people and you must return to it. We in Lebanon have grown up with this position since ancient times," he said.
The Hezbollah leader added that resistance is the only way to liberate the occupied Palestinian territories, and that primarily, the Palestinian people, and then the entire Muslim ummah are responsible to reclaim the sanctities of Palestine.
https://www.presstv.com/Detail/2020/05/22/625926/Nasrallah-Hezbollah-Palestine
--------
Commander: Iran Supporting Expansion of Jihad in Palestine
May 22, 2020
"Our youths have been enrolling in martyrdom-seeking battalions and are ready to encounter cowardly and child-killer Zionist soldiers," general Yazdi said.
Referring to the Supreme Leader Ayatollah Khamenei's speech on Friday about the cause of Palestine, Yazdi said, "The world and Muslim people should know that trust in the Arab government and the American-Zionist coalition cannot solve the problem of Palestine."
He added that the Zionist regime has a lot of memories of the confrontation of Tehran division of IRGC for the past 40 years.
He reiterated, "Just as we strive to uproot the ominous coronavirus, we have put on the agenda the Jihad for eradication of the virus of Zionism."
The commander stressed that Iranian youths, following the role models of Martyr Ahmad Motavasselian, Martyr Soleimani and Martyr Abu Mahdi al-Muhandis, are trying to materialize liberation of Quds and the entire Palestinian lands.
Earlier on Friday, Supreme Leader of the Islamic Revolution Ayatollah Seyed Ali Khamenei said that the Zionist Virus as the record holder of human evil will soon be eliminated like the coronavirus.
Addressing the worldwide Muslims in a live televised speech on the occasion of the International al-Quds Day on Friday, Ayatollah Khamenei considered the dawn of the Islamic Revolution in Iran and the subsequent emergence of the Resistance Front to be factors that have impeded the "Zionist virus".
He stressed the fact that the Zionist regime, the worst human evil, will be uprooted from the Middle East despite being supported by the United States and its minions, in the not-too-distant future. Without a doubt, the Zionist virus, which is the record holder of human evil, won't last long, and it will be uprooted
Also on Friday, Iran's Judiciary Chief EbrahimRayeesi called on the Muslim countries to join in a collective effort to help retain the rights of the oppressed Palestinian nation.
Rayeesi made the remarks in a message to the heads of judiciaries of the Islamic countries on the occasion of the International Quds Day.
"Resistance is the initiative of the Palestinian people to continue their existence," Iran's judiciary chief said.
He noted that the full preservation of the rights of the Palestinian people and the establishment of justice are the main keys for the establishment of lasting peace and stability.
Rayeesi voiced the Iranian Judiciary's readiness to pursue the realization of this goal and to address the crimes and aggression of Israel in national and international legal tribune with the cooperation of the Islamic countries.
Referring to the seven decades of support by the US and some European countries for the Israeli regime's barbaric crimes, the Iranian judiciary chief underlined that the "right to self-determination" is an undeniable right of every nation.
The International Quds Day is an annual event opposing Israel's occupation of Beitul-Muqaddas. Anti-Zionist rallies and demonstrations are held on the last Friday of Ramadan in Muslim and Arab countries around the world, specially in Iran, as well as a large number of non-Muslim states.
The International Quds Day was started by the late Founder of the Islamic Republic, Imam Khomeini, in 1979 as a way of expressing solidarity with the Palestinians and underscoring importance of the holy Quds to Muslims.
Full report at:
https://en.farsnews.ir/newstext.aspx?nn=13990302000550
--------
Iran's Leader Vows End of 'Virus of Zionism' in Near Future
May 22, 2020
Addressing the worldwide Muslims in a live televised speech on the occasion of the International al-Quds Day on Friday, Ayatollah Khamenei considered the dawn of the Islamic Revolution in Iran and the subsequent emergence of the Resistance Front to be factors that have impeded the "Zionist virus".
He stressed the fact that the Zionist regime, the worst human evil, will be uprooted from the Middle East despite being supported by the United States and its minions, in the not-too-distant future. Without a doubt, the Zionist virus, which is the record holder of human evil, won't last long, and it will be uprooted
The following is the full text of the speech delivered on May 22, 2020 by the Supreme Leader of the Islamic Revolution on the occasion of Quds Day.
In the Name of Allah, the Beneficent, the Merciful
All praise is due to Allah, the Lord of the worlds, and His peace and greetings be upon Muhammad, upon his pure Household, upon his chosen companions and upon those who follow them until the Day of Judgment.
I extend my greetings to all the Muslim brothers and sisters throughout the world and I congratulate them in advance on the occasion of Eid al-Fitr. I also pray to God to accept their worship acts and servitude in this Holy Month of Ramadan, and I thank the Benevolent Creator for the blessing of being present in this month of this divine banquet.
Today is Quds Day, a day created - thanks to Imam Khomeini's (r.a.) intelligent initiative - to unite Muslims on the issue of Holy Quds and in support of the oppressed people of Palestine. It has played an important role in this regard for several decades now, and God willing, it will continue to do so in the future as well. Nations welcomed Quds Day and considered it to be a religious obligation to hold up the flag for Palestine's liberation. The main policy of the Arrogant Powers and Zionism is to push aside the issue of Palestine in the minds of Muslim communities and to cause it to fade into oblivion.
The most urgent responsibility in this regard is fighting this treachery, which is conducted by the enemy's political and cultural mercenaries in Islamic countries. The truth is that an issue as important as Palestine is not something that the pride, self-esteem and increasing intelligence of Muslim nations will allow to sink into oblivion, even if the Americans, other domineering powers and their regional minions use all their money and power to achieve this goal.
First, I would like to highlight the magnitude of the tragedy of the occupation of Palestine and the formation of the cancerous tumor of Zionism in that country. Among crimes against humanity in recent times, there is no crime that equals this crime in terms of scope and gravity. Occupying a country, permanently driving its people out from their homes and their fatherland, and continuing this historical oppression for decades using the most horrifying forms of murder, crime, destruction of farmlands, and genocide – this is indeed a new record in brutality and wickedness.
The main agents and criminals behind this tragedy are the western governments and their satanic policies. The day when the governments who had won the war in the First World War were carving up West Asia – namely, the Asian territories of the Ottoman Empire – among themselves at the Paris Conference as spoils of war, they felt the need for a safe stronghold in the heart of this region more than ever in order to guarantee their permanent hegemony. Years earlier, through the Balfour Declaration and with the help of the thinking of the rich Jewish leaders, the British had prepared the ground for the innovation of Zionism to carry out this role. And now the practical groundwork was in place. During those early years, they gradually prepared the preliminaries, and finally, after the Second World War, they used the opportunity created by the negligence and problems of the regional countries and dealt their blow. They announced the creation of the bogus regime, the Zionist state without a nation.
The primary target of this blow was the Palestinian nation and secondary all the other nations in the region. A look at the events that followed in the region shows that the main, short-term goal that westerners and Jewish company owners pursued by creating the Zionist regime was to build a stronghold for their permanent presence and influence in West Asia and also to gain easy access for the opportunity to interfere, coerce and dominate over the regional countries and governments. Therefore, they equipped the bogus and occupying regime with various kinds of military and non-military tools of power, even with atomic weapons, and their plans included the growth of this cancerous tumor from the Nile to the Euphrates.
Sadly, after their initial struggles of resistance, some of which were praiseworthy, the majority of Arab governments gradually succumbed. Particularly after the United States took charge in this matter, they forgot their human, Islamic and political responsibilities and their Arab pride. With delusional hopes they contributed to the enemy's goals. The Camp David Agreement is a clear example of this bitter historical fact.
After brave sacrifices and struggles in the early years, resistance groups were gradually pushed to the path of unsuccessful negotiations with the occupier and its supporters. They abandoned the route that could have led to the realization of the Palestinian dream. Negotiations with America and other western governments, and also negotiations with useless international groups, were bitter, unsuccessful experiences for Palestine. Holding out an olive branch at the United Nations General Assembly had no result other than the injurious Oslo Accords, and it led to the eye-opening fate of Yasser Arafat.
The emergence of the Islamic Revolution in Iran opened up a new chapter in the struggle for Palestine. From the first steps – namely, driving out the Zionist elements who considered Iran of the Pahlavi period to be one of their safe strongholds – to assigning the unofficial embassy of the Zionist regime to the office of the Palestinian representative, stopping the flow of oil, other great achievements and widespread political activities. All of these measures brought about the emergence of a front of resistance in the entire region. The hope of solving this issue flourished in hearts. The emergence of the Resistance front faced the Zionist regime with increasing problems. God willing, the Zionist regime will encounter even more problems in the future.
However, the efforts of the supporters of that regime – with America in the front – increased sharply in order to defend the Zionists. The emergence of the faithful, young, self-sacrificing force of Hezbollah in Lebanon and the formation of highly-motivated groups such as Hamas and Islamic Jihad within the Palestinian borders unsettled and alarmed not only the Zionist ringleaders but also America and other aggressive western powers. After and in addition to their support of the occupying regime with weapons and propaganda, they added recruiting from within the region and from within Arab society to the top of their agenda. Today the result of their voluminous work is obvious and in plain view, revealing itself in the actions and words of certain leaders of Arab governments and certain treacherous political and cultural Arab activists.
Today, both fronts engage in various activities in the arena of struggle. The difference between them is that the resistance front is moving with increasing power and hope, and it marches on towards attracting increasing elements of power, while the opposing front of oppression, unbelief and arrogance is growing more hollow, hopeless and powerless by the day. A clear manifestation of this assertion is the fact that the Zionist army, which was once considered to be invincible and lightning fast, one that would stop the aggression of two great armies in a matter of days, is currently forced to retreat and accept defeat against popular forces in Lebanon and Gaza.
Nevertheless, the arena of struggle is volatile and full of dangers. It requires constant vigilance, and the objective of this struggle is very important, fateful and vital. Any kind of negligence, inattention or mistakes in fundamental calculations will inflict heavy damage.
Therefore, I would like to offer some advice to all those who have strong feelings for the issue of Palestine:
1- The struggle to liberate Palestine is Jihad in the way of God, and it is an obligation and an Islamic goal. Victory in such a struggle has been guaranteed, because the person who is fighting, even if he is killed, will receive "one of the two excellent things." [Quran 9:52] Apart from this, the issue of Palestine is a human issue. Driving out millions of human beings from their homes, farmlands and places of business, and doing so through murder and crimes, troubles everyone's conscience and it inspires opposition in everyone who has courage and determination. Therefore, restricting this to be merely a Palestinian issue, or at best an Arab issue, is a grave mistake. Those who consider the concessions made by a few Palestinian elements or rulers of a few Arab countries as a license to sidestep this Islamic and human issue are making a grave mistake in understanding the issue, and perhaps they are guilty of betrayal for distorting the truth.
2- The aim of this struggle is the liberation of all the Palestinian lands – from the river to the sea – and the return of all Palestinians to their homeland. Reducing this struggle to the formation of a government in a corner of the Palestinian lands – particularly, in the humiliating way that is mentioned in the discourse of shameless Zionists – is neither a sign of righteous struggle nor a sign of realism. The truth is that today millions of Palestinians have achieved a level of thinking, experience and self-esteem such that they can focus their efforts on this great struggle in the way of God and be certain of divine assistance and the ultimate victory. "Surely Allah will help him who helps His cause; most surely Allah is Strong, Mighty." [22:40] Undoubtedly, many Muslims throughout the world will support them and share in their struggle, God willing.
3- Although using any halal and religiously permissible means, including global support, is allowed in this struggle - it is absolutely essential to avoid trusting western governments and international groups that are covertly or overtly dependent on them. They are opposed to any effective entity of an Islamic nature. They have no regard for human rights. They themselves are the cause of the worst harm and crimes against the Islamic nation. Which global institution and which criminal power is currently being held accountable for the assassinations, the mass murders, the warmongering, the bombings and the human-made famines in many Islamic and Arab countries?
Today, the world is counting one by one every victim of the coronavirus across the globe, but nobody has asked who is responsible for the hundreds of thousands of martyrdoms, imprisonments and disappearances in countries where America and Europe have waged wars. Who is responsible for all the unlawful bloodshed in Afghanistan, Yemen, Libya, Iraq, Syria and other countries? Who is responsible for all these crimes and for the occupation, destruction and oppression in Palestine? Why didn't anyone count the millions of oppressed children, women and men in the world of Islam? Why doesn't anyone extend their condolences for the mass murder of Muslims? Why should millions of Palestinians spend 70 years away from their homes and in exile? And why should Holy Quds, the first Qiblah of Muslims, be desecrated? The so-called United Nations is not fulfilling its function and the so-called human rights organizations are dead. The slogan of defending the rights of women and children excludes Yemeni and Palestinian women and children.
This is the current condition of the oppressive western powers and dependent global organizations. The disgrace of certain regional governments that follow them is beyond words.
Therefore, a proud and pious Muslim society must rely on itself and its internal forces. It must raise its powerful hand and remove obstacles by relying on and trusting in God.
4- The important point that must not be ignored by the political and military elites of the Islamic world is that the policy of America and the Zionists is to transfer conflicts to behind the frontlines of the front of resistance. Starting civil wars in Syria, the military siege and constant killings in Yemen, the assassinations, the destruction, the creation of the Daesh in Iraq and other similar things in some other countries in the region are all machinations to divert the attention of the resistance front and to provide opportunities for the Zionist regime. Some Muslim politicians knowingly, and some others unknowingly, have contributed to these machinations of the enemy. The main way to prevent these machinations is for the proud youth throughout the world of Islam to seriously make this demand. Young people in all Islamic countries, particularly in Arab countries, must pay attention to this advice from Imam Khomeini (r.a.), "Vent all your shouts on America" and of course, on the Zionist enemy.
5- The policy of normalizing the presence of the Zionist regime in the region is one of the main policies of the United States of America. Certain Arab governments in the region, which act as America's minions, have been preparing the ground for this normalization by establishing economic ties and other such things. These efforts are completely vain and futile. The Zionist regime is a deadly, cancerous growth and a detriment to this region. It will undoubtedly be uprooted and destroyed. Then, the shame will fall on those who put their facilities at the service of this policy of the arrogant powers. To justify this disgraceful behavior, some people argue that the Zionist regime is a reality that the region must come to terms with. They forget that it is necessary to fight and destroy fatal and harmful realities. Today the coronavirus is a reality and yet all wise people agree that it is necessary to fight it. Undoubtedly, the long-lasting virus of Zionism will not last much longer, and it will be uprooted thanks to the determination, faith and pride of the youth.
6- My main advice is to continue this struggle and to better organize the organizations for Jihadi work, their cooperation and to expand the areas of Jihad inside Palestinian territories. Everyone must assist the Palestinian nation in this holy struggle. Everyone must contribute to the Palestinian fighters and stand behind them. We will proudly do everything in our power on this path. One day we came to the conclusion that the Palestinian fighters had piety, pride and courage and their only problem was that they had no weapons in their hands. With divine guidance and assistance, we planned and the result was that the balance of power was transformed in Palestine, and today Gaza can stand against the aggression of the Zionist enemy and defeat it. This change in the equation in the occupied lands will bring the issue of Palestine closer to the final steps. The Palestinian Authority has a great responsibility in this regard. One cannot communicate with a savage enemy except through force and from a position of power. Thankfully, the ground has been prepared for the brave and resistant people of Palestine to gain this power. Today, the Palestinian youth are yearning to defend their dignity.
Hamas and Islamic Jihad in Palestine and Hezbollah in Lebanon have been a proof for everyone. The world has not forgotten and will not forget the day when the Zionist army broke through the Lebanese borders and marched till Beirut or the day when a criminal murderer by the name of Ariel Sharon caused a bloodbath in Sabra and Shatila. It has not forgotten and will not forget the day when the same army pounded by Hezbollah had no choice but to retreat from the borders of Lebanon and beg for a truce after sustaining heavy casualties and admitting defeat. This is what full hands and a position of power means. Now let that European government, which should be eternally ashamed for selling chemical agents to the regime of Saddam Hussein, designate the devoted Hezbollah as illegal. Illegal is a regime like America that creates the Daesh and a regime like that European government whose chemical agents caused the death of thousands in the city of Baneh in Iran and the city of Halabja in Iraq.
7- My final word is that Palestine belongs to the Palestinians; therefore, it should be run as they wish. The referendum - with the participation of all Palestinian religions and ethnicities, this is what we have been suggesting for almost two decades - is the only solution for the challenges which Palestine is facing at the present time and in the future. This plan shows that the western accusations of anti-Semitism which have been repeated time and time again are completely unfounded. On the basis of this plan, Jewish, Christian and Muslim Palestinians will determine together the political system of their country by participating in a referendum. That which should definitely go is the Zionist regime, since Zionism is a bizarre innovation which has been planted in Judaism and is totally alien to that religion.
Full report at:
https://en.farsnews.ir/newstext.aspx?nn=13990302000370
--------
Turkey envoy slams US senators for Uyghurs comments
ServetGünerigök
23.05.2020
WASHINGTON
Turkey's Ambassador to US, SerdarKilic, hit back Friday at two American senators for comments regarding Ankara's treatment of Uyghurs.
Senate Foreign Relations Committee Chairman Senator Jim Risch, shared a news report on Twitter that claimed Ankara reversed some of its support for Uyghurs and Turkish police are questioning refugees fleeing China's crackdown.
"It's shameful that Turkey assists China in violating Uyghur human rights," the Idaho Republican said in remarks accompanying the tweet Wednesday.
In retort to Risch, Kilic said: "Senator, common sense based on facts and realities suggest that what really shameful is to see the Chairman of such an important Committee subscribe to unsubstantiated and biased allegations incriminating a key Ally, without even questioning whether there is any truth into them."
Massachusetts Democratic Senator Edward Markey shared the same report Thursday and accused Turkish President RecepTayyipErdogan of "abusing extradition requests to target his critics around the world."
"As Beijing pushes its own extradition and intimidation campaign against minorities, Turkey should rededicate itself to the protection of persecuted Uyghurs," wrote Markey.
In his response to Markey, Kilic regretted that "some" Congress members are quick to appeal to biased allegations against Turkey.
"Believe me Mr Senator, nothing can match the level of abuse Turkey and Turkish authorities are subjected to by some members on the Hill. This tweet clearly displays yet again that some of them don't even hesitate to subscribe to unsubstantiated and biased allegations to that end," Kilic replied on Twitter.
'Mere fabrication'
The report by Axios news website cited authenticated documents allegedly conveyed by China to Turkey regarding a "secret extradition request" for a Uyghur named EnverTurdi. China accused him of "running a pro-Islamic State website." Turdi denies the accusation.
Turdi was sent to a criminal court and his case is still pending in the Turkish courts, according to the report.
In a letter sent separately to both senators, Kilic said allegations concerning the extradition of Uyghur Turks to third countries are "mere fabrication and as such are far from reflecting the truth."
"Given our historical background and the fact that we share a common language, religion and culture with the Uighur Turks, any issue pertaining to their well-being holds a special place on our agenda," he said.
The Turkish envoy added that extradition and judicial requests by China are examined in accordance with international law based on "full respect to human rights and within the framework of established practice."
China's Xinjiang region is home to 10 million Uyghurs. The Turkic Muslim group, which makes up around 45% of Xinjiang's population, has long accused Chinese authorities of cultural, religious and economic discrimination.
Up to 1 million people, or about 7% of the Muslim population in Xinjiang, have been incarcerated in an expanding network of "political re-education" camps, according to US officials and UN experts.
Full report at:
https://www.aa.com.tr/en/americas/turkey-envoy-slams-us-senators-for-uyghurs-comments/1851129
--------
Top Commander Warns US of Iran's Decisive Response to Hostile Actions
May 22, 2020
Bagheri noted Iran's right to free shipment in the high seas, and stressed that the armed forces are constantly monitoring every small move of the enemies, including the adventurous, terrorist and antihuman American army in the region and faraway lands.
"We stand firm and decided to give the US an appropriate response for any miscalculation against the national interests of Iran," the top commander stressed, in a stern warning to the US to avoid any hostile move aganst five Iranian tankers carrying fuel to Venezuela.
Venezuela's defense minister said Wednesday that planes and ships from the nation's armed forces will escort Iranian tankers arriving with fuel to the gasoline-starved country to prevent any US aggression.
Defense Minister Vladimir PadrinoLópez said Venezuela's navy and air force will welcome the five Iranian tankers, seeing them through the nation's maritime territory and into port.
He compared the fuel tankers to humanitarian aid that China and Russia have sent to help Venezuela combat the new coronavirus pandemic.
Meantime, Iranian Defense Minister Brigadier General Amir Hatami warned the US against any hostile move or trouble-making for the country's oil tankers in international waters.
"Troubling the oil tankers is a violation of international laws and security. Both international organizations and countries which are sensitive to the laws and waterways' security should certainly show reaction to such an act," General Hatami told reporters after a cabinet meeting in Tehran on Wednesday.
He described any possible US trouble-making for the Iranian tankers in the free waters as "piracy".
"Of course, our policy is fully clear and we have clearly announced that we will not tolerate any disturbance. The Americans and others know that we certainly do not hesitate to react to any such move and if the disturbances increase and continue, they will certainly face a firm response," General Hatami said.
Reuters had quoted a senior official in President Donald Trump's administration as saying last Thursday that the United States is considering measures it could take in response to Iran's shipment of fuel to Venezuela.
"...we're looking at measures that can be taken," the official added, speaking on condition of anonymity.
Informed sources told Nour News website, close to Iran's Supreme National Security Council (SNSC), that the US has sent four of its combat warships along with Boeing P-8 Poseidon fighters to the Caribbean.
In response to the US threats, Iranian Foreign Minister Mohammad JavadZarif sent a letter to UN Secretary-General Antonio Guterres to caution over likely US menace against Iranian oil tankers in the Caribbean, stressing that America would be responsible for ensuing consequences.
Zarif described the US' provocative threats as piracy and a big threat to world peace and security, stressing that the US must stop bullying in the world and respect the rule of the international law, especially freedom of shipping in high seas.
Calling the US government responsible for the repercussions of any illegal move, the top diplomat underlined Iran's right to take necessary measures to counter these threats.
Furthermore, Iranian Deputy Foreign Minister Abbas Araqchi summoned the Swiss ambassador, representing US interests in Tehran, to express the country's intensive protest at US provocations.
Araqchi called on the Swiss envoy to convey Iran's serious warning to the US officials against any likely threat posed by the US to Iran's oil tankers.
He noted that Iran and Venezuela enjoy "completely legitimate and legal commercial ties," adding that the US resorting to bullying measures will be considered as a menace to "free shipping, international trade and the free flow of energy."
Such measures, the Iranian diplomat said, are flagrant examples of piracy and explicit violation of international laws and, as such, defy the goals and principles explicated in the UN Charter.
He also warned that any threat against the Iranian ships will ensue Iran's prompt and categorical reaction, and the US administration will be responsible for their consequences.
The Swiss envoy, for his part, said he will instantly convey Iran's message to the US administration and inform the Iranian government of the results as soon as possible.
Also, the Iranian foreign ministry warned on Monday that any hostile act by Washington against the country's oil tankers in the international waters will face a crushing response.
"What the Americans have said about our oil tankers is illegal and if they make a move, they will face Iran's reaction," Foreign Ministry Spokesman Seyed Abbas Mousavi told reporters via a video conference.
He noted that Iran has given the necessary advice to the Americans via the Swiss embassy, which represents the US interests in Tehran, and Foreign Minister Mohammad JavadZarif has also written a letter to the UN chief in this regard, expressing the hope that Washington does not make any "stupid" move.
"Free trade among independent states is a legitimate issue. The US in Trump era is disturbing the global order and is after global anarchism," Mousavi said.
Also on Monday, Iranian Government Spokesman Ali Rabiyee confirmed his country's exports of gasoline to Venezuela, warning against any US hostile act against Iran's tankers in the international waters.
"Iran has sent the gasoline tankers at the demand of Venezuelan government. No state is duty-bound to implement the US-desired sanctions," Rabiyee told reporters in Tehran.
He called on the international society to show reaction to the US illegal warnings about its imminent action against the Iranian oil tankers in the international waters, and said, "The US has a record of piracy."
Full report at:
https://en.farsnews.ir/newstext.aspx?nn=13990302000527
--------
Jewish MP Calls on World Jews to Rise Up against Zionist Disaster
May 22, 2020
MarehSedq said that it is a religious duty for the world Jews to rise up against Israel.
He said although there are no rallies on this year's Quds Day due to the coronavirus outbreak, "we can send the message of support for the Palestinian nation and hatred toward the Zionist regime through other means".
"Through speeches and declaration of support and measures in cyber-space for the Palestinian nation we can keep this day more alive," he emphasized.
Sedq noted that support for the rights of the oppressed of the world is not related to single day and every day belongs to the downtrodden of the world.
He stressed that Israel is seeking to exploit Judaism and does not live up to any religious principle whatsoever. For instance, the Zionist regime's premier was arrested due to theft. Moreover, there are numerous cases of theft and immorality in the past record of the prime minister and former leaders of this regime.
https://en.farsnews.ir/newstext.aspx?nn=13990302000302
--------
FM Spokesman Blasts Europe's Servility to Zionist Lobby
May 22, 2020
"Stunning is Europe's captivity to Zionist lobby," Mousavi tweeted on Friday.
"Europe has historically failed to stop Zionist regime's violation of Int'l law (i.e. Palestinians' suppression, lands' annexation) committed in the name of Israel security," he added.
"Why afraid of 'referendum' in Palestine as a lasting solution?" he noted.
In relevant criticism on Thursday, Iranian Foreign Minister Mohammad JavadZarif said it is not the Palestinian nation who has to pay for the West's crimes.
"Disgusting that those whose civilization found a "Final Solution" in gas chambers attack those who seek a real solution at the ballot box, through a REFERENDUM. Why are US and West so afraid of democracy?" Zarif tweeted on Thursday.
"Palestinians should not have to pay for your crimes, or for your guilt," he added.
In an interview with the Islamic Radios and Televisions Union on Thursday, he also said that the issue of Palestine is the most important and the pivotal issue of the Islamic world.
He added that since the issues and concerns of the Islamic world are of the highest importance for the Islamic Revolution, Iran has been standing beside the Palestinian people supporting their rightful demands.
The International Quds Day is an annual event opposing Israel's occupation of Beitul-Muqaddas. Anti-Zionist rallies and demonstrations are held on the last Friday of Ramadan in Muslim and Arab countries around the world, specially in Iran, as well as a large number of non-Muslim states.
The International Quds Day was started by the late Founder of the Islamic Republic, Imam Khomeini, in 1979 as a way of expressing solidarity with the Palestinians and underscoring importance of the holy Quds to Muslims.
Full report at:
https://en.farsnews.ir/newstext.aspx?nn=13990302000231
--------
US breach of international obligations will definitely end up in anarchism: Iran
22 May 2020
Iran has censured the US administration for planning to withdraw from the Open Skies Treaty, which allows unarmed surveillance flights over member countries, saying there will be anarchism if the White House keeps violating international regulations.
In a post on his official Twitter account on Friday, Abbas Mousavi, the Spokesman for the Iranian Foreign Ministry, said the US officials continue with their policies of unilateralism and exit from international agreements.
S.A MOUSAVI
@SAMOUSAVI9
The American's unilateralism & exit from Intl. agreements is still ongoing. In the past 3.5 years, the US Administration had kept breaching its Intl. obligations in entirety & challenging all Intl. norms, rules and laws which will definitely end up anarchism. #OpenSkiesTreaty
112
4:54 PM - May 22, 2020
Twitter Ads info and privacy
30 people are talking about this
"In the past 3.5 years, the US Administration had kept breaching its Intl. obligations in entirety & challenging all Intl. norms, rules and laws which will definitely end up anarchism," the Iranian official stated.
The tweet came after President Donald Trump confirmed the United States will be exiting the treaty, the US administration's latest move to pull the US out of a global agreement.
"Russia didn't adhere to the treaty, so until they adhere, we will pull out," Trump told reporters outside the White House Thursday, predicting that the US withdrawal would force Moscow back to the table.
"There's a chance we may make a new agreement or do something to put that agreement back together. I think what's going to happen is we're going to pull out and they're going to come back and want to make a deal," Trump said.
The Trump administration said Russia has repeatedly violated the pact's terms. The 35-nation treaty allows its members to make surveillance flights as a trust-building practice.
The New York Times reported Thursday that the move could be a prelude to Washington also withdrawing from the New START Treaty, which limits the number of nuclear missiles the United States and Russia can deploy.
The Trump administration also pulled the United States out of the Intermediate-range Nuclear Forces Treaty (INF) with Russia last year.
Full report at:
https://www.presstv.com/Detail/2020/05/22/625912/Iran-Open-Skies-anarchism-Trump
--------
Zionists always accuse their opponents of wrongdoings they do: American scholar
23 May 2020
Zionists always accuse their opponents of the wrongdoings that they do themselves, an American scholar has said.
Kevin Barrett, an author, journalist and radio host with a Ph.D. in Islamic and Arabic Studies, made the remarks in an interview with Press TV on Friday.
Iran's foreign minister has downplayed a recent spate of propaganda by Western media about a poster that appeared on the website of Leader of the Islamic Revolution Ayatollah Seyyed Ali Khamenei proposing "referendum" as the best way to end Israel's occupation of Palestinian territories and the final solution to the issue of Palestine.
Since the publication of the said poster on Ayatollah Khamenei's website on Wednesday, some Zionist-sponsored international media have been trying to draw an analogy between the term "the final solution" on that poster and the Nazi idea of extermination of Jews during World War II.
Some Western and Zionist officials also moved fast to come up with such baseless charges, most prominent among them being US Secretary of State Mike Pompeo and Israeli Prime Minister Benjamin Netanyahu, who went as far as threatening Iran with destruction.
Iran's foreign minister, Zarif, has responded to attack from Benjamin Netanyahu, Mike Pompeo, and the Zionist-dominated section of the Western media on the Supreme Leader of Iran's office which put out a poster 'Palestine Will Be Free' with its sub-heading, 'the Final Solution: Resistance until the Referendum.'
So, this poster, it' a very beautiful image showing the Palestinian people reclaiming the Masjid Al-Aqsa, Al-Aqsa Mosque, which is the oldest and greatest Islamic architectural monument, symbolizing the presence of Islam in Palestine. And the fact that Muslims administered the holy land on behalf of all monotheists essentially ever since Islam existed.
So this beautiful image of the Liberation of Palestine was attacked by people like Pompeo and Netanyahu and their echo chamber Zionists from media as if it were calling for the mass murder of Jews. Apparently, the solution, the final solution, always has to refer to the Hitler-era ethnic cleansing of Jews from Europe, under the Nazis.
Now, I suppose, they've trademarked that, just like they trademarked the terms Holocaust PM. And they probably would like to trademark the term genocide although there have been thousands, if not millions of genocides throughout human history.
But if they want to trademark a final solution, saying that nobody in any language from any part of the world can come up with a final or permanent solution to any problem, because this expression was once used in a way that they find very offensive, that's insane.
So I guess we can't permanently solve any problems anymore, on this planet, because if we try to solve any problems in the final or permanent way, we will be infringing on the Zionist trademark for their favorite story of genocide.
And so, it's quite ironic here that the Zionists who are in fact the ones who are most loudly protesting about this Iranian poster are in fact the world's worst genocide perpetrators. They've been perpetrating the genocide in Palestine since 1948.
And this does qualify. The Zionist genocide of Palestine is clearly a case of genocide under international law. Cases were made in great detail by international law. Professor Francis Boyle at the University of Illinois, and using those arguments, Israel was actually convicted of genocide at the Kuala Lumpur War Crimes Tribunal a few years ago.
Full report at:
https://www.presstv.com/Detail/2020/05/23/625941/%E2%80%98Zionists-always-accuse-their-opponents-of-wrongdoings-they-do%E2%80%99
--------
Israel's annexation of West Bank could spell trouble for Middle East: Russia
22 May 2020
Russia has warned against the negative repercussions of the Tel Aviv regime's controversial plans to annex parts of the occupied West Bank, stating that such a move could escalate violence in the Middle East region.
"Such expansionist moves by Israel may provoke a dangerous wave of violence across the Palestinian territories and de-stabilize the Middle East as a whole," the press office of Russian Foreign Ministry said in a statement on Thursday.
It added, "The Russian side has warned its Israeli partners about carrying out unilateral plans that do not adhere to the international framework of Middle Eastern de-escalation."
The ministry further highlighted that Israel's annexation of the Jordan Valley and other areas in the West Bank will "undermine the territorial integrity of the West Bank, which is crucial for the sustainability of a future Palestinian state based on the [pre-]1967 borders."
The statement stressed that Moscow principally supports "a comprehensive and sustainable resolution of the Israeli-Palestinian conflict through the (so-called) two-state solution within the given international legal conditions."
The ministry then called upon "all sides to refrain from any steps that may provoke a new dangerous escalation in the region, and hinder the re-launch of direct Israeli-Palestinian negotiations."
The Russian Foreign Ministry finally said Moscow "maintains contact with UN, EU and US representatives in order to hold a meeting [on the subject], possibly including interested Arab states and the Arab League."
'It's time to end Israeli occupation, recognize independent Palestine'
Separately, the Arab League denounced Israel's annexation plans, stating that it is time to take practical steps aimed at ending the Tel Aviv regime's occupation of Palestinian lands and recognizing the state of Palestine.
"This could be achieved through organizing a mechanism by the International Quartet and holding an international conference for peace in the Middle East, on the basis of international legitimacy resolutions and the Arab Peace Initiative of 2002," the regional organization's Assistant Secretary General for Palestine and Occupied Arab Territories, Saeed Abu Ali, said on Thursday.
The so-called Arab Peace Initiative, which was proposed by Saudi Arabia, calls on Israel to agree to a "two-state solution" along the 1967 lines and a "just" solution to the Palestinian refugee issue.
Abu Ali also welcomed the international community's rejection of Israel's annexation and settlement plans. The Arab League Council dismissed the Tel Aviv regime's aggressive plans to annex parts of the occupied Palestinian lands back on April 30.
He stressed the need for an international mechanism to protect the Palestinian nation and implementation of relevant UN Security Council resolutions, including Resolution No. 2334.
Abu Ali underlined that the international community is obliged to stand against Israel's dangerous escalation, which seeks to liquidate the Palestinian cause.
On Thursday, the Palestinian Authority stopped sharing intelligence with the US Central Intelligence Agency (CIA) over Israel's land grab plans in the West Bank.
"It has been 48 hours since the American Intelligence Service have been notified that the agreement with them is no longer in force," SaebErekat, Secretary General of the Palestinian Liberation Organisation, told reporters on Thursday.
"No more security cooperation with the US. No more Security cooperation with Israel," he said.
The announcement came two days after Palestinian President Mahmoud Abbas declared the end of all agreements signed with Israel and the United States, after the new Israeli coalition cabinet under the leadership of Prime Minister Benjamin Netanyahu announced it would annex parts of the West Bank.
Full report at:
https://www.presstv.com/Detail/2020/05/22/625896/Israel%E2%80%99s-annexation-of-West-Bank-could-spell-trouble-for-Middle-East-Russia
--------
Africa
Ethiopia, Egypt. Sudan signal readiness to resume talks on disputed dam
22 May 2020
Three African countries have signaled their readiness to resume negotiations on a controversial dam that will be the continent's largest. The move by Ethiopia, Egypt and Sudan came after Ethiopian Prime Minister Abiy Ahmed said Thursday his country is ready to return to talks.
"We have agreed to continue with technical-level engagements through our water ministers tasked to discuss outstanding issues and arrive at win-win solutions," Abiy said in a Facebook post after speaking to Sudanese Prime Minister AbdallaHamdok. "Through our discussions, we addressed misunderstood issues."
The $4.6 billion Grand Ethiopian Renaissance Dam that Ethiopia is building on the Nile River is meant to provide needed electricity for more than 70 million Ethiopians, but Egypt has raised urgent concerns over the filling of the dam, which is set to begin in the coming weeks.
Egypt asserts that a rapid filling of the dam could reduce its share of water on which it almost entirely relies.
Ethiopia and Egypt, two of Africa's regional powers, have appealed to the United States, the United Nations and others to support their positions.
Ethiopia, Egypt and Sudan concluded technical talks without an agreement in January and then went to Washington for US-brokered talks. Ethiopia later withdrew from the talks citing "pressures" to sign a deal and "unfinished consultations back home."
The war of words between Ethiopia and Egypt has since escalated.
Ethiopia said it will start filling the dam in July when the rain starts, but Egypt has protested the move in a letter it sent to the UN Security Council. Ethiopia also sent a letter to the UN body explaining its position.
Following Ethiopia's latest move, Egypt's foreign ministry said "the return of the three parties to the negotiation table was agreed to complete the remaining simple part of the agreement on the filling and operation of the Grand Ethiopian Renaissance Dam."
Egypt added it is ready to reach to an agreement that "preserves Egypt's water interests and equally takes into account the interests of both Ethiopia and Sudan."
The Blue Nile flows from Ethiopia into Sudan, where it joins the White Nile near the capital, Khartoum, to form the Nile River. Some 85 percent of the Nile waters originate from Ethiopia and the Blue Nile.
In a statement on May 19, UN Secretary-General Antonio Guterres encouraged the three countries to persevere with efforts to peacefully resolve any remaining differences.
The Grand Ethiopian Renaissance Dam, a 145-metre-high, 1.8-kilometre-long concrete colossus is set to become the largest hydropower plant in Africa. The dam is now more than 73 percent complete.
https://english.alarabiya.net/en/News/middle-east/2020/05/22/Ethiopia-Egypt-Sudan-signal-readiness-to-resume-talks-on-disputed-dam.html
--------
Libyan Army spokesman accuses Erdogan of supporting terrorism, disrespecting int'l law
May. 21, 2020
CAIRO – 21 May 2020: Spokesman of the Commander-in-Chief of the Libyan Armed Forces, Major General Ahmed Al-Mesmari, has stressed that the blatant Turkish military intervention in Libya and its support for Al-Wefaq government's militias since 2014 have thwarted all attempts to reach a political solution in Libya.
He added during a press conference on Thursday that all the foreign agreements signed by the President of the Libyan Presidency Council, Fayez al-Sarraj, are illegal, explaining that the Presidency Council did not gain legitimacy from the Libyan Parliament.
"Turkey is under the guise of agreeing with the so-called government of reconciliation to attack the Libyan people and their capabilities," Al-Mesmari said. "The sovereignty and freedom of our homeland are in danger and we must fight," he added.
Al-Mismari also revealed that the number of Turkish military personnel in Libya is 1500, as well as other elements of security companies.
He said, "Turkey is now preparing to transport 2,500 other special operations forces and commandos to Libya."
Al-Mesmari stated that "Turkey transferred approximately 17,000 of the young Syrian people who were deceived or from extremist groups to the Libyan lands."
He explained that during the last week alone, 34 flights were conducted between Istanbul on the one hand, and Tripoli and Misrata on the other hand.
Full report at:
https://www.egypttoday.com/Article/2/87938/Libyan-Army-spokesman-accuses-Erdogan-of-supporting-terrorism-disrespecting-int
--------
Nigeria: Two Nigerian Soldiers, Three Boko Haram Fighters Killed in an Ambush - Official
21 MAY 2020
Two Nigerian soldiers were killed in an ambush by terror group Boko Haram, an official has said.
Three Boko Haram fighters were also killed in the ambush, the official said.
The Coordinator, Defence Media Operations, John Enenche, said these in a statement on Wednesday, according to the News Agency of Nigeria.
Mr Enenche, a major-general, said troops of Combat Team 1, Operation KantanaJimlan who were on patrol along BuniYadi - BuniGari axis of Yobe State encountered multiple Improvised Explosive Devices (IEDs) and a Boko Haram ambush on Sunday.
He said the ambush took place eight kilometres ahead of Buni-Gari in Gujba Local Government Area of Yobe leading to the killing of two soldiers while three other soldiers sustained injuries as a result of the IED explosion.
According to him, a recovery truck, one troops-carrying vehicle and a water tanker that ran into the IED were destroyed by fire.
"Three terrorists were neutralised, while unconfirmed number escaped with various degrees of injury," Mr Enenche said.
In the statement, the official also narrated some successes achieved by the Nigerian military against the insurgents.
He said the Air Task Force of Operation Lafiya Dole, on Monday, destroyed the logistics base of the Boko Haram/Islamic States of West Africa Province (ISWAP) at Njimia on the fringes of Sambisa Forest in Borno State.
He said the operation was in continuation of the onslaught against terrorists targets in the North-east.
Mr Enenche said the feat was achieved following credible intelligence reports as well as series of Intelligence, Surveillance and Reconnaissance (ISR) missions.
He added that the mission led to the identification of the nondescript cluster of structures within the settlement being used by the terrorists to house their fuel and other logistics.
According to him, the Air Task Force dispatched an appropriate attack aircraft and a surveillance platform to take out the target.
"The Nigerian Air Force (NAF) attack assets scored accurate hits in their bombing runs on the target area, completely obliterating the logistics stores as well as causing damage to several other BHT structures in the settlement.
"The Chief of the Air Staff commends the Air Task Force for their professionalism and directs them to remain resolute towards eradicating the terrorists from the North East," he said.
"The Armed Forces of Nigeria will remain unwavering in its quest to end the terrorism and will do everything possible to ensure there is no repeat of this kind of traumatic incident.
"The Military High Command commends troops of Operation Lafiya Dole for their unwavering determination, hardwork and resilience," he said.
Full report at:
https://allafrica.com/stories/202005210082.html
--------
Southeast Asia
Word 'Allah' in non-Muslim publications: Further case management of SIB Church's appeal set for June 29
22 May 2020
PUTRAJAYA, May 22 — The Court of Appeal has set another case management date in the appeal by SidangInjil Borneo (SIB) Church on discovery of documents to enable parties in the appeal to inform the court on the status of their discussion on a possible settlement of the lawsuit.
"Another case management date has been fixed on June 29," said senior federal counsel ShamsulBolhassan, who is representing the Home Ministry and the government in the appeal.
Lawyer Tan Hooi Ping who appeared for the church said the case management date has been set for parties to update the court on the status of the discussion between them for an administrative resolution of the suit.
The appeal was set for case management today before deputy registrar N. Kanageswari.
SIB Church is appealing against the decision of a High Court in dismissing its application for discovery of documents pertaining to the Cabinet's decision in 1986 which prohibited the use of the word "Allah" in non-Muslim publications.
On October 16, 2017, the High Court in Kuala Lumpur dismissed the church's application for the documents, ruling that the documents were classified under the Official Secrets Act (OSA) and could not be released.
The documents were requested by the church and its president, Jerry W ADusing @ Jerry W Pate, in a judicial review application filed on December 10, 2007 against the Home Ministry and the government over their right to use the word Allah to refer to God in their religious publications.
The application was also filed to challenge the decision of the Royal Malaysian Customs to seize religious books brought in from Surabaya, Indonesia, which contained the word "Allah", at the low-cost carrier terminal in Sepang on August 15, 2007.
They are seeking a declaration that they have a constitutional right to use the word "Allah" in their Bahasa Malaysia and Bahasa Indonesia-translated Christian bibles and in all their religious publications and materials.
On October 1, 2014, the Court of Appeal gave the nod to the church to initiate a judicial review application over the right to use the word "Allah" in all its religious publications and materials after the Kuala Lumpur High Court on May 5, 2014 dismissed the SIB church's leave application to commence a judicial review.
Following the Court of Appeal's decision, the matter was remitted to the High Court for hearing on the merits of the church's judicial review.
However, the merits of the judicial review have yet to be heard at the High Court as SIB had first applied to obtain the documents. — Bernama
https://www.malaymail.com/news/malaysia/2020/05/22/word-allah-in-non-muslim-publications-further-case-management-of-sib-church/1868621
--------
On Raya eve, DAP's Kit Siang urges people to embrace new norms, warns against letting go of original founding principles
23 May 2020
BY EMMANUEL SANTA MARIA CHIN
KUALA LUMPUR, May 23 — As we apply practices of the new norms as part of our Hari Raya Aidilfitri celebrations, veteran politician Lim Kit Siang has reminded Malaysians to never forget our original principles and continue to celebrate the diversity in cultures.
The IskandarPuteri MP pointed out how despite the ongoing pandemic, Malaysians must continue to celebrate the diverse races, religions, and regions which have come together to build a new Malaysian nation and civilisation.
"As the Yang diPertuanAgong said in his Royal Address to Parliament on Monday, let us set forth, whatever the challenges and vicissitudes before us, to take Malaysia to greater heights.
"While we learn the new norms in a coronavirus world, let us not forget the old verities and a very important one is for all Malaysians to resolve to preserve, protect and defend the Malaysian Constitution as the basis to take the country to greater heights!
"Let us also resolve not to permit the Covid-19 pandemic to break the Malaysian spirit or nation or to put the clock back to allow abuses of power, rampant corruption, revival of kleptocracy or widespread violation of human rights," he wrote in a statement today.
Lim, while wishing Malaysians SelamatHari Raya, said this year's celebration will undoubtedly be different, pointing out how there will be no 'balikkampung' exoduses, all while the Prime Minister Tan Sri MuhyiddinYassin spends the holidays under self-quarantine.
He warned that the current social adjustments made to deal with the pandemic will not be over in a flash, but might be the new way of life for as far as the next five years, or until a vaccine is discovered and distributed commercially.
"As we celebrate this Muslim festivity in muted conditions, let us begin to learn the new norms we have to live in a coronavirus world, which may take two to five years until an effective vaccine is developed and widely available," he said.
"Let us also resolve not to permit the Covid-19 pandemic to break the Malaysian spirit, or nation, or to put the clock back to allow abuses of power, rampant corruption, revival of kleptocracy or widespread violation of human rights.
Full report at:
https://www.malaymail.com/news/malaysia/2020/05/23/on-raya-eve-daps-kit-siang-urges-people-to-embrace-new-norms-warns-against/1868837
--------
URL: https://www.newageislam.com/islamic-world-news/hizbul-mujahideen-regroups-kashmir-plans/d/121935
New Age Islam, Islam Online, Islamic Website, African Muslim News, Arab World News, South Asia News, Indian Muslim News, World Muslim News, Women in Islam, Islamic Feminism, Arab Women, Women In Arab, Islamophobia in America, Muslim Women in West, Islam Women and Feminism