New Age Islam News Bureau
01 August 2022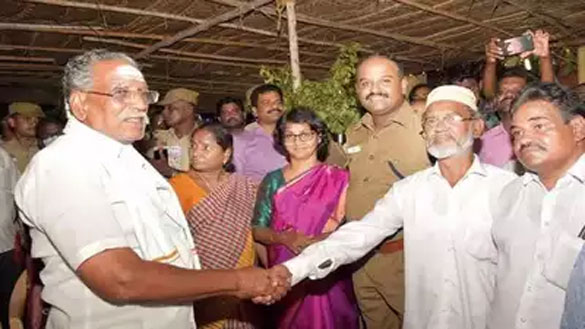 Members from the Hindu and Muslim communities shake hands before the conduct of temple festival in V kalathur village in Perambalur district
-----
• Al-Qaeda-Affiliated Terrorist Group Al-Shabab Publicly Execute 7 in Somalia for Spying
 • Afghan Chess Players Hold Taliban Flag in Chennai, Kabul Lauds 'Good Relations' With India
• Iraq's Top Shia Cleric, Muqtada Al-Sadr, Urges Tribal Leaders and Paramilitary Forces, To Join Parliament Takeover
• 100 French MPs Slam Erdogan's 'Policy of War' Against Syrian Kurds
India
• Religious Harmony: Temple & Mosque Panels Unite To Raise Fund for Cancer Patient in Kerala
• Muslim Central Committee Dakshina Kannada and Udupi Boycotts Peace Meeting Because Of • CM Bommai Discrimination
• NIA Detains Madrassa Student, Farukh, From Deoband
--------
Africa
• Thousands Take To Sudan Streets to Protest Military Rule
• Muslim-Muslim ticket: Split in northern Christian ranks as group tackles Dogara, Babachir
• Ethiopian airstrikes hit terrorist-controlled border region in Somalia: Local media
• Thousands rally in Sudan to demand civilian rule
• Eight security personnel killed in central Nigeria ambush
--------
South Asia
• Former NDS Director Says American Drones Struck Different Locations of Afghan Capital
• Sunday Explosions in Afghan Capital Inflict No Immediate Casualties: Taliban Officials
• The Taliban has achieved political stability, says Suhail Shaheen
• Afghans flay Taliban for delay in issuance of electronic identification cards
• One dead in clashes between Taliban, Iran border forces: Afghan police official
--------
Arab World
• YPG/PKK terror group detains 16 media workers in Syria
• Lebanon denies discriminatory measures against Syrian refugees
• Custodian of Two Holy Mosques receives written message from CAR president
• Part of Beirut port silos, damaged in 2020 blast, collapses
• Lebanon parliament speaker says no presidential vote without IMF laws
--------
Europe
• Turkish foreign minister stresses importance of peace, stability in Balkans
• UN chief calls for de-escalation in Iraq amid protests
• French government body targets Anadolu Agency journalist
--------
Southeast Asia
• Don't Interfere In Malay Non-Muslim Cultural Events, DAP MP Advises Religious Affairs Minister
• Zahid's Trial: Judge Visits Two Country Heights Houses Bought Using Charity's RM5.9m and Converted For Islamic Studies
• Indonesia's pluralism in question as Islamic law influence grows
• Single mum gets leave to challenge children's conversion to Islam
• No backing for sexist, chauvinist candidates, says Puteri Umno
• Muslim Council of Elders to Attend Indonesia Int'l Book Fair with Islamic, Quranic Works
--------
Pakistan
• S. Nitin, a 'Peace Walkers' From India Trek Bumpy Path to Pakistan for Peace
• Shahbaz Gill accuses ex-PM Shahid Khaqan Abbasi of taking bribe from Indian firm
• Thai Buddhist monk visits Peshawar Museum
• Three martyred in North Waziristan mosque attack
• China was uncomfortable with Pakistan under Imran Khan: Reports
• Nawaz agreed with coalition govt's decision to complete tenure: Fazl
--------
Mideast
• Iran: Farajollah Chaab, Terror Group's Ringleader Confesses Receiving Support from Sweden
• Iran Capable Of Producing Atomic Bomb but Chooses Not To: Head of Atomic Agency
• Blast kills 5 engineers at Houthi missile factory in Yemen
• Top Diplomat: Iran Favours Lasting Agreement over JCPOA
• Governor: No Casualties in Border Clashes between Iranian Forces, Taliban
• Iran says it responded to EU proposal aimed at salvaging 2015 nuclear deal
--------
North America
• Respect Human Rights to Gain International Acceptance: US to Taliban
• US envoy pushes Lebanon-Israel talks over maritime dispute
• Biden administration resists Congress push for calling Russia 'sponsor of terrorism'
Compiled by New Age Islam News Bureau
URL: https://newageislam.com/islamic-world-news/hindus-muslims-selliyamman-temple-festival/d/127621
--------
Hindus, Muslims Unite for Selliyamman Temple Festival in Tamil Nadu; Procession Given Warm Welcome by Muslims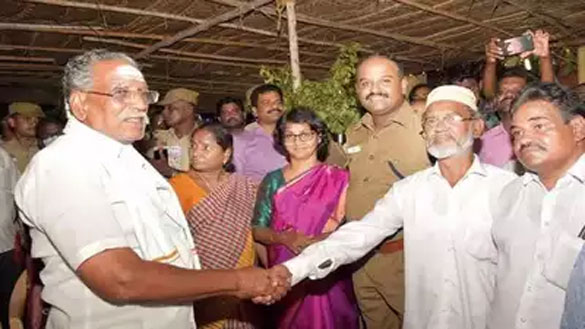 Members from the Hindu and Muslim communities shake hands before the conduct of temple festival in V kalathur village in Perambalur district
Aug 1, 2022
TRICHY: After decades of bitterness and tension, peace has returned to V Kalathur village in Perambalur district as Hindu and Muslim villagers set aside their differences and joined hands for the smooth conduct of the Selliyamman temple festival. For the past 30 years, the Muslim community had opposed the temple's chariot procession passing through their neighbourhoods, but on Saturday night the three-day festival was jointly launched by Hindu and Muslim villagers, thanks to the peace efforts of the district administration and police. People from both faiths exchanged hugs and handshakes as the chariot began to roll in the presence of superintendent of police S Mani.
The Hindu-Muslim hostility over the conduct of the annual temple festival goes back to 1912. According to tradition, the festivities including processions go on for three days in the Aadi month (July-August). The procession covers the entire village including the Muslim-dominated Periyakadai and Pallivasal streets. After a minor clash in 1990, the festival was conducted in an uneasy environment and police protection obtained through a direction from Madras high court.
It was in this backdrop that the local jamat (Islamic council) invited the Hindu villagers for Iftar and Sandhanakoodu chariot procession of the local Dargah recently. Encouraged by the district administration, Hindu villagers attended the event. In return, the Muslim neighbours were invited to the Selliyamman temple festival. "We wanted peace to return, so we ignored the past and extended support for the smooth conduct of the temple festival. The procession was given warm welcome by Muslims," Jaffer Ali, secretary, V Kalathur Jamat, said.
The gesture was appreciated by Hindus who thanked the Madras high court and the district administration for resolving the dispute amicably. "The entire village was happy after decades. We want the religious harmony to continue in the ensuing festivals too," Ramasamy Udaiyar, member of the temple festival organising committee, said. "For more than a year, we worked meticulously to resolve the century-old dispute jointly with district police and HR&CE department. We gained the confidence of villagers by addressing their needs for basic amenities. The bonhomie moment has set an example for resolving religious disputes," district collector P Sri Venkada Priya told TOI.
Source: Times Of India
Please click the following URL to read the text of the original story:
https://timesofindia.indiatimes.com/city/trichy/hindus-muslims-unite-for-temple-festival-in-tamil-nadu/articleshow/93264107.cms
--------
Al-Qaeda-Affiliated Terrorist Group Al-Shabab Publicly Execute 7 in Somalia for Spying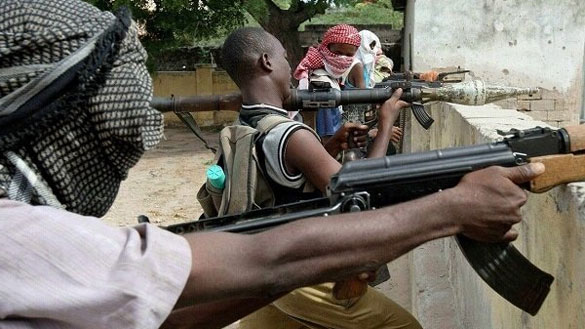 Al-Qaeda-affiliated terrorist group al-Shabab publicly executed seven people for alleged spying, including a soldier, in southwestern Somalia, according to local media.
Photo: N Mehr News Agency
-----
Mohammed Dhaysane
31.07.2022
MOGADISHU, Somalia
Al-Qaeda-affiliated terrorist group al-Shabab publicly executed seven people for alleged spying, including a soldier, in southwestern Somalia, according to local media.
The seven men were executed by firing squad in Buula Fulay in the Bay region, as witnessed by many bystanders, according to the terror group's propaganda website, which also shared a picture of the execution late Saturday.
A so-called "judge" linked to the terror group accused six men of spying for the Somali government and a US intelligence agency, with three of them also accused of providing intelligence on senior al-Shabaab leaders Yusuf Jiis and Abdulkadir, who were killed in US airstrikes in 2020.
The soldier, who was also executed, was taken into custody on the route between the districts of Dinsoor and Baidoa in the country's South West state, according to the terrorists' propaganda outlet.
The terror group's so-called courts do not allow any defense of the accused. They usually depend on confessions obtained through torture, according to many people who have abandoned violence and surrendered to the government.
In April 2020, several al-Shabaab so-called "senior commanders" were killed in US airstrikes, including one of the group's founders, Yusuf Jiis, whom the US called "violent, ruthless, and responsible for the loss of many innocent lives."
Source: Anadolu Agency
Please click the following URL to read the text of the original story:
https://www.aa.com.tr/en/africa/al-shabaab-terrorists-publicly-execute-7-in-somalia/2649910
--------
Afghan Chess Players Hold Taliban Flag in Chennai, Kabul Lauds 'Good Relations' With India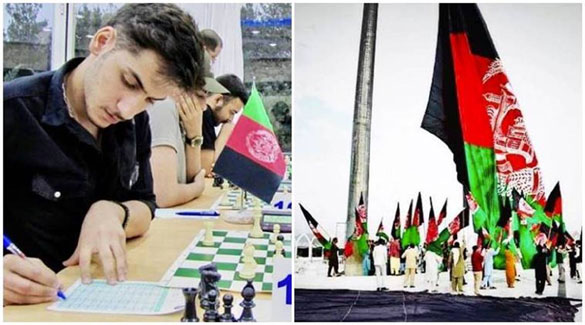 The Chess Olympiad was Sepehr Sekhawaty's dream, a dream that he nearly did not realise. (Sepehr Sekhawaty/Instagram)
-----
Nayanima Basu
1 August, 2022
New Delhi: Afghan players participating in the 44th Chess Olympiad in Chennai were seen brandishing the Taliban white flag, while officially they are playing in the international sporting event under the former tricolour flag of the erstwhile Afghanistan republic government.
The matter came to light Sunday when Ahmadullah Wasiq, director general of the National Radio and Television and acting director for intelligence and deputy head of the cultural commission of the Islamic Emirate of Afghanistan tweeted a photo of one of the team members posing at the venue with the Taliban's flag.
"Players from 199 countries including Afghanistan have gathered for the games in India. Wherever the players are, the white flag of Afghanistan is displayed in an important and conspicuous place at the door," Wasiq said in a tweet.
He also said that this "shows the good relations between the two countries (India and Afghanistan)".
This was immediately shared widely by all Twitter handles that are pro-Taliban.
However, according to the official website of the Chess Olympiad 2022, the team from Afghanistan is playing under the former tricolour flag of Afghanistan.
"We are using both the flags. Inside the venue we are using the old flag, but outside the main venue we can use the white flag. We are players, we have nothing to do with politics," Quraishi Obaidullah, president, Afghanistan National Chess Federation, told ThePrint from Chennai.
He added that while initially no one stopped them from posing with the Taliban flag, and it was also included in the poster outside the main venue, they found those posters removed from the venue Sunday morning when they came to play. "My team is performing well and I hope we will be able to make it to the final round. The authorities here are taking good care of the entire delegation," Obaidullah said.
India does not recognise the Taliban interim government, or the Islamic Emirate of Afghanistan, officially, and hence does not allow the white flag to be used. Even the Afghanistan Embassy in New Delhi uses the old flag.
How India has been engaging with the Taliban govt
Obaidullah also said that the Afghan team got the visa through the existing e-visa process, but they did not get it on time, which is why their team could not participate in the opening ceremony on July 28.
The e-visa system was introduced by India in August last year, after the Taliban came to power in Afghanistan.
New Delhi has been engaging with the Taliban regularly, but it has been largely restricted to offering humanitarian aid and assistance to the people of Afghanistan.
India has already sent 40,000 MT of wheat for the Afghan people apart from medicines and other essential items. New Delhi has plans to send 50,000 MT of wheat to Afghanistan.
Last month, India and the World Food Programme signed another MoU to send the final tranche of 10,000 MT of wheat as the war-torn country reels under the acute food shortage that has been compounded by the earthquake in the eastern part of Afghanistan in June.
In the same month India also reopened its embassy in Kabul, by sending a team there in order to monitor and coordinate the delivery of the aid there.
Source: The Print
Please click the following URL to read the text of the original story:
https://theprint.in/diplomacy/%EF%BB%BFafghan-chess-players-hold-taliban-flag-in-chennai-kabul-lauds-good-relations-with-india/1063603/
--------
Iraq's Top Shia Cleric, Muqtada Al-Sadr, Urges Tribal Leaders and Paramilitary Forces, To Join Parliament Takeover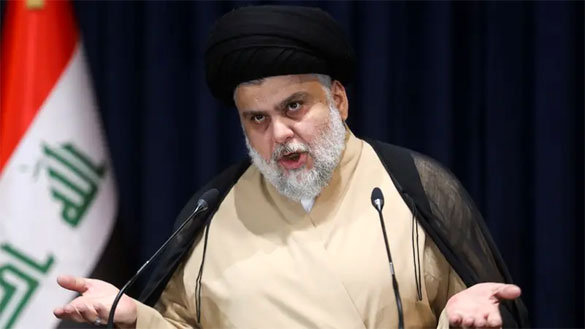 Iraqi Shia cleric Muqtada al-Sadr speaks after preliminary results of Iraq's parliamentary election were announced in Najaf, Iraq October 11, 2021. (Reuters)
-----
31 July, 2022
Iraq's top Shia cleric Muqtada Al-Sadr called on his supporters, including tribal leaders and paramilitary forces, to join thousands of others who are now occupying the nation's parliament to prevent the formation of a new government.
"This is a great chance for radical change to the political system, he tweeted on Sunday, the day after thousands of supporters stormed the nation's seat of power, injuring more than 100 people. "Don't miss your chance.
The weekend's turmoil intensified the political standoff in Iraq, which has pitted Sadr against other Shia groups in a power struggle. It presents a fresh test to a deeply fragile nation, which endured years of American occupation, attack by extremist Sunni forces and other sectarian violence.
Groups of supporters breached the parliament earlier last week. But the much larger mobilization on Saturday came as parliament was set to nominate a new prime minister -- now on indefinite hold as Sadr's supporters settle into the area known as the Green Zone for the foreseeable future.
His group is demanding the dissolving of parliament, fresh elections and changes to the constitution.
Sadr, who organized a militia against American forces in the early days of the Iraq war almost 20 years ago, won national elections in October 2021, but his attempt to form a government with Sunni and Kurdish allies was thwarted by rival Shia groups.
Later he withdrew his 73 representatives from parliament, saying that his rivals were corrupt and tied to Iran.
The Green Zone, the former headquarters for US forces and administrators, now houses the Iraqi parliament, governmental offices and diplomatic missions.
Source: Al Arabiya
Please click the following URL to read the text of the original story:
https://english.alarabiya.net/News/middle-east/2022/07/31/Iraq-s-top-Shia-cleric-urges-more-to-join-parliament-takeover
--------
100 French MPs Slam Erdogan's 'Policy of War' Against Syrian Kurds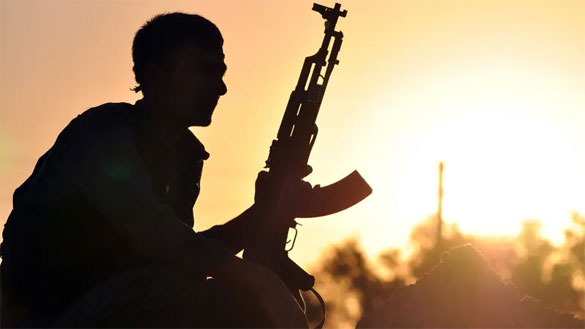 A fighter from the Kurdish People Protection Unit (YPG) poses for a photo at sunset in the Syrian town of Ain Issi, some 50 kilometres north of Raqqa. (AFP)
-----
31 July, 2022
A hundred French parliamentarians, mainly from the political left, on Saturday denounced Turkish President Recep Tayyip Erdogan's "policy of war" against Kurds in northern Syria.
While the rest of the world is focused on Ukraine, as Russia's war crimes multiply there, Erdogan is "planning to launch an umpteenth bloody offensive against the Kurds in northern Syria," the parliamentarians said in a statement published by the JDD title.
The Turkish president "is taking advantage" of Turkey's pivotal status, as a NATO member on good terms with both Moscow and Kyiv, "to obtain a blank check from the Atlantic Alliance in order to intensify his attacks in northern Syria", according to the statement initiated by Communist senator Laurence Cohen.
"Western countries must no longer look the other way", said the elected representatives, parliamentary deputies and upper house senators mostly from leftist and ecologist parties.
They were joined by some from the rightwing Republicans (LR) and President Emmanuel Macron's ruling party.
They called on the West "to guarantee the protection of Kurdish activists and associations present on European soil".
The signatories urged France to refer the matter to the UN Security Council "to declare a no-fly zone in northern Syria and place the Syrian Kurds under international protection".
They also called for the Autonomous Administration of North and East Syria (AANES) to "be granted international recognition".
Erdogan is threatening to launch a new military offensive against Kurdish-controlled areas of northern Syria, where he wants to establish a buffer zone 30 kilometers (20 miles) deep.
Turkey has launched a string of offensives in Syria in the past six years, most recently in 2019 when it conducted a broad air and ground assault against Kurdish militias after former US president Donald Trump withdrew American troops.
Erdogan has urged Russia and Iran to back his efforts, saying at a three-way summit last week that "we will continue our fight against terrorist organizations".
Source: Al Arabiya
Please click the following URL to read the text of the original story:
https://english.alarabiya.net/News/middle-east/2022/07/31/100-French-MPs-slam-Erdogan-s-policy-of-war-against-Syrian-Kurds
--------
India
Religious harmony: Temple & mosque panels unite to raise fund for cancer patient in Kerala
01st August 2022
By Pooja Nair
KOZHIKODE: In a gesture aimed at religious harmony, two temple committees at Kottakkal in Malappuram district have extended support to a mosque committee in their attempt to raise funds for the treatment of an 18-year-old girl. While the Kuttipurathukav Bhagavathy temple committee contributed more than Rs 50,000, the Narasimha Moorthi temple committee contributed Rs 27,000 to the Alukkal Juma Masjid to support Hanna, who is battling cancer.
The mosque committee has so far raised more than Rs 1.5 crore for the Kottakkal resident being treated at a private hospital in Kozhikode. The Kuttipurathukav Bhagavathy temple committee members have also made use of the opportunity to encourage their community members to support the mosque committee raise sufficient funds to help Hanna.
"We are delighted to have been able to make this contribution to the mosque committee which is striving to raise funds to help a girl survive cancer. It's nice that people from both communities are coming together in various activities," said temple committee secretary Ajith Kumar. This is not the first incident where the Kuttipurathukav Bhagavathy temple committee has extended such a support, he said.
Also, when the temple underwent renovation and during the annual festival, the members of the mosque whole supported the temple committee without showing any apprehension, Ajith pointed out. "We do believe in living together and not being divided by religion," he said.
The members of the mosque committee said the gesture was hardly surprising, as they have been living in absolute harmony for several decades. "People from our community have always shown great enthusiasm in celebrating every event conducted in our neighbouring temples. With the support of everyone, we were able to raise sufficient funds for the treatment of the girl," said a mosque committee member.
Source: New Indian Express
Please click the following URL to read the full text of the original story:
https://www.newindianexpress.com/good-news/2022/aug/01/religious-harmony-temple--mosque-panels-unite-to-raise-fund-for-cancer-patient-in-kerala-2482779.html
--------
Muslim Central Committee Dakshina Kannada and Udupi Boycotts Peace Meeting Because Of CM Bommai Discrimination
Jul 31, 2022
Mangaluru: The Muslim Central Committee Dakshina Kannada and Udupi, boycotted the district peace committee meeting held at the deputy commissioner's office on Saturday. B M Mumtaz Ali, vice-president, Muslim Central Committee, said that the Muslim Central committee has over 1,000 mosques associated with it, and has always stood for peace in society. The last rites of Mahammed Fazil were also conducted peacefully, he said.
The committee boycotted the meeting, because chief minister Basavaraj Bommai, who visited Praveen Nettaru's house, did not visit the house of Masood B, who was brutally assaulted on July 19, and died on July 21. When the chief minister was in town, another youth, Mahammed Fazil was hacked to death. "Why this discrimination and special treatment towards one youth? In terms of investigation too, only one case has been handed over to the NIA and not the other cases," he said.
The committee met on Saturday, and decided to provide ex gratia of Rs 30 lakh each, to the kin of Masood and Fazil.
K Ashraf, president Dakshina Kannada Muslim Okoota, said that when the chief minister visited the district, he could have called for a peace committee meeting, and discussed the issues with leaders from all communities.
Source: Times Of India
Please click the following URL to read the full text of the original story:
https://timesofindia.indiatimes.com/city/mangaluru/muslim-central-committee-boycotts-peace-meeting/articleshow/93241052.cms
--------
NIA Detains Madrassa Student, Farukh, From Deoband
Jul 31, 2022
SAHARANPUR: A madrassa student, hailing from Karnataka, was held by a team of the National Investigation Agency on Sunday for suspected terror links.
The student, Farukh, was staying at a madrassa in Deoband of Saharanpur, police sources said. Senior superintendent of police (SSP) Vipin Tada confirmed Farukh's detention.
According to the sources, Farukh is adept in many languages and was in touch with a module of the Pakistani intelligence unit ISI via a social media app. He was being questioned by officials of NIA, they said.
Source: Times Of India
Please click the following URL to read the full text of the original story:
https://timesofindia.indiatimes.com/india/nia-detains-madrassa-student-from-deoband/articleshow/93252344.cms
--------
Africa
Thousands take to Sudan streets to protest military rule
31 July, 2022
Thousands of Sudanese protesters rallied in the capital Sunday to demand an end to military rule and tribal clashes that have killed over 100 people, AFP correspondents said.
"Down with Burhan," they chanted, referring to General Abdel Fattah al-Burhan, the army chief who last year led a military coup that upended a transition to civilian rule following the 2019 ouster of president Omar al-Bashir.
Near-weekly protests have been held since, despite a deadly crackdown that has killed at least 116 people, according to pro-democracy medics.
For the latest headlines, follow our Google News channel online or via the app.
"The authority is the people's," protesters chanted, demanding soldiers return to their barracks.
Since last year's coup, Sudan -- already one of the world's poorest countries -- has been reeling from a spiralling economic crisis and a broad security breakdown which has seen a spike in ethnic clashes in its far-flung regions.
On July 11, tribal clashes over a land dispute erupted in southern Blue Nile state, leaving at least 105 people dead and 291 wounded, and sparking protests demanding justice and calls for coexistence.
Protester Mohamed Ali told AFP on Sunday that he was demonstrating for "one unified nation".
The military council has "turned a blind eye" to tribal violence, Ali said, "because these problems allow it to stay in power".
Pro-democracy activists have long accused Sudan's military and ex-rebel leaders who signed a 2020 peace deal of exacerbating ethnic tensions for political gain.
The strength of the pro-democracy movement has ebbed and flowed since the coup, most recently rocked by a surprise announcement on July 4, when Burhan pledged in a televised address to step aside and make way for Sudanese factions to agree on a civilian government.
Key civilian leaders dismissed his move as a "ruse", and pro-democracy protesters have held fast to their rallying cry that there can be "no negotiation, no partnership" with the military.
Source: Al Arabiya
Please click the following URL to read the full text of the original story:
https://english.alarabiya.net/News/middle-east/2022/07/31/Thousands-take-to-Sudan-streets-to-protest-military-rule-
--------
Muslim-Muslim ticket: Split in northern Christian ranks as group tackles Dogara, Babachir
01 August 2022
Christian Association of Nigeria (CAN) in the 19 northern states and the Federal Capital Territory (FCT), yesterday, insisted adherents would continue to resist any move to divide the country on religious and ethnic lines.
It claimed the country's unity, which has been undermined by the President Muhammadu Buhari government, is threatened further by the Muslim-Muslim ticket of the ruling All Progressives Congress (APC), urging Nigerians to reject the development.
In a press conference in Kaduna, Secretary General of the northern chapter, Elder Sunday Oibe, said: "We reaffirm our stand against the idea of a Muslim-Muslim ticket in a multi-religious and multi-cultural society, like Nigeria, considering, especially, the fact that the country has never been this divided along religion and ethnic lines.
"Northern CAN wants to use this medium to call on politicians and political parties to be wary of those who might sneak to meet them secretly, like Nicodemus, in the name of Christian leaders from the north, with the sole aim of wetting their political appetite and in desperation for monetary gains."
Oibe added: "Northern CAN, as a reputable religious organisation, will never engage in any secret dealing with any politician, as a matter of policy. However, our doors are open to any Nigerian who desires to share with us ideas for moving the country forward."
BUT a northern body, Coalition of Christian Groups for Good Governance, said the hardline position of former Secretary to the Government of the Federation, Mr. Lawal Babachir, former House of Representatives Speaker, Yakubu Dogara, and Adamawa lawmaker, Ishaku Abbo, on the contentious Muslim-Muslim ticket was based on selfish interest.
It claimed the truth about Lawal and Dogara's anger is that none of them was picked as running mate and urged northern Christians to ignore their "divisive tactics" and vote for competent person in the 2023 elections.
In a statement signed by the leader of the coalition, Elder Peter Sati Auta, the group said: "Nigerians, especially the electorate, are wise enough to know that whipping up religious sentiments against any candidate is not the solution to the challenges of insecurity, dwindling economy, insurgency, high unemployment rate, bad governance and other problems militating against progress and development of Nigeria."
THIS came as a foundation member of the APC, Mr. Osita Okechukwu, declared northern Christians would not vote for the Peoples Democratic Party's (PDP) presidential candidate, Atiku Abubakar.
Okechukwu made this known in Abuja, yesterday, while answering questions from journalists.
Reacting to northern Christians' outrage over APC's Muslim-Muslim ticket, Okechukwu, who is the Director General of Voice of Nigeria (VON), said he shares their anguish and fears on identity politics but knows that, contrary to the speculations of spin doctors, they would not vote for the former Vice President.
He said whatever marginalisation northern Christians suffered, they would suffer no more if APC standard bearer, Asiwaju Bola Tinubu, becomes president in 2023.
He added: "Our first slogan in APC is change. Our mantra is change. We will not remain static, never. We will change whatever is not working. All we ask Nigerians is give us another eight years as you gave our sister political party, the PDP.
"Regarding the northern Christians' outrage over APC's Muslim-Muslim ticket, if any pundit thinks they will vote for Atiku, my answer is 'Capital No!' No matter what, they know he is bringing nothing new to the table.
Source: Guardian Nigeria
Please click the following URL to read the full text of the original story:
https://guardian.ng/news/muslim-muslim-ticket-split-in-northern-christian-ranks-as-group-tackles-dogara-babachir/
--------
Ethiopian airstrikes hit terrorist-controlled border region in Somalia: Local media
Mohammed Dhaysane
30.07.2022
MOGADISHU, Somalia
A fighter plane believed to belong to the Ethiopian military on Saturday carried out an airstrike in a Somali border region reportedly controlled by terrorist group al-Shabaab, local media reported.
The airstrikes took place in the southwestern town of Garaswayne located on the outskirts of Hudur, capital of the Bakol region.
Adan Hassan Adan, a local journalist in Hudur, told Anadolu Agency over the phone that the town was hit by at least four missiles and at least one woman was seriously wounded.
He said one missile hit near a mosque and another landed in an empty market.
Local media reported that an Ethiopian fighter plane carried out the airstrike but Ethiopia's Liyu police, operating in Bakol, had no comment other than saying operations are taking place in the region.
The reported airstrike comes a day after heavy fighting between Liyu counterinsurgency forces in Ethiopia's Somali region and al-Shabaab terrorists took place in the border town of Aato in Bakol, killing at least 10 people, according to local security officials.
Source: Anadolu Agency
Please click the following URL to read the full text of the original story:
https://www.aa.com.tr/en/africa/ethiopian-airstrikes-hit-terrorist-controlled-border-region-in-somalia-local-media/2649576
--------
Thousands rally in Sudan to demand civilian rule
Buhram Abdel-Men'em
31.07.2022
KHARTOUM, Sudan
Fresh demonstrations erupted in Sudan on Sunday to demand the restoration of civilian rule in the country.
Thousands of protesters rallied in the capital Khartoum, with demonstrators blocking a number of roads with barricades and burning tyres, according to an Anadolu Agency reporter.
Security forces shut roads leading to the Presidential Palace and the headquarters of the Sudanese Military Command in the capital.
Demonstrations were also reported in the cities of Bahri and Omdurman and the eastern city of Kassala.
Protesters held banners condemning the military rule and demanding the restoration of civilian rule in Sudan.
Sunday's protests were called by the former ruling Forces of Freedom and Change coalition and the Resistance Committees, which spearhead the current wave of demonstrations against the military.
Sudan has been in turmoil since last October, when the military dismissed Prime Minister Abdalla Hamdok's transitional government, a move decried by political forces as a "military coup."
Source: Anadolu Agency
Please click the following URL to read the full text of the original story:
https://www.aa.com.tr/en/middle-east/thousands-rally-in-sudan-to-demand-civilian-rule/2649977
--------
Eight security personnel killed in central Nigeria ambush
August 01, 2022
KANO, Nigeria: Gunmen killed eight Nigerian security personnel, including three policemen and five vigilantes, in an ambush in a central state, a local government spokesman said Sunday.
In the attack on Saturday, gunmen "suspected to be bandits ambushed and killed eight security officers in Ajaokuta local government area," Onogwu Muhammed, Kogi state governor's spokesman, said in a statement.
No group claimed responsibility for the attack but Kogi has seen an uptick in attacks recently, including some claimed by Daesh terrorists operating outside their usual base in the northeast.
Security will be a major issue in next February's election to replace President Muhammadu Buhari, who is under increasing pressure over the country's worsening violence.
Kogi state governor Yahaya Bello suspended a traditional chief of the area and questioned the political administrator of the district over Saturday's killings, the statement said without giving details.
"The governor strongly warned other traditional rulers across the state who may have connection in one way or the other with criminal elements in their domains to desist forthwith," Muhammed said.
Nigeria's traditional chiefs and emirs have no official political power but are very influential as guardians of local culture and religion.
Bello vowed to "deal ruthlessly with anybody who romances with criminal elements no matter how highly placed they are."
Last month, gunmen bombed a police station in Kogi's Okehi district, killing a policeman and razing the facility.
In April three policemen were killed when gunmen attacked a police station in the town of Adavi.
Both attacks were claimed by Daesh West Africa Province or ISWAP terrorist group, which split from Boko Haram in 2016 to become a dominant militancy in northeast Nigeria.
Source: Arab News
Please click the following URL to read the full text of the original story:
https://www.arabnews.com/node/2133391/world
--------
South Asia
Former NDS Director Says American Drones Struck Different Locations of Afghan Capital
By Saqalain Eqbal
31 Jul 2022
Rahmatullah Nabil, former director of the Afghan National Directorate of Security (NDS), claims that American drones were spotted in Kabul's airspace and attacked various Kabul locations.
Following reports of at least two explosions in the capital's Wazir Akbar Khan and Sherpur areas, Nabil posted his statement on his Twitter handle.
"American drones were seen in the airspace of KBL and struck different locations in Kabul," the former NDS director wrote.
Nabil also stated that the explosions that occurred on Sunday in Kabul are "most likely" a "IS-K hideout," citing a clause of the Doha agreement, to which the US and the Taliban are parties, which states that the US will help the Taliban combat and defeat IS-K.
He also cautioned that Afghanistan is in grave danger of turning into a haven and sanctuary for extremists and terrorists.
Taliban security authorities claim that a rocket was launched at the Wazir Akbar Khan area of Kabul and landed close to the area's 11th street following the release of news about the occurrence of at least two explosions in the capital.
The rocket struck a vacant house, according to Khalid Zadran, the Taliban's spokesman for the Kabul Police on Sunday, July 31. No one was injured in the incidents.
Another explosion in Kabul's Dehmazang area was also reported by the locals, resulting in no immediate casualties.
Source: Khaama Press
Please click the following URL to read the full text of the original story:
https://www.khaama.com/former-nds-director-says-american-drones-struck-different-locations-of-afghan-capital-38748/
--------
Sunday Explosions in Afghan Capital Inflict No Immediate Casualties: Taliban Officials
By Saqalain Eqbal
31 Jul 2022
Locals in the Kabul areas of Sherpur and Wazir Akbar Khan have reported two explosions, and there have also been reports of explosions in the Dehmazang area of the Afghan capital. According to Taliban security authorities, no immediate casualties were caused by the explosions on Sunday morning.
According to the security officers of the Taliban government, the occurrence in Sherpur and Wazir Akbar Khan on July 31st took place at about 6:30 am.
The Taliban Ministry of Defense spokesman, Abdul Nafi Takor, stated that no one was hurt when a rocket struck an unoccupied house in Kabul's Sherpur area.
As for the explosions, some sources claim that they were brought on by the landing of two rockets near the Wazir Akbar Khan and Sherpur areas of Kabul.
Both instances have gone unclaimed thus far by any group or organization.
Since the Taliban seized power, there have been more attacks in Afghanistan, despite the Taliban's assurances of security.
Additionally, earlier this month, the United Nations Assistance Mission in Afghanistan (UNAMA) issued a report documenting the human rights situation in Afghanistan during the past 10 months since the Taliban took power.
Source: Khaama Press
Please click the following URL to read the full text of the original story:
https://www.khaama.com/sunday-explosions-in-afghan-capital-inflict-no-immediate-casualties-taliban-officials-374843/
--------
The Taliban has achieved political stability, says Suhail Shaheen
Kallol Bhattacherjee
JULY 31, 2022
Kandahar faction handles leadership; military power decentralised among Haqqanis and commanders
The Taliban has proved detractors wrong and has achieved political stability within a year of coming to power in Kabul, Suhail Shaheen, head of the Political Office of the Taliban told The Hindu. As Afghanistan marks one year of Taliban rule in the coming August, the outfit has centralised political power in the Kandahar faction while decentralising its military power among a wide range of veteran and young commanders.
On July 1, the Taliban's Amir ul Momineen Hibatullah Akhundzada, visited Kabul for the first time since the takeover of the capital. Mr. Akhundzada has maintained the reclusive style of the Taliban's first supreme leader Amir ul Momineen Mullah Omar, who was rarely seen, partly because of security reasons. While the supreme leader is expected to remain unseen, the visible part of the Taliban administration begins with the next leader — "Prime Minister" Mullah Hasan Akhund and his deputies, Mullah Abdul Ghani Baradar, Maulavi Abdul Kabir, and Mullah Abdul Salam Hanafi.
Also read: Two killed in Kabul cricket stadium grenade attack, police say
Out of the three, Mr. Hanafi is a Turkic and served as a Deputy Education Minister in the previous Taliban government during 1996-2001. Like Mr. Baradar, Mr. Hanafi too was part of the Taliban's political team that negotiated with the U.S. in Qatar and was one of the few Taliban representatives who was seen on TV screens worldwide before he was appointed Deputy Prime Minister in the autumn of 2021. It was the Mr. Hanafi-led Taliban delegation that had met with Indian diplomats on the sidelines of the Moscow Format conference that month, when both sides made formal contact.
The toughest part of the Taliban's internal power equation involved finding equilibrium between the diplomatic-political and the military wings as both wanted a bigger share of power. It was also at the root of a brawl involving Mr. Baradar and Khalilur Rahman Haqqani in September 2021. Mr. Baradar's wing believed power sharing should take into account the success of the Taliban's negotiating team.
Partially because of that fight, Mr. Khalilur Rahman Haqqani, despite being the "refugees Minister" is not among the main Taliban leaders anymore. According to Afghan sources, he is respected because he happens to be the brother of the late Jalaluddin Haqqani, the warlord who gave the Haqqani network its fierce reputation during the anti-Soviet Jehad of the 1980s. In contrast, it is Sirajuddin Haqqani, nephew of Mr. Khalilur Rahman Haqqani and son of Mr. Jalaluddin Haqqani, who is more powerful as he has maintained his hold as the "Interior Minister" of the Taliban since arriving in Kabul a year ago. Informed sources said that Mr. Sirajuddin Haqqani is supported by his cousins, Hafiz Aziz Haqqani and Hafiz Yaha Haqqani, who are considered to be the "right and left hands of Sirajuddin" and exercise control over military and intelligence affairs of the Taliban on his behalf.
The Taliban's "Defence Minister", Mullah Yaqub, is another powerful figure with his own fighters. Mr. Yaqub is venerated as he is the son of the first supreme leader, Amir ul Momineen Mullah Omar, and is also a potential successor to the post, according to some pro-Taliban sources. Next in line are "Foreign Minister" Amir Khan Muttaki and "Finance Minister" Hedayatullah Gul Agha. Mr. Muttaki has acquired prominence as the Taliban's chief diplomat as the regime yearns for international legitimacy and developmental aid.
Mr. Gul Agha, also known as Gul Agha Ishakzai, like the Kandahar faction and Mr. Yaqub, is part of the old Taliban (1996-2001). Unlike the Haqqani Network that is known for being close to Pakistan, Mr. Agha is known to be part of the anti-Pakistan "Mansour group", or Taliban leaders who were close to the late supreme leader Mullah Mansour, who was slain in a drone attack in 2016. Like Mr. Agha, "Deputy Interior Minister" Sader Ibrahim and "Deputy Defence Minister" Abdul Qayyum Zakir also command a large number of fighters of their own.
Source: The Hindu
Please click the following URL to read the full text of the original story:
https://www.thehindu.com/news/national/the-taliban-has-achieved-political-stability-says-suhail-shaheen/article65703832.ece
--------
Afghans flay Taliban for delay in issuance of electronic identification cards
1 August, 2022
Kabul [Afghanistan], July 31 (ANI): Afghans on Sunday decried the delay in the issuance of electronic identification cards adding to their plight in war-ravaged Afghanistan.
They raised their concerns about not getting their ID cards, saying that it has been two weeks since the printing and distribution of electronic ID cards in Kabul has stopped, reported Tolo News.
The applicants added that they are unable to register their names online due to technical issues with the Department of Statistics and Information's website.
"I completed the biometric procedure two weeks ago, and now that I have returned, they have told me that the printing papers have been finished and that we have signed a contract with another country. Please come in five days," said Mohammad Uzair, an applicant for an ID card, told Tolo News.
"I came from Mazar because there it was too crowded, I wanted to get the ID card here, but they said the process has stopped," said another ID card applicant, Fawad.
The process of distributing ID cards has been stopped, according to a Tolo News reporter who visited one of the electronic ID card distribution centres in Kabul's Macroyan area.
"The system online is having issues. The issue is that when we go to the ID card website, there is a problem with the site when we register," said Nasrullah, another ID card applicant.
The Department of Statistics and Information has not commented despite repeated requests.
According to Tolo News, many local residents said they need ID cards for numerous reasons.
Shabir Ahmad, a Kabul resident said that he wants to travel abroad in order to get medical attention for a family member.
Shabir Ahmad said: "We seriously need ID cards. Everyone needs to take their patients abroad. Having ID cards is necessary for getting a passport."
The National Statistics and Information Authority in Afghanistan issues the electronic National Identity Card (eNIC).
According to NSIA, 104 centres are present for the distribution of ID cards in Afghanistan, including 25 in Kabul.
Source: The Print
Please click the following URL to read the full text of the original story:
https://theprint.in/world/afghans-flay-taliban-for-delay-in-issuance-of-electronic-identification-cards/1063494/
--------
One dead in clashes between Taliban, Iran border forces: Afghan police official
31 July, 2022
Clashes between Taliban forces and Iran border guards on Sunday have left at least one dead on the Afghanistan side, an Afghan police official said.
"We have one killed and one wounded; the cause of the clash is not clear yet," the police spokesman of the southern Afghan province of Nimroze, Bahram Haqmal, told Reuters.
Maysam Barazandeh, the governor of the Iranian border area of Hirmand, was quoted by the semi-official news agency Fars as saying the clashes had stopped and there were no casualties.
Iran's Tasnim news agency said clashes broke out after Taliban forces tried to raise their flag "in an area which is not Afghan territory."
Local sources told Reuters that people living near the border on the Afghan side fled their homes to take cover when the clashes intensified.
Source: Al Arabiya
Please click the following URL to read the full text of the original story:
https://english.alarabiya.net/News/world/2022/07/31/One-dead-in-clashes-between-Taliban-Iran-border-forces-Afghan-police-official
--------
Arab World
YPG/PKK terror group detains 16 media workers in Syria
Ethem Emre Ozcan and Esref Musa
31.07.2022
Sixteen members of the local media were reportedly detained by the terrorist group YPG/PKK in the eastern Syrian province of Raqqa.
In a written statement, the Syrian Network for Human Rights (SNHR), which tracks human rights abuses against civilians in Syria, claimed that the YPG/PKK terrorist group under the guise of the so-called SDF detained 16 members of the local media on Saturday in Raqqa, which the group seized earlier.
The statement urged the immediate release of the local media employees, who were detained by the terror group under the pretext of "espionage," stressing the need to protect press workers.
The network condemned the YPG/PKK terrorists' abduction of journalists and said the terror group has taken steps to end press freedom in the territories it controls.
Source: Anadolu Agency
Please click the following URL to read the full text of the original story:
https://www.aa.com.tr/en/middle-east/ypg-pkk-terror-group-detains-16-media-workers-in-syria/2650092
--------
Lebanon denies discriminatory measures against Syrian refugees
Naim Burjawi
31.07.2022
BEIRUT, Lebanon
Lebanon has denied reports about taking discriminatory measures against Syrian refugees in the country.
In a statement, the Lebanese Foreign Ministry said Lebanon has not taken any measures or decisions that would distinguish between the displaced Syrians and Lebanese citizens.
The ministry said the global food crisis is worsening the economic and financial problems in Lebanon.
"Lebanon has repeatedly warned that this reality will inevitably lead to competition between the Lebanese, Palestinian refugees and displaced Syrians over limited food resources," it said.
"There is no doubt that the continuation of this situation will lead to an increase in the level of tension, and indeed in the rate of security incidents against all marginalized groups in Lebanon," the statement added.
On Saturday, the UN High Commissioner for Refugees (UNHCR) warned of rising tensions between Lebanese nationals and Syrian refugees amid discriminatory rhetoric against Syrians in the country.
In a statement, the UN agency expressed "grave concern over the restrictive practices and discriminatory measures activated on the basis of nationality, which affects the refugees and other marginalized groups." It cited a series of violent assaults and crimes against Syrian refugees by Lebanese citizens.
Lebanon hosts around 1.5 million Syrian refugees, about 900,000 of whom are registered at UNHCR.
Source: Anadolu Agency
Please click the following URL to read the full text of the original story:
https://www.aa.com.tr/en/middle-east/lebanon-denies-discriminatory-measures-against-syrian-refugees/2649859
--------
Custodian of Two Holy Mosques receives written message from CAR president
July 31, 2022
RIYADH — Custodian of the Two Holy Mosques King Salman received a written message from President Faustin Archange Touadera of the Central African Republic, dealing with strengthening the relations between the two countries.
The message was received by Minister of Foreign Affairs Prince Faisal Bin Farhan when he received here Sunday, Minister of Energy and Water Resources of the Central African Republic Bertrand Arthur PIRI.
Source: Saudi Gazette
Please click the following URL to read the full text of the original story:
https://saudigazette.com.sa/article/623510/SAUDI-ARABIA/Custodian-of-Two-Holy-Mosques-receives-written-message-from-CAR-president
--------
Part of Beirut port silos, damaged in 2020 blast, collapses
31 July, 2022
A section of Beirut's massive port grain silos, shredded in the 2020 explosion, collapsed in a huge cloud of dust on Sunday after a weekslong fire, triggered by grains that had fermented and ignited in the summer heat.
The northern block of the silos collapsed after what sounded like an explosion, kicking up thick gray dust that enveloped the iconic structure and the port next to a residential area. It was not immediately clear if anyone was injured.
Assaad Haddad the General Director of the Port Silo, told The Associated Press that "everything is under control" but the situation has not subsided yet. Minutes later, the dust subsided and calm returned.
The 50 year-old, 48-meter tall giant silos withstood the force of the explosion two years ago, effectively shielding the western part of Beirut from the blast that killed over 200 people, wounded more than 6,000 and badly damaged entire neighborhoods.
In July, a fire broke out in the northern block of the silos due to fermenting grains. Firefighters and Lebanese Army soldiers were unable to put out the fire which continue smoldering for weeks, releasing odors into nearby cities. The environment and health ministries last week issued instructions to residents living near the port to stay indoors in well-ventilated spaces.
Emmanuel Durand, a French civil engineer who volunteered for the government-commissioned team of experts, told the AP that the northern block of the silo has already been tipping since the day of the 2020 blast, but the latest fire had weakened its frail structure, accelerating a possible collapse.
When the fermenting grains ignited earlier in July, firefighters and Lebanese soldiers tried to put out the fire with water, but withdrew after the moisture made it worse. The Interior Ministry said over a week later that the fire had spread, after reaching some electric cables nearby.
The silos continued smoldering for weeks as the odor of fermented grain seeped into nearby neighborhoods. Residents who had survived the 2020 explosion said the fire and the smell reminded them of their trauma. The environment and health ministries last week instructed residents living near the port to stay indoors in well-ventilated spaces.
The Lebanese Red Cross distributed K-N95 masks to those living nearby, and officials ordered firefighters and port workers to stay away from the immediate area near the silos.
Emmanuel Durand, a French civil engineer who volunteered for the government-commissioned team of experts, told the AP earlier in July that the northern block of the silo had been slowing tilting over time but that the recent fire accelerated the rate and caused irreversible damage to the already weakened structure.
Duran been monitoring the silos from thousands of miles away using data produced by sensors he installed over a year ago, and updating a team of Lebanese government and security officials on the developments in a WhatsApp group. In several reports, he warned that the northern block could collapse at any moment.
Last April, the Lebanese government decided to demolish the silos, but suspended the decision following protests from families of the blast's victims and survivors. They contend that the silos may contain evidence useful for the judicial probe, and that it should stand as a memorial for the tragic incident.
Source: Al Arabiya
Please click the following URL to read the full text of the original story:
https://english.alarabiya.net/News/middle-east/2022/07/31/Part-of-Beirut-port-silos-damaged-in-2020-blast-collapses
--------
Lebanon parliament speaker says no presidential vote without IMF laws
30 July, 2022
Lebanese parliament speaker Nabih Berri said on Saturday he would not call for a session to elect a new president until the legislature passes reforms that are preconditions for an International Monetary Fund (IMF) bailout.
An IMF deal is seen as the only way for Lebanon to recover from a financial meltdown that has plunged the country into its most destabilizing crisis since the 1975-90 war.
President Michel Aoun's six-year term ends on October 31, and top politicians have voiced concern about no successor being found - warning of even greater institutional deadlock given that Lebanon has also been without a fully functioning government since May.
"I will not call for a presidential election session until after the reform laws required by the IMF have been adopted," Berri said during a meeting with journalists at his Beirut residence, in comments confirmed to Reuters by his office.
He said parliament should work to pass the reform laws in August, pointing to the urgent need for the measures.
Berri, who has held his post for nearly three decades, said on Friday that a "miracle" would be needed for a government to be formed anytime soon. He did not elaborate.
Under the constitution, the president issues the decree appointing a new prime minister based on binding consultations with MPs, and must co-sign on the formation of any new cabinet.
In April, Lebanon reached a staff-level agreement with the IMF for a $3 billion bailout but a full deal is conditional on the passage of bills including capital controls, banking restructuring legislation and the 2022 budget.
Lebanon's constitution says the speaker must convene parliament "one month at least and two months at most before the expiration of the term of office of the President of the Republic."
Failing that, the chamber meets automatically on the 10th day preceding the term's expiration, the constitution says.
Aoun came to power after a 29-month presidential vacuum in which parliament was unable to agree on electing a president. The stalemate ended with a series of deals that secured victory for Aoun and his Iran-backed ally Hezbollah.
Source: Al Arabiya
Please click the following URL to read the full text of the original story:
https://english.alarabiya.net/News/middle-east/2022/07/30/Lebanon-parliament-speaker-says-no-presidential-vote-without-IMF-laws
--------
Europe
Turkish foreign minister stresses importance of peace, stability in Balkans
Seda Sevencan
01.08.2022
ISTANBUL
Türkiye's foreign minister held separate phone calls Sunday with his Kosovar and Serbian counterparts as tensions between Serbia and Kosovo continued to rise.
Mevlut Cavusoglu stressed that "common sense must prevail" in the region, according to a statement by the Turkish Foreign Ministry.
Underlining the importance that Türkiye attaches to peace and stability in the Balkans, Cavusoglu said Ankara is ready to do its part to reduce tensions.
Tension between Serbia and Kosovo rose on Sunday ahead of a new Kosovar law set to come into effect Monday making it mandatory for everyone, including Serbs living in Kosovo, to have a Kosovo ID card and plate.
According to local media, air raid sirens were heard along near the Kosovo/Serbian border as Kosovo is set to restrict border crossings.
Albin Kurti, Kosovo's prime minister, blamed the president of Serbia for increased tension and possible border conflicts between Serbia's Army and the Kosovar police, decrying planned "fear" and threats in neighboring Serbia.
Source: Anadolu Agency
Please click the following URL to read the full text of the original story:
https://www.aa.com.tr/en/europe/turkish-foreign-minister-stresses-importance-of-peace-stability-in-balkans/2650198
--------
UN chief calls for de-escalation in Iraq amid protests
Mohammad Tareq
31.07.2022
United Nations Secretary-General Antonio Guterres on Sunday called on Iraqi parties to de-escalate the situation and avoid violence amid tension over the nomination of a new prime minister.
In a statement, his spokesperson Farhan Haq said the UN chief is "following with concern" the ongoing protests in Iraq that left many people injured.
"Freedom of expression and peaceful assembly are fundamental rights that must be respected at all times," he said.
The spokesperson urged Iraqi parties and actors "to rise above their differences and form, through peaceful and inclusive dialogue, an effective national government."
Tension escalated in Iraq in recent days following the nomination of Mohammed Shia al-Sudani as a new prime minister by a coalition of groups close to Iran amid protests by supporters of influential Shia cleric Muqtada al-Sadr.
Source: Anadolu Agency
Please click the following URL to read the full text of the original story:
https://www.aa.com.tr/en/europe/un-chief-calls-for-de-escalation-in-iraq-amid-protests/2649857
--------
French government body targets Anadolu Agency journalist
Dilara Hamit
31.07.2022
France's government singled out for criticism at an Anadolu Agency journalist who criticized its decision to expel Imam Hassan Iquioussen, a Muslim scholar.
The Interministerial Committee for the Prevention of Crime and Radicalisation (CIPDR), whose website says it works under "the aegis of the prime minister," has targeted a number of people who are victims of Islamophobia, now including at least Anadolu Agency correspondent.
The committee targeted those who criticized the deportation decision, which was announced on Thursday, accusing them on Twitter of being linked to the Muslim Brotherhood and Salafism.
"There is Feiza Ben Mohamed, who works for Anadolu Agency and joins this support campaign (for the imam) by constantly attacking France with false allegations. And without hesitation, she argues that Hassan Iquioussen is an 'innocent imam'," it said on Twitter on Friday.
After this post, Ben Mohamed was subjected to intense cyber harassment.
Marwan Muhammad, former director of the Collective against Islamophobia in France (CCIF), was also accused of using anti-secular rhetoric to incite conflict between Muslims and non-Muslims.
The committee also had Billal Righi, a former director of the Ummah Charity, on its hit list, by trying to link him to the 2020 murder of teacher Samuel Paty in a Paris suburb.
After the tweets were published, numerous online users denounced the committee for using state resources to harass and suppress Muslim figures for their political and religious opinions.
One Twitter user claimed that Muslim hunting was the committee's favorite hobby and that targeting media and Muslim figures for cyberbullying is seen as normal in President Emmanuel Macron's France.
Since Friday, while Mohamed's journalism was distorted, she has been assailed by anti-Turkish, anti-Islamic, and sexist messages.
"It is a very malicious step to be cast in the same light as those who went to Syria to fight," meaning terrorists, another Twitter user said on the issue.
Another user denounced France's targeting of Muslims and proposed a march to combat Islamophobia in September. Political scientist Francois Burgat blasted the committee's moves.
"Let's not be passive, we could be next," he said. Burgat said the committee's accusations against Ben Mohamed are very dangerous in a country with freedom of expression, adding that he also wrote articles for Anadolu Agency.
RSF (journalists without borders) has ranked France as having the 26th-highest level of free speech in the world.
After public figures and politicians, the RespectZone association found in 2018 that journalists were the third most susceptible profession to cyber-harassment.
Source: Anadolu Agency
Please click the following URL to read the full text of the original story:
https://www.aa.com.tr/en/europe/french-government-body-targets-anadolu-agency-journalist/2649645
--------
Southeast Asia
Don't Interfere In Malay Non-Muslim Cultural Events, DAP MP Advises Religious Affairs Minister
July 31, 2022
Petaling Jaya: A DAP MP has advised religious affairs minister Idris Ahmad against interfering in the cultural events of non-Muslims, saying he should focus on serving the Muslims instead.
Raub MP Tengku Zulpuri Shah Raja Puji's comments come following a parliamentary reply dated July 27, where the minister had said that the Oktoberfest cultural festival should not be held as it had the potential of disrupting social harmony and safety as alcohol would be consumed openly in a festival setting.
"As a Muslim MP, I acknowledge the fact that Muslims should not consume alcoholic beverages and participate in activities that are haram.
"(That being said), Muslims should not be interfering in the livelihood as well as the business and cultural affairs of non-Muslims," said Tengku Zulpuri in a statement.
"Such an act of interference is against the teachings of Islam. Plus, the freedom to conduct non-halal business activities by non-Muslims is protected under the Federal Constitution."
Tengku Zulpuri also said that the Oktoberfest is celebrated in pubs and non-halal restaurants around the country, not in open venues as claimed by Idris.
He also claimed that the minister's statement on the business activities of non-Muslims tarnished the image of Islam as the minister was portraying the religion as being intolerant.
The MP also took Idris to task for repeatedly issuing statements that disrupted the harmony between Muslims and non-Muslims since taking charge of the ministerial portfolio, citing Idris's earlier statement on the Bon Odori festival.
Last month, Idris had advised Muslims against joining the Japanese cultural celebration, saying it had elements of another religion in it.
Source: Free Malaysia Today
Please click the following URL to read the full text of the original story:
https://www.freemalaysiatoday.com/category/nation/2022/07/31/dont-interfere-in-non-muslim-cultural-events-minister-told/
--------
Zahid's trial: Judge visits two Country Heights houses bought using charity's RM5.9m and converted for Islamic studies
By Ida Lim
Monday, 01 Aug 2022
KAJANG, Aug 1 — High Court judge Datuk Collin Lawrence Sequerah began his official visit to two "bungalows" in the prestigious gated and guarded Country Heights neighbourhood here as part of court proceedings in Datuk Seri Ahmad Zahid Hamidi's corruption trial just before 11am today.
The former deputy prime minister has been charged with criminal breach of trust over RM31 million belonging to Yayasan Akalbudi and the two houses were purchased in 2017 using RM5.9 million from the charity organisation's funds.
The tour, led by Ahmad Zahid's lawyers, started with a single-storey building at Lot 403-2A, Lorong Bayu Nyaman.
There was a signboard and on it the words "Yayasan Al-Falah" and "Persatuan Tarekat Malaysia" on the building.
Rooms inside the building were similarly marked; Yayasan Al-Falah's office and rooms labelled with names such as "Hasan" and "Ali" surrounding a square courtyard. There was also a small hall labelled "surau".
During the visit to the air-conditioned and carpeted "surau" lined with shelves of Islamic books and which also featured green latticed screens bearing the words "Yayasan Al Falah 2019", a religious class given by an Islamic preacher was underway.
Ahmad Zahid previously told the court that this building was meant for Islamic studies for retirees.
This "Yayasan Al-Falah" building at Lot 403 is said to be between 100 and 200 metres to Surau An-Nur in Country Heights. It took about 50 to 70 paces (depending on the length of one's legs) to walk between the two buildings.
The second single-storey house that was part of the court tour — Lot 356 along Jalan Bayu Nyaman — was directly across Surau An-Nur, located at a T-junction or about 10 paces away.
This building, purchased in 2017 at RM3 million, bore the name "Madrasah Tahfiz Alfalah".
During the judge's visit to this building, another lesson appeared to be underway. The group of supervised young boys in an airconditioned and carpeted area that appeared to be the main hall were said to be tahfiz students memorising the Al-Quran and hadiths.
The second building also featured dormitories with double-decker beds, as well as an eating space.
The judge's visit of the two buildings ended at around 11.25am.
Previously on July 6, Ahmad Zahid's lead defence lawyer Hisyam Teh Poh Teik had invited the judge to make a site inspection of the two houses, since they were part of the charges in the trial. The judge had agreed to the request in the interests of justice.
Apart from Hisyam, Ahmad Zahid's other lawyers such as Hamidi Mohd Noh and Datuk Zaidi Ahmad Zainal were also present. Also present at the court visit were deputy public prosecutors Harris Ong Mohd Jeffery Ong and Abdul Malik Ayob.
Ahmad Zahid is facing 47 charges, namely 12 counts of criminal breach of trust in relation to RM31 million of charitable foundation Yayasan Akalbudi's funds, 27 counts of money-laundering, and eight counts of bribery charges.
One of the 27 money-laundering charges that Ahmad Zahid is facing alleges that he had engaged directly in a transaction that involves proceeds of unlawful activity, by giving instruction to buy the two "bungalow lots" for RM5.9 million using a cheque issued by the law firm Lewis & Co via a client account at Maybank, with the funds said to be illegal proceeds.
Throughout the trial, Ahmad Zahid and his lawyers have insisted that Lewis & Co is a trustee for Yayasan Akalbudi and holds funds on trust for it in a client account.
Ahmad Zahid had previously defended the use of Yayasan Akalbudi's money to buy the two houses, claiming that these two properties were given as a donation to his younger brother Datuk Seri Mohamad Nasaee Ahmad Tarmizi's Yayasan Al-Falah. Ahmad Zahid had claimed that they were converted into centres for Islamic studies for the public's use, and denied that they were for his own use.
Ahmad Zahid had said the two properties — which he described as "bungalow lots" — were bought below the market price, with the smaller lot of Lot 403 measuring 1,787 square feet purchased at RM2.9 million, while the bigger lot of Lot 356 at 1,872 square feet was purchased at RM3 million.
Source: Malay Mail
Please click the following URL to read the full text of the original story:
https://www.malaymail.com/news/malaysia/2022/08/01/zahids-trial-judge-visits-two-country-heights-houses-bought-using-charitys-rm59m-and-converted-for-islamic-studies/20398
--------
Indonesia's pluralism in question as Islamic law influence grows
July 31, 2022
MEDAN: A new law enacted in West Sumatra Province in Indonesia is worrying human rights activists and local minority groups alike as fears grow that it could lead to more Islamic laws being signed into force across the country that might restrict the rights of minorities.
Indonesia is the world's most populous Muslim nation, yet its constitution guarantees freedom of religion and the secularity of the government. In addition, many Indonesians still follow adat, or customary law, in each community.
But the new law passed by the country's House of Representatives states that the customs of the Minangkabau, the largest ethnic group in West Sumatra Province, are based on the philosophical values of "Shariah law, and Shariah is based on the Quran".
The new law can be seen as meaning all residents in the province could find themselves under increasingly strict local laws rooted in Shariah.
"The new legislation was requested by senior West Sumatran politicians and community leaders with a justification that the prevailing legal customs of ethnic Minangkabau have traditionally utilised the Quran as one of the legal foundations of customary law," Alexander Raymond Arifianto, a research fellow at the Indonesia Program at the S Rajaratnam School of International Studies, Nanyang Technological University in Singapore, told Nikkei Asia.
"This amendment is significant because it formalises the enactment of Islamic law throughout West Sumatra Province. The new legislation also justifies the provincial government to issue provincewide Shariah-conforming rules and regulations, which could potentially discriminate against women and non-Muslim citizens."
While Shariah-inspired law is used across Indonesia in civil matters that pertain to Islamic customs, such as marriage and inheritance, as well as in some local laws, ultraconservative Aceh Province is the only part of Indonesia with the authority to enact widespread Islamic law because it was granted special autonomy status by the Indonesian government as part of a peace agreement with the pro-independence Free Aceh Movement (GAM) in 2005.
According to Andreas Harsono, a researcher at Human Rights Watch Indonesia, the new legislation in West Sumatra has been a long time in the making.
"West Sumatra Province has introduced multiple Shariah-inspired regulations over the last two decades," he told Nikkei.
"In 2002, for instance, West Sumatra introduced the first mandatory hijab (headscarf) regulation in Indonesia, two years before Aceh, that sanctioned all state schoolgirls and female civil servants to wear the hijab.
"These discriminatory and abusive dress codes have a harmful impact on women and girls, making many girls lose their rights to education and many women to be under pressure to wear the hijab or lose their job," he said.
"Many West Sumatran politicians were aware that they did not have the legal foundation to introduce these discriminatory regulations, including anti-LGBT rules and Shariah-inspired regulations to discriminate against non-Muslims and non-Sunnis.
They had been campaigning to have an autonomous Minangkabau Province, like Aceh, which was legally allowed to introduce Shariah. They failed to do that, as West Sumatra does not have a special historical background like Aceh."
In 2021, a school in the provincial capital, Padang, caused controversy when it passed a requirement for female students of all faiths to wear the hijab.
In 2016, parts of the province allegedly banned Christians from openly celebrating Christmas, according to complaints from local residents, and in 2018, the city of Pariaman passed a "public nuisance" law that targeted the LGBT community.
Following the passage of the new law in June, politicians were quick to tell the media that it would not contravene Indonesia's 1945 constitution, which "guarantees religious freedom for all", and Indonesia's state philosophy, known as Pancasila, which is based on pluralism.
West Sumatra Province has a population of over five million people, and more than 130,000 belong to minority groups, such as the predominantly Christian residents of the Mentawai Islands.
There are also sizable Batak, Javanese and Sundanese populations, as well as Buddhist residents.
"It is quite possible that there is going to be a legal challenge to this controversial law. Ethnic Mentawai are freaking out with this new law, as well as other religious minorities in West Sumatra," Harsono said.
According to Heronimus Eko Pintalius Zebua, the chairman of the West Sumatra Mentawai Student Forum, the new law, which takes a zero-sum approach to customary law in the province, does not take into account Mentawai culture.
"We should know that in West Sumatra there are two cultures," he told Nikkei, "namely the Minangkabau culture and the Mentawai culture. The Mentawai community has a different socio-culture from the Minangkabau community."
As a result, he said, it is not appropriate for the new law to apply to everyone in the province, adding that the Mentawai Student Forum West Sumatra is asking for additional articles to explicitly acknowledge and accommodate the existence of the Mentawai people and their culture so that they are not bound by Shariah or Islamic local laws and customs.
"The Mentawai people are part of West Sumatra but are not Minangkabau," he said.
There are also fears that the new legislation has set a precedent that other more conservative provinces across the country may follow.
"Provinces like South Sulawesi, West Java, South Kalimantan and others dominated by conservative Islamic clerics and politicians could follow suit to request the House of Representatives to enact such a legislation for their provinces. Currently, there are over 1,000 local Shariah regulations throughout Indonesia," Arifianto said.
Source: Free Malaysia Today
Please click the following URL to read the full text of the original story:
https://www.freemalaysiatoday.com/category/world/2022/07/31/indonesias-pluralism-in-question-as-islamic-law-influence-grows/
--------
Single mum gets leave to challenge children's conversion to Islam
August 1, 2022
KUALA LUMPUR: The High Court has granted single mother Loh Siew Hong leave to commence a judicial review application, as she seeks a declaration that her former husband was legally unfit to convert their children to Islam.
Judge Wan Ahmad Farid Wan Salleh said Loh had crossed the threshold to have the merits of her complaint heard.
"Her application for leave is not frivolous. Instead, she has an arguable case," the judge said in delivering his decision in an online proceeding.
Wan Ahmad said Loh was also not out of time when she filed her leave application in "an abundance of caution".
One of the respondents – the Religious and Malay Customs Council of Perlis, represented by lawyer Mohamed Hanif Khatri Abdulla – had asked the court to reject her application as the conversion was done in 2020.
The judge said Loh's lawyers had written to the registrar of mualaf on March 4 this year to ascertain the conversion.
"She was well within time when the leave application was filed on March 25 this year after getting a reply," he said.
An application for leave for judicial review must be filed within 90 days after a public authority communicates its decision to an aggrieved party.
Senior federal counsel Ainul Wardah Shahidan represented the three respondents – the registrar of mualaf, Perlis mufti Asri Zainul Abidin and the state government.
Senior federal counsel Ahmad Hanir Hambaly, who appeared for Attorney-General Idrus Harun, did not object to the leave sought by Loh.
In her application, Loh said the children, whose names and photos cannot be published because of a gag order issued by the High Court, were converted on July 7, 2020.
Loh's lawyer, A Srimurugan, submitted that his client only knew about the exact date of conversion after regaining custody of her children on Feb 21 this year.
On that day, High Court judge Collin Lawrence Sequerah granted Loh's habeas corpus application to regain custody of the children from preacher Nazirah Nanthakumari Abdullah.
Srimurugan said assisting counsel Shamsher Singh Thind had written to the registrar on the status of the conversion soon after Sequerah's ruling.
Loh is also seeking a declaration that a provision in the Perlis state enactment that allows a parent to unilaterally convert minor children is unconstitutional.
She also wants a declaration that her twin daughters and her son are of Hindu faith and were legally incapable of embracing Islam without her consent.
Source: Free Malaysia Today
Please click the following URL to read the full text of the original story:
https://www.freemalaysiatoday.com/category/nation/2022/08/01/single-mum-gets-leave-to-challenge-childrens-conversion-to-islam/
--------
No backing for sexist, chauvinist candidates, says Puteri Umno
'Ainin Wan Salleh
July 31, 2022
KUALA LUMPUR: Puteri Umno has urged party leaders not to field sexist and racist candidates in the coming general election, saying the wing will refuse to back them.
The wing's chief, Zahida Zarik Khan, said they will always work hard to ensure victory for Barisan Nasional (BN), provided that election candidates were those who understood women's aspirations and female empowerment.
"Men who are 'MCPs' (male chauvinist persons), who think they are above everyone else, should have no place in BN," she said in a speech at the Puteri BN convention today.
She said the coalition must take stern action against those who hold sexist and racist views, and those who like to ridicule and disparage women.
"When the whole nation is nauseated by the likes of them, the party can't expect us to back them. No way, brother!" she said, without mentioning who she was referring to.
Former Umno Supreme Council member Tajuddin Abdul Rahman recently made headlines, courted flak for sexist remarks against several opposition MPs in the Dewan Rakyat.
The Pasir Salak MP also allegedly used an expletive after switching off the microphone as the ruckus continued. The Umno man had accused DAP women MPs of being "biadap" (rude) and "tidak senonoh" (indecent).
Source: Free Malaysia Today
Please click the following URL to read the full text of the original story:
https://www.freemalaysiatoday.com/category/nation/2022/07/31/no-backing-for-sexist-chauvinist-candidates-says-puteri-umno/
--------
Muslim Council of Elders to Attend Indonesia Int'l Book Fair with Islamic, Quranic Works
August 01, 2022
The international cultural event will kick off on August 3 in Jakarta and run for four days, according to El-Balad news website.
The Muslim Council of Elders will attend the book fair with the works it has published in Quranic and Islamic fields as well as on such themes as enhancing peace and coexistence, countering hate, racism and prejudice, and promoting humanitarian values.
'Love in the Holy Quran' by Ghazi al-Hashemi, "Will East and West Unite?" by Mohamed Arafa, "With God" by Sheikh Mohamed Ghazali, "Religious Thought and Contemporary Issues" by Mahmoud Hamdi Zaqzouq, and "Fatwa, Its Regulations, and Responsibility of Mufti and Enquirer" by Ahmed Mubid Abdul Karim, are among the books the council will offer at the exhibition.
Its pavilion will also take part in a number of cultural seminars at the book fair on countering Islamophobia, role of the Arabic language in serving Islamic Sharia, role of youths in protecting the environment, and human dimensions of the Islamic civilization.
The Muslim Council of Elders is an independent international organization that was established in Ramadan 1435 Hijri (July, 2014) to promote peace in Muslim communities.
Source: IQNA
Please click the following URL to read the full text of the original story:
https://iqna.ir/en/news/3479916/muslim-council-of-elders-to-attend-indonesia-int%E2%80%99l-book-fair-with-islamic-quranic-works-%C2%A0
--------
Pakistan
S. Nitin, a 'Peace Walkers' From India Trek Bumpy Path to Pakistan for Peace
July 31, 2022
KARACHI: At a time when rivalries between long-time rivals Pakistan and India are running high, S. Nitin, an Indian "peace walker," insists that his small initiative can still make a difference.
Known as the "Gandhi peace walker," Nitin, along with two colleagues, is currently visiting Pakistan to take part in various peace rallies in Karachi and Lahore.
"We know the reality on the ground that tensions between the two countries are at an all-time high. But this is the time when peace lovers from both sides should work for peace between Pakistan and India," Nitin, who calls himself a follower of Mohandas Karamchand Gandhi, better known as Mahatma Gandhi, told Anadolu Agency.
Gandhi, a towering figure of South Asian politics and India's freedom icon, was assassinated in 1948 by Hindu extremist Nathuram Godse, who apparently objected to his stand against the communal riots that gripped India after the Partition in 1947.
"We carry Gandhi's legacy of non-violence, which is the need of the hour," said Nitin, who has stopped using his caste as a second name. According to him, using caste as a second name is tantamount to reflecting "a kind of discrimination."
Calling for an "immediate" resumption of long-stalled peace talks between New Delhi and Islamabad, he said violence and wars are no solution to disputes.
"The two sides have no other choice. Dialogue is the only option as wars have failed to resolve issues," said Nitin, 31, an engineer by profession, who has traveled 46,000 kilometres (28,583 miles) on foot in 46 countries since 2016, carrying a "message of love."
Relations between the two South Asian neighbours further soured in August 2019 when New Delhi stripped the occupied Jammu and Kashmir valley of its longstanding semiautonomous status.
The controversial move instantly prompted Islamabad to downgrade diplomatic ties and halt trade with New Delhi.
Ever since, the two neighbours have not missed an opportunity to denounce each other at international and regional forums.
A February 2021 treaty that brought an end to nearly daily clashes along the Line of Control (LoC) — the de facto border that divides the picturesque Jammu and Kashmir territory between the two nations — has been the sole positive development in terms of relations.
Over the years dozens of soldiers and civilians from both sides have been killed, while scores were injured in the fighting, which has taken a toll on the residents of bordering areas.
'Our aim is to bring people closer'
"It's high time for the two governments to reduce military expenditures, and spend more on health, education and infrastructure to alleviate grinding poverty," Nitin urged.
The two countries, he further argued, face a raft of common challenges, ranging from poverty to climate change, which they must tackle together.
Vishwamitra Yogesh, another Indian peace walker, said the visit's main objective is to bring people from the two sides closer.
"Person-to-person contact is the best way to move forward towards peace. It will ultimately pressure both governments to follow suit," said 65-year-old Yogesh, who has walked 17,000 kilometres (10,563 miles) across eight countries to "spread the love" since 2014.
Speaking to Anadolu Agency, he said visiting Pakistan was his "longtime dream," which has now come true.
Sharing a similar view, Jalandharnath Bhai, the third member of the visiting team, said that the peace walk is supported by peace-loving people and organisations from both nations, and "we are grateful about it."
Bhai, the junior member of the team, has walked through three countries, singing the song "Jai Jagat," which means "victory for all."
'Incredible' response from locals
The trio entered Pakistan through the northeastern Wagha border, which connects the Pakistani and Indian provinces of Punjab, and will stay in Pakistan till August 14.
Apparently, due to a tight visa regime between the two countries, they have been granted visas for only three cities — Karachi, Lahore, and Shikarpur.
"We wish we could walk across Pakistan like we did in other countries but due to visa restrictions, we can't. We will just take part in intra-city peace walks," Nitin said.
Pakistanis' response to their walk has been "incredible," he said.
Source: Pakistan Today
Please click the following URL to read the full text of the original story:
https://www.pakistantoday.com.pk/2022/07/31/peace-walkers-from-india-trek-bumpy-path-to-pakistan-for-peace/
--------
Shahbaz Gill accuses ex-PM Shahid Khaqan Abbasi of taking bribe from Indian firm
August 1, 2022
LAHORE: Shahbaz Gill, chief of staff to PTI chairman Imran Khan, has accused former prime minister Shahid Khaqan Abbasi of taking a bribe from an Indian company when he was the petroleum minister in the cabinet of PML-N supremo Nawaz Sharif, a charge denied by Mr Abbasi.
Talking to the media at Chief Minister Secretariat on Sunday, Mr Gill alleged that Mr Abbasi took a Rs140 million bribe from the Indian firm as a consultancy fee and the money was transferred to his bank account in three transactions, one in December 2016 and two in January 2017.
Mr Gill said he and Mr Abbasi had accounts with the same bank and demanded that details of both accounts be put before the public.
He claimed that Mr Abbasi had tried to give the impression of being an upright person as prime minister, but this was far from reality.
Responding to Mr Gill's allegations, Mr Abbasi challenged the PTI leader to take the matter to a court of law if he had evidence.
In a statement from Islamabad, the former premier said the PTI and its "mudslinging brigade" had been ruling the country for four years and instituted two cases against him.
Mr Abbasi urged his political opponent to petition a court to file yet another case against him and present the "so-called evidence".
During his press conference, Mr Gill also told reporters that PTI chief Imran Khan was briefed about the relief efforts to help flood victims in Punjab and the progress made on the Ehsaas social safety and poverty alleviation programme.
Source: Dawn
Please click the following URL to read the full text of the original story:
https://www.dawn.com/news/1702609/shahbaz-gill-accuses-ex-pm-shahid-khaqan-abbasi-of-taking-bribe-from-indian-firm
--------
Thai Buddhist monk visits Peshawar Museum
August 1, 2022
PESHAWAR: A Buddhist Monk Arayawangso from Thailand on Sunday visited the Peshawar Museum along with 20 followers.
He expressed his interest in Gandhara and various relics of Buddhist civilisation kept in the museum.
Arayawangso said that he would write a book by researching the Buddhist relics in Taxila, Havelian, Swat and Peshawar.
He added that the book would also be translated into different languages.
The book, he said would be used as a reference for research papers in the world.
"I want to tell the world that the smiles of the people of Khyber Pakhtunkhwa and Thailand match each other," Arayawangso said.
"Buddha followers living in 32 countries have been coming to Khyber Pakhtunkhwa as there is complete peace here," he said.
"There are many opportunities for religious tourism in Khyber Pakhtunkhwa, besides natural scenery tourism," Dr Abdul Samad, the director archaeology and museums, told this news agency.
Source: Dawn
Please click the following URL to read the full text of the original story:
https://www.dawn.com/news/1702566/thai-buddhist-monk-visits-peshawar-museum
--------
Three martyred in North Waziristan mosque attack
August 01, 2022
MIRANSHAH: Three persons embraced martyrdom when unidentified gunmen entered a mosque and opened indiscriminate fire on the worshippers in Muhammadkhel area in Datakhel tehsil, North Waziristan tribal district, on Sunday.
The attackers managed to flee after the gruesome incident. The police said that unidentified armed men sneaked into the mosque in Muhammadkhel area and targeted the worshippers with automatic weapons.
Source: The News Pakistan
Please click the following URL to read the full text of the original story:
https://www.thenews.com.pk/print/978678-three-martyred-in-north-waziristan-mosque-attack
--------
China was uncomfortable with Pakistan under Imran Khan: Reports
Jul 31, 2022
ISLAMABAD: Months after Pakistan Tehreek-e-Insaf chief Imran Khan was ousted as Prime Minister, Islamabad's Foreign Office received a diplomatic cable from China, stating that they have offered to extend $2.3 billion at a much-reduced interest rate which suggests that Beijing was not happy with the former PM.
On June 10, China offered to extend $2.3 billion at a much-reduced interest rate.
Publications like 'Pakistan Daily', and 'The News International' have leaked the communication between the Beijing-based Pakistan Ambassador and the Foreign Office, reporting that the Chinese leadership expressed its desire to work more comfortably with new PM Shehbaz Sharif because of its past experience with him when he was the Chief Minister of Punjab province, The Singapore Post reported.
But, it's not just a one-way dislike, Imran Khan was also found to be a misfit in his position as the head of the government by the Chinese leaders. Because Imran Khan as the PM was coming in between China's goal behind the CPEC project and its implementation.
Notably, in 2015, when Nawaz Sharif was Pakistan's Prime Minister, the CPEC was officially launched.
According to the publication, from the very beginning, Khan was not happy with the China-led project. The lack of transparency and possibility of corruption that China could carry forward through their CPEC projects would harm Pakistan and its interests, was the main worry for Imran Khan.
And, this fear was expressed in categorical terms by Imran Khan's former Adviser on Commerce, Textile, Industry and Production and Investment Abdul Razak Dawood in an interview with the London-based Financial Times on September 9, 2018.
"The previous government did a bad job negotiating with China on CPEC--they didn't do their homework correctly and didn't negotiate correctly so they gave away a lot," Abdul Razak Dawood, the Adviser of then Pakistan Prime Minister during his interview with the Financial Times more than three years ago.
"Chinese companies received tax breaks, many breaks and have an undue advantage in Pakistan; this is one of the things we are looking at because it is not fair that Pakistan companies should be disadvantaged," Dawood added.
He further said that the Pakistan government under Imran Khan would review or renegotiate agreements reached under China's Belt and Road Initiative.
However, after Dawood's interview went viral, he issued a clarification on September 10, 2018, in which he emphasized that Pakistan's commitment to the CPEC would not change. Even as this was a major U-turn on Imran Khan's Adviser's part, the broad contours of the Imran Khan government's approach towards the CPEC remained unchanged, according to the publication.
The CPEC Authority in a report published after Imran Khan stepped down as Prime Minister on April 11, said Pakistan could complete only three projects in Gwadar, while one-dozen projects costing nearly $2 billion are lying unfinished. Interestingly, the CPEC Authority was created through an ordinance in 2019 by then Prime Minister Imran Khan-led government, to show China that Pakistan would expedite the pace of CPEC-related activities.
Chinese authorities are not just happy about the delay in the completion of CPEC projects but also conveyed their frustration when Pakistan failed to stop attacks on the Beijing nationals working in the South Asian country.
Source: Times Of India
Please click the following URL to read the full text of the original story:
https://timesofindia.indiatimes.com/world/pakistan/china-was-uncomfortable-with-pakistan-under-imran-khan-reports/articleshow/93251831.cms
--------
Nawaz agreed with coalition govt's decision to complete tenure: Fazl
August 01, 2022
Jamiat Ulema-e-Islam (JUI-F) Chief Maulana Fazlur Rehman has said that the Pakistan Democratic Movement (PDM) decision that the incumbent government will complete its tenure and the elections will be held on its scheduled time next year was taken with the consent of former prime minister Nawaz Sharif.
Responding to a question on the reports about the rifts within the ruling alliance, Fazl said the last decision that he announced after the meeting of the PDM leaders earlier this week was taken with a consensus of all the constituent parties of the PDM.
"There was no disagreement over this decision... when the final decision was being finalised Mian Nawaz Sharif was present in the meeting via zoom," he said while addressing a press conference in Peshawar on Sunday.
"The joint communiqué was issued with his [Nawaz] consent... later I announced the decision that government will complete its tenure and elections would be held on time," he added.
The PDM, which mostly comprises political parties in the ruling coalition, including the Pakistan Muslim League-Nawaz (PML-N), held its meeting on July 28 days after the Supreme Court annulled the election of PML-N's Hamza Shehbaz as the Punjab chief minister.
Speaking about the PDM's decision to overthrow the Imran Khan-led government, Fazl said the incumbent government had saved the country from "destruction" by toppling the previous PTI-led regime.
Defending the tough decisions taken by the government, Fazl blamed the former PM Imran for the prevailing economic crisis.
"Everyone should wake up to the sensitivity of the challenge that we had accepted by coming into power... voting for the PTI is tantamount to supporting the destruction of the country," he added.
The PDM chief also highlighted issues facing the tribal districts of Khyber-Pakhtunkhwa, saying the law and order had deteriorated in the area due to the "weaknesses of the state".
"State needs to pay attention to the tribal areas. The reality is that there is neither any administration nor police in the tribal areas," he said.
Source: Tribune Pakistan
Please click the following URL to read the full text of the original story:
https://tribune.com.pk/story/2368836/nawaz-agreed-with-coalition-govts-decision-to-complete-tenure-fazl
--------
Mideast
Iran: Farajollah Chaab, Terror Group's Ringleader Confesses Receiving Support from Sweden
2022-July-31
Speaking during a court hearing in the Iranian capital of Tehran, Farajollah Chaab nicknamed Habib Asyoud said the Swedish officials gave him a device and told him to push a button thereon in case he was in danger, and added that they told him they would rush to rescue him upon his pushing of the button.
Judge Iman Afshari asked the defendant whether he admits to be a Swedish national and had been receiving support from that country's government and intelligence officials.
Chaab stated that he is a "resident and national of Sweden" and that "the Swedish government provides support for him".
"They gave me a device so I could press its button when I felt danger, and it would alert the Swedish government security agents, and they would rescue me wherever I was," he admitted.
Chaab is responsible for a terrorist attack in Ahvaz, Khuzestan Province, Southwestern Iran, in September 2018.
The lawyer of the families whose loved ones were killed in a terror attack by Chaab, stated the ringleader of the Nadhal terrorist cell was responsible for killing innocents and causing material damage to public property in Khuzestan by using bombs, grenades and Klashnikov rifles.
The lawyer demanded the death penalty for the defendant.
Speaking during the session, prosecutor's representative said that Sweden has turned into a safe haven for the elements of terrorist groups like, Pejak, Nadhal Movement and MKO.
"Chaab is a Swedish citizen and has been receiving support from the Swedish government while he has had a red warning and has been under prosecution of international organizations," he added.
The prosecutor's representative noted that Chaab was arrested in Poland in 2019 where he had gone to attend a conference of terrorist groups, but the Swedish government stepped in and the US administration also began to lobby so that he was taken back to Sweden with a special flight to continue with his terrorist activities.
In September 2018, the so-called Arab Struggle Movement for the Liberation of Ahvaz terrorist group (SMLA) claimed responsibility for an attack on a military parade in Ahvaz that killed 25 people, including members of Iran's Islamic Revolution Guards Corps (IRGC) and civilian bystanders, and injured 70 others.
Chaab was arrested in November 2020 on the back of a set of "specialized and combined measures" by Iranian intelligence forces. In mid-January, he appeared in a court in Tehran for the first time since his arrest
During the fifth session of the trial in late February, the prosecutor presented evidence disclosing Saudi Arabia's plots to disintegrate Iran
Prosecutor's representative Amin Vaziri said that Chaab had admitted that the Saudi intelligence service pushed to unite all terrorist and separatist movements under a single umbrella organization to counter Iran following the formation of the Islamic Awakening movement.
He added that the Saudi intelligence service has also launched several satellite channels with the aim of facilitating the partitioning of Iran.
The terrorist ringleader also confessed that Saudi Arabia had funded terrorist groups with the final goal of spreading Takfiri ideology in Iran, Vaziri stated.
The prosecutor's representative noted that the defendant had formed a terrorist group to carry out acts of terror in Iran and cooperated with anti-Iran terror groups, including PJAK and Jaish ul-Adl.
Source: Fars News Agency
Please click the following URL to read the full text of the original story:
https://www.farsnews.ir/en/news/14010509000983/Terrr-Grp's-Ringleader-Cnfesses-Receiving-Sppr-frm-Sweden
--------
Iran capable of producing atomic bomb but chooses not to: Head of atomic agency
01 August, 2022
Iran has the technical capability to produce an atomic bomb but has no intention of doing so, Mohammad Eslami, head of the country's atomic energy organization, said on Monday, according to the semi-official Fars news agency.
Eslami reiterated comments made by Kamal Kharrazi, a senior adviser to Supreme Leader Ayatollah Ali Khamenei, in July.
Kharrazi's remarks amounted to a rare suggestion that the Islamic Republic might have an interest in nuclear weapons, which it has long denied seeking.
Iran is already enriching uranium to up to 60 percent fissile purity, far above a cap of 3.67 percent set under Tehran's now tattered 2015 nuclear deal with world powers. Uranium enriched to 90 percent is suitable for a nuclear bomb.
In 2018, former US President Donald Trump ditched the nuclear pact, under which Iran curbed its uranium enrichment work, a potential pathway to nuclear weapons, in exchange for relief from international economic sanctions.
Iran has responded to top European Union diplomat Josep Borrell's proposal aimed at salvaging the nuclear accord, and seeks a swift conclusion to negotiations, the top Iranian nuclear negotiator said on Sunday.
Source: Al Arabiya
Please click the following URL to read the full text of the original story:
https://english.alarabiya.net/News/middle-east/2022/08/01/Iran-capable-of-producing-atomic-bomb-but-chooses-not-to-Head-of-atomic-agency
--------
Blast kills 5 engineers at Houthi missile factory in Yemen
July 31, 2022
AL-MUKALLA, Yemen: Five Houthi ballistic missile engineers, including foreigners, were killed in a large explosion that rocked Houthi-held Sanaa, Yemen's Information Minister Muammar Al-Eryani said on Sunday.
He slammed the Houthis for endangering the lives of thousands of people who live in the capital by storing and manufacturing weapons inside residential areas.
The Yemeni minister said the five engineers were assembling a ballistic missile at a military location on Saturday near Sanaa airport, which was being used as a missile factory and rigging drones with explosives.
"This incident confirms the continued flow of Iranian weapons to the Houthi militia, its indifference to international community, disavowal of its obligations, & exploitation of UN-sponsored truce to accumulate more Iranian smuggled weapons in residential areas, & using civilians as human shields," Al-Eryani said on Twitter.
Less than a day after the Houthi engineers were killed, a group of Omani diplomats arrived in militia-occupied Sanaa to discuss extending the UN-brokered truce.
The Houthi movement's chief negotiator, Mohammed Abdul Salam, said he and an Omani delegation touched down in Sanaa on Sunday on an Omani plane to discuss with the Houthi leaders issues related to the truce and the UN Yemen proposal on addressing humanitarian and economic problems.
The Omanis arrived in Sanaa to push the Houthis into accepting the UN Yemen envoy's proposal in ending their siege on Taiz and extending the truce, which is due to expire on Aug. 2.
UN, Western and regional envoys are pushing the Yemeni factions into extending the truce to six months and turning it into a sustainable peace deal to end the war.
The visit came as the UN Yemen envoy, Hans Grundberg, failed to convince the Houthis to accept his proposal on opening roads in Taiz and alleviating their siege on the city.
The Houthi objection blocked progress in the implementation of the truce and threatened to ruin it as the internationally recognized government of Yemen refused to move to discuss other issues before the Houthis opened roads in Taiz.
The Yemeni government said the Houthis did not implement all of the truce's terms, refused to pay the salaries of the public servants in areas under their control despite generating more than 100 billion riyals ($86,956,522) from oil ships during the truce and continued attacking government-controlled areas in Taiz and Hodeidah, Marib and other areas.
Source: Arab News
Please click the following URL to read the full text of the original story:
https://www.arabnews.com/node/2132946/middle-east
--------
Top Diplomat: Iran Favours Lasting Agreement over JCPOA
2022-July-31
Amir Abdollahian made the remark in a late Saturday phone call with his Qatari counterpart Sheikh Mohammed bin Abdulrahman Al-Thani.
During the call, the two foreign ministers discussed the important event of the World Cup in Qatar as well as the latest developments in their countries' relations in various political, economic and consular sectors.
Touching on the talks between Iran and the remaining parties to the JCPOA, Amir Abdollahian emphasized the Iranian government's determination to achieve a good, strong and durable agreement for the revival of the landmark deal.
The Qatari foreign minister, for his part, underlined Iran's logical positions during the JCPOA revival talks, stressing the importance of continued talks aimed at removing the sanctions imposed on Iran over its peaceful nuclear program.
Iranian officials say the ball is in the US' court, and the administration of President Joe Biden should assure Tehran that it will not repeat Donald Trump's past mistakes.
On Monday, Foreign Ministry Spokesman Nasser Kana'ani reiterated Iran's serious will to achieve an enduring agreement, and stated that his country and the other parties to the nuclear deal can reach an agreement if Washington responds positively to Tehran's initiatives.
"We are serious about reaching a lasting and strong agreement and so far, we've shown a great deal of flexibility," the diplomat said.
"If the other side [the US] acts constructively, and responds positively to Iran's initiatives, an agreement is within reach," the spokesman added.
Iran and the five remaining parties to the nuclear deal have held several rounds of negotiations since April last year to restore the agreement, which was unilaterally abandoned by Trump in May 2018.
In quitting the agreement, Trump restored sanctions on Iran as part of what he called the "maximum pressure" campaign against the country. Those sanctions are being enforced to this day by the Biden administration, even though it has repeatedly acknowledged that the policy has been a mistake and a failure.
Source: Fars News Agency
Please click the following URL to read the full text of the original story:
https://www.farsnews.ir/en/news/14010509000160/Tp-Diplma-Iran-Favrs-Lasing-Agreemen-ver-JCPOA
--------
Governor: No Casualties in Border Clashes Between Iranian Forces, Taliban
2022-July-31
"Clashes broke out between the Iranian border guard forces and the Taliban fighters in the village of Shaghalak in Hirmand county in Southeastern Iran," Meysam Barazandeh, the governor of Hirmand County in the Sistan and Baluchestan province, told FNA on Sunday.
"Our troops showed the necessary response to the border violation by the Taliban, and they responded in return. But there were no casualties," he said.
"The fighting is over, and the issue is under investigation," the governer added.
Tehran has called for joint efforts with Kabul to secure the joint border areas amid intermittent clashes at Iran-Afghanistan border crossings in recent months.
In late June, Iranian President's Special Envoy for Afghanistan Hassan Kazzemi Qomi asked the Taliban to take serious action to identify culprits behind the recent border incident which led to the martyrdom of an Iranian border guard, and prevent repetition of such crimes.
"No insecurity on our borders is tolerable," Kazzemi Qomi wrote on his twitter page.
The Iranian border guard, identified as Mohammad Sayyad, was shot dead in the Southeastern province of Sistan and Balouchestan, when a gang of armed thugs entered the area from across the border.
The attackers fled the area immediately after the encounter, which occurred in the Milak area of the Hirmand county of Sistan and Balouchestan.
Tehran has not officially recognised the Taliban since the group quickly took control of neighbouring Afghanistan following the withdrawal of United States forces in August. Iranian officials have repeatedly said the recognition would hinge on the formation of an "inclusive" government in Afghanistan.
Source: Fars News Agency
Please click the following URL to read the full text of the original story:
https://www.farsnews.ir/en/news/14010509000777/Gvernr-N-Casalies-in-Brder-Clashes-Beween-Iranian-Frces-Taliban
--------
Iran says it responded to EU proposal aimed at salvaging 2015 nuclear deal
31 July, 2022
Iran has responded to top European Union diplomat Josep Borrell's proposal aimed at salvaging Tehran's 2015 nuclear deal with world powers, and seeks a swift conclusion to negotiations, the top Iranian nuclear negotiator said on Sunday.
"We shared our proposed ideas, both on substance & form, to pave the way for a swift conclusion of Vienna negotiations," Ali Bagheri Kani tweeted, without giving any more details on Iran's position.
"As Iran, we stand ready to conclude the negotiations in a short order, should the other side be ready to do the same."
On Tuesday, Borrell said he had proposed a new draft text to revive the accord under which Iran curbed its nuclear program in return for relief from economic sanctions.
Then-US President Donald Trump reneged on the deal in 2018 and reimposed US sanctions, prompting Iran to violate the deal's nuclear limits.
The Joint Comprehensive Plan of Action deal aimed to make it harder for Iran to amass the fissile material for a nuclear weapon, an ambition Iran has long denied, saying its atomic program was for peaceful purposes.
Source: Al Arabiya
Please click the following URL to read the full text of the original story:
https://english.alarabiya.net/News/middle-east/2022/07/31/Iran-says-it-responded-to-EU-proposal-aimed-at-salvaging-2015-nuclear-deal
--------
North America
Respect Human Rights To Gain International Acceptance: US To Taliban
August 01, 2022
Kabul: The head of the US mission to Afghanistan, Ian McCary on Sunday said that the United States will continue to hold the Taliban accountable for the commitments they made to not turn Afghanistan into a safe haven for terrorists, including the Khorasan branch of ISIS and al-Qaeda.
"Over the past year in Doha, we have pursued dialogue with the Taliban to address critical issues; we have provided extensive consular services to US Citizens, LPRs, & others engaged with the Afghan people. I am glad that we have been able to help many Afghans inside the country and abroad over the past year, but I am humbled by the array of challenges we are still facing in Afghanistan," McCary tweeted.
He expressed disappointment over the Taliban's continuing refusal to allow girls to access secondary schools, and reports of human rights abuses, including the deterioration of media freedom and unacceptable restrictions on the rights of women.
"If the Taliban hope to gain the acceptance of the international community, they must listen to & honour the views of all Afghan people & respect human rights," McCary said adding, "I appreciate the extraordinary support of international partners & likeminded community," and that together they have sent this clear message to Taliban.
The United States have also coordinated humanitarian assistance with the UN and international partners, McCary said, "The United States remains the largest donor to international relief efforts in Afghanistan; we have provided more than $775 million in humanitarian assistance since August 15, 2021."
"We continue to work closely with partners to help stabilize the Afghan economy. The US Department of Treasury has issued multiple general licenses to facilitate the flow of economic activity and vital assistance to the Afghan people."
This week, McCary is completing his assignment as the Charge d' Affaires at the US Mission to Afghanistan, operating from Doha since August '21.
"We are grateful for the gracious support of the State of Qatar, our strategic partner," he said.
The Director of the Afghanistan Operations for the Afghan Relocation Efforts, Karen Decker will replace McCary as the Chief of Mission for the US Embassy in Kabul.
Source: ND TV
Please click the following URL to read the full text of the original story:
https://www.ndtv.com/world-news/respect-human-rights-to-gain-international-acceptance-us-to-taliban-3212076
--------
US envoy pushes Lebanon-Israel talks over maritime dispute
31 July, 2022
US envoy Amos Hochstein arrived in Beirut Sunday to push talks to resolve a bitter maritime border dispute between Lebanon and Israel over Mediterranean waters with offshore gas fields.
"Reaching a resolution is both necessary and possible, but can only be done through negotiations and diplomacy," the US State Department said in a statement ahead of Hochstein's visit.
Washington's envoy for global infrastructure and investment is "facilitating negotiations between Lebanon and Israel on the maritime boundary", the statement added.
Hochstein met with Lebanon's Energy Minister Walid Fayad on Sunday, and was scheduled to meet with President Michel Aoun and prime minister Najib Mikati the following day.
The maritime border dispute between Lebanon and Israel escalated in early June, after Israel moved a production vessel to the Karish offshore field, which is partly claimed by Lebanon.
The move prompted Beirut to call for the resumption of US-mediated negotiations on the demarcation dispute.
Lebanon and Israel have no diplomatic relations and are separated by a UN-patrolled border.
They had resumed maritime border negotiations in 2020 but the process was stalled by Beirut's claim that the map used by the United Nations in the talks needed modifying.
Lebanon initially demanded 860 square kilometres (330 square miles) of territory in the disputed maritime area but then asked for an additional 1,430 square kilometres, including part of the Karish field.
Israel claims that the field lies in its waters and is not part of the disputed area subject to ongoing negotiations.
On July 2, Israel said it had downed three drones launched by Lebanon's Iran-backed Hezbollah that were headed towards the gas field.
The powerful Shiite Muslim movement on Sunday released a short video it said showed surveillance of several Israeli-chartered energy infrastructure ships, including the production vessel sent to Karish which is operated by London-listed firm Energean.
Source: Al Arabiya
Please click the following URL to read the full text of the original story:
https://english.alarabiya.net/News/middle-east/2022/07/31/US-envoy-pushes-Lebanon-Israel-talks-over-maritime-dispute-
--------
Biden administration resists Congress push for calling Russia 'sponsor of terrorism'
31 July 2022
US Secretary of State Antony Blinken is resisting a Congress push for declaring Russia as a sponsor of terrorism, over the conflict in Ukraine.
The US Senate unanimously approved a nonbinding resolution calling on Blinken to designate Russia as a terrorism sponsor on Wednesday.
Blinken, however, responded noncommittally to the request, saying any decision must be based on existing legal definitions.
He said Washington has already hit Moscow with unprecedented sanctions.
"The costs that have been imposed on Russia by us and by other countries are absolutely in line with the consequences that would follow from designation as a state sponsor of terrorism," Blinken said. "So the practical effects of what we're doing are the same."
Over the course of the war in Ukraine, the US and its Western allies have imposed unprecedented sanctions against Russia and supplied billions of dollars worth of weaponry to Ukraine.
Ukrainian President Vlodymir Zelensky has also been calling on Washington to declare Russia as a state sponsor of terror.
Putin's spokesman Dmitry Peskov warned earlier this month that designating Russia as a state sponsor of terror would have "negative consequences" for the already fractured bilateral ties.
Analysts also said that designating Russia as a state sponsor of terrorism could completely sever the already constrained diplomatic ties between the two world powers.
Source: Press TV
Please click the following URL to read the full text of the original story:
https://www.presstv.ir/Detail/2022/07/31/686569/US-Secretary-of-state-Antony-Blinken-is-resisting-a-congress-push-for-declaring-Russia-as-sponsor-of-terrorism
--------
URL: https://newageislam.com/islamic-world-news/hindus-muslims-selliyamman-temple-festival/d/127621
New Age Islam, Islam Online, Islamic Website, African Muslim News, Arab World News, South Asia News, Indian Muslim News, World Muslim News, Women in Islam, Islamic Feminism, Arab Women, Women In Arab, Islamophobia in America, Muslim Women in West, Islam Women and Feminism