New Age Islam News Bureau
10 August 2022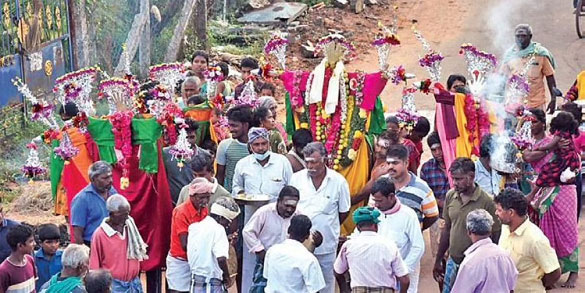 Hindu residents of Kasavalanadu Pudur take out a procession on Friday for Muharram festival | Express
----
• Ameer-e-Shariat, Head of the Highest-Decision Making Body for Muslims in Karnataka, Appeals to Community to Hoist Tricolour
• Pakistani News Channel, ARY News, Taken Off Air, Put On Notice for Inciting 'Revolt' Against Army
• Albuquerque 'Serial Killer' Suspected of Killing 4 Muslim Men Held; Cops Probe Shia-Sunni Rift
• 'UK Leadership Candidates Not Held To Account over Islamophobia'
India
• 'Most regrettable' that evidence-based proposals to blacklist world's notorious terrorists being put on hold: India at UNSC
• Encounter underway in Budgam, Rahul Bhat's killer among 3 LeT terrorists trapped
• Gaza violence: India backs diplomatic bid
• India invites UN Security Council members for high-level special meeting of Counter-Terrorism Committee in October
• Kashmiri Calligrapher's 500-Meter Qur'an Sets Record Amid Hopes For Middle East Visit
--------
Pakistan
• Transfer of Pakistan's Peshawar Corps Commander Seen as Policy Shift towards Kabul and Militants in Afghan
• Miftah says macroeconomic stability forthcoming after IMF programme resumption by end-August
• Anti-Terrorism Squad official, 9 others booked in Islamabad on charge of attempted murder
• Pakistan: Police sent to secure Imran's residence after PTI chief's close aide arrested
• North Waziristan suicide attack kills four soldiers: ISPR
--------
North America
• Afghan Man Charged in Killings of 2 Muslims in New Mexico
• Biden formalizes US support for Finland, Sweden joining NATO
• Turkish defence delegation to visit US for F-16 jet talks
--------
Arab World
• Dar Al-Iftaa of Egypt to Launch Soon 'Fatwa Pro' Application In 12 Languages, Says Grand Mufti
• Turkey drone strike kills four in northeast Syria: Monitor
• Shia Muslims throng Iraqi shrine city to commemorate Ashura
• Hezbollah says awaiting Israel's response on maritime border demarcation
• Syrians in Iraqi camps cannot return to their homes due to PKK terror group
• Nasrallah speech sparks fears of power vacuum in Lebanon
• Russian envoy: Terrorists to be swiftly wiped out should US pull out troops from Syria
• Report: Saudi Arabia investing aggressively in Israeli cyber espionage companies
--------
Europe
• Daesh Threat Grows Despite Territorial Defeats and Leadership Losses, UN Warns
• France says no lasting peace in Gaza possible without lifting of blockade
• Low employment rate of UK Muslims due to 'Muslim penalty': Study
• French government moots law change to expel imam
--------
South Asia
• Amnesty International Calls on Taliban to Protect Shia Community after Deadly Explosions
• A Year into Taliban Rule, Misery and Disease Conquer Afghanistan: Report
• Taliban torn over reforms one year after seizing power
• Shia Muslims in Bangladesh mark Ashura with traditional procession
--------
Southeast Asia
• Zahid Didn't Ask For Any 'Sensitive' Info to Be Omitted, Says PAC Chief
• Man finds out he's 'dead' while lodging police report
• Nonsensical for DAP to make way for PSB newcomer, says Chong
• Can voters trust a Zahid-led BN after LCS scandal, asks Muhyiddin
--------
Mideast
• Hezbollah Chief Warns Israel against Targeting Palestinian Militants in Lebanon
• 'Child-Killing' Israeli Regime Can't Escape Inevitable Fate; "15 Palestinian Children Martyred In the Recent Israeli Attacks on the Gaza Strip"
• Israeli forces kill two armed Palestinians in West Bank; teen killed in clashes
• Iran Receives First Telemetry Data from Newly-Launched Satellite
• Iran Urges US to Retreat from Unconstructive Positions in Talks
• Iran Summons German Envoy over Sacrilege of Islamic Sanctities in Hamburg
• West Bank Palestinians to start flying from Israel's Ramon Airport to Turkey
• Dozens of Israelis storm al-Aqsa compound
• Two Palestinians killed in Israeli raid in West Bank: Army
--------
Africa
• Vote Counting Underway In Kenya, With Presidency and Parliament Hanging In the Balance
• Bomb blasts in Somalia kill at least 4
Compiled by New Age Islam News Bureau
URL: https://newageislam.com/islamic-world-news/hindus-muslims-muharram-india/d/127688
--------
Hindus Join Muslims In Observing Muharram, At Various Places in India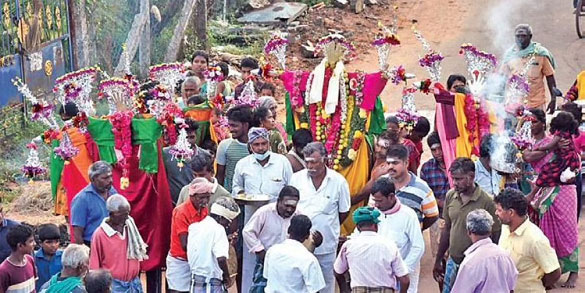 Hindu residents of Kasavalanadu Pudur take out a procession on Friday for Muharram festival | Express
----
Aug 10, 2022
Dharwad/ Hubballi: Amid mourning and remembrance, the Muslim community observed 'Mukarram', the 'day of grief' in Dharwad on Tuesday. The rituals began in front of dargahs and mosques where panjas were kept on Monday night and concluded on Tuesday.
Youths belonging to Shia sect took out a separate procession near Kalghatagi road and flagellated their chests till blood oozed of them.
Women too participated in the event by wailing. Through the self-inflicted wounds they try to proclaim solidarity with the martyrdom of Hussain. Muharram's history is a story of tragedy and loss of Islam which commemorates the death of Prophet Muhammad's grandson, Hussein Ibn Ali who was murdered during the Battle of Karbala.
Muslims honour the sacrifice of their lives by engaging in mourning rituals. Some perform public rituals that include chest-beating, self-flagellation with chains and forehead cutting and some gather at mosques and cry over Hussein's death.
'For communal amity'
Members of the Hindu community joined their Muslim brethren to observe Muharram in Hubballi on Tuesday. Members of both the communities came together to observe the event at Bidnal, Gawali Galli, Bammapur Oni, Araving Nagar, Ganjepete and Ishwar Nagar. Many devotees lay prostrate on the road in Bidnal for the 'Panjas' procession. Explaining the ritual, Mohan Asundi, who was among those who took the lead in organising events around Muharram, said, "There is a prevailing belief that one's physical and mental problems are solved if the Panjas goes over them. This is a practice dating back centuries. The Panjas is placed in the place where we seat the idol of Ganesha during the Ganesha Chaturthi festivities. This ensures communal amity among the people. When the two events fall within days of each other, or coincide on the same day, we place the Ganesha idol and Panjas together."
The other rituals observed by the devotees including running over a bed of burning charcoal carrying the Panjas, while others offered dried coconut. Hindus and Muslims exchanged 'changeyu', a sweer dish made with jaggery. The Panjas were decked up in colourful attire, with colour paper and bamboo sticks being used for their embellishment.
Source: Times Of India
Please click the following URL to read the text of the original story:
https://timesofindia.indiatimes.com/city/hubballi/hindus-join-muslims-in-observing-muharram/articleshow/93466875.cms
--------
Ameer-e-Shariat, Head of the Highest-Decision Making Body for Muslims in Karnataka, Appeals to Community to Hoist Tricolour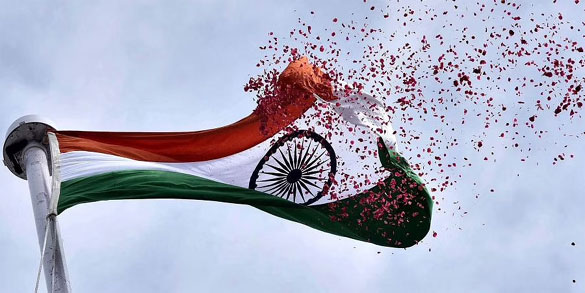 The Indian flag (Photo | P Jawahar, EPS)
----
10th August 2022
By Mohammed Yacoob
BENGALURU: The head of the highest-decision making body for Muslims in Karnataka, Ameer-e-Shariat, has asked all imams to appeal to the community to take part in the 'Har Ghar Tiranga' initiative which is being celebrated across the country from August 11 to 17 to mark 75 years of India's Independence.
In a circular to all masjids, Ameer-e-Shariat, Karnataka, Sagir Ahmed Khan Rashadi pointed out that people from the community took part in India's freedom struggle and many sacrificed their lives. "Hence, as a mark of respect to those freedom fighters and for the love of the country, every Muslim should feel proud about the 75th year of Indian Independence and should fly the Tricolour on their houses as part of 'Azadi Ka Amrit Mahotsav'," he said.
The Chief Imam of City Market Masjid, said, "The circular is very clear. All should celebrate Independence Day. There are no restrictions on the Har Ghar Tiranga event and even madrasas will ensure that the Tricolour is hoisted."
BBMP Chief Commissioner Tushar Girinath has welcomed the move and said the civic body will reach out to all institutions under its purview. "The matter of hoisting the national flag in madrasas comes under the Directorate of Minorities. Since it is a moment of pride, everyone will take part," he said.
A senior BBMP official said all religious heads of different communities were also communicated about the importance of Azadi Ka Amrit Mahotsav and Har Ghar Tiranga campaigns.Meanwhile, the BBMP has directed its Assistant Revenue Officers, Ward Engineers and other officials to meet the target of selling 10 lakh flags to mark the event. The Palike stated that it wants to ensure that most houses take part in the campaign.
Source: New Indian Express
Please click the following URL to read the text of the original story:
https://www.newindianexpress.com/cities/bengaluru/2022/aug/10/muslim-body-appeals-to-community-to-hoist-tricolour-2485921.html
--------
Pakistani News Channel, ARY News, Taken Off Air, Put On Notice for Inciting 'Revolt' Against Army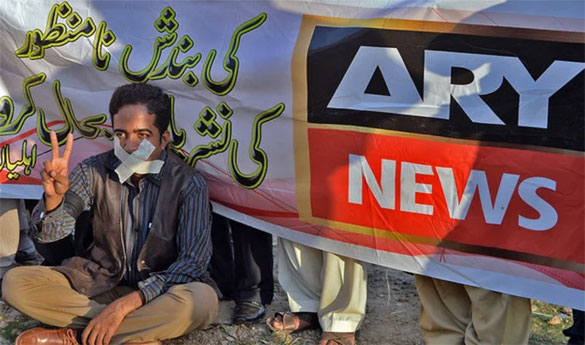 A Pakistani journalist gestures during a protest against the Pakistan Electronic Media Regulatory Authority in Islamabad, Pakistan, on October 21, 2014. (AFP/File)
----
Aamir Saeed
August 09, 2022
ISLAMABAD: Pakistan's electronic media regulator has issued a show-cause notice to a major private news channel, ARY News, for airing "hateful and seditious" content that the authority said amounted to inciting revolt within the armed forces, a copy of the document shows.
The show-cause notice released late on Monday came hours after officials at ARY News, and an association of internet service providers, said the channel had been taken off air by the Pakistan Electronic Media Regulatory Authority shortly after the channel aired a segment considered critical of the government of Prime Minister Shehbaz Sharif as well as the top command of the Pakistan army.
ARY News is widely seen as being partial to former premier Imran Khan's opposition Pakistan Tehreek-e-Insaf party, with criticism of the Sharif government's political and economic policies a regular feature of news bulletins and current affairs shows.
On Monday, the channel aired a segment in which two hosts and chief of staff to Khan, Shahbaz Gill, alleged that Sharif's ruling Pakistan Muslim League Nawaz party had activated a "strategic media cell" to malign the PTI and its chairman, and build a public narrative that the party was against Pakistan's all-powerful army. The outlet had previously also made the accusations in June.
In the segment, Gill advised army officers not to follow orders issued by the top command if they were "against the sentiments of the masses."
"A beeper of Shahbaz Gill of Pakistan Tehreek-e-Insaf was included who uttered highly hateful and seditious comments which tantamount to incite rank and file of armed forces toward revolt," PEMRA said in the notice issued to the channel.
"Airing of such content on your news channel shows either weak editorial control on the content or the licensee is intentionally indulged in providing its platform to such individual who intent to spread malice and hatred against the state institutions for their vested interests," the notice read, saying this was against the country's constitution.
The notice said the channel had also maligned the government by "egregiously, baselessly and categorically" claiming that it was running a malicious campaign over the crash of an army aviation helicopter last week.
The regulator directed the CEO of the channel to show cause in writing within three days explaining why legal action should not be initiated against the outlet for violating the law and the constitution.
Earlier on Monday evening, ARY News officials said that the channel had been taken off air in a number of cities.
"Just cause we reported a true story #ARYNews gets shut down," CEO Salman Iqbal said in a Twitter post.
"On the orders of PEMRA, cable operators across Pakistan have started removing ARY News from their cable network. Watch ARY News Live on YouTube," Ammad Yousaf, the channel's senior executive vice president, said.
ARY News was reported to still be off air in several cities of Pakistan on Tuesday.
The Internet Service Providers Association of Pakistan confirmed to Arab News that the channel's transmission had been suspended across Pakistan, saying it was done on the instructions of PEMRA.
"We have received verbal instructions from PEMRA about an hour ago to off air ARY News," Wahaj Siraj, convener ISPAK and co-founder of Nayatel, a major internet service provider, told Arab News. "No reason is given to us to off air the channel, and this is being done almost across Pakistan now.
"We have sent emails to our customers about the development. We don't know when we will be able to restore the service," Siraj added. "If we get any revised instructions from PEMRA to restore the service on our network, we'll be able to do it in 20 to 30 minutes."
Information Minister Marriyum Aurangzeb did not respond to calls and text messages seeking comment on whether the government was behind the blockade of ARY.
The development comes in the wake of an online smear campaign against the military and its officers after any army aviation helicopter carrying a senior commander and five others crashed on a mountain during a flood relief operation last Monday, killing all on board.
Following the incident, a social media campaign targeted the victims and included hashtags against the military.
The prime minister called the campaign "horrifying" and said it showed that the minds of young Pakistanis were being poisoned.
The army's media wing has also condemned the "regretful" social media trends, saying they had caused anguish among families of the victims and sought to tarnish the army's reputation.
On Sunday, the Federal Investigation Agency said that it was setting up a joint inquiry into the campaign.
Members of the PTI have alleged that Twitter trends and anti-army posts are being pushed by the ruling PMLN, a claim the party denies.
The army has not yet commented on ARY being taken off air.
Source: Arab News
Please click the following URL to read the text of the original story:
https://www.arabnews.com/node/2139531/world
--------
Albuquerque 'Serial Killer' Suspected of Killing 4 Muslim Men Held; Cops Probe Shia-Sunni Rift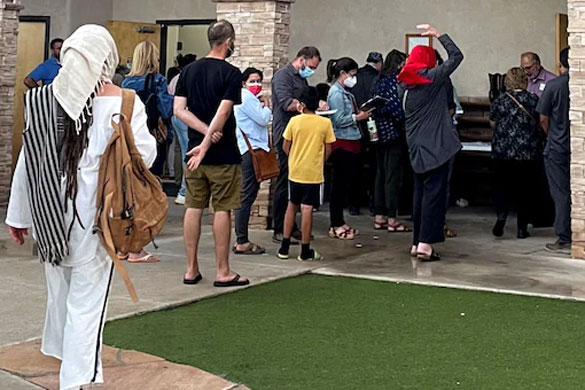 People at the New Mexico Islamic Centre mosque commemorate four murdered Muslim men, hours after police said they arrested a prime suspect (Image: Reuters)
------
AUGUST 10, 2022
After four Muslim men were killed in New Mexico's Albuquerque, the police said that they have arrested the primary suspect. The suspect Muhammad Syed was held on Tuesday and is charged with the murders of the two men.
Investigators found multiple firearms at Syed's home. The police are investigating the deaths of the two other men to see if Syed is linked to those as well.
These deaths took place over the past nine months. Albuquerque police chief Harold Medina announced on Tuesday evening that they have apprehended the suspect after tracking down a vehicle which they believed was involved.
The last three murders were committed in the past two weeks. The investigators are assuming that the attacks may have been motivated by personal conflict.
Police, however, did not comment upon or reveal information about reports that the suspect, a Sunni Muslim, may have targeted the victims because he was upset that his daughter married a Shia Muslim.
Police have not said the attacks were hate crimes.
The investigators revealed that the suspect came to the US from Afghanistan. The three victims were from Pakistan and they went to the same mosque that the suspect also attended. The fourth victim was from Afghanistan who was killed last November.
The victims were fired upon with no warning.
The deputy commander of the police criminal investigations division Kyle Hartsock said the suspect was arrested after his car was halted and a Swat team searched his home. Hartsock said that tip from the public led to the arrest two days after the cops distributed a photograph of the suspect's vehicle.
The police in a news release said that detectives discovered evidence which reveals that the suspect knew the victims and there shootings may have been motivated by interpersonal conflict.
Albuquerque Mayor Tim Keller said in a statement that he hopes citizens feel secure following the arrests. US president Joe Biden said that 'hateful attacks of such kind' have no place in the US.
The serial killings and the hunt for the suspect garnered the attention of the entire state and New Mexico Governor Michelle Lujan Grisham sent additional law enforcement officers to the city to help the cops and the investigators. Rewards were also announced for information leading to the arrest and conviction of the suspect.
Source: News18
Please click the following URL to read the text of the original story:
https://www.news18.com/news/world/albuquerque-serial-killer-suspected-of-killing-4-muslim-men-held-cops-probe-shia-sunni-rift-5723209.html
--------
'UK Leadership Candidates Not Held To Account over Islamophobia'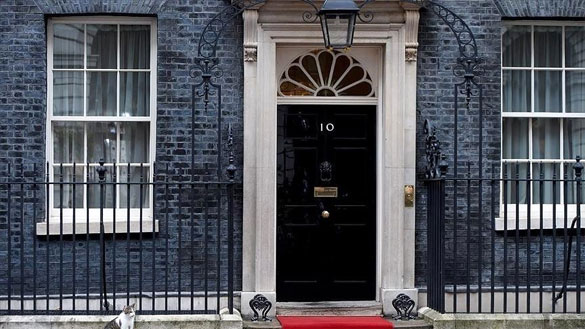 10 Downing Street/ Photo:aa.com
----
Leila Nezirevic
09.08.2022
LONDON
The UK leadership candidates must address Islamophobia within the Conservative Party, according to the head of the country's largest and most diverse Muslim umbrella organization.
That has triggered demands that the next prime minister takes Islamophobia within the Tory party seriously after a silence regarding the issue from outgoing Prime Minister Boris Johnson.
Zara Mohammed, secretary general of the Muslim Council of Britain (MCB), believes Johnson should have apologized in his resignation speech to the Muslim community and has warned that "no concrete steps" have been taken to tackle the issue, despite the MCB recording more than 300 instances in the Tory party since 2019.
Her remarks came after allegations from Conservative Member of Parliament (MP) Nusrat Ghani that the party is institutionally Islamophobic and her "Muslimness" was raised when she was fired from her transport minister's post.
"I have written a great deal about the problem of Islamophobia and anti-Muslim bigotry in the Conservative Party. I'm afraid at the very top is Boris Johnson himself, who's been guilty of a series of terrible remarks," said Peter Oborne, a British political journalist and author.
He pointed out that Islamophobia has been tolerated for a long time, and "the very ugly culture of Islamophobia" is at the highest ranks of Tory MPs, counselors and ordinary Tory members who often believe "wild conspiracy theories about Muslims which are quite alien to an advanced Western society which claims to be tolerant."
In his book The Fate of Abraham: Why the West is Wrong about Islam, Oborne explains how the British conservative think-tank Policy Exchange has contributed to dismantling traditions of tolerance and multiculturalism in the UK "with Muslims as its main targets."
"I describe the various ways in which an image of Islam and an image of Muslims are being constructed in the West. This has been done by media, is being done by politicians, and also by think-tanks," he said.
Mohammed Amin, a former chairman of the Conservative Muslim Forum, said the government is not doing enough to tackle Islamophobia, and "the Conservative Party's main priority, of course, is to get re-elected."
Muslims in the UK overwhelmingly vote for the Labour Party. Under Prime Minister David Cameron, the Conservative Party made great progress by gaining Muslim voters.
The UK went from getting about 15% of the British Muslim vote going Conservative in the 2010 general election to 25% in 2015. Since then, however, voting Conservative has dropped dramatically.
Calls for inquiry into Islamophobia
For several years, there have been many calls, including from the Conservative Muslim Forum, for an independent inquiry into Islamophobia and anti-Muslim bigotry within the Conservative Party.
The party initially kept refusing to hold an inquiry. Then in the 2019 leadership election, Sajid Javid, an MP who was one of the five finalists, managed to convince the other candidates to promise an independent inquiry into Islamophobia. However, right after, Johnson started retracting and those efforts eventually became an all-purpose inquiry into the Conservative Party.
Amin believes that addressing anti-Muslim hatred is not the government's priority.
"Their priority is to try to keep their ship on the road to avoid the Conservative Party tearing itself apart and to get re-elected, and they just don't see how any of that is advanced by getting engaged with anti-Muslim hatred," he said.
"The Conservative Party has really failed to engage with anti-Muslim bigotry that you find amongst a significant proportion of Conservative Party members, locally elected Conservative Party counselors, etcetera," Amin added.
A UK government spokesperson said, "we take a zero-tolerance approach to anti-Muslim hatred in any form and will continue to combat discrimination and intolerance."
In 2019, the UK government appointed an independent adviser, Qari Asim, but he was recently removed from the post.
"I cannot answer why the government decided to remove me from the office," he said. "You know, the perception is that the government did not want to tackle the issue of defining Islamophobia."
"I was appointed as the government's adviser to define Islamophobia in July 2019, so almost three years ago, and since then, no progress has been made," he said. "The perception is that by removing me from the office, the government has closed the door to defining Islamophobia."
A long-awaited 2021 review into Islamophobia acknowledged that there had been anti-Muslim sentiment within the Conservative Party and it criticized the party for failing to properly investigate allegations, but no evidence was found that the Tory party was institutionally Islamophobic.
Critics labeled the report as a "whitewash" and have argued that the findings only focused on the complaints process and failed to identify party prejudice.
It remains to be seen whether the next prime minister will make more of an effort to tackle the issue of Islamophobia than the silent Johnson. But for now, the Conservative Campaign Headquarters said it could not comment until the end of the leadership contest in September.
Source: Anadolu Agency
Please click the following URL to read the text of the original story:
https://www.aa.com.tr/en/europe/-uk-leadership-candidates-not-held-to-account-over-islamophobia-/2657511
--------
India
'Most regrettable' that evidence-based proposals to blacklist world's notorious terrorists being put on hold: India at UNSC
Aug 9, 2022
UNITED NATIONS: India on Tuesday told a UN Security Council meeting chaired by China that it was "most regrettable" that genuine and evidence-based proposals to blacklist some of the world's most notorious terrorists are being placed on hold, saying such "double standards" are rendering credibility of the Council's sanctions regime at an "all-time low."
In June this year, China, permanant member of the UN and a close ally of Pakistan, had put a hold, at the last moment, on a joint proposal by India and the US to list Pakistan-based terrorist Abdul Rehman Makki under the 1267 Al-Qaida Sanctions Committee of the UN Security Council.
India's Permanent Representative to the UN Ambassador Ruchira Kamboj said the practice of placing holds and blocks on listing requests without giving any justification must end.
"An effective functioning of the Sanctions Committees requires them to become more transparent, accountable and objective. The practice of placing holds and blocks on listing requests without giving any justification must end," Kamboj said.
Speaking at the UN Security Council meeting on 'Threats to international peace and security caused by terrorist acts' chaired by permanent-member and Council President for the month of China, she said, "it is most regrettable that genuine and evidence-based listing proposals pertaining to some of the most notorious terrorists in the world are being placed on hold."
"Double standards and continuing politicisation have rendered the credibility of the Sanctions Regime at an all-time low. We do hope that all members of the UNSC can pronounce together in one voice, sooner than later, when it comes to this collective fight against international terrorism," she said.
Makki is a US-designated terrorist and brother-in-law of Lashkar-e-Taiba head and 26/11Mumbai terror attack mastermind Hafiz Saeed.
It was learnt that New Delhi and Washington had put a joint proposal to designate Makki as a global terrorist under the 1267 ISIL and Al Qaida Sanctions Committee of the UN Security Council but Beijing placed a hold on this proposal at the last minute.
Earlier also, China, an all-weather friend of Islamabad, had placed holds and blocks on bids by India and its allies to list Pakistan-based terrorists.
In May 2019, India had won a huge diplomatic win at the UN when the global body designated Pakistan-based Jaish-e-Mohammed chief Masood Azhar as a "global terrorist", a decade after New Delhi had first approached the world body on the issue.
A veto-wielding permanent member of the UN Security Council, China was the sole hold-out in the 15-nation body on the bid to blacklist Azhar, blocking attempts by placing a "technical hold". All decisions of the committee are taken through consensus. In 2009, India moved a proposal by itself to designate Azhar. In 2016 again India moved the proposal with the P3 - the US, the UK and France - in the UN's 1267 Sanctions Committee to ban Azhar, also the mastermind of the attack on the air base in Pathankot in January 2016.
In 2017, the P3 nations moved a similar proposal again. However, on all occasions, China, a veto-wielding permanent member of the Security Council, blocked India's proposal from being adopted by the sanctions committee.
In November 2010, the U S Department of the Treasury designated Makki as a Specially Designated Global Terrorist. As a result of this designation, among other consequences, all property, and interests in property, of Makki that are subject to US jurisdiction are blocked, and US persons are generally prohibited from engaging in any transactions with Makki.
"In addition, it is a crime to knowingly provide, or attempt or conspire to provide, material support or resources to the FTO LeT," the US said.
The US Department of State's Rewards for Justice programme is offering a reward of up to $2 million for information on Makki, "also known as Abdulrahman Maki." Makki has occupied various leadership roles within Lashkar-e-Taiba (LeT), a US-designated Foreign Terrorist Organization (FTO). He has also played a role in raising funds for LeT operations.
Source: Times Of India
Please click the following URL to read the full text of the original story:
https://timesofindia.indiatimes.com/india/most-regrettable-that-evidence-based-proposals-to-blacklist-worlds-notorious-terrorists-being-put-on-hold-india-at-unsc/articleshow/93462687.cms
--------
Encounter underway in Budgam, Rahul Bhat's killer among 3 LeT terrorists trapped
Aug 10, 2022
SRINAGAR: Three Lashkar-e-Toiba terrorists, including Lateef Rather who was involved in the killing of Kashmiri pandit government employee Rahul Bhat in May, are trapped in an ongoing encounter with security forces in Budgam, police said on Wednesday morning.
Security forces launched a cordon and search operation at Waterhail in Khansahib area of the district following information about the presence of terrorists there, a police spokesman said.
He said the search operation turned into an encounter after the terrorists fired upon the security forces.
Additional director general of police (Kashmir Zone) Vijay Kumar said the three Lashkar men including highly wanted Lateef Rather were trapped in the encounter.
Kumar tweeted, "03 #terrorists of #terror outfit LeT(TRF) including terrorist Lateef Rather trapped in ongoing #encounter. Terrorist Lateef is involved in several #civilian #killings including Rahul Bhat and Amreen Bhat."
No casualties were reported in the encounter on either side so far.
Rahul Bhat, who had got the job of a clerk under the special employment package for migrants in 2010-11, was gunned down by terrorists inside the Tehsil office in Chadoora town in Budgam district of Jammu and Kashmir on May 12.
Source: Times Of India
Please click the following URL to read the full text of the original story:
https://timesofindia.indiatimes.com/india/encounter-underway-in-budgam-rahul-bhats-killer-among-3-let-terrorists-trapped/articleshow/93467334.cms
--------
Gaza violence:India backs diplomatic bid
Aug 10, 2022
UNITED NATIONS: India has voiced support for diplomatic efforts of the UN as well as Egypt that led to a ceasefire between Israel and Palestinian militants in Gaza and urged all parties to de-escalate the situation to ensure it does not spiral out of control.
"After a year of relative calm, tensions have risen again in Gaza. It is a matter of grave concern that the violence has not completely subsided despite hectic diplomatic parleys, development initiatives and efforts by the international community to hold the fragile ceasefire negotiated last May," India's Permanent Representative to the UN Ambassador Ruchira Kamboj said.
Source: Times Of India
Please click the following URL to read the full text of the original story:
https://timesofindia.indiatimes.com/india/gaza-violenceindia-backs-diplomatic-bid/articleshow/93466144.cms
--------
India invites UN Security Council members for high-level special meeting of Counter-Terrorism Committee in October
Aug 9, 2022
UNITED NATIONS: India has invited all members of the UN Security Council for a high-level special meeting of the Counter-Terrorism Committee in New Delhi and Mumbai in October aimed at highlighting the increase in the use of new technologies by terrorists and exploring the course of action to effectively deal with this threat.
India is currently Chair of the Security Council Counter-Terrorism Committee for the year 2022 and will host diplomats of the 15-nation UN body, including the US, China and Russia, in October for a special meeting on counter-terrorism.
"The growing use of the Internet and social media platforms to spread terrorist and violent extremist propaganda has posed challenges to Governments and the tech industry alike. The continued increase in the use of new technologies to move and store funds, including virtual assets, online exchanges and wallets, privacy coins (EACs) and potential misuse of dual-use technologies pose the risk that terrorists will seek to abuse these systems for terrorism financing and other terror-linked purposes," India's Permanent Representative to the UN Ambassador Ruchira Kamboj said.
Speaking at the UN Security Council briefing on 'Threats to international peace and security caused by terrorist acts' Tuesday chaired by permanent-member and Council President for the month of China, Kamboj said there is a need for intense discussions on this subject.
She told the Council that India, as the Chair of the Counter-Terrorism Committee (CTC) will be hosting a special CTC session in Mumbai and Delhi on October 28-29, "highlighting the nature of this threat, member states' capacity gaps and best practices and exploring the further course of action to effectively deal with this threat."
Kamboj said the high-level meeting will be in-person and she invited all Council colleagues to participate in the meeting, saying formal invitations will be issued by the CTC Chair later this month.
Earlier speaking at the UNSC meeting, Acting Executive Director of the Counter-Terrorism Committee Executive Directorate Weixiong Chen said that the forthcoming special meeting of the Counter-Terrorism Committee on the use of emerging technologies for terrorist purposes will be held in October 2022 in New Delhi and Mumbai.
Chen said "it is my hope that this event will serve" as a forum to "further enhance and strengthen our multilateral and multi-dimensional counterterrorism efforts."
India is halfway through the second year of its two-year term as an elected non-permanent member of the 15-nation UN Security Council. India's tenure at the Council will end in December this year when the country will also preside as President of the powerful UN organ for the month.
Current members of the Security Council are Albania, Brazil, Gabon, Ghana, India, Ireland, Kenya, Mexico, Norway and UAE, along with five permanent members China, France, Russia, UK and the US.
Kamboj further underlined the need for political will to defeat terrorism. "There can be no justification for terrorist acts, much less glorification of terrorists, a tendency we have unfortunately seen in recent years in some parts of the world," she said, a reference to former Pakistan Prime Minister Imran Khan describing slain Al Qaeda leader Osama bin Laden as a martyr.
"There should be no double standards in dealing with terrorists. We should refrain from labelling terrorism based on motivations, which will only allow opportunistic forces to provide justification for certain terror activities based on their convenience," she said.
Source: Times Of India
Please click the following URL to read the full text of the original story:
https://timesofindia.indiatimes.com/india/india-invites-un-security-council-members-for-high-level-special-meeting-of-counter-terrorism-committee-in-oct/articleshow/93462223.cms
--------
Kashmiri calligrapher's 500-meter Qur'an sets record amid hopes for Middle East visit
August 09, 2022
NEW DELHI: When Mustafa Jameel began to study Arabic calligraphy in 2016, he practiced it to improve his handwriting — an effort that six years later resulted in a record-winning Qur'anic manuscript, and stirred the young calligrapher's hope to display it in the Middle East.
Born in Gurez Valley, in the northern Bandipora district of Indian-administered Kashmir, Jameel completed his work earlier this year. In late May, the 27-year-old was registered by India's Lincoln Book of Records in New Delhi for the "new world record for the first time in the world to write the Holy Qur'an on a 14.5 inch and 500-meter scroll paper."
In Muslim societies, calligraphy is not only the art of properly forming written characters. Known as khatt (line) in Arabic, it signifies "the art of the line." This art has not only been written in Arabic, but also numerous other languages that have adopted the same alphabet following the spread of Islam, including Persian, Urdu, Ottoman Turkish, and even old Malay.
There are a variety of graphic styles which calligraphy masters have developed throughout the ages. The oldest script used for copying the Qur'an is Kufic, a square and angular script which by the 11th century went out of general use, replaced by Naskh — a cursive style which until today remains one of the most popular scripts in the Arab world.
Naskh is also the style that Jameel used in his manuscript, which he learned by observing the work others had produced.
While calligraphers usually follow an established master, there have been countless exceptions to the rule, as many practitioners have learnt the artform through repetition and consistency.
"I learnt calligraphy by myself. I am self-taught," Jameel told Arab News. "I am a first-generation calligraphist. There is no one in my family who is involved in calligraphy."
He focused on the art after failing in his secondary high school exam. After a year of laborious study, he noticed his writing improving and focused all his efforts on copying the Qur'an.
"Then in 2021 the idea came into my mind that I can do this work properly, and if Allah has given me this talent, I should do the work of (copying) the Qur'an in a proper and professional manner. Then I thought that I should prepare the Qur'an in a single paper," Jameel said.
The kind of paper he needed was not available in Kashmir, so he went to New Delhi and after finding the right scroll began to copy the scripture. The whole project was financed with the help of his relatives.
"I finished the whole project in Delhi," he said. "It took seven months to finish and get the work laminated," he said.
After he made headlines in India, now Jameel's dream is to show his work abroad, especially in the Middle East, where the art of calligraphy is where the art of Islamic calligraphy is known and recognized.
"I would like to exhibit it in Dubai, where such creativity gets appreciated," he said. "There is a museum in Madinah, and if I get an opportunity to exhibit my work there, I would love to do that."
The most important appreciation, however, he has already won by making his family proud.
Source: Arab News
Please click the following URL to read the full text of the original story:
https://www.arabnews.com/node/2139246/world
--------
Pakistan
Transfer of Pakistan's Peshawar corps commander seen as policy shift towards Kabul and militants in Afghan
Aug 10, 2022
ISLAMABAD: The transfer of the Pakistan army's Peshawar corps commander, Lt Gen Faiz Hameed, to Bahawalpur has been seen as a strategic policy shift by Islamabad towards Kabul and Pakistani militants living with their families across the border in Afghanistan.
Known for its involvement in the Soviet-Afghan War, the Peshawar corps (XI Corps), had become the main Pakistani formation after 9/11 to fight militancy in the tribal regions and adjacent districts in the country's northwest.
According to the Pakistan army's media wing, Lt Gen Sardar Hassan Azhar Hayat has been transferred to the Peshawar corps to replace Hameed, who has been posted as commander, Bahawalpur corps.
Transfers and postings are routine matters in the military services but Hameed's case is regarded as rare. His name had first caught the attention of the media over his role in ending a sit-in protest by a far-right group in Islamabad in November 2017 against legislation that the group considered blasphemous.
Widely considered as being close to former prime minister Imran Khan, Hameed's transfer from ISI director general last year to head the important Peshawar corps had become a bone of contention between Imran Khan and Army chief Gen Qamar Javed Bajwa. Imran had been reluctant to move Hameed and had halted the process for a few months. This led to a political crisis in the country that, ultimately, culminated in Imran's ouster from power last April.
As an ISI chief, Hameed had appeared last year at Kabul's Serena Hotel, sipping tea and smiling days after the Taliban captured power in Afghanistan. The move was seen by some critics as an attempt by him to portray a larger-than-life image of himself in the affairs of the war-torn country at a critical time.
Following his transfer to Peshawar, Hameed had initiated a dialogue process through the Afghan Taliban with the Tehreek-e-Taliban Pakistan (TTP), an umbrella organisation of several terrorist outfits, and had personally visited Kabul to participate in talks.
Following talks between Pakistani military and intelligence officials, Gen Faiz had constituted a 50-member delegation of tribal elders, including current and former parliamentarians, who had visited Kabul to take forward the peace process with leaders of the militant group. The TTP's recent talks with Pakistani clerics had ended in a deadlock. A truce announced between the two sides over two months ago has remained intact but the recent killing of top militant leaders, including Umar Khalid Khurasani, in an explosion in Barmal district of Paktika province has lessened the chances of negotiations continuing.
Source: Times Of India
Please click the following URL to read the full text of the original story:
https://timesofindia.indiatimes.com/world/pakistan/transfer-of-pakistans-peshawar-corps-commander-seen-as-policy-shift-towards-kabul-and-militants-in-afghan/articleshow/93463637.cms
--------
Miftah says macroeconomic stability forthcoming after IMF programme resumption by end-August
August 10, 2022
Finance Minister Miftah Ismail has said that macroeconomic stability is forthcoming in view of the International Monetary Fund (IMF) programme resuming by the end of the month as all conditions in this regard have been met.
He made the remarks during a meeting with Pakistan Stock Exchange officials, authorities and businessmen, according to a press release issued by the PSX on Tuesday.
PSX Chairperson Dr Shamshad Akhtar, Securities and Exchange Commission of Pakistan Chairperson Aamir Khan, PSX CEO and Managing Director Farrukh H. Khan, Federal Board of Revenue (FBR) Chairperson Asim Ahmad, State Bank of Pakistan (SBP) Deputy Governor Dr Inayat Hussain, Special Secretary Finance Awais Manzoor, and key stakeholders including Arif Habib Group Chairman Arif Habib, Pakistan Stock Brokers Association & AKD Group Chairman Aqeel Karim Dhedhi, Bank Alfalah Limited CEO Atif Bajwa, NBP Funds CEO Dr Amjad Waheed, Arif Habib Corporation Director Nasim Beg, and Pakistan Business Council CEO Ehsan Malik participated in the meeting.
According to the press release, the meeting discussed Pakistan's macroeconomy, capital markets, taxation and non-tax measures.
Ismail assured that the country's balance-of-payments position was "well under control" and it may even have a surplus in the coming months because of increased hydel power, lower energy demands and lower oil prices.
"Fiscal discipline will be strictly followed and all additional expenditures will be fully funded by tax measures. [The] 10 per cent super tax is only imposed for one year while alternative revenue streams are developed," he said.
He also iterated that advances-to-deposits ratio-linked tax on banks will not be imposed retrospectively and tax revenues from the retail sector are expected to be significantly higher compared to last year.
The minister also formed three committees — of which the first one would share the private sector's stance on interest rates with the SBP's Monetary Policy Committee, the second would coordinate with the Pakistan Business Council and the PSX on all tax issues and the third would review the listing of development finance institutions (DFIs), debt and Sukuk issuance, reform of the National Savings Scheme, and explore the development of a market for exchange rate forward dealing which all market participants can access.
Ismail committed to review the progress and meet the stakeholders again in two weeks, the press release stated.
For his part, PSX MD Khan told the finance minister the situation in the capital markets needed to be addressed on a "war footing". He noted that while state-owned enterprises (SOEs) were "extremely profitable, their payout ratio is a meagre 18pc". The participants asked that the payout ratio be raised to 50pc.
Ismail then directed the relevant ministry to immediately hold a meeting with stakeholders to discuss the matter.
The meeting's participants said the income of listed companies was subject to double tax while unincorporated businesses were subject to substantially lower taxes. They also expressed concerns about the capital gains tax (CGT).
Source: Dawn
Please click the following URL to read the full text of the original story:
https://www.dawn.com/news/1704111/miftah-says-macroeconomic-stability-forthcoming-after-imf-programme-resumption-by-end-august
--------
Anti-Terrorism Squad official, 9 others booked in Islamabad on charge of attempted murder
Munawer Azeem
August 9, 2022
ISLAMABAD: An official of the Anti-Terrorism Squad (ATS) of capital police and others were booked under different charges, including attempted murder, police said on Monday.
The case was registered at the Kohsar police station under section 324 (murder attempt) 148 (rioting, armed with deadly weapon) and 149 (every member of unlawful assembly guilty of offence committed in prosecution of common object) of Pakistan Penal Code (PPC) in response to complaint lodged by Tariq Masih.
According to the FIR, a group of 10 people, including the ATS official, intercepted the complainant at France Colony F-7/4 and beat him up. They were carrying an axe and batons and hit the complainant in the head with the axe.
As a result, he sustained injuries and started bleeding, the FIR said, adding people of the area rescued him from the attackers.
Later, the suspects attacked the house of the complainant and resorted to firing into the air and pelted the house with stones. However, the family called police and sought help.
According to the FIR, the suspects had attacked the complainant and his family on several occasions in the past too and he had requested for police protection.
Source: Dawn
Please click the following URL to read the full text of the original story:
https://www.dawn.com/news/1704002/ats-official-nine-others-booked
--------
Pakistan: Police sent to secure Imran's residence after PTI chief's close aide arrested
10 August, 2022
Islamabad [Pakistan], August 9 (ANI): Following reports of some movement towards former Pakistan Prime Minister Imran Khan's residence Banigala, Pakistan Muslim League Quaid (PML-Q) leader Moonis Elahi said that he is sending Punjab Police for the protection of the Pakistan Tehreek-e-Insaf (PTI) chief.
In a tweet, Elahi wrote, "Heard about some movement towards Banigala. We are sending punjab police for protection."
Another tweet by a Pakistani journalist while confirming this wrote, "Moonis Elahi sends Punjab Police to Bani Gala for @ImranKhanPTI's protection after rumours of an operation in #ImranKhan's residence."
Earlier, Khan's close aide Shahbaz Gill was arrested in Islamabad on Tuesday. An Islamabad police spokesperson said that Shahbaz Gill has been taken into custody for inciting the public against the state institutions.
On Monday, hours after a Pakistani media portal aired a report that the ruling Pakistan Muslim League Nawaz (PML-N) has reportedly activated its strategic media cell to malign Pakistan Tehreek-e-Insaf (PTI) chairman Imran Khan, the outlet was suspended.
"After the ban on ARY yesterday, they've today arrested @SHABAZGIL. Pakistan is living under a fascist imported government, who doesn't care about the human rights of the people of Pakistan. We strongly demand the immediate release of Dr Gill," Imran Khan's PTI tweeted.
PTI leader and former federal minister Fawad Chaudhry said that Gill was picked up from Banigala Chowk by unidentified personnel in cars with missing number plates.
"Shahbaz Gil has been abducted from Bani Gala Chowk by people who came in vehicles without number plates," Chaudhry tweeted.
The former prime minister slammed the arrest, asking "can such shameful acts take place in any democracy?" "This is an abduction not an arrest. Can such shameful acts take place in any democracy? Political workers treated as enemies. And all to make us accept a foreign-backed government of crooks," Imran Khan tweeted.
An Islamabad police spokesperson said that Shahbaz Gill has been taken into custody for inciting the public against the state institutions, Geo News reported.
Police said that Gill was arrested for "making statements against the state institutions and inciting the people to rebellion."
The spokesperson said an FIR has been registered against the PTI leader at the Banigala Police Station. The Pakistani publication claimed that the PTI leader had attempted to incite hatred in the Pakistan Army while speaking on ARY News a day prior, which has been restricted in certain parts of the country.
On Monday, the transmission of Pakistan's ARY News was suspended in different parts of Pakistan. The Human Rights Commission in Pakistan (HRCP) has strongly opposed the disruptions to ARY News and asked the country's regulatory authorities not to take channels off the air arbitrarily.
"HRCP strongly opposes the disruptions to @ARYNEWSOFFICIAL. PEMRA must refrain from arbitrarily taking channels off the air and protect all media houses' right to freedom of expression, responsibly exercised," HRCP tweeted.
Pakistan is one of the world's deadliest countries for journalists, with three to four murders each year that are often linked to cases of corruption or illegal trafficking and which go completely unpunished, according to Reporters Without Borders (RSF).
Source: The Print
Please click the following URL to read the full text of the original story:
https://theprint.in/world/pakistan-police-sent-to-secure-imrans-residence-after-pti-chiefs-close-aide-arrested/1076432/
--------
North Waziristan suicide attack kills four soldiers: ISPR
August 10, 2022
ISLAMABAD: A suicide bomber attacked a military convoy in a former Tehreek-i-Taliban Pakistan (TTP) stronghold in the tribal region along the Afghanistan border, killing four soldiers, the army said on Tuesday.
The incident took place in Mir Ali town of North Waziristan district, according to an Inter-Services Public Relations (ISPR) statement.
Police and intelligence officials told Reuters the bomber rammed a three-wheeler into the convoy late on Monday in the remote district, which has seen a rise in militant violence in recent weeks.
The region was once a hotbed of local and foreign militants but they have mostly been driven out by various military operations.
No one has claimed the responsibility for the bombing, which came a day after a senior TTP militant with a $3 million bounty on his head, Abdul Wali, also known as Omar Khalid Khurasani, was killed in an explosion in Afghanistan.
Khurasani's Jamat-ul-Ahrar (JuA), designated as a terrorist group by the United States and the United Nations, had claimed responsibility for multiple attacks against police, military, minority Shi'ite Muslims and Christians, which killed hundreds of people in Pakistan.
TTP, also known as the Pakistani Taliban, an umbrella group of militant groups which includes the JuA, confirmed Khurasani's death.
Khurasani along with three other commanders was killed in an "enemy attack", the TTP said in a statement sent to Reuters without giving the mode of the attack or the place of its happening.
Khurasani's death was a heavy blow to the TTP, which is in talks with Islamabad amid an ongoing cease-fire, announced in May. Isolated militant attacks have continued, though the TTP has not claimed responsibility for any of them since the truce first went into effect.
The talks are being hosted by the Afghan Taliban.
Two Pakistan intelligence officials told The Associated Press that Monday's suicide bombing in the town of Mir Ali also wounded an unspecified number of civilians and soldiers.
Source: Pakistan Today
Please click the following URL to read the full text of the original story:
https://www.pakistantoday.com.pk/2022/08/10/north-waziristan-suicide-attack-kills-four-soldiers-ispr/
--------
North America
Afghan Man Charged in Killings of 2 Muslims in New Mexico
August 09, 2022
A 51-year-old man from Afghanistan was charged Tuesday with killing two Muslim men in Albuquerque, New Mexico, and authorities said he is suspected in the slayings of two others whose deaths sparked fear in Muslim communities nationwide.
Officials announced the arrest of Muhammad Syed a day after he was taken into custody.
Police Chief Harold Medina made the announcement on Twitter, saying that authorities had tracked down a vehicle believed to be involved in one of the slayings in New Mexico's largest city.
"The driver was detained, and he is our primary suspect for the murders," the tweet said.
Investigators received tips from the city's Muslim community that pointed them toward Syed, who arrived in the U.S. sometime in the last several years, police said.
He was pulled over and taken into custody along Interstate 40 in Santa Rosa, about 110 miles east of Albuquerque.
The slayings drew the attention of President Joe Biden, who said such attacks "have no place in America." They also sent a shudder through Muslim communities, where some people questioned their safety and limited their movements.
When told about the announcement, Muhammad Imtiaz Hussain, brother of one of the victims, Muhammad Afzaal Hussain, said he felt relieved but needed to know more about the suspect and the motive.
"This gives us hope that we will have (the) truth come out," he said. "We need to know why."
Naeem Hussain was killed Friday night, and the three other men died in ambush shootings.
Hussain, 25, was from Pakistan. His death came just days after those of Muhammad Afzaal Hussain, 27, and Aftab Hussein, 41, who were also from Pakistan and members of the same mosque.
The earliest case involves the November killing of Mohammad Ahmadi, 62, from Afghanistan.
Authorities on Monday sought help searching for a vehicle that appeared to be the one discovered on Tuesday.
The common elements in the deaths were the victims' race and religion, officials said, and police were trying to determine if the deaths are linked.
Debbie Almontaser, a Muslim community leader in New York, said that a female friend who lives in Michigan and wears the hijab head covering shared with her over the weekend just how rattled she was. "She's like, 'This is so terrifying. I'm so scared. I travel alone,'" Almontaser said.
Aneela Abad, general secretary at the Islamic Center of New Mexico, described a community reeling from the killings, its grief compounded by confusion and fear of what may follow.
"We are just completely shocked and still trying to comprehend and understand what happened, how and why," she said.
Some people have avoided going out unless "absolutely necessary," and some Muslim university students have been wondering whether it is safe for them to stay in the city, she said. The center has also beefed up its security.
Police initially said the same vehicle was suspected of being used in all four homicides — a dark gray or silver four-door Volkswagen that appeared to be a Jetta or Passat with dark tinted windows. But the police chief's tweet referred only to the vehicle's connection with one slaying.
Authorities released photos hoping people could help identify the car and offered a $20,000 reward for information leading to an arrest.
Investigators did not say where the images were taken or what led them to suspect the car was involved in the slayings. Police spokesperson Gilbert Gallegos said in an email Monday that the agency has received tips regarding the car but did not elaborate.
Gallegos said he could not comment on what kind of gun was used in the shootings, or whether police know how many suspects were involved.
Few anti-Muslim hate crimes have been recorded in Albuquerque over the last five years, according to FBI data cited by Brian Levin, director of the Center for the Study of Hate and Extremism and a professor of criminal justice at California State University at San Bernardino.
From 2017 through 2020, there was one anti-Muslim hate crime a year. The highest recent number was in 2016, when Albuquerque police recorded six out of a total of 25 hate crimes.
That largely tracks with national trends, which hit the lowest numbers in a decade in 2020, only to increase by 45% in 2021 in a dozen cities and states, Levin said.
Albuquerque authorities say they cannot determine if the slayings were hate crimes until they have identified a suspect and a motive.
It was not clear whether the victims knew their attacker or attackers.
The most recent victim was found dead after police received a call of a shooting. Authorities declined to say whether the killing was carried out in a way similar to the other deaths.
Muhammad Afzaal Hussain had worked as a field organizer for a local congresswoman's campaign.
Democratic Rep. Melanie Stansbury issued a statement praising him as "one of the kindest and hardest working people" she has ever known. She said the urban planner was "committed to making our public spaces work for every person and cleaning up legacy pollution."
Source: VOA News
Please click the following URL to read the full text of the original story:
https://www.voanews.com/a/afghan-man-charged-in-killings-of-2-muslims-in-new-mexico-/6695032.html
--------
Biden formalizes US support for Finland, Sweden joining NATO
August 10, 2022
WASHINGTON: President Joe Biden formally welcomed Finland and Sweden joining the NATO alliance Tuesday as he signed the instruments of ratification that delivered the US's formal backing of the Nordic nations entering the mutual defense pact, part of a reshaping of the European security posture after Russia's invasion of Ukraine.
"In seeking to join NATO, Finland and Sweden are making a sacred commitment that an attack against one is an attack against all," Biden said at the signing as he called the partnership the "indispensable alliance."
The US became the 23rd ally to approve NATO membership for the two countries. Biden said he spoke with the heads of both nations before signing the ratification and urged the remaining NATO members to finish their own ratification process "as quickly as possible."
The Senate last week approved the two, once-non-aligned nations joining the alliance in a rare 95-1 vote that Biden said shows the world that "the United States of America can still do big things" with a sense of political unity.
The countries sought out NATO membership earlier this year to guarantee their security in the wake of Russian President Vladimir Putin's offensive in Ukraine. The North Atlantic Treaty Organization's rules require the consent of all of its 30 existing members before Finland and Sweden can officially accede into the alliance, which is expected in the coming months.
The candidacies of the two prosperous Northern European nations have won ratification from more than half of the NATO member nations in the roughly three months since the two applied. It marks one of the speediest expansions of the pact of mutual defense among the United States and democratic allies in Europe in its 73-year history.
US State and Defense officials consider the two countries net "security providers," strengthening NATO's defense posture in the Baltics in particular. Finland is expected to exceed NATO's 2 percent gross domestic product defense spending target in 2022, and Sweden has committed to meet the 2 percent goal.
Sweden and Finland applied to join NATO in May, setting aside their longstanding stance of military nonalignment. It was a major shift of security arrangements for the two countries after neighboring Russia launched its war on Ukraine in late February. Biden encouraged their joining and welcomed the two countries' government heads to the White House in May, standing side by side with them in a display of US backing.
Source: Arab News
Please click the following URL to read the full text of the original story:
https://www.arabnews.com/node/2139586/world
--------
Turkish defence delegation to visit US for F-16 jet talks
09 August, 2022
A Turkish delegation will visit Washington DC next week to follow up on US President Joe Biden's pledge to deliver F-16 fighter jets for Turkey's ageing air force, Ankara said Tuesday.
Turkish Defense Minister Hulusi Akar said the team would arrive in Washington on Monday on the invitation of unnamed US officials.
But he stressed that Ankara remained firmly opposed to conditions on the sale imposed by leading members of Congress who worry about Turkey's tense relations with Greece.
"We cannot accept these conditions. Our wish is that the Senate removes them," Akar said in televised remarks.
NATO member Turkey was kicked out of the F-35 Joint Strike Fighter program over its acquisition of an advanced Russian missile defense system in 2019.
Biden's election was followed by a year-long chill in relations between Washington and Ankara linked to Turkey's human rights record and strident foreign policy.
But the Biden administration has been more supportive of Turkey since Russia's invasion of Ukraine in February.
Biden said he wanted Congress to approve the F-16 sale after meeting Turkish President Recep Tayyip Erdogan on the sidelines of a June NATO summit in Madrid.
"Biden's approach was very positive in Madrid."
Some leading US senators have said they will only approve the sale if Turkey ends its territorial dispute with historic rival Greece.
Turkey is due to send its newest drilling ship into disputed east Mediterranean waters in search for natural gas later Tuesday.
Source: Al Arabiya
Please click the following URL to read the full text of the original story:
https://english.alarabiya.net/News/middle-east/2022/08/09/Turkish-defense-delegation-to-visit-US-for-jet-talks-
--------


Arab World
Dar Al-Iftaa of Egypt to Launch Soon 'Fatwa Pro' Application In 12 Languages, Says Grand Mufti
9 Aug 2022
"It is taken into consideration in the app that the fatwas change with the change of time, place, situation, and people. We are preparing this application to launch as soon as possible and it will be supported by 12 languages so that our ideas reach the whole world" Allam said.
Dar Al Iftaa, which is the body responsible for issuing religious edicts, is one of the first religious institutions in Egypt that was keen on an effective presence on social media, Sheikh Allam said, according to the state news agency, MENA.
He said that Dar Al Iftaa was the first institution to create an account on the "Tik Tok" application, noting that there are 30 million interactors weekly.
Source: Ahram
Please click the following URL to read the full text of the original story:
https://english.ahram.org.eg/News/472894.aspx
--------
Turkey drone strike kills four in northeast Syria: Monitor
09 August, 2022
A Turkish drone strike Tuesday killed at least four people in a northeast Syrian city held by Kurdish forces, the latest in a flurry of attacks, a war monitor said.
The Britain-based Syrian Observatory for Human Rights said the attack struck near a hospital in Qamishli, the capital of a Kurdish administration that runs large parts of the country's northeast.
The four victims, all affiliated with the administration, were killed while they dug trenches near Turkey's border in anticipation of a new offensive that Ankara has threatened to launch since May, the monitor said.
Ankara has launched successive military offensives in Syria. Most have targeted Kurdish fighters that Ankara links to a group waging a decades-long violence against it.
Turkey has stepped up its drone strikes in Kurdish-controlled areas of Syria since a July 19 summit with Iran and Russia failed to greenlight a fresh offensive, according to Kurdish officials and the Observatory.
A Turkish drone strike on Qamishli at the weekend killed four people, including two siblings, said the Observatory.
The Kurdish-led Syrian Democratic Forces have counted at least 13 of their members killed in several Turkish attacks since July 19.
Source: Al Arabiya
Please click the following URL to read the full text of the original story:
https://english.alarabiya.net/News/middle-east/2022/08/09/Turkey-drone-strike-kills-four-in-northeast-Syria-Monitor-
--------
Shia Muslims throng Iraqi shrine city to commemorate Ashura
09 August, 2022
Hundreds of thousands of Shia Muslims on Tuesday marked Ashura in Iraq's holy city of Karbala, the burial place of Imam Hussein, grandson of the Prophet Mohammed.
The emotional event commemorates the 7th century battlefield martyrdom of Hussein whom Shias view as the rightful successor to the Prophet Mohammed.
To mourn his death in the year 680, Shia worshipers wearing black cry and beat their chests in unison and some flagellate themselves with swords and knife-edged chains.
Shias represent more than 10 percent of the world's 1.8 billion Muslims, and Ashura is marked by millions of people from Afghanistan and Pakistan to Iran and Lebanon.
Hussein lies entombed in a golden-domed mausoleum in Karbala, where he was killed by the Sunni troops. His mausoleum is linked to that of his brother Abbas, who also died in the battle.
This year's festivities, which began on Monday evening, come as Iraq's majority Shia population is split between rival political camps.
Backers of influential cleric Muqtada al-Sadr were continuing a sit-in outside parliament in Baghdad for a 10th day on Tuesday.
They oppose the Coordination Framework, an alliance of pro-Iran Shia factions that has tried to appoint a prime minister against al-Sadr's wishes.
"The Shia house is divided," said Yussef al-Ardawi, 50, an employee of the Abbas Mausoleum. "We didn't expect this from Shia politicians."
Another worshiper, 24-year-old medical laboratory worker Hussein from Nasiriyah in the south, said the tensions come as Iraqis face a litany of problems.
"We are in 2022 and we don't even have electricity," he said about the oil-rich but corruption-plagued country now enduring blistering summer heat.
Source: Al Arabiya
Please click the following URL to read the full text of the original story:
https://english.alarabiya.net/News/middle-east/2022/08/09/Shia-Muslims-throng-Iraqi-shrine-city-to-commemorate-Ashura
--------
Hezbollah says awaiting Israel's response on maritime border demarcation
Stephanie Radi
09.08.2022
BEIRUT, Lebanon
Lebanese group Hezbollah said Tuesday it is waiting Israel's response to Lebanon's demands regarding maritime border demarcation.
"Lebanon and its people will no longer accept the looting of maritime wealth," Hezbollah Secretary-General Hassan Nasrallah said in a televised speech.
"We are ready to look at any possibility. The hand extended to plunder any of Lebanon's natural wealth will be cut off as was the case when our lands were invaded," he added.
Nasrallah warned that any attack against Lebanon "will not pass unpunished or unanswered."
Lebanon and Israel are engaged in a dispute over a maritime area that is 860 square kilometers (332 square miles), according to maps sent by both counties to the UN in 2011.
The area is rich in natural gas and oil. Five sessions of indirect negotiations were held between Lebanon and Israel under UN sponsorship and US mediation. The last round of talks was in May 2021 but it was stuck because of major differences.
Last week, Lebanese Energy Minister Walid Fayad said that US mediator presented a new proposal for demarcating maritime border with Israel.
Source: Anadolu Agency
Please click the following URL to read the full text of the original story:
https://www.aa.com.tr/en/middle-east/hezbollah-says-awaiting-israel-s-response-on-maritime-border-demarcation/2657368
--------
Syrians in Iraqi camps cannot return to their homes due to PKK terror group
09.08.2022
DUHOK, Iraq
Hundreds of thousands of Syrians, who stay in refugee camps in Duhok and Erbil provinces of Iraq, cannot go back to their homes due to the presence of the YPG/PKK terrorist organization in Syria.
There are about 20 refugee camps within the borders of the city of Duhok. Of these, Syrian refugees remain in the camps of Domiz 1 and 2, Bardarash, Gavilan, and Acre.
Shivan Ali, from the Qamishli district of northeastern Syria and living in Duhok's Domiz camp over the past 11 years, is one of those who cannot return to his country because of the terror group.
Ali said they have lost their hopes to see their homes again.
"Life has become very difficult there, the conditions are very harsh. If there is public order in Syria and we are convinced that we are safe, we want to return," he lamented.
Another Syrian refugee, Iyad Hasan, noted that they could not return to home due to lack of stability, terrorist attacks, clashes, and confusion.
"Syrian refugees in the region are afraid to return because of the PKK as it is forcibly arming young people in Syria and making them fight.
"That's why I don't want to go there as long as the facilities are available. I'll bring my parents here, and they'll live in the camp," he noted.
Mohammad Ali, another refugee, stressed that their situation was bad, adding: "International organizations have cut off aid. They used to bring food parcels before, now they don't give them either."
Source: Anadolu Agency
Please click the following URL to read the full text of the original story:
https://www.aa.com.tr/en/middle-east/syrians-in-iraqi-camps-cannot-return-to-their-homes-due-to-pkk-terror-group/2657254
--------
Nasrallah speech sparks fears of power vacuum in Lebanon
NAJIA HOUSSARI
August 09, 2022
BEIRUT: Doubts were cast over the upcoming presidential election in Lebanon later this year, after Hezbollah's Secretary-General Hassan Nasrallah called on Lebanese officials "to form a government that enjoys its full powers to assume its responsibilities, whether or not a new president is elected," on Tuesday.
It was the first time Nasrallah mentioned publicly the possibility of not holding the presidential elections, raising fears of a political vacuum in the crisis-stricken country, similar to that which preceded President Michel Aoun's election in 2016, and which lasted over two years.
Prime Minister Najib Mikati was tasked on June 23 with forming a new Cabinet, which he presented to Aoun after parliamentary elections last May.
However, Makati's lineup did not satisfy Aoun, who said the prime minister's choices undermined him. Communication between the two has been fraught since then, and all attempts to revive forming a government have stalled.
Parliamentary Speaker Nabih Berri said in a statement he thought a resolution to the impasse at this stage would require "a miracle."
As things stand, on Sept. 1, Parliament will turn into the elective body of the office of the president, with several rounds of voting set to take place to appoint a new head of state.
Ali Darwish, a member of Lebanon's Parliament, told Arab News: "Each party has the right to express its opinion on the next political phase the way it deems convenient. Certainly, a government enjoying its full powers is better than a caretaker government. It is a sound demand because a government enjoying its full powers can take decisions.
"We want these elections to take place, just like other events — electing a new Parliament, and tasking the prime minister with the formation of a new government — to be carried out on time. Electing a new president for the country provides stability."
On Monday, a meeting was held between 16 MPs from the Force of Change bloc, along with a number of other independent and opposition MPs.
The stated objective of the meeting was to "hold discussions in order to agree on a legislative agenda and coordinate on future duties, such as approving the general budget, the financial reform plan and the legislations necessary for the country."
However, political observers believe the meeting was an early move to identify a candidate to replace Aoun.
If these MPs were able to attract other moderate colleagues, they could form a significant force in Parliament opposing Hezbollah and its allies, potentially preventing a candidate aligned with Hezbollah from being elected president.
Darwish said: "What happened in Parliament last Monday serves the democratic game and the country's interest, and we approve of it. We do not favor confrontational diversity, as we are in a crucial phase of the economic crisis we are facing and we need everyone's solidarity.
"Every political party in Lebanon has its own agenda. I hope the presidential elections will be held on time and the democratic game will be fully reflected."
He added: "Complex files are awaiting the next president, such as the negotiations with the International Monetary Fund, the approval of an economic recovery plan, the restructuring of the public sector, and the maritime border demarcation, which requires a complete ruling system."
Lebanese Forces MP Fadi Karam told Arab News: "Through his speech, Nasrallah insists on keeping the state incapacitated and paralyzed, so Hezbollah can impose its conditions on everyone."
Karam said the meeting was "a positive event, and an attempt to unify the opposition in the face of Hezbollah, so we can have a majority that represents the people and faces (down) Hezbollah's plan."
Hadi Abou El-Hassan of the Progressive Socialist Party said: "The parliamentary elections didn't limit decision-making to one party. This allows settlement and agreement on broad topics."
Source: Arab News
Please click the following URL to read the full text of the original story:
https://www.arabnews.com/node/2139481/middle-east
--------
Russian envoy: Terrorists to be swiftly wiped out should US pull out troops from Syria
10 August 2022
Russia's permanent ambassador to the United Nations has emphasized the need for eradicating terrorism in Syria, saying the withdrawal of US troops from the Arab country would facilitate the elimination of the remaining terrorists there.
"It is necessary to completely exterminate the remaining nests of international terrorism in Syria and to do away with the presence of... (Daesh)...and other groups in Syria," Vassily Nebenzia said during a UN Security Council meeting on Wednesday.
"The withdrawal of US occupational forces from the Syrian territory would mean a swift and inevitable elimination of terrorist presence in this much-suffering country and of terrorist network in neighboring states," he added.
Nebenzia said the terrorist groups are sheltered in territories that are not controlled by the Syrian government.
He went on to say that during a patrol mission over Syria on August 4, Russia's air taskforce eliminated a group of US-backed terrorists in Syria, as they were hiding in shelters in the country's al-Badia desert.
The so-called Shuhada' al-Qaryatayn Brigade was positioned in the strategic al-Tanf area in southeastern Syria, which is controlled by US troops, he said.
The terror outfit committed terrorist killings in the Badia region against the civilians, according to the Russian Defense Ministry.
The US and its allies invaded Syria in 2014 under the pretext of fighting Daesh. However, numerous reports and regional officials have pointed to the US role in transferring Daesh elements throughout the region and even airlifting aid to the terrorist group.
The Syrian government says the United States, the Israeli regime, and their Western and regional allies are aiding Takfiri terrorist groups that are spreading insecurity in the country.
The US military has stationed forces and equipment in eastern and northeastern Syria, with the Pentagon claiming that the deployment is aimed at preventing the oilfields in the area from falling into the hands of Daesh terrorists.
Damascus, however, says the unlawful deployment is meant to plunder the country's oil and other resources.
Source: Press TV
Please click the following URL to read the full text of the original story:
https://www.presstv.ir/Detail/2022/08/10/687106/Syria-Russia-UN-envoy-Vassily-Nebenzia-US-troop-withdrawal-elimination--terrorist-presence-
--------
Report: Saudi Arabia investing aggressively in Israeli cyber espionage companies
10 August 2022
A report reveals that Saudi Arabian authorities are investing hugely in Israeli companies that specialize in developing cyber espionage tools, in a move that could help Riyadh hunt down on dissidents and opponents of Crown Prince Mohammed bin Salman (MbS).
The opposition Saudi Leaks website, citing informed sources who asked not to be named, reported that Saudi officials have signed contracts with the Israeli firms, which include spending millions of dollars annually in order to acquire the most sophisticated cyber espionage and surveillance technologies.
The sources said the growing clandestine relations between Saudis and Israeli cyber espionage companies are meant to prepare the way for the implementation of the so-called CyberIC plan, which is claimed to be aimed at protecting the kingdom's cybersecurity sector.
The launch of the plan was announced by Saudi Arabia's National Cybersecurity Authority (NCA) earlier this week.
The security entity, which is directly linked to the king's office, said in a statement that the program aims to develop and build national capabilities in the field of cybersecurity, localize cybersecurity technology and training content and stimulate the wider domestic cybersecurity sector.
Last month, Israeli daily newspaper Haaretz reported that an Israeli company had sold cyber-espionage tech to Saudi Arabia, enabling the kingdom to track down political dissidents and pro-democracy campaigners and tap their communications.
The Israeli newspaper, citing sources and documents, reported on June 8 that Quadream, led by a former Israeli military intelligence official, had been selling its services to Saudi Arabia for years.
The report said the company uses a front in Cyprus to sell its Reign spyware, which apparently extracts data from iPhones, remotely controls the camera, eavesdrops and tracks locations of the device users without their knowledge.
Such sensitive technology, it said, can be exported under the supervision of Israeli military experts.
The newspaper, citing a source, said the buyers include countries that are considered oppressive by the international community, including Saudi Arabia. Quadream has been working with Riyadh since 2019.
Back in early December 2018, the Washington Post newspaper reported that Tel Aviv was directly involved in the sale of sophisticated spyware to Saudi Arabia to help the kingdom purge and assassinate dissidents.
The Post said Israel's ministry of military affairs had authorized the NSO Group to sell Pegasus, a patch of highly complicated software used for hacking and espionage, to the Saudi kingdom.
The report said the sale was carried out through a subsidiary of the NSO in Luxembourg. The firm, officially known as Q Cyber Technologies, enabled Riyadh to target individuals and entities in six Middle Eastern countries.
Source: Press TV
Please click the following URL to read the full text of the original story:
https://www.presstv.ir/Detail/2022/08/10/687109/Report--Saudi-Arabia-investing-aggressively-in-Israeli-cyber-espionage-companies
--------
Europe
Daesh Threat Grows Despite Territorial Defeats and Leadership Losses, UN Warns
August 10, 2022
NEW YORK: Despite territorial defeats and leadership losses, the threat posed by Daesh has been rising since the start of the COVID-19 pandemic and continues to persist, underlining the importance of implementing non-military measures to counter terrorism, the UN said on Tuesday.
Daesh affiliates continue to exploit conflicts and social inequalities to incite unrest and plan terrorist attacks, the organization added. Pandemic-related restrictions and the shift to the digital space have provided the group with opportunities to intensify its recruitment efforts and attract more funding, and for the past year it has increasingly been using drones in attacks, as seen in northern Iraq.
Vladimir Voronkov, the under-secretary-general for counter-terrorism and head of the UN Office of Counter-Terrorism, told the Security Council that Daesh's upward trend has been possible in part as a result of the group's adoption of a decentralized internal structure based around a "general directorate of provinces" and associated "offices." These are designed to manage and finance terrorist operations around the globe, from central, southern and western Africa to Europe and Afghanistan, and make it clear that the terror group has long-term goals and aspirations, he added.
"Better understanding and continued monitoring of this structure are indispensable for countering and preventing the threat posed by Daesh," Voronkov said.
He was speaking during a meeting of the Security Council to discuss the UN secretary-general's 15th report on the threat posed by Daesh to international peace and security. It states that this threat remains particularly high in conflict zones. However it warns that it might soon spread to more stable areas where the extremist group and its affiliates are trying to "incite fear and project strength" as they constantly work to exploit "security gaps and conditions conducive to the spread of terrorism to recruit and to organize and execute complex attacks."
The situation, the report adds, is further exacerbated by the downturn in the global economy and rising inflation, together with the measures adopted by governments to address them.
"Resolving the conflicts in which Daesh and its Al-Qaeda forebear thrive is necessary for creating the conditions to bring about their defeat," said Voronkov.
"But if we are to rid ourselves of this scourge, we must also address the vulnerabilities, social grievances and inequality exploited by the group in the first place, as well as promoting and protecting human rights and the rule of law."
In Iraq and Syria, Daesh retains its ability to organize complex operations, such as the Jan. 20 attack on Ghwaryan prison in Al-Hasakah, Syria. Voronkov said that up to 10,000 fighters are operating in the area along the border between the two countries, from which the group in April launched a global campaign to avenge senior leaders killed during counterterrorism operations.
Daesh has suffered significant losses among its leadership in both countries, including the death of Maher Al-Agal, the group's leader in Syria, who was killed by the US military.
Despite these losses, however, the UN report notes that there has been "no significant change of direction for the group or its operations" in Iraq and Syria.
Voronkov also once again highlighted the issue of suspected Daesh fighters from other countries who are being held in detention in northeastern Syria, as well as women and children associated with them, whose circumstances have "further deteriorated." Dozens of assassinations have been carried out in camps and prisons, he said, and there have been reports of increased violence and killings in Al-Hawl camp.
About 30,000 children being held in northeastern Syria are under the age of 12 and at risk of indoctrination by Daesh, including its "Cubs of the Caliphate" program, according to the UN.
Voronkov emphasized the importance of the voluntary repatriation, prosecution, rehabilitation and reintegration of these fighters, and the women and children associated with them, by the authorities in their home countries. He expressed deep concern about the "limited progress" that has been achieved on this front.
"Tens of thousands of individuals, including more than 27,000 children from Iraq and some 60 other countries (who) did not choose to be there (remain) deprived of basic rights and are at a very real risk of radicalization and recruitment," Voronkov told council members.
"It is imperative that member states urgently consider the long-lasting implications of not taking prompt action to address this dangerous situation."
The secretary-general's report also estimated that Daesh controls $25 million in funds and has the ability to funnel money to its affiliates worldwide.
Source: Arab News
Please click the following URL to read the full text of the original story:
https://www.arabnews.com/node/2139566/world
--------
France says no lasting peace in Gaza possible without lifting of blockade
Seda Sevencan
09.08.2022
ISTANBUL
France has said there can be no lasting peace in Gaza without the lifting of the blockade.
In a statement on Monday, the French Foreign Ministry welcomed the cease-fire that came into force on Sunday thanks to Egypt's mediation efforts with support of the UN and Qatar.
"There will be no lasting stability in Gaza without the lifting of the blockade, together with credible security guarantees for Israel. France is continuing its efforts, along with its European and regional partners, to restore political prospects with a view to a fair and lasting peace," the statement said.
France called on all the parties to respect its full application in order to prevent another escalation and more civilian victims.
Expressing condolences to the families of the victims, it called "for access routes to Gaza to be kept open in the long term, in particular for humanitarian aid and fuel to be allowed to enter, and for the swift transfer of injured and sick people needing treatment."
Israeli warplanes launched airstrikes last week, citing an "imminent threat of attack" by the Palestinian group Islamic Jihad following rising tensions across the Palestinian territories.
Source: Anadolu Agency
Please click the following URL to read the full text of the original story:
https://www.aa.com.tr/en/europe/france-says-no-lasting-peace-in-gaza-possible-without-lifting-of-blockade/2657659
--------
Low employment rate of UK Muslims due to 'Muslim penalty': Study
AUG 08, 2022
Astudy in the United Kingdom found that despite being highly qualified, high unemployment rates of Muslims in Britain are "not due to cultural and religious practices" – that is, the victim is not to blame.
The study was published in the peer-reviewed Ethnic and Racial Studies journal, confirming previous findings of a "Muslim penalty" in the British labor market. It also showed that being white is "not a protection from the Muslim penalty" and that non-Muslims perceived to be Muslim also suffered from the discrimination.
Importantly, the study found that Muslims continue to be penalized considerably even after adjusting for the so-called "sociocultural attitudes" – rejecting the widespread assumption that Muslims are to blame for being discriminated against in the job market due to their cultural and religious practices.
The study found that both Muslim women and men had a significantly high probability of unemployment compared to their white Christian counterparts.
Samir Sweida-Metwally, a doctoral researcher at the University of Bristol who carried out the research supported by the Economic and Social Research Council, told the Guardian: "The findings offer evidence against the view that Muslims' poor employment outcomes in Britain are due to their so-called 'sociocultural attitudes.'"
"In challenging this narrative, which problematizes Muslims and their faith, the study lends support to the overwhelming evidence from field experiments that shows anti-Muslim discrimination toward Muslims and those perceived to be Muslim to be a significant barrier to them accessing work."
The research used 10 years of data from 100,000 participants from the annual U.K. Household Longitudinal survey, which gathers information on people's socio-economic situation.
Sweida-Metwally found that, "'Sociocultural variables' such as gender attitudes, language proficiency and the extent of inter- and intra-ethnic social ties are not a convincing source of the unexplained ethno-religious differences in labor market participation and unemployment among Muslim men and women."
The study also found that "perceived Muslimness" – people perceived to be Muslim even though they are not – was found to have one of the highest chances of unemployment, where Arab men of no religion were among those with the highest likelihood of unemployment/inactivity.
Sweida-Metwally concluded that Islamophobia is multidimensional and relates to color, religion, culture and country of origin, where discrimination can occur against any of these dimensions. He concluded that there is both a "Muslim" and "black penalty" at play in the British job market and that this study confirms previous studies.
No change from five years ago
The findings in Sweida-Metwally's study are in accordance with what the government's Social Mobility Commission found in 2017 that "Muslims are being excluded, discriminated against or failed at all stages of their transition from education to employment. Taken together, these contributory factors have profound implications for social mobility," said professor Jacqueline Stevenson of Sheffield Hallam University, which lead the study.
At the time, Stevenson had told the Guardian that the research highlighted routine examples of Muslim men and women failing to secure jobs that were commensurate with their skills and qualifications.
The research involved a series of in-depth focus groups across the country through which young Muslims shared their experiences. One woman in Liverpool said her father had suggested "changing her name to help get a job."
A female respondent in High Wycombe referred to hearing comments such as "he looked very Muslim" or "look at her, she's got a scarf on." Another said they felt that when white children went to school they might fear getting bullied but the thought would definitely occur to all ethnic-minority children.
At the time, Alan Milburn, the former Cabinet minister who headed the government-sponsored Social Mobility Commission, said the research painted a disturbing picture.
Source: Daily Sabah
Please click the following URL to read the full text of the original story:
https://www.dailysabah.com/world/islamophobia/low-employment-rate-of-uk-muslims-due-to-muslim-penalty-study
--------
French government moots law change to expel imam
August 09, 2022
LONDON: The French government has confirmed its determination to combat radical Islamism, with a senior minister saying he is prepared to change the law to remove an imam who has been accused of extremism, The Times reported.
Interior Minister Gerald Darmanin said preacher Hassan Iquioussen is an enemy of the country and had "no place" in France.
Iquioussen, 58, has come under fire from the French political establishment and the government for his preaching, with his sermons on YouTube attracting tens of millions of views.
Darmanin said he will not allow the law to prevent him from deporting Iquioussen, who is Moroccan but has lived all his life in France. The imam has five children in the country and 15 grandchildren.
The war of words between Iquioussen and the government has been central to President Emmanuel Macron's campaign to tackle radical Islamism. Macron has repeatedly said preachers such as Iquioussen reject French laws and values.
Darmanin announced the intended expulsion of Iquiossen "by force" last week after Morocco confirmed it had authorized his travel to the North African nation, but the plans were stopped when Iquioussen secured a legal block on his removal.
An administrative court in Paris ruled that the expulsion was a "disproportionate infringement … of (Iquioussen's) right to a private and family life."
Macron's government has accused the French left of using human rights law to defend Islamists such as Iquiossen.
Darmanin has relaunched the government's legal efforts to deport the preacher, appealing against the injunction at the State Council, France's highest administrative court.
He told the French press that if the deportation is approved, "all French people" will support it. He added that he will change the law to remove Iquioussen if the courts block the appeal.
Darmanin also confirmed media reports that French security and intelligence agencies had lodged Iquioussen as an allegedly dangerous radical 18 months ago.
"This imam … uses antisemitic language. He denies equality between men and women. He denies genocides. He calls for terrorist attacks in France to be considered as conspiracies," Darmanin said. "The enemies of the Republic have no place in the republic."
Iquioussen has posted on Facebook that he "strongly contested" the allegations that he has used "discriminatory or violent language."
Source: Arab News
Please click the following URL to read the full text of the original story:
https://www.arabnews.com/node/2139131/world
--------
South Asia
Amnesty International Calls on Taliban to Protect Shia Community after Deadly Explosions
By Saqalain Eqbal
09 Aug 2022
Following a string of attacks over the past several days that left almost 120 people dead and injured in the Afghan capital, Kabul, Amnesty International has urged the Taliban to step up measures to protect members of the Hazara Shia minority in Afghanistan.
Amnesty International's South Asia regional researcher Zaman Sultani reacted to the series of explosions that resulted in over 120 deaths and injuries in the regions primarily inhabited by Hazara Shiite populations in west Kabul, calling on the Taliban to protect the Hazara Shiite community.
"The systematic attacks on the minority Hazara Shiite community in Afghanistan may amount to crimes against humanity and should be unequivocally condemned," Sultani said.
He urged the Taliban to conduct a "thorough" probe into the explosion attacks that are by international standards and law.
"The Taliban are responsible to take all necessary measures for the protection of civilians in Afghanistan and they must immediately step-up measures to ensure protection to all civilians in the country", Sultani stated in an Amnesty International press release on Monday.
The Islamic State group claimed responsibility for recent explosives and attacks that killed at least 120 people and targeted the Hazara minority, according to the United Nations on Sunday.
The attacks on the community took place in the month of Muharram, which is observed by Shia Muslims to commemorate the martyrdom of Imam Hussein, the Prophet Muhammad's grandson.
Source: Khaama Press
Please click the following URL to read the full text of the original story:
https://www.khaama.com/amnesty-international-calls-on-taliban-to-protect-shia-community-after-deadly-explosions-58494/
--------
A Year Into Taliban Rule, Misery And Disease Conquer Afghanistan: Report
August 10, 2022
Musa Qala, Afghanistan: The heaving wards of a ramshackle clinic in southern Afghanistan are just one sign of the catastrophic humanitarian crisis that has gripped the war-ravaged country since the Taliban returned to power a year ago.
Last month, the Musa Qala District Hospital in Helmand province was forced to shut its doors to all except those suffering from suspected cholera.
The infirmary was soon jammed with listless patients, intravenous drips needled into their wrists as they recuperated on rusting gurneys.
Though the clinic lacks facilities to test for cholera, about 550 patients presented themselves within days, showing symptoms of a disease caused by a lack of basic sanitation needs: clean drinking water and an adequate sewerage system.
"It's very difficult," hospital chief Ehsanullah Rodi, run ragged on just five hours of sleep a night since the influx began, told AFP.
"We didn't see this from last year, or another year."
The United Nations says Afghanistan's humanitarian crisis is the world's worst.
Hungry children
Poverty in the country -- felt most keenly in Afghanistan's south -- has been driven to desperate new levels, exacerbated by drought and inflation since Russia's invasion of Ukraine.
"Since the Emirate (Taliban) came into power, we can't even find cooking oil," said one woman, perched on a hospital cot next to her malnourished six-month-old grandson in Lashkar Gah, Helmand's provincial capital.
"Poor people are squashed under their feet," the 35-year-old said.
Her grandchild is being treated for the fifth time at Boost Hospital, a sun-baked maze of paint-peeled buildings run jointly by the health ministry and Doctors Without Borders (MSF).
Many of the beds on the malnutrition ward host two tiny, frail patients -- some suckling gamely on syringes of milk, while others heave onerous breaths as they fight to regain their strength.
"We can't even find dry bread," said Breshna, the mother of another patient, who guesses her age at between 15 and 20.
"We haven't had anything to eat in three or four days."
Assistant nursing supervisor Homeira Nowrozi, fighting to be heard above wailing infants, said staff "have not any rest".
"We have a lot of patients that come in critical," she said, because parents could not afford to travel sooner.
"We don't know how many mortalities ... we have in the districts, because they didn't come to hospital."
A moral tangle
Afghanistan's plight began well before August 15, 2021 when the Taliban captured Kabul on the heels of a hasty withdrawal of US-led troops and the collapse of the government they propped up.
But the Taliban's takeover pushed the country -- home to 38 million people -- over the precipice.
The United States froze $7 billion in central bank assets, the formal banking sector collapsed, and foreign aid representing 45 percent of GDP stopped overnight.
Over the past year, would-be donors have grappled with the conundrum of funnelling fresh funding to the ailing nation, which the Taliban rebranded the "Islamic Emirate" in line with their austere theocratic beliefs.
"How do you provide assistance in a country where you don't recognise the government?" asked Roxanna Shapour of the Afghanistan Analysts Network.
Importing humanitarian aid to address crises such as the June earthquake -- which killed more than 1,000 people and left tens of thousands more homeless -- is relatively simple, she said, as it is "non-political, it's life-saving assistance".
Cash is also airlifted to fund food aid and healthcare, but development aid for long-term projects that could transform the economy is more complex.
"If you go in and say, 'I'm going to pay all teacher salaries', that's great. But then what will the Taliban do with the money they save from not having to pay teacher salaries?" asked Shapour.
A souring mood
In Musa Qala -- a dusty farming outpost with a shipping container bazaar staffed by child shopkeepers -- the deprivation is visible.
The local economy seems to barely subsist on motorcycle repairs, the sale of pallid poultry carcasses, and canisters of energy drinks kept tepid in grimy chest freezers.
The town witnessed some of the bloodiest chapters of the 2001-2021 war, and is connected to Lashkar Gah by a makeshift track up a desiccated riverbed lined with jagged rocks.
The road begins again further south at Sangin, a place where mud-walled compounds have been so badly ravaged by gunfire and artillery that they are crumbling back into the earth.
In a cruel irony, desperation and the demand for humanitarian services have only deepened with the arrival of peace.
"Now we can visit the hospital whether it's night or day," said Maimana, whose eight-year-old daughter Asia was being treated at Musa Qala.
"Before, there used to be fighting and mines -- the roads were blocked."
Helmand public health director Sayed Ahmad told AFP that the flood of new patients means there is "less space" and that "there are fewer staff, so there are difficulties".
Nevertheless, Ahmad -- a soft-spoken doctor whose office is lined with medical tomes -- insists "the overall situation is better" than under the previous government, when corruption was rife.
He blames economic sanctions against the Taliban for some of their problems, saying "the needs and demands of people have increased".
But analysts say the Islamists are far from blameless.
"The Taliban's repressive social policies have made it more difficult to reach a deal on getting those frozen assets unlocked," said International Crisis Group's Graeme Smith.
"This is really just about the emotions of policymakers -- and shutting millions of girls out of secondary schools really soured the mood."
Unable to rule
The Taliban flag now flies openly across Helmand province, staked on bullet-ridden buildings.
But after coveting control for two decades, they are ruling the nation at its most ruined.
Source: ND TV
Please click the following URL to read the full text of the original story:
https://www.ndtv.com/world-news/a-year-into-taliban-rule-misery-and-disease-conquer-afghanistan-report-3241335
--------
Taliban torn over reforms one year after seizing power
Aug 10, 2022
KANDAHAR, AFGHANISTAN: One year on from the Taliban's return to power in Afghanistan, some cracks are opening within their ranks over the crucial question of just how much reform their leaders can tolerate.
Infamous during their first reign for their brutal crackdowns on rights and freedoms, the Islamists vowed to rule differently this time.
On a superficial level at least, they appear to have changed in some respects.
Officials in Kabul have embraced technology, while cricket matches are cheered in full stadiums.
Televisions were banned under the Taliban government's first incarnation, while Afghans now have access to the internet and social media.
Girls are allowed to attend primary school and women journalists are interviewing government officials -- unthinkable during the Taliban's first stint in power in the 1990s.
The group's hardline core, composed of battle-hardened veteran fighters, is against any significant ideological change that could be viewed as a sign of capitulation to their enemies in the West.
"You have one (Taliban) camp, which is pushing ahead with what they're seeing as reforms, and another camp that seems to think even these meagre reforms are too much," said Ibraheem Bahiss, an Afghanistan analyst with International Crisis Group.
The United States and its allies -- which had bankrolled Afghanistan for 20 years -- have locked the country out of the global banking system and billions in frozen assets abroad, as they hold out for reforms from the Taliban.
Without significant progress, it is the Afghan people who suffer as the country reels under a massive economic crisis that has seen some families choose between selling their organs or their infant daughters.
On whether the Taliban are even capable of reform, analysts are wary that recent policy changes amount to little more than "tokenism".
"There are some cases where we could point to an evolution in policy, but let's be very clear... We're still looking at an organisation that has refused to move beyond very retrograde, dogmatic views," said Michael Kugelman, an Afghanistan specialist with the Washington-based Wilson Center think tank.
Most secondary schools for girls remain closed. Many women have been forced out of government work, while many fear venturing out and being chastised by the Taliban.
Simple joys such as music, shisha and card games are strictly controlled in the most conservative areas, while protests have been crushed and journalists regularly threatened or detained.
Demands from the West for an inclusive government were ignored, and the assassination of al-Qaida's leader in Kabul last week underlined the Taliban's ongoing ties with jihadist groups.
It is from the Taliban's power base of southern Kandahar that the secretive supreme leader Hibatullah Akhundzada gathers his powerful inner circle of veteran fighters and religious clerics to impose a harsh interpretation of sharia.
And for them, ideological concerns outweigh any political or economic drivers to effect change.
"The needs of the Afghans remain the same as 20 years ago," Mohammad Omar Khitabi, a member of a council of clerics who advise Akhundzada in Kandahar, told AFP.
His thoughts are echoed by Kandahar's Vice and Virtue Director Abdul Rahman Tayabi, another close aide of the supreme leader.
"Our people do not have too many demands, like people in other countries might have," he told AFP.
Afghan families were left stunned in March when Akhundzada overturned the education ministry's decision to reopen secondary schools for girls.
Some analysts believe he felt uneasy over what could be seen by hardliners as an act of surrender to the West on girls' rights.
Hopes of restoring international money flows were shattered -- to the dismay of many Taliban officials in Kabul, some of whom spoke out against the decision.
Relations with Western diplomats -- who meet regularly with Taliban ministers but have no access to Akhundzada -- suffered a major setback.
A slew of directives that harked back to the first reign of the Taliban quickly followed.
"The decisions that (Akhundzada) has made so far are all based on the opinions of religious scholars," said Abdul Hadi Hammad, the head of a madrassa and member of the supreme leader's advisory council.
Akhundzada has stressed the need for unity in the movement as he carefully seeks to balance several factions -- including competing groups that claim the credit for the 2021 victory over US-led forces.
While advisers to Akhundzada claim the Taliban can survive without foreign income, unlocking billions of dollars in frozen assets abroad would be a crucial lifeline.
"We know the Taliban can be transactional, but they cannot appear to be transactional," a Western diplomat told AFP on condition of anonymity.
Within the movement, no one dares openly challenge Akhundzada's power, but discontent is quietly growing among the lower ranks.
"Taliban guards are getting their salaries late, and their salaries are low too. They are unhappy," said one mid-level Taliban official based in northwestern Pakistan, who asked not to be named.
Many have returned to their villages or travelled to Pakistan to take up different work, another Taliban member added.
Attempts by the movement to shore up revenue through lucrative coal mining have sparked infighting in the north, exacerbated by ethnic divisions and religious sectarianism.
With winter only a few months away, food security and freezing temperatures will put even more pressure on the leaders of one of the world's poorest countries.
These mounting stresses have the potential to worsen divisions, Kugelman said, though likely not enough to force any dramatic shift in policy.
Source: Times Of India
Please click the following URL to read the full text of the original story:
https://timesofindia.indiatimes.com/world/south-asia/taliban-torn-over-reforms-one-year-after-seizing-power/articleshow/93469219.cms
--------
Shia Muslims in Bangladesh mark Ashura with traditional procession
August 09, 2022
The Shia Muslim community in Bangladesh is observing Ashura, commemorating the 7th century martyrdom of Prophet Muhammad's grandson Imam Hussein with customary fervour and reverence.
Devotees marked the occasion by participating in a procession known as Tazia, or a replica of the mausoleum of Hussein, on Tuesday, reports bdnews24.com.
Clad in black clothes, they walked barefoot from Old Dhaka's Hussaini Dalan Imambara to Dhanmondi's Jhigatola to the tune of beating drums and traditional Ashura chants.
Every year, mourners lead the procession out of the Imambara and march along different streets of Dhaka before stopping at a symbolic Karbala ground in Dhanmondi. But the procession was scaled back during the last two years due to the coronavirus pandemic.
Ashura is observed on the 10th day of the lunar month Muharram in the Islamic calendar. It marks the climax of the Battle of Karbala in modern-day Iraq when Imam Hussein ibn Ali was slain in 680 AD.
Source: The Financial Express
Please click the following URL to read the full text of the original story:
https://thefinancialexpress.com.bd/national/shia-muslims-in-bangladesh-mark-ashura-with-traditional-procession-1660038152
--------
Southeast Asia
Zahid didn't ask for any 'sensitive' info to be omitted, says PAC chief
August 9, 2022
PETALING JAYA: The Public Accounts Committee (PAC) has rubbished former defence minister Ahmad Zahid Hamidi's insinuation that it had been insensitive in its probe on the littoral combat ship (LCS) project.
PAC chairman Wong Kah Woh said he was not sure what Zahid found wrong with the committee's conduct, after the Umno president said the committee needed to be more sensitive in its probe as the project involved national security and was still being investigated.
Zahid had also expressed concern that any "exposure" of documents related to the controversial project might affect state secrets.
In a statement today, Wong explained that accounts by witnesses called in by PAC were typically recorded in the form of written transcripts known as the "Hansard".
He pointed out that Zahid, who was summoned by PAC, had never made an application for any of his statements to be amended or omitted due to concerns of its "sensitivity".
He said if the Hansard contained information of a sensitive nature, PAC would consult the Attorney-General's Chambers if there was an application by a witness.
According to Wong, none of the witnesses had made such an application, and PAC had presented its findings based on facts, documents and statements obtained.
"As the PAC chairman, I will not allow the reason of national security to be used arbitrarily and merely to prevent the people from accessing real information about how the government spends taxpayers' money," he said.
Former defence minister Mohamad Sabu and his former deputy, Liew Chin Tong, had called for several documents on the LCS project to be declassified.
They agreed with PAC's call for the governance, procurement and finance investigation committee's report on the project to be fully declassified, and also wanted Boustead Naval Shipyard Sdn Bhd's (BNS) project forensic audit report and a former navy commander's letter to be declassified.
Source: Free Malaysia Today
Please click the following URL to read the full text of the original story:
https://www.freemalaysiatoday.com/category/nation/2022/08/09/zahid-didnt-ask-for-any-sensitive-info-to-be-omitted-says-pac-chief/
--------
Man finds out he's 'dead' while lodging police report
August 9, 2022
PETALING JAYA: A 71-year-old man in Skudai, Johor, found out that he had been listed as a "dead" man after attempting to lodge a police report.
According to China Press, Low Choo Choon, a hearse driver, was trying to lodge a report after losing a deed to a gravesite that was under his name when policemen informed him of his "death".
Low said he and his wife had purchased a two-person gravesite about two decades ago. He then wanted to transfer the deed to a relative, with financial considerations prompting him to opt for a cremation package instead.
In January, he realised that he had lost the deed, which forced him to lodge a police report. However, he failed to file the report since he was deemed "dead."
While he had lodged a complaint with the national registration department (JPN) following advice from police, Low said he had yet to get an update from JPN though the department said it would process the change in his status within two weeks.
He added that his son-in-law had contacted JPN multiple times over the issue, but failed to get answers.
Low said he also could not get his road tax renewed when he went to the road transport department twice, though he managed to renew it for half a year after making multiple requests.
"I have been working at a funeral home for so many years but I never thought that I would be listed as 'dead'.
"If my (status) does not get updated, I worry that my bank account and assets will get frozen," he said at a press conference with Senai assemblyman Wong Bor Yang.
Low had sought Wong's help over the matter late last month.
Both of them had been scheduled to meet the Johor national registration department's investigation team today but it was postponed after its director was placed under quarantine.
However, with Wong's help, the investigation team's director handed over Low's application documents to the department to speed up the process.
Since Low has been classified as "dead", he was also unable to cast his ballot at the Johor state elections in March, leaving him ruing his failure to fulfil his responsibility as a Malaysian.
Source: Free Malaysia Today
Please click the following URL to read the full text of the original story:
https://www.freemalaysiatoday.com/category/nation/2022/08/09/man-finds-out-hes-dead-while-lodging-police-report/
--------
Nonsensical for DAP to make way for PSB newcomer, says Chong
August 9, 2022
PETALING JAYA: Sarawak DAP says it is nonsensical for Parti Sarawak Bersatu (PSB) to demand the party give up its Sibu parliamentary seat, saying that an incumbent has a better chance of winning compared to a newcomer.
Its chairman Chong Chieng Jen said with the 15th general election expected to be held in a few months time, it would not make sense to have a newcomer facing off against the "might of the Gabungan Parti Sarawak's (GPS) machinery".
Furthermore, PSB had not disclosed the newcomer, Chong said.
Therefore, he said, PSB president Wong Soon Koh's proposal "did not make good political sense".
"It will only give GPS an upper hand and increase its chance of winning," he said in a statement, referring to the ruling coalition.
"That should not be the aim of cooperation among the opposition parties, unless Wong has another agenda up his sleeve."
On Sunday, Chong said that seat negotiations with PSB had reached a dead end after Wong said Sarawak DAP must "sacrifice" one parliamentary seat, a request which the former deemed unreasonable.
This led to Wong accusing Sarawak DAP of being unwilling to give up a seat.
Chong, however, said today such an accusation was misleading.
He said that the party was willing to give up some of the seats it contested in the last nationwide polls to other opposition parties, including PSB, if it meant increasing the opposition's chance of winning.
Source: Free Malaysia Today
Please click the following URL to read the full text of the original story:
https://www.freemalaysiatoday.com/category/nation/2022/08/09/nonsensical-for-dap-to-make-way-for-psb-newcomer-says-chong/
--------
Can voters trust a Zahid-led BN after LCS scandal, asks Muhyiddin
August 9, 2022
PETALING JAYA: Perikatan Nasional (PN) chairman Muhyiddin Yassin questioned if voters would trust a Ahmad Zahid Hamidi-led Barisan Nasional (BN) in the next general election (GE15) following the scandal surrounding the purchase of six littoral combat ships.
This is especially so after the Umno president allegedly ignored issues raised by former navy chief Abdul Aziz Jaafar, Muhyiddin said.
Aziz, the former prime minister said, had written five letters detailing his concerns to Zahid who was the then defence minister.
"Is this the leader who will lead BN in GE15 and can the public trust the coalition?" he asked in a Facebook post this evening.
Zahid recently denied any involvement in the scandal, saying the contract for the purchase of the LCS was only awarded after his tenure as defence minister.
Last week, Public Accounts Committee chairman Wong Kah Woh said the defence ministry and Boustead Naval Shipyard Sdn Bhd (BNS) had ignored the navy's views on the design of the ships.
He also said not a single ship had been completed although Putrajaya had spent RM6 billion on the project, which was given to BNS via direct negotiations.
He added that the navy should have received five of the ships by August this year.
Muhyiddin urged the government to set up a royal commission of inquiry (RCI) to investigate the matter.
Source: Free Malaysia Today
Please click the following URL to read the full text of the original story:
https://www.freemalaysiatoday.com/category/nation/2022/08/09/can-voters-trust-a-zahid-led-bn-after-lcs-scandal-asks-muhyiddin/
--------
Mideast
Hezbollah chief warns Israel against targeting Palestinian militants in Lebanon
09 August, 2022
Lebanon's Hezbollah leader Hassan Nasrallah warned on Tuesday against any Israeli attempts to expand their targeting of Palestinian militants to Lebanon.
"Any attack on any human being will not go unpunished or unanswered," Nasrallah said in a televised address marking Ashura, a melancholic commemoration for Shia Muslims of the killing the Prophet Mohammad's grandson Hussein.
The comments came after a flare-up in violence between Israel and the Islamic Jihad movement in the Gaza Strip, prompted by Israel's arrest of a senior Islamic Jihad leader earlier this month.
On Saturday, Israeli Defense Minister Benny Gantz hinted at the possible targeting of Islamic Jihad officials abroad, who he said could be seen in "restaurants and hotels in Tehran, Syria and Lebanon."
"They too will have to pay the price," Gantz said.
On Monday, a day after a truce brokered by Egypt ended the Gaza violence, he said Israel could carry out "pre-emptive strikes" abroad.
"In the future too, if necessary, we will deliver a pre-emptive strike in order to defend Israel's citizens, sovereignty and infrastructure, and this is true for all fronts, from Teheran to Khan Younis," he said.
The Hezbollah chief also warned Israel against reaching for offshore gas reserves at a time US-mediated talks are aiming to settle a maritime border dispute.
"The hand that reaches for any of this wealth will be severed," Nasrallah said.
"Lebanon's oil, gas and water resources must remain under its control and no one should be allowed to rob the country," he said in his televised speech.
The dispute escalated in early June after Israel moved a production vessel near the Karish offshore field, which is partly claimed by Lebanon.
This prompted Beirut to call for the resumption of US-mediated negotiations, while Nasrallah has responded by repeatedly launching threats.
On July 2, Israel said it had downed three drones launched by Hezbollah that were headed toward Karish.
That same month, the movement released a video it said showed surveillance of several Israeli-chartered ships, including the production vessel sent to Karish.
Nasrallah's comments on Tuesday came as Lebanon awaits a response from Israel to an offer on the border dispute it submitted to US mediator Amos Hochstein last month.
Nasrallah said that "we are waiting for a response to the demands of the Lebanese state, and we will respond accordingly, but I tell you... we must be ready and prepared for all possibilities."
"We will go all the way, so no one should try us."
Lebanon and Israel, which fought their last war in 2006, had resumed maritime border negotiations in 2020 but the process had been stalled until the latest developments revived negotiations in June.
Hochstein told a Lebanon broadcaster this month that he is working toward a solution that would allow Israel to continue operations in Karish while also allowing Lebanon to enter the energy market.
Source: Al Arabiya
Please click the following URL to read the full text of the original story:
https://english.alarabiya.net/News/middle-east/2022/08/09/Hezbollah-chief-warns-Israel-against-targeting-Palestinian-militants-in-Lebanon
--------
'Child-Killing' Israeli Regime Can't Escape Inevitable Fate; "15 Palestinian Children Martyred In the Recent Israeli Attacks on the Gaza Strip"
2022-August-9
"15 Palestinian children were martyred in the recent Israeli attacks on the Gaza Strip," Kana'ani wrote on Twitter on Monday, attaching to his tweet several images of the victims of the Israeli brutal raids.
"The child-killing Israeli regime cannot escape its inevitable fate of failure and decline by killing innocent children," he added.
"Undoubtedly, the brothers and sisters of these children will see the freedom of their homeland from the cruel invaders in the near future. Is the morning not near?" he continued.
Speaking on the side-lines of the Ashura day mourning ceremony, first Vice-President of Iran Mohammad Mokhber also underscored that the new attacks by the Israeli regime on the Gaza Strip is a result of a recent trip by US President Joe Biden to the West Asia region.
Mokhber said on Monday that the recent regional tour by the US president to the region has emboldened the Zionist regime to resume brutal attacks on the Gaza Strip.
The new round of pounding Gaza is also indicating that Israel is facing internal challenges and crises, but such attacks will end up in consolidating unity among Muslims and resistance movement groups, the Iranian official argued.
Describing Iran as the steadfast supporter of oppressed Palestinian people and resistance movements, he emphasized that efforts made by the Zionist regime and its regional and international allies show that how much the resistance movement's might has improved.
The first vice president also stressed that resistance is the only way to conquer the occupiers, expressing hope that the holy Quds region can be liberated soon with the God's help and as a result of resistance by Palestinian youths and Muslims.
Israel and the Palestinian resistance movement Islamic Jihad declared a truce late Sunday after three days of heavy Israeli bombardment on the besieged Gaza Strip.
The Palestinian Health Ministry has confirmed that the Israeli regime's attacks had since Friday left at least 44 people, including women, children and two senior commander, dead and 350 wounded.
In response to the Israeli strikes, Palestinian resistance forces fired almost 1,000 rockets at the occupied territories, setting off air raid sirens and sending settlers running to bomb shelters.
The international community has strongly condemned the latest Israeli air raids in the Gaza Strip, voicing its deep concern over the latest rounds of violence by the Tel Aviv regime against Palestinians in the besieged coastal enclave.
Iran describes Israel as the root cause of instability in the region, but says the regime's US-supported barbarity will not change the inevitable fate of the Tel Aviv regime.
Iranian President Seyed Ebrahim Rayeesi strongly condemned the new crime committed by Tel Aviv in the Gaza Strip, and said the Israeli regime is on a fast-track towards decline because of the resistance of the Palestinian people in the besieged enclave.
"Through its crime last night, the Zionist regime once more showed its occupationist and aggressive nature to the world," President Rayeesi stated on Saturday.
Source: Fars News Agency
Please click the following URL to read the full text of the original story:
https://www.farsnews.ir/en/news/14010518000438/Iran-'Child-Killing'-Israeli-Regime-Can%E2%80%99-Escape-Ineviable-Fae
--------
Israeli forces kill two armed Palestinians in West Bank; teen killed in clashes
August 9, 2022
Israeli security forces killed a Palestinian freedom fighter and another fighter in a gunbattle in the occupied West Bank on Tuesday, the military said, triggering further attacks in which Palestinians said a 16-year-old youth was also killed.
Israeli forces surrounded the house of Ibrahim al-Nabulsi, a senior commander of the Fatah's Al Aqsa Martyrs Brigades group, long on Israel's wanted list.
Al-Nabulsi, barricaded inside, refused to surrender and was killed along with another fighter during a gunbattle with Israeli forces, who also used shoulder-fired missiles in the fighting, the military said.
The shoot-out, in the northern West Bank city of Nablus, was the deadliest incident in the West Bank since Israel and the Islamic Jihad ended three days of fighting in Gaza, the worst in more than a year.
Al-Nabulsi was a member of the recently formed "Nablus Brigade", a Palestinian alliance in the city which also includes Islamic Jihad's gunmen. Hours after the shoot-out, tens of thousands attended his funeral and called for revenge.
The gun battle was followed by clashes during which the military said its troops responded with live fire against Palestinians throwing rocks and explosives at soldiers.
Islamic Jihad said the 16-year-old was killed while participating in a confrontation with Israeli troops.
Palestinian health officials confirmed the three deaths and said 40 more people were injured in total. There were no reports of Israeli casualties.
The Israeli military said al-Nabulsi had been suspected of carrying out several shooting attacks against Israeli civilians and soldiers.
Israel has stepped up raids in recent months in the West Bank. The Western-backed Palestinian Authority regularly condemns such incursions.
Source: Dawn
Please click the following URL to read the full text of the original story:
https://www.dawn.com/news/1704087/israeli-forces-kill-two-armed-palestinians-in-west-bank-teen-killed-in-clashes
--------
Iran Receives First Telemetry Data from Newly-Launched Satellite
2022-August-9
The high-resolution Iranian satellite was successfully launched into space from a base in Kazakhstan on board a Russian rocket on Tuesday. The satellite is placed in an orbit of 500 kilometers above the Earth's surface and will send high-resolution images four times a day.
"The first telemetry data from 'Khayyam' satellite was received at the Iranian Space Agency's (ISA) Mahdasht space base," the ministry of communications said.
Iranian Minister of Communications and Information Technology Issa Zarepour, who traveled to Kazakhstan, stated that the country will continue efforts to develop domestic capabilities in manufacturing and launching satellites.
"Iran Space Agency, while developing internal capabilities in the field of building and launching satellites needed by the country and growing the relevant ground stations, continues to meet the country's current needs in the area of providing satellite data through advanced scientific and technological cooperation with leading countries in the world's space industry," he added.
"In addition to meeting the needs of Iran, it will accelerate the localization of space technology in the country by transferring knowledge and experience," he added.
"Launching the 'Khayyam' satellite into orbit is the beginning of Iran-Russia's strategic cooperation in the space field," Zarepour concluded.
Source: Fars News Agency
Please click the following URL to read the full text of the original story:
https://www.farsnews.ir/en/news/14010518000580/Iran-Receives-Firs-Telemery-Daa-frm-Newly-Lanched-Saellie
--------
Iran Urges US to Retreat from Unconstructive Positions in Talks
2022-August-9
The Iran's top diplomat made the remarks in a Monday phone conversation with the European Union Foreign Policy Chief, Josep Borrell, in which the two sides discussed the latest developments surrounding the nuclear talks in the Austria's capital.
Amir Abdollahian told Borrell that the Iranian delegation has been serious and determined to achieve an agreement in Vienna and has offered its constructive ideas for the resolution of outstanding issues.
"Iran's views and considerations on the ideas offered by [Borrell's deputy] Enrique Mora have been conveyed to him and all parties [to the deal] are expected to show seriousness and resolve in order to achieve the final text of the agreement," the high-ranking official noted.
Iran's foreign minister added any final agreement must meet the rights and interests of the Iranian nation and guarantee sustainable and effective removal of sanctions imposed on the country.
He expressed hope that the path to a final agreement would be paved through realism and by avoiding adoption of nonconstructive positions, especially by the United States.
Earlier in the day, a senior official in Iran's Foreign Ministry stated during fresh talks on the Joint Comprehensive Plan of Action (JCPOA) revival in Vienna, Tehran informed the opposite parties of its positions and "relative advances were made on a number of issues".
Pointing to Mora's several ideas on a number of outstanding issues, the unnamed official noted, "As soon as we received these ideas, we informed him of our answers and primary considerations. Naturally, such issues need more comprehensive discussions and we will convey our additional views and considerations to the [JCPOA] coordinator and other parties."
The official added that relative progress has been made during the new round of talks, but progress has been slow in some other areas.
After several months of impasse, sanction removal talks resumed on Thursday. Expert-level negotiations had been held between Iran and the P4+1 group of countries.
Late Monday, a top official of the European Union declared that the negotiations on finalizing a draft text for potential agreement on the revival of the 2015 Iran nuclear deal have come to an end, and that the delegations (the P4+1 group, including Britain, France, Russia, China plush Germany), as well as Iran and the United States would leave Austria.
Meanwhile, an Iranian Foreign Ministry official dismissed the reports that a text for restoring the 2015 accord with Tehran had been completed and that negotiations in Vienna were finished.
"Given the continuation of discussions on several important remaining issues, we are not yet at a stage where we can talk about the finalization of the text," the unnamed official was quoted as saying by IRNA news agency late Monday.
"The negotiating team of the Islamic Republic of Iran has presented its constructive opinions to the other side with the aim of advancing the negotiations, and the outcome of the talks depends on the will of the other side to make the necessary political decisions," the foreign ministry official continued.
"We still believe that if appropriate decisions are made by the other side, the negotiations can be concluded quickly, but we are not at this stage yet," the official added.
Iran: Agreement in Vienna Depends on US to Adopt Realistic Approachhttps://t.co/Rlqu1lnlHy pic.twitter.com/A7JwBiGH7x
— Fars News Agency (@EnglishFars) August 9, 2022
Iranian officials say the ball is in the US' court, and the administration of President Joe Biden should assure Tehran that it will not repeat Donald Trump's past mistakes.
Iran and the five remaining parties to the nuclear deal have held several rounds of negotiations since April last year to restore the agreement, which was unilaterally abandoned by Trump in May 2018.
In quitting the agreement, Trump restored sanctions on Iran as part of what he called the "maximum pressure" campaign against the country. Those sanctions are being enforced to this day by the Biden administration, even though it has repeatedly acknowledged that the policy has been a mistake and a failure.
Source: Fars News Agency
Please click the following URL to read the full text of the original story:
https://www.farsnews.ir/en/news/14010518000112/Iran-Urges-US-Rerea-frm-Uncnsrcive-Psiins-in-Talks
--------
Iran Summons German Envoy over Sacrilege of Islamic Sanctities in Hamburg
2022-August-9
The Director of the First Department for Western Europe at the Foreign Ministry summoned the German diplomat on Monday to voice Tehran's vehement denunciation of the sacrilege of Islam's holy book in front of the Islamic Center of Hamburg as a clear example of hate-mongering, violence, and extremism.
"The Islamic Republic of Iran holds the German government responsible in this case, and demands decisive action against the perpetrators of this offensive action," the Iranian diplomat said.
According to reports, a group of ten people committed the sacrilegious move on Tasua, which marks the ninth of the lunar calendar month of Muharram, a day before Ashoura when Imam Hussein (AS), a grandson of Islam's Prophet Muhammad (Peace be upon Him), and his 72 companions were martyred in the Battle of Karbala, in southern Iraq, in 680 AD after fighting courageously for justice against the much larger army of the Umayyad caliph, Yazid I.
German police forces, who were present in the place, did not take any action to prevent the blasphemous act, which is prohibited under Germany's law, nor reacted to those who committed it, Iran's al-Alam television news network reported.
In relevant remarks on Monday, Iranian Foreign Ministry spokesman Nasser Kana'ani slammed the "provocative" move and warned of its "dangerous" consequences and implications.
"This blasphemous act is a clear example of sedition and spreading hatred and is categorically condemned by all Muslims, monotheists …and those who believe in coexistence and interfaith dialogue," he said.
He noted that such acts are "another aspect of extremism and Takfiri violence" that require a "strong and deterrent response from governments that claim to be supporting human rights, freedom, and democracy."
Source: Fars News Agency
Please click the following URL to read the full text of the original story:
https://www.farsnews.ir/en/news/14010518000331/Iran-Smmns-German-Envy-ver-Sacrilege-f-Islamic-Sanciies-in-Hambrg
--------
West Bank Palestinians to start flying from Israel's Ramon Airport to Turkey
09 August, 2022
Palestinians from the West Bank will be able to fly on special flights from Ramon Airport, near the Red Sea resort city of Eilat, to destinations in Turkey, Israel's Airports Authority said on Tuesday.
The move is the latest step in Israel offering economic easements to Palestinians in the absence of Israeli-Palestinian peace talks and follows pressure from the United States.
US President Joe Biden visited Israel last month.
Without an airport of their own West Bank Palestinians, who cannot fly from Israel's Ben Gurion Airport without special permission, typically travel to Jordan to catch international flights. These flights will not be offered to Palestinians from Gaza.
Under the pilot program the flights will run twice a week starting at the end of August to Istanbul and Antalya on Turkish carriers Atlas and Pegasus and using Airbus A321 aircraft, the airport authority said.
Ramon Airport, which opened in 2019, is about 300 kilometers (185 miles) from Jerusalem and designed to take any planes re-routed from Ben Gurion Airport, near Tel Aviv.
Foreign carriers such as Ryanair, Wizzair and Lufthansa began to fly non-stop to older Eilat airports in 2015 during winter months after Israel offered airlines 60 euros ($61) per passenger brought on direct flights from abroad.
But the COVID-19 pandemic largely halted those flights.
Source: Al Arabiya
Please click the following URL to read the full text of the original story:
https://english.alarabiya.net/News/middle-east/2022/08/09/West-Bank-Palestinians-to-start-flying-from-Israel-s-Ramon-Airport-to-Turkey
--------
Dozens of Israelis storm al-Aqsa compound
09 August, 2022
Dozens of Israelis stormed al-Aqsa compound on Tuesday under heavy security from the Israeli police, Al Arabiya's correspondent reported.
Earlier on Tuesday, two Palestinians, including a senior militant commander, were killed as Israeli forces raided a house in the occupied West Bank city of Nablus.
Clashes with the Israeli army also broke out in other parts of Nablus, as Palestinians hurled stones at the troops.
At least 30 Palestinians were wounded and at least one was in serious condition, according to the Palestinian Red Crescent Society.
Last week, Israel launched what it called a "pre-emptive" aerial and artillery bombardment of Islamic Jihad positions in the Gaza Strip, leading militants in the coastal enclave to fire more than a thousand rockets in retaliation, according to the army.
An Egypt-brokered ceasefire reached Sunday ended three days of intense fighting that killed 46 Palestinians, 16 of them children, and wounded 360, according to Gaza's health ministry.
Source: Al Arabiya
Please click the following URL to read the full text of the original story:
https://english.alarabiya.net/News/middle-east/2022/08/09/Dozens-of-Israelis-storm-al-Aqsa-compound
--------
Two Palestinians killed in Israeli raid in West Bank: Army
09 August, 2022
Israeli security forces killed a Palestinian militant commander and another fighter in a gun battle in the occupied West Bank on Tuesday, the military said, triggering further clashes in which Palestinians said a 16-year-old youth was also killed.
Israeli forces surrounded the house of Ibrahim al-Nabulsi, a senior commander of the Fatah's al-Aqsa Martyrs Brigades militant group long on Israel's wanted list.
Al-Nabulsi, barricaded inside, refused to surrender and was killed along with another militant during a gun battle with Israeli forces, who also used shoulder-fired missiles in the fighting, the military said.
The shoot-out, in the northern West Bank city of Nablus, was the deadliest incident in the West Bank since Israel and the Palestinian militant group Islamic Jihad ended three days of fighting in Gaza, the worst in more than a year.
Al-Nabulsi was a member of the recently formed "Nablus Brigade," a Palestinian militant alliance in the city which also includes Islamic Jihad's gunmen. Hours after the shoot-out, tens of thousands attended his funeral and called for revenge.
The gun battle was followed by clashes during which the military said its troops responded with live fire against Palestinians throwing rocks and explosives at soldiers.
Islamic Jihad said the 16-year-old was killed while participating in a confrontation with Israeli troops.
Palestinian health officials confirmed the three deaths and said 40 more people were injured in total. There were no reports of Israeli casualties.
The Israeli military said al-Nabulsi had been suspected of carrying out several shooting attacks against Israeli civilians and soldiers.
Israel has stepped up raids in recent months in the West Bank after men from the area carried out deadly street attacks in Israel. The Western-backed Palestinian Authority regularly condemns such incursions.
According to Palestinian officials, at least 44 Palestinians, at least half of them civilians, were killed during three days of Israeli strikes on Gaza, which ended with an August 7 truce between Israel and Islamic Jihad that has largely held.
Source: Al Arabiya
Please click the following URL to read the full text of the original story:
https://english.alarabiya.net/News/middle-east/2022/08/09/Two-Palestinians-killed-in-Israeli-raid-in-West-Bank-Army
--------
Africa
Vote counting underway in Kenya, with presidency and parliament hanging in the balance
Andrew Wasike
09.08.2022
NAIROBI, Kenya
Security has been tightened at Kenya's national tallying center in the capital Nairobi as vote counting for Tuesday's general elections kicked off, including a fierce race for the presidency.
In a statement, Kenya's Independent Electoral and Boundaries Commission (IEBC) praised Kenyans for turning up to exercise their democratic right to vote.
As of around 4 p.m. East African time (1400GMT), over 12 million out of 22.12 million registered voters had cast their vote, or about 56.17% voter turnout, the commission said.
Long queues of voters were seen at polling stations in the morning to elect Kenya's president for the next five years. The voting process began at 6 a.m. local time (0300GMT) across 46,229 polling stations.
The public is also casting ballots for governor, members of parliament, and members of county assemblies.
The general elections are being monitored by 18,000 observers, including 1,300 international observers.
2-man presidential race
Though there are other candidates running, many political pundits believe the presidential contest will be a two-horse race between 77-year-old former Prime Minister Raila Odinga and the current deputy president, 55-year-old William Ruto.
For the past 10 years, Kenyans have been governed by President Uhuru Kenyatta along with Ruto. During Kenyatta's tenure, enormous expenditures on infrastructure were made, leaving Kenya more developed but also in debt.
Odinga, who is seeking the presidency with the Azimio la Umoja One Kenya Alliance party, and his running mate Martha Karua, 64, have promised a government that focuses on manufacturing to promote wealth and fight unemployment.
Ruto, who is running for president with his Kenya Kwanza coalition, says his government will focus on transforming the country's economy to achieve durable growth while maintaining macroeconomic stability and empowering the people at the bottom of the pyramid.
The National Assembly, also up for grabs in today's polls, is made up of 290 elected members, each representing a part of a county, including 47 elected women from each of the 47 counties, and at least 12 members nominated to represent women, youth, and the marginalized. This gives the country 349 members to govern its affairs.
Heavy security, drawn from all branches of the police forces, was present at all voting sites to ensure the smooth running of the elections.
Gubernatorial elections, which were postponed in the counties of Mombasa and Kakamega, will be held on Aug. 23, electoral commission Chair Wafula Chebukati said on Tuesday.
Source: Anadolu Agency
Please click the following URL to read the full text of the original story:
https://www.aa.com.tr/en/africa/vote-counting-underway-in-kenya-with-presidency-and-parliament-hanging-in-the-balance/2657123
--------
Bomb blasts in Somalia kill at least 4
Mohammed Dhaysane
09.08.2022
MOGADISHU, Somalia
At least four people were killed and several others wounded in bomb blasts in southern Somalia on Tuesday, officials said.
The explosions took place in the vicinity of Buula-haji near Somalia's port city of Kismayo, the administrative capital of southern Jubaland state.
At least 11 people – all civilians – were also wounded, a security official in Kismayo told Anadolu Agency on a condition of anonymity due restrictions on speaking to the media.
The Somali state television reported that nine landmine explosions targeted a minibus carrying civilians.
Kismayo is a major city and port town, located 500 kilometers (310 miles) south of Mogadishu, Somalia's capital.
Source: Anadolu Agency
Please click the following URL to read the full text of the original story:
https://www.aa.com.tr/en/africa/bomb-blasts-in-somalia-kill-at-least-4/2657674
--------
URL: https://newageislam.com/islamic-world-news/hindus-muslims-muharram-india/d/127688
New Age Islam, Islam Online, Islamic Website, African Muslim News, Arab World News, South Asia News, Indian Muslim News, World Muslim News, Women in Islam, Islamic Feminism, Arab Women, Women In Arab, Islamophobia in America, Muslim Women in West, Islam Women and Feminism