New Age Islam News Bureau
26 Dec 2019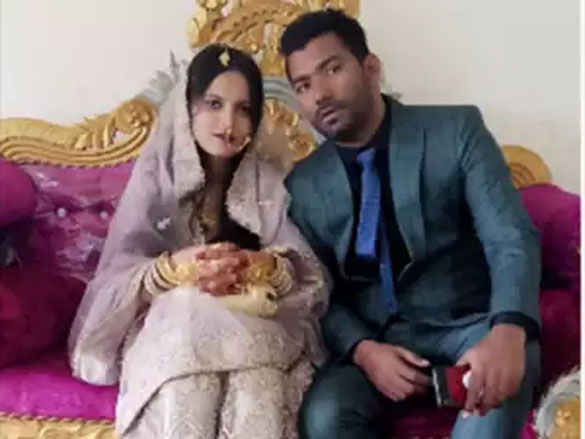 The bride and groom
-----
• Hindus Form Human Chain around Muslim Baraat in Violence-Hit Kanpur, Escort Them To Safety
• Alleging Discrimination, Dalits in Tamil Nadu Say They Will Convert to Islam On January 5
• Major Temples Shut, Muslims Offer 'Namaz' On Solar Eclipse
• Kuwaiti Lawmakers Have Called On Their Government To Intervene To Stop Persecution Of Muslims in East Turkistan and India
• Intruders from India Will Be Sent Back After Verification: Bangladesh Foreign Minister
• Christmas: Pastor Happy With Large Muslims Turnout To Celebrate With Christians In Kaduna
• Turkey Denies Plans to Send 40 Foreign Imams To Belgium
• Jinnah Was the Saviour of Muslims of Subcontinent: Shehbaz
• Dramatic 'Ring of Fire' Solar Eclipse Is a First for Saudi Arabia
• Long Island Church, Mosque Join to Celebrate What Different Faiths Have In Common
• Stanmore Mosque Gifts Gerard Deulofeu in Anti-Discrimination Event
Compiled By New Age Islam News Bureau
URL: https://www.newageislam.com/islamic-world-news/hindus-form-human-chain-around/d/120633
------
India
• Bring Muslims under CAA Ambit, Says AIMPLB Head
• Puducherry CM seeks report from varsity's VC on Muslim girl denied entry for convocation
• Assamese Muslims seek census to check identity crisis
• Bid to divide Hindus, Muslims will fail: RSS
• 400 booked for violating Section 144 by organising candle march in Aligarh Muslim University
• Image from 2016 shared as Muslim man hurling stones in recent spate of CAA protests
• Owaisi leads Muslims' delegation, urges TRS govt to stay NPR in Telangana
• Bengal politician, a critic of CAA, cancels trip as Bangladesh 'denies visa'
------
Southeast Asia
• Indonesia's Muslims Shaken by Uighur Issue: Mahfud MD
• Morocco to Partner with Indonesia to Create Islamic League of Senates
• All Is Well With Muslims In Xinjiang, Beijing Tells Islamic Countries
• Rp 106m Raised For Muslim Youth Who Died Covering Bomb To Save Christmas Congregants
• Ibrahim Ali flays Muslim groups for being 'apologetic' towards Dong Zong
• Christmas typhoon kills at least 13 in Philippines
------
South Asia
• Taliban Kidnap 27 Peace Activists, Take Them To Unknown Place
• The body of a US soldier killed in fight with Taliban arrives home at Christmas
• A car explosion in northern Balkh province kills 6 Afghan soldiers
• Attack on Nur: DU proctor blamed for 'theft' of video clip
• Remain alert so none can create anarchy using religion: President
------
Africa
• Burkina Faso: Christmas Day in A Christian-Muslim Household
• We feel at home in Southeast, says Miyetti Allah
• Goldstar Air honours Chief Imam
• Ethiopian Muslims urge probe into torching of mosques
------
Mideast
• Imam Khamenei advises Christians to adhere to righteousness
• Israel hits Gaza with air strikes after 'rocket fire'
• Seven dead as migrants' boat sinks in Turkey's Lake Van
• Israel's Netanyahu again quits rally as rocket alert sounds
• Turkey readying to give Libya military support
• Syria missile strike kills 5 pro-Iran fighters: monitor
• How Iran's influence turned into seething discontent
------
Pakistan
• 2 Pakistan Army soldiers martyred in Indian ceasefire violations along LoC: ISPR
• 'Ring of Fire' solar eclipse descends upon Pakistan
• Over 140,000 BISP beneficiaries were govt employees: data
• In tit-for-tat move, Sheikh Rashid announces plans for jalsa in Larkana
• Police officials dismissed in Farishta case reinstated
------
Arab World
• Islamic Development Bank marks World Arabic Language Day
• Custodian of the Two Holy Mosques Consoles President of Burkina Faso following terrorist attack
• Eat, pay, love: Jeddah boutique nurtures local brands and customer experience
• Personal ID cards ease access to health cover in Saudi Arabia
• Saudi Arabia to expedite repatriation of distressed Filipino workers
------
Europe
• Muslim-owned Cardiff chippy gives free Xmas meals to homeless
• On Christmas, Pope urges nations to tend to refugees
• Russian way to silence dissent: Military service in the Arctic
------
North America
• Bin Laden to Donald Trump – the news that shaped the 2010s
• Trump on quest for foreign wins- and drama- in election year
------
Hindus form human chain around Muslim baraat in violence-hit Kanpur, escort them to safety
Dec 26, 2019
KANPUR: After a long time there was a wedding in the Khan family of Kanpur's Bakarganj. Their 25-year-old daughter, Zeenat, was to tie the knot with Hasnain Farooquee from Pratapgarh. But on the morning of December 21, the groom called to say he didn't know how to get his baraat to the curfew-hit area. There was violence and panic in the city and he was worried. Hours earlier, two youths had died in anti-Citizenship Amendment Act (CAA) protests in the vicinity and police and paramilitary had swooped down on the area. That made matters worse.
After the phone conversation with Hasnain ended, Zeenat's paternal uncle Wajid Fazal turned to the family and wondered if the festivities should stop for the time being. The elders sat in a huddle. No one had any clue what to do next. Word spread and their neighbour Vimal Chapadiya heard of the Khans' plight. He knew he had to do something. Chapadiya soon got along two friends, Somnath Tiwari and Neeraj Tiwari, and spoke to Hasnain. "Don't worry," he told the young man. "We will escort the baraat the entire time to ensure their safety."
In the evening, 70 baraatis arrived at Bakarganj Chauraha in cars and a mini-bus. Once they stepped down, 50-odd Hindus led by Chapadiya formed a human chain around them and took them to the wedding venue, a km away.
"Vimal and his friends ensured that the baraat were fine. They even stayed back until the bidai (departure of the bride)," Fazal told TOI on Wednesday as Zeenat, who had returned to pay her family a visit, smiled. The first thing she did upon reaching her house was to go and look for 'Vimal bhaiya'. She thanked him and sought his blessings for her married life.
"I didn't get a wink of sleep in the days leading up to my marriage," said Zeenat, who lost her father when she was 12. "A wedding scheduled in the area had been cancelled as the groom's family refused to come since the situation was so tense. That morning, when my uncle received the call, I had given up all hope that my wedding would take place. Without Vimal bhaiya's intervention, the baraat would not have reached here. He came like a farishta (angel) in my life."
Chapadiya, who works as an administrator in a private school, said that he merely did what he felt was right. "I have seen Zeenat grow up. She is like my younger sister. How could I let her heart be broken? We are neighbours and I had to stand with the family in times of distress," he said.
https://timesofindia.indiatimes.com/city/kanpur/hindus-form-human-chain-around-muslim-baraat-in-violence-hit-kanpur-escort-them-to-safety/articleshow/72976520.cms
------
Alleging Discrimination, Dalits In Tamil Nadu Say They Will Convert To Islam On January 5
December 26, 2019
Asection of Dalit residents of a village near Coimbatore, including some members of families of 17 victims killed in a recent wall collapse have announced they will embrace Islam soon alleging discrimination against them.
The Dalits have declared that they would convert to Islam on January 5 and they are members of the Tamil Puligal Katchi and residents of Nadur village as well.
The decision to become Muslims was taken at a party meet at nearby Mettupalayam, TPK sources said.
Party sources said more than 2,000 Dalits have expressed their willingness to convert to Islam, including some members of families of 17 people killed in the wall collapse.
The decision was taken to protest against alleged failure of police to take action against the owner of a house under the SC/ST (Prevention of Atrocities) Act in connection with a wall collapse incident.
They also alleged they were being discriminated against by police and other authorities.
Recently, Nadur village, about 50 km from here faced a wall collapse incident, in which 17 people were killed.
The Dalit residents and the TPK, a pro-Dalit party, had been demanding action against the house owner, since the wall that collapsed was the compound of his house.
It was constructed by him with alleged ulterior motives since it had no pillars to support it, according to the party.
Also, the wall had an alleged motive of demarcating his residence from that of SCs and thus it discriminatory warranting action under the SC/ST Act, according to the residents.
https://www.indiatoday.in/india/story/fire-at-residential-building-in-delhi-s-krishna-nagar-40-rescued-1631548-2019-12-26
------
Major temples shut, Muslims offer 'namaz' on solar eclipse
26th December 2019
HYDERABAD: Major Hindu temples were closed for pilgrims on account of solar eclipse while Muslims offered special prayers in mosques on Thursday.
The famous Tirumala temple in Andhra Pradesh was closed around 11 p.m. on Wednesday on the eve of the solar eclipse. The temple will re-open after the end of the solar eclipse on Thursday afternoon.
According to Tirumala Tirupati Devasthanam (TTD), which manages the affairs of the richest temple, the abode of Lord Venkateswara was closed nine hours before the beginning of the solar eclipse. Several rituals scheduled at the temple were also cancelled.
Other temples under TTD were also shut on the account of the celestial event. Ancient temples of Goddess Padmavati at Tiruchanoor, Lord Kalyana Venkateswara Swamy temple at Srinivasa Mangapuram and other TTD temples in and around Tirupati were closed.
TTD officials said the temples would reopen at 2 p.m. on Thursday after the conduct of rituals for purification.
Meanwhile, Muslims offered special 'namaz' called 'Salat-ul-Kusoof' on the occasion of solar eclipse. While the majority of men and women offered the prayers individually at homes, prayers were also offered in congregations at few mosques.
Several people offered prayers at Masjid-e-Mohammedia and Masjid Islamic Centre in Hyderabad.
The 'imams' who led the prayers quoted the saying of the Prophet Muhammad that solar and lunar eclipses are among numerous signs of Allah, which He uses to remind His servants so that they can return to Him in repentance.
https://www.newindianexpress.com/nation/2019/dec/26/major-temples-shut-muslims-offer-namaz-on-solar-eclipse-2081146.html
------
Kuwaiti Lawmakers Have Called On Their Government To Intervene To Stop Persecution Of Muslims in East Turkistan and India
25.12.2019
KUWAIT CITY
Kuwaiti lawmakers have called on their government to intervene to stop persecution of Muslims in East Turkistan and India.
A group of 27 MPs signed a statement in which they underlined solidarity with Uighur Muslims against China's systematic campaign against their community.
China is accused of carrying out repressive policies against the Turkic Muslim group, and restraining its religious, commercial and cultural rights.
Up to 1 million people, or about 7% of the Muslim population in the Xinjiang region, have been incarcerated in an expanding network of "political re-education" camps, according to U.S. officials and UN experts.
Human Rights Watch accused Beijing of carrying out a "systematic campaign of human rights violations" against Uighur Muslims in Xinjiang, in a report last September.
Meanwhile, the Kuwaiti lawmakers voiced concern over recent restrictions against Muslims in India.
Protests have erupted in India against a new law granting citizenship to Hindus, Parsis, Sikhs, Buddhists, Jains and Christians -- but not Muslims -- who migrated from Afghanistan, Bangladesh and Pakistan.
Activists have called the law discriminatory, fearing that it was aimed at disenfranchising Indian Muslims. However, Prime Minister Narendra Modi has rejected such claims.
* Ahmed Asmar contributed to this report from Ankara
https://www.aa.com.tr/en/middle-east/kuwaiti-mps-urge-help-for-uighurs-indian-muslims/1683745
------
Intruders from India Will Be Sent Back After Verification: Bangladesh Foreign Minister
December 26, 2019
Unb, Sylhet
Foreign Minister AK Abdul Momen yesterday said those who had entered Bangladesh from India in recent weeks would be sent back if they were not Bangladeshis.
"If any Bangladeshi is found to be living in India illegally, they'll be taken back through legal process and after scrutiny. India was also informed of this," he was speaking at a city bus service launching ceremony in Sylhet.
The Nagar Express bus service was introduced to resolve the public transport crisis in the divisional headquarters.
The minister added that the Indian government said they would not push in anyone.
Momen thanked Prime Minister Sheikh Hasina for approving a Tk 1,228-crore project for the development of Sylhet City Corporation (SCC).
He said, "It's our big success as the Nagar Express bus service was launched which I hope would be beneficial for the city dwellers."
The minister added that a new train service would be introduced on the Sylhet-Chattogram route soon. Besides, quality carriages would be added to the existing trains.
Speaking as a special guest at the event, SCC Mayor Ariful Haque Chowdhury said, "The Nagar Express bus service will ensure better transport facilities to commuters. We aren't rivals to transport owners and workers. We want to bring discipline in the transport sector in Sylhet city and also want to build Sylhet as a model city taking people together."
The Nagar Express transport service with 41 buses will carry residents of Sylhet city and its adjoining areas. Apart from the buses, there will be a separate bus service for women.
https://www.thedailystar.net/backpage/news/intruders-india-will-be-sent-back-after-verification-1845385
------
Christmas: Pastor happy with large muslims turnout to celebrate with Christians in Kaduna
DECEMBER 26, 2019
Pastor Yohanna Buru, the General Overseer of Christ Evangelical and Life Intercessory Ministry Sabon Tasha-Kaduna, on Wednesday expressed delight at the large turnout of Muslims to celebrate Christmas with Christians in Kaduna.
Buru said: "I am so delighted that a large number Muslims that came to celebrate this year's Christmas morning service with us.
"This will boost interfaith activities, promote religious tolerance and better understanding among different faith based organizations in the state and the northern region," Buru said in an interview with reporters.
Buru expressed gratitude to what he described as "astonishing turn out of Muslim youth including their scholars at the church for Christmas service with such a large numbers of women Muslims and children ,youth to promote peace and unity.
"The number of Muslims coming to attend Christmas service with us is increasing year-by-year as a result of better understanding and religious tolerance."
Buru said : "it was really unbelievable to have such a large numbers of Muslims youth, top Islamic scholars, traditional title holders and various associations of peace promoting organizations from the 19 northern states to join us in this prayers, this is a clear fact that Nigerians can really be their brothers keepers."
Earlier in his Sermon, Buru stressed the importance of promoting peaceful coexistence amongst different faith in Africa so as to strengthen peace and harmony.
He added that: "we must remember that we are from one family, because Adams and Eve were our original Biological parents. We all have that in our holy scriptures, the Bible and Qur'an.
"And we also believe in paradise and hell fire, therefore, we must be our brothers keepers, to live in peace and harmony.
"We are using the Christmas season to unite Muslims and Christians and to promote better understanding among different faith based organizations.
"I'm pleading with Muslims and Christians across the globe to use the season in promoting peace and unity and to forgive one another, so as to live in peace.
"Annually, hundreds of muslims usually come from parts of northern Nigeria to join us in christmas celebration.
"We are happy that large number of muslims from various places have again come and joined us in celebrating the birth of Jesus Christ."
Responding on behalf of the muslim delegation from Funtua, Katsina state, Mallam Murtala Marafa said " we are really happy to be in your midst today because we came with other muslims from Kano, Sotoko and Zamfara to join in celebrating the birth of Jesus Christ.
"All muslims all over the world believe in Jesus Christ. We donated our offering like other Christians to promote peace and unity.
"It's a season of peace and unity, so we are here to spread the message of peace and unity in the country," he said.
Marafa said" we are Nigerians and we must join hands toward making this country great and as muslims, we must promote peace and unity, we must join hands toward making Nigeria a better place.
"Nigeria is a great country, lets join hands in praying for peace and unity for our country to prosper," Marafa added.
https://www.vanguardngr.com/2019/12/christmas-pastor-happy-with-large-muslims-turnout-to-celebrate-with-christians-in-kaduna/
------
Turkey denies plans to send 40 foreign imams to Belgium
Wed 25 Dec
An imam is a religious leader, especially the leader of a Muslim community or the person who leads the prayers in a mosque.
The Turkish embassy claims that reports that 40 Turkish imams were being imported into Belgium is based on an erroneous interpretation of exam information published by the Turkish department for religious affairs, the Diyanet. Depending on demands from mosque associations and not-for-profit organisations imams who pass the exam can be sent abroad. There are no precise plans to send them all to Belgium. The embassy explains that assigning Turkish imams to Belgium depends on requests from Belgian mosques and is co-ordinated together with Belgium's Muslim executive and the Diyanet. It adds that the appointment and activities of imams occur with the approval of the Belgian authorities. The embassy also stresses the role imams play in curbing radicals and points to the fact that nobody from mosques led by Turkish imams has joined extremist organisations.
Minister Somers is eager to see imams trained in Flanders. He would like to see all foreign imams following integration courses too. At present Turkish imams who join recognised mosques are obliged to do so, but not if they join mosques that are not recognised. Entry visas are issued by the federal authorities. Mr Somers stresses the need for proper screening before visas are issued.
https://www.vrt.be/vrtnws/en/2019/12/25/turkey-denies-plans-to-send-40-foreign-imams-to-belgium/
------
Jinnah was the saviour of Muslims of subcontinent: Shehbaz
LONDON: National Assembly Opposition Leader Shehbaz Sharif has said Quaid-e-Azam Muhammad Ali Jinnah was the ultimate savior of the broken and dejected Muslims of the Indian Subcontinent.
In his message on the birthday of the nation's founding father, Shehbaz said that Muhammad Ali Jinnah was an honest, democratic, farsighted leader with absolute love for the Holy Prophet (PBUH).
His opponents had no answer for his democratic principles and undeniable reasoning. Jinnah's flawless arguments, principled stances, and his composure, civility and decency even when confronted with his most fierce rivals were the hallmark of his personality, he said.
The Pakistan Muslim League N leader said that the current circumstances in Indian Occupied Kashmir (IOK) and the situation in India are proof of Jinnah's sociopolitical acumen and the authenticity of his two-nation theory.
Pakistan, he said, can only prosper and progress if it adopts the core principles unity, faith and discipline defined for the nation by its founder. He said that the nation needs serious introspection to see how much it has learnt from the Quaid's message.
NAWAZ SHARIF TO RESCUE COUNTRY FROM CURRENT CRISIS:
Shehbaz further said that Nawaz Sharif is a true soldier of the founder of the nation Quaid-e-Azam Muhammad Ali Jinnah and has played a historic role in fulfilling the objectives of the creation of Pakistan.
In his message on the birthday of the PMLN chief, Shehbaz said, Nawaz always fulfilled the promises made to the nation and never let the country down. Under his leadership, PMLN rescued Pakistan from major crisis time and again and by the grace of God he will once again lead the country out of its current crisis.
The former premier will rescue the country from the economic crisis just the way he rid the country of its energy crisis, he said.
Shehbaz said that Nawaz reorganized the founding arty of Pakistan, the PMLN, on modern lines and today the party had grown to every nook and corner of the country and the footprints of Nawaz Sharif's devotion to development and progress of the country can be found wherever one goes.
From nuclear tests to the struggle for making Pakistan an economic power, Nawaz never compromised on the interests of the country. He said that the country had rarely seen such a devoted, patriotic, faithful and democratic leader.
The PMLN president thanked the nation for their prayers for Nawaz Sharif and said the people of Pakistan had always showered him with their love, trust and well wishes. Time has proven that the nation still accepts Nawaz Sharif as their true leader and Prime Minister and stands by him and his vision for the country, he said.
https://www.pakistantoday.com.pk/2019/12/25/jinnah-was-the-savior-of-muslims-of-subcontinent-shehbaz/
------
Dramatic 'Ring of Fire' solar eclipse is a first for Saudi Arabia
FATIMA MUHAMMAD
December 26, 2019
JEDDAH: Saudi Arabia will wake up to a "Ring of Fire" in the sky on Thursday — a spectacular solar eclipse believed to be the first of its kind in the Kingdom.
The final solar eclipse of 2019 will farewell the year in dramatic fashion in places such as India, Singapore, the Philippines and areas of Australia as well as the Gulf region.
Eyewitnesses to the annular eclipse will see the moon move in front of the sun, blocking out the center but leaving the edges visible — creating a "Ring of Fire" in the sky.
Abdullah Al-Misnad, a climate professor at Qassim University's geography department, said that the Dec. 26 eclipse will be the first of two in Saudi Arabia, with a second eclipse due on June 21, 2020.
The solar eclipse is expected to last 2 minutes 55 seconds. It will not be visible to all Gulf countries, but is limited to a 160 km swathe across southern areas of the Arabian Peninsula.
Hofuf in the Kingdom's Eastern Province — the only Gulf city over which the eclipse shadow will pass — will have unrivalled views of the "Ring of Fire" eclipse, Al-Misnad said.
However, he cautioned people against looking or staring at the sun during the eclipse.
Dr. Salwa Al-Hazaa, a consultant ophthalmic surgeon at King Faisal Specialist Hospital, also warned against looking at the sun during any type of eclipse because of the high risk of eye damage.
Gazing at the sun during a full or partial solar eclipse is harmful and could cause partial blindness, she said.
She also warned against using so-called "protective" glasses, which she said were "useless," and failed to protect the eyes against ultraviolet and infrared light produced during an eclipse.
Al-Hazaa said that children and those aged under 20 years are most vulnerable to eye damage from harmful rays from the sun.
The damaging effects of staring at the sun might not be clear immediately, but will appear after a short period of time in form of a decline in vision and difficulty in identifying colors.
"The real danger lies in the infrared rays, which cannot be seen by our eyes. When these rays penetrate the eyes, they cause harmful effects to the retina," she said.
Minister of Education Hamad Al-Asheikh has told schools in the Kingdom to postpone exams until 9 a.m. on Thursday as a precautionary measure to protect students and school staff during the solar eclipse.
https://www.arabnews.com/node/1604196/saudi-arabia
------
Long Island Church, Mosque Join To Celebrate What Different Faiths Have In Common
December 25, 2019
WESTBURY, N.Y. (CBSNewYork) – The spirit of Christmas came alive on Long Island as a mosque and a church joined to spread holiday cheer to hundreds of members of the Westbury community.
It was an annual show of interfaith unity when the Westbury United Methodist Church partnered with the Islamic Center of
Long Island to celebrate what different faiths have in common, reports CBS2's Carolyn Gusoff.
"When we join our Christian brothers and sisters for Christmas, this is a message of love and peace which we should all believe in the universal message," said Dr. Isma Chaudry of the Islamic Center.
"With so much hate going on and lack of tolerance for people who are different from me or you, it's so important that we see families getting together who are of different traditions," said church volunteer Rose Walker.
Together the group served struggling neighbors, delivering a warm welcome and warm meal.
"I think it's really important that we give back to the community," said Dr. Uzma Syed.
Uniting as family, worshippers came to practice what each faith preaches.
"Love thy neighbor as thyself, that is what the Lord has called to all the faiths," said Rev. Dr. Elon Sylvester of the Westbury United Methodist Church. "That is the highest ideal that we aspire to."
"My faith also teaches me you take care of your neighbor," said Imran Pasha.
Islamic Center of Long Island
The event started 15 years ago when church members would deliver turkeys to needy families, but quickly realized many of them didn't even have kitchens and ovens to prepare a holiday meal.
This year added free health screening as a new form of care.
"We can give them an additional service of getting medically checked out since we have so many physicians in our community," said Mukheet Ahmed.
Volunteers of all ages were celebrating common ground.
"We don't see religion as a border, we see it as something that's there to help," said volunteer Khavi Ahmed. "I want to create a bond between all faiths. I think when it comes down to it we are all human."
This Christmas was the fifth year the Islamic Center has teamed up with the Westby United Methodist Church for this very special day.
https://newyork.cbslocal.com/2019/12/25/long-island-church-mosque-meal/
------
Stanmore mosque gifts Gerard Deulofeu in anti-discrimination event
By Joseph Reaidi
25th December
A mosque handed out hundreds of gifts to build community relations in a fight against discrimination.
Hujjat Islamic Centre, in Wood Lane, Stanmore, handed out gifts on December 21 to Watford F.C's Gerard Deulofeu alongside people from 100 other houses in a movement to eradicate discrimination and racism in Harrow.
Although the generous distribution is an annual event from the mosque to show gratitude and compassion to neighbours, this year they decided to address the rising concerns of Islamophobia that came about with the come-up to the general election.
By handing out various Christmas gifts and handwritten greeting cards, the mosque hoped to ensure people living in Stanmore and Harrow that the Muslim community is one of kindness and compassion.
Over 50 volunteers of five groups handed out 250 gifts to emergency services, Christmas staff and people living in Dennis Lane, Wood Lane, Warren Lane and Stanmore Hill.
Public services including Northwick Park Hospital, Belmont Health Centre, Edgware Health Centre and Harrow Fire Station were all visited by the groups.
The volunteers were surprised when Deulofeu opened his door during the service, where he also claimed he was familiar with the work of the mosque.
Dr Munir Datoo, president of Hujjat Stanmore, said: "The doors of our centre are always open to our neighbours, from all or no faith.
"We wish to build bridges and continue to be a positive asset to society in London."
Ahmed Gokal, one of the volunteers, added: "An initiative like this gives people in north west London a great reason to celebrate cultural and religious diversity, in such a climate of division and polarisation."
https://www.thisislocallondon.co.uk/news/18119082.stanmore-mosque-gifts-gerard-deulofeu-anti-discrimination-event/
------
India
Bring Muslims under CAA ambit, says AIMPLB head
Dec 26, 2019
Lucknow: President of All India Muslim Personal Law Board (AIMPLB) and rector of Darul Uloom Nadwatul Ulema Maulana Rabey Hasani Nadwi on Wednesday came out against the Citizenship Amendment Act (CAA) and asked the government to either repeal the law or bring Muslims within its ambit.
In a statement released by his representative Mohammad Hamza Hasani Nadwi, Maulana Nadwi said: "CAA is not right for the country and for the community. Because of this Act, the country is witnessing disturbance. Keeping Muslims out of its ambit is damaging the secular nature of India. It is also adversely affecting the respect that out country enjoys across the world."
"Our democracy gives everyone the right to protest but people should refrain from acting in a violent or aggressive manner," he said.
Earlier on December 15-16, students of Darul Uloom Nadwatul Ulema, the 121-year-old Islamic seminary in Lucknow had protested against police action on students of Jamia Millia Islamia and Aligarh Muslim University who were protesting against CAA and NRC. Students had come out briefly of their hostel on December 15 and staged a longer protest the following morning on Monday.
The protest took an ugly turn when students indulged in stone pelting and were cane-charged by police. After the agitation, the institution was shut till January 5. Students were asked to leave both college premises as well as the hostel.
https://timesofindia.indiatimes.com/city/lucknow/bring-muslims-under-caa-ambit-says-aimplb-head/articleshow/72972385.cms
------
Puducherry CM seeks report from varsity's VC on Muslim girl denied entry for convocation
December 26, 2019
Chief Minister V Narayanasamy has sought a report from the Vice-Chancellor of the Pondicherry University on the alleged incident of a Muslim student being denied entry into the varsity for the convocation ceremony, where President Ram Nath Kovind was the chief guest at the function.
Rabeeha Abdurehim, a gold medallist in postgraduate degree in mass communication, was not permitted to attend the 27th convocation ceremony at the varsity on Monday when the President was present at the venue, probably because she wore a "scarf in a different way."
The girl had later rejected the gold medal as a mark of protest against the National Register of Citizens (NRC) and the Citizenship (Amendment) Act.
Taking to Twitter, Narayansamy condemned the alleged incident, saying that "right to dissent is essence of the democracy".
"Incident of not allowing Rubeeha in the Pondicherry University convocation is condemnable. Though I was present (there), I had no knowledge (about it). Right to dissent is the essence of democracy. I have asked for a report from the Vice-Chancellor," the Chief Minister tweeted.
Speaking at a press conference on Wednesday, the Chief Minister said that he has also ordered the police to investigate the incident and submit a report on the same.
https://www.business-standard.com/article/news-ani/puducherry-cm-seeks-report-from-varsity-s-vc-on-muslim-girl-denied-entry-for-convocation-119122600219_1.html
------
Assamese Muslims seek census to check identity crisis
Sumir Karmakar, DHNS, Guwahati,
DEC 25 2019
Assamese Muslims seems to be caught in the warp of Narendra Modi government's move to give citizenship to non-Muslim immigrants till December 2014 and the large number of Bengali-speaking pre-1971 Muslims to get citizenship through NRC.
As the ethnic communities in Assam are oppising the Citizenship (Amendment) Act fearing identity crisis from Hindu migrants, the indigenous Mulsims have stepped up their demand for a special census and a satellite autonomous council for protection th...
"As the CAA carries the threat of dividing the society on religious lines by giving citizenship to the Hindus, indigenous Muslims will also be suspected as foreigners along with the Bengali speaking Muslims. The indigenous Muslims are mostly the conv...
The committee has convened meeting on December 28 to step up demand for the autonomous council. The demand comes days after BJP-led government in Assam decided to set up three new autonomous councils for Koch Rajbongshi, Motock and Moran communities ...
According to organisations representing the Assamese Muslims, of the 1.18 crore Muslim population in Assam, nearly 42 lakh belong to indigenous Assamese communities such as Goria, Moria, Ujani, Deshi, Jola and Poimal. They had either converted to Isl...
They however, fear that their identity as indigenous Assamese would be at stake as they could be mixed up with large number of Bengali speaking Muslims to get citizenship through the NRC.
They have also demanded OBC status, like other ethnic communities such as the Ahoms and Morans.
https://www.deccanherald.com/national/east-and-northeast/assamese-muslims-seek-census-to-check-identity-crisis-788629.html
------
Bid to divide Hindus, Muslims will fail: RSS
Dec 26, 2019
NEW DELHI: Asserting that Hinduism believes in the principles of unity in diversity and harmony, Rashtriya Swayamsevak Sangh (RSS) head Mohan Bhagwat said on Wednesday that efforts being made to divide Hindus and Muslims would never materialise.
Bhagwat's statements follow Prime Minister Narendra Modi's assurances to Muslims a few days ago that the NRC was not something the minority community should fear. Invoking Nobel laureate Rabindranath Tagore, Bhagwat said though the British wanted to divide the people, they failed.
https://timesofindia.indiatimes.com/india/bid-to-divide-hindus-muslims-will-fail-rss/articleshow/72972632.cms
------
400 booked for violating Section 144 by organising candle march in Aligarh Muslim University
25th December 2019
ALIGARH: The local police has registered a case against 400 unidentified persons for violating the CrPC Section 144 ( prohibiting unlawful assembly) by organising a candle march inside the Aligarh Muslim University (AMU) campus on December 23 in solidarity with those who have lost their lives in anti-Citizenship (Amendment) Act protests.
"There was no permission for the candle march. A case is registered against 400 unidentified persons for violating Section 144," Senior Superintendent of Police (SSP) Aakash Kulhari told ANI. On December 15, clashes broke out between the police and the students protesting against the citizenship law. The police fired tear gas shells outside the AMU after protestors pelted stone on them.
Since the enactment of the CAA, which grant citizenship to non-Muslim minorities including Hindus, Sikhs, Jains, Parsis, Buddhists and Christians fleeing religious persecution from Pakistan, Afghanistan, and Bangladesh, protests have erupted in various parts of the country including the national capital. The AMU has been shut down till January 5, 2020, in the wake of these protests.
https://www.newindianexpress.com/nation/2019/dec/25/400-booked-for-violating-section-144-by-organising-candle-march-in-aligarh-muslim-university-2080865.html
------
Image from 2016 shared as Muslim man hurling stones in recent spate of CAA protests
25th December 2019
Jignesh Patel
A photograph of several men pelting stones has been shared on social media in the view of nationwide protests against the Citizenship Amendment Act (CAA) and the National Register of Citizens (NRC). In the middle of the group is an elderly man wearing a skull cap hurling stone. The image is circulating with the claim, "रहमान चचा 500 रु लेकर पत्थर फेंकने गये थे…. यूपी पुलिस ने उन्हें 1,50,000 का नोटिस भेज दिया (Rehman uncle had gone to pelt stones for Rs 500. UP Police has sent him notice of Rs 1,50,000 -translated)"
A post by Pavan Kharab, who on his Facebook profile claims to be associated with Rashtriya Swayamsevak Sangh, has amassed over 5,100 shares.
Many people on Twitter and Facebook shared the image with a similar claim.
On December 24, the same image was tweeted by Pakistani-Canadian author Tarek Fatah with the message, "Meanwhile #, in India a 'peaceful' in action." It has garnered more than 4,500 retweets so far.
OLD IMAGE
A reverse search of the image on Google revealed that IT is almost three years old. We found the same image posted on January 8, 2016. The user claimED that the image is from the Malda riots.
Alt News couldn't ascertain whether the image represents the riots that took place in West Bengal. However, it is worthwhile to note that the violence reportedly broke out on January 3, 2016, in Kaliachak block of Malda while the earliest instance that Alt News could find was January 8, 2016.
In conclusion, an old photograph of stone-pelting has been shared in the background of anti-CAA protest across the country. The claim falsely suggests that a Muslim protester who was pelting stones for money has been heavily penalised by the UP government.
https://www.altnews.in/fake-account-impersonates-nita-ambani-tweets-in-favour-of-pm-modi-amit-shah/
------
Owaisi leads Muslims' delegation, urges TRS govt to stay NPR in Telangana
Wednesday, December 25, 2019
Hyderabad, Dec 25: AIMIM chief Asaduddin Owaisi along with representatives of a body of Muslim organisations in Telangana met Chief Minister K Chandrasekhar Rao on Wednesday and requested him to stay the work on updation of National Population Register (NPR) on the lines of Kerala.
Emerging from the meet, Owaisi described it as 'positive' and said they informed Rao NPR was the first step toward National Register of Citizens (NRC). The latter was 'sympathetic' toward their cause and sought two days time to inform the ruling Telangana Rashtra Samithi's stand, he said.
The Hyderabad Lok Sabha member, accompanied by representatives of city-based United Muslim Action Committee in the meeting, said NPR was the first step toward National Register of Citizens (NRC) and there was a necessity for all like-minded parties to come together on the issue.
NPR is the first step towards NRC. We have informed the Chief Minister about it. We urged him to stay implementation of National Population Register (NPR) on the lines of Kerala government. We gave the order copy of Kerala,' he told reporters here.
Amid the protests over the NRC and Citizenship Amendment Act, the CPI(M)-led LDF government in Kerala on Friday said it has ordered a stay on all activities in connection with the NPR, scheduled early next year in the state, considering 'apprehensions' of public that it would lead to NRC.
Kerala is the second state after West Bengal to have ordered a stay on NPR activities in the wake of the protests over CAA and the contentious NRC.
The Centre on Tuesday approved nearly Rs 12,700 crore for carrying out the Census 2021 and the NPR and made it clear that NPR has no relation with the NRC.
Owaisi said the Chief Minister told them he would hold talks with like-minded political parties on the NPR issue and if needed organise a public meeting.
'It was a positive meeting. The Chief Minister repeatedly stressed that this issue was not concerned with Muslims alone and it concerns the entire country, he said.
He claimed KCR, as Rao is popularly known, asked him to invite leaders of all political parties to the MIM's proposed public meeting in Nizamabad on Friday on the issue.
We will also invite the Congress, CPM and CPI. TRS will participate. This is an issue to save the country, Owaisi quoted KCR as having said.
The MIM chief said he was hopeful of a positive decision from KCR, who according to him, sough two days time to inform the partys stand on NPR.
Showing some documents, the MP said according to the government websites, NPR is the first step towards undertaking the proposed NRC.
He also claimed that according to an Right to Information Act (RTI) query, only 29 per cent of the population in Telangana had birth certificate.
Owaisi had on Friday said when a nationwide NRC was done, every Indian would be in trouble (to prove their nationality).
Not even five per cent of the people in India have passports, he had said.
Addressing a protest meeting against NPR, NRC and CAA at Mahabubnagar late on Tuesday night, he alleged Prime Minister Modi and Home MinisterAmit Shah were not telling the truth with regard to NRC and detention centres to house suspected illegal immigrants.
Referring to Modi's speech in Ramlila ground in Delhi that there was no discussion on NRC, he said the President in his address in Parliament after the NDA government was formed had said NRC would be brought.
'It is Union Government that prepares the speech of the President. It was read out in parliament. Was it wrong? he asked.
Modi himself had said in an interview to an English TV channel that NRC would be conducted, he claimed.
Owaisi also said while Prime Minister said no detention centres had been built, a detention centre has come up in Karnataka and a huge such facility was being built in Assam.
Indias Prime Minister, we were not expecting this from you, he said.
In 2014, the then Union Minister of state for Home Kiren Rijiju had said in reply to a query that NPR is a register of all the usual residents which includes citizens and non- citizen as well. (He) replied in parliament, NPR is a first step towards creation of NRC, the MIM leader said.
Owaisi claimed a low-level official would seek additional documents, during NPR work, after writing remarks as doubtful citizen though documents have already been submitted.
On death of 18 people in violence during protests against CAA in Uttar Pradesh, he said there should be an independent judicial inquiry to bring out the truth.
https://www.oneindia.com/india/owaisi-leads-muslims-delegation-urges-trs-govt-to-stay-npr-in-telangana-3003524.html
------
Bengal politician, a critic of CAA, cancels trip as Bangladesh 'denies visa'
Dec 26, 2019
KOLKATA: West Bengal minister Siddiqullah Choudhury on Wednesday said he was forced to cancel his six-day Bangladesh trip, beginning Thursday, after "being denied visa". Siddiqullah, who is also the Bengal unit president of the Jamiat-e-Ulama, claimed that his "purely personal visit" had been cleared by both the West Bengal government and the external affairs ministry.
A senior Bangladesh deputy high commission official, however, refused to either confirm or deny the "visa cancellation" claim and only said the "necessary clearance from Dhaka" hadn't yet reached "our office in Kolkata".
Siddiqullah had applied for visa on December 23, the official said. "We forward visa applications to Dhaka to get necessary clearance in certain cases. The clearance from Dhaka has not yet reached our Kolkata office. Our office was closed on Wednesday for Christmas," he said.
The minister is one of the most strident voices against the CAA within Trinamool.
Bangladesh might be wary of hosting 'too strident' CAA voices
Foreign affairs analysts in Delhi said the Bangladesh government "may want to play safe on this issue and may be wary of possible repercussions of hosting either pro- or anti-CAA voices that may be deemed too strident".
Siddiqullah said he informed the CM's office about his trip on December 5 and got the go-ahead on December 8. He then sought clearance from the Centre and got the same on December 13.
He then applied online for the visa with his private secretary's help. "My staff visited the visa office thrice," he said.
Siddiqullah explained the circumstances that necessitated his trip. "A cousin, who stays in Dhaka, is suffering from cancer. Another relative passed away recently in Sylhet. I was also invited for the centenary celebrations of a madrassa in Sylhet. I was supposed to go with my wife, daughter and our granddaughter. Everything was told to the Bangladesh deputy high commission here," he told TOI.
The Jamiat-e-Ulama-Hind's Bengal unit issued a press release on Wednesday evening. The release, issued by general secretary Mufti Abdus Salam, urged Siddiqullah's supporters not to "misbehave" with Bangladesh officials in Kolkata. "They are India's guests and misbehaving with them would go against our culture," the release read.
https://timesofindia.indiatimes.com/india/bengal-politician-a-critic-of-caa-cancels-trip-as-bangladesh-denies-visa/articleshow/72972343.cms
------
Southeast Asia
Indonesia's Muslims Shaken by Uighur Issue: Mahfud MD
26 December 2019
TEMPO.CO, Jakarta - Coordinating Minister for Political, Legal, and Security Affairs, Mahfud MD, confirmed highlighting the issue of Uighur Muslims in Xinjiang at his closed-door meeting with Chinese Ambassador Xiao Qian in Jakarta on Dec 5, affirming it had shaken Indonesian Muslims.
"I invited the Chinese ambassador to the Coordinating Minister for Political, Legal, and Security Affairs' office during which I told him that the situation pertaining to Uighur Muslims has perturbed several Muslims in Indonesia," he stated.
In a statement on his Twitter account that ANTARA quoted on Wednesday morning, Mahfud MD questioned the rationale behind a conflict erupting with Uighur Muslims in Xinjiang while other Chinese Muslims in other places felt secure.
The question he raised at the meeting with Ambassador Qian was in no way meant to intervene in the Chinese government's affairs but instead to discuss the issue to unearth and address the root causes of the problem.
"I lay stress on the fact that we do not want to intervene in the problem. In its place, we are just keen to know about the problem. After he (the ambassador) explained it, it is sufficient. We do not want to intervene in the issue," he explained.
Mahfud MD expressed interest in gaining a broader understanding of the issue of Uighur Muslims since during his several visits to China, he had noticed numerous mosques, halal restaurants, and Muslim settlements.
Indonesia shares a sound diplomatic relationship with China. Hence, Jakarta will not intervene in the Uighur Muslims-related issue since it is perceived as a domestic problem of the Chinese government.
"Hence, we adopt the approach of soft diplomacy. I just seek direct explanation from the Chinese ambassador," he stated.
Over these past few months, China has come under the glaring light of global media outlets over its alleged human rights abuses against and mistreatment of Uighur Muslims.
On Dec. 20, 2019, Indonesian Ulemas Council (MUI) Secretary General Anwar Abbas had urged the Kuala Lumpur (KL) Summit to take a firm, stern stance against China to optimally fight the repression of the Uighur ethnic group in Xinjiang.
"The MUI calls on participants of the summit of Islamic countries in Kuala Lumpur or the KL Summit to take a firm and stern stance against the Chinese government," Abbas noted in a written statement made available to ANTARA.
He stated that Muslims worldwide vehemently oppose China's alleged mistreatment of Uighur Muslims.
The Chinese government has committed blatant human rights violations against Uighur Muslims, including preventing them from offering religious services in accordance with their religion and belief, he pointed out.
"We realize that as a state, China has the right to govern them. However, they must not oppress the human rights of their people, especially the fundamental rights of Muslims there," he remarked.
He urged the Chinese government to end violence against Uighur Muslims with immediate effect. The ethnic minority in China should be given an opportunity to exercise their religious rights and follow their religious teachings without any hindrance.
He cautioned that in the absence of this, the world will be siphoned into new local and global tensions.
"People in each country, especially Muslim nations, including Indonesia, will appeal to their government to take a firm stand with regard to the Chinese government. Thus, this will have a detrimental impact on the development they are conducting," he added.
In response to this global allegation, the Chinese government maintains its stance by saying that the "Xinjiang-related issues are not about human rights, ethnicity, or religion but about fighting violence, terrorism, and separatism.
https://en.tempo.co/read/1287895/indonesias-muslims-shaken-by-uighur-issue-mahfud-md
------
Morocco to Partner With Indonesia to Create Islamic League of Senates
By Yahia Hatim -
Dec 25, 2019
Rabat – Morocco has declared it is ready to work with Indonesia to build a league of senates and consultative "shura" councils that would promote a positive image of Islam and defend against offences targeting Muslim people or the religion of Islam.
Morocco's House of Councillors President Hakim Benchamach made the announcement during a meeting with the Indonesian People's Consultative Assembly President Bambang Susilo in Rabat, on Tuesday, December 24.
Susilo pleaded for the launch of the Islamic league to regroup parliamentary representatives from Islamic countries in defense of Islam and Muslims around the world. Benchamach expressed Morocco's willingness to take part in the project.
The Indonesian official also expressed his country's wish to develop economic relations with Morocco.
Morocco is a strategic partner for Indonesia in the North African region, affirmed Susilo.
The politician reiterated Indonesia's support for Morocco's territorial integrity and for the efforts made by Morocco and the United Nations to solve the Western Sahara conflict.
Benchamach also expressed Morocco's interest in starting a new, promising, and fruitful era of bilateral cooperation.
Historical and diplomatic relations between Morocco and Indonesia are strong, said the Moroccan official, recalling the participation of a Moroccan delegation in the 1955 Bandung Conference in Indonesia.
The Bandung Conference was the first large-scale Afro-Asian conference. It was a meeting of Asian and African states on April 18-24, 1955.
Both officials pledged to improve the partnership between the two countries and contribute to their shared project.
The Indonesian ambassador to Morocco, representatives from the Moroccan House of Councillors, and the president of the Morocco-Indonesian friendship group also took part in the meeting.
Diplomatic relations between Morocco and Indonesia have been growing stronger in recent months.
In October 2019, Morocco's Foreign Affairs Minister Nasser Bourita met with the Indonesian vice-president, Maaruf Amin, in the Indonesian capital Jakarta.
The two officials agreed to solidify bilateral cooperation on a range of issues, including education and culture.
https://www.moroccoworldnews.com/2019/12/289736/morocco-indonesia-islamic-league-senates/
------
All is well with Muslims in Xinjiang, Beijing tells Islamic countries
Dec 25, 2019
Sutirtho Patranobis
Faced with international pressure over alleged persecution of Uyghur Muslims, China told a gathering of selected journalists from Islamic countries to not believe in the "fabricated" western narrative of detention camps and religious repression in troubled Xinjiang, saying the anti-terrorism policies in the province "do not target Muslims" and their "normal" religious rights are fully protected.
"Our anti-extremism and anti-terrorism efforts are not against any particular religion or ethnic group," Xu Guixiang, the deputy director of the publicity department of the Xinjiang Uyghur Autonomous Region (XUAR) said.
Xi's press interaction with journalists from Islamic countries including Pakistan, Turkey and Indonesia apart from India-- which has more Muslim population than several Muslim-majority countries-- was more of an appeal to discard what Xu and his colleagues called "false and fabricated western propaganda".
t was also Chinese foreign ministry's latest attempt to counter demands from international governments and rights groups for a clear and transparent picture of minorities in the large and remote province, which Beijing says is at the forefront of its fight against terrorism.
China is particularly miffed with the US House of Representatives passing the Uyghur Human Rights Policy Act 2019, which seeks to sanction Chinese government officials including the Xinjiang Communist Party of China's (CPC) secretary, Chen Quanguo.
According to estimates, also quoted by the UN, more than a million Muslim Uyghurs are – or have been – held in restricted political camps for indoctrination in the province.
Xu said there are no detention centres or camps in the province but only vocational "training institutes" that teach the "national language", law and livelihood skills, aimed at deradicalisation of citizens influenced by religious extremism.
However, neither Xu nor his colleagues gave a clear answer to the questions put up by HT about the number of the camps or training institutes in the province or about the number of people who spent time at these "institutes" including a break-up of men, women and children and their religious identities and the number of those who have "graduated" from there.
Rexiati Musajiang, mayor of Hotan in southwest Xinjiang said the first centre was started in early 2017 but didn't give specific numbers.
"The number of people is changing all the time; people coming and leaving," Musajiang said, adding, however, that figure of one million or two million is not true.
Musajiang claimed children have never been sent to any of the centres and that the facilities aren't linked to sex, ethnic group or religion.
https://www.hindustantimes.com/world-news/all-is-well-with-muslims-in-xinjiang-beijing-tells-islamic-countries/story-zGg1CZH96cMdKZhs6NmrEO.html
------
Rp 106m raised for Muslim youth who died covering bomb to save Christmas congregants
A. Muh. Ibnu Aqil
A fundraiser to honor Riyanto, a late member of Indonesia's largest Islamic group Nahdlatul Ulama's (NU) youth wing, Banser, by the anonymous Twitter account Katolik Garis Lucu has raised Rp 106 million (US$7,604), exceeding its initial target of Rp 50 million on the Kitabisa crowdfunding platform.
Riyanto died on December 24, 2000, while helping to patrol and secure the Eben Haezer Church in Mojokerto, East Java, at the age of 25.
The fallen Banser member was patrolling the church with four youth-group companions on Christmas Eve when he heard there was a suspicious black package.
He opened the package and saw electrical cables. He then covered the package with his body and told the congregants to get away and duck. The bomb went off, killing him and damaging the church's concrete walls.
To honor his sacrifice, the Katolik Garis Lucu Twitter account @KatolikG, inspired by comedy account @NUgarislucu, set up a fundraising effort.
"Katolik Garis Lucu wants to give a present to Riyanto's family and his four friends who were on duty at the time. Amid the challenges that our country faces, Riyanto reminds us that our duty as humans is not altered by any kind of differences. Diversity is a richness that colors our life as Indonesians," the account wrote on the Kitabisa page.
Katolik Garis Lucu announced on Tuesday that the funds raised would soon be given to the families as the fundraising window had closed.
"Today is the 15th day of fundraising for Riyanto and friends. We will hand over the money raised at St. Yoseph Catholic Church in Mojokerto on Sunday. We are currently organizing it with all related parties. Thank you for all of your participation," the account tweeted on Tuesday.
Indonesian netizens lauded the donation initiative and praised Riyanto for his service.
User @zeyap3dr4 said, "He is real proof that differences are not a barrier to doing good to everyone. We are all brothers, even if we are not of the same faith. Tonight, we pray for you, friend."
@sitimiland1 tweeted, "Some of us are busy debating whether Christmas greetings [are allowed for Muslims], while some of us are busy preparing Christmas gifts for our Banser member. Thank you very much. Merry Christmas."
https://www.thejakartapost.com/news/2019/12/26/rp-106m-raised-for-muslim-youth-who-died-covering-bomb-to-save-christmas-congregants.html
------
Ibrahim Ali flays Muslim groups for being 'apologetic' towards Dong Zong
Thursday, 26 Dec 2019
BY DANIAL DZULKIFLY
KUALA LUMPUR, Dec 26 — Parti Bumiputera Perkasa Malaysia (Putra) President Datuk Ibrahim Ali today criticised Angkatan Belia Islam Malaysia (Abim) and Persatuan Kebangsaan Pelajar Islam Malaysia (PKPIM) for being apologetic towards Dong Jiao Zong.
This follows after both Abim and PKPIM had suggested that Malay non-governmental organisations should conduct dialogues with Dong Jiao Zong instead of hosting a counter congress towards the coalition of Chinese schools and educationists' congress that will be held this coming Saturday.
Ibrahim said Abim and PKPIM should instead be fair and advised Dong Jiao Zong to cancel their congress this Saturday as well.
"Instead of advising Malay NGOs they should not carry out their congress, they should advise Dong Jiao Zong first to cancel their congress.
"Don't let it be the case where Dong Zong has held their congress and when Malay NGOs wanted to hold their own congress but was advised not to conduct the meeting and instead go to the negotiation table.
"What is this? What negotiations? NGO negotiate among NGO?... this is a national issue, an education issue," he said.
Ibrahim said that Dong Jiao Zong should instead accept the government efforts in promoting the teaching of Jawi scriptures in schools.
"Let me remind them that they voted for the Pakatan Harapan administration, which had overwhelming Chinese support.
"Should you not support your own government's efforts?" he said.
Dong Jiao Zong's congress is set to be held this Saturday and will be followed by another one on Sunday by a group called Gabungan Seni Khat Action Team, which also opposes the teaching of Jawi script in vernacular schools.
In August, the Education Ministry confirmed that it would still introduce khat calligraphy as part of the Bahasa Melayu Year Four subject next year as scheduled.
malaymail.com/news/malaysia/2019/12/26/ibrahim-ali-flays-muslim-groups-for-being-apologetic-towards-dong-zong/1822340
------
Christmas typhoon kills at least 13 in Philippines
Dec 26, 2019
MANILA: A typhoon that struck the central Philippines over Christmas has killed at least 13 people, disaster agency officials said on Thursday.
Typhoon Phanfone hit the Philippines late on Tuesday with winds of up to 120 kph (75 mph) and gusts of 150 kph, heavy rain and flooding.
More than 58,000 people were evacuated from their homes before the storm, which caused widespread property damage, and more than 15,000 were stranded at ports when ferries were suspended. Scores of flights were cancelled.
The fatalities were in the central provinces of Capiz, Iloilo and Leyte, including a 13-year-old boy who was electrocuted, a man killed by a tree branch and another killed in a car accident, the disaster agency said.
The typhoon left the Philippines on Wednesday night and was out over the South China Sea, moving west.
An average of 20 typhoons hit the Philippines each year, with storms becoming fiercer in recent years.
https://timesofindia.indiatimes.com/world/rest-of-world/christmas-typhoon-kills-at-least-13-in-philippines/articleshow/72974515.cms
------
South Asia
Taliban kidnap 27 peace activists, take them to unknown place
December 26, 2019
KABUL: Taliban militants have kidnapped 27 peace activists from a highway in Afghanistan's western Farah province, local officials and peace activists said on Wednesday.
Massoud Bakhtawar, the deputy governor of Farah, said the peace activists were travelling with six cars from Herat to neighbouring Farah on Tuesday evening when their convoy was stopped by the Taliban on a main highway and taken to an unknown location.
Bismillah Watandost, a member of the group, said the activists had planned to travel to various parts of Farah to call for peace and a ceasefire between the warring parties in Afghanistan.
The group, People's Peace Movement, was formed to protest violent attacks after a car bomb exploded at a sport stadium in southern Helmand province last year, killing 17 civilians and wounding 50 others.
The Taliban fighting a Western-backed Kabul government now control more territory than at any time since their austere regime was toppled by US-led forces in 2001. A representative for the insurgents was not immediately available to comment.
Since last year, the activists have travelled to various parts of the country, often marching through Taliban-controlled areas to demand peace and a ceasefire between the Taliban and Afghan government.
The Taliban have previously accused the activists of being financed by the Kabul government among others, which the group have denied.
Tens of thousands of Afghan civilians, members of security forces and 2,400 US military personnel have been killed in fighting since 2001.
US officials have increased diplomatic efforts to reach a peace settlement with the Taliban and to withdraw thousands of troops in exchange for security guarantees.
https://www.dawn.com/news/1524386/taliban-kidnap-27-peace-activists-take-them-to-unknown-place
------
The body of a US soldier killed in fight with Taliban arrives home at Christmas
Thursday, 26 Dec 2019
The dead body of Green Beret, an American soldier who lost his life in fight with Taliban arrived at Dover Air Force base, US media reported.
The 33-year-old Green Beret from New Jersey was killed by Taliban in northern Kunduz province of Afghanistan on Monday.
Greet Beret is the 20th American soldier who died in combat operations in Afghanistan this year.
Around 12,000 American soldiers are currently in Afghanistan to assist the Afghanistan National Defense Forces in fighting with terrorism.
As a political settlement is agreed with Taliban, foreign troops will withdraw from the country based on an agreed schedule which is going to be defined in the peace agreement.
U.S peace envoy Zalmay Khalizad is said to be in Doha, waiting for the Taliban peace delegation to return back following consultations with their elders on the agreement conditions.
https://www.khaama.com/the-body-of-a-us-soldier-killed-in-fight-with-taliban-arrives-home-at-christmas/
------
A car explosion in northern Balkh province kills 6 Afghan soldiers
Thursday, 26 Dec 2019
A car bomb explosion claimed the life of 6 Afghan soldiers in northern Balkh province on Thursday, Ministry of Defense said in a statement.
According to a press statement published by the Ministry of Defense Affairs, a motor bomb exploded near a military base at 04:30 on Thursday morning, which has killed 6 Afghan soldiers and have wounded another three of them.
No individual or group has so far claimed the responsibility of his attack.
In another incident two days back, at least 15 Afghan soldiers were killed in a Taliban ambush on a security check-point in Dawlatabad district of Balkh.
This comes as Taliban leaders are at the eve of a political settlement agreement with the United States, currently negotiating the 'ceasefire' and 'intra-Afghan' talks.
https://www.khaama.com/a-car-explosion-in-northern-balkh-province-kills-6-afghan-soldiers-9887/
------
Attack on Nur: DU proctor blamed for 'theft' of video clip
December 26, 2019
Bangladesh Sadharan Chhatra Adhikar Sangrakkhan Parishad leaders yesterday said the Dhaka University proctor was responsible for the disappearance of CCTV footage from Ducsu building.
The CCTV footage had been stolen as Proctor AKM Golam Rabbani was trying to save Chhatra League leaders, Rashed Khan, joint-convener of the platform, told a press conference in front of Dhaka Medical College Hospital.
The leaders demanded resignation of the proctor.
There are nine CCTV cameras in and around the building. The storage devices were in the room of Ducsu Administrative Officer Abul Kalam Azad.
Azad earlier told this newspaper that the monitor and the computer had been stolen from his room.
Rashed yesterday alleged that BCL leaders and DU administration collaborated and made the footages disappear as they tried to save DU BCL President Sanjit Chandra Das and General Secretary Saddam Hussain.
Rashed said that he had called the proctor when Muktijuddho Moncho swooped on them and despite repeated requests, the proctor didn't come to the spot.
"I called him at least 10 times…he received three times and rebuked me, asking why I went to Ducsu when I was not a member of the committee. I told him I have the right to go anywhere in the university as a student. But he kept on rebuking me," he said.
Contacted, proctor Rabbani said he would only speak to a probe body in this regard.
https://www.thedailystar.net/backpage/news/attack-nur-du-proctor-blamed-theft-video-clip-1845151
------
Remain alert so none can create anarchy using religion: President
December 25, 2019
President M Abdul Hamid today called upon the people, irrespective of religion, caste and creed, to remain alert so that none can create anarchy in society and misguide youths using religion.
"The religion ushers us the path of light and keeps us away from wrong, injustice and darkness . . . So remain alert so that none can create anarchy using the religion," he said.
The president was exchanging greetings with Christian community members on the occasion of Christmas Day at Bangabhaban in Dhaka.
The head of the state also urged the parents as well as guardians to play more positive role so that none can misguide the people, especially youth community.
Terming Bangladesh as a land of peace and progress, he said the relentless efforts of the people, irrespective of religion, caste and creed, are behind this achievement.
He called upon the countrymen to celebrate "Mujib Year", the birth centenary of Father of the Nation Bangabandhu Sheikh Mujibur Rahman in 2020 and Golden Jubilee of Bangladesh Independence in 2021 enthusiastically.
Abdul Hamid greeted the Christian community on their holy occasion, wishing a happy, prosperous and cheerful life in days to come.
Calling Jesus Christ as an ambassador of emancipation and beacon, the president said Jesus Christ had preached the sermons of peace in the world as his philosophy was to establish a peaceful society with full of love, services, forgiveness, compassion and justice.
"I think the teachings and ideals of Jesus Christ are very rational to establish peace, harmony and unity in nation-to-nation of this problematic world," he added.
Noting that the Father of the Nation dreamt to build a happy, prosperous and non communal country, the president urged all to forge unity to build a non-communal Bangladesh.
The head of the state hosted a reception at the President's palace on Christmas Day where a Christmas tree was set up and candles were lit.
State Minister for Religious Affairs Advocate Sheikh Md Abdullah, Cardinal Patrick D'Rozario, Dean of Diplomatic Corp Archbishop George Kocheri, President of Bangladesh Christian Association Nirmol Rozario, envoys, representatives from different foreign missions, distinguished persons of the Christian community, religious leaders and professionals joined the reception.
A group of singers performed the Christmas carols at the reception.
Later, the president cut a Christmas cake with members of the Christian community and joined a photo-session with them.
https://www.thedailystar.net/country/remain-alert-so-none-can-create-anarchy-using-religion-1845001
------
Africa
Burkina Faso: Christmas Day in a Christian-Muslim household
25 December 2019
Muslim-majority Burkina Faso has been hit by a wave of violence by militant Islamists in recent years. Christmas Eve saw more than 30 people, mostly women, killed in a suspected jihadist attack.
But behind such grim headlines lies a more complex picture. The country has a history of religious tolerance, and it is not uncommon to see families made up of both Muslims and Christians, who make up about 23% of the population.
Journalist Clair MacDougall visited one such family in the capital, Ouagadougou.
Five-year-old Iris Osnia Ouattara is being raised by her parents in Burkina Faso in both the Catholic tradition of her father, Denis Ouattara, and the Muslim tradition of her mother, Afoussatou Sanou.
She is celebrating Christmas but also celebrates the Islamic festival of Eid.
At home in Ouagadougou, one of the photos that is proudly displayed is of Iris meeting Father Christmas when she was a baby. The photograph was taken back in 2015 at an office party at the cement company where Denis works.
While he is passing on a sense of Christian identity to Iris, Afoussatou is teaching her about Islam.
"She accompanies me to the mosque and on Sunday she goes to church with him," Afoussatou says.
Afoussatou prays five times a day at home, but on Fridays she goes to the mosque with Iris.
Her daughter will also often get up with her before sunrise to perform the first prayer of the day.
"Islam is a religion that promotes tolerance and the acceptance of others in their way of seeing things," she says.
Through a simple Islamic primer, Iris learns how to perform ablutions and pray.
Other books in the house include a well-thumbed Christian book of Psalms.
Denis and Afoussatou have lived together since meeting six years ago in Toussiana, a rural town 55km (34 miles) from Burkina Faso's second city, Bobo Dioulasso.
They plan on marrying next year in a ceremony that honours both of their religious traditions.
Denis is open to temporarily converting, which, the couple say, some Christian men do for the Islamic ceremony to appease the bride's relatives before converting back.
"When we decided to get married we met some opposition," says Denis, whose father was initially hesitant.
"In the beginning it was very complicated. My father doesn't have a problem but my mother does," says Afoussatou. "If the man is Christian and the woman is Muslim, in general it is the parents of the woman who refuse."
She is still trying to persuade her mother to approve of the relationship.
Many Burkinabé families are a mixture of Christians, Muslims and animists and both Christians and Muslims are often welcomed into each other's places of worship.
The country has historically been held up as an exemplar of religious tolerance.
Afoussatou has many Christian friends and while she will not be going to church on Christmas Day she will be celebrating with her partner's family.
She says she celebrates "all of the holidays: Ramadan, Eid al-Adha, Christmas".
On Christmas Day, the Catholic Cathedral of the Immaculate Conception will be full of worshippers.
Armed police are expected to be outside this and other churches. Islamist militants have targeted Christians, as well as Muslims, in recent attacks.
In the lead up to Christmas, church leaders have warned congregants to be vigilant, not to carry large bags, to report anything unusual and to respect the security forces.
Near the cathedral, people who fancy decorating their homes can buy a plastic Christmas tree dusted in fake snow.
On Christmas Day Denis will take Iris to the King Christ Parish of Pissy in Ouagadougou, before the whole family, including Afoussatou, meets at Denis' uncle's house.
"My religion teaches me to love and accept other people," says Denis. "It is only God who can judge."
Iris' parents will let her decide which religion she wants to follow when she gets older. But for the moment, she can be seen at both the church and the mosque.
Denis and Afoussatou would be happy with whatever choice she makes.
"Love is higher than any religion," says Denis, who believes all faiths hold a universal truth.
https://www.bbc.com/news/world-africa-50892314
------
We feel at home in Southeast, says Miyetti Allah
December 26, 2019
From Nwanosike Onu, Awka
The Miyetti Allah Cattle Breeders' Association of Nigeria (MACBAN) on Wednesday said its members feel at home in the Southeast.
It praised the Southeast governors for ensuring a peaceful co-existence.
Zonal Chairman, Alhaji Gidado Siddiki, in a Christmas message in Awka, the Anambra State capital, urged his members to maintain peaceful relationship with their hosts regardless of religious differences.
According to him, Islam encourages greeting non-Muslims on their holidays, and that it was in line with the noble manners of Prophet Muhammad.
He said: "Islam acknowledges the principle of peaceful coexistence with all people, regardless of their faith," he said.
Siddiki said the Southeast governors have demonstrated a commitment to a united Nigeria.
"We appreciate the governors of the five Southeast states of Abia, Anambra, Ebonyi, Enugu and Imo for the bold expression of their belief in one Nigeria.
"They have made their domains places where Nigerians are at liberty to legitimately ply their trade despite not being indigenes.
"We also appreciate the governors for individually and collectively accommodating our members in their states and for listening to them.
"This is particularly at very trying moments this year when the unruly activities of criminals in the wild tended to lead to a blanket demonisation of herdsmen."
MACBAN also commended traditional rulers, religious leaders, the Police and other stakeholders for their commitment to harmonious coexistence among herders and their host communities.
"On behalf of MACBAN in the zone, we heartily felicitate with our brothers and sisters of Igbo extraction, particularly those in our major host communities on the celebration of Christmas," it added.
https://thenationonlineng.net/we-feel-at-home-in-southeast-says-miyetti-allah/
------
Goldstar Air honours Chief Imam
Dec 25 , 2019
Presenting the citation to the Chief Imam during a ceremony on Wednesday (December 25, 2019) in Accra, the Executive Chairman and CEO of Goldstar Air, Mr Eric Bannerman announced that the company will additionally name one of its aircraft after the Chief Imam.
"We are here today to honour the Chief Imam and to tell him that we will name one of our aircraft after him as well as bring to his notice how we will collaborate and work efficiently and effectively with the Zongo communities in the country," Mr Bannerman said.
He said as part of efforts to bring development to Zongo communities across the country his outfit would be collaborating with the Office of the National Chief Imam on several projects.
The citation described the Chief Imam as an embodiment of peace and commended him for his exemplary style of leadership and management skills.
Mr Bannerman disclosed that his outfit was finalising plans of a project named Goldstar City in Tamale which will see the construction of a hangar for repairing and refurbishing aircraft.
He stressed that the facility when fully operational will open up business opportunities and also position the Northern Region of Ghana to the world.
"Goldstar Air will build a hangar in Tamale for repairs and refurbishing of aircraft and adopt the Tamale airport also as our hub. The airline is coming up with Goldstar City project which will be sited in Tamale and it includes accommodation, training school for our engineers, pilots, cabin crew and other staff of the airline," Mr Bannerman explained.
"Alhaji Dr Nuhu Sharabutu, I am pleased to announce that Goldstar Air is also projecting to have a fleet of more than one hundred (modern aircraft to a network of more than ninety key business and leisure destinations across Europe, the Middle East, Africa, Asia Pacific, Caribbean and North America.
"I am glad to say, Goldstar Air will have seventy per cent of local content of Ghanaian food, music, movies, and announcements in Ghanaian languages with a language from the North featuring prominently and as well export trained labour through agency on-call, charter and aircraft leasing".
Acceptance
Receiving the citation, the Chief Imam expressed gratitude and prayed for God's protection and blessings for the CEO and his staff.
He also prayed for peace and national cohesion among all faiths and religious groups across the world.
https://www.graphic.com.gh/business/business-news/goldstar-air-honours-chief-imam.html
------
Ethiopian Muslims urge probe into torching of mosques
Addis Getachew and Seleshi Tessema
25.12.2019
ADDIS ABABA, Ethiopia
Muslims in Ethiopia condemned the weekend torching of mosques and Muslim-owned businesses in the country.
A demonstration on Tuesday in Jijjiga, a Muslim-dominated city in the east, urged an investigation into the arson attacks.
Over the weekend, four mosques and a church were burned down by angry mobs and a clash between the Christian and Muslim communities erupted in Mota city of the Amhara regional state.
Ethiopia's Prime Minister Abiy Ahmed said the burning of the places of worship was the work of "extremists" calling the act "unacceptable". In a tweet, he described the attacks as "attempts by extremists to breakdown our rich history of religious tolerance and coexistence".
This was followed by a statement from Attorney General Berhanu Tsegaye who said strong measures would be taken against the perpetrators.
It is not clear how many suspects have been brought under custody or if an investigation of a trial have been launched.
The Ethiopian Islamic Affairs Supreme Council has also deplored the burning of places of worship and called for immediate investigation.
The Ethiopian Orthodox Church has also issued a statement condemning the burning of centers of worship.
https://www.aa.com.tr/en/africa/ethiopian-muslims-urge-probe-into-torching-of-mosques/1683876
------
Mideast
Imam Khamenei advises Christians to adhere to righteousness
December 25, 2019
AhlulBayt News Agency (ABNA): Supreme Leader of the Islamic Revolution Ayatollah Seyed Ali Khamenei in a message advised followers of the Jesus Christ together with Muslims to adhere to righteousness.
"The honor #Muslims attribute to #JesusChrist (pbuh) is no less than his position and merit in the eyes of the Christian believers in Christianity," Supreme Leader wrote in his Twitter account.
"The guidance of #Jesus, the son of #Mary (peace be upon our Prophet and her) is guidance towards worshiping #God and confronting the Pharaohs and tyrants," he said adding
"Following #JesusChrist requires adherence to righteousness and abhorrence of anti-righteous powers, and it is hoped that #Christians and #Muslims in every part of the world will adhere to this great lesson from Jesus (pbuh) in their lives and deeds," he reiterated.
Christians celebrate the birth of Holy prophet Jesus Christ (PBUH) on Dec 25.
Earlier, Iranian Foreign Minister Mohammad Javad Zarif in a message extended congratulations to Christian compatriots on Christmas.
"Wishing my Christian compatriots, and all across our globe who are observing, a very Happy Christmas and a joyous, peaceful holiday season," Zarif tweeted on Tuesday.
"The birth of Jesus Christ is a wondrous occasion to celebrate," he added.
https://en.abna24.com/news//imam-khamenei-advises-christians-to-adhere-to-righteousness_996434.html
------
Israel hits Gaza with air strikes after 'rocket fire'
December 26, 2019
JERUSALEM: Israeli military aircraft carried out air strikes against the Gaza Strip Wednesday night, the army said, in what it called a response to a rocket fired from the Hamas-controlled Palestinian enclave.
Warning sirens had cut short a rally by Israeli Prime Minister Benjamin Netanyahu as he campaigned on the eve of his Likud party's primaries being held Thursday, public television reported.
"Planes and helicopters hit several Hamas terrorist targets in the Gaza Strip. Military posts were among the targets," the Israeli army said in a statement.
The army had earlier said "a projectile was fired from the Gaza Strip toward Israeli territory and was intercepted by the Iron Dome defense system."
Israel's public broadcaster KAN 11 showed images of a security guard informing Netanyahu of a "red alert" late Wednesday.
The prime minister waved goodbye before being hustled from the room with his wife Sarah.
On September 10, the head of the Likud party had also been evacuated from an election rally, in the southern city of Ashdod, after sirens warned of an attack from Gaza.
On Thursday, the embattled premier will face off against longtime rival Gideon Saar in a Likud leadership contest that could threaten his grip on power.
Last week, two rocket attacks were launched against Israel from Gaza without causing injury, Israel's army said.
In response, Israeli warplanes twice bombed Hamas installations in the enclave.
Israel holds the Islamist movement responsible for all rocket attacks coming from Gaza, though the Jewish state also targets other armed groups operating there.
Since 2008, Israel has waged three wars against Hamas and its armed allies in Gaza, where two million Palestinians live amid violence, poverty and a 10-year Israeli blockade.
https://www.arabnews.com/node/1604316/middle-east
------
Seven dead as migrants' boat sinks in Turkey's Lake Van
December 26, 2019
ISTANBUL: Seven people died and 64 were rescued when a boat carrying migrants from Pakistan, Bangladesh and Afghanistan sank on Thursday in eastern Turkey's Lake Van, the governor's office in Bitlis province said.
The boat sank after capsizing as it approached Adilcevaz district in Bitlis, which is on the northern shores of Lake Van, the office said in a statement. The accident happened at around 3 a.m. (0000 GMT).
The lake is near the border with Iran, from where migrants regularly cross into Turkey, heading west toward Europe. It was not clear why the migrants were on the boat in Lake Van, which is completely within Turkey's borders.
Five people were found dead at the scene and two died at hospital, while the 64 people rescued were taken to nearby hospitals and shelters, the governor's office said.
It said gendarmerie forces, emergency response teams and police divers were conducting search operations.
https://www.arabnews.com/node/1604286/middle-east
------
Israel's Netanyahu again quits rally as rocket alert sounds
December 25, 2019
JERUSALEM: Sirens warning of rocket fire from Gaza cut short a rally by Israeli Prime Minister Benjamin Netanyahu Wednesday evening as he campaigned for his party's primaries the following day, public television reported.
It was the second time in recent months that rocket fire cut short one of his meetings.
"A projectile was fired from the Gaza Strip toward Israeli territory and was intercepted by the Iron Dome defense system," the Israeli army said in a statement.
The statement said sirens had sounded near the Palestinian enclave and in the southern city of Ashkelon where the prime minister was holding a rally.
Israel's public broadcaster KAN 11 showed images of a security guard informing Netanyahu of a "red alert." The prime minister waved goodbye before being hustled from the room with his wife Sarah.
On September 10, the head of the Likud party was evacuated from an election rally in the southern city of Ashdod after sirens warned of an attack from the Hamas-run Gaza Strip.
On Thursday, the embattled premier will face off against longtime rival Gideon Saar in a Likud leadership contest that could threaten his grip on power.
Last month, Netanyahu was indicted for fraud, bribery and breach of trust in three corruption cases, allegations he strongly denies.
He is also facing a third general election within a year after polls in April and September saw him deadlocked with centrist challenger Benny Gantz, neither of them able to command a majority in Israel's proportional parliament.
Last week, two rocket attacks were launched against Israel from Gaza without causing injury, Israel's army said.
In response, Israeli warplanes twice bombed Hamas installations in the enclave.
Israel holds the Islamist movement responsible for all rocket attacks coming from Gaza, though the Jewish state also targets other armed groups operating there.
Since 2008, Israel has waged three wars against Hamas and its armed allies in Gaza, where two million Palestinians live amid violence, poverty and a 10-year Israeli blockade.
https://www.arabnews.com/node/1604276/middle-east
------
Turkey readying to give Libya military support
MENEKSE TOKYAY
December 26, 2019
ANKARA: Turkey is ready to give Libya military support, a spokesman for President Recep Tayyip Erdogan said, with the country's Parliament readying to authorize troop deployment.
Turkey backs the government of Fayez Al-Serraj in Libya, which has been split into rival political and military factions since 2011 when ruler Muammar Gaddafi was ousted and killed.
Al-Serraj's Government of National Accord (GNA) has been battling the forces of veteran eastern commander Khalifa Haftar, who launched an offensive to seize Tripoli from fighters loyal to the GNA.
Turkey and Libya recently signed a military cooperation deal. It includes provisions for a quick reaction force if requested by Tripoli.
"We will continue to support the internationally recognized Libyan government. This support may be in terms of military training, or other areas, such as political support," presidential spokesman Ibrahim Kalin said after Omer Celik, a spokesman for the ruling Justice and Development Party, said the country would use hard power instruments to protect its national interests if necessary.
The military cooperation deal has been criticized by the Turkish opposition, which said further military supplies to the GNA breach a UN arms embargo.
But Erdogan pledged Sunday to intensify military backing to Libya along with ground, air and marine options. Some Turkish media have reported that the government may establish a military base in Libya to support its operations.
"It is important not to confuse Erdogan's rhetoric and the physical reality of the actions he has taken lately," Jalel Harchaoui, a Libya expert at the Netherlands Institute of International Relations, told Arab News. "Those are two very different things."
He recalled that Turkey sent around 60 national intelligence officers to operate combat drones in Libya during the summer, in violation of the arms embargo.
He said that the operation, although clandestine, helped the GNA to survive. "However, that Turkish mission stopped almost entirely in the second half of October. After the defense accord was signed on November 27, the mission has been partially resumed. But it is now a much more timid, much smaller version of summer's operation. Very few airstrikes are being carried out by the Turks on behalf of Libya's internationally recognized government."
Ankara was only talking about possibly sending government troops, he said, but none of it had happened.
"Turkey's intervention right now is much smaller than three or four months ago. And even back then, the Turkish military intervention was remarkably smaller than the Emiratis' own military intervention, which now involves airstrikes conducted using fighter jets on a routine basis. Overall, since April, the total number of Emirati drone strikes has been three times as large as the Turkish drone strikes in Libya."
Harchaoui said that Ankara seemed "deeply interested" in attempting some sort of diplomatic entente, particularly with Russia.
Russia has said it is concerned about the possibility of Turkey deploying troops in Libya. Russian President Vladimir Putin is visiting Turkey next month, with the two nations expected to launch an important Libya initiative.
Erdogan said Wednesday he had discussed with his Tunisian counterpart, President Kais Saied, possible steps and cooperation to establish a cease-fire in Libya.
In a news conference alongside Saied, Erdogan said he believed Tunisia would have "valuable and constructive" contributions to establishing stability in Libya.
https://www.arabnews.com/node/1604241/middle-east
------
Syria missile strike kills 5 pro-Iran fighters: monitor
December 25, 2019
BEIRUT: Five pro-Iranian fighters were killed by unidentified missiles on Wednesday evening in Syria's eastern province of Deir Ezzor, a war monitor said.
"Missiles of unidentified origin targeted the headquarters of the 47th Brigade of pro-Iranian militias in the town of Albu Kamal, in the east of Deir Ezzor province, killing five fighters," the Syrian Observatory for Human Rights said.
Observatory chief Rami Abdul Rahman said drones may have been responsible for the strikes, which caused "loud blasts."
Iran and militias it supports, along with fighters from Iraq and elsewhere, have backed the regime of President Bashar Assad in Syria's eight-year war.
Israel has vowed to prevent its regional arch-rival Iran from gaining a foothold in the country and has carried out hundreds of strikes against Iranian targets.
The vast desert province of Deir Ezzor, which neighbors Iraq, hosts several actors in the Syrian conflict besides pro-regime forces.
The Syrian Democratic Forces, a Kurdish-dominated armed group backed by the United States, was instrumental in destroying the self-declared "caliphate" of the Daesh group.
Five pro-Iranian fighters were killed in similar raids on the outskirts of Albu Kamal on December 8, the Observatory said.
In September, 28 pro-Iranian fighters including at least 10 Iraqis were killed in similar strikes.
The Lebanese Shiite movement Hezbollah blamed Israel for that attack, quoting a "security source in Syria."
In June 2018, strikes in far eastern Syria were also attributed to Israel by an American official, on condition of anonymity. The Observatory said they killed 55 pro-regime forces.
Syria's complex, multi-faceted conflict has left more than 370,000 people dead and displaced millions since it began in 2011 with anti-government demonstrations that were brutally repressed.
https://www.arabnews.com/node/1604231/middle-east
------
How Iran's influence turned into seething discontent
IMAD SALAMEY
December 25, 2019
BEIRUT: The outbreak of protests in Iraq, Lebanon and Iran has shaken the political establishment in Tehran. For decades, the theocracy has thrived on the doctrine of velayat-e faqih, which aimed to mobilize Shiite support across the Middle East under a single Iranian religious and political leadership.
But exporting the Iranian brand of revolutionary Shiism and expanding the country's geopolitical influence has proven a persistent, uphill battle, and culminated in a huge backlash.
The explosion of anger and frustration in Iran and Iran-influenced countries is the latest and, perhaps, gravest crisis that Tehran has confronted in recent years.
Brian Hook, the US State Department's Iran envoy, has described its nationwide protests as "the worst political crisis the regime has faced in its 40 years."
Hundreds of protesters were reportedly killed and thousands more arrested, while the government imposed nationwide internet blackouts to prevent media coverage, which drew strong international condemnation.
Over the past decade, the Iranian regime has gained an advantage over its geopolitical rivals in projecting power across a number of countries with religiously mixed populations, notably Iraq, Lebanon, Syria, Yemen and Bahrain.
In order to export its ideology and consolidate its strategic gains, Iran has had to forge alliances with non-Sunni minorities, such as the Alawites in Syria, Zaydis in Yemen, Ibadis in Oman, Christians in Lebanon and Ismailis elsewhere in the region.
The objective was not only to disrupt the regional balance of power, but also to swing it in its favor, against the Sunni-majority powers. The realignment of the regional order — in Iraq, Lebanon, Syria, and Yemen — was so sharp that it prompted Ali Riza Zakani, an Iranian member of parliament, to boast that Iran had finally captured their capitals.
But now, after benefiting from four decades of revolutionary fervor, Iran's rulers are confronting the challenge of governing the "captured territories." Chief among them is accommodating these countries' ethnic and sectarian diversities.
This reality check has forced Iran-backed Shiite parties in Iraq and Lebanon to pursue a multi-confessional and multi-ethnic model of governance, allowing Iran to cobble together cross-sectarian coalitions and maintain the regional upper hand.
In 2006, Hezbollah forged an alliance with the Christian Maronite party, the Free Patriotic Movement (FPM). Together they comprised the March 8 alliance, which included other sectarian political parties.
Both groups aimed to undermine Sunni and Saudi political influence in Lebanon. Their efforts culminated in the imposition of Michael Aoun, the FPM leader, on the country as its president and securing a parliamentary majority in 2018, an electoral victory that followed the gerrymandering of districts and the adoption of an electoral law that primarily favored the FPM.
Likewise in Iraq, the Supreme Council for the Islamic Revolution in Iraq (SCIRI) changed its name to the Islamic Supreme Council of Iraq, a step that coincided with other Iran-sponsored groups dropping their demands for an Islamic theocracy in Baghdad. Former revolutionaries soon became partners in Iraq's multi-ethnic and confessional power-sharing arrangements.
Tehran's problems have been compounded by the actions of its local political allies, who have adopted unabashed sectarian rhetoric, maintained their allegiance to the velayat-e faqih and used state resources to advance their political objectives.
In both Iraq and Lebanon, state resources have proven vulnerable to predatory political abuse. Government ministries have been distributed without consideration for merit, while services and contracts have been handed out to party loyalists and politically connected candidates.
The result has been a fragmented and unaccountable elite, members of which have divided the spoils of power generously among themselves.
In 2018, the Fragile State Index measured the stability of more than 178 countries; it placed Lebanon among the "warning states" and Iraq among the "alert states." Both countries' elites ranked among the world's "most fragmented." Transparency International has also ranked the perception of corruption in both countries as among the highest globally.
Despite the reluctance of the Shiite political parties to embrace the Iranian theocratic model wholesale, both Iraq and Lebanon have proven vulnerable to the velayat-e faqih's strategy of spawning a state within the state.
The success of Hezbollah and Hashd Al-Shaabi is most evident in their ability to replicate the Iranian-style "duality of power" model by penetrating and subduing their home country's state institutions whose ethnic and sectarian diversity posed an obstacle of sorts.
Consequently, the governments in Iraq and Lebanon have been denied sole monopoly over the legitimate use of physical force, and forced to accept a parallel system of informal, armed and unaccountable Iran-sponsored institutions.
To be sure, the hardening of US sanctions against Iran and its allies as well as the relative decline of oil prices over the past decade has taken a direct toll on Iran's economy. The sanctions have additionally put a crimp in the Islamic Revolutionary Guard Corp's (IRGC) maneuverability in regional battlefields.
Most alarmingly from Tehran's standpoint, the US moves have opened up a chasm between the economic interests of these countries and the political interests of their Iran-aligned leaders. While the people seek market normalization, integration, and investment, their governments see such measures as the keys to their own demise.
In Lebanon, Hezbollah has long overwhelmed Lebanese government institutions. Its success stems from the ability of its informal military and social welfare networks to secure the loyalty of its sectarian constituents. Its security institutions have overcome the challenge posed by the multi-sectarian make-up of Lebanese society through threats of violence and civil war.
Successive governments have been forced to recognize Hezbollah's right to keep its weapons and stand idly by every time it has chosen to exercise power within the country or entered into a conflict.
In 2008 and 2016, Hezbollah's political dominance enabled it to impose its own presidential nominees, overruling parliamentary majorities. And in 2018, its decisive electoral victory ensured full control over the government.
But Lebanon's dollar-dependent economic system runs broadly counter to that established by velayat-e faqih. Its free market remains tied to Arab states and critically linked to Western support and assistance. Arab oil-generated remittances, deposits and investments have traditionally kept the economy ticking.
In late 2019, Lebanon found itself on the edge of an abyss as its entire economic system faced collapse. Protesters took to the streets to demand the government's resignation and the formation of a government of technocrats.
Hezbollah and its allies went on the defensive as they found the spontaneous public uprising — "Al-Thawra" or revolution — a direct threat to the dual power structure that serves their political objectives so well.
In Iraq, a similar dual power structure encompassing political rivals is to blame for the unraveling of the economy and the administration's dysfunctional state.
Iran's outsize influence is seen by large sections of Iraq's population as preventing Baghdad from forging an independent oil strategy or economic policy founded on national interest.
A case in point is the Iraqi government's bungling of a $53 billion Exxon deal that aimed to help Iraq boost its oil output in the southern fields. The outcome is seen by ordinary Iraqis as a result of Tehran's dogged opposition to an economic partnership between Iraq and the US.
Meanwhile, Iraqis are resentful over their dependence on Iran for electricity supplies and other commodities. The full extent of their frustration became evident when protesters stormed the Iranian consulate in the southern city of Najaf, replaced the Iranian flag and set fire to the building.
In retrospect, even as Iran succeeded, through its local proxies, to disrupt the balance of political power and marginalize Sunnis in Iraq, Syria, Lebanon and Yemen, it unwittingly sowed the seeds of sectarian and ethnic discontent in the four predominantly Arab countries. Now it is reaping the whirlwind.
https://www.arabnews.com/node/1604141/middle-east
------
Pakistan
2 Pakistan Army soldiers martyred in Indian ceasefire violations along LoC: ISPR
December 26, 2019
Two Pakistan Army soldiers were martyred in Indian ceasefire violations along the restive Line of Control (LoC) in Dewa Sector, the military's media wing said on Thursday.
In a tweet, Director General of Inter-Services Public Relations (ISPR) Maj Gen Asif Ghafoor identified the martyred soldiers as Naib Subedar Kandero and Sepoy Ehsan.
In response to Indian ceasefire violations during the past 36 hours, the ISPR said, Pakistan Army troops damaged an Indian post in Haji Pir Sector and killed three Indian soldiers including a subedar. Additionally, ISPR said, a few had also been injured.
On Monday, Army Chief Gen Qamar Javed Bajwa visited the LoC in Azad Jammu and Kashmir, where he said that the armed forces are "fully prepared to thwart any misadventure" or aggression for the country's defence.
The visit came as Indian and Pakistani troops had been exchanging fire across the restive border, with casualties caused on both sides.
"Our quest for peace must never be misconstrued as weakness," the army chief was quoted as saying in a tweet by the ISPR director general.
On Sunday, Indian and Pakistani troops had exchanged fire in some areas along the LoC but no casualties were reported from anywhere.
The military's media wing had reported on Saturday that the Indian army suffered heavy casualties and damage to its posts when the Pakistan Army responded to ceasefire violations from across the dividing line.
Foreign Minister Shah Mahmood Qureshi condemned the violation and said that the attacks were an "attempt by India to divert attention from strong response to the controversial citizenship bill". He paid tribute to the martyred soldiers and urged the world to take notice of India's "violent activities".
The heavily militarised LoC has been frequently witnessing ceasefire violations in a serious breach of the 2003 truce agreement between the two armies, causing mainly civilian casualties in different areas of AJK along the restive dividing line.
Earlier this month Indian Army Chief Bipin Rawat said that the situation at the LoC could "escalate any time". Following this, the DG ISPR had cautioned that the "Pakistan Armed Forces shall befittingly respond to any Indian misadventure or aggression."
Meanwhile, Prime Minister Imran Khan had stated that the Indian army chief's statement adds to Pakistan's concerns of a "false-flag operation".
He had warned that if India undertakes such an operation, "Pakistan will have no option but to give a befitting response".
Additional reporting by Naveed Siddiqui.
https://www.dawn.com/news/1524501/2-pakistan-army-soldiers-martyred-in-indian-ceasefire-violations-along-loc-ispr
------
'Ring of Fire' solar eclipse descends upon Pakistan
December 26, 2019
An annular solar eclipse, said to be the last big celestial event of the year as it comes to a close, descended upon parts of Pakistan on Thursday morning.
Starting at 7:30am, it peaked at 8:37am and is to go on till 1:06pm. The eclipse was also viewed in other countries including Myanmar, Indonesia, the United Arab Emirates and parts of India.
Kusoof prayers offered at Faisal Mosque in Islamabad on Thursday. — Photo by Javed Hussain
Special or 'Kusoof' prayers were offered in various mosques including Faisal Mosque in Islamabad.
The Pakistan Meteorological Department had said the eclipse would be visible all over Pakistan, especially in Karachi and Gwadar. It said the celestial event would be visible in eastern Europe, northern and western Australia, eastern Africa, Pacific Ocean and Indian Ocean, and much of Asia, including Pakistan.
People have been advised not to look at the sun with the naked eye during the eclipse because it may cause permanent eye damage or even blindness.
The Met Department shared the duration of the eclipse in various cities of Pakistan:
- Karachi Start of partial eclipse: 7:34; Maximum eclipse: 8:46; End of partial eclipse: 10:10
- Lahore Start of partial eclipse: 7:47; Maximum eclipse: 8:58; End of partial eclipse: 10:19
- Islamabad Start of partial eclipse: 7:50; Maximum eclipse: 8:57; End of partial eclipse: 10:15
- Peshawar Start of partial eclipse: 7:49; Maximum eclipse: 8:56; End of partial eclipse: 10:13
- Quetta Start of partial eclipse: 7:39; Maximum eclipse: 8:48; End of partial eclipse: 10:08
- Gilgit Start of partial eclipse: 7:55; Maximum eclipse: 9:01; End of partial eclipse: 10:16
- Muzaffarabad Start of partial eclipse: 7:51; Maximum eclipse: 8:59; End of partial eclipse: 10:16
The annular solar eclipse viewed from Peshawar on Thursday morning. — DawnNewsTV
The solar eclipse is not a total eclipse but an annular one. This means the sun and the moon will be positioned in a way to form a "ring of fire" as the moon won't be able to completely cover the sun. Hence its edges will be illuminated.
The rare and historic event is completely different from the total solar eclipse that took place in August 1999 due to the 'albedo effect'. It means that most of the radiation did not reach the ground and got deflected back into space because of cloudy skies previously. But this time there are clear skies. Therefore, there will be a direct impact of the radiation. People have been advised not to look at the sun with the naked eye during the eclipse.
Safety during eclipse
The moon covers the sun during the start of a rare "ring of fire" solar eclipse in Jakarta on December 26. — AFP
Khaleej Times shared information regarding safety during an eclipse:
"Don't ever look at the sun without proper eye protection
Don't view the sun through sunglasses of any type (single or multiple pairs), or filters made from photographic film, or any combination of photographic filters, crossed polarisers or gelatin filters, CDs, CD-ROMs, or smoked glass. None of these are safe
Don't fit any filter to a telescope without first checking it thoroughly for damage. If it is scuffed, scratched, has pinholes in it, or you have any other doubts about it at all, don't use it"
Superstitions associated with celestial event
The annular solar eclipse viewed from Quetta on Thursday morning. — DawnNewsTV
There are several superstitions being associated with the celestial event. Some say it may bring about major changes in world politics with shifts in power.
Other beliefs include thoughts of fear. In ancient China, people used to counter the effects of a solar eclipse by getting together and screaming aloud. They believed that there was a big snake eating up the moon which needed to be stopped and scared away with the noise.
Children view an annular solar eclipse in Madinat Zayed in the Al Dhafra region of Abu Dhabi, United Arab Emirates on December 26. — Reuters
Some believe expectant mothers should not go out when there is a solar eclipse and to stay away from sharp objects. Pregnant animals such as livestock are also brought indoors at such times.
There is also a belief that there are stage germs unleashed during a solar eclipse so all eatables are also kept covered or in the fridge.
Some countries announce a public holiday on such occasions.
People associate life and death with solar eclipses and therefore they offer additional prayers at this time. They may also sacrifice animals or give a little extra to charity. Special or 'Kusoof' prayers are also offered in mosques of Pakistan and other Islamic countries.
Additional reporting Javed Hussain
https://www.dawn.com/news/1524498/ring-of-fire-solar-eclipse-descends-upon-pakistan
------
Over 140,000 BISP beneficiaries were govt employees: data
Syed Irfan Raza
December 26, 2019
ISLAMABAD: The Benazir Income Support Programme (BISP) data has revealed that out of over 800,000 beneficiaries removed from the programme, more than 140,000 were those who or their spouses were government employees.
The federal cabinet had on Tuesday given approval to the removal of 820,165 beneficiaries from the BISP database, describing them as "undeserving".
Meanwhile, Bakhtawar Bhutto-Zardari, daughter of former prime minister Benazir Bhutto, criticised the government for depriving poor women of monthly stipend. "Almost 1 million beneficiaries of the only social safety net for women are cut off for meeting just one of the ridiculous criteria. Shameful that the idea of further suppressing and taking away independence of a woman came from a woman. Cut off from monthly stipend because of her husband's phone bill," she said in a tweet.
Bakhtawar lashes out at PTI government for depriving poor women of monthly stipend
The changes in the BISP database were made in the wake of reservations expressed by some cabinet members in previous meetings that the supporters of opposition parties, especially those backing the Pakistan Peoples Party, were benefiting from the programme, while those belonging to the ruling Pakistan Tehreek-i-Insaf were being ignored.
Launched in July 2008, the BISP is the country's largest single social safety net programme with around 5.4 million beneficiaries, according to the 2016 data.
Special Assistant to the Prime Minister on Social Welfare and Poverty Alleviation Dr Sania Nishtar had apprised the cabinet that in view of some complaints and a need to update the BISP data, the survey was reviewed with the help of the National Database and Registration Authority.
She said that during the review some aspects were looked into. For example, she added, it was ascertained whether the family of a beneficiary had any motorcycle or car or whether a spouse was a government employee. The cabinet was informed that those who had over 12 acres of land did not fall in the category of "deserving" people. After the exclusion of 820,165 people, really deserving people would be included in the programme, Dr Nishtar said.
Out of total 820,165 beneficiaries removed from the BISP database, 14,730 were government employees or employees of railways, post office and BISP despite the fact that the facility was not meant for government servants. According to the data, 127,826 were those whose spouses were government employees or employees of the above-mentioned departments.
It said 153,302 were those who travelled abroad once and 195,364 were those whose spouses travelled abroad once. The number of beneficiaries who travelled abroad more than once stood at 10,476. Similarly, 166,319 spouses travelled abroad more than once.
The BISP removed 692 people from its database because they owned one or more than one vehicle, while 43,746 were deprived of the facility because their spouses have one or more than one car.
A person who can pay monthly telephone bill of Rs1,000 is not eligible to get monthly stipend from the programme and, therefore, 24,546 people were removed for falling into this category. Similarly, 155,767 were thrown out of the database as their spouses paid Rs1,000 or more telephone [PTCL, mobile] bill.
For applying passports via executive centres, 666 beneficiaries were excluded and 580 were removed as their spouses did the same.
A total of 36,970 people were expelled from the list of BISP beneficiaries because three or more than three members of their family paid executive fees for obtaining computerised national identity cards.
https://www.dawn.com/news/1524377/over-140000-bisp-beneficiaries-were-govt-employees-data
------
In tit-for-tat move, Sheikh Rashid announces plans for jalsa in Larkana
December 26, 2019
RAWALPINDI: Railways Minister Sheikh Rashid Ahmed on Wednesday announced holding a public meeting in Larkana in response to the Pakistan Peoples Party's gathering at Liaquat Bagh in Rawalpindi, his hometown, on Dec 27 to mark the 12th death anniversary of Benazir Bhutto.
Talking to journalists after a ceremony held in connection with the Quaid's birthday at Public Secretariat in Commercial Market, the minister said: "If you're arriving in Rawalpindi then I will hold a jalsa (public meeting) in your home ground. I am coming to Larkana to hold a political meeting and reply to your allegations.
"We are men of principles and we will not stop the PPP from holding its public meeting in Rawalpindi, but it is our right to hold a jalsa in Larkana."
The minister said democracy without accountability was impossible. "The name of Imran Khan is Ehtesab Khan and he will not spare any corrupt element in the country," he said.
He said the Pakistan Tehreek-i-Insaf government would complete its five-year term despite all the conspiracies being hatched against it.
Advises Bilawal to play carefully as being a young man he is not familiar with tactics of politics
He said the citizens of Rawalpindi had rejected the elements who were involved in money laundering. The opposition has never taken out a rally against inflation, he said.
Sheikh Rashid said that Indian premier Narendra Modi had fuelled terrorism in occupied Kashmir by imposing a curfew and killing innocent Kashmiris.
He said the Modi government had been trapped in the net which it spread for others by passing the controversial citizenship law.
"Founder of Pakistan Quaid-i-Azam Mohammad Ali Jinnah had demanded a separate homeland for the Muslims because he knew that Hindus and Muslims cannot live together," he said.
"The situation in India is so critical that people are raising slogans for separation," he added.
He said the Indian army had been killing innocent Kashmiris, but the international community was silent.
He said India could create unrest on the borders but the Pakistan Army and government were fully prepared to give a befitting response.
The minister advised PPP chairman Bilawal Bhutto-Zardari to play carefully as being a young man he was not familiar with tactics of politics.
Commenting on Mr Bhutto-Zardari's comment that he was an owner of five companies in his childhood, Sheikh Rashid said a man of 23 years was no more a child.
In reply to a question, he said the Pakistan Muslim League-Nawaz and PPP had plundered the national wealth mercilessly and now the government would make them accountable.
In reply to another question, he said the official legal team would clarify the government's position about the cases against PML-N leaders Rana Sanaullah and Ahsan Iqbal.
He said the federal cabinet, in consultation with all the relevant quarters, had unanimously refused to remove the name of Maryam Nawaz from the Exit Control List.
The railways minister said he wanted to speak on some critical national issues, but Prime Minister Imran Khan stopped him from doing so.
He said the government respected the decisions of the courts. "Only one sentence of special court's judgement [about dragging and hanging retired Gen Pervez Musharraf's body] has bothered me."
He said the government had started a special train for Christian sisters and brothers on the eve of Christmas. He said the people travelled even on roof of train due to space shortage.
Sheikh Rashid said the second women university had been established in Rawalpindi and the ML-1 project would also be completed under the leadership of Prime Minister Imran Khan. With the completion of the ML-1 project, travel time between Rawalpindi and Karachi would come down to just eight hours, he added.
https://www.dawn.com/news/1524405/in-tit-for-tat-move-sheikh-rashid-announces-plans-for-jalsa-in-larkana
------
Police officials dismissed in Farishta case reinstated
Munawer Azeem
December 26, 2019
ISLAMABAD: Four police officials, dismissed from services in connection with Farishta abduction, rape and murder case, have been reinstated.
The officials were reinstated after they filed an appeal against their dismissal, senior police officers told Dawn, adding that the four police officials are a former Shahzad Town SHO, an investigating officer in the case a head constable (moharrar) and a constable.
All the four officials have now been posted at Police Logistic Division at Police Lines Headquarters, they said.
Earlier, Prime Minister Imran Khan had ordered registration of a case against the police officials and departmental proceedings and judicial inquiry against them.
In the light of two inquiry reports, Deputy Inspector General (operations) Waqaruddin Syed removed them from service in June.
At that time DIG operations Waqaruddin Syed confirmed to Dawn that the four police officials had been removed from service in the light of the reports.
The four police officials faced charges of delaying registration of the case, besides being charged with humiliating the farther of the girl by forcing him to clean the police station.
A case was also registered against the SHO and IO under PPC 166, they said, adding the case was in the court.
When DIG Operations Waqaruddin Syed was asked whether the dismissed officials had been reinstated, he replied with 'no'. But the very next moment he said: "I have no knowledge about it."
The DIG Operation further said: "I have to check it as they have been excluded from our strength (Operation Division)," but did not reply till the filing of this report.
When contacted, DIG Headquarters Mohammad Saleem neither denied nor confirmed and asked to contact DIG Operations, as he had dismissed them.
http://www.dawn.com/news/1524477/police-officials-dismissed-in-farishta-case-reinstated?preview
------
Arab World
Islamic Development Bank marks World Arabic Language Day
SALEH FAREED
December 25, 2019
JEDDAH: The Islamic Development Bank (IDB) organized an event on Wednesday to mark World Arabic Language Day.
The event included a display of Arabic and Islamic calligraphy paintings, in addition to a panel discussion and poetry competition in Arabic among IDB staff. "The Arabic language is a language of 2 billion people around the world who are members of the Islamic Ummah," said IDB President Dr. Bandar Hajjar.
"It is the official language of the IDB, even though the bank also deals in English and French."
He said the bank has provided about $300 million in support of literacy and education projects in Africa. The IDB allocates grants to teach the Arabic language, he added.
The event included a scientific symposium on the reality and future of the Arabic language in education, international organizations and scientific academies.
The symposium stressed the importance of using artificial intelligence in designing programs to promote and learn the Arabic language to boost its presence in the era of the fourth industrial revolution.
The poetry competition was won by Nigerian contestant Saeed Al-Rifai from the bank's head office. Mauritanian Izz Al-Din Ahmed from its regional office won second place.
https://www.arabnews.com/node/1604166/saudi-arabia
------
Custodian of the Two Holy Mosques Consoles President of Burkina Faso following terrorist attack
2019/12/26
Riyadh, December 25, 2019, SPA -- Custodian of the Two Holy Mosques King Salman bin Abdulaziz Al Saud has sent a cable of condolences to President Roch Marc Christian Kaboré, the President of Burkina Faso, following the terrorist attack in northern Burkina Faso.
The King said in his cable, "We learned of the news of the terrorist attack that took place north of Burkina Faso, resulting in deaths and injuries, and we strongly condemn this heinous criminal act. We express to Your Excellency, the families of the dead and to your friendly people, on behalf of the people and the government of the Kingdom of Saudi Arabia and in my own name, sincere condolences and consolation, wishing a speedy recovery for the injured, and stressing the importance of international efforts to confront and eliminate terrorism."
https://www.spa.gov.sa/viewfullstory.php?lang=en&newsid=2015276
------
Eat, pay, love: Jeddah boutique nurtures local brands and customer experience
MARIAM NIHAL
December 26, 2019
RIYADH: Homegrown, a Jeddah-based boutique featuring local and regional brands, celebrated the winter season with food, festivities and live music.
The store, which was launched in 2014, gives entrepreneurs and sole traders a chance to showcase and sell their products without having to organize and foot the bill for their own retail space.
What started as a project with a dozen or so brands has blossomed into a business with more than 100 under its roof.
But the woman behind Homegrown, Saudi entrepreneur Tamara Abualkhadra, nearly took a different path. She had dreams of working at the UN and studied politics as an undergraduate.
"I moved to a boarding school when I was 13, prior to which I only spent seven years in Saudi Arabia," she told Arab News at the store's "Winter Wonderland" event on Monday. "Initially I had studied politics even though I had always loved the creative industry, which was sort of frowned upon at that time. The switch happened when I took a year off and studied fashion courses at the London College of Fashion and Central Saint Martins. I also joined a program at Imperial College in London to study management. Within that I was able to choose projects that were fashion-based. I started working with fashion stores where I learnt a lot and loved every second of it. But I knew there was something missing and I wanted more."
She was offered a job at the multinational Procter and Gamble upon returning to the Kingdom, but felt there was a creative aspect missing. At the time her friend Rasha Zahid had opened The Store, a concept shop, and needed help with a vacant floor in the building. "That's where Homegrown was born," said Abualkhadra.
"My friend and I had an idea to rent out the space to new local designers who were popping up on Instagram and didn't have a space. It was a platform that helped businesses just growing out of their homes to flourish. Unfortunately she moved to Dubai, so it was all left to me. When The Store shut down, I honestly didn't want to go through the bureaucratic process it takes to set up a new place, but the designers pushed me to keep the space saying 'we don't have anywhere to go and we don't want to settle with any other place,' so I eventually gave in and did it."
Homegrown has expanded to sell beauty products, food, coffee, fashion accessories, homeware and stationery. "Even though I did everything on my own I had the support of my team — like Hala Sabbagh who has been with me since day one — and I also had the support of great friends and designers. The new and bigger venue also gave our designers the freedom to develop and personalize their space."
Abukhadra's vision is to take Homegrown beyond a traditional lifestyle store.
"It's not a place you come, shop and leave. We have an area that serves coffee and food where you can chill and enjoy the vibe. I feel like it gives us a chance to come together and grow as a community as some of the designers know each other, or their customers are their friends. I plan to develop the space by adding more attention to art, pop-up events and hopefully workshops and talks by local talent that can inspire the youth. We want it to be more interactive, something that also helps us give back to the community," she said.
The Homegrown team wants to encourage originality, and for designers to move away from "copycat culture."
"When it comes to new brands, we look for product quality and a strong identity," Abualkhadra said.
https://www.arabnews.com/node/1604261/saudi-arabia
------
Personal ID cards ease access to health cover in Saudi Arabia
December 26, 2019
RIYADH: Personal identity cards can be used to identify insured people visiting a Saudi health care provider from January 2020 under changes introduced by the Council of Cooperative Health Insurance.
The council announced the move with a campaign launched under the banner "We made it easier for you."
"The insured no longer need to present the health care insurance company card when visiting health care providers. Citizens can use their national identity card and residents their residency card," Dr. Shabab Al-Ghamdi, the council's secretary-general, said.
He said the move will offer the insured easier access to health care services and keep pace with the digital transformation in the private health insurance sector.
The council campaign includes media outlets and social media, with messages in Arabic, English, Urdu, Filipino, Hindi and Bengali.
Al-Ghamdi said that council representatives visited major health-care providers in cities and regions around the Kingdom to highlight recent developments in the private health insurance sector, and raise awareness about the cooperative health insurance system, executive regulations and the unified document.
Information on personal health insurance can be found on the council's website by entering a national identity card or residency card number.
https://www.arabnews.com/node/1604236/saudi-arabia
------
Saudi Arabia to expedite repatriation of distressed Filipino workers
ELLIE ABEN
December 26, 2019
MANILA: Saudi Arabia is to expedite the repatriation of almost 200 distressed Filipino workers following a meeting between high-level officials on both sides.
The workers, who are mostly domestic helpers, are at the Philippine Consulate General in Jeddah while their cases are being processed. Most of their cases involve the non-payment of salaries.
A request for help was made during a meeting on Dec. 21 between Chief of Presidential Protocol and Presidential Assistant on Foreign Affairs Robert Borje and Mohammad Ibrahim Jalal, the Saudi Social Welfare Administration's (SSWA) director-general from the Ministry of Labor and Social Development for Makkah Al-Mukarramah Region.
Also present was Foreign Affairs Undersecretary for Migrant Workers' Affairs Sarah Lou Arriola, who asked for the cases to be fast-tracked.
The two sides underscored the importance of close cooperation, agreeing to increase collaboration to help the distressed workers.
Philippine officials also met the distressed workers, who received care packages and financial assistance from the president and the country's Department of Foreign Affairs.
Borje expressed President Rodrigo Duterte's gratitude to Saudi officials for their commitment to helping Filipinos facing problems in the Kingdom.
"The president's representative is on an assistance-to-nationals mission in the Middle East and North Africa to assess the conditions of Filipinos there," the presidential palace said.
Under current arrangements recruitment agencies facilitate the papers of workers with labor disputes and other problems. They also make referrals to the SSWA to speed up case processing.
Borje has visited Tunisia as part of his three-nation tour. He is also in Saudi Arabia to assess the conditions of Filipinos in the Kingdom. He proceeds to Bahrain to complete his mission.
The Philippines Statistics Authority said earlier this year that Saudi Arabia remained a top destination for overseas Filipino workers.
https://www.arabnews.com/node/1604216/saudi-arabia
------
Europe
Muslim-owned Cardiff chippy gives free Xmas meals to homeless
A fish and chip shop in Cardiff opened its doors on Christmas Day to provide free food for people who are homeless, older or vulnerable.
Victoria Fish Bar opened between 12-3pm today to give out warm meals and to bring people together to "experience a great time."
In a post on Facebook staff said: "The 'A' team at Victoria Fish Bar in Whitchurch have decided to be open on Christmas day, this however will not be for usual service. Homelessness has been on a rise in Cardiff and we think we need to make a difference as influential members of this community.
"Hence on Christmas day 12-3pm, we shall be open for all homeless, elderly and vulnerable people, providing free meals to all those who come. We realise that not everybody has the luxury to have a nice warm meal at a loved one's house with family and friends, so we will try very hard on the day to emulate such an experience. So to those who are homeless, elderly or vulnerable, come and join us and we can experience this great time together."
Speaking on Wales at Six, owner Muhammad Nazakat said: "Christmas Day is a special day and me and my team all decided to open to make a special day with homeless people, because there's more and more of them now. We enjoy our day as well with them. My team is always behind me and I want to especially say thank you to them."
Muhammad's son Jawad added: "The response has been absolutely phenomenal – all the staff, me, my dad, my brothers were so shocked. Homelessness has been on the rise in Cardiff as well as everywhere else. When you go into the city centre, your heart drops. You see a bunch of people sitting in front of abandoned shops and we feel it's our responsibility as people of Great Britain to help them."
https://5pillarsuk.com/2019/12/25/muslim-owned-cardiff-chippy-gives-free-xmas-meals-to-homeless/
------
On Christmas, Pope urges nations to tend to refugees
Dec 26, 2019
ROME: As Christians around the world celebrated Christmas, Pope Francis called on Wednesday for a softening of "stony and self-centred hearts", once again directing the world's attention to the plight of migrants and people living in areas plagued by conflict, social and political upheaval, injustice, or natural disasters.
Addressing thousands of people gathered in St Peter's Square, the pope spoke of the millions of people who have fled their homes for "places where they might have hope for a dignified life", only to find themselves "before walls of indifference". Making his annual Christmas speech, Francis lamented the miseries of several trouble spots, urging the rest of the world to take responsibility for healing those places and to embrace the refugees who leave them.
It has been one of the most powerful and consistent messages of his papacy, at a time when many nations have shown little interest in resolving foreign conflicts or taking in migrants and have often blamed newcomers for economic and social ills.
Delivering his annual "Urbi et Orbi" ("To the City and to the World") benediction from a balcony in the facade of St Peter's Basilica, the pope asked Jesus to "bless the efforts of those who spare no effort to promote justice and reconciliation and to overcome the various crises and the many forms of poverty that offend the dignity of each person".
Speaking of "the many children suffering from war and conflicts in west Asia and a Holy Land that still awaits "a time of peace, security and prosperity", he urged "governments and the international community to find solutions to allow the peoples of that region to live together in peace and security, and put an end to their sufferings".
In the Americas, "where a number of nations are experiencing a time of social and political upheaval," Francis called for comfort for "the beloved Venezuelan people, long tried by their political and social tensions". Francis also called for "concrete solutions for an enduring peace" in Ukraine, and cited all those in Africa "who are persecuted for their religious faith... as well as "victims of attacks by extremist groups, particularly in Burkina Faso, Mali, Niger and Nigeria".
It is such suffering, he said, that has pushed millions of people to leave their homelands to find better lives.
"It is injustice that makes them cross deserts and seas that become cemeteries," he said, and "injustice that forces them to ensure unspeakable forms of abuse, enslavement of every kind and torture in inhumane detention camps." Warm applause greeted his address. Francis spoke after military marching bands had played the Vatican and the Italian national hymns. All people are called on "to give hope to the world," Francis said in the speech, before wishing everyone "a good Christmas lunch".
https://timesofindia.indiatimes.com/world/europe/on-christmas-pope-urges-nations-to-tend-to-refugees/articleshow/72973001.cms
------
Russian way to silence dissent: Military service in the Arctic
Dec 26, 2019
MOSCOW: After trying a number of methods to silence the dissident Aleksei Navalny and his supporters, the Russian authorities tried something new this week: They seized one of his key allies, put him into compulsory military service and sent him to the Arctic.
Ruslan Shaveddinov, 23, a project manager in Navalny's Anti-Corruption Foundation, was detained on Monday at his apartment in Moscow. His cellphone's SIM card was disabled, Navalny said, so he couldn't tell his colleagues or lawyer what was happening.
Navalny's allies quickly raised the alarm that night, after it appeared that Shaveddinov had gone missing and they found the door to his apartment smashed in.
The organisation's lawyers and activists — many of them familiar with harassment by authorities — braced to find Shaveddinov at a police station, and even filed a missingperson report. But on Tuesday they learned that he was already 5633km away, in Novaya Zemlya, a desolate, scantly populated group of islands in the Arctic Ocean, where he will serve at an air defence base.
Navalny, the most prominent Kremlin critic in a country where open political dissent is rare and often dangerous, blamed the man atop the Kremlin hierarchy, President Putin. "Looks like Mr Putin himself drafted the plan to isolate our Ruslan," Navalny wrote on Twitter. "He has been unlawfully deprived of freedom," he said, calling the 23-year-old a "political prisoner".
In Russia, military service is mandatory for male citizens between the ages of 18 and 27 and who are drafted for one year. Colonel Maxim Loktev, the deputy military commissar for Moscow, told the TASS news agency that Shaveddinov had dodged conscription for a long time and that a court on Monday had ruled his conscription legal. Kremlin spokesman Dmitry Peskov said Shaveddinov's treatment looked legal if he'd been a draft dodger. "If he evaded conscription, he broke the law," he said. "If he dodged conscription and was conscripted in this way then everything was done strictly in accordance with the law."
Navalny said Shaveddinov has a medical condition that disqualifies him for military service but he was forcibly drafted and sent to the Arctic base without basic training. Navalny's spokeswoman Kira Yarmysh, who is Shaveddinov's partner, said the project manager had recently acted as a contact person for opposition lawmakers in Moscow city parliament. "Perhaps this is the reason this has happened," she said. Novaya Zemlya is an area of severe climate, where even in August temperatures rarely climb above 10° Celsius. About a quarter of its territory is permanently covered by ice. "Military service has turned into a mechanism of imprisonment," Navalny tweeted. "Just a way to deprive people of freedom."
https://timesofindia.indiatimes.com/world/rest-of-world/russian-way-to-silence-dissent-military-service-in-the-arctic/articleshow/72973030.cms
------
North America
Bin Laden to Donald Trump – the news that shaped the 2010s
The world has only gotten faster, and it seems every cataclysm is surpassed in a fortnight.
So tonight, A Current Affair recaps the biggest stories of the decade.
From the death of terrorist leader Osama Bin Laden, to the landslide victory of the Yes vote in Australia's same-sex marriage debate, and the tragic kidnapping that seized a nation.
And, let's not forget, the election of one of the most controversial US presidents ever.
There's no better way to start a new decade than by catching up on the old one.
https://9now.nine.com.au/a-current-affair/news-of-the-decade-bin-laden-donald-trump-william-tyrrell/bcf4e7f3-b918-4278-bf32-5fb60a453e1f
------
Trump on quest for foreign wins- and drama- in election year
Dec 26, 2019
WASHINGTON: President Donald Trump has shattered norms and niceties on the world stage in his nearly three years in office. Entering an election year, Trump is unlikely to slow down as he seeks what has largely eluded him-a headline-grabbing victory.
Trump closes 2019 with a stain as the third president in US history to be impeached yet also with perhaps his two biggest achievements on the international stage-the US commando raid that killed the leader of the Islamic State group, Abu Bakr al-Baghdadi, and a new trade pact with Canada and Mexico.
But the year was also full of tosses and turns for the tycoon turned president.
On his ambition to end the war in Afghanistan, he startled Washington by inviting the Taliban to talks, then declaring the talks dead, and finally resuming them.
On North Korea, where Trump has hoped to broker a landmark accord, a highly anticipated summit with leader Kim Jong Un ended in stalemate.
Trump later jump-started talks with a hastily arranged new meeting, but he ends the year with North Korea firing rockets and threatening a "Christmas gift" unless the United States offers concessions.
His efforts on Venezuela have had less whiplash but also little to show, with the United States leading Western and Latin American powers in January in declaring the illegitimacy of leftist leader Nicolas Maduro-who remains in power despite concerted US support for the opposition and sanctions.
On one especially tumultuous issue, the trade war with China, tensions eased at year's end with a "phase one" mini-deal in which Trump backed off on some tariffs and Beijing pledged to buy more US goods.
But the underlying feud remains unsolved between the world's two largest economies, with the United States expected to press hard in 2020 on key concerns such as China's state subsidies.
In a rare issue that has drawn criticism from his Republican allies, Trump also sent mixed messages on Turkey, ordering a US troop withdrawal from Syria that paved the way for Ankara to attack US-allied Kurdish fighters before Trump pressured the NATO ally with sanctions.
Beyond the hotspots, Trump may have broken the most ground with his style, hobnobbing with some of the world's most autocratic leaders even as he clashes with many close allies, as seen in his testy exchanges at the December NATO summit.
He has torn through the international consensus by withdrawing from the Paris climate accord and a European-backed denuclearization pact with Iran, and by unabashedly seeking to boost Israel's right-wing leader, Benjamin Netanyahu.
In a mirror of his domestic agenda in which slashing immigration is a top priority, Trump has cast himself as the unique leader who stands up to the long-accepted status quo.
Heading on his NATO trip, Trump's first words were not on the security challenges of Russia, Syria or Afghanistan but of allies he says contribute less than their fair share.
The 2020 White House campaign opens under the shadow of Trump's impeachment on December 18, when House Democrats voted overwhelmingly that Trump abused his power by pressuring Ukraine to dig up dirt on domestic rival Joe Biden.
Democratic presidential candidates have meanwhile focused on health care and other domestic issues.
But Brian Katulis, a senior fellow at the left-leaning Center for American Progress, called foreign policy the "sleeper issue" of the election with the theatrical Trump likely to find a way to put it at the forefront.
"This is a reality TV presidency. Even if he doesn't achieve major successes, he will claim that he has," he said.
"He will use other countries and their leaders as props in his re-election campaign."
Nile Gardiner, a former aide to British prime minister Margaret Thatcher who is now at Heritage Foundation, a conservative Washington think-tank, argued that Trump had achieved "significant successes."
"We have seen 99 percent of ISIS territory taken away in Iraq and Syria. There's still a job to be done but this is a very, very big-scale achievement," he said.
"Trump's foreign policy is forward-looking and not isolationist," Gardiner said, adding that European leaders "are preparing for the very strong possibility of Trump's re-election."
Gardiner argued that Trump had also "significantly weakened" Iran, where anti-government protests erupted in November in the wake of sweeping US sanctions.
Critics say the hard line has been counterproductive by reducing Iran's compliance with the 2015 nuclear accord and encouraging the clerical regime to hit back in the region.
Just as he was being impeached, Trump achieved a major legislative victory when the Democratic-led House overwhelmingly backed his successor to the North American Free Trade Agreement.
The new United States-Mexico-Canada Agreement found rare common points between Trump and liberal Democrats generally opposed to free trade deals through measures such as strengthening labor standards in Mexico.
In hotspots such as Iran and North Korea, Trump will at least make the case that he has taken a different approach than his predecessors, Katulis said.
"It's hard to point to the actual successes of Trump foreign policy. It is really a world in disarray," Katulis said.
"But facts be damned -- he will make a case that America's burden is less in the world, others have been doing more."
Trump's core narrative is that "foreigners have been taking advantage of America" -- and he will be eager to make national security a wedge issue in domestic politics, Katulis said.
"With Trump, you can expect the unexpected."
https://timesofindia.indiatimes.com/world/us/trump-on-quest-for-foreign-wins-and-drama-in-election-year/articleshow/72974842.cms
------
URL: https://www.newageislam.com/islamic-world-news/hindus-form-human-chain-around/d/120633
New Age Islam, Islam Online, Islamic Website, African Muslim News, Arab World News, South Asia News, Indian Muslim News, World Muslim News, Women in Islam, Islamic Feminism, Arab Women, Women In Arab, Islamophobia in America, Muslim Women in West, Islam Women and Feminism