New Age Islam News Bureau
18 Sept 2018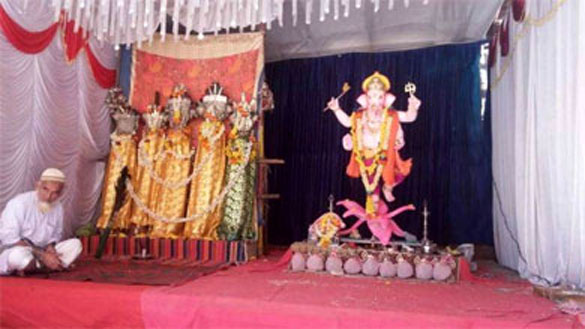 Hindu and Muslim Comes Together,Muharram Sawari, Ganesh Idol Installed Under One Roof in Maharashtra's Village.
-----
• Hindus and Muslims Unite Together, Muharram Sawari, Ganesh Idol Installed Under One Roof in Maharashtra Village
• Smokers Not Eligible As Zakat Receivers: Fatwa Committee of Malaysia
• Hostile Agencies Using Violent Extremism as Weapon against Pakistan, says CII Member
• Terrorist Group JMB Planning Fidayeen Attacks During Bangladesh Elections: Intel Report
• Workshop, Training Session Organized For Amateur Filmmakers in Saudi Arabia
India
• Hindus and Muslims Unite Together, Muharram Sawari, Ganesh Idol Installed Under One Roof in Maharashtra Village
• Property Gift by a Muslim Won't Require Registration in Maharashtra
• Urgent Need for Muslim Reservation: BJP MLA to Maharashtra Government
• Police in India Suspended after Lynching of Muslim Man
• Terrorists kill soldier who was home for son's last rites
• SC directs UP government to ensure treatment, award compensation to Nikah Halala petitioner
• Debate on Afghan in UN: India urges Ghani govt to take more action against Taliban
• Have not agreed to open Afghan trade route to India, Pakistan clarifies
--------
Southeast Asia
• Smokers Not Eligible As Zakat Receivers: Fatwa Committee of Malaysia
• No More Excuses, NGO Tells Putrajaya on Child Marriages
• Minister explains why Putrajaya's hands tied in Terengganu's lesbian caning case
• Najib: Saudi prince's letterheads on all communication on donations
• Mujahid: How could 'Islamic' PAS close one eye to Umno's scandals?
--------
Pakistan
• Hostile Agencies Using Violent Extremism as Weapon against Pakistan, says CII Member
• Pakistan's Imran Khan to Give Some Afghans, Bengalis Citizenship
• Hopes, Concern Surround Chatter of Kartarpur Corridor Opening For Sikh Yatrees
• CTD Punjab 'breaks' TTP, Hizbul Ahrar network
• Qadri to ask PTI to honour pledge in Model Town case
• Pakistan, UK ink deal on recovery of 'looted wealth'
• Afghanistan smuggling drugs to Europe under US surveillance, says Rehman Malik
• Pak Wants Peaceful Ties with India, Prez Says But Rakes Up Kashmir Issue In First Parliament Speech
--------
South Asia
• Terrorist Group JMB Planning Fidayeen Attacks During Bangladesh Elections: Intel Report
• Foreign Minister for Creating Awareness against 'Lies' of BNP, Jamaat-e-Islami
• Taliban launch deadly attacks on security posts in Farah province
• Foreign forces storm ISIS hideouts in Kunar province
• India provides relief supplies to Bangladesh for Rohingyas
• Myanmar's 'Gravest Crimes' Against Rohingya Demand Action, U.N. Says
• Intelligence war being waged against the Afghan people: President Ghani
• Afghan official: 9 local policemen die in 'insider' attack
--------
Arab World
• Workshop, Training Session Organized For Amateur Filmmakers in Saudi Arabia
• UN Has Not Acted Against Houthi Violations in Hodeidah - Arab Coalition
• US Forces, Affiliated Militants to Leave Al-Tanf Base in Eastern Syria
• Turkey Sends More Tanks, Military Equipment to Idlib
• US-Backed SDF Engage in Heavy Clashes with Civilians in Raqqa
• Syrian Army to Kick Off Massive Military Operations in Hama, Lattakia, Idlib Soon
• Syrian TV: Israeli strikes hit state company, 10 injured
• Hundreds of Syrian refugees in Lebanon return home
• NATO warships moving closer to Syria shores amid looming US airstrikes: Report
• Manama regime forces detain two more Shia clergymen in Bahrain
--------
Mideast
• Dozens of Israeli Settlers Raid Al-Aqsa Mosque in Latest Provocation
• New Saudi Airstrikes Kill 11 Civilians in Yemen's Hudaydah, Bayda Provinces
• Two Palestinians killed in Israeli strike on Gaza border
• Erdogan says Turkey's ceasefire calls in Idlib yielded results
• Coalition: UN has not moved against Houthi violations in Hodeidah
• After skipping Geneva talks, Yemen's Houthis set conditions for second meeting
• Russia says no Syria assault as Putin, Erdogan agree Idlib plan
• Turkey to create joint bank with Iran to help trade in local currencies
• Israeli announces plan to expand settlement in occupied West Bank
• Netanyahu gives 1,000 Ethiopians right to immigrate to Israel
--------
Africa
• Kenya's Muslims Warm Up To Bait-Ul-Maal Interest Free Credit
• Senior Boko Haram Leader Reportedly Killed by Allies
• Libyan militia group: ISIS fighter on sale for $1 mln
• At least 23 die in weekend of ethnic violence in Ethiopia
• Somalia: Ethiopian Air Force Conducts Airstrike against Al-Shabaab in Somalia
• Boko Haram kills abducted ICRC health worker
--------
Europe
• UN: Fair Polls Key to Peace, Security in Afghanistan
• Dozens of Muslim Charities Probed In UK
• Merkel, Algerian Officials Discuss Migration, Libya
• Head of UK party warned after anti-Islamic rally
• Pakistan, UK sign declaration to curb money laundering
--------
North America
• Democrats Planning to Stop Trump's Military Support For Saudi War On Yemen
• Blackwater founder touts plan to cut US troops in Afghanistan
• US welcomes efforts to reduce violence in Syria
Compiled by New Age Islam News Bureau
URL: https://www.newageislam.com/islamic-world-news/hindus-muslims-unite-together-muharram/d/116414
--------
Hindus and Muslims Unite Together, Muharram Sawari, Ganesh Idol Installed Under One Roof in Maharashtra Village
18th September 2018
YAVATMAL: A non-descript village in Maharashtra's Yavatmal district, which earlier witnessed communal unrest, has now set an example of brotherhood by installing both the 'Muharram sawari' and Lord Ganesh's idol under one roof.
Prayers are being held uninterruptedly by both the Hindu and Muslim communities at the same venue at Vidul village in Yavatmal's Umarkhed tehsil.
The unifying initiative, taken by Yavatmal Superintendent of Police Megnathan Rajkumar, is significant as the area had in the past witnessed several incidents of communal disharmony during the Ganesh festival celebrated by Hindus and the Ramzan Eid and Muharram of Muslims.
Since the Ganesh festival and Muharram are coinciding this year, Rajkumar instructed the Umarkhed police station inspector, Hanumant Gaikwad, to call a peace meeting of villagers on September 8 in the gram panchayat office.
Gaikwad conveyed the SP's suggestion to villagers that they should think of holding the Ganesh and Muharram functions jointly.
The villagers unanimously accepted the suggestion and set up a pandal at Nalsaheb Devsthan temple in Vidul where both the religious functions are being held.
The temple trust's chairman, Jayaram Dhage, said the Ganesh festival is being celebrated in the religious premises for the last 134 years.
"Some years, Ganpati and Muharram coincide. We have now decided that whenever these two festivals coincide, we will celebrate them together with fervour and enthusiasm," he said.
The police have also prepared separate time schedules for the processions of Ganesh idol immersion and Muharram sawari to avoid any confrontation between the two communities.
Two persons were killed in a communal clash in Yavatmal in April 2008. The district had also witnessed extensive rioting in November 2006 and curfew was then clamped in several areas.
http://www.newindianexpress.com/nation/2018/sep/18/maharashtra-muharram-sawari-ganesh-idol-installed-under-one-roof-1873642.html
--------
Smokers Not Eligible As Zakat Receivers: Fatwa Committee of Malaysia
By DR MUZAFFAR SYAH MALLOW
September 18, 2018
ZAKAT should be given to the poor and needy, regardless who they are. Smokers, though eligible as Zakat receivers, should not get Zakat since they can afford to buy cigarettes.
If they have money to buy cigarettes, they cannot be considered indigent. The rule on smoking has been made clear in Islam.
The Fatwa Committee of the National Council for Islamic Religious Affairs of Malaysia on March 23, 1995, had discussed the issue on "Smoking from the viewpoint of Islam" and had ruled: "Smoking is forbidden in Islam because in it there is harm."
It was forbidden because one who smokes is considered to squander money that could be used for gainful activities.
Also, the fatwa is consistent with Surah al-Baqarah, verse 195,: "And do not throw yourselves into destruction".
In Surah al-A'r af: 157, it is written: "And it is lawful to them the good things and forbids them the bad things."
Though Islam indicates the danger posed by smoking, there are Muslims who take the fatwa lightly. What is worrying is that such this habit is adopted by students.
We should send a strong signal by excluding smokers from the list of zakat recipients.
As one of the five pillars of Islam, zakat, or giving of alms, is a religious obligation for Muslims who meet the criteria of wealth.
It is a mandatory charitable contribution, the right of the poor to find relief from the rich, and is considered to be a tax, or obligatory alms.
There are eight categories of people entitled to receive zakat assistance: the poor (al-fuqara), meaning one who is of low-income or indigent; the needy (almasakin), meaning someone who is in difficulty; zakat administrators (al- amil); those whose hearts are to be reconciled, meaning new Muslims (Muallaf) and friends of the Muslim community; those in bondage (slaves and captives); physically or mentally (Al - Riqab); the debt-ridden (Al-Gharimin); those fighting for a religious cause or a cause of God (Fil Sabilillah); and those who are stranded or travelling (Ibn Al –Sabil).
The religious authorities should observe this issue to protect the sanctity of Islam.
https://www.nst.com.my/opinion/letters/2018/09/412435/smokers-not-eligible-zakat
--------
Hostile Agencies Using Violent Extremism as Weapon against Pakistan, says CII Member
September 18, 2018
MIRPUR: Council of Islamic Ideology (CII) member Shehzad Faisal Riaz Qasmi has said that a network of hostile agencies working in Pakistan have caused the martyrdom of over 70,000 innocent civilians and around 10,000 security personnel in bomb blasts and suicide attacks.
He expressed these views while addressing the audience at a conference titled "Paigham-e-Pakistan: Ishq-e-Rasool (SAW) Conference" at Mirpur in Azad Jammu and Kashmir. The event was organised by Anjuman Muhibban-e-Tareeqat International Mohra Sharif.
Speakers at the conference on Sunday said that international forces were conspiring against Pakistan in order to weaken it by fanning internal conflicts and differences.
"Under an organised international conspiracy, huge amounts are being spent to stoke violent extremism, terrorism and sectarianism in Pakistan," Qasmi said in his address.
"Fearful of Pakistan's defence and nuclear capabilities, the enemies had been using the more dangerous weapon of violent extremism and sectarianism to divide and weaken the nation on religious lines," he said, adding that Pakistan's armed forces have fully exposed this international conspiracy hatched by the hostile agencies before the world.
"The organised network of hostile agencies has been destroyed. Operation Raddul-Fassad is very successfully going on against the terrorists as well as their facilitators," he said.
Qasmi said to rid the country of terrorism and violent extremism once and for all, over 5,000 religious scholars and clerics belonging to different schools of thought have drafted a national narrative – Paigham-e-Pakistan – which portrays a soft and positive image of Pakistan and highlights Islam as a religion of peace, brotherhood, tolerance and harmony.
"Paigham-e-Pakistan narrative is in fact a description and explanation of our religion through which the nation has been advised to lead a peaceful life by adhering to Islam's principles of peace, brotherhood, tolerance, equity, equality and forgiveness," he said, adding that it is the religious, national and moral responsibility of every citizen that the national narrative is followed and contributes towards establishment of a peaceful society.
Qasmi also urged religious clerics, scholars, ulema, mashaikh and notables of the society to play their part in making Pakistan a citadel of peace, stability and tranquility.
"Muslim nations across the world have pinned high hopes on Pakistan. We have always promoted international Muslim brotherhood by raising our voice against atrocities being committed against Muslims across the globe, due to which other oppressed nations also give high respect to Pakistan," he said.
Other speakers stressed the need to promote inter-sect harmony and religious tolerance in the society in order to ensure peace and tranquility. They emphasised the need to follow a code of conduct to eradicate extremism from the society and encourage peace, tolerance, unity and brotherhood, which will in turn help thwart the nefarious designs of the enemies who are hell bent on dividing the Muslim Ummah on religious, sectarian and ethnic lines in order to make it weaker.
Throwing light on the 'Paigham-e-Pakistan' initiative of the government of Pakistan, they termed it the best tool to deal with the growing extremism and intolerance in society. They said the document was the best depiction of Quran, Sunnah and social principles of the Islamic Shariah and by applying these golden principles, "we can turn our country into a role model of peace and harmony."
The conference was attended by a large number of Ulema, scholars, Mashaikh, civil society activists and people belonging to different segments of life.
https://www.pakistantoday.com.pk/2018/09/17/hostile-agencies-using-violent-extremism-as-weapon-against-pakistan-say-religious-scholars/
--------
Terrorist group JMB planning fidayeen attacks during Bangladesh elections: Intel report
Sep 17, 2018
Terror group Jamaat-ul-Mujahideen Bangladesh (JMB) is planning to attack the elections in Bangladesh due to be held later this year, intelligence report sent to the Ministry of Home Affairs has revealed.
According to the report, the group held a secret meeting last month and made plans to to buy weapons and suicidal vests with the help of other terror groups operating in Bangladesh.
The Intelligence report accessed by Zee News reveals JMB's deadly plan to target Bangladesh's national elections. As per the report, during the meeting, JMB decided to recruit 300 more cadres before the general election of Bangladesh. JMB is also trying to conduct two-week weapons training in Chittagong district and also has plans to establish 50 new training centre in various districts of Bangladesh.
Bangladesh will hold the country's 11th national election in the third week of December this year as the term of Prime Minister Sheikh Hasina's ruling Awami League (AL) party will end in January, 2019.
"This is of serious concern to India, not only because of JMB's cross-border presence but also due to its linkage with other terrorist groups in Bangladesh. Recent NIA report also suggests that JMB is trying to build a base in India," a Home Ministry official told Zee News on condition with anonymity.
The JMB, meaning 'Assembly of Holy Warriors', is a Bangladesh-based terror outfit formed in 1998 with an aim to establish an Islamic state based on Sharia in Bangladesh.
The group also has a significant presence in India, especially in border areas. The NIA arrested a top leader of the JMB, Mohammad Jahidul Islam, from Bengaluru last month who was wanted in the Burdwan Blast case in India and in several terror cases in Bangladesh.
On October 2, 2014, a blast had occurred in a house in West Bengal's Burdwan district in which a man identified as Sakil Gazi died. The NIA in his investigation revealed that the JMB members were planning an attack in Bangladesh to overthrow the democratically elected government.
A low-intensity blast was reported at a Bodh Gaya Temple on January 19, causing panic among peoples who were gathered to hear the Dalai Lama.
''Some terror camp has been set up by JMB and other terrorist groups along Bangladesh and West Bengal border of India. This is really a cause of concern for us. There are also reports of presence of Pakistani origin Lashker Terrorists in these camps," a senior security official said.
According to security agencies, the JMB is using border area not only for hideout but also for recruitment as well. Recruitment is done through madrasas, mosques and their network is especially active in Murshidabad, Malda and Nadia districts of West Bengal and parts of some border districts in Assam.
https://www.dnaindia.com/india/report-terrorist-group-jmb-preparing-for-fidayeen-attack-during-bangladesh-elections-intel-report-2664205
--------
Workshop, training session organized for amateur filmmakers in Saudi Arabia
September 17, 2018
JEDDAH: The General Authority for Culture, represented by the Saudi Film Council, is organizing an intensive filmmaking workshop and training session.
The event will take place at the King Faisal Foundation in Riyadh, and comes within the framework of empowering national talent and supporting the Saudi film industry.
The workshop will take place on Wednesday, and will target beginners and those wishing to enter the world of filmmaking.
The training session will take place on Thursday, during which a professor from the London Film School will discuss all elements of filmmaking. Attendees will be provided with devices to help translate his words into Arabic.
http://www.arabnews.com/node/1373591/saudi-arabia
--------
India
Property gift by a Muslim won't require registration in Maharashtra
by Sandeep A Ashar
September 18, 2018
A gift of an immovable property by a Muslim will not need registration in Maharashtra. It will be applicable to all gifts executed as per the Mohammedan Law, including cases where the gifting has been carried out orally.
The BJP government in Maharashtra has stated that a gift of an immovable property, whether oral or written, under the Muslim law will be considered as a valid one, even if the deed in this regard has not been registered. Confirming the move, government sources said that the state's revenue department will now issue directives to tahsildar and district level revenue department officials across Maharashtra, asking them to take even the valid but unregistered gift deed under the Mohammedan Law on record while mutating property records.
Simultaneously, officials from the stamps and registrations cell of the department would be given directives, asking them not to insist on payment of stamp duty and registration fees on such gifts.
Even as the Transfer of Property Act (1882) and the Maharashtra Stamp Act (1958) mandate the registration of a gift, the Maharashtra government has cited a 2015 ruling of the Nagpur bench of the Bombay High Court to rule that the condition was not to be applied in the case of the Muslim donor. Citing provisions of the Mohammedan Law, the court had earlier ruled the condition should not be applied to a Muslim donor gifting his property under provisions of the Mohammedan Law. "There is no provision in the TP Act (1882) for levying stamp duty on oral gift made by any Mohammedan of sound mind, in favour of the donee," the court had earlier said, while hearing an individual petition where a donor had challenged levying of the stamp duty by government officials.
Citing the same court order, the government has also stated that "a gift under the Mohammedan Law" need not be through a written instrument. It can be oral as long as it is accompanied by a declaration of gift by the donor, acceptance of the gift by the donee, and the delivery of possession of the property.
Gifting of a property under the Mohammedan Law is referred to as 'Hiba'. While the gifting instrument is called 'Hibanama'.
On the basis of the court's ruling, the department had first sought the law department's opinion in this regard, which consented to the move. "The legal position that emerges is that a gift under the Mohammedan Law can be oral and need not be registered, a written instrument of the gift does not require registration under all circumstances, and a gift to valid under the Mohammedan Law must conform to three essentials. i.e. Declaration, Acceptance, and Delivery of Possession," the law department had advised. The government has said that the decision will also apply to gifts executed in the past. Minister of State (Revenue) Sanjay Rathod has confirmed the initiative.
https://indianexpress.com/article/cities/mumbai/property-gift-by-a-muslim-wont-require-registration-in-maharashtra-5361602/
--------


Urgent Need For Muslim Reservation: BJP MLA To Maharashtra Government
September 18, 2018
NAGPUR: BJP MLA Ashish Deshmukh has slammed the Maharashtra government for failing to provide reservation to the Muslim community. Addressing a function recently at Katol, a taluka in Nagpur district, the Bharatiya Janata Party (BJP) legislator said that lack of reservations was depriving the community of good education.
"There is an urgent need for Muslim reservation. It will allow the community to progress if they get reservation in jobs and education," Mr Deshmukh said.
The previous Congress-Nationalist Congress Party (NCP) government in the state had issued an ordinance in October 2014 announcing 5 per cent quota in jobs and education for Muslims and 16 per cent for Marathas.
After the decision was challenged, the Bombay High Court scrapped the entire Maratha reservation along with 5 per cent Muslim reservation in jobs. However, it allowed the 5 per cent Muslim quota in education.
"But the Devendra Fadnavis government has not implemented 5 per cent reservations for Muslims in education," Mr Deshmukh said, claiming that the community would not get quota till it showed its strength.
He said that intellectuals and prominent citizens from the community must come together to press for reservation, adding that the community's condition was worse than that of the Dalits.
The Katol MLA claimed that Sachar Committee and the Rangnath Commission had recommended quota for Muslims but political agendas had scuttled these recommendations.
Full report at:
https://www.ndtv.com/india-news/bjp-mla-ashish-deshmukh-to-maharashtra-government-urgent-need-for-muslim-reservation-1918017
--------
Police in India Suspended after Lynching of Muslim Man
September 17, 2018
IMPHAL, INDIA —
Four Indian policemen have been suspended after a video on social media showed them failing to help the victim of a mob lynching.
Authorities say the officers were suspended on Sunday, three days after a mob beat a Muslim business-school graduate to death near Imphal, the capital of Manipur in northeastern India. The video shows police standing around the man as he lay in a field.
Imphal police official Jogeshchandra Haobijam says five suspected attackers have been arrested.
Police in western India came under fire in July for failing to help a Muslim cattle trader who had been severely beaten by a mob of Hindu villagers. The man later died.
Full report at:
https://www.voanews.com/a/police-in-india-suspended-after-lynching-of-muslim-man/4574709.html
--------
Terrorists kill soldier who was home for son's last rites
Sep 17, 2018
SRINAGAR: Terrorists on Monday shot dead a Territorial Army soldier in Kulgam district of Jammu and Kashmir, police said.
The ultras barged into the house of Mukhtar Ahmad Malik at Churat in Kulgam and shot at him from a close range, a police official said.
Malik had gone home following his son's death, according to officials.
"Shoot me if you want to, but don't ask me questions," were the last words of Mukhtar Ahmad Malik.
Lance Naik Malik's son died on September 15 after battling for life at an Army hospital for four days following an accident.
Giving details of the incident, officials said the family was preparing for 'Rasm-e-Chauram' (post-death ritual) when terrorists barged into the house of 43-year-old Malik at Churat village in the militancy-hit Kulgam district of South Kashmir.
According to eyewitnesses, the officials said, terrorists tracked the movement of his friend and reached the residence and started looking for Malik, who belonged to 162 battalion of Territorial Army.
They found him at the first floor of the house and started questioning him about the deployment of the Army.
"Shoot me if you want to, but don't ask me questions," those present at the scene quoted Malik as having told the terrorists.
Full report at:
https://timesofindia.indiatimes.com/india/fallen-soldier-was-home-following-his-18-year-old-sons-death/articleshow/65846678.cms
--------
SC directs UP government to ensure treatment, award compensation to Nikah Halala petitioner
18th September 2018
NEW DELHI: The Supreme Court Monday directed the Uttar Pradesh government to ensure medical treatment and compensation to a Muslim woman petitioner in a case concerning polygamy and 'Nikah Halala', who suffered an acid attack and has sought protection.
The apex court directed the Chief District Medical Officer of Bulandshahr town, where she was attacked, to ensure proper treatment to Shabnam Rani and asked the administration to consider granting her additional security.
Rani was last week attacked with acid in Bulandshahr and it has been alleged that a close relative and his friend were involved in the attack.
While polygamy allows a Muslim man to have four wives, 'Nikah Halala' deals with the process in which a Muslim woman can re-marry her husband after divorce, only when she marries another person, consummates the second marriage and then gets a divorce.
In her plea against 'Nikah Halala' and polygamy, Rani had alleged that her husband had divorced her through 'triple talaq' and forced her to perform 'Nikah Halala' with her brother-in-law.
A bench of Chief Justice Dipak Misra and Justices A M Khanwikar and D Y Chandrachud noted the submission of Additional Advocate General Aishwarya Bhati, appearing for the state, that an FIR has been lodged and security has been provided to the victim.
The court said if there was a scheme for compensation and any application has been submitted, then it may be dealt with in a span of two weeks.
It also said if any further security was required, then she could submit a representation to the Superintendent of Police who shall scrutinise it and do the needful.
"That apart, the applicant shall be given adequate treatment keeping in view the injuries. The concerned Chief District Medical Officer of the district shall do the needful in the matter when it is brought to his notice."
"Officers who have been mentioned hereinabove should be sensitive enough to carry out their duties as far as such treatment is concerned, that is, in consonance with the order of this Court and the policy of the State Government and, therefore, there cannot be delay in such matter," the bench said.
With regard to other Muslim women who have challenged 'Nikah Halala' and apprehend similar attacks, the top court asked them to submit representations to the concerned Superintendents of Police of the area who shall look into their grievance regarding providing them security.
The bench also directed that the pleadings in various petitions, challenging the constitutional validity of the practice of 'Nikah Halala' and polygamy among Muslims, be completed within one month.
Additional Solicitor General Pinky Anand, appearing for the Centre, said that reply to the petitions would be filed within a month.
Full report at:
http://www.newindianexpress.com/nation/2018/sep/18/sc-directs-up-government-to-ensure-treatment-award-compensation-to-nikah-halala-petitioner-1873558.html
--------
Debate on Afghan in UN: India urges Ghani govt to take more action against Taliban
September 18, 2018
India, Tuesday, reaffirmed its commitment to battle the growing insurgency in Afghanistan and said it aims to restore the "economic pillar of stability and reliable connectivity for the people of Afghanistan." Urging Afghan officials to lead efforts, India's Permanent Representative to United Nations Syed Akbaruddin said, "The challenges posed by the deteriorating situation does not mean we ought to also stoically accept the death tolls as commonplace. Afghans should lead the efforts, not only between governments but with civil society and business as stakeholders." He was addressing a UN Security Council debate on the situation in Afghanistan.
Referring to Taliban's rejection of the ceasefire called by the Afghan government, Akbaruddin said, "These offensives are planned and launched by those who are harboured in safe havens in the neighbourhood of Afghanistan. These sanctuaries have, for years, provided safety for the dark agendas of ideologically and operationally-fused terror networks like the Taliban, Haqqani network, Daesh, AlQaeda."
During the debate, Akbaruddin also said that terror organisations operating in the area draw financial not only from extortion, forced levies and taxes but also benefit significantly from criminal networks operating drug cartels and stealing Afghanistan's natural resources.
Urging the Afghanistan government to cripple the Taliban's drug trade, Akbaruddin said, "The situation in Afghanistan, by any measure, now warrants that the 'business as usual approach', followed so far, needs to be reviewed. The UN Security Council should also look beyond routine consideration to chart a more innovative way forward so that the spiral of violence that is affecting the lives of common Afghans is reversed."
Full report at:
https://indianexpress.com/article/india/debate-on-afghan-in-un-india-urges-ghani-govt-to-take-more-action-against-taliban-5361814/
--------
Have not agreed to open Afghan trade route to India, Pakistan clarifies
Sep 17, 2018
Less than two days after a US envoy said Pakistan had indicated it could consider opening its routes for trade between Afghanistan and India, foreign minister Shah Mahmood Qureshi made it clear that no such proposal was on the table.
"Pakistan has not agreed to consider Afghanistan-India trade through our land," Qureshi was quoted as saying by the Foreign Office.
Islamabad's refusal to allow the transportation of Indian goods through its territory has become a sticking point in the implementation of the Afghanistan-Pakistan Transit Trade Agreement. Afghan trucks carrying goods to the border trade post at Wagah would return empty as they barred from transporting Indian products.
India has attempted to get around this problem through the development of Chabahar port in Iran, through which it has shipped items such as wheat to Afghanistan. India has also started directed cargo flights between several Afghan and Indian cities.
The US ambassador to Afghanistan, John Bass, told the Indian media last week that Islamabad had indicated to Kabul its willingness to discuss trade between India and Afghanistan through its land routes.
This had happened after an increase in Afghan exports to India through cargo flights and the growing economic ties between Afghanistan and Uzbekistan, Bass said. A couple of months ago, the Pakistan government expressed its willingness to start talking with its Afghan counterpart on "parameters to enabling trade between India and Afghanistan through Pakistan", he added.
A political settlement in Afghanistan is in Pakistan's long-term interest and increased trade and connectivity through Afghanistan would be "missed opportunities" if Islamabad remains focused on "perpetuating the status quo", Bass was quoted as saying.
Qureshi, currently on his first visit to Kabul after assuming office, said on Sunday that Pakistan had waived regulatory duty on imports from Afghanistan. Afghan exports to Pakistan recorded an increase of 118% in 2018 and Islamabad will fast-track steps such as standardisation and automation of custom procedures, he added.
Full report at:
https://www.hindustantimes.com/india-news/have-not-agreed-to-open-afghan-trade-route-to-india-pakistan-clarifies/story-NkXuVJV6yXlCCDnmf3YI5J.html
--------
Southeast Asia
No more excuses, NGO tells Putrajaya on child marriages
September 18, 2018
PETALING JAYA: Muslim NGO Sisters in Islam (SIS) today accused Putrajaya of lacking the political will to end child marriages in the wake of recent reports on two teenage brides who had married much older men.
SIS said the government must not hide behind the excuse that it was "powerless" to take immediate action on the matter.
"Every hour they continue to choose to do so, more girls fall between the cracks that they refuse to repair," it said in a statement.
Deputy Prime Minister Dr Wan Azizah Wan Ismail, who is also women, family and community development minister, previously said Putrajaya was powerless to nullify the marriage between a 41-year-old man and an 11-year-old girl in Gua Musang.
Under Kelantan's Islamic laws, children under 16 are allowed to get married with the permission of a Shariah Court judge.
Just today, the New Straits Times reported that a 15-year-old girl, also in Kelantan, married a man nearly three decades her senior in July after the Shariah Court gave the go-ahead for the union.
The girl's parents, who have 12 other children, said they gave permission for her marriage to the 44-year-old man as they wanted her to have a better life.
Last Saturday, meanwhile, it was reported that a 15-year-old girl who had been married for two months to a 30-year-old had gone missing.
SIS said the ongoing trend of child marriages clearly showed that current standard operating procedures lacked the necessary safeguards to protect the interests and welfare of children.
Noting that the girls in both cases were school dropouts, they also criticised the system for failing to prioritise the children's education and to empower their families with the economic means to keep them in school.
"It is indeed disturbing to realise that even in the era of Malaysia Baru, families are driven to economic desperation to the point that they would marry their children off so that they can 'have a better life'.
"What is even more worrying is that we have not matured as a society to be able to tell them that keeping children in school is a more sustainable means of breaking the poverty cycle."
https://www.freemalaysiatoday.com/category/nation/2018/09/18/no-more-excuses-ngo-tells-putrajaya-on-child-marriages/
--------
Minister explains why Putrajaya's hands tied in Terengganu's lesbian caning case
18 September 2018
KUALA LUMPUR, Sept 18 — The federal government was unable to interfere in a recent Terengganu case in which two Muslim women were caned for alleged attempted lesbian acts, as the penalty was meted out under state Shariah laws, said the law minister.
Datuk Liew Vui Keong explained that this was due to the separation of the federal and state governments' jurisdictions, and distinction between federal laws and state laws (which also covers Islamic matters).
"In this case, all Muslim-related laws are governed by the states' respective jurisdiction, because all states have either the sultans or Tuan Yang Terutama and most of the laws are under them. And we are not able to interfere with the laws that have been passed by the respective legislatures in the respective states," he said in an interview with radio station BFM today.
"So in this case, caning comes under Shariah laws in Terengganu, they already have a set of law that has been approved by the house in the state, so they exercised that function to punish those who have infringed that particular law.
"That is under their jurisdiction, we can't do anything in that respect," he said of the Terengganu case.
On the Joint Action Group for Gender Equality's (JAG) insistence that the federal government should be able to intervene when a state law is in conflict with federal laws or the Federal Constitution, Liew said this was merely an opinion and should be decided in court instead.
"Who will decide if it has been in conflict or not? It will have to be brought to the court of law and then the court of law will have to decide whether that is so," he said.
When asked if anything is being done to make state laws more consistent with federal laws and the Federal Constitution, Liew said: "Of course there is an effort that can be made, we can look into it. But we have this separate jurisdiction between Shariah laws and civil laws."
Liew said the Federal Constitution provides that Shariah laws are enforceable only on Muslims, adding that Malays are constitutionally deemed Muslim upon birth.
However, he said the constitution also protects the religious freedom of non-Muslims.
As for laws on criminal offences, Liew said this would apply equally to both non-Muslims and Muslims.
Full report at:
https://www.malaymail.com/s/1673643/minister-explains-why-putrajayas-hands-tied-in-terengganus-lesbian-caning-c
--------
Najib: Saudi prince's letterheads on all communication on donations
September 17, 2018
PETALING JAYA: Former prime minister Najib Razak has hit out at a report that donations from the Saudi royal family were not signed by Saudi Arabia's Prince Abdulaziz Al-Saud, stating that all the letterheads and the signatures were the same.
"Those who read this article without thinking deeper will conclude that I am trying to deceive the people.
"It is important to note that all the letters received by the bank and I used the letterhead of Prince Abdulaziz Al-Saud and all the letters used the same signature," he wrote in a his Facebook post.
He was referring to a newspaper article stating that Mohammad Abdullah Al Koman, who claimed to be the representative of the Saudi prince, had told the investigators that he was the person who prepared the letters and signed all of them on behalf of the prince.
Najib had revealed several documents recently to confirm that the money he received was indeed a donation from the Saudi royal family.
He said he was unable to confirm what the investigator had said about the signatures, but "what I know in the business world, there are also employees signing letters on behalf of their employers."
"What is apparent is that the articles do not state that the bank's official documents indicated that the funds were transferred from the bank account of the Ministry of Finance of Saudi Arabia and from the bank account of Prince Faisal bin Turkey bin Al-Saud in Saudi Arabia.
"All fund transfers have also not been disputed by the recipient bank or BNM (Bank Negara Malaysia)," he added.
Najib said the article also did not state the fact that he had refunded RM2.6 billion to Tanore Finance several months after receiving it as indicated by the bank documents he had shared last week, adding that the return of the RM2.6 billion was also acknowledged in the book "The Billion Dollar Whale".
"This proves that I did not steal or store billions of ringgit for personal use and I am not a thief as accused by various parties.
"Although the bank documents and the WSJ book confirmed this, PH's leaders and investigators still do not want to mention this fact."
Najib, who is being investigated by Malaysian authorities, said it was also important to note that the first letter with the same letterhead and signature was dated Feb 1, 2011, after King Abdullah promised to assist him with the funds and introduced him to Prince Abdulaziz Al-Saud and Prince Faisal.
"This letter was sent before funds from Prince Faisal and Ministry of Finance of Saudi Arabia were received.
"Then in June 2011, both Prince Abdulaziz and Prince Faisal were present at my daughter's engagement ceremony at Seri Perdana where I also thanked them for arranging the donations on behalf of King Abdullah," he said.
Full report at:
https://www.freemalaysiatoday.com/category/nation/2018/09/17/najib-saudi-princes-letterheads-on-all-communication-on-donations/
--------
Mujahid: How could 'Islamic' PAS close one eye to Umno's scandals?
17 September 2018
KUALA LUMPUR, Sept 17 — PAS' acceptance of scandal-ridden Umno shows that the Islamist party is not committed towards combatting corruption, Parti Amanah Negara vice-president Datuk Mujahid Yusof Rawa said today.
The Parit Buntar MP, who was previously in PAS, pointed out that the move to cooperate with its former rival was against the Islamic ideals of the Islamist party.
"Ultimately, this cooperation has provided an indication that although Umno has been spoilt-rotten with corruption scandals, with some currently in the judicial process, PAS is willing to forget it as though corruption and abuse of power is not an issue in Islam.
"PAS has no commitment to combat corruption, and is willing to cooperate with the party which has been tainted by the worst corruption in the country's political history," Mujahid said in a statement.
"This is a bit confusing because as the most so-called Islamist party, they close their eyes to the corruption of their partner," he added.
The minister also said that the now public collusion between PAS and Umno came as no surprise, as the two parties already had what he called an "intimate affair" in championing pro-Malay and Islam issues.
"Prior to this, after PAS had divorced Pakatan Rakyat, the Islamic party acknowledged that it was single and Umno was quick to seek its opportunity to 'merisik'.
"While in the Sungai Kandis and Seri Setia by-elections, PAS and Umno were seen as 'engaged', and were only awaiting the date for a wedding ceremony," Mujahid mocked.
"Merisik" refers to a Malay custom where a representative of a man would visit the prospective bride's family to "enquire" of her availability, and ask for her hand in marriage on behalf of the groom-to-be.
PAS and Umno had unofficially joined forces during the Sungai Kandis by-election, before formalising it in the Seri Setia by-election.
Full report at:
https://www.malaymail.com/s/1673507/mujahid-how-could-islamic-pas-close-one-eye-to-umnos-scandals
--------
Pakistan
Pakistan's Imran Khan to give some Afghans, Bengalis citizenship
17 September 2018
Pakistan's new premier Imran Khan has vowed to give citizenship to some Afghan refugees and Bengali immigrants, officials confirmed Monday, granting rights to many who have lived in the country for decades.
Pakistan, one of the world's largest refugee-hosting nations, is home to roughly 1.4 million registered Afghan refugees, some of whom have lived in the country since fleeing the Soviet invasion of 1979.
There are also roughly a quarter of a million Bengalis, many of whom arrived during Pakistan's civil war in 1971, when East Pakistan broke away to declare independence and become Bangladesh.
Khan, who visited Karachi on Sunday, told a fundraising dinner that his government would take steps to grant nationality to those who had been there longest.
"The first thing I will do going back (to Islamabad), God willing, is that we will get those people from Bangladesh, who are perhaps living here for more than 40 years and their children have grown older, issued passports and national identity cards," he said, according to footage of the dinner seen by AFP.
"And those Afghans whose children have grown older here, who were born in Pakistan, they would also be issued the passports and ID cards," he continued.
"When you are born in America, you get the American passport. It is the practice in every country in the world, so why not here? How cruel it is for them."
However he also noted that Bengali immigrants and Afghan refugees have created an "underclass" in Karachi that has helped fuel street crime in the megacity of more than 20 million people.
Officials confirmed Khan's comments Monday and said a draft policy would have to be prepared for cabinet before legislation could be written and debated in parliament.
https://english.alarabiya.net/en/News/world/2018/09/17/Pakistan-s-Imran-Khan-to-give-some-Afghans-Bengalis-citizenship.html
--------
Hopes, concern surround chatter of Kartarpur corridor opening for Sikh yatrees
September 18, 2018
KARTARPUR: A glorious white structure stands tall in the middle of lush green rice fields 2.5 kilometres off Shakargarh Road in Kartarpur. The uneven path leading to it passes through fields on both sides, schoolchildren hopping back home, farmers herding cattle. There are no signs of settlements except those of a few gypsy families.
That magnificent structure is Gurdwara Darbar Sahib in Sha­kargarh tehsil of Naro­wal district, around 120km from Lahore. It is just 4km from the Indian border with Dera Baba Nanak on the other side.
The gurdwara recently made headlines following the swearing-in ceremony of Prime Minister Imran Khan where Army Chief Gen Qamar Bajwa assured visiting dignitary cricketer-turned-politician Navjot Singh Sidhu that Pakistan planned to open the Kartarpur corridor for Sikh yatrees on the 550th birth anniversary of Baba Guru Nanak next year. Later, Information Minister Fawad Chaudhry reiterated Pakistan's desire to do so.
But this isn't the first time opening the corridor for Sikh pilgrims has been in the news. On the Pakistani side, various proposals have been discussed and announcements made since the Musharraf era, but lack of interest by the Indian side has kept the proposals confined to cold storage.
Several Indian lawmakers have taken up the issue with their governments since the late 1990s. Last year, an Indian parliamentary standing committee, headed by Shashi Tharoor, ruled out the construction of a corridor citing security concerns. Last month, India's Punjab Assembly adopted a resolution asking the central government to take up with Pakistan the opening of the corridor.
As one enters the gurdwara, on the right side is a small courtyard where lies Guru Nanak's shrine. On the left side is a courtyard for distributing langar and living quarters. Inside the carpeted hallway is a small samadhi. Upstairs is the main prayer hall where the Guru Granth Sahib is placed, but I was told the hall was 'closed' at that time. I was offered the langar that consisted of rice with a channe ki daal.
"Hindus, Sikhs, Muslims, everyone considered Guru Nanak their saint, so when he died on Sept 22, 1539 here, Muslims and Guru Nanak Naam Lewa Sangat got into a feud over who would get his remains. When the sheet covering Guru Nanak's body was lifted, his body wasn't there, but only fresh flowers. Both sides divided the sheet and flowers between themselves and Muslims made a shrine for him and Sikhs made a samadhi," explained Gobind Singh, caretaker of the gurdwara. Gobind has been appointed here by the Evacuee Trust Property Board (ETPB) and belongs to Nankana Sahib.
The gurdwara was reconstructed from 1920 and 1929 by the then maharaja of Patiala, Bhupinder Singh Bahadur, for Rs135,600, and since then has been maintained by the ETPB. During my visit, it was being decorated with artificial flowers for next week's death anniversary of Guru Nanak. Outside the gurdwara, in a bigger courtyard, is a well that is said to have been used by Guru Nanak to irrigate his fields, and preserved in a glass case is a piece of a bomb; a plaque next to it says was dropped by the Indian Air Force in the 1971 war, but miraculously landed into the well and saved the gurdwara.
Singh says that Sikhs from all over the world visit the gurdwara, though it remained shut from 1947 to 2000. "Pakistan has several times offered to India that it will construct a road to Kartarpur," says Singh. "The proposals were even approved and during the Musharraf era a tender was floated with 50 per cent of road construction being carried out. But India never responded."
The caretaker gets slightly emotional when talking about any opening of the corridor. "This has been the biggest demand of the Sikh community," he muses. Meanwhile, "around 250 Muslims come here daily. Since there aren't any Hindus or Sikhs living nearby, those from Sindh come every other week. There are no Sikhs, but a lot of Hindus in the district, not anywhere close to the gurdwara though."
The owners of a couple of makeshift shops selling pakoras and other snacks also see chances of themselves gaining something.
"Sikhs will be able to come here freely and in return the area and its people may also benefit in terms of business," says Asif. "The price of land here will increase, more shops will open." Even so, "if the border opens, there will be a lot of strictness as the army will be deployed. Right now, people come from and go to their fields easily."
Another shopkeeper, Haji Sarwar, says he too has heard about the border opening, and is excited. "It should open. They've been saying this for years, but I think it will open this time; it will take time though. Besides Sikhs, local farmers will also benefit. It might eventually be open to other citizens too," he explains.
Full report at:
https://www.dawn.com/news/1433605/footprints-the-borders-of-man
--------
CTD Punjab 'breaks' TTP, Hizbul Ahrar network
Asif Chaudhry
September 18, 2018
LAHORE: The Counter Terrorism Department, Punjab, claimed to have neutralised a network of Tehrik Taliban Pakistan (TTP) and Hizbul Ahrar (HuA) which had carried out terror attacks in various provinces of the country.
The law-enforcement agencies (LEAs) saved Rawalpindi from a tragedy by arresting the suspected terrorists who were set to launch a suicide attack on the bus of an intelligence agency.
The CTD has been chasing the network for the last four months or so, after they carried out two dreadful attacks in two provinces on the LEAs and civilians, an official privy to the information told Dawn.
"It was the longest Intelligence Based Operation (IBO) in the history of the CTD Punjab which culminated in success," the official said.
The CTD's Rawalpindi teams arrested five terrorists, including a young would-be suicide bomber, Rizwanullah, besides eliminating their countrywide network.
He said CTD had started tracking the network on May 3 this year after a suicide attack on a bus in Attock carrying engineers of the NDC (National Defence Complex), killing four people and injuring many others.
The CTD immediately started working on the case and collected vital pieces of evidence from the crime scene [Attock].
"When the evidence proved crucial in tracing the trail of the network, another suicide attack was carried out on FC (Frontier Corps) convoy in Nowshera (KP) on May 17," he said.
Several innocent people were martyred and injured in this blast, he lamented.
The evidence from Nowshera blast site confirmed that the same network was involved in both the blasts.
The CTD kept working on the trail spreading across Punjab, KP and Afghanistan.
The suspects were travelling in a truck towards Rawalpindi to attack the bus of the intelligence agency in Rawalpindi carrying staff from office to drop them at their homes.
He said the terrorists were carrying two suicide jackets, four hand grenades, explosives, detonators, wires, safety fuses, four pistols, and several live bullets.
He said intelligence gathered revealed that they belonged to a new terror outfit Hizbul Ahrar.
"The group was formed by Mukarram Shah Mohmand of Mohmand Agency after a dispute with the Jamaatul Ahrar chief Abdul Wali alias Omar Khalid Khurasani," he said.
Imran Khurasani alias Tahir, a resident of Mohmand Agency of Fata, became another important leader of HuA and a lieutenant of Mukarram Shah.
Imran, an operational commander of HuA, currently based in Afghanistan, made the plan to launch attacks in Pakistan and was designated as in-charge of the operations in the country.
He selected terrorist namely Sher Hassan, a resident of Mohmand Agency, presently settled in Darul Islam Colony (Attock) to carry out attack in the same city.
Since Sher Hassan was temporarily living in Attock, he saw it easy to spot the bus of NDC employees.
He made the video of the bus and sent it to Imran Khurasani in Afghanistan who sent him two suicide jackets through their accomplice Mohammad (code name) on a truck.
The jackets were dispatched from Afghanistan and were delivered in Attock on April 14 by truck driver/owner Maalik Jan and his brother Kamil.
Sher received the jackets as his accomplice Mohammad also reached there. They kept the jackets in another terrorist Sanaullah's house first and later shifted them to accomplice Adnan's house next day.
Some three days before the [planned] blast, Mohammad brought suicide bomber Khalid alias Saddam Shinvari to Attock.
The suicide bomber was sent from Afghanistan and he came through Torkham border. Terrorist Mohammad and Saddam stayed at the outhouse of Adnan.
On May 2, they did recce of the bus and next day Sher Hassan and Mohammad helped Saddam wear the suicide vest.
Then they gave him a hand grenade and a pistol. They wrote words "Muhammad bin Qasim on the suicide jacket". Then made pictures of the suicide bomber and took him to the place of incident.
"As the coach slowed down at the place of incident, Saddam first fired shots at the driver and then exploded himself, killing the driver and three others," the official said.
Mohammad and Sher Hassan, who were watching the terror act at a distance, left the place.
Commander Imran Khurasani then told Sher Hassan to make recce of security personnel in Nowshera.
Some three days before the blast, Mohammad came to him with a new suicide bomber namely Saida Jaan alias Qari Usman who arrived from Afghanistan through Torkham border.
Sher Hassan provided him with the suicide jacket which he had kept with him since April 14 this year.
A couple of days before blast, they drove the suicide bomber to Nowshera and kept him in a mosque room.
On May 17, Sher and Mohammad took him to Nowshera Cantt. Qari Usman went to the place of incident.
When the FC convoy came out of the gate and reached the railway crossing, Qari Usman went near the front troop carrier and exploded himself. He martyred and injured several military personnel, the official said.
However, the CTD personnel arrested them when they were planning another attack on the bus of the intelligence officers.
Initial investigation revealed that Rizwanullah had come from Afghanistan.
He stayed in suburbs of Peshawar before coming to Rawalpindi to carry out the suicide attack.
Full report at:
https://www.dawn.com/news/1433538/ctd-punjab-breaks-ttp-hizbul-ahrar-network
--------
Qadri to ask PTI to honour pledge in Model Town case
September 18, 2018
LAHORE: Pakistan Awami Tehreek (PAT) supremo Tahirul Qadri will arrive here on Wednesday morning to "seek support of the Pakistan Tehreek-i-Insaf government (in bringing culprits of Model Town incident to justice), which the party had been promising when it was in opposition."
According to PAT spokesman Noorullaha Siddiqui, the party chief will have an extended stay this time as he has to sort out things with the government regarding Model Town case, decide certain organisational matters of the party and strengthen legal team for the case.
"The PTI, when in opposition, has been the biggest supporter of the justice in Model Town case," Mr Siddiqui said talking to Dawn on Monday.
He said though the case was in the court and the PTI could not influence the outcome of the case, it could certainly meet the PAT demands of removing all the accused bureaucrats and police officers from the active duty and save investigation from any influence. These police officials had also been harassing witnesses of the Model Town case and the PAT had been taking it up with the government, he said. Qadri Sahib, he said, would also be reviewing the legal position of the party in the Model Town case and ways to strengthen it by inducting some more lawyers in its team.
https://www.dawn.com/news/1433542/qadri-to-ask-pti-to-honour-pledge-in-model-town-case
--------
Pakistan, UK ink deal on recovery of 'looted wealth'
SEPTEMBER 18, 2018
ISLAMABAD: The governments of Pakistan and the United Kingdom on Monday jointly launched a partnership on repatriation of illicit finances, recovery of stolen assets and putting a check on money laundering.
Law Minister Farogh Nasim and British Home Secretary Sajid Javid at a joint press conference here at the PM Office announced that the declaration titled 'UK-Pakistan Justice and Accountability Partnership' would track corruption and also restart the bilateral prisoner transfer that was on a halt for last several years.
British Home Secretary Sajid Javid, who is on a two-day official visit to Pakistan, said the United Kingdom would ensure that no person could escape accountability. He, however, clarified that the initiative would be broad-based and was not meant to target only individual cases.
He said the new partnership would be headed by a special envoy to expand cooperation between the two sides in curbing corruption. The director of the Economic Crime Unit would be representing the British side, he added.
The British home secretary, who is the first from his government to visit Pakistan after Prime Minister Imran Khan assumed the office, said the UK was committed to strengthen ties with the new government and reaffirm their partnership. He termed his talks with Prime Minister Imran Khan as constructive and said he fully endorsed his vision of building a prosperous Pakistan.
To a question, the home secretary rejected the impression that the UK was reluctant on extradition related matters with Pakistan and said he was mindful of respecting the domain of British law enforcement agencies. However, he stressed that those responsible would be brought to justice whenever there was some evidence. Asked about the quantum of money laundering, the British secretary said both the sides reviewed their commitments on sharing evidence to prosecute the criminals.
On the Financial Action Task Force (FATF), Sajid Javid said Pakistan was already working on the matter and the UK would extend all support to it in that regard. He said his country would deepen cooperation with Pakistan to counter illicit finances and corruption. About the role and sacrifices of Pakistan against counter-terrorism, he said Pakistan had suffered more than any other country on that count.
He said Pakistan and the United Kingdom had deep relations in many areas. Some 120 British companies were already working here, he said. Being a major trading partner, the UK would like more companies to enter Pakistan as it was preparing to leave the European Union, he added.
Law Minister Farogh Naseem said both the sides also deliberated on the formation of a joint fund on civil recovery of stolen assets, and appointment of a prosecution service at the British High Commission. He said it was also agreed upon to ensure capacity building of Pakistani law enforcement officials with the assistance of the United Kingdom.+When questioned on the issue of confiscation of Avenfield apartments of former prime minister Nawaz Sharif, the law minister said, "No individual cases or any specific matter was discussed."
On deliberations for the extradition of two sons of former prime minister Nawaz Sharif, Farogh Naseem said he was unable to share more details. Special Assistant to Prime Minister on Accountability Shahzad Akbar said the matter was already with the National Accountability Bureau (NAB). Individual cases would not be commented upon, he added.
Minister of State for Interior Shahryar Khan Afridi and British High Commissioner to Pakistan Thomas Drew were also present on the occasion.
Later, British Home Secretary Sajid Javid paid a courtesy call on Prime Minister Imran Khan.
Expressing satisfaction on the current direction of bilateral relations between Pakistan and the United Kingdom, the prime minister hoped that the two countries would be able to upgrade those to a multi-faceted strategic partnership. He acknowledged the United Kingdom's development assistance that had positively impacted Pakistan's socio-economic sectors.
They also discussed a wide range of issues of common interest, including counter-terrorism, organized crime, human trafficking, money laundering and asset recovery.
The British home secretary stated that his government was willing to support and extend full cooperation to the government of Pakistan in these areas. He also underscored the need to enhance cooperation in all areas of mutual interest.
The British home secretary also met Foreign Minister Makhdoom Shah Mahmood Qureshi at the Foreign Office. "The two sides discussed various areas of regional and bilateral cooperation, in particular regional security, counter-terrorism, organized crime, migration, human trafficking, money laundering and asset recovery," the Foreign Office said.
The foreign minister stressed the need to expand Pak-UK cooperation and translate the existing ties into a tangible and multi-faceted strategic partnership.
The British home secretary conveyed his government's desire to support and work closely with the new government in all areas of mutual interest.
Full report at:
https://dailytimes.com.pk/299719/pakistan-uk-ink-deal-on-recovery-of-looted-wealth/
--------
Afghanistan smuggling drugs to Europe under US surveillance, says Rehman Malik
SEPTEMBER 18, 2018
While presiding over the Senate standing committee meeting of Interior on Monday, Senator Rehman Malik said Afghanistan is supplying drugs to European markets under the eyes of US forces.
"The volatile Afghanistan's most of the territory is under the control of United States (US) forces but still Afghanistan is a big market of drugs production and it supplies to the market of European countries under the eyes of US forces. United States is still silent over the issue but it is curbing Pakistan in FATF grey list, which shows US' ingenuity and makes its role in the region even more controversial", said Senator Rehman Malik.
The standing committee on interior moved a unanimous resolution in the meeting regarding the sacrifices of Pakistan in the war on terror, its economic and human losses rendered by Pakistan and the dual role of US in the region regarding the FATF announcement of putting Pakistan in the grey list.
The resolution added that Pakistan was made a soft target by FATF through money laundering allegations, whereas, Afghanistan continues to smuggle drugs to the European markets under the surveillance of United States.
Resolution further added that US should stop the production and supply of drugs in Afghanistan immediately and Pakistan's name from FATF grey list should be excluded. The committee demanded that steps taken by Pakistan against money laundering and its sacrifices in the war on terror should be acknowledged.
The committee also handed over an enquiry to the federal investigation agency (FIA) on a public petition regarding an international company in Karachi Airport, which has no legal documents or license to continue their business in Pakistan.
The Chairman of the committee as well the senator inquired from DG civil aviation authority that how was this company based in London was allowed to work in Pakistan without following the legal procedure. The committee told that those involved in this scam would face serious consequences if they found guilty.
Full report at:
https://dailytimes.com.pk/299688/afghanistan-smuggling-drugs-to-europe-under-us-surveillance-says-rehman-malik/
--------
Pak wants peaceful ties with India, prez says but rakes up Kashmir issue in first Parliament speech
Sep 17, 2018
ISLAMABAD: Pakistan wants peaceful relations with India on the basis of "mutual co-existence", new President Arif Alvi said Monday but raked up the Kashmir issue in his first address to the joint session of Parliament, saying Kashmiris have a right to "self-determination".
Alvi pledged support for the people of Kashmir and said that Pakistan will make efforts at every level to resolve the issue according to the UN resolutions.
Addressing the joint sitting of Parliament to mark the beginning of the new parliamentary year, he reaffirmed Pakistan's "moral, political and diplomatic support to the Kashmiri people".
He stressed that the resolution of the Kashmir dispute is essential to have an enduring relationship between Pakistan and India.
"Blame game brings no solution to any dispute," he said.
The president said denying the Kashmiris the "right of self-determination" is condemnable and urged the international community to play its role.
He also said it was important to resolve and improve ties between India and Pakistan, and emphasised that Pakistan desired peaceful and good neighborly relations with India on the basis of mutual co-existence.
The India-Pakistan ties nose-dived in recent years with no bilateral talks taking place. The ties between the two countries had strained after the terror attacks in India by Pakistan-based groups in 2016.
Pakistan wanted cordial relations with all countries particularly, the neighbors and Muslim countries, Alvi said.
The opposition parties led by Pakistan Muslim League-Nawaz staged a walk out as the president began his speech.
The joint session was the first formal session of the National Assembly (NA), the lower house of Parliament.
The president has to address a joint session of Parliament at the beginning of the first session of the NA to start the parliamentary year, according to the Constitution.
Full report at:
https://timesofindia.indiatimes.com/world/pakistan/pak-wants-peaceful-ties-with-india-prez-says-but-rakes-up-kashmir-issue-in-first-parliament-speech/articleshow/65846585.cms
--------
South Asia
Foreign minister for creating awareness against 'lies' of BNP, Jamaat-e-Islami
2018-09-17
Foreign Minister AH Mahmood Ali has stressed creating awareness on the "contemporary political propaganda by the BNP and its ally the Jamaat-e-Islami based on lies".
He highlighted the recent controversy that was created by BNP Secretary General Mirza Fakhrul Islam Alamgir in regards to his "invitation" by the UN high officials.
He was speaking at a workshop on "Highlighting Bangladesh in the International Arena" organised by the International Affairs Sub-Committee of the Awami League on Sunday at the Bangladesh Institute of International Strategic Studies (BIISS) auditorium.
Chairman of the Sub-committee Ambassador Muhammad Zamir, and International Affairs Secretary Dr Shamim Ahmed spoke at the programme. Chairman of Suchinta Foundation Mohammad A Arafat moderated the workshop.
https://bdnews24.com/politics/2018/09/17/foreign-minister-for-creating-awareness-against-lies-of-bnp-jamaat-e-islami
--------
Taliban launch deadly attacks on security posts in Farah province
Sep 17 2018
The Taliban militants launched deadly attacks on a number of security posts in western Farah province of Afghanistan, leaving several security personnel dead.
Provincial governor's spokesman Mohammad Nasir Mehri confirmed the incident and said the militants launched attacks on security posts in Bala Bolik and Posht Rod districts.
Mehri further added that the attacks were launched late on Sunday night and as a result at least fifteen security personnel have lost their lives.
He said at least five security forces were martyred after the Taliban militants attacked their security posts in Posht Rod district.
According to Mehri, the Taliban militants also attacked the security posts on Farah-Farah Rod highway, leaving at least ten security personnel dead.
At least five Taliban militants were also killed during the clashes with the security forces, the provincial governor's spokesman added.
In the meantime, a member of the provincial council says at least 17 security personnel have lost their lives during the clashes.
Full report at:
https://www.khaama.com/taliban-launch-deadly-attacks-on-security-posts-in-farah-province-05976/
--------
Foreign forces storm ISIS hideouts in Kunar province
Sep 17 2018
The foreign forces have stormed the hideouts of the Islamic State of Iraq and Syria Khurasan (ISIS-K) in eastern Kunar province of Afghanistan, leaving a number of militants dead or wounded.
The local officials in Kunar said the operations were conducted late on Sunday night in the vicinity of Watapur district.
Provincial Security Chief Amir Mohammad Zaman confirmed the raid and said at least three ISIS Khurasan militants were killed during the raid and two others were arrested.
He said a commander of the terror group identified as Abuzar was among those killed during the operations.
In the meantime, the 201st Silab Corps of the Afghan Military in the East said the U.S. forces based in Afghanistan carried out airstrikes using unmanned aerial vehicles, targeting the ISIS militants in Watapur district that left at least two dead.
The anti-government armed militant groups including ISIS Khurasan loyalists have not commented regarding the report so far.
Full report at:
https://www.khaama.com/coalition-forces-storm-isis-hideouts-in-kunar-province-05977/
--------
India provides relief supplies to Bangladesh for Rohingyas
September 17, 2018
India on Monday provided relief supplies including over 1 million litres of kerosene oil and 20,000 stoves to Bangladesh for Rohingya Muslim refugees who live in makeshift camps in the country after fleeing violence in Myanmar.
Bangladesh, which faced a big influx of Rohingyas from Myanmar, has called on the international community to intervene and put pressure on Myanmar to address the issue.
Over 700,000 Rohingya Muslims fled Myanmar's violence-hit Rakhine state to neighbouring Bangladesh since August last year when the military intensified crackdown against alleged militant outfits of Rohingya Muslims.
India's High Commissioner to Bangladesh Harsh Vardhan Shringla handed over 1.1 million litres of super kerosene oil and 20,000 kerosene multi wick stoves to Minister of Disaster Management and Relief Mofazzel Hussain Chowdhury at Cox's Bazar.
The kerosene oil and stoves will address the energy needs of the displaced persons and contribute to environmental conservation in Bangladesh by reducing demand for locally sourced firewood.
This is as per the requirement of assistance expressed by Bangladesh, the High Commission of India said in a statement.
The relief supplies were then distributed to displaced persons at Kutupalong camp in Cox's Bazar.
Vikram Doraiswami, Joint Secretary (Bangladesh, Myanmar) of the Ministry of External Affairs was also present on the occasion.
This is the third phase of humanitarian assistance by India to Bangladesh to assist in its efforts to meet the requirements of displaced persons from the Rakhine State of Myanmar.
In September last year, India under the 'Operation Insaniyat', extended the first phase of humanitarian assistance comprising 981 metric tonnes of relief supplies.
The relief material included rice, pulses, sugar, salt, cooking oil, tea, ready-to-eat noodles, biscuits, mosquito nets among others to meet the immediate requirements of the approximately 3,00,000 displaced persons at that time.
In May, 373 metric tonnes of relief material containing 104 metric tonnes of milk powder; 102 metric tonnes dried fish; 61 metric tonnes baby food; 50,000 raincoats; and 50,000 pairs of gum boots for the rainy season were handed over in Chattogram.
India has always responded readily and swiftly to any crisis in Bangladesh in keeping with the close ties of friendship between the two countries, the statement said.
Full report at:
https://www.business-standard.com/article/pti-stories/india-provides-relief-supplies-to-bangladesh-for-rohingyas-118091701291_1.html
--------
Myanmar's 'Gravest Crimes' Against Rohingya Demand Action, U.N. Says
By Nick Cumming-Bruce
Sept. 18, 2018
GENEVA — Catching up with villagers from Min Gyi who had escaped the Myanmar Army's assault on their homes, the soldiers first killed all the men, shooting them and then methodically slitting the throats of those who lingered. Then they turned on the women and children.
A United Nations Fact Finding Mission report on Tuesday cited the slaughter in Min Gyi, in Myanmar's western state of Rakhine, as evidence that the army committed "the gravest crimes under international law" in clearance operations a year ago targeting the country's Rohingya Muslim minority.
In Min Gyi, troops shot some of the children, snatched infants from their mothers, throwing some into the river to drown and tossing others onto a fire. They then led the women and girls back to their village to be robbed and raped. Many were stabbed, others were mutilated or shot. Soldiers locked some women along with old men and young children in houses that they set ablaze.
The three-person United Nations panel named Myanmar's army chief, Senior Gen. Min Aung Hlaing, last month as one of six top commanders who should stand trial in an international court for genocide and crimes against humanity.
The panel's 444-page report, released on Tuesday, is one of the longest ever produced by a United Nations human rights inquiry. It chronicles in excruciating detail the atrocities that drove more than 750,000 Rohingya Muslims to flee into neighboring Bangladesh and on which it based the charge of genocide.
The panel has called on the United Nations Security Council to refer Myanmar to the International Criminal Court or set up an international tribunal to prosecute those, including the army chief, identified as responsible for the violence. It further urges the Security Council to impose an arms embargo and to establish targeted individual sanctions such as travel bans and asset freezes.
Unusually for a human rights investigation, the report went further to call for an overhaul of the military, known as the Tatmadaw, and constitutional reforms to end its political dominance. The panel said that the Tatmadaw's leaders should be replaced, the military placed under civilian oversight, and the military's grip on Parliament by controlling a quota of seats abolished.
"Any engagement in any form with the Tatmadaw, its current leadership and its businesses is indefensible," the panel said.
At least 750 villagers were killed in Min Gyi village, the panel said, citing credible testimony collected in the course of 875 interviews with victims and witnesses. In all, at least 10,000 people are thought to have been killed in clearance operations that started in August last year, lasted more than two months and totally or partially destroyed more than 40 percent of the villages in northern Rakhine, it said.
"The killing was widespread, systematic and brutal," the panel said in its report, which was presented Tuesday to the United Nations Human Rights Council in Geneva.
Myanmar has rejected allegations that the military, committed any atrocities. It said troops were reacting to attacks by Rohingya militants on border security police and several villages.
"This explanation is flawed," the United Nations panel retorted, describing the clearance operations as grossly disproportionate to any threat from militants and noting that the security forces made no attempt to identify a military target or distinguish between militants and civilians.
A systematic buildup of military forces in the area before the militant attacks and involvement of all levels of the military from the commander in chief down pointed to "an organized plan of destruction, supporting an inference of genocidal intent."
The Tatmadaw's use of consistent methods and tactics in operations carried out over a wide area for many weeks, demonstrated "significant levels of forethought and organization," the panel said. And as in the authorities' decades-old conflict with other minorities in Myanmar, sexual violence featured prominently as a tactic of war in Rakhine.
Troops systematically raped women and girls and specifically targeted children for killing. Moreover, "the brutality with which the underlying acts were carried out provides further support for a conclusion that they were committed with genocidal intent," it said.
Eighty percent of rape incidents corroborated by the panel involved gang rape, often accompanied by the killing of the victims' children. "The Tatmadaw was overwhelmingly the main perpetrator," the panel found.
Troops often inflicted further injury and humiliation by biting women's faces, breasts or thighs or mutilating reproductive organs in what the panel considered "an act akin to branding."
"We are going to kill you this way, by raping," a woman who was assaulted with her sister recalled a member of the Tatmadaw telling her. "We are going to kill Rohingya. This is not your country."
What happened in Rakhine was "a disaster long in the making," the mission concluded, pointing to decades of official discrimination and waves of violence against Rohingya Muslims, who were demonized by ultranationalists and religious extremists as "Bengali" immigrants posing an existential threat to their survival.
Full report at:
https://www.nytimes.com/2018/09/18/world/asia/myanmar-united-nations-rohingya-genocide.html
--------
Intelligence war being waged against the Afghan people: President Ghani
Sep 18 2018
President Mohammad Ashraf Ghani has said the ongoing war is an intelligence war and is being waged against the people of Afghanistan.
The Office of the President, ARG Palace, said President Ghani made the remarks during a meeting with the delegation and officers of the Afghan Intelligence, National Directorate of Security (NDS).
He said Afghanistan wants an end to the crisis, not the continuation of the crisis, emphasizing that the government and security institutions have responsibilities for the national heritage and to provide a better living condition for the people of country.
President Ghani further added that the U.S. strategy for Afghanistan and South Asia is a policy which the Afghan people have been demanding for for the past 40 years.
According to President Ghani, the feasibility to achieve peace is higher than any other time, the nature of war has changed but the Afghan forces have proven their capability to replace the foreign forces and their capabilities are growing each day.
He also added that certain circles in the region want to cut Afghanistan's international relations with the world but did not elaborate further in this regard.
Full report at:
https://www.khaama.com/intelligence-war-being-waged-against-the-afghan-people-president-ghani-05982/
--------
Afghan official: 9 local policemen die in 'insider' attack
September 18, 2018
KABUL, Afghanistan: An Afghan official says at least nine members of the local police force were killed when another policeman opened fire and shot them at a checkpoint in northern Balkh province, the latest in so-called "insider" attacks in Afghanistan.
Mohammadudin Khanjer, a police official in the district of Char Boldak, says one policeman was wounded and three others were missing after the late Monday shooting.
Khanjer says the attacker was a policeman from another checkpoint in the same district who fled the scene, apparently to join the Taliban. He says the shooter also seized all weapons from the checkpoint.
The Taliban haven't comment on the attack in Char Boldak but insurgents are active in the district and often attack Afghan security forces.
http://www.arabnews.com/node/1373846/world
--------
Arab World
UN has not acted against Houthi violations in Hodeidah - Arab Coalition
September 17, 2018
JEDDAH: Arab Coalition Spokesperson Col Turki Al-Maliki said United Nations agencies have not acted against the violations committed by the Houthi militia in the strategic port city of Hodeidah.
Speaking during his weekly press conferernce in the Saudi capital Riyadh, Al-Maliki assured all Yemeni relief outlets and ports are fully operational at the current time.
"Military operations in Yemen are proceeding according to international law," Al-Maliki added.
He also said that the Iranian-backed Houthi militia has launched 197 rockets towards the Kingdom so far.
http://www.arabnews.com/node/1373426/saudi-arabia
--------
US Forces, Affiliated Militants to Leave Al-Tanf Base in Eastern Syria
Sep 17, 2018
The Arabic-language website of Sputnik news agency quoted informed sources as saying on Monday that the Russian and American officials are negotiating the withdrawal of the US forces from al-Tanf region in the bordering triangle of Iraq-Syria-Jordan.
They added that the US and Russian officials are in talks over the final stages of the agreement, noting that plan is to come into effect in the next few days.
The sources underlined that closure of al-Rakban camp which hosts over 80,000 civilians and their return to their villages and towns in different parts of Syria is also included in the agreement.
They said that based on the agreement, thousands of terrorists, trained and supported by the US, will also leave al-Tanf for Idlib, adding that most of their commanders have earlier left the region.
According to the report, members of Jeish Maghawir al-Thawra, Ahmed Abdou and Asoud al-Sharqiyeh terrorist groups are stationed in al-Tanf region in addition to the US, British and Norwegian forces.
An Arab media outlet had reported last Tuesday that the US Army troops, including a hundred marines that have just arrived in the region, are training terrorists in the US-run al-Tanf base in Southern Homs.
The Arabic-language Qatar 21 news website quoted commander of Maqawir al-Thowrah terrorist group, affiliated to the Free Syrian Army (FSA), as disclosing that the US marines are training his forces in al-Tanf base at border with Iraq.
Full report at:
https://en.farsnews.com/newstext.aspx?nn=13970626000943
--------
Turkey Sends More Tanks, Military Equipment to Idlib
Sep 17, 2018
Turkey's Yeni Safak newspaper reported that a military convoy consisting of 50 vehicles, including tanks and heavy artillery, arrived in Idlib's Southwestern town of Jisr al-Shuqur with the aim of supporting the terrorists in the province.
Jisr al-Shuqur is one of the operational fronts of the Syrian army in West Idlib.
According to the report, the Turkish army has also redeployed its howitzers at the Kilis-Syria border and moved them to Southern Hatay province.
The Syrian army is, meantime, sending troops and military equipment to the regions near the terrorists' strongholds in Aleppo, Hama, Idlib and Lattakia in preparation for a major operation, also referred to as the ultimate battle against al-Qaeda.
Military sources informed earlier today that the Damascus army is standing order to start its military operations in Idlib in coming days.
The Syrian army troops are now prepared for launching an imminent military operation in Idlib and Hama provinces as the army's heavy weapons are also ready to be fired, a battlefield commander reported.
The commander pointed to the recent visit of the Syrian Defense Minister General Ali Abdullah Ayyoub to the Syrian army's positions in Hama, Idlib and Lattakia, and said, "General Ayyoub's visit indicated that the Syrian army's ground operations in Idlib province is imminent."
Meantime, the Arabic-language al-Masdar news website quoted battlefield sources as saying that the Syrian army will start is military operations in Northern Lattakia within the next few days from three directions towards Jabal al-Akrad and Jabal Turkman regions.
It noted that the Syrian army is intending to take control of the city of Kabani which overlooks the Northern parts of al-Ghab plains.
Full report at:
https://en.farsnews.com/newstext.aspx?nn=13970626001013
--------
US-Backed SDF Engage in Heavy Clashes with Civilians in Raqqa
Sep 17, 2018
Media sources in Raqqa said that the SDF forces fired at the residents of the district of al-Mashlab in Raqqa city, and wounded several people.
Meantime, local sources disclosed that an SDF patrol was targeted by unknown assailants near Monir Habib school in Ramibeh district, killing one SDF fighter, who was also a former ISIL member, and injuring another one.
In a relevant development last month, civilians in the Southeastern Deir Ezzur raided the positions of the US-backed SDF, destroying their checkpoints.
The SDF opened fire at the people in the village of al-Sajar in Southeastern Deir Ezzur, injuring seven villagers.
The villagers, later, set fire at the SDF-run al-Sijan oilfield near al-Sajar, destroying the terrorists' checkpoints.
Full report at:
https://en.farsnews.com/newstext.aspx?nn=13970626000741
--------
Syrian Army to Kick Off Massive Military Operations in Hama, Lattakia, Idlib Soon
Sep 17, 2018
The Syrian army troops are now prepared for launching an imminent military operation in Idlib and Hama provinces as the army's heavy weapons are also ready to be fired, a battlefield commander reported.
The commander pointed to the recent visit of the Syrian Defense Minister General Ali Abdullah Ayyoub to the Syrian army's positions in Hama, Idlib and Lattakia, and said, "General Ayyoub's visit indicated that the Syrian army's ground operations in Idlib province is imminent."
Meantime, the Arabic-language al-Masdar news website quoted battlefield sources as saying that the Syrian army will start is military operations in Northern Lattakia within the next few days from three directions towards Jabal al-Akrad and Jabal Turkman regions.
It noted that the Syrian army is intending to take control of the city of Kabani which overlooks the Northern parts of al-Ghab plains.
These developments come as the Syrian army has dispatched tens of thousands of its forces along with its military equipment and weapons to battlefields in Hama and Idlib over the past few months.
In a relevant development on Sunday, the Syrian Army sent more troops and equipment to the Northwestern parts of the country on Sunday to reinvigorate its combat capabilities for an imminent major operation in Idlib province.
The army forwarded a long convoy of military vehicles and tank-carrying trucks along with a large number of fresh soldiers to Idlib and Northern Hama to end terrorists' presence in Idlib, Aleppo, Lattakia, and Hama provinces.
In the meantime, a field source reported that hundreds of fresh army men have been deployed at contact lines with Tahrir al-Sham Hay'at (the Levant Liberation Board or the Al-Nusra Front) terrorists and militants of the Operation Olive Branch in Afrin in recent days.
The sources further said that the army is planning to kick off a large-scale operation in different flanks to liberate Idlib province.
Full report at:
https://en.farsnews.com/newstext.aspx?nn=13970626000612
--------
Syrian TV: Israeli strikes hit state company, 10 injured
17 September 2018
Loud explosions shook Syria's coastal province of Latakia late Monday, sending orange flames into the sky in what Syrian state media said was an Israeli attack on a state company for technical industries that injured 10 people.
Explosions continued for nearly a half hour, said state-run Al-Ikhbariya TV, which aired footage showing streaks of white light flashing across the sky. An unidentified military official was quoted as saying Syrian air defenses intercepted some missiles heading for the provincial capital of Latakia from the sea.
Al-Ikhbariya said all two of the injured were hospitalized and the rest were released after treatment. The Britain-based Syrian Observatory for Human Rights, which initially reported the explosions, also reported 10 wounded, saying all of them were soldiers and some were in critical condition.
The war monitoring group said the target appeared to be an ammunition depot that in the compound of the state Institute for Technical Industries. The group it was not clear if the depot was for Iranian or Syrian forces.
The strikes followed a similar attack on Damascus International Airport late Saturday, which Syrian state media also blamed on Israel. A military official quoted then on state media said Syrian air defenses intercepted some missiles coming from the sea.
Coastal Tartus
Other attacks were reported on Sept. 4 that targeted sites in the coastal Tartus area and in Hama province. The Observatory said at the time that the Sept. 4 attacks were believed aimed at Iranian military posts.
Israel is widely believed to have been behind a series of airstrikes mainly targeting Iranian and Hezbollah forces in Syria that have joined the country's war fighting alongside the government.
Israel rarely acknowledges attacks inside Syria, but has said it will use military action to prevent weapons transfers to its enemies. Earlier this month, an Israeli military official said the Jewish state has struck over 200 Iranian targets in Syria over the past 18 months.
US and Israeli officials have said that Iran and Hezbollah should end their armed presence in Syria. Israel says it will not tolerate Iran's growing presence in Syria.
Full report at:
https://english.alarabiya.net/en/News/middle-east/2018/09/17/Syrian-TV-reports-suspected-Israeli-strikes-on-state-company.html
--------
Hundreds of Syrian refugees in Lebanon return home
Sep 17, 2018
Hundreds of Syrian refugees in Lebanon return home following the liberation of their villages and cities from terrorist groups by the Syrian army and its allies. This is the first mass return from the capital Beirut. The fate of the Syrian refugees in Lebanon, however, remains unresolved as some sides refuse to have contact with the Syrian government. Hezbollah and its allies, however, are trying to help those who want to leave voluntarily. Mariam Saleh reports from Beirut.
https://www.presstv.com/Detail/2018/09/17/574450/Hundreds-of-Syrian-refugees-in-Lebanon-return-home-
--------
NATO warships moving closer to Syria shores amid looming US airstrikes: Report
Sep 17, 2018
The North Atlantic Treaty Organization (NATO) is reportedly beefing up its naval presence in the eastern sector of the Mediterranean Sea amid indications that the United States and its allies would use a staged chemical attack in Syria's northwestern province of Idlib to launch airstrikes on government forces.
Russia's Sputnik news agency, citing Western websites monitoring naval activity in the region, reported that military vessels from the Standing NATO Maritime Group 2 (SNMG2) are inching closer to the Syrian coast.
The reported added that the flotilla just off Syrian shores include Dutch HNLMS De Ruyter frigate, Canadian Halifax-class HMCS Ville de Québec frigate as well as Greek frigate Elli.
Informed sources, seeking anonymity, also said Los Angeles-class submarine USS Newport News has cruised into the Mediterranean Sea to join a US naval task force there.
The submarine is said to be armed with long-range and subsonic Tomahawk cruise missiles.
Russian Deputy Foreign Minister Sergei Ryabkov has censured the US threats to use military force against Syria as part of Washington's blackmail policy.
"Unlike the United States, Britain and their allies, Russia provides particular facts on a daily basis through its Defense Ministry, the Foreign Ministry as well missions in New York, The Hague and Geneva. We particularly name geographical points, where preparations are underway for certain terrorist groups backed by the US and its allies to carry out provocations," Ryabkov said on September 11.
The top Russian official noted, "Our military has been assessing the military situation on a round-the-clock basis, without any breaks. Constant information exchange is going on with our colleagues in Turkey and Damascus. We have also established secure channels with the US military in order to prevent the repletion of such incidents. We cannot let Idlib remain a terrorist stronghold."
Lebanon-based Arabic-language al-Mayadeen television news network reported on August 30 that terrorists had kidnapped 20 children over the past few weeks in a bid to use them in the expected chemical farce.
The sources noted that the attack would be carried out in Jisr al-Shughur, emphasizing that toxic materials have recently been transferred to the designated site through the al-Hassaniyah border crossing, which links the city to Turkey.
The crossing is controlled by the Western-backed White Helmets aid group, which has been repeatedly accused of cooperating with Takfiri terrorists and staging false flag gas attacks.
The US has warned it would respond to a chemical weapons attack by Syrian government forces with retaliatory strikes, stressing that the attacks would be stronger than those conducted by American, British and French forces back in April.
On April 14, the US, Britain and France carried out a string of airstrikes against Syria over a suspected chemical weapons attack against the city of Douma, located about 10 kilometers northeast of the capital Damascus.
Full report at:
https://www.presstv.com/Detail/2018/09/17/574419/NATO-warships-moving-closer-to-Syria-shores-amid-looming-US-airstrikes-Report
--------
Manama regime forces detain two more Shia clergymen in Bahrain
Sep 17, 2018
Bahraini regime forces have arrested two more Shia Muslim clerics as the ruling Al Khalifah dynasty presses ahead with its heavy-handed crackdown and persecution of the members of the religious community in the tiny Persian Gulf kingdom.
Bahraini troopers arrested Sheikh Hani al-Banna and Sheikh Yassin al-Jamri on Sunday, and took them to the police station in the coastal town of al-Budaiya for an hours-long investigation, Arabic-language Lualua television network reported.
The report added that the pair would appear before Bahrain's Public Prosecution later this week.
A bahraini source, requesting not to be named, said regime forces have summoned at least six Shia clergymen within the past few days over the content of their sermons in the run-up to Ashura that marks the martyrdom anniversary of Imam Hussein (PBUH), the third Shia Imam and the grandson of Prophet Mohammad (PBUH).
The Manama regime has ramped up its repressive measures during the first month of the Islamic lunar calendar of Muharram, the tenth day of which is known as Ashura.
Bahraini regime forces have removed stalls set up to provide food and drinks to the mourners, and removed Ashura signs across the country.
Thousands of anti-regime protesters have held demonstrations in Bahrain on an almost daily basis ever since a popular uprising began in the country in mid-February 2011.
They are demanding that the Al Khalifah regime relinquish power and allow a just system representing all Bahrainis to be established.
Manama has gone to great lengths to clamp down on any sign of dissent. On March 14, 2011, troops from Saudi Arabia and the United Arab Emirates were deployed to assist Bahrain in its crackdown.
Scores of people have lost their lives and hundreds of others sustained injuries or got arrested as a result of the Al Khalifah regime's crackdown.
On March 5, 2017, Bahrain's parliament approved the trial of civilians at military tribunals in a measure blasted by human rights campaigners as being tantamount to imposition of an undeclared martial law countrywide.
Full report at:
https://www.presstv.com/Detail/2018/09/17/574406/Manama-regime-forces-detain-two-more-Shia-clergymen-in-Bahrain
--------
Mideast
Dozens of Israeli settlers raid al-Aqsa Mosque in latest provocation
Sep 17, 2018
Dozens of Israeli settlers have stormed the al-Aqsa Mosque compound in the Israeli-occupied Old City of East Jerusalem al-Quds amid frequent acts of violence committed by Israeli forces and settlers against the Palestinian people.
Firas al-Dibs, spokesperson of the Islamic Waqf (Endowment) organization, which manages the compound's affairs, told the Palestinian Ma'an news agency on Monday that the settlers had forced their way into the holy site through the Bab al-Magharibah under tight protection of several groups of Israeli soldiers and special police forces.
Coming in successive groups, the settlers performed acts deemed provocative by the Palestinians in the mosque's courtyard in commemoration of the upcoming Jewish holidays of Yom Kippur, also known as Day of Atonement, according to the spokesman.
The move is considered to be an incursion under a 1967 deal between Israel and Jordan that is the custodian of the mosque. According to the agreement, non-Muslim worshipers can visit the place but are prohibited from praying there.
Tel Aviv, however, often allows settlers to enter the site and carry out religious rituals in defiance of the accord.
The occupied Palestinian territories have witnessed new tensions ever since US President Donald Trump announced his decision in December last year to recognize Jerusalem al-Quds as Israel's capital and relocate the US embassy in Israel from Tel Aviv to the occupied city.
The dramatic shift in Washington's policy vis-à-vis the city triggered demonstrations in the occupied Palestinian territories, Iran, Turkey, Egypt, Jordan, Tunisia, Algeria, Iraq, Morocco and other Muslim countries.
On December 21, 2017, the United Nations General Assembly overwhelmingly voted in favor of a resolution that calls on the US to withdraw its controversial recognition of Jerusalem al-Quds as Israeli "capital."
In an attempt to prevent the passing of the resolution, Trump threatened reprisals against countries that backed the measure, which had earlier faced a US veto at the UN Security Council.
Israel, however, rejected the world body's resolution while thanking Trump for his decision to move the US embassy to Jerusalem al-Quds.
On May 14, the US moved its embassy from Tel Aviv to Jerusalem al-Quds, in a largely solitary but consequential move that further complicated Palestinian aspirations for statehood.
The US embassy relocation took place on the eve of the 70th anniversary of Nakba Day (Day of Catastrophe), sparking clashes in Gaza.
Israel has shown a violent reaction to peaceful protests by the Palestinians in the Gaza Strip, killing more than 180 and injuring thousands over the past weeks.
https://www.presstv.com/Detail/2018/09/17/574428/Israeli-settlers-alAqsa-Mosque-Firas-alDibs-Waqf
--------
New Saudi airstrikes kill 11 civilians in Yemen's Hudaydah, Bayda provinces
Sep 17, 2018
At least eleven civilians have been killed when Saudi warplanes conducted a series of aerial attacks against residential areas across Yemen as the Riyadh regime continues with its atrocious bombardment campaign against its impoverished neighbor.
Local Yemeni media reports said on Monday that at least four people were killed after Saudi warplanes launched an aerial assault against the kilometer 10 area of the western coastal province of Hudaydah.
Separately, seven people, including women and children, lost their lives and several others were injured when Saudi fighter jets bombed a residential building in the Huran district of central Bayda province.
Saudi Arabia and some of its allies, including the United Arab Emirates, launched a brutal war, code-named Operation Decisive Storm, against Yemen in March 2015 in an attempt to reinstall the so-called government of former president Abd Rabbuh Mansur Hadi and crush the Ansarullah movement, which plays a significant role in aiding the Yemeni army in defending the impoverished country against the invading coalition.
The movement has been running state affairs in the absence of an effective administration since the onset of the imposed war.
The imposed war initially consisted of a bombing campaign, but was later coupled with a naval blockade and the deployment of ground forces to Yemen.
Some 15,000 Yemenis have been killed and thousands more injured since the onset of the Saudi-led aggression.
The Saudi-led war has also taken a heavy toll on the country's infrastructure, destroying many hospitals, schools, and factories. The United Nations has said that a record 22.2 million Yemenis are in dire need of food, including 8.4 million threatened by severe hunger.
Full report at:
https://www.presstv.com/Detail/2018/09/17/574426/Yemen-Saudi-Hudaydah-Bayda-province-US-Hadi
--------
Two Palestinians killed in Israeli strike on Gaza border
18 September 2018
Gaza medics said on Tuesday two Palestinians were killed by an Israeli missile strike near the enclave's boundary with Israel after the Israeli military said it attacked a group suspected of tampering with the border fence.
There was no immediate word on the identities of those killed in the overnight missile strike east of Qarara village.
An Israeli military spokesman said in a statement late on Monday an aircraft fired at "terrorists (who) suspiciously approached the security fence in the southern Gaza Strip and placed an object adjacent to the fence".
The border area has seen weekly and sometimes violent Palestinian mass-demonstrations since March 30.
Full report at:
https://english.alarabiya.net/en/News/middle-east/2018/09/18/Israeli-strike-kills-two-Palestinians-tampering-with-Gaza-border-fence-.html
--------
Erdogan says Turkey's ceasefire calls in Idlib yielded results
17 September 2018
President Tayyip Erdogan said Turkey's calls for a ceasefire in Syria's rebel-held Idlib region were bearing fruit after days of relative calm but more work needed to be done, Hurriyet newspaper reported on Monday.
Erdogan was due to hold talks in Russia later on Monday with President Vladimir Putin, whose military support for the Syrian government has helped reverse years of rebel gains and who publicly rebuffed Turkey's ceasefire call 10 days ago.
"The situation in Idlib has been calm for three days. It looks like we obtained a result with the efforts which were made," the newspaper quoted Erdogan as telling reporters on a flight back from Azerbaijan at the weekend.
"But we are still not satisfied," he said. Turkey, with 3.5 million Syrian refugees, has already borne the "political and human burden" of Syria's seven-year-old conflict and any new refugee flow would head for Turkey, Erdogan said.
Turkey, which supports rebels opposed to Syrian President Bashar al-Assad, has been holding talks with his allies Russia and Iran over the fate of Idlib and surrounding districts, which Assad has vowed to recapture.
Ankara has established a dozen military observation posts around Idlib, which it has reinforced with troops and equipment in recent weeks according to Turkish and Syrian rebel sources.
"We are trying to protect the pure, clean, innocent people there with these observation posts," Erdogan said. "But currently everybody can see the regime's mercilessness and the terror which they are spreading there. There is a terror state."
The Idlib region is home to around 3 million people. Parts of it are held by Turkey-backed rebels but many of the towns are controlled by jihadist fighters such as Tahrir al-Sham, which includes insurgents from the former al Qaeda branch in Syria.
Turkey has called for measures to target hardline militants in Idlib while protecting civilians and avoiding an indiscriminate assault, likely backed by Russian air power, which it says would cause a humanitarian catastrophe.
Full report at:
https://english.alarabiya.net/en/News/middle-east/2018/09/17/Erdogan-says-Turkey-s-ceasefire-calls-in-Idlib-yielded-results.html
--------
Coalition: UN has not moved against Houthi violations in Hodeidah
17 September 2018
The Arab Coalition's spokesperson has said that United Nations agencies have not yet moved yet against Houthi militias violations in the Yemeni city of Hodeidah.
The coalition's spokesman, Col. Turki al-Maliki, made the statement during his weekly press conference and added that all Yemeni relief outlets and ports were fully operational at the current time.
"Military operations in Yemen are proceeding according to international law," al-Maliki told reporters.
According to the latest statistics, al-Maliki said that Houthi militias have fired at least 197 missiles toward Saudi territories so far.
https://english.alarabiya.net/en/News/gulf/2018/09/17/Coalition-UN-has-not-moved-against-Houthi-violations-in-Hodeidah.html
--------
After skipping Geneva talks, Yemen's Houthis set conditions for second meeting
17 September 2018
The UN's envoy to Yemen Martin Griffiths arrived in Sanaa on Sunday in an attempt to revive peace talks, after the Houthi militias refused to attend the much-anticipated Geneva peace that the envoy had brokered between them and the Yemeni government.
The Houthis' conditions, however, do not hint that there will be any political solutions reached soon as prior to meeting with Griffiths, they have demanded cashing the wages of all state employees in all provinces, and reopening the Sanaa International Airport for commercial and international flights.
Griffiths will meet with a number of Houthi officials and officials from the General People's Congress during his visit to Sanaa.
The Houthi delegation rejected an offer to be transported by an Omani plane to Geneva last week after the aircraft was searched by the coalition backing the Yemeni legitimate government, according to Western sources.
Full report at:
https://english.alarabiya.net/en/News/gulf/2018/09/17/After-skipping-Geneva-talks-Yemen-s-Houthis-set-conditions-for-second-meeting.html
--------
Russia says no Syria assault as Putin, Erdogan agree Idlib plan
September 18, 2018
SOCHI - Moscow said Monday there would be no assault on Syria's Idlib as the leaders of Russia and Turkey agreed to create a demilitarised zone around the Syrian rebel-held province.
Russian President Vladimir Putin and his Turkish counterpart Recep Tayyip Erdogan - who are on opposite sides in the deadly seven-year conflict in Syria - met for over four hours in Russia's Black Sea resort of Sochi to decide the fate of Idlib, home to three million people. "We will prevent a humanitarian tragedy which could happen as a result of military action," Erdogan said after the talks.
Putin said the two leaders agreed to create a 15-20 kilometre-wide demilitarised zone along the line of contact between rebels and regime troops by October 15.
This would entail a "withdrawal of all radical fighters" from Idlib including the Al-Nusra Front, he added. Putin and Erdogan also agreed on the withdrawal of "heavy weaponry from this zone," including tanks, multiple launch rocket systems, and rocket launchers belonging to all armed groups, the Russian leader added. The demilitarised zone will be secured with the help of "mobile patrol groups of Turkish contingents and contingents of Russian military police," Putin said.
By the end of the year, transportation routes between the key port of Latakia and Aleppo as well as Latakia and the major city of Hama must be restored, he added.
Russian Defence Minister Sergei Shoigu said that the agreement between Putin and Erdogan meant that no military action would be taken against Idlib, Russian news agencies reported. Russia-backed forces of the Syrian regime have massed around Idlib province in recent weeks, sparking fears of an imminent air and ground attack to retake the last major opposition bastion.
The United Nations and non-governmental organisations have repeatedly warned that such an offensive would unleash a "bloodbath" and "humanitarian catastrophe" in Idlib. Turkey has repeatedly called for a ceasefire to avert a possible attack. Erdogan and Putin met previously on September 7 in Tehran for a three-way summit with Iranian President Hassan Rouhani.
At that summit the Russian and Turkish leaders openly disagreed over how to deal with the rebel stronghold, which borders Turkey. Turkey's military has reportedly sent reinforcements to Idlib in recent weeks. Tanks and other hardware, with a convoy of 50 military vehicles, were sent over the border Sunday, according to the Hurriyet daily. Russia and Iran are key allies of Syrian President Bashar al-Assad's regime. Turkey however backs opposition fighters seeking the ouster of the Syrian leader.
It has said a large-scale offensive against the rebels could trigger a mass exodus towards its border. Russian and Syrian air strikes, artillery fire and barrel bomb attacks have killed more than 30 civilians across the province in the past month, according to the Syrian Observatory for Human Rights.
The bombardment has slowed over the past week, however, and Russian Foreign Minister Sergei Lavrov said Friday that the Syrian regime is not preparing a major offensive against Idlib, adding that Moscow will do everything to protect civilians.
"What is being presented at the moment as the beginning of a Russian-backed offensive by Syrian forces is not a faithful representation of the facts," Lavrov said.
"We are doing everything to ensure that the civilian population would not suffer," he said.
Turkish Foreign Minister Mevlut Cavusoglu on Friday said Turkey was ready to cooperate with anyone in the fight against terror groups in Syria.
But he criticised the Damascus regime for using the presence of jihadists to legitimise a possible operation in Idlib.
Full report at:
https://nation.com.pk/18-Sep-2018/russia-says-no-syria-assault-as-putin-erdogan-agree-idlib-plan
--------
Turkey to create joint bank with Iran to help trade in local currencies
Sep 17, 2018
Turkey is reportedly looking into a plan to establish a join bank with Iran to help both countries trade in local currencies as US pressures to restrict their access to the dollar are already mounting.
Ümit Kiler, the Turkish Representative Chairman of Iran-Turkey Business Council, wrote in a recent article in the Turkish newspaper Dünya that the plan would be put on the agenda of the Iranian and Turkish governments in the near future, stressing that the move would be crucial in promoting economic bonds between Tehran and Ankara.
Iran is under unilateral US sanctions, which have complicated transactions in dollars because they have to be processed through the American financial system.
Turkey is not under any specific sanctions but its rising tensions with the US and the Europeans over their support for Kurdish militants in Syria and other issues have made traders jittery and affected the country's economy.
Annual trade between Iran and Turkey currently stands at $11 billion, and the two countries have set a target of $30 billion for bilateral trade, according to reports by Iranian media.
"Establishing a joint bank through which the two sides could conduct bilateral trade and businesses without the need for US dollar would be the final step for developing economic relations," Kiler wrote in his article.
Kiler wrote in his article that the idea of establishing a joint bank between Iran and Turkey should be taken seriously, and that such a decision would help prevent US sanctions on Iran from harming Turkey's foreign trade.
He described US sanctions on Iran as "unfair and unlawful", saying Iran was an important country for Turkey.
The Turkish businessman further emphasized that a Turkish delegation would soon travel to Iran to discuss a plan to enable businesses on either side of the border to settle financial dues in local currencies.
This, Kiler said, would be in line with a recent proposal by Abdul-Nasser Hemmati, the governor of the Central Bank of Iran (CBI), raised on the sidelines of the trilateral meeting among Iran, Turkey and Russia in Tehran.
"In this line, an economic delegation comprising Turkish businessmen and managers of different economic sectors will travel to Iran in the next month to explore new ways of trade between the two countries and develop a roadmap for trade in the new post-sanctions era," he further added in his article.
In April, Iran said it had opened the first letter of credit for business transactions in national currencies with Turkey in an effort which was seen in line with a joint policy by Tehran and Ankara to ditch the US dollar and the euro in their bilateral trade.
Iran's central bank said the move came after months of anticipation, which followed an agreement signed between the two countries last year to use local currencies in trade instead of the mainstream foreign currencies.
Full report at:
https://www.presstv.com/Detail/2018/09/17/574420/Turkey-mulling-plan-to-create-joint-bank-with-Iran--
--------
Israeli announces plan to expand settlement in occupied West Bank
Sep 17, 2018
Israeli authorities have announced that they plan to expand a settlement in the southern occupied West Bank as the Tel Aviv regime presses ahead with its land expropriation policies in the occupied territories irrespective of great international outcry.
Israel's so-called Civil Administration announced the plan on Monday, saying it will expand the settlement of Tina Omarim in the town of Dahriyeh, in the southern occupied West Bank district of al-Khalil (Hebron).
The Palestine's Land Research Center, which obtained a copy of the detailed plan, said the plan would change the classification of the Palestinian-owned land from agricultural into urban, in an attempt to justify expanding the Israeli settlement.
The report further said that the plan would lead to the seizure of 64 acres of Palestinian-owned land in the al-Thahriyeh town. It also noted that the plan would include the building of some 150 housing units, the establishment of public institutions, public parks, streets and parking lots.
Figures show that Israel started the construction of 794 new settlement housing units in the second quarter of 2018, compared to 279 united it built in the first quarter of the same year. Furthermore, Tel Aviv launched the construction of 1,073 housing units in the first half of this year, compared to 818 ones in the second half of last year.
The occupying regime's policy of expanding settlements and outposts has been escalating recently particularly due to US President Donald Trump approving three times more the amount of settlement units than that which were approved in the year and a half before his inauguration.
Tel Aviv, emboldened by the American leader, has proceeded with constructing more settlement units in the occupied territories in defiance of United Nations Security Council Resolution 2334.
In another development earlier this month, the Israeli High Court approved plans for the demolition of Khan al-Ahmar village and evacuation of its residents. It could be razed within the coming days. Israeli officials allege that Palestinian structures there have been built without the relevant building permits and pose a threat to residents because of their proximity to a highway.
Critics, on the other hand, maintain that building permits are nearly impossible to obtain for Palestinians in Israeli-controlled areas of the West Bank and the demolition is meant to clear the way for new settlements.
The controversial decision to demolish the village, which will leave more than 35 Palestinian families displaced, also drew condemnations from abroad.
About 600,000 Israelis live in over 230 settlements built illegally since the 1967 occupation of the Palestinian lands.
Full report at:
https://www.presstv.com/Detail/2018/09/17/574435/Palestine-Israel-settlement-Tina-Omarim-West-Bank
--------
Netanyahu gives 1,000 Ethiopians right to immigrate to Israel
September 17, 2018
JERUSALEM: Prime Minister Benjamin Netanyahu on Monday decided to allow 1,000 Ethiopians to immigrate to Israel, his office announced, in a rare intake of the Falashmura community.
The Falashmuras claim to be descendants of Ethiopian Jews, and they have long fought for the right to settle in Israel, even though the Jewish state does not recognize them as such.
Israel — which took in tens of thousands of Jews from the African nation in the 1980s and 1990s — considers that process to be complete. It also applies a restrictive immigration policy for non-Jews.
But in 2015, the government established a nominative list of 9,000 Ethiopians who were allowed to immigrate to Israel within five years on the basis of family reunion.
Netanyahu said that since that decision, 1,300 Falashmuras had immigrated to Israel.
"I am pleased to inform you that I have decided that approximately 1,000 community members — whose children are already here — must be brought to Israel," Netanyahu said.
Israel's Ethiopian community now numbers around 140,000 people, including more than 50,000 born in the Jewish state.
Most of them are descendants of communities cut off from the Jewish world for centuries, and were belatedly recognized by Israeli religious authorities.
But the Falashmuras, most of whom were forced to convert to Christianity in the 19th century but remained closely attached to the Jewish tradition, never received such recognition.
Ethiopian Jews have staged a series of protests in recent years to denounce racism and discrimination against them in Israel, and to demand that family members in Ethiopia be allowed to join them.
Some Ethiopian Jews oppose new waves of immigration, arguing that Israel is facing enough difficulties integrating the existing community and that those who are still in Ethiopia are not Jewish.
"We are not prepared to accept racism against the Ethiopian Jewish community or against any other (community) in Israel," Netanyahu said.
A non-governmental organization representing Ethiopians in Israel called on Netanyahu to give the remaining Jews in the African nation permission to immigrate.
"We demand that the PM commit to his promises and provide an immediate resolution to bring to Israel all the 8,000 members of the remaining Jewish community of Ethiopia," said Alisa Bodner, spokeswoman for the Struggle for Ethiopian Aliyah group.
Full report at:
http://www.arabnews.com/node/1373621/middle-east
--------
Africa
Kenya's Muslims warm up to bait-ul-maal interest free credit
September 17th 2018
Initially it received a cool reception among the Kenyan Muslims but that has since changed dramatically as conservative Muslims have begun to flock to it. The architects of the interest free credit (bait-ul-maal) says its penetration in the Kenyan market is due to vigorous education to the Muslim community a factor which they say has contributed to its acceptance and spread across the country.
Hassan Mohammed notes that though the structure of the institution is based strictly on the Islamic rules of transactions (Fiqh-ul-Muamalat), many consumers require a quick education on those very rules when the bank commences engagement with them.
"Our engagement has been educational explaining how we work, how we are able to offer interest-free credit and why we are an authentic alternative for those Muslims who are genuine in their desire to obey Allah in respect of their financial affairs. Once that is clear, the client immediately becomes our customer," he says. "Growth like we are experiencing is as a result of the fact that the consumer demographic can see that we are a real alternative to banking and that they are able to achieve their financial goals in an Islamically recorgnised way that does a lot more for them than just banking. They feel that we offer a comprehensive financial solution," he continues. As conservative Muslims have turned away from banking over the last year in Kenya because of serious questions about whether it is permissible Islamically, the Bait-ul-Ma'al has moved in to capture that niche in a manner that could not have been imagined even six months ago. "the first conversation is about fifteen minutes long and it is like you have opened the clients mind to a whole new world thereafter it is smooth sailing but you will still need to explain the product range and the options available in depth," he explains. It is clear from observing the sales process that the greatest impediment to the growth of the Bait-ul-Ma'al is a human resources difficulty which he admits.
"If we had enough trained staff we would control the entire Muslim market in Kenyan and then beyond but our weakness is that this is an area generally reserved for scholars so there are few laymen out here who know this area or have training in it and even the scholars are unable to work in a corporate environment with targets and a sales cycle so what we have had to do is train graduates from scratch which has proved painstaking with 50 per cent of those who enter training not making the cut at the end of the process. This is a bottleneck because a sales representative can only see a maximum of sixteen customers a day and that is assuming that they don't go for lunch or the bathroom. We literally have a waiting list of customers that we haven't dealt with and at the end of the day the number grows by about 30 per cent per day never reducing" he explained. I inquire how with this bottleneck the company has been able to open a new office in Garissa. "Opening an office is easy, staffing it and serving the huge number of customers in our case is the problem. Our product range and what we do has reached all corners of Kenya, we just have to find a way to service that demand" he concludes.
https://www.standardmedia.co.ke/article/2001295874/kenya-s-muslims-warm-up-to-bait-ul-maal-interest-free-credit
--------
Senior Boko Haram Leader Reportedly Killed by Allies
September 17, 2018
BORNO STATE, NIGERIA —
Mamman Nur, a senior figure in the Nigerian militant group Boko Haram, reportedly has been killed by some of his own colleagues.
Nur's men allegedly gunned him down Aug. 21 following an internal dispute, according to Nigerian media sources and others. News reports of the killing have trickled out in the last few days.
Gyade Abdalla, an Islamist scholar in the country's northeast region where the group is based, has served as a trusted negotiator between Boko Haram leaders, as well as Nigerian government officials. He told VOA that Nur's men believed the Boko Haram figure was too lenient.
A key point of dispute was Nur's decision to release schoolgirls kidnapped from the northeast Nigerian town of Dapchi, Abdalla said.
Boko Haram abducted 109 female students from a secondary school in Dapchi in February. Nearly all of the girls were returned safely to their homes about a month later.
Boko Haram also made headlines in April 2014 when it abducted 276 schoolgirls from a secondary school in the northeastern Nigerian town of Chibok. According to #BringBackOurGirls, the social media campaign and organization that formed after the kidnapping, 112 girls are still missing.
Nur led a faction of Boko Haram that broke away in 2014 from the militant group led by Abubakar Shekau. Nur's faction, which selected Abubakar al-Barnawi as its emir, established its operational base around Lake Chad north of Nigeria's Borno state.
The group pays allegiance to IS leader Abu Bakr al-Baghdadi. Nur also has been much more willing than other Boko Haram leaders to negotiate with the government about issues such as releasing captives.
A fluent Arabic speaker, Nur networked extensively with other Boko Haram factions operating around Lake Chad, including in Niger, Chad and Cameroon.
Abdalla suggested that Nur's death could weaken the Boko Haram faction.
With no apparent successor to Nur, it could splinter further, Abdalla said. That would give an edge to the Nigerian government if it acted quickly to dislodge the group, he added.
Malam Ibrahim Damaturu, an Islamic studies lecturer at Yobe State University, told VOA that Nur's killing was unsurprising because the entire Boko Haram organization was built on ignorance of Islam.
He said some militants joined the group to advance personal objectives, and their competing goals were bound to produce friction. He said even Muhammed Yusuf, who founded the group in 2002, had conflicts with some of the followers.
Aliyu Kontagora, a retired Nigerian army colonel now working as a security analyst in the capital, Abuja, said he believes Nur's assassination might lead to an escalation of deadly attacks in the area, as militants try to demonstrate their strength.
Boko Haram, which promotes an extreme form of Islamist fundamentalism and opposes Western-style education, is blamed for the deaths of more than 30,000 people and for the dislocation of more than 2 million.
Full report at:
https://www.voanews.com/a/senior-boko-haram-leader-reportedly-killed-by-allies-/4576033.html
--------
Libyan militia group: ISIS fighter on sale for $1 mln
17 September 2018
The Libyan militia holding captive Hashem Abedi, the brother of a suicide bomber who carried out the Manchester Arena attack in May 2017, is selling him for $1 mln.
This comes amid a demand by the British authorities to hand over Abedi, the younger brother of the man who killed 22 people, including seven children, and injured hundreds of others after the government issued an arrest warrant for him for murder, attempted murder and planning his brother's suicide attack.
The Sunday Express newspaper pointed out that the British government is afraid that he would escape justice and be sold to terrorists group and therefore is engaged in indirect negotiations through an unknown third party to extradite him.
The newspaper said, quoting Libyan sources that ISIS is currently negotiating through a third party "to pay for the release of" Hashem Abedi, aged 21 years old, who has been detained since last year at Mitiga International Airport near the Libyan capital Tripoli.
British authorities have been trying to reach Hashem Abedi since last November, seven months after his brother's suicide bombing in Manchester. Investigators believe he was involved in collecting the materials used to make the bomb used in the attack.
The newspaper quoted a source as saying: "We learned that Hashem Abedi is being offered for sale for a million dollars by two groups of militias that are holding him."
The newspaper sources said that Britain is concerned that he would be sold to ISIS or other extremists and perhaps use him in promoting their agenda, and thus depriving the authorities from holding him accountable or knowing the reality of what happened and the nature of his role in the attack.
Full report at:
https://english.alarabiya.net/en/News/north-africa/2018/09/17/Libyan-militia-group-ISIS-fighter-on-sale-for-1-mln.html
--------
At least 23 die in weekend of ethnic violence in Ethiopia
Sep 17, 2018
A police source says at least 23 people were killed in a weekend of violence targeting minorities in the ethnic Oromo heartland near Ethiopia's capital Addis Ababa.
The unrest followed a mass rally on Saturday marking the return to Ethiopia of the leadership of the exiled Oromo Liberation Front (OLF) group, which had fought an insurgency for self-determination for Oromos, Ethiopia's largest ethnic group.
The incidents are the latest in a spate of ethnic unrest -- including the displacement of nearly 1 million people in another part of the country -- since reformist Prime Minister Abiy Ahmed came to power in April, the first Oromo ruler in the ethnically diverse Ethiopia's modern history.
Local residents said shops were looted and people attacked by Oromo youths who stormed through streets targeting businesses and homes of ethnic minorities.
The violence escalated on Saturday after two days of sporadic attacks in several areas of the Oromiya region's Burayu district northwest of Addis Ababa, residents said.
"Mobs of ethnic Oromo youth then marched here in Ashwa Meda and attacked our homes and looted businesses chanting 'leave our land'," Hassan Ibrahim, a trader in an ethnically diverse part of the district, told Reuters by telephone. "By night time, there were several dead bodies along roads."
Alemayehu Ejigu, head of Oromiya region's police commission, said more than 70 people had been arrested, and denied accusations that police were slow to respond.
Full report at:
https://www.presstv.com/Detail/2018/09/17/574401/Ethiopia-violence-police-residents-Addis-Ababa-rally
--------
Somalia: Ethiopian Air Force Conducts Airstrike Against Al-Shabaab in Somalia
15 SEPTEMBER 2018
Ethiopian Air Force has carried out an airstrike against al-Shabaab in Somalia.
The airstrike was carried out to foil plans of the militant group to attack Ethiopian contingent of the African Union Mission in Somalia (AMISOM).
About 70 al-Shabaab militants were killed and two vehicles packed with weapons were destroyed in the air strike.
Brigadier General Yilma Merdassa, Chief of Ethiopian Air Force, said the airstrike was conducted after an extensive study and plans.
He said "we achieved 100 percent of our plans."
Ethiopia is one of the troop contributing countries to AMISOM.
Full report at:
https://allafrica.com/stories/201809170736.html
--------
Boko Haram kills abducted ICRC health worker
September 17, 2018
Boko Haram terrorists have killed one of the health workers kidnapped from Kala-Balge, Borno State.
Saifura Khorsa, a 25-year-old midwife with the International Committee of Red Cross was kidnapped along with two other health workers in Rann, Kala-Balge Local Government Area of Borno State in March this year.
In a statement signed by the spokesman for the ICRC, Aleksandra Mosimann, on Monday, the organisation described the action as sad and called for the immediate release of the two others still in captivity.
The statement read, "The International Committee of the Red Cross condemns in the strongest terms the tragic killing of its abducted colleague Saifura Hussaini Ahmed Khorsa.
"It is appealing to the armed group to immediately release a second ICRC midwife and another health-care worker taken in North-Eastern Nigeria in March."
The statement quoted Eloi Fillion, the head of the ICRC delegation in Abuja, describing the murder as devastating.
Fillion said, "Saifura moved to Rann to selflessly help those in need. Our thoughts are with her family and other loved ones at this incredibly difficult time.
"At the time of their abduction, Saifura, as well as our colleague Hauwa Mohammed Liman and Alice Loksha, a nurse working in a UNICEF-supported centre, were providing essential antenatal care to communities in Rann, whose population has more than doubled after an influx of people fleeing the violence.
"We urge those still holding our colleague Hauwa and Alice to release these women. Like Saifura, they are not part of the fight. They are a midwife and a nurse. They are daughters, a wife, and a mother – women with families that depend on them.
Full report at:
https://punchng.com/boko-haram-kills-abducted-icrc-health-worker/
--------
Europe
UN: Fair polls key to peace, security in Afghanistan
18.09.2018
By Umar Farooq
WASHINGTON
The UN's top envoy in Afghanistan is calling on the nation's political actors and institutions to work to secure fair elections.
Tadamichi Yamamoto, the Secretary-General's Special Representative for Afghanistan, briefed the UN Security Council on the situation in the war-torn country Monday, saying the key to peace and security is through fair and secure polls.
"I urge all political actors and institutions to perform their duties and act responsibly and to think of the Afghan people, bearing in mind the country's bitter past," said Yamamoto, who is also head of the UN Assistance Mission in Afghanistan (UNAMA).
Afghanistan is scheduled to hold parliamentary elections on Oct. 20, but they have been delayed twice in the past year.
The Independent Election Commission (IEC) of Afghanistan, which will be in charge of the polls, is facing pressure from the international community to restore trust among the Afghan people in the election process.
Afghan lawmakers are perceived as corrupt, and people fear the next parliament will be no different. Meanwhile, although potential voters must visit registration centers and get their identity cards stamped with special stickers, there have been allegations of massive voter fraud where IDs have been faked and stickers misused.
Yamamoto also criticized supporters of a political coalition in the country for blocking provincial election commissions, saying additional safeguards needed to be in place before elections can occur.
"These actions hinder the work of the IEC and jeopardize the holding of the elections on time," Yamamoto said.
"At this critical juncture, the Independent Election Commission, as the lead institution on elections, will be looked upon to discharge its function with the highest degree of integrity, professionalism and with full accountability to the Afghan people."
https://www.aa.com.tr/en/americas/un-fair-polls-key-to-peace-security-in-afghanistan/1257466
--------
Dozens of Muslim charities probed in UK
September 17, 2018
Regulators have opened dozens of investigations into UK Muslim charities over the last five years following weapons discoveries, the unmasking of extremists in religious schools and allegations of terrorist financing, analysis of official data shows.
The Charity Commission publicly announced some 125 new inquiries of charities in England and Wales since the start of 2014, with more than 35 related to Muslim groups and causes. Documents show some of the investigations are related to allegations of extremist preaching at charity-run schools and suspicions that money raised for Syrian relief efforts was being funnelled to terrorists.
The new investigations were among those launched after two damning reports in 2013 and 2014 that criticised failures by the commission to regulate the sector and crack down on abuse of the system. A report by UK lawmakers in 2014 found that the commission was "too willing to accept what charities tell it, without verifying or challenging the claims made". The government's auditor said last year that it had "improved significantly" since 2013.
The regulator – which says the abuse of charities for terrorist purposes was one of its three priority areas - announced in March that it had launched an investigation following the jailing of a school administrator who tried to recruit a 300-strong children's army from a school and mosque, both regulated by the Charity Commission.
Umar Haque, 25, showed beheading videos during Islamic studies classes he headed at the mosque and a fee-paying private Islamic school. After Haque was jailed, police revealed that 35 youngsters were undergoing long-term supervision by authorities – but the regulator said nobody had raised any concerns about his work at any charity.
"The public expect charities, particularly those working with children and young people, to be safe places from abuse or harm," the regulator said in a statement announcing the inquiry launch. "This was not the case here."
The regulator in July launched an inquiry into a school in southeast London – once dubbed the Muslim Eton – after £400,000 and bladed weapons were found at a flat in the grounds of the boarding school. The headteacher of the Darul Uloom school was arrested on suspicion of money laundering and the school reached an agreement with the education authorities to prevent its immediate closure.
Another Muslim education group, the Fazal Ellahi Charitable Trust that ran a mosque and religious classes, was targeted for a new investigation this year and its account frozen because of concerns about terrorism.
It was removed from the charity's register in 2009 after it stopped filing accounts but it later emerged it was still running a mosque after an imam was convicted of six counts of encouraging terrorism and two of encouraging support for a proscribed organisation during a series of classes to children. The inquiry is ongoing.
Full report at:
https://www.thenational.ae/world/europe/dozens-of-muslim-charities-probed-in-uk-1.771226
--------
Merkel, Algerian Officials Discuss Migration, Libya
September 17, 2018
ALGIERS, ALGERIA —
German Chancellor Angela Merkel met with Algerian President Abdelaziz Bouteflika on Monday during a one-day visit to the country to discuss migration and the situation in neighboring Libya.
Algeria's official APS news agency reported the meeting happened in the presence Prime Minister Ahmed Ouyahia and other government members.
The discussions take on particular significance before April's presidential election in Algeria. No candidate has yet emerged because everyone is waiting to learn whether Bouteflika, 81, partially paralyzed from a stroke and rarely seen in public, will seek a fifth term.
Bouteflika traveled to Switzerland earlier this month for medical check-ups.
Algerian television channels showed images of Merkel and Bouteflika talking together.
In a joint news conference, Merkel and Ouyahia said they agreed on a process to send about 700 Algerian migrants identified as illegally staying in Germany back to their country.
Ouyahia suggested that German airline Lufthansa should help with their transfer in addition to Air Algeria. Algerian authorities requested that no special flight is chartered, he said.
"Algeria will take back its children staying irregularly in Germany,'' he said.
Merkel said they also discussed the situation in neighboring Mali and Libya, without providing details.
Before the talks, Merkel visited the hilltop memorial to "martyrs'' who died in Algeria's war of independence with France that ended in 1962.
Germany was Algeria's fourth-largest commercial partner in 2017, with 200 German companies working in various sectors in the North African country.
This was Merkel's first visit to Algeria in a decade. Initially set for February 2017, it was postponed because Bouteflika was stricken with the flu.
Both countries also sought to deepen their economic cooperation.
Mohamed Saidj, professor of political science in Algiers, told The Associated Press that Merkel's meeting with Bouteflika provided the Algerian president an occasion to "show his adversaries that he keeps assuming normally the prerogatives of his office.''
Full report at:
https://www.voanews.com/a/merkel-algerian-officials-discuss-migration-libya/4575425.html
--------
Head of UK party warned after anti-Islamic rally
18.09.2018
By Ahmet Gurhan Kartal
LONDON
The head of the populist UK Independence Party (UKIP) has been criticized by the party's former leader for joining an anti-Muslim rally last weekend in the northern city of Sunderland.
Speaking after the Islamophobic rally, Nigel Farage warned that Gerard Batten needs "to be careful what company he keeps".
At the rally, organized by the Democratic Football Lads Alliance (DFLA) – an anti-Muslim movement formed by far-right hooligans –Batten gave a speech in which he targeted Muslims and Islam.
Batten also insulted Prophet Mohammad in his speech, according to coverage of the rally by Sky News.
Three people were arrested, including one protester who swung a British flag at a police officer on horseback, the news organization said.
The group's members also clashed with protesters at an anti-racism rally held in the city on the same day.
"My concern with all of these groups is that that argument spills into an argument against an entire religion," Farage told Sky News.
The Islamophobic Football Lads Alliance was formed in 2017 by former football hooligan John Meighan to unite supporters from different clubs against Islam.
After it was criticized for racist content, the group renamed itself the Democratic Football Lads Alliance.
UKIP has become an attraction for British far-right groups since the Brexit vote in 2016.
Batten recently invited Tommy Robinson, founder of the far-right racist organization English Defence League (EDL) and anti-Islam organization Pegida UK, to join his party.
Full report at:
https://www.aa.com.tr/en/europe/head-of-uk-party-warned-after-anti-islamic-rally/1257477
--------
Pakistan, UK sign declaration to curb money laundering
17.09.2018
Pakistan and the U.K. on Monday have signed a justice and accountability declaration to curb money laundering.
The declaration was signed by Pakistani Justice Minister Farogh Naseem and British Home Secretary Sajid Javid in Islamabad.
Addressing a joint news conference, Naseem said the agreement had a broad scope and was not aimed at an individual.
He was referring to the former finance minister, Ishaq Dar, currently living in London, who is the subject of an ongoing corruption case.
Local English daily Dawn quoted the special assistant to the prime minister on accountability Shahzad Akbar who said the agreement would pave way to bring back looted wealth.
The U.K. home secretary also assured the Pakistani authorities that his government would help Islamabad to get out of Financial Action Task Force (FATF) gray list.
In June, the Pakistani foreign office confirmed that the country was on gray list of the international terrorism financing watchdog, following its failure to curb terror financing on its soil.
Full report at:
https://www.aa.com.tr/en/asia-pacific/pakistan-uk-sign-declaration-to-curb-money-laundering/1257382
--------
North America
Democrats planning to stop Trump's military support for Saudi war on Yemen
Sep 17, 2018
US Democrats are introducing an initiative aimed at ending US President Donald Trump's military support for the Saudi aggression on Yemen.
Some House Democrats are using the War Powers Act to introduce a resolution that would pull American forces from the bloody war on the Muslim world's poorest country, The Hill reported Monday.
"The Saudis deliberately bombed a bus full of children. There is only one moral answer, and that is to end our support for their intervention in Yemen," California Democratic Representative Ro Khanna, who is leading the House effort, said on Twitter this week. "If this executive will not do it, then Congress must pass a War Powers Resolution."
US Secretary of State Mike Pompeo announced Wednesday that he had assured American lawmakers that the Saudi aggressors are on path to end the war, citing their efforts to "reduce the risk of harm to civilians."
"I certified to Congress yesterday that the governments of Saudi Arabia and United Arab Emirates are undertaking demonstrable actions to reduce the risk of harm to civilians and civilian infrastructure resulting from military operations of these governments," said the former CIA chief.
Last month, a National Defense Authorization Act (NDAA) was signed into law, requiring the Trump administration to certify that Saudi Arabia and the United Arab Emirates are taking steps to end the assault.
Pompeo's move has reportedly boosted the initiative by the Democrats.
The Trump administration is "deliberately sidestepping congressional oversight," according to Democratic Senator Jeanne Shaheen, who co-sponsored the NDAA provision requiring the certification alongside Republican Senator Todd Young.
In March 2015, Saudi Arabia and a coalition of its regional allies started the war against the Muslim world's poorest country.
Backed by the US, the military campaign has devastated the country and left some 15,000 people dead.
https://www.presstv.com/Detail/2018/09/17/574446/Dems-move-to-end-Trump-support-for-Saudi-in-Yemen-war
--------
Blackwater founder touts plan to cut US troops in Afghanistan
September 17, 2018
Blackwater founder Erik Prince believes he has an "audience of one" to persuade to back his plan to turn the war effort in Afghanistan over to an army of private contractors backed by its own air force in a move that would see US and Nato forces largely withdrawn.
The 49-year old former US Navy Seal told a briefing in London that he could reduce the cost of America's policy in Afghanistan from $52 billion (Dh191bn) annually to just over $10bn.
Mr Prince is calling on President Donald Trump to scrap the Afghan plan that his administration launched exactly a year ago on Tuesday. The centrepiece of the Prince proposal is a reduction in the US troop presence in the country to just 2,000 from the 16,000 there today.
A new strategy would see 6,000 contractors work on three-year contracts to provide a skeletal support staff for the Afghan army. A fleet of 90 combat aircraft would provide back-up for the deployments. He believes President Trump is open to the idea.
Having sold Blackwater (a private security contractor now known as Academi), Mr Prince runs the Frontier Service Group and has become identified with a radical blueprint to rip up the whole approach to the 17-year conflict.
"We may disagree on the methods but I think there is one thing we would all like to agree on - the end of war in Afghanistan," he said. "We were almost there last summer. The national security apparatus said [to President Trump] you can pull out and Afghanistan will melt down like Iraq."
The Prince plan was opposed by the then US National Security Adviser HR McMaster and Jim Mattis, who is still the US defence secretary. Weeks later they released a strategy that increased the number of US troops and scrapped a timeline for withdrawal left over from administration of Barack Obama.
"The president gave them more money and more troops and they promised results and there's no results," Mr Prince said.
With US officials reportedly meeting with the Taliban for exploratory peace talks, Mr Prince is scornful of the prospect of a successful outcome
"We need to go back to tactical innovation and deviousness," he said. "The Taliban are not commuting to war, we are.
"There's not going to be a Versailles moment, they're not going to line up and surrender or reconcile. The Taliban would be very willing to accept our surrender."
Eleven years after Blackwater's name forever became associated with the deaths of 17 civilians in an uncontrolled shooting spree in Baghdad's Nisour Square, Mr Prince remains adamant that his industry can be part of the solution to long-running conflict. "The Blackwater name got so tarnished and so blown out by one event in Iraq," he said. "In the Iraq war, the anti-war left went after the contractors."
With proper mentoring from dedicated military veterans and basic support such as medical evacuation for injured troops, Mr Prince also believes Afghanistan's security forces could perform better.
"Men will fight harder when they know someone will look after them," he said.
The duration of the war is Mr Prince's main indictment of the US involvement. "I am not ready for multi-generational war. I have two sons who will likely follow my footsteps and join the service. The idea of them going to Afghanistan to get blown up or dead — no way."
While he has not engaged with the Afghan President Ashraf Ghani on his idea — instead he touts a video he made to sell his plan in the Dari language — Mr Prince brushes off the idea that it is not politically feasible.
Having seen Mr McMaster replaced by John Bolton, a known sceptic of large overseas deployments, there is one less brake on Mr Trump to follow his instincts when shown the Prince plan.
Full report at:
https://www.thenational.ae/world/blackwater-founder-touts-plan-to-cut-us-troops-in-afghanistan-1.771228
--------
US welcomes efforts to reduce violence in Syria
18.09.2018
WASHINGTON
The United States welcomes any "sincere effort" to reduce violence in Syria, a State Department official said Monday.
"We are encouraged that Turkey and Russia appear to have taken steps to avert a military offensive by the Assad regime and its allies in Idlib and welcome any sincere effort to reduce the violence in Syria. We hope de-escalation is made permanent," the official told Anadolu Agency, speaking on condition of anonymity.
The official added that the U.S. was not involved in the negotiations between the Turkish and Russian governments in the Russian city of Sochi over the future of Syria's northwestern Idlib province.
"As we have noted before, an offensive by the Assad regime and its allies against the densely populated Idlib province would be a reckless escalation and would have serious consequences for Syria and the surrounding region," the official added.
The official said Washington remains "concerned by the Assad regime's pattern of destabilizing actions in Idlib and elsewhere", noting that the U.S. will continue to watch the situation and the regime's actions closely.
"We reiterate something that both President [Donald] Trump and President [Vladimir] Putin agreed to in Da Nang, Vietnam: There is no military solution to this conflict," the official said, adding that all parties should "redirect their energies to forging a durable political resolution in Syria".
"As the United Nations Security Council has long emphasized, ending the conflict will require a political solution based on UNSCR 2254 and the Geneva process," the official said.
"The United States supports any credible efforts that prevent a resurgence of violence and protects civilians. Civilians must be allowed freedom of movement, including the right to return home, and provided access to immediate humanitarian assistance and medical care," the official added.
Speaking to Anadolu Agency, Pentagon spokesman Cmdr. Sean Robertson also affirmed U.S. support for the "de-escalation of violence in Syria, unhindered humanitarian access, an enduring defeat of ISIS and other terrorists and progress toward a credible political resolution". He was referring to the Islamic State of Iraq and Syria, another name for Daesh.
Full report at:
https://www.aa.com.tr/en/americas/us-welcomes-efforts-to-reduce-violence-in-syria/1257468
--------
URL: https://www.newageislam.com/islamic-world-news/hindus-muslims-unite-together-muharram/d/116414
New Age Islam, Islam Online, Islamic Website, African Muslim News, Arab World News, South Asia News, Indian Muslim News, World Muslim News, Women in Islam, Islamic Feminism, Arab Women, Women In Arab, Islamophobia in America, Muslim Women in West, Islam Women and Feminism