New Age Islam News Bureau
23 November 2020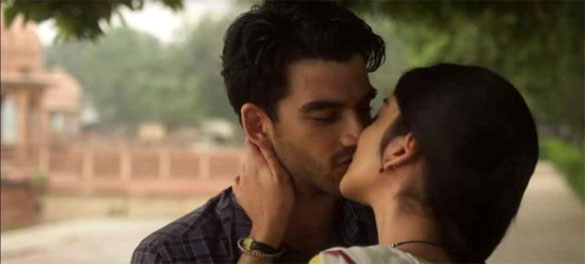 A still from movie via video grab. Netflix series A Suitable Boy, in which a Hindu girl kisses a Muslim boy against the backdrop of a Hindu temple.
------
• 'Sculptures Are Not Always Elements Of Shirk, According To Islamic Teachings': Bangladesh Sommilito Islami
• Pakistan Minister Deletes Tweet Containing Macron Nazi Jibe
• Israel Ratifies First Ever Visa-Free Agreement With UAE
• Patriot Rubbishes DBKL Liquor Ban As Infringement Of Non-Muslim Rights
• Al-Qaeda Names New North Africa Leader, Confirms Death Of Swiss Abducted In Timbuktu
• Centrist Blinken To Be Biden's Pick For US Secretary Of State
India
• Hindu-Muslim Temple Kissing Scenes of 'A Suitable Boy' Stir Trouble For Netflix India
• Love Jihad Law Violates Articles 14 And 21: AIMIM Chief Asaduddin Owaisi
• Mumbai Police Rebuts BJP Leader's Claims Linking Missing Persons Cases From Govandi To 'Love Jihad'
• 'Karachi Will Be A Part Of India One Day': Fadnavis On Bandra Sweet Shop Row
• BJP says 'love jihad' serious problem, states should act
• Tunnel Of Terror A 150-Metre-Long Cross-Border Underground Tunnel Lined With Sandbags Bearing Karachi Markings
--------
South Asia
• 'Sculptures Are Not Always Elements Of Shirk, According To Islamic Teachings': Bangladesh Sommilito Islami
• 'Bangladesh Must Drop Rohingya Island Relocation Plan'
• 360 ANA Pledge to Fight Terrorists till 'Last Breath'
• Taliban Commander Killed in Herat: MoD
• Khalilzad Hails Pak-Afghan Vision on Regional Stability
• Afghanistan donor conference to set aid cuts, conditions amid war, pandemic
• Findings of Afghan war crimes terribly disturbing: Australi's Morrison
--------
Pakistan
• Pakistan Minister Deletes Tweet Containing Macron Nazi Jibe
• Imran warns of total lockdown if rallies continue
• 'Puppet rule' must come to an end, says PDM
• Four 'militants' killed in North Waziristan
--------
Mideast
• Israel Ratifies First Ever Visa-Free Agreement With UAE
• Israel Gaza attacks 'desperate attempt' to change equation in favour of occupier: Hamas
• Turkey part of Europe, but won't bow down to pressure, double standards: Erdogan
• Dealings with US possible despite crimes, says Iran
• Israel strikes Hamas targets in Gaza after rocket attack
• Netanyahu rival Gantz launches investigation, further straining ties with the PM
• Turkey's Erdogan rejects ally's call for release of philanthropist and Kurdish leader
• Saudi's violence against Yemeni kids must stop: Yemen Foreign Ministry
--------
Southeast Asia
• Patriot Rubbishes DBKL Liquor Ban As Infringement Of Non-Muslim Rights
• Indonesia Brass Barks Back At Islamist's 'Moral' Threat
• Senior lawyer's fees in Sabah dissolution case not exorbitant, says counsel
• PAS shouldn't force us to accept Bersatu, says Umno VP
--------
Africa
• Al-Qaeda Names New North Africa Leader, Confirms Death Of Swiss Abducted In Timbuktu
• Formation of Sudan's transitional parliament pushed to December
• Ethiopian PM gives Tigray rebels 3-day ultimatum to surrender before govt. attack
• Ethiopia army threatens 'no mercy' will be in all-out assault on rebel-held Mekele
--------
North America
• Centrist Blinken To Be Biden's Pick For US Secretary Of State
• US and Saudi Arabia advance decades of cooperation: State Department fact sheet
• G20: Trump defends withdrawal from 'unfair' Paris Climate accord
• Loose cannon Pompeo's war of words on Iran
--------
Europe
• France's FM Le Drian says Turkey's 'soothing declarations' not good enough
--------
Arab world
• Future Iran Deal Must Go Beyond Nuclear And Include Regional Misbehaviour: Saudi FM
• EU foreign policy chief censures 'dire condition' of human rights in Bahrain
• Nine Iraqi security personnel, civilians dead in ISIS ambush in Baghdad: Police
• G20 Riyadh Summit wraps up, leaders commit to fighting COVID-19, sustainable future
• Fourteen Iran-backed fighters in Syria killed in airstrikes: Monitor
• In Lebanon, army courts, plainclothes officers target protesters
Compiled by New Age Islam News Bureau
URL: https://www.newageislam.com/islamic-world-news/hindu-muslim-temple-kissing-scenes/d/123550
--------
Hindu-Muslim Temple Kissing Scenes of 'A Suitable Boy' Stir Trouble For Netflix India
November 22, 2020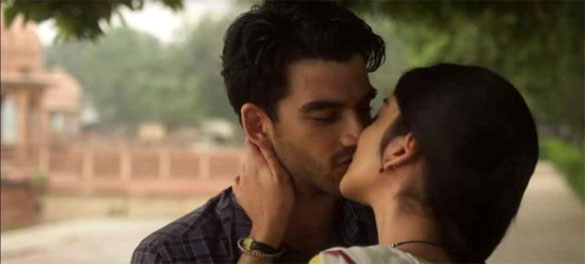 A still from movie via video grab. Netflix series A Suitable Boy, in which a Hindu girl kisses a Muslim boy against the backdrop of a Hindu temple.
------
NEW DELHI: An Indian state on Sunday asked police to investigate after a member of the country's ruling party objected to scenes in the Netflix series A Suitable Boy, in which a Hindu girl kisses a Muslim boy against the backdrop of a Hindu temple.
The series is based on an English novel by one of India's leading writers Vikram Seth and follows a young girl's quest for a husband. It is directed by celebrated Indian filmmaker Mira Nair.
"It has extremely objectionable scenes that have hurt the feelings of a particular religion," Narottam Mishra, the interior minister of the central state of Madhya Pradesh, said on Twitter.
"I've directed police officers to get this controversial content tested" to determine "what legal action can be taken against the producer-director of the film for hurting religious sentiments".
Gaurav Tiwari, a leader of the youth wing of India's ruling Hindu nationalist Bharatiya Janata Party (BJP), which also governs Madhya Pradesh, has filed a separate complaint against Netflix and warned of street protests by Hindus if the series is not taken off the platform.
A Netflix India spokesman declined comment on the police complaint. Reuters could not contact Nair.
Social media commentators say the scope for creative freedom is narrowing in India, especially when it involves any depiction of Hindu-Muslim relations.
Many Indians took to Twitter demanding a boycott of Netflix, which sees India as one of its most promising growth markets, but where its shows have faced legal challenges.
Last month, a unit of India's Tata conglomerate withdrew a jewellery advertisement featuring a Hindu-Muslim family celebrating a baby shower, following threats to one of its stores and wide criticism on social media.
Earlier this month, the Indian government announced rules to regulate content on video streaming platforms including Netflix, Amazon Prime Video and Walt Disney's Hotstar.
https://www.freemalaysiatoday.com/category/business/2020/11/22/hindu-muslim-temple-kissing-scenes-stir-trouble-for-netflix-india/
--------
'Sculptures Are Not Always Elements Of Shirk, According To Islamic Teachings': Bangladesh Sommilito Islami
November 22nd, 2020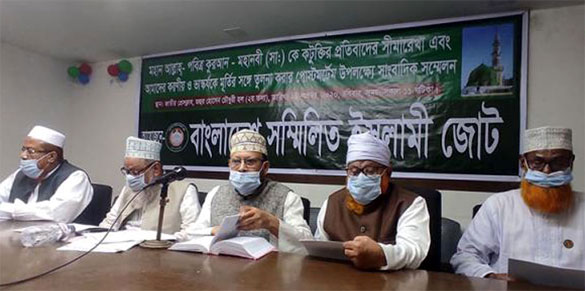 Bangladesh Sommilito Islami Jote president Maulana Ziaul Hasan addresses a press conference at the National Press Club in Dhaka on Sunday, November 22, 2020 Collected
----
'Sculptures placed as a symbol of beauty or as a memorial to a historical event are not forbidden according to Islamic teachings'
Describing the creation or installation of sculptures as shirk or foreign culture is completely unreasonable, according to the Bangladesh Sommilito Islami Jote.
Creation of sculptures and idolatry is not the same thing, and sculptures are not always elements of shirk, said the organization's President Maulana Ziaul Hasan on Sunday, reports Bangla Tribune.
Notably, in Islam, shirk refers to idolatry or the association of God with other deities.
Sharing their observation on the issue at a press conference at the National Press Club in Dhaka, Ziaul said: "In our Bangali culture, there are things that have been done or observed for a long time without committing shirk; and suddenly describing them as part of a shirk culture is nothing but dirty politics."
He continued: "It is mentioned at the very beginning of Bukhari Shareef that a deed depends on the intention. Sculptures don't always mean they will be used for shirk."
According to Hadiths, he said, there was a small horse sculpture in Hazrat Aisha's (ra) room. She also had several dolls that she used to play with along with her friends. But Prophet Muhammad (PBUH) did not forbid her from doing that and also never said anything about them being elements of shirk.
Because that sculpture or those dolls were not there for worship; they were there only for playing, he said.
"Similarly, sculptures that are placed as a symbol of beauty or as a memorial to a historical event are not forbidden according to Islamic teachings," added Maulana Ziaul.
Ziaul further said that when the country's Muslim citizens pay homage with flowers at the Shaheed Minar, the National Memorial or the Martyred Intellectuals' Memorial, they do not do that with the intention of worshipping. "Through that, they only show their respect to national history, tradition and sacrifice of the martyrs."
"In Saudi Arabia's Jeddah, there is a sculpture of a fist called The Fist. There are also sculptures of horses and fishes. Similarly, there are sculptures of horses and other creatures in the Muslim-dominated United Arab Emirates, Iran, Indonesia and Egypt.
"Thus, it can be said that even if it's a sculpture of a living being or part of a living being, there is nothing wrong with it if it was not created with the intention of committing shirk," Ziaul added.
He also said: "It is not a mark of religiosity to confuse general people in the name of religion and create anarchy by spreading rumours. Any government can take action against the perpetrators of such anarchy."
Prophet Muhammad (PBUH) has also talked against going overboard over religion, he said.
Talking about a possible solution, Maulana Ziaul added: "I would say this to the government — the only way out of this situation is to form a 'National Education Commission,' comprising academics and patriotic Islamic thinkers, to introduce a science-based, mass-oriented and non-communal education system."
Sommilito Islami Jote vice presidents Mufti Jobayed Ali and Abdus Sobhan Miah, General Secretary Maulana Abul Hossain, among others, were present at the press conference.
https://www.dhakatribune.com/bangladesh/2020/11/22/maulana-ziaul-sculptures-aren-t-always-elements-of-shirk
--------
Pakistan Minister Deletes Tweet Containing Macron Nazi Jibe
22 Nov 2020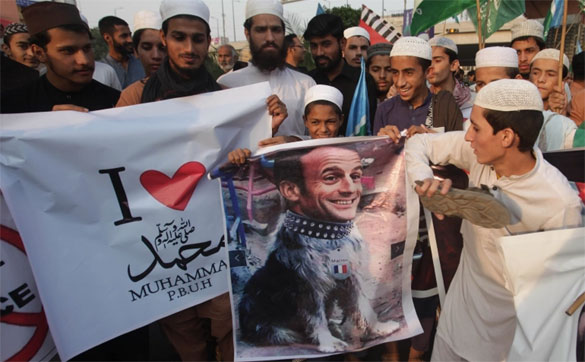 Demonstrations against Macron's comments on caricatures of the Prophet in Lahore [File: Rahat Dar/EPA-EFE]
-----
A Pakistani minister has withdrawn comments she made earlier that French President Emmanuel Macron was treating Muslims like Nazis had treated Jews in World War Two.
France's foreign minister had demanded Pakistan authorities withdraw the comments posted on Twitter by Pakistan's Federal Minister for Human Rights Shireen Mazari on Saturday.
"Macron is doing to Muslims what the Nazis did to the Jews – Muslim children will get ID numbers (other children won't) just as Jews were forced to wear the yellow star on their clothing for identification," Mazari had said in a tweet linking to an online article.
The article was however amended earlier on Sunday to reflect the fact that the idea, if implemented, would be applied to all children in France and not just to Muslim children.
In a follow-up tweet on Sunday, Mazari initially doubled down on her claims following a condemnation by France's foreign ministry late on Saturday, which described them as "blatant lies, imbued with an ideology of hatred and violence".
Later on Sunday, however, Mazari tweeted: "The article I had cited has been corrected by the relevant publication, I have also deleted my tweet on the same."
'Hate-mongering'
The incident follows anger in Pakistan over the republication of caricatures of the Prophet Muhammad by satirical French magazine Charlie Hebdo.
The images have sparked anger and protests in the Muslim world, especially in Pakistan.
The Prophet is deeply revered by Muslims and any kind of visual depiction of him is forbidden in Islam. The caricatures in question are seen by Muslims as offensive and Islamophobic because they are perceived to link Islam with "terrorism".
Pakistan's parliament at the end of October passed a resolution urging the government to recall its envoy from Paris, accusing Macron of "hate-mongering" against Muslims.
In early October, Macron made a speech in which he described Islam as a religion "in crisis" globally and said he would work against "Islamist separatism" in France.
Two weeks later, a French history teacher, Samuel Paty, was beheaded outside his school by an 18-year-old man of Chechen origin for showing the caricatures of the Prophet in a class on freedom of speech.
Macron paid tribute to Paty, refusing to condemn the right to show the caricatures, vowing: "We will not give up cartoons," and defending France's strict brand of secularism and its long tradition of satire.
French officials have said the beheading was an assault on the core French value of freedom of expression. The attacks have prompted tougher rhetoric from Macron against what he calls "Islamist separatism".
Meanwhile, thousands across the Muslim world have protested against Macron and his government, angered by the French leader's comments on Islam and by renewed official support for the right to show the caricatures.
Some Muslim countries have called for boycotts of French products and a number of international media outlets – as well as allies of France – have been critical of the actions by Macron and his government.
https://www.aljazeera.com/news/2020/11/22/france-demands-pakistan-rectifies-macron-nazi-comment
--------
Israel ratifies first ever visa-free agreement with UAE
23 November 2020
Israel ratifies an unprecedented treaty signed with the United Arab Emirates that enables people to travel visa-free from the occupied territories to the Emirates and vice versa.
The Knesset, Israel's parliament endorsed the treaty on Sunday, The Times of Israel reported. It had been signed ceremoniously outside Tel Aviv last month in the presence of Israeli prime minister Benjamin Netanyahu, US Treasury Secretary Steven Mnuchin, and a visiting Emirati delegation.
The treaty makes the UAE the first-ever destination which the Israelis could travel to without needing to apply for visas in advance. There is no such agreement between the occupying regime and any country in the world, not even Tel Aviv's oldest and strongest ally, the United States.
For its part, the UAE government reportedly ratified the agreement on November 1.
The UAE and Bahrain signed US-mediated normalization deals with Israel at the White House on September 15.
The development has been unanimously condemned by all Palestinians and pro-Palestinian countries and officials around the world as a sheer "betrayal" of the Palestinian cause of liberation from the Israeli occupation and aggression.
Speaking before the vote, Netanyahu hailed "the great change that we are bringing to our region in every field."
"This is the first Arab country with which we have signed such an agreement and this is a step that will facilitate reciprocal tourism," he noted.
Abu Dhabi has also "passed along" a message that it wished to facilitate the reciprocal opening of embassies in Tel Aviv and Abu Dhabi "as soon as possible," the Israeli paper reported, citing Israel's foreign ministry.
Trying not to conceal his jubilation, Netanyahu further mentioned a visit to the occupied territories by Bahraini Foreign Minister Abdullatif bin Rashid al-Zayani last week. "This is an immense change," the Israeli premier said.
The Bahraini minister's visit featured signing of a similar agreement for an "online visa application" arrangement between the two sides.
The US has been advertising the normalization deals as a foreign policy victory for outgoing President Donald Trump's administration.
Various regional and international officials and pundits, however, have warned against allowing the occupying regime to carve out a foothold in the Persian Gulf. They say the highly sensitive region's affairs, especially its security matters, have to be handled by the littoral states without the interference of outside parties.
https://www.presstv.com/Detail/2020/11/23/639177/Israel-UAE-visa-free-treaty-approval
--------
Patriot rubbishes DBKL liquor ban as infringement of non-Muslim rights
22 Nov 2020
BY JERRY CHOONG
KUALA LUMPUR, Nov 22 — Veterans' group Persatuan Patriot Kebangsaan (Patriot) has condemned the recent decision by Kuala Lumpur City Hall (DBKL) to ban the sale of liquor in sundry shops, grocery stores and convenience stores, calling it "unnecessary and ridiculous".
Its president Brigadier General Datuk Mohamed Arshad Raji (Rtd) also took Deputy Religious Affairs Minister Ahmad Marzuk Shaary to task, after the latter said yesterday that the Perikatan Nasional (PN) government has not ruled out extending the ban to other states.
"The public could see through that it was a tactic of testing for height all the way since last June when Federal Territories Minister Tan Sri Annuar Musa made the call to the government to stop issuing liquor licenses," he said in a statement.
Arshad urged Ahmad Shaary and his fellow leaders in PAS to not make a mockery of their earlier promises that non-Muslims would not be subjected to regulations pertaining to Islam and Islamic affairs, and that they could consume non-halal food so long as their religion permits it.
"Otherwise public perception of their hypocrisy will only worsen. If curbing of liquor sale is because of drink-driving, there are better ways to tackle the problem.
"The approach must be an all-inclusive consultation including the business community, not merely with a show-making select group," he said.
Arshad further argued that if matters of health are the issue in question, the authorities should know there are many other food and beverages that are worse for health compared to beer and mild liquor.
"It is not Patriot's business to promote any alcoholic drink. But upholding social justice and the value of righteousness, encouraging fair business practices, and voicing up against bullying tactic; are within the bounds of our business.
"Our Malaysian society had existed for generations. We have been a multi-racial and a multi-religious nation living in tolerance, understanding and mutual respect among the three major races," he said.
The retired brigadier-general also said that politicians must be reminded of the ramifications of their decision to curb liquor sales and not issuing licenses.
"These include jobs, small businesses, transport, restaurants, hotels, tourism, and our national income. Also, others might see our leaders as Taliban-like.
"We would like to ask the pious Ahmad Shaary to tell us which is more evil — drinking liquor or corruption. Which is more damaging to our society and nation? Which evil attracts the Malay most?" he questioned.
Similarly, Arshad also extended the question to Annuar, asking both leaders to decide whether banning liquor or eradicating the scourge of corruption among Malay-Muslims is more important.
DBKL's decision, announced on Tuesday, is set to come into force on October 1 next year. The ban also applies to traditional Chinese medicine halls or herbalist stores, with an exemption on pure or mixed liquor products which are used and sold for medicinal purposes.
Ahmad Shaary's remarks also saw him defending DBKL's decision by citing the positive feedback from civil society, including Muslims and non-Muslims, on implementing the ban.
https://www.malaymail.com/news/malaysia/2020/11/22/patriot-rubbishes-dbkl-liquor-ban-as-infringement-of-non-muslim-rights/1924975
--------
Al-Qaeda names new North Africa leader, confirms death of Swiss abducted in Timbuktu
22 November 2020
Al-Qaeda's North Africa branch (AQMI) has chosen a new leader to replace Abdelmalek Droukdel, who was killed in June by French forces, the SITE monitoring group reported Saturday.
Algerian Abu Obaida Yusuf al-Annabi, the head of al-Qaeda's North Africa's "Council of Dignitaries," was named as Droukdel's successor, SITE said.
Al-Annabi has been on the American "international terrorist" blacklist since September 2015, according to the Counter Extremism Project.
For all the latest headlines, follow our Google News channel online or via the app.
He has regularly appeared in the group's propaganda videos, and in 2013 famously demanded that Muslims retaliate against France's intervention in Mali.
AQIM also confirmed the death of Swiss national Beatrice Stoeckli, who was abducted in Timbuktu while working as a missionary in 2016.
It blamed her death on an attempt by "French crusaders" to free her.
Al-Qaeda in the Islamic Maghreb (AQIM) emerged from a group started in the late 1990s by radical Algerian Islamists, who in 2007 pledged allegiance to Osama Bin Laden's al-Qaeda network.
The group has claimed responsibility for numerous attacks on troops and civilians across the Sahel region, including a 2016 attack on an upmarket hotel and restaurant in Burkina Faso that killed 30 people, mainly Westerners.
France has more than 5,000 troops deployed in its anti-extremist Barkhane force in the Sahel.
https://english.alarabiya.net/en/News/north-africa/2020/11/22/Al-Qaeda-names-new-North-Africa-leader
--------
Centrist Blinken to be Biden's pick for US secretary of state
Joseph Haboush
22 November 2020
The top US diplomat in President-elect Joe Biden's upcoming administration will be his longtime confidante Antony Blinken, sources familiar with the decision said late Sunday.
Blinken was previously the deputy secretary of state under former President Barack Obama as well as the deputy national security adviser.
For all the latest headlines, follow our Google News channel online or via the app.
Despite Blinken being one of the frontrunners for secretary of state, it was reported that he would be the national security adviser for Biden. One of the reasons was that Biden "doesn't want him out of his sight," one adviser to Biden told Al Arabiya English.
During Biden's time on the Senate Foreign Relations Committee, Blinken was his aide and played a central role in crafting US policy in the Middle East.
Blinken, referred to as a centrist, admitted to getting Washington's policy on Syria wrong during his time under Obama and Biden.
Bloomberg also reported Sunday that Jake Sullivan, formerly one of Hillary Clinton's closest aides, is likely to be named Biden's national security adviser, according to two people familiar with the matter.
An announcement is expected Tuesday, the people said.
Biden's pick of the 58-year-old Blinken could allay fears of Republicans in the Senate, where cabinet picks must be confirmed.
Susan Rice and Chris Coons are two other choices in the mix to become secretary of state.
However, Rice would likely have a difficult time being confirmed by the Senate for her previous actions, including statements she made after the deadly 2012 attacks on Americans in Benghazi, Libya.
A graduate of Harvard University and Columbia Law School and a longtime Democratic foreign policy presence, Blinken has aligned himself with numerous former senior national security officials who have called for a major reinvestment in American diplomacy and renewed emphasis on global engagement.
https://english.alarabiya.net/en/News/world/2020/11/23/Centrist-Blinken-to-be-Biden-s-pick-for-US-secretary-of-state
--------
India
Love Jihad Law Violates Articles 14 And 21: AIMIM Chief Asaduddin Owaisi
Nov 23, 2020
Hyderabad: Reacting to the draft 'Love Jihad law', AIMIM chief Asaduddin Owaisi on Sunday said the proposed law is in gross violation of Articles 14 & 21. "I would say spread love, spread only love. How much more hatred will you spread, end the hatred Modiji (dilo ko jodne ka kaam kigiye)," said the Hyderabad MP.
"Will you end Special Marriage Act, too. Choice is now a fundamental right in Constitution. BJP diverting the attention of the youth, who are victims of unemployment," he said.
Speaking about cow cabinet meet in Madhya Pradesh, Owaisi said, "When will the people who have been rendered jobless start earning, and will the government accommodate those who have lost jobs in that cabinet?"
He asked whether BJP will agree with Savarkar's and Golwalkar's definition of Hindutva.
"If de-radicalization happens, who will be the targets? Will it be the ones who go to shops and ask vendors to stop selling crackers? UAPA is a draconian law, which is used to imprison innocent Muslims, Dalits and dissenters," he said.
"What did the central government give to Telangana and Hyderabad. Floods hit the city, houses were inundated but what financial aid did Modi government give? They are trying to give a communal colour as they failed to provide aid," he said. Owaisi also said that there is no alliance between TRS and AIMIM.
https://timesofindia.indiatimes.com/city/hyderabad/love-jihad-law-violates-articles-14-21-asad/articleshow/79358967.cms
--------
Mumbai Police rebuts BJP leader's claims linking missing persons cases from Govandi to 'love jihad'
Pankaj Upadhyay
November 23, 2020
BJP leader Kirit Somaiya on Sunday raised the issue of missing girls from the suburban area of Govandi in Mumbai, questioning if 'love jihad' was behind the disappearances. Somaiya alleged that in the past few months, at least 21 girls have gone missing from Govandi.
"From Mumbai's Govandi Police Station area 21 young girls aged between 15 years 17 years 20 years have gone missing in the last few months. Someone picked them from the area....I talked to the police station officials and no one is serious. Is it a part of Love Jihad? Will Thackeray government investigate the matter?" Kirit Somaiya said in a tweet.
Kirit Somaiya also took to Twitter on the issue and put out the list of the missing persons.
"It's shocking 21 young girls 'GAYAB' Missing in last few months, from GOVANDI Police Station Area Mumbai!!?? Why? Who took them away? Who cheated them? We demand high-level inquiry," he tweeted, tagging former Maharashtra chief minister and current Leader of Opposition in the Maharashtra Legislative Assembly, Devendra Fadnavis.
Referring to the matter, Mumbai Police told India Today that a probe is underway in this matter. Officials of the Mumbai Police further provided details on the missing persons cases from Govandi and said that a majority of the victims have been found.
In a statement, the Mumbai Police said, "There are total of 23 cases of missing women in Govandi police station this year. This includes 15 majors and eight minors. All eight minors have been found. Out of the 15 majors, 11 have been found, four have not been found. Therefore, out of the total 23 cases, 19 have been found, 4 have not been found and investigation is going on in these cases."
Responding to the Mumbai Police's rebuttal, BJP leader Kirit Somaiya said he will be visiting the Govandi police station on November 23 to get more details on the cases.
https://www.indiatoday.in/india/story/mumbai-police-rebuts-bjp-leader-s-claims-linking-missing-persons-cases-from-govandi-to-love-jihad-1743131-2020-11-23
--------
'Karachi will be a part of India one day': Fadnavis on Bandra sweet shop row
Nov 23, 2020
Edited by Prashasti Singh
Former Maharashtra chief minister and Bharatiya Janata Party (BJP) leader Devendra Fadnavis on Sunday said that his party believes in 'akhand bharat' and that Karachi will be a part of India one day.
He was responding to a question over the incident where a Shiv Sena leader allegedly asked Karachi Sweets shop owner in Bandra West to remove the word 'Karachi' from the names of their shop.
"We believe in 'Akhand Bharat'. We also believe that Karachi will be a part of India one day," Fadnavis said.
A video of Shiv Sena leader Nitin Madhukar Nandgaonkar asking Karachi Sweets shop owner to change the shop's name recently went viral. "You have to do it, we're giving you time. Change 'Karachi' to something in Marathi," says Nitin Nandgaokar in the video, according to ANI.
After Nitin Nandgaokar's visit, Shiv Sena MP Sanjay Raut called the demand futile and clarified that changing the shop's name is not the party's official stance.
"Karachi bakery and karachi sweets have been in mumbai since last 60 years. They have nothing to do with Pakistan. It makes no sense to ask for changing their names now.Demand for changing their name is not shivsena's official stance," he tweeted.
https://www.hindustantimes.com/mumbai-news/karachi-will-be-a-part-of-india-one-day-devendra-fadnavis-reacts-to-bandra-sweet-shop-row/story-pS1gdKQaaMctsV8iHXjTUK.html
--------
BJP says 'love jihad' serious problem, states should act
Posted by Arpan Rai
Nov 22, 2020
The BJP on Sunday termed 'love jihad' a "serious problem" and backed the decision of its state governments to enact laws against it.
BJP-ruled states like Uttar Pradesh and Haryana have expressed their intention to bring a law against 'love jihad', a term coined by Hindutva groups for Hindu girls being allegedly forced to convert to Islam in the guise of marriage.
Opposition parties have dismissed this as an attempt by the BJP to divide the society and said any such law will be violative of the Constitution.
"Love jihad is a serious problem. Many mothers and sisters have suffered its bad consequences. This is a state matter and state governments should enact law against it," BJP general secretary Arun Singh told reporters at a press conference.
Some state governments are working in this regard and will continue to do so, he added.
About Chhattisgarh Chief Minister Bhupesh Baghel's attack on the saffron party over the issue and his reference to interfaith marriages of some BJP leaders, Singh said Baghel should first answer whether his government has fulfilled the promises like waiving farm loans and starting unemployment allowance the Congress had made during the Assembly polls in 2018.
His government has become synonymous with corruption and malgovernance, the BJP general secretary said.
https://www.hindustantimes.com/india-news/bjp-says-love-jihad-serious-problem-states-should-act/story-lve8y9Hz3lla2yXbc9PhzI.html
--------
Tunnel Of Terror A 150-Metre-Long Cross-Border Underground Tunnel Lined With Sandbags Bearing Karachi Markings
Nov 22, 2020
JAMMU/NEW DELHI: A two-day search for the infiltration route of the four Jaish-e-Mohammed terrorists killed in a gunfight with security forces on the Jammu-Srinagar highway last Thursday has culminated in the discovery of a 150-metre-long cross-border underground tunnel lined with sandbags bearing "Karachi markings".
The freshly dug tunnel, which starts around 70 metres from the Line of Control (LoC) and is 1.5m wide, lends credence to intelligence reports that Pakistan has been using the underground route to push terrorists into Kashmir.
DGP Dilbag Singh, who had revealed in September that security forces were looking for "Pakistani underground routes along the infiltration grid", on Sunday told reporters in Samba that the tunnel unearthed by BSF was possibly one of several used by terrorists to enter the region.
Pre-fed GPS locations on a communication device found on one of the slain terrorists helped security forces pinpoint the coordinates of the tunnel, sources said.
The tunnel originates on the side of the Chak Bhura, Rajab Sahid and Asif Sahid border outposts across the LoC and exits towards the Regal border outpost on the Indian side. The terrorists entered the tunnel through the Chak Bhura end around 8.15pm on November 18, according to the timings found on the GPS device.
The travel time from one end to another was just about 10 minutes, an intelligence official said.
The MPS2505 device carried by the terrorists has multiple options to trace their coordinates, including periodic location intervals. The coordinates had to be decrypted.
"We found more than a dozen locations fed into the device. We have now also traced the route the terrorists took on foot to reach the highway, where they boarded a truck arranged by contacts in Samba. They had travelled 5-6 hours on foot," a source in J&K police said.
DGP Singh pointed out that the tunnel had been bored and bolstered for reuse. "This proves our suspicion that Pakistan is bent on disrupting peace," he said, reiterating PM Narendra Modi's statement last Friday that Pakistan-based outfit Jaish had started sending terrorists specifically to target the first District Development Council polls in J&K.
The four Jaish terrorists killed in the Nagrota encounter were travelling in a truck loaded with 11 AK-47 rifles, three pistols, 29 grenades (excluding those hurled at the security personnel), some RDX, SOS medicines and an unspecified number of communication devices.
DGP Singh, BSF inspector general (Jammu) N S Jamwal and IGP (Jammu) Mukesh Singh jointly surveyed the infiltration spot after the tunnel was discovered on Sunday.
https://timesofindia.indiatimes.com/india/tunnel-of-terror-unearthed-in-jammu/articleshow/79357116.cms
--------
South Asia
'Bangladesh must drop Rohingya island relocation plan'
Md. Kamruzzaman
22.11.2020
DHAKA, Bangladesh
Bangladesh must abandon its plans to relocate Rohingya refugees to a remote island in the Bay of Bengal, a top global rights group has said.
The island of Bhashan Char has not yet been declared safe for human habitation by the UN and many of the Rohingya refugees are still reluctant to relocate, Amnesty International said in a statement on Friday.
It accused Bangladeshi authorities of pressuring the Rohingya community, currently confined to crammed camps in the southern district of Cox's Bazar, to consent to being shifted to the disaster-prone island.
Citing media reports, the group said Bangladesh is aiming to relocate 300 to 400 Rohingya refugees to the island in November.
"Rohingya refugees, interviewed by Amnesty International this month, said that government officials in charge of refugee camps in Cox's Bazar have coerced them into registering for relocation," the statement said.
Omar Waraich, South Asia head at Amnesty International, stressed that the island has yet to be "deemed safe for human habitation" and there are still "serious questions over this relocation procedure".
"Based on the experiences of those that Amnesty International has spoken to, many of the Rohingya who have signed up to relocate to Bhashan Char are doing so out of compulsion rather than choice," he said.
"Any decisions relating to the relocation of refugees must be transparent and involve the full participation of the Rohingya people. In the meantime, plans for any further relocations must be abandoned."
He called on Bangladeshi authorities to allow the UN to carry out an assessment of Bhashan Char and "immediately return the hundreds of Rohingya refugees currently on the island to their families in Cox's Bazar."
'Rohingya willing to relocate'
The Bangladesh government, meanwhile, is insisting that the Rohingya refugees are willing to shift to the island.
The country's foreign minister has put forward this claim on several recent occasions, saying last week that a decision has been taken to relocate around 100,000 Rohingya to Bhasan Char from Cox's Bazar.
"Most of them [Rohingya] have agreed to go there [Bhashan Char]. The relocation process is being delayed only because of pressure from international agencies and NGOs," AK Abdul Momen was quoted as saying by state-run Bangladesh Sangbad Sangstha news agency.
He said the refugee camps in Cox's Bazar were overcrowded and disaster-prone, claiming that the remote island offers the Rohingya community a shot at a better life.
"Bhasan Char is a beautiful place; I wish to build a resort there. The Rohingya can work and earn on the island too, be it agriculture or rearing livestock," the minister said.
'World's most persecuted people'
The Rohingya, described by the UN as the world's most persecuted people, have faced heightened fears of attack since dozens were killed in communal violence in 2012.
According to Amnesty International, more than 750,000 Rohingya refugees, mostly women and children, fled Myanmar and crossed into Bangladesh after Myanmar forces launched a crackdown on the minority Muslim community in August 2017, pushing the number of persecuted people in Bangladesh above 1.2 million.
Some 600,000 Rohingya remaining in Myanmar's Rakhine State were still the target of a government campaign to eradicate their identity, and were living under "threat of genocide", according to a UN-mandated Fact-Finding Mission's report last September as quoted by Human Rights Watch.
Since Aug. 25, 2017, nearly 24,000 Rohingya Muslims have been killed by Myanmar's state forces, according to a report by the Ontario International Development Agency (OIDA).
More than 34,000 Rohingya were thrown into fires, over 114,000 more beaten, and as many as 18,000 Rohingya women and girls were raped by Myanmar's army and police, said the OIDA report, titled Forced Migration of Rohingya: The Untold Experience.
Over 115,000 Rohingya homes were burned down and some 113,000 others vandalized, it added.
https://www.aa.com.tr/en/asia-pacific/bangladesh-must-drop-rohingya-island-relocation-plan/2051845
--------
360 ANA Pledge to Fight Terrorists till 'Last Breath'
By Mohammad Arif Sheva
23 Nov 2020
BALKH, Afghanistan – At least 360 Afghan National Army (ANA) took oath of allegiance to fight terrorists "till their last breath", said the Ministry of Defense Monday morning, deploying them in north battle against the known Taliban insurgents.
According to the authorities, these soldiers will be deployed in Northern provinces, including Balkh and Takhar, where security threats are at its peak.
"360 ANA soldiers took oath of allegiance in Balkh Prov. Yesterday," said MoD in a tweet. "These soldiers will be deployed to northern Prov and in order to defend lives and properties of Afghans."
"They pledged to fight terrorists until their last breaths and will not allow them to harass our compatriots," the tweet added.
This came amid a widespread concern over a rising insecurity that has targeted locals and civilians in northern provinces – mainly Balkh and Takhar, where reportedly several districts are under severe influences of the Taliban.
https://www.khaama.com/360-ana-pledge-to-fight-terrorist-till-last-breath-34534/
--------
Taliban Commander Killed in Herat: MoD
By Mohammad Arif Sheva
22 Nov 2020
HERAT, Afghanistan – At least eight Taliban insurgents, including one of their commanders, were killed during a battle with Afghan National Defense and Security Forces (ANDSF) in Herat province Saturday night, said the Ministry of Defense in a statement Sunday.
Officials did not provide further details on a possible casualties the Afghan forces may have suffered but said further 14 Taliban were wounded during clashes.
"8 Taliban including one of their commanders were killed and 14 others were wounded after they attacked #ANDSF positions in Shindand district of Herat province, last night," said the MoD in a tweet.
_________
[EARLIER: '13 Taliban Killed in Kandahar Battle']
KANDAHAR, Afghanistan – At least eight Taliban insurgents were killed during a battle with Afghan National Defense and Security Forces (ANDSF) in southern province of Kandahar, said the Ministry of Defense in a statement Sunday.
According to the statement, the Taliban were "preparing to attack ANDSF" at their locations in Panjwae and Aherai districts before being haunted by the Afghan Air Force.
"8 Taliban were killed in Panjwae and Zherai districts of Kandahar last night," said the MoD in a tweet. "They were preparing to attack #ANDSF positions when they were targeted by AAF."
Meanwhile, at least five further Taliban were killed in Shawali Kot district of the province, according to the ministry.
Officials did not provide further details on possible casualties Afghan forces may have suffered or further injuring the terrorist group bored, but said their attack was foiled before the Taliban succeed in their "heinous" attack.
"5 Taliban were killed in Shahwali-Kot district of Kandahar province yesterday," MoD added. "They were preparing to attack #ANDSF positions when they were targeted by #ANA."
https://www.khaama.com/taliban-commander-killed-in-herat-mod-345345/
--------
Khalilzad Hails Pak-Afghan Vision on Regional Stability
By Mohammad Arif Sheva
23 Nov 2020
KABUL, Afghanistan – United States Special Representative for Afghanistan Reconciliation Zalmay Khalilzad hailed the shared vision by Pakistan and Afghanistan on bilateral relations and regional stability.
On Friday, Afghan President Ashraf Ghani urged Pakistan to "overcome distrust that has haunted" bilateral relationship, as both leaders met at Presidential Palace for the first time in their positions.
"We welcome and are encouraged by the positive development in Pakistan-Afghanistan relations," said Khalilzad in a tweet Monday. "If implemented, it provides an opportunity to move forward on peace and development in the region."
Addressing PM Khan's visit to Kabul, Khalilzad said the move "represents a concrete step forward", strengthening relationship between Pakistan and Afghanistan amid struggle for peace and stability in the region.
"We congratulate both countries on emphasis Joint Vision places on: 1) preventing either's territory to be used against the other, 2) inclusive governance, 3) stronger people/govt/security ties, 4) more integrated econ connectivity, trade & dvp-linking CentralAsia, Pak & Afg," he added.
During an official trip to Kabul, PM Khan said the objective of his visit amidst escalation of violence in the country is to assure that people and government of Pakistan want peace in Afghanistan.
"My idea of choosing this time to come was to assure you that Pakistan will do everything, whatever is possible to help to reduce this violence and move toward ceasefire," he said.
https://www.khaama.com/khalilzad-hails-pak-afghan-vision-on-regional-stability-345345/
--------
Afghanistan donor conference to set aid cuts, conditions amid war, pandemic
22 November 2020
Afghanistan faces funding cuts and tighter restrictions on vital aid from an international donor conference this week, marking further challenges for a nation torn by two decades of war and now ravaged by COVID-19.
Ministers from about 70 countries and officials of humanitarian organizations, at the virtual conference hosted in Geneva on Monday and Tuesday, are expected to pledge billions of dollars to safeguard development projects, with talks between the Afghan government and the Taliban stalled and President Trump sharply reducing US forces in the country.
Although the fragile economy depends heavily on foreign aid, Kabul will see cuts in donations, and donors will introduce stringent political and human rights conditions on the money, five participants told Reuters.
For all the latest headlines, follow our Google News channel online or via the app.
Afghanistan's economy is set to contract by at least 5.5 percent his year because of COVID-19 impacts, stated the World Bank in a recent report.
The strategy aims to protect the peace talks and prod the Afghan government to improve allocation, they said.
Donors at the last conference, in Brussels in 2016, pledged $15.2 billion for 2017 to 2020, or $3.8 billion a year.
That could be cut by 15 percent to 20 percent, said a senior Western diplomat participating in the conference. "This is the best countries can offer amid the domestic challenge of managing a pandemic."
Trump will cut US forces in Afghanistan to 2,500 from 4,500 by mid-January, the Pentagon said last week, seeking to wind down America's longest war. The drawdown of foreign forces - Britain plans to follow the US lead - could mean greater influence for the Taliban.
This makes donors uneasy over whether the hardline Islamists will try to roll back progress on human rights and girls' education.
The peace talks in the Qatari capital Doha have stalled and the Taliban refuses to call a ceasefire. Its attacks have sometimes prompted US airstrikes to protect urban areas.
But senior diplomats told Reuters that a breakthrough was expected in the peace talks after the donor conference.
"Taliban and Afghan government representatives will take a break from the peace talks after the Geneva conference but not before they have joint declaration of agreement over key security issues," said a senior Western official.
At the Geneva meeting, the government of Afghan President Ashraf Ghani will present a peace and development framework meant to allocate funds to key projects, safeguard millions of jobs and protect democratic institutions.
"The conference will remain focused on making Afghanistan self-reliant by the end of its transformation decade which is 2024," Naser Sidiqee, a senior official of the Afghan finance ministry, said in Geneva last week.
The Taliban is not invited to the conference but the militants have urged donors to continue their humanitarian assistance while accusing Ghani's government of pocketing the aid money.
"We request the international community and organizations to deliver aid, collected in the name of the people, to the people," the Islamist group said in a statement.
https://english.alarabiya.net/en/News/world/2020/11/22/Afghanistan-donor-conference-to-set-aid-cuts-conditions-amid-war-pandemic
--------
Findings of Afghan war crimes terribly disturbing: Australi's Morrison
21 November 2020
Australian Prime Minister Scott Morrison says the findings of a military report that confirmed Australian forces murdered dozens of civilians or prisoners in Afghanistan are "disturbing and distressing."
The findings of an investigation published on Thursday confirmed that Australian soldiers "unlawfully" killed at least 39 civilians and prisoners in Afghanistan between 2005 and 2016. The report found that senior commandos forced junior soldiers to kill defenseless captives in order to "blood" the troops for combat.
The report recommended referring 19 current and former soldiers for potential prosecution.
"This is a terrible, terribly disturbing and distressing report," Morrison said on Saturday. "But the thing about Australia is — is we will deal with it. And we will deal with it under our law, under our systems, and our justice system."
The investigation came after the Australian Broadcasting Corporation (ABC) reported in July about an alleged cover-up of the killing of an Afghan boy in Kandahar Province in 2012.
The office of the Inspector-General of the Australian Defense Force (IGADF) also described the report as "possibly the most disgraceful episode in Australia's military history."
"We know that it happened in 2012," it said. "The commanders at troop, squadron, and task group level bear moral command responsibility for what happened under their command, regardless of personal fault."
Australia, which is not a member of NATO, has had an active role in Afghanistan since the US-led invasion of the country in 2001.
In May, it sent an additional 30 troops to Afghanistan to join the NATO-led mission against the Taliban and other militant groups, bringing its total Afghan deployment to 300 troops.
The US-led invasion removed the Taliban militant group from power but has failed to stop its militant activities in the country. The ongoing chaos has also paved the way for the Daesh terror group to gain a foothold in Afghanistan's east.
https://www.presstv.com/Detail/2020/11/21/639070/Findings-of-Afghan-war-crimes-terribly-disturbing-Australi-Morrison-
--------
Pakistan
Imran warns of total lockdown if rallies continue
Syed Irfan Raza
23 Nov 2020
ISLAMABAD: Prime Minister Imran Khan on Sunday said the government would be compelled to enforce complete lockdown if the opposition did not desist from holding public gatherings at a time when the country was reeling under the impact of Covid-19.
During the last 24 hours, the highest number of positive cases was reported with 2,665 people getting infected and 59 losing their lives.
Taking to Twitter, Prime Minister Khan said the opposition's Pakistan Democratic Movement (PDM) would be responsible for the consequences if it continued with public gatherings despite a surge in Covid-19 cases. "In (Pakistan), the PDM by continuing with Jalsas (public gatherings) is deliberately endangering lives and livelihoods (because) if cases continue to rise at the rate we are seeing, we will be compelled to go into complete lockdown & PDM will be responsible for consequences," Mr Khan said in his tweet.
He said the data was quite alarming as there was a 200 per cent increase in the number of patients on ventilators in Peshawar and Multan during the last 15 days. It was 148 per cent in Karachi, 114pc in Lahore and 65pc in Islamabad.
Seventy per cent ventilators were in use in Multan and Islamabad, he added.
The prime minister said the world was facing a second wave of the virus with many countries going for complete lockdown. "I do not want to take measures like a lockdown that will start hurting our economy which at the moment is showing signs of a robust recovery," he tweeted.
About PDM's public meetings, Mr Khan said the opposition was callously destroying people's lives and livelihoods in their desperation to get relief in cases against their leaders.
"Let me make it clear: they can hold a million Jalsas but will not get any National Reconciliation Ordinance-like concession," he said, adding that unfortunately the opposition's only goal was to get an NRO at the cost of people's lives and the country's economy.
Peshawar rejected PDM:
Minister for Information Senator Shibli Faraz on Sunday said by putting lives at risk when the country was seeing a spike in cases was 'political cruelty' and 'oppression'.
Senator Faraz said people of Peshawar had rejected PDM's public meeting by not attending it.
In a tweet, the minister said: "Mentality of selfish political coterie was exposed as it was playing with lives of innocent people and workers for minor political advantage. The criminals who maligned the national institutions and destroyed the national economy now went after lives and employment of people."
Due to their [opposition] irresponsible behaviour, people's livelihoods were getting affected, he said. "People would hold them accountable for 'coronavirus of corruption' as staging public meetings despite the court orders was violation of law," he added.
Khyber Pakhtunkhwa Chief Minister Mahmood Khan said people of the province had once again proved that they stood with PM Khan, accusing the PDM leadership of disregarding public safety for political gain.
The CM said Peshawar was and would remain a stronghold of the ruling Pakistan Tehreek-i-Insaf.
Also, Punjab Governor Chaudhry Sarwar said the opposition should refrain from playing with the lives of the people by holding rallies. "The government is not holding rallies and large gatherings because of the pandemic," he added.
He regretted that it had become a norm for the opposition to give priority to political and personal interests.
Special Assistant to CM on Information Firdous Ashiq Awan said coronavirus was a reality and the entire world was taking precautions. She said the opposition was doing politics only for face saving despite the fact that the second wave was more lethal.
"Your life is more important than politics. If life lasts, so will politics," she said, adding that it was not possible to enforce SOPs in public gatherings.
"If people's lives are at stake, the government will take strict legal action," she added.
NCOC data
According to the National Command and Operation Centre, 2,665 new cases and 59 deaths were reported from across the country during the past 24 hours.
With the addition of new cases, the tally of confirmed cases surged to 374,173. At present, 1,653 Covid-19 patients were in critical condition, while so far 329,828 have fully recovered.
https://www.dawn.com/news/1591891/imran-warns-of-total-lockdown-if-rallies-continue
--------
'Puppet rule' must come to an end, says PDM
Zulfiqar Ali
23 Nov 2020
PESHAWAR: In a ren­ewed attack on the ruling Pakistan Tehreek-i-Insaf (PTI) government, the Pak­istan Democratic Movement (PDM) leaders on Sunday sought an end to the 'puppet rule', warning that actions and policies of the government based on a 'stolen mandate' were akin to hollowing out the country.
Khyber Pakhtunkhwa's capital witnessed a massive turnout of general public and political activists at the opposition's rally that the government had been warning could cause the disease to further spread as the city registered its highest Covid-19 positivity rate at 18 per cent. Marchers belonging to nearly a dozen political parties poured into the rally venue of Ring Road on Sunday morning despite the security warning from the KP government that quoted fresh intelligence reports as saying the "rally is prone to possible acts of terrorism".
The provincial governm­ent had suspended the BRT service for the day as crowds from all over the province poured into Peshawar.
Amid much pomp and show, the occasion eviden­ced a rare bonhomie among political parties of diverse hues — religious, nationalists and federalists — much like those in Gujranwala, Karachi and Quetta before it. However, what set it apart was the show of strength from the Awami National Party (ANP) that along with the Jamiat Ulema Islam-Fazl jointly hosted the event.
Among those who spoke at the rally were the PDM chief Maulana Fazlur Rehman, Pakistan Peoples Party chairperson Bilawal Bhutto-Zardari, Balochistan National Party-Mengal leader Akhtar Mengal, National Party's Dr Abdul Malik Baloch, Pakhtunkhwa Milli Awami Party chief Mahmood Khan Achakzai, Qaumi Watan Party chairman Aftab Ahmad Khan Sherpao, ANP senior vice president Ameer Haider Khan Hoti and Prof Sajid Mir of Jamiat Ahle Hadith.
Pakistan Muslim League-Nawaz vice president Maryam Nawaz, even though present on the occasion, could not make her speech after receiving news of the demise of her grandmother in London. She came to the dais to make this brief announcement: "I cannot speak to you because my grandmother has died."
In his address, PPP chairperson Bilawal Bhutto-Zardari said it was time for the 'selected government' of Imran Khan to go. "We will hold accountable the puppet government and their selectors as well," he said, adding that corruption could not be rooted out until the law of the land applied equally to "judges, generals and politicians" of Pakistan.
Criticising the NAB's witch-hunt of politicians in the opposition, the PPP chairperson said the government's anti-corruption body had ignored the ruling PTI's glaring corruption in the case of BRT, the Malam Jabba lease scandal, foreign funding case, assets earned through a sewing machine, and foreign properties and business empire of PM's special assistant.
Terming Mr Khan a supporter and facilitator of militants, the PPP chairperson said the 'puppet' had issued NRO (relief) to the killers of the Army Public School (APS) students and thousands of Pakhtuns who had laid down their lives through the years of militancy for the sake of Pakistan. "The brave people of KP have offered the most sacrifices in the war against terrorism," he said.
"This is due to democracy that the Pakistani flag is hoisted in Swat and Waziristan. The blood of the people of KP was spilled by the terrorists but the coward Imran Khan did not speak a word against terrorists."
He said that despite massive rigging in the recent Gilgit-Baltistan elections, constituent parties of the PDM received the most number of votes, indicating the defeat of the PTI. "Citizens would decide the fate of this country, not those in Pindi or in Aabpara," he said, adding that the people of GB were ready to participate in PDM's long march. "Today the most popular slogan in GB is Vote par daka, na manzoor," he remarked.
Addressing the rally, PDM chief Maulana Fazlur Rehman declared Mr Khan Pakistan's Mikhail Gorbachev, saying that his actions and policies would hollow out Pakistan, making it vulnerable to disintegration.
"The government policies are aimed at changing the geography of border regions like the former Fata and Gilgit-Baltistan," he said, "without the people's mandate and without taking the inhabitants of these places into confidence."
"PDM has declared war against the puppet rulers in Islamabad," said the Maulana. "We will not afford them the escape route of an NRO. We know who overtly stole the people's mandate in the 2018 elections. We also know who did it covertly."
The Maulana said that the 'puppet' rulers had lost their credibility in the country as well as abroad. "He (Imran) was speaking against forced disappearances before coming into power, but now fundamental rights are being violated in his government," he said.
He said the PDM respected the "constitutional role" of the army in securing the border of Pakistan, but "if the military dabbles in politics, it will have to face criticism". He asked the security establishment to withdraw its support for the "illegitimate" government of PTI and "publicly disown" it.
ANP's Amir Haider Hoti demanded electoral reforms and free and fair elections, without the army's interference. He said the PDM believed in the supremacy of constitution and would continue its struggle for this cause.
Earlier, Attaullah Mengal of Balochistan National Party who was the first speaker at the rally, said the struggle for "real democracy in the country would continue, one which protected the rights and dignity of citizens". He said Pakhtuns had suffered at the hands of the state for the last 40 years, while the Baloch had been oppressed for the last seven decades. "The security establishment is responsible for the current state of affairs in Pakistan, not politicians or the political parties," he added.
Earlier in the wake of intelligence reports about "possible acts of terrorism" during the opposition rally, the government had suspended the BRT service and put in place a security plan. Spokesperson for the KP government Kamran Bangash said police and other law enforcement agencies were fully alert to such a possibility. However, he added, "Police have chalked out a security plan and we hope that no untoward incident will happen."
https://www.dawn.com/news/1591893/puppet-rule-must-come-to-an-end-says-pdm
--------
Four 'militants' killed in North Waziristan
23 Nov 2020
MIRAMSHAH: Four suspected militants were killed and a soldier was martyred in an operation in North Waziristan following an attack by militants on a security check-post.
According to official sources, the incident occurred in the T.T. Madakhel area of Speen Wam tehsil in Mir Ali division.
The soldier Sadam, son of Abid Rehman, was a resident of Karak district of Khyber Pakhtunkhwa.
Security forces have taken bodies of militants into custody. The operation against the militants was still on under way till the filing of this report.
https://www.dawn.com/news/1591898/four-militants-killed-in-north-waziristan
--------
Mideast
Israel Gaza attacks 'desperate attempt' to change equation in favour of occupier: Hamas
22 November 2020
The Palestinian Resistance Movement, Hamas, says recent Israeli airstrikes and artillery attacks against various positions across the besieged Gaza Strip are a foolish and desperate attempt to "change the equation" in favor of the occupying regime.
Hamas spokesman Hazem Qasem during a press briefing on Sunday said that continuous "Zionist campaign of terror" against the Palestinian people was a stupid effort to claim victory.
"The Zionist bombing of the Gaza Strip at dawn Sunday and terrorizing the peaceful population reflect the non-stop Zionist aggression on our Palestinian people."
Emphasizing that the Zionist regime's campaign of terror against the Palestinian people "is a stupid attempt to claim victory," the Hamas official added, "This will not happen because our people will continue their struggle until they recover their full rights."
An observation post belonging to the Gaza-based resistance movement of Hamas, located in Beit Hanoun's An-Nayema street, was targeted by Israeli warplanes early on Sunday.
Local sources said that "Israeli warplanes launched several airstrikes targeting at least five military and observation posts belonging to the Ezzedine al-Qassam Brigades.
The Israeli military claims the fresh airstrikes came in response to a rocket allegedly fired from Gaza, hitting an Israeli factory and causing warning sirens to sound in Ashkelan. The rocket is said to have caused material damages.
Last Sunday, the Israeli military attacked the Gaza Strip after rockets from the Tel Aviv-blockaded Palestinian territory targeted the "central" and "southern" parts of the occupied territories.
The chain of incidents came as the Israeli military has been put on high alert following the first anniversary of the regime's assassination of Baha Abu al-Ata, a senior commander of the Islamic Jihad movement, another Gaza-headquartered resistance group.
The 42-year-old and his wife were killed in an Israeli aerial assault on his Gaza home on November 12 last year.
The atrocity was followed by a barrage of retaliatory rocket fire from the besieged coastal sliver.
Back then, the Islamic Jihad released a statement, pledging to continue in the footsteps of its assassinated commander to "complete the process of liberation of the entire beloved Palestine."
"Our response will inevitably shock the Zionist entity," the group warned.
The latest Israeli attacks also come as coronavirus continues to threaten the socioeconomic welfare of Palestinians living in Gaza as much as their health. The Palestinians there are bracing themselves for the worst as coronavirus infections continue to increase at a fast pace amid the crippling Israeli blockade.
Gaza has been under Israel's land, air and sea blockade since 2006, which the international community consistently demands Israel to end.
Israel has committed eight large-scale military operations against Gaza, thousands of smaller bombardments and three large-scale wars in which thousands of Palestinian civilians have been killed, tens of thousands badly wounded and hundreds of thousands displaced.
Gaza's vital infrastructure, such as hospitals, schools, power plants, generators, sewage facilities, water storage units, government buildings, media buildings and more have been bombarded.
In December last year, Hamas praised an announcement by the International Criminal Court (ICC) to launch an investigation into war crimes committed by the Israeli regime in the occupied Palestinian territories.
In a statement, ICC prosecutor Fatou Bensouda said the court will launch a full investigation into war crimes in the Palestinian territories, expressing her satisfaction that there is a "reasonable basis" to probe into the situation in Palestine.
The US, a staunch ally of Israel, also claimed that the "unjustified inquiry" will "unfairly" target Tel Aviv.
Israel and the US have both refused to sign up to the ICC, which was set up in 2002 to be the only global tribunal trying the world's worst crimes, war crimes and crimes against humanity.
https://www.presstv.com/Detail/2020/11/22/639133/Israel-Gaza-Hamas-Beit-Hanoun-ICC
--------
Turkey part of Europe, but won't bow down to pressure, double standards: Erdogan
22 November 2020
Turkish President Recep Tayyip Erdogan has accused the European Union (EU) of double standards against Turkey, saying his country will not bow down to pressures in order to gain full membership of the bloc.
Erdogan made the remarks during a speech to members of his ruling AK Party on Sunday, after the EU threatened Ankara with sanctions over its energy exploration in the disputed waters of the eastern Mediterranean, which have been the subject of a territorial row between Turkey and Greece.
"We see ourselves as an inseparable part of Europe...However this does not mean that we will bow down to overt attacks to our country and nation, veiled injustices and double standards," he said.
Turkey and Greece, both NATO members, have been embroiled in a long-running territorial dispute in the eastern Mediterranean over the region's rich resources.
In August, Turkey dispatched a seismic research vessel and warships escorting it to prospect for energy resources in an area in the sea that is disputed with Greece, infuriating Athens.
But in mid-September, Turkey ended the mission of those vessels and ordered them back to shore for maintenance work. Ankara said the move was also meant to give diplomacy with Greece a chance.
The European Union (EU), which fully backs Greece, has threatened Turkey with sanctions if Ankara continues with its exploration in the disputed waters.
Ties between Turkey and EU took a turn for the worse last month after Brussels threatened Ankara with further sanctions if it continued oil and gas drilling in the disputed areas of the eastern Mediterranean Sea.
It also accused Erdogan's government of ruining the country's chances to join the EU.
German Chancellor Angela Merkel said on Thursday that the EU will discuss Turkey's pursuit of natural gas exploration in contested waters in the eastern Mediterranean at their next summit in December.
"We do not believe that we have any problems with countries or institutions that cannot be solved through politics, dialogue and negotiations," Erdogan said via video-link.
He also said the EU should keep its promises regarding the migrants issue and making Turkey a full member of the bloc.
Erdogan was referring to a 2016 refuge deal under which Ankara stemmed the flow of refugees and asylum seekers to Europe in exchange of financial aid, the acceleration of visa liberalization talks and progress in its EU membership negotiations.
Turkey began negotiations to join the bloc in 2005, but the bid has long been stalled amid disagreements over several issues, including Cyprus.
The island has been divided into a Turkish Cypriot-controlled north and a Greek Cypriot-controlled south since a brief war in 1974, which saw Turkey intervene militarily in response to a military coup on the island that was backed by Athens.
Greek Cypriots run the island's internationally-recognized government, while Turkish Cypriots have a breakaway state in the north — only recognized by Turkey.
EU foreign policy chief Josep Borrell said earlier this month that Turkey's rhetoric on Cyprus was aggravating tensions with the EU, adding that Ankara had to understand that its behavior was "widening its separation" from the bloc.
Turkey has also been angered by a European Commission annual report that accused Erdogan's government of undermining Turkey's economy, eroding its democracy, and destroying independent courts.
The October report said that Turkey's human rights record had pushed Ankara further away from membership in the EU than ever.
It also accused the Erdogan government of exposing Turkey to "rapid changes in investors' sentiment."
Ankara dismissed the report as "biased, [and] far from constructive," saying that the country "is acting within the framework of universal norms, in line with fundamental rights, democracy, and the principle of rule of law."
https://www.presstv.com/Detail/2020/11/22/639139/Turkey-EU-Erdogan-membership-sanctions-threat-Greece-Cyprus-Mediterranean-
--------
Dealings with US possible despite crimes, says Iran
23 Nov 2020
TEHRAN: The "crimes" committed by the United States against Iran do not prevent "carefully considered" exchanges from taking place, Iran's foreign ministry spokesman said on Sunday.
"The future of relations between Iran and the United States is not simple," Saeed Khatibzadeh acknowledged at a press conference in Tehran, as President Hassan Rouhani's government makes signs of apparent overtures to US president-elect Joe Biden.
"The United States has committed repeated crimes against the Iranian people," added Khatibzadeh, citing a long list.
They included Washington's support for Baghdad during the 1980-1988 Iran-Iraq war, the "series of sanctions" against Tehran, and the US drone strike that killed top Iranian general Qassem Soleimani in January.
President-elect Biden has promised a return to diplomacy after four hawkish years under Trump
"It is natural that (between two) members of the United Nations (like the US and Iran) there have always been, and there are, very carefully considered exchanges, in a known framework," Khatibzadeh said, while noting that this "does not mean that Iran is forgetting this list of crimes".
Tehran and Washington, enemies for more than four decades, have edged to the brink of war twice since June 2019, amid tensions over Iran's 2015 nuclear agreement with world powers, which outgoing US President Donald Trump unilaterally withdrew from.
Biden has promised a return to diplomacy with Iran after four hawkish years under Trump.
Rouhani's government offered a cautious welcome to Biden's victory, but Iran's conservatives are critical, accusing the country's government of yielding to what they say is an "illusion" of a change by the "Great Satan" of America.
"The time has come to attack, not to compromise" with Washington, the ultra-conservative newspaper Kayhan wrote on Saturday.
https://www.dawn.com/news/1591918/dealings-with-us-possible-despite-crimes-says-iran
--------
Israel strikes Hamas targets in Gaza after rocket attack
23 Nov 2020
JERUSALEM: Israel said on Sunday its military struck Hamas targets in Gaza in response to a rocket attack launched from the Palestinian enclave.
The Israeli air force struck two rocket ammunition manufacturing sites, a military compound and "underground infrastructures", the Israel Defence Forces said.
A rocket was fired at Israel from the Gaza Strip on Saturday evening, according to the army, shortly after warning sirens sounded in the southern Israeli city of Ashkelon.
The army statement gave no further details, but emergency services said they had no notification of anyone wounded and Israeli media said the projectile fell on open ground.
The latest reported fire from the Hamas-ruled Palestinian enclave came after two rockets were fired from the coastal strip into neighbouring Israel in the early hours of last Sunday.
There were no casualties or damage in that attack. Israel struck back with fighter planes, helicopters and tanks, hitting what the army said were Hamas targets.
There was no claim of responsibility for the November 15 rocket fire, but Israel routinely holds Islamist group Hamas responsible for all attacks originating from its territory.
Hamas, considered a terrorist group by Israel, seized control of Gaza from the rival Palestinian movement Fatah in 2007 in a near civil war.
Since then Hamas has fought three devastating wars with Israel in the coastal territory where about two million Palestinians live.
Israel has since maintained a crippling blockade on the Gaza Strip, to isolate Hamas.
https://www.dawn.com/news/1591920/israel-strikes-hamas-targets-in-gaza-after-rocket-attack
--------
Netanyahu rival Gantz launches investigation, further straining ties with the PM
23 November 2020
Israel's defense minister on Sunday appointed a committee to investigate the government's controversial purchase of German submarines several years ago — a step that further strained his already poor relationship with Prime Minister Benjamin Netanyahu.
The $2 billion purchase of the submarines and warships made by Thyssenkrupp is the focus of a sweeping corruption scandal in which seven businessmen, including confidants of Netanyahu, have been named as suspects.
For all the latest headlines follow our Google News channel online or via the app.
Netanyahu, who is on trial for his involvement in three other corruption scandals, is not a suspect in the submarine case. But critics, including his defense minister at the time of the purchase in 2015, have said Netanyahu behaved improperly and may have had a conflict of interest.
Defense Minister Benny Gantz, who is Netanyahu's main coalition partner, said he had decided to appoint the committee after weeks of consultations with legal and defense officials. He said the committee, to be headed by a retired judge, would release its findings within four months.
Gantz and Netanyahu formed a power-sharing deal in May after battling to a deadlock in three consecutive elections. But their government, ostensibly aimed at confronting the coronavirus crisis, has been plagued by infighting and paralysis.
If the rivals cannot reach a budget deal by Dec. 23, the country could be forced into another election next spring, right around the time the investigative committee is set to release its findings.
Netanyahu's Likud party accused Gantz of acting out of political considerations, saying he is "scouring for votes" at a time when his Blue and White party is plunging in opinion polls.
https://english.alarabiya.net/en/News/middle-east/2020/11/23/Netanyahu-rival-Gantz-launches-investigation-further-straining-ties-with-the-PM
--------
Turkey's Erdogan rejects ally's call for release of philanthropist and Kurdish leader
22 November 2020
Turkish President Recep Tayyip Erdogan on Sunday dismissed calls from a close ally for the release of a leading Kurdish opposition politician and a philanthropist from jail.
Rights activists, Western powers and some opposition parties have all urged the release of Selahattin Demirtas and Osman Kavala, both arrested in the wake of an attempted coup in 2016.
They were joined on Thursday by former deputy prime minister Bulent Arinc, now on the presidency's High Advisory Board.
For all the latest headlines follow our Google News channel online or via the app.
"Even though we have worked together in the past, no one's personal comments can be linked to the president, our government or the party," Erdogan said in a speech to party members.
Demirtas, former head of the Peoples' Democratic Party (HDP) and one of Turkey's best known politicians, faces several charges, including one of terrorism relating to violent protests against the Turkish army's inaction during a siege by ISIS militants of the Syrian Kurdish town of Kobani in 2014/15. He denies all the charges.
Kavala was acquitted in February of charges related to street protests in 2013 that threatened then-premier Erdogan's grip on power, but was re-arrested the same day on charges related to a failed coup in 2016, in which he denies any role.
In his remarks, Erdogan said that "the people who are currently at the disposal of the judiciary, who caused the deaths of thousands of our people, the people who are responsible for Kobani, cannot be defended by Tayyip Erdogan or his allies."
He also said he would never defend Kavala, whom he called the sponsor of the 2013 protests.
Erdogan promised this month that parliament would prioritize judicial reform next year.
https://english.alarabiya.net/en/News/middle-east/2020/11/22/Turkey-s-Erdogan-rejects-ally-s-call-for-release-of-philanthropist-and-Kurdish-leader
--------
Saudi's violence against Yemeni kids must stop: Yemen Foreign Ministry
22 November 2020
Yemen's Foreign Ministry has demanded an immediate and unconditional end to the Saudi-led military coalition's violence against children in the embattled country.
In a statement released on the occasion of the World Children's Day, which is celebrated on November 20 each year, the ministry said children are subjected to heinous crimes by the aggressor states.
The children have either been killed or maimed in the coalition attacks. Schools and hospitals have been bombed, and children have been deprived of their healthcare and educational rights, the statement added.
The ministry statement, citing figures compiled by the United Nations, noted that there are about 12.2 million children in Yemen in dire need of humanitarian aid, more than five million children under the age of five who suffer from malnutrition, about 1.71 million displaced children, and more than two million children out of school.
Incessant coalition attacks have also resulted in the death of more than 3,790 children, and the injury of over 4,000 others, it said.
In the statement, there was also a part where the United Nations' removal of the coalition from a blacklist of parties violating the rights of children was highlighted. The move, it said, was a setback by the UN in regard to globally protecting and promoting children's rights; the removal also gave Saudi Arabia the carte blanche to continue committing war crimes against Yemeni children.
The statement called on UN Secretary-General Antonio Guterres to re-include the Saudi-led coalition in the list of groups violating children's rights, or it would be considered a 'partner in the killing' of Yemeni children.
The Sana'a-based National Salvation Government, the statement said, respects international humanitarian law, and is committed to the protection of children's rights in Yemen.
The ministry statement urged condemnation of the crimes against Yemeni kids. It called on the freedom-loving people around the world, the UN chief, Special Representative of the UN Secretary-General for Children and Armed Conflict Virginia Gamba de Potgieter, the UN Human Rights Council and all the concerned organizations, especially UNICEF, to act in bringing the perpetrators to justice.
Rights center: Yemeni children's rights violated in Saudi war
Meanwhile, the Center for Human Rights in the Yemeni province of Ta'izz also announced on Sunday that children's rights are being violated due to Saudi atrocities against people of Yemen.
The center said more than 850 children in Ta'izz province have either been killed or injured by Saudi attacks, which have destroyed scores of schools in.
The Ta'izz Human Rights Center also slammed the international community for its silence in the face of Saudi crimes against the Yemeni people, holding it responsible for the violation of the Yemeni children's rights.
The US-based Armed Conflict Location and Event Data Project (ACLED), a nonprofit conflict-research organization, estimates that the war on Yemen has claimed more than 100,000 lives since 2015.
Saudi Arabia and a number of its regional allies sought to restore former President Abd Rabbuh Mansur Hadi back to power and crush the popular Ansarullah movement when they launched the deadly campaign in March that year.
The conflict lingers. The coalition has not achieved its objective.
https://www.presstv.com/Detail/2020/11/22/639130/Saudi-violence-Yemeni-kids
--------
Southeast Asia
Indonesia brass barks back at Islamist's 'moral' threat
By JOHN MCBETH
NOVEMBER 22, 2020
JAKARTA – Early December is stacking up as a test of wills between President Joko Widodo's government and Islamic militants, emboldened by the return from exile of radical Islamic Defenders Front (FPI) leader Rizieq Shihab breathing fiery threats of a so-called "moral revolution."
But Widodo has the Indonesian Armed Forces (TNI) firmly on his side with Jakarta regional commander Major General Dudung Abdurachman threatening to dissolve the FPI if it continues to cause trouble. "Don't ever go against the TNI," he said. "This is an order. Don't forget it."
"I will not hesitate to take serious action," he warned in the November 20 statement, the strongest in memory from a serving Indonesian army officer against radical Islamists. "Don't try to disturb our unity and integrity. Don't feel as if you are representing all Muslims.
"A good Muslim is one who believes in caring and tolerance for everyone and everything," he continued. "Don't just talk nonsense about fire and hell. I get very upset when I hear habibs spout bad things during religious ceremonies. That is bad, that is dirty. As a Muslim, I can't accept it."
A member of Jakarta's ethnic Arab-Betawi community, Shihab is a Saudi Arabia-educated kyai (religious teacher), who also claims to be a habib, or a descendent of the Prophet Muhammad.
Events are likely to come to a head on December 2, the anniversary of the mass demonstrations organized by the conservative 212 Movement that led to the downfall of Chinese-Christian Jakarta governor Basuki "Ahok" Purnama, a Widodo ally, in 2016.
Police have refused to issue a permit for that and all other mass gatherings, citing concerns over the spread of the coronavirus pandemic, which has so far killed 3,679 people in Jakarta and neighboring West Java and Banten provinces, nearly a quarter of the nationwide death toll.
Western Java also has had more than a third of the 500,000 total infections across the country of 270 million and has been subject to frequent partial lockdowns over the past eight months to keep the virus contained.
Abdurachman said he had instructed the tearing down of posters repeating Shihab's threats of "moral revolution" and said he had also ordered stepped-up mobile patrols around the FPI's Tanah Abang headquarters to guard against "unwanted incidents."
"I will clean everything up," he said. "There will be no banners calling for people to commit revolution. Don't think that he (Shihab) represents all Muslims. Not at all. There are many other Muslims who are good."
The day before, Tjahjanto made a high-profile inspection of military units around Jakarta, including the Indonesian Special Forces (Kopassus), the 1st Marine Brigade and the air force special forces (Paskhas), where he stressed the importance of national unity.
Jakarta is also home to the Army Strategic Reserve's (Kostrad) 1st Division, part of the regular army's main 35,000-strong combat formation, and a territorial infantry brigade attached to the regional command.
TNI spokesman Major-General Achmad Riyad told reporters: "TNI can't be complacent. The inspection is an expression of the TNI's loyalty. We don't mention names, but we will be alert. Some groups have raised the issue of (political) identity."
Because of its role in Indonesia's struggle for independence, the TNI enjoys far more respect than the notoriously corrupt police, who took over responsibility for internal security from the military with the birth of democracy in 1998.
In the past, police generals have often been accused of using the FPI as a stand-over force to blackmail the owners of nightclubs, bars and other entertainment venues that have been a favored target of thuggish raids.
Indonesian commentators say the TNI's involvement in the current situation remains a "grey area." Despite being a designated external defense force, the military has always claimed that its underlying duty is as "protector of the nation."
A former governor of Indonesia's Military Academy, Abdurachman, 55, was only promoted to the prized capital post last July on the recommendation of long-serving TNI commander Air Chief Marshal Hadi Tjahjanto, a Widodo loyalist.
Traditionally, the Jayakarta chief is the only one among the country's 15 regional commanders whose appointment must be personally approved by the president, according to sources familiar with the practice.
Abdurachman is a graduate of the military's academy's 1988 class, whose members include recently-promoted Deputy Army Chief of Staff Lieutenant General Herman Asaribab, the first ethnic Papuan to hold such a high-ranking post.
Army Chief of Staff General Andika Perkasa is another Widodo loyalist, the son-in-law of Hendropriyono, the former director of the State Intelligence Agency (BIN) and one of two candidates in line for TNI chief when Tjahjanto retires next year.
The violence-prone FPI is the sharp spearhead of the 212 coalition which has said it will only conform with the ban on mass gatherings if the government postpones nationwide regional elections scheduled for December 9.
The mass Muslim organizations Nahdlatul Ulama and Muhammadiyah have already urged the postponement of the elections for governors, mayors and regents because of fears that they will act as superspreaders of the coronavirus.
Elections Supervisory Agency (Bawaslu) data shows that the polls in 50 of the 224 regencies where elections are to be held are in the highly-vulnerable category. Another 126 electorates are considered to pose a medium threat to the 100 million eligible voters.
Only two of the nine provinces in Sumatra, Kalimantan and Sulawesi that are scheduled to hold four-yearly gubernatorial races have had more than 5,000 Covid-19 cases, according to government data.
Health officials are bracing for a major spike in cases after more than 50,000 followers crowded Soekarno-Hatta Airport on December 10 to welcome home Shihab from three years' exile in Saudi Arabia.
His daughter's wedding four days later attracted another 10,000 people in downtown Jakarta, many of whom failed to wear masks or follow other health protocols that have been in force for months.
The police chiefs of Jakarta and West Java were both fired for not enforcing the protocols and their replacements will understand a similar fate awaits them if they fail to act forcefully on virus containment measures.
Shihab's talk of a "moral revolution" against the government is ironic given the fact that when he fled Indonesia in mid-2017 it was to avoid prosecution for allegedly engaging in internet text-sexting with a woman who was not his wife.
In a direct message to the firebrand cleric, Abdurachman told him: "If you are truly a religious leader, then you then you should have good thoughts and do good deeds, otherwise you are not one."
https://asiatimes.com/2020/11/indonesia-brass-barks-back-at-islamists-moral-threat/
--------
Senior lawyer's fees in Sabah dissolution case not exorbitant, says counsel
November 23, 2020
KOTA KINABALU: A counsel has clarified that a peninsular-based lawyer who appeared for former Sabah chief minister Shafie Apdal and the state government over the dispute on the dissolution of the state assembly was not paid exorbitant legal fees as claimed by certain quarters.
"Cyrus Das has issued an invoice for his professional services, which is based on his professional rates and is far below what was alleged," lawyer Chung Jiun Dau said in a statement.
Chung, who was the solicitor instructing Das, said this in response to viral messages of claims that Das was paid RM3 million to represent Shafie and the state government in the Court of Appeal.
The lawyer said the state government has yet to pay the fees though an invoice had been submitted.
"It is therefore obvious that the viral message is being spread with mischievous intention and is patently untrue and dishonest," he added.
State Attorney-General Brenndon Keith Soo represented the Sabah governor while Chung and Das appeared for Shafie and the state government.
Yesterday, a representative of the ousted Warisan-led government also denied allegations that Das was paid RM3 million while Soh received a monthly salary of RM60,000.
Describing the claim as outlandish, Warisan vice-president Jaujan Sambakong urged the public to be more discerning and not be misled by bloggers friendly to Gabungan Rakyat Sabah (GRS).
https://www.freemalaysiatoday.com/category/nation/2020/11/23/senior-lawyers-fees-in-sabah-dissolution-case-not-exorbitant-says-counsel/
--------
PAS shouldn't force us to accept Bersatu, says Umno VP
23 Nov 2020
BY KEERTAN AYAMANY
KUALA LUMPUR, Nov 23 — Umno vice president Datuk Seri Mohamed Khaled Nordin today called on PAS to respect his party's stand on Bersatu, while stressing that Umno will prioritise cooperating with PAS to win the upcoming general elections.
This comes after former Umno secretary-general Tan Sri Annuar Musa reportedly said last Friday that PAS had decided to not ally itself with Umno, if Umno did not also support Bersatu.
"Umno is confident that PAS will not force Umno to accept Bersatu let alone give seats to Bersatu arbitrarily," said Khaled in a statement.
He also pointed out that although Umno retracted its support for Perikatan Nasional (PN), it had allowed PAS to join the coalition because Umno understood and respected PAS' position.
"After all, the Muafakat Nasional (MN) charter has never prevented PAS from working with anyone. So at the same, this is what Umno expects from PAS of Umno's relationship with Bersatu.
"Because of that, I am convinced that the statement that 'PAS will not be with Umno without Bersatu' by a person who is not a PAS spokesman, does not represent the stand of PAS.
"It comes from a person who just wants to save Bersatu and divide Muafakat Nasional," he said.
Khaled said that Umno and PAS both realise that their top priority is the seat negotiations for the upcoming general election between the two as part of the MN partnership.
"PAS must be aware that there will be seats where Umno will clash with Bersatu.
"Since Umno is not part of PN, then any negotiations with Bersatu are for Umno to undertake directly with PN through Barisan Nasional," he said.
Khaled also said that Umno and PAS have a "convincing synergy", and called on both parties to optimise said synergy.
However, he stressed that apart from PAS, Umno's cooperation with other parties will be based on their ability to give Umno a strategic advantage at the ballot box.
"Umno is not in the mission of giving charity to any party to breathe and achieve victory with the help of Umno.
"Umno also does not want to be forced to accept anyone as its political partner. Only jewellers will know gems," he said.
Since Annuar's allegations, Umno Youth chief Datuk Asyraf Wajdi Dusuki has refuted the FT minister's claims, saying that a MN central committee meeting last Wednesday had agreed to proceed with registering the partnership between Umno and PAS.
Yesterday, PAS deputy president Datuk Seri Tuan Ibrahim Tuan Man was reported as saying that Umno, PAS and Bersatu must present a united front at the next general election or risk the prospect of three-cornered fights.
https://www.malaymail.com/news/malaysia/2020/11/23/pas-shouldnt-force-us-to-accept-bersatu-says-umno-vp/1925191
--------
Africa
Formation of Sudan's transitional parliament pushed to December
22 November 2020
The formation of Sudan's transitional parliament, a key element of a power-sharing deal between the military and protesters after the ouster of president Omar al-Bashir, has been pushed back to December.
The Forces for Freedom and Change umbrella protest group said further consultations were needed after Sudan's transitional government signed a landmark October peace deal with rebels.
In a statement late last week, the FFC said efforts to ensure "national consensus" were still underway to establish the legislature.
For all the latest headlines follow our Google News channel online or via the app.
Its formation had been due within 90 days of a power-sharing deal signed on August 17 between the FFC and military generals who seized power following al-Bashir's ouster in April last year.
The deal stipulated that the legislature should include no more than 300 members, 40 percent of them women, with the FFC obtaining 201 seats and the rest going to other factions.
But in November, an FFC leader suggested that the group should hold 165 seats in the transitional parliament, with 75 going to the Sudan Revolutionary Front rebel alliance and the rest to other groups.
Several organizations, including the powerful Sudanese Professionals Association (SPA) trade union alliance that spearheaded the protests against al-Bashir, rejected the proposal.
"In order to take into consideration the views of the Sudan Revolutionary Front and to engage in a broad dialogue on the distribution of seats with (all) factions, it has been decided to push back the formation of the assembly until December 31," the FFC said in its statement last week.
The SPA is insisting that "all revolutionary forces be represented" in the new parliament, which will be tasked to legislate until new general elections are held in 2022.
https://english.alarabiya.net/en/News/middle-east/2020/11/22/Formation-of-Sudan-s-transitional-parliament-pushed-to-December
--------
Ethiopian PM gives Tigray rebels 3-day ultimatum to surrender before govt. attack
23 November 2020
Ethiopian Prime Minister Abiy Ahmed has given the rebels in the restive Tigray region in the north a 72-hour ultimatum to surrender before government troops launch an offensive on the provincial capital city Mekelle.
"We urge you to surrender peacefully within 72 hours, recognizing that you are at the point of no return," he tweeted on Sunday.
So far, there has been no reaction from the rebels to the ultimatum.
Meanwhile, the United Nations on Monday urged the Ethiopian government to provide "protection" for the civilian population affected by the fighting.
Catherine Sozi, the United Nations humanitarian coordinator for Ethiopia, called on the Ethiopian government for "protection of more than 525,000 civilian (non-combatants) who live in Mekelle."
She also highlighted the need for the "protection of all civilian infrastructure like health facilities, schools and water system... of civilian importance."
Sozi also demanded that the Ethiopian government guarantee the safety of aid workers.
The military has already warned that it will encircle Mekelle with tanks and might have to conduct an artillery strike to liberate the city from the rebel forces holding it.
Dejene Tsegave, a military spokesman, warned civilian residents in the city to "dissociate yourself from this junta, after that there will be no mercy."
The military official urged the city's half a million inhabitants to "Save yourself!" in a warning that may displace many civilians. More than 36,000 have already fled to neighboring Sudan since the fighting erupted three weeks ago.
In response, the Tigray People's Liberation Front (TPLF) leader Debretsion Gebremichael vowed that the rebel forces will resist the government troops' advancement on the regional capital.
He said Ethiopian government forces will meet "fierce fighting" if they advance toward the regional capital.
"They'll continue to pay for every move," he told AFP.
Tigray has been engulfed in bloody fighting since November 4, when Ethiopian government forces launched a military operation against the regional government.
TPLF forces dominated Ethiopia's political scene until Abiy became prime minister in 2018.
The 2019 Nobel Peace Prize winner has accused the rebel forces loyal to the TPLF of launching deadly attacks on a pair of federal military camps in the region.
Abiy has also accused the TPLF of defying his government and seeking to destabilize it.
https://www.presstv.com/Detail/2020/11/23/639174/Ethiopia-PM-Tigray-Ultimatum
--------
Ethiopia army threatens 'no mercy' will be in all-out assault on rebel-held Mekele
22 November 2020
Ethiopia's military has threatened a full-scale attack on the rebel-held Mekele, the capital of the dissident Tigray region, warning civilians to flee and save their lives, as violence continues to rage in the East African country for the third week.
"The next decisive battle is to surround Mekele with tanks," said Dejene Tsegaye, a military spokesman, at a press conference on Sunday, threatening to siege the capital of the northern region.
The military official further warned the city's half a million inhabitants, saying, "Save yourself! A directive has been communicated for you to dissociate yourself from this junta, after that there will be no mercy."
Tigray has been engulfed in bloody fighting since November 4, when Ethiopian Prime Minister Abiy Ahmed announced the launch of military operations against the regional government there.
The announcement led to a dramatic escalation of a long-running feud between the federal government and the Tigray People's Liberation Front (TPLF), the region's ruling party, which dominated Ethiopian politics for almost three decades before Abiy assumed power in 2018.
Ahmed, the winner of the Nobel Peace Prize 2019, has accused the rebel forces loyal to the TPLF of launching deadly attacks on a pair of federal military camps in the region. He has also accused the party of defying his government and seeking to destabilize it.
The premier has so far spurned all calls by the United Nations, the African Union, and various countries for talks with the armed rebels in Tigray.
The fighting has reportedly claimed the lives of hundreds of people and displacing thousands of others, who have fled across Ethiopia's northern border into neighboring Sudan.
The TPLF claimed a day earlier that civilians had lost their lives during a "heavy bombardment" of Adigrat town by the Ethiopian Defence Forces (EDF). However, Ahmed's government, which regards the TPLF as a criminal administration, insists it does not target civilians.
The fighting has not been confined within the scope of Tigray as the TPLF is firing rockets at Asmara, the capital of neighboring Eritrea to the north, which it accuses of supporting Ahmed's government, and the city of Bahir Dar to the southwest.
The conflict has spread beyond Tigray, whose forces have fired rockets at the neighboring Amhara region and the nation of Eritrea, spurring concern of a wider war.
Tigray's TPLF accuses Eritrea of supporting Ahmed's government.
Army takes town north of Mekele: Ethiopian govt.
The federal government claims that it has so far captured a string of towns in recent days, including the ancient city of Aksum.
On Sunday, it also announced that the army had managed to capture and the town of Edega Hamus, which is situated 100 kilometers north of Mekele.
"Defense forces have controlled Edaga Hamus city, which is on the road from Adigrat to Mekele," said the Ethiopia State of Emergency Fact Check, a government taskforce, in a tweet. "The defense forces are currently marching on the campaign's last goal, Mekele city," it added.
Our forces standing firm against Ethiopian advance: TPLF leader
Debretsion Gebremichael, the head of the TPLF, also said via text message on Sunday that Tigrayan forces fighting the army troops of the federal government were "standing firm" on the southern front and engaging soldiers around the town of Adigrat to the north.
Separately on Sunday, Redwan Hossein, spokesman for a government taskforce on Tigray, said in a statement that the rebel forces had already dug up roads, destroyed bridges, and booby-trapped roads with explosives in the south.
However, he stressed that federal troops were making progress, claiming that Tigrayan rebels or militiamen escaped into the community after army soldiers took Adigrat a day earlier.
As all rights groups are concerned about ethnic violence and destabilization in Ethiopia, Africa's second-most populous country, Amnesty International has documented a horrific massacre in which "scores, and likely hundreds, of people, were stabbed or hacked to death" in the southwestern town of Mai-Kadra.
The UN High Commissioner for Refugees (UNHCR) has warned that a full-scale humanitarian crisis is unfolding in the region.
The World body also called for the creating of humanitarian corridors to allow aid agencies access and has said it is preparing for as many as 200,000 refugees to flee the restive region in the coming months.
https://www.presstv.com/Detail/2020/11/22/639135/Ethiopia-Mekele-Tigray-TPLF-Abiy-Ahmed-rebels-UN-
--------
North America
US and Saudi Arabia advance decades of cooperation: State Department fact sheet
Tuqa Khalid
22 November 2020
The United States and Saudi Arabia share "strong bilateral security and economic partnership," the State Department said on Sunday ahead of Secretary Mike Pompeo's arrival in Saudi Arabia.
"Secretary Michael R. Pompeo will travel on November 22 to Saudi Arabia where he will meet with Crown Prince Mohammed bin Salman bin Abdulaziz to discuss the strong bilateral security and economic partnership between the United States and Saudi Arabia, progress made under the US-Saudi Arabia Strategic Dialogue held last month in Washington, and issues related to Iran's malign influence in the region," the US State Department said in a statement on Sunday.
For all the latest headlines follow our Google News channel online or via the app.
The state department also shared a fact sheet detailing the ties between the US and Saudi Arabia:
Relationship:
For more than 75 years, the United States and Saudi Arabia have built a strong partnership in energy and investment cooperation, trade, counterterrorism, and security.
In October, the two countries launched a strategic dialogue to advance economic and security objectives through working groups on defense, economics and energy cooperation, and culture and education exchanges.
The United States recognizes Saudi Arabia's progress toward transforming its economy under the Vision 2030 plan while emphasizing the importance of continued human rights reform and strengthening of civil society.
Economic partnerships:
The United States and Saudi Arabia support global economic growth and stable energy markets as two of the world's largest suppliers of oil and gas. Two-way trade of goods and services between Saudi Arabia and the United States totals nearly $40 billion annually and supports some 165,000 American jobs.
US companies are key investment partners in strategic Saudi industries – not just traditional industries such as oil and gas. AMC opened the first cinema in the country in 35 years. Six Flags signed an agreement to establish the world's largest theme park near Riyadh.
Regional security initiatives:
Saudi Arabia is a founding member of the Coalition to Defeat ISIS and assists US efforts to combat al-Qaeda in the Arabian Peninsula (AQAP).
Saudi Arabia co-chairs the Terrorist Financing Targeting Center (TFTC) and hosts the center in Riyadh. The TFTC is a platform for information sharing, multilateral coordination, and capacity building aimed at tracking and disrupting illicit financial flows to terrorist groups throughout the world.
Saudi Arabia plays a key role in deterring Iranian malign activities in the region. The Saudi-led Coalition helps the legitimate Yemeni government defend its territory from attacks on civilian targets.
Saudi Arabia and other members of the Gulf Cooperation Council work with the United States on border security, maritime security, and cybersecurity.
People-to-people ties:
About 37,000 Saudi students are enrolled in US schools – the fourth highest number from across the world. When these students return home, they are helping to drive Saudi Arabia's transformation taking place under the Vision 2030 plan.
https://english.alarabiya.net/en/News/gulf/2020/11/22/US-and-Saudi-Arabia-advance-decades-of-cooperation-State-Department-fact-sheet
--------
G20: Trump defends withdrawal from 'unfair' Paris Climate accord
22 November 2020
US President Trump on Sunday defended his decision to pull out of the Paris climate accord, calling it "unfair and one-sided" even as President-elect Joe Biden has pledged to rejoin the landmark agreement.
The United States formally left the 2015 Paris accord earlier this month, becoming the first country to ever withdraw from an international climate change pact.
"I withdrew the United States from the unfair and one-sided Paris Climate accord, a very unfair act for the United States," Trump said on the sidelines of a virtual G20 summit hosted by Saudi Arabia.
"The Paris accord was not designed to save the environment. It was designed to kill the American economy.
For all the latest headlines follow our Google News channel online or via the app.
"I refuse to surrender millions of American jobs and send trillions of American dollars to the world's worst polluters and environmental offenders, and that's what would have happened."
Trump has aggressively championed the fossil fuel industry, questioned the science of climate change and weakened other environmental protections.
Trump, who has refused to concede the bitter US election, had given a one-year notice to leave the Paris accord on November 4, 2019.
Biden has vowed that the US would rejoin the Paris climate accord on his first day in the White House in January, a move welcomed by European leaders.
The US President-elect has proposed a $1.7 trillion plan to take the United States, the world's second biggest carbon emitter, to net zero by 2050.
https://english.alarabiya.net/en/News/gulf/2020/11/22/G20-G20-Trump-defends-withdrawal-from-unfair-Paris-Climate-accord
--------
Loose cannon Pompeo's war of words on Iran
22 November 2020
By Stephen Lendman
If words could kill, loose cannon Mike Pompeo's remarks would be considered WMDs.
The Big Lie about an Iranian threat has been around for decades.
Ignored is that Washington's only threats are invented, none real — what's been geopolitically clear since WW II ended.
In stark contrast, hardliners from both right wings of the US war party threaten everyone everywhere.
US imperial aims, by diabolical means used to advance them, represent an unparalleled threat to humanity.
Iran is the region's leading proponent of peace and stability. Its ruling authorities pursue cooperative relations with other countries, confrontation with none.
Longstanding US plans for regime change are all about its sovereign independence.
Nations free from its imperial control aren't tolerated.
In the Middle East, they're an obstacle to US and Israeli hegemonic aims.
In Iran's case, longstanding US hostility toward the country is also about wanting control of its vast hydrocarbon resources.
Trump regime hardliners escalated war on Iran by other means beyond where their predecessors went.
A previous article discussed possible US aggression against Iran during what may be Trump's final weeks in office.
While he continued inherited hot wars in Afghanistan, Syria and Yemen — and waged greater than ever wars by other means against targeted countries — he did not initiate new aggression on his watch.
With two months of his tenure remaining if legal challenges to brazen election fraud fail, will he go at the 11th hour where he hasn't gone before?
Would he risk embroiling the Middle East in greater than ever conflict since WW II ended during what may be his final days in office?
Would he want to be remembered for launching what could develop into catastrophic war as his parting shot as US president and commander-in-chief?
Would he risk more greatly tainting his record in office than already?
I believe possible Trump regime hot war on Iran before January 20 is highly unlikely.
At the same time, war of words on the Islamic Republic and piling on more illegal sanctions will continue over the next two months and beyond.
As long as Iran refuses to subordinate its sovereign rights to US interests — what no nation should do — it'll remain a prime target for regime change.
That's how the scourge of imperialism works, permitting no nations to remain free from its iron grip.
On Monday, Pompeo concludes visits with officials in France, Turkey, Georgia, the UAE, Qatar, Saudi Arabia, and Israel.
Before leaving Israel, he was interviewed by the Jerusalem Post.
Asked if all Trump regime options remain on the table against Iran, he said:
"Of course. The (Trump regime) has been clear on that for its entire four years."
"There is no reason that would change today or tomorrow."
Defying reality, he falsely claimed maximum pressure success.
It achieved nothing beyond inflicting hardships on ordinary Iranians.
Trump regime Middle East policies overall made the US more of a pariah state than already.
Iran today is stronger politically and militarily than when Trump took office — its latter strength solely for defense, not offense.
Its geopolitical agenda is polar opposite how the US operates on the world stage — waging peace and stability in stark contrast to Washington's war on humanity.
Pompeo's public addresses, interviews, and other remarks are characterized by bravado, hate-mongering, Big Lies, and mass deception.
US foreign policy with him at State has been one of the darkest chapters in the nation's history.
Last week, the CIA-connected Washington Post slammed his "legacy of incompetence," adding:
It "peaked with his failed Iran policy."
"His latest move(s) — visiting an illegal Israeli settlement and Occupied Golan — were "as mean-spirited as…misguided."
His intention to further sanction Iran weekly through January 20 is "perfectly consistent with (his) track record of staging poorly conceived publicity stunts rather than undertaking any actual diplomacy with the government in Iran."
He and the Trump regime overall have been all sticks and no carrots geopolitically.
Its maximum pressure "damage(d) the Iranian people themselves" — including by "disrupt(ing) the import of medicine(s) and food."
The Trump regime's "maximum pressure (has been) a total bust."
Pompeo's interview with the Jerusalem Post was characterized by a litany of bald-faced Big Lies and absence of hard truths.
He lied saying Iran "foment(s) (regional) harm" — a US, NATO, Israeli specialty, not how Tehran operates anywhere.
Claiming Trump regime actions against Iran "isolate(d)" the country is belied by reality.
He lied calling Trump's geopolitical agenda a "vision of peace" — an anathema notion in Washington.
He lied accusing Iran of being "prime actor who is causing instability in the Middle East (sic)."
He's spearheading an effort to try preventing the US from returning to the JCPOA if Biden/Harris replace Trump on January 20.
He reinvented the Trump regime's Middle East agenda, saying:
"Continuation of the things we've been doing leads to a very increased likelihood of a safer, more prosperous (region), and that our friends in Israel will be safer and more secure as a result of that as well (sic)."
Pretending concern for Palestinian rights ignored nearly four years of Trump regime trampling on them.
Trump's domestic and geopolitical agendas have been virtual wrecking balls for ordinary people at home and abroad.
They've been a gift that keeps on giving for wealth, power and privileged interests at the expense of most people everywhere.
Trump will be remembered as a bombastic businessman, geopolitical know-nothing, reality TV president.
Pompeo will be remembered as a thug masquerading as a diplomat.
The last four years will be remembered as one of America's darkest chapters.
What's coming will likely be worse, domestically and geopolitically — no matter which wing of US duopoly rule controls the White House and/or Congress.
Stephen Lendman, born in 1934 in Boston, started writing on major world and national issues began in summer 2005. In early 2007, radio hosting followed. Lendman now hosts the Progressive Radio News Hour on the Progressive Radio Network three times weekly. Distinguished guests are featured. Listen live or archived. Major world and national issues are discussed. Lendman is a 2008 Project Censored winner and 2011 Mexican Journalists Club international journalism award recipient.
https://www.presstv.com/Detail/2020/11/22/639131/Loose-cannon-Pompeo%E2%80%99s-of-words-on-Iran
--------
Europe
France's FM Le Drian says Turkey's 'soothing declarations' not good enough
22 November 2020
France said on Sunday it expects Turkey to de-escalate international tension with actions instead of words ahead of an EU decision on possible further sanctions against Ankara.
Foreign Minister Jean-Yves Le Drian told French media that it would be "easy" for Turkish President Recep Tayyip Erdogan to defuse standoffs in the eastern Mediterranean, in Libya and in Nagorno-Karabakh.
"The soothing declarations by Erdogan that we've seen over the past two or three days are not enough, we need acts," he said.
For all the latest headlines follow our Google News channel online or via the app.
Le Drian's comments come a day after Erdogan reached out to the European Union, while warning the bloc not to be manipulated during escalating tensions over the eastern Mediterranean.
Turkish deployment of a ship to search for gas in waters claimed by Greece has triggered a fierce war of words with EU member states, which early this month extended sanctions against Ankara for another year.
"We have many disagreements," Le Drian said, calling Turkey's policies "expansionist" as well as "aggressive" toward two EU members, Greece and Cyprus.
Le Drian said Turkey had been sending "Syrian mercenaries" to Nagorno-Karabakh, where warring parties Armenia and Azerbaijan this month signed a Russian-brokered peace accord.
At the December summit, the EU will "verify the commitments" made by Ankara concerning the various trouble spots, Le Drian said.
Erdogan said on Saturday he expected "the EU to keep its promises, not to discriminate against us or at least not to become a tool to open enmities targeting our country" in a video address to his ruling party congress.
At one point Turkey had pursued a track toward EU membership, but it encountered opposition from several EU members and has since pulled back under Erdogan's leadership.
https://english.alarabiya.net/en/News/middle-east/2020/11/22/France-s-FM-Le-Drian-says-Turkey-s-soothing-declarations-not-good-enough
--------
Arab world
Future Iran Deal Must Go Beyond Nuclear And Include Regional Misbehaviour: Saudi FM
Emily Judd
22 November 2020
Any new deal with Iran needs to go beyond the nuclear program and address Tehran's regional malign activity, Saudi Arabia's foreign minister Prince Faisal bin Farhan Al Saud said on Sunday.
"We believe that the issue isn't just with the nuclear program…the issue with Iran is the fact that it continues to believe in imposing its will on the region, on exporting its revolution to its neighbors and beyond," said Al Saud in an interview with CNBC.
"We need to address that. I like to call what we see in the future as JCPOA++, something that addresses the nuclear program, which is critically important of course, but also that addresses the regional malign activity," he added.
Iran supports proxy groups in Iraq, Lebanon, Yemen, and other countries in the Middle East, which have carried out attacks on Saudi and Western targets.
'Deepest concern'
Iran reneged on the promises it made as part of the nuclear deal, known as the Joint Comprehensive Plan of Action (JCPOA), since President Hassan Rouhani announced in May 2019 that Tehran would reduce compliance.
Iran subsequently breached JCPOA limits on uranium enrichment, research and development on advanced centrifuges, and stockpile size.
Al Saud said that Saudi Arabia's "deepest concern" is that Iran has now "blown well past the restrictions of the JCPOA," thus proving how easy it is for the Iranian regime to move forward with their nuclear program.
Under President Donald Trump, the US officially withdrew from the Obama-era JCPOA in 2018, and imposed a "maximum pressure" campaign on the Iranian regime through increasing economic sanctions.
The "significant pressure on Iran" has limited its ability to interfere in Iraq, Syria, and Lebanon, according to Al Saud.
"I think this lays the groundwork for the future to make sure that we are able to engage with the Iranians eventually in a way that forces them to address the full gamut of concerns," he said.
https://english.alarabiya.net/en/News/middle-east/2020/11/22/Future-Iran-deal-must-go-beyond-nuclear-and-include-regional-misbehavior-Saudi-FM
--------
EU foreign policy chief censures 'dire condition' of human rights in Bahrain
22 November 2020
High Representative of the European Union (EU) for Foreign Affairs Josep Borrell has criticized the ruling Al Khalifah regime for the "appalling condition" of human rights in Bahrain, pledging to use all available means to improve the circumstances.
Borrell, in response to a letter sent by members of the European Parliament regarding the dire situation of human rights in the Persian Gulf kingdom, pointed to the condition of imprisoned Bahraini activists Mohamed Ramadan and Hussein Ali Moosa, who have been sentenced to death on trumped-up charges of bombing a convoy and killing a police officer in al-Deir, a village northeast of the capital Manama, in early 2014.
The high-ranking EU official reiterated that all of the matters concerned should be discussed again during the next human rights dialogue slated for the end of autumn 2021.
He also noted that EU representatives attended the court session of Ramadan and Moosa, which took place on January 8, adding that the EU has called on Bahrain to release human rights activists who suffer from poor health.
Bahrain's parliament approved the trial of civilians at military tribunals on March 5, 2017. The move drew widespread condemnation from human rights bodies and activists, and was described as imposition of an undeclared martial law across the country.
Bahrain's King Hamad bin Isa Al Khalifah rubber-stamped a constitutional amendment on April 3 that year.
The kingdom has seen anti-regime protests over the past nine years. The major demand has been the ouster of the Al Khalifah regime and the establishment of a just and conclusive system representing all Bahraini nationals.
The Manama regime, in return, has ignored the calls and is pressing ahead with its heavy-handed crackdown.
https://www.presstv.com/Detail/2020/11/22/639141/EU-human-rights-Bahrain
--------
Nine Iraqi security personnel, civilians dead in ISIS ambush in Baghdad: Police
21 November 2020
Six Iraqi security personnel and three civilians were killed in an ambush Saturday carried out by the ISIS militant group north of Baghdad, police and a local official said.
A police source said a roadside bomb hit a car and that jihadists opened fire on a rescue team of policemen and state-aligned paramilitary forces when they arrived at the scene, about 200 kilometres (120 miles) from the capital.
Four members of the Hashed al-Shaabi and two policemen died along with three civilians, Mohammed Zidane, the mayor of Zouiya, 50 kilometres from the city of Tikrit, told AFP.
He updated an earlier civilian death toll of two.
There was no immediate word of casualties among the assailants, but Zidane said those killed among the Hashed, a coalition of mainly Shiite forces, were Sunni tribesmen.
Both the mayor and police said the ambush was the work of ISIS jihadists, although no immediate claim of responsibility was issued.
Eleven people were killed on November 8 in an ISIS attack on a lookout post at Al-Radwaniyah, near Baghdad airport on the outskirts of the capital.
ISIS swept across a third of Iraq in 2014, seizing major cities across the north and west and reaching the suburbs of the capital.
After a fierce three-year fight backed by a US-led military coalition, Iraq declared ISIS defeated in late 2017.
The coalition has significantly drawn down its troops this year.
ISIS' sleeper cells have continued to wage hit-and-run attacks on security forces and state infrastructure, particularly in desert areas where troops are stretched thin.
Attacks with high tolls and close to the capital have been rare, however.
The latest attacks come as the United States announced that it will withdraw another 500 troops, reducing its deployment to 2,500 soldiers.
Most other countries' contributing forces to the coalition have pulled out since the coronavirus pandemic hit.
However, the Iraqi government has "clearly indicated it wants to maintain its partnership with the United States and coalition forces as we continue to finish the fight against ISIS", the US Middle East commander said Thursday.
General Kenneth McKenzie cited estimates that ISIS still has a body of 10,000 supporters in the Iraq-Syria region and remains a real threat.
The progress of the Iraqi Security Forces has allowed the United States to reduce force posture in Iraq," he said.
But US and coalition forces have to remain to help prevent ISIS from reconstituting as a cohesive group able to plot major attacks, he said.
https://english.alarabiya.net/en/News/middle-east/2020/11/21/Eight-Iraqi-security-personnel-civilians-dead-in-ISIS-ambush-in-Baghdad-Official
--------
G20 Riyadh Summit wraps up, leaders commit to fighting COVID-19, sustainable future
Lauren Holtmeier
23 November 2020
Saudi Arabia hosted the G20 Riyadh Leaders' Summit this weekend, bringing together world leaders from the most powerful countries and the European Union.
The summit was a culmination of Saudi Arabia's presidency of the G20, which focused on three key areas: empowering people, safeguarding the planet, and shaping new frontiers for the future.
The summit, which took place virtually due to the coronavirus pandemic, addressed the key challenges facing the world today, including COVID-19 and climate change.
Here is a summary of the key events.
Final communique
Saudi Arabia and other world leaders reinforced their commitment to supporting health care workers and developing safe and effective COVID-19 solutions, pushing the sustainability needle forward, and creating a more equal world at the G20 Riyadh summit.
"We, the G20 Leaders, meeting for the second time under the Saudi Presidency, stand united in our conviction that coordinated global action, solidarity, and multilateral cooperation are more necessary today than ever to overcome the current challenges and realize opportunities of the 21st century for all by empowering people, safeguarding the planet, and shaping new frontiers," read a statement from the final communique of the G20 leaders.
"We are committed to leading the world in shaping a strong, sustainable, balanced and inclusive post-COVID-19 era," it continued.
Coronavirus commitments
As coronavirus continues to threaten lives and livelihoods in myriad sectors, G20 sought to ensure support across sectors, including trade and investment, transportation and travel, sustainable development, access to opportunities, gender inclusivity, and education.
At the summit, the countries pledged more than $21 billion to the fight against coronavirus.
G20 efforts have temporarily extended social protection measures to 645 million people according to estimates from the International Labour Organization.
The countries also pledged to pay for a fair distribution of coronavirus vaccines to ensure poorer nations were not left out and to extend debt relief for those countries.
The G20 leaders said in their final declaration they will "spare no effort" to ensure the fair distribution of vaccines against the coronavirus worldwide, and support poor countries whose economies have been hit by the repercussions of the COVID-19 pandemic.
Sustainability
The Kingdom also highlighted its Circular Carbon Economy for clean energy, noting their "big plans" for renewable energy, including wind and solar which will generate 50 percent of the country's electricity by 2030.
A statement from the European Commission's President Ursula von der Leyen said the G20 summit could be a new beginning for global cooperation.
She noted that the US would be welcome to return to the Paris Climate Agreement following President-elect Joe Biden's inauguration. President Donald Trump announced in 2017 his intention to pull out from the agreement.
Trump, however, has defended his decision, calling it "unfair and one-sided."
"2020 has been a very difficult year. But the G20 rose to the challenge and it provided leadership. In fact, the G20 has proven a strong pillar and a key partner for the European Union, helping us to keep international cooperation running," she said.
In one G20 session, presenters gave examples of how to create a more sustainable world. One of which would be a closed-loop shipping system where boxes and packaging are reused; another would be switching from wooden shipping pallets to plastic pallets that can be recycled and can be used up to 40 times more than their wooden counterparts.
Education
On education, the final communique read "We stress the importance of continuity of education in times of crisis through the implementation of measures to ensure safe in-person learning, effective quality distance and blended teaching and learning, as appropriate. Inclusive, equitable and quality education for all, especially for girls, remains key to unlocking a brighter future and fighting inequalities."
Legacy
In his closing remarks, Saudi Arabia's King Salman bin Abzulaziz said "We have achieved a lot this year. We have upheld our commitment to continue to work together to rise to the challenge I of the COVID-19 pandemic in order to safeguard lives and livelihoods and protect the most vulnerable groups. We have adopted important policies that will achieve recovery all the way to an economy that is resilient, sustainable, inclusive, and balanced."
Speaking from the virtual summit that gathered world leaders from the most powerful countries and the European Union, Crown Prince Mohammed bin Salman said "The G20, since its foundation, has been an essential link among our countries. It has demonstrated the vitality of its role, over the years, to deal with economic, financial, social, and environmental issues."
https://english.alarabiya.net/en/News/world/2020/11/23/G20-G20-Riyadh-Summit-wraps-up-leaders-commit-to-fighting-COVID-19-sustainable-future
--------
Fourteen Iran-backed fighters in Syria killed in airstrikes: Monitor
22 November 2020
At least 14 Iran-backed militia fighters from Iraq and Afghanistan were killed in air strikes in war-torn eastern Syria, the Syrian Observatory for Human Rights said Sunday.
For all the latest headlines follow our Google News channel online or via the app.
The strikes on Saturday night in Deir Ezzor province, on the border with Iraq, were likely carried out by Israeli war planes, the Observatory said.
The Israeli army said it doesn't comment on foreign reports.
More than 10 strikes hit positions of Iran-backed militias outside the border town of Albu Kamal, according to the war monitor.
The attack killed eight Iraqis and six Afghan fighters, it said.
It also destroyed two bases as well as several military vehicles, the Observatory added.
Iran-backed fighters are heavily deployed in a stretch of territory between the Syrian towns of Albu Kamal and Mayadeen, both former strongholds of the ISIS group.
Along with Russia, Iran has been a key backer of the Damascus regime in its nine-year-long civil war.
Israel has carried out hundreds of air and missile strikes on Syria since the civil war broke out in 2011, targeting Iranian and Lebanese Hezbollah forces as well as government troops.
The Israeli army rarely acknowledges individual strikes.
Syria's war has killed more than 380,000 people and displaced millions more since starting in 2011 with the brutal repression of anti-government protests.
https://english.alarabiya.net/en/News/middle-east/2020/11/22/Fourteen-Iran-backed-fighters-in-Syria-killed-in-airstrikes-Monitor
--------
In Lebanon, army courts, plainclothes officers target protesters
22 November 2020
Khaldoun Jaber was taking part in an anti-government protest near the presidential palace outside Beirut last November when several Lebanese intelligence officers in plainclothes approached and forcibly took him away.
The demonstration was part of a wave of protests sweeping Lebanon against corruption and misrule by a group of politicians who have monopolized power since the country's civil war ended three decades ago.
Jaber didn't know it then, but Lebanese security forces targeted him because of his social media posts criticizing President Michel Aoun. What followed were 48 harrowing hours of detention during which security officers interrogated him and subjected him to physical abuse, before letting him go.
"I was beaten, harmed psychologically and morally," Jaber said. "Three of my teeth were broken and I lost 70 percent of my hearing in my left ear."
"I am still traumatized," he added.
A year after mass protests roiled Lebanon, dozens of protesters are being tried before military courts, proceedings that human rights lawyers say grossly violate due process and fail to investigate allegations of torture and abuse. Defendants tried before the military tribunal say the system is used to intimidate protesters and prop up Lebanon's sectarian rulers.
For all the latest headlines follow our Google News channel online or via the app.
Around 90 civilians have been referred to the military justice system so far, according to Legal Agenda, a human rights group based in Beirut.
"We expect many more people to be prosecuted," said Ghida Frangieh, a lawyer with the group.
The trials underscore the growing perils of activism in Lebanon, where a string of court cases and judicial investigations against journalists, as well as smear campaigns and intimidation to silence critics, has eroded the country's reputation for free speech and tolerance in a largely autocratic Arab world.
Frangieh said that security forces arrested around 1,200 people from the beginning of the anti-government uprising in October 2019 through the end of June. Lebanese authorities have prosecuted around 200 of them, including those referred to the military judiciary, the monitoring group has found.
Two months after his arrest, Jaber received an official notice saying military prosecutors were charging him with assaulting security forces at the Baabda Palace when the plainclothes agents detained him.
"I was shocked when I was called to the military tribunal," Jaber said.
The trial did not take place until Oct. 7, when the military court declared Jaber innocent of assaulting security officers, which is a military crime under Lebanese law, but said it lacked jurisdiction over a second charge, that of insulting the president.
Like Jaber, many detained protesters only find out a month or more after their release that authorities have referred them to military courts. Many of these cases were scheduled for hearings this November and December, Frangieh said, before a two-week nationwide lockdown over the coronavirus pandemic temporarily closed the courts.
Jaber's case is an example of how military prosecutors try to claim jurisdiction over civilian cases by usually filing more than one charge, including one that is a military crime, said Frangieh, who represents protesters before the military tribunal and is also part of the Lawyers' Committee for Defense of Protesters.
"There was no evidence," Frangieh said about Jaber's charge of assaulting security officers. "He was kidnapped during a protest, but he was actually targeted because of his social media posts that criticized the president."
The military prosecutor's office closed, without investigation, a torture complaint that Jaber had submitted, she added.
According to Legal Agenda, the military courts usually issue summary decisions on the same day of the trial, without issuing an explanation.
"There's really a lot of doubt about the fairness and arbitrariness of the decisions issued by the court," she said, adding that when defendants are sentenced, the legal basis of the conviction is not immediately shared with their lawyers.
Military prosecutors often neglect to read the full case files prepared from military intelligence reports, or abruptly drop or change charges during trials, according to Frangieh and another lawyer with the committee representing protesters, Ayman Raad.
"Military courts have no business trying civilians," said Aya Majzoub, a researcher with Human Rights Watch. The international rights group has called on Lebanon's parliament to end the troubling practice by passing a law to entirely remove civilians from the military court's jurisdiction.
Georges Abou Fadel was summoned for a military trial on Oct. 30, after he was detained during a protest a year ago in the town of Beit Mery, east of Beirut. During his trial, the military prosecutor asked the judge for time to read the case report, then asked to change the charge against Abou Fadel from assaulting security forces to the lesser charge of nonviolently resisting arrest.
The court found him innocent but Abou Fadel said he wasn't relieved, knowing there'll be more trials "for my friends, for the people protesting, for anyone who is trying to call for his rights."
Lawyers, rights activists and defendants describe the military tribunals' prosecution of protesters and other civilians as another node in the web of Lebanon's sectarian system that protects the power of its top politicians rather than the rights of citizens.
"This is one of the tools used by the sectarian parties," said Abou Fadel - keeping their people loyal through fear of the military courts.
Many of the judges at the military tribunal are appointed by the defense ministry, which undermines the tribunal's judicial independence, according to rights activists. The head of the military tribunal is customarily Shiite, while the chief military prosecutor is Maronite Christian.
Reforming the Lebanese judicial system is "one of the most important demands" of the anti-government protesters, Raad said, including ending military trials for civilians.
Justice Minister Marie-Claude Najm did not respond to a request for comment. Lebanese officials typically do not address the question of why civilian cases are being tried in the military court system. Security forces have denied beating and torturing protesters and activists in detention.
On Nov. 13, Jad Al Rayess was fined 200,000 Lebanese Pounds ($132) by a military court, 11 months after security forces detained him at a protest on Beirut's Ring Road. The court has not yet released a statement with the charge for which he was convicted.
The 32-year-old said that he plans to emigrate from Lebanon.
"We are not going to get any progress without blood, and that's nothing I want to be involved in," he said.
https://english.alarabiya.net/en/features/2020/11/22/In-Lebanon-army-courts-plainclothes-officers-target-protesters-
--------
URL: https://www.newageislam.com/islamic-world-news/hindu-muslim-temple-kissing-scenes/d/123550
New Age Islam, Islam Online, Islamic Website, African Muslim News, Arab World News, South Asia News, Indian Muslim News, World Muslim News, Women in Islam, Islamic Feminism, Arab Women, Women In Arab, Islamophobia in America, Muslim Women in West, Islam Women and Feminism