New Age Islam News Bureau
10 Jun 2016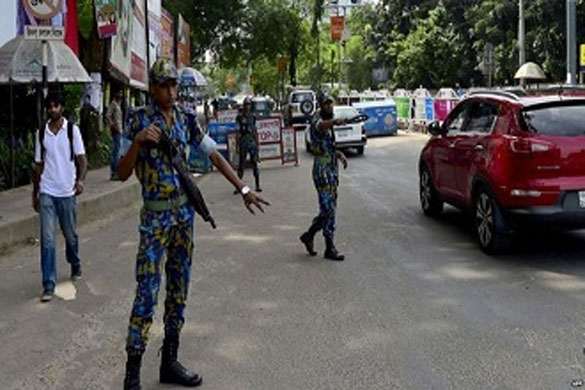 Photo: Tight security has been in place since the wave of attacks began
------
• Iran Urges Punitive Measures against Sponsors of Terrorism
• Understand What Is At Stake First, Experts Tell Non-Muslims in the Debate Over Hudud
• Muslims Have Right to Religious Freedom in America Too, Russell Moore Says
South Asia
• Hindu Monastery Worker Hacked To Death in Bangladesh
• Punches Exchanged During Television Debate on Hekmatyar Peace Deal
• Obama grants US military broader role to assist Afghan troops fight Taliban
• Terrorist involved in major attacks arrested from Kabul Emergency Hospital
--
Arab World
• Iran Urges Punitive Measures against Sponsors of Terrorism
• Commander Muhandis Meets with Senior Iraqi Shiite Cleric in Najaf
• Over 10 ISIL Terrorists Killed in Russian Airstrikes near Deir Ezzur City
• Aleppo: Syrian Democratic Forces Ready for Final Phase of Manbij Operation
• Iran, Russia, Syria Keen to Enhance Anti-Terror Cooperation
• France Stresses Iran's Role in Regional Stability
• Iran Condemns Terrorist Attack in Kazakhstan
• Terrorist Groups Breach Syrian Ceasefire 7 Times in 24 Hours
• Iran, Serbia Opt for Broadening of Scientific, Academic Cooperation
• Victims of Al-Nusra Attacks on Aleppo's Residential Areas Rising
• Humanitarian Aid Delivered in Syria's Darayya
• ISIL Attacks Repulsed by Syrian Army in Deir Ezzur
--
North America
• Muslims Have Right to Religious Freedom in America Too, Russell Moore Says
• Islamic State Can't Pay Militants, US Treasury Says
• US warns against 'chilling effect' of Turkey's immunity bill
• Muhammad Ali and cementing a Muslim North American legacy
• American IS Suspect Back in US to Face Terror Charges
• Ensure territory not used for planning attacks in India: US to Pakistan
--
Southeast Asia
• Understand What Is At Stake First, Experts Tell Non-Muslims in the Debate Over Hudud
• Indonesia's Cyber Warriors Battle ISIS with Memes, Tweets and WhatsApp
• What Happens When A Muslim Girl Stays In The Home Of A Christian Family
• Why is Aung San Suu Kyi ignoring her country's most vulnerable people?
--
Mideast
• An Israeli Encounter With anti-Semitism in the Muslim World
• Thousands March Against PKK in Midyat after Car Bomb Attack
• PKK-affiliated group claims deadly June 7 Istanbul car bomb attack
• Turkey's Erdoğan cuts US trip short without attending Muhammad Ali burial
• French envoy hopes for Turkey-France final at Euro 2016
--
Africa
• U.N.-Backed Libyan Fighters Push toward ISIS Stronghold of Surt
• Wamakko appointed Nigerian President General of World Muslim League Africa
--
Europe
• Inside Europe: Yazidis Find Refuge in Georgia
• At Ramadan, migrants in Europe dream of family and comfort food
--
Pakistan
• Pakistani Muslims Build Church for Christian Neighbours
• CII Blamed For Rise in Incidents of Violence against Women
• Emails in Clinton probe dealt with planned drone strikes in Pakistan: WSJ
• SC allows action against negotiators for setting up cinema at Islamic centre
--
India
• Hindu Festival in Kashmir to Coincide With Ramadan after Three Decades
• Student Population Rises 30%, Muslims Beat National Average
• HC dismisses Purohit's bail plea, asks him to move trial court
• Seven Indian embassy websites hacked by group claiming Pakistan 'support'
Compiled by New Age Islam News Bureau
URL: https://newageislam.com/islamic-world-news/new-age-islam-news-bureau/hindu-monastery-worker-hacked-to-death-in-bangladesh/d/107592
-------
Hindu Monastery Worker Hacked To Death in Bangladesh
Thu Jun 09 2016
A Hindu monastery worker has been hacked to death in Bangladesh, police said, the latest in a string of attacks on secular and minority targets.
Nityaranjan Pande, who was in his 60s, died on the spot after several people attacked him early on Friday, AFP news agency, said citing police.
His murder comes after the body of a Hindu priest was found with his head nearly severed in a field on Tuesday.
Most of the attacks have been blamed on, or claimed by, Islamist militants.
"There was no eye-witness to the attack as it happened very early in the morning," the head of police in the north-western district of Pabna, Alamgir Kabir, told AFP.
No group has said they carried out the attack.
Who is behind the Bangladesh killings?
Is extremism on the rise in Bangladesh?
Lurching from secularism to sectarian terror?
Regular protests have been held following the attacks of secular bloggers and minorities
'No enemies'
Mr Pande, who was attacked during his morning walk, had been working at the monastery for 40 years, officials said.
"He was a simple man. He had no enemies," local NGO worker Naresh Madhu told local news agency bdnews24.
Bdnews24 said the attack happened very close to the monastery.
More than 40 people have been killed since January last year in a wave of attacks, including secular bloggers, academics and gay rights activists.
Bangladesh has a majority Muslim population with Hindus making up about 8% of the population.
Who is being targeted?
The grim list of those who have fallen victim to attacks by Islamist militants in Bangladesh is growing ever more diverse.
Secular bloggers, academics, gay rights activists, and members of religious minorities including Shia, Sufi and Ahmadi Muslims, Christians and Hindus have all been killed; many of them hacked to death.
A university professor whose family said he was not an atheist was murdered in April, suggesting the list of those at risk had widened further.
Who exactly is behind the attacks remains murky? Bangladesh has myriad extremist groups and there have been few convictions over the attacks.
Bangladesh has disputed claims by so-called Islamic State (IS) or al-Qaeda-linked groups for the attacks, instead often blaming opposition parties or local Islamist groups.
But until the killings stop the government itself will face accusations of not doing enough to protect minorities in the Sunni-dominated nation.
bbc.com/news/world-asia-36496443
--
Iran Urges Punitive Measures against Sponsors of Terrorism
June 10, 2016
TEHRAN (FNA)- Iran's Supreme National Security Council (SNSC) Secretary Ali Shamkhani blasted certain regional states for rendering support to the terrorist groups, and called for their punishment by the international community.
"The international community should mobilize all its capacities to punish and restrict those states that give the Takfiri terrorists their public and covert support," Shamkhani said in a meeting with Russian Defense Minister Sergei Shoigu in Tehran on Thursday evening.
Shamkhani pointed to continuation of the plight suffered by Syrian people due to the complication of the regional crises, and said the approach adopted by the United States and its western and regional allies to the crisis in Syria shows that they are trying to create safety for Israel.
"Nobody but Syrians themselves has the right to decide about the governing system and the future rulers of Syria," he said.
In a relevant development last year, the Iranian legislature in a statement had condemned the ISIL crimes, and stressed that those states which have created and supported the terrorist group should account for its crimes as well.
"Now, the US and western governments and the regional sheikhdoms (Persian Gulf Arab states) which have created and strengthened the killer group should account for" its crimes, the statement said.
"We insist the international human rights organizations to launch investigation with regard to those governments which have played a role in the creation of these terrorists to take proper action against them," it added.
The statement underlined that the killing of Muslim students in the US, Christian workers in Libya, Sunni Muslims in Iraq, Ezadis in Erbil and Shiites in Pakistan and Yemen are all parts of a purposeful plot by the Zionist regime which has been hatched to stir a global religious war.
en.farsnews.com/newstext.aspx?nn=13950321000200
URL:
New Age Islam, Islam Online, Islamic Website, African Muslim News, Arab World News, South Asia News, Indian Muslim News, World Muslim News, Womens in Islam, Islamic Feminism, Arab Women, Womens In Arab, Islamphobia in America, Muslim Women in West, Islam Women and Feminism, Moderate Islam, Moderate Muslims, Progressive Islam, Progressive Muslims, Liberal Islam, Liberal Muslims, Islamic World News
--
South Asia
Hindu Monastery Worker Hacked To Death in Bangladesh
Thu Jun 09 2016
A Hindu monastery worker has been hacked to death in Bangladesh, police said, the latest in a string of attacks on secular and minority targets.
Nityaranjan Pande, who was in his 60s, died on the spot after several people attacked him early on Friday, AFP news agency, said citing police.
His murder comes after the body of a Hindu priest was found with his head nearly severed in a field on Tuesday.
Most of the attacks have been blamed on, or claimed by, Islamist militants.
"There was no eye-witness to the attack as it happened very early in the morning," the head of police in the north-western district of Pabna, Alamgir Kabir, told AFP.
No group has said they carried out the attack.
Who is behind the Bangladesh killings?
Is extremism on the rise in Bangladesh?
Lurching from secularism to sectarian terror?
Regular protests have been held following the attacks of secular bloggers and minorities
'No enemies'
Mr Pande, who was attacked during his morning walk, had been working at the monastery for 40 years, officials said.
"He was a simple man. He had no enemies," local NGO worker Naresh Madhu told local news agency bdnews24.
Bdnews24 said the attack happened very close to the monastery.
More than 40 people have been killed since January last year in a wave of attacks, including secular bloggers, academics and gay rights activists.
Bangladesh has a majority Muslim population with Hindus making up about 8% of the population.
Who is being targeted?
The grim list of those who have fallen victim to attacks by Islamist militants in Bangladesh is growing ever more diverse.
Secular bloggers, academics, gay rights activists, and members of religious minorities including Shia, Sufi and Ahmadi Muslims, Christians and Hindus have all been killed; many of them hacked to death.
A university professor whose family said he was not an atheist was murdered in April, suggesting the list of those at risk had widened further.
Who exactly is behind the attacks remains murky? Bangladesh has myriad extremist groups and there have been few convictions over the attacks.
Bangladesh has disputed claims by so-called Islamic State (IS) or al-Qaeda-linked groups for the attacks, instead often blaming opposition parties or local Islamist groups.
But until the killings stop the government itself will face accusations of not doing enough to protect minorities in the Sunni-dominated nation.
bbc.com/news/world-asia-36496443
--
Punches exchanged during television debate on Hekmatyar peace deal
Thu Jun 09 2016
A television debate on potential peace deal between the Afghan government and Hezb-e-Islami led by Gulbuddin Hekmatyar led into a brawl between the debate participants.
The trailer of the television debate immediately gone viral earlier tonight as the social media users were surprised with the reactions of the two debate participants.
According to the trailer of debate which is due to published later tonight on 1TV channel, the brawl erupts as one of the debate participants calls a peace deal with Hezb-e-Islami as ineffective, calling Hekmatyar a terrorist who is still internationally blacklisted.
The remarks by the debate participant angers the other participant who speaks in favor of Hekmatyar, calling Hezb-e-Islami a key party which has a major influence in the country.
The brawl among the two participants leads to exchange of punches as the host and another analyst rushes to end the fight.
The delegation of Hezb-e-Islami arrived for peace talks to capital Kabul in mid March and shortly after the Quadrilateral Coordination Group (QCG) called on militant groups to participate in direct peace talks with the Afghan government.
Hekmatyar is considered is a notorious warlord for his involvement in the devastating civil war and insurgency following activities following the fall of the Taliban group.
khaama.com/punches-exchanged-during-television-debate-on-hekmatyar-peace-deal-01217
--
Obama grants US military broader role to assist Afghan troops fight Taliban
Fri Jun 10 2016
The US President Barack Obama has approved broader role for the US military to assist the Afghan National Defense and Security Forces (ANDSF) to fight the Taliban-led insurgency.
According to reports, the broader role granted to the US military will allow them to accompany Afghan forces and assist them more proactively on the battlefield.
US defense officials have said the decision would also allow greater use of U.S. air power, particularly close air support.
The officials speaking on the condition of anonymity further added that the broader role granted by Obama however does not mean that "This is a blanket order to target the Taliban."
The US forces were earlier accompanying the Afghan special forces only when it was needed, the officials said, adding that the under the new policy the US commander in Afghanistan, General John Nicholson, will be able to decide when it is appropriate for American troops to accompany conventional Afghan forces into the field.
The expanded powers are only meant to be employed "in those select instances in which their engagement can enable strategic effects on the battlefield," the officials added.
khaama.com/obama-grants-us-military-broader-role-to-assist-afghan-troops-fight-taliban-01218
--
Terrorist involved in major attacks arrested from Kabul Emergency Hospital
Thu Jun 09 2016
A prominent terrorist involved in major attacks has been arrested from the Emergency Hospital of Kabul where he was admitted after sustaining wounds in an explosion.
The Ministry of Interior (MoI) said the terrorist has been identified as Abdullah who is originally a resident of the central Logar province of Afghanistan.
According to a statement by MoI, Abdullah was involved in a number of terrorist attacks in the southeastern Ghazni province of Afghanistan.
The statement further added he was arrested by the operatives of the counterterrorism department of the Ministry of Interior.
According to MoI, Abdullah was admitted to Kabul Emergency Hospital after sustaining wounds following an explosion which was triggered by the explosives he planted in a bicycle.
MoI also added that four civilians were killed and and two others were wounded in the attack and Abdullah was shifted to Emergency Hospital in Kabul after sustaining wounds in the same attack.
He was arrested based on the intelligence information received by the personnel of counterterrorism department of Interior Minitry, the statement added.
The anti-government armed militant groups including the Taliban insurgents have not commented regarding the report so far.
khaama.com/terrorist-involved-in-major-attacks-arrested-from-kabul-emergency-hospital-01214
--
Arab World
Iran Urges Punitive Measures against Sponsors of Terrorism
June 10, 2016
TEHRAN (FNA)- Iran's Supreme National Security Council (SNSC) Secretary Ali Shamkhani blasted certain regional states for rendering support to the terrorist groups, and called for their punishment by the international community.
"The international community should mobilize all its capacities to punish and restrict those states that give the Takfiri terrorists their public and covert support," Shamkhani said in a meeting with Russian Defense Minister Sergei Shoigu in Tehran on Thursday evening.
Shamkhani pointed to continuation of the plight suffered by Syrian people due to the complication of the regional crises, and said the approach adopted by the United States and its western and regional allies to the crisis in Syria shows that they are trying to create safety for Israel.
"Nobody but Syrians themselves has the right to decide about the governing system and the future rulers of Syria," he said.
In a relevant development last year, the Iranian legislature in a statement had condemned the ISIL crimes, and stressed that those states which have created and supported the terrorist group should account for its crimes as well.
"Now, the US and western governments and the regional sheikhdoms (Persian Gulf Arab states) which have created and strengthened the killer group should account for" its crimes, the statement said.
"We insist the international human rights organizations to launch investigation with regard to those governments which have played a role in the creation of these terrorists to take proper action against them," it added.
The statement underlined that the killing of Muslim students in the US, Christian workers in Libya, Sunni Muslims in Iraq, Ezadis in Erbil and Shiites in Pakistan and Yemen are all parts of a purposeful plot by the Zionist regime which has been hatched to stir a global religious war.
en.farsnews.com/newstext.aspx?nn=13950321000200
--
Commander Muhandis Meets with Senior Iraqi Shiite Cleric in Najaf
June 9th, 2016
According to Iranian media, Abu Mehdi Muhandis briefed Grand Ayatollah Bashir Hussain Najafi and the head of his office in the holy city of Najaf yesterday on ongoing Fallujah operations. Muhandis is the commander of the Iranian-backed Iraqi Popular Mobilization Forces, a US designated global terrorist and a deputy to Islamic Revolutionary Guard Corps Qods Force Commander Qassem Soleimani. Najafi was born to a prominent clerical family in British India and is one of the five Grand Ayatollahs in Iraq.
The senior cleric praised the ongoing successes of Iraqi forces against the Islamic State and proclaimed, "all of Iraq must be cleansed from DAISH (pejorative for Islamic State) terrorists." He also stressed the necessity of protecting public and private property during the Fallujah operation and said, "Members of the security forces and popular mobilization are the pride of the clergy."
Najafi then announced: "Iraqi holy warriors and fighters must have serious will to liberate the remaining areas under the occupation of terrorism and not to give an opportunity for the invasion of this country's soil."
The head of the senior cleric's office and his son, Hojjat al Eslam Sheikh Ali Najafi, also called for the protection of civilians in Fallujah "so they are frees the clutches of terrorism with the least harm." He likewise praised "members of popular mobilization who with faith and courage have once again demonstrated to the world and proved that they stand against the enemies with strength and treat innocent humans with kindness and gentleness."
The militias backed by Tehran have often acted outside the law in Iraq as they battle Islamic State militants. The UN human rights chief warned this week that there were "extremely distressing, credible reports" that Iraqis fleeing Fallujah are facing physical abuse and even summary executions as they escape Fallujah. According to The New York Times, on the other hand, "for the most part, civilians who have fled the areas around Fallujah have said they had tired of the grim life under the Islamic State and had been treated well by the militias and Iraqi soldiers."
longwarjournal.org/archives/2016/06/abu-mehdi-muhandis-meet-with-senior-iraqi-shiite-cleric-in-najaf.php?utm_source=feedburner&utm_medium=email&utm_campaign=Feed%3A+LongWarJournalSiteWide+%28The+Long+War+Journal+%28Site-Wide%29%29
--
Over 10 ISIL Terrorists Killed in Russian Airstrikes near Deir Ezzur City
June 10, 2016
TEHRAN (FNA)- Russian fighter jets carried out several combat flights over ISIL centers in the Northern and Southeastern districts of Deir Ezzur, military sources said, adding that 12 ISIL members were killed in the air raids.
The Russian warplanes bombed heavily the ISIL gatherings in al-Baqaliyeh North of the city and al-Mura'yeh Southeast of the city, which not only claimed the lives of 12 militants but also destroyed their military hardware in large scale.
In the meantime, the Syrian army discovered and destroyed a long tunnel of the ISIL militants connecting the Takfiri terrorists' positions near Cinema Fuaa to al-Jableh neighborhood.
In relevant developments in the province on Thursday, the Syrian army and popular forces cleansed off 70% of the strategic al-Thardah mountain near Deir Ezzur air base from the ISIL terrorists.
The Syrian army, supported by the tribal forces and the Russian fighter jets, started operations to free the important and strategic heights of al-Thardah and could purge the terrorists of 70% of the region after several hours of fierce and heavy clashes.
"Clashes still continue and the Syrian forces are striving to take back the entire region," a field source told FNA.
en.farsnews.com/newstext.aspx?nn=13950321000228
--
Aleppo: Syrian Democratic Forces Ready for Final Phase of Manbij Operation
June 10, 2016
TEHRAN (FNA)- The Manbij Military Council, affiliated to the Syrian Democratic Forces (SDF), announced that its fighters are ready to launch the last phase of their operation in Northeastern Aleppo and free the town of Manbij form the ISIL.
"Our campaign for martyr Faisal Abu Layla for liberating Manbij and its countryside from ISIL terrorism is ongoing," the council said. "We are besieging the city from the East, North and South, after cutting off the ISIL supply lines from three directions. Our forces also took over the road between Jarabulus and Manbij, and between Manbij and Raqqa," the Manbij Military Council (MMC) said.
"We are able to target ISIL militants inside the city of Manbij, but the existence of civilians and our care about the safety of these families push us to be patient to raid the town and terrorist centers inside the town," the MMC, which operates within the Kurdish-led SDF said.
In relevant developments on Thursday, the SDF in cooperation with the Kurdish People's Protection Units (YPG) continued their advances against the ISIL terrorists in Eastern Aleppo and cut off the terrorists' supply lines in Manbij-Aleppo road.
Local sources announced on Thursday that the Kurdish-led forces took full control over Manbij-Aleppo road in the Eastern parts of Aleppo province.
A senior member of Manbij city council promised the residents imminent victory against the terrorists.
en.farsnews.com/newstext.aspx?nn=13950321000277
--
Iran, Russia, Syria Keen to Enhance Anti-Terror Cooperation
June 10, 2016
TEHRAN (FNA)- Tehran, Moscow and Damascus agreed to step up cooperation in their fight against Takfiri terrorist groups and their sponsors who are to be blamed for the regional crises, specially in Syria and Iraq.
"We made decisions for what must be done on the regional and operational levels in an agreed upon and coordinated manner," Iranian Defense Minister Brigadier General Hossein Dehqan said on Friday.
Brigadier General Dehqan said that the terrorist groups and their sponsors must know that the anti-terror alliance of Iran, Russia and Syria is determined to support its cause till the end.
"The three countries were determined to fight a decisive battle against all terrorist groups," the Iranian defense minister added.
Brigadier General Dehqan, his Russian counterpart General Sergei Shoigu and Syrian counterpart General Fahd Jassem al-Freij attended a meeting titled 'Fighting Terrorism' in Tehran on Thursday.
The meeting took place at the invitation of Brigadier General Dehqan.
The three defense ministers discussed the latest regional development and the ways for expanding fight against terrorism.
Iran and Russia have helped the Syrian government in its fight against terrorism.
In late November, a prominent military expert underlined that the recent military advances by the Syrian army in the Northern parts of the Muslim country, the deployment of Russian S-400 air defense system in Syria near the border with Turkey and the imminent delivery of S-300 systems to Iran have changed the balance of power in the Middle East.
"The air defense systems of Iran and Russia have given a very high deterrence power to the resistance front," Ali Maqsoud told FNA.
He reiterated that the deployment of S-400 air defense system in Syria has confused the US and its regional allies to the same extent that they are worried about the delivery of S-300 air defense systems to Iran.
"The US allies in the region, specially Israel, are concerned about the military power of the axis of resistance, particularly the deployment of S-400 in Syria and the delivery of S-300 to Iran, because they are aware that these moves will change the regional balance of power in favor of the axis of resistance," Maqsoud said.
en.farsnews.com/newstext.aspx?nn=13950321000270
--
France Stresses Iran's Role in Regional Stability
June 10, 2016
TEHRAN (FNA)- President of the French National Assembly Claude Bartolone underlined that Iran plays an important role in securing the regional stability.
"France sees no durable stability in the region without Iran's help," Bartolone said in a phone conversation with Iranian Parliament Speaker Ali Larijani.
The president of French National Assembly, meantime, expressed hope for enhancement of mutual ties, specially in the parliamentary field.
The Iranian parliament speaker, for his part, thanked his French counterpart, adding that consultations between the two countries' lawmakers can facilitate expansion of all-out ties between Tehran and France, specially in the field of economy.
"Mutual cooperation and enhancement of economic relations, which entered a new phase after Iranian President Hassan Rouhani's visit to Paris, is another topic that can be discussed between the Iranian and French lawmakers," Larijani added.
In mid-May, Iranian President Hassan Rouhani underlined deepening of relations between Tehran and Paris in all fields, and said cooperation between the two countries can intensify efforts to fight against terrorism.
"Establishing calm in the region, specially in Syria and Iraq, will benefit both Iran and France and the two countries can play an important role in strengthening the foundation of peace and stability in the region," Rouhani said in a meeting with new French Ambassador to Tehran François Sénémaud in Tehran.
He described terrorism as a global dilemma, and said, "The Islamic Republic of Iran has since long ago focused its efforts on fighting terrorism and the two countries' cooperation will accelerate this campaign."
en.farsnews.com/newstext.aspx?nn=13950321000239
--
Iran Condemns Terrorist Attack in Kazakhstan
June 10, 2016
TEHRAN (FNA)- Iranian Foreign Ministry Spokesman Hossein Jaberi Ansari condemned a recent deadly terrorist attack in the Kazakh city of Aktau which resulted in the death and injury of over 40 people.
Jaberi Ansari expressed sympathy with Kazakhstan's government and nation as well as the bereaved families of the victims of the incident.
The Iranian foreign ministry spokesman said that the incident indicates the vulnerability of Central Asia to such terrorist activities.
"The attack in Aktau shows the necessity for cooperation among regional countries to counter extremism and its intellectual and political origins in a comprehensive and integrated way," Jaberi Ansari added.
On June 5, unidentified gunmen attacked two gun shops and a military unit in Aktau, killing seven people and injuring 37 others, most of them servicemen.
Thirteen assailants were killed, nine were arrested in a counter-terror operation in the city, with six criminals still at large.
A red terrorist threat level was put in place in Aktau while a moderate yellow one was declared elsewhere across the country for 40 days.
Kazakh President Nursultan Nazarbayev said on Wednesday that the Aktau attacks had been organized by supporters of radical, pseudo-religious teachings who were instructed from abroad. He vowed to use the toughest measures to "suppress extremists and terrorists".
en.farsnews.com/newstext.aspx?nn=13950321000157
--
Terrorist Groups Breach Syrian Ceasefire 7 Times in 24 Hours
June 10, 2016
TEHRAN (FNA)- Terrorist groups breached the cessation of hostilities agreement in Syria 7 times in one day, the Russian Coordination Center said.
The Russian center pointed out that al-Nusra Front's terrorists continued attempts to foil the agreement, as they shelled several towns in the countryside of Lattakia, Idlib, Hama and Damascus.
The center, based in Hmeimim airbase, said in a statement, that terrorists of the so-called Jeish al-Islam targeted military positions and a number of Damascus neighborhoods with mortar rounds.
The cessation of hostilities agreement, which came into effect in Syria since 27 February in implementation of UN Security Council resolution 2268, does not include al-Nusra, ISIL and other groups listed by the UN as terrorist organizations.
The cessation of hostilities agreement is holding in most Syrian areas, as the number of towns which have joined the agreement reached 139, the center concluded.
en.farsnews.com/newstext.aspx?nn=13950321000265
--
Iran, Serbia Opt for Broadening of Scientific, Academic Cooperation
June 10, 2016
TEHRAN (FNA)- Iranian and Serbian officials in a meeting in Belgrade underlined the need for the expansion of mutual cooperation in the field of science and academic affairs.
Economic and political consul general at the Iranian embassy in Belgrade Mohammad Javad Izadi and Assistant Director for Serbian Novi Sad Institute Sanja Vasilievic explored avenues for bolstering and reinvigorating bilateral ties in scientific and academic areas.
The two sides agreed to exchange visits between their experts to help boost their bilateral ties.
"Serbia is eager to cooperate with the Iranian academic and research centers," the Serbian official said.
In mid-April, Serbia's President Tomislav Nikolic arrived in Tehran to reinforce bilateral ties between the two countries.
Serbian President met his Iranian counterpart Hassan Rouhani upon his arrival in Tehran.
President Nikolic also held a meeting with Vice-President for Science and Technology Sourena Sattari and participated in the opening ceremony of the 5th Symposium of World Federation of Neurosurgical Societies.
The trip mostly aims at developing relations between Tehran and Belgrade, after the US-led sanctions were lifted as a result of a nuclear deal reached between Tehran and the world powers.
en.farsnews.com/newstext.aspx?nn=13950321000338
--
Victims of Al-Nusra Attacks on Aleppo's Residential Areas Rising
June 10, 2016
TEHRAN (FNA)- Sources in the Northern city of Aleppo announced that the number of the dead civilians in al-Nusra Front's terrorist attacks on two districts of Aleppo is increasing.
"The death toll of al-Nusra Front's shelling attacks on Aleppo's districts has reached 25 people," the sources said, adding, "The number dead civilians in Sheikh Maqsoud and al-Midan is on rise."
"In the meantime, al-Nusra shelled Handarat in Northern Aleppo, which ended in the killing of several civilians," the sources further added.
A report said on Monday that al-Nusra Front Takfiri terrorist group heavily shelled the Northern parts of Aleppo city, killing and wounding civilians and destroying buildings.
The Takfiri terrorists fired mortar rounds and rockets at the Burayj ar Rih neighborhood in Northern Aleppo, killing and wounding civilians.
"Nusra Front Militants fired mortars and multiple rocket launchers at the Burayj ar Rih district north of Aleppo. The shells fired by terrorist groups at residential quarters destroyed a shopping mall, homes and administrative buildings, private buildings, killing and wounding civilians," the military official said.
en.farsnews.com/newstext.aspx?nn=13950321000184
--
Humanitarian Aid Delivered in Syria's Darayya
June 10, 2016
TEHRAN (FNA)- Red Crescent trucks delivered food and medical relief to the civilians in the Syrian town of Darayya, Damascus province, local sources said.
"A large convoy of vehicles with humanitarian aid arrived at the besieged town of Darayya in Western Ghouta area on Thursday night," the sources said, adding, "Led by the Syrian Red Crescent Society, the humanitarian aid convoy brought necessary supplies to the civilians living under Ajnad al-Sham terrorist group in Western Darayya."
Reports said on Tuesday that the Syrian army and popular forces launched an offensive against the terrorists in Darayya region in the Eastern parts of Damascus, and took control of new areas.
According to field sources, the army could win back control over a number of blocks and houses in the Southern parts of Darayya in Eastern Ghouta.
The victory was gained after severe clashes with militants which killed tens of them and injured others, the sources added.
en.farsnews.com/newstext.aspx?nn=13950321000145
--
ISIL Attacks Repulsed by Syrian Army in Deir Ezzur
June 10, 2016
TEHRAN (FNA)- The Syrian Army troops repelled ISIL's attacks on government forces' positions in the Eastern province of Deir Ezzur, forcing the terrorist group to retreat from the battlefield without any gain.
The Syrian soldiers fended off the ISIL Takfiri terrorists' offensives on the pro-government forces' strongholds near Panorama and in Thardah mountain in Western side of Deir Ezzur city, which ended in the killing or wounding of several militants.
"The Panorama Roundabout remains under government control for now," battlefield sources said.
In relevant developments in the province on Wednesday, the Syrian fighter jets tracked and targeted a bomb-making workshop of the terrorist groups in the Southwest of Deir Ezzur city, inflicting major losses on the militants and the site.
The Syrian warplanes bombed the terrorist group's workshop near the village of Shoula 30 kilometers to the Southwest of Deir Ezzur, which not only destroyed the bomb-making facilities but killed the entire members of the Takfiri groups in the site.
en.farsnews.com/newstext.aspx?nn=13950321000134
--
North America
Muslims Have Right to Religious Freedom in America Too, Russell Moore Says
June 9, 2016
Ethics & Religious Liberty Commission President Russell Moore of the Southern Baptist Convention wrote a rebuttal to a Baptist editor's claim that Muslim Americans do not have religious liberty.
A recent editorial from a Georgia-based Christian publication claimed that Islam did not qualify for religious freedom, arguing that it is not a religion as much as it is an extremist political movement.
In a blog entry published Wednesday, Moore countered that standing up for the religious freedom of non-Christians was in perfect harmony with sound Christian theology.
"When we say — as Baptists and many other Christians always have — that freedom of religion applies to all people, whether Christian or not, we are not suggesting that there are many paths to God, or that truth claims are relative," wrote Moore.
"We are fighting for the opposite. We are saying that religion should be free from state control because we believe that every person must give an account before the Judgment Seat of Christ."
Moore also noted the slippery slope of not protecting non-Christians' right to worship, arguing that such a government can eventually conclude that Christians do not have religious liberty.
"A government that can tell you a mosque or synagogue cannot be built because it is a mosque or a synagogue is a government that, in the fullness of time, will tell an evangelical church it cannot be constructed because of our claims to the exclusivity of Christ," continued Moore.
"If Jesus is right about His Gospel, we do not need the power of bureaucrats to carry out the spiritual mission of the advance of the Gospel."
Earlier this week Gerald Harris, editor of the Georgia Baptist newspaper The Christian Index, authored a column denouncing the ERLC's recent support for a New Jersey Muslim community fighting a legal battle to be allowed to build a mosque.
"While Muslims around the world and in our own country are shouting 'Death to America' should we be defending their rights to build mosques, which often promote Sharia law and become training grounds for radicalizing Muslims?" asked Harris.
"… it must be understood that to Muslims, freedom of religion means practicing Islam only. Muslims are compelled by the Quran to destroy all other religions by whatever means necessary so that Islam may be the only religion in the entire world."
Harris went on to argue that "Islam may be more of a geo-political movement than a religion" and that the ERLC should spend its efforts on other more Christ-centered labors.
"So, do Southern Baptists entities need to come to the defense of a geo-political movement that has basically set itself against Western Civilization?" continued Harris.
"Even if Islam is a religion must we commit ourselves to fight for the religious freedom of a movement that aggressively militates against other religions?"
For their part, the Georgia chapter of the Council on American Islamic Relations has invited Harris to one of their iftar dinners, held after sundown during the month of Ramadan.
"We welcome Harris to break bread with his Georgia Muslim neighbors so that he can recognize the common values that unite all people of faith," stated CAIR Georgia Executive Director Edward Ahmed Mitchell.
"Americans need not share the same religious beliefs as our neighbors in order to respect their constitutional right to worship God as they see fit."
christianpost.com/news/muslims-have-right-to-religious-freedom-in-america-too-russell-moore-says-165005/
--
Islamic State can't pay militants, US Treasury says
Jun 10, 2016
Washington: Efforts to choke off the finances of the Islamic State group have left it unable to pay its fighters and spurred corruption within the group, a senior US official said on Friday.
Daniel Glaser, the Treasury's assistant secretary for terrorist financing, told Congress that a combination of bombing attacks on IS cash stores and oil shipments, locking it out of the banking system, and cutting off Iraq government cash flows to IS-controlled areas, has left the group struggling financially.
"As a result of these efforts, ISIL is struggling to pay its fighters and we have seen a number of ISIL fighters leaving the battlefield as their pay and benefits have been cut and delayed," he said, using the US's preferred acronym for Islamic State.
"When we see indications that ISIL cannot pay the salaries of its own fighters and is trying to make up for lost revenue elsewhere, we know we are hitting them where it hurts.... ISIL, like any terrorist organization, needs money to survive," he said.
In written testimony for a House of Representatives committee hearing on security threats, Glaser said the US government's focused attack on the financial resources of
Islamic State and other groups the US dubs terrorist have had significant impact.
Al-Qaeda, which has relied traditionally on money transferred from the Gulf region, has felt the result of efforts to block that funding, with the help of financial authorities in Gulf countries, he said.
But he said Gulf States need to do more using domestic laws to freeze funds and assets of suspect groups and individuals.
Glaser also claimed significant successes in cutting off finances for Lebanon's Hezbollah in efforts that have stretched from Asia to Latin America.
"Our actions are creating a hostile operating environment for Hezbollah, raising its costs of doing business, restricting its ability to move funds, and diminishing its revenue base," he said.
deccanchronicle.com/world/america/100616/islamic-state-can-t-pay-militants-us-treasury-says.html
--
US warns against 'chilling effect' of Turkey's immunity bill
June 10, 2016
The United States has warned about the "chilling effects" of a controversial Turkish bill – recently approved by President Recep Tayyip Erdoğan - that lifts the parliamentary immunities of scores of lawmakers.
"We're very concerned that this amendment will have a chilling effect on freedom of speech across Turkey," U.S. State Department deputy spokesperson Mark Toner said during a June 9 press briefing.
"We believe that the freedom to engage in free speech and political speech is – or should be - protected under the law. And this certainly involves speech by elected representatives of a country's citizens," Toner said, adding that they will continue to monitor the issue closely and express their concerns with Turkey's ruling Justice and Development Party (AKP).
The bill, approved late on June 7, paves the way for the trial of 152 legislators, mostly from the Kurdish-problem focused Peoples' Democratic Party (HDP), while falling short of lifting all immunities, including those of ministers.
A total of 799 cases have been opened against lawmakers, including the leader of the main opposition Republican People's Party (CHP), Kemal Kılıçdaroğlu, and deputies from the HDP.
There are no summaries of proceedings against only four deputies out of 59 deputies in parliament elected on the HDP ticket, while there are summaries of proceedings against the leaders of all three opposition parties holding seats in the national assembly.
Lawmakers from the CHP and the HDP previously issued individual appeals against the change to the Constitutional Court, after the HDP's efforts to garner 110 lawmakers for a collective appeal failed due to Kılıçdaroğlu's strong opposition.
The first individual application was made by CHPTrabzon deputy Haluk Pekşen early on May 26, followed by another four CHP lawmakers. A total of 58 lawmakers from the 59-person HDP caucus later issued their individual petitions to the top court for the annulment of the constitutional amendment.
CHP Istanbul deputy Sezgin Tanrıkulu was also among lawmakers who applied to the court, but he said his application was not an individual appeal but was made under Article 85 of the constitution, which address the right to object.
All appeals, however, were rejected by the Constitutional Court.
For many, events have brought to mind the situation in March 1994, when the parliamentary immunities of four deputies of the now-defunct pro-Kurdish Democratic Labor Party (DEP) – a predecessor of the HDP – were lifted on charges of helping the outlawed Kurdistan Workers' Party (PKK).
Current HDP deputy Leyla Zana, Hatip Dicle, Selim Sadak and late Orhan Doğan were elected for the now-dissolved Social Democratic Populist Party (SHP) before splitting off to form the DEP. They were all dragged out of parliament to serve long jail sentences after their immunities were revoked.
hurriyetdailynews.com/us-warns-against-chilling-effect-of-turkeys-immunity-bill-.aspx?pageID=238&nID=100324&NewsCatID=510
--
Muhammad Ali, and cementing a Muslim North American legacy
Thursday, Jun. 09, 2016
On Friday, millions of Americans will tune in to watch Muhammad Ali's funeral in Louisville, Ky. The service, open to the public and held at the arena where Ali fought his last hometown bout, will be lead by California Imam Zaid Shakir and will be attended by ministers of various faiths. Among those slated to deliver eulogies are former President Bill Clinton, sportscaster Bryant Gumbel, and comedian Billy Crystal. Actor Will Smith and former British heavyweight champion Lennox Lewis will be among the pallbearers.
The diversity of participants and well-wishers at the funeral, and beyond, speaks to the span and depth of Mr. Ali's legacy. It is almost impossible to confine him to a single identity; he was a proud black man who grew up in a segregated South, a Muslim at a time when Islam was still finding itself in North America, a conscientious objector, a gifted boxer, a poet, and so much more.
Among the multitudes who have embraced him, his life and legacy particularly resonate with Muslims in North America. As North America's most celebrated Muslim to date, his funeral will be the first time millions of Americans and Canadians will witness a funeral service performed in the Islamic tradition. Already, the word "jenazah" – a term that refers to a Muslim funeral service, and one rarely heard in Western discourse before this week – is being repeated in media platforms.
So I was relieved to hear that Turkish President Erdogan and Jordan's King Abdullah II's requests to speak at the funeral were politely rebuffed. Their requests fail to recognize the nature of the North American Muslim community, and the erroneous implications their speeches would have had on Ali's legacy. Their eulogies would have framed Mr. Ali's faith to Americans, and to viewers across the globe, as one with shallow roots in North America, one that relies on speakers from Muslim-majority countries to speak on its behalf.
Nothing could be further from the truth. Despite being admired across the globe, Mr. Ali's impact was most profound in America, and that impact extends to the Muslim American community. Muhammad Ali's journey, from his early years in the Nation of Islam, to his subsequent embracing of Sunni Islam later in life, mirrors the diversity of Muslim narratives that have shaped the North American Muslim experience.
From the descendants of slaves, to those who lived in Manhattan's Little Syria at the turn of the 20th century, to those who established Canada's first mosque in Edmonton in 1938, to contemporary artists, writers, scientists, and politicians, Muslims are as engrained in North America as they are diverse.
Surveys such as that recently conducted by Environics, proposing a choice between being Muslim-first and Canadian-first, enforce a false dichotomy. Ali's legacy is an opportune moment to not only recognize the depth of North American Muslim history, but to recognize that the identities of Muslims in North America – like Mr. Ali's – are complex, multi-faceted, and exist as part of larger narratives that encompass diverse histories, races, and struggles.
In life and in death, Muhammad Ali certainly felt that way.
theglobeandmail.com/opinion/muhammad-ali-and-cementing-a-muslim-north-american-legacy/article30366201/
--
American IS Suspect Back in US to Face Terror Charges
June 09, 2016
The U.S. is filing terrorism charges against a 26-year-old American citizen who first made headlines when he was detained by Kurdish peshmerga forces in northern Iraq after claiming he was trying to escape from the Islamic State terror group.
An American citizen who fled the United States and joined the Islamic State terror group before claiming to have undergone a change of heart is back in the country to face terror charges.
Looking thin and ragged, Mohamad Jamal Khweis was escorted into a federal courtroom Thursday in Alexandria, Virginia. He wore a dark blue T-shirt and grayish slacks, while sporting a closely cropped haircut.
His father, mother and brother waved at him anxiously. According to his defense attorney, the family was seeing Khweis for the first time since he left to join IS.
Khweis first made headlines when he was detained by Kurdish peshmerga forces in northern Iraq in March, becoming one of just a handful of American IS to be captured on the battlefield.
Khweis, who said little during his initial court appearance, is charged with providing and conspiring to provide material support to IS. The counts carry a maximum penalty of 20 years behind bars, a $250,000 fine and a lifetime of supervised release.
Khweis was not required to enter a plea, and his lawyer cautioned against reading too much into the government's court filings.
"Everything is not as it appears," Attorney John Zwerling told reporters outside the courthouse.
Parts of the case laid out in the court documents conflict with the story Khweis told Kurdistan 24 TV just days after he was detained.
Case against Khweis
According to the criminal complaint, FBI agents interrogated Khweis while he was in Kurdish custody in Iraq.
He admitted he had researched IS in the U.S., watched propaganda videos of IS fighters carrying out terrorist operations and execution, and became interested in actually traveling to the self-declared caliphate in mid-2015.
In December 2015, he boarded a flight at Baltimore-Washington Thurgood Marshall Airport to London, staying there for several days before continuing on to Turkey and crossing the border into Syria.
Once in the IS stronghold of Raqqa, he was sent to a safe house, where he was questioned by IS officials and given the name Abu Omar al-Amriki.
"The defendant stated another ISIL member asked him if he wanted to be a suicide bomber," FBI Special Agent Victoria Martinez wrote in the criminal complaint unsealed Thursday, using an Islamic State acronym. "The defendant answered 'yes.' "
"The defendant stated that he thought this question was intended to test his commitment," Martinez added.
Also while in Raqqa, Khweis described how he and other foreign recruits met with Jaysh Kalifa, often described as IS's elite military unit.
"The representatives explained that their group was responsible for accepting volunteers from foreign countries who would be trained and sent back" to conduct terror operations, according to the complaint.
Still, investigators say Khweis maintained he only touched a firearm once, moving a gun that was left on a couch so he could sit down.
Powerful message
"It's a very unique case," said Seamus Hughes, deputy director of the Program on Extremism at George Washington University. "Very rarely do you get a criminal complaint with this level of detail."
Hughes warned the details could be damning.
"He wasn't a naïve kid that didn't know about ISIS," Hughes said. "It's very clear that Mohamad went in there bright-eyed and knew what he was getting into."
Counterterror experts like Hughes say Khweis' case also presents the U.S. with an opportunity to deliver a powerful message to other Americans who may be tempted to join IS or other violent jihadist groups.
"To have a guy like this who can say, 'Listen, I was there,' is very, very important," said Mubin Shaikh, an expert who has worked with the Canadian Security Intelligence Service and testified before U.S. lawmakers in Congress.
"What this one guy can do is more valuable than millions of dollars of advertising, of Twitter accounts," he said.
The key, according to Shaikh, is that — based on initial evidence indicating that Khweis left voluntarily and does not seem to "have blood on his hands" — the Alexandria, Virginia, resident is part of a category of foreign fighters who can be rehabilitated.
Inconsistencies
Yet questions remain about Khweis' case, and some of the information he shared during his on-camera interview with Kurdish television does not match what he told the FBI investigators.
"I wasn't thinking straight," Khweis said in English during a heavily edited portion of the interview. "I made a bad decision to go with [a] girl and go to Mosul."
He also described how the Iraqi girl, the sister of a woman married to an IS fighter, made all the arrangements for the journey.
The criminal complaint, however, makes no mention of any girl.
There are also some questions about what Khweis was carrying with him when he surrendered to Kurdish forces, including his Virginia driver's license, three mobile phones, memory cards, two bank cards, and more than $450 in U.S. bills.
John Zwerling, Khweis' attorney, said the 26-year-old had been in Kurdish custody in Irbil since his surrender. He said that Kurdish officials were present with Khweis at all times, even during the interrogation session by FBI agents.
Happy to have Khweis back
Zwerling said Khweis' parents are glad their son is back in the U.S.
"The love him," he said. "They're very anxious, but they're glad he's back."
At the time of his capture by Kurdish forces, Khweis' parents expressed shock, saying they had no idea he was in Iraq or had ties with any extremist groups.
"We thought he was in Canada lately," a woman who identified herself as Khweis' mother told VOA. "We also know he has been traveling to Turkey."
The parents said they are of Palestinian background. The father said he came to the U.S. in 1988.
voanews.com/content/terror-charges-for-a-american-is-suspect/3369098.html
--
Ensure territory not used for planning attacks in India: US to Pakistan
Jun 10, 2016
Washington: In a strong message, the US has asked Pakistan to ensure that its territory is not used for planning attacks in India and to go after all terror groups operating from its soil, after Prime Minister Narendra Modi said terrorism is being "incubated in India's neighbourhood".
"This is one of the steps that the US is encouraging Pakistan to do for the improvement of its relations with India," a State Department spokesperson said.
"We believe that Pakistan and India stand to benefit from practical cooperation and encourage direct dialogue aimed at increasing cooperation and reducing tensions," Mark Toner told reporters on Thursday.
"And that includes steps by Pakistan to ensure that its territory is not used to plan attacks in India and that Pakistan takes steps to address or to go after, I think, all the terrorist groups that are currently using its territory."
"That continues to be an area of collaboration and cooperation that we pursue with Pakistan is its counter-terrorism operations," he said in response to a question.
Responding to a question, Toner said Pakistan was one of the issues discussed between Prime Minister Narendra Modi and US President Barack Obama on Tuesday.
"Certainly that was one of the discussions, frankly, that was raised at the – or one of the issues, frankly, that was raised in discussions with Prime Minister Modi. They talked about a wide range of regional issues, in fact," he said.
Toner also said the US's bilateral relations with India and Pakistan are separate and stand on their own merits.
"Our bilateral relations with India and Pakistan are separate and stand on their own merits, and so I don't think we – it's not prudent for us to view our security cooperation in the region in kind of a zero-sum game – or zero-sum terms, rather.
"I think it's important for the countries of the region that they all have constructive security relationships with each other. And that's Pakistan, that's India, and it's also Afghanistan," Toner said.
In his address to the joint sitting of US Congress on Thursday, Modi had said terrorism has to be fought with "one voice".
Underscoring that both India and the US share the vision of peace and prosperity of the world, the Prime Minister said "globally, terrorism remains the biggest threat" and it must be fought at many levels" as the traditional tools of military, intelligence or diplomacy alone would not be able to win defeat it.
"In the territory stretching from West of India's border to Africa, it may go by different names, from Laskhar-e-Taiba, to Taliban to Islamic State. But, it's philosophy is common: of hate, murder and violence," Modi said.
"Although its shadow is spreading across the world, it is incubated in India's neighbourhood," he said an apparent reference to Pakistan.
He said those who believe in humanity must come together to fight against terrorism as one and speak against this menace in one voice.
firstpost.com/world/ensure-territory-not-used-for-planning-attacks-in-india-us-to-pakistan-2-2826592.html
--
Southeast Asia
Understand What Is At Stake First, Says KITA Professor
Last week, the Federation of Chinese Associations Malaysia (Hua Zong), along with Chinese Assembly Halls from 13 states, issued a statement urging MPs from across the political divide to vote against the Bill if it is debated in October.
The Chinese community is worried that once the hudud amendment bill is passed in Parliament, it would threaten the secular nature of the country. Hua Zong said Malaysia was a multiracial and multi-religious country. If PAS succeeded in getting the Bill passed, it would have long-term ramifications on Malaysia's legal system.
"It is worrisome that the hudud amendment Private Member's Bill could be passed in Parliament via a simple majority come October," the statement said, urging MPs to oppose it to prevent Malaysia moving towards "a path of no return". They felt that it was the fight to gain political mileage that had allowed PAS to successfully table and almost debate the bill.
Contacted by Malaysian Digest to comment on the subject, the Principal Research Fellow at Institute of Ethnic Studies (KITA) of Universiti Kebangsaan Malaysia, Prof Teo Kok Seong (pix, above) said non-Muslims in the country have every right to voice out their views on the hudud push but they must thoroughly understand them first.
"In recent years, the proposal of hudud laws has triggered anxiety and disquiet among non-Muslims from all walks of life despite the fact that, theoretically, it will not have direct impact on non-Muslims in Malaysia.
"The Islamic laws are specifically designed for Muslims and it has nothing to do with the non-Muslims. So, why is the apprehension among non-Muslims over hudud?" Teo posed the question.
Teo, upon asking if the implementation of hudud will bring detrimental effect to our multiracial society, remarked: "The anxiety and uneasiness among non-Muslims over the hardest Islamic laws is primarily due to misconceptions."
"To nip it in the bud, non-Muslims in the country must be made to understand that hudud is not all about chopping hands, and we (non-Muslims) must be careful not be overly critical of other religion (Islam)," he quipped.
In A Democracy, The Majority Leads
Perhaps expediting the bill to be tabled is exactly what our nation needs as it is only through dialogue and a general airing out of all the misconceptions and distrust that we can get closer to genuine understanding among the different religious beliefs within our multiracial society.
Syed Saddiq, the champion debater who is known for his outspoken criticism of the ruling government had recently taken the question to the Malaysian public (or at least those who are on social media) posing the question 'Do you agree Malaysia should implement hudud laws for Muslims?'.
What he got was a resounding majority of 83% and more of those who responded voting 'Yes' which echoes Chandra Muzaffar's earlier assertion at how proponents of hudud laws have successfully created the impression that hudud laws are central to Islam, with Syed Saddiq accurately pinpointing the core reason most Malaysians say 'aye' to hudud because they are afraid of going to hell.
"Those who vote in support of hudud say it's God's law and those who don't support it will rot in hell.
"Those against the law resort to name-calling, labelling those who support hudud as being backwards, barbaric and many others. It's all in my comment section," he commented on the results of his impromptu Twitter survey, a local online news portal reports.
Therefore, it is only logical that PAS's brand of political Islam will continue to bank heavily on this issue as it stands to win more votes by pandering to what the majority of Malaysians have already been conditioned to believe.
However, a glance through the conversation which the vote triggered gives an idea of the benefits that a healthy debate over the issue can bring forth which will be beneficial to Malaysians in the long run.
As the saying goes, history is written by the victors which will reflect the majority voice and in Malaysia's case, the majority includes our fellow countrymen in Sabah and Sarawak who have voiced their opposition to hudud very loudly.
Newly anointed Sarawak chief minister Tan Sri Adenan Satem also alluded to the majority vote when he pointed out that Muslims only make up 25% of Sarawak's population so the question of hudud entering the Federal Constitution will not get the support of their elected leaders.
Similarly, Sabah leaders have voiced their reservations that they will not get the political support for implementing hudud from their voters. A Sabahan Muslim proposed yesterday a separate judicial system for Sabah and Sarawak if Parliament passes PAS's Bill to enhance the Syariah courts' punitive powers.
Amde Sidek, a researcher and writer from Kota Kinabalu, started an online petition last Sunday to "renegotiate" the Federal Constitution so that all states and territories of the Malaysian federation comprising the peninsula, Sabah and Sarawak, will be given the autonomy to pursue their own aspirations and "preferred lifestyles", a local online news portal reports. The academic said that Muslims in Sabah and Sarawak are 'different' from those in the Peninsular, pointing out that he has non-Muslim relatives.
The heated debate over hudud, while threatening to strain ties in our nation's multiracial society is necessary but as Syed Saddiq points out, the name-calling and stereotypical branding of supporters and non-supporters of hudud must stop.
Similar to the developments in common law, the discussion on hudud law is vast and is contained in a plethora of sources. The major difference between the two legal systems is that, the latter imposes a heightened level of adherence since it connotes a religious obligation rather than a merely moral or civic one.
There is no denying that hudud has for the past two decades largely been treated as a mere fringe topic among Malaysians, a political hot potato tossed back and forth between local parties as they campaigned for Muslim votes during elections.
Non-Muslims have every right to be worried about hudud as it is a matter that is not within their norm. The worry is only further exacerbated by the self-proclaimed 'liberal' media whom are famous for their scare-mongering.
To avoid further misunderstanding about hudud, Malaysians should seek answers from valid sources that reveal the true situation instead of swaying to the most convenient Islamphobic site online.
As Prof Teo so aptly puts it: "The misconception that hudud would impact the daily lives of non-Muslim community in general must be cleared. A general lack of trust towards other cultures and religions is the main reason which leads to this problem and hence, it must be addressed promptly."
malaysiandigest.com/frontpage/282-main-tile/615870-understand-what-is-at-stake-first-experts-tell-non-muslims-in-the-debate-over-hudud.html
--
Indonesia's Cyber Warriors Battle ISIS With Memes, Tweets And WhatsApp
06/09/2016
Bisri Adib, a writer and translator in the small Indonesian town of Rombang, spends hours a day fighting the self-described Islamic State. His weapons of choice? Facebook posts, WhatsApp messages and funny memes.
Adib, 36, is one of the 500 or so Indonesian "cyber warriors" who are using social media to counter the ISIS propaganda machine. They work from coffee shops, internet cafés, university campuses, their offices (stealthily) and their homes; on smartphones, laptops and shared computers.
Their message: that Islam's tolerant, pluralistic side is the true faith. Their target: young Muslims who are being lured by ISIS' fundamentalist vision of good vs. evil.
"We try to set a 'perimeter' around aggressive Islam so that it doesn't spread beyond those who are already radicalized," Adib said.
Indonesia has the world's largest Muslim population, which has been largely resistant to radical movements. But in the past two years, over 600 Indonesians are believed to have defected for ISIS-controlled territories. The Islamic State's vast propaganda machine is a major factor: Its supporters send over 90,000 social media messages every day. And it has its own news agency, Amaq, which breaks stories for a global audience.
The counterattack is coming from Nahdlatul Ulama, a moderate Sunni Islamic movement launched in Indonesia nearly a century ago that now claims 50 million members worldwide. NU was originally founded to stem the spread of Wahhabism, a militant, ultra-conservative version of Islam that originated in Saudi Arabia. It's Wahhabism, along with Salafism, another originalist strain, that underpins the ideology of the Islamic State today.
NU promotes Islam Nusantara, or "Islam of the Archipelago," a tolerant, expansive form of the faith that arose from Indonesian Muslims' centuries-long co-existence with Hindus, Christians, and Buddhists.
Adib and his fellow cyber warriors are just the latest volunteers — and social media is just the latest weapon — in its international battle to beat back extremism.
A Wall Around Extremism
Adib joined NU when he was a 20-year-old college student. He believes that NU's liberal approach to religion, education and civic life contains the "antidote" for extremism. And he thinks the internet is particularly well-suited to disseminate this message.
"The Prophet [Mohammed] said, 'La taghdab — don't be angry,'" he told The Huffington Post. "We try to make the image of Islam as fun as possible. That's why memes and tweets are the best way to spread our ideas."
On Facebook, Adib said he posts silly memes that poke fun at extremists as well as earnest text posts that extol moderate Islam. He's active in several WhatsApp groups, both public and closed, where people exchange anti-ISIS memes. He isn't on Twitter himself, but he said many of his fellow volunteers are, and they spend hours conversing with pro-ISIS accounts.
The Islamic State's propaganda is aimed at vulnerable Indonesian youth, especially in large cities like Jakarta and Yogyakarta, according to Adib. The extremists cite the Quran as justification for ISIS's militant efforts.
Adib also trains additional volunteers at a local madrassa, or religious school, two or three times a week. It is largely basic instruction on how to set up a Facebook or Twitter profile, how to optimize posts for social media and how to share content with like-minded volunteers.
"Many young people are full of positive Islamic content in their mind, but they are not capable of uploading these thoughts to social media," he said. So he shows them how.
Outside of a handful of volunteers at NU headquarters in Jakarta, the members of the anti-propaganda initiative are, like Adib, spread out across the islands of Indonesia. An informal network has been working online for at least six years (going back to when the main extremist threat was al Qaeda, not ISIS), according to Yahya Cholil Staquf, a senior NU official. But he said the volunteers have ramped up their efforts in the last six months.
Social Media Has Its Limits
Fighting a cyber war is far from simple. Nava Nuraniyah, an extremism expert at the Indonesia-based Institute for Policy Analysis of Conflict, offers some words of caution.
Facebook and Twitter — two of the main platforms used by the cyber warriors — are already sort of passé among extremist circles, she said. Rather, ISIS's current media of choice are messaging apps like Telegram and WhatsApp, which are encrypted end-to-end. (That means only the sender and the receiver can read messages. No third party can, including the app designers.) ISIS is also known for constantly shifting its messaging platforms.
But it's not enough to engage in anti-extremist efforts online, said Nuraniyah.
"It's good that these volunters are giving a voice to the silent majority of moderate Muslims," she said. "But just putting your ideas out there doesn't really target those who are most vulnerable to radicalization."
The problem is that many of Indonesia's would-be radicals aren't Facebook friends with those posting moderate content, or following them on Twitter, or part of their messaging groups. Too often, the two sides may be missing each other online.
"In Indonesia," Nuraniyah said, "jihad is a social activity" — not just a social media activity. "People get recruited online, through social media, but their further radicalization occurs offline, in study groups and meetings."
Those face-to-face gatherings happen in public places, at mosques and madrassas. Nuraniyah argues that such radicalizing activities must somehow be disrupted or limited in order to stem the growth of ISIS. She suggested that the Indonesian government cooperate with religious leaders at the municipal or village level to prevent such meetings.
David Against Goliath
Against the daily deluge of ISIS propaganda, there is a David-and-Goliath quality to the Indonesian volunteers' missives. But NU is extending its reach every day.
It has established several websites to promote its moderate views, developed an Android app, broadcast sermons on its online TV channels, and even released a feature-length film.
So far, the NU cyber warriors have worked almost exclusively in the Indonesian language, said Staquf, and not in Arabic, which is the lingua franca of many ISIS advocates. But he said he hopes to add Arabic outreach.
For its part, the Indonesian government has found it difficult to effectively attack the Islamic State's message.
"There is no state-induced politicization of religion in Indonesia," said Rohan Gunaratna, a security studies professor based in Singapore. "So the Jakarta government is not officially countering these foreign influences or promoting moderation and toleration."
When the Indonesian government decided to block access to some two dozen websites last year due to their "radical content," it did so with a clumsy hand that caused a major public backlash. "The websites were puritanical and sympathized with Salafi ideology, but they were not actually violent or terrorist," said Nuraniyah. Human rights groups came to their defense on the grounds of free speech.
That uproar illustrates the challenges that await any broad government efforts to quash non-violent extremism, Nuraniyah said.
But the voices of private citizens like Adib and his fellow cyber warriors aren't so constrained. Every day, they take aim at ISIS, one tweet at a time.
huffingtonpost.com/entry/indonesia-isis-cyber-warriors_us_5750779ae4b0eb20fa0d2684
--
Why is Aung San Suu Kyi ignoring her country's most vulnerable people?
10.06.2016
As Myanmar's new government gets down to business, one thing is increasingly clear - there won't be much to look forward to for the country's one million or so Rohingya people.
The West has rejoiced at the election of a new government dominated by the National League for Democracy (NLD) and headed, in effect, by the party's leader, Aung San Suu Kyi, a Nobel peace prize winner. But for the Muslims of western Rakhine state - described by the United Nations as the "most persecuted minority in the world" - Myanmar's new era is already turning out to be a disappointment. There is almost certainly worse to come.
The Rohingya have endured decades of harassment, marginalization, and ethnic cleansing at the hands of Myanmar's old military regimes (and the local Rakhine people), amounting, some argue, to genocide. Everyone knew that Myanmar's new leader, Suu Kyi, has also been ambivalent towards their plight. She has refused to even call them by their own name, for fear of offending the country's often Islamophobic Buddhist majority in the run-up to last November's general election, which she won by a landslide. But surely Myanmar's first civilian government since the 1960s would be better than the murderous, kleptocratic rule of the generals?
Maybe not. First came the news, in mid-May, that Myanmar's foreign ministry (now headed by Suu Kyi) had asked the American embassy not to use the term Rohingya on the spurious grounds that it was "controversial" and "not supportive in solving the problem that is happening in Rakhine state." The Americans refused. The request was utterly disingenuous. The Rakhine people might indeed prefer to call the Rohingya "Bengalis" (implying that they are illegal immigrants from what is now Bangladesh), but this is an essential part of the exclusion of the Rohingya from the mainstream of Myanmarese life that constitutes the problem in the first place.
Prompted by the visiting U.S. Secretary of State John Kerry, Suu Kyi returned to the theme on May 22, saying that her government would be firm about not using "emotive terms" like Rohingya or Bengali. Yet, as has been pointed out, she has never asked anyone - chauvinist Buddhist monks, soldiers or legislators - to refrain from using the term "Bengali." The Rohingya will also have been disappointed that President Barack Obama recently relaxed sanctions against Myanmar as a reward for its shift towards democracy, without mentioning the fact that nothing has changed in the authorities' mistreatment of the Rohingya.
Furthermore, it is evident that the Rohingya will be excluded from the formal "peace process" that the new government intends to take up with the rest of the country's ethnic minority groups, such as the Kachin, Karen, Chin, Shan and more. This process, inherited from the last government of President Thein Sein, is an attempt to find a lasting resolution to the civil conflicts that have plagued the country virtually since its independence from Britain in 1948. Suu Kyi has called for a second "Panglong-style" peace conference, invoking the memory of an agreement her father, General Aung San, negotiated with indigenous ethnic groups in 1947 before he was assassinated.
The recent peace process, however, has involved only those groups defined as indigenous peoples under the terms of the controversial, military-inspired 1982 Citizenship Act. The Rohingya are not citizens under that act, and they have never been included in any such process.
In all likelihood, the new government will simply try to park the Rohingya issue, which is viewed as marginal. Myanmar's new president, Htin Kyaw, has set up a grand-sounding "Central Committee for Implementation of Peace and Development in Rakhine State," which consists of 27 officials, including the members of the Cabinet and representatives of the Rakhine state government, to be chaired by Suu Kyi herself. But the Rohingya fear that this is merely a bureaucratic device meant to postpone taking any firm decisions, and they also worry that they may not even have any input into the committee. Meanwhile, the government will get on with drawing up the federal-style constitution that is needed to satisfy the political aspirations of other ethnic minority groups. There is a lot of sympathy among members of Suu Kyi's party, the NLD, for the suffering of the Karen, Kachin, and others over the past decades. So the party can be expected to negotiate in good faith with these groups, who are also represented institutionally at the higher levels of the NLD. There is very little sympathy, however, for the Rohingya among party ranks - the NLD is only marginally less riddled with Islamophobia and prejudice against the Rohingya than the last military government. Neither do the Rohingya have any voice or representation in the NLD.
Indeed, for the first time in recent years, since last November's election there is not a single Muslim legislator in the entire country, despite the fact that the Muslim population of Myanmar numbers up to three million. Suu Kyi knows that that there is no political constituency in Myanmar for helping the Rohingya, just as she also knows that they do not have an armed wing (as most of the other ethnic groups do), so their capacity to make life difficult for the authorities has always been correspondingly less. In other words, apart from the demands of her own conscience, Myanmar's de facto leader has little domestic incentive to do anything at all for the Rohingya.
The risk is that pushing the issue to the margins will have a devastating effect on the already desperate situation of the Rohingya. Separated from the rest of the population in refugee camps, or cooped up in their villages, their movement is tightly restricted. They have been cut off from their former sources of livelihood and live under an apartheid system in their own land. Ambia Preveen, a Rohingya doctor working in Germany, estimates that 90 percent of the Rohingya are denied access to formal healthcare. A recent study of poverty and health in Rakhine state by Mahmood Saad Mahmood for Harvard University shows vast disparities between the Rohingya and the Rakhine: There is only one physician per 140,000 Rohingya, but in the parts of Rakhine state dominated by the Rakhine, there is one doctor per 681 people. Acute malnutrition affects 26 percent of people in the Rohingya-dominated area of northern Rakhine state, whereas the figure is just 14 percent in Rakhine-dominated areas, and so on.
If the Rohingya give up on any prospects of change from this new NLD government - and well they might - then they will probably take to the boats again, as they did last year, fleeing in the thousands to other Muslim countries in southeast Asia. They will risk drowning in flimsy craft provided by unscrupulous human traffickers, and the crisis will merely spread abroad once again.
What can be done? Since there is no domestic imperative to help the Rohingya, it's up to countries like the United States and Britain to exert all the pressure that they can on Suu Kyi's government over this issue. The Western powers have helped enormously in rebuilding the NLD as a functioning political party, in providing Suu Kyi and her ministers with technical expertise and practical advice, and in beefing up the institutions, such as the national parliament, that have been at the fore of the democratic transition. Given this leverage, it must be made clear that the one million Rohingya are an essential part of that new democracy, and that even if they are not technically "citizens" under the present constitution (one which Suu Kyi herself rejects, albeit for different reasons) the government will be judged by how far it protects and gradually includes them. And even if the NLD balks at giving the Rohingya citizenship - as the United Nations, for one, has demanded - it could at least repeal repressive legislation passed by the last military government, such as the four so-called "Race and Religion Protection Laws."
Passed in 2015, these laws were inspired by the nationalist, sectarian monks of the Ma Ba Tha movement, and are aimed squarely at restricting the personal freedom and choices of Myanmar's Muslims. If enforced with any vigor, these laws could provoke even more tension, especially between the Rakhine and Rohingya. The NLD stood against these laws when it was in opposition. Now it is in power, the party should repeal them, sending a clear signal that the new government is genuinely concerned with the human and civil rights of all those who live in the country, and that the Rohingya are part of the wider reform process.
But the country's other minority ethnic groups, as do the Rohingya themselves, also have a role to play. The latter have long been isolated from their fellow minorities, politically as much as geographically, and this has added to their marginalization. Although the plight of the Rohingya is now well advertised outside Myanmar, little is known about them in their own country. Rather than investing all their hopes for change in the international community, the Rohingya should now take the initiative to build bridges with the Kachin, Karen, Mon, and others, who have also suffered at the hands of the Myanmarnese-dominated central governments, to strengthen their political position and to make their case more visible.
It is in their interest of these other groups to overcome their own prejudices against the Rohingya, as the latter bring considerable international goodwill, diplomatic support, and potentially money, to the negotiating table. As much good as the international community can do, real change will not come until the political dynamics of the Rohingya issue change within Myanmar itself.
chicagotribune.com/news/sns-wp-myanmar-comment-d828c058-2e75-11e6-9de3-6e6e7a14000c-20160609-story.html
--
Mideast
An Israeli Encounter With anti-Semitism in the Muslim World
Jun 10, 2016
"Israel created ISIS," says an Iraqi citizen named Assad. "ISIS is not connected to Islam and not to Iraqi culture either. It is clear that it is a foreign invention, and the fact is that most of their soldiers are foreigners. So it must be a creation of foreign bodies with interests in Iraq, for example oil. Israel is one of these. Why? Because they want chaos in the Middle East, which will divert the attention of Arab countries in order for them to stop aiding the Palestinians," says Assad, a pseudonym.
Assad is a member of the middle class in Baghdad. He is from an educated family and does not belong to any extremist organization.
He does not know that the woman tourist sitting in front of him is Israeli. That's also true for the other conversations I held with a wide range of people in Muslim countries, most of whom did not know of my Israeli background. They included an assortment of educated people, human rights activists, passersby and generous hosts. Some endangered their own lives to host an "American tourist" in a hostile region.
"In general, the Jews are the enemies of the Iraqis since Nebuchadnezzar banished them to [Iraq]. Because of him, they want revenge against us. So what if it happened 2,000 years ago, you think it matters to them? No people forget their enemies, even after 2,000 years. In the Bible it is written that Iraq belongs to them to the Euphrates and Tigris, so they want to reach there; and ISIS helps them to do so. It's a fact that ISIS invaded every area except Israel. True, they are a small country, but don't take them lightly. They are rich and strong and have influence all over the world," he says.
In discussing Israel, most of the Muslims I spoke with referred to the conflict with the Palestinians or to conspiracy theories, the most common of which was the link between Israel and Islamic State.
The source of this specific conspiracy theory is in the Iranian media, and it has become widely accepted in many countries, especially Muslim ones. Occasionally, someone will also mention the Jewish aspect: "They say the Pashtuns [an ethnic group in Afghanistan and Pakistan] are Jews," said an Afghan businessman. "And this is not just a theory, there is proof. They have a long nose, and they hoard gold under their beds. Who else does these things?"
When Assad is asked about his attitude towards Israelis as individuals, he says: "I'm sure there are a lot of good Jews, but as a people, they always were the enemies of the Arab world."
What kind of distinction is made between a people and the individuals who comprise it?
The Anti-Defamation League addressed this question in a poll it conducted in 2014. The survey examined opinions about Jews in 101 countries. In Iraq, 59 percent of those surveyed agreed that Jews are like other people, but the rest of the respondents did not agree or were unsure. Over 80 percent of the Iraqis who were asked: "People hate Jews because of the way Jews behave," agreed with the statement, and Egyptians showed similar numbers.
"Most Egyptians, including myself, make the distinction between the government and its citizens," said Nimer (a pseudonym). Nimer studied Hebrew, has read a large number of history and political science books by Arab and Israeli authors, follows the Arab and Israeli media, and has participated in i forums dealing with Israel. When he heard about the Israeli backpacker who landed in Cairo, he jumped at the opportunity to meet in a local cafe. He wanted to hear as much as possible about Israel and Israelis, and agreed to explain how he views Egyptian attitudes towards them.
"Once the relations between Muslims and Jews in Egypt were good. The deterioration began from the establishment of the state [of Israel]," says Nimer. "Think about it, a foreign people come to one of the holy centers of Islam, and take it over. In addition, there is the balance of power between Israel and its neighbors. Their peace agreements with Egypt are unfair to the Egyptians. For example, they limit the amount of military forces that Egypt can bring into the Sinai. All this arouses negative opinions and antagonism, and in other people's eyes it projects on Israelis as individuals and creates an aggressive and bad image for them. After all, Israel claims it is a democratic country, so the citizens are partners, to an extent, in the government oppression of the Palestinians."
Nimer wanted to visit Israel to see with his own eyes whether it is like the accounts he has read. He was accepted to a European program that included a visit to Israel, but turned it down. "I wouldn't have received the visa because I'm a young Muslim, apparently a potential terrorist in the eyes of Israel," he says. "And in addition, if I visit Israel, I will be marked and monitored all my life by the authorities in Egypt."
What about other countries, farther away, which have never had real friction with Israel and whose citizens have never met an Israeli? In 1967, Mauritania declared war against Israel, along with all other Arab countries, and did not end this state of war until 1999. The average Israeli had no idea why he was at war with Mauritania. But after Operation Cast Lead in Gaza at the end of 2008 the Mauritanians gave the staff at the Israeli embassy 48 hours to leave.
Many other nations refuse to allow entry to Israelis. One is Pakistan, whose passports have an explicit statement they are not valid for travel to Israel. During Operation Cast Lead, 50,000 people signed a petition in Afghanistan calling on the country to go to war against Israel. No Afghan force ever appeared on the Gaza shore, it seems because there are more than enough problems back at home with, for example, the Taliban.
"I thought there were enough problems in Afghanistan," I tell Raza (a pseudonym). "So why are you bothered by Israelis? They are so far away."
"It's like how the American Jews care about Israel," he answers. "Even though Israel is far away from them."
This article is about "Anti-Semitism," which in its simple meaning is the hatred of Jews. It is a concept that has its own problems, especially when it involves Arab or Muslim anti-Semitism. Some will say it is used to prevent legitimate criticism against Israeli policies by labeling the critics as anti-Semitic. Others say the distinction between anti-Semitism and racism, from which all people suffer, is a condescending distinction, which hints that the hatred of Jews is special, or more serious, than other hatreds. In the end, there are those who talk about an exaggeration in the estimates of the scope of anti-Semitism, a paranoia, or a tendency to seek out anti-Semitism.
It's hard to know when to admit to being Israeli and when to conceal it. There is a story about Israeli visiting Morocco, who tells a stall owner that he is from Sweden. The stall owner nods, and smiles. He has seen a lot of Swedes and a lot of Israelis, and he knows who is standing in front of him. The lie seems ridiculous to him, but a guest is a guest and must be treated politely, so he lets the "Swede" continue with the show.
It is hard to say where the truth lies and what is the price for exposing it. Sometimes the fear of "what will happen" is stronger than anything else. I keep quiet and nod when an Afghan passerby says: "The Jews are everywhere, and in all sorts of colors. You could be with a Jew in front of you and not know it.
haaretz.com/israel-news/.premium-1.724288
--
Thousands march against PKK in Midyat after car bomb attack
June 10, 2016
Thousands marched on June 9 to protest the outlawed Kurdistan Workers' Party (PKK) in the Midyat district of the southeastern province of Mardin, a day after a deadly car bomb attack hit the police headquarters in the district.
Around 5,000 people holding Turkish flags marched before the funeral ceremony of five who were killed in the attack.
Protesters chanted slogans against the PKK as they marched toward the Midyat District Governor's Office.
After the funeral ceremony, around 3,000 protesters, including Mardin Gov. Mustafa Yaman and deputies, marched toward the scene of the attack and chanted anti-PKK slogans.
The death toll in the car bomb attack rose to six on June 9 as another police officer who was heavily wounded in the attack and receiving treatment in hospital succumbed to his injuries.
hurriyetdailynews.com/thousands-march-against-pkk-in-midyat-after-car-bomb-attack.aspx?pageID=238&nID=100321&NewsCatID=341
--
PKK-affiliated group claims deadly June 7 Istanbul car bomb attack
June 10, 2016
The Kurdistan Freedom Hawks (TAK), a group linked to the outlawed Kurdistan Workers' Party (PKK) and carried out several attacks on civilians and security forces, has claimed a June 7 attack in the Vezneciler neighborhood of Istanbul that claimed 11 lives, six of whom were police officers.
A suicide bomber detonated a bomb-laden car, targeting a police vehicle in the central Istanbul neighborhood.
Turkey was hit by another bomb attack on June 8 in the Midyat district of the southeastern Mardin province and that strike was claimed by the PKK.
TAK also threatened Turkey in its statement, saying that Turkey was "no longer safe" for foreign tourists.
Meanwhile, the image of the suicide bomber was obtained from the security cameras near the scene of the attack in Vezneciler.
A female suicide bomber is seen with a person who allegedly organized the attack in the footage as they were leaving a parking lot nearby.
The suicide bomber, who was from Mardin's Kızıltepe district, is seen walking alone and wearing a headscarf in another image.
She arrived in Istanbul 20 days before the attack and conducted reconnaissance on the scene, daily Habertürk reported on June 10.
The person near her is a member of the Patriotic Revolutionary Youth Movement (YDG-H) and was released from jail in the southeastern province of Diyarbakır two years ago, according to media reports.
A passenger car was rented from an individual identified as M.B. in the Bağcılar district of Istanbul on May 27.
The car was immediately taken to Kızıltepe, where around 400 kilograms of plastic explosives were loaded inside. Upon its return, the car was parked in a multistory car park in the Eminönü district near the scene of the attack.
Surveillance footage showed the suspects brought the bomb-laden car to Vezneciler on June 7.
While one of the suspects left the scene, the suicide bomber waited in the car on the side of the road. As anti-riot police vehicles which were heading to Istanbul University for regular duty began to arrive, she tried to merge in between the two police vehicles. When the driver of the second police vehicle refused to let her in, she merged ahead of the other vehicle before detonating her explosives.
hurriyetdailynews.com/pkk-affiliated-group-claims-deadly-june-7-istanbul-car-bomb-attack.aspx?pageID=238&nID=100325&NewsCatID=509
--
Turkey's Erdoğan cuts US trip short without attending Muhammad Ali burial
June 10, 2016
Turkish President Recep Tayyip Erdoğan cut short a trip on June 9 to the United States, where he had gone to attend the funeral ceremony of boxing legend Muhammad Ali.
According to information from presidential sources, however, Erdoğan and other government representatives, decided to depart for Turkey without participating in the full funeral ceremony for the late boxer in Louisville, Kentucky.
The president participated in funeral prayers for Ali and also had a fast-breaking meal (iftar) with Meskhetian Turks.
Erdoğan reportedly attempted to a put a piece of cloth from the Kaaba on Ali's coffin during the funeral prayers but was refused permission to do so.
But according to another report, the president and Diyanet head Mehmet Görmez were rejected when they asked to read a piece from the Quran, which led the president to cut his program short.
Meanwhile, a short quarrel also erupted between U.S. secret service officials and Turkish presidential body guards, reportedly because a secret service official wanted to stand in the same place as presidential bodyguards as Erdoğan was getting into his car.
Before arriving in the U.S., funeral organizers had removed Erdoğan from the list of speakers on the grounds that there would not be sufficient time.
Former world heavyweight champion Ali, whose record-setting boxing career, flair for showmanship and political stands made him one of the best-known figures of the 20th century, died on June 3 aged 74.
He will be laid to rest on June 10.
hurriyetdailynews.com/turkeys-erdogan-cuts-us-trip-short-without-attending-muhammad-ali-burial.aspx?pageID=238&nID=100320&NewsCatID=338
--
French envoy hopes for Turkey-France final at Euro 2016
June 10, 2016
Amid ongoing instability in various corners of the world and continued terrorist attacks threatening the lives of civilians in Turkey and Europe, one of the world's leading football events will kick off in Paris on June 10, offering some respite from the continual somber news.
French Ambassador to Turkey Charles Fries sat down the Hürriyet Daily News on the eve of the Euro 2016 to explain the security measures to be taken during the tournament amid worries about a possible Islamic State of Iraq and the Levant (ISIL) attack while also expressing his hopes for a Turkey-France final come July 10.
Euro 2016 will kick off on June 10 in France. Along with France, the Turkish national team will be among the 24 contenders for the championship. What would be your message to Turkey and what is your best bet for the final?
Let me first express my heartfelt condolences to the families of the victims of recent terrorist attacks in Istanbul and Midyat. France utterly condemned these attacks. I assure Turkish authorities and the Turkish people of France's solidarity in the fight against terrorism.
France is proud to host the European Football Championship, bringing together 24 national teams for 51 matches in the stadiums of 10 cities all around France in Paris, Saint-Denis, Lille, Lens, Lyon, Saint-Etienne, Bordeaux, Toulouse, Marseille and Nice.
I am very glad that Turkey is one of the contenders and I hope that both France and Turkey will win all their games in order to meet in the final. You can imagine who I would support in such a case…
90,000 to be on duty during tournament
Turkish spectators will surely flock to France to support their national team. What would be your advice to Turkish visitors in their stay in France given the fact of the terrorist threat? In general terms, what security measures are being taken for the championship? Will there be any intensified cooperation or exchange of intelligence with Turkey specifically on the eve of Euro 2016?
The event will indeed put an intense media spotlight on France that will transcend the sporting aspect alone. Some 2.5 million spectators and several thousand journalists are expected in the stadiums. The safety of the teams, foreign delegations and many members of the public presents a major challenge.
The government and the organizers will therefore deploy the resources necessary for Euro 2016 to go ahead under tight security conditions: increased numbers of stewards and private security guards in the stadiums, strengthened security requirements for the fan zones, such as the systematic frisking of spectators and the extensive use of video-surveillance. Pre-filtering measures have also been prescribed to facilitate movement at entrances and prevent people from gathering on public highways. In total, almost 90,000 people will provide security at Euro 2016.
In that context, some members of the Turkish police have been invited to come to France to follow the Turkish team and cooperate with French police in order to facilitate the communication with Turkish fans.
1.5 million tourists expected
What is your reaction to President Recep Tayyip Erdoğan's statements on French police?
France attaches the highest attention to both guarantee the security of its citizens and preserve civil liberties.
What are the French expectations from Euro 2016 in regards to tourism? How many additional tourists is France expecting and how will that affect the economy?
In 2015, France was once again ranked the world's leading tourist destination with a record of 84.5 million foreign visitors, and the goal is to receive 100 million visitors by 2020.
More than 1.5 million visitors are expected in France for Euro 2016. The tournament constitutes a real opportunity to generate tourist flows and attract new customers to the championship's host destinations.
For its first games, the Turkish team will play in three beautiful cities: Paris, Nice and Lens. I am sure that many Turkish fans will extend their trips to visit the rest of my country.
Turkish President Erdoğan has expressed his intention to watch the first match of the Turkish national team. Is there a plan for a meeting with French President Hollande?
Both our presidents are real football fans. I cannot confirm that there is such a plan, but we would be honored to host President Erdoğan for one of the games of the Turkish national team.
hurriyetdailynews.com/french-envoy-hopes-for-turkey-france-final-at-euro-2016-.aspx?pageID=238&nID=100292&NewsCatID=361
--
Africa
U.N.-Backed Libyan Fighters Push Toward ISIS Stronghold of Surt
JUNE 9, 2016
CAIRO — Libyan fighters aligned with the United Nations-backed unity government on Thursday battled their way toward the center of Surt, the Islamic State's coastal stronghold, in a rapid offensive that has confounded expectations and upended Western strategic calculations.
Only a few months ago, American generals were touting a plan to dislodge the Islamic State from Surt with a campaign of airstrikes. Yet the three-week-old Libyan ground offensive, led by a brigade from the nearby city of Misurata, has gradually closed in from the west and south, capturing an airfield, military bases and a traffic junction where the Islamic State has hanged dozens of people.
The swiftness and extent of these successes and the seeming inability of the Islamic State to hold on to territory has surprised observers inside and outside Libya.
Clashes continued on Thursday as the Islamic State, whose force in the city is estimated to be in the low thousands, fought back with suicide bombings and sniper fire. Mohamed al-Ghassri, a spokesman for the Misuratan force, said 110 fighters from his side had been killed and more than 500 wounded since the operation started.
Western officials and analysts cautioned that the Islamic State could yet mount counterattacks or guerrilla strikes. But many were impressed with the momentum of the assault, which comes as the Islamic State, also known as ISIS or ISIL, faces escalating pressure in Iraq and Syria. The assault also dealt a heavy blow to the Islamic State's ambitions for a permanent base on the southern shores of the Mediterranean.
"The question now is whether ISIS will bunker down in the city center, or try to find a way out," said Mattia Toaldo, a Libya analyst at the European Council on Foreign Relations.
Videos circulating online showed jubilant Libyan fighters tearing down a metal frame, called the "stage of horror," that the Islamic State used to hang at least 49 people. Fighters flashed victory signs as they sped around the city's outskirts, even as fighting continued.
In Washington, American officials voiced guarded optimism.
"We welcome the advancement of G.N.A. forces against ISIL in Surt, and the coordination of the groups combating ISIL under the G.N.A.'s authority," said Lt. Col. Michelle Baldanza, a Pentagon spokeswoman, referring to the Government of National Accord, or unity government. "We are not going to predict timelines on Libyan military operations."
Islamic State fighters began filtering into Surt in 2014, taking advantage of the factional chaos in Libya in the years after the downfall of Col. Muammar el-Qaddafi. That vacuum eventually allowed the extremist group to control 150 miles of coastline and establish pockets of territory in a number of other cities. But now it controls no more than 40 miles of coast, and has been diminished elsewhere.
A small contingent of American and British Special Operations forces are playing a background role in the assault on Surt. Mr. Ghassri, the spokesman for the Misuratan force, said that about 25 American and British soldiers were "gathering intelligence and providing logistical information" for the operation.
The clashes on Thursday were concentrated around a conference hall known as the Ougadougou Center. The Libyans' modest fleet of warplanes bombed the hall, where fighting continued on Thursday night. Yet the main part of Surt — a knot of tightly spaced streets where the former dictator, Colonel Qaddafi, was raised and, in 2011, killed — remains in the hands of the Islamic State.
In Misurata, 110 miles to the west, hospitals said they had been overwhelmed by wounded soldiers, some of whom were flown to Italy and Turkey for treatment, Reuters reported. Suicide bombings had inflicted the heaviest casualties, in one instance killing 32 people, Mr. Ghassri said.
Earlier this year, Pentagon officials estimated the Islamic State's strength in Libya at up to 6,500 fighters, although other Western estimates run as low as 3,000. In a report on human rights violations in Surt published last month, Human Rights Watch cited a Libyan military intelligence official who estimated 1,800 fighters inside the city, 70 percent of whom were foreigners.
Tunisians account for the majority of foreign fighters in Surt. Other recruits come from across North and West Africa, Syria and Afghanistan. The Human Rights Watch report detailed horrific scenes from everyday life, including public beheadings and floggings, that were said to have undermined support for the Islamic State among local residents.
The military assault is good news for the unity government and the United Nations, which helped establish it. But in Libya, even good news can carry potential political risks. The unity government has failed to establish its authority since its arrival in the capital, Tripoli, in March. It has relied heavily on support from the United States and its European allies, which have imposed sanctions on opposing politicians, in an effort to bolster its standing.
But some of the militias now fighting together have previously fought one another, raising fears about what would happen if they managed to capture Surt. "The key thing is what happens the minute they put their flag on ground," said Mr. Toaldo, the analyst. "We're talking about two forces that were fighting each other in the same area only one year ago."
nytimes.com/2016/06/10/world/africa/isis-surt-libya.html
--
Wamakko appointed Nigerian President General of World Muslim League Africa
10.06.2016
Senator Aliyu Magatakarda Wamakko has been appointed Nigerian President General of World Muslim League, Africa office, situated in Sokoto State within the weekend.
The Senator who cautioned against using Islam to perpetuate crimes against humanity, especially taking lives added that, the religion has respect for sanctity of the lives of any creature.
Speaking in Sokoto yesterday at the official inauguration of an ultramodern Muslim World League secretariat, Wamakko admonished wealthy Muslims to make meaningful impact in the lives of humanity.
Wamakko assured that the secretariat will in no doubt not only help in strengthening Islam and enhance unity of the Muslim Ummah in Nigeria, but also promote inter-religious harmony in the country.
"Some miscreants often hide under the cover of religion to commit crimes against humanity by taking lives that is graciously created by Almighty Allah, but we want people to understand that our religion (Islam) is strongly against any act of taking lives. Yes, Islam abhors such dastardly act."
The former governor of Sokoto State and senator, Wamakko further admonished Nigerians, especially the wealthy class to help reduce unemployment so as to tame poverty.
Speaking earlier, the president of Nigeria Supreme Council for Islamic Affairs (NSCIA) and Sultan of Sokoto, Sa'ad Abubakar III urged wealthy Muslims to emulate Senator Wamakko in executing projects of such dimension.
The governor of Sokoto State and immediate past Speaker, National Assembly, Aminu Waziri Tambuwal promised to not only provide computers in the secretariat but will also ensure that it's linked to the internet.
On his part, a respected Islamic Cleric, Sheikh Ahmed Lemu decried thatundue quest for power as well as blind accumulation of material wealth are some of the problems inhibiting the even socio-economic development of the nation.
today.ng/news/national/135384/wamakko-appointed-nigerian-president-general-muslim-league-africa
--
Europe
Inside Europe: Yazidis find refuge in Georgia
09.06.2016
As US-led coalition forces move in on "Islamic State" controlled areas in Syria and Iraq, they've been able to rescue members of the Yazidi community. IS has been systematically targeting this minority group. Some, though, have escaped and found refuge in an unlikely country, the Republic of Georgia. Natalie Carney explains why there's more than one good reason why they're welcome there.
dw.com/en/inside-europe-yazidis-find-refuge-in-georgia/av-19318286
--
At Ramadan, migrants in Europe dream of family and comfort food
Friday, 10 June 2016
As Ramadan began in Germany on Monday, Syrian asylum seeker Khairallah Swaid said he would pray for a reunion with his wife, who is stranded at a camp in Greece, and crave his mother's makloubeh, a meat and rice dish served during the fasting month.
The Muslim holy month that began this year on June 6 revolves around daily fasts from sunrise to sunset, and then favorite meals with family and friends during the night hours.
But for many of the hundreds of thousands of migrants who came to Europe last year - mainly Muslims escaping war, conflict and poverty in Syria, Afghanistan, Iraq and beyond - Ramadan this time around will be a much more subdued affair.
In Germany, most are still living in shelters where they have long complained that the food served by caterers contracted by local authorities is "inedible". Their protest has grown raucous with the approach of the religious festival.
"You can't have Ramadan without good food," said 25-year-old Swaid, sitting next to his brother Hamza at Sham (Levant), a popular Syrian snack bar in Neukoelln, a poor district of Berlin with a large migrant population.
Swaid, who lives in a shelter north of the German capital, spends most of the 120 euros ($136) he gets a month on food. He and other asylum seekers chip in for flatbread, rice and vegetables, which they cook using a kettle.
"I miss my wife, but during Ramadan I will miss my mother's food more," joked Swaid a few days before Ramadan, eating pieces of flatbread stuffed with chicken shawarma and garlic paste.
Many shelters in Berlin are hosting Ramadan for the first time and some are trying to ensure a pleasant dining experience.
At Tempelhof, a former airport built by Hitler to showcase Nazi power and now home to some 5,000 migrants, a spokeswoman for a company running the shelter said guests would be offered dates and water after fasting, in line with Muslim tradition.
Bread, sausage, yoghurt, cheese, jam
In addition, the sunrise-to-sunset fast lasts longer in northern Europe now than in the Middle East. With the June sun rising earlier and setting later in Europe, it can be two to three hours longer for migrants than for those back home.
As the sun set in a crimson blaze over the Oresund strait dividing Denmark and Sweden, the Muslim residents of Hemmeslovs Herrgard asylum camp waited impatiently in the cafeteria queue.
At 09:30 p.m., half an hour before sunset, the line was already 25 meters (yards) long. The cafeteria was abuzz with children playing and adults chatting with plates and mugs in their hands, ready to chow down at exactly 10:00 p.m..
Magnus Falk, the camp manager, stood with a bag of bread in his hand, trying to calm people down.
"They were dissatisfied with the content of the breakfast snack," he said. About half of the 300 residents observes Ramadan. They all get a bag of bread with sausage, yogurt, cheese and jam to eat just before dawn breaks at around 03:30 a.m. to bolster themselves for another day of fasting.
Mohammed, a Syrian from a town near Aleppo, has found some abandoned pieces of bread on the ground outside the cafeteria, which he tears up and throws outside the window of his room.
"We like to throw leftover bread out for the birds, so me and my siblings can watch them up close," he said. In Islam, Muslims should not throw away leftover food, but give it instead to the needy or to animals.
Mohammed, who came with his family of five to Sweden nine months ago and is now waiting for an interview with the Migration Agency, is not impressed with the food in the home. He says migrants try to make it more appetizing by adding spices.
"Normally we cook very nice Arabic food during Ramadan and eat with friends, but here we are alone. But we still celebrate Ramadan, because it is a tradition," he said.
Greek camp conditions
In Greece, Muslim migrants stranded since countries along the Balkans route closed their borders, say the scorching heat and poor conditions at the state-run camps are making it harder to observe the holy month.
"We can't stay in the tent because it's too hot and the children are vomiting or (have) diarrhea because the place is so dirty," said Mahdieh, a 14-year-old living at Schisto, a state-run tent camp in a former military base near Athens.
Mahdieh, whose family fled Afghanistan's Logar province because they were threatened by the Taliban, remembers Ramadan at home as a time when families would get together to talk, laugh and be happy.
"(Here) we have depression, we are tired, we don't know how we can stay here," she said.
Abdul Baseer Nomand used to work as a technical consultant for the German army in Afghanistan and arrived in Greece just before the borders shut in February. Now he lives in a tent with his wife and five children and wonders how camp authorities would accommodate their needs.
"Today is the first day. Let's see what they have for us," he said. "If the weather is hot, it's very difficult for everyone because they will be thirsty. The problem is that here the environment is not suitable for proper living," he said.
Like others forced to flee home, he longed for the time it is safe enough for them to return.
"Everyone is missing his family, his country, and this is very hard," he said. "(It's) so difficult for people far away from their country, from their neighbors, from their relatives."
english.alarabiya.net/en/perspective/features/2016/06/10/At-Ramadan-migrants-in-Europe-dream-of-family-and-comfort-food.html
--
Pakistan
Pakistani Muslims build church for Christian neighbors
June 10, 2016
In Pakistan's northeastern Punjab province, Muslim villagers are raising funds to help their poor Christian neighbors build a church.
The initiative was begun shortly before Easter by a group of Muslims from a village in Faisalabad, Pakistan's textile-manufacturing hub.
"There is a tiny Christian population in the village -- only 20 families -- who have no place to worship," Fr. Aftab James, the local priest, told Anadolu Agency.
"Only days before Easter, the initiative was taken up by our Muslim brothers," he said.
According to Fr. James, Christians of the village had to use someone's home -- or some other site -- to perform prayers on holy days.
"Muslim residents of the town, however, offered to build us a chapel as a gift," he said.
"We are thankful to our Muslim brothers for this wonderful gesture. It makes us feel proud," the priest said.
The local Christian community is now very excited that they will soon have a church in the village.
"Before we had to rent or borrow a house in which to hold Christmas, Easter and other festivities," Faryad Masih, a Christian laborer, told Anadolu Agency.
"But now we will soon have our own chapel," he said.
"At first I didn't believe it when Muslim community leaders said they would build us a chapel," he recalled.
"But to my surprise, construction work began within one month of the initial announcement," a visibly excited Faryad said.
"Our community's longtime dream is now coming true," he said.
Christians, Pakistan's largest religious minority, account for roughly 3 percent of the country's total population of some 180 million.
Most of them reside in Punjab, Pakistan's largest province, where they are mainly involved in the sanitation, nursing and teaching sectors.
Almost 60 percent of Pakistan's Christian community is Protestant, while the rest are Catholic. The country's Christians are represented in Pakistan's government and Senate, and in national and provincial assemblies.
- Country of tolerance
The local community has already raised 150,000 Pakistani rupees (roughly $1,500) towards the total cost of the church's construction, estimated at some 700,000 rupees ($7,000).
Mian Ejaz, one of the Muslim fundraisers, told Anadolu Agency that additional funds would eventually be raised to finish the chapel, which would include a medium-size prayer hall and another room.
"We had four mosques in the village but no place of worship for Christians, as most of them are poor and lack the funds to build a church on their own," Ejaz, who also provides funds for the village's four mosques, said.
Therefore, Ejaz said, Muslim community leaders had decided to give an Easter gift to their Christian counterparts in the form of a chapel.
The day construction work began on the church in March, a massive bombing tore through a public park in provincial capital Lahore killing dozens of people, including a number of Christians celebrating Easter.
"We want to tell the world that Pakistan isn't a country of extremists -- who are only a small minority -- but a country of people who believe in religious tolerance and harmony," Ejaz said.
"Moreover, the Christian world is doing a lot for Muslim refugees, so we should pay them [Christians] back in the same coin," he said, referring to the flocks of Muslim refugees now trying to reach Europe from Turkey.
aa.com.tr/en/asia-pacific/pakistani-muslims-build-church-for-christian-neighbors/587300
--
CII blamed for rise in incidents of violence against women
June 10, 2016
ISLAMABAD: Holding the Council of Islamic Ideology (CII) responsible for the rise in incidents of violence against women, senators on Thursday called for making murders in the name of 'honour' a "non-compoundable" offence.
During a discussion on the death of 18-year-old Zeenat Rafiq, who was burnt alive by her mother in Lahore, the senators said 'honour' killings would continue as long as parliament failed to legislate to make such murders non-compoundable.
For the first time in parliamentary history, the Senate suspended its proceedings for five minutes to "sensitise" society and – as Senate Chairman Raza Rabbani called it – provide a shock to society over such incidents.
At the outset of the session, Mr Rabbani drew the attention of the house towards the incident, in which a young woman was killed by her mother on Wednesday for marrying a man of her own choosing. The chairman condemned the incident, and referred it to the house functional committee on human rights to suggest legislation.
Senators call for legislation to make 'honour' killings non-compoundable
During the discussion that followed, Opposition Leader Aitzaz Ahsan and Farhatullah Babar of the PPP called for abolishing the CII, saying that "the anti-woman bias of the CII as expressed in its recommendations and pronouncements" allowing violence against women had "contributed to crimes against women with impunity".
The CII is currently being led by Maulana Mohammad Khan Sherani of the JUI-F. A number of JUI-F members, including Deputy Chairman Abdul Ghafoor Haideri, were present in the house when the PPP senators spoke against the council, but remained silent, realising the sensitivity of the matter.
Mr Babar also called for the urgent adoption of a bill against 'honour' killing that had been moved by former PPP senator Sughra Imam. The bill was passed unanimously by all the political parties in the Senate in March last year, but was not passed in the recent joint session for want of a consensus.
Mr Babar said it was beyond comprehension that the bill was opposed by some of the very parties in the joint sitting of parliament that voted for it in the Senate.
He said the CII had lost its relevance as well as its constitutional basis, and called for examining the validity of its continued existence and the submission of annual reports to parliament.
Mr Ahsan said it was painful to see a woman "burning" her own daughter and having no regret over the act. He said the 14 alleged killers of Ambreen, a woman who was burnt alive in Abbottabad last month, had been arrested but the suspects were putting pressure on her father.
He feared that soon all the alleged killers would be roaming free, taking advantage of the weakness of the country's laws.
He also criticised the government for allocating Rs100 million for the CII. He said council members could see nothing except women, and supported Mr Babar's assertion that the council should be abolished because it had no constitutional or legal standing.
In other developed nations, he said, individuals were being given importance whereas in "our society we are still killing women and children in the name of honour for family or tribes".
He asked the government to convene the joint sitting of parliament within a day or two, to pass the bill against 'honour' killings. He added that there were still people sitting in parliament who were opposed to the bill.
"Had the bill been passed, the killers of Ambreen, Zeenat and Maria might have been convicted," he said, referring to three victims of recent 'honour' killings. He expressed the hope that religious parties may review their decision on the bill after this latest incident.
The bill against 'honour' killings, which was passed by the Senate, could not get through the joint sitting after it was opposed by religious parties, mainly the JUI-F and Jamaat-i-Islami. However, last year, JUI-F members pilled their votes in support of the bill.
In an apparent reference to Sharmeen Obaid-Chinoy's recent documentary of 'honour' killings, PPP's Sherry Rehman said the prime minister had seen the film on 'honour' killings, and Pakistan had received an Oscar for it, but the bill to prevent the crime was still pending before parliament.
Leader of the House Raja Zafarul Haq said he had supported Sughra Imam's bill in the Senate and as a member of the committee as well. He also called for early legislation on the matter, before it was too late.
Mr Haq said the incidents of the 'honour' killings had now acquired a "viral stage". He was of the view that the number of 'honour' killing incidents which did not come to the light could be higher.
However, he gave no assurance if the government would convene the joint sitting of parliament to pass the bill that would make 'honour' killing a non-compoundable offence.
dawn.com/news/1263920/cii-blamed-for-rise-in-incidents-of-violence-against-women
--
Emails in Clinton probe dealt with planned drone strikes in Pakistan: WSJ
June 10, 2016
WASHINGTON: Emails between US diplomats in Islamabad and State Department officials in Washington about whether to challenge specific US drone strikes in Pakistan are at the centre of a criminal probe involving Hillary Clinton's handling of classified information, the Wall Street Journal reported on Thursday.
The 2011 and 2012 emails were sent via the "low side", government slang for a computer system for unclassified matters as part of a secret arrangement to voice whether CIA drone strike went ahead, according to congressional and law enforcement, the Journal said.
Some of the emails were then forwarded by Clinton's aides to her personal email account, which routed them to a server she kept at her home in New York when she was secretary of state, the officials said.
Investigators have raised concerns that Clinton's personal server was less secure than State Department systems, and a recent report by the State Department inspector general found that Clinton had broken government rules by using a private email server without approval, undermining Clinton's earlier defences of her emails.
The still secret emails are a key part of the FBI investigation that has long dogged Clinton's presidential campaign, the officials told the Journal.
Clinton this week clinched the Democratic presidential nomination for the Nov 8 election.
The vaguely worded messages did not mention the "CIA," "drones" or details about the militant targets, officials said, according to the Journal.
The emails were written within the often narrow time frame in which State Department officials had to decide whether or not to object to drone strikes before the CIA pulled the trigger, the officials said, according to the newspaper.
Law enforcement and intelligence officials said State Department deliberations about the covert CIA drone program should have been conducted over a more secure government computer system designed to handle classified information, the Journal reported.
dawn.com/news/1263945/emails-in-clinton-probe-dealt-with-planned-drone-strikes-in-pakistan-wsj
--
SC allows action against negotiators for setting up cinema at Islamic centre
June 10, 2016
ISLAMABAD: The Supreme Court on Thursday allowed the administrator of Karachi Metropolitan Corporation (KMC) to take punitive action, if it considers so, against those responsible for negotiating a contract for opening a cinema house inside the Islamic centre in Karachi called Al-Markaz-i-Islami.
A three-judge Supreme Court bench, headed by Chief Justice Anwar Zaheer Jamali, had taken up suo motu notice on the application of Karachi Jamaat-i-Islami (JI) chief Naeemur Rehman Siddiqui who had accused that the then MQM-backed mayor of Karachi, Mustafa Kamal, had changed the name of the centre in 2008 from Al-Markaz Islami to 'Centre for Art and Learning'.
Written in Urdu, the application also alleged that the city government in 2010 allowed conversion of the Islamic centre into a cinema house and even set up Shanzay auditorium on the top floor of the building where musical or stage programmes on each evening became order of the day.
On Thursday, the chief justice observed that the court would decide how cinema house could become functional inside the Islamic centre. He asked the KMC administrator that he might take action against the authorities which allowed the centre to be converted into the cinema house.
The court also allowed the Messers Funrama Arts and Entertainment, which established the auditorium as a platform for promotion of arts and cultural activities inside the Islamic centre, to submit their point of view before the court.
The court then postponed further proceedings for a month.
In its report, the KMC contended that the idea to construct Al-Markaz-i-Islami with a library, an auditorium and an art gallery for fine arts based on Islamic culture was primarily conceived by the then mayor of Karachi Abdul Sattar Afghani through a resolution on Dec 4, 1980.
Work on the project situated on 5.5 acres in Federal B. Area commenced in 1981 by the KMC engineering department that lasted over two decades. In 2005-06, 750 chairs were provided for and installed in the auditorium though no mosque was constructed as planned.
Earlier on June 16, 2003, another resolution was adopted unanimously by city council members for establishing an independent body for effective succession of the Quran-o-Hadith Nabavi Academy. It was proposed that the academy function under the patronage of the city nazim. It was also decided that a board for the purpose would initially be established in the Markaz-i-Islami building.
Again on June 23, 2003, a different resolution was adopted for the establishment of an independent board for research academy to be operated under a board of governor. But the academy and the board remained practically non-functional for which it was originally made and no progress was virtually observed. Thus, the very purpose of Quran-o-Hadith Nabavi Academy and the board was not achieved, the report said.
Since the administrative control of Al-Markaz-i-Islami was with the community development department of the city government, its culture wing suggested to change the name of the building, as no programme other than Islamic events could be held or organised at the venue under the emblem of Al-Markaz-i-Islami.
dawn.com/news/1263804/sc-allows-action-against-negotiators-for-setting-up-cinema-at-islamic-centre
--
India
Hindu festival in Kashmir to coincide with Ramadan after three decades
Jun 10, 2016
Thousands of Kashmiri Pandits will on Sunday celebrate Kheer Bhawani, the biggest Hindu festival in Jammu and Kashmir after the Amarnath Yatra that will fall in the Muslim holy month of Ramadan after three decades.
Amid a debate over their return to Kashmir, Pandits from across the state and outside will converge at the temple of Kheer Bhawani representing Hindu goddess Ragnya Devi in Tulmulla village of Ganderbal, 27 km from Srinagar.
Muslims began fasting for the holy month of Ramadan from Tuesday.
The Kheer Bhawani festival falls in the month of May, June or July and the Muslim month of Ramadan shifts 11 days each year, as the cycle of the lunar calendar does not match the solar one.
The last time when the two religious symbols of Muslims and Pandits coincided was in the early 1980s. A majority of Kashmiri Pandits left the valley after militancy erupted in the valley in 1989. Their return has now become a matter of public debate between different stakeholders.
Vijay Aima, president of All India Kashmiri Samaj, expressed hope that the coincidence will bring something better for the people of Kashmir particularly after the "politics" over the return of Pandits.
"Every Kashmiri believes in these divine coincidences. We look forward to something concrete in these auspicious days," he said.
Sanjay Tickoo, the head of Kashmiri Pandit Sangarsh Samiti in the valley, said the coincidence is a 'good omen' for the people of Kashmir who have suffered the conflict for the past 25 years.
"The day is pious for us and the Ramadan is holy for you. We will read Geeta and you will read Quran. Maybe God will listen to us this time," he said.
As a majority of the Pandits migrated from the valley, local Muslims took care of the temple of Kheer Bhawani. Since 2008, the temple has seen a revival with thousands of devotees, especially migrant Pandits, thronging it every year as the conditions in the valley improved.
The annual festival has become a rare platform where Pandits and Muslims exchange their feelings, a religious geniality which became elusive in the strife-torn state. Muslims make arrangements like installing flower stalls and other puja items for the visiting pilgrims.
"We have a tradition of Hindu-Muslim bonhomie on these festivals. Earlier, when Pandits would visit Kheer Bhawani, Muslim elderly women would request us to pray for them as well. Similarly, a Muslim neighbour would come to a Pandit to say goodbye before going to Hajj," Tickoo said.
hindustantimes.com/india-news/hindu-festival-in-kashmir-to-coincide-with-ramadan-after-three-decades/story-XkUFPz5BqVJrdkFRWKuFyM.html
--
Student population rises 30%, Muslims beat national average
Jun 10, 2016
India's student population in the 5-19 years age group has increased by 30% between 2001 and 2011 but the increases are unevenly distributed across religious communities, with lagging sections catching up.
Among Muslims, the number of students zoomed by 44%, and within that, among girls by a staggering 53%. As a result, students now constitute 63% of this age group among Muslims. This is still behind the 73% among Hindus. Jains with 88% have the highest student ratio in the 5-19 age bracket, followed by Christians.
In the 20-29 years age group, the share of persons seeking work was 20% for the country as a whole.
Among Christian youth, unemployment was strikingly higher at 26%. This is worrying because Christians were the highest educated community in the last census, with 71% of the 5-19 years age group studying. In the latest census, their student population reached 80% of the age group.
Details of student populations and employment among various religious communities are available in the freshly-released census data.
Religious communities that had embraced education more widely in the past, like the Christians, Sikhs, and Jains, understandably show much smaller changes since the last census in 2001. In fact, among Jains, there is a 10% decline in the number of students.
timesofindia.indiatimes.com/india/Student-population-rises-30-Muslims-beat-national-average/articleshow/52680570.cms?
--
HC dismisses Purohit's bail plea, asks him to move trial court
June 10, 2016
Mumbai: The Bombay High Court today dismissed an appeal filed by Lt Col Shrikant Purohit, one of the main accused in the 2008 Malegaon blast case, against the trial courts order refusing him bail. A division bench, headed by Justice Naresh Patil, asked Purohit to approach the trial court with a fresh bail plea. The trial court should hear it expeditiously, if possible within six weeks, the HC said.
The judges also asked the lower court to consider the supplementary charge sheet filed by National Investigation Agency where it has dropped the charges under stringent Maharashtra Control of Organised Crime Act. The `new material in the supplementary charge sheet should be taken into account by the trial court while hearing the bail plea, the HC said. Purohit had argued that he was in jail for more than seven years and as NIA had concluded the investigation, he should be set free on bail.
The trial court has consistently refused bail to Purohit since 2010. His last bail plea was rejected in October last year, following which he moved the High Court. Among other things, Purohits appeal claimed that the trial court should have appreciated the fact that he has "an outstanding meritorious record and that he risked his life to fight against terrorism across the country." He had been framed, it said. On May 13, NIA filed a supplementary charge sheet giving a clean chit to six accused, including Sadhvi Pragya Singh Thakur. It also said Maharashtra Control of Organised Crime Act was not applicable in the case. Six persons were killed in a blast at Malegaon, a Muslim-majority town in north Maharashtra, in September 2008.
siasat.com/news/hc-dismisses-purohits-bail-plea-asks-move-trial-court-969906/
URL: https://newageislam.com/islamic-world-news/new-age-islam-news-bureau/hindu-monastery-worker-hacked-to-death-in-bangladesh/d/107592
New Age Islam, Islam Online, Islamic Website, African Muslim News, Arab World News, South Asia News, Indian Muslim News, World Muslim News, Womens in Islam, Islamic Feminism, Arab Women, Womens In Arab, Islamphobia in America, Muslim Women in West, Islam Women and Feminism, Moderate Islam, Moderate Muslims, Progressive Islam, Progressive Muslims, Liberal Islam, Liberal Muslims, Islamic World News