New Age Islam News Bureau
19 December 2020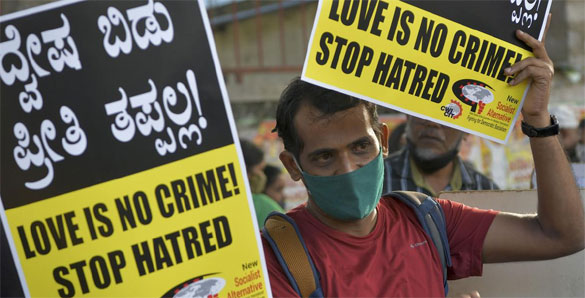 A civil right activist holds placards during a demonstration against 'love jihad' in Bengaluru on December 1. | Manjunath Kiran/AFP
----
• Hatice Cengiz, Khashoggi's Fiancee Urges US President-Elect to Release CIA's Classified Report into Murder
• UK MPs Urge Sanctions on Riyadh for detaining Former Saudi Crown Prince Bin Nayef, Other Royals
• A Group of Thirty US Lawmakers Urge Facebook To Remove Anti-Islam Content
• Tanzeem Islami Call to Enforce Islamic System in Pakistan
• Afghanistan's Ghani Conditions Taliban Prisoner Release on Violence End
• Islamic Religious Council of Singapore Urges Muslims to Get Vaccine Once Available Here
• Former Polish FM Sikorski Likens Iran's Zarif to 'Smiling' Nazi Germany's Ribbentrop
• Freed Nigerian Schoolboys Return Home With Tales Of Beatings And Hunger
India
• Hindu Man in Custody for Eloping With Muslim Woman; Farha Wants to Live with Naman Madaan
• No Evidence Of Love Jihad- Reported To The Police By A Local Bajrang Dal Unit - Court Allows Release of Man; Wife Miscarried
• UP 'Love Jihad' Law: Allahabad High Court Stays Action Against Muzaffarnagar Man, Cites 'Right To Privacy'
• UP 'Love Jihad' Row: HC Seeks Govt Reply on PIL against Anti-Conversion Law
• UP Anti-Conversion Law Must Be Struck Down Immediately: Ex-Judge AP Shah
• India junks Pak claim it targeted UN vehicle at LoC
• Violence by Sikhs for Justice: NIA files charge sheet against 10 terrorists
• India waits for Pakistan to end terror before resumption of dialogue
--------
Arab World
• Hatice Cengiz, Khashoggi's Fiancee Urges US President-Elect to Release CIA's Classified Report Into Murder
• Turkey-backed fighters clash with Kurdish forces in north Syria town
• Three security forces killed in Sinai bombing: Egypt officials
• Turkish military forces pull out from seven military posts in northwest Syria: Source
• Assad's aide urges withdrawal of US occupation forces from Syria
--------
Europe
• UK MPs Urge Sanctions on Riyadh for detaining Former Saudi Crown Prince Bin Nayef, Other Royals
• Erdogan Tells Merkel Turkey Wants To Turn Over New Leaf with EU
• Armenia begins three days of mourning for Karabakh war victims
• EU Top Court Rules Countries Can Ban Halal Slaughter
• EU Parliament calls for 'restrictive measures' against Egypt
• Italy's PM discusses developments in Libya with Haftar
• European Parliament seeks China sanctions over Uighurs
--------
North America
• A Group of Thirty US Lawmakers Urge Facebook To Remove Anti-Islam Content
• Top US Court Rejects School Bid for Religious Carve-Out
• Trump upbeat on Gulf row end in call with Saudi leader
• US to reject 2021 Syrian polls if not in line with UNSC
• US sanctions 4 entities over Iran's petrochemical sale
--------
Pakistan
• Tanzeem Islami Call to Enforce Islamic System in Pakistan
• In Bid To Whip Up War Hysteria, Pakistan Claims India Planning Surgical Strike
• Islamabad Union Councils To Start Registering Religious Minorities' Marriages, Says PM's Aide
• Police arrest 4 terrorists including top commander in Pak
• COAS is 'sensible' person, tolerating Sharif's diatribe: PM
• Pak-China joint air drills important to boost combat readiness: Bajwa
--------
South Asia
• Afghanistan's Ghani Conditions Taliban Prisoner Release on Violence End
• Taliban Suffer Heavy Loss in South Battle, 47 Killed
• Pak-Afghan Youth Forum Held a Conclave Media Conference
• Taliban meets Pakistani PM Imran Khan
• 'Children among Dead' in Ghazni Blast
• Taliban Commander Busted in Badakhshan
• Blast at religious gathering in central Afghanistan kills at least 15, wounds 20
--------
Southeast Asia
• Islamic Religious Council of Singapore Urges Muslims to Get Vaccine Once Available Here
• Hardline cleric's supporters, cops clash in virus-hit Indonesia
• Covid-19: No public programmes allowed in Kuantan district from tomorrow, says state disaster committee
• Supporters of hardliner Rizieq Shihab clash with Indonesia police
--------
Mideast
• Former Polish FM Sikorski Likens Iran's Zarif to 'Smiling' Nazi Germany's Ribbentrop
• Turkish philanthropist on trial for alleged failed coup ties
• Yemen announces new government formation: State TV
• Iran's First Vice President Hopes Stronger Iran, Qatar Ties
--------
Africa
• Freed Nigerian Schoolboys Return Home With Tales Of Beatings And Hunger
• Turkey hails US removal of Sudan from terrorism list
• Ethiopia offers reward for information on dissenting Tigray leaders
• UN appeals for $254 million in aid for Mozambique conflict victims
• 60% of South Sudan population facing acute hunger: UN
• Nigerian leader welcomes release of over 300 students
Compiled by New Age Islam News Bureau
URL: https://www.newageislam.com/islamic-world-news/hindu-man-custody-eloping-with/d/123817
--------
Hindu Man in Custody for Eloping With Muslim Woman; Farha Wants to Live with Naman Madaan
Dec 19, 2020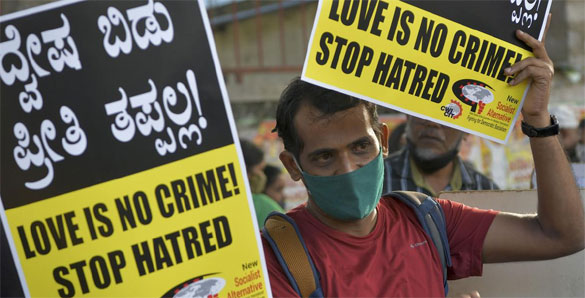 A civil right activist holds placards during a demonstration against 'love jihad' in Bengaluru on December 1. | Manjunath Kiran/AFP
----
MEERUT: A 25-year-old man was "recovered" from Rishikesh with a Muslim woman he was accused of kidnapping, about 170km away from Meerut where they lived, fell for each other and eloped on Sunday. Their fate will now be decided in a Meerut court which will take a call on the case filed against the accused, an adult. The woman, meanwhile, has told police that she wanted to live with her lover.
Owner of a confectionary shop, Naman Madaan, used to frequent Farha's home in a Muslim-dominated colony for delivery of goodies in Meerut. Farha, 23, liked cakes, and soon started liking Madaan too.
Facing resistance from their families, the couple finally decided to leave their homes and stay together. On December 13, they reached Rishikesh and got married in a temple. Farha decided to switch to Hinduism, and she chose a name too, Mahi.
Back home, a storm was brewing.
Farha's brother, Mohd Irshad, filed a police complaint alleging kidnapping of his sister by Madaan. An FIR under IPC section 366 (kidnapping, abducting or inducing woman to compel her marriage) was registered against Madaan, a resident of Shastri Nagar locality.
"On the evening of December 13, Naman Madaan lured away my sister. I found some cash missing and a mobile phone was recovered of which we were unaware of. Strict action should be taken against the kidnapper," Irshad alleged in a written complaint to the police.
In an interesting turn of events, members of a saffron outfit sprang into action and alleged that Madaan was kidnapped, and not vice versa.
After five days of search, the couple was "recovered" by police from Rishikesh on Thursday evening. Now Madaan is in police custody.
According to Sanjay Verma, station house officer (SHO) of Nauchandi police station, "The woman has denied any foul play in her relationship with the man. Farha also said she has not been pressured to elope and had gone with Madaan to get married in a temple in Rishikesh."
Their statements were recorded in the court on Friday, and the verdict is yet to be known
https://timesofindia.indiatimes.com/city/meerut/hindu-man-in-police-custody-for-eloping-marrying-muslim-woman-who-changed-her-religion/articleshow/79802760.cms
--------
Hatice Cengiz, Khashoggi's Fiancee Urges US President-Elect to Release CIA's Classified Report into Murder
19 December 2020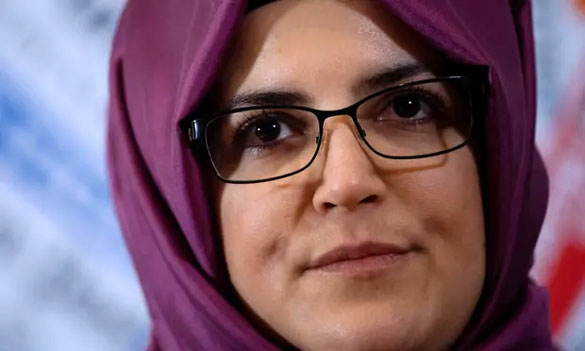 Hatice Cengiz has called on Joe Biden to keep his campaign promise to make Saudi Arabia 'pay a price for the murder'. Photograph: Tiziana Fabi/AFP/Getty Images
----
Hatice Cengiz, the fiancee of Jamal Khashoggi, has called on the US president-elect, Joe Biden, to release the CIA's classified report into the Washington Post journalist's murder once he enters the White House, a move she said would "greatly assist" in uncovering the truth.
The classified intelligence assessment has never been released but media outlets have reported, without providing more details, that it concludes with "medium to high confidence" that the Saudi crown prince, Mohammed bin Salman, ordered the killing.
Publishing a declassified version of the report, Cengiz and other activists say, would prove Biden is committed to making Saudi Arabia "pay a price for the murder", as he promised to do during the 2020 campaign.
"I am calling on the president-elect to release the CIA's assessment and evidence. It will greatly assist in uncovering the truth about who is responsible for Jamal's murder," Cengiz said.
Asked whether it was under consideration, a source familiar with the transition and the president-elect's thinking said: "The president-elect stands by what he said on the campaign trail regarding the murder of Jamal Khashoggi. We know there remains work to do – including to provide the necessary transparency."
Khashoggi disappeared while visiting the Saudi consulate in Istanbul in October 2018 to pick up paperwork for his marriage to Cengiz. His remains have never been located or returned. Riyadh eventually admitted the 59-year-old had been killed by Saudi agents in what it says was an extradition operation gone wrong, but Prince Mohammed has always denied any involvement or knowledge of the killing.
During the election, Biden emerged as an outspoken critic of Prince Mohammed, saying during a Democratic debate that he would make Saudi Arabia "the pariah they are" if he was elected. He also said the US would stop selling weapons to the kingdom if he won.
Most analysts and Saudi dissidents who live outside the kingdom agree that the US posture toward Saudi will change once Biden enters the White House, in contrast to Donald Trump's close ties to the crown prince.
But the question now is how far Biden will go – and what specific issues he could influence. While the US could hasten an end to the war in Yemen, pressing the kingdom on domestic human rights abuses could prove to be more challenging.
"I think [releasing the classified report on Khashoggi's murder] is an easy one for the president to do. The ramifications will be profound," said Safa Al Ahmad, a Saudi journalist and human rights campaigner who has lived in exile since 2014.
But there is also scepticism that it will happen. First, because it is not clear that Biden will seek to shake up relations with the Saudis in his first weeks in office. Second, because of alleged practical risks associated with releasing the intelligence.
"I think it is highly unlikely. To protect sources and methods it would need to be highly redacted. Such a document would not be very satisfying. To do otherwise would be to reduce significantly our ability to monitor activities," said Bruce Riedel, a former CIA analyst and senior fellow at the Brookings Institution.
Agnès Callamard, the UN special rapporteur on extrajudicial killings, who investigated the Khashoggi murder, said she believed the report could be released without compromising CIA sources or methods.
"I, for one, am sick and tired of intelligence always taking precedence over justice," she said. "So much information is held by the US about the murder of journalists, including the identity of the masterminds, corrupt officials and people who abuse their power. Surely the search for justice, the fight against impunity demand that this information be made made public," she said.
While Biden may ultimately backtrack on some of his tough talk against the kingdom, Riedel said there would nevertheless be "big change", especially on arms sales.
"The Saudis have only belatedly begun to realise that the good old days are coming to an end. I think they are trying to figure out what to do and are particularly concerned about Biden reviving the Iran nuclear deal, which they are completely opposed to," Riedel said.
Riedel said the change in US administrations comes as Prince Mohammed, known as MBS, seemed to be increasingly worried about his own security and paranoid – perhaps with reason – about his position.
"MBS holds almost all of his meetings in the fantasy city of Neom. Well, there is a reason for that. It is the safest place for him to be in the kingdom and I think it is reflection of his very acute concerns. He has alienated an awful lot of Saudis," Riedel said.
The Guardian has been told that a number of princes in the Bin Jalawi family had recently been placed under house arrest on the orders of the crown prince. While this could not be verified independently, Riedel said that, given that the family was second in prominence only to the Al Saud family, the alleged house arrests were very significant. A US official said such arrests would be in line with the crown prince's crackdown on any sign of dissent. The Saudi embassy in London did not respond to a request for comment.
The Saudi crown prince has held his closest political rival, the former crown prince Mohammed bin Nayef, in custody since March, as well as the two adult children of Saad Aljabri, a former intelligence chief who is known for his close ties to the US and is living in exile in Canada.
While Biden is not known to have had an especially close relationship with Mohammed bin Nayef, whom he met on a trip to Riyadh as late as 2011, analysts say they believe that "MBN's" continued imprisonment will be among the top human rights issues raised by the Biden administration.
No official explanation has ever been given by the Saudi government as to why Bin Nayef has been detained, but a shifting list of allegations have been used ranging from the coup attempt, addiction, corruption, treason and conspiracy with the Obama administration.
Other cases that will probably cause consternation include the recent move by a Saudi court to sentence Walid Fitaihi, a dual US-Saudi national, to six years in prison following his 2017 arrest, despite appeals by the Trump administration for him to be released. Fitaihi's family has claimed that he was tortured while in custody and that charges against him relate to tweets he posted that were supportive of the Arab spring as well as his allegedly unauthorised move to obtain US citizenship.
Another political prisoner, the women's rights campaigner Loujain al-Hathloul, who is also believed to have been tortured in custody, has recently been put on trial in a special terrorism court after being detained for two years without charge, in a case that has prompted criticism from human rights organisations.
Callamard, who is due to take up a new post as head of Amnesty International next year, said she was not "naive enough" to believe that Biden would radically transform the US relationship with Saudi Arabia, but that he would make moves toward accountability.
"The shape, the messaging, it matters. We are talking about a message – it is a small accountability step by the United States and its democratic institutions," she said.
https://www.theguardian.com/world/2020/dec/18/jamal-khashoggis-fiancee-urges-joe-biden-to-release-cia-report
------
UK MPs Urge Sanctions on Riyadh for detaining Former Saudi Crown Prince Bin Nayef, Other Royals
18 December 2020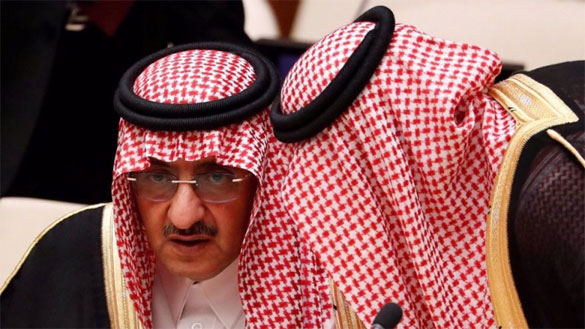 British lawmakers have raised renewed concerns over the unlawful detention of the former Saudi crown prince and other royals
------
British lawmakers have raised renewed concerns over the unlawful detention of the former Saudi crown prince and other royals, calling on London and other governments to slap sanctions on the kingdom over its growing human rights abuses.
In a cross-party investigatory panel report, released by UK media on Thursday, the legislators said the detention of Mohammed bin Nayef bin Abdulaziz Al Saud — a cousin and potential rival of Saudi Crown Prince Mohammed bin Salman — was in violation of international law and posed a threat to the security of the kingdom itself and the Western states.
Bin Nayef was arrested along with his half-brother Nawaf and his uncle Ahmed bin Abdulaziz Al Saud on charges of "treason" during a crackdown on royals, in what has been widely viewed as an attempt by bin Salman to tighten his grip on power.
The ex-heir to the throne was ousted by Salman in 2017 and has effectively been under house arrest since then.
To compile the report, the British MPs interviewed mainly dissidents, human rights groups, senior UK government officials and Mohammed bin Nayef's allies. Saudi officials, however, refused to cooperate with the panel on the probe.
The report shed light on bin Nayef's dire detention condition and said it had found that he was "suffering from pains in his joints, particularly his knees, making it difficult for him to walk comfortably without assistance, and there is evidence of damage to his feet, adding to the pain in walking."
He has not been allowed to see either his family or his doctor and has lost a significant amount of weight since March, it added.
The panel said it had evidence that bin Nayef "has not been able to contest his detention before an independent and impartial judge, has no access to a lawyer to discuss his situation and his case has not been reviewed to determine whether it is appropriate to continue his detention."
Bin Nayef was threatened with solitary confinement if he refused to give settlement funds to Riyadh, the investigation revealed.
The British lawmakers said governments across the West feared their Middle Eastern ally would be "pilloried in the wider court of public opinion" if it fails to respect the norms of international law towards its own citizens.
They also said the Saudi failure to live up to international human rights standards would undermine the kingdom and the security of the west.
The lawmakers further called on the UK and other countries to halt extraditions to Saudi Arabia and subject it to penalties similar to those listed in America's so-called Magnitsky Act, which targets the individuals it sees as human rights offenders with sanctions such as asset freeze and travel ban.
They also recommended London and other governments to require giant social media firms to help "identify campaigns of public intimidation" launched on their platforms "by state actors or individuals who appear to be coordinated by state actors."
Under bin Salman, Saudi Arabia has been under increasing scrutiny over its dismal treatment of Saudi dissidents and human rights activists at home as well as its war crimes in Yemen, where it has been engaged in a US-backed military campaign with the help of a group of its vassal states.
The kingdom's gloomy rights record has, however, received a particular spotlight since the state-sponsored assassination of dissident journalist Jamal Khashoggi at Riyadh's consulate in Turkey in October 2017.
Most recently, reports coming of Saudi Arabia indicate that bin Salman has launched a new crackdown under the guise of fighting corruption resembling the 2017 drive that rounded up royals and business tycoons in Riyadh's Ritz Carlton hotel
This time, the push — ordered by bin Salman — has targeted top-ranking military officials as well as low-key municipal, health and environment officials, leading to scores of detentions in recent months and the seizure of hoards of cash.
https://www.presstv.com/Detail/2020/12/18/641000/UK-Lawmakers-Sanctions-Saudi-Arabia-Bin-Nayef-Bin-Salman
--------
A Group of Thirty US Lawmakers Urge Facebook To Remove Anti-Islam Content
Michael Gabriel Hernandez
16.12.2020
WASHINGTON
A group of 30 lawmakers urged Facebook Tuesday to remove anti-Muslim content on the social media platform, saying it is "dangerous" and "deadly."
Led by Democratic congresswoman Debbie Dingell, the lawmakers said Facebook has failed to take action "in response to the abuse of your platform to dehumanize Muslims and stoke violence and genocide against Muslims around the world."
"Thus far, Facebook has appeared to lack the will necessary to effectively address hate and violence targeting Muslims," they wrote in a letter to Facebook founder and CEO Mark Zuckerberg.
The lawmakers are seeking six measures that span a variety of actions, including the formation of a working group on anti-Muslim bigotry, greater enforcement actions targeting militias and white supremacists, and an independent review of Facebook's "enabling anti-Muslim violence, genocide and internment."
Scott Simpson, a director for the Muslim Advocates advocacy group, thanked the lawmakers for the letter, which he said would work towards "holding Facebook accountable for the harm it has inflicted on American Muslims here and Muslims abroad."
"Just last week, we learned that not only did the Christchurch shooter use Facebook to livestream his slaughter, he also was a member of multiple anti-Muslim hate groups on the platform. Anti-Muslim hate has consequences and Mark Zuckerberg and Sheryl Sandberg must finally take action to stop it from proliferating on their platform," he said in a statement.
https://www.aa.com.tr/en/americas/us-lawmakers-urge-facebook-to-remove-anti-islam-content/2078172
--------
Tanzeem Islami Call to Enforce Islamic System In Pakistan
December 19, 2020
LAHORE: Tanzeem Islami (TI) Ameer Shujauddin Sheikh has said the fall of Dhaka, in fact, occurred due to our failure to practically implement the ideology of Pakistan - Islam.
Observing December 16 as a "Black Day' or blaming each other for the separation of East Pakistan would not help in any way in averting the same problems being faced by the 'present' Pakistan, he said in a statement on Friday.
Had the ideology of Pakistan, i.e. the Islamic system of collective justice, accountability and morality been practically enforced immediately after independence in 1947, Pakistan would have been intact, Shujauddin Sheikh said.
https://www.thenews.com.pk/print/760722-call-to-enforce-islamic-system-in-country
--------
Afghanistan's Ghani conditions Taliban prisoner release on violence end
18 December 2020
Afghan President Ashraf Ghani has rejected a US-Taliban proposal for the government in Kabul to free more prisoners of the militant group as part of a peace agreement in February, saying his country's people will not allow a further release of Taliban inmates as the group has failed to fulfill a pledge to reduce its nationwide bloodshed and violence.
Speaking during a trip to the southern Kandahar Province on Thursday, Ghani said the Taliban had destroyed 16 percent of Afghanistan's wealth in the war last year and that the militant group's call for the release of more prisoners at this stage was unacceptable.
"Now that they (Taliban) ask for the release of another 2,000 (prisoners), will you allow their release? No!, We saw that the bloodshed did not stop. They must stop the bloodshed so we can talk," the Afghan president said, addressing the local people.
Ghani underlined that if the Taliban are willing to bring peace and security to the country, they can come to Kandahar to hold talks with the Afghan government's delegation.
The Afghan president also pointed to the recent attacks by the Taliban in various parts of the southern province and pledged that Afghan security forces would do their utmost to restore security.
Earlier in the week, Afghan officials announced that peace talks between the government and the Taliban militant group are set to resume in early January as the two sides take a break after reaching a preliminary agreement to end the conflict.
Representatives from the government in Kabul and those from the Taliban held the first round of the much-awaited intra-Afghan negotiations in Doha on September 12. The talks are also attended by politicians from Afghanistan, international organizations and the United States.
The talks were set to take place in March, but were repeatedly delayed over a prisoner exchange agreement made as part of a deal between the Taliban and the US.
Under the deal, signed on February 28, the Taliban agreed to halt their attacks on foreign forces in return for the US military's phased withdrawal from Afghanistan and the prisoner exchange with Kabul.
But official data shows that violence has increased by 70 percent in Afghanistan since the US-Taliban deal.
Top US general presses Taliban to end violence
US Chairman of the Joint Chiefs of Staff General Mark Milley held unannounced talks with the Taliban negotiators in the Qatari capital Doha, where the militant group has its political office, to press them on a reduction in attacks.
According to a report by the Associated Press (AP), Milley met for about two hours with the Taliban negotiators and on Wednesday flew to Kabul to discuss the process with Ghani.
"The most important part of the discussions that I had with both the Taliban and the government of Afghanistan was the need for an immediate reduction in violence," Milley told reporters. "Everything else hinges on that."
The US invaded Afghanistan to overthrow the ruling Taliban regime. US troops were first sent to Afghanistan after the September 11, 2001 attacks in the United States.
American forces have remained bogged down in Afghanistan through the presidencies of George W. Bush, Barack Obama, and now, Donald Trump.
https://www.presstv.com/Detail/2020/12/18/640993/Afghanistan-Ashraf-Ghani-Taliban-prisoners-
--------
Islamic Religious Council of Singapore Urges Muslims To Get Vaccine Once Available Here
Lester Wong
DEC 14, 2020
The Islamic Religious Council of Singapore (Muis) has urged Muslims to get vaccinated once a Covid-19 vaccine is available, and medically authorised as safe and effective.
In an irsyad-or religious guidance - issued yesterday, Muis said a Covid-19 vaccine is permissible for use by Muslims as it is a basic necessity to protect lives in the context of a global pandemic.
"The objectives of introducing a Covid-19 vaccine and the processes involved in producing vaccines in general are largely aligned to established Islamic principles and values," it added, noting that Islam places great importance on the sanctity and safety of human life as well as the protection of livelihoods.
Muis pointed to a fatwa, or Islamic ruling, it issued in 2013 on the rotavirus vaccine. The ruling considered vaccines to be a form of preventive treatment from diseases and encouraged in Islam.
"This is drawn from the prophetic guidance that one should consume foods that offer some protection from illnesses," it added.
Muis' religious guidance comes on the back of concerns among Muslims in the neighbouring countries of Malaysia and Indonesia over the halal status of a Covid-19 vaccine.
The religious view of a Covid-19 vaccine must take a more holistic stance that "transcends the narrow view of halalness or permissibility of its ingredients", Muis said, setting out three areas that it said have been carefully considered.
First, vaccines are a critical necessity in saving lives and ensuring societies can function safely and cohesively.
A second important consideration is that any vaccine must not have any known adverse medical effects that will cause harm to those who take it.
On the permissibility of ingredients used in vaccines, Muis cited a 2015 ruling on the drug heparin, a blood thinner which contains pig enzymes, as an example of a situation - evident in some prophetic traditions - that permits the use of impure or prohibited substances for treatment.
"The impure substances or prohibited items used in upstream processes would have undergone multiple layers of chemical processes such as filtration that would render them undetectable or negligible in the final product," Muis said.
"In such situations, the final product (drug or vaccine) is deemed permissible for Muslim use."
In a Facebook post yesterday, Minister-in-charge of Muslim Affairs Masagos Zulkifli welcomed Muis' religious guidance and strongly encouraged Muslims to get vaccinated once the vaccines are available in Singapore.
"I am thankful to our religious leaders who are highly knowledgeable, progressive, enlightened, and attuned to the concerns of our Malay/Muslim community in the context of the global pandemic," he said.
Sign up for our daily updates here and get the latest news delivered to your inbox.
Get The Straits Times app and receive breaking news alerts and more. Download from the Apple App Store or Google Play Store now.
https://www.straitstimes.com/singapore/muis-urges-muslims-to-get-vaccine-once-available-here
--------
Former Polish FM Sikorski likens Iran's Zarif to 'smiling' Nazi Germany's Ribbentrop
Ismaeel Naar
18 December 2020
Radoslaw Sikorski, a former Polish foreign minister, has described Iran's Foreign Minister Javad Zarif as a "Ribbentrop," referring to Joachim von Ribbentrop who was minister of foreign affairs of Nazi Germany from 1938 to 1945.
"I have a request to the diplomats from our nation states and from our [European External Action Service]. Next time you meet with [Javad Zarif], who's a smiling Ribbentrop, just remember what kind of nasty regime he represents," Sikorski said in a scathing speech on Thursday in front of the European Parliament.
Sikorski, currently serving as Poland's representative to the European Parliament as an MEP with the center-right European People's Party group, was reacting to Iran's recent execution of Iranian journalist Ruhollah Zam and the detention Iranian human rights lawyer Nasrin Sotoudeh.
"Iran claims to be an Islamic Republic. But as this resolution makes clear, it is also one of the world's most repressive regimes. I therefore have a question to the mullahs in Tehran. If you represent a God that is good, powerful and merciful, then why do you need to repress, torture, and murder your people so much?" Sikorski said in his speech.
"No, your regime is a blasphemy and an abomination to every decent Muslim, every person of faith and every person of conscience," he added.
In a resolution supported by 614 votes, the European Parliament on Thursday condemned Iran for violating human rights.
Iranian dissident journalist Ruhollah Zam, who Iran convicted of fomenting violence during the 2017 anti-government protests, was executed last Saturday. Zam was a journalist who ran the Amadnews feed on popular messaging app Telegram, which had more than one million followers.
https://english.alarabiya.net/en/News/middle-east/2020/12/18/Former-Polish-FM-Sikorski-likens-Iran-s-Zarif-to-smiling-Nazi-Germany-s-Ribbentrop
--------
Freed Nigerian schoolboys return home with tales of beatings and hunger
18 December 2020
Dozens of schoolboys who were rescued from kidnappers in northwest Nigeria arrived back home on Friday, many of them barefoot and clutching blankets.
For the latest headlines, follow our Google News channel online or via the app.
Television pictures showed the boys dressed in dusty clothes, looking weary but otherwise well, getting off buses in the city of Katsina and walking to a government building.
One boy, who did not give his name, said the captors had regularly beaten them with canes. He added that the kidnappers had described themselves as members of the Islamist militant group Boko Haram, although he suspected they were armed bandits.
"They beat us morning, every night. We suffered a lot. They only gave us food once a day and water twice a day," he told Arise television.
"They said I should say they are Boko Haram and gangs of Abu Shekau," he added, referring to a name used by a Boko Haram leader.
"What I experienced, sincerely speaking, they are not Boko Haram ... They are just small and tiny, tiny boys with big guns," he added.
A week earlier, gunmen on motorbikes raided the boys' boarding school in the nearby town of Kankara and marched hundreds of them into the vast Rugu forest.
Authorities said security services rescued them on Thursday, but many details surrounding the incident remain unclear, including who was responsible, whether ransom was paid, how the boys' release was secured and whether all of them are now safe.
The abduction gripped a country already incensed by widespread insecurity, and evoked memories of Boko Haram's 2014 kidnapping of more than 270 schoolgirls in the northeastern town of Chibok.
Six years on, only about half the girls have been found or freed. Others were married off to fighters, while some are assumed to be dead.
Hours before the rescue of the boys was announced, a video started circulating online purportedly showing Boko Haram militants with some of the boys. Reuters was unable to verify the authenticity of the footage or who released it.
Tears of joy, prayers of thanks
On Friday, the boys from the Government Science Secondary School walked from the buses in single file, flanked by soldiers and armed police officers, and were taken to the government building to meet the governor.
Another of the boys said they had been fed with bread and cassava. "It was cold," he told Channels TV. Asked how he had felt when the bus arrived in Katsina, he said: "I was really happy," and broke into a smile.
"We are very grateful. We are very grateful. We are very grateful," a man who said he was the father of two of the pupils told Arise.
The boys were then brought back and driven off for medical checks, officials said.
A group of their parents waited to be reunited with them in another part of town.
"I couldn't believe what I heard until neighbors came to inform me that it's true," Hafsat Funtua, mother of 16-year-old Hamza Naziru, said earlier in a phone interview.
Describing the moment she heard the news, she said she ran out of her house with joy "not knowing where to go" before returning home to pray.
Last week's mass kidnapping piled pressure on the government to deal with militants in the north of the country.
It was particularly embarrassing for President Muhammadu Buhari, who comes from Katsina state and has repeatedly said that Boko Haram has been "technically defeated".
Buhari said he had congratulated the state's governor and the army, in a brief clip from an interview posted on his Twitter account earlier on Friday.
Any Boko Haram involvement would mark a geographical expansion in its activities from its base in the northeast. The region is also plagued by armed gangs that rob and kidnap for ransom.
https://english.alarabiya.net/en/News/world/2020/12/18/Freed-Nigerian-schoolboys-return-home-with-tales-of-beatings-and-hunger
--------
India
No Evidence Of Love Jihad- Reported To The Police By A Local Bajrang Dal Unit - Court Allows Release of Man; Wife Miscarried
Dec 19, 2020
BAREILLY: The 22-year-old woman whose husband was arrested for "love jihad" under UP's new anti-conversion laws while she was sent off to a shelter has had a miscarriage, an ultrasound examination at a private lab has confirmed.
The couple was "reported" to the police by a local Bajrang Dal unit when they were on their way to get their Nikah registered. Her husband and brother-in-law, in jail for 13 days now, are set to be released after police didn't find any evidence to support the allegation that the woman had been forcibly converted.
TOI had on Tuesday reported that the woman said she had miscarried. "We found that the woman had had a miscarriage. There is an infection in her uterus, which should be treated to avoid further complications," Dr PS Sisodia, who performed her ultrasound at the registered private lab in Dhampur in Bijnor district, told TOI on Friday. The report, a copy of which is with TOI, found "bulky UT with endometriosis (tissue growing outside the uterus) and … blood clots in the UT."
The woman had alleged that she lost her baby after the district hospital, where she had been admitted with bleeding and severe abdominal pain, administered "injections". The hospital had, until Friday, declined to comment on the miscarriage and denied her allegation.
After the private lab results came to light, acting chief medical superintendent of the Moradabad district hospital Dr Nirmala Pathak told TOI, "The reports provided by ultrasonologist Dr RP Mishra clearly said the foetus was visible but heartbeat was not there." Dr Mishra told TOI, "We were doubtful about the baby when the first ultrasound was performed. The heartbeat was not found. For the second test, we used a Doppler ultrasound but the heartbeat could not be found then either. For confirmation, I had asked for a trans vaginal scan because sometimes there are chances that the baby survives."
The woman, taken to the hospital on December 11 and then again on December 13 from the shelter, had not been given her medical files when she was released on the grounds that it was a "medico-legal" case. Police on Friday, however, said they don't need the medical report.
Back with her in-laws at Kanth, the woman was still not sure how to receive news of her husband about to walk free. "I have been told for the past five days that he will be released. He's not out yet. I have not been able to speak to him even after losing my baby," she told TOI. "We love each other. What is the point of court-registered marriages if things like these happen to people in Love?"
Her husband had not been released at the time of filing the report. An official at the Moradabad jail, on condition of anonymity, said the release order, 'parwana', had not reached them till Friday evening. Police have filed a report in the district court under Section 169 of the CrPC (release of accused when evidence is deficient) and requested release of her husband and brother-in-law. "The court ordered their release on personal bonds of Rs 50,000 each," Moradabad ASP (rural) Vidya Sagar Mishra said on Friday.
Chairperson of UP State Commission for Protection of Child Rights, Dr Vishesh Gupta, who had earlier said that the foetus was alive, was not available for comment. The woman had said he was "tortured" at the shelter she had been sent to when her husband and brother-in-law were arrested. Her detention, district probation officer Rajesh Gupta said, was only in keeping with instructions for legal procedures: "We had kept her at the shelter on the instructions of the Kanth subdivisional magistrate that she be kept here till her statement is recorded … Whatever happened at the hospital is outside our jurisdiction."]
https://timesofindia.indiatimes.com/city/bareilly/love-jihad-no-evidence-court-allows-release-of-man-ultrasound-confirms-wife-miscarried/articleshow/79802744.cms
--------
UP 'love jihad' law: Allahabad High Court stays action against Muzaffarnagar man, cites 'right to privacy'
by Asad Rehman
December 19, 2020
The Allahabad High Court Friday stayed criminal proceedings against a person from Muzaffarnagar who had been booked under Uttar Pradesh's new anti-conversion law a day after it was passed, noting that the couple involved were adults with "a fundamental right to privacy".
"Till the next date of listing no coercive measure shall be taken against the petitioner," Justices Pankaj Naqvi and Vivek Agarwal said, on a plea by the accused, Nadeem, adding, "Article 25 provides that all persons are equally entitled to freedom of conscience and the right freely to profess, practice and propagate religion, subject to public order, morality and health and to other provisions of Part III of the Constitution (that covers fundamental rights)."
Noting that the woman concerned was an adult "who understands her well-being", the court said, "She as well as the petitioner have a fundamental right to privacy and being grown-up adults… are aware of the consequences of their alleged relationship."
Nadeem, a labourer, had been booked by Mansoorpur Police Station, Muzaffarnagar, on November 29 on a complaint by the husband of the woman, under Sections 3/5 of the Uttar Pradesh Prohibition of Unlawful Conversion of Religion Ordinance, 2020, and IPC Sections 120-B (criminal conspiracy), 506 (criminal intimidation), and 504 (intentional insult with intent to provoke breach of peace). The complainant accused Nadeem of wanting to marry his wife, and coercing her to convert. Nadeem had not been arrested in the case.
In its order, the court said, "There is no material before us that any force or coercive process is being adopted by the petitioner to convert (the woman)… all the allegations are prima facie based on suspicion."
The husband said Nadeem knew his wife and would visit their house, and had gifted her a mobile phone to stay in touch. The complainant and the woman have two children.
Nadeem's lawyer appealed for "upholding the right of privacy as a basic fundamental right covered by Part III of the Constitution", and said the FIR was "based on mere suspicion and there is no material to substantiate the contentions raised".
Additional Government Advocate Manju Thakur, who argued on behalf of the state, confirmed to The Indian Express that criminal proceedings against Nadeem had been stayed.
The court has listed the matter for next hearing on January 7, along with two other petitions filed against the anti-conversion ordinance.
https://indianexpress.com/article/india/up-love-jihad-law-hc-stays-action-against-man-cites-right-to-privacy-7110614/
--------
UP 'love jihad' row: HC seeks govt reply on PIL against anti-conversion law
18th December 2020
By Namita Bajpai
LUCKNOW: The Allahabad High Court on Friday directed the Uttar Pradesh government to file a counter-affidavit to a PIL challenging the constitutional validity of the newly-promulgated Uttar Pradesh Prohibition of Unlawful Conversion of Religion Ordinance-2020, against forced and dishonest religious conversions.
The ordinance was promulgated in the state on November 28 after the assent of Governor Anandiben Patel. The division bench, comprising Chief Justice Govind Mathur and Justice Piyush Agrawal passed the order while hearing the PIL filed by Saurabh Kumar, an Allahabad based lawyer. However, the division bench refused to grant any interim stay order on the ordinance and directed the state government to file a counter-affidavit by January 4, 2021 The court posted the matter for January 7 for the next hearing.
The petitioner's primary argument was that the ordinance was an infringement of the "fundamental right to choice and the right to change of faith". According to the petitioner, the Uttar Pradesh Prohibition of Unlawful Conversion of Religion Ordinance, 2020, is morally and constitutionally invalid.
The petitioner requested the court to declare the ordinance ultra vires or beyond the legal remit of the Constitution. Besides, he requested the court to direct the authorities not to take any action under the ordinance during the pendency of the petition.
However, during the course of the hearing, the bench refused to issue an order to grant an interim stay on the ordinance while asking the state authorities to present a detailed reply on January 4.
The petitioner had submitted that the provisions of the ordinance accorded the state policing powers over a citizen's choice of life partner or religion and thus militated against the fundamental rights to individual autonomy, privacy, human dignity, and personal liberty guaranteed under Article 21 of the Constitution (right to life and personal liberty).
The ordinance also required every religious conversion to be scrutinised and certified by the state, contended the petitioner.
Underling this point, the petitioner submitted that the very concept of forcing an individual to explain and justify a decision, which is closely personal to him/her, before an officer of the state is contrary to the tenets of the Constitution of India, which ensures such rights.
The petitioner, in his petition, had mentioned that UP CM Yogi Adityanath had on October 31, 2020, had made a statement that his government would bring a law against forcible religious conversions to put a leash on an alleged conspiracy to convert Hindu women.
The petitioner claimed that during his public statement, TH CM had referred to a single-bench judgment of the Allahabad high court in the case of Priyanshi alias Shamreen and another versus the state of UP, in which the court had observed that religious conversion just for the sake of marriage was invalid.
The petitioner pointed out that a few days later, a division bench of the high court overruled the single bench verdict, which had disapproved of religious conversions for the sake of marriage in the Salamat Ansari and others vs State of UP and others.
https://www.newindianexpress.com/nation/2020/dec/18/up-love-jihad-row-hc-seeks-govt-reply-on-pil-against-anti-conversion-law-2238057.html
--------
UP Anti-Conversion Law Must Be Struck Down Immediately: Ex-Judge AP Shah
by Sreenivasan Jain, Edited by Harish Pullanoor
December 18, 2020
New Delhi: Uttar Pradesh's new anti-conversion ordinance, aimed at curbing cases of "love jihad", reflects the philosophy of a khap panchayat, with the objective essentially being to subjugate women, former Delhi High Court Chief Justice AP Shah has said. The retired judge told NDTV that several of its provisions violate the fundamental right to practice religion, striking at the very root of right to life and liberty guaranteed under the constitution. This ordinance, he said, was capable of great public mischief. The former judge found it difficult to believe it was passed by a government in a country governed by the rule of law and a constitution.
Speaking to NDTV, Justice AP Shah, who was also former Chairman of the Law Commission, said, several provisions of the ordinance seriously violate the fundamental right to practice religion as guaranteed by Article 25 and strike at the very root of Right to life and liberty guaranteed by Article 25.
"In any criminal case (where) conversion is presumed to be illegal, the burden of proof is usually on the prosecution. In this ordinance, every religious conversion is presumed to be illegal. The burden of proof lies on the person accused of illegal conversion to prove that it is not illegal. So there is a presumption of guilt. The offence is cognisable. It is non-bailable and the police can arrest anyone," Justice Shah said.
The ordinance, he said, requires a person looking to convert another, to go to a district magistrate who conducts an enquiry. If the conversion is based on allurement, then it is illegal. However, the term allurement itself is defined in a very broad way in this law: a single wedding gift like a wrist watch, a bangle, or say a ring, would amount to an allurement, the former judge said.
"Interestingly, reconversion is not illegal. Even if it is by fraud or force. If a person is converted voluntarily, he might be arrested. If he is forced to reconvert, then there is no culpable offence," he pointed out. "If the victim is a minor or a woman, or a member of the SC/ST, the (jail) term goes up to 10 years. Even if the woman is a professor, say a very educated woman, if she is converted, the sentence is 10 years. If you convert an illiterate male person, the sentence is five years."
This law, he said, was capable of great public mischief. The former judge said he found it difficult to believe it could have been passed by a government in a country ruled by the rule of law and a constitution.
"A version of this was floated in a century-old book by on UN Mukherjee. The Hindu Mahasabha tried to gather support around the idea that Muslim men are waging jihad in India through love marriages," Justice Shah highlighted. "The women are warned against unsuitable outsiders, particularly those who are outside the religion or a lower caste. They were told that they should remain poor, that they might fit the role of the mothers of the nation."
Khap panchayats follow a similar philosophy with the objective of subjugating women, he said. A khap leader, he pointed out, went on so far as to infamously say that "only whores choose their partners."
"Actually, interfaith marriages are still a rarity. Over 90% marriages in India are still arranged marriages and approved by parents. Very few marriages are inter-caste marriages. The percentage of inter caste is 5%. Inter-faith is still less, it is 2-3%," he said. "For decades in India, we have advocated inter-state, inter-caste, and inter-faith marriages, to achieve communal harmony. Ambedkar was a big votary of this and recorded this emphatically in his book Annihilation of Caste."
The ordinance has already taken its toll, according to him, with large-scale arrest of people and stories of separation.
"It is clear that the ordinance must be struck down immediately. And certainly must not be permitted to be enacted into a statute. We need to stop the destruction of these freedoms guaranteed by the constitution. This can be done only by the judiciary," he said.
He cited a recent Allahabad high court ruling that held that marriage was a matter of choice and that every adult woman had the fundamental right to choose her partner, even if such a decision encourages other important decisions, including a change of religion. The High Court had overruled its own earlier judgment of a single-judge which said that conversion was valid only when predicated on a change of heart or honest conviction.
The Uttar Pradesh ordinance has borrowed lines from the single-judge ruling which is no longer valid, justice Shah pointed out.
"My worry is this. Hadia's was an individual case…The Supreme Court may not be as proactive when it comes to the larger question of…the ordinance. They might just end up sitting on the issue when it comes before the court. They have done it in other cases," he said.
"I believe this ordinance does four things. It reinforces the idea of a patriarchal society. Patriarchy and men would feel threatened as women get liberated. Secondly, it pursues a regressive agenda. It demands that individual autonomy and free will be subjugated to communal purposes. And, of course, those community purposes will be defined by a few individuals who know the best for the nation. Thirdly, and most importantly, and here it is troubling me the most, it denies agency to half our adult members of the country. Besides minors, it specifically identifies women and members of SC and ST as vulnerable individuals. Clearly, it means that a woman cannot think for herself, however educated, accomplished or experienced she might be. The attitude is clearly chauvinistic," he said.
https://www.ndtv.com/india-news/up-love-jihad-law-must-be-struck-down-immediately-justice-ap-shah-2340505
--------
India junks Pak claim it targeted UN vehicle at LoC
Dec 19, 2020
NEW DELHI: India denied reports in Pakistani media on Friday that its troops had fired on UN vehicles in POK.
Official sources said these reports emerging from the Pakistani side regarding attack on UN vehicles are "completely false and factually incorrect". "Since movements of UN vehicles are known in advance, the question does not arise of any such firing. The allegations are baseless," said a source. The Indian army also denied the allegations separately. Pakistan's Dawn newspaper had reported that Indian troops "specifically targeted" a United Nations vehicle from across the LoC, in what the Pakistan foreign office termed a "new low" in their conduct.
https://timesofindia.indiatimes.com/india/india-junks-pak-claim-it-targeted-un-vehicle-at-loc/articleshow/79806805.cms
--------
Violence by Sikhs for Justice: NIA files charge sheet against 10 terrorists
Dec 18, 2020
NEW DELHI: The National Investigation Agency (NIA) on Friday filed a charge sheet against 10 accused, including designated terrorist Gurpatwant Singh Pannun, at a special NIA court in Mohali in connection with a case related to violence by secessionist outfit Sikhs for Justice (SFJ).
According to the NIA, the charge sheet was filed against Pargat Singh, Sukhraj Singh, Bikramjit Singh, Manjeet Singh, Jatinder Singh, Gurwinder Singh, Harpreet Singh, Kuldeep Singh and Harmeet Singh, apart from Pannun.
The charge sheet was filed under several sections of the Indian Penal Code (IPC), and Unlawful Activities (Prevention) Act (UAPA) on charges related to criminal conspiracy and sedition.
The case pertains to a series of acts of violence, including arson in Punjab during 2017-18, carrying out propaganda activities, both online and on-ground, in support of the SFJ and Referendum-2020, demanding a separate Sikh state.
"These acts were committed by a gang of radicalised Sikh youth under the direction and financial assistance from SFJ handlers located abroad as part of an organised conspiracy by the accused for launching a concerted secessionist campaign for the creation of Khalistan," the NIA said in a statement.
This case was initially registered by Punjab Police at Sultanwind, Amritsar on October 19, 2018, and subsequently re-registered by the NIA on April 5, 2020.
"Investigation in the case has revealed that the SFJ has launched an incessant campaign using numerous social media accounts on Facebook, Twitter, WhatsApp, YouTube channels and a number of websites to propagate sedition and disturb peace and harmony in India," a statement said.
"These social media accounts are being used to radicalise impressionable youth and breed enmity on the grounds of region and religion. The investigation has also clearly established that Gurpatwant Singh Pannun radicalised and recruited the other accused persons into SFJ, an organisation declared as an "Unlawful Association" under UAPA," it added.
https://timesofindia.indiatimes.com/india/violence-by-sikhs-for-justice-nia-files-charge-sheet-against-10-terrorists/articleshow/79802258.cms
--------
India waits for Pakistan to end terror before resumption of dialogue
Shishir Gupta
Dec 19, 2020
When Prime Minister Narendra Modi made an impromptu landing at the Lahore airport on December 25, 2015, he hugged his then counterpart Nawaz Sharif who had come to receive him. During his four-hour visit, Sharif recalled that his mother Begum Shamin Akhtar had told him that Modi was a good man after she saw the Indian PM on Indian television news channels taking the blessings of his mother Heeraben by touching her feet. PM Modi met Sharif's mother at a family function in Raiwind near Lahore and exchanged notes with her. Sharif sent an embroidered shawl for Heeraben, which was duly reciprocated by PM Modi for the then Pakistan PM's mother with Indian High Commission scouring the entire security locked Lahore to secure a gift.
It was this gesture of warmth that stuck with PM Modi who condoled the demise of Sharif's mother Shamim Akhtar on November 22, 2020, by writing a letter to the former PM. The letter was conveyed to Nawaz Sharif through his politician daughter Maryam Nawaz by an Indian diplomat based in Pakistan. "I recall my interaction with her during my brief visit to Lahore in 2015. Her simplicity and warmth were indeed very touching," wrote PM Modi in his condolence message.
Hindustantimes
Although political detractors of PM Modi accuse him of reaping electoral benefits for blaming Islamabad time and again, the condolence letter shows that India has no ill-will towards the civilian, democratically elected leadership in Pakistan.
At a launch of a book on Friday, external affairs minister S Jaishankar made it clear that for India to engage in a dialogue with Pakistan, the neighbouring country must put an end to cross-border terrorism. "As far as PM Modi is concerned, we have shown a lot of clarity that they (Pakistan) can't continue with terrorism and then expect diplomacy to carry on," he said at the function. This is no different from the message conveyed by National Security Advisor Ajit Doval to his then Pakistan counterpart Nasser Janjua in Bangkok before PM Modi visited Lahore on December 25, 2015.
Doval told Janjua that India will deal with terror but Pakistan must give a commitment that there would be no state protection to the proscribed anti-India terrorist groups in that country. However, the entire bold Indian diplomacy of December 2015 came to a nought with Pakistan based Jaish-e-Mohammed group targeting the Pathankot airbase within a week of PM Modi's Lahore visit. Documents recovered from the terrorists revealed that the foiled terror attack was planned on the day PM Modi landed at Lahore, showing that the Pakistan deep state was totally opposed to any détente with India and was using Islamists to scuttle any rapprochement.
Today, with the Pakistani deep state and army controlling the levers of political power in Islamabad, the Indian establishment is at a loss of a committed and credible interlocutor in the Islamic Republic who has the power to defang the terrorist groups. It is quite evident to the Indian leadership that Pakistan army will not allow any civilian leader to have a dialogue with New Delhi to normalise bilateral relations. Nawaz Sharif tried it twice and failed. His daughter Maryam is now being painted as an Indian agent and there is clearly a threat to her life.
Instead, the Pakistani leadership time and again cries wolf over non-existent impending surgical strikes by the Indian Army in an effort to defame India as an aggressor and reiterate the tired nuclear flashpoint theory. Statement to this effect by Pakistan's foreign minister in the UAE, duly tweeted by National Security Advisor, on Friday is a case in point.
Fact is that the Indian retaliation in the form of surgical strikes in occupied Kashmir and air strikes at Balakot in Manshera came only as a response to terror attacks by Pakistan based proscribed groups after the complicity of Rawalpindi GHQ was established by Indian security agencies.
The Pakistani alarm from a non-existent surgical strike came after India was totally unfazed by a Sino-Pak air combat exercise across the Gujarat border in Sindh province earlier this month. The two iron brothers also signed a defence MoU during the visit of Chinese defence minister and State Councillor General Wei Fenghe to Islamabad.
Given that Pakistan under PM Imran Khan Niazi is behaving like a tributary state to the Middle Kingdom and proscribed terrorist groups continue to spew poison against India, New Delhi's desire to have normal ties with all its neighbours will remain an unfulfilled dream.
https://www.hindustantimes.com/india-news/india-waits-for-pakistan-to-end-terror-before-resumption-of-dialogue/story-jEYKFtS5EMltHSfJmKSBwI.html
--------
Arab World
Turkey-backed fighters clash with Kurdish forces in north Syria town
18 December 2020
Syrian fighters backed by Turkey waged battles on Friday against Kurdish forces near the town of Ain Issa in northern Syria, where Russian and Turkish troops jointly patrol a key highway.
Turkish forces and their Syrian insurgent allies seized territory in the region in an offensive last year against the Kurdish YPG militia which holds swathes of north and east Syria.
Ankara's Western allies widely condemned that incursion, which was halted when Turkey reached separate deals with Washington and Moscow, the second of which agreed to establish the joint Russian-Turkish patrols.
The YPG, which Turkey deems a terrorist group, forms the military backbone of the Syrian Democratic Forces (SDF) alliance which defeated ISIS in northeast Syria with the help of US air power.
Ain Issa, where the clashes erupted overnight, sits along the M4 highway that links major Syrian cities and where the Russian-Turkish patrols usually take place.
A rebel source with the Turkey-backed National Army said the faction seized some farmland after mounting an attack at the edge of the town.
An SDF commander told local Kurdish media that shelling hit parts of the town and highway but his forces were thwarting the attack.
Ain Issa, east of the Euphrates river, also has a sprawling camp for displaced people where the SDF has held families of ISIS fighters, including foreigners.
https://english.alarabiya.net/en/News/middle-east/2020/12/18/Turkey-backed-fighters-clash-with-Kurdish-forces-in-north-Syria-town
--------
Three security forces killed in Sinai bombing: Egypt officials
18 December 2020
Two roadside bombs exploded in restive northern Sinai Peninsula killing three members of Egypt's security forces and wounding 10 others, officials said Friday.
The bombs went off near separate checkpoints in the town of Sheikh Zuweid late Thursday, said two security officials and a medical official, who asked to remain anonymous because they were not authorized to brief the media.
The officials didn't say who was responsible for the attacks and no one immediately claimed responsibility. But Egypt has been battling an Islamic State-led insurgency in the Sinai that intensified after the military overthrew an Islamist president in 2013. The militants have carried out scores of attacks, mainly targeting security forces and minority Christians.
The first explosion Thursday night left one dead and seven wounded, while the second killed two and wounded three, the officials said. The casualties were transferred to El-Arish military hospital.
Also on Thursday, the Egyptian military carried out a series of raids in the same town killing four militants, officials said. It wasn't clear if the raids took place before or after the bombings.
The conflict in Sinai has largely taken place out of public view, with journalists and outside observers barred from the area. The fighting has so far not expanded into the southern end of the peninsula, where popular Red Sea tourist resorts are located.
In February 2018, the military launched a massive operation in Sinai that also encompassed parts of the Nile Delta and deserts along the country's western border with Libya. Since then, the pace of ISIS attacks in Sinai's north has diminished.
https://english.alarabiya.net/en/News/north-africa/2020/12/18/Three-security-forces-killed-in-Sinai-bombing-Egypt-officials
--------
Turkish military forces pull out from seven military posts in northwest Syria: Source
18 December 2020
The Turkish military has evacuated from seven military observation posts in the northwestern part of Syria, withdrawing troops from territory liberated by Syrian government forces to areas held by allied Takfiri militants.
A Turkish source, who requested anonymity, said on Friday that the last of the evacuations was completed the previous night, and the forces were being redeployed within territory controlled by Ankara-backed forces.
"It is not in the form of troop withdrawal or reducing their numbers. The situation is just about changing location," the source asserted.
Earlier this month, the Turkish forces started withdrawing from three military bases in the countryside of Idlib and Aleppo provinces in northern Syria.
The Turkish forces began pulling out from the Surman base in the eastern countryside of Idlib as well as the bases of Khan Tuman and Rashideen in the countryside of Aleppo on December 9, the so-called Syrian Observatory for Human Rights reported at the time.
The UK-based war monitor added that the Turkish troops would reposition in militant-held areas in the Zawiya Mountain region in the southern countryside of Idlib.
Back on November 10, the Turkish troops in northwestern Syria pulled out of a military base in the area that had been surrounded by the Syrian government forces.
The pullout from the observation post in Sher Mogher in northern Hama region came nearly a month after the evacuation of Turkey's largest military base in the area.
Convoys carrying military personnel and equipment were seen leaving the Morek base shortly after midnight October 20.
On October 9, 2019, Turkey launched a cross-border invasion of northeastern Syria in an attempt to push Kurdish militants affiliated with the so-called People's Protection Units (YPG) — which Ankara views as a terror outfit — away from its borders.
Two weeks later, Russia and Turkey, signed a memorandum of understanding that forced the YPG militants to withdraw from the Turkish-controlled "safe zone" in northeastern Syria, after which Ankara and Moscow began joint patrols around the area.
Turkey has since wrested control of several areas in northern Syria in addition to other Kurdish-controlled areas.
Damascus views the Turkish military presence on Syrian soil as an attack on the Arab country's sovereignty.
https://www.presstv.com/Detail/2020/12/18/640991/Turkish-military-forces-pull-out-from-seven-military-posts-in-northwest-Syria-Source
--------
Assad's aide urges withdrawal of US occupation forces from Syria
19 December 2020
A senior aide to Syrian President Bashar al-Assad has lashed out at the United States for occupying the Arab country and looting its oil, stressing the need for the pullout of American occupation forces.
In an interview with Lebanon-based al-Mayadeen TV channel on Friday, Assad's political and media adviser, Bouthaina Shaaban, referred to the policy that the next US president, Joe Biden, would likely take towards Syria.
She said that Damascus is waiting to see the new US administration's approach, but the most important issue is the withdrawal of American troops from Syria.
The Syrians do not expect much from the new US administration, because the region has always suffered from Democratic and Republican governments, she added.
Shaaban also called on US Ambassador to the UN Kelly Craft to recognize Security Council Resolution 2254 that is against the occupation of Syria by American forces.
The Syrian army has been fighting against foreign-backed terrorist groups, which have been wreaking havoc on the country since 2011.
Syrian soldiers, backed by the Russian air force and Iranian military advisers, have managed to win back control of almost all regions from Takfiri terrorists.
On the contrary, the US has been supporting anti-Damascus militants with the aim of deposing Assad's government and at the same time stealing Syria's crude oil.
Elsewhere in her interview, Shaaban described as positive a visit by a Syrian delegation, led by Foreign Minister Faisal Mekdad, to Moscow.
The situation in Syria and Washington's unilateral measures in the region were among the issues discussed during the delegation's meeting with Russian Foreign Minister Sergei Lavrov, she said, asking, "How can Washington violate UN resolutions on Syria, occupy our territory and loot our oil?"
The Syrian official also stressed that relations with Russia are based on respect and bilateral economic ties are at a very good level, with Moscow playing an important role in countering sanctions against Damascus.
Assad's aide further condemned Turkey's military presence in northern Syria, noting that Russia expects Anakra to continue withdrawing its forces from the area.
Touching on the recent normalization deals between certain Arab countries and the Zionist regime, she emphasized that there is no choice but to adhere to the Palestinian cause and end the Israeli occupation.
What is happening in the Arab world is not in the interest of the countries compromising with Tel Aviv, she added.
https://www.presstv.com/Detail/2020/12/19/641041/Syria-Bouthaina-Shaaban-US-withdrawal
--------
Europe
Erdogan tells Merkel Turkey wants to turn over new leaf with EU
19 December 2020
Turkish President Recep Tayyip Erdogan on Friday told German Chancellor Angela Merkel in a videoconference call Turkey wants to turn over a new leaf with the European Union, the Turkish presidency said.
EU leaders meeting in Brussels last week decided to draw up a list of Turkish targets for sanctions over Ankara's "unilateral actions and provocations" in the eastern Mediterranean, believed to be rich in energy resources.
For the latest headlines, follow our Google News channel online or via the app.
"President Erdogan during the meeting said Turkey wants to open a new page in its relations with the EU, as he thanked Merkel for her constructive contributions and efforts on Turkey-EU relations," the presidency said.
Erdogan said there was a new "window of opportunity" for Turkey-EU relations to strengthen but some countries were "trying to create a crisis" that would damage "this positive agenda", it added in a statement.
He did not name which countries but Turkey has been at loggerheads with EU member states Greece and Cyprus -- backed by France -- in the eastern Mediterranean.
Turkey and Greece previously agreed to discussions over the disputed waters but nothing concrete has taken place.
Erdogan accused Greece of running away from talks, but insisted Turkey's attitude was "constructive."
He also called for an update to the 2016 deal aimed at cutting migration to Europe in return for financial aid, which he said would be "the key to a positive agenda."
The EU on Thursday said it allocated to Turkey the full six billion euros promised for refugees in the agreement.
https://english.alarabiya.net/en/News/middle-east/2020/12/19/Erdogan-tells-Merkel-Turkey-wants-to-turn-over-new-leaf-with-EU
--------
Armenia begins three days of mourning for Karabakh war victims
19 December 2020
Armenia on Saturday began three days of mourning for the victims of clashes with Azerbaijan as the opposition kept up pressure on the country's leader to resign over the handling of the conflict.
More than 5,000 people including civilians were killed in Armenia and Azerbaijan when clashes erupted between the ex-Soviet enemies in late September over the breakaway region of Nagorno Karabakh.
For all the latest headlines follow our Google News channel online or via the app.
The war ended in November with a Moscow-brokered peace agreement that saw the Armenians cede swathes of territory to Azerbaijan which has been backed by close ally Turkey.
The deal sparked fury in Armenia, with the opposition urging Prime Minister Nikol Pashinyan to resign.
On the first day of the national mourning on Saturday, Pashinyan was expected to lead a procession to a memorial complex in the capital Yerevan where victims of the conflict are buried.
The opposition planned to hold a separate march later in the day. Pashinyan's critics have called on supporters to stage a national strike from December 22.
"The entire nation has been through and is going through a nightmare," Pashinyan said in a video address ahead of the memorial march.
"Sometimes it seems that all of our dreams have been dashed and our optimism destroyed," he added.
The 45-year-old former newspaper editor was propelled to power in 2018 after he
channeled widespread desire for change into a broad protest movement against corrupt post-Soviet elites.
But after six weeks of clashes with Azerbaijan, many have called Pashinyan a "traitor" for agreeing to what they say is a humiliating deal with Azerbaijan. He has so far refused to step down.
As part of the peace deal Russia deployed nearly 2,000 peacekeeping troops to Karabakh.
Moscow said on Friday that a Russian mine clearer was killed by a blast in Karabakh when an explosive went off earlier this week.
https://english.alarabiya.net/en/News/world/2020/12/19/Armenia-begins-three-days-of-mourning-for-Karabakh-war-victims-
--------
EU top court rules countries can ban halal slaughter
18 December 2020
The European Union's top court has upheld curbs on ritual animal slaughter in Belgium, in a move that targets Muslim and Jewish religious rites.
The ruling, made by Luxembourg-based court on Thursday, approved a Belgian court ban on the slaughter of livestock that have not been stunned, citing animals rights.
The court in Belgium originally ruled in 2017 that animals need to be stunned before being killed.
This is while both Muslim halal tradition and the Jewish kosher ritual require livestock to be conscious when their throats are slit.
Jewish and Muslim associations argue that their methods of cutting animals' throats with a sharp knife resulted in almost immediate death and that, traditionally, prior stunning was not permitted.
They say that the original decree had effectively outlawed their traditional ways of slaughtering animals.
Belgium is home to some 500,000 Muslims and 30,000 Jews.
Those who want to observe religious slaughter rules have to obtain meat from abroad.
In a similar move in 2018, the EU court upheld a Belgian law that required animal slaughter to take place in slaughterhouses.
Along with Belgium, Sweden, Norway, Iceland, Denmark and Slovenia are also not allowing for any religious exemptions to EU slaughter regulations.
The rise of far-right ideology and the propagation of anti-immigration policies have exacerbated the status of religious minorities in Europe.
Islamophobic and other extremist groups in Europe have been propagating against Islam.
French President Emmanuel Macron has lately sparked outrage among the Muslim population of nearly two billion people, after he publicly attacked Islam in defense of the publication of derogatory cartoons of Prophet Muhammad (PBUH) by making Islamophobic rhetoric.
He defended the "right to blaspheme" after French satirical magazine Charlie Hebdo republished the sacrilegious cartoons in October.
Macron also made controversial remarks about "Islamist separatism," which according to him threatens to take control in some Muslim communities around France.
https://www.presstv.com/Detail/2020/12/18/640988/EU-top-court-ruling-on-animal-slaughter-irks-Jewish,-Muslim-groups
--------
EU Parliament calls for 'restrictive measures' against Egypt
Rabia Iclal Turan
18.12.2020
The European Parliament on Friday adopted a resolution calling for restrictive measures against Egypt in view of its grave human rights violations.
The parliament called on the EU high representative and member states to respond to Egypt's human rights violations in a "unified and resolute manner" as well as consider targeted restrictive measures against high-level Egyptian officials.
"The human rights situation in Egypt has continued to deteriorate as authorities intensify their crackdown on civil society, human rights defenders, health workers, journalists, opposition members, academics, and lawyers," the parliament said in the document.
It also called on the EU member states not to "give awards to leaders responsible for human rights violations".
In a controversial three-day visit to Paris last week, Egyptian President Abdel Fattah al-Sisi, who came to power in 2013 through a coup, was awarded the prestigious Legion of Honor by French President Emmanuel Macron.
Expressing "strong political and human support" to the family of slain Italian researcher Giulio Regeni, the European Parliament also urged Egyptian authorities to "fully cooperate with Italian judicial authorities".
Regeni, 28, was an Italian researcher and doctorate student in Egypt, who went missing on Jan. 25, 2016. Nine days later, the researcher's naked body was found in a ditch on a highway in Cairo.
Rome prosecutor's office earlier this month requested trial for four Egyptian officers, including a general.
The parliament also called for more transparency on all forms of financial support or training by the EU institutions, including the European Bank for Reconstruction and Development (EBRD) and the European Investment Bank to Egypt (EIB).
The European Parliament repeated the previous calls for the release of three senior staff members of the Egyptian Initiative for Personal Rights (EIPR) and Egyptian human rights defenders who were incarcerated after meeting diplomats.
It also expressed "deep concern" for the detainees and prisoners held in "overcrowded places of detention, in abysmal conditions", especially during the coronavirus pandemic.
https://www.aa.com.tr/en/europe/eu-parliament-calls-for-restrictive-measures-against-egypt/2081883
--------
Italy's PM discusses developments in Libya with Haftar
Walid Abdullah
18.12.2020
Italian Prime Minister Giuseppe Conte discussed developments in Libya related to inter-Libyan political dialogue with warlord Khalifa Haftar in Benghazi on Thursday.
According to Haftar's media office, he hailed "the role of the Italian government in supporting solutions to the Libyan crisis."
The media office did not provide any statements by the Italian officials who accompanied Conte in his visit to Benghazi, however.
Following the short visit, the Italian Foreign Ministry said that 18 Italian fishermen who were incarcerated in Libya for three months by Haftar's militia were released.
Italian Foreign Minister Luigi Di Maio thanked the Italian intelligence and diplomatic corps for "having worked to bring them back" to Italy.
Di Maio also confirmed Italy's support for the stabilization process in Libya, saying "this is what I and Premier Giuseppe Conte have reiterated today to Haftar during our meeting in Benghazi."
Libya has been torn by a civil war since the ouster of late ruler Muammar Gaddafi in 2011.
The Government of National Accord was founded in 2015 under a UN-led agreement, but efforts for a long-term settlement failed due to a military offensive by forces loyal to Haftar. He launched an onslaught on the capital Tripoli in April 2019 but was pushed back.
A cease-fire was agreed on in late October, and negotiations for an interim setup before presidential and parliamentary elections on Dec. 24, 2021 are continuing.
https://www.aa.com.tr/en/africa/italy-s-pm-discusses-developments-in-libya-with-haftar/2080901
--------
European Parliament seeks China sanctions over Uighurs
Büşra Nur Bilgiç Çakmak
18.12.2020
The European Parliament adopted a resolution Thursday condemning China over allegations of forced labor and over the situation of Uighurs in the Xinjiang Uyghur Autonomous Region, calling on the EU to impose sanctions.
Lawmakers strongly condemned "the Chinese government-led system of forced labor -- in particular the exploitation of Uyghur, ethnic Kazakh and Kyrgyz, and other Muslim minority groups -- in factories both within and outside of internment camps in the Xinjiang Uyghur Autonomous Region. It also denounces the continued transfer of forced laborers to other Chinese administrative divisions, and the fact that well‑known European brands and companies have been benefiting from the use of forced labor."
They also called on private sector companies to assess their engagement with the Xinjiang region and to inspect the supply chains to determine that human rights are complied with, and if they are not, to cut their business relations.
It was also requested that China allow an international observation group to conduct independent observations in the Xinjiang region.
Recalling the EU's adaptation on Dec. 7 of restrictive measures against serious human rights violations and abuses, lawmakers called on "the Member States and the High Representative of the Union for Foreign Affairs and Security Policy to swiftly evaluate the adoption of sanctions against the Chinese officials and state-led entities such as Xinjiang Production and Construction Corporation, responsible for devising and implementing the policy of mass detention of Uyghurs and other Turkic Muslims in Xinjiang, for the use of forced labor, and for orchestrating the severe repression of religious freedom, freedom of movement and other basic rights in the region."
Beijing's policy in Xinjiang has drawn widespread criticism from rights groups including Amnesty International and Human Rights Watch, which accuse it of ostracizing the 12 million Uighurs in China, most of whom are Muslims.
The region is home to 10 million Uighurs. The Turkic Muslim group, which makes up around 45% of Xinjiang's population, has long accused China's authorities of cultural, religious and economic discrimination.
Up to 1 million people, or about 7% of the Muslim population in Xinjiang, have been incarcerated in an expanding network of "political re-education" camps, according to US officials and UN experts.
https://www.aa.com.tr/en/europe/european-parliament-seeks-china-sanctions-over-uighurs/2080895
--------
North America
Top US court rejects school bid for religious carve-out
Ovunc Kutlu
18.12.2020
The US Supreme Court has rejected a bid by a Christian school for a religious carve-out against COVID-19 restrictions that include the shutdown of in-person instruction.
In a 7-2 ruling on Thursday, the Supreme Court denied religious-based exemption from restrictions for the Danville Christian Academy, a school in the Southern US state of Kentucky.
The dissenting votes came from two of the court's conservative members – Justices Samuel Alito and Neil Gorsuch.
Kentucky Governor Andy Beshear, a Democrat, had previously ordered Kentucky schools – public, private, secular and religious – to shut down all in-person instructions from late November through early January.
Danville Christian Academy, however, argued that the restrictions also led to an unlawful shutdown of religious activity.
The school's argument gained support from Kentucky's Republican Attorney General Daniel Cameron, Senate Majority Leader Mitch McConnell from Kentucky, and more than 30 Republican senators.
The Supreme Court's other recent orders, on the other hand, were favorable to other religious requests against COVID-19 restrictions, as justices sided Tuesday with religious groups in Colorado and New Jersey that also sought carve-outs in their states.
As for the case in Kentucky, justices said the Danville Christian Academy would have a stronger argument if it said Kentucky's restrictions "deprived parents of their right to direct the education of their children."
The US still leads the world in the number of coronavirus cases with approximately 17.2 million, while deaths are above 310,000, according to Johns Hopkins University data.
https://www.aa.com.tr/en/americas/top-us-court-rejects-school-bid-for-religious-carve-out/2081148
--------
Trump upbeat on Gulf row end in call with Saudi leader
Michael Gabriel Hernandez
18.12.2020
WASHINGTON
US President Donald Trump expressed optimism during a called with Saudi King Salman that a three-and-a-half year rift between Qatar and its Gulf Arab neighbors would soon come to an end, the White House said Thursday.
Trump spoke with the Saudi monarch during a telephone call that addressed "regional security and key bilateral issues," spokesman Judd Deere said in a statement.
"President Trump thanked King Salman for his leadership and expressed his optimism toward resolving the Gulf Rift," Deere said.
Accusing Qatar of supporting terrorism and meddling in their internal affairs, Saudi Arabia, the UAE, Bahrain, and Egypt cut ties with Doha and imposed a land, sea, and air blockade on the country in June 2017.
Qatar denies the charges and has voiced readiness for dialogue to end the impasse.
Trump's call comes in the waning days of the Trump administration with the president set to depart office Jan. 20 when President-elect Joe Biden will be officially sworn-in. It is unclear if Trump will maintain tradition and attend the ceremony as presidents before him have in a symbolic showing of the US's peaceful transfer of power.
Trump has maintained the Nov. 3 election he handily lost to Biden was "rigged," alleging without proof widespread voter fraud.
https://www.aa.com.tr/en/americas/trump-upbeat-on-gulf-row-end-in-call-with-saudi-leader/2080799
--------
US to reject 2021 Syrian polls if not in line with UNSC
Beyza Binnur Donmez
16.12.2020
The US on Wednesday said Washington and the international community will not recognize the 2021 presidential elections in Syria if they are not in line with UN Security Council resolutions.
"It is increasingly apparent that the Assad regime is delaying the Committee's work to buy time as it prepares to carry out a sham presidential election in 2021 and wash its hands of the UN-facilitated political process," Kelly Craft, the US envoy to UN, told a UNSC virtual briefing on Syria.
"Syrian elections will not be recognized as legitimate by the US and the international community if they are not in line with Resolution 2254," Craft said. "The international community will not allow the Assad regime to impose a military victory on the Syrian people with an illegitimate presidential election and no political reforms."
She reiterated that there is "no military solution" to the conflict and the "only way" forward for peace is for the Bashar al-Assad regime to support the political roadmap outlined in Resolution 2254.
"Even if guns are silenced, social and political wounds from this decade-long horror story will fester," Craft added.
Starting her sentence with "sadly," she said that this month marked the fifth anniversary of the adoption of Resolution 2254 with "little meaningful progress toward a political solution."
The envoy expressed the US commitment to "oppose any attempts by the Assad regime and its allies to bypass Resolution 2254" and urged the regime and Russia to ensure immediate progress toward the drafting of a new Syrian constitution during the fifth round of Syria talks in Geneva on January.
On the humanitarian situation in the country, she said that more than nine million Syrians need food assistance amid the coronavirus pandemic -- the largest number since 2011 when the civil war began.
"As 2020 comes to a close, there is little to celebrate in Syria, and much to mourn," Craft described the current situation. "We must not forget that it was Russia and China that forced this Council to slash the UN's cross-border humanitarian access in half amid a global pandemic," Craft said.
https://www.aa.com.tr/en/americas/us-to-reject-2021-syrian-polls-if-not-in-line-with-unsc/2079454
--------
US sanctions 4 entities over Iran's petrochemical sale
Beyza Binnur Donmez
16.12.2020
The US on Wednesday imposed sanctions on four China and United Arab Emirates-based entities for "facilitating the export of Iranian petrochemical products by Triliance Petrochemical Co. Ltd."
These companies "have provided Triliance with critical shipping services or conducted financial transactions on behalf of the company, enabling Triliance to continue brokering and moving Iranian petrochemical exports," the Treasury Department said in a statement.
Triliance, a Hong-Kong based company, was previously designated by Washington, in January, with the accusation of "collectively" transferring the equivalent of hundreds of millions of dollars worth of exports from the National Iranian Oil Company (NIOC).
The entities include China-based companies Donghai International Ship Management Limited and Petrochem South East Limited and UAE-based companies Alpha Tech Trading FZE and Petroliance Trading FZE.
The US sees petrochemical sales as an "important revenue source" for Iran, "generating wealth for its corrupt leaders and financing a range of nefarious activities."
"Iran's petrochemical and petroleum sectors are primary sources of funding for the Iranian regime, which it uses to support its malign domestic and foreign agenda," Treasury Secretary Steven Mnuchin said.
"The United States will act against persons who support illicit actors engaged in the movement of Iranian petroleum and petrochemical sales."
https://www.aa.com.tr/en/americas/us-sanctions-4-entities-over-irans-petrochemical-sale/2079394
--------
Pakistan
In bid to whip up war hysteria, Pakistan claims India planning surgical strike
Dec 18, 2020
DUBAI: In a yet another attempt to whip up war hysteria in the region, Pakistan has claimed that India was planning a surgical strike against the country.
In a statement at a press conference in Dubai where he is ending a two-day visit, Pakistan foreign minister Shah Mahmood Qureshi on Friday said that he had credible information that India was planning a surgical strike against Pakistan.
"An important development has cropped up [...] I've learned through our intelligence forces [...] that India is planning a surgical strike against Pakistan," he said
Terming it a "serious development" he further elaborated that India is already "trying to seek tacit approval" from what Qureshi said were "important players who they consider to be their partners", Dawn reported.
According to Dawn, Pakistan Army had been put on high alert amidst a possible threat of another attempt by India to conduct a surgical strike inside Pakistani territory.
The new claims come days after two Pakistan Army soldiers were killed along the Line of Control (LoC) opposite Naushera sector in Jammu and Kashmir's Rajouri district by the Indian Army while retaliating to ceasefire violation by the Pakistan Army.
Qureshi's announcement also follows the tense political atmosphere in Pakistan. Pakistan opposition under the banner of Pakistan Democratic Movement has held several rallies against "selective" government of Prime Minister Imran Khan.
Qureshi made similar claims in April 2019 when he had said Pakistan has "reliable intelligence" that India will attack again this month.
The attack could take place between April 16 and 20, he said, adding that Pakistan had told the five permanent members of the UN Security Council of its concerns.
India had then rejected the Qureshi's statement terming it "irresponsible and preposterous".
In a strongly-worded statement, external affairs ministry spokesperson Raveesh Kumar said the comments by the Pakistani foreign minister is aimed at whipping up war hysteria in the region.
In 2016 days after Pakistani terrorists attacked the Indian Army at Uri in Jammu and Kashmir, Indian Army conducted a surgical strike across Line of Control in Pakistan occupied Kashmir and destroyed launch pads completely, killing many terrorists.
https://timesofindia.indiatimes.com/world/pakistan/in-bid-to-whip-up-war-hysteria-pakistan-claims-india-planning-surgical-strike/articleshow/79799966.cms
--------
Islamabad Union Councils To Start Registering Religious Minorities' Marriages, Says PM's Aide
Kashif Abbasi
19 Dec 2020
ISLAMABAD: Special Assistant to Prime Minister on Capital Development Authority (CDA) Affairs Ali Nawaz Awan on Friday said after 15 days union councils in Islamabad, for the first time, will start registering marriages of religious minorities.
"This chronic issue has been resolved as a notification has been issued in this regard," he said.
Talking to Dawn, Mr Awan, who is also MNA from Islamabad, said religious minorities in Islamabad had been facing issues as their marriages were not registered in union councils due to which they could not prepare family trees.
He said earlier there was no mechanism to issue marriage and divorce certificates and this issue has been creating problems particularly for the Christian community. The arbitration council under the capital administration is functioning in accordance with Muslim Family Law 1961, which only deals with arbitration and registration of Nikah and divorce of Muslims.
He said tens of thousands of people belonging to the religious minorities, mostly Christians, live in various slums, sectors and rural area of the capital and they had been facing issues related to their documentations.
"A judgment of the Supreme Court in this regard has already been implemented in other cities but not in Islamabad," he said and added that during his election campaign he had promised with the minorities that he would resolve their issues.
"I have fulfilled my promise for registration of marriage certificates while other initiatives will also be taken for their welfare," he said.
The notification issued by the office of the chief commissioner dated Dec 16 stated: "The competent authority has been pleased to appoint Assistant Director….ICT/Chairman of Arbitration Council to act as authorised officer from ICT administration."
The authorised officer is supposed to "complete all the codal formalities to start registration/issuance of Christian marriage certificates on Nadra CRMS format in rural areas of ICT through Union Councils on the same analogy of Muslims marriages. Draft a fresh MoU for new design of revised proposal/procedure, contract of Christian/minorities marriage registration by Nadra to best accommodate the minorities," it added.Last year, the issue was taken up in National Assembly jointly by Mr Awan and Shunila Ruth through a calling attention notice. The assembly referred the case to the interior ministry, which supported the calling attention notice and directed the Islamabad chief commissioner for necessary action.
Asked when the union councils would start registration of marriages of minorities, the SAPM said: "The issue is resolved. The notification has been issued and after publishing registers the UCs will start registering the marriages. I will ensure that they start the process after 15 days," he said.In the absence of any mechanism, Christian couples were required to register their marriages with the marriage registrar appointed under the Christian Marriage Act 1872. Hence, different marriage registrars had been appointed in churches of Islamabad.
https://www.dawn.com/news/1596530/islamabad-ucs-to-start-registering-religious-minorities-marriages-says-pms-aide
--------
Police arrest 4 terrorists including top commander in Pak
Dec 18, 2020
PESHAWAR: Four Pakistani militants, including a key commander of the outlawed Lashkar-e-Islam terror group, were arrested on Friday in the country's restive northwestern tribal region bordering Afghanistan, the police said.
According to the police, the accused had planned to carry out major subversive activities in Peshawar.
The joint operation by the police and security forces was carried out at a compound in Bara tehsil of Khyber tribal district.
Commander Zakir Afridi and three others were arrested. The forces seized three suicide vests and six locally-made bombs from their possession.
The police later arrested eight others, who facilitated them in Peshawar. The 12 accused were shifted to an undisclosed location for investigation.
https://timesofindia.indiatimes.com/world/pakistan/police-arrest-4-terrorists-including-top-commander-in-pak/articleshow/79796627.cms
--------
COAS is 'sensible' person, tolerating Sharif's diatribe: PM
December 19, 2020
Prime Minister Imran Khan on Friday heaped praise on Chief of Army Staff Gen Qamar Javed Bajwa, calling him a "sensible man" who believed in democracy.
In an interview with a private TV channel, Imran revealed that there was "a lot of anger" in the military over former prime minister Nawaz Sharif's diatribe against the top military leadership but added that Gen Bajwa was tolerating it for the sake of democracy.
"There is a reaction within the army to these sorts of attacks [by Sharif]. Gen Bajwa is a sensible man. He is [a] composed [person], therefore he is tolerating this. Had there been anyone else in the military, there would have been a big reaction," Imran said in the interview.
Sharif, the supreme leader of the opposition Pakistan Muslim League-Nawaz (PML-N), had been using the Pakistan Democratic Movement (PDM) platform to criticise the military in recent months. Imran said that the speeches were a ploy to pressure the military into removing a democratic government.
"They are saying that Imran Khan is a stooge and we are talking to the establishment. It means that they are exerting pressure on the army to dislodge a democratic government. This is [their] democratic movement," the prime minister said.
"Pakistan army is a state institution. They are subordinate to me. The Pakistan army is not sitting above me. I'm an elected prime minister of Pakistan. Has anyone heard this in any democracy in the world that my subordinate institution removes me," he added.
When asked if he was satisfied with the performance of the army chief Gen Bajwa and the Director General of the Inter-Services Intelligence (ISI) Lt Gen Faiz Hameed, the prime minister replied: "I'm absolutely happy with them," adding: "We have excellent relationship."
The prime minister said that Nawaz Sharif and former president Asif Zardari had problems with the military because the military knew about their corruption. On a personal note, he said "when they [agencies] knew about me everything then I have nothing to hide".
Responding to another question, whether the government would engage the opposition in dialogue, he said the entire assembly is there and "we are ready for talks" but hastened to add that the opposition was interested in something else.
"They [the opposition leaders] are thinking that by these dramas they could scare me and get an NRO," he said, referring to the political amnesty granted by former military ruler Pervez Musharraf through the now-defunct National Reconciliation Ordinance in 2007.
"They (are) appealing to the military to remove the government, a democratic government. Secondly, they are saying that if the army chief and the ISI chief do not remove me, then they are telling the army to remove them," Imran said, adding: "Article 6 of the Constitution [high treason] applies here."
The prime minister said that the PDM was being supported by anti-democratic forces such as Hussain Haqqani. "Why is Nawaz so popular in India? He has become a hero there. He is doing what India is doing. Degrading Pakistan, destroying economy," he said.
He said that the PDM's announcement of long march was hollow. "I'm the long march specialist. I challenge them to spend at least a week in Islamabad for their protests. Maybe, then I can start thinking about my resignation seriously," he said.
Imran said that there were two ways to bring Nawaz Sharif back from London, extradition and deportation, and his government was trying for the second option. He said that extradition was a long process. However, he added he was not sure when the government would succeed in this regard.
When asked for the reason for the government decision to hold Senate elections earlier, and whether it was because of the PDM resignation threat, the prime minister rebutted the claim, saying that it was the discretion of the government to decide when to hold the elections.
"We have a margin of one month, according to the Constitution," he said. "The elections will be held through the process of open ballot, which will ensure votes are not sold," he continued. "Horse-trading has happened before and this is why we kicked out 20 lawmakers" in Khyber Pakhtunkhwa the last time.
Explaining as to why the issue was not taken up in parliament, the prime minister said that the attorney general had advised him that it required only a constitutional amendment. "But despite this, we will go to the Supreme Court to ask it to interpret the law for us," he added.
Imran Khan said that Pakistan would not recognise Israel until Palestinian rights were guaranteed. He rebutted reports claiming that government representatives flew to Tel Aviv to hold talks with Israel. He termed the reports part of a wider disinformation campaign carried out by India.
https://tribune.com.pk/story/2276496/coas-is-sensible-person-tolerating-sharifs-diatribe-pm
--------
Pak-China joint air drills important to boost combat readiness: Bajwa
19 Dec 2020
ISLAMABAD: Army Chief Gen Qamar Bajwa on Friday emphasised combat readiness and improved interoperability with China.
In his remarks at an air base he visited for witnessing Pak-China Joint Air Exercise Shaheen-IX, Gen Bajwa said that joint drills with China were important "to increase the combat readiness of both countries to face emerging geo-strategic challenges".
Shaheen-IX exercises, which are participated by Pakistan Air Force and People's Liberation Army Air Force, are being held this year in Pakistan. They have been regularly held since 2011, alternating between the two countries.
India and Pakistan have long-standing tense relationship because of the dispute over Kashmir. However, India's deadly clashes with China this year, the first in nearly 45 years, have significantly altered security dynamics of the region.
In this context, Gen Bajwa's comments about the two countries enhancing their combat readiness and interoperability are very significant.
Gen Bajwa said: "The joint exercise will improve combat capacity of both air forces substantially and also enhance interoperability between them with greater strength and harmony."
The army chief also called for improving inter-services harmony and synergy for better operational results.
He lauded the professionalism and dedication of PAF and its high morale and noted that professionalism of PAF personnel made it one of the best air forces in the world.
https://www.dawn.com/news/1596590/pak-china-joint-air-drills-important-to-boost-combat-readiness-bajwa
--------
South Asia
Taliban Suffer Heavy Loss in South Battle, 47 Killed
By Mohammad Arif Sheva
18 Dec 2020
AFGHANISTAN – At least 47 Taliban insurgents killed and further a dozen wounded during a battle with Afghan National Defense and Security Forces (ANDSF) across several provinces in the country, said the Ministry of Defense in a statement Friday.
According to the statement, a huge number of arms and ammunition of the Taliban insurgents were also wrecked during the battle.
"6 #Taliban were killed in Mizan district of Zabul province after they attacked #ANDSF positions last night," said the MoD in a tweet. "Also, a number of their weapons were destroyed."
In another news form Kandahar, at least 29 Taliban killed and further four injured in Arghandab district of the province, where the group suffered heavy lose.
"29 #Taliban were killed and 4 others were wounded by #ANA in Arghandab district of Kandahar province, last night," MoD tweeted. "Also, a large amount of their ammunition and weapons were destroyed."
Meanwhile, in Uruzgan 12 Taliban were confirmed dead during a reciprocal attack in Dehrawood district of the province.
"12 #Taliban were killed in Dehrawood district of Urzgan province, as result of reciprocal attacks of #ANDSF and AAF yesterday," MoD said in a tweet. "Additionally, a vehicle and a large amount of their weapons were destroyed."
The incident came at a time the country continue to witness an escalation of violence, while representative of Afghanistan and Taliban push through a peace deal in Doha.
https://www.khaama.com/taliban-suffer-heavy-loss-in-south-battle-47-killed-34534/
--------
Pak-Afghan Youth Forum Held a Conclave Media Conference
By Mohammad Haroon Alim
19 Dec 2020
Pak-Afghan Youth Forum is a youth-focused think tank that looks forward to holding more webinars and events addressing areas of mutual importance and cooperation to facilitate stronger relations between both countries.
Pak-Afghan Youth Forum held a cross-border media session through a video conference between notable media professionals from Afghanistan and Pakistan, at around 10 am Afghanistan time.
The session stressed the role of media in the Afghan peace process and future regional development, Key guests were Mahmood Jan, Deputy Speaker KP assembly of Pakistan and the panel had Khalida Rasheed, Khalid Olfat, Mujtaba Qasim, and Nargis representing Afghan media and Sumaira Khan, Rifatullah Orokzai and Ejaz Ahmed were representing Pakistani Media.
Pakistani journalists were mostly happy with the peace process in Afghanistan and stressed that the two countries should expand ties with each other, adding that from now on, the representatives of the two countries should meet each other in every field through idea exchange.
Pakistani panel advised both countries should impart and exhibit knowledge on mutual traditions, adding that the dramas that are aired in Pakistan should be aired in Afghanistan at a lower price, and the Afghan programs should be broadcasted in Pakistan.
Afghan Journalists stressed, that Pakistani journalists should support peace and ask their government to do their utmost in bring peace to Afghanistan, and demanded that both sides should meet and exchange views on trade, politics, civil society, youth, women, and other relevant issues.
Afternoon dialogues included Pakistani Senator, Faisal Javed, and representatives of Pakistani media were Tahir Khan, Farzana Ali, Munzae Jahangir, and Naeemullah Yousufzai, the afghan side consisted of Mir Aqa Popal, Shazia Haya, Munizah Abbasi, and Asad Daudzai.
The second session focused on media and bilateral relations, in which the journalists emphasized over sports and games to facilitate peace and development between the two countries, adding the importance of sports games to be held between the two countries for paving the way for the stability of bilateral relations.
Journalists discussed the increased exchange of sports commentators, "as well as players for each other's leagues".
Besides collaboration in the broadcast of dramas without focusing on profit, the media authorities should facilitate on-ground reporters across the Afghan-Pak border.
During the session Journalists of both nations emphasized on honest, and true representation of conditions rather than political entanglements, or be involved in constant patriotic values, balanced values should be considered more than fueling mistrust.
It is discussed that both sides should not publish anything that would harm peace or relations between the two nations.
Threats to Afghan women journalists were also discussed in the session and solutions were discussed, that female journalist must be accepted and valued as they can cover some issues better.
There was a mutual tendency for collaboration during the dialogues, as the event allowed panelists to openly discuss their grievances and interact with one another.
The conference comes as peace talks between the Afghan government and the Taliban in Qatar have been delayed for 20 days, with both delegations leaving Qatar.
The Afghan delegation went to Kabul and the Taliban to Pakistan.
https://www.khaama.com/pak-afghan-youth-forum-held-a-conclave-media-conference-657744/
--------
Taliban meets Pakistani PM Imran Khan
By Mohammad Haroon Alim
18 Dec 2020
A Taliban delegation led by Abdul Ghani Baradar, Deputy leader of the Taliban were welcomed by Pakistan's Prime Minister, Imran Khan.
The delegation called upon the prime minister to discuss the Afghan peace process and the way forward,
In a statement issued by the PM office, said khan reiterated that there was no military solution to the conflict in Afghanistan and underscored that Intra-Afghan Talks is a historical opportunity for Afghan leaders to achieve lasting peace and stability through "Afghan-led and Afghan-owned peace process".
Khan expressed his hope that Afghan parties would continue to build on positive developments in the Intra-Afghan talks.
According to the statement khan "highlighted that return of peace and stability in Afghanistan would provide a strong impetus to economic development, regional integration, and connectivity, benefitting Afghanistan and the region".
Pakistani Prime minister iterated consistent support to a broad-based and comprehensive political settlement.
"Prime Minister Imran Khan underscored Pakistan's consistent support to an inclusive, broad-based and comprehensive political settlement. He also underlined the need to be vigilant about the role of spoilers, who continue to make attempts to disrupt and derail the peace process". Statement read.
This comes as Taliban and Afghan peace delegations took a break until 5 January 2021 to consult agenda with their leading authorities.
https://www.khaama.com/taliban-meets-pakistani-pm-imran-khan/
--------
'Children among Dead' in Ghazni Blast
By Mohammad Haroon Alim
18 Dec 2020
In an explosion in central Ghazni at least 15 people are killed, that includes 12 children, reports indicated.
Ministry of Interior stated the blast happened in Gilan district of the Ghazni province on Friday afternoon, at around 2 pm.
The incident occurred when a motorbike loaded with explosives detonated at a house, where dozens of people were gathered for a Quran recitation ceremony, MoI said in a statement.
12 Children are among the dead, all of the victims were civilians.
This comes as violence across Afghanistan escalated, despite political efforts to reach an ending peace.
https://www.khaama.com/children-among-dead-in-ghanzi-blast-897975/
--------
Taliban Commander Busted in Badakhshan
By Mohammad Arif Sheva
18 Dec 2020
BADAKHSHAN, Afghanistan – At least five Taliban insurgents, including their commander, have been arrested during an operation by the Afghan National Defense and Security Forces (ANDSF) in Argo district of Badakhshan province, said the Ministry of Defense in a statement Friday.
According to the statement, the suspected Taliban have been involved in a number of terrorist activities in norther provinces.
"A commander of #Taliban was arrested with 5 of his fighters in Argo district of Badakhshan province by #ANDSF yesterday," said the MoD in a tweet. "They had been involved in terrorist activities and targeted killing in Badakhshan."
At least two Taliban – involved in a number of terrorism in central province of Ghor, are arrested, said the Ministry of Defense in a statement Friday morning.
According to the statement, the arrest came after the Afghan National Army (ANA) carried a search operation in Firoz Koh area of the province on Thursday.
"2 #Taliban who had been involved in terrorist activities and targeted killing in Ghor province, were arrested by ANA in Firoz Koh provincial center, yesterday," said the MoD in a tweet.
In the brief statement, officials did not specify identities of the culprits or which exact terrorist attack have they carried in the province.
Meanwhile, pictures posted by the Ministry show an amount of arm and ammunition, including an AK-47 assault rifle, allegedly seized by officials.
Taliban did not immediately comment on the incident.
https://www.khaama.com/taliban-commander-busted-in-badakhshan-234234/
--------
Blast at religious gathering in central Afghanistan kills at least 15, wounds 20
18 December 2020
An explosion at a religious gathering in central Afghanistan killed at least 15 civilians and wounded 20 others on Friday, the country's interior ministry said, adding that children may be among the victims.
Those killed and wounded were attending a Koran recitation ceremony.
Initial information suggested that explosives were placed in a rickshaw in a district of central Ghazni province, interior ministry spokesman Tariq Arian said.
https://english.alarabiya.net/en/News/world/2020/12/18/Blast-at-religious-gathering-in-central-Afghanistan-kills-at-least-15-wounds-20
--------
Southeast Asia
Hardline cleric's supporters, cops clash in virus-hit Indonesia
December 18, 2020
JAKARTA: Supporters of firebrand Indonesian cleric Rizieq Shihab clashed with police during a demonstration in Jakarta on Friday, after demanding their spiritual figurehead be released from police detention.
Several hundred protesters, some dressed in white Islamic garb, had gathered in the capital of the world's largest Muslim-majority nation, with scuffles breaking out after police told the group large gatherings were prohibited amid the pandemic.
"For the safety of our souls … the police and the military will disperse (protesters) and act decisively," a police officer told protesters, blasting the message through a sound system.
Indonesia is grappling with the worst coronavirus outbreak in Southeast Asia, averaging more than 6,000 new cases per day this week.
Police deployed thousands on the streets of Jakarta on Friday to guard the protest, with a new requirement for people to present a negative rapid Covid-19 test to enter the capital likely thwarting some supporters from joining the rally.
Rizieq, the controversial leader of the Islamic Defenders' Front (FPI) was arrested last weekend for allegedly violating coronavirus protocols after his recent return to Indonesia following three years in self-exile was marked with events attended by thousands.
The calls for his release also come after six of the cleric's bodyguards were shot dead following a clash with police on a highway.
The FPI, once notorious for raiding bars and brothels, has become more politically influential in recent years, particularly after helping orchestrate mass rallies against Jakarta's former Christian governor in 2016 that were the largest in decades.
https://www.freemalaysiatoday.com/category/world/2020/12/18/hardline-clerics-supporters-cops-clash-in-virus-hit-indonesia/
--------
Covid-19: No public programmes allowed in Kuantan district from tomorrow, says state disaster committee
17 Dec 2020
KUANTAN, Dec 17 — All departments in Kuantan district here are restricted from holding public programmes from tomorrow until December 31, to prevent the spread of Covid-19 through existing clusters in the state.
The Pahang State Disaster Committee in a statement said during the period, counter dealings and transactions involving the public, will be reduced as appointment systems would be used to avoid crowds at any one time.
"Mosque committees and administrators of non-Muslim houses of worship are also reminded to ensure that visitors comply with the standard operating procedures (SOP) set earlier," said the statement.
Pahang recorded an increase in Covid-19 infections especially in Bentong and Kuantan with five active clusters namely the Atabara and Inten Clusters (Indera Mahkota), Kuala Cluster around the city centre, Crystal Cluster (around Sungai Karang Darat) and Padang Cluster (Kampung Padang and Jalan Besar).
According to the committee enforcement measures would be enhanced as houses of restaurant staff, factory and construction workers would be inspected and if they are found to be potential risk, appropriate action would be taken.
It said strict enforcement action would also be imposed on premises that fail to adhere to the SOP adding that several premises have been ordered to close for non-compliance of SOP, including some popular outlets at Teluk Cempedak, here. — Bernama
https://www.malaymail.com/news/malaysia/2020/12/17/covid-19-no-public-programmes-allowed-in-kuantan-district-from-tomorrow-say/1932928
--------
Supporters of hardliner Rizieq Shihab clash with Indonesia police
19 Dec 2020
Supporters of firebrand Indonesian Muslim leader Rizieq Shihab have clashed with police during a demonstration in Jakarta, after demanding their spiritual figurehead be released from police detention.
Several hundred protesters had gathered in the capital of the world's largest Muslim-majority nation on Friday, with scuffles breaking out after police told the group that large gatherings were prohibited amid the pandemic.
"For the safety of our souls … the police and the military will disperse [protesters] and act decisively," a police officer told protesters, blasting the message through a sound system.
The police have been investigating the controversial scholar for violations of health protocols during the pandemic after large gatherings to mark his return to Indonesia in November after fleeing to Saudi Arabia in 2017.
Indonesia is grappling with the worst coronavirus outbreak in Southeast Asia, averaging more than 6,000 new cases a day this week.
Police deployed thousands on the streets of Jakarta on Friday to guard the protest, with a new requirement for people to present a negative rapid COVID-19 test to enter the capital likely thwarting some supporters from joining the rally.
Rizieq is the leader of the Islamic Defenders' Front (FPI). His return to Indonesia was marked with events attended by thousands of his followers.
Rizieq had left for Saudi Arabia amid allegations that he had violated the country's anti-pornography laws by exchanging graphic messages and nude pictures over the messaging app WhatsApp with a woman.
The calls for his release also come after six of the scholar's bodyguards were shot dead following a clash with police on a highway earlier this month.
The FPI, once notorious for raiding bars and brothels, has become more politically influential in recent years, particularly after helping orchestrate mass rallies against Jakarta's former Christian governor in 2016 that were the largest in decades.
https://www.aljazeera.com/news/2020/12/19/supporters-of-cleric-rizieq-shihab-clash-with-indonesian-police
--------
Mideast
Turkish philanthropist on trial for alleged failed coup ties
18 December 2020
A Turkish philanthropist businessman and human rights defender denied accusations of espionage and attempting to overthrow the government in connection with a failed coup four years ago, telling a court on Friday that he opposes all efforts to take over power by force.
For the latest headlines, follow our Google News channel online or via the app.
Osman Kavala addressed the court from his prison in the outskirts of Istanbul through a judicial video conference system during the opening hearing of a new trial against him, which human rights groups have denounced as unjust and politically motivated.
Kavala, 63, was acquitted earlier this year of terrorism-related charges for allegedly organizing and financing mass anti-government protests that erupted in 2013. But as his supporters awaited his release from prison, authorities issued a warrant for his re-arrest, this time accusing him of links to a 2016 failed coup attempt.
The businessman faces a life term in prison if found guilty of the charge of attempting to overthrow the constitutional order and another 20 years for alleged "military and political espionage" against Turkey. Kavala denies the charges.
Academic Henri Barkey, who lives in the US and was also charged in the case, is being tried in absentia.
A 64-page indictment alleges Kavala and Barkey collaborated over the coup, which Turkey's government says was orchestrated by a network headed by US-based Turkish Muslim cleric Fethullah Gulen. It cites as evidence mobile phone signals suggesting that Kavala and Barkey met in Turkey around the time of the coup attempt. Human rights groups have described the indictment as "absurd."
Kavala told the court that his more than three-year pre-trial detention was a violation of his rights and amounted to "a kind of mental cruelty," according to Punto 24 website which monitors freedom of expression trials in Turkey. He also rejected the charges against him saying he had opposed military coups throughout his life.
"My life experience, my world views and ethical values do not allow me to support coups," Kavala said, adding that none of the evidence backed the accusations of espionage.
Kavala has been in prison since he was detained in October 2017, despite a European Court of Human Rights ruling for his release. Turkey's Constitutional Court is reviewing his complaint challenging his lengthy pre-trial detention.
Several human rights groups have called for his immediate release and for all charges against him to be dropped, insisting that there is no evidence to support the accusations.
"Osman Kavala is facing more baseless, politically motivated charges in a prosecution which is part of a wider attempt by Turkish authorities to silence independent civil society," said Amnesty International's Europe Director, Nils Muizniek. "Osman Kavala should not have spent a single minute behind bars, let alone more than three years in pre-trial detention."
Turkish President Recep Tayyip Erdogan had in February criticized Kavala's acquittal of the terror charges and had called for respect for the decision to re-arrest him. An investigation was launched into a panel of judges that acquitted him, casting a further shadow on the independence of the Turkish courts.
Kavala is known for his support of the arts and his funding of projects promoting cultural diversity and minority rights.
Erdogan, however, has accused Kavala of being the "Turkish leg" of billionaire US philanthropist George Soros, who the Turkish leader alleged has been behind insurrections in many countries.
Earlier this year, Kavala was the recipient of a Turkish human rights prize, and wrote a speech that was read on his behalf at the ceremony.
"The most burning issue for many of our citizens like myself is the erosion of the rule of law, one of the main pillars of the (Turkish) republic" Kavala wrote. "The judiciary does not act in accordance with the legal norms, but rather in line with the political priorities and instructions of the government."
https://english.alarabiya.net/en/News/middle-east/2020/12/18/Turkish-philanthropist-on-trial-for-alleged-failed-coup-ties
--------
Yemen announces new government formation: State TV
Ismaeel Naar
18 December 2020
A new government has been formed in Yemen, according to a state television report, following recent developments of the country adopting the Riyadh Agreement setting up a power-sharing structure between the Southern Transitional Council and the Yemeni government.
Yemeni diplomat Ahmad Awad bin Mubarak has been named Yemen's new foreign minister. Mubarak has previously served as Yemen's ambassador to the United States.
Lieutenant General Mohammed Ali al-Maqdashi has been appointed as Yemen's new defense minister under the new government formation. Al-Maqdashi was previously the chief of staff of the Yemeni Armed Forces.
Yemeni Major General Ibrahim Haydan has been appointed as Yemen's interior minister.
Saudi Arabia introduced the Riyadh Agreement in November 2019 to try to end the dispute in the country's south that emerged in 2017 between Yemen's UN-recognized government and the separatists Southern Transitional Council (STC)
An Arab Coalition source said earlier last week that the new Yemeni government would be formed as soon as the military transfers under the Riyadh Agreement were completed.
https://english.alarabiya.net/en/News/gulf/2020/12/18/Yemen-announces-new-government-formation-State-TV
--------
Iran's First Vice President Hopes Stronger Iran, Qatar Ties
2020-December-18
Jahangiri, in a letter to Qatar's Prime Minister Khalid bin Khalifa bin Abdulaziz Al Thani on Friday, felicitate the country's National Day and voiced hope that the two neighboring countries would benefit from the current potentials to promote relations in various fields.
He also hoped that the growing cooperation between Tehran and Doha would definitely benefit the joint interests of the two nations.
Qatar National Day is the commemoration of Qatar's unification in 1878 and is celebrated annually on December 18.
In relevant remarks earlier this month, Iranian Foreign Ministry Spokesman Saeed Khatibzadeh said that Iran's relations with Qatar are not affected by other players in the region, stressing that Tehran welcomes settlement of tensions in the Persian Gulf.
Khatibzadeh said on Monday December 7 that Tehran-Doha relations cannot be impacted by other governments, assuring his country's support for resolving crises and ending tensions in the sensitive region of the Persian Gulf.
"Iran has always been standing by the regional countries through all ups and downs," the spokesman said.
https://www.farsnews.ir/en/news/13990928000349/Iran%E2%80%99s-Firs-Vice-Presiden-Hpes-Srnger-Iran-Qaar-Ties
--------
Africa
Turkey hails US removal of Sudan from terrorism list
Jeyhun Aliyev
18.12.2020
Turkey hailed the US on Thursday for its decision to remove Sudan from its list of state sponsors of terrorism after more than 27 years.
"We consider the U.S. decision to rescind Sudan from the list of State Sponsors of Terrorism, which we have been desiring for a long time, as a step in the right direction," Foreign Ministry spokesman Hami Aksoy said in a statement, responding to a question on the matter.
Aksoy said that Turkey, as it has been stressing from the outset, is against unilateral sanctions.
"Our country will continue to support the transition process in Sudan, the reform efforts carried out within this scope, and to stand by the brotherly Sudanese people," he added.
The US embassy in Khartoum on Monday confirmed Sudan's removal from the terrorism list after nearly three decades.
"The congressional notification period of 45 days has lapsed and the Secretary of State has signed a notification stating rescission of Sudan's State Sponsor of Terrorism designation is effective as of today (Dec. 14), to be published in the Federal Register," the embassy said in a statement.
On Oct. 23, US President Donald Trump formally notified Congress of his intent to rescind Khartoum's placement on the list.
The terror delisting won plaudits in Sudan, with the head of the country's ruling Sovereign Council, Abdul Fattah Al-Burhan, saying the move will open new doors for development in the country.
https://www.aa.com.tr/en/africa/turkey-hails-us-removal-of-sudan-from-terrorism-list/2080899
--------
Ethiopia offers reward for information on dissenting Tigray leaders
18 December 2020
Ethiopia on Friday offered a reward in exchange for information that could help locate leaders of the Tigray region's ruling party, who have been the target of a major military offensive.
Prime Minister Abiy Ahmed, last year's Nobel Peace Prize winner, announced the military campaign against the Tigray People's Liberation Front (TPLF) on November 4, saying it came in response to TPLF-orchestrated attacks on federal army camps.
Abiy declared victory after federal forces took the regional capital Mekele in late November, but the UN says clashes persist in the region and TPLF leaders remain on the run.
The military will pay 10 million Ethiopian birr (roughly $250,000 / 205,000 euros) to "any person who knows the exact location of the TPLF junta leadership", the Ethiopian Broadcasting Corporation quoted Lieutenant General Asrat Denero, head of the military's community information department, as saying Friday.
Asrat also provided a hotline where citizens could give tips.
Two days after Mekele fell, Abiy told lawmakers that federal forces were monitoring TPLF leaders closely from "the situation room" and would apprehend them soon.
He said TPLF leaders had fled west of the city, though Debretsion Gebremichael, president of Tigray when the conflict started, told AFP at the time that Abiy had the location wrong.
Debretsion and other TPLF leaders have been unreachable for nearly two weeks.
On November 13 federal police announced arrest warrants for Debretsion and 63 other TPLF leaders.
It was not immediately clear Friday if the reward offer applied to all of them.
The fighting in Tigray has left thousands dead, according to the International Crisis Group (ICG) think tank, and sent tens of thousands of refugees streaming across the border into Sudan.
https://english.alarabiya.net/en/News/world/2020/12/18/Ethiopia-offers-reward-for-information-on-dissenting-Tigray-leaders
--------
UN appeals for $254 million in aid for Mozambique conflict victims
18 December 2020
The United Nations launched an appeal Friday for $254 million to help hundreds of thousands caught in an insurgency aimed at carving out a caliphate in northern Mozambique.
For the latest headlines, follow our Google News channel online or via the app.
A group known locally as Al-Shabab unleashed a violent campaign in the gas-rich Cabo Delgado province in 2017 that has since killed more than 2,300 people and forced hundreds of thousands to flee.
The UN said many people fled with just the clothes they were wearing and warned that 1.1 million people would need help next year.
"They lost their belongings, their livelihoods, their future," said Myrta Kaulard, the UN's humanitarian coordinator in the country.
"Humanitarian assistance is vital to alleviate their suffering."
The extremists have launched hundreds of attacks since starting their campaign by killing two police officers in the port city of Mocimboa da Praia in 2017.
The violence escalated this year and the militants now control swathes of the coast --including strategic ports and cities with gas installations -- and have advanced inland.
"Women and girls are at risk of abduction, gender-based violence and exploitation, while boys are at risk of being killed or recruited by armed actors," said Kaulard, expressing particular concern about those trapped in isolated areas.
Thousands of refugees have poured into nearby towns and cities, staying with relatives or even strangers, leaving local services stretched to breaking point, the UN warned.
It said more than 90 percent of the displaced were living with family or friends already struggling with meager resources.
"Shelter is missing, they don't have food, water is a problem. Then you have also sanitation, like latrines, all these are problems," Valentin Tapsoba, the UNHCR head for southern Africa told AFP.
"We definitely need the international community to act, and acting is acting now. We should not wait," he said.
With the rainy season approaching, many areas hosting those fleeing the violence are expected to flood, ramping up the pressure to find a quick solution.
https://english.alarabiya.net/en/News/world/2020/12/18/UN-appeals-for-254-million-in-aid-for-Mozambique-conflict-victims-
--------
60% of South Sudan population facing acute hunger: UN
18 December 2020
Roughly 60 percent of South Sudan's population face severe hunger by the middle of next year, the government and UN agencies warned Friday, calling for urgent assistance to address the growing crisis.
In a new joint report they also said that 1.4 million children face acute malnutrition in the conflict-ravaged eastern African nation.
"The food security situation and nutrition situation has deteriorated," Isaiah Chol Aruai, chairman of South Sudan's National Bureau of Statistics, said in the capital Juba as he released the country's latest hunger assessment.
"This is because of pockets of insecurity that have led to population displacement, low crop production because of climate shocks such as floods and drought," he said, also pointing to the COVID-19 pandemic, an economic crisis, desert locust infestation and "inadequate "humanitarian aid.
UN-backed assessments use a ranking called the Integrated Food Security Phase Classification (IPC), which rates hunger levels from one to five.
According to the latest update, an estimated 5.8 million people face a phase-three "crisis" level of acute food insecurity between December 2020 and March 2021.
That number is predicted to rise to around 7.2 million by July, representing more than 60 percent of the population.
"This is the highest number since South Sudan gained independence" in 2011, World Food Program deputy country director Makena Walker said, adding it was a five percent increase compared to last year.
Friday's update comes after two independent reports published by IPC last week said that tens of thousands of people were likely to face "famine conditions" in Pibor, in the country's east.
Pibor was given the highest food insecurity level of five on Friday, along with the counties of Akobo, Aweil South, Tonj East, Tonj North and Tonj South.
Meshack Malo, the Food and Agriculture Organization representative in South Sudan, called for urgent humanitarian access to Pibor "to prevent an already dire situation from turning into a full-blown catastrophe".
Aruai said that humanitarian aid needed to be quickly scaled up "in order to save lives and warn total collapse of livelihoods".
South Sudan is struggling to emerge from a six-year civil war that claimed some 380,000 lives and officially ended with the creation of a government of national unity in February.
https://www.presstv.com/Detail/2020/12/18/641017/South-Sudan-hunger
--------
Nigerian leader welcomes release of over 300 students
Olarewaju Kola and Rodrigue Forku
18.12.2020
Nigeria's president has welcomed the release of over 300 students kidnapped by Boko Haram terrorists in Katsina State last week.
Muhammadu Buhari described their safe return as a big relief to their families, the entire country, and international community, said a statement by his spokesperson Garba Shehu late Thursday.
"The spirit of partnership and the collaborative efforts of the governments of Katsina and Zamfara states and military led to their release," Buhari said.
"Katsina Governor Aminu Bello Masari and the army worked extremely hard. As soon as I got the information, I congratulated them. The Armed Forces know their job. They have been well trained and properly motivated," he added.
On Tuesday, Nigerian authorities said they had entered into negotiations with the kidnappers.
"When this latest incident happened, we put in our efforts and today we have this result to show," Buhari said.
About 500 students were initially reported to have been abducted from a public school at Kankara, a small community in northwest Katsina State on Dec. 11. Updated school statistics and the return of 17 boys later indicated 302 students were missing.
The kidnapping caused an outcry in the country and around the world. The UN described the abductions as an attack on educational institutions, while many Nigerians, including members of parliament, demanded the removal of military leaders.
This incident marked the third abduction of students over a decade by the Boko Haram terrorist network after 270 Chibok schoolgirls were kidnapped in Western Africa in 2014 and 110 girls were abducted from a school in the northeast of the country in 2018.
https://www.aa.com.tr/en/africa/nigerian-leader-welcomes-release-of-over-300-students/2081045
--------
URL: https://www.newageislam.com/islamic-world-news/hindu-man-custody-eloping-with/d/123817
New Age Islam, Islam Online, Islamic Website, African Muslim News, Arab World News, South Asia News, Indian Muslim News, World Muslim News, Women in Islam, Islamic Feminism, Arab Women, Women In Arab, Islamophobia in America, Muslim Women in West, Islam Women and Feminism