New Age Islam News Bureau
20 Feb 2020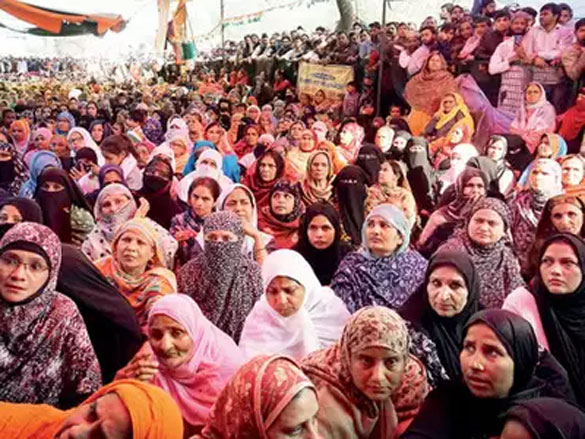 Protesters at Shaheen Bagh
-------
• Shaheen Bagh Protesters Say They Will Vacate In 2 Minutes, If The Central Government Addressed Their Grievance: The CAA and the NRC
• 'Convict, Prosecute Terrorist Leaders': Pakistan Gets FATF Warning
• Ulema Declare Polio Vaccination Drops Sharia-Compliant
• Egypt Constructing Separation Wall along Border with Gaza
• Huawei Is a Key Player in Beijing's Anti-Muslim, Big Brother Horrors
• Influential US Congressman Expresses Concern over Situation in Kashmir, Protests Over CAA
• Turkey: Parliament Head Slams Macron over Islamophobia
• Special Forces Storm the Largest Hideouts Of Taliban In Ghazni
India
• Lingayat Math in Gadag District Of Karnataka Is Set To Make A Muslim Youth, Diwan Sharief Rahimansab Mulla, 33, Its Pontiff
• Shaheen Bagh Protesters Say They Will Vacate In 2 Minutes, If The Central Government Addressed Their Grievance: The CAA and the NRC
• Changed: Thousands Participate, Majority of Them Muslims, In Massive Anti-CAA Protest Held across Tamil Nadu
• Coimbatore's Shaheen Bagh Begins With A Bang
• Amid protests in Tamil Nadu, CM announces sops for Muslims
• Hurriyat veteran Syed Ali Shah Geelani's cook, help detained for VPN 'misuse'
• Hizb commander among 3 terrorists killed in Tral encounter
• China joins India, US to set new deadline for Pakistan
• Babri case accused Nyas head, VHP vice-chief to lead Ram temple trust
• Jamia footage out, probe team calls for duty roster of policemen
--------
Pakistan
• 'Convict, Prosecute Terrorist Leaders': Pakistan Gets FATF Warning
• Ulema Declare Polio Vaccination Drops Sharia-Compliant
• Pakistan has completed journey from 'terrorism to tourism': Firdous
• Shujaat asks PM to get rid of 'sycophants'
• PML-N asks Fazl to postpone anti-govt drive till Shehbaz's return
• PPP rejects JUI-F's concerns over Azadi March
• SC asked to set aside high court verdict in Musharraf case
• Pakistan is now viewed as 'part of solution' over Afghan issue: FM
--------
Arab World
• Egypt Constructing Separation Wall along Border with Gaza
• Islamic Anti-Terror Coalition Welcomes Visitors from US Central Command
• UN hosts Muslim World League conference on protecting youth from extremism
• Syrian air defense intercepts hostile targets in Jableh town in Latakia
• In tense UN meet, Russia opposes declaration calling for Syria ceasefire
• UN envoy warns of 'imminent danger' of escalation in Syria
• Oxfam says two of its workers killed in Syria
• Lebanon Speaker Nabih Berri calls for restructuring Eurobond as 'best solution'
• Civilians flee homes; safe zone shrinks as Syrian regime bombards Idlib
• Saudi Arabia health center advises avoiding Singapore for coronavirus risk
• Saudi Aramco attack drone components linked to Iran and Houthis in Yemen
--------
Southeast Asia
• Huawei Is a Key Player in Beijing's Anti-Muslim, Big Brother Horrors
• 'We never raised funds for Al-Aqsa mosque'
• Japan Joins Malaysia In Olympics Race To Train 1,000 Halal Chefs For 2020 Summer Games
• Minister suggests 'the rich' should marry 'the poor' to reduce Indonesia's poverty rate
• Indonesian bill proposes outlawing 'sexual deviation', surrogacy
• Uighurs Concerned China is Luring Turkey into Silence on Xinjiang
--------
North America
• Influential US Congressman Expresses Concern over Situation in Kashmir, Protests Over CAA
• US Senator Sanders Calls Saudi Arabia's Rulers 'Murderous Thugs'
• Saudi, US Navies to participate in naval exercise in Eastern Province
• US envoy discusses Taliban deal with re-elected Afghan President Ghani
• Maximum pressure on Iran will continue, says Pompeo as he arrives in Riyadh
• Pompeo urged to press Saudis to resolve case of doctor
--------
Europe
• Turkey: Parliament Head Slams Macron over Islamophobia
• Macron Unveils Curbs on Foreign Imams in France To Combat 'Separatism'
• France's 'Muslim' problem and the unspoken racism at its heart
• Dutch Islamophobe jailed for threatening Muslims
• Turkish, Greek defense teams conclude day 3 of talks
--------
South Asia
• Special Forces Storm the Largest Hideouts of Taliban In Ghazni
• Iran has given Taliban anti-aircraft missiles: Sources
• Prominent Taliban group leader killed in Afghan forces' ambush in Badakhshan
• Airstrikes kill 5 Taliban and ISIS-K militants in 3 provinces
• The imposed election was against democratic values: Karzai
--------
Mideast
• Iran's Larijani in Lebanon Viewed as Signal of Beirut's Pivot toward Iran Axis
• Pompeo says prepared to talk to Iran 'anytime', pressure to continue
• Iran attempting further arms deliveries to Houthis, says Pentagon
• Yemen's Houthi militia impeding UN aid flow, demand a cut
• Turkey's Erdogan threatens 'imminent' Syria operation, sparks Russian warning
• Teen killed in clashes between Palestinian forces, gunmen
--------
Africa
• Tunisia's Designated PM Fakhfakh Proposes New Government
• Somali militants kill 12 soldiers in attack on base, say officials
• Libya talks need strong signal to resume: Prime Minister Sarraj
• UN tries to salvage Libya talks after Tripoli government withdraws
• 3 killed as terrorists ambush bus in Kenya
Compiled By New Age Islam News Bureau
URL: https://www.newageislam.com/islamic-world-news/hindu-lingayat-math-gadag-district/d/121112
--------
Lingayat Math In Gadag District Of Karnataka Is Set To Make A Muslim Youth, Diwan Sharief Rahimansab Mulla, 33, Its Pontiff
Feb 20, 2020
HUBBALLI: Striking out on a less-trodden path, a Lingayat math in Gadag district of north Karnataka is set to make a Muslim youth its pontiff. Diwan Sharief Rahimansab Mulla, 33, who will be incepted on February 26, said he was influenced by the teachings of 12th -century reformer Basavanna since childhood and would work towards his ideals of social justice and harmony.
Sharief will become pontiff of the Murugharajendra Koraneshwara Shantidhama Math in Asuti village, which is linked to the 350-year-old Koraneshwara Sansthan Math in Khajuri village in Kalaburagi. They rank among the 361 maths of Sri Jagadguru Murugharajendra Math of Chitradurga, which draw lakhs of followers from across Karnataka and Maharashtra, besides other parts of the country.
"Basava's philosophies are universal and we embrace followers irrespective of caste and religion. He had dreamed of social justice and harmony in the 12th century and following his teachings, the math has opened its doors to all," said Murugharajendra Koraneshwar Shivayogi, pontiff of the Khajuri math.
Influenced by Shivayogi's discourses in Asuti, Sharief's father, the late Rahimansab Mulla, donated two acres to set up a math in the village. Shivayogi said the Asuti math has been functioning for 2-3 years now and construction of the premises was on.
"Sharief is dedicated to Basava's philosophy and has been living by those tenets. His father was also a staunch follower and had obtained 'linga deeksha' from us. Sharief took 'deeksha' on November 10, 2019," the pontiff said. "We have trained him on the various facets of Lingayat religion and Basavanna's teachings over the past three years."
Sharief said he was drawn to Basava's teachings since childhood. "I used to run a flour mill in neighbouring Menasagi village and, in my free time, conducted discourses on the Vachanas authored by Basavanna and other Sharanas of the 12th century. Murugharajendra Swamiji recognised my small service and took me under his wings," Sharief said. "I will move on the same path propagated by Basavanna and my mentor."
Sharief is married and father to three daughters and a son and appointment of a family man as pontiff is still uncommon in Lingayat maths. "Lingayat religion believes in sadgati (salvation) through sansar (family). A family man can become a swami and take up social and spiritual work," said Shivayogi. "All devotees of the math have backed Sharief to be made pontiff. It is an opportunity for us to uphold Basavanna's ideal of a 'kalyana rajya' (welfare state)."
Dyamanna Hadli, Sharanappa Karkikatti and Santosh Balutagi, who are among the prominent members of the math, said they were proud of their village setting an example. "We have seen hate and violent struggles on grounds of caste and religion. And such fights break out even over who will become pontiff of a math," said Hadli. "But our Koraneshwar Math is charting an inspiring path by appointing a Muslim as pontiff of a Lingayat math."
"Irrespective of caste and religion, all devotees of the village are followers of this math. We have unanimously backed Sharief," said Balutagi.
https://timesofindia.indiatimes.com/city/bengaluru/muslim-to-head-lingayat-math-in-karnataka/articleshow/74217296.cms
--------
Shaheen Bagh Protesters Say They Will Vacate In 2 Minutes, If The Central Government Addressed Their Grievance: The CAA and the NRC
Feb 20, 2020
NEW DELHI: Ruksaar Begum, a perpetual presence at the protest in Shaheen Bagh, was among the thousands who asserted on Wednesday that they would not shift elsewhere and thus open up the Kalindi Kunj road for traffic. They also asserted on Wednesday that it would not take them even two minutes to vacate the site of the 66-day-long sit-in if the central government addressed their grievance: the Citizenship Amendment Act and the National Register of Citizens.
"Nobody knew about Shaheen Bagh earlier. Now because of this Shaheen Bagh in Delhi, there are a hundred other Shaheen Baghs across the country," said Begum. As for why they couldn't shift the agitation to another place, the 50-year-old reasoned, "If the government does not hear our concerns despite the road being blocked, would it listen to us at some other site?"
Begum's inflexibility was expressed on a day when two senior lawyers, of the three people appointed by the Supreme Court as interlocutors, reached Shaheen Bagh for a dialogue to clear the impasse. While Sanjay Hegde explained the concerns of the Supreme Court to the mostly women demonstrators, Sadhana Ramachandran promised to find a solution "together". The latter cheered the hearts of the demonstrators when she said, "A country that has daughters like you can never face any threats."
Glad that someone had at long last officially reached out to them, a woman who preferred to remain unnamed, said, "We felt marginalised that despite bearing the winter cold, nobody cared about us. Aren't we citizens of India? Finally, someone has come to find out what exactly we are sitting in the cold for. We are grateful for this."
However, there was no woman that TOI encountered on Wednesday who expressed comfort at the idea of shelving the agitation or changing the protest site. "If the Prime Minister listened to us, would we be protesting? If he amended the laws that we, as citizens of India, are demanding, we would immediately vacate the place," said Rubina, 36, who has sat there for 45 days with her two-year-old son. "They claim to be sabka saath sabka vikas, but laws like these represent vinaash (destruction)."
Rubina said she brought her son to the protest even in cold weather because she wanted him to "witness the struggle so that tomorrow, with God's grace, this country frees every citizen of the burden of CAA and NRC". Many women talked of the struggle to sustain their sit-in. "We all have families to take care of, colleges to attend and hundreds of other chores. But where are we? We are here, protesting, so that we do not have to live in fear," declared 40-year-old Nausheen. "They describe some people getting stuck in traffic because of the occupied 150 metres of the road as public inconvenience. But is their trouble bigger than our having to sit here night and day to secure the future of our children?"
Nausheen added that disbanding their protest would not do justice to the 'Shaheen Baghs' that have emerged in other states. Many others nodded their assent, convinced as they were that the central government had amended the citizenship law only to benefit its vote bank. "The leaders have been remarking about what we wear and what we eat. Why are we being stereotyped?" bristled Jannat Ruheen, Nausheen's friend. "Does anyone have the courage to do the same to the PM?"
Ruheen also bared the frayed nerves of the protesters. "We are facing an existential crisis and it is becoming hard for us to sleep at night," she exclaimed. "What have we done to deserve this?"
https://timesofindia.indiatimes.com/city/delhi/giving-up-will-hurt-the-many-shaheen-baghs/articleshow/74216405.cms
--------
'Convict, prosecute terrorist leaders': Pakistan gets FATF warning
Feb 20, 2020
Pakistan has been given a stern message by almost all FATF member countries, barring Turkey and Malaysia, to honour the remaining 13 action plan items by the June 2020 FATF plenary. This would include conviction and prosecution of top leaders of all terrorist organisations, as required under the FATF action plan.
Indian diplomatic sources said Pakistan has long been trying to politicise the technical process of FATF, something that is proven beyond doubt from the recent statements of leadership of Turkey and Malaysia. FATF members have been requested to take note of this.
Only recently, Turkish president Tayyip Erdogan had declared Turkey's intent to help Pakistan keep off the FATF blacklist. Malaysian prime minister Mahathir Mohammad too praised Pakistan's efforts to implement the FATF action plan.
While a meeting of the International Cooperation Review Group (ICRG), sub-group of the FATF, had on Tuesday recommended to retain Pakistan on greylist, a final decision will be taken on Friday when the FATF takes up Pakistan's case.
Sources said Pakistan, despite its best attempts, will remain on grey list of FATF.
The onus, say sources, is on Pakistan to ensure that they act on FATF parameters to avoid being blacklisted in future.
Incidentally, Pakistan has been busy putting out false and selective information on FATF proceedings through its own media to mislead the public. These leaks include claims that there are no takers for India's propaganda against Pakistan at FATF and that the Indian side was snubbed twice on Tuesday when it called to move Pakistan to the blacklist. It claimed no country remotely sided with India.
Of course, a diplomatic source said that Pakistan was indulging in wrong and selective media leaks, as in the past, in a desperate attempt to mislead its public.
Pakistan has also tried to claim that that India was lying when it said Pakistan has 130 UN-designated terrorist leaders on its soil. It argued that only nine such terrorists were present in Pakistan.
Pakistan has told its media that Indian side tried to rake up the issue of missing terrorists Masood Azhar, Dawood Ibrahim and Zaki-ur-Rehman Lakhvi and also the rising terrorist incidents in India by Pak-based terror groups. However, it claimed that India drastically failed at convincing FATF member
countries.
India, Pakistan has told its media, was also discouraged by the chair and other countries for calculated misleading leaks in a section of its media pertaining to FATF given that it is a secret process.
https://timesofindia.indiatimes.com/world/pakistan/convict-prosecute-terrorist-leaders-pakistan-gets-fatf-warning/articleshow/74219895.cms
--------
Ulema declare polio vaccination drops Sharia-compliant
Kalbe Ali
February 20, 2020
ISLAMABAD: Ulema belonging to various schools of thought have reiterated that polio vaccination drops are Sharia-compliant and called upon the general public to make the polio eradication drive a success. They appealed to the general public to cooperate with the state in eradication of polio from the country.
Addressing a press conference along with clerics and religious scholars here on Wednesday, Pakistan Ulema Council (PUC) chairman Hafiz Tahir Ashrafi decried those who are opposing the anti-polio campaign and termed it a conspiracy against the country.
"Pakistan Ulema Council, Darul Afta Pakistan, Wafaq-ul-Masajid, Madaris-i-Pakistan and leading ulema and mashaikh have already termed polio drops not only halal but also beneficial for the humans and decrees have been issued that there is nothing harmful or haram in polio drops," he declared.
Hafiz Ashrafi appealed to the ulema and religious scholars to play their role in making the ongoing anti-polio drive a success and deliver this message in Friday sermons as well. He said polio had been eradicated from all countries of the world, except Afghanistan and Pakistan.
"Parents of children under five years of age should ensure that anti-polio drops are administered to their children. We need to understand that senior clerics and religious scholars from across the Islamic world have issued decrees that there is nothing anti-Sharia in polio vaccine," he said.
Responding to a question about rising polio cases in the country, the PUC chairman said these also showed inability and failure of the health ministry. "But I would request the parents too as eventually the end sufferers are their children and if they do not administer polio drops to their children under the age of five, they will be held accountable in the life hereafter for putting their children at risk," he added.
About Pakistan's relations with other Muslim countries, Hafiz Ashrafi said Pakistan had always played a sensible role in the Muslim world and its relations with Saudi Arabia were not limited to trade or politics, but it was a deep-rooted and time-tested friendship.
Maulana Nauman Hashir, Maulana Abubakar Sabri, Maulana Tahir Aqeel Awan, Maulana Qasim Qasmi, Maulana Tahir Muslim, Maulana Naib Khan, Maulana Shahbaz Ahmed, Maulana Hafizur Rehman, Maulana Afzal Shah Husseini, Maulana Aseedur Rehman Saeed and Maulana Mubashar Raheemi were present at the press conference.
https://www.dawn.com/news/1535557/ulema-declare-polio-vaccination-drops-sharia-compliant
--------
Egypt constructing separation wall along border with Gaza
19 February 2020
Egypt has started constructing a concrete wall along its border with the besieged Gaza Strip, a security official from the Palestinian resistance movement Hamas says.
The wall would stretch from Gaza's southeastern tip to the Rafah crossing, the sole crossing point between Egypt and the coastal enclave.
A Hamas security source told AFP on Wednesday that the goal was "to complete (the wall) as quickly as possible."
"The important thing for us is to control the border and prevent any illegal activity there," including any cross-border trafficking, the source added.
The report comes as a security delegation from Egypt led by General Ahmed Abdel Khalek, who is in charge of Palestinian affairs, visited Gaza on February 10 and met the Hamas leadership. It also made a field trip along the Egypt-Gaza border.
Last week, Mohammed Abu Harbeed, an expert on security affairs at the Interior Ministry in Gaza, told Al-Monitor, "The construction of this barrier was highly coordinated with Hamas and the Gaza Interior Ministry. It is designed to bring about better security on [both] sides of the border."
The wall is being built parallel to an old rock barrier that includes an underground structure designed to curb smuggling tunnels between Gaza and Egypt.
Israel has restricted the movement of Palestinians in and out of the Gaza Strip since the early 1990s. Restrictions intensified in June 2007, when Tel Aviv imposed a land, sea and air blockade on Gaza.
Nearly two million Palestinians in Gaza remain locked in and are prevented from having free access to the remainder of Palestine and the outside world. The blockade has also undermined the living conditions in the coastal enclave and fragmented its economic and social fabric.
https://www.presstv.com/Detail/2020/02/19/619055/Egypt-building-barrier-Gaza-border
--------
Huawei is a key player in Beijing's anti-Muslim, Big Brother horrors
By Luke de Pulford
February 19, 2020
You've heard all about the camps. China detains more than 1 million Muslims in sprawling concrete prisons in its Xinjiang region. The regime hasn't laid any charges against most of these men and women, nor even given them the dignity of a trial — or any due process.
What you may not know about is Chinese tech giant Huawei's role in the largest detention of an ethnic and religious minority since World War II.
The detention centers are hell on earth. Stories of torture flow out steadily. "Fake news," insists China. But when leaked documents quote President Xi Jinping calling for these minorities to be shown "absolutely no mercy," and when survivors risk their own safety to show us torture scars and ripped fingernails, I know whom I believe.
Activists accuse Huawei of complicity in these horrors. As a recent report from the Australian Strategic Policy Institute put it: "Huawei works directly with the Chinese Government's Public Security Bureau in Xinjiang on a range of projects."
Huawei has tried to deny this, claiming its work in the region is conducted through third parties. Well, if that's true, someone better tell whoever writes the press ­releases for the Xinjiang government. "Together with the Public Security Bureau," one 2018 release read, "Huawei will unlock a new era of smart policing and help build a safer, smarter society."
"Smarter security" is a euphemism for invasive data profiling. If you are unfortunate enough to fit the profile — Muslim of a particular origin — you are vulnerable to arrest and detention. The regime tries to justify this blatant profiling as necessary to "re-educate" potential terrorists. Yes, really. There are more than 1 million "suspected terrorists," who all happen to share the same religion and ethnicity.
Do Huawei executives know about this? Let's allow them to speak for themselves. When questioned directly in 2018 by the UK Parliament over whether the firm felt complicit in human rights abuses, Huawei boss John Suffolk said: "Our judgment is, 'Is it legal within the countries in which we operate?' That's our criteria. It's for others to make a judgment on whether it's right or wrong."
In other words, Huawei is an ethics-free zone. And it can't plead ­ignorance: Huawei is almost an ­extension of the Communist Party. The Communist regime, including its military and intelligence wings, subsidizes the firm to the tune of $75 billion. There is massive personnel overlap between Huawei and Xi's one-party state apparatus.
It is inconceivable that Huawei doesn't know about the camps. The firm must know. And that knowledge makes it complicit. What is happening to Uyghur people and others in Xinjiang is state-sponsored terror on an epic scale. And by the local government's admission, Huawei is the technological "partner" to these crimes.
And the same company wants to develop 5G infrastructure in many Western states. Massive state subsidies mean that Huawei is able to ­undercut the competition significantly. Thankfully, Australia, New Zealand, Japan and the United States have refused to be seduced and blocked Huawei. For these countries, data security far outweighs the financial bottom line.
Not so Britain, where I work and live. The UK government has agreed to let Huawei build 35 percent of its 5G network. That's hardly surprising, given that Huawei's UK board is riddled with former UK cabinet ministers and intelligence bosses, parliamentarians, retired ­establishment figures — all with their snouts in the trough.
But the argument against Huawei isn't just about data security. It's about human rights. Which is why the US should make it clear that the UK is turning its back against the special relationship for a company knee-deep in rights abuse. It's a grotesque betrayal of our closest ally — and of one of the world's most vulnerable religious minorities.
https://nypost.com/2020/02/19/huawei-is-a-key-player-in-beijings-anti-muslim-big-brother-horrors/
--------
Influential US Congressman Expresses Concern Over Situation In Kashmir, Protests Over CAA
Feb 19, 2020
NEW DELHI: Ahead of US President Donald Trump's maiden India visit next week, an influential US Congressman on Wednesday expressed concern over the situation in Kashmir and agitations over the new citizenship law, saying the country must protect its minorities and not lose its secular democracy.
Ami Bera, Chair of House Foreign Affairs subcommittee on Asia, the Pacific in the US Congress, said it was the desire of the US to see resolution of the Kashmir issue and return of normalcy in the region.
Bera, a democrat, and George Holding, the Republican co-chair of the India caucus, are on a two-day visit to India to "demonstrate" bipartisan support to India in the US Congress.
"We expressed our concerns over continued detention of political leaders in Kashmir," Bera told a group of journalists when asked whether he and Holding conveyed their concerns to Indian officials over situation in Kashmir.
"We do not want to India to lose secular democracy that is what sets it apart from countries in the region, that is what makes it such a valuable partner of the US," he said.
Bera also said he would like to take a Congressional delegation to Kashmir. "We did express our that we would like to take a delegation to Kashmir in some point of time."
The US lawmaker also hailed India's vibrant democracy where he said 800 million Hindus are living side-by-side with 200 million Muslims.
"Indian citizens are the ones that ultimately will control the outcome of where India heads to...We can offer that what we admire about India...is that it's this vibrant secular democracy and we would hate to see India lose or tarnish any of that reputation," said Bera.
On his part, Holding said economic development will bring prosperity to Kashmir, adding a stable and predictable political situation is going to attract investment into the region.
The special status of Jammu and Kashmir was withdrawn around six months back and it was bifurcated into two union territories. The government had imposed severe restrictions following the move including detaining sizeable number of political leaders.
Replying to a question on widespread protests against the new citizenship law in India, Bera said expressed concerns over it but at the same time added that the demonstrations reflected inherent strength of the democracy.
"It is important to keep lines of communications open," he said, adding India must protect its minorities.
India has witnessed massive protests against the citizenship amendment law which seeks to grant citizenship to non-Muslims who came to India from Pakistan, Afghanistan and Bangladesh facing religious persecution.
The protesters feel the law is discriminatory as citizenship will be granted based on religious identity.
Both the lawmakers also spoke about the bipartisan support to growing ties between India and the US in diverse areas including in trade and commerce, defence and strategic affairs.
Both the lawmakers hoped that India and the US will be able to seal the much anticipated trade deal.
Official sources said negotiations on the deal was not "stuck" and both sides mutually agreed "not to rush" into it, suggesting that it will not be signed during Trump's visit to India next week.
Trump, accompanied by wife Melania Trump and a high level delegation will arrive in India on February 24 for a little less than 36-hour-long trip. From Ahmedabad, he will travel to Agra before arriving at the national capital for main leg of the visit.
https://timesofindia.indiatimes.com/india/influential-us-congressman-expresses-concern-over-situation-in-kashmir-protests-over-caa/articleshow/74215090.cms
--------
Turkey: Parliament head slams Macron over Islamophobia
Emin Avundukluoglu
19.02.2020
Turkey's parliament speaker on Wednesday slammed French President Emmanuel Macron's Islamophobic remarks.
"Macron's remarks on struggling with Islamic separatism are example of crude Islamophobia," Mustafa Sentop said in a tweet.
"France should first confront its racist and massacrist history," he said, referring to its colonialist past.
Sentop's remarks came after Macron said he will end the system in which foreign countries send Muslim preachers to France -- in a crackdown on what he called "separatism".
He said the government has asked the country's Muslim body to train preachers in France and in the French language to prevent the spread of what he called political Islam.
https://www.aa.com.tr/en/europe/turkey-parliament-head-slams-macron-over-islamophobia/1738490
--------
Special Forces storm the largest hideouts of Taliban in Ghazni
19 Feb 2020
The Afghan Special Forces stormed some of the largest hideouts of the Taliban group during an operation in South-eastern Ghazni province.
The Special Operations Corps in a statement said the Special Forces stormed the Taliban hideouts in the restive Moqor district of Ghazni.
The statement further added that the Special Forces destroyed one of the important compounds of Taliban, a weapons and arms cache, a mine-making factory, a drug processing lab and empty prison during the raid.
The Special Forces also confiscated a large quantity of explosives, 2 motorcycles, a 4×4 vehicle and some other military kits during the raid, the statement added.
The Taliban group has not commented regarding the operation so far.
https://www.khaama.com/special-forces-storm-the-largest-hideouts-of-taliban-in-ghazni-04467/
--------
India
Changed: Thousands Participate, Majority of Them Muslims, In Massive Anti-CAA Protest Held across Tamil Nadu
19 February, 2020
Chennai: A large number of anti-CAA protesters, majority of them Muslims, held a massive protest against the amended Citizenship Act at Chepauk here, even as agitations were held across Tamil Nadu on Wednesday.
The protest here was held under the aegis of the Tamil Nadu Islamia Iyakkangal Matrum Arasiyal Katchigalin Koottamaippu, a federation of state Muslim outfits and political parties.
Representatives from DMK and other political parties also took part in the protest.
Meanwhile, as the demonstration was being held at Chepauk, Chief Minister K Palaniswami in the Assembly located inside the Secretariat a few kms away, announced welfare measures for the Muslim community, including pension hike for 'Ulema' (Islamic scholars).
Earlier, in a massive show of strength, agitators came in swathes and converged at Chepauk, before taking out a brief march along the Wallajah road as part of their original plan to proceed to the the state Secretariat and lay siege to the Assembly.
However, the Madras High Court had on Tuesday restrained the Muslim outfits from going ahead with their seige protest.
The outfits have been demanding that the state Assembly, dominated by the AIADMK, adopt a resolution against the Citizenship Amendment Act in the ongoing session which concludes tomorrow.
Agitators were seen carrying placards against CAA, NRC and NPR, besides the Indian flag and raised slogans against the amended citizenship law.
Also read: 4 police personnel injured due to stone pelting at anti-CAA protests in Chennai
Scores of Muslim women, many of them burqa-clad, joined the agitation here.
The protest resulted in traffic snarls at key points along the arterial Anna Salai, even as police had set up roadblocks and sealed off roads leading to the Secretariat as part of beefed up security measures.
The Secretariat, the state's seat of power, was brought under a stricter vigil, with more police personnel deployed at the historic Fort St George to prevent any untoward incidents.
Anti-CAA protests were held elsewhere in the state, including Madurai, Thanjavur, Cuddalore, Coimbatore, Tirupur and Tirunelveli, with members of the Muslim community hitting the streets against the Citizenship Amendment Act.
Palaniswami announced a 50 per cent subsidy for 'Ulema' to buy new two-wheelers and doubled their pension by increasing the payout to Rs 3,000 from the present Rs 1,500.
The 'Ulema' are the guardians and interpreters of religious knowledge in Islam.
There are 2,814 Waqf institutions in Tamil Nadu and 'Ulemas' working in such registered entities will be provided a subsidy of Rs 25,000 or 50 per cent of the vehicle cost, whichever is lower to buy new two wheelers, he told the Assembly.
Also, the government will allocate Rs 15 crore for building a new 'Haj House' here in a land that will be assigned by Tamil Nadu Waqf Board, he added.
https://theprint.in/india/thousands-participate-in-massive-anti-caa-protest-organised-by-muslim-outfits-in-chennai/367991/
--------
Coimbatore's Shaheen Bagh begins with a bang
Feb 20, 2020
Coimbatore: Hours after the massive rally against the Citizenship (Amendment) Act (CAA) that shook the city, federation of Muslim organizations and Muslim political outfits started a Shaheen Bagh-model indefinite dharna in front of a mosque at Athupalam here on Wednesday night. When the last report came in, around 9,000 people had gathered at the mosque to participate in the dharna.
Shamiyanas were erected in an open place adjacent to Irshadul Islam Shafia Sunnath Jamath mosque at Athupalam for the dharna, which commenced at 9pm.
Initially only around 500 people, comprising elders, women and children, were there. However, the number swelled to 9,000 in no time. The protesters held placards that read 'Kovaiyin Shaheen Bagh Athupalam'. The organizers said the dharma would be conducted peacefully. "It will be similar to the one conducted by women in Delhi."
The protesters said the dharna would be continued till the Union government accepts to withdraw the Citizenship (Amendment) Act, the National Population Register (NPR) and the National Registry of Citizens (NRC).
Earlier in the day, tension had gripped the city after Muslim men and women came out in large numbers to take out a rally to demand that the state government pass a resolution against the Citizenship (Amendment) Act, 2019, in the assembly.
The city police had deployed 1,384 cops to prevent any untoward incidents and used drones to keep an eye on the protesters. In view of the call given by the Coimbatore District Federation of All Jamaath and Islamic Organizations to besiege the collectorate at 10am, the city police had also blocked traffic on the Big Bazaar Street and the State Bank of India Road from 9am.
More than 7,000 Muslims, including 2,000 women, who had gathered near the Coimbatore Railway Junction, began the rally towards the collectorate around 11am. Police blocked the road to the collectorate using barricades. Rapid Action Force (RAF) personnel were deployed in the front row. Women cops from rural and city armed reserve police carrying lathis and shields were deployed in the second and third rows.
Police had also stationed a water canon vehicle and anti-riot vehicle Vajra that can lob tear gas shells.
City police commissioner Sumit Sharan and deputy commissioners L Balaji Saravanan (law&order), and ES Uma (crime) monitored the security arrangements.
The women protesters sat on the road and raised slogans demanding withdrawal of CAA. They had brought their children, who were waving tricolour flags. Two police drones recorded the protest.
Full report at:
https://timesofindia.indiatimes.com/city/coimbatore/coimbatores-shaheen-bagh-begins-with-a-bang/articleshow/74216398.cms
--------
Amid protests in Tamil Nadu, CM announces sops for Muslims
February 20, 2020
Amid a massive rally to the Secretariat in Chennai and demonstrations across Tamil Nadu against the CAA and NRC, Chief Minister Edappadi K Palaniswami on Wednesday announced several sops for the Muslim community, such as increasing the monthly pension of Islamic scholars and allocation of Rs 15 crore for a Haj House.
Peaceful protests were held in major towns across the state on Wednesday. A march attended by an estimated 30,000 people in Chennai was the largest among them while smaller towns, such as Tirunelveli, also saw demonstrations with large number of people in participation, mainly from the Muslim community.
The Madras High Court had on Tuesday restrained any procession by "political or Muslim organisation" amid plans by protesters to proceed to the Secretariat and lay siege to the Assembly.
The protesters were demanding that AIADMK leader and Chief Minister Palaniswami should adopt a resolution against the CAA in the Assembly during the ongoing session, which concludes on Thursday.
Defying the High Court order on Wednesday, agitators converged at Chepauk as part of their original plan to proceed to the Secretariat and lay siege to the Assembly.
However, several entry points leading to the Secretariat were blocked and the procession could not move beyond Chepauk due to security arrangements.
No Muslim political organisation was allowed to raise political slogans or party flags as protesters converged in Chennai from different corners before the peaceful gathering came to an end with singing of the national anthem around 1 pm.
Volunteers took care of drinking water, and traffic and crowd management during the protest. Almost all district headquarters and towns such as Coimbatore, Madurai and Trichy saw large gatherings.
On Tuesday, Palaniswami had asserted in the Assembly that the CAA will not affect minorities and that the opposition DMK was misleading minority communities.
Full report at:
https://indianexpress.com/article/india/amid-protests-in-tamil-nadu-cm-announces-sops-for-muslims-6276667/
--------
Hurriyat veteran Syed Ali Shah Geelani's cook, help detained for VPN 'misuse'
Feb 19, 2020
SRINAGAR: J&K police raided the Srinagar house of Hurriyat veteran Syed Ali Shah Geelani late on Tuesday and detained a cook and domestic help for allegedly uploading a video of the ailing separatist on social media by using a VPN (virtual private network) to bypass firewalls.
The raid to pick up cook Sirajuddin Gania, who is from Tral in Pulwama district, and domestic help Imtiaz Ahmed came within hours of inspector general (Kashmir range) Vijay Kumar saying that the police were onto internet users masking their identities under VPNs to "spread fabricated news to instigate people and preach separatism".
The police had earlier filed an FIR at the Cyber police station under the Unlawful Activities (Prevention) Act to prosecute anyone circumventing the social media ban using VPNs.
On Wednesday, DGP Dilbagh Singh said the administration was aware of the widespread use of VPNs to access sites blocked in the Valley, but was primarily concerned about people "misusing" technology to spread lies and incite violence.
"We know VPNs are being used in J&K despite our instructions not to do so. But we have drawn the line between use and misuse," Singh said. "The government is maintaining surveillance on misuse of the internet."
Full report at:
https://timesofindia.indiatimes.com/india/hurriyat-veteran-syed-ali-shah-geelanis-cook-help-detained-for-vpn-misuse/articleshow/74215541.cms
--------
Hizb commander among 3 terrorists killed in Tral encounter
Feb 19, 2020
SRINAGAR: Hizbul Mujahideen commander Jehangir Rafiq Wani alias Umar Mukhtar and two of his aides were killed in an anti-insurgency operation in Tral of south Kashmir's Pulwama district early on Wednesday. The other slain terrorists were identified as Raja Umer Maqbool Bhat and Uzair Ahmed Bhat, J&K DGP Dilbagh Singh said while addressing a press conference later in the day.
Jehangir had taken over the outfit after its former commander Hammad Khan was killed in a January 12 encounter. He was involved in several attacks on security forces and two civilian murders — one in November 2019 and another earlier this month. After the nullification of Articles 370 and 35A on August 5, Jehangir and Raja Umer were involved in the torching of a mosque, chemist shop and trucks in Tral, DGP Singh said, adding that Jehangir's actions had created fear in the area.
Early on Wednesday, security forces launched a cordon-and-search operation in Tral's Sherabad village based on intelligence inputs about the presence of terrorists in the area. "The holed-up terrorists opened fire at the search party, triggering an encounter in which the Hizb trio was killed," said a cop.
In the first two months of 2020, security forces have carried out 10 successful anti-insurgency operations across the Union Territory in which 23 terrorists have been killed, Kashmir Zone IGP Vijay Kumar, who was also at the conference, said. Two of these encounters took place in Jammu where four terrorists were killed and the rest in Kashmir where 19 terrorists were killed. Security forces didn't suffer any loss of life or injury in these fire exchanges.
DGP Singh said several terror modules have been busted and more than 40 overground workers arrested. Kashmir has also witnessed a steep decline in local youths joining terror ranks, while eight youths who had picked up arms earlier this year have returned to the mainstream.
Meanwhile, ceasefire violations by Pakistan from across the Line of Control and International Border have increased in a bid to enable infiltrators to enter India. "The terrorists who were killed at Bann toll plaza recently were also infiltrators planning to carry out a terror strike on January 26," DGP Singh said.
Full report at:
https://timesofindia.indiatimes.com/india/hizb-commander-among-3-terrorists-killed-in-tral-encounter/articleshow/74215511.cms
--------
China joins India, US to set new deadline for Pakistan
by Shubhajit Roy
February 20, 2020
In a significant development, China and Saudi Arabia are learnt to have joined India, US and European countries to send a stern message to Pakistan to complete its commitments on action against terrorist financing and money laundering given to the Financial Action Task Force (FATF) before the plenary session in June, including "conviction and prosecution of top leaders of all terrorist organisations".
Diplomatic sources said Turkey was the only country which held out in the end. This marks a major shift in China's position, which has always backed Pakistan at the FATF.
Sources said it is now final that Pakistan will remain on the FATF grey list, and will face consequences if it doesn't take appropriate action by June this year. An official announcement is likely to be made on Thursday.
After the second informal summit at Mahabalipuram last year, the Ministry of External Affairs had said Prime Minister Narendra Modi and Chinese President Xi Jinping were "concerned that terrorism continues to pose a common threat". "As countries that are large and diverse, (we recognise) the importance of continuing to make joint efforts to ensure that the international community strengthens the framework against training, financing (of) terrorist groups throughout the world and on a non-discriminatory basis," Modi and Xi had said in a statement.
"In a desperate attempt to mislead its people and the world, Pakistan has always been indulging in false and selective media leaks of FATF proceedings. The fact is that despite Pakistan's best attempts, it has remained, and will remain, on the grey list of FATF. The onus is on Pakistan to ensure that it acts on FATF parameters to avoid being blacklisted in future. Pakistan was given a stern message by almost all FATF member countries (except Turkey) to complete the remaining 13 action plan items by June 2020 plenary, including conviction and prosecution of top leaders of all terrorist organisations as mentioned in the action plan, else consequences will follow," a diplomatic source told The Indian Express.
"Further, Pakistan has long been trying to politicise the technical process of FATF, which is proven beyond doubt from the statements of Turkey and Malaysia leaderships recently. FATF members must take note of this," said the source.
Full report at:
https://indianexpress.com/article/india/china-joins-india-us-to-set-new-deadline-for-pakistan-6276740/
--------
Babri case accused Nyas head, VHP vice-chief to lead Ram temple trust
by Deeptiman Tiwary , Apurva Vishwanath
February 20, 2020
The Ram Janmabhoomi Teerth Kshetra Trust, constituted for construction of a Ram temple in Ayodhya, met Wednesday for the first time and appointed Ram Janmabhoomi Nyas president Nritya Gopal Das as its president and VHP vice-president Champat Rai as general secretary.
Nripendra Misra, former Principal Secretary to the Prime Minister, will head the committee for construction of the temple and management of the 66.7 acres in Ayodhya.
Das and Rai are among those named by the CBI as accused in the criminal conspiracy case relating to the demolition of the Babri Masjid in 1992. They are out on bail and the case is being heard before a special court in Lucknow.
The 15-member trust, operating from its office at the Greater Kailash-I house of senior lawyer and founder trustee K Parasaran, appointed Govinddev Giri of Pune as treasurer and decided to open a bank account with the State Bank of India in Ayodhya.
At the meeting, it was decided to build the temple in accordance with a model prepared by the VHP. Sources said the construction of the temple may start by April.
Government officials appointed to the trust include Additional Secretary (Kashmir), Ministry of Home Affairs, Gyanesh Kumar; Additional Chief Secretary (Home), Uttar Pradesh, Avneesh Awasthy; and Ayodhya District Magistrate Anuj Kumar Jha.
There were acrimonious exchanges when Mahant Dharam Das arrived uninvited and threatened legal action if he was not included in the trust.
Ever since the Supreme Court ruling in favour of the Hindu parties to the Ayodhya dispute, there was speculation that Das and Rai would be given roles in temple construction. When the government announced the trust, the two were not included. Sources said the government did not want to start a controversy by nominating persons facing serious charges in an ongoing case. The decision, sources said, was taken by the trust.
Incidentally, the Nyas headed by Das has already merged with the Ram Janmabhoomi Teerth Kshetra Trust and transferred all its assets (including pillars carved for the temple and funds collected during the Ayodhya movement) to the new trust. Sources said formalities of this merger were completed on the day the new trust was registered.
Full report at:
https://indianexpress.com/article/india/babri-case-accused-nyas-head-vhp-vice-chief-to-lead-ram-temple-trust-6276715/
--------
Jamia footage out, probe team calls for duty roster of policemen
by Mahender Singh Manral
February 20, 2020
In the first indication that Delhi Police is looking into the role of its own personnel in connection with the December 15 violence at Jamia Millia Islamia, a special investigation team (SIT) is learnt to have asked SHOs of police stations in the South East district for duty rosters of that day.
The move comes against the backdrop of several videos emerging over the past few days showing police assaulting people inside the Jamia library and breaking a CCTV camera and furniture. As reported by The Indian Express, the university estimates police action caused damage to the tune of Rs 2.66 crore.
Police have maintained that some of the video footage appeared edited and that they had entered the campus in hot pursuit of "rioters". On Monday, Special Commissioner of Police (Crime Branch) Praveer Ranjan said the SIT probing the December 15 violence will analyse all clips to establish the sequence of events. "Once the sequence is established, we will identify all those involved in the violence and action as per law will be taken," he said.
Though the inter-state cell of the Crime Branch received the footage days after the case was transferred to them in December, the recent move appears to have been prompted by the footage being leaked.
Sources told The Indian Express that personnel from two police stations in South East district were approached by the Crime Branch on Wednesday and asked to provide details of where they were stationed when police personnel entered the college premises as well as the library.
"As of now, we are collecting information about all police personnel deployed on December 15, and will later ask them to identify personnel seen in the footage," sources said.
Sources said they had verbally conveyed to senior officers at Delhi Police headquarters that footage from the library could warrant an FIR against the personnel involved, but no decision has been taken in this regard. "Before deciding to lodge an FIR, SIT officers are taking legal opinion and collecting technical evidence," sources said.
Full report at:
https://indianexpress.com/article/india/jamia-footage-out-probe-team-calls-for-duty-roster-of-policemen-6276769/
--------
Pakistan
Pakistan has completed journey from 'terrorism to tourism': Firdous
February 20, 2020
ISLAMABAD: Special Assistant to the Prime Minister on Information and Broadcasting Dr Firdous Ashiq Awan Wednesday said Pakistan which had been put on the path to progress by the incumbent government, had successfully completed its journey from 'terrorism to tourism'.
It was amply clear from the statement of United Nations Secretary General António Guterres about tourism that Pakistan had emerged as a destination for tourists and investors, she said while talking to the media here flanked by NDRMF Chief Executive Lt Gen (Retd) Nadeem Ahmed.
Dr Firdous said the National Disaster Risk Management Fund (NDRMF) had decided to launch development projects in various areas of Balochistan, which were vulnerable to drought and floods.
She said no strategy was devised by the past regimes for tackling national disaster risks, but today NDRMF was taking pre-emptive measures under a well-planned strategy to mitigate the effects of natural calamities, which were not only laudable, but also proof of a changed Pakistan. The Fund would secure the country's future, she added.
The SAPM said institutions like the NDRMF existed in some developed countries. The donations made by the well-to-do people would surely and promptly reach the needy, besides covering the damages of natural disasters.
She said international donors had already pledged billions of dollars funds, which would be used by the NDRMF on development projects in backward areas, particularly Balochistan.
The NDRMF projects would also help improve the country's eco-system, she added.
She said the world confidence in Pakistan had restored as an honest leadership was at the helm of its affairs. On the contrary, the past rulers used to keep their personal interests supreme, she added.
The SAPM said a strategy would be devised for providing monetary support to the journalists in case of non- payment of salaries by the media owners.
Responding to a question, she said Prime Minister Imran Khan was making utmost efforts to minimize the problems being faced by the masses. An effective strategy was being devised to check smuggling. There would be zero tolerance for the smugglers.
The elements responsible for wheat flour and sugar crises, she said, would be dealt with iron hands. The prime minister was determined to provide relief to the people by reducing prices of essential items.
To a question, she said Pakistan Muslim League-Nawaz leader Rana Sanaullah was running a "save me campaign" and was haplessly looking towards his leaders sitting in London.
She said the Ehsaas programme, the flagship programme of the government for poverty alleviation, would continue. The prime minister would hand over assets (resources) to the people under the programme at a ceremony in Layyah on Friday.
She said Prime Minister Imran Khan's vision of a 'Clean and Green Pakistan' would become reality.
https://www.brecorder.com/2020/02/20/572719/pakistan-has-completed-journey-from-terrorism-to-tourism-firdous/
--------
Shujaat asks PM to get rid of 'sycophants'
Zulqernain Tahir
February 20, 2020
LAHORE: Hardly a week after announcement that differences between coalition partners have been resolved, Pakistan Muslim League-Quaid (PML-Q) president Chaudhry Shujaat Hussain on Wednesday took on those close to Prime Minister Imran Khan, saying the PTI government cannot deliver until he gets rid of "hypocrites and sycophants" around him.
This is the second time that the leadership of the PML-Q, an important ally of the PTI government in the Centre and Punjab, pointed finger at those close to the prime minister, holding them responsible for the PTI's failure to run the affairs of the government smoothly. This time the message seems to be categorical.
"Imran Khan has good intentions. He has not learnt political gimmickry (like others). I want to give him an advice to stay away from sycophants and hypocrites around him, and do not let them hang around," Chaudhry Shujaat said on Wednesday on his return from Saudi Arabia after performing Umrah.
According to him, these hypocrites present his party (PML-Q)'s "sincere advice" to PM Khan for improving the governance in a "negative way". The PML-Q chief also advised PM Khan against being egocentric. "In the past I had warned Nawaz Sharif against indulging in narcissism but he did not come out of it," he said, adding it was interesting to see that some sycophants who were with Nawaz Sharif were still in power today.
Similarly, Chaudhry Shujaat said he had also advised Gen Pervez Musharraf not to link seminary students with Taliban. "For six months Musharraf followed my advice and used the word extremist instead. Afterwards, he started calling seminary students Taliban."
Earlier, the PML-Q had said that there were "some naive players" in PM Khan's team who were unable to give him the right advice. A source in the PML-Q told Dawn that the Chaudhrys of Gujrat were not happy with those elements in the PTI government who did their best to ensure a distance between the premier and the PML-Q leadership.
"The PML-Q believes that such elements feed wrong information to the premier about its leadership and that has created a trust deficit between them (PM Khan and the Chaudhrys)."
Full report at:
https://www.dawn.com/news/1535558/shujaat-asks-pm-to-get-rid-of-sycophants
--------
PML-N asks Fazl to postpone anti-govt drive till Shehbaz's return
February 20, 2020
ISLAMABAD: The Pakistan Muslim League-Nawaz (PML-N) on Wednesday asked the Jamiat Ulema Islam-Fazl (JUI-F) not to begin its anti-government movement till the return of Shehbaz Sharif to Pakistan.
The request was made during a meeting between PML-N leader and former National Assembly speaker Sardar Ayaz Sadiq and JUI-F chief Maulana Fazlur Rehman at the residence of Fazl's son Asad Mehmood, who is the parliamentary leader of the Muttahida Majlis-e-Amal in the National Assembly.
Sources in the JUI-F told Pakistan Today that Sadiq asked Fazl to postpone the anti-government campaign till Shehbaz's return. However the JUI-F chief said he could not trust the PML-N leader anymore and was prepared to launch the movement on his own, they added.
"Sadiq explained the circumstances that had compelled Nawaz Sharif to leave the country. Fazl was a bit reluctant at first but later agreed to consult his party leadership before taking a final decision in this regard," they added.
Talking to reporters after the meeting, the NA speaker said that the opposition was playing its role in parliament and would not resort to any civil disobedience movement.
"The government allies are already distancing themselves from the regime's failure and it is now walking on thin ice," he said.
Full report at:
https://www.pakistantoday.com.pk/2020/02/19/pml-n-asks-fazl-to-postpone-anti-govt-drive-till-shehbazs-return/
--------
PPP rejects JUI-F's concerns over Azadi March
February 19, 2020
ISLAMABAD: Pakistan Peoples Party (PPP) leader Qamar Zaman Kaira on Tuesday said that PPP has fulfilled its commitment with Jamiat Ulema-e-Islam-Fazl (JUI-F) on Azadi March rejecting concerns of its chief Maulana Fazlur Rehman regarding participation of PPP in the third phase of anti-government movement.
Alluding to Pakistan Muslim League-Nawaz (PML-N) whose leaders abandoned the march initiated by Rehman, Kaira said, "Rehman's concerns are not genuine and nobody can blame PPP if any other party has not done its part."
The PPP leader prayed for early recovery of PML-N premier Nawaz Sharif and said that the National Assembly Opposition Leader Shahbaz Sharif should return back to Pakistan as other members of Sharif's family in London could take care of the ailing premier. Earlier, JUI-F termed the response of PPP and PML-N on Azadi March — initiated last year — 'cold'. However, JUI-F Senator Maulana Abdul Ghafoor Haideri welcomed the opposition parties to initiate discussion.
Haideri said that the PML-N would decide its position on the movement whether they want to join the protest for the benefit of the people or not.
Kaira claimed that PPP along with other parties had run movements in the past and that it would join opposition parties in the future if so required.
Criticising the Pakistan Tehreek-e-Insaf government, the PPP leader said, "So far the government has deteriorated the whole system therefore we hope it doesn't complete its term. Besides, all opposition parties and people of Pakistan agree that the PTI should go home."
The PPP leader said that the party would march against the government in March
Kaira has also rejected impression of replacing Punjab organisational hierarchy of the PPP. Stating the need of necessary changes in the setup, the former minister said, "The party chairman has created this setup for three years and the leadership holds a performance review after the expiry of the assigned period."
Besides, PPP Chairman Bilawal Bhutto Zardari arrived in Lahore on a four-day trip where he would hold meetings at his residence with party leaders, intellectuals, social media influencers and content writers.
Full report at:
https://tribune.com.pk/story/2159986/1-ppp-rejects-jui-fs-concerns-azadi-march/?__cf_chl_captcha_tk__=d892ba6e85396e38d5f636f712313d0a01661788-1582178974-0-AQQflBdVnYDzBhmZGD9tP2nNmq-vyIIa_eUm0bJdVcqQYIWoeB50B1Wq2lBZH1ZJECDqJNym2LyOvRypNSk7cE8SrwS5aR3DRj_ewreSt4crkqQ-u-E-xxATMCpMvF0KoAc3hKVD6rSAvRkR7JfDcPobWri6SkcyeelGWSXQvhFnBdqPfpgrzaVqq5MtjKJONKJEYtywAEgh-50hQJVU1O1A_EK0A9FjC4wC1A3bwRkqcShI8vuPEaHc_miRCTHCqIfVM1zHOyk6TpkZrhF21cl1HUZ35L62acnH0czUl3QNvOuQMuFKmCeSKsQ1w2BUwL_Kjo6ccb5X9LDokjBJaTcaJsSVc4Jkk-j_46UIkQDYmFzO8EDA4lV4zvyriNLnzvtsOedfUVtoqFNQkdRUA6A
--------
SC asked to set aside high court verdict in Musharraf case
February 20, 2020
LAHORE: The Supreme Court has been asked to set aside a Lahore High Court (LHC) full bench verdict striking down the trial and special court that tried and awarded death penalty to former military ruler retired Gen Pervez Musharraf for high treason.
In a constitutional petition filed at the Lahore registry, Lawyers Foundation for Justice's chairman Advocate A.K Dogar argues that the LHC had no territorial jurisdiction to hear petition by Musharraf. He states that where there is a statutory right of appeal available in the Supreme Court, a constitutional petition does not lie in the high court.
He adds that section 12(3) of Criminal Law Amendment (Special Court) Act 1976 clearly provides that any party aggrieved by final judgment of the special court may prefer an appeal to Supreme Court within 30 days of the passing of the judgment.
The lawyer argues that the judgments of the superior courts cited by the LHC full bench in its impugned decision are distinguishable and not applicable at all in the case of Musharraf.
Challenging an argument of Musharraf accepted by the LHC, Mr Dogar argues that Article 12(2) of the Constitution clarifies that constitutional position by providing that the principle of protection against retrospectively does not apply to any act or action relatable to abrogation and subversion of the Constitution.
He states that the full bench admitted the petition of Musharraf without hearing a civil miscellaneous application moved by the petitioner (the foundation) as required under the law.
The lawyer contends that the action of the federal government to consult the chief justice of Pakistan and of all provincial high courts for the appointment of the special court was not against the Constitution.
Full report at:
https://www.dawn.com/news/1535471/sc-asked-to-set-aside-high-court-verdict-in-musharraf-case
--------
Pakistan is now viewed as 'part of solution' over Afghan issue: FM
February 20, 2020
ISLAMABAD: Foreign Minister Shah Mahmood Qureshi on Wednesday said that Pakistan had played its due and sincere role in facilitating the Afghan peace talks and now it was being regarded as part of the peace solution.
Speaking to a local TV channel, the foreign minister said that contrary to the country's past image when it was branded as part of the problem, Pakistan has emerged as the major leader for peace and stability in the region.
He said that the peace process in Afghanistan should not be derailed as it would not be in the interest of Afghan people, who strongly deserved it.
To a question, Qureshi replied that US President Donald Trump had openly expressed his desire to exclusively visit Pakistan after elections and not merely as a stopover, which had been a practice in the past.
To a query about the situation in Indian Occupied Kashmir (IOK), the minister said that United Nations (UN) Secretary General Antonio Guterres and Turkish President Recep Tayyip Erdogan, during their recent visits, had reaffirmed their strong positions, besides the Organisation of Islamic Cooperation (OIC) had also firmly reiterated its support to Pakistan over the issue.
Qureshi said that Pakistan has successfully fulfilled the requirements and guidelines of the Financial Action Task Force (FATF). The present government took sweeping steps to check terror financing and money laundering with effective legislation, he said, regretting that the previous regimes had failed to move on these issues.
He maintained that the steps were also acknowledged during the recently concluded meetings of the FATF body. Pakistan took serious actions and implemented a plan of action.
"India had miserably failed in its sinister designs to push Pakistan on the FATF blacklist," he added.
About another question, he said that Pakistan had already demanded justice for the victim families of Samjhauta Express blasts.
"It was the duty of the international community to exert pressure on India to act and bring the culprits to justice. There should be no dual standards when it came to India to fulfil its global obligations," he stressed.
The foreign minister said that there were about 28,000 Pakistani students studying in China and the government was making all-out efforts for their well-being.
To a query about the government's ongoing reforms, he replied that institutions in the country had degenerated because they were politicised with rampant nepotism, favoritism and violations of merit.
He said that the country was passing through a transitional period and the reforms would take some time to bear fruition.
"When you introduce such reforms or take corrective measures against a rotten system, generally there has been resistance," he said, adding the government was confronting all such things as for good governance there should be an efficient delivery system. The foreign minister said that the government had faced enormous and acute economic challenges as the country was heading towards default.
"If the government had not signed agreements with the International Monetary Fund (IMF) where would have been the country now," he wondered.
Full report at:
https://www.pakistantoday.com.pk/2020/02/19/pakistan-is-now-viewed-as-part-of-solution-over-afghan-issue-fm/
--------
Arab World
Islamic anti-terror coalition welcomes visitors from US Central Command
February 19, 2020
RIYADH: A delegation from US Central Command visited the Riyadh headquarters of the Islamic Military Counter Terrorism Coalition on Wednesday to discuss closer cooperation in the fight against terrorism.
The Americans, led by Col. Andrew Whiskeyman, head of Central Command's Information Operations Division, were welcomed by IMCTC Secretary-General Maj. Gen. Mohammed bin Saeed Moghedi.
During the meeting, the role of IMCTC and its efforts and initiatives in the intellectual, media and military fields were highlighted. The participants also discussed issues related to the fight against terrorism, including efforts being made to tackle threats and combat terrorist financing, with the aim of enhancing cooperation and coordination.
The two sides signed a memorandum of understanding which, said Moghedi, aims to promote an integrated approach and a strategic partnership between IMCTC and US Central Command in an effort to achieve greater success in the fight against terrorism and violent extremist ideologies.
The 41 member states of IMCTC work together to coordinate and intensify regional efforts as part of the international war against violent extremism and terrorism, and contribute to the preservation of world peace and security.
https://www.arabnews.com/node/1630351/saudi-arabia
--------
UN hosts Muslim World League conference on protecting youth from extremism
February 19, 2020
GENEVA: Muslim World League (MWL) Secretary-General Dr. Mohammed bin Abdulkarim Al-Issa launched the initiatives of "youth protection from extremist and violent ideas and implementation mechanisms" during an international conference organized at the UN headquarters in Geneva.
MPs, parliament speakers, UN ambassadors, an elite of religious and ideological leaders and academics specialized in the topics of conference were in attendance.
Al-Issa said the initiatives aim at protecting the youth from violent and extremist ideologies or those inciting violence, and shed light on the responsibility of educational institutions in this context.
This would be achieved, he said, through the establishment of school curricula with "interactive activities" that focus on discussing the differences, diversity and pluralism in our world.
They also aim to reaffirm that religious, ethnic and ideological clashes are a danger to world peace.
Al-Issa stressed the need to filter speeches targeting the youth from all that incites conflicts, hatred, racism and enmity, with the principle of human equality and understanding and respecting natural differences and diversity as an important foundation for countries and societies' peace and harmony.
He also noted the importance of spreading tolerance and rejecting the disadvantages of hate, racism and marginalization.
He said: "It is important to ban the exportation or importation of fatwas and religious ideas, for the religious awareness is flexible, and takes into consideration the changes of fatwas and religious sermons in line with the time, place and circumstances," adding that extremism is not acceptable in any circumstance.
Egypt's Minister of Endowments Dr. Mohammed Mokhtar Jomaa stressed during the conference that terrorism has become more dangerous than today's diseases, as it has become easier to spread than any virus.
Full report at:
https://www.arabnews.com/node/1630266/middle-east
--------
Syrian air defense intercepts hostile targets in Jableh town in Latakia
19 February 2020
Syrian air defense thwarts hostile targets in Jableh town in Latakia, Syrian state television said late Wednesday.
The nature of the targets was not clear and there were no immediate reports of damage or casualties.
Last week, on February 13, Syria had intercepted and downed several missiles coming across the occupied Golan Heights in Israel before they hit their targets in the capital Damascus.
Full report at:
https://english.alarabiya.net/en/News/middle-east/2020/02/19/Syrian-air-defense-intercepts-hostile-targets-in-Jableh-town-in-Latakia-.html
--------
In tense UN meet, Russia opposes declaration calling for Syria ceasefire
19 February 2020
Russia on Wednesday objected to the UN Security Council adopting a statement that would have called for a ceasefire and respect for international humanitarian law in northwest Syria, diplomats said, after a tense closed-door meeting.
"Russia said no," French Ambassador to the United Nations Nicolas de Riviere told reporters. "There is no statement," confirmed his Belgian counterpart, Marc Pecsteen de Buytswerve, the current council president.
https://english.alarabiya.net/en/News/middle-east/2020/02/19/In-tense-UN-meet-Russia-opposes-declaration-calling-for-Syria-ceasefire.html
--------
UN envoy warns of 'imminent danger' of escalation in Syria
19 February 2020
The UN envoy to Syria said Wednesday that the country was on the brink of worsening violence after an exchange of threats between key players Turkey and Russia.
Syrian aid workers have called for an urgent ceasefire and international help for nearly a million people fleeing the regime's onslaught in northwestern Idlib province -- the biggest wave of displaced civilians in the nine-year conflict.
"I cannot report any progress in ending the current violence in the northwest or in reconvening the political process," Geir Pedersen told the UN Security Council.
"Russian and Turkish delegations have met intensively in recent days ... but no understanding has yet emerged," he said.
"To the contrary, public statements from different quarters, Syrian and international, suggest an imminent danger of further escalation."
President Recep Tayyip Erdogan earlier Wednesday warned that Turkey would launch an offensive into Syria unless Damascus pulled its forces back by the end of the month.
"We are counting down, we are making our final warnings," Erdogan said in a televised speech.
He called for Syrian forces to retreat behind Turkey's military posts in Idlib, which were set up under a 2018 deal with Russia designed to hold off a regime advance.
Russia quickly responded to Erdogan's threat, warning that any operation against Syrian forces would be "the worst scenario."
Turkey, supporter of some opposition groups in Idlib, has been pushing for a renewed ceasefire in talks with Russia, which backs the Syrian regime.
Full report at:
https://english.alarabiya.net/en/News/middle-east/2020/02/19/UN-envoy-warns-of-imminent-danger-of-escalation-in-Syria-.html
--------
Oxfam says two of its workers killed in Syria
19 February 2020
Two Oxfam aid workers were killed and another volunteer was injured in an attack on their vehicle in Syria on Wednesday, the British-based non-governmental organization said.
The incident happened at 2:00 pm local time (1200 GMT) in the Daraa area in the south of the country, naming those who died as its southern hub safety officer Wissam Hazim, and driver Adel Al-Halabi.
Both were Syrian nationals and had worked with the NGO since 2017. A volunteer was also injured in the attack, which it blamed on an "unidentified armed group."
"We are devastated by the loss of two valued colleagues who were killed as they worked to deliver aid to civilians caught in the Syrian conflict," said Oxfam's Syria country director Moutaz Adham.
"Our love and thoughts are with their families. We condemn the attack in the strongest possible terms."
"It is essential that aid workers are able to get lifesaving assistance to civilians without being attacked themselves."
Founded in Britain in 1942, Oxfam helped more than 1.2 million people with aid in Syria last year, including clean water and clothing, the charity said.
The International NGO Safety organization said there were 128 recorded safety and security incidents affecting NGOs in Syria in the 12 months to the end of January this year.
They included three abductions, 11 fatalities and 32 injuries.
Full report at:
https://english.alarabiya.net/en/News/middle-east/2020/02/19/Oxfam-says-two-of-its-workers-killed-in-Syria.html
--------
Lebanon Speaker Nabih Berri calls for restructuring Eurobond as 'best solution'
19 February 2020
Lebanon's Parliament Speaker Nabih Berri sees debt restructuring as the "best solution" for the country's Eurobond maturities, which include one on March 9, an MP from Berri's Shia Amal Movement said after a weekly meeting on Wednesday.
His comments came on the day a source familiar with the matter said that Lebanon will invite eight firms to bid to be its financial adviser as it studies all options on its sovereign debt.
Berri's comments on Monday were the first by a top-level leader publicly urging restructuring, one the eve of talks between a team of IMF experts and Lebanese authorities.
Previously, Berri said he believes Lebanon needs technical help from the IMF to draw up an economic rescue plan and a decision on whether to pay a Eurobond maturing in March should be taken based on IMF advice, according to sources on Tuesday.
Full report at:
https://english.alarabiya.net/en/News/middle-east/2020/02/19/Lebanon-Speaker-Nabih-Berri-calls-for-restructuring-Eurobond-as-best-solution-.html
--------
Civilians flee homes, safe zone shrinks as Syrian regime bombards Idlib
19 February 2020
Thousands of Syrians are fleeing to an ever-shrinking safe zone in Idlib province as the regime steps up its bombardment of the last opposition-held area in the country's northwest.
Since December 1, 2019, more than 875,000 people have been displaced by the combined air and ground offensive in Idlib.
The Syrian regime, with Bashar al-Assad at the head, has gained control of the strategic M5 highway connecting Damascus and Aleppo and is now stepping up its campaign to capture the areas of Idlib and Aleppo provinces held by opposition groups, sparking the latest humanitarian crisis in Syria's nine-year-long war.
"People are facing a desperate situation," said Julien Delozanne, head of the Médecins Sans Frontières (MSF) mission for Syria. "Attacks are now taking place in areas that were previously considered to be safe. The people fleeing north are being squeezed into a territory that is getting smaller and smaller, between the frontline to the east and the closed Turkish border to the west."
Civilians on the move again, hospitals destroyed
The regime, backed by Russian aircraft, has recently intensified its assualt on the opposition-held areas in Idlib province and the western areas of Aleppo province. Many of the Syrian civilians in the area are already in camps, having been transferred there alongside opposition fighters in deals with the regime as it recaptured cities elsewhere in Syria through siege and bombardment.
This week, shelling hit camps around the town of Sarmadah, which hosted refugees fleeing the fighting in southern Idlib. Takad and other towns have also recently come under fire, forcing residents to flee into an increasingly small zone of opposition control.
"The only people who have stayed are the ones who can't afford a vehicle or don't know where to go. We are moving our medical supplies to another location and I am looking for a safe place to resume our activities in an area where the medical needs are becoming more and more urgent," said Dr. Mustafa Ajaj, a local doctor and director of the health center supported by MSF in Takad.
MSF said that gaining access to healthcare has become increasingly difficult as the frontline continues to move and a number of hospitals in the area have been hit and destroyed. The remaining two hospitals in the western Aleppo countryside have closed as the cities in which the hospitals were located came under attack.
Dr. Ajaj had initially refused to move his family from Takad, but said recent the recent intensification of airstrikes has made it impossible to live there any longer.
Pushed toward the Turkish border
The government assault has pushed many of the region's inhabitants, many of whom have already been displaced multiple times, into makeshift refugee camps.
"The whole area is covered in tents, and the closer you get to the Turkish border, the more tents there are. Those who can't afford to buy a tent are sharing tents with other families," said a doctor working in the Deir Hassan camp in the north of Idlib province, 30 kilometers west of Aleppo.
"Some people have dumped all their belongings on the ground because they haven't got a tent yet and they are living in the open. The people living in the open are freezing. It's catastrophic," the doctor added.
Turkey, Russia, and the crisis
Turkish President Recep Tayyip Erdogan has warned of a humanitarian catastrophe and promised to not let Idlib fall. Turkey backs opposition groups against the al-Assad regime and has observation posts in the region that it recently reinforced with military vehicle convoys.
With Turkey backing the opposition and Russia backing the regime, the most recent clashes in Idlib have strained Russian-Turkish relations across the region. This month, more than 11 Turkish soldiers were killed, prompting a war of words between the two countries.
On Thursday, Erdogan warned the Syrian regime that it was only a "matter of time" before a Turkish military operation the area, giving what he said was the "last warning" to the Syrian regime. Russia described the move as the "worst possible scenario."
But back on the ground in northern Syria, civilians are suffering from the cost of the conflict.
"People are lost and have no idea what is going on. Fear has devastated us. We don't know what's going on politically, and we don't know what will happen in the future," said the doctor from Deir Hassan camp.
Full report at:
https://english.alarabiya.net/en/features/2020/02/19/Civilians-flee-homes-safe-zone-shrinks-as-Syrian-regime-bombards-Idlib.html
--------
Saudi Arabia health center advises avoiding Singapore for coronavirus risk
19 February 2020
Saudi Arabia's authority on viruses advised on Wednesday its citizens to avoid traveling to Singapore, except for urgent need, due to the threat of the coronavirus in the country.
"The Center advises all citizens and residents to be patient in traveling to Singapore, except for the urgent need, given the persistence of cases of coronavirus infection in Singapore," the Saudi National Center for Disease Prevention and Control wrote on Twitter.
Singapore reported three new cases of coronavirus on Wednesday, bringing the total in the country to 84.
Full report at:
https://english.alarabiya.net/en/News/gulf/2020/02/19/Saudi-Arabia-health-center-advises-citizens-to-avoid-Singapore-for-coronavirus-risk.html
--------
Saudi Aramco attack drone components linked to Iran and Houthis in Yemen
February 19, 2020
LONDON: A report by Conflict Armament Research (CAR) has linked the drones that targeted Saudi oilfields in September and Houthi drones in Yemen to Iranian drones recovered in Iraq and Afghanistan.
Analysis from CAR linked the unmanned aerial vehicles (UAVs) through a small instrument found in both devices.
The report, titled "Evolution of UAVs employed by Houthi forces in Yemen," is based on field investigations by CAR teams that carried out physical analysis on nine UAVs and one engine recovered by the UAE's Presidential Guard forces.
They were compared with Houthi bombs seized from the Iran-backed militia in Yemen and militants in Bahrain, as well as two varieties of Iranian UAVs.
By comparing the recovered items, CAR discovered that a significant number of Houthi UAV components were identical or similar to improvised explosive device (IED) parts recovered in Yemen.
The report finds that matching components either originated in Iran or are linked to Tehran-backed supply networks active in the region.
Investigators also found that Houthi UAVs had components that were identical to Iranian-manufactured equipment.
CAR found a gyroscope in a Houthi drone that shared an almost-exact serial number to a gyroscope recovered from an Iranian-made UAV picked up by Daesh militants.
The gyroscopes are believed to be the same make as those found on drones that attacked Saudi Aramco oilfields.
A UN Security Council resolution prohibits arms transfers to the Houthis. Arab News contacted Iran's mission to the UN for comment, but it did not respond.
A materiel and personnel exploitation expert, speaking on condition of anonymity, told Arab News that CAR's findings make it "almost certain that Iran was involved in the attack on Saudi oilfields."
The expert added: "CAR's work is similar to counterterror bomb analysis. Governments use these techniques to find the source of a threat and neutralize it. It's highly reliable and very rarely produces false links."
Jonah Leff, CAR's director of operations, said the increased sophistication of drones deployed by the Houthis allowed them to use UAVs "over longer distances and with greater explosive payloads."
He added that analysis of Houthi drone components and other lethal items points to Iran as the "likely benefactor in their supply."
UN: Houthis impeding humanitarian aid
Meanwhile, the US has threatened to cut aid to Houthi-held areas in Yemen amid UN claims that the militia is impeding the supply of medicines and food.
Documents obtained by the Associated Press reveal that the Houthis are only granting access to the UN on condition of a range of measures that aid agencies are rejecting because it would give the militia the ability to choose who gives aid, which could be exploited for terrorism.
A senior UN official said on condition of anonymity that the Houthis' obstruction has hindered several programs that feed the near-starving population and protect displaced Yemenis.
Nutritional supplements have been denied to nearly 300,000 pregnant and nursing mothers and children aged 5 or under for six months.
Another UN official said this was because the Houthis "held beneficiaries hostage" to a demand that the UN gives the militia a 2 percent cut of its aid package.
On Tuesday, Washington's envoy to the UN said the Houthis' attempt to tax the UN and hinder aid projects could see the US cancel its funding to Sanaa and northern areas under the militia's control.
Full report at:
https://www.arabnews.com/node/1630211/middle-east
--------
Southeast Asia
'We never raised funds for Al-Aqsa mosque'
By Farah Solhi, Sarah Rahim
February 19, 2020
KUALA LUMPUR: A group of Malaysian non-governmental organisations (NGOs) that had been active in fundraising activities for the Palestinians clarified that they were not involved in any drive for the maintenance of Al Aqsa Mosque.
The NGOs, which included Muslim Care Malaysia, Viva Palestina Malaysia, Muslim Youth Movement Malaysia (ABIM), Global Peace Mission, MyCARE, HALUAN Malaysia, Majlis Perundangan Pertubuhan Islam Malaysia, MEDICOM, Cakna Palestine and Malaysian Humanitarian Aid and Relief held a joint press conference after a meeting at the Muslim Care office, today.
Muslim Care Malaysia president Zulkifli Wahijan said it was illegal to do so because the maintenance of the mosque was under the purview of the Jordanian Waqf Ministry.
However, donations collected for the Palestinians had reached targeted recipients including those living near Al Aqsa Mosque.
"Our organisations have been transparent on our money trails as we are required to send annual audit reports to the Registrar of Societies (RoS) or Registrar of Companies (RoC)," he said.
Zulkifli said the meeting was held in response to the allegations by the Palestinian Ambassador to Malaysia Walid Abu Ali who claimed misuse of donation money and the donations failed to reach Al Aqsa Mosque's fund for years.
Walid had told the New Straits Times that only donations raised by the Selangor Islamic Religious Council (MAIS) were accounted for.
Zulkifli said the NGOs were upset with the allegation and claimed that they were questioned by the public over alleged involvement in unscrupulous activities.
"We urge the ambassador to provide proof or retract his statement and issue a public apology because we are not involved in raising funds for the mosque's maintenance," he said.
Zulkifli said the NGOs have been raising funds to address the plights of the Palestinians including those living around the mosque.
He said these activities were often publicised on social media sites and the NGOs would liaise with their counterparts abroad.
"We want this matter to be clarified as we are dealing with donations. We are also hoping to meet up with the ambassador soon."
Zulkifli said for the past 17 years since Gaza was affected by the Israeli regime, various help was given by the Malaysian NGOs in the form of money, food, healthcare and also donations meant for education and infrastructure.
The New Straits Times had contacted the ambassador today and he maintained his earlier statement.
https://www.nst.com.my/news/nation/2020/02/567100/we-never-raised-funds-al-aqsa-mosque
--------
Japan joins Malaysia in Olympics race to train 1,000 halal chefs for 2020 summer Games
February 19, 2020
KUALA LUMPUR: Olympics host Japan is going for gold in a race against time to train 1,000 chefs in halal food preparation for the summer 2020 Games.
With 5 million Muslim visitors from the Middle East, Africa and Southeast Asia expected to descend on Tokyo for the sporting spectacular, which takes place between July and September, Japan has teamed up with Malaysia to introduce Muslim-friendly standards (MFS) for the Japanese food industry.
"Most Muslim tourists would want to try Japanese food," said Keith Wong, CEO of Acrosx Malaysia, which has been appointed to the halal expert training committee of Japan's Ministry of Health, Labor and Welfare to help develop halal versions of Japanese dishes.
Demand for halal Japanese food was booming and Wong told Arab News: "Tempura is popular among Middle Easterners and in South Asia, while ramen and unagi (eels) are popular among Muslims from Southeast Asia. Sashimi and sushi are very popular among all Muslims."
He pointed out that MFS were needed because the number of halal restaurants in Japan was currently insufficient to cater for all visitor preferences during the Olympics.
The Japanese government has partnered with Malaysia's Halal Industry Development Corporation to have more than 1,000 chefs trained in preparing halal food and become MFS-certified.
"We are aiming to train 500 restaurants for 'Muslim-friendly' certification for the Olympics," Wong said, adding that MFS were even stricter than general halal standards.
Restaurants adopting MFS would be required to have a separate halal kitchen and provide different utensils for Muslim customers.
The Japanese chefs and restaurant operators taking part in the training will learn about the history of Islam, halal food storage and cooking methods.
Full report at:
https://www.arabnews.com/node/1630291/world
--------
Minister suggests 'the rich' should marry 'the poor' to reduce Indonesia's poverty rate
February 20, 2020
Coordinating Human Development and Culture Minister Muhadjir Effendy has suggested the country's rich people should marry those from low-income families, arguing that such cross-class marriages can contribute to reducing the national poverty rate.
Muhadjir said that in Indonesia — the country with the world's largest Muslim population — religious teachings on "looking for an equivalent match" for marriage had been often misinterpreted.
"What happened if poor people are looking for other poor people [for marriage]? There will be more poor households. This is a problem in Indonesia," Muhadjir said in his opening speech at the National Health Work Meeting in Jakarta on Wednesday.
Citing government data, the former education and culture minister said the number of poor households in the archipelago was roughly 5 million.
"The number of Indonesian households is 57.1 million, 9.4 percent or 5 million of which are categorized as poor. If added to the near-poor households, it is about 16.8 percent or about 15 million households," Muhadjir said as quoted by tempo.co.
He said the increase in poverty was also in line with an increase of illnesses such as stunting. Therefore, he continued, issuing a "fatwa" to require such cross-class marriages could be a solution.
Muhadjir suggested Religious Affairs Minister Fachrul Razi issue a fatwa ordering that "the poor are required to look for the rich [for marriage] and the rich should look for the poor".
In Indonesia, however, issuing a fatwa is not the duty of a religious affairs minister as a fatwa is normally issued by Muslim organizations, including the Indonesian Ulema Council (MUI), after comprehensive studies by the Fatwa Commission or religious experts who have competence in the relevant areas.
In addition to the fatwa, Muhadjir also proposed a premarital certification program, under which couples who were not yet economically stable but sought to get married must receive a pre-employment card from a program launched by President Joko "Jokowi" Widodo.
Muhadjir said that such a premarital program, which he claimed had been implemented by several countries such as Korea, Malaysia and Singapore, would push down the rate of new poor families in Indonesia.
"The goal is that after marriage, the couples will form economically stable households," said Muhadjir.
The World Bank has recently reported that approximately 115 million Indonesians, 45 percent of the country's population, have yet to achieve economic security and the lifestyle of the middle class.
However, it also mentioned that Indonesia had made progress reducing poverty over the past 15 years, pushing it down to less than 10 percent, and the middle class had grown from 7 percent to 20 percent of the population during the period.
Full report at:
https://www.thejakartapost.com/news/2020/02/19/minister-suggests-the-rich-should-marry-the-poor-to-reduce-indonesias-poverty-rate.html
--------
Indonesian bill proposes outlawing 'sexual deviation', surrogacy
February 19, 2020
JAKARTA: Politicians from four Indonesian parties are backing a so-called "Family Resilience" bill that would outlaw surrogacy and require LGBT people to seek treatment at rehabilitation centres, prompting outrage on social media and criticism from activists.
Indonesia, the world's most populous Muslim-majority country, is seeing a shift towards greater conservativism including growing state and public hostility against the lesbian, gay, bisexual and transgender (LGBT) community.
One of the bill's proponents, Ledia Hanifa of the opposition Prosperous Justice party, a conservative Islamic party, said in a statement posted on parliament's website that the proposed bill was intended to foster "family-based development".
According to a draft reviewed by Reuters, the family is defined as the smallest unit of society composed of married couples, married couples with children, and single parents.
The bill states that wives must "take care of household-related matters" and "treat the husband and the child well."
The bill is also seeking a maximum penalty of seven years in prison for surrogacy.
Under the bill, homosexuality, incest and sadomasochism are defined as "sexual deviations" and it wants people to report themselves to government-sanctioned rehabilitation centres for treatment.
The bill has been included on parliament's priority list for the 2020-2024 period, though proponents have yet to discuss it with the government's related ministries.
Parties supporting President Joko Widodo currently control 74% of seats in parliament so any bill would likely need government blessing to gain traction.
Supratman Andi Agtas, a member of parliament who heads a body overseeing the agenda of lawmakers, said a draft would be sent to the president before any deliberation between MPs and related ministries could start.
Fadjroel Rachman, a spokesman for the president, did not immediately respond to a request for comment.
Discussion about the bill has been trending on social media in Indonesia this week with many of the posts critical of the draft, which has also been condemned by rights groups.
"It's a very patriarchal bill and it will set back progress in gender equality and women's rights protection," Usman Hamid of Amnesty International Indonesia told Reuters.
Tunggal Pawestri, a gender rights activist, said the bill would be harmful for anyone who did not have a marriage certificate.
Full report at:
https://www.freemalaysiatoday.com/category/world/2020/02/19/indonesian-bill-proposes-outlawing-sexual-devation-surrogacy/
--------
Uighurs Concerned China is Luring Turkey into Silence on Xinjiang
By Asim Kashgarian
February 19, 2020
WASHINGTON - As international condemnation increases over the China's crackdown of the Uighur minority in Xinjiang province, a growing number of experts and activists are criticizing Turkey over what they call Ankara's deliberate silence influenced by China's economic and political influence.
Uighurs and Turks share a common linguistic, cultural and religious heritage with Turkey.
"Turkey is the country that must be most outspoken about the persecution of Uighurs, because of the historical and cultural ties between Uighurs and Turks. And that was indeed the case until late 2010s," according to Mustafa Akyol, a senior fellow at the Washington-based Cato Institute.
Akyol said Turkey since the rise of Recep Tayyip Erdoğan in 2003 has presented itself as the leader of oppressed Muslims in the world, particularly the Rohingya in Myanmar, Kashmiri Muslims and the Palestinians. However, the country has been "utterly silent" on Uighurs.
"I think all this is caused by Turkey's new ruling ideology, its anti-Western perception of the world, and its affinity with non-Western powers that include both Russia and China," Akyol said, adding that pro-China lobbying in Turkey has attempted to convince Turkish officials that concerns about Uighurs are "lies of the CIA."
When deadly clashes broke out between the Uighurs and Han Chinese in Xinjiang's capital Urumqi in 2009, Erdogan came out strongly against Chinese officials, saying the incidents were "simply put, a genocide." However, the Turkish government last October refused to join 23 nations in joint a statement to call on China to end violations against Uighur Muslims.
Changing rhetoric
Uighur activists say Erdogan's government in recent years has ceased its strong rhetoric on the issue even as China's measures in Xinjiang since 2017 have invited a global condemnation.
During a press conference Saturday after meeting with his Chinese counterpart, Wang Yi, on the sidelines of the 56th Munich Security Conference, the Turkish Foreign Minister Mevlut Cavusoglu told reporters "we support one China," while stressing Turkey's wish for Uighurs to have their "full rights."
"And there are countries which are using this subject against China. We are not joining their propaganda," Cavusoglu said, adding that the Chinese government has invited Turkey to send a delegation to the region but it was unclear if the visit was going to take place.
"We don't wish any terrorist attack against China because we suffered a lot from terrorist attacks ourselves in this country. But a terrorist can come from any ethnic group, can be a Turk, Uighur Han Chinese, or that terrorist can be Buddhist, Christian. But we are telling in every meeting with our Chinese counterpart that for one person being a terrorist, calling the whole Uighur Turks terrorist is not right," he told reporters.
Seyit Tumturk, the head of East Turkistan National Assembly based in Kayseri, Turkey, told VOA that Turkey's policy shift toward Uighurs is the result of China's increasing economic influence over the years. He said China has expanded its economic relations with Turkey through various infrastructure investment projects, such as high speed rails, bridges and nuclear energy plants.
"Turkey's capitulation on the Uighur issue is due to geopolitical and strategic needs of the country which is fueled by political and economic uncertainty following the coup attempt in 2016 and recent development in U.S. and Turkey relations," Tumturk said.
Gradually, these investments "are making Turkey more reliant on Chinese money," he told VOA.
Economic leverage
Turkey and China in 2010 signed eight strategic cooperative relationship pacts to increase their annual trade volume to $50 billion by 2015 and $100 billion by 2020. Trade volume between the two countries increased from $1.1 billion in 2001 to $23.6 billion in 2018, according to the Turkish Trade Ministry.
China's growing economic leverage over Turkey means Turkish officials are afraid that any strong position toward Xinjiang will likely cost the Turkish economy even as China escalates its campaign against Uighurs, Tumturk added.
1.8 million detainees
China since 2017 has been accused of holding some 1.8 million Uighurs, Kazakhs and other Turkic groups in detention camps in northeast China's Xinjiang autonomous region. More recently, rights organizations say some of the camp detainees have been transferred to work in factories for minimal wage and allowed to return their home only once a week.
Chinese officials have rejected those accusations, saying the camps are merely "vocational training centers" set up to "reeducate" the Uighur community members. Beijing has tied its policies in the region to fighting "the three evils of terrorism, extremism and separatism."
There are an estimated 12 million Uighurs in the world who are ethnically Turkic and religiously Muslim. More than 90% of them are believed to live in their ancestral home of Xinjiang in China's northwest region. The minority group often refers to Xinjiang as "East Turkestan," accusing China of a decades-long campaign to change the demographics of the region by forcing them out and replacing their communities by the majority Han people.
Turkey has historically been a haven for those Uighurs who have fled China. In the 1950s, Turkey accepted hundreds of Uighur refugees fleeing Xinjiang with settlement aid from the U.N. and later offered them Turkish citizenship. The arrangement marked the first large Uighur mass migration from China to Turkey in the 20th century.
Uighur refugees
Uighur organizations say nearly 45,000 Uighurs live in Turkey now, with almost 10,000 of them as refugees. Those who do not have refugee status have been granted temporary or permanent residence status, or in some cases, Turkish citizenship.
Between 2014 and 2015, despite China's opposition, hundreds more Uighur refugees who illegally crossed China's border to Myanmar, Vietnam, Thailand and Malaysia were given Turkish travel documents at the Turkish Embassy in Kuala Lumpur, Malaysia.
One of the Uighurs who fled from China to Turkey, Ihsan Karatal, told VOA that there was a growing unease among the Uighur community in Turkey over Ankara's changing position on Xinjiang.
Karatal moved to Turkey in 2018 along with his wife and three children after residing in the United Arab Emirates (UAE) for eight years. He said his family left UAE when some of his fellow Uighurs disappeared and rumors surfaced that they were repatriated to China.
"I found out that Turkey was a country I could go to easily and apply for a residence permit and more importantly the country wouldn't deport us to China to face torture or death," Karatal said.
"With my three children and wife, I applied for permanent residence at the Immigration Bureau in Istanbul after we arrived two years ago. Now we all have Turkish permanent residence permits. The best thing is we feel much safer here than anywhere else we have lived," he said.
Kartal said the Turkish government over the months has been more reluctant to give Uighurs citizenship, making many of them feel vulnerable if Turkey-China relations further improve in the future.
Full report at:
https://www.voanews.com/extremism-watch/uighurs-concerned-china-luring-turkey-silence-xinjiang
--------
North America
US Senator Sanders calls Saudi Arabia's rulers 'murderous thugs'
19 February 2020
US Senator Bernie Sanders, the leading Democratic presidential candidate, has condemned Saudi Arabia's regime during a town hall meeting, calling the country's leaders "murderous thugs."
"For years, we have loved Saudi Arabia - our wonderful ally; the only problem is the people who run that country are murderous thugs," Sanders said on Tuesday, according to Middle East Eye.
The Vermont senator described Saudi Arabia's Crown Prince Mohammed bin Salman as a "billionaire dictator."
The senator also reiterated his stance that the United States should not ignore the needs of Palestinians and blasted the "right-wing racist government that currently exists in Israel."
He also pointed to the humanitarian crisis in the Gaza Strip.
Sanders made similar remarks during a presidential debate in December, when he called Israeli Prime Minister Benjamin Netanyahu a "racist" and said US foreign policy cannot be only pro-Israel, but must be "pro-Palestinian" as well.
Sanders has also been a relentless critic of President Donald Trump, repeatedly calling him a liar and the "most dangerous president" in US history.
The senator has jumped out to a double-digit lead over his closest rivals in the Democratic presidential contest, while former US vice president and previous front-runner Joe Biden has seen his support drop by 11 points, according to a new NBC News/Wall Street Journal poll released Tuesday.
The survey also shows former New York Mayor Mike Bloomberg gaining ground in the Democratic race in the past month.
https://www.presstv.com/Detail/2020/02/19/619025/US-Senator-Bernie-Sanders-Saudi-Arabia-murderous-thugs
--------
Saudi, US Navies to participate in naval exercise in Eastern Province
20 February 2020
A mixed naval exercise will start next week, where the Royal Saudi Naval Forces will host the US Navy at the King Abdulaziz Naval Base.
The 'Marine Defender' exercise is an extension of a series of previous joint exercises between the two countries, according to a report by Saudi Press Agency (SPA).
"The exercise aims to raise combat readiness to maintain freedom of maritime navigation. The exercise enhances maritime security in the region and unifies the concepts of naval combat work," according to the report.
https://english.alarabiya.net/en/News/gulf/2020/02/20/Saudi-US-Navies-to-participate-in-naval-exercise-in-Eastern-Province.html
--------
US envoy discusses Taliban deal with re-elected Afghan President Ghani
20 February 2020
US special envoy Zalmay Khalilzad and Afghan President Ashraf Ghani on Wednesday discussed a US deal with Taliban militants on a weeklong reduction in violence, meeting the day after Ghani was declared a winner of a disputed presidential poll.
Ghani's main rival, Abdullah Abdullah, who came in second, rejected the result and vowed to form his own government, threatening new political turmoil as the United States strives to seal a US troop withdrawal deal with Taliban militants.
The Afghan presidential palace in a statement quoted President Ghani as telling Khalilzad he had held "effective" meetings with local leaders on how the Afghan government would handle the peace process.
The US-Taliban deal was struck in protracted negotiations in the Qatari capital Doha and was announced on Friday after a meeting between US Secretary of State Mike Pompeo, Ghani and US Defense Secretary Mark Esper in Munich.
Khalilzad, who has led talks with the Taliban on a US troop withdrawal agreement, briefed Ghani on the steps that will be taken after the reduction in violence agreement comes into force, the presidential palace statement said.
Afghanistan's acting interior minister had said on Tuesday that the accord would come into force in the next five days, even as clashes between the Taliban and Afghan security forces continued.
The statement following the Khalilzad-Ghani meeting did not mention the Afghan president's re-election, which is being disputed by a number of Ghani's political opponents. The United States has not yet formally congratulated Ghani on his re-election for five more years as president.
Full report at:
https://english.alarabiya.net/en/News/world/2020/02/20/US-envoy-discusses-Taliban-deal-with-re-elected-Afghan-President-Ghani.html
--------
Maximum pressure on Iran will continue, says Pompeo as he arrives in Riyadh
19 February 2020
US Secretary of State Mike Pompeo arrived on Wednesday in Riyadh for a three-day visit during which he will discuss regional security after the US killing last month of a top Iranian general pushed the oil-producing region closer to an all-out war.
Pompeo was received at King Khalid International Airport by Princess Reema Bint Bandar bin Sultan al-Saud, Saudi Arabia's Ambassador to the United States, John Abizaid, the US Ambassador to Saudi Arabia and the Saudi Under Secretary of State for Protocol Affairs Azzam bin Abdul Karim Al-Qain.
Princess Rima Bint Bandar, while receiving Pompeo, stated that the Saudi-American cooperation was strong and vital for the stability of the region and in facing common challenges.
Pompeo had previously announced Washington's readiness for talks with Iran at any time, "but Tehran must fundamentally change its behavior."
Pompeo added during his African tour before traveling to Saudi Arabia that "Iran's detention of European and American citizens was illegal and unacceptable."
The US Secretary of State said that the maximum pressure on Iran will continue, "as will its isolation through diplomacy."
"We are not rushed, the pressure campaign continues. It's not just an economic pressure campaign... It's isolation through diplomacy as well," Pompeo said before his flight to Riyadh.
"(In Riyadh) we'll spend a lot of time talking about the security issues - the threats from Islamic Republic of Iran in particular, but we'll talk about a broad range of things."
On arrival in Riyadh, the US Secretary of state tweeted: "Pleased to be back in Riyadh to discuss the US government's strong commitment to #SaudiArabia's security and the continued need to stand together to counter #Iran's malign behavior in the region."
Secretary Pompeo
✔
@SecPompeo
Pleased to be back in Riyadh to discuss the U.S. government's strong commitment to #SaudiArabia's security and the continued need to stand together to counter #Iran's malign behavior in the region.
View image on Twitter
2,391
3:10 AM - Feb 20, 2020
Twitter Ads info and privacy
885 people are talking about this
https://english.alarabiya.net/en/News/world/2020/02/19/US-will-not-tolerate-Iran-s-attacks-on-US-troops-in-Iraqi-bases-Pompeo-.html
--------
Pompeo urged to press Saudis to resolve case of doctor
Servet Günerigök
19.02.2020
WASHINGTON
A group of Democratic senators urged U.S. Secretary of State Mike Pompeo on Tuesday to raise the case of a detained Saudi-American doctor with government officials when he visits Saudi Arabia later this month.
Arrested in November 2017, Dr. Walid Fitaihi was released pending trial last July. The Saudi government has reportedly seized the American passports of the doctor's wife and six of his children.
Fitaihi is "being tried on vague charges linked to his social media activity expressing outrage over the killing of peaceful protesters since the Arab Spring," according to Human Rights Watch.
The senators include Bob Menendez, a ranking member of the Senate Foreign Relations Committee, and Senators Patrick Leahy, Chris Murphy, Chris Van Hollen and Ron Wyden.
The Saudi government imposed a travel ban on Dr. Fitaihi and his family.
"We ask you to urge a positive and prompt resolution of the ongoing court case against Dr. Fitaihi and a lifting of the travel ban imposed on him and seven members of his family, all of whom are U.S. citizens," the senators wrote in a letter addressed to Pompeo.
"It has been a consistent priority of the United States—throughout Democratic and Republican administrations—to free Americans abroad from unjust detention," they said.
Pompeo will visit Riyadh from Feb. 19-21 to discuss regional and bilateral issues with the Saudi leadership, including Iran, Yemen and human rights.
Full report at:
https://www.aa.com.tr/en/americas/pompeo-urged-to-press-saudis-to-resolve-case-of-doctor/1738019
--------
Europe
Macron unveils curbs on foreign imams in France to combat 'separatism'
19/02/2020
French President Emmanuel Macron on Tuesday announced measures to end a programme that allowed foreign countries to send imams and teachers to France in a bid to crack down on what he called the risk of "separatism".
During a visit to the eastern French city of Mulhouse, Macron said the government sought to combat "foreign interference" in how Islam is practiced and the way its religious institutions are organised.
"A problem arises when, in the name of religion, some want to separate themselves from the Republic and therefore not respect its laws," he said.
Macron plans to end a programme created in 1977 that allowed nine countries to send imams and teachers to France to provide foreign-language and culture classes that are not subject to any supervision from French authorities.
Four majority-Muslim countries – Algeria, Tunisia, Morocco and Turkey – were involved in the programme, which reaches about 80,000 students every year. Around 300 imams were sent to France every year by these countries and those who arrived in 2020 will be the last to arrive in such numbers, said Macron.
The government has asked the French Muslim Council (CFCM), the body representing Islam in France, to find solutions to train imams on French soil instead and ensure they can speak French and do not spread Islamist views.
The measures were part of a much-anticipated intervention less than a month before municipal elections in France. Macron's speech came at the end of a visit to Mulhouse, home to a large Muslim community that has been the focus of the French government's campaign against Islamism.
The new rules were intended to counter Islamic extremism in France by giving the government more authority over the schooling of children, the financing of mosques and the training of imams, said Macron.
"This end to the consular Islam system is extremely important to curb foreign influence and make sure everybody respects the laws of the republic," he told a news conference in Mulhouse.
'We cannot have Turkey's laws on France'
The scrapping of the programme granting countries the right to send imams and teachers to France would instead be replaced by bilateral agreements to ensure French state has control over the courses and their content starting in September.
France had agreements with a number of countries, including Algeria, Morocco and Tunisia, said Macron. But the only country with which France did not reach a bilateral agreement was Turkey.
"Turkey today can make the choice to follow that path with us or not, but I won't let any foreign country feed a cultural, religious or identity-related separatism on our Republic's ground," he said.
"We cannot have Turkey's laws on France's ground. No way," Macron added.
Turkey runs a vast network of mosques inside the country and abroad under the powerful Diyanet, or Directorate of Religious Affairs. Under President Recep Tayyip Erdogan, the Diyanet budget has dramatically increased amid criticism that the body was being used by Ankara as a foreign policy tool and an attempt to extend Turkey's soft power.
Home to Europe's largest Muslim community, estimated at around 6 million, or 8 percent of the population, France has long sought to assimilate its Muslim nationals and residents in a country that holds fast to laïcité, or state secularism, a 1905 legal principle that separated church and state and mandated the state's neutrality on religion.
France has suffered major attacks by Islamist militants in recent years. Coordinated bombings and shootings in November 2015 at the Bataclan theatre and other sites around Paris killed 130 people – the deadliest attacks in France since World War Two. Most of the attackers were French or Belgian nationals who had travelled to Turkey and from there to Iraq and Syria to fight with the Islamic State (IS) group.
Fighting 'separatism' or communities governing themselves
Addressing the issue of "separatism", Macron warned of the dangers of "communitarianism" or the practice of communities governing themselves in France. He called for better integration of Muslims in wider society.
"We are here for a reason that we share with Muslims – that is the struggle against communitarianism," he said. Macron insisted the new measures were not anti-Islam, but were designed to aid the integration and provide opportunities for France's Muslims.
"What we must put in place is not, as I have sometimes heard from some people, 'a plan against Islam'. That would be a profound mistake," said Macron. "What we must fight is the separatism, because when the Republic does not keep its promises, others will try to replace it."
https://www.france24.com/en/20200219-macron-unveils-curbs-on-foreign-imams-in-france-in-bid-to-combat-separatism
--------
France's 'Muslim' problem and the unspoken racism at its heart
February 20, 2020
French Muslims continue to struggle with unemployment, social immobility and systemic racism, in spite of the French government's calls for integration, which runs into deep-founded racism with every turn.
A young Muslim man of North African descent leans against a graffiti-filled wall in Felix Pyat, Marseille's poorest and third quarter. With a loosely-held cigarette, his shaved head, worn leather jacket are entirely at odds with his education: a biotechnology engineer, graduating fifth in his class.
"I got fifth because I was too smart for my own good," jests Mohammed with a pained smile. "Not smart enough to remember that I'm Arab, and there's no point to school."
Mohammed Laarbi, whose last name has been changed due to his request for anonymity, has been on the hunt for a job for three years to no avail. The reason?
"Discrimination," he claims. "When they hear your last name, you can see the interviewer's face change. Sometimes they're extra-polite, in an unnatural way, but you can see in their eyes they're not interested in an Arab," he adds.
Laarbi's situation is hardly unique. Muslim immigrants in France, some third- and fourth-generation, have yet to integrate in a country that doesn't really want them.
One of the most famous Algerian folk songs 'Ya Rayah' (Oh departing one), encapsulates the feeling of entire generations of disenchanted Algerians who arrived for France for employment, only to find despair in diaspora.
Kamel Messoudi, another classic Algerian folk singer laments in one song: "Oh strangeness in the land of others / Whoever sees me, says he's is a 'foreigner' / After once being silver, today I revert to copper."
But since the release of these songs in the 1970's, circumstances remain highly similar.
"Modern France and Colonial France haven't really changed", says Dr Hamed Benseddik, a professor of Decolonial Studies who spoke to TRT World.
Benseddik believes that modern France "continues to struggle with the failed integration and assimilation of Muslims, largely due to its own internal contradictions".
"How does a country that allegedly stands for liberty, equality and fraternity reconcile itself with internal racist undercurrents that deny the liberty of religion, generate inequality, and treats Arabs and Muslims as second-class citizens?" asks Benseddik.
"It can't, because it would have to first acknowledge its white saviour's complex, the genocide of millions, its nuclear testing in colonies, systemic racism, rape, torture, muder and its industrialisation at the expense of entire nations and peoples; in the name of Mother France and all that she stands for. That's not going to happen anytime soon."
France has always had a 'Muslim' problem
Once known as Francia, the Frankish Empire was Europe's foremost imperial power and the first and largest barbarian kingdom to emerge from the Dark Ages following Rome's fall. The same empire would one day give birth to France and Germany.
Charles Martel, one of France's oldest heroes had his moment of glory when he unified Francia in a fight against Andalusian Muslims, defeating them in the crushing battle of Tours which many Europeans see as the continent's first repulsion of Islam.
With tens of thousands dead, Andalusian history mournfully describes the battlefield as 'the Court of Martyrs'. Historian John Henry Haaren describes it as, "One of the decisive battles of the world. It decided that Christians and not Muslims should be the ruling power in Europe." His sentiment is widely shared.
But this was only the beginning of France's story. Martel was thrust into the spotlight of heroism for his victory, gaining notoriety and immense power for having saved Christendom from the Moors. His grandson, Charlemagne was idolised not just in France but throughout Europe as the first pan-European figure, becoming the first self-proclaimed Holy Roman Emperor of Western Europe after waging countless wars against the Arab Saracens and Moors.
The actions of Martel and his grandson gave rise to France, and a perception of Islam as a threat since the nation's conception. This propagated worldview would guide France's colonial wars, and the consequent colonisation of the Middle East itself.
Forgotten history, whitewashed crimes
In France today, the name of the game is integration. French Muslims are often the subject of heated debates and simplifications overlooking religious and cultural diversity. The common cry remains that Muslims in France have not adopted French ways, culture and norms. Instead, the very meaning of what it means to be French is portrayed at risk by pundits, right-wing politicians and patriots alike.
But few question the reason for Muslims' lack of integration, or the 'mere history' of racism, colonialism and social factors, which are often dismissed by the mainstream.
Abdelmalak Sayad, renowned Algerian-French sociologist and author of the The Suffering of Immigrants describes multiple reasons Muslims are marginalised in France, particularly North Africans.
Bitter legacies
"At the forefront is France's laissez-faire attitude and unapologetic stance towards its bloody role as a colonial power and brutal subjugator of peoples," says Sayad. "This included dehumanisation, torture, rape, exploitation and outright genocide, as in the case of over 5,000,000 Algerians killed throughout 132 years of French colonial rule."
To the present day, France has yet to formally acknowledge its use of widescale torture, population cleansing, nuclear testing or the exploitation of resources in Algeria.
Often lost on many modern pundits and analysts, France's exploitative colonial history left a bitter legacy with many Muslims.
In Algeria for instance, settlers took control of cities, vast tracts of the best arable agricultural land, and often rented out plots to Algerians at prohibitive rates. By the Third Republic, there were no limitations left on settler activity in Algeria. In one of the largest land-rushes recorded in history, Algeria's structures, wealth and society were effectively eradicated. Algerians were also not provided with education, given the likelihood it would lead to resistance or demands for higher wages.
For many North African Muslims, the ultimate hypocrisy was that France did not adhere to the very principles of the 'Rights of Man' it created as far back as 1789.
So it wasn't all legal. But Algerian Muslims were nominally French citizens, which didn't grant them more freedoms. If anything, it presented more burdens.
Muslims paid heavier taxes, had little to no rights, and nearly no legal protection according to the infamous 'Code of Indigenes'. To acquire French citizenship, one had to give up their 'Muslim status' through an intentionally difficult process. Most Algerians were officially legally identified as 'Muslims'. To this day, immigrant Algerians in France continue to identify as Muslims, rather than give up their faith and adopt a French identity.
"To put it simply," says Benseddik. "France's republican ideals were permanently tarnished in the eyes of people who knew its truth."
Muslims quickly became an undercaste in Algeria itself, in spite of being the largest majority. Algerian Jews were granted speedy citizenship under the Cremieux decree, and given every right a citizen of the French republic enjoyed.
Stranded without hope
It wasn't long before Algerians would seek out France for temporary work, remittances being the only means by which they could save entire villages from ruin and abject poverty.
France in turn, was in need of unskilled industrial labourers, and was already accustomed to using North African indentured conscripts on its front lines throughout World War I and II. By the 1970s, Algerian migration for work was no longer a phenomena, but a reality.
With the end of industrialisation, unemployment soared in France. Labour was no longer an upwards path to integration in French society, leaving many stranded.
This wasn't to last. France was already in the process of shifting into a post-industrial economy, leaving many Muslim immigrants out of a job, lacking education or other skills and leaving them economically marginalised and stranded on the wrong side of the the social ladder. This wasn't all too long ago.
The French Institute for Demographic Studies reports that unemployment only worsened in minorities as discrimination increased. Among the first wave of immigrants, 15 percent of male Algerians, 11 percent of Moroccans and Tunisians, and 10 percent of Turks were unemployed.
By the second generation, unemployment had gone from bad to worse.
Among Algerians, Moroccans and Tunisians unemployment had risen to 17 percent. For Turks, it nearly doubled to 19 percent. Immigrant unemployment was much higher than the native French average.
Housing for the masses
Soon after World War II, France implemented mass low-cost public housing development projects. To indigenous French citizens, they were described as 'shoddily-built, uniform and aesthetically unappealing'.
But to Muslim immigrants, they were a blessing compared to housing lacking heat, water, private and bathrooms. They would soon discover the new cites were isolated from public transportation, social areas, and presented difficulties getting to work.
With the lack of a better alternative, the enclaves were predominantly lived in by immigrants, as the socially-mobile French moved into better neighbourhoods. In time, they would become ghettos. Rising immigrant rates meant most working-age immigrants relied on some form of welfare. Schools filled with immigrants became less and less a means to social mobility, as the dream of 'making-it' died out.
Dead dreams
Second and third-generation immigrants became more susceptible to gangs, drugs, and antisocial behaviour; reducing prospects for immigrants as a whole to dig themselves out of poverty and squalor.
In a vicious cycle, French social welfare ensured the ghetto's marginalised and isolated survived. Disenfranchisement would rise further, as ghetto culture and mannerisms became the perfect targets for police crackdowns.
"Prison populations jumped significantly with this ghettoisation. More than half of the French prison population is Muslim," says Marouane Mohammed, former director of the Muslim Association for Islam in France, speaking to TRT World.
"They don't feel alive. They live in purgatory. No parks. No cafes. Their jobs don't pay enough for them to feel like they are real jobs. Even if you are academically successful, you're not likely to go far. Discrimination based on your name and area code is the norm," says Mohammed.
Collapsing centre
But this is no longer limited to France's Muslims. The gilet jaune (yellow vest) movement reflects growing discontent with pervasive economic insecurity.
As with the disruptive end of the industrial era, the rise of the knowledge economy put industrial and post-industrial jobs in dire conditions. With a new economy reliant on global financial instruments, technology and specialized skills; the beneficiaries are few, at the expense of the many.
With rising costs of living, housing and a shrinking middle class, Muslim immigrants and the indigneous French alike face the same challenges. For second and third-generation Muslim immigrants in the banlieues, this serves as yet another confirmation that the path upwards and out is blocked.
Denied a necessary middle class, Muslim immigrants are socially immobilised, cash-strapped, and discriminated against. French calls for creating a 'French Islam', is seen with widespread suspicion given France's legacy of using religion as a means of social control in colonial territories.
Colonial France promoted pacifist religion to minimise resistance, while nearly eradicating the practice and memory of Islam by cracking down on schools and religious instruction. If it weren't for the efforts of reformist scholars such as Abdelhamid bin Badis over more than a century who collectively struggled to keep religion and literacy alive; it's likely Algerians would speak only French today and know nothing of Islam.
Full report at:
https://www.trtworld.com/magazine/france-s-muslim-problem-and-the-unspoken-racism-at-its-heart-33939
--------
Dutch Islamophobe jailed for threatening Muslims
Burak Dag
19.02.2020
A Dutch court on Wednesday sentenced a person to 90 days in jail for threatening Muslims on social media.
According to a statement by the court, the 33-year-old person threatened Muslims with death after Christchurch massacre in New Zealand.
On March 15, 2019, terrorist Brenton Tarrant attacked two mosques in the city of Christchurch during Friday prayers and killed 51 people and wounded 49 others.
"I will do the same. I will get a gun and kill all Muslims," the convict had written on the social media.
The convict was detained by the police upon his mother's complaint.
https://www.aa.com.tr/en/europe/dutch-islamophobe-jailed-for-threatening-muslims/1738988
--------
Turkish, Greek defense teams conclude day 3 of talks
Dilara Hamit
19.02.2020
Turkish and Greek Defense Ministry delegations concluded a third day of negotiations, aiming to improve bilateral cooperation, in Athens on Wednesday.
"The talks will continue tomorrow," the Turkish Defense Ministry said in a Twitter post.
The delegation also visited the Piraeus Turkish Martyrdom and Turkish Armed Forces Attache's office in Athens, the ministry added.
https://www.aa.com.tr/en/europe/turkish-greek-defense-teams-conclude-day-3-of-talks/1738897
--------
South Asia
Iran has given Taliban anti-aircraft missiles: Sources
20 Feb 2020
Iran has given anti-aircraft missiles to Taliban group amid soaring tensions between Washington and Tehran over regional issues that led to the killing of a top Iranian general in Iraq few weeks ago.
Reports regarding the delivery of anti-aircraft missiles to Taliban by Iran emerge as numerous Afghan and American planes faced crashes, hard-landings and emergency landings in the restive parts of the country.
While no definitive proof exists in this regard, the acting police chief of Uruzgan Sardar Mohammad Haya has told Radio Free Afghanistan "Iran has given the Taliban anti-aircraft missiles so that they can better target our aircrafts."
Hayar further added "Numerous [recent] intelligence reports based on various sources detail this support."
This comes as Washington has repeatedly been accusing Iran of supporting the militant groups in the Middle East and Afghanistan.
"Iran provides a range of financial, political, training and material support to groups which would include Hezbollah, Iraqi Shia militant groups, the Houthis in Yemen, some Palestinian groups, the Taliban and Bahraini Shia militants," the Department of Defense said in a statement late in November last year.
https://www.khaama.com/iran-has-given-taliban-anti-aircraft-missiles-sources-04468/
--------
Prominent Taliban group leader killed in Afghan forces' ambush in Badakhshan
20 Feb 2020
The Afghan National Defense and Security Forces killed a prominent Taliban group during an operation in North-eastern Badakhshan province.
The Ministry of Defense (MoD) in a statement said the National Defense and Security Forces ambushed Ataulah, one of the prominent group leaders of Taliban in Baharak district.
The statement further added that the security forces laid the ambush late on Wednesday night in Sarpul Shahr Village of Baharak.
According to MoD, Ataullah was mainly involved in plotting, coordinating and implementing terrorist attacks in Bahrak district of Badakhshan province.
The Taliban group has not commented in this regard so far.
Badakhshan is among the relatively volatile provinces in North-east of Afghanistan.
Full report at:
https://www.khaama.com/prominent-taliban-group-leader-killed-in-afghan-forces-ambush-in-badakhshan-04471/
--------
Airstrikes kill 5 Taliban and ISIS-K militants in 3 provinces
20 Feb 2020
The highly maneuverable A-10 Thunderbolt II, like this one, can employ massive firepower to protect coalition troops on the ground supporting Operation enduring Freedom. (U.S. Air Force photo/Staff Sgt. Kenny Kennemer)
A series of airstrikes killed 5 militants of the Taliban group and the offshoot of ISIL – ISIS Khurasan, in three provinces of Afghanistan in the past 24 hours.
The military officials said Wednesday an airstrike killed 3 Taliban militants in Nahr-e Saraj district of Helmand province.
The officials further added a similar airstrike killed a militant of ISIS Khurasan (ISIS-K) in Tswoky district of Kunar province in the East.
Another airstrike killed a Taliban militant in Deh Yak district of the restive Ghazni province in South-east of Afghanistan, the officials added.
The anti-government armed militants including Taliban and ISIS Khurasan have not commented regarding the airstrikes so far.
Full report at:
https://www.khaama.com/airstrikes-kill-5-taliban-and-isis-k-militants-in-3-provinces-04469/
--------
The imposed election was against democratic values: Karzai
19 Feb 2020
Hamid Karzai, the former President of Afghanistan declared his stance in reference to the final presidential election results announcement, released a statement 24 hours after the final presidential election results by the IEC.
"I have already shared my concerns with the people that holding elections in a situation where conducting a fair and transparent election is not possible will lead to a crisis and will also disturb the peace process", Former Afghan President Hamid Karzai said in connection with the announcement of the results of the presidential election.
I have also urged for the unification of all social and political forces to work for peace and its realization as the most significant national issue, he added.
The process that was imposed on our people under the name of elections was a non-national process and contrary to democratic principles and values in which the far low turnout than expected reflects this fact, Karzai said.
"Afghans need to unite and work together more than anytime ever to nationalize the peace process as soon as possible to ensure lasting peace and security in the country", said former President Karzai.
This comes as the Independent Election Commission (IEC) announced the final presidential election results on Tuesday, introducing Mohammad Ashraf Ghani as the elected President with 50.64% votes.
The main rival of Ghani, Abdullah Abdullah appeared in a press conference late Tuesday evening announcing stance in regards to the election results.
Full report at:
https://www.khaama.com/the-imposed-election-was-against-democratic-values-karzai/
--------
Mideast
Iran's Larijani in Lebanon viewed as signal of Beirut's pivot toward Iran axis
19 February 2020
Iranian Speaker of Parliament Ali Larijani's visit to Lebanon has sent a signal that Tehran is seeking to drag Lebanon closer to the Iranian axis, but his offer of Iranian money to help Lebanon's struggling economy has been dismissed by experts as untrue. The first foreign official to visit Beirut since new Prime Minister Hassan Diab formed a government, Larijani said Tehran is ready to help Lebanon through its current economic and currency crises. Diab's government was selected exclusively by parties from the Iran-backed Hezbollah-allied bloc, previously known as the March 8 coalition.
Larijani's visit has therefore been seen as Iran attempting to boost its influence in Lebanon with the new government. In Beirut, Larijani met with Lebanese officials, including President Michel Aoun, Speaker of Parliament Nabih Berri, Prime Minister Diab, and Hezbollah head Hassan Nasrallah, who does not hold any official position in government.
Speaking at a press conference Monday, Larijani said, "Lebanon is going through a sensitive stage, and we hope that the new government headed by Hassan Diab will be able to overcome all difficulties, and we are fully prepared to cooperate with the Lebanese government in all areas."
Iran unable to offer much
Larijani "called for promoting Tehran-Beirut relations and expressed his country's readiness for helping Lebanon in the economic, trade, industrial, pharmaceutical, scientific, cultural, agricultural, and military arenas," according to Iran's official Islamic Republic News Agency. He noted specifically that Iran might be able to help Lebanon with their chronic electricity problem by providing technological support.
However, he did not specify how much aid was on offer, or what form it would take, making some observers skeptical.
"What the Iranians are capable of providing I would imagine to be fairly limited, given their dire financial situation," said Firas Maksad, a Washington-based consultant on Middle East policy and adjunct professor at George Washington University's Elliot School for International Affairs.
Iran had, in the past, offered to provide Lebanon with more affordable, Iranian-made medications – which could help in the current situation in which Lebanon could face shortages of imported drugs due to the lack of dollars in the country – noted Maksad. Already, Lebanon has had to ration dialysis supplies and some medical equipment is in short supply.
Iran has also offered military aid to the Lebanese Armed Forces, he said, but accepting such assistance could lead to the US cutting its military aid.
Hani G.
@HaniGhraizi
Replying to @ChinaDaily
#Larijani specifically mentioned his country's willingness to help #Lebanon economy. Whilst #Iran economy is surely larger than Lebanon's, #GNP per capita in Lebanon is double that of Iran. I wonder whether this anticipated "help" is better for the people of Iran?
11:25 PM - Feb 18, 2020
Twitter Ads info and privacy
See Hani G.'s other Tweets
Surprise visit drew critical responses
Larijani's had not been invited and his visit came as a surprise to many Lebanese officials, said Maksad.
"It caught Lebanese officials off guard and put them in a difficult situation politically," Maksad said, given how the visit was likely to be perceived by Western countries, which have already been wary of the new Lebanese government.
Larijani also praised Hezbollah and advocated for Lebanon to turn away from the US and Saudi Arabia, saying that if Lebanese officials "hold out their hand for help to the US and Saudi Arabia, their crisis will remain unresolved."
Larijani's visit and Lebanon's apparent move toward Iran more generally have been criticized by political leaders in the camp opposed to Hezbollah, formerly known as the March 14 coalition.
Former Prime Minister Saad Hariri, who resigned in November, said Friday, on the anniversary of the 2005 assassination of his father, former Prime Minister Rafic Hariri, that the promise of Iranian money "solves a party crisis, not the country's crisis."
Hani G.
@HaniGhraizi
Replying to @ChinaDaily
#Larijani specifically mentioned his country's willingness to help #Lebanon economy. Whilst #Iran economy is surely larger than Lebanon's, #GNP per capita in Lebanon is double that of Iran. I wonder whether this anticipated "help" is better for the people of Iran?
11:25 PM - Feb 18, 2020
Twitter Ads info and privacy
See Hani G.'s other Tweets
Ashraf Rifi, a former Minister of Justice and sometime political rival of Hariri within the Sunni community, wrote on Twitter following Larijani's visit, "Mr. Larijani must know that Lebanon is an independent country, not an Iranian governate, and that illegal weapons will not change its identity."
Lebanese citizens, whatever their political alliances, are largely eager for the country to stay out of larger geopolitical conflicts.
Abed, a warehouse worker in Beirut who was relaxing on the corniche Tuesday afternoon, told Al Arabiya English that he wants to see Lebanon remain neutral.
"We are a small country, a very small country," he said. "We don't want to take sides with anyone – not with Iran, not with Saudi [Arabia], not with England, not with America. We need to be friends with all of them."
As to the proffered Iranian aid, he said, "If someone wants to come to the country and wants to be a friend to the country, he's welcome. But if someone wants to come and push his politics, the politics of the country he's coming from, here, I don't think that's right."
Jad Nader
@jadnader
Yesterday's Larijani's visit will only accelerate Lebanon's political and economical downfall!#لبنان_ينتفض #لا_ثقة
11:18 AM - Feb 18, 2020
Twitter Ads info and privacy
See Jad Nader's other Tweets
US Ambassador meets Diab
The day after Larijani's visit on Monday, Diab received the US Ambassador to Lebanon, Elizabeth Richard, a potential signal that the new government does not want to entirely pivot away from the West. On Wednesday, Greek Foreign Minister Nikos Dendias arrived in Beirut.
According to the state National News Agency, the meeting "focused on the most recent developments in Lebanon and the region. The pair also discussed the best means to boost US-Lebanese bilateral ties."
The embassy declined to give a statement following the meeting.
https://english.alarabiya.net/en/News/middle-east/2020/02/19/Iran-s-Larijani-in-Lebanon-viewed-as-signal-of-Beirut-s-pivot-toward-Iran-axis.html
--------
Pompeo says prepared to talk to Iran 'anytime', pressure to continue
19 February 2020
US Secretary of State Mike Pompeo on Wednesday said authorities in Washington were prepared to talk to Iran "anytime", but that it needed to "fundamentally" change its behavior and that a campaign of maximum pressure against it would continue.
"We are not rushed, the pressure campaign continues. It's not just an economic pressure campaign... it's isolation through diplomacy as well", Pompeo told reporters in the Ethiopian capital Addis Ababa before boarding a flight to Saudi Arabia.
https://english.alarabiya.net/en/News/world/2020/02/19/Pompeo-says-prepared-to-talk-to-Iran-anytime-pressure-to-continue.html
--------
Iran attempting further arms deliveries to Houthis, says Pentagon
20 February 2020
Tehran continues to deliver weapons to Yemen's Houthi rebels, the US military said Wednesday, following a second interception in less than three months of what Washington said were Iranian arms.
"The seizure is consistent with a historical pattern of Iranian smuggling of advanced weapons to the Houthis in Yemen," said Captain Bill Urban of US Central Command, , which is responsible for US forces in the Middle East, during a briefing at the Pentagon on the latest interdiction.
Both interceptions were in the Gulf region and involved dhow vessels that were sailing without a flag, the first occurring on November 25 and the second on February 9.
Urban presented photos of the seized cargo and said the weapons came from Iran and were intended for the Houthis.
In the latest seizure, the USS Normandy found 150 "Dhelavieh," Iranian-made copies of the Russian Kornet anti-tank guided missile and three Iranian-designed and manufactured "358" surface-to-air missiles, he said.
The weapons seized in November included the same type of missiles plus a large number of spare parts for cruise missiles.
The United States assessed "with high confidence" that the weapons "were being illicitly smuggled to the Houthis in Yemen in contravention of multiple UN Security Council Resolutions," Urban said.
The crew arrested in the latest shipment were Yemeni and were delivered to the Yemen coast guard, he said.
Full report at:
https://english.alarabiya.net/en/News/gulf/2020/02/20/Iran-attempting-further-arms-deliveries-to-Houthis-says-Pentagon-.html
--------
Yemen's Houthi militia impeding UN aid flow, demand a cut
19 February 2020
Yemen's Houthi militia have blocked half of the United Nations' aid delivery programs in the war-torn country - a strong-arm tactic to force the agency to give them greater control over the massive humanitarian campaign, along with a cut of billions of dollars in foreign assistance, according to aid officials and internal documents obtained by The Associated Press.
The Iranian-backed militia has made granting access to areas under their control contingent on a flurry of conditions that aid agencies reject, in part because it would give the Houthis greater sway over who receives aid, documents and interviews show.
The Houthis' obstruction has hindered several programs that feed the near-starving population and help those displaced by the nearly 6-year civil war, a senior UN official said, speaking on condition of anonymity to discuss the situation.
"Over 2 million beneficiaries ... are directly affected," the official said.
The Houthis have been pushing back against UN efforts to tighten monitoring of some $370 million a year that its agencies already give to government institutions controlled mostly by the Houthis, documents show. That money is supposed to pay salaries and other administration costs, but more than a third of the money spent last year wasn't audited, according to an internal document leaked to the AP.
The UN has largely kept quiet in public about the pressure, but behind the scenes the agency and international donors are digging in against the Houthi demands. The AP spoke to seven workers and officials from UN and independent agencies about the situation. All spoke on condition of anonymity for fear of reprisals. The AP also saw dozens of documents, including emails of aid officials.
In October, the UN humanitarian coordinator for Yemen, Lise Grande, sent a letter to the Houthi-appointed prime minister complaining about a long list of demands.
The "overwhelming majority" of them impede or delay delivery of aid and many violate humanitarian principles, she said in the letter, a copy of which was obtained by the AP.
For months, the Houthis demanded a 2 percent cut from the entire aid budget be given to them, a condition the UN and donors rejected. In an email to the AP, a spokesperson for the US Agency for International Development said Houthi attempts "to implement a tax on humanitarian assistance are unacceptable and directly contradict international humanitarian principles." The United States donated $686 million to Yemen in 2019, according to USAID.
Last week, the Houthis appeared to back off the 2 percent demand, but continue to press for other concessions, according to aid officials.
During a meeting in Brussels last Thursday, aid agencies and international donors threatened to reduce aid if the Houthis continue to impose restrictions on UN operations in Yemen.
The situation "has reached a breaking point," they said in a statement.
At least one agency, the World Food Program, is currently considering cutting back the monthly food aid it delivers to 12 million Yemenis every other month, a UN official said. "It's unfortunate that people will suffer but this is on the Houthis," the official said. "They can't use people as hostages for too long."
On Thursday, both UN and American officials said they are continuing their efforts to deliver aid to Yemenis despite the Houthi roadblocks.
"We want to help the long-suffering people of Yemen," said USAID Administrator Mark Green, when asked about the AP investigation during a stop in Munich. "The Houthis are putting up restrictions that make it difficult to do that, and that's something that we refuse to stand still for."
UN deputy spokesman Farhan Haq added: "We've made clear to all parties the need to make sure that our aid can proceed, and we have regularly reiterated the importance of sustaining the humanitarian operation, which is being implemented in challenging conditions and is providing life-saving assistance to millions of Yemenis."
The Houthis' demands have stoked longtime concerns among aid agencies over the militants' diverting of humanitarian funds and supplies into their own or their supporters' pockets or toward their war effort.
Delivering aid in a war zone has always posed a problem for UN agencies. But officials said the situation in Yemen has been especially challenging.
The Houthis have withheld visas and permissions for equipment and supplies and refused to grant clearances for UN missions to move through houthi-controlled areas. Aid workers said agency leaders' past willingness to concede to some of the Houthis' demands has emboldened their leaders to push for more.
Nearly 300,000 pregnant and nursing mothers and children under age 5 haven't received nutrition supplements for more than six months because the Houthis "held beneficiaries hostage to the 2 percent" demand, another UN official said.
In another example, the Houthis for months delayed permission to distribute 2,000 tons of food - enough to feed 160,000 people - in the district of Aslam, where the AP previously found starving villagers reduced to eating boiled leaves. When approval came in November, the food had spoiled "beyond the point of salvage," another aid official said.
Houthi leaders have remained defiant in the face of UN pushback.
"Yemen will survive" if agencies suspend aid, Abdul-Mohsen Tawoos, secretary-general of the Houthi agency coordinating international aid, told European donors during a January 20 Skype call. Minutes of the call were obtained by the AP.
He said the Houthis wanted to reach an agreement with the UN and its donors, but "won't be bullied."
Tawoos accused Grande, the top UN official in Yemen, of sending false reports about Houthis restricting the movement of UN humanitarian operations. Houthi leaders have threatened to expel her from the country.
The UN's massive aid program, totaling $8.35 billion since 2015, is vital to keeping many Yemenis alive. The UN calls the situation in Yemen the world's worst humanitarian crisis.
Ten million people in the country are on the brink of famine and 80 percent of the population of 29 million in need of aid, according to the UN.
More than 3 million people have been displaced, cholera epidemics have killed hundreds, and at least 2.2 million children under 5 suffer from severe malnutrition, the agency said.
With the economy in freefall, the UN aid effort is a major source of foreign currency into the country.
The UN received around $3 billion in 2019 in international donations for its campaign, short of its $4.2 billion goal.
The Iranian-backed Houthi militia demand for 2 percent of that budget would funnel $60-$80 million into the coffers of their aid-coordination agency, the Supreme Council for Management and Coordination of Humanitarian Affairs and International Cooperation, known as SCMCHA.
Qassim Hussein al-Houthi, the head of the international agencies department in the Houthi presidency, said the money was necessary for SCMCHA's operating expenses.
"It carries heavy financial burden. It's in charge of facilitating, distributing, security, and organizing the work of the agencies," he said.
Al-Houthi argued that it's the UN agencies that spend a much larger percentage of their budgets on administration without "real oversight." He said the UN aid delivery programs blocked by the Houthis "are not a priority for the Yemen people."
Harassment, intimidation and suspected embezzling of funds by Houthis have been going on for years, aid workers said, and have gotten worse since the Houthis created their aid coordination agency in early 2018. Since then, Houthi-led security agencies have arrested local workers, blocked aid missions or held up supplies, according to internal emails and documents seen by the AP.
"Not even a simple project can be carried out in northern Yemen without the consent and supervision of this body," said a Yemeni chief of a local aid organization.
The UN rarely pushed back, calculating that aid had to be delivered at any cost.
UN agencies continued to put hundreds of millions of dollars into Houthi accounts for "capacity building," a common practice in humanitarian programs to ensure government bodies function.
Some of the money went to salaries for doctors, teachers and other vital employees who have otherwise gone without pay amid the war. Millions more went to the Houthi aid agency for administrative costs and salaries.
Aid workers privately expressed concerns about the funds from UN aid agencies being diverted into the coffers of Houthi leaders or their supporters.
UNICEF told The Associated Press in a statement that its funds were strictly monitored and no instances of diversions were found.
The World Health Organization said all its spending was "subject to internal and external audit," as well as frequent internal reviews on multiple levels. WHO also said it found no evidence that its funds have been diverted.
Still, last summer, the UN requested all agencies report how much they were giving in direct cash transfers. In 2019, the total reached $370 million, around 10 percent of the entire international aid budget for Yemen, according to a UN spreadsheet obtained by the AP.
Around $133 million was marked in the spreadsheet as "not audited."
Some officials in the Houthi aid body, SCMCHA, appear to be receiving multiple salaries, the data shows. For a time, three UN agencies were each giving salaries to the body's president, his deputy and general managers. Each of the officials received a total of $10,000 a month from the agencies, the spreadsheet shows.
The UN refugee agency also gave SCMCHA $1 million every three months for office rental and administrative costs, while the UN migration agency gave the office another $200,000 for furniture and fiber optics.
UN officials said Grande was "genuinely shocked when she learned about the arrangements."
"She had no idea about the scale of it," said one senior UN official. "Her reaction after that was, we have to fix the situation."
Over the past year, UN agencies, lead by Grande, began pushing back against Houthi demands.
First, the World Food Program suspended aid for a couple of months in some areas around Sanaa and demanded biometric registering of beneficiaries to ensure deliveries go to those truly in need. The Houthis initially agreed but later refused to follow through with the biometric registering.
The UN then moved to prevent double-paying of salaries, and its agencies tightened auditing of the funds it provided.
UNICEF, for example, said it decided in November to re-assess all 243 partners it works with, including government ones, and cut down dramatically on funds put into Houthi coffers. The agency said it would start paying suppliers and contractors directly.
The moves by the UN have prompted the Houthis to launch a media campaign denouncing the humanitarian agency as corrupt and wasteful.
Further escalation came after the Houthi aid body in November was put under the leadership of the Houthi president's chief of staff, making it more powerful, several aid officials said.
An already difficult environment to work in "became extremely suffocating with threats (and) directives," one of the officials said.
SCMCHA's new leadership imposed more than 200 new directives on humanitarian agencies, six aid officials told the AP.
Some directives - such as requiring agencies to disclose the identities of aid recipients and involving Houthi authorities in assessments of need - would give the militants even greater power to steer aid to their supporters, aid workers fear.
Other demands seemed aimed at monitoring and intimidating, such as ordering local Yemeni staffers to get Houthi permission to take UN training courses abroad and then to report back the content of those workshops. Houthis officials also require the segregation of women and men in UN-run programs in some areas.
The Houthis also demanded a new agreement giving them a hand in assigning UN contracts with suppliers and picking local partners to implement programs, according to a draft of their proposal seen by the AP. It also gives them the right to screen UN hires in Yemen and take over the budget of monitoring programs.
Aid agencies have refused to sign the agreement.
Several humanitarian workers said the Houthis are also trying to force the UN to work with NGOs they favor, particularly an organization known as Bonyan, which is filled with Houthi affiliates. The brother of Houthi leader Abdel Malek al-Houthi, Ibrahim al-Houthi, was a board member until his death last summer. Houthi leaders stopped the UN agencies from delivering food in Yemen's Hodeidah province, unless they used Bonyan for the distribution.
Despite the disputes between the Houthis and the UN, aid officials continue to appeal to international donors for money to address the crisis in Yemen.
Full report at:
https://english.alarabiya.net/en/News/gulf/2020/02/20/Yemen-s-Houthi-militia-impeding-UN-aid-flow-demand-a-cut.html
--------
Turkey's Erdogan threatens 'imminent' Syria operation, sparks Russian warning
19 February 2020
Turkey has threatened to launch an "imminent" operation in Syria's Idlib Province if Damascus fails to withdraw behind Ankara's military positions, sparking a warning from Russia.
"Like our previous operations, we say our operation may happen suddenly one night," Turkish President Recep Tayyip Erdogan said, referring to three cross-border incursions his country has so far waged in northern Syria.
Speaking at a meeting of the ruling Justice and Development (AK) Party's parliamentary group in Ankara on Wednesday, Erdogan stressed that Turkey was determined to make Idlib a secure zone "no matter the cost."
He also noted that several rounds of talks between Ankara and Moscow on the situation in Idlib had failed to reach "desired results."
"The talks will continue, but it is true that we are far from meeting our demands at the table," Erdogan said. "Turkey has made every preparation to carry out its own operational plans. I say that we can come at any point. In other words, the Idlib offensive is only a matter of time."
"An operation in Idlib is imminent. We are counting down, we are making our final warnings," he added.
The Turkish president has previously said his country may use military force to drive back Syrian forces unless they pull back by the end of February.
Reacting to Erdogan's threat, Kremlin spokesman Dmitry Peskov issued a warning.
"If we are talking about an operation against the legitimate authorities of the Syrian republic and armed forces of the Syrian republic, this would of course be the worst scenario," he told reporters.
However, Peskov added that Moscow would not object if Ankara acted against "terrorist groups in Idlib" in accordance with existing agreements, saying, "Contacts with Turkey are continuing."
Idlib and small parts of the adjacent area in Aleppo form the only large territory in the hands of terrorists after the Syrian military managed to undo militant gains across the country and bring back almost all of Syrian soil under government control.
The Syrian army has been making steady advances in the past few weeks, liberating a strategic city and a key highway which connects Damascus to Aleppo, among other gains.
Syria began the offensive in December to drive out the terrorists from Idlib and neighboring areas after its troops and those of Russia came under increasing attacks.
The Syrian gains, however, have coincided with a massive deployment of troops and military equipment by Turkey, which is evidently upset by changing conditions on the ground.
Turkish troops are deployed in terrorist-held areas in Idlib under a deal reached with Russia in 2012.
The deal called for the establishment of a de-militarized zone which required Turkey to oust Takfiri terrorists from the Syrian province. But, more than a year into the agreement, Takfiri terrorists rule supreme in Idlib in quite close proximity to Turkish troops.
Syria's Aleppo airport resumes flights after 8 years
In another development on Wednesday, a Syrian Air flight landed at Aleppo airport after a 40-minute flight from Damascus, marking the resumption of flights between the country's two largest cities for the first time since 2012.
Full report at:
https://www.presstv.com/Detail/2020/02/19/619026/Turkey-Recep-Tayyip-Erdogan-Syria-Idlib
--------
Teen killed in clashes between Palestinian forces, gunmen
February 19, 2020
JERUSALEM: A teenager was shot and killed in overnight clashes between Palestinian forces and local gunmen in the West Bank, local media reported Wednesday.
Salah Zakarna, 17, was shot in the chest and later died when Palestinian security forces clashed with armed residents in the northern West Bank town of Qabatiya, the Palestinian Maan news agency reported. It was unclear who shot him.
Maan said Palestinian forces were trying to prevent residents from firing celebratory gunfire into the air to welcome home a local man who had been released from an Israeli prison. It said several people, including members of the security forces, were wounded.
The Palestinian Authority, which has limited self-rule in parts of the Israeli-occupied West Bank, said it launched an investigation into the teenager's death and would bring those responsible to justice.
Support for Palestinian President Mahmoud Abbas has plummeted in recent years following his failure to bring about an independent state or mend the rift with the Islamic militant group Hamas, which controls the Gaza Strip. The Palestinian Authority has also faced widespread allegations of corruption.
Full report at:
https://www.arabnews.com/node/1630281/middle-east
--------
Africa
Tunisia's designated PM Fakhfakh proposes new government
20 February 2020
Tunisia's designated Prime Minister Elyes Fakhfakh named a new coalition government after he reached an agreement with Ennahda Party, the biggest bloc in Parliament, ending an ongoing political crisis of four months.
With this agreement, the proposed government will likely win a confidence vote in Parliament in coming days and the country will avoid an early election.
Ennahdha won more seats than any other party in October's legislative election, but was still far short of a majority.
Fakhfakh, 47, was named minister of tourism in 2011 before serving as minister of finance from December 2012 until January 2014.
He became involved in politics again after Tunisia's 2011 revolution, joining the Ettakatol party, which had allied with Ennahdha.
The Islamist-inspired party is demanding a government of national unity.
Last Monday, Tunisian President Kais Saied said he would dissolve parliament and call for early elections if the proposed new government fails to win confidence in parliament.
https://english.alarabiya.net/en/News/north-africa/2020/02/20/Tunisia-s-designated-PM-Fakhfakh-proposes-new-government.html
--------
Somali militants kill 12 soldiers in attack on base, say officials
19 February 2020
Al Shabaab militants killed at least 12 Somali soldiers and briefly captured a military base southwest of the capital on Wednesday, officials said, underscoring the insurgents' ability to launch attacks despite a government offensive.
A suicide bomber detonated at the El Salini base before gunmen stormed in and briefly occupied it, police said. The military recaptured the base after reinforcements arrived.
"They took the base and took weapons and ammunitions, this includes anti-aircraft guns fixed on pickups," said Nur Ahmed, a police officer from Afgoye in Lower Shabelle region.
Military officer Ismail Ali said 12 soldiers were killed and the commander of the base was injured.
Al Shabaab claimed responsibility.
"We took the base. We took two pickups with anti-aircraft guns hooked on. We destroyed four other military vehicles," Abdiasis Abu Musab, al Shabaab's military operation spokesman, told Reuters.
He said the attackers had killed 15 soldiers.
Al Shabaab has been fighting the UN-backed Somali government for more than a decade.
Full report at:
https://english.alarabiya.net/en/News/world/2020/02/19/Somali-militants-kill-12-soldiers-in-attack-on-base-say-officials.html
--------
Libya talks need strong signal to resume: Prime Minister Sarraj
19 February 2020
Libya's internationally recognized Prime Minister Fayez al-Sarraj has ruled out the resumption of peace talks aimed at finding a solution to the crisis in the country unless there is a "strong signal" from all international players.
"There must be first a strong signal from all international players who are trying to talk to us," Sarraj told reporters on Wednesday as he visited Tripoli's seaport which was attacked by eastern forces on Tuesday.
The internationally recognized Government of National Accord (GNA) announced late Tuesday it would suspend its participation in talks brokered by the United Nations, which began on the same day in Geneva between representatives of the GNA and its main rival, the eastern-based Libya National Army (LNA).
The reason was a barrage of rockets that hit a port in the capital Tripoli, which has been the target of a months-long offensive by the LNA.
In an attempt to salvage the talks, a source familiar with the matter said on Wednesday that the UN Libya envoy Ghassan Salame was trying to convince the Tripoli delegation to remain in Geneva and resume indirect talks. The UN also confirmed it.
"Delegations are still here (in Geneva) and Dr Salame has a meeting today with the head of the GNA delegation," said Jean El Alam, spokesman for the United Nations Libya mission.
"The mission leadership is in contact with the GNA in Tripoli and member states to keep the momentum going," he added.
In a separate statement, the UN mission said it was "expressing its strong and renewed condemnation of the bombing of Tripoli's seaport yesterday by the Libyan National Army."
Libya has since 2014 been divided between two rival camps, the Tripoli-based government of Sarraj, and a camp in the eastern city of Tobruk, supported militarily by rebel forces under the command of Khalifa Haftar.
Numerous attempts to broker peace between the two sides of the conflict have failed.
Full report at:
https://www.presstv.com/Detail/2020/02/19/619043/Libya-Geneva-talks
--------
UN tries to salvage Libya talks after Tripoli government withdraws
February 20, 2020
GENEVA/CAIRO: The UN tried to salvage talks over a cease-fire for Libya on Wednesday after the government based in Tripoli said it was pulling out after a single day to protest against the shelling of the capital's port.
Talks began on Tuesday in Geneva between the internationally recognized Tripoli government and its main rivals, the eastern-based Libya National Army (LNA), which has been trying to take the capital.
Late on Tuesday, the government said it would suspend its participation after the LNA shelled Tripoli port in the latest of several strategic plays by troops loyal to eastern commander Khalifa Haftar that have coincided with attempts to ease tensions.
Delegations in Geneva
UN Libya envoy Ghassan Salame was trying to convince the Tripoli delegation to stay in Geneva and resume indirect talks, a source close to the talks said and the UN confirmed.
"Delegations are still here (in Geneva) and Dr. Salame has a meeting today with the head of the GNA delegation," said Jean El-Alam, spokesman for the UN Libya mission, referring to the Tripoli-based Government of National Accord.
"The mission leadership is in contact with the GNA in Tripoli and member states to keep the momentum going."
In a separate statement, the UN mission said it was "expressing its strong and renewed condemnation of the bombing of Tripoli's seaport yesterday by the Libyan National Army."
There was no immediate comment from either side.
Russian Defense Minister Sergei Shoigu met with Haftar and they discussed to resolve the conflict in the north African state, the ministry said in a statement.
They agreed a political settlement is the only option for Libya, according to RIA news agency.
Shoigu and Haftar also discussed "the important role of talks" held in Moscow in January as well as "the need to fulfil" terms agreed at an international summit in Berlin later last month, Moscow said.
Russian Foreign Minister Sergei Lavrov said on Wednesday that outside players should push both sides in Libya to sit down for peace talks.
"All those who in one way or another influence political or other forces in Libya should stimulate them to sit down for talks. The first steps in this direction were taken but now additional difficulties are coming up again," Lavrov said while meeting his Jordanian counterpart Ayman Safadi in Moscow, RIA Novosti news agency reported.
Nearly nine years after rebel fighters backed by NATO airstrikes overthrew Muammar Qaddafi, Libya still has no central authority. The streets are controlled by armed groups, with rival governments based in Tripoli and the east.
Since the LNA marched on Tripoli nearly a year ago, fighting has displaced 150,000 people. Both sides have support from an array of foreign governments, with Turkey supporting the Tripoli government.
The Geneva meetings have so far been held in different rooms, with Salame shuttling between the parties. Another round of talks is scheduled next week in Geneva.
The latest attack is part of an emerging pattern amounting to an apparent power play by the commander.
Haftar's forces last month shut down Libya's main oil ports as European and Arab powers and the US were meeting with his supporters in Berlin aimed at halting the campaign to capture the capital.
In 2019, eastern military forces moved to western Libya just as UN Secretary-General Antonio Guterres arrived.
The LNA initially said its strikes on Tuesday had targeted a Turkish vessel bringing weapons. It later said it had hit an arms depot.
Full report at:
https://www.arabnews.com/node/1630496/middle-east
--------
3 killed as terrorists ambush bus in Kenya
Andrew Wasike
19.02.2020
NAIROBI, Kenya
Three people were killed in an attack claimed by the al-Shabaab terror group in northern Kenya, local police said on Wednesday.
A 58-seater bus heading to capital Nairobi from the border town of Mandera came under fire from terrorists, who were hiding in bushes along the route.
The bus driver was among several people injured in the firing but he still managed to speed away from the site.
Police officials told reporters the bus was operated by a private company and the attack was carried out by the al-Shabaab terror group, which is affiliated with al-Qaeda.
They said it was likely the attackers had entered Mandera through the porous Kenya-Somalia border.
Mandera County Commissioner Onesmus Kyatha confirmed the casualties in the attack but said more details would be released later in the day.
He added that security forces were deployed in the area to hunt down the terrorists.
Full report at:
https://www.aa.com.tr/en/africa/3-killed-as-terrorists-ambush-bus-in-kenya/1738690
--------
URL: https://www.newageislam.com/islamic-world-news/hindu-lingayat-math-gadag-district/d/121112
New Age Islam, Islam Online, Islamic Website, African Muslim News, Arab World News, South Asia News, Indian Muslim News, World Muslim News, Women in Islam, Islamic Feminism, Arab Women, Women In Arab, Islamophobia in America, Muslim Women in West, Islam Women and Feminism