New Age Islam News Bureau
10 Sept 2019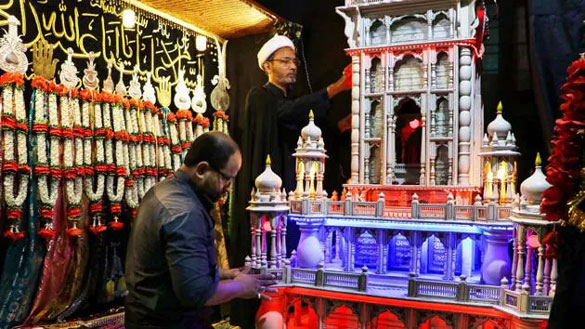 According to the locals, people in the village celebrate all the festivals together, be it Holi, Diwali or Eid. Image used for representational purpose only.(Photo: PTI)
-------
• Hindu and Muslims Celebrate Ganesh Chaturthi, Muharram under One Roof in Hubli District
• 'Even Muslims Are Not Safe in Pakistan': Baldev Kumar, Ex-PTI Lawmaker's SOS to PM Modi
• Hindu Priests, Muslim Clerics Pray For Chandrayaan-2's Success in Agra and Mathura
• Imam Hussain's Martyrdom Is a Triumph for Humanity, Islamic Injunctions: Pak President
• Youm-e-Ashur Revives Spirit Of Supreme Sacrifices: PM
• Muslim Authorities and A Thousand Faithful at the Inauguration of New St Francis Xavier Church in Oman
• Iran Offers Citizenship to Stateless People with 'Iranian Roots' In Kuwait
• UN Rights Chief 'Deeply Concerned' About Impact of Indian Govt's Actions on Rights of Kashmiris
• U.S. Forces Hit Enemy Harder Over the Last 4 Days in Afghanistan than Any Time In Last 10 Years: Trump
• More Foreigners Arrested In Fresh Raids on Private Shia Functions in Johor, Selangor
India
• Hindu and Muslims Celebrate Ganesh Chaturthi, Muharram under One Roof in Hubli District
• 'Even Muslims Are Not Safe in Pakistan': Baldev Kumar, Ex-PTI Lawmaker's SOS to PM Modi
• Hindu Priests, Muslim Clerics Pray For Chandrayaan-2's Success in Agra and Mathura
• Police Chargesheet Drops Murder Charge against 11 Accused in Tabrez Killing
• UN rights chief urges New Delhi to ease lockdown in Kashmir
• It's time for India-Pakistan clash at UNHRC
• With what face will Pakistan raise Kashmir at UNHRC: Congress
• Tensions between India-Pakistan 'Less Heated' Now, Says Donald Trump With Fresh Offer To Mediate
• What if Lord Ram was not born in Ayodhya?
• Delhi Police makes elaborate arrangements for Muharram
• Artists give final touches to tazias for Muharram
• Muharram restrictions in Kashmir: Intensified restrictions make an already tough job tougher for journalists
• Allahabad: Nine held for damaging car trapped in Muharram procession
• India Says Suspected Militants Trying to Infiltrate Kashmir
• Inputs of possible terror attack in south India, says Southern Army Commander
• PM Modi to address UN General Assembly on September 27, same day as Imran Khan
--------
Pakistan
• Imam Hussain's Martyrdom Is a Triumph for Humanity, Islamic Injunctions: Pak President
• Youm-e-Ashur Revives Spirit Of Supreme Sacrifices: PM
• Masood Azhar unwell, brother runs the show at Jaish
• PML-N Sindh supports JUI-F's anti-government long march
• COAS, Centcom commander discuss Kashmir, Afghan issues
• Zardari slams 'tyrannical forces of state against political opposition'
• CDA finalising policy to shift private schools from residential areas
• 9th Muharram processions peacefully conclude in KP
--------
Arab World
• Muslim Authorities and A Thousand Faithful at the Inauguration of New St Francis Xavier Church in Oman
• Bahraini Regime Steps Up Clampdown On Shia Clergymen Ahead Of Ashura
• Saudi Arabia, World's Top Arms Importer, Launches Own Military Industry
• Saudi Arabia Wants To Enrich Uranium For Nuclear Power, Says Minister
• Syria war: 'Air strikes' hit Iran-backed forces near Iraq border
• Iraq Interior Ministry Busts 75-Member ISIS Cell
• Four killed, including a civilian, across Iraq in day of militant attacks
• Iraqi paramilitary fighters kill 4 Islamic State terrorists in Salahuddin
• Egypt pushes for end to US 'terror' blacklisting of Sudan
--------
Mideast
• Iran Offers Citizenship to Stateless People with 'Iranian Roots' In Kuwait
• Muslims across Iran Commemorate Tasoua, Ashoura
• Israel: Shi'ite Force Fired Rockets from Syria; 'Strike on Syria-Iraq Border Kills 18 Iran-backed Militiamen'
• UN atomic watchdog confirms Iran installing new centrifuges
• Israeli PM Netanyahu exposes additional sites related to Iran's nuclear program
• IRGC chief: US 'would have collapsed' under sanctions if it was in Iran's position
• UN's IAEA acting chief on Iran nuclear talks: 'Time is of the essence'
• Coalition forces intercept, down Houthi drone in Yemeni air space
• Israeli PM's bid to place cameras at polling stations fails
--------
Europe
• UN Rights Chief 'Deeply Concerned' About Impact of Indian Govt's Actions on Rights of Kashmiris
• Police raids find huge arms cache linked to Islamic terror group, al-Muhajiroun, in West Midlands
• Anniversary of Munich massacre reminds us of need to fight anti-Semitism and terrorism
• Italy police detains 10 for alleged terrorism financing
• ISIS remains resilient in Afghanistan, says UN chief Guterres
• Germany urged to extend arms export ban on S.Arabia
--------
South Asia
• U.S. Forces Hit Enemy Harder Over the Last 4 Days in Afghanistan than Any Time In Last 10 Years: Trump
• 19 Taliban Militants Killed, Detained In Special Forces Raids In Kabul And Other Provinces
• Taliban kidnaps 6 Afghan journalists, capping a week of deadly militant attacks
• Trump's Stunt with the Taliban Was Not About Negotiating Peace
• Secret Taliban peace talks at Camp David floated, scrapped within a week, U.S. officials say
• 3 civilians wounded in an explosion in Kabul city
--------
Southeast Asia
• More Foreigners Arrested In Fresh Raids on Private Shia Functions in Johor, Selangor
• China Says US 'Lies' About Xinjiang Region Will Not Deceive Anyone
• Perlis Mufti: Prioritising Muslim-Made Goods Will Boost Community's Traders
• Suicide bomber killed at Philippine army base
• Blaming provocateurs ignores voice of Papuans
--------
North America
• After Trump Calls Off Talks, Afghanistan Braces for Violence
• Michigan Church, Islamophobic Pastor Blasted For Plans To Host Anti-Muslim 9/11 Event
• US still interested in Taliban peace deal, Pompeo says
• Former US defense secretary says trust is key question in Taliban talks
• US CENTCOM chief meets Pakistan Army chief
--------
Africa
• Burkina Faso: 29 Killed, 10 Injured In Three Attacks
• Boko Haram Kills Soldier, Injures Three Others in Borno Ambush
• Burkina Faso: Twin 'terrorist attacks' leave dozens dead
• South Sudan rebel leader in Juba in bid to salvage peace deal
• Sudan looks forward to better ties with US
• South Sudan opposition leader Machar arrives in Juba
Compiled by New Age Islam News Bureau
URL: https://www.newageislam.com/islamic-world-news/hindu-muslims-celebrate-ganesh-chaturthi/d/119706
--------
Hindu And Muslims Celebrate Ganesh Chaturthi, Muharram Under One Roof In Hubli District
Sep 10, 2019
In yet another example of communal harmony, people of a village in Hubli district celebrated Ganesh Chaturthi and observed Muharram under the same pandal.
"We want to send the message of communal harmony, which is very important at this point in time," a local, Mohammed Sham told ANI.
Both Hindus and Muslims gather at the same place, where arrangements have been made for Ganesh Chaturthi and Muharram.
The two communities offer prayers under the same roof.
"There are around 4,000 people in this village and we all live in harmony. Here, the communities work together as one," another local who came to the pandal to offer prayers said.
According to the locals, people in the village celebrate all the festivals together, be it Holi, Diwali or Eid.
"We live like brothers and sisters in the village and celebrate all the festivals together," said Reshma, another local.
https://www.hindustantimes.com/india-news/communal-harmony-on-display-hindu-and-muslims-celebrate-ganesh-chaturthi-muharram-under-one-roof/story-W8ZPY7j1332WUJKCkd0DTI.html
--------
'Even Muslims Are Not Safe in Pakistan': Baldev Kumar, Ex-PTI Lawmaker's SOS To PM Modi
Sep 10, 2019
A former MLA from Imran Khan's PTI, who is seeking political asylum in India over atrocities on minorities in Pakistan, on Tuesday asserted that Hindus and Sikhs are being "tortured" in the neighbouring country.
Baldev Kumar also stated that even Muslims in Pakistan are not safe as life in the country is full of difficulties.
"Not only minorities but even Muslims are not safe there (Pakistan). We are surviving in Pakistan with a lot of difficulties. I request the Indian government to give me asylum here. I will not go back," Baldev Kumar told ANI.
Baldev's admission once again exposed Pakistan's record of using unfair means of treatment against the minority communities.
A former PTI MLA from Barikot in Khyber Pakhtun Khwa (KPK) assembly, Baldev is in India along with his family to seek political asylum.
Baldev, 43, no longer wants to return to Pakistan and has alleged that minorities, including Hindus and Sikhs, are being prosecuted in Pakistan.
"The Indian government should announce a package so that the Hindu and Sikh families staying in Pakistan can come here. I want Modi Sahab to do something for them. They are tortured there," he requested.
In 2016, a sitting MLA from his constituency was assassinated. Baldev was charged with a false murder case and acquitted in 2018, adding to a number of false cases that minority members are framed in by cash-strapped Islamabad.
In Pakistan, incidents where Hindu, Sikh and Christian girls are forcibly converted to Islam and married to Muslim men are reported regularly.
The recent incident of abduction, forcible marriage and religious conversion of a Sikh girl of Nankana Sahib is a telling example.
https://www.hindustantimes.com/india-news/even-muslims-are-not-safe-in-pakistan-ex-pti-lawmaker-s-sos-to-pm-modi/story-CsK1epGjjdqXDoh11m7tZN.html
--------
Hindu Priests, Muslim Clerics Pray For Chandrayaan-2's Success in Agra and Mathura
Siraj Qureshi
September 9, 2019
Even after Isro lost communication with Vikram, the lander, and could not successfully launch the rover on the lunar surface, Hindu priests of Mathura still believe that scientists will be able to restore contact with the lander in the coming days.
Talking to IndiaToday.in, several priests in Mathura said that there will be a chhappan bhog' held at Goverdhan to encourage the scientists of Isro and for the success of Chandrayaan-3, whose launch could take place next year. Originally the launch was slated for 2024. Fifty-six dishes will be prepared and distributed as prasad' on the occasion.
Giriraj Seva Samiti founder Murari Ji Agarwal told IndiaToday.in, "Anant Chaturdashi is one of the prominent festivals in the Braj region and every year, a chhappan bhog is held on this day, but this time, the chappan bhog is aimed at Isro's success in the upcoming Chandrayaan-3 launch in 2020. On this occasion, Isro scientists will also, receive the well-wishes and blessings of all Indians through this special puja."
Muslim clerics in Agra have announced that they will offer a chadar' at the dargah of Salim Chishti in Fatehpur Sikri on the success of the Chandrayaan-2 moon mission.
https://www.indiatoday.in/india/story/hindu-muslim-priest-pray-chandrayaan-2-1597274-2019-09-09
--------
Imam Hussain's Martyrdom Is a Triumph for Humanity, Islamic Injunctions: Pak President
Sep 10, 2019
ISLAMABAD: President Dr Arif Alvi has said that the supreme sacrifices given by Imam Hussain (AS) and his family members and companions were a triumph for humanity and Islamic principles.
In a statement, President Alvi said that the day of Ashur holds a great significance in the Islamic history because on this day, Imam Hussain (AS), the grandson of Holy Prophet (Peace Be Upon Him), along with his family members and companions, embraced martyrdom in the battle of Karbala, thus making the tragic event unforgettable till the day of judgment.
Every year, these sacrifices remind us that Muslims should not hesitate from sacrificing their lives in the face of forces of evil and vice, he added.
He stressed that people should seek guidance from the lessons taught by Imam Hussain (AS) about raising one's standards of truthfulness in the face of forces of darkness.
The president further emphasised upon the people of Pakistan to emulate these supreme lessons in their lives and work for the progress and prosperity of the country, besides taking all possible steps to curb terrorism, extremism and intolerance.
He also prayed for the progress and prosperity of the country and complete adoption of the real message of Youm-e-Ashur.
https://www.pakistantoday.com.pk/2019/09/09/imam-hussains-martyrdom-is-a-triumph-for-humanity-islamic-injunctions-alvi/
--------
Muslim Authorities And A Thousand Faithful At The Inauguration Of New St Francis Xavier Church In Oman
Sep 10, 2019
Muscat (AsiaNews) – Over the weekend a thousand Catholics attended the inauguration of the new St Francis Xavier Church in Salalah, Sultanate of Oman, about 10 minutes drive from the city centre.
The first brick was laid on 16 February 2018 with construction completed in less than a year and a half. The building has a seating capacity of 600, a balcony over the main altar and a multipurpose hall, for a total capacity of a thousand.
Christian and Muslim dignitaries and clerics were present at the first function on Saturday, including Apostolic Nuncio Archbishop Francisco Padilla, the Apostolic Vicar of Southern Arabia (United Arab Emirates, Oman and Yemen) Bishop Paul Hinder, and Minister of Awqaf and Religious Affairs director Ahmed Khamis Masood Al Bahri.
Archbishop Padilla thanked Sultan Qaboos Bin Said Al Said for granting the building permits. "May this new Church be a sign of hope for all of us, a sign that God always walks at our side in good and bad times, even if our prayers are not answered instantly," he said.
In his address, Bishop Hinder acknowledged all those who worked on the project on land granted by Sultan Qaboos bin Said in 1979. In 1981 an ecumenical centre was opened in the same place by Bishop Gremoli, Hinder's predecessor.
The prelate thanked the government for their support and cooperation and offered prayers for the welfare of the monarch and the country.
Greeting the new community, the new parish priest, Fr Antony Puthenpurackal expressed gratitude for the opening of the new church, which represents a milestone in the history of Salalah Catholics.
Speaking on behalf of Omani authorities, Minister Al Bahri said that it was a "pleasure" to attend the opening of the place of worship and that he was very happy to share this moment of celebration with Catholics. He welcomed good priests who will lead new generations.
Oman is a model among Gulf states, both in the fight against terrorism and in terms of religious freedom. In the socially conservative nation, people are struggling to defend traditional values and practices whilst seeking equal gender rights. State interference in people's lives is limited, unlike Saudi Arabia.
Local Catholics are mostly expatriates and migrant workers and number around 55,000, or 2 per cent of the population. Overall, Christians are around 6.5 per cent, Hindus 5.5 per cent; but the vast majority, around 75 per cent, is Muslim.
The local Church has four parishes with seven priests: St Anthony of Padua in Sohar, Holy Apostles Peter and Paul in Ruwi, Holy Spirit in Muscat and St Francis Xavier in Salalah.
http://www.asianews.it/news-en/Muslim-authorities-and-a-thousand-faithful-at-the-inauguration-of-a-new-church-47955.html
--------
Iran offers citizenship to stateless people with 'Iranian roots' in Kuwait
9 September 2019
Iran is offering Iranian citizenship to stateless people with "Iranian roots" residing in Kuwait, said the country's ambassador to Kuwait on Sunday, according to Kuwaiti newspaper al-Rai.
Iran's ambassador to Kuwait, Mohammad Irani, stressed his country's readiness to naturalize stateless residents in Kuwait, provided they are able to prove they have Iranian origins.
Those who attain Iranian citizenship are not obliged to move to Iran and can continue living in Kuwait with their Iranian citizenship, he added.
Kuwait is home to around 100,000 stateless people known as "Bidoon," or those without nationality.
Iran is also home to large numbers of stateless people. There is a lack of reliable data on statelessness in Iran, but Melanie Khanna, head of the UN refugee agency's section on statelessness, told Reuters that a government survey showed 49,000 children lacked proof of nationality. The UNCHR listed 979,400 refugees without Iranian statehood in Iran in 2017.
People who are born to an Iranian mother in Iran are deprived of Iranian citizenship as the country does not "allow mothers to confer their citizenship on their children with no or very limited exceptions," according to a 2019 UNHCR report.
The Iranian parliament passed a bill in May which would enable all Iranian mothers married to foreigners to confer their Iranian citizenship on their children or spouses. However, the bill was rejected and sent back to the parliament by the Guardian Council on June 15, citing security concerns.
There are "over three million" Afghans living in Iran, according to Iran's Deputy Foreign Minister Abbas Araghchi, many of whom are married to Iranian women and have children who are prohibited from obtaining Iranian citizenship.
https://english.alarabiya.net/en/News/gulf/2019/09/09/Iran-offers-citizenship-to-stateless-people-with-Iranian-roots-in-Kuwait.html
--------
UN rights chief 'deeply concerned' about impact of Indian govt's actions on rights of Kashmiris
SEPTEMBER 9, 2019
The United Nations human rights chief on Monday said she was "deeply concerned about the impact of recent actions" by the Indian government on the human rights of Kashmiris.
In her introductory address for the start of the Human Rights Council's latest session, Michelle Bachelet aired concerns over India's actions against Kashmiris as well as unlawful killings and injuries of Palestinians by Israeli security forces.
Foreign Minister Shah Mahmood Qureshi left for Switzerland today on a three-day visit to represent Pakistan at the 42nd session of UN Human Rights Council in Geneva.
The foreign minister is expected to address the session and present the case of Kashmiris before the delegates attending the forum from across the world, Radio Pakistan reported.
On August 5, the government of Indian Prime Minister Narendra Modi stripped Kashmiris of the constitutional rights they had for seven decades through a rushed presidential order. Since then, an indefinite curfew has been in place in occupied Kashmir while elected leaders are still under house arrest.
Bachelet, in her remarks on occupied Kashmir, said her office continues to receive reports on the human rights situation on both sides of the line of control. "I am deeply concerned about the impact of recent actions by the Government of India on the human rights of Kashmiris, including restrictions on internet communications and peaceful assembly, and the detention of local political leaders and activists," she said.
"While I continue to urge the governments of India and Pakistan to ensure that human rights are respected and protected, I have appealed particularly to India to ease the current lockdowns or curfews; to ensure people's access to basic services; and that all due process rights are respected for those who have been detained," she urged.
"It is important that the people of Kashmir are consulted and engaged in any decision-making processes that have an impact on their future."
The foreign minister had last month written to the UN human rights chief to call upon India to end rights abuses in occupied Kashmir.
Qureshi, in a letter addressed to Bachelet, had asked her to demand from India to "rescind its unilateral actions, lift the curfew and other draconian measures, and restore fundamental rights of the Kashmiri people".
Environmental concerns
The rights chief, who is a former president of Chile, put her main focus on environmental concerns, calling variously for greater participation in the fight against climate change by businesses and greater space for environmental activists to express their views.
"We are burning up our future literally," Bachelet said. "The world has never seen a threat to human rights of this scope. This is not a situation where any country, any institution, any policymaker can stand on the sidelines."
Looking past personal criticism against her from Brazilian President Jair Bolsonaro in recent days, Bachelet also reiterated her concerns about the "drastic acceleration of deforestation of the Amazon".
"The fires currently raging across the rainforest may have catastrophic impact on humanity as a whole," Bachelet said, "but their worst effects are suffered by the women, men and children who live in these areas, among them, many indigenous peoples." She urged authorities in Brazil, as well as Paraguay and Bolivia, to ensure "longstanding environmental policies" are carried out, "thus preventing future tragedies".
Last week, Bolsonaro praised the 1973 military coup by General Augusto Pinochet in Chile that led to Bachelet's father's death a year later in captivity. Asked by The Associated Press to respond to those comments, she declined to comment.
Migrant rights
As for migrants' rights in Central America and on the US-border, Bachelet said she was concerned that policies by the United States, Mexico and others in the region "are putting migrants at heightened risk of human rights violations and abuses".
"Notably, I am alarmed that migrant children continue to be detained in centers in both the US and Mexico, contravening the best interests of the child, which is a fundamental tenet of international law," she said, adding at least 35,000 asylum-seekers have been "pushed back" to Mexican border areas to wait for their hearings this year.
The Trump administration pulled the United States out of the council last year, accusing it of an anti-Israel bias and denouncing some member states that Washington says are repeat rights violators.
Alarmed by unlawful killings of Palestinians
As for Israel, whose government has repeatedly accused the council of anti-Israeli bias, Bachelet decried "very high levels of settler violence, and Israel's failure to adequately protect Palestinians from such attacks or hold the perpetrators to account".
She cited a recent increase in demolitions of homes under an Israeli zoning and planning framework "which discriminates heavily against Palestinians".
"I continued to be alarmed by reports of unlawful killings and injuries of Palestinians by Israeli security forces across the entire occupied territory, accompanied by a lack of full accountability for instances of possible excessive use of force," she said.
https://dailytimes.com.pk/462865/un-rights-chief-deeply-concerned-about-impact-of-indian-govts-actions-on-rights-of-kashmiris/
--------
U.S. forces hit enemy harder over the last 4 days in Afghanistan than any time in last 10 years: Trump
09 Sep 2019
The U.S. President Donald Trump said the U.S. forces in Afghanistan have been hitting the enemy in Afghanistan harder over the past four days than at any time in the last ten years.
President Trump said in a Twitter post "We have been serving as policemen in Afghanistan, and that was not meant to be the job of our Great Soldiers, the finest on earth."
However, he said "Over the last four days, we have been hitting our Enemy harder than at any time in the last ten years!"
President Trump on Sunday announced that he is called off peace negotiations with the Taliban group.
He said in a Twitter post on Sunday "Unbeknownst to almost everyone, the major Taliban leaders and, separately, the President of Afghanistan, were going to secretly meet with me at Camp David on Sunday."
Furthermore, Trump said "They were coming to the United States tonight. Unfortunately, in order to build false leverage, they admitted to an attack in Kabul that killed one of our great soldiers, and 11 other people."
He also added "I immediately cancelled the meeting and called off peace negotiations. What kind of people would kill so many in order to seemingly strengthen their bargaining position? They didn't, they only made it worse! If they cannot agree to a ceasefire during these very important peace talks, and would even kill 12 innocent people, then they probably don't have the power to negotiate a meaningful agreement anyway. How many more decades are they willing to fight?"
https://www.khaama.com/u-s-forces-hit-enemy-harder-over-the-last-4-days-in-afghanistan-than-any-time-in-last-10-years-trump-04000/
--------
More foreigners arrested in fresh raids on private Shia functions in Johor, Selangor
September 10, 2019
PETALING JAYA: Police in Johor and Selangor raided private functions by Shia Muslims last night, arresting foreigners in a continuing crackdown against followers of the second largest Islamic branch deemed deviant by Islamic authorities.
It is believed that at least two dozens of officers from the Johor Islamic Affairs Department (JAIJ) arrived slightly before 11pm accompanied by police, at a private function in Kempas, where adherents were attending a ceremony to mark Ashura, the death anniversary of Hussein, the grandson of the Prophet who is a central figure in Shia Islam.
"The police and JAIJ officers came with Black Maria trucks, and at least six patrol cars," a witness told FMT.
FMT understands that eight people were arrested, including one Yemeni and two Singaporeans. They are yet to be released as of press time this morning.
It is believed that they are being investigated under Section 9 of the Johor Syariah Criminal Offences Enactment for violating the order of the sultan, mufti as well as fatwa, which carries a RM3,000 fine and one-year jail sentence.
In Bandar Sunway, Selangor Islamic authorities raided a private function attended by Pakistani Muslims to mark Ashura, in a continuing a crackdown against Shia Muslims backed by Menteri Besar Amirudin Shari. Several arrests were made, adding to the 23 arrested on Sept 6 in a Jais raid at a Shia centre in Gombak.
The latest arrests mark a move from a past policy to allow foreigners follow Shia Muslim practices in private, an assurance given in 2013 by then-minister in charge of Islamic affairs, Jamil Khir Baharom.
"We never harass Shia followers, but it's just that they are banned from spreading the ideology," Jamil said.
Earlier, FMT reported that the Iranian embassy in Kuala Lumpur was forced to intervene after an Iranian woman was detained when her house in Ampang was raided by Selangor Islamic Department (JAIS) officers during a private ceremony to mark Ashura.
Queries to the embassy were not returned, an indication that Tehran prefers to lie low ahead of Prime Minister Dr Mahathir Mohamad's visit to Iran, which needs all the support it can get from governments against its arch enemy Washington.
In contrast, the Iraqi foreign ministry had in 2017 condemned Malaysian authorities for arresting scores of its citizens attending a private Ashura ceremony in Serdang, Selangor. They were released following intervention from the Iraqi embassy in Kuala Lumpur.
Religious authorities in Malaysia have over the years been enforcing a fatwa declaring Shia teachings as "deviant", with raiding parties mostly targetting local Shias.
Shia, with a substantial following in Iraq, Iran, Kuwait, Bahrain, Lebanon and several parts of Saudi Arabia, Yemen and Pakistan, is the second largest branch of Islam.
But state Islamic authorities have declared its teachings as "deviant", with sermons in Selangor frequently condemning its followers as heretics.
https://www.freemalaysiatoday.com/category/nation/2019/09/10/more-foreigners-arrested-in-fresh-raids-on-private-shia-functions-in-johor-selangor/
--------
India
Police chargesheet drops murder charge against 11 accused in Tabrez killing
by Abhishek Angad
September 10, 2019
Jharkhand Police have dropped the murder charge under IPC Section 302 in their chargesheet filed against 11accused in the death of 22-year-old Tabrez Ansari who was attacked by a mob that accused him of theft in Saraikela-Kharsawan nearly four months ago. Citing the "final post-mortem report" that Ansari died of "cardiac arrest", and stating that it was "not a case of pre-meditated murder", police filed the chargesheet last month under Section 304 (culpable homicide not amounting to murder). Police had earlier invoked the murder charge in the FIR filed on a complaint by Ansari's wife.
Speaking to The Indian Express, Karthik S, Saraikela-Kharsawan SP, said: "We filed a chargesheet under IPC section 304 because of two reasons. One, he did not die at the spot… the villagers did not have any intent to kill Ansari. Second, the medical report did not substantiate the murder charge. The final post-mortem report said Ansari died due to cardiac arrest and that a haemorrhage in the head was not fatal. The second medical opinion said the cause of death was a combination of cardiac arrest and the head injury."
On June 18, a mob in Dhatkidih village tied Ansari to a pole, accused him of theft, assaulted him and allegedly forced him to chant "Jai Shri Ram and "Jai Hanuman". After the assault, Ansari was arrested on charges of theft and sent to judicial custody.
Four days later, he was rushed to a local hospital where he succumbed to injuries sustained in the assault. On June 25, a doctor who conducted the post mortem told The Indian Express that Ansari's death was "in all possibility" caused by a brain haemorrhage triggered by a head injury.
"There was an injury on the right frontoparietal region… There is a possibility that this led to effusion or oozing of blood from the skull leading to haemorrhage. This could be a possible cause of death," Dr Bariyal Mari, Deputy Superintendent, Sadar Hospital, had said. At the time, however, the medical board had "reserved" its final opinion on the post-mortem pending results of forensic tests.
After the initial FIR of theft, another FIR was registered under IPC sections 302 (murder) and 295 A (deliberate and malicious acts intended to outrage religious feelings…).
Police said the chargesheet was vetted by the prosecution department. "Our motive is to secure a conviction. Initially, we thought we could invoke both 302 and 304 of the IPC, but that could not have gone parallel… The medical reports also did not decisively say death due to haemorrhage. In the court, this could have led to a problem," said the police officer.
https://indianexpress.com/article/india/tabrez-ansari-mob-lynching-case-police-chargesheet-accused-5981271/
--------
UN rights chief urges New Delhi to ease lockdown in Kashmir
September 9, 2019
The Office of the United Nations High Commissioner for Human Rights on Monday expressed concerns over the actions by New Delhi in Jammu and Kashmir ever since the revocation of Article 370 last month.
While addressing the 42nd session of the UN Human Rights Council Meeting in Geneva, High Commissioner Michelle Bachelet referred to the situation on both sides of the Line of Control. "In relation to Kashmir, my office continues to receive reports on the human rights situation on both sides of the line of control," she said.
Taking note of the prohibitions imposed in Kashmir and detention of political figures, she said, "I'm deeply concerned about the impact of recent actions by the Government of India on the human rights of Kashmiris, restrictions on internet communications and peaceful assembly, detention of local political leaders and activists."
The High Commissioner for Human Rights exceptionally urged India to show some restraint and respect the rights of the Kashmiris. "While I continue to urge the Governments of India and Pakistan to ensure that human rights are respected and protected, I have appealed particularly to India to ease the current lockdowns or curfews."
"I have appealed particularly to India to ease the current lockdowns or curfews; to ensure people's access to basic services; and that all due process rights are respected for those who have been detained," she said.
Bachelet also asked New Delhi to engage the Kashmiris in any decision-making processes concerning them. "It is important that the people of Kashmir are consulted and engaged in any decision-making processes that have an impact on their future," she said.
Welcoming the "growing concern", Pakistan Prime Minister Imran Khan said that "time to act is now." He said the international community must not remain "indifferent" to "human rights abuses" by Indian forces.
Imran Khan
✔
@ImranKhanPTI
I welcome the growing concern & demands by the int community, global ldrs, UNSG & UNHCHR, for India to lift its 6-week long siege of IOJK. The Int community must not remain indifferent to the massive human rights abuses by Occupation Indian forces under cover of a brutal siege
21.9K
6:35 PM - Sep 9, 2019
Twitter Ads info and privacy
8,512 people are talking about this
Reiterating the United Nations' concerns, Pakistan Foreign Office spokesman in a statement said Bachelet, made "important remarks about the deteriorating situation in Jammu and Kashmir" during the 42nd session of the Human Rights Council in Geneva.
"The UN High Commissioner's concerns and calls are consistent with the position taken by the UN system vis-a-vis the human rights situation in Kashmir including the continuing restrictions and crackdown on fundamental rights and freedoms of the Kashmiri people," the Foreign Office said.
Earlier in June, the United Nations Human Rights Commission had sought an "establishment of a commission of inquiry to conduct a comprehensive independent international investigation into allegations of human rights violations in Kashmir" and had asked the governments of India and Pakistan to "fully respect the right of self-determination of the people of Kashmir as protected under international law".
India, however, rejected the report calling it "fallacious, tendentious and motivated." Adding that the report is a "selective compilation of largely unverified statements," the Ministry said that the report "violates India's sovereignty and territorial integrity," and "questioned the intent" behind it.
Full report at:
https://indianexpress.com/article/india/jammu-and-kashmir-article-370-un-high-commissioner-for-human-rights-india-pakistan-5979826/
--------
It's time for India-Pakistan clash at UNHRC
Sep 10, 2019
NEW DELHI: India and Pakistan are slated to make statements on the situation in Jammu and Kashmir during the ongoing 42nd UN Human Rights Session on September 10.
A high-level delegation is already in Geneva to hold meetings with groups and representatives of various countries to counter Pakistan's allegations of human rights violations in Kashmir.
A session: The UN Human Rights Council (UNHRC) session started in Geneva on Monday and will go on till September 27. There are 47 members in the council including India, Pakistan and China. The council's membership is based on equitable geographical distribution. Seats are distributed as follows — Africa: 13; Asia-Pacific: 13; Latin America and Caribbean: 8; western Europe: 7; eastern Europe: 6.
A diplomatic challenge: India and Pakistan are slated to make statements on the situation in Jammu and Kashmir today. Pakistan is also set to press for a resolution against India's moves to "muzzle human rights" in J&K (in the wake of New Delhi revoking the territory's special status) during the session, after having failed to raise the issue at the UN Security Council meeting last month. India needs enough numbers to defeat the resolution (there will be a procedural vote) in the 47-member body. While many African, Asian and Latin American countries have offered their in-principle support on the issue, India must ensure that their support also translates into votes and that these countries do not abstain en masse during the vote on Kashmir.
Pakistan Prime Minister Imran Khan is also likely to speak on Kashmir in his speech at the UN General Assembly on 27 September. Prime Minister Narendra Modi will also address the assembly on the same day, the first time since 2014.
The trouble signs: In her opening statement at the 42nd session of the Human Rights Council, UN Human Rights chief Michelle Bachelet on Monday said, "I am deeply concerned about the impact of recent actions by the Government of India on the human rights of Kashmiris, including restrictions on internet communications and peaceful assembly, and the detention of local political leaders and activists." Bachelet also said the recent National Register of Citizens verification process in Assam has caused 'great uncertainty and anxiety.'
An opportunity: Meanwhile, Pakistan could face heat over its blasphemy laws at the council meeting. "Between 1987 and 2017, 1,500 people or more were charged with blasphemy: 730 were Muslims, 501 were Ahmadis, 205 were Christians and 26 were Hindus," read a statement submitted in UNHRC. "The laws are routinely used to target religious minorities for personal or political motives and result in a violation of fundamental rights," said the statement, demanding moves by Islamabad to repeal all blasphemy laws.
In another development, large scale protests broke out in Pakistan-occupied Kashmir (PoK) on Monday over atrocities by Pakistani Army and human rights violations.
Full report at:
https://timesofindia.indiatimes.com/india/its-time-for-india-pakistan-clash-at-unhrc/articleshow/71059271.cms
--------
With what face will Pakistan raise Kashmir at UNHRC: Congress
Sep 9, 2019
NEW DELHI: Amid reports of Pakistan's plans to raise the Kashmir issue at the UN Human Rights Council, the Congress on Monday asked with what face will that country talk about Kashmir after releasing JeM chief Masood Azhar, who is issuing threats to Indian security forces.
The Congress's attack on Pakistan came after reports that Islamabad has released Jaish-e-Mohammed chief Azhar to carry out terror attacks in India.
Asserting that Pakistan has "no locus standi" on Kashmir, senior Congress leader Shashi Tharoor said that after what Pakistan has done by changing the status of Gilgit-Baltistan and Pakistan-occupied Kashmir (PoK), how can it raise a finger at India.
"Pakistan has nothing to do with whatever happens within India. Whatever happens in India is our issue. We are in the Opposition, so we can criticise the government, but we are united outside the country and will never yield even an inch to Pakistan," he said on the sidelines of a party event here.
Asked about Pakistan foreign minister Shah Mahmood Qureshi's plans to raise rights issues in Jammu and Kashmir following abrogation of its special status, Congress spokesperson Pawan Khera said, "As we speak, Maulana Masood Azhar is issuing threats to the Indian forces and openly advising security forces to attack our security forces. With what face will the Pakistani foreign minister speak to the UNHRC about anything on Kashmir."
"Pakistan stands exposed all over again today with Masood Azhar's release and his statements. The entire international community will have to understand what is Pakistan's real face and what is its role on the Kashmir issue. And how Pakistan says something else overseas and acts differently," he said.
Meanwhile, Tharoor, while speaking with reporters, also criticised the government over restrictions and detention of politicians.
Farooq Abdullah has been detained and he was not allowed to participate in the parliamentary debate, people do not have telephones, internet, parents are scared to leave their children at school as they would not have any information if something happens, Tharoor said, adding that none should be subjected to such a life.
Full report at:
https://timesofindia.indiatimes.com/india/with-what-face-will-pakistan-raise-kashmir-at-unhrc-congress/articleshow/71052929.cms
--------
Tensions between India-Pakistan 'less heated' now, says Donald Trump with fresh offer to mediate
September 10, 2019
The relationship between India and Pakistan is "less heated" now than what was two weeks ago, United States President Donald Trump has said, reiterating his offer to help the two South-Asian neighbours only if both of them want.
The comments by Trump were his first and comes two weeks since his meeting with Prime Minister Narendra Modi on the sidelines of the G7 summit in France on August 26.
"India and Pakistan are having a conflict over Kashmir as you know. I think (it) is a little bit less heated right now than (what) was two weeks ago," Trump told reporters at the White House on Monday.
Tensions between the two neighbours escalated after New Delhi revoked Jammu and Kashmir's special status by scrapping provisions of Article 370 of the Constitution.
"I get along with both countries very well," Trump said while responding to a question on his assessment of the situation between India and Pakistan. "I am willing to help them if they want. They know that. That (offer) is out there."
During a meeting with visiting Pakistani Prime Minister Imran Khan in July, Trump had offered to mediate between the two countries on the issue of Kashmir.
India was quick to reject the offer, saying the Kashmir issue was bilateral. It has also dismissed Trump's astonishing claim that Modi had asked him to mediate.
Full report at:
https://indianexpress.com/article/india/tensions-between-india-pakistan-less-heated-now-than-2-weeks-ago-donald-trump-5981365/
--------
What if Lord Ram was not born in Ayodhya?
Prabhash K Dutta
September 9, 2019
There is an entrenched belief and two court judgments that declare Ayodhya in Uttar Pradesh as the birthplace of Lord Ram -- the son of Dashrath and an overarching divine figure in Indian folklore. The case, a title suit, is now being heard in the Supreme Court, where the infant deity, Ram Lalla is one of the three parties claiming to be the owner of land that his devotees believe to have been his birthplace.
The primary source of the assertion that Ayodhya is the birthplace of Lord Ram is the Ramayan composed by Valmiki, which he said was based on the oral history or folklore already popular among the masses. The time of its composition is not correctly known but it is placed some time between 1500 BCE and 1000 BCE.
The existence of Ram as a historical figure is supported by similar folk narratives even outside India, in countries such as Mongolia, Thailand and Indonesia. Ayodhya is invariably held as his birthplace. This belief is, however, under challenge in the Supreme Court from the contesting parties and also from the fact that he is a party in the title suit.
Zeroing in on Ayodhya
There is no historical document or archaeological evidence to conclusively prove that the Ayodhya of Lord Ram was the same as is identified today in a district in Uttar Pradesh. A serious challenge to this belief came during 1990s, when some researchers disputed the connection of modern-day Ayodhya with the Ayodhya of Lord Ram.
The process began with the then Prime Minister Chandra Shekhar seeking to resolve the dispute in the wake of a strong campaign by the Bharatiya Janata Party, the Rashtriya Swayamsevak Sangh, the Vishwa Hindu Parishad and some other organisations for a Ram temple at the site now known as the Ram Janmabhoomi in Ayodhya.
This spot is part of a 2.77-acre complex, which also housed the Babri Masjid that was demolished in 1992 by a crowd of kar sevaks who had come to Ayodhya on the call given by the BJP, the VHP and the RSS. The title suit in the Supreme Court is to find out who is the owner of the land - Ram Lalla, the Nirmohi Akhara as the manager of the Janmabhoomi or the Sunni Waqf Board, the manager of the erstwhile Babri Masjid.
In 1990, Chandra Shekhar asked the Hindus and the Muslim parties to exchange evidence so that the two sides could understand each other's position to move forward to a settlement. This was the first time that an organised view was expressed by historians such as RS Sharma, DN Jha, MA Ali and Suraj Bhan -- all representing the Babri Masjid Action Committee -- contesting Ayodhya as the birthplace of Lord Ram.
Two years later, historian Shyam Narayan Pande published a book titled, Ancient Geography of Ayodhya. Pande argued that Ram was born in present-day Herat, a city in Afghanistan. In 1997, Pande presented his theory in a paper titled, "Historical Rama distinguished from God Rama" at the 58th session of Indian History Congress in Bengaluru and tried to prove his point by citing Vedic texts and connecting them with archaeological findings in the region.
Digging for evidence
In 1998, archaeologist MVN Krishna Rao propounded a theory on the basis of his study of the seals found in the Indus Valley civilisation to declare that Banawali in Haryana along the banks of ancient River Saraswati was the birthplace of Lord Ram.
So, ancient Ayodhya of Ram, according Krishna Rao, was situated at Banawali, which got its new name in later centuries. He claimed to have deciphered the seals. He presented his theory in a paper titled, "Ram and Ravan in Indus seals".
His conclusions were very interesting and intriguing. He identified Lord Ram with Rim-Sin-I of Larsa in Sumer and Rama Sana of Indus seals. He declared that Ram as a powerful king ruled over land comprising Sumer, Elam, the Indus Valley and the present-day Iran and Afghanistan between 1753 BCE and 1693 BCE.
This Ram fought a war with Hammurabi, whom he identified with Ravan of the Ramayan. Krishna Rao surmised that Ram-Sin or Ram was described as Ravani Dama (victor of Ravan) on Indus seals.
Krishna Rao pointed to a project, "Archaeology of the Ramanaya Sites" headed by noted archaeologist Prof BB Lal between 1975 and 1980 to assert that the excavations failed to find habitation of the antiquity attached to Lord Ram. He claimed that after BB Lal's Ramayan project, the view that Ayodhya was Ram Janambhoomi was abandoned.
Then in 2000 came the most famous of all claims locating Ayodhya outside the Ayodhya of Uttar Pradesh. A book titled, The Vedic People: Their History and Geography by Rajesh Kochhar -- a physicist with deep interest in culture and history -- was published claiming that Lord Ram was not born in Ayodhya and search for finding his birthplace here would be a futile exercise.
Kochhar based his claim on the comparisons and connections among the Rig Veda, the Ramayan, the Mahabharat and the archaeological findings relating to references made in these literatures. Searching for River Sarayu, on the banks of which the Ayodhya of Ram was located, Kochhar identified it with River Hari-Rud -- whose ancient name was Haroyu -- in Afghanistan.
Finding connections between Purana's description about the lineage of Ram -- at least 60 generations before Lord Ram in the Ikshavaku family, Kochhar argued that his forefathers lived in western Afghanistan-eastern Iran region.
One of Ram's forefathers King Kubalasa is said to have slayed a demon on the shore of Sabari, identified with lake Hamun-e-Sabari of Iran.
Kochhar argued that Ayodhya should be searched for along Haroyu and not along modern-day Sarayu, which was named by immigrants of later generations in the memory of their homeland.
In 2015, Abdul Rahim Quraishi of the All India Muslim Personal Law Board (AIMPLB) published a paper, Facts of Ayodhya Episode and argued that Ram was born in Rehman Dheri of Pakistan. He cited writings of former Archaeological Survey of India (ASI) official Jassu Ram to arrive his conclusion. He argued that ancient city of Saket was renamed as Ayodhya in the 11th century.
Full report at:
https://www.indiatoday.in/news-analysis/story/what-if-lord-ram-was-not-born-in-ayodhya-1597129-2019-09-09
--------
Delhi Police makes elaborate arrangements for Muharram
September 9, 2019
The Delhi Traffic Police has made elaborate arrangements in view of Tazia processions that will be taken out across the city on Tuesday on the occassion of Muharram, police said on Monday.
Anjuman Taaziadaran organisation will take out their procession during the intervening night of Monday and Tuesday, they said.
The Tazias will start from Chhatta Shahzad, Kalan Mahal and pass through several routes such as Pahari Bhojla, Jama Masjid, Chawri Bazar, Ajmeri Gate, Pahar Ganj Bridge, New Delhi Railway Station, Connaught Place and will reach Karbala on Tuesday at around 6 pm, police added.
According to the advisory, commuters going to the New Delhi Railway Station particularly in the evening should leave in advance and avoid Connaught Place and instead reach Ajmeri Gate through Tilak Marg, Rajghat and Jawaharlal Nehru Marg.
Bus services will be affected at the time of the processions and some of the services may be terminated depending on the movement of the processions, it said.
"There is a likelihood of slowing down and congestion of traffic, therefore, the general public and motorists are advised to avoid the mentioned routes and follow the directions of the traffic policemen posted all along the routes of procession to avoid inconvenience and also follow the updates by Delhi Traffic Police on Social Media platforms like Facebook and Twitter," the advisory stated.
Another procession will start from Pahari Dheeraj area in north Delhi at around 1 pm on Tuesday and will reach Paharganj bridge via Bara Tuti before merging with the main procession at Chelmsford Road, the officials said.
Full report at:
https://www.indiatoday.in/india/story/delhi-police-makes-elaborate-arrangements-for-muharram-1597392-2019-09-09
--------
Artists give final touches to tazias for Muharram
Sep 10, 2019
PATNA: Local artists were busy giving final touches to decorative and shimmering tazias that will be used in Muharram procession on Tuesday. The day marks the 'Youm-e-Ashoora,' the tenth day of the month of Muharram (which is the first month of Islamic calendar).
On the tenth of Muharram, Shia community recalls the martyrdom of Imam Hussain, the grandson of Prophet Muhammad, and his 72 family members and followers, who were killed by the army of Yezid at Karbala in Iraq almost 1339 years ago.
Most of the tazias used in Muharram processions replicate the shrine of Imam Hussain. Some artists even make symbols of 'Alam Parcham' (flag of Imam) and sipper, protective tools (to carry weapons) used in wars during ancient times.
Mohd Afroz Kuraiti, head of Anjuman Naujavanaan Committee near Golghar, told this newspaper that apart from paper and wooden tazia, the artists have also prepared a sipper, which is around 54kg. "It is made of iron and silver and we will carry it from Golghar to a dargah in Sultanganj on the 10th day of Muharram. It took 20 days to prepare the sipper," he said.
A 100-year-old tazia of tomb of Imam Hussain with a replica of Duldul has been put up at Langartoli Imambada.
Mohammad Imtiyaz Quraishi, head of Langartoli Imambada, said, "The artists cleaned and painted the century-old tazia before Muharram. It is displayed at the Imambada for people to see from the start of Muharram. On the seventh day of Muharram, we placed flowers on the tazia and put some soil under it in the memory of Imam Hussain. "The procession will be taken out to a dargah near Pathar Ki Masjid in Patna City," he said.
Full report at:
https://timesofindia.indiatimes.com/city/patna/artists-give-final-touches-to-tazias-for-muharram/articleshow/71054165.cms
--------
Muharram restrictions in Kashmir: Intensified restrictions make an already tough job tougher for journalists
Ishfaq Naseem
Sep 10, 2019
Srinagar: A policeman hurled abuses at a woman journalist. Another officer told a group of journalists on Sunday that they can't walk past barbed wire spools to reach offices in Srinagar's Press Enclave. One came out running at another journalist near the Sher-i-Kashmir stadium with his wooden baton threatening to damage his vehicle. As clampdown in the Valley intensified with restrictions becoming more severe due to Muharram procession on 10 September, journalists in Kashmir are facing a tough time. The Muharram procession is scheduled for (Tuesday) tomorrow to mourn the martyrdom of the grandson of Prophet Muhammad.
After the Centre revoked Article 35A, thereby allowing non-residents to own land and other properties in Kashmir, mediapersons have faced a tough time in Kashmir. Apart from snapping internet facilities in Srinagar's Press Enclave, the authorities have also questioned some journalists over their reporting on Kashmir. "We call upon the police department to issue a circular that journalists be allowed to perform their job hassle free," a spokesperson of Women Journalists Association said after a woman journalist associated with a Chandigarh-based newspaper was attacked and "abused" by the local police deployed near Jehangir Chowk overpass.
"Despite having the curfew pass and the identification proof, she was denied permission to move and her car was hit with batons while she was sitting inside. Despite her repeated pleas, the policemen at the spot warned her of dire consequences and tried to seize her vehicle. They also abused her family," the WJA said in a statement.
Apart from delaying the curfew passes, journalists were also restricted from freely moving in Srinagar city. A police official stopped a group of journalists from proceeding towards Press Enclave on 5 August while another group was baton charged in Srinagar city on Saturday.
Bilal Ahmad, a photo journalist, was bruised and was injured after a policeman hit him with a baton at Hassanabad area of Saidakadal in Srinagar city. The incident happened on Saturday when Ahmad was covering the procession of Shiite Muslims. "Between 2 pm to 2.30 pm we were covering the procession which was disallowed at Hassanabad. When we were in the middle of our work, a policeman came rushing towards us and fired pellets in the air. He beat up the group of journalists with batons. While I received bruises in the hand, another one was badly injured in the back," he said.
In Srinagar city owing to the severe restrictions, journalists said that the armed force personnel were not even allowing the movement of vehicles on the passes which have been issued by the district authorities. The authorities said that they will not allow any Muharram procession till 10 September. "In view of the imposition of Section 144 of Cr Pc and in order to avoid any loss of life and property, the government has decided that no procession shall be allowed in district Srinagar on Muharram 8 th, 9 th and 10-th which falls on September 8, 9 and 10 respectively," authorities said in a statement which was issued earlier.
However, even as the government announced that there were only restrictions on the gathering of more than four people, the policemen were also seen restricting the pedestrian movement of indiduals. The roads that lead to the Press Enclave were sealed with the barbed wire spools and plastic barricades while the authorities barred a group of Shias from taking out a procession from Abi Guzar area of Srinagar city on Sunday.
Restrictions were intense in downtown areas of Srinagar city on Monday as the procession was planned to be taken out from Gowkadal area. "Compared to previous years, restrictions are more severe this time. The authorities used to allow the procession from different Shia neighbourhoods, but this time the forces fired tear gas shells on the procession that was taken out on the third day of Muharram in Madeen Shah area of Srinagar," said Hakeem Raashid, a journalist in Srinagar.
He said that the due to the clampdown he could not go to his office — a local newspaper in Srinagar. "In the previous years, the government forces would allow processions even in Shia stronghold of Zadibal, but now they are not allowing even small processions anywhere," he said. At Abiguzar a group of Shia Muslims, clad in black, were barred by policemen from moving to Lal Chowk on Sunday.
Full report at:
https://www.firstpost.com/india/muharram-restrictions-in-kashmir-police-beat-up-abuse-journalists-in-srinagar-despite-official-curfew-passes-7312341.html
--------
Allahabad: Nine held for damaging car trapped in Muharram procession
Sep 9, 2019
ALLAHABAD: Nine men were arrested on Monday for allegedly ransacking a car which was trapped in a Muharram procession between Arya Kanya crossing and Bargad Gali, under Mutthiganj police station, in Old City area. Following the incident, social media was flooded with communally sensitive posts and pictures spurring police action.
While the police were able to weed out most of such pictures and messages circulating on social media, they also detained a youth for allegedly trying to give the incident a communal colour.
The incident occurred late on Sunday night around 10 pm, but the accused were arrested on Monday.
According to police, Ravi Kumar, Saurabh Gupta and Ramesh Verma were travelling in a car from Ram Bhawan crossing to Transportnagar. Kumar, Gupta and Verma were residents of Mutthiganj, Khalasi Lane and Kothaparcha respectively. The car belonged to Ravi Kumar.
When the three were close to Arya Kanya crossing, their four-wheeler was stuck in the procession near Bargad Gali. The trapped car fuelled an argument between the two sides and minutes later the accused started damaging the car's window panes with iron rods and sticks.
After locals alerted the police, they managed to bring the situation under control and allowed the trio to drive out of the narrow lane. Police said no one was injured in the clash.
While the police did not make any arrests immediately, they scanned the CCTV footage from the area and identified the nine accused.
The accused were identified as Mohd Saleem, Fahad Usman, Faizan, Mohd Irfan, Mohd Kaleem, Asad alias Nabi, Gulab Babu, Mohd Vakeel and Mohd Anas—all residents of Old City area.
DIG (Prayagraj range) KP Singh said, "Following a complaint by the car owner, police registered a case against the unidentified persons under sections 147,148, 427 and 504 of the Indian Penal Code and arrested the nine accused."
The DIG said "Following the incident, several unwanted posts were uploaded on social media with misleading information. They tried to give the incident a communal colour. Allahabad police's cyber cell managed to delete pictures of the incident circulating online and also issued a warning to take legal action against such rumour-mongers."
Full report at:
https://timesofindia.indiatimes.com/city/allahabad/allahabad-nine-held-for-damaging-car-trapped-in-muharram-procession/articleshow/71052473.cms
--------
India Says Suspected Militants Trying to Infiltrate Kashmir
By Anjana Pasricha
September 7, 2019
NEW DELHI - India's top national security adviser said Saturday that a large number of suspected militants are trying to infiltrate Kashmir and accused Pakistan of trying to foment trouble in the region.
"About 230 terrorists are ready to infiltrate into different parts of Kashmir," Ajit Doval, national security adviser to Prime Minister Narendra Modi, told reporters. "A large number of weapons are being smuggled and people in Kashmir are being told to create trouble."
Military officials said the information was based on radio intercepts and ground intelligence.
India has long accused Pakistan of supporting and training militants to foment a separatist insurgency in Kashmir, charges Islamabad denies.
A month after India brought its only Muslim-majority territory under its direct control, scrapped its semi-autonomous status and deployed thousands of troops to prevent violent protests, residents in Kashmir continue to face curbs on travel and communications restrictions. Although most landlines are functioning, the internet and mobile phone services have still not been restored.
"We would like to see all restrictions go, but it depends on how Pakistan behaves," Doval said. "If Pakistan starts behaving, terrorists don't intimidate and infiltrate, Pakistan stops sending signals through its towers to operatives, then we can lift restrictions."
He cited an attack that injured three persons including an apple merchant and a two-year-old girl when unidentified persons opened fire in the apple-growing region of Sopore on Saturday. Police called it "a merciless act of terrorism."
Officials say that 90 percent of the Kashmir valley is free of restrictions during the daytime and hundreds of schools and government offices have re-opened.
But attendance by students in schools has been thin, commercial areas in the capital, Srinagar, still remain largely shuttered and the city's streets continue to be deserted, defying efforts by Indian officials to return the region to normalcy.
The spokesman of the Jammu and Kashmir government, Rohit Kansal, has blamed "anti-national" forces for preventing shops from opening.
The region has also witnessed sporadic demonstrations by stone-throwing protesters, most of them in Srinagar. According to unconfirmed reports, scores of civilians and security persons have been wounded in the protests.
Full report at:
https://www.voanews.com/south-central-asia/india-says-suspected-militants-trying-infiltrate-kashmir
--------
Inputs of possible terror attack in south India, says Southern Army Commander
by Sushant Kulkarni
September 10, 2019
Southern Army Commander Lieutenant General S K Saini on Monday said there are inputs about a possible terror attack in southern and peninsular India.
He also said that enhanced capacity-building measures have been undertaken in the Sir Creek region due to heightened threat perception after some abandoned boats were recovered from the area.
Lt Gen Saini was speaking on the sidelines of a foundation stone-laying ceremony on the Army Law College campus at Kanhe near Pune.
Asked about security deployment by Pakistan in Sir Creek region between the two countries during an interaction with media, Lt Gen Saini said, "We have got many inputs that there may be a terrorist attack in southern part of India and peninsular India. As far as Sir Creek region is concerned, some abandoned boats have also have been recovered in the area. We have undertaken measures for capacity building and capability development in the area of Sir Creek, keeping in mind the enhanced threat perception. We are taking precautions to ensure that the designs of inimical elements or terrorists are stalled and they do not get the success they are wishing for."
Asked about the situation in Jammu and Kashmir after the government's move on Article 370, he said, "Any conflict which is in the sub-conventional domain, has got both internal and external dimensions. In the case of J&K, the external dimension is much more pronounced than the internal dimension. We have a very clear-cut policy based on which have been resolving insurgencies. The government takes a comprehensive view of every conflict and undertakes political, economic, social and diplomatic measures to resolve it. Army's role is to create conducive conditions for such initiatives by the government. At the moment, Army is fully geared for any contingency which arises as far as J&K is concerned."
On a question about remarks by certain leaders in Pakistan, including on the use of nuclear weapons, Lt Gen Saini said, "Such threats do not change the way we function and we are ready for any situation."
There is a long pending dispute between India and Pakistan about the demarcation of boundaries in the Sir Creek region. While Pakistan has claimed a major chunk of the region, India's stand has been that international rules should be applied to resolve the issue.
Full report at:
https://indianexpress.com/article/india/inputs-of-possible-attack-in-south-india-says-army-kerala-police-on-alert-5980163/
--------
PM Modi to address UN General Assembly on September 27, same day as Imran Khan
September 9, 2019
Prime Minister Narendra Modi will address the UN General Assembly (UNGA) session on September 27, according to an updated list of speakers released by the UN. Pakistan Prime Minister Imran Khan is also scheduled to address the assembly on the same day, where he is likely to rake up the Kashmir issue. Khan will address the UNGA session shortly after Modi's address.
This will be Prime Minister Modi's first address to the world leaders at the UN after the BJP-led NDA government stormed to power for a second term after a resounding electoral victory in May.
The initial speakers' list indicates that about 112 Heads of State, nearly 48 Heads of Government and over 30 Foreign Ministers will arrive in New York to address the General Debate between September 24 to 30. US President Donald Trump will deliver his address on September 24.
During his visit to New York and the UN, PM Modi will be honoured by the Bill and Melinda Gates Foundation on September 24. He will be presented with the 2019 'Global Goalkeeper Award', which according to the Foundation is a "special recognition" that celebrates a political leader who has "demonstrated their commitment to the Global Goals through impactful work in their country and/or globally." Modi will be honoured for his leadership of the Swachch Bharat Mission.
As the world commemorates Gandhi's 150th birth anniversary, Modi will also host a special event 'Leadership Matters: Relevance of Gandhi in the Contemporary World' on September 24 in the Economic and Social Council (ECOSOC) Chamber in the UN Headquarters. He will also be the keynote speaker at the Bloomberg Global Business Forum on September 25. Sources have said that after Modi's keynote address, there will be a Q&A session with the Indian leader moderated by Bloomberg LP and Bloomberg Philanthropies Founder Michael Bloomberg.
During his visit to New York, Modi will also inaugurate the 'Gandhi Peace Garden' – an initiative under which the Consulate General of India in New York, Long Island-based NGO Shanti Fund and the State University of New York – Old Westbury have agreed to plant 150 trees.
Several high-level summits will be held on the margins of the 74th session of UN General Assembly. With a view to boosting ambition and accelerating actions to implement the Paris Agreement on Climate Change, UN Secretary-General Antonio Guterres will host the 2019 Climate Action Summit on September 23 to meet the climate challenge. Modi is expected to address this summit.
The UN will also host the SDG Summit 2019 on September 24 and 25. Heads of State and Government will gather at the United Nations Headquarters to follow up and comprehensively review progress in the implementation of the 2030 Agenda for Sustainable Development and the 17 Sustainable Development Goals (SDGs).
Full report at:
https://indianexpress.com/article/india/pm-modi-to-address-annual-un-general-assembly-session-on-september-27-5978569/
--------
Pakistan
Youm-e-Ashur revives spirit of supreme sacrifices: PM
Sep 10, 2019
ISLAMABAD: Prime Minister Imran Khan has said that the great battle between the good and evil at Karbala reminded the Muslims that they should be ready to offer all kinds of sacrifices for the promotion of high values and principles of Islam.
In a statement, the prime minister said that this day revived the unprecedented and supreme sacrifices of Imam Hussain (AS). The prime minister said that Imam's spirit of sacrifice had also strengthened Muslims' faith and beliefs and pursuit of the qualities based upon truthfulness and principles.
He observed that sacrificing lives of near and dear ones in the path of Allah Almighty and for Islam would entail real success. He added that the event had been the fountainhead of supreme sacrifices and such an unparalleled precedent could not be matched in human history.
The prime minister said that the life of Imam Hussain (AS) gives a message that all the ordeals in the path of righteousness should be tolerated in a broad manner and even one should be ready to lay down one's life to the satisfaction of Allah.
Laden with such passion, one could make significant achievement in the world and for the motherland, he added.
The prime minister also paid tribute to the sacrifices of Kashmiri people who had been struggling against the Indian imperialism in occupied Kashmir. They have kept alive the sunnah of Imam Hussain (AS) and have made the disputed valley another great example of a battle between the good and evil, he added.
The prime minister appealed to the nation to observe the Youm-e-Ashur with religious respect and devotion in line with the Islamic teachings and prayed for the progress and prosperity of the country.
https://www.pakistantoday.com.pk/2019/09/09/youm-e-ashur-revives-spirit-of-supreme-sacrifices-pm/
--------
Masood Azhar unwell, brother runs the show at Jaish
Sep 10, 2019
NEW DELHI: With Jaish-e-Mohammed founder Masood Azhar's deteriorating medical condition preventing him from moving around or being actively involved in operational matters, it is his brother Abdul Rauf Asghar who is really in charge of the terror outfit, top intelligence sources here told TOI.
Azhar, designated a 'global terrorist' by the United Nations and now also banned as an 'individual terrorist' by India under the Unlawful Activities (Prevention) Act, is suffering from renal failure and, as per intelligence reports, is mostly confined to his quarters.
Sources here said he is currently based at one of the two key Jaish facilities in Bahawalpur, Pakistan — Markaz Usman-O-Ali and Markaz Subhan Allah.
"Masood Azhar is too unwell to oversee day-to-day operations of Jaish-e-Mohammed. His confinement to a well-guarded Jaish facility in Bahawalpur is possibly linked to his serious medical condition and the need to ensure his security in the aftermath of the IAF air strikes on Jaish terror camp in Balakot in February," an intelligence functionary said. Prior to the IAF strikes, cadre selected for more "active" duties were sent to Balakot for terror training.
Sources indicated Azhar was never an operations man but the prime motivator for Jaish who could turn "jihadi" recruits into committed fidayeen with his fiery sermons. His recorded sermons continue to do the job, even as planning and execution of operations is left to his brother Abdul Rauf Asghar, the architect of the IC-814 hijacking who had secured the release of Masood Azhar, among others, in a hostage swap. Asghar also delivers Friday sermons.
"Asghar is the real man to watch out for," said an officer of the Indian security establishment. Just 45 years old, he is de-facto chief of Jaish and hatches terror conspiracies, organises the resources and oversees their execution. He is also known to personally visit Jaish training camps, including the Balakot facility before it was hit by IAF, to motivate fighters.
While Asghar was named by the Pakistan interior ministry among 44 under-observation members of proscribed organisations taken into custody in March 2019, sources said his "detention" has been more of "protective custody". Inputs suggest Asghar continues to move around with armed escort in Pakistan. "He meets other Jaish functionaries regularly to plan terror manoeuvres. In fact, recent reports indicate that he has been instructed by ISI to escalate Jaish activities in J&K and beyond in view of abrogation of Article 370," said the officer.
Full report at:
https://timesofindia.indiatimes.com/world/pakistan/masood-azhar-unwell-brother-runs-the-show-at-jaish/articleshow/71057324.cms
--------
PML-N Sindh supports JUI-F's anti-government long march
September 10, 2019
KARACHI: Announcing its support for the Jamiat-e-Ulema Islam-Fazl's (JUI-F) long march in Islamabad against the federal government, the Pakistan Muslim League-Nawaz's (PML-N) Sindh chapter has said the party will fully support the march led by JUI-F chief Maulana Fazlur Rehman on the directives of the PML-N supreme leader Nawaz Sharif.
In a meeting held in Karachi on Sunday, the PML-N Sindh leaders discussed the country's current political situation, the proposed protests of opposition parties, especially the JUI-F, and the party's organisational affairs.
PML-N Sindh President Shah Muhammad Shah presided over the meeting held at the Muslim League Sindh House, the party's provincial headquarters. The party's provincial senior vice-president, Ali Akbar Gujjar, the acting secretary general, Chaudary Tariq, and other leaders attended the meeting.
Shah said Nawaz had rejected offers of a deal with the government. "Government machinery has been running a baseless and dirty campaign against the party's top leaders," Shah remarked, adding that the PML-N would not be deterred from its politics for the people of Pakistan.
Discussing the JUI-F's proposed long march against the federal government, the PML-N Sindh president said the party strictly followed the decisions of the All Pakistan Conference and believed that the religious party's 'Azadi March' will help get rid of the present incompetent government.
The participants of the meeting also discussed the party affairs in the province and decided to organise workers' conventions at district levels. According to the decision, workers conventions will be held in District Malir on September 15, in District Central on September 21, Nawabshah district on September 22, District South on September 28, and Hyderabad district on September 29.
Full report at:
https://www.thenews.com.pk/print/524754-pml-n-sindh-supports-jui-f-s-anti-government-long-march
--------
COAS, Centcom commander discuss Kashmir, Afghan issues
Iftikhar A. Khan
September 10, 2019
ISLAMABAD: US Central Command (Centcom) Commander Gen Kenneth F. McKenzie Jr on Monday called on Chief of the Army Staff (COAS) General Qamar Javed Bajwa and discussed with him geo-strategic environment and regional security, including the situation in Afghanistan and Kashmir.
Gen McKenzie — who has been in Pakistan since Sept 7 — met Gen Bajwa with his delegation, the military's media affairs wing Inter-Services Public Relations (ISPR) said in a press release.
The Centcom chief had arrived in Islamabad along with a 17-member delegation on Saturday. He visited the Tarbela dam and toured various components of the project, including the main dam, spillways, reservoir and the powerhouse.
Accompanied by US Ambassador to Pakistan Paul Jones and others, Gen McKenzie was briefed about the project by Water and Power Development Authority chairman (Wapda) retired Lt Gen Muzammil Hussain.
On the occasion, the US delegation had observed that the US recent grant worth $41 million would extend the useful life of the Tarbela powerhouse by 15-20 years and restore 148 megawatts of its power generation capacity.
Earlier in April, Gen McKenzie met Prime Minister Imran Khan and discussed US-Pakistan relations and the Afghan peace talks among other issues.
The prime minister, in his meeting with Gen McKenzie, had expressed his "long standing commitment to peace and stability in Afghanistan through a political settlement".
The premier had also highlighted the importance of continuing military cooperation between Pakistan and US in order to counter "emerging threats", including the militant Islamic State group, which is concentrated on the Pakistan-Afghanistan border.
Gen McKenzie — who took over as head of US Centcom in May after General Joseph Votel's retirement — during his previous two-day stay in Islamabad, had also met Defence Minister Pervez Khattak, Foreign Secretary Tehmina Janjua, Chief of the Army Staff Gen Qamar Bajwa, Chairman of Joint Chiefs of Staff Committee Gen Zubair Hayat, Chief of Air Staff Air Chief Marshall Mujahid Anwar and Chief of Naval Staff Admiral Zafar Abbasihad.
Full report at:
https://www.dawn.com/news/1504510/coas-centcom-commander-discuss-kashmir-afghan-issues
--------
Zardari slams 'tyrannical forces of state against political opposition'
September 10, 2019
ISLAMABAD: Pakistan Peoples Party (PPP) leader and former president Asif Ali Zardari "condemned the unleashing of tyrannical forces of the state against political opposition" in the country.
"Tyranny, oppression and injustice have never triumphed, it shall not triumph in this case also," the former president said in his message sent from Adiala jail and released by the party's media office on the eve of Yaum-ul-Ashura on Monday.
In his message, Mr Zardari also asked the people to rise above parochialism and forge unity among their ranks against all tyrannical forces. "The need for it has never been as great as it is today," he said.
"The underlying message of Yaum-ul-Ashura is to resist falsehood, tyranny and oppression at all costs, at all times and under all circumstances," said Mr Zardari who has been in jail with his sister Faryal Talpur on judicial remand for the past two months in connection with the fake bank accounts case.
Mr Zardari in his message also paid tribute to the people of India-held Kashmir. "On this day our thoughts are also with the people of India-held Kashmir and Palestine facing unprecedented ruthless repression and tyranny," he said.
Meanwhile, in his message on the Ashura, PPP chairman Bilawal Bhutto-Zardari said that falsehood and oppression were the tools of militants and extremists employing false notions of religiosity.
"The people must be watchful against the designs of such bigots and fanatics," Mr Bhutto-Zardari said.
"The abiding lesson of the ultimate sacrifice rendered by Imam Hussain and his companions is to resist oppression, tyranny and falsehood even at the cost of one's life and under the most trying of circumstances," the PPP chairman said, adding that Imam Hussain belongs to that rare category of humankind who redefined the meanings of life and death, of the victor and vanquished and his life is a beacon light to resist tyranny and falsehood.
Full report at:
https://www.dawn.com/news/1504521/zardari-slams-tyrannical-forces-of-state-against-political-opposition
--------
CDA finalising policy to shift private schools from residential areas
Sep 10, 2019
ISLAMABAD: The Capital Development Authority (CDA), in pursuance of Islamabad High Court (IHC) orders, is finalising a comprehensive policy and mechanism for shifting of private schools from residential premises. Working and homework in this regard have been completed. Concerned departments and stakeholders are being taken on board to incorporate their suggestions in the shifting mechanism.
In this context, the authority has scheduled a meeting on the subject matter on Thursday i.e 12-09-2019 at CDA headquarters. Representatives of Federal Directorate of Education (FDE), Private Educational School Regulatory Authority (PIERA) and other concerned formations will attend the meeting.
In order to shift the private educational institutes from the residential premises, a comprehensive and transparent criterion is being devised so that all educational institutes could be equally accommodated. Through this mechanism, it would be ensured that educational plot would not be allotted to any irrelevant person or irrelevant institute. Furthermore, it would be also ensured that in future no private school would be established in residential premises.
Housing societies are being directed to utilize the plots reserved for educational institutes within three months. If the reserved educational plot in any society has been utilized for any other purpose, the society would provide equal space for establishment educational institute in lieu of utilized reserved plot. In case of non-compliance, action under the rules will be taken against the society.
Federal Education Directorate (FDE), being the main stakeholder in the matter, is being asked to submit its future requirements and indicate the unused land and surrender it accordingly so that it could be reallocated for educational activities. In this context, FDE will initiate a proposal to devise a mechanism through which a combination of private and government institutes would be encouraged.
Full report at:
https://www.pakistantoday.com.pk/2019/09/09/cda-finalising-policy-to-shift-private-schools-from-residential-areas/
--------
9th Muharram processions peacefully conclude in KP
Sep 10, 2019
PESHAWAR: All the alam and Zuljinah' processions of 9th Muharramul Haram peacefully concluded in Khyber Pakhtunkhwa including merged districts amid tight security arrangements by law enforcement agencies and police on Monday.
The mourning processions of 9th Muharramul Haram also concluded peacefully in most sensitive districts of Peshawar, DI Khan and Hangu with no untoward incident reported so far.
In Peshawar, the Central alam and Zuljinah procession, which was taken out from Imambargah Hussainia Hall in cantonment, passed through traditional route and peacefully culminated at the same Imambargah amid tight security arrangements by police. The 'Azadars' paid rich tributes to Imam Hussain (AS) and other martyrs of Karbala for their matchless sacrifice for supremacy of Islam.
The mourners performed prayers at Kalabari Fawara Chowk and offered special dua for progress and prosperity of Pakistan, Muslims Ummah, independence of Indian Occupied Kashmir (IOK) and martyrs of Karbala. Thousands of mourners along with children and women participated in the mourning processions and majalis.
Police, Quick Response Force (QRF), Elite Force and other law enforcing agencies were deployed on procession routes to ward off any mishaps.
City Police Chief, Karim Khan also visited Hussania Hall Imambargah in Peshawar's cantonment to review the security arrangements.
He said Ashura processions would be monitored through air surveillance and foolproof security would be provided to azadars on Tuesday.
The CCPO said all small and big majalis have been provided full security in the provincial capital to avoid any mishaps.
More than 12,000 policemen including lady constables were deployed in Peshawar for security of alam and Zuljinnah' processions.
Closed-circuited television cameras (CCTV) were also installed in a number of places and important locations/squares besides processions routes for monitoring and security in Peshawar.
City Police have established nearly 64 entry points in the City where 268 policemen deployed while barricades were put in place at 565 points to check suspicious people.
An aerial surveillance would be conducted for 10th Muharram processions in most sensitive districts including Peshawar, Kohat, Hangu and Dera Ismail Khan.
Emergency has been declared in Lady Reading Hospital (LRH) for 9th and 10th Muharram where six operation theatres established and 16 ambulances specified for dealing with any emergency besides keeping 422 persons including doctors and paramedics on high alert.
Muharram processions routes were sealed and movement of unwanted people was restricted to ward off any eventuality.
Full report at:
https://www.pakistantoday.com.pk/2019/09/09/9th-muharram-processions-peacefully-conclude-in-kp/
--------
Arab World
Bahraini regime steps up clampdown on Shia clergymen ahead of Ashura
Sep 9, 2019
Bahraini regime forces have summoned more Shia Muslim clerics for interrogation as the ruling Al Khalifah regime presses ahead with its heavy-handed crackdown ahead of Ashura, which marks the martyrdom anniversary of Imam Hussein (PBUH), the third Shia Imam and the grandson of Prophet Mohammad (PBUH).
Rights activists, requesting anonymity, said Bahraini security officials have summoned Sheikh Issa al-Mu'min, Sheikh Ali Ashour, Sheikh Aqeel al-Ghanimi, Sheikh Jassim al-Damistani, Sayyed Maytham al-Muhafazah as well as Sheikh Mamdouh al-Aali for questioning, Arabic-language Lualua television network reported.
Earlier, Bahraini authorities had summoned Sayyed Jaber al-Shahrakani, Sheikh Mohammad Ali al-Mahfuz, Sheikh Mohammad Ashour and Sheikh Zoheir al-Khal for interrogation.
They also arrested Shia preachers Sheikh Menbar al-Ma'atouq and Sheikh Mohammad al-A'ajimi.
Thousands of anti-regime protesters have held demonstrations in Bahrain on an almost daily basis ever since a popular uprising began in the country in mid-February 2011.
They are demanding that the Al Khalifah regime relinquish power and allow a just system representing all Bahrainis to be established. Manama has gone to great lengths to clamp down on any sign of dissent. On March 14, 2011, troops from Saudi Arabia and the United Arab Emirates were deployed to assist Bahrain in its crackdown.
On March 5, 2017, Bahrain's parliament approved the trial of civilians at military tribunals in a measure blasted by human rights campaigners as being tantamount to imposition of an undeclared martial law countrywide.
Bahraini monarch King Hamad bin Isa Al Khalifah ratified the constitutional amendment on April 3, 2017.
https://www.presstv.com/Detail/2019/09/09/605746/Bahraini-regime-steps-up-clampdown-on-Shia-clergymen-ahead-of-Ashura
--------
Saudi Arabia, world's top arms importer, launches own military industry
Sep 9, 2019
Saudi Arabia, one of the world's top arms importers, says it has launched a program to license firms seeking to participate in its own military industrial sector.
The General Authority for Military Industries (GAMI) announced on Sunday the start of receiving license applications for firms to manufacture firearms, ammunition, military explosives, military equipment, individual military equipment, and military electronics in the kingdom.
GAMI Governor Ahmed al-Ohali described the move as a significant step towards attracting domestic and foreign investment to the sector, state-run Saudi Press Agency (SPA) reported.
Saudi Arabia's de facto ruler Crown Prince Mohammed bin Salman, who has drawn criticism for following confrontational policies in the region, has already said he wants the kingdom to produce or assemble half of its military equipment locally.
In March 2015 – only two months after being appointed as defense minister, the young prince authorized the ongoing Saudi-led war against Yemen. Riyadh and its allies -- including the United Arab Emirates -- have sparked outrage by leading a war that has killed thousands of Yemeni civilians.
Riyadh invaded Yemen in a bid to reinstall the former Saudi-allied regime and eliminate the Houthi Ansarullah movement, but it has failed to reach any of those objectives.
In January 2016, Riyadh severed diplomatic relations with Tehran over angry protests in Iran following the execution of a Shia cleric in Saudi Arabia.
The Stockholm International Peace Research Institute (SIPRI) reported earlier this year that Saudi Arabia became the world's top arms importer after its arms imports in 2014-2018 increased by 192 percent, compared to the preceding five years.
The United States is on the top of the list of weapons suppliers to the kingdom.
In 2017, US President Donald Trump concluded an arms deal with Saudi Arabia worth almost $110 billion, and extending up to $350 billion over 10 years.
For decades, Saudi Arabia has been drawing on its abundant oil resources to underwrite its stupendous military bills, but the war in Yemen and elsewhere is eating away at the kingdom's cash reserves.
Full report at:
https://www.presstv.com/Detail/2019/09/09/605718/Saudi-launches-own-military-industry
--------
Saudi Arabia wants to enrich uranium for nuclear power, says minister
September 10, 2019
ABU DHABI: Saudi Arabia wants to enrich uranium in the future to fuel its planned nuclear power programme, its energy minister said on Monday, a sensitive step that could complicate US companies' involvement in the plan.
The world's top oil exporter has said it wants to use the metal to diversify its energy mix, but uranium enrichment also opens up the possibility of military uses of the material, the issue at the heart of Western and regional concerns over Iran's atomic work.
"We are proceeding with it cautiously... we are experimenting with two nuclear reactors," Prince Abdulaziz bin Salman said, referring to a plan to issue a tender for the Gulf Arab state's first two nuclear power reactors.
The Saudi energy minister told an energy conference in Abu Dhabi that ultimately the kingdom wanted to go ahead with the full cycle of the nuclear programme, including the production and enrichment of uranium for fuel.
The tender is expected in 2020, with US, Russian, South Korean, Chinese and French firms involved in preliminary talks about the multi-billion-dollar project.
But the issue of uranium enrichment has been a sticking point with Washing­ton, especially after Crown Prince Mohammed bin Salman said last year that the kingdom would develop nuclear arms if regional rival Iran did.
Saudi Arabia has backed President Donald Trump's "maximum pressure" campaign against Iran after he withdrew the United States from a 2015 nuclear pact that curbed Iran's disputed nuclear programme in exchange for sanctions relief.
In order for US companies to compete for Saudi Arabia's project, Riyadh would normally need to sign an accord on the peaceful use of nuclear technology with Washington, under the United States Atomic Energy Act.
Saudi officials have said they would not sign a deal that would deprive the kingdom of the possibility of enriching uranium or reprocessing spent fuel in the future — both potential paths to a bomb. The Saudi energy minister said oil production cuts would benefit all exporting nations, in an indication he will support further reductions to address an oversupplied market and sagging prices.
In his first comments since being appointed by his father King Salman on Sunday, Prince Abdulaziz signalled no major change in approach in Saudi Arabia, the de facto Opec (Orga­nisation of Petroleum Exporting Countries) leader which pumps about a third of the cartel's oil.
"The pillars of our oil policy are pre-determined and will not change," he told Saudi broadcaster Al-Arabiya.
Full report at:
https://www.dawn.com/news/1504507/saudi-arabia-wants-to-enrich-uranium-for-nuclear-power-says-minister
--------
Syria war: 'Air strikes' hit Iran-backed forces near Iraq border
9 September 2019
Warplanes have struck positions of Iran-backed militias near Syria's border with Iraq, activists say.
The Syrian Observatory for Human Rights, a UK-based monitoring group, said at least 18 Iranian and pro-Iranian fighters were killed.
It was not clear who carried out the overnight strikes in and around the town of Albu Kamal.
But Israel has carried out hundreds of attacks on Iranian-linked targets in Syria during the country's civil war.
It has sought to thwart what it calls Iran's "military entrenchment" in Syria and shipments of Iranian weapons to militant groups such as Hezbollah in Lebanon.
The Syrian Observatory for Human Rights cited its sources as saying the unidentified warplanes had bombed bases, arms depots and vehicles belonging to Iran-backed militias in al-Hizam al-Akhdar and other areas around Albu Kamal.
Omar Abu Layla, a Europe-based activist from the DeirEzzor 24 group, said powerful explosions were heard across the town, and that there was a "state of chaos and panic" among the militia fighters.
Another activist group, Sound and Picture, cited medical sources as saying 21 people were killed, and that militias had taken all the bags of blood at Albu Kamal's hospital to treat their wounded fighters.
A source from an Iran-backed Iraqi paramilitary force, the Popular Mobilisation, told the BBC that a drone had targeted its headquarters on the Syrian-Iraqi border, about 6km (4 miles) south of Albu Kamal.
The force had sent vehicles from the nearby Iraqi town of al-Qaim to the scene because of the large number of casualties, the source added.
The Israeli military did not comment on the incident, but reported that a number of rockets were launched towards Israel hours later from the outskirts of the Syrian capital, Damascus.
It said the rockets failed to hit Israeli territory and blamed militia fighters operating under the command of the Iranian Revolutionary Guards' Quds Force, but said it held the Syrian government responsible.
Meanwhile, Hezbollah said its fighters had shot down an unmanned Israeli drone over southern Lebanon early on Monday and seized it.
Full report at:
https://www.bbc.com/news/world-middle-east-49633146
--------
Iraq Interior Ministry Busts 75-Member ISIS Cell
9 September, 2019
Iraq's Falcons Intelligence Unit, an adjunct of the Interior Ministry, declared the dismantling of one of the biggest ISIS-affiliated terror networks. Composed of 75 members, the cell was plotting a series of attacks in the Salaheddine province, north of Baghdad.
Security expert Fadel Abu Ragheef confirmed the take down of the terror cell, saying that it was busted in a "qualitative preemptive operation" that prevented the members from achieving their attack plans.
"This network had intended to carry out terrorist operations within Salaheddine. What distinguishes this arrest is that it is proactive and abortive in the sense that the defendants could not carry out their terrorist plot," he said.
"The network includes 75 terrorist elements, including suicide bombers and administrative officials," he added.
Separately, intelligence forces also raided and bombed seven ISIS hideouts in Salaheddine.
In a statement, authorities confirmed the destruction of all equipment and assets found at the hideouts.
Iraqi Defense Minister Hazem al-Shummari underscored the army's preparedness to handover areas cleared from threats to Interior Ministry taskforces.
"There are full preparations within the Defense Ministry to hand over the security file in safe areas and cities to the ministry which will assume the responsibility of internal security," he said.
Interior Ministry Spokesman Saad Maaen said that the ministry has completed preparations in coordination with joint security units to take hold of the security file in stabilized areas.
Coordination included logistics, field and technical support.
"There is a time schedule for the Federal Police to get full jurisdiction over the security file in four governorates," Maaen revealed.
This announcement reflects the confidence of official agencies in the improved security situation in Baghdad and other provinces that were considered a hotbed for chaos.
Full report at:
https://aawsat.com/english/home/article/1893946/iraq-interior-ministry-busts-75-member-isis-cell
--------
Four killed, including a civilian, across Iraq in day of militant attacks
SEPTEMBER 7, 2019
MOSUL, Iraq (Reuters) - At least three members of Iraq's security forces and one civilian were killed on Saturday in three separate attacks by militants, security sources said.
An army officer and soldier were killed when an explosive went off inside a house they were de-mining in the Sinjar district west of Mosul, and another soldier was injured.
In Diyala province a sniper shot dead an intelligence official in an area northeast of provincial capital Baquba, and a civilian was killed when a bomb went off inside his car in an area west of the city of Samara in Salahuddin province.
Islamic State has not claimed responsibility for any of the attacks but the group is active in all three areas.
Iraq declared victory over Islamic State, which once held large swathes of the country, in December 2017, but the hardline Sunni militants have since switched to hit-and-run attacks aimed at undermining the Baghdad government.
Full report at:
https://www.reuters.com/article/us-iraq-security/four-killed-including-a-civilian-across-iraq-in-day-of-militant-attacks-idUSKCN1VS0DX
--------
Iraqi paramilitary fighters kill 4 Islamic State terrorists in Salahuddin
by Mohammed Ebraheem
Sep 8, 2019
Salahuddin (IraqiNews.com) – An Iraqi paramilitary group has said that its fighters killed four members of the Islamic State militant group in Salahuddin province.
"A force of the 6th brigade of the Popular Mobilization Forces managed to kill four Islamic State militants during a security operation in the Makhoul mountains, northeast of Salahuddin province," the media center of the Popular Mobilization Forces said in a press statement Sunday.
According to the statement, a manhunt was launched for other IS militants in the area.
Popular Mobilization Forces, an alliance of volunteer Shia paramilitary forces, have actively backed the Iraqi government's military campaign against IS since 2014, when they were formed upon a top Shia clergy edict to counter the Sunni Jihadist group.
Full report at:
https://www.iraqinews.com/features/iraqi-paramilitary-fighters-kill-4-islamic-state-terrorists-in-salahuddin/
--------
Egypt pushes for end to US 'terror' blacklisting of Sudan
September 09, 2019
KHARTOUM: Egyptian Foreign Minister Sameh Shoukry said Monday that Cairo was supporting efforts to remove Sudan from Washington's blacklist of state sponsors of terrorism, a key factor hindering the African country's economic revival.
Shoukry is in Khartoum for a one-day visit to hold talks with top officials in what Cairo hailed as a "new start" in relations between the neighbors as Sudan transitions toward civilian rule.
Egypt had been a steadfast ally of Sudanese military generals who seized power after the army ousted long-time leader Omar Al-Bashir in April following months of nationwide protests against his autocratic rule.
But previously ties between the neighbors had often been strained over the years due to trade and border disputes, although efforts have been taken by both to address the concerns.
On Monday, Shoukry held talks with new Prime Minister Abdalla Hamdok and Sudan's first female foreign affairs minister, Asma Mohamed Abdalla.
He also met General Abdel Fattah Al-Burhan, the head of a joint civilian-military sovereign council that is overseeing Sudan's transition.
Shoukry said that during his talks, which aimed to "boost relations between the two countries," he offered Cairo's backing for dropping Sudan from Washington's list of state sponsors of terrorism.
"Egypt is supporting Sudan to be removed from the terrorism list," he told reporters.
"We have also raised this issue with the United States of America ... we will continue pushing for it in coordination with the Sudanese authorities."
Decades of US blacklisting along with a trade embargo imposed on Sudan in 1997 has kept overseas investors away from the country, in turn isolating it from the global economy.
Sudan's worsening economic situation was the key trigger for nationwide protests that finally led to the ouster of Bashir.
Washington lifted the sanctions in October 2017, but still kept Sudan in the terrorism list along with North Korea, Iran and Syria.
Washington's harsh measures were imposed for Khartoum's alleged support for extremist militant groups.
Al-Qaeda founder Osama bin Laden used to reside in Sudan between 1992 to 1996.
Washington and Khartoum have, however, engaged in negotiations to remove Sudan from the terrorism blacklist since the sanctions were lifted.
The Egyptian foreign ministry earlier said that Shoukry's visit "shows Egypt's support for Sudan and to its people in achieving their demands."
Relations between Cairo and Khartoum had deteriorated in early 2017, when Bashir accused Egypt of supporting rebels in conflict zones, including Darfur in western Sudan.
Sudan in May 2017 banned the import of animal and other agricultural products from its northern neighbor.
But for years the main bone of contention between the two countries has been Egypt's control of the Halayeb triangle, which lies in a mineral-rich border region.
During Bashir's rule, Sudan regularly protested at Egypt's administration of Halayeb and the Shalatin border region near the Red Sea, saying they are part of its sovereign territory since shortly after independence in 1956.
Ties between the neighbors improved after Sudan lifted the ban on Egyptian products in 2018 following talks in Khartoum between Bashir and his Egyptian counterpart Abdel Fattah El-Sisi.
Full report at:
https://www.arabnews.com/node/1551921/middle-east
--------
Mideast
Muslims across Iran Commemorate Tasoua, Ashoura
Sep 09, 2019
Tasoua and Ashoura mark the climax of the Remembrance of Muharram, marking the death of Prophet Mohammad (PBUH)'s grandson, the revered Imam Hossein (PBUH) in the Battle of Karbala, in modern-day Iraq 1,300 years ago.
Ashoura is perhaps nowhere more ardently commemorated than in Iran. The only way to fully understand what this day means to so many Iranians is to delve into a history that has repeated itself there for years on end. From the Constitutional Revolution of the early 20th Century to the 1979 Islamic Revolution, the history of Ashura is reflected in every struggle against injustice in Iran. Whether opposing monarchy, imperialism or crippling sanctions, the history of this day holds a unique position in the hearts of countless Iranians.
Growing up in Iran, no matter your faith or circumstance, you will learn the story of Karbala, if only because every year you will get a holiday from school on Tasoua (the ninth day of Moharram) and Ashoura and witness countless men fill the streets in a parade of tears and self-flagellation. You will watch or possibly join in as these devout and distinctly Iranian Shiite Muslims pound their chests and fill the air with impassioned invocations and chants of "Ya Hossein." Amid this mourning, there will be a unique and fervent enthusiasm, for it was on this day, some 1,300 years ago, that Imam Hossein (PBUH) stood tall and strong in the face of oppression, against insurmountable odds.
You cannot understand the role of Islam in Iran without knowing the story of Karbala, nor can you underestimate its influence.
On the 10th of the month of Muharram, in the 61st year of the Islamic Calendar (680 ACE), in a barren land (which is now the city) of Karbala, some 100 kilometers Southwest of Baghdad, Imam Hossein (PBUH) - the grandson of the Prophet Mohammad (PBUH) and the third Imam of Shiite Islam - was savagely slaughtered in battle and rose to martyrdom.
The Battle of Karbala was the result of Imam Hossein (PBUH)'s attempt to liberate the people of the region from the tyrannical rule of the second caliph of the Ummayad Caliphate, Yazid I. Over the days preceding his martyrdom, Imam Hossein (PBUH) and his small caravan of friends and family (between 72 and 124 men) were surrounded by Yazid's army of thousands (over 30,000 armed men). They were ultimately forbidden access to water for three days, and on the tenth day (Ashoura), Yazid's army attacked in full force, killing all 72 of Imam Hossein (PBUH)'s closest companions, including his six-month old son. The final and most brutal casualty of Karbala was Imam Hossein (PBUH) himself, who sustained countless unimaginable wounds from arrows, stones and swords before his throat was cut while he was prostrating before the Lord in prayer. Thus, on that day, Imam Hossein (PBUH) rose as a martyr and has remained so for over a thousand years.
So, what does this story have to do with modern-day Iran and Iranians? Everything.
For the vast majority of Iranians who identify as Shiite and even for many who don't, the story of Karbala lies at the heart of all struggles against oppression and tyranny - personal and political.
In 1979, Yazid's army was that of the Shah, the SAVAK (his vicious secret police and intelligence service), and the British and American imperialism they represented to Iranians. The Islamic Revolution was, if nothing else, a grand morality play of the Battle of Karbala on a world stage, with Imam Khomeini and his cronies claiming the roles of Imam Hossein (PBUH) and his caravan respectively.
Who plays the role of Imam Hossein (PBUH)'s crew in Iran today?
Without a doubt, it is the Iranian people themselves under the Supreme Leader of the Islamic Revolution, Ayatollah Seyed Ali Khamenei; he is not Imam Hossein (PBUH) but a fervent and true assistant, aide and helper of Imam Hossein (PBUH) as he, the Leader of the world Muslims who is from the Prophet's offspring, is moving on the same path and Iranians, inspired by and holding deep belief in the story of Karbala, insist that they are all his companions to the end.
https://en.farsnews.com/newstext.aspx?nn=13980618000052
--------
Israel: Shi'ite Force Fired Rockets From Syria; 'Strike on Syria-Iraq Border Kills 18 Iran-backed Militiamen'
Sep 09, 2019
Unmanned aerial vehicles (UAVs) struck Iran-backed militias in eastern Syria, local media reported Sunday overnight.
On Monday, the Israeli army said Shi'ite units led by Tehran's Quds Force attempted to fire several rockets Sunday overnight which failed to cross over to Israel.
Outlets affiliated with the Syrian opposition, which based their reports on those of the Syrian Observatory for Human Rights', said the UAVs attacked militias near Al Bukamal, close to the Syria-Iraq border.
Eighteen Iran-back militia members were killed in the strike, the British-based watchdog said on Monday. The Assad regime and Syrian state media didn't report the incident.
On Monday, the Israeli army said it identified a several launches from Syria that failed to cross over to Israel. They were carried out by Shi'te militias led by Iran's Quds Force from the outskirts of Damascus, the statement said, adding it considered the Assad regime responsible for any action that takes place under its sovereignty.
Later Sunday night, Lebanon's Hezbollah downed an Israeli unmanned aircraft outside the southern town of Ramyah, the movement's Al-Manar TV said early on Monday.
The Israeli drone is now in the hands of Hezbollah's fighters, the Iran-backed group added in a statement.
The Israel Defense Forces confirmed that the drone was downed in southern Lebanon during routine activity, ruling out intelligence leak.
Hezbollah and the Israeli army exchanged cross-border fire earlier this month after a drone attack last week in a Hezbollah-controlled Beirut suburb.
Hezbollah blamed that incident on Israel, raising fears of a wider regional conflict.
In August, Hezbollah leader Hassan Nasrallah said that his Shi'ite group would retaliate for drone attacks in Beirut that he has attributed to Israel "in every possible place along the border."
Last week Fox News reported that the Iranian military is building a new military base in Syria, citing multiple Western intelligence sources.
The report said that the new Iranian compound, dubbed Imam Ali and situated on the Syria-Iraq border where Monday's alleged strike took place, is being built from scratch by the Al-Quds forces and its construction was approved by top Tehran leaders.
The base is located 150 kilometers Southeast of Deir ez-Zur, near the Albukamal-Qaim crossing, a major supply route across the Middle East.
Series of strikes in Iraq have been recently attributed to Israel, some of them near the Syria-Iraq border and the Albukamal-Qaim crossing. The attacks targeted Iran-backed Shi'ite militias and their convoys tasked with smuggling weapons into Syria.
Israel didn't claim responsibility for the strikes, however Prime Minister Benjamin Netanyahu hinted at several occasions that he would not hesitate to expand the borders of fighting against Iran.
Full report at:
https://www.haaretz.com/israel-news/.premium-hezbollah-claims-it-downed-an-israeli-drone-in-southern-lebanon-1.7811954
--------
UN atomic watchdog confirms Iran installing new centrifuges
Sep 10, 2019
BERLIN (AP) — The United Nations' atomic watchdog confirmed Monday that Iran is preparing to use more advanced centrifuges, another breach of limits set in the country's slowly unraveling nuclear deal with major powers.
Iran had already announced the step, its latest violation of the 2015 agreement as it tries to pressure European signatories to find a way to maintain oil shipments and ease the toll of U.S. sanctions on the Iranian economy.
The International Atomic Energy Agency reported its inspectors verified the installation of new centrifuges. The agency said all had been "prepared for testing" but none yet tested at the time of the Sept. 7-8 inspection.
The nuclear deal was meant to keep Tehran from building atomic weapons — something Iran denies it wants to do — in exchange for economic incentives. Its collapse started with the United States unilaterally withdrawing from the deal last year and imposing increased sanctions.
The other signatories — Britain, France, Germany, China and Russia, as well as the European Union — have been struggling to salvage the agreement and find a way to meet Tehran's demands.
To put pressure on them, Iran has already pushed past limits in the deal, called the Joint Comprehensive Plan of Action, or JCPOA, on nuclear enrichment purity and stockpiles of enriched uranium.
A centrifuge is a device that enriches uranium by rapidly spinning uranium hexafluoride gas. The IAEA said the ones its inspectors saw included 30 advanced IR-6 and three IR-6s models, as well as multiple IR-4 and IR-5 models.
Under the atomic accord, Iran has been limited to operating 5,060 older-model IR-1 centrifuges.
Asked what the new centrifuges could mean to enhance Iran's ability to enrich uranium, IAEA Acting Director General Cornel Feruta said "output is not a simple matter" but also it was "not for the agency to judge what these actions will bring."
"We have made it very clear that the role of the agency is to report the facts to members of the JCPOA and also the board," Feruta told reporters in Vienna.
Russia's permanent representative to international organizations in Vienna, Mikhail Ulyanov, downplayed the development, saying after Iran revealed its step about centrifuges that the move "shouldn't be overdramatized."
"Yes, it's another deviation from JCPOA, but new activities will remain verifiable by IAEA and reversible," he said in a tweet. "No proliferation threat, just a strong signal that balance within the JCPOA must be restored."
Feruta, who returned from Tehran Sunday night, told the agency's board in Vienna on Monday that inspectors on the ground continue "to verify and monitor Iran's nuclear-related commitments under the JCPOA."
He said he emphasized to Iranian authorities "the importance of full and timely cooperation by Iran."
That mirrored a line in a recent IAEA report on Iran that suggested Tehran wasn't as forthcoming with answering questions as the agency hoped.
"I also stressed the need for Iran to respond promptly to agency questions related to the completeness of Iran's safeguards declarations," Feruta said.
Feruta told reporters the meetings had gone well, "covering a full range of issues in our cooperation, and I was pleased with the tone and the input we received in those conversations."
After the report, China blamed the United States for the situation, and called for world powers to stick to the 2015 deal with Tehran.
"The U.S. should abandon wrong practices such as unilateral sanctions and maximum pressure on Iran," Foreign Ministry spokeswoman Hua Chunying said in Beijing.
French President Emmanuel Macron has been talking both to Washington and Tehran about a proposal to create a $15 billion line of credit for Iran to entice it to remain in the nuclear deal.
German Foreign Ministry spokesman Rainer Breul told reporters that Berlin supports the French president's efforts to resume talks and de-escalate the situation.
"There are confidential conversations among the partners about the specific details," Breul said. "Various news reports are circulating that we won't comment on further."
He reiterated that Germany considers Iran's centrifuge plans "a step in the wrong direction."
"We call on Iran to meet its commitments under the JCPOA and to return to them," Breul said.
Both the U.S. and Israel have pushed the IAEA to look further into a warehouse near Tehran where Israel alleges there is evidence Iran stored "massive amounts of equipment and material" before clearing it out.
Feruta would not comment on a Saturday tweet by John Bolton, U.S. President Donald Trump's national security adviser, that the IAEA informed its board that "Iran may be concealing nuclear material and/or activities."
Full report at:
https://apnews.com/d15c4caff7044811a419b26958332433
--------
Israeli PM Netanyahu exposes additional sites related to Iran's nuclear program
9 September 2019
Israeli Prime Minister Benjamin Netanyahu revealed the location of another secret nuclear site in Iran, which Israel found through documents intelligence agents took from Tehran's nuclear archive in a 2018 operation.
The site, in the Iranian city of Abadeh, was used to conduct experiments to develop nuclear weapons, according to Netanyahu. The Israeli prime minister said Iran wiped the site when it found out Israel was aware of it.
Netanyahu also said that the United Nations nuclear watchdog asked Iran questions regarding the site, but Iran refused to answer.
Netanyahu also directly addressed the leadership of Tehran, warning that Israel would expose the "consistent pattern of Iranian lies, deception, and violations."
"This is what I have to say to the tyrants of Iran: Israel knows what you are doing, Israel knows when you are doing it, and Israel knows where you are doing it," Netanyahu said.
The Israeli prime minister called on the international community to join US President Trump's economic sanctions on Iran.
"The only way to stop Iran's march to the bomb and its aggression in the region, is pressure, pressure, and more pressure," said Netanyahu.
Meanwhile, Iran's Foreign Minister Mohammad Javad Zarif rejected Netanyahu's nuclear claim.
Full report at:
https://english.alarabiya.net/en/News/middle-east/2019/09/09/Netanyahu-Israel-exposed-additional-secret-sites-related-to-Iran-s-nuclear-program.html
--------
IRGC chief: US 'would have collapsed' under sanctions if it was in Iran's position
9 September 2019
The US would collapse if it received the sanctions currently imposed on Iran, claimed the head of Iran's Islamic Revolutionary Guard Corps (IRGC) Brig. Gen. Hossein Salami on Monday, the semi-official Iranian Students News Agency (ISNA) reported.
If the sanctions against Iran "were imposed on America, America would have collapsed," said Salami, adding that US officials' "only wish" from talks is to take a picture with an Iranian official.
The US recently sanctioned an "oil for terror" network of firms, ships and individuals, allegedly directed by the IRGC, which has supplied Syria with oil worth hundreds of millions of dollars in breach of US sanctions.
The latest sanctions were part of the US' "maximum pressure" economic sanctions campaign aimed at blocking Iran's oil exports, the country's main source of income. The US blames Tehran for refusing to stop supporting terrorist and proxy organizations across the region.
Iran has denied the sanctions are effective, despite their economic impact.
"The enemies today are retreating and fleeing. We observe the enemies' actions and know the extent of their capabilities," said Salami, adding: "Wherever the children of Islam have made a move, the enemies have retreated."
"Children of Islam" is a term used by Iranian officials and military commanders to refer to Iranian military forces, as well as forces of Iranian proxies in the region.
"Defeat, surrender, compromise and negotiation do not exist in our dictionary. Our style is resistance, control and problem solving," added Salami.
"We will overcome the problems," he said, acknowledging Iran is facing difficulties, and added that "we are not going to give in to the enemy because of the problems."
Full report at:
https://english.alarabiya.net/en/News/middle-east/2019/09/09/IRGC-chief-US-would-have-collapsed-under-sanctions-if-it-was-in-Iran-s-position.html
--------
UN's IAEA acting chief on Iran nuclear talks: 'Time is of the essence'
9 September 2019
Time is of the essence when dealing with Iran's nuclear program, the acting chief of the UN's nuclear watchdog said on Monday.
Cornel Feruta said that he visited Tehran on Sunday to discuss verification and monitoring under the JCPOA with Iranian senior officials.
"Time is of the essence. Our ongoing interactions need to advance even further. We made it very clear from the agency side, we are very much engaged in exploring all the options," Cornel Feruta, acting director general of the International Atomic Energy Agency (IAEA), said.
"I emphasized the importance of full and timely cooperation by Iran," he added.
Full report at:
https://english.alarabiya.net/en/News/2019/09/09/IAEA-Acting-Director-on-Iran-nuclear-Time-is-of-the-essence-.html
--------
Coalition forces intercept, down Houthi drone in Yemeni air space
10 September 2019
The Arab Coalition said that its forces intercepted and downed an armed drone launched by the Iran-backed Houthi militia from Sanaa towards Saudi Arabia.
Colonel Turki al-Maliki, the spokesman for the coalition, said that its forces shot down the drone in Yemeni air space over Saada province.
Al-Maliki said the Houthis continue to violate international humanitarian law by launching drones for attacks, and putting civilian lives at risk.
The coalition has taken all measures to protect civilians, he said.
https://english.alarabiya.net/en/News/gulf/2019/09/10/Coalition-forces-intercept-down-Houthi-drone-in-Yemeni-airspace.html
--------
Israeli PM's bid to place cameras at polling stations fails
September 09, 2019
JERUSALEM: Israeli Prime Minister Benjamin Netanyahu failed on Monday in his eleventh hour bid to legislate that cameras be installed in polling stations to prevent what his supporters claim is voting fraud in Arab districts.
After a stormy session, a parliamentary committee voted it down before it reached the plenum with Netanyahu's backers deadlocked with his opponents.
The deciding, dissenting vote was cast by a representative of former Defense Minister Avigdor Lieberman, an ally-turned-rival of Netanyahu who forced Israel's unprecedented second election of the year and is poised to be the kingmaker again in the vote.
With just a week to go to the repeat election, Netanyahu had sought to pass the controversial legislation amid a scorched earth campaign in which he's accused his opponents of conspiring to "steal" the election.
Netanyahu responded to the setback by slamming the opposition.
"There is no reason for those who really care about the integrity of the election to object to the camera law, which prevents forgeries," he said in a video message to his followers. "There is only one answer to this: Turn out in masses at the ballot box."
Netanyahu insists the proposal was a matter of transparency, but it drew renewed accusations that he was promoting racism and incitement against the country's Arab minority. Critics also said he was preemptively claiming to be a victim of electoral fraud as an alibi, in case he loses.
Mordechai Kremnitzer, a constitutional law expert, wrote in the Haaretz daily that the bill amounted to pointing a "gun at Israeli democracy's head."
With his career on the line, Netanyahu has increasingly been embracing some tactics of President Donald Trump. Netanyahu routinely lashes out at the media, the judiciary, the police and his political opponents, claiming there is a conspiracy of "elites" to oust him.
In a Facebook video Sunday, Netanyahu hinted that Arab forgery prevented him from winning the April vote. Netanyahu's hard-line Likud Party had sent out campaign workers on election day to videotape Arab voters entering polling stations, claiming they were preventing fraud.
A Likud-linked PR agency that spearheaded the campaign later boasted it had helped suppress Arab turnout, while Arab leaders accused Likud of trying to intimidate voters. Israel's Central Election Commission banned the practice this time around and the fast-tracked legislation was supposed to override that ruling.
Adalah, a legal rights group for Arab minority rights, said even without passing the proposed bill it "has already caused harm by injecting bald-faced lies into the public political discourse under the premise of preserving the 'purity of elections.'"
Stifling Netanyahu once again was his nemesis Lieberman, who said any monitoring should be operated by election officials and not "Netanyahu's private militia."
Lieberman, who was once Netanyahu's chief of staff and a staunch partner, has emerged as his chief rival and critic. He passed up the post of defense minister in Netanyahu's government following April's election, claiming the new coalition would give excessive influence to ultra-Orthodox Jewish parties. The dispute left the prime minister without a parliamentary majority and forced the Sept. 17 do-over vote.
Full report at:
https://www.arabnews.com/node/1552041/middle-east
--------
Europe
Police raids find huge arms cache linked to Islamic terror group, al-Muhajiroun, in West Midlands
8 Sep 2019
A significant arms cache, including a sniper rifle, a silencer and tracer rounds linked to the banned terrorist group al-Muhajiroun have been found in Coventry, the Observer can reveal.
Officers from the West Midlands Counter Terrorism Unit and MI5 are investigating the weapons haul, which also includes a shotgun and 200 rounds of ammunition, following raids at several addresses in the city.
A statement from West Midlands Police, which assists the regional counter-terrorism unit, said: "Firearms and ammunition were recovered during the raids and a police investigation is ongoing." Four men have been arrested, one of whom has links to the al-Muhajiroun network, according to sources. The group, active in the UK since the mid-1980s, disappeared after the July 2005 attacks on London, but maintained a presence under various different names. It was eventually banned in 2009 under legislation outlawing "glorification" of terrorism.
Supporters of al-Muhajiroun, whose traditional centres of organisation are the East End of London and Luton, have carried out atrocities including the 2017 London Bridge attack, the July 2005 bombings and the murder of Lee Rigby in 2013, with a number fighting for Islamic State and al-Qaida abroad.
Recent reports suggest the group is regenerating, buoyed by the release of convicted terrorists from prison. The head of national counter-terror policing, Neil Basu, said the security services were working to disrupt terrorist activity by al-Muhajiroun.
Of the four men arrested in Coventry on suspicion of firearms offences, a 51-year-old and a 37-year-old remain on bail. Counter-terrorism officers raided two addresses in the city on 3 July and two more on 15 July.
A source said one of the arrested men had links with the al-Muhajiroun network before leaving the group and had reappeared on the security services' radar after acquiring firearms.
The source said: "The ones to worry about are those who join the group and leave. They then fall into two categories: either going back into normal life and thinking those guys were a bunch of jokers; or getting really serious – and they are the ones to follow.
"The main guy [in this case] was in the purview of ALM and then jetted out like a comet and became a lot more serious than ALM could ever dream of being."
Last year al-Muhajiroun's British-born leader, Anjem Choudary, was released from prison after being convicted for his activities to support Isis. Choudary has no connection to the arms cache uncovered in Coventry and has always denied allegations that he has either incited or glorified acts of terrorism.
A number of ALM members travelled to Syria and Iraq to join Islamic State, including Siddhartha Dhar, a former bouncy-castle salesman from London, who was on bail for terrorism offences when he travelled to the Middle East to join the terror group.
After being banned in 2009, the group resurfaced under various different banners with one, Islam4UK, creating headlines after protesting in Luton against British soldiers returning from Iraq, a demonstration that helped to form the far-right English Defence League.
The West Midlands Counter Terrorism Unit is one of 11 regional counter-terrorism units that form the National Counter Terrorism Policing Network that bring together intelligence, operations and investigative capabilities around the UK to prevent and prosecute terrorist activities. The finding of military-grade tracer rounds is particularly unusual in the UK.
https://www.theguardian.com/uk-news/2019/sep/08/police-raid-arms-terror-group
--------
Anniversary of Munich massacre reminds us of need to fight anti-Semitism and terrorism
Sep 10, 2019
This week marks 47 years since the Munich massacre – the appalling murder of 11 Israeli Olympic team members by the Palestinian terrorist group Black September at the 1972 Olympics in Munich, West Germany.
Before the massacre, members of the Israeli Olympic delegation openly discussed their concerns about the lack of security assigned to them. Tragically, their concerns were mostly ignored.
During the early morning hours of Sept. 5, the members of Black September used stolen keys to break into the apartment where the Israeli team was staying. They had been scoping out the apartment and surrounding areas for weeks preparing for their attack.
Two Israelis were murdered during the initial stage of the attack, and the remaining nine were taken hostage and later murdered during a failed rescue mission.
Tragedies like the Munich massacre cannot and must not be forgotten.
First, we must honor those who were killed. But we must also learn how to keep such attacks from happening again.
The attack on representatives of the Jewish state of Israel terrified the world, but didn't generate the outrage it warranted. The Olympics at first continued but were eventually suspended for just 36 hours, under public pressure.
Nor did the massacre prompt sufficient tightening of security measures around the world to prevent other deadly terrorist attacks in the years ahead.
As has often happened in history, Jews and the state of Israel tend to become the targets of a "first try" to find out what kind of damage can be caused around the world. Even today this is seen with a global rise in anti-Semitism and a lack of leadership to take action to stop it.
We are also seeing this with the Boycott, Divestment and Sanctions (BDS) movement. This blatantly anti-Semitic movement has the goal of destroying Israel, a vibrant democracy and close U.S. ally.
Why should we pay attention to what is happening in Israel? Because if we don't stand up for Israel when it faces these kinds of attacks today, America will be next.
The danger of complacency in the face of attacks on others was described by Martin Niemöller, who was a submarine officer in the German Navy in World War I and later became a Lutheran pastor. At first he supported Nazi leader Adolf Hitler but then became a fierce opponent and was imprisoned in concentration camps from 1938 to 1945, narrowly escaping death.
Blaming himself for not opposing Hitler sooner, he made remarks after World War II translated into several versions in English as a poem. The best-known translation states:
First they came for the communists, and I did not speak out – because I was not a communist / Then they came for the socialists, and I did not speak out – because I was not a socialist / Then they came for the trade unionists, and I did not speak out – because I was not a trade unionist / Then they came for the Jews, and I did not speak out – because I was not a Jew / Then they came for me – and there was no one left to speak out for me.
These moving words tell us how necessary it is to learn from one's mistakes and to keep certain parts of history from ever repeating themselves.
This anniversary of the Munich massacre must remind us that we should be vigilant to the suffering of others. The massacre shows us that violence that may seem directed only at Israel and Jews will eventually come back to haunt all of us as well.
Take a look at our world today and the threats that we are facing.
Iran has made it clear that its immediate enemy is Israel, but that is never where it ends. Iran also demonizes the United States and calls for our destruction.
We must protect Israel as our ally and a partner in the democratic values that our two countries share, and stay vigilant about the threats Israel faces every single day.
Full report at:
https://www.foxnews.com/opinion/elizabeth-pipko-anniversary-of-munich-massacre-reminds-us-of-need-to-fight-anti-semitism-and-terrorism
--------
Italy police detains 10 for alleged terrorism financing
September 7, 2019
ROME — Italian police have detained 10 people in the central Abruzzo region for alleged tax crimes and money laundering aimed at financing Islamic extremist groups.
Investigators said at a news conference Saturday that the eight Tunisians and two Italians are suspected of financing with "enormous sums of money" activities linked to the radical Islamic organization Al-Nusra.
According to prosecutors, the people detained, including the imam of the Dar Assalam mosque close to the city of Teramo, and an Italian accountant, used the money obtained through tax evasion to finance militant groups in Syria and some radical imams based in Italy.
Full report at:
https://www.washingtonpost.com/world/europe/italy-police-detains-10-for-alleged-terrorism-financing/2019/09/07/b5e55540-d162-11e9-a620-0a91656d7db6_story.html?noredirect=on
--------
ISIS remains resilient in Afghanistan, says UN chief Guterres
10 September 2019
Secretary-General Antonio Guterres says the ISIS extremist group remains resilient in Afghanistan despite "a high pace" of operations against it by government and international forces - and is urging all armed groups not to interfere in the upcoming presidential election.
The UN chief said in a report to the Security Council circulated on Monday that between mid-June and early September 183 incidents were attributed to ISIS extremists - nearly double the 93 incidents during the same period in 2018.
Guterres' report was written before US President Donald Trump abruptly ended a nearly year-long effort to reach a political settlement with the Taliban on Saturday. Trump said on Monday that US peace talks with the Taliban were now "dead."
In the report, the secretary-general says the US-Taliban talks, a dialogue between Afghan parties in Qatar and strengthened efforts "to build a regional consensus on peace have given rise to cautious optimism that a formal peace process may soon begin."
Guterres cautioned, however, that a peace process could only be sustained if it is inclusive, protects the rights of all Afghans, and is "grounded in a broad consensus." He reiterated his call for direct talks between the Taliban and the government, which the Taliban has rejected.
The secretary-general said Afghanistan's "volatile security situation is highly concerning," citing direct threats to the presidential election scheduled for September 28 "by anti-government elements that may discourage many Afghans from voting."
Guterres called on the Taliban and other armed groups, including ISIS, "to desist from threatening or targeting electoral staff, candidates or voters." He also urged anti-government forces to refrain from damaging electoral sites and to allow the Afghan people "to exercise their political rights in safety and without fear of violence."
The secretary-general said the winner of the presidential election will take on "the hefty responsibility of leading the country through the next phase of its journey towards stability and self-reliance and, above all, of pursuing a negotiated settlement to end the devastating conflict."
But what will happen now that the US-Taliban deal appears dead, at least for the foreseeable future, remains to be seen. The Security Council is scheduled to discuss Guterres' report on Tuesday.
Guterres appealed to all Afghan leaders and candidates "to display leadership in discouraging fraud and to take firm action to prevent it." He said the election "must be contested on a level playing field, without unduly favoring any candidate."
He welcomed the public commitments of President Ashraf Ghani and Chief Executive Abdullah Abdullah - both candidates for the top job - to contest the election fairly.
He also noted the steps taken by the government to separate functions of the state from the presidential race. But, he added, "At the same time, allegations of misuse of state resources and perceptions of interference in the work of the electoral management bodies are concerning."
Full report at:
https://english.alarabiya.net/en/News/world/2019/09/10/ISIS-remains-resilient-in-Afghanistan-says-UN-chief-Guterres.html
--------
Germany urged to extend arms export ban on S.Arabia
Ayhan Şimşek
09.09.2019
BERLIN
Greenpeace on Monday called on the German government to extend its ban on arms exports to Saudi Arabia.
Greenpeace activists turned in a petition of over 10,000 signatures to the Federal Ministry for Economic Affairs and Energy demanding an extension to the ban, which expires at the end of September.
Alexander Lurz, disarmament expert of Greenpeace Germany, said the government should maintain its ban on weapons exports to Saudi Arabia due to Riyadh's role in the Yemen war.
"Since the war erupted in Yemen, 91,000 people have been killed," he stressed.
Lurz also called on the government to stop arms sales to all countries involved in the conflict.
Impoverished Yemen has remained wracked by violence since 2014, when Shia Houthi rebels overran much of the country, including the capital Sanaa.
The conflict escalated in 2015 when Saudi Arabia and its Sunni-Arab allies launched a devastating air campaign aimed at rolling back Houthi gains.
Polls show that 81% of Germans oppose arms sales to nations involved in the Yemen war.
Last year, Chancellor Angela Merkel's coalition government imposed restrictions on arms sales to Saudi Arabia due to its role in the conflict.
Berlin further sharpened its tone following the killing of journalist Jamal Khashoggi last October at the Saudi Consulate in Istanbul and halted all arms exports to the country.
Full report at:
https://www.aa.com.tr/en/europe/germany-urged-to-extend-arms-export-ban-on-sarabia/1576920
--------
South Asia
19 Taliban militants killed, detained in Special Forces raids in Kabul and other provinces
08 Sep 2019
The Afghan Special Forces conducted multiple operations in Kabul and other provinces, killing or detaining at least 19 Taliban militants.
The military officials said Sunday that the Special Forces detained 6 Taliban militants and destroyed a small cache of weapons in Jaghatu district of Wardak.
The Special Forces also destroyed another weapons cache during a similar raid in Nerkh district of Wardak.
The officials further added that the Special Forces killed 4 Taliban militants and destroyed a small cache of weapons in Ghazni city of Ghazni province.
The Special Forces conducted a similar raid in Waghaz district of Ghazni and arrested 7 Taliban militants.
Furthermore, the Special Forces destroyed a weapons cache of Taliban in Khas Uruzgan district of Uruzgan.
The Special Forces also arrested 2 Taliban militants during a patrol in Kabul province, the officials added.
https://www.khaama.com/19-taliban-militants-killed-detained-in-special-forces-raids-in-kabul-and-other-provinces-03986/
--------
Taliban kidnaps 6 Afghan journalists, capping a week of deadly militant attacks
By Pamela Constable
September 7, 2019
KABUL — Six Afghan journalists, all identified as radio news reporters, were kidnapped by Taliban insurgents Friday while traveling to a media conference in the eastern province of Paktia, according to provincial officials and a Taliban spokesman.
But after a week of deadly attacks by the Taliban, including suicide bombings aimed at high-profile targets in the capital and ground attacks in four provinces, the chief Taliban spokesman said Saturday that the seizure of the journalists had been a "mistake" and that they would soon be released.
No direct contact has been reported with the missing reporters, and there has been no independent confirmation that they are alive and unharmed.
Hamid Kohestani, the news manager of Radio Killid Group, said Saturday night he did not know whether the journalists were still in Taliban custody. He said the station in Kabul had not been able to reach its reporter, Khairuddin, on his cellphone.
"We demand the release of our colleagues," he said.
The insurgent spokesman, Zabiullah Muhajid, said in an online statement that "our mujahideen have mistakenly kidnapped" the reporters and that as soon as cellphone contact was made with local insurgent commanders, they would be released. Abdullah Hasrat, a spokesman for Paktia's governor, said officials were "trying to negotiate their release."
The journalists were described by Afghan media outlets as reporters from four Afghan news stations that broadcast in the Dari and Pashto languages. They were reportedly driving to attend a media workshop when they were abducted in Zurmat, a district of Paktia controlled by the Taliban.
In addition to Khairuddin, who goes by one name, the abductees were identified by ToloNews TV and other media as Abdul Rauf Zaheen from Pashtun Ghag radio, Jamaluddin Ilham from Radio Melma and three staff members of Radio Yaran: Tariq Shah Zaki, Abdul Wahid Wairan and Asadullah Samim.
Initial concerns about the group's safety intensified following the news that Abdul Samad Amiri, a government human rights advocate traveling from Kabul to the western Ghowr province on Wednesday, had been abducted and shot dead by local Taliban fighters in Wardak province, a Taliban stronghold. His death sparked an outcry among Afghan and international rights groups.
The Paktia incident followed a spate of recent suicide bombings in Kabul and elsewhere that left scores of people dead and many more injured. All were claimed by the Taliban, which has ratcheted up its campaign of violence as U.S. officials seek to finalize a controversial peace deal with Taliban negotiators in Qatar.
Last year, Afghanistan was the deadliest country for journalists, with at least 13 killed, according to the Committee to Protect Journalists in New York. Another press monitoring group said a total of 16 had died. Most of the casualties were TV reporters and camera crews covering bombings and other violence.
Thursday marked the first anniversary of the deaths of two ToloNews staff members in Kabul, reporter Samim Faramarz and cameraman Ramiz Ahmadi, who were killed in a double-suicide bombing outside a gym. The Islamic State claimed responsibility. This week, murals and shrines were created in the city to commemorate them.
So far this year, one Afghan journalist has been killed by insurgents. On Jan. 5, Javid Noori, a radio host and regional government employee, was shot dead by Taliban fighters who stopped and searched a bus at a roadblock in the western province of Farah. He was separated from the other passengers and shot. The Taliban later said it had executed "an enemy officer." In June, the Taliban issued a threat to Afghan news outlets, saying they would be attacked unless they stopped broadcasting government "propaganda" against the insurgents within a week.
Full report at:
https://www.washingtonpost.com/world/asia_pacific/taliban-kidnaps-6-afghan-journalists-capping-a-week-of-deadly-militant-attacks/2019/09/07/71751c56-d16c-11e9-a620-0a91656d7db6_story.html?noredirect=on
--------
Trump's Stunt with the Taliban Was Not About Negotiating Peace
By Robin Wright
September 9, 2019
Eighteen years ago, after hijacked planes dive-bombed into the World Trade Center and the Pentagon, it would have been considered delusional to imagine an American President sitting down with the jihadis tied to the deadliest terrorist attack on U.S. soil—and at historic Camp David, no less. But it almost happened over the weekend, and may still. "Unbeknownst to almost everyone, the major Taliban leaders and, separately, the President of Afghanistan, were going to secretly meet with me at Camp David on Sunday," President Trump revealed on Twitter, on Saturday night. He both revealed and cancelled the summit in a furious series of tweets.
On the anniversary of 9/11, the United States is increasingly impatient, even desperate, to end the military offensive launched, in 2001, to oust the Taliban government from Afghanistan and eliminate the Al Qaeda terrorists it harbored. America's longest war has, in the end, failed to expel the Taliban. The group now controls or contests more territory—forty-six per cent of the land, inhabited by a third of the population—than at any time since the U.S. intervention. (This spring, the Pentagon stopped assessing who holds what, which has long been a key barometer of U.S. success.) Today, any deal to withdraw U.S. troops will be premised on recognition that the Taliban have the right to a role in ruling Afghanistan.
All told, twenty-four hundred American service members have died in Afghanistan, another thousand nato allies have been killed, and twenty thousand have been wounded. Since 2009, more than thirty-thousand Afghan civilians have been killed and fifty-six thousand have been wounded, most in insurgent attacks. In a startling shift that has occurred under the Trump Administration, the U.S. and its allies in Afghanistan have been linked to more civilian deaths than the Taliban this year.
Diplomacy has wide support, for disparate reasons but one common truth. "Let's not lose sight of the fact that after eighteen years of trying, it's clear that a military defeat of the Taliban by U.S. and Afghan security forces is not a realistic option," Andrew Wilder, an Afghan expert and the vice-president of the U.S. Institute of Peace's Asia programs, told me.
Yet Trump's race to wrap up what he called an "aimless boondoggle" in Afghanistan has also led to uncertainty about whether U.S. policy now is tied to engaging the Taliban, or whether he will order a unilateral U.S. withdrawal if talks don't resume. "As far as I'm concerned, they are dead," he told reporters, on Monday, en route to a political rally in North Carolina. To keep a campaign pledge, before he faces a reëlection test, the President could simply recall the fourteen thousand troops in Afghanistan. That risks even bigger dangers, Wilder warned. A precipitous withdrawal would limit U.S. leverage and "seriously weaken" the Afghan government and security forces. "I could easily see a return to the anarchy and civil war of the nineteen-nineties that gave birth to the Taliban in the first place, and ultimately to safe havens for terrorists to attack the U.S."
The Administration had identified a four-part peace plan to prevent the disintegration of Afghanistan into another terrorist haven. One is a U.S. troop withdrawal. The second is a Taliban commitment to insure that no terrorist attacks against the United States are conducted on Afghan soil. The third is a ceasefire among all warring parties. The final piece is an intra-Afghan dialogue, to be hosted in Oslo by the Norwegian government, to negotiate a political settlement that includes the government, the Taliban, civil society, and other key players—and then formally end the war.
After almost a year of diplomacy, Special Envoy Zalmay Khalilzad brokered an agreement on the first two steps. Last week, after the latest round of talks in Qatar, Khalilzad called the deal "imminent." The terms reportedly include an initial withdrawal of five thousand U.S. troops—of the fourteen thousand based there—in the next five months. The Taliban, in turn, would take steps to prevent terrorist plots against the United States emanating from Afghanistan. The remaining U.S. troops would be pulled out within roughly sixteen months.
"In principle, on paper, yes, we have reached an agreement—that it is done," Khalilzad, who was born in Mazar-e Sharif, educated in the United States, and later served as U.S. Ambassador to Afghanistan, told an Afghan television station. "But it is not final until the President of the United States also agrees to it."
There were still glitches—over process and substance as well as peace itself. The biggest issue is a ceasefire, the premise for enduring peace. For all the language invoked by both the Trump Administration and the Taliban, that's more than they have been negotiating. "The story for months now has been that we are negotiating only with the Taliban. We are not laying out the demands for a complete ceasefire," which would involve all the warring parties, Ryan Crocker, the former U.S. Ambassador to Afghanistan, told me.
"In no way, in any real world, can you imagine an event at Camp David ending with something that you would credibly call a peace process," Laurel Miller, a former Afghan expert at the State Department who is now the Asia Program director of the International Crisis Group, said. "It's not an Afghanistan version of the Middle East peace process at Camp David. It's an exchange of commitments," one that might open up space for a process among Afghans, hosted by another nation—without the United States in the thick of it.
As originally designed, Trump was planning to host separate meetings at Camp David with the Taliban and the Afghan President Ashraf Ghani, whom the Taliban has refused to negotiate with until it reaches an agreement on the withdrawal of U.S. forces. Members of the Taliban were reportedly concerned that they would be tricked into official talks with Ghani. They also feared that Trump would press them to accept a ceasefire, which the militants have refused to do until they have a political deal that includes them. These third and fourth parts were designed to be negotiated in Oslo after implementation of the U.S.-Taliban agreement.
Trump blamed cancellation of his secret summit talks on a Taliban bombing that killed an American soldier and eleven others in Kabul last week—or so the President claimed, to widespread skepticism. The militants "killed one of our great great soldiers," Trump tweeted. On Saturday night, he dispatched Secretary of State Mike Pompeo to Dover Air Force Base, in Delaware, to greet the coffin of Sergeant First Class Elis Angel Barreto Ortiz, a paratrooper from Puerto Rico killed during his second stint in Afghanistan.
"If they cannot agree to a ceasefire during these very important peace talks, and would even kill 12 innocent people, then they probably don't have the power to negotiate a meaningful agreement anyway," the President tweeted. "How many more decades are they willing to fight?" he tweeted.
Barreto's death may have served as a face-saving excuse. Fifteen other Americans have been killed this year, during nine rounds of the most serious diplomacy between the U.S. and the Taliban since 2001. Both sides have used military pressure as leverage in the final run-up to a deal—and both sides expected it. In the previous ten days, the United States had killed more than a thousand Taliban, Pompeo boasted on a round of Sunday talk shows.
The idea of a secret summit with enemy combatants astonished even those close to the process. The timing—just four days before the anniversary of the 9/11 bombings—magnified the drama. So did the venue, igniting fury from fellow-Republicans. "Camp David is where America's leaders met to plan our response after al Qaeda, supported by the Taliban, killed 3000 Americans on 9/11," the Wyoming congresswoman Liz Cheney, a Republican and a daughter of former Vice-President Dick Cheney, tweeted. "No member of the Taliban should set foot there. Ever," the Illinois Representative Adam Kinzinger, who served in Afghanistan, tweeted. "Never should leaders of a terrorist organization that hasn't renounced 9/11 and continues in evil be allowed in our great country. NEVER. Full stop."
Trump had hoped to broker an Afghan peace before the Presidential campaign heats up—to convince voters that he knows the art of diplomatic deals. Instead, it could become an election issue. "The whole thing doesn't quite make sense. It's just another example of the President treating foreign policy like it's some kind of game show," the Minnesota Senator Amy Klobuchar, a Democratic Presidential candidate, said on CNN. "This isn't a game show—these are terrorists."
Pompeo was dispatched to all five major Sunday talk shows to defend the President's plan. "If you're going to negotiate peace, you often have to deal with some pretty bad actors," he said on ABC's "This Week." "I know the history, too, at Camp David, and indeed President Trump reflected on that. Some pretty bad actors have traveled through that place throughout recorded history."
But a senior official, who worked on Afghanistan in both the George W. Bush and Obama Administrations, told me that the Administration has now bestowed credibility on the Taliban. "Inviting an armed insurgent group to Camp David when Afghanistan has an elected government that we've supported for eighteen years, that's a big deal," the official said. "We're basically legitimizing an armed insurgent group, which may be unprecedented."
On the eve of a scheduled Presidential election in Afghanistan, on September 28th, U.S. policy has also weakened the Kabul government, which was not included in U.S. diplomacy with the Taliban. "We basically turned on the government," Crocker, the former U.S. Ambassador, told me. "We've said, 'It's your fucking fault that we're losing.' " He said that the optics of shaking hands with people still killing every American soldier they can are "mind-boggling" for the U.S. military, too. "The Pentagon would be in a fury: you kill our soldiers and get invited to Camp David."
What's next? Both sides threatened more violence. Pompeo warned the Taliban, "Conditions have been worsening and are about to get worse. While this is not a war of attrition, I want the American people to know that President Trump is taking it to the Taliban." The Taliban issued a similar threat. "This will lead to more losses to the U.S." the Taliban spokesman Zabihullah Mujahid said, on Sunday. "Its credibility will be affected, its anti-peace stance will be exposed to the world, losses to lives and assets will increase."
Yet diplomacy may not be over. "We are committed to continuing negotiations till the end if political settlement is chosen instead of war," the Taliban said. Trump has also dramatically abandoned other diplomatic initiatives only to resume them in short order. In May 2018, Trump abruptly called off his summit with the North Korean leader Kim Jong Un in Singapore, citing "anger and open hostility" in North Korea's statements. Less than three weeks later, in an about-face, Trump flew to Singapore. At their first meeting, Trump and Kim pledged a new era in relations between countries still technically at war since 1953.
With the Camp David talks cancelled on Sunday, Trump headed to his country club for a golf game. It was the two hundred and thirtieth time he has played golf—usually at one of his seventeen clubs—out of his nine hundred and sixty-one days in the Presidency.
Full report at:
https://www.newyorker.com/news/our-columnists/trumps-stunt-with-the-taliban-was-not-about-negotiating-peace
--------
Secret Taliban peace talks at Camp David floated, scrapped within a week, U.S. officials say
Sept. 9, 2019
President Donald Trump's decision to hold a meeting in Washington with Taliban leaders and Afghanistan President Ashraf Ghani to try to solidify a peace deal to end the 18-year-long war was first discussed about a week ago, according to U.S. officials and others briefed on the discussion.
The idea raised Sept. 1 during a Situation Room meeting with the president was vehemently opposed by national security adviser John Bolton, even as officials at the State Department argued it could move the parties closer to an agreement, officials said.
Bolton had an ally in Vice President Mike Pence, who also made the case against a meeting at Camp David, a location Trump suggested, officials said. Bolton and Pence were in Warsaw together around the time of the internal discussions.
Using the presidential retreat in Maryland to host the meeting was floated by Trump after he warmed to the idea of a sit-down in Washington, the officials and people familiar with the matter said.
Bolton's office declined to comment. Pence's office and a spokesperson for the president did not immediately respond to a request for comment.
Among the concerns of administration officials who opposed the meeting was that it might take place around the anniversary of the 9/11 attacks, the officials and people familiar with the matter said. Pence argued at one point that such a meeting could send the wrong message to members of the U.S. military who have fought — and been killed by — the Taliban for years, one senior administration official said.
There also was concern among some U.S. officials that Ghani would not show up for such a meeting, and they argued it was better for the president to cancel first than be stood up, the officials and people familiar with the matter said.
There has been broad skepticism within the national security team, even among those supporting the deal, that it would hold even if finalized, they said. The view was that the Taliban couldn't be trusted to live up to its commitments and that a deal would very quickly collapse once the Afghan government was brought into the talks.
One concern among some administration officials was that elevating the negotiations to a meeting with the president at Camp David might later embarrass Trump if a deal fell apart, officials said.
Bolton has been deeply skeptical of negotiations with the Taliban, which are being led by Secretary of State Mike Pompeo's envoy on the issue, former Ambassador Zalmay Khalilzad. U.S. negotiators have been working under the president's demand that a drawdown occur before November 2020 when he's up for re-election.
The Taliban has offered a different version of events. A senior Taliban leader told NBC News Monday that Trump appears to have cancelled the negotiations after the group refused to travel to Camp David to hold direct talks with the Afghan leadership.
"We have informed Zalmay Khalilzad a number of times that we don't consider Ashraf Ghani and his administration as a legitimate government and therefore we refused to hold direct talks with them," the Taliban leader based in Qatar said on condition of anonymity because he was not authorized to speak to the media.
Declining the invitation "apparently provoked the president and he suspended peace talks in reaction," he added.
NBC News could not confirm the claims and the Taliban offered no evidence to back them up and is known for being untruthful and for exaggerating claims.
Full report at:
https://www.nbcnews.com/politics/politics-news/secret-taliban-peace-talks-camp-david-floated-scrapped-within-week-n1051286
--------
3 civilians wounded in an explosion in Kabul city
09 Sep 2019
Officials in Kabul Police Headquarters confirm that an explosion in Kabul city has wounded at least three civilians.
The officials further added that the explosion took place at around 11:00 am local time in the vicinity of the 5th district of the city.
Furthermore, the officials said the militants had planted the bomb on the roadside which went off as the civilians were crossing the area.
No individual or group has so far claimed responsibility for the explosion.
This comes as Afghanistan is observing the 18th death anniversary of the former Jihadi commander Ahmad Shah Massoud.
https://www.khaama.com/3-civilians-wounded-in-an-explosion-in-kabul-city-03994/
--------
Southeast Asia
China says US 'lies' about Xinjiang region will not deceive anyone
9 September 2019
China said on Monday US "lies" about the western region of Xinjiang will not deceive anyone, after Secretary of State Mike Pompeo said his country would use the UN General Assembly to "call out" China over its treatment of ethnic Uighurs.
UN experts and activists say at least 1 million Uighurs, and members of other largely Muslim minority groups, have been detained in camps in the remote Xinjiang region.
Beijing denies any mistreatment at the camps it says provide vocational training to help stamp out religious extremism and teach new work skills.
Pompeo was not the first US official to make irresponsible remarks about Xinjiang, foreign ministry spokeswoman Hua Chunying told a news conference in Beijing.
"We are strongly dissatisfied with and resolutely opposed to this US officials' neglecting of the facts, making irresponsible comments about China's Xinjiang policy and seriously interfering in China's internal affairs," Hua said.
She added "in essence there is no difference" between what China is doing in Xinjiang and what many other countries have done in the name of fighting extremism and terrorism.
"The lies of US politicians can't deceive anyone," she said.
Asked last week at Kansas State University how Washington had been promoting an end to the oppression of Uighurs, Pompeo said it was insufficient and the US would take up their cause at the UN General Assembly this month.
"We'll do a number of gatherings, where our efforts will be to get other countries to sign up to help us call out this activity," Pompeo said.
"We want freedom for those folks. We have lots of challenges with China, but this is about their fundamental unalienable rights for those particular individuals," Pompeo said.
Though the US has ramped up criticism of China's measures in Xinjiang, it has not imposed sanctions while it engages in on-again-off-again talks to resolve a bitter and costly trade war with Beijing.
President Donald Trump's administration has considered sanctions against Chinese officials, including Xinjiang's Communist Party chief Chen Quanguo, a member of the Chinese leadership's powerful Politburo, since last year, but has held off amid Beijing's threats of retaliation.
Some members of the US Congress and other critics have been dismayed by Trump's apparent tendency to place efforts to resolve the trade dispute above human rights concerns.
https://english.alarabiya.net/en/News/world/2019/09/09/China-says-US-lies-about-Xinjiang-region-will-not-deceive-anyone.html
--------
Perlis Mufti: Prioritising Muslim-made goods will boost community's traders
10 September 2019
BY SOO WERN JUN
KUALA LUMPUR, Sept 10 ― Prioritising the purchase of Muslim-produced goods will help improve the economic status of Muslim entrepreneurs in the country, said Perlis Mufti Datuk Mohd Asri Zainul Abidin.
He said by encouraging Muslims to buy Muslim-made products, the community's entrepreneurs will no longer need to depend on incentives such as the Bumiputera subsidies.
"Most of the problems come from unfair economic distributions.
"But when everyone becomes similarly wealthy, driving the same car, then there will not be anymore dispute between races.
"One day, there will be no need for the incentives allocated for Muslim entrepreneurs anymore when they become successful," Mohd Asri said during a forum titled "Kempen Produk Muslim: Boikot Atau Bantu?" held at the National Art Gallery last night.
Mohd Asri who was part of a three-men panelist was referring to the ongoing campaign to boycott products of non-Muslims or Bumiputera which started about three weeks ago.
The boycott originally began as a campaign by Muslim NGOs to encourage consumers to prioritise goods produced by Muslim and Bumiputera companies.
However, the Muslim Consumers Association and the Malaysian Chambers of Entrepreneurs Business Development also called for a ban on non-Muslim products that use Jawi script.
"We (as Muslims) never told people to victimise the non-Muslims, no Muslim will say 'burn this non-Muslim's shop' or no Muslim will say, don't put this non-Muslim product in the shop.
"The campaign to encourage Muslims to buy Muslim products has nothing to do with the 'so called' boycott," Mohd Asri said.
He added that no Muslims scholar has ever indicated support for a boycott.
He also urged all Muslims who were watching the panel session on live feed to make it a point to purchase Muslim products from their fellow Muslims brothers and sisters.
"We must be reminded that, when we buy these products, we are buying to gain merits (pahala) and not because we are entangled in racial sentiments," he said.
Universiti Pendidikan Sultan Idris (UPSI) senior lecturer Rozaimi Ramle, on the other hand, urged Muslim who run businesses to improve their attitude and offer better quality services.
"Why the Muslim business owners lose out is because of themselves. They are not disciplined in running their businesses.
"Have you ever try to go to the shop and then find that it is closed when there was no indication from the shop owner that it would be closed?
"Or when construction workers deliver their work, they don't take the initiative to deliver on time. They do things with the 'couldn't care less' attitude," he said.
Rozaimi said all these must change if the Muslims in the country want to be as successful as the non-Muslims.
Meanwhile, Malaysian Muslim Consumers Association of Malaysia (PPIM) chief activist Datuk Nadzim Johan said Muslim entrepreneurs do not take their work seriously.
At the same time, he said, Muslims who end up in this state is also due to them not abiding by Islamic teachings. Today, many don't follow the "right" Islamic teachings.
"If you look at the Japanese, they are not Muslims, but they behave better than Muslims (when it comes to work ethics).
Full report at:
https://www.malaymail.com/news/malaysia/2019/09/10/perlis-mufti-prioritising-muslim-made-goods-will-boost-communitys-traders/1788962
--------
Suicide bomber killed at Philippine army base
September 9, 2019
MANILA: A suicide bomber dressed in a traditional Muslim woman's gown died after detonating a bomb outside a military camp in the restive southern Philippines, but no other casualties were reported, authorities said.
Suicide attacks were once very rare in the Philippines, but since July 2018 there have been four, including the latest explosion on Jolo Island on Sunday.
The Islamic State (IS) claimed responsibility for all three previous suicide attacks, which experts have previously told AFP is a worrying escalation of extremism in the Philippines under the group's influence.
According to a military statement, the attacker on Sunday was "foreign looking", wore an abaya gown and appeared to be a woman.
However, authorities had not confirmed the attacker's gender.
No group has yet claimed the attack, which came a day after an IS-claimed bombing wounded eight at a market on the island of Mindanao.
Separatist groups in the Christian-majority nation's south have waged decades-long insurgencies that have killed thousands.
This weekend's attacks cast a shadow over a step toward a measure of peace in the region.
The largest Muslim rebel group, the Moro Islamic Liberation Front (MILF), began to lay down its weapons on Saturday.
Full report at:
https://www.freemalaysiatoday.com/category/world/2019/09/09/suicide-bomber-killed-at-philippine-army-base/
--------
Blaming provocateurs ignores voice of Papuans
Evi Mariani
September 10, 2019
Indonesians love conspiracy theories. In 1999, I spent two months in Ambon, Maluku, just as a religious conflict between Muslims and Christians flared up. I spent most of the time taking refuge among Christians, but I had the chance to meet Muslims too.
Both communities had similar theories: The conflict was not caused by the people themselves but by agents provocateurs. "We were living in harmony," one said. "Christians and Muslims here lived side by side in peace for decades, no problem at all," another one said. "It's people from outside the community that provoked the conflict, not us," they said. There was also one theory involving a certain institution and its lust for the region's mineral resources.
And yet, I heard enough about animosity between the two groups. Granted, I heard more badmouthing of the other side from the Christian community because that was where I spent most of my two months. But in my few visits to the Muslim community, one visit was apparently enough for them to complain about the Christians.
Going home on a Hercules aircraft, on top of a high pile of baggage, I was sure that if they really were living in harmony like they all claimed, the provocateurs, however mighty and politically wired they were, would never have succeeded in creating such bloody conflict. It appeared to me that there was fertile ground there.
A theory involving political actors from outside inciting something is appealing because of the simplicity it offers us. Reality, oftentimes, is much more complex.
Why do some Papuans want a referendum after all that President Joko "Jokowi" Widodo's administration has done for them, after all the Special Autonomy Law and the money that has followed it? To answer such a question needs some serious soul searching, admissions of our own culpability and readiness to propose solutions, which has never been easy.
So when the National Police blame Veronica Koman, a lawyer who tweeted about the racial abuse of Papuan students in Surabaya, East Java, many of us embrace that narrative. If not for her, we would like to believe, there would have been no riots in the provinces of Papua and West Papua. It is also the fault of Benny Wenda, the police said. Wenda, who lives in the United Kingdom, is the leader of the United Liberation Movement for West Papua. Just Google "provokator" and "Papua", and the search engine will give us plenty of news citing Veronica and Wenda.
Did they play a role in what has happened since Aug. 19 in Papua? I believe, along with thousands other people in and outside the provinces, that they did.
But focusing on so-called provocateurs would mean that we neglect the voice of Papuans who took to the streets in peace. Thousands of them rallied for a cause and they deserve to be heard. Believing in outside influence is also condescending, as if we believe Papuans cannot act on their own volition.
They want an end to the racism they have suffered for decades, not just outside Papua, but actually within the provinces. They want the victims and survivors of alleged human rights violations to gain justice. They want to get a fair share of their rich mineral resources so their children will not die of malnutrition. They want Jakarta to stop excluding them from democracy, particularly by lifting the ban on the internet imposed during the height of the conflict and respecting their right to a free flow of information and to allow national and foreign journalists to work freely there.
Many of them combine all this into just one aspiration, something which many Indonesians refuse to pay attention or even simply to listen to: They want the chance to vote in a referendum to determine their own fate.
Should Indonesia give them a referendum? That is a question I personally cannot answer and anyway the government has rejected it, so it is off the table for now. But focusing on a conspiracy theory means refusing to listen to Papuans' voices and I believe we cannot do both because they contradict each other.
Full report at:
https://www.thejakartapost.com/academia/2019/09/10/blaming-provocateurs-ignores-voice-of-papuans.html
--------
North America
After Trump Calls Off Talks, Afghanistan Braces for Violence
By David E. Sanger and Mujib Mashal
Sept. 8, 2019
WASHINGTON — President Trump's decision to break off peace talks with the Taliban, at least for now, left Afghanistan bracing for a bloody prelude to national elections this month, while the administration declined on Sunday to rule out a withdrawal of American troops without a peace accord.
In a round of television interviews, Secretary of State Mike Pompeo blamed an attack by the Taliban for the cancellation of talks at Camp David this weekend that the administration had expected would lead to the signing of a peace agreement.
Mr. Pompeo said that the Taliban had "tried to gain negotiating advantage by conducting terror attacks inside the country,'' resulting in the death of an American soldier in Kabul. "We're going to walk away from a deal if others try to use violence to achieve better ends in a negotiation,'' he said.
But after abruptly scrapping a diplomatic process that appeared to be inching toward a conclusion, it was unclear where Mr. Trump would go from here.
The administration continued to face questions about what led to Mr. Trump's sudden renunciation of the talks, including whether a sticking point was his desire to seal the deal himself in a dramatic summit meeting at Camp David and why he chose to go public with the decision to withdraw the secret invitation to the Taliban.
[Read here about how President Trump's secret plan to meet with the Taliban came together — and how it fell apart.]
Mr. Pompeo and other administration officials left open the door to a resumption of negotiations, and so did the Taliban. But any new talks may not happen for several months, with each side feeling that an agreement that seemed within reach was sabotaged by the other, Afghan officials said.
And there was a consensus in Kabul and Washington that the sudden derailment of what had seemed like a carefully orchestrated effort for a deal could lead to a surge of violence before the Sept. 28 election. The Taliban have opposed holding the election, which President Ashraf Ghani is seen as a front-runner.
Despite a series of car bombings and attacks, there has been a sense that the Taliban have been hanging back, hoping a deal would delay the election. Now, the Taliban have more of an incentive to disrupt the election, and make clear that after an 18-year war they remain a potent political and military player.
Mr. Trump's aides said they were mystified about whether the president had a new strategy for fulfilling his promise to withdraw American troops or preventing escalating violence.
There were also questions about the accuracy of his assertion that the Taliban had accepted his invitation to Camp David on Sunday, and that he was the one calling off the meeting.
Taliban negotiators said Sunday that they had agreed to come to the United States only after a deal was announced and only to meet with the American side, suggesting that Mr. Trump may have canceled a meeting that the key participants were not planning to attend.
Mr. Trump and Mr. Pompeo cited the Taliban attack that killed an American soldier on Thursday as the reason for calling off the talks.
But the death of the soldier, Sgt. First Class Elis Barreto Ortiz, was the 16th this year, one of many since talks with the Taliban began nearly a year ago. And Mr. Pompeo undercut the argument by acknowledging that the United States, too, has continued to fight, claiming "over a thousand Taliban killed in just the last 10 days alone."
On Sunday, some of Mr. Trump's fellow Republicans expressed outrage at the thought of the Taliban coming to Camp David, where President George W. Bush gathered his war cabinet days after the Sept. 11, 2001, attacks to plan a military campaign against Afghanistan to wipe out Al Qaeda and kill its leader, Osama bin Laden.
Representative Liz Cheney, the Wyoming Republican and daughter of former Vice President Dick Cheney, said "no member of the Taliban should set foot'' in the presidential retreat. "The Taliban still harbors Al Qaeda," she said on Twitter. "The President is right to end the talks."
Representative Adam Kinzinger, another Republican and a former Air Force officer who served in Afghanistan, said that "never should leaders of a terrorist organization that hasn't renounced 9/11 and continues in evil be allowed in our great country. NEVER."
Several pointed to a tweet Mr. Trump himself had written in 2012, criticizing President Barack Obama for "negotiating with our sworn enemy, the Taliban, who facilitated 9/11."
Mr. Pompeo and other officials offered the same argument on Sunday that Mr. Obama offered seven years ago: To achieve peace, you have to talk with your enemies.
That is a view, though, that has encountered resistance by some in the administration, including John R. Bolton, the national security adviser, who opposed the emerging pact and argued internally that Mr. Trump could keep his campaign pledge to draw down forces without a signing a deal with the Taliban, a group he said could not be trusted.
Mr. Pompeo said that the president had not yet decided whether to go ahead with a reduction in the forces now in Afghanistan.
Mr. Trump has vowed to reduce the number of American forces there, saying two weeks ago that their numbers would come down to 8,600, from a current level of about 14,000. That is far below the 100,000 troops that were based there during the height of the war.
Mr. Trump has never set conditions on his decision to withdraw — a step many experts see as a mistake, since it has encouraged the Taliban to simply wait out the Americans, guessing they might begin a withdrawal with no agreement.
But Mr. Pompeo laid out two conditions for a withdrawal on Sunday: that violence be reduced and that another terrorist attack on the United States from Afghanistan never be permitted. "We're not going to withdraw our forces without making sure we achieve President Trump's twin objectives," he said on NBC's "Meet the Press."
The attempt to broker a deal came at one of the most precarious moments in Afghanistan since 2001.
Many of the hopes that President Bush once had for a transformation of Afghanistan have long since been abandoned; with the resurgence of the Taliban, the early efforts to assure the education of girls, protect the rights of women and transform villages with agricultural technology and American aid have faded.
But Afghans saw in the negotiations a chance to regain some sense of control, by engineering some kind of political accommodation between Mr. Ghani's government and the Taliban, a form of power-sharing that a decade ago would have been unthinkable.
In an interview on Thursday at the Council on Foreign Relations in Washington, the departing chairman of the Joint Chiefs of Staff, Gen. Joseph Dunford, argued that it had been clear for years that the only lasting peace would come from some kind of political process between the Taliban and the Afghan government.
He said that his idea of a successful negotiation would be one that "reduces the level of violence" and sets up an intra-Afghan dialogue.
That was the goal of the negotiations that Zalmay Khalilzad, the special envoy for Afghanistan, had been painstakingly negotiating in Doha, Qatar, for nearly a year, and seemed on the verge of achieving. On Thursday, Mr. Khalilzad was in Doha again with Gen. Austin Miller, the commander of the United States forces in Afghanistan, who has also said that he believes the battle between the Afghan government and the Taliban would never be resolved militarily.
"The fight will go until a political settlement,'' he said.
At the core of the tentative agreement between the United States and the Taliban were assurances from the group that it would not support international terrorist groups, and that Afghan soil would not be used for attacks against the West.
"We had the Taliban's commitment to do that," Mr. Pompeo said on Fox News on Sunday. "We had their commitment to break from Al Qaeda, publicly. And they would obviously have to deliver on that commitment. So we've made real progress, but in the end the Taliban overreached."
American and Western officials said that until Mr. Trump's announcement on Saturday, they expected direct talks would start between the Taliban and other Afghans, including the government. In return, Mr. Trump would announce a withdrawal schedule for American troops.
With the negotiations overshadowing electoral politics, the country had two national processes — peace talks and presidential elections — in a race with each other, each casting doubt over the prospects for the other.
Mr. Ghani, a 70-year-old former anthropologist and World Bank official who returned to Afghanistan after the American-led invasion that ousted the Taliban government, has been insistent that the election go ahead at any cost. He believes that his re-election would give him leverage with the Taliban, who have threatened violence if they do not regain significant political power.
Yet the Afghan government was not a party to the talks, and only recently did the United States government start briefing Mr. Ghani about the details, his aides said. Even then, American officials would not leave him a copy of the draft agreement governing the fate of his country.
Mr. Ghani has reached out to the Taliban at various moments, offering passports to Taliban negotiators and urging them to engage in peace talks. But the Taliban has refused to recognize his government as legitimate, and Mr. Ghani has questioned whether, even if the United States announced a peace deal, the Taliban would negotiate an acceptable accord with any elected government.
But he was apparently willing to travel to Washington, at Mr. Trump's behest, and attend the Camp David talks. And he was planning to do so, his aides said, though wary of not knowing what would transpire there.
He was also deeply worried about Mr. Trump's insistence on reducing American forces, fearing a rushed process that could bring about a repeat of the chaos that gripped the country a generation ago when Soviet troops left Afghanistan, paving the way for the Taliban and, ultimately, Al Qaeda.
Mr. Pompeo did little on Sunday to alleviate his concern. Asked by Margaret Brennan on CBS's "Face the Nation" if 14,000 American troops in Afghanistan was "where it stays for the foreseeable future," Mr. Pompeo hedged.
"I can't answer that question," he said. "Ultimately, it's the president's decision."
Military and intelligence officials say that the American forces are chiefly there to provide intelligence to the Afghans, who are shouldering most of the fighting. General Dunford said Thursday that the planned reduction to 8,600 troops was based on a Pentagon estimate of how many it would take to assure that terrorist groups were not exploiting the power vacuum in the country.
Mr. Trump, like Mr. Obama before him, has made no secret of his desire to bring American troops home from the country's longest war. But some experts believe Mr. Trump was rushing the diplomatic process for his own political purposes, to make good on a 2016 campaign promise.
"In the short term, the disruption is beneficial — we were demoralized by the process, we were in complete uncertainty," said Abdul Waheed Wafa, the director of Afghanistan Center at Kabul University.
"The Taliban were on the one hand blowing things up here and on the other hand gaining advantage in the talks in Doha,'' he said. "I don't think either side has shut the door completely. Until they resume again, the Taliban will throw everything they have — with explosions, and with even more pressure on cities under siege. And the U.S. military can pressure back too."
David E. Sanger reported from Washington, and Mujib Mashal from Kabul, Afghanistan.
https://www.nytimes.com/2019/09/08/us/politics/pompeo-trump-afghan-peace-negotiations.html
--------
Michigan church, Islamophobic pastor blasted for plans to host anti-Muslim 9/11 event
Sept. 9, 2019
DETROIT – U.S. and state representatives called on a Bloomfield, Michigan, church – whose pastor has called himself an Islamophobe – to cancel an anti-Muslim event planned around this week's 9/11 anniversary.
Bloomfield Hills Baptist Church will host a two-day event called "9/11 forgotten? Is Michigan surrendering to Islam?" on Sept. 11-12.
The Free Press was unable to reach Bloomfield Hills Baptist by email or phone. The church's pastor, Donald McKay, told Fox 2 last week that "Islam is a growing threat in the United States of America," and that although he doesn't speak for his church, "we don't hate Muslims, we hate the ideology they are identified with."
"I am an Islamophobe, I wear that badge proudly," McKay told Fox 2.
The church's event includes a Sept. 11 talk titled "How the interfaith movement is sabotaging America and the church" and an address the following day called "How Islam is destroying America from within."
According to speaker Shahram Hadian's website, his Sept. 11 discussion will "expose the growing deception of interfaith dialogue" and "explain how interfaith 'dialogue' is compromising the Gospel & our national security."
Though Fox 2 reported that the Metropolitan Detroit Freedom Coalition organized the event at the church, the coalition told the Free Press it was not involved in the event planning.
The organization supports the discussion but said it was planned by a group called the Detroit Coalition for Freedom. The Free Press could not find contacts for or information about the Detroit Coalition for Freedom online.
News of the event drew condemnation from Michigan politicians and organizations.
Dawud Walid, executive director of Michigan's Council on American-Islamic Relations (CAIR) chapter, said the anti-Islam rhetoric the church promotes is "troubling," especially in light of the frequency of hate crimes against Muslims.
"Though we believe that houses of worship have the right to preach their doctrine, we find it incredibly irresponsible for a church to invite someone who has the objective of spewing clear anti-Muslim bigotry," Walid told the Free Press.
In a joint statement on the issue, U.S. Democratic Reps. Andy Levin and Debbie Dingell said there is "no place for hate in Metro Detroit, in Michigan or anywhere in the United States."
"We implore the Bloomfield Baptist Church to forgo the anti-Muslim events planned for next week and instead recognize America's rich cultural and religious diversity as we reflect on one of the most painful days in our country's history and heal from recent acts of white supremacist violence," Levin and Dingell said. "As people of faith, we ask Michiganders to unify in peace and celebrate our shared humanity to help prevent future acts of hatred."
The event is "an attempt to assign blame for 9/11 to the entire Muslim community," said state Reps. Abdullah Hammoud, D-Dearborn, and Mari Manoogian, D-Birmingham, in a joint statement.
Full report at:
https://www.usatoday.com/story/news/nation/2019/09/09/anti-muslim-911-event-bloomfield-hills-baptist-church-michigan/2265688001/
--------
US still interested in Taliban peace deal, Pompeo says
September 8, 2019
(CNN)The US is still interested in striking a peace deal with the Taliban, Secretary of State Mike Pompeo told CNN Sunday, but won't move forward until there is proof that the Taliban can deliver on its commitments under a potential agreement.
Pompeo was speaking to CNN's Jake Tapper on "State of the Union" the morning after President Donald Trump unexpectedly announced he had canceled a secret Camp David meeting with Taliban leaders. The President said he scrapped the meeting after the Taliban took credit for an attack in Kabul, Afghanistan, that killed a dozen people, including an American soldier.
News of the scrapped meeting -- which was set to occur near the 18-year anniversary of 9/11 and take place at Camp David, traditionally a retreat where historic peace deals have been forged and where Afghanistan war plans were drawn up -- shook Washington.
"I think as you saw, if the Taliban don't behave, if they don't deliver ... the President of the United States is not going to reduce the pressure," Pompeo said.
He listed a number of items he said the Taliban had, in principle, agreed to -- including sitting down with Afghan leaders, achieving "certain reductions in violence" and breaking with al Qaeda.
"If we can't get those conditions met ... we're not going to enter into any deal," Pompeo said.
The secretary of state said Sunday's now-canceled meeting at Camp David was in the works "for a while" and defended Trump's decision to invite Taliban leaders on US soil.
"It was the case that when the Taliban tried to gain a negotiating advantage by conducting terror attacks inside the country, President Trump made the right decision" to walk away, Pompeo said. "It made no sense for the Taliban to be rewarded for that kind of bad behavior."
Despite Trump's statement that he was ending peace talks, Pompeo said the administration is still working toward a deal and was seemingly close to one before Thursday's bombing in Kabul.
"We have it in hand, and there's still more work to do ... but in the end, it won't be about the commitment, it'll be about their delivery," he said. "We're going to keep driving toward that outcome."
Decision to invite Taliban to the US was made a week ago
The decision to invite Taliban leaders and Afghan President Ashraf Ghani to Camp David was made a week ago in a meeting with Trump and national security officials, a person familiar with the matter told CNN. Trump, who has been pressuring his team to develop drawdown plans, had grown discouraged by the peace talks after being told by national security adviser John Bolton and Sen. Lindsey Graham, a South Carolina Republican and foreign policy hawk, the emerging plan put too much trust in the Taliban.
Trump told his team he would be better positioned to do the negotiating himself, the official said. The location was a subject of dispute inside the administration but ultimately Trump signed off on Camp David, cognizant of its history in hosting talks with foreign leaders.
Arrangements were made over the past week to bring the Taliban leadership to the US, and Ghani had planned a trip to Washington.
After the bombing on Thursday, the national security team convened again and briefed Trump on the situation. The decision was made then to cancel the talks and Ghani canceled his trip.
The Taliban leaders never arrived in the US, according to the official.
Despite Trump saying in his tweet Saturday that peace negotiations are called off, new dates are being discussed by the White House for a potential meeting with the Taliban and the Afghan government, a source familiar with the planning told CNN. It's unclear if the Taliban will have to make hard and fast commitments before the meeting or if Trump is using the cancellation and rescheduling simply as a negotiating tactic.
Responding on Sunday to Trump's decision to cancel the talks, the Taliban said the move "would not harm anyone else but the Americans themselves" and will show its "anti-peace stance in (a) more clear way."
However, the Taliban left the door open to future talks. "By continuing the dialogue, the Islamic Emirate has proved to the world that others have imposed war on us, and if the path of dialogue is open we are committed to it."
Next US moves remain unclear
The unprecedented move by the President to invite Taliban leaders onto American soil comes after Trump said as recently as late last month that he is planning to withdraw thousands of US forces from Afghanistan but will keep 8,600 troops in the country at least for the time being. It's not clear if Trump's Saturday night announcement will impact that plan.
But the revelation he was inviting Taliban leaders onto US soil prompted alarm among congressional lawmakers, including several prominent members of Trump's own party.
Wyoming Rep. Liz Cheney, the No. 3 Republican in the House, said on Twitter that "no member of the Taliban should set foot there. Ever." She added that Trump was "right to end the talks."
Illinois Republican Rep. Adam Kinzinger, an Air Force veteran who served in Iraq and Afghanistan, similarly said in a tweet that members of the Taliban should "never" be allowed in the US.
Asked if she would have considered inviting the Taliban to Camp David, Sen. Amy Klobuchar, D-Minnesota, told CNN's Jake Tapper on "State of the Union" Sunday that "you don't want to rule anything out, but the main point here is you want to have an agreement. You want to have it done with your allies. You want to make sure that you're ready to go. This is a very fluid situation."
She added, "it's just another example of the President treating foreign policy like it's some kind of game show. This isn't a game show."
Trump's announcement Saturday comes as the US and the Taliban appeared to be close to finalizing a peace deal. US Special Envoy for Afghanistan Zalmay Khalilzad returned to Doha, Qatar, this week to resume talks with the Taliban.
But the insurgent group has not halted its campaign of violence as the peace talks with the US have taken place, and Thursday's killing of an American when a deal was reportedly close appears to have prompted the dramatic move from the President.
The Pentagon announced Friday that Sgt. 1st Class Elis Angel Barreto Ortiz was killed in Afghanistan. Barreto, a 34-year-old paratrooper from Morovis, Puerto Rico, died when a car bomb exploded at a checkpoint near NATO headquarters and the US embassy in Kabul. Barreto is the 16th US service member to be killed in Afghanistan in 2019, and three other American service members have been killed in recent weeks.
Full report at:
https://edition.cnn.com/2019/09/08/politics/mike-pompeo-taliban-peace-talks-cnntv/index.html
--------
Former US defense secretary says trust is key question in Taliban talks
9 September 2019
Former Defense Secretary James Mattis said on Sunday that when it comes to trying to negotiate an Afghanistan peace deal with the Taliban, the key question is whether they can be trusted.
Mattis cited past US nuclear talks with the Russians, when the American side talked about "trust but verify."
He told CBS' "Face the Nation" that "I think you want to verify, then trust" in dealing with the Taliban.
Mattis said that the US since the Bush administration, has "demanded that they break with al-Qaeda" but "they've refused to do so." He also said "we should never forget" that they were behind the September 11 attacks.
Full report at:
https://english.alarabiya.net/en/News/world/2019/09/09/Former-US-Defense-Secretary-says-trust-is-key-question-in-Taliban-talks.html
--------
US CENTCOM chief meets Pakistan Army chief
Aamir Latif
09.09.2019
The commander of the United States' Central Command (CENTCOM) on Monday met Pakistan's Army chief, Gen. Qamar Javed Bajwa, at army headquarters in the garrison city of Rawalpindi to discuss the situation in Afghanistan and Indian-administered Kashmir
Leading a high-level delegation, Gen. Kenneth F. McKenzie arrived in Pakistan on a day-long visit days after U.S. President Donald Trump, in a stunning development, called off months-long peace talks with the Taliban in light of a recent attack which killed a U.S. soldier.
The two sides discussed the "geo-strategic environment and regional security including Afghanistan and the Kashmir situation," a statement from the army's media wing said, without elaborating.
Last December, Islamabad brokered direct talks between the U.S. and the Taliban aimed at ending America's longest war through a political settlement.
The two sides, according to U.S. Envoy Zalmay Khalilzad, had almost reached an agreement when Trump cancelled his scheduled secret meetings with the Afghan Taliban leaders and Afghan President Ashraf Ghani at Camp David following last week's brazen attack in Kabul killing 13 people, including a U.S. soldier.
U.S. Secretary of State Michael Pompeo told CNN on Sunday that Washington was still interested in striking a peace deal with the Taliban, provided they give up violence.
- On-and-off process
Pakistan had also brokered the first round of direct talks between the fragile Afghan government and the Taliban in Islamabad in July 2015, but the process broke down after the Taliban announced the death of their long-term leader Mullah Mohammed Omar, triggering a bitter power struggle within the militia.
Chances for resumption of the stalled process went further dim following the death of Omar's successor, Mullah Akhtar Mansur, in a U.S. drone strike on Pakistan's soil in 2016.
Since then, several attempts to resume the stalled peace process have been made by a four-nation group made up of Pakistan, Afghanistan, the U.S., and China.
Islamabad and Kabul have long accused each other of providing safe havens to militants.
Full report at:
https://www.aa.com.tr/en/americas/us-centcom-chief-meets-pakistan-army-chief/1576961
--------
Africa
Burkina Faso: 29 killed, 10 injured in three attacks
Alaattin Dogru
09.09.2019
At least 29 people were killed and 10 wounded in triple terrorist attacks in Burkina Faso, the government said Sunday.
Government Spokesman and Communications Minister Remis Fulgance Dandjinou said in a written statement that terrorists attacked a convoy carrying humanitarian supplies in the Dablo Kelbo area killing 14 civilians.
In a second statement shortly after the attack, the spokesman said 15 people had lost their lives and six people were wounded when a transport truck hit a mine at Barsalogho Guendbila in Sanmatenga.
Security sources, on the other hand, said four people were injured after an attack organized by terrorists in the Banh district of Yatenga city.
The army organized operations in the areas where the attacks were carried out and demanded local people to cooperate with the soldiers.
The state of emergency continues in seven of the 13 regions of the country.
More than 500 people have been killed in the attacks organized by terrorist organizations in Burkina Faso in the last four years.
The attacks, which previously intensified in the north of the country, gradually shifted to the eastern regions of the border of Togo and Benin.
https://www.aa.com.tr/en/africa/burkina-faso-29-killed-10-injured-in-three-attacks/1576471
--------
Boko Haram Kills Soldier, Injures Three Others In Borno Ambush
SEP 07, 2019
Boko Haram insurgents on Friday killed one soldier and injured three others in an ambush on a military convoy in Kamuya Village, Borno State, according to AFP.
A vigilante official, Mustapha Karimbe, who confirmed the attack, said, "The convoy came under fire from the terrorists near Kamuya at around 11:30am, killing one soldier and injuring three others.
"A military pickup truck was burnt in the attack."
Kamuya has been repeatedly hit by jihadists since 2015 when Tukur Buratai was appointed as Chief of Army Staff.
Full report at:
http://saharareporters.com/2019/09/07/boko-haram-kills-soldier-injures-three-others-borno-ambush
--------
Burkina Faso: Twin 'terrorist attacks' leave dozens dead
09.09.2019
At least 29 people were killed in Burkina Faso on Sunday after two separate attacks targeted a food convoy and a transport truck.
"This drama comes as important security efforts are underway in this region," a government spokesperson said. "Military reinforcements have been deployed."
The food convoy was explicitly targeted in a "terrorist attack" which killed 14 civilians, according to the government statement. The truck is said to have hit an Improvised Explosive Device (IED) killing 15 people and wounding six others.
Both attacks took place in the in Sanmatenga province in the north of the country.
According to local sources most of those in the food truck convoy were traders driving three-wheeler vans carrying provisions for people displaced by fighting.
Regional heads of state are due to meet in the Burkina Faso capital Ouagadougou on Saturday to discuss the security situation.
Struggling against jihadists
The former French colony and one of the world's poorest nations has been struggling to suppress an Islamist insurgency since 2015 and the security situation has been worsening. A revolt began in the north of the country when jihadist groups from neighboring Mali spilled over the porous border.
A state of emergency was declared at the end of 2018 in northern provinces following intensified attacks from Islamist groups, but the insurgency has since spread eastwards.
Full report at:
https://www.dw.com/en/burkina-faso-twin-terrorist-attacks-leave-dozens-dead/a-50349102
--------
South Sudan rebel leader in Juba in bid to salvage peace deal
September 09, 2019
JUBA: South Sudan's exiled rebel leader Riek Machar arrived in Juba on Monday for the first time in a year and held rare talks with President Salva Kiir as the rivals try to salvage a stalled peace agreement.
Machar landed in the capital in a Sudanese plane, preceded by two jets carrying a large delegation of around 60 people and security officers from Khartoum where he is living in exile, an AFP reporter witnessed.
Machar's visit is expected to last two days, and comes as November deadline looms to form a power-sharing government, a key plank in a 2018 peace agreement that has been delayed by disputes over its terms.
"Our meeting concentrated on security arrangements, because it is one of the fundamental provisions of this agreement," Machar's deputy, Henry Odwar, told reporters after Kiir and Machar met at State House.
"We do have challenges and we pray that we overcome those challenges."
Images on social media showed Kiir shaking hands and sitting at a table with Machar, flanked by the South Sudanese flag.
Kiir had not been seen with Machar since the pair met in the Vatican in April, when Pope Francis stunned the world by kissing the feet of two men accused of responsibility for heinous war crimes.
South Sudan descended into war in 2013, just two years after the country gained independence, when Kiir accused his former deputy and fellow former rebel leader Machar of plotting a coup.
Multiple attempts at peace have failed but in September 2018 the warring parties signed an agreement to form a unity government, which would see Machar return to government as vice president.
The last time Machar was in Juba was October 2018, for celebrations to mark the signing of the pact.
The power-sharing arrangements under the peace deal were supposed to take effect in May. But the process was delayed by six months until November.
Crucial technical steps contained within the agreement, such as creating a unified army and agreeing on the internal boundaries of states, have failed to make progress.
Alan Boswell, a South Sudan expert with the International Crisis Group (ICG), said the only solution was Kiir and Machar coming to a political agreement on how to move forward with the deal.
"We have been waiting for this moment for a long time. The only way to find a path forward is for these two to meet. The path is wide open for them to form a unity government but they will need to strike new political deals to do that," he told AFP Monday.
"If they fail to agree on a way forward with direct talks then we are looking at a major crisis."
Following their extraordinary meeting in the Vatican, Kiir told parliament he had forgiven Machar, and urged his rival to return home.
But Machar has been concerned about his personal security should he return to the capital.
He fled on foot under a hail of gunfire when a previous peace deal collapsed in July 2016.
He is currently living in Khartoum, the capital of neighboring Sudan, the country from which South Sudan broke away to claim independence in 2011.
He was accompanied to Juba by Sudanese paramilitary commander Mohamed Hamdan Daglo, who is best known by his nickname "Hemeti," and who is holding separate peace talks with Sudanese armed groups.
Sudan has been engaged in its own bloody transition toward peace since the overthrow of Omar Al-Bashir in April.
Kiir urged the Sudanese groups to negotiate "in good faith" to bring peace to the region.
"I believe that we are one, and facing the same problem. If there is no peace in Sudan, there will be no peace in South Sudan," Kiir said.
Full report at:
https://www.arabnews.com/node/1552166/world
--------
Sudan looks forward to better ties with US
09.09.2019
Sudan's prime minister said on Monday that his country is dedicated to developing new relations with the U.S.
Abdallah Hamdok made the remarks during a meeting with Stephen Koutsis, the U.S. chargé d'affaires in Khartoum, a Sudanese official news agency reported.
From his side, Koutsis welcomed the formation of the new Sudanese Cabinet and affirmed the U.S. willingness to develop its partnership with Sudan.
Last Tuesday, Hamdok declared that his country made progress in negotiations with Washington over removing Sudan from the U.S. list of state sponsors of terror, where it has been since 1993.
In October 2017, the Trump administration ended the economic embargo on Sudan which was imposed in 1997.
Full report at:
https://www.aa.com.tr/en/africa/sudan-looks-forward-to-better-ties-with-us/1577158
--------
South Sudan opposition leader Machar arrives in Juba
By Benjamin Takpiny
09.09.2019
JUBA, South Sudan
South Sudan opposition Riek Machar arrived in the capital Juba on Monday to meet his one-time foe, President Salva Kiir.
Machar is accompanied by the deputy head of Sudan's Sovereign Council, Gen. Mohamed Hamdan Dalgo, a.k.a. Hemiti, and other senior council members.
Speaking to reporters at Juba international Airport, presidential security advisor Tut Gatluak said Machar and Kiir will discuss some pending issues on implementation of the peace agreement with an eye to resolving them today.
He added that a delegation from neighboring Sudan will also meet with Kiir to discuss peace in Sudan, saying: "The stability of both countries is very important, stability in Sudan is also stability in South Sudan"
Machar fled the country in July 2016 after his forces clashed with Kiir's. This is the second time Machar has come to Juba since 2016, aside from a peace celebration last October.
Based on the agreement, which was signed in Addis Ababa in September 2018 under the mediation of East Africa's eight-nation trading and security bloc Intergovernmental Authority on Development (IGAD), the South Sudanese government and opposition should have formed a transitional government in May leading to elections in 30 months.
The pre-transitional period was extended by another six months through Nov. 12, but many issues remain pending, particularly concerning security arrangements, federal state formation, and military movement.
South Sudan slid into crisis when Kiir sacked Machar as vice president in December 2013 on suspicion of plotting a coup, followed by a protracted civil war that claimed the lives of tens of thousands and forced 4 million people to flee their homes.
Full report at:
https://www.aa.com.tr/en/africa/south-sudan-opposition-leader-machar-arrives-in-juba/1576832
--------
URL: https://www.newageislam.com/islamic-world-news/hindu-muslims-celebrate-ganesh-chaturthi/d/119706
New Age Islam, Islam Online, Islamic Website, African Muslim News, Arab World News, South Asia News, Indian Muslim News, World Muslim News, Women in Islam, Islamic Feminism, Arab Women, Women In Arab, Islamophobia in America, Muslim Women in West, Islam Women and Feminism