New Age Islam News Bureau
16 March 2022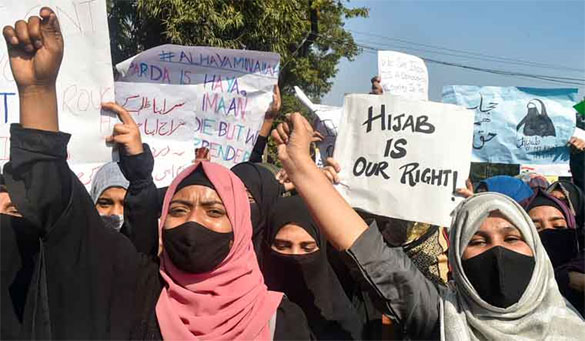 (File) Representational image | PTI
-----
• AIMPLB, Jamiat Ulema i Hind and Students Islamic Organisation of India Slam Verdict on Hijab Row
• Islamic State's Afghan Affiliate Growing in Afghanistan but Not Ready to Attack US, West
• Islamophobic Attacks in Australia Soared After Sickening Christchurch Mosque Massacre, Report Shows
• UN Resolution on Islamophobia to Send Clear Message against Racism, Anti-Muslim Violence: Pak FM
Arab World
• Gulf Cooperation Council Offers To Host Peace Talks between Yemeni Factions, Including Houthis, In Riyadh
• Washington to provide Egypt with F-15 jets, US general says
• Lebanese govt talks with IMF moving in the right direction: Deputy PM al-Shami
• Bahrain's King, Russia's Putin discuss conflict in Ukraine
• UK's Johnson to meet UAE, Saudi leaders in push for more oil
• Ukraine war recalls trauma for survivors of Aleppo siege
--------
India
• Karnataka HC Order On Hijab Unconstitutional: Kerala Muslim Groups
• Karnataka HC's hijab verdict may force Muslim girls to quit studies: Experts
• Education, religion are like two eyes: Father of Muslim girl who was heckled by saffron men
• Kerala Artist Ostracised From Performing In Temples After Son Marries Muslim Girl
• Owaisi Should Show Quran Citing Hijab; by Muslim Law, Mehbooba Won't Be A Leader: Arif Mohammad Khan
• What about anti-Hindu, anti-Sikh phobias, asks India at UN meet on Islamophobia
• Terrorist killed in encounter in Jammu and Kashmir's Srinagar
• Mundra drug haul linked to Pak terror outfits, says NIA
--------
North America
• Pakistani 9/11 Mastermind Could Be Spared Death Penalty As US Prosecutors Negotiate Plea Deal: Report
• CENTCOM chief: ‌ Iran has 3,000 ballistic missiles, many can reach Israel
--------
Europe
• Russia says it has secured US guarantees on Iran N-deal
• UK looking at ways to pay historic Iranian debt: Foreign secretary
• Ex-German foreign minister blasts West for denying Turkiye air-defense systems
• UK to urge Saudi Arabia to raise oil output amid plans to reduce dependency on Russian resources
• Symposium in Turkish capital marks third anniversary of New Zealand terror attacks
• Chechen leader explains why he backs Putin's 'military operation' in Ukraine
--------
Pakistan
• OIC Moot: Pakistan to Act As A Bridge To Promote Muslim Unity
• Tahir Ashrafi terms corruption, extremism twin threats
• Pakistan alarmed by 'new low' in Indian high court upholding hijab ban
• Pakistan readies Kashmir propaganda at OIC session amid members' deepening ties with India
• 4 FC personnel martyred, 10 injured in Sibi IED blast
• Pakistanis prefer to go down with me than supporting 'three stooges': PM Imran Khan
• KP Cabinet Okays Rs2m Compensation for Each Peshawar Mosque Blast Victim
--------
South Asia
• Cross-Border Terrorism By Taliban Seeks To Destabilise Pak Democracy: Report
• Bangladesh eyes big investment deals as Saudi FM arrives in Dhaka
• Over 180 media outlets inactive in Afghanistan: media survey
• Turkey's third humanitarian shipment arrives in Afghanistan
• Anti-Taliban protest held in northern Afghanistan
• Mullah Baradar Attends Tree-Planting Campaign Ceremony
--------
Mideast
• Top Diplomat Underlines Iran's Universal Opposition to War
• Amir Abdollahian: Tehran to Further Develop Ties with Moscow
• Lavrov: Russia in Receit of Written Guarantee from US over Vienna Deal with Iran
• From Gaza to Ukraine and back, war haunts Palestinian students
• Israeli forces kill two Palestinians in West Bank violence
• Turkiye neutralizes 8 YPG/PKK terrorists in northern Syria
• 5 killed in suicide bomb attack south of Yemen
--------
Africa
• Tunisia Says It Has Dismantled ISIS-Linked Terrorist Cell
• Thousands protest violence against protesters in Sudan
--------
Southeast Asia
• Why Did OKU Groups Come To Us For Help, Yeoh Asks Ministry
• Umno veteran Shahrir 'embarrassed' over Hasni ouster
• Explain 'extraordinarily stupid' letter by Thomas on Sulu issue, Najib tells PH
Compiled by New Age Islam News Bureau
URL: https://www.newageislam.com/islamic-world-news/hijab-hind-isis-hindus-muslim-women/d/126584
--------
Hijab Row in Voice of Hind: ISIS Threatens To 'Slaughter' Hindus Who Dishonour Muslim Women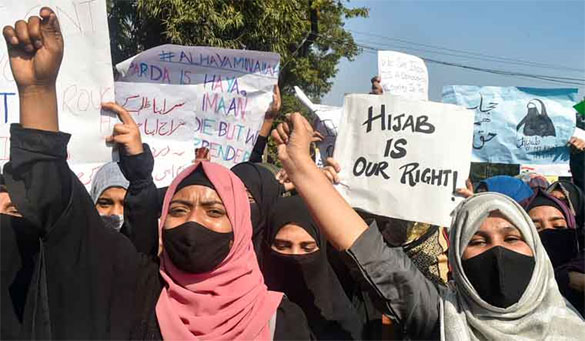 (File) Representational image | PTI
-----
March 15, 2022
Reacting to the hijab controversy in Karnataka, terror outfit Islamic State threatened to slaughter Hindus who dishonour Muslim women.
According to The Print, the terror outfit, in the March edition of its propaganda magazine Voice of Hind said, "Every Hindu coward putting an eye on the honour of our sisters will be slaughtered into pieces mercilessly."
It claimed that the ban on hijab in educational institutions in Karnataka is planned by the BJP to "undress and humiliate Muslim women publicly" and said the controversy is being used to disempower young Muslim women.
It alleged that the hijab row in Karnataka is part of a global conspiracy to demonise Muslims, and cited the examples of France, the Netherlands and Switzerland where there are progressive attempts being made to assimilate Muslims into the society.
The magazine also accused the Muslim women in India of adopting to western customs which is causing harm to them. "The dilution also led to a degradation of its image in the eyes of believers who, drunk in the fervour of western ways, started to reject it and consider it conservative," it read, reports The Print.
The Karnataka High Court, on Tuesday, said hijab was not part of the essential religious practice in Islam and effectively upheld the ban against the headscarf in educational institutions while dismissing a batch of petitions filed by a few Muslim girl students from Udupi Government Pre-University Girls' College who sought permission to attend classes wearing hijab.
The court had also suggested the possibility of some "unseen hands" behind the hijab row to engineer social unrest and disharmony. "The way hijab imbroglio unfolded gives scope for the argument that some 'unseen hands' are at work to engineer social unrest and disharmony. Much is not necessary to specify," the three-judge bench headed by Chief Justice Ritu Raj Awasthi had said in the order.
Source: The Week
Please click the following URL to read the text of the original story:
https://www.theweek.in/news/india/2022/03/15/hijab-row-isis-threatens-to-slaughter-hindus-who-dishonour-muslim-women.html
--------
AIMPLB, Jamiat Ulema i Hind and Students Islamic Organisation of India Slam Verdict on Hijab Row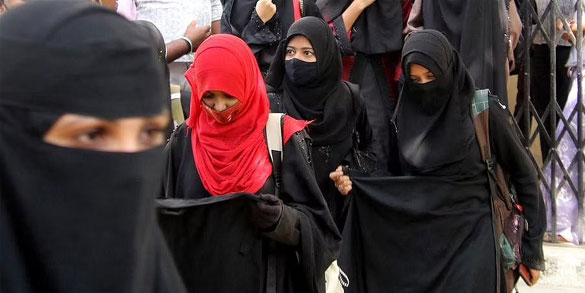 For representational purposes (Photo | EPS)
-----
16th March 2022
NEW DELHI: Several prominent Muslim organisations such as All India Muslim Personal Law Board (AIMPLB), Jamiat Ulama i Hind, Jamaat-e-Islami Hind (JIH) and Students Islamic Organisation of India (SIO) on Tuesday opposed Karnataka High Court's verdict upholding hijab ban in schools. In separate statements, the key Muslim bodies said the verdict would have a direct impact on religious freedom.
"This verdict would have many negative implications, especially on the education of Muslim girls as they would lose their right to choice and their confidence in the present communal atmosphere," said Jamiat Ulema-i-Hind president Maulana Mahmood Arshad Madani.
Maulana Madani said that decisions regarding any particular religion should be based on the accepted interpretation of the beliefs by the authoritative scholars and jurists of that religion and the courts should not take a different path in this regard.
The AIMPLB said the verdict was not just disappointing but also discriminatory. "Right to wear attire, dress or clothing as per his or her choice is fundamental right given to any citizen. Moreover, the verdict is against various sections of the Constitution. There are instances when the government allows use of religious symbols and permits traditional practices. Against this backdrop, stopping Muslim girls from wearing hijab is discriminatory," said Maulana Khalid Saifullah Rahmani, general secretary of the AIMPLB.
Source: New Indian Express
Please click the following URL to read the text of the original story:
https://www.newindianexpress.com/nation/2022/mar/16/direct-impact-on-religious-freedom-muslim-outfits-slam-karnataka-hc-verdict-on-hijab-row-2430622.html
--------
Islamic State's Afghan Affiliate Growing in Afghanistan but Not Ready to Attack US, West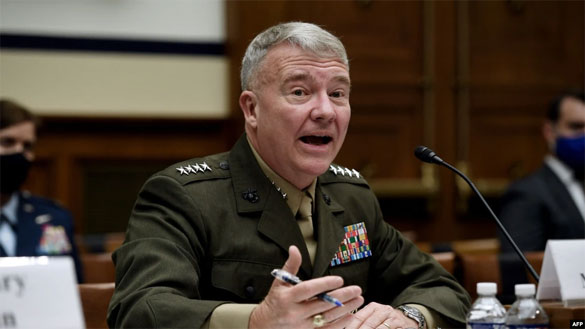 General Kenneth McKenzie Jr., USMC Commander, US Central Command
-----
March 15, 2022
WASHINGTON —
More than six months after the U.S. pulled its last troops from Afghanistan, the threat from the Islamic State's Afghan affiliate is growing, though new intelligence assessments suggest that earlier warnings the group might be able to strike at America and its allies as early as next month appear to have been overblown.
Various intelligence estimates from the U.S. and other countries warn that the group, known as IS-Khorasan and ISIS-K, nearly doubled in size to more than 4,000 fighters during the Taliban takeover of Afghanistan last year. The commander of U.S. forces in the Middle East and South Asia said Tuesday that without sustained pressure from the U.S. and U.S.-backed Afghan forces, the IS affiliate is solidifying its foothold.
"We are concerned about the developmental trajectory of ISIS-K," U.S. Central Command's General Kenneth "Frank" McKenzie told U.S. lawmakers.
"We continue to watch carefully as ISIS grows," he said. "ISIS has been able to execute some high-profile attacks even in Kabul over the last several months. … It is my expectation that ISIS attacks will ramp up as we go into the summer."
But while IS-Khorasan remains dangerous, the group has not advanced its capabilities as quickly as some U.S. officials initially feared.
The Pentagon's third-highest ranking official warned lawmakers in October that it appeared the group would be able to regenerate the capabilities needed to launch terror attacks on the West in as little as six months.
Since then, however, it appears IS-Khorasan under the leadership of Shahab al-Muhajir, also known as Sanaullah Ghafari, has focused more on its fortunes in Afghanistan.
Intelligence shared by United Nations member states indicates the group prioritized retaking territory and now controls some limited areas in eastern Afghanistan. Western intelligence officials and humanitarian groups have seen signs IS-Khorasan is laying the groundwork for expanding its networks among Afghanistan's neighbors.
Perhaps as a result, the threat of an attack by IS-Khorasan in the West has somewhat diminished, at least for the moment.
The best U.S. intelligence estimates now indicate the soonest IS-Khorasan could launch terror attacks in the West is 12 to 18 months, McKenzie told lawmakers, cautioning the timeline could change depending on developments on the ground, where clashes with the ruling Taliban persist.
"[IS-Khorasan] still aspire to attack the United States and our partners abroad," McKenzie said. "The Taliban are attempting to maintain pressure. … They're finding it difficult to do."
The U.S. is having its own problems tracking IS-Khorasan, as well as rival terror group, al-Qaida, limited largely to flying reconnaissance flights from neighboring Pakistan now that it no longer has troops on the ground in Afghanistan.
"It is much harder to do it now than it was before," McKenzie told lawmakers, though he added, "It is not impossible."
"We will be able to do this only so long as CENTCOM has the requisite resources to find, fix and finish threats to the homeland before those threats develop the capability to conduct external operations," he said. "CENTCOM has the tools it needs to perform this mission, but the margins are thin, and the risk will increase should resources diminish."
The CENTCOM commander also told lawmakers that the U.S. has not carried out any counterterrorism strikes in Afghanistan since the U.S. withdrawal from the country was completed.
Syria and Iraq
In contrast to Afghanistan, U.S. efforts to contain IS in Syria and Iraq are faring better, McKenzie said.
"In the Euphrates River Valley in Iraq and Syria, ISIS is unable to think beyond surviving that night or the next night," he told lawmakers, crediting sustained pressure from Iraqi forces and the U.S.-backed Syrian Democratic Forces.
But in Syria, concerns persist about the large, displaced persons camps, including al-Hol, which hold thousands of people, including the families of IS fighters.
The camps, McKenzie said, present IS with "fertile soil for indoctrination and spreading terror."
Source: VOA News
Please click the following URL to read the text of the original story:
https://www.voanews.com/a/islamic-state-growing-in-afghanistan-but-not-ready-to-attack-us-west-/6486786.html
--------
Islamophobic Attacks in Australia Soared After Sickening Christchurch Mosque Massacre, Report Shows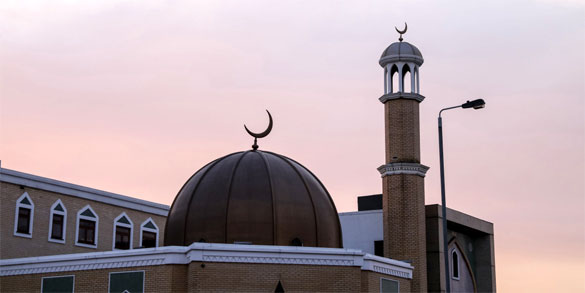 Reports of Islamophobic incidents in Australia increased following the Christchurch mosque massacre in New Zealand in 2019 [Getty]
-----
15 March, 2022
Islamophobic attacks surged in Australia in the wake of the 2019 Christchurch mosque massacre in New Zealand, according to a new report released on Tuesday.
Reporting of in-person Islamophobic incidents increased at least fourfold, while reports of online hate increased by 18 times in the two weeks following the far-right terrorist attack by Brenton Tarrant which killed 51 Muslims, the Australian Islamophobia Register said.
The group's report was released on the third anniversary of the massacre, in which the self-proclaimed white supremacist murdered worshippers - including children and the elderly - at two mosques in Christchurch.
"Islamophobia is not a 'Muslim' problem but a social cohesion risk. It requires national engagement if Australia is to live up to its multicultural legacy," the register said, urging public authorities and media platforms to take on more responsibility to prevent hate offline and online.
The report - which is the Islamophobia Register's third 'Islamophobia in Australia' report - analyses 247 verified Islamophobic incidents that occurred from January 2018 to December 2019.
A total of 138 of the incidents occurred in person and 109 occurred online, according to the register. Twelve percent of all physical cases and 65 percent of all online cases were reported within the first two weeks after the Christchurch attacks.
The report also revealed that 78 percent of perpetrators were identified as men, a rise from 73 percent in the 2014-2016 report; while 82 percent of victims were women, an increase from 72 percent in the previous report.
The Islamophobia Register highlighted that cases analysed are just the tip of the iceberg as Islamophobia is "consistently underreported".
Christchurch attacker Tarrant was sentenced to life imprisonment without the possibility of parole in August 2020 after pleading guilty to 51 charges of murder. However, last November his lawyer said the attacker was considering appealing his jail term.
Source: The New Arab
Please click the following URL to read the text of the original story:
https://english.alaraby.co.uk/news/islamophobia-surged-wake-christchurch-mosque-massacre
--------
UN Resolution on Islamophobia To Send Clear Message Against Racism, Anti-Muslim Violence: Pak FM
UN Photo/Mahmoud Abd ELLatiff
UN Secretary-General António Guterres speaking at the al-Azhar Mosque in Cairo in April 2019, where he underscored the need to fight Islamophobia and all forms of hatred and bigotry.
-----
MARCH 16, 2022
ISLAMABAD: Foreign Minister Shah Mahmood Qureshi Tuesday said the UN resolution on Islamophobia would send a clear message against contemporary challenges of racism, discrimination, and violence against Muslims.
The United Nations General Assembly unanimously adopted a landmark resolution introduced by Pakistan on behalf of the OIC countries designating March 15 as the International Day to Combat Islamophobia.
In his message, the foreign minister said the resolution reflected the sentiments of more than 1.5 billion Muslims all around the world.
He said it was a matter of great satisfaction and pride for Pakistan to have steered this initiative under the leadership and guidance of Prime Minister Imran Khan.
Qureshi said Prime Minister Imran Khan was the first Muslim leader to raise the issue of Islamophobia at the UN in his maiden address to the UN General Assembly on September 27, 2019.
The prime minister has since been regularly advocating the need to effectively combat the scourge of Islamophobia at various regional and international forums.
The 47th session of the OIC Council of Foreign Ministers, held in Niamey, Niger, in November 2020, unanimously adopted a resolution initiated by Pakistan for the designation of March 15 as the International Day to Combat Islamophobia.
"Over the past year, Pakistan, together with other Islamic countries, pursued an extensive diplomatic process with the UN Member States. Through constructive engagement, we and our OIC partners were able to secure unanimous adoption by the UN General Assembly," the foreign minister remarked.
He said the adoption of this resolution came at a time when hate speech, discrimination, and violence against Muslims were proliferating in several parts of the world including in our neighborhood.
"It is on vivid display in the Indian Illegally Occupied Jammu and Kashmir (IIOJK). Islamophobia today is manifested in negative profiling by security agencies, stigmatization, deliberate vandalizing of Islamic symbols and holy sites, killings by cow vigilantes, discriminatory laws and policies, ban on the hijab, attacks on mosques, pronouncements by far-right parties that call for expulsion, and even "genocide" of Muslims, anti-Muslim migrant bias, and attacks on the dignity of Muslim women," he commented.
Foreign Minister Qureshi said the commemoration of an International Day to Combat Islamophobia would raise international awareness about increasing Islamophobia and anti-Muslim hatred besides promoting a message of tolerance, peaceful co-existence, and interfaith and cultural harmony.
"We want to build bridges. We want to promote respect for all religions and beliefs. I reiterate Pakistan's call for a global dialogue amongst civilizations under the ambit of the United Nations to promote peaceful co-existence and interfaith harmony," he said.
The foreign minister also acknowledged the efforts of Pakistani diplomats, whose tireless work has culminated in the designation of this Day by the UN General Assembly.
He resolved that Pakistan would continue to advance international efforts to protect individuals against xenophobia, intolerance, discrimination, negative stereotyping, stigmatization, violence, incitement to violence, and hate crimes based on religion or belief.
Source: Daily Times Pakistan
Please click the following URL to read the text of the original story:
https://dailytimes.com.pk/901950/un-resolution-on-islamophobia-to-send-clear-message-against-racism-anti-muslim-violence-qureshi/
--------
Arab World
Gulf Cooperation Council Offers To Host Peace Talks between Yemeni Factions, Including Houthis, In Riyadh
March 15, 2022
AL-MUKALLA: The Gulf Cooperation Council is sponsoring unprecedented and comprehensive peace talks between warring factions in Yemen, including the Iran-backed Houthis, that could begin in Riyadh before the end of this month.
"The Gulf Cooperation Council will invite all Yemeni components, both supporters and oppositions, and the putschist Houthis would have some seats in the talks," a senior government official told Arab News. The talks might start on March 27 and would continue for at least one week, they added.
Former Yemeni government ministers and outspoken politicians such as Ahmed Al-Maysari, Saleh Al-Jabwani and Abdul Aziz Al-Jubari would be invited. "Almost no one will be excluded," the official said.
Meanwhile, a car bomb attack on Tuesday on a convoy in which a Yemeni southern military commander was traveling in Abyan province killed two soldiers and seriously injured two more, according to a Reuters report that quoted a military official.
Brig. Gen. Abdul Latif Al-Sayed survived the assassination attempt, said Mohammed Al-Naqib, spokesman for the Southern Armed Forces. Two assailants were also killed, he added.
Al-Sayed is the commander in Abyan of the Security Belt, the military forces of the separatist Southern Transitional Council. In October last year, the governor of Aden, who is a member of the STC, survived a car bomb attack in the port city that killed six people.
The announcement of the proposed GCC-sponsored peace talks came the day after Yemeni President Abed Rabbo Mansour Hadi met Nayef Falah Al-Hajraf, the council's secretary general, in Riyadh. SABA, the official Yemeni news agency, reported that the two men discussed GCC support for moves to end the war in Yemen and the Houthi coup, based on peace talks, continuing efforts to fully implement the Riyadh Agreement and other issues.
They also reportedly discussed the GCC's financial support for the devalued Yemeni riyal, to address deteriorating services and to alleviate the suffering of the Yemeni people.
Yemeni officials said the peace talks are contingent on the Houthis accepting the invitation. They added that the rebels might intensify their military operations across the country, and in particular outside the besieged central city of Marib, in an attempt to improve their negotiating position if they agree to participate.
"They will carry out major military operations in Marib and on other fronts to thwart any agreement (and force acceptance of) their onerous conditions that they have repeatedly floated during previous talks," the official said.
The Houthis have rejected previous peace proposals, including the Saudi initiative, and insist that the Coalition to Restore Legitimacy in Yemen must first halt its airstrikes and lift alleged restrictions on Sanaa airport and Hodeidah seaport.
Source: Arab News
Please click the following URL to read the full text of the original story:
https://www.arabnews.com/node/2043101/middle-east
--------
Washington to provide Egypt with F-15 jets, US general says
15 March ,2022
The top US general for forces in the Middle East said on Tuesday that he believed the United States would provide Egypt with F-15 aircraft.
"I think we have good news in that we're going to provide them with F-15s, which was a long, hard slog," General Frank McKenzie, head of US Central Command, said during a congressional hearing.
McKenzie did not provide details on timing or how many F-15 aircraft, made by Boeing, would be provided.
Source: Al Arabiya
Please click the following URL to read the full text of the original story:
https://english.alarabiya.net/News/middle-east/2022/03/15/Washington-to-provide-Egypt-with-F-15-jets-US-general-says
--------
Lebanese govt talks with IMF moving in the right direction: Deputy PM al-Shami
15 March ,2022
Talks between the Lebanese government and the International Monetary Fund are moving in the right direction and have made important progress, Lebanese Deputy Prime Minister Saadeh al-Shami told the National News Agency (NNA) on Tuesday.
The International Monetary Fund said in February it would remain "closely engaged" with Lebanon's authorities to help the crisis-ravaged country formulate an economic reform program.
Source: Al Arabiya
Please click the following URL to read the full text of the original story:
https://english.alarabiya.net/business/economy/2022/03/15/Lebanese-govt-talks-with-IMFmoving-in-the-right-direction-Deputy-PM-al-Shami
--------
Bahrain's King, Russia's Putin discuss conflict in Ukraine
15 March ,2022
Bahrain's King Hamad bin Isa al-Khalifa and Russian President Vladimir Putin discussed the importance of diplomatic solutions to resolve the conflict in Ukraine, state news agency (BNA) reported on Tuesday.
The Bahraini king and Putin discussed in a phone call the developments in Ukraine and noted the significance of dialogue to avoid further escalation, the report said.
They also highlighted the importance of the unified efforts by the international community "to achieve permanent and comprehensive peace and guarantee the interests and national security of all parties."
Source: Al Arabiya
Please click the following URL to read the full text of the original story:
https://english.alarabiya.net/News/gulf/2022/03/15/Bahrain-s-King-Russia-s-Putin-discuss-diplomatic-solutions-for-Ukraine-conflict
--------
UK's Johnson to meet UAE, Saudi leaders in push for more oil
15 March ,2022
UK Prime Minister Boris Johnson is expected to travel to the United Arab Emirates and Saudi Arabia this week, according to people familiar with the matter, as pressure mounts on the OPEC members to raise oil output.
The visit comes as Russia's invasion of Ukraine roils energy markets, driving crude prices close to $100 a barrel.
Johnson is tentatively scheduled to meet the Crown Prince of Abu Dhabi, Mohammed bin Zayed, and energy officials in Abu Dhabi on Wednesday. He is meant to travel to Riyadh later the same day and meet Saudi Crown Prince Mohammed bin Salman, two of the people said, declining to be named as the information is not public.
The prime minister's possible trip to Saudi Arabia was reported earlier by UK media. Downing Street declined to comment to Bloomberg. Johnson's plans may still change, some of the people said.
Resisting Washington
Saudi Arabia and the UAE pump more than 13 million barrels a day of oil between them and are among the few producers with significant spare capacity. They are key members of the Organization of Petroleum Exporting Countries. The cartel is in an alliance with Russia that's known as OPEC+.
The Saudis and Emiratis and have so far resisted calls from the US, Japan and European nations to accelerate production increases.
Source: Al Arabiya
Please click the following URL to read the full text of the original story:
https://english.alarabiya.net/business/energy/2022/03/15/UK-s-Johnson-to-meet-UAE-Saudi-leaders-in-push-for-more-oil
--------
Ukraine war recalls trauma for survivors of Aleppo siege
March 16, 2022
BEIRUT: When Afraa Hashem thinks back about living through the siege of Aleppo, she remembers how inventive everyone was.
In late 2016, Syrian government forces had sealed off Aleppo's rebel-held eastern half, with 270,000 people inside, and for months they and Russian warplanes blasted it to rubble. Food was scarce. Hashem's family, like others, was largely surviving off one meal a day.
One day, her eldest son Wisam, 11 at the time, asked out of nowhere: "Mommy, can we have fish?"
Her three kids didn't even really like fish. But when you have almost nothing, you miss even things you don't like, she recalled.
Unwilling to cave in to despair, Hashem fried up moldy bread, found some coriander, garlic and Aleppo's famed red pepper flakes and told them it was tilapia. Together, they all pretended it was fish — the kids even said they could taste it.
"It wasn't just me, but all the women in Aleppo were doing these inventions to feed their children," she said.
Hashem and other Aleppo survivors on Tuesday mark the 11th anniversary of Syria's revolution-turned-civil war. This year, many of them are not just reflecting on their own fates, they are watching in shock as Ukrainians face familiar horrors: Bombardment, brutal siege and flight from their homes.
In Syria's war, Russia helped President Bashar Assad's government gain the upper hand with a ruthless strategy. One by one, they locked sieges around opposition-held areas, bombarding and starving them until the population's ability to hold out collapsed.
The siege of Aleppo was among the most brutal. Aleppo was Syria's most populous city, famed for its unique cuisine of elaborate dishes and its millennia-old Old City.
When the war began, its eastern districts fought off the government for four years, brimming with revolutionary fervor. But nearly six months of siege reduced much of the east to empty rubble, its population dispersed or dead.
In Ukraine, a similar siege has been underway for nearly two weeks on the port city of Mariupol, where tens of thousands are scrounging for food and shelter under Russian bombardment. The fear is that Russian President Vladimir Putin will expand a Syria-style siege strategy across Ukraine.
Now in London with her husband and children, Hashem said she stood in solidarity with Ukraine from the first day of Russia's invasion.
"A lot of people ask if I am mad that the world sympathizes more with Ukraine than it did with Syria. I tell them I don't care if people sympathize more. I care that they are victims," she said.
In a corner of Syria still outside government control, another Aleppo survivor, Abdulkafi Alhamdo, is also trying to connect with Ukraine.
He lives in opposition-held Idlib province and works as a literature professor in the nearby Turkish-controlled town of Azaz.
In class, "I am always linking Big Brother in George Orwell's '1984' novel to Putin, both in Syria and now in Ukraine," he said.
Alhamdo printed two Ukrainian flags to wave alongside the Syrian revolution flags at a local protest in Idlib marking the anniversary this week.
When Syria's conflict began in 2011, Hashem worked as a school principal and activist. Her hopes for change in Syria rose with opposition gains, including its capture of Aleppo's eastern half from the government. Hashem worked with the local council running the city and helped organize protests.
Over the next years, Russian and government warplanes increasingly bombed east Aleppo as they battled rebel forces in the countryside. Hashem moved her school into a basement and turned the darkened rooms into classrooms and shelters. She started a theater there, writing plays for the students to perform.
With fighting growing worse, the ordinary life she once had grew more remote. In the mornings she would pass by the hill separating her part of east Aleppo from government-held west Aleppo.
It was as impassable as the Berlin Wall, she recalled. If you got too close, snipers would shoot you. But she wanted to hear cars, any sound from the other side that would bring the memory of friends and relatives who lived there.
"I would always wonder, 'What is life like in that second universe?'"
Her universe tumbled into complete hell when siege was imposed on the east in July 2016.
East Aleppo was sealed off, with hardly any supplies getting in. Russian and government bombardment smashed everything, including hospitals and schools. Residential blocks were left in ruins.
Early on, one of Hashem's students was killed. She stopped the school theater. The district's few gardens became cemeteries. Medicines ran out. The sound of explosions was constant. Hashem's apartment building was bombed multiple times, before and during the siege, and they moved often.
With no electricity and limited fuel, residents turned to "plastic gasoline," extracting fuel from plastic bottles and containers. It was bad for the generators and gave off a toxic smell. But it helped generate enough electricity for people to charge car batteries, mobile phones and small LED lights.
With no gas for cooking, families collected furniture and scraps of wood to burn from the ever-growing number of bombed-out buildings.
Prices spiraled. There were no fruits and few vegetables. Flour was almost impossible to come by, so Hashem and other families made bread by grinding white beans.
As winter cold set in, scrap wood was needed for warmth, too. Her kids missed sahleb, a sweet, warm comfort drink that's a wintertime favorite across the Middle East. It's made from the tubers of an orchid, impossible to find during the siege.
So Hesham again improvised. She dipped into her precious reserve of flour, boiled it with water and sugar, "and that was like you are drinking sahleb but in a different way."
Soon after, in late December 2016, she was among tens of thousands of residents who agreed to leave under an evacuation deal. She went to opposition-held northwest Syria, then into Turkey.
Source: Arab News
Please click the following URL to read the full text of the original story:
https://www.arabnews.com/node/2043361/middle-east
--------
India
Karnataka HC order on hijab unconstitutional: Kerala Muslim groups
16th March 2022
KOZHIKODE: Muslim organisations in Kerala have stated that the Karnataka High Court order that said that hijab is not an essential practice of Islam is unconstitutional and an affront to the individual rights. Terming the verdict as unfortunate, IUML acting state general secretary PMA Salam said hijab is not a contentious issue in Islam.
Countries in Europe and America allow women to do their jobs wearing hijab, he said. "More than an issue of religious practice, it is a question of an individual's freedom," he said. Salam added that the court should have considered all these aspects before arriving at a conclusion to buttress people's faith in judiciary.
Sunni leader Kanthapuram A P Aboobacker Musaliar said the court's finding is against the basic tenets of Islam. "No one in any part of the world has said that hijab is not an integral part of Islam," he said. Expressing pain and regret in the order, Kanthapuram expressed the hope that there will be a favourable decision from the part of the upper court.
Sunni Yuvanaja Sangham (SYS) working secretary Abdul Hameed Faizi Ambalakkadavu said the signals sent out by the court order are not encouraging. "How can the court arrive at such a decision when all the schools of Islamic jurisprudence uphold that covering the head is mandatory for Muslim women?" he asked.
Kerala Nadvathul Mujahideen (KNM) state president T P Abdulla Koya Madani said the Karnataka High Court order has raised many concerns. It is regrettable that the court has failed to see the right of the Muslim girls to wear the dress of their choice.
Source: New Indian Express
Please click the following URL to read the full text of the original story:
https://www.newindianexpress.com/states/kerala/2022/mar/16/karnataka-hc-order-on-hijab-unconstitutional-kerala-muslim-groups-2430563.html
--------
Karnataka HC's hijab verdict may force Muslim girls to quit studies: Experts
16th March 2022
By Vincent D'Souza
MANGALURU: The High Court verdict on the hijab issue may lead to girls from conservative Muslim families dropping out of school/colleges besides further ghettoisation of the community in the communally sensitive Coastal Karnataka, some sections of society feel. The HC verdict came as a big shocker to the Muslim community in Dakshina Kannada and social media was abuzz with posts expressing severe displeasure over the verdict, with many even terming it 'unconstitutional' and 'unacceptable'.
Umar U H, president of the Muslim Writers' Association, Mangaluru, felt that the verdict will mainly hit the poor and conservative Muslims who are dependent on government colleges, while others have the option of shifting to private institutions that allow the hijab. According to him, over 75 per cent of Muslims in the region are poor, who cannot afford to send their wards to private colleges and said the court should have taken this into consideration.
Source: New Indian Express
Please click the following URL to read the full text of the original story:
https://www.newindianexpress.com/states/karnataka/2022/mar/16/karnataka-hcs-hijab-verdict-may-force-muslim-girls-to-quit-studies-experts-2430650.html
--------
Education, religion are like two eyes: Father of Muslim girl who was heckled by saffron men
16th March 2022
MYSURU/MANDYA: Following the High Court verdict in the hijab case, Mohammed Husain Khan, father of Mandya student Muskan Khan, said that education and religion are like two eyes, and both need to be taken into confidence to lead a peaceful life.
Muskan was heckled by saffron-clad students chanting 'Jai Shri Ram' a few weeks ago on her college premises, and the lone girl student had replied with chants of 'Allah hu Akbar'.
Muskan had earlier noted that she has faith in the Constitution and the court, and would respect the latter's verdict. On Tuesday, however, she declined to react to the court verdict.Meanwhile, her father told reporters that religious leaders of their community will decide their next course of action.
Source: New Indian Express
Please click the following URL to read the full text of the original story:
https://www.newindianexpress.com/states/karnataka/2022/mar/16/education-religion-are-like-two-eyes-father-of-muslim-girl-who-was-heckled-by-saffron-men-2430652.html
--------
Kerala artist ostracised from performing in temples after son marries Muslim girl
16th March 2022
By MA Rajeev KumarExpress News Service
KANNUR: Karivellur village's name is written in bold red letters in the history of communism in Kerala, as it was here that the oppressed peasants launched their fight against feudalism in North Malabar. Its revolutionary background and strong presence of CPM have always given the place an aura of progressiveness.
But N Vinod Panickar, 57, a poorakkali-marathukali exponent of Karivellur, has been facing a sort of ostracism as he is prevented from performing at the temples in the village. The reason: his son has married a Muslim girl.
Panickar, who has been performing at various temples in North Malabar for the last 38 years, was asked by officials of Kuniyan Sree Parambath Bhagavathi temple to oust his son and daughter-in-law from his house if he wanted to perform during the pooram.
"Since I think my son and daughter-in-law have nothing to do with my belief, I told the temple authorities that I wouldn't ask them to move out of my house. They have been staying with me since their marriage in 2018," said Panickar.
As per the temple's custom, the marathukali Panickar should be brought to the temple by the 'aacharakkar' (the assigned persons in charge of the pooram) by visiting the house of Panickar inviting him to lead the marathukali. Some rituals have to be done in connection with this custom. After the festival, they would accompany Panickar to the house as well, to complete the formalities.
One of the samudayis (a group of persons who manage the temple activities), on condition of anonymity, said since a person from another religion lives in the house, they would not be able to do the rituals at Panickar's house.
"We have asked him to move to the house of his mother which is very near so that we could accommodate him in this year's festival," he said. "He refused. The decision (to not allow him to perform) was taken by the temple's general body. We can't move against the wishes of devotees," he said. Last year too, Vinod Panickar had to suffer this humiliation by another temple committee.
Officials of Vaniyillam Someshwari temple, situated near his house at Karivellur, had demanded the same from Panickar and he had said that neither he would move out of his house nor would he ask his son and daughter-in-law to shift.
"I think this is absurd as the committee of Payyannur Paravanthatta Udayapuram temple had allowed me to perform marathukali during the poorolsavam in 2019. When I told them about my son's marriage with a Muslim girl, they said they had come to invite me to perform, not my son," said Panickar. "What is acceptable for one temple is unacceptable to another temple. How can one justify this," he asked.
Source: New Indian Express
Please click the following URL to read the full text of the original story:
https://www.newindianexpress.com/states/kerala/2022/mar/16/kerala-artist-ostracised-from-performing-in-temples-afterson-marries-muslim-girl-2430523.html
--------
Owaisi Should Show Quran Citing Hijab; by Muslim Law, Mehbooba Won't Be A Leader: Arif Mohammad Khan
MARCH 15, 2022
Kerala governor Arif Mohammad Khan has been vocal on the hijab row. On a day when the Karnataka High Court ruled that the headscarf is not a part of the essential religious practice in Islam, he spoke to CNN-News18 in an exhaustive interview about the row itself, the narrative of majority vs minority, Muslim liberals and radicals, and the road ahead for the community. Edited excerpts:
This is being seen as a defining judgement. How are you viewing it?
I don't like to use the words. My stand has been vindicated by those who were debating the issue. What was at stake is the future of the young Muslim girls. I am so happy and I welcome the decision. These young Muslim girls, who are very competent, who are very consistent…Now, the sort of ceiling, which some people were trying to impose…They were trying to impose restrictions on career prospects…That has come to naught.
Why did this issue become about majority vs minority?
This was so clear from the beginning. I would say the Karnataka HC has pronounced their opinion in a very high manner. Otherwise, as far as the common man is concerned, that hand is not really unseen. Everybody knows who were the people behind the controversy. The vested interests, people whose hearts are full of hatred, they are here to create this type of controversy. Whatever opportunity they get, they will take it and destabilise society. They want to create disharmony in society.
Hatred against whom?
This hatred is against the current government. This is an attempt to unsettle the government. This is an attempt to disturb the government and they can go up to any extent.
What was the role of the commissions?
I never questioned their role. I always emphasised that it shouldn't be happening. I always said that the human rights commission and all other agencies should be given the power to uphold the rights of humans. The constitution during the British was based on religion. The Indian constitution is based on equality. Our constitution strengthens our civic rights. We are also the original signatory of the UN commission. Our fundamental rights are based on that.
PROMOTED CONTENT
What is your reaction to the arguments made by Asaduddin Owaisi and others?
I shall be very grateful to him if he can show me any line from the Quran which says so. The problem is not about Allah's command. The problem is that people like him, they feel that they are Allah. Whatever command they give should be followed. I have seen him quoting the Quran that this is the command given by Allah. I have repeatedly said that I do not want to challenge you, but I shall be grateful to you if you can point out one single line from the Quran or about the kaban for hijab. Just show me one line where the term hijab has been used in the context of dress for a woman. It has not been. Which Allah's command are they talking about? Islam required adherence to submit to the will of God. They are projecting their own commands and projecting as the will of God. this can't be accepted.
I am taking that argument a little forward, that what is essentially a practice should be left between God and the believer. The argument is that any devout Muslim should not be told what is essential and what is not essential…
Islam itself says what is essential, and how you will not discuss that issue…Islam says (quotes Quran) these are the essential things and non-essential things. What are the essential things? First, oral affirmation; second, prayer; third, fasting for a month; fourth, charity, alms-giving; fifth, doesn't apply to everybody, it is only for those who have enough resources to travel to Haj. Islam itself says that these are the essentials, it means everything else is non-essential.
There are certain sets of people who are radicals, perhaps hardliners within the community, who are saying that this judgement is an interference in the practise of Islam. What about those who are seen as liberals? The liberal Muslim voices like Omar Abdullah, Mehbooba Mufti?
I only feel sympathy for them in the sense that in their own personal lives they behave differently. I would not like to name, but there are so many prominent Muslim leaders, who always refer to Jinnah. Jinnah in his personal life was a different person but he spoke in a language that was acceptable to the Muslims of India. So whatever we do personally is different but to the common Muslim, we must appeal…they have this deep-seated understanding that Muslims respond only to communal appeals and in fact, Maulana Azad has also said, if you permit me, I will quote him. He has spoken in Urdu, I will translate it because to my mind it is very important because this is how the Muslim mind is being made up by the leaders: by the clerics by the political leaders. Maulana Azad lamented about it, why? Because he was a sincere man. These people, they exploit him, because they just want to take political advantage. Quran does not even use the word hijab in the context of women, but it is true that Muslim law does. It prescribes what a Muslim woman should wear. But the same law also says that the leadership of any people can't be entrusted to women. It clearly says if you entrust the leadership of a particular country… By law hijab should be applied, why not…If she (Mehbooba) is a true follower of the law.
You are making a very important point, perhaps Muhbooba Mufti should respond to that. I have seen the reactions coming on social media. A lot of people have a lot of things to say. But the important thing is slowly and steadily, there is an interference in Muslim religious affairs when it should be an individual's equation with the religion.
It is so unfortunate and full of ignorance when they say there is an interference with Muslims. Now whatever is happening in Saudi Arabia, is it they are interfering in religion or they are slowly realising that with change in times, we must change? The Muslim countries themselves, do they make it compulsory for women to wear hijab? Just to single out and try to create a situation there is interference with the religion…Wasn't Sati thought essential by the followers of a religion? It was abolished. There are so many things, not just Sati. Like untouchability. What did Mahatma Gandhi say? Mahatma Gandhi said, I do not believe that untouchability is essential by Shastras, but if you say it is essential by Shastra, I refuse to believe in Shastras.
People like you who are voices of reason are often criticised. Then who is failing the Muslim community, especially the women?
They have been failing. Don't forget in 1920 we had the Khilafat movement. All the Arab Muslim population was against the Khilafat. The Turks themselves have abolished the Khilafat. But in India, they always made these emotional appeals—Boli Amma, Mohammad Ali ki jaan, beta Khilafat pe de do. What was the reason? Finally, they gave the call, issued a fatwa that now India has become…. because of the abolition of Khilafat, India has become Dar al-Harb. India has nothing to do with Turkey, but India has now become Dar al-Harb because Britishers are responsible, they are ruling over here. This is very important. It was the duty of every Muslim to migrate from India to another place. So many people bought their homes, and innocent people, following their fatwa…they left the country. They asked where to go. They said, go to Afghanistan. We were always under the impression that 30,000 people were killed on the border of India and Afghanistan. But recently, a book has come from Pakistan. They have documented the numbers. More than 5 lakh people were killed. Those who had issued the fatwa, they didn't travel from their homes to another city. Poor Muslims were made victims. Likewise, in the Pakistan movement, what was the argument that was given? Do you know what Jinnah had said? Jinnah had said, to liberate the Muslims of North West and North East, if Muslims in West of India are smashed totally, I don't care. Maulana Shabbir Usmani made speeches everywhere. In UP and Bihar, people asked the question that Pakistan will not be formed here then what will be our future? Then he said, India was Dar al-Islam under Muslim rule, Britishers took over the government, now India is going to be a democratic country. These are the arguments of Shabbir Usmani, very well documented. He said that there is no hope of India becoming Dar al-Islam again. But if the Muslims of the North are ready to make sacrifices, then one part of India can become Dar al-Islam. How people in UP and Bihar were persuaded to vote for the Muslim League, and Jinnah said if they are smashed totally… So we have developed this special knack to hurt ourselves. Likewise, the Shah Bano movement; what happened? I totally believe and anyone will believe that what the Muslim Personal Law Board said in 2017 in their affidavit to the SC where they admitted that triple talaq is an innovation. Triple talaq is an evil practice. Triple talaq should go away…
You think that was a desperate attempt because they were trying to be relevant?
Whatever! I feel that in 1986, instead of saying, as you used, divine command…ye Shariat hai, ye Allah ka qanoon hai…instead of saying that in 1986, if they said this much what they had said in 2017, the country would have been spared of so many troubles.
Arif sahab, we are meeting at a time when elections in five states have concluded. The BJP has won decisively and comprehensively. Election after election, one thing which is becoming clear is about the minority vote bank. The Muslims of India in states like UP and Bihar, where they almost at a time, you know, several years ago they had the balance of power, are becoming inconsequential and irrelevant. What will you be telling them?
I would say that the situation is never static. Democracy is not merely the process of electing a government. Democracy is also a great source of education. If a small group, you are using the word minority, if generally, people come to view that country is being held to ransom by them…You were saying that they were holding the balance of power. When will they hold the balance of power? If the other society is totally divided. When they felt, this is not what I am saying, this is what has been written by so many people, that after Shah Bano, a very strong feeling developed among the country that a small community, so-called minority, is holding the country to ransom. They are saying that if you do not change the judgement of the SC then we will create unrest. Then people forgot about their own differences to save the country from the repetition of all such things…Do you realise…you must have been a very small child…I don't know when you were born. In 1985 outside Parliament…these protests were not held at Jantar Mantar. They were held at India Gate. At India Gate, a Muslim Personal Law Board meeting was held, where calls were made to break the legs of "MPs who are opposing us". They went scot-free, no action was taken against them. Will it create repulsion in the minds of people or not? Who is responsible for creating this situation? If you are behaving in a particular manner and you do not realise what kind of reaction it will provoke, I can only sympathise with you.
Then do you think the time has come for Indian Muslims to recalibrate their equation towards the current establishment?
Source: New18
Please click the following URL to read the full text of the original story:
https://www.news18.com/news/india/owaisi-should-show-quran-mentioning-hijab-by-muslim-law-mehbooba-wont-be-a-leader-arif-mohammad-khan-4878296.html
--------
What about anti-Hindu, anti-Sikh phobias, asks India at UN meet on Islamophobia
By Rezaul H Laskar
Mar 16, 2022
The UN General Assembly on Tuesday adopted a Pakistan-sponsored resolution to declare March 15 as International Day to Combat Islamophobia, with India expressing concern at the elevation of the phobia against one religion to such a level while excluding others.
The resolution, introduced by Pakistan on behalf of the Organisation of Islamic Cooperation (OIC), was adopted by consensus. It was backed by 57 members of OIC and eight other countries, including China and Russia.
Explaining India's position on the resolution, TS Tirumurti, the country's permanent representative to the UN, expressed deep concern at the rise in instances of discrimination, intolerance and violence against members of many religious communities in different parts of the world.
"Let me also state that we condemn all acts motivated by anti-Semitism, Christianophobia or Islamophobia. However, such phobias are not restricted to Abrahamic religions only," he said.
Tirumurti noted that Hinduism has more than 1.2 billion followers, Buddhism more than 535 million and Sikhism more than 30 million, and said the time had come to acknowledge the "prevalence of religiophobia, rather than single out just one".
He added, "It is in this context that we are concerned about elevating the phobia against one religion to the level of an international day, to the exclusion of all the others. Celebration of a religion is one thing but to commemorate the combating of hatred against one religion is quite another."
Tirumurti also argued the resolution "may well end up downplaying the seriousness of phobias against all other religions".
While explaining India's position, Tirumurti cited what he contended were religion phobias that have affected the followers of non-Abrahamic religions, including "anti-Hindu, anti-Buddhist and anti-Sikh phobias".
"These contemporary forms of religiophobia can be witnessed in the increase in attacks on religious places of worship like gurudwaras, monasteries, temples etc or in spreading of hatred and disinformation against non-Abrahamic religions in many countries," he said.
He also cited the destruction of the Bamyan Buddhas in Afghanistan, "violation of gurudwara premises, massacre of Sikh pilgrims in gurudwara, attack on temples, glorification of breaking of idols in temples" and said these incidents "contribute to the rise of contemporary forms of religiophobia against non-Abrahamic religions".
Tirumurti said India, as a pluralistic and democratic country that is home to almost all world religions, has always welcomed "those persecuted around the world for their faith or belief".
He said, "They have always found in India a safe haven shorn of persecution or discrimination. This is true whether they were Zoroastrians or Buddhists or Jews or people of any other faith. Therefore, it is with deep concern that we have viewed the growing manifestation of intolerance, discrimination or violence against followers of religions, including rise in sectarian violence, in some countries."
Tirumurti said India is proud that pluralism is at "the core of our existence and we firmly believe in equal protection and promotion of all religions and faith". In this context, he said, it was unfortunate that the word "pluralism" finds no mention in the resolution and its sponsors did not take on board India's amendments to include the word in the text.
Source: Hindustan Times
Please click the following URL to read the full text of the original story:
https://www.hindustantimes.com/india-news/what-about-anti-hindu-anti-sikh-phobias-asks-india-at-un-meet-on-islamophobia-101647369169647.html
--------
Terrorist killed in encounter in Jammu and Kashmir's Srinagar
Mar 16, 2022
SRINAGAR: An unidentified terrorist was killed in an encounter with security forces on the outskirts of Srinagar city on Wednesday, police said.
Acting on specific inputs about the presence of terrorists in the Nowgam area of the city, the security forces had launched a cordon-and-search operation there, a police official said.
He said the search operation turned into an encounter when the terrorists opened fire at the security personnel, who retaliated.
In the ensuing exchange of fire, an unidentified terrorist was killed, the official said, adding, the operation is on.
Inspector general of police (IGP), Kashmir, Vijay Kumar said some terrorists have been trapped and they include those involved in the March 9 killing of a sarpanch in Khonmoh area of the city.
Source: Times Of India
Please click the following URL to read the full text of the original story:
https://timesofindia.indiatimes.com/india/encounter-breaks-out-between-terrorists-and-security-forces-in-srinagar/articleshow/90248699.cms
--------
Mundra drug haul linked to Pak terror outfits, says NIA
Mar 16, 2022
AHMEDABAD: The National Investigation Agency has filed a chargesheet against 16 people in connection with the seizure of heroin worth Rs 21,000 crore at Mundra port by Directorate of Revenue Intelligence in September, 2021. Probe has revealed the involvement of Pakistan-based terror outfits to raise funds for use in "anti-India activities", as per the agency.
The NIA invoked charges under the UAPA, NDPS Act and criminal conspiracy under the IPC for the alleged smuggling of 2,998.2 kg of heroin, seized by DRI sleuths at Mundra port on September 13, 2021, concealed in a consignment of semi-processed talc imported by Aashi Trading Co. The consignment had been sent from Afghanistan through the Bandar Abbas port in Iran.
Source: Times Of India
Please click the following URL to read the full text of the original story:
https://timesofindia.indiatimes.com/india/mundra-drug-haul-linked-to-pak-terror-outfits-says-nia/articleshow/90240803.cms
--------
North America
Pakistani 9/11 mastermind could be spared death penalty as US prosecutors negotiate plea deal: Report
Mar 16, 2022
NEW YORK: US prosecutors have started negotiating a plea deal with Pakistani terrorist and 9/11 mastermind Khalid Shaikh Mohammed and four others currently lodged in the Guantánamo Bay detention camp, a move which could result in the commutation of their death sentence to life imprisonment, according to a media report.
The New York Times' report said that the plea deal would undoubtedly disappoint, if not enrage, death-penalty advocates among the victims' family members.
The unprecedented terror attack on September 11, 2001 destroyed the twin towers of the iconic World Trade Center (WTC) in New York, killing nearly 3,000 people, including many Indians.
The report said that other family members, including those troubled by the role of the US torture in the case and the delays, might see it as a fitting conclusion.
While no deal is expected soon, guilty pleas resulting in life sentences could force the Biden administration to "modify its ambition of ending detention operations at Guantánamo Bay and instead rebrand it as a military prison for a few men," it said.
The report cited people with knowledge of the discussions as saying that "prosecutors have opened talks with lawyers" for 58-year-old Shaikh and his four co-defendants to "negotiate a potential plea agreement that would drop the possibility of execution."
The report added that a guilty plea in exchange for life sentences and not execution could bring to an end the case going on for years now at Guantanamo Bay.
"Nearly a decade after the men were arraigned, the military judge has set no trial start date," it said.
During the Trump administration, there had been a failed attempt at such talks when the accused plotters had demanded that they serve their sentences at Guantanamo, where they are able to pray and eat in groups.
They did not want to be sent to the supermax prison in Colorado where federal inmates are held in solitary confinement up to 23 hours a day, the report said.
"A plea deal would undoubtedly disappoint, if not enrage, death-penalty advocates among the victims' family members. But other family members, including those troubled by the role of US torture in the case and the delays, might see it as a fitting conclusion," it said.
Following a nearly two-year closure of the court due to the coronavirus pandemic, discussions began last week, the report said.
The NYT report said as part of any plea agreement, the defendants would have to work with prosecutors through their lawyers on "individual lengthy narratives known as a stipulation of fact" which will be prosecution-approved admission of their crimes.
The report said that the judge, defence and prosecution teams had travelled to Guantanamo Bay for three weeks of hearings meant to address disputes over evidence, "particularly showing the role of the FBI in the CIA prison network" where Shaikh and his co-defendants were "tortured after they were captured in Pakistan in 2002 and 2003."
A lead prosecutor in the case Clayton Trivett wrote to the defence teams that they discuss "whether pretrial agreements are possible for all five cases."
"While I cannot guarantee that we will come to terms over these next two weeks," Trivett said in an email, "putting a concerted effort focused solely on possible agreements while we are all onboard Guantánamo, where your clients and teams are present, may be our best chance of at least determining if deals can be reached."
The report said that within days, the five defendants and their lawyers met in the courtroom to compile an initial list of requirements for the guilty plea, "starting with removing the death penalty from the case."
While prosecutors have begun the negotiations, a senior Pentagon official known as the convening authority Col. Jeffrey D Wood of the Arkansas National Guard, must approve any deal.
Source: Times Of India
Please click the following URL to read the full text of the original story:
https://timesofindia.indiatimes.com/world/us/pakistani-9/11-mastermind-could-be-spared-death-penalty-as-us-prosecutors-negotiate-plea-deal-report/articleshow/90255406.cms
--------
CENTCOM chief: Iran has 3,000 ballistic missiles, many can reach Israel
March 16, 2022
Iran has more than 3,000 ballistic missiles, US CENTCOM chief General Kenneth McKenzie said Tuesday, acknowledging that many of those missiles could reach "Israel".
"At a military level my concern is first of all that they do not have a nuclear weapon but I am also very concerned about the remarkable growth and efficiency of their ballistic missile program," McKenzie told the Senate Armed Services Committee.
The US General's words came a week after he met with Israeli occupation Security Minister Benny Gantz and IOF Chief of Staff Aviv Kochavi.
"They have over 3,000 missiles of various types, some of which can reach Tel Aviv," McKenzie said in response to a query by the senate committee. "None of them can reach Europe yet," he claimed, however.
He also claimed that the Iranian missile capabilities are the "greatest threat to the region's security," adding that Iran had developed an arsenal of "nuclear-warhead capable ballistic missiles."
According to the top US defense official, the Islamic Republic has tested these weapon platforms multiple times, telling the congressional committee that Tehran had heavily invested in its ballistic missile program for the better half of the past decade.
The US Central Command assessed that Iran would "continue using" Iraq and Syria as supply routes to forward Tehran's "campaign" against the Israeli occupation, adding that the supplies were in part to Hezbollah in Lebanon, whose missile capabilities were estimated to amount to 130,000-150,000 rockets that can reach deep into occupied Palestine. The tally reportedly includes many ballistic missiles.
McKenzie also voiced concern over the Iranian drone program.
According to his statements, Iran's UAV fleet evolved from "commercial off-the-shelf" drones to ones that "resemble cruise missiles" in terms of speed, range, accuracy, invulnerability to electronic warfare, and warhead weight.
Tehran has also been able to mass-produce the drone components, allowing them to be supplied to their allies in Lebanon and Yemen, he added.
Source: ABNA24
Please click the following URL to read the full text of the original story:
https://en.abna24.com/news//centcom-chief%e2%80%8c-iran-has-3000-ballistic-missiles-many-can-reach-israel_1239729.html
--------
Europe
Russia says it has secured US guarantees on Iran N-deal
March 16, 2022
MOSCOW: Russia's Foreign Minister Sergei Lavrov said on Tuesday that Moscow had received guarantees from Washington on its ability to trade with Tehran as part of ongoing talks to salvage the Iran nuclear deal.
"We received written guarantees. They are included in the text of the agreement itself on the resumption of the Joint Comprehensive Plan of Action on the Iranian nuclear programme," Lavrov said at a press conference in Moscow with Iranian counterpart Hossein Amir-Abdollahian.
More than 10 months of talks in Vienna have brought major powers close to renewing the landmark 2015 Joint Comprehensive Plan of Action (JCPOA) on regulating Iran's nuclear programme.
The negotiations halted after Moscow earlier this month demanded guarantees that Western sanctions imposed following its military operation in Ukraine would not damage its trade with Iran.
Lavrov said that the guarantees it had received from Washington would protect Russian involvement in Iran's sole Bushehr nuclear energy plant.
The minister said Moscow and Tehran share the position that Western sanctions are imposed with the aim of overriding international law and accused Washington and its partners of directing the penalties "primarily against ordinary citizens".
Source: Dawn
Please click the following URL to read the full text of the original story:
https://www.dawn.com/news/1680223/russia-says-it-has-secured-us-guarantees-on-iran-n-deal
--------
UK looking at ways to pay historic Iranian debt: Foreign secretary
16 March ,2022
Britain is looking at ways to pay a historic $522 million (400 million pound) debt to Iran, Foreign Secretary Liz Truss said on Wednesday, adding that she would not say if it had been settled already.
Iranian state media reported in 2021 that unidentified Iranian officials had said the British-Iranian aid worker Nazanin Zaghari-Ratcliffe would be freed once the debt was paid.
Source: Al Arabiya
Please click the following URL to read the full text of the original story:
https://english.alarabiya.net/News/middle-east/2022/03/16/UK-looking-at-ways-to-pay-historic-Iranian-debt-Foreign-secretary
--------
Ex-German foreign minister blasts West for denying Turkiye air-defense systems
Cuneyt Karadag and Erbil Basay
16.03.2022
BERLIN
Former German Foreign Minister Sigmar Gabriel criticized the West on Tuesday for not providing air-defense systems to Turkiye when the NATO member country needed them.
In a speech in Berlin, Gabriel, now the sitting chairman of the Atlantik Brucke (Atlantic Bridge) think tank, said he had worked hard to improve ties between Turkiye and the West.
Underlining that he had opposed the rejection of Turkiye's bid to procure air defense systems, including the US-made Patriot, he pointed out that such systems were defensive and could not be used to attack another country.
Turkiye consequently decided to purchase S-400 missile defense system from Russia, a hard decision for a NATO country, Gabriel said.
He emphasized that the West should be careful in maintaining relations with Ankara and should do its best to keep the country within the Western bloc.
Highlighting the geopolitical significance of Turkiye, Gabriel said that while Ankara's policies could be criticized, he remain adamant that the country staying in the Western bloc benefited all parties to that relationship.
Referring to the US support for the YPG, the PKK terror group's branch in Syria, Gabriel underlined that the creation of a terror state in northern Syria would be intolerable for Turkiye, regardless of government.
Since 2016, Ankara has launched a trio of successful anti-terror operations across its border in northern Syria to prevent the formation of a terror corridor and enable the peaceful settlement of residents: Euphrates Shield (2016), Olive Branch (2018), and Peace Spring (2019).
Source: Anadolu Agency
Please click the following URL to read the full text of the original story:
https://www.aa.com.tr/en/europe/ex-german-foreign-minister-blasts-west-for-denying-turkiye-air-defense-systems/2536381
--------
UK to urge Saudi Arabia to raise oil output amid plans to reduce dependency on Russian resources
Ahmet Gürhan Kartal
15.03.2022
LONDON
British Prime Minister Boris Johnson will urge Saudi Arabian officials to increase their oil production amid the West's plans to reduce dependency on Russian energy resources.
Starting a day-long trip to Saudi Arabia Tuesday evening, Johnson compared Russian President Vladimir Putin to a drug-pusher feeding on the "addiction" of the Western countries on Russian oil and gas.
Speaking to Sky News ahead of his trip, he said the world needed to "avoid being blackmailed by Putin in the way that so many Western countries sadly have been."
"We've got to get ourselves off Russian hydrocarbons," Johnson said.
He added: "They're a massive part of the global market for hydrocarbons. They help to drive the price.
"We need to talk to other producers around the world about how we can move away from that dependence. Vladimir Putin over the last years has been like a pusher, feeding an addiction in Western countries to use hydrocarbons, to use oil and gas. We need to get ourselves off that addiction."
Source: Anadolu Agency
Please click the following URL to read the full text of the original story:
https://www.aa.com.tr/en/europe/uk-to-urge-saudi-arabia-to-raise-oil-output-amid-plans-to-reduce-dependency-on-russian-resources/2536071
--------
Symposium in Turkish capital marks third anniversary of New Zealand terror attacks
Fuat Kabakci
15.03.2022
A symposium in Turkiye's capital Ankara was held to mark the third anniversary of terror attacks at two mosques in New Zealand that killed 51 people.
On March 15, 2019, Brenton Tarrant, an Australian white supremacist, killed his victims and injured 40 others at the Al Noor Mosque and Linwood Islamic Centre in Christchurch.
He was sentenced to life in prison without the possibility of parole last year in the first such ruling ever handed down on the island nation.
Organized by the International Knowledge and Perception Association and Haci Bayram Veli University under the auspices of Turkiye's Culture and Tourism Ministry, the "Hello Brother: World Peace Symposium" was attended by victims' families and activists.
"The 15th of March 2019, marks the dark day in history around the world," said Yama Nabi, son of Davud Nabi who greeted the shooter at the gate of the mosque with, "Welcome brother."
"Fifty-one martyrs showed the beauty of Islam," said Nabi, who was a guest of honor at the symposium.
"Hello brother, was the last words of my father to the shooter. This is what we represent," he added.
Activist Osama Qashoo said being discriminated against puts Muslims in a powerful position. "That is something that should empower us and make us unique," he said.
Qashoo said he is in favor of action and information is nothing without action.
Source: Anadolu Agency
Please click the following URL to read the full text of the original story:
https://www.aa.com.tr/en/europe/symposium-in-turkish-capital-marks-third-anniversary-of-new-zealand-terror-attacks/2535957
--------
Chechen leader explains why he backs Putin's 'military operation' in Ukraine
March 15, 2022
GROZNY: Chechen President Ramzan Kadyrov has expressed support for Russian President Vladimir Putin's signing of the independence documents of the Ukrainian provinces of Donetsk and Luhansk, as well as his launch of a "military operation" in Ukraine.
He hailed Putin's signing of the independence documents of Donetsk and Luhansk as a historic decision that will put an end to the bloodshed and violence that 4 million people have been subjected to in the two provinces for eight years.
In an opinion article for Arabic news website Al-Ain published on Tuesday, Kadyrov added that the Chechen people welcome citizens of the two independent and recognized republics of Donetsk and Luhansk.
The article also included his views on international events, why Chechen forces joined the conflict in Ukraine, and claims that there were Nazis in the country.
"It gives me great pain to face the fact that the brotherly and dear Ukrainian people find themselves, after several decades, in the same tragedy that we, only a short time ago, were able to overcome," Kadyrov wrote.
He added: "The Chechen people have experienced a whole arsenal of malicious and cunning actions of the West. We were engaged, without realizing, in an imaginary adventure that claimed the lives of hundreds of thousands of people. The West used our people in an attempt to destroy Russia."
Kadyrov said that with Putin's help the Chechen people "managed to repel the enemies of the country and the people and established a solid peace in the region."
On Ukraine, Kadyrov said: "Since the 1940s, there was an organization of Ukrainian ultra-nationalists led by Stepan Bandera, and immediately after the collapse of the Soviet Union, their ideological followers, who had been there all this time, began to pursue an accelerated anti-Russian policy. Russophobia became a national idea, and at the same time, Ukraine continued to receive loans, energy sources at below-market prices and all kinds of concessions from Russia."
He added: "The liberal West turned a blind eye to all this, and anti-Russian campaigns continued steadily and systematically, becoming more complex from year to year, as they were lauded by liberal Europe and the US. Ukrainian Nazis of various stripes, including those who were on the side of international terrorists, fought in Chechnya, and contributed to the killing of defenders of its honor and freedom."
The Chechen leader referred to the secret document that he revealed last year and is kept in the British National Archives, saying: "This document is still classified as 'secret', but there is no secret that will not be revealed at some point. It turned out that this document is the minutes of a meeting between the heads of the foreign affairs agencies of the US, Britain and the Federal Republic of Germany, which was held in the German city of Bonn on March 6, 1991."
He said that the released minutes "reveal a serious contradiction in the history that the West has long promoted. It turned out that NATO, the military alliance of the Western countries, during negotiations on the unification of the Federal Republic of Germany and the German Democratic Republic into a single German state, made a clear promise to the head of the Soviet state of NATO's strategic military undertaking not to extend its influence to the countries of Eastern Europe on the other side of the Oder river."
Kadyrov said that the US diplomat Raymond Seitz clearly stated: "We have made clear to the Soviet Union that we do not intend to reap any benefits from the withdrawal of Soviet forces from Eastern Europe, and NATO should not expand to the east, either officially or unofficially."
He said that the same position was shared by the representative of the German Foreign Ministry, Jurgen Chrobog, who stated that "during the 2 + 4 negotiations (on Germany's post-unification situation), we made it clear that NATO would not expand to the east. Thus, we cannot propose to Poland and others to join NATO."
Kadyrov said that this promise was repeatedly violated by all the countries that took part in the meeting referred to in the protocol.
In his article, Kadyrov recounted events in Ukraine in recent years, beginning with the 2014 coup.
"In 2014, as a result of an unconstitutional armed coup (the so-called "Maidan") with the support of the West, ultra-nationalists came to power. In the same year, real Nazi massacres began, riots broke out in Odessa in the city center, and in the same year, 2014, two regions of Ukraine (which are historically two Russian regions), the People's Republics of Donetsk and Luhansk, opposed the authority of ultra-nationalists, and as a result of the referendum, the majority of the population voted in favor of independence.
"Since then, the continuous bombing of these areas has included shelling with missiles and bombs, which resulted in the deaths of about 13,000 people, according to the Organization for Security and Cooperation in Europe. Yet, the US and Europe looked indifferently at this ongoing humanitarian catastrophe."
He added: "Throughout the years of war in the Donbas region, the Ukrainian army and ultra-nationalist battalions (Azov and Aidar), which are not actually under official authority, were supplied with weapons by the US and NATO countries. Ukraine was simply overflowing with Western weapons.
"For eight long years, such crimes against the residents of the Lugansk People's Democratic Republic were committed by official Kyiv, and the government did not make a single attempt to stop the bullying of people they considered their own citizens."
Kadyrov also referred to the issue of Ukrainian nuclear weapons and said: "Recently, officials in Ukraine, in general, have made explicit threats to produce nuclear weapons, and Volodymyr Zelensky announced plans to withdraw from the Budapest Memorandum that prevented Ukraine from acquiring nuclear weapons.
"These intentions are disclosed at a time when Ukraine has enough capabilities and means to make a so-called 'dirty bomb,' at least. In the event of the emergence of nuclear weapons in Ukraine, the time it takes for the missiles to reach Moscow is reduced to only about four minutes. During this time, it is impossible to ward off the attack."
The Chechen president endorsed his Russian counterpart's decision to launch a military operation in Ukraine, saying: "Because of these factors that pose a threat to the strategic security of our country, the Russian president took not only the completely natural and right decision but the only correct decision, the recognition of the People's Republics of Luhansk and Donetsk, and the launch of a special military operation to remove the weapons of Ukraine and uproot Nazism from it. In this way, Russia prevented the inevitable strike that NATO planned to inflict on the Russian lands at the hands of Ukraine."
Source: Arab News
Please click the following URL to read the full text of the original story:
https://www.arabnews.com/node/2043211/world
--------
Pakistan
OIC moot: Pakistan to act as a bridge to promote Muslim unity
MARCH 16, 2022
Foreign Minister Shah Mehmood Qureshi on Tuesday said at the platform of the upcoming 48th meeting of the Organization of Islamic Cooperation (OIC) in Islamabad, Pakistan would act as a bridge to promote unity among the Muslim countries and contribute towards finding a way together on common issues facing the Islamic world.
"Pakistan wants to promote unity among Muslims on this occasion and address other issues, particularly Islamophobia and hate speech," he said while addressing a press conference here at the Foreign Office, ahead of the OIC meeting of Council of Foreign Ministers on March 22-24.
FM Qureshi said Pakistan believed that the meeting was being held at a crucial time and added that "we need to make the Muslim voice heard at the international arena."
He said that so far, 48 confirmations had been received from the OIC member countries and added that 100 resolutions were expected to be tabled and agreed upon during the OIC-CFM meeting.
The proposed theme of the 48th Session, "Partnering for Unity, Justice and Development" fully encapsulates these priorities. We will seek to build 'partnerships' across the Islamic world, and build bridges of cooperation to address the myriad of challenges confronting the Ummah," he said.
Qureshi said the OIC had taken a very firm stand on the issue of Palestine and Indian Illegally Occupied Jammu and Kashmir. A meeting of the Kashmir Contact Group will also be held on the sidelines of the OIC-CFM meeting, where Pakistan would present observational reports on Kashmir, he said.
"Pakistan intends to get a ministerial resolution passed on the issue of Jammu and Kashmir," he said.
The resolution, he said, was aimed at sending a message to those elements who were silent on the issue of Kashmir, despite knowing the ground reality. Also, he said, the meeting would discuss the humanitarian aspect of the situation in Afghanistan where millions were at risk of disease and hunger.
The foreign minister said Pakistan desired to promote cooperation among Islamic countries in the fight against corruption.
He said the meeting would also review the implementation of the decisions of the previous 47th meeting. "This upcoming OIC-CFM meeting is a reflection of our shared aspirations to ensure peace and progress," he added.
Qureshi said Pakistan would like to further strengthen its relationship with the Muslim Ummah.
"Pakistan will continue to work with other OIC Member States, towards harnessing our 'collective ambition' into 'concrete action', and to take tangible steps to further strengthen bonds of Islamic solidarity and cooperation," he added.
He mentioned his telephonic conversation with the United Nations Secretary-General on Monday about the Indian missile fired towards Pakistan, where concern was expressed on the situation.
He said he had also written a letter to the UN Secretary-General and the President of the Security Council in this regard.
The foreign minister urged India to provide information regarding the specification, route, and trajectory of the missile.
He pointed out why India remained silent until Pakistan demanded an answer, adding that the aftermath of the missile could trigger a war between two nuclear-armed countries.
He termed India's investigation on the matter as "insufficient" and mentioned that China had also raised the issue and called for an investigation."We reject India's response because of being insufficient," he added. FM Qureshi said Pakistan had no aggressive designs against any country, however, stressed that it would continue to highlight the issue of acts of terrorism against it.
He said Washington was aware that there were no direct or indirect negotiations in progress between Pakistan and India.
He said the international community and the United States could play a role in this regard to ensure peace and stability in the region.
Source: Daily Times Pakistan
Please click the following URL to read the full text of the original story:
https://dailytimes.com.pk/901672/oic-moot-pakistan-to-act-as-a-bridge-to-promote-muslim-unity/
--------
Tahir Ashrafi terms corruption, extremism twin threats
March 16, 2022
ISLAMABAD: Pakistan Ulema Council (PUC) Chairman and Special Representative to Prime Minister Pakistan on Religious Harmony and Middle East Hafiz Muhammad Tahir Mahmood Ashrafi appealed to the leaders of the opposition to hold their long-march after March 24.
While talking to media after meetings with ambassadors of different Islamic countries, PUC Chairman Tahir Mahmood Ashrafi said that OIC Foreign Ministers' Council Summit will be held as per programme and arrangements in this regard has been completed.
He said that Pakistan will continue its efforts for the unity and solidarity of the Muslim Ummah. "From March 19, guests will start coming to Islamabad to participate in OIC Foreign Ministers' Council Summit, which will be held on 22nd March 2022," he said, adding that all the dignitaries of the Muslim world will also attend 'Pakistan Day Parade' on 23rd March 2022.
He said that the guests from all over the Islamic world will return on March 24. "All the respective arrangements are being finalised under the supervision of Foreign Minister Shah Mehmood Qureshi," he said.
Meanwhile, addressing the Young Parliamentarians Forum Hafiz Muhammad Tahir Mahmood Ashrafi said that Pakistan has a right to all of us, with mutual respect and affection, we can repay this right. He said that the beauty of Pakistani society is that people of all religions live here, extremists are less than one percent and the extremist elements can never succeed.
Earlier, addressing a conference on promoting peace here on Tuesday, Hafiz Muhammad Tahir Mahmood Ashrafi said that Pakistan has a right over all of us, we can fulfill this right with mutual respect and love. "People of all religions live here in peace and harmony," he said.
He said that only the moderate forces get popularity among the people, extremism is a disease and the scourge of corruption is also in our country. He gave the message to the young generation that they should play their role in this regard, by recognising their role for the betterment of society and the country. "The young generation is the future of our country, no one will come from outside to fix the problems of the country," he said.
He said the situation of interfaith harmony is much better here than in the various foreign countries. "People from abroad and faithful of different religions when visit Pakistan used to state that the image of Pakistan is not presented properly outside," he said.
Tahir Mahmood Ashrafi said that our Prime Minister Imran Khan has raised voice regarding 'Namoose-e-Risalat' in the United Nations which has also been endorsed by the world leaders. He said that the state has been playing its role for the elimination of sectarian and extremist elements, it is also the duty of the common citizens to play their respective role in this regard. "Teachings of Islam required us to promote unity, harmony and brotherhood," he said.
Source: The News Pakistan
Please click the following URL to read the full text of the original story:
https://www.thenews.com.pk/print/941935-tahir-ashrafi-terms-corruption-extremism-twin-threats
--------
Pakistan alarmed by 'new low' in Indian high court upholding hijab ban
March 16, 2022
BANGALORE: An Indian court upheld a local ban on wearing the hijab in classrooms on Tuesday, weeks after the edict stoked violent protests and renewed fears of discrimination against the country's Muslim minority.
Southern Karnataka state was on edge for several weeks after a small group of girls in their late teens were prevented from wearing the garment on school grounds at the end of last year.
Meanwhile, Pakistan on Tuesday expressed serious concern at the ruling of the Indian court, saying the decision manifestly failed to uphold the principle of freedom to religious practices and impinges on the human rights.
After weeks of deliberations, Karnataka's high court ruled that the wearing of hijab "does not form a part of essential religious practice in Islamic faith". The judgement said schools had reasonable grounds to impose dress codes that forbade the headdress in the interests of preventing divisions on religion and other grounds.
"The aim of the regulation is to create a 'safe space'... and the ideals of egalitarianism should be readily apparent to all students."
Hundreds of extra police officers were deployed around Karnataka on Monday ahead of the ruling, though there was no sign of fresh protests by mid-afternoon.
Asaduddin Owaisi, one of the country's most prominent Muslim politicians, said Tuesday's verdict had "suspended fundamental rights to freedom of religion" and urged a Supreme Court appeal.
"I hope this judgement will not be used to legitimise harassment of hijab-wearing women," he wrote on Twitter.
The state high court initially ordered a temporary ban on the wearing of all religious symbols — including Hindu and Christian ones — in schools.
Schools later reopened under heavy security with a ban on gatherings of more than four people. In several instances, authorities made teachers and pupils take off their hijab publicly at the school gate.
A number of Muslim pupils told local media that they would rather go home than be made to choose between their faith and education.
"My daughter has been wearing the hijab since she was five years old. It is to protect her dignity," Nasir Sharif, 43, the father of a 15-year-old girl, told AFP last month. "What they are asking us to do is humiliating."
Pakistan concerned at ruling
Pakistan expressed serious concern at the Indian court's ruling, with the Foreign Office saying: "Equally sad is the fact that the judiciary in India, which is expected to act as a bulwark against dehumanisation, stigmatisation and discrimination against minorities, has completely failed to uphold the principles of justice and equality."
"This decision marks a fresh low in the relentless anti-Muslim campaign where even the pretext of secularism is being weaponised to target Muslims," the statement said.
Source: Dawn
Please click the following URL to read the full text of the original story:
https://www.dawn.com/news/1680229/karnatakas-high-court-upholds-ban-on-hijab
--------
Pakistan readies Kashmir propaganda at OIC session amid members' deepening ties with India
16 March, 2022
Islamabad [Pakistan], March 16 (ANI): Ahead of the 48th session of the Organization of the Islamic Cooperation (OIC) in Islamabad this month, Pakistan has prepared a draft resolution for adoption with ain aim to steer its anti-India propaganda on Kashmir.
Representatives of more than 40 Muslim countries have so far confirmed their participation in the OIC Council of Foreign Ministers meeting in the capital city of Pakistan. This OIC conference on March 22-23 will coincide with the Pakistan Day parade.
The OIC foreign ministers will be guests of honour at the parade on March 23. Pakistan has previously hosted four sessions of the OIC-CFM, during which it has raked up the issue of Kashmir.
Experts believe that OIC sees India as a great development partner as they diversify their economy. The recent UAE-India Comprehensive Economic Partnership Agreement is resounding evidence of the same.
The CEPA has been described as a landmark partnership between two countries whose political leaders and businesses share "very strong bonds going back many years in history".
Analysts argue that the OIC countries can't afford to jeopardize their longstanding ties with an emerging global economic and political power like India.
Although the countries like Saudi Arabia and UAE have remained conscious of Pakistan's prejudiced agenda, some countries like Turkey and Malaysia have taken a view on Kashmir to cajole their own domestic constituencies, according to Islam Khabar.
Last month, India had said that Islamic organisation continues to be hijacked by vested interests to further their nefarious propaganda against India.
The statement was issued by the Ministry of External Affairs (MEA) in response to media queries regarding the statement by the General Secretariat of the OIC.
Source: The Print
Please click the following URL to read the full text of the original story:
https://theprint.in/world/pakistan-readies-kashmir-propaganda-at-oic-session-amid-members-deepening-ties-with-india/875625/
--------
4 FC personnel martyred, 10 injured in Sibi IED blast
Ghalib Nihad
March 15, 2022
At least four Frontier Corps (FC) personnel were martyred and 10 other personnel were injured in a blast on an FC convoy in the Sangan area of Quetta's Sibi district on Tuesday, officials said.
Sibi Assistant Commissioner Sana Mahjabeen told Dawn.com that the blast was caused by an improvised explosive device (IED).
She said among the 10 injured personnel, the condition of six was critical, and they were being treated at Sibi's Combined Military Hospital.
Meanwhile, Adviser to the Balochistan Chief Minister on Home Mir Zia Langove condemned the incident and said in a statement that the injured FC personnel should be provided the best medical treatment.
He also expressed grief over deaths caused by the blast.
"Terrorists are making failed attempts at sabotaging peace in Balochistan through such cowardly acts," he said.
Separately, Balochistan government spokesperson Farah Azeem Shah also condemned the incident and expressed sorrow over the loss of lives.
In a statement, she said the sacrifices of the martyred FC personnel would not go to waste, and that it was the government's top priority to "implement the mission of martyrs who laid their lives" for the country's security.
"The sacrifices of martyrs will surely bear fruit and the sinister designs of [our] enemies will fail," the spokesperson added.
She said the role of security forces in ensuring peace in Balochistan had been "exemplary", adding that "anti-Pakistan forces were trying to sabotage peace in Balochistan."
Source: Dawn
Please click the following URL to read the full text of the original story:
https://www.dawn.com/news/1680117/4-fc-personnel-martyred-10-injured-in-sibi-ied-blast
--------
Pakistanis prefer to go down with me than supporting 'three stooges': PM Imran Khan
Mar 15, 2022
ISLAMABAD: Facing a crucial trust vote in parliament, Pakistan Prime Minister Imran Khan on Tuesday claimed that the entire nation was ready to go down with him rather than supporting the corrupt opposition parties.
Addressing the Pakistan Overseas Convention in Islamabad, Khan slammed three opposition leaders — Pakistan Muslim League-Nawaz President Shahbaz Sharif, Pakistan Democratic Movement (PDM) chief Maulana Fazlur Rehman and Pakistan People's Party Co-chairman Asif Ali Zardari — as "three stooges" and said he was thankful to them for filing a no-trust motion against him that had strengthened his party.
Khan said the opposition leaders were under the "false impression that the people had forgotten their corruption", but they were wrong as now, they had fallen into the "captain's trap".
"I predict that not only is their no-confidence motion going to fail, but they will taste defeat in the 2023 general elections as well," he said, foreseeing the triumph of his Pakistan Tehreek-e-Insaf party in the next polls.
Turning to foreign policy issues, Khan said he was not anti-US, UK, and India.
"I pray that a sensible leadership comes into power in India so that we can hold talks with them after revoking the August 5, 2019, decision on Kashmir," Khan was quoted as saying by Geo News.
He lamented that the Western nations had double standards as they do not allow people to become the judge, jury, and executioners in their homeland.
"But they (Western powers) were bombing on the Pakistani land and killing innocent people [...] and they are responsible for this," he said, lashing out at the previous governments of PPP and PML-N.
He claimed that no government in the past had performed better than his administration given the "unprecedented challenges" such as the Covid-19 pandemic.
Source: Times Of India
Please click the following URL to read the full text of the original story:
https://timesofindia.indiatimes.com/world/pakistan/pakistanis-prefer-to-go-down-with-me-than-supporting-three-stooges-pm-imran-khan/articleshow/90233226.cms
--------
KP cabinet okays Rs2m compensation for each Peshawar mosque blast victim
March 16, 2022
PESHAWAR: The Khyber Pakhtunkhwa cabinet on Tuesday approved Rs2 million compensation for each of those, who were killed in the suicide bombing of the Peshawar Shia mosque earlier this month.
The cabinet met with Chief Minister Mahmood Khan in the chair and ministers, advisers and administrative secretaries in attendance.
Special assistant to chief minister on information Barrister Mohammad Ali Saif told reporters that the cabinet discussed the payment of compensation of the heirs of the victims of the Koocha Risaldar mosque attack.
He said the cabinet approved the payment of Rs2 million each to the families of those, who lost life in the bombing.
The special assistant said the cabinet also approved the payment of Rs500,000 to the critically injured people and Rs200,000 to those with minor injuries. He said the chief minister directed the relevant officials to prepare compensation cheques within three days for disbursement to the relevant families.
The cabinet also approved Rs1 million compensation each for the families of six people, who were killed by a recent landslide in Alpuri area of Shangla district.
Mr Mahmood ordered amendments to the Relief Act to increase compensation ratio, while the cabinet's committees on various matters were told to produce reports on their affairs in the next cabinet meeting.
He said the chief minister also ordered the inclusion of bone marrow treatment in the Sehat Card healthcare programme.
He said the cabinet also decided about the start of action against the government employees moving court against inter-departmental issues regarding state land, declaring allotment of the state land to the departments was the sole prerogative of the government.
The cabinet also directed the departments to immediately frame rules under the approved laws. It conditionally approved the transfer of 1,200 kanals of land in Mardan district to the science and information technology department for establishing a special technology zone.
It approved the transfer of the food department's 25 kanals of land in Haji Camp area of Peshawar to the science and information technology department for setting up the Gandhara Digital Complex.
Barrister Saif said the cabinet also approved the KP Education Monitoring Authority's Rules of Business, 2021, as well as service rules.
He said the cabinet also approved the constitution of a settlement board to conserve forests and environment to dispose of the cases regarding forestland. The board will consist of the revenue collector, divisional forest officer and a member from the local community.
The CM's aide said the cabinet approved declaring Koh-i-Suleman area of Dera Ismail Khan district as a conservancy area to provide protection to the wildlife.
The conservancy area was spreads over an area of 58,000 hectares and will ensure the protection of wildlife, including markhors, cheetahs, foxes, bears, jackals, snakes, hawks, eagles and owls.
Source: Dawn
Please click the following URL to read the full text of the original story:
https://www.dawn.com/news/1680195/kp-cabinet-okays-rs2m-compensation-for-each-peshawar-mosque-blast-victim
--------
South Asia
Cross-Border Terrorism by Taliban Seeks To Destabilise Pak Democracy: Report
March 16, 2022
The Taliban who were helped by Pakistan to rein in Afghanistan is now seeking to destabilise Pakistan's democracy empowering the Tehreek-e-Taliban Pakistan (TTP) that is battling Islamabad, working to launch a 'jihad' in Pakistan.
A report in The Friday Times of March 13 showed hand-written leaflets distributed by the TTP in Afghanistan seeking donations for waging 'Jihad' in Pakistan, where it is outlawed. These 'donations' are being sought in Afghanistan's Khost and Kunar provinces, where the group has managed to remobilise following the Afghan Taliban's return to power.
Journalists from Pakistan's Khyber Pakhtunkhwa province have reported that the TTP is raising funds from southern Afghanistan. The social media is awash with their circulation, causing concern among the local people, reported The Times of Israel.
Confirming the fundraising, a TTP source told journalist Ihsanullah Tipu Mehsud, "We're doing what our brothers (Afghan Taliban) used to do (collect donations) in Pakistan".
What really counts is the Taliban-TTP co-existence and collusion at Pakistan's expense and also that of security and peace in the region.
More than the money, the cause of concern to Islamabad is the rise of terror attacks across Pakistan attributed to the TTP in recent months, confirming that not only the TTP, but other terror groups are also reassembling in Afghanistan, reported The Times of Israel.
Pakistan's Interior Minister Sheikh Rashid has acknowledged that the TTP had ramped up its attacks across the country after a brief month-long ceasefire that collapsed on December 9, 2021. Efforts to reach a peace pact since, with the help of Wazir, Mehsud and Dawar tribes from North and South Waziristan have failed.
Thus, an embarrassed Islamabad that advocates the Afghan Taliban's cause globally, urging the latter to rush humanitarian aid, is having to deal with the Taliban despite their tacit support to the TTP.
For the first time early this year, Pakistan issued a formal statement charging the Afghan authorities with allowing terror groups on its soil to operate. Kabul promptly denied the charge.
The hope was, with a new friendly government in Afghanistan, Pakistan would get more help than in the past," said Michael Kugelman of the Washington DC-based Wilson Center in an interview with FRANCE 24.
Instead, "there are signs of intensified security risks. We're seeing a resurgence of the Pakistani Taliban, as well as Baloch separatist groups intensifying attacks," he noted.
The Pakistani accusation of Afghan soil being used for cross-border terrorism came days after a UN terrorism monitoring report said the Taliban had failed to take "steps to limit the activities of foreign terrorist fighters in the country".
The report, by the UN Security Council's monitoring team for Al Qaeda, the Islamic State (IS) group and their affiliates, noted that "On the contrary, terrorist groups enjoy greater freedom there (Afghanistan) than at any time in recent history."
To the chagrin of Islamabad that had hoped to effectively tackle the TTP once the Taliban took Kabul, the new rulers have washed their hands off saying it was Pakistan's "internal matter," reported The Times of Israel.
Pakistan in the past was able to partially tackle the TTP fighters hiding in Afghanistan during the earlier regimes in Kabul with the American intelligence and the US providing drone and missile strikes. Post the withdrawal of NATO forces from Afghanistan, targeting the TTP is no longer an American priority.
Pakistan cannot risk any action across the border -which is disputed and has been a source of tensions ever since the Durand line was drawn by the British Indian rulers in agreement with the then Afghan king, to demarcate their commercial interests.
The tribes of "Pashtunistan" who consider this line as a colonial relic that divides their homeland, do not support Pakistan's army presence here.
Source: Business Standard
Please click the following URL to read the full text of the original story:
https://www.business-standard.com/article/international/cross-border-terrorism-by-taliban-seeks-to-destabilise-pak-democracy-rpt-122031600137_1.html
--------
Bangladesh eyes big investment deals as Saudi FM arrives in Dhaka
March 15, 2022
DHAKA: Bangladesh was hopeful of signing a number of major investment deals with Saudi Arabia during a two-day visit to Dhaka by the Kingdom's Foreign Minister Prince Faisal bin Farhan, officials said on Tuesday.
The prince flew into the Bangladeshi capital on Tuesday afternoon and was scheduled to meet the country's Prime Minister Sheikh Hasina on Wednesday and lay the foundation stone for the Arabic Language Institute of the Islamic Arabic University in Dhaka.
Sirazul Islam, executive chairman of the Bangladesh Investment Development Authority, said projects worth billions of dollars would be discussed during Prince Faisal's trip.
"Most of the Saudi Investment proposals are involving the public sector. Further investments from Saudi Arabia will depend mostly on our success of handling the investment proposals in the pipeline," Islam added.
"At the moment we can't exactly predict the volume of investment as it depends on the success of discussions. But we hope it will be billions (of dollars) and there will be a whole gamut of discussions."
The projects are related to oil refineries, gas transmission, fertilizer production, aviation, port management, construction, and hospitality.
Islam said that among the Saudi companies that had expressed interest in investing in Bangladesh were oil giant Aramco, transformer producer Engineering Dimensions, utility provider ACWA Power, industrial conglomerate Al-Fanar Group, and Al-Hokair Group, one of the largest entertainment and hospitality firms in the Middle East.
The Bangladesh Foreign Ministry's director general for West Asia, Iqbal Hussain, told Arab News that the Bangladeshi government would be seeking to strengthen its ties with the Kingdom during the prince's visit.
"We are looking for stronger political and investment ties with the Kingdom as both countries have very good bilateral relationships," he said, adding that Bangladesh was preparing more than 100 special economic zones for potential investors. "Seeking investment from the Kingdom will be one of our top issues as there is an ongoing campaign to attract more and more foreign investment in the country."
Dhaka was also hopeful of increasing the number of migrant workers it sends to Saudi Arabia, which is Bangladesh's main labor market and already hosts more than 2.5 million Bangladeshi expats.
Source: Arab News
Please click the following URL to read the full text of the original story:
https://www.arabnews.com/node/2043291/world
--------
Over 180 media outlets inactive in Afghanistan: media survey
16 Mar 2022
Afghanistan's National House of Journalists in its latest survey said that 180 media outlets out of 475 have been closed in the past seven months in the country.
The media body in a press conference in Kabul on Tuesday, March 15, 2022, said that Afghan media outlets have been affected the most after the Taliban takeover as a result only 290 media outlets are active in the war-torn country.
Head of Afghanistan's National House of Journalists Sayed Yaseen Mateen said that reason behind the mass closure of media was economic woes and migration of professional media workers in the country.
Apart from the economic woes and stoppage of foreign support of the media in Afghanistan, the lack of access to information cited by Afghan journalists is said to be another big issue for media in the country.
On the other hand, the Islamic Emirate of Afghanistan has always denied the claim and added that the closure of media outlets in Afghanistan is owing to the stoppage of their donors. They denied having restricted Afghan journalists and media.
Source: Khaama Press
Please click the following URL to read the full text of the original story:
https://www.khaama.com/over-180-media-outlets-inactive-in-afghanistan-media-survey-65867567/
--------
Turkey's third humanitarian shipment arrives in Afghanistan
15 Mar 2022
Turkey's "Kindness Train" coordinated by Turkey's Disaster and Emergency Management Authority (AFAD) that left Afghanistan in February arrived in Afghanistan on Monday, March 14.
The shipment which is the third of its kind since the Taliban takeover in Afghanistan consists of 994 tons of humanitarian aid that will be distributed to people in need.
Ceremony on the occasion of the arrival of the train was attended by Turkey's Consul-General in Herat Sinan Ilhan, officials from AFAD, the Turkish Red Crescent (Türk Kızılay) and the Turkish Cooperation and Coordination Agency (TIKA), and Afghan authorities Torghundi border crossing, in the western Herat province.
The new tranche consists of food, blankets, and clothing designated for people in dire need in 17 provinces of Afghanistan.
Authorities in AFAD said that the supplies will be packaged in Herat province and will then be distributed among 500 families in the provinces.
The added that aid arrived on the first train on February 7 has completely been distributed.
Source: Khaama Press
Please click the following URL to read the full text of the original story:
https://www.khaama.com/turkeys-third-humanitarian-shipment-arrives-in-afghanistan-7657876/
--------
Anti-Taliban protest held in northern Afghanistan
16 March, 2022
Kabul [Afghanistan], March 16 (ANI): An anti-Taliban protest took place on Tuesday in northern Afghanistan which led to a blockade of a key highway for several hours, media reports said.
Baghlan-Balkh road was blocked by people demonstrating against Taliban officials. They closed the northern highway to traffic for several hours.
Baghlan residents said in a protest that they were fed up with the Taliban's oppression and detention in the province.
The situation of human rights in Afghanistan has worsened since the collapse of the Afghan government and the Taliban's return to power in August last year.
Although the fighting in the country has ended, serious human rights violations continue unabated.
The Taliban have committed and continue to commit human rights violations including extrajudicial executions, enforced disappearances, torture, arbitrary detentions, a massive rollback of the rights of women and girls, censorship of and attacks against the media.
Source: The Print
Please click the following URL to read the full text of the original story:
https://theprint.in/world/anti-taliban-protest-held-in-northern-afghanistan/875427/
--------
Mullah Baradar Attends Tree-Planting Campaign Ceremony
March 16, 2022
Mullah Abdul Ghani Baradar, the first deputy prime minister, took part in a tree-planting campaign in Kabul and called on citizens to take part in planting greenery and seedlings in the country.
Mullah Baradar said he considers planting saplings important for the greenery and beauty of the country and asked the responsible institutions to plant saplings in Kabul and other provinces.
"They should continue to do such work in every province and district, and we support them and will use all means possible to address their needs and problems," said Mullah Abdul Ghani Baradar, the first deputy PM.
In addition to government officials, some diplomats from other countries also participated in the program.
"I hope that our government partners will make better efforts this year to grow and maintain these trees, which will make the environment greener," said Ali Akbar, head of the Aga Khan Foundation.
Meanwhile, the National Environmental Protection Agency announced the start of a tree-planting campaign in Kabul's Qargha Dam, saying that in the first stage, 5,000 fruit-bearing and other seedlings will be planted.
"Fruit-bearing and non-bearing seedlings will be planted according to weather conditions, their location and their use," said Ezatullah Siddiqi, deputy director of the National Environmental Protection Agency.
According to statistics, more than 25 million saplings are to be planted in 34 provinces of the country this year.
Source: Tolo News
Please click the following URL to read the full text of the original story:
https://tolonews.com/afghanistan-177125
--------
Mideast
Top Diplomat Underlines Iran's Universal Opposition to War
2022-March-15
Iran explicitly condemns war anywhere, no matter it's in Ukraine, Afghanistan, Yemen or anywhere else in the world, Amir Abdollahian said upon arrival in Moscow.
He said that during his visit he is due to discuss several issues, including Tehran-Moscow bilateral ties and pursuing agreements reached between Iran and Russia during President Rayeesi's visit to Moscow.
Amir Abdollahian also said that he will discuss the situation in Ukraine with the Russian officials as well.
Iran also condemns unilateral sanctions against nations, he added.
Vienna negotiations will be discussed between the Iranian and Russian parties, according to Amir Abdollahian.
Mahdi Safari, Deputy Foreign Minister for Economic Diplomacy, Alireza Haqiqian, Director General of the Eurasia Department of the Foreign Ministry, and Ali Asqar Khaji, Iranian Foreign Minister's senior advisor in political affairs accompany Amir Abdollahian on his visit to Moscow.
During his visit to Russia, he is set to meet with his Russian counterpart Sergey Lavrov.
After arriving in Tehran from Russia visit in January, President Rayeesi said that development of relations between Tehran and Moscow will lead to more security and prosperity for both nations and the entire region.
"Undoubtedly, the development of relations with Russia will contribute to the security and prosperity of the two nations. Certainly, such security-building cooperation will be for the sake of the region," Rayeesi said.
He said that during his Russia trip, which began on Wednesday, the two sides discussed steps to challenge the dominance of the US dollar and continue trade in their national currencies.
"Our oil minister had good agreements with Russian energy officials, the effects of which will emerge later," he said, adding that good agreements were also reached on removing obstacles to boosting trade relations.
However, the level of trade relations is "not acceptable", the president stated.
Officials have said the two sides seek to increase the current record $3 billion bilateral trade.
"We decided to increase the level of trade between the two countries to $10 billion in the first stage," President Rayeesi said.
Source: Fars News Agency
Please click the following URL to read the full text of the original story:
https://www.farsnews.ir/en/news/14001224000862/Tp-Diplma-Underlines-Iran's-Universal-Oppsiin-War
--------
Amir Abdollahian: Tehran to Further Develop Ties with Moscow
2022-March-15
"The Islamic Republic of Iran has always emphasized good relations with Russia as a friend and neighbor," Amir Abdollahian said.
He referred to the deepening of cooperation between the two countries in various fields, and said, "Relations between Iran and Russia will develop regardless of international developments."
"During Mr. Rayeesi's recent visit and meeting with Mr. Putin, important agreements were reached between the two countries," Amir Abdollahian noted.
He also appreciated the Russian negotiating team in Vienna talks for their constructive efforts to help come closer to an agreement to lift sanctions on Iran.
"Today is an important opportunity to discuss and consult on developments in Ukraine, Afghanistan, Yemen, Syria and Palestine and other international issues," Amir Abdollahian added.
Lavrov, for his part, pointed to the strong relations between the two countries, saying, "Relations between Tehran and Moscow are expanding in all fields, and a comprehensive document on long-term cooperation between the two countries is currently being reviewed and finalized."
"Both countries have common views on many international issues," he added, referring to the significant increase in the volume of economic relations between Iran and Russia.
"We will discuss with you further coordination of the Syrian settlement within the framework of the Astana format, as well as other crisis points in the Middle East and North Africa, and, of course, we will also talk about the Afghan settlement, which requires full attention," he said, adding, "I want to note that we appreciate our trust-based dialogue and your objective position on what is happening in Ukraine."
The Russian foreign minister added that interaction on international affairs has always occupied a significant place in the relations between Moscow and Tehran.
Lavrov pointed out that despite all known factors, the trade turnover between Russia and Iran is growing "at a record pace, exceeding $4 billion".
"I'm sure the prospects are even more impressive, given that the agreement to resume the Joint Comprehensive Plan of Action (JCPOA) to resolve the situation around the Iranian nuclear program has reached the finish line," the minister said.
Lavrov also pointed to the regular high-level consultations between the two countries, saying, "In today's talks, we will discuss in detail the Vienna talks, the developments in Ukraine, the issue of Syria and Yemen."
After arrival in Tehran from Russia visit in January, Iranian President Seyed Ebrahim Rayeesi said that development of relations between Tehran and Moscow will lead to more security and prosperity for both nations and the entire region.
"Undoubtedly, the development of relations with Russia will contribute to the security and prosperity of the two nations. Certainly, such security-building cooperation will be for the sake of the region," Rayeesi said.
He said that during his Russia trip, which began on Wednesday, the two sides discussed steps to challenge the dominance of the US dollar and continue trade in their national currencies.
"Our oil minister had good agreements with Russian energy officials, the effects of which will emerge later," he said, adding that good agreements were also reached on removing obstacles to boosting trade relations.
Source: Fars News Agency
Please click the following URL to read the full text of the original story:
https://www.farsnews.ir/en/news/14001224000884/Amir-Abdllahian-Tehran-Frher-Develp-Ties-wih-Mscw
--------
Lavrov: Russia in Receit of Written Guarantee from US over Vienna Deal with Iran
2022-March-15
Speaking in a joint press conference with his visiting Iranian counterpart Hossein Amir Abdollahian in Moscow on Tuesday, Lavrov said, "We support a fast return to abidance to the Iran nuclear deal."
He further ruled out the US allegations against Russia of obstructing the Vienna talks as baseless.
The top Russian diplomat added that Moscow has received written assurances from Washington that sanctions will not prevent cooperation [with Iran] within the framework of the nuclear deal.
"We have received a written guarantee and they will be included in the text of the revived JCPOA," Lavrov said.
"In this regard, reliable protection for all projects and activities, companies and experts that were within the framework of the JCPOA, including cooperation regarding the main project of Bushehr power plant is mentioned," he added.
"I have heard too that the Americans are trying on a daily basis to accuse us of blocking the agreement. This is a lie, the agreement has not yet been approved by some capitals, and Moscow is not one of them," the Russian foreign minister further said.
He added that Iran and Russia have agreed to work jointly to tackle the sanctions.
The Russian diplomat said that the two sides in the meeting explored ways to strengthen their bilateral relations and are working on a draft of an important agreement between the two countries in that regard.
He also said that he had accepted Amir Abdollahian's invitation to visit Tehran.
Amir Abdollahian, for his part, said that "Russia will be no barrier to reaching an agreement and there is no link between Ukraine developments and the Vienna talks".
He added that "if we agree with the American side on some of the remaining issues, which are considered to be the Islamic Republic of Iran's main red lines, we will then reach a final agreement in Vienna. Based on the talks we had today with Mr. Lavrov, Russia will continue to play a very positive and constructive role".
Amir Abdollahian further blamed the US for hindering the talks by making new excessive demands just before writing the agreement, expressing the hope that "the American side will stop making excessive demands in the near future and that we will be able to announce a good and lasting agreement in the near future with the support of all parties involved in the Vienna talks".
He added that "the pause in the negotiations can pave the way for resolving the remaining issues and the final return of all parties to their commitments as per the JCPOA".
The Iranian foreign minister reiterated that Iran has adopted an independent foreign policy and seeks to ensure the Iranian people's interests.
As regards Ukraine, the top Iranian diplomat said that Tehran opposes war and wants a political and diplomatic solution to the issue.
Secretary of Iran's Supreme National Security Council (SNSC) Ali Shamkhani said on Monday that his country will remain in Vienna talks until it earns a strong agreement.
"All pillars of the Iranian state - in spite of all external and internal hype - work hard to preserve and advance Iran's national interests," Shamkhani wrote on his twitter page.
"We will remain in the Vienna talks until we reach a 'strong agreement' that meets all our legal and logical demands", he added.
The US unilaterally left the 2015 Iran deal in 2018, and restored the sanctions that had been lifted under the accord. Washington's European allies in the deal—France, Germany, and the United Kingdom—have been toeing the sanctions line closely by ending their trade activities with Iran.
The Vienna talks began last April between Iran and the remaining parties to the JCPOA —Britain, France, Germany, Russia and China — on the assumption that the US, under the Biden administration, is willing to repeal the so-called maximum pressure policy pursued by former president, Donald Trump, against Tehran.
Iran says it won't settle for anything less than the removal of all US sanctions in a verifiable manner. It also wants guarantees that Washington would not abandon the agreement again.
Iran and the G4+1 group of countries on Friday announced a pause in the Vienna talks, with Tehran saying that all relevant parties will concentrate on a "successful conclusion" of the diplomatic process.
Iranian Foreign Ministry Spokesman Saeed Khatibzadeh said on Twitter that the pause in the Vienna talks could provide a "momentum" for resolving any remaining issues and a "final return" to the negotiations, adding, "Successful conclusion of talks will be the main focus of all [the parties involved]."
Source: Fars News Agency
Please click the following URL to read the full text of the original story:
https://www.farsnews.ir/en/news/14001224000975/Lavrv-Rssia-in-Recei-f-Wrien-Garanee-frm-US-ver-Vienna-Deal-wih-Iran
--------
From Gaza to Ukraine and back, war haunts Palestinian students
15 March ,2022
Samar Aita lived through three wars in the Gaza Strip before moving to Ukraine four years ago, never imagining her computer engineering studies would be interrupted by a conflict far from home.
The 21-year-old Palestinian woman is now back with her family in Rafah, a town in southern Gaza, after fleeing Kharkiv, a city in northeastern Ukraine.
"I never expected I would go from one war into another, from bombardment to bombardment, from displacement to displacement and from refuge to refuge," Aita said.
"Ukraine was a very calm and safe place therefore, I never expected I would be forced to escape or that my life would be in danger."
In 2014, Aita lost several relatives when Israel bombed her neighborhood during a 50-day war with Gaza militants, scenes she and her mother recalled with the first news of Russia's invasion of Ukraine.
"Knowing your daughter is alone and you don't know how dangerous it is there, made me tense and I couldn't sleep for a week," said Aita's mother Shadia.
Israel and Gaza's armed groups have fought four wars since 2008, including one last May, and the area remains volatile.
Aita said her life had been in danger several times during her escape from Ukraine, including her exit from Kharkiv by train when it was forced to abruptly change tracks during a bombing, turning a 12-hour trip into a 36-hour ordeal.
The Palestinian Ministry of Foreign Affairs and Expatriates said it oversaw the evacuation of 1,300 Palestinians, including 600 students, from Ukraine since the start of the invasion.
Most studied medicine, said Ahmed al-Deek, an advisor to the Palestinian foreign minister. He said the Palestinian Authority would help those who fled Ukraine to study in universities in the West Bank and Gaza instead.
In Gaza's Nusseirat refugee camp, Rabeea Abu Rabeea said his journey from Ukraine took 11 days. In his fourth year at the Poltava State Medical University, he had aimed to become a dentist like his father.
Source: Al Arabiya
Please click the following URL to read the full text of the original story:
https://english.alarabiya.net/News/middle-east/2022/03/15/From-Gaza-to-Ukraine-and-back-war-haunts-Palestinian-students
--------
Israeli forces kill two Palestinians in West Bank violence
15 March ,2022
Israeli forces shot dead two Palestinians in the occupied West Bank on Tuesday, the Palestinian Health Ministry said, in what Israeli border police described as clashes that erupted during a raid to detain suspected militants.
The Israeli border police said that during an operation in a refugee camp in the northern West Bank, a gunman fired at undercover officers who shot back, "neutralizing" him.
In a second refugee camp near Jerusalem, border police said forces on a separate arrest raid encountered hundreds of Palestinians who threw heavy objects from rooftops, endangering the troops.
It was not immediately clear whether the Palestinian killed there had taken part in the clash.
The Palestinian Health Ministry confirmed the fatalities. The Palestinian Ministry of Foreign Affairs condemned the incidents as extra-judicial killings.
"These crimes amount to war crimes and crimes against the international law that must be punished by the international law," it said in a statement.
In Gaza, a spokesperson for the ruling Palestinian Islamist group Hamas, Hazem Qassem, said: "We are witnessing a new uprising, a new era of the struggle that aims to end the existence of the occupation on this land."
Israel captured the West Bank, Gaza Strip and East Jerusalem - territories where Palestinians seek statehood - in the 1967 war. The last round of peace talks collapsed in 2014.
Source: Al Arabiya
Please click the following URL to read the full text of the original story:
https://english.alarabiya.net/News/middle-east/2022/03/15/Israeli-forces-kill-two-Palestinians-in-West-Bank-violence
--------
Turkiye neutralizes 8 YPG/PKK terrorists in northern Syria
Ahmet Gençtürk
16.03.2022
Turkish security forces "neutralized" eight YPG/PKK terrorists in northern Syria, the National Defense Ministry said on Wednesday.
The terrorists targeted were preparing to carry out an attack in the Operation Euphrates Shield zone, the ministry said on Twitter.
Turkish authorities use the term "neutralize" to imply the terrorists in question surrendered or were killed or captured.
Since 2016, Ankara has launched a trio of successful anti-terror operations across its border in northern Syria to prevent the formation of a terror corridor and enable the peaceful settlement of residents: Euphrates Shield (2016), Olive Branch (2018) and Peace Spring (2019).
Source: Anadolu Agency
Please click the following URL to read the full text of the original story:
https://www.aa.com.tr/en/middle-east/turkiye-neutralizes-8-ypg-pkk-terrorists-in-northern-syria/2536585
--------
5 killed in suicide bomb attack south of Yemen
Shukri Hussein
15.03.2022
SANAA, Yemen
Five people were killed in a suicide bomb attack Tuesday in Yemen's southern province of Abyan, according to a local security source.
The attack targeted the convoy of Abdul Latif al-Sayed, commander of the Security Belt Forces (SBF) in Abyan, the source said on condition of anonymity because he was not authorized to speak to the media.
"The explosion took place as al-Sayed was on his way to the provincial capital (Zinjibar)," the source added.
The SBF are affiliated with Yemen's separatist Southern Transitional Council (STC), which is backed by the United Arab Emirates.
The source said three of those killed were SBF members.
The other two were the attackers, who were hiding in the vicinity of the explosion site, and were shot dead by SBF forces guarding al-Sayed after a brief fire exchange, the source added.
He suspected the attackers belonged to al-Qaeda terrorist group.
Five other SBF forces were also injured in the attack.
Source: Anadolu Agency
Please click the following URL to read the full text of the original story:
https://www.aa.com.tr/en/middle-east/5-killed-in-suicide-bomb-attack-south-of-yemen/2535672
--------
Africa
Tunisia says it has dismantled ISIS-linked terrorist cell
16 March ,2022
Police have broken up a militant cell linked to ISIS in the southern Tunisian city of Tataouine, the interior ministry said on Wednesday.
Police said the cell was planning attacks with explosives and trying to recruit young people, according to the ministry statement.
Source: Al Arabiya
Please click the following URL to read the full text of the original story:
https://english.alarabiya.net/News/north-africa/2022/03/16/Tunisia-says-it-has-dismantled-ISIS-linked-terrorist-cell
--------
Thousands protest violence against protesters in Sudan
Barham Abdelmoneim
15.03.2022
KHARTOUM, Sudan
Thousands demonstrated in the Sudanese capital, Khartoum, on Tuesday to protest violence against protesters and demand full civilian rule.
Protesters gathered near the presidential palace in Khartoum, amid chants condemning the use of force by security forces against demonstrators, according to an Anadolu Agency reporter on the ground.
Protesters also waved banners demanding full civilian rule and the release of political detainees.
Tuesday's demonstration was called by the Resistance Committees, a protest group that led demonstrations against the military.
Similar protests were staged on Monday in Khartoum and other cities, during which 133 protesters were injured, according to the Central Committee of the Sudanese Doctors.
There was no comment from the Sudanese authorities on the report.
Sudan has been in turmoil since Oct. 25, 2021, when the military dismissed Prime Minister Abdalla Hamdok's transitional government and declared a state of emergency, in a move decried by political groups as a "military coup".
Source: Anadolu Agency
Please click the following URL to read the full text of the original story:
https://www.aa.com.tr/en/africa/thousands-protest-violence-against-protesters-in-sudan/2535917
--------
Southeast Asia
Why Did OKU Groups Come To Us For Help, Yeoh Asks Ministry
Dineskumar Ragu
March 15, 2022
KUALA LUMPUR: The women, family and community development ministry has been asked why groups representing disabled people (OKU) were seeking the help of opposition MPs if it had already met them to address complaints over a cashless payment system.
Hannah Yeoh (PH-Segambut) posed the question in the Dewan Rakyat today to deputy minister Siti Zailah Mohd Yusoff, who was asked about a protest by OKU groups outside Parliament earlier this month calling for the ministry to scrap the JKMPay system.
Yeoh also wanted to know whether Siti Zailah or the minister, Rina Harun, had met the groups to discuss the issue when they went to the ministry three times after the protest.
"Why couldn't the minister or deputy minister meet with the OKU representatives? Instead, these groups had to resort to Zoom meetings with opposition MPs to air their grievances," she said.
Siti Zailah replied that neither she nor Rina could meet the groups because they both were at meetings on the day of the protest.
However, she said the ministry's chief secretary, Maziah Che Yusoff, and her deputy, as well as several senior officials, met the activists and she was briefed on the protest.
Siti Zailah also said she met the OKU groups at the ministry before their protest outside Parliament.
"I even prepared a feast for them," she said, to which Lim Lip Eng (PH-Kepong) interjected and asked Siti Zailah for photos of the meeting.
On March 1, about 100 OKU representatives gathered outside Parliament to demand that the government do away with the JKMPay scheme, which they said was unfriendly, and reinstate the cash incentive allowance.
JKMPay, launched last April by Rina, was a pioneer programme that had been undergoing evaluation.
Source: Free Malaysia Today
Please click the following URL to read the full text of the original story:
https://www.freemalaysiatoday.com/category/nation/2022/03/15/why-did-oku-groups-come-to-us-for-help-yeoh-asks-ministry/
--------
Umno veteran Shahrir 'embarrassed' over Hasni ouster
March 15, 2022
PETALING JAYA: Umno veteran Shahrir Samad said he had been left embarrassed that despite a landslide election victory, Hasni Mohammad would not be nominated to a second term as menteri besar.
Shahrir said Hasni's statement yesterday, in which he called for a young person to lead the state, inferred that another had been named to succeed him.
"So I feel ashamed about attending the Umno assembly next weekend.
"Umno can obtain the mandate, but cannot name a party leader to head the state government," he said in a Facebook post.
He said that he had laughed at Perikatan Nasional and Pakatan Harapan in the run-up to the Johor elections over their inability to name a prospective menteri besar candidate.
He had been certain that Hasni would be a shoo-in. "But apparently he is not fit, and Johor Umno can't do a thing."
Shahrir said he was also embarrassed by what had taken place after Hasni led the coalition to a win in the elections.
Last night, Onn Hafiz Ghazi, a great grandson of Umno's founder, was being touted as the next menteri besar, following Hasni's call for a young person to lead Johor.
Hasni had been expected to be nominated for another term as menteri besar after BN won 40 seats in the 56-member state assembly on Saturday.
A report by Berita Harian speculated that Onn would replace Hasni, while Malaysiakini reported that Onn, Hasni and Umno Supreme Council member Puad Zarkashi were on a shortlist. Puad has since brushed off such talk.
Source: Free Malaysia Today
Please click the following URL to read the full text of the original story:
https://www.freemalaysiatoday.com/category/nation/2022/03/15/umno-veteran-shahrir-embarrassed-over-hasni-ouster/
--------
Explain 'extraordinarily stupid' letter by Thomas on Sulu issue, Najib tells PH
March 13, 2022
PETALING JAYA: Najib Razak has demanded that Pakatan Harapan (PH) explain whether Cabinet approval was obtained for an "extraordinarily stupid letter" sent by former attorney-general Tommy Thomas to lawyers representing descendants of the Sultan of Sulu in 2019.
"As this is a serious issue, I would like to ask former government leaders, including Dr Mahathir Mohamad, Lim Guan Eng and Muhyiddin Yassin, whether this extraordinarily stupid letter was approved by the Cabinet at the time or was it just a letter from Tommy as the attorney-general," said Najib on Facebook.
He said the letter was used by the UK lawyer last week to dispute the contention of the Attorney-General's Chambers (AGC) that the heirs' identities were doubtful.
The lawyer, Elisabeth Mason, said the letter showed that the AGC and the foreign ministry had known and formally recognised the claimants and their rights "for years", and had been directly and individually involved with them for just as long.
In the 2019 letter sighted by FMT, Thomas attached a copy of the judgment by North Borneo High Court chief justice Charles F Macaskie in 1939 and said that Malaysia did not dispute the identity of the individuals and their right to be paid.
He also regretted that payments ceased in 2013, adding that Malaysia was "now ready and willing" to pay the Sulu heirs all arrears from 2013 to 2019 amounting to RM48,300.
In his Facebook post, Najib asked: "Did Tommy and the PH government think that the Sulu descendants would stop pursuing their case after being paid only RM48,300 in compensation?"
He said that apart from the PH government not sending a representative to the Spanish court, Thomas's letter may be used as evidence and the main reason for the lawyers of the Sulu descendants to win their case.
Source: Free Malaysia Today
Please click the following URL to read the full text of the original story:
https://www.freemalaysiatoday.com/category/nation/2022/03/13/explain-extraordinarily-stupid-letter-by-thomas-on-sulu-issue-najib-tells-ph/
--------
URL: https://www.newageislam.com/islamic-world-news/hijab-hind-isis-hindus-muslim-women/d/126584
New Age Islam Islam Online, Islamic Website, African Muslim News, Arab World News, South Asia News, Indian Muslim News, World Muslim News, Women in Islam, Islamic Feminism, Arab Women, Women In Arab, Islamophobia in America, Muslim Women in West, Islam Women and Feminism