New Age Islam News Bureau
27 Jun 2014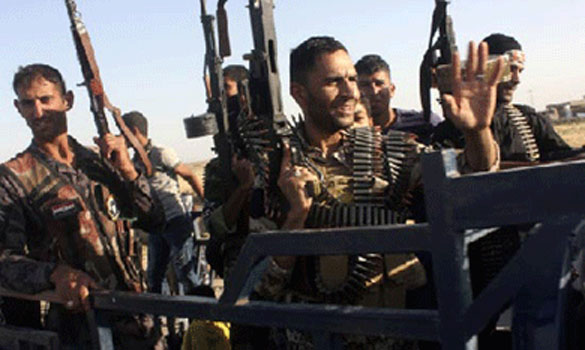 Shia volunteers, who have joined the Iraqi army to fight against the predominantly Sunni militants from the radical ISIL, hold their weapons during a parade in Diyala province, June 26, 2014 (Photo: Reuters)
--------
Mideast
• Hijab Does Not Define Girl's Chastity, Says Iran President
• Netanyahu urges Abbas to break with Hamas
• Turkey emphasizes Iraq's territorial integrity amid calls for Kurdish independence
• Syrian refugees find shelter in an abandoned Istanbul neighborhood
Arab World
• Russian jets to aid the fight against Sunni rebels in Iraq – PM Maliki
• Saudi king orders measures to defend against Iraq jihadists
• Syrian Army Kills Dozens of Gunmen in Latakia, Aleppo
• Iraqi Shiites pushing for al-Maliki's removal
• Iraq's Barazani says Kurdish self-rule in Kirkuk to stay
• Lebanon suicide bomber was a wanted Saudi citizen: source
• Arab states at United Nations deplore 'Israeli aggression'
• Iraq forces press fight for Tikrit University: Officers
• Saudi Arabia will expel non-Muslims who disrespect Ramadan
• Jihadist's former classmates claim he 'had a screw loose'
Pakistan
• Haqqani network militants also targeted in operations, says Pak army
• Dr Tahirul Qadri Takes a U-Turn to 'Allies' Surprise
• Zarb-i-Azb is war of survival, says ISPR chief
• Hafiz Saeed slams US terror label, calls for protests
• Pakistan's religious madrasas schools are on the rise
• Drones Can't Win Over the Taliban – Husain Haqqani
• Three Pakistani soldiers honoured for services in First World War
• Taliban's Geedar group behind firing on PIA's Peshawar flight, say officials
• A sorry tale of North Waziristan's Hindus
• Rape conviction rate zero, Senate body told
Southeast Asia
• Southeast Asia Fears Militant Fallout as Mideast Conflict Widens
• Philippines assures Muslims of autonomy by January
• Do you want another May 13, Zul Noordin asks 'extremists' who question Allah decision
India
• Thousands of Indians Sign Up To Defend Iraq's Shrines and Fight Sunni Islamist Militants
• Won't treat Afghan govt on par with Taliban, India tells UN
• Minister for Minority Affairs slams Muslim quota in Maharashtra
• India eases visa norms for senior Bangladeshi nationals
• Modi writes to Sheikh Hasina; pledges to strengthen ties
North America
• Obama seeks $500M to train, equip Syrian rebels
• US intelligence gap in Iraq preceded ISIL's lightning assault
• US sends anti-terror force in the Philippines
• US adopts bill on Christian properties in Turkey
• US keen to freeze LeT's funding sources
• Kerry in Syria opposition talks as US moves to arm rebels
South Asia
• Won't allow anti-India acts from our soil, Bangladesh says
• 4 policemen martyred in militants attack in Balkh province
• JSC decision on Judge Ali Hameed's sex tape scandal "an insult to Islam"
• No Indian militant camps operate in Bangladesh: Border Guard Bangladesh
• BNP: India wants deeper ties with Bangladeshi people
• Quick execution of war crimes verdicts demanded
Australia
• Australian Islamic leaders call for an end to hatred and provocation
Africa
• Nigeria Is Now A Massive Grave Yard – Former Minister
• Sudan Christian woman takes refuge in US embassy: Lawyer
• 3 dead in Somalia after militants attack hotel
• Morocco 'Fez cell' sent 10 fighters to Syria
Europe
• Russian envoy sees prospect of terrorist state in Syria and Iraq
• ISIS executed 160 captives earlier this month in Tikrit: Human Rights Watch
• UN Security Council slaps sanctions on Boko Haram leader
• International community condemns killing of Libyan activist Bughaighis
• UN Security Council Appeals for Peaceful Vote in Libya
• Polish Mufti Discusses Social Problems in Visit To Crimea
• Turkish-Greek ties in most successful period: Istanbul-born Greek politician
Compiled by New Age Islam News Bureau
URL: https://www.newageislam.com/islamic-world-news/new-age-islam-news-bureau/hijab-does-not-define-girl's-chastity,-says-iran-president/d/97774
----------
Mideast
Hijab Does Not Define Girl's Chastity, Says Iran President
Anahita Mukherji,TNN | Jun 27, 2014
MUMBAI: Iran's president Hassan Rouhani, known for his liberal views, has, in a series of tweets, said that a woman's chastity should not be questioned on the basis of the clothes she wears. The tweets say poverty is a greater threat to chastity than violating the Hijab norms, and that a woman's chastity should not be questioned based on whether or not she wore a Hijab.
"I warn everyone not to consider Hijab and chastity as identical," said one tweet, adding that there are many women who do not wear the Hijab according to the law but are chaste.
While the tweets come from one of a few twitter accounts in the president's name, high ranking officials in Iran have confirmed that the tweets are in line with the president's views.
While the Hijab or headscarf is compulsory for all women in Iran, a walk down the streets of Tehran will reveal a combination of stylish head scarves and high fashion, with women seen in designer clothes driving fast cars and lighting their cigars in full public view.
Over a month ago, when young Iranians were arrested over a video which showed them dancing to the Pharrell Williams song "Happy" Rouhani made headlines with a tweet from another account that said "#Happiness is our people's right. We shouldn't be too hard on behaviours caused by joy." It is widely believed that the tweet led to their release.
Indians who have visited Iran for several years say they have seen a gradual change in women's attire, and a relaxation of strict dress codes. "Earlier, the Basij (religious police comprising civilian volunteers) would be very strict about the way women dressed and the way the Hijab was worn. It is more relaxed these days," says an Indian who has spent considerable time in Iran.
An Iranian who TOI spoke to says the president was only reflecting the true values of Islam which were often misunderstood by the West or misinterpreted by Muslims themselves who had not studied the Quran.
"President Rouhani is a broad-minded clergyman and is not saying anything that goes against the fundamentals of the religion," said an Iranian who does not wish t be named, adding that only those with a false notion of Islam believe that a woman's chastity is in doubt if she does not observe the hijab. "The Quran itself says that religion is not something that should be accepted through force," he adds. He, however, does not believe that the changes under President Rouhani were dramatic, adding that Iran was always a modern, liberal society. "Modernization is not equivalent to Westernization," he points out. Simply because Iran is an Islamic country that follows Shia laws, he does not feel it lacks modernity.
"Discussions on women's liberty are part of the social fabric of Iranian society. We have a woman's football team. Women are involved in every sport from archery to badminton and tennis," he said.
http://timesofindia.indiatimes.com/world/middle-east/Hijab-does-not-define-girls-chastity-says-Iran-president/articleshow/37293178.cms
----------
Netanyahu urges Abbas to break with Hamas
27 June 2014
Israeli Prime Minister Benjamin Netanyahu urged Palestinian Authority President Mahmoud Abbas on Thursday to dismantle the Hamas-Fatah unity government, after Tel Aviv identified two well-known Hamas operatives in the West Bank as the central suspects in the recent disappearance of three Israeli teenagers.
"A short time after the kidnapping, I said that those who perpetrated this activity were terrorists of Hamas," The Times of Israeli newspaper quoted Netanyahu as saying at an Israeli Air Force graduation ceremony. "And indeed today the security services of Israel have published the names of two of the perpetrators of this heinous crime."
He added: "I now expected President Abbas, who said important things in Saudi Arabia, to stand by those words and to break his pact with the Hamas terrorist organization that kidnaps children and calls for the destruction of Israel."
In a statement, Israel's Shin Bet security service identified the men as Marwan Qawasmeh and Amer Abu Aisheh, the Associated Press reported. It said both men are activists from the Hamas militant group in the West Bank city of Hebron, near where the youths disappeared on June 12.
Israel has accused Hamas of kidnapping the three teens, who disappeared as they were hitchhiking home. But until Thursday, it had provided no evidence to support the claim. It said both Qawasmeh, who was born in 1985, and Abu Aisha, who was born in 1981, have served time in Israeli prisons.
Netanyahu has made similar calls throughout the crisis, saying Abbas cannot claim to be seeking peace while also having an alliance a group committed to Israel's destruction. Hamas, which Israel and the West consider a terrorist group, has no formal role in the government, and Abbas has said the Cabinet remains committed to his policies.
Following the disappearance of the teens, Israel launched its broadest ground operation in the West Bank in nearly a decade, rounding up nearly 400 Palestinians, most of them Hamas activists. The search for the teens - Eyal Yifrah, 19, Gilad Shaar, 16, and Naftali Fraenkel, a 16-year-old with dual Israeli-American citizenship - has become an obsession in Israel, with intensive media coverage and prayer vigils.
http://english.alarabiya.net/en/News/2014/06/27/Netanyahu-urges-Abbas-to-dismantle-unity-government.html
-----------
Turkey emphasizes Iraq's territorial integrity amid calls for Kurdish independence
June 27, 2014
Turkey's top security board has reiterated Ankara's long-standing policy of protecting the territorial integrity and political unity at a moment where calls for Kurdish independence are increasing due to the growing unrest in the oil-rich country.
"It is noted that our support for the Iraqi people for the protection of the country's territorial integrity and political unity will continue," read the statement issued following the bi-monthly National Security Council (MGK) meeting late June 26.
The statement came on the same day when Turkish officials held lengthy meetings with Nechirvan Barzani, prime minister of Iraqi Kurdistan Regional Government (KRG), and nephew of Massoud Barzani, president of the KRG. Massoud Barzani recently has said "there was a new reality" in Iraq and the people of Kurdistan have the right to determine their fate, implying the declaration of an independent Kurdish state is on their agenda.
Having convened under the leadership of President Abdullah Gül and with the participation of senior government and military officials, the MGK discussed the reflections of violent activities that have the tendency to turn into a sectarian-based conflict in the entire region.
The MGK also reviewed the state of Turkmens in Iraq who had to flee their homes following the Islamic State of Iraq and the Levant (ISIL) offensive toward Mosul, Telafer and other nearby cities where Turkmens and Kurds are the majority.
Additionally, the board reviewed the efforts carried out for the release of the 80 Turkish citizens who have been kept by ISIL militants since June 10.
http://www.hurriyetdailynews.com/turkey-emphasizes-iraqs-territorial-integrity-amid-calls-for-kurdish-independence-.aspx?pageID=238&nID=68356&NewsCatID=510
----------
Syrian refugees find shelter in an abandoned Istanbul neighborhood
June 27, 2014
Tens of thousands of Syrian refugees fleeing the chaos in their homeland have arrived in Istanbul during the last year looking for abandoned areas in the city to settle in.
Scenes of women and children asking for alms in the center of Istanbul have become a familiar site for millions of the city's residents.
A group of refugees have now settled in the poverty-stricken neighborhood of Fikirtepe, on the city's Asian side, which has been abandoned during the last few months after the municipality launched its controversial urban renewal project.
Hundreds of refugees are now living in the evacuated houses, which are at risk of collapsing and under very poor hygienic conditions. Two or three families usually stay in the small apartments and they are unable to take showers due to the lack of water in the building.
One of the female refugees said it is thanks to the help of some of the neighbors that they have managed to survive.
"We took shelter in these houses, rather than staying on the streets. When you are in despair, you try anything. Most of our husbands have died. Our children beg on the streets to make money. We haven't taken a shower for months," a female refugee told daily Hürriyet.
Meanwhile, residents of the neighborhood are worried about the possibility of a health epidemic occurring and some have conveyed their complaints to Kadıköy's municipality.
"We have a guilty conscience when we eat our dinner in our house in the evening. But we also feel very uncomfortable about this situation. We cannot even buy bread from the same market where they do their shopping. We feel that our own children can catch diseases," said one of the residents of Fikirtepe.
HDN Area 'soon be demolished'
For his part, Kadıköy Mayor Aykurt Nuhoğlu, warned that the area where the refugees have taken shelter would soon be demolished as part of the urban transformation projects.
"We would set up camps [for the refugees] if we had the land, but there isn't [any land where we can set up camps]. It is not possible for us to solve this issue on our own," said Nuhoğlu, adding that they had contacted Istanbul's Governor's Office for help.
Recently, parts of a movie directed by Turkish moviemaker Murat Uygur on the flight of Syrian refugees were filmed in Fikirtepe.
Located in the middle of the mostly upmarket Kadıköy district and near the road connected to Istanbul's Bosphorus Bridge, the neighborhood had become a prized area for new urban projects.
Some 50,000 housing projects are expected to be built in the next three years, generating an economy of around 40,000 billion Turkish Liras.
Meanwhile, groups of Syrian refugees have also settled in other urban renewal areas near the city's historic district.
There is no exact data on the number of Syrian refugees in Istanbul, but according to a recent statement by Deputy Prime Minister Beşir Atalay, the official number of refugees has exceeded the one million mark.
http://www.hurriyetdailynews.com/syrian-refugees-find-shelter-in-istanbul-neighborhood-abandoned-due-to-urban-renewal-project.aspx?pageID=238&nID=68367&NewsCatID=341
----------
Arab World
Russian jets to aid the fight against Sunni rebels in Iraq – PM Maliki
June 27, 2014
Jets from Russia and Belarus will hopefully make a key difference in the fight against ISIS in Iraq, the country's Prime Minister Nouri Maliki said. He expressed regrets over Iraq's contract with the US, saying their jets are taking too long to arrive.
"God willing within one week this force will be effective and will destroy the terrorists' dens," he told BBC Arabic.
Meanwhile, Maliki criticized the process of purchasing US jets as "long-winded," adding that the radicals could have been repelled if Iraq had proper air defense.
"I'll be frank and say that we were deluded when we signed the contract [with the US]," Maliki said. "We should have sought to buy other jet fighters like British, French and Russian to secure the air cover for our forces; if we had air cover we would have averted what had happened," he went on.
Maliki said Iraq bought second-hand jet fighters from Russia and Belarus "that should arrive in Iraq in two or three days."
The radical Sunni Islamic State in Iraq and the Levant (ISIS or ISIL) has taken large parts of the country's north from the Shia government.
During the interview, the prime minister also confirmed that Syria was behind Tuesday's air strikes that targeted Iraqi rebels, adding that he welcomed the move.
Full report at:
http://rt.com/news/168744-russia-jets-iraq-maliki/
-----------
Saudi king orders measures to defend against Iraq jihadists
June 27, 2014
Saudi King Abdullah instructed authorities in the oil-rich kingdom to take "necessary measures" to defend the country from jihadists battling the government in neighbouring Iraq.
The announcement comes days after militants from the Islamic State of Iraq and the Levant (ISIL) seized the border crossing from Iraq into Jordan, which also neighbours the kingdom, as they press an offensive in Iraq.
A statement said Abdullah ordered authorities "to take all the necessary measures to protect... the kingdom's security against actions that could be taken by terrorist or other groups."
The measures were not spelled out but decided during a security cabinet meeting chaired by the king and devoted to discussing developments in Iraq and their impact on Gulf Arab monarchies.
Full report at:
http://english.ahram.org.eg/NewsContent/2/8/104857/World/Region/Saudi-king-orders-measures-to-defend-against-Iraq-.aspx
----------
Syrian Army Kills Dozens of Gunmen in Latakia, Aleppo
June 27, 2014
Syrian army units killed on Thursday thirteen gunmen and destroyed five vehicles during a large-scale operation against terrorists' gatherings in Bustan al-Qaser in Aleppo city.
The body of terrorist Amer Skeif, nicknamed al-Sheikh, was identified among the killed terrorists, state-run SANA news agency reported.
Other army units killed or injured many terrorists during targeting their gatherings in Bab al-Nasser, al-Holwanieh, al-Marjeh, al-Sakhour, al-Maisar, al-Enzarat, al-Zerbeh, Azaz, Rasm al-Abboud, al-Shweikha, Mayer and Karm al-Kabal in the province.
In Daraa, army units foiled an armed terrorist group's attempt to infiltrate from the area of Bilal al-Habashi toward a checkpoint near the main city, killing all its members and destroying a heavy machinegun they were using in their attacks.
Full report at:
http://www.almanar.com.lb/english/adetails.php?fromval=1&cid=23&frid=23&eid=158508
----------
Iraqi Shiites pushing for al-Maliki's removal
Associated Press | Baghdad | June 27, 2014
Prominent Shiite leaders pushed on Thursday for the removal of Iraqi Prime Minister Nouri al-Maliki as parliament prepared to start work next week on putting together a new government, under intense US pressure to rapidly form a united front against an unrelenting Sunni insurgent onslaught.
Increasingly, the Shiite al-Maliki's former allies believe he cannot lead an inclusive government that can draw minority Sunnis away from support for the fighters who have swept over a large swath of Iraq as they head towards the capital, Baghdad. In a further sign of Iraq's unraveling along sectarian lines, a bombing on Thursday killed 12 people in a Shiite neighborhood of Baghdad that houses a revered shrine, and police found the bullet-riddled bodies of eight Sunnis south of the capital.
Full report at:
http://indianexpress.com/article/world/middle-east-africa/iraqi-shiites-pushing-for-al-malikis-removal/99/
----------
Iraq's Barazani says Kurdish self-rule in Kirkuk to stay
27 June 2014
Iraqi Kurdish leader Massud Barzani said Friday there was no going back on autonomous Kurdish rule in oil city Kirkuk and other towns now defended against Sunni militants by Kurdish fighters.
"Now, this (issue) ... is achieved," he said, referring to a constitutional article meant to address the Kurds' decades-old ambition to incorporate the territory in their autonomous region in the north over the objections of successive governments in Baghdad.
Kurdish forces stepped in when federal government forces withdrew in the face of a jihadist-led offensive earlier this month.
Speaking at a joint news conference with visiting British Foreign Secretary William Hague, Barzani said: "We have been patient for 10 years with the federal government to solve the problems of these (disputed) areas.
Full report at:
http://english.alarabiya.net/en/News/2014/06/27/Iraq-s-Barazani-says-Kurdish-self-rule-in-Kirkuk-to-stay-.html
-----------
Lebanon suicide bomber was a wanted Saudi citizen: source
June 27, 2014
RIYADH // A suicide bomber who blew himself when police raided his hotel room in Beirut was a Saudi citizen wanted by authorities in the kingdom, a source in Riyadh said on Thursday.
"His name is Abdul Rahman Nasser Al Shenifi, 20, and he was wanted by the interior ministry," said the source, who is close to security authorities.
But the bomber did not figure on the kingdom's list of most-wanted militants, the source added.
The man detonated his explosives when Lebanese security forces stormed his hotel room at the Duroy Hotel on Wednesday evening, killing himself and wounding 11 others.
An accomplice who survived the blast was also a Saudi, according to Lebanese authorities.
A security and a judicial official said a preliminary probe showed the two attackers entered Lebanon with Saudi passports on June 11, and had paid for bookings in two other hotels besides the Duroy.
Full report at:
http://www.thenational.ae/world/middle-east/lebanon-suicide-bomber-was-a-wanted-saudi-citizen-source#ixzz35t2I9EL4
----------
Arab states at United Nations deplore 'Israeli aggression'
June 27, 2014
NEW YORK – Several representatives of Arab and Muslim states announced Thursday at the UN they would be asking the Security Council to condemn Israel's actions in the West Bank, which they called an overreaction.
Palestinian ambassador Riyad Mansour was flanked by the ambassador from Saudi Arabia, Iran, Qatar, Senegal and the League of Arab States as he called on the Security Council to act against Israel for the second time in the two weeks since Naftali Fraenkel, Gil-Ad Shaer and Eyal Yifrah were kidnapped.
Qatar's Sheikha Alya Bint Ahmed Bin Saif al Thani said they were "joining in solidarity with Palestine in also deploring the acts of aggression committed by Israel, the occupying power, against the Palestinian people."
She said the aggression in the West Bank, as well as the air strikes in Gaza that had killed a child, were all grounds for the Security Council to act.
"These acts should not go without any strong reaction from the Security Council," she said. "They are grave violations of human rights and international humanitarian law." She said the representatives would be working with the representative of Jordan on the Council to "see what could be done."
Full report at:
http://www.jpost.com/Diplomacy-and-Politics/Arab-states-at-United-Nations-deplore-Israeli-aggression-360777
----------
Iraq forces press fight for Tikrit university: Officers
June 27, 2014
KIRKUK: Iraqi forces fought for a second day Friday to seize control of a strategically located university in militant-held Tikrit ahead of a full-scale assault on the city, officers said.
A police major said there were periodic clashes between security forces and Arab insurgents at Tikrit University, and that the families of school employees living in the area were fleeing.
A senior army officer said Iraqi forces were carrying out a major campaign of air strikes on militants in Tikrit to protect the forces at the university and prepare for the assault.
Troops are deployed in areas around the city in readiness, the officer said.
Full report at:
http://tribune.com.pk/story/727860/iraq-forces-press-fight-for-tikrit-university-officers/
----------
Saudi Arabia will expel non-Muslims who disrespect Ramadan
June 27, 2014
Saudi authorities threatened to expel non-Muslim foreigners who eat, drink or smoke in public during the Muslim fasting month of Ramadan, which begins this weekend.
The interior ministry urged non-Muslims to "respect the feelings of Muslims by refraining from eating, drinking or smoking in public places, streets and at work."
"They are not excused for being non-Muslim," said the statement carried by SPA state news agency, adding that "labour contracts stipulate respect for Muslim rites."
"Those who violate (that)... will face the necessary measures, including terminating work contracts and being deported," the statement added.
Oil-rich Saudi Arabia, which applies a strict version of sharia Islamic law, hosts more than nine million foreigners, mostly Asians.
Full report at:
http://english.ahram.org.eg/NewsContent/2/8/104845/World/Region/Saudi-Arabia-will-expel-nonMuslims-who-disrespect-.aspx
----------
Jihadist's former classmates claim he 'had a screw loose'
June 27, 2014
FORMER classmates of the Aberdeen man who became a jihadist in Iraq have unveiled fresh details about his radicalisation.
Abdul Raqib Amin did ­impressions of the TV comedian Ali G when he got into trouble with teachers at school. It is claimed he asked them: "Is it cos I is black?"
The schoolboy turned extremist also annoyed teammates on the rugby field, attempting dangerous "clothesline" tackles and playing as though "he had a screw loose".
The revelations came as Alex Salmond said the Scottish ­authorities would take a "zero-tolerance approach" to anyone who encourages hate crime against the Muslim community.
The First Minister said the actions of Amin, who appeared in a recruitment video for the extremist Islamic group Isis, did not reflect mainstream opinion in Scotland.
At First Minister's Questions at Holyrood, the SNP leader said: "Radicalisation is something that we have been and continue to be vigilant about.
Full report at:
http://www.heraldscotland.com/news/home-news/jihadists-former-classmates-claim-he-had-a-screw-loose.24593284
----------
Pakistan
Haqqani network militants also targeted in operations, says Pak army
Jun 27 2014
The Haqqani terrorist network militants are also targeted in ongoing military operations in North Waziristan, Pakistan's army said.
Pakistan's Inter-services Public Relations DG, Major General Asim Bajwa, said, "For the military, there will be no discrimination among Tehreek-i-Taliban Pakistan (TTP) groups or Haqqani network, all terror groups are going to be eliminated."
Gen. Bajwa further added that at least 327 terrorists and 10 security personnel have been killed during the operations so far.
He confirmed the presence of a large number of Uzbeks and other foreign militants in North Waziristan, saying that they will all be wiped out.
Gen. Bajwa also added that the Afgahn military has been requested to take actions terrorist hideouts in Kunar and Nooristan, but so far there has been no action taken.
Full report at:
http://www.khaama.com/haqqani-network-militants-also-targeted-in-operations-says-pak-army-6290
----------
Dr Tahirul Qadri Takes a U-Turn to 'Allies' Surprise
June 27, 2014
LAHORE: Announcing an 'all-party conference' on the Model Town incident on Sunday, Pakistan Awami Tehreek (PAT) chief Dr Tahirul Qadri has backtracked from his earlier stance of forming a political alliance against the government.
"Forming any alliance or a grand alliance had never been my agenda," Dr Qadri told the media after meeting leaders of various political and religious parties at PAT headquarters here on Thursday.
PML-Q leaders Chaudhry Shujaat and Pervaiz Elahi, who had signed a 10-point agenda and worked on forming an anti-government alliance for materialising the agenda along with PAT leadership in London on May 31, were also present during the media talk.
Section 4 of the agreement as accessed by Dawn on PAT's official website after the media talk on Thursday reads: "In these circumstances, there is a dire need that all patriotic political forces and segments agree on a broader revolutionary agenda and wage a joint struggle for establishment of transparent and participatory democracy in Pakistan in the real sense."
Full report at:
http://www.dawn.com/news/1115438/qadri-takes-a-u-turn-to-allies-surprise
----------
Zarb-i-Azb is war of survival, says ISPR chief
June 27, 2014
ISLAMABAD: The ongoing military operation in North Waziristan is a 'war of survival' and will pave the way for the dawn of permanent peace in the country, the military's spokesperson said on Thursday.
In a formal briefing to the media on Operation Zarb-i-Azb, Inter-Services Public Relations (ISPR) Director General Major General Asim Bajwa told reporters that the operation was being carried out without any discrimination between "good or bad Taliban".
"This is the biggest and most well-coordinated operation ever conducted against terrorists. It is the beginning of the end for terrorism in the country," he said.
Maj Gen Bajwa said army troops, Frontier Corps personnel, Khasadars, Levies, intelligence operatives and the Pakistan Air Force were jointly conducting the operation in North Waziristan.
Full report at:
http://www.dawn.com/news/1115371/zarb-i-azb-is-war-of-survival-says-ispr-chief
----------
Hafiz Saeed slams US terror label, calls for protests
Press Trust of India | Lahore | June 27, 2014
Jamaat-ud-Dawa chief Hafiz Saeed has called for a countrywide protest Friday against the US for declaring two LeT leaders as "global terrorists".
"The US government has declared Nazir Ahmed Chaudhry and Muhammad Hussein Gill at the behest of India. We strongly condemn the decision as both elderly men are the members of JuD and not the Lashkar-e-Taiba (LeT)," Saeed told a news conference Thursday at the JuD headquarters here.
The US State Department Wednesday amended LeT's designations to add the aliases: Jamaat-ud-Dawa, Al-Anfal Trust, Tehrik-e-Hurmat-e-Rasool and Tehrik-e-Tahafuz Qibla Awwal.
Simultaneously, the Department of the Treasury targeted the financial and leadership networks of LeT by designating Chaudhry and Gill as Specially Designated Global Terrorists.
Full report at:
http://indianexpress.com/article/world/asia/jud-chief-slams-us-terror-label-calls-for-protests/
----------
Pakistan's religious madrasas schools are on the rise
June 27, 2014
ISLAMABAD/BRUSSELS: To combat religious extremism and sectarian violence, Pakistan must reform its education sector by boosting resources to public schools and updating the school curriculum to improve quality and remove divisive and discriminatory narratives.
Long underfunded, Pakistan's system of public education has been further devastated by militant violence and natural disasters.
Passed in 2010, the eighteenth constitutional amendment mandated compulsory education for all children between the ages of five and sixteen and devolved much of the education system's management from the centre to the provinces.
But more than nine million children do not receive a primary and secondary education, and quality of instruction varies widely between both genders and rural and urban areas.
Madrasas and religious schools, many of which propagate religious extremism and sectarian hatred, seek to fill the gaps.
Full report at:
http://womennewsnetwork.net/2014/06/26/pakistans-madrasas-schools-rise/
----------
Drones Can't Win Over the Taliban – Husain Haqqani
June 27, 2014
Times are not easy for Pakistan – the country is waging a seemingly endless and futile war on the Taliban, American drones in the north are seeking their prey, and the war is claiming the lives of innocents as well as jihadists. The new offensive operation by the army has led to hundreds of thousands of refugees. The country itself is being torn apart by the political struggle, with anti-government leaders promising a revolution. Will Islamabad ever see the end of the Taliban? Is there any sense to the negotiations? What about the US – how much of an ally is it for the Pakistani people? We ask these questions to Pakistan's former ambassador to the US and a professor at Boston University. Husain Haqqani is on SophieCo today.
Sophie Shevardnadze: Former ambassador of Pakistan to the US, international relations professor at Boston University, Husain Haqqani, welcome, it's great to have you with us today. I'm just going to start from the current events. There are threats to the Pakistani government from hard-line extremists, but also, from what I understand, the military takeover – is an army coup likely?
Full report at:
http://rt.com/shows/sophieco/168764-drones-taliban-pakistani-ambassador/
----------
Three Pakistani soldiers honoured for services in First World War
June 27, 2014
Three Pakistani soldiers were among 175 men honoured in a ceremony held by the British government for winning UK's highest military honour, the Victoria Cross, for services rendered in the First World War.
The soliders include Sepoy Khudadad Khan, Jemadar Mir Dast and Naik Shahamad Khan.
As part of the British government's First World War Centenary Programme, HRH The Duke of Kent and Senior Foreign Office Minister Baroness Sayeeda Warsi unveiled commemoration plaques for 175 foreign men.
The 11 bronze memorial plaques, which were on display for public in London this week, bear the names of Victoria Cross holders and will be sent to the recipients' home countries.
The plaques will be showcased at a prominent location while acting as a symbol of gratitude that is felt towards the recipients by the people of UK.
Full report at:
http://www.dawn.com/news/1115500/three-pakistani-soldiers-honoured-for-services-in-first-world-war
----------
Taliban's Geedar group behind firing on PIA's Peshawar flight, say officials
June 27, 2014
PESHAWAR: The Tariq Geedar group of the outlawed Tehreek-i-Taliban Pakistan (TTP) was behind the gun attack on a Pakistan International Airlines (PIA) flight in Peshawar that left a woman passenger dead and two crew members wounded, security officials said.
They said the group was based in Darra Adamkhel and was headed by one Khalfa.
"We have some important leads," claimed an official.
He said that the roof of a school in Suliemankhel, an area near Peshawar, was used for targeting the Airbus when it was landing at the Bacha Khan International Airport late on Tuesday night.
Full report at:
http://www.dawn.com/news/1115392/talibans-geedar-group-behind-firing-on-pias-peshawar-flight-say-officials
----------
A sorry tale of North Waziristan's Hindus
June 27, 2014
BANNU - Way back in 1949, Jamila Laal married Adbari Laal, a businessman by profession. The Vivaah Sanskaar, rite of marriage, was performed at Miranshah during a ceremony and a large number of Hindus living in the area participated.
Jamila Laal, 80, whose ancestors, according to her, migrated from Ferozpur, India, loves Miranshah like other tribesmen of the area are also emotionally attached to their hometown. Her marriage lasted for almost 65 years before her husband died in 2010.
According to Jamila, who represents Balmik Hindu caste, she was born in Miranshah where considerable numbers of Hindus were living before the partition of subcontinent. However, when Pakistan came into being her family was one of the few families that opted for living in North Waziristan. "I have spent my entire life in Miranshah, I never imagined that a time will come that we will leave the area and become homeless like we are today," she added.
Jamila Laal is one of the 114 Hindu and Christian minority members who left North Waziristan during the ongoing military operation. The minorities of North Waziristan complain that they have been ignored by the government and are living in Bannu city in miserable condition. Currently a Christian community in Bannu is providing help to both Hindus and Christians with food, shelter and other necessities of life.
Full report at:
http://www.nation.com.pk/national/27-Jun-2014/a-sorry-tale-of-north-waziristan-s-hindus
----------
Rape conviction rate zero, Senate body told
June 27, 2014
ISLAMABAD - Senator Syeda Sughra Imam on Thursday informed the Senate Standing Committee on Law and Justice that according to the data of Interior Ministry provided to the Senate, the conviction ratio in the rape cases in the country was zero per cent in the last five years.
She said that due to the lacunas in the PPC, CRPC and Qanoon Shahdat Act no conviction was given in the rape cases.
The meeting of the standing committee was held under the chairmanship of Senator Muhammad Kazim Khan in the Parliament House and discussed "the Anti-Rape Laws (Criminal Laws Amendment) Bill 2014".
The committee directed the Ministry of Law and Justice, Interior Ministry and provincial Law Ministries to submit record that how many rape cases were filed and decided by the concerned authorities.
Full report at:
http://www.nation.com.pk/national/27-Jun-2014/rape-conviction-rate-zero-senate-body-told
----------
Southeast Asia
Southeast Asia Fears Militant Fallout as Mideast Conflict Widens
June 27, 2014
Kuala Lumpur/Bangkok. Four gun-wielding rebel fighters sit relaxing on a wall, their faces concealed by scarves and ski masks. All are Indonesians who came to Syria to join the Islamist insurgency, the cameraman says, speaking Indonesian peppered with Arabic phrases.
He pans around and introduces them as a former soldier, a businessman, and a college student, before settling on a boy in his early teens leaning on his AK-47 assault rifle.
"Brothers in Indonesia, don't be afraid, because fear is a temptation from Satan," says one of the fighters in the YouTube video, which has since been removed from the Islamist website.
As Sunni Islamist rebels surge from Syria into Iraq, security officials in Southeast Asia and Australia worry the conflict is radicalizing a new generation of militants, who are being influenced to an unprecedented degree by social media.
Full report at:
http://www.thejakartaglobe.com/international/southeast-asia-fears-militant-fallout-mideast-conflict-widens/
----------
Philippines assures Muslims of autonomy by January
World Bulletin / News Desk
June 27, 2014
Philippine President Benigno Aquino assured the country's largest Muslim group on Friday that a new autonomous government will be in place by January 2015 in the south, a commitment made under a peace accord signed this year.
The largely Roman Catholic Philippines signed an agreement with the Moro Islamic Liberation Front (MILF) in March ending nearly five decades of conflict that has killed more than 120,000 people, displaced two million and stunted growth in the resource-rich region.
Under the pact, the MILF agreed to disband its guerrilla force, surrender weapons and rebuild communities while the government gives them wider powers to control their economy and culture.
Full report at:
http://www.worldbulletin.net/headlines/139611/philippines-assures-muslims-of-autonomy-by-january
-----------
Do you want another May 13, Zul Noordin asks 'extremists' who question Allah decision
June 27, 2014
Former Perkasa deputy president Datuk Zulkifli Noordin has labelled those who commented against the recent Federal Court ruling on the Allah issue as "rude and insolent" and questioned whether these people wanted another May 13-like riots.
He said not only did these religious extremists show disrespect to the Federal Court decision, they had challenged the Muslim community with threats of continuing to use the word Allah in churches and in their worship.
"If this is not insolent and rude, I don't know what other label can be levelled against these religious extremists," he wrote in his blog zul4kulim.blogspot.com in a posting titled "13-May 2.0?".
He added that the comments made on websites regarding the Federal Court ruling – which denied the Catholic Church leave to appeal against the ban on the use of the word Allah in its internal publication, Herald – showed that their attitude was even "lower than animals".
Full report at:
http://www.themalaysianinsider.com/malaysia/article/do-you-want-another-may-13-zul-noordin-asks-extremists-who-question-allah-d#sthash.OOQCAm7F.dpuf
----------
India
Thousands of Indians Sign Up To Defend Iraq's Shrines and Fight Sunni Islamist Militants
June 27, 2014
NEW DELHI: Thousands of Muslims in India have signed up to defend Iraq's holy shrines and, if need be, fight Sunni Islamist militants in the country where the civilian death toll from the Sunni insurgents' advance is estimated at least 1,300.
Denouncing the militants of the Islamic State in Iraq and the Levant (ISIS) as terrorists, these Indian Muslims have filled out forms, complete with passport-size photographs and photocopied identification documents, to travel to Iraq.
Leaders of Anjuman E Haideri, the religious organisation spearheading the effort, said they might march to the Iraqi embassy in New Delhi on Friday to deliver the forms.
A Shia cleric is leading the effort and the volunteers want to protect shrines venerated by the sect in Iraq, but the group's leaders say their cause is not sectarian.
Already at the group's headquarters located off Karbala Road in a leafy New Delhi neighbourhood, picket signs of "It's not Shias vs Sunnis (it's) Iraqis vs Terrorists" have been prepared.
Full report at:
http://timesofindia.indiatimes.com/india/Thousands-of-Indian-Muslims-sign-up-to-defend-Iraqs-shrines/articleshow/37264170.cms
----------
Won't treat Afghan govt on par with Taliban, India tells UN
June 27, 2014
India has stressed that it will not "endorse" treating the Afghan government on par with elements of the Taliban, even as it reiterated that terrorism and not ethnicity is the greatest threat to peace in an Afghanistan on the verge of a historic transition.
"Treating the Government of Afghanistan on par with elements of the erstwhile Taliban regime is something we will never endorse," Ambassador Bhagwant Singh Bishnoi, the acting Permanent Representative of India to the U.N., said at a Security Council debate on the U.N. Assistance Mission in Afghanistan (UNAMA) at the United Nations headquarters in New York.
Mr. Bishnoi underscored India's "unwavering" commitment to assist the Afghan people and government as they build a "peaceful, pluralistic, democratic and prosperous" nation.
"India does not have an 'exit strategy' in Afghanistan with whom we share civilisational linkages spanning hundreds of years," he said.
Full report at:
http://www.thehindu.com/news/international/south-asia/india-wont-treat-taliban-on-par-with-afghan-govt/article6154227.ece
----------
Minister for Minority Affairs slams Muslim quota in Maharashtra
Express News Service | New Delhi | June 27, 2014
A day after the Maharashtra government announced quota for Muslims and Marathas, Union Minister for Minority Affairs Najma Heptulla lashed out at the Congress for "making a fool of Muslims by making impossible promises". She refused to comment on quota for Marathas.
"The decision to give reservation to Muslims makes a fool of the community because the country runs on a Constitution and that Constitution does not allow religion-based reservation. It is a tried and tested gimmick of the Congress. They tried to do it once before in Anadhra Pradesh and the matter got stuck in courts. They are fully aware this will never fructify because somebody will go to court again, yet they have taken the same path. They do not learn their lessons but Muslims have now seen through this. They will not be fooled," she said.
Full report at:
http://indianexpress.com/article/india/politics/najma-slams-muslim-quota-in-maharashtra/
----------
India eases visa norms for senior Bangladeshi nationals
SUHASINI HAIDAR
HAROON HABIB
June 27, 2014
Those who are above 65 and below 13 are eligible for 5-year multiple entry visas
India has decided to relax visa restrictions for Bangladeshi nationals above the age of 65 and below the age of 13. The decision was conveyed by External Affairs Minister Sushma Swaraj during her talks with the Bangladesh government, including meetings with her counterpart A.H. Mahmud Ali and Prime Minister Sheikh Hasina.
Senior citizens and young Bangladeshis will now be eligible for five-year multiple entry visas as against the one-year visa available earlier. However, External Affairs Ministry spokesperson Syed Akbaruddin clarified that there was "no proposal for visa free travel for Bangladeshi nationals to India."
Full report at:
http://www.thehindu.com/news/international/south-asia/india-eases-visa-norms-for-senior-bangladeshi-nationals/article6152665.ece
----------
Modi writes to Sheikh Hasina; pledges to strengthen ties
June 27, 2014
DHAKA: Prime Minister Narendra Modi has written to his Bangladeshi counterpart Sheikh Hasina, pledging to further strengthen the framework of ties even as he hoped that a "new era" of cooperation would be fostered across South Asia to ignite the collective surge for prosperity.
Modi, while thanking Hasina for her letter of felicitation on his assumption of office, has accepted her invitation to visit Bangladesh. He also extended an invitation to her to visit India at her earliest convenience.
He has emphasised that for India, Bangladesh is "not merely a neighbour, but a nation with which we share history, culture, civilization, and enduring links between people".
The ideals of democracy, secularism, pluralism and rule of law also serve as a link between India and Bangladesh, he wrote.
Full report at:
http://timesofindia.indiatimes.com/india/Modi-writes-to-Sheikh-Hasina-pledges-to-strengthen-ties/articleshow/37259470.cms
----------
North America
Obama seeks $500M to train, equip Syrian rebels
Associated Press | Washington | June 27, 2014
With the conflicts in Syria and Iraq becoming increasingly intertwined against the same Sunni extremist group, President Barack Obama moved on Thursday to ratchet up U.S. efforts to strengthen more moderate Syrian rebels.
Obama's request to Congress for $500 million in training and arms to the opposition in effect opens a second front in the fight against militants spilling over Syria's border and threatening to overwhelm neighboring Iraq. The train-and-equip mission would be overseen by the Pentagon and would mark a significant expansion of previous covert effort to arm the more moderate rebels who are fighting both the extremists and forces loyal to Syrian President Bashar Assad.
Obama has long been reluctant to arm the opposition, in part because of concerns that weapons may fall into extremist hands. But administration officials say the U.S. has grown increasingly confident in recent months about its ability to distinguish the moderate rebels from the more extremist elements that include the al-Qaida-inspired Islamic State of Iraq and the Levant, or ISIL, which has stormed into Syria and captured much of the northern part of the country.
Full report at:
http://indianexpress.com/article/world/world-others/obama-seeks-500m-to-train-equip-syrian-rebels/99/
----------
US intelligence gap in Iraq preceded ISIL's lightning assault
June 27, 2014
WASHINGTON // CIA officers in Iraq have been largely hunkered down in their heavily fortified Baghdad compound since US troops left the country in 2011, allowing a once-rich network of intelligence sources to wither.
According to current and former officials, that is a big reason why the US was caught flat-footed by the recent offensive by a Sunni-backed Al Qaeda-inspired group that has seized a large swathe of Iraq.
"This is a glaring example of the erosion of our street craft and our tradecraft and our capability to operate in a hard place," said John Maguire, who helped run CIA operations in Iraq in 2004.
Mr Maguire was a CIA officer in Beirut in the late 1980s during that country's bloody civil war. He spent weeks living in safe houses far from the US embassy, dodging militants who wanted to kidnap and kill Americans. In Iraq, where Mr Maguire also served, the CIA's Baghdad station remains one of the world's largest. But the agency has been unwilling to risk sending Americans out regularly to recruit and meet informants.
Full report at:
http://www.thenational.ae/world/middle-east/us-intelligence-gap-in-iraq-preceded-isilx2019s-lightning-assault#ixzz35t2OQLIn
----------
US sends anti-terror force in the Philippines
June 27, 2014
MANILA, Philippines // After more than a decade of helping fight Islamic militants, the United States is disbanding an anti-terror contingent of hundreds of elite American troops in southern Philippines where armed groups such as Abu Sayyaf have largely been crippled, officials said on Thursday.
But special forces from the US Pacific Command, possibly in smaller numbers, will remain after the de-activation of the Joint Special Operations Task Force Philippines (JSOTF-P), to ensure Al Qaeda offshoots such as Abu Sayyaf and the Indonesia-based Jemaah Islamiyah do not regain lost ground, said US and Philippine officials.
The move marks a new chapter in the long-running battle against an Al Qaeda-inspired movement in the southern Philippines, viewed by the US as a key front in the global effort to keep terrorists at bay. It reflects shifting security strategies and focus in economically vibrant Asia, where new concerns such as multiple territorial conflicts involving China have alarmed Washington's allies entangled in the disputes.
Full report at:
http://www.thenational.ae/world/southeast-asia/us-ends-antiterror-force-in-the-philippines#ixzz35t2WIlqw
----------
US adopts bill on Christian properties in Turkey
June 27, 2014
The U.S. House Committee on Foreign Affairs has adopted a bill on monitoring the return of property confiscated from Christians in Turkey and Northern Cyprus.
The Committee will put a bill before the House to provide annual assessments on the status of, and U.S. efforts to return, property such as churches to the former Christian owners.
Republican Committee Chairman Ed Royce and ranking Democrat Eliot Engel introduced the bill in March. It received bipartisan support in the committee, but was met with opposition from Democrats Gerry Connolly and Gregory Meeks.
"It simply does not reflect the relationship the U.S. has cultivated with Turkey, a close and trusted NATO ally," said Connolly. "Passing this legislation will lead to a rupture in our relationship with Turkey at a time when the preservation of our strategic alliance should be a top priority."
Full report at:
http://www.hurriyetdailynews.com/us-adopts-bill-on-christian-properties-in-turkey.aspx?pageID=238&nID=68354&NewsCatID=359
----------
US keen to freeze LeT's funding sources
June 27, 2014
WASHINGTON: The US State Department said on Thursday that it had named four charity trusts associated with Lashkar-e-Taiba as foreign terrorist organisations to ensure that LeT does not continue to use these groups for funding its activities.
On Wednesday evening, the department announced amendments to an earlier designation of Lashkar-e-Taiba as a foreign terrorist organisation and added four new aliases -- Jama'at-ud-Dawa, Al-Anfal Trust, Tehrik-e-Hurmat-e-Rasool, and Tehrik-e-Tahafuz Qibla Awwal – to the list.
Full report at:
http://www.dawn.com/news/1115381/us-keen-to-freeze-lets-funding-sources
----------
Kerry in Syria opposition talks as US moves to arm rebels
June 27, 2014
The US top diplomat headed for talks with the Syrian opposition and its key backer Saudi Arabia Friday after the White House asked lawmakers for $500 million to train and equip vetted rebels.
The move would mark a significant escalation of US involvement in the three-year-old civil war in Syria, which is now increasingly interlinked with a jihadist-led Sunni Arab insurgency in neighbouring Iraq.
Saudi King Abdullah, who will meet Secretary of State John Kerry in the Red Sea city of Jeddah, has long called for greater US military support for the Syria rebels, whom the Sunni kingdom has long backed.
He has also been an outspoken critic of Iraqi Prime Minister Nuri al-Maliki whose Shiite-led government has seen insurgents sweep up a huge swathe of territory north of Baghdad, including second city Mosul, since June 9.
Full report at:
http://english.ahram.org.eg/NewsContent/2/8/104903/World/Region/Kerry-in-Syria-opposition-talks-as-US-moves-to-arm.aspx
------------
South Asia
Won't allow anti-India acts from our soil, Bangladesh says
TNN | Jun 27, 2014
NEW DELHI: Bangladesh has said it would not allow its territory to be used against India. The assurance, reiterated to Sushma Swaraj on her first foreign visit, came as the external affairs minister promised to put extra energy into bilateral ties.
After meetings with her counterpart, Abul Hassan Mahmood Ali, and other leaders, Swaraj also made it clear that while India would not agree to visa-free travel for Bangladeshis, India would extend multiple-entry visas for Bangladeshi citizens under 13 and over 65 years of age from the present one year to five years. India is also willing to increase the frequency of the Maitree Express and the number of AC coaches.
Continuing with the Indian policy of keeping Bangladesh as a priority neighbour, Swaraj focused on connectivity in her first set of meetings, according to the MEA spokesperson, Syed Akbaruddin. "It was a conscious decision to make this first stand-alone visit to Bangladesh to send a clear signal that India is keen to enhance our bilateral relationship."
Full report at:
http://timesofindia.indiatimes.com/india/Wont-allow-anti-India-acts-from-our-soil-Bangladesh-says/articleshow/37278720.cms
----------
4 policemen martyred in militants attack in Balkh province
Jun 27 2014
At least four policemen were martyred following militants attack in northern Balkh province of Afghanistan.
Local officials said the incident took place late Thursday night in Chamtal and Chahar Bolak districts.
Provincial police chief, Gen. Abdul Razaq Qaderi said a number of militants carried out attacks on police check posts late Thursday night.
Gen. Qaderi further added that four policemen were martyred and another policeman was injured following the clashes which continued for almost four hours.
He said over militants including their commanders were also killed during the clashes.
In the meantime, Taliban group spokesman, Zabiullah Mujahid claimed that seven Afghan forces were killed and three check posts were take by Taliban fighters.
http://www.khaama.com/4-policemen-martyred-in-militants-attack-in-balkh-province-6291
----------
JSC decision on Judge Ali Hameed's sex tape scandal "an insult to Islam"
By Zaheena Rasheed | June 27, 2014
The Judicial Service Commission's (JSC) decision to clear Supreme Court Judge Ali Hameed of misconduct for his alleged appearance in three sex tapes is "an insult to Islam," and against principles of Islamic jurisprudence, critics have said.
The judicial watchdog yesterday ruled Hameed innocent, claiming it can only take disciplinary action if there is sufficient evidence to indict Hameed in a court as per the Islamic Shariah and Maldivian law.
The JSC justified its ruling on a police decision to close investigations citing inability to gain new evidence.
JSC member representing the public, Sheikh Shuaib Abdul Rahman said the JSC had contravened Islamic principles in its decision.
Full report at:
http://minivannews.com/politics/jsc-decision-on-judge-ali-hameeds-sex-tape-scandal-%E2%80%9Can-insult-to-islam%E2%80%9D-87722
----------
No Indian militant camps operate in Bangladesh: Border Guard Bangladesh
Pinak Priya Bhattacharya,TNN | Jun 27, 2014
SILIGURI: The Border Guard Bangladesh (BGB) has denied the existence of camps of Indian militant outfits in the country while stating that Bangladesh has a trusted relation with India.
The BGB's claim comes a few days after B D Sharma, special director general of Border Security Force (BSF), said that there were 45 camps of northeast militants in Bangladesh. Talking to reporters at Agrtala recently, Sharma had said that despite a good relation between BSF and BGB, 45 camps of different militant outfits of India's northeast exists in Bangladesh.
The denial of militant camps in Bangladesh came on Wednesday after the first day of border coordination conference held between senior BSF and BGB officials here at Kadamtala at the headquarters of BSF North Bengal frontier.
Full report at:
http://timesofindia.indiatimes.com/india/No-Indian-militant-camps-operate-in-Bangladesh-Border-Guard-Bangladesh/articleshow/37289556.cms
----------
BNP: India wants deeper ties with Bangladeshi people
June 27, 2014
BNP Vice-Chairman Shamsher Mobin Chowdhury has said Indian wanted to establish a good relationship with the people of Bangladesh, not with any specific political party.
He made the comment while talking to journalists after the per-scheduled meeting between BNP Chairperson Khaleda Zia and Indian External Affairs Minister Sushma Swaraj has begun at Hotel Sonargaon in the capital on Friday morning.
Quoting the visiting Indian minister, Shamser Mubin said: "The Indian government is interested in keeping good relationship with the people of Bangladesh, not with any specific political party.
The relationship will be established between the people of the two countries, not between the political parties."
The BNP has also urged India to take quick steps in order to resolving the longstanding bilateral issues between the two countries.
Full report at:
http://www.dhakatribune.com/foreign-affairs/2014/jun/27/bnp-resolving-longstanding-bilateral-issues#sthash.izb66fmh.dpuf
----------
Quick execution of war crimes verdicts demanded
June 27, 2014
Expressing dissatisfaction over the postponement of the verdict in a war crimes case against Jamaat-e-Islami Ameer Motiur Rahman Nizami, speakers at a discussion meeting yesterday said the pronouncement of the verdict was delayed due to the prosecution's failure.
Jamaat was hatching a conspiracy to foil the war crimes trials, they said and cast doubt over the government and prosecution's role in delaying the verdict.
They also expressed hope that verdicts in all war crimes cases would be executed during the tenure of the present government.
Ekatturer Ghatak Dalal Nirmul Committee organised the discussion meeting at the Women's Voluntary Association Auditorium in the capital, marking the 20th death anniversary of Shaheed Janani Jahanara Imam.
Full report at:
http://www.dhakatribune.com/law-rights/2014/jun/27/quick-execution-war-crimes-verdicts-demanded#sthash.rSXF0DXl.dpuf
---------
Australia
Australian Islamic leaders call for an end to hatred and provocation
June 27, 2014
AUSTRALIA'S Islamic leaders have demanded radical group Hizb ut-Tahrir stop voicing its vile sermons in public, hate-filled messages which they claim are tarnishing the entire Muslim community.
The stinging rebuke comes as the religion's leaders prepare to intervene in the activist group in a last-ditch attempt to calm its members' aggressive and scandalous approach and curb its fundamentalism.
For years Australia's often divided coterie of imams have been loathe to publicly scold Hizb ut-Tahrir's tiny but vocal members, shaking their heads in private but preferring to preach freedom of expression.
Now the religion's chief authority — the Australian National Imams Council — has had enough.
The stance follows The Daily Telegraph's revelations Hizb ut-Tahrir's spokesman Uthman Badar was stopped from giving a speech at the Sydney Opera House that debated the moral justification of honour killing, while the group was also found to have sickening views that men could "morally'' marry pre-teen girls and that the US and Australia were terrorist nations for invading Iraq and Afghanistan.
Full report at:
http://www.dailytelegraph.com.au/news/nsw/australian-islamic-leaders-call-for-an-end-to-hatred-and-provocation-claim-radical-group-hizb-uttahrir-is-tarnishing-religions-reputations/story-fni0cx12-1226968293235?nk=3d187df4482dfb872e0862b7382c4432
----------
Africa
Nigeria Is Now A Massive Grave Yard – Former Minister
June 27, 2014
A former Minister of Education, Dr. Oby Ezekwesili has expressed shock and displeasure at the abduction of about 60 girls from Kummabza in Damboa Local Government Area of Borno State by members of the infamous Islamic sect, Boko Haram.
She noted that the latest development was worrisome as President Goodluck Jonathan had yet to make any serious move as to the rescue of the kidnapped Chibok girls who were whisked away by the terrorist group from their school in Chibok, Borno state.
According to reports, the victims are aged between 3 and 12.
The former minister said this via her official Twitter account, lamenting the precarious state of the victims, declaring that justice for the poor in Nigeria was "always non-existent."
Condemning the recent abduction of over 60 girls in Borno, Ezekwesili stated that the insurgency in the country has consumed us.
Full report at:
http://www.osundefender.org/?p=174279
----------
Sudan Christian woman takes refuge in US embassy: Lawyer
June 27, 2014
A Sudanese Christian woman detained when she tried to travel to the United States after her release from death row was freed June 26 and took refuge at the U.S. embassy, her lawyer said.
"She is in the U.S. embassy now," Mohanad Mustafa said of Meriam Yahia Ibrahim Ishag, 26. "She and her husband think this is a safe place for them," after receiving death threats, Mustafa told AFP.
In Washington, State Department spokeswoman Marie Harf said Ishag and her family were "in a safe location" and Sudan's government "has assured us of the family's continued safety."
Citing privacy considerations, she declined to specify further the location of Ishag, whose arrest - and potential execution - raised deep concern among human rights campaigners in the United States.
Full report at:
http://www.hurriyetdailynews.com/sudan-christian-woman-takes-refuge-in-us-embassy-lawyer.aspx?pageID=238&nID=68352&NewsCatID=357
-----------
3 dead in Somalia after militants attack hotel
June 27, 2014
A suicide bomber and gunmen killed three people, including two soldiers, on Thursday when they attacked a hotel housing African Union and Somali forces, officials said.
The attack began when a suicide bomber blew himself up near the Amalow Hotel in Bulo-Burte town before gunmen tried to force their way in, said Col Ahmed Ali.
Gunfire could be heard as Ali spoke by telephone. Two AU soldiers were among those killed, said Col Ali Aden, a spokesman for the African Union force.
The Islamic militant group al-Shabab claimed responsibility through an announcement on its radio station.
Full report at:
http://indianexpress.com/article/world/middle-east-africa/3-dead-in-somalia-after-militants-attack-hotel/
---------
Morocco 'Fez cell' sent 10 fighters to Syria
27 June 2014
A terror cell based in the Moroccan city of Fez that was busted earlier this week by authorities had managed to send at least 10 fighters to Syria, sources told Al Arabiya News Channel.
Morocco's interior ministry said Wednesday that police had arrested six people after busting a "terrorist" cell recruiting and sending volunteers to fight alongside Islamists in Syria and Iraq.
Sources told Al Arabiya News Channel's correspondent that the 'Fez cell' had managed to send 10 "jihadists" to Syria. These were sent out to different camps for intensive military training on the use of various weapons, guerilla warfare, kidnapping, as well as rigging vehicles with explosives for later terrorist operations.
The sources said Moroccan jihadists in Syria were being trained to execute suicide attacks in their home country.
The cell was luring Moroccans from the cities of Fez and Taza in central Morocco.
In terms of funding, the cell depended on direct assistance from six of its executive members who dealt in smuggling for additional funds in order to send fighters to Syria.
Full report at:
http://english.alarabiya.net/en/News/middle-east/2014/06/27/Morocco-Fez-cell-sent-10-fighters-to-Syria.html
----------
Europe
Russian envoy sees prospect of terrorist state in Syria and Iraq
27 June 2014
Russia's U.N. ambassador said Thursday there is a real prospect of a terrorist state springing up from Syria's second-largest city Aleppo to Iraq's capital Baghdad.
Vitaly Churkin pointed to the rapid advance of al-Qaeda-inspired terrorists from the Islamic State of Iraq and Syria who are active in Syria and have crossed the border and captured a large swath of Iraqi territory.
Churkin, the current president of the U.N. Security Council, said he told the 14 other council members that a terrorist state "is a very, very serious prospect" that the council needs to address "because really we are lagging behind ... in our responses."
He told a news conference that one reason Russia is supporting the Syrian government is Moscow's belief that if President Bashar al-Assad's government was to fall apart right now "it's the terrorists who are going to take over."
Full report at:
http://english.alarabiya.net/en/News/world/2014/06/27/Russian-envoy-sees-prospect-of-terrorist-state-in-Syria-and-Iraq.html
----------
ISIS executed 160 captives earlier this month in Tikrit: Human Rights Watch
June 27, 2014
Human Rights Watch says Iraqi insurgents executed at least 160 captives earlier this month, based on an analysis of satellite imagery and grisly photos released by the militants.
The U.S.-based rights group said on Friday that militants from the Islamic State of Iraq and the Levant killed between 160 and 190 men in two locations in Tikrit between June 11 and June 14. "The number of victims may well be much higher, but the difficulty of locating bodies and accessing the area has prevented a full investigation," it said.
After overrunning large swaths of northern Iraq and capturing the cities of Mosul and Tikrit earlier this month, the Islamic extremist group posted graphic photos on a militant website that appeared to show fighters massacring scores of captured Iraqi soldiers.
http://www.thehindu.com/news/international/world/isis-executed-160-captives-in-tikrit-human-rights-watch/article6154669.ece
---------
UN Security Council slaps sanctions on Boko Haram leader
Press Trust of India | United Nations | June 27, 2014
The UN Security Council has imposed sanctions against the leader of Nigeria's Islamist Boko Haram militant organisation and its splinter group, a month after the powerful UN body designated the dreaded outfit as a terrorist group linked to al-Qaeda.
The Security Council's al-Qaeda Sanctions Committee approved the addition of Boko Haram chief Abubakar Mohammed Shekau and the splinter group Ansaru to its list of individuals and entities subject to the targeted financial sanctions and the arms embargo.
"The Committee stresses the need for robust implementation of the Al-Qaeda Sanctions Regime as a significant tool in combating terrorist activity, and urges all Member States to participate actively by nominating for listing additional individuals, groups, undertakings and entities which should be subject to the sanctions measures," a statement said.
Full report at:
http://indianexpress.com/article/world/middle-east-africa/un-security-council-slaps-sanctions-on-boko-haram-leader/
----------
International community condemns killing of Libyan activist Bughaighis
June 27, 2014
Several countries have issued statements of condemnation over the killing of renowned Libyan human rights activist Salwa Bughaighis on Wednesday.
Bughaighis was stabbed and shot by attackers who stormed her house in Benghazi, injuring a security guard and kidnapping her husband Essam Al-Ghariani in the process, according to the Guardian.
Bughaighis and Al-Ghariani-- a member of Benghazi's municipal council -- had just returned from voting in Libya's general elections.
US National Security Advisor Susan Rice condemned the "brutal and senseless" murder of the activist, whom she met after Muammar Gaddafi's ouster in late 2011.
"We join the Libyan people in mourning the loss of Salwa Bughaighis and call on all Libyans to reject violent extremists seeking to silence their opponents and derail the aspirations of the Libyan people," AFP quoted Rice as saying.
Full report at:
http://english.ahram.org.eg/NewsContent/2/8/104911/World/Region/International-community-condemns-killing-of-Libyan.aspx
----------
UN Security Council Appeals for Peaceful Vote in Libya
June 27, 2014
United Nations: The UN Security Council urged Libyans to ensure that their national elections are held peacefully on Wednesday, warning that they are important to Tripoli's transition to stable democratic rule.
In a statement, council members "emphasized that these elections are an important step in Libya's transition towards stable democratic governance and an opportunity for the Libyan people to select a transitional government that meets their legitimate aspirations."
The 15-member panel "called on all parties in Libya to ensure that elections take place peacefully across the whole country and that all Libyans are able to exercise their rights to participate in these elections."
Full report at:
http://www.ndtv.com/article/world/un-security-council-appeals-for-peaceful-vote-in-libya-546684
----------
Polish mufti discusses social problems in visit to Crimea
World Bulletin / News Desk
June 27, 2014
Tomasz Miskiewicz, the Mufti of the Muslim community in Poland, on Tuesday visited the Mufti of Crimea, Haji Emirali.
Regarding the problems in Crimea, the visiting Mutfi said he had arrived to discuss possible solutions to Crimea's religious and social disadvantages.
Miskiewicz also met with the Crimean Tatar Women's Union head Safinar Jemileva, who is also the wife of Crimean Tatar leader Mustafa Jemilev.
He also his plan to sit down and meet with Crimean Tatar Parliament head Refat Chubarov.
http://www.worldbulletin.net/muslim-world/139532/jordan-court-acquits-abu-qatada-of-conspiracy
----------
Turkish-Greek ties in most successful period: Istanbul-born Greek politician
June 27, 2014
Relations between Greece and Turkey are currently going through their most successful period, according to Istanbul-born Greek politician Eva Kaili.
The 35-year-old served as a member of the Greek Parliament from 2007-2012 from PASOK and was elected to the European Parliament last month.
"Now we are in the '[Prime Minister Recep Tayyip] Erdoğan era,' we have been going through the most successful period regarding mutual ties. For the first time since 1922, the two communities have become much closer. I want to believe that this generation will solve the problems [between the two countries]," Kaili told daily Hürriyet in an interview in Brussels.
Regarding the Cyprus question, Kaili said both sides can overcome the problem by respecting international law and "avoiding obsessions and expansionist mindsets."
http://www.hurriyetdailynews.com/turkish-greek-ties-in-most-successful-period-istanbul-born-greek-politician.aspx?pageID=238&nID=68345&NewsCatID=510
----------
URL: https://www.newageislam.com/islamic-world-news/new-age-islam-news-bureau/hijab-does-not-define-girl's-chastity,-says-iran-president/d/97774