New Age Islam News Bureau
17 Apr 2019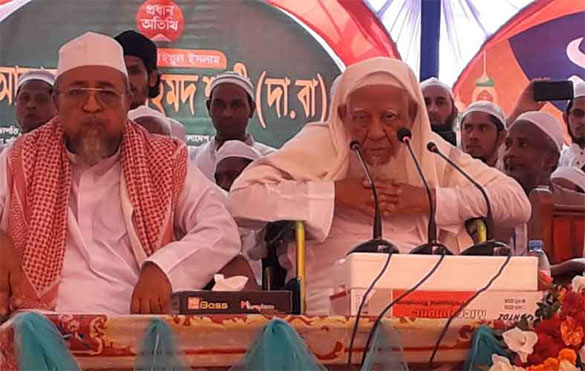 File photo: Hefazat-e-Islam chief Shah Ahmed Shafi on Tuesday attends a islamic convention in Panchagarh Dhaka Tribune
---------
•
Hefazat-e-Islam Chief Demands Ahmadiya Muslims Be Declared As Non-Muslims
• 'Dehijabing' Forum Panellists Accuse Selangor Islamic Religious Department of Harassing, Intimidating Female Activists
• Egypt Mps Back Constitution Changes to Extend Sisi Rule
• UN Security Council Denounces Taliban's Spring Offensive
• Afridi Hints At Involvement of Foreign Hand in Deadly Attack on Hazaras
• Donald Trump Vetoes Bill To End US Support For Saudi Led Yemen War
• Iran's Legislature Labels US Troops in Mideast as Terrorist
South Asia
• Hefazat-e-Islam Chief Demands Ahmadiya Muslims Be Declared As Non-Muslims
• Hundreds of Afghan Delegates To Meet With Taliban In Doha
• Airstrikes in Kunduz province kill 4 Taliban militants
• Taliban mocks government over list of 250 delegates for Qatar talks
• Death toll rises to 18 in Taliban, ISIS-K infighting in Nangarhar
• Taliban militants suffer heavy casualties in week-long operations in Zabul
--------
Southeast Asia
• 'Dehijabing' Forum Panellists Accuse Selangor Islamic Religious Department of Harassing, Intimidating Female Activists
• Joko Widodo Looks Set For Comfortable Win in Muslim Majority Indonesia
• Black metal band's Easter concert cancelled in Malaysia
• Philippine police: 4 wives of Abu Sayyaf commanders arrested
--------
Arab World
• Egypt Mps Back Constitution Changes to Extend Sisi Rule
• Hashd Al-Sha'abi Goes on Alert along Iraq-Syria Key Road to Block ISIL Penetration
• Egypt court sentences Islamists to five years in prison
• PM Abdul-Mahdi rejects US claim about IRGC role in Iraqi economy
• Lebanese FM demands restoration of Syria's Arab League membership
• Christianity grows in Syrian town once besieged by Islamic State
--------
Europe
• UN Security Council Denounces Taliban's Spring Offensive
• Alt-Right Spreads Anti-Muslim Rhetoric after Notre Dame Fire
• Russian Court Grants Early Release to Would-Be Islamic State Bride
• EU rejects Israeli claim to Golan, other occupied territory
• New Zealand disarms police as terror threat level lowered
• Danish police ban anti-Muslim provocateur's protest
• A Worrying Response By Muslims To The New Zealand Terrorist Attack: A Secular Muslim Perspective
--------
Pakistan
• Afridi Hints At Involvement of Foreign Hand in Deadly Attack on Hazaras
• Terrorists Killed In Peshawar Operation Belonged To TTP, Says Police
• Zardari vows to resist move for presidential system
• Five 'TTP men' killed in 17-hour Peshawar gun battle
--------
North America
• Donald Trump Vetoes Bill To End US Support For Saudi Led Yemen War
• Ilhan Omar is 'disrespectful' to US and 'disrespectful' to Israel: Trump
• Turkish, US defense chiefs hold talks in Washington
• Khalilzad briefs Pompeo on Afghan peace talks
--------
Mideast
• Iran's Legislature Labels US Troops in Mideast as Terrorist
• Iran's Foreign Minister Zarif in Damascus ahead of talks in Kazakhstan
• Key politician backs Netanyahu but tough coalition talks ahead
• Syria's Assad denounces US for blacklisting Iran's IRGC
• Iran's top diplomat in Turkey to discuss Syria, Libya
• Israel grabs Palestinian land, isolates villages in Jordan Valley
--------
Africa
• Fear of Army Action As Sudan Protesters Toughen Stand
• Sudan: Protesters Slam Arab Backing Of Military Council
• At least four people killed in heavy shelling in Libya's Tripoli
• US says Sudan new regime can exit terror list if progress made
• Sudan military ruler sacks prosecutor general
• Libyan gov't says held pro-Haftar soldiers in Tripoli
• Gov't forces attack pro-Hafter camp in southern Libya
--------
India
• ED Seizes Rs 6-Crore Assets of Kashmiri Businessman Who Funded Hurriyat
• India, Pakistan officials hold technical meeting on Kartarpur corridor
Compiled by New Age Islam News Bureau
URL: https://www.newageislam.com/islamic-world-news/hefazat-e-islam-chief-demands/d/118348
--------
Hefazat-e-Islam Chief Demands Ahmadiya Muslims Be Declared As Non-Muslims
April 16th, 2019
Hefazat-e-Islam chief Shah Ahmed Shafi has demanded the Ahmadiyya Muslim community—also known as Qadianis—be declared as non-Muslims
He stated his demand and remarks on Ahmadiya Muslim community on the grounds of Bir Muktijoddha Sirajul Islam Stadium in Panchagarh over a Islamic convention.
His written speech was read by his son Anas Madani.
"The demand to declare the Qadianis as non-Muslims is part of being a Muslim. Those who think Qadianis as muslim they are non-Muslim. Those who don't believe Qadianis are Qafir are also Qafir," said Shafi.
In the speech Shafi intensely criticized Workers Party President Rashed Khan Menon who supported Ahmadiyya Muslim community.
Previously on February 13, Shafi made the same demand during a press briefing at a madrasa, in Chittagong.
https://www.dhakatribune.com/bangladesh/politics/2019/04/16/shafi-demands-ahmadiya-muslims-be-declared-as-non-muslims
--------
'Dehijabing' Forum Panellists Accuse Selangor Islamic Religious Department of Harassing, Intimidating Female Activists
17 April 2019
By Zurairi AR
KUALA LUMPUR, April 17 — The Selangor Islamic Religious Department (Jais) is abusing its power to harass and intimidate female activists, said three women currently being investigated by the agency for a forum on Malay women and discarding the hijab.
In a joint statement, the three women said they are ready to cooperate with authorities, but unequivocally insisted that they have not broken any laws in the country.
"We condemn this unnecessary investigation as abuse of power to harass and intimidate women activists who are speaking up on issues affecting women, and organisers for intellectual discussions that do not serve the status quo.
"We implore the public and the authorities to explore the subject at hand with rational thinking and dialogue, as we believe in healthy discourse and the defense of democratic spaces for all minorities in Malaysia," they said in the statement.
"Let's all do our part to stop a culture of misinformation and fear of intellectual discourse," they added.
The trio consists of activist and writer Maryam Lee, legal professional and social media commentator Dian Sofia, and journalist and women's rights activist Mohani Niza.
They were panellists in a forum in conjunction with the launching of Maryam's book Unveiling Choice.
The event organised by publisher and book store Gerakbudaya received backlash from some Muslims on social media, after positively presenting the perspectives and opinions of several Malay women who "dehijab", or no longer cover their hair.
The trio said the three-hour discussion was an intellectual discourse based on the women's lived realities, looking at the phenomenon from sociological and historical perspectives, alongside discussions on the socio-political realities of Malaysian girls and women today.
According to them, the backlash on social media only started a day after the event, which had ended on a positive note.
"Negative comments of the event largely came from those who did not attend the discussion, as a result, they spread misinformation of what was being discussed and distorted perceptions of the book, the author, and the panelists," they said.
The trio said they were only informed of the investigation via a statement by minister in charge of Islamic affairs Datuk Seri Mujahid Yusof Rawa on Facebook on Monday.
By Tuesday morning, Jais officers had visited Gerakbudaya to obtain copies of the book and interview the store's representative, in response to reports against the event lodged with them.
There are differing views among Muslim scholars as to whether it is obligatory for Muslim women to cover their hair as part of the aurat, or "intimate parts".
https://www.malaymail.com/news/malaysia/2019/04/17/dehijabing-forum-panelists-accuse-jais-of-harassing-intimidating-female-act/1743964
--------
Egypt MPs back constitution changes to extend Sisi rule
16 April 2019
Members of Egypt's parliament on Tuesday approved changes to the constitution that will allow President Abdel-Fattah al-Sisi to stay in power until 2030, state media reported.
The changes to extend presidential terms are part of amendments initially introduced in February by a parliamentary bloc supportive of al-Sisi and updated this week after several rounds of debates.
"The president's current term shall expire at the end of six years from the date of his election as president in 2018," reported the official Al-Ahram news website and broadcaster Nile TV.
"He can be re-elected for another (six-year) term."
MPs approved other sweeping changes to the constitution including allowing the military a greater influence in Egyptian political life as well as granting Sisi greater control over the judiciary.
"The final votes on all the amendments package have yet to be tallied," MP Mohamed Abu Hamed told AFP.
The amendments are expected to be put to a public referendum later this month.
Egypt's parliament, which is packed with Sisi supporters, was elected in 2015.
A former military chief, Sisi became president in 2014 and was re-elected in 2018 with more than 97 percent of the vote, after standing virtually unopposed.
https://english.alarabiya.net/en/News/middle-east/2019/04/16/Egypt-MPs-back-constitution-changes-to-extend-Sisi-rule.html
--------
UN Security Council denounces Taliban's spring offensive
Apr 16, 2019
The United Nations Security Council has denounced the Taliban's launch of a spring offensive in Afghanistan, urging all parties to instead "seize the opportunity" to reach a political settlement.
The UNSC said in a unanimous statement on Monday that the Taliban's announcement of the new offensive would "only result in more unnecessary suffering and destruction for the Afghan people."
China, Russia, the United Kingdom, France, and the United States are permanent members of the Security Council. Belgium, Cote d'Ivoire, the Dominican Republic, the Equatorial Guinea, Germany, Indonesia, Kuwait, Peru, Poland, and South Africa are the other members.
The Taliban announced the beginning of their spring offensive on Friday.
Hours after the announcement, the militants launched attacks near the northern city of Kunduz and in the capital, Kabul, leaving at least nine people dead and scores of others wounded, according to Afghan officials.
The offensive comes despite the group's involvement in peace talks with the US, and ahead of a new round of negotiations.
The last round of talks between the US and Taliban wrapped up last month, with both sides citing "progress."
The Taliban have so far refused to negotiate with the government of President Ashraf Ghani, who has said talks should include Kabul.
Another round of negotiations is expected to take place later this month in Qatar, where the Taliban have a political office, and will include representatives from a variety of Afghan groups.
The UNSC "called on all parties to the conflict to seize the opportunity to begin an inclusive intra-Afghan dialogue and negotiations that result in a political settlement," according to the Monday statement.
US special envoy for peace in Afghanistan, Zalmay Khalilzad, condemned the announcement of the offensive as "reckless" and "irresponsible."
President Ghani announced his government's own spring offensive, dubbed Operation Khalid, against the militant group last month.
The Taliban's five-year rule over at least three quarters of Afghanistan came to an end following the US invasion of the country in 2001; but, 18 years on, Washington is seeking truce with the militants, who still control large swathes of land in the country.
https://www.presstv.com/Detail/2019/04/16/593550/UN-denounce-Taliban-spring-offensive
--------
Afridi hints at involvement of foreign hand in deadly attack on Hazaras
April 17, 2019
ISLAMABAD: Minister of State for Interior Shaheryar Khan Afridi on Tuesday hinted at involvement of foreign elements in the recent attack on members of the Hazara community in Quetta.
Speaking at a press conference at his office, he said the government had taken all necessary steps and would soon place the facts regarding the Hazarganji suicide attack before the nation and the world.
"Our enemies always tried to isolate us in the world and we will expose them with facts," he remarked.
At the press conference, he was flanked by some representatives of the Hazara community and members of the All Siyasi Ittihad of Waziristan.
Vowing to heal the wounds of the Shia Hazara community, the minister said both the federal and Balochistan governments had assured its leaders that their grievances would be addressed.
Mr Afridi said that on the directives of Prime Minister Imran Khan he along with Prime Minister's Special Assistant on Overseas Pakistanis Zulfiqar Bukhari had visited Balochistan to condole with the bereaved families of the community and hear their grievances.
He said the federal government stood with the Hazara community and concrete steps would be taken to end the crimes against its members.
The community's members ended their protest sit-in in Quetta despite many reservations, he said, adding that all key stakeholders — including the political parties, chief minister of Balochistan and the armed forces — played their role in persuading them to end the protest.
"The Hazara community's members just told us that we are Pakistanis and we must be considered as Pakistanis. It is the vision of the prime minister that whatever sects he/she comes from, the protection of life and prosperity is the responsibly of the state," he said.
Answering a question, he said that no written agreement had been signed with members of the community.
He further said the civil and military leaderships and all other stakeholders were united and "on the same page" to eradicate the scourge of terrorism.
The minister said the National Action Plan (NAP) would be implemented in letter and spirit. "The government has taken concert measures to implement NAP and has formed expert groups to submit reports to it for improvement in the counterterrorism plan," he said, adding that professionals had been included in the groups.
Mr Afridi said that no one would be allowed to take the law into his/her hands and appropriate steps were being taken in this regard. "There will be no compromise on the law and the Constitution," he remarked.
He made it clear that the state would act against all those who were bringing a bad name to the country. Effective steps would be taken to curb terrorism and terror financing.
Mr Afridi said the visa policy announced by the government would play an important role in improving the tourism industry and create a conducive environment for investment in the country. "We have opened doors to visit different parts of Pakistan," he said, adding that earlier tourists were facing problems to visit various parts of the country.
Responding to a question, he said that Pakistani prisoners in Saudi Arabia would be released before Ramazan.
He said the government had assured members of the All Siyasi Ittihad of Waziristan that their legitimate demands would be met soon.
They had called for steps for rehabilitation of the internally displaced persons as well as bringing back the people who had gone to Afghanistan during the military operation.
The minister said that over 5,800 people of Waziristan had moved to Afghanistan during the operation and the Afghan government had been contacted in this regard.
https://www.dawn.com/news/1476621/afridi-hints-at-involvement-of-foreign-hand-in-deadly-attack-on-hazaras
--------
Donald Trump Vetoes Bill To End US Support For Saudi Led Yemen War
Apr 17, 2019
WASHINGTON: President Donald Trump on Tuesday vetoed a resolution from Congress directing him to end US support for the Saudi-led war in Yemen, the second such move of his presidency.
The resolution was a harsh bipartisan rebuke to Trump that took the historic step of curtailing a president's war-making powers - a step he condemned in a statement announcing his veto.
"This resolution is an unnecessary, dangerous attempt to weaken my constitutional authorities, endangering the lives of American citizens and brave service members, both today and in the future," Trump said.
The veto was the second of his presidency, after he overrode a congressional resolution that aimed to reverse the border emergency he declared in order to secure more funding for his wall between the United States and Mexico in March.
Vetoing the measure is an "effective green light for the war strategy that has created the world's worst humanitarian crisis to continue," said International Rescue Committee president and CEO David Miliband.
"Yemen is at a breaking point with 10 million people on the brink of famine. There are as many as 100 civilian casualties per week, and Yemenis are more likely to be killed at home than in any other structure." Trump argued that US support for the bloody war between the Saudi-backed Yemeni government and Iran-aligned Huthi rebels was necessary for a variety of reasons, "first and foremost" to "protect the safety of the more than 80,000 Americans who reside in certain coalition countries." These countries "have been subject to Huthi attacks from Yemen," he said, referring to drone and missile strikes the Saudi-led coalition has either claimed were intercepted or denied altogether.
The president also said the resolution would "harm the foreign policy of the United States" and "harm our bilateral relationships."
And it would "negatively affect our ongoing efforts to prevent civilian casualties and prevent the spread of terrorist organizations such as Al-Qaeda in the Arabian Peninsula and ISIS, and embolden Iran's malign activities in Yemen," Trump said, referring to two Sunni Muslim militant groups and his Shiite bete noire.
The resolution, which passed the US House of Representatives earlier this month and the Senate in March, was a historic milestone, as it was the first time in history that a measure invoking the 1973 War Powers Resolution reached the president's desk.
Democrats argued that US involvement in the Yemen conflict - through intelligence-sharing, logistical support and nowdiscontinued aerial refueling - is unconstitutional without congressional authority.
Speaker of the House Nancy Pelosi - the country's most senior Democratic politician - took aim at Trump's veto in a series of tweets on Tuesday.
"The conflict in Yemen is a horrific humanitarian crisis that challenges the conscience of the entire world," Pelosi wrote. "Yet the President has cynically chosen to contravene a bipartisan, bicameral vote of the Congress & perpetuate America's shameful involvement in this heartbreaking crisis." Senator Bernie Sanders, a lead author of the Yemen resolution and a Democratic 2020 presidential candidate, said that "the people of Yemen desperately need humanitarian help, not more bombs."
"I am disappointed, but not surprised, that Trump has rejected the bi-partisan resolution to end U.S. involvement in the horrific war in Yemen," Sanders tweeted.
Critics of the intervention warn that Saudi forces are likely using US weapons to commit atrocities in the four-year war.
Some 10,000 people have been killed in Yemen over the past four years, according to the World Health Organization, although rights groups say the toll could be five times higher.
Both the Saudi-led alliance and Huthi rebels have been accused of acts that could amount to war crimes, while the coalition has been blacklisted by the United Nations for killing and maiming children.
https://timesofindia.indiatimes.com/world/us/donald-trump-vetoes-bill-to-end-us-support-for-saudi-led-yemen-war/articleshow/68916134.cms
--------
Iran's legislature labels US troops in Mideast as terrorist
April 17, 2019
TEHRAN: Iran's lawmakers on Tuesday overwhelmingly approved a bill labelling US forces in the Middle East as terrorist, a day after the US terrorism designation for Iran's Revolutionary Guard formally took effect, state TV reported.
Defence Minister Gen. Amir Hatami introduced the bill authorising the government to act firmly in response to "terrorist actions" by US forces. It demands authorities use "legal, political and diplomatic" measures to neutralise the American move, without elaborating.
The US move aims at "thwarting Iran's influence," and shows that America's longstanding sanctions against Iran have become ineffective, Hatami told lawmakers.
During the debate, some hard-liner lawmakers had demanded listing the entire US army and security forces as terrorist.
The TV report said 204 lawmakers approved the bill, out of 207 present at the session in the 290-seat chamber. Two lawmakers voted against the bill and one abstained.
However, it remains unclear how the bill's passage in parliament would affect the Gourd's activities in the Persian Gulf, where the US Navy has in the past accused Iranian patrol boats of harassing American warships.
The Revolutionary Guard has forces and wields influence in Iraq, Syria, Lebanon and Yemen, and is in charge of Iranian missiles that have US bases in their range.
The Guard's designation the first-ever for an entire division of another government adds another layer of sanctions to the powerful paramilitary force and makes it a crime under US jurisdiction to provide it with material support.
https://www.dawn.com/news/1476645/irans-legislature-labels-us-troops-in-mideast-as-terrorist
--------
South Asia
Hundreds of Afghan delegates to meet with Taliban in Doha
Apr 16, 2019
KABUL: Afghanistan published Tuesday a lengthy list of delegates who will meet with the Taliban in Doha this week, including government officials, in what could become the highest-level dialogue between the sworn enemies in years.
A massive roster published by the presidential palace comprises 250 names, including President Ashraf Ghani's chief of staff, Abdul Salam Rahimi, as well as his election running mate, Amrullah Saleh, the former head of Afghan intelligence.
Other delegates named on the list come from many walks of Afghan life including youth leaders, tribal elders and — significantly — 52 women.
The last time the Taliban met with the Afghan government was at secretive talks in Pakistan in 2015, which were quickly derailed by the news that Afghan Taliban leader Mullah Omar had died.
The three days of talks in Qatar, scheduled to start Friday, come amid a months-long push led by Washington for peace nearly 18 years after the US invasion, and as fresh violence rips across Afghanistan.
Any contact between the Kabul government and the Taliban is seen as hugely significant, because the insurgents view Ghani as a US stooge and his government as a puppet regime, and have long refused to speak with them directly.
They have insisted that any government officials attending this week's talks will be doing so only in a "personal capacity".
The US, which has cited significant progress after holding direct talks with the militants in Doha several times since September, is not expected to attend.
The militants have not announced a final list of who is headed to Doha, and distanced themselves from a report that suggested their delegation might also include women.
The peace process thus far has been widely criticised for a lack of female representation, and US peace envoy Zalmay Khalilzad has pushed for greater inclusivity.
While the Taliban previously met with Afghan representatives and politicians in Moscow in February, those talks did not include members of Ghani's government.
The spokesman for former president Hamid Karzai, who was at the Moscow talks, said Karzai supported the "intra-Afghan" conference in Doha but would not be attending.
Kabul has also been left out of the talks with the Khalilzad and the US delegation, prompting concerns the Afghan government is being sidelined in its own peace process and underscoring the importance of this week's meetings in Doha.
This month, the United Nations said it had lifted travel bans for 11 Taliban delegates so they could attend talks.
That list includes Mullah Abdul Ghani Baradar, a co-founder of the Islamist movement and its top political leader, as well as Sher Mohammad Abbas Stanikzai, the Taliban's chief negotiator and former deputy minister of foreign affairs.
The Taliban last week announced the start of Operation Fath, this year's spring offensive, and violence has continued apace across Afghanistan despite Khalilzad calling for a ceasefire.
https://timesofindia.indiatimes.com/world/south-asia/hundreds-of-afghan-delegates-to-meet-with-taliban-in-doha/articleshow/68908771.cms
--------
Airstrikes in Kunduz province kill 4 Taliban militants
16 Apr 2019
At least four Taliban militants were killed in the airsrikes which were carried out in norther Kunduz province, the military sources said Tuesday.
The sources further added that the airstrikes were carried out in the vicinity of Kunduz district.
This comes as Taliban militants intensified their attacks on Kunduz and some other key northern provinces soon after announcing their spring offensive early on Friday.
However, the Afghan military says the attacks were repulsed leaving at least 179 militants dead and dozens more wounded.
The 209th Shaheen Corps in a statement said Monday that the militants were killed during the clashes in Badakhshan, Kunduz, Baghlan, Balkh, Sar-e-Pul, and Faryab provinces.
The statement further added that 77 militants including their 6 commanders were also wounded during the same clashes.
Full report at:
https://www.khaama.com/airstrikes-in-kunduz-province-kill-4-taliban-militants-03728/
--------
Taliban mocks government over list of 250 delegates for Qatar talks
17 Apr 2019
The Taliban group has mocked the Afghan government over the list of 250 delegates for Qatar talks, saying 'the creators of the list must realize that this is an orderly and prearranged conference in a far-away Gulf country and not an invitation to some wedding or other party at a hotel in Kabul.'
The group has also claimed that the government has fears regarding such gatherings and progress made in peace efforts.
"The Kabul administration has published a list of 250 participants for the said conference but the hosts of this conference have no plans of accepting so many people from Kabul and neither is such participation normal in such conferences," Taliban said in a statement earlier today.
The statement further added that "Only a limited number of political and national figures from this list are selected for the finalized list and only they shall be participating."
The government on Tuesday released the initial list of individuals who are due to participate in talks with the Taliban group in Qatar.
Presidential spokesperson Shah Hussain Murtazawi sid the individuals have been introduced by political parties, intendent political figures, and other institutions and departments.
Full report at:
https://www.khaama.com/taliban-mocks-government-over-list-of-250-delegates-for-qatar-talks-03738/
--------
Death toll rises to 18 in Taliban, ISIS-K infighting in Nangarhar
17 Apr 2019
The Afghan military in the East has confirmed that the death toll from infighting among Taliban and ISIS Khurasan militants in Nangarhar province has climbed to 18 on Tuesday.
The 201st Silab Corps said at least 12 Taliban and 6 ISIS Khurasan militants were killed during the infighting which erupted on Monday.
The 201st Silab Corps of the Afghan Military in a statement said Tuesday that the clash broke out in Haidar Keli, Asman Kala, Ibrahim Khel, and Wadi Sar areas of Khogyani district on Monday.
It had earlier said that eight militants of the Red Unit of Taliban and four ISIS Khurasan militants were killed during the clash.
Full report at:
https://www.khaama.com/death-toll-rises-to-18-in-taliban-isis-k-infighting-in-nangarhar-03737/
--------
Taliban militants suffer heavy casualties in week-long operations in Zabul
16 Apr 2019
The Afghan military in the South and the Ministry of Defense have confirmed that Taliban militants have suffered heavy casualties during the operations in southern Zabul province in past one week.
According to the statements released by 205th Corps of the Afghan Military and the Ministry Defense, the 2nd Brigade, 205th Hero Corps conducted clearing operations this past week in Mezan, Shah Joi, and Daichopan areas of Zabul province as part of the new security plan Operation Khalid.
The statements further added that that the operations were jointly conducted with the Afghan Police police and the National Directorate of Security leaving 20 Taliban militants dead dead, 13 wounded while 5 IEDs were discovered and destroyed.
Recently the 205th Corps Commander, Lieutenant General Emam Nazar spoke about hopes for peace at a recent graduation for the Afghan National Army territorial force since there has been an increase of violence from the Taliban since the announcement of their spring offensive.
Full report at:
https://www.khaama.com/taliban-militants-suffer-heavy-casualties-in-week-long-operations-in-zabul-03736/
--------
Southeast Asia
Joko Widodo Looks Set For Comfortable Win in Muslim Majority Indonesia
Kate Lamb in Jakarta
Wed 17 Apr 2019
Joko Widodo looks likely to have secured a comfortable win over his rival in Indonesian elections, according to unofficial "quick counts".
The counts, conducted by several credible polling agencies, show the incumbent president ahead of his political rival, the former Special Forces commander Prabowo Subianto, by almost 9 percentage points.
"We have seen everything from the exit poll and quick count indications, but we must be patient and wait for calculations from the KPU officially," Jokowi said on Wednesday, referring the national elections commission.
"Let us reunite as brothers and sisters of the country after this election, establish our harmony and brotherhood."
The official results of the election – a mammoth logistical undertaking in a nation stretched across thousands of islands – are not expected for another month but the unofficial quick counts, based on samples of votes, have proved to be reliable early indicators in the past.
A quick count from the survey institute Litbang Kompas, based on a sample of almost 75% of votes, placed the president, better known by his nickname "Jokowi", and his running mate, the Islamic cleric Ma'ruf Amin, with 54.19% of the vote, and Prabowo and the former investment manager Sandiaga Uno with 45.81%.
A poll by the Centre for Strategic and International Studies (CSIS), based on a sample of 86% of the vote, echoed these findings, showing Jokowi and Ma'ruf ahead with 55.75%.
The election is the first time the world's third-largest democracy has held simultaneous presidential and parliamentary elections, and despite some hiccups the process appeared to run smoothly in most areas.
A festive and celebratory atmosphere dominated polling stations across the capital, with voters proudly showing off purple-stained fingers, dipped in indelible ink after voting.
Polling booths across the city were decorated in red and white cloth, the colours of the Indonesian flag, as well as flowers and balloons, while some stations adopted fancy dress attire, with people dressing as superheroes and zombies.
Ayu Dyah Widarti, a volunteer for Jokowi, spent her morning cycling around various polling stations in south Jakarta to check on the voting process. "People are enthusiastic, smiling, and it's been smooth," she said.
Ayu said she strongly supported the president because he "has a vision, is sincere and works hard".
"He has high integrity and is honest and he doesn't have a problematic background, or any baggage," she said, "There is already evidence of his leadership, from when he was Solo mayor, Jakarta governor and also a president. He has built a lot of infrastructure and not just for Jakarta, but all over Indonesia, for all Indonesians."
As president, Jokowi has impressed voters with his commitment to building infrastructure and expanding social welfare, but has drawn criticism for failing to address past human rights abuses and chronic corruption, and most recently for leveraging the state apparatus, including law enforcement agencies and Islamic groups, to solidify his support base.
In the lead-up to the election some voters, disillusioned with the president and also unimpressed with the challenger, a former general accused of human rights abuses including in East Timor, had vowed to "golput", or abstain, in protest.
Opinion on who should lead the country appeared divided in the capital on Wednesday, with many voters saying they would remain at polling stations to watch the open-air vote count and ensure it was transparent. "Should be tight, maybe 50/50," said Bambang Sukanto, a council worker, at one Jakarta polling station. "So we are going to watch and see."
In one of the only remaining democratic bright spots in south-east Asia, the election campaign has been marked by a deluge of fake news, and in the world's largest Muslim-majority nation, attempts by the candidates to outdo each other in displays of religiosity.
While Jokowi has for months maintained a double-digit lead, there had been a feeling on the ground that it could be a closer race than predicted. In the bitterly divisive election of 2014, Jokowi defeated Prabowo by 6 percentage points.
Despite the quick count results, the Prabowo camp is claiming its exit poll shows the former general won by 55.4%.
In recent months the opposition has also claimed the integrity of the electoral list is undermined by the existence of millions of "ghost" voters – a move some analysts believe indicates it is laying the groundwork for a legal challenge if Prabowo loses.
Speaking to reporters near his home in Bogor, West Java, after voting, Prabowo said he could not guarantee there would not be any post-election chaos, but said it would not come from his team.
"I promise that we will work for the good of the country. If it's chaos, it's not from us, that I guarantee," he said. "But, we don't want to be cheated any more. People don't want to be cheated any more."
Across the archipelago there were also several logistical hiccups. In some areas of West Papua ballot papers did not reach remote areas in time, with the vote in several subdistricts postponed until Thursday.
And after a video was circulated last week allegedly showing bags of ballots pre-marked for Jokowi in Kuala Lumpur, the elections commission has announced voting there will be rescheduled, while an inundated overseas polling station in Sydney will be reopened after hundreds of voters missed out.
Source: https://www.theguardian.com/world/2019/apr/17/indonesia-elections-president-joko-widodo-set-comfortable-win
--------
Black metal band's Easter concert cancelled in Malaysia
April 16, 2019
A heavy metal rock concert planned for Easter Sunday in Kuala Lumpur has been canceled after outrage by the Council of Churches of Malaysia (CCM) that it was promoting an anti-Christian sentiment.
A spokesman for the organizers, Goatlordth Records, said they were canceling the show by Singapore black metal band Devouror as they do not want to get into trouble with Malaysian authorities.
The reversal follows objections to the concert by Reverend Herman Shastri, secretary-general of the council, questioning the authorization of an "anti-Christian and pro-Satanic" performance in the Muslim-majority multi-ethnic country.
"The CCM calls upon the relevant authorities to explain the basis for granting permission to such bands that promote their music using extremely offensive and denigrating language that can hurt the religious feelings of others," he said in a press release on April 15.
"On top of that, the live performance of the band will be on one of the holiest days of the Christian calendar, namely Easter.
"This will be considered an affront to the religious sentiments of Christians in the country," Shastri had said.
The Singaporean black metal band Devouror identifies itself as iconoclastic and promotes itself for shock effect with brutish imagery.
Announcing the cancellation of the concert on its Facebook page last night, the organizers said that they were "devastated that the Devouror's Kuala Lumpur debut show has to submit to its fate of cancellation".
"As (the) organizer, we are frustrated that almost a year of effort has been suppressed to nothing, as we intend no harm or beef with the righteous authority," Goatlordth Records said.
"To belittle the fans of extreme music with shameful judgment is scrutiny of your own personal values," they said.
Goatlordth Records also argued that "extreme music" by bands like Devouror which are intended to be provocative is no different from other extreme genres of art such as gory horror movies.
The five-man band Devouror consists of veterans in Singapore's black metal scene. They describe their sound as "Bestial Deathcult Warfare" with influences from metal bands such as Possessed, Sarcofago, Necrovore, Blasphemy, Death, and Sodom.
CCM's complaint comes in the wake of a decision by neighboring Singapore's decision to cancel Swedish black metal band Watain on March 7, hours before it was due to perform there.
Singapore authorities cited concerns over the band's history of denigrating religions and promoting violence. Singapore's Info-communications Media Development Authority initially allowed the performance to take place.
The cancellation followed security concerns raised by the Singaporean Ministry of Home Affairs, who said the band's performance had the potential to cause enmity and disrupt the city state's social harmony.
Last week, a concert called Sarawak Metal Regime originally scheduled for this Saturday in Sarawak state was also canceled due to religious complaints.
Full report at:
https://www.ucanews.com/news/black-metal-bands-easter-concert-cancelled-in-malaysia/84984
--------
Philippine police: 4 wives of Abu Sayyaf commanders arrested
April 16, 2019
ZAMBOANGA, Philippines: Philippine police on Tuesday arrested four women they said were wives of Abu Sayyaf commanders who took care of their financial transactions, helped procure guns and bomb parts and arranged the travels of foreign militants to the country.
The women were arrested in raids on houses in southern Zamboanga city where authorities seized two grenades, a bag of suspected ammonium nitrate and electrical parts that can be used in making bombs, police officials said.
The women worked under Abu Sayyaf leader Hajjan Sawadjaan, the main suspect in the Jan. 27 bombing of a Roman Catholic cathedral during a Mass that killed 23 people in nearby Sulu province's capital town of Jolo. The cathedral attack by two suspected suicide bombers sparked the latest military offensive against the Abu Sayyaf.
"The women are the wives of Abu Sayyaf group leaders," a police report said without identifying the militant husbands of the women. They "are being utilized by the ASG for their financial transactions, procurement and transportation of firearms and explosives and the facilitation of recruitment and travel of foreign fighters to the Philippines," it said.
Sawadjaan has been regarded as the current leader of small armed groups aligned with the Daesh group in the southern Philippines, homeland of minority Muslims in the largely Roman Catholic nation. Police officials suspect he may be harboring at least one more potential suicide attacker, an Arab militant, in his jungle encampment near mountainous Ptikul town in Sulu.
Full report at:
http://www.arabnews.com/node/1483406/world
--------
Arab World
Hashd Al-Sha'abi Goes on Alert along Iraq-Syria Key Road to Block ISIL Penetration
Apr 16, 2019
"The forces of divisions 17 and 18 of Iraq's Hashd al-Sha'abi have been stationed along Akashat-al-Qaem international highway from al-Ratabeh Intersection to the West of al-Anbar Province, the Arabic-language al-Ma'aloumeh news website quoted commander of Hashd al-Sha'abi's Division 17 Jasem al-Nouri as saying on Tuesday.
Al-Nouri noted that Hashd al-Sha'abi forces are in dominant control of security along the international highway, and said his forces are prepared to confront the ISIL from Syria towards Iraq's territories, including Wadi Houran region.
He also said that Hashd al-Sha'abi has maintained security of 70 kilometers of the international road upto Akashat.
Media reports said on Saturday that the US military men stationed in occupied bases in al-Anbar province use the ISIL terrorists in disguise of ordinary people to target the Iraqi forces in desert areas of the region.
Head of Badr Organization's Office in al-Anbar Qusai al-Anbari was quoted by al-Ma'aloumeh news website as saying that the US forces deployed in Ein al-Assad and al-Habaniyeh bases in al-Anbar deserts in Western Iraq are using a new method to attack the Iraqi security forces.
He added that they disguise the ISIL terrorists as shepherds and tribesmen to launch on against the Iraqi security forces, Hashd al-Shaabi (Iraqi popular forces) and civilians in al-Anbar desert.
Al-Anbari said that the US forces have even prepared livestock for the ISIL terrorists to disguise them as shepherds.
The head of Badr organization's office in al-Anbar province had also last month warned of the American forces' suspicious moves in the Western deserts of the province, saying that the US was aiding the terrorists stationed in the region.
Al-Ma'aloumeh quoted al-Anbari as saying at the time that the Americans were assisting a terrorist group called Ghosts of Desert in desert areas of al-Anbar, adding that they had been airdropping foodstuff packages for the ISIL from helicopters hovering over the region in the past few days.
He also warned that the US army was training hundreds of ISIL terrorists in al-Anbar province after relocating them from Syria to Iraq to prepare them for a new round of insecurities in the country.
http://en.farsnews.com/newstext.aspx?nn=13980127000764
--------
Egypt court sentences Islamists to five years in prison
16 April 2019
An Egyptian court has sentenced 36 people convicted of joining the outlawed Muslim Brotherhood organization to five years in prison.
The Alexandria criminal court on Tuesday also sentenced the defendants to five years of probation. They were arrested in Alexandria in 2017.
The sentences can be appealed.
The Muslim Brotherhood won a series of elections following Egypt's 2011 uprising but was branded a terrorist group after the military overthrew an elected but divisive Islamist president in 2013. Since then, courts have held mass trials and sentenced hundreds of people to death.
https://english.alarabiya.net/en/News/middle-east/2019/04/16/Egypt-court-sentences-Islamists-to-five-years-in-prison.html
--------
PM Abdul-Mahdi rejects US claim about IRGC role in Iraqi economy
Apr 17, 2019
Iraq has resolutely refuted a recent US claim that Iran's Islamic Revolution Guards Corps (IRGC) plays a part in the Arab country's economic affairs, saying Washington is lying about the role of the elite military force, which in fact helped the Baghdad government defeat the terror group Daesh.
Speaking at a weekly presser on Wednesday, Prime Minister Adil Abdul-Mahdi of Iraq rejected as mere "lies" US Secretary of State Mike Pompeo's allegations that "some 20 percent of the Iraqi economy is controlled by the IRGC."
The Iraqi premier expressed surprise at the US top diplomat's claim and asserted that the elite Iranian defense force was not engaged in any economic activity in Iraq.
The Americans speak of "20 percent, 10 percent, five percent or whatever other proportion…I don't know how they have calculated these figures," Abdul-Mahdi told reporters.
"We enjoy advanced economic ties and business transactions with Iran, but this is different from maintaining economic relations with the Corps," he added.
Last week, the United States designated the IRGC as a "foreign terrorist organization."
The move – the first of its kind in US history – sparked global criticism, with several states arguing that targeting another country's military forces is against international regulations.
The designation drew strong criticism from Iraqi officials, personalities and military groups, which had received advisory assistance from the IRGC in the course of the Arab country's anti-Daesh operations.
Also on Tuesday, a major Iraqi parliamentary bloc issued a statement, warning about the US recent attempts at stoking tensions in the region, including its blacklisting of the IRGC.
The statement was issued by the Reform and Construction Alliance parliamentary bloc, which is led by senior cleric Ammar al-Hakim and also features Hakim's fellow prominent cleric Muqtada al-Sadr's Alliance Towards Reform (Saairun) as well as former premier Haider al-Abadi's Victory Alliance.
It demanded that Iraq's president, premier, and parliament speaker as well as other political leaders hold an urgent meeting to address Washington's push, and adopt decisions to protect the country against such measures.
The bloc also urged Baghdad to retain its policy of neutrality, and be mindful of protecting the country's integrity.
At Baghdad's request, the IRGC started providing military advisory support to Iraq's Army and allied volunteer fighters in its battle against Daesh in 2014, when Daesh began its terror campaign.
Full report at:
https://www.presstv.com/Detail/2019/04/17/593623/Iraq-Iran-United-States-Pompeo-IRGC-economy
--------
Lebanese FM demands restoration of Syria's Arab League membership
Apr 16, 2019
Lebanese Foreign Minister Gebran Bassil has called for restoring Syria's membership in the Arab League, amid growing Arab overtures towards the Damascus government now that the country seems to be on the verge of full victory against foreign-backed terrorists.
"Every time we meet, there is a vacant chair. ... It is not permissible for Syria to remain outside the Arab fold," Bassil said during a speech at the fifth Russian-Arab Cooperation Forum in the Russian capital city of Moscow on Tuesday.
He added, "Our Arab people are counting on us and are waiting for the Arab League to play an essential role in bringing together Arabs and solving our many problems."
The top Lebanese diplomat then described the Middle East region's list of issues as "long and difficult," but emphasized that addressing the Syrian crisis should take priority.
The Arab League suspended Syria's membership in November 2011, citing alleged crackdown by Damascus on opposition protests. Syria denounced the move as "illegal and a violation of the organization's charter."
Syrian Deputy Foreign Minister Faisal Mekdad said on February 3 that his country will eventually return to the Arab League, stressing that the Damascus government will never surrender to blackmail or accept conditions for the restoration of its membership to the regional organization.
"Those who are trying to ignore Syria or to impose conditions for its return to the Arab League will not succeed, since Syria will not surrender to blackmail and is not primarily concerned with anything other than its domestic problems," Mekdad said.
He added that certain anti-Syria decisions are being made by some Arab states on the instructions of extra-regional powers.
Some Arab countries have recently stepped up efforts to normalize ties with Syria as the country's troops have been making sweeping gains against the foreign-backed terrorists operating to topple the Damascus government.
The issue of possible restoration of Syria's membership in the Arab League comes especially after a recent move by some Arab countries to re-open their embassies in Damascus.
Bahrain's Foreign Ministry announced in a statement on December 28 last year that work at the kingdom's embassy in the Syrian Arab Republic was going on while the embassy of the Syrian Arab Republic to Bahrain was carrying out its duties and flights connecting the two countries were operational without interruption.
The United Arab Emirates had earlier officially reopened its embassy in Damascus.
Full report at:
https://www.presstv.com/Detail/2019/04/16/593582/Lebanese-FM-demands-restoration-of-Syrias-Arab-League-membership
--------
Christianity grows in Syrian town once besieged by Islamic State
APRIL 16, 2019
KOBANI, Syria (Reuters) - A community of Syrians who converted to Christianity from Islam is growing in Kobani, a town besieged by Islamic State for months, and where the tide turned against the militants four years ago.
The converts say the experience of war and the onslaught of a group claiming to fight for Islam pushed them toward their new faith. After a number of families converted, the Syrian-Turkish border town's first evangelical church opened last year.
Islamic State militants were beaten back by U.S. air strikes and Kurdish fighters at Kobani in early 2015, in a reversal of fortune after taking over swaths of Iraq and Syria. After years of fighting, U.S.-backed forces fully ended the group's control over populated territory last month.
Though Islamic State's ultra-radical interpretation of Sunni Islam has been repudiated by the Islamic mainstream, the legacy of its violence has affected perceptions of faith.
Many in the mostly Kurdish areas of northern Syria, whose urban centers are often secular, say agnosticism has strengthened and in the case of Kobani, Christianity.
Christianity is one of the region's minority faiths that was persecuted by Islamic State.
Critics view the new converts with suspicion, accusing them of seeking personal gain such as financial help from Christian organizations working in the region, jobs and enhanced prospects of emigration to European countries.
The newly-converted Christians of Kobani deny those accusations. They say their conversion was a matter of faith.
"After the war with Islamic State people were looking for the right path, and distancing themselves from Islam," said Omar Firas, the founder of Kobani's evangelical church. "People were scared and felt lost."
Firas works for a Christian aid group at a nearby camp for displaced people that helped set up the church.
He said around 20 families, or around 80 to 100 people, in Kobani now worship there. They have not changed their names.
"We meet on Tuesdays and hold a service on Fridays. It is open to anyone who wants to join," he said.
The church's current pastor, Zani Bakr, 34, arrived last year from Afrin, a town in northern Syria. He converted in 2007.
"This was painted by IS as a religious conflict, using religious slogans. Because of this a lot of Kurds lost trust in religion generally, not just Islam," he said.
Many became atheist or agnostic. "But many others became Christian. Scores here and more in Afrin."
MISSIONARIES AND CRITICS
One man, who lost an arm in an explosion in Kobani and fled to Turkey for medical treatment, said he met Kurdish and Turkish converts there and eventually decided to join them.
"They seemed happy and all talked about love. That's when I decided to follow Jesus's teachings," Maxim Ahmed, 22, said, adding that several friends and family were now interested in coming to the new church.
Some in Kobani reject the growing Christian presence. They say Western Christian aid groups and missionaries have exploited the chaos and trauma of war to convert people and that local newcomers to the religion see an opportunity for personal gain.
"Many people think that they are somehow benefiting from this, maybe for material gain or because of the perception that Christians who seek asylum abroad get preferential treatment," said Salih Naasan, a real estate worker and former Arabic teacher.
Thousands of Christians have fled the region over decades of sectarian strife. From Syria they have often headed for Lebanon and European countries.
U.S. President Donald Trump in 2017 banned entry for all Syrian refugees indefinitely and imposed a 90-day ban on travel from several other predominantly Muslim countries.
"It might be a reaction to Daesh (Islamic State) but I don't see the positives. It just adds another religious and sectarian dimension which in a community like this will lead to tension," said Naasan, a practicing Muslim.
Naasan like the vast majority of Muslims rejects Islamic State's narrow and brutal interpretation of Islam. The group enslaved and killed thousands of people from all faiths, reserving particular brutality for minorities such as the Yazidis of northern Iraq.
Most Christians preferred not to give their names or be interviewed, saying they fear reaction from conservative sectors of society.
Full report at:
https://www.reuters.com/article/us-syria-islamic-state-christians/christianity-grows-in-syrian-town-once-besieged-by-islamic-state-idUSKCN1RS19N
--------
Europe
Alt-right spreads anti-Muslim rhetoric after Notre Dame fire
Apr 17, 2019
Alt-right supporters have used the Notre Dame Cathedral fire in Paris to spread xenophobic rhetoric on social media.
The massive blaze that erupted on Monday in the French capital destroyed much of the timber roof and toppled the spire of the cathedral, which was in the middle of a $6.8m renovation.
The fire was extinguished on Tuesday around 15 hours after it broke out.
Officials are still investigating the reason behind the fire, but have ruled out arson.
French media reported that the fire might have been linked to the renovation work. The Paris prosecutor's office said that "as matters stand" it was investigating a count of "involuntary destruction by fire".
Yet, alt-right provocateurs were quick to peddle conspiracy theories and spread insinuations against Muslims in the wake of the blaze, that gutted parts of the historic building.
Richard Spencer, a white supremacist and the leader of the alt-right, said the fire would have "served a glorious purpose" if it pushed the "White man into action".
Richard 🐇 Spencer
@RichardBSpencer
If the Nortre Dame fire serves to spur the White man into action--to sieze power in his countries, in Europe, in the world--then it will have served a glorious purpose and we will one day bless this catastrophe.
1,524
1:12 AM - Apr 16, 2019
Twitter Ads info and privacy
1,772 people are talking about this
Alt-right is a loosely knit coalition of far-right groups that include populists, white supremacists, white nationalists, neo-Confederates and neo-Nazis.
Many alt-rightists promote various forms of white supremacy, white nationalism, anti-Semitism and Holocaust denial.
Similarly, Pamela Geller, an anti-Muslim public figure, posted a photograph of two men who appeared to stand near the scene of the Notre Dame fire. In her post, she said: "Jihadists reveled … sharing media photos of the flames billowing smoke, and comments expressing their joy".
Pamela Geller
✔
@PamelaGeller
Jihadists reveled in the fire engulfing the Notre Dame Cathedral in #Paris, France, sharing media photos of the flames and billowing smoke, and comments expressing their joy https://gellerreport.com/2019/04/muslims-laugh-notre-dame-inferno.html/ …
1,054
2:12 AM - Apr 16, 2019
1,894 people are talking about this
Twitter Ads info and privacy
Al Jazeera could not verify the circumstances behind the photo, nor identify the men in the image.
Far-right politicians in Europe have also attempted to link the fire to rising "intolerance" against Christians on the continent.
Alice Weidel, the parliamentary group leader of the Alternative for Germany (AfD), Germany's largest opposition party and first far-right nationalist movement to enter parliament since World War II, linked the incident to previous attacks in France.
The AfD's original purpose was to promote a eurosceptic agenda, but the party has since shifted its focus to immigration and Islam.
"During Holy Week #NotreDame burns. March: second largest church Saint-Sulpice burns. February: 47 attacks in France," Weidel wrote on Twitter.
"The Observatory on Intolerance and Discrimination Against Christians in Europe speaks of a significant increase," she added, including a link to an article published in March in a German Catholic magazine.
Alice Weidel
✔
@Alice_Weidel
In der #Karwoche brennt #NotreDame.
März: zweitgrößte Kirche Saint-Sulpice brennnt
Februar: 47 Angriffe in 🇨🇵
Die Beobachtungsstelle gegen Intoleranz und Diskriminierung von Christen in Europa spricht von einer signifikanten Zunahme.#NotreDameCathedralhttps://katholisches.info/2019/03/25/in-ganz-frankreich-werden-katholische-kirchen-geschaendet/ …
1,610
12:53 PM - Apr 16, 2019
Twitter Ads info and privacy
975 people are talking about this
The brief fire on March 17 at Saint-Sulpice, a Roman Catholic church in Paris, left no one hurt and caused little damage. Investigators have opened an inquiry into the blaze.
Meanwhile, Arab and Muslim organisations and public figures shared their concerns over conspiracies spreading on social media and on French and Western media outlets.
Ali Abunimah, the cofounder of Electronic Intifada, an online magazine that documents the Israeli occupation, warned in a Twitter post that a narrative is being created "based on nothing".
TellMAMAUK
✔
@TellMamaUK
• 23h
Replying to @TellMamaUK
6️⃣ Glenn Beck
Glenn Beck: If Notre Dame fire "was started by Islamists, I don't think you'll find out about it"
Video: https://twitter.com/JasonSCampbell/status/1117960297388572673 …
TellMAMAUK
✔
@TellMamaUK
7️⃣Katie Hopkins
Hopkins, who boasts almost one million Twitter followers, made a similar dog-whistle argument about "Judeo-Christian" culture following the #NotreDameCathedralFire
Reject such narratives and Islamophobic dog whistles. pic.twitter.com/GiiQgbdrCR
43
2:15 PM - Apr 16, 2019
Twitter Ads info and privacy
View image on Twitter
32 people are talking about this
Tell MAMA, a UK group which monitors hate crime, called on people to "reject such narratives and Islamophobic dog whistles", as it highlighted a series of posts from figures including Katie Hopkins, Frank Gaffney, Stefan Molyneux and Paul Joseph Watson.
Ali Abunimah
✔
@AliAbunimah
On French TV @BFMTV a commentator is comparing #NotreDame fire to Taliban's destruction of Bamyan Buddhas and 9/11. They are creating a narrative, based on nothing, that Muslims are to blame.
103
1:26 AM - Apr 16, 2019
Twitter Ads info and privacy
89 people are talking about this
https://www.aljazeera.com/news/2019/04/alt-spread-anti-muslim-rhetoric-notre-dame-fire-190416110146645.html
--------
Russian Court Grants Early Release to Would-Be Islamic State Bride
APR 17, 2019
MOSCOW - A Russian court on Tuesday granted parole to a Moscow student who was sent to prison for trying to join the Islamic State group in Syria.
The court in Russia's northwest upheld Varvara Karaulova's plea to cut her prison sentence by one year and 10 days. The 23-year old Moscow State University student was sentenced to 4½ years in prison in December 2016. She was arrested in Turkey, where she was trying to cross into Syria after her father filed a missing person's report.
At least 4,000 Russian citizens, mostly from predominantly Muslim regions, have traveled to Syria and Iraq to join IS. Philosophy major Karaulova, from a middle-class, non-Muslim Moscow family, was unusual among Russian IS recruits who typically hailed from impoverished provincial backgrounds in the North Caucasus.
Karaulova, a convert to Islam, insists that she fell in love with a man she met online and wanted to marry him in Syria but did not share the radical ideology of the IS. Her father had pleaded with the court to acquit Karaulova, saying that he was seeking help from Russian authorities by filing a missing person's report, not vengeance against his daughter.
Karaulova, who was expelled from university shortly after her arrest, told the court on Tuesday that her trip to Turkey was "the most foolish thing I have ever done in my life and the one I'm still punishing myself for."
Her father, Pavel Karaulov, who attended the hearing in Vologda, told the RIA Novosti news agency that he was "over the moon" with the ruling and hoped that his daughter can soon return to her studies and "live to the full."
Mikhail Fedotov, chairman of the Russian presidential human rights council, who visited Karaulova in custody, welcomed the ruling, saying in remarks carried by Tass that she was a "victim of terrorism."
Until recently Russia, unlike many European countries, has been repatriating women and children who followed their husbands to IS-controlled areas, considering them less of a security threat if kept at home.
Full report at:
https://www.japantimes.co.jp/news/2019/04/17/world/crime-legal-world/russian-court-grants-early-release-islamic-state-bride/#.XLb3d1QzbIU
--------
EU rejects Israeli claim to Golan, other occupied territory
Apr 17, 2019
The European Union's foreign policy chief Federica Mogherini has once again expressed the 28-nation bloc's disapproval of the Israeli regime's claim of "sovereignty" to Syria's Golan Heights and other Tel Aviv-occupied territories.
Speaking at the plenary session of the European Parliament in the French city of Strasbourg on Tuesday, Mogherini stressed that the EU's position on the status of Golan "has not changed."
"The EU has a very simple and clear position," she said. "The EU does not recognize Israeli sovereignty over any of the territories occupied by Israel since June 1967, in line with international law and with UN Security Council Resolutions 242 and 497. And this also applies to the Golan Heights."
The EU's top diplomat also noted that she had already issued a declaration on behalf of all the 28 member states and clarified their stance on the Golan Heights.
Additionally, she said, the five EU member states of the UN Security Council – including the UK, France, Germany, Belgium and Poland – had expressed the bloc's common position on Golan in a joint stake-out.
Israel seized the Golan Heights from Syria in the closing stages of its 1967 Six-Day War with Arab countries, which also saw the regime occupy the Palestinian territories of the West Bank, East Jerusalem al-Quds and the Gaza Strip.
Tel Aviv unilaterally annexed the Golan Heights in 1981 in a move not recognized internationally.
Syria has repeatedly reaffirmed its sovereignty over the Golan Heights, saying the territory must be completely restored to its control.
On March 25, US President Donald Trump signed a decree recognizing Israeli "sovereignty" over the occupied Golan at the start of a meeting with Israeli Prime Minister Benjamin Netanyahu in Washington.
Trump's controversial policy shift came over a year after the hawkish US president recognized Jerusalem al-Quds as the "capital" of Israel and transferred Washington's embassy from Tel Aviv to the occupied Palestinian city.
Emboldened by Trump's highly anti-Palestine agenda, Netanyahu has talked of plans to annex the occupied Palestinian region of the West Bank.
Illegal settlement activities
Elsewhere in her speech, Mogherini complained that Israel's settlement construction activities in the occupied Palestinian lands were eroding any prospect of a two-state solution.
After a recent announcement by Israel to build 4,600 new settler units, the EU emphasized that it considered "all settlement activity illegal under international law, and that settlements erode the viability of the two-state solution," she said.
"And in fact, the two-state solution is not only fading away. It is being dismantled piece by piece," she added, warning that abandoning the solution would bring greater chaos, not only to the occupied territories but also to the entire Middle East.
Israel has over the past months stepped up its settlement construction activities in the occupied lands in defiance of United Nations Security Council Resolution 2334.
Full report at:
https://www.presstv.com/Detail/2019/04/17/593620/EU-Israel-Syria-Golan-Heights
--------
New Zealand disarms police as terror threat level lowered
April 17, 2019
WELLINGTON: New Zealand police on Wednesday ended the routine arming of frontline officers as the terrorism threat level was lowered a month after the Christchurch mosques massacre.
Police and security agencies reduced the threat level from high to medium, meaning authorities judge that another attack, violent criminal behavior, or violent protest remains "feasible" rather than "very likely."
The level is still higher than it was before the March 15 attacks, when the threat was deemed to be "low."
Prime Minister Jacinda Ardern said "there is no current specific threat," but the security agencies believed the medium level "accurately reflects our current status."
Frontline New Zealand police have historically not carried firearms and many people were shocked to see them heavily armed after 50 Muslims were gunned down while at Friday prayers.
Police commissioner Mike Bush said with the easing of the security threat level, the police had reassessed their position on arming frontline staff and the carrying of weapons would now be decided on a case-by-case basis.
The decision was made after "significant consultation" with mosques and Islamic Centers in relation to ongoing security, although Bush said he would not release details.
"There was never any intention for the routine carriage of firearms to continue indefinitely," Bush said.
"Generally this means frontline staff will transition back to our normal approach regarding carriage and access to firearms.
Full report at:
http://www.arabnews.com/node/1483756/world
--------
Danish police ban anti-Muslim provocateur's protest
April 16, 2019
COPENHAGEN: Danish police have banned a second demonstration by an anti-Muslim provocateur in a neighborhood in Copenhagen with a large population of immigrants to avoid unrest.
Police said Tuesday they are investigating an object resembling a hand grenade found in the square where Rasmus Paludan was to stage his demonstration.
Police on Monday canceled a similar demonstration in suburban Copenhagen by Paludan, but counter-demonstrators then set garbage containers on fire and police had to use tear gas to disperse them.
Unrest started Sunday after Paludan, a lawyer who has held dozens of anti-Muslim demonstrations across Denmark under heavy police protection in recent months, threw the Qur'an in the air several times on a square in the Copenhagen neighborhood of Noerrebro before a raging crowd.
http://www.arabnews.com/node/1483411/world
--------
A worrying response by Muslims to the New Zealand terrorist attack: a secular Muslim perspective
Dr Shaaz Mahboob
April 16, 2019
A white supremacist racist prepared, carried out, and posted his murderous rampage live on social media for the world to see. He didn't differentiate between men and women, old and young, or even innocent mosque attendees and Islamists. To him, all Muslims are the same: invaders and extremists, hell-bent on destroying western civilization by taking over through the sheer weight of overwhelming numbers, and thereby changing the values of society.
Fortunately, there have been only a few incidents where (non-Muslim) right-wing terrorists have murdered or attempted to do so. From the attack on Finsbury Park mosque in East London to the attack on the synagogue in Pittsburgh, the incidents can still be counted on the fingers of one or two hands. However, to assume the number of such right-wing attacks will remain a handful is wishful thinking.
The stages that humans go through when faced with grief are well established. The most natural human response to these sorts of attacks is that of grievance and sorrow, anger towards the perpetrators, and overwhelming sympathy for the communities at the receiving end. However, in this case, there is another sinister element that has become part of the narrative: the Islamist opportunism.
It is important to bear in mind that responses to tragedies vary depending on the victims, the perpetrators and the location of such atrocities. Attacks that happen in Muslim-majority countries, by Muslim fanatics against minorities or even other Muslims, do not receive extensive local or international coverage, nor do they generate the level of outrage amongst Muslims as they do if the attackers are non-Muslims, white, and where the victims are Muslims.
The outrage naturally multiplies when the attacks happen somewhere in the West. Take for example the Taliban or ISIS blowing themselves up in mosques, or even mobs torching churches. These instances are rarely brought up by Muslim communities in the West when discussing the levels of anti-Muslim hatred they experience, and never by their representatives. Though such outrages are all too commonplace, it seems they don't warrant discussion, too often on the basis of their being inconvenient to an anti-West, Muslim-victimhood narrative.
The response to the Christchurch tragedy has brought out immense levels of sympathy for Muslims around the western world, which is greatly appreciated by many Muslims, including myself. From the New Zealand Prime Minister starting her address to the parliament with an Islamic greeting to the recitation of Quran there, and a top Muslim female Police officer doing the same at a rally, the response is overwhelmingly supportive and full of love for all Muslims. So much so that kind-hearted non-Muslim women pledged to wear the hijab for a day in solidarity with Muslims. The kind intention is there for all to see and feel.
However, it is ironic that neither non-Muslim nor Muslim men would offer such a gesture, and why would they: the head-covering is only an obligation imposed on women, and never on men. This aspect of Western sympathy, though good-intentioned, makes painful viewing since no Muslim women ever organise the opposite of World Hijab Day by removing their hijabs in solidarity with millions of women who are forced to wear it and face serious consequences for not conforming to the diktats of men.
Not only are we seeing the normalisation of Islamist doctrines and their endorsement by unsuspecting westerners in the wake of this attack, but there is also a shrewd attempt by Islamist outfits and mosques to take advantage of western sympathy following the atrocity by means of silencing the criticism of Islamism: the twisted interpretation of Islamic teachings for political purposes.
People are being labelled 'insensitive', 'hateful', and 'bigoted' for daring to point out the hypocrisies and double standards applied by Muslim leaders when minorities are maltreated and murdered in the Muslim nations such as, inter alia, Pakistan, Indonesia, and Egypt. The conversations and debates that could—and should—be held on many platforms and forums are being denied and shouted down with claims that any criticism of aspects of Islam or behaviours of fanatical Muslims at this 'sensitive' time is akin to the mindset of the far-right and supportive of the NZ killer's manifesto.
And going beyond that, a large selection of self-appointed Muslim leaders from Islamist organisations as well as individuals—seemingly academics, professionals and religious figures—have penned an open letter in the Guardian, demanding that the media be held accountable for the atrocity associating Islam and Muslims with extremism and terrorism. They also find academics responsible for being critical of Islam.
Before challenging the content of the letter, it should be noted that whilst a sizeable number of Muslim women have signed the letter, not a single one boasts the title of Imam, or Imamah, that is, prayer leader, as if there were such a possibility within mainstream mosques anywhere even in the western world. The same leaders who are citing bigotry, ill treatment of Muslims, and negative media portrayal have no problem whatsoever forbidding Muslim women from entering mosques or, if they are allowed, only on the condition that entrances are gender-divided, seeing women relegated to completely segregated side or back rooms and squashed up spaces as if their presence, whilst somehow permitted, is otherwise utterly intolerable.
The signatories to the letter cite examples of attacks on mosques and synagogues as well as a prevailing anti-Muslim environment as a result of unsavoury media headlines and academics deliberating on certain aspects of Islam. Not surprisingly, they seem to have ignored the number of mosques and other religious spiritual establishments attacked across the world by Muslims themselves, and which remain persistently and abundantly high in number. Do the Muslim terrorists who attack fellow Muslims, blow themselves up in mosques and bomb shrines also get manipulated by the same alleged western rhetoric about Islam and Muslims, or do these letter signatories wish to block out the presence of a strong extremist, often sectarian, strain thriving within Muslim communities that instigates such attacks? They warn of double standards within the West while being seemingly oblivious to how unashamedly hypocritical they are in signing a letter that ignores the fact that it's Islamism, political Islam, that is the major risk to ordinary Muslims. And this is so because Muslim communities are not bold enough to challenge Islamism within their midst due to tribalism, or are simply complacent about its spread across the globe.
What is also alarming and telling is the sheer absence of any progressive Muslim groups and individuals in the list of signatories. This surely makes the motivations of the signatories suspect. It also demonstrates the lack of willingness of these religious figures to engage with those who wish to bring Islam, and Muslims along with it, into the modern era.
These hard-line religious groups and individuals tend to jump at any opportunity to coerce politicians into not reprimanding fellow Islamists when their words or behaviours are anti-Semitic, misogynistic, homophobic, or bigoted in some other way. Yet, when it comes to reformation of how Islam is being interpreted, their response is stonewalling and censorship, or throwing around labels such as 'Islamophobes' to intimidate politicians, authorities, and individual Muslims trying to make a difference into silence. Sadly, many politicians, NGOs and individuals support Islamists in such endeavours for the sake of political correctness and what they view as inclusivity.
Upon reflection, it's not just the Islamists who've signed this letter, but unsurprisingly and disappointingly, also members of a growing body of Muslim communities living lives highly segregated away from the rest of the society, and who are invariably perpetuating the notion of Islam being at odds with the western values of openness, liberalism, tolerance and respect for each other.
As is well known, there are Muslim parents openly picketing a school in Birmingham and bullying the teachers into abandoning plans to introduce LGBT relationship classes, arguing that such lessons corrupt children. Such is the feeling of success in their campaign that they are spreading the idea to have undesirable lessons eliminated from the curriculum across the country, spearheaded by other like-minded Muslim parents. In the same breath, the same families also invoke perpetual victimhood when claiming wider society, politicians and the media are biased against them. Ironically, the same parents and their leaders label any non-Muslim parents who do not allow their children to learn about Islam 'racist anti-Muslim bigots'.
The danger of this self-exclusionary mind-set and the exploitation of the attack in New Zealand is a deepening of the fissures that already exist between various segments of society. The disillusionment with the political class surrounding Brexit and the growth of anti-immigration and populist governments across major Western countries will undoubtedly contribute towards widening the gulf between the left and the right-leaning, indigenous and new arrivals, and definitely between Muslims and non-Muslims across Europe, North America and Australasia.
Full report at:
https://nation.com.pk/16-Apr-2019/a-worrying-response-by-muslims-to-the-new-zealand-terrorist-attack-a-secular-muslim-s-perspective
--------
Pakistan
Terrorists killed in Peshawar operation belonged to TTP, says police
Apr 17, 2019
PESHAWAR: Five terrorists killed in an anti-terrorism operation in Peshawar's Hayatabad area on Tuesday belonged to the Tehreek-e-Taliban Pakistan (TTP), police sources said on Wednesday.
The operation, which concluded after a 17-hour standoff with five terrorists killed and a policeman martyred, was conducted on an intelligence tip-off, police sources added.
According to the sources, "The terrorists belonged to TTP and were involved in four major incidents, including attacks on a high court judge, an additional inspector-general of police and a FC vehicle."
"Imran Muhammad, a 20-year-old Afghan suicide bomber, was among those killed," they added.
The police sources further said, "An explosive-laden motorcycle and suicide vests were found from the building where the terrorists had taken cover."
The suspects had taken cover in a residential building in Phase 7 of the Hayatabad locality, from where they attacked security forces. The building was demolished with explosives soon after the operation concluded.
https://www.pakistantoday.com.pk/2019/04/17/terrorists-killed-in-peshawar-operation-belonged-to-ttp-says-police/
--------
Zardari vows to resist move for presidential system
Malik Asad
April 17, 2019
ISLAMABAD: The Pakistan Peoples Party (PPP) would oppose any move to nudge the country towards a presidential system, said former president and PPP co-chairperson Asif Ali Zardari on Tuesday.
Mr Zardari was speaking to the media after appearing before an accountability court in the federal capital in a fake accounts case which he is facing along with his sister Faryal Talpur.
Until it was shifted to Islamabad on March 16, a Karachi banking court was conducting the proceedings of the fake accounts case. It was shifted to Islamabad on the plea of the National Accountability Bureau (NAB).
Mr Zardari and Ms Talpur filed applications in the accountability court to submit surety bonds but since their pre-arrest bail applications are pending before the Islamabad High Court the court put it off till the next date.
When asked whether Pakistan was moving towards a presidential form of government, Mr Zardari replied, "We are not inclined towards this system ... let them make their efforts, we will stop them."
Rumours have been circulating in various political and social circles for the past many days regarding a plan for introducing presidential form of government in the country and the issue is being debated on the social media even though Information Minister Fawad Chaudhry has refuted all such reports.
Besides the PPP, almost all the major parties of the country, including the Pakistan Muslim League-Nawaz (PML-N), are opposed to the idea of imposing a presidential system, saying that any such move would be detrimental to the country's integrity.
Chairman of the Pak Sarzameen Party Syed Mustafa Kamal, however, recently stated that Pakistan would not progress without having a presidential system of governance.
PML-N Senator and former minister Mushahidullah Khan expressed concerns over reports about the presidential system, saying that such rumours were being floated by those who simply could not "digest" democracy.
Mr Khan regretted that they had not learnt any lesson from history as the country, which had remained under the presidential system for most of the time since its creation in 1947, had already suffered a lot due to such experiments.
The PML-N senator warned that the federation would be in danger if any attempt was made to impose the presidential form of governance in the country.
Talking to reporters on Sunday, the information minister had dismissed talk about the establishment of the presidential form of government in the country as rumours, terming it a "non-issue" being discussed only on social media.
He said: "Such things are circulating in social media only. It is difficult to get simple amendments to laws and routine matters take long; so how can we expect a major change in the Constitution that requires a two-thirds majority in parliament."
The minister said one prerequisite for the presidential form of government was to have small but many provinces in the country.
Full report at:
https://www.dawn.com/news/1476617/zardari-vows-to-resist-move-for-presidential-system
--------
Five 'TTP men' killed in 17-hour Peshawar gun battle
Manzoor Ali
April 17, 2019
PESHAWAR: Police and security personnel killed five terrorists holed up in a house in the Hayatabad area here on Tuesday after a fierce gun battle lasting over 17 hours, which also left a police officer martyred.
The outlawed Tehreek-i-Taliban Pakistan in an email message issued here claimed that six of its members were involved in the gunfight with law enforcement personnel.
The gun battle started at 7.30pm on Monday evening as police tried to enter the house in E-sector, Phase-VII Hayatabad, during an intelligence-based operation (IBO). Assistant Sub-Inspector Qamar Alam lost his life while trying to enter the house. A terrorist was also killed during an initial exchange of fire that triggered a fierce gunfight which continued till the killing of the four remaining terrorists around Tuesday noon.
Two security personnel and two civilians, including a woman, were injured during the gunfight.
City police chief Qazi Jamil-ur-Rehman told reporters that it was a major operation in which a terrorist was killed a day earlier, while four others were killed on Tuesday. He said the militants were holed up in the house and were opening fire whenever security personnel tried to enter the house. He said city police units, army's Special Services Group and 102 Brigade personnel had taken part in the operation.
The Inter-Services Public Relations said in a statement that the army and Khyber Pakhtunkhwa police had conducted a joint IBO in Hayatabad against a terrorist hideout. It said that during the exchange of fire five terrorists were killed, while a police officer lost his life, adding that the bodies of the terrorists had been recovered and their identities were being ascertained.
The Bomb Disposal Unit during the clearance found an explosives-rigged bike on the ground floor, which was connected with explosive materials planted in the basement of the house. The BDU destroyed the bike with an explosive charge, which brought down the two-storey house, sending a plume of thick dust into the rain-soaked air of the neighbourhood.
"The house and bike were rigged with about 60kg explosives, which had been destroyed with a 250-gram explosive charge," BDU chief AIG Shafqat Malik told Dawn.
A security official requesting anonymity told Dawn that the suspects were very trained and even the house was chosen strategically. "It was a small five-marla house that had strong basement plus two storeys and stairs leading to the basement were just with the front gate," the official said, adding that it allowed them to hit anyone trying to enter immediately. He said that apparently it was a temporary hideout which they used to plan terrorist attacks as it was very difficult to enter the city from outside.
"Evidence and remnants showed that the terrorists were frequently moving between basement and other storeys, which showed they were highly trained and determined," the official said, adding that that was why they managed to hold on for about 17 hours.
In the afternoon, as rain pattered the crisscrossing of streets, two excavators were loading house debris into trucks to be hauled away before curious gazes of a large number of onlookers. The street was littered with shards of glass and other debris, while nearby houses were pock-marked with bullet holes. A nearby house and two cars owned by a resident of Kohat were badly damaged as a series of blasts and gun attacks rocked the street.
The owner of the house where the incident took place was identified as Abdul Nasir, a resident of Swat, currently living abroad.
A resident living in the same street told Dawn that it was around 7.30pm when after hearing gunshots they came out of their house and found the street filled with security personnel. "The cops told us to stay inside and army personnel arrived at 9pm," the resident said, adding that intermittent firing continued throughout the night.
He said his family members, including women and children, spent the night awake in a terrified state as heavy blasts and firing rocked the area. The women and children were shifted to another relative's house at around 11.30am and shortly afterwards the house came tumbling down with a bang.
Full report at:
https://www.dawn.com/news/1476618/five-ttp-men-killed-in-17-hour-peshawar-gun-battle
--------
North America
Ilhan Omar is 'disrespectful' to US and 'disrespectful' to Israel: Trump
Apr 16, 2019
US President Donald Trump has said Muslim Congresswoman Ilhan Omar is "disrespectful" to the United States and "disrespectful" to Israel.
In an interview on Monday in Minnesota, Trump said that Omar has "got a way about her that's very, very bad for our country."
"She's been very disrespectful to this country. She's been very disrespectful, frankly, to Israel. She is somebody that doesn't really understand life, real life. What it's all about," he told a reporter.
"She's got a way about her that's very, very bad for our country," Trump added.
Earlier, Trump censured House of Representatives Speaker Nancy Pelosi (D-Calif.) for defending Omar, saying the Minnesota Democrat is "out of control."
"Before Nancy, who has lost all control of Congress and is getting nothing done, decides to defend her leader, Rep. Omar, she should look at the anti-Semitic, anti-Israel and ungrateful U.S. HATE statements Omar has made," Trump tweeted on Monday.
"She is out of control, except for her control of Nancy!" he added.
Last week, Trump made a sarcastic reference to Omar and said the lawmaker "doesn't like Israel," one day after a New York man was arrested and charged with threatening to murder her.
"Special thanks to Representative Omar of Minnesota," Trump said while delivering remarks at the Republican Jewish Coalition on Saturday afternoon. "Oh, I forgot. She doesn't like Israel. I forgot. I'm so sorry."
Omar is one of the first two Muslim women to serve in the US House of Representatives, the lower chamber of Congress. She is a member of the Democratic Party.
The 37-year-old lawmaker was born to a family of Somali refugees and represents Minneapolis, Minnesota, a district with a large Somali population.
Omar has accused pro-Israel lawmakers of showing "allegiance to a foreign country," and has criticized the American Israel Public Affairs Committee (AIPAC) for its role in shaping US policy.
Facing a fierce backlash from Republicans and Democrats for her allegedly "anti-Semitic" comments, Omar "unequivocally" apologized for her earlier statements on Twitter and deleted them.
Sanders defends Omar
Independent Senator Bernie Sanders and presidential candidate Bernie Sanders has defended Omar against "outrageous, racist" attacks by Trump and the sections of right-wing US media.
"I've talked to Ilhan about twice in my life. I respect her but this is what I do support — I support a Muslim member of Congress not to be attacked every single day in outrageous, racist remarks," Sanders said at a Fox News town hall meeting on Monday.
"I will do everything in my power, and I hope that every member of Congress will fight not only anti-Semitism, but racism and anti-Muslim activity so that we create a non-discriminatory society," Sanders said. "But it is not anti-Semitic to be critical of a right-wing government in Israel. That is not anti-Semitic."
Trump slams Fox News after Sanders town hall
Trump on Tuesday censured Fox News for its town hall event with Sanders and its addition of former interim Democratic National Committee Chairwoman Donna Brazile.
"So weird to watch Crazy Bernie on @FoxNews," Trump tweeted. "Not surprisingly, @BretBaier and the 'audience' was so smiley and nice. Very strange, and now we have @donnabrazile?"
Donald J. Trump
✔
@realDonaldTrump
So weird to watch Crazy Bernie on @FoxNews. Not surprisingly, @BretBaier and the "audience" was so smiley and nice. Very strange, and now we have @donnabrazile?
77.7K
7:41 PM - Apr 16, 2019
Twitter Ads info and privacy
45K people are talking about this
Host Bret Baier thanked the president for watching and inviting him on for an interview.
"Thanks for watching Mr. President - we'd love to have you on a town hall soon — or even an interview on @SpecialReport —it's been awhile. We cover all sides," Baier tweeted.
https://www.presstv.com/Detail/2019/04/16/593579/Ilhan-Omar-is-disrespectful-to-US-and-disrespectful-to-Israel-Trump
--------
Turkish, US defense chiefs hold talks in Washington
Ali Murat Alhas
16.04.2019
Turkey's defense minister and his U.S. counterpart on Tuesday met in Washington to discuss recent political and military developments.
According to a statement by the Turkish Ministry of National Defense, Hulusi Akar and Patrick Shanahan discussed developments in Syria, bilateral relations, other regional security issues, and defense industry cooperation between both countries.
Akar "reiterated Turkey's views and expectations on the proposed Safe Zone in Syria, S-400 procurement, F-35 aircraft and latest developments in the Eastern Mediterranean," according to the statement.
It said Akar underlined the importance of cooperation between Turkey and the U.S. on the basis of strategic partnership that would ensure stability and security of both countries.
The Pentagon said the two leaders met as "strategic partners."
Full report at:
https://www.aa.com.tr/en/americas/turkish-us-defense-chiefs-hold-talks-in-washington/1454219
--------
Khalilzad briefs Pompeo on Afghan peace talks
Anwar Iqbal
April 17, 2019
WASHINGTON: US special envoy Zalmay Khalilzad is now in Washington to brief the Trump administration on his long visit to various allied nations for promoting peace talks in Afghanistan.
"Just this morning, I spoke with our ambassador who is working to bring peace in Afghanistan," said US Secretary State of Michael Pompeo in his remarks at the Texas A&M University on Monday evening.
"We're trying to end the longest war in the US history and save the lives of Afghans and American soldiers alike."
Later, Mr Khalilzad also confirmed in a tweet that he was in Washington, "enjoying a windy spring day" and met Turkey's chief presidential adviser Ibrahim Kalin. "Appreciate Turkey's commitment to Afghanistan. Turkey's willingness to support the Afghan Peace Process is welcome," he wrote.
The US special envoy began his latest peace mission on March 25, visiting Afghanistan, Britain, Belgium, Pakistan, Uzbekistan, Jordan and Qatar. The mission focused on "bringing all Afghan parties together in inclusive intra-Afghan negotiations," said the US State Department while announcing the visit.
In Kabul, Mr Khalilzad consulted with the Afghan government and other Afghans about the status of US talks with the Taliban. He also encouraged Afghans, both in and outside the government, to form an inclusive negotiating team and discuss next steps in intra-Afghan discussions and negotiations. The Afghan High Peace Council announced on Monday that they had formed a 150-member delegation, which included dozens of Afghan women as well.
At other destinations, the US special envoy met "allies and partners" and discussed with them "the status of peace talks and to coordinate sustained commitment by the international community to peace and development in Afghanistan," the state department said.
Full report at:
https://www.dawn.com/news/1476610/khalilzad-briefs-pompeo-on-afghan-peace-talks
--------
Mideast
Iran's Foreign Minister Zarif in Damascus ahead of talks in Kazakhstan
16 April 2019
Iran's Foreign Minister Mohammad Javad Zarif visited Damascus on Tuesday ahead of a fresh round of talks next week in Kazakhstan towards ending Syria's eight-year civil war.
Iran and Russia are key allies of the Damascus regime, and along with rebel backer, Turkey, have sponsored the so-called Astana negotiations track to end the conflict.
Kazakhstan is to host a fresh round of talks on April 25-26 in its capital, last month renamed from Astana to Nur-Sultan.
In Damascus, Zarif and President Bashar al-Assad discussed "the next round of Astana talks and the importance of lasting communication between Damascus and Tehran for continued cooperation", the presidency said in a statement.
Both countries are facing a flurry of sanctions by Western nations including the United States, with Washington this month designating Iran's elite Islamic Revolutionary Guard Corps a terrorist organization.
Syria is in the grips of a growing fuel crisis that it blames on these sanctions.
Zarif and Assad accused Western countries headed by the United States of "launching wars and economic terrorism against anyone who did not agree with them" in regional matters, the presidency said.
Earlier on Tuesday, Zarif met his Syrian counterpart Walid Muallem.
After the meeting, Zarif told journalists Iran, Russia and Turkey would be focusing on the militant -held bastion of Idlib in northwestern Syria, pro-government newspaper Al-Watan said.
The region on the border with Turkey is held by Syria's former Al-Qaeda affiliate, Hayat Tahrir al-Sham, and is in theory protected from a massive regime offensive by a Russia-Turkey deal.
The September accord aimed to set up a buffer zone around Idlib but was never fully implemented as militants refused to withdraw from it.
"The Astana guarantors... need to abide by the commitments linked to the Idlib file," including "disarming terrorists groups and them leaving Idlib", Zarif said, according to Al-Watan.
Regime forces have continued to bombard Idlib despite the deal, increasingly so in recent weeks.
Zarif is expected to visit Turkey after Damascus.
Endless rounds of UN-backed Syria peace talks have failed to stem the bloodshed, and Iran, Russia, and Turkey have sponsored the parallel Astana negotiations track since early 2017.
Tehran has provided steady political, financial and military backing to Assad throughout the war, which has killed more than 370,000 people and displaced millions since 2011.
The Syrian regime has made a military comeback with Russian military support since 2015, and now holds almost two-thirds of the country.
https://english.alarabiya.net/en/News/middle-east/2019/04/16/Iran-s-top-diplomat-in-Damascus-ahead-of-Syria-talks-.html
--------
Key politician backs Netanyahu but tough coalition talks ahead
16 April 2019
A key politician on Tuesday threw his backing behind Israeli Prime Minister Benjamin Netanyahu following last week's elections but signaled tough negotiations to form a coalition were ahead.
Former defense minister Avigdor Lieberman's public endorsement of Netanyahu came as President Reuven Rivlin wrapped up consultations with party heads on the subject.
Rivlin must choose who will form the next government and is expected to pick Netanyahu to do so on Wednesday night after final election results are announced.
Lieberman, head of the nationalist Yisrael Beitenu party, had held off on publicly backing Netanyahu until Monday night when he did so before supporters.
His party also told Rivlin on Tuesday that it would back Netanyahu, and Yisrael Beitenu's five seats will be crucial for the prime minister as he forms his next coalition.
Results so far from the April 9 vote show Netanyahu's Likud and allied right-wing parties, including Yisrael Beitenu, with 65 seats in the 120-seat parliament.
But Lieberman also said he would condition his joining the coalition on the adoption of a law aimed at having ultra-Orthodox Jews serve in the military like their secular counterparts.
He has insisted that the version of the law he proposed when he was defense minister be adopted in full and says he will even remain in the opposition or be prepared to go to new elections if he does not receive assurances on the subject.
Ultra-Orthodox Jews studying in religious seminaries are currently exempt from mandatory military service, a practice many Israelis view as unfair.
But attempts to change the law have met with strong opposition from ultra-Orthodox political parties, which will control 15 seats in the next governing coalition.
Ultra-Orthodox Jews make up some 10 percent of Israel's nearly nine million population.
Complications in passing a law on the subject contributed to the holding of early elections last week.
Full report at:
https://english.alarabiya.net/en/News/middle-east/2019/04/16/Key-politician-backs-Netanyahu-but-tough-coalition-talks-ahead.html
--------
Syria's Assad denounces US for blacklisting Iran's IRGC
Apr 16, 2019
President Bashar al-Assad of Syria has censured the US for blacklisting Iran's Islamic Revolution Guards Corps (IRGC), which has been greatly contributing to his country's fight against terrorists.
In a meeting with visiting Iranian Foreign Minister Mohammad Javad Zarif in Damascus on Tuesday, the Syrian leader said the recent designation of the IRGC as "foreign terrorist organization" was yet another "wrong" move by Washington, which could further destabilize the region.
During the meeting, the two sides emphasized that the hostile policies of the US and certain Arab countries cannot prevent Iran and Syria from defending the rights of their nations, the statement added.
Assad and Zarif further urged the US and its Western allies to stop waging wars and using economic terrorism against other states which refuse to do their bidding and return, instead, to diplomatic means in dealing with them.
For his part, Zarif censured Washington for recognizing the occupied side of Syria's Golan Heights as Israeli territory, saying the measure showed the defeat of the American agenda for the region.
Zarif said he and the Syrian president explored ways to promote bilateral ties.
The two sides also discussed the Astana peace process for Syria and the progress in the bilateral deals signed during Assad's trip to Iran in February, he added.
Prior to his meeting with Assad, Zarif sat down for talks with his Syrian counterpart, Walid al-Muallem.
The top Iranian diplomat arrived at the Damascus International Airport earlier on Tuesday at the head of a delegation and was welcomed by Syrian Deputy Foreign Minister Faisal Mekdad.
Speaking to reporters upon arrival, Zarif said his trip was aimed at coordinating efforts among regional countries to counter "hostile" US policies, including the recognition of the occupied Golan Heights as Israeli territory, the recognition of Jerusalem al-Quds as Israel's "capital" as well as its "illegal and unprecedented" decision to designate Iran's Islamic Revolution Guards Corps (IRGC) a "terrorist" group.
Such measures, Zarif added, stem from Washington's repeated defeats both on the battlefield and the political front in the region.
Zarif then visited the holy shrine of Hazrat Zeinab, the granddaughter of the Prophet Mohammad (PBUH), south of Damascus.
Full report at:
https://www.presstv.com/Detail/2019/04/16/593559/Iran-Javad-Zarif-Syria-Assad
--------
Iran's top diplomat in Turkey to discuss Syria, Libya
Apr 17, 2019
Iranian Foreign Minister Mohammad Javad Zarif has traveled to Ankara to hold talks with Turkish officials on bilateral ties, the restoration of peace in Syria, and the latest developments in North Africa.
That was announced by Zarif upon arrival in the Turkish capital, Ankara, which is his second visit to the country during the past few weeks.
Speaking to reporters, the top Iranian diplomat said during his one-day stay in Turkey, he will "discuss regional issues, in particular Syria and matters related to Northern Africa", particularly the situation in Libya, where the self-styled commander Khalifa Haftar has attempted a "coup" against the internationally-recognized government, according to the UN.
"We will also discuss bilateral ties, on which we have already had good talks with Turkey," he added.
He said economic cooperation between Iran and Turkey, and following up on the implementation of agreements earlier reached between the two sides will also be on the agenda of his talks with top Turkish officials.
Zarif's trip to Turkey comes after he visited the Syrian capital, Damascus, on Tuesday. During his stay in the Arab country, the Iranian top diplomat discussed Tehran-Damascus cooperation, and the process of restoring peace to the war-torn state.
"In Syria, we made good arrangements on the upcoming meeting of the Astana Process, as well as international cooperation within the framework of the UN with the aim of finding a political solution to Syria [crisis]," Zarif said in Ankara.
The arrangements of Astana talks were particularly discussed in a meeting between Zarif and Syrian President Bashar al-Assad.
The Astana Process refers to an initiative by Iran, Russia, and Turkey which mediate peace negotiations between representatives from the Damascus government and opposition groups in a series of rounds held in the Kazakh capital Astana - recently renamed as Nur-Sultan - and other places since January 2017.
Full report at:
https://www.presstv.com/Detail/2019/04/17/593615/Iran-Turkey-Syria-peace-initiative-Astana-process-Ankara-Assad
--------
Israel grabs Palestinian land, isolates villages in Jordan Valley
Apr 16, 2019
Israeli authorities have confiscated thousands of square meters of private Palestinian land and isolated five villages in the northeastern part of the occupied West Bank, as the Tel Aviv regime goes ahead with land expropriation and settlement construction policies in violation of international law and UN Security Council resolutions.
Mutaz Bisharat, an official who monitors Israel's settlement activity in the Jordan Valley, told Arabic-language Voice of Palestine radio station on Tuesday that officials had seized 51,000 dunams (51 kilometers meters) of Palestinian-owned land, isolated 5 villages and took control of water springs, agricultural machinery as well as solar cells in the regions.
Bisharat added that the Israeli regime's policy in isolating villages of the Tubas district is very clear, stressing that these areas were marked as closed military areas banning their owners from entering without an Israeli-issued permit.
He stressed that Israel aims to expel Palestinians from the area under its plan to seize the Jordan Valley area.
In February, Ir Amim, an Israeli NGO opposing Tel Aviv's settlement expansion activities, published a new map that illustrated an "accelerated, intensifying chain of new facts on the ground in the most historically contested and politically sensitive part of Jerusalem [al-Quds]: the Old City and adjacent ring of Palestinian neighborhoods," which help reinforcement of settlement plans.
The NGO pointed to a number of Israeli-sponsored settlement campaigns inside Palestinian neighborhoods, including "settler initiated evictions of Palestinians, takeovers of their homes, and the expansion of settler compounds," in addition to the use of the so-called "touristic settlement sites" as "key points" contributing to the campaigns.
Ir Amim said the supposed tourism and archaeology projects "assume a central role in Israeli settlement policy."
About 600,000 Israelis live in over 230 illegal settlements built since the 1967 Israeli occupation of the Palestinian territories of the West Bank and East Jerusalem al-Quds.
The UN Security Council has condemned Israel's settlement activities in the occupied territories in several resolutions.
Less than a month before US President Donald Trump took office, the United Nations Security Council in December 2016 adopted Resolution 2334, calling on Israel to "immediately and completely cease all settlement activities in the occupied Palestinian territories, including East Jerusalem" al-Quds.
Palestinians want the West Bank as part of a future independent Palestinian state with East Jerusalem al-Quds as its capital.
Full report at:
https://www.presstv.com/Detail/2019/04/16/593607/Israel-grabs-Palestinian-land-isolates-villages-in-Jordan-Valley
--------
Africa
Fear of army action as Sudan protesters toughen stand
April 16, 2019
KHARTOUM: Sudanese protesters have hardened their stand, demanding a transitional military council be scrapped and immediately replaced with civilian rule as Tuesday they refused to end a days-long sit-in outside army headquarters.
Organizers fear the army is seeking to hijack the revolution on the streets which saw veteran President Omar Al-Bashir, whose three-decade reign was toppled on Thursday by top commanders after four months of nationwide demonstrations.
On Monday, activists accused commanders of launching an abortive attempt to clear the sit-in outside army headquarters, ending the relative calm that has reigned since Al-Bashir's overthrow.
Witnesses said several army vehicles had surrounded the area and that troops were seen removing the barricades which demonstrators had put up as a security measure.
Activists voiced fears that the army would make a new attempt on Tuesday.
Several vehicles carrying paramilitary forces deployed on a bridge that connects the protest site with north Khartoum, a witness said.
"The army will try to make another attempt to disperse the protesters because it is under huge pressure," said protester Ahmed Najdih.
"But we are not going anywhere. We will not lose our patience. We know what happened in Egypt and we don't want that to happen to us."
In neighboring Egypt, the so-called Arab Spring revolution of 2011 toppled veteran president Hosni Mubarak and replaced him with elected Islamist Muhammad Mursi only for him to be overthrown in 2013 by then army chief, now President Abdel Fattah El-Sisi.
Protest laders have gradually toughened their approach toward the transitional military council, as policy announcements from its uniformed officers have multiplied.
Amid widespread anger at the number of faces from the old regime, the protesters secured the replacement of its first chairman, a longtime Al-Bashir loyalist after just 24 hours last week.
But the honeymoon of his successor, General Abdel Fattah Al-Burhan, lasted just days.
As weekend talks on the transition failed to make headway, protest leaders who initially demanded a "swift" handover to civilian rule, began demanding first an "immediate" handover then the military council's dissolution.
"We want the military council to be dissolved and be replaced by a civilian council having representatives of the army," said Mohamed Naji, a senior leader of the Sudanese Professionals Association, which has spearheaded the protests.
Both sides in the standoff have sought to woo international support.
The protesters have highlighted their sacrifices in murals painted outside army headquarters of some of the more than 60 of their comrades killed in clashes with the security forces.
The military council has pledged that individuals implicated in killing protesters would be held to account and that demonstrators detained under a state of emergency imposed by the president during his final weeks in power would be freed.
It has held briefings with Western diplomats and sent an envoy to the African Union's headquarters in the Ethiopian capital Addis Ababa before it met on Sudan on Monday.
But the 55-member African Union stood by its longstanding opposition to all military coups, giving the military council just 15 days to hand over to civilian rule or face suspension from the body.
The foreign ministry said the military council was "committed to having a complete civilian government" and urged foreign governments to back it in order to achieve "the Sudanese goal of democratic transition."
The council said Sudan would continue to provide ground troops to a Saudi-led coalition fighting rebels in Yemen.
In a bid to woo Western opinion, the military council has also backtracked on its position toward longstanding warrants for Al-Bashir's arrest issued by the International Criminal Court in The Hague on charges of war crimes, crimes against humanity and genocide.
Having initially refused to deliver Al-Bashir or any other Sudanese abroad for prosecution, a member of the council said Monday that the decision would be up to a civilian government.
Protest leaders say Al-Bashir must face justice, along with officials from his feared National Intelligence and Security Service whose chief Salih Ghosh resigned on Saturday.
http://www.arabnews.com/node/1483551/middle-east
--------
Sudan: Protesters slam Arab backing of military council
Omer Erdem
17.04.2019
KHARTOUM, Sudan
Protesters in Sudan blasted Arab countries Tuesday for backing the country's ruling military council following the ouster of long-serving President Omar al-Bashir.
Despite the declaration of a curfew last week, they gathered near the military headquarters in the capital and chanted slogans against Saudi Arabia, the United Arab Emirates and Egypt.
"We do not want your support", one banner said, in an apparent reference to countries backing the council, while another said "No to intervention in Sudan by Saudi Arabia, the United Arab Emirates and Egypt".
Last Friday, Defense Minister Awad Ibn Auf, the head of the transitional military council, stepped down and named Lieutenant General Abdel Fattah Burhan as his successor. The council also announced sweeping changes to the army's leadership.
Full report at:
https://www.aa.com.tr/en/africa/sudan-protesters-slam-arab-backing-of-military-council/1454355
--------
At least four people killed in heavy shelling in Libya's Tripoli
Apr 17, 2019
Heavy shelling in the Libyan capital Tripoli has killed at least four people, an official said on Wednesday, as Europe and certain Persian Gulf Arab states remain divided over the push by renegade commander Khalifa Haftar to seize the city.
Nearly two weeks into Haftar's assault, the general's eastern-based Libyan National Army (LNA) is stuck in the city's southern outskirts battling armed groups loyal to the internationally recognized Tripoli government.
But the southern district of Abu Salim got shelled late on Tuesday with explosions being heard even in the city center where life had been going on largely untouched by the violence.
The artillery killed at least two people and wounded eight, Osama Ali, spokesman for a Tripoli emergency body, told Reuters, without saying who was behind the shelling. Another official told Libya's Alahrar channel four had been killed and 20 wounded.
The district is located near the road to the old airport in southern Tripoli, which has changed hands several times since the fighting started. Abu Salim lies north of forces loyal to Tripoli seeking to stop the LNA troops coming from south.
Forces allied to Tripoli have accused the LNA of firing rockets into residential areas, but the LNA said in a statement it had nothing to with the shelling, accusing instead a Tripoli-based group.
As the rockets fell, the UN Security Council was due to consider a British-drafted resolution that would demand a ceasefire in Libya and call on all countries with influence over the warring parties to ensure compliance.
Foreign powers are worried but unable to present a united front over the latest flare-up in the cycle of anarchy gripping Libya since dictator Muammar Gaddafi was toppled in 2011.
The conflict has brought a growing humanitarian toll - 174 people killed, 756 injured and almost 20,000 displaced, according to the latest United Nations tallies - and sunk for now an international peace plan.
It threatens to disrupt oil flows, foment migration across the Mediterranean Sea to Europe, and allow extremists to exploit the chaos.
Full report at:
https://www.presstv.com/Detail/2019/04/17/593616/Libya-Khalifa-haftar-ohobis
--------
US says Sudan new regime can exit terror list if progress made
April 17, 2019
WASHINGTON: The United States is willing to remove Sudan from its blacklist of state sponsors of terrorism if its new military leaders take tangible steps, a US official said Tuesday.
Sudanese officials have for years sought to get off the list, engaging in inconclusive talks with the United States.
A State Department official said that Washington had renewed its willingness to consider a delisting during meetings with the military rulers who last week ousted veteran leader Omar Al-Bashir in the wake of months of street protests.
A way to rescind the designation "may be available if there is a fundamental change in the leadership and policies and if the Transitional Military Council is not supporting acts of international terrorism and provides assurances that it will not support acts of international terrorism in the future," the official said on condition of anonymity.
But the official said that the US was not considering delisting Sudan "at this time."
The comments come two days after the top US diplomat in Khartoum, Charge d'Affaires Steven Koutsis, met with the deputy head of the military council, Mohammad Hamdan Daglo.
The US official said that the United States was also encouraging the military council to "move quickly" to include civilians in the interim government and hold elections.
Protesters have remained on the street, calling on the military council to step aside.
The US had turbulent relations with Sudan during Bashir's three decades in power, in which he allied himself with Islamists, was accused of plotting genocide in the Darfur region and during the 1990s gave refuge to Al-Qaeda founder Osama bin Laden.
Full report at:
http://www.arabnews.com/node/1483696/middle-east
--------
Sudan military ruler sacks prosecutor general
April 16, 2019
KHARTOUM: The head of Sudan's ruling transitional military council has fired the three highest-ranking public prosecutors, after protesters demanded an overhaul of the judiciary as part of steps toward civilian government.
The Sudanese Professionals' Association spearheading the revolt has issued a long list of demands for wholesale change to end repression and ease an economic crisis after the military deposed veteran autocrat Omar Al-Bashir last week.
In a statement, the military council said its chief Abdel Fattah Al-Burhan had sacked chief prosecutor Omar Ahmed Mohamed Abdelsalam and deputy public prosecutor Hesham Othman Ibrahim Saleh, as well as head of public prosecutions Amer Ibrahim Majid.
Alwaleed Sayed Ahmed Mahmoud was appointed to carry out Abdelsalam's duties, it said. Mahmoud's background was not immediately known.
The announcements came as the military council received important international backing from Egypt. President Abdel Fattah El-Sisi called Al-Burhan to offer his support, a spokesman for El-Sisi said.
The Egyptian president affirmed "Egypt's full support for the security and stability of Sudan and its support for the will and choices of the Sudanese people."
In its first news conference on Monday, the Sudanese Professionals' Association — which led weeks of protests that led to Al-Bashir's overthrow after 30 years in power — called for the military council to be dissolved in favor of an interim civilian ruling council with military representatives.
It also called for Abdelsalam's removal along with the chief of the judiciary and his deputies, and added that mass protests would not cease until the demands were met. The judiciary chief was not mentioned in the council's statement.
On Tuesday, hundreds of University of Khartoum professors carrying signs reading "civilian transitional government" and "democracy" marched to a protesters' sit-in outside the Defense Ministry that began on April 6, a Reuters witness said.
Academics are among the most respected groups in Sudanese society, adding powerful symbolism to the march.
Military council member Jalal Al-Deen Al-Sheikh met African Union Commission Chairman Moussa Faki Mahamat in Addis Ababa and gave him a letter from Burhan on the situation in Sudan and inviting Mahamat to visit, the state news agency SUNA said.
It quoted Sheikh as saying Mahamat had expressed "understanding" for the decisions the military council had taken so far.
On Monday, the AU's Peace and Security Council called for the military council to transfer power to a transitional civilian-led authority within 15 days or risk Sudan being suspended from the AU.
Full report at:
http://www.arabnews.com/node/1483451/middle-east
--------
Libyan gov't says held pro-Haftar soldiers in Tripoli
Walid Abdullah
16.04.2019
TRIPOLI
Forces of the UN-backed unity government claimed Tuesday to have captured a group of soldiers affiliated with East Libya-based commander Khalifa Haftar.
A statement issued by the Tripoli-based Government of National Accord (GNA) did not give details about the number of the captured soldiers, saying that it also seized a tank and an armored vehicle from Haftar's forces south of Tripoli.
There was no comment from Haftar's forces on the claim.
Earlier Tuesday, the GNA forces carried out an airstrike on a military camp of Haftar's forces in the southern city of Al-Jufrah.
Earlier this month, Haftar, who commands forces loyal to East Libya-based government, launched a military campaign to capture Tripoli, where the GNA is based.
The GNA announced Monday that at least 76 people, including 24 civilians, had been killed since clashes erupted in the surroundings of capital Tripoli.
Full report at:
https://www.aa.com.tr/en/africa/libyan-govt-says-held-pro-haftar-soldiers-in-tripoli/1453970
--------
Gov't forces attack pro-Hafter camp in southern Libya
Walid Abdullah
16.04.2019
TRIPOLI
Forces of the UN-backed unity government carried out an airstrike on Tuesday on a military camp belonging to East Libya-based commander Khalifa Hafter in the southern city of Al-Jufrah, according to local media.
The attack targeted the camp in the oasis town of Houn in southern Libya, 218 news channel said.
The channel, citing local sources, said the air defenses of pro-Haftar forces fired back at the warplane that carried out the airstrike.
There has been no reports of casualties.
Earlier this month, Haftar, who commands forces loyal to East Libya-based government, launched a military campaign to capture Tripoli, where the UN-backed Government of National Accord (GNA) is based.
The GNA announced Monday that at least 76 people, including 24 civilians, had been killed since clashes erupted in the surroundings of capital Tripoli.
Full report at:
https://www.aa.com.tr/en/africa/govt-forces-attack-pro-hafter-camp-in-southern-libya/1453602
--------
India
ED seizes Rs 6-crore assets of Kashmiri businessman who funded Hurriyat
Apr 16, 2019
Neeraj Chauhan
The Enforcement Directorate has seized Kashmiri businessman Zahoor Ahmad Shah Watali's assets worth Rs 6 crore in its terror financing probe that targeted terror group Lashkar-e-Taiba and Jamaat-ud-Dawa founder Hafiz Saeed.
The order to seize the businessman's assets worth Rs 6.19 crore was issued after the central probe agency came across evidence that established his role in raising funds and acting as a financial conduit for Hurriyat leaders, a statement by the probe agency mandated to investigate financial crimes said.
The statement said the central agency's probe had also been able to directly establish that the Pakistan high commission was one channel of funding for the Kashmiri separatists.
During a search at the house of Watali's cashier Ghulam Mohd, it seized a document that makes it clear that the businessman "was receiving money from Hafiz Saeed (Head of Jamaat-ud-Dawa), from ISI, from the Pakistan High Commission at New Delhi and also from a source based in Dubai", the ED statement said.
Zahoor Ahmad Shah Watali was remitting the same to the Hurriyat leaders, separatists and stone-throwers in the Kashmir valley. The document, the probe agency said, is signed by Watali.
ED initiated investigation under the Prevention of Money laundering Act (PMLA) based on charges sheet filed by National Investigation Agency (NIA) against a group of people including Hafiz Saeed and Watali.
Watali along with other nine accused are under judicial custody in Delhi's Tihar Jail in the case terror funding and money laundering case investigated by the NIA.
https://www.hindustantimes.com/india-news/ed-seizes-rs-6-crore-assets-of-kashmiri-businessman-who-funded-hurriyat/story-3FnlVlZGBxcTHGIx05x1PN.html
--------
India, Pakistan officials hold technical meeting on Kartarpur corridor
Apr 17, 2019
India and Pakistan on Tuesday held a meeting on technical aspects of the proposed Kartarpur corridor linking Gurudwara Darbar Sahib in Pakistan's Narowal with to Dera Baba Nanak shrine in Gurdaspur district in Punjab, officials said.
At the nearly four-hour-long meeting, which took place in makeshift tents at "Zero point" of the proposed corridor, experts and technicians from both the countries discussed "timing for completion of bridge, alignment of roads and engineering aspects of the proposed crossing points", they said.
Official sources said India proposed the meeting to address outstanding technical issues for the corridor and Pakistan agreed to it, adding implementation of the project is progressing with "speed".
While the meeting was on, civilians were not allowed access to a point on the Indian side from where they can have see Gurdwara Kartarpur Sahib through binoculars.
Various issues were discussed for speedy completion of the proposed project, the officials said.
The Pakistani team included 8-10 delegates from the foreign ministry, and religion and federal works departments, while the 12-member Indian team comprised officials from the Land Ports Authority of India, National Highways Authority of India, Centre Public Work Department and Border Security Force.
In November 2018, India and Pakistan had agreed to set up the border crossing linking Gurdwara Darbar Sahib in Kartarpur, the final resting place of Sikh faith founder Guru Nanak, to Dera Baba Nanak in Gurdaspur district.
Kartarpur is located in Pakistan's Narowal district across the Ravi, about four km from the Dera Baba Nanak.
The first meeting to finalise the modalities for the corridor took place on the Indian side of the Attari-Wagah border on March 14.
Technical experts of the two countries met on March 19 during which alignment, coordinates and several other engineering aspects of the proposed corridor were discussed.
Full report at:
https://www.hindustantimes.com/india-news/india-pakistan-officials-hold-technical-meeting-on-kartarpur-corridor/story-qMP0JgINNISxja0tXvMKVP.html
--------
URL: https://www.newageislam.com/islamic-world-news/hefazat-e-islam-chief-demands/d/118348
New Age Islam, Islam Online, Islamic Website, African Muslim News, Arab World News, South Asia News, Indian Muslim News, World Muslim News, Women in Islam, Islamic Feminism, Arab Women, Women In Arab, Islamophobia in America, Muslim Women in West, Islam Women and Feminism