New Age Islam News Bureau
22 October 2022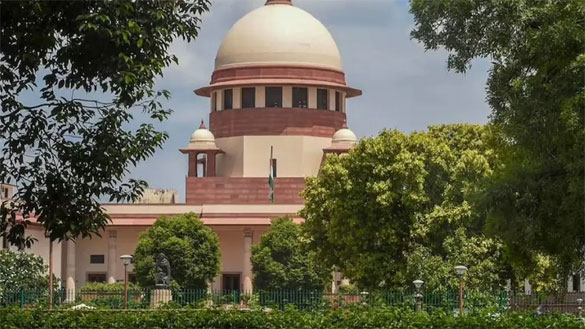 Supreme Court of India PTI
-----
• Pakistan Removed From Global Terror-Financing Watchdog FATF Grey List
• NATO Allies Kept In Dark about Trump's Taliban Deal, Inquiry Hears
• Over One Million, both Saudis and Foreigners, Forcibly Displaced Due To Mass Demolitions In Saudi Arabia's Jeddah: Human Rights Group
• Leading Iranian Cleric Javad Alavi-Boroujerdi Voices Support of People's Right to Protest against Rulers
India
• Prophet and Arab Historians Were Touched by India's Ancient Knowledge: Kerala Governor
• Varanasi Court to Hear Plea Seeking Survey of Basements In Gyanvapi Mosque
• Don't know which Bhagavad Gita Shivraj Patil has read, says VHP leader on jihad remarks
• Krishna Janmabhoomi: Mosque Committee Questions Right of Petitioner to File Suit
• India-born Pakistani to remain in India, on bail: Supreme Court
--------
Pakistan
• Equally Strives For Prosperity of Both Muslim, Non-Muslim: Minister for Religious Affairs and Interfaith Harmony
• Bahrain residents protest recent terror wave in Swat
• Global Powers Anxious after Remarks on Pakistan Nuclear Capabilities
• Pakistan poll tribunal disqualifies Imran as MP, bars him from public office in assets case
• Ex-Pakistan PM Imran Khan accuses ECP of colluding with govt to disqualify him
• Gen Bajwa to bid 'farewell to arms' in five weeks
• Govt says decision 'just the beginning', PTI puts its faith in courts
--------
North America
• Trump took home classified documents about China, Iran: Washington Post
• US in talks with Musk to set up Starlink in Iran
• US extends deportation protections to Ethiopians over raging conflict
--------
Arab World
• Syria intercepts Israeli strikes: State media
• UN appeals for $13 million for Palestinian refugees in Lebanon
• Cholera outbreak hits Syrian refugees sheltering in camps in Lebanon
• Saudi Arabia welcomes victims of Mogadishu bombing for medical treatment
• Saudi, Chinese officials agree to boost energy cooperation
• League of Islamic Universities launches climate action on campuses
--------
Mideast
• Leading Iranian Cleric Javad Alavi-Boroujerdi Voices Support of People's Right to Protest against Rulers
• Iran protests death toll rises to 244, over 12,500 detained: Rights group
• 'Anti-Muslim Attacks Surge amid Legitimization of Ideology' Across the World: President Erdogan
• Israeli troops kill Palestinian; Islamic Jihad says was member
• Turkey calls for end to embargoes on Iran, Venezuela to help energy crisis
• Iran teachers to strike over 'merciless' crackdown on children
• Over 100 Israeli settler attacks against Palestinians in West Bank in past 10 days: Report
• Hamas, Islamic Jihad call for unity to escalate against Israel
--------
Europe
• In A First, EU Invites Jews and Muslims to Stand Up For Kosher and Halal Slaughter amid Local Bans
• Preston Man in Court Accused of Sharing Islamic State Videos
• Muslim Schoolchildren in France Often Denied Food Options That Fit Their Faith
• Hundreds take to streets in Iran's Zahedan over killings
• Ukraine appeals for more help with air defenses, warns over Iran
• France repatriates 40 children, 15 mothers from Syria camps
--------
South Asia
• Taliban Kill Six Islamic State Members in Raid in Afghan Capital - Spokesman
• Mujahid Says West Preventing Islamic Emirate's Recognition
• Clash in Afghan Capital: Taliban Claims to Discover ISIS Hideout
--------
Southeast Asia
• International Conference Reflects Open, Moderate Islamic Studies in Indonesia: Religious Affairs Minister
• Malaysia election: Why the ethnic Malay votes matter and who has the upper hand
• Mysterious 135-year-old temple in Perak's jungles
--------
Africa
• Tunisian Doctor Sentenced To 15 Years in Jail By Saudi Court For Expressing Support For Hezbollah
• Burkina Faso's new junta leader sworn in as president
• Sudan declares state of emergency in Blue Nile over tribal conflict
• At least 150 people killed in tribal clashes in Sudan
• Libyan rivals to meet to discuss electoral law in Rabat
Compiled by New Age Islam News Bureau
URL: https://newageislam.com/islamic-world-news/hate-speech-mongers-suo-motu-supreme-court/d/128245
--------
Hate Speech: Act Against Hate Mongers, Take Suo Motu Action or Face Contempt, SC Tells State Governments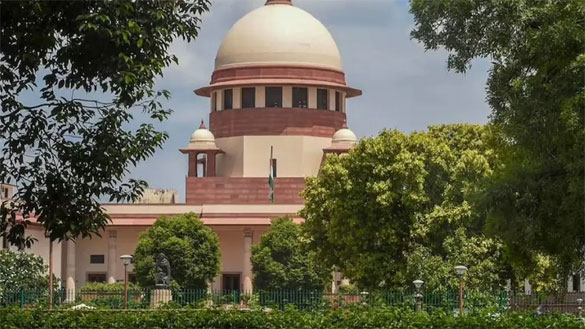 Supreme Court of India PTI
-----
21 OCT 2022
The Supreme Court on Thursday sought a response from the Centre and the states to a plea seeking directions for taking appropriate steps to stop hate speeches against the Muslim community.
A bench of Justices Ajay Rastogi and CT Ravi Kumar issued notices to the Centre and all states while tagging the matter with other pending petitions on the issue pending before another bench.
Petitioner Shaheen Abdullah has moved the top court also seeking direction to the Centre and states to initiate independent, credible and impartial probe into the incidents of hate crimes and hate speeches across the country.
At the outset, senior advocate Kapil Sibal, appearing for the petitioner, said something needs to be done to tackle the problem and action must be taken against those making hate speeches or indulging in hate crimes.
The bench said the prayer in the plea is very vague and no specific instances have been mentioned.
It said cognizance can be taken where an FIR has been lodged in a case.
Sibal, however, submitted the prayer in the petition is not vague and mentions recent incidents of hate speeches.
He added several petitions have been filed in the last six months to stop hate crimes but such incidents are still continuing.
In his petition, Abdullah has also sought to invoke the Unlawful Activities Prevention Act (UAPA) and other stringent provisions to curb hate crimes and hate speeches.
He has said the Muslim community is being "targeted and terrorised" by the participation of the members of the ruling political party in delivering hate speeches.
"The spread of hate towards Muslims and other minorities gets accelerated and becomes all the more far-reaching in its impact as a result of the support, directly or indirectly, extended to radical miscreants, who engage in acts of hate crimes, physical violence as well as communally charged speeches by the ruling political party", it said.
Country secular, take suo motu action against hate speeches: SC tells 3 states
Holding that the Constitution of India envisages a secular nation, the Supreme Court Friday directed Delhi, Uttar Pradesh and Uttarakhand governments to come down hard on hate speeches, promptly registering criminal cases against the culprits without waiting for a complaint to be filed.
The apex court warned any delay on the part of the administration in taking action on this "very serious issue" will invite the court's contempt.
"The Constitution of India envisages a secular nation and fraternity among citizens assuring the dignity of the individual...The unity and integrity of the nation are one of the guiding principles enshrined in the preamble. There cannot be fraternity unless the members of the community from different religions are able to live in harmony. The petitioner points out that despite various penal provisions, no action has been taken and there is a need to serve constitutional principles. We feel this court is charged with a duty to protect the fundamental rights and also protect and serve the constitution where the rule of law is maintained," the top court said.
A bench of Justices K M Joseph and Hrishikesh Roy also issued notices to Delhi, Uttar Pradesh and Uttarakhand on the petition filed by journalist Shaheen Abdullah.
The court said action must be taken against those making hate speeches irrespective of their religion to preserve the secular fabric of the nation.
"Respondents 2-4 (the three states) will file a response as to what action has been taken for the speeches highlighted. They shall ensure that as and when any (hate) speech or action takes place without any complaint being filed, suo motu action is taken in such cases in future without waiting for complaints," the bench observed.
"Respondents will issue directions to their subordinates for appropriate action and such action will be taken irrespective of religion against the person who delivers such hate speech so that the secular character of this country as envisaged in the preamble is maintained," it said.
Source: Outlook India
Please click the following URL to read the text of the original story:
https://www.outlookindia.com/national/sc-directs-centre-to-take-appropriate-steps-against-hate-speeches-targetting-muslims-news-231698
--------
Pakistan Removed From Global Terror-Financing Watchdog FATF Grey List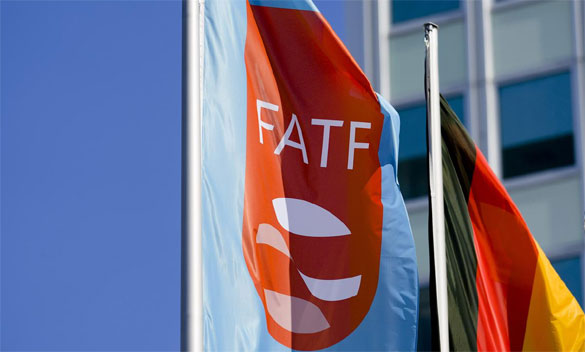 A flag with the logo of the Financial Action Task Force, FATF, waves in the wind next to the German national flag during a meeting of the task force at the Congress Center in Berlin on June 17, 2022. | Photo Credit: AP
-----
Oct 22, 2022
NEW DELHI: Global terror-financing watchdog FATF on Friday announced Pakistan's removal from its grey list, saying the country has largely completed its action plans on anti-money laundering and financing of terrorism. The exit from the increased monitoring list means greater access to foreign loans and aid. Pakistan has been on the FATF grey list since June 2018.
India responded by saying that FATF scrutiny had forced Pakistan to take some action against well-known terrorists, including those involved in attacks against the entire international community in Mumbai on 26/11. "It is in global interest that the world remains clear that Pakistan must continue to take credible, verifiable, irreversible and sustained action against terrorism and terrorist financing emanating from territories under its control," said foreign ministry spokesperson Arindam Bagchi, while noting that Pakistan will continue to work with the Asia-Pacific Group on Money Laundering (APG) to further improve its anti-money laundering /counter terror financing system.
Announcing the decision after the plenary meeting in Paris, FATF chief T Raja Kumar welcomed Pakistan's "significant progress" in improving its anti-money laundering/ combating of financing of terrorism (AML/CFT) regime and the "high-level commitment" by the Pakistan leadership to the ongoing reforms for checking money laundering and terrorism financing. He said an inspection team visited Pakistan and it had returned satisfied. The agency had in June this year agreed to an onsite evaluation in a sign that it was considering removing Pakistan from the grey list. Pakistan had been on the FATF grey list since June 2018.
"Pakistan has strengthened the effectiveness of its AML/CFT regime and addressed technical deficiencies to meet the commitments of its action plans regarding strategic deficiencies that the FATF identified in June 2018 and June 2021, the latter of which was completed in advance of the deadlines, encompassing 34 action items in total. Pakistan is, therefore, no longer subject to the FATF's increased monitoring process," said the agency, adding though that there is still work to be done and that Pakistan will continue to report to the agency about follow-up action.
For India though, the presence of UN-proscribed terror groups and its leaders in Pakistan remains a major concern.
Source: Times Of India
Please click the following URL to read the text of the original story:
https://timesofindia.indiatimes.com/world/pakistan/pakistan-removed-from-fatf-grey-list-on-terror-financing/articleshow/95021064.cms
--------
NATO Allies Kept In Dark about Trump's Taliban Deal, Inquiry Hears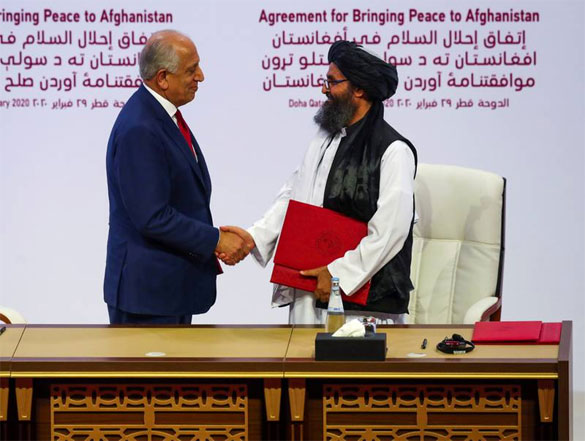 The US signed a deal with the Taliban in February 2020. Reuters
-----
Tim Stickings
Oct 21, 2022
Nato allies were kept in the dark about the US deal with the Taliban that led to the withdrawal from Afghanistan, an inquiry has heard.
A German diplomat said the deal was only shown to allies a day before it was announced in February 2020.
"We all hoped it would be better negotiated than it really was," they said.
Another official said the US had ignored pleas to withdraw when conditions allowed, rather than setting a hard deadline.
The revelations were made to a German parliamentary committee investigating the exit from Afghanistan.
US and Nato forces ended their 20-year campaign in Afghanistan last year, prompting the swift return to power of the Taliban.
The US had agreed to withdraw under the 2020 deal, in return for Taliban promises to negotiate peace and prevent terrorism.
A former aide to Germany's Nato staff said allies hoped the US would make its withdrawal conditional on the Taliban meeting its commitments.
Instead, they told the closed-door inquiry that they found the agreement vague and were surprised that all US troops would leave.
German diplomats had to transcribe the text of deal because officials in Donald Trump's administration would not even let them take away a copy, the inquiry heard.
It echoed a report in August that British officials were kept out of the loop when secret annexes were added to the deal.
The second witness, a former director for Afghanistan and Pakistan in the German Foreign Ministry, said Berlin had raised its concerns with US officials.
They said plans for a German withdrawal were not made immediately because of the possibility that a new US president would come to power.
Joe Biden did defeat Mr Trump in the 2020 election and allies made another attempt to rethink the deal once he came to power.
However, no consensus could be reached with the US on linking the troop withdrawal to positive developments on the ground, the inquiry heard.
"We tried to couple together the military and civilian matters. We were not particularly successful," the foreign ministry official said.
Mr Biden announced in April 2021 that the US withdrawal would go ahead, and Nato allies swiftly fell in behind him.
The Nato aide said he had feared at the time that an over-hasty withdrawal would leave unstable conditions on the ground.
In the event, Taliban forces quickly overran Afghanistan and seized Kabul before Nato forces had finished their withdrawal.
It led to questions about Europe's reliance on the US and whether other Nato powers should be able to act more independently.
The German inquiry previously heard that intelligence was lacking on how resilient the Afghan forces would be.
The 12-member panel is examining the final phase of the war and whether Germany should have prepared better.
A separate inquiry will examine the wider sweep of the 20-year mission in Afghanistan.
Germany deployed 93,000 troops, of whom 59 died, in its biggest military intervention since the Second World War.
Source: The National News
Please click the following URL to read the text of the original story:
https://www.thenationalnews.com/world/2022/10/21/nato-allies-kept-in-dark-about-trumps-taliban-deal-inquiry-hears/
--------
Over One Million, both Saudis and Foreigners, Forcibly Displaced Due To Mass Demolitions In Saudi Arabia's Jeddah: Human Rights Group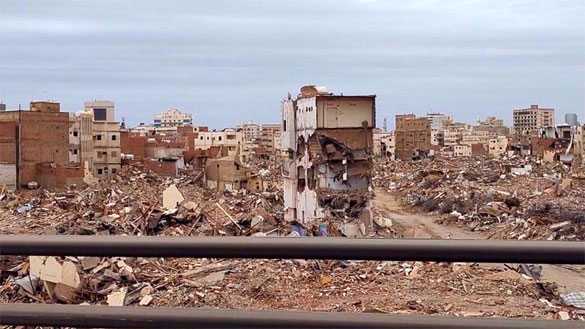 This file picture shows demolitions in a neighborhood of Jeddah, Saudi Arabia. (Photo via Twitter)
------
21 October 2022
An independent human rights organization says more than one million people, both Saudi citizens and foreigners, have become victims of forced displacement and have not received adequate compensation as old neighbourhoods are being demolished in Saudi Arabia's strategic Red Sea port city of Jeddah to make way for luxury high rises and entertainment venues.
Democracy for the Arab World Now (DAWN), a US-based rights group created by murdered Saudi dissident and the Washington Post journalist Jamal Khashoggi to promote democracy, human rights and the rule of law for the Arab world, stated that while the Riyadh regime is expected to spend more than $20 billion on the ambitious plan, very little of that amount has been allocated to compensate the 1.5 million people who have lost or will lose their homes and livelihoods.
The rights group went on to note that demolitions began slowly in October 2021, but by December last year the Saudi authorities had started to demolish large parts of several neighborhoods, forcibly displacing residents without warning and without prior consultation or sufficient compensation afterwards.
DAWN highlighted that Saudi officials demolished 16 to 20 neighborhoods between October 2021 and May 2022, covering an area of more than 4,000 square kilometers.
The speed and extent of demolitions inside Jeddah were unprecedented in modern Saudi history, and the impact of the demolitions on Saudi citizens will be significant, the rights group said.
Moreover, a recently published map of the project shows that the demolitions, which are expected to be completed this month, will affect 1.5 million people in 63 neighborhoods.
The research conducted by DAWN concluded that the Saudi forced displacements are in violation of international law since the measures are incompatible with internationally recognized legal principles to guarantee and protect the population's rights.
Saudi officials have failed to employ appropriate alternatives to displacement and to follow legal procedures, including providing advance notice and an opportunity to appeal or providing prompt, adequate, and effective compensation.
DAWN stressed that Saudi authorities must stop all demolitions in and around Jeddah until it can ensure that development projects comply with international legal standards.
According to the London-based rights group ALQST, an independent non-governmental organization advocating human rights in Saudi Arabia, evicted residents had been living in their homes for up to 60 years.
Some were driven out when their power and water were cut off, or threatened with jail for disobeying an eviction order, it added.
A resident of Jeddah's southern neighborhood of Galil, which saw the first demolitions last October, said security forces had confiscated mobile phones to prevent footage from getting out.
"We were suddenly expelled from our homes overnight and without warning," said the man, who gave his name as Fahd.
Saudi officials have asserted that the kingdom will compensate families for their losses and announced in February that the government would complete 5,000 replacement housing units by the end of the year.
But residents, including those evicted early on, said they had so far received nothing and that there was no clear way to assess the value of their destroyed homes.
Source: Press TV
Please click the following URL to read the text of the original story:
https://www.presstv.ir/Detail/2022/10/21/691320/Over-one-millions-forcibly-displaced-due-to-mass-demolitions-in-Saudi-Arabia-s-Jeddah--Rights-group
--------
Leading Iranian Cleric Javad Alavi-Boroujerdi Voices Support of People's Right to Protest against Rulers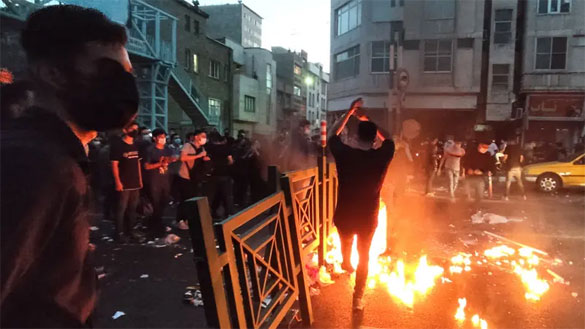 A picture obtained by AFP outside Iran on September 21, 2022, shows Iranian demonstrators taking to the streets of the capital Tehran during a protest for Mahsa Amini, days after she died in police custody. (File photo: AFP)
-----
21 October, 2022
A leading Iranian cleric has come out in support of the people's right to protest against the country's rulers, in a report published Friday, after demonstrations erupted over Mahsa Amini's death.
Iran has been rocked by protests since 22-year-old Amini's death on September 16, three days after she was arrested by morality police in Tehran for allegedly violating the Islamic Republic's strict dress code for women.
"The people have the right to criticize the leader of Muslim society, whether the criticism is justified or not," Javad Alavi-Boroujerdi said, quoted by Shafaqna news agency.
"The people have something to say and they don't agree with what you are doing," Alavi-Boroujerdi told the authorities.
The 68-year-old cleric is the grandson of late Hossein Boroujerdi, the leading Shia cleric in the 20th century.
The street violence that broke out across Iran after Amini's death has led to dozens of deaths, mostly among protesters but also among the security forces, and hundreds of demonstrators have been arrested.
"The press should be free, different thoughts should be expressed on state television," Alavi-Boroujerdi said.
During the unrest since last month, "some people have been arrested and are in jail... treat them with mercy," he added.
On September 26, Hossein Nouri Hamedani, a prominent conservative cleric and strong supporter of Supreme Leader Ali Khamenei, had called on the authorities to "listen to the demands of the people."
Source: Al Arabiya
Please click the following URL to read the text of the original story:
https://english.alarabiya.net/News/middle-east/2022/10/21/Leading-Iranian-cleric-voices-support-of-people-s-right-to-protest-against-rulers
--------
India
Prophet and Arab Historians Were Touched by India's Ancient Knowledge: Kerala Governor
21st October 2022
New Delhi: Prophet Muhammad and all major Arab historians were touched by India's ancient knowledge, while the invaders from Europe and Central Asia sought to demoralise the people of the country to establish their rule, Kerala Governor Arif Mohammed Khan said on Friday.
Khan said it is a matter of pride that Muslims are practising Islam in the country.
"Whenever someone invade from outside to rule they try to demoralise the country by breaking its people's self-confidence and claim they have come to civilise them. Whatever Muslim invaders from Central Asia had said (about India), but the Prophet who never came to India and, sitting in Medina, had once said he felt cool breeze of knowledge coming from the land of India and that's what Iqbal also stated," Khan said.
Speaking at a programme at the Indira Gandhi National Centre for the Arts (IGNCA) here, Khan said he had mentioned this in Deoband and underlined that it is a "matter of pride for Muslims that they are practising Islam in India, the country whose knowledge the Prophet was touched by."
The Islamic seminary Darul Uloom is located in Deoband.
He further said, "When people in India were writing huge books…the people of England were living in caves and they think they civilised us."
Source: Siasat Daily
Please click the following URL to read the full text of the original story:
https://www.siasat.com/prophet-and-arab-historians-were-touched-by-indias-ancient-knowledge-kerala-guv-2439326/
--------
Varanasi Court To Hear Plea Seeking Survey Of Basements In Gyanvapi Mosque
October 21, 2022
Varanasi: A district court here fixed November 2 for a hearing on a plea for the survey of two basements in the Gyanvapi Mosque complex and imposed a penalty on the mosque committee for not filing an objection to it in time.
District Government Counsel Mahendra Pandey said the court had earlier asked the mosque committee to file an abjection to the plea filed by Hindu plaintiffs in the Gyanvapi mosque-Shringar Gauri complex case.
"The mosque side could not file any objection, after which the court slapped a fine of ₹ 100 on them and fixed November 2 for hearing," Pandey added.
The court on Friday also rejected prayers of four people for becoming a party to the case.
Earlier on Monday, the court had rejected similar applications of seven people.
The people who had filed applications for becoming a party to the case included former Kashi Vishwanath temple mahant Kulpati Tiwari, Hindu Sena national president Vishnu Gupta, weaver Mukhtar Ahmed Ansari and president of Brahmin Mahasabha Ajay Kumar Sharma, Pandey said.
While some of the applicants prayed for becoming a party to the case seeking permission for regular worship of deities whose idols are located on an outer wall of the mosque, others said they had detailed information of the matter .
Lawyers connected with the case have been claiming that the basements are located near the "wazookhana", a place for the ritual ablution in the mosque complex.
One of the petitioners from the Hindu side also pleaded for ensuring the safety of idols of Lord Ganesh and Goddess Lakshmi, which they claimed have been recovered from the complex.
Last Friday, the court had turned down the Hindu petitioners' plea seeking scientific investigation and carbon dating of a "Shivling" claimed to have been found on the mosque premises. The Muslim side has rejected the claim.
Source: ND TV
Please click the following URL to read the full text of the original story:
https://www.ndtv.com/india-news/varanasi-court-to-hear-plea-seeking-survey-of-basements-in-gyanvapi-mosque-3452957
--------
Don't know which Bhagavad Gita Shivraj Patil has read, says VHP leader on jihad remarks
22nd October 2022
NAGPUR: A top functionary of the Vishva Hindu Parishad (VHP) on Friday slammed Congress veteran Shivraj Patil over his claim that the Bhagavad Gita also spoke of jihad and said the remarks were made to garner cheap publicity and create confusion in the society.
Talking to reporters here, VHP secretary-general Milind Parande accused the former Union minister of indulging in minority appeasement.
Patil on Thursday claimed the concept of jihad (holy war) was not just in Islam but also in the Bhagavad Gita and Christianity.
Speaking at the launch of Congress veteran and former Union minister Mohsina Kidwai's biography, the former Lok Sabha Speaker stated that there is a lot of discussion of jihad in the religion of Islam.
"It is not just in the Quran, but in the Mahabharata also, the part in Gita, Shri Krishna also talks of jihad to Arjun and this thing is not just in the Quran or the Gita but also in Christianity," he claimed in his remarks.
Asked about Patil's comments, Parande said they were irresponsible and aimed at garnering cheap publicity and creating confusion in the society.
"I don't know which Gita he (Patil) has read. There is no mention of jihad in the Gita," the VHP leader said.
Asked about the alleged assault on members from a minority community by Bajrang Dal workers at a 'garba' programme during the Navratri festival in Ahmedabad, the VHP leader feigned ignorance about the incident and said he does not know what exactly happened there.
Parande, however, maintained members from a particular community enter venues of such programmes with false names.
"There may have been such incidents out of excitement. Otherwise, we just create awareness. We will have to see whether such a thing actually happened as everything that comes in news is not true," said the VHP leader.
Asked about a mass religious conversion event held in New Delhi earlier this month, Parande said "The Buddhist community is our own and hence we consider its members as our own."
Source: New Indian Express
Please click the following URL to read the full text of the original story:
https://www.newindianexpress.com/nation/2022/oct/22/dont-know-which-bhagavad-gita-shivraj-patil-has-read-says-vhp-leader-on-jihad-remarks-2510630.html
--------
Krishna Janmabhoomi: Mosque committee questions right of petitioner to file suit
Oct 22, 2022
By Hemendra Chaturvedi
The Shahi Eidgah mosque management committee in Mathura on Friday questioned the right of a Hindu petitioner to file a suit in the court of the civil judge (senior division) on the Sri Krishna Janmabhoomi issue.
The mosque committee invoked the Places of Worship Act (Special Provisions) Act 1991, which states that the religious character of a place of worship existing on August 15, 1947 shall continue to be the same as it existed on that day.
The intezamia (management) committee for Shahi Eidgah Mosque on Friday concluded its arguments on its own application moved under Order 7 Rule 11 of the Civil Procedure Code. Arguments are to be placed by counsel for petitioner, Manish Yadav, on November 8, the next date of hearing, in the case.
Elaborating on arguments placed on Friday, the secretary and counsel of Shahi Eidgah management committee Tanveer Ahmed said, "The petitioner Manish Yadav has no right to file the suit and seek relief as prayed for. The suit, as filed, is time barred and no evidence for title has been placed or proved by the petitioner in the case."
"The petitioner has failed to identify the land in the suit said to be measuring 13.37 acre because the map filed has not specified the boundaries much required to identify the property. Besides this, the suit is barred by time because the petitioner has failed in proving the delay, not of years but of decades, while challenging the compromise entered in 1968," asserted Ahmed who was assisted by Neeraj Sharma, Abrar Ahmed and Vikas Pathak, the other lawyers appearing in the case for Shahi Eidgah mosque.
On October 3, the court of civil judge (senior division) at Mathura had heard initial arguments placed by lawyers for Shahi Eidgah mosque, who have challenged the maintainability of the suit filed by Hindu petitioners on the Sri Krishna Janmabhoomi issue in Mathura. This is case no. 152 of 2021 Bhagwan Sri Krishna Virajman versus UP Sunni Central Waqf Board and others filed in the court of Civil Judge (Senior Division) Mathura in December 2021.
Manish Yadav, the petitioner, had on May 12, 2022 moved applications before the Allahabad high court, which directed the lower court in Mathura to decide the two applications filed on behalf of Bhagwan Shri Krishna Virajman in connection with the Krishna Janmabhoomi issue within four months.
Another case filed by a Lucknow-based lawyer Shailendra Singh on the same issue was also heard in the court of civil judge (senior division), Mathura. But the petitioner was not present in the court despite Friday being the last opportunity provided to Singh, who is both counsel for and petitioner in the case, to turn up.
"The court of civil judge (Senior Division) Mathura has reserved the file for passing the order after there was no adjournment moved by petitioner Shailendra Singh who was not present in the court despite the court fixing today's date as the last opportunity in the case," said Ahmed, representing Shahi Eidgah Mosque in this case too.
These petitioners, besides others, have challenged the settlement dated October 10, 1968 between Sri Krishna Janmsthan Seva Sangh and Shahi Masjid Eidgah, which was part of suit no. 43 of 1967, alleging that it had no legal validity because the Sri Krishna Janmabhoomi Trust, having ownership and title of the property, was not party to the settlement.
The petitioners have sought cancellation of the judgment and decree dated July 20, 1973 and judgment and decree dated November 7, 1974 passed in civil suit no. 43 of 1967 by the civil judge, Mathura.
There had been a dozen cases filed in the Mathura court on the issue of Sri Krishna Janambhoomi and the relief sought was more or less, similar seeking removal of Shahi Eidgah Mosque that shares wall with Sri Krishna Janmabhoomi in Mathura, and handing over of land measuring 13.37 acre back to the deity.
Source: Hindustan Times
Please click the following URL to read the full text of the original story:
https://www.hindustantimes.com/cities/lucknow-news/krishna-janmabhoomi-mosque-committee-invokes-places-of-worship-act-101666374753379.html
--------
India-born Pakistani to remain in India, on bail: Supreme Court
Oct 22, 2022
NEW DELHI: The Supreme Court on Friday permitted 63-year-old Mohd Qamar - born in India in 1959 and went to Pakistan as an 8-year-old with his mother to visit relatives, got stranded there due to her sudden demise and came back holding a Pakistani passport to get arrested – to stay in India on bail as Pakistan government refused to recognize him as her citizen.
A bench of Justices D Y Chandrachud and Hima Kohli told additional solicitor general K M Nataraj that since Pakistan government is not recognizing him as their citizen, he could not be left as a 'state-less person. "Since he is not considered either by the Union or UP government as a security threat, we will admit his daughter's petition for grant of Indian citizenship and keep him on bail," it said.
Qamar was released in April this year on SC orders from Delhi's Lampur detention Centre, where he has been detained since 2015 under Foreigners Act after he served out his three- and half-year sentence on being convicted by a Meerut Court for illegal stay in India.
The bench said since he is not a security threat and that he is married to an Indian and had five children, who are all Indians, Qamar could look for some succor on being kept free on bail at this advanced age, especially when the Pakistan High Commission is not confirming his Pakistani citizenship despite grant of consular access twice.
Born in Meerut to Indian parents in 1959, Qamar went to Pakistan as an eight year-old with his mother to visit her relatives in Shalami area in Lahore. Unfortunately, his mother died before the expiry of visa period, and he was left in the care of his mother's relatives.
On becoming an adult, he got a Pakistani passport and visited India in 1989-90. Shortly after arriving in India, he got married to Sehnaaj Begum in Meerut and in the next six years had five children, three boys and two girls.
Though his visa expired long ago, being illiterate, he never bothered to renew it, his daughter's counsel Sanjay Parikh informed the court. He was arrested on August 8, 2011, under the Foreigners Act for residing in India after expiry of visa. He was convicted by a Meerut court and sentenced to three years and six months.
Source: Times Of India
Please click the following URL to read the full text of the original story:
https://timesofindia.indiatimes.com/india/india-born-pakistani-to-remain-in-india-on-bail-supreme-court/articleshow/95023412.cms
--------
Pakistan
Equally Strives For Prosperity of Both Muslim, Non-Muslim: Minister for Religious Affairs and Interfaith Harmony
OCTOBER 22, 2022
Minister for Religious Affairs and Interfaith Harmony Mufti Abdul Shakoor said the ministry was equally striving for progress and prosperity of both the Muslim and non-Muslim population.
He, in a meeting with British High Commissioner (BHC) Christian Turner the other day, said the life, property and prestige of the non-Muslims living in Pakistan was equally dear to us as the welfare and well-being of human beings is part of our religion.
He said the minority communities were enjoying the equal rights enshrined in the Constitution and in accordance with the teachings of the Holy Prophet Muhammad (PBUH) which has no example in the world.
He said to prevent anti-Islamic and hateful events in the West, the promotion of mutual relations was indispensable adding, "Islam, Pakistan and people are against the religious extremism and misuse of the religion."
Mufti Abdul Shakoor said hostile agencies were trying to spread unrest in Pakistan through unemployment and misuse of religion. The minister said our region had been suffering from instability for 40 years due to special interests of foreign powers. He said Pakistan had already a weak economy and it was further affected by the terrorism, climate change and refugees.
The minister said the world should help in creating health, education, employment opportunities in Pakistan. "War is not a solution of the problems as they can be settled down with open-minded and result-oriented negotiations.
He said Afghan government was not against the girls' education as its main problems are peace, security and international interference. Meanwhile BHC Christian Turner said the United Kingdom (UK) committed to promoting regional peace, economy, interfaith harmony and bilateral relations.
He said the promotion of strong Pak-UK ties; religious freedom and tolerance at the public level were among the priorities. To dispel the misperception of Pakistan, the British government brought positive change in its travel guidelines and revived the British Airways, he added.
Source: Daily Times Pakistan
Please click the following URL to read the full text of the original story:
https://dailytimes.com.pk/1015915/equally-strives-for-prosperity-of-both-muslim-non-muslim-shakoor/
--------
Bahrain residents protest recent terror wave in Swat
Fazal Khaliq
October 22, 2022
SWAT: Residents of Bahrain tehsil gathered in Madyan Bazaar here on Friday in large numbers shouting slogans against terrorist activities and for peace in the region.
The Swat Qaumi Jirga and Swat Olasi Pasoon held the event against the recent wave of terrorism in Swat.
It was the ninth protest by the people of Swat since the start of terrorist attacks in Swat in August this year. Besides civil society, the ruling PTI and opposition JUI-F also staged rallies.
The speakers told Madyan Bazaar protesters that they were surprised after hearing from government spokesman Barrister Mohammad Ali Saif that he had fought along with the Taliban in Afghanistan.
They insisted that Saif's disclosure suggested that he was a militant.
Noted among speakers were Dr Amjad Ali, Zubair Torwali, Malak Ibrar Torwali, Mazhar Azad, Ayoub Asharey, Sher Shah Khan, Syed Jaffar Shah, Sher Bahadar Khan, Shahid Ali Khan, Mukhtiyar Yousafzai and Dr Khalid Mehmood.
The Swat Quami Jirga leaders warned if Saif tried to visit Swat, the residents would stage street protests as they considered him to be the friend of killers and those challenging the writ of the government.
They criticised the police for not registering an FIR against the killers of a man and his son on the Bypass Road in a 'fake encounter'.
The speakers said if the local Taliban tried to return to Swat, the people would take up arms against them instead of waiting for security agencies to come and eliminate them.
They said Swatis wanted their land to be peaceful.
The speakers also demanded equal rights for the people of Malakand division like other citizens of the country.
They said the Swat youth had the right to formal education, security and development.
The speakers rejected the idea of a military operation in Swat and said the local police should be tasked with maintaining law and order control in the region as they enjoyed the residents' 'complete trust'.
They said it was ironic that the citizens were seeking protection of their life from the state.
Young women also took part in the demonstration like previous ones staged by civil society activists in the district.
They held placards inscribed with slogans for peace and shouted slogans.
Resham, a resident of Madyan area, said that the women of Swat had taken to the streets to demand peace for themselves and other residents.
"Protecting public life and property is the duty of the state," she said.
Another young protester, Kiran Naz, said terrorism had badly hit women.
Source: Dawn
Please click the following URL to read the full text of the original story:
https://www.dawn.com/news/1716193/bahrain-residents-protest-recent-terror-wave-in-swat
--------
Global Powers Anxious after Remarks on Pakistan Nuclear Capabilities
By Arif Ahmadi
21 Oct 2022
ISLAMABAD, Pakistan – Pakistan's nuclear capabilities are now taking center stage and raising concerns among several key world powers after United States President Joe Biden described the country as "one of the most dangerous nations in the world".
Addressing a Democratic Congressional Campaign Committee Reception on Thursday, United States President Joe Biden said Pakistan may be "one of the most dangerous nations in the world".
"… And what I think is maybe one of the most dangerous nations in the world: Pakistan. Nuclear weapons without any cohesion," he said.
Pakistan's government, the Taliban, its various outfits in Pakistan and Afghanistan, and other jihadist groups inside Pakistan have created a worry over the nuclear weaponry falling into terrorist hands, reported Global Strat View.
In the past, there have been multiple instances when experts and US Presidents have expressed their concerns over Pakistan's nukes.
During the time of the Obama administration, a Harvard nuclear expert, Graham Allison, stated, "When you map weapons of mass destruction and terrorism, all roads intersect in Pakistan," as The Economic Times reported.
He said this while sitting on the US Commission on the Prevention of Weapons of Mass Destruction Proliferation and Terrorism.
Bill Clinton, a former US president, expressed a comparable level of concern over Pakistan's moves toward nuclear testing. Clinton was concerned that if Islamabad went ahead with its nuclear weaponry, South Asia would pose a geopolitical threat.
General Mark Milley, Chairman of the Joint Chiefs of Staff, and other senior generals made similar claims.
Pakistan Reaction to Biden's Remark
Soon after the news circulated around social media, Pakistani former Prime Minister Imran Khan reacted to Joe Biden's remark, questioning the US president how he obtained such information that proves Pakistan was one of the most dangerous nations in the world.
"I have 2 Qs on this: 1. On what info has @POTUS reached this unwarranted conclusion on our nuclear capability when, having been PM, I know we have one of the most secure nuclear command & control systems?, he tweeted.
"2. Unlike the US which has been involved in wars across the world, when has Pakistan shown aggression esp post-nuclearisation (sic)?"
The former PM, who believed the US plotted his ouster, claimed that Biden's statement showed a "total failure of the imported" government's foreign policy and its "claims of a reset of relations with the US".
"Is this the 'reset'? This government has broken all records for incompetence," Imran tweeted, adding that he feared the incumbent government would end up compromising national security
Meanwhile, former prime minister Nawaz Sharif, in whose administration Pakistan became an atomic power, also weighed in on the matter, saying Pakistan is a responsible nuclear state that is perfectly capable of safeguarding its national interest.
"Pakistan is a responsible nuclear state that is perfectly capable of safeguarding its national interest whilst respecting international law and practices," he said in a tweet.
Source: Khaama Press
Please click the following URL to read the full text of the original story:
https://www.khaama.com/global-powers-anxious-after-remarks-on-pakistan-nuclear-capabilities/
--------
Pakistan poll tribunal disqualifies Imran as MP, bars him from public office in assets case
Oct 22, 2022
ISLAMABAD: Former Pakistan prime minister Imran Khan was dealt potentially the biggest blow of his political career on Friday when the country's Election Commission disqualified him as an MP and barred him from holding any public office after holding him guilty of "intentionally" making "false statements and incorrect declaration of assets".
In what it said was a "unanimous" ruling, the five-member tribunal led by chairperson Sikandar Sultan Raja called for criminal proceedings to be initiated against Imran.
The ruling against the ex-PM, whose Pakistan Tehreek-e-Insaf (PTI) won six out of seven National Assembly seats in the bypolls last week, appeared to instantly plunge the country into turmoil as protests raged in Islamabad, Lahore, Peshawar and Karachi amid a call by his party for supporters to take to the streets everywhere.
Footage broadcast on TV stations showed parts of Peshawar littered with burning tyres. In Lahore and Rawalpindi, police were seen using tear gas on protesters.
PTI functionaries questioned the electoral tribunal's jurisdiction and authority to deliver such a verdict, with Imran's colleague and former minister Fawad Chaudhry quoted as saying it was "a slap on the faces of 220 million people". The cricketer-turned-politician's legal team intends to move the Islamabad high court against the electoral body's verdict, counsel Faisal Chaudhry said.
The tribunal indicted Imran for "corrupt practices" while in office, including making a false declaration on the sale of gifts received from foreign dignitaries. These include Rolex watches, a ring and a pair of cufflinks. Imran, according to the order, "ceases to be a member of the National Assembly of Pakistan and his seat has become vacant accordingly".
The case had been filed in August by Mohsin Shahnawaz Ranjha, a member of the Pakistan Muslim League-Nawaz (PML-N), accusing Imran of hiding gifts from the "toshakhana" (a state depository).
PM Shehbaz Sharif said the Election Commission had "delivered justice" after his predecessor "shattered the ideal of 'sadiq' and 'ameen' (truthfulness and trustworthiness)" with his conduct in office. "The nation has seen that the post of PM was made a source of personal income through corrupt practices," he tweeted, urging Imran to "bow" to the verdict instead of "contesting the law, wielding sticks, firing shots and bringing mobs".
"No one is above the law," he said.
Source: Times Of India
Please click the following URL to read the full text of the original story:
https://timesofindia.indiatimes.com/world/pakistan/pakistan-poll-tribunal-disqualifies-imran-as-mp-bars-him-from-public-office-in-assets-case/articleshow/95020749.cms
--------
Ex-Pakistan PM Imran Khan accuses ECP of colluding with govt to disqualify him
Oct 21, 2022
ISLAMABAD: Former Pakistan prime minister Imran Khan on Friday accused the election body of colluding with the government to disqualify him in the concealment of assets in the Toshakhana case and vowed to continue fighting against "thieves".
The Election Commission of Pakistan (ECP) in its unanimous verdict declared that Khan was involved in concealing proceeds from the sale of gifts he purchased from the Toshakhana at a discounted rate.
Khan issued a recorded message after chairing two back-to-back meetings of his Pakistan Tehreek-i-Insaf party at his Banigala residence in the suburbs of Islamabad after his disqualification.ISLAMABAD: Former Pakistan prime minister Imran Khan on Friday accused the election body of colluding with the government to disqualify him in the concealment of assets in the Toshakhana case and vowed to continue fighting against "thieves".
The Election Commission of Pakistan (ECP) in its unanimous verdict declared that Khan was involved in concealing proceeds from the sale of gifts he purchased from the Toshakhana at a discounted rate.
Khan issued a recorded message after chairing two back-to-back meetings of his Pakistan Tehreek-i-Insaf party at his Banigala residence in the suburbs of Islamabad after his disqualification.
The cornered former premier stated that he knew that the ECP was going to target him as it already lost neutrality after its chief Sikandar Sultan Raja became a mouthpiece of the ruling Pakistan Muslim League-Nawaz.
"The entire nation took to the streets against the illegal decision by the ECP," he said and announced to challenge the verdict in the Islamabad high court.
He thanked his supporters for staging protests against a highly partisan decision. He also lashed at the chief election commissioner Raja, accusing him of making decisions against the PTI during the last two and a half years.
He maintained that Raja failed to take action on various complaints by the PTI, including stalling legislation on the use of electronic voting machines in elections.
"I knew beforehand that he (Raja) would disqualify me; I already sent a message to my party leaders about it," Khan said.
He made a commitment that he would continue to fight against "thieves" including the chief of the ECP.
Khan also asked his protestors to wrap up countrywide protests and wait for his call for a grand protest march which he said would be historic.
Source: Times Of India
Please click the following URL to read the full text of the original story:
https://timesofindia.indiatimes.com/world/pakistan/ex-pakistan-pm-imran-khan-accuses-ecp-of-colluding-with-govt-to-disqualify-him/articleshow/95019532.cms
--------
Gen Bajwa to bid 'farewell to arms' in five weeks
Baqir Sajjad Syed
October 22, 2022
ISLAMABAD: Chief of Army Staff Gen Qamar Bajwa on Friday called for national coherence and rule of law as he confirmed that he would be bidding a farewell to arms in a few weeks.
Speaking at the National Security Workshop at National Defence Univer­sity, Gen Bajwa said he would be retiring in about five weeks' time.
During a visit to Wash­ington earlier this month, Gen Bajwa had announced that he would step down at the end of November.
In a reference to the political turmoil in the country, Gen Bajwa told participants of the workshop that the army had decided to remain apolitical. In recent months, the army has continued to face the allegations of political interference despite pled­ges by its leadership that it would stay out of politics.
In his remarks, Gen Bajwa also highlighted the need for "national cohesion and unified response" for protecting and promoting national interest and ensuring progress.
He recalled the military's successes against terrorism. Operation Raddul Fasaad was launched in February 2017, months after Gen Bajwa assumed command, to sustain the progress achieved through successive counter-terrorism operations. Terrorism incidents sharply decreased afterwards.
The outgoing chief said that peace and stability can only be achieved if rule of law and state's writ is established.
However, lately a resurgence is being witnessed in Khyber Pakhtunkhwa and over 400 people, mostly security personnel, have lost their lives in terrorist attacks this year.
Read: Why and how is the TTP resurfacing in Swat?
Succession
Gen Bajwa will be retiring by the end of November after commanding the army for six years. He was appointed army chief in 2016 for a three-year tenure, which was extended by three years in after parliament legislated on the tenures of services chiefs on the orders of the Supreme Court.
The legislation had fixed 64 years as the retirement age for services chiefs. Gen Bajwa is 61 years old and can technically stay on for another term, if the government agrees to it. This possibility has led to endless speculation that he may continue in the position.
It is expected that the process for the selection of his successor would begin by next week. Influential quarters within the government have advised the prime minister to expedite the appointment process as they suspect that unrest in the country was linked to the upcoming change in command, according to a member of the federal cabinet.
As per the process, General Headquarters would route a panel of the five senior most lieutenant generals through defence ministry to Prime Minister Shehbaz Sharif for appointing the next army chief.
According to Article 243 (3) of the Constitution, the president would appoint the services chiefs on the recommendation of the prime minister.
Besides the appointment of the COAS, the position of chairman Joint Chiefs of Staff Committee will also fall vacant on Nov 27. All eyes, however, are on who would be the next army chief because of the history of this office overshadowing political landscape.
Source: Dawn
Please click the following URL to read the full text of the original story:
https://www.dawn.com/news/1716300/gen-bajwa-to-bid-farewell-to-arms-in-five-weeks
--------
Govt says decision 'just the beginning', PTI puts its faith in courts
Syed Irfan Raza
October 22, 2022
ISLAMABAD: The ruling and main opposition parties on Friday interpreted in their own way the decision against former prime minister Imran Khan in the Toshakhana case, with the former hailing it as a "five-year disqualification", and the latter rejecting the verdict on the basis that it would be struck down by the high court.
Saying the ECP "has done justice in [the] Toshakhana reference", Prime Minister Shehbaz Sharif urged PTI leaders and workers not to take law into their own hands.
"The myth of [Imran Khan's] honesty and sagacity has been broken," he tweeted, adding that the nation had borne witness to how the PM's office was misused for personal gain.
Calling for Mr Khan's arrest and the recovery of "looted money" from him, PML-N Vice President Mar­yam Nawaz said that "Pakis­tan's first certified liar and thief" had been disqualified with irrefutable evidence.
Shehbaz laments how PM office was used for personal gain; Asad Umar says they expected such a verdict
Members of the ruling Pakistan Democratic Move­ment (PDM) coalition also met soon after the ECP announced its decision, and in a subsequent presser, Maulana Fazlur Rehman hailed the verdict, obs­erving that following Imran Khan's disqualification, "The nation has gotten rid of the fitna (troublemaker)."
PPP leader and foreign minister Bilawal Bhutto-Zardari, speaking at an event in Karachi, saw the decision against Mr Khan as "just the beginning", predicting that "more such decisions" against the ex-PM were yet to come.
In the words of Awami National Party (ANP) Pre­si­dent Asfandyar Wali Khan, the ECP verdict was within the ambit of the commissi­on's constitutional jurisdiction.
PTI reaction
However, Mr Khan's own party was understandably upset by the ruling, saying that the decision against Mr Khan was beyond the ECP's jurisdiction and proved its "lopsidedness".
The party also announ­ced its intention to file an appeal against the decision before the Islamabad High Court once a copy of the detailed decision was made available.
In PTI Vice Chairman Shah Mahmood Qureshi's opinion, the ECP verdict "had no value". He said that Imran Khan would continue to hold the office of party chairman since the commission had no jurisdiction to rule on such matters.
"We are going to challenge this decision in the Supreme Court," he added.
The party's Central Secretary General Asad Umar also reacted sharply to the decision, saying that the verdict would not even stand for a few hours.
"We expected this verdict. Our lawyers are prepared, the petition is ready and the decision will be challenged in the high court," he said.
Speaking to the media outside ECP offices, Senior Vice President Fawad Chaudhry said: "This is a wrong decision, ECP cannot de-seat Imran Khan… The ECP did exactly what we expected of them."
"Today is the beginning of the revolution. No one can disqualify Imran Khan. Only the public can do that," he vowed.
Shafqat Mahmood flayed the verdict, calling it "a black day for Pakistan".
PTI legal expert Babar Awan opined that Imran Khan had not been disqualified, rather those had announced the verdict were the incompetent ones.
His view was echoed by former finance minister Shaukat Tarin, who maintained that the ECP was not a court of law. "He [Imran] has broken no rules and people know it. This will only make him more popular and will force PTI to launch the long match. Minus one is not acceptable to the people of Pakistan," he tweeted.
Meanwhile, on a question about Mr Khan's disqualification and if it could impact US-Pakistan relations, a US State Department spokesperson said Washington did not have a position on one political candidate or party versus another.
Source: Dawn
Please click the following URL to read the full text of the original story:
https://www.dawn.com/news/1716298/govt-says-decision-just-the-beginning-pti-puts-its-faith-in-courts
--------
North America
Trump took home classified documents about China, Iran: Washington Post
Anwar Iqbal
October 22, 2022
WASHINGTON: Classified papers discovered from former US president Donald Trump's Florida residence contained information about Iran's missile programme and US intelligence data about China, The Washington Post reported on Friday.
The secret documents were recovered when the FBI raided Mr Trump's Mar-a-Lago home in August.
"If shared with others, such information could expose intelligence-gathering methods that the United States wants to keep hidden from the world," the report warned. One of the documents describes Iran's missile programme while other documents have highly sensitive intelligence information about China.
Some of the most sensitive materials were recovered in the FBI's court-approved search of Trump's home on Aug 8, in which agents seized about 13,000 documents, 103 of them classified and 18 of them top secret, court papers seen by the paper revealed.
The Washington Post has previously reported that one of the documents seized in the FBI search described a foreign country's military defences, including its nuclear capabilities. The people who shared the information would not say if that intelligence was related to Iran, China, or some other nation.
US intelligence agencies believe Tehran is close to having enough fissile material for a nuclear weapon but has not demonstrated its capabilities yet.
The documents retrieved by the FBI included top-level analysis papers about Iran's nuclear programme. "Some of the seized documents detail top-secret US operations so closely guarded that many senior national security officials are not informed about them," the Post reported. "Only the president, some members of his Cabinet or a near-Cabinet-level official could authorize government officials to know details of these special-access programmes."
David Laufman, a former senior Justice Department official, told the Post that "the reckless exposure of invaluable sources and methods of US intelligence capabilities … will certainly influence the Justice Department's determination of whether to charge Mr Trump or others with willful retention of national defence information".
Mr Trump agreed in January to turn over 15 boxes of material. When archivists examined the boxes, they found 184 documents marked classified, including 25 marked top secret.
US officials, however, notified the Justice Department that Mr Trump had not turned over all the classified material in his possession. In June, Mr Trump's aides handed over a sealed envelope containing another 38 classified documents, including 17 marked top secret. Security camera footage showed boxes being carried from the storage area after the subpoena was issued — and a key witness told the FBI that he moved the boxes at Trump's instruction.
Source: Dawn
Please click the following URL to read the full text of the original story:
https://www.dawn.com/news/1716267/trump-took-home-classified-documents-about-china-iran-washington-post
--------
US in talks with Musk to set up Starlink in Iran
October 22, 2022
WASHINGTON: The White House is in talks with billionaire Elon Musk about setting up SpaceX's satellite internet service Starlink in Iran, CNN reported on Friday, citing officials familiar with the matter.
The satellite-based broadband service could help Iranians circumvent restrictions on accessing the internet and certain social media platforms.
The US treasury department said last month that some satellite internet equipment can be exported to Iran, suggesting that the company may not need a licence to provide satellite broadband service in the country.
Musk had then said he would activate Starlink in response to US Secretary of State Antony Blinken's tweet that the United States took action "to advance internet freedom and the free flow of information" to Iranians.
Musk said on Tuesday Starlink had not received any funding from the US defence department for its services in Ukraine, adding the company was losing $20 million a month due to unpaid service and costs on security measures for cyber war defence.
Source: Dawn
Please click the following URL to read the full text of the original story:
https://www.dawn.com/news/1716284/us-in-talks-with-musk-to-set-up-starlink-in-iran
--------
US extends deportation protections to Ethiopians over raging conflict
Michael Gabriel Hernandez
21.10.2022
WASHINGTON
The US extended on Friday protections against deportation to Ethiopians residing in the US due to the worsening conflict in the east African nation.
The Temporary Protected Status (TPS) protections will remain in effect for at least 18 months, and in order to be eligible individuals must have lived in the US prior to Oct. 20 of this year.
"The United States recognizes the ongoing armed conflict and the extraordinary and temporary conditions engulfing Ethiopia, and DHS is committed to providing temporary protection to those in need," said Department of Homeland Security (DHS) Secretary Alejandro Mayorkas said in a statement.
"Ethiopian nationals currently residing in the U.S. who cannot safely return due to conflict-related violence and a humanitarian crisis involving severe food shortages, flooding, drought, and displacement, will be able to remain and work in the United States until conditions in their home country improve," he added.
TPS prevents an individual from being deported from the US, and enables them to apply for work permits. The program was designed to provide protections to individuals whose home countries are afflicted by war, natural disasters and other "extraordinary and temporary conditions."
Peace talks between Ethiopia's government and rebels from the northern state of Tigray will commence in South Africa on Oct. 24 under African Union auspices.
The development comes after Ethiopian forces recently made gains in the Tigray region by capturing key areas, including the strategic town of Shire.
Last Sunday, the Tigray People's Liberation Front said it was "ready to abide by an immediate cessation of hostilities," urging the international community to press Addis Ababa "to come to the negotiating table."
Earlier this week, Redwan Hussien, the national security adviser to the Ethiopian prime minister, rejected recent statements from UN officials, including its chief Antonio Guterres, that the Tigray crisis "is spiraling out of control," asserting that it was being "extinguished" thanks to Ethiopia's efforts.
The Tigray conflict has killed thousands and displaced millions more since November 2020.
Source: Anadolu Agency
Please click the following URL to read the full text of the original story:
https://www.aa.com.tr/en/africa/us-extends-deportation-protections-to-ethiopians-over-raging-conflict/2717940
--------
Arab World
Syria intercepts Israeli strikes: State media
21 October, 2022
Syria intercepted Israeli missiles over the capital Damascus Friday, state media reported.
"Our air defenses intercepted an Israeli missile strikes in the airspace of Damascus and the southern region," Syria's official news agency SANA said.
An Israeli strike around the capital Damascus killed five soldiers last month.
In June, Israeli airstrikes put Damascus airport out of service for nearly two weeks.
In the past month, Israeli airstrikes have twice targeted Aleppo airport.
Since civil war erupted in Syria in 2011, Israel has carried out hundreds of strikes against its northern neighbor, targeting government troops as well as allied Iran-backed forces and Hezbollah fighters.
Source: Al Arabiya
Please click the following URL to read the full text of the original story:
https://english.alarabiya.net/News/middle-east/2022/10/22/Syria-intercepts-Israeli-strikes-State-media
--------
UN appeals for $13 million for Palestinian refugees in Lebanon
21 October, 2022
The United Nations agency for Palestinian refugees (UNRWA) appealed Friday for $13 million in funding to support Palestinians in Lebanon, as the country reels from an unprecedented economic crisis.
"Palestinian refugees, living in overcrowded camps... are at the end of their rope," UNRWA chief Philippe Lazzarini said in a statement, adding that "almost every Palestinian refugee in Lebanon lives in poverty."
He said UNRWA was "urgently appealing for $13 million" in funding for cash assistance to families, primary health care services and to keep the agency's schools open until the end of this year.
Palestinian refugees in Lebanon are "often unable to even scrape by," he said, adding: "Our assistance is a drop in an ocean of despair."
For the past three years, Lebanon has been in the throes of one of the worst economic crises in recent global history, according to the World Bank.
"Unprecedented levels of poverty, skyrocketing unemployment rates and increasing despair are... severely hitting the Lebanese people and Syrian and Palestine refugees," Lazzarini said.
Lebanon hosts about 210,000 Palestinian refugees, including 30,000 who fled Syria after war erupted in 2011, according to UNRWA.
It also hosts more than one million Syrian refugees.
Most Palestinians live in 12 official refugee camps in squalid conditions, worsened by Lebanon's financial meltdown, and face a variety of legal restrictions, including on their employment.
According to the UN agency, 93 percent of all Palestinian refugees in Lebanon are poor.
The situation has pushed hundreds to attempt perilous sea journeys in hope of reaching Europe.
Palestinians were among the more than 100 dead after a migrant boat that left from Lebanon's north sank off neighboring Syria, in one of the deadliest such shipwrecks in the eastern Mediterranean.
Source: Al Arabiya
Please click the following URL to read the full text of the original story:
https://english.alarabiya.net/News/middle-east/2022/10/21/UN-appeals-for-13-million-for-Palestinian-refugees-in-Lebanon
--------
Cholera outbreak hits Syrian refugees sheltering in camps in Lebanon
21 October, 2022
Syrian refugees in displacement camps are falling victim to a cholera outbreak in Lebanon, already suffering from an economic meltdown that has slashed access to clean water and strained hospitals.
Lebanon recorded its first cholera case in early October -- signaling the return of the bacteria for the first time in 30 years. It now counts at least 220 cases and five deaths.
According to the World Health Organization, Lebanon is the latest phase of a rampaging outbreak that began in Afghanistan in June - then spread to Pakistan, Iran, Iraq and Syria.
In Syria itself more than 13,000 suspected cases have been reported, including 60 deaths, according to the Syria office of Doctors Without Borders (MSF).
Cholera is typically spread through contaminated water, food or sewage. It can cause severe diarrhea and dehydration – which can kill if left untreated.
Most cholera cases in Lebanon have been in the camps, among the roughly 1 million Syrians who have taken refuge over the past decade from the conflict in their homeland, according to caretaker Health Minister Firass Abiad.
He said the three-year economic crisis was partly to blame. The water in Lebanon's public mains, not just in the camps, was already unsafe to drink without treatment - but with state coffers drained by the recession, there is not enough fuel to run government-run water stations.
Their stagnant waters are becoming easily contaminated while households face shortages, Abiad said.
Dirty water
Syrian refugees in Lebanon rely on UN agencies and international NGOs to regularly truck in water to fill up cisterns outside their tents and clear out sewage containers.
But residents of the Idris camp in Qub Elias say those services have become more scarce, prompting fears of an overflow.
"When the sewage containers would overflow in the past, there would be dirty water flooding the camp," said Amal, a slender and freckled Syrian woman living in the camp.
"If there isn't already cholera in this camp, I'm sure we'll get it in no time."
Seven cases have been detected in the Qub Elias area, but the health ministry has not specified how many Syrians are among them and which camps were affected.
The WHO says refugee camps are a "typical at-risk area," given the lack of access to clean water and sanitation.
UNICEF said on October 14 it would begin delivering more water to camps, install handwashing stations with chlorinated water, and conduct awareness sessions.
The UN children's agency in Lebanon has also secured emergency fuel to run water pumping stations in the north and stop wastewater from flowing to the coast. But it said it needed $29 million to fund three months of anti-cholera activities.
Besides Amal, none of the refugees who Reuters spoke to had heard of the outbreak. Fatima Hussein, a Syrian mother of nine, said she did not know what cholera was.
"The sewage system?" Hussein said when asked about clean water, recounting how the toilet in her tent had overflowed countless times.
She said she had caught her youngest daughter drinking from a local well, where she feared wastewater was being dumped.
"If something happened to my daughter, I wouldn't know what to do," she said.
Most of the refugees Reuters spoke to said they paid for their own bottled drinking water. But with prices rocketing due to hyperinflation, that may soon become too expensive.
WHO country director Abdinasir Abubakar told Reuters cholera posed a "very high risk" for Lebanon – and that transmission to other countries was likely.
Source: Al Arabiya
Please click the following URL to read the full text of the original story:
https://english.alarabiya.net/News/middle-east/2022/10/21/Cholera-outbreak-hits-Syrian-refugees-sheltering-in-camps-in-Lebanon
--------
Saudi Arabia welcomes victims of Mogadishu bombing for medical treatment
22 October, 2022
Saudi Arabia has welcomed victims of a hotel bombing in Somalia for medical treatment in the Kingdom, the official Saudi Press Agency (SPA) reported on Friday.
Six people who were injured in a hotel bombing in Mogadishu were flown into Riyadh's King Khalid International Airport following the directives of Saudi Arabia's King Salman bin Abdulaziz.
Representatives of the King Salman Humanitarian Aid and Relief Center (KSrelief), the Ministry of Health, and the Somali Ambassador to the Kingdom, Salim Maow Haji, welcomed them upon arriving to the Kingdom.
Source: Al Arabiya
Please click the following URL to read the full text of the original story:
https://english.alarabiya.net/News/gulf/2022/10/22/Saudi-Arabia-welcomes-victims-of-Mogadishu-bombing-for-medical-treatment
--------
Saudi, Chinese officials agree to boost energy cooperation
21 October 2022
Saudi Arabia's Energy Minister Prince Abdulaziz bin Salman and China's National Energy Administration Director Zhang Jianhua agreed on Friday to boost cooperation in the energy sector, the Saudi state news agency SPA reported.
The two sides underscored in a phone call the importance of long-term and stable supply to the crude oil markets.
Earlier on Friday, the Saudi minister, who was in New Delhi, where he met with several Indian officials, including Oil Minister Hardeep Singh Puri, said OPEC+ had taken the right decision to cut oil output by 2 million barrels per day to ensure stable and sustainable oil markets.
The decision caused an increase in the price of oil in the energy market. President Joe Biden of the United States, after some administration officials asked him to reconsider relations with Riyadh, said the move would have consequences for the political relationship between the US and Saudi Arabia.
On Thursday, the Saudi Foreign Ministry wrote in a message on its Twitter account that the kingdom would not be coerced into taking action and that Riyadh was trying to protect the global economy from the fluctuations of the oil market.
White House spokesman John Kirby recently said the "Saudi Foreign Ministry can try to spin or deflect, but the facts are simple." Other nations in the oil cartel, he said, told the United States privately they "felt coerced to support Saudi's direction."
Relations between Washington and Riyadh have experienced deep friction since the inauguration of Joe Biden, who has taken a number of controversial positions towards Saudi Arabia.
Ali Shihabi, author and commentator on Middle Eastern politics and economics with a particular focus on Saudi Arabia, believes Saudi Crown Prince Mohammed bin Salman sees the right partner in Washington under current global circumstances.
Several OPEC+ officials have repeatedly said the decision to cut oil output by 2 million barrels per day is not political at all, but taken in order to maintain stability in the world markets.
Source: Press TV
Please click the following URL to read the full text of the original story:
https://www.presstv.ir/Detail/2022/10/21/691339/Saudi-Chinese-officials-boost-energy-cooperation
--------
League of Islamic Universities launches climate action on campuses
SANJAY KUMAR
October 22, 2022
NEW DELHI: The League of Islamic Universities will launch environment courses at the campuses of its member institutions, following a climate action summit held in India earlier this week.
Based in Cairo, Egypt, the league is an association representing Islamic universities around the world.
Its members, including 200 universities from 60 countries, gathered at Jamia Markaz, an Islamic university in Kozhikode, Kerala, for the International Climate Action Summit on Oct. 17-20.
The event was inaugurated by the league's secretary general, Dr. Osama Al-Abed, who urged global stakeholders to employ new strategies in addressing climate problems, as the world is "facing challenges that are structurally different from the past.
"Even a minor variation in the ecosystem in a remote village can have huge global impacts. The human population across the globe is now entangled with each other in unprecedented ways," he said.
"This demands policymakers and governments to resort to more international approaches toward issues such as climate change and come up with global solutions for even local issues."
The summit concluded with a joint declaration for climate action that obliges the league's members to include environmental science in their curricula and allocate resources for research on confronting climate change-related problems.
"We thought that the real community who has to work on climate change is students. In every country, if the universities go for some course on climate then the future generation would be working on climate change," Jamia Markaz rector Dr. Abdul Hakeem Al-Kandi told Arab News on Friday.
"Students, who are the future leaders, when they are getting aware of climate change, (they) will impact the whole world."
Al-Kandi added that a center dedicated to environmental studies will be established by the league in Calicut, India.
"This would be part of the League of Islamic Universities," he said.
"Anyone can come and study here."
Environmentalist and principal of Markaz Law College Dr. C. Abdul Samad, who coordinated the summit, said the idea of the university league's action was to mobilize community members in different societies and make them stakeholders in protecting the environment.
"Introducing environmental science courses in universities is important as the young leaders need to be educated to think about nature and climate change, and its impact," he said.
"It is the new generation that can preserve the diversity of nature and respect the environment. The whole idea is to save the planet for the future."
Saudi environmentalist Ahmed Sabban, who took part in the summit, also highlighted the urgency of climate action dedicated to the young generation.
"Let's start teaching the environmental science courses to young graduates, because the universities are places where research and development, and professors and students, will come up with solutions quicker than other organizations," he told Arab News, adding that such courses are already underway in Saudi universities.
Source: Arab News
Please click the following URL to read the full text of the original story:
https://www.arabnews.com/node/2185671/world
--------
Mideast
Iran protests death toll rises to 244, over 12,500 detained: Rights group
21 October, 2022
Iran's security forces have killed 244 protesters and arrested over 12,500 others in anti-government demonstrations sparked by the death of Mahsa Amini in police custody, a rights group said on Friday.
Of those killed, 32 were children, the Human Rights Activists News Agency (HRANA), a news site run by a collective of Iranian human rights advocates, said.
The group estimated the number of people arrested during the protests to be 12,516.
For the latest headlines, follow our Google News channel online or via the app.
There have been 28 fatalities among security forces, according to HRANA.
Protests erupted across Iran after Amini, a 22-year-old Iranian Kurdish woman, died in police custody on September 16.
Source: Al Arabiya
Please click the following URL to read the full text of the original story:
https://english.alarabiya.net/News/middle-east/2022/10/21/Iran-protests-death-toll-rises-to-244-over-12-500-detained-Rights-group
--------
'Anti-Muslim Attacks Surge amid Legitimization of Ideology' Across the World: President Erdogan
OCT 21, 2022
President Recep Tayyip Erdoğan warned against the legitimization of anti-Islam sentiment, which has been restricting the freedom of worship and other freedoms for Muslims in different places across the world.
Speaking at an Organisation of Islamic Cooperation (OIC) meeting in Istanbul, Erdoğan said attacks targeting Muslim communities have also been on the rise.
The issue of Islamophobia has become a growing threat across Europe, as several countries enact policies institutionalizing it, according to the European Islamophobia Report 2021.
It said countries such as the United Kingdom and France became "the main spots of anti-Muslim hatred and Islamophobic incidents."
Erdoğan has been a vocal critic of the rise of Islamophobia amid Western silence and inaction in the face of the growing problem, which affects millions of Muslims.
He also called on Muslim countries to enhance cooperation amid ongoing problems.
"We cannot overcome attacks against the Muslim world without increasing cooperation on all fronts, from Kashmir to Palestine, from Western Thrace to the Turkish Republic of Northern Cyprus (TRNC)," he said.
The president also criticized the West for its hypocrisy regarding the Daesh terrorist group, saying that French cement giant Lafarge's support for terrorism has been proven in the courts.
"Even though we are the only country that was involved in close combat and won a victory against Daesh, we are subjected to dirty accusations claiming otherwise," he said.
French cement giant Lafarge will pay more than three-quarters of a billion dollars after pleading guilty to U.S. charges of providing material support to two designated terrorist groups including Daesh in Iraq and Syria.
Lafarge paid the terrorist groups from 2013 through 2014 for protection and to allow the continued operation of a cement plant in northern Syria run by Lafarge's local subsidiary, Lafarge Cement Syria (LCS). In total, nearly $6 million was sent to the two groups, according to prosecutors.
Source: Daily Sabah
Please click the following URL to read the full text of the original story:
https://www.dailysabah.com/politics/diplomacy/anti-muslim-attacks-surge-amid-legitimization-of-ideology
--------
Israeli troops kill Palestinian; Islamic Jihad says was member
October 21, 2022
RAMALLAH, West Bank, Oct 21 (Reuters) - Israeli forces killed a Palestinian during an overnight raid in the occupied West Bank town of Jenin, the Palestinian Health Ministry said.
Palestinian Islamic Jihad said the man, whom it named as 19-year-old Salah Braiki, was a member of the militant group.
Witnesses said clashes broke out during the raid, which the Israeli military said it carried out in order to arrest a suspected militant.
Several people "hurled explosive devices and fired shots at the security forces, who responded with live fire. Hits were identified," the military said. It did not elaborate.
Islamic Jihad said in a statement that Braiki was killed while confronting Israeli forces in Jenin. His father, speaking to Reuters at the hospital, denied Braiki had been involved in the overnight fighting.
He said: "This boy was neither armed nor wanted (by the Israelis). Why did you kill him?"
More than 100 Palestinians from the West Bank have been killed this year, most since late March when Israeli forces began a crackdown in response to attacks by Palestinians that killed 19 people in Israel.
Israel says the operations are a security measure needed to arrest militants and thwart attacks. Palestinians say the raids are a form of collective punishment and that they are fighting to resist decades of Israeli occupation.
Israel captured the West Bank, East Jerusalem and Gaza - areas that Palestinians seek for an independent state - in a 1967 Middle East war.
On Thursday, a UN-appointed commission of inquiry concluded that Israel's "permanent occupation and de-facto annexation" violated international law.
Source: Reuters
Please click the following URL to read the full text of the original story:
https://www.reuters.com/world/middle-east/palestinians-say-one-killed-during-israeli-army-raid-west-bank-2022-10-20/
--------
Turkey calls for end to embargoes on Iran, Venezuela to help energy crisis
21 October, 2022
Turkey on Friday said the lifting of Western sanctions on countries including Iran and Venezuela would alleviate the global energy crisis triggered by Russia's invasion of Ukraine.
Venezuela has been hit by US oil sanctions since 2019 and Iran is under US sanctions as talks between Tehran and Washington over reviving a 2015 nuclear deal stall.
Iran has the world's second largest natural gas reserves, after Russia, but lacks the infrastructure to increase exports, which are currently limited to Iraq and Turkey.
"The entire world needs Venezuela's oil and natural gas... On the other side, there's been embargoes on the Iranian oil," Turkish Foreign Minister Mevlut Cavusoglu said.
"Remove these sanctions... if you want the prices to drop, remove the embargoes on the countries that will offer their products to the market," he added.
"You cannot solve the problem by threatening a country."
Moscow's move to cut off gas supplies to Europe amid tensions over Ukraine has triggered an energy crisis across the continent, with consumers and businesses facing high prices as winter approaches.
Source: Al Arabiya
Please click the following URL to read the full text of the original story:
https://english.alarabiya.net/News/middle-east/2022/10/21/Turkey-calls-for-end-to-embargos-on-Iran-Venezuela-to-help-energy-crisis-
--------
Iran teachers to strike over 'merciless' crackdown on children
21 October, 2022
An Iranian teachers' union has called a two-day strike from Sunday over the lethal targeting of schoolchildren in a crackdown on protests sparked by Mahsa Amini's death.
The death of 22-year-old Amini, after her arrest for allegedly breaching Iran's strict dress code for women, has fuelled the biggest protests seen in the Islamic republic for years.
Young women, university students and schoolgirls have led the charge, removing their headscarves, chanting anti-government slogans and confronting the security forces on the streets.
The Co-ordinating Council of Teachers Syndicates on Thursday called a strike in response to the crackdown that Amnesty International says has cost the lives of at least 23 children.
"The Co-ordinating Council declares sit-in strikes for Sunday and Monday. We teachers will be present at schools but will refrain from being present in classes," it said in a statement posted on its Telegram channel.
"We know very well that the military and security forces and plainclothes (officers) have violated schools and educational centers," it said.
"During this systematic oppression, they have mercilessly taken the lives of a number of pupils and children; from Nika (Shahkarami) and Sarina (Esmailzadeh), to Abolfazl (Adinezadeh) and Asra Panahi."
The four, all in their teens, were killed by Iran's security forces during the crackdown on the nationwide protests that has flared since September 16, when Amini died in custody, according to human rights groups.
Oslo-based group Iran Human Rights said on Thursday that at least 27 children have been killed by the security forces and that children and teachers are among the thousands arrested in the crackdown.
In its statement, the teachers' union said "a large number of teachers have been arrested" without being charged.
"The rulers must know that ... Iran's teachers do not tolerate these atrocities and tyranny and proclaims that we are for the people, and these bullets and pellets you shoot at the people target our lives and souls," it said.
"This is why the Co-ordinating Council of Teachers Syndicates supports the rightful protests of the people across Iran, and condemns the killings and oppression of past weeks."
Source: Al Arabiya
Please click the following URL to read the full text of the original story:
https://english.alarabiya.net/News/middle-east/2022/10/21/Iran-teachers-to-strike-over-merciless-crackdown-on-children
--------
Over 100 Israeli settler attacks against Palestinians in West Bank in past 10 days: Report
22 October 2022
Israeli settlers have carried out more than 100 violent attacks against Palestinian people in the occupied West Bank over the past 10 days, amid tensions escalated by the regime's forces in the occupied territories.
Israeli media reported on Friday that the West Bank had seen an "alarming" rise in attacks by Israeli settlers against Palestinian civilians, homes, and storefronts in recent weeks, with more than 100 cases of crimes by Jewish settlers in the last 10 days.
"In recent weeks, the security establishment has identified an alarming increase in acts of violence by settlers throughout the West Bank," Haaretz daily newspaper said, adding that most of the attacks had taken place in the northern West Bank, especially in the town of Huwwara in Nablus.
Last week, dozens of settlers attacked Palestinian property and vehicles in the Huwwara, with witnesses telling the Middle East Eye that masked settlers threw rocks at Palestinian vehicles near the town, as well as setting vehicles and olive trees on fire. Over 40 Palestinians were reported wounded.
Abdullah Odeh, who owns a local amusement park in Huwwara, said the Palestinian residents had almost been successful in repelling the violent attacks, stressing that a group of Israeli soldiers arrived to help and protect the armed settlers.
"The settlers were retreating, but when they saw the soldiers, they came back in force and started to get closer, breaking everything in their path. The soldiers did not push them back. Instead, they started to attack us and shoot toward us," said Odeh.
"While the soldiers were pushing us back and attacking us, the settlers started to set fire to one of our vans that was parked higher up on the hill, while another group of them came and started to set fire to one of our lorries," he added.
The Haaretz daily newspaper cited an unnamed security source as saying that contrary to claims by senior Israeli officials that attacks on Palestinians were being carried out by a handful of settlers, they were in fact being perpetrated by a large number of settlers, including women and children, as part of attempts to inflame the situation in the occupied West Bank.
Tensions have been running high across the occupied Palestinian territories over the past months.
In late September, Israeli right-wing groups called for the storming of al-Aqsa Mosque in the occupied Old City of al-Quds so as to increase Jewish presence at the holy site as Jews celebrated Rosh Hashanah, the Jewish New Year.
The extremist right-wing groups have openly called for turning al-Aqsa into a Jewish worship area and tearing down the Islamic shrines in order to build a Jewish temple on the location.
Moreover, Israeli forces have recently been conducting overnight raids and killings in the northern occupied West Bank, mainly in the cities of Jenin and Nablus, where new groups of Palestinian resistance fighters have been formed.
Source: Press TV
Please click the following URL to read the full text of the original story:
https://www.presstv.ir/Detail/2022/10/22/691373/Israeli-settlers-violent-attacks-West-Bank-
--------
Hamas, Islamic Jihad call for unity to escalate against Israel
21 October 2022
Leaders of Hamas and Islamic Jihad resistance movements have highlighted the need to boost unity and escalate military confrontation with the Israeli regime amid a new wave of Israeli aggression against Palestinians.
A meeting was held on Friday in the Lebanese capital of Beirut between a Hamas delegation led by Fathi Hammad, a member of the group's political bureau, and an Islamic Jihad delegation led by secretary-general Ziad al-Nakhala.
The sides affirmed that the liberation of Palestinian lands at this stage requires efforts to unify resistance forces, escalate the confrontation with the occupying forces, and force the regime to retreat from all Palestinian soil, Palestine Today reported.
They also stressed that al-Quds is the "eternal capital" of Palestine and will remain a symbol of unity for the Palestinian people.
The meeting comes a few days after a historic visit between Hamas officials and Syrian President Bashar al-Assad in Damascus.
A high-ranking Palestinian delegation met with Assad on Wednesday, in the first such visit in more than a decade as the two sides seek to revitalize their ties.
Deputy chief of the Hamas political bureau in the besieged Gaza Strip, Khalil al-Hayya, who headed the delegation, said the spirit of resistance was resurrected within the Arab world following their historic visit to Damascus.
"The relations with Syria will give strength to the Axis of Resistance and to all the believers in the resistance," al-Hayya said.
The efforts to boost resistance come as Israeli forces have recently been conducting overnight raids and killings in the northern occupied West Bank, mainly in the cities of Jenin and Nablus, where new groups of Palestinian resistance fighters have been formed.
Meanwhile, emboldened by the military forces, Zionists living in illegal settlements have also been involved in attacks against Palestinian people and neighborhoods.
On Thursday night, the Israeli forces shot dead 19-year-old Salah Briki during a raid on the Jenin refugee camp north of the occupied West Bank.
Source: Press TV
Please click the following URL to read the full text of the original story:
https://www.presstv.ir/Detail/2022/10/21/691346/Hamas-Islamic-Jihad-call-escalation-against-Israel
--------
Europe
In a first, EU invites Jews and Muslims to stand up for kosher and halal slaughter amid local bans
BY CNAAN LIPHSHIZ
OCTOBER 21, 2022
(JTA) — European Union officials in Brussels invited Jewish and Muslim community leaders to discuss meat production, in what some of the guests characterized as progress toward ensuring religious freedom.
The event, which was convened by the EU's point person for fighting antisemitism, Katharina von Schnurbein, included Jews and Muslims concerned about a two-pronged attack on their traditional methods for slaughtering animals for food that has resulted in bans in some countries. About 30 EU officials and about 20 community leaders were present, according to people who were there.
"We've had sessions before at the EU where advocates defended shechitah," the Hebrew word for the Jewish way of killing animals for food, Rabbi Menachem Margolin, who heads the Brussels-based European Jewish Association, told the Jewish Telegraphic Agency. Thursday's event, he said, "was the first designed to give us a platform, rather than to just have us come and state our case alongside people with the opposite view."
Animal rights activists say shechitah and zabiha, the Muslim method for slaughtering animals for food, are cruel because both methods preclude stunning before the animal's necks are cut. Advocates of the customs say they result in no greater suffering to animals than mechanized slaughter methods with higher malfunction rates and less attention to individual animals.
In recent years, opposition to shechitah and zabiha has widened as right-wing parties began adopting this stance as part of their commitment to reducing the presence in society of Islam, and in some cases also Judaism.
When Jewish community leaders challenged recent bans in two of Belgium's three states at the Court of the European Union, the court dealt them a major defeat when it upheld the bans in a 2021 ruling that Israel's ambassador to Belgium called "catastrophic and a blow to Jewish life in Europe."
The ruling added Belgium to a number of EU countries where ritual slaughter is illegal, including Denmark, Sweden, Finland, Estonia and Slovenia. In 2011, the Netherlands briefly joined the list, but the Dutch Senate reversed the ban in 2012, citing freedom of worship. Poland also outlawed ritual slaughter in 2013 but has since scaled back the ban to include only meat for export.
"While all of this was happening, EU officials, who are not shy about criticizing individual member states on some issues, have basically ignored our pleas for intervention on the meat issue," Margolin said. "The fact that the EU has finally decided to create an event centered on defending religious slaughter, or at least hearing the case for it, is an encouraging first step on a path that needs to lead to legislation enshrining minorities' rights to continue to exercise their religious freedoms."
The office of von Schnurbein, who in 2015 became the first European Commission coordinator on combatting antisemitism, had stayed out of the debate on shechitah for most of her tenure. But she has become increasingly outspoken on the issue since the bans in Belgium, which were initiated by a right-wing party and advanced by a socialist party. In January, she said during an EU meeting that the bans risk painting Jews and Muslim minorities as "medieval."
"The fact that Katharina was an initiator of this event is also significant because it correctly frames the debate on banning shechitah in the discussion on antisemitism," Margolin said.
Von Schnurbein did not immediately respond to a request for comment from JTA.
Shimon Cohen, the director of the British-Jewish advocacy group Shechitah UK, also referenced the connection between antisemitism and bans on religious slaughter during his speech at the event Thursday. Cohen noted that the first ban on shechitah in Europe occurred in Switzerland in the 19th century to make the country less hospitable to Jews fleeing pogroms in Russia.
The Nazis, too, enacted a ban on kosher slaughter early on, Deborah Lipstadt, the U.S. special envoy charged with monitoring antisemitism abroad, said in her speech at the conference. She said the United States recognizes the importance of allowing ritual slaughter and urged European lawmakers to include exemptions for religious groups in any legislation about meat production.
"There's an easy way to both promote animal welfare during slaughter & respect the rights of members of religious minority groups," she said. "By exempting ritual slaughter from these laws, countries can ensure animals are treated more humanely, while preserving rights."
In his comments at the conference, Cohen argued that existing laws about religious freedom are not enough to ensure that shechitah remains legal.
Source: JTA
Please click the following URL to read the full text of the original story:
https://www.jta.org/2022/10/21/global/in-a-first-eu-invites-jews-and-muslims-to-stand-up-for-kosher-and-halal-slaughter-amid-local-bans
--------
Preston man in court accused of sharing Islamic State videos
October 22, 2022
A man accused of sharing Islamic State videos on social media has appeared in court.
Mohammed Afzal, 18, allegedly shared material showing an execution and fighters in combat on Instagram between March and September.
He is also accused of collecting instructions on how to make explosives.
Mr Afzal, of Preston, Lancashire, appeared by videolink for the hearing at London's Old Bailey where he was remanded in custody.
Source: BBC
Please click the following URL to read the full text of the original story:
https://www.bbc.com/news/uk-england-lancashire-63343586
--------
Muslim schoolchildren in France often denied food options that fit their faith
22.10.2022
PARIS, France
Although the subject gets little media coverage, the problem of food in French school cafeterias is a headache for many parents of Muslim students.
Citing their version of secularism, some mayors have decided not to offer alternative menus in school cafeterias.
This is the case in Tassin-la-Demi-Lune, a commune on the outskirts of Lyon, which since 2016 has mandated that only a single menu be offered for school meals.
And when the only meal offered is sometimes centered around pork, students who eat only halal or kosher – approved under Muslim or Jewish guidelines, respectively – have trouble getting enough to eat.
To get around this problem, some mayors have proposed an exclusively vegetarian menu, citing environmental concerns
These mayors have given the choice to parents with three possible menus: meat, fish, or vegetarian. The Grenoble City Hall asked parents to choose the menu they wanted, and 94% opted for fish or beef/chicken menus.
Children in those schools were able to choose their meals, unlike the situation created by other mayors who think that secularism means making Muslim and Jewish children either eat pork or go hungry.
Backlash from Muslim parents
Faced with a lack of empathy by mayors, parents in schools where pork is often the only choice launched an online petition to demand alternative menus.
They said that last December, the Council of State clearly ruled that proposals for alternative menus in fact do no undermine secularism or religious neutrality.
Moreover, it argued that "a single menu goes against the sense of history at a time when food waste is being criticized."
"The unique menu, defended by the City Council in Tassin-la-Demi-Lune, hinders access to catering for 20% of students, whether for religious reasons, health, or belief (vegetarianism)," said the parents' petition, adding: "The role of a mayor is to serve the population, all the population, in the name of the general welfare."
Several well-known figures, including journalist and feminist activist Rokhaya Diallo, have lent support to the petition and encouraged others to sign it.
In France, Muslims are subjected to unrelenting attacks and exclusion amid an intensifying debate over the visibility of the community.
There is a question about the definition and concrete application of the principle of secularism. While some want to go further by prohibiting any "Muslim-related" visibility, others are looking to live and let live.
School dress codes
Among the hardliners, Eric Ciotti, the mayor of Nice, France's fifth-largest city, and a presidential hopeful last year, wants to modify a 2004 law on religious symbols in schools to ban certain types of clothing, such as abayas – a long, free-flowing garment worn by Muslim women over their clothes.
Apparently referring to Muslim young girls who wear long skirts, he called allowing such clothing "a misuse of secularism."
Some elected representatives in France apparently want to have "a clothing police" that will have the right to decide if attire is a religious dress.
For weeks, several French media outlets have charged that the abayas "violate secularism," and so young girls should not wear them.
Source: Anadolu Agency
Please click the following URL to read the full text of the original story:
https://www.aa.com.tr/en/europe/muslim-schoolchildren-in-france-often-denied-food-options-that-fit-their-faith/2718067
--------
Hundreds take to streets in Iran's Zahedan over killings
October 22, 2022
PARIS: Hundreds of demonstrators took to the streets of the southeastern Iranian city of Zahedan, three weeks after over 90 people were reportedly killed in "Bloody Friday" protests.
"Death to the dictator", the protesters, mostly young men, chanted on Friday in reference to supreme leader Ayatollah Ali Khamenei outside a police station, in footage widely shared on social media.
According to Iran Human Rights, an Oslo-based group, Iranian forces had killed 93 people who had gathered at the same location on September 30.
Zahedan, the capital of Sistan-Baluchestan province, is one of the few Sunni-majority cities in Iran.
"Death to Khamenei" and "Unity, unity", the protesters shouted after Friday prayers in a video shared by Radio Farda, a US-funded station.
The slogans echoed those chanted in nationwide protests over Mahsa Amini, an Iranian woman of Kurdish origin who died in custody on Sept 16.
The police chief of Sistan-Baluchestan, Ahmad Taheri, said 57 "rioters" were arrested during Friday's protests.
A news agency said "thugs and rioters" had gathered after Friday prayers at Makki Mosque — headed by influential Sunni cleric Molavi Abdol Hamid.
It said they "shouted slogans and threw rocks at shops, cars and banks", noting that "leaders and instigators" had been identified and investigations were underway.
Amini, 22, died three days after falling into a coma following her arrest in Tehran by the morality police for an alleged breach of the country's dress code for women.
Two weeks later, violence erupted in Zahedan during protests that were triggered by anger over the reported rape of a teenage girl by a police commander in the region.
Climber under 'house arrest'
A human rights group called on Friday for Iranian climber Elnaz Rekabi to be protected after she was reportedly placed under house arrest for competing abroad without a hijab. Rekabi competed in South Korea last week without wearing a headscarf.
Citing an "informed source", BBC Persian said Rekabi had been put under pressure to make a "forced confession" after her return on Wednesday from the Asian Championships in sports climbing in Seoul.
The 33-year-old was given a hero's welcome on her return to Tehran by supporters who raucously applauded her action, but the source told BBC Persian that she did not go home after arriving at the airport.
"She was held at the national Olympics academy under the watch of plainclothes officers until she met the minister," it said, referring to Sports Minister Hamid Sajjadi.
Rekabi had been threatened with the seizure of 100 million rials ($312,000) worth of her family's property unless she made the "forced confession", the source was quoted as saying. On Friday, a New York-based human rights group called on the International Federation of Sport Climbing to do more to protect her.
The federation "should engage with rights organisations to protect pro climber #ElnazRekabi and all Iranian athletes", the Center for Human Rights in Iran said on Twitter.
"Don't take the government in Iran's word at face value — it has a documented history of detaining, maiming and killing those who oppose it."
Fears had been raised about the fate of Rekabi after friends had reportedly been unable to contact her following the end of her participation in the competition in Seoul.
Source: Dawn
Please click the following URL to read the full text of the original story:
https://www.dawn.com/news/1716264/hundreds-take-to-streets-in-irans-zahedan-over-killings
--------
Ukraine appeals for more help with air defenses, warns over Iran
21 October, 2022
President Volodymyr Zelenskyy made a new call for foreign help strengthening Ukraine's air defenses against Russian air strikes during talks on Friday with three members of the US Congress.
An air force spokesperson echoed Zelenskyy's appeal, saying the world must prevent Tehran providing Moscow with ballistic missiles in addition to the "kamikaze" drones which Kyiv says Russia is using in its attacks on Ukraine.
Zelenskyy said his talks with US Congressmen Mike Turner, James Himes and Eric Swalwell had covered the armed forces' priority needs, repairs to damaged energy facilities and Ukrainian demands for tougher sanctions on Russia.
"It is important for Ukraine to receive air defense systems in the necessary quantity to create an 'air shield'," Zelenskyy said on the Telegram messaging app following the talks.
He said the visit to Kyiv was "a bold step that demonstrates strong bicameral and bipartisan support for Ukraine," adding: "It confirms that the United States is our strategic partner."
Russia has stepped up attacks on Ukrainian energy facilities and cities since Oct. 10, using missiles and what Kyiv says are Iranian-made Shahed-136 attack drones.
Air force spokesman Yuriy Ihnat said Ukraine's air defenses were proving increasingly effective against the drones but indicated they were less effective against missiles.
"If we take the last two weeks and the results in taking down drones, our air defense is 85 percent effective," Ihnat told a briefing. "Now we've learned to recognise them and shoot them down more effectively."
Ukrainian concerns about Iran
Tehran denies supplying Shahed-136 drones to Moscow and the Kremlin denies its forces have used Iranian drones to attack Ukraine. But two senior Iranian officials and two Iranian diplomats told Reuters that Iran has promised to provide Russia with surface-to-surface missiles, in addition to more drones.
"Ukraine currently doesn't have effective air defense systems against ballistic missiles. Iran will likely supply those (to Russia), unless the world finds a way to stop it," Ihnat said.
The United States has dismissed Iran's denial that it has sold the drones to Moscow and said Iranian military trainers are in annexed Crimea helping Russian forces operate the drones.
Ihnat said this was a matter for Ukrainian and Western intelligence but added: "It's obvious they are there, for me personally. They are teaching and maybe even participating in military action."
Ukraine has been aided by the delivery of sophisticated air defense systems from allies including the first of four IRIS-T air defense systems from Germany.
Source: Al Arabiya
Please click the following URL to read the full text of the original story:
https://english.alarabiya.net/News/world/2022/10/21/Ukraine-appeals-for-more-help-with-air-defenses-warns-over-Iran
--------
France repatriates 40 children, 15 mothers from Syria camps
Feiza Ben Mohamed
21.10.2022
NICE, France
France repatriated 40 children and 15 mothers from camps in Syria, the government said on Thursday.
The minors have been transferred to "child welfare services and will be subject to medical-social monitoring" while "adults have been handed over to the judicial authorities," the Foreign Ministry said in a statement.
It is thus a new operation to repatriate French nationals who were in the camps of northeastern Syria, it said, commending the local authorities in northeastern Syria for their cooperation, which made the transfer possible.
It has been the first transfer by Paris since the condemnation of the government by the European Court of Human Rights on Sep. 14 over its reluctance on repatriations.
The court said the government should review "as soon as possible" all requests for the repatriation of French women and children detained in camps in northeastern Syria.
The latest transfer involving women comes months after the first group of 16 mothers and 35 children were repatriated on July 5.
Initially, France had only agreed to repatriate a handful of minors whose situation was assessed on a case-by-case basis.
Seventeen children, most of whom were orphaned, and a little girl suffering from heart disease, were repatriated in March and June 2019.
In June 2020, a dozen other French children were able to return to France to be taken care of.
In January 2021, seven "particularly vulnerable" minors were repatriated from a camp in northeastern Syria.
Source: Anadolu Agency
Please click the following URL to read the full text of the original story:
https://www.aa.com.tr/en/europe/france-repatriates-40-children-15-mothers-from-syria-camps/2717609
--------
South Asia
Taliban kill six Islamic State members in raid in Afghan capital - spokesman
October 22, 2022
KABUL, Oct 22 (Reuters) - Taliban security forces killed six Islamic State members in an overnight operation in the Afghan capital, Kabul, a spokesman for the ruling group's administration said on Saturday.
The Islamic State members killed in the raid on their hideout were involved in two major attacks in recent weeks, one on a city mosque and the other on a tutoring institute in which dozens of female students were killed, said the spokesman, Qari Yusuf Ahmadi. "They were the attackers of the Wazir Akbar Khan mosque and also ... of Kaaj Institute," said Ahmadi, who said one Taliban security force member was killed in the operation.
No group claimed responsibility for either attack.
The blast at the female section of the Kaaj Institute education centre on Sept. 30 killed 53 people, most of them girls and young women. read more
On Sept. 23, at least seven people were killed and more than 40 wounded in blast near a mosque in Wazir Akbar Khan, a heavily fortified neighbourhood once home to a "Green Zone" of embassies and foreign force bases. read more
Since the Taliban took over in 2021, they say they have focused on securing the country after decades of war.
However, a series of blasts have rocked the capital and other urban areas in recent months and the United Nations has said security is deteriorating.
The Afghan affiliate of Islamic State, known as Islamic State Khorasan, after an old name of the region, are enemies of the Taliban.
Source: Reuters
Please click the following URL to read the full text of the original story:
https://www.reuters.com/world/asia-pacific/taliban-kill-six-islamic-state-members-raid-afghan-capital-spokesman-2022-10-22/?rpc=401&
--------
Mujahid Says West Preventing Islamic Emirate's Recognition
October 22, 2022
The Islamic Emirate's spokesman while traveling in Turkey said that the West, particularly the United States, has prevented the recognition of the Islamic Emirate of Afghanistan.
In an interview with the Turkish "Ilke News Agency," Zabiullah Mujahid said that some Muslim and regional countries are unwilling to recognize the Islamic Emirate because of issues they have with the United States.
"The West is behind this; they prevent the recognition of and cooperation with an Islamic government. Although the Islamic Emirate of Afghanistan has made--and continues to make--great attempts, unfortunately, some pressures are applied," Mujahid said.
"There is no doubt that the US government is attempting to stop everyone from recognizing the Taliban," said Wahidullah Faqiri, a political analyst.
Mujahid said that Kabul wants to improve its political and economic ties with all nations, including the United States and Europe. Additionally, he urged investment in Afghanistan from the US and Europe.
"All nations should work with us and not be worried about us. We want to have good political and economic interactions with other countries, such interactions that would be trusted by both parties, including America and Europe. We asked Americans to invest in Afghanistan," Mujahid said.
Source: Tolo News
Please click the following URL to read the full text of the original story:
https://tolonews.com/afghanistan-180400
--------
Clash in Afghan Capital: Taliban Claims to Discover ISIS Hideout
By Saqalain Eqbal
22 Oct 2022
Several explosions and shootings occurred in the 8th district of Kabul, the Afghan capital, on Friday night, according to local sources. The Taliban claimed that after discovering an ISIS hideout, the group's forces carried out an operation.
According to the sources, there were at least five explosions heard in the area on Friday night, October 21, in addition to the sound of gunfire.
While some other sources state that there were two explosions, sources familiar with the clash state that the first explosion happened at around nine o'clock at night, and that it was followed by additional explosions and gunfire.
However, shortly after the gunfire exchange, the Taliban government's spokesman, Zabihullah Mujahid, announced in a tweet that the Taliban had discovered a hideout of the Islamic State (ISIS).
The Taliban government's forces, according to Mujahid, had started an operation against the ISIS hideout, but Kabul residents should not be alarmed, he said.
There are currently no available details regarding the explosions' nature or the number of potential casualties or financial losses the explosions may have caused.
Source: Khaama Press
Please click the following URL to read the full text of the original story:
https://www.khaama.com/clash-in-afghan-capital-taliban-claims-to-discover-isis-hideout-36473/
--------
Southeast Asia
International Conference Reflects Open, Moderate Islamic Studies in Indonesia: Religious Affairs Minister
October 22, 2022
Jakarta (ANTARA) - Religious Affairs Minister Yaqut Cholil Qoumas noted that the Annual International Conference on Islamic Studies (AICIS) demonstrated the good implementation of open and moderate Islamic studies in Indonesia.
"Although AICIS is an international event on Islamic studies, the event also invites several Islamic studies observers from various other studies. It indicates that AICIS facilitates open and moderate Islamic studies in Indonesia," he said in a statement on Friday.
He remarked that the event is a joint effort to continue encouraging a sense of love for science, honing intellectual capabilities, as well as contributing to the advancement of the nation, religion, and humanity.
Implementation of the 21st AICIS involved several domestic and foreign keynote speakers from different religious backgrounds.
"(This shows) the commitment of the Religious Affairs Ministry to providing capacity building for scientists as well as other intellectual sector players within the ministry, in particular, and throughout Indonesia, in general," the minister stated.
The minister expected that the conference would generate a roadmap on the recontextualization of Islam whose implementation can involve world leaders, including political leaders and social organizations leaders; educational centers; as well as public figures inclusively and not only the ones with an Islamic background.
"If necessary, appoint several emissaries to implement the strategy (in the roadmap). Thus, it requires a serious effort," Qoumas remarked.
Source: Antara News
Please click the following URL to read the full text of the original story:
https://en.antaranews.com/news/256089/aicis-reflects-open-moderate-islamic-studies-in-indonesia-minister
--------
Malaysia election: Why the ethnic Malay votes matter and who has the upper hand
Amir Yusof
22 Oct 2022
JOHOR BAHRU: Fisherman Razali Abdul Razak hangs three different political flags on his wooden boat.
There is a dark blue flag of the Barisan Nasional (BN) coalition, the light blue flag of the Perikatan Nasional (PN) coalition as well as the black flag of the youth-centric party Malaysian United Democratic Alliance (MUDA).
"Hanging up these flags does not mean I support these parties. They are just gifts from politicians when they campaign," said the resident of Parit Jawa, a seaside village near the Johor city of Muar.
"Who I will vote for will depend on the candidates - Will they help ensure I continue to earn a good living here fishing? More importantly, are they willing to fight for the rights of the Malays and defend the sovereignty of Islam (in Malaysia)?" said Mr Razali.
For the upcoming 15th General Election (GE15), the battle to garner support for Malay-Muslim voters, such as Mr Razali, is expected to be a fierce one.
According to the latest census figures released by Malaysia's department of statistics, as of 2020, 69.4 per cent of the population are Malay-Bumiputeras and 63.5 per cent are Muslims.
In the 2018 general election when Pakatan Harapan (PH) coalition emerged the winner, local media attributed the outcome to a "Malay Tsunami". This referred to a wave of ethnic Malay voters who voted for PH, and that reportedly proved to be the tipping point which ended BN's 60-year reign in government.
In 2020, following a political manoeuvre known as the "Sheraton Move", BN returned to power alongside PN and Gabungan Parti Sarawak (GPS), in what observers described to be a largely Malay-Muslim centric coalition.
In the lead up to polling day on Nov 19, jostling for support among the Malay Muslims in the electorate is again expected to be decisive in terms of determining the winner.
In a recent interview with CNA, former prime minister Mahathir Mohamad noted that identity politics remains key. He added that the electorate is still voting along racial lines.
"In an area where the population is predominantly Chinese, you cannot put a Malay candidate there. He will never win. By the same token, in (a) Malay area (and) you put a Chinese candidate, he will not win," said Dr Mahathir, who is chairman of Parti Pejuang Tanah Air (Pejuang).
"You have to respond to the attitude of the people. We can't just say this is not right and put someone the people do not want," added the 97-year-old.
For GE15, Dr Mahathir will be leading the Malay movement Gerakan Tanah Air (GTA). He is also seeking re-election in the Langkawi constituency.
RURAL MALAYS LIKELY TO SUPPORT UMNO, PAS
Political analysts interviewed by CNA said that Malay voters in rural heartlands are likely to support candidates who preserve the rights of the Malays, fight for Islamic superiority and pledge to preserve the longevity of the royal house.
Dr Serina Rahman, who is a lecturer with the Southeast Asia Studies Department at the National University of Singapore (NUS), stressed that the "core issues" of "race, religion and royalty" affect the rural Malay vote, and this has not changed over the years.
Mr Adib Zalkapli, director for strategic advisory firm BowerGroupAsia said that rural Malay voters in Peninsular Malaysia are likely to vote for either UMNO or PN component party Parti Islam Se-Malaysia (PAS) as they are "recognisable brands".
"For instance, for PAS in areas like Kelantan and for UMNO in (rural) areas on the west coast, these parties are seen as legitimate representatives of the Malay Muslim community," he added.
Mr Sani Hassan, a retiree who lives in Kampung Mawai Baru in the Kota Tinggi federal constituency, is a case in point. The Kota Tinggi federal constituency has been won by UMNO since 1986 and is considered a BN stronghold.
"I will support UMNO regardless of what happens, this will not change. Previously, now and forever," said the 64-year-old.
"I don't trust the other parties and I don't think I will ever be able to," he added.
UMNO supreme council member Isham Jalil told CNA that while BN may be the favourite to win in some rural areas, there is no room for complacency.
"In the last general election, we lost 24 federal seats we previously held, just like that. And many of these seats were in the rural Malay heartland," said Mr Isham, who was recently inducted into the party supreme council.
"We were punished in 2018 and we have learned our lesson," added the former BN Selangor information chief.
PH HAS AN ADVANTAGE AMONG URBAN MALAY VOTERS
Meanwhile, Malay voters in urban seats will also be decisive in determining the outcome. These constituencies are mainly concentrated within the Klang Valley and major cities on the west coast of Peninsular Malaysia.
BowerGroupAsia's Mr Adib pointed out that in GE14, PH won 33 out of 43 Malay-majority urban seats. PAS won six seats while BN won four.
Mr Fahmi Fadzil, who is the information chief of Parti Keadilan Rakyat (PKR), told CNA that the coalition has garnered strong trust among the urban Malays because PH champions issues that they care most about. PKR is a component party of PH.
"A lot of these concerns are related to rice bowl problems, cost of living, public transport and housing. Middle-class families are also against corruption and abuse of power that they have seen the last 50 years," said Mr Fahmi during a phone interview.
"They have practical considerations and principled positions," added the incumbent member of parliament for Lembah Pantai, a Malay-majority urban seat in Kuala Lumpur. Lembah Pantai has been a PH seat since 2008.
Ms Sakinah Abdul Malik, who lives in a low-cost council flat in Pantai Dalam within Lembah Pantai constituency, told CNA that PH is able to reflect the aspirations of what she believes Malaysia can be.
"I hope to see my country free of corruption one day and I think Pakatan aspires to this. We all dared to dream after (PH's victory) in 2018 and perhaps we can do it again now in 2022," she added.
Yet, Mr Adib posited that based on the results of the recent-by elections as well as the Johor and Melaka state polls, UMNO-led BN is likely to regain some of the 12 urban Malay-majority seats which it lost back in 2018.
He added that a key factor was that its opponents are now splintered, with PH, PN and GTA likely to split votes in multi-cornered contests while BN is likely to retain its voter base.
"In 2018, Bersatu's association with PH and also the split in UMNO benefited PH in the urban Malay constituencies. It's going to be very challenging for PH to repeat its performance this time with a divided opposition," said Mr Adib.
He noted that the urban Malay seats will be keenly watched in the upcoming polls as the results "could go either way", adding that BN would look to win back its former strongholds such as Setiawangsa and Titiwangsa in Kuala Lumpur.
While what matters to urban and rural Malay voters may be slightly different, both groups are concerned about bread and butter issues such as income and employment.
Rising costs of living due to inflation and a likely global recession are set to play a big part in the GE15 campaign narratives.
NUS' Dr Serina said: "The Malays are still struggling with basic economic issues - prices of everything have gone up and basic goods are getting hard to find or out of financial reach."
PKR's Mr Fahmi said that issues like inflation and cost of living are among "the greatest concerns" faced by urban Malays and that PH will be looking to address this during the campaign.
"In terms of what we present, we want to show how this PH is markedly different from the PH that went into GE14. We are more pragmatic having been in power, we know what can be done and what is harder to do," he added.
Meanwhile, UMNO's Mr Isham also said that BN's focus for the upcoming polls will be on bread and butter issues. He added that BN will campaign based on positive messaging on the political front.
Source: Channel News Asia
Please click the following URL to read the full text of the original story:
https://www.channelnewsasia.com/asia/malaysia-general-election-malay-urban-rural-voters-3017431
--------
Mysterious 135-year-old temple in Perak's jungles
Noel Wong
October 22, 2022
BATU GAJAH: Travelling for kilometres without a skyscraper in sight is a welcome change for urbanites visiting the sleepy state of Perak.
Should you ever pass through the quiet town of Jeram in the Batu Gajah district, you should make a detour to a secluded tourist attraction few know about – the Shoushanyan Guanyin Temple hidden in the depths of a thick jungle.
Getting to the temple is something of an adventure itself as you have to travel along a stretch of dirt road snaking through an oil palm plantation.
At the end of the road is a clearing where you can leave your vehicle to explore the Shoushanyan Guanyin Temple ahead on foot.
This is quite a unique temple, being built into and inside a limestone cave, a common geographic feature in Perak's Kinta Valley.
Its name, which if directly translated, means "Longevity Rock Mountain", is shared with a famous temple in Taiwan's Taoyuan City.
Like its Taiwanese counterpart, the temple is dedicated to the Chinese Goddess of Mercy, Guan Yin, whose statue greets visitors driving in from the road.
A brick arch marks the entrance to the temple although much of it is swallowed up by the thick trunks of towering rainforest trees that were left to their own devices for decades.
While not particularly big or grand like other temples in Malaysia, the Shoushanyan Guan Yin Temple does have a certain air of mystery around it.
With so few people around and little information available, it is natural that many questions abound about the place.
However, according to local historian Gary Lit, the temple has been around for more than 135 years, making it about as old as nearby Ipoh itself, or even older.
"This temple in its initial form was thus evidence that this part of the Kinta Valley was already being settled by presumably Taoist Chinese immigrants," he told FMT during a recent visit there.
He also added that the temple is surrounded by many forgotten entrances to subterranean tunnels, which were used during the Communist insurgency.
Perhaps a future archaeologist could begin a search for the tunnels around this temple to uncover long lost secrets.
Within the temple's main hall are some interesting sights like the bell and drum, which visitors are welcomed to ring and beat, to announce their presence to the deities who reside there.
Like the temple, the bell has an interesting backstory, being cast sometime during the reign of the Guangxu Emperor which lasted from 1871 to 1908.
The historical bell was the target of a recent theft attempt by scrap metal thieves, which was foiled by its sheer weight. A copy of the police report is pasted on the wall of the temple, and extra chains now keep the bell secured in its place.
Also, within the main hall are the idols of several Chinese deities, including the patron goddess Guan Yin herself.
Aside from the temple, the cave itself is something to marvel at, with stalactites and stalagmites having formed for over millennia at this point.
As to be expected, caves like these are rarely uninhabited so keep an eye out for the dozens of bats hanging above you.
Outside the cave is a rather fascinating display of piety from the local residents living in the temple's vicinity. Dozens of idols belonging to different deities sit atop a table, left there by worshippers over the years.
This is their final resting place as devotees find the idea of disposing their old idols rather sacrilegious. Going by the number of idols left there, one cannot help but wonder just how long this practice has been going on for.
In any case, the Shoushanyan Guanyin Temple is certainly worth a brief visit for adventure seekers.
Source: Free Malaysia Today
Please click the following URL to read the full text of the original story:
https://www.freemalaysiatoday.com/category/top-lifestyle/2022/10/22/mysterious-135-year-old-temple-in-peraks-jungles/
--------
Africa
Tunisian doctor sentenced to 15 years in jail by Saudi court for expressing support for Hezbollah
22 October 2022
Saudi Arabia's Supreme Court has handed down a Tunisian doctor, who has been living in the kingdom for more than a decade, a lengthy prison sentence for her interaction with a Twitter post in support of the Lebanese Hezbollah resistance movement.
Mahdia al-Marzouki had been already sentenced to two years and 8 months in prison by Saudi Arabia's so-called Specialized Criminal Court and the verdict was appealed by a lawyer appointed by Saudi authorities.
However, Saudi authorities extended the term of al-Marzouki's imprisonment to 15 years, the Prisoners of Conscience, an independent non-governmental organization advocating human rights in Saudi Arabia said on Twitter.
The rights group noted that the 51-year-old doctor does not pass 87 followers on Twitter and thus cannot incite "public unrest and destabilize civil and national security," as firmly opposed to what the Saudi government proclaims.
Marzouki has been residing in Saudi Arabia since 2008. She was arrested in July 2020, and the investigation continued for several months before she received her initial sentence of two years and 8 months.
Her brother told the Tunisian Arabic-language Jawhara FM radio station that all contact with her was cut off when she was arrested, adding that the investigations lasted for an entire year.
The man also confirmed that the family has contacted the Tunisian consulate for assistance several times, but to no avail, calling on Tunisian President Kais Saied and the Ministry of Foreign Affairs to intervene.
Saudi Arabia once invested billions of dollars in Lebanon and bolstered its luxury tourism economy.
The Riyadh regime has shunned the country for years because of Hezbollah resistance movement and its strong support within Lebanese society and political circles.
Since Mohammed bin Salman became Saudi Arabia's de facto leader in 2017, the kingdom has arrested hundreds of activists, bloggers, intellectuals and others for their political activism, showing almost zero tolerance for dissent even in the face of international condemnation of the crackdown.
Muslim scholars have been executed and women's rights campaigners have been put behind bars and tortured as freedom of expression, association, and belief continue to be denied by the kingdom's authorities.
Source: Press TV
Please click the following URL to read the full text of the original story:
https://www.presstv.ir/Detail/2022/10/22/691370/Tunisian-doctor-sentenced-to-15-years-in-jail-by-Saudi-court-for-expressing-support-for-Hezbollah
--------
Burkina Faso's new junta leader sworn in as president
Aurore Bonny
21.10.2022
DOUALA, Cameroon
The head of the Burkinabe junta Capt. Ibrahim Traore was sworn in before the Constitutional Council Friday as the new president of the transition around one month after a coup.
During the official swearing-in ceremony broadcast on Burkina Faso's national television, Traore, 34, swore before the members of the constitutional council "to preserve, respect, ensure respect for and defend the constitution, the transitional charter, and the laws."
He vowed, with his right hand raised, to "do everything possible to guarantee justice for all the inhabitants of Burkina Faso."
The new leader of the West African country staged a coup on Sept. 30 against Lt. Col. Henri Sandaogo Damiba, the former leader of the junta known as the Patriotic Movement for Safeguard and Restoration.
The same overthrew civilian President Roch Marc Christian Kabore, on Jan. 23 during his second term. The inability of the leaders to secure the country against terrorism and poor security choices are the pretexts put forward by the junta during both coups.
Traore, unanimously designated as the president on 15 Oct. by a national assembly of the nation's active forces, reiterated on Friday his willingness to fight alongside his compatriots to confront the terrorists who have been undermining the country's security for several years.
"We can win this battle. We can win this war," he said, indicating that the enemy is not above the Burkinabe.
"Fatherland or death, we will win," he added, calling on the people of Burkina Faso to show solidarity and unity.
He committed himself to peace "on the great fronts for the liberation" of his country.
"For my nation I will fight," he insisted.
He claimed the last putsch saying it marked the revolt of the volunteers for the defense of the country and that of the populations of the afflicted localities. They "pay a heavy price but have decided to defend the country with their bodies and souls," according to Traore.
The end of the transition is scheduled for 2024, and its president is not eligible for the general elections that will be organized at the end of this period.
In the country of more than 20 million people, growing insecurity and blockades in many areas have left communities cut off from the rest of the country and facing increasing hunger, according to the UN.
Source: Anadolu Agency
Please click the following URL to read the full text of the original story:
https://www.aa.com.tr/en/africa/burkina-fasos-new-junta-leader-sworn-in-as-president/2717856
--------
Sudan declares state of emergency in Blue Nile over tribal conflict
Bahram Abdel Moneim
21.10.2022
KHARTOUM, Sudan
The Sudanese authorities on Friday declared a state of emergency in the state of Blue Nile in the wake of killings of more than 200 people as a result of a tribal conflict.
Ahmed Al-Omda, the state's governor, said that the emergency will remain in effect throughout the Blue Nile region for a period of 30 days.
The US embassy in Khartoum tweeted: "We are pained by the reported loss of more than 200 lives to intercommunal violence in Blue Nile and the growing death toll due to clashes in West Kordofan."
The embassy urged that "the violence cease immediately and that the government engage the affected communities in a dialogue to restore peace between those who have lived side by side for generations."
It called for "unimpeded humanitarian access to ensure help is provided to people impacted by the fighting."
The clashes are the latest in a wave of tribal violence that has swept across the country despite the signing of a nationwide peace deal two years ago.
Source: Anadolu Agency
Please click the following URL to read the full text of the original story:
https://www.aa.com.tr/en/africa/sudan-declares-state-of-emergency-in-blue-nile-over-tribal-conflict/2717746
--------
At least 150 people killed in tribal clashes in Sudan
Omer Erdem and Ahmed Osama
21.10.2022
KHARTOUM, Sudan
At least 150 people have been killed over the past two days in a tribal conflict in southeastern Sudan, according to local media reports.
Dozens of others were injured in the clashes which took place between tribes on Wednesday and Thursday in Blue Nile state, where violence flared up again in July.
"The UN is alarmed by violence escalation in Lagawa & conflict resurgence in the Blue Nile region," the UN Integrated Transition Assistance Mission in Sudan (UNITAMS) said on Twitter.
"Sustainable peace won't be possible without a fully functional credible government that prioritizes local communities' needs including security & addresses the root causes of conflict," it added.
The clashes are the latest in a wave of tribal violence that has swept across the country despite the signing of a nationwide peace deal two years ago.
Source: Anadolu Agency
Please click the following URL to read the full text of the original story:
https://www.aa.com.tr/en/africa/at-least-150-people-killed-in-tribal-clashes-in-sudan/2716997
--------
Libyan rivals to meet to discuss electoral law in Rabat
21.10.2022
RABAT, Morocco
The speakers of Libya's rival assemblies are expected to meet Friday in Morocco's capital Rabat, a Moroccan official said.
Aguila Saleh, speaker of the Libyan House of Representatives, and Khaled Al-Mishri, the president of Libya's High Council of State, will hold a joint press conference after the meeting, the official added without giving further details.
On Wednesday, Libyan media cited First Vice-President of the Libyan State Council Naji Mokhtar as saying: "Rabat will host a meeting that brings Aguila and Al-Mishri together."
A member of the Libyan House of Representatives, Al-Hadi Al-Saghir, said that the meeting of Saleh and Al-Mishri comes within the framework of consultations on sovereign positions.
Al-Hadi stated that "there are indications of achieving positive results in the Morocco meeting."
"The Morocco meeting will also touch on the constitutional track," he added.
He further said that the parliament and the state have different visions regarding the constitutional base.
Source: Anadolu Agency
Please click the following URL to read the full text of the original story:
https://www.aa.com.tr/en/middle-east/libyan-rivals-to-meet-to-discuss-electoral-law-in-rabat/2717645
--------
URL: https://newageislam.com/islamic-world-news/hate-speech-mongers-suo-motu-supreme-court/d/128245
New Age Islam, Islam Online, Islamic Website, African Muslim News, Arab World News, South Asia News, Indian Muslim News, World Muslim News, Women in Islam, Islamic Feminism, Arab Women, Women In Arab, Islamophobia in America, Muslim Women in West, Islam Women and Feminism