New Age Islam News Bureau
13 December 2022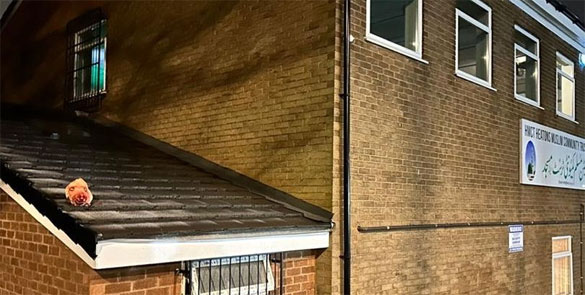 The pig's head left on the roof of the Heatons Muslims Community Trust (HMCT) building on Battersea Road, Heaton Mersey (Image: HMCT)
------
• Shootings, Explosion in Kabul Building Housing Foreigners, Three Assailants Killed: Taliban Sources
• Events in Iran since Mahsa Amini's Arrest and Death in Custody
• Muslim Community Distribute Food, Puja Supplies to Devotees of Lord Ayyappa in Tamil Nadu
• Working On Plan to Find a Channel of Discussion between Pakistan, India to Resolve Kashmir Issue: OIC Chief
Europe
• Swedish Legislator Aims to Pass Bill Banning Headscarves in Police Force
• Rising Islamophobia Go Unnoticed, Uncondemned In Germany: Report
• UK Defence, Spy Chiefs among 32 Sanctioned By Iran
• UK foreign minister: We will respond when Iran's actions are unacceptable
• Greece using every opportunity to fuel tension with 'provocative actions,' says Turkish defence chief
--------
South Asia
• Islamic State in Khorasan Province Claims Kabul Hotel Attack, Publishes Photos Of 2 Gunmen
• Attack on Kabul hotel popular with Chinese nationals ends, three assailants killed
• Ashraf Ghani Fleeing for his Life and Zelensky Fighting for his Country; Hillary Clinton
• ISIS Cell in Eastern Afghanistan Destroyed
--------
Mideast
• Palestinian PM Calls on UN to Place Israel on 'List of Shame' After Teen Killed By Regime Forces
• Hamas: Palestinians Will Never Allow Israel to Implement Its Malicious Schemes For Al-Quds, Al-Aqsa
• Israel Publishes Last Telegram of Its Spy, Eli Cohen in Syria
• Gaza Archaeologists Find 'Complete' Roman-Era Cemetery
• Israel says its forces killed Palestinian girl in West Bank raid
• Israeli vote to elect Knesset speaker delayed
• Israeli document shows settlers' role in ousting Palestinians from West Bank
• Iran defies outcry with second execution linked to protests
• At least 3,774 children killed in Yemen's civil war: UNICEF
--------
India
• AMU Students Arrested By UP Police for Marking 30 Years of Babri Masjid Demolition on Demand of BJP's Youth Wing
• Ayodhya Mosque Plan Clears Major Hurdle (Land Use Approval), Construction To Begin Soon
• Karnataka: No Development If You Don't Vote For Me, BJP MLA to Muslims
• India "Strongly Condemns" Islamic Nations' Group Head for PoK Visit
• Will consider proposal for police units to tackle 'love jihad', says K'taka HM
• Former mayor accuses Bajrang Dal activists of attacking Muslim man
• 56 foreign terrorists killed in J&K in 2022: DGP Dilbag Singh
• Five years on, TS Islamic Cultural Centre remains a distant dream
--------
Pakistan
• Can't sit for talks with 'egoistic' Imran: PM
• Terror alert for 'soft targets' in Swabi, Nowshera issued
• Afghan govt apologised for shelling at Chaman border: Khawaja Asif
• Pak-Afghan unity critical for regional peace, stability and development: Amb Shamshad A Khan
• Firing at Pak-Afghan border: Secretary Health inquires about injured well-being
--------
Southeast Asia
• Religion Is a Part of Malay-Muslim Community's Political Philosophy; Secularism has No Place, Says Bersatu MP
• Check covert conversions, says rights group
--------
Arab World
• Sheikh Mohammed Approves Phase II Of Dubai 2040 Urban Master Plan
• Morocco's World Cup achievement lauded by Saudi crown prince
• Türkiye 'neutralizes' 3 YPG/PKK terrorists in northern Syria
• Saudi crown prince, BIE head review Kingdom's bid to host Expo 2030
• Dubai property tycoon's bet on fast food cements billionaire status
--------
Africa
• 3 Gunmen Killed In Attack on Office of Nigeria's Electoral Body
• Violence, insecurity overshadow Nigeria's hotly contested polls
• Libyan accused of Lockerbie bombing charged in US court
--------
North America
• Imam Allegedly Assaulted During Prayers at Scarborough Mosque: Islamic Foundation Of Toronto
• US Says Iran Executions Show Leadership 'Fears Own People'
• 'Bad American policy' driving Saudi Arabia closer to China: Pompeo
Compiled by New Age Islam News Bureau
URL: https://newageislam.com/islamic-world-news/hate-muslims-greater-manchester-mosque-pig/d/128622
--------
Hate Crime: Muslims 'Terrified' After Pig's Head Thrown onto Roof of Greater Manchester Mosque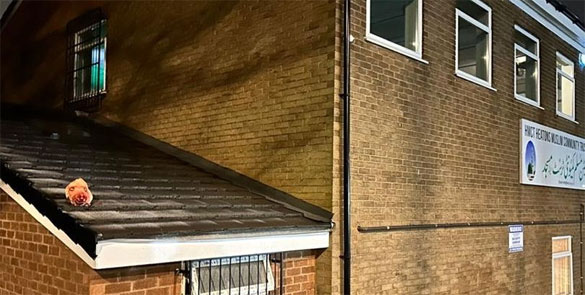 The pig's head left on the roof of the Heatons Muslims Community Trust (HMCT) building on Battersea Road, Heaton Mersey (Image: HMCT)
------
Sian Elvin
Monday 12 Dec 2022
Members of a Muslim community centre fear a hate crime after a pig's head was thrown onto the roof of their mosque.
The animal's corpse was discovered at around 9.15pm on Friday night at the Heatons Muslims Community Trust (HMCT) building in Heaton Mersey, Stockport, Greater Manchester.
It was easily visible from a low, flat part of the building's roof and has been logged by the police as an Islamophobic hate crime.
HMCT trustee, Muhammad Tayyab Mohiuddin, said: 'In the evening we have a bit of a gathering at the community centre and some people came out and someone said "there's a pigs head on the roof".
'It's a short roof so it was easy to see. I think they have picked that point in order to terrify people. Everyone knows someone has placed it there and what their intentions were.
'In our religion, we are not allowed to eat pig's meat or handle it in any way so someone has done it specifically for that reason.
'We have a lot of elderly people and a lot of children who use the centre and obviously they are a bit terrified that someone is targeting us and fear in the future someone could go further or take a wrong step.'
He added the centre, which is around a decade old, has never had any problems except two burglaries in the past year, which has seen a TV and donation box stolen.
Mr Mohiuddin said CCTV footage showed a car pulling up and two people getting out. One of them was carrying a bin bag.
He added the registration plate was caught on camera so they hope police will be able to find who did it.
The HMCT said in a statement there was a 'pig's head placed on the roof, in what looks like a hate crime'.
'Unfortunately, this behaviour is not a one-off occurrence,' they added.
'In survey data released earlier this year, by Muslim Census and MEND (Muslim Engagement and Development), it was reported that almost half (42%) of Mosques or Islamic institutions surveyed have experienced religiously motivated attacks in the last three years.
'17% of mosques from the 42% reported having faced physical abuse directed at staff or worshippers, including the stabbing of a muezzin (one who gives the call to prayer) in 2020.
'The HMCT asks local residents and worshippers to remain vigilant and report any hate to the police.'
Greater Manchester Police told Metro.co.uk an investigation is underway and anyone with information should call 101 quoting 3246 09/12/22, or contact Crimestoppers anonymously.
Source: Metro.CO.UK
Please click the following URL to read the text of the original story:
https://metro.co.uk/2022/12/12/muslims-terrified-after-pigs-head-thrown-onto-roof-of-mosque-17919857/?ito=newsnow-feed
--------
Shootings, Explosion in Kabul Building Housing Foreigners, Three Assailants Killed: Taliban Sources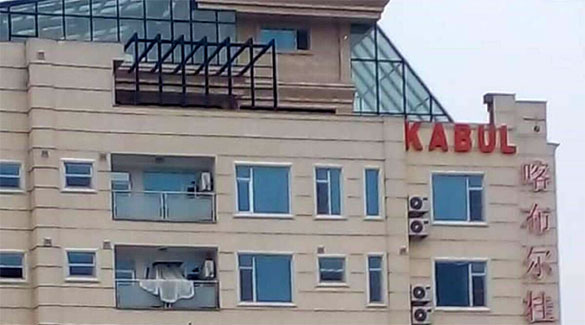 Residents of the area said the attack was carried out at a building where Chinese and other foreigners usually stay.
-----
Dec 12, 2022
KABUL: A loud blast and gunfire were heard in the Afghan capital Monday near a hotel popular with Chinese business visitors, a witness said.
The Taliban claim to have improved national security since storming back to power in August last year but there have been scores of bomb blasts and attacks, many claimed by the local chapter of the Islamic State group.
"It was a very loud explosion and then there was a lot of gunfire," the witness told AFP. Afghan media also reported similar details.
Security officials were not immediately available to comment on the blast in Shahr-e-naw, one of Kabul's main commercial areas.
The district is home to the Kabul Longan Hotel, a multi-storey complex popular with Chinese business people who are visiting Afghanistan in increasing numbers since the Taliban's return.
A Taliban source based in Pakistan told AFP that an unknown number of attackers had entered the hotel.
"An operation has been launched against the attackers. Firing continues," he said.
AFP correspondents saw teams of Taliban Special Forces rush to the scene.
China, which shares a rugged 76-kilometre (47-mile) border with Afghanistan, has not officially recognised the Taliban government but is one of the few countries to maintain a full diplomatic presence there.
Beijing has long feared Afghanistan could become a staging point for minority Uyghur separatists in the sensitive border region of Xinjiang.
The Taliban have promised that Afghanistan would not be used as a base for militants and, in exchange, China has offered economic support and investment for Afghanistan's reconstruction.
Maintaining stability after decades of war in Afghanistan is Beijing's main consideration as it seeks to secure its borders and strategic infrastructure investments in neighbouring Pakistan, home to the China-Pakistan Economic Corridor.
The Taliban are at pains to portray Afghanistan as safe for diplomats and business people but two Russian embassy staff members were killed in a suicide bombing outside the mission in September in an attack claimed by IS.
The group also claimed responsibility for an attack on Pakistan's embassy in Kabul this month that Islamabad decried as an "assassination attempt" against the ambassador.
A security guard was wounded in that attack.
Despite owning the rights to major projects in Afghanistan, notably the Mes Aynak copper mine, China has not pushed any of these projects forward.
The Taliban are reliant on China to turn one of the world's largest copper deposits into a working mine that would help the cash-strapped and sanctions-hit nation recover.
Source: Times Of India
Please click the following URL to read the text of the original story:
https://timesofindia.indiatimes.com/world/south-asia/loud-blast-shots-near-china-guest-house-in-afghan-capital/articleshow/96173070.cms
--------
Events In Iran Since Mahsa Amini's Arrest And Death In Custody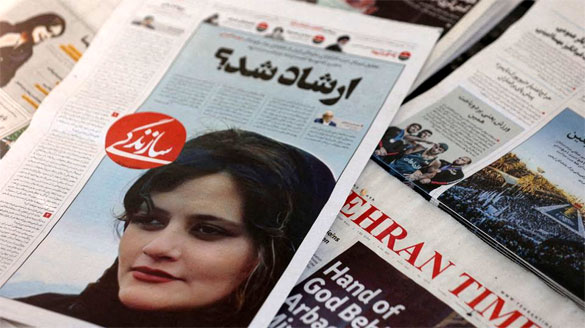 Newspaper with a cover picture of Mahsa Amini, a woman who died after being arrested by Iranian morality police is seen in Tehran, Iran, September 18, 2022. Majid Asgaripour/WANA (West Asia News Agency) via REUTERS//File Photo
------
12 December, 2022
Iran's clerical rulers have faced the biggest protests in years since September when Mahsa Amini died in the custody of the morality police who enforce strict dress codes.
Following are some of the events since her arrest:
Sept. 13 - Mahsa Amini, from Iran's Kurdistan region, is detained by morality police in Tehran for "inappropriate attire".
Sept. 16 - Amini dies after falling into a coma. Authorities say she suffered a heart attack after being taken to a station to be "educated". Her family deny she had any heart problems. Her father later says she had bruises on her legs, and holds police responsible for her death. President Ebrahim Raisi demands an investigation. Protests begin on social media and in the street.
Sept. 17 - Protests erupt during Amini's funeral in Saqez, her home town in Kurdistan. Security forces fire tear gas. Protests spread to the provincial capital. Chants of "death to the dictator" are heard, with some women removing headscarves.
Sept. 18 - Demonstrations spread. Hundreds gather around the University of Tehran, shouting "Woman, Life, Freedom".
Sept. 19 - Protests intensify, taking place in Rasht, Mashhad, Isfahan and Tehran, where security forces and demonstrators clash.
Sept. 20 - An aide to Supreme Leader Ayatollah Ali Khamenei says he visited Amini's family to pay condolences and that Khamenei was pained by her death. An official blames terrorist groups for deaths in Kurdistan.
Sept. 21 - Iranian authorities curb access to Instagram and WhatsApp. Official sources confirm eight deaths in the unrest, including a member of the police and a member of the Basij militia.
Sept. 22 - Protesters in Tehran and several other cities torch police stations and vehicles. Raisi says "acts of chaos" are unacceptable. The US imposes sanctions on Tehran's morality police.
Sept. 23 - The state organises rallies in several cities with marchers calling for protesters to be executed. The army vows to "confront the enemies' various plots". State TV says the death toll is 35.
Sept. 24 - After accusing armed dissidents of involvement in the unrest, the Revolutionary Guards carry out the first of several attacks on Iranian militant opposition bases in the Kurdish region of northern Iraq.
Sept. 27 - Security forces clash with demonstrators in dozens of cities. Despite the crackdown, social media from inside Iran continue to show protesters chanting, "Woman, Life, Liberty", while women wave and burn veils.
Sept. 30 - In the deadliest day since protests started, Amnesty International says security forces killed 66 people, including children, in the southeastern city of Zahedan in a crackdown after Friday prayers.
State TV says militants had fired on a police station, prompting a shootout. The Guards say five of its forces and the Basij are killed.
Oct. 3 - In his first comments on the unrest, Khamenei backs the security forces. He says Amini's death "deeply broke my heart" and calls it a "bitter incident" provoked by Iran's enemies. Defying his warning, Iranians in several cities chant "We want regime change" and "death to Khamenei".
Oct. 7 - Authorities deny reports security forces killed a 16-year-old girl, saying she committed suicide. It is the second time in a week they said a teenage girl died falling from a roof. A coroner's report denies Amini died from blows to the head and limbs while in custody, linking her death to pre-existing conditions.
Oct. 8 - Female students chant "get lost" as Raisi visits their university campus in Tehran.
Oct. 10 - Protests spread to Iran's energy sector, according to reports on social media showing workers at Abadan and Kangan oil refineries and Bushehr Petrochemical Project demonstrating.
Oct. 13 - Members of the Basij militia deploy in Kurdish areas where seven people are killed.
Oct. 15 - A fire breaks out in Tehran's Evin prison, where many political and dual-national detainees are held, and witnesses report hearing gunfire. The judiciary later says eight people died in the unrest. Sources tell Reuters trouble broke out after riot police began patrols.
Oct. 19 - Elnaz Rekabi, an Iranian climber who was widely seen to show support for the protesters by competing in an international tournament without a headscarf, returns to Tehran. She says she had climbed without a hijab unintentionally.
Oct. 21 - Protests break out in the southeast, with demonstrators attacking banks, state media reports.
Oct. 26 - Iranian riot police deploy in large numbers in Amini's home town of Saqez, Tehran and the northern cities of Tabriz and Rasht, witnesses say, marking 40 days since she died. A Tehran refinery official denies workers have staged a strike after videos on social media appear to show one.
An attack on a Shia Muslim shrine in Shiraz kills 15 people. ISIS claims responsibility.
Oct. 29 - The Guards warn protesters to stay off the streets, but protesters defy the warning.
Oct. 31 - A semi-official news agency reports that about 1,000 people will face public trial over unrest in Tehran.
Nov. 2 - Iran denies posing a threat to Saudi Arabia, after the Wall Street Journal reports that Riyadh had shared intelligence with the US warning of an imminent attack from Iran on targets in the kingdom.
Nov. 3 - A cleric at a Shia mosque is shot dead in Zahedan, a mostly Sunni Muslim city.
Nov. 4 - State-sponsored annual rallies mark the 1979 seizure of the US embassy in Tehran, a key moment in the country's Islamic Revolution that year. Images broadcast on state TV show tens of thousands of people attending rallies.
Nov. 9 - Video clips show Iran's water polo team failing to sing the national anthem in what protesters see as the latest show of support by Iranian athletes for the demonstrations.
Iran's intelligence minister warns Saudi Arabia there is no guarantee of Tehran continuing its "strategic patience," after the Guards tell Riyadh to control its media outlets.
Nov. 11 - Thousands of Iranians protest in Zahedan to mark the Sept. 30 crackdown.
Nov. 14 - French President Emmanuel Macron characterizes the protests as a "revolution" and says the crackdown makes it harder to reach agreement on reviving Iran's 2015 nuclear deal with world powers. The EU widens sanctions on Iranian officials and organizations.
The Guards attack Iranian Kurdish militant bases in Iraq, where officials say at least two people are killed.
Nov. 16 - France and Britain accuse Iran of threatening their nationals after the Islamic Republic says French intelligence agents were arrested during protests. France denies Iran has arrested any of its intelligence officers.
At least five people are killed in the southwestern province of Khuzestan in what state media call a terrorist attack.
Nov. 17 - Iran's foreign minister accuses Israel and Western intelligence services of planning to divide Iran and start a civil war, saying Iran "is not Libya or Sudan".
Nov. 18 - Video clips show a fire at the ancestral home of the Islamic Republic's late founder, Ayatollah Ruhollah Khomeini. Activists say it was torched by protesters. A semi-official news agency denies the house was set on fire.
Nov. 20 - The Revolutionary Guards say they have strengthened forces in the restive Kurdish region.
Nov. 21 - Israel's military intelligence chief says the protests are beginning to resemble a popular uprising but sees "no real danger" to the survival of the Islamic Republic at this time.
Nov. 22 - The U.N. High Commissioner for Human Rights says more than 300 people have been killed in protests, including more than 40 children. He says 14,000 people have been arrested.
Nov. 24 - The U.N. Rights Council votes to appoint an independent investigation into the deadly repression of protests. Iran says it will not cooperate, calling it a political committee.
Nov. 26 - Khamenei praises Basij forces he says sacrificed their lives protecting people from "rioters". The activist news agency HRANA says 448 protesters have been killed, including 63 children, in addition to 57 members of the security forces.
Nov. 27 - Khamenei's niece, a well known rights activist, calls on foreign governments to cut ties with Tehran.
Dec. 4 - The public prosecutor says the morality police have been shut down but there is no confirmation of this from the Interior Ministry which oversees the force. Authorities say the hijab law will be enforced through other methods.
Dec. 7 - A sister of Khamenei condemns the crackdown and calls on the Guards to lay down their weapons.
Dec. 8 - Iran hangs a man convicted of injuring a security guard with a knife and blocking a Tehran street, the first such execution over the unrest. Amnesty international says authorities are seeking the death penalty for at least 21 people in what it called "sham" trials.
Dec. 12 - Iran carries out a second execution, publicly hanging a man convicted of killing two members of the Basij.
Source: Al Arabiya
Please click the following URL to read the text of the original story:
https://english.alarabiya.net/News/middle-east/2022/12/12/Timeline-Events-in-Iran-since-Mahsa-Amini-s-arrest-and-death-in-custody
--------
Muslim Community Distribute Food, Puja Supplies to Devotees of Lord Ayyappa in Tamil Nadu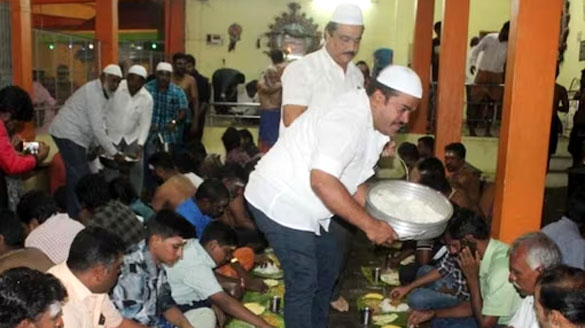 This almsgiving ritual drew a sizable crowd this time as well. (News18)
-----
By: Archana R
DECEMBER 12, 2022
To celebrate inter-religious harmony, members of the Muslim community distributed food to Lord Ayyappa's devotees in Tamil Nadu's Krishnagiri district.
Every year, the Krishnagiri Pazhayapettai Miladu Nabi Islamic Youth Organization, to showcase religious harmony and solidarity between Muslims and Hindus in the state, offer puja supplies and food to devotees of Ganesh Chaturthi and Lord Ayyappa.
In this manner, for the fifth consecutive year, on behalf of Miladu Nabi Islamic Youth Organization at Krishnagiri-Salem Road, offered puja materials for special bhajan and worship. Additionally, those who participated in the bhajan for Lord Ayyappa were given alms, including devotees' families, where a large number of Muslim youth participated and served.
This almsgiving ritual drew a sizable crowd this time as well.
Source: News18
Please click the following URL to read the text of the original story:
https://www.news18.com/news/india/muslim-community-distribute-food-puja-supplies-to-devotees-of-lord-ayyappa-in-tamil-nadu-6603679.html
--------
Working On Plan to Find a Channel of Discussion between Pakistan, India to Resolve Kashmir Issue: OIC Chief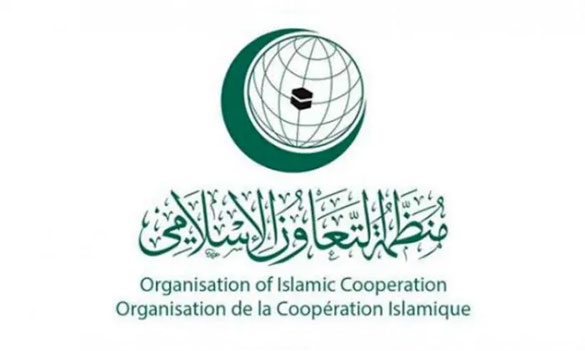 Dec 12, 2022
ISLAMABAD: The Organisation of Islamic Cooperation (OIC) has said that it has been working on a plan to find a channel of discussion between Pakistan and India on the Kashmir issue.
India has previously hit out at the 57-member grouping of Muslim-majority nations, saying bodies like OIC should refrain from allowing vested interests to exploit its platform for comments on the internal affairs of the country.
India has emphasised that the OIC has no locus standi to comment on matters related to Jammu and Kashmir, which is an integral and inalienable part of India.
"I think the most important thing is to find the channel of discussion between stakeholders [India and Pakistan] and we are working on a plan of action in this regard in collaboration with the Pakistani government and other member countries," OIC secretary general Hissein Brahim Taha told the media in Muzaffarabad on Sunday.
Taha said that he had undertaken a tour of the Pakistan-occupied Kashmir (PoK) to implement a resolution adopted by the OIC Council of Foreign Ministers (CFM) at a recent session, as he wanted to see for himself the situation on the ground.
Earlier, the five-member delegation led by Taha drove to Chakothi sector, where it was briefed by a military commander on the situation at the Line of Control (LoC).
The OIC delegation was on a visit from December 10-12 at the invitation of Pakistan foreign minister Bilawal Bhutto Zardari.
Source: Times Of India
Please click the following URL to read the text of the original story:
https://timesofindia.indiatimes.com/world/pakistan/working-on-plan-to-find-a-channel-of-discussion-between-pakistan-india-to-resolve-kashmir-issue-oic-chief/articleshow/96178047.cms
--------
Europe
Swedish legislator aims to pass bill banning headscarves in police force
Alexandra Enberg
13.12.2022
A prominent politician in Sweden is pushing for the passage of a bill that would ban headscarves in the Swedish police force.
The proposed law may also be extended to all public employees, Richard Jomshof, the chairman of parliament's Justice Committee, said Monday.
He now hopes that the coalition of four right-wing parties established earlier this year under the Tido Agreement can get the bill passed.
In an interview with the local Expressen newspaper, Jomshof said the whole point of wearing a uniform in the police force or the military for that matter is that it should be uniform. He said if you allow religious or political symbols, it is no longer a uniform, and it would be absurd to allow such things.
"If you see political symbols or a religious attribute, then you don't just see a police officer, you see something else that the police officer also stands for. Then you can also question whether the police are objective in their practice. We should not get into that kind of discussion.
"I believe that the police also when this topic was up for discussion mentioned an example: What happens if a police officer wearing a kippa is going to intervene in a Muslim area? Then it will cause huge problems," Jomshof added.
Source: Anadolu Agency
Please click the following URL to read the full text of the original story:
https://www.aa.com.tr/en/europe/swedish-legislator-aims-to-pass-bill-banning-headscarves-in-police-force/2762173
--------
Rising Islamophobia go unnoticed, uncondemned in Germany: Report
12 December 2022
A new report has highlighted a rise in Islamophobic acts that had gone largely unnoticed in Germany, after last month's vandalization of Muslim children's graves in the country's north.
On November 22, unknown assailants vandalized 25 Muslim children's graves in Hanover, in a move that drew condemnation from the chairman of the Muslim organization Lower Saxony Schura, Recep Bilgen, who had also called for a probe by the police. Back then, police said they would open an investigation, though they cited the likelihood of "animal or natural causes," as well as "personal fault."
"Suspects are currently not listed in the process. Likewise, there is currently no concrete evidence of an Islamophobic connection," they said.
But the Middle East Eye said in a report on Sunday that the incident is seen as another form of bigotry against Muslims.
"We feel deeply sorry for the families of the victims... The violation of graves, whether of children or adults, is one of the many disgusting forms of hatred against Islam and Muslims in our country," Khallad Swaid, president of the German Muslim organization Deutsche Muslimische Gemeinschaft, told the Middle East Eye.
Yet, Swaid attributed the rise in anti-Muslim bigotry to German figures' hostile rhetoric.
"It is a result of a hostile language of, especially, [the] far-right movements that have made their way into the mainstream of our society and [are] given platforms in many of our media outlets to spread their hatred against Islam and Muslims," he said.
Noting that the Hanover incident had not been recognized by politicians or civil society at large, Swaid said "That is another level of the problem."
"As long as racism is not identified and condemned as such, and the perpetrators are neither convicted nor receive the full force of the law, we won't be able to tackle hatred of Islam and Muslims," he added.
The vandalization of Hanover graves was not the first time Muslim graves in Germany are being targeted.
Earlier this year, unidentified attackers knocked over 30 Muslim gravestones in the city of Iserlohn.
Anna Esther-Younes, a scholar on anti-Muslim racism in Europe, noted that the phenomenon of targeted vandalism in Germany has historical roots.
"I am not aware of a decade in post-World War II Germany where the vandalizing of Muslim, Jewish or Sinti and Roma graveyards in Germany didn't happen," Younes told MEE.
"In terms of the political climate, it is important to understand that the destruction of minority graveyards, along with the vandalization of memorial sites shows two things: on the one hand, society has become more aware of the danger of white supremacists, and on the other hand, it shows how far right we are by now."
The MEE reported that anti-Muslim hatred has been on the rise in Germany in recent years, adding that 662 attacks on Muslims by predominantly right-wing extremists were recorded last year alone. They, however, received little attention in the German media.
The report also said that the total number of anti-Muslim crimes in the past year is likely much higher amid a lack of markers for such crimes.
A recent study conducted by the Expert Council on Integration and Migration (SVR) also found that anti-Muslim attitudes are widespread in Germany.
Source: Press TV
Please click the following URL to read the full text of the original story:
https://www.presstv.ir/Detail/2022/12/12/694320/Rising-Islamophobia-go-unnoticed-Germany
--------
UK Defence, Spy Chiefs among 32 Sanctioned By Iran
12 December ,2022
Iran on Monday sanctioned the heads of the UK's domestic spy agency and military along with British and German political figures, hitting back at Europe before it imposes new sanctions of its own.
At his weekly press conference, Foreign Ministry spokesman Nasser Kanani blamed the Europeans and British for "intervening in the domestic affairs of the Islamic Republic of Iran" and said the sanctions "are coming into effect today."
Britain and Germany have been particularly vocal in their criticism of Iran's response to almost three months of protests sparked by the death of Mahsa Amini, 22.
The Kurdish-Iranian woman died in custody after her arrest by morality police who accused her of violating Iran's dress code for women.
Iran imposed its sanctions on 32 individuals and entities ahead of a meeting of European Union foreign ministers in Brussels. They were expected to impose additional sanctions of their own against Iran over its response to the demonstrations.
Iran's sanctions list named Ken McCallum, director general of domestic spy agency MI5, and Chief of the Defence Staff Admiral Sir Tony Radakin.
Others sanctioned include current and former members of the British parliament and the Tony Blair Institute for Global Change.
Several German political figures and companies are also listed. These include Annegret Kramp-Karrenbauer, former head of the Christian Democratic Union party, and Claudia Roth, Federal Government Commissioner for Culture and the Media.
Also sanctioned is the French satirical magazine Charlie Hebdo, and the Persian-language division of Radio Free Europe.
Those sanctioned will not be able to enter Iran, and they will be subject to asset freezes.
Britain and the EU last month expanded sanctions against Iranian officials and organizations over Iran's protest crackdown.
On Friday Britain announced further sanctions after Iran carried out its first announced execution connected with the protests.
Iran's judiciary said Monday that a second death sentence had been implemented.
Majidreza Rahnavard had been sentenced to death by a court in the city of Mashhad for killing two members of the security forces with a knife and wounding four other people, the judiciary's news service said.
Source: Al Arabiya
Please click the following URL to read the full text of the original story:
https://english.alarabiya.net/News/world/2022/12/12/UK-defense-spy-chiefs-among-32-sanctioned-by-Iran
--------
UK foreign minister: We will respond when Iran's actions are unacceptable
12 December ,2022
British Foreign Secretary James Cleverly on Monday said Britain would continue to respond with sanctions against Iran when its actions are unacceptable in an effort to steer the Islamic Republic in a better direction.
"Our priority is to prevent Iran from acquiring nuclear weapons, but in parallel to that we will continue to act, to respond when Iran's actions are unacceptable," Cleverly said in answer to a question following a speech in London, giving the example of the supply of drones to Russia for use in Ukraine.
Source: Al Arabiya
Please click the following URL to read the full text of the original story:
https://english.alarabiya.net/News/middle-east/2022/12/12/UK-foreign-minister-We-will-respond-when-Iran-s-actions-are-unacceptable
--------
Greece using every opportunity to fuel tension with 'provocative actions,' says Turkish defence chief
Sarp Ozer
12.12.2022
Greece never misses a chance to raise tensions in the Aegean Sea and Eastern Mediterranean, the country's national defense minister said on Monday.
On Athens' recent military drills and violation of the demilitarized status of Aegean islands, Husuli Akar said: "Greece is making every attempt to increase the tension with unreasonable and unlawful demands and claims along with its ongoing provocative actions and aggressive rhetoric."
In a videoconference meeting with Turkish Armed Forces commanders and unit commanders, Akar added that all kinds of "unlawful actions" of Greece are given the necessary response on the ground and in the diplomatic field based on the principle of reciprocity.
It is "never possible for us to allow any fait accompli," he added.
Criticizing some Greek politicians and military figures for using saber-rattling against Türkiye as domestic political fodder, he said they should instead "focus on solving problems through dialogue and learn from history."
Recently, Greece carried out a military drill on the Aegean island of Rhodes, just 84 kilometers (52 miles) from the Turkish coastal city of Fethiye.
Source: Anadolu Agency
Please click the following URL to read the full text of the original story:
https://www.aa.com.tr/en/europe/greece-using-every-opportunity-to-fuel-tension-with-provocative-actions-says-turkish-defense-chief/2761917
--------
South Asia
Islamic State in Khorasan Province Claims Kabul Hotel Attack, Publishes Photos of 2 Gunmen
DECEMBER 13, 2022
Aregional affiliate of the Islamic State group known as the Islamic State in Khorasan Province (ISKP) has claimed responsibility for an attack on a hotel in central Kabul popular with Chinese nationals.
Armed men opened fire on Monday inside the hotel, and at least three gunmen were killed by security forces. Two foreigners were injured while trying to escape by jumping from the hotel balcony, Taliban spokesman Zabihullah Mujahid wrote on Twitter.
The ISKP, a rival of Afghanistan's ruling Taliban, also released photos of two attackers named 'Abu Omar' and 'Abu Jabbar' on its channel on Telegram. It also released a video of the attackers pledging allegiance to the new leader of Islamic State, Abu Hasan al-Hashimi al-Qurashi.
Multiple reports have quoted Taliban sources as saying that the attack was carried out at Longan Hotel in Kabul's Shar-e Naw neighbourhood frequented by Chinese guests among other foreigners. The Islamic State has on multiple occasions warned China over its treatment of Uighyur Muslims. The ISKP has increased its attacks since the Taliban takeover of the country last year.
Videos posted on Twitter by a journalist in Kabul showed smoke billowing out of one of the floors amid sounds of gunshots, while a person was seen trying to escape the attack by jumping out of a hotel window. Kabul police spokesman Khalid Zadran said the attack took place around 2.30 pm local time, with residents in the area saying they heard a powerful explosion followed by gunfire.
The attack came a day after China's ambassador met the Afghan deputy foreign minister to discuss security-related matters and sought more attention on the protection of its embassy. China's state-run Xinhua news agency said the attack happened near a Chinese guesthouse and its embassy in Kabul was closely monitoring the situation.
Several bombings have taken place in Afghanistan in recent months, including an attack on the Pakistan embassy earlier this month and a suicide blast near the Russian embassy in September. Both attacks were claimed by the Islamic State.
Source: News18
Please click the following URL to read the full text of the original story:
https://www.news18.com/news/world/islamic-state-in-khorasan-province-claims-kabul-hotel-attack-publishes-photos-of-2-gunmen-6604717.html
--------
Attack on Kabul hotel popular with Chinese nationals ends, three assailants killed
Dec 12, 2022
KABUL: At least three attackers were killed by security forces in Afghanistan on Monday after armed men opened fire inside a hotel in central Kabul popular with Chinese nationals, a spokesperson for the Taliban-run administration said.
The attack has now ended and no foreigners were killed, although two of them were injured while trying escape the attack by jumping from the hotel balcony, spokesman Zabihullah Mujahid said.
A video posted on Twitter by a journalist in Kabul, verified by Reuters, showed smoke billowing out of a multi-storey building, with one lower floor on fire.
The attack took place around 2:30pm local time when armed men targeted a hotel where "common people were staying", Kabul police spokesman Khalid Zadran said, adding that forces were trying to secure the area.
Residents of the area reported hearing a powerful explosion followed by gunfire. The attack was carried out at a building where Chinese and other foreigners usually stay, residents said.
The attack came a day after China's ambassador met the Afghan deputy foreign minister to discuss security-related matters and sought more attention on the security of its embassy.
China's state-run Xinhua news agency reported that the attack took place near a Chinese guesthouse and that its embassy in Kabul was closely monitoring the situation.
Several bombing and shooting attacks have taken place in Afghanistan in recent months, some of which have been claimed by Islamic State militants.
Source: Times Of India
Please click the following URL to read the full text of the original story:
https://timesofindia.indiatimes.com/world/south-asia/attack-on-kabul-hotel-popular-with-chinese-nationals-ends-three-assailants-killed/articleshow/96176371.cms
--------
Ashraf Ghani Fleeing for his Life and Zelensky Fighting for his Country; Hillary Clinton
By Nizamuddin Rezahi
December 13, 2022
In a recent TV interview, Hillary Clinton, compared in exile Afghan president Ashraf Ghani to Zelensky, the iron man of Ukraine.
In a recent interview in Oslo Norway, Hillary Clinton, former secretary of State and a renowned American politician compared former president Ashraf Ghani to President Zelensky.
She said, "Ashraf Ghani running for his life and taking money with him and Zelensky saying I am not leaving, send me ammunition,". Her remarks sparked a lot of criticism and support from Afghan politicians in Particular.
Hamdullah Mohib, Former National Security Advisor of the Islamic Republic of Afghanistan, and one of Ashraf Ghani's loyalists reacted to Clinton's remarks and described it as an untrue and unfair comparison.
"We repeatedly asked for military weapons and capabilities to continue the fight, up until the last days." "Clinton's remarks are not only patronizing and uninformed, but they are also cruel and offensive to the Afghan women and men who believed in and fought for a cause that our partners threw away," Mr. Mohib added.
Mohib's backing of Ashraf Ghani, an exiled Afghan president has frustrated their Western allies and the ordinary people of Afghanistan to a greater extent. This comes as Ashraf Ghani and his close circle run away with money and cars as the de facto regime captured Kabul on August 15, 2021.
Source: Khaama Press
Please click the following URL to read the full text of the original story:
https://www.khaama.com/ashraf-ghani-fleeing-for-his-life-and-zelensky-fighting-for-his-country-hillary-clinton/
--------
ISIS Cell in Eastern Afghanistan Destroyed
By Saqalain Eqbal
December 12, 2022
Following an operation by intelligence forces in Jalalabad city, the provincial capital of the eastern Afghan province of Nangarhar, local officials claimed to have discovered and destroyed an ISIS hideout.
The intelligence operation reportedly took place in Jalalabad's police district 4 on late Sunday, December 11, after obtaining intelligence information, according to the state-run Bakhtar News Agency.
According to the local officials cited in Bakhtar's report, during the intelligence operation, 2 of the ISIS members were killed and 1 other sustained injuries.
The operation also resulted in the discovery of a weapons cache of riffles, some of which were destroyed, while others were seized by the operating forces.
Following the assassination of Ayman Al-Zawahiri, the leader of Al-Qaeda, by a US CIA drone strike in Kabul's downtown, the Afghan government is accused of providing safe havens for international terrorists.
Since the Afghan government continues to have cordial relations with the banned Tehreek-e-Taliban Pakistan (TTP) and ISIS has intensified operations, many countries in the international community are apprehensive about the regrouping and resurrection of terrorism in Afghanistan.
In a statement before the Commonwealth Council of Heads of Security and Special Services earlier in late October, Russian President Vladimir Putin forewarned of the growth of terrorist groups on the Afghan border and their infiltration into the Commonwealth Independent States.
Source: Khaama Press
Please click the following URL to read the full text of the original story:
https://www.khaama.com/isis-cell-in-eastern-afghanistan-destroyed-35643/
--------
Mideast
Palestinian PM calls on UN to place Israel on 'list of shame' after teen killed by regime forces
13 December 2022
Palestinian Prime Minister Mohammad Shtayyeh has called on the United Nations to place the Israeli regime on its secretary-general's annual "list of shame" for violations against children, after Israeli troops fatally shot a teenage girl during a raid in the northern West Bank city of Jenin.
During a meeting with the Special Representative of the UN Secretary-General for Children and Armed Conflict, Virginia Gamba, in Ramallah, Shtayyeh denounced the killing of 16-year-old Jana Majdi Zakarneh as another crime to be added to the long list of horrifying crimes committed by Israeli forces against Palestinian children.
Gamba started on Monday a special visit to occupied Palestinian territories, including the West Bank and the Gaza Strip, during which she will meet with the families of Palestinian children murdered at the hands of Israeli forces to hear about the grave violations perpetrated by Israeli soldiers against Palestinian minors.
Separately, Palestinian foreign minister Riyad al-Malki handed Gamba a detailed report on the occupying Tel Aviv regime's crimes against Palestinian children.
The report sheds light on Israel's systematic and deliberate crimes against Palestinian children and falls within the framework of Security Council Resolution 1612 (2005) on children and armed conflict.
Malki pointed out that while Israeli forces have executed more than 52 children since the beginning of the current year, several have been shot dead due to attacks carried out by extremist Jewish settlers or as a result of denying them access to medical treatment.
He also pointed to Israeli attacks on Palestinian educational centers, including schools, colleges and universities, as well as students and teaching staff, as was the case in the Masafer Yatta area in the southern West Bank, various Bedouin communities, and al-Lubban al-Sawiya schools near the city of Nablus.
The top Palestinian diplomat stressed that the crimes committed by Israel are a flagrant violation of international law, including human rights, humanitarian, and criminal laws, and relevant United Nations resolutions such as Security Council Resolution 1612.
He urged Gamba to demand that the Israeli regime stop its grave crimes against Palestinian children, and asked the international community, especially the Security Council, to fulfill its obligations and take necessary measures aimed at protecting Palestinian people, children in particular, as well as schools, hospitals and other essential facilities.
Malki also called on the United Nations to adopt proper measures to hold Israeli war criminals accountable and bring them to justice.
Israeli forces have recently been conducting overnight raids and killings in the northern occupied West Bank, mainly in the cities of Jenin and Nablus, where new groups of Palestinian resistance fighters have been formed.
Since the start of 2022, Israeli troops have killed more than 210 Palestinians, including more than 50 children, in the occupied West Bank and East al-Quds as well as the besieged Gaza Strip.
According to the United Nations, the number of Palestinians killed by Israel in the occupied West Bank this year is the highest in 16 years.
Source: Press TV
Please click the following URL to read the full text of the original story:
https://www.presstv.ir/Detail/2022/12/13/694373/Palestine-PM-urges-UN-Israel-list-of-shame-after-teen-shot-dead
--------
Hamas: Palestinians will never allow Israel to implement its malicious schemes for al-Quds, al-Aqsa
12 December 2022
Marking the 35th anniversary of its foundation, a senor official of Palestinian resistance movement, Hamas, has vowed that Palestinians will continue to stand in the face of the Israeli regime's machinations.
In a televised speech delivered on Monday, head of the movement's political bureau Ismail Haniyeh said the Palestinian people will never allow the Israeli regime to implement its malicious schemes that target the holy city of al-Quds in general, and the al-Aqsa Mosque compound in particular.
Palestinians consider the eastern part of al-Quds as the eternal capital of their future state while Israel lays claim to the entire city as its so-called capital.
In line with its claim, the Israeli regime has established some of the most draconian restrictions on the Palestinians' movement around the holy city, including their right to pray at the al-Aqsa Mosque compound, which is Islam's third holiest site. On the other hand, the occupying army regularly provides protection for illegal Israeli settlers who storm the compound to sheer indignation of the Palestinians.
Haniyeh added that the issue of al-Quds will remain a top priority for Hamas and the Palestinian people everywhere.
The senior Hamas official said the movement has adopted a clear and unwavering strategy with regard to the cause of the liberation of Palestine from Israeli occupation, and will continue its struggle against the Zionist settler-colonial project.
The Israeli regime came into existence in 1948 after occupying huge swathes of Palestinian territories during a Western-backed war.
It occupied more land, namely the West Bank, which includes East al-Quds, and the Gaza Strip where Hamas' is headquartered, in another war in 1967.
Ever since, it has built hundreds of settlements upon the occupied territories and deployed the most aggressive restraints on Palestinian freedoms there.
Tel Aviv withdrew from Gaza in 2005, but has been keeping the coastal territory under an all-out land, aerial, and naval siege since a year after it left the enclave.
"Hamas has long been committed to the unity of the Palestinian people at home and abroad in the face of the Israeli occupation and its schemes," Haniyeh added.
He explained that Hamas has also adopted a strategy of openness towards all Arab and Muslim nations and has established balanced ties based on the notion that the Palestinian cause is central to the whole Arab and Muslim world.
The official, meanwhile, saluted the thousands-strong Palestinian detainees, who have been languishing across Israeli jails, pledging that the movement was committed to securing their freedom through prisoner swap deals with the occupying regime.
Source: Press TV
Please click the following URL to read the full text of the original story:
https://www.presstv.ir/Detail/2022/12/12/694361/Palestinians-Israel-Hamas-anniversary-Haniyeh-speech
--------
Israel Publishes Last Telegram Of Its Spy, Eli Cohen In Syria
Abdel Raouf Arnaout
12.12.2022
Israeli authorities on Monday published the last telegram sent by Mossad spy Eli Cohen before his arrest and execution by Syrian authorities in 1965.
"In the telegram dated Feb. 19, 1965, the day he was arrested, the Mossad agent Cohen talks about the meeting of the Syrian General Staff that was held that evening with the participation of the Syrian President at the time, Amin al-Hafez," the government's media office said in a statement.
Mossad chief David Barnea said the reason for Cohen's arrest has always been controversial.
"Cohen was not caught because of the amount of transmission or pressure from the headquarters to send repeatedly, but rather because the enemy intercepted his messages," he added.
Barnea said the Mossad "will continue to uncover intelligence information and new details about the period in which Cohen served in Syria, and will continue to work to bring his remains for burial in Israel."
Israel considers Cohen to be one of its most important spies given that he arrived in Syria in January 1962, under the name "Kamel Amin Thabet", and resided in the capital, Damascus.
Source: Anadolu Agency
Please click the following URL to read the full text of the original story:
https://www.aa.com.tr/en/middle-east/israel-publishes-last-telegram-of-its-spy-in-syria/2761869
--------
Gaza archaeologists find 'complete' Roman-era cemetery
12 December ,2022
Researchers in the northern Gaza Strip have unearthed dozens of Roman-era tombs at a site discovered earlier this year during construction work, the Palestinian enclave's rulers Hamas announced Monday.
Construction workers had uncovered 31 tombs near the town of Beit Lahia as work began in early 2022 on an Egyptian-funded residential project, part of reconstruction efforts after the 11-day war in May 2021 between Israel and armed groups in blockaded Gaza.
The project has been partially suspended following the discovery, and a team from the local antiquities ministry visited the site to catalog the findings and look for more, Fazl al-Atal, head of the excavation team, told AFP on Monday.
"So far, 51 Roman tombs dating from the first century AD have been found," including the 31 initially found by the construction workers, he said.
"We expect to find 75 to 80 tombs in total," Atal added, hailing the discovery of the "first complete Roman-era cemetery found in Gaza."
The 2,000-year-old burial site is located near the ruins of the Greek port of Anthedon, on the road leading to ancient Ascalon -- now the Israeli city of Ashkelon by the Gaza border.
The antiquity ministry team has been focusing on "documentation, research and protection of the site," Atal said. "Our aim is to ascertain... the causes of death."
Jamal Abu Reda, in charge of antiquities at the ministry, said the site is "of great importance and believed to be an extension of the site" of ancient Anthedon.
Archaeology is a highly political subject in Israel and the Palestinian territories, and some discoveries have been used to justify the territorial claims of each people.
In Gaza, both research and tourism to archaeological sites are limited due to an Israeli blockade imposed since Hamas took over the strip in 2007.
Israel and Egypt, which shares a border with Gaza, tightly restrict the flow of people in and out of the impoverished enclave, which is home to about 2.3 million Palestinians.
Source: Al Arabiya
Please click the following URL to read the full text of the original story:
https://english.alarabiya.net/News/middle-east/2022/12/12/Gaza-archaeologists-find-complete-Roman-era-cemetery
--------
Israel says its forces killed Palestinian girl in West Bank raid
12 December ,2022
Israel said Monday its forces unintentionally shot dead a Palestinian girl during a raid in Jenin, a flashpoint city in the occupied West Bank where dozens of Palestinians including local fighters have been killed in recent months.
Israel's army said it came under fire during an operation late Sunday to arrest three people "suspected of terror involvement."
"The girl who was killed was hit by unintentional fire aimed at armed gunmen on a roof in the area from which the force was fired upon," an army statement said, adding that no troops were hurt.
Sixteen-year-old Jana Zakarna was alone on the roof of her home late Sunday when she was targeted by an Israeli sniper positioned in an empty building, her relatives told AFP.
"She went up (to the roof) to fetch her cat and never came back, so her brother went up to look for her; he opened the door and found Jana lying here on her back," said Yasser Mahmoud Zakarna, 28, the teenager's uncle.
Describing his niece's wounds, he said she was "shot with four bullets in deadly spots: in the head, the face, and twice in the chest. They have truly killed childhood."
A white cat walked around the rooftop, where there was a pool of blood and yellow tape marking what the Zakarna family said were bullet holes.
Two Palestinians were wounded in the Israeli raid, according to the Palestinian Red Crescent Society whose medics operate in the area.
Israel has occupied the West Bank since the 1967 Six-Day War. The country's defense minister, Benny Gantz, said on Monday soldiers "do not shoot deliberately at uninvolved people."
Israeli forces have launched near-daily raids in the northern West Bank since fatal attacks carried out by Palestinians or Arab-Israelis targeting Israelis earlier this year.
At least 150 Palestinians and 26 Israelis have been killed this year across Israel, the contested city of Jerusalem, and the West Bank. A further 49 Palestinians were killed during three days of fighting between Gaza militants and Israel in August.
Militants, children as young as 12 and veteran Palestinian-American journalist Shireen Abu Akleh are among more than 40 Palestinians killed in the Jenin area during Israeli operations this year.
After his niece's death, Zakarna said "there's no way to be safe" during the frequent raids.
Source: Al Arabiya
Please click the following URL to read the full text of the original story:
https://english.alarabiya.net/News/middle-east/2022/12/12/Israel-says-its-forces-killed-Palestinian-girl-in-West-Bank-raid
--------
Israeli vote to elect Knesset speaker delayed
Abdel Raouf Arnaout
12.12.2022
JERUSALEM
The right-wing Likud Party and the opposition agreed on Monday to postpone the election of a temporary speaker for the Knesset (Israel's parliament) until Tuesday, according to Israeli media.
Israeli public broadcaster KAN said the move came after opposition parties threatened to obstruct the vote.
The election was scheduled to take place on Monday evening.
According to Haaretz newspaper, the Yesh Atid Party led by outgoing Prime Minister Yair Lapid concluded an agreement with the Likud Party to postpone the vote until Tuesday, although the Likud has already submitted 61 signatures.
After difficult deliberations, Prime Minister-designate Benjamin Netanyahu chose to nominate Likud's Knesset member, Yariv Levin, as interim speaker, to replace Mickey Levy of the Yesh Atid Party, the Haaretz noted.
The list of candidates for the post also includes David Amsalem, Amir Ohana, Ofir Akunis and Danny Danon.
Netanyahu and his right-wing bloc secured an outright majority in the Knesset in the elections that took place early last month.
On Sunday, the 28-day deadline given to Netanyahu to form a government expired, with President Isaac Herzog agreeing to extend the deadline for an additional 10 days at Netanyahu's request.
Source: Anadolu Agency
Please click the following URL to read the full text of the original story:
https://www.aa.com.tr/en/middle-east/israeli-vote-to-elect-knesset-speaker-delayed/2762036
--------
Israeli document shows settlers' role in ousting Palestinians from West Bank
Ahmed Asmar
12.12.2022
Israeli settlers are actively reporting any Palestinian construction work in the occupied West Bank to Israeli local authorities, in an effort to dispossess Palestinians, according to Israeli media on Monday.
An internal official document obtained by Haaretz newspaper showed a close cooperation between settlers and Israel's Civil Administration to report any work carried out by Palestinians.
The document lists 1,168 tip-offs from Israeli settlers through an online platform in the period between March 10 to October 19.
"Digging a well," "Arabs are planting trees," and "massive construction on and preparation of plots of land" were among the forms of the settler reporting against Palestinians.
"The internal document also provides yet another glance at the intense involvement of settlers in the Civil Administration and Israeli army operations, from evictions of Palestinians from most of the territory of the West Bank, and the prevention of their construction and infrastructure work, to the meticulous effort to ensure that they do not exceed the bounds of the enclaves Israel has allocated to them," the document said.
Israel widely uses the pretext of lack of construction permits to demolish Palestinian homes and buildings, especially in Area C in the occupied West Bank, which constitutes around 60% of its space.
Area C is under Israel's administrative and security control until a final status agreement is reached with the Palestinians.
Source: Anadolu Agency
Please click the following URL to read the full text of the original story:
https://www.aa.com.tr/en/middle-east/israeli-document-shows-settlers-role-in-ousting-palestinians-from-west-bank/2761789
--------
Iran defies outcry with second execution linked to protests
December 12, 2022
JEDDAH: Iran on Monday executed a second man in connection with protests that have shaken the regime for months, defying an international outcry over its use of capital punishment against those involved in the movement.
EU foreign ministers condemned Iran for its crackdown on anti-government protests and its drone deliveries to Russia while moving ahead with a new package of sanctions meant to raise pressure on Tehran.
The EU "will take any action we can to support young women and peaceful demonstrators," Josep Borrell, the bloc's foreign policy chief, said.
German Foreign Minister Annalena Baerbock said: "With this sanctions package, we are targeting in particular those who are responsible for the executions, the violence against innocent people …these are especially the Revolutionary Guards."
Monday's public hanging of Majidreza Rahnavard shows the speed at which Iran now carries out death sentences handed down for those detained in the demonstrations the regime hopes to put down.
Rahnavard, 23, had been sentenced to death by a court in the city of Mashhad for killing two members of the security forces with a knife and wounding four other people, the judiciary's Mizan Online news agency reported.
He was executed just over three weeks after he was arrested in November, rights groups said.
The hanging also came only four days after Mohsen Shekari, also 23, was executed on Thursday on charges of wounding a member of the security forces in the first case of the death penalty being used against a protester.
"These executions are a blatant attempt to intimidate people, not for committing crimes but just for taking their opinions to the streets, just for wanting to live in freedom," Germany's Baerbock said.
Mizan published images of Rahnavard's execution, showing a man with his hands tied behind his back hanging from a rope attached to a crane.
The director of Oslo-based group Iran Human Rights, Mahmood Amiry-Moghaddam, said Rahnavard "was sentenced to death based on coerced confessions after a grossly unfair process and a show trial."
He added: "The public execution of a young protester, 23 days after his arrest, is another serious crime committed by the regime's leaders and a significant escalation of the level of violence against protesters."
Source: Arab News
Please click the following URL to read the full text of the original story:
https://www.arabnews.com/node/2214761/middle-east
--------
At least 3,774 children killed in Yemen's civil war: UNICEF
December 13, 2022
At least 3,774 children have been killed in Yemen's civil war between March 2015 and September 2022, UNICEF said on Monday, a week after it launched a multibillion-dollar global funding drive.
According to the latest statistics published by UNICEF, a further 7,245 children had been maimed in the conflict.
The organization called for an urgent renewal of the ceasefire agreement, which lasted from April until the beginning of October and saw a lull in front-line fighting.
"The urgent renewal of the truce would be a positive first step that would allow critical humanitarian access," Executive Director Catherine Russell said.
UNICEF said some 3,904 boys were recruited as child soldiers from March 2015 to September 2022.
Russell said: "If the children of Yemen are to have any chance of a decent future, then the parties to the conflict, the international community and all those with influence must ensure they are protected and supported."
A deal to extend the truce fell through in the hours before its deadline on Oct. 2.
Houthis have widely used land mines, a weapon that has killed at least 74 children across Yemen between July and September this year, the UN reported.
The militia has openly recruited child soldiers, many through "summer camps" in which it disseminates its ideology to young boys.
Houthi officials admitted earlier this year that the militia had recruited some boys as young as age 10, arguing that boys of this age are considered men.
UNICEF last week launched a $10.3 billion Humanitarian Action for Children appeal for 2023 to assist children affected by conflicts and disasters worldwide.
It aims to raise nearly $484.5 million throughout the year for Yemen.
"Thousands of children have lost their lives; hundreds of thousands more remain at risk of death from preventable disease or starvation," Russell said.
UNICEF noted that more than 17.8 million Yemenis lack access to safe water, sanitation and hygiene services.
This leaves around 10 million children without adequate access to care, it said.
The UN and partners earlier this month appealed for a record $51.5 billion in aid money for 2023, a 25 percent increase on 2022 and more than five times the amount sought a decade ago.
Source: Arab News
Please click the following URL to read the full text of the original story:
https://www.arabnews.com/node/2215201/middle-east
--------
India
AMU Students Arrested by UP Police for marking 30 Years of Babri Masjid Demolition on Demand of BJP's Youth Wing
13 DEC 2022
The Uttar Pradesh Police on Saturday booked students of Aligarh Muslim University for holding an event inside the college campus on December 6, marking 30 years of the Babri Masjid demolition, according to a report by xx.
During the event, students held postcards calling December 6 "Black Day".
The arrest comes after BJP's youth wing Bharatiya Janata Yuva Morcha demanded that students must be arrested by Monday or they would take out a protest march to the office of the Aligarh Superintendent of Police. Following that, on December 7, the right-wing members took out a mahapanchayat demanding action against the Muslim students.
According to the copy of the FIR, the police booked the students of the university under Indian Penal Code Sections 505 (statements conducting to public mischief), 188 (disobedience to order duly promulgated by public servant), 295-A (acts intended to outrage religious feelings) and 298 (uttering words, etc with deliberate intent to wound the religious feelings of any person).
Speaking to Maktoob media, Aligarh Assistant Superintendent of Police Kuldeep Singh Gunawat accused the students of holding a protest march and making offensive comments. He further accused them of carrying posters with 'offensive remarks written on them'.
In addition, he noted that the protest went on even as the district was subject to prohibitory orders under Section 144 of the Code of Criminal Procedure (CrPC).
However, students from the college alleged that they are being falsely implicated as nothing was done to hurt any religious sentiments. The event was a mere showcase to mark the day when "the Constitution was mocked by the demolition of the Babri Masjid".
Source: Outlook India
Please click the following URL to read the full text of the original story:
https://www.outlookindia.com/national/aligarh-muslim-university-students-arrested-by-up-police-for-marking-30-years-of-babri-masjid-demolition-news-244461
--------
Ayodhya Mosque Plan Clears Major Hurdle (Land Use Approval), Construction To Begin Soon
Darpan Singh
Dec 13, 2022
In its 2019 judgement, the Supreme Court paved the way for the construction of Ram Temple at the Ram Janmabhoomi-Babri Masjid site. The top court also ordered the allocation of a five-acre plot to the Sunni Waqf Board for a new mosque.
The Ram temple construction has been progressing as per the schedule and is likely to meet its December 2023 deadline. However, three years after the top court settled the dispute, construction for the proposed mosque complex at Dhannipur village near Ayodhya was yet to begin.
Talking to IndiaToday.in, Vishal Singh, Ayodhya Development Authority Vice-Chairperson, and Athar Hussain, Secretary, Indo-Islamic Cultural Foundation, tasked with the mosque's construction, said that construction for the proposed mosque off the Lucknow-Faizabad highway may begin soon.
Athar Hussain said, "We had been awaiting land use approval from the Ayodhya Development Authority. It's finally come. I don't have direct communication yet but our local trustee, Arshad, has received it."
So, what next? "Now only fire clearance remains. Our fire plan had been rejected two months ago because the access to the site had a bottleneck, a stretch that's only 4.2 metres wide, while we need the entire passage to be 9 metres wide for two fire tenders to move in at a time. We, the Waqf Board, had got the land from the Uttar Pradesh District Magistrate. The process to acquire further land to remove the bottleneck is on. Once that's done, hopefully by month-end, construction can begin thereafter," Athar Hussain told IndiaToday.in.
Athar Hussain said it was a two-phase plan. "We will build not only a mosque but also a 200-bed hospital. The mosque is only 10 per cent of the total cost. In the first phase, we will spend Rs 100 Crore, on the mosque and on the first stage of the hospital. The second phase, also costing Rs 100 Crore, will cover only the hospital, its second stage," he said.
The hospital will begin with 100 beds and as many beds will be added later. The complex will also have a library with an Indo-Islamic research centre/an archive of the 1857 Sepoy Mutiny and a community kitchen, first catering to 1,000 people and then to 2,000 people, Athar Hussain said.
On the other hand, Vishal Singh, Ayodhya Commissioner and Ayodhya Development Authority Vice Chairperson, told IndiaToday.in that the land in question comes under the extended area of the Ayodhya Development Authority and unless a master plan was ready, it was agricultural land and no public facility can come up such a land without a change in its land use.
"The development authority board has approved the land use change and sent the file to the Uttar Pradesh government for final approval. The foundation has secured more or less all NOCs from local authorities. Mosque construction will begin as soon as the land use clearance comes from the state government," Vishal Singh said.
When informed that the Indo-Islamic Cultural Foundation has confirmed to IndiaToday.in the receipt of the approval for land use change, Vishal Singh said, "They must have got it from the state government. In that case, communication will soon reach us, too, and mosque construction may begin soon."
The Ayodhya Development Authority had issued letters to authorities, including fire services, civil aviation, Municipal Corporation, irrigation, PWD, pollution control board and district administration, to issue NOCs for the mosque's construction.
Right now, there is only barbed wire fencing along the plot where one can also see a board, bearing an illustration of the proposed mosque, put up by the Indo-Islamic Cultural Foundation.
The Indo-Islamic Cultural Foundation is a 15-member trust tasked with the mosque's construction by the Uttar Pradesh Sunni Central Waqf Board. "We had submitted a detailed map of the proposed mosque complex to the Ayodhya Development Authority. But the Covid-19 pandemic delayed the clearance," Athar Hussain said.
According to the original plan, the mosque (designed by Professor SM Akhtar, Head, Faculty of Architecture, Jamia Millia Islamia University, New Delhi), which can accommodate 2,000 Namazis at a time, was to be built by December 2023, while other structures in the complex were to be built subsequently.
The Indo-Islamic Cultural Foundation has been receiving donations, including from non-Muslims, for the construction of the mosque, four times bigger than the Babri Masjid, and other public facilities including the hospital, six times the size of the mosque.
The hospital will cater to children suffering from malnourishment, and also expecting women. The two-storeyed egg-shaped mosque without any dome or minaret will be solar powered. The deadline to start the construction of this complex has been missed a few times.
Source: India Today
Please click the following URL to read the full text of the original story:
https://www.indiatoday.in/india/story/ayodhya-mosque-plan-clears-major-hurdle-construction-to-begin-soon-exclusive-2308464-2022-12-13
--------
Karnataka: No Development If You Don't Vote For Me, BJP MLA to Muslims
12th December 2022
Bengaluru: A video of BJP Karnataka MLA J. Preetham Gowda telling Muslims that if they don't vote him in the upcoming Assembly elections, he won't take up any development activity for them has gone viral on social media.
The remarks have drawn sharp criticism from the people. In the video, MLA Preetham Gowda, the MLA from Hassan, while addressing a gathering in Hassan city's Muslim-dominated Srinagar locality was heard saying he had treated people of all communities as brothers in the last four years.
He went on to say that if Muslims came to his home, he would offer them coffee but not ensure development and won't do anything they need.
"I will continue to treat you equally as brothers. But, you did not vote for me in the 2018 assembly elections and municipal elections. You did not vote for BJP in parliamentary elections. I will not do more than to ensure proper water, road and drainage facilities," Pritham Gowda said.
Pritam Gowda maintained that he was just asking for wages for the labor he had put in to ensure developmental activities for Muslims. Referring to the crowd, he said: "You are all daily wage workers. You will get angry if your wages are not paid. Don't you think even after getting work from me, if you don't vote, I will get upset?
Pritham Gowda won from Hassan city in 2018 giving a rude shock to JD-S. Former Prime Minister H.D. Deve Gowda hails from Hassan and entire district politics is dominated by Gowda family.
Source: Siasat Daily
Please click the following URL to read the full text of the original story:
https://www.siasat.com/karnataka-no-development-if-you-dont-vote-for-me-mla-to-muslims-2478454/
--------
India "Strongly Condemns" Islamic Nations' Group Head For PoK Visit
December 13, 2022
New Delhi: India on Tuesday strongly condemned the visit of the secretary general of the Organisation of Islamic Cooperation (OIC) to Pakistan occupied Kashmir (PoK) and for his comments on Jammu and Kashmir, asserting that the grouping has no locus standi in matters related to the region.
In a sharp reaction to OIC Secretary General Hissein Brahim Taha's trip to PoK, External Affairs Ministry spokesperson Arindam Bagchi said "Any attempt of interference and meddling in India's internal affairs by OIC and its secretary general is completely unacceptable." He said the OIC has already lost its "credibility" by taking a "blatantly communal, partisan and factually incorrect approach" to the issues.
Taha was on a three-day visit to Pakistan from December 10-12.
"We strongly condemn the visit of the OIC secretary general to Pakistan occupied Kashmir (PoK) and his comments on J&K during his visit to Pakistan. Let me reiterate that OIC has no locus standi in matters related to Jammu and Kashmir, which is an integral and inalienable part of India," Bagchi said.
He was responding to media queries on the visit of the OIC official to the PoK.
"The OIC has already lost its credibility by taking a blatantly communal, partisan and factually incorrect approach to issues. Its secretary-general has unfortunately become a mouthpiece of Pakistan," Bagchi said "We hope that he would refrain from becoming a partner in carrying out the nefarious agenda of Pakistan of promoting cross-border terrorism into India, especially in Jammu and Kashmir," he added.
Source: ND TV
Please click the following URL to read the full text of the original story:
https://www.ndtv.com/india-news/any-attempt-of-meddling-india-slams-islamic-group-head-for-pok-visit-3601834
--------
Will consider proposal for police units to tackle 'love jihad', says K'taka HM
Dec 13, 2022
Karnataka home minister Araga Jnanendra on Monday said that the government would consider the demands for creating a new unit for tackling 'love jihad'. The assurance comes after a delegation of Hindu organisations met Jnanendra at his official residence and submitted a memorandum.
The members of this delegation included Mohan Gowda, the state spokesperson for Hindu Janajagruti Samiti, Bhavya Gowda from Ranaragini, Nandini Nagaraj from Durga Sena and Shri Sundaresh and Shri. Amarnath from the Sri Ram Sena. They demanded that a special police should be formed to investigate 'love jihad' cases.
"Despite the implementation of the Prohibition of Conversion Act in the state, 'Love Jihad' has not yet stopped. Hence just like in Uttar Pradesh, an Anti-Love-Jihad task force should be appointed here as well," read the memorandum.
A senior official from the home minister's office confirmed that a meeting took place between the minister and the organisation representatives. "The minister has not assured setting up the unit but said he will consider the demand. He told the organisations that the anti-conversation bill (Karnataka Protection of Right to Freedom of Religion Bill, 2022) is taking care of any forced conversations in the state," said the official.
Meanwhile, the home minister said that the cooperation of people is essential to maintain law and order.
The minister appealed to people not to take the law into their hands which in turn would result in unrest and provocation.
He was reacting to a query on increasing incidents of moral policing in Dakshina Kannada and sharing of hate messages on social media.
Source: Hindustan Times
Please click the following URL to read the full text of the original story:
https://www.hindustantimes.com/cities/bengaluru-news/will-consider-proposal-for-police-units-to-tackle-love-jihad-says-k-taka-hm-101670870161893.html
--------
Former mayor accuses Bajrang Dal activists of attacking Muslim man
Dec 13, 2022
A group of 7-8 Bajrang Dal activists allegedly assaulted a Muslim youth who was out with two Hindu girls in Mangaluru on Saturday night and tried to get him arrested, police said on Monday.
A senior police familiar with the matter said that the youth was allegedly attacked around 11:30 pm on Saturday when he and the two girls were looking for a place to have dinner in the Urwa police station limits. According to the officer, who did not want to be named, the group of Bajrang Dal activists accosted the youth and assaulted him before trying to hand him over to the police.
The officer did not disclose the identity of the youth and said he and the two girls were not willing to file a complaint so no action has been taken in connection with the case.
Former Mangaluru mayor and the president of the Dakshina Kannada Muslim forum, K Ashraf, condemned the incident and said that in such cases, victims are scared to lodge a complaint against the right-wing group. "If they try to seek police action, the right-wing groups threaten them," he said.
Hitting out at the Bajrang Dal, he said that such moral policing incidents were on the rise in Dakshina Kannada district as elections in the state are approaching.
"Bajrang Dal is behind all the moral policing incidents in Dakshina Kannada. When elections are around the corner, such organisations do this. This incident took place on the same night the chief minister was in the city. This is not an isolated incident. Five to six cases of moral policing have been reported in the district recently," Ashraf said.
Last week, the police had arrested four persons in connection with another case of moral policing in Mangaluru on December 6. According to police, Bajrang Dal members had created a ruckus at a jewellery showroom in the city alleging that a Muslim staff member was friendly with a Hindu woman working in the showroom. Police commissioner N Shashi Kumar had said that three cases were filed with the Mangaluru East police station on the complaints by the male staff on assault and rioting.
Speaking on Monday, Ashraf urged the authorities to take strict action against such outfits and make sure similar incidents do not occur in the future.
"It's not just moral policing. These right-wing organisations are harassing Muslims during fairs, and not letting them carry out business in a peaceful way. They are threatening Muslim businesses everywhere and are trying to trigger communal issues. We will not let this happen," Ashraf said.
Speaking of the December 6 incident, he said: "In another incident at a jewellery store, four people were arrested. But what is the use in arresting them? Such incidents should not happen in the first place. Be it anyone, Muslims or Hindus, if they have done something wrong, appropriate legal action should be taken against them. But the police are here to do that. Why should the right-wing groups assume the role of police?"
In another case of moral policing, five people in the Sullia region of Dakshina Kannada district attacked a Muslim couple who were going for a movie on December 7. Based on a complaint, the police had registered a case of assault against the five people.
Last month, a group of men assaulted a Muslim youth who was travelling with a Hindu woman in Mangaluru. The couple were travelling in a bus from Karkala, when 3-4 unknown men stopped the bus, dragged the Muslim youth out of the vehicle and thrashed him.
Three persons who have links with right-wing groups Bajrang Dal and Vishwa Hindu Parishad (VHP) were later arrested by the police in connection with the incident.
Last week, reacting to the recent instances of moral policing and hate messages being shared on social media, Karnataka Home Minister Araga Jnanendra appealed to people not to take law into their hands which in turn would result in unrest and provocation. The home minister said that people should extend their cooperation in maintaining law and order in the state.
Source: Hindustan Times
Please click the following URL to read the full text of the original story:
https://www.hindustantimes.com/cities/bengaluru-news/former-mayor-accuses-bajrang-dal-activists-of-attacking-muslim-man-101670869860932.html
--------
56 foreign terrorists killed in J&K in 2022: DGP Dilbag Singh
Dec 12, 2022
JAMMU: Director General of Police (DGP) Dilbag Singh on Monday said 56 foreign terrorists have been killed by security forces this year so far in Jammu and Kashmir.
He also said that 86 of the 102 local youth, who had joined terrorist ranks this year, have been neutralised.
Terming the death threats issued by terrorist outfits as a handiwork of Pakistan intelligence ISI and its agencies promoting terrorism in Jammu and Kashmir, Singh said there is no need to fear as stern action is being taken against those involved in issuing such diktats.
"As many as 56 foreign terrorists have been killed this year. This is the largest number in last several years," the DGP told reporters on the sidelines of a function here.
He said 86 out of the 102 new militant recruits have been eliminated so far, reducing the number to just 23.
"Those who choose the path of terrorism, their life is not too long. Youths should take the path of peace and prosperity and leave the path of terrorism. There is no benefit in going towards this path," Singh said.
Replying to a question on death threats being issued by terror outfits, the DGP said these people are mouthpieces of Pakistan's ISI and its agencies that are running terrorism in Jammu and Kashmir.
"The militancy is taking its last breath. Stern action is being taken against those involved in giving such threats. Such blogs and websites are under our watch. FIRs have been registered against them. Action is being taken against their supporters as well," he said.
The DGP said that there is no need to fear. "It is a routine conspiracy of those who feel unhappy with peace and prosperity. We will finish all such remaining outfits involved in giving such threats," he said.
On security measures, Singh said, "We are taking all types of precautions. I hope everything will be alright everywhere. There will be no loophole in our security."
"There are people still in the training camps across the border. There are militants who are being made to infiltrate to this side. Forces on the border are vigilant and alert. If some sneak inside, they are neutralised," he said.
Asked about a link between Khalistani and Kashmiri terrorists, Singh that, "Their mother is one, that is Pakistan."
"Whether it is terrorism in the name of Khalistan or Kashmir, the mother is one. It is she who is running it. We and Punjab Police work together whenever such instances come to the fore," he added.
Source: Times Of India
Please click the following URL to read the full text of the original story:
https://timesofindia.indiatimes.com/india/56-foreign-terrorists-killed-in-jk-in-2022-dgp-dilbag-singh/articleshow/96179866.cms
--------
Five years on, TS Islamic Cultural Centre remains a distant dream
13th December 2022
Hyderabad: In 2017, Chief Minister K. Chandrasekhar Rao announced the establishment of an Islamic Cultural Center in Kokapet. Rs. 40 crores were allocated for the construction in the budget of 2020-21. However, seems as a distant dream as yet. The announcements made by the government about the development and welfare of Muslims in the state have proved to be just ear-pleasing as the government did not implement any of its plans, nor have the Muslims been asked to do so.
Despite the approval of the budget, the foundation stone of the Islamic Cultural Center is yet to be laid. On the other hand, after completing the construction of Shivlal Banjara Bhawan and Adivasi Bhawan, were inaugurated and both the Bhawans were built on very valuable land in Banjara Hills with a cost of crores of rupees.
On Monday, the foundation stone ceremony was also held for the construction of the Christian Bhavan in Uppal by the government, however, there are no signs of progress on the proposed Islamic Cultural Centre. Christian community which is a part of the Minority Welfare Department has been allotted 12 acres of land worth 70 crores in Uppal and the foundation stone for Christian Bhavan has been laid.
Source: Siasat Daily
Please click the following URL to read the full text of the original story:
https://www.siasat.com/five-years-on-ts-islamic-cultural-center-remains-a-distant-dream-2478848/
--------
Pakistan
Can't sit for talks with 'egoistic' Imran: PM
Syed Irfan Raza
December 13, 2022
ISLAMABAD: Prime Minister Shehbaz Sharif on Monday ruled out the possibility of sitting with PTI Chairman Imran Khan for political dialogue, asserting that negotiations could not be initiated with a "self-centered, liar, cheater, anti-benefactor, and anti-army" person.
The prime minister, flanked by his economic wizard Ishaq Dar at a presser, categorically rejected PTI's demand for snap polls and said let the people decide in the next general elections to be held next year who was right and who was wrong.
Finance Minister Dar, meanwhile, hinted that cash-strapped Pakistan would soon get additional deposit by brotherly country Saudi Arabia that would help stabilise the economy.
PM Shehbaz said he had asked Mr Dar to meet President Dr Arif Alvi on the latter's desire to hold dialogue, as 'it takes two to tango'.
"We can forget all our differences for the sake of bright future of the country, but what talks we can initiate with a person who is egoistic, liar, cheater anti-army and anti-benefactor. He [Imran] can hurt the nation for his own benefit. Now people will decide in the next elections, which will be held at their scheduled time," the prime minister said.
"We have not put our political asset at stake, just for snap polls. Stabilising the economy is our top priority," the PM noted.
Interestingly, PTI leader Fawad Chaudhry earlier told Dawn that Mr Khan would never sit with the rulers for dialogue, though he could send his team for the purpose.
PM Shehbaz said the previous PTI government "ridiculed" his idea of a Charter of Economy and misconstrued it as a desire to seek a concessional national reconciliation ordinance-type agreement.
In response to a question, the prime minister said the PTI chief also showed a lack of gratitude to his "benefactor" ex-army chief Qamar Javed Bajwa.
He also said the new army chief was a "professional soldier, with a shining career" and expressed the hope Gen Syed Asim Munir would strengthen the institution and serve the country.Nawaz due 'very soon'.
Responding to another query, the PM said his elder brother and party supremo, who had "millions of followers in Pakistan", would return "very soon".
About oil prices, he said the government discussed the matter fortnightly and made its level best not to further burden the people. "It would surely pass on the relief as it found some cushion," he added.
'Fake news of bankruptcy'
At the press conference, the finance minister claimed that Pakistan would soon get additional financial support from Saudi Arabia in shape of deposits. He assured the media that the country would never default economically and accused the PTI of intentionally selling this rhetoric to defame the government and the country.
"The fake news is being spread about the bankruptcy of the country by Imran Niazi, who caused the country's economy to sink by laying mines," he added.
The PTI government destroyed the economy during its tenure, as Mr Khan did not honour commitments he made to the international financial institutions, Mr Dar elaborated.
Source: Dawn
Please click the following URL to read the full text of the original story:
https://www.dawn.com/news/1726081/cant-sit-for-talks-with-egoistic-imran-pm
--------
Terror alert for 'soft targets' in Swabi, Nowshera issued
December 13, 2022
SWABI: The police have issued an alert about the plans of the banned terrorist outfit Tehreek-i-Taliban Pakistan to attack 'soft targets' in Swabi and Nowshera district and ordered measures to protect the people's lives.
A police letter issued by the provisional and regional police on Sunday and available with Dawn reads, "Tehreek-i-Taliban Pakistan has detailed a terrorist tashkeel [group] to Swabi and Nowshera from Marawara Markaz in Kumar province of Afghanistan. The tashkeel is likely to arrive in the area soon."
It adds that according to intelligence agencies, the "tashkeel" would merge with the one led by terrorist Izhar Shiraz and already present in Swabi.
"They (TTP) have planned to go for soft targets like polio team, traffic police wardens and security personnel," it read.
The letter also said the district police should take necessary precautionary measures against terrorist plans and arrest terrorists before sending the progress report to the provisional police chief officer by Thursday.
The local police claimed that they had undertaken numerous measures to foil terrorist plans.
They said district police officer Najamul Hussnain visited "strategic installations" and other key areas, checked security measures and directed officials to enhance security checks and remain alert.
PROTEST: Scores of people, including jirga members and leaders of political parties, on Monday demonstrated here against the police's failure to arrest the robbers of the house of District Bar Association general secretary Safdar Zeb.
They said DSP of Razaar tehsil Ayaz Mehmood had promised the arrest of robbers by Monday, but that hadn't happened.
DSP Ayaz told Dawn that the police had told jirga members to form a committee so that progress on the matter could be shared with it from time to time.
Source: Dawn
Please click the following URL to read the full text of the original story:
https://www.dawn.com/news/1726027/terror-alert-for-soft-targets-in-swabi-nowshera-issued
--------
Afghan govt apologised for shelling at Chaman border: Khawaja Asif
December 12, 2022
ISLAMABAD: Defence Minister Khawaja Asif said on Monday that the interim government in Kabul has apologised to Pakistan for firing by Afghan Border Forces on the civilian population in Balochistan's Chaman district a day earlier, clarifying that the "matter is now resolved".
At least seven people lost their lives and 16 others suffered injuries on Sunday in Chaman when it came under "unprovoked and indiscriminate" heavy gunfire and artillery shelling by Afghan border forces, according to the military's media affairs wing.
The incident has been widely condemned across the political divide in Pakistan.
Addressing the matter in a National Assembly session today, Asif said that the "provocation at Chaman was from the Afghan side".
"There was a portion of the fence damaged […] our people were repairing it […] they slammed the fence with a jeep […] they took the stand that the reparation work should have been referred in the border security committee.
"When the matter escalated, they opened fire. In the first round of fire, no casualties occurred. But later when they used heavy ammunition […] because of that five of our civilians were martyred and two passed away on the way to Quetta," he detailed.
In response, Asif said, Pakistan fired on the Afghan post which resulted in casualties of eight to nine Afghan soldiers.
"After that, the border security committee met again and it was agreed that Afghanistan was at fault […] we believe that there was no motive behind this […] there is no evidence of any planning behind the attack."
The minister revealed that the Afghan authorities had admitted their mistake and promised that such incidents won't happen in the future.
But speaker sahab, one thing is clear that the internal situation of Afghanistan is being reflected in its relations with Pakistan," Asif stressed.
He added that Pakistan was a well-wisher of Afghanistan and wanted the situation there to improve, promising that "we will fully cooperate for Afghan peace".
PM Shehbaz asks Afghan authorities to ensure such incidents are not repeated
Earlier today, Prime Minister Shehbaz Sharif strongly condemned the firing in the Chaman district and called on the Afghan government to ensure that such incidents were not repeated in the future.
In a tweet on Monday, the premier said the "unprovoked shelling and fire by Afghan Border Forces at Chaman, resulting in [the] martyrdom of several Pakistani citizens and injuring more than a dozen, is unfortunate and deserves the strongest condemnation".
"The Afghan Interim government should ensure that such incidents are not repeated," he added.
In a press conference later, the prime minister reiterated his condemnation of the incident and said he was summoning a meeting to review the situation.
Source: Pakistan Today
Please click the following URL to read the full text of the original story:
https://www.pakistantoday.com.pk/2022/12/12/afghan-govt-apologised-for-shelling-at-chaman-border-khawaja-asif/
--------
Pak-Afghan unity critical for regional peace, stability and development: Amb Shamshad A Khan
December 12, 2022
LAHORE: Pakistan's former Foreign Secretary Ambassador Shamshad Ahmad Khan has said that Pak-Afghan unity is critical to ensuring peace, stability, and development in the region and beyond.
He made these remarks in his speech delivered here at the Afghan Debating Competition organized by the Higher Education Commission (HEC) at the University of Lahore (UoL). The Competition was part of a series of initiatives HEC and UoL have planned to launch, with a view to not only bridging differences between Pakistan and Afghanistan but also letting Afghan students express themselves.
Bringing his vast experience of diplomacy and engagements with Afghanistan into play, the former ambassador said foreign powers have used both Afghanistan and Pakistan for their own vested interests, a reality which is too conspicuous to ignore. He added that the time is right for the youth to take charge and shape the collective future of both countries, arguing that one country cannot become prosperous at the expense of the other.
The Competition, which was in the works for a month, saw 68 Afghan recipients of the Allama Iqbal Scholarships submit their applications. Six Afghan students from Islamia College, Peshawar; Institute of Management Sciences, Peshawar; International Islamic University; The University of the Punjab; Quaid-i-Azam University; and University of Lahore delivered speeches on Allama Iqbal's philosophy, the importance of education to Pak-Afghan bilateral relations, and the prospect of healthier Pak-Afghan relations.
The judges, after careful deliberations, adjudged Muhammad Ibrahim from the Institute of Management Sciences, Peshawar as the best debater winning Rs.70,000. Bilal Ahmed Salarzai from Quaid-i-Azam University bagged the second position winning Rs. 50,000 and Naqibullah Mashwani from University of Lahore secured the 3rd position winning Rs.35,000.
Mr. Jehanzeb Khan, Project Director, Human Resource Development Division, HEC apprised the audience about the origin of the Allama Iqbal Scholarships which has reached out to a large cross-section of Afghan students bringing them to Pakistan.
The number currently stands at 6000 Afghan students studying in Pakistan in various disciplines including medical, engineering, sciences, and social sciences. Mr. Jehanzeb Khan stated that this was the first-ever Allama Iqbal Afghan Youth Debating Competition that was organized in a series of events planned for the Afghan students across Pakistan.
In her remarks, Ms. Ayesha Ikram, DG Scholarships, Human Resource Development Division, HEC praised the zest and energy with which all finalists presented their speeches. She encouraged Afghan students studying in various universities in Pakistan to develop synergies and foster positive bonds with their Pakistani fellows to enhance each other's cultural experiences.
She further reiterated HEC's support in solidifying the objectives of the Allama Iqbal Scholarships to bring together the younger generation of the two nations. In his closing remarks, Chairman, Board of Governors, University of Lahore, Mr. Awais Raoof, said Pakistan and Afghanistan are two parts of the same body.
Source: Pakistan Today
Please click the following URL to read the full text of the original story:
https://www.pakistantoday.com.pk/2022/12/12/pak-afghan-unity-critical-for-regional-peace-stability-and-development-amb-shamshad-a-khan/
--------
Firing at Pak-Afghan border: Secretary Health inquires about injured well-being
December 12, 2022
QUETTA: Balochistan Secretary Health Saleh Muhammad Nasir on Monday visited Trauma Center of Civil Hospital, here, and inquired after the health of those who got injured in an unprovoked firing and shelling at Pak-Afghan border near Chaman area of Balochistan.
He also directed to provide the best medical facilities to injured patients and expressed his best wishes and their full recovery.
Secretary Saleh Mohammad Nasir expressed his anger over the poor sanitation situation during his visit and sought the response of the in-charge trauma center on the deteriorating sanitation situation.
He also issued orders to improve and ensure the cleaning system of Civil Hospital Quetta in charge of the trauma center saying sanitation was important for the health of patients.
"It is necessary to continue the cleaning system 24 hours a day in the largest trauma center civil hospital of the province, negligence in duties cannot be tolerated," he warned.
He said that all possible resources would be used to provide quality treatment facilities to the people, saying that the provincial government was paying special attention on government-run hospitals in order to provide health facilities to people in hospitals.
Source: Pakistan Today
Please click the following URL to read the full text of the original story:
https://www.pakistantoday.com.pk/2022/12/12/firing-at-pak-aghan-border-secretary-health-inquires-about-injured-well-being/
--------
Southeast Asia
Religion Is a Part of Malay-Muslim Community's Political Philosophy; Secularism has No Place, Says Bersatu MP
December 13, 2022
PETALING JAYA: When it comes to politics in the Malay-Muslim community, one cannot separate religion from it, says a Bersatu leader.
Bersatu Youth chief Wan Ahmad Fayhsal Wan Ahmad Kamal said this is because religion is part and parcel of the Malay-Muslim community's political philosophy.
"In the Quran and Prophetic sayings, there are many references to that. So one cannot be secular in our approach when campaigning," he said in an interview with BFM.
He was asked if Perikatan Nasional (PN) would be reducing its racial and religious rhetoric when campaigning for the coming state elections.
Asked why Bersatu has remained silent on previous racially inflammatory remarks made by PAS president Abdul Hadi Awang, Wan Fayhsal said Hadi's comments had been addressed internally.
"We did discuss this in our meetings. We corrected them (PAS).
"Bersatu being one of the components of PN, we tried our best to moderate things so that at least the people know that we are for building a multiracial nation," he said.
In August, Hadi drew brickbats for stating that non-Muslims and non-Bumiputeras were at the root of corruption. He also wrote a Facebook posting that put the focus on non-Muslims and non-Bumiputeras as being the majority involved in corruption.
Following that, PAS central committee member Zuhdi Marzuki defended Hadi's statement by citing a survey by an unnamed local university which found that 88% of 449 people who were convicted of giving bribes between 2010 and 2014 were non-Malays.
Zuhdi said that of the total percentage, 57.46% were Chinese, 30.51% were Indians and 12.03% were Malays.
Wan Fayhsal noted that although Hadi's remark was based on an academic study, he did not personally agree with the generalisation, adding that the study's sampling may have been problematic.
Source: Free Malaysia Today
Please click the following URL to read the full text of the original story:
https://www.freemalaysiatoday.com/category/nation/2022/12/13/secularism-has-no-place-in-malay-muslim-politics-says-mp/
--------
Check covert conversions, says rights group
December 10, 2022
PETALING JAYA: The Global Human Rights Foundation (GHRF) has urged the government to create an independent body to oversee conversions to Islam, especially those carried out covertly.
In conjunction with Human Rights Day, its president S Shashi Kumar said strict laws and guidelines had to be drafted and enforced to avoid conversions from being done covertly.
"Prime Minister Anwar Ibrahim must also look into taking stern action against those performing unilateral conversions of underage children, which is morally and religiously incorrect.
"GHRF hopes the unity government will combat issues pertaining to racism, fanaticism, extremism, discrimination, double standard law enforcement, supremacist policies and religious persecutions," he said in a statement.
Shashi also urged the government to table a Racial and Religious Hatred Bill in Parliament as this would allow those making any statement deemed as hate speech to be prosecuted.
In August, the High Court granted single mother Loh Siew Hong leave to commence a judicial review application, as she seeks a declaration that her former husband was legally unfit to convert their children to Islam.
Loh is also seeking a declaration that a provision in the Perlis state enactment that allows a parent to unilaterally convert minor children is unconstitutional.
She also wants a declaration that her twin daughters and her son are of Hindu faith and are legally incapable of embracing Islam without her consent.
Source: Free Malaysia Today
Please click the following URL to read the full text of the original story:
https://www.freemalaysiatoday.com/category/nation/2022/12/10/check-covert-conversions-says-rights-group/
--------
Arab World
Sheikh Mohammed approves Phase II of Dubai 2040 Urban Master Plan
12 December ,2022
Sheikh Mohammed bin Rashid Al Maktoum, Vice President and Prime Minister of the UAE and Ruler of Dubai, has on Monday approved the second phase of the Dubai 2040 Urban Master Plan.
Phase II of the plan consists of several projects under 10 key initiatives, including Enhancing Urban Centers, Dubai Real Estate Strategy, Urban Farming Plan, Preserving Urban Heritage Plan, Developing the 20-Minute City Policy, and the Pedestrian Network Master Plan, according to a press release by Dubai Media Office.
For the latest headlines, follow our Google News channel online or via the app.
The Dubai Ruler also reviewed the progress of 17 projects and initiatives that were part of the initial phase of the Dubai 2040 Urban Master Plan.
Sheikh Mohammed bin Rashid said: "Today, we have a clear vision for the development of Dubai's urban infrastructure and housing sector until 2040. Our goal is for Dubai to be an eco- and pedestrian-friendly city, and a city with a high yield from urban agriculture."
Phase II of Dubai 2040
Sheikh Mohammed bin Rashid Al Maktoum was briefed by Mattar Al Tayer, Commissioner General for Infrastructure, Urban Planning and Well-Being Pillar, and Chair of the Supreme Committee of Urban Planning in Dubai, on the key projects of Phase II of the Dubai 2040 Urban Master Plan. The new phase includes an integrated plan for developing five main urban centers (three existing and two new centers) in Dubai.
The plan also prescribes a comprehensive strategy for Dubai's real estate sector up to 2040 to align it with the requirements of the Master Plan and strike a balance between supply and demand. It calls for proactive initiatives to manage opportunities and changes in the real estate market, achieve sustainable urban development, and boost investor confidence.
The second phase of the Dubai 2040 Urban Master Plan includes a framework for high-yield agriculture and farming by identifying suitable locations and developing the infrastructure and facilities required to ensure food security.
Phase II also outlines plans for preserving urban heritage to enhance the emirate's identity, promote historical areas, landmarks and buildings, and improve the tourism experience at archaeological sites.
The master plan also calls for developing a 20-minute city where residents can reach their destinations within a 20-minute timeframe on foot or by bicycle. The project involves developing integrated service centers with all the necessary facilities and increasing the population density around mass transit stations, allowing residents access to 80 percent of their daily needs and destinations within 20 minutes.
Additionally, a plan will be developed to enhance and utilize urban spaces, such as alleyways, spaces underneath bridges, and squares, by augmenting the elements of well-being to make them attractive and relaxing for residents and visitors. The initiative contributes to enriching the beauty of urban areas, developing green corridors, reducing the carbon footprint, and enhancing the landscaping strategy. A comprehensive plan for pedestrians and soft mobility across Dubai will focus on connected pathways in high-density areas.
Phase II of the master plan involves developing an avenue for all residential neighbourhoods. It entails defining an area within the residential neighbourhoods and developing it under the principle of integrated street network where facilities and services are focused on catering to the residents' needs. This initiative enhances well-being, supports soft mobility, and reduces travel time within Dubai.
Achievements and accomplishments
Sheikh Mohammed bin Rashid Al Maktoum was also briefed by Al Tayer about the 17 projects that have been completed or are nearing completion. With the support and follow-up of Dubai's leadership, the Supreme Committee of Urban Planning in Dubai completed six projects, including Dubai's National Housing Policy. As part of the policy, a historic housing budget of $ 17.7 billion (Dh.65 billion) was allocated for housing citizens in Dubai, doubling the number of beneficiaries of Dubai's housing programme. The area of the land plots allocated for housing nationals in Dubai also doubled, reaching 1.7 million sq. feet.
Among the completed projects was the launch of the Hatta Development Master Plan to enhance well-being. The plan aims to offer investment opportunities to local residents, support local tourism, attract investments, strengthen partnerships with the private sector, preserve heritage and nature, and promote tourism in Hatta.
The completed initiatives also included drafting the Urban Planning Law and developing an integrated planning database to support sustainable development in line with the emirate's plans. The initiatives also included the Dubai Countryside and Rural Areas Development Master Plan, which intends to preserve the nature of those areas and serve the needs of residents and visitors. The plan aims to enhance the well-being of residents and visitors besides providing a unique tourist experience and developing Dubai's countryside as one of its main tourist attractions.
The Supreme Committee of Urban Planning aims to conclude another five projects by the end of this year, including a project to increase the size of Dubai's public beaches and develop a draft of the Dubai Wellbeing Strategy.
The projects that will be completed next year include preparing a plan for integrating land uses and transport policies, landscaping policy, directing development in coastal areas and increasing the length of beaches, doubling the public parks and recreational areas, developing a sustainable mobility plan, and environment and sustainability plan.
The Best City for Living
The Dubai 2040 Urban Master Plan, approved by Sheikh Mohammed bin Rashid Al Maktoum in March 2021, aims to make Dubai the world's best city for living.
Accordingly, the city's urban infrastructure is set to be further modernized, with the development focused on five major urban centres. The existing urban centres include Deira and Bur Dubai, historical areas that include museums, traditional and popular markets, and historical residential areas that highlight the emirate's tradition and heritage. The economic and trade centre of the city comprises the Dubai International Financial Centre, Sheikh Zayed Road, Business Bay, and Downtown, and serves various business and financial activities. The tourism and entertainment hub includes Dubai Marina and Jumeirah Lakes Towers and serves various economic and tourism activities.
The two new centers include Expo 2020 Centre, an economic and growth hotspot featuring affordable housing and a focal point for the exhibitions, tourism, and logistics sectors; and Dubai Silicon Oasis Centre, a science and technology and knowledge hub that drives innovation, digital economy development, and talent generation.
The new Master Plan defines an integrated approach to the development of the urban centres by providing equitable access to facilities, services, and opportunities across the city for all residents. The plan identifies six urbanization levels that follow a graded structure of urban centers of mixed uses and densities that perform specific residential and functional roles for the community within the scope of their services.
Source: Al Arabiya
Please click the following URL to read the full text of the original story:
https://english.alarabiya.net/News/gulf/2022/12/12/Sheikh-Mohammed-approves-Phase-II-of-Dubai-2040-Urban-Master-Plan
--------
Morocco's World Cup achievement lauded by Saudi crown prince
December 12, 2022
RIYADH: Saudi Arabia's Crown Prince Mohammed bin Salman has sent his best wishes to the Moroccan team after they became the first African nation to make it to the last four of a World Cup.
The Arab team will play France on Wednesday for a place in the World Cup Final in Qatar against either Argentina or Croatia.
Morocco booked their place in the showdown following their historic 1-0 victory over Portugal on Saturday.
And during a telephone call with King Mohammed VI on Monday, the crown prince said the team's achievement was guaranteed to make every Arab happy.
Source: Arab News
Please click the following URL to read the full text of the original story:
https://www.arabnews.com/node/2215121/saudi-arabia
--------
Türkiye 'neutralizes' 3 YPG/PKK terrorists in northern Syria
Merve Aydogan
12.12.2022
Turkish forces "neutralized" three YPG/PKK terrorists in northern Syria, the National Defense Ministry said on Monday.
The terrorists were plotting an attack on the Operation Peace Spring zone, the ministry said in a statement.
Turkish authorities use the term "neutralize" to imply the terrorists in question surrendered or were killed or captured.
Since 2016, Ankara has launched a trio of successful anti-terror operations across its border in northern Syria to prevent the formation of a terror corridor and enable the peaceful settlement of residents: Euphrates Shield (2016), Olive Branch (2018), and Peace Spring (2019).
Source: Anadolu Agency
Please click the following URL to read the full text of the original story:
https://www.aa.com.tr/en/middle-east/turkiye-neutralizes-3-ypg-pkk-terrorists-in-northern-syria/2761562
--------
Saudi crown prince, BIE head review Kingdom's bid to host Expo 2030
December 12, 2022
RIYADH: Saudi Arabia's Crown Prince Mohammed bin Salman received the Secretary-General of the Bureau International des Expositions Dimitri Kerkentzes in Riyadh on Monday.
During the meeting, Prince Mohammed and Kerkentzes discussed the Kingdom's bid to host World Expo 2030 in Riyadh.
Saudi Arabia's proposed theme for the expo should the Kingdom's bid prove successful is "The Era of Change: Together for a Foresighted Tomorrow."
Source: Arab News
Please click the following URL to read the full text of the original story:
https://www.arabnews.com/node/2215021/saudi-arabia
--------
Dubai property tycoon's bet on fast food cements billionaire status
12 December ,2022
Mohamed Alabbar is best known as the founder of a Dubai real estate firm that built the world's tallest skyscraper, but it's an investment in fast food that propelled him into the leagues of the region's richest businessmen.
Americana Restaurants, the Middle East operator of KFC and Pizza Hut, is now worth $6.24 billion — well above the $3.5 billion it was valued at when it was taken private in 2017 — after pulling off the region's first dual listing. Investors flocked to the IPO with $105 billion of orders, and the stock surged 13 percent in Abu Dhabi on Monday before closing 7.6 percent higher.
Alabbar is set to net $900 million from Americana's IPO and his remaining stake is now valued at $1.98 billion, based on the offer price. That makes the tycoon one of the UAE's richest private residents with a fortune of $1.3 billion, according to the Bloomberg Billionaires Index, after accounting for prior transactions including his initial purchase of Americana. There's a chance Alabbar was a billionaire before but through assets that are opaque and hard to value.
"It's not about the money for me. I'm just doing it for fun," Alabbar told Bloomberg in an interview, declining to comment on his net worth. "I don't even like to wear an expensive watch."
The billionaire hasn't decided what he's going to do with his windfall just yet. "I'm speaking with a bunch of people, but I'm not going to go far away from my traditional businesses," he said. "I'll do businesses that I know."
Alabbar's fortunes are closely intertwined with Dubai — the city where he was born and helped transform into a major commercial center. His entry into the 10-figure club comes as the economy booms again, drawing in everyone from bankers and hedge funds to crypto enthusiasts.
Dubai has become a haven for those escaping the conflict in Ukraine or Covid lockdowns elsewhere. To capitalize on this influx, authorities introduced a raft of measures aimed at making the city more attractive for its traditionally transient expatriate workforce.
The improving outlook has pushed real estate prices to record highs and boosted the tourism industry, with millions of visitors flocking to the emirate's beaches and cavernous malls. New developments are selling out quickly and revenue at developers, including Emaar Properties PJSC has soared.
Crucially for Alabbar, the Middle East has also emerged as a hub for initial public offerings, buoyed by rising oil prices and investor inflows at the start of the year. More than $20 billion has been raised so far from share sales, putting the region on course for its second-best year on record — eclipsed only by 2019, which saw Aramco's $29.4 billion IPO, data compiled by Bloomberg show.
Americana joined this rush, with Alabbar and Saudi Arabia's Public Investment Fund selling a 30 percent stake. The business has rebounded from the pandemic, generating $2 billion in revenue for the year ended Dec. 2021 — up 8.5 percent from 2019 — and a profit margin of 9.9 percent.
In its IPO prospectus, the firm outlined a strategy to double its revenue and grow profitability in the medium term, pointing to rising disposable incomes in its markets and a growing addressable population — over 270 million, 78 percent under the age of 45.
Diversification
A fan of cigars and endurance horse racing, Alabbar, 66, started his empire with real estate in 1997. He founded Emaar, a firm that arguably kick-started Dubai's property revolution and whose imprint on the city is visible almost everywhere.
Alongside the world's tallest tower — the 830-meter high Burj Khalifa, where apartments sell for up to $4 million — Emaar developed vast swathes of residential areas and constructed towers emblazoned with the company's name. Betting that residents would flock to malls in Dubai's sweltering summer months, Alabbar also built the world's biggest mall — complete with a giant aquarium.
Alabbar's current holding in Emaar Properties is worth about $4.6 million, according to Bloomberg calculations. The Dubai government continues to own a large chunk of the developer, but it's unclear how much.
Along the way Alabbar diversified away from real estate, which he once called a "dumb business. In addition to Americana, he set up Noon.com — the region's answer to Amazon.com Inc. — alongside Saudi Arabia's PIF.
Noon is currently loss-making, but the billionaire sees room for growth. "The numbers are looking good, he said. "Provided the world is stable enough perhaps in two years myself and my other shareholders probably could think about an IPO."
Alabbar owns 50 percent of Noon and the other half is owned by the Saudi wealth fund. The two have a long-standing partnership, though they aren't planning any new deals at this stage. "I think with the way the relationship is going we can do more together," he said.
Sleepy port town
Alabbar's rise to prominence has been a long time in the making. When he was born in 1950s, Dubai was a world away from the skyscraper-studded business hub it is today. A sleepy port town, where many houses lacked running water, its airport — today the world's busiest for international travel — was yet to be built.
The son of a dhow captain, Alabbar went to college in Seattle, becoming the first from his family to get a university education. He later worked in Singapore, a city widely considered a model for modern Dubai and took on several government roles on his return to the emirate, playing a key role in transforming it into a global hub.
Among initiatives to attract tourists and boost the emirate's reputation, he set up a shopping festival, a golf tournament and the Dubai World Trade center that served as a magnet for international conferences. In doing so, he became one of Dubai ruler Sheikh Mohammed bin Rashid Al Maktoum's most trusted technocrats.
"In Singapore, everyday there was something on city development (in the newspaper)," he said. Back in Dubai, he raised $300 million to start a development company and when word spread, Sheikh Mohammed called him from a camel race to say the government would invest in the new firm, Emaar.
Biggest mistake
It hasn't all been smooth sailing, though.
A decade after Emaar was set up, Dubai and Alabbar faced their biggest challenge when the global financial crisis caught up with the emirate and nearly brought down its real estate market, forcing a bailout from neighboring emirate Abu Dhabi.
"We were reasonable on debt and we managed our cash flow very well," Alabbar said. "So when the crisis hit 2008 — even though sales were a disaster, profitability was a disaster, we didn't involve the government at all."
For a while, it seemed like Alabbar's fortunes had turned. He was removed from the board of the Investment Corporation of Dubai, the emirate's main holding company, in 2009, just weeks before Burj Khalifa was inaugurated, and replaced by a new crop of officials.
Meanwhile, Alabbar lost $100 million in a venture into African mining, though he enjoyed traveling across the continent, calling it enriching. "It was going ok without much trouble, but then Ebola hit," he said. "It destroyed everything."
And a venture into US property in 2005 — which he calls his biggest mistake — also ended in disaster. "I was emotional about buying in the US and soon after the crisis hit us, he told Bloomberg."
But as Dubai started to recover, so did Alabbar's empire. Emaar listed two subsidiaries on the local stock market and in 2016, Alabbar announced one of his most ambitious projects: a tower even taller than the Burj Khalifa.
As often happens with Dubai's boom-and-bust cycles, lower oil prices meant that Dubai's star waned again. Trading on the local stock market was lackluster and real estate prices edged lower. Then Covid came and hit Dubai as a trade and tourism hub especially hard.
Emaar's mall operator was delisted and the plans to build the world's tallest tower were put on ice. Spending $2.5 billion on a new tower, as a public company at a time of so much political uncertainty in the world is questionable, Alabbar said.
Source: Al Arabiya
Please click the following URL to read the full text of the original story:
https://english.alarabiya.net/business/markets/2022/12/12/Dubai-property-tycoon-s-bet-on-fast-food-cements-billionaire-status
--------
Africa
3 gunmen killed in attack on office of Nigeria's electoral body
Ibrahim Garba Shuaibu
13.12.2022
KANO, Nigeria
Gunmen launched an attack Monday on the office of Nigeria's Independent National Electoral Commission (INEC) and three of the attackers were killed, according to police.
Speaking by phone to Anadolu Agency, Imo state police spokesman Michael Abbatam confirmed the incident in the capital Owerri.
"Gunmen launched an attack on the INEC office in Owerri, Imo state, but the joint security team was able to repel them and killed three of the attackers," said Abbatam.
He declined to provide the identities of the gunmen, but sources in the state said under anonymity that the attackers were believed to be members of a separatist group.
Police said the electoral commission's office was damaged during the attack by a firebomb and two firebombs were recovered from the scene.
No arrests were made, according to Abbatam.
A number of weapons were recovered including AK-47 rifles and pump-action guns as well as eight vehicles.
Abbatam confirmed that many of the gunmen escaped with bullet wounds, but they managed to torch one police vehicle.
Last week, an INEC office in the Orlu local government area of the state was attacked by gunmen.
Source: Anadolu Agency
Please click the following URL to read the full text of the original story:
https://www.aa.com.tr/en/africa/3-gunmen-killed-in-attack-on-office-of-nigeria-s-electoral-body/2762182
--------
Violence, insecurity overshadow Nigeria's hotly contested polls
Ekip
11.12.2022
ABUJA, Nigeria
Nigeria's quest to conduct credible and peaceful elections next year is overshadowed by violence and threats of insecurity partly caused by a combination of desperation by politicians and existing security challenges in most parts of the country.
Attacks during political rallies have increased in recent times. Mid-November, the convoy of the opposition's People's Democratic Party (PDP) presidential candidate, Atiku Abubakar, was attacked by suspected hoodlums in Maiduguri, a northeast city believed to be a stronghold of the ruling party, All Progressive Congress (APC) shortly after his campaign rally.
A similar situation occurred the same week as some hoodlums also petted Ahmed Tinubu, APC presidential candidate, at the launch of his campaigns in Kano, the northwest city.
Nigerians are worried if they will be able to vote due to security concerns, especially with existing terrorist threats, banditry, violence from separatists' agitations and other security challenges.
"My family members and I will stay off from the polling centers if this violence persists. It is frightening now," 70 years old Abdul-Gafar Olagoke told Anadolu Agency from his southwest Osogbo town.
Incessant clashes among supporters of the leading political parties have ascerbated tension in the area, Olagoke said.
Rejoice Onuoha, an undergraduate 20, is unhappy her first opportunity to vote in her life may be truncated by security threats. She said she could not vote in 2019 because she did not meet the 18 years voting age prescribed by the country's electoral law.
"I was looking forward to exercising my voting right next year for the first time in my life, but I'm scared at the spate of violence, killings, especially in my state Anambra," she told Anadolu Agency.
More violent attacks and killings were reported in southeast Anambra State last week. Likewise, the office of the national electoral commission in Imo State, same region, was vandalized. Police blamed the separatist agitation group, Indigenous People of Bifra (IPOB), for the attacks though the group is yet to claim responsibility.
- Authority React
Authority said it is concerned about the increasing violence, asking politicians to caution their supporters and abide by the rule.
National Security Adviser, Babagana Monguno, said 52 political violence were recorded in 22 states between early October and November.
"This development is bad and must stop. The president has ordered that it must stop," Monguno said in the capital, Abuja.
He said President Muhammadu Buhari has given a directive to all security agencies to ensure the 2023 election is held in an "atmosphere devoid of rancour."
- Violence distracting the election process
At least seven offices of the Independent National Electoral Commission (INEC) with election equipment and materials in five states have either been burnt or vandalized by hoodlums since October.
Festus Okoye, a spokesman for the commission, said the violence could affect the next poll if it persists.
"The commission will replace the destroyed facilities before the election, but it may be difficult to replace them if attacks occur close to the election next year," he explained.
Though he said the electoral body was in "close talks" with security agencies to secure election facilities, the civil society group believes these attacks are a target by politicians to distract the election process.
Head Partners for Electoral Reform in Nigeria, Ezenwa Nwagwu, blamed politicians for using violence rather than engaging with the electorates and civil societies on their manifesto.
"We need civic organizations and groups to set the agenda by inviting politicians to their platforms for meaningful exchanges that can be tracked afterward," he told Anadolu Agency in Abuja.
Nigerians say next year's election is critical to them. They express a strong desire to elect a new set of leaders in 30 of the 36 states of the federation and president to tackle increasing security problems, inflation, high cost of living and poverty.
A survey released recently by the national bureau of statistics (NBS) indicated 130 million Nigerians of the over 200 million population are "multi-dimensionally poor," a sharp rise from 83 million people living below the poverty line three years ago (2019).
Patrick Utomi, a professor of political economy and management, insists a new leader should have the capacity to dissect and provide short and long-term to the country's currency.
"Nigerians must elect a leader who has the capacity to analyze our current predicament but first, must address security because the economy cannot grow in an unsecured environment," he declared.
A security expert and ex-army spokesman, Sani Usman, said patriotic Nigerians are worried about the escalation of political violence because of the implications on national security.
The retired army general advocated for the strengthening of intelligence by the security agencies to improve the protection of election facilities and the people.
Meanwhile, some Nigerians think there is nothing unusual about the increasing violence ahead of next year's poll. One such is Umaru Pate, a leading professor of media and society in the country and University Vice-Chancellor.
Pate recalled in an interview with Anadolu Agency that a similar situation occurred in some parts of the country in 2015 and 2019.
"Some parts of the northeast were under Boko Haram terrorists in 2015, yet people were brought out of these areas to vote. I believe things will get better," he maintained but asked politicians to engage more with the people.
Source: Anadolu Agency
Please click the following URL to read the full text of the original story:
https://www.aa.com.tr/en/africa/violence-insecurity-overshadow-nigerias-hotly-contested-polls/2760747
--------
Libyan accused of Lockerbie bombing charged in US court
December 13, 2022
WASHINGTON: An alleged former Libyan intelligence agent accused of making the bomb that blew up a Pan Am jet over Scotland in 1988, killing 270 people, appeared in a US court Monday to face charges for the deadliest-ever terror attack in Britain.
Abu Agila Mohammad Masud Kheir Al-Marimi, who allegedly worked as an intelligence operative for the regime of Libyan dictator Muammar Qaddafi between 1973 and 2011, faces three counts related to the Lockerbie bombing.
Federal prosecutors said they did not intend to seek the death penalty but Masud could face life in prison if convicted of "destruction of an aircraft resulting in death" and two other related charges.
The judge presiding over the hearing in a US District Court in Washington read the 71-year-old Masud the charges and his rights before ordering him held without bond until a detention hearing on December 27.
The balding and white-bearded Masud was provided with an Arabic interpreter for the hearing, his first court appearance since being brought to the United States.
Scottish prosecutors announced Sunday that the Tunisian-born Masud was in American hands, but officials have not provided any details on how he had been transferred to US custody.
"Yesterday, the United States lawfully took custody of Abu Agila Mohammad Masud Kheir Al-Marimi and brought him to the United States," Homeland Security adviser Liz Sherwood-Randall said in a statement.
"This action underscores the Biden Administration's unwavering commitment to enforcing the rule of law and holding accountable those who inflict harm on Americans in acts of terrorism," she added.
US Attorney General Merrick Garland said Masud's arrest was "an important step forward in our mission to honor the victims and pursue justice on behalf of their loved ones.
"American and Scottish law enforcement have worked tirelessly to identify, find, and bring to justice the perpetrators of this horrific attack," Garland said.
Only one person has been convicted for the December 21, 1988 bombing of Pan Am Flight 103.
The New York-bound aircraft was blown up 38 minutes after it took off from London, sending the main fuselage plunging to the ground in the town of Lockerbie and spreading debris over a vast area.
The bombing killed all 259 people on the jumbo jet, including 190 Americans, and 11 people on the ground.
Two alleged Libyan intelligence operatives — Abdelbaset Ali Mohmet Al-Megrahi and Al Amin Khalifa Fhimah — were charged with the bombing and tried by a Scottish court in the Netherlands.
Megrahi spent seven years in a Scottish prison after his conviction in 2001 while Fhimah was acquitted.
Megrahi died in Libya in 2012, always maintaining his innocence.
His family lodged a bid for a posthumous appeal to clear his name in 2017, but Scotland's High Court upheld his conviction in 2021.
Masud's fate has been tied up in the warring factionalism of Libyan politics that followed Qaddafi's ouster and death in 2011.
Masud was reportedly imprisoned in Libya for his alleged involvement in attacks on Libyan opposition figures in 2011.
According to a September 2015 article in The New Yorker, Masud was sentenced that year to 10 years in prison in Libya after being accused of using remote-detonated bombs against Libyan opposition members in 2011.
The Lockerbie probe was relaunched in 2016 when Washington learned of Masud's arrest and his reported confession of involvement to the new Libyan regime in 2012.
According to an affidavit from an FBI agent involved in the probe, Masud worked as a "technical expert" for Libya's External Security Organization, building explosive devices and earning the rank of colonel.
Masud confessed in a 2012 interview with a Libyan law enforcement officer to assembling the bomb that brought down Flight 103, the affidavit said.
"Masud confirmed that the bombing operation of Pan Am Flight 103 was ordered by Libyan intelligence leadership," it said.
"Masud confirmed that after the operation, Qaddafi thanked him and other members of the team for their successful attack on the United States."
According to the FBI agent's affidavit, Masud also admitted to committing the April 1986 bombing of the LaBelle Discotheque in Berlin which killed two US service members and a Turkish woman.
In a statement US Secretary of State Antony Blinken thanked those who helped bring Masud into US custody "following an intensive diplomatic effort."
Source: Arab News
Please click the following URL to read the full text of the original story:
https://www.arabnews.com/node/2215231/world
--------
North America
Imam Allegedly Assaulted During Prayers at Scarborough Mosque: Islamic Foundation Of Toronto
By Dilshad Burman
Dec 12, 2022
The Islamic Foundation of Toronto (IFT) says a man assaulted their Imam during morning prayers on Monday.
Imam Yusuf Badat told CityNews 680 that the incident happened during Fajr prayers offered before sunrise.
He said a man walked to the front of the congregation and began yelling in a language he did not recognize and then grabbed his beard. Two congregants restrained the man and held him until police arrived.
Badat said the man has been arrested and police have banned him from returning to the mosque.
In a statement, IFT president Syed Akbar Warsi said the community is "deeply troubled" by the incident and that it is understandable that many are concerned.
"We must stress, however, that we simply do not have enough information to assess what led to this incident: while we encourage Toronto Police Service to keep all avenues of investigation open, including potential hate motivation, we encourage our community not to speculate about potential motivation until the investigation has been concluded."
He said no further comments will be made at this time.
Toronto police confirm they received an "assault in progress" call at 7 a.m. in 42 Division.
"Our investigation is underway & we are in close contact with community leadership. Toronto Police investigates all potential hate crimes fully," they said on Twitter.
MPP Michael Ford expressed his concern in a tweet, saying "everyone has the right to feel safe in their places of worship."
Additional security measures have been put into place at the mosque for the safety of the congregation.
In thoughts shared in the aftermath of the incident later in the day, Badat stressed the need for security and self-defense.
"We can no longer simply rely on authorities to keep us safe," he said in a written statement. "We must have our own training, security and safety apparatus in place."
Earlier in that day, Badat said that he will not pursue any charges if police find the man to have mental health issues.
In his statement he emphasized that mental health is a serious issue and that those who need supports should have access to them.
Source: Toronto City News
Please click the following URL to read the full text of the original story:
https://toronto.citynews.ca/2022/12/12/imam-alleged-assault-scarborough-mosque/
--------
US says Iran executions show leadership 'fears own people'
13 December ,2022
The US on Monday denounced Iran's second execution over ongoing protests, saying the latest killing, carried out in public, showed the clerical leadership feared its own people.
"We denounce this draconian treatment in the strongest terms," State Department spokesman Ned Price told reporters.
"These harsh sentences, and now the first public execution at least, are meant to intimidate Iran's people, they're meant to suppress dissent and they simply just underscore how much the Iranian leadership actually fears its own people," he said.
At the United Nations, spokesman Stephane Dujarric called for a halt to executions, saying "there's no place for capital punishment."
Secretary-General Antonio Guterres "believed that the circumstances of this were particularly cruel," Dujarric said.
Majidreza Rahnavard, 23, had been sentenced to death by a court in the city of Mashhad for killing two members of the security forces with a knife, and wounding four other people, the judiciary's Mizan Online news agency reported.
Source: Al Arabiya
Please click the following URL to read the full text of the original story:
https://english.alarabiya.net/News/middle-east/2022/12/13/US-says-Iran-executions-show-leadership-fears-own-people-
--------
'Bad American policy' driving Saudi Arabia closer to China: Pompeo
12 December 2022
Former Secretary of State Mike Pompeo says Chinese President Xi Jinping's recent visit to Saudi Arabia, signaling a warming of relations at a time of heightened tensions between the United States and both countries, was a result of "bad American policy."
The Chinese leader was welcomed in Saudi Arabia with pomp and glory last week-- a landmark trip that stood in sharp contrast to the lukewarm welcome US President Joe Biden received when he visited the kingdom early this year.
Speaking to "FOX News Sunday," Pompeo blamed the flawed policy of the Biden administration for antagonizing Saudi Arabia, a traditional US ally in the Middle East, and causing it to hedge its relationship with Washington.
"When you won't be partners with your friends and your allies, and you offend them, and you simply won't do anything to push back against your adversaries, like Xi Jinping, you see exactly this kind of hedging behavior," Pompeo said.
In a jab at the administration of former President Donald Trump, who had aligned his Middle East policy closely with Saudi Arabia, Biden had promised, on the campaign trail, to treat the kingdom like a "pariah" on the international stage. Relations between the two allies deteriorated during Biden's presidency over oil production, human rights and other issues.
While alienating Saudi Arabia, Pompeo said, the Biden administration has also gone "soft on China," which he said the former administration had recognized as the "singular greatest external threat" to the United States.
"When you do those things, you will hurt the American people all across this country. And what you saw happen in the Kingdom this week is a direct result of bad American policy," he said.
"You've got to stick with friends, you got to stay with your partners, and you must push back against your adversaries, or your friends will begin to hedge. Right, they'll go make friendships to protect themselves if they can't count on America to be a good partner and friend around the world," the former diplomat added.
By the end of Xi's three-day visit to Saudi Arabia on Friday, the two sides had signed more than 40 agreements, including a memorandum of understanding between Saudi Aramco and China's Shandong Energy Group to explore ways to cooperate on oil refining and explore petrochemical opportunities in China.
According to a joint statement published by the Saudi media, Riyadh and Beijing were keen to stress "the importance of stability in the world oil markets," noting that Saudi Arabia is a reliable exporter of crude oil to its Chinese partner.
Source: Press TV
Please click the following URL to read the full text of the original story:
https://www.presstv.ir/Detail/2022/12/12/694346/Pompeo-US-bad-policy-Saudi-China-
--------
URL: https://newageislam.com/islamic-world-news/hate-muslims-greater-manchester-mosque-pig/d/128622
New Age Islam, Islam Online, Islamic Website, African Muslim News, Arab World News, South Asia News, Indian Muslim News, World Muslim News, Women in Islam, Islamic Feminism, Arab Women, Women In Arab, Islamophobia in America, Muslim Women in West, Islam Women and Feminism