New Age Islam News Bureau
15 Feb 2017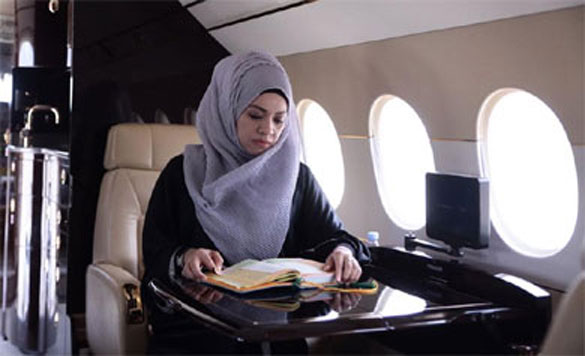 The first class is scheduled to start in May. — Picture courtesy of Elite
----
• Over 70 Terrorists Killed in Intensified Clashes between Rival Groups in Idlib
• At RM33, 000 an Hour, Mile-High Quran Classes Get 100 Takers
• Four Indian Hindu-Muslim Couples across Four Generations Tell Us How Love Is A Fight They Didn't Give Up On
North America
• Harvard, Yale and Stanford Sue Donald Trump over His 'Muslim Travel Ban'
• Washington Does U-Turn In Palestinian Two-State Solution
• Jews gather at rallies across US urging support for refugees
• Trump will have strong ties with India, Indian-Americans: Shah
• US Muslim groups refuse funds from US Government
• PM Trudeau Attempting to Codify Absurdity, That Islamic Terrorism Has Nothing to Do with Islam
• Canadian Muslims denied entry to the U.S. after Arabic videos found on phone
• Poster calling for a 'Muslim-Free America' found at Rutgers University
--------
Arab World
• Over 70 Terrorists Killed in Intensified Clashes between Rival Groups in Idlib
• S. Arabia Recruits 350 Comorian Militias for Yemen War
• Hundreds of Terrorists Killed, Wounded in Failed Attacks on Syrian Army Positions in Dara'a
• Syrian Army Scores More Victories against ISIL in Eastern Aleppo
• Deir Ezzur: Unidentified Invaders Steal Entire Arms, Munitions from Largest ISIL Depot
• Iraq hits Daesh commanders, Baghdadi fate unclear: statement
• Russia strikes Syria after 'Death over Humiliation' rebel battle
• Aoun, Hariri's Hezbollah comments lay bare Lebanon's political divide
• Bahrain's al-Wefaq slams regime violence, urges more protests
• Source: Terrorists' Attacks against Dara'a Ordered by Persian Gulf Arab States
--------
Southeast Asia
• At RM33, 000 an Hour, Mile-High Quran Classes Get 100 Takers
• Is It Okay For A Christian To Govern Muslims? An Indonesian Election Turns On That Question
• New party won't cut ties with DAP to work with Islamist party PAS: Mahathir
• Tolerance test as Muslim Indonesia's capital votes
• GLAZOV: Why Islamists and the Radical Left Loathe Valentine's Day
--------
India
• Four Indian Hindu-Muslim Couples across Four Generations Tell Us How Love Is A Fight They Didn't Give Up On
• ISIS 'Supporter' Had Mobilised Funds from India, China: Police
• Triple Talaq: Would Deal With Only Legal Aspect, Says Sc
• Indian-Origin NASA Scientist Detained, Forced To Unlock Phone at US Border
• India gets seat at Afghanistan meet, but will plough a lonely furrow
• Prime Minister Narendra Modi asks British MPs to raise collective voice against terrorism
• Pakistan needs to shut down terrorism factory: Foreign Secretary Jaishankar
• Sarabjit murder trial: Arrest warrant issued against Pakistan jail official
• Jaipur court sends alleged Islamic State financier to four-day police custody
• Pakistan terrorists desperately trying to infiltrate along IB in Jammu, says BSF
--------
Pakistan
• Punjab Islamists Mark Taseer Killer, Malik Mumtaz Qadri's Anniversary in Maryland
• Pakistan Warns Against Linking Islam with Terrorism at UN Security Council
• Six including four Levies personnel killed in Mohmand suicide attack
• Lahore attack: Lal Masjid calls TTP Ahrar anti-Islam group
• Crackdown in Punjab amid mourning for attack victims
• MQM lawmaker indicted in illegal weapon, terror cases
--------
South Asia
• 20 Militants Killed In Airstrikes in Southern Uruzgan Province
• Militant Commander Linked to Cafe Attack Shot Dead in Bangladesh
• Mother of Slain Belgian IS Recruit Visits Bangladesh, Shares Her Pain
• Are terrorists infiltrating Rakhine state?
• Russia mulls interference as 28 years pass from Soviet defeat: Ibrahimi
--------
Mideast
• 12 Saudis Killed In Recent Yemen Border Fighting
• Gulf States Urged To 'Seize Opportunity' Of Rouhani Visit
• Yemeni forces shoot down Saudi Arabian drone over Ma'rib
• Turkey runs informer network in Austria to target critics: MP
• Three, including child, killed in car bombing in Yemen's Bayda
• Israel withdraws envoy to Egypt over security concerns
--------
Africa
• Congolese Soldiers Kill At Least 101 in Militia Clashes: UN
• 'Conditions in prison were terrible': SA Muslim cleric describes 500-day Egypt detention ordeal
• Nigeria: Church, Others Withdraw Suit against Conversion of Girl to Islam, Marriage
• Somalia: Military Court Sentence 7 Al-Shabaab Militants to Death
--------
Europe
• Pope Francis Meets Hebrew University Officials to Plan Interfaith Education Program
• A century in the making, Athens set for first mosque since Ottoman times
• Anti-Islam Wilders frontrunner as Dutch election campaign begins
• ISIS Doesn't Stand A Chance, Unless America 'Engages' Russia
Compiled by New Age Islam News Bureau
URL: https://www.newageislam.com/islamic-world-news/new-age-islam-news-bureau/harvard,-yale-and-stanford-sue-donald-trump-over-his--muslim-travel-ban-/d/110087
--------
Harvard, Yale and Stanford sue Donald Trump over his 'Muslim travel ban'
Feb 15, 2017
Harvard, Yale and Stanford are among 17 elite universities that have launched a legal challenge to Donald Trump's ban on refugees and citizens of seven Muslim-majority nations entering the US, saying it has "serious and chilling implications".
The schools said the ban threatened their ability to attract international students and academics they needed to "meet their goals of educating tomorrow's leaders from around the world".
They filed the papers on Monday in a New York federal court in support of an existing lawsuit.
The government has argued the case should be dropped since no one was in custody.
President Trump signed an executive order at the end of January blocking entry to the US by people from Iran, Iraq, Libya, Somalia, Sudan, Syria, and Yemen.
The order stopped Syrian refugees from entering the country indefinitely and immediately halted the US Refugee Admissions Program for 120 days.
Following widespread outrage, the government amended the order to allow citizens to enter if they possessed a green card.
The universities wrote in a joint statement: "By prohibiting persons from freely travelling to and from this country, the executive order divides students and their families, impairs the ability of American universities to draw the finest international talent, and inhibits the free exchange of ideas."
On Thursday, US 9th Circuit Court of Appeals unanimously upheld a lower court's ruling blocking enforcement of the order. The Trump administration has indicated it will fight the decision.
Despite the block on the travel ban, the schools said it had already had a negative effect and argued the potential for harm continued.
"While the Executive Order is currently limited to seven countries, its damaging effects have already been widely felt by American universities," the schools said in their friend-of-the-court brief.
President of Maryland university Johns Hopkins – which is among the schools mounting the legal challenge – said in a message to its supporters that the executive order "takes our country down the ominous path of erecting barriers not on the basis of a demonstrated security threat but on the basis of religion".
He added: "The order stands in unambiguous opposition to our country's long-cherished values and ideals."
In the 2015-16 academic year, US universities accepted more than one million international students.
Around 10 per cent of Yale's faculty is international and approximately 65 per cent of its postdoctoral research community comes from abroad, according to the universities.
Scholars from around the world have called for a boycott of conferences in the US in response to the order. An online petition has accrued thousands of signatures from academics both inside and outside the country.
More than 42,000 scholars, including 62 Nobel Laureates and 813 Members of the National Academies of including the Sciences, Engineering and Arts have expressed their opposition to the travel ban, the court document claimed.
http://www.independent.co.uk/news/world/americas/harvard-yale-stanford-suing-donald-trump-muslim-ban-lawsuit-us-immigration-restriction-a7579886.html
--------
Over 70 Terrorists Killed in Intensified Clashes between Rival Groups in Idlib
Feb 14, 2017
The reports said that Tahrir al-Sham drove Liwa al-Aqsa (a branch of Jund al-Aqsa terrorist group) out of the town of al-Tamanna, killing a number of rival militants and capturing 40 others.
Other reports said that over 70 militants including several commanders have been killed in clashes between Tahrir al-Sham and Jund al-Aqsa and its allied groups in Idlib and Hama in the last two days.
Tahrir al-Sham Hay'at has pushed Jund al-Aqsa (an ally of Ahrar al-Sham) back from the towns of Kafr Zita, al-Rakaba, Tal Aas, Kafr Sajneh and Marzita in the last 24 hours.
Informed sources had also informed FNA earlier today that tens of terrorists had been killed and tens of others injured in fierce clashes between Jund al-Aqsa and the newly-formed Tahrir al-Sham Hay'at in Southern Idlib and Northern Hama.
The sources said that at least 46 militants were killed in clashes between Jund al-Aqsa and Tahrir al-Sham Hay'at in the villages and towns of Tal Aas, Rakaya, Khan Sheikhoun and al-Tamanna in Southern Idlib and the town of Kafr Zita in Northern Hama.
The sources went on to say that Jund al-Aqsa executed over 15 terrorists of Tahrir al-Sham Hay'at in Khan Sheikhoun while advancing against Tahrir in the region.
Late in January, al-Nusra Front and several militant groups declared forming a new coalition under the name of Tahrir Al-Sham Hay'at to narrow down widening rifts amongst their commanders and members.
The Al-Nusra Front, Nouralddeen al-Zinki Movement, Jeish al-Sonah, Jabhat Ansaraldeen and Liwa al-Haq announced that they would act under a united coalition named the Tahrir al-Sham Hay'at.
The five merged terrorist groups act under the command of Abu Jaber Hashem al-Sheikh, who was one of the commanders of Ahrar al-Sham. The new coalition led by al-Sheikh is now fighting against Ahrar al-Sham, a rival terrorist group operating mainly in Northwestern Syria.
Al-Sheikh resigned from his post in Ahrar al-Sham after he was appointed as the commander of Tahrir al-Sham Hay'at.
A number of Ahrar al-Sham's commanders, including the groups' spokesman Abu Yusuf al-Mohajer, Hesam Salameh and Abu al-Fatah al-Farqali Mesri also joined the new coalition.
Terrorist groups' websites claimed that Al-Nusra Commander Abu Mohammad al-Joulani will be the top commander of Tahrir al-Sham Hay'at.
Ahrar al-Sham rejected its affiliation to the new coalition, but websites close to the terrorist groups have disclosed that Ahrar al-Sham, Faylaq al-Sham, Jeish al-Izzah, Turkistani party and Liwa al-Tamkin will soon start a new front called Tahrir al-Syria Front.
Nusra terrorists have been attacking positions of other terrorist rivals across Northwestern Syria.
http://en.farsnews.com/newstext.aspx?nn=13951126001534
--------
At RM33, 000 an Hour, Mile-High Quran Classes Get 100 Takers
BY NABIHAH HAMID
February 14, 2017
KUALA LUMPUR, Feb 14 — Over 100 people have expressed interest in Quran-reading classes to be held on private jets costing US$7,500 (RM33,000) an hour, according to the firm offering the service.
Elite Jets director Nik Eleena Zurenee Nik Mustapha said the interest was both local and foreign, and categorised this as encouraging.
She also denied that Elite Jets was using religion for profit, and rejected criticism of the offered service.
"Rather than offer nonsensical services, why don't we have an Islamic approach. Which would you rather have?
"Even the rich desire the afterlife, no? Normally, when we hear about the rich, it is all negative about Islam," Nik Eleena told ProjekMMO today.
She explained that her firm targets the wealthy in Malaysia, Brunei and Saudi Arabia with the flights, saying it offered them two services in one: transportation and religious classes.
Nik Eleena also explained that the prices were not fixed at US$7,500 an hour and depended on the type of aircraft used and seating position, while the total cost was based on the overall flight time.
She said Elite Jets has 30 planes available.
The first class is scheduled to start in May.
http://www.themalaymailonline.com/malaysia/article/at-rm33000-an-hour-mile-high-quran-classes-get-100-takers
--------
Four Indian Hindu-Muslim Couples Across Four Generations Tell Us How Love Is A Fight They Didn't Give Up On
07/02/2017
Across the world, being suspicious of a religion that isn't ours has become a norm of sorts. Actually, that was always the norm but some of these bias-keepers would still balk at owning up to ugly prejudices in public. However, with the ascent of the Donald Trumps of the world to power, racism and xenophobia has earned the social media stamp of being acceptable, in want of a better word. With Trump's attempt to ban immigrants from some Muslim majority countries, the anti-Muslim rhetoric is at an all-time high.
Closer home, far right groups from all religions have come out to play and frankly, this is as ugly as it gets. Yet, amid this unbridled anti-Hindu, anti-Muslim anti-humanity hate-fest, human beings continue being human beings. And some of them fall in love. With people from another religion they have always been asked to stay at an arm's length from. We spoke to four Hindu-Muslim couples from four generations to learn how to keep love afloat in this climate of naked hatred.
Insiya Haveliwalla*, 19, and Chirayu Fadnis*, 19. Insiya and Chirayu are college students in Pune
Chirayu: I thought my family was pretty liberal; my parents knew about my previous girlfriends and we'd often hang out at home with my family. But I can't tell them about Insiya. When Insiya and I started getting closer as friends, I could see it bothered my Mum. I hadn't really thought about the Muslim-Hindu thing until one day my aunt snidely told my mom that she should mentally prepare herself for a Muslim daughter-in-law. I could see that the comment really pissed her off. It makes me sad that even my educated, liberal parents could be so narrow-minded when it comes to Muslims.
Insiya: My parents don't know either. They don't approve of dating in general, but dating a Hindu guy would be an absolute no-no. My dad is a businessman, and growing up, he constantly complained about local Hindu Maharashtrian politicians making life miserable for small-time Muslim business owners. I'm so young, I can't even think of being married right now. But when the time comes, I know my parents will expect me to pick a Muslim guy they've already approved of. If we're still together at that time, I don't know what I'll do.
Chirayu: It's so weird that we need to hide our relationship, just so that no one intentionally or accidentally tattles to our parents. Knowing that all this sneaking around is because of the Hindu-Muslim thing is so regressive.
Insiya: The funny thing is, we're both atheists. So we don't have any religious differences. I'm vegetarian, he's not. So he was more upset about the beef ban than I could ever be. So all this Hindu-Muslim drama is a gift from our parents, not really our issue at all. Meh.
Devika Kumar*, 30, and Ashfaq Ali*, 34. Devika is a copywriter at an ad agency and Ashfaq is a management consultant. They've been dating for a year and live in Mumbai.
Devika: It was our first vacation together. He'd gone for a shower when suddenly I heard a yelp of "Astaghfirullah" from inside. That's when it hit me: holy shit, I was in love with a Muslim man. I was appalled by how much of a shock it was to my system because up until then, his Muslim identity was a vague realisation. The day I started thinking of my future in relation to him, I started noticing and wondering about everything. The fact that his mom wears a hijab, that his dad prays five times a day, all the times he's slip into Urdu without thinking everything was filed away in my head.
when it came down to choosing a life that would always be at least a little bit harder because of my partner's religion, I dithered
I come from a conservative Hindu family, and I've heard a lot of Islamophobic talk as dinner table conversations; but dating Ashfaq was what made me see how much suspicion I'd assimilated simply because there was no escaping it. Without realising it, I'd come to expect that only fanatics show their "Muslim-ness". The "normal" Muslims don't look, act or dress like the "others". It made me keenly aware of all the micro-aggressions against Muslims that we all partake in, subconsciously.
Ashfaq: It's not one-sided. I know enough Muslims who absolutely believe that the overwhelming majority of Hindus are basically right-wing fanatics who are out to get them. The constant persecution and hounding has made many Muslims terribly bitter. Religious differences aside, my parents feel a Hindu girl can never fit into the family because she will never understand what it feels like to have people look at you suspiciously all the time.
I no longer feel safe saying simple things like "Salaam" while greeting my parents when I'm within earshot of other people.
Devika: When Donald Trump came to power, it shook me up. When someone with that much power uses it to foster bigotry steer the world towards a holy war under the guise of ensuring safety, it goes beyond geography. It leaves an imprint on humanity in a way that might never quite be reversed.
Ashfaq: We're a young couple. We dream of building a house, raising a child and travelling the world together. How do you not feel bitter about a world where your surname is enough reason to detain you endlessly at airports?
Or when whole sections of cities won't allow you to buy or rent property? When you aren't confident that you'll be able to offer your future child the basics of humanity — the right to live and move in the world with dignity — what is the point of bringing a new life into the world?
Ritwik Ahuja, 44, and Zamina Rahman, 42. Ritwik is a Venture capitalist and Zamina is a housewife. They've been married for 17 years and live in Delhi.
Zamina: We got married at a time when inter-religious marriages weren't common and family drama and societal disapproval was a given. His family couldn't understand why Ritwik would throw away his societal standing and the goodwill of other upper caste Hindus for a Muslim girl. My family was equally against it. They thought that being married to a Hindu boy meant a lifetime of insults and chest-beating about my non-vegetarianism. We'd expected them to behave exactly this way.
I got angry when she insisted that embracing her religion was an act of defiance in an isolationist world, not religious zealotry.
Ritwik: When 9/11 happened, we'd been married for about a year. Earlier, our parents were upset by our choice of life partners, but after 9/11, they were ashamed. My mother thought my wife had destroyed my life and career growth prospects. Her mother was terrified that my family would make me divorce Zamina and send her back to them. I have to admit, there were times when I resented her Muslim identity and the baggage that her name carried.
I begged her to take my name so we'd have it a little bit easier. I got angry when she insisted that giving up Islam would mean giving in to Islamophobia, that embracing her religion was an act of defiance in an isolationist world, not religious zealotry. A part of me did think of Muslims as "these people" and "inclined to terrorism".
Overnight, Islam and terrorism became synonymous, and anyone associated with it in any way felt the repercussions.
Zamina: There were times when I almost decided I didn't want to be married to the Islamophobic jerk he was becoming; that if you just scratched the surface, all Hindus really did think they were better than Muslims and we deserved what was happening to us. But then I gave his behaviour context. 9/11 changed the course of our life in a way none of us could have seen coming. He was on the brink of landing a job at a major consultancy firm in USA, but after 9/11 there was no way we could move there.
Our daughter is 14, and a few months ago, a classmate of hers asked her if Zamina had married me for love jihad.
Ritwik: I genuinely believed that our daughter would grow up in a world that wasn't as splintered as the one we were forced to build our lives in. In the last few years, there's been an unprecedented eruption of selfishness and not just 'me-first', but 'me-only' kind of thinking. What is this "love jihad" nonsense? Our daughter is 14, and a few months ago, a classmate of hers asked her if Zamina had married me for love jihad.
Neelima Ahmed, 60, and Taufiq Ahmed, 64. Neelima and Taufiq own a perfume business in Mumbai. They've been married for 42 years and have two sons.
Taufiq: My parents moved to Mumbai from Punjab after the Partition. I was born here. Neelima and her family lived across the street from us. There were constant skirmishes and fights breaking out in our mohalla (colony). Hindus would spit on the road every time they had to deal with a Muslim. My people constantly wondered whether they had made the right choice by staying in India.
Neelima: My Hindu name was not this. I changed it to Neelima after the nikaah. When I was a kid, we were strictly forbidden to talk to Muslim people. But slowly, things got better. Taufiq's sister was in my high school. We were 14 then. She and I were not allowed to go to each other's houses, but our parents knew we were friends.
I loved him, but I was scared my dad would kill him if he found out about us.
Taufq: I liked Neelima from the start. We hardly ever spoke, but I thought she liked me. She was 17 when I finally worked up the courage to slip her a note telling her I loved her. The next day, she said yes. It was the best day of my life.
Neelima: When Taufiq proposed to me, my parents were desperately searching for a rishta for me. I loved him, but I was scared my dad would kill him if he found out about us.
Taufiq: Her rishta was almost finalised when we finally told our parents we wanted to get married. It was a nightmare. Her parents beat her up and locked her in the house. Mine beat me up and threatened to throw me out of the house and the business.
I converted to Islam. Sometimes I think I could do it because I was young and stupid. If I was older, shaayad himmat nahi kar paati.
Neelima: We ran away and got married with the help of one of his friends when I overheard my parents making plans to leave Mumbai and go back to our village in Gujarat. I converted to Islam. Sometimes I think I could do it because I was young and stupid and so thrilled to be in love. If I was older, shaayad himmat nahi kar paati. (Maybe I would not have had the courage.)
Taufiq: Initially, our parents disowned us. I had anticipated that. I had some money saved up, so we rented a house in a chawl close-by. We had no contact with our parents for a few years.
My mother was terrified that Taufiq would marry other women if I didn't give him a son.
Neelima: I got pregnant when I was 21. I wrote my mother a letter to tell her. I thought she wouldn't reply, but she did. She would hide from my father and come to meet me sometimes. She would still not enter our house but at least I had a mother again. She was terrified that Taufiq would marry other women if I didn't give him a son.
Taufiq: My mother was overjoyed when we had a son, but abba was still not ready to forgive us. He finally caved with the birth of our second son, three years later. By this time, I had saved enough money to start the perfume business. Neelima would leave the kids with my mother and help me at the shop for a few hours every day.
Hindu or Muslim, men are too selfish and egoistic to bend for their women.
Neelima: In those days, it was very unusual for a woman to be involved in her husband's business. I think my mother was so shocked and proud that she finally forgave Taufiq. But my dad never forgave me for ruining his izzat in the community.
Taufiq: Eventually, my parents accepted Neelima as their daughter-in-law. My mom grew to love her the way she loved my sister. Seeing the way she worked so hard to fit into my family made me fall in love with her more. I don't know if I could have done it for her family. Hindu or Muslim, men are too selfish and egoistic to bend for their women.
Neelima: My father died 15 years ago, angry with us. It breaks my heart that my sons never got to know their naana. I don't regret the choices I made, but sometimes, I miss the girl I used to be. Between being Lakshmi and Neelima, Hindu and Muslim, I forgot to be me. Now, I feel neither Hindu, nor Muslim. It makes me wonder, kya aapka mazhab hi aapki pehchaan hai? (Is your religion your only identity?)
http://www.huffingtonpost.in/2017/02/06/four-indian-hindu-muslim-couples-across-four-generations-tell-us/
--------
North America
Washington does U-turn in Palestinian two-state solution
15 February 2017
The White House signaled a sharp break with decades of support for a two-state solution to the Israeli-Palestinian conflict Tuesday, on the eve of Prime Minister Benjamin Netanyahu's visit to the White House.
A senior White House official said the United States would no longer seek to dictate the terms of any eventual peace settlement, but would support what the two sides agree to together.
"A two-state solution that doesn't bring peace is not a goal that anybody wants to achieve," the official said on condition of anonymity.
"Peace is the goal, whether that comes in the form of a two-state solution if that's what the parties want, or something else if that's what the parties want."
"That's going to be up to them, we are not going to dictate what the terms of peace are going to be," said the official.
President Trump hosts Netanyahu at the White House on Wednesday, and is expected to express his desire to help broker a solution to the conflict.
He has already tapped son-in-law Jared Kushner and lawyer Jason Greenblatt to lead his peace drive.
But major questions remain about how Trump will achieve that goal.
For the better part of half a century, successive US governments -- both Republican and Democrat -- have backed a two-state solution. It was the basis of peace talks at Oslo and Camp David.
But since coming to office in late January, Trump has sought to show that the United States is an unwavering ally of Israel and tried to draw a contrast with the policies of President Barack Obama.
Netanyahu won re-election in 2015 by insisting he would not accept the creation of a Palestinian state, a vow that considerably soured relations with the Obama White House.
Obama often warned that Israeli settlement construction could make a two-state solution impossible, and that a one state solution would put the future of the Jewish state in question.
Trump has shied away from criticizing Netanyahu's settlement policies as an impediment to peace, instead offering Israel some scope to build on land already under development.
"The construction of new settlements or the expansion of existing settlements beyond their current borders may not be helpful in achieving that goal," the White House said in a statement earlier this month.
Saeb Erakat, a senior Palestinian official, said it was not enough for Trump to say settlements were "unhelpful" but he must order an end to new building.
Friendly visit
Netanyahu arrived in Washington on Monday, dined with US Secretary of State Rex Tillerson on Tuesday and after his White House talks with Trump on Wednesday will meet lawmakers.
Aside from winning support for policies that will help him at home, the Israeli leader will also want to get the measure of Trump's appetite for better relations with Russia.
Trump has signaled his willingness to work with Russia to defeat the Islamic State group in Syria.
That could de facto mean furthering the goals of Russian allies Bashar al-Assad and Iran.
Israel sees Iran and its Lebanese ally the Hezbollah militia as its greatest existential threat, a view shared by the leaders of the main Sunni Arab states of the region.
Dennis Ross, a US diplomat who worked on Middle East policy under both Republican and Democratic administrations, said Netanyahu's diplomatic goals would at first be modest.
Israel wouldn't oppose a rapprochement with Moscow in itself, but would urge Washington to use this as leverage to push Russia away from Iran.
"What he'd like to see is a distancing of Russia from Iran within Syria, maybe more of a move towards Turkey and less towards Iran in Syria," Ross told reporters on Monday.
Trump appears to have back-pedaled on a campaign threat to tear up Obama's Iran nuclear deal, which Israel bitterly opposed, but his administration has "put Iran on notice."
This appears to mean a more robust stance against military provocations and a determination to impose tough sanctions on Iran's missile program and covert support for militants.
Observers expect Trump and Netanyahu to get on well in public. Both have much to gain politically from marking a clean break from the Obama years.
But, personal chemistry aside, the pair will only make the relationship a success if it overcomes the disagreement that poisoned ties under Obama.
http://www.worldbulletin.net/america-canada/184807/white-house-tries-to-insulate-trump-from-russia-scandal
--------
Jews gather at rallies across US urging support for refugees
By Josefin Dolsten
February 12, 2017
NEW YORK (JTA) — Over 100 years ago, Barnett Levine was greeted by the New York skyline and the Statue of Liberty as he arrived in the United States, having fled anti-Semitism and pogroms in his native Poland.
On Sunday, his grandson saw those very same sights when he joined about 700 others in this city's Battery Park downtown at a rally protesting President Donald Trump's executive order banning all refugees from the country for 120 days.
"I am the grandchild of four immigrants who came here when the gates of the United States were wide open and they made a life here," Harold Levine, a 60-year-old marketing consultant, told JTA. He added: "I think that it is the duty of the Jewish community to pay this forward to other immigrants who are trying to come to the United States."
The rally was organized by HIAS, formerly known as the Hebrew Immigrant Aid Society, part of an initiative by the immigrant resettlement group called the National Day of Jewish Action for Refugees.
The president issued his order last month, which also banned citizens of seven predominantly Muslim countries for 90 days. On Thursday, a federal appeals court ruling upheld a stay on the ban, a move praised by Jewish groups, including HIAS.
Thousands attended rallies on Sunday as part of the HIAS initiative, including in Boston, Washington, D.C, and other major cities, a representative for the group told JTA. The demonstrations had more than 20 co-sponsors, including the Anti-Defamation League, the American Jewish Committee, American Jewish World Service, the Union for Reform Judaism and the Conservative movement's Rabbinical Assembly.
Mark Hetfield, the CEO of HIAS, said the rallies were a rare moment of joining together in support of refugees.
"I haven't seen anything like this since I got my start [with HIAS] in 1989, which was at the height of the Soviet Jewry movement," he said. "This is a galvanizing moment like that, but the difference is that then we were standing up for Jews, and now we are standing up as Jews."
At the New York rally, participants braved icy wind, hail and rain to join in chants of "When refugees are under attack, what do we do? Stand up, fight back" and "Never again means never again for everyone" between speeches by rabbis and clergy members, politicians and leaders of Jewish groups. Among the speakers were Mayor Bill de Blasio; Rep. Keith Ellison, D-Minn.; Jonathan Greenblatt, national director of the ADL, and Sana Mustafa, a Syrian refugee.
In Boston, speakers at a rally with several hundred participants included City Councilor Josh Zakim, whose father, the late Lenny Zakim, was the longtime director of the New England Anti-Defamation League; Imam Faisal Khan, director of religious affairs at the Islamic Center of Wayland, and Fred Manasse, a child Holocaust survivor who was brought to the U.S. by HIAS.
Speeches — even those given by non-Jewish speakers — were peppered with references to Jewish history and traditions.
"In this city we believe we can live in harmony," de Blasio said in New York." It's not perfect, but we believe we can do something that the whole world is struggling to do, that we can all be together … people of all religions and backgrounds, that is what we're fighting for — doesn't that fit beautifully the profound Jewish concept of tikkun olam, of healing the world?"
Ellison, who told JTA that the rally was "one of the main reasons" for his visit to New York, talked in his speech about the MS St. Louis, a ship with 900 Jewish refugees from Germany that tried to enter the United States and other countries but was turned away. He called the incident "a shameful time in our country."
"All of our officials who worked with this stuff knew about it. We can't say we didn't know — we knew," said Ellison, the first Muslim elected to Congress and a front-runner to lead the Democratic National Committee. "We didn't want to get involved, we wanted to just mind our own business, we just kind of thought, 'Oh, this is not our issue.'"
Jewish ritual featured prominently. At one point during the New York rally, representatives of 10 of the co-sponsoring groups went on stage and tore pieces of cloth, mimicking a Jewish ritual in which mourners rend their clothing. The tearing was done to remind attendees of refugees who had died before being able to reach safety, as well as those who are now facing dangerous circumstances.
In addition to co-sponsoring the New York event, the ADL on Sunday also launched a campaign to rally opposition to Trump's executive order urging people to share on social media their family stories of coming to the U.S. and tagging posts with #ThisIsARefugee.
"We remember that we were once strangers, too, that Jewish refugees fleeing Nazi Germany and oppression during the Holocaust were often denied entry with claims eerily similar to some of the claims that are being made today to deny entrance to refugees, and we think that's wrong," Greenblatt told JTA on the phone before the rally.
Participants at the rally said they were compelled to attend for a variety of reasons, both personal and historical.
Full report at:
http://www.jta.org/2017/02/12/news-opinion/united-states/jews-gather-at-rallies-across-the-country-urging-support-for-refugees
--------
Trump will have strong ties with India, Indian-Americans: Shah
Feb 14, 2017
WASHINGTON: Under President Donald Trump, India and Indian-Americans will have a strong relationship with the US as he would be their "best friend" in the White House, a top Indian-American with the administration has said.
Raj Shah, a 32-year-old who supports Trump's communications team shape his media portrayal and narrative, said Trump as President and as presidential candidate went an extra mile to attract Indian-Americans to the Republican Party as a majority of them were supporters of the Democratic Party.
"(And) It worked," Shah told PTI.
"I think this President has had a pretty notable outreach to the Indian-American community, both during the campaign and afterwards," he said.
Shah pointed out that Trump appointed Indian-American Nikki Haley as the US envoy to the United Nations - a Cabinet post - in a first for the community under any administration.
"One of his first international conversation was with the Prime Minister (of India). So I think, there is a recognition on the President's part on importance of the US-India relationship and the contribution that Indian-Americans have made to the United States," he said.
Shah, whose parents migrated to the US in the 80s, was the Director of Opposition Research in the Republican National Committee, before he moved to the White House.
With a team of researchers, Shah played a key role in digging up information on Democratic nominee Hillary Clinton. He was the backbone of all anti-Clinton research during the presidential campaign and getting inside the White House at a young age is said to be a reward for the behind-the-scenes player.
He said Trump's agenda would be great for Indian-Americans. "The economic vision he has, the emphasis on economic reforms, cutting up red tape, regulations, fixing our healthcare system, all these things are going to have huge impact for all Americans including Indian-Americans."
Full report at:
http://timesofindia.indiatimes.com/nri/us-canada-news/trump-will-have-strong-ties-with-india-indian-americans-shah/articleshow/57153410.cms
--------
US Muslim groups refuse funds from US Government
Feb 15, 2017
NEW YORK : Muslim groups in US while protesting against Trump have rejected the government's funds.
According to details, Islamic schools and organizations have refused the funds aimed at combating violent extremism.
Los Angeles's South California Islamic Centre comes on second while receiving annual funds from the government.
Before this, Unity Productions Association also returned $4lac funds in protest which were for the preparation of a training film against extremism and violence.
It is pertinent to mention here that the fund begin in Obama regime in 2011 to combat terrorism.
Full report at:
http://nation.com.pk/international/14-Feb-2017/us-muslim-groups-refuse-funds-from-us-government
--------
PM Trudeau Attempting to Codify Absurdity, That Islamic Terrorism Has Nothing to Do with Islam
February 14, 2017
On behalf of the 105,000 members of the Institute for Canadian Values and like minded citizens, we oppose the Liberal Motion 103. As the western world moves away from nonsensical political correctness, Canada is digging in. Recent elections in the UK and America show that people are tired of ignoring the elephant in the room, the fact that radical Islam is the greatest threat to peace. Of course no reasonable person believes that all Muslims are a threat, but no reasonable person would state that Islamic terrorists have nothing to do with Islam. Also Canada already has hate speech laws protecting everyone, including Muslims.
President of the ICV Dr. Charles McVety states "Motion 103, along with it coinciding Petition E-411 are nothing more than a thinly veiled attempt to quell criticism of Islam. These documents were introduced together and are one sided as they only mention one faith, Islam. Not only is the motion unfair, it is also factually wrong as they state "an infinitesimally small number of extremist individuals" do not reflect Islam. Al Jazeera conducted an Arabic poll and the result was "overwhelming support for the Islamic State terrorist group, with 81% voting 'YES' on whether they approved of ISIS's conquests in the region."
Full report at:
http://canadafreepress.com/article/pm-trudeau-attempting-to-codify-absurdity-that-islamic-terrorism-has-nothin
--------
Canadian Muslims denied entry to the U.S. after Arabic videos found on phone
February 14, 2017
NEW YORK -- Canadian citizens Fadwa Alaoui and her cousin Fadela Boutaleb were off on one of their quick shopping trips across the border, this time to celebrate Alaoui's 5-year-old son's last chemo treatment.
But when they arrived at the U.S. border in Highgate Springs, Vermont, the women say they were asked repeated questions about their religion, illegal under us law.
"He told me, 'you are Muslim, right?' I answered 'yes,'" she said. "That was the first time that I was asked unexpected questions."
Alaoui said they were told to hand over their cell phones and passwords, and officers looked at several inspirational speeches and prayer videos
Boutaleb says she was asked "do Moroccans like Americans?"
After nearly five hours of waiting, they were denied entry.
The border officer said "they found videos that were a concern, against [the U.S.]," according to Alaoui.
Full report at:
http://www.cbsnews.com/news/canadian-muslims-denied-entry-to-the-us-after-arabic-found-on-phone/
--------
Poster calling for a 'Muslim-Free America' found at Rutgers University
FEBRUARY 14, 2017
SOUTH PLAINFIELD, N.J. — A New Jersey Muslim Civil Rights organization is calling for increased security for Muslim students after a poster calling for a "Muslim-Free America" was found Monday at Rutgers University.
The posted was taped to the wall of a building on campus that is used by Muslim students for programs and daily prayers. It was reported to the Chancellor of the University and Rutgers University Police are investigating.
Now, the New jersey chapter of the Council on American-Islamic Relations (CAIR-NJ) is stepping in.
"The hatred and the implicit call for genocide targeting American Muslims exhibited in this poster must not be tolerated," said CAIR-NJ Executive Director James Sues. "All Americans must be able to practice their faith and worship as they choose without fear of harassment or intimidation. The diversity of the student body at Rutgers University has long been a source of pride and inspiration, and the University administration must not allow narrow-minded bigots to tarnish its reputation and intimidate its students."
He added that an identical poster had also been found on the University of Texas campus.
Sues said that CAIR has noted an unprecedented spike in Islamophobic rhetoric and anti-Muslim incidents nationwide in recent months, and particularly since the November 8 election.
Full report at:
http://pix11.com/2017/02/14/poster-calling-for-a-muslim-free-america-found-at-rutgers-university/
--------
Arab World
S. Arabia Recruits 350 Comorian Militias for Yemen War
Feb 14, 2017
According to the sources, Riyadh pays 1,000 euros to the Comorian militias every month to fight for the country in Yemen.
The sources said using the Comorian forces is part of the Israeli-US plan to recruit military men from different African countries, including Senegal, Djibouti and Eritrea, to fight against the Yemeni army and Ansarullah forces.
Sources said in September that Riyadh has transferred nearly 5,000 militants from a number of terrorist groups from Aden port to Eritrea's Assab port to go under military trainings and then be sent to the Saudi provinces bordering Yemen.
"The terrorists, some of whom are from the Al-Qaeda, will be dispatched to Najran, Jizzan and Asir provinces to fight against the Yemeni army and popular forces and prevent their further advances in Southern Saudi Arabia," the sources stated.
They added that the Yemeni forces' advances deep inside the Saudi territories have frightened the Saudi officials more than the ballistic missiles fired from Yemen.
Saudi Arabia has been striking Yemen since March 2015 to restore power to fugitive president Mansour Hadi, a close ally of Riyadh. The Saudi-led aggression has so far killed at least 13,100 Yemenis, including hundreds of women and children.
Despite Riyadh's claims that it is bombing the positions of the Ansarullah fighters, Saudi bombers are flattening residential areas and civilian infrastructures.
According to several reports, the Saudi-led air campaign against Yemen has drove the impoverished country towards humanitarian disaster.
http://en.farsnews.com/newstext.aspx?nn=13951126001351
--------
Hundreds of Terrorists Killed, Wounded in Failed Attacks on Syrian Army Positions in Dara'a
Feb 14, 2017
The source said that the army troops have warded off a large-scale operation of the al-Nusra and other terrorist groups, codenamed Al-Mowt Wa La Al-Mazelah (death better than surrender), to prevail over the government forces' positions in al-Manshiyeh neighborhood, killing or wounding over 200 terrorists.
The military source added that over 2,000 terrorists, backed up by tanks, missiles and artillery fire and suicide attackers, stormed the army's positions in al-Manshiyeh neighborhood to take control of entire Dara'a, but sustained a major defeat and retreated after they lost over 200 comrades in the battle.
The army men also targeted several bomb-laden suicide vehicles of terrorists before reaching government forces' positions, he said.
The army soldiers also targeted several command centers of the terrorists and inflicted major losses on their tanks and military vehicles.
Reports said earlier today that the army troops engaged in fierce clashes with terrorists in the Western districts of Dara'a city and managed to push them back from more positions and buildings.
Full report at:
http://en.farsnews.com/newstext.aspx?nn=13951126001347
--------
Syrian Army Scores More Victories against ISIL in Eastern Aleppo
Feb 14, 2017
The army men, backed up by the army's artillery units and aircraft, engaged in non-stop clashes with ISIL North of the terrorist-held town of Deir Hafer and seized back the village and hill of Bayjan and the village of Moshreheh Abu Jabbar.
Army reports said ISIL has suffered heavy casualties and its military hardware also sustained major damage in the attack.
Also, the army men engaged in fierce clashes with ISIL near Kuweires airbase and recaptured the towns of al-Mansoureh Jadideh and al-Mansoureh (Khirbet al-Jahash) Northeast of the town of Sarhan on Monday, inflicting major losses on the terrorists.
Full report at:
http://en.farsnews.com/newstext.aspx?nn=13951126001236
--------
Deir Ezzur: Unidentified Invaders Steal Entire Arms, Munitions from Largest ISIL Depot
Feb 14, 2017
The sources said the ISIL depot was located in al-Arzi neighborhood in Central Deir Ezzur, adding there are indications that the raiders have been the security members of the ISIL.
The sources added that ISIL has intensified security measures and its forces went on alert, arresting tens of Deir Ezzur civilians and subjecting them to thorough interrogations.
The sources pointed out that the stealing is the first event of this kind in ISIL-held regions in Deir Ezzur.
The sources went on to say that ISIL is about to collapse after the defeats the terrorist group has recently received in battle with Syrian Army troops in Deir Ezzur.
Local sources in Eastern Syria disclosed on Monday that ISIL executed a field commander of the terrorist group after his forces suffered heavy defeats in battle with Syrian Army troops in the Southern outskirts of the city.
Full report at:
http://en.farsnews.com/newstext.aspx?nn=13951126001179
--------
Iraq hits Daesh commanders, Baghdadi fate unclear: statement
Feb 15, 2017
BAGHDAD: The Iraqi air force has targeted a meeting of commanders from Daesh that its leader Abu Bakr al-Baghdadi may have been attending, a statement said on Monday.
It was not clear in the statement sent by the Joint Operations Command coordinating the fight against the militants in Iraq whether the world´s most wanted terrorist had been hit.
An intelligence cell monitored a convoy that the statement said transported Baghdadi from the area of Raqa, the militants main Syrian stronghold, across the border to the Al-Qaim area in western Iraq.
The statement said Iraqi air force F-16 jets struck a meeting of top Daesh commanders on February 11 but provided no additional information on Baghdadi´s fate.
"The direct strike on the meeting location led to the death of 13 Daesh commanders," said the statement, which provided a list of names.
The Iraq-born Baghdadi, who proclaimed a "caliphate" straddling Iraq and Syria in June 2014, was not one of those names.
The Iraqi military has reported Baghdadi killed or wounded on numerous occasions since it launched a counter-offensive to regain the territory lost to Daesh almost three years ago.
Iraq´s military said dozens of other Daesh militants were also killed in other strikes in the same area as part of the operation last week.
Baghdadi´s health is unknown, but the Pentagon said six weeks ago that he was still alive and leading Daesh as it tries to defend the remnants of its crumbling "caliphate".
In the statement issued on Monday, the Iraqi military claimed that Baghdadi had come to the border area to discuss with his commanders "the setbacks taking place in Mosul".
Mosul is Iraq´s second city and the largest ever held by IS.
Full report at:
http://nation.com.pk/international/15-Feb-2017/iraq-hits-daesh-commanders-baghdadi-fate-unclear-statement
--------
Russia strikes Syria after 'Death Over Humiliation' rebel battle
15 February 2017
Russian jets pounded rebel-held areas of the Syrian city of Deraa on Tuesday for a second day in the first such intensive bombing campaign since Moscow's major intervention in Syria more than a year ago, rebels and witnesses said.
Rebel groups on Sunday stormed the heavily-garrisoned Manshiya district in a battle dubbed "Death rather than Humiliation" saying the campaign sought to obstruct any army attempts to capture a strategic border crossing with Jordan.
The army's control of the rebel held crossing and swatches of territory in the southern strip of the city would sever the rebel link between the eastern and west parts of the city.
The Syrian army said the "terrorists" had failed to make gains and its troops had inflicted many casualties.
State media said the armed insurgents showered civilian districts of the southern city with mortars, wrecking many homes.
The opposition fighters are drawn from both moderate Free Syrian Army groups and members of a newly formed alliance - Tahrir al Sham - spearheaded by a faction that was once al-Qaeda's official affiliate.
A rebel source said there were at least 30 Russian sorties on Tuesday, thwarting further rebel gains in the heavily defended enclave that had allowed them so far to secure significant parts of the Manshiya.
"When the regime began to lose control of some areas ... the Russian jets began their operations," said Ibrahim Abdullah, a senior rebel commander.
The fighting also spread across other parts of the city as rebels fired mortars on government controlled parts of the city. Ground-to-ground missiles were also deployed from army barracks to pound rebel held quarters of the city, residents said.
The battles inside the city are the most intense since an alliance of mainstream rebels, known as "The Southern Front" who are backed by Western and Arab foes of President Bashar al Assad launched an unsuccessful large scale military campaign to capture the whole city in 2015.
Full report at:
https://english.alarabiya.net/en/News/middle-east/2017/02/15/Russian-jets-pound-Syrian-city-of-Deraa-after-rebel-gains.html
--------
Aoun, Hariri's Hezbollah comments lay bare Lebanon's political divide
14 February 2017
Lebanon's Prime Minister called Hezbollah's arms illegitimate on Tuesday after its President said the group's military wing was vital to its security, spelling out the country's political divisions more clearly than at any time since they took office.
A staunch Hezbollah ally, Michel Aoun became president in October in a power-sharing deal that saw Saad al-Hariri, Lebanon's leading Sunni Muslim politician, appointed premier in a unity cabinet including nearly all Lebanon's main parties.
The powerful arsenal wielded by Sh'ite Iranian-backed Hezbollah outside the state's control has long been a subject of controversy, with several major political parties calling for the group's disarmament, while others support it.
Hezbollah has become deeply embroiled in the war in Syria, where its forces are fighting in support of President Bashar al-Assad.
The Lebanese state has adopted a policy of official neutrality towards the conflict. Hariri said on Tuesday that, despite sharp disputes over Hezbollah's arms, "the consensus on the role of the army, legitimate forces and the state" protected Lebanon.
"We will not compromise on the fundamentals ... our view of the Assad regime and its crimes, our stance towards the illegitimate arms and ... Hezbollah's involvement in Syria," he said at a ceremony in central Beirut marking the 12th anniversary of his father's assassination.
Aoun said in an interview with the Egyptian channel CBC last week that Hezbollah's arms "do not contradict the state... and are an essential part of defending Lebanon.
"As long as the Lebanese army lacks sufficient power to face Israel, we feel the need for (Hezbollah's) arsenal because it complements the army's role," he said.
Hezbollah, whose fighters played a major role in Israel's withdrawal from southern Lebanon in 2000, backed Aoun's election. In addition to its powerful military wing, the group wields strong political influence.
Full report at:
https://english.alarabiya.net/en/News/middle-east/2017/02/14/Aoun-Hariri-s-Hezbollah-comments-lay-bare-Lebanon-s-political-divide.html
--------
Bahrain's al-Wefaq slams regime violence, urges more protests
Feb 14, 2017
Bahrain's main Shia opposition group, the al-Wefaq National Islamic Society, has denounced violent measure taken by Manama regime against peaceful protesters, calling for the continuation of rallies in the Persian Gulf country.
According to Arabic-language Bahrain Mirror news website, al-Wefaq's Deputy Secretary General Sheikh Hussein al-Daihi on Tuesday urged negotiations under the supervision of the United Nations and a referendum in the island.
Daihi also accused the Al Khalifah regime of having violated all political, civil and religious rights of the citizens, who are seeking their legitimate rights.
He further appreciated the people's patience, resistance and sacrifice inspired by al-Wefaq's spiritual leader, Shia cleric, Sheikh Isa Qassim.
The Bahraini regime has taken measures to cover up its crimes, but such moves have all failed, the al-Wefaq official said, noting that the financial and political support provided by the regime's allies has also had no results.
On July 17, 2016, the Bahraini High Administrative Court ordered the dissolution of al-Wefaq and the seizure of its funds, drawing widespread criticism.
Clashes erupt in protests marking revolution anniversary
Also on Tuesday, demonstrators clashed with police in the Bahraini capital and neighboring villages.
A female Bahraini protester holding a photo of Shia cleric, Sheikh Isa Qassim, and another protester confront riot police armored personnel carrier during a demonstration to mark the 6th anniversary of the February 14 uprising, in the village of Sitra, south of Manama, Bahrain February 14, 2017. (Photo by Reuters)
The protests were held to mark the 6th anniversary of a popular uprising in the country.
Witnesses said Tuesday's rallies were brutally suppressed by the authorities.
Chanting slogans such as "Revolution until victory" and "No forgetting the martyrs," many of the protesters held up pictures of those killed in the 2011 crackdown.
Police fired tear gas and stun grenades at the demonstrators in the capital Manama.
Anti-regime protesters burn tires and block a road as police armored personnel carrier arrives during a protest to mark the 6th anniversary of February 14 uprising in the village of Sitra, south of Manama, Bahrain February 14, 2017. (Photo by Reuters)
Bahrain has been the scene of almost daily demonstrations against the Al Khalifah rule over the past six years.
Full report at:
http://www.presstv.ir/Detail/2017/02/14/510576/Bahrain-Manama-Wefaq
--------
Source: Terrorists' Attacks against Dara'a Ordered by Persian Gulf Arab States
Feb 14, 2017
"The Persian Gulf Arab states didn't favor convergence between Syria and Jordan and therefore, they ordered the terrorists to launch military operations in Dara'a," the source was quoted as saying by Lebanon's Hadath News on Tuesday.
According to the report, the Syrian army could repel the al-Nusra (Fatah al-Sham) Front terrorists' offensive against Dara'a.
Meantime, news sources affiliated to the militants said that the Jordanian forces have not allowed the wounded al-Nusra terrorists to cross the border for treatment.
Also, a military analyst said the battles in Dara'a would end with the victory of the Syrian army and resistance forces given the international tendency towards a political settlement of the Syrian crisis.
Reports said on Monday that the army troops repelled a large-scale offensive of al-Nusra Front on government forces' positions in the Southern city of Dara'a, killing 20 terrorists including their emir.
The army soldiers fended off Nusra's attack on their positions in al-Manshiyeh neighborhood, killing 20 terrorists and wounding tens more.
Nusra's Field Commander Abu Rayan Ordoni was amongst the killed terrorists.
Nusra's bomb-laden suicide vehicles were also destroyed in the failed attack.
Also on Monday, Syrian army troops warded off a large-scale offensive of the terrorists on government forces' positions in the Central and Western parts of Dara'a city, killing 45 militants of al-Nusra Front, including several field commanders.
Full report at:
http://en.farsnews.com/newstext.aspx?nn=13951126001109
--------
Southeast Asia
Is it okay for a Christian to govern Muslims? An Indonesian election turns on that question.
By Jon Emont
February 14
JAKARTA, Indonesia — On a blisteringly hot day a few months ago, I joined a crowd of worshipers at Jakarta's Istiqlal Mosque, the largest mosque in Southeast Asia, seating about 200,000. After Indonesia secured its independence from the Netherlands in 1949, the looming modernist building was envisioned as a monument to the country's extraordinary religious diversity: Istiqlal was designed by a Christian architect and is directly across from Jakarta Cathedral.
As I arrived, Abdullah Gymnastiar, a Muslim televangelist, began his sermon. When he congratulated London for selecting Sadiq Khan, a Muslim, as mayor, I thought I was settling into the type of preaching that gives Indonesia — which has more Muslims than any other country, but also influential Christian, Buddhist and Hindu minorities — its reputation as a land of tolerant Islam.
Only that's not what I got. Gymnastiar, who is known as Aa Gym, noted the irony that London, a majority-non-Muslim city, had selected a Muslim mayor, while Jakarta, one of the world's largest Muslim-majority cities, was being led by Basuki "Ahok" Purnama, a Christian of Chinese descent. He said many people found a lot to admire in Ahok, especially his war against incompetence and corruption in the city's bureaucracy. Nonetheless, Aa Gym said, he could never vote for Ahok in this month's gubernatorial elections. Why not? "Because my ID says I'm from Bandung, not Jakarta," he said, referring to a different city. He laughed, as did the audience.
No one can deny that Aa Gym gives a good sermon. But then he got serious. The reason he couldn't vote for Ahok was that the Koran commands Muslims to have Muslim leaders, Aa Gym said — and as a Muslim, he could never vote for a Christian leader. He advised those listening to follow his example.
On Wednesday, the citizens of Jakarta go to the polls in an election that will be an important referendum on tolerance in Indonesia. Ahok, who assumed the governor's job about two years ago when his predecessor, Joko "Jokowi" Widodo, became president, has risen higher than any other ethnic Chinese Christian politician since Indonesia transitioned to democracy in 1998. But ultratraditional Muslims have resisted him from the start of his term and turned out in force to protest his inauguration.
Ever since Ahok advised Jakartans late last year to disregard teachings derived from the Koran that suggest Christians should not lead Muslims, more moderate Muslims have turned on him, too, viewing it as arrogant for him to comment on their religion. Hard-line groups drummed up anger against him. After huge protests against Ahok rocked Jakarta, authorities began prosecuting the governor on blasphemy charges. If convicted in March, he could be sent to prison for up to five years, regardless of whether he wins Wednesday's election.
Both of Ahok's opponents in the election have emphasized their Muslim identity in a bid to unseat the governor. Although he is a far-from-perfect candidate and is criticized for his eviction of slum dwellers, the race for governor has hinged on Ahok's identity rather than policies. Most voters still see him as highly effective, but polls suggests it's unlikely that he'll receive the 51 percent he needs to triumph in a three-way race. Assuming he doesn't get a clear majority, there will be a runoff in April.
The election is "a point, a very important point, in the decline of religious freedom in Indonesia," said Andreas Harsono, Human Rights Watch's representative in Indonesia. "It's an important test."
https://www.washingtonpost.com/news/worldviews/wp/2017/02/14/is-it-okay-for-a-christian-to-govern-muslims-an-indonesian-election-turns-on-that-question/?utm_term=.c9891098bd69
--------
New party won't cut ties with DAP to work with Islamist party PAS: Mahathir
15 Feb 2017
KUALA LUMPUR: Former Malaysian prime minister Mahathir Mohamad said his new party will not cut ties with opposition party Democratic Action Party (DAP) in order to work with Parti Islam SeMalaysia (PAS) - an Islamist party also being "courted" by Dr Mahathir's former party UMNO in a potential election year.
Dr Mahathir had given PAS a month to decide if it would work with Parti Pribumi Bersatu Malaysia (PPBM), but PAS president Hadi Awang rejected this offer, saying PAS would not work with any party working with the DAP.
"Of course we will work with other opposition parties (over PAS alone)," Dr Mahathir said, when asked about PAS' decision at a news conference on Tuesday (Feb 14).
"It is not the biggest opposition party," he said. "DAP has 39 seats. PAS has less than 26. So we can't give up 39 seats in order to get the support of less than 26."
PAS had voted to cut ties with former coalition-mate DAP in 2015 after a falling-out over PAS' push to strengthen shariah courts in Muslim-majority but multi-ethnic Malaysia. The mainly-Chinese DAP feared PAS' proposed legal amendments would pave the way for an Islamic criminal code in Malaysia.
In comments to media this week, Mr Hadi said his party will also be reviewing its alliance with opposition party PKR, which is in a coalition with DAP - Pakatan Harapan.
On Tuesday, Dr Mahathir said Bersatu and the opposition needed DAP the same way UMNO needed the non-Malay Muslim parties in the Barisan Nasional ruling coalition.
Dr Mahathir said he foresaw problems for PAS if it chose not to work with the opposition as "at the federal level, they have never succeeded in winning even a quarter of the seats".
"We have tried to resolve this, we have been very patient," Dr Mahathir said of efforts to enter talks with PAS.
Full report at:
http://www.channelnewsasia.com/news/asiapacific/new-party-won-t-cut-ties-with-dap-to-work-with-islamist-party/3518708.html
--------
Tolerance test as Muslim Indonesia's capital votes
February 15, 2017
JAKARTA - Jakarta's Christian governor who is standing trial for blasphemy was Wednesday fighting to cling on to his job in a high-stakes election seen as a test of religious tolerance in Muslim-majority Indonesia.
Basuki Tjahaja Purnama faces two prominent Muslim challengers in the race to lead the teeming capital of 10 million, as local elections take place around the country.
But the stakes in the Jakarta vote have been raised by allegations that Purnama, the city's first non-Muslim governor for half a century and its first ethnic Chinese leader, insulted the Koran.
The claims drew hundreds of thousands of conservative Muslims onto the streets of Jakarta in major protests last year, and Purnama has been put on trial in a case criticised as unfair and politically motivated.
He has not been barred from running for re-election but his lead in opinion polls was dented for a period, and the vote is now seen as a test of whether pluralism and a tolerant brand of Islam in the world's most populous Muslim-majority country are being eroded.
"There is a battle between those who promote tolerance and those who promote intolerance," Ismail Hasani, research director of rights group Setara Institute, told AFP.
Polls opened at 7:00 am (0000 GMT) and were due to close at 1:00 pm (0600 GMT).
An early vote tally released in the afternoon should give an indication of how the candidates have performed although official results will not be announced until mid-March, and the vote is likely to go to an April run-off.
If Purnama does win the vote and is convicted of blasphemy, which could see him sentenced to up to five years in prison, he would not automatically be barred from holding office and could avoid jail for a long time by filing successive appeals.
'Fake news' flood
Religious and ethnic tensions have made for a dirty race with "fake news" flooding social media, and thousands of security forces were deployed in the capital on election day.
The "fake news" has mainly targeted Purnama, and included claims that a free vaccination programme he backed was a bid to make girls infertile and reduce the population.
Jakarta police spokesman Argo Yuwono said that officers were stationed at polling stations across the city and had not reported any problems in early voting.
"God willing, the election today will go smoothly," he said.
The governor's opponents are Agus Yudhoyono, the son of a former president, and ex-education minister Anies Baswedan, who also has powerful political backers.
About 100 other local elections will take place on Wednesday but the race in the capital is the most hotly contested, with the top job in Jakarta seen as a stepping stone to victory in the 2019 presidential polls.
Full report at:
http://www.nationmultimedia.com/news/breakingnews/30306390
--------
GLAZOV: Why Islamists and the Radical Left Loathe Valentine's Day
14 Feb 2017
Today, February 14, is Valentine's Day, the sacred day that intimate companions mark to celebrate their love and affection for one another.
If you're thinking about making a study of how couples celebrate this day, the Muslim world and the milieus of the radical Left are not the places you should be spending your time. Indeed, it's pretty hard to outdo Islamists and "progressives" when it comes to the hatred of Valentine's Day. And this hatred is precisely the territory on which the contemporary romance between the Left and Islamic Supremacism is formed.
The train is never late: every year that Valentine's comes around, the Muslim world erupts with ferocious rage, with its leaders doing everything in their power to suffocate the festivity that comes with the celebration of private romance. Imams around the world thunder against Valentine's every year — and the celebration of the day itself is literally outlawed in Islamist states.
This year, for example, the Islamabad High Court in Pakistan banned the celebration of Valentine's Day in public places, and at an official level, and prohibited all electronic and print media from covering any festivities or mentioning of the occasion. Several cities across Muslim-majority Indonesia, meanwhile, banned people from celebrating the day. In the city of Surabaya, a group of school students, which included many girls wearing the hijab, denounced Valentine's Day. In Muslim-dominant Malaysia, the group The National Muslim Youth Association directed females not to use emoticons and perfume in a pre-Valentine's Day message.
Full report at:
http://www.breitbart.com/national-security/2017/02/14/glazov-islamists-radical-left-loathe-valentines-day/
--------
India
ISIS 'supporter' had mobilised funds from India, China: Police
February 14, 2015
Suspected Islamic State (IS) supporter Mohammad Iqbal, who is in the custody of the Rajasthan police, had allegedly mobilised funds from India and China for the terror organisation, police said on Tuesday. Iqbal alias Travel Haq had allegedly transferred money from China and through hawala from India to Dubai, Additional Director General of Anti-Terrorist Squad Umesh Mishra told reporters in Jaipur.
Iqbal allegedly used to transfer funds to IS operative Jameel Ahmed who was arrested by the ATS from Sikar in November last year, Mishra said. His name cropped up during the interrogation of Jameel following which he was arrested by Tamil Nadu police earlier this month. "Jameel and Iqbal were in touch on social networking sites. Iqbal used to transfer funds to Jameel who was based in Dubai. From Dubai, he further transferred the money to the IS in countries like Turkey, Lebanon," Mishra claimed.
The accounts of his social networking sites and his foreign visits are being probed to ascertain further details, the police official said. Iqbal was brought to Jaipur from Chennai on production warrant on Sunday and was placed under arrest yesterday. He was produced before a local court where the magistrate remanded him to police custody for four days, till February 18.
http://indianexpress.com/article/india/isis-supporter-had-mobilised-funds-from-india-china-police-4525147/
--------
Triple Talaq: Would Deal With Only Legal Aspect, Says Sc
February 15, 2017
New Delhi: Supreme Court on Tuesday said it would decide issues pertaining to "legal" aspects of the practices of triple talaq, 'nikah halala' and polygamy among Muslims and would not deal with the question whether divorce under Muslim law needs to be supervised by courts as it falls under the legislative domain.
"You (lawyers for parties) sit together and finalise the issues to be deliberated upon by us. We are listing it day after tomorrow for deciding the issues," a bench comprising Chief Justice J S Khehar and Justices N V Ramana and D Y Chandrachud said.
The bench made it clear to the parties concerned that it would not deal with the factual aspects of the particular case and would rather decide the legal issue.
"We are not interested with facts at all. We are only interested in dealing with the legal issue," the bench said.
The apex court said that the question whether divorce under Muslim Personal Law needs to be supervised by either courts or by a court-supervised institutional arbitration falls under the legislative domain.
The court, meanwhile, allowed the lawyers to file small synopsis of cases pertaining to alleged victims of triple talaq.
The Centre had earlier opposed the practice of triple talaq, 'nikah halala' and polygamy among Muslims and favoured a relook on grounds like gender equality and secularism.
The Ministry of Law and Justice referred to constitutional principles like gender equality, secularism, international covenants, religious practices and marital law prevalent in various Islamic countries.
Responding to a batch of petitions including the one filed by Shayaro Bano challenging the validity of such practices among Muslims, the Centre first dealt with the right of gender equality under the Constitution.
Full report at:
http://www.siasat.com/news/triple-talaq-deal-legal-aspect-says-sc-1131881/
--------
Indian-origin Nasa scientist detained, forced to unlock phone at US border
Feb 14, 2017
An Indian-origin Nasa scientist has said he was detained and forced to unlock his PIN-protected work phone at the US border by custom officials.
Sidd Bikkannavar, 35, said in a post on social media that US Customs and Border Protection officers wanted his cell phone and password -- before they would let him through at Houston's George Bush Intercontinental Airport.
"On my way home to the US last weekend, I was detained by Homeland Security and held with others who were stranded under the Muslim ban," Bikkannavar wrote in a Facebook post.
"I initially refused, since it's a (Nasa)-issued phone and I must protect access," Bikkannavar wrote.
Bikkannavar, born in Pasadena, designs technology for space telescopes like the enormous James Webb telescope that's set to be launched into orbit in 2018.
"Just to be clear -- I'm a US-born citizen and Nasa engineer, travelling with a valid US passport. Once they took both my phone and the access PIN, they returned me to the holding area with cots and other sleeping detainees until they finished copying my data."
Bikkannavar spent a few weeks away pursuing his hobby of racing solar-powered cars.
As a member of a Chilean team, he visited Patagonia in early January under the Obama administration.
He returned after Trump took office and issued the executive order on travel into the United States.
Nothing about Bikkannavar should have caused concern for CBP - he's a natural-born US citizen, enrolled in a programme that allows individuals who've already passed background checks to quickly enter the country.
In addition, he has never visited the countries on the immigration ban, and he's 10-year employee of a major US federal agency.
"I don't know what to think about this. I was caught a little off guard by the whole thing," Bikkannavar told media here in a phone call.Bikkannavar detailed his experience on Facebook, explaining his absence to friends and coworkers.
The episode, aside from the profiling it ostensibly involved, also put him in a fix with his employers, because he was required to protect access to the phone.
Full report at:
http://www.hindustantimes.com/world-news/indian-origin-muslim-nasa-scientist-detained-forced-to-unlock-phone-at-us-border/story-4mZjhRoIq7HM5B9EwB9RwO.html
--------
India gets seat at Afghanistan meet, but will plough a lonely furrow
Indrani Bagchi
Feb 15, 2017
NEW DELHI: A ministry of external affairs delegation led by joint secretary Gopal Baglay will participate in the latest regional conference on Afghanistan hosted by Russia on Wednesday, though the first such conference in December had kept India — and Afghanistan — out.
India muscled its way into the conference, after NSA Ajit Doval travelled to Russia at the end of Janaury to meet Russian security council secretary Nikolai Patrushev, a confidant of President Vladmir Putin, where he is believed to have laid out India's interests in Afghanistan. It was only after this meeting that India was included, as was Afghanistan. Afghanistan had protested its exclusion the last time.
Since Moscow appointed its presidential envoy on Af-Pak, Zamir Kabulov, there has been a clear divergence between India and Russia on the future of Afghanistan.
Russia has leaned much closer to the Pakistan view that the Taliban are a legitimate player in Afghanistan, and should be pushed for negotiations with the Ghani government.
India has maintained that Taliban remains the main problem in Afghanistan and peace in Afghanistan can only come when Pakistan stops support and sanctuary for the extremist organisation.
China and Iran back Pakistan's view — both countries have kept contacts with Taliban alive using them to fight a bigger enemy, US. Russia has joined this mix. In the past year, Russia has strengthened its off-line contacts with Taliban.
India too supports a peace dialogue and reconciliation between the Afghan government and Taliban, but where the international "red lines" are maintained. Russia, Pakistan, China and Iran have less difficulty with a power-sharing agreement between Kabul and the Taliban. This means India will plough a lonely furrow in the talks in Moscow.
Last week the MEA spokesperson, confirming the Indian participation, said, "India has always believed in close and constructive cooperation for peace, stability, security and development in Afghanistan. To this end, we actively participate in several bilateral and multilateral consultations.... We look forward to the valuable opportunity to discuss with other regional countries all aspects of the situation in Afghanistan." The Indian position is bolstered by the US, which remains the biggest outside combat force in Afghanistan.
In a recent interview, the top US general in Afghanistan, Gen Nicholson was critical of the new Russian role. "Russia has been legitimising the Taliban and supporting the Taliban," he said. "Meanwhile, the Taliban supports terrorists. I'm very sorry to see Russia supporting the Taliban and narcoterrorism."
Full report at:
http://timesofindia.indiatimes.com/india/india-gets-seat-at-afghanistan-meet-but-will-plough-a-lonely-furrow/articleshow/57156594.cms
--------
Prime Minister Narendra Modi asks British MPs to raise collective voice against terrorism
14th February 2017
NEW DELHI: Prime Minister Narendra Modi on Tuesday drew attention of the visiting British parliamentarians to growing radicalization, extremism and terrorism by urging them to raise a collective voice against these global problems. Prime minister's appealed to British lawamakers came after last month, UK Parliament had discussed a resolution on Kashmir. India has been maintaining that cross-border terrorism, emanating from Pakistan and territories held by it, is blocking any resolution of the Kashmir issue and holding up talks between the two countries.
While hosting an eight-member delegation of British MPs, Prime Minister Modi said that the relations between India and UK have strong bipartisan support in both countries, and called for enhanced interactions between the Parliamentarians of both countries.
Hosting an eight-member delegation of British Parliamentarians here, he described India and UK as natural partners in the global fight against terrorism.
A PMO statement issued after the talk, PM urged the visiting Parliamentarians to "continue to raise their collective voice against terrorism, extremism and radicalization."
The Prime Minister's emphasis on terrorism during his interaction with British MPs assumes significance as the UK Parliament had discussed on January 20 a resolution on Kashmir in the context of "escalation of violence and breaches of international human rights".
Full report at:
http://www.newindianexpress.com/nation/2017/feb/14/prime-minister-narendra-modi-asks-british-mps-to-raise-collective-voice-against-terrorism-1570568.html
--------
Pakistan needs to shut down terrorism factory: Foreign Secretary Jaishankar
14th February 2017
MUMBAI: Pakistan needs to shut down "terrorism factory" and there is now international concern about it, Foreign Secretary S Jaishankar today said.
He also asserted that India has not given up on SAARC, but it will keep looking for other opportunities for regional integration "since SAARC is stuck".
Speaking on ties with China, Jaishankar said "it does not help to duck issues" and admitted that there was a need to invest more to manage the relationship better.
Jaishankar was speaking during a discussion on "Political change and economic uncertainties" at the Gateway Dialogue event, co-hosted by Ministry of External Affairs.
He also cautioned against "demonising" US President Donald Trump. "Don't demonise Trump, analyse Trump. He represents a thought process. It's not a momentary expression," he said.
Trump has been facing criticism over his controversial immigration policy.
Jaishankar said that western countries may not be open about Pakistan and terrorism problem but they have concerns.
"Western countries may not be open about Pakistan and terrorism problem but they have concerns. The issue really here is whether Pakistan is willing to take fundamental steps.
They need to shut down terrorism factory," he said.
"The thinking on Pakistan is necessarily security-centric because the fact is we can live in a situation of a very little threat but not in a situation of terrorism on and off, which will be the case as long as the factory keeps running," he said.
"Terrorism in the past was seen as our problem but now it's a bigger problem. There is today international concern (on terrorism)," he said.
He said India's multilateral engagement is not just good "for branding purposes but it also works in India's interest".
"We are approaching multi-polarity. Everyone is playing everybody," he said.
Visualising a greater role for India on the international scene, he said time has come for the country to take a lead on global stage since the major countries are 'narrowing down'.
"At a time when horizons of a lot of major countries are getting narrower...If the major (countries) are pulling back there is a space out there and it is in our interest to use that space. In my views, we should be looking at the more powered position in an international forum," he said.
He also said that India should not give up on SAARC.
"We haven't given up on SAARC. We can't and we shouldn't," India's top diplomat said.
"When it comes to regional integration, we will keep looking for other opportunities since SAARC is stuck," Jaishankar said.
"At a time when major powers are rethinking their multilateral engagement, India's track record stands out," he added.
Noting that Japan has a big role to play, Jaishankar said, "Our view of the (bilateral) relationship in the past has been narrow."
"A bigger Indian economy is in the strategic interest of Japan," he said.
On multilateralism, he said, "Multilateralism is not because we are good guys but because it serves our interest."
Full report at:
http://www.newindianexpress.com/nation/2017/feb/14/pakistan-needs-to-shut-down-terrorism-factory-foreign-secretary-jaishankar-1570565.html
--------
Sarabjit murder trial: Arrest warrant issued against Pakistan jail official
February 15, 2017
A Pakistani court has issued a bailable arrest warrant against a top jail official for failing to appear before it in connection with the 2013 murder case of Indian national Sarabjit Singh. The court's order came after the Deputy Superintendent of Kot Lakhpat jail, where Sarabjit was murdered by two inmates, did not appear before it despite repeated summons.
An additional district and sessions judge here yesterday directed the Lahore police chief to ensure the appearance of Deputy Superintendent on February 17.
The judge said there had been "little" progress in Sarabjit's case.
During the hearing, the judge admonished the jail authorities for not cooperating with the court and also issued bailable arrest warrant for the Deputy Superintendent.
Two Pakistani death row prisoners – Amir Tamba and Mudassar – had allegedly attacked Sarabjit in the jail resulting in his death.
One-man judicial commission of Justice Mazhar Ali Akbar Naqvi of Lahore High Court had initially investigated Sarabjit's murder case before the trial kicked off in the sessions court.
Naqvi recorded the statements of some 40 witnesses in the case and submitted its report to the government which is yet to make its findings public.
The one-man commission had also issued notices to Sarabjit's relatives through the foreign ministry to record their statements and produce any evidence they had regarding his death.
Full report at:
http://indianexpress.com/article/india/sarabjit-murder-sarabjit-murder-trial-arrest-warrant-issued-against-pakistan-jail-official/
--------
Jaipur court sends alleged Islamic State financier to four-day police custody
February 15, 2017
A Jaipur court on Tuesday sent alleged Islamic State (IS) financier Mohammad Iqbal, 32, in four-day police custody. Iqbal was arrested from Tamil Nadu-Andhra Pradesh border on February 4. Rajasthan Anti-Terrorism Squad (ATS) Chief Umesh Mishra claimed that Iqbal has confessed to sending money to Islamic State through China.
"How he used to send it is a part of the investigation. He had a hawala network and was also involved with gold and currency smuggling rackets in various countries, including India, Myanmar and Bangladesh,'' he said. "He was a frequent flyer.''
Iqbal had allegedly used Western Union to transfer money as well. Mishra claimed that the IS's ideology had influenced Iqbal through social media and that he had contacted them on his own in 2014. He added that Iqbal was interested to be a part of IS with his family at one point.
But it is unclear if he shared his plans with his wife and two children or if they knew about his activities. ATS Inspector General Biju George Joseph claimed that Iqbal was in touch with Islamic State fighters Abu Saad al-Sudani, who was killed in Syrian airstrikes in April last year, and Abu Usamah Somali. He said that Iqbal had tried to enter Turkey by obtaining Schengen visa but could not succeed.
ATS officials claimed that Iqbal had expressed his interest to send money to IS. But Sudani purportedly asked him not to do so directly but to send it through Jameel Ahmed, who was arrested from Sikar in November last year. The agencies came to know about Iqbal after Ahmed's arrest and have since been trying to locate him. Ahmed did not know much about Iqbal beyond his social media presence.
"Iqbal could not be identified for quite some time. When Ahmed was caught, he had revealed that he came in contact with an Indian. But he, too, did know the real name of this person, who went by names of 'Travel Haq' and 'Travel to Haq' on social media, including Kik," Mishra said. Ahmed never met Iqbal or knew his name. But Iqbal had transferred money to him for the IS cause.
Full report at:
http://indianexpress.com/article/india/jaipur-court-sends-alleged-islamic-state-financier-to-four-day-police-custody-4525454/
--------
Pakistan terrorists desperately trying to infiltrate along IB in Jammu, says BSF
Feb 14, 2017
The Border Security Force (BSF) on Tuesday said terrorists were being staged in Pakistani villages along the International Border (IB) here as they were desperately looking to infiltrate into Indian territory to launch attacks.
"There are inputs about the presence of terrorists in Pakistani border villages desperately looking for infiltration into Indian territory," said Deputy Inspector General (DIG) BSF Dharmendra Pareek.
He said BSF troops were extremely vigilant and prepared to foil any such emerging threat and nefarious designs from across the border.
Full report at:
http://www.hindustantimes.com/india-news/pakistan-terrorists-desperately-trying-to-infiltrate-along-ib-in-jammu-says-bsf/story-mPsOmSuQzx76RnoSWBuKOI.html
--------
Pakistan
Punjab Islamists Mark Taseer Killer, Malik Mumtaz Qadri's Anniversary in Maryland
Feb 15, 2017
Washington DC: February 14, 2017. (Ahmar Khaan, Israel Voice) Punjabi Muslims from Pakistan, avowed enemies of Israel and India, Sunday observed the first death anniversary of a condemned Islamist who killed a secular politician six years ago.
Death anniversary of Malik Mumtaz Qadri, a sunni bodyguard who shot his boss Punjab governor Salman Taseer 27 times with a kalashnikov assault rifle, was held Sunday in the Maryland town of Windsor Mill, 43 miles from Washington DC.
The participants collectively read the Koran—the Muslim bible— to bless the soul of the killer and sang hymns in praise of Muhammad, prophet of Islam. The ritual gave credence to the Trump administration argument that Muslims are bad news for the US.
The main reason Qadri killed Taseer was that the secular politician, a rarity in Punjab – stronghold of the jihad loving, nuclear armed Pakistan army that even today calls the shots in the country's politics—was that the politician had been lobbying for the freedom of a Punjabi Christian Aasia Bibi, who was sentenced to death on a charge of blasphemy.
According to published reports, Aasia Bibi, a Roman Catholic farmhand in a village in Sheikhupura, 30 miles from the Prime Minister Nawaz Sharif's hometown of Lahore, drank water while working in sweltering heat June 2009. But she did so from a container that was used mostly by Muslim female farmhands.
Muslims in Pakistan, "Land of the Pure," do not allow non-Muslims such as Christians and Hindus, to drink water or eat from the same utensils as they look upon non-Muslims as impure and inferior human beings.
When Aasia Bibi's Muslim female workers objected and snatched the water bowl from her hands in sizzling heat, she reportedly told them that Jesus was a kindred soul compared to Muhammad, who hailed from present day Saudi Arabia and who critics say propagated Islam at the point of sword.
The altercation between the women led to Aasia Bibi being arrested, charged with blasphemy and sentenced to death. Non-Muslims have no avenue for justice in Pakistan where Shariah law supersedes the statute books. To help her fight against the injustice, Governor Taseer went to meet with her in prison, infuriating his bodyguard Qadri. The killer later explained Taseer was patronizing a "Gustaakh-i-Rasool" – person who insults Prophet Muhammad—and thus deserved death. A Christian leader Shahbaz Bhatti was also killed within two months of Taseer assassination for trying to help Aasia Bibi. The woman's fate still hangs in the balance as her case is pending in the Supreme Court of Pakistan.
A son of the slain governor Shahbaz Taseer was also abducted by the Islamists and remained in their captivity for four years, but freed one week after Qadri was hanged.
Pakistani Muslims, especially from Punjab and Bihar in India, are some of the most bigoted followers of the religion of Islam and had played a big role in partition of India in August 1947, saying Muslims cannot live in a Hindu majority country India.
"They are spreading the same Punjab Muslim virus here on US soil that shows no regard for human life," president of Pakistan Christian Congress, Dr Nazir S. Bhatti, Monday night fumed over the reverence jihadis from Punjab showed to Qadri in Windsor Mill. "Christians lives in Pakistan have always been worse than slaves for decades and instead of improving it is getting worse than ever."
He attributed the plight of Christians as a bye-product of Pakistan's state terror against people of other religions and even Muslims that are not Punjabis such as Afghans, Baloch, Sindhis and mohajirs. He said Pakistan is emboldened in committing human rights violations because of support from China. "Last year when India tried to get Masood Azhar, leader of the terrorist outfit Jaish-i-Muhammad, banned in the United Nations, China intervened to bail the terrorist out," he said.
Judge Shaukat Aziz Siddiqi of the Islamabad High Court (right) is seen kissing Malik Mumtaz Qadri when he was a lawyer.
Punjabi Muslim lawyers treated Qadri as a folk hero, turning out in hundreds during his court hearings and one them Shaukat Aziz Siddiqi was seen kissing him passionately during one such hearing. Siddiqi, who later was promoted as a judge of the Islamabad High Court by the Punjabi rulers of Pakistan, Monday ordered shutting down all Valentine's Day celebrations in the Pakistan capital as un-Islamic.
According to Pakistan's former ambassador to the United States, Husain Haqqani, the State Department had been granting waivers to Pakistan even though the United States Commission for International Religious Freedoms (USCIRF) recommended appropriate fiscal actions to stop violations of human rights of minorities in Pakistan.
The main reason why such Islamists continue to flourish in Pakistan is that they enjoy the support of the powerful military and intelligence services. However, the main fountainhead of Islamist violence is the kingdom of Saudi Arabia, but US policy makers close their eyes to the misdeeds of the Islamic monarchy as the US needs oil.
Last Friday, the new CIA director Mike Pompeo conferred the George Tenet medal to Saudi crown prince Mohammed bin Nayef for his services for "peace," though Saudis, who are sunnis, are behind the worst genocide of Shias in the world.
At this time there are about 3.5 million Muslims in the US and many of the terrorist activities have been carried out by Muslim immigrants with Pakistan links in recent years.
http://www.pakistanchristianpost.com/detail.php?hnewsid=6314
--------
Pakistan Warns Against Linking Islam with Terrorism at UN Security Council
February 15, 2017
United Nations
Pakistan has warned against linking Islam or any other faith with terrorism, while calling for fully analyzing and understanding the terrorist threat in all its complexities. "The global campaign against terrorism cannot be reduced to a slogan slandering Islam or any other religion or race," Ambassador Maleeha Lodhi told the UN Security Council on Monday, as she reiterated Pakistan's commitment to do its part in eliminating the scourge of terrorism. Speaking in a debate on addressing the danger of terrorist attacks against critical infrastructure, she also underscored the need to examine the reasons why terrorism — despite a global campaign against this menace — continues to evolve in new and more virulent forms and ideologies and across ever extending geographic regions, threatening peace and security.
In this regard, the Pakistani envoy underscored the need to address the underlying causes that create terrorist recruits – unresolved internal and inter-state conflicts, illegal use of force, external aggression and intervention, foreign occupation, denial of self-determination, political and economic injustice and the marginalization and alienation of communities and groups. "It is only by addressing these underlying causes can the world community erode the appeal of the narratives of hate and hostility which provide the oxygen for the existence and growth of terrorism." In her remarks, Ambassador Lodhi said Pakistan was suffering from "region-based and supported" terrorist acts aimed at destroying and disrupting the life of the people, but the country was determined and fully capable of repelling such state sponsored terrorism. Pakistan's resilience had been tested many times, she said, emphasizing that a multi-pronged strategy — the military-led Zarb-e-Azb operation — had helped to destroy terrorist organizations and constrain their ability to carry out lethal attacks.
Full report at:
http://pakobserver.net/pakistan-warns-against-linking-islam-with-terrorism/
--------
Six including four Levies personnel killed in Mohmand suicide attack
15-Feb-17
BERLIN: German Chancellor Angela Merkel on Tuesday pushed Tunisia's prime minister to speed up the returns of rejected asylum seekers, as Tunis rebuffed criticism that it was blocking repatriations.
The German leader has been battling to get Tunis to take back its citizens, with the issue taking on greater urgency since the deadly assault on a Berlin Christmas market in December.
The militant attack which claimed 12 lives has been blamed on Anis Amri, a Tunisian whose asylum application had been rejected half a year earlier, but could not be expelled because of Tunisian bureaucratic delays. But ahead of the meeting in Berlin, Tunisian Prime Minister Youssef Chahed threw out any criticism.
"One thing that I must say very clearly: the Tunisian authorities have not made any mistakes," Chahed told Germany's biggest selling daily Bild. "Anis Amri was no terrorist when he left Tunisia in 2011, there were no signs that he had been radicalised. "With regards to the identity documents, here too, the Tunisian authorities acted correctly," he said.
Chahed said "cooperation with Germany works very well now" but threw the ball back in Berlin's court. "We need from the German side clear evidence that we are really dealing with Tunisians," he said, estimating the number of his fellow citizens concerned by possible expulsions from Germany at around 1,000. "Illegal immigrants who use false identity documents make it difficult and delay the process."
Merkel has been under pressure to reduce the number of asylum seekers in Germany, after the country took in over a million migrants and refugees since 2015. While most refugees from war-torn Syria have qualified for temporary safe haven, applicants from Tunisia as well as Algeria and Morocco generally have not, because their countries are considered stable. Last year the success rates for asylum requests was 3.5 percent for Moroccans, 2.7 percent for Algerians and just 0.8 percent for Tunisians.
Full report at:
http://dailytimes.com.pk/world/15-Feb-17/merkel-pushes-tunisia-pm-to-speed-up-migrant-returns
--------
Lahore attack: Lal Masjid calls TTP Ahrar anti-Islam group
By Tahir Khan
February 15, 2017
ISLAMABAD: A day after the Jamaatul Ahrar faction of the TTP said the Lahore attack was part of its 'Ghazi operations' likening it with the killing of Abdul Rashid Ghazi, the deputy imam of Lal Masjid, the mosque administration distanced itself from the group calling it anti-Islam and anti-state entity.
The blast that took place on Monday in Lahore killed over 10 people, including two senior police officials, and injuring more than 70 others.
Lahore attack: Defence analysts hold authorities responsible
The TTP Ahrar has said in a statement that the attack was part of its 'Ghazi operations', linking it with Abdul Rashid Ghazi, who was killed in the 2007 military raid on Lal Masjid.
The 'Shuhada Foundation,' which represents Lal Masjid and deals with the cases of the students killed in the bloody stand-off, strongly condemned Ahrar for naming its activities after Abdul Rashid Ghazi and dubbed the outfit anti-Islam and anti-state.
Hafiz Ehtesham Ahmad, spokesman for the foundation, said Ahrar has no relations with Islam and Pakistan and is "carrying out terrorist activities in Pakistan at the behest of the Indian agency RAW."
"The terrorism by the TTP Ahrar is not only destabilising Pakistan but is also defaming Islam and Jihad," he said in a statement.
He said Rashid Ghazi had "sacrificed his life for the supremacy of Islam and opposed oppression until his death.
Full report at:
https://tribune.com.pk/story/1327115/lahore-attack-lal-masjid-calls-ttp-ahrar-anti-islam-group/
--------
Crackdown in Punjab amid mourning for attack victims
ASIF CHAUDHRY
Feb 15, 2017
LAHORE: Following Monday's horrific suicide attack on The Mall which claimed 13 lives and left over 100 people injured, Punjab's law enforcement agencies have launched a province-wide crackdown on banned militant organisations.
The body parts of the suspected suicide bomber have been sent for DNA test to establish his identity.
Officials involved in the investigation into the incident said that senior police officials were the main target of the suicide bomber who blew himself up during a protest by chemists.
They said that Jamaat-ul-Ahrar (JuA), an offshoot of the Tehreek-i-Taliban Pakistan, which claimed responsibility for the attack in a statement, had attached a photograph of the bomber to the statement. Earlier, the group had done so after carrying out a terror attack on Gulshan-i-Iqbal Park 11 months ago.
The Provincial Intelligence Cen­tre of the Punjab Home Department has issued a letter directing police high-ups to beef up security in different cities of the province.
Bomber's body parts sent for DNA test; operations to target areas of 'Afghan/Pathan community'
The letter has been circulated among the divisional commissioners, regional police officers, capital city police officer of Lahore, deputy commissioners, city police officers and district police officers.
An officer privy to the development told Dawn that the crackdown was ordered on the basis of intelligence reports suggesting that militants might have planned similar attacks in other cities.
The Home Department has directed law enforcement agencies to ensure extreme vigilance and heightened security.
"Combing operations [must] be conducted in all targeted areas, particularly where the Afghan/Pathan community is residing," the letter reads. It recommends thorough snap checking at police check-posts and says that abandoned or unidentified vehicles should not be allowed to be parked near public places.
"Traffic jams must be avoided by intelligent use of traffic police staff as [they] can become a serious security hazard," the letter says.
Probe into attack
A Counter-Terrorism Department (CTD) official told Dawn that initial investigations into the Mall attack suggested that the suicide bomber was quite young and had approached the site of the blast from Regal Chowk on foot.
He might have been briefed about his exact target right before the suicide attack and his handlers might have gathered information about the presence of senior police officers at the spot from TV coverage of the protest by chemists, the official said.
The initial investigation was based on the modus operandi of the bomber and the militant organisation that had claimed responsibility for the attack.
The official confirmed that law enforcement agencies had received a particular threat alert regarding The Mall attack which described police official as the main target. In the wake of the alert, a joint combing and intelligence-based operation was launched in the city but no significant arrests were made, he said.
Lahore Capital City Police Officer Amin Wains also said that the terrorists had targeted senior police officials, not the protesters.
Chief Traffic Officer retired Captain Ahamd Mobin and acting DIG (operations) Zahid Nawaz Gondal were killed in the suicide attack.
There were more than 150 traders, pharmacists and chemists at the protest camp when the attack took place, Mr Wains said. The bomber walked to the police officials and blew himself up.
Full report at:
http://www.dawn.com/news/1314845/crackdown-in-punjab-amid-mourning-for-attack-victims
--------
MQM lawmaker indicted in illegal weapon, terror cases
Feb 15, 2017
KARACHI: An anti-terrorism court indicted on Tuesday a Muttahida Qaumi Movement lawmaker in explosive and illicit weapon cases.
The Rangers had arrested Mohammad Kamran Farooq, a member of the Sindh Assembly, in December in the Garden area for allegedly carrying a hand grenade and an unlicensed pistol.
When the ATC-IX judge read out the charges against him, he pleaded not guilty and opted to contest the cases.
The court summoned the prosecution witnesses to record their evidence on March 7.
The MPA was booked in two cases under Section 4/5 of the Explosive Substances Act, 1908 and Section 23(i)(a) of the Sindh Arms Act, 2013 read with Section 7 of the Anti-terrorism Act, 1997 on a complaint of the Rangers at the Nabi Bakhsh police station.
According to the prosecution, the lawmaker in his confessional statement recorded before a judicial magistrate on Dec 31 had not only admitted to have been carrying a grenade and a unlicensed weapon but also disclosed his and other MQM leaders' involvement in the May 12 mayhem, Tahir Plaza arson attack, China-cutting and other cases.
The MPA in his statement also implicated MQM-Pakistan chief Farooq Sattar as one of the perpetrators behind the May 12 carnage, it added.
Factory fire case to be heard in prison
Jail authorities informed an anti-terrorism court on Tuesday that the trial of the Baldia factory fire case would have to be conducted inside the prison due to security concerns.
Former sector in-charge of the Muttahida Qaumi Movement Abdul Rehman, alias Bhola, and Zubair, alias Charya, along with their absconding accomplices have been booked for allegedly setting fire to a multi-storey garment factory in Baldia Town over non-payment of protection money in September 2012.
Over 250 workers were burnt alive in the tragic incident.
Full report at:
http://www.dawn.com/news/1314818/mqm-lawmaker-indicted-in-illegal-weapon-terror-cases
--------
South Asia
20 militants killed in airstrikes in southern Uruzgan province
Feb 14 2017
At least 20 militants were killed in a series of airstrikes conducted in southern Uruzgan province of Afghanistan.
According to the local security officials, the militants were targeted in the vicinity of Tarinkot city, the provincial capital of Uruzgan.
Provincial governor's spokesman Dost Mohammad Nayab confirmed that several airstrikes were carried out against the militants in this province.
Nayab further added that the militants were targeted in strikes conducted both by the Afghan forces and the foreign based in the country.
He said at least 20 militants were killed during the airstrike conducted recently in Tarinkot.
According to Nayab, the airstrikes are being carried out as part of clearance operations against the militants which were launched few days ago.
Nayab says at least 43 militants have been killed or wounded since the operation was launched a few days ago.
The anti-government armed militant groups including the Taliban insurgents have not commented regarding the report so far.
Uruzgan is among the relatively volatile provinces in southern Afghanistan where the Taliban insurgents and militants belonging to the insurgent groups are actively operating in its various districts.
According to the local officials, the militants have intensified attacks in this province during the past six months and have conducted numerous attacks on government compounds and security posts.
http://www.khaama.com/20-militants-killed-in-airstrikes-in-southern-uruzgan-province-02881
--------
Militant Commander Linked to Cafe Attack Shot Dead in Bangladesh
February 14, 2017
Dhaka: Bangladesh police on Tuesday shot dead a militant commander of a banned Isamist outfit and a close aide of one of the masterminds of the deadly Dhaka cafe attack in which 22 people, including an Indian girl, were killed.
Abu Musa alias Abu Jar was killed in a "gunfight" with police which acting on a tip-off raided a house in the northern city of Bogra.
"The other militants fled the scene leaving wounded Jar at the scene while doctors declared him dead as we took him to the (nearby) hospital," Zaman said.
"Abu Jar was a close aide of neo-JMB leader Jahangir Alam alias Rajib Gandhi, one of the masterminds of deadly Dhaka cafe attack who was arrested last month," Bogra's district police chief Asaduz Zaman told reporters.
Zaman said the 32-year-old Jar was the northwestern commander of the neo-JMB (Jamaat-ul-Mujahideen Bangladesh). Polce said Jar was involved in the murders of a Muslim and a Christian businessman. However, both the murders were claimed by ISIS.
Twenty two people, including an Indian, were killed when militant stormed the upscale Holey Artisan Bakery and Kitchen restaurant in Dhaka's diplomatic zone on July 1 last year. ISIS had claimed responsibility for the cafe attack. But police believe that New-JMB, which is close to the ISIS, was involved in organising the attack.
Full report at:
http://www.news18.com/news/world/militant-commander-linked-to-cafe-attack-shot-dead-in-bangladesh-1349114.html
--------
Mother of Slain Belgian IS Recruit Visits Bangladesh, Shares Her Pain
2017-02-14
Her son Sabri was just an ordinary teen growing up in Belgium, until he began to become reclusive and serious about Islam, Saliha Ben Ali recalled.
The 18-year-old Belgian boy of Tunisian heritage drifted away from his family and could not resist the lure of radicalism that his mother is fighting against today as the founder of a Brussels-based NGO, the Society Against Violent Extremism (S.A.V.E.) Belgium.
Her son, who vanished in August 2013, ended up being killed in Syria in December of that year, she said. He died fighting for the Islamic State (IS) extremist group, against which Ben Ali has since "declared war," as she told the French newspaper Le Figaro last year.
"Sabri was very much curious. Thousands of questions whirled inside him. He fell prey to the wrong people at the wrong time, and could not recover," Ben Ali told a seminar at Dhaka University on Tuesday.
Ben Ali has made it her mission to fight against the indoctrination of young minds by radical groups such as IS, and is visiting Bangladesh this week to spread this message in the predominantly Muslim country that has seen a rise in Islamic radicalism, where scores of youths from across the social spectrum apparently joined local extremist groups.
Ben Ali said she wanted to make mothers in Bangladesh aware of changes she noticed in Sabri before she lost him.
Recruiters from radical groups "spread venom in the name of religion. They find conspiracies in everything," Ben Ali said.
She told the story of how she lost her son, while appearing on a panel titled "Campaign to Counter Violent Extremism: Learning from S.A.V.E. Belgium," organized by the American Center in Dhaka and the Innovation for Well Being Foundation, a Bangladeshi NGO that promotes mental health nationwide.
"Youngsters are identified after getting involved with militancy, but the question is why should they become involved?" said Bangladeshi journalist, Julfikar Ali, who spoke at the seminar.
"[P]olice alone can't fight militancy. Militants don't only fight with machetes, bombs or grenades. They are also radicalizing social and cultural sectors into fundamentalism. They have taken on a mission to ruin the secular values," he said.
Another speaker, Mekhla Sarkar, a professor at the National Mental Health Institute, explained some of the psychology behind the appeal of radicalism to young minds.
"When youngsters get involved with militancy, they are always very curious at that age. They want to show heroism. They want to prove that they are now grown and mature enough," he said.
"Parents and family members need to listen to them with patience."
A mother's story
During her visit to Bangladesh, Ben Ali will meet with families who have lost children to radicalism or whose children have gone missing and are feared to have been recruited into extremist ranks. She also will meet with police officials and representatives of various ministries.
On Tuesday, she told her audience in Dhaka how her son grew into a frustrated youth, after he dropped out of high school and could not land a job.
He tried to enlist in the Belgian military, but it wouldn't take him, she said, alleging that her son was a victim of anti-Muslim discrimination.
"Sabri lamented to me that he could not secure a job even though he knew three languages. He was always under vigilance. While boarding a bus, police used to frisk him. He could not escape police surveillance while coming out of cinemas along with his girlfriend," Ben Ali said.
Full report at:
http://www.benarnews.org/english/news/bengali/belgium-mother-02142017163728.html
--------
Are terrorists infiltrating Rakhine state?
February 15, 2017
Muslims have been living in Myanmar's Rakhine State, along the Bay of Bengal, since as early as 11th century and they grew significantly in the 15th; but they are now living there amid persistent confrontation with the rulers and Buddhist hardliners who tend to establish full control on the land pushing them towards Bangladesh.
As the persecution on the Myanmar's multi-cultural Muslims – collectively identified as Rohingyas – has increased manifold over the last couple of years, now the international community and the armed Islamist groups have come forward with just the opposite sets of solutions.
The majority of Rakhine Muslims do not support the armed struggle that they have been witnessing since the partition of India since they have to face the aftermath, brutal assaults by the military and other law enforcement agencies, and stricter rules.
The government, rights groups and individuals from Bangladesh are pressing the Myanmar government to recognise the Muslims as their citizens while the local and regional militant groups have declared all-out jihad as they consider it as the perfect time to avenge the recent atrocities carried out by the Myanmar military since the October 9 attacks on its border police.
Saudi-backed Rohingya militant group Harakah al-Yaqin (Faith Movement, HaY) claimed responsibility for the pre-planned attacks that killed nine policemen.
Recently, RSO has been blamed for occasional attacks on security forces in northern Rakhine State, for example deadly attacks on Border Guard Police patrols in northern Maungdaw in February and May 2014
Apart from the October 9 attacks, 11 additional strikes were carried out by the Rohingya militants all over the infected areas killing seven members of the army and wounding three others, the Myanmar government claims.
The al-Qaeda affiliate was formed after the 2012 sectarian violence in Rakhine with Muslim youths from Myanmar and the Bangladeshi Rohingya camps.
Also Read- Myanmar to execute Rohingya man for raid on police post
According to the United Nations, some 69,000 Muslims have taken shelter in Bangladesh since October to save their life. These people are narrating horrific stories of mass murder, torture, rape and arson attacks by the military.
History of rebellion
The confrontation between the Muslims of different origins and Buddhists living in the Rakhine State led to a massacre during the World War II, and later the Muslims "fled to the north, where they were the majority, and Rakhine Buddhists moved south," according to a recent report of the International Crisis Group (ICG) on the Rohingya insurgency.
A mujahidin rebellion erupted in April 1948, a few months after independence. The rebels initially explored the possibility of annexing northern Rakhine State to East Pakistan (now Bangladesh), but Pakistan rejected this.
They then sought the right as full citizens in an autonomous Muslim area in the north of the state and an end to discrimination by the Rakhine Buddhist officials who replaced the colonial administrators, the report states.
The whole region of Rakhine State is separated from the rest of the country by the Yuma range running north to south.
In response to the rebellion, the immigration authorities placed restrictions on the movement of Muslims from northern Rakhine to Sittwe, the state capital. "Some 13,000 Muslims who fled during the war and were living in refugee camps in India and East Pakistan were not permitted to return; those who did were considered illegal immigrants," the ICG says.
Also Read- Inside the Rakhine State insurgency
The rebels then targeted Rakhine Buddhist interests as well as the government, quickly seizing control of large parts of the north and expelling many Buddhist villagers. Law and order almost completely broke down, with two communist insurgencies (Red Flag and White Flag) in addition to the mujahidin, as well as Rakhine nationalist groups, including the (Marxist) Arakan People's Liberation Party, in the south of the state.
"An embattled Burmese army, facing ethnic insurgencies across the country, controlled little of Rakhine other than Sittwe. In the violence and chaos, relations between Buddhist and Muslim communities deteriorated further," says the ICG report. "Many moderate Rakhine Muslim leaders rejected the mujahidin insurgency, even vainly asking the government for arms to fight back."
The Myanmar Army launched a massive offensive, Operation Monsoon, in 1954 that captured most of the mujahidin mountain strongholds on the then East Pakistan border. "The rebellion was eventually ended through ceasefires in 1961 and defeat of remaining groups, leaving only small-scale armed resistance and banditry."
The screengrab of a recent YouTube video shows Ata Ullah, the alleged spokesperson of Harakah al-Yaqin Dhaka Tribune
The screengrab of a recent YouTube video shows Ata Ullah, the alleged spokesperson of Harakah al-Yaqin Dhaka Tribune
In 1961, the government established a Mayu Frontier Administration in northern Rakhine, administered by army officers rather than Rakhine officials. But a military coup the following year led to a more hardline stance toward minorities, and the Mayu Frontier Administration was dissolved. This prompted attempts to re-form the mujahidin movement that failed to gain significant local support.
Rebellion turns terrorism
Another military crackdown named Operation King Dragon began in 1978 as the mujahideens began to regroup. In 1974, the Rohingya Patriotic Front armed group was formed, inspired by the rise of pan-Islamist movements in the world, from the remnants of earlier failures.
It split into several factions, one of the more radical of which became the RSO armed group in 1982 when the government refused to recognise the Rohingya Muslims as citizens.
Also Read- 'We will fight until the last drop of blood'
The RSO split again in 1986, giving rise to the Arakan Rohingya Islamic Front (ARIF) splinter; in 1998, the two groups formed a loose alliance, the Arakan Rohingya National Organisation.
"In the 1980s and 1990s, the RSO had small bases in remote parts of Bangladesh near the Myanmar border but was not thought to have any inside Myanmar," the ICG report says.
The RSO has also become something of a Rohingya militant brand that anyone can use, regardless of connections to the original organisation.
In its highest-profile attack, in April 1994, several dozen fighters entered Maungdaw from Bangladesh, including a group landed by boat in Myin Hlut village-tract, south Maungdaw.
Also Read- Rohingya refugees begging on streets
On April 28, bombs they planted in Maungdaw town caused damage and several civilian injuries, and fighters followed up with attacks on the town's outskirts. The group did not receive strong local support, and the security forces, alerted by informants, quickly defeated them.
The RSO lost much of its strength by the end of the 1990s, though it kept an organisational structure in Bangladesh and did training and occasional small attacks on Myanmar security forces into the early-2000s.
A Myanmar military intelligence report, cited in a US diplomatic cable in 2002, made the "generally plausible" claim that 90 RSO/ARIF members attended a guerrilla-war course, and 13 also participated in explosives and heavy-weapons courses in Libya and Afghanistan in August 2001.
Full report at:
http://www.dhakatribune.com/world/2017/02/15/terrorists-infiltrating-rakhine-state/
--------
Russia mulls interference as 28 years pass from Soviet defeat: Ibrahimi
Feb 14 2017
The current Russian leaders are still thinking to interfere in Afghanistan despite 28 years pass from the bitter defeat of the former Soviet Union forces in the country, an Afghan lawmaker said Tuesday.
The Speaker of the Lower House of the Parliament, Wolesi Jirga, Abdul Rauf Ibrahimi, made the remarks during a gathering in Kabul to mark the 28th university of the withdrawal of Soviet forces.
He said the current Russian leaders are unfortunately still thinking to interfere despite 28 years have passed and are keen to weaken the democratic system of Afghanistan by supporting the Taliban group.
Ibrahimi further added that the defeat of the Soviet forces in Afghanistan 28 years ago must not be repeated by those thinking to interfere and must consider it as a major experience.
The remarks by Ibrahimi came as reports have emerged recently suggesting the growing establishment of relations between Russia and the Taliban group.
The top US commander in Afghanistan General John Nicholson said last week that Russia has become more assertive over the past year, overtly lending legitimacy to the Taliban to undermine NATO efforts and bolster belligerents using the false narrative that only the Taliban are fighting ISIL-K.
Full report at:
http://www.khaama.com/russia-mulls-interference-as-28-years-pass-from-soviet-defeat-ibrahimi-02882
--------
Mideast
12 Saudis killed in recent Yemen border fighting
Feb 15, 2017
RIYADH - At least 12 Saudi soldiers have died on the southern border since early February, according to an unusual series of official reports released as the country fights Yemeni rebels.
In separate dispatches since February 5, the Saudi Press Agency (SPA) has carried photographs of funerals for the "martyrs" it said died "defending the southern borders."
The most recent report, published late on Monday, named Jaber Haroubi as the latest soldier to be killed.
SPA also quoted the father of another military casualty, Mohammed al-Manjahi, as saying he was proud of his son.
A Saudi-led coalition began air strikes over Yemen in March 2015 to support the internationally recognised government of President Abedrabbo Mansour Hadi in the fight against Iran-backed Huthi rebels.
The Huthis, allied with former members of the security forces loyal to ex-president Ali Abdullah Saleh, have carried out retaliatory rocket strikes and engaged in firefights along the border.
They have also launched ballistic missiles further into the kingdom.
An earlier AFP tally of reports by the Saudi interior ministry and civil defence department found that at least 115 civilians and soldiers had been killed on the southern border since coalition operations began.
That total has now reached at least 127.
A Western diplomat told AFP last week that more than 100 members of the Saudi armed forces had likely been killed since the coalition intervened nearly two years ago.
The coalition's spokesman could not immediately be reached for comment on the tally.
Official media have previously reported on funerals for dead troops. But this month's series of dispatches, including photographs of slain soldiers' families bearing coffins, is unusual.
SPA said the director of the Border Guards, Awad al-Balwi, last Wednesday paid tribute to two of his men killed in the Jazan region on the frontier.
"They were among the best," SPA said he told the dead men's families while conveying condolences in their villages.
The Saudi interior ministry regularly gives details of casualties among its Border Guard troops but other military services normally do not.
SPA on Monday reported that separate funeral prayers were held for five other soldiers killed on duty in the south.
There were no details of how they died.
The rebels' Almasirah television website said on Monday that insurgents killed an unspecified number of Saudi soldiers during an advance "towards the mountains surrounding Jazan".
The latest losses came as Yemeni government forces claimed full control of the Red Sea coastal town of Mokha on Friday and prepared a push further north into rebel-held territory.
Medical and military sources in Yemen on Monday reported renewed clashes in Mokha as well as the coastal town of Midi, which is just over the border from Jazan.
They reported eight rebels and three pro-government troops dead in fighting on Monday evening.
Six loyalist troops died on Tuesday when a coalition air strike hit their convoy north of Mokha in "error", a military source said.
The war in Yemen has left thousands dead and millions struggling to feed themselves, a toll which UN Secretary General Antonio Guterres said in Riyadh on Sunday left him heartbroken.
Seven ceasefires brokered between government and rebel forces by the UN have failed, while UN-backed peace talks have repeatedly broken down.
http://nation.com.pk/international/15-Feb-2017/12-saudis-killed-in-recent-yemen-border-fighting
--------
Gulf states urged to 'seize opportunity' of Rouhani visit
Feb 15, 2017
DUBAI - A top Iranian official called on the Gulf Arab states on Tuesday to seize the opportunity of a visit by Iranian President Hassan Rouhani to Oman and Kuwait to improve ties, warning that a chance like this would "pass like a cloud".
Rouhani will visit Oman and Kuwait on Wednesday on his first visit to the Gulf states since taking power in 2013.
The six Arab members of Gulf Cooperation Council (GCC), especially Saudi Arabia, accuse Iran of using sectarianism to interfere in Arab countries and build its own sphere of influence in the Middle East. Iran denies the accusations.
"Rouhani's regional initiative to accept invitation of leaders of Oman and Kuwait signals the need for Islamic friendship and restoration of regional ties," Hamid Aboutalebi, the Iranian president's deputy chief of staff, tweeted on Tuesday.
"This regional initiative is an opportunity that our regional friends should seize. Opportunity passes like a cloud. Take advantage of the good opportunity," he added.
Saudi Arabia and Bahrain cut diplomatic relations with Iran in January 2016 after protesters torched the Saudi embassy in Tehran. Kuwait, Qatar and the United Arab Emirates recalled their envoys in a show of solidarity with Riyadh, but Oman only expressed regret over the attack, highlighting its better ties.
Oman has traditionally resisted Gulf Arab states' efforts to close ranks against Iran. It helped to mediate secret US-Iran talks in 2013 that led to a historic nuclear deal signed in Geneva two years later.
Kuwait's foreign minister paid a rare visit to Tehran late in January to deliver a message to Rouhani on the "basis of dialogue" between Gulf Arab states and Iran.
Rouhani said Kuwait was among at least 10 countries to have offered to mediate in Iran's escalating feud with Saudi Arabia.
The Iranian president will meet Oman's Sultan Qaboos in Muscat on Wednesday before travelling on to Kuwait on the invitation of its ruler, Emir Sheikh Sabah al-Ahmad al-Sabah, Rouhani's deputy chief of staff for communications, Parviz Esmaeili, was quoted as saying on Monday by state-run Press TV.
Iran's ambassador to Kuwait, Alireza Enayati, was quoted by ISNA news agency as saying that "on this one-day visit regional issues as well as bilateral cooperation will be discussed".
http://nation.com.pk/international/15-Feb-2017/gulf-states-urged-to-seize-opportunity-of-rouhani-visit
In Netanyahu visit, Trump will show a welcome Israel policy shift from Obama
Perhaps no event better illustrates the foreign policy shift in Washington than the reception Israeli Prime Minister Benjamin Netanyahu will get when he arrives Wednesday for his first U.S. visit since the election of Donald Trump.
Where the hard-line Mr. Netanyahu and President Obama famously had trouble getting along, Mr. Trump has become known for his forthright and repeated vows to prove "there is no daylight between America and our most reliable ally."
Although the general mood will be warm, there could be moments of tension. Mr. Trump and his aides have appeared to criticize the Netanyahu government for its accelerated policy of Jewish settlements on land Palestinians want for an independent state, signaled that the U.S. for now will abide by the Iran nuclear deal, and slow-walked Mr. Trump's promise to move the U.S. Embassy to Jerusalem.
Still, on a symbolic level, both sides will be looking to show that tensions of the recent past are gone.
"Both President Trump and Prime Minister Netanyahu have a very big stake in wanting to demonstrate that whatever problems were with the last administration, they are now gone, said Dennis Ross, who served as the top U.S. diplomat to the Israeli-Palestinian peace process in the George H.W. Bush and the Clinton administrations.
Mr. Netanyahu told reporters in Jerusalem that he would handle ties with the U.S., in a "prudent manner," but he offered few specifics.
The alliance between Israel and America has always been extremely strong. It's about to get even stronger. President Trump and I see eye to eye on the dangers emanating from the region, but also on the opportunities," Mr. Netanyahu said as he boarded a plane to Washington, The Associated Press reported.
Analysts say Mr. Trump may use Mr. Netanyahu's visit to announce the listing of Iran's Revolutionary Guard Corps — the powerful branch of the Iranian military charged with protecting the principles of the country's Islamic revolution — as a terrorist organization. At a minimum, the two men are expected to make a joint public condemnation of Iran's recent activity across the Middle East.
Mr. Netanyahu, who was first elected in 1996 and has since been in and out of power in Israel through successive U.S. administrations, will also be putting some heavy issues on the table, including Mr. Trump's expressed desire to cooperate with Russia in defeating the Islamic State in Syria, where Tehran and Moscow are working together in support of Syrian President Bashar Assad.
"Netanyahu is [not] against seeing U.S.-Russian cooperation," Mr. Ross said, but he wants to be sure "that whatever comes out of Syria, it can't be a new front that Israel faces on its border with the [Iran] Revolutionary Guard and with Hezbollah."
The two leaders are also expected to discuss the moribund Israeli-Palestinian peace process, which repeatedly frustrated the efforts of the Obama administration and former Secretary of State John F. Kerry.
As president-elect, Mr. Trump slammed the Obama White House for breaking with practice and refusing to block a December U.N. Security Council resolution condemning Israeli settlement construction in Palestinian areas of the West Bank. The move was widely seen as a sign of Washington's growing impatience with Mr. Netanyahu and settlement policies.
Mr. Trump may stand with Israeli hard-liners on the issue. The president's son-in-law, Jared Kushner, now a top White House aide, along with David Friedman, Mr. Trump's nominee to be U.S. ambassador to Israel, have deep ties to the Israeli settler movement.
But the Trump White House surprised many last week by suddenly issuing a warning to Israel that the construction of new settlements "may not be helpful" to peace efforts — a move that suggested Mr. Trump's wider view of the situation could be similar to traditional American foreign policy.
The White House has said the issue will be on the table Wednesday, but analysts contend that efforts will be made to avoid the appearance of any friction.
"Even if the two men disagree on Israel's policies, we are likely to see a return to where disagreements between allies are discussed quietly and respectfully, behind closed doors," said Jonathan Schanzer, vice president of research at the Foundation for Defense of Democracies, a Washington think tank.
With Netanyahu visit, Trump faces difficult test on Israel this week
Donald Trump this week could become the latest president to backtrack on a campaign-trail promise to move the U.S. embassy in Israel from Tel Aviv to Jerusalem. Or he could become the first president to make good on that pledge, at the risk of unleashing chaos in America's relationship with the Arab world.
Moving the embassy would mean that the U.S. formally recognizes Jerusalem as Israel's capital, undermining Palestinian hopes of anchoring a future state in the eastern part of the city — and thereby potentially making it impossible to restart stalled Middle East peace talks. Already, Arab allies have warned Trump against the move, while Israel has encouraged him, at least in public.
A decision could come by Wednesday, when the unpredictable president hosts Israeli Prime Minister Benjamin Netanyahu at the White House. A day later, the Senate Foreign Relations Committee will grill Trump's pick to be U.S. ambassador to Israel, bankruptcy lawyer David Friedman.
Full report at:
http://nation.com.pk/international/14-Feb-2017/in-netanyahu-visit-trump-will-show-a-welcome-israel-policy-shift-from-obama
--------
Yemeni forces shoot down Saudi Arabian drone over Ma'rib
Feb 15, 2017
Fighters from Yemen's Houthi Ansarullah movement have downed a Saudi Arabian drone over the war-torn country's central province of Ma'rib.
According to Yemeni military sources, the unmanned aerial vehicle was shot down while engaged in operations over the province's Sirwah district.
On Saturday, nearly a dozen civilians lost their lives when Saudi military aircraft carried out an airstrike against a residential neighborhood in Yemen's southwestern province of Ta'izz.
According to the United Nations humanitarian coordinator for Yemen, Jamie McGoldrick, the Yemeni conflict has claimed the lives of 10,000 people and left 40,000 others wounded.
Full report at:
http://www.presstv.ir/Detail/2017/02/15/510595/yemen-drone-saudi-maarib
--------
Turkey runs informer network in Austria to target critics: MP
Feb 14, 2017
A senior Austrian opposition lawmaker has accused Turkey of running an informer network via its embassy in Vienna aimed at targeting the critics of President Recep Tayyip Erdogan and promoting his policies.
On Tuesday, Peter Pilz, from the Austrian Greens party, said at a news conference that he had sent documents regarding the activities of the network, run by the umbrella group ATIB, to the police.
The ATIB is headed by the religion attaché at Turkey's embassy, Fatih Mehmet Karadas, and oversees the activities of dozens of mosques across Austria.
"The ATIB umbrella group is an instrument of hard, ruthless and, in my view, legally unacceptable Turkish government politics in Austria," Pilz told a news conference.
Pilz noted that the Turkish government sends imams to work for the ATIB to collect information in particular about followers of exiled cleric Fethullah Gulen, whom Erdogan has accused of plotting an attempted coup in Turkey last July.
Gulen denies any involvement in the abortive coup, which claimed the lives of at least 240 people. However, the Turkish government has arrested tens of thousands of people over suspected ties with the US-based cleric.
The umbrella organization also monitors Turkish Kurds, Turkish opposition politicians and journalists in Austria, Pilz added.
This combo file photo shows Turkish President Recep Tayyip Erdogan, right, and US-based cleric Fethullah Gulen.
Responding to the comments by the Austrian lawmaker, the Turkish government and the ATIB issued separate statements, denying the accusations.
"We absolutely reject these allegations. We urge Austrian officials to act with reason and to refrain from statements that would harm Turkish-Austrian relations and the peace of the Turkish community in Austria," the Turkish Foreign Ministry announced in a statement.
In another statement, the ATIB said that as an Austrian body it did not tolerate any foreign interference.
Full report at:
http://www.presstv.ir/Detail/2017/02/14/510581/Turkey-Austria-Vienna-Erdogan-Gulen-ATIB-coup
--------
Three, including child, killed in car bombing in Yemen's Bayda
Feb 14, 2017
Three people, including a child, have been killed in a bomb attack in Yemen's central province of Bayda.
According to Yemen's official Saba news agency, the bombing was carried out near a checkpoint in the center of the town of Rada' on Tuesday, when Yemeni soldiers fired at an advancing car, suspected of carrying explosives, to bar it from striking itself against a nearby sports and culture club.
The huge blast killed the assailant on the spot and claimed the lives of a fighter with the Houthi Ansarullah movement and a child. It also injured at least eight other people.
The explosives-laden car was heading to target the club, in which a ceremony was held in commemoration of martyrs from the Yemeni army and the Ansarullah movement.
The explosion also damaged a nearby school and shattered the windows of houses that were in the vicinity of the blast site.
No individual or group has claimed responsibility for the attack, but it was carried out in a province where Takfiri terrorists belonging to Al-Qaeda in the Arabian Peninsula (AQAP) are present.
Car bomb attacks are not uncommon in the war-torn Yemen, where the Daesh Takfiri terrorist group and AQAP have gained footholds.
Yemenis search under the rubble of damaged houses following Saudi airstrikes on the outskirts of the Yemeni capital, Sana'a, February 1, 2017. (Photo by AFP)
Yemen has also been severely bombarded by warplanes belonging to its northern neighbor Saudi Arabia, which launched a full-scale war against Yemen in March 2015. The campaign has killed at least 11,400 Yemenis, according to the latest tallies.
Full report at:
http://www.presstv.ir/Detail/2017/02/14/510572/Yemen-bombing-Rada-Qaeda-Daesh-Bayda
--------
Israel withdraws envoy to Egypt over security concerns
Feb 14, 2017
Israel's internal spy agency, Shin Bet, says the regime has temporarily withdrawn its ambassador to Egypt, citing security concerns in the North African country.
"Due to security considerations the return of the foreign ministry embassy staff to Cairo has been restricted," the agency said in a statement released on Tuesday without elaborating on when the pull-out took place.
However, Britain's Daily Telegraph said Israel's ambassador to Cairo, David Govrin, had been pulled out of the diplomatic mission at the end of last year.
According to the report, the envoy is currently working from Jerusalem al-Quds while Tel Aviv hopes that he will be able to return to his post soon.
Egypt has been wracked by a series of terror attacks.
A Daesh-affiliated militant group operating in Egypt's Sinai Peninsula has recently stepped up its assaults, taking advantage of the chaos created following the ouster of the country's first democratically-elected president Mohamed Morsi in July 2013.
Sinai is situated in the northeastern extremity of Egypt and adjoins the occupied territories and the blockaded Gaza Strip on the east.
Full report at:
The Israeli mission reopened in September 2015 after four years of closure.
http://www.presstv.ir/Detail/2017/02/14/510563/Israel-Egypt-David-Govrin
--------
Africa
Congolese soldiers kill at least 101 in militia clashes: UN
Feb 15, 2017
Soldiers targeting the Kamwina Nsapu militia group in central Democratic Republic of Congo killed at least 101 people between Feb. 9 and Feb. 13, including 39 women, the UN said on Tuesday.
The soldiers fired indiscriminately with machine guns when they saw the militia fighters, who were armed mainly with machetes and spears, human rights spokeswoman Liz Throssell said, citing sources in the country.
"We are deeply concerned at the reported high number of deaths, which if confirmed would suggest excessive and disproportionate use of force by the soldiers," she said.
Hundreds have died and tens of thousands have been uprooted in central Congo in recent months in battles between security forces and the militia, who are seeking to avenge the death of their leader Kamwina Nsapu.
He was killed by the Congolese armed forces last August, after vowing to rid Congo's Kasai-Central province of all state security forces, accusing them of abusing the local population.
"It appears that since then the militia have become radicalized and they are attacking state institutions, what they see as the symbols of the state. The actual roots of the conflict are very deep and very complex," Throssell said.
The authority of some customary chiefs is recognized by the government and can be passed from father to son, but Kamwina Nsapu was not officially recognized.
Analysts say militia violence in Congo, a tinderbox of conflicts linked to land, ethnicity and mineral resources, has been exacerbated by President Joseph Kabila's failure to step down when his constitutional mandate expired in December.
Throssell did not have an estimate of the total size of the Kamwina Nsapu militia, but said there had been several attacks involving over 100 militia members.
"They have a lot of popular support," she added.
Many of the militia fighters are children but Throssell could not confirm if children were among the dead. The majority of the dead were thought to be militia members, but 39 women were caught in the firing line and killed during an incident in a market on Feb. 9, she said.
The clashes took place in and around the town of Tshimbulu, about 160 km (100 miles) south of the provincial capital Kananga, she said.
http://nation.com.pk/international/14-Feb-2017/congolese-soldiers-kill-at-least-101-in-militia-clashes-un
--------
'Conditions in prison were terrible': SA Muslim cleric describes 500-day Egypt detention ordeal
Taschia Pillay
2017-02-14
Bassiouni' who heads the Al Tawheed Islam Centre in Lenasia' Johannesburg' was said he was thrilled to be back in the country. The centre' which has branches across the country' caters to orphans' the homeless and the impoverished.
He had spent almost 500 days in Egyptian custody after he was detained without charges in December 2014.
Bassiouni was detained when he entered Egypt with his family to attend his daughter's engagement. On arrival at Cairo International Airport' he and his son Bilal were taken into custody.
They were interrogated separately about their political affiliations and questioned whether they were members of the Muslim Brotherhood' which Egypt's government has declared a terrorist organisation. Bilal was released 20 hours later.
The 66-year-old was released in March last year under house arrest.
Bassiouni' who holds dual Egyptian and South African citizenship and has lived in South Africa for 25 years' arrived in Johannesburg on Sunday.
"I feel safe and at peace in South Africa. It was very difficult in Egypt. Conditions inside the prison were terrible. I had to sleep on a blanket on the floor in a small room with many people. I fell in the bath and injured my back and received no treatment except one painkiller a week. I received no help from the courts'" he said.
He said he had gone with his family to Egypt to get his daughter married and was surprised when he was taken and interrogated.
Full report at:
http://www.timeslive.co.za/local/2017/02/14/Conditions-in-prison-were-terrible-SA-Muslim-cleric-describes-500-day-Egypt-detention-ordeal
--------
Nigeria: Church, Others Withdraw Suit Against Conversion of Girl to Islam, Marriage
14 FEBRUARY 2017
The Evangelical Church Winning All, ECWA, and Trustees of Stefanos Foundation have withdrawn a suit filed before a Katsina High Court against conversion of a teenage girl, Habiba Ishaku, to Islam.
The News Agency of Nigeria reports that the girl had eloped, embraced Islam and married one Jamilu Lawal in Wawar-kaza village of Kankara Local Government Area of Katsina State.
The girl had also written a letter to the court to disassociate herself from the suit purportedly instituted on her behalf and put her age at 18 years.
Respondents in the case were the Katsina State Government, Katsina Emirate Council and Jamilu Lawal.
During the proceedings on Tuesday, the court informed the counsel about a letter sent by the counsel to the plaintiff, Bawa Yakubu, urging the court to discontinue with the suit.
In the letter, Mr. Yakubu told the court that the decision was necessitated by the amicable settlement between the parties involved facilitated by Governor Aminu Masari.
He, therefore, urged the court to strike out the case.
In his submission, the counsel to the state government and the emirate council, Abu Umar, urged the court to ask the parties involved to honour the resolution and "dismiss" the case.
Bako Nasir, counsel to Habiba's husband, Jamilu Lawal, said that Habiba was at liberty to convert to Islam from Christianity at her will.
Full report at:
The judge, Baraka Wali, adjourned the sitting to February 17 for ruling on the letter.
http://allafrica.com/stories/201702140677.html
--------
Somalia: Military Court Sentence 7 Al-Shabaab Militants to Death
14 FEBRUARY 2017
By Mohamed Olad Hassan
A military court in northern Somalia town of Bosaso has on Monday sentenced seven suspected al-Shabab Islamist militants to death.
Abdifatah Haji Aden, the Chairman of Puntland's military court, said, the militants are proved to have been part of a high profile assassination against Puntland officials.
Aden earlier accused the militants of having carried out coordinated assassinations against Puntland officials.
"After all the court proceeding including hearings and the presentation of evidences the court sentences these seven men to death," Aden said. "They can take an appeal within 30 days otherwise the sentence will be carried out."
At the court, before the sentence were announced, some of the defendants shouted "We are innocent!"
The defendants' lawyers said, "The sentence was unfair and no credible evidences were brought before the court."
The past three months suspected militants killed three senior Puntland officials in Bosaso port city, the commercial hub of Puntland.
Full report at:
http://allafrica.com/stories/201702140524.html
--------
Europe
Pope Francis meets Hebrew University officials to plan interfaith education program
February 8, 2017
(JNS.org) Pope Francis met with officials from Hebrew University of Jerusalem to develop and plan an interfaith educational program seeking to promote civic opportunity and dialogue among youths from the Middle East and around the world.
According to organizers, the initiative will be an international conference hosted by the Vatican's Pontifical Scholas Occurentes program and Hebrew University's Truman Research Institute next summer, and will "bring together youth, educators and academics to Jerusalem under the banner of 'The Culture of Encounter Through Education.'"
International scholars and organizations dealing with social issues, as well as researchers from around the world, are expected to join the participants at Hebrew University "to discuss the promotion of peace and a better future, and the role of academia in social action."
"Religion can bring us together and teach us to create the bonds of friendship. With the intuition of Scholas and the intelligence and history of the Hebrew University, I am sure that this will produce great changes in the world," Pope Francis said.
Hebrew University President Prof. Menahem Ben-Sasson said, "The Hebrew University and its Truman Institute are excited to work with Pope Francis and Scholas to foster encounters between young people, academia, and the real world, towards progress and peace. This project is aimed at building a better future for the world."
http://www.jns.org/news-briefs/2017/2/8/pope-francis-meets-hebrew-university-officials-to-develop-interfaith-educational-program?utm_content=buffer5fcf6&utm_medium=social&utm_source=twitter.com&utm_campaign=buffer&mc_cid=07d7b35037&mc_eid=6589ba8a21#.WKIzZrYrL0F=
--------
A century in the making, Athens set for first mosque since Ottoman times
Feb 14, 2017
Athens's half a million Muslims are set to get their first official mosque in more than a century.
The city has not had a formal mosque since it drove out occupying Ottomans in 1833, and deputy foreign minister Ioannis Amanantidis told parliament last year that it was the only European capital "to be deprived of such a religious space".
For years Muslims have resorted to praying in hundreds of makeshift sites, in crowded basements or dark warehouses targeted by racist attackers.
In May, Prime Minister Alexis Tsipras declared building a mosque long overdue. The government, he said, would push ahead "out of respect for the Muslim residents in our capital, but also because we are obliged to actively defend our values."
The new mosque – a 1,000 square metre building without a minaret, split over two levels – is expected to be ready in April in an old naval base in an industrial, rundown part of Athens.
"We need the mosque for our new generation, for our youth ... to feel equal in law, equal in society," said Greece's Muslim Association spokeswoman Anna Stamou, a Greek who converted to Islam.
Friday prayers in the underground garage where she and her family went were recited in Arabic and Greek. Men knelt down to pray on its humid crimson carpet, ventilation pipes barely above their heads.
Plans to build a mosque began in 1890 with an act of parliament, but all fell through, including one timed for the 2004 Olympics. The latest effort split the ruling coalition and Tsipras's right-wing partners voted against a bill to speed up construction. Critics say Athens, kept afloat by international funds since 2010, cannot spare the 800,000 euros to build it.
Golden Dawn, the ultranationalist party third in popularity in polls, says migrants are burdening state resources at a time of crisis. Others still associate mosques with Turkey, its Muslim neighbour and longstanding rival.
For months last year a dozen Greek nationalists occupied the mosque site and set up a homeless centre, calling it "a hot spot for Greeks" drawing a contrast with centres on Greek islands for mainly Muslim refugees and migrants arriving from Turkey.
Messages still on the compound's boarded up gate are stark: "No mosque," graffiti reads. "Muslims out."
Full report at:
http://www.hindustantimes.com/world-news/a-century-in-the-making-athens-set-for-first-mosque-since-ottoman-times/story-ijgt3hBNVt2j03y1J0XlZJ.html
--------
Anti-Islam Wilders frontrunner as Dutch election campaign begins
Feb 15, 2017
Campaigning for the Dutch election kicks off on Wednesday with anti-Islam leader Geert Wilders frontrunner in a vote that will test the anti-establishment sentiment that swept Britain out of the European Union and Donald Trump into the U.S. presidency.
Wilders, a eurosceptic, anti-immigration fan of Trump has dubbed the March 15 parliamentary election the start of a "Patriotic Spring" in Europe, where French and German voters go to the polls in May and September.
Unlike Trump's win and the Brexit vote, it will not be a shock if Wilders and his Party for Freedom win, he has led in opinion polls for most of the past two years and the fragmented political landscape means a coalition government of four or more parties is all but inevitable.
His main rival, Prime Minister Mark Rutte of the conservative VVD Party, is banking on a strengthening economic recovery to restore popularity lost during the austerity years of 2012-2014.
Wilders' party is expected to get 20 percent of the popular vote, compared to Rutte's 16 percent. A simple majority of just over half is generally sought to govern, but all but one party have ruled out sharing power with Wilders, whose policies are seen by many as offensive and sometimes unconstitutional.
There are 31 parties competing for votes, with 14 likely to win at least one seat in the 150-member Dutch parliament. The next three largest parties command no more than 10 or 11 percent of the vote.
"The overwhelming majority of Dutchmen basically do not vote for (Wilders)," said Kristof Jacobs, a teacher at Radbout University in Nijmegen.
NO "NEXIT"
So a victory for Wilders is unlikely to lead to the Netherlands leaving the European Union, closing the border to Muslim immigrants or reinstating the Dutch currency, policies only his party endorses.
In December, Wilders was convicted of inciting discrimination against Moroccans for leading a chant of "Fewer! Fewer! Fewer!" at an election rally in 2014.
If Wilders' PVV party finishes first but is unable to form a government, Rutte will be left trying to forge a centrist coalition with several parties that share little more than opposition to Wilders.
In that case "we will stay put and manage the country until there is a new coalition," Finance Minister Jeroen Dijsselbloem said on Tuesday. "That could even last for up to four years."
Full report at:
http://nation.com.pk/international/15-Feb-2017/anti-islam-wilders-frontrunner-as-dutch-election-campaign-begins
--------
ISIS Doesn't Stand A Chance, Unless America 'Engages' Russia
FEB 14, 2017
The proposal that America engage Russia to fight Islamic terrorism is beyond folly. Russia's recent intrusion into America's electoral process may flag caution. But that is woefully insufficient. The proposal is either willed ignorance or studied reality reversal.
First, the proposal dismisses Russia as the overarching existential threat to our existence, both as a free democratic society and physically. For all its savagery, ISIS is not an existential threat, whether to the U.S. or to Europe. ISIS beheads individuals. The Kremlin decapitates entire democratic processes. Russia has and is everything ISIS does not and is not. Russia remains, as was the Soviet Union, the largest country on earth, including an entire third of Asia. It seamlessly projects its power across 11 times zones, from Europe to the Sea of Japan to miles within the U.S. border. Its combined nuclear/conventional/chemical/biological arsenal transcends anything we can muster.
The USSR was established as the quintessential terrorist state, and was never merely a "state sponsor" of terrorism. Its terror was organized, methodical and above all hyperbolic, eclipsing anything that ISIS can engineer. The very reason for it all was to establish the structure that would destroy the West, more specifically the greatest Satan of them all (as is for ISIS), the United States.
Instead of contrition or apology, Putin embraces that legacy. He is the Darwinian product of 450 years since the founding of the first secret police, the Oprechnina. "Superior negotiating skills" will not reverse that DNA spiral. Russia thus has a huge asset that ISIS does not. Our visceral reaction against ISIS is absolute. But Putin's worship of Stalin and adoption of his tactics triggers no comparable reaction in the West. To better understand the point, consider a former Gestapo officer presiding over a Germany that never admits or repents, but instead glorifies Hitler and its Nazi past, and invades Denmark and Holland as "threats" to its security.
Second, the proposal requires that we engage Russia to assist (how, exactly?) countering a secondary danger whose (i) very creation Russia enabled, aided and abetted, that (ii) it continues to promote, and that (iii) it continues to be the beneficiary of. ISIS's genome was engineered by Moscow as "Arab Nationalism" in the 1970s and 1980s, training and directing the terrorist assault on the West. The 1972 Munich Olympics. The bomb attack in Brussels on General Alexander Haig, commander of NATO. The bombing of the U.S. Marine barracks in Beirut in 1983. The attack on the USS Cole.
Moscow's Patrice Lumumba "Friendship" University seconded foreigners to embed Moscow's agenda in their own countries. Yassar Arafat was one, the KGB's makeover receiving the Nobel Peace Prize. Iran's Ayatollah Khomenei was another. There were thousands. Home-grown, non-Arab terrorists were even better: Venezuelan Carlos the Jackal, Germans Ulrike Meinhoff, French terrorist Regis Debray and former Italian Prime Minister Romano Prodi. All were either direct KGB agents or KGB financed.
Moscow never renounced its imperatives in birthing and sustaining Islamic terrorism, Putin declaring at the 2003 conference of the Islamic Conference Organization that Russia was Islam's historical defender. Alexander Litvinenko was the ex-KGB officer who defected and who in 2005 was assassinated by Moscow in London using Polonium 210—nuclear warfare in Magna Carta's front yard. He had revealed that Ayman al-Zawahiri, the head of al-Qaeda, had been trained by the KGB in Dagestan, a region currently controlled by Russia and that was tied to the two Boston Marathon bombers. We know that Al-Zawahiri planned 9/11 with Osama Bin Laden. More recently, the KGB has supplied recruits for ISIS from its North Caucasus and Central Asia regions.
"Radical Islamic terror" serves Russia's purpose perfectly. Why should Putin refuse its benefit? The smoke had not cleared from the Boston Common before Putin called President Obama to intone his sympathy. Particularly for Americans (and, importantly, as much viscerally as cerebrally), the bombing by two Chechen brothers rebranded Putin's genocidal war against Chechnya as a campaign against "Islamic terrorism" (Chechens are conveniently Muslim). This, in turn, neutralized Litvinenko's revelation that the Russian apartment bombings (which were Putin's pretext for that genocide) had been the work of Putin himself. We were thereby relieved of any moral tug that we may have had over Moscow's assassination of Litvinenko. At the end, we were presented with seeming proof of Russia's common cause with America in fighting "Islamic terror." With preceding circumstances, motive, opportunity and benefit established, history will show the Kremlin's advance knowledge of the two Tsarnaev brothers' intentions, and that it could have prevented the Boston horror. It willfully did not. If a dirty bomb explodes in Friendship, Maine, or thousands in Topeka simultaneously die from "natural causes," the last cry heard may be "Allah Akbar." We should then well ponder if that's as far as it goes.
Third, the proposal eviscerates America's values and principles—its greatest weaponry in the world—by endorsing their denial. Russia's "common interest" is not with Washington. It's with ISIS. How many attacks by ISIS have there been in Russia? Precisely. Russian fundamentalism is at one with radical Islamic fundamentalism: the subversion and destruction of Western values and its societal structure. Both market a vitriolic anti-Western ideology, a faux morality playing the "Western society is immoral" card. Both Russia and ISIS are propelled to kill. For both, it's more than a duty. It's an entitlement. Heads of teenagers sent in a wooden box to their mothers, death for a cartoon, the hacking off of limbs, the terrorization of civilians, the use of women and children as human shields, locating active firepower in nursery schools and hospitals, castration of prisoners. No, not ISIS, but more than 10,000 innocents killed by Russia in Ukraine and more than 2 million Ukrainian refugees. And Russian incendiary bombs vaporizing toddlers in Aleppo? If America confronts ISIS by embracing ideologues sharing the same murderous purpose and record, our worldwide credibility will suffer even more, and justifiably so.
Full report at:
http://www.forbes.com/sites/realspin/2017/02/14/isis-doesnt-stand-a-chance-unless-america-engages-russia/#521b2c1f5fc1
--------
URL: https://www.newageislam.com/islamic-world-news/new-age-islam-news-bureau/harvard,-yale-and-stanford-sue-donald-trump-over-his--muslim-travel-ban-/d/110087
New Age Islam, Islam Online, Islamic Website, African Muslim News, Arab World News, South Asia News, Indian Muslim News, World Muslim News, Womens in Islam, Islamic Feminism, Arab Women, Womens In Arab, Islamphobia in America, Muslim Women in West, Islam Women and Feminism, Moderate Islam, Moderate Muslims, Progressive Islam, Progressive Muslims, Liberal Islam