New Age Islam News Bureau
23 March 2015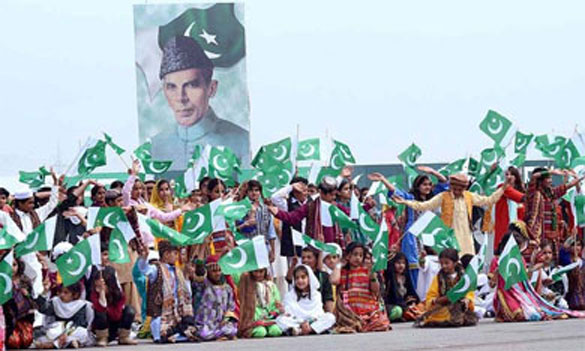 23rd March tableau at the new parade venue near Islamabad's Shakarparian area— APP
--------
Pakistan
• 'Hanging Terrorists Is an Islamic Act' Say Sunni Leaders
• Pakistan Holds First Republic Day Parade in Seven Years
• Mullah Fazlullah Reportedly Killed In Airstrike
• 8 terrorists killed, over 30 arrested
• Miscreants set ablaze 5 tankers in Balochistan, abduct four drivers
• K-P speaks out in favour of Rangers' ongoing operation
• Security forces regain strategic heights in Tirah
• Pakistan keen to settle all issues with India, including Kashmir: Basit
• Terrorists to be targeted with precision
• JuD chief stresses unity at ideology conference
• US drones killed 2,200 in Pakistan: Islamabad
-----------
Arab World
• Islamic State Posts List of Military Names, Urges Members to Kill Them
• Four Killed in Mortar Attacks in Syria's Aleppo
• Iraq Says ISIL Fighters in Tikrit under 'Full Siege'
• UK Medical Students 'Become IS Doctors'
• Muslim figure defends Vic principal on IS
• Syrian insurgents 'mimicking' army violence
• U.S. resumes consular services in Saudi Arabia
• Syria regime helicopter crashes, crew captured
• German tourist killed in Egypt shark attack
• Sisi honours mother who had to dress as a man for work
• Syria terrorist groups kill civilians: HRW
• Boost efforts to tackle challenges to Muslims
-----------
Southeast Asia
• PAS's Hudud Law Not Divine, Open to Criticism, Says Muslim Activist Farouk Musa
• Let International Panel Review Kelantan's Hudud, Perlis Mufti Suggests
• Malaysian Parties Chase Islamic Vote with 'Death By Stoning' Law
• Hong Kong Muslim group denies Islamic State links after prayer meeting cancelled
• DAP urged to keep out of affairs of Islam
• Indonesian anti-terror police arrest alleged Islamic State recruiters
----------
North America
• ISIS Urges Faithful to Rise Up Against Infidels in America
• U.S. Won't Take Floor at U.N. Debate on Israel, Palestine
• Muslim Leaders, Tech Companies Work to Counter Militants
• CIA Director Brennan: Islamic State is 'ideology of violence,' not of Muslim faith
• Akbar Ahmed examines experiences of Muslims in 'Journey into Europe'
------------
Europe
• Morocco Dismantles ISIL-Affiliated Terror Network
• Germany Gets First Islamic Bank
• French Muslims caught between Islamophobia and extremism
• U.K. Tory Denies Wrongdoing Over Links to Anti-Muslim Extremists
• 3 Muslim victims of terror ignored by media
• Russia Seeks Rescue in Islamic Banking
-----------
Mideast
• Fears Growing In Yemen over Houthis' Advance to Aden
• Erdogan At Odds With Government over Kurdish Peace Process
• U.N. envoy warns Yemen is 'on the edge of civil war'
• Palestinians protest planned Jerusalem evictions
• Israel says arrests West Bank Hamas cell planning attacks
• CIA: Iran not U.S. ally in fight against ISIS
• Iran general in Iraq 'whenever we need', says militia chief
• Remodelling the Muslim response to terror attacks
-----------
India
• Narendra Modi Govt Making Muslims and Christians 'Insecure': AIMPLB
• Happy with jihad, I won't come back to India, Kalyan youth with ISIS says
• Home Minister tells Pakistan to end terror, seeks friendly ties
• Modi extends greetings to PM Nawaz on Pakistan Day
----------
South Asia
• ISIS Is Targeting Afghanistan, President Ashraf Ghani Tells NBC News
• Former Afghanistan Task Force head raises caution flag over Iraq
• Top JuMB Terrorist in NIA Custody in Kolkata
• 4th person accuses Hasan of shooting FF's father
• AZM Nasir seeks blessings from Mohiuddin
----------
Africa
• Muslim Fighters Kill 11 In Central African Attacks
• Libyan Arms Shells Extremist Training Camp South-East of Tripoli
• In Jordan, the Muslim Brotherhood is the master of its own demise
• 'Terrorist' mine kills soldier in west Tunisia
• Third Tunisia museum gunman on the run
• Mine blast kills Tunisia soldier, injures 2: Defense Ministry
• Libya talks continue despite clashes: UN envoy
Compiled by New Age Islam News Bureau
URL: https://www.newageislam.com/islamic-world-news/new-age-islam-news-bureau/'hanging-terrorists-is-an-islamic-act'-say-sunni-leaders/d/102073
-----------
Pakistan
'Hanging Terrorists Is an Islamic Act' Say Sunni Leaders
March 23, 2015
LAHORE - Sunni leaders at a conference on Sunday said hanging the terrorists is an Islamic act and the government should not bow to foreign pressures while taking such a step to curb terrorism.
They said those carrying out terrorist activities in the name of Islam were defaming this divine religion under a well thought-out conspiracy.
The conference had been organised by Tehrik Sirat-i-Mustaqeem Pakistan at the Minar-i-Pakistan.
Dr Muhammad Ashraf Asif Jalali, Shah Muhammad Awais Noorani, Muhammad Sarwat Ijaz Qadri, Sheikhul Hadith Khadim Hussain Rizvi, Mufti Abdul Haleem Hazarvi and many others addressed the participants from across the country.
The speakers said the government should not take a hasty decision while deciding the fate of condemned prisoner Saulat Mirza.
They said if the death row prisoner wanted to play a role to save Pakistan, he should be afforded an opportunity.
The speakers alleged that the followers of Sunni school of thought were being targeted.
They warned the government that such an attitude would not be tolerated.
They were critical of the inactive role of the OIC and said an effective organization should be set up to solve problems facing the Islamic countries.
They opposed India's desire for United Nations Security Council seat.
They condemned attacks on churches in Youhanabad and lynching of two Muslims as well.
http://nation.com.pk/lahore/23-Mar-2015/hanging-terrorists-is-islamic
-----------
Pakistan holds first Republic Day parade in seven years
Mar 23, 2015
ISLAMABAD: The highly-anticipated joint military parade by the armed forces of Pakistan took place today in Islamabad after a gap of seven years, to commemorate the historic Pakistan Resolution on March 23, 1940 - a day which marks the the birth of a separate state for Muslims.
Personnel from all three services, Pakistan Army, Navy and Air Force, are participating in the parade.
The last parade which took place in the federal capital was on March 23, 2008, reviewed by Gen (retd) Pervez Musharraf as a civilian president, but was discontinued owing to 'security concerns'.
The joint military parade had been a regular event with display of military power and show of Pakistan's folk culture, which captured the imagination of the public quite like the traditional parade, with its impressive march-pasts and aerial shows.
This year's event will take place at the new Parade Ground, specially built near scenic Shakarparian. In the past, the parade was held on Parade Avenue in front of Parliament House and before that, at the Race Course in Rawalpindi.
The national flag brought to the ground by the sky diving paratroopers handed over to President Mamnoon Hussain.
According to the commentator, these colourful parachutes are like rainbow pallets in the air but during war these are camouflaged in the night and are a threat to the enemies.
Air chief arrives at podium
Chief of Air Staff, Air Marshal Sohail Aman, after presenting a fly-past before President Mamnoon Hussain, has joined him one the podium, where the head of the state is reviewing the march-past held by the armed forces personnel.
Armed forces hold march-past
Contingents of the Pakistan Army, Pakistan Air Force,Pakistan Navy, Frontier Corps and Pakistan Rangers held a march-past and performed a salute to President of Pakistan.
Pakistan Army's tanks, including Al-Khalid and Al Zarrar tanks, also perform gun salute in front of the chief guest on the occasion.
he salute by the army tanks was marked by the lowering of their cannons as they pass the podium of the chief guest.
President Mamnoon delivers speech
President of Pakistan Mamnoon Hussain delivered a speech to the participants of the parade in which he paid tribute to those who had lost their lives in the Taliban attack on Army Public School on December 16, 2014.
He also said that Pakistan desired relations with India on the basis of equality and added that the issue of Kashmir needs to be resolved according to wishes of the Kashmiri people.
President Mamnoon also announced the good news that regarding the United Nations' approval of the extension of Pakistan's seabed territory from 200 to 350 nautical miles.
Chief of Air Staff leads fly-past
Chief of Air Staff Air Marshal Sohail Aman leads a fly-past of Pakistan Air Force jets presented to President Mamnoon Hussain over the parade venue.
COAS, CNS, PM and President arrive at venue
Chief of Army Staff General Raheel Sharif, Chief of Naval Staff Admiral Mohammad Zakaullah, Prime Minister Nawaz Sharif, President Mamnoon Hussain and Defence Minister Khawaja Asif have arrived at the parade venue.
Change of guard in Lahore
Earlier during the day a change of guard ceremony was held by the Pakistan Air Force at the mausoleum of national poet Dr Allama Muhammad Iqbal in Lahore.
The ceremonial guard mounting was followed by laying of a floral wreath at the mausoleum by the chief gues on the occasion, Base commander Air Commodore Hamid Faraz. He offered fateha and was also presented with a guard of honour at the tomb.
Gun-salute
A 31-gun salute was fired before sunrise to commemorate Pakistan Day in the federal capital city. Similarly 21-gun salutes were fired in the provincial capital cities.
Strict security measures
Cellphone and wireless Internet services remained suspended as part of security measures in Islamabad. Activities including wedding ceremonies, fireworks displays, celebratory firing, kite-flying and pigeon-flying have been strictly banned in the capital. Strict checking is being carried out by security personnel deputed at checkposts which have been set up at all entry/exit points of Islamabad.
Fireworks display at midnight
Massive firework displays held in Lahore and Quetta at midnight to mark the commencement of Pakistan Day celebrations.
http://www.dawn.com/news/1171371/pakistan-holds-first-republic-day-parade-in-seven-years
-----------
Mullah Fazlullah Reportedly Killed In Airstrike
March 23, 2015
DUBAI: TTP chief Mullah Fazlullah, who masterminded the massacre of 148 people including schoolchildren, was reportedly killed in an airstrike in Afghanistan on Saturday, reported Gulf News on Sunday.
Calling it a 'big blow' that will break the back of "TTP terrorists", Pakistani officials said Fazlullah was killed during a joint operation by Pakistan army and US-led forces in Afghanistan.
However, no official statement was issued.
A highly placed source in Islamabad told Gulf News that the news about Fazlullah's death would soon be made public and his body would also be shown to public.
The joint operation to hunt down Fazlullah was conducted after Army Chief Gen Raheel Sharif rushed to Afghanistan after the Peshawar school massacre, demanding that the Afghan government take action against TTP's most-feared leader hiding there.
Prime Minister Nawaz Sharif had also been informed about the joint operation, sources said.
http://nation.com.pk/national/23-Mar-2015/mullah-fazlullah-killed-in-airstrike
-----------
8 terrorists killed, over 30 arrested
March 23, 2015
KARACHI - At least eight terrorists were killed and more than 30 suspected militants were arrested in separate raids in different areas of the metropolis.
A police team led by SSP Rao Anwar conducted a raid in Quetta Town at Super Highway on a tip-off regarding presence of militants.
Witnessing arrival of police into the area, the criminals opened indiscriminate fire and heavy exchange of gunfire ensued.
SSP Anwar said that the criminals were using modern weapons against the police.
"They fired rockets at the police party upon arrival in the area," he claimed.
He confirmed that three terrorists had been killed by the police.
He informed that the slain terrorists belonged to a banned terror outfit.
Acting on a tip-off, police conducted a raid at Pathan Colony in Orangi Town, killing three suspects and arresting 15 others.
In yet another raid conducted by the Counter-Terrorism Department (CTD), two suspects were killed while large numbers of weapons were recovered from their possession.
The suspects were making explosives.
Police claimed to have arrested 10 suspected members of a banned outfit during a raid in Orangi Town area of the city.
A senior police official told media that the suspects were taken into custody in a search operation in Farid Colony locality.
He said an exchange of fire also took place between the police and the armed men.
Identities of the detainees were not disclosed.
http://nation.com.pk/national/23-Mar-2015/8-terrorists-killed-over-30-arrested
-----------
Miscreants set ablaze 5 tankers in Balochistan, abduct four drivers
SYED ALI SHAH
Mar 23, 2015
QUETTA: Armed men set on fire five oil tankers in Balochistan's Mastung district on Monday and also kidnapped four drivers before fleeing from the scene.
Levies sources told DawnNews that armed men opened indiscriminate fire on five oil tankers in Kirdi Gap area of Mastung.
The sources added that the tankers were carrying fuel from Karachi for the Saindak Project situated in Balochistan's Chaghi district when they were targeted in Kirdi Gap.
The tankers caught fire as the gunfire ignited the fuel payload, following which the militants picked up four drivers and fled to an undisclosed location in the mountainous region.
Fire fighters were dispatched from Mastung city to put off the fire.
Levies and Frontier Corps (FC) personnel reached the spot as a probe into the incident went underway.
A search operation was launched in the area to ensure the safe recovery of kidnapped drivers, Levies said.
There was no immediate claim of responsibility for the attack, however, Levies suspect Baloch separatist militants could be behind the attack.
Oil tankers have regularly been targeted with arson attacks blamed on insurgents attempting to disrupt two key supply lines that cross western Pakistan
http://www.dawn.com/news/1171388/miscreants-set-ablaze-5-tankers-in-balochistan-abduct-four-drivers
-----------
K-P speaks out in favour of Rangers' ongoing operation
Mar 23, 2015
PESHAWAR: Leaders of all major parties in Khyber-Pakhtunkhwa have spoken out in favour of the Rangers' ongoing operation against criminals and armed groups in the port city of Karachi. Although the operation is ruffling the feathers of one party, others are seeing it as an opportunity to gain political footing in the city.
Claiming it has complaints about general election polling in all of Karachi's constituencies, the Jamaat-e-Islami has demanded the formation of a judicial commission to investigate the matter.
While addressing a gathering of party office-bearers in Peshawar on Sunday, JI chief Sirajul Haq called Muttahida Qaumi Movement's mandate from the city "fake".
Re-elections should be held in Karachi and its populace should be given proper representation, said Haq.
"Politics and extortion cannot go on side by side. If the killers of innocent people are being protected in Karachi, we will consider the Islamabad bureaucracy complicit with the MQM," said the JI chief.
Full report at:
http://www.pakistantoday.com.pk/2015/03/23/national/k-ps-politicos-throw-weight-behind-karachi-operation/
-----------
Security forces regain strategic heights in Tirah
Mar 23, 2015
PESHAWAR: Security forces have regained strategic heights in the Tirah Valley of Khyber Agency after fierce clashes with militants.
According to a separate report filed by Dawn correspondent in Landi Kotal, 24 militants were killed and several others injured when helicopter gunships pounded suspected militant hideouts in the valley.
The main targets of the air attacks were areas considered to be strongholds of the banned Lashkar-i-Islam militant group. The areas included Sadana, Maza Thal and Khyber Sungar. At least five militant hideouts were destroyed.
Know more: Army claims killing 80 militants in Tirah
Sources said that in Tirah Valley clashes, one officer and six soldiers were killed and 30 troops were injured. The clashes broke out after militants recaptured Khyber Sungar Post near the border with Afghanistan.
The bodies of the troops who died in the clashes and the injured soldiers were taken to the Combined Military Hospital in Peshawar. The deceased officer has been identified as Major Gulfam who hailed from Kurram Agency.
The sources said security forces later regained all positions, including Khyber Sungar Post.
Major, six troops killed in clashes with militants
A visitor reported having seen around 12 empty coffins outside the hospital mortuary. Two bodies had been brought to the CMH on Saturday.
An official said troops had also captured important ridges, including Ghulam Ali hilltop, Takhtakai and Nagrosa tops. He said security forces had for the first time entered the areas in Tirah. Security forces had launched the Khyber-II offensive last week to flush out militants of Lashkar-i-Islam and other banned outfits from the area.
Full report at:
http://www.dawn.com/news/1171294/security-forces-regain-strategic-heights-in-tirah
-----------
Pakistan keen to settle all issues with India, including Kashmir: Basit
March 23, 2015
New Delhi- Pakistan's High Commissioner to India Abdul Basit today said that his country is keen to settle all issues with India, including the disputed issue of Jammu and Kashmir through dialogue, and underlined the importance of both countries, working together for both peace and development.
Congratulating all Pakistani nationals residing in India on the occasion of Pakistan Day, High Commissioner Basit presided over an impressive flag hoisting ceremony at the Pakistan High Commission in New Delhi, and said that the creation of Pakistan within seven years of the passage of the 1940 Lahore Resolution reflected the wisdom and tenacity of country's founding fathers.
"Under the impeccable and sagacious leadership of Quaid-e-Azam Mohammad Ali Jinnah, the Muslims of the subcontinent realized their dream. It was now incumbent upon us to make Pakistan a truly welfare state as envisioned by the Quaid-e-Azam," he said.
Referring to Pakistan-India relations, the High Commissioner underlined the importance of Prime Minister Nawaz Sharif's vision of "Peace for development and development for peace."
He further said that peace was in the mutual interest of Pakistan and India and that it was now high time to normalize relations and usher in a new era of peace and stability, enabling the two countries to address the challenges facing our region and exploiting myriad of opportunities unleashed by globalization.
The students of the Pakistan High Commission School sang Pakistan national songs and presented tableaux highlighting the struggle for the creation of Pakistan. At the end of the ceremony, Summiya Basit, the high commissioner's wife, distributed gifts among the students.
A seven-member delegation of Jammu and Kashmir separatist leaders attended the Pakistan National Day at its High Commission in Delhi. The delegation will also hold talks with Pakistani officials. On Sunday, separatist leader Mirwaiz Umar Farooq met Abdul Basit. Farooq has called for India and Pakistan to expand dialogue and focus on the resolution of the Kashmir dispute.
Full report at:
http://nation.com.pk/national/23-Mar-2015/pakistan-keen-to-settle-all-issues-with-india-including-kashmir-basit
-----------
Terrorists to be targeted with precision
March 23, 2015
Peshawar - Chief of Army Staff (COAS) General Raheel Sharif on Sunday reiterated that military operations would continue to clear all the terrorists from urban centres and remote areas at all costs to bring peace and prosperity in the country.
He reaffirmed Pakistan Army's determination to take ongoing military operations to the logical conclusion.
The terrorists squeezed in isolated pockets would be targeted with precision for elimination, he added.
The army chief made the resolve during his visit to Peshawar.
He was briefed on security in Khyber Pakhtunkhwa/FATA (Federally Administered Tribal Areas), operation Zarb-e-Azb and ongoing operation in Khyber Agency which was making steady progress, said ISPR Director General Maj-Gen Asim Saleem Bajwa in his tweet on social media.
General Raheel Sharif also visited Combined Military Hospital (CMH) Peshawar and met the wounded soldiers.
He said the resolve and indomitable spirit of injured was highly reassuring asset for the military and the nation.
Full report at:
http://nation.com.pk/national/23-Mar-2015/terrorists-to-be-targeted-with-precision
-----------
JuD chief stresses unity at ideology conference
March 23, 2015
LAHORE - Jamaat-ud-Dawa chief Hafiz Saaed has warned the nation about the serious threats from inside the country is facing in shape of ethnicity, sectarianism and provincialism, asking them to follow Pakistan Ideology.
"Once the Muslims in this country become united, they will be able to make whole Jammu and Kashmir and the states announce annexation with Pakistan," he held while addressing an impressive gathering at his party organised Pakistan ideology conference at University Ground Chuburgi here on Sunday.
The JuD chief demanded imposition of Shariah in the country which he said was the ultimate goal of this nation.
Bangladesh, he added, would remerge into Pakistan if Shariah was imposed in the country.
Former ISI chief Lt-Gen (r) Hameed Gul, JUI leader Pir Ijaz Hashmi, JuD leader Abdur Rehman Makki, Al lama Ibtisam Elahi Zaheer, Hafiz Abdul Ghafar Ropri and others leaders of different religious parties also spoke on occasion.
Full report at:
http://nation.com.pk/lahore/23-Mar-2015/jud-chief-stresses-unity-at-ideology-conference
-----------
US drones killed 2,200 in Pakistan: Islamabad
Mar 23, 2015
US drone strikes on Pakistani soil over the past decade have claimed the lives of some 2,200 people, Press TV quotes Islamabad
According to figures presented in a report by Pakistani lawmakers, 2,199 people have been killed and 282 others injured in the US drone attacks in Pakistan.
Nearly 210 houses and 60 vehicles have also reportedly been damaged.
The families of 43 of the dead and seven of those injured have received compensation so far, according to the report.
However, rights activists say Islamabad has not revealed the actual number of deaths, which many say is more than 3,000 and possibly as many as 4,000.
"The majority of the people who got killed were the citizens of Pakistan and I don't think that this [report] is a final truth. There are still numbers that are out there and I hope those numbers also come out and that will push this number of 2,200 to a much higher numerical level," political analyst Tariq Pirzada said.
Islamabad has so far failed to provide accurate information regarding the identity of those killed in the drone strikes.
Full report at:
http://www.presstv.in/Detail/2015/03/23/403025/US-drones-killed-2200-in-Pakistan
-----------
Arab World
Islamic State posts list of military names, urges members to kill them
MARCH 22, 2015
THE US Marine Corps has tonight urged "vigilance" among staff after the Islamic State group listed what it said were the names and addresses of military personnel, urging supporters to kill them.
"Vigilance and force protection considerations remain a priority for commanders and their personnel," US Marine Corps Lieutenant Colonel John Caldwell said.
"It is recommended Marines and family members check their online/social footprint, ensuring privacy settings are adjusted to limit the amount of available personal information."
The warning came after the terror group released the names, photographs and addresses of 100 US military personnel and urged members in America to kill them.
In an online post, the group said the personnel had taken part in efforts to defeat Islamic State in Syria, Iraq, Yemen and elsewhere.
"With the huge amount of data we have from various different servers and databases, we have decided to leak 100 addresses so that our brothers in America can deal with you," the Islamic State's so-called Hacking Division said in the web posting.
It added: "And now we have made it easy for you by giving you addresses, all you need to do is take the final step, so what are you waiting for?"
Full report at:
http://www.theaustralian.com.au/news/world/islamic-state-posts-list-of-military-names-urges-members-to-kill-them/story-e6frg6so-1227273451135
-----------
Four killed in mortar attacks in Syria's Aleppo
Mar 23, 201
At least four people have been killed in mortar attacks carried out by foreign-backed militants in Syria's northwestern city of Aleppo.
A number of people were also reportedly injured in strikes in areas in Aleppo, which has been gripped by clashes between Syrian army forces and militants.
The attacks also caused property damage.
Similar attacks in Aleppo last month left four people dead and 20 others wounded.
Syrian forces and a number of different militant groups have been fighting for control over Aleppo, Syria's major business town and the country's second largest city.
This comes as the ISIL terrorist group, with members from several Western countries, controls parts of Syria and neighboring Iraq, and has been carrying out horrific acts of violence such as public decapitations and crucifixions against all communities, including Shias, Sunnis, Kurds and Christians.
Full report at:
http://www.presstv.in/Detail/2015/03/23/403004/Four-killed-in-Syria-mortar-attack
-----------
Iraq says ISIL fighters in Tikrit under 'full siege'
23 Mar 2015
The Iraqi army, supported by Shia fighters, is laying "full siege" to the city of Tikrit where Islamic State of Iraq and the Levant (ISIL) group fighters are now surrounded, according to Iraq's defence minister.
The Iraqi military - backed by at least 20,000 Shia fighters - has been fighting to regain control of Saddam Hussein's hometown of Tikrit, one of several predominantly Sunni towns to fall to ISIL last year.
Operations to recapture Tikrit have been on hold for nearly a week, with Khaled al-Obeidi, the Iraqi defence minister, saying the army was trying to minimise casualties by not rushing the final assault.
"When we see that the time is right for the Tikrit alliance, we will storm in as quickly as possible," he said.
"Tikrit is under full siege. We are taking caution to not take any losses and to protect civilians in the city.
"The terrorists are surrounded inside the city and their morale is low. When the right moment comes, we will storm the city without any resistance or losses."
The Tikrit siege is one of the first major operations in which the US-led coalition is not taking part, with US officials saying they were not asked to participate.
Full report at:
http://www.aljazeera.com/news/2015/03/iraq-isil-fighters-tikrit-full-siege-150323053836551.html
-----------
UK medical students 'become IS doctors'
23 March 2015
ISTANBUL: A group of British medical students of Sudanese origin who went missing after traveling to Turkey are feared to have crossed into Syria to join the Islamic State (IS) group as doctors, reports and sources said on Sunday.
The families of the students have traveled to the Turkey-Syria border in a desperate appeal for them to return home before it is too late, a Turkish opposition MP said.
According to reports in Britain's The Guardian newspaper and the BBC, nine young students flew to Istanbul from the Sudanese capital Khartoum on March 12 and then overland by bus toward Syria.
They have been joined by two other medics from the US and Canada, also of Sudanese origin, the BBC said.
A Turkish MP from the Republican People's Party (CHP) Mehmet Ali Ediboglu, who represents the Hatay region bordering Syria, wrote on his Facebook page that he was helping the families in their search.
"Eleven doctors — nine British and two Sudanese — came to Turkey a week ago to join the IS," he said.
Full report at:
http://www.arabnews.com/featured/news/722076
-----------
Muslim figure defends Vic principal on IS
March 23, 2015
The principal at a Victorian Islamic school who has told students Islamic State is backed by Western countries was only trying to undermine its attractiveness, another Muslim figure says.
While criticising his approach as wrong-headed, Al-Taqwa College principal Omar Hallak was trying to discourage young people from joining the terror group, says Keysar Trad, a spokesman for the Islamic Friendship Association of Australia
"I can understand anyone taking offence to being in any way implicated in the type of crimes that IS has been reported to have done," Mr Trad told Fairfax Radio on Monday.
"But in the bigger picture scheme of things, the real issues are that we have to find as many ways as possible to convince young people to keep away from this group and have negative feelings towards this group."
Full report at:
https://au.news.yahoo.com/vic/a/26766967/muslim-figure-defends-vic-principal-on-is/
-----------
Syrian insurgents 'mimicking' army violence
23 March 2015
Insurgent groups in Syria have carried out scores of indiscriminate attacks that have killed and maimed civilians in violation of the laws of war, a Human Rights Watch report said on Monday.
The report said armed groups could not point to abuses by government forces and allied militias to justify their own violence, which it said had often targeted areas with a high concentration of religious minorities.
"We've seen a race to the bottom in Syria, with rebel groups mimicking the ruthlessness of government forces with devastating consequences for civilians," said Nadim Houry, HRW's deputy Middle East director.
The Syrian crisis started in March 2011 with Arab Spring-inspired protests against President Bashar al-Assad. The uprising turned into armed conflict as the security forces cracked down on protesters.
Four years on, more than 200,000 people have been killed in a civil war pitting the army and allied militias against a range of insurgent groups, including hardline jihadists such as Islamic State and mainstream rebels.
The report covered attacks between January 2012 to April 2014 in and around Damascus and Homs. Some attacks were claimed by groups such as al-Qaeda's Syria wing Nusra Front and the ultra-hardline ISIS, HRW said.
Full report at:
http://english.alarabiya.net/en/News/middle-east/2015/03/23/Syrian-insurgents-mimic-ruthlessness-of-army.html
-----------
U.S. resumes consular services in Saudi Arabia
23 March 2015
U.S. consular services in Saudi Arabia resumed on Sunday following a week-long closure over unspecified "heightened security concerns".
The American embassy in Riyadh and consular offices in Jeddah and Dhahran have resumed operations, an embassy spokesman told AFP.
However, the mission also warned its citizens to "continue to be aware of their surroundings and take extra precautions when traveling throughout" the kingdom, read a message posted on the US Embassy website.
It did not elaborate on the alleged threats and the sudden closure of consular services from March 15.
Full report at:
http://english.alarabiya.net/en/News/middle-east/2015/03/23/U-S-resumes-consular-services-in-Saudi-Arabia.html
-----------
Syria regime helicopter crashes, crew captured
22 March 2015
Islamist rebels in Syria captured four crew members Sunday when a regime helicopter crashed in the northwest province of Idlib, a monitor said, while a fifth serviceman was killed.
"A regime helicopter was forced to land in the region of Jabal al-Zawiya in the northwest, which is a bastion of (Al-Qaeda's Syrian affiliate) Al-Nusra Front," Rami Abdel Rahman, head of the Syrian Observatory for Human Rights, told AFP.
"Four of the crew were captured and a fifth man was killed by armed men in a neighboring village," he said.
Full report at:
http://english.alarabiya.net/en/News/middle-east/2015/03/22/Syria-regime-helicopter-crashes-crew-captured-.html
-----------
German tourist killed in Egypt shark attack
22 March 2015
A shark attack on Sunday killed a 52-year-old German tourist in an Egyptian Red Sea resort, in the first such incident in five years, police said.
The attack in which the shark sheared off the German's leg took place off Al-Qusair.
It was the first fatal shark attack in Egypt since a string of maulings in 2010 that killed a German woman and wounded three Russian tourists in another Red Sea resort.
The Red Sea is home to several species of shark, but the type believed to have been behind the 2010 attacks was the oceanic whitetip common to the region.
The attacks in 2010 forced the government to close off a stretch of beach in the Sharm el-Sheikh resort for a week.
Full report at:
http://english.alarabiya.net/en/News/middle-east/2015/03/22/German-tourist-killed-in-Egypt-shark-attack-.html
-----------
Sisi honors mother who had to dress as a man for work
23 March 2015
An Egyptian mother who dressed herself as a man to provide for her family was awarded by President Abdel Fattah el-Sisi on Sunday for working more than 40 years.
Sisa Gaber Abu Douh, 65, became known in her home town of Luxor as the city's most supportive mother and has recently received the "breadwinner" award from the Social Solidarity Ministry on Mother's Day celebrated in the Arab world last week.
Her story made worldwide headlines this week. Sisa was left at 21 pregnant with a girl and without a source of income when her husband passed away.
But the devoted mother chose to give up her femininity to provide for her only daughter, Huda. She decided to work and disguised herself as man, as she comes from a less privileged part of the Egyptian society, where working women are frowned upon.
She wore loose-fitting traditional male robes and a turban. She worked as a shoe-shiner, laborer and farmer.
Full report at:
http://english.alarabiya.net/en/variety/2015/03/23/Egyptian-women-who-dressed-like-a-man-receives-motherhood-award-.html
-----------
Syria terrorist groups kill civilians: HRW
Mar 23, 2015
Foreign-backed terrorist groups fighting against the Syrian government have resorted to car bombs and rocket attacks to kill Syrian civilians, the Human Rights Watch (HRW) says.
On Monday, the rights body issued a report shedding light on the violations the terrorist groups committed in Syria between January, 2012 and April, 2014. The report focuses on indiscriminate car bombs, mortar attacks and unguided rocket attacks by the terrorist groups in heavily populated, government-controlled areas .
The reports, which are based on accounts by victims and witnesses, on-site investigations, publicly available videos and other research, highlights that the attacks have killed hundreds of civilians in the capital, Damascus, and in Homs in central Syria.
The terrorist groups started "using car bombs and improvised explosive devices (IEDs), sometimes in suicide attacks, in areas under government control in 2012. Initial attacks targeted state security forces and outposts, but the groups soon began to carry out bombings in populated areas without evident military targets," the report says.
It highlights that the terrorist groups carried out "17 car bombings and other IED attacks between January 2012 and April 2014 in Jaramana in Damascus Countryside."
This file photo shows the wreckage of a car at the site of a bomb attack in Damascus, Syria. © AFP
It further highlights that the attacks were conducted in "commercial and residential areas, squares in the center of towns."
Full report at:
http://www.presstv.in/Detail/2015/03/23/403026/Syria-terrorists-kill-civilians-HRW
-----------
Boost efforts to tackle challenges to Muslims
23 March 2015
Custodian of the Two Holy Mosques King Salman has urged the 57-member Organization of Islamic Cooperation (OIC) to continue its efforts to strengthen Islamic unity and set out strategies to confront challenges facing the Muslim world.
King Salman made this comment while receiving OIC Secretary-General Iyad Madani and his accompanying delegation at Al-Yamamah Palace on Sunday.
Speaking to the OIC delegation, King Salman said: "The organization should work to unify the rank of Muslims and get rid of division and extremism."
He instructed the OIC, the second largest international organization after the UN, to effectively deal with challenges and issues facing Muslim countries in a way that would benefit them and their peoples.
Crown Prince Muqrin, Deputy Crown Prince Mohammed bin Naif and Deputy Foreign Minister Prince Abdul Aziz bin Abdullah attended the meeting.
Meanwhile, the OIC's Islamophobia Observatory released its February report on Sunday. It documented an increase in anti-Islam activities in the US during the month. "This is evident from the intense media campaign and the significant number of incidents targeting Muslims, mosques and Islamic centers," said the report.
The observatory pointed out that media outlets and political players were very active during February in creating a climate of fear, hatred and suspicion against Muslims.
Pamela Geller, an American version of the Dutch Islamophobe Geert Wilders, has been at the forefront of whipping up anti-Muslim frenzy.
Full report at:
http://www.arabnews.com/featured/news/722081
-----------
Southeast Asia
PAS's hudud law not divine, open to criticism, says Muslim activist Farouk Musa
22 March 2015
The hudud law that PAS is bent on enforcing in Kelantan is not divine and should not be treated as such, an academic and progressive Muslim thinker said today, even as proponents of the Islamic criminal law continue to use religion to justify its implementation.
Dr Ahmad Farouk Musa, the founder of the Islamic Renaissance Front (IRF), said that the problem with PAS's hudud bill was that it was being presented as mandated by the will of God, making it immune to criticism.
"We hear time and time again PAS leaders saying 'you have no right to question hudud', that it is a set of laws ordained by God," said Farouk during a roundtable titled "The Future of Religious Freedom", held at the University of Nottingham Teaching Centre in Kuala Lumpur today.
"This makes such laws immune to any criticism, when in actual fact, they were merely the product of some literal interpretation of a certain group of scholars that failed to see the maqasid, or higher intention, of such laws in attaining the ideals of justice.
"To me, what is important is to ensure there is justice. That is the whole idea of Islamic law. Justice is one of the most paramount tenets in Islam. If you cannot do justice, then there is no point in putting an Islamic label to it. It defeats the purpose."
Farouk said PAS's hudud bill could not be infallible as it included provisions that were still debated among scholars, such as the punishment of stoning to death for married adulterers.
He said the punishment did not exist in the Al-Quran and was only inferred from a hadith (prophetic traditions), adding that people still argued about it.
Maria Chin Abdullah, the chairperson of electoral watchdog Bersih 2.0, said that PAS was promoting the wrong kind of Islam by presenting a hudud law, which was not open to discussion.
Full report at:
http://www.themalaysianinsider.com/malaysia/article/pass-hudud-law-not-divine-open-to-criticism-says-muslim-activist-farouk-mus
-----------
Let international panel review Kelantan's hudud, Perlis Mufti suggests
March 23, 2015
KUALA LUMPUR, March 23 — As leaders here continue to lock horns over the viability of introducing hudud in multi-religious Malaysia, Perlis Mufti Dr Mohd Asri Zainul Abidin suggested today that a panel of local and international experts study PAS's proposed Islamic penal law for Kelantan.
According to him, the review is necessary to ensure that the failures in implementing the controversial criminal justice system in Libya, Sudan, Nigeria and Pakistan would not repeat itself in Malaysia.
The outspoken scholar also insisted that many countries have failed in their interpretations of hudud, creating a negative image of the Islamic law.
"Hudud is like a heavy door, that is, however beautiful and secure. Therefore, we need an appropriate house to attach the door to," Mohd Asri wrote on his official Facebook page today.
"If the door is attached to a shabby house, then the beautiful but heavy door will cause the house to collapse. But if it is attached to a beautiful house, then its beauty will be highlighted and security is achieved."
Full report at:
http://www.themalaymailonline.com/malaysia/article/let-international-panel-review-kelantans-hudud-perlis-mufti-suggests
-----------
Malaysian parties chase Islamic vote with 'death by stoning' law
March 23, 2015
Kuala Lumpur: Six months after Malaysian Prime Minister Najib Razak stood before the United Nations and urged Muslims worldwide to be moderate in their religion, members of his own party are supporting a law that punishes adulterers with death and thieves with amputation.
Lawmakers from Mr Najib's United Malays National Organisation (UMNO) joined the opposition Parti Islam se-Malaysia (PAS) to pass Islamic criminal law, or hudud, in the opposition-held state of Kelantan.
The move has drawn criticism from other parties in their respective coalitions, while human rights groups say it's an unconstitutional step for secular Malaysia.
UMNO officials are flashing their Islamic credentials to safeguard support among the ethnic Malay majority after the coalition retained power in 2013 by the narrowest margin since independence. The swing by Mr Najib's party to the right risks worsening race relations at a time economic growth is forecast to slow.
"What UMNO and PAS are doing on hudud is not about Islam, it is about politics and staying in power," said Noraini Othman, a retired sociology professor who co-founded a group promoting progressive views of Islam.
"Religious indoctrination has created extremist voices in these parties, in these governments, that have succeeded in becoming louder while the so-called moderates are now a silent majority."
Mr Najib, 61, has seen his approval rating slide to around 40 per cent as he seeks to undertake unpopular economic measures to plug a budget gap, and has been publicly criticised by ex-Prime Minister Mahathir Mohamed over his stewardship. His predecessor Abdullah Ahmad Badawi stepped down in 2009 after Mr Mahathir led calls for his resignation.
Sedition law
In November, Mr Najib dropped a pledge to repeal sedition laws because the act is said to have broad support within the Malay community, which accounts for more than half of voters.
The parties in the ruling coalition, known as Barisan Nasional (BN), have made public shows of support for Mr Najib, even as some condemned the passing of the hudud law.
BN party leaders gathered in parliament on Thursday and declared their "full and undivided" backing of Mr Najib. No reason was given for the impromptu vote of confidence, and Transport Minister Liow Tiong Lai wouldn't say if it was related to criticisms of Mr Najib's leadership.
Full report at:
http://www.smh.com.au/world/malaysian-parties-chase-islamic-vote-with-death-by-stoning-law-20150322-1m575t.html
-----------
Hong Kong Muslim group denies Islamic State links after prayer meeting cancelled
23 March, 2015
Organisers of a now-cancelled prayer meeting in Hong Kong on religious spiritual healing have denied any link with the extremist Islamic State, saying it is "all a big misunderstanding".
Claims that Mujahidah of Islam Hong Kong was encouraging sympathy or even recruiting for IS arose after a newspaper last week published pictures of a promotional leaflet for the meeting bearing an image widely recognised as the terror group's "flag".
Mujahidah of Islam, which comprises about two dozen local Indonesian women, said the motif was a globally recognised Muslim symbol that translated into "Allah is my only God. Mohammed is my messenger".
The Islamic community's 175-year history in Hong Kong
"It's a Muslim symbol anyone can use. All Muslims around the world will know the meaning of this," group spokeswoman Ika said. "We don't have any connection with this IS."
The leaflet design that appeared in the newspaper was a draft that carried the symbol, she said. It was deemed "too sensitive" to be used, but somehow the unreleased draft leaked out.
Full report at:
http://www.scmp.com/news/hong-kong/article/1745195/hong-kong-muslim-group-denies-islamic-state-links-after-prayer
-----------
DAP urged to keep out of affairs of Islam
March 23, 2015
KOTA BAHARU, March 23 — The DAP has been urged to stop interfering in the affairs of the Islamic religion, particularly in opposing the implementation of the Shariah Criminal Code II 1993 (Amendment 2015) or the hudud, qisas and takzir laws in Kelantan.
The president of the Kelantan People's Action Council (MTRK) Che Azmi Mohd Ali said the laws were the rights of the Muslims which did not need interference from the others.
"Stop the interference or any form of opinion which can create racial tension because this is a matter for the Muslims," he told reporters here today. Che Azmi said the other races should respect the Malays and the Islamic religion practised in this country just like what the Malays did for the other races.
Full report at:
http://www.themalaymailonline.com/malaysia/article/dap-urged-to-keep-out-of-affairs-of-islam
-----------
Indonesian anti-terror police arrest alleged Islamic State recruiters
Mar 23, 2015
Jakarta: Indonesian anti-terror police have arrested five men who allegedly arranged for a group of mostly women and children to try and enter Syria to join the Islamic State (IS) group, an official said.
The 11 children, four women and one man, detained in the Turkish border town of Gaziantep, are the latest example of Indonesians heading to battlegrounds in the Middle East.
Fears have been growing about the influence of IS in Indonesia, which is the world's most populous Muslim-majority nation and has long struggled with Islamic militancy. Hundreds of Indonesians are feared to have joined the jihadists.
In a series of raids in and around Jakarta at the weekend, elite anti-terror police rounded up the five men, who are suspected of helping the 16 people who were recently caught.
The men are accused of involvement in "coaching, guidance, and recruitment of sympathisers of IS to depart to Iraq and Syria... and the collection and distribution of funds for the activities of IS volunteers in Indonesia," said national police spokesman Rikwanto, who goes by one name, late yesterday.
Full report at:
http://www.firstpost.com/world/indonesian-anti-terror-police-arrest-alleged-islamic-state-recruiters-2168421.html
-----------
North America
ISIS Urges Faithful to Rise Up Against Infidels in America
22.03.2015
In a bid to get back at the U.S for sponsoring various strikes and military war against it, ISIS has said it is the will of Allah for its Muslim brothers to rise up and attack the attackers of the Muslim faith.
As a follow up, they promised the faithful that they would bring them opportunities to serve the group from wherever they are, even if they are banned from travelling to join ISIS.
A statement from an ISIS spokesperson made available to Reuters says that they have already started spreading their campaign across the globe, citing the posting of the pictures and addresses of 100 supposed 100 U.S military personnel.
Full report at:
http://pulse.ng/religion/islam-isis-urges-faithfuls-to-rise-up-against-infidels-in-america-id3591766.html
-----------
U.S. won't take floor at U.N. debate on Israel, Palestine
23 March 2015
The United States will not take the floor at the main U.N. human rights forum on Monday during the annual debate on violations committed in the Palestinian territories, a U.S. spokesman told Reuters.
The step, which is unprecedented at the 47-member state forum where Washington unfailingly defends Israel, follows signals that the Obama administration is undertaking a "reassessment" of relations with the Jewish state.
Full report at:
http://english.alarabiya.net/en/News/middle-east/2015/03/23/U-S-won-t-take-floor-at-U-N-debate-on-Israel-Palestine.html
-----------
Muslim Leaders, Tech Companies Work to Counter Militants
By TAMARA AUDI
Updated March 22, 2015
LOS ANGELES—On a Saturday morning earlier this year, about 70 people gathered in a sleek office suite here for a session hosted by YouTube. Cupping lattes made by an on-site barista, they sat around tables topped with white linens and prepared to meet the enemy.
The group, which included Muslim leaders as well as social-media specialists and officials from groups that look to counter violent online extremism, were shown a video released by the militant group Islamic State, also known as ISIS or ISIL. In the video, which was introduced by a State Department official, a handsome young fighter visits his wounded compatriots, joking with them in an orderly hospital.
For many at the meeting, it was a first look at their ideological foe's slickly produced propaganda—and at the steep challenge they face in attempting to combat it.
"It's a battle of hearts and minds taking place online," said Yasir Qadhi, a professor at Rhodes College in Memphis, Tenn., and a Muslim scholar with large followings on YouTube and Facebook.
Federal authorities have prosecuted almost 30 people in ISIS-related cases in the past 18 months, and investigations into possible ISIS supporters are open in all 50 states. With law-enforcement officials and some Muslim leaders fearing social media and other online activity being used to woo more young Americans to ISIS, mainstream Muslims are struggling to catch up, and they are getting help from some of the biggest tech companies to do it.
"The extremists and the fanboys, they've devoted their lives" to producing propaganda, said Shahed Amanullah, who attended the YouTube event and recently launched a Virginia tech incubator for online businesses catering to the Muslim youth market. "All the good people have lives. We go to work and school. We're not 24 hours a day in mommy's basement."
RELETED COVERAGE
Islamic State's Scariest Success: Attracting Westerners (Feb. 26)
Companies such as Facebook Inc. and Twitter Inc. also are offering social-media training and advice to American Muslims and nongovernment organizations to help them more effectively communicate through social media. YouTube, owned by Google Inc., says it offers social-media events for all kinds of groups, and a spokeswoman described the L.A. session as "a workshop for creators and nonprofit organizations" looking to counter extremist or hate groups online.
Refuting ISIS ideology on social media doesn't come without risks. Twitter's removal of some terrorist content, including thousands of ISIS-related accounts, has resulted in threats against Twitter employees. Google has sought to protect the identities of employees involved in anti-extremist efforts.
ISIS has called for the assassination of two American imams, including Mr. Qadhi, of Rhodes Full report at:
http://www.wsj.com/articles/muslim-leaders-tech-companies-work-to-counter-militants-1427074331
-----------
CIA Director Brennan: Islamic State is 'ideology of violence,' not of Muslim faith
March 22, 2015
Islamic State terrorists represent an "ideology of violence" but should not be classified as religious, the head of the CIA said Sunday.
In an interview with Fox News, CIA Director John O. Brennan stuck to the Obama administration's refusal to use phrases such as "radical Islam" when discussing the Islamic State and other terrorist organizations across the world.
"It's an ideology of violence, that's what it is. It is not a religious ideology," Mr. Brennan said. "They purport to be Muslims, but the overwhelming majority of Muslims throughout the world roundly denounce and condemn what they're doing and that's why we should not give them any religious legitimacy."
Full report at:
http://www.washingtontimes.com/news/2015/mar/22/cia-director-brennan-islamic-state-is-ideology-of-/
-----------
Akbar Ahmed examines experiences of Muslims in 'Journey into Europe'
March 22, 2015
By Sereen Thahir
WASHINGTON, DC: As an anthropologist, Akbar Ahmed has been mapping cultures and communities, especially in the Islamic world, almost his entire professional life. Over the course of four decades, he has documented Muslim groups as varied as the Pathans of Swat Valley and African American congregations of Harlem.Now in his latest tour de force, Ahmed, the Ibn Khaldun Chair for Islamic Studies at American University in Washington, DC, examines the experiences of Muslims in Europe. The Pakistani academic and former diplomat recently returned from the Old Continent, where he and his team—a group of American and non-American scholars—studied European Muslims and the attitudes and perceptions of Europeans about their Muslim neighbors.The ethnographic study "Journey into Europe: Islam, Immigration, and Empire" took Ahmed and his team to 32 cities and 40 mosques, where they interviewed imams, grand muftis, ordinary people, scholars, students and national leaders.The project was launched by Ahmed's friend Lord Bhiku Parekh, who is of Indian Gujarati origin, at House of Lords, whose religious background symbolized the interfaith nature of the project.Speaking from his home in the tony Washington suburb of Bethesda, Ahmed shared his preliminary thoughts on the project, which he said was motivated by his desire to explore conditions of Muslims in Europe in light of immigration issues and the latest Middle Eastern conflict in which many Europeans are fighting on the side of ISIL.The only way to understand the attitudes of the youth was to understand the context of the society in which they emerge from, the professor says. At the same time, through this project, he also wanted to explore the history of the religion on the continent, he says, before quickly pointing out that Islam in Andalucía was the center of world thinking centuries ago, yet the efforts of Muslim scientists and thinkers are often overlooked in history."Muslims ruled in Europe for almost 800 years, and that too very successfully," he says. "With that leadership came advances in education, sciences, and religion. The main library in Cordoba had 400,000 books."In a complete reversal, he points out that just one educational institution in the West, Harvard University, now publishes more research than the entire Arab world put together.It is no coincidence that Muslims are on the defensive across Europe. Whether it is attacks in Great Britain, or laws against wearing the hijab in government spaces in France, Muslims are seen in a negative light in a region that has a vast, but untold, Islamic history, Ahmed says.Muslims comprise approximately 10 percent of the population of all of Europe. They range from immigrants to converts to indigenous Muslims and are spread all over the continent.Stating that "being put in a defensive position is not a bad thing," Ahmed says he sees an opportunity in the present crisis. "The leadership in Europe is slowly emerging, but I don't believe they are sufficiently cohesive or vocal enough. Muslims must be active in politics. If they organized, they can have a sufficient impact."He adds, "Muslims and Muslim countries must continue to put an emphasis on education and scholarly research. Right now we have non-Muslims speaking about Muslims on television; we must be sure that Muslims are out there with their voice."Ahmed cites Bosnia as one of the bright spots in Europe."I was looking for major Muslim thinkers who see themselves as Muslims and Europeans," he says. "While there were several in France, the UK, and Germany, it was nothing compared to those in Bosnia. They are coming out of a genocide, where they fought for their survival as Muslims. Yet, they do not speak of revenge but look forward. I spoke with the president and the grand mufti and the conversations were at a high intellectual and Islamic level. By my meetings with these people, I believe Islam is secure in Europe."Ahmed, who was part of the elite Pakistani civil service, has an advice for European states: they must try harder to make the immigrants who are citizens feel welcome. "We have many second and third generation Muslims there who feel marginalized by society and can become radicalized," he says.Having conducted similar study a few years ago on Muslims of America, Ahmed offers interesting comparisons between Muslims of Europe and the United States.The Journey into America project, which is available as a book and as a documentary, Ahmed and his team document how Americans look at Muslims and how American Muslims view themselves.Prefacing that "neither the Muslims in America nor the Muslims in Europe are a monolith," there are major differences between the two groups. "In Europe, they are differentiated by countries, ethnicities, ideologies, and even migratory patterns," he points out. "So the old colonial relationships between France and Algeria means the Algerians will go to France.
Full report at:
http://www.americanbazaaronline.com/2015/03/22/akbar-ahmed-examines-experiences-of-muslims-in-journey-into-europe/
------------
Europe
Morocco dismantles ISIL-affiliated terror network
Mar 22, 2015
Moroccan authorities say they have arrested members of a "terrorist cell" that had pledged allegiance to the ISIL Takfiri militant group, and had planned to carry out a string of assassinations in the North African country.
Morocco's Interior Ministry said in a statement on Sunday that the terrorists were nabbed during a series of raids carried out in several cities, including Agadir, 546 kilometers (339 miles) southwest of the capital Rabat, Marrakesh in the south, Boujaad in the center, Tangiers in the north, Ain Harouda near Casablanca as well as Western Sahara region.
The statement did not mention the timing or the number of arrests.
"Firearms and a large amount of ammunition" to be used "to assassinate political, military and civilian figures", were seized near Agadir, the ministry said.
It noted that the militants had previously pledged allegiance to the ISIL leaderr, Ibrahim al-Samarrai aka Abu Bakr al-Baghdadi, and recruited several Moroccans with the aim of helping them travel to Syria and Iraq to join the ISIL ranks.
According to official figures, between 1,500 and 2,000 Moroccans are fighting or have fought alongside ISIL extremists in Iraq, Syria and Libya.
This file photo shows ISIL Takfiri militants at an undisclosed location in Syria.
A recent UN Security Council report said more than 15,000 militants with over 80 nationalities, including Americans and Europeans, have joined terrorist groups fighting the Syrian government.
Full report at:
http://www.presstv.in/Detail/2015/03/22/402989/Morocco-busts-ISILlinked-terror-group
-----------
Germany Gets First Islamic Bank
23 March 2015
CAIRO – Offering German Muslims a better chance to invest their money, reports said that Germany is about to grant license to the first fully operational Islamic bank in the European country, which will operate under the guidelines of Islamic Shari`ah.
"Our market research has shown, that 21 percent of Muslims in this country would see an Islamic bank as their natural household bank," Kemal Ozan, managing director of Kuveyt Turk Bank AG, told the Handelsblatt newspaper in Monday's edition, March 23.
Ozan added that the Kuveyt Turk hoped to tap into a wealth of potential customers in Germany, particularly among the four million Muslims who reside in the country.
The new bank will be called KT Bank AG and use Frankfurt as its base, aiming to tap Europe's second-largest Muslim community, many of whose members are of Turkish descent.
Kuveyt Turk, the largest Islamic bank in Turkey and 62 percent owned by Kuwait Finance House, set up a financial services branch in Mannheim in 2010 and applied for a full banking license in 2012.
Full report at:
http://www.onislam.net/english/news/europe/484177-germany-gets-first-islamic-bank.html
-----------
French Muslims caught between Islamophobia and extremism
By Griff Witte
March 22
VINCENNES, France — This city's first Muslim doctor doesn't look Muslim.
Or at least, he doesn't look or act how people expect a Muslim should. Fair-skinned and clean-shaven, he goes about his rounds listening to classical music; a copy of Voltaire's "Treatise on Tolerance" is nestled on his desk.
Sometimes his patients forget who he is.
"I'm disgusted by Muslim ­people," a patient of 10 years recently confided. "They shouldn't be here."
France, another casually mentioned, is only for "the true French people."
"You can't see in my face that I'm Muslim," said Karim Bessalem, who has been living in this country for half his life, having escaped the strife of his native Algeria 25 years ago. "People don't have any problems saying such things in front of me."
That's especially true now, more than two months after men acting in the name of Islam gunned down 17 people in ­attacks that traumatized the ­nation. For many of France's 5 million Muslims — the largest Islamic population in Western Europe — the killings have left them feeling trapped in a vortex, battered both by rising Islamophobia and growing radicalism in their own communities.
The twin forces feed on each other, building in tandem. Together they represent a lingering and potentially devastating counterpoint to the millions who marched in cities across France on the Sunday after the attacks in a solemn and powerful defense of the nation's core ideals — liberty, equality and fraternity.
Neither anti-Muslim bias nor Islamist extremism is obvious here in Vincennes. Although four of the victims from January's killings died just a short walk from Bessalem's office in an assault on a popular kosher grocery store, this leafy and affluent city on Paris's eastern fringe has long been considered a model of peaceful coexistence. In the ­aftermath of the attack, city residents say, the bonds among Muslims, Jews and Christians have grown ever tighter.
And yet, as Bessalem has learned, the sentiment behind a recent dramatic spike in Islamophobic acts across France has a quiet home here, too. Meanwhile, the virus of Islamist extremism lurks just beyond the city line, finding recruits in a bleak housing development where impressionable and isolated young men have succumbed to the call of holy war.
"There was always racism toward immigrants. But now the extremists on all sides are using the atmosphere after these ­attacks to build permanent conflict between communities," said Abdallah Zakri, head of France's National Observatory Against ­Islamophobia.
In January, the month of the attacks, Zakri's group recorded 214 separate acts of anti-Muslim behavior — more than it documented in all of 2014. The offenses included physical assaults, threats to eradicate Muslims from France and pigs' heads dropped on mosque doorsteps.
The behavior subsided last month as French police stepped up protection of Islamic sites. But Islamophobic attitudes ­remain relatively common in France, with 27 percent saying in a recent Pew Research Center survey that they have an unfavorable view of Muslims — nearly triple the number who say the same about Jews.
Full report at:
http://www.washingtonpost.com/world/europe/french-muslims-caught-between-rising-islamophobia-and-growing-extremism/2015/03/22/7359329c-c739-11e4-bea5-b893e7ac3fb3_story.html
-----------
U.K. Tory Denies Wrongdoing Over Links to Anti-Muslim Extremists
Mar 23, 2015
A U.K. Conservative denied wrongdoing after he was suspended as an candidate in the May 7 election for being filmed apparently plotting with an anti-Muslim group to fake disorder in his district.
Afzal Amin, running for the Tories in the swing district of Dudley North, central England, was filmed by the Mail on Sunday newspaper meeting the leadership of the English Defence League, proposing they announce a march in protest at a mosque being built in the area. In the footage, he said he would then publicly intervene and take credit when the group called off the protest.
The Conservatives suspended him as a candidate. Speaking to the BBC in Dubai on Sunday, Amin, who is a Muslim, said he had been conducting "conflict resolution" of the type he had seen in his days in the army. He said this required "a degree of stage management" and denied deception.
Full report at:
http://www.bloomberg.com/news/articles/2015-03-23/u-k-tory-denies-wrongdoing-over-links-to-anti-muslim-extremists
-----------
3 Muslim victims of terror ignored by media
March 22, 2015
"Throughout history it has been the inaction of those who could have acted, the indifference of those who should have known better, the silence of the voice of justice when it mattered most, that made it possible for evil to triumph" — Emperor Haile Selassie, of Ethiopia
There comes a time when silence is betrayal, and that time has come for us in relation to an atrocity two nights ago in Chapel Hill, N.C. As we stood waiting with bated breath for various news outlets to throw even a dim light on the brutal murders of three young U.S. citizens in Chapel Hill, I came to the realization that, to do so would be to commit social suicide by humanizing the same group of people they've invested so much time, energy, money and resources dehumanizing. Adequate media coverage of a heinous crime like the murder of three Muslim college students committed by a Caucasian American atheist would have translated to the world that Muslims are in fact victims of the same hate and radicalism they are indiscriminaely painted with.
It is no secret that the presence of Muslims, and any other racial or religious minority population in America, represents the mirror that reflects the hypocrisy of the Constitution upon which its very foundation was built. The greatness of any society is to be judged on the basis of how it treats its weakest members i.e. minorities. On the morning of the atrocity at the offices of Charlie Hebdo in Paris, France, CNN and other popular (and not so popular) news stations were saturated with minute-to-minute coverage of what was unfolding. However, on the morning of the brutal execution-style murder of three innocent American Muslim college students, mum's the word.
There's a verse in the Qur'an where Allah (God) describes the behavior of a duplicitous group who outwardly professed belief in God, but their treatment of those who truly believed was a manifestation of their hypocrisy. Allah says, "If some good comes to you it angers them, but if some misfortune befalls you they rejoice in it…" (3:120) Thus the lack of mainstream media attention and concern for this "act of terror" committed on American soil against three innocent U.S. citizens, who just so happened to be Muslims, suggests that the only time Islam is important is when its behind the gun, not in front of it, when Muslims are the perpetrators of "terror" not the victims of "terror".
This double standard dynamic with media reporting has created a level of doubt, distrust and (social) disconnect with many in the Islamic community as well as other faith-based and minority communities. In epidemiology, there is something known as reporting bias which is defined as "selective revealing" or "suppression of information". Sociologist Christopher B. Doob referred to this practice as "selective reporting" and defined it as biased coverage of news issues that promotes coerporate interests and downplays, denigrates or ignores issues and groups challenging these issues. Thus adequate media coverage of this act of terror would only serve to challenge the growing stigma of Islamaphobia, which is an obvious corporate interest.
Full report at:
http://www.phillytrib.com/religion/muslim-victims-of-terror-ignored-by-media/article_1097858b-70d3-5a52-a620-b4081ca94596.html
-----------
Russia Seeks Rescue in Islamic Banking
22 March 2015
MOSCOW – In a bid to rescue Russian economy, member of the Russian parliament, Duma, have submitted a draft bill to support Islamic finance, amid increasing sanctions from the West.
"During a period of a practically total economic blockade from Europe and the US, our banks must find new ways to attract investment," Dmitry Savelyev, who sits on the Duma's financial markets committee, told Reuters on Saturday, March 21.
Russia has been facing increasing financial sanction imposed by European countries over its role in the Ukraine crisis.
Russia has been facing increasing financial sanction imposed by European countries over its role in the Ukraine crisis.
Islamic Finance Q & A eBook
With large firms denied access to international capital markets, a collapse in oil prices has further contributed to a slowdown in the economy, which is expected to contract by at least 3 percent this year.
Trying to open new markets, the draft law was sent to parliament's lower house, the State Duma, this week to propose allowing banks to engage in trade activities, a concept central to many of the structures used in sharia-compliant financial products.
The bill is regarded as a first step to spur development of a sector which has posted double-digit growth in several Gulf and Southeast Asian countries, but which has struggled to get off the ground in Russia.
The bill is regarded as a first step to spur development of a sector which has posted double-digit growth in several Gulf and Southeast Asian countries, but which has struggled to get off the ground in Russia.
The draft law must pass three readings in the Duma before it moves to the upper house and then to President Vladimir Putin's desk to be signed into law.
Hit by sanctions, state development bank Vnesheconombank and VTB Bank have sought to build their Islamic finance know-how in a bid to develop new funding sources.
"This is where recent sanctions became a kind of catalyst, an extra push, to further look at the economic perspective in the relationship between Russia and OIC (Organisation of Islamic Cooperation) countries," said Linar Yakupov, the head of the Association of Regional Investment Agencies of the Russian Federation.
Islamic finance could attract foreign investment and also mobilise funds from Russia's 20 million Muslims, Yakupov added.
Full report at:
http://www.onislam.net/english/news/europe/484173-russia-seeks-rescue-in-islamic-banking.html
-----------
Mideast
Fears growing in Yemen over Houthis' advance to Aden
23 Mar 2015
Al Mukalla, Yemen - As the conflict in Yemen between beleaguered President Abd-Rabbu Mansour Hadi and the Houthi rebel group escalates, there are growing speculations that the Houthis may try to take the southern city of Aden where Hadi is based.
On Sunday, Houthis seized the airport in Taiz, Yemen's third largest city and a strategic entry point to Aden. Military sources in Yemen said troops loyal to Hadi and southern paramilitary forces had deployed in Lahj province, north of Aden, in anticipation of a possible advance by the Houthis.
In his first speech since fleeing Sanaa for Aden in February, Hadi boasted that the Yemeni government's flag would eventually be hoisted in the Houthis' stronghold of Saada province.
Houthi leaders responded by calling for a general mobilisation [with the aim of rallying forces loyal to former President Ali Abdullah Saleh who did not take part in recent fighting] and called on Yemenis to fight against the "al-Qaeda-allied" president, in reference to Hadi.
"We are heading to a bloody confrontation," said Abdul Bari Taher, an independent political analyst.
The Houthis stormed the capital Sanaa last September and now controls a sizable chunk of the country.
Although Saleh stepped down in 2012 following Arab Spring-inspired protests, he has been accused of fanning the flames of conflict by using his leverage over certain military units that helped extend Houthis' reach to many areas.
"What is happening in Yemen is a big disaster created by some forces [Saleh] that want to rule the country again," Taher told Al Jazeera.
"They are determined to destroy the country by using the extreme limits of terrorism and death to finish the remaining structure of the state."
Hadi, Saleh's deputy for 18 years, came to power in 2012 as part of an agreement on political transition put forward by the Gulf Cooperation Council (GCC). But, despite international support, Hadi has been unable to restore security and stability to the country.
In the wake of suicide attacks on Friday that killed more than 130 people in two mosques frequented by Houthis in Sanaa, Houthi leaders doubled down on their accusations that Hadi is turning a blind eye to al-Qaeda's activities in the country, vowing to attack the group's fighters in their strongholds in the south.
Hadi deployed army troops and allied tribesmen in Aden and Lahj governorates to fight the Houthis. Meanwhile, the Houthis amassed their forces in Taiz province neighbouring Aden. "The militias are replacing the state in Yemen," explained Taher.
According to military analysts, the mobilisation of forces in Taiz during the last three days is a clear indication of Houthis' plan to advance toward Aden.
"The Houthis have massive military reinforcements in Taiz province and they have increased the dose of propaganda against Hadi," said Thabet Hussein, a retired army Brigadier. "They [Houthis] are seriously considering advancing to Aden, Hadi's power base," Hussein told Al Jazeera.
Full report at:
http://www.aljazeera.com/news/middleeast/2015/03/fears-growing-yemen-houthis-advance-aden-150323053537072.html
-----------
Erdogan at odds with government over Kurdish peace process
22 March 2015
An unprecedented rift emerged Sunday between Turkish President Recep Tayyip Erdogan and the government over the handling of the peace process to end the decades-long armed struggle by Kurdish militants.
A senior minister told Erdogan to stop interfering and making "emotional" statements but the president snapped back that he had no intention of staying out of politics.
In remarks published in pro-Erdogan newspapers Sunday, the president said a meeting between the government and pro-Kurdish lawmakers three weeks ago to announce a call for disarmament was "not appropriate".
The dispute is the most significant yet since Erdogan took the presidency in August 2014 after over a decade as premier, although analysts have noted increasing tensions between himself and hand-picked Prime Minister Ahmet Davutoglu.
"His (Erdogan's) statements like 'I did not like that' or 'I'm not happy about that' are emotional and are his own views," said Deputy Prime Minister Bulent Arinc.
"The peace process is being carried out by the government and the government is responsible for this question," said Arinc, the official cabinet spokesman.
His remarks were seen as a stinging rebuke to Erdogan, and the independent T24 news website said the dispute had become the most serious internal crisis in the more than 12-year rule of the Justice and Development Party (AKP).
Erdogan hit back by saying late Saturday: "I consult with my people on every issue. I am the president."
Full report at:
http://english.alarabiya.net/en/News/middle-east/2015/03/22/Erdogan-at-odds-with-government-over-Kurdish-peace-process-.html
-----------
U.N. envoy warns Yemen is 'on the edge of civil war'
23 March 2015
The U.N. special envoy for Yemen warned an emergency meeting of the U.N. Security Council on Sunday that events appear to be leading the country "to the edge of civil war" and urged all parties to step back from the brink and resolve the conflict peacefully.
Jamal Benomar stressed repeatedly in a video briefing from Qatar that "peaceful dialogue is the only option we have."
That view was echoed by the Security Council in a presidential statement which reaffirmed the readiness of the U.N.'s most powerful body to take "further measures" against any party impeding the road to peace in Yemen. That could mean new sanctions, or possibly other actions.
Lithuania's U.N. Ambassador Raimonda Murmokaite said after the closed consultations that all the council members supported a return to negotiations, but she doesn't foresee new sanctions – "not at this stage."
Benomar said "it would be an illusion" to think that Houthi Shiite rebels - who control the capital Sanaa, much of the north, and are moving further south backed by some members of Yemen's armed forces - could succeed in taking control of the entire country. On Sunday, the Houthis seized Taiz, Yemen's third-largest city.
"It would be equally false," Benomar said, to think that embattled President Abed-Rabbo Mansour Hadi, who fled earlier this month to the southern city of Aden - the country's economic hub - could assemble sufficient forces "to liberate the country from the Houthis."
He warned that any party that pushes the country in either direction "would be inviting a protracted conflict in the vein of an Iraq, Syria, Libya combined scenario."
Meanwhile the U.N. Security Council also voiced unanimous support for Yemen's President Abedrabbo Mansour Hadi and the unity of the country.
"The Security Council reaffirms its strong commitment to the unity, sovereignty, independence and territorial integrity of Yemen, and its commitment to stand by the people of Yemen," the 15 members said in a statement during an emergency meeting in New York.
The council "supports the legitimacy" of Hadi, it added in its statement, and also made a vague threat of more sanctions against the Shiite militia, known as Huthis, who seized a key central Yemeni city's airport.
Yemen's turmoil and political crisis has deepened since the Houthis seized Sanaa in September and put Hadi under house arrest and eventually dissolved the country's parliament. The country's al-Qaeda branch, considered by the United States the terror network's most dangerous offshoot, has stepped up attacks against the Shiite rebels.
The Houthis newly announced move to take over the entire country follows the suicide bombings of a pair of mosques in Sanaa that killed 137 people which were claimed by the Islamic State group. It also followed clashes around Aden's airport and planes from Sanaa dropping bombs on the city's presidential palace which Benomar said fortunately did not injure Hadi, who is strongly supported by the Security Council.
"Following the suicide bombings and fighting," Benomar warned, "emotions are running extremely high, and unless a solution can be found in the coming days the country will slide into further violent conflict and fragmentation."
Full report at:
http://english.alarabiya.net/en/News/middle-east/2015/03/23/Yemen-on-edge-of-civil-war-U-N-envoy.html
-----------
Palestinians protest planned Jerusalem evictions
22 March 2015
Dozens of Palestinians and foreign supporters protested in east Jerusalem's walled Old City on Sunday against the threatened eviction of a Palestinian family to make way for Jewish settlers.
"No to the eviction of the Sub Laban family," read banners carried by demonstrators, referring to the eight occupants of the house near the flashpoint Al-Aqsa mosque compound, a site holy to both Muslims and Jews.
Rafat Sub Laban, who lives there with his parents, his sister and his brother's wife and children, said the family have rented their home since 1953 when the Old City was ruled by Jordan.
Full report at:
http://english.alarabiya.net/en/News/middle-east/2015/03/22/Palestinians-protest-planned-Jerusalem-evictions-.html
-----------
Israel says arrests West Bank Hamas cell planning attacks
22 March 2015
Israel's Shin Bet internal security service said Sunday it has arrested six members of a Hamas cell with explosive materials they planned to use in attacks inside Israel.
The security forces had seized dozens of kilograms of sulphur and 25 grams of mercury fulminate "which are used in creating explosive devices," it said in a statement.
Members of the Palestinian Islamist cell had been based in the northern occupied West Bank town of Qalqilya and used a flat in Nablus as an "explosives lab."
Full report at:
http://english.alarabiya.net/en/News/middle-east/2015/03/22/Israel-says-arrests-West-Bank-Hamas-cell-planning-attacks-.html
-----------
CIA: Iran not U.S. ally in fight against ISIS
22 March 2015
The momentum of Islamic State in Iraq and Syria (ISIS) has been blunted and the extremist group is not "on the march" as it was previously, CIA Director John Brennan said on Sunday.
"Clearly ISIS's momenutm inside of Iraq and Syria has been blunted, and it has been stopped. So they are not on the march as they were several months ago," Brennan said on "Fox News Sunday," using an acronym for the group that has seized large areas of Iraq and Syria.
The United States and its allies have conducted air strikes against the group for months. Brennan also credited Iraqi government forces for pushing back against Islamic State.
"Our working with the Iraqis, and the Iraqis trying to push back against it, it is having some great progress."
Full report at:
http://english.alarabiya.net/en/News/middle-east/2015/03/22/CIA-says-Iran-not-U-S-ally-in-fight-against-ISIS-.html
-----------
Iran general in Iraq 'whenever we need', says militia chief
22 March 2015
Qassem Soleimani, Iran's top officer responsible for foreign operations, provides assistance in Iraq "whenever we need him," Hadi al-Ameri, the commander of the Badr militia, said on Sunday.
"He was giving very good advice. The battle ended now, and he returned to his operations headquarters," Ameri told journalists close to the Al-Alam area north of Baghdad.
He was apparently referring to the battle to retake the nearby city of Tikrit from the Islamic State of Iraq and Syria (ISIS) group, which began earlier this month and has since become a siege.
"Qassem Soleimani is here whenever we need him," said Ameri, whose Badr militia is a powerful Iranian-backed force in the fight against ISIS.
Ameri's remarks are a sign of the important role Soleimani plays in military operations against IS in Iraq and the influence Tehran wields here, both much to Washington's chagrin.
Soleimani has advised Iraqi forces in multiple operations against ISIS, which led a major offensive last June that overran large areas north and west of Baghdad.
In doing so, he and other Iranian advisers provide the kind of forward support during operations that U.S. President Barack Obama has yet to authorize American forces to undertake.
Full report at:
http://english.alarabiya.net/en/News/middle-east/2015/03/22/Iran-general-in-Iraq-whenever-we-need-says-militia-chief.html
-----------
Remodelling the Muslim response to terror attacks
MARCH 22, 2015
Tired of all the news about jihadist attacks in Muslim countries – the beheadings in Libya, the killing of foreign tourists in Tunisia, the suicide bombings of mosques in Yemen or of churches in Pakistan, the terrorist strikes on police in Egypt or on the military in Saudi Arabia?
There is another side to these sensational events, one that is not as dramatic yet carries far greater import as militants like Islamic State step up their attacks in the Middle East and North Africa.
The alternative news lies in how each country reacts to any incident of mass violence, and whether the right kind of response can lead to a peaceful Muslim world.
Until recently, the most common reaction has been counterviolence – military raids on terrorist cells or radical Muslim groups, retaliation against particular tribes or sects, or even the alleged use of chemical weapons by Syria on Islamist fighters. Often a harsh crackdown only creates new recruits for extremist groups. In a few places, such as Yemen and Libya, violent reactions have helped create a failed and chaotic state, with little or no central authority.
A second response has been tighter controls on civil liberties. Egypt has reverted to dictatorship after its brief Arab Spring democracy, jailing liberal activists and leaders of the Muslim Brotherhood. The monarchies in the Gulf states have become more authoritarian. Pakistan, where a pro-Islam military holds much sway, has toughened its anti-blasphemy enforcement.
Full report at:
http://www.csmonitor.com/Commentary/the-monitors-view/2015/0322/Remodeling-the-Muslim-response-to-terror-attacks
-----------
India
Narendra Modi Govt Making Muslims and Christians 'Insecure': AIMPLB
March 23, 2015
Following a two-day convention of the All India Muslim Personal Law Board, the body on Sunday decided to constitute a committee called 'Defend Constitutional Rights Committee' to step up propaganda countering the anti-minority decisions of various state governments and the Center. The spokesperson of the body said that ever since the formation of the new government led by Prime Minister Narendra Modi, Muslims are 'increasingly feeling insecure.'
"Several recent decisions by the Center and various state governments and hate speeches by Vishwa Hindu Parishad and Rashtriya Swayamsevak Sangh leaders have created a difficult and unnerving atmosphere for Muslims. In the face of such difficult times, we have decided to set up a committee and create awareness among members of the community to stand up for their constitutional rights, which is a secure secular environment," Mohammed Abdul Rahim Qureshi, secretary of the All India Muslim Personal Law Board, said on Sunday.
Over 250 members of the body gathered in the state capital for a two-day convention on March 21 and 22 for their annual general body meeting, which also included issues such as the Rajasthan government's decision to introduce compulsory Surya Namaskar in schools, introduction of yoga in the curriculum in Madhya Pradesh and Haryana schools, Ghar Wapasi and repealment of Mussalman Waqf Validating Acts 1913 and 1930.
"Introducing Surya Namaskar compulsory in schools go against our religion. According to Islam, we cannot worship anything except our life giver. The sun is not worshipped by us and how can anyone force us to do it? Ever since Modi came to power, Hindutva forces have become powerful. Ghar wapasi is being held and the right wing forces are spewing venom against Muslims and Christians," Qureshi added.
Full report at:
http://indianexpress.com/article/india/india-others/modi-govt-making-muslims-insecure-all-india-muslim-personal-law-board/
-----------
Happy with jihad, I won't come back to India, Kalyan youth with ISIS says
Mar 22, 2015
KALYAN: Fahad Shaikh, one of the four Kalyan youths who ran away and joined the Islamic State of Iraq & Syria (ISIS), has got in touch with his family, but rebuffed calls to return, saying "I am happy with my jihadi work, I won't come back to India".
Shaikh, who had been incommunicado since leaving home last year, got in touch about a month ago and has since been calling his family and some friends frequently on phone or Skype and other VoIP platforms, said sources familiar with the case of the four youths, all in their twenties.
He has confirmed that Saheem Tanki, one of the three youths who went with him, is dead. He reportedly sent a photograph of Tanki at the location where he died to his family.
NIA sleuths managed to contact Shaikh on a phone number he had called from, and he told them he won't return as his community was not treated well here. He again claimed he was happy with jihad but refused to elaborate what he was doing in Raqqa, Syria.
Areeb Majeed, another youth in the group from educated, established backgrounds, was brought back to India last November by the NIA and is in custody.
Full report at:
http://timesofindia.indiatimes.com/india/Happy-with-jihad-I-wont-come-back-to-India-Kalyan-youth-with-ISIS-says/articleshow/46649315.cms?
-----------
Home Minister tells Pakistan to end terror, seeks friendly ties
Yudhvir Rana
Mar 23, 2015
ATTARI: Standing 'very close' to Pakistan, Union home minister Rajnath Singh on Sunday delivered a loud and clear message to the neighbouring country - "End atmosphere of terror and learn to live with peace".
Addressing a gathering at Attari border post, a few metres away from Pakistan, Rajnath recalled former Prime Minister A B Vajpayee's words "we can change friends but not neighbours" and said the NDA government wanted friendly relations with Pakistan.
The home minister was here to inaugurate the construction work of a viewers' gallery at the border post, a favourite spot for tourists to witness the beating the retreat ceremony.
"Vajpayee had offered the hand of friendship to Pakistan. He not only wanted friendly ties with Pakistan but heart-to-heart relations between the people of the two countries. But what did we get in return? Kargil war," he said. Stating that despite Kargil, India had showed its generosity and again extended the hand of friendship towards Pakistan, he said, "So far, we have not been able to achieve what we want".
"Pakistan has to consider stopping the business of terror and prevent turning green pastures into red with blood of innocent people. Terror has to end," he said.
Referring to the recent suicide bomb attack at Wagah (Pakistan), in which around 60 people had died, he said, "Killing of innocents is a very serious issue. Pakistan should stop it. If not today, Pakistan will learn the reality of peaceful coexistence with neighbours one day."
He also congratulated the women's camel contingent of BSF for completing a march of 2,300 km from Gujarat's Bhuj to Attari border.
Full report at:
http://timesofindia.indiatimes.com/india/Rajnath-tells-Pakistan-to-end-terror-seeks-friendly-ties/articleshow/46657077.cms
-----------
Modi extends greetings to PM Nawaz on Pakistan Day
Mar 23, 2015
In a tweet posted on his official Twitter account Monday, Indian Prime Minister Narendra Modi said he had written to Prime Minister Nawaz Sharif to convey his greetings on the occasion of Pakistan Day.
Modi also tweeted that he believes bilateral dialogue, in an atmosphere free from violence and terror, can help resolve all outstanding problems.
Earlier in Jan on the occasion of India's Republic Day, Nawaz had also greeted his Indian counterpart and said both leaders could work together for regional peace and South Asia's economic development.
Full report at:
http://www.dawn.com/news/1171386/modi-extends-greetings-to-pm-nawaz-on-pakistan-day
-----------
South Asia
ISIS Is Targeting Afghanistan, President Ashraf Ghani Tells NBC News
Mar 23, 2015
In an interview, Ghani said that Afghanistan has evidence ISIS is organizing inside the country.
"Fortunately, we've prevented them from acting," Ghani told NBC News' Andrea Mitchell. "But we have sufficient evidence that they were targeting us because to their narrative, to their story line, Afghanistan is central."
Ghania said that ISIS sees Afghanistan as strategic, because in the extremist group's mythology, a final battle against Islamic State forces will be waged in Syria by a force from Afghanistan.
Full report at:
http://www.nbcnews.com/news/world/isis-targeting-afghanistan-president-ashraf-ghani-says-n328321
-----------
Former Afghanistan Task Force head raises caution flag over Iraq
March 22, 2015
Watch: David Mulroney, the former deputy minister in charge of the Afghanistan Task Force, tells Tom Clark the government should look hard at lessons learned in Afghanistan as they plan to boost humanitarian and economic aid in Iraq.
As the government gets set to expand Canada's anti-ISIS mission in Iraq, the former deputy minister in charge of the Afghanistan Task Force worries Canada is in a hurry to forget what happened in Afghanistan when there are real lessons to be learned from our mistakes there.
"One of the things I've noticed is that we have a lack of curiosity as to what happened in Afghanistan," David Mulroney said in an interview for The West Block with Tom Clark.
An internal audit on the decade-long, $2.2 billion aid program in Afghanistan found major flaws in the Afghan aid program's conception and its delivery.
That includes a failure to ever completely understand what was driving the conflict in Afghanistan and in turn be able to really help solve it.
In fact, the report said little attention was given to gaining a proper understanding of the context surrounding our mission.
Mulroney said the government should figure out how we got it that wrong before moving ahead.
"It's a really valid question and I think it's one that we need to answer before we take on other international assignments," Mulroney told Tom Clark.
Read more: Harper to ask Parliament to extend, expand mission against Islamic State group
But, Canada has already taken on another assignment: Iraq.
As the government prepares to ask Parliament for a mandate to extend and expand Canada's mission there, Foreign Affairs Minister Rob Nicholson wants military efforts to be undertaken in concert with humanitarian aid, saying the process ought to be like what was followed in Afghanistan.
Full report at:
http://globalnews.ca/news/1896460/former-afghanistan-task-force-head-raises-caution-flag-over-iraq/
-----------
Top JuMB Terrorist in NIA Custody in Kolkata
By Arup Chanda
23rd March 2015
KOLKATA:Just before filing the chargesheet in court for the Burdwan blast, the NIA succeeded in getting custody of the one of the Jamaat-ul-Mujahideen Bangladesh masterminds behind the terror activities, Abdul Wahab Momin, on Sunday from a court here.
The 34-year-old terrorist who hails from Shamshergunj in Murshidabad district, next to Indo-Bangladesh border, was on the run since the blast took place in Khagrgarh in Burdwan district on October 2 last year.
Wahab, the sleuths suspect, is one the main link men for the JuMB and a trained man in carrying out subversive activities. Till date the NIA has arrested 18 persons connected with terror acts, including four persons who are from Murshidabad. The NIA is looking for 15 more persons including several Bangladeshis.
Full report at:
http://www.newindianexpress.com/nation/Top-JuMB-Terrorist-in-NIA-Custody-in-Kolkata/2015/03/23/article2725802.ece
-----------
4th person accuses Hasan of shooting FF's father
March 23, 2015
A fourth person yesterday testified that war crimes accused Syed Hasan Ali shot dead her cousin Tofazzal Hossain and tortured her father in Kishoreganj on August 23, 1971 accusing their sons of being freedom fighters of the Liberation War.
International Crimes Tribunal-1 also recorded the testimony of Press Institute of Bangladesh Assistant Cataloguer Rabiul Alam in the war crimes case against three alleged Bagerhat Razakars -- Sheikh Sirajul Haque alias Siraj Master, Khan Akram Hossain and Abdul Latif Talukder.
It adjourned until April 5 hearing of a contempt petition against Tajul Islam, a counsel of war criminal ATM Azharul Islam, and five leaders of Jamaat-e-Islami and pro-Jamaat student organisation Islami Chattra Shibir for their statements before the media after a verdict.
Meanwhile, the investigation officer of another war crimes case testified that Mahidur Rahman and Afsar Hossain alias Chutu were directly and indirectly involved in killings, mass killing, arson and other crimes against humanity in a bid to annihilate freedom fighters, pro-liberation people, Awami League men and Hindus.
HASAN'S CASE
Local Razakars, the Pakistani occupation army's auxiliary force, had informed Razakar commander Hasan Ali of Tofazzal's son Shahjahan Bhuiyan and her brother Kamruzzaman going to India for training, said Mahfuza Akter, 61.
The 23rd prosecution witness told the three-member tribunal led by Justice M Enayetur Rahim that the Razakars attacked at midnight, beating up Tofazzal and tying her family up with bed sheets.
"They dragged my parents out of the room. All the Razakars were equipped with firearms," said Mahfuza, adding that she heard gunshots and afterwards the Razakars looted valuables and left. Around 4:00am, Emdad, another son of Tofazzal, came and broke down in tears. "Razakar Hasan Ali shot dead my father in the pond behind our house," she quoted Emdad as saying. Informed by Emdad, they went to an army camp in Kishoreganj and traded Kamruzzaman for release of her parents. Kamruzzaman too was released once an army officer examined him and found no evidence of him being in training, she added.
Full report at:
http://www.thedailystar.net/city/4th-person-accuses-hasan-shooting-ffs-father-73234
-----------
AZM Nasir seeks blessings from Mohiuddin
Mar 23, 2015
The ruling Awami League blessed mayor candidate AZM Nasir Uddin said he would contest the upcoming Chittagong City Corporation polls as per the plan and suggestion of party's city unit President ABM Mohiuddin Chowdhury.
Nasir said this yesterday at Mohiuddin's residence after seeking blessings from the veteran AL leader, who was three times CCC mayor.
Earlier on March 14, Mohiuddin after returning from Saudi Arabia declared to join the mayoral race.
However, a meeting of the AL central committee held at Gono Bhaban in presence of Prime Minister Sheikh Hasina declared AZM Nasir as the mayor candidate for CCC on March 20.
Mohiuddin later said he would work for Nasir, but frustration is reportedly prevailing among his supporters in the city, according to sources. Nasir, who is the general secretary of the same city unit, visited Mohiuddin's residence around 10:00am yesterday. Both the leaders fed each other sweetmeats and talked about different aspects of the election.
"Mohiuddin bhai is our guardian and has vast experience regarding CCC election. I will contest the polls as per a plan and direction of him," said Nasir, who is going to contest any election for the first time with AL support.
He expressed the hope that it would be easy for him to snatch victory if he uses the experience of the city AL chief.
Full report at:
http://www.thedailystar.net/backpage/azm-nasir-seeks-blessings-mohiuddin-73204
-----------
Africa
Muslim Fighters Kill 11 in Central African Attacks
Mar 22, 2015
A group of heavily armed Muslims attacked several villages in Central African Republic over the weekend, killing at least 11 people, a villager said Sunday.
Central African Republic has been rocked by sectarian violence since 2013. That year, mostly Muslim Seleka rebels seized power, and their brutal rule led to the rise of Christian militias that unleashed a wave of violence against Muslims. U.N. and French troops are now trying to stabilize the country. Targeted attacks against Muslims are subsiding, although tensions remain.
As calm returns, Muslims who fled the attacks have begun to trickle home, and 10 mosques have reopened in the capital, Bangui, in recent weeks.
The mosques that have reopened are in heavily Muslim neighborhoods and so escaped destruction, according to Aliou Ousseini, one of the country's most influential imams. Some of them sustained heavy gunfire, but are still standing. Others simply need a lick of paint after months of neglect, he said.
But the vast majority of the country's mosques — 417 out of 436 — were destroyed in the violence between Christians and Muslims, Samantha Power, the U.S. ambassador to the United Nations, said recently.
Full report at:
http://abcnews.go.com/International/wireStory/10-mosques-african-republic-shut-violence-reopen-29819685
-----------
Libyan arms shells extremist training camp south-east of Tripoli
23 March 2015
Libyan armed forces, of the internationally recognized government, shelled a training camp of Islamic militants in the town of Tarhunah, south east of the capital Tripoli, on Monday, killing or wounding several, Al Arabiya News Channel reported.
The army has launched this week a sweeping operation south of Tripoli, attacking the positions of both Islamic militants and the rival Dawn of Libya forces.
Libya has two governments and parliaments, and on Friday the internationally recognized cabinet said loyalist forces had launched an offensive to "liberate" Tripoli.
The capital was seized in August by Dawn of Libya, a militia alliance which includes Islamists that has installed its own government and legislature in Tripoli.
Full report at:
http://english.alarabiya.net/en/News/middle-east/2015/03/23/Libyan-arms-shells-extremist-training-camp-south-east-of-Tripoli.html
-----------
In Jordan, the Muslim Brotherhood is the master of its own demise
By Taylor Luck
March 22, 2015
The Jordanian Muslim Brotherhood is in the throes of a civil war. On March 6, defectors announced they had formed and licensed a "new" Muslim Brotherhood — a Jordanian political movement with no ties to the mother organisation.
With two Brotherhoods now standing side by side, the original group is on the brink of dissolution in Jordan, and it needs to look no further than its own leadership for the reasons for its downfall.
The current Brotherhood civil war dates back to the mid-1990s, when rival factions began to clash. Many objected to the secretive and undemocratic inner-workings of the Jordanian Brotherhood leadership, rumoured voting fraud in internal elections and its strong ties with Hamas.
For most of the 2000s, the Brotherhood's leadership gave the Palestinian cause priority over domestic issues, fervently following every development in the Israeli-Palestinian conflict and championing the armed resistance of Hamas, while letting the issues facing Jordanians fall by the wayside.
Brotherhood moderates pushed the leadership to talk and act as a Jordanian movement rather than a movement that happened to be in Jordan.
Full report at:
http://www.thenational.ae/opinion/in-jordan-the-muslim-brotherhood-is-the-master-of-its-own-demise
-----------
'Terrorist' mine kills soldier in west Tunisia
23 March 2015
A Tunisian soldier was killed and two others injured Sunday when their vehicle hit a landmine "planted by terrorist elements" in a mountainous western region near the Algerian border, the defense ministry said.
"A mine exploded under their vehicle," ministry spokesman Belhassen Oueslati told AFP, declining to name the exact location where he said a military operation was "ongoing."
"The mine was planted by terrorist elements," he added.
The incident comes as the country is on high alert after gunmen killed 20 foreign tourists and a policeman at the country's national museum on Wednesday, in an attack claimed by the Islamic State group.
Full report at:
http://english.alarabiya.net/en/News/middle-east/2015/03/23/-Terrorist-mine-kills-soldier-in-west-Tunisia.html
-----------
Third Tunisia museum gunman on the run
22 March 2015
Tunisia's President Beji Caid Essebsi said on Sunday that a third gunman involved in an attack that killed 23 people, mostly foreign tourists, at a Tunis museum last week was on the run.
Confirming reports that there had been a third attacker along with the two shot dead by security forces, Essebsi also said on French TV that a monument would be built to commemorate the dead.
"For sure there were three because they have been identified and filmed on surveillance cameras," Essebsi said in a televised interview with Europe 1 radio, iTELE and Le Monde newspaper.
Full report at:
http://english.alarabiya.net/en/News/middle-east/2015/03/22/Third-Tunisia-museum-gunman-on-the-run.html
-----------
Mine blast kills Tunisia soldier, injures 2: Defense Ministry
Mar 23, 2015
At least a Tunisian soldier has been killed and two others have sustained injuries in a mine blast in a mountainous western region near the Algerian border, the Tunisian Defence Ministry says.
Belhassen Oueslati, the spokesman for the ministry, made the remarks on Sunday without revealing the exact location of the incident.
He further noted that the blast took place after the vehicle in which the soldiers were traveling hit a landmine "planted by terrorist elements".
The deadly incident happened days after the recent tragic attack in the country, which left 21 people dead.
On March 18, a group of gunmen attacked the National Bardo Museum, located in the capital, Tunis, near the parliament building, killing 21 people. All but one of the victims were foreign tourists.
Full report at:
http://www.presstv.in/Detail/2015/03/23/403018/Tunisia-soldier-killed-in-mine-blast
-----------
Libya talks continue despite clashes: UN envoy
Mar 22, 2015
The United Nations special envoy to Libya says the country's warring factions continue to negotiate despite the recent outbreak of clashes in the country.
"For the moment, no one is leaving. We have had a difficult moment," said Bernardino Leon on Sunday, adding, "After these attacks there was a possibility either to cancel the dialogue or to lose some of the delegations, which would have had a similar impact."
He stated that there are some hardliners in both sides of the Libyan conflict who prefer a military solution to a diplomatic one.
The talks are "intended to isolate a minority of them who are against the dialogue, who are against the political solution and bring together a majority of both camps to work against those spoilers," Leon pointed out.
The UN official also said that the international community is trying to play a more active role to end deadly clashes in Libya as the rising threat of the ISIL Takfiri terrorist group looms large over the Arab country.
UN Special Envoy to Libya Bernardino Leon (2R) chairs talks between Libya's warring factions in the Moroccan town of Skhirat, March 5, 2015. © AFP
He also expressed hope that the two sides would agree to establish a national unity government and arrange security issues on Monday or Tuesday.
"The documents... might be ready soon, maybe tomorrow or after tomorrow and then we expect to start the next stage of the talks," Leon went on to say.
On Saturday, Libya's internationally recognized government announced that the army has started an operation to recapture the capital city of Tripoli from armed militants despite the ongoing negotiations between the representatives of the government and the militants in the Moroccan coastal town of Skhirat.
Source of conflict
Libya has two rival camps vying for control of the country, with one controlling Tripoli, and the other -- Libya's internationally recognized government -- in control of the cities of Bayda and Tobruk.
Libya's government and elected parliament moved to the eastern city of Tobruk after an armed group based in the northwestern city of Misrata seized Tripoli and most government institutions in August 2014.
Full report at:
http://www.presstv.in/Detail/2015/03/22/402985/Libya-talks-go-on-despite-clashes
-----------
URL: https://www.newageislam.com/islamic-world-news/new-age-islam-news-bureau/'hanging-terrorists-is-an-islamic-act'-say-sunni-leaders/d/102073