New Age Islam News Bureau
12 Oct 2015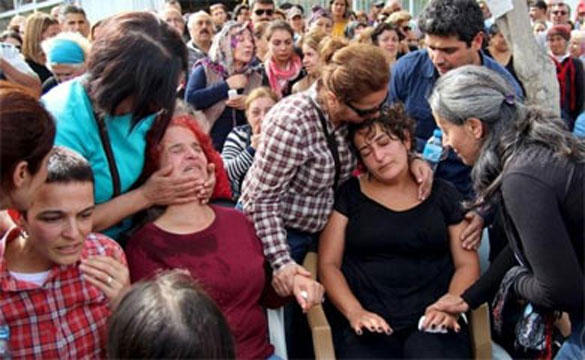 Family members of Korkmaz Tedik, a victim of Saturday's bomb blasts, mourn over his coffin during a funeral ceremony in Ankara, Turkey, October 11, 2015. Reuters/Tumay Berkin
---------
Arab World
• Hajj Management Not To Be Shared With Muslim Nations: Saudi Prince
• Syrian Army Repels ISIL Attack on Deir Ezzur Airbase, Kills over 120 Militants
• Daesh Figures Killed In Air Strike; Baghdadi Not Believed Among Them
• Riyadh, Moscow Join Hands against 'Terrorist Caliphate'
• U.S.-backed Syrian Kurdish militia joins new military alliance
• Saudi Arabia Supplies Militants in Syria with TOW Antitank Missiles
• France's strikes on Syria may have killed French militants
• Nusra Militants Sustain Heavy Losses in Russian Airstrikes in Homs
• 63 ISIL Targets Hit in 64 Russian Sorties over Syria
• Syrian Army Close to Seize Back Kuweires Airbase
• Russian Fighter Jets Hit ISIL Positions Hard in Al-Tamanna in Syria's Idlib
• Putin meets Saudi defence minister amid differences over Syria
• Syrian troops advance with Russian air support
• Saudi FM says kingdom seeks political solution to Assad's ouster
• Iraqi Kurdish opposition party says asked to leave Erbil
• Syria opposition to boycott U.N. talks, cites Russia strikes
------
South Asia
• 15 Taliban Including Key Commander Killed In Western Afghanistan
• Afghan Taliban Prepare 'Special Forces' To Combat Daesh
• Turning Gun on Media: Taliban Warn Attacks on Tolo and 1TV
• Taliban Bomber Targets NATO Convoy in Central Kabul
• Afghan Taliban's reach widest since 2001: UN
• Abdullah calls on Pakistan to stop supporting Afghan Taliban
• President Ghani: No one is allowed to interfere in security affairs and appointments
• 41 Biranganas get recognition as freedom fighters
• PM's comment on foreigners' murders in Bangladesh will encourage killers: BNP
• Bangladesh police claims arrest of militants involved in pastor attack
----------
Mideast
• Turkey Sees IS Hand in Bombing That Killed Up To 128 People
• Yemeni Forces Drown another Saudi-Led Coalition Warship
• 'Two Male Suicide Bombers' Behind Ankara Blasts: PMO
• Yemeni Forces Attack Saudi Military Bases
• Self-declared Jewish, Muslim defenders of faith stoke tensions at contested Jerusalem shrine
----------
Pakistan
• Economy, Politics and Democratic System of Pakistan under US Dominance: JUI-F Chief
• Russia's Anti-Terrorist Operation in Syria Helpful: Def Minister
• Entry of 190 Ulema in Pindi Division during Muharram Banned
• LEAs claim arrest of 100 outlaws ahead of Muharram
• Loss by 'small margin' is not a defeat, says Sarwar
• Public rejects Imran Khan's politics: Pervaiz Rasheed
• 588 become terror victims in 8 months
• EC failed to enforce code of conduct in NA-122 by-election: Sirajul Haq
• Jamiat men kidnap three PU students
----------
Europe
• Mother of British Jihadist Thomas Evans Says Dead Son Will 'Burn In Hell'
• Putin: Terrorism Primarily Threatens Russia and Islamic Countries
• Russian police foil 'terror attack' planed in Moscow
• Britain urged to accept more Syrian refugees
----------
India
• 22 Indians among World's Influential Muslims
• Indian, Chinese Army Kicks off Anti-Terrorism Exercise
• Nawaz Sharif invites Hurriyat Conference chairman Geelani to Pakistan
• Pakistani army treating PoK inhabitants brutally: Def Minister
• Haj stampede: Death toll of Indians rises to 114
----------
Southeast Asia
• Bali Bombings A Reminder of Regional Terror Threat
• In defence of Ben Carson: Muslims can't have it both ways
• China Announces Further Crackdowns on Christian Churches
----------
North America
• Sorry, Islamophobes: Your Anti-Muslim Rallies Ended Up Inspiring Acts Of Love And Service
• Students Burn ISIS Flag, Chant 'USA! USA!' MSO Refuses To Participate
• World's Largest Interfaith Gathering in Utah
• Interfaith Support Quashes US Anti-Muslim Rallies
• Interfaith Leaders Support Mosques against Protest
----------
Africa
• Bombings kill at least nine in north Cameroon
• Kenyan Muslims Decry Injustice
Compiled by New Age Islam News Bureau
URL: https://www.newageislam.com/islamic-world-news/new-age-islam-news-bureau/hajj-management-not-to-be-shared-with-muslim-nations--saudi-prince/d/104884
----------
Arab World
Hajj Management Not To Be Shared With Muslim Nations: Saudi Prince
October 12, 2015
ABU DHABI: Saudi Prince Turki al-Faisal on Sunday rejected the idea of sharing the administration of the annual hajj pilgrimage with other Muslim nations, saying Riyadh considers it "a matter of sovereignty" and a "privilege."
The senior member of the Saudi royal family spoke to The Associated Press as his country faces mounting criticism in the wake of last month's disastrous crush of pilgrims outside the holy city of Mecca, which killed over 1,400 people, according to an AP count, making it the deadliest annual pilgrimage on record.
Saudi Arabia's regional rival Iran, which lost the largest number of pilgrims, has accused the kingdom of mismanagement and called for an independent body to oversee the hajj.
The royal Al Saud family, which governs Saudi Arabia and for which the country is named after, derives enormous prestige and legitimacy from being the caretakers of the hajj and Islam's holiest sites in Mecca and Medina. King Salman, in line with past Saudi monarchs, holds the title of "Custodian of the Two Holy Mosques" in reference to the Grand Mosque in Mecca and the Prophet Muhammad's first mosque ever built in Medina.
Oversight of these holy places and the hajj "is a matter of sovereignty and privilege and service," Prince Turki said.
"The kingdom over the years, having gotten over the awful times when pilgrims couldn't guarantee their travels to the hajj in the old days and all the other factors of disease and crowds and housing and so on, we'll not give up that privilege or that distinction of being the servants of the two holy places," he said.
"The people of Mecca are the ones who know best the territory of Mecca and you can't take that away from the people of Mecca."
Turki is the most senior Saudi royal to comment publicly on the Iranian criticism. He is currently chairman of the Riyadh-based King Faisal Center for Research and Islamic Studies, named after his late father.
http://nation.com.pk/international/12-Oct-2015/hajj-management-not-to-be-shared-with-muslim-nations
----------
Syrian Army Repels ISIL Attack on Deir Ezzur Airbase, Kills over 120 Militants
Oct 11, 2015
The sources said that the ISIL offensive to capture Deir Ezzur airbase failed and the Syria army troops killed nearly 120 militants in their counter-attack and pushed them back from the fighting area.
Also on Saturday, military sources reported large ISIL casualties in a Syrian Army attack on the strongholds of the terrorist group near Deir Ezzur airbase.
The sources said that the ISIL gathering centers in al-Jura and al-Qosur in the outskirts of Deir Ezzur airbase were massively hit by the Syrian army troops, leaving tens of the militants killed or wounded.
http://english.farsnews.com/newstext.aspx?nn=13940719000646
----------
Daesh Figures Killed In Air Strike; Baghdadi Not Believed Among Them
11 October 2015
BAGHDAD: Eight senior figures from the Daesh group were killed in an air strike while meeting in a town in western Iraq, but the group's reclusive leader Abu Bakr Al-Baghdadi did not appear to be among them, residents of the town and hospital sources said.
Iraq said on Sunday its air force had hit the meeting and had also struck a convoy that was carrying Baghdadi to attend it. It said Baghdadi had been driven away from the convoy in an unknown condition.
The Iraqi military's announcement was the latest unconfirmed report of the possible death or injury of Baghdadi, who has survived a year of US-led air strikes and multi-sided wars in two countries since proclaiming himself caliph of all Muslims after his forces swept through most of northern Iraq last year.
A Twitter site which publishes statements from Daesh said "rumors" that an air strike had targeted Baghdadi were false.
The United States military declined to comment on the Iraqi military's report.
"Iraqi air forces have bombed the convoy of the terrorist Abu Bakr Al-Baghdadi while he was heading to Karabla to attend a meeting with Daesh commanders," the Iraqi military said in a statement.
Daesh is the Arabic acronym for Islamic State, also known as ISIS or ISIL. Karabla is a town in Iraq's Anbar province near the Syrian border, a Daesh stronghold, not to be confused with Kerbala, a Shiite holy city in the south.
"The location of the meeting was also bombed and many of the group's leaders were killed and wounded. The fate of murderer Al-Baghdadi is unknown and he was carried away by a vehicle. His health condition is still unclear," the military said.
Hospital sources and residents said airstrikes hit two houses and killed eight senior local leaders of a Daesh police force in the town.
Daesh supporters said on Twitter that even if Baghdadi had been killed, his self-proclaimed caliphate straddling large areas of Iraq and Syria would survive.
"Do you think we would leave the State of the caliphate and abandon it, oh vile world?," asked one of his followers. "This is the religion of God, it rose on the skulls of heroes and martyrs and every time one of them is martyred we rise."
Baghdadi has galvanized militants from around the world, encouraged by his military successes and plans to redraw the map of the Middle East to create a self-sustaining caliphate.
His successes prompted the United States to re-engage in Iraq with air strikes against his fighters three years after pulling out following a long, costly occupation.
Russia, which has launched a bombing campaign to aid its Syrian ally Bashar Assad, says its main enemy is Daesh as well.
A Daesh fighter reached by telephone could not confirm whether Baghdadi had been in a convoy that was struck, but said the group would fight on whatever his fate: "Even if he was martyred then it will not affect Daesh. We will lose a leader but there are a thousand Baghdadis."
http://www.arabnews.com/middle-east/news/818741
----------
Riyadh, Moscow join hands against 'terrorist caliphate'
12 October 2015
SOCHI, Russia: Deputy Crown Prince and Defense Minister Mohammed bin Salman met with Russian President Vladimir Putin on Sunday to discuss steps to establish a peace process in war-torn Syria.
The deputy crown prince voiced Saudi Arabia's keen interest in realizing the peaceful aspirations of the Syrian people and reiterated its support to solve the Syrian crisis in accordance with the resolutions of the Geneva 1 conference.
Speaking after the meeting, Russian Foreign Minister Sergei Lavrov said both countries were willing to cooperate in Syria and wanted to prevent the formation of a "terrorist caliphate".
Lavrov said: "On both sides, as far as I can tell, there is an understanding that today's meeting can advance our cooperation."
Lavrov acknowledged that Saudi Arabia had "concerns" about Russia's aims but said it was targeting only extremists, including Daesh and Jabhat Al-Nusra, a group linked to Al-Qaeda.
"We expressed our concerns that these operations could be regarded as an alliance between Iran and Russia," said Foreign Minister Adel Al-Jubeir.
"But in the conversation, our Russian friends explained to us that the main aim is the fight with Daesh and terrorism," he added.
The meeting on the sidelines of the Russian Grand Prix in Sochi also discussed bilateral ties, Lavrov added.
Al-Jubeir, who appeared alongside Lavrov, said Riyadh is concerned over military operations in Syria and that Riyadh wants to find common grounds with Russia to guard unity of Syria. Al-Jubeir said the Kingdom would increase cooperation with Russia to fight "terrorism."
Al-Jubeir said Riyadh wants to see a transitional government in Syria, which will eventually lead to the end of the Bashar Assad regime.
Russia expressed readiness to increase military cooperation with Saudi Arabia on Syria
Earlier, Putin said Russia would not deploy ground troops to Syria. "We are not planning on doing this (conducting a ground operation), and our Syrian friends know about this," Putin said speaking to the state-run Rossiya-1 channel. He also said Russia does not want to get involved in an inter-religious war in Syria.
Putin brushed off criticism by the US-led coalition that the Russian air force was not providing it with sufficient advance notice prior to conducting strikes.
"I want to draw attention to the fact that nobody has ever warned us in the planning and beginning of operations of this kind," Putin said. "But we did."
http://www.arabnews.com/featured/news/818851
----------
U.S.-backed Syrian Kurdish militia joins new military alliance
12 October 2015
A Kurdish militia that has been backed by U.S.-led air strikes in Syria has joined a new military alliance that includes Arab groups, a statement released overnight said.
The alliance calling itself the Democratic Forces of Syria includes the Syrian Kurdish YPG militia and Syrian Arab groups that have already fought alongside it against ISIS in northern Syria.
Full Report at:
http://english.alarabiya.net/en/News/middle-east/2015/10/12/U-S-backed-Syrian-Kurdish-militia-joins-new-military-alliance-.html
----------
Saudi Arabia Supplies Militants in Syria with TOW Antitank Missiles
Oct 11, 2015
BBC correspondent Frank Gardner tweeted that a Saudi official confirmed the delivery of 500 TOW antitank missiles to the so-called Free Syrian Army (FSA).
The delivery of the TOW missiles — which have also been provided by the CIA — will allegedly increase the capabilities of the militants.
TOW missiles, as Popular Mechanics notes, are guided missiles that could thoroughly damage tanks, armored carriers, and other vehicles. And, unlike other projectiles used against armored targets, such as RPGs, TOW missiles can be used from a considerable distance.
The missiles, however, do nothing to counter Russia's continued airstrikes against Takfiri militants' positions.
Syria has been grappling with a deadly crisis since March 2011. The violence fuelled by Takfiri groups has so far claimed the lives of over 240,000 people, according to reports.
Russia's Sukhoi Su-25, Su-24M and Su-34 attack aircraft, with the support of Su-30 jets, commenced precision airstrikes against ISIL targets in Syria on September 30, following a request from Syrian President Bashar Assad.
The Russian defense Ministry said on Saturday that Russian warplanes in Syria bombed 29 field camps and other facilities of the ISIL terrorist group in the past 24 hours.
"Our aviation group over the past day has destroyed two militant command centers, 29 field camps, 23 fortified facilities and several troop positions with military hardware," ministry spokesman Major General Igor Konashenkov said, RT reported.
He added that the Russian effort has "considerably degraded" the strength of the terrorist groups in Syria.
Full Report at:
http://english.farsnews.com/newstext.aspx?nn=13940719000667
----------
France's strikes on Syria may have killed French militants
12 October 2015
French air strikes in Syria have probably killed French militants, a source in the delegation of Prime Minister Manuel Valls said on Monday during a visit to neighboring Jordan.
"The strikes have killed militants. There might well be French militants among them," the source said.
The source said he could not confirm a figure of six French militants killed which he said probably came from a Syrian non-governmental organization.
France's defense ministry said on Sunday that French citizens were in a training camp for ISIS group militants that was hit by French air strikes last week.
"We targeted a training camp where there were foreign Daesh fighters trained to come and attack us in France," a ministry source said, using another acronym for ISIS.
"Among them, there were French nationals and French speakers. We were targeting foreign fighters, not French nationals in particular."
Valls said that France would strike anyone planning attacks on its soil, regardless of nationality.
Full Report at:
http://english.alarabiya.net/en/News/middle-east/2015/10/12/France-s-strikes-in-Syria-probably-killed-French-militants-official-.html
----------
Nusra Militants Sustain Heavy Losses in Russian Airstrikes in Homs
Oct 11, 2015
The sources said that the Russian warplanes' massive air attacks against Nusra centers in the Central Homs province left a large number of the terrorists killed or wounded.
Also on Saturday, the Syrian army killed and injured a large number of ISIL and al-Nusra Front militants in Homs.
Full Report at:
http://english.farsnews.com/newstext.aspx?nn=13940719000598
----------
63 ISIL Targets Hit in 64 Russian Sorties over Syria
Oct 11, 2015
Spokesperson for the Russian Defense Ministry Igor Konashenkov said that over the last 24 hours the Russian aircrafts have attacked terrorist positions in the Hama, Idlib, Lattakia and Raqqa governorates of Syria. In total, 64 sorties targeted 63 ISIL installations, among them 53 fortified zones, 7 arms depots, 4 training camps and a command post, RT reported.
The airstrikes were carried out by Sukhoi Su24M and Su-34 bombers and Su-25SM assault aircraft, with Sukhoi Su-30 fighter jets ensuring air escort for the assault groups, he further added.
Full Report at:
http://english.farsnews.com/newstext.aspx?nn=13940719001045
----------
Syrian Army Close to Seize Back Kuweires Airbase
Oct 11, 2015
Battlefield sources said that the Syrian armed forces, backed by the Russian warplanes, are pushing back the Takfiri terrorists from areas adjacent to the Kuweires military airport in Aleppo province.
The Syrian army troops advanced towards Kuweires airbase, and are now only less than 6 kilometers away from the besieged airport.
The march towards the strategic airbase started on Saturday. Following a series of battles, sources said yesterday that "the army had inflicted heavy casualty on the militants in areas near the Kuweires airport, killed tens of the terrorists and wounded dozens more".
The Russian warplanes launched heavy airstrikes on ISIL positions in Al-Jaboul village to open the path for the Syrian ground forces to win back the village.
Full Report at:
http://english.farsnews.com/newstext.aspx?nn=13940719001508
----------
Russian Fighter Jets Hit ISIL Positions Hard in Al-Tamanna in Syria's Idlib
Oct 11, 2015
The sources said that the ISIL terrorist group sustained heavy losses in the Russian airstrikes in Idlib, particularly in al-Tamanna area.
The sources said that the air attacks have significantly laid the ground for the Syria army's ground operation to retake the control of the area.
Full Report at:
http://english.farsnews.com/newstext.aspx?nn=13940719000570
----------
Putin meets Saudi defence minister amid differences over Syria
October 12, 2015
SOCHI: Russian President Vladimir Putin met Saudi Arabia's defence minister on Sunday, in Moscow's biggest attempt so far to reach out to enemies of Syria's President Bashar al-Assad since Russia joined the conflict with air strikes.
Putin met Sheikh Mohammed bin Salman, a son of the Saudi king, on the sidelines of a Formula One race on Sunday, nearly two weeks since Moscow began bombing enemies of Assad, including rebel groups that are supported by Riyadh.
Saudi Arabia's Foreign Minister Adel al-Jubeir, appearing alongside Russia's Sergei Lavrov, said Riyadh had concerns about Russia's policy.
Full Report at:
http://www.dawn.com/news/1212470/putin-meets-saudi-defence-minister-amid-differences-over-syria
----------
Syrian troops advance with Russian air support
October 12, 2015
BEIRUT: Syrian government troops backed by Russian air strikes advanced against rebels on Sunday, as a rights group accused Moscow of being behind a new type of cluster bomb in the conflict.
Twelve days into Russia's aerial campaign, the troops were gaining ground on two fronts: in central Hama province around the Damascus-Aleppo highway, and in the northern part of regime stronghold Latakia province.
In Hama, regime forces have taken three villages east of the highway and are now seeking to also secure control of an area to its west.
"This offensive is intended to confront the rebels in the Sahl al-Ghab plain that is at the intersection of Hama, Latakia and Idlib provinces," said Rami Abdel Rahman, director of the Syrian Observatory for Human Rights monitor.
Alawites from the same sect as President Bashar al-Assad live in the south and west of the strategic 1,000 square-kilometre plain.
In recent months, rebels have sought to capture parts of the area, advancing particularly from Idlib province, which is held by the Army of Conquest alliance that includes Al Qaeda affiliate Al-Nusra Front.
Control of the plain would threaten regime-held areas in Hama and also Latakia, which is both a stronghold of the regime and home to Assad's ancestral village.
In northern Latakia meanwhile, regime forces took the village of Kafr Dalba as they pressed a bid to capture a strategic mountainous area in the region, the Observatory and sources on the ground said.
Earlier this week, a military source said government troops wanted to seal off Idlib province from Hama and Latakia and prevent rebels from being able to threaten either region.
Long-term, the regime may also try to recapture the strategic town of Jisr al-Shughur in Idlib, which it lost earlier this year as the Army of Conquest swept through the province and expelled the army.Human Rights Watch meanwhile on Sunday accused Russia of being behind the use of new advanced cluster munitions in Syria.
The New York-based group said it had obtained photographs showing cluster munitions were dropped on Kafr Halab, a village southwest of Syria's second city of Aleppo, on Oct 4.
It said it could not confirm whether the munitions had been used by Russian forces, or supplied by Moscow but used by Syria.
"It's disturbing that yet another type of cluster munition is being used in Syria given the harm they cause to civilians for years to come," said Nadim Houry, HRW's deputy Middle East director.
Full Report at:
http://www.dawn.com/news/1212474/syrian-troops-advance-with-russian-air-support
----------
Saudi FM says kingdom seeks political solution to Assad's ouster
12 October 2015
Saudi Foreign Minister Adel al-Jubeir on Sunday said his country was committed to a political solution that would lead to Syrian President Bashar al-Assad giving up power.
Speaking in Russia, Jubeir also reiterated that a road map discussed by global and regional powers in 2012 should be the guiding principle for any Syria talks.
Jubeir also voiced the kingdom's concerns over Russian military operations in Syria.
In a meeting with his Russian counterpart Sergei Lavrov, Jubeir said "Saudi Arabia's stance regarding Russian military operations in Syria was made clear.
"Saudi Arabia has said it interprets these operations as an alliance with Iran, Hezbollah and Assad. Russia has confirmed the aim of these operations is to fight the Islamic State of Iraq and Syria (ISIS)," Jubeir said.
Full Report at:
http://english.alarabiya.net/en/News/middle-east/2015/10/12/Saudi-FM-says-kingdom-seeks-political-solution-to-Assad-s-ouster.html
----------
Iraqi Kurdish opposition party says asked to leave Erbil
12 October 2015
Iraqi Kurdish opposition party Gorran said on Sunday its top politicians have been asked by the party of acting regional president Massud Barzani to leave the capital Erbil.
The move came amid a wave of violent protests against Barzani in southern opposition strongholds which Barzani's Kurdish Democratic Party accuses Gorran of fomenting.
The autonomous region's parliament speaker and ministers from the Gorran party were asked by the KDP to leave the city, a statement said.
"The KDP politburo used its representatives in parliament and government to inform the president of parliament and the Gorran ministerial team that they must not attend their places of work and must leave our regional capital," Gorran's statement said.
Gorran (Movement for Change) is the second largest bloc in parliament.
At least four people were killed on Saturday and Sunday in a string of protests that spread to most major towns in the south of the autonomous region in recent days.
The demonstrations started in Sulaimaniyah, the main city in southern Kurdistan and a traditional bastion of opposition to the KDP, to demand payment of overdue salaries for civil servants.
They evolved into protests calling on Barzani, whose mandate expired in August, to step down.
Full Report at:
http://english.alarabiya.net/en/News/middle-east/2015/10/12/Iraqi-Kurdish-opposition-party-says-asked-to-leave-Arbil.html
----------
Syria opposition to boycott U.N. talks, cites Russia strikes
11 October 2015
Syria's key opposition National Coalition said Sunday it would boycott talks proposed by U.N. peace envoy Staffan de Mistura over concerns about his plan and Russia's air strikes in the country.
The National Coalition has "decided not to participate in the consultative working groups and considers adherence to the Geneva communique and (U.N.) Security Council resolutions and an end to Russian aggression to be the basis for the resumption of the negotiation process," it said in a statement.
The Geneva communique is a document agreed at a peace conference in 2012 that drew up baselines for a Syria peace deal including the formation of a transitional governing body with executive powers.
The opposition says President Bashar al-Assad cannot stay on during any transition period, but the regime says his departure is not on the table.
U.N. envoy de Mistura in July proposed the formation of working groups composed of opposition and government representatives to discuss issues including protecting civilians and reconstruction.
But the discussions have yet to get off the ground, and the opposition has been disappointed by the consultative nature of the proposal, saying the talks fall short of proper negotiations.
The Coalition voted to boycott the talks after several days of meetings in Turkey, where it is based.
It slammed the Russian air campaign launched on September 30 saying it was incompatible with Moscow's Security Council membership and role as a party to peace talks in Syria.
Russia says its air strikes, which are coordinated with Syria's government, are targeting the Islamic State of Iraq and Syria (ISIS) jihadist group and other "terrorists".
But the opposition and its backers say Moscow has focused more on moderate and Islamist rebels rather than jihadists and is trying to shore up Assad's government.
"Russia's aggression represents a violation of international law and support for the regime in killing civilians, committing war crimes, genocide and crimes against humanity," the Coalition said.
Full Report at:
http://english.alarabiya.net/en/News/middle-east/2015/10/11/Syria-opposition-to-boycott-UN-talks-cites-Russia-strikes.html
----------
South Asia
15 Taliban including key commander killed in western Afghanistan
October 11, 2015
FARAH: Afghan security forces have killed 15 Taliban militants including key commander Mawlawi Ibrahim Shiwani during operations in the western Farah province on Sunday, a senior army officer in the western region General Taj Mohammad Jahid said.
"Units of Afghan army launched cleanup operations against Taliban militants in Balablock district early Sunday and have killed 15 rebels including their key commander Mawlawi Ibrahim Shiwani who also served as shadowy deputy governor for Farah province," Jahid said, Xinhua reported.
Full Report at:
http://nation.com.pk/international/11-Oct-2015/15-taliban-including-key-commander-killed-in-western-afghanistan
----------
Afghan Taliban prepare 'special forces' to combat Daesh
Oct 12 2015
Afghan Taliban have prepared 'special forces' to combat rival Daesh group, a report published by British Broadcasting Corporation (BBC) states.
BBC citing informed sources says that the new Taliban force is called 'Reserve Units' which has been formed in eastern provinces of Afghanistan.
According to these sources, the new Taliban force is training young people to fight with Daesh.
The report further states that the new force has been provided more equipment than other Taliban fighters.
Some residents of eastern Kunar and Nooristan province have said that those youths who have been frightened by the arrival of 'Daesh' joins the new Taliban force.
The propaganda team of Taliban are provoking villagers against 'Daesh' to stand with them 'Taliban', the report adds.
Full Report at:
http://www.khaama.com/afghan-taliban-prepare-special-forces-to-combat-daesh-3978
----------
Turning gun on media: Taliban warn attacks on Tolo and 1TV
Oct 12 2015
Taliban have warned attacks on 1TV and Tolo private TV channels operating from Kabul with sub offices and reporters in a number of provinces.
A statement published on Taliban website blames the two TV channels for propagating against them.
"Tolo and 1 TV channels are spearheads among these propaganda networks tasked with promoting the intellectual, cultural and information invasion of the infidels in Afghanistan. These networks with the complete backing of the Americans ridicule our religious and cultural norms, encourage obscenity and lewdness, inject the minds of youth with dangerous substances such as irreligiousness, immorality, violence, gambling, intermixing and profanity and specifically spread propaganda filled with hate and open enmity against Jihad and Mujahideen." The press release states.
It warns that 1TV and Tolo are now military objectives for Taliban.
"The Islamic Emirate of Afghanistan from now onwards does not recognize Tolo and 1 TV channels as media outlets but designates them as military objectives due to their disrespectful and hostile actions towards the Afghan Mujahid nation."
"Henceforth no employee, anchor, office, news team and reporter of these TV channels holds any immunity. " The statement adds.
Full Report at:
http://www.khaa ma.com/turning-gun-on-media-taliban-warn-attacks-on-tolo-and-1tv-channels-3979
----------
Taliban Bomber Targets NATO Convoy in Central Kabul
October 12, 2015
KABUL - A Taliban suicide car bomber struck a NATO convoy in central Kabul Sunday, triggering a powerful explosion in an attack that comes two weeks after the resurgent militant group overran a key northern city.
The rush-hour bombing, which sent a plume of smoke into the sky, wounded at least three civilians including a child, as the Taliban ramp up attacks on government and foreign targets.
The intensity of the blast sent an armoured vehicle crashing into a sidewalk, its front end badly mangled, and left the area littered with charred pieces of twisted metal.
"The incident took place while a suicide bomber detonated an explosive-packed car in the Joy Shir area... of Kabul city," the interior ministry said.
"The target of the attacker was the foreign forces convoy."
Security forces cordoned off the area as ambulances with wailing sirens rushed to the scene, but officials said the human toll of the blast was limited.
"The ministry of interior condemns in the strongest terms the suicide attack which resulted in the wounding of three civilians," the ministry said.
The Kabul police said the wounded included a woman and a child.
A NATO spokesman in Kabul confirmed that their convoy came under attack but said the international coalition was still gathering further information.
The emboldened insurgents have stepped up attacks around Afghanistan since they launched their annual summer offensive in late April. The Taliban captured the northern city of Kunduz on September 28, their most spectacular victory in 14 years. The seizure of the provincial capital for three days was a stinging blow to Western-trained Afghan forces, who have largely been fighting on their own since the end of NATO's combat mission in December.
The Taliban said that Sunday's bombing was carried out to avenge the recent "barbaric bombardment" in Kunduz by foreign and government forces.
"A Toyota sedan packed with explosives was used in the attack. Two military tanks were destroyed and 12 foreigners were killed," the group's spokesman Zabihullah Mujahid said in a statement.
Full Report at:
http://nation.com.pk/national/12-Oct-2015/taliban-bomber-targets-nato-convoy
----------
Afghan Taliban's reach widest since 2001: UN
October 12, 2015
NEW YORK - The Taliban insurgency has spread through more of Afghanistan than at any point since 2001, The New York Times reported Sunday, citing data compiled by the United Nations and interviews with numerous local officials in areas under threat.
In addition, the United Nations Assistance Mission in Afghanistan over the past two weeks has evacuated four of its 13 provincial offices around the country - the most it has ever done for security reasons, the newspaper said.
The data, compiled in early September - even before the latest surge in violence in northern Afghanistan - showed that United Nations security officials had already rated the threat level in about half of the country's administrative districts as either "high" or "extreme," more than at any time since the American invasion ousted the Taliban in 2001.
That assessment, which has not been publicly released but is routinely shared by the United Nations with countries in the international coalition, appears at odds with the assessment of its American commander, Gen. John Campbell, in his testimony to Congress in Washington last week.
"The Afghan security forces have displayed courage and resilience,'' General Campbell testified to the Senate Armed Services Committee on Tuesday. ''They're still holding. The Afghan government retains control of Kabul, of Highway One, its provincial capitals and nearly all of the district centres."
But, according to the Times, Afghan officials in many districts currently under attack by the Taliban depict a dramatically different situation. Even Highway One, a ring road connecting all of Afghanistan's main cities, has long suffered repeated Taliban ambushes and roadblocks in southern Afghanistan; over the past two weeks the insurgents repeatedly cut the highway in the Doshi and Baghlani Jadid districts of Baghlan Province - long an uncontested government stronghold. Few government officials now use the highway along much of its route.In many districts that are nominally under government control, like Musa Qala in Helmand Province and Charchino in Oruzgan Province, government forces hold only the government buildings in the district center and are under constant siege by the insurgents.
"We do not have any way to escape," said Wali Dad, the police chief in Charchino, where 400 police officers have been surrounded and pinned down for months. "If we get any means of escaping, I will not stay for a second in the district. The government is failing in their governing and it's better to let the Taliban rule."
General Campbell testified that the Afghan security forces had "reversed almost all of the Taliban gains in northern Helmand after a considerable effort." He also said they had retaken Musa Qala and held on to other districts, like Sangin and Kajaki, that had been threatened in that area.
Full Report at:
http://nation.com.pk/international/12-Oct-2015/afghan-taliban-s-reach-widest-since-2001-un
----------
Abdullah calls on Pakistan to stop supporting Afghan Taliban
Oct 12 2015
The Chief Executive Officer (CEO) Abdullah Abdullah called on Pakistan to halt support to Taliban group in Afghanistan, raising questions regarding the sincerity of Islamabad to act against the militants waging war in the country.
Speaking during a meeting of the Council of Ministers, CEO Abdullah said the Taliban group still receives support from within Pakistan.
Abdullah pointed towards the recent military operation across the Durand Line which resulted into heavy casualties to Taliban militants, saying "This huge amount of insurgents killed in a single incident near Pakistan shows that Taliban still supported within Pakistan."
At least 150 insurgents were killed during clashes with the Afghan security forces along the Durand Line in southern Kandahar province of Afghanistan last week.
Reiterating Kabul's stance for the betterment of ties between the two nations, CEO Abdullah insisted that support to insurgent groups must be stopped in a bid to build trust between the two neighboring countries.
In response to the latest statement by the Pakistani Prime Minister Nawaz Sharif regarding Islamabad's efforts to revive stalled peace talks, Abdullah said the Afghan government expects from Pakistan to stop supporting the Taliban group.
The Afghan officials have long been criticizing Pakistan for supporting the Afghan Taliban and other insurgent groups fighting in Afghanistan through their save havens in Pakistan, specifically the Taliban and Haqqani terrorist network.
Full Report at:
http://www.khaama.com/abdullah-calls-on-pakistan-to-stop-supporting-afghan-taliban-1621
----------
President Ghani: No one is allowed to interfere in security affairs and appointments
By ZABIHULLAH MOOSAKHAIL
Oct 12 201
President Mohammad Ashraf Ghani said on Sunday that no one is allowed to interfere in security affairs and appointments.
Discussing the security situation in southeastern Afghanistan, President Ghan in a video conference with Lt. Gen. Mohammad Sharif Yaftali who is the commander of 203rd Thunder Corps said that the National Security and Defense Forces have thwarted the enemy's plans and attacks while defending the country and people with full courage and bravery.
Governors of Paktia, Paktika, Khost, Logar, Ghazni, Wardak and Bamyan provinces were also connected through the video conference with Tawhid Center in ARG where President Ghani said that the Presence of local police has been useful in ensuring security in the southeastern zone, and directed the governors to focus fundamental attention on the recruitment process for further strengthening of the National Army and National Police.
President Ghani also directed the Director General of Independent Directorate of Local Governance who was present at the Tawhid Center to apply the standards for transparency in appointments of civilian officials.
Full Report at:
http://www.khaama.com/president-ghani-nobody-is-allowed-to-interfere-in-security-sector-affairs-and-appointments-3977
----------
41 Biranganas get recognition as freedom fighters
October 12, 2015
Forty-one Biranganas (war heroines) has been recognised as freedom fighters for their contribution in the country's Liberation War in 1971.
The Ministry of Liberation War Affairs issued a gazette notification in this regard today.
Biranganas, who fought during the Liberation War in 1971 for the country, now will get the status of the freedom fighters, according to the gazette.
Full Report at:
http://www.thedailystar.net/country/41-biranganas-get-recognition-freedom-fighters-155830
----------
PM's comment on foreigners' murders in Bangladesh will encourage killers: BNP
2015-10-11
The BNP has rubbished Prime Minister Sheikh Hasina's statement alleging Khaleda Zia's involvement with the killing of foreigners, saying such remarks will only encourage the killers.
Spokesperson Asaduzzaman Ripon on Sunday said such "fabricated and baseless" comments were intended to tarnish the BNP's image.
Italian citizen Cesare Tavella was killed in Dhaka on Sept 28 and Japanese national Kunio Hoshi was gunned down in Rangpur within a week.
Investigators are yet to crack the mystery behind the killings.
Hasina on Saturday alleged Khaleda was trying to create panic by engineering the killings from abroad.
Full Report at:
http://bdnews24.com/politics/2015/10/11/pms-comment-on-foreigners-murders-in-bangladesh-will-encourage-killers-bnp
----------
Bangladesh police claims arrest of militants involved in pastor attack
October 12, 2015
DHAKA: Bangladesh police said Monday they had arrested five militants for the attempted murder of a Christian pastor whose throat was slashed in the latest of a string of attacks blamed on religious extremists.
The five alleged members of the outlawed Jamayetul Mujahideen Bangladesh (JMB) group have been detained on suspicion of planning or carrying out last week's attack on Baptist pastor Luke Sarker in the town of Iswardi.
One of those arrested was suspected of having attacked Sarker before making his getaway on the back of a motorbike, while the other four were believed to have been involved in plotting the attack.
"They carried out the attack to draw international attention and destabilise the country," district police chief Alamgir Kabir told AFP.
Sarker, who runs a church in the mainly Muslim northwestern town, was attacked on October 5 while trying to respond to a question about Christianity.
He was rushed to hospital but medical officials say he is now recovering.
The attack came only days after gunmen shot dead an Italian aid worker and a Japanese farmer. The self-styled Islamic State (IS) organisation has claimed responsibility for both of those killings.
Full Report at:
http://www.dawn.com/news/1212596/bangladesh-police-claims-arrest-of-militants-involved-in-pastor-attack
----------
Mideast
Turkey Sees IS Hand In Bombing That Killed Up To 128 People
October 12, 2015
ANKARA - Turkey is targeting Islamic State in investigations of a double suicide bombing in Ankara that killed up to 128 people, officials said on Sunday, while opponents of President Tayyip Erdogan blamed him for the worst such attack in Turkish history.
Government officials made clear that despite alarm over the attack on a rally of pro-Kurdish activists and civic groups, there would be no postponement of November polls Erdogan hopes can restore an overall majority for the AK Party he founded.
Thousands of people gathered near the scene of the attack at Ankara's main railway station, many accusing Erdogan of stirring nationalist sentiment by his pursuit of a military campaign against Kurdish militants, a charge Ankara vehemently rejects. "Murderer Erdogan", "murderer police", the crowd chanted in Sihhiye square, as riot police backed by water cannon vehicles blocked a main highway leading to the district where parliament and government buildings are located.
The pro-Kurdish Peoples' Democratic Party (HDP), a major presence at Saturday's march and holding seats in parliament, said police attacked its leaders and members as they tried to leave carnations at the scene. Some were hurt in the melee, it said in a statement.
The attacks have shocked a nation beset by resurgent conflict with the militant Kurdistan Workers Party (PKK) in its southeast and increasingly threatened by spillover from the war in neighbouring Syria. Islamic State fighters are encamped close to its borders, which mark also the frontier of the NATO alliance, and last week Russia launched air strikes in Syria, its planes violating Turkish air space on several occasions.
Two senior security sources said initial signs suggested Islamic State was behind the Ankara attack, and that it bore striking similarity to a July suicide bombing in Suruc near the Syrian border, also blamed on the radical Islamists.
"All signs indicate that the attack may have been carried out by ISIL (Islamic State). We are completely focused on ISIL," one of the sources told Reuters.
CHP opposition leader Ahmet Kilicdaroglu, speaking after a meeting with Prime Minister Ahmet Davutoglu, said he had been told both suicide bombers were men.
State-run Anadolu Agency said police detained 43 suspects in operations targeting the Islamic State across Turkey from Sanliurfa in the southeast to Izmir in the west and Antalya on the south coast. It was not clear when they were held.
The Haberturk newspaper reported police sources as saying the type of explosive and the choice of target pointed to a group within Islamic State known as the 'Adiyaman ones', referring to Adiyaman province in southeast Turkey.
Turkey is vulnerable to infiltration by Islamic State, which holds swathes of Syrian land abutting Turkey where some two million refugees live. But the group, not normally reticent about its attacks, made no claim to the Suruc bombing and has made no reference to the Ankara attack in internet postings
The HDP, which expanded beyond its Kurdish voter base and drew in mainly left-wing opponents of Erdogan at June elections, said the death toll had risen to 128 and that it had identified all but eight of the bodies. The prime minister's office said late on Saturday that 95 people had been killed. The scale of the casualties eclipsed attacks blamed on al Qaeda in 2003 when two synagogues, the Istanbul HSBC Bank headquarters and the British consulate were hit, killing 62 people. Questions have been raised over whether a parliamentary election due on Nov. 1 can be safely held. Prime Minister Davutoglu, exposing a mosaic of domestic political perils, said on Saturday Islamic State, Kurdish militant factions or far-leftist radicals could all have carried out Saturday's bombing. Some direct their suspicions at militant nationalist groupings, with or without ties to the state, who are opposed to any concession to Kurdish demands for greater minority rights.
Full Report at:
http://nation.com.pk/international/12-Oct-2015/turkey-sees-is-hand-in-bombing
----------
Yemeni Forces Drown another Saudi-Led Coalition Warship
Oct 11, 2015
Informed sources also said on Saturday that the warship named "al-Mahrousa" belonged to the Egyptian army.
On Thursday, Yemeni army and popular forces also fired missiles at a Saudi warship, and destroyed it in Bab al-Mandab Strait.
The warship was wrecked off the Southwestern coast of Yemen, in the Bab al-Mandab Strait, which connects the Red Sea to the Gulf of Aden.
Other Saudi battleships fled the area following the attack.
The sunken ship had repeatedly fired rockets on residential areas in Ta'iz province, inflicting casualties and destruction there.
Full Report at:
http://english.farsnews.com/newstext.aspx?nn=13940719000553
----------
'Two Male Suicide Bombers' Behind Ankara Blasts: PMO
12 October 2015
Two male suicide bombers carried out the devastating twin bombings this weekend in Ankara, the office of the Turkish prime minister said Sunday, as the toll rose to 97 dead.
"Work is continuing to identify the corpses of the two male terrorists who carried out the suicide bombings" on Saturday, the office of Prime Minister Ahmet Davutoglu in a statement.
It said that the attack, the deadliest in the history of modern Turkey, had claimed the lives of 97 people, raising slightly the previous toll of 95. At least 246 people were also wounded, dozens of whom were hospitalized in intensive care, according to Davutoglu's office.
Of those killed 92 have been identified and work is continuing to identify the five others, it added.
The pro-Kurdish Peoples' Democratic Party (HDP) has claimed the toll is far higher at 128 but this has not been confirmed by the authorities.
Footage screened by broadcaster CNN Turk showed a line of young men and women holding hands and dancing, and then flinching as a large explosion flashed behind them, engulfing people carrying HDP and leftist party banners.
"Like other terror attacks, the one at the Ankara train station targets our unity, togetherness, brotherhood and future," said Turkey's President Recep Tayyip Erdogan, who has vowed to crush a Kurdish militant insurgency since the collapse of a ceasefire and resumption of intense violence in July.
Full Report at:
http://english.alarabiya.net/en/News/middle-east/2015/10/12/-Two-male-suicide-bombers-behind-Ankara-blasts-.html
----------
Yemeni Forces Attack Saudi Military Bases
Oct 11, 2015
The Yemeni forces fired 40 missiles at the districts of al-Qamar and Sudanah near al-Qarn military base in Jizan on Saturday.
The Yemeni army and Ansarullah revolutionary forces also fired artillery shells at a concentration center of the Saudi soldiers and Saudi military vehicles in al-Maayin military base in Jizan, according to Yemen' al-Massira TV.
Meanwhile, the Arabic-language television channel also reported on Saturday that scores of militants loyal to fugitive Yemeni president Mansour Hadi were killed in the Yemeni province of Ma'rib. Eight Saudi military vehicles were also destroyed.
On Saturday morning, the Arabic-language al-Mayadeen Television reported that the Yemeni forces killed dozens of pro-Hadi militants and 5 Emirati military men in Ma'rib, and destroyed 3 UAE armored vehicles.
Full Report at:
http://english.farsnews.com/newstext.aspx?nn=13940719000487
----------
Self-declared Jewish, Muslim defenders of faith stoke tensions at contested Jerusalem shrine
Oct. 11, 2015
JERUSALEM (AP) — Jewish and Muslim grassroots groups, self-declared defenders of their faiths, have played a key role in rising Israeli-Palestinian tensions, stepping up activities at a contested Jerusalem shrine at the heart of the current violence.
Each side has accused the other of causing provocations, as religious activists become more organized.
Israel pins much of the blame on a domestic fundamentalist group, the Islamic Movement, saying it whipped up Palestinian anger with claims that Israel is plotting to take over the Muslim-run site. Those claims, dismissed by Israel as incitement, reflect widespread Palestinian fears fueled by the doubling of Jewish visits to the shrine since 2010.
Backed by senior Israeli politicians, activists have become more vocal in demanding Jewish prayer rights on the mount. Some call for the site's partition and the rebuilding of the biblical Jewish Temple that once stood there.
"As more and more Jews are going up, it is clear that this is bringing us closer to the immediate goal of prayer (rights), and afterward, the Temple," said Elishama Sandman, 19, who has led Jewish tours on the mount.
Muslim activists have also beefed up their presence in recent years, with funding and logistical support from the Islamic Movement and Palestinian factions in the West Bank.
Young Palestinians sporting headbands of different factions, including the militant Hamas, have clashed with Israeli police, throwing stones and firebombs from a mosque in the compound and drawing tear gas and stun grenades.
Scores of older Muslims, many bused to the shrine by the Islamic Movement, spend hours on the mount each day, some disrupting visits of Jews with curses and chants of "God is Great."
Israelis "got our land and now they want to get our holy places," said a 65-year-old Muslim man. He spoke on condition of anonymity for fear of repercussions from authorities after he yelled at Jewish visitors.
Full Report at:
http://www.usnews.com/news/world/articles/2015/10/11/jewish-muslim-groups-raise-temperature-at-contested-shrine
----------
Pakistan
Economy, Politics and Democratic System of Pakistan under US Dominance: JUI-F Chief
October 12, 2015
LAKKI MARWAT - Chief of his own faction of Jamiat Ulema-i-Islam [JUI-F] Maulana Fazal ur Rehman has said that since the creation of Pakistan our economy, politics and democratic system are under the dominance of United States and Western powers.
This he said while speaking at the Mufti Mehmood Conference here in Lakki city on Sunday. Jamiat Ulema-e-Hind General Secretary Maulana Mehmood Asad Madni, JUI-F Central General Secretary and Deputy Chairman Senate Maulana Abdul Ghaffor Haidri and Mufti Shahabuddin Populzai also spoke on the occasion.
In last century, Fazal said, Shaikhul Hind and other religious scholars of Deoband waged jihad against the British rule and thousands of Ulema laid down their lives to get freedom. "Now the religious leaders and clerics would lead the struggle to make Pakistan free from the influence of Uncle Sam and infidel powers," he maintained.
He said that besides economy the establishment and bureaucracy was our asset and we would also free them from the US pressure. Without naming PTI Chairman Imran Khan, he alleged that under a conspiracy obscenity and vulgarity were being spread in the country and that the sanctity of our sisters and daughters had been put on stake.
"The revelations I had made few years back that PTI chief is linked with Jewish lobbies have proved now as one of the founding member of his party has said that Pakistan Tehrik-e-Insaf received funds from Indian and Jewish lobbies to strengthen their agendas," he added.
He said that Mr Clean (Imran Khan) had introduced the culture of abusing and leveling baseless allegations against rivals besides destroying the character and moral of young generations.
Full Report at:
http://nation.com.pk/national/12-Oct-2015/economy-politics-and-democratic-system-of-pakistan-under-us-dominance-fazl
----------
Russia's Anti-Terrorist Operation in Syria Helpful: Def Minister
October 11, 2015
ISLAMABAD: Pakistan defence minister believes that Russia's current military operation against Daesh and other terrorist groups in Syria is helpful to the Arab country and the whole region.
Khawaja Muhammad Asif told IRNA that Russia's military operation against terrorists in Syria can be help helpful to thwart the threat which has been posed by Daesh in Syria and that region.
Full Report at:
http://nation.com.pk/national/11-Oct-2015/russia-anti-terrorist-operation-in-syria-helpful-khawaja-asif
----------
Entry of 190 ulema in Pindi division during Muharram banned
MOHAMMAD ASGHAR
October 12, 2015
RAWALPINDI: The Punjab government has banned the entry of 190 ulema and Zakirs in the Rawalpindi division during Muharram.
The inter-provincial movement of religious leaders is already banned during the month.
According to police sources, of the 190 ulema, the entry of 39 has been banned in the Rawalpindi district, 91 in Attock, 18 in Jhelum and 45 in Chakwal. As many as 77 of the clerics belonged to the Shia, 95 to Deobandi and 18 Barelvi schools of thought.
The government has also decided to register cases against the organisers of majalis in which any banned ulema or Zakirs would be invited.
"No ulema from other parts of the province will be allowed to enter Rawalpindi or visit other districts during Muharram," Regional Police Officer (RPO) Mohammad Wisal Fakhar Sultan Raja said.
In addition to the entry ban, the names of those included in the police watch list under the fourth schedule of the Anti-Terrorism Act 1997 are being updated. The RPO said individuals placed on the watch-list were under surveillance by the police and security officials.
In the Rawalpindi division, more than 725 processions and 3,800 majalis have been put in the highly sensitive 'A', less sensitive 'B' and low sensitive 'C' categories.
Imambargah Qasr-i-Shabbir at Dhoke Syedan, which had been included in the 'C' category, was targeted by a suicide bomber in November 2012 killing at least 15 people and injuring over 35 others.
The RPO said there was no specific security threat regarding Muharram but the police were taking all possible measures to ensure peace during the month.
He said it was for the first time that separate security plans had been made for every procession.
Full Report at:
http://www.dawn.com/news/1212568/entry-of-190-ulema-in-pindi-division-during-muharram-banned
----------
LEAs claim arrest of 100 outlaws ahead of Muharram
IMTIAZ ALI
October 12, 2015
KARACHI: Police and Rangers claimed to have arrested at least 100 suspects during the past three days as part of a crackdown initiated against banned outfits in Karachi ahead of the holy month of Muharram.
In a fresh raid conducted on Monday, law enforcement personnel took 23 suspected terrorists into custody from Manghopir area of the city, Karachi West SSP Azfar Mahesar told Dawn.
"10 out of 23 suspects were released, while the rest are being interrogated," said Mahesar.
Related: Intelligence agencies warned of RAW activities in Muharram
The police officer maintained that this was the third operation in last three days as law enforcement agencies received intelligence regarding terrorists' plans to disrupt religious processions in the coming month of Muharram.
"Potential hideouts of terrorists and localities where their presence is feared, like Sultanabad and Kunwari Colony are being targeted in this search operation," said SSP Mahesar.
Karachi has a history of attacks on religious processions in Islamic holy month of Muharram, especially on 8th, 9th and 10th of the month, claimed by banned militant outfits targeting people belonging to Shia sect of Islam.
Full Report at:
http://www.dawn.com/news/1212595/leas-claim-arrest-of-100-outlaws-ahead-of-muharram
----------
Loss by 'small margin' is not a defeat, says Sarwar
October 12, 2015
LAHORE: Pakistan Tehreek-i-Insaf's Punjab organiser Chaudhry Mohammad Sarwar said on Sunday night that the defeat of his party's candidate in the NA-122 by-election by a 'small margin' of about 4,000 votes was not a defeat by just the rival candidate but the entire might and resources of federal and Punjab governments.
"I have congratulated party workers for their great work in the election campaign," he said.
It was thought that the voters' turnout would be high because of the hype created for the by-election, but the results showed that only about 41 per cent voters exercised their right to franchise.
Chaudhry Sarwar said the by-elections were far more different than the general elections and the incumbent government always had an edge. He said the government not only activated all its departments but also threatened Railways employees that they would be ousted from their houses if they voted against the PML-N candidate.
Full Report at:
http://www.dawn.com/news/1212493/loss-by-small-margin-is-not-a-defeat-says-sarwar
----------
Public rejects Imran Khan's politics: Pervaiz Rasheed
October 12, 2015
Federal Information Minister Pervaiz Rasheed has said that Public has rejected the politics of Imran Khan yet again, Waqt News reported. He was talking to media.
"People of Lahore have proved that 50,000 votes in 2013 general elections were not bogus," he added.
Full Report at:
http://nation.com.pk/national/12-Oct-2015/public-rejects-imran-khan-s-politics-pervaiz-rasheed
----------
588 become terror victims in 8 months
October 12, 2015
Islamabad - The first eight months of current year has witnessed 821 incidents of terrorism in the country in which 588 persons lost their precious lives and 1007 persons got injured.
A month-wise break-up issued by interior division has revealed that in 124 incidents of terrorism during month of January, 122 people were killed and 174 injured.
Similarly, in 10 terrorism related incidents during February this year, nine persons were killed and 49 got injured, in March 86 terrorism related incidents occurred in which 45 persons killed and 141 got injured and in 113 incidents during month of April, 59 lost their lives and 110 got injured.
The data further revealed that the month of May witnessed 121 unfortunate incidents of terrorism with killing of 137 persons and injuries to 162 persons.
In June there were 70 such incidents in which 50 persons killed and 55 injured, the month of July saw 116 such incidents in which 65 persons killed and 131 injured while in August 2015, 61 persons became victims of 82 terrorism related incidents and 77 got injured.
ITP gala enthrals families: A two-day family gala organised by Islamabad Traffic Police (ITP) at Fatima Jinnah Park concluded here yesterday.
Hundreds of families visited the gala. Special magical shows, puppet show, gymnastic, bicycle show, jumping castles, face painting, mehndi, cartoon character, tall-men, fire fighting show and other programmes were organised for children in the event.
Anti-Terrorism Squad (ATS) also presented special demonstrations, besides other colourful programmes. Famous singers including Malku and Nadeem Abbas performed in musical concert.
Full Report at:
http://nation.com.pk/national/12-Oct-2015/588-become-terror-victims-in-8-months
----------
EC failed to enforce code of conduct in NA-122 by-election: Sirajul Haq
October 11, 2015
LAHORE: Ameer Jamaat-e-Islami (JI) Pakistan, Senator Sirajul Haq has said that the Election Commission (EC) had failed to enforce its code of conduct by-election in NA -122 and elections had become a game of the wealthy and the common man could not even dream of contesting elections.
Addressing the participants of the JI central workshop at Mansoora on Sunday, Sirajul Haq said that confidence of the masses in the electoral system had been shaken as was evident from the low turn put in the by-election of NA-122. He said that the EC had failed to implement the recommendations of the Judicial Commission and Reforms Committee of the Parliament.
He said that the remarks of a senior judge of the Supreme Court concerning interest had sent a wave of serious concern among the masses. He said that the country's constitution accepted the Quran and the Sunnah as the supreme law while the Holy Quran had categorically termed interest as war against Allah and His Prophet (PBUH). As such the court's remarks had hurt the sentiments of the people.
Full Report at:
http://nation.com.pk/national/11-Oct-2015/ec-failed-to-enforce-code-of-conduct-in-na-122-by-election-sirajul-haq
----------
Jamiat men kidnap three PU students
October 11, 2015
LAHORE - Islami Jamiat Tulaba (IJT) activists, with the support of some external elements, allegedly thrashed and kidnapped three students of Institute of Communication Studies evening class (Development journalism) when they were merely accompanying their female class fellows who were waiting for university bus on Saturday.
Around 10-15 workers of IJT attacked the students with clubs and hockey sticks and also misbehaved with female students.
They took three students to hostel number 15 and held them hostage who were later on recovered by the university security .
Development Journalism Students Usman Maan, Saddam Hussain and Imran Bhatti received serious wounds on arms and heads while Usman Maan is reportedly in serious condition at Jinnah Hospital.
Full Report at:
http://nation.com.pk/lahore/11-Oct-2015/jamiat-men-kidnap-three-pu-students
----------
Europe
Mother of british jihadist Thomas Evans says dead son will 'burn in hell'
12 October 2015
The mother of British jihadist Thomas Evans, says she is "both devastated and relieved" by her son's death. The Muslim convert from High Wycombe, Bucks, became radicalised in Britain and changed his name to Abdul Hakim. In 2011, he travelled to east Africa to fight for al-Shabaab.
Evans - known as the White Beast for his ruthlessness on the battlefield - became the first British extremist to be killed on Kenyan soil this June after he was shot down during a failed ambush on an army base.
His mother, Sally Evans, learned he had been killed after a picture of his body circulated on social media. She said she mourns and misses the child he once was , but is glad that the man he became is dead and is "burning in hell" for his crimes.
"Imagine discovering the death of your child on Twitter and being both devastated and relieved at the same time," Mrs Evans said. "Devastated because the child you brought into this world was killed after being brainwashed into pursuing a murderous cause. But relieved because the death of your child meant that he could no longer harm innocent people."
Mrs Evans, 57, a former teaching assistant, said she remembers her son as a little boy full of "cute mischief" who made mud pies in the back garden and won a WHSmith drawing competition with an illustration from Harry Potter.
A Manchester United fan, he spoke of wanting to become an electrical engineer with the Royal Marines so he could serve his country. Last year she told The Sunday Times how her son's character dramatically changed as he became radicalised after splitting from his long-term girlfriend and forming a friendship with a group of Muslim men at his local gym. He left the local mosque to attend an Islamic prayer centre "run from a room behind a shop".
He stopped listening to his favourite hip-hop music and watching television and grew a beard. He soon lost his apprenticeship after expressing extremist views at work. The son she knew was lost and he unsuccessfully attempted to convert her and his brother warning them that they would burn in hell if they did not.
"He would say, 'I want you to convert to Islam otherwise you will burn in hell' and 'I want us to meet in paradise so I want you to convert' and 'If you converted, you'd understand what I was doing'". Mrs Evans said: "I respected his right to be a Muslim ... but eventually he stopped respecting my right to be secular and repeatedly told his brother and I we were destined for hell unless we converted to Islam."
Full Report at:
https://uk.news.yahoo.com/mother-british-jihadist-thomas-evans-233216584.html#Qn7PHaR
----------
Putin: Terrorism primarily threatens Russia and Islamic countries
12 October 2015
Oct 11 - 5:
Terrorism is an urgent danger for many countries. Terrorists may attack Russia and Islamic states. This statement was made by Russian President Vladimir Putin, who underlined that terrorism was a serious threat to the Russian Federation before the beginning of the operation in Syria.
"Terrorism is an urgent danger for many countries in the region. One of the leaders thete told me once that Islamic states were the first victims of terrorism, he was willing to fight this danger," the President said.
He underlined that he doesn't understand the reason why many countries in Europe, as well as the United States, consider that they are taking measures against terrorism. ''We don't see any real results. Moreover, now the program for training the so-called Free Syrian Army has been cancelled. Firstly, they planned to train 12,000 people. Then they decided to train 6,000 people and after that 60 people. In the end it was found out that only 4 or 5 people are fighting ISIS.They spent $500 million. It would be better to use the money in order to fight international terrorism,'' Putin said.
However, he drew attention to the fact that the terrorist threat to the Russian Federation would only strengthen if the operation in Syria hadn't been started. "We got used to it. Unfortunately, we have not stopped it yet. But when I took a decision against international terrorist gangs after their attack in Dagestan many people also said that we shouldn't have done that," Russian president said.
According to him, if you have a fear that they will do something, it will happen. "We need to act earlier. Certainly, this danger exists, but it had already been in Syria."
Full Report at:
http://vestnikkavkaza.net/news/Putin-Terrorism-primiraly-threatens-Russia-and-Islamic-countries.html
----------
Russian police foil 'terror attack' planed in Moscow
12 October 2015
Russian police have arrested a group of people they said were planning a terror attack on Moscow, the country's anti-terrorism committee said Sunday, without giving details about the group's motives.
"After a series of investigations by the security services, a group of individuals was arrested in the west of Moscow suspected of planning a terrorist attack on the capital," the committee was quoted by local media as saying.
Investigators found about four kilograms (nine pounds) of homemade explosives in the suspects' apartment, the official TASS news agency reported.
Full Report at:
http://english.alarabiya.net/en/News/world/2015/10/12/Russian-police-foil-terror-attack-planed-in-Moscow.html
----------
Britain urged to accept more Syrian refugees
12 October 2015
Britain must accept more Syrian refugees faster in response to a humanitarian crisis of people fleeing conflict, a group of over 300 lawyers demanded in a statement released Monday.
The group, which includes a former president of Britain's supreme court and other prominent figures, called for the suspension of a system whereby asylum seekers claim asylum in the first EU country to which they arrive.
"We consider that the UK Government's offer to resettle 20,000 of the most vulnerable Syrian refugees from camps in the Middle East, spread over five years, is too low, too slow and too narrow," the statement read.
Stephen Sedley, a signatory of the petition and a former appeal court judge, said that "stable and prosperous" Britain could do far more.
"As the statement explains, it is within the UK's power to curtail the lethal boat traffic by enabling refugees from countries such as Syria and Iraq to travel here lawfully in order to apply for asylum," Sedley said.
"Since refuge from persecution and war is a universal human right, this means recognizing that our Government's present offer to take no more than 20,000 Syrian refugees over five years is wholly inadequate."
Full Report at:
http://english.alarabiya.net/en/News/world/2015/10/12/Britain-urged-to-accept-more-Syrian-refugees-.html
----------
India
22 Indians among world's influential Muslims
Syed Amin Jafri
Oct 12, 201
Parliamentarians Asaduddin Owaisi and Badruddin Ajmal, Hurriyat leader Dr Umar Farooq, actors Shabana Azmi and Aamir Khan, composer A R Rahman and industrialist Azim Premji are among the 22 Indians who figure in the list of the World's 500 Most Influential Muslims. The other Indians enlisted in the compilation are all religious scholars, preachers and spiritual leaders.
The Royal Islamic Strategic Studies Centre (RISSC), an international non-governmental institute based in Amman, Jordan, has brought out "The Muslim 500: The World's 500 Most Influential Muslims" 2016 edition, which lists out these influential men in 13 distinct categories. Incidentally, this is the seventh annual publication from the Centre, an affiliate of the Royal Aal al-Bayt Institute for Islamic Thought.
The RISSC points out that there are 1.7 billion Muslims across the world today, making up approximately 23 percent of the world's population. Being citizens of their respective countries, they also have a sense of belonging to the 'Ummah', the worldwide Muslim community. The annual publication sets out to ascertain the influence some Muslims have on this community, or on behalf of the community. It defines an 'influential person' as one who has cultural, ideological, financial and political power or otherwise make a change that would have a significant impact on Muslims. Such an impact can either be positive or negative, depending on one's perspective.
The influence can be of a religious scholar directly addressing Muslims and influencing their beliefs, ideas and behavior or it can be of a ruler shaping the socio-economic factors within which people live their lives, or of artists shaping popular culture. The list of Top 50 is dominated by religious scholars and Heads of State of Gulf, Arab and other Muslim countries, known for their dominant and lasting influence. The 13 categories of influential men include scholars, politicians, religious administrators, preachers/spiritual guides, Quranic reciters, social activists, business leaders, philanthropists, scientists, and celebrities from arts and culture, media and sports. Incidentally, the 13th category consists of "the extremists." such as ISIS chief Abu Bakr Al-Baghdadi, Al-Qaeda's Ayman al-Zawahiri, Boko Haram's Abu Bakar Shekau, Abu Bakar Bashir of Indonesia and Abu Muhammad al-Maqdisi of Jordan.
Only two Indian religious leaders figure in the Top 50 List-- Mufti Muhammad Akhtar Raza Khan Qadiri Al-Azhari (Barelwi leader) and Maulana Mahmood Madani (Jamiat Ulema-e-Hind leader). Among the 450 other influential Muslims, 20 are Indians. Most of them are religious scholars, seminary administrators, preachers and spiritual guides.
They include Allamah Zia-al-Mustafa, Maulana Wahiduddin Khan, Maulana Rabey Hasan Nadvi, Syedna Mufaddal Saifuddin (the spiritual leader of Dawoodi Bohras), Dr Bahauddeen Muhammed Jamaluddeen Nadwi, Sheikh Aboobackar Ahmad, Maulana Sayyid Ibrahimul Khaleel al-Bukhari, Maulana Shakir Ali Noorie, Allama Qamaruzzaman Azmi, Maulana Syed Arshad Madani, Professor Sayid Ameen Mian Quadri, Dr Zakir Naik, Dr Thaika Shuaib, apart from Maulana Badruddin Ajmal Qasmi (MP and founder of All India United Democratic Front, Assam).
Full Report at:
http://timesofindia.indiatimes.com/india/22-Indians-among-worlds-influential-Muslims/articleshow/49315830.cms
----------
Indian, Chinese Army Kicks off Anti-Terrorism Exercise
Oct 12, 2015
BEIJING: Indian and Chinese armies on Monday kicked off their fifth annual anti-terrorism exercise in China's Kunming city as both the sides seek to share their successful experiences in counter-terrorism operations during the 10-day drill.
India for the first time fielded troops from Naga Regiment to take part in the exercises. A contingent of 175 troops from 2nd Battalion of Naga Regiment from Eastern Command reached Kunming by IAF IL-76 aircraft on Sunday to take part in the exercise.
Both sides are fielding the same number of troops for the joint exercises, which will culminate on October 22, a press release from the Indian Embassy here said.
Troops from 14 Corps of China's Chengdu Military Region, which focuses on borders with India are taking in the exercise.
Troops of both sides will undergo intensive joint training, which will include displays, demonstrations, and a comprehensive joint exercise.
The purpose of the exercise is to develop joint operating capability, share useful experience in counter-terrorism operations and to promote friendly exchanges between the armies of India and China, the press release said.
Full Report at:
http://timesofindia.indiatimes.com/india/Indian-Chinese-army-kick-off-anti-terrorism-exercise/articleshow/49318207.cms
----------
Nawaz Sharif invites Hurriyat Conference chairman Geelani to Pakistan
by Bashaarat Masood
Srinagar
Oct 11, 2015
Pakistan Prime Minister Nawaz Sharif invited Hurriyat chairman Syed Ali Shah Geelani to the neighbouring country, through a letter handed over to him by Pakistan High Commissioner Abdul Basit. Hurriyat has confirmed that Geelani has received an invite from Sharif to visit Pakistan and said the Hurriyat leader has accepted the invite.
"The Pakistan High Commissioner Abdul Basit invited Geelani Sahab to his New Delhi residence, where he handed over the letter of Pakistan Prime Minister to him," Hurriyat spokesman Ayaz Akbar said. "Geelani Sahab has accepted the invitation". The invite to Geelani by the Pakistan PM assumes significance in the backdrop of toughening of stands by New Delhi and Islamabad on Kashmir. Pakistan has invited the Hurriyat chairman despite the fact that India cancelled the foreign secretary-level talks with Pakistan for inviting separatists to New Delhi and the NSA-level talks also could not be held for the same reasons. The invite to Geelani also means that Pakistan is also throwing its weight fully behind the separatist leader. According to Hurriyat, Sharif, in his invitation letter to Geelani, has promised full support to the separatist struggle in the state and has also lauded the role of Geelani in the "freedom struggle" of Kashmir.
http://indianexpress.com/article/india/india-news-india/nawaz-sharif-invites-hurriyat-leader-geelani-to-pakistan/
----------
Pakistani army treating PoK inhabitants brutally: Parrikar
Oct 12, 2015
PANAJI: Kashmiris should be made aware of the brutal atrocities committed by the Pakistan army on civilians in Pakistan-occupied Kashmir (PoK), defence minister Manohar Parrikar has said.
Parrikar accused the country's western neighbour of continuing to push terrorists into India and said its role as a breeder of terror should be exposed before a global audience.
Parrikar, who was speaking during a public interaction meet late on Sunday evening near here, also hinted that the National Democratic Alliance government had Pakistan worried.
"We need to bring it to their (Kashmiris) notice. How brutally the Pakistan army is treating the population in PoK? I don't know after that if they will ever think of Pakistan because they are proud people. They have to be told that their brothers, and sisters, who are also a part of India, are being brutally treated," he said.
The defence minister said that India had to adopt a multi-pronged strategy with regard to Pakistan, one that included brute force vis-a-vis dealing with terror as well as political tact.
You find kids being murdered, butchered in Peshawar. You find people going to mosques for prayers being killed. Killing is almost everywhere in Pakistan. I think these are poisonous fruits, seeds of which were sown by them. They should realise that the hate India campaign will not provide any solution, he said.
Parrikar also said that Pakistan continues to send terrorists into India using cross-border firing as a decoy.
Full Report at:
http://timesofindia.indiatimes.com/india/Pakistani-army-treating-PoK-inhabitants-brutally-Parrikar/articleshow/49319741.cms
----------
Haj stampede: Death toll of Indians rises to 114
Oct 11, 2015
NEW DELHI: The death toll of Indians in the Haj stampede has risen to 114 even as 10 nationals still remain missing after the last month's horrific tragedy, one of the worst to hit the annual pilgrimage.
"Haj stampede -- Unfortunately, Indian toll is now 114 with 10 missing," external affairs minister Sushma Swaraj said on twitter on Saturday.
Minister of state for external affairs V K Singh was in Saudi Arabia last week for the identification process of the missing Indians by the Saudi authorities.
According to media reports, over 1,000 people have been killed in the stampede at Mina.
The Haj stampede on September 24 broke out after two massive lines of pilgrims converged on each other from different directions at an intersection close to the five- storey Jamarat Bridge in Mina for symbolic stoning of the devil.
Full Report at:
http://timesofindia.indiatimes.com/india/Haj-stampede-Death-toll-of-Indians-rises-to-114/articleshow/49314969.cms
----------
Southeast Asia
Bali bombings a reminder of regional terror threat
OCTOBER 12, 2015
Thirteen years ago today, the Bali bombings brought home to Australians the horror of Islamic extremism in our region. As we solemnly observe the anniversary of an atrocity that cost 202 lives, including those of 88 Australians, we need to understand that the threat of jihadist terrorism remains undiminished and the challenge posed by the so-called Islamic State caliphate demands ongoing close co-operation between Australia and Indonesia. The problem of extremism within Australia is clear after incidents such as last week's murder of a police worker in Parramatta, in Sydney's west. Islamic State is also edging closer with the mushrooming of the organisation's cells in Indonesia, which appear to be operating largely without intervention.
Deborah Cassrels's remarkable interview in The Weekend Australian with the jailed Bali bomber Ali Imron, who is serving a life sentence, shows the resilience of Islamic extremism even after years of incarceration. Imron, the sole survivor among the inner circle behind the October 2002 attacks, is now lauded as a model of deradicalisation, preaching so-called "peaceful jihad" to extremists. He says he "regrets" the carnage the Bali attacks caused, though that remorse seems limited to sadness that so many Muslims died. Imron was an al-Qa'ida and Jemaah Islamiah operative who was radicalised as a 10-year-old. He now speaks out against the tactics of Islamic State, believing the organisation is "very dangerous" to Indonesia and condemning its "blood brutality". But he remains firmly committed to the achievement of an Islamic caliphate — underlining the continuing challenge Jakarta faces.
Close co-operation between the Australian Federal Police and Indonesian authorities since the Bali bombings has done much to thwart the advance of terrorism. The co-operation was reinforced by Justice Minister Michael Keenan's visit to Jakarta in August. The fear, however, is that hundreds of Indonesian militants fighting Islamic State in Syria and Iraq will use their combat experience when they return to Indonesia to launch domestic attacks aimed at fulfilling the goal of the Darul Islam (House of Islam) movement, which has wanted to establish an Islamic state of Indonesia since 1948. Jakarta police chief Tito Karnavian has warned "the pull of Islamic State is gaining momentum". Extremist websites have called for a caliphate in Indonesia and Malaysia, with Islamic State groups openly recruiting snipers and explosives and heavy weapons experts. It is a chilling scenario, 13 years after the first Bali bombings showed why Islamic extremism must be defeated.
Full Report at:
http://www.theaustralian.com.au/opinion/editorials/bali-bombings-a-reminder-of-regional-terror-threat/story-e6frg71x-1227565279230
----------
In defense of Ben Carson: Muslims can't have it both ways
By Stafford Betty
MONDAY, OCT 12, 2015
I can understand why Kern County Muslims are "disheartened" by Ben Carson's comments regarding a Muslim president, as reported by contributing columnist Jose Gaspar, but they must understand where Carson's comments were coming from.
Carson is no Islamophobe. Rather he is concerned with the requirements of Sharia law, which butts heads with the U.S. Constitution. Sharia is the Islamic legal system based on the Quran and the Hadiths (Sayings of Muhammad); it covers such topics as rules for sexual intercourse, hygiene, proper diet, how to pray, fasting, and even etiquette; and it prescribes punishment for violations of the code.
In 2013 the Pew Research Center conducted an exhaustive poll of Muslim beliefs in 23 countries where Islam is a pervasive force. According to the poll: "In 17 of the 23 countries where the question was asked, at least half of Muslims say Sharia is the revealed word of God." Only six said it was "developed by men, based on the word of God." Moreover, a clear majority said there was a "single interpretation" of Sharia law as opposed to "multiple interpretations."
Most directly relevant to Ben Carson's stance on a Muslim U.S. president is the poll's findings on how Sharia should be applied. In South and Southeast Asia, the Middle East and North Africa, and in most of Sub-Saharan Africa, Muslims overwhelmingly supported Sharia as the "law of the land." The figures ranged as high as 99 percent in Afghanistan, 84 percent in Pakistan, 82 percent in Bangladesh, 91 percent in Iraq, and 89 percent in the "Palestinian territories." Indonesia, Islam's most populous state, came in at 72 percent.
The poll wanted to determine if Muslims thought Sharia should be applied to non-Muslims living in their country. It found that "in the Middle East and North Africa ... at least four-in-10 Muslims in all countries except Iraq (38 percent) and Morocco (29 percent" thought it should. "Egyptian Muslims (74 percent) are the most likely to say it should apply to Muslims and non-Muslims alike, while 58 percent in Jordan hold this view."
Perhaps most concerning for Carson were the opinions expressed regarding Sharia's application. According to the poll, "among those in favor of making Sharia the law of the land, the survey finds broad support for allowing religious judges to adjudicate domestic disputes. Lower but substantial proportions of Muslims support severe punishments such as cutting off the hands of thieves." As for adultery, "In Pakistan (89 percent) and Afghanistan (85 percent), more than eight-in-10 Muslims who want Islamic law as their country's official law say adulterers should be stoned, while nearly as many say the same in the Palestinian territories (84 percent) and Egypt (81 percent)."
What fate should await those "apostates" who lose their faith in Islam? "Taking the life of those who abandon Islam is most widely supported in Egypt (86 percent) and Jordan (82 percent). Roughly two-thirds who want Sharia to be the law of the land also back this penalty in the Palestinian territories (66 percent). In the other countries surveyed in the Middle East-North Africa region, fewer than half take this view."
Given all the above, it does not strike me as "ridiculous" that Ben Carson, or any other American, should demur at the thought of a Muslim president. Clearly Sharia law is inconsistent with our laws calling for the separation of church and state, and it is a sane policy to ask any Muslim candidate for the presidency to address the question of sharia and explicitly renounce his belief in it.
Full Report at:
http://www.bakersfield.com/news/opinion/2015/10/12/in-defense-of-ben-carson-muslims-can-t-have-it-both-ways.html
----------
China Announces Further Crackdowns on Christian Churches
11 Oct 2015
This latest announcement follows on a series of government measures meant to intimidate Chinese Christians, such as arbitrary detention of Christian clergy and the closing of churches.
According to a Reuters report, under President Xi Jinping, China is conducting the worst domestic crackdown on human rights in two decades and much of this is against Christians. Nearly 1,000 rights activists were detained last year alone—almost as many as in the previous two years combined.
In late August, police arrested China's most prominent Christian lawyer, Zhang Kai, who defended and gave legal counsel to a number of Christian churches throughout the country, especially against the government's cross-removal campaign.
When Zhang's father approached the authorities in early October to request information on his son's detention, he was told that Zhang is a "threat to national security" and that his whereabouts are a state secret.
On September 20, the pastor of a Christian house church in China's eastern Anhui province, Lü Jiangyang, was taken by authorities under the charge of having engaged in "cult activities" and for contact with overseas organizations. He was released after 15 days, but the message to other clergy is clear: their presence is tolerated but they can be removed at any time for any reason.
Lü, in fact, had previously been detained in July 2015 for holding a church summer camp for elementary and middle school students.
A recent article in Zhongguo Mingzu Bao, declared that Xi is "serious" on religion, mentioning increased controls on churches, clergy and dioceses.
The article suggested that Xi is endeavoring to minimize foreign influence on Chinese institutions, including churches, saying that all religions should be managed by religious organizations from within China. "There is no need for certain groups and individuals outside China to worry about this," it said.
"It's obvious that control on religions is to be tightened," said a priest, who only identified himself as Father Peter. "It was theory and slogans in the past. Now it becomes a real game to play."
The article quoted from Xi's address at the central United Front Work Department meeting earlier this year, where he declared that all religions must adapt to socialist policy, calling this "a common principle for all religions to comply with" since China became Communist in 1949.
Full Report at:
http://www.breitbart.com/national-security/2015/10/11/china-announces-crackdowns-christian-churches/
----------
North America
Sorry, Islamophobes: Your Anti-Muslim Rallies Ended Up Inspiring Acts Of Love And Service
Carol Kuruvilla
10/11/2015
A loosely affiliated group of armed protestors organized anti-Muslim hate rallies across the country on Friday and Saturday. But instead of dividing the communities they targeted, news about the rallies strengthened bonds between interfaith allies and inspired numerous acts of community service around the U.S.
Grassroots organizers behind the so-called "Global Rally For Humanity" used Facebook to encourage "fellow patriots" to protest Islam outside their local mosques and Muslim community centers. On some pages, the protests were billed as "open carry" events and participants were encouraged to come armed with guns.
Although up to 35 Facebook pages were created in support of the rally, according to the anti-bigotry group Center for New Community, the majority of these were deactivated in the days leading up to Friday.
And in an extraordinary show of solidarity, interfaith networks in neighborhoods across America and online stepped up to show their support for their Muslim friends.
A protest scheduled to happen in front of the Islamic Center of America in Dearborn, Michigan, had to relocate to the grounds of a public library because the organizers hadn't gained a permit, according to Arab American News. Fewer than 10 protestors reportedly showed up, four carrying weapons. Counterprotestors spent time engaging in dialogue with those who seemed to have an anti-Muslim viewpoint. The two groups left after shaking hands.
People gather for a prayer service at the Masjid Muhammad Islamic center in Washington, D.C., on Oct. 9, 2015.
Another rally was scheduled to take place at Masjid Muhammad in Washington, D.C. The Facebook page announcing that event was later taken down. Still, a few interfaith allies attended a Friday prayer service at the mosque to make it clear that they were willing to stand alongside Muslims.
Catherine Orsborn, director of the Shoulder to Shoulder interfaith campaign, which aims to end anti-Muslim bigotry, was one of the leaders who attended the prayers. Other than a security protocol leaflet inserted into the program, she said the service went on as planned and the community didn't seem to be on edge.
"The sermon wasn't about the protests, it was about freedom, justice and equality," Orsborn told The Huffington Post. "There was a fish lunch afterwards outside the masjid -- I'm pretty sure if any protestors had shown up, they would have been offered fish, too."
At Seattle's Interfaith Community Sanctuary, Muslims, Jews, Christians and Buddhists participated in joint prayers on Friday. They screened the film "American Muslims: Facts vs. Fiction," which presents information about the Muslim community, from how often Muslims watch television to how often they attend religious prayer services.
Imam Jamal Rahman, co-founder of the sanctuary, called the gathering "remarkable."
"In particular, the Muslims in the group were profoundly touched by the extraordinary expressions of support and unity by their non-Muslim brothers and sisters. All of us experienced a deep kinship of spirit," Rahman, a Muslim Sufi minister, told HuffPost.
On Saturday, the Spokane Interfaith Council in Washington organized a potluck dinner at their local Islamic center. A similar interfaith community dinner is being organized at an Islamic center in Louisville, Kentucky, to "celebrate the ideals of anti-racism and anti-bigotry."
The rallies also inspired the Council on American-Islamic Relations to launch a nationwide voter registration drive.
Full Report at:
http://www.huffingtonpost.com/entry/islamophone-hate-rallies-counter-protest-love_5617ff19e4b0e66ad4c7c191?section=india&adsSiteOverride=in
----------
Students Burn ISIS Flag, Chant 'USA! USA!' MSO Refuses To Participate
October 11, 2015
A student at the University of Missouri in Columbia burned an Islamic State flag in a barbecue grill on Thursday while hundreds chanted, "USA! USA!"
The Muslim Students Organization chose not to participate.
The Young Americans of Liberty (YAL) president organized the "Missouri University Coalition for those Killed by ISIS," to unify students to remember the innocent people who have lost their lives to terrorism.
A statement from the group says, "US Middle East Policy has led to the rise of radical Islam in the countries in which we have toppled secular dictators. Not only that, but ISIS has risen to power on the back of US Taxpayers."
The YAL president Ian Paris told The College Fix that his message was to tell ISIS "we've had enough. And to tell Washington … to stop using our tax money to fund radical Islamic groups in the Middle East."
University security tried to convince Paris not to torch the ISIS flag prior to the flag burning, but he maintained that the fear people have about ISIS is the reason why the event needed to happen.
He said during the rally that the rise of ISIS is primarily due to the U.S. government's willingness to fund and support radical Islamic groups in Syria and Libya.
"Each time we have toppled a secular dictator in the Middle East, chaos has ensued. This can be seen, for example, in the countries of Iraq, and Libya," he told the students as they awaited the flag to be set on fire.
"While I sympathize with the innocent citizens of Syria and their plight, I am disgusted, appalled, and downright infuriated that the weapons that you and I have paid for are being used to methodically execute not just Jews, not just Christians, but hundreds of thousands of innocent Muslims throughout the Middle East," Paris added.
Full Report at:
http://www.bizpacreview.com/2015/10/11/students-burn-isis-flag-chant-usa-muslim-students-organization-refuses-to-participate-262640
----------
World's Largest Interfaith Gathering in Utah
12 October 2015
SALT LAKE – Bringing thousands of participants from different faith groups, the Parliament of World's Religions, the world's largest inter-religious gathering is set to take place in Salt Lake City, Utah, October 15-19.
"Parliament is coming here because we're open to all people, to all religions, all faiths," Imam Mujahid, Chairman of the Parliament's board of trustees and the first Muslim to be elected to the position, told OnIslam.net.
"Faith brings out the best in us, and interfaith brings out the best of our faiths," noted Imam Abdul Malik Mujahid.
The Parliament is the oldest and the largest gathering of people of all faith traditions, with 10,000 participants from 80 countries expected to attend the convention at the Salt Lake Convention Centre.
The convention themed, "Reclaiming the Heart of Our Humanity," is filled with programs and conversations on climate change and creation care; war, violence and hate speech; and economic inequality and wasteful living.
Internationally renowned speakers to address the Parliament include Mairead Maguire, Oscar Arias Sanchez, Dr. Karen Armstrong, Dr. Tariq Ramadan, Dr. Eboo Patel, Chief Arvol Lookinghorse, Valarie Kaur, Dr. Arun Gandhi, Rev. Jim Wallis, Dr. Vandana Shiva, Rabbi David Saperstein, Michael Bernard Beckwith, Tavis Smiley, and Terry Tempest Williams.
The Dalai Lama of Tibet, who was scheduled to attend the Parliament, is unable to do so due to health reasons.
"He was fully aware at this moment that it's important to listen to doctors, but he was kind enough to spend a whole hour with me and we recorded an extraordinarily good interview as well as a short talk," said Imam Abdul Malik Mujahid of his recent visit with the Dalai Lama.
"It has some amazing information in there. We're keeping it a secret and we're going to release it at the time slot he was supposed to speak here.
Full Report at:
http://www.onislam.net/english/news/americas/494991-worlds-largest-interfaith-gathering-in-utah.html
----------
Interfaith Support Quashes US Anti-Muslim Rallies
11 October 2015
CAIRO – A series of planned anti-Islam rallies targeting more than 20 US cities has fizzled out despite extensive social media promotion; morphing instead into a welcomed show of support and tolerance.
"All of these people are supporters of the center," Amarillo police department Cpl. Cody Lavery told Amarillo Globe News.
"Everything's been very peaceful so far, and the protestors haven't shown up yet."
At the Khursheed Unissa Memorial Community Center in Amarillo, Texas, more than 100 people opposing the anti-Islam rally came out in an impromptu show of support.
The weekend's anti-Muslim armed protests, promoted as a "Global Rally for Humanity," aimed to target mosques, high-traffic Muslim communities and government buildings under the campaign slogan, "The World is Saying No to Islam."
A flyer was also widely circulated by the group referring to the "3%ers and Oathkeepers."
The slogan for the group and their series of rallies is "The World is Saying No to Islam," and a flyer widely circulated by the group mentions the "3%ers and Oathkeepers."
In Amarillo, the protest was started in opposition to Saturday's 20th anniversary of the Million Man March, led by Nation of Islam head, Louis Farrakhan, in Washington, DC.
Counter demonstration supporter Doris Carskadon, a social worker with Veteran's Justice Outreach said, "Opposing hate is always a good thing. We're Episcopalians, and I see some people of the Jewish faith here. I also see a lot of folks that are veterans."
Outnumbered
In Dearborn, Michigan, two supporting community groups outnumbered roughly a dozen protesters armed with rifles.
"That's democracy, that's America," Dearborn Mayor Jack O'Reilly Jr. said of the protests.
O'Reilly said he hopes the protesters realized that Dearborn, where many residents are Muslim, is not a radical place. The city has dealt with several anti-Islam protests over the past five years.
"They came here and saw: there's no threat to them," he said. "There's nothing to be afraid of."
Full Report at:
http://www.onislam.net/english/news/americas/494961-us-anti-muslim-rallies-turns-into-support.html
----------
Interfaith Leaders Support Mosques Against Protest
10 October 2015
CAIRO – Rejecting hate message of anti-Muslim protesters, interfaith leaders and members of the Shoulder to Shoulder campaign joined the Friday service held at the Islamic Society of North America (ISNA) Headquarters in Plainfield, IN, showing their support and solidarity after threat of armed protests.
"We are overwhelmed by the love and support of our interfaith friends who took the time out of their day to stand by our sides," ISNA Secretary General Hazem Bata said in a statement sent to OnIslam.net.
"Getting to know your neighbor is a way to combat the divisiveness and build bridges. It brings us closer as fellow Americans, as one human family."
Bata was referring to the anti-Muslim "Global Rally for Humanity", which is scheduled for October 9th and 10th in more than twenty cities across the US.
The armed protests and rallies will target mosques, high-traffic Muslim communities and government buildings.
The slogan for the group and their series of rallies is "The World is Saying No to Islam," and a flyer widely circulated by the group mentions the "3%ers and Oathkeepers."
Responding to the calls of hate groups, ISNA urged Muslims to engage with their wider society, building coalitions and relationships.
A similar message was conveyed during Friday sermon in which Bata focused on how to respond to unfriendly individuals.
Bata cited the example of the Prophet's treatment of people, including enemies, with kindness, and how this changed one individual from an enemy of Islam to one of its great leaders.
After the prayer service, Professor Ken Barger from Veterans for Peace shared words of support with the congregation.
Afterwards the interfaith guests enjoyed refreshments and meeting members of the congregation.
Support Messages
Attending the sermon, interfaith leaders asserted their rejection of the hate protests.
"Thankfully these protests do not represent a majority of the American public, however they do represent a national rhetoric of anti-Muslim bigotry that has grown pernicious and widespread," Catherine Orsborn, campaign director of Shoulder to Shoulder, said in a statement published on the campaign's website.
"When people are intimidated on their way to worship, when Mosque doors are blocked, community centers and Halal stores desecrated with graffiti, Muslims are denied their basic rights and dignity.
Full Report at:
http://www.onislam.net/english/news/americas/494937-interfaith-leaders-support-mosques-against-protest.html
----------
Africa
Bombings kill at least nine in north Cameroon
Oct 11, 2015
Twin bomb attacks, suspected to have been carried out by the Takfiri Boko Haram militant group, have killed at least nine people and injured 29 others in far northern Cameroon.
The attacks occurred on Sunday in Kangaleri Village, around 30 kilometers (19 miles) from the town of Mora.
No individual or group has claimed responsibility for the attacks; however, Takfiri Boko Haram militants have been behind numerous similar attacks throughout the region.
It was not immediately clear whether the death toll includes the attackers.
On Saturday, over 40 people were killed in three explosions in the city of Baga Sola in neighboring Chad, near the border with Nigeria.
Government sources said the blasts were most likely carried out by Boko Haram.
Boko Haram has claimed responsibility for a multitude of deadly attacks across the Lake Chad region since its activities began six years ago. At least 20,000 people have been killed in the Takfiri group's acts of violence and over two million others have been forced to leave their homes since.
In February, a joint military force was created by Cameroon, Chad, Niger, and Nigeria, together with a contingent from Benin, to fight the Boko Haram's reign of terror in the region.
Full Report at:
http://www.presstv.ir/Detail/2015/10/11/432954/Africa-Boko-Haram-Cameroon-Mora-Chad-Nigeria
----------
Kenyan Muslims Decry Injustice
11 October 2015
NAIROBI – Amid continued disappearances of Kenyan Muslims men, their community is pointing figures at the security forces that arrest many without charges, under the pretext of countering radicalism.
"They forced me into the car. I shouted for help but they drew their guns and threatened to shoot me, saying they are police," Abdel Nasser Nashu, a Kenyan-Arab businessman who went missing for more than two weeks, told Anadolu Agency on Saturday, October 10.
"I was interrogated for days on whether I had links with any terror groups. I was taken to different stations for three weeks, but was later released.
"[I] am thankful to God that I am alive, although I was tortured and was shaken by the experience."
Nashu was recounting how he was abducted near his home in the Kenyan capital Nairobi by four men in an unregistered vehicle at the evening of June 30, 2015.
The 38-year-old businessman is one of at least 60 Muslims, aged between 17 and 40, who have been reported missing in the East African country since the start of 2015, according to an investigation by Anadolu Agency.
A social media campaign, using the hashtag #WhereIsNashu, has exposed injustice faced by Muslims at the hands of Kenyan security, pressing authorities to free Nashu.
Muslim-majority areas like Mandera, Wajir, Garissa, Nairobi and Mombasa are most affected by the security crackdown.
According to the Muslim Human Rights MUHURI Human, missing people were abducted by eitherthe Anti-Terror Police, Kenya Defense Forces or the Kenya Wildlife Service officers.
"The records we have show the victims of extrajudicial killings range from high school students to clerics and university students to businessmen," Abdirahman Issaq, an activist with the MUHURI human rights group, said.
Terrorists
Citing several cases of abduction, torture and extrajudicial killing, Muslims believe that law enforcers themselves have turned into terrorists.
Full Report at:
http://www.onislam.net/english/news/africa/494977-kenyan-muslims-decry-injustice-.html
----------
URL: https://www.newageislam.com/islamic-world-news/new-age-islam-news-bureau/hajj-management-not-to-be-shared-with-muslim-nations--saudi-prince/d/104884