New Age Islam News Bureau
21 Aug 2018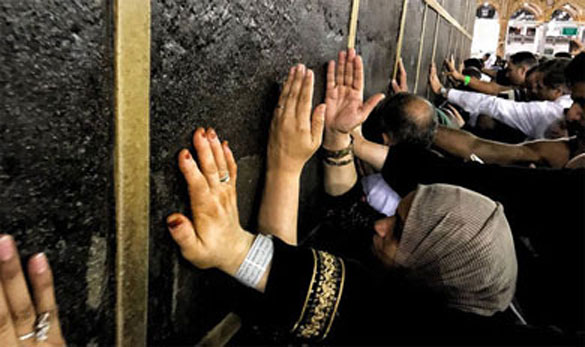 Muslim Hajj pilgrims touch the Kaaba stone (Image: Getty)
-------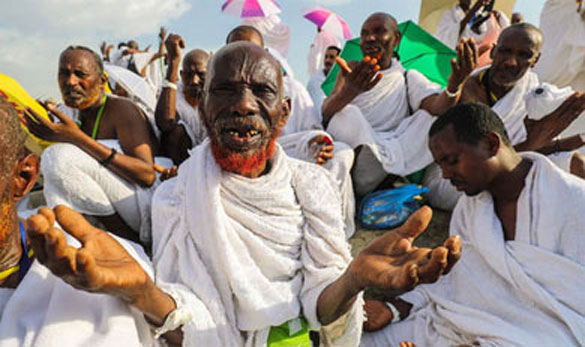 Worshippers gather at Mount Arafat (Image: EPA)
------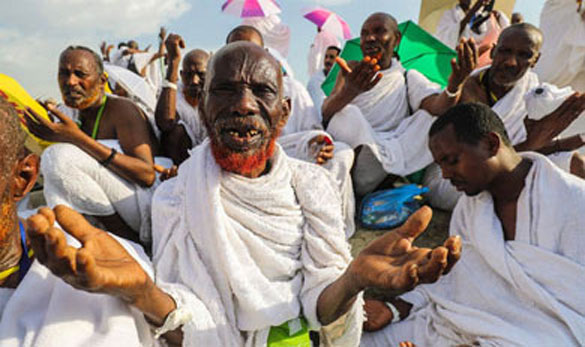 A Muslim pilgrim prays while gathering with others atop Mount Arafat (Image: Getty)
---------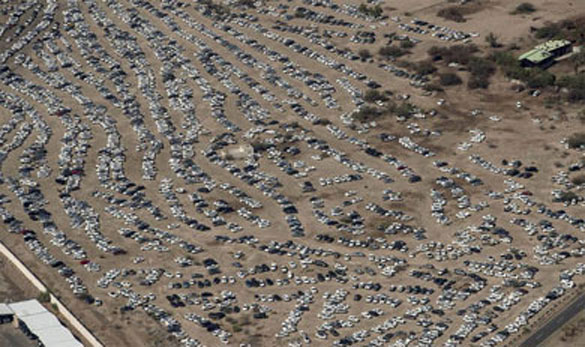 An aerial view shows some of the cars used by pilgrims before they leave from Mina (Image: EPA)
-------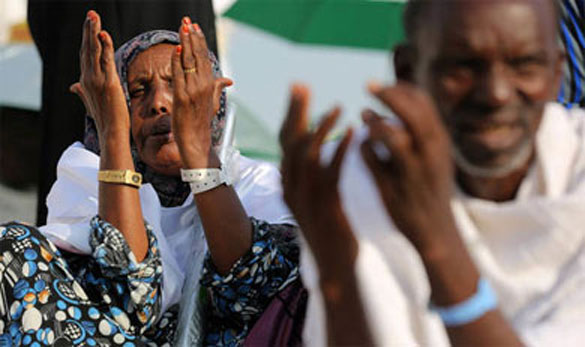 Mount Arafat is also known as Jabal al-Rahma (Mount of Mercy) (Image: Getty)
-------
Arab World
• Hajj 2018 in Pictures: Incredible Images as Muslims around the World Mark Eid Al-Adha
• Islam Preaches Respectful Behaviour, Good Character
• Saudi Arabia accused by its neighbours of politicising Hajj
• Iraq's Sairoon and Nasr coalitions in talks to form largest bloc
• Baby boy born in Arafat holy site during Hajj
• US and Russia prepare to launch FRESH conflict in Syria WITHOUT support of China
• Electronic ID tracking system for accident victims, e-guidance system for pilgrims launched in Makkah
• Syria's Assad attends holiday prayers at Damascus mosque
----
Mideast
• Erdogan: Attack on economy same as attack on call to prayer
• UN: Two-thirds of child soldiers in Yemen fight for Houthi rebels
• Lebanese FM: No reason for Syria refugees to stay in Lebanon
• Saudi Arabia 'to build oil port' in Yemen's al-Mahra: sources
• French energy giant Total quits lucrative Iran gas project
-----
India
• First India-Indonesia Interfaith Dialogue to be held in October 2018
• Imran Khan comes to Navjot Sidhu's defence, says those targeting minister doing disservice to peace
• Four years ago, Khalid attacker was part of mob that marched on BJP office with a cow's head
• Imran Khan keen we begin with Indian-Pakistan cricket ties: New PCB chief Ehsan Mani
• UAE extends $100 million aid to Kerala
----
South Asia
• Taliban militants kidnap 170 passengers from Kunduz-Takhar highway
• Several blasts heard in Afghan capital Kabul
• Suicide bomber killed, 4 accomplices arrested in Jalalabad city
• Ghani orders troops to continue their operations against Taliban
• U.S. calls on Taliban to participate in Eid ceasefire initiative
• After 17 years of war, a peace movement grows in Afghanistan
-----
Pakistan
• Sharifs to spend Eid in jail as ruling on pleas for release deferred
• US welcomes Imran's desire for peace with Delhi, Kabul
• CJP chides NAB for leaking probe information to media
• Trudeau congratulates Imran in 'great' telephonic conversation
• Pakistan SC tells high-paid executives to return cash
• Pakistan unlikely to sign trade deal with Eurasian bloc
• Nawaz, Maryam to be put on ECL; decides cabinet
• China keen to work with Imran: Li
------
Southeast Asia
• China Hosts Seminar on Iranian Mysticism, Sufism
• World faith leaders eye 'middle path' to combat extremism, Jakarta meet looks to promote virtues of tolerance, justice, solidarity, charity, and equality amongst the influential World faith leaders eye 'middle path' to combat extremism
-----
North America
• Heron Gate mass eviction: 'We never expected this in Canada'
• US wants another Eid ceasefire in Afghanistan, says Pompeo
----
Africa
• Nigeria: Boko Haram kills 19 villagers in Borno state
• Islamic Militants Launch Attacks in Chechnya, 5 Killed
----
Europe
• ISIL claims attacks on security forces in Russia's Chechnya
Compiled by New Age Islam News Bureau
URLL: https://www.newageislam.com/islamic-world-news/hajj-2018-pictures-incredible-images/d/116169
--------
Hajj 2018 in Pictures: Incredible Images As Muslims Around The World Mark Eid Al-Adha
By ANDREA TONKS
Aug 20, 2018
Eid al-Adha, also known as Festival of Sacrifice, is different from Eid al-Fitr which is celebrated earlier in the year at the end of Ramadan.
The Festival of Sacrifice honours Ibrahim's willingness to sacrifice his own son at the request of God.
Eid al-Adha, which takes place between the 10th and 13th of the last Islamic month, follows Hajj which began yesterday.
During Hajj, many Muslims make a pilgrimage to the holy city of Mecca in Saudi Arabia during a five day period.
The Islamic pilgrimage must be carried out at least once in a lifetime by all adult Muslims who are physically able.
It occurs between the 8th and 12th day of the last month of the Islamic calendar, the Dhu al-Hijjah which is based on lunar events.
Several rituals are performed at the arrival of the Kaaba, the cube-shaped building at the centre of the mosque.
Pilgrims must circle the building counter-clockwise seven times.
Source: express.co.uk/news/world/1005783/Hajj-2018-pictures-Eid-Al-Adha-images-around-the-world
-----
Erdogan: Attack On Economy Same As Attack On Call To Prayer
21 August 2018
Turkish President Recep Tayyip Erdogan has vowed his country will not be brought to heel amid an ongoing diplomatic crisis with the United States.
Without naming the US directly, the Turkish leader on Monday said that there was no difference between attacks on the country's economy and attacks on "our call to prayer and and our flag".
"The goal is the same. The goal is to bring to heel Turkey and the Turkish Nation, to hold it captive. We are a nation that prefers to be shot in the neck rather than to be chained at the neck," he said in a video message before the of Eid al-Adha holiday.
Ties between Turkey and the US have deteriorated over a number of issues, such as conflicting aims in the Syrian conflict, Ankara's planned buy of a Russian anti-aircraft system, and the detention of US Evangelical pastor Andrew Brunson, who Turkey accuses of supporting terrorist groups.
The US has rejected the accusations against Brunson and has demanded his release under the threat of punitive measures against its NATO allies.
Turkey willing to talk with US as equals over tariffs and pastor
Earlier this month, the US slapped sanctions on two Turkish ministers over Brunson's house arrest, and promised further measures if he was not released.
Lira crisis
Erdogan has also blamed outside powers for a burgeoning economic crisis, reflected in the tumbling value of the country's currency, the lira.
The currency hit a low after US President Donald Trump announced tariffs on Turkish metal imports, falling to just over seven liras to the dollar but later recovered slightly to six liras to the dollar.
Turkey announced equivalent sanctions on US-produced goods, amounting to $1bn in total.
Erdogan has denounced Washington for declaring "economic war on the entire world" and holding countries "for ransom through sanction threats".
A day after Trump's tweet on August 10, the Turkish leader wrote an opinion piece in the New York Times, warning the US was jeopardising ties with Ankara, and that Turkey could look for "new friends and allies", raising fears that it could turn towards Moscow.
Source: aljazeera.com/news/2018/08/erdogan-attack-economy-attack-call-prayer-180821084019118.html
-----
First India-Indonesia Interfaith Dialogue to Be Held In October 2018
21 August 2018
JAKARTA: The first India-Indonesia Interfaith Dialogue, decided during the maiden visit of Prime Minister Narendra Modi here, will be held in early October, the Indian Embassy here said today.
Minister of State for External Affairs M J Akbar, who visited Indonesia this week, discussed with the Indonesian Foreign Minister Retno Marsudi, concrete steps to follow up on Prime Minister Modi's visit in May, the embassy said.
The two sides also firmed up the arrangements for the upcoming 1st India-Indonesia Interfaith Dialogue to be held in the Indonesian city of Yogyakarta in October, the mission tweeted.
During Prime Minister Modi's talks with Indonesian President Joko Widodo, the two leaders had agreed to organise an Interfaith Dialogue in Indonesia in early October 2018, which will be followed by a similar dialogue in India next year to promote pluralism and eradicate radicalism.
Akbar also met with Dr Haedar Nasir, Chairman of Muhammadiyah - world's 2nd largest Muslim organisation and with Prof Dr. Said Aqil Siradj, Chairman of Nahdlatul Ulama and discussed tangible steps to ensure a successful upcoming Interfaith Dialogue, the mission said. The minister also paid a visit to Indonesia's National Mosque, the largest in Southeast Asia, Istiqlal Mosque and interacted with the Grand Imam Prof Kyai Haji Nasaruddin Umar.
Prime Minister Modi and President Widodo had shared the view on the imperative need to eradicate radicalism and reiterated the importance of promoting peaceful pluralism that would lead to true civilisation harmony, and moderation through a holistic approach, a joint statement issued after their meeting in May had said.
"Interfaith dialogue is a reflection of the united commitment of both countries to explore a new understanding on the rise of religious identities, the dynamic of pluralism and to eradicate radicalism, terrorism, and violent extremism," it said.
Indonesia and India have pursued the ideals of pluralism, tolerance, rule of law and values of peaceful co-existence, the statement said.
Indonesia, the world's most populous Muslim-majority nation, has struggled with Islamist terrorism and violence against its Christian minority in the past two decades.
India has the second largest population of Muslims, after Indonesia.
Source: newindianexpress.com/world/2018/jul/31/first-india-indonesia-interfaith-dialogue-to-be-held-in-october-2018-
----
Arab World
Islam Preaches Respectful Behaviour, Good Character
August 21, 2018
The Hajj sermon delivered at Mount Arafat on Monday emphasised respectful behaviour and good character as the most important lessons of Islam.
More than two million Muslims from around the world scaled the rocky hill southeast of the holy city of Makkah to perform the pinnacle of Hajj. Mount Arafat is where Prophet Mohammed (PBUH) delivered his final sermon.
The imam of Prophet's (PBUH) Mosque, Sheikh Hussein bin Abdelaziz Al al-Sheikh, delivered the sermon.
"All prophets of God invited humanity to tauheed, and believing in it will be path of success," he said. "Give respect and importance to your parents and teachers. Strengthen your relation with the Holy Quran," he said. Islam forbids us from indulging in sins. It preaches harmony and brotherhood amongst Muslims."
The pilgrims performed Zuhr and Asr prayers combined, and spent time in Arafat with prayers for acceptance of their pilgrimage and recitation of Quranic verses until sunset.
After sunset, the pilgrims headed to Muzdalifah, where they would stay until midnight, engaged in prayers after performing Maghreb and Isha prayers combined.
The ritual of changing Ghilaf-e-Kaaba was also held early Monday morning. The new Ghilaf was prepared at a cost of 200,000 Riyal. It comprises 670kg pure silk, 120kg gold and 100kg silver.
Imam Masjid-ul-Haram Dr Abd ur Rahman Assudais and Governor Makkah Khalid Faisal participated in the ritual.
Every Muslim is required to complete the Hajj journey to Islam's holiest sites at least once in their lifetime if they are healthy enough and have the means to do so.
This year, the Saudis have launched a "smart Hajj" initiative, with apps to help pilgrims with everything from travel plans to medical care.
The interior ministry said on Saturday that the number of pilgrims arriving in Makkah had already surpassed the two million mark, mostly from abroad including large contingents from Egypt, India, Pakistan and Bangladesh.
Pilgrims stood shoulder to shoulder for an emotional day of repentance and supplication at the site Muslims believe the Prophet Muhammad (PBUH) delivered his final sermon, calling for equality and for Muslims to unite.
Muslims believe prayer on this day at Mount Arafat, about 20 kilometres east of the holy city of Makkah, is their best chance to erase past sins and start anew.
The five-day Haj represents one of the world's biggest gatherings every year and is required of all able-bodied Muslims once in their life.
Source: pakobserver.net/islam-preaches-respectful-behaviour-good-character/
-----
Saudi Arabia accused by its neighbours of politicising Hajj
By Mohammed Vall
21 August 2018
For the second time since the blockade on Qatar by Saudi Arabia and its allies more than a year ago, both Qatari citizens and expatriates have been unable to travel to Saudi Arabia to perform Hajj, the five-day annual pilgrimage undertaken by Muslims to the holy city of Mecca, which is one of the five pillars of the Islamic faith.
Saudi Arabia has been accused of using Hajj as a tool of pressure in its foreign politics.
Al Jazeera's Mohamed Vall reports.
Source: aljazeera.com/news/2018/08/saudi-arabia-accused-neighbours-politicising-hajj-180820122338480.html
-----
Baby boy born in Arafat holy site during Hajj
21 August 2018
JEDDAH: A baby boy was born at a holy site in Saudi Arabia while Muslim pilgrims were performing Hajj rituals on Monday.
A Saudi Press Agency report said a Jordanian woman gave birth to the baby at the Jabal Al-Rahma Hospital in Arafat .
Arafat, about 20 kilometers southeast of Makkah, is where Muslims performing Hajj go to pray on the ninth day of the month of Dhu al-Hijjah in the Islamic calendar for the most important part of the pilgrimage.
The father named the child "Wadah" after the director of the hospital for his kind care and attention, the report said.
It added that the hospital's medical staff provided medical care for the child and his mother, who are both in good health.
Source: arabnews.com/node/1359636/saudi-arabia
-----
Iraq's Sairoon and Nasr coalitions in talks to form largest bloc
by Arwa Ibrahim
20 Aug 2018
Iraq's Sairoon Alliance led by Shia leader Muqtada al-Sadr is in talks to form a coalition with the Nasr alliance led by outgoing Prime Minister Haider al-Abadi, along with two other parliamentary groups.
The parliamentary blocs of Sadr-backed Sairoon and Abadi's Nasr met on Sunday with the Hikma bloc led by Shia cleric Ammar al-Hakim and the Wataniyya bloc led by former prime minister Iyad Allawi, in Baghdad to discuss forming the largest alliance that would form a government for the next four years.
After the meeting, the four blocks announced late on Sunday a preliminary agreement to form a coalition.
"We agreed today to form a core for an alliance, seeking to form a parliamentary bloc that can form the government. We have decided at this meeting to open up to our other partners to contribute together in the formation of this (largest) alliance," said the blocs in a statement on Sunday.
The announcement also confirmed the blocs' commitment to taking an anti-sectarian approach to the process of forming a new government.
"The coalition is determined to work hard to build a state of citizenship, justice, equality and the provision of a decent life for all our people," the statement said.
Confirming the progress of the talks, Kadhim al-Shimmary, a leading figure in the Wataniyya bloc told Al Jazeera: "We had a successful meeting and agreed to form a coalition among us.
"We are now waiting to see if we will be able to form the largest bloc," he added.
The announcement came as Iraq's Supreme Court ratified the final results of the May 12 parliamentary elections, setting in motion a 90-day constitutional deadline for the top parties to form a coalition government.
Many Iraqis disputed the results of the vote, alleging widespread electoral misconduct but a nationwide recount of votes on August 10 did not change the number of seats Sadr's bloc won.
According to the commission, only one seat from Iraq's Baghdad Coalition had moved to the second-placed Al-Fatih bloc, giving it 48 instead of 47 assembly seats.
But while Sadr retained his lead, his potential alliance with Abadi's bloc and the others does not grant him the 50 percent plus one - or at least 165 seats - needed to form a majority bloc.
The Sairoon alliance won the largest number of parliamentary seats at 54, while the Nasr alliance, which came in third place, won 42 seats.
Together with the Hikma bloc, which won only 19 seats, and Allawi's Wataniyya bloc, which won 21 seats, the potential alliance has 137 seats - 28 seats short of a majority bloc.
Commenting on the coalition forming, Iraqi analyst Jassim Moussavi said despite this shortcoming, the alliance was likely to form a strong bloc that could place it in a position to gain support from other groups in order to form the new government.
"These blocs have a lot in common including their anti-sectarian approach and inclination towards garnering strong relations with all regional powers," Moussavi told Al Jazeera.
"It is quite likely that they will be able to form the largest bloc and hence the new government," he added, saying that if this group was to remain allied, it would likely announce Abadi - an ally of both the United States and Iran - as its candidate for prime minister.
In a televised speech earlier on Sunday, al-Abadi called on the political blocs to accelerate their negotiations, and on Iraqi President Fuad Masoum to invite the new parliament to hold its first session soon.
Following the Supreme Court's ratification of final results, incoming MPs are now expected to hold a first session to elect a new assembly speaker.
Within 30 days of that first session, a two-thirds majority of the assembly will elect the country's next president, who will then task the largest bloc in parliament with drawing up a government.
The new government will have to be referred back to parliament for approval.
Source: aljazeera.com/news/2018/08/iraq-sairoon-nasr-coalitions-talks-form-largest-bloc-180820080334726.html
-----
US and Russia prepare to launch FRESH conflict in Syria WITHOUT support of China
By GEORGE COOK
Aug 21, 2018
However, they will be doing so without the help of China after the Asian superpower denied reports they intended to send troops to support the effort.
Chinese special envoy to Syria, Xie Xiaoyan, said: "Recently, some media speculations that China is going to get involved in the Syrian conflict emerged. That is a false picture of the Chinese policy.
"Arab media, which issues the relevant material, later explained that China had no military presence in Syria.
"China is strongly advocating the settlement of the conflict only by peaceful means, and China has never sent its troops to Syria."
The Chinese Foreign Ministry added: "China opposes all forms of terrorism and is willing to strengthen anti-terrorism cooperation with the international community, including Syria, to safeguard security and stability in the region and around the world.
"China has no military presence in Syria."
China has played a greater economic role in the conflict, pouring money into Syria's reconstruction instead of committing troops on the ground.
Since the Syrian Civil War broke out in 2011, the US and Russia have been backing different local forces in their attempts to defeat ISIS and other local terrorists groups.
The US are working with the Syrian Democratic Forces who are a group of local fighters, the majority of which are Kurdish.
Whereas Russia and Iran are working with the Syrian military.
Russia has been engaged heavily through airstrikes in the region, while Iran has developed a prominent presence on the ground.
The US and Russia are now reportedly preparing to launch new battles in different parts of the country, in the hope of defeating the so-called Islamic State.
Pro-Syrian government forces are focusing their attention around the last remaining rebel-held territories in the north-west province of Idlib.
Conflict has been increasing in recent weeks in what is hoped will be the last major operation against rebel insurgents.
Turkey has also become heavily involved in the conflict as a number of their military posts are located in the affected regions.
Peace talks are ongoing and Russia has stated it is open to working with Turkey to come up with a solution to the conflict.
Source: express.co.uk/news/world/1006131/Syria-civil-war-US-Russia-conflict-China
-----
Electronic ID tracking system for accident victims, e-guidance system for pilgrims launched in Makkah
21 August 2018
JEDDAH: The assistant minister for operational affairs at the Interior Ministry inaugurated in Mina on Sunday an electronic identification tracking system for victims of accidents and disasters.
Gen. Saeed bin Abdullah Al-Qahtani opened an identification technicians' workshop attended by those participating in this year's Hajj season.
During the workshop, forensic experts and officials explained in detail the forensic forces' duties in the holy places, and in case of an accident or disaster.
They also explained how the new tracking system functions, with each victim being given a serial number and barcode. Their pictures and fingerprints are then taken and linked to all Interior Ministry databases.
Al-Qahtani thanked the interior minister for his constant support of the public security forces, and praised forensic teams' efforts to develop and train their personnel.
Also on Sunday, the Saudi Arabian Boy Scout Association showcased its electronic guidance system that it provides through its public service camps in Makkah and the holy sites.
The e-guidance program, which benefits the pilgrim or any other person through smart devices, enters any information available to him such as the name of the institution or the office number.
The application, which is available on the website of the association, will specify an electronic path for the Hajj or the information seeker. The application includes all the data of the Ministry of Hajj and Umrah Offices and campaigns related to pilgrims.
Source: arabnews.com/node/1359641
-----
Syria's Assad attends holiday prayers at Damascus mosque
21 August 2018
DAMASCUS, Syria: Syrian President Bashar Assad has attended prayers for the Muslim holiday of Eid Al-Adha in Damascus, the seat of his power.
State-run television showed Assad saluting worshippers as he arrived Tuesday at the Al-Rawda mosque and various footage of him praying and talking to people following prayers.
It's the first Eid Al-Adha since Syrian troops, backed by Russia, recaptured suburbs of Damascus earlier this year and areas in southern Syria previously held by rebels.
In recent years, Assad has often traveled outside Damascus to towns and villages recaptured from rebels or Islamic State fighters to attend holiday prayers there.
With crucial military support from allies Russia and Iran, Assad's troops have recaptured most rebel strongholds across the country. The northern province of Idlib is the last major remaining opposition bastion.
Source: arabnews.com/node/1359746/middle-east
-----
Mideast
UN: Two-Thirds Of Child Soldiers In Yemen Fight For Houthi Rebels
by Sara Khairat
21 August 2018
The United Nations has blamed the Saudi-led coalition for being responsible for most of Yemen's child casualties from the past year.
It has also called for an investigation into the school bus attack that killed 40 children earlier this month.
But children in Yemen are vulnerable in many other ways, including being recruited as child soldiers, mainly by the Houthi rebels.
Al Jazeera's Sara Khairat reports.
Source: .aljazeera.com/news/2018/08/un-two-thirds-child-soldiers-yemen-fight-houthi-rebels-180821062444661.html
-----
Lebanese FM: No reason for Syria refugees to stay in Lebanon
20 August 2018
Russia lashed out at Western countries, accusing them of blocking UN aid for Syria's reconstruction and trying to prevent the return of refugees
Foreign Minister Sergey Lavrov said after talks on Monday with his Lebanese counterpart, Gibran Bassil, the US' refusal to provide assistance for rebuilding Syria after more than seven years of fighting would deter Syrians from returning to their homes.
Lavrov said the United Nations' political affairs department last year sent out "a secret directive forbidding organisations belonging to [the UN] system from any project aimed at restoring the Syrian economy".
Russia has been the chief backer of Syrian President Bashar al-Assad, helping his forces to regain control over most of the country. Now, Moscow is calling on Western countries, which backed the opposition, to help fund reconstruction efforts, saying it would reduce the flow of refugees and migrants to Western Europe.
Lavrov bristled at the US and its Western allies for making assistance to Syria contingent on a political transition process. He also accused the West of pressuring the United Nations to stay away from reconstruction efforts in Syria.
He said Moscow is looking into why the UN cultural agency, UNESCO, is dragging its feet on the reconstruction of world-famous archaeological sites in the Syrian city of Palmyra. He said the UN Secretariat's political department has explicitly banned any involvement in reconstruction in Syria pending a political settlement.
Lavrov added he protested the move in a phone conversation with UN Secretary-General Antonio Guterres.
"It's inadmissible when a group of countries manipulates secretariats of international organisations, which are supposed to be unbiased and independent," Lavrov said.
"The UN was created on the basis of ... equality of all countries. I strongly urge our Western partners to return to that principle and not try to covertly exploit international organisations."
He also criticised recent comments by Filippo Grandi, the head of the UN refugee agency, who said last week it was too soon to talk about the mass repatriation of the more than five million Syrian refugees.
Lavrov said the UNHCR should not be a "subsidiary of a group of Western countries".
The Russian foreign minister also alleged that al-Qaeda fighters located near al-Tanf, in southeastern Syria where US military advisers are based, had launched raids intended to prevent refugees from returning from Jordan.
Bassil said Lebanon, which is hosting more than one million refugees, fully supports Russian efforts to help Syrians return.
"Lebanon supports the quick and safe return of Syrian refugees without any link to a political solution," Bassil said. "The circumstances in Syria have changed and many areas are safe, and for that reason, there is no reason for the refugees to stay."
Several thousand Syrian refugees in Lebanon have started to return to their homes in Syria voluntarily in recent months.
'Everyone's interests'
Some Lebanese officials have pushed for speedy returns, but the UN and human rights groups say conditions are still not safe in Syria.
Bassil said also said Lebanon should serve as a platform for the economic revival of Syria, and ensured Beirut would coordinate its efforts with Moscow, Interfax news agency reported.
On Saturday, Russian President Vladimir Putin spoke about international reconstruction efforts and the humanitarian situation in Syria with German Chancellor Angela Merkel in Berlin.
"It's important to help those areas that the refugees can return to," said Putin, whose decision for Russia to militarily intervene in Syria's conflict in 2015 tilted the odds in favour of Assad, who has regained large swaths of land from armed rebel groups.
"I think it's in everyone's interests, including Europe's."
Source: aljazeera.com/news/2018/08/lebanese-fm-reason-syria-refugees-stay-lebanon-180820111201055.html
------
Saudi Arabia 'to build oil port' in Yemen's al-Mahra: sources
21 August 2018
Letter addressed to a Saudi official suggests the kingdom plans to establish an oil port in Yemen's al-Mahra province.
Saudi Arabia is seemingly planning to build an oil port in Yemen's al-Mahra governorate in the country's southeast, where Saudi and United Arab Emirates' troops are present, sources told Al Jazeera.
A document obtained by Al Jazeera on Monday points to Saudi Arabia's intention to develop the port, which would extract and export petroleum, the sources said.
In a letter addressed to the kingdom's ambassador to Yemen, a Saudi-based marine construction company, Huta Marine, thanked the official for trusting the company's capabilities by asking it to present a technical and financial proposal for the design and implementation of the port.
The company added it would arrange to visit the site and carry out necessary fieldwork needed to develop a proposal and construction plan.
Al Jazeera has reached out via email to Huta Marine for comment, but has yet to recieve a response.
The company's phone lines were temporarily put out of service on Monday.
Reports that previously emerged in Yemen's media revealed Saudi Arabia's alleged intentions to kick-start development projects in al-Mahra, which borders Oman, including the construction of a pipeline that would extend to Saudi to transport its oil.
There have been restrictions and tariffs imposed on imported goods, which come through the al-Mahra border crossing between Yemen and Oman.
Seventy percent of imports to Yemen enter from Oman through this key border crossing, which, along with the province's seaport and airport, is under the Saudi-UAE coalition's control.
Residents of al-Mahra were protesting in April, calling on the coalition to scale back its military presence.
Troops arrived to the area in December 2017, about two years after Saudi Arabia and the UAE - along with other Arab states that are no longer a part of the coalition - launched a military offensive on the impoverished country.
The coalition, which revives US logistical support, says it is concerned by the rise of the Houthi rebels and has repeatedly accused regional rival Iran of arming the rebels, allegations the Houthis and Iran deny.
It says its military campaign is aimed at re-installing the government of Yemeni President Abd-Rabbu Mansour Hadi.
At least 10,000 people have been killed in the fighting and more than 22 million are in dire need of assistance.
Source: aljazeera.com/news/2018/08/saudi-arabia-build-oil-port-yemen-al-mahra-sources-180820082111526.html
-----
French energy giant Total quits lucrative Iran gas project
21 August 2018
French energy giant Total confirmed it is withdrawing from a multibillion-dollar gas project in Iran after it failed to obtain a waiver from US sanctions.
Total signed a deal worth $4.8bn in July 2017 to develop a field off Iran's southern coast as the lead partner alongside the China National Petroleum Corporation (CNPC) and Iran's Petropars.
"Total has notified the Iranian authorities of its withdrawal from the contract following the 60-day deadline for obtaining a potential waiver from the US authorities," the company told AFP news agency on Monday.
"Despite the backing of the French and European authorities, such a waiver could not have been obtained."
Iranian Oil Minister Bijan Namdar Zanganeh said the company had notified authorities of its decision to exit the deal.
"Total has officially left the agreement for the development of phase 11 of South Pars," Zanganeh said, emphasising the dire state of Iran's oil-and-gas facilities, which he said were "worn out" and in need of renovation that Iran could not afford.
The deal was meant to bring in state-of-the-art technology to tap the gas field, which Iran could then replicate on surrounding ones.
The United States said in May it was abandoning the 2015 nuclear deal with Iran and other nations, and reimposing sanctions on Tehran in two phases in August and November, with the second targeting the country's vital oil-and-gas sector.
Total has $10bn of capital in US assets, and US banks are involved in 90 percent of its financing operations, meaning it would have been highly vulnerable to US penalties for remaining in Iran.
Technology missing
But it is unlikely that CNPC or Iran's own firms can take over the project, said Homayoun Falakshahi, an energy analyst for Wood Mackenzie in London.
"The technology Total was hoping to implement would have been world-first, using electricity to compress the gas," he said.
"The other complication is that it needs huge platforms. Iran can build 5,000 to 7,000-tonne platforms. This would have been 20,000 tonnes."
The urgent need for investment to upgrade Iran's dilapidated energy infrastructure was a key motivator behind its decision to join the 2015 nuclear deal.
Some conservatives in Iran oppose foreign involvement in the strategic energy sector and have frustrated plans to develop attractive investment contracts.
As a result, the Total deal was the only major investment project finalised after the nuclear deal came into force.
Source: aljazeera.com/news/2018/08/french-energy-giant-total-quits-lucrative-iran-gas-project-180820170432711.html
----
India
Imran Khan comes to Navjot Sidhu's defence, says those targeting minister doing disservice to peace
By: Express Web Desk | New Delhi | August 21, 2018
Navjot Singh Sidhu faced severe backlash and criticism back home for hugging Pakistan's Army General Qamar Javed Bajwa. (File)
Pakistan Prime Minister Imran Khan on Tuesday came to the defence of Punjab minister Navjot Singh Sidhu after he faced severe backlash and criticism back home for hugging Pakistan's Army General Qamar Javed Bajwa and sharing the stage with the president of Pakistan-Occupied Kashmir (POK) during his swearing-in ceremony. Thanking Sidhu for attending his oath-taking ceremony, Khan said those targeting the politician were doing a disservice to peace in the subcontinent.
Imran Khan
✔
@ImranKhanPTI
I want to thank Sidhu for coming to Pakistan for my oath taking. He was an ambassador of peace & was given amazing love & affection by ppl of Pakistan. Those in India who targeted him are doing a gt disservice to peace in the subcontinent - without peace our ppl cannot progress
2:41 PM - Aug 21, 2018
The newly elected Pakistan PM said Sidhu was an ambassador of peace and without harmony both the nations won't progress. "Sidhu was an ambassador of peace and was given amazing love and affection by people of Pakistan. Those in India who targeted him are doing a great disservice to peace in the subcontinent – without peace, our people can't progress," Khan tweeted.
Following the oath-taking ceremony on Saturday, Sidhu came under fierce attack from non-Congress parties in Punjab and was even ticked off by Chief Minister Amarinder Singh himself. Reacting to the criticisms, Sidhu said his visit to the neighbouring country should not be seen through a political lens and he went there on the invitation of his friend Imran Khan.
Touching upon the Kashmir issue for the second time since his victory in the Pakistan elections, Khan said for both nations should move forward and the Kashmir conflict should be resolved. "To move forward Pakistan and India must dialogue and resolve their conflicts incl Kashmir: The best way to alleviate poverty and uplift the people of the subcontinent is to resolve our differences through dialogue and start trading," he said.
In his victory speech on July 26, the World Cup-winning captain had said his government would like leaders of the two sides to resolve all disputes, including the "core issue" of Kashmir, through talks. "If India takes one step, Pakistan will take two," he had said.
Source: indianexpress.com/article/india/imran-khan-navjot-singh-sidhu-kashmir-5317600/?utm
-----
Four years ago, Khalid attacker was part of mob that marched on BJP office with a cow's head
August 21, 2018
Naveen Dalal, the man accused of attacking JNU PhD scholar Umar Khalid outside Constitution Club last week, was arrested in 2014 for being part of a 40-man mob that had entered the BJP's office at Ashoka Road with a severed cow head, police said.
Dalal and Darwesh Shahpur, who had released a video claiming responsibility for the attack on Umar, were arrested by the Delhi Police on Monday. In the video, they had promised to surrender at the residence of Sikh revolutionary Shaheed Kartar Singh Sarabha in Sarabha village of Ludhiana on Friday, but did not turn up. They had said the attack on Khalid was an Independence Day gift for the nation.
After questioning them during the day, police said the two, who are associated with a gau raksha outfit, were "trying to gain popularity".
Even in 2014, Dalal was part of a mob led by cow protection activist Gopal Das, who was seeking stringent laws on cow slaughter. Additional DCP (special cell) Manishi Chandra confirmed Dalal's arrest in 2014 and said an FIR was registered against him at Parliament Street police station. "The case is still pending in a Delhi court," he said. On Monday, "both accused were arrested from Hisar's Fatehabad district".
According to police, when Dalal attacked Khalid on August 13, Shahpur was standing at a tea stall nearby. Both fled separately and later met in Jhajjar, said police. While Dalal is a resident of Mandothi village in Jhajjar, Shahpur is the resident of Jind.
Police questioned them at length, and discovered that both were active on social media and wanted to "do something impactful". It was on Facebook that Shahpur saw a post about the event, Khauf se Azadi: Towards Freedom without Fear, being organised at Constitution Club. Khalid was in the audience at the event.
They thought disrupting the event would grab maximum eyeballs, police said. The two claimed the pistol was not to attack Khalid but for their own safety. "The pistol belongs to Shahpur; he had borrowed it from a man who is now dead. During the incident, Dalal was carrying the pistol," said an officer.
Police said the two talked on phone and met at Nangli Dairy near Najafgarh before reaching Constitution Club in a bus. As the event was yet to start, they stood outside to have tea. In the meantime, they saw Khalid with friends and Dalal attacked him. Police are verifying whether or not they came prepared to attack Khalid.
Dalal first hid at Akashwani Bhawan before hiring at autorickshaw and reaching India Gate. He then took the Metro from Central Secretariat and reached Dwarka Mor Metro station. From there, he boarded a bus and went to Bahadurgarh before going to hide in Hisar. Police said both were hiding at residences of their associates.
Khalid, meanwhile, said: "Even though these two have been arrested, I hope the investigation will unearth if there were others behind this conspiracy. We have seen in previous cases how right-wing groups have been involved in murders. That angle must be probed. Those who said this was a staged attack should now apologise to me."
Source: indianexpress.com/article/cities/delhi/umar-khalid-constitution-club-attack-accused-5316437/
-----
Imran Khan keen we begin with Indian-Pakistan cricket ties: New PCB chief Ehsan Mani
August 21, 2018
NEWLY ELECTED Pakistan Prime Minister Imran Khan is "very, very keen" on the resumption of bilateral cricket between India and Pakistan, according to Ehsan Mani, the new chairman of the Pakistan Cricket Board (PCB).
"It's still early days. My intention is to make Asian cricket stronger again, as it used to be. I don't want to go into any detail at this stage but obviously, cricket between Pakistan and India is important to world cricket. So, that is one thing we will have to sit down, consider and address. Fortunately, we have a Prime Minister who is very, very keen on that," Mani told The Indian Express on Monday.
India and Pakistan haven't played any bilateral cricket since 2012-13, when Pakistan toured India for a short limited-overs series. The Indian government has refused to give permission for a bilateral series until "Pakistan stops cross-border terror". The upcoming Asia Cup in September had to be shifted out of India because of Pakistan's participation in the tournament. The UAE will now host the Asia Cup.
ndia and Pakistan, however, have been playing each other in ICC events. Pakistan came to India for the ICC World T20 in 2016.
Imran, the World Cup-winning Pakistan captain, has been a vocal advocate of cricketing ties between the two countries. On his India visit in 2015, as the Pakistan Tehreek-e-Insaf (PTI) chairman, Imran had met Prime Minister Narendra Modi. At the time, the PTI's official Twitter handle had quoted him as saying: "When I told Modi that India & Pak should play cricket, he gave a smile, I can't decipher that further."
Khan had also been quoted in the media as saying: "We don't want to be enemies forever. You have to think about the future. There are mutual cricketing heroes in both our countries. Like Wasim Akram is adored and loved in India, Sachin Tendulkar is a hero in Pakistan."
On Monday, while appointing Mani as PCB chief, Khan posted on Twitter: "I have appointed Ehsan Mani as Chairman PCB. He brings vast and valuable experience to the job. He represented PCB in the ICC; was Treasurer ICC for 3 yrs and then headed the ICC for another 3 yrs." The announcement followed Najam Sethi's resignation from the post.
Source: indianexpress.com/article/sports/cricket/imran-khan-keen-we-begin-with-indian-pakistan-cricket-ties-new-pcb-chief-ehsan-mani-5316628/
-----
UAE extends $100 million aid to Kerala
Ashwani Kumar
August 21, 2018
UAE also formed a national emergency committee to help the flood victims in Kerala.
The UAE government has extended $100 million as financial assistance to rebuild the flood-ravaged Indian state of Kerala, Chief Minister Pinarayi Vijayan said on Tuesday.
"Malayalis from all corners of the world have offered help. Millions of those Malayalis treat the Gulf countries as their second home," Vijayan said during a media briefing in Kerala.
He noted that the UAE has stood by Kerala in its hour of need.
"The UAE government is sharing our grief. His Highness Sheikh Mohamed bin Zayed Al Nahyan, Crown Prince of Abu Dhabi and Deputy Supreme Commander of the UAE Armed Forces, has spoken to Prime Minister (Narendra Modi). The UAE has offered assistance of $100 million (Rs 700 crore)."
The chief minister lauded the benevolence shown by the UAE President His Highness Sheikh Khalifa bin Zayed Al Nahyan and His Highness Sheikh Mohammed bin Rashid Al Maktoum, Vice-President and Prime Minister of the UAE and Ruler of Dubai.
The UAE government had formed a national emergency committee to help the flood victims.
Source: khaleejtimes.com/international/india/Kerala-floods-UAE-extends-$100-million-for-rebuilding-1
-----
South Asia
Taliban militants kidnap 170 passengers from Kunduz-Takhar highway
By KHAAMA PRESS - Mon Aug 20 2018
The Taliban militants have kidnapped at least 170 passengers from the highway connecting Kunduz with the northeastern Takhar province of Afghanistan.
The Security Director of Kunduz Security Commandment Safiullah Mahzon confirmed the incident and said the passengers were abducted from the vicinity of Khanabad district.
The local officials are saying that the Afghan forces are busy conducting operation to rescue the abducted passengers.
In the meantime, Mahzon said the kidnapped passengers were on their way to Kabul province when they were kidnapped.
He did not disclose further information regarding the exact number of passengers who have been kidnapped but the local sources are saying that around 170 people were travelling in three buses when they were kidnapped.
The anti-government armed militant groups including Taliban militants have not commented regarding the report so far.
The Taliban militants often kidnap passengers on the main highways of the country on charges of having links with the government or security institutions of Afghanistan.
Kunduz has been among the relatively calm provinces in northern parts of the country but the security situation has deteriorated in some parts of the province during the recent years.
Source: .khaama.com/taliban-militants-kidnap-170-passengers-from-kunduz-takhar-highway-05795/?utm
------
Several blasts heard in Afghan capital Kabul
Aug 21, 2018
A number of blasts were heard in Afghanistan's capital Kabul on Tuesday, newswire Reuters quoted a security official as saying.
Reports said the blasts were heard as president Ghani was speaking during an Eid prayer ceremony.
As per the security official, the explosions were caused by rockets fired from outside of the state and some fell in the presidential palace, around embassy compounds and government buildings.
There have been no immediate reports on casualties yet.
On Monday, the Taliban had rejected Afghanistan government's call for peace offer for a ceasefire and vowed to continue its attacks against the government and its foreign allies.
Last week, a suicide bomber from ISIL blew himself up in front of an education center in Kabul, killing 34. Wednesday's attack in the Shia neighbourhood of Dasht-e-Barchi left dozens more injured.
(With inputs from Reuters)
Source: thehindu.com/news/international/several-blasts-heard-in-afghan-capital-kabul/article24742588.ece
-----
Suicide bomber killed, 4 accomplices arrested in Jalalabad city
By KHAAMA PRESS - Mon Aug 20 2018
A suicide bomber was killed but four of his accomplices were arrested during an operation of the Afghan Intelligence, National Directorate of Security (NDS), forces in Jalalabad city.
The provincial government of Nangarhar in a statement said a suicide bomber detonated his explosives while being chased by the Afghan intelligence operatives during an operation in the 4th police district of the city.
The statement further added that the operation was conducted based on intelligence tip off and as a result four accomplices of the suicide bomber were arrested alive.
According to the provincial government, the suicide bomber and his four accomplices had taken shelter inside a religious school (Abdullah bin Fetada Seminary) as operations were being conducted for their apprehension.
This comes as the Afghan intelligence operatives last week arrested a group of seven suicide bombers during a similar operation in Jalalabad city.
The anti-government armed militant groups including Taliban and ISIS militants have not commented regarding the report so far.
Source: khaama.com/suicide-bomber-killed-4-accomplices-arrested-in-jalalabad-city-05796/?utm
-------
Ghani orders troops to continue their operations against Taliban
By KHAAMA PRESS - Mon Aug 20 2018
President Mohammad Ashraf Ghani has ordered the armed forces to continue to their operations against the militants until a positive response has not been received from the Taliban regarding the ceasefire.
The Office of the President, ARG Palace, in a statement said President Mohammad Ashraf Ghani spoke via video teleconference with the provincial governors, national defense and security officials, provincial council members, and members of the provincial high peace and Ulemas councils.
The statement further added that issues related to the security of the country during Eid days were discussed together with the administration of the likely ceasefire.
According to ARG Palace, the conference was also attended by the Chairmen of Afghanistan High Peace Council and the Ulemas Council of Afghanistan, National Security Adviser, Officials of the security and defense institutions, and some other high level government officials.
President Ghani instructed the national defense and security forces to continue to their operations against the Taliban until a positive response has not been received.
He also added that the details of the ceasefire and joint instructions of the national defense and security institutions and the government have been shared with the provincial administrative governments through the Independent Directorate of Local Governance.
Source: .khaama.com/ghani-orders-troops-to-continue-their-operations-against-taliban-05797/?utm
------
U.S. calls on Taliban to participate in Eid ceasefire initiative
By KHAAMA PRESS - Mon Aug 20 2018
The U.S. Secretary of State Mike Pompeo has called on the Taliban group to participate in the ceasefire initiative announced by President Mohammad Ashraf Ghani on the occasion of Eid Al-Adha.
"The United States welcomes the announcement by the Afghan government of a ceasefire conditioned on Taliban participation. This plan responds to the clear and continued call of the Afghan people for peace," Pompeo was quoted in a statement released by the US Embassy in Kabul.
He said "The last ceasefire in Afghanistan revealed the deep desire of the Afghan people to end the conflict, and we hope another ceasefire will move the country closer to sustainable security. The United States and our international partners support this initiative by the Afghan people and the Afghan government, and we call on the Taliban to participate. It is our hope, and that of the international community, that the Afghan people may celebrate Eid Al-Adha this year in peace, free from fear."
"The United States supports President Ghani's offer for comprehensive negotiations on a mutually agreed agenda. We remain ready to support, facilitate, and participate in direct negotiations between the Afghan government and the Taliban. There are no obstacles to talks. It is time for peace," Pompeo added.
President Mohammad Ashraf Ghani on Sunday announced a conditional ceasefire with the Taliban group during Eid Ald-Adha.
Speaking during a gathering to mark the 99th Independence Day of Afghanistan, President Ghani said the government announces ceasefire with the Taliban, starting from Monday until Eid Milad un Nabi (Birth of Prophet Mohammad), on the condition that the Taliban group also announces a ceasefire.
He said "As we approach Eid-ul-Adha, and to respect the wishes of different segments of Afghan society including religious scholars, political parties, politicians, women and civil society leaders, youth and members of high peace council in all 34 provinces, and to respect the wishes of the religious scholars of the Islamic world that were gathered in the holy mosques and to respect the wishes of the Organization of Islamic Countries (OIC) and the custodians of the two-holy mosques, the King of Saudi Arabia, we announce a ceasefire that would take effect from tomorrow, Monday, the day of Arafa, till the day of the birth of the prophet (PBUH) i.e., Milad-un-Nabi, provided that the Taliban reciprocate."
Source: khaama.com/u-s-calls-on-taliban-to-participate-in-eid-ceasefire-initiative-05798/
------
After 17 years of war, a peace movement grows in Afghanistan
Sharif Hassan
August 21, 2018
SHAKARDARA (Afghanistan): With every step, the blisters burned.
After three days of walking barefoot alongside a highway from Kabul with about 50 other peace activists, Abdul Malik Hamdard, a computer teacher, had only gotten as far as this farming village about 40 miles north of the capital. But he had a point to make, and he said he planned to keep going no matter how much his feet hurt.
"War kills Afghan people every day," said Hamdard, 27, as the group stopped to rest in a mosque one day earlier this month. He said he lost three brothers to conflict in the past 25 years. "We will walk from Kabul to Mazar for peace," he said, referring to the northern city of Mazar-e Sharif, about 200 miles north.
At the moment, the group's new effort seems both quixotic and timely. In the past several weeks, a burst of insurgent violence has flared across the country, most recently a major ground assault by the Taliban on the southeastern city of Ghazni that killed at least 120 people and a suicide bombing in Kabul by the IS militia that claimed at least 34 lives.
The renewed bloodshed has dampened the hopes for breakthrough in the conflict that followed the June ceasefire and a high-level meeting between US diplomats and Taliban representatives in July. But the peace marchers said these setbacks make their mission more relevant than ever.
The group originally formed in southern Helmand province after a bombing in March, staging peaceful protests there. Then in May and June, eight of its members walked more than 300 miles to Kabul to persuade the government to negotiate with Taliban insurgents. Along the way, they braved scorching heat and dust storms, but their numbers grew to more than 100. Sometimes, they said they encountered Taliban fighters and begged them to end the war.
In Kabul, the group set up tents outside the embassies of Pakistan, the United States and other countries, meeting with diplomats and asking them to step up support for a peace deal. They also met with Afghan officials, including President Ashraf Ghani, calling on them to take "practical steps" to end the war.
But the group's leaders said the meetings produced no results, so they decided to take up their peace march again, with almost half of the activists walking barefoot.
"I told them that Afghans have lost trust in you entirely. You only made promises in 17 years. We have not seen practical steps towards peace," said Mohammad Iqbal Khaybar, 27, the leader of the movement, who previously ran a private medical clinic in Lashkar Gah, the capital of Helmand.
Of those who criticise the marchers for walking barefoot, Khaybar said, "We harm ourselves to make you aware. Why are you silent?"
'Peace at any cost'
Although most of the marchers are young, some of the older ones are especially motivated by memories of life before their country was torn apart by conflict. Mohammad Seraj, 55, recalled tranquil days in Helmand before the Soviet invasion and civil war of the 1980s. He and his family fled to Iran for nearly 30 years — only to return to a country at war again.
"Afghanistan is a good place without war. War is ugly," Seraj said. "We want peace at any cost."
Since the formation of the Helmand peace movement, others have sprung up in different areas of the country, holding rallies and sit-ins and calling on all warring parties to hold peace talks. Ghani has praised their efforts, but Taliban officials dismissed them in June as conspiracies and foreign plots.
Despite the recent upsurge in violence, the peace activists are still hoping a second ceasefire will take place next week during the three-day Muslim holiday known as Eidul Azha.
In a tweet this week, activist Bacha Khan Muladad wrote, "Every day dozens of young Afghans are dying, this has to stop, we need to stop this 4 decades old cycle of violence or else [we] will not stop walking. #StopWar."
As the marchers walked along the highway one recent day, a car drove slowly ahead, broadcasting a Persian-language song for peace.
An 11-year-old boy, whose mother had died in a rocket attack in Logar province, walked just behind it. At one point, a white dog began following the group and stayed with them for miles. Some of the marchers said they hoped it would bring them luck.
By arrangement with The Washington Post
Source: dawn.com/news/1428341/after-17-years-of-war-a-peace-movement-grows-in-afghanistan
------
Pakistan
Sharifs to spend Eid in jail as ruling on pleas for release deferred
Malik AsadU
August 21, 2018
ISLAMABAD: Former prime minister Nawaz Sharif, his daughter Maryam Nawaz and son-in-law retired Captain Mohammad Safdar will celebrate Eidul Azha in Adiala jail as the Islamabad High Court on Monday deferred its decision on petitions seeking their release.
This is the second time Mr Sharif will celebrate Eid in detention. Earlier, after the October 1999 coup, he was taken into custody and spent two Eids in detention.
Former prime minister Zulfikar Ali Bhutto was the first prime minister to have spent Eids in jail while being under arrest after the July 1977 coup.
Accountability court decides to simultaneously conclude remaining two references against ex-PM
An accountability court had on July 6 sentenced Mr Sharif to 10 years, Maryam to seven years and Capt Safdar to one year in prison in the Avenfield properties reference.
An IHC division bench comprising Justice Athar Minallah and Justice Miangul Hassan Aurangzeb sustained an objection of the prosecution on maintainability of the petitions seeking suspension of the sentence awarded to the Sharifs.
National Accountability Bureau's prosecutor Sardar Muzaffar Abbasi argued that after filing appeals against the conviction, the convicts could not file petitions for the suspension of the verdict.
Earlier, the court had ignored this objection and asked defence counsel Khawaja Haris and Amjad Pervaiz to advance their arguments. However, when the court had asked prosecutor Abbasi to argue the case on Thursday, he sought time for filing a reply. The bench had expressed annoyance over applying delaying tactics and subsequently imposed a fine of Rs10,000 on NAB and adjourned the hearing.
The court resumed the hearing on Monday and, after concluding the arguments, told Khawaja Haris that since the appeals against the conviction had already been fixed for hearing in the second week of this month, the decision on the Sharifs' petitions might be deferred till then.
The IHC order read: "Section 32 of the National Accountability Ordinance (NAO), 1999 provides for a time frame for deciding the appeals. Since the learned division bench has directed fixing of the appeals, at this stage we are not inclined to decide these petitions and they shall remain pending and be fixed along with the appeals. In case, there is delay in deciding of the appeals then the petitioners shall be at liberty to press these petitions."
The court directed the registrar office to fix the case immediately after the summer vacations scheduled to end by Sept 11.
Last week, the court had framed 10 questions for the prosecution to answer in order to get understanding about the case. The questions relate to the price of property, determination of known sources of income at the time of purchasing of the property, comparison of discrepancies, difference between benamidar and dependent, the law to evaluate trust deed, etc.
Interestingly, the prosecution's arguments did not address these questions. During the course of hearing, prosecutor Abbasi read out previous orders of the Supreme Court issued in the Panama Papers case and selected excerpts of a report prepared by the Joint Investigation Team.
At one stage, Justice Aurangzeb had snubbed Mr Abbasi for reading out irrelevant text and regretted that latter had never pointed out even a single proposition during the entire arguments.
Accountability court proceedings
Accountability court judge Mohammad Arshad Malik on Monday decided to conclude the remaining two references against Nawaz Sharif simultaneously.
The Islamabad police produced the former prime minister before the court.
During the course of arguments, Khawaja Haris, the counsel for Mr Sharif, said the Islamabad High Court had transferred the references to Judge Malik since accountability judge Mohmmad Bashir, instead of simultaneously deciding three references, concluded the Avenfield reference first.
Judge Malik summoned JIT head Wajid Zia for Aug 27 and adjourned the hearing.
Source: dawn.com/news/1428275/sharifs-to-spend-eid-in-jail-as-ruling-on-pleas-for-release-deferred
-----
US welcomes Imran's desire for peace with Delhi, Kabul
August 21, 2018
WASHINGTON: A key US official said on Monday that the United States welcomed Prime Minister Imran Khan's statement emphasising the importance of peace on both sides of Pakistan's borders.
Alice Wells, who heads the Bureau for South and Central Asian affairs at the State Department, said the main objective of the Trump administration's South Asia strategy was to restore peace and stability in Afghanistan with support from other regional states.
"We welcome the words of Prime Minister Imran Khan in which he discussed the importance of peace on both sides of Pakistan's borders," she said at a news briefing.
Ms Wells is expected to accompany US Secretary of State Michael Pompeo when he visits Islamabad in the first week of September for talks with the new Pakistani leadership. He is also likely to visit New Delhi and Kabul for consulting those governments on Washington's efforts to resolve the Afghan conflict.
Ms Wells said that America's South Asia strategy was "obviously pointed to the role India can and should play" in supporting the stabilisation of Afghanistan.
"We want to see Afghanistan stitched back into the region," said the US diplomat while clarifying that this integration does not have to come at the expense of any other country in the region.
"Pakistan, obviously, has a critical role to play in stabilisation of Afghanistan. And we have encouraged Pakistan to take stronger steps to ensure that the Taliban either come to the negotiating table or are expelled back into Afghanistan rather than enjoy a safe haven outside of the country," said Ms Wells while explaining the role the United States wants Pakistan to play.
She noted that over the last several months, Pakistan and Afghanistan had embarked on efforts to improve the bilateral relationship and Washington strongly supported negotiation of a solidarity document between them.
Without mentioning China-Pakistan Economic Corridor, the US official expressed concerns over projects in countries where governments involved had not been able to sustain the repayment schedules, which "resulted in the loss of sovereignty over key infrastructures" that they have had to turn over to their lenders.
Ms Wells said that if China stopped pursuing the policy of mortgaging the future of such countries to "unrealistic and unsustainable loan terms, Washington and Beijing could work together on many issues.
"In South Asia, there are many areas where our interests overlap, peace and stabilisation of Afghanistan, both support improved Afghanis­tan-Pakistan relations," she said. These over-lapping interests could be "basis for a good conversation to start from," she added.
Source: dawn.com/news/1428287/us-welcomes-imrans-desire-for-peace-with-delhi-kabul
-----
CJP chides NAB for leaking probe information to media
Wajih Ahmad Sheikh
August 21, 2018
LAHORE: The Supreme Court on Monday took exception to the National Accountability Bureau's practice of leaking information of people facing NAB inquiries to the media, leading to their character assassination without any charge being proved against them.
"NAB has no right to ridicule anyone," Chief Justice of Pakistan Mian Saqib Nisar told the bureau's prosecutor general Syed Asghar Haider.
A three-judge bench headed by the CJP is hearing a matter relating to excessive salaries of chief executive officers (CEOs) and others working in the public sector companies in Punjab. Justice Umar Ata Bandial and Justice Ijazul Ahsan are other members of the bench.
During the hearing on Monday, the chief justice observed that the proceedings of the bureau were privileged in nature and could not be disclosed to the media officially.
"People summoned by NAB come to know about summons through the media in most of the cases," the chief justice said and added, "We cannot allow this kind of accountability".
He said the court had proof that the bureau treated people unjustly without possessing any evidence against them. He observed that this practice of the anti-corruption watchdog would discourage foreign investors. "Do you want to drive out foreign investors from the country?" the chief justice asked the prosecutor general.
Mr Haider stated that NAB Chairman retired justice Javed Iqbal had initiated a process of strict internal accountability. He said some individuals were involved in such practices but the institution under the chairmanship of Mr Iqbal had been acting strictly in accordance with the law.
Justice Ahsan observed that the practice of scandalising people was observed at the level of investigating officers.
Chief Justice Nisar noted that there was a consideration at the time of the chairman's appointment that a retired judge, if appointed (as NAB head), could save the bureau from the wrath of the Supreme Court.
The chief justice directed the NAB chairman to meet him in his chamber along with the prosecutor general next Monday to discuss the issue.
Meanwhile, the bench was informed that 39 officers out of 56 who had worked or were working in the public sector companies had agreed to voluntarily return the salaries they received (in excess to their regular salaries) being government servants.
Representing at least 20 officers, senior lawyer Ahsan Bhoon asked the court to grant one-year time for the return of the salaries in instalments.
However, the chief justice refused to grant such a long period for the purpose and observed that no money would be recovered after his retirement. Chief Justice Nisar will reach superannuation in January 2019.
Chief Justice Nisar directed the officers to deposit the amount to NAB within three months and asked the bureau to start recovery from those who were not willing to return their excessive salaries. He said the recovered amount would be deposited in the fund for dams.
The bench observed that NAB was free to drop inquiries against the officers if there was no other charge against them than receiving excessive salaries.
Source: dawn.com/news/1428277/cjp-chides-nab-for-leaking-probe-information-to-media
-----
Trudeau congratulates Imran in 'great' telephonic conversation
August 21, 2018
Canadian Prime Minister Justin Trudeau had a telephonic conversation with Prime Minister Imran Khan and congratulated him on forming the government.
Trudeau, in a tweet, said he discussed human rights, girls' education, trade, refugees and climate change with the premier and had a "great phone conversation".
"Congratulations again, Imran, on forming Pakistan's new government – I look forward to working together for people in both our countries."
A statement by the Press Information Department (PID) said Trudeau also appreciated PM Khan's "illustrious career in cricket and politics and wished him well for implementing his party's agenda for the welfare of Pakistani people".
The Pakistani premier "also underscored the contributions of over 400,000 Canadians of Pakistani origin in Canada".
On Monday, China's Premier Li Keqiang had a telephonic conversation with the prime minister in which he conveyed Beijing's desire to foster Pak-China ties.
"The CPEC project is a national priority and we [Pakistan] laud Chinese workers' role in developing our nation," Imran was quoted by Express News as telling his Chinese counterpart over the phone.
The Chinese leader also invited the former cricketer to visit China.
Earlier, Malaysia's Prime Minister Dr Mahatir Mohamad also took to Twitter to congratulate PM Khan on his appointment, adding that he looked forward to working with him closely.
A plethora of world leaders have reached out to Imran to congratulate him on his election victory and conveyed their willingness to work with the newly formed government.
Source: tribune.com.pk/story/1785753/1-trudeau-congratulates-imran-great-telephonic-conversation/
-----
Pakistan SC tells high-paid executives to return cash
Rana Yasif
August 21, 2018
LAHORE: The Supreme Court ordered on Monday all executive officers working in 56 public sector companies to return any salary amount above Rs300,000 per month within three months.
NAB officials submitted a report about officials who were drawing salaries above Rs300,000.
NAB's prosecutor said that 58 officers cumulatively received Rs520.074 million in salaries from their respective companies.
He said that 34 officers had offered to voluntarily return the amounts in instalments.
According to the report, Ahad Khan Cheema got Rs50.14 million while Mujahid Sher Dil received Rs 20.41 million.
The Chief Justice remarked that more time could not be given for returning the money.
"No one will return a single penny after my departure," the CJP remarked.
SC dismisses petition seeking disqualification of candidates
He observed that the matter of the return of extraordinary salaries could be disposed of, but NAB should continue to probe the matter of misuse of power.
Shaheen Air ordered to pay compensation
Rejecting Shaheen Air's plea to allow it three weeks to pay compensation, the Supreme Court ordered that compensation should be paid to passengers who were stuck in China within a week.
A three-member bench, headed by Chief Justice of Pakistan Mian Saqib Nisar, passed the order.
The counsel for Shaheen Air contended that a committee had been formed to pay a compensation of Rs100,000 to passengers who had been trapped at an airport in China. He requested for allowing the airline three weeks to pay compensation.
Rejecting the plea, the bench observed that the compensation amount should not be limited to just Rs100,000.
Passengers' rights should be protected, the CJP observed, adding that people had suffered because of the airline.
The airline was also directed to deposit a fine of Rs20 million.
The bench observed that the court would decide the matter.
Source: tribune.com.pk/story/1785524/1-sc-tells-high-paid-executives-return-cash/
-----
Pakistan unlikely to sign trade deal with Eurasian bloc
By Zafar Bhutta
August 21, 2018
ISLAMABAD: Pakistan may be unable to sign a trade deal with the Eurasian Economic Union (EEU) – the Russia-dominated bloc – as it struggles to discover new markets following a decline in exports during the tenure of Pakistan Muslim League-Nawaz (PML-N) government.
The EEU comprises Belarus, Kazakhstan, Russia, Armenia and Kyrgyzstan.
Officials told The Express Tribune that Pakistan did not have diplomatic relations with Armenia, a key member of the EEU, and absence of those ties could be a major stumbling block in the way of finalising the trade deal.
Owing to the US influence in Pakistan, Islamabad has long been dependent on American and European Union markets where textile products are major export goods. However, a civil nuclear cooperation between the US and India created rift between Islamabad and Washington and bilateral relations nosedived.
Caspian Sea nations to sign landmark deal
Ties with the US worsened after Pakistan and China started work on the $60-billion China-Pakistan Economic Corridor (CPEC). According to an official, in this situation Pakistan has been facing threat of US sanctions. During the previous PML-N government's tenure, overall exports fell $4 billion, which was a cause of serious concern for Pakistan.
According to the official, Central Asian states have the potential for trade but Pakistan does not have encouraging bilateral trade with the region. There were border tax issues and corruption in Central Asian states, therefore, Pakistan was unable to make progress on trade expansion.
The official revealed that former prime minister Nawaz Sharif had been keen to enhance trade with Central Asian Republics. Except for Armenia, he said, Sharif visited all other countries and they assured him of full support for signing a free trade agreement (FTA) with the Eurasian bloc.
He also gave directives for signing the FTA with the economic union to enhance trade with Russia and other member countries. "Pakistan wants to tap the potential of trade with Central Asian states and Russia," he said.
Working on the directive, the commerce ministry sent an FTA draft to the Foreign Office to be shared with other countries, but no response was received during the previous government's tenure. Owing to political uncertainty, followed by Nawaz Sharif's disqualification as premier, no progress could be made.
According to the official, Pakistan had also concerns that the US could block economic cooperation with the Eurasian region.
Pakistan exports major textile items to US and EU markets and it has even enjoyed GSP Plus preferential trade status in Europe.
Officials were of the view that US and EU countries may offer some more incentives to keep Pakistan away from going into the Eurasian fold due to the dominating position of Russia there.
However, Pakistan could gain greater access to Eurasian and eastern European markets through free trade engagements with Belarus and the EEU.
As Pakistan gears up for economic challenges, there are key lessons
Belarus, which is part of the Eurasian bloc, is a landlocked but a major industrialised country located in the heart of Europe and has a significant geographical position.
The Eurasian bloc fundamentally promotes ideas to streamline the flow and transportation of services and goods between member states.
It greatly attracts the interest of many stakeholders and according to the Russian Ministry of Economic Development, many international organisations and economic giants like China have expressed great interest in the creation of free trade zones through the EEU.
Now, the onus is on the new government of Pakistan Tehreek-e-Insaf (PTI) to explore markets and increase exports, which had remained almost stagnant in the past five years.
Source: tribune.com.pk/story/1785593/2-pakistan-unlikely-sign-trade-deal-eurasian-bloc/
-----
Nawaz, Maryam to be put on ECL; decides cabinet
August 21, 2018
Zahid Chaudhary
Islamabad
The new federal cabinet at its first meeting here on Monday decided to put the names of imprisoned former Prime Minister Nawaz Sharif and his daughter Maryam on the Exit Control List. Prime Minister Imran Khan chaired the cabinet meeting which also discussed economic challenges and austerity measures, among other matters. The cabinet also directed the law and interior ministries to implement red warrants against Nawaz's sons, Hassan and Hussain, and former finance minister Ishaq Dar and bring them back to Pakistan, Fawad Chaudhry briefed the media after the cabinet meeting.
The law ministry has been directed to contact the British government over the Avenfield properties, Chaudhary added.
"Avenfield properties belong to Pakistan," the information minister said, referring to one of the corruption cases against the Sharif family in which Nawaz was sentenced to a total of 11 years in prison while his daughter Maryam was given eight years' sentence by an accountability court earlier in July.
"Eliminating corruption is an important part of our policy," Chaudhry continued, adding that there will be no political appointments in Pakistan Tehreek-e-Insaf's government.
The cabinet meeting also focused on implementation of the policy measures announced by PM Imran in his address to the nation on Sunday.
Fawad Chaudhary expressed hope that the party would also win the presidential election, which will be held on September 4. PTI has nominated Karachi leader Dr Arif Alvi as its presidential candidate. The minister said PTI will fully participate in the by-election on constituencies vacated by the victorious party lawmakers.
Chaudhry also commented on the government's stance on relations with neighbouring countries, saying talks with China and India will continue. He also emphasised that relations with India would be based on state-level instead of any personal relations. Indian prime minister has written a letter to PM Imran, who has already stated that Pakistan would be ready to talk on all matters, including Kashmir issue, the information minister said.
Chaudhry detailed austerity plans by the government to be carried out by reducing official expenses. He said that the 88 vehicles for the PM House would be auctioned off and that a committee would be formed under Finance Minister Asad Umar to overview large residential government buildings. In addition, the government has withdrawn the facility of medical treatment abroad on state expenses of ministers. Foreign tours of ministers would also be limited, the minister said. PM Imran would not go on foreign visits for the first three months unless absolutely necessary, he added.
Source: pakobserver.net/nawaz-maryam-to-be-put-on-ecl-decides-cabinet/
------
China keen to work with Imran: Li
August 21, 2018
Our Correspondent
Beijing
China values and appreciates Prime Minister Imran Khan's positive statement on China-Pakistan relations and the China-Pakistan Economic Corridor, said a spokesman of the Chinese Foreign Ministry here on Monday at a regular news briefing.
China has conveyed warm congratulations to Imran Khan on his appointment as Prime Minister of Pakistan.
China and Pakistan are all-weather partners. We are willing to work together with the new Pakistani government to enhance friendly exchanges and cooperation in various fields, accelerate the construction of China-Pakistan economic corridor, and promote greater development of China-Pakistan all-weather strategic partnership.
Premier Li Keqiang Monday made telephonic all to Prime Minister and felicitated him on assuming the office.
Premier Li said that Pakistan and China were all weather friends and expressed the desire to work closely with Imran Khan to further strengthen the bilateral relations. He hoped that China-Pakistan Economic Corridor would be completed as per schedule.
Prime Minister Imran Khan thanked Premier Li and people of China for their good wishes and said that Pakistan and China were close friends and strong partners.
The strategic cooperative partnership between Pakistan and China would be further strengthened during the PTI's government.
Imran Khan conveyed that he was keen to learn from Chinese experience in poverty alleviation, anti-corruption and social sector reforms like health and education as those were his government's priorities for domestic reforms.
The prime minister said that CPEC was a project of national significance and would remain a priority during his government. He lauded the services of Chinese workers in the development of Pakistan.
The prime minister vowed to continue to closely coordinate with China on all regional and international issues of mutual concern.
Source: pakobserver.net/china-keen-to-work-with-imran-li/
-----
Southeast Asia
China Hosts Seminar on Iranian Mysticism, Sufism
August 20, 2018
A seminar on Iranian mysticism and Sufism was recently held by the Beijing University and the Iranian embassy's cultural attaché in the Chinese capital Beijing.
The event attracted a number of Iranian and Chinese scholars interested in the Iranian mysticism and Sufism.
In an address to the seminar, Iranian university professor Gholam-Reza A'avani referred to the long history of philosophy in Iran and said it is the only country in the world in which philosophy was taught even before Islam and served as a philosophical hub in the world, a report by IRNA said.
Professor A'avani underlined that philosophy in Iran has been taught not only in academic but also in non-academic circles throughout history.
According to the Iranian professor, philosophy in Iran is currently taught in three traditional, Islamic and Western categories.
He also thanked the Foreign Language Department at Beijing University for its huge efforts to promote foreign languages including the Chinese language as well as the Iranian philosophy in the world.
He then elaborated on the terminology of Sufism in the world and provided the participants with different interpretations of the word offered by Islamic scholars throughout history.
According to Professor A'avani, Iranian mysticism and Sufism are some spiritual channels through which human beings can get closer to God.
During the one-day seminar, the Iranian professor also replied to questions raised by the participants about the Iranian mysticism and Sufism.
Source: ifpnews.com/exclusive/china-hosts-seminar-on-iranian-mysticism-sufism/
------
World faith leaders eye 'middle path' to combat extremism, Jakarta meet looks to promote virtues of tolerance, justice, solidarity, charity, and equality amongst the influential World faith leaders eye 'middle path' to combat extremism
Konradus Epa, Jakarta, Indonesia , August 20, 2018
Religious leaders, scholars and activists from around the globe ended a three-day interfaith forum in Indonesia on Aug. 16 with a message for world leaders to use a "middle path" to overcome poverty, discrimination, and extremism.
The middle path refers to positive values such as goodness, tolerance, justice, solidarity, charity, and equality, which was the central theme of the 7th World Peace Forum in Jakarta on Aug.14-16 attended by about 250 people from 43 countries.
Cardinal John Onaiyekan from Ajuba in Nigeria told ucanews.com that participants wanted to encourage world leaders to fight extremism and to create an atmosphere of justice, tolerance and cooperation.
He said a decade ago Nigerians were very proud of their country, calling it a model of Christian-Muslim harmony for the world.
But now that image has been wrecked by terrorism, perpetrated particularly by the Boko Haram group — with its peculiar interpretation of Islamic teaching — which has cost many lives.
"The middle path is a solution to counter all forms of extremism which considers differences and other people enemies," he said.
Azumardi Azra, an Indonesian Muslim scholar, said the rise of the Islamic State group, Boko Haram, the Taliban and other radical groups, along with their brutality, has contributed greatly to increased hostility to Islam and the Muslim world.
"[In this case] the middle path means the Muslim community needs to speak out more clearly and loudly against radical groups using jihad to justify their violence acts," Azra said.
Bishop Yohanes Harun Yuwono of Tanjungkarang, chairman of the bishops' Commission for Ecumenical and Interreligious Affairs said a middle way "tells us to reach out to all people so we can live in harmony."
Valeria Martano representing the Community of Sant'Egidio, a Rome-based lay Catholic organization, said the Jakarta event was important as it gathered people from different countries, religions and cultures and made them look at a basic way to build interreligious dialogue and overcome identity conflict.
She said the Community of Sant'Egidio works closely with Muhammadiyah, Indonesia's second biggest Islamic organization, to enhance Christian-Muslim dialogue and cooperation.
"Pope Francis has asked Catholics to hold dialogues [with Muslims] through concrete action," she said.
According to Simone Sinn from the Lutheran Church Council in Switzerland, the recommendations of the three-day meeting now known as the "Jakarta Message" will be presented to the United Nations in the hope that the U.N. will use it as a guideline to promote world peace.
Source: ucanews.com/news/world-faith-leaders-eye-middle-path-to-combat-extremism/83100
------
North America
Heron Gate mass eviction: 'We never expected this in Canada'
by Jillian Kestler-D'Amours
21 August 2018
Ottawa, Canada - Binto Mohamed hasn't had a good night's sleep since May. That's when she received a letter telling her that her family of 10 had 120 days to find a new home.
"There's a piece of me missing, because of the stress," she says, standing in the middle of her dimly-lit kitchen, the air thick and sticky in the overpowering August heat.
Mohamed, a mother of eight, knows her house is far from perfect.
The kitchen sink is about half full of dirty, brownish water; the drain hasn't worked for the past year, and despite putting in a request to have it repaired five months ago, it's still blocked.
Without a working sink, dirty pots and pans sit unwashed on the stovetop, which itself is covered in a crusted splatter of sauces.
The bathroom light fixture has been broken for months, while the outer glass of a double-paned window is missing off the first-floor room Mohamed's disabled 18-year-old daughter sleeps in, in a hospital bed. In the winter, cold air seeps in, making the teenager ill.
But this home is all Mohamed has ever known since she moved to Canada with her family from their native Somalia in 2014.
They are now one of more than 100 families facing eviction in Heron Gate, a neighbourhood in the south end of Ottawa, in what a local tenants' rights group says is the "largest forced displacement in Canada" in recent history.
Several families have found new homes, but despite seeing other places and scouring the listings every day, Mohamed hasn't found anything affordable that can accommodate her large family and its needs.
"I came to Canada thinking it was an escape, only to realise it's like torture," she says in Somali through a translator.
"People are playing with our lives," adds her husband, Jamale Ibrahim.
"Winter and the cold is coming," Mohamed says, "and we have nowhere to go."
Company defends plan
Heron Gate is one of Ottawa's most diverse communities, home to a large number of residents of Somali and Arab backgrounds. It comprises a mix of townhouses, medium-sized buildings and tall apartment towers.
In late May, the landlord - Timbercreek Communities, a large real estate company that bought up large swaths of the community - announced plans to demolish about 150 units here.
The company, which operates in 27 cities across Canada, said the townhouses are no longer viable and it gave tenants 120 days - until September 30 - to find alternative housing.
That's the required notice period under the law in the province of Ontario, as Timbercreek moves ahead with a mass development project for the neighbourhood.
Under the provincial Residential Tenancies Act, a landlord can issue eviction notices for the purpose of demolishing a property or conducting extensive renovations, among other reasons.
In an email to Al Jazeera on August 10, Timbercreek said 70 percent of the affected tenants in Heron Gate have found new places to live.
The company is offering displaced tenants three months' rent, as well as an additional $1,530 ($2,000 Canadian) compensation, up from an original offer of $1,150 ($1,500 Canadian), to move. It is also negotiating reduced rates with moving companies, and employing a relocation team to help tenants find other properties, the company said.
"Timbercreek is going beyond the requirements of the law in providing relocation assistance," its statement read.
"Timbercreek's vision has always been for Heron Gate to be a diverse and sustainable community. A project of this magnitude, however, requires that tenants relocate during the revitalisation process. We will offer all impacted residents the right to return to Heron Gate when the redevelopment is completed."
Homes in poor condition
However, several families who remain in Heron Gate say they're struggling to find alternative housing that meets their needs and doesn't exceed their budgets.
Mumina Egal, a member of the Heron Gate Tenant Coalition, which advocates on behalf of the residents facing eviction, said families of eight or nine people are being told to look at two-bedroom apartments, much smaller than what they need.
One resident of Heron Gate who spoke to Al Jazeera said she paid about $1,000 ($1,305 Canadian) for a three-bedroom townhouse. She said she visited similarly sized apartments after getting her eviction notice, but the rents are in the $1,380 ($1,800 Canadian) to $1,530 ($2,000 Canadian) range, plus utilities.
A recent article in the Ottawa Citizen bore the headline, "Rising rents and cutthroat competition". The newspaper reported that "Ottawa's residential rental market has recently become red-hot, with demand and prices ballooning and vacancies increasingly scarce".
Last year, the city had a 1.7 percent rental vacancy rate, according to the Canada Mortgage and Housing Corporation, and the average rent for a two-bedroom townhouse was $925 ($1,209 Canadian), the Citizen reported.
In Heron Gate, the tenant coalition has also criticised Timbercreek for failing to keep the units in good condition.
For years, tenants have complained of bug infestations, water damage to their ceilings, inadequate rubbish pick-up, and broken windows and floorboards, as well as general lack of upkeep and maintenance services from the company.
Asked to comment on the complaints, the company said it "continues to maintain Heron Gate units and quickly respond to repair requests".
But a resident, Amina, who didn't give Al Jazeera her last name out of fear of reprisals, keeps her food in closed rubbish bags because her kitchen is overrun by cockroaches.
A handful of bugs scurry into the cracks of the cupboards, as she opens them, one by one, to illustrate the problem. She has more than half a dozen sticky anti-cockroach traps around the room, in the corners and in a space between the fridge and a cabinet; each was full of insects.
"What we're living right now is not a life," the mother of four says.
The 64-year-old was forced to relocate from a home in another section of Heron Gate in 2015 after Timbercreek slated it for demolition.
At that time, dozens of families were displaced when about 80 townhouses were razed. Today, a crane and a construction site stand in their place, soon to be transformed into "three, six-storey multi-residential buildings".
Now, the four-bedroom townhouse Ali moved into after that first eviction is also set to be demolished, and his household of nine people - Ali, his wife, six children, and a granddaughter - has been forced to look for a new home once again.
He currently pays $1,225 ($1,600 Canadian) in monthly rent, plus utilities.
"They didn't tell us they intended to demolish [this home, too]," Ali tells Al Jazeera, just outside his front door, the construction site where his previous home stood towering over his right shoulder in the distance.
If they had, Ali says he wouldn't have stayed in Heron Gate.
"It's Canada, it's a highly respected nation for human rights. This is worrying ... This is something we never expected to happen in Canada," he says.
Evicting the residents of Heron Gate does more than strip them of the roofs over their heads, he adds.
For many, especially new immigrants who don't speak English and lack a local support network, the community is a lifeline.
"We support each other. This is our culture, and this is how our community works," Ali says.
After the demolition notices were issued in May, the Heron Gate Tenant Coalition went door-to-door, collecting data from the households affected.
Eighty-nine percent of the nearly 600 residents facing eviction are people of colour, the group found, while 44 and 24 percent are of Somali or Arab background, respectively.
"A lot of them are dependent upon the community via translation work, for moral support, for babysitting while they go out to find jobs or go to English class," says Egal, who grew up near the neighbourhood.
"Taking them away from this neighbourhood and moving them to the east end or moving them to the west end - where they don't have those community ties for the day-to-day necessities of life - is extremely debilitating," she tells Al Jazeera.
Liban Mohamed is one such person. The 29-year-old moved to Heron Gate in 2015, five years after he first landed in Edmonton, in Western Canada, from his native Somalia.
Currently studying for his high school equivalency certificate, he pays $380 ($500 Canadian) a month to rent a house with two roommates. Theirs is one of the homes subject to demolition.
He hasn't found another place yet, and Mohamed says he can't imagine living anywhere else.
"My community is here," he tells Al Jazeera. "It's very stressful. It's not easy to move."
More time to find alternatives
If the residents that remain in Heron Gate refuse to move by September 30, Timbercreek can go to Ontario's Landlord and Tenant Board to apply for a formal eviction order. It must then apply to the city for permits to demolish the units.
The company says it will "design a community that fits the needs of the people in the community", but it doesn't have a plan in place yet for the type of units that will replace the townhouses.
Because landlord and tenant issues fall under provincial laws in Ontario, the City of Ottawa says it can't intervene in the eviction process. The city only gets involved once a landlord applies for a demolition permit or files a development proposal.
A spokesperson for Mayor Jim Watson said his focus has been "to encourage Timbercreek to increase compensation to affected households, and to provide families with more time to look for a new home".
"Mayor Watson sought, and received reassurance from Timbercreek representatives, that the company is focused first and foremost on helping families relocate and not on the eviction process," Livia Belcea told Al Jazeera in an email.
However, the need for affordable housing far exceeds availability in Ottawa.
About 10,500 families are currently on a subsidised housing waiting list, which gives them access to "rent-geared-to-income assistance and associated housing benefits", said Shelley VanBuskirk, director of the city's housing department.
Wait times are four years or more, on average, she said in an email.
Additionally, low vacancy rates, coupled with high demand in the private rental sector and higher rental costs, "are placing additional demands on the wait list for social housing and for affordable housing options", VanBuskirk said.
Back in Heron Gate, residents have asked Timbercreek for more time – as much as a year's leeway - to find other places to go.
The residents who remain are in a "desperate situation", says Abdullahi Ali. They called on the city to do more to support the people facing eviction.
Daniel Tucker-Simmons, a lawyer representing some of the residents, said a request for accommodation was sent to Timbercreek's lawyer and to Mayor Watson.
They're asking that if parts of the neighbourhood need to be demolished, that the current tenants receive more relocation assistance, and be guaranteed a right to return to units with similar rents once the redevelopment is finished. It also asks that units be preserved if they can be.
The request is currently being considered, Tucker-Simmons said. If he doesn't receive a response, he said the complaint could be sent to the Ontario Human Rights Tribunal, which adjudicates on alleged human rights code violations.
"These mass evictions are having a differential, a discriminatory, impact on my clients because of their race, because of their ethnicity, because of their religion," he said.
While they wait to see what happens next, a sense of anxiety runs through every home and every family, says Ali's wife, Saido.
"We don't say hi [to each other]. We say, 'Did you find a house?' … Our minds [are] always [on this]."
Source: aljazeera.com/indepth/features/heron-gate-mass-eviction-expected-canada-180817200106463.html
-------
US wants another Eid ceasefire in Afghanistan, says Pompeo
Anwar Iqbal
August 21, 2018
WASHINGTON: US Secretary of State Michael Pompeo, who is likely to visit Islamabad in the first of week of September for talks with the new Pakistani government, said on Monday that the United States wanted a ceasefire in Afghanistan during Eidul Azha because this was also the desire of the Afghan people.
The Afghan government announced on Sunday that it wanted a ceasefire in the country during this Eid like the one that was observed during Eidul Fitr, which allowed rival Afghan factions, particularly the Taliban, to celebrate the religious festival peacefully with their families.
But Mr Pompeo and Afghan officials both said that for this ceasefire to happen, it was necessary for the Taliban to desire it as well.
"This plan responds to the clear and continued call of the Afghan people for peace," Mr Pompeo said.
He noted that the last ceasefire in Afghanistan revealed the deep desire of the Afghan people to end the conflict. "And we hope another ceasefire will move the country closer to sustainable security," the chief US diplomat said.
"The United States and our international partners support this initiative by the Afghan people and the Afghan government, and we call on the Taliban to participate."
Mr Pompeo said the US supported this initiative because "it is our hope and that of the international community that the Afghan people may celebrate Eidul Azha this year in peace, free from fear". He said the US also supported Afghan President Ashraf Ghani's offer for comprehensive negotiations with the Taliban on a mutually agreed agenda. "We remain ready to support, facilitate, and participate in direct negotiations between the Afghan government and the Taliban," said the US diplomat.
Earlier this week, Mr Pompeo telephoned the Saudi crown prince and also asked him to help arrange a ceasefire during Eidul Azha. The United States hopes that the ceasefire will enable the Taliban to experience the blessings of peace while celebrating the festival with their families.
Mr Pompeo, who will be arriving in Islamabad after the ceasefire, is expected to urge the new Pakistani government to back its efforts for bringing a durable peace in Afgha­nistan. In return for Pakistan's support in Afghanistan, Washington may drop its opposition to a $12 billion aid package with the IMF and consider restoring its security assistance to Pakistan.
Afghanistan was on Monday awaiting the Taliban's response to President Ghani's proposal for a three-month ceasefire, an offer welcomed by the US and Nato after nearly 17 years of war, according to AFP.
The president said his office had cleared "all obstacles" to peace with the announcement following consultations with religious scholars, political parties and civil society groups.
The Taliban did not immediately respond to President Ghani's truce offer, but vowed to release "hundreds" of "enemy prisoners" to mark the Eidul Azha holiday. A Taliban member told AFP that the leadership had yet to issue a formal response to the ceasefire, but suggested fighting might be restrained during Eid even if no announcement was made.
Source: dawn.com/news/1428285/us-wants-another-eid-ceasefire-in-afghanistan-says-pompeo
-----
Africa
Nigeria: Boko Haram kills 19 villagers in Borno state
20 Aug 2018
Boko Haram fighters have killed more than a dozen people in an attack on a village in northeast Nigeria's Borno state, witnesses say.
Abatcha Umar, a survivor, told Reuters news agency that at least 19 people were killed when the armed group stormed Malari village at around 2am on Sunday.
Umar said he counted 19 bodies, including that of his younger brother, after the attack.
However, an aid worker at a camp that received the survivors, and who declined to be identified, put the death toll at 63.
Hundreds of people from villages in the area have fled to the camp for displaced people in the garrison town of Monguno in Borno state, the aid worker said.
Boko Haram fighters had arrived in trucks at Malari village on Saturday evening, firing guns and rocket-propelled grenades, villagers said.
"The police made no attempt to engage the Boko Haram fighters," Grema told AFP news agency.
The fighters ransacked the village for two hours before leaving, another resident, Masida Umar, said.
Increasing attacks
The strike is the latest blow to Nigeria's efforts to defeat Boko Haram and allied groups.
On Friday, four farmers were killed when Boko Haram fighters raided crop fields near Maiduguri.
Boko Haram has launched a series of assaults against Nigerian troops, putting pressure on President Muhammadu Buhari's government to tackle insecurity in the country ahead of general elections in February.
In recent months, the military has suffered its heaviest defeats in years, while commanders have been repeatedly replaced, and special forces soldiers have mutinied.
Founded in Maiduguri in 2002, Boko Haram is an armed group that fights against Western influence in West Africa and is active in Chad, Nigeria and Cameroon.
The group's nine-year revolt has killed more than 20,000 people and displaced more than two million from their homes, triggering a dire humanitarian crisis in the remote Lake Chad region.
The majority of the displaced people used to be subsistence farmers, but because of the ongoing violence they can no longer tend to their fields and rely on food handouts from aid agencies to survive.
Chad, Cameroon and Niger have all joined the military effort by Nigeria against Boko Haram.
Source: aljazeera.com/news/2018/08/nigeria-boko-haram-kills-19-villagers-borno-state-180820055636736.html
-----
Islamic Militants Launch Attacks in Chechnya, 5 Killed
GROZNY, RUSSIA (AP) — Aug. 20, 2018
Islamic militants launched a series of attacks Monday in Russia's southern province of Chechnya, leaving five young militants dead and several police officers wounded, officials said.
The violence indicated the Islamist insurgency remains active in the mostly Muslim province despite authorities' claims that it has been eradicated. It follows an attack on a Russian Orthodox church in May that left four attackers, two policemen and a churchgoer dead.
Chechnya's regional leader, Ramzan Kadyrov, sought to downplay the attacks, saying they were quickly fended off by police. He insisted the young attackers were brainwashed by Islamic militants and don't have any public support in Chechnya.
Dzhambulat Umarov, the information minister in the regional government, told the Tass news agency the attackers were aged between 11 and 16. He said the Islamic state has increasingly focused on teenagers in its efforts to recruit supporters in the region.
The regional police said in a statement that two knife-wielding attackers broke into a police station in the southern town of Shali and stabbed two officers. Police shot and killed them.
In another clash in Shali, two attackers tried to blow up a truck loaded with gas canisters in a suicide attack, but the vehicle failed to explode, Kadyrov spokesman Alvi Karimov said on Kommersant FM radio. He said the two were shot dead by police.
Russian news agencies also reported an attack in the village of Mesker-Yurt, outside Shali, in which an attacker blew himself up near a police checkpoint. Police were unhurt and Kadyrov said the suicide bomber survived and was hospitalized.
And in yet another attack in the regional capital of Grozny, an attacker driving a car hit two traffic police officers, injuring them, officials said. Police later shot and killed the driver.
The Kremlin has relied on the strongman Kadyrov to stabilize Chechnya after two separatist wars in the 1990s and has provided generous subsidies to help rebuild the region.
International human rights groups, however, have accused Kadyrov of rampant rights abuses, including arbitrary arrests and extrajudicial killings by his feared security forces.
Radical Islamic militants, some of whom have sworn allegiance to the Islamic State group, have conducted sporadic raids in Chechnya, defying Kadyrov's assurances that the region is stable.
Copyright 2018 The Associated Press. All rights reserved. This material may not be published, broadcast, rewritten or redistributed.
Source: usnews.com/news/world/articles/2018-08-20/several-policemen-in-chechnya-injured-in-raids-by-militants
-----
Europe
ISIL claims attacks on security forces in Russia's Chechnya
21 August 2018
A series of coordinated attacks against security forces hit Russia's volatile autonomous republic of Chechnya on Monday with authorities claiming to have killed at least five assailants - all of them children.
Islamic State of Iraq and the Levant (ISIL) claimed responsibility for the spate of violence, the SITE monitoring group reported, citing the group's Amaq website.
"Fighters from the Islamic State attacked Chechen police officers and elements in Grozny and Shali in Mesker-Yurt," Amaq said. ISIL has claimed attacks in the past that it had no logistical role in.
Dzhambulat Umarov, information minister in the regional government, told the Tass news agency the attackers were aged between 11 and 16. He said ISIL has increasingly focused on teenagers in its efforts to recruit supporters.
Al Jazeera's Rory Challands, reporting from Moscow, said information on the situation in Chechnya was scarce.
"These attacks appear not to have been particularly sophisticated or effective," he said. "Exact details are still coming in. The Russian investigative committee says it has launched a criminal case into the attacks."
Officials in Russia confirmed several policemen were wounded and at least five attackers killed in the capital Grozny and Shali.
"The criminals were neutralised," the investigative committee said.
Source: .aljazeera.com/news/2018/08/isil-claims-attacks-security-forces-russia-chechnya-180820141627043.html
------
URL: https://www.newageislam.com/islamic-world-news/hajj-2018-pictures-incredible-images/d/116169
New Age Islam, Islam Online, Islamic Website, African Muslim News, Arab World News, South Asia News, Indian Muslim News, World Muslim News, Women in Islam, Islamic Feminism, Arab Women, Women In Arab, Islamophobia in America, Muslim Women in West, Islam Women and Feminism