New Age Islam News Bureau
27 Jul 2019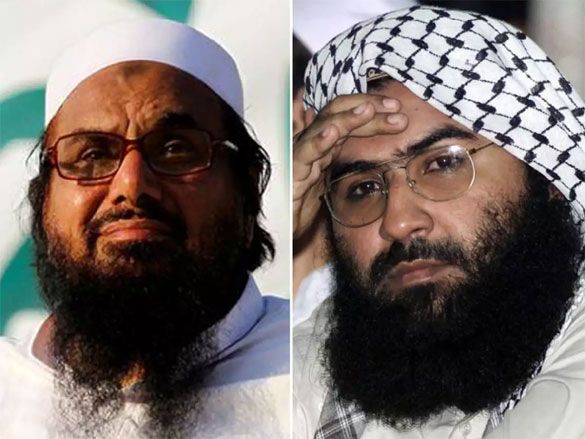 Hafiz Saaed and Masood Azhar
------
• Hafiz Saeed, Masood Azhar Likely To Be 1st 'Terrorists' Under UAPA 2.0
• 'Chinese Official's Masood Azhar Dig Firmed up Resolve to Amend UAPA'
'• Turkey, Malaysia, Pakistan to Lead Muslim Renaissance'
• Days after Imran Khan's Visit, US Approves $125 Million Sales To Support Pakistan's F-16 Jets
• Taliban Vows Future Afghanistan Won't Be Terrorists' Hotbed
• Kit Siang: Do Away With 'Klepto-Theocracy' To Make Islamic Civilisation Great Again
• Saudi Arabia's Government Invites Investors to Open More Cinema Theaters
• Abbas Declares End to 'All Agreements' With Tel Aviv amid Israeli Violations
• For Religious American Muslims, Hostility from the Right and Disdain from the Left
India
• Hafiz Saeed, Masood Azhar Likely To Be 1st 'Terrorists' Under UAPA 2.0
• 'Chinese Official's Masood Azhar Dig Firmed up Resolve to Amend UAPA'
• 'Selective Outrage, Bias': Colleagues Criticise Artistes' Letter to PM Narendra Modi
• US has very good, growing relationship with India: White House
• Centre trivalised triple talaq by sidelining Opposition remarks on bill; govt's attempt at Muslim inclusion reeks of haste
• India urges Iran to free all its crew after nine released
--------
Pakistan
• 'Turkey, Malaysia, Pakistan to Lead Muslim Renaissance'
• Days after Imran Khan's Visit, US Approves $125 Million Sales To Support Pakistan's F-16 Jets
• Over 50 Per Cent Families in Pakistan Cannot Have Two Meals A Day: Survey
• Pak to Reap Rich Dividends from Religious Tourism In Kartarpur Sahib
• Education in Pakistan sharpens existing divisions, says report
• Personal connection made, now time to make progress: US
• Pakistan among states with highest ratio of AIDS victims
• Maryam urges dialogue to solve Balochistan's issues
• GDA asks PM, governor to take action against 'rampant corruption' in Sindh
• Erdogan phones Imran, discusses Afghanistan and Kashmir
• Time to make progress on success of Trump-Imran meeting: State Dept
--------
South Asia
• Taliban Vows Future Afghanistan Won't Be Terrorists' Hotbed
• A Gang in Sri Lanka Hung A Pig's Head In Front Of A Muslim Shop To Taunt
• Taliban Says Deal on U.S. Troop Pullout from Afghanistan Is Near
• Afghan talks require security guarantees against ISIS
• Taliban Storm Security Posts as Blasts Rock Kabul, Elsewhere
• 7 police, 15 militants killed in clashes in Afghanistan
• South Asia strategy to see no change, Pompeo tells Ghani
• Bangladesh gripped by spate of brutal mob attacks
• Airstrike kills Taliban group leader Qari Syed, his 3 militants in Faryab
• 'Test your power on Russia's Putin, not on innocent Afghans', Hekmatyar tells Trump
• Taliban militants suffer heavy casualties in Special Forces raids in Ghazni, Uruzgan
• Taliban commander Qari Kefayat among 19 killed, wounded in North of Afghanistan
• Airstrikes kill 12 Taliban militants in Kandahar and Zabul provinces
• Afghan official: Taliban suicide blast hits police, kills three
--------
Southeast Asia
• Kit Siang: Do Away With 'Klepto-Theocracy' To Make Islamic Civilisation Great Again
• Foreign Militants Working With New Islamic State Leader In Philippines
• Islamic State says Bengal affiliate planted Dhaka bombs
• Every Week, Orthodox Man Protests China's Detention Of Muslims, Moved By 'Similarities To The Final Solution'
• Malaysia's 16th Agong: A king who is always at ease with the people
• The Latest: Widodo would welcome Trump visit to Indonesia
--------
Arab World
• Saudi Arabia's Government Invites Investors to Open More Cinema Theaters
• Dissident Saudi Cleric Faces Death Sentence For His Peaceful Activism, Amnesty Warns
• Saudi Arabia Tortures Yemeni Civilians in Secret Jails
• Riyadh Exerting Immense Pressures on Families of Exiled Saudis
• U.N. Says Syria Air Strikes Killed At Least 100 Civilians in Past 10 Days
• Isis suspects in Syrian camp raise thousands through online crowdfunding campaign
• Iraq arrests ISIS member it says helped plan 2017 bombing that killed over 80
• US Takes New Measures to Block Turkey's Military Operations in Eastern Syria
• Lebanon secures release of American citizen from Syria
• Bahrain executes three men over terrorism charges, killing of mosque imam
• Allegations of Hezbollah ruling Lebanon aimed at public provocation, turmoil: Nasrallah
--------
Mideast
• Abbas Declares End to 'All Agreements' With Tel Aviv amid Israeli Violations
• Flags of inconvenience: noose tightens around Iranian shipping
• DOJ vows to step up fight against Hezbollah amid Iran tensions
• Iran could make or break Boris Johnson
• Erdogan says Turkey will destroy militants in north Syria regardless of U.S. talks
• Things Are Heating Up Between Israel And Hezbollah In The Golan - Analysis
• At least 56 Palestinians injured by Israeli forces during Gaza rallies
• US actively participating in Saudi war on Yemen: Ansarullah
--------
North America
• For Religious American Muslims, Hostility from the Right and Disdain from the Left
• Man Yanked Off Middle East-Bound Plane at JFK Airport After Feds Learn Of His Desire to Join Terror Squad: Sources
• In Escalation, Iran Tests Medium-Range Missile, U.S. Official Says
• Muslim activists continue to push against Quebec secularism law
• Inn worker fined in conflict with couple perceived as Muslim
• Trump paves way for sanctions in Mali conflict
• Pompeo says would 'happily' go to Tehran
--------
Europe
• Russia, Pakistan Militaries Set For Joint War Games in October
• Over 2,500 European Terrorists Unaccounted For: EU Commission
• British court rules against Iran in tank payment dispute
• Iran discussed as Trump calls to congratulate new British PM
• Turkey retorts UN resolution on Cyprus' peacekeeping
--------
Africa
• A Shia "Boko Haram" Insurgency or Iranian Proxy in Nigeria, Not So Fast
• Suicide blast on Mogadishu mayor's office meant for UN envoy, says al-Shabab group
• After 10 years of Boko Haram violence, Nigerians crave peace
• Four Turkish nationals rescued in central Nigeria after kidnapping, says police
• Bodies of 62 migrants retrieved off Libya coast: Red Crescent
• Nigerian troops kill 20 supporters of Sheikh Zakzaky
• 10 years into extremist rebellion, no reprieve for Nigeria's displaced
• Under siege, Somalia moves to reform its army, pay troops
• Libyan gov't forces target Haftar-held Al-Jufra airbase
• Under siege, Somalia moves to reform its army, pay troops
Compiled by New Age Islam News Bureau
URL: https://www.newageislam.com/islamic-world-news/hafiz-saeed-masood-azhar-likely/d/119320
--------
Hafiz Saeed, Masood Azhar likely to be 1st 'terrorists' under UAPA 2.0
Jul 27, 2019
NEW DELHI: Globally designated Pakistan-based terrorists Masood Azhar and Hafiz Saeed are likely to be the first individuals to be designated as "terrorists" once the amended Unlawful Activities (Prevention) Act comes into force, aligning India with international obligations mandated by the UN Security Council obligations.
Hinting at such a move, officials speaking in the background said the government would be able to choke networks linked to individually designated terrorists and share relevant data in coordinated manner with foreign agencies under several conventions once such a designation happens.
The explanations on the nature of amendments to UAPA currently being considered by Parliament came in the context of criticism that designating individuals could turn out to be a vindictive and arbitrary exercise. Action will be against individuals with a clear record and links to acts of terror, said an official.
Details of the actions under the changed law, such as seizures of assets and a travel ban, would be worked out when rules to the Act are framed after the bill is passed by Parliament and gets the President's assent. The bill, passed by Lok Sabha on Wednesday, will go to Rajya Sabha next week where the Centre is expecting its passage by banking on support from MPs of parties such as BJD, YSRCP and TRS.
The Centre is expected to elaborate how the multi-layered appeal mechanism in the proposed law will check its misuse. Explaining the mechanism to designate an individual as a terrorist, the official said the proscription, based on involvement in terror acts, will happen only after the home ministry's approval. The individual would have the option to appeal to the home secretary who will have to dispose of the case in 45 days.Once that is done, the person can move an "independent review committee" led by a sitting or retired HC judge with at least two retired secretaries to the government of India as members. The individual can even move court against the panel's decision.
https://timesofindia.indiatimes.com/india/hafiz-saeed-masood-azhar-likely-to-be-1st-terrorists-under-uapa-2-0/articleshow/70403962.cms
--------
'Chinese official's Masood Azhar dig firmed up resolve to amend UAPA'
by Deeptiman Tiwary
July 27, 2019
A Chinese official's comment during diplomatic negotiations over listing Jaish-e-Mohammed chief Masood Azhar as a UN-designated terrorist had firmed up the government's resolve to usher in amendments to the Unlawful Activities Prevention Act (UAPA), Home Ministry sources said on Friday.
In the past couple of years, when India was pushing hard for Azhar's listing with China, a Chinese official pointed out that Azhar had not been banned by India. "The Chinese told us point blank that when you have yourself not banned Azhar, why are you pushing us to help you," a Home Ministry official said even as he argued why adding "individuals" to the provision of the Act banning and declaring an organisation as "terrorist" was necessary.
The Lok Sabha passed the UAPA amendment Bill this week, further enhancing powers of the National Investigation Agency (NIA). A key amendment in the Bill, which gives powers to the government to designate individuals as terrorist, has led opposition parties to express concern that it could be misused.
Home Ministry sources argued that there were ample safeguards in the UAPA to prevent misuse of the provisions, and that they were brought in keeping the international norm in mind. "It's not that people will be randomly branded as terrorists. There are laid down procedures and the government will have to satisfy review committees with evidence to brand anyone a terrorist. Also, it is meant for people like Hafiz Saeed and Masood Azhar. In fact, they are the first people we plan to proscribe once the amendments become part of the Act," the official said.
The official pointed out that a provision to proscribe 'organisations' as 'terrorist' already exists in the UAPA and the amendment will just add 'individuals' to it. "The record of ban on organisations will tell you that there hasn't been any misuse of the provision. So there is no reason why the same provision would be misused against individuals," the official said.
According to the official, as many as 42 organisations have been declared 'terrorist' under the Act. Only one of these —Hyderabad-based Deendar Anjuman — has challenged the designation. The review committee rejected its application, and that decision has not been challenged in any court, the official said.
Under UAPA, once an organisation is notified as terrorist, it can make an application to the government for denotification, within a month. If the government rejects it, the organisation can go to the review committee, which will examine the evidence furnished by the government. If here too the organisation is disappointed, it can go to the Supreme Court.
"All countries dealing with the threat of terrorism have this provision. The US, the UK, European Union, and even Pakistan and Sri Lanka. If the UN is ready to designate an individual as a terrorist, what is the problem if we do it?" the official said.
Sources said the ministry is yet to come up with modalities of the action to follow on an individual when he or she is designated a terrorist. "As of now, the police would be able to take action. However, in terms of other action like freezing of assets, blocking of access to finances and travel ban, modalities are yet to be decided," the official said.
He added that the provision was necessitated because many individuals may not be part of an organisation but may be indulging in or promoting terror activities. "Dawood Ibrahim is not part of any organisation," he said.
https://indianexpress.com/article/india/chinese-officials-masood-dig-firmed-up-resolve-to-amend-uapa-5855351/
--------
'Turkey, Malaysia, Pakistan to lead Muslim renaissance'
Riyaz ul Khaliq
26.07.2019
Experts have welcomed visiting Malaysian Prime Minister Mahathir Mohamad's statement that Turkey, Malaysia and Pakistan can pave the way forward for development in the Muslim world.
"The Islamic world needs a renaissance," said Huseyin Bagci, an expert in International relations at the Middle East Technical University in Ankara.
"And Prime Minister Mahathir made a right point that these countries at least start new projects which make Muslim world compatible and competitive in Islamic sciences, technology, defense, etc.," Bagci said.
The Malaysian premier arrived in the Turkish capital Ankara on Wednesday evening to kick off his four-day official visit.
Corroborating words of Turkish President Recep Tayyip Erdogan that solidarity among Turkey, Malaysia and Pakistan "is necessary for the unity of the Islamic world", Mahathir told reporters at a joint news conference Thursday that it is crucial to relieve the Muslim Ummah from being subjugated by others.
"That is why I proposed that three Muslim countries should work together. At least these three [Turkey, Malaysia and Pakistan]. So that we can speak with a louder voice in terms of many areas; defense, for example," the Malaysian premier said.
Bagci agreed saying the three countries have common values in democracy, human rights and free press.
"People relatively feel free," he said, adding: "[However], there is stagnation in Islamic world… there can be kingdoms like in the U.K. but governments come and go which is not the case in most of the Muslim world."
He noted that Turkey, Malaysia and Pakistan stand out from the Arab world.
"It is interesting that why Prime Minister Mahathir did not mention any Arab country," Bagci said, referring to their dismal track record in upholding human rights.
Notably, Turkey, Pakistan and Malaysia are among the founders of the Muslim-majority D-8 group that seeks to establish strategic relations, increased trade, and more cooperation among its members. However, the group is yet to realize its potential.
On the apparent failure of D-8, Bagci blamed "too much divisions, corruption and stagnation in Islamic world".
"The new mechanism which Mahathir has suggested can bring together even Afghanistan and central Asian states," he said.
Professor Sami A. Al-Arian, director of Istanbul-based Center for Islam and Global Affairs, described the ongoing visit as "historic".
"This visit by Prime Minister Mahathir to Turkey to meet President Erdogan is historic, as the two leaders have been repeatedly and frequently democratically elected by their people," Al-Arian said.
He said that these leaders have demonstrated over the years "political stability and economic dynamism".
According to Al-Arian, Mahathir's visit comes at a time when the economic and political challenges faced by the two governments are "enormous in light of the looming global economic uncertainty as well as the geopolitical shifts across the Middle East because of the U.S. trade war with China, and other regional problems".
"The U.S. sanctions against Iran and the latest tension with Turkey with regard to the S-400 air defense system, have resulted in having other regional powers, such as Turkey and Malaysia, to come closer together to restructure their relations in order to stand up to the pressure being applied against their economy and security," he added.
https://www.aa.com.tr/en/economy/turkey-malaysia-pakistan-to-lead-muslim-renaissance/1542366
--------
Days after Imran Khan's visit, US approves $125 million sales to support Pakistan's F-16 jets
July 27, 2019
The United States Friday approved the foreign military sales worth $125 million to support the F-16 fighter jets of Pakistan. The development comes days after the meeting between US President Donald Trump and Pakistan Prime Minister Imran Khan in Oval Office at the White House on Monday where both sides had declared that the meeting was highly successful.
The determination in this regard was made by the State Department and is the first after all security aid to Pakistan was suspended by Trump in January 2018.
"The State Department has made a determination approving a possible Foreign Military Sale to Pakistan for Technical Security Team (TST) in continued support of the F-16 program for an estimated cost of $125 million," Defense Security Cooperation Agency said in a statement, according to the news agency PTI.
The statement also read: "Pakistan had requested a continuation of technical support services — US government and contractor technical and logistics support services — and other related elements of logistics support to assist in the oversight of operations in support of the Pakistan Peace Drive advanced F-16 programme."
The Pentagon delivered the required certification notifying the Congress of this possible sale on Friday. The Pentagon, in its report, said the proposed sale of this support will not alter the basic military balance in the region. The proposed sale will support the foreign policy and national security of the US by protecting American technology through the continued presence of US personnel that provide 24×7 end-use monitoring."
"Implementation of this proposed sale will require the assignment of 60 contractor representatives to Pakistan to assist in the oversight of operations as part of the Peace Drive F-16 program," the statement read.
Pakistan has been receiving F-16 fighters from the US since the early 1980s, when Ronald Reagan was the US President and Zia was the military dictator of Pakistan. An F-16 aircraft cost at least $18.8 million per unit with an operational cost per flight hour of up to $24,000. With a wingspan of 31 feet, the aircraft can attain a maximum speed of 1500 miles per hours.
In April 2016, while Pakistan was about to receive 8 F-16 jets, US Congressman Matt Salmon had expressed apprehensions about their use against India, rather than terrorist camps.
Pakistan had, in February this year, used F-16 against India, the latest being in the aftermath of the Balakot airstrike inside Pakistan by India. However, it had denied it saying it never used American F-16s in its attempted airstrike on military installations in the Rajouri sector. After this, as a proof, India had presented parts of a fired AMRAAM missile which can only be fired from an F-16 aircraft.
https://indianexpress.com/article/world/days-after-imran-khans-visit-us-approves-125-million-military-sales-to-pak-to-support-f-16-5855702/
--------
Taliban vows future Afghanistan won't be terrorists' hotbed
July 27, 2019
WASHINGTON: America's longest war has come full circle.
The United States began bombing Afghanistan after the attacks of Sept. 11, 2001, to root out Al-Qaeda fighters harbored by the Taliban. Now, more than 18 years later, preventing Afghanistan from being a launching pad for more attacks on America is at the heart of ongoing US talks with the Taliban.
President Donald Trump's envoy at the negotiating table says he's satisfied with the Taliban's commitment to prevent international terrorist organizations from using Afghanistan as a base to plot global attacks. There's even talk that a negotiated settlement might result in the Taliban joining the US to fight Daesh militants, rivals whose footprint is growing in mountainous northern Afghanistan.
"The world needs to be sure that Afghanistan will not be a threat to the international community," said the envoy, Zalmay Khalilzad, who was born in Afghanistan and is a former US ambassador to Afghanistan. "We are satisfied with the commitment that we have received (from the Taliban) on counterterrorism."
Not everyone is convinced.
Some Afghans worry that Trump's desire to pull American troops from Afghanistan will override doubts about the Taliban's sincerity. Early in the talks, Hamdullah Mohib, national security adviser to Afghan President Ashraf Ghani, said counting on the Taliban to control other militants could be like "having cats guard the milk."
Rep. Michael Waltz, who did multiple combat tours in Afghanistan as a US special forces officer, said he's happy to see the Taliban are negotiating but does not see how Afghanistan can keep from becoming a hotbed for terrorists wanting to strike the United States.
"I have my doubts about the Taliban's sincerity No. 1," said Waltz, R-Fla. "But even if you buy into that ... how does the Taliban have the capability to enforce what a 300,000-man Afghan army, the United States forces and a coalition of armies around the world are continuing to struggle to do?"
Much is at stake.
The conflict in Afghanistan has cost more than 2,300 American lives and hundreds of billions in taxpayer dollars. The Taliban control roughly half the country, although not the cities. About 14,000 US troops plus other NATO-led forces are still there. Senior intelligence officials have warned that a withdrawal could return Afghanistan to a time when the Taliban ruled a country that was an Al-Qaeda stronghold.
Despite nearly two decades of war, militant groups remain.
A UN Security Council report in April 2018 said Al-Qaeda was "closely allied with and embedded within the Taliban." The report said the Taliban, which have no history of conducting attacks outside Afghanistan, provide operating space for about 20 terrorist groups with thousands of fighters.
Bill Roggio, editor of the Long War Journal at the Foundation for Defense of Democracies, a conservative think tank in Washington, cites a video Al-Qaeda released in May that highlights its alliance with the Taliban and shows an image of militants fighting together under both Al-Qaeda and Taliban flags.
"The Taliban has not renounced Al-Qaeda nor is it likely to do so," Roggio said. "The two remain close allies. The Taliban refused to hand over Osama bin Laden after 9/11 and was willing to sacrifice its control of the country. The Taliban has the upper hand now. There are no incentives to denounce its closest ally."
A US intelligence official based in Kabul, the Afghan capital, told The Associated Press that the Daesh group is an even bigger threat. The official, who discussed terrorist threats only on condition of anonymity, said recent IS attacks in Kabul are "practice runs" for more substantial ones in the future. The official said "one of the hopes of a negotiated settlement is that it will bring the Taliban into the government and into the fight against IS."
The Daesh group has expanded into eastern Kunar Province, where the US was forced to withdraw after several punishing attacks from the Taliban. That's one reason the US wants to co-opt the Taliban: They clearly know the terrain and can take the fight to Islamic State forces.
Such an alignment is hardly unheard of. During the 1980s, the US backed Islamic insurgents in Afghanistan as they battled to end the occupation of the former Soviet Union.
Khalilzad hasn't specifically said why he's satisfied with the Taliban's guarantee that it will prevent attacks from being plotted on Afghan soil. He says only that the "US military withdrawal will be linked to the commitments the Taliban are making."
Suhail Shaheen, spokesman for the Taliban's political office in Doha, Qatar, said such guarantees will be written into law once US and NATO troops leave the country.
"After withdrawal of foreign troops from the country and formation of a new Islamic government, legislation will be made that no one can use the soil of Afghanistan against US and its allies," Shaheen said.
John Dempsey, senior adviser in the State Department's Bureau for South and Central Asia, said Khalilzad not only has been given assurances from the Taliban but also is discussing ways the US will be able to verify them.
"He's not going into the discussions naively and taking them at their word," Dempsey said. "He's in discussions on putting in place verification and enforcement and implementation guarantees. We're not there yet."
CIA Director Gina Haspel was asked about verification at a Senate hearing this year.
"If there were an eventual peace agreement, a very robust monitoring regime would be critical and we would still need to retain the capability to act in our national interest if we needed to," Haspel said.
But Taliban spokesman Zabihullah told the AP that "neither the presence of American military nor intelligence is acceptable to us."
Dempsey said that by Sept. 1, the US wants to resolve the issue about terrorist groups using Afghanistan to plot attacks and wants to draft a timeline for withdrawing troops. That agreement would allow more progress to be made in ongoing talks between the Taliban and Afghans. Women are especially fearful about the future because they were harshly repressed when the Taliban ruled the country from 1996 to 2001.
With deep ethnic fissures in the country and the Taliban's refusal — so far — to negotiate with the current Afghan government, which it sees as a puppet of the West, these Afghan-to-Afghan talks are expected to be even harder than the US direct talks with the Taliban.
http://www.arabnews.com/node/1531481/world
--------
Kit Siang: Do away with 'klepto-theocracy' to make Islamic civilisation great again
26 July 2019
BY JULIA CHAN
KUALA LUMPUR, July 26 — Malaysia can help bring back the greatness of past Islamic civilisations, DAP lawmaker Lim Kit Siang said today.
He was responding to the Malaysia-Turkey-Pakistan pact Prime Minister Tun Dr Mahathir Mohamad proposed yesterday on his working trip to Ankara — for the three Muslim-majority countries to take the lead in speaking up for the global ummah which faces internal and external conflicts.
Lim said Malaysia, Turkey and Pakistan should pool their resources to make Islamic civilisation great again, but must steer clear of what he coined as "klepto-theocracy", which he described as a culture of peddling lies, falsehoods, distrust, suspicion, hatred and supporting thievery and corruption.
"Dare we dream such big dream for Malaysia — which includes transforming Malaysia from a global kleptocracy into a leading nation of integrity in the world and a top world-class nation in as many fields of human endeavour as possible?" he asked in a statement.
"Is it possible to make Islamic civilisation great again based on klepto-theocracy which misuses Islam to peddle lies, falsehoods, distrust, suspicion, hatred and which supports thievery and corruption?" he said.
The Iskandar Puteri MP said Malaysia has the unique opportunity "as the confluence of the great cultures, religions and civilisations in the world" noting the country is an amalgamation of Islamic, Chinese, Indian and Western influences.
He said a "great Malaysian civilisation" could signal to the international community a path towards new heights if it could rid itself of things holding back its progress.
"Malaysians were not 'reaching for the stars' to achieve greatness but were instead locked in destructive pursuits like creating suspicion, distrust and hatred by pitting race against race and religion against religion," he said.
Lim said an example of "klepto-theocracy" was a reported remark by Umno president Datuk Seri Zahid Hamidi that his PKR counterpart Datuk Seri Anwar Ibrahim had become indebted to DAP.
"Zahid had earlier insinuated that Dr Mahathir was my stooge and was only doing my bidding. In his reply to Anwar, he insinuated that Anwar has become my stooge. This would mean I have two stooges — Mahathir and Anwar.
"How [much] 'dumb and dumber' can an Umno leader get?" Lim asked.
https://www.malaymail.com/news/malaysia/2019/07/26/kit-siang-do-away-with-klepto-theocracy-to-make-islamic-civilisation-great/1775055
--------
Saudi Arabia's government invites investors to open more cinema theaters
July 26, 2019
RIYADH: Saudi Arabia's General Authority for Audiovisual Media has invited investors who are interested in opening or operating cinema theaters in small cities to communicate with the authority.
A statement issued by the Saudi Press Agency said the invitation is aimed at easing procedures for investors and provide them with the necessary permits for operation.
The move comes after the Kingdom's cinemas ranked third place across the Middle East for its record ticket sales during the second quarter of 2019.
So far, seven theaters have been established in three main cities in the Kingdom. Around 27 more theaters are expected to open in seven cities by the end of 2019 to meet the increasing demand, SPA added.
http://www.arabnews.com/node/1531336/saudi-arabia
--------
Abbas declares end to 'all agreements' with Tel Aviv amid Israeli violations
Jul 26, 2019
Palestinian President Mahmoud Abbas has declared an end to "all agreements, including security coordination" with Tel Aviv amid Israeli violations against the Palestinians.
"After all the violations committed against our people, we announce the cessation of all agreements signed with Israel,'' tweeted Abbas on Thursday.
Abbas stressed that the suspension would also include "security coordination" between the Palestinian Authority (PA) and the Tel Aviv regime.
Mahmoud Abbas محمود عباس
@AbbasPresident
للتأكيد: نعلن وقف كافة الاتفاقيات الموقعة مع #اسرائيل ويشمل ذلك التنسيق الامني.
For confirmation: We declare a cessation of all agreements signed with #Israel, including security coordination
81
1:31 AM - Jul 26, 2019
Twitter Ads info and privacy
68 people are talking about this
Abbas made the announcement following an emergency meeting held at the presidential headquarters in the West Bank city of Ramallah on Thursday.
Palestine's official WAFA news agency had reported earlier that the meeting had been adjourned to discuss Israel's blocking of PA tax revenues, continued settlement construction and Palestinian displacement.
During the meeting, the Palestinian president said that the PA leadership had decided to lay out "mechanisms" to establish a committee implementing the decision amid continued "Israeli violations".
"The Israeli occupation authority has decided to ignore all its obligations in accordance with the agreements signed with it. It continues to kill Palestinian citizens, arrest them, demolish their houses and confiscate their lands," said Abbas in the meeting.
Abbas further denounced the US-designated "deal of the century" as a further flagrant violation of Palestinian rights.
"We will not coexist with the occupation and we will not deal with the deal of the century, or the slap of the century or the deal of shame - all names for one title. Palestine and al-Quds are not for sale and bargain. They are not a real estate deal in a real estate company," he said.
The "deal of the century", formulated by Trump's son-in-law and senior adviser Jared Kushner is yet to be officially released. The so-called "peace deal" will reportedly deny Palestinians any right to a sovereign Palestinian state, while claiming to provide economic incentives in exchange.
Signaling a tougher stance against Tel Aviv amid the so-called "deal", Abbas also called for the implementation of an earlier reconciliation deal with the Palestinian Hamas resistance movement.
Hamas and Fatah have been at odds since Fatah won the Palestinian parliamentary elections Gaza in January 2006, splitting control over the Palestinian territories between the West Bank-based Fatah party and the Gaza-based resistance movement.
Later on Thursday, Hamas issued a statement expressing support for Abbas' decision as "a step taken in right direction", adding that people were waiting for its "immediate realization".
The movement also called for the establishment of a national unity government.
Israel steps up violations of PA's authority
According to the WAFA news agency, the meeting came specifically in response to the record demolition of 10 Palestinian apartment buildings in the Sur Baher village situated in the occupied West Bank earlier this week.
Tel Aviv claims the buildings had been constructed illegally and built too close to Israel's apartheid wall in the West Bank.
Palestinian sources, however, say that the restrictions, imposed in 2011, had never been seriously enforced and that Israel was using it as a pretext to displace Palestinians as part of long-term settlement expansion efforts.
The demolition has prompted international condemnation. The US, however, blocked a draft United Nations Security Council (UNSC) resolution denouncing Tel-Aviv on Wednesday.
The demolitions, seen as a further violation of the Palestinian Authority's legal jurisdiction over the West Bank, come as the Israeli regime has frozen about $138 million of Palestinian tax revenues belonging to the Palestinian Authority.
Tel Aviv has said it has withheld the sum on grounds that the money is distributed to current and former Palestinian prisoners convicted of "terrorism".
The PA says the payments are a form of welfare stipend to the families who have lost their main breadwinner. The stipends benefit roughly 35,000 families of the Palestinians killed and wounded by Israel.
Palestinian President Abbas has defended the payments as an important function of his administration amid the West Bank's deteriorating economic condition.
According to a World Bank report issued in April, about 160,000 PA employees have gotten only half their salaries during the past months. Unemployment in the West Bank has gone up to over 30 percent and the dispute over the withheld tax revenues is likely to drive up the PA's existing debt from $400 million to $1 billion.
The US Trump Administration also made sweeping aid cuts to the Palestinian territories last year.
https://www.presstv.com/Detail/2019/07/26/601890/Abbas-Israel-West-Bank
--------
For religious American Muslims, hostility from the right and disdain from the left
By Shadi Hamid
July 25, 2019
Shadi Hamid, a senior fellow at the Brookings Institution, is the author of "Islamic Exceptionalism: How the Struggle Over Islam Is Reshaping the World" and the co-editor of "Rethinking Political Islam."
Muslims celebrate the end of Ramadan at a mosque in Brooklyn on June 4. (Photo by Stephanie Keith/Getty Images)
It is an odd time to be a Muslim in America, in part because it depends on which America you happen to live in. Here, too, there are two Americas.
On the one hand, this is a sort of golden age for American Muslims and their place in public life. Sometimes it seems like Muslims are everywhere, even though they're not. They star in their own television shows; they headline the White House correspondents' dinner ; they win Academy Awards; they become Snapchat sensations. Some of it is more subtle but striking nonetheless: If you live in a semi-hip urban setting, it's not unusual to see a headscarf-wearing woman in an ad flanked by a rainbow coalition of other diverse Americans.
This can make it easy to forget the other reality that exists alongside the liberal pop-culture embrace of Muslims. The increase in anti-Muslim bigotry and other forms of discrimination against Muslims is well documented. But even if you don't experience it or see it, you know Islamophobia exists, because it is there on social media. It is also in our president's rhetoric. It is inescapable.
According to polling by University of Maryland professor Shibley Telhami, favorable views of Islam actually increased during the 2016 presidential campaign, but this increase came entirely from Democrats and independents. Among Republicans, favorable attitudes toward Muslims, as people, and Islam, as a religion, remained worryingly low (at around 40 percent and 25 percent, respectively). This is the America that the lawyer and writer Asma T. Uddin is most concerned with in her book "When Islam Is Not a Religion." The title comes from the growing movement to paint Islam as a political ideology rather than a religion. If Islam is not a religion, Uddin writes, then it cannot claim the protections that U.S. law grants to religious expression. This, in effect, is how many Christian conservatives reconcile the seemingly contradictory positions of advocating for religious freedom for themselves but not for Muslims. In the process, the free exercise of religion, protected and guaranteed by the First Amendment, becomes yet another victim of partisan polarization.
That such an argument about Islam would come from Christian conservatives is somewhat ironic. After all, the notion that religion should remain private and personal is precisely the argument that secular liberals employ against Christians when it comes to issues like abortion and baking cakes for same-sex weddings. Conservatives bristle, rightly, at the idea that their faith commitments should not influence their politics. Why, then, would they insist that American Muslims become the very thing — in effect good, docile secularists — that they refuse to be?
Uddin is at her best and most passionate when discussing how this strain of anti-Muslim sentiment has affected her as an observant Muslim who shares some of the concerns of Christian conservatives regarding secular intolerance of sincerely held religious conviction. She was part of the legal team representing Hobby Lobby, the arts-and-crafts company that refused to provide certain contraceptives to employees as mandated by the Affordable Care Act. She worries that Muslims have become too closely tied to the Democratic Party, noting for example that "the Right's tribal opposition to the political Left multiplies the Right's hostility toward Muslim religious rights."
Throughout the book, Uddin reserves most of her criticism for Republicans and conservatives, since they are the ones imperiling, indirectly or directly, the safety and security of Muslims through the rhetorical delegitimization of Islam, along with practical measures like opposition to mosque construction in local communities. But she also points to the occasionally awkward embrace between Muslims and the left and wonders whether that awkwardness might one day reveal deeper tensions. Many Muslims (including myself) are relieved that at least one of the two major parties is taking it upon itself to defend Muslims during a period of uncertainty. But there is, at the same time, an undercurrent of growing discomfort among avowedly conservative Muslims. Will Muslims who openly criticize the left's stances on gender, abortion and gay rights still have a place in the Democratic Party?
As a conservative Muslim friend once told me: "I can sense the disdain from the Democratic Party towards my faith, even as they don a cape against Islamophobia. The underlying view Democrats have [about] anyone seriously religious is that they're, at best, silly and gullible, and at worst, dangerous." Uddin cites the infamous example of Sen. Dianne Feinstein (D-Calif.) telling appeals court nominee Amy Coney Barrett, a practicing Catholic, that "the dogma lives loudly within you." It is difficult to imagine Feinstein saying this to a Muslim judicial nominee, but it is an affront to American traditions of religious liberty all the same and one that could be easily turned against conservative Muslims in due time.
What seems to be a book about the place of Muslims (and the anti-Muslim sentiment they are subjected to) in the Trump era is actually something different: It builds into a stirring defense of religious freedom, which, try as we might, is inseparable from human freedom. As Uddin writes: "It's not our beliefs that religious liberty protects — it protects us, the humans who hold those beliefs. Put another way, religious liberty protects believers, not beliefs."
It shouldn't matter, then, whether someone is religious or not, since most Americans believe in something strongly enough for them to hope that the government will not interfere in those beliefs. These beliefs, and those who believe them, seem to be in growing conflict with each other. Americans no longer share the same starting premises, if they ever did, on what it means to live well. We're perhaps more aware of it today because our fellow citizens — angry, impatient and increasingly educated — are more willing to express their "uncivil" opinions and have access to social media platforms where they can do precisely that. Uddin's careful, fair and often quite powerful account offers up religion not as a source of our divides but as a window into how we might better manage them. Like all debates around autonomy and choice, the debate over religious freedom — and the place of Muslims in American public life — is one that speaks to a fundamental question, perhaps the fundamental question of the Trump era: how to live together with deep difference, not in spite of it.
https://www.washingtonpost.com/outlook/for-religious-american-muslims-hostility-from-the-right-and-disdain-from-the-left/2019/07/25/7121e4ce-99e4-11e9-830a-21b9b36b64ad_story.html
--------
India
'Selective outrage, bias': Colleagues criticise artistes' letter to PM Narendra Modi
July 27, 2019
Two days after 49 artistes, including Aparna Sen and Anurag Kashyap, wrote to PM Narendra Modi expressing concern over recent cases of lynching and 'Jai Shri Ram' becoming a 'war cry', several members of the film industry and other media issued a counter to it.
The "open letter", shared with the media on Friday, accuses these artistes of "selective outrage, false narratives and a clear political bias". The 62 signatories include lyricist and CBFC chairperson Prasoon Joshi, actor Kangana Ranaut, dancer Sonal Mansingh and musician Pandit Vishwa Mohan Bhatt.
Referring to their colleagues as "self-styled guardians of the nation and democracy", they claimed their aim was to "tarnish India's international standing and to negatively portray Prime Minister Modi's untiring efforts to effectuate governance on the foundations of positive nationalism and humanism which is the core of Indianness".
"They have argued that 'anti-government stands cannot be equated with anti-national sentiments', in fact under the Modi regime we see maximum liberty to differ, to criticise and to abuse the government and the dispensation in power —- the spirit of dissent has never been stronger. The Constitution of India certainly gives the right to dissent but not the right to try and break India apart. To disguise the propensity for subversion by the name of dissent is a dangerous trait," said the letter.
It listed 12 points on which, the signatories claimed, their colleagues were silent, for instance when Hindus were under attack in West Bengal recently or the Kashmiri Pandit issue.
Filmmaker Vivek Agnihotri said, "One cannot let them give the impression that select communities are in danger. They have been criticising the Modi-led government ever since it came into power. But this outrage is selective. Did they speak up when Jagannath Tudu was bludgeoned to death in Purulia just because he followed a different political ideology from that of the ruling dispensation in West Bengal?"
Filmmaker Ashok Pandit added that these artistes were merely creating an atmosphere of restlessness.
https://indianexpress.com/article/india/selective-outrage-bias-colleagues-criticise-artistes-letter-to-pm-5855275/
--------
US has very good, growing relationship with India: White House
July 26, 2019
The US has a very good and growing relationship with India, the White House has said.
White House Counsellor Kellyanne Conway was responding to a question on Thursday on the denial by the Indian government that Prime Minister Narendra Modi requested President Donald Trump to mediate on the Kashmir issue.
"We have a very good and growing relationship with (Prime Minister) Mr Modi and the Indian government," Conway told reporters during a press gaggle.
At a separate State Department briefing on Thursday, while responding to a question whether the Kashmir policy of the US has changed, spokesperson Morgan Ortagus declined to comment.
"Yeah, I don't have anything to say beyond the President's statement," she said.
On Monday, President Trump stunned India during a joint media availability with visiting Pakistan Prime Minister Imran Khan by claiming that Prime Minister Modi asked him to mediate on the Kashmir issue during their bilateral meeting on the sidelines of G20 Summit in Osaka, Japan, last month.
External Affairs Minister S Jaishankar has said that Prime Minister Modi never asked for mediation and the issue of Kashmir was never discussed between the two leaders.
The External Affairs Ministry has also strongly reiterated India's consistent position that all outstanding issues with Pakistan will have to be discussed bilaterally, including the Kashmir issue.
External Affairs Ministry Spokesperson Raveesh Kumar on Thursday said it was time to "move on" and asserted that the Indo-US ties remained very strong.
Kumar said the controversy should be put to rest as India made its position clear and the US State Department issued a quick clarification.
"We should move on. A statement was made by the External Affairs Minister in both houses of Parliament. The ministry made a statement on the issue. The US State Department has issued a clarification. I think we should leave it at that," Kumar said in New Delhi.
Full report at:
https://indianexpress.com/article/india/us-has-very-good-growing-relationship-with-india-white-house-5854906/
--------
Centre trivalised triple talaq by sidelining Opposition remarks on bill; govt's attempt at Muslim inclusion reeks of haste
Hassan M Kamal
Jul 26, 2019
The public's expectation from the Narendra Modi government is really high. And why not, the government came to power in the 2019 parliamentary polls on the promise of ushering a new India, driven by the motto Sabka Saath, Sabka Vikas, Sabka Vishwas.
An integral part of this motto for 'New (Hindu) India' is the inclusivity of the Muslims of India — economic as well as social.
Perhaps driven by this desire to include Muslims — though some Lok Sabha MPs on Thursday claim it to be part of some anti-Muslim agenda — the BJP has launched a crusade against the practice of instant triple talaq and several other issues preventing the upliftment of the social status of the religious minority.
It has already set the ball rolling in another major issue — the modernisation of the madrassa education system. If executed well, it could become the biggest accomplishment of any political party in the upliftment of the Muslim community, and perhaps an even bigger move than banning criminalising triple talaq. Why the madrassas are so important is a topic for another day.
Let's focus on the Muslim Women (Protection of Rights on Marriage) Bill, 2019, which was tabled in the Lok Sabha by Union law minister Ravi Shankar Prasad and passed with 303 votes in favour amid protest from the Opposition MPs.
Matters of debate
The major point of contention between the Opposition and ruling MPs in the said Bill is the criminalisation of instant triple talaq. As per the Bill passed in the Lok Sabha, a Muslim man can be sentenced to a jail term of up to three years for giving instant triple talaq to his wife.
As the debate progressed in the Lok Sabha, the Opposition MPs asked why the government only wishes to punish Muslim men and not all men who unjustly divorce their wives.
AIMIM leader Asaduddin Owaisi accused the government of not keeping in mind the welfare of the women while criminalising the practice.
"How will a husband pay maintenance from jail? Why should the woman stay in such a marriage for three years while the husband is in jail? The court decides whether or not to give bail. Why are you deciding the same?" he asked demanding higher maintenance amount in such cases.
Owaisi and several other leaders, including Jammu and Kashmir National Conference's Hasnain Masoodi and NDA ally JD(U)'s Rajeev Ranjan Singh highlighted how the law puts the burden of proof on the wife.
"What will be the fate of the family if we allow Section 4 to be implemented through the Bill. Moreover, after it is proven, how will she ask for maintenance if her husband is in jail?" Masoodi questioned.
TDP's Jayadev Galla questioned the House about cases where men abandon their wives without giving talaq, calling the Bill discriminatory.
In the statement of objects and reasons of the Bill, the govt argued that the SC judgment hasn't acted as a deterrent and in bringing down the number of divorces by this practice among certain Muslims. And therefore, State action was necessary.
However, the Opposition MPs made important remarks, which, if not addressed in time will only create more problems for Muslim women seeking legal recourse in instant triple talaq cases.
Neither Prasad, who tabled the Bill in the Parliament nor any other MP of the ruling party, addressed these concerns. They rather chose to parrot the party line that the bill is crucial for the dignity of Muslim women to ward-off every issue raised against the Bill.
BJP's Poonam Mahajan said the bill is not about the empowerment of women alone but it is also in consonance with government's motto of 'Sabka Saath, Sabka Vishwas aur Sabka Vikas'.
Prasad chose to focus mostly on why a Bill was brought only for Muslim women, ignoring important questions on compensation and rehabilitation for the affected women, BOTH of which should have ideally been the focus of the bill, and who according to the Union minister are the only stakeholders in the Bill.
Idealism versus reality
In an ideal world, the government would have deliberated on the amendments and responded thoughtfully to the questions of the Opposition MPs. Or even better, brought out a Uniform Civil Code (rather than a Bill focussing mostly on Muslim women), where an unjust divorce, irrespective of whether the husband in question is Hindu, Muslim or Christian, gets penalised. But this isn't one.
It also doesn't shy away from trivialising an important issue like women's rights to earn brownie points or to push its agenda. It's evident that a woman, irrespective of her religion, is on the losing side in an unjust divorce. Yet the government is focussing only on Muslim women.
The Muslims in India need inclusion, more than imagined, but to do it in a haphazard manner disregarding every other point of view reeks of arrogance — something which was clearly visible in the way the ruling party sidelined the crucial concerns of the Opposition MPs.
Muslim appeasement or reform
The triple talaq practice is an example of the misuse of religious freedom. And there are many such evils practised under the guise of religion.
Speaking of Muslims alone, a woman in the community doesn't have an equal right to property after the death of her husband or father.
A Muslim woman, who is divorced unjustly, suffers also because the Muslim Personal Law doesn't allow her to claim equal right on her parent's property after their death, while the rules of inheritance prevent the parents (as well as husbands) from bequeathing property to them without the approval of all heirs, which again is subjected to Shariah limitations. There is also the question of property rights, which is not available to adopted children among Muslims. The latter problem also exists among Christians.
In short, without repealing or bringing amendments to change contentious sections of the Muslim Personal Law or other personal laws, any act of reform will end up being mere lip service.
The triple talaq could have served as a means to end evil practices practised under the garb of religion across communities, but in a haste to present itself as the benefactor of Muslims, the BJP, lost a golden opportunity.
Thursday was the third time the Bill was passed by the Lok Sabha. In the previous two occasions, the Bill was passed by the Lok Sabha, but never taken up for consideration in the Rajya Sabha. In both situations, the government reasoned that the bill could not be presented for consideration. And on both occasions, the government chose to opt for an ordinance, instead of pushing for the Bill to become an Act.
Full report at:
https://www.firstpost.com/india/centre-trivalised-triple-talaq-by-sidelining-opposition-remarks-on-bill-govts-attempt-at-muslim-inclusion-reeks-of-haste-7058381.html
--------
India urges Iran to free all its crew after nine released
27 July 2019
Iran has freed nine Indian crew members of a Panama-flagged tanker it seized this month, the Indian foreign ministry said on Saturday, and it appealed for the release of three remaining crew members held from the same ship.
Dozens of Indian crew members on ships in the Gulf have been caught up in rising tensions between Iran and the West.
The MT Riah was detained by the Iranian coastguard on July 13, with 12 Indian crew members on board, the Indian foreign ministry said.
"Nine crew members have been released and they will be on their way to India soon," foreign ministry spokesman Raveesh Kumar said.
"Our mission in Iran has requested the concerned Iranian authorities for the release of remaining crew members."
No reason was provided as to why the three were being held.
Iranian state TV aired footage of the vessel a few days after it was seized, saying it had been detained by Iran's Revolutionary Guards for smuggling fuel.
Indian and Iranian authorities said this week Iran had granted India consular access to 18 Indian crew seized on another ship, the British-flagged Stena Impero that Iran seized in the Strait of Hormuz on July 19.
The seizure of the British tanker in the world's most important waterway for the oil trade has deepened a crisis between Iran and the West that was triggered in May when the United States tightened sanctions, effectively barring all countries from buying Iranian oil.
Iran said it had seized the Stena Impero because it had collided with a fishing boat.
India's junior foreign minister, V. Muraleedharan, said India was pushing for the release of the Indian crew on the British vessel.
Full report at:
https://english.alarabiya.net/en/News/world/2019/07/27/India-urges-Iran-to-free-all-its-crew-after-nine-released.html
--------
Pakistan
Over 50 per cent families in Pakistan cannot have two meals a day: Survey
Jul 26, 2019
KARACHI: Nearly half of all the families in Pakistan are unable to meet their nutritional needs due to poverty, affecting a large number of children with chronic malnutrition and stunted growth, a media report on Friday quoted the first-ever survey of its kind in the cash-strapped country as saying.
According to the National Nutrition Survey 2018, poverty keeps more than 50 per cent of Pakistani families from having two meals a day, leading to severe dietary deficiencies, The Express Tribune reported.
As a result, as many as 40.2 per cent of all children in Pakistan are affected by chronic malnutrition and stunted growth, which inhibits both their cognitive and physical development, the exercise carried out by the Ministry of National Health Services (NHS) revealed.
The survey also discovered that 36.9 per cent of Pakistani households remain food insecure and lack reliable access to affordable nutritious food in sufficient amounts.
The objective of the survey is to draw the attention of authorities towards the ever-growing problem of malnutrition among Pakistani children.
The survey is one of the biggest in Pakistan's history and covers both the rural and urban population of all four provinces, Gilgit-Baltistan and Pakistan-occupied Kashmir.
As many as 115,600 families, including 145,324 women, 76,742 children under five years of age and 145,847 minors aged between 10 and 19 years were studied during the course of the survey, the report said.
Teams conducting the research took blood and urine samples from participants and investigated water quality and sewerage situation in and around their homes to determine their natural body development and whether it was hindered by diseases or lack of nutrients, it said.
Among the key findings of the survey is that only 48.4 per cent of women in Pakistan breastfeed their children during infancy. It also found malnutrition to be at least partially a hereditary issue as women who lacked necessary nutrients in their diet gave birth to weak children.
The International Monetary Fund, together with other international partners, is working closely with the government of Pakistan to support the implementation of the economic reform programme. Recently, the IMF cleared a USD 6 billion bailout package to Pakistan to overcome the financial woes.
Four out of every 10 children under the age of five in Pakistan were discovered to be affected by stunted growth and lack of education and awareness was found to be a significant factor behind this.
The study also discovered dietary discrimination in the favour of boys over girls in a significant number of families in the country.
https://timesofindia.indiatimes.com/world/pakistan/over-50-per-cent-families-in-pakistan-cannot-have-two-meals-a-day-survey/articleshow/70399861.cms
--------
Pak to reap rich dividends from religious tourism in Kartarpur Sahib
Jul 26, 2019
AMRITSAR: To encash the vast religious tourism potential with the opening of Kartarpur Sahib corridor , the Pakistan government has planned to construct five and seven star hotels in Kartarpur Sahib even as , under pressure from Sikh bodies, it has agreed to not carry out any commercial activity in 104 acres of land around Gurdwara Darbar Sahib which was cultivated by Baba Nanak himself.
According to sources, Pakistan government had in principle given its nod to construct 5 and 7-star hotels, shopping malls, etc. during the second phase of development of Kartarpur corridor which was likely to be completed by 2022.
Expressing time constraints, Islamabad has already expressed its inability to construct an all-weather bridge near the international border and had assured to construct the same in the second phase of Kartarpur corridor.
To help strengthen its feeble economy Pakistan government has already invited Sikh businessmen from across the globe for the development of Sikh religious tourism in the country especially at Kartarpur Sahib and Nankana Sahib.
Following the invitation, many Sikh businessmen had visited Nankana Sahib and Kartarpur Sahib to inspect the commercial sites.
Prominently among others US-based Sikh businessmen Jasdeep Singh Jassi had visited Nanakna Sahib and had shown a keen interest in the development of religious tourism in Pakistan. He had also held a meeting with Pak prime minister Imran Khan.
Sikh businessmen from Thailand Charanjit Singh had also visited both the religious places in Pakistan to explore the business possibilities of the opening of hotels at both the places.
While talking to TOI on Friday, Evacuee Trust Property Board. (ETPB) chairman Dr. Aamir Ahmad said that local administration had imposed a ban on sale and purchase of about 1493 acres of land in the area which includes 408 acres of land for Gurdwara complex, 214 acres for the road network, parking and border terminal and 871 lands for other future projects.
In both the phases of Kartarpur corridor, Pakistan would construct 6 residential blocks for pilgrims with each having a capacity to accommodate 700 pilgrims besides it was constructing 100 immigration counters added he.
Notably Sikh individuals and organisations around the globe had objected on commercialisation of the surroundings of Gurdwara Darbar Sahib especially any commercial activity on the 104 acres of land which was farmed by Baba Nanak following which Pak government announced to protect the same and construct luxury hotels, malls and shopping plaza's beyond 104 acres of land surrounding Gurdwara.
Full report at:
https://timesofindia.indiatimes.com/world/pakistan/pak-to-reap-rich-dividends-from-religious-tourism-in-kartarpur-sahib/articleshow/70398644.cms
--------
Education in Pakistan sharpens existing divisions, says report
Kashif Abbasi
July 27, 2019
ISLAMABAD: Education in Pakistan largely sharpens the existing divisions, mainly around religious lines. Discriminated against in all respects, the life of non-Muslim students and teachers is miserable.
This was stated in a report titled 'Education and Inequality' launched by the Institute of Development Research and Corresponding Capabilities (IDRAC) and Human Rights Commission of Pakistan (HRCP) on Friday.
The report, which was launched at the HRCP office, pointed out that the situation was quite alarming.
"A massive 60pc of the non-Muslim students interviewed as part of this study said they had experienced discrimination or felt they were being discriminated against and disrespected," reads the report.
It said that similarly 70pc of teachers admitted to having faced discrimination based on their faith. While, as many as 72pc of parents believed their children to be discriminated against in schools and colleges because of their faith-based identity.
Speaking at the launching ceremony, lead author Amjad Nazeer of IDRAC said during research work for the report, he pointed out that there was need to change mindset and behaviour of Muslim teachers, who had been teaching the minorities students.
"Without changing behaviour of teachers, change in syllabus will be useless," he said.
He said because of "situational" issues in many schools, like shortage of teachers, students from minorities were left with no other option but to study Islamiyat. However, he said that during his research he did not find any case where such students were forced to take Islamiyat as a compulsory subject.
HRCP member Nasreen Azhar said in Pakistan the environment for minorities was not conducive and the government should pay heed to issues being faced by minorities.
Human rights activist Tahira Abdullah said the Supreme Court in its landmark judgement of 2014 had decided that students from the minorities community could not be forced to study Islamic books in schools. However, she said the judgement was not fully implemented yet.
The participants of the ceremony said Ziaul Haq promoted Jihad and extremism through school and college curriculum, and for making Pakistan a peaceful country, all such material should be removed.
Meanwhile, the report said that in Punjab, from where the data was collected, an alarming 60pc of non-Muslim students experienced discrimination or felt they were being discriminated against.
The report said education and academic environments lacked the characteristics of objectivity, impartiality and critical cum analytical thinking. It said that scientific and empirical principles of thought and inquiry, mainly in the social arena, were almost absent. "Other ethnic, linguistic and cultural identities that are integral part of Pakistan's composition are rarely acknowledged or respected. Even one's professional distinction or eminence is subordinated to one's faith," the report said, adding that sometimes, Muslim students were found to be confusing 'the west' with the local Christians and India with the local Hindus and Sikhs.
The report pointed out that non-Muslims were perceived to be the enemies of Islam by Muslim students and teachers. Ceremonies and festivals of non-Muslim communities are never considered by the academic system.
The report recommended that the policy and purpose of pre-university education needed to be thoroughly revised. The process needs to be instrumentalised to create objective, critical and analytical thinking and understanding in children. It said that scientific and empirical principles of thought and inquiry need to be promoted across all subjects. It also said most importantly, humanist values of respect, equality and empathy need to be instilled and strengthened in young minds.
Full report at:
https://www.dawn.com/news/1496408/education-in-pakistan-sharpens-existing-divisions-says-report
--------
Personal connection made, now time to make progress: US
Anwar Iqbal
July 27, 2019
WASHINGTON: Prime Minister Imran Khan's visit gave President Donald Trump and Secretary Michael Pompeo the chance to build a personal connection and rapport with the premier and now it's time to make progress on this success, says the US State Department. At a Thursday afternoon's news briefing, the department's spokesperson Morgan Ortagus disagreed with the suggestion that the Trump-Khan talks, particularly some of Mr Trump's comments, were a source of "unhappiness" for the Afghan people.
Ms Ortagus said that the prime minister's July 22 White House summit with the US president was an initial meeting, which "gave the chance for the president and the secretary to meet Prime Minister Khan, to build a personal connection and rapport".
And now, "we think it's time to make progress on the success of this first meeting", said the US official. She recalled that in his meetings in Washington, Prime Minister Khan also "vowed to urge the Taliban to negotiate with the Afghan government".
The United States, she said, was committed to peace in Afghanistan and it believed that the Trump-Khan meeting was an important step towards achieving that goal.
"There was a number of issues that were discussed not only in the president's meeting but with the secretary's meeting as well," said Ms Ortagus while re-emphasising that "now is the time to build upon that meeting and to build upon those commitments".
The prime minister met Secretary Pompeo at the Pakistan House in Washington on July 23. Later, the US State Department said that Mr Pompeo availed this opportunity to emphasise the "continued importance of the United States and Pakistan working together to advance shared priorities".
On the same evening, the prime minister told members of the US Congress in Washington that Pakistan and the United States shared the same objective of reaching a peaceful solution in Afghanistan, which includes persuading the Taliban to hold direct talks with Kabul.
On Thursday, a Taliban official told journalists in Doha, where the group maintains a political office, that senior Taliban leaders would soon visit Islamabad to learn from Mr Khan the details of his talks in Washington.
At the State Department briefing, an Afghan journalist told Ms Ortagus that the Trump-Khan talks — particularly President Trump's comment that he could have won the war in 10 days by killing millions of Afghans — had made the people of Afghanistan "very unhappy".
Ms Ortagus said she would "remind the Afghan people of the countless number — thousands, tens of thousands — of American lives and lives of our Nato allies and our European allies that have been lost fighting in Afghanistan for the people of Afghanistan to have a right to choose their own future".
The United States, she said, had not only lost thousands of lives and billions of dollars in Afghanistan but there were countless others who also had served there.
"You could probably look at most of the people in this room that serve here at the State Department, and we have either served ourselves or we have had family members that have served. I have someone on my staff who is serving there right now," she said.
"So, I think that the people of Afghanistan should know that for almost 20 years, Americans have lost their lives and have spent their hard-earned taxpayer money to see the people of Afghanistan have a choice for their own future," she said.
"And that commitment has not been a small commitment. That has been a vast and sweeping commitment by the American people."
Asked if Prime Minister Khan delivered the "good news" of securing the release of two US hostages within 48 hours after returning to Islamabad, Ms Ortagus said the Trump administration had a very strong record on getting American hostages returned.
"We take human lives incredibly seriously, and we will use every means available at our disposal to secure and to see the secure and safe return of American citizens who are held hostage abroad," she said.
Ms Ortagus confirmed that the Pakistani prime minister had made that promise and now US officials were working closely with the Pakistanis on recovering the hostages.
Full report at:
https://www.dawn.com/news/1496461/personal-connection-made-now-time-to-make-progress-us
--------
Pakistan among states with highest ratio of AIDS victims
Asif Chaudhry
July 27, 2019
LAHORE: Inadequate mea­sures for curtailing HIV/AIDs have brought embarrassment to Pakistan as the United Nations has put it on the list of 11 countries which have the highest prevalence of the disease — 13 per cent — in its latest report.
It is the highest ratio of HIV prevalence the country has touched during the last decade, raising concerns among global health partners.
The UNAIDS-2019 analysis revealed that the world is on track to end the AIDS epidemic by 2030, but Pakistan is among the countries where ratio of new AIDs cases saw a sharp increase. The report termed it a blow to global efforts to curtail the disease.
It stated that the average HIV incidence per 1000 people in Pakistan was 0.08 in 2010, which had risen to 0.11 last year.
The situation has aggravated despite grant of "massive funding" by international health partners to curtail HIV.
The report, which has already been communicated to Islamabad, stated that the number of people living with HIV in the country stood at 160,000 last year. The number was 120,000 in 2015 and 67,000 in 2010.
The number of people living with HIV under 14 years of age was 5,500 in 2018, 4,000 in 2015 and 1,800 in 2010, according to the report.
The ratio also witnessed an increase in the number of females aged 15 and above living with HIV. The numbers were 19,000 in 2010, 37,000 in 2015 and 48,000 last year.
The number of males aged 15 and above living with HIV stood at 110,000 last year, compared to 84,000 in 2015 and 46,000 in 2010.
The UNAIDS report also dwelt on mortality ratio because of this deadly disease as a good number of patients living with HIV remained untraced and untreated. It stated that the average annual death ratio of HIV patients was 6400 in 2018, 4700 in 2015 and 1400 in 2010.
The report put the number of fresh HIV infection cases for all age groups at 2200 for 2018, 18,000 for 2015 and 14000 for 2010.
The UNAIDS analysis recorded HIV prevalence at 3.8pc among sex workers in 2018, 3.7pc among gay men, 21pc among drug addicts and 5.5pc for transgender people.
It revealed 45pc of sex workers were aware of their HIV status, 35.1pc use condom and 0.7pc had access to an HIV prevention programme.
Forty-four per cent of gay men know their HIV status, 22.4pc use condom and 1.2pc had access to an HIV prevention porgramme.
Among drug addicts, 39.3pc were aware of their HIV status, 15.3pc use condom and 1.6pc were benefiting from any HIV prevention programme.
The situation was not satisfactory in respect of transgender people as 69.1pc know their HIV status, 24pc use condom and only 1.1pc had access to an HIV prevention programme.
According to the report, 18pc children and eight per cent women living with HIV who know their status had undergone tests and treatment last year.
Full report at:
https://www.dawn.com/news/1496459/pakistan-among-states-with-highest-ratio-of-aids-victims
--------
Maryam urges dialogue to solve Balochistan's issues
July 27, 2019
QUETTA: Pakistan Muslim League-Nawaz vice president Maryam Nawaz on Friday said that Balochistan issues could not be resolved through the use of force and dialogue was needed to heal people's wounds.
Speaking to party workers at the residence of Senator Sardar Yaqoob Khan Nasar at the end of her two-day visit to Quetta, she urged all political parties to take up issues of Balochistan at every forum and find solutions to end the sense of deprivation among people.
She criticised the coalition government of Balochistan, terming it selected and alleged that in the general elections of 2018 the mandate of the people of Balochistan was stolen to bring the Balochistan Awami Party into power.
Referring to Prime Minister Imran Khan's visit to the US and his meeting with President Donald Trump, she said the US was using Pakistan for its interest, which would be a catastrophe for the country.
"The incompetent prime minister has been misleading the nation and spreading propaganda that his visit was successful," she said, adding that all parties should unite against the "selected PTI government".
Full report at:
https://www.dawn.com/news/1496492/maryam-urges-dialogue-to-solve-balochistans-issues
--------
GDA asks PM, governor to take action against 'rampant corruption' in Sindh
Hasan Mansoor
July 27, 2019
KARACHI: Leaders belonging to the opposition Grand Democratic Alliance (GDA) on Friday expressed their concern over "rampant incidence of corruption" in Sindh and demanded that the prime minister and Sindh governor play their part in eradicating corrupt practices in the province.
"During today's meeting of the GDA, we have demanded Prime Minister Imran Khan and Governor Imran Ismail to take notice of the incessant corruption in Sindh and take appropriate action to root it out," said GDA leader Ayaz Latif Palijo while briefing reporters about the meeting of the alliance held at Kingri House.
The meeting, presided over by Pir Pagara, was also attended by former Sindh home minister Dr Zulfikar Mirza, Dr Safdar Abbasi, Pir Sadruddin Shah Rashdi and other leaders.
NAB asked to go after 'big fish'
Mr Palijo said the meeting also called upon the National Accountability Bureau to take action against the "big fish" involved in corruption.
The GDA demanded that the provincial government provide jobs to unemployed youths in various government departments and establish more industrial zones.
The meeting demanded child protection cells to ensure protection to vulnerable children.
They were concerned over the scarcity of water and incidence of HIV in epidemic proportions in the northern parts of the province and called for devising effective policies to handle those issues effectively.
Besides, protection for girls — both belonging to Muslim and non-Muslim communities — was also demanded.
The meeting formed a coordination committee comprising Pir Sadruddin Shah Rashdi, Mr Palijo, Dr Mirza and others to contact the federal government and parliamentarians in Islamabad over the issues relating to Sindh.
Mr Palijo said on one hand people in the province were "dying in search of water like the Kachho region" while on the other there were serious dangers inflicting Sindh in shape of floods if rains came as dangerously as predicted by the Meteorological department. "There is a serious threat to a big part of Sindh, coastal regions in particular, [of floods] if it rains as predicted."
Ghotki by-poll termed 'engineered & rigged'
He claimed the recent by-election on a vacant National Assembly seat in Ghotki, which was won by the Pakistan Peoples Party candidate, was "engineered and rigged".
"They [PPP leadership and workers] are jubilant on winning an election which they had only won through rigging and managing the police force," he said.
He said the meeting also expressed its concern over increasing law and order problem in the province.
Speaking on the occasion, Pir Sadruddin Rashdi said the meeting discussed all issues ranging from the province to the prime minister's "successful" visit to the United States.
"We have not yet called for change in Sindh. We'll not call for a change in whispers; because whenever we will want to call for a change we'll duly announce it through the media," he said.
He said the GDA leadership was happy to see "the civil and military leaderships on the same page".
"We hope the country will see good days again soon and days are not far when everyone will have equally patriotic thinking," he said.
Dr Mirza said the ruling PPP had "destroyed entire Sindh". He said the city of Badin that formed his constituency was deliberately turned into ruins only to take revenge on people for not voting for PPP candidates.
Dr Abbasi claimed there was no city in Sindh that the ruling party had not destroyed.
Full report at:
https://www.dawn.com/news/1496369/gda-asks-pm-governor-to-take-action-against-rampant-corruption-in-sindh
--------
Erdogan phones Imran, discusses Afghanistan and Kashmir
Jul 27, 2019
ISLAMABAD: Turkish President Recep Tayyip Erdogan on Friday telephoned Prime Minister Imran Khan and discussed with him matters pertaining to bilateral relations and regional issues.
PM Imran apprised the Turkish president of the current situation in Indian-occupied Kashmir and also discussed the Afghan situation.
The two leaders expressed satisfaction on Pak-Turk relations and assured each other of cooperation in various sectors. They also agreed to hold a meeting of the Pak-Turk Strategic Cooperation Council this year in Islamabad.
On the occasion, the prime minister invited Erdogan to visit Pakistan for the Pak-Turk Strategic Cooperation Council meeting.
The Turkish president also expressed condolences to Prime Minister Imran Khan over last Sunday's terrorist attacks in Dera Ismail Khan.
Erdogan wished God's mercy on those who lost their lives and a speedy recovery to the wounded, and conveyed his condolences to the Pakistani people, said Turkey's Presidential Communications Directorate.
Full report at:
https://www.pakistantoday.com.pk/2019/07/26/erdogan-offers-condolences-to-imran-over-di-khan-attacks/
--------
Time to make progress on success of Trump-Imran meeting: State Dept
Jul 27, 2019
The United States has said that it is time for Washington to build upon progress on the success of Prime Minister Imran Khan's first meeting with President Donald Trump and Secretary of State Mike Pompeo.
In her weekly press briefing, State Department Spokesperson Morgan Ortagus said the visit helped President Trump and Secretary Pompeo build a personal connection and rapport with the Pakistani premier.
"This meeting, of course, gave the chance for the president and the secretary to meet with Prime Minister [Imran] Khan, to build a personal connection and rapport. And now we think it's time to make progress on the success of this first meeting," she explained.
When asked how the State Department sees the Pak-US and Pak-India ties progressing after Imran's US trip, the spokesperson said, "I would note one of the things that the prime minister says that he vowed to urge the Taliban to negotiate with the Afghan government. We are committed to peace in Afghanistan. We think that was an important step."
"And there was a number of issues that were discussed not only in the president's meeting but with the secretary's meeting as well, and now is the time to build upon that meeting and to build upon those commitments," Ortagus continued.
When asked about Imran's statement that there would be good news on US hostages soon, Ortagus said the Trump administration had a "very strong record, actually, on getting American hostages returned".
"We take human lives incredibly seriously, and we will use every means available at our disposal to secure and to see the secure and safe return of American citizens who are held hostage abroad. The prime minister [Imran Khan] did say that. We are, of course, working closely with the Pakistanis on recovering them. We think his statements were helpful and we're of course hopeful that there will be some action proceeding those statements."
President Trump gave a warm reception to PM Imran and his delegation including the Chief of Army Staff (COAS) Gen Qamar Javed Bajwa and the head of the ISI intelligence service in the US.
The premier returned home from Washington on July 25 after the visit seen by supporters as a major diplomatic success, saying he felt like he had when he came back after winning the cricket World Cup.
Full report at:
https://www.pakistantoday.com.pk/2019/07/26/time-to-make-progress-on-success-of-trump-imran-meeting-state-dept/
--------
South Asia
A Gang In Sri Lanka Hung A Pig's Head In Front Of A Muslim Shop To Taunt
July 26, 2019
A gang in Sri Lanka hung a pig's head in front of a Muslim shop three months after the April 21 Easter Sunday Islamic suicide bombings that rocked the nation.
And monks in the island nation have accused Muslim doctor Siyabdeen Mohammed Safi of covertly sterilizing 4,000 Buddhist women.
These examples are among a plethora of cases cited by minority rights campaigner Nuwan Athukorala of Muslims being victimized in retaliation for the attacks on churches and luxury hotels that claimed more than 250 lives.
Athukorala this week also referred to the fact that monk-turned-politician Athuraliye Rathana conducted a protest hunger strike demanding the removal of two government ministers he accused of being linked to the Jihadi group National Thowheeth Jama'ath (NTJ).
The government banned the NTJ and as well as another militant outfit, Jamathei Millathu Ibrahim (JMI), in the wake of the Easter carnage.
Another prominent monk, Warakagoda Sri Gnanarathana Thera, has accused Islamic restaurant owners of drugging food served to non-Muslims to make them sterile and over time reduce the majority-Buddhist population.
However, Athukorala notes that the rabble-rousing has all been based on fabricated allegations.
"Sinhala Buddhist hegemonic majoritarianism that prevails in Sri Lanka is very dangerous," Athukorala said.
He also referred to Muslim journalists who were black-banned by Buddhist media practitioners at July 21 events to commemorate the April 21 attacks.
Buddhists make up 70 percent of the nation's 21 million population, while Muslims account for about 10 percent.
Sri Lanka has a long history of ethno-religious tragedies, not least the 1983-2009 civil war in which hundreds of thousands of people died.
Twenty-two days after this year's Easter bombings, Buddhist mobs went on rampages, attacking mosques as well as Muslim businesses, homes and vehicles.
Violent incidents in the cities of Naththandiya, Minuwangoda, Negombo, Chilaw and Kurunegala occurred despite a government-imposed curfew.
In recent years, hard-line groups such as Buddhist Power Force, Mahasohon Balakaya, Sinhala Ravaya and Ravana Balaya have preached hatred against Muslims and issued threats against them.
In 2014, four people were killed in clashes in the coastal town of Aluthgama, with more than 2,000 displaced and 17 mosques attacked.
The Sinhalese Buddhist nationalist organization Bodu Bala Sena (BBS) was accused of instigating the strife.
The BBS is also suspected of involvement in 2018 anti-Muslim riots in Kandy, central Sri Lanka.
Nearly 450 Muslim homes and shops were damaged and more than 20 mosques were attacked.
Athukorala has publicly complained that most Sri Lankan politicians exploit ethnic and religious extremism.
Human rights defender Aruna Shantha Nonis believes existing laws governing religious practices mitigate against communal harmony.
And Father Noel Dias, a lecturer at the Sri Lankan Law College, said such laws were ineffective without fundamental changes in people's attitudes to faiths other than their own.
In this respect, religious leaders themselves needed to reconsider their roles in society, said Father Dias, who is also chaplain of the Catholic Lawyers' Guild.
He cited the isolation of many religious leaders from their faithful, and failure to act as spiritual role models, as contributing towards religious disharmony in Sri Lanka.
https://www.ucanews.com/news/pigs-head-taunt-at-muslim-shop/85729
--------
Taliban Says Deal on U.S. Troop Pullout From Afghanistan Is Near
By Henry Meyer and Eltaf Najafizada
July 26, 2019
The Taliban said it's nearing a peace deal with the U.S. to bring an end to the foreign military presence in Afghanistan, though it ruled out a halt to hostilities for now.
"We are getting close," Mohammad Suhail Shaheen, a spokesman for the Taliban's Doha-based political office, said by phone on Thursday. If the U.S. makes "a reasonable and convincing proposal, the peace agreement will be concluded soon."
The fundamentalist Islamic movement and the U.S. are due to resume negotiations soon in the Qatari capital after adjourning their seventh round of meetings earlier this month. U.S. Secretary of State Michael Pompeo and Afghan President Ashraf Ghani agreed Wednesday in a phone call that "now is the time to accelerate efforts to reach a negotiated end to the war," according to a State Department statement.
Pompeo said in a Fox News interview late Thursday that he expects "real progress" in reaching agreement by September on "a complete reduction in the scope of the conflict," allowing for inter-Afghan peace talks to begin followed by the start of a withdrawal of U.S. and allied forces.
The Taliban controls or contests about half of territory in Afghanistan. That's more than at any time since it was ousted from power in 2001 by an American-led invasion after the al-Qaeda group based in the country carried out the Sept. 11 terrorist attacks in the U.S. The Taliban refuses to hold talks with the authorities in Kabul until it first reaches a binding deal with the Trump administration on withdrawing foreign forces.
While it wants the 14,000 U.S. troops and allied NATO forces to leave Afghanistan, the Taliban is showing some signs of flexibility over the timetable, dropping its previous insistence that the withdrawal happen within months.
"We hope the Americans come up with a reasonable timeline and that we can agree to," said Shaheen, who declined to say how soon the foreign forces should go.
Troop Losses
After losing more than 2,400 soldiers and spending more than $900 billion in Afghanistan since 2001, critics say the U.S. risks losing hard-won gains. President Donald Trump on Monday called the nearly 18-year campaign "ridiculous" and said he could win the conflict in a week but "I don't want to kill 10 million people." Ghani's office responded that Afghanistan "will never allow any foreign power to determine its fate."
U.S. envoy to Afghanistan Zalmay Khalilzad described the latest round of talks that paused July 9 as the "most productive" ever. Among U.S. demands is a commitment by the Taliban to stop terrorist groups like al-Qaeda and Islamic State from continuing to use Afghanistan as a base of operations.
Despite its conciliatory language, the Taliban insists it won't accept a single foreign soldier remaining on Afghan soil, fanning fears in Kabul that the U.S. will leave the government at the mercy of its armed opponents.
"The Afghan people see it as occupation, whether it is 1,000 or 100 soldiers," Shaheen said. "So we want this to end."
The Taliban won't consider a halt to violence until they thrash out a settlement with other Afghans after the U.S. commits to pull out its forces, Shaheen said. The U.S. maintains that no deal can take effect until the Taliban talks directly with the Afghan government, something the militant group has resisted.
The Taliban will join negotiations that involve all of Afghanistan's political forces and not just the administration in Kabul, Shaheen said. It also refuses to recognize the result of the Afghan presidential election planned for Sept. 28, irrespective of the outcome of the talks with the U.S.
Full report at:
https://www.bloomberg.com/news/articles/2019-07-26/taliban-says-deal-on-u-s-troop-pullout-from-afghanistan-is-near?srnd=politics-vp
--------
Afghan talks require security guarantees against ISIS
July 25, 2019
One would hope that schools and universities would be sanctuaries of knowledge, where students learn to develop a critical mind. But in Afghanistan, some universities have become a breeding ground for those looking to radicalise the young.
Earlier this month, an investigation revealed that two teachers and a lecturer at Kabul University had been pushing their students to join ISIS. One of the suspects exhorted his students to wage jihad against the "infidel government", while another deduced marks for students dressed in western-styled clothes. All detained suspects are believed to have been involved in deadly attacks in Kabul.
And this is not the first time professors have made use of their status to radicalise students. In February, authorities arrested a university lecturer and imam in Kabul, who had pushed hundreds of youngsters to join ISIS – including his own nephew.
The influence of these extremists poses a serious challenge to a younger generation of Afghans who simply seek higher education. A recent report by the Afghan Institute for Strategic Studies found that half of the students surveyed at three major universities supported establishing an Islamic state or a caliphate in the country. This is especially concerning given the nation's long history of harbouring extremist groups.
From 1996 to 2001, the Taliban ruled over most of Afghanistan, where they established a brutal regime, imposing their extremist view of religion on Afghans. After the Septembre 11 attacks, the group was ousted from power by the US-led invasion, as they provided a safe haven for terrorist organisations including Al Qaeda, and its leader Osama bin Laden. Since then, Afghanistan has been embroiled in an unending war between Taliban militants and the US-backed government in Kabul, costing 147,000 people their lives.
And while the US-Taliban peace talks, which were launched in December, sparked hope of a better tomorrow for many Afghans, there are fears that a US withdrawal will only weaken the government – which has been sidelined from the negotiations – and allow the Taliban to extend their rule. Such a security vacuum would not only allow the Taliban to thrive, it might prompt other extremist groups to fester, notably ISIS. Just this Thursday, three back-to-back bomb attacks killed at least 12 people in Kabul and only one of them was claimed by the Taliban.
Full report at:
https://www.thenational.ae/opinion/editorial/afghan-talks-require-security-guarantees-against-isis-1.890829
--------
Taliban Storm Security Posts as Blasts Rock Kabul, Elsewhere
By Ayesha Tanzeem
July 25, 2019
ISLAMABAD - A series of attacks rocked Afghanistan Thursday, killing at least 58 people, including 38 members of Afghan security forces, as the chairman of the U.S. Joint Chiefs of Staff met with Afghan officials.
Three of those bombings targeted the capital, Kabul.
A ministry of interior spokesman, Nasrat Rahimi, said a suicide bomber on a motorcycle targeted a mini bus in Kabul carrying the staff of the Ministry of Mines and Petroleum as they were on their way to work Thursday morning. The blast killed at least 11 people. A secondary explosion rocked the site of the first attack.
Secondary explosions are common in Kabul and have in the past killed first responders and journalists covering the attack. A separate car bomb hit Jalalabad road in Kabul a few hours later. Local TV channels showed footage of relatives wailing outside local hospitals as they searched for their loved ones.
The local branch of the Islamic State terror group took responsibility for the two attacks on the minibus.
Meanwhile, the Taliban claimed responsibility for the third attack in Kabul in which they claim they targeted "foreign invaders."
"Martyrdom seeker [Muhammad Kabuli] using VBIED [ vehicle-borne improvised explosive device ] struck convoy of foreign invaders in Spechari area of #Kabul city 9am this morning resulting in 2 SUVs destroyed & 9 senior foreign officers killed," a Tweet from Mujahid said.
The blasts came as U.S. Joint Chiefs of Staff Marine General Joseph Dunford met with Afghan President Ashraf Ghani to discuss peace and stability in Afghanistan.
Later Thursday , the State Department said Ghani had spoken to Secretary of State Mike Pompeo the previous day. In the call, Pompeo told Ghani that Dunford and U.S. envoy for Afghanistan Zalmay Khalilzad had been sent to Kabul to "discuss in detail the next steps," toward peace and a "conditions-based" drawdown of foreign forces.
Separately elsewhere in the country, Taliban militants stormed security check posts in Takhar province while a bomb blast rocked Jalalabad in Nangarhar province.
Taliban spokesman Zabiullah Mujahid claimed that the militants ran over two bases in Ishkamesh district, killing and capturing security personnel and seizing their weapons and vehicles.
Two local provincial council members, Wafiullah Rahmani and Khalil Aseer, confirmed the Taliban attacks. Rahmani said the attacks killed 38 members of civil and national police.
Yet another blast in Jalalabad, the capital of Nangarhar province, killed nine members from the same family, six women and three children, according to Ataullah Khogyani, a spokesman for Nangarhar governor's office.
Gulzada Sangar, a spokesman for Nangarhar civilian hospital, said five other victims of the attack are in stable condition.
U.S. Ambassador to Afghanistan John Bass tweeted U.S. condemnation of the Kabul attacks.
"The perpetrators demonstrated a heinous disregard for the sanctity of human life, democratic values & #Afghanistan's future. The US stands with the people of Afghanistan in their aspiration for peace and a better future. #AfghanPeaceProcess," he tweeted.
Zalmay Khalilzad in Kabul
As the violence rages in Afghanistan, Zalmay Khalilzad, the man appointed by U.S. President Donald Trump to find a way to extricate the United States from Afghanistan, is in Kabul, discussing "where we are on the #AfghanPeaceProcess," according to his tweets. He met senior Afghan leadership Wednesday, including President Ashraf Ghani, Chief Executive Abdullah Abdullah, and Foreign Minister Salahuddin Rabbani.
On Tuesday, as he arrived in Kabul, the Afghan government issued a strong press release demanding a "clarification" for President Trump's words that "Afghanistan would be wiped off the face of the earth if he wanted to win the war but he did not want to "kill 10 million people."
Both Khalilzad and Taliban's political team based in Doha have been sending out positive indicators about their ongoing negotiations, now in its seventh round.
Remaining issues
Both sides acknowledge that they have made progress on two issues: announcement of a timeline of withdrawal of U.S. forces from Afghanistan, and promises by the Taliban that Afghan soil will not be used for terrorism against any other country.
However, there seem to be differences on two more issues on the table: announcement of a comprehensive cease-fire and agreement by the Taliban to enter into direct negotiations with the Afghan government.
The United States has asked Pakistan to help use its influence with the Taliban to resolve these issues. Pakistan Prime Minister Imran Khan, who was on a three day trip to Washington and the White House this week, promised to help.
Full report at:
https://www.voanews.com/south-central-asia/taliban-storm-security-posts-blasts-rock-kabul-elsewhere
--------
7 police, 15 militants killed in clashes in Afghanistan
2019-07-26
KABUL, July 26 (Xinhua) -- Seven police officers and 15 militants were killed in clashes in two Afghan provinces overnight, officials confirmed Friday.
In one incident, three policemen and four militants were killed after Taliban attacked Khogyani district's police station in eastern Ghazni province, provincial government spokesman Harif Noori told Xinhua.
Five police personnel were also wounded during the clashes which lasted for hours in the remote district.
In southern Kandahar province, four police officers and 11 Taliban militants were killed after police repelled Taliban gunmen who stormed a security checkpoint in Yazdan village, Maiwand district, a provincial police official, told Xinhua.
The official added that four militants were also wounded in the fighting.
Full report at:
http://www.xinhuanet.com/english/2019-07/26/c_138260332.htm
--------
South Asia strategy to see no change, Pompeo tells Ghani
Anwar Iqbal
July 27, 2019
WASHINGTON: US Sec­retary of State Michael Pompeo has assured Afghan President Ashraf Ghani that there will be no change in Trump administration's South Asia strategy, the State Department said on Thursday.
The statement said that in this telephone call on Wednesday, the Afghan president and the top US diplomat "agreed that now is the time to accelerate efforts to reach a negotiated end to the war in Afghanistan".
Secretary Pompeo "ass­ured President Ghani that there has been no change to President (Donald) Trump's South Asia strategy, including US commitment to a conditions-based drawdown".
Secretary Pompeo informed President Ghani that he had dispatched Chairman of the Joint Chiefs of Staff General Joseph Dunford and Special Repr­esentative for Afghanistan Reconciliation Ambassador Zalmay Khalilzad to Kabul to discuss in detail the next steps on the road to peace.
President Ghani welcomed the Secretary's engagement and the US visitors, and confirmed Afghanistan's commitment to working side-by-side with the United States to achieve a stable, peaceful, democratic Afghanistan that is not a centre for terrorism, the State Department said.
President Ghani had asked for clarifications following President Trump's remark earlier this week that he had a plan that could win the war in Afghanistan "in a week", but he didn't "want to kill 10 million people".
Full report at:
https://www.dawn.com/news/1496502/south-asia-strategy-to-see-no-change-pompeo-tells-ghani
--------
Bangladesh gripped by spate of brutal mob attacks
July 26, 2019
On July 20, Taslima Begum went to a government primary school in the Badda area of the capital Dhaka, to find out about the admissions process.
The 40-year-old Muslim and single mother of two was planning to enroll her children at the school next year.
Not even in her worst nightmares could Taslima have expected this would be the last day of her life.
She reached the school gate about 8 am and started talking to other parents waiting for their children.
One of the parents suspected her of being a child abductor just as some people were approaching from the street.
Someone shouted, "a child abductor has been caught," causing a frenzy. A violent mob was formed, and people started slapping and kicking Taslima by the school gate. It escalated rapidly as others joined in, beating her mercilessly with bamboo, wood and metal sticks.
Schoolteachers tried to rescue her and took her to the head teacher's room but the mob would not relent. They dragged her out and resumed their savage beating.
Taslima finally lost consciousness, her body bloodied and battered from the brutal attack. By the time police arrived, she was already dead.
The killing sparked a massive public and media outrage. Police arrested five suspects for inciting and taking part in the violence after a nephew of Taslima filed a murder claim against 400-500 people.
Police chiefs later issued a notice declaring that beating or killing someone based solely on a suspicion of them being a child kidnapper was a serious criminal offence and urged people not to take the law into their own hands.
Taslima's tragic end is just one of a spate of deadly mob-lynching cases in Bangladesh in recent weeks that have left at least eight people killed and 30 injured.
The mob violence was sparked after rumors spread on social media that child abductors were wandering around in the hope of abducting unsuspecting children. There were even fake stories that the children were to be used as human sacrifices to bring good luck in the completion of Padma Bridge, the country's largest infrastructure project ever.
The authorities, including police, issued warnings that it was just a false rumor but many people, mostly in rural areas, wouldn't listen to them and so-called mob justice started being meted out on a daily basis.
Some people have also tried to exploit the situation for personal interests.
A Catholic woman was beaten by a Muslim mob July 24 after being accused of being a child abductor by two women at a village teashop in the Mymensingh district of central Bangladesh.
In her case police managed to rescue her after someone called an emergency hotline and duly arrested two women for inciting violence.
Father Fidelis Nengminja, parish priest of St. Elizabeth Catholic Church in Biroidakuni, Mymensingh, confirmed the woman was one of his parishioners.
"The woman is a Bengali and married to an indigenous Garo man. A local politician told me that she was carrying 2,000 Taka ($23.65) and that two women who knew about the money plotted to snatch it from her," Father Nengminja told ucanews.com.
Observers say the rumor of human sacrifice, public frenzy and mob justice are a legacy of primitive, superstitious beliefs in a Muslim-majority country where illiteracy is still rampant and a culture of impunity dominates.
Holy Cross Archbishop Moses M. Costa, secretary general of the Catholic Bishops' Conference of Bangladesh, condemned mob violence as "unprecedentedly heinous" incidents, which had resulted from the development of a "restlessness and ultra-reactionary force" within the society.
"Socially and politically, we are passing through a troubling time," Archbishop Costa told ucanews.com. "There has been a decline in moral values and human rights and this has led people to becoming extremely reactive and defying their conscience in their behavior. This means we are failing to enlighten minds of people through education and leadership."
An absence of truly democratic politics and the curtailment of freedom of expression can give birth to "grievances" that explode from time to time, the prelate pointed out.
"Moreover, we live in a culture of impunity, complexity of justice system and extrajudicial killings by lawmen, and together these have encouraged people to take the law into their own hands," the prelate added.
Dr. Shah Ehsan Habib, professor of Sociology at Dhaka University, agreed.
"A sense of insecurity has developed among people because of a lack of rule of law and poor legal justice system. People consider themselves vulnerable amid a lack of social protection; they develop aggression and resort to violence like hardened criminals," Habib told ucanews.com.
"A man who took part in mob violence here would never do it if he was in Singapore, because he feels secure due to the strong social protection. Here, a toxic mental framing has developed in people the breed violence."
In an age of political bias and manipulation of technological advancements, rumors can be deadlier than ever, he warned.
"In the past rumors spread through word of mouth and now social media is being used. The state mechanism is failing to perform properly due to political bias, traditional institutes like families and schools cannot educate and enlighten people, and even the media is biased too. So, people don't trust media, they only trust social media today," Habib added.
Jyotirmoy Barua, a Supreme Court lawyer and rights activist, said the state had to accept responsibility for the rise in mob justice.
"We have seen the state legitimize extrajudicial killings in the so-called drug war while a culture of impunity exists and state law agencies fail to do their duty and prosecute and punish criminals through an effective legal system. So, people have taken for granted that mob killing is fine, even if someone is simply accused of a crime," Barua told ucanews.com.
Full report at:
https://www.ucanews.com/news/bangladesh-gripped-by-spate-of-brutal-mob-attacks/85728
--------
Airstrike kills Taliban group leader Qari Syed, his 3 militants in Faryab
26 Jul 2019
An airstrike killed a Taliban group leader Qari Syed and his three militants in northern Faryab province of Afghanistan.
The 209th Shaheen Corps in a statement said the security forces conducted the airstrike in Gurziwan district of Faryab.
The statement further added that the airstrike killed Taliban group leader Qari Syed and his three militants.
Furthermore, the 209th Shaheen Corps said the airstrike also wounded 2 other militants.
https://www.khaama.com/airstrike-kills-taliban-group-leader-qari-syed-his-3-militants-in-faryab-03452/
--------
'Test your power on Russia's Putin, not on innocent Afghans', Hekmatyar tells Trump
26 Jul 2019
The leader of Hezb-e-Islami Gulbuddin Hekmatyar has suggested that President Trump should flex muscles at Russia and should test his power on President Putin if he wants to examine his might.
Speaking during a gathering in Kabul, Hekmatyar said President Trump should test his power on Russia's Putin, not innocent Afghans.
This comes as President Trump said Monday that he could end the war in Afghanistan in a week but he did not want to kill 10 million.
Speaking during a press conference with the Pakistani Prime Minister Imran Khan in Washington, Trump said "I have plans on Afghanistan that, if I wanted to win that war, Afghanistan would be wiped off the face of the Earth. It would be gone. It would be over in — literally, in 10 days. And I don't want to do — I don't want to go that route."
However, he said "So we're working with Pakistan and others to extricate ourselves. Nor do we want to be policemen, because basically we're policemen right now. And we're not supposed to be policemen. We've been there — we've been there for 19 years, in Afghanistan. It's ridiculous."
He also added "And I think Pakistan helps us with that because we don't want to stay as policemen. But if we wanted to, we could win that war. I have a plan that would win that war in a very short period of time. You understand that better than anybody."
Meanwhile, Hekmatyar said withdrawal of foreign forces, fair and transparent elections and respecting the sovereignty of Afghanistan are the only to end the ongoing violence in the country.
Full report at:
https://www.khaama.com/test-your-power-on-russias-putin-not-on-innocent-afghans-hekmatyar-tells-trump-03453/
--------
Taliban militants suffer heavy casualties in Special Forces raids in Ghazni, Uruzgan
26 Jul 2019
The Afghan Special Forces inflicted heavy casualties on Taliban militants during the operations in Ghazni and Uruzgan provinces.
The military officials said Friday that the Special Forces killed 4 Taliban militants during a raid in Qarabagh district of Ghazni.
The officials further added that the Special Forces conducted another raid in Qarabagh district in which they killed 10 Taliban militants and destroyed a weapons cache.
Furthermore, the Afghan Special Forces conducted an operation in Tarin Kot district of Uruzgan killing 13 Taliban fighters and wounding 6 others.
Full report at:
https://www.khaama.com/taliban-militants-suffer-heavy-casualties-in-special-forces-raids-in-ghazni-uruzgan-03454/
--------
Taliban commander Qari Kefayat among 19 killed, wounded in North of Afghanistan
24 Jul 2019
The security forces killed 8 Taliban militants including a commander of the group during the operations in northern Balkh and Jawzjan provinces.
The 209th Shaheen Corps in a statement said the security forces conducted an operation with the support of the Air Forces in Asiab Khan area of Chamtal district in Balkh.
The statement further added that the security forces killed 7 Taliban militants during the operation and wounded 9 others.
Furthermore, the security forces clashed with Taliban militants in Mangjik disrtict of Jawzjan killing a Taliban commander Qari Kefayat.
Full report at:
https://www.khaama.com/taliban-commander-qari-kefayat-among-19-killed-wounded-in-north-of-afghanistan-03434/
--------
Airstrikes kill 12 Taliban militants in Kandahar and Zabul provinces
27 Jul 2019
The security forces carried out separate airstrikes in Kandahar and Zabul provinces killing 12 Taliban militants.
The informed military officials said Saturday that the security forces conducted an airstrike in Shorabak district of Kandahar.
The officials further added that the airstrike in Shorabak killed 11 Taliban militants.
Furthermore, the officials said an airstrike in Shah Joy district of Zabul killed 1 Taliban militant.
The Taliban group has not commented regarding the airstrikes so far.
The security situation in Kandahar and Uruzgan provinces has deteriorated during the recent months.
Taliban militants are active in some districts of the two provinces and often conduct terrorist related activities.
Meanwhile, the Afghan forces routinely conduct counter-terrorism operations against the anti-government armed groups in the two provinces.
Full report at:
https://www.khaama.com/airstrikes-kill-12-taliban-militants-in-kandahar-and-zabul-provinces-03458/
--------
Afghan official: Taliban suicide blast hits police, kills three
27 July 2019
An Afghan official says at least three police officers were killed when a Taliban suicide bomber targeted a district police headquarters in eastern Ghazni province.
Ahmad Khan Serat, provincial police chief's spokesman, says the explosion on Saturday morning in the Ab Band district also wounded 12 policemen.
He says the Taliban, who control much of the province, used a stolen military Humvee in the attack, which partially destroyed the headquarters.
Taliban spokesman Zabihullah Mujahid claimed responsibility for the bombing.
The Taliban hold sway in around half of Afghanistan and launch daily attacks across the country, mainly targeting Afghan security forces.
Full report at:
https://english.alarabiya.net/en/News/world/2019/07/27/Afghan-official-Taliban-suicide-blast-hits-police-kills-three.html
--------
Southeast Asia
Foreign Militants Working With New Islamic State Leader In Philippines
July 26, 2019
Government forces are tracking down at least seven foreigners who are working with the new Islamic State militant leader in the volatile southern Philippines, the country's defense chief said Thursday.
The seven are believed to be under the protection of Hatib Hajan Sawadjaan, a little-known commander of the Abu Sayyaf Group, officials said. He took the reins of the local Islamic State (IS) chapter after leader Isnilon Hapilon was killed in the 2017 battle of Marawi, according to Filipino and American officials.
Defense Secretary Delfin Lorenzana told reporters in Manila that the government was looking at raw information that at least a hundred foreign militants had entered the country and were operating in the south.
But of that total, he said, "we only confirmed seven foreign fighters" that were being tracked by the military's Western Mindanao Command (WesMinCom), which is based in southern Zamboanga city.
"We cannot find them so we consider those as just information and it cannot be confirmed," Lorenzana said of the 100 militants. "We do not know if they are really there or not."
"According to the WesMinCom there are seven foreigners. I think the nationalities are Egyptian, Malaysian, Indonesian and Singaporean. So we have the names of a couple but we are not going to give (this) out yet until we get all the names of everybody," Lorenzana said during a program launching new vessels for the coast guard.
"Initial reports say they are with the group of Sawadjaan in Jolo," the defense secretary said.
Regional military chief Lt. Ge. Cirilito Sobejana said troops were already tracking down the militants, but he declined to give more information, saying it may jeopardize the operation.
"We are doing something about this report," Sobejana told BenarNews, adding that authorities decided to reveal some of the militants' alleged nationalities as part of the military's increased awareness campaign in the south.
"We are doing something about it and [this] increases the vigilance level of our people so everybody should be observant now," he said.
The revelation came shortly after police and military intelligence troops arrested three Pakistani nationals over the past two months.
One of those arrested, Waqar Ahmad, 36, was a suspected bomber with IS. He was arrested following an anti-terror blitz that also led to the capture of two Filipino terror operatives in Manila. Ahmad was deported and turned over to Pakistani authorities.
The two other Pakistanis, identified as Salid Ali, 28, and Rahim Zada, 42, were also captured in Zamboanga, where Ahmad was also arrested.
The two had entered the country illegally through the southern Sulu Islands, and apparently were among those being pursued by authorities.
They were arrested after two suicide bombers, one of them a Filipino, launched an attack that left three soldiers and three civilians outside a military camp in the island province of Sulu in late June. IS claimed responsibility for that attack.
In January, an Indonesian husband and wife team, blew themselves up at the Our Lady of Mount Carmel Cathedral Catholic on Jolo Island, which is part of Sulu, killing 23 people in one of the country's worst attacks in years.
On Tuesday, Indonesian police named the couple as Rullie Rian Zeke and Ulfah Handayani Saleh, who were deported from Turkey in 2017 after they allegedly tried to cross its border to enter IS-controlled territory in Syria.
The two apparently left to join IS via Turkey in March 2016, taking their three children with them. But Turkish authorities caught them in January 2017 and deported them back to Indonesia, where government officials enrolled the couple in a short rehabilitation program before releasing them.
It was not clear, however, how the two managed to sneak into the Philippines, but local police earlier caught five Filipino accomplices who said that the Indonesian couple had apparently sailed to Jolo from the nearby island of Lampinigan.
The two met with Sawadjaan who plotted and financed the church bombing in Jolo, according to Philippine police sources.
https://www.eurasiareview.com/26072019-foreign-militants-working-with-new-islamic-state-leader-in-philippines/
--------
Islamic State says Bengal affiliate planted Dhaka bombs
JULY 25, 2019
In the third incident in three months after two years of apparent inactivity, Islamic State claimed its fighters were responsible for two bombs targeting police in the Bangladeshi capital this week, although the devices were identified and dealt with before they could do any harm.
Police recovered two bombs – both with seven small butane gas canisters taped to them – in Dhaka on Tuesday, The Star reported officials from the Bomb Disposal Unit of the Counter Terrorism and Transnational Crime unit as saying.
A traffic police officer told The Star that a carton was found outside the traffic police box at Khamar Bari intersection at around 1700 and, thinking it may belong to a colleague, a police officer brought it inside.
The Star published an image of the Khamar Bari device.
"When no one claimed it, we thought it was a container of biscuits. We opened it around 7 p.m. and saw the cans tied with tapes," the officer said.
The device was destroyed at around 0300 in a controlled explosion by the bomb disposal team.
The second bomb was discovered hidden inside a thick polythene packet near the traffic police box at Paltan intersection around 22:45, The Star reported. It was destroyed in a controlled explosion two hours later.
"Local militant groups, which were active earlier, might be behind the incident," Inspector General of Police Mohammad Javed Patwary said.
ISIS framed the incidents as a success, claiming in a statement that fighters from its Bengal affiliate had placed explosive devices at the two police checkpoints, and their explosions had caused "material damage."
Islamic State in Bangladesh
Tuesday's attempted bombings are the latest incident since ISIS resumed its activities in Bangladesh earlier this year.
On April 29, three police officers were injured when a bomb exploded in the Gulistan area of Dhaka. ISIS said its fighters were responsible for the attack, the first they had claimed in Bangladesh in two years.
In May, a police officer and two other people were injured in another bombing in the Malibagh area of Dhaka. Police at the time said the device may have been on board the police vehicle targeted, NDTV reported. ISIS again claimed its fighters were responsible.
ISIS has been active in Bangladesh since shortly after ISIS leader Abu Bakr al-Baghdadi declared a Caliphate in June 2014. Just two months later a video was released of five masked people pledge allegiance to Baghdadi in the Bengali language.
A 2015 article in ISIS's now-defunct English language magazine Dabiq said a leader, Abu Ibrahim Al-Hanif, had been chosen for the group's Bengal affiliate, and he was interviewed in a later edition.
According to a July 2018 report from the International Centre for the Study of Radicalization at King's College, London, around 40 people from Bangladesh may have joined ISIS in Iraq and Syria.
Nine Bangladeshi nationals who joined ISIS are believed to have been detained in Iraq and Syria, the Indian news website Economic Times reported in May.
ISIS first claimed an attack in Bangladesh in September 2015 after three men on a motorbike shot an Italian aid worker in Dhaka.
A wave of attacks followed, which often targeted foreigners, Shia Muslims, and places of worship.
In the most high-profile incident, 22 people were killed during an 11-hour siege at the Holey Artisan Bakery in Dhaka in July 2016.
Since then, around 100 suspected extremists have been killed in a security crackdown, and hundreds more suspects have been detained.
None of the recent attacks have been deadly and the most recent bombs were detonated by police, but they suggest local ISIS affiliates and their supporters remain active in Bangladesh.
The uptick in ISIS activity coincides with the group attempting to emphasize its affiliates around the world following the capture in March of the last of the territory it controlled in Iraq and Syria.
Full report at:
https://thedefensepost.com/2019/07/25/isis-bombs-dhaka-bangladesh/
--------
Every Week, Orthodox Man Protests China's Detention Of Muslims, Moved By 'Similarities To The Final Solution'
Ben Weich
June 2, 2019
An Orthodox man who has launched a protest campaign against the Chinese Government's alleged detention of Uyghur Muslims has said he is motivated by "similarities to the Final Solution".
Andrew, who gave only his first name for fear of repercussions for his business, has held twice-weekly protests outside the cultural section of the Chinese Embassy, in Hampstead, North West London, since early March.
Each Tuesday demonstrations take place between 6pm and 7pm.
The aim of the protest, he said, scheduled during the evening rush hour, is to attract the attention of motorists with placards reading "3 million Muslims in Chinese Concentration Camps".
The Uyghurs are a Turkic Muslim group originating from central Asia, with the largest population of Uyghurs found in the Xinjiang region, in north-western China.
In recent years, the Chinese government has faced allegations that Uyghurs have been arbitrarily arrested and detained, with an estimated one million kept in "vocational training centres", according to the Conversation, a non-profit online academic journal.
According to reports, there is growing evidence of human-rights abuses in the purpose-built detention centres, which resemble high-security prisons. Satellite images taken from space appear to confirm their existence.
Speaking to the JC outside the Chinese Embassy building, Andrew made the distinction between the Chinese detention centres and Nazi "extermination camps" but said that "the Final Solution only happened after the world did nothing for a number of years".
He said: "There are approximately three million people locked up in concentration camps in China. I don't see, on that scale, how I could sit still and do nothing. My mother taught me that the world kept quiet when our forebears, 80 years ago, were in concentration camps, and that was wrong. I can't see something that's wrong and keep quiet."
During Tuesday's demonstration, a number of motorists stopped to speak with Andrew, while others beeped their horns in support.
A minority, he said, disapproved of the campaign — some uttering Islamophobic tropes regarding "child grooming". One person had previously opined that Muslims should be "strung up".
Ahmed Adnan, a 47-year-old Uber driver from Harrow, North-West London, was driving to pick up a client when he noticed the protest, cancelling the trip to thank Andrew and a fellow demonstrator who had recently arrived, who gave his name as Baruch Solomon.
He hailed Andrew and Mr Solomon as "friends for the Muslim community".
Mr Adnan, originally from Iraq, said: "You see, it's raining, and he comes out. He has a family, a business — he leaves everything and he's stopped here doing this. He is a friend for the Muslim community.
"I am very happy. I am very happy — it's amazing. I don't know what to say. Humans are humans. And you see it here — he is Jewish. I want to tell Arabic people: these are the Jewish people.
"This is important — very important."
Mr Solomon, a 55-year-old non-observant Jew from East Dulwich, in South London, added: "I want to see more people from the community saying that we cannot be bystanders… people were bystanders when we were sent to concentration camps."
The Chinese Embassy in London said claims of surveillance, arbitrary arrest and detention of Uyghur Muslims were "completely groundless and does not tally with fact".
A spokesman for the Embassy instead claimed there were "counter-terrorism and de-radicalisation measures" in place against the people of Xinjiang, in response to local "extremist and separatist forces".
He also said the measures were "lawful and effective", saying: "The rights of the students in the vocational education and training centres are protected by law…
Full report at:
https://www.thejc.com/news/uk-news/orthodox-man-protests-china-s-detention-of-uyghur-muslims-outside-embassy-1.484967?fbclid
--------
Malaysia's 16th Agong: A king who is always at ease with the people
27 July 2019
KUALA LUMPUR, July 27 — Like father, like son. This saying is a fitting description of Al-Sultan Abdullah Ri'ayatuddin Al-Mustaffa Billah Shah and his late father Sultan Ahmad Shah Al Musta'in Billah.
The Yang di-Pertuan Agong takes after his father in terms of his caring attitude, humble nature and desire to be with the people, especially when they are hit by disasters. For the people of Pahang, this is nothing new as the Pahang royalty has for years been known for the compassion they extend to the people.
Lately, a video of Sultan Abdullah helping an accident victim in Putrajaya while on his way to attend a pre-Cabinet meeting with Prime Minister Tun Dr Mahathir Mohamad went viral on social media.
Prior to that, Sultan Abdullah was seen queuing at a fast-food restaurant in Pahang, proving that he is willing to put protocol aside just to be with the people.
At a special interview with the media at Istana Negara recently, held in conjunction with the installation of Sultan Abdullah as the 16th Yang di-Pertuan Agong on Tuesday, the King — reflecting on the social media posts that went viral — said he did not do it for publicity and that he was like that by nature and often interacted with the public when he was in Pahang.
"I did not do it to win praises, claps or credit... let me say with all sincerity that I will continue to do such things," he told the journalists.
The King said he did not just take after his father but also his grandfather.
"So, it (helping nature) is in our blood. I feel more comfortable when I am with the rakyat," he said.
On his first day in Istana Negara, His Majesty informed the prime minister that the palace was too big for him and that he was not used to staying in such a huge palace.
"He (Dr Mahathir) merely smiled," said Sultan Abdullah, adding that even though he was now based in Kuala Lumpur he would still try to get close to the people.
Recounting the recent incident where His Majesty extended a helping hand to an accident victim, a smiling Sultan Abdullah said he had a couple of reasons for stopping at the accident site. One was to check if the victim needed to be sent to the hospital and the other, to prevent traffic congestion.
"... traffic always builds up whenever an accident occurs. So I thought if I could get the vehicle moved to the side (of the road) and call the police, the 'jam' can be cleared quickly. That was one of the reasons, besides my sincere wish to help (the victim) so now you know," explained Sultan Abdullah.
On a lighter note, he shared the story of an individual who called His Majesty to ask when he would be heading to Melaka as he (the individual) wanted to stage an accident to give himself an opportunity to be helped by the King himself.
Bringing royalty closer to the people
Born on July 30, 1959, at Istana Mangga Tunggal in Pekan, Pahang, Sultan Abdullah has never really been able to run away from protocol.
The saying 'Raja dan rakyat berpisah tiada' (The ruler and his people cannot be parted), which was oft-quoted by his father Sultan Ahmad Shah, is something Sultan Abdullah holds dear.
"I've always regarded myself as one of the rakyat. I don't regard myself as royalty... protocol exists but I don't want to be too rigid. At times, I will spontaneously do what I can to get closer to the people.
"It's difficult for me to say that I can't do this or do that... if I can get closer to the rakyat, if I can greet the rakyat, if I can speak to the rakyat, I will do all these," said Sultan Abdullah.
The King said as head of Islam in the four states ruled by the Yang di-Pertua Negeri, three federal territories and Pahang, he tries to make time to attend Friday prayers at one of the mosques there on a rotation basis, as well as at the mosque at Istana Negara.
Election as Yang di-Pertuan Agong
Commenting on his proclamation as Pahang sultan and election as the 16th Yang di-Pertuan Agong, Sultan Abdullah said he never expected the two important events to occur within such a short space of time.
Unforeseen circumstances had led to His Majesty ascending the state throne and accepting his election as Yang di-Pertuan Agong but with mixed feelings.
"I really didn't expect to be proclaimed as Sultan of Pahang and immediately after that elected as Agong because, in January, my father was still alive and well.
"The Conference of Rulers announced the change (in the office of the Yang di-Pertuan Agong in January) due to reasons all of us already know. The question of me becoming the Yang di-Pertuan Agong had never occurred to me. I didn't even think I was going to become the sultan. The current Yang di-Pertuan Agong then had another three years in office. It is hard for me to say what would happen in two or three years' time because no one can predict that. But when it happened (becoming the sultan and Yang di-Pertuan Agong) I accepted it but it was tinged with sadness."
Sultan Abdullah is, nevertheless, grateful to God and prepared to undertake the responsibilities entrusted with him for which, he added, he would need all the necessary encouragement, support and views that would be beneficial for the nation.
His Majesty's installation as the Yang di-Pertuan Agong on Tuesday is also set to create history as it coincides with Sultan Abdullah's 60th birthday.
"It so happens that the installation day falls on my 60th birthday. Of course, it will be a very meaningful day. Very significant. Normally, when people turn 60 they will think of retiring but I'm going to start work.
"I hope it will be a very memorable day for the two of us. I hope the people will pray for all of us to live in a peaceful and congenial environment," said Sultan Abdullah.
The King acknowledged that his appointment as Crown Prince of Pahang at age 15 and Regent of Pahang for a period of five years at age 20 gave him early exposure to royal duties, adding that it has helped him a lot in discharging his duties since assuming the office of Yang di-Pertuan Agong in January.
His father, the late Sultan Ahmad Shah, had often entrusted His Majesty with the task of resolving state-level problems and representing him at the Conference of Rulers meetings. The experience gained by His Majesty has enabled him to have a mature approach when carrying out his duties.
"My father had set high expectations for me since I was young. He gave me a lot of exposure and opportunities through my positions as Crown Prince and Regent of Pahang.
"My experience has helped me a lot. I am so indebted (to my father) and I hope I can deliver," added Sultan Abdullah.
Tunku Azizah and Istana Abdulaziz
Sultan Abdullah, who enjoys listening to the melodious numbers by renowned singer Lionel Richie, confessed that he missed his "home" — Istana Abdulaziz — in Kuantan so much so that His Majesty would set aside some time to return home.
It was in that very palace His Majesty and Raja Permaisuri Agong Tunku Hajah Azizah Aminah Maimunah Iskandariah raised their children.
"Istana Abdulaziz is our home. So obviously we treasure our good times there and, indeed, I miss my bed over there, I miss my gym," said His Majesty, adding that he found the staff at Istana Negara very professional.
Sultan Abdullah, who is getting accustomed to life at Istana Negara, said he begins the day by checking his phone and work schedule before heading to the gymnasium. After that, he is ready to receive any minister or government officer who has sought an audience with His Majesty.
On Tunku Azizah, Sultan Abdullah said she is a meticulous, romantic and resolute woman.
Full report at:
https://www.malaymail.com/news/malaysia/2019/07/27/malaysias-16th-agong-a-king-who-is-always-at-ease-with-the-people/1775201
--------
The Latest: Widodo would welcome Trump visit to Indonesia
Jul 26, 2019
JAKARTA, Indonesia (AP) — The Latest on an AP interview with Indonesia's President Joko Widodo (all times local):
9:20 p.m.
Indonesian President Joko Widodo, leader of the world's most populous Muslim nation, says he would invite President Donald Trump to visit his country "with pleasure."
Widodo spoke in an interview with The Associated Press on Friday, during a tour of the capital of Jakarta. He was asked about what is widely perceived as anti-Muslim rhetoric and policies by Trump, including sweeping travel restrictions on citizens of several Muslim-majority countries.
Widodo says it will be "the government's pleasure to invite Trump to visit Indonesia." He says he believes the Indonesian people would also welcome Trump.
Indonesia has nearly 270 million people and nearly 90% are Muslims. Widodo was re-elected in April and promises sweeping reforms to attract more foreign investment.
———
9:10 p.m.
Indonesia's President Joko Widodo tells The Associated Press it's "entirely possible" he could ban the hard-line Islamic Defenders Front during his final five-year term.
The group wants Shariah law to apply to Indonesia's 230 million Muslims. It was a key player in organizing massive street protests in 2016 and 2017 against the governor of Jakarta, a Widodo ally, who was subsequently imprisoned for blasphemy.
Widodo said in an interview Friday a ban of the group was possible, "if the government review from a security and ideological standpoint shows that they are not in line with the nation."
The front was once on the political fringes in the world's most populous Muslim nation, but has gained significant influence through humanitarian and charity work.
Widodo in 2017 banned Hizbut Tahrir Indonesia, a group that campaigned for a global caliphate.
———
9 p.m.
Indonesia's President Joko Widodo says he is freed from political constraints in his final term and vows to push sweeping economic reforms.
Widodo told The Associated Press on Friday, "In the next five years I have no political burden so in making a decision, especially important decisions for the country, in my opinion it will be easier."
Widodo's victory in the April election was confirmed last month after the country's top court rejected a legal challenge from his rival.
Widodo says cumbersome bureaucracy will be simplified. He says labor laws will be overhauled in what will be a politically challenging decision to attract more investment and create more jobs.
Full report at:
https://www.joplinglobe.com/region/national_business/the-latest-widodo-would-welcome-trump-visit-to-indonesia/article_5e51f3d2-47f6-5fa0-85f9-53efeeebcae8.html
--------
Arab World
Dissident Saudi cleric faces death sentence for his peaceful activism, Amnesty warns
Jul 26, 2019
Amnesty International has warned the Saudi regime against executing prominent Muslim cleric Sheikh Salman al-Awdah, calling on Riyadh to drop the politically-motivated charges leveled against the dissident and release him from jail.
Lynn Maalouf, the Middle East Research Director at Amnesty International, said on Friday that the London-based human rights organization has serious concerns that the 61-year-old clergyman could be sentenced to death and executed, when he stands trial at the so-called Specialized Criminal Court in the capital Riyadh on July 28.
"We are gravely concerned that Sheikh Salman al-Awdah could be sentenced to death and executed. Since his arrest almost two years ago, Sheikh al-Awdah has gone through a terrible ordeal, including prolonged pre-trial detention, months of solitary confinement, incommunicado detention, and other ill-treatment – all flagrant violations to his right to a fair trial," Maalouf said.
She further highlighted that Sheikh al-Awdah's forthcoming trial as well as those of other activists, including the 37 men who were executed last April, are politically-motivated and meant to silence independent voices in Saudi Arabia.
"Sheikh al-Awdah has been calling for a more inclusive society that would end the marginalization of Saudi Shia citizens. For this, he is being punished. In the same way, women and advocates of women's rights, who have called for greater rights, are similarly being punished. What gains are the authorities hoping to achieve by treating their own citizens this way? Instead of moving ahead with this sham trial, they must immediately and unconditionally release Sheikh al-Awdah and drop all charges against him," Maalouf pointed out.
The Arabic-language Saudi newspaper Okaz reported on September 4, 2018 that Saudi public prosecutors had leveled 37 counts against Awdah, and even demanded his execution.
Awdah is the assistant secretary general of the International Union of Muslim Scholars (IUMS), which the Riyadh regime has listed as a terrorist organization.
Saudi authorities detained the prominent Muslim scholar on September 7 last year, and have been holding him in solitary confinement without charge or trial ever since. Officials have imposed travel bans on members of his family as well.
A family member told Human Rights Watch that the distinguished cleric was being held over his refusal to comply with an order by Saudi authorities to tweet a specific text to support the Saudi-led blockade of Qatar.
Awdah, instead, posted a tweet, saying, "May God harmonize between their hearts for the good of their people," - an apparent call for reconciliation between the Persian Gulf littoral states, the US-based rights group said in a statement.
Saudi Arabia, the United Arab Emirates, Bahrain and Egypt all cut off diplomatic ties with Qatar on June 5 last year, after officially accusing it of "sponsoring terrorism."
Qatar said the move was unjustified and based on false claims and assumptions.
Saudi Arabia has lately stepped up politically-motivated arrests, prosecution and conviction of peaceful dissident writers and human rights campaigners.
Saudi officials have also intensified security measures in the Shia-populated and oil-rich Eastern Province.
Over the past years, Riyadh has also redefined its anti-terrorism laws to target activism.
In January 2016, Saudi authorities executed Shia cleric, Sheikh Nimr Baqir al-Nimr, who was an outspoken critic of the policies of the Riyadh regime. Nimr had been arrested in Qatif in 2012.
https://www.presstv.com/Detail/2019/07/26/601919/Dissident-Saudi-cleric-faces-death-sentence-for-his-peaceful-activism-Amnesty-warns
--------
Saudi Arabia Tortures Yemeni Civilians in Secret Jails
Jul 26, 2019
The crimes committed by the Saudis in Eastern Yemen is no less than what the Emiratis do in Aden, the Arabic-language Doha-based a-Rayeh newspaper quoted Deputy Governor General of al-Mohreh Province Badr Kalshat al-Mohri as saying.
He noted that the Saudi forces arrived in provinces where the clashes between Mansour Hadi and Ansarullah forces are underway, and set up 26 military bases and centers.
Kalshat noted that the Saudi force as still looking for increasing their illegal presence in the region, and said that the number of Saudi troops who are under al-Mohreh Governor General Rajeh Bakrit stands at around 5,000.
Kalshat also pointed to Saudi Arabia's efforts to build oil pipelines in the province after taking full control over it, and said that Saudi Arabia has set up clandestine prisons in al-Mohreh region in the wake of the presence of Emirati intelligence officers in the region.
In a relevant development in late July 2018, the Associated Press (AP) revealed in a report that the United Arab Emirates (UAE) tortured Yemeni prisoners across 18 prisons in Yemen.
Hundreds of Yemeni prisoners were subject to sexual abuse in Southern Yemen, where the UAE focuses its foreign policy in Yemen. Fifteen UAE officers ordered Yemeni prisoners to undress and lie down for anal cavity checks, claiming they were looking for contraband mobile phones. The Yemeni prisoners who resisted were beaten until they bled, and threatened with barking dogs.
Hundreds of other detainees suffered similar sexual abuse on 10 March at Beir Ahmed prison in Southern Yemen, Aden, according to seven witnesses who spoke to the AP.
Despite countless human rights reports detailing abuse in Yemen, Marine Major Adrian Rankine-Galloway, Pentagon Spokesperson, announced that "US forces are required to report credible allegations of detainee abuse. We have received no credible allegations that would substantiate the allegations put forth in your line of question/story".
US officials have acknowledged that American forces receive intelligence from UAE partners and have participated in interrogations in Yemen.
Witnesses told The Associated Press that Yemeni guards working under the direction of UAE officers used various methods of sexual torture and humiliation. Detainees were raped while other guards recorded the abuse on their mobile phones. Detainees had their genitals electrocuted and rocks hung from their testicles, and others were abused with wooden and steel poles.
"They strip you naked, then tie your hands to a steel pole from the right and the left so you are spread open in front of them. Then the sodomizing starts," one father of four stated.
The detainees smuggled letters and drawings to the AP describing the sexual abuse.
Of the five prisons, AP located, four of them are in Aden, Southern Yemen.
"One is at the Buriqa base – the headquarters for the Emirati forces. A second is at the house of Shallal Shaye, the Aden security chief closely allied with the UAE, and a third is at a nightclub-turned-prison called Wadah. The fourth is at Beir Ahmed, where the March atrocities occurred", the AP investigation read.
US personnel have been seen at the Buriqa base, along with Colombian mercenaries, according to two prisoners and two security officials.
The detainees could not say whether the Americans, some of whom wear military uniforms, are members of the US government or mercenaries.
Full report at:
https://en.farsnews.com/newstext.aspx?nn=13980504000298
--------
Riyadh Exerting Immense Pressures on Families of Exiled Saudis
Jul 26, 2019
The Saudi officials have put pressures on families of the renowned opposition forces who are abroad, Moataqali al-Rai Twitter account disclosed on Thursday.
The Twitter account which deals with the status of political prisoners in Saudi Arabia reiterated that the Riyadh government has threatened families of three Saudi dissidents, whose names have not been disclosed, to increase pressures on them if they do not desert their dissident family members.
In a relevant development in mid-July, The Financial Times reported that Saudi Arabia's efforts to muzzle dissidents living abroad is ongoing despite the ferocious international criticism it faced following the murder of Jamal Khashoggi.
Concerned that dissidents "are tarnishing the reputation of Saudi Crown Prince Mohammad bin Salman (MbS) and his much-publicized reform program, two unnamed sources told the FT that the kingdom is offering them incentives and promises they will be unharmed to encourage them to return.
Riyadh's crackdown on dissenting Saudi voices has been in the spotlight ever since Khashoggi was assassinated by a Saudi hit squad in the kingdom's Istanbul consulate in early October.
Also, Middle East Eye reported that the FBI approached several Saudi and Arab dissidents living in the United States in the weeks following Khashoggi's death, warning them that they too could be at threat.
Sources told the FT that the Saudi government has commissioned a report on the topic, amid a growing sense of unease about the prominence of critical members of Saudi diaspora.
"A big part of their concern is that this group abroad is engaged in lobbying at the UN, EU and Congress in the US," a Saudi activist based in Europe told the FT.
"They have played a central role in the backlash against Saudi Arabia in recent months because they have been working in an unprecedented way. If they remained silent the international community would have forgotten and moved on," the activist added.
The report, which is unlikely to be released upon completion, recommends the government take a softer approach to lure citizens home and estimates that the number of Saudi political asylum-seekers could reach 50,000 by 2030.
Officials are said to be offering dissidents a range of assurances about their safety, with some who sought refuge in the 1990s in Western capitals such as London and Washington said to have already returned after cutting such deals.
"Someone close to the leadership or another mediator would typically contact you and say: 'I have a personal message from the crown prince', promising that there would be no harm or jail time if you decide to take up the offer," a Saudi exile who had been approached told the FT.
Since MbS rose to power in 2017, the Saudi government has begun a program of sweeping reforms while cracking down on any opinions that diverge from the official line.
The repression, which has included jailing and torturing women rights activists as the kingdom has eased certain restrictions on Saudi women the activists had called to be abolished, has driven several Saudis to seek a new life abroad.
According to the United Nations' refugee agency, at least 815 Saudis applied for asylum in 2017, up from 195 in 2012.
Primarily based in the West, these Saudis have caused a headache for Riyadh by becoming vocal critics as the government attempts to portray a modernizing and reformist image.
In 2016, the Shura council - the king's advisory committee - warned that some one million Saudis were living abroad and called on the government to "investigate this phenomenon and its causes before it becomes a security threat or a social dilemma", according to local media reports.
Saudi Arabia's softer touch in its attempts to rein in its dissidents comes as MbS faces renewed criticism for his likely role in Khashoggi's murder.
Last month, the UN special rapporteur on extrajudicial executions released a report which stated there was "credible evidence" that the crown prince and other senior officials were responsible for the murder.
Full report at:
https://en.farsnews.com/newstext.aspx?nn=13980504000331
--------
U.N. says Syria air strikes killed at least 100 civilians in past 10 days
JULY 26, 2019
GENEVA/BEIRUT (Reuters) - Air strikes by the Syrian government and its allies on schools, hospitals, markets and bakeries have killed at least 103 civilians in the past 10 days, including 26 children, U.N. human rights chief Michelle Bachelet said in a statement on Friday.
"These are civilian objects, and it seems highly unlikely, given the persistent pattern of such attacks, that they are all being hit by accident," Bachelet said, adding that the rising toll had been met with "apparent international indifference".
The government began its offensive against the rebel enclave in northwest Syria, the last area of active insurgent opposition to President Bashar al-Assad, at the end of April, saying it was responding to violations of a truce.
Idlib and surrounding areas of the northwest were included in a "de-escalation" deal last year between Assad's main ally Russia and Turkey, which backs some rebel groups, to reduce warfare and bombardment.
Over the past three months, the offensive has driven hundreds of thousands of people from their homes or temporary shelters to seek refuge near the border with Turkey and has killed hundreds of civilians, according to war monitoring groups.
Full report at:
https://www.reuters.com/article/us-syria-security-un/un-says-syria-air-strikes-killed-at-least-100-civilians-in-past-10-days-idUSKCN1UL104
--------
Isis suspects in Syrian camp raise thousands through online crowdfunding campaign
Richard Hall
Jul 27, 2019
Women detained in a camp for Isis families in Syria have raised thousands of pounds through an online crowdfunding campaign.
The fundraising effort, named "Justice for Sisters", was launched last month with the help of an intermediary in Germany, and appears to be aimed at soliciting donations from sympathisers in Europe.
The campaign comes amid growing concerns over radicalisation at al-Hol camp, which is holding thousands of suspected female Isis members and their children, many of whom are still loyal to the terror group.
Security services in the UK and around the world are concerned that citizens detained in Syria who still hold extremist views will eventually find their way back home. The British government believes that women can pose as significant a risk to national security as returning male fighters.
The Justice for Sisters campaign is one of two known fundraising efforts for women in al-Hol, the other of which is a campaign explicitly aimed at raising funds to pay smugglers to help them escape.
Analysts have warned that deteriorating conditions at the camp could potentially lead to more women seeking to smuggle themselves out, and potentially more fundraising campaigns to help them.
The latest effort began last month, when videos and letters written in German, Arabic and English from women claiming to be detained in the camp were posted to an Isis-affiliated channel on the Telegram messaging service.
The women, at least some of whom appear to be European citizens, complained of poor conditions in the camp. One message, written in English, says that "life in the hands of the kuffar [non-believers] is not easy".
"Most of all, we need water, electricity and financial help. Many children and women are malnourished and need fruit, vegetables and milk. Everything is there but many sisters cannot afford it," read one message.
The group shared handwritten letters and photographs purporting to be from inside the camp. In one picture, four women hold signs made out of cardboard to demonstrate the authenticity of the campaign. One sign reads: "Free Prisoners. Your sisters in Al Hol". On another is written: "Germany".
The group shared handwritten letters and photographs purporting to be from inside the camp. In one picture, four women hold signs made out of cardboard, designed to demonstrate the authenticity of the campaign. One sign reads: "Free Prisoners. Your sisters in Al Hol". On another is written simply: "Germany".
Participants shared links to several PayPal MoneyPool accounts, which collectively raised more than €3,000 (£2,600). They may not be the only accounts associated with the campaign, however, and the total amount raised is likely to be higher.
In an apparent effort to avoid being taken down by PayPal, they used coded messages to disguise the aim of the fundraising. One was labelled "Honeymoon in Vienna", while another claimed the funds were to be used for a boxing event.
In a message posted on the encrypted Telegram channel, a member of the group reminded potential donors: "Please don't use Islamic terms in the donation, there's danger of the Account being closed by PayPal."
The campaign was promoted by a man believed to be an administrator for a number of Isis Telegram channels, who also tweeted that the fundraising effort was genuine. The Telegram channel was eventually closed. It is unknown whether the campaign is still ongoing.
The campaign was revealed by the Rojava Information Centre – a collection of international media activists based in northern Syria. The Independent reviewed chat logs and screenshots from the Telegram channels and four PayPal campaigns shared by the group.
Although the group's creators told donors that the funds were for women and children in the camp to buy food, the amount raised could be used to pay smugglers to help them escape.
Similar fundraising campaigns have claimed to have had success in freeing women from al-Hol camp in recent months. One such effort, set up with the explicit aim of freeing women, was launched by al-Qaeda supporters based in Idlib, northern Syria, in January.
The "Free the Female Prisoners" campaign said this week that it had succeeded in freeing its fourth woman from the camp.
In a Telegram post, the campaign announced, "Glad tidings! Your brothers in this campaign have managed – with Allah's help and the collaboration of various parties and money from altruists – to secure the release of an immigrant sister from al-Hol refugee camp and ensure she reached liberated areas", in a reference to rebel-held areas in northern Syria.
It previously released a poster detailing what donors were paying for. It said "$8,000 secures the full release of a sister and the Golden share $4,000 covers half the cost."
While it is unclear exactly how many women have managed to escape the camp, researchers working on the ground in Syria have heard anecdotal evidence that it is occurring.
"It's incredibly expensive and costs thousands of dollars, and therefore very few can afford to leave. But some women have been able to smuggle themselves out of the camp," said Elizabeth Tsurkov, a research fellow at the Forum for Regional Thinking, who recently visited the camp.
"They are desperate to get out. Conditions in the camp are terrible," she added. "For foreign women, it is also a way to escape justice since they may be prosecuted in their home countries."
The campaigns come amid reports of worsening conditions in al-Hol, and warnings from camp authorities that they are in danger of becoming overwhelmed. The camp is currently home to some 70,000 women and children who were detained while leaving the last Isis stronghold in Syria earlier this year.
Many of them were local residents who became trapped within Isis areas by the battle, but the majority were the wives and family members of fighters who showed little sign of abandoning the group.
Al-Hol, and a number of smaller facilities, are controlled by the Syrian Democratic Forces (SDF), a Kurdish and Arab militia backed by the US. Al-Hol is the largest of those camps, and is comprised mostly of women and children from Syria and Iraq, together with around 11,000 foreign citizens.
The deputy commander of the US-led coalition to defeat Isis told The Independent that the potential for radicalisation in the camps was "the biggest long-term strategic risk" in ensuring its total defeat.
In recent weeks, there have been a number of incidents in the camp which have caused alarm. In a video purportedly released by camp residents, the black flag of Isis was hoisted in the camp while women and children can be seen chanting Isis slogans. Guards are frequently attacked by extremists inside the camp.
Conditions at al-Hol were heavily criticised in a Human Rights Watch report released on Tuesday. During three visits to the area reserved for foreign women and children last month, the group "found overflowing latrines, sewage trickling into tattered tents, and residents drinking wash water from tanks containing worms".
The report added: "Young children with skin rashes, emaciated limbs, and swollen bellies sifted through mounds of stinking garbage under a scorching sun or lay limp on tent floors, their bodies dusted with dirt and flies. Children are dying from acute diarrhoea and flu-like infections."
Foreign governments – including the UK – have shown little willingness to take back their citizens from the camps over fears they will pose a significant security risk. There are thought to be at least 19 British women currently at al-Hol and other camps in the area, together with at least 30 of their children.
The plight of British children stuck in Syria made the headlines earlier this year when the infant child of Shamima Begum, named Jarrah, died in the al-Hol camp. The British teenager fled her home in Bethnal Green, London, to join Isis in Syria in 2015.
While access to al-Hol is extremely restricted, the ability of its residents to receive funds sent from abroad presents a new challenge to camp authorities. Money transfer facilities are present in the main part of the camp, and foreign detainees could in theory receive money with the help of a Syrian living in the camp.
The use of anonymous messaging apps and online money transfer platforms have been utilised by extremist groups in recent years to avoid detection. The last few years has seen an attempt by these platforms to seek out and remove any fundraising by extremists.
"They are clearly alert to the risk, and PayPal has acquired some heavy hitting people from the security world in the last year or so," according to Tom Keatinge, director of the Centre for Financial Crime and Security Studies at the Royal United Services Institute, a think-tank focused on international defence and security.
"These crowdfunding websites do close out access to extremist actors, but it's very challenging. The bad actors know these places are on the lookout for them, they will do everything they can to cover their tracks," he added.
A British government spokesperson told The Independent: "It is an offence to provide financial assistance to someone where they know or suspect it could be used for terrorist purposes and we work closely with the financial sector who are required to disclose any suspicions they have concerning terrorist financing."
They added that "anyone returning from engaging in the conflict in Syria and Iraq will be investigated by the police to determine if they have committed crimes or pose a threat to our national security".
Full report at:
https://www.independent.co.uk/news/world/middle-east/isis-syria-camp-al-hol-paypal-telegram-online-crowdfunding-a9021006.html
--------
Iraq arrests ISIS member it says helped plan 2017 bombing that killed over 80
July 25-2019
ERBIL (Kurdistan 24) – An Iraqi provincial police department on Thursday announced the arrest of an alleged terrorist it said had taken part in six deadly bombings across multiple provinces. The most severe of these resulted in the deaths of over 80 people in an attack claimed by the Islamic State.
Najaf Province's police directorate said in a statement that a tactical unit that under the authority of the Interior Ministry had managed to "capture the terrorist Badr Fares Mutlak al-Zakroutti."
The statement charged that Zakroutti had played a role in the planning of six bombing attacks that had occurred the southern provinces of Karbala, Babil, and a particularly deadly one in Dhi Qar that killed 84 and injured 93 others. The incident occurred in September of 2017 at a restaurant in the city of Nasiriyah that was popular with groups of Shia Muslim pilgrims on their way to visit holy shrines.
The police added that Zakroutti had also aided in the logistics of transporting suicide bombers to Najaf in the past few years and that he had been operating within the Islamic State's self-proclaimed "South Wilayat" and "Anbar Wilayat" regions, in southern and western Iraq.
The statement did not say precisely where Zarkouti was arrested.
Despite Iraq declaring a "final victory" against the Islamic State in December 2017, it continues to carry out sporadic attacks which include bombings, assassinations, and kidnappings in previously liberated areas throughout parts of the country the extremist group previously controlled and also in areas it never controlled such as Baghdad.
Earlier this month, the Interior Ministry announced the arrest of a man wearing a disguise of women's clothing who is alleged to have sentenced multiple Iraqis to death while previously acting as a criminal judge for the Islamic State. Iraqi forces captured the man in a village in Nineveh province.
Full report at:
https://www.kurdistan24.net/en/news/1a535824-7248-46cc-ad07-b6ef5bf3a6bf
--------
US Takes New Measures to Block Turkey's Military Operations in Eastern Syria
Jul 26, 2019
The Kurdish-language Bas News website quoted informed sources as saying that the US-led coalition forces have set up observation posts near the town of al-Darbasieh close to the border with Turkey in Hasaka province.
The sources noted that this measure has taken place after Turkey's mortar attacks on Ra'as al-Ain region preempt possible military operations against Kurdish forces, and said the US-led coalition and the Kurdish militia have also dispatched new military equipment to al-Darbasieh town and villages of Ra'as al-Ain and maintained a state of alert.
Meantime, with intensified differences between the US and Turkey as NATO members in creating a safe zone in Syria, Ankara has threatened to conduct military operations against Kurdish militia in Eastern Euphrates.
The Syrian Observatory for Human Rights (SOHR) also announced that Turkey and its allied militants have prepared for conducting an upcoming military operation against the US-backed forces in Northeastern Syria.
In a relevant development on Monday, the US Army forwarded tens of trucks containing logistical aid and military equipment to Hasaka province as Turkey is preparing for massive military operation against Washington-backed Kurdish militias in Northeastern Syria.
The pro-militant Smart news website reported that a new US military convoy had crossed into Syria's Hasaka province from Iraq via Simalka crossing.
It noted that the US convoy, comprising 100 trucks carrying military vehicles and fuel as well as a number of covered trucks, had arrived at the US military base in Tal Bidar region in Hasaka province.
Battlefield sources, meantime, reported that the Syrian Democratic Forces (SDF) has sent massive military equipment, including heavy weaponry to areas under their control from Ain al-Arab (Kobani) to Ain Issa and the border city of Tal Abyaz in Raqqa province.
In a relevant development late last month, the SOHR reported that hundreds of trucks loaded with logistics and military support had arrived in areas under control of the SDF in Hasaka province in Northeastern Syria from the US bases in Northern Iraq.
Full report at:
https://en.farsnews.com/newstext.aspx?nn=13980504000495
--------
Lebanon secures release of American citizen from Syria
26 July 2019
Syrian authorities have released a US citizen and he has been handed back to his family, thanks to the mediation of Lebanon, a Lebanese security official said on Friday.
The security official did not reveal the name of the released American, but said it was not Austin Tice, a journalist who disappeared in Syria in 2012.
The official said that Lebanon's security chief Abbas Ibrahim had conducted the mediation.
"Lebanon has worked on mediating through General Abbas Ibrahim to release an American and he was handed over to his family already. The American is not Tice because it is not known where he is," the security official said.
Several US citizens have been held in Syria since the war began there in 2011, including people held by militant groups such as the ISIS.
The United States has declined to say who it believes is holding Tice, but has said it believes he is alive and has sought the help of the Syrian government's close ally Russia to free him.
Last year the family of another American, Majd Kamalmaz, told the New York Times that he had disappeared at a government checkpoint in Damascus in 2017.
Full report at:
https://english.alarabiya.net/en/News/middle-east/2019/07/26/Lebanon-secures-release-of-American-citizen-from-Syria-.html
--------
Bahrain executes three men over terrorism charges, killing of mosque imam
27 July 2019
Bahrain executed early on Saturday three people convicted in two separate cases, one a case of "terrorism" and killing a police officer, and the second related to the killing of a mosque imam, the public prosecution said.
Public Prosecutor Ahmed al-Hammadi said two of the individuals in the terrorism case were also charged with possession of explosives and firearms for the purpose of terrorism.
The convicts were put to death along with a third death row prisoner found guilty of murder.
The terrorism case was based on investigations, which uncovered a terrorist organization joined by a dozen members from abroad in Iran, Iraq, and Germany, and 40 members in Bahrain. The organization was preparing to commit a number of terrorist crimes inside Bahrain "for the purpose of disturbing the public order, endangering the safety and security of the Kingdom, harming national unity and obstructing the public authorities from carrying out their duties," Bahrain News Agency reported.
The planned armed attacks included the storming of the kingdom's Jaw prison in January 2017 that killed a guard and led to the escape of 10 detainees, the prosecutor said.
That attack was followed by two separate fatal attacks on police officers later the same month, the prosecutor added.
The prosecutor said that the suspects in Iran and Iraq communicated with the organization's members in Bahrain, and set out to recruit more members, as well as provide them with arms that they planned to smuggle into the country.
He stated that, in coordination with the organization's leader in Germany, they arranged for the travel of a number of recruits to Iran and Iraq to train on how to use explosives and firearms in IRGC camps.
Full report at:
https://english.alarabiya.net/en/News/gulf/2019/07/27/Bahrain-executes-three-men-over-terrorism-charges-killing-mosque-imam.html
--------
Allegations of Hezbollah ruling Lebanon aimed at public provocation, turmoil: Nasrallah
Jul 26, 2019
The secretary general of Hezbollah has roundly dismissed claims that the Lebanese resistance movement is exerting control over the Beirut government, emphasizing that such lies are aimed at inciting public opinion and plunging Lebanon into turmoil.
"In Lebanon, some people try to portray Hezbollah as the leader of the country and in control of all state institutions. I tell you this is the biggest lie in the history of Lebanon," Sayyed Hassan Nasrallah stated in a televised speech broadcast live from the Lebanese capital of Beirut on Friday evening.
He warned that those making such unsubstantiated claims are actually giving the Saudi and Israeli regimes, among other enemies, the chance to hatch and advance their plots against Lebanon.
"They know they are lying and their aim is to hold Hezbollah accountable for the current economic situation," Nasrallah pointed out.
"Hezbollah has never sought to create parliamentary obstruction…Hezbollah has never hid behind anyone or any media outlet. It has long stood up against cowards," he said.
The Hezbollah chief then expressed regret over the Lebanese government's recent crackdown on businesses hiring Palestinian workers without permits, arguing that the issue has been "politicized."
"Concerning the employment of foreign citizens in Lebanon, we have always stated that Palestinians are different from foreign workers as the latter have home countries to return to, but Palestinians don't. Palestine is under occupation (of the Israeli regime) indeed," Nasrallah said.
The Hezbollah secretary-general then called on Lebanese political factions to look at the issue of Palestinian refugees working in the country from a humanitarian perspective.
Nasrallah also condemned the recent demolition of a cluster of Palestinian homes on the edge of occupied East Jerusalem al-Quds, which has sparked international criticism.
Full report at:
https://www.presstv.com/Detail/2019/07/26/601931/Nasrallah-Hezbollah-Lebanon-
--------
Mideast
Flags of inconvenience: noose tightens around Iranian shipping
JULY 26, 2019
LONDON/DUBAI/PANAMA CITY (Reuters) - Somewhere on its journey from the waters off Iran, around Africa's southern tip and into the Mediterranean, the Grace 1 oil tanker lost the flag under which it sailed and ceased to be registered to Panama. Iran later claimed it as its own.
The ship carrying 2 million barrels of Iranian crude was seized by British Royal Marines off Gibraltar, raising tensions in the Gulf where Iran detained a UK-flagged ship in retaliation.
Grace 1 remains impounded, not because of its flag but because it was suspected of taking oil to Syria in breach of EU sanctions, an allegation that Iran denies.
Yet Panama's move on May 29 to strike it from its register mid-voyage was part of a global squeeze on Iranian shipping.
Nations that register vessels under so-called "flags of convenience" allowing them to sail legally have de-listed dozens of tankers owned by Iran in recent months, tightening the economic noose around it.
In the biggest cull, Panama, the world's most important flag state, removed 59 tankers linked to Iran and Syria earlier this year, a decision welcomed by the United States which wants to cut off Tehran's vital oil exports.
Panama and some other key flag states are looking more closely at the thousands of ships on their registers to ensure they comply with U.S. sanctions that were re-imposed against Iran last year and tightened further since.
A Reuters analysis of shipping registry data shows that Panama has de-listed around 55 Iranian tankers since January, Togo has de-listed at least three and Sierra Leone one.
That represents the majority of its operational fleet of tankers, the lifeblood of the oil-dominated economy, although Iran may have re-registered some ships under new flag states.
When a vessel loses its flag, it typically loses insurance cover if it does not immediately find an alternative, and may be barred from calling at ports. Flags of convenience also provide a layer of cover for a vessel's ultimate owner.
International registries charge fees to ship owners to use their flags and offer tax incentives to attract business.
Iran said it still had plenty of options.
"There are so many shipping companies that we can use. In spite of U.S. pressure, many friendly countries are happy to help us and have offered to help us regarding this issue," said an Iranian shipping official, when asked about tankers being de-listed.
Some nations have expressed caution, however. The world's third biggest shipping registry, Liberia, said its database automatically identified vessels with Iranian ownership or other connections to the country.
"Thus, any potential request to register a vessel with Iranian connection triggers an alert and gets carefully vetted by the Registry's compliance and management personnel," the registry said.
Liberia said it was working closely with U.S. authorities to prevent what it called "malign activity" in maritime trade.
IRANIAN FLAG
In many cases Iran has re-listed ships under its own flag, complicating efforts to move oil and other goods to and from the dwindling number of countries willing to do business with it.
Some shipping specialists said the Iranian flag was problematic because individuals working for the registry in Iran could be designated under U.S. sanctions, and so present a risk for anyone dealing with vessels listed by them.
"Most insurance companies or banks will not be able to deal with the Iranian flag as it is in effect dealing with the Iranian state," said Mike Salthouse, deputy global director with ship insurer the North of England P&I.
Customs officials may also sit up and take notice.
"One of the problems with an Iranian-flagged ship is that there is a 50 percent chance that a customs officer will undertake a search, which means the cargo will be delayed," said a U.N. sanctions investigator, who declined to be named. "These all add to the costs."
A former U.S. diplomat said Washington was often in contact with Panama and other flag states to keep vessel registries "clean".
"We are continuing to disrupt the Qods Force's illicit shipments of oil, which benefit terrorist groups like Hezbollah as well as the Assad regime (in Syria)," said a spokesman at the U.S. State Department.
Qods Force refers to an elite unit of Iran's Islamic Revolutionary Guards Corps that is in charge of the Guards' overseas operations, and Hezbollah is an Iran-backed, heavily armed Shi'ite Muslim group that forms part of Lebanon's coalition government.
"Nearly 80 tankers involved in sanctionable activity have been denied the flags they need to sail," the spokesman added.
FALSE FLAGS
De-flagging Iranian ships is just one way the international community can squeeze Iran.
U.S. sanctions on oil exports aim to reduce Iran's sales to zero. Iran has vowed to continue exporting.
In the first three weeks of June Iran exported around 300,000 barrels per day (bpd), a fraction of the 2.5 million bpd that Iran shipped before President Donald Trump's exit in May last year from the 2015 nuclear deal with major powers.
Egypt could also complicate life for Tehran if it denies passage to tankers heading to the Mediterranean through the Suez Canal. The alternative route around Africa, taken by Grace 1 before its seizure, is far longer.
Refinitiv shipping data showed the Masal, an Iranian-flagged oil tanker, anchored in the Suez Canal's waiting zone on July 6. It stayed there until July 12, when it began to sail south. It exited the Red Sea on July 17 and docked at Larak Island, Iran on July 23.
Two Egyptian intelligence sources told Reuters that the tanker was halted in the Red Sea in July by authorities "without anyone knowing the reason".
A second senior Iranian government official involved in shipping declined to comment when asked about the Masal.
The Suez Canal Authority's spokesman said Egypt did not bar vessels from crossing the canal except in times of war, in accordance with the Constantinople Convention. He declined to comment further.
Britain tightened the screw when it seized the Grace 1 supertanker on July 4, accusing it of violating sanctions against Syria.
Two Iranian-flagged ships have been stranded for weeks at Brazilian ports due to a lack of fuel, which state-run oil firm Petrobras refuses to sell them due to U.S. sanctions. Two more Iranian ships in Brazil could also be left without enough fuel to sail home.
A recent incident off Pakistan's coast last month points to the lengths Iran has gone to in order to keep trading.
The Iranian cargo carrier Hayan left from the Iranian port of Bandar Abbas on June 3 and set sail for Karachi on Pakistan's coast, according to ship tracking data from maritime risk analysts Windward.
On June 7, it changed its name to Mehri II and its flag to that of Samoa, the data showed, as it made its way toward Karachi port.
Six days later, the vessel conducted a ship-to-ship transfer of its unknown cargo further up Pakistan's coast.
The ship then returned home, changing its flag back to Iran and its name back to Hayan.
Imran Ul Haq, spokesman for the Pakistan Maritime Security Agency, said they had no information, when asked about the Iranian ship's activity.
Iran has frequently used ship-to-ship transfers to move oil and oil products since U.S. sanctions were reimposed.
Shipping data also show that a separate Iranian-owned cargo ship, the Ya Haydar, has been sailing around the Gulf and reporting its flag as that of Samoa.
Samoa denies allowing Iran to register any ships under its flag.
"The said vessels Hayan or Ya Haydar are not, and have never been listed, nor registered on the Samoa's registry of vessels," said Anastacia Amoa-Stowers of the Maritime department at Samoa's Ministry of Works, Transport & Infrastructure.
"Given there are currently no Iranian ships listed on Samoa's registry, there is no action to de-list a vessel. Additionally, there has never been any Iranian ships listed on Samoa's vessel registry – previously and at present."
Amoa-Stowers said Samoa was a closed registry, meaning that any foreign vessel flying its flag was doing so illegally.
The second senior Iranian government official involved in shipping declined to comment when asked about the two vessels.
A spokeswoman with the International Maritime Organization said the UN's shipping agency had received information from Samoa which has been circulated to member states.
https://www.reuters.com/article/us-mideast-iran-tanker-flags-insight/flags-of-inconvenience-noose-tightens-around-iranian-shipping-idUSKCN1UL0M8
--------
DOJ vows to step up fight against Hezbollah amid Iran tensions
by Jerry Dunleavy
July 25, 2019
A top Justice Department official made it clear Thursday that combating Hezbollah is a top priority for the department, a move that puts pressure on the terrorist organization's sponsor, Iran.
Principal Deputy Attorney General John Cronan, who leads the department's team that investigates Hezbollah financing and narcoterrorism, laid out the government's efforts and plans for dismantling and neutralizing the Iranian-backed terrorist group during a conference commemorating the victims of the Hezbollah bombing of a Jewish cultural center in Argentina 25 years ago.
The deadly bombing of the Asociación Mutual Israelita Argentina Jewish cultural center on July 18, 1994 killed 85 people and injured hundreds more, making it the deadliest terrorist attack in Argentina's history. Argentina designated Hezbollah as a foreign terrorist group to coincide with last week's anniversary, something that the State Department did back in 1997.
"Destroying Hezbollah's support networks and neutralizing the Hezbollah threat is a top priority for this Department of Justice and will continue to be," Cronan said, though full details of the operations can't be shared.
"Investigations may be covert, charges may be sealed, defendants may be cooperating, and Hezbollah supporters may be facing non-terrorism crimes as we work to build terrorism charges," he said.
The department is both combating Hezbollah's terrorist acts and drying up its funding.
Hezbollah is Iran's top paramilitary force and is among the crown jewels of its foreign influence efforts, receiving hundreds of millions of dollars in funding from the Iranian regime. Hezbollah, though based in Lebanon, operates across the Middle East and has made inroads around the world as well on behalf of its Iranian benefactors.
Cronan's comments from the come amid rising tensions with Iran and as the United States increases pressure on the ayatollahs. Iran seized and blew up allied ships and tankers in the Straits of Hormuz off the coast of Iran and shot down a U.S. drone over international waters in recent weeks.
The U.S., which pulled out of the controversial Iran nuclear deal in 2018, has been ratcheting up pressure on Iran ever since through increased sanctions and through designating Iran's Revolutionary Guard Corps as a terrorist group earlier this year, and it brought down Iranian drones in recent days too.
And as the U.S. has tried to limit Iran's global operations and has called for Iran to cease its funding of terrorist groups, the department made it clear that it will be playing a major role in neutralizing Iran's Hezbollah proxies.
Then-Attorney General Jeff Sessions created Cronan's team in early 2018 as a coordinated and aggressive response to the "ongoing, sophisticated, and global threat posed by Hezbollah to the United States." Department prosecutors and investigators will pursuing both non-terrorism and terrorism charges whenever possible, working with a host of federal agencies, and seeking help from foreign allies as well, as they pursue people who provide help to Hezbollah, whether through financial support or the provision of manpower or weaponry, for example.
Samer El Debek and Ali Khourani, for example, were arrested in June 2017 on charges of providing material support to Hezbollah, for which Khourani was found guilty earlier this year. The two were trained by the terrorist organization and then released into the U.S. as sleeper operatives waiting for assignments. Kourani, a years-long Hezbollah operative, trained for possible attacks and conducted surveillance of locations in New York City, such as an FBI federal office building and an Army National Guard facility.
Cronan said that cutting off Hezbollah's financial support is key, because "money is the lifeblood of any terrorist organization." He pointed to the recent conviction of multi-billion commodities tycoon Kassim Tajideen, who was sanctioned by the Treasury Department for financing Hezbollah and who pleaded guilty in December to a money laundering scheme in evasion of U.S. sanctions on Iran, agreeing to forfeit $50 million to the U.S. government.
Treasury Department, he said, has wide efforts to dismantle Hezbollah's financial networks, including sanctioning more than 50 Hezbollah-related people and entities since 2017. Among those dozens of now-sanctioned Hezbollah financiers were top Hezbollah figures with deep ties to Iran.
Cronan said the U.S. is working with its international allies to root out Hezbollah operatives and funders elsewhere in the world, an effort he put to the conference audience.
Full report at:
https://www.washingtonexaminer.com/news/doj-vows-to-step-up-fight-against-hezbollah-amid-iran-tensions
--------
Iran could make or break Boris Johnson
By Jason Rezaian
July 25, 2019
Like any incoming world leader, Boris Johnson has received plenty of congratulatory messages from fellow politicians around the world since becoming British prime minister this week. But the one he got from Iran's top diplomat — at a moment of unparalleled tension between Tehran and London — must have been unexpected.
Following news of Johnson's victory, the Islamic republic's opportunistic foreign minister, Mohammad Javad Zarif, tweeted: "The May govt's seizure of Iranian oil at behest of US is piracy, pure & simple. I congratulate my former counterpart, @BorisJohnson on becoming UK PM."
The May govt's seizure of Iranian oil at behest of US is piracy, pure & simple.
I congratulate my former counterpart, @BorisJohnson on becoming UK PM.
Iran does not seek confrontation. But we have 1500 miles of Persian Gulf coastline.These are our waters & we will protect them pic.twitter.com/svEqmEHQBM
— Javad Zarif (@JZarif) July 23, 2019
Zarif's message suggests that Tehran sees Britain as its next best chance for relaunching its deteriorating relationship with the West. But why? Strangely enough, Johnson's own back story with Iran, and the political baggage it created for him, could provide the best shot at decreasing tensions and averting another war in the Middle East.
How Johnson handles Iran in his opening days at No. 10 Downing Street could also determine his subsequent term in office — not to mention the fate of one British family.
Johnson inherits a tense standoff with Tehran, since both countries have seized vessels belonging to the other over the past month. On July 4, the British Royal Marines took custody in Gibraltar of an Iranian tanker that was believed to be delivering oil to Syria. It did so, Iran says, at the behest of the United States.
In blatant retaliation, Iran's Revolutionary Guard Corps boarded a British-flagged tanker in the Strait of Hormuz on July 19. Iranian state television broadcast dramatic footage of the raid along with members of the ship's crew. They've now become Iran's latest foreign hostages.
Iranian President Hassan Rouhani made clear on Wednesday that a deal to release the captured ships is on the table: "If they are committed to international frameworks and abandon some actions, including what they did in Gibraltar, they will receive a proper response from Iran," Rouhani told his cabinet. What remains unclear, though, is whether Johnson has the political will and acumen to pull off real negotiations with Tehran.
What Johnson does have in his favor is experience, albeit not exactly positive.
During his stint as foreign secretary (2016-2018), Johnson traveled to Iran to negotiate the release of Nazanin Zaghari-Ratcliffe, a British aid worker and young mother unjustly imprisoned by the Iranian authorities when she returned to her homeland to visit her family in 2016.
Sadly, Johnson's efforts to win Zaghari-Ratcliffe's freedom backfired — not least because it was the then-foreign secretary's own thoughtless remark that gave the Iranian regime an excuse to double down on the British aid worker's captivity.
"When I look at what Nazanin Zaghari-Ratcliffe was doing, she was simply teaching people journalism, as I understand it," Johnson said in London in November of 2017 — apparently failing to understand that the notion of a Briton "teaching journalism" played directly to the worst instincts of paranoid Iranian officialdom.
Johnson's assertion — which was, by the way, untrue — gave the authorities a ready-made excuse for imposing an even harsher sentence on Zaghari-Ratcliffe. They even cited Johnson's words as proof of the allegations against her.
The public outcry in Britain was immediate, prompting Johnson's trip to Tehran the following month. At first, there was great hope that he had brokered her release, but that proved premature. Nearly two years later, she remains in Tehran's Evin prison.
It's widely regarded as Johnson's biggest screw-up, and on this week, 231 members of Parliament signed a letter calling on him to make her freedom, and that of other British nationals held abroad, one of his first priorities in his new job.
231 MPs have written to both men who could be the next Prime Minister. Our message is simple. We ask that they do all in their power to bring Nazanin home. #FreeNazanin pic.twitter.com/w8FAeZd022
— Tulip Siddiq (@TulipSiddiq) July 23, 2019
Yet the impasse over Zaghari-Ratcliffe — not to mention the ships — could give Johnson good reason to open communications with the Iranians, who have ruled out any talks with the United States under current conditions. If the British prime minister can make progress, that could pave the way for a fresh start between Tehran and the West. His 2017 trip makes him the highest-level Western leader to have had direct dealings inside Iran in years.
"Given the uncertainties ahead for the U.K., this is an opportunity for Johnson to demonstrate leadership domestically and abroad by de-escalating tensions with Iran and demonstrating the effectiveness of dialogue," Dina Esfandiary, a fellow at Harvard's Belfer Center for Science and International Affairs, told me. "In addition, he could use his relationship with Trump to further encourage de-escalation between the U.S. and Iran."
The fact that Johnson enjoys a good relationship with the Trump administration is something few of his European counterparts can claim. President Trump could hardly fault Johnson for freeing a compatriot from captivity. (The U.S. president brags about all the hostages he has managed to free during his term.)
If the prime minister can use that opening to get the West and Iran talking again, the resulting momentum could boost his term in office, restore Britain's waning credibility as an international player — and just possibly help to avoid a war.
Full report at:
https://www.washingtonpost.com/opinions/2019/07/25/iran-could-make-or-break-boris-johnson/?utm_term=.e6e7e5888253
--------
Erdogan says Turkey will destroy militants in north Syria regardless of U.S. talks
JULY 26, 2019
ANKARA (Reuters) - Turkey is determined to destroy the "terror corridor" east of the Euphrates river in Syria regardless of how talks conclude with the United States on a planned safe zone in the country's north, President Tayyip Erdogan said on Friday.
Turkey has ramped up its warnings of a possible incursion into northern Syria in recent days, saying it had run "out of patience" with Washington over the safe zone talks and adding that it would launch its operation if an agreement was not reached.
"Those who put their trust in foreign powers in the region will be put under ground," Erdogan told members of his ruling AK Party. "We will find a lasting solution to terror."
https://www.reuters.com/article/us-syria-security-turkey/erdogan-says-turkey-will-destroy-militants-in-north-syria-regardless-of-u-s-talks-idUSKCN1UL111
--------
Things Are Heating Up Between Israel And Hezbollah In The Golan - Analysis
By Anna Ahronheim
JULY 25, 2019
It's been a hot summer in the Golan. And it's not only the weather.
The past week alone saw two deadly attacks against Iranian proxies in southern Syria attributed to Israel. Earlier this week an explosion killed Hezbollah operative Mashour Zidan in southern Syria and a few days later a rocket struck the strategic Tel Haraa site not far from where Zidan was killed.
Israel has remained mum on the attacks, but the Jewish State has made it clear that it won't accept Hezbollah's growing presence in the Syrian Golan.
But Assad, along with Iranian backed troops, retook the Golan last summer, so what's changed?
According to Phillip Smyth, the Soref Fellow at the Washington Institute for Near East Policy, the buildup of local forces by Iran and Hezbollah is a major aspect that has been overlooked.
"Hezbollah doesn't want to have to execute an entire war on its own in southern Syria. It's much easier to apply plausible deniability and harder to bust a Hezbollah cell if they are locals," he told The Jerusalem Post, adding that they have taken a slightly different approach and being very pragmatic in terms of who they recruit.
Zidan, a Druze resident from the village of Hadar, is believed to have been a senior Hezbollah operative responsible for recruiting volunteers from villages near the border with Israel as part of Hezbollah's Golan File.
Senior intelligence officers in the IDF's Northern Command said that Hezbollah's Golan Project began last summer following the reconquering of the Syrian Golan by regime troops. Operatives involved in the clandestine file have weaponry available from the civil war and if needed, will receive additional weaponry from Lebanon or existing arsenals kept by Hezbollah and Iran.
"Hezbollah knows that Israel is watching, so they are being much more covert than in the past," Smyth said, adding that they are using more local forces rather than sending brigades of Lebanese fighters to the area.
Military success in Syria has also allowed Hezbollah to redeploy senior operatives and troops to the area as well as southern Lebanon. The group's leader Hassan Nasrallah has said as much himself in a speech in mid-July.
"We are present in every area that we used to be. We are still there, but we don't need to be there in large numbers as long as there is no practical need," he said, adding that "if there was a need to return, all those who were there would go back."
According to David Daoud, a research analyst on Hezbollah and Lebanon at United Against Nuclear Iran, the uptick in Israeli strikes in the area is because "there has been increased Hezbollah presence."
In mid-March US President Donald Trump announced the formal recognition of the Golan as sovereign Israeli territory, handing Hezbollah a present for their recruitment in the area.
"Recognition of the Golan creates common ground for different factions to agree upon - the same applies to the embassy move, and the 'deal of the century," Daoud said, adding that "Different regional groups or axes that might not otherwise agree now have something in common."
Smyth told The Post that while "Trump's statement has sent some signals to Iran," Tehran has "upped the ante because of the situation on the ground, not because of Trump's statement. They know that their goals will outlast the Trump administration. But if it rallies the troops, they will use it. They are very pragmatic."
While the "Iranians have been following the same program in southern Syria for years, now they're trying to secure and resecure their gains," Smyth said. "There's a lot more opportunity, it's a net gain no matter how you look at it."
The attack on Tel Haara on Wednesday was not the first.
The site has been used by the Syrian army for years to observe Israeli movement, and since the Assad regime re-took the area from rebels last summer, there have been several strikes on the site blamed on Israel.
While the base, which has electronic surveillance capabilities, was supposed to be manned solely by regime troops, pro-Iranian militias including Hezbollah are known to be stationed in it.
According to Smyth, Hezbollah and Iran "have been at the forefront of using electronic means to counter their foes, its existed for decades and it wouldn't shock me if they were testing the waters there."
The opportunity was there for the taking.
The retaking of the Syrian Golan by Assad also forced Israel to end Operation Good Neighbor, where Israel provided humanitarian and, according to foreign reports, military aid to rebels in the Syrian Golan.
Israel also treated thousands of Syrians who arrived at the border,both combatants and civilians. According to officials some 70% of the wounded treated by Israel were men of fighting age while the other 30% were women and children.
Full report at:
https://www.jpost.com/Israel-News/What-is-going-on-in-the-Golan-analysis-596808
--------
At least 56 Palestinians injured by Israeli forces during Gaza rallies
Jul 26, 2019
The Gazan Health Ministry says 56 Palestinians have been injured by Israeli forces during anti-occupation protests near the fence separating the Gaza Strip and the occupied territories.
Ashraf al-Qedra, the spokesman for the ministry, said that 24 of those wounded on Friday were shot with live bullets.
He added that 22 children and three women were among the injured.
The rallies have been held every week since March 30 last year. The Palestinians demand the right to return of those driven out of their homeland by Israeli aggression.
Israeli troops have killed at least 305 Palestinians since the beginning of the rallies and wounded nearly 18,000 others, according to the Gazan Health Ministry.
In March, a United Nations (UN) fact-finding mission found that Israeli forces committed rights violations during their crackdown against the Palestinian protesters in Gaza that may amount to war crimes.
Gaza has been under Israeli siege since June 2007, which has caused a decline in living standards.
Full report at:
https://www.presstv.com/Detail/2019/07/26/601928/Israeli-forces-injured-Palestinians-Gaza
--------
US actively participating in Saudi war on Yemen: Ansarullah
Jul 26, 2019
Yemen's Ansarullah movement says the US is not just arming the Saudi-led coalition, but is actively participating in its brutal war against the innocent Yemenis.
"The gravity of the American role doesn't come from the arms sales, but the participation in the aggression against Yemen, and also in trying to legitimize that aggression," said Mohammed al-Bukhtaiti, a senior member of the Political Bureau of the Ansarullah movement.
His comments come as American troops are coming back 16 years after they left Saudi Arabia, King Salman bin Abdul-Aziz Al Saud announced last week. According to media reports hundreds of American troops are deploying to Prince Sultan Air Base outside Riyadh.
Back on Wednesday, Ansarullah spokesman Mohammed Abdul-Salam told Al-Masirah TV that the deployment of US troops is aimed at providing security support and boosting the morale of Saudi Arabia against the ballistic missiles and drone attacks of Yemen.
In their latest retaliatory attack on Saudi targets, the Yemeni army's UAVs once again hit a Saudi airport in Asir province on Thursday night. The army said the pinpoint attack on the airport and nearby military sites in the city of Abha was conducted by Qasef K-2 drones.
The Saudi-led coalition claimed the drone was intercepted and that no airports or military sites had been hit.
Yemeni forces have stepped up their retaliatory strikes against Saudi Arabia to force the regime to stop its military campaign against the Yemeni people.
US President Donald Trump on Wednesday vetoed three congressional resolutions barring billions of dollars in weapons sales to Saudi Arabia and the United Arab Emirates, which have been committing war crimes in Yemen for over four years.
Referring to the decision, Ansarullah's Bukhaiti said, "If the US Congress manages to block the US arms sales to Saudi Arabia, it will be the end for the economic benefits for America, and this may lead to a change in the US policy regarding its participation in the aggression, and its efforts to legitimize it."
In veto messages to Congress released by the White House on Wednesday, Trump argued that the bills would "weaken America's global competitiveness and damage the important relationships we share with our allies and partners."
Thousands of Yemenis, mostly civilians, have been killed by the Saudi aggression and the ensuing famine since 2015.
Full report at:
https://www.presstv.com/Detail/2019/07/26/601886/Yemen-ansarullah-Trump-arms-sales-saudi-bukhaiti-abdulsalam
--------
North America
Man yanked off Middle East-bound plane at JFK airport after feds learn of his desire to join terror squad: sources
JUL 26, 2019
Federal authorities yanked a 33-year-old Bronx man off an airplane bound for Thailand Friday after learning the suspected terrorist sympathizer was going to join the Taliban, officials said.
When he got onto a Qatar Airways plane at JFK Airport Delowar Hossain had a very clear idea what he was going to do: Bangkok, Thailand would be the first leg of his trip on his way to Pakistan, where he would slip into Afghanistan and join the terror group, officials said in court papers.
In ongoing conversations with an undercover agent working with the FBI that began in the fall of 2018, Hossain said that he felt better attacking U.S. military targets in the Middle East rather than civilians at home.
"Attacking the U.S. Army, attacking stuff like that is legitimate because the world is against the American government, not its people," Hossain told the undercover operative, according to court records. "But you see to attack an army base you need a lot more power than four, five people."
Hossain wanted to join the Taliban because, he said, the group has "a legitimate jihad."
"Allah...would not even question us as to if we did right or wrong because (the Taliban) has a legitimate reason for jihad," he said, according to court papers.
Hossain was pulled off a Qatar Airways plane at JFK Airport just before it was about to lift off. Federal investigators and Port Authority police made the grab, the sources said.
"(He) planned to travel overseas and join the Taliban in order to kill American soldiers," Assistant Attorney General John Demers said. "The threat of terrorism at home and abroad remains."
He was charged with attempting to provide material support for terrorism. If convicted, he faces 15 years in prison.
https://www.nydailynews.com/new-york/nyc-crime/ny-terror-suspect-yanked-off-jfk-airplane-20190726-s6phbndahfcclfljt3bo5zrfeu-story.html
--------
In Escalation, Iran Tests Medium-Range Missile, U.S. Official Says
By Eric Schmitt and David E. Sanger
Jul 25, 2019
WASHINGTON — Iran fired a Shahab-3 medium-range missile on Wednesday, a United States military official said, playing it down by saying that it did not pose a threat to American or other Western shipping or military bases in the region.
The missile was launched from the southern coast of Iran and landed east of Tehran, the official said on Thursday, adding that it flew about 1,100 kilometers, or about 680 miles, and stayed inside Iran for the entire flight.
The official, who spoke on the condition of anonymity to discuss intelligence analyses, said that American officials had been closely monitoring the test site as Iran prepared the missile for launch.
Despite the Pentagon's effort to minimize the strategic importance of the launch on Wednesday, it appears to be a political statement by Iran, acting both as a carefully calibrated effort at escalation — and as a message to Europe.
Missile launches are not forbidden under the 2015 nuclear accord reached between Washington and Tehran, which is one of President Trump's complaints about the agreement he abandoned last year. But a United Nations Security Council resolution, passed just as the agreement was reached, says that "Iran is called upon not to undertake any activity related to ballistic missiles designed to be capable of delivering nuclear weapons, including launches using such ballistic missile technology."
Secretary of State Mike Pompeo has demanded that Iran cease all missile launches and testing and give up its arsenal of the weapons. Iran says it is under no obligation to do so, and notes that because it has no interest in nuclear weapons, it is not violating the wording of the United Nations prohibition.
Last week in New York, Iran's foreign minister, Mohammad Javad Zarif, said that if the United States wanted to discuss missile limitations, it should begin by not supplying Saudi Arabia, the United Arab Emirates and other Arab states with missiles that threaten Iran. The test on Wednesday seemed meant to drive home the point that Iran had no intention on giving up on its own missile fleet.
The Shahab-3 is hardly a new weapon — it has been in the Iranian arsenal for two decades. Based on a North Korean design, called the No-Dong, it can fly about 1,000 kilometers. Variants can range farther, capable of striking the edge of Europe.
But more important, Israel and a number of Western experts say a nuclear weapon can be fashioned to fit in the missile's nose cone. The test launch may also be meant to demonstrate that American efforts to sabotage the Iranian missile program, chiefly with bad parts, are not impeding its development.
The missile launch in Iran came within hours of North Korea's launching of two short-range ballistic missiles off its east coast on Thursday. The South Korean government said that the North was expanding its ability to deliver nuclear warheads as Mr. Trump's efforts resume talks on ending the country's nuclear weapons program remain stalled.
Correction: Jul 26, 2019
A headline on an earlier version of this article incorrectly described the missile that Iran fired. It was a medium-range missile, not a short-range missile.
Choe Sang-Hun contributed reporting from Seoul, South Korea.
Full report at:
https://www.nytimes.com/2019/07/25/us/politics/iran-missile-test.html
--------
Muslim activists continue to push against Quebec secularism law
July 26, 2019
(RNS) — Quebec's Superior Court recently rejected civil rights advocates' legal request to suspend the Canadian province's controversial new ban on religious symbols for state workers.
But activists in Canada and around the world say the fight is not yet over.
"We will not tolerate politicians interfering in the religious practices of individuals," said Mussab Ali, a New Jersey-based education policy maker. "We are standing up for all religious communities in our stance against Bill 21. We urge the Quebec government to repeal this bill."
Passed last month, Bill 21 bans public school teachers, police officers, judges and other public sector employees from donning any religious symbols, in order to protect Quebec's principle of "laicity," or the religious neutrality of the state.
Civil rights advocates say the law, which would also require citizens receiving public services to uncover their faces for identification or security reasons, will disproportionately impact Muslims who wear the hijab or niqab, Jews who wear the kippah and Sikhs who wear turbans.
Quebec's education minister recently made headlines after he posed for a picture with Nobel Peace Prize-winning Malala Yousafzai, then later tweeted that the Muslim education advocate would only be welcome to teach in Quebec schools if she removed her hijab.
An international campaign called "Hands Off My Hijab" created after that tweet has collected about 33,000 signatures this month from critics of the bill in the hopes of urging the Superior Court to reject it.
Ali, who helped overturn a local school policy last year that punished some Muslim students for wearing their hijabs, organized the campaign along with Malak Shalabi, a University of Washington law student, and Jülide Saniye, a law graduate in Germany.
The campaign also focuses on the global nature of bans on religious garb, particularly "the unfortunate growing trend" of bans on the hijab, niqab, burka and burkinis in Europe.
"We want to put social pressure on Canadian lawmakers," Shalabi said. "But we also want to look at the interconnectedness of this issue. Colonial states are imposing their values on women they say need to be 'liberated,' while simultaneously depriving them of the same autonomy and freedom they're claiming to push out."
One study of Muslim girls and women before and after France's 2014 law banning headscarves in public schools found that the gap in secondary school attainment between Muslim and non-Muslim girls more than doubled after the ban. The gaps in employment and labor force participation also widened significantly.
"Muslim women are being deprived of their right to choose," Shalabi said.
The day after Bill 21 passed, the National Council of Canadian Muslims and the Canadian Civil Liberties Association challenged its constitutionality, arguing that the law encroaches on federal jurisdiction, is impermissibly vague and excludes citizens from public institutions based on personal characteristics.
The process of hearing that full court challenge could take months.
No date has yet been set for a hearing on the challenge.
Last week, the Superior Court denied a request for a temporary suspension of certain provisions of the law in the meantime, ruling that the groups had failed to prove that the ban was already causing immediate and irreparable harm to religious minorities like plaintiff Ichrak Nourel Hak.
"This law has stripped me of my dream and sends me a clear message that I am not a valued part of Quebec society," Hak, who wears the hijab and is studying education at Université de Montréal, said. "All my years of studying, all my efforts to be among the best teachers in Quebec went up in smoke in a snap … this law has just cut off my wings."
The NCCM and CCLA filed an appeal to that decision on Tuesday, arguing that damage is not "hypothetical" as the judge claimed.
"We promised Quebecers and Canadians that we would stand up for their rights and we intend to do exactly that," Mustafa Farooq, the NCCM's executive director, said. "We believe, as we always have, that this piece of legislation has no place being on the books in 2019."
Their broader legal challenge still stands. And the Superior Court judge's ruling noted that there were serious questions of constitutionality surrounding the legislation.
Farooq said the law would "upend people's lives and livelihoods, pushing many Muslims, Jews and Sikhs to the margins of society," amounting to "state-sanctioned second class citizenship."
Other faith-based organizations — including B'nai Brith Canada and the World Sikh Organization, whose Quebec representative, Amrit Kaur, told media she has had to pivot her search for teaching jobs outside the province — also condemned the bill.
Full report at:
https://religionnews.com/2019/07/26/muslim-activists-continue-to-push-against-quebec-secularism-law/
--------
Inn worker fined in conflict with couple perceived as Muslim
July 26, 2019
CONCORD, N.H. — An inn manager accused of shoving a couple she thought were Muslim will pay a fine under an agreement reached with the New Hampshire attorney general's office.
The agreement resolves allegations that Priscilla Protasowicki (prah-tah-SWIK'-ee) used force to remove the couple based on her belief they shouldn't be there because of their religion and perceived national origin.
The confrontation came after a dispute over a refund at the Covered Bridge Riverview Lodge in Jackson.
Under the agreement, Protasowicki may have no further contact with the couple and their families.
She was fined $10,000. If she goes a year without contacting them, the fine will be reduced to $2,500.
Full report at:
https://www.washingtonpost.com/national/inn-worker-fined-in-conflict-with-couple-perceived-as-muslim/2019/07/26/868b3828-afbb-11e9-9411-a608f9d0c2d3_story.html
--------
Trump paves way for sanctions in Mali conflict
27 July 2019
US President Donald Trump issued an executive order Friday laying the groundwork for sanctions against those who have exacerbated the "deteriorating situation in Mali," the White House said.
The decree will freeze assets and suspend travel for "individuals or entities that seek to undermine the peace, security or stability of Mali," Secretary of State Mike Pompeo said in a statement.
Mali is struggling to quell unrest that began in 2012 in the north and spread to other parts of the country, despite aid from French and UN forces.
"Extremist groups are exploiting ethnic tensions and expanding their networks well outside Mali's borders," Pompeo added, without specifying who might be targeted by the sanctions.
A US senior administration official, speaking on condition of anonymity, said that anyone sanctioned "can no longer access the United States financial system."
Last week Washington imposed sanctions on an Al-Qaeda-linked group in Mali that carried out deadly attacks on the country's armed forces.
In 2015 a peace agreement was signed with some armed factions, but parts of Mali remain beyond the control of the government and the armed forces.
The UN mission to Mali, known as MINUSMA, "has faced more violence and danger than any other peacekeeping mission in UN history," Pompeo said.
The Trump administration has signaled its disinterest in such missions by cutting its financial contribution to UN peacekeeping and pushing for major cuts in blue helmet operations worldwide.
Full report at:
https://english.alarabiya.net/en/News/world/2019/07/27/Trump-paves-way-for-sanctions-in-Mali-conflict.html
--------
Pompeo says would 'happily' go to Tehran
26 July 2019
US Secretary of State Mike Pompeo said Thursday he would "happily" go to Tehran to address tensions between the two countries over US sanctions on the nation.
Pompeo explained in an interview with Bloomberg he would willingly appear on Iranian television to explain US reasoning behind the sanctions.
"I would welcome the chance to speak directly to the Iranian people... about what it is their leadership has done and how it has harmed Iran," he said.
Tensions between Washington and Tehran have soared since President Donald Trump pulled the US out of a deal with Iran last year that was aimed at curbing its nuclear program, and imposed punishing sanctions.
The US has said it brought down one and possibly two Iranian drones last week, and has blamed Iran for a series of mysterious attacks on tanker ships in strategic Gulf waters.
Tehran shot down an unmanned US aircraft in June, after which Trump announced that he had called off retaliatory air strikes at the last minute because the resulting death toll would have been too high.
Iran's top diplomat renewed accusations during a visit to the United Nations last week that the US was using the sanctions to wage "economic terrorism."
Iranians are "subjected to the most brutal form of 'economic terrorism' -- deliberately targeting innocent civilians to achieve illegitimate political objectives," said Foreign Minister Mohammad Javad Zarif.
Pompeo brushed the accusations aside Thursday, saying Zarif was no more in charge of the Iranian government than "the man in the moon."
"At the end of the day, this is driven by the ayatollah," said Pompeo.
He said the US goal is to "create as much stability in the Middle East as we could."
"So we broke out of the deal, we stopped giving them money, we put pressure on the Iranian regime, and we're forcing them to make tough decisions about how they're going to behave," Pompeo said.
Full report at:
https://english.alarabiya.net/en/News/world/2019/07/26/Pompeo-says-would-be-happily-go-to-Tehran-.html
--------
Europe
Russia, Pakistan militaries set for joint war games in October
Jul 26, 2019
Russia and Pakistan have agreed to hold a joint military exercise — using Russian military equipment— in southern Russia in October.
Special Forces from Pakistan and Russia—two cold war enemies—will be participating in the war games, dubbed 'Friendship-2019'.
The drill is slated to be held at the Molkino practice range, near the city of Krasnodar, in early October, according to the press office of Russia's Southern Military District.
About 50 Russian forces will be taking part in the drill, which is aimed at exchanging experience between servicemen, developing and strengthening bilateral military and military-technical cooperation.
The report did not mention the number of participants from the Pakistani side.
It said mixed special-purpose groups, consisting of forces from both sides, will perform combat training tasks using Russian military hardware.
Pakistan, the traditional US ally in the region, which had been receiving military assistance from Washington, has suspended military and intelligence cooperation with the US following a similar move by President Donald Trump.
This has prompted Islamabad to seek closer ties with Moscow in recent years.
Pakistani media reported earlier this month that Prime Minister Imran Khan will be attending the Eastern Economic Forum (EEF) in Russia which is to be held in September.
The thaw in relations between Islamabad and Moscow came in 2014, when Russia officially lifted an arms embargo against Pakistan, which had been in place since the Soviet-Afghan War.
Pakistan's growing interest in Russian technology became even more apparent when reports pointed to Islamabad's willingness to purchase Russian S-400 missile defense systems, among other items.
India, Pakistan's arch rival, had also approved a plan to purchase five S-400 Triumph defense systems, despite earlier warnings from the US against any military transaction with Russia.
New Delhi had earlier received warnings from Washington about buying Russian arms. Under its current sanctions against Moscow, Washington could impose sanctions on other countries should they do any business with the Russian defense or intelligence sectors.
Russia, however, will deliver the first missile system by the end of 2020.
In addition, India plans to seal a new 10-year framework deal with Russia to manufacture and upgrade at least a dozen types of Russian armament systems used in the country, including fighter jets, artillery guns and rocket launcher systems.
Moscow has also begun delivering the 2nd batch of its advanced S-400 missile defense systems to China as part of a 2014 contract.
The delivery of the entire S-400 regiment set to China envisages "involving no less than three vessels" that will take to the sea one by one "within short time intervals," Russia's Tass News Agency quoted an unnamed military source as saying on Wednesday. In 2014, China ordered four to six Russian-made S-400 regimental units for an estimated price of around $3 billion.
The United States has competitively sold, and continues to sell, its rival Patriot missile systems to regional countries to counter Russia's expanding influence within the region.
https://www.presstv.com/Detail/2019/07/26/601899/Russia-Pakistan-miliary-drill
--------
Over 2,500 European terrorists unaccounted for: EU Commission
Jul 26, 2019
The European Commission has announced that more than 2500 persons, who had once left various European countries to join the Daesh terrorist group in Iraq or Syria, are currently unaccounted for.
Extremists from across Europe joined Daesh in droves in 2014, when the Takfiri terror group launched its campaign of death and destruction in Iraq and Syria.
According to the commission, at least 5,500 foreign terrorist fighters left the continent to travel to Iraq and Syria, said Julian King, the European Commission for security.
Of those two-thirds were men, and a quarter women.
"We think at least 1,400 were killed, died," King said, adding that around 1,600 have since returned.
"That leaves 2,500 unaccounted for, we don't know where they are," he added.
Many warned that those returning home will be a security challenge for years to come.
They include half of the estimated 850 people who left the UK to join Daesh and also 400 of the 3,417 militants from Russia; 760 of the 3,244 from Saudi Arabia; 800 of the 2,926 from Tunisia; and 271 of the 1,910 from France.
Back in January, France said it was considering the repatriation of 130 men and women to be tried under the French judicial system.
In Germany, a woman was charged with war crimes late last year for allegedly letting a five-year-old girl die of thirst while serving as a member of Daesh in Iraq.
German prosecutors charged the 27-year-old woman, only identified as Jennifer W, with war crimes, murder and weapons offenses earlier this month at a Munich court.
Police said that the woman had first left Germany in August 2014 and traveled via Turkey and Syria to Iraq where she joined the terrorist group the following month
In January 2016, she allegedly visited the German embassy in the Turkish capital, Ankara, and applied for new identity documents. She was arrested by Turkish security services after leaving the embassy and deported to Germany a few days later.
Full report at:
https://www.presstv.com/Detail/2019/07/26/601892/Europe-Daesh-terrorist-militants-ISIS
--------
British court rules against Iran in tank payment dispute
26 July 2019
A UK court has ruled in London's favor in a long-standing financial dispute with Iran that has wider political ramifications for Britain's increasingly strained relationship with the Islamic republic.
The case revolves a payment of £650 million made by Iran in the 1970s to buy 1,500 Chieftain tanks from Britain and repair 250 more.
The deal was blocked after the 1979 Islamic Revolution deposed the Western-backed Shah. Britain kept the paid portion of the contract.
Just under £400 million ($500 million, 450 million euros) are now being kept in a frozen British bank account.
Sending the money to Tehran is further complicated by EU and US sanctions linked to Iran's nuclear programme.
A judge with the UK High Court ruled on Wednesday that Britain did not owe Iran interest payments of more than £20 million that had accumulated on the sum over 10 years.
Justice Stephen Phillips cited a precedent case that found claims made by any "Iranian person, entity or body, including the Iranian government" were invalid in commercial disputes because of the Western sanctions.
Full report at:
https://english.alarabiya.net/en/News/world/2019/07/27/British-court-rules-against-Iran-in-tank-payment-dispute-.html
--------
Iran discussed as Trump calls to congratulate new British PM
July 27, 2019
JEDDAH: US President Donald Trump discussed current tensions with Iran with UK Prime Minister Boris Johnson, in a call on Friday.
Iran seized the British-flagged Stena Impero a week ago, prompting strong condemnation from the UK and allies.
On Thursday, US Secretary of State Mike Pompeo said he was willing to go to Iran for talks amid tensions between Tehran and Washington, but also called on Japan, Britain and other nations to join a maritime force to guard oil tankers sailing through the Strait of Hormuz.
Tensions between Iran and the US have ratcheted up since last year, when Trump withdrew the US from the Iranian nuclear deal, formally called the Joint Comprehensive Plan of Action, saying it was not strong enough. Washington also reimposed sanctions on Tehran.
Trump and Iranian leaders have both publicly said talks were possible, but the prospect for dialogue appeared to recede on Wednesday when the top military adviser to Iran's Supreme Leader Ayatollah Ali Khamenei said Tehran would not negotiate with Washington under any circumstances.
Trump congratulated Johnson on becoming British prime minister, succeeding Theresa May who had failed to win over Parliament on her Brexit plan.
Trump said their two governments were already working on a free trade agreement seen as crucial to help Britain once a Brexit deal takes place.
"They agreed that Brexit offers an unparalleled opportunity to strengthen the economic partnership between the UK and United States," said a British government statement.
Full report at:
http://www.arabnews.com/node/1531436/middle-east
--------
Turkey retorts UN resolution on Cyprus' peacekeeping
26.07.2019
The consent of the Turkish Cypriots was not sought while the UN Security Council adopted extension of the mandate of the Peacekeeping Force in Cyprus (UNFICYP) for a period of six months, the Turkish Foreign Ministry said Friday.
"The most important deficiency of the extension of the mandate of UNFICYP with this Resolution is that the consent of the TRNC [the Turkish Republic of Northern Cyprus] is not sought, in contrast to the UN's established practices," the ministry said in a press release.
"In the Resolution, the fact that the wording regarding the settlement of Cyprus issue was drafted in a way to straitjacket all parties to discuss different alternatives for a negotiated settlement, contradicts the need for new ideas as called for by the Secretary-General in the past," the ministry added.
The ministry said the real cause of the Cyprus issue is the Greek Cypriot side's "unwillingness to share the power and wealth with the Turkish Cypriots", stressing that "a common ground and a joint vision based on political equality" will be a real and result-oriented negotiation process between the two sides.
"As the co-owner and political equal of the Island, the Turkish Cypriots will never accept a minority status," the ministry said.
The ministry also stressed that the resolution does not refer to the July 13 cooperation proposal of the TRNC, while it calls for a reduction of tensions in the Eastern Mediterranean.
"The TRNC authorities have made constructive proposals to the Greek Cypriot side in 2011, 2012 and most recently on 13 July 2019," it said.
"These proposals of the Turkish Cypriot side, all supported by Turkey, prove that it is the Turkish side who is making determined efforts, whilst these efforts are not reciprocated by the Greek Cypriot side,'' the ministry added.
Turkey has consistently contested the Greek Cypriot administration's unilateral drilling in the Eastern Mediterranean, asserting that the TRNC also has rights to the resources in the area.
Since this spring, Ankara has sent two drilling vessels -- the Fatih and the Yavuz -- to the Eastern Mediterranean, asserting the right of Turkey and the TRNC to the resources of the region.
Turkey's first seismic vessel, the Barbaros Hayrettin Pasa, bought from Norway in 2013, has been conducting exploration in the Mediterranean since April 2017.
In 1974, following a coup aiming at Cyprus' annexation by Greece, Ankara had to intervene as a guarantor power. In 1983, the TRNC was founded.
Full report at:
https://www.aa.com.tr/en/europe/turkey-retorts-un-resolution-on-cyprus-peacekeeping/1542517
--------
Africa
A Shia "Boko Haram" Insurgency or Iranian Proxy in Nigeria, Not So Fast
By: Jacob Zenn
July 26, 2019
On July 29, the Kaduna High Court is expected to rule on whether Nigerian Shia leader, Ibrahim al-Zakzaky, will be allowed to leave Nigeria to receive medical treatment (Leadership, July 18). In 2015, al-Zakzaky was severely injured during a crackdown by the Nigerian security forces on his movement, called the Islamic Movement in Nigeria (IMN), which led to the deaths of a reported 300 IMN members (hrw.org, December 22, 2015). That crackdown was purportedly precipitated by al-Zakzaky's followers' blocking roads and preventing Nigerian army officials from passing through areas in Zaria, Kaduna State, where al-Zakzaky's headquarters is based. Since 2015, al-Zakzaky has been receiving inadequate medical care for his injuries while in the custody of the Nigerian army.
The 2015 crackdown came amid the rise of Sunni-Shia tensions globally. In Nigeria, 2014, al-Zakzaky was accused of "dividing Muslims." Al-Zakzaky, however, accused his accuser, prominent Saudi-based Nigerian cleric Ahmad Gumi, of "working for Israel" and plotting al-Zakzaky's assassination with U.S. and Israeli backing (Vanguard, December 11, 2014). One year prior to the major 2015 crackdown, in July 2014, three of al-Zakzaky's sons and nine other followers were also killed during a "Quds [Jerusalem] procession" in Zaria (Vanguard, July 26, 2014). Thus, the 2015 crackdown was not without precedent.
IMN confrontations with the security forces resurfaced in October 2018 when several dozen of the group's members were reported killed in Abuja while protesting and demanding al-Zakzaky's release from his seemingly indefinite detention. The New York Times subsequently released exclusive footage showing unarmed al-Zakzaky supporters being killed in those protests by Nigeria's elite Presidential Guard Brigade (Punch, December 18, 2018). This year, in early July, protests recommenced as al-Zakzaky's supporters have become concerned that he may die in detention (Vanguard, July 12). Again, the security forces responded to agitation with lethal force on several protesters, who themselves were accused of killing a security officer. The latest confrontation was on July 22 when several al-Zakzaky supporters were killed in another protest in Abuja (Vanguard, July 22).
This series of events has led international and Nigerian media to suggest there may be a Shia rebellion or "new Boko Haram" in Nigeria if al-Zakzaky is not released or if pressure continues to mount on his Shia followers (Al-Jazeera, April 22). Nigerian officials meanwhile label the IMN an "insurgent group" (Vanguard, December 6, 2016). However, the IMN is not like Iranian proxies or other Shia militias in the Middle East, and it does not resemble Boko Haram during the period when it prepared for jihad in the aftermath of a similar government crackdown that killed at least 200 of its members 10 years ago in July 2009 (dni.gov, January 19, 2017). This article argues al-Zakzaky's Shias followers will continue to protest and be further suppressed but will not engage in a large-scale violent uprising. Contrarily, they will become more "useful" to Iran as a symbol of global Shia victimhood.
Al-Zakzaky: An Imperfect Iranian Ally
Ibrahim al-Zakzaky became best known during his student years in the 1970s as a Muslim Brotherhood-influenced student leader demanding sharia law replace the Nigerian Constitution. After the Iranian Islamic Revolution in 1979, however, he was among the many northern Nigerian Muslims becoming interested in Iran as a model for the change Nigeria needed and even visited Iran to witness the Islamic Republic. [1] Many other Nigerian Muslims who initially sought to emulate the Iranian Islamic Revolution in Nigeria drifted away from Tehran's ideological influence either because they received Saudi or Kuwaiti funding and remained in the Sunni-Salafi fold, or they became disillusioned by Iran because of its foreign policy—including supporting Hafez al-Assad during his violent suppression of a 1982 Muslim Brotherhood revolt in Hama, Syria.[2] However, al-Zakzaky remained committed to Iran throughout the 1980s and emerged as its most prominent supporter by the turn of the 1990s.
Knowing Iran could not become a global Islamic power if it relied on projecting a "Shia" identity, in the 1980s Ayatollah Khomeini instead portrayed Iran as an "Islamic" power. One prominent Nigerian cleric who visited Iran after the Islamic Revolution, for example, recalled hearing the chant, "La Shia La Sunni-ya, Thura, Thura Islamiya (No Shia, No Sunni, Revolution, Islamic Revolution" (Youtube, May 21, 2016). In a religious landscape where few Nigerian Muslims were Shia before 1979 (there are now around three-million Nigerian Shias), al-Zakzaky, too, adopted a slogan avoiding a "Shia" identity and instead promoted an identity of "Islam only", which his movement continues to endorse (ihrc.org.uk, December 21, 2015). However, when al-Zakzaky became more pronounced about his Shiism in 1994, a number of his followers branched off and refused to become Shia. One follower who split from al-Zakzaky at this time was Muhammed Yusuf, who was then around 25-years-old and later co-founded Boko Haram in 2002-2003, but under Salafi influence (aymennjawad.org, August 5, 2018).
Beyond that schism, al-Zakzaky also lost Iranian favor due to the rise of factions among the Nigerian Shias themselves. One Shia group, for example, considered itself more theologically learned than the "activist" al-Zakzaky, and claimed greater support from Iranian ayatollahs than al-Zakzaky. [2] Moreover, another Shia group under Iranian management avoided al-Zakzaky's politically antagonizing activism. This helped Iran maintain more amicable relations with Nigeria than it would if it was seen as sponsoring al-Zakzaky's delegitimization of the Nigerian state. [3]
Al-Zakzaky himself also eventually accepted there would be no such "Islamic Revolution" in Nigeria and instead began advocating for "Islamic Evolution" and even accepted his followers' participation in the Nigerian civil service. Despite maintaining a lightly armed "Hizbollah-like' guard corps, a newspaper, and pro-Khomeini and pro-Ayatollah Khomeini imagery on the IMN website and at demonstrations, the IMN has more recently settled for highly public, and even ostentatious, Shia rituals as its hallmark, as opposed to direct political agitation (islamicmovement.org, July 11). However, this is a far cry from the violence for which Boko Haram has become notorious.
A Shia "Boko Haram"?
When the Nigerian government cracked down on Boko Haram in July 2009, late Muhammed Yusuf's supporters then met with al-Qaeda in the Islamic Maghreb (AQIM) and received weapons, financing, training, and advising (aymennjawad.org, September 15, 2018). Although Yusuf's successor, Abubakar Shekau, ignored AQIM's advice, which ended up leading to the end of AQIM's support for Boko Haram, the relationship still helped Boko Haram launch its insurgency in 2010. However, even if al-Zakzaky's followers wanted to wage an insurgency, Iran has few regional assets in West Africa to support the IMN like AQIM had to support Boko Haram.
The situation in Nigeria is much different than the Middle East, where Iran is geographically proximate to Shia militias it supports, such as in Iraq, Syria, Lebanon, and Yemen. Moreover, the record of Iranian and Hizbollah-backed terrorist cells in countries outside of the Middle East, like Thailand, Kenya, Uganda, and Nigeria itself suggests they are more inept when backing cells outside of the Middle East (Vanguard, January 19, 2011; ; Kampalapost, July 23). This is perhaps due to Iran and Hizbollah's weaker cultural knowledge of those countries, stronger Israeli counter-intelligence outside of the Middle East compared to that region, and Iran's placement of more elite operatives in Middle Eastern countries than outside of the region.
Beyond the obvious fact that al-Zakzaky's Shia political agitation bears little resemblance to Boko Haram's Jihadi-Salafism, al-Zakzaky has also not called for violence in response to the clashes with the Nigerian state from his detention. This does not mean all al-Zakzaky followers will abstain from violence. However, there does not appear to be any organized insurgency in the works by al-Zakzaky's followers. Even if Iran wanted to back a proxy militia in Nigeria, the geographic and cultural distance would hinder it. In addition, Iran is overstretched in Middle Eastern conflicts and has less commitment to al-Zakzaky than it may appear on the surface, especially given the other Nigerian Shia factions.
Nigeria's Next Move
One possibility is rather than allowing al-Zakzaky to become a "martyr" and a further stain on Nigeria's human rights record if he dies in Nigerian custody, Nigeria will allow him to travel abroad to receive medical treatment. Iran has offered to provide care for him (Punch, July 26). However, there is a chance Nigeria, which accuses al-Zakzaky and his wife of being accomplices to murder, would presumably not allow him back into Nigeria (Punch, April 27, 2018). Al-Zakzaky would therefore live in exile in Iran or other countries whose governments and Muslim organizations have courted al-Zakzaky's family members, especially his daughters, such as Lebanon and Turkey (YouTube, June 2, 2018; YouTube, March 11, 2018). By portraying Nigeria's government as in league with Wahhabis or takfiris in oppressing Shias like al-Zakzaky, Iran will also be able to further its narrative of global Shia victimhood.
Nigeria, therefore, is a case where Iran might paradoxically benefit more from further oppression of the IMN, rather than directly using proxy militias to obtain political power as it does in Iraq, Lebanon or Yemen. The Nigerian government also shows no sign of leniency towards the IMN beyond possibly sending al-Zakzaky into exile. With Nigerian Sunni-Salafi clerics reticent to either comment on the al-Zakzaky affair or assertively call for an end to the violence, it appears there is no way out but for more IMN public protests and more Nigerian government crackdowns on the IMN creating more "martyrs" from among Nigeria's Shias. However, Iran may be the ultimate "winner" from this situation.
https://jamestown.org/program/a-shia-boko-haram-insurgency-or-iranian-proxy-in-nigeria-not-so-fast/
--------
Suicide blast on Mogadishu mayor's office meant for UN envoy, says al-Shabab group
JULY 26, 2019
MOGADISHU: A rare female suicide bomber used in the deadly Al-Shabab attack in the office of Mogadishu's mayor was aiming for the American who is the new UN envoy to Somalia and had left the office just minutes earlier, the extremist group and officials said.
The death toll in Wednesday's attack rose to seven and the seriously wounded Mayor Abdirahman Omar Osman was in a coma Thursday. He and other officials were expected to be airlifted to Qatar for treatment, said Mohamed Ahmed, a government official at the Mogadishu hospital treating the mayor.
The new UN envoy, James Swan, was the bomber's intended target, Abdiaziz Abu Musab, Al-Shabab's military spokesman, told local media.
Capt. Mohamed Hussein, a senior police officer, said the female bomber walked into a security meeting and blew herself up a few yards away from the mayor. It was just the fourth time the Al-Qaeda-linked Al-Shabab had been known to use a female suicide bomber.
Swan had paid the Somali capital's mayor a brief visit and left the compound less than an hour before the bombing, an official at the mayor's office told The Associated Press.
In a statement, Swan condemned "this heinous attack, which not only demonstrates a violent disregard for the sanctity of human life, but also targets Somalis working to improve the lives of their fellow Somalis." The US ambassador to Somalia, Donald Yamamoto, and UN Secretary-General Antonio Guterres also condemned the attack.
UN deputy spokesman Farhan Haq said that "any threats against any UN personnel anywhere in the world are a matter of grave concern for the secretary-general" and the UN reviews its security after such attacks.
"We want to make sure that all of our personnel everywhere are protected and able to go about their work free of any hindrance and free of any threats," Haq said, adding that Guterres will be writing to Swan and the UN staff in Somalia to express "solidarity with their work and our concern for their safety."
It was not clear how the bomber managed to enter the mayor's office, as visitors are required to pass through at least four metal detectors. Some security officials said the attacker might have bribed corrupt officials.
Al-Shabab often targets government buildings such as the presidential palace and other high-profile parts of Mogadishu with bombings. The Somalia-based group was chased out of Mogadishu years ago but still controls parts of the Horn of Africa nation's south and central regions and is a frequent target of US airstrikes.
Full report at:
https://dailytimes.com.pk/437322/suicide-blast-on-mogadishu-mayors-office-meant-for-un-envoy-says-al-shabab-group/
--------
After 10 years of Boko Haram violence, Nigerians crave peace
By Ismail Alfa Abdulrahim and Haruna Umar 
July 25, 2019
MAIDUGURI, Nigeria — Suicide bombings, mass kidnappings, tens of thousands of people killed. A ghastly insurgency by the homegrown Islamic extremist group Boko Haram marks 10 years this week in northeastern Nigeria, where many residents say life has been set back by decades.
"It feels like 100 years, because everything seems to be moving slowly and not getting any better for me and my family," said Hassan Mamman, who fled to Maiduguri, the region's main city, after Boko Haram attacks on his rural home. He is among millions of people displaced. "I miss my community and always crave it but the merchants of death just won't let us have that much-needed peace."
Friday marks a decade since Nigerian forces clashed with the extremists at Maiduguri's central mosque. More than 700 people were killed, including leader Mohammed Yusuf, according to officials and rights groups.
From that violence sprang the insurgency of Boko Haram, which in the Hausa language means "Western education is taboo." The extremists have sought to establish a strict Islamic caliphate in Nigeria, carrying out attacks as far away as the capital, Abuja. The violence has also spilled into neighboring Chad, Cameroon and Niger. In recent years some fighters have pledged allegiance to the Islamic State group, creating a new threat.
Boko Haram seized the world's attention with the mass kidnapping of nearly 300 schoolgirls from Chibok in 2014, sparking a #BringBackOurGirls campaign supported by then-U.S. first lady Michelle Obama and others. While many schoolgirls have since been freed, countless other people abducted over the decade remain lost to their loved ones. They include aid workers; on Wednesday a recently seized nurse pleaded in a video for Nigeria's government to help, saying they could be killed.
While Nigerian officials have repeatedly claimed victory over Boko Haram, weary residents say there is no end in sight to the attacks that have created one of the world's worst humanitarian crises, with more than 7 million people still dependent on food aid.
In interviews with The Associated Press, a range of people described how their lives and culture have been torn apart. "Our age-long legendary values for decency, where there is mutual respect and regard between men and women, have been eroded in just 10 years," said Hamsatu Allamin, who leads a peacebuilding foundation. Women widowed by the fighting have become beggars or sex workers, she said. Children no longer respect their elders.
"We have been plunged backward by many decades," said Abba-Aji Kalli, who leads a civilian self-defense force. Sometimes the damage appears irreversible, he said.
Some observers allege that certain Nigerian officials are profiting from the unrest via corruption and have little interest in ending the bloodshed. Rights groups have accused some Nigerian security forces of abuses in the fight against Boko Haram including extra-judicial killings and mass arrests. Nigeria's government has angrily rejected such allegations.
"We will continue to pursue and strengthen all options for peace and will not relent," said Baba Sheikh Haruna, spokesman for the governor of Borno state where Maiduguri is located. He said the government recently welcomed more than 150 Boko Haram members who surrendered and expressed hope that the 10-year anniversary would cause other fighters to reflect and lay down their arms.
Some 1.9 million displaced people are waiting for the chance to go home, said Hilde Jorgensen with the Norwegian Refugee Council. "Many of them are in camps that are overcrowded, without proper shelter or access to clean water."
One of those displaced people is Musa Jidda, who fled after Boko Haram attacked his rural home in Marte.
"Here I am, stripped of all that made me a man and a breadwinner," Jidda said. "Every day my heart bleeds in bitterness of seeing my family and I turned beggars. I cannot feed my family. Even what they give us here to feed on is not enough. All I want is for them to open this camp gate and let me go home."
Even though Boko Haram has been in the public eye for 10 years, not much is still known about the extremist group, said Matthew Page, associate fellow with the London-based international affairs group Chatham House.
"It's a very decentralized group, which contrasts with other jihadist groups that are tightly organized," Page said. "Boko Haram doesn't have much in the way of coherent strategy and focus, yet they have defied the odds and survived."
He said Nigeria's government has been ineffective in combatting Boko Haram, largely as a result of corruption. "So there is a kind of uneasy standoff. Boko Haram could continue for 30 years."
Some residents of Maiduguri, however, are not giving up hope that peace can return.
Mamman, whose displaced family has sheltered in the city for five years, said he imagined the extremists could be weary as well after a decade on the run.
Full report at:
https://www.washingtonpost.com/world/africa/after-10-years-of-boko-haram-violence-nigerians-crave-peace/2019/07/25/ad065528-aee4-11e9-9411-a608f9d0c2d3_story.html?noredirect=on&utm_term=.5011d83a2e89
--------
Four Turkish nationals rescued in central Nigeria after kidnapping, says police
27 July 2019
Four Turkish nationals abducted last week in the central Nigerian state of Kwara have been rescued, the police said on Friday.
The Turkish were kidnapped at gunpoint by six armed men, the police statement said, adding that no ransom was paid for their release.
Kidnapping for ransom is rife in Nigeria with foreigners and high-profile Nigerians frequently targeted.
Full report at:
https://english.alarabiya.net/en/News/world/2019/07/27/Four-Turkish-nationals-rescued-in-central-Nigeria-after-kidnapping-says-police.html
--------
Bodies of 62 migrants retrieved off Libya coast: Red Crescent
Jul 26, 2019
Libya's Red Crescent said Friday its rescue workers had recovered the bodies of 62 migrants a day after one of the deadliest shipwrecks this year in the Mediterranean.
"Our Red Crescent teams have pulled 62 migrants" from the water since Thursday evening, the head of the unit Abdelmoneim Abu Sbeih said.
Aid agencies on Thursday said more than 100 migrants were missing after an overloaded boat sank off the Libyan coast east of the capital near the port city of Khoms.
About 145 migrants were rescued by the Libyan coastguard, and fishermen said the waters were full of floating bodies.
"The bodies are still floating onto the shore continuously, it's not possible to give a total number," Abu Sbeih added.
Local authorities were gathering and storing the bodies until burial places could be found, a municipal source in Khoms said.
The migrants had apparently been headed out to sea on three boats lashed together, according to the charity Doctors Without Borders (MSF).
Survivors had reported a total of almost 400 people on board, MSF mission chief Julien Raickman told AFP.
The head of the UN refugee agency Filippo Grandi called the wreck "the worst Mediterranean tragedy of this year".
The capsize came only a few weeks after some 68 migrants died when an Italy-bound boat sank off Tunisia.
Full report at:
https://www.presstv.com/Detail/2019/07/26/601937/Libya-migrants-killed-bodies-recovered-red-crescent
--------
Nigerian troops kill 20 supporters of Sheikh Zakzaky
Jul 26, 2019
Nigerian security forces have killed at least 20 members of the Islamic Movement of Nigeria (IMN) during protests calling for the release of senior cleric Sheikh Ibrahim Zakzaky, the movement's leader, this week.
Spokesmen for the IMN said on Friday clashes that erupted between police forces and protesters in the capital, Abuja, this week left at least 20 people dead.
One spokesman said the death toll may be as high as 25.
IMN members regularly take to the streets of the Nigerian capital to call for the release of Sheikh Zakzaky, their leader, who has been in detention since 2015.
Nigerian forces have used live ammunition against the protesters.
The spokesmen said that most of the victims lost their lives after Nigerian troops opened fire on protesters on Monday, adding that four others have since died in police custody of their gunshot wounds.
"More might die in police custody, because there are at least 15 people who are in the detention center with various degrees of bullet wounds, without medication," one spokesman said.
Sheikh Zakzaky, who is in his mid-60s, lost his left eyesight in a 2015 raid by security forces that left more than 300 of his followers and three of his sons dead. His wife also sustained serious wounds.
The cleric's son, Mohammad, told Press TV on July 6 that his father was in dire need of medical treatment, as "large and dangerous quantities of lead and cadmium have been found in his blood."
Full report at:
https://www.presstv.com/Detail/2019/07/26/601913/Nigeria-Zakzaky-20-kill
--------
10 years into extremist rebellion, no reprieve for Nigeria's displaced
July 27, 2019
MAIDUGURI, Nigeria: Maiduguri resident Ahmed Muhammed wanders through the rubble left behind as he recalls the outbreak of fighting in his city a decade ago that launched the Boko Haram insurgency in Nigeria.
"We heard shooting — badadadadadada — here, there, everywhere around us," the 44-year-old railway worker told AFP.
"We thought the end of the universe had come."
In late July 2009, tensions between the hard-line Islamist sect and authorities in northeast Nigeria boiled over as the group launched a wave of attacks and security forces fought back ruthlessly.
The epicenter of the violence was the compound of the group's founder Muhammad Yusuf.
After several days of fighting, Yusuf and hundreds of Boko Haram members were dead and a conflict had been unleashed that would devastate the region.
The mosque and the homes that once stood there are now just a pile of debris — an unmarked monument to the suffering of the past 10 years.
In the decade since the uprising began, some two million people have been uprooted from their homes and 27,000 killed as the bloodshed has spilt into neighboring countries.
Boko Haram has turned vast swathes of territory into a no man's land and forced its way into international headlines by abducting hundreds of schoolgirls.
While the Nigerian army has pushed the fighters from major towns, the jihadists have splintered into factions and spawned an offshoot aligned to the Daesh group that has unleashed its own campaign of violence.
Waves of the conflict crashed over Hadiza Bukar's village near Baga close to the shores of Lake Chad in 2015 when Boko Haram fighters stormed through the area.
Bukar fled with her newborn twin sons, leaving behind her husband and two other children.
She has not heard from them since.
What remains of the family is now among the roughly quarter-of-a-million people displaced and struggling to survive in and around Maiduguri, capital of Borno State.
Studded across the city are government-approved camps and informal settlements of corrugated iron, sticks and shreds of tarpaulin.
The only place Bukar found to live is at the ground zero of the insurgency that tore her life apart. Her makeshift home stands on the edge of the ruins of Yusuf's former compound.
When the downpours come in the rainy season the place turns into a quagmire.
"Many people told us stories about what happened here. They warned us there was a history," she said, of the bloodshed in 2009. "But we had no option. We have nowhere to go. We decided to stay."
Across town in another district Idrissa Isah, 45, scrapes by as best he can.
Isah used to send cows to Nigeria's economic hub Lagos, but now all he has is a small patch of earth near his shack that a local landowner lets him till.
The little he grows helps supplement sporadic handouts from international aid groups and feed his family. He says he has had no government support.
Isah is desperate to return to his village of Makulbe about 30 kilometers (20 miles) from Maiduguri, but the risk is too high.
"If I could go back I would — I would have a big, big farm," he said.
"There is no way I can."
Finding a way home for the displaced is seen as key to solving the humanitarian crisis in northeast Nigeria.
After forcing the extremists back to remote hideouts, the government insists the security situation is stabilising.
But attacks persist outside heavily fortified towns.
Over just a few days in July, five soldiers were killed and six aid workers kidnapped.
On Thursday, a Boko Haram raid killed at least two people in a displaced camp near Maiduguri.
So far this year, 130,000 people have been displaced in northeast Nigeria, the International Organization for Migration says.
Ibrahim Bukar, 48, is comparatively lucky.
The local government accountant still receives his official salary of about $80 (75 euros) a month even though he has not worked in his hometown Bama, 65 km from Maiduguri, since it was devastated by fighting more than four years ago.
But the wage does not cover rent and he squats with his wife and four children in the one-room servants' quarters of an acquaintance's house.
Last October, after more than four years away, he decided to go home.
"There was nothing," he said.
"No food, no potable water, no health services, no teachers — don't even talk of electricity."
Beyond the town, he said, you cannot travel safely for more than a kilometer. After three months, Bukar gave up and headed back to Maiduguri.
The displaced camps are still filling up.
A sprawling site around the city's main stadium opened in March and has already reached its capacity with over 12,000 people.
Fatima Mohammed, 38, moved into a tarpaulin shelter three weeks ago with her husband and two children.
She arrived from an overcrowded camp not far away, having been displaced several times since being forced from her village five years ago.
She has no idea if, or when, she will see home again.
Full report at:
http://www.arabnews.com/node/1531476/world
--------
Under siege, Somalia moves to reform its army, pay troops
July 26, 2019
NAIROBI: Deployed in one of the world's most dangerous conflicts, Somali soldiers risking their lives daily against Al-Shabab insurgents were growing weary of being paid months late and shortchanged by their superiors.
"We never received the complete amount," a captain told AFP on condition of anonymity, grumbling about "middlemen" who syphon off troops' meagre wages — some as low as $100 a month — and plunder budgets meant for weapons, rations and uniforms.
Then in March, his pay arrived on time, in full and straight to his bank account, in what officials say is the first step in a radical shake-up of its graft-ridden armed forces.
The government, under pressure from foreign backers, has started paying troops directly, bypassing army commanders previously tasked with disbursing their pay but diverting the money instead.
Under the new system, payments are linked to a biometric database containing soldiers' fingerprints, personal details and bank accounts, replacing patchy records kept on Excel spreadsheets.
Officials say about 10,000 "ghost soldiers" were expunged from the records — roughly one in three troops according to government estimates, though analysts questioned these figures.
These fictitious troops either did not exist at all or had long ago deserted.
By taking control of salary payments, Mogadishu is seeking to cut out powerful commanders who for decades ran the Somali National Army (SNA) "as private fiefdoms," Fiona Blyth from the UN Assistance Mission in Somalia wrote in an April report.
The shake-up was fiercely resisted in some quarters of the army, with several soldiers deserting their barracks in March in protest.
But the government is pressing ahead. In July it also began registering fighters from an allied militia into its security forces, and identifying older or injured soldiers for retirement.
Mogadishu says the reforms are a milestone in decade-long efforts to rebuild the army into a force capable of taking over when the roughly 20,000 African Union AMISOM peacekeepers leave.
"We are not there yet. A lot of things need to be done first... but ultimately I think it will be a game changer," a government adviser told AFP.
African soldiers were deployed in 2007 to provide muscle until Somalia's army could stand on its own. AMISOM's withdrawal is slated for 2021.
Somalia's donors have long complained that there is little to show for the hundreds of millions poured into rebuilding the SNA.
In 2017, after a decade of international money and support, an internal review concluded the army was a "fragile force with extremely weak command and control and military capabilities."
Many units lacked weapons, basic medical supplies and even uniforms.
That same year, the United States suspended aid for the SNA over fraud concerns.
But recent efforts to boost accountability and professionalism in the military have struck a chord with traditional allies.
The United States announced this month it was resuming limited, non-lethal assistance to an army unit in Lower Shabelle, where SNA and AMISOM troops liberated key towns from Al-Shabab in April and May.
"The US notes several Somali-led steps toward security sector reform over the last year, notably the biometric registration," a State Department official told AFP.
Mohamed Ali Hagaa, a cabinet minister and top defense official, told AFP this "clearly demonstrates increased confidence in the security sector."
Analysts say the reforms, though important, gloss over a sobering reality: the SNA is nowhere near ready to secure a nation mired in civil war, clan violence and jihadists still controlling swathes of countryside.
"It's really an army in name only," said Matt Bryden, director of Nairobi-based think tank Sahan.
"Just because an individual has been biometrically registered and is on some payroll list, doesn't mean that they are actually a trained soldier in a formed unit."
The SNA faces a formidable foe in Al-Shabab, which this month alone bombed the Mogadishu mayor's office, blew up a checkpoint near Somalia's international airport and stormed a hotel with gunmen, collectively killing 49 people.
In January, heavily-armed jihadists overran a military camp on the outskirts of Kismayo, killing at least eight soldiers in one of their frequent ambushes of SNA locations.
Efforts by Somalia's international partners to ready the SNA for war have been criticized as being uncoordinated and piecemeal.
Some are trained by the British, others by the EU or the Turkish. Until 2018, the United Arab Emirates drilled its own troops in Somalia while the US, which focuses on drone strikes and Somalia's special forces, mentors another unit.
Encouraging these myriad stakeholders — all with their own strategic ambitions in the Horn of Africa nation — to work together has been difficult, say analysts.
Until this happens, the SNA would be "highly uneven in their effectiveness," said Paul D. Williams, associate professor at the Elliott School of International Affairs at George Washington University.
Full report at:
http://www.arabnews.com/node/1531266/middle-east
--------
Libyan gov't forces target Haftar-held Al-Jufra airbase
Walif Abdullah
26.07.2019
TRIPOLI, Libya
Libya's UN-recognized Government of National Accord (GNA) on Friday targeted Al-Jufra airbase, controlled by forces based in the east of the troubled country.
GNA's forces announced in a statement that the airstrike resulted in destroying a hangar used for drones and a cargo plane of forces led by commander Khalifa Haftar.
In June 2017, pro-Haftar forces took control of Al-Jufra airbase in central Libya.
Libya has remained beset by turmoil since 2011, when long-time ruler Muammar Gaddafi was ousted and killed in a bloody NATO-backed uprising after four decades in power.
Full report at:
https://www.aa.com.tr/en/africa/libyan-govt-forces-target-haftar-held-al-jufra-airbase/1542175
--------
Under siege, Somalia moves to reform its army, pay troops
2019-07-26
Deployed in one of the world's most dangerous conflicts, Somali soldiers risking their lives daily against Al-Shabaab insurgents were growing weary of being paid months late and shortchanged by their superiors.
"We never received the complete amount," a captain told AFP on condition of anonymity, grumbling about "middlemen" who siphon off troops' meagre wages - some as low as $100 a month - and plunder budgets meant for weapons, rations and uniforms.
Then in March, his pay arrived on time, in full and straight to his bank account, in what officials say is the first step in a radical shake-up of its graft-ridden armed forces.
The government, under pressure from foreign backers, has started paying troops directly, bypassing army commanders previously tasked with disbursing their pay but diverting the money instead.
Under the new system, payments are linked to a biometric database containing soldiers' fingerprints, personal details and bank accounts, replacing patchy records kept on Excel spreadsheets.
Officials say about 10,000 "ghost soldiers" were expunged from the records - roughly one in three troops according to government estimates, though analysts questioned these figures.
These fictitious troops either did not exist at all or had long ago deserted.
By taking control of salary payments, Mogadishu is seeking to cut out powerful commanders who for decades ran the Somali National Army (SNA) "as private fiefdoms," Fiona Blyth from the UN Assistance Mission in Somalia wrote in an April report.
The shake-up was fiercely resisted in some quarters of the army, with several soldiers deserting their barracks in March in protest.
A game changer?
But the government is pressing ahead. In July it also began registering fighters from an allied militia into its security forces, and identifying older or injured soldiers for retirement.
Mogadishu says the reforms are a milestone in decade-long efforts to rebuild the army into a force capable of taking over when the roughly 20 000 African Union AMISOM peacekeepers leave.
"We are not there yet. A lot of things need to be done first... but ultimately I think it will be a game changer," a government adviser told AFP.
African soldiers were deployed in 2007 to provide muscle until Somalia's army could stand on its own. AMISOM's withdrawal is slated for 2021.
Somalia's donors have long complained that there is little to show for the hundreds of millions poured into rebuilding the SNA.
In 2017, after a decade of international money and support, an internal review concluded the army was a "fragile force with extremely weak command and control and military capabilities".
Many units lacked weapons, basic medical supplies and even uniforms.
That same year, the United States suspended aid for the SNA over fraud concerns.
But recent efforts to boost accountability and professionalism in the military have struck a chord with traditional allies.
The United States announced this month it was resuming limited, non-lethal assistance to an army unit in Lower Shabelle, where SNA and AMISOM troops liberated key towns from Al-Shabaab in April and May.
"The US notes several Somali-led steps towards security sector reform over the last year, notably the biometric registration", a State Department official told AFP.
Mohamed Ali Hagaa, a cabinet minister and top defence official, told AFP this "clearly demonstrates increased confidence in the security sector".
Army in name only
Analysts say the reforms, though important, gloss over a sobering reality: the SNA is nowhere near ready to secure a nation mired in civil war, clan violence and jihadists still controlling swathes of countryside.
"It's really an army in name only," said Matt Bryden, director of Nairobi-based think tank Sahan.
"Just because an individual has been biometrically registered and is on some payroll list, doesn't mean that they are actually a trained soldier in a formed unit."
The SNA faces a formidable foe in Al-Shabaab, which this month alone bombed the Mogadishu mayor's office, blew up a checkpoint near Somalia's international airport and stormed a hotel with gunmen, collectively killing 49 people.
In January, heavily-armed jihadists overran a military camp on the outskirts of Kismayo, killing at least eight soldiers in one of their frequent ambushes of SNA locations.
Efforts by Somalia's international partners to ready the SNA for war have been criticised as being uncoordinated and piecemeal.
Some are trained by the British, others by the EU or the Turkish. Until 2018, the United Arab Emirates drilled its own troops in Somalia while the US, which focuses on drone strikes and Somalia's special forces, mentors another unit.
Encouraging these myriad stakeholders -- all with their own strategic ambitions in the Horn of Africa nation -- to work together has been difficult, say analysts.
Until this happens, the SNA would be "highly uneven in their effectiveness," said Paul D. Williams, associate professor at the Elliott School of International Affairs at George Washington University.
Full report at:
https://www.news24.com/Africa/News/under-siege-somalia-moves-to-reform-its-army-pay-troops-20190726
--------
URL: https://www.newageislam.com/islamic-world-news/hafiz-saeed-masood-azhar-likely/d/119320
New Age Islam, Islam Online, Islamic Website, African Muslim News, Arab World News, South Asia News, Indian Muslim News, World Muslim News, Women in Islam, Islamic Feminism, Arab Women, Women In Arab, Islamophobia in America, Muslim Women in West, Islam Women and Feminism