New Age Islam News Bureau
20 Feb 2017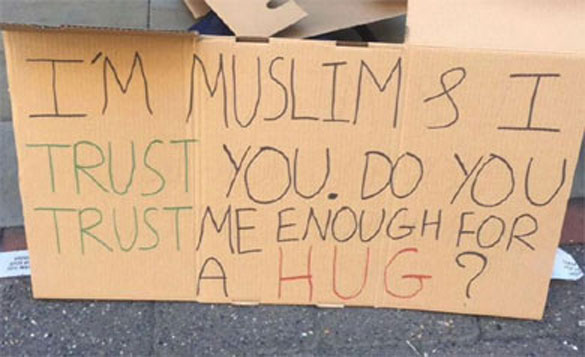 New York City Mayor Bill de Blasio speaks during a rally in support of Muslim Americans and protest of President Donald Trump's immigration policies in Times Square, New York, on Sunday. | Photo Credit: AP
----
• Hafiz Saeed Can Become a Threat to Society: Pak Defence Minister
• We Will Come Bearing Explosives, Says Egypt Church Bomber in Islamic State Video
• Thousands Declare 'I Am Muslim Too' At Solidarity Rally in US
• Indonesia Election Reignites Debate about Islam and the State
Pakistan
• Hafiz Saeed Can Become a Threat to Society: Pak Defence Minister
• Efforts for Military Courts' Revival Gather Steam
• US travel ban not beneficial in fight against terror: Asif
• Lal Masjid distances itself from terror group's statement
• Sehwan attacker bypassed security check in CCTV footage: police
• Several 'foreign terrorists' gunned down in crackdown across country
• 6 suspected facilitators of Sehwan blast arrested from Khairpur
• Sheikh Rashid, the suicide bomber politician
-------
Arab World
• We Will Come Bearing Explosives, Says Egypt Church Bomber in Islamic State Video
• Idlib: Liwa Al-Aqsa Executes 70 Rival Jeish Al-Nasr Terrorists, Commanders
• Iraqi Aerial Operations Kill 93 Daeshis In Mosul
• Trump's new travel ban targets same 7 Muslim-majority countries
• Libya celebrates 6th anniversary of revolution, end of dictatorship
• Jund Al-Aqsa Terrorists Leaving Idlib for Raqqa
• Terrorist Groups Retreat from Southern Syria after Crushing Defeat in Dara'a
• Report: ISIL Controlling 90 Percent of Al-Bab Despite Ankara's Claims
-------
North America
• Thousands Declare 'I Am Muslim Too' At Solidarity Rally in US
• Donald Trump's Revised Travel Ban Targets Same Countries
• Trade Centre bomber Omar Abdel-Rahman dies in US detention
• Hundreds Gather In Los Angeles For Rally In Support Of Muslim Americans
• Guest column: Anti-Muslim executive order would damage U.S. interests abroad
• Terror attack in Canada leads to worry in Irish Muslim community
-------
Southeast Asia
• Indonesia Election Reignites Debate about Islam and the State
• 'Himpunan 355' Shows Muslims Will Unite To Defend Islam, Muftis Say
• 5 foreign insurgents killed during Afghan forces' Shaheen-25 operations
• Afghanistan and EU sign Partnership and Development Agreement
• My name is Mujahidin, I am a Muslim and I reject Hadi's bill
• Fear among Malaysian Christians amid bid to increase Islamic law
• Myanmar Soldiers Injured in Clash With Militants in Troubled Rakhin
-------
India
• IT Jobs, H-1B Visa & Pakistan: Three Issues Modi Government to Take Up With US Lawmakers
• Shiv Sena Woos Muslim Voters through Urdu Ads
• Bandipora encounter: Three jawans, one militant killed
• Delhi Hc to Hear Plea by Zakir Naik's NGO Challenging Centre's Ban
-------
Europe
• Defeat of Islamic State Could Inaugurate Era of New Dangers
• The Russians Are Turning On Trump
• Excessive Aversion to Russia: Western Intelligence May Be Exposed
-------
South Asia
• Pakistan Rulers Support Terrorism: Afghanistan Assembly Speaker
• Two Myanmar soldiers injured in clash with militants near Bangladesh border
• Mayor, religious leaders speak at 'Tea with Muslims' event at Islamic Center of Topeka
-------
Mideast
• Palestinian Hunger Strike Kept In 'Grave-Like' Cell: Lawyer
• UN report exposes Houthi violations in Yemen
• Netanyahu, Kerry held 'secret Arab peace meeting'
• Iran will fully restore nuclear program if JCPOA scrapped: Larijani
• Canada court ruling violates international law: Iran
-------
Africa
• Suicide Bomb in Market in Somalia Capital Kills 39
• At least 14 killed in Mogadishu car bombing
• Sudan's president accompanies UAE's rulers to defense show
• Nigeria: JNI Prays for Buhari's Quick Recovery, Safe Return
Compiled by New Age Islam News Bureau
URL: https://www.newageislam.com/islamic-world-news/new-age-islam-news-bureau/hafiz-saeed-can-become-a-threat-to-society--pak-defence-minister/d/110140
-------
Hafiz Saeed Can Become a Threat to Society: Pak Defence Minister
February 20, 2017
LAHORE - Jamaatud Dawa chief Hafiz Saeed can pose a serious threat to the society. This was said by Defence Minister Khawaja Asif at the Munich Security Conference yesterday, reported BBC.
Hafiz Saeed was detained under fourth schedule of the Anti-Terrorism Act (ATA) on January 30. He was arrested in the larger interest of the country, Asif held.
"Terrorism is not synonymous to any religion. Terrorists aren't Christians or Muslims or Buddhists or Hindus. They are terrorists, they are criminals," said Asif while addressing the audience.
In a panel discussion on countering extremism and terrorism, the minister said more than ninety percent of individuals killed by terrorists are Muslims.
Strongly opposing the term 'Islamic terrorism,' Asif said: "I have heard the term "Islamic terrorism" maybe a dozen times since morning, President Trump uses it frequently and this is fuelling Islamophobia because terrorism is being branded as Islamic terrorism."
The minister stated the fight against terrorism is a common fight for mankind and humanity, and Pakistan expects and hopes that its brothers across the border from Afghanistan will cooperate to counter this threat.
In a statement harshly criticising the United State's policies, Asif said Pakistan is determined to fight terrorism: "Let me assure the world community that Pakistan is a frontline state in this war and it will continue to fulfil its obligations to its own people and the international community but if the West's policies are going to be isolationist it won't help the fight against terrorism, only fuel it."
Discussing the armed forces' performance, the minister admitted that Pakistan made mistakes in the past but continued to say that the country's armed forces did a commendable job in the past three years.
PAKISTAN, CHINA TAKES COMMON POSITION
INP adds: Pakistan and China, while participating in 53rd Munich Security Conference, reiterated their common position on counter-terrorism, asserting that the West should take non-partisan approach in combating it, in order to ensure peace and development worldwide.
According to a message received in Islamabad on Sunday, Defence Minister Asif said He briefed the conference's participants about the sacrifices rendered by the people of Pakistan in rooting out terrorism. There should be no double standard in tackling the issues of common concern, he added.
The conference was participating by top officials of various countries, including China, Norway, Iraq, Saudi Arabia, Russia, and Iran.
In his keynote address at a plenary session, Chinese Foreign Minister Wang Yi on called on participating countries to adhere to cooperation and make right decisions for achieving the common goal of peace and development worldwide.
Terrorism, he said, is a threat that needed to be tackled in a collective way.
Wang said in two major speeches delivered in Switzerland last month, President Xi Jinping called for building a community of shared future for all and achieving shared and win-win development.
Peace and development are still the main themes of today's world, Wang said.
"We need to remain committed to multilateralism, which is the effective pathway to peace, development and the settlement of global issues," he said.
Multilateralism is not out of date, but should be carried forward, Wang said. And cooperation among big countries needs to be strengthened, he added.
"Big countries have more resources and more capabilities. They have the responsibility and the obligation to play a greater role in maintaining international peace and security and make more contributions to human development and progress," he said.
Wang said that the global governance should be improved so as to solve the imbalances in world development and realise sustainable growth of the world economy.
"China is actively participating in global governance," he told an audience of over 300 people.
Wang said that the world needs to firmly advance all types of regional cooperation as this has proved effective for promoting global development.
Founded in 1963, the annual MSC has become a forum dedicated to promoting peaceful conflict resolution and international cooperation and dialogue.
China first attended conference in 1999.
http://nation.com.pk/national/20-Feb-2017/hafiz-saeed-can-become-a-threat-to-society-asif
-------
We will come bearing explosives, says Egypt church bomber in Islamic State video
Feb 20, 2017
Islamic State published a video on Sunday threatening Egyptian Christians and showing the last statement of a man it said was responsible for the deadly bombing in December of a Coptic cathedral in Cairo.
The masked man in battle-dress, whom the group identified as Abu Abdallah al-Masri, is seen encouraging militants all over the world not to give up and promising Islamists jailed in Egypt they will be freed soon, when the group "liberates" Cairo.
Read: Video of Egypt church bombing emerges, said to show attacker
President Abdel Fattah al-Sisi had already identified the bomber as a 22-year-old student called Mahmoud Shafik, and it is believed Abu Abdallah al-Masri was his assumed name. He had been detained for two months in 2014 before joining an Islamic State cell in Sinai, the government said.
"Finally, to my brothers in captivity: rejoice, you believers, do not falter or grieve. I swear to God we will very soon liberate Cairo and free you from captivity. We will come bearing explosives, I swear we will, so rejoice you believers," he said in the video.
At least 28 people, mostly women and children, were killed in December when a bomb exploded in a chapel adjoining St Mark's Cathedral, the seat of the Coptic papacy.
Orthodox Copts, who comprise about 10% of Egypt's 90 million people, are the Middle East's largest Christian community.
Islamic State claimed responsibility for the bombing, its deadliest attack in Egypt outside the Sinai Peninsula, where it has been waging an insurgency since 2013.
The Cairo attack, coupled with the group's use of a new "Islamic State in Egypt" logo as opposed to "Sinai Province", suggests an expansion of operations to the rest of the country.
The Egyptian government said in December that the bomber supported the Islamist Muslim Brotherhood movement. But the Brotherhood condemned the attack and accused Sisi's administration of failing to protect the church.
Read: Egypt church attack: 10-year-old dies, death toll rises to 27
Sisi took power in 2013, deposing the Brotherhood's President Mohamed Mursi, and has since outlawed the group as part of a crackdown in which hundreds of Islamists were killed and thousands jailed.
The Brotherhood says it is peaceful movement but it has split into rival wings, and some erstwhile supporters have formed splinter groups which carry out attacks on police and judicial officials.
Disillusioned by its ill-fated flirtation with democracy, some younger Brotherhood supporters have gone to fight in Syria or joined the local arm of Islamic State, which since 2013 has killed hundreds of soldiers and police in Sinai.
http://www.hindustantimes.com/world-news/we-will-come-bearing-explosives-says-egypt-church-bomber-in-islamic-state-video/story-ELWQUGjnCujXDEmPBBXCoJ.html
-------
Thousands declare 'I am Muslim too' at solidarity rally in US
Feb 20, 2017
NEW YORK: Over a thousand people from various faiths declared 'I am a Muslim too' as they assembled at the iconic Times Square here to express solidarity with the Muslim community and protest against US President Donald Trump's immigration policies.
The rally was co-organised by the Foundation For Ethnic Understanding and the Nusantara Foundation in response to the uncertainty and anxiety created by Trump's now-rescinded executive order to bar citizens from the seven Muslim-majority nations.
The 'I am a Muslim Too' solidarity rally drew several thousand people who raised slogans and held banners of 'Love Trumps Hate' and 'USA, USA' and 'No Muslim Ban'.
Headlined by American entrepreneur and author Russell Simmons and actress Susan Sarandon, the rally yesterday saw participation by several faith leaders who denounced the divisive political environment in the country and called on Americans to stand up for Muslims facing increasing threat and pressure.
Addressing the rally, New York City Mayor Bill de Blasio said America was founded to respect all faiths and all beliefs and stereotypes against the Muslim community has to be dispelled.
"The message I want to give as Mayor of the city to everyone regardless of background or faith or where you were born is that this is your city and this is your country," he said.
The Mayor said America was founded by people who were fleeing religious persecution and was founded to respect all faiths and all beliefs.
"This is who we are as Americans and this must be protected. An attack on anybody's faith is an attack on all people of faith," he said.
Lauding the 900 Muslim members of the New York Police Department, de Blasio said the 1.6 billion Muslims in the world are "overwhelming peace loving" people who care about their community.
"We have to dispel the stereotypes" faced by the Muslim community, de Blasio said declaring at the end of his speech that "I'm proud to say today I'm a Muslim too".
Eminent Sikh-American speaker and activist Simran Jeet Singh said he is supporting the rally "because as a Sikh, we know what discrimination and oppression feels like. We want a world that is acceptable and tolerant".
Sarandon said given the political environment in the country, it is no longer possible to be neutral. "If you are silent, then you are complacent.
"We are here because we will not be a cog in a machine that is dismantling our constitution, that is dismantling our bills of rights," she said to loud cheers from the crowd.
Sarandon added that New Yorkers should tell their representatives that the city is "open and accepting".
"We will fight hatred with love, we will fight bigotry with inclusivity. And today I am a Muslim too," she said.
American-Muslim woman Latisha James said she was proud to be part of the solidarity rally that was sending a strong message that people are coming together to support the community and will not tolerate discrimination against its members.
"Everyone is of the same nature. There should be no discrimination, we are all the same. We all migrated to America so for Trump to put a ban on Muslims and refugees is not appropriate. It's not going to happen," she said.
She said a lot of Muslims and refugees have been discriminated against and "it's good that everyone has come together finally to support the Muslims".
http://economictimes.indiatimes.com/news/international/world-news/thousands-declare-i-am-muslim-too-at-solidarity-rally-in-us/articleshow/57247796.cms
-------
Indonesia election reignites debate about Islam and the state
Feb 20, 2017
Ever since Indonesia declared independence from the Netherlands in 1945, the relationship between Islam and the state has been in flux.
High quality global journalism requires investment. Please share this article with others using the link below, do not cut & paste the article. See our T&Cs and Copyright Policy for more detail. Email ftsales.support@ft.com to buy additional rights.
https://www.ft.com/content/b43cad8c-f524-11e6-8758-6876151821a6
Now the issue is dominating politics again because of an acrimonious election battle in Jakarta, where the Christian governor is facing off against a Muslim rival, while also defending himself in a trial for allegedly insulting Islam. Indonesia has more Muslims than any other country, accounting for around 90 per cent of its 250m people.
Basuki Tjahaja Purnama, the incumbent and an ethnic Chinese as well as a Christian, was seen as a shoo-in because of his record of cleaning up the capital by curbing corruption, improving transportation and combating flooding. But his popularity fell sharply because of vociferous opposition from conservative Islamic groups, and his two Muslim rivals. Together, they successfully called for him to be prosecuted for blasphemy after organising massive street protests against him.
His alleged offence: criticising his opponents for claiming that the Koran, Islam's holy book, advises Muslims not to vote for a non-Muslim leader.
The controversy has thrust longstanding anti-Chinese and anti-Christian sentiments back into the open, and shaken up the contest to be Jakarta's next governor — a powerful political office that is seen as a stepping stone to the presidency.
Mr Purnama still came out on top in last Wednesday's first-round election. He garnered 43 per cent of the vote, compared with 40 per cent for Anies Baswedan, a former education minister, and 17 per cent for Agus Yudhoyono, the son of former president Susilo Bambang Yudhoyono, according to initial counts.
Having apparently failed to get more than 50 per cent of the vote, Mr Purnama will face a run-off against Mr Baswedan in April. After such a divisive campaign, analysts believe Mr Baswedan is likely to attract the Muslim voters who backed Mr Yudhoyono and defeat Mr Purnama.
But even if Mr Purnama wins the election, he can expect to face a prison sentence of up to five years if convicted in his trial, as most people charged with blasphemy are in Indonesia.
High quality global journalism requires investment. Please share this article with others using the link below, do not cut & paste the article. See our T&Cs and Copyright Policy for more detail. Email ftsales.support@ft.com to buy additional rights.
https://www.ft.com/content/b43cad8c-f524-11e6-8758-6876151821a6
-------
Pakistan
Efforts for military courts' revival gather steam
AMIR WASIM
Feb 20, 2017
ISLAMABAD: The government has stepped up its hectic lobbying for the revival of military courts following the deaths of over 100 people in six terrorist attacks across the country last week.
On Sunday, Finance Minister Ishaq Dar and National Assembly Speaker Ayaz Sadiq contacted parliamentary leaders from opposition parties and informed them about the government's intention to prepone their next meeting on the issue of the military courts from Feb 27 to Feb 23.
The finance minister called Dr Farooq Sattar of the Muttahida Qaumi Movement (MQM), Sahibzada Tariqullah of the Jamaat-i-Islami (JI), Ghulam Ahmed Bilour of the Awami National Party (ANP), Awami Muslim League (AML) chief Sheikh Rashid Ahmed and Fata MNA Shahji Gul Afridi, according to a handout issued by the Ministry of Finance.
Editorial: Military courts' revival on the horizon
In his conversation with parliamentary party leaders, the minister highlighted the significance of extending the working of military courts to ensure speedy trial of terrorists and stressed the need for consensus on this all-important issue.
NA speaker, finance minister continue canvassing; govt looking to prepone parliamentary body meeting
The minister also telephoned the speaker, asking him to move back the date of the next meeting of the main parliamentary committee on the matter.
Mr Dar advised the speaker that since the meeting of the sub-committee formed to review the draft of the constitutional amendment bill was scheduled to be held on Feb 22, it would be appropriate to convene the main committee to meet day after that, in order to facilitate a swift decision on the matter.
Following his conversation with the finance minister, the speaker also spoke to parliamentary leaders from various political parties. An official statement issued by the National Assembly Secretariat, however, did not mention who Mr Sadiq spoke to.
On Saturday, Mr Dar had spoken to parliamentary leaders from the Pakistan People's Party (PPP) and the Pakistan Tehreek-i-Insaf (PTI) and stressed the need for a "prompt decision" on the matter in the wake of renewed terrorist attacks.
He also reached out to Jamiat Ulema-i-Islam (JUI-F) chief Maulana Fazlur Rehman and his brother Senator Maulana Ataur Rehman, PPP's Syed Naveed Qamar, PTI vice-chairman Shah Mehmood Qureshi and Qaumi Watan Party chief Aftab Sherpao.
Referring to the recent incidents in Fata, Peshawar, Lahore, Quetta, Awaran and Sehwan Sharif, the minister had stated that an effective and well-coordinated response on part of the federal and provincial governments was need of the hour.
The minister told the political leaders that revival of the military courts was essential for ensuring continuation of the momentum of anti-terrorism campaign and the political leadership in parliament needed to show unity as well as complete unanimity of views on this issue.
A senior PPP leader told Dawn that the urgency being shown by the government all of a sudden indicated that the ruling party had succumbed to pressure from "certain quarters", which wanted revial of military courts as soon as possible.
The impression they got in previous meetings, the PPP leader said, was that the government itself was not serious in reviving the courts and was trying to pass the buck on to other parties to delay the matter. But in the wake of the recent terrorist attacks in all four provinces, the government had been prompted to take a swift decision on the matter.
The military courts were established and granted permission to try civilians charged with terrorism in January 2015, in the aftermath of the gruesome terrorist attack on the Army Public School in Peshawar.
The courts were given constitutional cover for two years after parliament passed the 21st constitutional amendment, despite fears among lawmakers that the establishment of the military tribunals might undermine democracy in the country.
The courts have been non-functional since Jan 7 after the expiry of two-year constitutional cover.
During a meeting of the parliamentary leaders chaired by the National Assembly speaker last week, the government had circulated a draft of a proposed amendment bill seeking a three-year extension for military courts.
However, government members failed to break the deadlock over the issue as opposition parties refused to support the proposal without certain guarantees and before intra-party discussions.
The opposition parties did, however, agree on the formation of a five-member committee, headed by Law Minister Zahid Hamid, to review the draft.
The new subcommittee was scheduled to hold its first meeting on Feb 22, whereas the parliamentary leaders will meet again on Feb 27.
Initially, apart from the PPP and the PTI, two government allies — JUI-F and the Pakhtunkhwa Milli Awami Party — had also refused the proposal to extend the term of military courts.
Published in Dawn, February 20th , 2017
http://www.dawn.com/news/1315873/efforts-for-military-courts-revival-gather-steam
-------
US travel ban not beneficial in fight against terror: Asif
February 20, 2017
Observer Report
Munich
Defence Minister Khawaja Asif, speaking at an international conference, on Sundy said that measures such as the recent travel ban imposed by United States on citizens from seven Muslim-majority countries is not beneficial in the fight against terrorism but is fueling it further.
He was speaking in a panel discussion, titled 'Countering Radical Extremism and Terrorism', at the three-day-long Munich Security Conference 2017, where he denounced the term "Islamic terrorism", adding that terrorism should not be associated with any religion.
"I have heard the term Islamic terrorism maybe a dozen times today. President Trump uses it quite frequently," the defence minister said. "With all due respect, with all humility on my disposal, this ban on seven states, whatever perceptions the US has, has not helped the fight against terrorism."
"If the policies of the west are going to be isolationist or exclusive, it won't help the fight against terrorism, it will fuel terrorism," he added.
"Terrorists aren't Christians or Muslims or Buddhists or Hindus. They are terrorists, they are criminals," Asif said, adding that branding terrorism as "Islamic terrorism" fuels Islamophobia and adds to the problem.
Commenting on concerns relating to hosting refugees, he said "Europeans and the US feel threatened" by the incoming wave of refugees as they fear their political system would be "destabilised".
"We are states that are handicapped by our bad economies, our law and order situations and meager resources, but we are fighting," said Asif while comparing Pakistan's situation with other countries.
He said that Pakistan has spent around $2 billion on fighting terrorism and has suffered more than 60,000 casualties, adding that regardless of the challenges, the country successfully repatriated 650,000 refugees that were there for more than three decades.
"This is something that can be replicated," the defence minister said, adding a conducive environment must be created to allow the refugees to return to their homes. "But that is not possible for Syrians, Iraqis or the Libyans," he added.
The defence minister further said if a country such as Pakistan can house refugees over a period of more than three decades "without any substantial aid from outside", others can too.
Full report at:
http://pakobserver.net/us-travel-ban-not-beneficial-in-fight-against-terror-asif/
-------
Lal Masjid distances itself from terror group's statement
KALBE ALI
Feb 20, 2017
ISLAMABAD: Aiming to disassociate itself from the outlawed Tehreek-i-Taliban Pakistan faction Jamaatul Ahrar, Lal Masjid on Saturday decried the group's statement announcing terror strikes in the name of Abdul Rasheed Ghazi.
The group has said the recent bombing in Lahore was carried out as part of 'Operation Ghazi' to avenge the killing of Abdul Rasheed Ghazi, and Ghazi have wanted the fight against security forces to continue.
On Saturday Ghazi's son, Haroon Rasheed Ghazi, released a video statement addressing Jamaatul Ahrar.
"We should come up with a political solution. This bloodshed is not in the interest of anyone. Our stance is very clear; we do not endorse any violent activities," he said.
The video statement also said the country has faced a wave of unrest since the 2007 Lal Masjid operation because of international powers, as similar destabilisation has been witnessed in other Muslim countries. Mr Ghazi blamed the United States and local politicians for unrest in Pakistan.
Lal Masjid's Shuhada Foundation, which usually responds on behalf of Maulana Abdul Aziz, has already criticised Jamaatul Ahrar for using Ghazi's name in its attack.
Mr Ghazi's statement comes a day after another release from the banned organisation, which stated that it understood the pressure facing the Shuhada Foundation and Mr Aziz's family. It also released a video of Ghazi called for resistance against state institutions.
A security official told Dawn that capital police officials visited Jamia Hafsa in G-7 to discuss the issue of Jamaatul Ahrar, and its support for his deceased brother, with Mr Aziz.
Ghazi was killed during the 2007 Lal Masjid operation.
A spokesperson for the Shuhada Foundation denied that any law enforcement officials have approached Lal Masjid or Mr Aziz's relatives, but a security analyst said there has been considerable pressure the Lal Masjid administration and the family of Mr Aziz and his deceased brother because of the terrorist faction's announcement.
"We cannot ignore the basic SOPs by the police or other law enforcement agencies that they would not have contacted the family of Rasheed Ghazi," said Amir Rana, the director of the Pakistan Institute for Peace Studies.
Full report at:
http://www.dawn.com/news/1315808/lal-masjid-distances-itself-from-terror-groups-statement
-------
Sehwan attacker bypassed security check in CCTV footage: police
IMTIAZ ALI
Sindh police on Sunday released a video allegedly showing the Sehwan attacker bypassing a security check at the Lal Shahbaz Qalandar shrine last week.
The suicide attack targeting the shrine on Thursday killed at least 88 people and injured hundreds others. It is one among a deadly series of attacks carried out by militants in recent weeks.
Inspector General Police Sindh A.D. Khawaja while addressing a press conference said the man shown in the CCTV footage is "99 per cent" the suicide bomber. He described the man as an Afghan national, saying that the 'attacker' saw the police officer at the gate and decided to go the other way.
The attacker is suspected of involvement in the Shikarpur and Jacobabad blasts, the IGP said, adding that the involvement of a man named Hafeez Brohi in the Sehwan attack could not be ruled out, as he had a terrorist network in Sindh.
The IGP said that police have arrested one man in connection to the Sehwan carnage in Johi, a town in Sindh's Dadu district. The suspected facilitator has been shifted to an undisclosed location for further investigation, he added.
The Sindh government will have the case investigated through Sindh police's Counter-Terrorism Department (CTD), as was done in suicide bombings in Jacobabad during Ashura and at Shikarpur's shrine, and then again last year in Shikarpur on the second day of Eidul Azha.
Full report at:
http://www.dawn.com/news/1315716/sehwan-attacker-bypassed-security-check-in-cctv-footage-police
-------
Several 'foreign terrorists' gunned down in crackdown across country
20-Feb-17
PESHAWAR: Eleven foreign terrorist were killed, including two commanders, during exchange of fire in Kurram Agency on Sunday, officials said.
According to the Inter-Services Public Relations, the Pakistan Air Force fighter jets pounded terrorists who were regrouping in Wucha Bibi area, an Afghan bordering strip in North Waziristan Agency.
The incident occurred in Sapperkot and Para Chamkani area of Kurram Agency.
Two Kurram militia soldiers were also wounded in the gunbattle between the law enforcers and the terrorists. The terrorists were trying to enter Kurram Agency via Khyber Agency from Afghanistan when they were intercepted by the security forces and heavy exchange of fire took place.
Security forces said that bodies of the terrorists would be handed over to the political authorities.
Meanwhile, Hangu district police arrested 20 suspect people, including two proclaimed offenders and same number of facilitators.
Meanwhile, the Counter-Terrorism Department (CTD) claimed to have killed five terrorists in a shootout in Leyyah district of Punjab.
According to officials, eight terrorists belonging to banned organisations were present in the area of Dera Sami Patti, in Tehsil Chubara, Leyyah.
The CTD raided the hideout to arrest the terrorists. The team warned the terrorists to surrender but they opened fire on the CTD team and blew up explosives.
When firing stopped, five terrorists were found dead by the firing of their own accomplices, police sources said.
Another three terrorists managed to flee. Bodies were shifted to the DHQ Leyyah.
Separately, security forces killed a militant in an encounter and seized arms during a search operation at Darakhshan near Eastern Bypass area of Quetta.
According to a spokesman of security forces, following a tip off, security forces carried out a search operation in the area while suspect opened fire on them.
The suspect was killed in retaliation by security forces. Arms were also recovered from his hideout.
Full report at:
and made biometric verifications of 1,200 people with the arrest of 21 suspects.
http://dailytimes.com.pk/khyber-pakhtunkhwa/20-Feb-17/several-foreign-terrorists-gunned-down-in-crackdown-across-country
-------
6 suspected facilitators of Sehwan blast arrested from Khairpur
February 20, 2017
At least six suspected facilitators of the Sehwan blast have been arrested during combing operations executed in the bordering areas of Sindh and Balochistan.
Sources informed that those arrested were involved in facilitating in the Sehwan blast and belong to Hafeez Brohi group about whom the sources claimed that the suspects were involved in organising the proscribed Daesh's network in the area. The group is reportedly behind the Lal Shahbaz Qalandar shrine bombing. Hafeez Brohi group was previously affiliated with outlawed Lashkar-e-Jhangvi but lately pledged allegiance to Daesh.
Full report at:
http://nation.com.pk/national/20-Feb-2017/6-suspected-facilitators-of-sehwan-blast-arrested-from-khairpur
-------
Sheikh Rashid, the suicide bomber politician
February 20, 2017
ISLAMABAD - Sheikh Rashid Ahmed stood on the sprawling lawn of a house in an upscale Islamabad neighbourhood as two German Shepherd dogs played around. The politician from Rawalpindi has recently taken up this residence, secured with high boundary walls and guards. A bulletproof land cruiser was parked, behind another SUV draped by a car cover, in the driveway. "It is my hideout," Sheikh Rashid said, puffing his trademark Cuban cigar, as he pointed towards the house.
The manicured lawn and a quiet, leafy street is a far cry from the teeming, populated Rawalpindi constituency Sheikh Rashid, as he is popularly known, represents. But Lal Haveli, the pre-partition building that is his traditional political base, is under the threat of a militant attack. Furthermore, the government has accused him of forcibly occupying the building. He has been given the warning to vacate it by March. 8.
Sheikh Rashid is, however, undeterred. "What do I have to lose? I am a suicide bomber politician," he says.
While he rejects the possibility of losing Lal Haveli, he has decided to set up this house and eventually plans to use it as his alternate office. Renovation work was still undergoing in the upper portion over the weekend.
As the controversy about the wealth accumulated overseas by the Sharif family lingers in the Supreme Court, the wily politician smells victory.
He has been present in each Supreme Court hearing, like a diligent student who never bunks classes. "I wasn't regular in going to my school and college, but here I am very punctual," he said, referring to the Supreme Court proceedings, popularly known as the Panama case. "It is a very, very important and very crucial and very decisive case of this country. And, I am witnessing history."
"The judges will write a historical decision, whatsoever it will be," he said, leaning on the drawing room sofa.
The Panama Papers revelations have resuscitated the political fortunes of both Sheikh Rashid and Imran Khan, the nemesis of Prime Minister Nawaz Sharif. Known for coining witty political one-liners, Sheikh Rashid is unabashed over his previous predictions about the fall of the government. His 2014 statement that there will be a political sacrifice before Eidul Azha, the sacrifice feast, had made rounds. "I stand by it," he said. "What could we do if the butcher ran away? The soldier did not contact. I don't know why it happened," he said, referring to the military.
This time, however, he talks even with more certitude.
"No matter what decision comes, Nawaz Sharif will be damaged in this case," Sheikh Rashid said.
"If Imran Khan listens to me, I want to drag Panama to elections," he said. "If a commission is formed, I will support it. Imran Khan is also mentally ready for a commission."
He says that the Panama Papers controversy has resonance with former US President Richard Nixon's Watergate scandal and the Bofors guns scandal, the kickbacks case that led to the then Indian Prime Minister Rajiv Gandhi's defeat in 1989 elections.
"I want to create a movement like that," he said.
The only problem he faces is the mercurial political temperament of Imran Khan.
"I am with Khan. I like him. He listens to me," he said. "But Khan has his set-up, his party, and compulsions."
Last October, Sheikh Rashid made nationwide headlines when despite a police crackdown, he managed to reach a venue for a protest rally. Earlier, he posted videos of a breathless ride through the maze of Rawalpindi streets as he tried to evade police arrest.
"I have done nothing for my constituency this time, but people say that my Oct 28 motorcycle show won their hearts," Sheikh Rashid said, his face flushed pink with pride.
"People say that, just like Express Train, you reached for the protest on time," he said.
Such theatrics are a hallmark of Sheikh Rashid's politics, just like the statements he makes, attributing to the working class people of his constituency.
"There is a samosa seller in my constituency by the name of Jhaka," Rashid said. "Jhaka says that Sheikh Sahab due to your motorcycle show, our constituency is safe for a win," he said. "I don't want to sound proud, but I will take a historic vote in the next elections."
Sheikh Rashid is however worried for the other Rawalpindi constituency from where Imran Khan won the last election. "Despite my wish, Khan has not visited the constituency. So, I have a big trouble and big problem. If I have to contest from that constituency also then financially, it will be a big problem for me," he said.
Still, he hopes that Panama Papers case will rescue him and he has based his entire current political strategy around this controversy. "I love politics. I don't like anything else – girls, drinking or gambling. I hate all these things. I love politics," he stressed.
"Money is neither my weakness nor do I have a shortage of money for myself, my cigar, my clothes, and food," he said. "I don't have to worry about children's fees or wife's expenses."
Full report at:
http://nation.com.pk/national/20-Feb-2017/sheikh-rashid-the-suicide-bomber-politician
-------
Arab World
Idlib: Liwa Al-Aqsa Executes 70 Rival Jeish Al-Nasr Terrorists, Commanders
Feb 19, 2017
"Liwa al-Aqsa has executed at least 70 members of the Jeish al-Nasr terrorists who had been captured in Northern Hama," sources said.
They said that 11 commanders and 3 media people of Jeish al-Nasr terrorist group were among the 70 executed by Liwa al-Aqsa.
The sources also said that around 400 terrorists of Tahrir al-Sham Hay'at (the Levant Liberation Board) - that is mainly formed of Al-Nusra terrorists - were also killed in clashes with Jund al-Aqsa.
Earlier in February, media sources privy to the terrorist groups disclosed that the newly-formed Tahrir al-Sham Hay'at (the Levant Liberation Board) has declared war on Jund al-Aqsa after the latter managed to take control of several towns in Southern Idlib.
The sources said that Tahrir al-Sham Hay'at has declared war against Liwa al-Aqsa, a branch of Jund al-Aqsa in Hama province.
They added that one of Abu Abdul Malek al-Shami, a commander of Tahrir al-Sham Hay'at, has underlined his forces' firm will to annihilate Liwa al-Aqsa.
The sources said that combatants of Tahrir al-Sham Hay'at have driven Liwa al-Aqsa forces out of the town of al-Tamanna in Southern Idlib.
The Hay'at's decision to open war on Jund al-Aqsa came after the Liwa al-Aqsa took control of the town of Kafr Sajneh in Southern Idlib.
Later, Jund al-Aqsa terrorists continued their advances in the region and seized control over the town of Khan Sheikhoun and al-Tamanna.
Also, a group of terrorists affiliated to the newly-formed Tahrir al-Sham Hay'at (the Levant Liberation Board) entered a government hospital in the town of Ma'arat al-Nu'aman in Idlib province on Wednesday, using force, and took several guards of the medical center that were members of Ahrar al-Sham hostages.
Media sources affiliated to terrorist groups said that fighters of Tahrir al-Sham Hay'at arrested Ahrar's guards of the hospital on charges of assassinating the board's forces.
Later, al-Nusra Front (recently renamed to Fatah al-Sham Front) and Faylaq al-Sham agreed to exclude the hospital in Ma'arat al-Nu'aman from their differences and set up their military centers far away from the medical center, allowing Nusra forces to guard the hospital.
Meantime, after Jeish al-Sonah joined the al-Nusra, Ahrar al-Sham and Soqour al-Sham battalions launched heavy attacks on Jeish al-Sonah's positions in the village of Tarmla in the Southeastern countryside of Idlib and seized most of their positions and arms depots, forcing them to leave the village .
In late January, al-Nusra Front and several militant groups declared that they decided to form a new coalition named Tahrir Al-Sham Hay'at to narrow down widening rifts amongst their commanders and members.
The Al-Nusra Front, Nouralddeen al-Zinki Movement, Jeish al-Sonah, Jabhat Ansaraldeen and Liwa al-Haq announced that they would act under a united coalition named the Tahrir al-Sham Hay'at.
The five merged terrorist groups would act under the command of Abu Jaber Hashem al-Sheikh.
Hashem al-Sheikh was one of the commanders of Ahrar al-Sham. The new coalition led by al-Sheikh was against Ahrar al-Sham.
Al-Sheikh resigned from his post in Ahrar al-Sham after he was appointed as the commander of Tahrir al-Sham Hay'at.
http://en.farsnews.com/newstext.aspx?nn=13951201001067
-------
Iraqi aerial operations kill 93 Daeshis in Mosul
Feb 19, 2017
Watch footage of Iraqi helicopters conducting airstrikes on Daesh-held positions in western Mosul.
On Sunday, the Iraqi Ministry of Defense released footage in which Iraqi planes and choppers can be seen engaging Daesh in west Mosul.
"Our helicopters took off in the early hours of the start of the battle to back up the troops of Hashd al-Sha'abi (Popular Mobilization Units) and carried out 22 sorties. They made marvelous results. They were able to kill 93 Daesh militants and destroyed 18 military and armored vehicles which were being used by Islamic State," said Iraqi Army Aviation Commander Lieutenant General Hamid al-Maliki.
Meanwhile, Commander of Nineveh Liberation Operation Lieutenant General Abdul Amir Yarallah announced that Iraqi forces had regained control over Kantirah and Abyadh villages, south of Albu Seif village on the outskirts of Mosul.
Earlier, Iraqi Prime Minister Haider al-Abadi announced the start of operations to liberate the western flank of the flashpoint city of Mosul from the grip of the Takfiri Daesh terrorist group.
Full report at:
http://www.presstv.ir/Detail/2017/02/19/511264/iraq-mosul-footage-helicopters-daesh
-------
Trump's new travel ban targets same 7 Muslim-majority countries
20 February 2017
A draft of President Donald Trump's revised immigration ban targets the same seven countries listed in his original executive order and exempts travelers who already have a visa to travel to the U.S., even if they haven't used it yet.
A senior administration official said the order, which Trump revised after federal courts held up his original immigration and refugee ban, will target only those same seven Muslim-majority countries - Iran, Iraq, Syria, Yemen, Somalia, Sudan and Libya.
The official said that green-card holders and dual citizens of the U.S. and any of those countries are exempt. The new draft also no longer directs authorities to single out - and reject - Syrian refugees when processing new visa applications.
The official spoke on condition of anonymity to discuss the order before it's made public. The official noted that the draft is subject to change ahead of its signing, which Trump said could come sometime this week.
Asked about the revised order, White House spokeswoman Sarah Huckabee Sanders said the document circulating was a draft and that a final version should be released soon. The Department of Homeland Security did not immediately respond to a request for comment.
The Wall Street Journal also reported that the current draft of the revised order focused on the seven countries but excluded those with green cards.
Trump's original executive order triggered chaos at airports around the world, as travelers were detained when the order rapidly went into effect, U.S. permanent residents known as green-card holders among them. Attorneys provided legal assistance to those held and protesters descended on the airports as news of the order's implementation spread. In its original form, the order temporarily suspended all travel to the U.S. for citizens of those seven Muslim-majority countries for 90 days.
The original order also called for Homeland Security and State department officials, along with the director of national intelligence, to review what information the government needs to fully vet would-be visitors and come up with a list of countries that can't or won't make the information available. It said the government will give countries 60 days to start providing the information or citizens from those countries will be barred from traveling to the United States.
Even if Syrian refugees are no longer automatically rejected under the new order, the pace of refugees entering the U.S. from all countries is likely to slow significantly. That's because even when the courts put Trump's original ban on hold, they left untouched Trump's 50,000-per-year refugee cap, a cut of more than half from the cap under the Obama administration.
The U.S. has already taken in more than 35,000 refugees this year, leaving less than 15,000 spots before hitting Trump's cap, according to a U.S. official. That means that for the rest of this fiscal year, the number of refugees being let in per week will likely fall to a fraction of what it had been under the Obama administration's cap of 110,000.
Earlier this month, the 9th Circuit Court of Appeals in San Francisco refused to reinstate Trump's ban, unanimously rejecting the administration's claim of presidential authority, questioning its motives and concluding that the order was unlikely to survive legal challenges. The pushback prompted Trump to tweet "SEE YOU IN COURT!" and he has since lashed out at the judicial branch, accusing it of issuing a politically motivated decision.
Homeland Security Secretary John Kelly said Saturday that Trump is working on a "streamlined" version of his executive order banning travel from the seven nations to iron out the difficulties that landed his first order in the courts.
Speaking at the Munich Security Conference about combating terrorism, Kelly said Trump's original order was designed as a "temporary pause" to allow him to "see where our immigration and vetting system has gaps - and gaps it has - that could be exploited."
He said the Trump administration was surprised when U.S. courts blocked the executive order and now "the president is contemplating releasing a tighter, more streamlined version" of the travel ban.
Full report at:
https://english.alarabiya.net/en/News/middle-east/2017/02/20/Trump-s-new-travel-ban-targets-same-7-Muslim-majority-countries.html
-------
Libya celebrates 6th anniversary of revolution, end of dictatorship
Feb 18, 2017
Libyans have celebrated the 6th anniversary of their revolution which led to the fall of former longtime dictator, Muammar Gaddafi.
They took to the streets of the country's capital, Tripoli, and other major cities on Friday to mark the sixth anniversary of the 2011 uprising, which saw the overthrow and death of their ruler.
Thousands gathered in the capital's Martyrs' Square, waving Libyan flags and chanting slogans as a tribute to the revolution, with security forces deployed to ensure that the commemoration was trouble-free.
Similar rallies were also held in Libya's eastern city of Benghazi and Misrata in the west.
Libyans take part in celebrations marking the sixth anniversary of the Libyan revolution, in Tripoli, on February 17, 2017. (Photo by Reuters)
On February 17, 2011, people across the North African country took to the streets, calling for freedom and democracy. The uprising was marred by violence after NATO intervention in March and bloody clashes between pro- and anti-Gaddafi forces.
The former dictator was ousted from power in August that year and killed two months later.
Full report at:
http://www.presstv.ir/Detail/2017/02/18/511011/Libya-revolution-anniversary-Muammar-Gaddafi-Tripoli-Benghazi
-------
Jund Al-Aqsa Terrorists Leaving Idlib for Raqqa
Feb 19, 2017
The Kurdish-language Hawar news quoted informed sources as saying that Jund al-Aqsa whose forces were deployed in Idlib has started relocating its forces to Raqqa along with their weapons and families via al-Khanasser road after establishing close ties with ISIL.
Noting that the retreat will last until Monday, the sources underlined that Jund al-Aqsa has already sent its heavy weapons and armored vehicles to Raqqa before leaving Idlib.
Jund al-Aqsa is an ally of Ahrar al-Sham, but after the recent clashes with Tahrir al-Sham Hay'at that is mainly comprised of al-Nusra Front terrorists it reinvigorated its old ties with ISIL once again to relocated troops to Raqqa.
Jund al-Aqsa's top commander visited Raqqa last week in preparation for the relocation plan.
Late in January, al-Nusra Front and several militant groups declared forming a new coalition under the name of Tahrir al-Sham Hay'at to narrow down widening rifts amongst their commanders and members.
The Al-Nusra Front, Nouralddeen al-Zinki Movement, Jeish al-Sonah, Jabhat Ansaraldeen and Liwa al-Haq announced that they would act under a united coalition named the Tahrir al-Sham Hay'at.
The five merged terrorist groups act under the command of Abu Jaber Hashem al-Sheikh, who was one of the commanders of Ahrar al-Sham. The new coalition led by al-Sheikh is now fighting against Ahrar al-Sham, a rival terrorist group operating mainly in Northwestern Syria.
Full report at:
http://en.farsnews.com/newstext.aspx?nn=13951201001453
-------
Terrorist Groups Retreat from Southern Syria after Crushing Defeat in Dara'a
Feb 19, 2017
News websites affiliated to the terrorist groups reported that the decision was made after 1,200 militants, including several commanders, were killed and hundreds of others were wounded in clashes with the army and its allies in Dara'a in the last few days.
They also confirmed that the militants' advance near al-Manshiyeh district in Dara'a city has come to a halt and now the Syrian army has laid siege on the entire district and adjacent areas as the Syrian airstrikes against militants positions still continue.
The news websites reported that the militants are now controlling only a small part of al-Manshiyeh district.
In a latest development on Saturday, Syrian army troops engaged in fierce clashes with al-Nusra Front and Ahrar al-Sham in the Southern and Western districts of Dara'a city, killing over 100 terrorists and wounding hundreds more in a sixth day of battle against terrorist groups.
The army soldiers repelled terrorists' Al-Mawt Va La Al-Mazela operation in the neighborhood of al-Manshiyeh for the sixth consecutive day, killing 110 terrorists, including 13 commanders and wounding 300 more.
The army men also targeted terrorists' gatherings and movements in Dara'a al-Balad district and Western countryside of the city, destroying several tanks and militant vehicles.
Also, earlier today a senior Syrian security source disclosed that Israel has increased facilities and budget for treating the terrorists who have been injured during the battle with the army and its allies in Syria.
"Jordanian authorities have ruled out reception of the terrorists wounded in Dara'a battle," the source told FNA on Sunday.
"Therefore, the Zionist regime has boosted the capacity of its hospitals to receive the injured terrorists, specially after their number increased due to continued battles in Southern Syria," he added.
The source also said that Israeli officials have increased the budget of their hospitals by 26mln Shekels to widen medical support for the terrorists wounded in Syria.
Reports said on Saturday that Israel has established a medical corridor from the Northern part of the occupied Golan to its territories to transfer injured terrorists to its hospitals after terrorists sustained heavy casualties in their failed attacks on Syrian Army positions across Dara'a city in recent days.
The terrorist groups have been using a medical-logistical corridor set up by Israel to transfer their wounded members to Israeli hospitals after Ahrar al-Sham and Al-Nusra Front (recently renamed to Fatah al-Sham Front) sustained heavy casualties in their fresh round of operation codenamed al-Mowt Va La al-Mazelah in the neighborhood of al-Manshiyeh in the Western part of Dara'a city.
Full report at:
http://en.farsnews.com/newstext.aspx?nn=13951201001412
-------
Report: ISIL Controlling 90 Percent of Al-Bab Despite Ankara's Claims
Feb 19, 2017
"In spite of what Turkey has claimed that the Euphrates Shield military operation in al-Bab is nearing its end, the Turkish-back militants have not made any progress in the town and the ISIL is still in control of 90 percent of al-Bab," the Arabic-language Al-Watan daily said quoting the Syrian Observatory for Human Rights.
The report comes as the attacks by the Turkish army and air force as well as the Euphrates Shield military operations are strongly underway and has taken the lives of 45 civilians, including 18 children, only in the last 48 hours.
The Turkish army troops have also sustained heavy losses and casualties in their operation that has been underway without Damascus government's permission.
In a relevant development on Saturday, the ISIL stormed the defense lines of the Turkish soldiers and Ankara-backed militants of the Euphrates Shield near the town of al-Bab, taking control over several key positions in the region.
ISIL engaged in fierce clashes with the forces of the Euphrates Shield Operation Northwest of al-Bab and managed to take control of Dawar al-Ra'ei region and al-Shahabi farms North of al-Bab, inflicting major losses on the Turkish army and allied militants.
The Ankara-backed militant group pulled the remaining pockets of their forces back from the battlefield to evade more casualties.
Full report at:
http://en.farsnews.com/newstext.aspx?nn=13951201000809
-------
North America
Donald Trump's revised travel ban targets same countries
February 20, 2017
A draft of President Donald Trump's revised immigration ban targets the same seven countries listed in his original executive order and exempts travelers who already have a visa to travel to the US, even if they haven't used it yet. A senior administration official said the order, which Trump revised after federal courts held up his original immigration and refugee ban, will target only those same seven Muslim-majority countries — Iran, Iraq, Syria, Yemen, Somalia, Sudan and Libya.
The official said that green-card holders and dual citizens of the US and any of those countries are exempt. The new draft also no longer directs authorities to single out –and reject — Syrian refugees when processing new visa applications. The official spoke on condition of anonymity to discuss the order before it's made public. The official noted that the draft is subject to change ahead of its signing, which Trump said could come sometime this week.
Asked about the revised order, White House spokeswoman Sarah Huckabee Sanders said the document circulating was a draft and that a final version should be released soon. The Department of Homeland Security did not immediately respond to a request for comment. The Wall Street Journal also reported that the current draft of the revised order focused on the seven countries but excluded those with green cards.
Trump's original executive order triggered chaos at airports around the world, as travelers were detained when the order rapidly went into effect, US permanent residents known as green-card holders among them. Attorneys provided legal assistance to those held and protesters descended on the airports as news of the order's implementation spread. In its original form, the order temporarily suspended all travel to the US for citizens of those seven Muslim-majority countries for 90 days.
The original order also called for Homeland Security and State department officials, along with the director of national intelligence, to review what information the government needs to fully vet would-be visitors and come up with a list of countries that can't or won't make the information available. It said the government will give countries 60 days to start providing the information or citizens from those countries will be barred from traveling to the United States.
http://indianexpress.com/article/world/donald-trumps-revised-travel-ban-targets-same-countries-4533891/
-------
Trade Centre bomber Omar Abdel-Rahman dies in US detention
MASOOD HAIDER
Feb 20, 2017
NEW YORK: Omar Abdel-Rahman, the Muslim cleric known as "the blind sheikh" convicted in a New York court of conspiracy in the 1993 World Trade Centre bombing has died, a press statement said. He was 78.
He was charged with planning of more attacks as part of a "war of urban terrorism" in the United States. He spent most of life in a North Carolina prison.
Ammar, Omar's son, said his family had received a phone call from a US representative, saying his father had died.
The charismatic Abdel-Rahman was the face of radical Islam in the 1980s and 1990s. He preached a fiery brand of Islam that called for the death of people and governments he disapproved of and the installation of an Islamic government in Egypt.
His following was tied to fundamentalist killings and bomb attacks around the world.
Abdel-Rahman, who was born in a village along the Nile on May 3, 1938, lost his eyesight due to childhood diabetes and grew up studying a Braille version of the Quran.
Agencies add: Abdel Rahman, who led the militant Al-Gamaa al-Islamiya group in Egypt before immigrating to the United States, had been sentenced in 1996 for conspiring to bomb civilian targets in the country.
Seen as a jihadist spiritual leader, he had also been seen as inspiring the 1993 bombing of the World Trade Centre that killed six people.
Full report at:
http://www.dawn.com/news/1315702/trade-centre-bomber-omar-abdel-rahman-dies-in-us-detention
-------
Hundreds Gather In Los Angeles For Rally In Support Of Muslim Americans
Feb 20, 2017
KOREATOWN, LOS ANGELES (KABC) -- Hundreds of demonstrators gathered in Koreatown on Sunday for the United for America Rally, where members of various communities expressed solidarity with Muslim Americans.
The peaceful demonstration was held at Vermont Avenue and Third Street, near the Islamic Center of Southern California, which partnered with the Muslim Public Affairs Council and 15 other civic and religious groups to organize the event.
Members of L.A.'s Jewish community where among those seen holding signs in support of Muslims affected by President Donald Trump's travel ban. And a young girl wearing a hijab held a poster that called for "Freedom of Religion for All!"
Speakers at the event included former Mayor Antonio Villaraigosa and actors Mike Farrell and Edward James Olmos.
"Stand up for the immigrants, the Muslims, the Jews," said Villaraigosa, a California gubernatorial candidate. "Today, across the nation, we see more and more acts of anti-Semitism, more and more blatant racism. We've got to stand up to that."
Pointing at the crowd, Olmos said: "You're the reason we have hope, every single one of you gives us that reason.
Full report at:
http://abc7.com/politics/hundreds-gather-in-la-for-rally-in-support-of-muslim-americans/1763004/
-------
Guest column: Anti-Muslim executive order would damage U.S. interests abroad
February 19, 2017
I am fortunate to have been raised in Southwest Michigan. After graduating from St. Joseph Public High School, I was lucky enough to attend Western Michigan University while serving as a reservist in the U.S. Marine Corps, an experience which gave me the opportunity to learn Arabic, to live in Egypt on several occasions, and to critically consider America's role in the world.
During my time living in the Middle East, countless people there – both Muslim and Christian – have expressed to me their admiration for the religious inclusiveness of the American dream. It is a unique concept, and it is part of what makes this country exceptional. This religious tolerance endows the United States with a degree of influence and appeal in countries across the globe, often in spite of sharp cultural and political differences. As highlighted by the widespread reaction to the Trump administration's recent executive order on immigration, the policies put forth in the order suffer from serious moral, legal and strategic flaws.
;
Legally, the president's contention that non-Muslims will be given preference for entry into the U.S. amounts to an unconstitutional de facto ban on Muslims from seven Muslim-majority countries. By effectively excluding a class of people based on their religion – many of whom are fleeing the unfathomable terror of war – this executive order weakens the foundation of the American dream. Strategically, the order undermines our reputation as a nation of immigrants that draws strength from diversity – one of the foundations of American "soft power."
The president's order also seriously undermines our counterterrorism efforts in the Middle East, and may serve to bolster Iran's influence across the region. Iraq is a prime example of the potential blowback. In response to Trump's executive order, the Iraqi parliament passed a resolution demanding a ban on Americans entering Iraq. Several of Iraq's most powerful militias – many of whom are sponsored by Iran – have already called for the expulsion of American troops and intelligence personnel from the country if Trump's order is enforced or expanded.
The U.S. and Iran have long been locked in a battle for influence in the region, and the expulsion of U.S. troops and intelligence assets in Iraq would ultimately serve Iran's interests. There is a risk of similar blowback in other Middle Eastern countries, such as Yemen and Syria, where Iran already exercises significant influence. In these countries, Muslim forces closely cooperate with the U.S. to counter Iranian influence, and combat common enemies like al-Qaida and the so-called Islamic State.
While a retaliatory ban on U.S. personnel in these countries is unlikely at the moment, such a scenario would have disastrous consequences for U.S. counterterrorism efforts. If our military and intelligence personnel were expelled from these countries in retaliation for Trump's order, not only would the U.S. be unable to conduct "extreme vetting" of immigration applicants, but it would be impossible to maintain the liaison relationships upon which our counterterrorism strategy depends. One of the most crucial components of the fight against terror is the extensive network of trust-based liaison relationships between U.S. military and intelligence officers, and their local counterparts. These partners, most of whom identify as Muslim, risk their lives alongside our soldiers and intelligence personnel every day to help us gather intelligence and target enemies like the so-called Islamic State and al-Qaida. By portraying our most crucial Muslim allies in the fight against terror in the same light as our enemies, President Trump's executive order undermines the trust on which these crucial liaison relationships are based.
Furthermore, this order plays directly into the narrative of extremists like al-Qaida and the so-called Islamic State. Groups like these have long sought to convince the world that Muslims in the West, based solely on their religious identity, could never be anything but second-class citizens. In the eyes of these groups, this order seems to confirm that. Indeed, many supporters of the so-called Islamic State have praised the order as a validation of their extremist narrative. American pluralism has been one of the greatest ideological challenges to the terrorist narrative. To the extent that Trump's order undermines the diverse, pluralist foundation of American democracy, it plays directly into the hands of those who seek to do us harm.
Full report at:
http://www.heraldpalladium.com/opinion/editorials/guest-column-anti-muslim-executive-order-would-damage-u-s/article_8c00e5cf-0d19-558d-b294-5279780428c8.html
-------
Terror attack in Canada leads to worry in Irish Muslim community
February 20, 2017
AZEL RYKLIEF was uneasy as he prayed at his mosque last week.
The recent terrorist attack at the Canadian mosque intruded on his mind.
"I felt apprehensive during prayer, uneasy, as a result of what happened in Quebec — that it could happen here. I had a feeling of 'what if someone walks in and starts shooting?'"
The location of Fazel's place of worship, the Islamic Foundation of Ireland, commonly known as the Dublin Mosque, is central to his fears, shared by others.
"It is easy to walk in off the street. We are very accessible, a few metres from the gate," he said.
"In a few seconds you are in the door without anyone seeing you."
Standing at the entrance to the landmark building, the door to the mosque is around four metres from the main entrance and could be covered in a couple of strides.
The mosque is located on South Circular Road, one of the the busiest arteries in the city, in what is a built-up inner-city residential area.
Fazel, a senior member of the mosque, doesn't come across as someone rash or prone to paranoia.
He's been in Ireland since the 1970s. He married an Irish woman and has five grown up children, two of them married into Irish families.
"I do see changes, some of them excellent," said Fazel. "But, things can happen so quickly."
He cited the speed and scale of US President Donald Trump's actions in relation to banning people from seven, mainly Muslim, countries in the context of preventing "radical Islamic terrorists" getting into the US.
Days later, a young university student walked into Quebec City Islamic Cultural Centre, during evening prayer, and shot six people.
The attack by Alexandre Bissonnette, a 27-year-old student of social sciences, was described by the Canadian government as a terrorist attack, amid reports of Bissonnette's support of far-right parties, including France's Front National.
The Quebec Muslim community was shocked by the killings. Although members did refer to a rise in recent racist incidents, local leaders said the community had generally good relations with the wider Quebec and Canadian society.
Faheem Bukhatwa, another worshiper at the Dublin mosque, said Ireland is also a bit of a role model in this regard.
"I personally believe Ireland is one of the best countries for Muslims, for all foreigners in general, to settle in, in terms of safety, security, interaction. But, unfortunately, all it takes is one individual."
He believes that the words and actions of the US president are, at least, partly to blame.
"I honestly believe that what happened in Canada is a direct consequence of what the policy in the US is," he said.
"Trump is the president of the greatest nation on Earth and the most powerful.
"What Trump is doing is encouraging the entire situation and inflaming the situation. With the power he has, the country he leads, his rhetoric could push people to extreme action."
He also expressed deep concern at the speed of developments.
"Things can change so quickly, especially when a president of a country starts influencing it. It is encouraging people in other countries as well to be more right wing."
He cites the growth of the far right, and upcoming elections, in France, the Netherlands and Germany.
"There is a big fear over the next few years things will get a lot worse in Europe and the US."
But he said a country does not need a large right-wing party for there to be a threat — and that lone radicalised individuals can do the damage.
"This Quebec incident just brought it all into focus that this can happen, that anything can happen. All it takes is just one person to do something."
He said a lot of people attending the mosque were worried.
"I personally think that extra security procedures need to be taken. I certainly recommended it to management. The mosque here is so close to the main road, it's right on the road. And usually the place in open."
The imam, Yahya Al Hussein, is a quietly spoken man and is careful in what he says. He said some members of the "jamah" (congregation) have spoken about their fears and are "upset".
n relation to the Quebec attack, he said: "It is saddening and worrying, that things are taking such turns, that things could escalate in this direction and what happened in Canada could happen in other places."
He traced a link between the Quebec attack and what Trump has done.
"His overall message is very negative, not good at all," he said. "It shouldn't be coming from a superpower at all. It's a very negative message. Negative words could influence people like this person [Bissonnette]."
He added: "There are a few [members] who mentioned this [security] and that we should be careful here as well, that something might happen."
The imam said the issue of mosque security had been mentioned by a member of the management council prior to the Quebec attack.
"Even before this incident, one of the members was mentioning this. He said about security during the times of prayer."
Imam Al Hussein said prayer time was one of the most vulnerable of times.
"It could happen in the prayer: everyone is in the mosque, everyone is allowed to join the prayer. There are some people thinking about that and how close we are to the road. They are sort of worried something serious could happen." He said Friday (the main prayer day) was not necessarily the riskiest as there would be more people around, as many as 800-1,000 over the day.
"Other days are more dangerous that Fridays," he said, "there are less people." The imam added: "We have great faith in the people of this country, but one person could do damage."
He said it was an issue that they would be discussing at council level and that it was likely they would develop some sort of strategy in relation to it. If necessary, they would raise the matter with gardaí and local politicians.
Faheem said that there was a responsibility on the State and the gardaí.
"We trust and depend on the security of the Department of Justice in general and the guards and the Special Branch. Hopefully, they should be able to help."
He said he hoped they monitored both extremist Muslims and extreme right wing individuals but accepted that lone individuals can be difficult to identify.
"The thing is if someone comes in [here] and wants to do a criminal act, it is very difficult to stop," he said."
What, if anything, Taoiseach Enda Kenny should say to President Trump in his St Patrick's Day visit to Washington is taken up by Faheem and the imam.
Both believe the Taoiseach should raise the concerns of Irish people, including Irish Muslims, but accept he should do so in a diplomatic manner.
"We have to be realistic," said Faheem.
"First, there's not much he can say to influence the US and, second, Ireland needs America a lot more than America needs Ireland."
He said the Taoiseach "should not ignore public opinion here" and should make the US president aware of those views.
"He has to use diplomacy to say that Irish people are very much against what Trump is saying and doing. That's the least he can do."
Imam Al Hussein is reluctant to tell the Taoiseach what to do, but said: "Yeah, I think so, as a matter of principle. In his own way and words voice his opinion that this is not the right attitude." Faheem pointed out that the treatment of migrants was also an issue for Ireland.
Full report at:
http://www.irishexaminer.com/viewpoints/analysis/terror-attack-in-canada-leads-to-worry-in-irish-muslim-community-443338.html
-------
Southeast Asia
'Himpunan 355' Shows Muslims Will Unite To Defend Islam, Muftis Say
February 20, 2017
KUALA LUMPUR, Feb 20 ― The rally to support a PAS Bill to raise Shariah punishments on Saturday demonstrates that Muslims will gather to defend Islam against those who challenge it, said two state muftis.
Pahang Mufti Datuk Seri Dr Abdul Rahman Osman also said the Bill met the requirements to be a Shariah law and that those who oppose it were essentially opposing God's law.
"This rally gives us all the realisation that, when it comes to Islamic matters, they cannot be challenged.
"Just see what happens when you challenge it, Muslims will come together to defend it," he was quoted as saying in Utusan Malaysia.
Negri Sembilan Mufti Datuk Mohd Yusof Ahmad also reportedly said that the support shown by Muslims at the rally reflected a sense of unity among the religion's followers.
"Each Muslim who attended the gathering showed strong determination to defend their religion as this is a matter of their religion's dignity," he was quoted as saying.
The rally to support PAS president Datuk Seri Abdul Hadi Awang's private member's Bill to enhance Shariah punishments by amending the Shariah Courts (Criminal Jurisdiction) Act 1965 (Act 355) was attended by some 20,000 people on Saturday.
The private member's Bill aims to increase the limit of Shariah punishments to 30 years' jail, 100 strokes of the cane and RM100,000 fines from the current ceiling of three years' imprisonment, six strokes, and RM5,000 fines.
Full report at:
http://www.themalaymailonline.com/malaysia/article/himpunan-355-shows-muslims-will-unite-to-defend-islam-muftis-say
-------
5 foreign insurgents killed during Afghan forces' Shaheen-25 operations
Feb 19 2017
At least five foreign insurgents were killed during the ongoing Shaheen-25 operations being conducted by the Afghan forces in eastern Nangarhar province.
The provincial police commandment in a statement said the militants were killed during the air and ground operations in Kot district.
The statement further added that the militants were affiliated with the Islamic State of Iraq and Syria (ISIS) terrorist group.
According to the police commandment, the security forces and local residents did not suffer any casualties during the operations.
The anti-government armed militant groups including the loyalists of ISIS terrorist group have not commented regarding the report so far.
The Shaheen-25 offensive was launched in line with the approval of the national security council to suppress the growing activities of ISIS loyalists in eastern Nangarhar province.
The local officials saying the operations are being conducted with the support of the US forces who are providing air support to the ground forces.
Full report at:
http://www.khaama.com/5-foreign-insurgents-killed-during-afghan-forces-shaheen-25-operations-02924
Afghanistan and EU sign Partnership and Development Agreement
Feb 20 2017
A new agreement was signed between the Afghan government and the European to further strengthen partnership between the two sides.
The agreement also paves the way for the bilateral cooperation on development, the Office of the President, ARG Palace said.
Afghanistan's Minister of Finance Eklil Hakimi and Federica Mogherini, the High Representative of the European Union for Foreign Affairs and Security Policy signed the agreement.
According to ARG Palace, the agreement was signed in the presence of President Mohammad Ashraf Ghani and on the sidelines of the Munich Security Conference in Germany.
Full report at:
http://www.khaama.com/afghanistan-and-eu-sign-partnership-and-development-agreement-02926
-------
My name is Mujahidin, I am a Muslim and I reject Hadi's bill
February 19, 2017
By Mujahidin Zulkiffli
I am a Muslim. I am far from a perfect Muslim but I believe in Allah.
Maybe many will question why I reject Abdul Hadi Awang's proposed amendments to Act 355. If I am a Muslim, aren't I compelled to accept shariah law?
My first response is that this is not Allah's law. It is a man-made law. It does not state in the Quran and hadiths that punishments is paid in ringgit or any currency for that matter.
There is no summons or punishment prescribed in shariah, What is prescribed is compensation in place of Qisas (law of retaliation). So my question is where does the punishment of paying a fine come from?
From Allah? Or has Hadi become God?
In the Quran, Allah says: Allah will not burden his people with that which they have no ability to bear (Surah Albaqarah).
Who can afford to pay the RM100,000 fine which Hadi is seeking? Only the rich, and if the proposed amendments are passed, where is the social justice should the fine be too heavy for the poor?
And if a judge has the discretion to heavily fine a rich person and give a poor man a lighter punishment, then isn't this prejudice which goes against Allah's commandment?
"O ye who believe! stand out firmly for justice, as witnesses to Allah, even as against yourselves, or your parents, or your kin, and whether it be (against) rich or poor: for Allah can best protect both. Follow not the lusts (of your hearts), lest ye swerve, and if ye distort (justice) or decline to do justice, verily Allah is well-acquainted with all that ye do." (An Nisa 135).
Only Allah is fit to judge a person. A prejudiced judge is a judge who isn't accepted by Islam. Punishments which aren't based on the Quran or hadiths should be abolished not misused.
Secondly, the punishment of 100 lashes of the cane is a hudud punishment. It is indeed found in the Quran but for zina (unlawful sexual relations). In carrying out this punishment, you need four Muslim male witnesses.
The witnesses have to be of good character, clever, fair and someone who is not fasiq or unreliable (by virtue of intentionally and constantly transgresses boundaries prescribed by Allah, and considered unreliable).
Let us look at khalwat (close proximity) raids.
Most of the raids are carried out by officers who don't appear to be of good character (a lack of manners means not of good character, right?), and they don't appear to be clever or else they would be doctors, engineers or lawyers, right?
Ok, maybe they are clever because the requirement for being clever is not being insane, but are they really not insane? Hmmm… at a glance, some of them look crazy enough.
And are they fair? If their KPI is to arrest people, then there is a problem because a lack of arrests can be seen as them not doing their job. And if they are seen as not doing their job they can be sacked. So how can we be sure they will be 100% fair?
And are they really not fasiq? Do they not commit the smallest sins? Who doesn't commit the smallest sins? Most of them smoke and that is enough to constitute a small sin (and since smoking is haram according to a previous fatwa), this makes them unreliable.
And if the 100 lashes is a hudud punishment, why are they lying by saying the proposed amendments aren't hudud? If they can lie like this why do we want to accept liars as our leaders?
They might feel this is tazir punishments (punishments at a discretion of a judge or ruler) but tazir punishments cannot be as heavy as hudud punishments.
This was agreed upon by the Islamic jurists Al Shafie, Al Hanbali and Hanafi. Only Maliki feels tazir punishments can be heavy but not excessive.
But if we want to follow the Maliki school of thought, we also have to accept that dogs aren't unclean? Hah? Why not, right?
Also, the 30-year jail sentence isn't in the Quran. This punishment is excessive for our existing shariah offences. In fact, it goes against the views of the Islamic jurists, including Maliki.
Fourthly, shariah law will disrupt the lives of non-Muslims. A khalwat raid on a couple where one person is a non-Muslim will have an impact on that person.
The need for witnesses who are Muslim will also have an impact on non-Muslims as they can't be witnesses. If they can't be witnesses, how can they get justice?
As an example, if a non-Muslim husband or wife has an adulterous relationship with a Muslim, they cannot accuse the Muslim of adultery.
Thankfully, they aren't punished by our shariah laws or else they would receive 80 lashes of the cane.
Full report at:
http://www.freemalaysiatoday.com/category/nation/2017/02/19/my-name-is-mujahidin-i-am-a-muslim-and-i-reject-hadis-bill/
-------
Fear among Malaysian Christians amid bid to increase Islamic law
Sun 19 Feb 2017
By Antony Bushfield
Christians in Malaysia are becoming increasingly concerned about attempts to give Islamic courts more power and the ability to impose prison time of up to 30 years.
The country's Pan-Malaysian Islamic Party (PAS) is trying to strengthen the position of Sharia law in the multi-cultural society.
Around 60 per cent of the nation are Muslim, 20 per cent Buddhists, 10 per cent Christians and 6 per cent Hindus.
Parliament will discuss the proposed amendment to the law that would allow Islamic courts to impose prison terms of 30 years, fines of £18,000 and 100 lashes.
Currently the courts, which rule on religious matters and family law for Muslims, can only impose three years jail time, six lashes and fines of around £800.
Full report at:
https://www.premier.org.uk/News/World/Fear-among-Malaysian-Christians-amid-bid-to-increase-Islamic-law
-------
Myanmar Soldiers Injured in Clash With Militants in Troubled Rakhin
Feb 20, 2017
Yangon. Two members of Myanmar's security forces were injured in a clash with militants on the troubled Rakhine State border with Bangladesh, Myanmar state counselor's office said, casting doubt on the government's claim that the region had stabilized.
The government last week said the situation in northern Rakhine had stabilized and that it had ended a four-month security crackdown on Rohingya Muslims.
The security operation had been under way since nine policemen were killed in attacks on security posts near the Bangladesh border on Oct. 9. Almost 69,000 Rohingyas have since fled to Bangladesh, according to United Nations estimates.
The UN has said the security crackdown may amount to crimes against humanity and possibly ethnic cleansing.
Two soldiers were wounded in a five-minute clash with a armed group on the border with Bangladesh on Friday (17/02) afternoon, the State Counselor's said in a statement late on Saturday.
"The forces providing security forces to workers preparing border fence between the Mile Post 56 and 57 in Buthidaung township were attacked by about 30 unidentified armed men in black uniforms positioned on hills in Bangladeshi side," the statement said, adding the armed men withdrew after security forces returned fire.
The security forces were still gathering information to identify how many members from the armed group were injured or killed during the clash, the office said in the short statement.
Bangladesh border guards could not immediately be contacted.
Myanmar State Counselor's Office and military did not immediately respond to requests for comments.
Full report at:
http://jakartaglobe.id/international/myanmar-soldiers-injured-clash-militants-troubled-rakhine/
-------
India
IT jobs, H-1B visa & Pakistan: Three issues Modi government to take up with US lawmakers
Feb 20, 2017
NEW DELHI: Prospective H-1B visa changes that may affect hundreds of Indian professionals and limiting the supply of defence equipment to Pakistan will be on the agenda for discussions as Delhi seeks to consolidate bipartisan Congressional support for ties with India during the visit of 27 US lawmakers this week.
Both matters are critical — India is against the first and keen on the second. A delegation of 19 US lawmakers will visit New Delhi and Hyderabad this week in a visit organised by the Aspen Institute think tank. Another delegation of eight, led by Bob Goodlatte, chairman of the US House Judiciary Committee, will visit New Delhi and Bengaluru around the same time. They will meet Union ministers, members of parliament, academics and industry leaders, said persons aware of the programme. They may also call on Prime Minister Narendra Modi, who's busy with the poll campaign in Uttar Pradesh.
This visit of Democratic and Republican members of the Senate and the House of Representatives is a demonstration of "bipartisan support in American Congress for strong India-US relations," said a person familiar with Indo-US ties.
The US Congress will play a critical role in either maintaining or changing H-1B visa rules. The visits are aimed at strengthening the India constituency in the US Congress by familiarising lawmakers with India's priorities and prospects for bilateral ties, indicated a person associated with the visit.
George Holding, Republican chair of the India Caucus in the House of Representatives, and Hank Johnson of the Democratic Party will be among the visitors. The lawmakers will be visiting India about a month after Donald Trump took over as the new President, promising an 'America First' foreign policy. The visit is significant, coming ahead of Modi's proposed visit to the US to meet Trump in mid-2017.
Even as the Trump administration's early move to implement tough anti-immigrant measures triggered uproar within the US, the Indian government is keeping a close watch on the fate of India information technology professionals working in America. The matter has been discussed at the highest levels of the two governments since January 20.
Delhi is also closely monitoring protectionist legislative moves. A bill sponsored by California Republican representative Darrell Issa is under review in the House of Representatives.
IT CONTRIBUTION
The Protect and Grow American Jobs Act will require US companies to pay high-skilled foreign workers hired under the 'exempt' category of the H-1B visa programme at least $100,000 a year against the current minimum of $60,000 among other curbs, thus discouraging such recruitments.
Delhi will seek to argue against such changes by conveying to the visiting US lawmakers that India's IT professionals and IT companies have made significant contributions to the America's economy, officials said.
Last week foreign secretary S Jaishankar said in Mumbai that India needs to convey to the US that its relationship with India is linked to outsourcing, which "helps the United States to be competitive" and not about offshoring which "damages the country's tax base". In his view, this would distinguish India from the issue that President Trump is looking to tackle.
India will also rely on the US Congress to limit supplies of American advanced military hardware and weapons systems to Pakistan besides maintaining oversight on aid Islamabad is accused of diverting to finance terror. Last year, Congress played a key role in blocking the sale of F-16 fighter jets to Pakistan. A bill is pending in Congress to declare Pakistan a terrorist state.
http://timesofindia.indiatimes.com/india/it-jobs-h-1b-visa-pakistan-three-issues-modi-government-to-take-up-with-us-lawmakers/articleshow/57243829.cms
-------
Shiv Sena Woos Muslim Voters Through Urdu Ads
February 18, 2017
Mumbai: Shiv Sena has begun poll propaganda against its biggest rival in the civic polls, the BJP. But that's not the end. What makes the political war interesting is that it published the ad in Urdu in the Urdu dailies on Friday. It can be nothing but poll gimmick that the Sena which was once 'intolerant of minorities' is now reaching out to the community like never before. Publishing advertisements in Urdu in Urdu newspapers is one of the indicators.
It is irony that the party which is trying to woo Muslims has fielded a mere five candidates out of the 220-plus Sainiks in the fray. Ever since Sena and BJP decided against an alliance for BMC polls, leaders of Shiv Sena decided to use Muslims as vote bank.
Sajid Soopariwala who has launched poll campaign with Haji Arafat is hopeful that they will pick up a few more seats, especially in Govandi-Mankhurd area (a Muslim predominant area).
Full report at:
http://www.siasat.com/news/shiv-sena-woos-muslim-voters-urdu-ads-1134425/
-------
Bandipora encounter: Three jawans, one militant killed
February 14, 2017
One terrorist and three army personnel have been killed in an encounter in north Kashmir's Bandipora district, according to the news agency ANI. Arms and ammunition have been recovered from the Hajin area of the district. Six other security personnel and a civilian also suffered injuries in the gunbattle that began in the wee hours today, a police official said.
WATCH VIDEO | 3 Army Personnel, 1 Terrorist Killed In Encounter In Jammu & Kashmir's Bandipora District
3 Army Personnel, 1 Terrorist Killed In Encounter In Jammu & Kashmir's Bandipora District
Jammu and kashmir, J&K encounter, encounter underway, bandipora district, Hajin, J&K Hajin, Terrorists, J&K news, encounter news, indian express news (Source: Express Photo by Shuaib Masoodi)
Full report at:
http://indianexpress.com/article/india/jk-encounter-underway-between-security-forces-terrorist-in-bandipora-4-jawans-injured-4523721/
-------
Delhi Hc To Hear Plea By Zakir Naik's Ngo Challenging Centre's Ban
February 20, 2017
New Delhi [India]: The Delhi High Court on Monday will hear a plea by controversial Islamic preacher Zakir Naik's NGO, the Islamic Research Foundation (IRF), challenging the ban by the Home Ministry on the organisation.
Earlier in February, the Court had set up a Judicial Tribunal to look into banning Zakir Naik's NGO under the Unlawful Activities (Prevention) Act.
A notice had also been issued to IRF to respond to a plea by the Ministry of Home Affairs (MHA) to hold in camera proceedings
The National Investigation Agency had also filed three affidavits in sealed cover before the Court giving reasons for the ban on the IRF.
The IRF, earlier moved a petition seeking directions against the ban imposed on it by the central government.
On November 15, the central government had banned the IRF for five years after declaring it as an "unlawful association" under the anti-terror laws, and the National Investigation Agency (NIA) followed up with raids on its premises in Mumbai on November 19.
According to the Home Ministry, Naik has allegedly made many provocative speeches and had engaged in terror propaganda.
The Maharashtra Police have also registered criminal cases against Naik for his alleged involvement in radicalisation of youths and luring them into terror activities, officials said.
He came under the scanner of the security agencies after Bangladeshi newspaper 'Daily Star' reported that one of the perpetrators of the July 1,2016 terror attack in Dhaka, Rohan Imtiaz, ran propaganda on Facebook in 2015 quoting Naik.
Full report at:
http://www.siasat.com/news/delhi-hc-hear-plea-zakir-naiks-ngo-challenging-centres-ban-2-1135237/
-------
Europe
Defeat of Islamic State could inaugurate era of new dangers
2/19/17
Iranian leaders will have an opportunity to cement their status as the world's leading state sponsor of terrorism once a U.S.-led coalition drives the Islamic State from their last remaining strongholds, according to Republican and Democratic lawmakers.
"The day after Raqqa falls is going to be the moment that Iran moves to try to oust the United States from the region," Sen. Marco Rubio, R-Fla., told the Washington Examiner.
That wouldn't leave much time to celebrate the capture of the Islamic State's capital city. An Iranian offensive would represent more than one terrorist threat succeeding another, because they're collaborating with a Russian government that aspires openly to create a "post-West world order." Lawmakers are concerned the destruction of ISIS as a territorial power could inaugurate a new phase in the regional rivalry with the United States.
Full report at:
http://www.washingtonexaminer.com/defeat-of-islamic-state-could-inaugurate-era-of-new-dangers/article/2615293
-------
The Russians are turning on Trump
Feb 20, 2017
MOSCOW – Several months ago, on the outskirts of Moscow, someone took white paint and scrawled a short statement of political protest onto the side of a garbage depot. "Trump is a faggot ," the graffiti read.
This small act of defiance in then-Donald Trump-loving Russia went largely unnoticed, however — until this week. Now, the photo, which journalists say was taken in November, is making the rounds on Russian social media, where it's being greeted with mockery. "We believed in you! And your despicable self betrayed us!" the Moscow-based photographer Sergey Sukhorukov wrote this week, in a poem he shared with the picture.
The new U.S. president has been in his role for just under a month, taking office in a transition that has been marked by chaos and missteps. And already, from the right of the political spectrum to the marginalized Russian left, a mixture of disappointment with the new U.S. president — who came into office promising to remake relations between the two countries — and a sense of vindication that Trump couldn't be trusted after all has crept into Russian political chatter.
"Is Trump already out of fashion?" the independent Russian journal Russkaya Fabula asked on Wednesday — the same day that the Trump administration was dealing with the fallout stemming from revelations about National Security Advisor Mike Flynn's conversations with the Russian ambassador. The site pointed to a small demonstration by hard-line nationalists this week, which picketed a major state-run news outlet and demanded the end of the "cult of Trump" in Russian media.
It's true that in recent months the adulation has been inescapable. According to a recent Russian media survey, Trump surpassed the omnipresent Russian leader Vladimir Putin as the most-mentioned person in the Russian press in the month of January, with 202,000 references, versus Putin's total of nearly148,000. "Judging by the top news items on (Russian search engine) Yandex, Putin has somehow turned Russia into one more American state. There's none of our own news. There's only interest in the USA," said liberal politician Ilya Yashin.
That's in part because the Russia question has loomed so large over Trump's nascent presidency. Relations between Russia and the United States were at a post-Cold War nadir in the waning days of the Obama administration, dogged by differences on Ukraine and Syria, and accusations of election-related hacking.
Trump came into office having declared several times over the course of the campaign his admiration for Putin, and promising a dramatic shake-up in relations — potentially even a revisiting of sanctions that were slapped on Russia after its 2014 annexation of Crimea. Such pledges spurred a sort of "Trumpomania" across Russia. Sugar, charcoal, hamburgers, and silver minted coins have been made in his honor; Trump's inauguration was celebrated with glee at several Moscow locales.
It wasn't just the promise of a reset, however: Trump's tough talk on migration and terrorism, combined with his success in business, appealed to Russians too, both ordinary and high-ranking. They saw in Trump the sort of strong, law-and-order leadership they found attractive at home. For many Russians, especially Putin supporters, presenting an image of strength is vital to how they want to be viewed on the world stage. The memories of the chaotic, impoverished 1990s after the breakup of the Soviet Union still haunt the country, and Putin's tight grip on power has become the hallmark of his leadership. Clumsy, directionless rule is frowned upon.
But the last few weeks of Trump's administration have been marked by signs of weakness. The president's controversial executive order banning refugees and immigration from several Muslim-majority countries was met with large-scale protests, and then stayed by judges; his nominees for high-ranking positions have been met with opposition. And the less commanding Trump has seemed, the less alluring he has come across — not just to Americans, but to Russians, too.
"Never has Trump been so close to failure," right-wing politician and former lawmaker Nikolai Travkin said after Flynn's resignation, making reference to a popular Russian joke about a fictional Soviet World War Two spy. Michael McFaul, U.S. ambassador to Moscow from 2012 to 2014, tweeted on the changing mood in Moscow on Wednesday, asking, in Russian, "Well, colleagues, is [Trump] still yours?" McFaul referred to the widespread Russian hashtag #TrampNash, meaning "Trump is ours" and a play on words on the oft-heard phrase "Krim Nash," or "Crimea is ours."
The disappointment in the fledgling U.S.-Russian rapprochement seems to have been cemented, both in the Kremlin and among ordinary Russians, earlier this week with the Trump administration unexpectedly declaring that Crimea was taken forcefully by Russia and should be returned to Ukraine.
Russia annexed the peninsula from Ukraine in March 2014, the largest land-grab in Europe in decades. In a press conference on Tuesday, White House Press Secretary Sean Spicer said that Trump had made it "very clear" that he expected Russia to return Crimea, and urged Russia to de-escalate the situation in eastern Ukraine, which has recently experienced an uptick in fighting.
Russia's reaction to the Trump administration's seeming U-turn was swift and straightforward: "We do not return our territories," said Foreign Ministry spokeswoman Maria Zakharova in a routine media briefing. "Crimea is a territory of the Russian Federation. That's it." The Kremlin also ordered state media to cut back on their overly positive coverage of Trump, Bloomberg reported, citing unnamed sources.
At the beginning of the year, some polls put the number of Russians feeling positively towards the U.S. at double the numbers seen in 2015, reaching some 40 percent. But now, there are signs that some Russians feel they spoke too soon.
"We were too early in our decision, made with absolute sympathy towards President Trump's constructive rhetoric, that he would somehow be pro-Russian," Leonid Slutsky, head of the parliament's foreign affairs committee, said on Wednesday. "But he turned out to be pro-American," said Slutsky, whose nationalist LDPR party welcomed Trump's win by publicly quaffing champagne.
Pavel Danilin, director of the pro-Kremlin Center for Political Analysis, said on his Facebook page that since the "holy veil" had fallen from Trump, "it's now possible to talk about the president's actions normally."
Distaste for Trump is also beginning to be heard in Russia's Muslim community, which up until now had been largely silent on what have been widely seen as Trump's anti-Muslim tendencies. Russia is home to around 20 million Muslims — about 15 per cent of the population — and most Muslim leaders in the country enjoy a close relationship with Putin. (By contrast, the United States is home to just over 3 million Muslims).
During the Trump campaign and in the brief post-inaugural honeymoon period, Muslim groups were dissuaded from talking disparagingly of Trump in order to avoid upsetting the Kremlin, community insiders say. Russia's official response to Trump's travel ban for people from seven Muslim-majority countries was, in the words of Kremlin spokesman Dmitri Peskov, "not our business."
Full report at:
http://www.businessinsider.com/the-russians-are-turning-on-trump-2017-2?IR=T
-------
Excessive Aversion To Russia: Western Intelligence May Be Exposed
SAEED NAQVI
February 20,2017
NEW DELHI: Why Donald Trump's National Security Adviser, Michael Flynn had to leave within 23 days of being appointed to the post will remain something of a whodunit.
Equally puzzling is the extraordinary lengths to which the Washington Establishment particularly the Intelligence community, with the media in tow, are going to muddy the waters for any possible rapprochement with Moscow.
It is elementary that Washington, Moscow and Beijing, the three points on the global strategic triangle would, over the coming years, exert themselves to keep the other two points as far away from each other as possible.
In this regard the advantage at present is clearly not with Washington. The level of cooperation between Moscow and Beijing increased substantially this week: a six nation summit on Afghanistan was hosted in Moscow on Wednesday. Tehran, New Delhi and Kabul also participated. This was an advance on an earlier meeting last month when on Moscow, Beijing, Pakistan floated the idea, much to Kabul's chagrin, that Taleban should be enlisted to fight the Islamic state which threatened all of central Asia, the Russian Caucasus and Xinjiang.
At his press conference, Trump described the Islamic State as "a cancer" which is spreading far and wide. Surely there is a case for a Washington-Moscow dialogue?
Even otherwise, for Washington to stabilize the strategic triangle to its advantage, some goodwill with Moscow would be required. Why, then, this frenetic group action to block moves with Moscow?
The problem may well be in Syria where Russia is heavily involved. Also, Iraq, Libya, Yemen are all theatres where Western (and not just American) Intelligence agencies have been playing dubious roles. I have repeatedly written about former British Prime Minister, David Cameron, being chastised in the British Parliament for unauthorized action in Libya. His running spat on that score with his army Chief, Gen. David Richards has been chronicled in detail.
British Intelligence is therefore quite as nervous as its American counterpart on what Trump, unbriefed on all their hokey-pokey, might end up unearthing. Marine General Joseph Dunford, Chairman of the US Military's Joint Chiefs of Staff, warned a Congressional hearing that "sharing intelligence with Syria would be unwise".
Can the US and Russia cooperate in Syria to combat jihadists without sharing intelligence? There's the rub. Russians muscled their way into Syria on the ostensible understanding that they would jointly fight terrorist groups like Jabhat al Nusra and Islamic State.
This was easier said than done. The Syrian cauldron was bubbling over with militants of all shapes and sizes. Lakhdar Brahimi, the UN's Special Representative in Damascus during the earlier phase of the conflict, listed "64 different groups" fighting the Syrian government.
Saudi Arabia, Qatar, Turkey, UK, France and the US poured in men, money and arms for rebels, both mercenary as well as Syrians. In Afghanistan the manufacture of Jihadist Islam was more orderly; in Syria it was a potpourri of every conceivable variety of jihadists, trained and guided by western intelligence.
Since the agencies and the media had more or less lined up behind Hillary Clinton during the campaign, no credence was given to Trump's allegation that "Obama and Clinton helped create the ISIS". It may be easy to dismiss Trump considering the non figure he has been reduced to now. But what does one make of President Barack Obama's interview to Thomas Friedman of the New York Times in August 2015? Asked why he did not nip ISIS in the bud when it first reared its head, Obama replied "that would have taken the pressure off (Iraqi Premier) Nouri al Maliki". So, at one stage, IS was an asset.
Nouri al Maliki was in bad odour with the Americans because he had refused to sign the Status of Forces Agreement with the US. This would have left the considerable US presence in Iraq exposed. Moreover, Maliki's overtly pro Shia policies angered the otherwise secular former Baathists to reinvent themselves as militant Sunnis. Their militancy was sharpened by "elements" from Saudi Arabia and Turkey. These were off shoots of Al Qaeda and the Muslim Brotherhood.
The admission by Obama was not very different from the offer made in July 2013 by Prince Bandar bin Sultan to Putin in the Kremlin: have a terror free Winter Olympics at Sochi, but help us replace Bashar al Assad.
Full report at:
http://www.thecitizen.in/index.php/OldNewsPage/?Id=9980&Excessive/Aversion/To/Russia:/Western/Intelligence/May/Be/Exposed
-------
South Asia
Pakistan rulers support terrorism: Afghanistan Assembly Speaker
Rajendra Sharma
Feb 19, 2017
INDORE: Amid absence of Pakistan in South Asian Speakers' summit, Afghanistan came down heavily on Pakistan about sponsoring terrorism+ in the neighbouring states. Afghanistan even said that if Pakistan does not change its policy, terrorism could become a big threat for itself.
"Terrorism in South Asia is the biggest and most serious issue where neighbouring countries like Afghanistan as the main sufferer. It has been established that rulers of Pakistan support terrorism openly and the country's policy on terrorism is also not in the interest of other countries of the region. In future terrorism will be a big threat to Pakistan itself," Speaker of Afghanistan Assembly Abdul Raouf Ibrahimi told TOI.
Ibrahim also express his gratitude toward the Indian Parliament and Inter-Parliamentary Union for inviting Afghanistan to the summit and expected cooperation in combating terrorism in the country. He said the need of international community considering the Paris Agreement, is to focus on improving life of the people, ensuring security, economic development and addressing cultural and environmental issues.
"We can reach SDGs if neighbouring countries work together towards peace and security in the region. Terrorism is a very serious threat to the countries particularly, Afghanistan and we need cooperation from India to improve life of people in Afghanistan and security in political areas," reiterated Ibrahim.
Emphasising long term mutual understanding and good relations with India, he said that India is a big influential country and has always been a friend to Afghanistan. We want to further improve the relations and seek cooperation in different areas.
Pleading ignorance on Pakistan's absence in the summit+ , Speaker of Sri Lanka parliament, Karu Jayasuriya said, "Terrorism is a big issue and we should have cordial relations among the members. This summit is important in addressing all such issues."
http://timesofindia.indiatimes.com/india/pakistan-rulers-support-terrorism-afghanistan-assembly-speaker/articleshow/57232682.cms
-------
Two Myanmar soldiers injured in clash with militants near Bangladesh border
2017-02-19
The incident, which follows a four-month security crackdown on Rohingya Muslims, put to doubt Myanmar government's claim of normalcy in the region.
The soldiers were injured in a five-minute clash on Friday with an armed group on the border with Bangladesh, Reuters quoted a statement from Myanmar State Counselor's Office released late on Saturday.
"The security forces protecting workers constructing the border fence between the Mile Post 56 and 57 in Buthidaung township were attacked by about 30 unidentified armed men in black uniforms positioned on hills on the Bangladeshi side," the statement said, adding the armed men withdrew after security forces returned fire.
The authorities were still gathering information on casualties of the armed group.
The Bangladesh Border Guard (BGB), however, said they were not aware of any such clash.
"We have not received any such news. The BGB has strict surveillance on the border. Nothing like this has been reported," Colonel Raqibul Islam, Cox's Bazar BGB Sector Commander, told bdnews24.com on Sunday.
Full report at:
http://bdnews24.com/neighbours/2017/02/19/two-myanmar-soldiers-injured-in-clash-with-militants-near-bangladesh-border
-------
Mayor, religious leaders speak at 'Tea with Muslims' event at Islamic Center of Topeka
Feb 20, 2017
Nearly 200 people gathered Sunday afternoon for "Tea with Muslims" at the Islamic Center of Topeka.
"It's important for people to come together, to know your neighbors and to have a general recognition and respect for one another," said Imam Omar Hazim, the center's leader.
Hazim said a unifying theme of the event's speakers was opposition to President Donald Trump's ban on travelers from seven Muslim-majority countries.
The ban, announced Jan. 27, is currently on hold following a 9th U.S. Circuit Court of Appeals ruling on Feb. 9.
"Any time a group of people is oppressed or treated unfairly, it's an obligation for all human beings to stand up," Hazim said.
First Congregational Church Pastor Tobias Schlingensiepen said the group wouldn't be gathered if not for certain statements made by Trump that provoked fear for the future in immigrant and Muslim communities.
"The purpose of being here is to say, 'we're with you,'" he said.
Mayor Larry Wolgast, Unitarian Universalist Fellowship Reverend Charles Fantz, Professor Chris Hamilton, a representative of the Baha'i Faith, and Temple Beth Sholom Rabbi Debbie Stiel also spoke at the event.
Hakim Saadi said the event was a gauge of society.
"We're touched by the outcome — different communities, faiths. It really speaks to the goodness of people in Topeka, Shawnee County, Kansas and the Midwest," he said.
"It was really a good gathering," said Larita Owens. "We had a number of questions, and people were very supportive. I think it was good to get together."
However a couple of people at the event spoke about recent experiences that concerned them.
Full report at:
http://cjonline.com/news/local/2017-02-19/mayor-religious-leaders-speak-tea-muslims-event-islamic-center-topeka
-------
Mideast
Palestinian hunger strike kept in 'grave-like' cell: Lawyer
Feb 20, 2017
Hunger striking Palestinian journalist Muhammad al-Qiq is being held in a "grave-like" cell by Israeli authorities, says his lawyer.
Qiq was released from an Israeli prison last year in May, after going on hunger strike for 94 days in protest to his detention without trial or charges.
He was later detained in January after taking part in a protest in the West Bank city of Bethlehem and placed back into administrative detention.
His lawyer, Khalid Zabarqa, was quoted by the Ma'an news agency on Sunday as saying that he was able to visit Qiq in prison ten days after filing an official request.
"Al-Qiq is held in a small cell measuring barely four square meters and lacking the minimum basic living requirements," he said, adding that Israeli prison authorities had "refused to provide al-Qiq with winter clothes and sheets, leaving him unable to sleep due to low temperatures."
While noting that Qiq was also suffering from dizziness, loss of balance, and back pain, he stressed that Israel was deliberately forcing hard conditions on him so that he would end his hunger strike.
Palestinian journalist Muhammad al-Qiq on hunger strike is seen in an Israeli hospital on February 5, 2016.
Full report at:
http://www.presstv.ir/Detail/2017/02/20/511275/israel-palestine-qiq-hunger-striker-grace
-------
UN report exposes Houthi violations in Yemen
19 February 2017
A report issued by UN experts on the situation in Yemen revealed that Houthi rebels' violations range from corruption to torture.
The report exposed the militias' financial corruption and said that they violated the humanitarian international law during the ongoing conflict in Yemen.
The Houthis resort to torture against those who oppose them and they strictly control intelligence and security institutions, the report said, adding that ousted president Ali Abdullah Saleh controls a network of tribal, political and military allies and that the Houthis have a military and a political wing and decisions are still made by Abdul-Malik al-Houthi.
Full report at:
https://english.alarabiya.net/en/News/middle-east/2017/02/19/UN-report-exposes-Houthi-violations-in-Yemen.html
-------
Netanyahu, Kerry held 'secret Arab peace meeting'
Feb 20, 2017
Israeli Prime Minister Benjamin Netanyahu met secretly with Arab rulers last year to hear then US secretary of state John Kerry pitch a regional peace plan, an Israeli newspaper reported Sunday.
Egyptian President Abdel Fattah al-Sisi also attended the February 2016 talks hosted by King Abdullah II in the Jordanian city of Aqaba, Haaretz said, citing former senior officials in the Obama administration who asked to remain anonymous.
It said Kerry wanted the sides to endorse six principles, which he laid out publicly in a December speech.
They included a call for Israel to vacate territory it occupied during the 1967 Six-Day War, subject to land swaps agreed between the two sides.
Since 1967, Israel has pulled out of Egypt's Sinai Peninsula and the Gaza Strip but annexed east Jerusalem and the Golan Heights.
It continues to occupy the West Bank, where hundreds of thousands of Israelis live in settlements seen as illegal by the international community.
Kerry's parameters envisioned a Palestinian state, with Palestinians recognising Israel as a "Jewish state".
Both would share Jerusalem as the "internationally recognised capital of the two states".
Israel claims the city as its "undivided" capital. Netanyahu's coalition government, the most right-wing in Israel's history, rejects talk of ceding any part of it to Palestinian sovereignty.
"Netanyahu did not accept Kerry's proposal and said he would have difficulty getting it approved by his governing coalition," Haaretz wrote on Sunday.
Netanyahu's spokesman and Jordanian officials refused to comment on the report.
Meeting on Wednesday at the White House, Netanyahu and President Donald Trump each spoke of prospects of a regional Middle East understanding to end the stalemated Israeli-Palestinian conflict.
"For the first time in the life of my country, Arab countries in the region do not see Israel as an enemy, but increasingly as an ally," Netanyahu told Trump.
"We think the larger issue today is how do we create the broader conditions for broad peace in the Middle East between Israel and the Arab countries," Netanyahu said the following day on MSNBC.
Full report at:
http://nation.com.pk/international/19-Feb-2017/netanyahu-kerry-held-secret-arab-peace-meeting
-------
Iran will fully restore nuclear program if JCPOA scrapped: Larijani
Feb 19, 2017
Iranian Parliament Speaker Ali Larijani says the Islamic Republic will restore its nuclear program to where it was prior to the signing of the 2015 nuclear agreement between Tehran and the P5+1 group of countries if the US scraps the agreement.
In case of the revocation of the nuclear deal - known as the Joint Comprehensive Plan of Action (JCPOA) - by the US, everything will go back to square one, Larijani was quoted by IRNA as saying in an interview with the Lebanon-based al-Mayadeen TV channel.
The top Iranian parliamentarian made the comments amid a number of indications that the administration of US President Donald Trump may want to stop implementing its commitments under the JCPOA. Trump had previously threatened to rip up the deal and called it "the worst accord ever" and "one of the dumbest" ones he had come across.
Iran and the five permanent members of the United Nations Security Council - the United States, France, Britain, Russia and China - plus Germany signed the JCPOA on July 14, 2015 and started implementing it on January 16, 2016.
Under the nuclear agreement, Iran undertook to put limitations on its nuclear program in exchange for the removal of nuclear-related sanctions imposed against Tehran.
Elsewhere in his interview, Larijani touched on the relations between Iran and Russia and said the two countries are moving toward forming a strategic alliance in the region.
Iran has been providing military advisory support to both Iraq and Syria in their campaign against terrorism at the requests of the two countries' governments.
The Islamic Republic was among the first countries to help Iraq when the Daesh terrorist group unleashed a campaign of death and destruction in the northern and western parts of the Arab country in 2014.
Russia has also been carrying out an aerial campaign against the militants in Syria on a request from the Damascus government.
Larijani further said Iran welcomes negotiations with Arab countries, including Saudi Arabia, emphasizing that the Islamic Republic sets and accepts no preconditions in this regard.
Full report at:
http://www.presstv.ir/Detail/2017/02/19/511229/Iran-Russia-US-Saudi-Arabia-Ali-Larijani-alMayadeen-JCPOA
-------
Canada court ruling violates international law: Iran
Feb 19, 2017
Tehran has rejected a recent ruling issued by Canada's Ontario Superior Court of Justice against Iran, saying the verdict violates international law.
"This ruling contravenes the basic principles of the legal impunity of governments and their assets, and is unacceptable," Foreign Ministry spokesman Bahram Qassemi said on Sunday.
Justice Glenn Hainey ruled on February 8 that the Islamic Republic had to pay $300,000 in legal costs to those who claim to be victims of Iranian support for resistance groups.
The plaintiffs had sought compensation in the Ontario court under Canada's Justice for Victims of Terrorism Act. The verdict has given Iran 30 days to pay the sum.
Qassemi said the Islamic Republic has already conveyed its expression of formal protest to the Canadian government and reserved the right to take political and legal measures in that regard.
In June 2016, the same court ordered $13 million in non-diplomatic Iranian assets to be given to three groups of plaintiffs.
The decision was similar to US Supreme Court's ruling in April 2016 to hand over $2 billion in Iran's frozen assets to American families of those killed in the 1983 bombing of US Marine Corps barracks in Beirut and other attacks.
Iran's President Hassan Rouhani announced at that time that the country had filed a lawsuit against the US with the International Court of Justice (ICJ) – the principal judicial organ of the United Nations.
Full report at:
http://www.presstv.ir/Detail/2017/02/19/511193/Iran-Canada-Ontario
-------
Africa
Suicide bomb in market in Somalia capital kills 39
Feb 20, 2017
MOGADISHU - A car bomb ripped through a market in Mogadishu on Sunday, killing 39 people and injuring around 50, a local official said, days after Somalia elected a new president.
The car was driven by a suicide bomber, said Ahmed Abdulle Afrax, the mayor of Wadajir district where the bombing happened.
"We carried 39 dead bodies and there were many others injured," Dr Abdikadir Abdirahman, director of the Aamin Ambulance Service, told Reuters. Madina hospital took in 47 injured people, Dr Mohamed Yusuf, the manager, said.
Witness Abdulle Omar said the market was destroyed. "I was staying in my shop when a car came in into the market and exploded. I saw more than 20 people lying on the ground. Most of them were dead," he said.
Al Shabaab, the insurgent group that is fighting the UN-backed Somali government, did not immediately claim responsibility.
Full report at:
http://nation.com.pk/international/20-Feb-2017/suicide-bomb-in-market-in-somalia-capital-kills-39
-------
At least 14 killed in Mogadishu car bombing
Feb 20, 2017
At least 14 people were killed on Sunday when a car packed with explosives blew up near a busy intersection in Mogadishu, officials and witnesses said.
"We have counted about 14 people killed and more than 30 others wounded... the area was a busy intersection alongside the road and there were many civilians when the blast occurred," said local security official Mohamed Jilibey.
The explosion is the first big attack in the Somali capital since the election of new President Mohamed Abdullahi Mohamed — nicknamed Farmajo — although several mortar blasts claimed by Al-Shabaab militants marked the official handover of power last week. "The death toll is very high, more than 10 people were confirmed dead and others are wounded," said Dahir Ahmed, another official.
Witnesses said the bombing targeted an intersection in southern Mogadishu's Madina district where soldiers, civilians and traders were present.
"There were many small scale traders alongside the road and tea shops and restaurants. There were also members of the security forces and shoppers and the blast was so huge that it killed nearly 20 people, most of them civilians," said witness Sumayo Moalim.
Full report at:
http://www.dawn.com/news/1315729/at-least-14-killed-in-mogadishu-car-bombing
-------
Sudan's president accompanies UAE's rulers to defense show
19 February 2017
Sudanese President Omar al-Bashir has accompanied two of the United Arab Emirates' most-powerful rulers to a defense show.
Al-Bashir was flanked by Abu Dhabi Crown Prince Mohammed bin Zayed Al Nayhan and Dubai's ruler Sheikh Mohammed bin Rashid Al Maktoum at the event Sunday.
They watched a military demonstration that included explosions, jet fighters and helicopters at the International Defense Exhibition and Conference, known by the acronym IDEX.
Full report at:
https://english.alarabiya.net/en/News/gulf/2017/02/19/-Sudan-s-president-accompanies-UAE-s-rulers-to-defense-show.html
-------
Nigeria: JNI Prays for Buhari's Quick Recovery, Safe Return
19 FEBRUARY 2017
The Jigawa chapter of the Jama'atul Nasril Islam, JNI, has organised a special prayer for the quick recovery of President Muhammadu Buhari and his safe return to the country.
Its Secretary, Muhammad Babangida, disclosed this in an interview with the News Agency of Nigeria on Sunday in Dutse.
Mr. Babangida said the prayer was conducted on Friday in Miga Local Government Area of the state.
He explained that a special prayer was also offered for peace and economic prosperity in the country.
According to him, the gesture is to seek God's intervention in the nation's quest to overcome the present insecurity in some parts of the country.
Mr. Babangida expressed optimism that fervent prayers by Nigerians would enable the Buhari administration to overcome the nation's challenges.
Full report at:
http://allafrica.com/stories/201702200021.html
-------
URL: https://www.newageislam.com/islamic-world-news/new-age-islam-news-bureau/hafiz-saeed-can-become-a-threat-to-society--pak-defence-minister/d/110140
New Age Islam, Islam Online, Islamic Website, African Muslim News, Arab World News, South Asia News, Indian Muslim News, World Muslim News, Womens in Islam, Islamic Feminism, Arab Women, Womens In Arab, Islamphobia in America, Muslim Women in West, Islam Women and Feminism, Moderate Islam, Moderate Muslims, Progressive Islam, Progressive Muslims, Liberal Islam