New Age Islam News Bureau
1 May 2020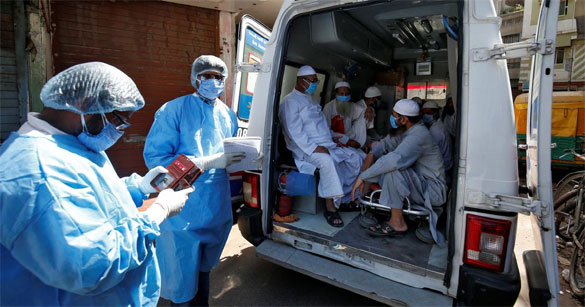 Men, who according to health and police officials had visited three Muslim missionary gatherings including in Nizamuddin area of New Delhi, wearing protective masks sit in an ambulance that will take them to a quarantine facility in Ahmedabad. | Reuters
----------
• Gulf Nations Committed to Bilateral Ties, Says India; Dismisses Tweets Alleging Targeting of Muslims
• Abdul Rahman, 55, A Daily Wage Worker, Emptied His Hajj Savings Pot Of 80,000 Rupees To Feed The Poor
•'Allah Overpowered Them' Operation Ended by Liberating Al-Jawf Governorate
• Azhar's Grand Imam Says Islam Seeks No War
• The "Ramadan Bailout" Of Zakat Could Help the World Avoid A Post-COVID-19 Great Depression
• Iranian Mullahs Threaten Trump with October Surprise
• Use Ramadan To Seek Divine End To Coronavirus —Traditional Ruler
• Melaka To Allow Four Mosque Officials to Perform Congregational Tarawih Prayers
• Sri Lankan Muslims Remember the Victims of The Easter Sunday Attacks
• Labour Day in Pakistan: 'Islam Protects Rights Of Labourers'
---------
India
• Gulf Nations Committed to Bilateral Ties, Says India; Dismisses Tweets Alleging Targeting of Muslims
• Abdul Rahman, 55, A Daily Wage Worker, Emptied His Hajj Savings Pot Of 80,000 Rupees To Feed The Poor
• Odisha HC orders probe in death of a Muslim who was denied dialysis in lockdown
• Several Hyderabad Muslims Back No-New-Clothes-In-Eid Call In Solidarity With The Poor
• Quiet and desolate Ramadan in Kashmir amid back-to-back lockdowns
------
Mideast
•'Allah Overpowered Them' Operation Ended by Liberating Al-Jawf Governorate
• Kurdistan Mosques to Remain Closed, As Fate Of Curfew Unclear
• Israeli forces arrested 40 Palestinians during first 6 days of Ramadan
• Turkish agency distributes Ramadan aid in Ethiopia
• A unique experience of observing Ramadan fast in space
• Danish poet of Palestinian descent who criticized Muslims dies at 24
• Man charged with hate crime over arson attack on Missouri mosque
------
Arab world
• Azhar's Grand Imam Says Islam Seeks No War
• Pandemic Isolation Scuppers Traditional Ramadan Rituals for Turkish Muslims
• Egyptian prime minister says rise in coronavirus cases due to overcrowded shops before Ramadan
• Lebanese reminisce about war years during Ramadan
----
Europe
• The "Ramadan Bailout" Of Zakat Could Help the World Avoid A Post-COVID-19 Great Depression
• Belfast's Muslims Fast At Home During The Holy Month Of Ramadan As Mosque Remains Closed
• German Mosque Delivers Ramadan Meals to Non-Muslims In Need
• CAIR Slams General for 'Revolting Promotion of the Anti-Muslim Trope That Muslim Youth in UK Engage in Sex Crimes'
• Danish Police Thwart Preparations for Islamist-Inspired Attack: Statement
-----
North America
• Iranian Mullahs Threaten Trump with October Surprise
• American Islamophobes React to Coronavirus Pandemic with Anti-Muslim Bigotry
• Cincinnati Religious Groups Want Taxpayer Bailout: Even Clergy Salaries Could Be Covered
• Denmark Foils Imminent 'Islamist Motive' Terror Gun Plot, Arrest Made
• Armed US protesters enter Michigan capitol to demand coronavirus lockdown end
------
Africa
• Use Ramadan To Seek Divine End To Coronavirus —Traditional Ruler
• Ramadan: Ex-Lagos Deputy Governor, Adebule, Greets Muslims
• Kaduna's Sultan Bello Mosque Will Remain Closed Even If Lockdown Is Lifted —Chief Imam
• Libya's UN-recognized govt rejects rival Haftar's offer of Ramadan truce
------
Southeast Asia
• Melaka To Allow Four Mosque Officials to Perform Congregational Tarawih Prayers
• Banks to charge interest on paused HP loan payments in 6-month moratorium – pay it over the rest of tenure
• Impact of US economic contraction on Malaysia
• Covid-19: 57 new cases, death toll now at 102
• M'sians working in Singapore fear getting fired
• Risky undertaking for funeral service workers
------
South Asia
• Sri Lankan Muslims Remember the Victims of The Easter Sunday Attacks
• Taliban's Claims Regarding the Release Of 52 Soldiers Aimed at Prevention of Coronavirus
• Taliban Militants Suffer Heavy Casualties in Preemptive Airstrikes In Samangan
• Taliban commander Nisar among 5 killed, wounded in Paktiya clash
• Taliban bomb kills 5 members of a family in Ghazni province
• U.S. announces $383.3 million in foreign military sales to Afghanistan, 4 other countries
------
Pakistan
• Labour Day in Pakistan: 'Islam Protects Rights Of Labourers'
• Police constitute 277 teams for mosques SOPs implementation
• Islamic finance takes on Covid-19
• Global Islamic finance market growing moderately
• Lockdown restrictions to stay in place throughout Ramadan: Sindh government
Compiled by New Age Islam News Bureau
URL; https://www.newageislam.com/islamic-world-news/gulf-nations-committed-bilateral-ties/d/121730
------
Gulf nations committed to bilateral ties, says India; dismisses tweets alleging targeting of Muslims
Apr 30, 2020
The Ministry of External Affairs on Thursday said that posts by certain Twitter handles from Arab countries alleging discrimination against Muslim citizens were "propaganda" and cannot be used to define India's bilateral relations with those countries, PTI reported.
India is facing backlash from Arab countries over instances of discrimination against Muslims amid the coronavirus pandemic. Last week, the Organisation of Islamic Cooperation had urged the Indian government to take urgent steps to protect Muslims who are being "negatively profiled" and facing "discrimination and violence" in India.
"Much of what you see is propaganda by interested parties," foreign ministry spokesperson Anurag Srivastava said during an online press briefing, according to PTI. "Stray tweets cannot be used to characterise our bilateral ties with these countries. The real picture of these relations is very much different."
The spokesperson added that Gulf countries are deeply committed to friendly relations with India and do not support any interference in its internal affairs. "What comes out clearly is that these countries are deeply committed to friendly relations with India," he said. "They also do not support any interference in internal matters of India. It is, therefore, important that the friendly and cooperative nature of our relations is accurately recognised and the misuse of social media is not given credence.
Responding to Oman's Finance Ministry order asking all state-owned companies to replace foreign workers with qualified locals, Srivastava said it was not aimed at Indians working in the Gulf nation. "The policy is a decades-old one and not specific to India. It does not target the Indians in any way," he said.
On Monday, India and Kuwait had rushed to do damage control after a Cabinet note from Kuwait criticising the targeting of Indian Muslims amid the coronavirus crisis was leaked over the weekend. The note, dated March 2, had called on global leaders and the Organisation of Islamic Cooperation to stop attacks on Muslims in India.
Last week, Indian embassies in the Gulf had urged citizens to remain vigilant against a spate of derogatory posts on social media linking the coronavirus pandemic to the Muslim community in India.
Muslims in India have been targeted ever since news broke that a convention held by the Tablighi Jamaat was a coronavirus hotspot. Videos circulating on social media platforms appeared to show Muslim men spitting on food, licking plates and sneezing in unison to spread the virus – all of these have been debunked as fake news. Even certain television channels and organisations like the Bharatiya Janata Party's IT Cell blamed Muslims for spreading Covid-19.
There have also been instances of attacks on Muslim vendors. On April 14, a group of people in Uttar Pradesh's Mahoba district had allegedly misbehaved with some Muslim vegetable vendors and stopped them from selling their goods. The mob claimed that the Muslims were members of the Tablighi Jamaat. A BJP MLA from Uttar Pradesh even told people to not purchase vegetables from Muslim vendors.
https://scroll.in/latest/960721/gulf-nations-committed-to-bilateral-ties-says-india-dismisses-tweets-alleging-targeting-of-muslims
-----
Abdul Rahman, 55, A Daily Wage Worker, Emptied His Hajj Savings Pot Of 80,000 Rupees To Feed The Poor
Thufail Muhammad
April 30, 2020
With millions unable to work amid the coronavirus pandemic, small acts of kindness in India are offering a glimmer of hope to many.
Abdul Rahman, 55, has become an online celebrity after the daily wage worker from Goodinabali village in Karnataka emptied his Hajj savings pot of 80,000 rupees (Dh4,000) to feed the poor.
He has so far helped about 250 local families by buying groceries and other essential items for those people hardest hit by the lockdown brought in on March 24 to stop the spread of the pandemic among India's 1.3 billion people. So far, over 33,000 have tested positive for Covid-19 in India and just over 1,000 have died.
"The lockdown had affected the livelihoods of so many people and many were left jobless. When I saw the dejection and helplessness on the faces of my neighbours and those whom I knew for years, I thought now was the time to act," he says. "I thought at least I have a job and I'm in a position to help. If God wills, I will earn enough to be able to perform a Hajj in the near future."
His gesture won widespread appreciation when his son announced on Facebook that his father put his Hajj pilgrimage on hold to undertake the charity work.
A health worker uses an infrared thermometer to measure the temperature of a labourer at the construction site of a residential building during a nationwide lockdown to slow the spreading of coronavirus disease (COVID-19) in Ahmedabad, India, April 30, 2020. REUTERS/Amit Dave TPX IMAGES OF THE DAY
A health worker uses an infrared thermometer to measure the temperature of a labourer at the construction site of a residential building during a nationwide lockdown. Reuters
"During a recent phone call we discussed the difficulties the locals faced because of the lockdown. I asked him what he wanted to do about it. To my surprise he said he would use his Hajj savings to buy food for those who have lost their livelihood," Mr Goodinabali tells The National.
"Like any devout Muslim, my father intended to go on Hajj pilgrimage. He made it a habit to keep aside some money from his earnings. My mum pitched in by rolling beedi [cigarettes] and contributed to additional household income."
The desire to perform Hajj, he says, had become stronger ever since his parents returned from their Umrah pilgrimage in late 2018. "I had sponsored their visit to Makkah and Madinah. But they are people of great self-esteem. So they wanted to perform Hajj with their hard-earned money."
Mr Rahman, who earns just Dh25 a day, always wanted to keep his charity work a secret and the social media buzz has left him angry.
"My father told me off after learning about the social media post and the subsequent public attention. He is also angry that he is in the spotlight unnecessarily," Mr Goodinabali says. "He thinks the publicity would take the sheen away from his sadaqa [charity] which he is done only to seek Allah's blessings. Now, even I'm wondering if I did the right thing by putting it in the public domain."
NEW DELHI, INDIA - APRIL 30: An Indian health official inside a COVID-19 mobile testing van uses a nasal swab to collect a sample from a woman, as India remains under an unprecedented extended lockdown over the highly contagious coronavirus (COVID-19) on April 30, 2020 in New Delhi, India. India eased the lockdown restrictions by allowing neighbourhood shops and standalone shops in areas that havent been marked coronavirus hotspots to sell goods on the condition of 50 per cent staff strength and following other protective guidelines like wearing masks and maintaining social distance. With a total number of over 33,000 positive cases, the death toll due to coronavirus in India has reached 1079 as the country reels under a nationwide lockdown that was imposed on March 25 by the government. (Photo by Yawar Nazir/Getty Images)
An Indian health official inside a Covid-19 mobile testing van uses a nasal swab to collect a sample from a woman, as India remains under an unprecedented extended lockdown. Getty Images
"I have known him for 20 years and found him extremely hard-working and honest," says ShanafathSharief, the owner of Luqman Steel Centre in Kaikamba village where Mr Rahman works as a porter.
"He understands the pain and suffering of the poor because he himself is a man of limited means. He wouldn't turn away anyone who came seeking sadaqa or a loan."
About 60 kilometres north, Sharadakka, a fisherwoman, has emulated the Goodinabali resident by spending her 30,000 rupee savings to buy 5-kilogram bags of rice for around 140 poor families in her neighbourhood of Malpe in Udupi district.
Like Mr Rahman, she too has received widespread praise but says she is just "doing her duty." The mother-of-six plays down her actions.
"Coronavirus is a big threat. People are suffering. I told to myself if I help those in need, I am only doing my duty. It's in human nature," she says.
"I earn about 200 to 300 rupees a day but luckily I had some money saved for the repair of my house. I know how it feels to go without food [and] I couldn't have overlooked the hardships endured by the poor."
Another example of charity that has gained media attention in Karnataka is of two middle-aged brothers from Kolar district who sold off their land to feed people affected by the disruptions. Tajammul and Muzammil Pasha, both banana merchants, sold their plot of land worth 250,000 rupees to carry out charity after hearing of the distress of many daily wage workers.
So far they have supplied food, grain, oil, sugar, as well as sanitisers and face masks to more than 3,500 families in the district.
The brothers have put up a tent next to their house and started a community kitchen to prepare food for labourers and the homeless.
Every day 200-300 meal packets are distributed by the brothers with the help of a team of their friends in areas where there's a large migrant population.
"We have seen poverty from very close quarters after we lost our parents within a gap of just 40 days," Mr Muzammil, 37, tells The National, describing their early days of struggle.
"I was only 3 and my elder brother was hardly 5 then. Our sister, Tabassum, was only months old. Our parents were daily wage earners. Upon their death, we moved to our maternal grandmother's place. She brought us up with the help of an imam from Lateefa Banu Masjid in Goripet. Our granny used to teach the Quran to support the family. People from the neighbourhood used to give us rations. We lived off the donations of our neighbours."
Mr Muzammil, like his brother, believes this is their time to give back to the community that has given them everything. "One morning, my brother said he wanted to sell off the property to feed the needy. Without any hesitation, I seconded his decision," he says.
His elder brother Tajammul Pasha, 40, says the distribution of groceries and meals will continue as long as there is a need for it.
"At the moment this [charity] is my priority. Inshallah, if we survive this pandemic, we can buy four more sites. God has always been kind to us," he told The National.
Although the International Monetary Fund is warning that the coronavirus pandemic will have "the worst economic fallout since the Great Depression," those spending to help the poor say they are not worried.
"Let's not look too far into the future. It's all about putting need above greed," says Mr Rahman. "This is the time to show humanity more than anything else. If I help somebody who's struggling at the moment, there will be someone to help me during my bad times."
Indeed, Mr Rahman's initiative has already sparked dozens of offers from philanthropists who want to sponsor his Hajj pilgrimage.
https://www.thenational.ae/world/asia/small-acts-of-kindness-draw-praise-in-india-s-ramadan-under-lockdown-1.1013197
-----
'Allah Overpowered Them' operation ended by liberating Al-Jawf governorate
April 30, 2020
The Yemeni Armed Forces spokesman, Brigadier General Yahya Sare'e, announced in a special statement to Almasirah, on Wednesday that "Allah Overpowered Them" operation has ended by clearing the rest of Al-Jawf governorate, where it has become liberated by 95%.
"The last stage of the 'Allah Overpowered Them' operation included the cleansing of Al-Labenat camp, Al-Aqsha'a, Al-Khusf and the adjacent areas in Al-Maraziq and Al-Mahashima in Al-Jawf," Brigadier-General Sare'e said.
The Yemeni Armed Forces spokesman confirmed that the death toll of the Saudi-mercenaries during the last stage of the operation was 1,200.
Sare'e indicated that the newly liberated area amounted to 3500 square kilometers, that is, Al-Hzm desert in addition to the areas of KhubWa Ash-Sha'af.
He pointed out that the Al-Jawf desert formed the most important den of the so-called Al Qaeda and Daesh supported by the United States, Saudi Arabia and the United Arab Emirates.
The Armed Forces spokesman said that the importance of Al-Labenat camp is that it is the last stronghold of mercenaries in Al-Jawf and it is a key to Marib governorate.
Brigadier-General Sare'e said that the forces of aggression escalated their attacks in Marib greatly during the last period and that the Army and Committees were confronting them.
https://en.abna24.com/news//%e2%80%99allah-overpowered-them%e2%80%99-operation-ended-by-liberating-al-jawf-governorate_1031962.html
----
Azhar's Grand Imam Says Islam Seeks No War
1 May, 2020
Grand Imam of Al-Azhar Sheikh Ahmed El-Tayyeb has called for embracing morals as the sole way out of the world's crises.
"Islam doesn't seek war or bloodshed, and Muslims only fight back to defend themselves," he affirmed. In this case, Muslims are prohibited to kill peaceful individuals such as priests, women, farmers and the elderly.
In Thursday's statement, the Grand Imam of Al-Azhar said that "mercy" is a key moral feature in Islam to guarantee a decent life. Its absence turns people's lives into chaos, causes social and family breakdown, incites evil, peddles dominance over the country and people, and ignites wars.
In his program 'El-Tayyeb', he stressed that the term "mercy" and its derivatives were mentioned 199 times in Quran, the statement read. God has urged believers to be merciful in all aspects, the Sheikh added.
'El-Tayyeb Program' is broadcast during Ramadan on several channels in Egypt and the Arab world, in addition to the official social media pages of Al-Azhar and Al-Azhar's Grand Imam.
https://aawsat.com/english/home/article/2262066/azhar%E2%80%99s-grand-imam-says-islam-seeks-no-war
-----
The "Ramadan bailout" of Zakat could help the world avoid a post-COVID-19 Great Depression
30/04/2020
By Azim Kidwai
There is consensus that the global economy is facing a recession - if not a depression - in the wake of the coronavirus pandemic. Many parts of the world may be protected from the worst of its effects by the billions in increased consumer spending and charitable giving during the holy month of Ramadan, which started last week. There is an accommodation between materialistic and spiritual values in Muslim-majority countries, as well as Muslim communities in Europe and North America, that may provide an economic lifeline for billions of people across the globe.
This lifeline is sorely needed. Economists are warning that this could be the worst blow to the global economy since the Great Depression of the 1930s. US oil prices even dipped below zero this week for the first time in history. The UN has warned of famines of "biblical proportions." Capitalism and globalisation as we know it may not survive this crisis.
There is an accommodation between materialistic and spiritual values in Muslim-majority countries, as well as Muslim communities in Europe and North America, that may provide an economic lifeline for billions of people across the globe.
They have been blamed by many for the climate crisis, given the global market's relentless focus on profit over sustainability. They are also lambasted for producing stark levels of inequality throughout the world - currently the richest 1% of the world own 44% of its wealth. These criticisms have been amplified in recent weeks as COVID-19 forces us to question our assumptions about the world economic order.
These assumptions have been shaken by, for example, the UK's Conservative government effectively nationalising the country's payroll. The similarly right wing US government is set to inject $2 trillion (€1.8 trillion) into the American economy. These are all unprecedented measures which show us that conventional capitalism is dying.
As economists look for previously unimaginable solutions to our unprecedented problems, they may find ideas in unlikely places. One of those is religion. Ramadan, for example, is best known as a time for spiritual reflection and communal togetherness. From an economic perspective, however, Ramadan is a time for spending money.
A multi-billion-dollar stimulus package is about to be rolled out across Muslim-majority countries and nations with sizeable Muslim minorities.
Spending levels surge dramatically during these months, as Muslims splurge on food, gifts and Eid outfits. It is estimated that Ramadan spending is worth more than £200 million (€230 million) to the UK economy alone, and billions more across the Muslim world.
That much-needed economic liquidity is not just about consumer spending - it also includes charitable giving. What is non-negotiable for Muslims at this year, or any year, is alms-giving, known in Islam as Zakat. This requires Muslims of a certain income level to donate 2.5% of their wealth each year to charity.
The vast majority of Muslims pay their Zakat during Ramadan; many Zakat collecting bodies estimate that 85% of their donations come during the holy month.
This means that a multi-billion-dollar stimulus package is about to be rolled out across Muslim-majority countries and nations with sizeable Muslim minorities. This is unlikely to be affected by the current crisis, since Zakat is calculated as a percentage of net wealth and income acquired over the past year rather than on expected income or simply on available cash.
After the "Ramadan bailout," I hope that the place of religious values in a healthy and sustainable economy can be more widely recognised by political leaders and policy makers.
This "Zakat liquidity" is especially crucial in times of economic difficulty, where consumers are more likely to conserve money for a rainy day. The fact that Zakat is mandatory in Islam means that it forces money to flow in an otherwise illiquid economy. The World Bank has estimated that global Zakat funds reach $600 billion (€550 billion) each year. Assuming that 85% of this is paid in the next month, this could be a massive boost to the global economy. This global mandatory wealth tax, payable by a quarter of the world's population, could save some of the worst-affected regions from humanitarian catastrophe.
After the "Ramadan bailout," I hope that the place of religious values in a healthy and sustainable economy can be more widely recognised by political leaders and policy makers. 84% of the world identifies with a religious group; those values should form part of how their economic lives are managed rather than consigned to private spirituality.
In much of the Muslim world, it goes with saying that the Mosque and the market go together. They are often placed in very close proximity to each other in commercial capitals. The rest of the world should take this crisis as an opportunity to reach a new accommodation between the worldly and the otherworldly. Capitalism is not dying - it is simply going through a rebirth of almost religious significance.
https://www.euronews.com/2020/04/30/the-ramadan-bailout-of-zakat-could-help-world-avoid-a-post-covid-19-great-depression-view?utm_source=feedburner&utm_medium=feed&utm_campaign=Feed%3A+euronews%2Fen%2Fnews+%28euronews+-+news+-+en%29
------
Iranian Mullahs Threaten Trump with October Surprise
1 May, 2020
With the Khomeinist regime once again in deep trouble, the usual suspects launch a campaign to portray the Islamic Republic as victim and US President Donald Trump as oppressor.
Slowly the blame is shifting from the mullahs to the Trump administration as the debate is redirected to tackle the hypothetical question of US military action rather than the Islamic Republic's real misdeeds.
The attempt at fabricating another "cause" with which to bash America is backed by the claim that the mullahs are behaving badly because Trump refuses to talk to them, although he has repeatedly said he is prepared to talk anywhere anytime.
Eleven Democratic senators have written to Secretary of State Mike Pompeo calling for an end to "maximum pressure" which, with no evidence, they claim is the chief, if not the only, source of Islamic Republic's sorry state today.
For his part, the Democratic Party's presumptive presidential nominee Joe Biden has called for the US to return to the Joint Comprehensive Plan of Action (JCPOA), the witches' brew that President Barack Obama dished out to bypass international law and the US Congress.
Senator Diane Feinstein (D-California) says we cannot let people die by preventing Tehran from securing a $5 billion loan from the International Monetary Fund (IMF) because of a US veto.
The fact that Tehran's application is still under study by IMF and that no US veto has been cast is ignored. The lobby supporting Tehran wants the mullahs to be exempt from even routine banking rules. Their message is: Give the mullahs cash and ask no questions!
However, Khomeinist leaders say loud and clear that they don't need any outside help to deal with the coronavirus and that, on the contrary, they are giving aid to anyone who asks for it. President Hassan Rouhani says that the Islamic Republic has already helped a dozen countries, among them the People's Republic of China. Tehran has also given assistance to the Mayor of London Saddiq Khan, a Muslim, to cope with the coronavirus in a city where Muslims form a substantial portion of the population.
Islamic Health Minister Sa'idNamaki says Tehran was never short of "whatever needed" to cope with the virus or cover other medical need.
SurenaSattari, Rouhani's aide for technology, says the Islamic Republic is producing "all equipment needed at a fraction of the cost in Western countries".
Fars News Agency, run by the Revolutionary Guards, reports that Iran is exporting coronavirus testing kits; masks and other equipment to a dozen countries. Rouhani throws in the tantalizing tale that Iran may be the first to develop a vaccine against Covid-19, ahead of the American "Great Stan" and the Israeli "little Satan."
In other words, the Islamic Republic doesn't need medical and technical help; it needs crisp greenbacks that could be spent on Hezbollah; Bashar al-Assad, the Popular Mobilization Forces, the Houthis; Hamas and other members of the "Resistance Front". And, then, not to forget the $100 million Tehran has allocated for lobbyists in the US.
The second argument is that if Tehran is pressed too hard it may denounce the JCPOA and even exist from the Nuclear Nonproliferation Treaty (NPT).
The JCPOA has already been violated by all participants. Tehran has officially suspended complying with some key parts. The US, under Obama, was committed to buy Iran's stock of plutonium through Westinghouse, a company that went bust; but never did. Russia was committed to buying Iran's stock of uranium enriched up to 20 percent but stopped doing so after only half was shipped out. China was committed to re-design and recommission the nuclear plant in Arak. But five years later it hasn't, clinging to flimsy excuses. Britain, France and Germany, were committed to help Iran revive its foreign trade and gain access to capital markets. So far, however, they have only arranged a $7 million package for Iran to buy medical supplies it claims it doesn't need.
As for the Islamic Republic leaving, or with some shenanigans, half-leaving, the NPT, the "so what" mentioned above could be repeated more loudly.
If the mullahs wish to develop a nuclear arsenal they would not be stopped by JCPOA and/or NPT. Nor would possession of a nuclear arsenal ultimately save their weird system.
The old Soviet Union had enough nuclear weapons to destroy planet earth 22 times over, and, yet, it collapsed under the weight of its contradictions without opponents firing a shot.
On the one hand they say they will never make a bomb because it is "haram" (forbidden). On the other they imply unless they are helped to pursue their misdeeds they would do just that.
The reward they want, and people like Senator Feinstein seem ready to provide, is to get a free hand in building an ideological empire as a springboard for "exporting" revolution. In the end either Iran must become like the rest of the Middle East or the rest of the Middle East must become like the Islamic Republic.
The third argument is that the embargo imposed by the United Nations on sale of arms to Iran will end in October and, unless "maximum pressure" is eased; the mullahs may rush to buy weapons.
Hopefully, not the US, or France and Britain. Russia may. But even then Russia has always looked for a weak Iran on its doorsteps. President Vladimir Putin sold Tehran an air defense system for $800 million but delivered the obsolete version of S-300, keeping the upgraded version for India and Turkey among others.
Unable to sell oil even at current low prices, the mullahs won't have much to spend on arms. China, of course, could, and because it sits on $22 billion of Iran's frozen assets, it might not face payment problems. But switching to Chinese arms might require years of redesigning Iran's Defense Doctrine when the current regime's survival policy is internally challenged on a day to day basis.
The fourth argument is that unless Trump yields, the mullahs might produce an "October Surprise", just days before voting, to derail his re-election, by testing a nuclear device or capturing some American hostages or even seizing a US Navy vessel in the Strait of Hormuz.
Well, that is what a "think tank" in Brussels is peddling, with a nod and a wink from "The New York Boys" in Tehran.
https://aawsat.com/english/home/article/2261976/amir-taheri/mullahs-threaten-trump-october-surprise
-----
Use Ramadan To Seek Divine End To Coronavirus —Traditional Ruler
May 1, 2020
THE Alamodu of AghorAmodu, Oba Johnson Olaoye, has called on Nigerians, especially Muslims, to use the opportunity provided by the holy month of Ramadan to beseech God to put a stop to the coronavirus pandemic and other diseases ravaging the country.
Oba Olaoye, who made the call while addressing the people of Ago Amodu, stated that the COVID-19 pandemic was too much for medical personnel alone to handle.
According to him, the situation has made it imperative for all Nigerians to seek the face of God for intervention.
He, therefore, urged all residents of Oyo State to accept and put into practice all laws put in place by the government.
The traditional ruler praised Governor SeyiMakinde for taking "very strong steps" to contain the spread of the virus such as the curfew and social distancing which had resulted in closing down of places of worship.
https://tribuneonlineng.com/use-ramadan-to-seek-divine-end-to-coronavirus-traditional-ruler/
-----
Melaka to allow four mosque officials to perform congregational Tarawih prayers
01 May 2020
MELAKA, May 1 ― Only four mosques officials are allowed to perform Tarawih prayers in congregation at all mosques in the state beginning today.
Chief Minister Datuk Sulaiman Md Ali, however said, the four officials ― mosque chairman, imam, bilal and siak ― must adhere to the Standard Operating Procedure set by the Health Ministry.
"Among the conditions that need to be fulfilled are to only perform eight rakaat (one complete set of prayers) of Tarawih prayers; not using loudspeakers; observing social distancing and the officials do not have Covid-19 symtpoms such as fever, sore throats, coughing or shortness of breath.
"The approval was given after a discussion between the Mufti's office and the Melaka Islamic Religious Department," he said in a statement here last night.
Sulaiman said the state government had also agreed to allow Shariah courts in three districts namely Melaka Tengah, Jasin and Alor Gajah to sit in on urgent cases beginning May 4.
However he said, the courts were only allowed to operate for two days a week from 8am to 12pm throughout the fourth phase of the movement control order (MCO) until May 12.
malaymail.com/news/malaysia/2020/05/01/melaka-to-allow-four-mosque-officials-to-perform-congregational-tarawih-pra/1861902
----
Sri Lankan Muslims remember the victims of the Easter Sunday attacks
04/30/2020
by Melani Manel Perera
The head of the Negombo Grand Mosque said that Muslims "decided to show our solidarity." Hence, they picked "the seniors home run by Catholic nuns in Negombo. We gave them medicines, food rations, healthcare products and more. We donated 100 bags of rations worth 2,000 rupees each to the church in Katuwapitiya, to be handed out to the needy in the village affected by the attack."
Colombo (Asia News) – Several Muslim community and youth groups, as well as school children, recently commemorated the victims of last year's Easter Sunday attacks. To remember all of them, even to console wounded hearts, they raised money for those in need, and two songs were released to build hope.
"Muslims have been offended, accused of the ruthless attack on Easter Sunday. But it's not true," said MovulaviMohomad Salman, head of the Grand Mosque in Negombo, speaking to AsiaNews.
"We have had good relations with Buddhist and Christian communities for many years. In particular, in Negombo we know nuns, religious, Buddhist monks and lay people. But this was upset by the absolutely wicked behaviour of a group of extremists.
"We have been attacked," he noted. "We want to make people understand that the Muslim community is not like that and it does not stand with the attackers. We also want to show our love, respect and generosity for our Buddhist and Christian brothers and sisters."
For this reason, "the Negombo Muslim mosque committee has decided to show our solidarity and our love for people, but people really in need, with the aim of remembering all our brothers and sisters killed in the attacks on Easter Sunday on 21 April 21."
"We have therefore chosen the seniors home run by Catholic nuns in Negombo. We gave them medicines, food rations, healthcare products and more. We donated 100 bags of rations worth 2,000 rupees each to the church in Katuwapitya, to be handed out to the needy in the village affected by the attack."
"The difficult situation of people facing the lockdown period was forgotten. Hundreds of food kits were distributed at the Negombo police station, the Angurukaramulla temple, HQI police, Dalupotha church, the Grand Street church as well as in the Jaela and Negombo areas."
Another group of young men and women from Negombo who work in the area expressed their affection to those in need at such a difficult time.
Fathima Carder, a Catholic mother of two, whose own mother is Muslim, works at the coordinator of the Negombo division of the National Peace Council (NPC). She told AsiaNews that, with the great help of the NPC, they were able to express their solidarity and good heart, remembering all those who were taken away in last year's ruthless attack.
NimalPerera, coordinator of the National Fisheries Solidarity Movement project, told AsiaNews that "youth groups from different NAFSO districts wrote a song as a tribute to our brothers and sisters who sacrificed their lives on 21 April 2019 in Colombo-Kochchikade, Negombo-Katuwapitiya, in the churches of Batticaloa and other places.
"This is a tribute to all those families who lost loved ones as well as an appeal by our youth in different districts from different ethnic groups and different faiths: 'A single voice to safeguard life and protect humanity in our society, today."
"We released a song, 'Unity Building up of Hope,' after observing two minutes of silence, along with everyone in Sri Lanka, at 8.45 am on 21 April 2020."
The following song was written, produced and released under the auspices of the 'Youth for Unity and Promotion of Peace and Reconciliation' programme of the National Fisheries Solidarity Movement (NAFSO) in Negombo.
"It is not a rainy cloud / What you see in the sky ... But the bombs we have blasted / the black smoke rising up ... My son be a gusty wind / daughter be a pouring rain ... Dousing flames lit by us / Become the cooling breeze for us ... Think of tomorrow of our country / Yearning to become one family ... Throwing off caste and creed / Country bounded in deep love ..."
http://www.asianews.it/news-en/Sri-Lankan-Muslims-remember-the-victims-of-the-Easter-Sunday-attacks-49962.html
------
Labour Day in Pakistan: 'Islam Protects Rights Of Labourers'
May 1, 2020
LAHORE: Sector Commander Motorway Police (M-3) SSP Muhammad Ayyaz Saleem while speaking on the importance of Labour Day has said there is no religion or ideology except Islam, which guarantees the rights of the workers and peasants, the poorest and oppressed classes of the world.
He said, "Islam guarantees the rights of labourers. Islam respects all kinds of work for ensuring one's livelihood so long as there is no injustice involved. The economic aspect of life envisaged by Islam is based upon sound foundations and divine instructions. Earning one's living through decent labour is not only a duty but a great virtue as well. The Holy Qur'an provides guidance for all human beings and is a complete code of life. There are two basic principles laid down in the Holy Qur'an and Hadith for the master as well as the servant. The master shall pay fully for the services rendered and the servant shall work faithfully and honestly. Islam gives directions about the attitude of the employers for equal treatment with servants and subordinates."
Focal person Majid Rafiq Minhas said SSP Muhammad Ayyaz Saleem wants that problems of uniformed and non-uniformed staff should be resolved.
https://www.thenews.com.pk/print/652402-labour-day-islam-protects-rights-of-labourers
-----
India
Odisha HC orders probe in death of a Muslim who was denied dialysis in lockdown
Apr 30, 2020
The Orissa High Court has directed the State government to quickly investigate the death of a 70-year-old man with renal malfunction who died after allegedly being denied dialysis at a private hospital in Cuttack early this month over his Muslim identity.
In an order, a bench of Orissa High Court asked the Cuttack district collector to inquire into the death of Sayed Abdul Hasan on April 10 due to the alleged denial of dialysis at Shanti Nursing Home in Cuttack town during the Covid-19 lockdown.
"The State shall also ensure that no person is denied treatment for any ailment by any hospital of the government or a private entity, if such facility is available with the hospital, and if not available, he or she should be referred to an appropriate hospital, where such facility is available. However, such treatment must be guided by the guidelines or instruction given by the State Government in the wake of Covid-19 pandemic," said the bench comprising justices ShatrughanPujahari and KR Mohapatra.
Azra Jamal, a lawyer-activist, had filed a PIL in Orissa HC seeking action against Shanti Nursing Home, alleging it denied dialysis treatment to Hasan, which led to his death on April 10. "Shanti Hospital in Cuttack had refused to treat the chronic kidney disease patient because he belonged to the Muslim community. As a result of which he died on the same day," Jamal had said in her petition. She said the private hospital had turned the patient away, demanding the production of negative "Covid-19 test result before allowing him to access the dialysis facility.
The son of the deceased had initially lodged a complaint with the police alleging his father was asked to follow a lot of protocol compared to other patients upon his arrival at the hospital on April 10. Though the man was a regular patient with the nursing home for a year and a half, the hospital staff allegedly advised him against coming for dialysis. Members of the hospital management asked my father to come back with personal protection equipment for the medical staff who would give him the dialysis, the son of the deceased alleged.
The petitioner in her PIL said news reports over Tablighi Jamaat congregation in Delhi had resulted in fear and hatred towards the Muslim community.
https://www.hindustantimes.com/india-news/odisha-hc-orders-probe-in-death-of-a-muslim-who-was-denied-dialysis-in-lockdown/story-205siq8mIUWoSCaFbDETqI.html
------
Several Hyderabad Muslims back no-new-clothes-in-Eid call in solidarity with the poor
Apr 30, 2020
Srinivasa Rao Apparasu
Many Muslims in Hyderabad are getting ready to celebrate this year's Eid without new clothes in solidarity with the poor, devastated by the nationwide lockdown enforced to prevent the spread of Covid-19.
A campaign of sorts to this effect has been run on the social media in Hyderabad with a call to all Muslims: "I am not buying clothes for Eid. Will you?" The call has evoked good response.
Wearing new clothes on Eid-ul-Fitr, which is likely to fall on May 24 this year, is an age-old tradition for the Muslims. However, it is still not clear whether the lockdown will be lifted by then, allowing the garments shops and showrooms to be thrown open to the public.
In an open appeal to fellow Muslims of Hyderabad through WhatsApp, Nawab Najaf Ali Khan, descendent of last Nizam Mir Osman Ali Khan, asked not to buy clothes for Eid, even if the lockdown is lifted.
"Let us pledge to exclude our materialism and gloating and be mindful of the underprivileged around us. Let's say no to excessive and unnecessary shopping for Eid. Keeping in mind the current situation due to the ongoing lockdown for Covid-19, most of us are at home, but the poor and needy are left to fend for themselves without a job as everything is shut down," he said.
Stating that it was disheartening to see so many people face difficulties in fulfilling their daily needs, Khan asked the Muslims to donate as much as they could towards the daily expenses of the poor. "The money that we spend on our extravagance, can be used to help a family survive and live without this fearful uncertainty," the Nizam's descendant said.
Muslims are also being advised against extravagance and in favour of saving for the future. "Please save the money and realise that in future, we may need money for medicines, food and education," one of the messages said.
During Ramzan, the Muslims practice the tradition of Zakat Al-Fitr. While Zakat involves parting with 2.5 per cent of money saved in a year to help the poor and the needy, Fitr involves the distribution of around 2.5 kgs of staple food to the poor to help them celebrate Eid.
https://www.hindustantimes.com/india-news/several-hyderabad-muslims-back-no-new-clothes-in-eid-call-in-solidarity-with-the-poor/story-qIyyWCrMhasC5AjKdjAX6M.html
-----
Quiet and desolate Ramadan in Kashmir amid back-to-back lockdowns
20 hours ago
Srinagar, Indian-administered Kashmir - After living through two back-to-back lockdowns that have devastated the local economy, people in Indian-administered Kashmir have settled for a quiet Ramadan.
The threat of the spread of the highly contagious coronavirus has emptied the usually overcrowded mosques in the picturesque, Muslim-majority Himalayan valley.
"Our neighbourhood mosque is completely sealed. Everything is so heartbreaking but it is also a matter of life," said Ghulam Ahmad, a 63-year-old retired government employee.
Ahmad lives in GundKaisar, a village in the northern district of Bandipora, which remains one of the most affected parts of Kashmir with more than 100 cases of COVID-19 disease.
GundKaisar, like many villages of Bandipora, is under a strict lockdown to contain the spread of the infection that has brought the world to an unprecedented standstill.
"We could not even buy dates to break our fasts as the markets here are completely closed and not allowed to open," he said. "The entry and exit to the village are also sealed."
In the neighbouring village of Gund Jahangir, which has been declared a highly volatile "red zone" by the region's administration, Ahmad said at least 35 families have been placed under quarantine.
"It is really painful how suddenly everything has happened," he said. "Earlier, the village would be like a family and we would go around after iftar and have a chat and visit each other."
Triggered by the spread of the novel coronavirus that originated in China and has infected more than three million people across the globe, the lockdown in Kashmir came as the disputed region still had not come to terms with a crippling earlier shutdown, which lasted nearly seven months.
The previous lockdown was imposed in August last year when the Indian government abrogated the region's semi-autonomous status and divided the state into two federally-administered territories.
The two lockdowns have brought Kashmir's economy to a halt, with large scale employment-generating businesses, such as tourism, suspended for nine months now.
Since then, the number of positive cases has increased to 500 as more than 60,000 people remain under various levels of observation, including home and hospital quarantine.
Half of the neighbourhoods in the main city of Srinagar, home to more than a million people, remain sealed. Only pharmacies have been exempted from the shutdown.
Coils of razor wire block the city's main roads as hundreds of police and paramilitary troops stand guard at various checkpoints - a common sight in a region where an armed insurgency has raged for the last three decades.
In the area around 14th-century Jama Masjid, one of the oldest and largest mosques in Srinagar, residents say Ramadan feels incomplete without visiting their mosque.
"It feels like something is incomplete this month," said Sajad Khan, who runs a shop outside the mosque where residents from nearby neighbourhoods would spend long hours during the holy month.
"There is no hustle and bustle to give you a feel of this month and make you forget for the time being all the troubles we go through," he told Al Jazeera.
Abdul Majid Mir, a daily wage earner from Payir village in south Kashmir's Pulwama, says the latest lockdown has doubled his hardships.
"I continue to struggle to find any work and have to feed a family of six," he told Al Jazeera. "Sometimes, I get work and have to settle for less money."
Mir said the usual festivities were missing this year. "We manage with whatever is available at home. We are under tremendous stress."
In the Muslim-majority region, the authorities broadcast video messages from religious scholars to sensitise people about staying in and praying at home.
"There is a hadith [Prophet Muhammad's sayings] that when a plague hits any place, people should stay wherever they are," said Mufti Khateeb, who leads prayers at the grand mosque in north Kashmir's Sopore.
Khateeb said people should offer prayers with their families and they will get the same reward. "Muslims everywhere should act with caution and stay in their homes," he told Al Jazeera.
Saleem Khan, who teaches social and preventive medicine at a government medical college, told Al Jazeera, "This is an unprecedented lockdown but the believers have a responsibility towards people and God."
https://www.aljazeera.com/news/2020/04/quiet-desolate-ramadan-kashmir-lockdowns-200429080157028.html
-------
Mideast
Kurdistan mosques to remain closed, as fate of curfew unclear
KhrushNajari
2 hours ago
ERBIL (Kurdistan 24) – The regionwide curfew the Kurdistan Regional Government (KRG) first imposed in mid-March was slated to end on Friday night. Despite new infections confirmed by health authorities, authorities have not announced another extension but said on Thursday that mosques would remain closed amid public calls for the reopening of places of worship.
"After discussing this topic among the head of the coronavirus committee, ministers of health, interior, and endowment and religious affairs, and provincial governors, it was not deemed right for mosque doors to be reopened," read a statement from the KRG combatting coronavirus committee.
The body outlined its reasons for maintaining the ban, citing a recent uptick in the number of new coronavirus disease cases, raising the risk large gatherings pose in spreading the virus faster and further.
The Minister of Endowments and Religious Affairs, Pshtewan Sadiq, has previously stated that places of worship would remain closed until the "threat of the virus has passed."
When the last curfew extension—which relaxed the measure—was announced on April 23, senior officials stressed that the virus remains a serious danger and warned that new outbreaks were still a possibility should the public fail to take necessary precautions to limit transmission.
Now, as health authorities continue to test suspected cases, they are confirming new infections. On Thursday alone, the regional Health Ministry reported it had recorded 14 new cases, raising the total to 380. Out of those, there are 48 active cases left, while six people have passed away due to coronavirus-related complications.
The disease was first reported by Chinese authorities in late 2019 and has since spread in over 180 countries worldwide. To date, it has infected over 3.25 million people and killed more than 233,000, according to government-reported data compiled by Johns Hopkins University. The actual figures could be dramatically higher due to insufficient testing capabilities or underreporting, particularly in countries that have weak health systems.
https://www.kurdistan24.net/en/news/d15960c8-56e9-409a-92b5-9154dc4c6a57
------
Israeli forces arrested 40 Palestinians during first 6 days of Ramadan
April 30, 2020
AhlulBayt News Agency (ABNA): The Ramallah-based Palestinian Center for Prisoners' Studies, said on Wednesday, that Israeli troops abducted 40 Palestinian residents, since the beginning of the holy month of Ramadan, last Friday.
Spokesperson for the center, Riyad Alashqar, was quoted as saying that the Israeli occupation forces have exposed lives of Palestinian prisoners to danger, by continuing to abduct them under the spread of the coronavirus, across Israel and the occupied Palestinian territories.
Alashaar strongly criticized the Israeli authorities for conducting their abductions during the holy month of Ramadan, in which Palestinian families celebrate, gathering together in prayer and around 2 important meals, one prior to beginning a fast, and the other to break the fast.
"Among those abducted during the holy month of Ramadan, were 6 Palestinian teens from occupied East Jerusalem. In addition, Israeli authorities in east Jerusalem summoned the wife of late Palestinian, Misbah Abu Esbaih and took her to the Maskoubiya interrogation center", the center's spokesperson maintained.
The Palestinian Center for Prisoners' Studies called on all relevant local and international prisoners institutions to pressure the Israeli government to halt all its oppressive policies against the Palestinian people, mainly the continued arbitrary arrest and imprisonment of Palestinian civilians.
https://en.abna24.com/news//israeli-forces-arrested-40-palestinians-during-first-6-days-of-ramadan_1031965.html
-----
Turkish agency distributes Ramadan aid in Ethiopia
30.04.2020
Turkey's state-run aid agency distributed food items to internally displaced people (IDP) in Ethiopia.
Mehmet Ali Yetis, the Ethiopia representative of the Turkish International Cooperation and Development Agency (TIKA), said the donation will help them during the Muslim holy month of Ramadan and through the COVID-19 pandemic.
Turkish Ambassador to Ethiopia Yaprak Alp was also present at the distribution ceremony held at Gelan IDP Center on the outskirts of capital Addis Ababa.
Abdella Siraj is a father of five and one of the beneficiaries. "This donation will keep us happy throughout the month of Ramadan," he told Anadolu Agency.
According to Abdella, the government rations to each member of a family 15kg of rice and a liter of oil every month, but that was not enough.
"I am a good mason and I know carpentry as well," he said, calling on the government to find a way of engaging the able-bodied IDP population in productive activities.
Isteriya Ahmed has been living at the center for the past three years. "The food we have been receiving from authorities is so scanty that I am forced to engage in the selling of Qat (a mild stimulant plant)," - a business which she described as unstable and not always profitable.
"That would help the country attract more foreign tourists," he said, adding his agency had also renovated a 1912 Turkish Consulate in the eastern city of Harar.
https://www.aa.com.tr/en/africa/turkish-agency-distributes-ramadan-aid-in-ethiopia/1824655
-------
A unique experience of observing Ramadan fast in space
Bassel Barakat
30.04.2020
First Arab astronaut Saudi Prince Sultan bin Salman said that he had observed Ramadan fast and offered prayers in space, while onboard the American Space Shuttle Discovery as a payload specialist.
Recording his experience in a book 35-years later, Prince Sultan said the shuttle was launched on June 17, 1985, which was also the 29th day of Ramadan. Though the late Mufti of the Kingdom Sheikh Abdulaziz bin Baz in a fatwa had exempted him from fasting during his space journey, he went ahead to experience the fast in an unchartered territory.
Regarding the fasting on the first day on the Discovery trip, which was swimming in space at an altitude of 387 kilometers (241 miles) above the surface of the earth, Prince Sultan said he felt tired, just because of lack of sleep. Under zero-gravity conditions, it is difficult to get a normal full sleep.
Observing the Florida calendar, he said that, though he felt drought and loss of fluid, he completed the day and broke fast with Chinese sweet and sour chicken.
Like other astronauts, he was supposed to have three meals a day taking steamed sweet corn, cauliflower with cheese, tuna, shrimp, salmon, meat, pasta, fruit salad, orange and pineapple juice, tea and decaffeinated coffee.
But the actual challenge was to offer prayers in the shuttle. "You had to fix your feet inside a special fastener to stand firm inside the shuttle, because of zero gravity," he wrote in his book titled Seven Days in Space.
"The prostration (sujood) was impossible, only a partial one was possible. Also, at this ambiance, prostration causes dizziness," he added.
"Allah gave me the blessing to recite the whole Quran in five days. After performing my daily tasks including scientific experimentation, photography, and follow-up of the launch of Arabsat, I dedicated a considerable part of my free time to recitation," said the Prince Sultan, son of King Salman bin Abdulaziz.
Expressing happiness for being the first Muslim and Arab astronaut, the Saudi prince said the crew who should have been sleeping, decided to stay with him at the time of breaking the fast.
"I invoked Allah to bestow success on us all in this challenging mission so that we honor the confidence of everyone who trusted us. The dawn prayer made me comfortable and optimistic," he said.
https://www.aa.com.tr/en/middle-east/a-unique-experience-of-observing-ramadan-fast-in-space/1824619
-----
Danish poet of Palestinian descent who criticized Muslims dies at 24
30 April 2020
COPENHAGEN, Denmark — A Danish poet of Palestinian descent who made headlines as a teenager in 2013 for a book that was critical of Muslims has died, his publishing house said Thursday. Yahya Hassan was 24.
His editor at Gyldendal, Simon Paternak, called Hassan's death "a disaster." The publishing house gave no further details. Although Hassan had received death threats, police said they did not immediately suspect a criminal act.
Pasternak paid tribute to Hassan's "insisting on having his own voice, defending his territory, finding his own place — despite what people thought."
Hassan's self-titled book has sold more than 120,000 copies since its publication. Most poetry books in Denmark sell fewer than 500 copies, according to the industry.
In his poetry, Hassan criticized what he claimed was a culture of hypocrisy underpinning Denmark's Muslim population. He pointed to his Palestinian immigrant parents and their generation as the reason why he quit school and committed petty crimes.
He also lashed out at Muslims for committing fraud with social benefits, beating their children and failing to integrate in Danish society while clinging to the Quran.
Police, asked about Hassan's death, would only say they were looking into the circumstances around the death Wednesday of a man in his 20s in Aarhus, western Denmark, where Hassan lived.
"There is currently nothing in our investigations to suggest that there has been a criminal act," a spokesman for the police told the BT newspaper on Thursday.
In December, Hassan published a second collection of poetry, but it did not receive the same attention as the first one.
https://www.timesofisrael.com/danish-poet-who-criticized-muslims-dies-at-24/
------
Man charged with hate crime over arson attack on Missouri mosque
30 April 2020
O'FALLON, Missouri — Prosecutors have charged a 42-year-old man accused of setting fire to a Missouri mosque last week with a hate crime and other counts.
Nicholas Proffitt, who spent time in prison for defacing the Islamic Center of Cape Girardeau more than a decade ago, was due to appear in federal court Thursday for an initial appearance on a charge of maliciously damaging a buildings by means of fire in last week's attack.
Proffitt was charged Tuesday with three state counts stemming from the fire: first-degree burglary, first-degree arson and first-degree property damage motivated by discrimination, which is a hate crime.
The fire was discovered shortly before 5 a.m. on April 24, at the outset of the Muslim holy month Ramadan. The US Attorney's office in St. Louis said the center's video security system showed Proffitt throwing several objects through a window, then throwing two containers into the center through the broken glass.
According to federal prosecutors, Proffitt stepped into the building through the broken window, picked up the containers and began pouring an apparent liquid accelerant before he lit a fire that began immediately.
"To people of faith in our nation, houses of worship are sacred places," Assistant state Attorney General Eric Dreiband said in a statement. "Attacks against houses of worship are attacks against people of faith and their right to exercise their religion freely and without fear."
Proffitt, who is from Cape Girardeau, a city in southeastern Missouri across the border from southern Illinois, does not have a listed attorney. In 2009, he pleaded guilty to state charges for throwing rocks that damaged the same mosque and a vehicle in the parking lot. He was sentenced to three years in prison.
https://www.timesofisrael.com/man-charged-with-hate-crime-over-arson-attack-on-missouri-mosque/
-----
Arab world
Pandemic isolation scuppers traditional Ramadan rituals for Turkish Muslims
MENEKSE TOKYAY
May 01, 2020
ANKARA: The coronavirus disease (COVID-19) outbreak in Turkey has scuppered traditional daily social routines for Muslims during the holy month of Ramadan.
With the country's death toll from the virus on Thursday having reached 3,081, Turkey's top religious body the Directorate of Religious Affairs was taking no unnecessary risks over the fasting period.
And the country's tourism sector was also expected to see a huge slump in trade over the Ramadan with travel restrictions forcing many Gulf visitors to cancel trips.
This year, Turkish Muslims will experience big changes to their Ramadan rituals. The breaking of the fast, for instance, usually involving gatherings at home or in large public spaces will for some worshippers be reduced to solitary affairs and iftar street events being planned by municipalities will have to be shelved.
For Istanbul's newly elected secular mayor, EkremImamoglu, who has strong religious credentials, dealing with Ramadan amid the COVID-19 crisis will be a significant challenge.
Prof. HalilAydinalp, an expert of sociology of religion from Istanbul's Marmara University, said Turkish people were likely to experience some sociological changes during Ramadan due to social distancing measures introduced to stop the spread of COVID-19.
"The rituals of Ramadan are generally held in common. This year, it cannot accomplish its function of uniting people as in past years. But our religion provides room to maneuver for such imperatives that are out of human control because Islam is a rational religion that considers changing social dynamics such as pandemics," he told Arab News.
Aydinalp pointed out that social isolation for Muslims during the holy month of fasting was likely to push them toward new individual experiences, becoming reflective with a strong feeling of devoutness, rather than engaging in the community spirit that normally comes with common rituals such as extended prayers made in congregation.
"In terms of social solidarity, Muslims in Turkey who can afford it are likely to help the needy through bank transfers during Ramadan time," he said.
Amid curfews, reduced shop opening hours, and shortages of food items such as rice and pasta in some districts, experts noted that needy members of society would require help in stocking up for Ramadan.
With fundraising events being canceled due to restrictions on movement, online donation websites could offer an alternative way to reach out to fellow Muslims.
"Turkey's Directorate of Religious Affairs should play a guiding role for these people. But there are also some excited religious groups living in Turkey's remote villages who themselves compete with this top religious body.
"At this point, media can have a complementary role by providing people with thematic religious programs for boosting their religious feelings and sense of belonging to a community," he said.
Turkey's tourism trade has also been hit by the COVID-19 outbreak, with many restaurants, especially in Istanbul and Cappadocia, having seen a dramatic slump in takings.
BulutBagci, head of the World Tourism Forum Institute, said Turkey would be unable to host Arab tourists during and possibly after Ramadan due to travel restrictions.
"The touristic food and beverage sector will be halted because it will have no foreign clientele for a long time. Turkey was hosting about 2 million tourists from the Gulf region under normal circumstances. Even luxury restaurants in the touristic hotels where large iftar gatherings were being held are closed to diminish the risk of the virus contagion," he told Arab News.
Turkey's tourist industry employs around 1 million people, but flight and holiday cancelations during Ramadan are already predicted to shrink the sector by up to 80 percent.
https://www.arabnews.com/node/1667701/middle-east
-----
Egyptian prime minister says rise in coronavirus cases due to overcrowded shops before Ramadan
30 Apr 2020
Mohamed Soliman
Egyptian Prime Minister Mostafa Madbouly has said that the increase in coronavirus cases nationwide is a result of overcrowding in the period leading up to Ramadan, which began on Friday.
He said that the pre-Ramadan period saw crowding at markets and in shops, according to the government's estimations.
Egypt saw 269 new cases on Thursday, bringing the total so far to 5,537, including 392 fatalities.
The country hit the 1,000-case mark on 4 April, and surpassed the 5,000 mark on 28 April.
The government has shortened the nighttime curfew instituted in March by one hour for Ramadan, so that it now begins at 9pm instead of 8pm.
During a video conference on Thursday, Madbouly called on governors to intensify efforts to implement the coronavirus precautionary measures during curfew times, focusing also on pre-curfew hours, which have seen crowding and caused the disease to spread, he said.
He urged governorates to coordinate with municipal security authorities in this respect.
The holy month of Ramadan typically sees a surge in shopping activity, particularly for food and drink products.
Egypt imposed a set of health measures in March after the detection of the first infection locally in February.
It has halted public gatherings, including shuttering schools, restaurants, mosques and churches.
The government has indicated that it will take steps to return to normal life after the Eid Al-Fitr religious holiday, which marks the end of the holy month.
http://english.ahram.org.eg/NewsContent/1/64/368393/Egypt/Politics-/Egyptian-prime-minister-says-rise-in-coronavirus-c.aspx
-------
Lebanese reminisce about war years during Ramadan
Sunniva Rose
April 30, 2020
The 15-year long Lebanese civil war is best remembered as a traumatic experience never to be repeated.
Nearly 200,000 people died during the conflict that pitted neighbours against each other, exacerbated sectarian divisions and created deep wounds that, many say, never properly healed.
But as Lebanon sinks deeper into the worst financial crisis in its history, a recurring theme keeps cropping up in news coverage of the country's plight: many Lebanese think that life today is worse than during the war that ended 30 years ago.
This is not nostalgia for war, observed Azzam Awaida, a gynaecologist from the northern city of Tripoli: it's "nostalgia for life during the war."
Last week, Mr Awaida reminisced about the war with close friends and family as they enjoyed coffee and sweets after Iftar. Their memories were infused by a strong sense of camaraderie that blotted out the hardships of life back then, when, as young teenagers, their life was suddenly turned upside down.
"My late father asked each building resident, when the street watchmen started guard duty at 7pm, to prepare two packed meals for the guards because they were fasting. Residents would deliver soup, potato, kofta, bread, orange and kharroub [carob] juice, sweets," said Mr Sayegh. "We used to put our efforts together in a way no one could know the source of the food or help. All people were united."
"Today, I only take 5 minutes to walk the one kilometre between my flat and my office. At the time, it took me 2 hours, as I saluted everyone," bemoaned Mr Sayegh, who started working at 17 years old in customs at Beirut's port and airport.
Music also played an important part in Mr Sayegh's memories. In 1976, a neighbour, who had a habit of blasting a song by famed Egyptian singer Umm Kulthum called "the night of Eid" on the last day of Ramadan, played it one day too early. "Half the people stopped fasting, thinking Ramadan had ended" laughed Mr Sayegh.
Sitting at the same table, Naeya, 61, concurred. "There were bombs and explosions, but life was better than now," she said. "We were happier."
And this was despite enormous challenges that were part of everyday life in Tripoli, including power cuts and fighting between Palestinians and their Lebanese allies against Syrian forces that occupied the small Mediterranean country at the time.
"It was difficult. We used to not get a lot of food because of power cuts," said Naeya. "During ceasefire, we used to go to the market. The market was bountiful. Everything was available."
Naeya, who declined to give her full name, also had terrifying tales of unexploded rockets falling through her roof and of running from bullets while dodging dead bodies lying on the street.
But still, she said: 2020 is "the worst year ever." The coronavirus pandemic has compounded the feeling of despair caused by the predating financial crisis. "Everything has become more expensive and the poor are unable to buy" food, she added.
"This is not an exaggeration," said Mr Sayegh. "This is the first Ramadan that people are not out all night buying foul, hommos, special kaak bread, orange juice, or smoking shisha in cafés," he observed. "They are afraid."
For retired sociologist WaddahCharara, Lebanon's civil war represented a break with normal life that was welcomed by many, especially at its beginning.
Today, isolation makes confinement less alluring. Though several generations still often live together in Lebanese households, the young tend to increasingly move away. "Neighbours have little relation to each other," said Mr Charara.
However, there are many other reasons that explain why people adapted more easily to life during the civil war than to today's health and financial crisis.
Cash flowed freely into the country, as militias received financial support from abroad, explained Mr Charara. Revolutionary pan-Arab left-wing movements blossomed throughout the region. Mass migration from the countryside to the city was still recent or underway, so many Lebanese were used to hardship and deprivation.
The current economic crisis pushed hundreds of thousands of Lebanese to the streets last October in protest. Though demonstrations dwindled with time, they picked up again this week as the local currency rapidly lost value and banks increased restrictions on access to money.
In Tripoli, rioters torched banks and fought with security forces, leading to the death of a 26-year old mechanic on Tuesday and further angering protesters across the country. "We are hungry," people chanted.
Last March, the government defaulted on its foreign debt for the first time ever. Absorbed with the coronavirus pandemic, foreign countries are not keen to help. Nearly half the population is poor, according to official estimates.
Back in Tripoli, Mr Sayegh and his friends are still part of Lebanon's shrinking middle class. But even they have started feeling the pinch.
"It would be impossible to buy a house. And it would be difficult for me to buy a car. Banks do not lend money anymore," said his neighbour, Hisham Nazer, an endocrinologist.
"Nobody believes that the current crisis is the beginning of more justice, equality, or fairer politics. We only have more difficulties and obstructions as a horizon," Mr Charara concluded.
https://www.thenational.ae/world/mena/lebanese-reminisce-about-war-years-during-ramadan-1.1013332
-----
Europe
Belfast's Muslims fast at home during the holy month of Ramadan as mosque remains closed
Lauren Harte
May 01 2020
Members of Belfast's Muslim community have said the city's mosque will stay closed in line with government guidelines.
Like other religions, Belfast's Islamic Centre has suspended all prayers and activities until further notice due to the Covid-19 pandemic, which means no congregational daily prayers, a particular challenge during this holy month of Ramadan.
Muslims normally fast during daylight hours and come together for prayer and reflection in mosques during Ramadan.
Naomi Green of the Belfast Islamic Centre in Wellington Park in the south of the city said: "Of course we wish we could open for taraweeh prayers but our responsibility is community safety which means unfortunately our mosque remains closed.
"This decision was not taken lightly and was based on the Islamic principle that 'aversion of harm takes priority over acquisition of benefit'.
"Instead we are encouraging people to pray at home and are offering online talks as well as delivering food to more vulnerable members of our community, which is all being done in a socially responsible way.
https://www.belfasttelegraph.co.uk/news/northern-ireland/belfasts-muslims-fast-at-home-during-the-holy-month-of-ramadan-as-mosque-remains-closed-39171745.html
------
German mosque delivers Ramadan meals to non-Muslims in need
April 30, 2020
WUPPERTAL, Germany – A mosque in the western German city of Wuppertal is delivering meals to elderly Muslims unable to break the fast with their families due to lockdown as well as to non-Muslims struggling to make ends meet.
Volunteers at the mosque, run by one of Germany's largest associations of mosques (DITIB), provide meals to anyone who places an order.
"People can't go to the mosque so it's really nice that they deliver it to my home," said NazmiyeOdabasi, leaning over her window sill to pick up a sealed meal box, her hair covered with a small blue scarf.
Mustafa Temizer, a member of DITIB in Wuppertal, said the mosque had originally planned to deliver 1,000 meals a day to impoverished residents of the city who rely on food banks that were forced to close by the pandemic.
But as food banks reopened this month and Ramadan started last week, the mosque decided to deliver meals financed by donations to both Muslims breaking their daily fast at sunset and non-Muslims in need. Some 300 meals are delivered each day.
Enlarge ImageTurkish volunteer Ural Hasan, 55, of the Iftar-to-go-food delivery service of a mosque, hands out a meal to a person in need during Ramadan in Wuppertal, Germany.
"We are not just serving members of our community but we are working with the city of Wuppertal," said Temizer, standing near his silver car emblazoned with a sticker reading 'Iftar delivery.'
"We added a lot of people in need to our list and we deliver to them too. They really appreciate it of course and the more people are hearing about this, the more sign up."
Mosques, churches, synagogues and other houses of worship will be allowed to open their doors to the faithful starting on May 4 under hygiene rules that include limiting the number of people to 50.
https://nypost.com/2020/04/30/iftar-to-go-german-mosque-delivers-ramadan-meals-to-needy-non-muslims/
-----
CAIR Slams General for 'Revolting Promotion of the Anti-Muslim Trope That Muslim Youth in UK Engage in Sex Crimes'
BY ROBERT SPENCER
APR 30, 2020
The Hamas-linked Council on American-Islamic Relations (CAIR) is enraged over President Trump's reported nomination of Ret. Army Brig. Gen. Anthony J. Tata to be undersecretary of defense for policy. In a CAIR press release Wednesday, CAIR's Director of Government Affairs, Robert S. McCaw, fumed: "Tata's revolting promotion of the anti-Muslim trope that Muslim youth in Britain engage in sex crimes as a rite of passage and that Islam is a perceived threat to the West makes him totally unfit to serve as the Pentagon's policy chief."
Wait a minute. It's an "anti-Muslim trope" that "Muslim youth in Britain engage in sex crimes as a rite of passage"? McCaw is banking on the ignorance of the public. The phenomenon of Muslim rape gangs in Britain is well known to those who dare to face the facts.
The Guardian reported in October 2014 that "sexual exploitation of vulnerable children has become the social norm in some parts of Greater Manchester." The perpetrators were overwhelmingly Muslim men, as in Rochdale, where a group of Muslims were involved in a large-scale sex trafficking ring involving young non-Muslim girls.
In the British town of Rotherham, Muslim gangs brutalized, sexually assaulted, and raped over 1,400 young British girls, while authorities remained extremely reluctant to say or do anything in response, for fear of being labeled "racist." Rotherham officials "described their nervousness about identifying the ethnic origins of perpetrators for fear of being thought as racist; others remembered clear direction from their managers not to do so."
And what were the ethnic origins of those perpetrators? The Guardian report didn't mention it (which in itself was telling), but 75%, and probably more (since it was so politically unacceptable to report such things) of these rape and sexual exploitation gangs were "Asian," which is the British media's euphemism for "Muslim."
According to official figures released in December 2019, over 18,700 children had fallen prey to grooming and rape gangs in Britain during the previous year. This was up from some 15,000 victims in 2014.
Former Home Secretary Sajid Javid noted that the perpetrators included a "high proportion of men of Pakistani heritage." That's why the British authorities were so slow to act. The mother of one rape gang victim noted that South Yorkshire Police "would not listen and left you in dangerous situations, letting people do what they wanted and they never questioned anybody about what was happening." One South Yorkshire Police official even told this victim's father that the perpetrators could not be prosecuted because of who they were: "With it being Asians, we can't afford for this to be coming out." The official also observed that the rape gangs had been operating freely in Britain for thirty years.
Politicalite "reported in 2018 that ex-North West Chief prosecutor alleged that the Home Office ordered police to ignore grooming gang claims in 2008 – though Home Secretary Jacqui Smith had nothing to do with the order." The news site also noted that Nazir Afzal, who "successfully prosecuted the notorious Rochdale rape gang told the BBC in 2018 that in 2008 the Home Office sent a circular email to all police forces calling on them to not investigate the sexual exploitation of young girls in towns and cities across the UK." Said Afzal: "You may not know this, but back in 2008 the Home Office sent a circular to all police forces in the country saying 'as far as these young girls who are being exploited in towns and cities, we believe they have made an informed choice about their sexual behaviour and therefore it is not for you police officers to get involved in.'"
Twelve years later, the same reluctance to face this problem was still prevailing. In January 2020, the Daily Mail reported that according to a "damning" new report, "sex attacks on young girls by Asian grooming gangs were ignored by police fear of stoking racial tensions, a damning report has ruled." The Birmingham Mail reported in November 2014 that Birmingham's City Council buried a report about Muslim cab drivers exploiting non-Muslim girls back in 1990. A researcher, Dr. Jill Jesson, drafted a report on this issue. But, she explained, "the report was shelved, buried, it was never made public. I was shocked to be told that copies of the report were to be destroyed and that nothing further was to be said. Clearly, there was something in this report that someone in the department was worried about."
So who is Robert McCaw trying to kid? Why, everyone. And if he keeps this up, he may end up getting a plum position in the British government.
https://pjmedia.com/culture/robert-spencer/2020/04/30/cair-slams-general-for-revolting-promotion-of-the-anti-muslim-trope-that-muslim-youth-in-uk-engage-in-sex-crimes-n386928
-----
Danish Police Thwart Preparations For Islamist-Inspired Attack: Statement
APRIL 30, 2020
COPENHAGEN (Reuters) - Danish police, security and intelligence officials carried out a police operation to thwart preparations for an Islamist terrorist attack, police said in a statement.
Police provided no further details but said they would hold a news briefing on Thursday at 1430 GMT.
https://in.reuters.com/article/denmark-security/danish-police-thwart-preparations-for-islamist-inspired-attack-statement-idINKBN22C2P9?rpc=401&
-------
North America
American Islamophobes React to Coronavirus Pandemic with Anti-Muslim Bigotry
April 30, 2020
As the coronavirus continues to spread, American anti-Muslim ideologues are propagating a range of conspiracies aimed at stoking fear, claiming Muslims are defying social distancing rules and/or actively trying to spread the virus.
Some of this anti-Muslim propaganda is linked to India, where the international Islamic group Tablighi Jamaat held a meeting just as the virus began spreading throughout the country. The group was deemed a virus "super-spreader" after thousands of conference attendees tested positive. As a result, many Indian politicians and media outlets blame the country's Muslim population for the widespread outbreak, including accusing Tablighi Jamaat of engaging in a deliberate conspiracy to spread the virus.
American Islamophobes were quick to pick up on this anti-Muslim propaganda and misinformation. Karen Rebelo, deputy editor at Boom, an Indian fact-checking website, told BuzzFeed News that in India "the narrative being spread is Muslims will always follow Islamic laws over the rule of law" and "the other line of thinking is that Islam wants to punish kaffirs (nonbelievers) and actively spreading the virus would get rid of them."
Islamophobe Raymond Ibrahim wrote a similarly alarmist piece for FrontPage Mag, a right wing conspiratorial and Islamophobic online magazine founded by anti-Muslim activist David Horowitz. Ibrahim, who is also a fellow at the David Horowitz Freedom Center, an ultra-conservative organization that claims to combat the efforts of the "radical left and its Islamist allies to destroy American values," wrote in an April 1 post that Muslims are "encouraging other Muslims to come into contact with each other" and are "protesting the idea of temporarily closing mosques," adding that Muslims believe "nothing associated with Islam and especially Islamic worship can get them sick."
AnjuliPandavar, who describes herself as a "former Muslim," wrote in a piece published March 25th on FrontPage Mag that if she were still a Muslim, she would not have let a doctor examine her because Muslims believe Allah protects them and that "Sharia determines that a Muslim shall not submit to an infidel."
In the same post, Pandavar suggested that Muslims, asked by doctors about possible COVID-19 symptoms, might refuse to be tested because of a belief in divine protection or a refusal to submit to tests by non-Muslims. Pandavar concludes that if she were a Muslim who was asked to submit to a coronavirus screening, she might have "pulled out a knife, screamed 'Allahu akbar!' and stabbed the doctors." She added, "Allah would have been pleased with me." Similarly, in a March 16 post on his conspiratorial, Islamophobic website called Jihad Watch, leading Islamophobe and right-wing conspiracy theorist Robert Spencer claimed that Muslims in India refused a coronavirus test because "Islam does not permit such tests."
Also on Jihad Watch, frequent contributor Hugh Fitzgerald claimed in a March 30 post that Islam encourages its adherents to be "less willing to modify their behavior to diminish the risk of transmission" of the coronavirus. "If the virus is a way for Allah to punish some and to save others, there's less felt need to follow government warnings about social distancing," he wrote. In a March 28 article on the right-wing news site PJ Media, Robert Spencer echoes this by claiming that Muslims believe "coronavirus is for infidels" because "a hadith attributed to Muhammad accords martyr status to those who die in a plague."
Some Islamophobes claim that Muslims are actively trying to spread Covid-19. In a March 29 Facebook post, the Idaho chapter of the Islamophobic group ACT for America called on the Pope to condemn "the evil of Islam for doing all it can to spread COVID19 around the world because engaging in Civilization Jihad is the only hope Muslims have of maybe getting in to 'heaven'." In a March 22 article on PJ Media, Robert Spencer writes that Muslims are going so far as to practice "coronavirus jihad" because an activist known to be a vocal opponent of Egyptian president Abdel-Fattah el-Sisi encouraged Muslims who have "flu-like symptoms" to try to spread any possible disease to members of the Egyptian government. During an April 18 webinar on The Glazov Gang, a web show produced by the David Horowitz Freedom Center, host and anti-Muslim activist, Anni Cyrus, asked Robert Spencer about the possibility that Muslims as a whole would "weaponize the virus." Spencer said that "there's no way to ensure that Muslims in the U.S. don't pick up on that. Somebody might and there might be some kind of an attack."
Some writers, including Raymond Ibrahim in his April 1 FrontPage Mag article, attempt to support their Covid-related anti-Muslim rhetoric by claiming that Muslims adhere to theological doctrines which encourage "irrational aversion for 'infidels'," making Muslims more likely to willingly spread the disease to non-Muslims. AnjuliPandavar similarly writes in her March 25 FrontPage Mag article that Islamic theology encourages Muslims to be cavalier about potentially spreading the disease to non-Muslims. According to Pandavar, Muslims believe "If it is Muslims I'm infecting, Allah will take care of them. If I'm infecting infidels, then Allah will be pleased with me."
Dick Mannesseri, the co-founder and co-host of Sharia Crime Stoppers, a daily web program from Florida-based anti-Muslim organization The United West, exploits this same misinterpretation. During the March 24 episode, Mannesseri said that all Muslims adhere to a "seventh century mentality that Allah wants you to spread this kind of disease, and you will be rewarded."
https://www.adl.org/blog/islamophobes-react-to-coronavirus-pandemic-with-anti-muslim-bigotry
------
Cincinnati religious groups want taxpayer bailout: Even clergy salaries could be covered
April 30, 2020
Sometime soon, a Catholic school teacher in Cincinnati, an accountant at a mosque in West Chester and an executive at a Jewish temple in Amberley Village may all draw their paychecks from the same source.
It won't be from donations or fees from fellow believers, or from endowments or gifts from faithful benefactors.
The money to pay their salaries will come instead from American taxpayers, who, for the first time, are providing financial relief to religious groups just as they would to any other small business.
It's an extraordinary measure during an extraordinary time: As part of the $2 trillion federal response to the coronavirus pandemic, even the salaries of pastors, rabbis and imams can be paid with taxpayer money. The line between church and state in America has shifted before, but rarely so dramatically.
No one is sure yet who will get the money – the government accepted a second round of applications this week – but many of the largest religious institutions in the Cincinnati region are seeking cash from the bailout.
The Catholic Archdiocese of Cincinnati, along with some of its 100 schools and 200 parishes, has applied for government help. So has the Isaac M. Wise Temple and the Islamic Center of Greater Cincinnati as well as Presbyterian and Episcopal churches throughout the region.
None were willing to disclose the amount they are seeking or how, exactly, they would spend the money. But they indicated the bailout would support salaries for staff who work in schools, administration and their respective houses of worship.
All have taken financial hits, they say, because of the pandemic and the economic shutdown that has accompanied it. Donations have plummeted. Weekly collections have dried up. Church festivals have been postponed. And once-a-year contributions that typically roll in during the holiest days of the year, such as Easter, Passover and Ramadan, have been lost to social isolation and stay-at-home orders.
"It is a very challenging and trying time, to say the least," said Amir Izhar, chairman of the board for the Islamic Center in West Chester. "Religious institutions are not spared."
This was essentially the argument the Trump administration made in March when it wrote the rules on who would be eligible to receive forgivable bank loans up to $10 million backed by the Small Business Administration.
The rules consider struggling religious groups small businesses like any other. Most have scaled back operations during the pandemic, often at the urging of government officials, and many have lost income and laid off employees. Some are in danger of bankruptcy or foreclosure.
Supporters of the bailout say it's akin to government aid workers responding after a hurricane, or firefighters showing up to fight a three-alarm blaze. It isn't an unconstitutional government support of religion, they say, it's a reasonable response to an unprecedented emergency.
Russell Moore, president of the public policy arm of the Southern Baptist Convention, made the case for government relief in a March 31 letter to pastors around the country.
"Right now, a church that catches fire would call the local fire department," Moore wrote. "This is not 'government support' of that church."
The clause, in theory, protects Americans from living under a theocracy while ensuring religious people can practice their faith free from government interference.
It's also the source of never-ending debate by the nation's culture warriors, who often disagree on where to set the boundaries between church and state.
The trend in recent decades has been toward a more permissive approach, at least in terms of allowing tax dollars to flow to religious organizations. School vouchers now steer billions of tax dollars every year from public schools to private and religious schools, and religious charities now receive government grants that once went only to secular social service groups.
The bailout, also known as the Paycheck Protection Program, goes further. Under its terms, low-interest, forgivable loans can fund the salaries of those whose work is expressly religious, such as a Catholic priest or a Jewish rabbi. That's never happened before.
"It does seem to me to lower the wall even further," said Charles Haynes, founding director of the Religious Freedom Center in Washington, D.C. "If the establishment clause means anything at all, it means no government funding of religion.
Some religious leaders are concerned, too. They say government money sometimes comes with government rules that might compromise their independence, if not this time, maybe the next.
The bailout, for example, requires groups to provide documentation showing the money was spent to preserve jobs before the loans can be forgiven. In other words, the government gets to see their financial books, or at least parts of them.
A letter to the Small Business Administration from six progressive groups, including religious organizations, warned in early April that the bailout could bring unintended consequences for both religious institutions and the government. They were especially concerned about using forgivable loans to pay clergy.
"Although it may not seem easy in times like these," the groups wrote, "the bar on government funding of religious activities is an important limitation that exists to protect religious freedom for all."
At least some of those seeking bailout money say they recognize the risk, but they say dire circumstances require them to consider measures they ordinarily wouldn't.
"There's a distinction between that which supports a religious organization and that which is supporting employers," said Rabbi Lewis Kamrass, who leads the Wise Temple. "We were looking for ways to keep people employed."
The Islamic Center's Izhar said the mosque is taking a similar approach. "This is a business aspect of a religious institution," he said of the center's application for a loan.
The Presbytery of Cincinnati, the Episcopal Diocese of Southern Ohio and the Archdiocese of Cincinnati all confirmed that some of their congregations and parishes have applied for loans through the bailout program.
They said the decision to apply had to be made quickly, within a few days of the program's creation, so it's unclear who will get money or precisely how it will be used. What is clear, they say, is the need for help.
At the Archdiocese of Cincinnati, the money could go to parishes, schools and the archdiocese itself. All have applied for loans, said Mike Schafer, spokesman for the archdiocese.
Typically, small businesses are defined as those with fewer than 500 employees. But the bailout rules allow individual churches and schools to seek help on their own, even if they are part of a much larger religious institution, such as the archdiocese.
Similar rules for secular businesses have caused controversy as some big companies, such as restaurant chains and even the Los Angeles Lakers, applied for and received loans while smaller businesses were rejected.
There also has been concern about accountability and transparency, because neither the government nor lenders has disclosed the loan recipients. Some details have shown up in regulatory filings or public tax documents, but religious groups are protected from many of those public disclosures.
So far, no one has gone to court to challenge the inclusion of religious groups in the bailout. Haynes of the Religious Freedom Center thinks some who might consider it are hesitant because of the circumstances: a national emergency that is impacting businesses and religious organizations in much the same way.
The real test, he said, could come later, when the emergency is over and the permissiveness allowed by the bailout either fades away or becomes a new standard for the relationship between church and state.
"We've been seeing a kind of erosion of this separation," Haynes said. "Fewer and fewer safeguards have been put in place to stop government funding of religion."
https://www.cincinnati.com/story/news/2020/04/30/coronavirus-bailout-churches-mosques-and-synagogues-seek-tax-dollars/3055731001/
-----
Denmark Foils Imminent 'Islamist Motive' Terror Gun Plot, Arrest Made
OLIVER JJ LANE
30 Apr 2020
Copenhagen police say they "averted a terrorist attack" Thursday with the arrest of a man with alleged Islamist motives in the morning.
A "coordinated police action" took place in the Danish capital city Thursday, allowing the security services to thwart "a terror attack with a militant Islamic motive", they said.
A joint press conference between Copenhagen Police and the Danish Security and Intelligence Service Thursday afternoon on the front steps of the city's central police station was frustratingly short of detail, reports national newspaper Jyllands-Posten, which noted even the officers speaking accepted that the event was predominantly refusing to answer journalist's questions.
Nevertheless, they revealed the man they arrested earlier Thursday had a "militant Islamist motive" and was "suspected of attempting to obtain firearms and ammunition to carry out a terrorist operation somewhere." Nevertheless, the spokesman said: "You must not doubt that [the Danish Security and Intelligence Service's] efforts have made us avert a terrorist attack."
Denmark, a small northern European state with less than six million, has seen a number of terrorist incidents and plots frustrated by the security services in recent years. In 2015, Copenhagen was hit by a radical Muslim gunman who attacked first a freedom of speech event and secondly a Jewish museum in the city.
The country's liberal attitude to freedom of speech appears to be a massive aggravating factor for Islamists in the nation, with cartoonists and newspapers daring to criticise Islam becoming the targets for violence. These events follow from the publication in Jyllands-Posten in 2005 and 2006 a series of cartoons of Islamic prophet Muhammad.
A large terror cell was raided by the Danish Security and Intelligence Service in 2019 when 20 people were arrested. All were described to have "a militant, Islamist motive", and were said to be acquiring firearms and explosives.
Earlier this year, a radical Islamic extremist who plotted to massacre the staff of the Jyllands-Posten in 2010 was released from a Swedish prison. It was reported at the time that the man was given his freedom despite having continued to plot attacks while in jail, with instructions on how to make a bomb and a map of Copenhagen's public transportation system being found in his cell.
https://www.breitbart.com/europe/2020/04/30/denmark-foils-imminent-islamist-motive-terror-gun-plot-arrest-made/
----
Armed US protesters enter Michigan capitol to demand coronavirus lockdown end
1 MAY 2020
Demonstrators, including some carrying guns, entered the capitol building in the US state of Michigan on Thursday and demanded the Democratic governor lift strict coronavirus lockdown orders, as some lawmakers reportedly donned bulletproof vests.
"Directly above me, men with rifles yelling at us," tweeted Senator Dayna Polehanki along with a photo showing four men, at least one of whom appeared to be carrying a weapon.
"Some of my colleagues who own bullet proof vests are wearing them. I have never appreciated our Sergeants-at-Arms more than today," she continued.
"We do not agree with or consent to our unalienable rights being restricted or rescinded for any reason, including the Covid-19 pandemic," the group said on its private Facebook page, where it has more than 8,800 members.
"We believe that every American and every Michigander has the right to work to support our families, to travel freely, to gather for religious worship and for other purposes, to gather in protest of our government and to direct our own medical care."
The protest comes a day after a Michigan court ruled that stay-at-home directives issued by Whitmer on March 24 do not infringe on residents' constitutional rights, according to local media reports.
It was the second time this month that protesters have demanded Whitmer lift lockdown restrictions in the state, which has seen more than 3,500 people killed by the coronavirus, according to a tally by Johns Hopkins University.
On April 16 around 3,000 protesters, some of them also armed, descended on Lansing for "Operation Gridlock," causing a massive traffic jam around the capital building.
A militia group with no political affiliation from Michigan stands in front of the Governor's office after protesters occupied the state capitol building CREDIT: REUTERS
Whitmer, whose name has emerged as a potential running mate for presumptive Democratic presidential nominee Joe Biden, shrugged those protests off, telling CNN it was "OK to be angry."
"I've said it before, and I'll say it again – Michigan is an extraordinary place to live because of the people who call it home. There are millions of Michiganders doing their part to slow the spread of Covid-19 every single day. We are going to get through this together," she tweeted later Thursday, without commenting directly on the protests.
https://www.telegraph.co.uk/news/2020/05/01/armed-us-protesters-enter-michigan-capitol-demand-coronavirus/
------
Africa
Ramadan: Ex-Lagos Deputy Governor, Adebule, Greets Muslims
May 1, 2020
She said the commencement of Ramadan provided a unique opportunity for Muslims to support the global effort to end the COVID-19 pandemic with fervent prayers to Allah for mercy.
She particularly called on all Muslims to see the pandemic and its global impact as a warning from Allah that "we need Him for our existence and sustenance and that our human might and power cannot withstand the weakest of His trials."
She, therefore, urged Muslims to be more God-conscious and "even though movements and congregations are advisedly restricted at this time, we must continue individually and as a nuclear family to continue the observation of our five daily prayers, taraweeh, increased recitation of the Qur'an, supplications and remembrance of Allah as well as shunning sinful and inappropriate actions that could aggravate the already bad situation."
Dr Adebule reminded Muslims to observe all precautions against the spread of coronavirus as advised by the government and health experts.
"The prescription of physical distancing, use of face mask when going out and especially washing of hands and covering our mouth and nose when coughing or sneezing should not be strange or difficult for Muslims as these have been prescribed more than 1,400 years ago by the Holy Prophet Muhammad (SAW)."
She commended the frontline workers for their dedication and bravery in putting their lives on the line "for the rest of us to have our own lives" and prayed Allah to protect them and their families.
She also commended the Presidential Task Force (PTF) on COVID-19 for their daily briefings and efforts in the management of the pandemic.
The PTF briefings, she said, have kept Nigerians and the international community up-to-date on the actions of the government in mitigating the impact of this global health challenge in Nigeria.
The former deputy governor praised Governor BabajideSanwo-Olu and his team for being proactive and decisive in containing the dreaded virus.
https://tribuneonlineng.com/ramadan-ex-lagos-deputy-governor-adebule-greets-muslims/
-----
Kaduna's Sultan Bello Mosque Will Remain Closed Even If Lockdown Is Lifted —Chief Imam
May 1, 2020
THE Chief Imam of Sultan Bello Mosque, Kaduna, Dr Suleiman Adam, has said that the mosque will remain closed even if the lockdown imposed by the Kaduna State government is lifted.
He stated this while fielding questions from newsmen about the position of the mosque's leadership as regards the COVID-19 pandemic and the government's measure.
"COVID-19 is a very serious issue that we need to take very seriously. We have to protect those who come to pray and observe other religious obligations. Here, we don't play with human lives. It is a religious duty.
"So, as far as I am concerned, even if the lockdown is lifted, the mosque will remain closed until we are convinced that the disease is under control and one can associate safely with other members of the public," Imam Adam said.
He said the mosque was in support of the government directive that all places of worship suspend all activities that attract large crowds of people in order to avoid the spread of coronavirus.
According to the cleric, as soon as the government handed down the directive, an extensive meeting of the mosque's management committee was held where the stakeholders came up with the resolution to suspend all activities in the mosque, including the five daily prayers, the Friday prayer and the annual Ramadan tafsir until further notice.
Speaking on the lockdown of some states in the country, Dr Adam said the Federal Government even delayed in taking a swift decision.
According to him, from the day the first case was recorded in Nigeria, the county's land boarders and airspace should have been closed and "the disease wouldn't have ravaged the country as we are seeing presently."
He urged well-to-do Muslims to deploy their wealth in these critical times and assist the vulnerable members of the society as the government cannot do it alone.
The cleric advised people to hearken to medical experts' advice as regards wearing of face masks, regular washing of hands and staying away from crowded places.
https://tribuneonlineng.com/kadunas-sultan-bello-mosque-will-remain-closed-even-if-lockdown-is-lifted-chief-imam/
-----
Libya's UN-recognized govt rejects rival Haftar's offer of Ramadan truce
30 Apr, 2020
The Tripoli-based government of Libya has rejected a truce offer from rival military commander Khalifa Haftar for the month of Ramadan, saying it "did not trust" the pledge made by its eastern-based adversary.
In a statement issued Thursday, the UN-recognized Government of National Accord (GNA) insisted it would continue "legitimate self-defense" and would attack "any threat." It also apparently referenced Haftar's Libyan National Army (LNA), saying it would "put an end to outlaw groups."
The LNA, which controls swathes of eastern and southern Libya, launched an offensive to seize the capital Tripoli in April last year. On Wednesday, it announced a ceasefire for the Muslim holy month of Ramadan, adding that the temporary cessation of violence came at the request of the international community and "friendly countries." The LNA spokesperson also said that any truce violations by the GNA would be met with an "immediate and harsh response."
Libya has suffered almost a decade of major political and military upheaval, after the US-led NATO operation in 2011, which ousted long-time ruler Muammar Gaddafi, sent the country spiraling into civil war.
https://www.rt.com/newsline/487466-libya-gna-rejects-ramadan-truce/
------
Southeast Asia
Banks to charge interest on paused HP loan payments in 6-month moratorium – pay it over the rest of tenure
By Gerard Lye
30 April 2020
In an announcement by Bank Negara Malaysia (BNM), hire purchase loans and fixed-rate Islamic financing will come with additional interest charges after the six-month moratorium that is effective from April 1 to September 30 this year. In short, if you choose to take up the six-months payment pause, it won't be interest free, and you'll have to pay the interest later.
So there are two ways to go about it, according to the Association of Banks in Malaysia (ABM). One is when the half year moratorium ends, you pay the accumulated six months of instalments together with the seventh month instalment. Choose to do this and no extra interest will be charged, although we can imagine that not many will be able to cough out the big lump sum.
The second option – if you choose to take the moratorium offer (remember, you don't have to) – will see the interest charged on that six-month pause spread out throughout the loan tenure. So you'll have to pay slightly more than your usual monthly instalment from October 2020 onwards (more on this later). The loan tenure will also be extended for six months, six months because that's how long "time was paused" for you.
It sounds a lot worse than it actually is, and let us give you a simplified example. Say you just started a loan and the tenure is nine years, with a 3% per annum agreed interest rate, and your monthly instalment is RM1,000. The RM6,000 in paused payment will get charged 3% (as agreed by you), but now for 9.5 years (including the six-month extension) and the total you owe the bank is RM1,710. Split over 9.5 years, it's an extra RM15 per month. That's less than a Starbucks Frappuccino. Simplified of course, but that's the idea.
Here's another scenario. Let's say you have three years left on your car loan with the same T&Cs (RM1k monthly, 3% p.a). The interest on the RM6k deferred payment is RM630 after multiplying it by 3.5 years. Divide it up and the extra comes back to an additional RM15 a month.
As the Association of Banks in Malaysia (ABM) also stated that the first two months (April and May 2020) of the moratorium would not be subject to any interest charges, the deferred amount that will be charged interest is RM4,000, which works out to be RM420 in interest divided over 3.5 years, or RM10 a month.
It was previously assumed that those who chose to take up the moratorium would not be charged additional interest on their deferred payments, seeing how hire purchase loans and Islamic financing plans follow a fixed-rate basis, where interest charges are calculated upfront, but this is an unprecedented situation and is not the case.
https://paultan.org/2020/04/30/banks-to-charge-interest-on-hire-purchase-loans-fixed-rate-islamic-financing-during-6-month-moratorium/?utm_source=feedburner&utm_medium=feed&utm_campaign=Feed%3A+Paultanorg+%28paultan.org+-+The+Automotive+Industry%3A+Cars%2C+News%2CTechnology%2C+Test+Drive+Reports%29
----
Impact of US economic contraction on Malaysia
01 May 2020
By GANESHWARAN KANA
PETALING JAYA: Malaysia's trade performance in the upcoming months would be impacted negatively, experts warned after the country's key trading partner, the United States, announced its steepest economic contraction since 2008 in the first quarter.
With the country accounting for 10.7% of Malaysia's total exports in February this year, Affin Hwang Capital Research chief economist Alan Tan said economic disruptions in the former would affect the demand for Malaysian products and services.
"The International Monetary Fund is projecting US gross domestic product (GDP) growth to contract by 5.9% in 2020 from an expansion of 2.3% in 2019. Therefore, there will likely be further contractions in US GDP growth in the coming quarters.
"We believe that containment measures being done by governments in several countries will continue to impact and lead to production disruptions in the global supply chain, weighing on external demand and Malaysia's exports, " he said.
As a result of the weak economic performance in the world's biggest economy, Tan pointed out that Malaysia's electrical and electronics (E&E) sector would be most affected, given that E&E products are the country's main exports to the United States.
In particular, among Malaysia's main exports to the United States are machinery and transport equipment (53.9% of total exports) and miscellaneous manufactured articles (31.9%).
"In addition, with ongoing global supply chain disruptions and slowdown in economic activity, external demand for Malaysia's manufactured goods and E&E products not only from the United States but from other major trading partners like China will be dampened going forward, " he said.
AmBank Group chief economist Anthony Dass concurred that Malaysia's trade performance would be affected as a result of the economic contraction.
"From a continental perspective, around 72% of Malaysia's exports by value were delivered to Asian countries, while 11% were sold to North American importers. Malaysia shipped another 10% worth of goods to Europe, " he said.
"If the virus pandemic continues to ebb and more businesses reopen by summer, the economy will mount a strong recovery in the second half of 2020.
"But consumers are likely to remain wary that will keep the economy from returning to its pre-pandemic output level until late 2021. We project the US would grow around -5% in 2020 and 3.5% in 2021, " he said.
Asked about the sectors that would be affected by the US economic contraction, Dass said this included the electrical machinery, machinery, furniture and bedding as well as rubber.
"Besides, foreign direct investments are expected to take a hit, especially in manufacturing, non-bank holding companies and finance and insurance from the United States. Sales of services will also be impacted.
"However, exports relating to medical instruments will benefit from the virus pandemic despite a slowing US economy, " he said.
https://www.thestar.com.my/business/business-news/2020/05/01/impact-of-us-economic-contraction-on-malaysia
-----
Covid-19: 57 new cases, death toll now at 102
30 Apr 2020
By JOSEPH KAOS Jr
PUTRAJAYA: Malaysia reported 57 more Covid-19 cases on Thursday (April 30), bringing the total number of Covid-19 infections in the country to 6,002.
Out of the 52 cases, 25 are imported cases while 32 are local transmissions, Health director-general Datuk Dr Noor Hisham Abdullah said at the Health Ministry's daily Covid-19 media briefing.
Malaysia also discharged 84 more patients in the same 24-hour span, which means 4,171 patients have recovered from Covid-19 since the outbreak began.
Malaysia's Covid-19 recovery rate is now at 69.5% out of the total number of positive cases.
There are only 1,729 active cases being treated at the country's health facilities at present.
There are currently 36 patients being treated at intensive care units (ICU) with 14 on ventilator support.
Dr Noor Hisham also announced two new deaths, which brings the country's death toll to 102.
On the new death cases, Dr Noor Hisham said the 101st fatality was a 64-year-old man with a history of leukaemia.
He was a close contact of a Covid-19 patient who is related to the "Bali PUI" cluster in Kuantan, Pahang,
He had been receiving treatment at Hospital Tengku AmpuanAfzan in Kuantan since April 12 and was pronounced dead at 4.14am on Wednesday (April 29).
He was admitted to the Sarawak General Hospital on April 16 and passed away at 12.55pm on Thursday.
Malaysia is currently in the fourth phase of the movement control order (MCO), which is set to end on May 12.
https://www.thestar.com.my/news/nation/2020/04/30/covid-19-57-new-cases-death-toll-now-at-102
----
M'sians working in Singapore fear getting fired
01 May 2020
By NELSON BENJAMIN
JOHOR BARU: Malaysian workers, who chose to remain in Singapore during the present lockdown, are now living in fear as there are cases of bosses looking for excuses to terminate their employment.
This has led some to believe their employers were just looking for an excuse to terminate them without paying them adequate compensation during the present Singapore lockdown known as circuit breaker – which has been extended until June 1.
facemasks outside or not practising social distancing, face a S$300 (RM900) fine, and foreign workers may have their employment pass revoked.
A Malaysian, who only wanted to be known as Teo, said he was told by his employer – a Singaporean security company – to hand in his resignation letter for being late to work one day.Teo, who in his late 20s, admitted it was his fault for being late, but felt that the punishment was too harsh.
"I think that times are hard as the company has a lot of workers but they don't get many contracts anymore, which is probably why they told me to resign.
"Currently, I am serving a one-month tender notice and have already made the necessary preparations to return to Malaysia, " he said, adding that he hopes to return to Singapore once the lockdown is lifted.
Another Malaysian known only as Sam, said that he was terminated for not wearing a face mask several days ago.
"I have worked with this company for many years. But when my supervisor spotted me without a face mask, they decided to terminate me and asked me to pack my bags and return to Malaysia. They refused to listen to my explanation, " he said, adding that he was planning to return to Johor soon.
Anwar, another Malaysian, said he was also given the boot for chatting with his friends outside their hostel without a mask.
"I was just casually chatting with my friends for a few minutes but I was caught and told that I am sacked, " he said, adding that his employer could have just fined or given him a warning letter instead of sacking him.Johor Indian Business Association president P. Sivakumar said this was not the way to lay off workers.
"I know everyone is affected, especially businesses due to the lockdown but Singaporean employers should show some empathy when dealing with their workers instead of finding excuses to terminate them, " he said, hoping that the Singapore government would stop such practices and take action against such companies.
https://www.thestar.com.my/news/nation/2020/05/01/msians-working-in-singapore-fear-getting-fired
-----
Risky undertaking for funeral service workers
01 May 2020
By MANJIT KAUR
IPOH: Undertakers do not come to mind when one mentions frontliners, but they face risks doing their jobs in the essential services category.
Ipoh Casket and Funeral Undertakers SdnBhd's service manager M. Gunasagary, 45, said death could happen at any day, or any time.
In the cycle of life, there will be death everyday from a myriad of reasons, including old age, terminal illnesses and accidents.
"Despite ensuring all of us wear masks, gloves and use hand sanitisers, the fear is still there, as we are exposed to such viruses, especially at hospitals, mortuaries and crematoriums, " she said.
Gunasagary added that each time a body inside a casket was sent to the crematorium or the funeral parlour, their van would be sanitised and the staff immediately sent home to shower.
In Kota Kinabalu, owner of 3M Popular Undertaker Services, Datuk Protasius J Mukiau, said being in the industry, it was their duty to make sure that the dead were taken care of properly before the burial.
"We know about this virus and the risks involved, especially when we have to handle Covid-19 cases, " said the 76-year-old.
He said following the pandemic and the MCO, undertakers were required to take training courses to handle bodies, especially if they had to come into contact with Covid-19 victims during this period.
"We were supplied with personal protection equipment and we had to send the body straight for burial without allowing the families to see the face or touch the body for the last time, " he said,
His staff always made sure they followed all the necessary safety and hygiene procedures before entering their office, when at work and after work.
Protasius said the worry was always at the back of their minds, but they try their best to prevent themselves from contracting any work-related illness by sticking to standard operating procedures.
https://www.thestar.com.my/news/nation/2020/05/01/risky-undertaking-for-funeral-service-workers
-----
South Asia
Taliban's claims regarding the release of 52 soldiers aimed at prevention of coronavirus
01 May 2020
The Taliban group in Afghanistan has claiemd it has released 52 Afghan soldiers with an aim to save the lives of the prisoners from the risk of the novel coronavirus (COVID-19) disease.
"Islamic Emirate of Afghanistan released 40 soldiers of the Kabul Administration in Kunduz Province today afternoon. The Islamic Emirate is trying to speed up prisoners' release process in order to save lives of the prisoners from the risk of the coronavirus desease," Suhail Shaheen, a spokesperson for political office of Taliban Tweeted.
Shaheen posted another statement on Twitter late, stating that "As another step, 12 more soldiers of the Kabul Administrations were released in Kunduz Province today. This also includes 4 soldiers who had been sent to hospitals earlier on bail for their injuries and illness. This brings to 52 the number of prisoners released today."
This comes as efforts are underway to expedite the release of prisoners in a bid to help the peace process and subsequent launch of intra-Afghan talks in a bid to find a negotiated political settlement for the ogoing conflict.
https://www.khaama.com/talibans-claims-regarding-the-release-of-52-soldiers-aimed-at-prevention-of-coronavirus-04747/
------
Taliban militants suffer heavy casualties in preemptive airstrikes in Samangan
30 Apr 2020
The Afghan forces conducted preemptive airstrikes in northern Samangan province, inflicting heavy casualties on Taliban militants.
The 209th Shaheen Corps in a statement said the Taliban militants were looking to carry out attacks in ChaharMaghzak, AaiBologh and Rum Villages of Dara-e SufBala district.
The statement further added that the Afghan Air Force conducted preemptive airstrikes to prevent the attack, killing at least 12 Taliban militants.
The airstrikes also wounded 6 Taliban militants, destroyed a mini-van, a car and 6 motorcycles, the 209th Shaheen Corps added.
https://www.khaama.com/taliban-militants-suffer-heavy-casualties-in-preemptive-airstrikes-in-samangan-04746/
----
Taliban commander Nisar among 5 killed, wounded in Paktiya clash
01 May 2020
The security forces killed two Taliban militants and wounded three others during a clash in South-eastern Paktiya province of Afghanistan.
The 203rd Thunder Corps in a statement said a group of Taliban militants attacked the Afghann army in Ghareza area, located in the outskirts of Gardez, the provincial capital of Paktiya.
The statement further added that the security forces effectively responded to the attack, killing 2 militants and wounding at least 5 others.
The 203rd Thunder Corps also added that one of the commanders of Taliban, Nisar son of Faisal, originally a resident of Zurmat district, was among those killed.
https://www.khaama.com/taliban-commander-nisar-among-5-killed-wounded-in-paktiya-clash-04748/
-----
Taliban bomb kills 5 members of a family in Ghazni province
30 Apr 2020
A roadside bomb planted by Taliban militants ripped through a civilian vehicle which killed five members of a single family.
The Ministry of Interior (MoI) in a statement said the incident took place in Nazar Khan area of Andar district.
The statement further added that the explosion killed five members of a single family including a child, two women and two men.
Taliban militants frequently use improvised explosive devices or roadside bombs as the weapon of their choice to target the security personnel but in majority of such attacks ordinary civilians are targeted.
https://www.khaama.com/taliban-bomb-kills-5-members-of-a-family-in-ghazni-province-04745/
----
U.S. announces $383.3 million in foreign military sales to Afghanistan, 4 other countries
30 Apr 2020
The Department of Defense (Pentagon) announced $383.3 million in foreign military sales to Afghanistan and four other countries.
Pentagon in a statement said "FN America LLC, Columbia, South Carolina (W56HZV-20-D-0024); and Colt's Manufacturing Co. LLC, West Hartford, Connecticut (W56HZV-20-D-0025), will compete for each order of the $383,311,941 firm-fixed-price contract to provide M16A4 rifles for Foreign Military Sales (Afghanistan, Grenada, Iraq, Lebanon and Nepal)."
The statement further added "Bids were solicited via the internet with three received. Work locations and funding will be determined with each order, with an estimated completion date of April 28, 2025."
The State Department said late in August last year it has approved a major weapons sale to Afghanistan in a bid to help the Afghan forces fight the growing menace of terrorism.
The Defense Security Cooperation Agency (DSCA) said "The State Department has made a determination approving a possible Foreign Military Sale to Afghanistan for individual and crew served weapons, equipment, training, and support. The estimated cost is $60 million. The Defense Security Cooperation Agency delivered the required certification notifying Congress of this possible sale on August 17, 2016."
According to DSCA, the request Afghanistan includes Major Defense Equipment (MDE), consisting of four thousand, eight hundred and ninety-one (4,891) M16A4 5.56mm Rifles, four hundred and eighty-five (485) M240B 7.62mm Machine Guns, and eight hundred (800) M2 .50 caliber Machine Guns.
https://www.khaama.com/u-s-announces-383-3-million-in-foreign-military-sales-to-afghanistan-4-other-countries-04744/
-------
Pakistan
Police constitute 277 teams for mosques SOPs implementation
May 01, 2020
LAHORE - The Lahore police have constituted 277 enforcement teams to monitor implementation of the 20-point Standard Operating Procedures (SOPs) regarding COVID-19 precautionary measures during prayers and Taraweeh in mosques in holy month of Ramazan.
Deputy Inspector-General (DIG) of Police Operations Lahore Rai Babar Saeed said on Thursday that the enforcement teams consisted of more than 800 police officers and officials, who were submitting their surveillance reports to the authorities concerned for necessary action. The police officers paid visits to different mosques of the city to review implementation of the provincial government directions during prayers as well as the security arrangements made by the Lahore Police.
The DIG inspected Jamia Masjid Mustafa Shadman, Jamia Masjid Noor Old Anarkali, Jamia Masjid Nazeer Rahim Bukhsh Malik Park, Jamia Masjid SheraziaRizwia, Madrasa Taleem Al-Binnat Lower Mall, Jamia Masjid Gulzar-e-Madina Ravi Road, Jamia Masjid Ibrahim Lorry Adda and other mosques of the city. Dolphin Sector In-charges, DSPs, SHOs and other police officers were accompanied him.
Rai Babar Saeed also met the Khateebs and administration of different mosques and asked them to ensure precautionary measures in the wake of COVID-19.
Meanwhile, 205,583 citizens have been checked at police pickets so far and over 194,756 issued warning. More than 4,413 people involved in unnecessary movement were released after taking warranty bonds from them. As many as 183,096 vehicles including 103,549 motorcycles, 26,882 rickshaws, 5,333 taxis, 37,760 cars and 9,572 heavy vehicles were stopped at pickets and the owners were issued warning over unnecessary movement. Also, 7,334 vehicles were impounded over the law violations.
https://nation.com.pk/01-May-2020/police-constitute-277-teams-for-mosques-sops-implementation
-----
Islamic finance takes on Covid-19
May 1, 2020
Aamir A Rehman
As the global development community responds to the COVID-19 pandemic, a diverse and inclusive set of stakeholders must be engaged to address the enormous challenge. While the crisis has created immense human suffering, it has also sparked worldwide action from institutions and people eager to help.
The UN Secretary-General's Call for Solidarity, on March 19th, outlines three components; tackling the health emergency; focusing on social impact in the response and recovery; and helping countries recover more sustainably for the long term.
UNDP's Integrated Response to COVID-19 offers support and guidance to counties to prepare, respond, and recover. The immediate priorities identified in the response include health systems support, inclusive and integrated crisis management and response, and social and economic impact needs assessment and response. Islamic finance can be part of the COVID-19 response through a range of financing instruments well-suited for each stage.
Zakat can be an important component of national and NGO emergency support programmes. Donors typically require that Zakat be disbursed within one year of being given. This focus on immediate benefit is well suited for crisis response. Zakat donors support both the poor and the economically insecure, an area of increased need in the pandemic. Zakat donors often give cash transfers, which can be especially important in emergencies. Individual philanthropy is a broad tool that can be used to support health care, food and other immediate needs. Corporate philanthropy can be a way for businesses to contribute not only money but also goods and expertise.
UNDP's partnership BAZNAS, Indonesia's national Zakat collection agency, has been in place since 2017. This collaboration is an example of how Zakat stakeholders can systematically link their projects with the Sustainable Development Goals, including in response to crises. UNDP's partnership with the World Zakat Forum launched in 2019, lays the groundwork for members to work with UNDP on SDG alignment worldwide.
UNDP's recently-announced partnership with the Dubai Islamic Economy Development Center is a reflection of how UNDP can support private-sector companies on social impact. UNDP has tools and frameworks by which firms can align their business activities and corporate giving with specific SDGs. The financing of equipment, vehicles, and other sources of livelihood and trade finance are key mechanisms by which Islamic banks and financial institutions can support recovery. Aligning their financing activities with the SDGs is a significant opportunity for Islamic banks. In 2018, the Al Baraka Banking Group launched a collaboration with UNDP that seeks to align over US$600 million of its financing portfolio with the SDGs in the Middle East, Asia, Africa, and Europe. The coronavirus pandemic makes such initiatives all the more urgent.
https://pakobserver.net/islamic-finance-takes-on-covid-19/?utm_source=rss&utm_medium=rss&utm_campaign=islamic-finance-takes-on-covid-19
-----
Global Islamic finance market growing moderately
May 1, 2020
Global Islamic Finance Market Research Report Forecast 2020–2024 is a valuable source of insightful data for business strategists. It provides the industry overview with growth analysis and historical & futuristic cost, revenue, demand and supply data (as applicable). The research analysts provide an elaborate description of the value chain and its distributor analysis. This Market study provides comprehensive data which enhances the understanding, scope and application of this report.
The global Islamic finance market is growing moderately, because of the strong investments in the Halal Sectors, infrastructure, and Sukuk bonds, especially through electronic modes in all products and services. The factors driving the growth of the market are directing investment toward the tremendous growth opportunities in the promising Islamic sectors. The industrys total worth, according to key industry stakeholder organizations, across its three main sectors (banking, capital markets, and TAK_FUL), was estimated to be USD 2.05 trillion in 2017, marking an 8.3% growth in assets in USD terms, and reversing the preceding two years of assets growth stagnation (2017: USD 1.89 trillion vs. 2016: USD 1.88 trillion).
Global SUKUK outstanding surged by a record 25.6% to close at USD 399.9 billion as at end 2017 [2016: USD 318.5 billion], as per industry sources, on the back of strong sovereign and multilateral issuances in key Islamic Finance markets to support respective budgetary expenditures. This included debut entries into the sovereign SUKUK market by Saudi Arabia and Nigeria, as well as the pan-African multilateral development finance institution, Africa Finance Corporation.
Islamic banking is the largest sector in the Islamic finance industry, contributing to 71%, or USD 1.72 trillion, of the industry assets. The sector is supported by an array of commercial, wholesale, and other types of banks. Yet commercial banking remains the main contributor to the sectors growth. There were 505 Islamic banks in 2017, including 207 Islamic Banking windows. However, the number of players is not necessarily indicative of the size of the industry, in terms of assets. Islamic finances second-largest market, Saudi Arabia, has 16 Islamic banks, including windows, which is less than the smaller markets of Malaysia and the United Arab Emirates.
GCC Islamic banking assets reached USD 490 billion by the end of June 2013, with Saudi Arabia dominating the region with a 49% share, followed by the United Arab Emirates (19%), Kuwait (16%), Qatar (11%), and Bahrain (5%). This segment is still nascent in Oman (Islamic Financial Services Board (IFSB), (2015)). Islamic banking has acquired systemic proportions in Kuwait, Saudi Arabia, and the United Arab Emirates, in line with IFSBs definition of systemic, at least 15% of banking system assets. Retail Islamic banking in Bahrain has reached systemic proportions with a 27% asset share in retail banking, and a 13% asset share in total retail and wholesale banking. Omans entry in Islamic Banking was in late 2012.
The research includes historic data from 2015 to 2019 and forecasts until 2024 which makes the reports an invaluable resource for industry executives, marketing, sales and product managers, consultants, analysts, and other people looking for key industry data in readily accessible documents with clearly presented tables and graphs.
Finally, Islamic Finance Market report is the believable source for gaining the Market research that will exponentially accelerate your business. The report gives the principle locale, economic situations with the item value, benefit, limit, generation, supply, request and Market development rate and figure and so on. This report additionally Present new task SWOT examination, speculation attainability investigation, and venture return investigation.
https://pakobserver.net/global-islamic-finance-market-growing-moderately/?utm_source=rss&utm_medium=rss&utm_campaign=global-islamic-finance-market-growing-moderately
------
Lockdown restrictions to stay in place throughout Ramadan: Sindh government
May 01 2020
KARACHI: The Sindh government on Thursday said that the lockdown restrictions it had imposed before the month of Ramadan will stay in place throughout the holy month.
Sindh government spokesperson Murtaza Wahab said that the home department had issued a notification on April 23 which stated that the lockdown restrictions imposed before Ramadan will be implemented till the end of the holy month.
"The notification is valid till date and there are no plans to take it back," he said. "Some sectors have been allowed to resume work. They will be allowed to operate."
Wahab said that the government had allowed online businesses to operate and provide home delivery services to customers. He hoped that businessmen would continue to implement the agreed SOPs while resuming economic activities.
He criticised Prime Minister Imran Khan, saying that either the prime minister was confused or he was trying to confuse the masses. "When people praise the lockdown, our prime minister says 'We imposed a lockdown on March 13'. At another forum, he says that nobody thinks about the poor. Extending the lockdown till May 9 was the cabinet's decision, which is headed by the prime minister himself," he added.
Wahab said that PM Imran and his cabinet belonged to the elite class of the country. He said that the PTI was in power in three out of the four provinces of the country.
The Sindh government spokesperson said that he did not trust the Centre's assessment of the coronavirus situation. "If had not imposed timely lockdown, our hospitals would have felt the strain [of the coronavirus]," he said. "Over the past 24 hours, 12 deaths have been reported. If the lockdown restrictions are kept in place for the next 10-12 days, we will see better results," he added.
Earlier, a notification from the home department had stated that restrictions were to stay in place from 5pm to 8am throughout Ramadan. However, dairy shops will be allowed to remain open from 8am to 8pm during the holy month. Dairy shops, meanwhile, will not be allowed to sell iftar items.
Samosas, pakoras and fruit chaat can be delivered to homes during the holy month. All shopkeepers will have to implement delivery SOPs during the month. The decision taken to prohibit shops from selling iftar items was taken so as to discourage a lot of people from assembling at particular points.
The notification had also stated that due to the coronavirus, people had been instructed to offer Taraweeh prayers at home.
https://www.geo.tv/latest/285830-lockdown-restrictions-to-stay-in-place-throughout-ramadan-sindh-government
-------
URL: https://www.newageislam.com/islamic-world-news/gulf-nations-committed-bilateral-ties/d/121730
New Age Islam, Islam Online, Islamic Website, African Muslim News, Arab World News, South Asia News, Indian Muslim News, World Muslim News, Women in Islam, Islamic Feminism, Arab Women, Women In Arab, Islamophobia in America, Muslim Women in West, Islam Women and Feminism