New Age Islam News Bureau
18 Dec 2018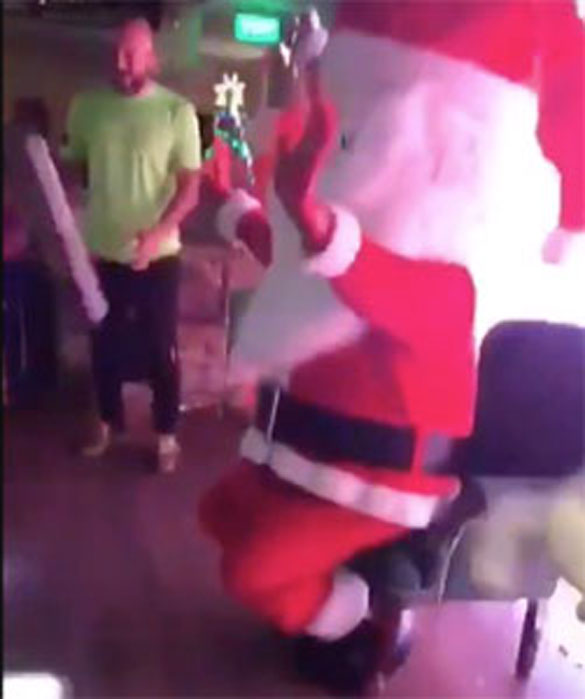 Photo of happy Santa Claus waving at children in a private celebration in Jeddah. (Screenshot)
------
• Grand Imam of Al Azhar and Pope Francis Discuss Coexistence
• Muslim Electoral Irrelevance May Soon Be a Thing Of The Past in India
• Bangladeshi Islamists Develop Networks in US
• Maulana Rumi Zenith of Islamic Mysticism: Minister
• Concern over Umno-PAS Ties Behind Exit of Sabah Leaders, Say Analysts
• Christian Expats Celebrate Festive Season in Jeddah
Europe
• Grand Imam of Al Azhar and Pope Francis Discuss Coexistence
• End To Afghan War 'Never More Real': UN
• Offenders with Muslim Names Are Not Jailed For Longer, Study Finds
• UN peacekeepers say two tunnels at Israel border breached UN resolution
• UN, Palestinians launch humanitarian appeal after funding cuts
--------
India
• Muslim Electoral Irrelevance May Soon Be a Thing Of The Past in India
• Candidates Vying for Top Job Want India Islamic Cultural Centre Turned Into Think-Tank 'for Muslims'
• Fresh Triple Talaq Bill Introduced In Lok Sabha
• UP: School Principal Beats Up Students for Not Wishing Him 'As-Salaam-Alaikum', Booked
• Separatist Leaders Detained In Jammu And Kashmir's Srinagar, March Against Civilian Killings Stopped
• Religion Is Like Medicine, One Doesn't Suit All: Dalai Lama
--------
South Asia
• Bangladeshi Islamists Develop Networks in US
• Taliban met with U.S., Pakistani, Saudi, and UAE officials in Abu Dhabi
• Church Condemns Bangladesh Election Violence
• Myanmar Commission Calls for Evidence of Rohingya Abuse
• Prominent Taliban leader killed in Herat drone strike
--------
Pakistan
• Maulana Rumi Zenith of Islamic Mysticism: Minister
• Pakistan Brings US and Taliban Face-To-Face In UAE
• Pak Minister Vows to 'Protect' Hafiz Saeed and His Party
• PM Khan Asks Fatyana to Draft Bill Aimed At Making Pakistan Welfare State
• China will support Pakistan's efforts to increase forest cover: envoy
• Army chief, Egyptian military leaders discuss security cooperation
--------
Southeast Asia
• Concern over Umno-PAS Ties Behind Exit of Sabah Leaders, Say Analysts
• Kalla Reasserts Indonesia's 'Non-Interference' Stance on Uighur Issue
• Time to Champion the Malaysian Agenda, Says Academic
• No Ban on Muslim Speakers Appearing On Radio, TV
• Dewan Negara observes one-minute silence to honour fireman Adib
• Mosque mob kills South Sulawesi student
--------
Arab World
• Christian Expats Celebrate Festive Season In Jeddah
• Kurdish Politician: Kurds Sold by US to Ankara
• SDF Fighters Vow to 'Finish Off' Daesh In Hajjin Operation
• US Forces Trying to Deploy Iraqi Kurdish Peshmarga at Syria's Border with Turkey
• ISIL Fails to Prevail over Syrian Army Positions in Deir Ezzur Province
• US Accepts Assad Staying In Syria – But Won't Give Aid
• Iraqi parliament speaker: Saudi support helped in expelling ISIS
• Ceasefire between pro-government forces and Houthi militia in Hodeidah begins
• Arab coalition wants durable peace in Yemen
--------
Mideast
• Benjamin Netanyahu's Son Suspended From Facebook for Anti-Muslim Comments
• Hassan Asfour: Arafat Was Killed for Believing Solomon's Temple Was In Yemen
• Coalition: Yemen legitimate government will take control of Hodeidah ports soon
• Clashes reported soon after truce takes force in Yemen
• 22 Palestinians injured in Israeli attack on Gaza naval march
• Israeli settlements undermine peace prospects, warns Jordanian FM
• Erdogan: Turkey to launch East of Euphrates operation 'any moment'
• Israel sentences Palestinian teen to 35 years in prison over alleged stabbing attack
• Turkey may work with Syria's Assad if elected fairly
--------
North America
• US Senate Resolution Angers Many Arab, Muslim Organizations
• Trump Didn't Commit to Extraditing Turkish Cleric, Official Says
• US prosecutors charge two involved in Flynn's Turkish lobbying
• Turkish FM Claims Freed US Pastor Is A 'CIA Agent'
• US Arms Maker Warns Canada against Stopping Sales To Saudi Arabia
• US coalition spokesman apologizes for Turkey tweet
--------
Africa
• US Airstrikes Kill 62 Al-Shabab Terrorists in Somalia
• CBK explains Muhuri accounts freeze in Al-Shabaab probe
• Hundreds flee after Boko Haram burns Nigerian village
• Soldier killed as Boko Haram attack Borno village
Compiled by New Age Islam News Bureau
URL: https://www.newageislam.com/islamic-world-news/grand-imam-al-azhar-pope/d/117192
--------
Grand Imam of Al Azhar and Pope Francis discuss coexistence
December 18, 2018
Pope Francis and the Grand Imam of Al Azhar, Dr Ahmed El Tayyeb, discussed coexistence and mutual respect in a telephone conversation on Monday.
Dr El Tayyeb greeted the pope and the world's Christian community in light of the upcoming Christmas holiday. The Sunni cleric also congratulate the pontiff on his 82nd birthday.
The strong ties between the pope and the Egyptian imam saw Dr El Tayyeb in Italy in October, for an interfaith forum in Bologna.
Pope Francis thanked the Grand Imam for the call, saying he was looking forward to meeting him in Abu Dhabi in February, where the Christian leader will celebrate a historic mass for the one-million strong Roman Catholic community in the UAE.
Sheikh Mohamed bin Zayed, Crown Prince of Abu Dhabi and Deputy Supreme Commander of the UAE Armed Forces, said the Pope is a symbol of peace and tolerance.
"We look forward to a historic visit, through which we will seek dialogue on the peaceful coexistence among peoples," he said.
https://www.thenational.ae/world/mena/grand-imam-of-al-azhar-and-pope-francis-discuss-coexistence-1.803894
--------
Muslim Electoral Irrelevance May Soon Be a Thing Of The Past in India
DECEMBER 17, 2018
Does the BJP's defeat in its strongholds Madhya Pradesh, Chhattisgarh and Rajasthan signal the reversal of a recent trend of marked Muslim electoral irrelevance? If the BJP's tally falls in 2019, this is a likely outcome, say observers.
The recent Madhya Pradesh election saw many "Hindus" swing towards the Congress not on religious grounds but because of rural discontent. The losses being faced by farmers resulted in a slender Congress victory. While the BJP won almost 23 of the 37 urban seats (or close to two-thirds of seats with more than 50% urban population), the Congress won 52% of the remaining 197 rural and semi-rural seats, thus beating the BJP that won just 44% of these seats.
Such shifts on grounds of material concerns are likely to affect the dominant language of cultural politics too, feel observers, making Muslim sensibilities a political factor once again after the coming Lok Sabha polls.
"Hindutva's success can ride only on general material well-being. Once material concerns rise, cultural politics begins to fade away and material politics becomes important, as these Assembly elections have shown," says political analyst and author Sajjan Kumar.
While the BJP may cover some lost ground in its slipping strongholds in the Lok Sabha polls when it fights for Prime Minister Narendra Modi returning to power, the 2014 sweep is unlikely, political analysts feel.
In 2014, the party won all seats in Gujarat, Rajasthan, Himachal Pradesh and Uttarakhand and most seats in Uttar Pradesh, Madhya Pradesh, Chhattisgarh, Haryana, Jharkhand and Maharashtra. These Atates together account for over 250 seats and steered the party past the majority mark.
Even moderate losses in any of these States and a grand opposition alliance in Uttar Pradesh can make the BJP fall well short of a majority.
Political scientist Manindra Nath Thakur, who teaches at the Jawaharlal Nehru University, says losses for the BJP in 2019 would automatically translate into Muslims becoming more relevant to alliance decisions for regional parties.
"After 2014, Mr. Modi's BJP had been able to garner enough support from various social segments of Hindus to be able to win elections irrespective of how Muslims vote. This had made the biggest minority electorally irrelevant and regional parties with a local Muslim constituency could easily flock to the BJP. Once the BJP's tally falls, regional players will have to factor in Muslim sensibilities in their post-poll political decisions. Else, they will risk losing Muslim support in their state to the Congress," Mr. Thakur told The Hindu. "Such calculations would also impact their alliance decisions as also who becomes the acceptable Prime Ministerial face of the NDA once results are out," he added.
The number game
Data on the 2017 Assembly elections in Uttar Pradesh crunched by Ashoka University's Trivedi Centre for Political Data offer a peek into how the BJP offered enough representation to different Hindu caste groups to sail through with no appeal to Muslims.
There was a two-fold jump in upper caste representation in the State assembly, with 44% upper caste MLAs. While the OBC representation remained unchanged, Yadav presence fell to 17% of OBC MLAs and Kurmi presence rose from 11% to 38%. The representation of lower OBCs also went up.
Muslim representation at a mere 6.2% of MLAs was the lowest since 1991. Muslims, numbering 19% in the State, had a 17% share of MLAs in 2012.
The 2017 trend suggests a major lower OBC outreach of the BJP and growing Muslim irrelevance. This is likely to change in 2019, as the BJP stares at a fall in its individual tally in 2019.
https://www.thehindu.com/news/national/analysis-muslim-electoral-irrelevance-may-soon-be-a-thing-of-the-past/article25762721.ece
--------
Bangladeshi Islamists Develop Networks in US
BY TOMMY SEARS
December 17, 2018
WASHINGTON—In recent years, Bangladesh has become an economic success story in South Asia, but its future may be threatened by the rise of radical groups and political parties, particularly Jamaat-e-Islami, as national elections approach on Dec. 30. The growing prominence of these radical groups is of concern for the United States, which finds an assortment of organizations with ties to Bangladeshi radicals.
These were the concerns discussed at the Hudson Institute in Washington on Dec. 13 by a panel of policy experts and Congressman Jim Banks (R-Ind.).
Banks opened the event describing a "booming, democratic country" whose population has an "overwhelmingly positive view" of the United States, citing a Pew survey attributing 76 percent of its population with this view.
However, the political threat represented by Jamaat-e-Islami led him to introduce a resolution in the House of Representatives on Nov. 20 directing USAID and the State Department to "refrain from any partnerships or funding arrangements from any organization affiliated with radical Islamic groups in Bangladesh."
Seth Oldmixon, the founder of Liberty South Asia and an expert in the region, explained the history of Jamaat-e-Islami in Bangladesh as an Islamist group that had been co-opted by the Bangladesh Nationalist Party (BNP) in order to broaden its popular appeal. Unfortunately, while being politically expedient to the BNP, its radical theocratic philosophy actually undermines democracy and pluralism in Bangladesh, he argued.
But Jamaat-e-Islami is by no means limited to Bangladesh. Founded in India, there are groups related to Jamaat-e-Islami in Pakistan, Kashmir, Britain, and Afghanistan.
Oldmixon quoted Jamaat-e-Islami's founder, Abul Ala Maududi, as saying: "The truth is … Islam is a revolutionary ideology and program which seeks to alter the social order of the whole world … Islam wishes to destroy all states and governments anywhere … which are opposed to the ideology and program of Islam regardless of the country or the nation which rules it." This captured Maududi and Jamaat-e-Islami's founding objectives, he said, and has provided the basis for its supremacist Islamic agenda since.
Two other panelists, Sam Westrop and Abha Shankar, supported Oldmixon's point, describing Jamaat-e-Islami's ties to an assortment of charitable and educational groups that promote its agenda in the United States and internationally.
Westrop, the director of Islamist Watch for the Middle East Forum, compared Jamaat-e-Islami to the Muslim Brotherhood of Egypt, but whose operations in the United States and globally he found to be much less coordinated with its Central Guidance Bureau in Egypt than those of Jamaat-e-Islami with its counterparts worldwide. "There is no separation between the political activities of Jamaat[-e-Islami] internationally and the charitable activities. It is all part of one network."
Shankar, a senior intelligence analyst for the Investigative Project on Terrorism, outlined the specific ties between Jamaat-e-Islami and two U.S. groups: the Islamic Circle of North America (ICNA) and the Muslim Umma of North America.
Calling the groups "clever at hiding their true Islamist agendas," specifically as civil rights and advocacy groups, she said they employ "doublespeak," rather than calling publicly for jihad (holy war), or Islamic supremacy (as called for by ICNA's charter).
Westrop spoke in detail about a charity that emerged from ICNA, Helping Hand for Relief and Development, which he called "the overseas arm of the American Jamaat-e-Islami movement." Saying it provides the "theological and political justification for violence" outside the United States, it is promoting the Jamaat-e-Islami alliance with the Bangladeshi Nationalist Party in the upcoming elections.
But because it does not endorse or foment violence in America, U.S. journalists and policymakers have ignored its openly declared Jamaat-e-Islami leadership, occasionally even winning "praise from the State Department."
While Jamaat-e-Islami's Islamist agenda poses a threat to the political and economic progress of Bangladesh, it also represents a serious shortcoming in U.S. policymaking that requires attention. Shankar summarized this concern: "Instead of government officials, law enforcement, and interfaith groups engaging with Islamists groups … they need to reach out to mainstream Muslim voices that more accurately represent the interests of the American Muslim community."
https://www.theepochtimes.com/bangladeshi-islamists-develop-networks-in-us_2741900.html
--------
Maulana Rumi zenith of Islamic mysticism: minister
December 18, 2018
LAHORE: Punjab Minister for Information and Culture Fayyaz-ul-Hassan Chohan has said, "Maulana Jalal-ud-Din Rumi is zenith of Islamic mysticism.
He was a great personality and his discourse of Sufism has inspired the Poet of the East Dr Allama Iqbal. Sufism is not such a discourse which eggs on a person to go to desert or jungle for leading an isolated life. However, the concept of Sufism is rather different that teaches us to recognise ourselves by diving into the ocean of mysticism". The minister was addressing a ceremony to mark the death anniversary of the renowned Sufi poet Maulana Jalal-ud-Din Rumi held by Persian Department of Lahore College for Women University, here Monday. He said that Maulana Rumi was a great personality of Persian literature and his poetry in Sufism for lapse of 800 years was remembered among Sufi poets and lovers of mysticism. "If we act upon the teachings and discourse of Maulana Rumi in Sufism, we may create such a world which ensures peace and tranquility. The discourse of Maulana Rumi teaches us that noble personalities do not die but they resort to Allah Almighty for seeking His blessings after their death," added the minister. Lahore College for Women University Vice-Chancellor Dr Farkhanda Manzoor, Iranian Consul General Reza Naziri, DG Iranian Consul General Rezai Fard, Head of Persian Department Dr Faleha Zehra and large number of girl students were present. However, a documentary based on teachings and thoughts of Maulana Jalal-ud-Din Rumi was also shown to the participants at the occasion.
Later on, a well-known film artist Mira called on the minister in his office chamber and informed him that she intended to make a film for the uplift of film industry, for which, she sought financial cooperation from the Culture Department. The minister assured of all-out cooperation from his department in this regard.
Christmas: In Lahore General Hospital, nurses have started their preparations to celebrate Christmas with full enthusiasm and for this purpose Christmas Trees are being decorated. Nurses have a number of plans regarding 25th December for which in different sections of Lahore General Hospital arrangements are in full swing. Nurses are also decorating their wards and reception in traditional style and especially nurses of Christian community have more sentiments in this regard. Talking in this regard, Principal Post Graduate Medical Institute Prof Dr Mohammad Tayyab has said that Christmas is equally sacred for all of us.
https://www.thenews.com.pk/print/407355-maulana-rumi-zenith-of-islamic-mysticism-minister
--------
Concern over Umno-PAS ties behind exit of Sabah leaders, say analysts
Durie Rainer Fong
December 18, 2018
KOTA KINABALU: Two political analysts here have attributed last week's exodus of Sabah Umno leaders to the party's cooperation with Islamist party PAS.
Rahezzal Shah Abd Karim of UiTM Sabah said the state had always prided itself on being a tolerant and multiracial society. Because of this, he said, Sabah Umno was likely concerned when the party's central leadership began to get "cosy" with PAS.
"There is a genuine concern among Sabah Umno members that Umno will be more conservative in terms of its approach.
"Being with PAS would certainly make it difficult for Sabah Umno to attract the majority of Sabahans, who have shown PAS that its brand of politics does not suit them," he told FMT, citing the overwhelming rejection of PAS by Sabahans, including Muslim Bumiputeras.
Lee Kuok Tiung of Universiti Malaysia Sabah agreed, noting that Umno's central body had been perceived as working more with the Islamist party in the peninsula than with long-time Barisan Nasional (BN) allies MCA and MIC.
He said Umno's collaboration with PAS had raised concerns that Umno was no longer keeping to the party's original struggle.
"Umno used to be seen as a moderate Malay party that worked together with all ethnic groups.
"But now, some see it as championing Malay and Muslim rights only. Umno appears to be spending more time with PAS than MCA and MIC."
Lee said Umno had spoken of rejuvenation after the May 9 polls but none had been forthcoming. This caused members to become disillusioned, he added.
"Sabah Umno is a multiracial party. There are Kadazan Dusun Murut members and Christians, too.
"I think this is what put Sabah Umno in a dilemma, when suddenly you feel like you no longer share the same political ideology."
He cited the opening statement by former Sabah Umno chief Hajiji Mohd Noor in announcing the group's departure last week, saying Hajiji had made clear their concern for non-Muslim members of the state chapter.
Hajiji said the group's decision to leave took into account the fact that Sabah Umno had over 100,000 non-Muslim members, and that any shift in the party's political direction would jeopardise their support for Umno.
Last week's exodus began with the departure of four MPs, nine assemblymen, two senators and dozens of division heads from Sabah.
This was followed by six other MPs in Peninsular Malaysia, reducing Umno's parliamentary seats from 54 to 37.
Rahezzal and Lee warned in August, following developments in the peninsula, that it would be a big mistake if Sabah Umno partnered with PAS in the state for any upcoming election.
They said Sabahans would reject the politics of race and religion.
At the time, Lee suggested that the state chapter consider its position in Umno if its central leadership continued working with PAS.
Umno worked with PAS in a series of by-elections in the peninsula, striking an electoral understanding in order to avoid clashes.
PAS decided to give way to BN to allow its Umno candidate to contest the Sungai Kandis seat. However, Lokman Noor Adam was defeated by PKR's Mohd Zawawi Abdul Mughni.
Umno deputy president Mohamad Hasan subsequently said BN would return the favour by sitting out the Seri Setia by-election to let PAS contest the state seat.
PAS also hinted that it might not contest the Balakong seat, which was eventually contested by MCA. Pakatan Harapan won all three by-elections.
Recently, Umno also rallied together with PAS against the International Convention on the Elimination of All Forms of Racial Discrimination in the nation's capital.
Rahezzal told FMT the main reason for the exodus of Sabah Umno leaders was also survival.
"They knew that Sabah Umno is crumbling with the series of defections in Sabah, and they knew there was no guarantee that the numbers would stay.
"In order to stay relevant, they needed to decide whether to continue being with Umno or to pursue other platforms," he said, adding that the lack of funds was another big factor but nothing unusual.
"We hear this all the time… switching sides so that they can serve their constituents because being with the government means they can have full access in terms of funding and assistance.
"But the flaw with this argument is that there wouldn't be any opposition party left in the world if all of them thought along the same lines," Rahezzal said.
Lee meanwhile predicted a major development in the Sabah political scene soon.
"After GE14, there have been lots of rumours that Umno might leave Sabah to give way to a Sabah-based local party. Well, this could be it.
"It's easier for a small party or mosquito party to make decisions but not for the biggest party in Sabah."
https://www.freemalaysiatoday.com/category/nation/2018/12/18/concern-over-umno-pas-ties-behind-exit-of-sabah-leaders-say-analysts/
--------
Christian expats celebrate festive season in Jeddah
December 17, 2018
JEDDAH: Images showing Santa Claus giving out presents to happy children could have been shot anywhere in the world, possibly except in Saudi Arabia. This is why when a recent Snapchat video emerged showing a festive season celebration occurring in the Saudi city of Jeddah it immediately went viral and raised questions.
However, it is true… Santa Claus did come to town and the private celebration took place in Jeddah on Saturday as a group of Christians came together to celebrate this religious occasion before they went on annual leave.
The small gathering portrayed the Christmas spirit, where children were sitting happily as they anticipated a smiling Santa's calling. Santa Claus sat around a pile of gifts where each present had a child's name written across it to be given to them individually for the Christian annual celebration.
The video was shot by a Saudi presenter Hashim Abdullah, who was invited to MC the event. His Snapchat account is dedicated to covering events across the Kingdom. The Kingdom has been encouraging peaceful coexistence and interfaith tolerance as of late, especially after King Salman and Crown Prince Mohammed bin Salman initiated interfaith dialogue with Lebanese Maronite Christian Patriarch in November 2017.
The visit was followed by many; the king met with the chairman of the Pontifical Council for Interfaith Dialogue at the Vatican earlier in April, while Crown Prince Mohammed met with Archbishop of Canterbury during his UK visit.
As the video of the Christmas celebration went viral, a minority misunderstood the contents of the video and criticized it, causing Saudis to step up to defend the celebration, calling it a normal occurrence and stating that it makes them happy to see celebrations of other faiths.
http://www.arabnews.com/node/1422346/saudi-arabia
--------
Europe
End to Afghan war 'never more real': UN
18.12.2018
By Michael Hernandez
WASHINGTON
A negotiated end to Afghanistan's 17-year-long conflict "has never been more real" than it is now, the top UN official in the country said Monday.
Tadamichi Yamamoto, the UN secretary general's special representative for Afghanistan, cited several efforts underway to end the war, including a peace plan developed by Afghan President Ashraf Ghani and ongoing engagements being conducted by the U.S. peace envoy for Afghanistan, Zalmay Khalilzad.
Yamamoto told the Security Council his agency is "encouraged by these developments".
"We understand, however, that they are at a delicate stage where political space must be allowed for the main actors to formulate their positions and how to react to recent developments," he said.
"We hope that the current momentum will bring these parties together so that they can begin to explore how they would address the multitude of agenda points needed for arriving at a peaceful settlement."
In the latest development ahead of presidential polls in April, Gulbuddin Hekmatyar, the Hezb-e-Islami party chief in Afghanistan, urged the Taliban on Sunday to join him for the forthcoming elections in the war-ravaged country.
The Taliban have so far not responded to Hekmatyar's call. However, the Taliban had reportedly asked Khalilzad to postpone the polls, according to local Azadi Radio.
Earlier this year, Hekmatyar, a former Afghan Mujaheddin leader, floated the idea of providing "safe zones" to the Taliban in a bid to encourage them to join the peace process.
But Taliban spokesman Zabihullah Mujahed termed the idea "an act of practically dividing Afghanistan".
*Betul Yuruk contributed to this report from the United Nations
https://www.aa.com.tr/en/americas/end-to-afghan-war-never-more-real-un/1341701
--------
Offenders with Muslim names are not jailed for longer, study finds
18 Dec 2018
Offenders who have Muslim names do not appear to be receiving unfairly long sentences from crown courts in England and Wales, according to criminology research.
The study by academics at Leeds, Oxford and Edinburgh universities questions the extent of discrimination in the criminal justice system and calls for publication of official data.
Their findings, published on Tuesday, seem to run counter to the Ministry of Justice's published statistics on race in the criminal justice system and the 2017 Lammy review that found higher use of custodial sentences and longer sentences for certain black and minority ethnic defendants than for white offenders.
One feature the Lammy report identified was the reluctance of black defendants to plead guilty early in proceedings because of distrust in the system, which resulted in them losing the opportunity for reduced sentences.
The latest report in the British Journal of Criminology exploits what the authors say are "pioneering data-scraping techniques" based on 8,437 hearings between 2007 and 2017 involving defendants deemed to have traditional Muslim names.
Muslim-named offenders received custodial sentences that were 9.8% longer than the rest of the sample, according to the report, but that difference disappeared once a more detailed breakdown by individual offences and key case characteristics such as the plea were taken into account.
The variables assessed by the researchers also included whether a victim sustained injuries, whether there were mitigating factors or multiple offences.
Whether disparities in sentencing between ethnic groups are due to genuine discriminatory practices or to differences in the types of crimes committed is therefore uncertain, the report says.
"These findings should not be taken as conclusive proof of a lack of discrimination in sentencing against Muslim offenders," cautioned the authors, Dr Jose Pina-Sánchez from Leeds, Prof Julian Roberts from Oxford and Dimitrios Sferopoulos from Edinburgh. Roberts, a professor of criminology, was formerly a member of the Sentencing Council, which publishes sentencing guidelines for judges.
Pina-Sánchez, a law lecturer at the University of Leeds, said: "Our findings are not conclusive evidence [either] of equal treatment [but] they do highlight the importance of considering case characteristics before claiming discrimination exists.
"Our analysis found that the observed differences in sentence length between Muslim and non-Muslim offenders were explained by the characteristics of the cases.
"It is therefore essential to replicate our analyses across all offenders processed through the magistrates and crown court … That data has not been fully disclosed to the public, but there are various data sharing strategies that could be put in motion to facilitate the data to independent researchers in a secure manner.
"Underlying the principle of fairness is the idea that we are all treated equally, and if that is not the case we should consider serious reforms in the system to tackle this problem directly."
Full report at:
https://www.theguardian.com/law/2018/dec/18/offenders-with-muslim-names-not-jailed-for-longer-study-finds
--------
UN peacekeepers say two tunnels at Israel border breached UN resolution
18 December 2018
UN peacekeepers in Lebanon said on Monday two of four tunnels found close to the border with Israel crossed the frontier demarcation between the two countries, violating a UN resolution that ended a 2006 war between Hezbollah and Israel.
The UN Interim Force in Lebanon (UNIFIL) said it had so far confirmed the existence of four tunnels which the Israeli army discovered in the vicinity of the border demarcation, known as the "Blue Line", adding the finds were of "serious concern".
Israel says Hezbollah, Lebanon's most powerful armed group, dug the tunnels with the aim of launching attacks into Israel with backing from its regional sponsor Iran. Hezbollah has yet to comment.
"UNIFIL at this stage can confirm that two of the tunnels cross the Blue Line. These constitute violations of UN Security Council Resolution 1701," the statement said.
The UN peacekeepers said they would continue their technical investigations, describing the recent discoveries as "a matter of serious concern," requesting "urgent follow-up actions" by the Lebanese authorities.
Israel and Hezbollah have avoided major conflict across the Lebanese-Israeli border since 2006, though Israel has mounted attacks in Syria targeting what it said were advanced weapon deliveries to the group.
Full report at:
https://english.alarabiya.net/en/News/middle-east/2018/12/18/UN-peacekeepers-say-two-tunnels-at-Israel-border-breached-UN-resolution.html
--------
UN, Palestinians launch humanitarian appeal after funding cuts
17 December 2018
The United Nations and the Palestinian Authority on Monday appealed for $350 million in humanitarian relief for Palestinians next year, saying that they needed more but had to be realistic in the face of "record-low" funding.
The 2019 Humanitarian Response Plan outlined 203 projects to be carried out by 88 different groups, including UN agencies and non-governmental organizations.
The plan prioritized 1.4 million Palestinians most in need of food, healthcare, shelter, water and sanitation, said Jamie McGoldrick, the UN humanitarian coordinator in the Gaza Strip, West Bank and East Jerusalem.
"Humanitarian actors are facing unprecedented challenges, including record-low funding and a rise in attacks to delegitimize humanitarian action," he said in a joint statement issued on Monday, ahead of the appeal's launch in Ramallah in the Israeli-occupied West Bank.
Although "much more assistance is needed", McGoldrick said, the plan was "reflecting what we can realistically accomplish in this highly constrained context".
Over the past year, the United States has slashed its funding to the Palestinians, including to the U.N. agency that provides services to 5 million Palestinian refugees.
The United States promised $365 million to the agency in 2018, but paid only a first instalment of $60 million before announcing in August that it would halt all future donations.
The move was widely seen as a means of pressuring the Palestinian leadership to enter peace negotiations with Israel.
The Palestinians want to establish a state in the West Bank, Gaza and East Jerusalem - territories that Israel captured and occupied in the 1967 Middle East war.
US-brokered peace talks between the sides collapsed in 2014 and a bid by US President Donald Trump to restart them has so far showed little progress.
Around 77 percent of the funds sought in the 2019 plan would go to Gaza, the appeal organizers said, because the densely populated coastal strip faced a "dire humanitarian situation" after years of an Israeli-led blockade, internal Palestinian political divisions and casualties from demonstrations and recurring hostilities.
Full report at:
https://english.alarabiya.net/en/News/middle-east/2018/12/17/UN-Palestinians-launch-humanitarian-appeal-after-funding-cuts.html
--------
India
Candidates Vying for Top Job Want India Islamic Cultural Centre Turned Into Think-Tank 'for Muslims'
December 16, 2018
New Delhi: The events calendar of India Islamic Cultural Centre (IICC) for the month of December is packed with ghazal nights and poetry readings — just the kind of cultural concoction one seeks during winter evenings in the capital. But unfortunately, these renderings are not in consonance with the founding principles of the iconic centre.
With only three weeks left in the IICC management elections, the candidates vying for posts of president, vice president, members board of trustees and executive committee are promising a shift in the fundamental functioning of the centre — right from publishing newsletters and journals to engaging in academic activities with the intention of lending it an image of 'think-tank' for the Muslims.
At the helm of initiating a debate on reforms is Arif Mohammad Khan, a former cabinet member and current IICC presidential candidate. Khan told News 18.com that while there is no doubt about infrastructural developments in the centre, there "should be more to it than it just be a club."
In 1986, Khan had resigned from the government to protest against a legislation that sought to reverse the Shah Bano verdict. "Most of the Muslims, even the progressive ones, had kept silent," he had complained then. Today he laments about IICC having deviated from its founding principles.
Khan's Candidature
Khan had registered his protest three years ago when the IICC had called the televangelist Zakir Naik for a talk. He was unhappy with the event as it reflected poorly on the judgment of the then IICC members who didn't act according to the demands of times. He had decided to not visit the centre again, but after continuous appeals from his former colleagues, including Congress leaders Salman Khurshid and Anees Durrani and All India Muslim Personal Law Board member Kamal Farooqui, he decided to contest the election.
Khan, contesting for the first time, is pitted against Sirajuddin Qureshi, chairman and managing director at Hind Industries Limited and managing director and director at Hind Agro Industries Ltd. Qureshi has also been IICC president for three consecutive terms and is credited with building infrastructure of the centre.
Zakat Foundation president Zafar Mehmood, one of the voters, said that this election is exciting because of it being Khan's first poll battle. "This is a very interesting election term in IICC. We have incumbent IICC president Qureshi contesting for the fourth time against a former cabinet minister, who brings in his experience of national politics and other walks of life," Mehmood said.
Mahmood said the work on promoting the Indo-Islamic centre and developing it into a Muslim think-tank has not reached even one fourth and the new council must take it forward after the polls.
Key Goal: To Promote Traditional Principles
The website of India Islamic Cultural Centre says its key goal is to promote a mutual understanding and amity among the people and to depict the true face of Islam as a tolerant, liberal, progressive, rational and forward-looking religion, besides being based on cardinal principles of human values irrespective of faith, caste, creed and colour — the virtues which Khan insists need to be pursued vigorously.
Citing the clauses of the Memorandum of Association of the IICC, Khan said, "The first objective of IICC is to promote mutual understanding and tolerance among diverse citizens of India, second is to remove misunderstanding about Islam. Other points elaborate on these two objectives and see how Muslims along with compatriots play contributory role in making India a great nation."
He added, "The focal point is to have mutual understanding and the modus operandi in achieving this objective is very clear — holding seminars, symposia, conferences, books publishing, newsletters. The whole structure was built to make it a hub of intellectual and artistic expressions, provide platform to communicate and also train for competitive exams."
Academic Papers, Newsletters and Other Poll Promises
Khan wants to revive the training for competitive exams and bring out a newsletter, the absence of which from a centre of this stature is appalling for him and other members. "This is the place Obama wants to visit to interact with the Muslims. This is its importance, we need to have intellectual activities," he said, adding: "We need to start the culture of newsletters, focus on bringing out journals and academic papers."
His other plans include inching closer to academic areas so that interactions between the members of IICC and university are frequent. He also wants to start affiliated branches on the centre.
But he is not alone in demanding these. Professor Khwaja M Shahid, former V-C of Maulana Azad National Urdu University in Hyderabad, nods in agreement with Khan. Shahid is contesting for the post of vice president.
"IICC has achieved good infrastructure but now we want to put it to good use. A centre is not just about brick and mortar but about living by the founding principles. We have portals like Rekhta to celebrate Urdu, a language that reflects the essence of Indo-Islamic culture. Our centre should have done something to promote this culture. We missed it and someone else picked it. Holding ghazals is not the primary objective of the centre," he said.
Like Khan, Shahid also wants to bring out a newsletter and hold seminars and conferences. Shahid is contesting after a gap of ten years when he stood for the board of trustees. There are other contenders in the fray such as advocate HR Khan Suhel, Md Irshad Ahmad, Shehzad Mohammad Khan and SM Yamin Qureshi.
Shahid said, "We have a library, which is a mere bookshelf. There is no cataloguing referencing and no issuing system. If elected, the new office bearers will start digitisation and make it an information centre in IICC." He added, "We need to go back to our fundamentals and they don't ask us to make IICC a baraat ghar or food court."
The voting will take place on Jaunary 6, 2018 and the results will be announced the next day.
https://www.news18.com/news/india/candidates-vying-for-top-job-want-india-islamic-cultural-centre-turned-into-think-tank-for-muslims-1974945.html
--------
Fresh triple talaq Bill introduced in Lok Sabha
December 18, 2018
A FRESH Bill to make the practice of instant triple talaq a penal offence was introduced in the Lok Sabha on Monday to replace an ordinance issued in September.
According to the Bill, giving instant triple talaq will be illegal and void and will attract a jail term of three years for the husband.
The Muslim Women (Protection of Rights on Marriage) Bill, 2018, will replace an earlier Bill passed in the Lok Sabha and pending in the Rajya Sabha. With the Bill facing opposition in the Rajya Sabha, the government had cleared some amendments, including introduction of a provision of bail. But as the Bill continued to face resistance in the Rajya Sabha, the government issued an ordinance in September, incorporating the amendments.
An ordinance has a life of six months. But it has to be replaced by a Bill passed by both Houses within 42 days of the Parliament Session which follows. The government can re-promulgate the ordinance if the Bill is not passed.
Introducing the Bill, Law Minister Ravi Shankar Prasad said despite the Supreme Court striking down the practice of talaq-e-biddat (instant triple talaq) as unconstitutional, men were divorcing their wives on flimsy grounds and even via WhatsApp. The Bill would protect "the rights of married Muslim women", he said.
Opposing the introduction of the Bill, Congress MP Shashi Tharoor said, "the Bill conflates civil law with criminal law by criminalising a wrong form of divorce and by criminalising an act which is already legally null and void." He said the Bill also attempts to create a "class-specific legislation on the grounds of religion", and has "no procedural safeguards to prevent its misuse".
Full report at:
https://indianexpress.com/article/india/parliament-winter-session-fresh-triple-talaq-bill-introduced-in-lok-sabha-5498238/
--------
UP: School Principal Beats Up Students for Not Wishing Him 'As-Salaam-Alaikum', Booked
December 17, 2018
A case has been filed against principal of a secondary school here Monday for allegedly beating up students for not greeting him with "As-Salaam-Alaikum".
Principal Secretary and nodal officer of the district, Dimple Verma on a visit to the Bilhari Secondary School in Tilhar area Sunday was told that Principal Chand Mian was demanding that he be greeted with "As-Salaam-Alaikum" and he would beat up those wishing him "good morning", an official said.
"As-Salaam-Alaikum" is a greeting in Arabic which means "Peace be upon you". The greeting is a religious salutation among Muslims.
Class VI student Priyanshu, who met the officer along with other locals, told her that since the children were not being able to say "As-Salaam-Alaikum" they were beaten up. He also showed injury marks on his neck to the visiting official, Chief Development Officer Prerna Sharma said.
The student was sent for medical examination and the preliminary inquiry report has been handed over to Basic Shiksha Adikari (BSA) Rakesh Kumar.
"Principal Chand Mian has prima facie been found guilty of the charges and suspended…further inquiry is on," Kumar said.
Meanwhile, Chand Mian has rejected the allegations and said that he was being defamed as part of some conspiracy.
Full report at:
https://indianexpress.com/article/india/up-school-principal-suspended-bilhari-school-tilhar-5497937/
--------
Separatist leaders detained in Jammu and Kashmir's Srinagar, march against civilian killings stopped
Dec 17, 2018
Authorities on Monday imposed restrictions on people's movement, detained separatist leaders and sealed the roads leading to Srinagar's Badami Bagh Cantonment to prevent a march Kashmiri separatists had called to protest against the killing of seven civilians in south Kashmir on Saturday.
The seven were killed after security forces fired on civilians when they gathered at the scene of a firefight with militants and allegedly threw stones in Pulwama district's Sirnoo village. The separatists had called for a three-day strike and asked the people to march towards the cantonment on Monday in protest against the killings. Three militants and a soldier were killed in the firefight.
Separatist leader Mirwaiz Umar Farooq was put under house arrest when he tried to take out a protest march from his residence on the outskirts of Srinagar. Jammu and Kashmir Liberation Front chief Yasin Malik was detained along with dozens of his supporters in central Srinagar when he tried to do the same.
The Army had called the march call an attempt to sabotage peace at Pakistan's behest and advised the people against marching towards the cantonment.
Elsewhere in the Kashmir Valley, a complete shutdown was observed against the killings. The mobile internet was slowed across Kashmir to prevent mobilisation for the protests while train services from north Kashmir's Baramulla to Banihal in the Jammu region were suspended. All examinations scheduled in the Valley were also postponed in view of the call for protests.
Full report at:
https://www.hindustantimes.com/india-news/separatist-leaders-detained-in-jammu-and-kashmir-s-srinagar-march-against-civilian-killings-stopped/story-O93pPV3LdDoHqMXE66GHcK.html
--------
Religion is like medicine, one doesn't suit all: Dalai Lama
Dec 18, 2018
"Religion is like medicine, and there is no single medicine that suits all," the 14th Dalai Lama said on Dec. 17.
The Dalai Lama was speaking at the Techfest organised by the Indian Institute of Technology Bombay on Friday.
"Fundamentally, all religions preach the same things. I never said Buddhism is the best religion for inner peace, it is up to an individual what will work for them."
He said that India has been secular for thousands of years and it can be an example of harmony and world peace. "India has a history of 3,000 years of religious harmony. This country is capable of combining modern education of science and technology with the ancient knowledge of inner peace, and can be a significant contributor to world peace," the Dalai Lama said.
He said that for over three decades he has interacted with the best scientists in neurosciences, cosmology, psychology, and most of them now believe their is a consciousnesses that guides the human mind. "Modern psychology is at kindergarten-level in front of the ancient Indian knowledge of psychology. Modern science is trying to study the ancient knowledge of meditation and controlling the emotions of a human mind to acquire inner peace," the Dalai Lama said.
Emphasising the need for education he said, "Education is very important. With the help of education people can control their emotions better." The Nobel laureate said that a calm mind is necessary for excelling in life. "It's only with a calm that mind we can think clearly, too many emotions hampers decision making, when we have inner peace only then is the mind neutral and capable of intelligent investigation."
The 20th century saw world wars and civil wars, a time of destruction and violence, he said. "The 21st century should be one of peace and happiness. If this generation is educated with a combination of science and technology and inner values, then the world will see peace," he said.
The Dalai Lama said that one's action should be Ahimsa (non-violence) and reaction should be Karuna (compassion). "A mind without consciousness is useless, one must learn to reduce anger through training," he said.
Full report at:
http://mattersindia.com/2018/12/religion-is-like-medicine-one-doesnt-suit-all-dalai-lama/
--------
South Asia
Taliban met with U.S., Pakistani, Saudi, and UAE officials in Abu Dhabi
Dec 18 2018
Taliban's political leaders have met with the officials of United States, Pakistan, Saudi Arabia, and United Arab Emirates in Abu Dhabi on Monday.
"Yesterday the delegation of Islamic Emirate held extensive rounds of meetings with the high-ranking officials of Saudi Arabia, Pakistan and United Arab Emirates in Abu Dhabi," Taliban spokesman Zabiullah Mujahid said in a statement.
The statement further added that "Talks revolved around withdrawal of occupation forces from Afghanistan, ending the oppression being carried out by the United States and her allies and views were exchanged with the said countries about peace and reconstruction of Afghanistan. Moreover,preliminary talks were held with the said countries along with the State Department's Special Representative Zalmai Khalilzad at the end of the day. And meetings in this negotiations process shall continue today."
This comes reports emerged earlier suggesting that a delegation of the Afghan officials have also visited UAE but the Taliban spokesman has only confirmed meetings with the U.S., UAE, Pakistani, and Saudi officials.
https://www.khaama.com/taliban-met-with-u-s-pakistani-saudi-and-uae-officials-in-abu-dhabi-02948/
--------
Church condemns Bangladesh election violence
December 17, 2018
A church official has joined rights' defenders to condemn political violence ahead of Bangladesh national elections that has already left at least 10 people dead and injured many more.
The national poll for the 300-seat parliament of the Muslim-majority South Asian nation is scheduled to be held Dec. 30.
Prime Minister Sheikh Hasina of the ruling Awami League-led Grand Alliance, in power since 2008, is seeking a third consecutive term.
The opposition alliance, Jatiya Oikya Front (National Unity Front) led by Bangladesh Nationalist Party (BNP), is vying to return to power after more than a decade.
At least 10 people, a majority of them supporters of the Awami League and the BNP, have died in political clashes across the country since electioneering kicked off Dec. 10. Hundreds were injured and dozens have been arrested, most of them opposition leaders and activists.
"An election is a festival for democracy, but we cannot see any mood but fear," Father Anthony Sen, convener of Justice and Peace Commission at northern Dinajpur Catholic Diocese, told ucanews.com.
"Violence and deaths have instilled panic among people and they fear it will intensify in the lead up to the election."
The sorry state of electioneering is a result of politics of power and annihilation in the country, as well as failure of the Election Commission, the priest said.
"The Election Commission is supposed to ensure a peaceful, fair and credible election, so people can exercise their democratic rights freely and without fear," Father Sen added.
Nur Khan, a Dhaka-based rights activist, said there was every reason to doubt that the Election Commission has the capacity to hold a free and fair election.
The government had not shown a commitment to creating a level-playing field for campaigning, he added.
This year's poll is regarded as the first participatory election under a partisan government since Bangladesh returned to democracy in the 1990s.
Bangladesh gained independence from Pakistan in 1971 after a nine-month war. However, it endured military dictatorships from 1975-1990.
The elections of 1991, 1996, 2001 and 2008 were held under neutral and non-party caretaker governments.
The Ruling Awami League scrapped a caretaker system in 2011, defying protests from opposition parties.
The BNP and its allies boycotted the 2014 election after the Awami League refused to reintroduce a caretaker administration, which saw the Awami League win by a landslide with more than half of the seats won uncontested.
This year's political violence showed Bangladesh has a long way go to democratize, said Dr. Shantunu Majumder, associate professor of political science at Dhaka University.
"Our political landscape is still dominated by power grabbing at any cost, so nobody expected to see an election without any violence," he said.
Full report at:
https://www.ucanews.com/news/church-condemns-bangladesh-election-violence/84136
--------
Myanmar commission calls for evidence of Rohingya abuse
December 18, 2018
Myanmar's internal commission of inquiry into rights' abuses in troubled Rakhine State against Muslim Rohingya has called on people to provide evidence of violations by Myanmar's armed forces.
Individuals, groups, witnesses and alleged victims have been called on to submit their accounts, with supporting data and evidence such as audio and video recordings as well as photographs and any relevant documentation, no later than Jan. 31, 2019.
The move has been met with skepticism from a leading rights group and Rohingya refugees who have little faith in the commission.
The commission said in a statement Dec. 12 that it would will arrange a mutually convenient time and place for meetings and all submissions would be kept 'confidential'.
The so-called Independent Commission of Inquiry begun its probe in northern Rakhine Aug.31, a year after a bloody crackdown by Myanmar's military caused more than 700,000 Rohingya to flee into neighboring Bangladesh.
Myanmar July 30 established the commission with two international and two local members to be led by Rosario Manalo, a former deputy foreign minister of the Philippines, following mounting international pressure over the military's atrocities.
The commission is yet to visit to Rohingya refugee camps in Bangladesh.
Phil Robertson, deputy Asia director for Human Rights Watch, said the commission has very little credibility with the international community.
He added that it was unlikely that randomly seeking submissions would do much to increase its standing.
He sees the commission as "just going through the motions" rather than conducting a real investigation.
"Without ironclad guarantees to ensure confidentiality and real systems to protect people against retaliation, it's likely there will be very few submissions from victims on the ground, and that's a shame because people are waiting for real justice and accountability," Robertson told ucanews.com.
Rezwan, 20, a Rohingya refugee from Kutupalong refugee camp who arrived there in 2017, said community leaders have gathered a great deal of evidence that to prove the military, as well Buddhist mobs and militias, killed people and burned their homes.
She did not think a single Rohingya would testify to the Myanmar's Rakhine commission.
"If I go to Myanmar they can arrest me, torture or kill me," Rezwan told ucanews.com.
She added that Rohingya would provide documents and evidence if the commission came to Bangladesh.
Abul Kalam, 35 a Rohingya community leader from Kutupalong refugee camp, cited comprehensive evidence of official Myanmar atrocities.
But he too was afraid the commission would misuse evidence or destroy it.
On Dec. 13, the U.S. House of Representatives passed a resolution declaring that the crimes committed by Myanmar's military against Rohingya constitute 'genocide'.
Full report at:
https://www.ucanews.com/news/myanmar-commission-calls-for-evidence-of-rohingya-abuse/84130
--------
Prominent Taliban leader killed in Herat drone strike
Dec 17 2018
A prominent leader of Taliban group has been killed in a drone strike carried out in western Herat province of Afghanistan, the local officials said.
Provincial governor's spokesman Jilani Farhad confirmed the airstrike and said a prominent Taliban leader identified as Mullah Ghulam Sakhi was killed in the airstrike which was carried out in Farsi district.
Farhad further added that Mullah Sakhi was the shadow education director of Taliban in Herat and was also involved in other activities including intelligence related operations in Shindand and other districts of the province.
According to Farhad, Mullah Sakhi was also appointed as Taliban's shadow district chief for Farsi district of Herat provnce.
At least four accomplices of Mullah Sakhi were also killed in the same airstrike, the provincial governor's spokesman added.
The anti-government armed militant groups including Taliban militants have not commented regarding the report so far.
Full report at:
https://www.khaama.com/prominent-taliban-leader-killed-in-herat-drone-strike-02944/
--------
Pakistan
Pakistan brings US and Taliban face-to-face in UAE
Dec 18, 2018
ISLAMABAD: Delivering on its commitment to bring peace to the region, Pakistan on Monday successfully brought the Afghan Taliban to the table in the United Arab Emirates (UAE) for the latest round of talks between the militant outfit and US officials as diplomatic moves toward agreeing to the basis for talks to end the 17-year war in Afghanistan continue.
The talks brokered by Pakistan concluded on Monday in Abu Dhabi. In a joint statement issued by Afghan Taliban and the US, both parties agreed on carrying forward the peace process. The Afghan Taliban representative said that he will discuss the peace talks with the Taliban Shura.
"Along with the international community and other stakeholders, Pakistan is committed to peace and reconciliation in Afghanistan. Talks are being held in UAE. We hope this will end bloodshed in Afghanistan and bring peace to the region," Foreign Office (FO) spokesman Dr Muhammad Faisal announced on Twitter as talks went underway in the Gulf country.
Afghan Taliban spokesperson Zabihullah Mujahid said that representatives from Saudi Arabia, Pakistan and the UAE are also participating in the meeting, which follows at least two meetings between Taliban officials and US special peace envoy Zalmay Khalilzad in Qatar.
He made the announcement in a statement on Twitter.
The meetings come as diplomatic efforts to resolve the Afghan conflict have intensified, although the Taliban have so far refused to deal directly with the Western-backed government in Kabul, which it considers illegitimate.
The Taliban say the presence of international forces in Afghanistan is the main obstacle to peace but have said that issues, including mutual recognition with the Kabul government, constitutional changes and women rights, can be negotiated.
On Saturday, the US said it welcomes actions Pakistan is taking to promote a negotiated solution to the war in neighbouring Afghanistan.
The acknowledgement came a day after Prime Minister Imran Khan announced that Pakistan had arranged another round of US peace talks with the Afghan Taliban scheduled for Monday.
"The US welcomes any actions by the Pakistani government to promote greater cooperation, including fostering negotiations between the Taliban, the Afghan government, and other Afghans," a US embassy spokesperson in Kabul told Voice of America.
Khalilzad has met, and will continue to meet, with all interested parties, including the Taliban, to support a negotiated settlement to the conflict in Afghanistan, the spokesperson added.
PM Imran's announcement about the talks came days after US President Donald Trump made a personal appeal to him to help end the war in Afghanistan.
Trump sent Imran a personal letter asking for his help in pushing the Taliban into peace talks.
The White House National Security Council said that Trump had asked PM Imran in the letter to lend his "full support" to the deepening US efforts to launch such talks.
"In the letter, the president recognises that Pakistan has the ability to deny the Taliban sanctuary on its territory," said a National Security Council spokesman."The letter also makes clear that Pakistan's assistance with the Afghan peace process is fundamental to building an enduring US-Pakistan partnership."
Pakistan's FO said in a statement that Trump had sought Pakistan's support in forging a negotiated settlement to the Afghan conflict.
"Since Pakistan has always advocated a political settlement to end the war in Afghanistan, US decision is welcomed. Pakistan reiterates its commitment to play a facilitation role in good faith," the FO said.
The letter came just days after an ill-tempered Twitter exchange between Trump and PM Imran.
In mid-November, Trump said on Twitter that "We no longer pay Pakistan the $Billions because they would take our money and do nothing for us."
PM Imran responded with a tweet that said, "Instead of making Pakistan a scapegoat for their failures, the US should do a serious assessment of why, despite 140,000 NATO troops plus 250,000 Afghan troops & reportedly $1 trillion spent on war in Afghanistan, the Taliban today are stronger than before."
https://www.pakistantoday.com.pk/2018/12/17/pakistan-expresses-support-for-latest-talks-between-us-taliban/
--------
Pak minister vows to 'protect' Hafiz Saeed and his party
Dec 17, 2018
LAHORE: Exposing Pakistan Prime Minister Imran Khan's seriousness on combating terrorism, his junior interior minister has vowed to "protect" Mumbai attack mastermind Hafiz Saeed and his party in a leaked video.
The leaked video showed minister of state for interior Shehryar Afridi talking to the Milli Muslim League (MML) leaders and when his attention was drawn towards non-registration of Saeed's party by the Election Commission (ECP) as a political party due to the US pressure and the ECP's plan to declare it a terrorist organisation, the minister said: "We will not let this happen."
"As long as we (the Pakistan Tehreek-e-Insaaf) are in the government all those including Hafiz Saeed who are raising voice for Pakistan and righteousness, we are with them," Afridi said, adding "this is our belief."
"I request you to come to the National Assembly and see whether we are supporting those who on the right path or not," he told them.
Saeed was declared a global terrorist by the US and the UN after the 2008 Mumbai attack and was put under house arrest in November 2008 but freed by a court some months later. He carries a $10 million American bounty on his head for his role in terror activities.
India has been demanding Pakistan not only to arrest the LeT founder and try him in the Mumbai attack case but also punish all those involved in this carnage.
In the leaked video, an MML leader said the high court ordered the ECP to register the MML as a political party but the top election body said that it had come to know that the US had declared MML a terrorist organisation.
On this, the minister assured that "this will not happen in the Imran Khan's government."
Saeed launched the MML in August 2017 with a so-called mission to implement the ideology of Pakistan in accordance with the 1973 Constitution.
In April, the US placed the MML on its list of foreign terror organisations for its links with the Lashkar-e-Taiba.
The interior ministry had written to the ECP recommending not to register the MML as it is an off-shoot of Saeed's Jamat-ud Dawah, which has been declared as a foreign terrorist organisation by the US in June 2014.
The JuD is believed to be the front organisation for the Lashkar-e-Taiba which is responsible for carrying out the 2008 Mumbai attack that killed 166 people.
The MML contested general elections on the platform of the "dormant" political entity Allaha-u-Akbar Tehreek (AAT), which was registered with the ECP.
The Supreme Court in September last permitted the JuD and its arm Falah-e-Insaniyat Foundation (FIF) to continue their relief and charity work in the country.
JuD's network includes 300 seminaries and schools, hospitals, a publishing house and ambulance services. The JuD and FIF alone have about 50,000 volunteers and hundreds of other paid workers, according to two counter-terrorism officials.
Full report at:
https://timesofindia.indiatimes.com/world/pakistan/pak-minister-vows-to-protect-hafiz-saeed-and-his-party/articleshow/67133745.cms
--------
PM Khan asks Fatyana to draft bill aimed at making Pakistan welfare state
Syed Irfan Raza
December 18, 2018
ISLAMABAD: Prime Minister Imran Khan on Monday asked Pakistan Tehreek-i-Insaf's (PTI) member of the National Assembly Riaz Fatyana to draft a bill to make Pakistan a real welfare state, ensure representation of all segments of society in parliament, improve agriculture and solve people's problems.
The meeting was held amid resentment within the PTI over Mr Fatyana's remarks in favour of opposition MNA Khawaja Saad Rafique.
A press release issued by the PTI headquarters said the meeting between the prime minister and Mr Fatyana was held in a "pleasant atmosphere". The prime minister expressed "complete confidence" in Mr Fatyana and appreciated his points of view and suggestions.
The PM's adviser on political affairs, Naeemul Haq, was also present during the meeting.
When contacted, Information Minister Fawad Chaudhry said there was resentment in the PTI over Mr Fatyana's remarks about Saad Rafique, but "all issues between him and the party have been settled now".
In a recent TV programme, Mr Fatyana had called for serving justice to Khawaja Saad Rafique of the Pakistan Muslim League-Nawaz in the Paragon Housing Society case.
He claimed that he had known Saad Rafique for 30 years and was aware about his character and nature.
The PTI leader had said his call for serving justice to the PML-N leader was his personal opinion and not his party's position.
He said the masses voted the PTI into power to take action against corruption, which was the country's biggest issue in the prevailing circumstances.
Full report at:
https://www.dawn.com/news/1452090
--------
China will support Pakistan's efforts to increase forest cover: envoy
Ikram Junaidi
December 18, 2018
ISLAMABAD: Ambassador of China Yao Jing on Monday said the government of Pakistan should create public awareness to stop deforestation and launch plantation at a massive level to increase the forest cover in the country.
"We were also facing the same issue due to which in the 1990s it was decided to make a green wall in China. As China is a larger country compared to Pakistan, we had more problems but we addressed them by creating public awareness. I am hopeful that Pakistan would also address the issue as the government has shown a commitment," he said while talking to Dawn after a media briefing held at the Ministry of Climate Change.
The ambassador said it takes time to increase the forest cover but once efforts are started with a full commitment things are surely improved.
Addressing the mediapersons, Mr Yao said Pakistan and China had signed a memorandum of understanding (MoU) under which Beijing would support Pakistan to increase its forest cover.
"The MoU, which was signed during Prime Minister Imran Khan's visit to China last month, is just a start. It is the 40th anniversary of Chinese development and opening up to the world. We can share a lot for better management of environment."
He said the Clean and Green Pakistan initiative was not only possible but can make a difference. He said China would support Pakistan in all such projects.
Earlier, Adviser to Prime Minister on Climate Change Malik Amin Aslam said the MoU inked between the National Forestry and Grassland Administration of the People's Republic of China and the Ministry of Climate Change of Pakistan aimed at enhancing and strengthening bilateral relations in the field of forestry and climate.
He lauded the Chinese government's environment projects of Eco-Civilisation and Green Wall of China. He said these projects increased the forest cover in China from 12pc to 18pc which constituted 500,000 square kilometres. Moreover, the green wall stopped the spread of deserts.
Mr Aslam said China had supported professionals from Pakistan through participation in training courses on forestry, wildlife, rangeland improvement, wetland management and desertification control in the past.
"Since Pakistan is also in the process of implementing massive afforestation projects, we will get an opportunity to learn from the Chinese experience," he said.
About the recent Conference of the Parties (COP 24), which was held in Poland and participated by Mr Aslam, he said China took the leading role throughout the conference.
He said Pakistan had completed one billion tree tsunami project and was going to complete the 10 billion tree tsunami project in the five-year tenure of the Pakistan Tehreek-i-Insaf government.
"China has constructed three dams which are being used to recharge the underground water. We also want to learn from China and get its support in recharging the underground water," he said.
Full report at:
https://www.dawn.com/news/1452025/china-will-support-pakistans-efforts-to-increase-forest-cover-envoy
--------
Army chief, Egyptian military leaders discuss security cooperation
DECEMBER 18, 2018
Chief of Army Staff (COAS) General Qamar Javed Bajwa on Monday called on General Mohamed Zaki, Commander in Chief of Egyptian Armed Forces and Minister of Defence and Military Production, and Lt Gen Mohamed Farid Hegazy, Chief of Staff of the Egyptian Armed Forces, during his visit to Cairo.
A statement issued by the Inter Services Public Relations (ISPR) said that matters of mutual interest, military to military relations, defence and security cooperation were discussed during the meeting.
It said that the Egyptian leadership highly appreciated the professionalism of Pakistan Army and the determination of the Pakistani nation in combating terrorism. Both sides agreed to increase bilateral cooperation in multiple fields including joint ventures, defence production, training and intelligence. They also agreed to improve cooperation for regional peace and stability.
The statement mentioned that the army chief also met Sheikh Ahmed Al-Tayeb, the grand sheikh of Al-Azhar who also commended the efforts of Pakistan Army in eliminating the scourge of terrorism from the country.
The cleric also appreciated the issuance of Paigham-e-Pakistan fatwa on issues arising from extremism by religious scholars from all schools of thoughts in Pakistan.
Full report at:
https://dailytimes.com.pk/334689/army-chief-egyptian-military-leaders-discuss-security-cooperation/
--------
Southeast Asia
Kalla reasserts Indonesia's 'non-interference' stance on Uighur issue
December 17, 2018
Vice President Jusuf Kalla has reiterated that Indonesia would not interfere in China's handling of Uighur Muslims amid pressure from the nation's ulema council for the government to step in.
"Of course we reject or [want to] prevent any human rights violations. However, we don't want to intervene in the domestic affairs of another country," Kalla told journalists on Monday.
Reports circulated that the Chinese government had conducted a massive crackdown on Uighur Muslims in the Muslim-majority Xinjiang autonomous region.
Previously, the Indonesian Ulema Council (MUI) had condemned China over reports of the crackdown, saying it was not in line with the International Covenant on Civil and Political Rights that guarantees religious freedom for every human around the world. China signed the covenant in 1998 but has yet to ratify it.
"The crackdown is an outright violation of basic human rights, as well as international laws," MUI advisory council leader Din Syamsuddin said on Monday, as quoted by Antara.
Din, former chairman of Muhammadiyah, Indonesia's second biggest Islamic organization, also demanded that the Indonesian government take firm action to advocate for the Uighurs.
The president of the Asian Conference on Religions for Peace also urged the international Islamic Cooperation Organization and the international community to push for the Chinese government to guarantee the Uighurs' civil rights. (kuk/swd)
https://www.thejakartapost.com/news/2018/12/17/kalla-reasserts-indonesias-non-interference-stance-on-chinas-uighur-issue.html
--------
Time to champion the Malaysian agenda, says academic
Melissa Darlyne Chow
December 18, 2018
PETALING JAYA: An academic has urged political parties to stop operating along ethnocentric lines and to begin championing the "Malaysian agenda" instead.
Ahmad Fauzi Abdul Hamid, a professor at Universiti Sains Malaysia, said there was a need to return to the spirit of the Federal Constitution, specifically Article 153.
He said when parties talked about fighting for the Malay agenda, it was usually in reference to this section of the constitution which touched on the special position of the Malays.
"But if we look at the wording of Article 153, which grants the king the role of safeguarding the position of the Malays, it does not say that this sort of safeguarding is to the exclusion of other non-Malay communities.
"This clause of Article 153 is not supposed to be exclusionary," he said, adding however that it had been interpreted and understood as such by Umno and other Malay-centric parties.
"Once you agree to safeguard the position of the Malays, for instance the Bumiputeras and the indigenous people of Sabah and Sarawak, it also means that those parties have to agree to look after the interest of other communities," he told FMT.
Fauzi was responding to PAS secretary-general Takiyuddin Hassan, who said the Islamist party was taking over the fight for the Malay-Muslim agenda from Umno which had been weakened after the recent exodus of lawmakers.
Under Article 153 of the constitution, the king must exercise his constitutional functions and his executive functions under federal law to generally safeguard the special position of the Bumiputeras, and specifically establish quotas for Bumiputeras in federal public service positions, federal scholarships, federal trade or business licences, and tertiary education enrolment.
He is also responsible for safeguarding the legitimate interests of other communities, such as ensuring the impartial treatment of civil servants regardless of race, and that no one is deprived of federal scholarships already enjoyed.
Fauzi acknowledged that there were certain clauses pertaining to the special position of the Malays but cautioned that this did not mean neglecting other communities, "as if to deprive them of what they also deserve, as citizens of Malaysia in their own spheres".
"If we understand from the Federal Constitution that there are different spheres of interests which must be acknowledged, and as we understand the history, all parties have interests.
"Once you agree to Article 153, you have to protect all. So if PAS or Umno thinks they are looking after the Malay agenda, if they do it without the intention of looking after the interests of non-Malays as well, then they have gone against the constitution," he said.
He added that this was one of the reasons PAS and Umno were losing out, as they were increasingly portraying themselves as only looking after the Malay-Muslims when in fact there were many such people, especially in the urban areas, who realised the importance of safeguarding the interests of their non-Malay friends.
"Many Malay-Muslims have realised this. It might be argued that a majority of Malays voted for PAS and Umno instead of Pakatan Harapan (PH), but things are slowly changing," he said.
"If PAS and Umno keep harping on their ethnocentric agenda, in the long term they will lose out."
He also warned other race-based parties to avoid merely championing the agenda of a particular ethnic group, and cautioned PH over recent concerns about Umno elements entering PPBM.
"They have to be wary of ethnocentric elements creeping into PH because one of the reasons for the downfall of Umno was its increasing inability to see the fate and interests of the people in terms of Malaysia rather than Malay or non-Malay.
"Remember, there are two parts to Article 153. Look at both. I think some have selectively chosen the parts that are to their advantage and portrayed it to the population as being part of an exclusive interest."
Meanwhile, Awang Azman Awang Pawi from Universiti Malaya said PAS and Umno claimed to have championed the Malay-Muslim agenda during the May 9 polls, claiming they were more Malay and Muslim than any others.
He urged majority Malay-Muslim parties in PH like Amanah and PPBM to step up and be more vocal on issues concerning Malays and Islam.
"As the government of the day, Amanah and PPBM should be taking up the mantle, but they have not utilised this opportunity.
"They need to address and explain Malay and Islamic issues better, and tackle them in a wiser way than what the opposition parties are doing."
He also suggested that they hold dialogues or sessions with non-Muslims to foster a better understanding of the issue.
Full report at:
https://www.freemalaysiatoday.com/category/nation/2018/12/18/time-to-champion-the-malaysian-agenda-says-academic/
--------
No ban on Muslim speakers appearing on radio, TV
December 14, 2018
IPOH: Dismissing a message going viral on social media, Putrajaya today clarified that it never prohibited any religious speaker from appearing on radio or television.
Minister in the Prime Minister's Department Mujahid Yusof Rawa advised the speakers to adhere to the three thrusts championed by the Pakatan Harapan (PH) government if they wanted to go on air.
"Speakers and lecturers who want to appear on TV in our programmes must understand the three thrusts we are championing: 'Rahmatan Lil Alamin' (Mercy to all Creations), 'Maqasid Syariah' (Five Foundational Goals) and the Malaysian Module.
"We welcome them so long as the content of their talks or lectures does not contradict these three matters. It is not that we want to prohibit someone just because we do not like him; it is more to do with the content," he told reporters on the sidelines of the ongoing Amanah National Convention 2018 here.
Mujahid was commenting on a viral message on WhatsApp and Facebook alleging that several religious speakers, including Ahmad Dusuki Abdul Rani, Mohd Kazim Elias, Shamsul Debat, Azhar Idrus and Ridhuan Tee Abdullah, were barred from making an appearance on radio or TV.
He said the matter should not be circulated on social media, adding that it could raise doubts and provocations against the government.
Full report at:
https://www.freemalaysiatoday.com/category/nation/2018/12/14/no-ban-on-muslim-speakers-appearing-on-radio-tv/
--------
Dewan Negara observes one-minute silence to honour fireman Adib
18 December 2018
KUALA LUMPUR, Dec 18 ― Dewan Negara today spent a minute's silence and expressed its condolence to family members of fireman Muhammad Adib Mohd Kassim who died last night due to severe injuries after being attacked during a riot at the Sri Maha Mariamman Temple at USJ25, Subang Jaya on November 27.
Muhammad Adib, 24, died at the National Heart Institute (IJN) at 9.41 last night.
Senate President, Tan Sri S. Vigneswaran represented the Semate in expressing sadness at the passing of Muhammad Adib.
"The fireman had sacrificed his life for the nation. He is a true hero, a national hero, the sacrifice of this noble being for the nation truly makes the country proud. May the incident be a lesson for all Malaysians," he said.
Besides the message of condolence, he also hoped that all family members of the late fireman and staff of the fire department would be strong in facing the situation.
Full report at:
https://www.malaymail.com/s/1704151/dewan-negara-observes-one-minute-silence-to-honour-fireman-adib
--------
Mosque mob kills South Sulawesi student
December 18, 2018
Police in Gowa, South Sulawesi, have arrested 10 people for allegedly beating a man to death on Dec. 10 in the country's latest case of deadly mob violence.
The victim, identified as 23-year-old student Muhammad Khaidir, was attacked by a mob inside a mosque after he was falsely accused of being a thief.
The Gowa Police confirmed that Muhammad was not suspected of any felony. He was a resident of Selayar regency and a student at Makassar's East Indonesia University. He was reportedly in Gowa en route to visit a cousin in Jeneponto, South Sulawesi.
According to the police, the incident began when the victim went to the mosque at around 2 a.m. to observe tahajud, a voluntary night prayer, and found it locked. He then knocked on the door of a nearby resident, identified as YDS, to ask him to open mosque.
YDS reportedly became angry at Muhammad for knocking on his door and reprimanded him. Muhammad, the police said, apparently ignored the admonishment and left.
YDS then rushed to the mosque caretaker, identified as RDN, who announced on the mosque's loudspeaker that a thief was at the mosque, kompas.com reported.
The neighborhood residents started gathering at the mosque in response to the announcement. Muhammad, unaware that he was the accused, also joined the crowd at the mosque, which immediately attacked him.
A video of the mob attack has been circulating on social media.
YDS and RDN are among the 10 people the police have arrested in connection with the incident.
"All suspects have been charged with Article 170 of the Criminal Code on mob violence, with a maximum punishment of 12 years in prison," National Police spokesman Brig. Gen. Dedi Prasetyo said, as quoted by kompas.com on Monday.
The victim's family was shocked by the incident and had asked police to investigate, Gowa Police chief Adj. Sr. Comr. Shinto Silitonga said, as quoted by ntmcpolri.info on Tuesday.
Sunardy Selayar, a Facebook user who claimed to be a family friend, wrote that the young man [Muhammad] had no criminal record and had recently started observing tahajud.
Sunardy questioned the allegations circulating on social media that Muhammad went berserk at the mosque before he was killed by the mob, and accused the allegations as a "false narrative" that the perpetrators had fabricated to justify their "inhumane" violence.
"If anything, taking the law into our own hands without tabayyun [seeking clarification] is utterly forbidden in our country, let alone in Islam,' he posted.
Mob lynching is not uncommon in Indonesia. In August 2017, Muhammad Azahra, 37, was killed by angry residents of Babelan in Bekasi, West Java, after he was accused of stealing an amplifier from a local musholla (small prayer house). The mob chased the electronics repairman as he attempted to flee on his motorcycle, beat him and set fire to him.
Full report at:
https://www.thejakartapost.com/news/2018/12/18/mosque-mob-kills-south-sulawesi-student.html
--------
Arab World
Kurdish Politician: Kurds Sold by US to Ankara
Dec 17, 2018
The Arabic-language al-Watan newspaper quoted Ousi as saying on Monday that Turkish President Recep Tayyip Erdogan's threat of military attack against Eastern Euphrates is serious and dangerous.
He warned that the US has sold the Syrian Kurds to Turkey, adding that Ankara's threats started after a visit by US special representative for Syria James Jeffrey to the country and his meetings with the Turkish leaders.
Ousi said that "Turkey has received greenlight from its master, the US, to infiltrate into Eastern Syria," adding that both sides have reached an agreement in this regard.
He said that neither Kurds nor any other groups of the Syrian people residing in Eastern Euphrates are important to the US, calling on the Kurds to help the Syrian government to enter the Kurdish-populated regions and cut ties with Washington.
The Turkish army targeted and pounded the military positions of the Kurdish forces in Northern Aleppo near Syria's border with Turkey on Saturday as heavy clashes have intensified between the two sides there.
Sources close to militants in Northern Syria said that the Turkish army's artillery units pounded several military positions of the Kurds in Zour Moghar and Shoyoukh Foqani in the surrounding areas of Ain al-Arab in Northern Aleppo and near the border with Turkey, destroying one of their military positions.
The sources, meantime, pointed to the Kurdish forces' attacks on the Ankara-backed militants' positions from Harbal, Sheikh Issa and Um Khosh regions in Ma'areh region, and reiterated that intense fighting has broken out between the two sides in the surrounding areas of Tal Rafat city.
The sources close to the Syrian Democratic Forces (SDF) also reported that the Kurdish forces targeted and pounded one of the positions of the Turkish army in Kimar village in Shirava region of Afrin in Western Aleppo, which resulted in the destruction of the military point and death of five Turkish soldiers.
The Kurdish-language Hawar news reported on Thursday that the 'Executive Council for Autonomous Forces in Northern and Eastern Syria' ordered all troops to go on alert after Erdogan threatened to launch military operations against Kurds in coming days.
The Kurdish forces in a statement claimed Ankara attempts to support the ISIL, calling on the US-led coalition, the international community, specially the UN, and the NATO members to voice opposition to Ankara's aggressive plans.
Meantime, commander of Ferqat al-Hamzeh, affiliated to the Turkey-backed Free Syrian Army (FSA) terrorist group, said that nearly 20,000 FSA militants are prepared to take part in the Turkish army's military operations against Kurds in Eastern Euphrates, specially the town of Manbij in Aleppo and Tal Abyadh in Raqqa.
http://en.farsnews.com/newstext.aspx?nn=13970926000916
--------
SDF fighters vow to 'finish off' Daesh in Hajjin operation
December 17, 2018
HAJJIN: Burnt-out cars, craters and collapsed buildings dot the side of a road in the Syrian village of Hajjin, after US-backed forces expelled Daesh.
The sound of mortar fire and flying bullets resounded inside Hajjin on Saturday, as huge clouds of grey smoke billowed over the outskirts of the large village in eastern Syria.
The yellow flag of the Syrian Democratic Forces (SDF) flew above one building, after the Kurdish-led fighters seized the village from Daesh on Friday.
"Hajjin has come under the control of our forces," SDF commander Zanar Awaz said.
"We are now fighting on the outskirts of Hajjin and we are preparing to enter nearby villages," he said in Kurdish, a shot of white in his short black hair.
"We will finish off this terrorist group."
Hajjin lies on the east bank of the Euphrates in the eastern province of Deir Ezzor, about 30 km from the border with Iraq.
The village's capture marks a milestone in a massive and costly operation backed by a US-led coalition to expel Daesh from eastern Syria.
On Saturday, armored vehicles brought in SDF fighters to reinforce the front lines outside Hajjin, as coalition planes and helicopters flew overhead.
An SDF fighter sitting on the top of a vehicle with fellow combattants flashed a victory sign.
The Kurdish-led SDF launched an offensive in September to expel Daesh from a pocket including its main village Hajjin, but their advance has been fraught with obstacles.
"We've been facing a lot of difficulties: Daesh car bombs, suicide attackers. Most of them are foreign," Awaz said.
On Saturday morning, Daesh launched a counterattack, but the SDF said it succeeded in repelling them with the backing of coalition air strikes.
Since the start of the operation on September 10, at least 930 extremists and more than 540 SDF fighters have been killed, the Britain-based Syrian Observatory for Human Rights war monitor said.
In addition, more than 320 civilians have lost their lives, many in coalition airstrikes, according to the Observatory. The coalition has however repeatedly denied targeting civilians.
But no civilians were visible in Hajjin on Saturday, after thousands fled the village and nearby areas.
A convoy of armored cars ferried in US soldiers, churning up dust along the way.
On a hill that used to act as the village cemetery, tunnels and trenches dug by the terrorists lay covered in sheets and colorful blankets. Bullet and artillery shell casings covered the ground.
SDF fighter Bahouz, who did not give his last name, remembered first entering the district's hospital.
He said he took pictures of the dead terrorists he saw there.
"They think they'll go to paradise, but we killed them," he said, carrying a gun and hand grenades around his waist.
"Death is their destiny as they destroyed everything."
Daesh swept across large swathes of Syria and neighboring Iraq in 2014, implementing their brutal interpretation of laws in areas they controlled.
But they have since seen their dream of a state crumble, as they have lost most of that territory to various offensives.
In Syria, Daesh is still holding out in what remains of the pocket that once included Hajjin, including the villages of Al-Shaafa and Sousa.
Daesh also also retained a presence in the vast Badia desert, but that front is managed by Russia-backed regime forces.
According to the Observatory, a total of 17,000 SDF fighters are involved in the fight to seize the eastern pocket, compared to around 2,000 jihadists.
Inside Hajjin village, SDF fighter Mohammed Al-Mohammed said his spirits were high.
Full report at:
http://www.arabnews.com/node/1422246/middle-east
--------
US Forces Trying to Deploy Iraqi Kurdish Peshmarga at Syria's Border with Turkey
Dec 17, 2018
The sources in Qamishli in Northern Hasaka reported that a 50-member military delegation, including Kurdish Peshmarga commanders accompanied by US army officers, arrived in Northeastern Hasaka from Iraq on Sunday via Simalka border crossing.
The sources further said that the delegation arrived in Romeilan region in Hasaka, adding that the move is aimed at holding a meeting with the Kurdish militia under the supervision of the US forces over the deployment of Peshmarga gunmen at Syria's border with Turkey.
In the meantime, the London-based Syrian Observatory for Human Rights (SOHR) reported that the US-led coalition is attempting hard to justify the Syrian Democratic Forces (SDF) to agree with the deployment of Iraq's Peshmarga fighters at Syria's border with Turkey.
Meanwhile, Bas News Website, affiliated to Kurdish militia, reported that the US' attempts to deploy Peshmarga fighters at Syria's border with Turkey came after the SDF threatened to withdraw gunmen from contact lines with the ISIL in Southeastern Deir Ezzur.
The SDF has rejected reports on the deployment of Barzani's Peshmarga in Northern Syria.
The Turkish Army has forwarded a large number of forces and a large volume of military hardware to borders with Syria, preparing for a major operation against Kurds on the Eastern Bank of the Euphrates River.
On Saturday, the Turkish Army targeted and pounded the military positions of the Kurdish forces in Northern Aleppo near Syria's border with Turkey as heavy clashes intensified between the two sides there.
Sources close to militants in Northern Syria said that the Turkish army's artillery units pounded several military positions of the Kurds in Zour Moghar and Shoyoukh Foqani in the surrounding areas of Ein al-Arab in Northern Aleppo and near the border with Turkey, destroying one of their military positions.
The sources, meantime, pointed to the Kurdish forces' attacks on the Ankara-backed militants' positions from Harbal, Sheikh Issa and Um Khosh regions in Ma'areh region, and reiterated that intense fighting has broken out between the two sides in the surrounding areas of Tal Rifat city.
Full report at:
http://en.farsnews.com/newstext.aspx?nn=13970926000787
--------
ISIL Fails to Prevail over Syrian Army Positions in Deir Ezzur Province
Dec 17, 2018
The army men engaged in fierce clashes with the ISIL and warded off their heavy assault on the small town of al-Shoula in Eastern Deir Ezzur.
In the meantime, the army's artillery and missile units pounded terrorists' movements and positions in al-Shoula and inflicted major losses on the terrorists, forcing the remaining pockets of them to retreat.
Meanwhile, other artillery and missile units of the army opened heavy fire at ISIL's movements and positions in Albu Kamal region in Southeastern Deir Ezzur and inflicted major losses on them.
Earlier this month, the Syrian army repulsed a heavy attack by the ISIL terrorists against its positions near the town of Albu Kamal in Eastern Deir Ezzur, near the borders with Iraq.
The army soldiers engaged in fierce clashes with a large number of ISIL terrorists, including suicide bombers, who had attacked the army positions in al-Kataf region of Albu Kamal from Baqouz region.
Field sources said that heavy clashes erupted between the two sides in parts of al-Kornish region and farms near the Euphrates River, noting that a large number of militants were killed and wounded.
Full report at:
http://en.farsnews.com/newstext.aspx?nn=13970926000451
--------
US accepts Assad staying in Syria – but won't give aid
18 December 2018
The United States said Monday it was no longer seeking to topple Syrian President Bashar al-Assad but renewed warnings it would not fund reconstruction unless the regime is "fundamentally different."
James Jeffrey, the US special representative in Syria, said that Assad needed to compromise as he had not yet won the brutal seven-year civil war, estimating that some 100,000 armed opposition fighters remained in Syria.
"We want to see a regime that is fundamentally different. It's not regime change -- we're not trying to get rid of Assad," Jeffrey said at the Atlantic Council, a Washington think tank.
Estimating that Syria would need $300-400 billion to rebuild, Jeffrey warned that Western powers and international financial institutions would not commit funds without a change of course.
"There is a strong readiness on the part of Western nations not to ante up money for that disaster unless we have some kind of idea that the government is ready to compromise and thus not create yet another horror in the years ahead," he said.
Former president Barack Obama had called for Assad to go, although he doubted the wisdom of a robust US intervention in the complex Syrian war and kept a narrow military goal of defeating the ISIS extremist group.
President Donald Trump's administration has acknowledged, if rarely so explicitly, that Assad is likely to stay.
But Secretary of State Mike Pompeo warned in October that the United States would not provide "one single dollar" for Syria's reconstruction if Iran stays.
Jeffrey also called for the ouster of Iranian forces, whose presence is strongly opposed by neighboring Israel, although he said the United States accepted that Tehran would maintain some diplomatic role in the country.
Jeffrey also said that the United States wanted a Syria that does not wage chemical weapons attacks or torture its own citizens.
Full report at:
https://english.alarabiya.net/en/News/middle-east/2018/12/18/Russia-Iran-and-Turkey-seek-deal-on-new-Syria-constitutional-body-.html
--------
Iraqi parliament speaker: Saudi support helped in expelling ISIS
17 December 2018
Iraq's Parliament Speaker Mohammed al-Halbousi said on Monday after his meeting with King Salman that "Saudi Arabia had a major role in supporting Iraq in its war against terrorist organizations, especially ISIS".
Halbousi added that "Iraq has passed a difficult stage thanks to the support of Saudi Arabia, which contributed to the expulsion of ISIS from many regions and cities in Iraq".
Saudi Arabia's King Salman bin Abdulaziz received Halbousi as well as a number of Iraqi members of parliament in the al-Yamamah Palace in Riyadh on Monday.
They discussed bilateral relations between both countries and avenues of cooperation between the Saudi Shura Council and Iraq's Council of Representatives.
The meeting was attended by Saudi Minister of Interior Prince Abdulaziz bin Saud bin Nayef, Shura Council President Dr. Abdullah bin Mohammed al-Sheikh and Foreign Minister Adel al-Jubeir.
Full report at:
https://english.alarabiya.net/en/News/gulf/2018/12/17/Iraqi-parliament-speaker-Saudi-support-contributed-to-expulsion-of-ISIS.html
--------
Ceasefire between pro-government forces and Houthi militia in Hodeidah begins
December 18, 2018
JEDDAH: Fighting in the Red Sea port city of Hodeidah came to a halt at midnight on Monday as a UN-brokered cease-fire took hold.
The Saudi-led coalition supporting Yemen's government against Iran-backed Houthi militias "has no intention of violating the agreement ... unless the Houthis violate and dishonor it," a coalition official said.
An agreement reached after talks in Sweden last week calls for the withdrawal of both sides' forces from Hodeidah within 21 days and the deployment of international monitors. The Houthis are due to surrender control of the port by midnight on Dec. 31.
UN Secretary-General Antonio Guterres is expected to propose a surveillance team of up to to 40 observers, diplomats said.
Full report at:
http://www.arabnews.com/node/1422331/middle-east
--------
Arab coalition wants durable peace in Yemen
December 17, 2018
RIYADH: Military pressure from the Arab coalition forced the Iranian-led Houthis to come to the negotiating table, said Col. Turki Al-Maliki.
Addressing a weekly press conference in Riyadh on Monday, the coalition spokesman said the UN and the international community are responsible for the implementation of the Stockholm agreement. Now the onus lies on the Houthis to implement the deal, Al-Maliki added.
The Sweden agreement emphasizes the efforts of Saudi Arabia and the coalition to achieve peace in the war-torn country.
He said the coalition wants to ensure durable peace in Yemen. Warning the Houthis against any violation of the agreement, Al-Maliki said there are committees monitoring the situation in Hodeidah.
Houthi violations
Al-Maliki said the Houthi militia had violated international humanitarian law by indiscriminately planting maritime mines that threaten global maritime and commercial lines in the southern Red Sea. Ninety maritime mines have been detected and destroyed in the Red Sea since the beginning of a mine-clearing operation. The Houthi militia violations also included the bombing of civilian houses in Hodeidah.
The Iranian-backed terrorists have fired 208 ballistic missiles toward the Kingdom between March 26, 2015, and Dec. 17, 2018.
Humanitarian operations
Several relief ports are open for Yemen (air, sea, land), and the total number of maritime permits issued by the Joint Forces Command from March 26, 2015, to Dec. 16, 2018, is 4,944.
12,691 air and 1,192 land permits were issued during the same period. Permits and orders to secure the movement of relief organizations inside Yemen during the period from Dec. 10 to Dec. 17 reached 281. Humanitarian aid is also flowing into Yemen as part of the ongoing humanitarian operations.
The Yemeni National Army has also made some efforts to take control of the Houthi militias' weapons and ammunition depots.
Operational objectives
Full report at:
http://www.arabnews.com/node/1422161/saudi-arabia
--------
Mideast
Benjamin Netanyahu's son suspended from Facebook for anti-Muslim comments
December 17, 2018
Facebook has banned the son of Israeli Prime Minister Benjamin Netanyahu for 24 hours after he posted anti-Muslim and anti-Palestinian messages.
Yair Netanyahu, 27, confirmed on Twitter that he had been banned from the rival social media platform for calling for there to be no Muslims in Israel. Arab Muslims make up around 20 per cent of Israel's population of 8 million.
"There will not be peace here until: 1. All the Jews leave the land of Israel. 2. All the Muslims leave the land of Israel. I prefer the second option," he wrote.
"Do you know where there are no terror attacks? In Iceland and Japan. Coincidentally there's also no Muslim population there," he said in another post.
These posts were removed but he continued to post about Muslims and Palestinians.
After a shooting attack in the West Bank that left two soldiers dead, he posted for Israel to "avenge the deaths" of the soldiers. "There will never be peace with those monsters in the form of men that have called themselves 'Palestinians' since 1964," he wrote.
The younger Netanyahu has long been a public relations nightmare for his father, who is engulfed in several corruption cases. Earlier this year, recordings of him outside a strip club in Tel Aviv from two years prior showed him making derogatory remarks about women. The Israeli leader was forced to apologise on behalf of his son, saying he had made the comment "under the influence of alcohol and has since apologised for them".
Worse for Mr Netanyahu, his son appeared to point to corruption after he complained to his friend, the son of an energy millionaire, that he would not lend him a small sum of money despite his father, the Israeli Prime Minister, arranging "20 billion dollars for your father and you're crying over 400 shekels for me".
He has also previously called left-wing Israeli "traitors" on his Facebook page and has even posted a picture of George Soros with the suggestion that he was secretly in control of the world. Far-right Americans hailed the post against the Jewish businessman, prompting further criticism of Netanyahu's son.
https://www.thenational.ae/world/mena/benjamin-netanyahu-s-son-suspended-from-facebook-for-anti-muslim-comments-1.803813
--------
Hassan Asfour: Arafat was killed for believing Solomon's Temple was in Yemen
17 December 2018
A former Palestinian official involved in the Oslo negotiations affirmed that Palestinian leader Yasser Arafat had been assassinated because he was convinced that Solomon's Temple, also known as The First Temple, was actually located in Yemen and not in Jerusalem.
Hassan Asfour added in his interview with the political program Political Memories, which will be broadcasted later this week on the Al Arabiya News Channel in a sit-down interview with Senior Anchor Taher Barakeh, that Arafat informed Israeli negotiators of his convictions when they demanded him to give the right of sovereignty over the Temple Mount.
Asfour said that Arafat rejected the demand and said to them: "For peace I could give you the right to build a temple in Nablus but not in Jerusalem since the Jews have been present in Yemen and not in Jerusalem".
In the upcoming episode of the program, Asfour quotes Shlomo Ben-Ami and Amnon Shahak's response: "Arafat denied our history and culture, and whoever does this can no longer exist among us".
He tells Al Arabiya that these words precipitated Arafat's assassination and expressing his conviction that the Palestine Liberation Organization (PLO)'s leader had been in fact assassinated, regardless of the means by which it was achieved.
Asfour, who spoke with Arafat on the subject, quotes then quotes the latter as saying: "I cannot give the Israelis sovereignty over the Temple Mount for they will, later on, find a way in order to bring it down and build a Jewish Temple in its place, reminding him of an image passed out to the Palestinian authority in Tunis which depicted a Jewish Temple in place of the Al-Aqsa Mosque".
The Western Wall, in Israeli-annexed east Jerusalem, is the holiest place at which Jews are allowed to pray.
They believe it is what remains of a supporting wall of their biblical second temple, destroyed by the Romans in 70 AD.
Immediately above it is the flashpoint shrine known to Jews as the Temple Mount, the holiest in Judaism, revered as the spot where the two biblical Jewish temples once stood.
Full report at:
https://english.alarabiya.net/en/features/2018/12/17/Hassan-Asfour-Arafat-was-killed-for-believing-Solomon-s-Temple-was-in-Yemen.html
--------
Coalition: Yemen legitimate government will take control of Hodeidah ports soon
17 December 2018
The spokesman for the Arab Coalition supporting legitimacy in Yemen, Turki al-Maliki, on Monday confirmed that the legitimate Yemeni government will be taking over control of the ports of Hodeidah soon.
On the Hodeidah agreement, Maliki told journalists at a weekly press conference that the United Nations and the international community are responsible for implementing the Stockholm agreement.
He said the Houthi militias were now being tested by the international community to implement the agreement. Maliki also stressed that the Houthis were able to finally sit at the negotiating table due to the military pressure in all fronts.
The coalition stressed on Monday that they support all efforts in reaching a political solution and are committed to those efforts. Maliki pointed out, however, that there are monitoring committees and any breach of the Hodeidah agreement would be reported.
https://english.alarabiya.net/en/News/gulf/2018/12/17/Coalition-Yemen-legitimate-government-will-take-control-of-Hodeidah-ports-soon.html
--------
Clashes reported soon after truce takes force in Yemen
Dec 17, 2018
Sporadic clashes have been reported in the western Yemen port city of al-Hudaydah soon after a UN-brokered ceasefire takes force in the province of the same name.
The violence broke out in the city's eastern areas in early Tuesday minutes after the truce took effect at midnight, an official allied with Yemen's Saudi-backed former government told AFP.
International medical aid group Doctors Without Borders (MSF) voiced alarm about "the continuous fighting" in the devastated city. It said its teams were treating victims of gunshots, shelling, and airstrikes, urging the concerned parties "to respect the presence of civilians and health infrastructures."
The truce was agreed in Sweden on Thursday between the former government's officials and Yemen's popular Houthi Ansarullah movement, which has been defending the country against Saudi-led air raids aimed at restoring the former government.
Also on Sunday, as many as 22 Houthi fighters were killed and a fire erupted in one of the factories in eastern Hudaydah due to airstrikes, although the two sides had agreed the truce.
Much is banked on the deal, brokered three years into the Saudi-led war. The invasion has claimed thousands of lives in Yemen and pushed the country close to the brink of outright famine.
United Nation chief Antonio Guterres warned on Sunday that "much worse" could happen to the impoverished country in 2019 unless a comprehensive "peace deal" came about and the humanitarian crisis was tackled.
The two sides have agreed to meet again in late January for more talks to define the framework for negotiations on the "peace settlement."
Full report at:
https://www.presstv.com/Detail/2018/12/17/583247/Yemen-clashes-Hudaydah-truce-United-Nations-Houthis-Saudi-Arabia
--------
22 Palestinians injured in Israeli attack on Gaza naval march
Dec 17, 2018
Israeli soldiers have wounded at least 22 Palestinians in an attack on demonstrators that had gathered along Gaza's territorial waters to stage a new protest against the Israeli occupation.
The injuries took place on Monday afternoon, when hundreds of Palestinians participated in the 20th weekly naval march in the northern Gaza Strip against the crippling blockade of the coastal enclave.
The Palestinian Ma'an News Agency said Israeli forces fired live ammunition, rubber bullets and teargas bombs at protesters and boats attempting to break the 12-year siege.
Medical sources in Gaza confirmed on Monday that 22 Palestinians had sustained injuries, three of them with Israeli live bullets and 19 with rubber-coated steel bullets or teargas inhalation.
Israel imposed a limit of three nautical miles on fishing in the waters off the Gaza shore until August 2014, when Palestinian fishermen were allowed to go out six miles under a ceasefire agreement reached between the Israelis and Palestinians following a deadly 50-day Israeli war in the same month.
The fishing zone is supposed to extend to 20 nautical miles under the Oslo Accords. The Oslo Accords were signed between the Israeli regime and the Palestine Liberation Organization (PLO) during the early-mid 1990s to resolve the Israeli-Palestinian conflict.
In May 2017, Israeli authorities increased the fishing area for Gaza fishermen to nine nautical miles.
Over the past few years, Israeli forces have carried out more than a hundred attacks on Palestinian boats, arresting dozens of fishermen and confiscating several boats.
The Gaza Strip has been under an Israeli blockade since June 2007. The blockade has caused a decline in the standard of living as well as unprecedented levels of unemployment and unrelenting poverty.
Tensions have been running high near the fence separating Gaza from the occupied territories ever since anti-occupation protest rallies began in the Gaza Strip on March 30. More than 240 Palestinians have been killed by Israeli forces. Over 23,000 Palestinians have also sustained injuries.
The Gaza clashes reached their peak on May 14, on the eve of the 70th anniversary of Nakba Day (Day of Catastrophe), which coincided this year with the US embassy relocation from Tel Aviv to occupied East Jerusalem al-Quds.
Full report at:
https://www.presstv.com/Detail/2018/12/17/583240/Israeli-soldiers-Gaza-Strip-blockade-Maan
--------
Israeli settlements undermine peace prospects, warns Jordanian FM
Dec 17, 2018
Jordanian Foreign Minister Ayman al-Safadi has warned that the Tel Aviv regime's persistence on land expropriation policies and settlement construction activities in the occupied territories have undermined prospects for a peaceful settlement to the Israeli–Palestinian conflict.
On Monday, Safadi condemned Israeli officials' recent decision to approve thousands of new West Bank settlement units, warning that the move would most likely escalate tensions in the region.
"Settlement building is an illegitimate, unilateral practice that serves to further entrench the [Israeli] occupation and undermine prospects for resolving the conflict," he said in a statement.
Safadi urged the international community to "shoulder its legal and moral responsibilities" by pressuring Israel to stop building settlements on confiscated Palestinian land.
Such violations, the top Jordanian diplomat warned, "will only lead to further tension and violence, which in turn will adversely impact regional security."
The remarks came a day after Israel's so-called Ministerial Committee for Legislation approved the advancement of a bill, which would authorize more than 60 Israeli outposts and settlement neighborhoods built in the West Bank over the last 20 years.
Less than a month before US President Donald Trump took office, the United Nations Security Council adopted Resolution 2334, calling on Israel to "immediately and completely cease all settlement activities in the occupied Palestinian territories, including East Jerusalem" al-Quds.
About 600,000 Israelis live in over 230 illegal settlements built since the 1967 Israeli occupation of the Palestinian territories of the West Bank and East Jerusalem al-Quds.
Palestinians want the West Bank as part of a future independent Palestinian state with East Jerusalem al-Quds as its capital.
The last round of Israeli-Palestinian talks collapsed in 2014. Among the major sticking points in those negotiations was Israel's continued settlement expansion on Palestinian territories.
Trump backtracked on Washington's support for a "two-state solution" earlier this year, saying he would support any solution favored by both sides.
Full report at:
https://www.presstv.com/Detail/2018/12/17/583222/Israeli-settlements-undermine-peace-prospects-warns-Jordanian-FM
--------
Erdogan: Turkey to launch East of Euphrates operation 'any moment'
Dec 17, 2018
Turkish President Recep Tayyip Erdogan says his country's military is possible to start a new operation against US-backed Kurdish militants in Syria at "any moment."
Erdogan said during a speech in Turkey's central province of Konya on Monday that the army had completed preparations for a planned operation in the east of the Euphrates River -- a territory held by the Kurdish People's Protection Units (YPG), considered by Turkey a terrorist organization and an extension of the outlawed Kurdistan Workers' Party (PKK), which has been fighting for an autonomous region inside Turkey since 1984.
"We can start our operation any moment now in the Syrian territory at any place especially along the 500-kilometer border, without harming the US soldiers," the Turkish president said in his address.
Erdogan said US President Donald Trump had given a positive response to Ankara's plans for the operation in the area and that Turkey would do "what is necessary" regarding what he described as terror corridors east of the Euphrates.
"We talked to Trump. These terrorists have to leave areas east of the Euphrates. If they do not leave, we will dispatch them. Because they are disturbing us," he noted.
The possible anti-terror operation, which Turkey's leadership has been suggesting for months, follows two cross-border Turkish operations into Syria – Operation Euphrates Shield in August 2016 and Operation Olive Branch in January 2018 – which were launched with the declared aim of eradicating the presence of Kurdish militants and Daesh terrorists near Turkey's borders.
Turkey ended its campaign in northern Syria in March 2017, but at the time did not rule out the possibility of yet another military offensive inside the Arab country.
Turkish Interior Minister Suleyman Soylu was quoted as saying earlier in the day that Washington had tried to hold Turkey back during operations against Daesh and the YPG in Syria over the last two years.
"The United States thought it could deter us with the men it has nurtured," Soylu said during a visit to Pakistan, state-owned news agency Anadolu reported. "Now, they will try to hold us back east of the Euphrates. Turkey did not, and will not, allow that."
Turkey has been infuriated by US support for the YPG, which forms the backbone of the so-called Syrian Democratic Forces (SDF), an anti-Damascus alliance of predominantly Kurdish militants.
Ankara has repeatedly criticized Washington for providing military support to the YPG and threatened to attack areas held by the militant group.
European Union's top foreign policy official, Federica Mogherini, called on Turkey on Saturday to avoid taking any unilateral action in Syria that could destabilize the Arab country.
Full report at:
https://www.presstv.com/Detail/2018/12/17/583206/Turkey-Recep-Tayyip-Erdogan-Euphrates-operation
--------
Israel sentences Palestinian teen to 35 years in prison over alleged stabbing attack
Dec 17, 2018
An Israeli court has sentenced a Palestinian teenage boy to 35 years in prison on the allegation of carrying out a stabbing attack in the occupied West Bank.
The Ofer military court passed the verdict on 18-year-old Ayham Bassem Sabbah, a resident of the Qalandia refugee camp north of Jerusalem al-Quds, late on Sunday, and also ordered him to pay a fine of one million Israeli shekels ($264,700).
Sabbah and 14-year-old Omar Salim Rimawi were both shot and critically injured on February 18, 2016 after carrying out a stabbing attack that left one Israeli settler killed and another injured at the Rami Levi supermarket in the Shaare Benyamin industrial complex northwest of Jerusalem al-Quds.
Israeli police spokesperson Luba al-Samri said at the time that two Palestinians had "infiltrated" the Israeli settlement and entered the supermarket before stabbing the two Israeli settlers.
Both Palestinians were shot and critically injured by an armed civilian present at the scene, al-Samri noted.
Israeli court sentences Palestinian mother to eleven months in jail for "incitement"
Separately, an Israeli court has sentenced the mother of a young Palestinian man, who was killed by Israeli military forces last year, to eleven months in prison on charges of "incitement on social media networks."
Attorney Mohammad Mahmoud of the Prisoners and Freed Prisoners' Committee said the court sentenced Susan Abu Ghannam to eleven months in prison after finding him guilty of posting inflammatory statements on Facebook.
Full report at:
https://www.presstv.com/Detail/2018/12/17/583199/Israel-sentences-Palestinian-teen-to-35-years-in-prison-over-alleged-stabbing-attack
--------
Turkey may work with Syria's Assad if elected fairly
December 17, 2018
ANKARA: In a potentially major policy shift, Turkish Foreign Minister Mevlut Cavusoglu on Sunday said Ankara will consider working with Syrian President Bashar Assad if he wins a free and fair election.
Ankara had previously called on Assad to step down following the start of the uprising against him in 2011.
There are suggestions that the U-turn may be due to Turkey's opposition to growing Kurdish influence on both sides of the border.
"Turkey can't solve the (Kurdish) Democratic Union Party (PYD) problem with the US alone," said Timur Akhmetov, a researcher at the Russian International Affairs Council. "A start of dialogue with Assad … seems like a logical step."
Turkey will also be driven by ambitions to install friendly political figures in the Syrian government, Akhmetov added.
"Renewed relations between Turkey and Syria will contribute to reconstruction of (Syrian) cities with Turkish companies and bilateral trade," he said.
A UN-led plan to draft reforms to Syria's constitution, laying the ground for fresh elections, is expected to be established within weeks.
Under the plan, the Syrian regime will choose 50 members of the Constitutional Committee, with Turkey proposing 50 Syrian opposition members and the UN nominating a further 50 people — comprising academics, experts and civil society members — to oversee the reforms.
Last week, Ankara said it will launch within days a military campaign east of the Euphrates River against the Syrian-Kurdish People's Protection Units (YPG), whose political wing is the PYD.
"Ankara may intend that Russia rhetorically supports such a campaign in exchange for a positive message about Assad's theoretical chances of staying in power," said Akhmetov.
But mistrust between Ankara and Damascus remains a significant hurdle to smoother diplomatic relations.
Last month, Syria's Deputy Foreign Minister Faisal Mekdad demanded that Turkish "occupation" forces leave the country.
He said Damascus would not count on Turkish assurances because Ankara's intentions are "colonial" and "expansionist."
Aron Lund, a Syria analyst at the Century Foundation, said he does not think Turkey's expressed willingness to work with Assad constitutes a big change.
"What Cavusoglu seems to be saying is that Syria should have a democratic election, as is called for in UN Security Council resolution 2254, and that the winner — even if it's Assad — could be considered legitimate by Turkey," he told Arab News.
Cavusoglu simply responded to a hypothetical question, Lund said, adding: "For now, Turkey seems content to continue along the current course of action, working with Russia to secure its interests in Syria and relaying messages to Damascus through Moscow and Tehran."
Ankara still refuses to talk directly to Damascus to seek an end to the conflict in Syria. Sinan Hatahet of Al-Sharq Forum in Istanbul said Turkey's stance is conditional upon elections in Syria.
Full report at:
http://www.arabnews.com/node/1422256/middle-east
--------
North America
US Senate resolution angers many Arab, Muslim organizations
2018-12-17
RIYADH — The Shoura Council, the Arab Parliament, the Council of Senior Scholars, and the Muslim World League (MWL) joined many others in denouncing the US Senate's position based on unfounded allegations and accusations, as well as its interference in Saudi internal affairs and the distortion of the Kingdom's role at regional and international levels.
In a statement, read out by Secretary General Muhammad Al-Mutairi, the Shoura Council said the Saudi people categorically reject defaming their leaders — Custodian of the Two Holy Mosques King Salman and Crown Prince Muhammad Bin Salman, deputy premier and minister of defense — or any meddling in the Kingdom's sovereignty or harming its status.
In a letter sent to the UN Senate speaker, Dr. Mishaal Al-Silmi, president of the Arab Parliament, called on the Senate not to interfere in the internal affairs of the Kingdom and not to prejudice its leadership, sovereignty and position.
Denouncing the Senate move, the Makkah-based Muslim World League (MWL) stated that harming the Kingdom's sovereignty in general and its leadership in particular is a red line that cannot be crossed as far as Muslims around the world are concerned.
In a statement, MWL Secretary General Muhammad Al-Issa emphasized the Kingdom's spiritual leadership position among the Muslims as well as its pivotal and effective role in consolidating peace, security and stability of the region and the world as well.
Earlier a statement by an official at the Ministry of Foreign Affairs warned that the Kingdom would not tolerate any "disrespect" of its rulers.
"This position by the US Senate sends the wrong messages to all those who want to cause a rift in Saudi-US relationship," the ministry said.
"The Kingdom hopes that it is not drawn into domestic political debates in the US, to avoid any ramifications on the ties between the two countries that could have significant negative impacts on this important strategic relationship," the statement said. The statement also emphasizes that the US Senate stand will not affect the Kingdom's leading role in the region, in the Arab and Muslim worlds, and internationally.
"The Kingdom has and will continue to fulfill its pivotal role in the Arab and Muslim Worlds, as it holds a special place for Muslims around the world. Such a status has made the Kingdom a pillar of stability in the Middle East and the world, and a cornerstone for the efforts to achieve peace and security regionally and globally," the statement said.
The Organization of Islamic Cooperation (OIC) alao rejected any attempts to interfere in the internal affairs of Saudi Arabia that disrespect its leadership, represented by Custodian of the Two Holy Mosque King Salman and Crown Prince Muhammad Bin Salman, as well as to undermine its sovereignty or diminish its stature.
In a statement to Saudi Press Agency, Dr. Yousef Al-Othaimeen, secretary general of OIC, affirmed its full support to Saudi Arabia's statement denouncing the US Senate's recent decision, and upheld the integrity of Saudi judiciary.
The OIC chief reiterated that the Kingdom represents a collective voice of the Islamic Ummah and has a special place in the Islamic world, not just for being the land of the Two Holy Mosques, but also because of its political and humanitarian stances.
http://saudigazette.com.sa/article/550469/SAUDI-ARABIA/US-Senate-resolution-angers-many-Arab-Muslim-organizations
--------
Trump Didn't Commit to Extraditing Turkish Cleric, Official Says
December 18, 2018
President Donald Trump didn't commit to Turkish President Recep Tayyip Erdogan that he would extradite a US-based religious leader Turkey has accused of instigating an attempted coup, a senior White House official said.
Turkish Foreign Minister Mevlut Cavusoglu said on Sunday that Mr Trump had told Mr Erdogan he was "working on" the extradition of Turkish cleric Fethullah Gulen at a meeting during the Group of 20 summit in Buenos Aires earlier this month. But the US official, who asked not to be identified in order to discuss the private conversation, indicated Mr Trump's commitment did not extend beyond previous assurances to consider Turkey's extradition request.
Mr Gulen has publicly denied a role in the failed 2016 coup, and US officials have thus far sidestepped repeated Turkish requests to turn over the cleric. Last month, Mr Trump told reporters the extradition was "not under consideration."
Washington's reluctance to extradite Mr Gulen is one of several points of tension between the US and its NATO ally Turkey. The two countries have disagreed on a number of issues, including the US response to the Saudi killing of journalist Jamal Khashoggi in Istanbul, Turkey's plan to buy a missile-defense system from Russia, and the US alliance with Kurdish militants in Syria that Turkey considers a foe.
Full report at:
https://www.thenational.ae/world/europe/trump-didn-t-commit-to-extraditing-turkish-cleric-official-says-1.803891
--------
US prosecutors charge two involved in Flynn's Turkish lobbying
17 December 2018
Two men involved in a Turkish lobbying campaign led by former National Security adviser Michael Flynn have been charged with illegally lobbying in a case related to special counsel Robert Mueller's investigation.
An indictment unsealed Monday against Flynn's former business partner, Bijan Kian, and Turkish businessman, Ekim Alptekin, accuses the two men of conspiring to "covertly and unlawfully" influence US politicians on behalf of Turkey.
The new charges appear to shed light on the cooperation of Flynn, who last year admitted to lying about several aspects of the lobbying work. In recommending he serve no prison time, prosecutors said Flynn not only helped with the Russia probe but also an undisclosed - and separate - criminal investigation. Documents filed alongside that recommendation spend several paragraphs laying out the details of Flynn's Turkish lobbying.
Flynn, a retired three-star general, also admitted to lying to the FBI about conversations he had with the then-Russian ambassador. Flynn's sentencing is set for Tuesday.
Kian, whose full name is Bijan Rafiekian, was arrested and made an initial appearance Monday in federal court in Alexandria, Virginia. He is indicted on charges including failing to register as a foreign agent. Alptekin, a dual Turkish-Dutch citizen living in Istanbul whose full name is Kamil Ekim Alpetekin, remains at large.
According to the indictment, Kian was vice chairman of Flynn's business group, the Flynn Intel Group. The two worked throughout 2016 to seek ways to have cleric Fethullah Gulen extradited from the US to Turkey.
Turkish President Recep Tayyip Erdogan has accused Gulen of directing a failed coup. Flynn is referred to in the indictment only as "Person A."
Kian's lawyer, Robert Trout, declined comment after Monday's hearing. Kian was released on a personal recognizance bond pending an arraignment scheduled for Tuesday.
Alptekin is also charged with failing to register as a foreign agent and also making false statements.
Full report at:
https://english.alarabiya.net/en/News/world/2018/12/17/US-prosecutors-charge-two-involved-in-Flynn-s-Turkish-lobbying.html
--------
Turkish FM claims freed US pastor is a 'CIA agent'
17 December 2018
In a surprising statement, Turkish Foreign Minister Meblut Cavusoglu claimed at the Doha Forum on Sunday that US Pastor Andrew Brunson, who stood trial in Turkey over terrorism charges, is a CIA agent.
Cavusoglu's statements have been ridiculed in the US, with some even calling it a joke.
"Everybody was focusing on this Pastor Brunson, who is also a CIA agent, I am also a very straightforward person like Erdogan, but it was a minor issue in our relations, we have more serious problems," Cavusoglu said.
Cavusoglu is known for making controversial statements.
Brunson, who was freed in October by a Turkish court after two years in detention, was flown back to the US following his release.
The court had passed a 3 years and 1-1/2 month sentence on Brunson, who had been charged with terrorism offences, but said he would not serve any further time because he had already been detained since October 2016.
Witnesses said Brunson wept as the decision was announced. Before the judge's ruling, the pastor told the court: "I am an innocent man. I love Jesus, I love Turkey."
The case against Brunson, an evangelical preacher from North Carolina who has lived in Turkey for more than 20 years and was arrested two years ago, had led to US tariffs against Turkey and drawn condemnation from President Donald Trump.
Brunson was charged with links to Kurdish militants and supporters of Fethullah Gulen, the cleric blamed by Turkey for a failed coup attempt in 2016. Brunson denied the accusation and Washington had demanded his immediate release.
Earlier, witnesses told the court that testimonies attributed to them against the pastor were inaccurate, heightening expectations that Brunson could be released and returned to the United States.
Full report at:
https://english.alarabiya.net/en/News/world/2018/12/17/Turkish-FM-claims-freed-US-pastor-is-a-CIA-agent-.html
--------
US arms maker warns Canada against stopping sales to Saudi Arabia
Dec 18, 2018
General Dynamics Corp, a sprawling American military manufacturer, has warned Canada against acting on its avowed intention of stopping sales of armored vehicles to Saudi Arabia.
The corporation's Canada chapter said on Monday, "Were Canada to unilaterally terminate the contract, Canada would incur billions of dollars of liability to General Dynamics Land Systems-Canada," referring to its subsidiary in London, Ontario.
"Terminating the contract would have a significant negative impact on our highly skilled employees, our supply chain across Canada, and the Canadian defense sector broadly," the statement added.
Canadian Prime Minister Justin Trudeau, speaking in an interview aired on Sunday, said that he was looking for a way out of the $13 billion agreement.
He, himself, had previously acknowledged that there would be "huge penalties" if Ottawa turned its back on the deal, Reuters reported.
The premier, known for his trying to portray himself as a human rights advocate, is under pressure to scrap the deal inked by the previous government as Saudi Arabia's 2015-present war on Yemen continues down its deadly trail.
Besides killing thousands, the war, launched to return Yemen's former Saudi-allied officials, has brought the impoverished country close to the edge of nationwide famine.
'Unusual' warning
David Perry, defense analyst at the Canadian Global Affairs Institute, meanwhile, called the corp's warning "unusual," Reuters added.
He said General Dynamics Land Systems-Canada would normally keep a very low profile. "I can't imagine they are anything other than extremely worried," he said in a phone interview.
Full report at:
https://www.presstv.com/Detail/2018/12/18/583250/US-military-corporation-warning-Canada-Saudi-Arabia-Yemen
--------
US coalition spokesman apologizes for Turkey tweet
17.12.2018
WASHINGTON
The spokesman for the U.S.-led anti-Daesh coalition apologized Monday after posting a tweet critical of Turkey's military from an account believed to be sympathetic to the PKK terror group.
"In my official capacity, I accidentally shared content that was insulting to our Coalition partner Turkey, a key partner in the mission to defeat ISIS. I meant no disrespect," Col. Sean Ryan wrote on Twitter, referring to Daesh.
"We have a duty to mutual security, and we are committed to defeating ISIS. Please accept my apology."
Ryan was referring to a since-deleted retweet of a post classifying as "terrorist" Turkish armed forces.
"US Special Forces (Green Berets) patrolling the Rojava-Turkey border after terrorist Turkish army snipers targeted Rojavan civilians, killing a little girl walking home from school," the tweet said, accompanied by a photograph of U.S. military personnel and children.
The U.S. has been working alongside the YPG-PKK in Syria in its effort to eliminate Daesh from the region.
Full report at:
https://www.aa.com.tr/en/americas/us-coalition-spokesman-apologizes-for-turkey-tweet/1341627
--------
Africa
US airstrikes kill 62 al-Shabab terrorists in Somalia
Dec 18, 2018
The U.S. military says it has carried out six airstrikes in the Gandarshe area of Somalia which killed a total of 62 al-Shabab terrorists.
In a statement issued Monday, the U.S. military's Africa Command said it carried out four strikes on Dec. 15 in which 34 people were killed and two more on Dec. 16 which killed 28. All the air attacks were in the Gandarshe coastal area south of the capital, Mogadishu, it said.
No civilians were injured or killed in the attacks, it said.
All six strikes were carried out in close coordination with Somalia's government, it said. The airstrikes were "conducted to prevent al-Shabab from using remote areas as a safe haven to plot, direct, inspire, and recruit for future attacks," it said.
Al-Shabab uses parts of southern and central Somalia to plot and direct terrorist attacks, steal humanitarian aid, extort the local populace to fund its operations, and shelter radicals, said the statement.
With these attacks, the U.S. military has carried out at least 46 airstrikes so far this year against al-Shabab, which is allied to al-Qaida. Al-Shabab controls parts of rural southern and central Somalia and continues to stage deadly attacks in Mogadishu and other cities.
The African Union peacekeepers and the Somali National Army have managed to push the bulk of al-Shabab fighters from urban centers forcing them to set base in rural areas.
The U.S. airstrikes have picked up dramatically since President Donald Trump took office and approved expanded military operations in the Horn of Africa nation. Airstrikes also target a small presence of fighters linked to the Daesh group.
https://www.dailysabah.com/africa/2018/12/17/us-airstrikes-kill-62-al-shabab-terrorists-in-somalia
--------
CBK explains Muhuri accounts freeze in Al-Shabaab probe
DECEMBER 17 2018
The Central Bank of Kenya (CBK) did not have evidence that Muslims for Human Rights had links to terrorism when it froze its accounts, an official told a court on Monday, in its bid to have the case against it dismissed.
Matu Mugo, Assistant Director of the Bank Supervision Department at the CBK, said it was not supplied with a copy of the intelligence that allegedly linked Muhuri to terrorism.
STRICT COMPLIANCE
Mr Mugo explained that the Central Bank merely acted on orders by the Financial Reporting Centre (FRC).
"All actions carried out by the CBK were in strict compliance with directives issued by State agencies. As a regulator, we carried out our mandate as required," he told High Court Judge Dorah Chepkwony.
"We received communications from the FRC on April 7, 2015, directing the defendant to freeze the accounts of the plaintiff and other entities on suspicion that they had been associating with terror groups."
The official testified in the case in which the rights organisation and its board chairman Khelef Khalifa sued the attorney-general, inspector-general of police, the CBK and the FRC. Muhuri is seeking Sh2.1 million in damages for being linked to terrorism.
The rights group argues that on April 7, 2015, the IG breached his constitutional mandate by publishing in the Kenya Gazette a list of institutions suspected to be involved in terror-related activities.
This, it says, exposed its officers to public odium and injury of character as they were portrayed as persons who support terrorism and terror organisation in the region.
NO QUESTIONS
When Muhuri's lawyer James Orengo asked Mr Mugo why the CBK acted before obtaining the copy of the intelligence, he said the regulator had "absolutely no basis" to ask questions since the directive was from a body mandated in law to issue it.
He noted that the regulator has no notice, knowledge or information as to the substance of the allegations and/or accusations levelled against Muhuri.
"The CBK never acted on its own motion in issuing the freeze order and neither was it a participant complicit in the publishing of the list of terror suspects and in resolving to direct the issuing of the freeze order," he said
As such, the official said, the suit against the CBK is defective and should be struck out as it seeks to pursue a mere implementing and reporting agency whose mandate does not extend to the fight against terrorism.
He added that his employer remains strange to the offices of the AG, IG and the FRC as it is only required to comply with directives of these arms of the State when it comes to the war on terror.
STIGMA
Human rights activist Maina Kiai told the court that the gazetting of Muhuri as an organisation that supports terror group Al-Shabaab negatively affected his interactions with people and their perceptions about him.
Mr Kiai, a Muhuri board member, added that the link to terrorism subjected him to many questions from international leaders, who doubted character and commitment to defending human rights.
"There was stigma and doubt about my credibility as an activist and reimbursements. It was embarrassing to be a human rights defender accused of funding terrorism. It is the biggest charge one can ever face ... it lowered my credibility globally," he said Mr Kiai formerly served as the United Nations special rapporteur on the rights to freedom of peaceful assembly and association.
He went on to say that Muhuri received backlash because it was keen on ensuring a just war on terrorism, one without extrajudicial killings. He also said that following the accusations, he unsuccessfully sent money to his daughter in the US from his account at the NIC Bank in Kenya.
"Standard Chartered New York returned my cash to NIC and upon inquiry, I was told that it was an internal matter," he said, adding he later learned that it was based on the claims of terror links.
Mr Kiai said he later managed to transfer the funds through Deutsch Bank, which does not have branches in Kenya.
Full report at:
https://www.nation.co.ke/news/CBK-clears-itself-in-Muhuri-terror-case/1056-4899392-4b7bkcz/index.html
--------
Hundreds flee after Boko Haram burns Nigerian village
2018-12-17
Hundreds fled late on Sunday after Boko Haram burned their homes near Nigeria's northeastern city of Maiduguri, residents told AFP.
Boko Haram fighters in several trucks stormed Maiborti village, five kilometres outside Maiduguri, firing indiscriminately and setting fire to homes, they said.
A military officer who did not want to be identified said troops and fighter jets were deployed to the village and scrambled to push out the militants after "fierce battle".
It was not clear if there were casualties in the attack which once again highlighted the fragile security situation in the restive region.
"They (Boko Haram) came around 1630 GMT and started firing in the village which made us abandon our homes and flee to Maiduguri," Maiborti resident Abacha Kaka told AFP.
Militia leader Babakura Kolo said the jihadists were later forced out of the village by troops with aerial support.
"Unfortunately, the terrorists succeeded in setting fire to the village and burning it down completely," he added.
Boko Haram has in recent months launched attacks in a bid to capture Maiduguri, the birthplace of its founder Mohammed Yusuf.
Last month, the jihadists attacked Jimmi village just outside the city, killing one person and stealing hundreds of livestock.
In April, scores of Boko Haram fighters launched a gun and suicide attack on Jiddari-Polo, outside the city.
The Islamist group has attacked at least 20 military bases in recent weeks, killing dozens of soldiers and carting away weapons.
Full report at:
https://www.news24.com/Africa/News/hundreds-flee-after-boko-haram-burns-nigerian-village-20181217
--------
Soldier killed as Boko Haram attack Borno village
December 17, 2018
By Fikayo Olowolagba
The Nigerian Army on Monday said one soldier was killed on Sunday when troops neutralised four Boko Haram terrorists, who attacked Maibukarti village on Maiduguri-Damboa road.
Brig.-Gen. Sani Usman, the Director of Army Public Relations confirmed this in a statement on Monday, NAN reports.
Usman said weapons recovered from the terrorists include four AK-47 rifles, 45 rounds of 7.62mm ammunition, 5 AK-47 rifle magazines.
Also recovered were two motorcycles and one bicycle.
Full report at:
http://dailypost.ng/2018/12/17/soldier-killed-boko-haram-attack-borno-village/
--------
URL: https://www.newageislam.com/islamic-world-news/grand-imam-al-azhar-pope/d/117192
New Age Islam, Islam Online, Islamic Website, African Muslim News, Arab World News, South Asia News, Indian Muslim News, World Muslim News, Women in Islam, Islamic Feminism, Arab Women, Women In Arab, Islamophobia in America, Muslim Women in West, Islam Women and Feminism