New Age Islam News Bureau
27 Feb 2013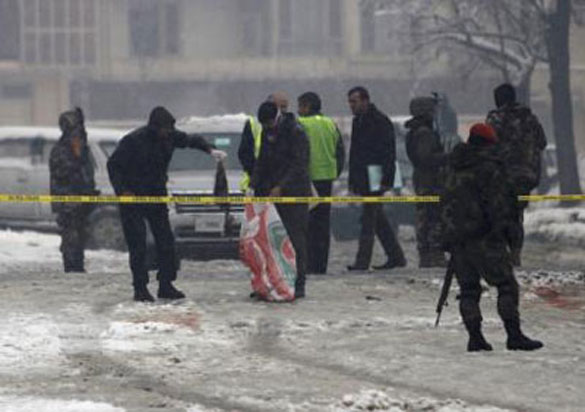 India
• Govt gets flak in Parliament for fake terror charges on Muslims
• After 6 months in jail as 'terror suspect', a journalist Muthi ur Rehman Siddiqui returns
• Iman of Delhi's Jama Masjid's 'nominee' removed from top UPPCB job
• Rebel TMC MP's email hacked; blames Jamaat-e-Islami
• Police probing Indian Mujahideen threat to Mukesh Ambani: PTI sources
• Maharashtra government moves to ban Abhinav Bharat
• Protesters at Shahbagh in Bangladesh backed by India
• Child Marriage Act overrides Muslim Personal Law: Karnataka high court
• Pak troops violate ceasefire to provide cover fire to militant; Army kills intruder
South Asia
• Afghan police officer drugs, kills 17 colleagues
• Attack on Afghan police post leaves 17 dead
• Court denies former Maldives President permission to travel abroad
• Media needs to introduce "peace journalism": MP Nasheed
• Afghan Sign of Progress Turns Out to Be Error
• Imperial troops 'clueless' in Afghan invasion
• LeT active but security vigil up: Bangladesh
• NATO admits 'error' in claim of fall in Taliban attacks
• Bangladesh Govt urged not to shelter anti-Islamic forces
• Partial lifting of ban by Saudi Arabia on Bangladeshi workers eyed
Africa
• Ex-Qaddafi PM critical after torture in Libya: lawyer
• Seven Killed by Islamist Car Bomb in North Mali: MNLA
• 6 Bashir rivals held without charges
• Ennahda seeks to cover up Belaid's killer: A Salafist on the run
North America
• New report details al-Qaida membership in the US
• India crucial for economic future of Afghanistan: US official
• Chuck Hagel's 2011 'anti-India' remarks draw ire
• US imposes sanctions on Mullah Nazir's militant group
• U.S. Officials Propose Sharing Drone Surveillance Data with Algerians
Arab World
• 'Harlem Shake' dance to take place outside Muslim Brotherhood HQ
• Taliban talks in Doha drag on endlessly
• Salafist leader Abu-Ismail launches new political party
• Backers of Syrian rebels endanger Iraq: Iraqi minister
• Violence rages near historic Syria mosque
• Opinion academy to counter misinformation about Saudi Kingdom
• Survey to determine number of poor in Saudi Arabia
• Jordan sees new surge in Syrians fleeing civil war
Pakistan
• No SC order banning Indian channels: Pak minister
• SC orders long-term strategy to protect Shias in Balochistan
• Karachi unrest case: IG Sindh's apology accepted
• Journalist gunned down in Miranshah
• Landmine blast leaves two dead in Bolan district
• Kayani backs election, peaceful transfer of power
• Pakistan court dismisses petition against President Zardari
• At least four killed in Karachi violence
• Hazaras warn of communities' segregation
• Pakistan bracing itself for US withdrawal, says Sherry
Mideast Asia
• Iran: Will not accept more obligations and less rights
• Child Labour - the shame of a nation, Yemen
• Iran has 'Plan B' for nuclear bomb
• EU Discourages Investment in Israeli Settlements
• Left behind in war, Palestinian books sit in Israeli library
• Kurdish Leader Sees August Pullout from Turkey: Media
• Iran ex-Tehran prosecutor Saeed Mortazavi 'charged'
Europe
• U.N. Official Sees Desperation, Hunger and Fear on Visit to Mali
• Tony Blair: Iraq would be far worse today under Saddam Hussein
• Weapons from the Former Yugoslavia Spread through Syria's War
• Britain Warns Against Travel to Northern Nigeria after Islamist Raids
Southeast Asia
• Indonesian Military Says Informant Played Role in Papua Attack
• Seven Somalis claim trial to firing at Malaysian soldiers during raid
• Lobbying for English in Indonesia denies children mother-tongue education
Australia
• Australian Muslim activists lose free speech case
Compiled by New Age Islam News Bureau
Photo: Afghan police officer drugs, kills 17 colleagues
URL: https://newageislam.com/islamic-world-news/govt-gets-flak-parliament-fake/d/10579
------------
India
Govt gets flak in Parliament for fake terror charges on Muslims
Aloke Tikku, Hindustan Times
New Delhi, February 27, 2013
As investigators continue their search for clues into the recent Hyderabad blasts, the home ministry on Tuesday came under fire from MPs in Lok Sabha complaining how flawed terror probes in the past had led to innocent Muslims spending years behind bars.
The home ministry - that has been pushing for a centrally-driven National Counter Terrorism Centre (NCTC) on grounds that countering terrorism was a "shared responsibility" - initially tried to duck the question.
"No such data is centrally maintained as law and order and prisons are state subjects," RPN Singh, minister of state for home affairs told CPM's Basudeb Acharia in Lok Sabha.
Singh, however, pointed out that 9 people had been released on bail in the 2006 Malegaon bomb blasts after the NIA took over the probe. The 9 had been charged for the killing of 37 people in four blasts.
By then, they had already spent nearly 6 years in jail.
As member after member stood up to echo similar concerns, Singh insisted that the law did not "discriminate on basis of colour or religion" but conceded that it was "unfortunate".
The home ministry, however, insisted that there were provisions in law to seek redressal for such cases from the appropriate courts.
Absolved of terror charge, scribe hits out
A day after being released from jail, Bangalore journalist Muthi Ur Rehman Siddiqui, who was arrested on vague charges of 'waging war against the nation', hit out against the investigation agencies and media.
Speaking at a press conference, Siddiqui, who spent six months in jail said, "The way we were arrested and the way we were treated shows there is a need for sensitising the investigating agencies towards minorities".
Siddiqui, 26, who was working with an English Daily, also hit out against the media for failing to report accurately.
"In this case, even media forgot the ABC (accuracy, brevity and clarity) of journalism."
http://www.hindustantimes.com/India-news/newdelhi/Govt-gets-flak-for-fake-terror-charges-on-Muslims/Article1-1017979.aspx
------------
After 6 months in jail as 'terror suspect', a journalist Muthi ur Rehman Siddiqui returns
Feb 27 2013
Bangalore : About six months ago, when he appeared in court for the first time after being named by the Bangalore Police in an alleged Lashkar-e-Toiba plot to target local right-wing media personalities, Muthi ur Rehman Siddiqui, 26, a reporter and sub-editor with the Deccan Herald newspaper here, still had the glint of youthful exuberance in his eyes.
But now, the first thing that comes to mind on seeing Siddiqui after his release from prison on Monday, is the disappearance of that enthusiasm from his face. Gone is the glint in his eyes, and in its place is a serious, sad man.
"I always thought the police, media and society at large do not treat terror suspects fairly. That thinking has been reinforced by my experience,'' said Siddiqui on Tuesday.
Among 15 youths arrested by the Bangalore Police last August-September from Bangalore, Hubli, Nanded and Hyderabad in an alleged LeT-linked terror plot — that has now been linked to the February 21 twin blasts in Hyderabad — Siddiqui was released on Monday after the NIA, which took over the case, reported no "prosecutable evidence" against him and co-accused Yusuf Nalband, 24.
As the NIA did not name Siddiqui and Nalband, a commerce graduate working in a private firm, in its charge sheet filed on February 20, a special court ordered their release on February 23.
"I feel really relieved that I have been able to come out clean. It is a huge victory for me and the community at large, because this is not one individual's fight,'' said Siddiqui. "People called me the mastermind of the group. If I am the mastermind, then my friends who have been arrested must also be released,'' he said.
The arrests were made on the basis of intelligence inputs of contacts between some of the youths and LeT-linked persons in Saudi Arabia. But there was no clear case against Siddiqui. It was alleged that he was providing radical literature and his office computer was seized.
One of five children of a small-time perfume merchant from Hubli, Siddiqui financed his own education, and did not allow the death of his father in 2006 to deter him from obtaining a post-graduate degree in mass communication and pursuing his dream of a career in journalism.
"When I was doing my PG diploma in mass communication, I chose the topic, 'Media coverage of terrorism suspects', for my thesis. Unfortunately, my supervisor struck down the topic, saying I may get into trouble. But the subject has always been on my mind. And I saw in prison that people have been stuck there for years, in some cases without a trial,'' he said, referring to the continued incarceration of 32 youths arrested from Hubli in 2007.
"I consider myself very fortunate that I have been released after six months. Trial takes about seven to eight years. When you are declared innocent after seven or eight years, it is like a slap on your face. My sympathies were always with terror suspects, and that feeling has become stronger now,'' said Siddiqui.
During his time in prison, Siddiqui memorised a significant part of the Quran. "That is one of the positive things this experience has given me," he said. Siddiqui said he also tried to engage himself constructively by teaching two of his co-accused who are illiterate (Mohammed Sadiq Laskhar, 28 and Mahaboob Bagalkot, 26).
"Initially I was very optimistic that I would get out soon because they had promised me. We waited and waited, but it did not happen," he said. As time lapsed, he feared that the police may fabricate evidence against him. With charges being brought under the Unlawful Activities (Prevention) Act 1967, the time for incarceration prior to the charge sheet was extended to 180 days.
"The experience has really changed me as a person. When you are kept in confinement, it is very depressing. Now I have a different perspective of the world,'' he said.
"I had so much time because there isn't any responsibility or any work. But it is an advantage in the sense that I had ample time to introspect. I could do some serious introspection about my life, career and the shortcomings in me as a person. I also read a lot,'' said Siddiqui.
He has no immediate plans to return to journalism, he wants to spend some time with his family. "I am yet to adjust to this changed environment. I have just returned from an entirely different world,'' he said.
Siddiqui hoped that the others accused in the case would also be released soon. "They have resigned themselves to remaining in prison for a while. But the thought is still there each morning, when you wake up, about being free once again,'' he said.
Pointing out that DRDO scientist Ajaz Ahmed Mirza, 25, who is also among the arrested, has not been named in the NIA charge sheet, Siddiqui said he expected him to be freed soon.
http://www.indianexpress.com/news/after-6-months-in-jail-as-terror-suspect-a-journalist-returns/1080262/
------------
Iman of Delhi's Jama Masjid's 'nominee' removed from top UPPCB job
Feb 27 2013
Lucknow : The Akhilesh Yadav government has removed Waseem Ahmad Khan, Chairman of the UP Pollution Control Board (UPPCB), who was appointed on the recommendation of Syed Ahmad Bukhari, the Iman of Delhi's Jama Masjid, in May last year.
UPPCB secretary J S Yadav confirmed that Khan has been removed and the charge of chairman given to Principal Secretary of Forests.
Khan has now been appointed Chairman of Civil Defence Council.
An indication of the impending action came earlier in the day, when Bharatiya Janata Party (BJP) leader Hukum Singh moved an adjournment notice in the state assembly over illegal slaughter of milch animals.
Replying to it, Minister for Parliamentary Affairs Azam Khan said that the situation is very serious.
"We are trying our best. All slaughter houses have been equipped with CCTVs. But still they are slaughtering more than the stipulated number of animals. We understand that the role of UPPCB officials is also not fair. But a decision regarding UPPCB has been taken by Chief Minister Akhilesh Yadav, it will be intimated soon," Azam Khan said.
Since the beginning, Azam Khan has opposed Imam Bukhari's involvement in party affairs.
Bukhari's son-in-law Umar Ali Khan has been made an MLC by the Samajwadi Party.
http://www.indianexpress.com/news/bukhari-nominee-removed-from-top-uppcb-job/1080223/
------------
Rebel TMC MP Kabir Suman's email hacked, leader blames Jamaat-e-Islami
Feb 27, 2013
KOLKATA: If you have got a mail from "Kabir Suman" asking for money for his cousin's urgent surgery in Madrid, don't act in haste. The rebel Trinamool MP is now in Delhi and not in Madrid, busy attending the Parliament session. It is a fake mail that has come as a rude shock to Suman.
The rebel singer and politician, who'll be back in Kolkata on February 28, is likely to lodge a complaint with the cyber crime cell. "I've asked people on Facebook to ignore such emails. Once I'm back in Kolkata, I'll take necessary action," the MP said.
Full report at:
http://timesofindia.indiatimes.com/city/kolkata/Rebel-TMC-MP-Kabir-Sumans-email-hacked-leader-blames-Jamaat-e-Islami/articleshow/18702676.cms
------------
Police probing Indian Mujahideen threat to Mukesh Ambani: PTI sources
Feb 27 2013
Mumbai : The police have launched a probe after a letter purportedly sent by terror outfit Indian Mujahideen was delivered to the office of RIL Chairman Mukesh Ambani, threatening to harm him for supporting Gujarat Chief Minister Narendra Modi and investing in the state, PTI sources said today.
Full report at:
http://www.indianexpress.com/news/police-probing-indian-mujahideen-threat-to-mukesh-.../1080591/
------------
Maharashtra government moves to ban Abhinav Bharat
ByBharti Jain, TNN | Feb 27, 2013
NEW DELHI: Maharashtra government has initiated proceedings to ban Abhinav Bharat, the radical Hindutva outfit accused of launching bomb attacks at Mecca Masjid, Malegaon, Samjhauta Express and Ajmer Sharief.
Sources in the home ministry here told TOI that the Maharashtra government has referred the file — seeking to ban Abhinav Bharat — to the Centre for its views. The Centre has forwarded the file to the National Investigation Agency (NIA), which is looking into many cases of terror allegedly involving Abhinav Bharat, for its comments. State government will take the call on outlawing Abhinav Bharat — not to be confused with a prominent NGO that bears a similar moniker — under the Unlawful Activities Prevention Act (UAPA) after getting inputs from the Centre.
Full report at:
http://timesofindia.indiatimes.com/india/Maharashtra-government-moves-to-ban-Abhinav-Bharat/articleshow/18700472.cms
------------
Protesters at Shahbagh in Bangladesh backed by India
By Indrani Bagchi, TNN | Feb 26, 2013
NEW DELHI: The protesters at Shahbagh, a busy intersection in Bangladeshi capital Dhaka, have probably their strongest support from neighbour India.
On Friday, National Security Adviser (NSA) Shivshankar Menon said the protests were a sign of the "open-mindedness" of the Bangladeshi youth, who were battling extremism and upholding fundamental values of democracy. Setting up the Ram Sathe chair in Pune, Menon said, "The ongoing spontaneous gathering against extremist elements and war criminals by thousands of youth at Shahbagh intersection in Dhaka shows the strength of feeling, capacity for political mobilization and open-mindedness of Bangladeshi youth."
Full report at:
http://timesofindia.indiatimes.com/india/Protesters-at-Shahbagh-in-Bangladesh-backed-by-India/articleshow/18695680.cms
------------
Child Marriage Act overrides Muslim Personal Law: Karnataka high court
Feb 27, 2013
BANGALORE: The Karnataka high court on Tuesday ruled that the Prohibition of Child Marriage Act (PCMA) has overriding effect over the provisions of the Muslim Personal Law, where the marriage of a girl child is allowed once she attains puberty.
Justice Ashok B Hinchigeri, sitting at the Dharwad circuit bench, dismissed a petition in this regard while upholding the state government's contention that PCMA provisions had far-reaching and overriding power vis-a-vis personal laws.
Full report at:
http://timesofindia.indiatimes.com/india/Child-Marriage-Act-overrides-Muslim-Personal-Law-Karnataka-high-court/articleshow/18700656.cms
------------
Pak troops violate ceasefire to provide cover fire to militant; Army kills intruder
Feb 26, 2013
JAMMU: Pakistani troops violated the ceasefire on Tuesday to provide cover fire to a militant who was gunned down in a fierce gunbattle with security forces along the line of control in Rajouri district of Jammu and Kashmir.
"At around 1.45pm, troops guarding the borderline observed suspicious movements at Keri sector in Rajouri," PRO defence SN Acharya said.
Full report at:
http://timesofindia.indiatimes.com/india/Pak-troops-violate-ceasefire-to-provide-cover-fire-to-militant-Army-kills-intruder/articleshow/18699502.cms
------------
South Asia
Afghan police officer drugs, kills 17 colleagues
FEBRUARY 27, 2013, Reuters
KABUL, Feb 27 — An Afghan police officer drugged 17 colleagues and shot them dead on Wednesday with the aid of the Taliban, police said, the latest in a series of so-called "insider", or green-on-blue, attacks involving Afghan security forces and the Taliban.
The attacks have undermined trust between coalition and Afghan forces who are under mounting pressure to contain the Taliban insurgency before most NATO combat troops withdraw by the end of 2014.
The killings, the worst in a string of similar attacks in recent months, occurred at a remote Afghan Local Police (ALP) outpost in the eastern province of Ghazni.
"An infiltrated local policeman first drugged all 17 of his comrades, and then called the Taliban and they together shot them all," the chief police detective for Ghazni, Mohammad Hassan, told Reuters.
Seven of the dead were new recruits still undergoing training, officials said.
The Taliban claimed responsibility for the attack in a text message by spokesman Zabihullah Mujahid.
The rapidly growing ALP programme is an American-designed initiative designed to recruit local men as security officers for their area.
The force has been beset by allegations of abuse and widespread corruption.
In September, Afghanistan suspended the training of new ALP recruits following a spate of insider attacks on foreign soldiers.
http://www.themalaysianinsider.com/litee/world/article/afghan-police-officer-drugs-kills-17-colleagues/
----------
Attack on Afghan police post leaves 17 dead
27 February 2013
An attack by insurgents on a police post in Afghanistan has left 11 police officers and six others dead.
The Taliban said they carried out the attack, in the eastern province of Ghazni.
Two guards from the site have been arrested and are being questioned about why they failed to stop the attack, Governor of Ghazni Musa Khan Akbarzada told the BBC.
Both the Taliban and al-Qaeda are known to operate in Ghazni province.
Last year the district saw a local uprising against the insurgents but since then security in the area has deteriorated, the BBC's Quentin Somerville reports from Kabul.
Full report at:
http://www.bbc.co.uk/news/world-asia-21598748
------------
Court denies former Maldives President permission to travel abroad
By Minivan News | February 26th, 2013
Former President Mohamed Nasheed has had his request to leave the country denied by the Hulhumale' Magistrate Court.
An official from the Judiciary Media Unit told local media that the court had denied Nasheed's request as he had not cooperated with the court on previous instances.
Nasheed, who had asked to leave the Maldives on Wednesday (February 27) until March 5, had received travel permission from the court when previously asked.
Full report at:
http://minivannews.com/category/news-in-brief
------------
Media needs to introduce "peace journalism": MP Nasheed
By Minivan News | February 27th, 2013
Former Legal Reform Minister MP Mohamed Nasheed has recommended Maldives-based journalists introduce "peace reporting" in order to stop violence against local media.
Nasheed claimed that the Maldives media is exploited by politicians to a great extent and that reporters needed to start looking at the similarities between politicians as opposed to their differences, the Sun Online news agency reported.
Full report at:
http://minivannews.com/category/news-in-brief
------------
Afghan Sign of Progress Turns Out to Be Error
By MATTHEW ROSENBERG
February 27, 2013
KABUL, Afghanistan — American officials, when looking to quickly illustrate progress in Afghanistan, have in the past few months highlighted a 7 percent drop last year in what they call "enemy-initiated attacks." Fewer attacks, the reasoning went, meant Afghans were safer and the Taliban were weaker.
The problem: There was no decline. The numbers were wrong.
The American-led NATO coalition said Tuesday that it had discovered a clerical error in its reporting and that the number of enemy-initiated attacks — defined as attacks with guns, mortars, rockets or improvised explosive devices — remained constant from 2011 to 2012.
Full report at:
http://www.nytimes.com/2013/02/27/world/asia/coalition-says-afghan-attacks-didnt-fall-after-all.html?ref=world
------------
Imperial troops 'clueless' in Afghan invasion
February 27, 2013
KARACHI: Like his prose, historian William Dalrymple's speaking skills are spellbinding. On Monday, the people who attended the launch of his latest book 'Return of a King' at Indus Valley School of Art and Architecture seemed to be in a trance as he spoke for well over an hour.
The book, which is about the first British invasion of Afghanistan, gets its title from Shah Shuja, an Afghan king who the British brought back to the throne. It is the last of a trilogy about the East India Company – the first two books in the series being 'The White Mughal' and 'The Last Mughal'.
Full report at:
http://tribune.com.pk/story/513007/across-the-durand-line-imperial-troops-clueless-in-afghan-invasion/
------------
LeT active but security vigil up: Bangladesh
Feb 27 2013
Dhaka : Bangladesh today said Pakistan-based banned terror group Lashkar-e-Taiba is active in the country but law enforcement agencies have tracked down their network and kept them under "security vigil".
"We have already brought the LeT operatives under security vigil... with the cooperation of people," Home Minister Muhiuddin Khan Alamgir told newsmen after attending a function of police Detective School at Rajarbagh Police Lines.
Full report at:
http://www.indianexpress.com/news/let-active-but-security-vigil-up-bangladesh/1080634/
-----------
Nato admits 'error' in claim of fall in Taliban attacks
27 February 2013
US-led military forces in Afghanistan have admitted that an error led them to mistakenly claim a fall in the number of attacks by the Taliban last year.
A report posted on the website of the Nato-led Isaf force had claimed that there had been a 7% drop in Taliban attacks in 2012.
However, after being queried the figure was removed from the site.
The error is likely to embarrass Isaf which has been insisting the militants are in decline, correspondents say.
Full report at:
http://www.bbc.co.uk/news/world-asia-21594010
------------
Bangladesh Govt urged not to shelter anti-Islamic forces
27 February 2013
Kawmi madrasa teachers and students at a rally here yesterday demanded capital punishment to those who allegedly made slanderous remarks against Prophet Hazrat Muhammad (SM) through blog write-ups.
They urged the government not to give shelter to anti-Islamic groups, including the organisers of Shahbagh movement.
Full report at:
http://www.thedailystar.net/newDesign/news-details.php?nid=270689
------------
Partial lifting of ban by Saudi Arabia on Bangladeshi workers eyed
27 February 2013
The Ministry of Labour is currently studying lifting of a partial ban on workers' recruitment from Bangladesh.
"The Ministry of Labor has set up a committee to study to resume recruitment of workers from Bangladesh. The committee will also study the security and criminal aspects of Bangladeshi workers to ensure that they will not commit crimes in future," Undersecretary for International Affairs at the Ministry of Labor Ahmed Al-Fehaid said in a statement. Approximately 2 million Bangladeshi nationals are working in the Kingdom.
Full report at:
http://www.arabnews.com/partial-lifting-ban-bangladeshi-workers-eyed
---------
Africa
Ex-Qaddafi PM critical after torture in Libya: lawyer
27 February 2013
Al-Baghdadi al-Mahmudi, the last premier of deposed Libyan leader Muamer Qaddafi, is in critical condition after being tortured in a Libyan prison, his Tunisian lawyer said on Wednesday.
Mahmudi "is in critical condition as a result of the torture he has suffered," said Mabrouk Kourchid, adding that "he could die".
The lawyer did not provide any further details nor reveal his sources for fear they could suffer reprisals.
Full report at:
http://english.alarabiya.net/articles/2013/02/27/268644.html
------------
Seven Killed by Islamist Car Bomb in North Mali: MNLA
27 February 2013
BAMAKO (Reuters) - Seven people were killed in a suicide car bomb attack by suspected Islamist militants in the remote northern Malian town of Kidal on Tuesday, the MNLA Tuareg rebel group said, in the second such attack there in less than a week.
A spokesman for the Malian army, Modibo Nama Traore, confirmed that a car bomb had exploded in the town but was unable to provide further details.
French forces have been stationed in Kidal since driving out al Qaeda-linked fighters in late January as part of a military campaign to oust Islamist militants who seized the northern two-thirds of the West African country last year.
Full report at:
http://www.nytimes.com/reuters/2013/02/26/world/africa/26reuters-mali-rebels-
----------
6 Bashir rivals held without charges
27 February 2013
KHARTOUM: Sudan should charge or release six members of opposition political parties which held talks last month with rebel groups on a charter for toppling the government, Human Rights Watch said yesterday.
A coalition of large and small Sudanese opposition parties, as well as community activists, agreed to the New Dawn charter in Kampala, Uganda with insurgents from Sudan's Darfur, South Kordofan and Blue Nile areas.
Full report at:
http://www.arabnews.com/middle-east/6-bashir-rivals-held-without-charges
------------
Ennahda seeks to cover up Belaid's killer: A Salafist on the run
27 February 2013
Four people suspected of involvement in the assassination of Tunisian opposition leader Chokri Belaid have been arrested, the PM-designate said.
Ali Larayedh, currently interior minister, also said the killer had been identified, but remained at large and was being hunted by police.
Chokri Belaid was shot dead outside his home in the capital Tunis last month.
A prominent secular opponent of the moderate Islamist-led government, his murder has sparked mass protests.
Full report at:
http://www.bbc.co.uk/news/world-middle-east-21592419
------------
North America
New report details al-Qaida membership in the US
By HILARY LEILA KRIEGER
02/27/2013
WASHINGTON – More than half of all al-Qaida operatives and their affiliates in the United States who have committed terrorist offenses are US citizens and a third were born in America, according to a new report profiling the groups' American adherents.
The 720-page, telephone book-sized volume produced by the Henry Jackson Society and presented at the Center for Strategic and International Studies Tuesday, carefully examines the 171 cases of al- Qaida members or those inspired by the organization who have been convicted in US courts or participated in suicide attacks against the US homeland between 1997 and 2011.
Full report at:
http://www.jpost.com/International/Article.aspx?id=304667
------------
India crucial for economic future of Afghanistan: US official
Feb 27, 2013
WASHINGTON: Amid controversial remarks of US defence secretary-designate Chuck Hagel on India's role in Afghanistan, a top US official has termed New Delhi crucial for economic growth of the country post the withdrawal of American troops from there.
Robert Blake, assistant secretary of State for South and Central Asia, said during a Congressional hearing that the US sees India as kind of an economic linchpin for future of Afghanistan.
Full report at:
http://timesofindia.indiatimes.com/world/us/India-crucial-for-economic-future-of-Afghanistan-US-official/articleshow/18704816.cms
------------
Chuck Hagel's 2011 'anti-India' remarks draw ire
NARAYAN LAKSHMAN
Feb 27 2013
Chuck Hagel, U.S. President Barack Obama's nominee for Defence Secretary, is facing sharp criticism after a video of him addressing Oklahoma's Cameron University emerged this week, showing the decorated Vietnam veteran making what some have described as anti-India remarks.
The video of Mr. Hagel's 2011 speech, which conservative media outlet Washington Free Beacon obtained from the university under Oklahoma's Open Records Act, clearly shows the former U.S. Senator from Nebraska saying, "India has over the years financed problems for Pakistan."
Full report at:
http://www.thehindu.com/news/international/world/chuck-hagels-2011-antiindia-remarks-draw-ire/article4456098.ece
------------
US imposes sanctions on Mullah Nazir's militant group
By Huma Imtiaz
February 26, 2013
WASHINGTON: The US State Department on Tuesday designated the Commander Nazir Group and its leader Malang Wazir as "Specially Designated Global Terrorists."
In a statement, the State Department said the Nazir Group has run training camps for terrorists, dispatched suicide bombers, provided sanctuary for al Qaeda fighters and conducted cross-border operations against the US and its allies in Afghanistan. "In addition to its attacks against international forces in Afghanistan, Nazir group is also responsible for assassinations and intimidation operations against civilians in Afghanistan and Pakistan," said the statement.
Full report at:
http://tribune.com.pk/story/512920/us-imposes-sanctions-on-mullah-nazirs-militant-group/
------------
U.S. Officials Propose Sharing Drone Surveillance Data With Algerians
By MICHAEL R. GORDON and ERIC SCHMITT
27 February 2013
WASHINGTON — The American ambassador to Algeria and senior counterterrorism officials have proposed sharing more information with Algerian security forces to help them kill or capture militants in their own country and in areas just across their borders.
Their approach reflects the growing support within the administration for more forceful action against extremists in the area since the attack on a gas field in eastern Algeria last month left 37 dead, including three Americans, and focused new concerns on terrorist activity in Africa.
Full report at:
http://www.nytimes.com/2013/02/27/world/middleeast/john-kerry-diplomatic-trip.html?ref=middleeast
----------
Arab World
'Harlem Shake' dance to take place outside Muslim Brotherhood HQ
Egyptian Facebook users are planning to perform the 'Harlem Shake' dance craze outside the Muslim Brotherhood HQ on Thursday
27 Feb 2013
A number of Facebook users have called for a public "Harlem Shake" on Thursday in front of the Muslim Brotherhood's headquarters in Cairo's Moqattam district.
The so-called "Harlem Shake" is a popular dance craze which started on 2 February when a group of Australian teens uploaded a 31-second clip of them dancing to an excerpt of the song "Harlem Shake" by electronic musician Baauer.
Full report at:
http://english.ahram.org.eg/NewsContent/1/64/65709/Egypt/Politics-/Harlem-Shake-to-take-place-outside-Brotherhood-HQ.aspx
-----------
Taliban talks in Doha drag on endlessly
Taliban representatives have been in Qatari capital for almost a year, but negotiations seem to be going nowhere.
Ali M Latifi
26 Feb 2013
Doha, Qatar - Far from the glistening glass and burgeoning metal structures that dot the Doha skyline, the Afghan Taliban try to discreetly blend in far less pristine areas around the Qatari capital.
The Taliban came to Doha nearly a year ago to establish an office from which they could engage in negotiations with representatives of Washington, in the hope of eventually achieving direct Afghan-to-Afghan talks with the government of President Hamid Karzai.
However, with a coalition of more than 40 nations currently involved militarily in Afghanistan, "everyone is trying to woo them", a person close to the Doha-based Taliban representatives told Al Jazeera on condition of anonymity, saying he did not want to jeopardise any potential for progress towards peace.
Full report at:
http://www.aljazeera.com/indepth/features/2013/02/201322121225350352.html
-----------
Salafist leader Abu-Ismail launches new political party
Hazem Salah Abu-Ismail, who was disqualified from standing in last year's presidential election, launches Salafist Raya Party
27 Feb 2013
Disqualified presidential candidate and influential Salafist preacher Hazem Salah Abu-Ismail launched a new political party on Tuesday.
The Salafist Raya Party has not been officially registered by the party affairs committee at the Supreme Court, but it hopes to put forward candidates in parliamentary elections in April, said a statement on the party's Facebook page.
Full report at:
http://english.ahram.org.eg/NewsContent/1/64/65697/Egypt/Politics-/Salafist-leader-AbuIsmail-launches-new-political-p.aspx
-----------
Backers of Syrian rebels endanger Iraq: Iraqi minister
February 27, 2013
By Suadad al-Salhy
BAGHDAD: Turkish and Qatari support for Syrian insurgents is tantamount to a declaration of war against Iraq, which will suffer from the fallout of an increasingly sectarian conflict next door, an Iraqi Shiite politician said.
Hadi al-Amiri, transport minister and head of the formerly armed Badr Organisation, said Sunni Muslim Turkey and Qatar had stymied all efforts to resolve the Syrian conflict peacefully.
Full report at:
http://www.dailystar.com.lb/News/Middle-East/2013/Feb-27/208124-backers-of-syrian-rebels-endanger-iraq-iraqi-minister.ashx#ixzz2M6NgTF7v
-----------
Violence rages near historic Syria mosque
Feb 26, 2013
BEIRUT: Combat raged near a historic mosque in the Syrian city of Aleppo today while anti-government activists reported fresh clashes near a police academy west of the city.
The fighting near the Umayyad Mosque in the walled Old City of Aleppo threated to further damage the 12th century structure, part of which was burned during clashes last year.
Since July 2011, government forces and rebels seeking to topple President Bashar Assad have been fighting over Aleppo, the country's largest city and a major prize in the civil war.
Full report at:
http://timesofindia.indiatimes.com/world/middle-east/Violence-rages-near-historic-Syria-mosque/articleshow/18697962.cms
------------
Opinion academy to counter misinformation about Kingdom
27 February 2013
The Academy of Dialogue for Training and Polls, is a major center for public opinion surveys in Saudi Arabia, and part of King Abdul Aziz Center for National Dialogue (KACND), will help gather accurate information about the Saudi society.
Misleading information is circulated in the international media regarding life in the Kingdom and the Saudi society. Consequently, the academy has been established to counteract these allegations and present information that is accurate and neutral.
Full report at:
http://www.arabnews.com/opinion-academy-counter-misinformation-about-kingdom
------------
Survey to determine number of poor in Saudi Arabia
27 February 2013
A survey is currently under way to determine the number of poor in Saudi Arabia. Researchers will also draw up a definition and indicators of poverty in the country, local media reported quoting reliable sources.
The project was approved within the current budget (1434-35) of the Central Department of Statistics and Information (CDSI), the sources said.
Full report at:
http://www.arabnews.com/survey-determine-number-poor-saudi-arabia
---------
Jordan sees new surge in Syrians fleeing civil war
February 27, 2013
By Dale Gavlak
AMMAN: A Jordanian official says there is a new surge in Syrians fleeing across the border to Jordan as fighting intensifies in southern Syria.
A government spokesman for Syrian refugee affairs told The Associated Press on Wednesday that Jordan now hosts 418,529 Syrian refugees.
Anmar Hmoud says 2,490 Syrians crossed into Jordan overnight, with the numbers averaging about 3,000 per night in recent days.
Full report at:
http://www.dailystar.com.lb/News/Middle-East/2013/Feb-27/208116-jordan-sees-new-surge-in-syrians-fleeing-civil-war.ashx#ixzz2M6NzFX2e
-----------
Pakistan
No SC order banning Indian channels: Pak minister
Feb 27 2013
Islamabad : Pakistan's media regulatory body has not received any orders from the Supreme Court regarding a ban on licensing of Indian Satellite TV channels, a senior minister informed the Parliament today.
Minister for Information and Broadcasting Qamar Zaman Kaira while replying to a question in the Upper House said it is true that some content of Indian channels being aired by private TV channels do not correspond to Islamic principles and values but same is the case of some content even on international news channels.
Full report at:
http://www.indianexpress.com/news/no-sc-order-banning-indian-channels-pak-minister/1080614/
------------
SC orders long-term strategy to protect Shias in Balochistan
By Hasnaat Malik
27 February 2013
ISLAMABAD: The Supreme Court ordered authorities on Tuesday to develop a long-term strategy to protect Shias after bomb attacks killed nearly 200 of them in Balochistan.
Expressing apprehension over the law enforcement agencies' alleged arrest of innocent Sunni citizens over the killing of Hazaras, the representative of the Hazara community warned in the Supreme Court that it could spark sectarianism in the country. During the hearing of the suo motu case regarding the massacre of Hazara people, PPP MNA Nasir Shah opposed the arrest of Sunni people after February 16 attack and said that the Balochistan government was not serious in restoring peace in Quetta.
Full report at:
http://www.dailytimes.com.pk/default.asp?page=2013\02\27\story_27-2-2013_pg1_2
--------
Karachi unrest case: IG Sindh's apology accepted
February 27, 2013
KARACHI: The Karachi registry of the Supreme Court has revoked the previously issued show-cause notice to to Inspector General (IG) of Sindh Police Fayyaz Leghari on Wednesday, while hearing the Karachi law and order case on Wednesday, reported Express News.
In its earlier hearings on the law and order case, the court issued a show-case notice and ordered IG Leghari to submit a fresh report on the criminal proceedings in the hearings.
Full report at:
http://tribune.com.pk/story/513246/karachi-unrest-case-ig-sindhs-apology-accepted/
--------
Journalist gunned down in Miranshah
Zahir Shah Sherazi
27 February 2013
PESHAWAR: A local journalist working for a Pakistani newspaper and TV news channel was shot down Wednesday by unknown gunmen in restive North Waziristan agency, family members said.
According to family members, Malik Mumtaz, a correspondent for The News and Geo News, was shot dead Wednesday in his home town of Miranshah in the militancy hit tribal region.
http://dawn.com/2013/02/27/journalist-gunned-down-in-miranshah/
--------
Landmine blast leaves two dead in Bolan district
27 February 2013
QUETTA: Two people lost their lives in a landmine explosion in Balochistan's Bolan district on Tuesday, said security officials.
According to details, the incident took place in Haft Wali area of Bolan district. Four local tribesmen were passing thorough a farming field when one of them accidentally touched a landmine, said officials. Two tribesmen died on the spot due to heavy explosion, they added.
Security officials cordoned off the area after the incident and initiated an investigation.
No group has so far claimed responsibility of the incident.
Bolan is considered a sensitive area where incidents of landmine explosions had happened in the past as well.
http://dawn.com/2013/02/26/landmine-blast-leaves-two-dead-in-bolan-district/
------------
Pakistan court dismisses petition against President Zardari
Feb 27, 2013
LAHORE: A Pakistani court has dismissed a petition seeking an order to bar Asif Ali Zardari functioning as the President.
Jamaat-e-Islami leader Farid Piracha had filed the petition in the Lahore High Court that contended Zardari had been disqualified in the light of a recent Supreme Court judgment that bars the President from engaging in political activities.
Full report at:
http://timesofindia.indiatimes.com/world/pakistan/Pakistan-court-dismisses-petition-against-President-Zardari/articleshow/18707982.cms
------------
At least four killed in Karachi violence
27 February 2013
KARACHI: At least four persons lost their lives in different incidents of violence in various area of Karachi on Wednesday whereas an officer of the Pakistan Navy was injured in a gun firing incident, DawnNews reported.
An activist of a religious organisation was killed in a gunfriung incident in Surjani Town's block L-1 area of Karachi.
Full report at:
http://dawn.com/2013/02/27/at-least-four-killed-in-karachi-violence-2/
------------
Hazaras warn of communities' segregation
27 February 2013
ISLAMABAD: Leaders of the Shia Hazara community said in the Supreme Court on Tuesday that any knee-jerk reaction by the authorities in Balochistan could cause segregation of communities which might further fan sectarian violence in the country.
"We are not interested in taking revenge but want that culprits involved in the gruesome Hazara Town bombing be sternly dealt with in accordance with the law," former senator Abbas Kumaili told a three-judge bench which rejected as unsatisfactory a report submitted by the Balochistan government on measures taken to ensure peace in Quetta.
Full report at:
http://dawn.com/2013/02/27/hazaras-warn-of-communities-segregation/
------------
Pakistan bracing itself for US withdrawal, says Sherry
27 February 2013
WASHINGTON: Pakistan was bracing itself for the consequences of the US withdrawal from Afghanistan, Ambassador Sherry Rehman said on Tuesday while underlining the country's policy options after 2014.
"If there's no negotiated resolution of the Afghan crisis, there will be terrible consequences and Pakistan will be the worst hit," she said.
The US plans to end its combat operations in Afghanistan by the end of 2014 and is encouraging the Afghan government to engage the Taliban militants for a peaceful end to the conflict. The Taliban, however, appear reluctant to work with Kabul.
Full report at:
http://dawn.com/2013/02/27/pakistan-bracing-itself-for-us-withdrawal-says-sherry/
------------
Mideast Asia
Iran: Will not accept more obligations and less rights
ATUL ANEJA
Feb 27 2013
Iran: Will not accept more obligations and less rights
After completing one round of nuclear talks, Iran and the six global powers have decided to meet again on Wednesday, in the hope of starting a process that would build on a show of greater transparency by Iran in return for a phased lifting of sanctions.
Delegates from Iran and the six global powers — United States, Russia, Britain, France, China and Germany (P5+1) — met for three hours on Tuesday in Almaty, the former capital of Kazakhstan.
Full report at:
http://www.thehindu.com/news/international/world/almaty-talks-start-high-on-hope/article4456109.ece
------------
Child Labour - the shame of a nation, Yemen
27 February 2013
While Yemenis pride themselves for their family values, hundreds of thousands of families across the country continue to rely on their children to bring an extra income, to the detriment of their education, well being and development.
And while the issue has been plaguing Yemen as far as memory can stretch, all agree that no modern state should permit its children from being sold out to the pillar of necessity.
In a recent report, ILO - International Labour Organization - revealed that 1.3 million children in Yemen were involved in work related activities; an increase of 400,000 compared to 2011 when IRIN estimated the number of working children in Yemen to be just below a million.
Full report at:
http://yemenpost.net/Detail123456789.aspx?ID=3&SubID=6459&MainCat=5
------------
Iran has 'Plan B' for nuclear bomb
February 27, 2013
Satellite images have revealed that Iran is developing a second way to a nuclear weapons capability by operating a plant that could produce plutonium.
The activity is taking place at a heavily-guarded Iranian facility from which international inspectors have been barred for 18 months.
According to the Telegraph, the images showed that Iran has activated the Arak heavy-water production plant.
Full report at:
http://www.hindustantimes.com/world-news/europe/Iran-has-Plan-B-for-nuclear-bomb/Article1-1018204.aspx
------------
EU Discourages Investment in Israeli Settlements
27 February 2013
JERUSALEM (AP) — European Union officials say diplomats are urging their governments to discourage investments in Jewish settlements in the West Bank and east Jerusalem — territories Palestinians claim for their future state.
The officials said Wednesday the recommendations are part of a non-binding internal report for European governments in their briefings on the Mideast peace process. The diplomats represent 22 countries, including Germany, France and the U.K.
Full report at:
http://www.nytimes.com/aponline/2013/02/27/world/middleeast/ap-ml-israel-
------------
Left behind in war, Palestinian books sit in Israeli library
27 February 2013
As war came to Jerusalem in May 1948, Palestinian Omar Saleh Barghouti fled his home, leaving behind hundreds of his books, including years worth of his diaries. He would never see them again.
Unknown to him, as the battle over the creation of the Jewish state raged, teams of Israeli librarians and soldiers were collecting tens of thousands of books from Palestinian homes in Jerusalem, Haifa, Jaffa and elsewhere — including 256 from Barghouti's home in the Katamon neighborhood.
Full report at:
http://www.arabnews.com/art-culture/left-behind-war-palestinian-books-sit-israeli-library
------------
Kurdish Leader Sees August Pullout From Turkey: Media
27 February 2013
ISTANBUL (Reuters) - Jailed Kurdish militant leader Abdullah Ocalan is proposing to withdraw his fighters from Turkey by August under a draft plan to end a 28-year insurgency, media reports said on Wednesday.
Imprisoned on Imrali island near Istanbul since 1999, Ocalan has since October been discussing a deal with Turkey's government to end a conflict that has killed 40,000 people since his Kurdistan Workers' Party (PKK) took up arms in 1984.
Full report at:
http://www.nytimes.com/reuters/2013/02/27/world/europe/27reuters-turkey-
------------
Iran ex-Tehran prosecutor Saeed Mortazavi 'charged'
27 February 2013
Iranian prosecutors have charged a close ally of President Mahmoud Ahmadinejad with the "illegal arrests" of protesters, state media say.
Saeed Mortazavi, a former Tehran prosecutor, was accused at a closed court hearing on Tuesday, reports said.
The charges relate to unrest following the disputed 2009 presidential polls.
The opposition says more than 80 of its supporters were killed in the six months following the elections, a figure the government disputes.
Full report at:
http://www.bbc.co.uk/news/world-middle-east-21590166
--------
Europe
U.N. Official Sees Desperation, Hunger and Fear on Visit to Mali
By RICK GLADSTONE
27 February 2013
A top United Nations relief official who just returned from a trip to northern Mali said Tuesday that desperation, hunger and fear had pervaded the region in the year since Islamist militant extremists seized control, and that only $17 million of the organization's appeal for $373 million in emergency aid had been donated so far.
The official, John Ging, the operations director of the United Nations Office for the Coordination of Humanitarian Affairs, said some conditions had begun to improve in northern Mali since a French-led military operation began last month in an effort to expunge the militants from cities like Gao and Timbuktu. But Mr. Ging said that during his four-day trip to the northern part of Mali, an area twice the size of Germany, he had heard harrowing tales of rapes, amputations and brutalities committed against children.
Full report at:
http://www.nytimes.com/2013/02/27/world/africa/un-official-sees-desperate-conditions-in-mali.html?ref=africa
---------
Tony Blair says Iraq would be far worse today under Saddam Hussein
Former prime minister argues in a BBC Newsnight special that Britain still has a profound role to play in the Middle East
Shiv Malik
The Guardian, Tuesday 26 February 2013
Tony Blair has admitted that life in Iraq today is not what he had hoped it would be and the country is still facing "big problems". But he defended the war, saying that failing to remove Saddam Hussein would have entailed far worse consequences for the country.
Speaking to the BBC's Newsnight before the 10th anniversary of the invasion, he said: "There are still terrorist activities that are killing … innocent people for no good reason, but [Iraq's] economy is growing very strongly, it's got huge amount of oil revenue but, no, there are still big problems."
Full report at:
http://www.guardian.co.uk/politics/2013/feb/26/tony-blair-iraq-bbc-newsnight
------------
Weapons From the Former Yugoslavia Spread Through Syria's War
By ELIOT HIGGINS
February 27, 2013
The use of social media by opposition groups and activists in Syria has allowed those of us who follow these sources carefully to pursue a different form of insight into conflict reporting than had been possible before the time when opposition fighters reflexively videotaped their operations and posted them online. With hundreds of videos showing the activities of fighting groups now posted on YouTube each day, external analysts have been allowed to build a picture of events in Syria that in past wars have gone unrecorded. These videos, often shared via Twitter and Facebook, allowed analysts and arms spotters in 2012 to track almost in real time the escalation in the conflict on both sides, including the use of cluster bombs and incendiary bombs, as well as potential war crimes committed by the government and the opposition alike.
Full report at:
http://atwar.blogs.nytimes.com/2013/02/25/weapons-from-the-former-yugoslavia-spread-
------------
Britain Warns Against Travel to Northern Nigeria After Islamist Raids
February 27, 2013
ABUJA (Reuters) - Britain advised its citizens on Wednesday against travelling to several regions in northern Nigeria, after an increase in attacks blamed on Islamist militants and the abduction of several foreigners earlier this month.
Gunmen killed a security guard and abducted a Briton, an Italian, a Greek and four Lebanese workers after storming the compound of Lebanese construction firm Setraco in Bauchi state on February 16.
Full report at:
http://www.nytimes.com/reuters/2013/02/27/world/europe/27reuters-nigeria-britain.html?ref=middleeast
------------
Southeast Asia
Indonesian Military Says Informant Played Role in Papua Attack
Anastasia Winanti | February 27, 2013
The Indonesian military has identified a Papuan man, Wani Tabuni, as having acted as an informant for a rebel group that was responsible for the death of a soldier in Tingginambut, Papua, last week.
Military spokesman Rear Adm. Iskandar Sitompul said Wani helped the Papuan rebel movement GPK in a shootout at an Indonesian Armed Forces (TNI) base in Tingginambut that resulted in the death of First Private Wahyu Prabowo. Second Lt. Reza Gita Armena was also injured in the firefight.
Full report at:
http://www.thejakartaglobe.com/news/indonesian-military-says-informant-played-role-in-papua-attack/574247
------------
Seven Somalis claim trial to firing at Malaysian soldiers during raid
27 February 2013
KUALA LUMPUR, Feb 27 — Seven Somali nationals today pleaded not guilty in the High Court here to firing at Malaysian soldiers during a robbery on board a vessel in the Gulf of Aden two years ago.
Ahmed Othman Jamal, 27, Abdil Eid Hasan, 22, and five underage individuals were charged with discharging firearms with intent to cause death or hurt on board the "Bunga Laurel" vessel at coordinates, Latitude 20'14.73N Longitude 063'39.96 E, 250 nautical miles from Oman, between 8.10pm and 10pm on January 20, 2011.
Full report at:
http://www.themalaysianinsider.com/malaysia/article/seven-somalis-claim-trial-to-firing-at-malaysian-soldiers-during-raid/
----------
Lobbying for English in Indonesia denies children mother-tongue education
Danny Whitehead
26 February 2013
Indonesia's new primary school curriculum has been lambasted for 'dropping' English, but its real failure is to deny children in this multilingual nation a chance to learn in their mother tongue
Indonesian primary school students and teachers returned to school in January knowing that this would be the last semester following their current curriculum. Under guidelines prepared by the national education ministry, the new academic year beginning in July will herald a slimmed down curriculum covering just six subjects – Indonesian language, mathematics, religion, nationalism, art, and sports – with other content such as science taught thematically across the curriculum. English language is not included in the new primary curriculum.
Full report at:
http://www.guardian.co.uk/education/2013/feb/26/indonesia-mother-tongue-english-debate
-----------
Australia
Australian Muslim activists lose free speech case
Feb 27 2013
Two Muslim activists accused of sending offensive letters to families of Australian soldiers killed in Afghanistan narrowly lost a court appeal Wednesday that cited their constitutional freedom of speech.
Iranian-born Man Horan Monis, a self-styled Sydney cleric also known as Sheik Haron, was charged in 2009 with 12 counts of using as postal service in an offensive way and one count of using a postal service in a harassing way. Amirah Droudis was charged with aiding and abetting the offences.
Full report at:
http://www.thehindu.com/news/international/australian-muslim-activists-lose-free-speech-case/article4457780.ece
------------
URL: https://newageislam.com/islamic-world-news/govt-gets-flak-parliament-fake/d/10579